Freediving with Palawan Divers
Truthfully, neither Ben nor I knew much about freediving before signing up. We are always up for trying something new and challenging, so it seemed to be the perfect way to spend our last day in El Nido.
We embarked on this adventure with a highly regarded company called Palawan Freedivers. It is run by Florent, a Frenchman who recently made the Philippines home. He opened this freediving school to share his passion with others.
I imagined freediving to be a sort of a cross between Scuba diving and snorkeling – but I found it to be quite different.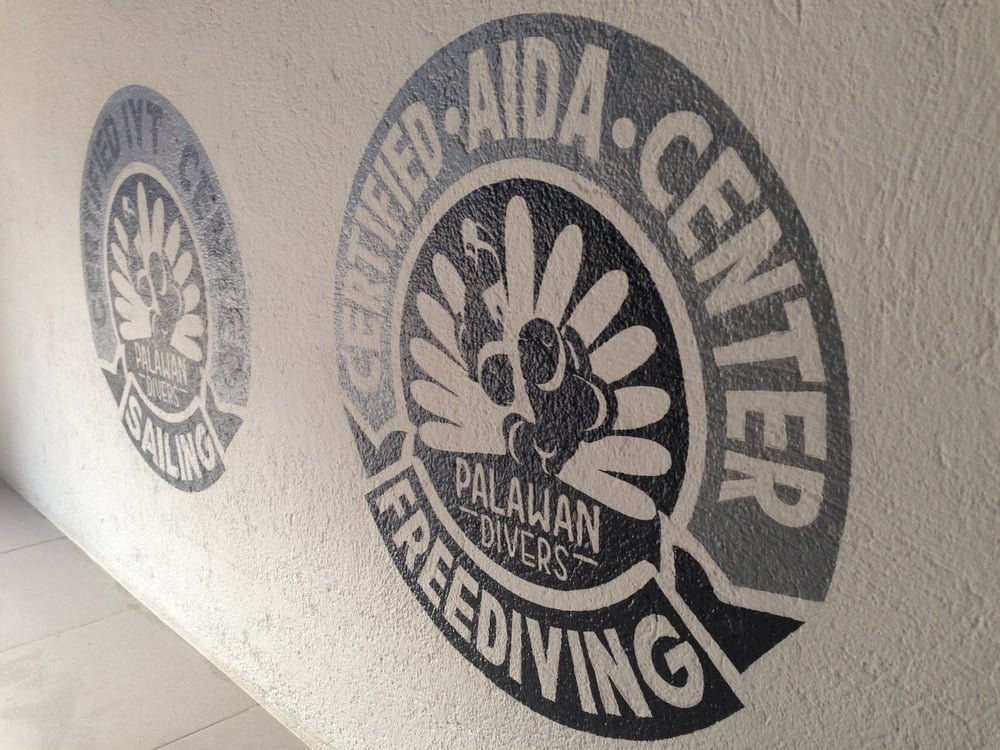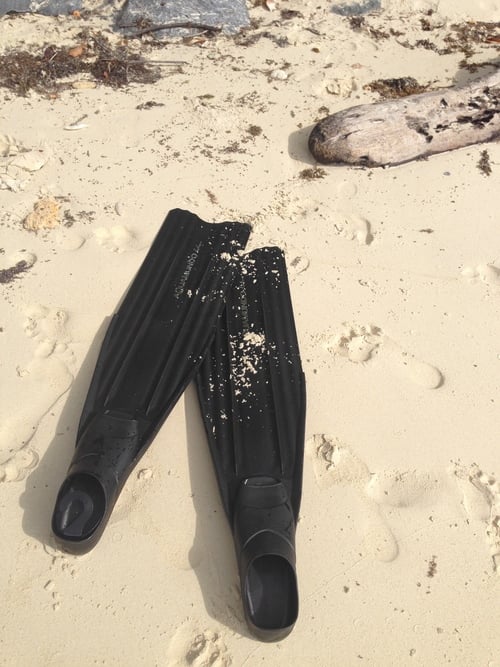 To begin with, freedivers use different equipment than one would require for Scuba or snorkeling – smaller face masks and longer fins. Add a wetsuit and a weight belt, and our equipment ended there. No bulky tanks or regulators. All the oxygen we needed came from our lungs.
The focus of freediving seemed to be not on exploring your surroundings underwater, but instead on quieting your mind and pushing your personal limits.
Florent explained that some people compare the sport to yoga or meditation because there is a strong emphasis on self-awareness and listening to your body.
The morning began with a boat ride to a secluded private beach. What a way to start the day!
We laid out on yoga mats on the sand and practiced breathing techniques as Florent guided us. Once he was satisfied, we moved to the water.
I actually don't really like the idea of holding my breath, but let me tell you, doing it underwater is much easier than on shore.
When submerged in water, a human's heart rate will slow down considerably. Known as "mammalian diving reflex", this response allows people to dive for long periods of time without oxygen tanks.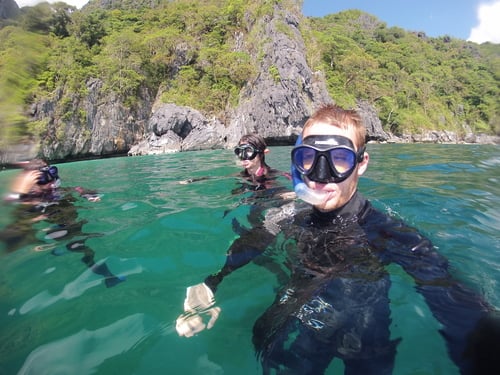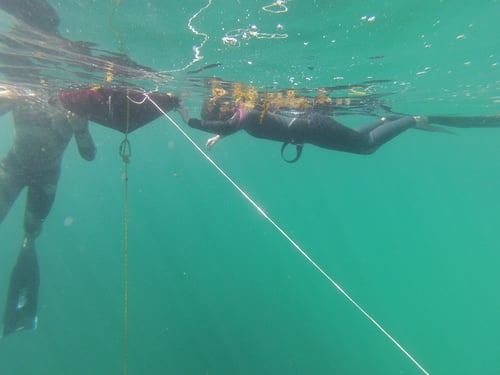 We spent the rest of the morning practicing the techniques Florent had taught us in shallow water. After a light lunch, we swam out to deeper waters where we would be diving. Florent sent a rope down and demonstrated by diving headfirst to the ocean floor. We each took turns, preparing for our dives with several minutes of slow, meditative breathing, and mimicked Florent's example.
I have really sensitive ears, and had some problems equalizing when I went diving Colombia. I had the same issues when freediving. Instead of diving headfirst, as Florent so gracefully demonstrated, I had to lower myself along the length of the rope. My discomfort, though, didn't stop me from reaching the bottom at 10 meters.
Each person in our group of four was surprised by how much we improved throughout the day. We certainly weren't able to hold our breath for 7 minutes – like our instructor – but we made progress. By afternoon, Ben held his for three minutes, and I was at two and a half.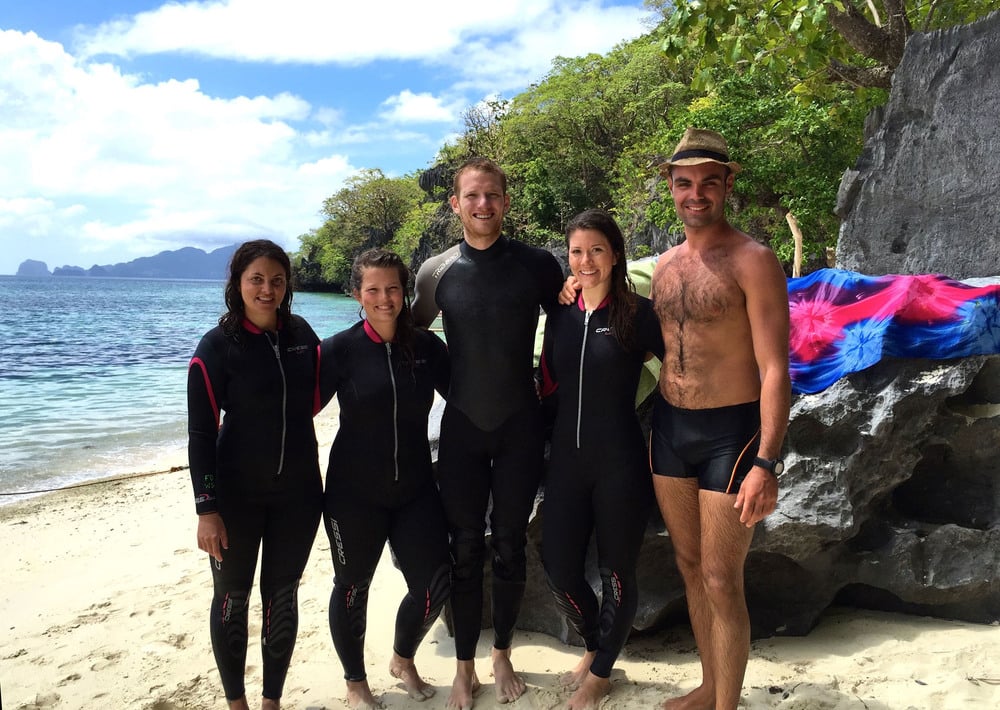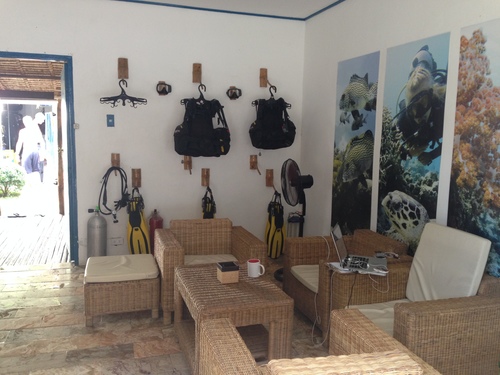 Anyone looking for a challenging and unique adventure while in El Nido should definitely check out Palawan Freedivers. Florent was extremely patient and paid careful attention to safety. He broke everything down into small steps so we felt comfortable. We would recommend diving with him in a heartbeat.
Read more about our time in Palawan.
Our dive was complimentary thanks to Palawan Freedivers. As always, all opinions are our own.
Where to stay in El Nido:
Spin Designer Hostel – El Nido: With some of the highest reviews in all of El Nido, this laid back hostel is the perfect place to relax after a long day of island hopping. They have dorm rooms and private rooms at great prices. And with only 600 meters to the beach, what's not to love!
---
Are you planning a trip to the Philippines?
We have TONS of resources on travel in the Philippines and destinations throughout the country. Check out our Ultimate Philippines Travel Guide for all the answers to your most burning questions, or read some of our favorite articles below.