An open air swimming hole near Playa del Carmen, Mexico, Cenote Azul is a popular destination for locals and travelers alike. We put together this guide for what to expect when visiting Cenote Azul from our personal experience.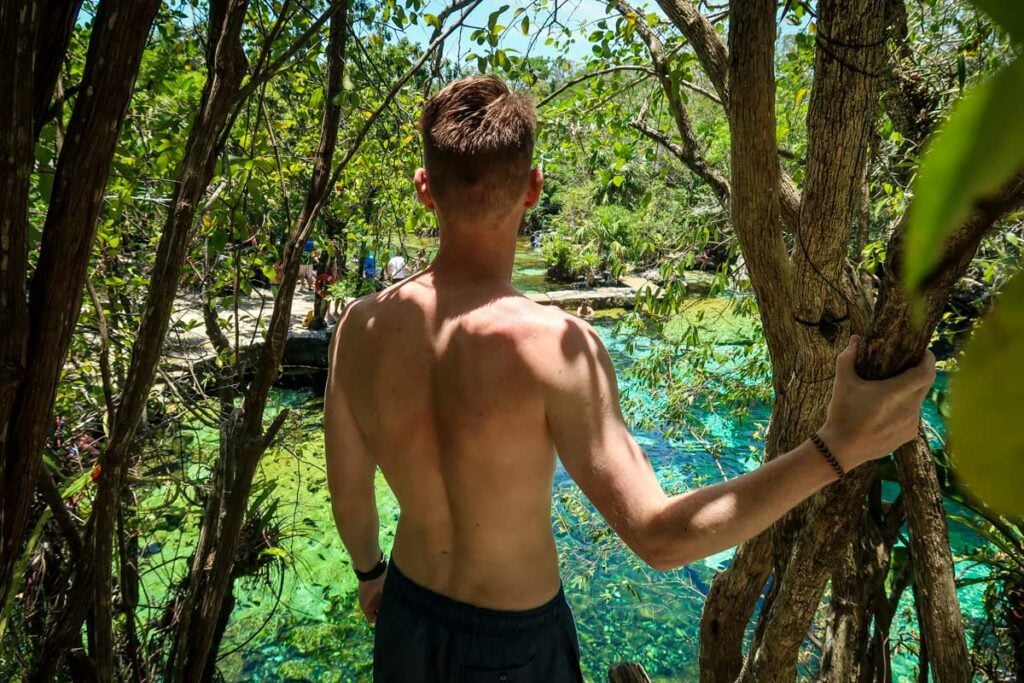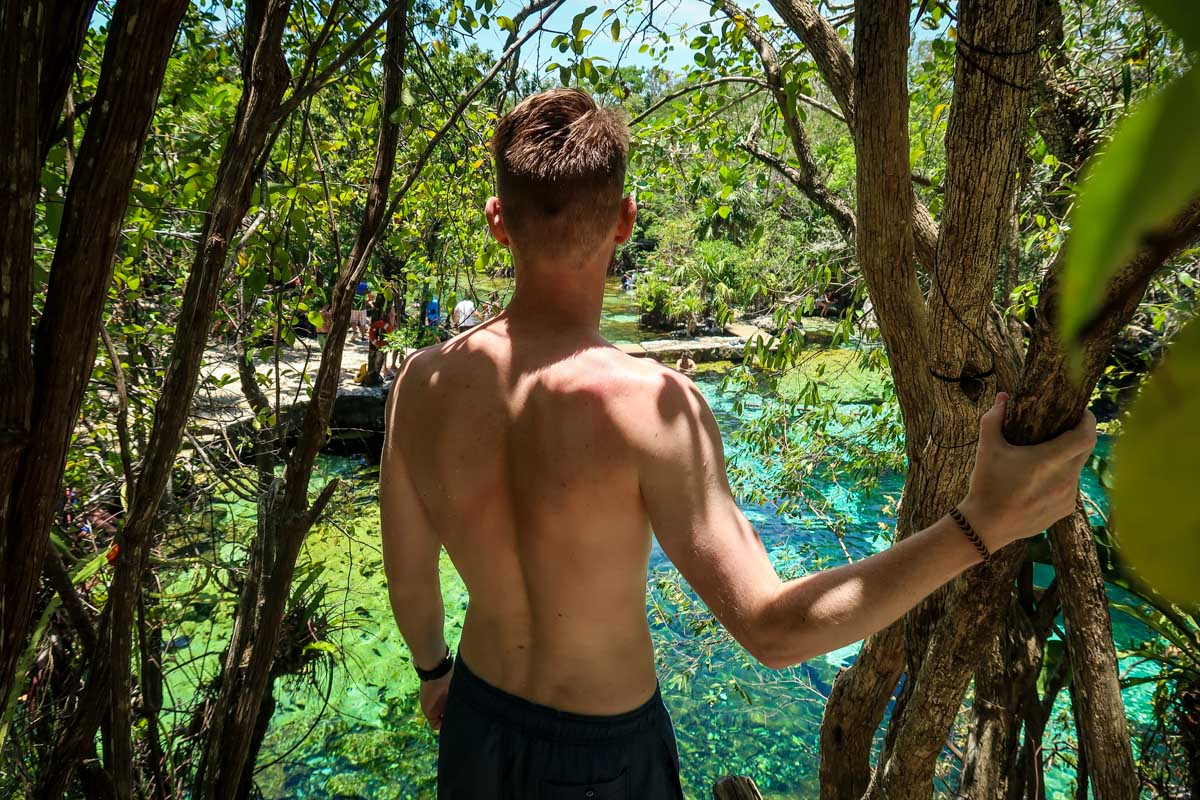 Cenote Azul is located just a 20-minute drive from Playa del Carmen, making it a popular escape for locals and travelers alike. It is truly one of the best places to cool down on a hot Yucatan day!
This open-air cenote is a great place to snorkel with small fish, go cliff jumping or relax in the shaded areas, making it good for adventure seekers as well as those simply looking for a spot to relax.
We've visited Cenote Azul several times – just the two of us as well as with our daughter (who was 5 months old at the time!).
In this guide to Cenote Azul, we are sharing the tips we've learned so you know exactly what to expect!
Cenote Azul Facts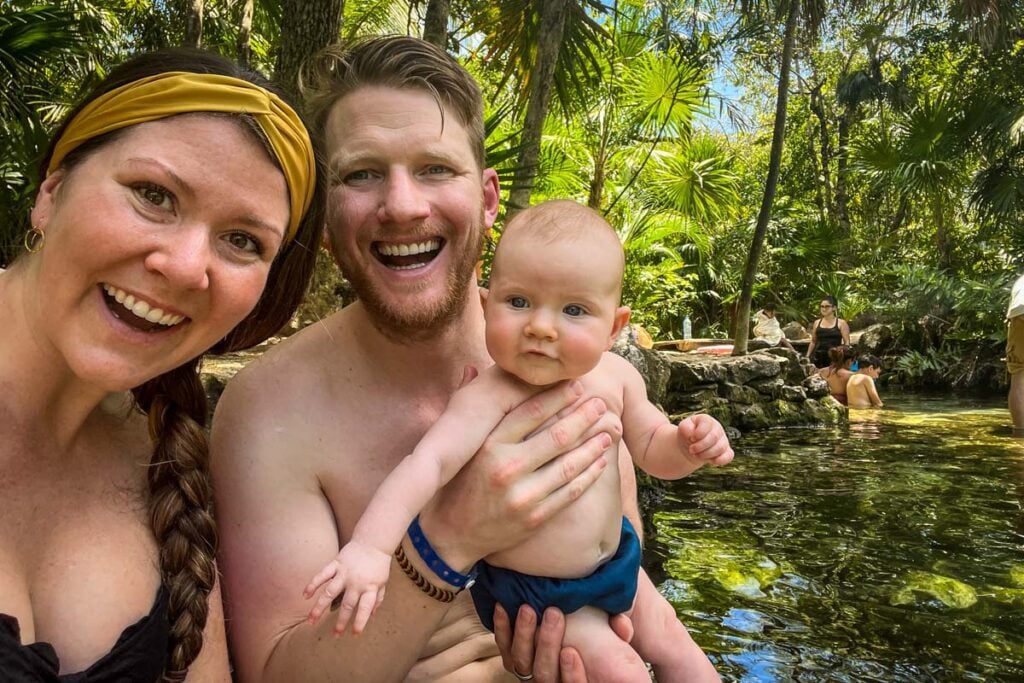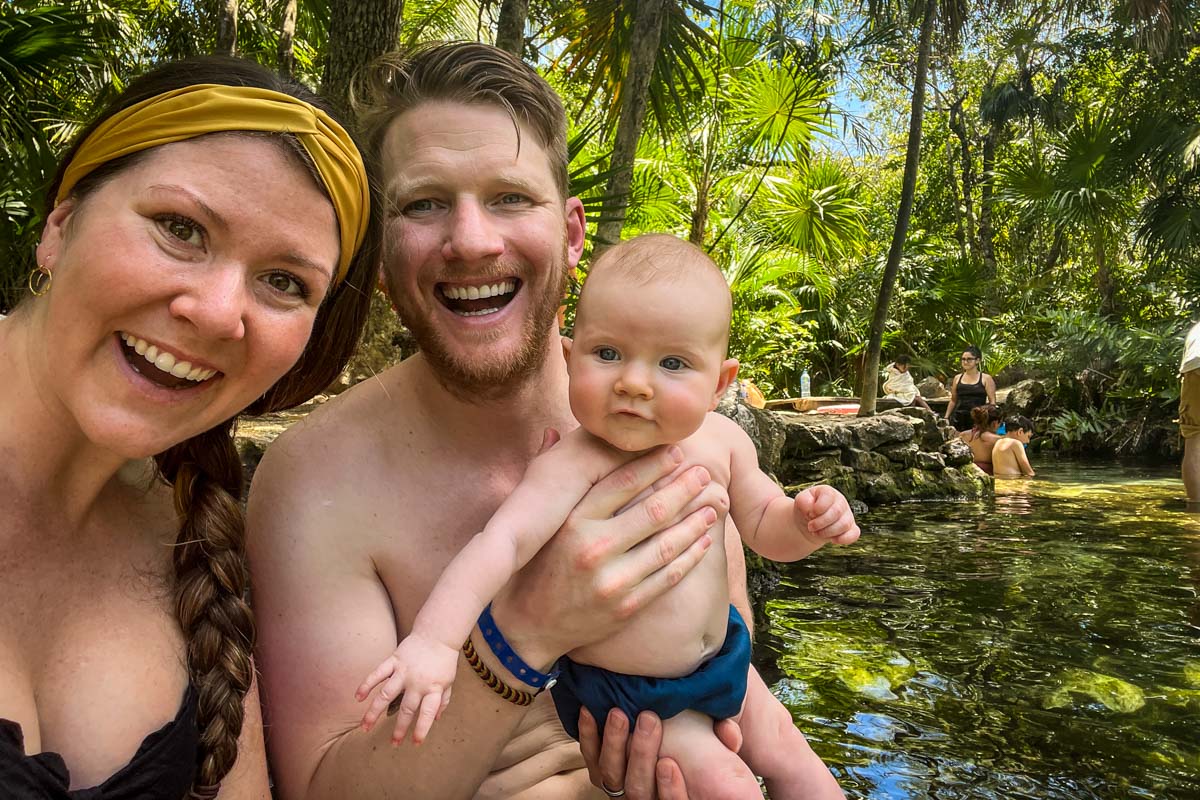 Location: Google Maps location

Distance from Playa del Carmen: 16 miles (25 km); 22-minute drive
Distance from Tulum: 25 miles (40 km); 32-minute drive
Distance from Cancun: 57 miles (92 km); just under 2 hours

Type of Cenote: Open air
Hours: Open daily from 8:30 a.m. to 5 p.m.
Entrance Free: 150 pesos per person (~$8); cash only!

100 pesos ($5) for Quintana Roo residents (bring your ID)

Facilities: restrooms, showers, small snack shop, free parking
Rental Equipment Available: Life jackets, snorkel equipment and lockers available for rent
Cenote Azul Guide
Psst! If you have time to discover more, be sure to check out our bucket list of incredible things to do in Mexico (that aren't beaches) before you leave!
---
What to expect at Cenote Azul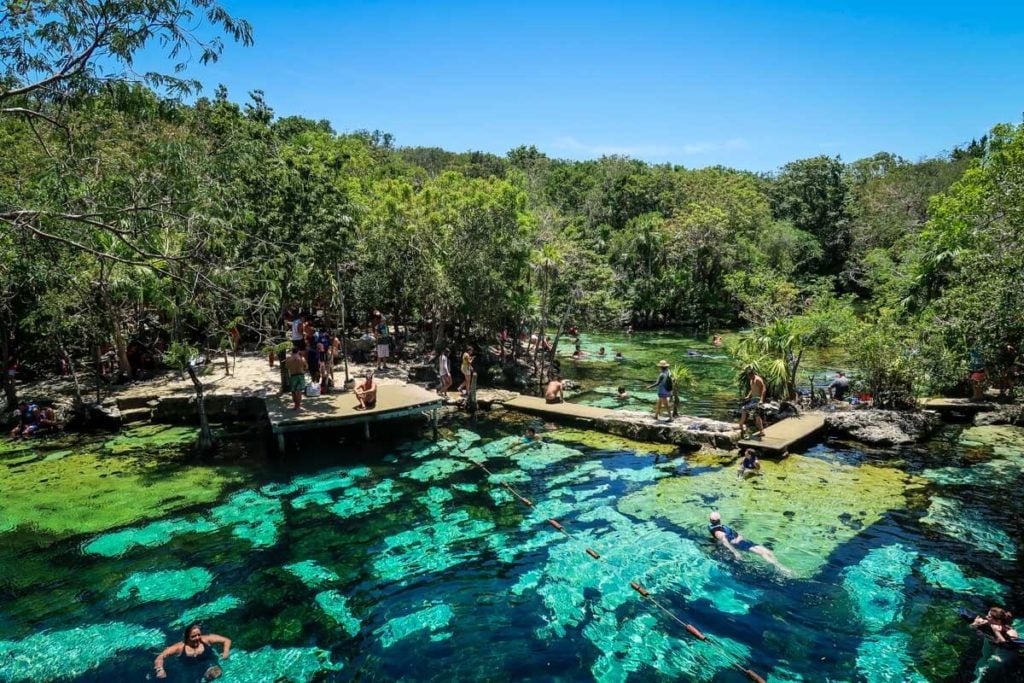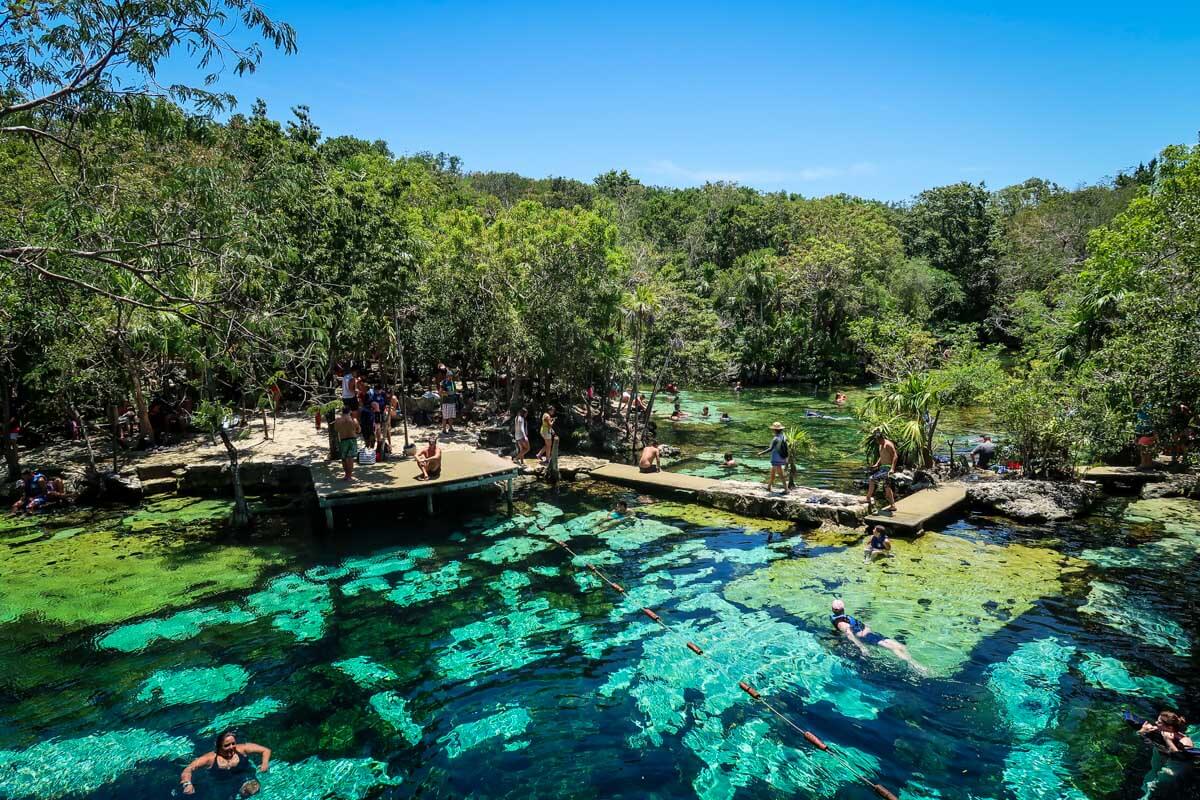 This cenote is open air – more similar to a shallow lake than the cave cenotes you often see pictures of.
There are lots of small fish swimming around in the shallow turquoise waters of Cenote Azul, making it a fun place to go snorkeling.
There are also cliffs from which adventure-seekers jump into a deeper section of the pools.
Cenote Azul is surrounded by local flora and fauna, making this place feel like a true jungle oasis. You will find lots of tables and benches scattered throughout the lush trails that surround Cenote Azul, making it a fun place to relax for a good part of the day.
Insider Tip: Pack a picnic lunch and a deck of cards to enjoy between dips in the water!
What is a Cenote?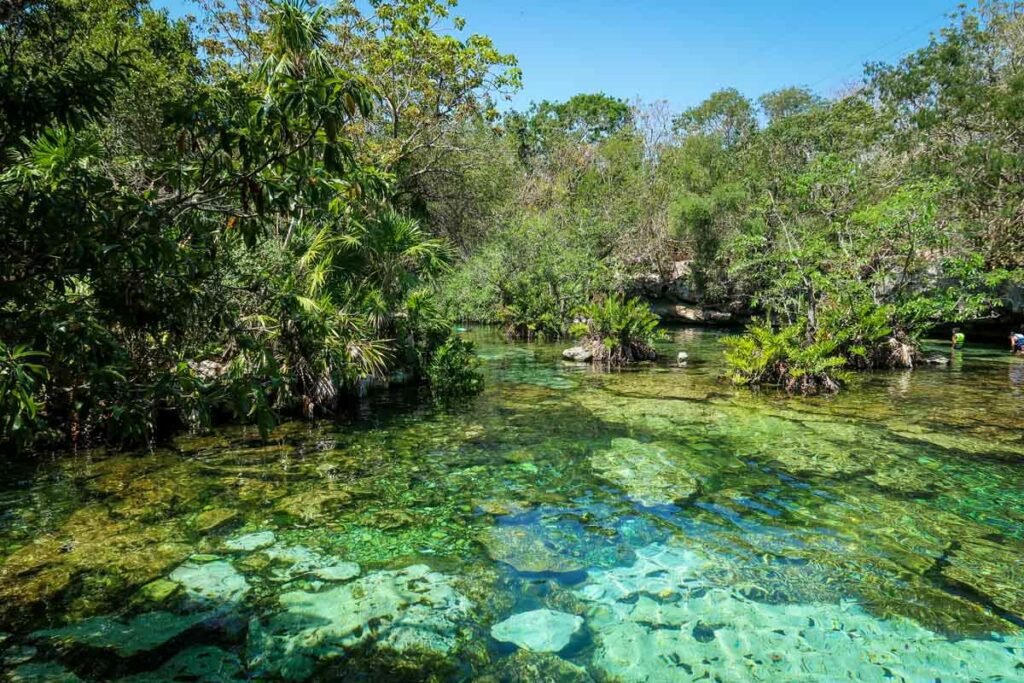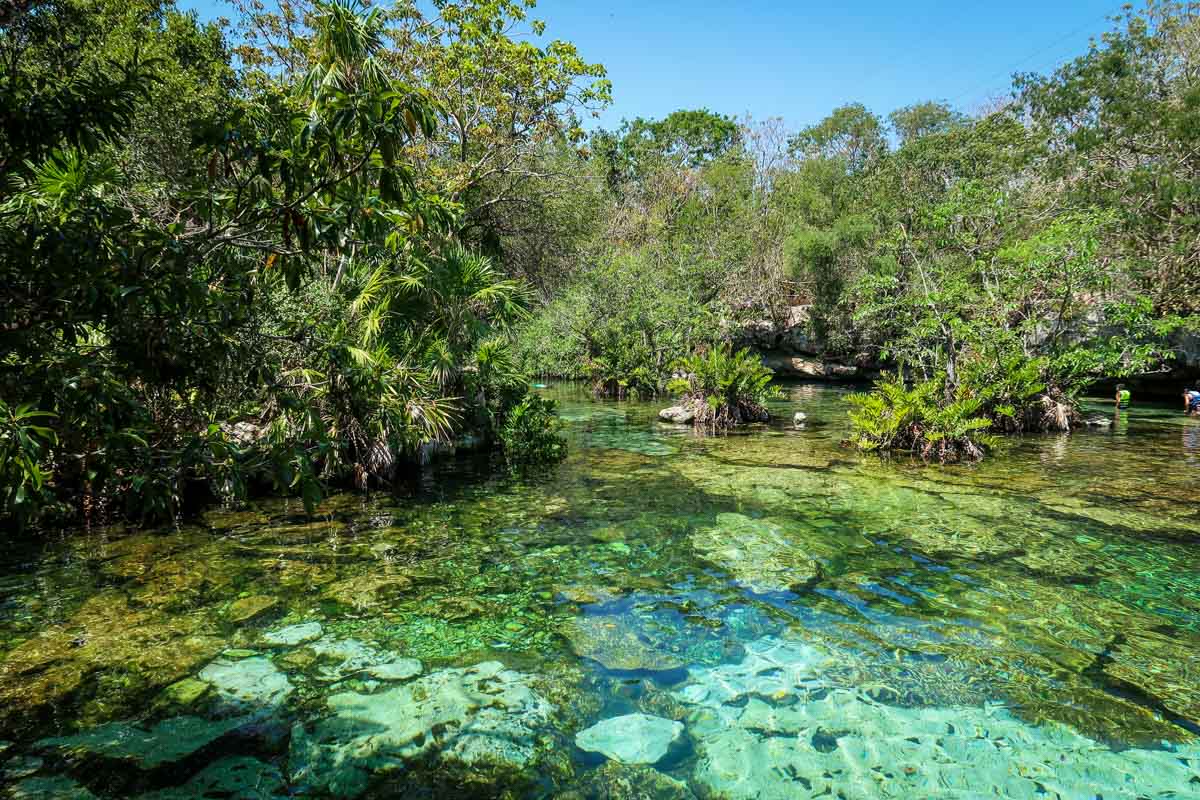 A cenote (pronounced say-NO-tay) is a natural sink hole.
Cenotes are very common throughout the Yucatan Peninsula. Some sources claim there are more than 6,000 cenotes in the Yucatan, while others say that number is closer to 10,000. Whatever the exact count, one thing's for certain: The Yucatan has a lot of cenotes.
Cenotes were the only source of freshwater for the Mayan people who resided in the jungle and near the ocean. For this reason, cenotes were considered sacred.
In many ways, cenotes represented both life (water) and death, and were an integral part of ancient Mayan life.
Want to visit more cenotes? We've curated a list of the best cenotes in Mexico!
Why we love Cenote Azul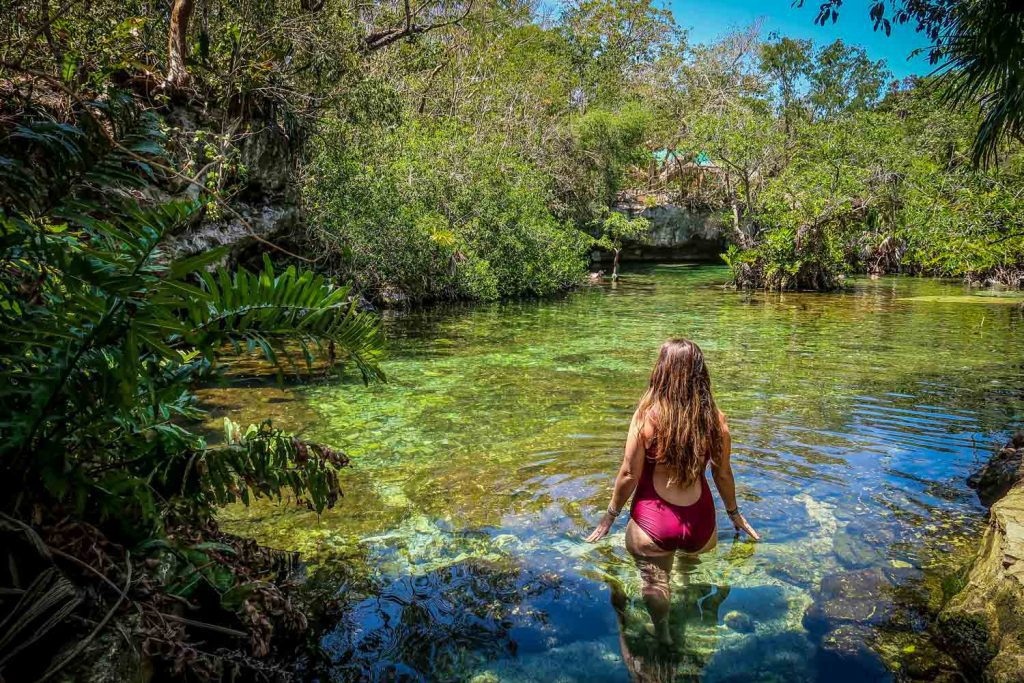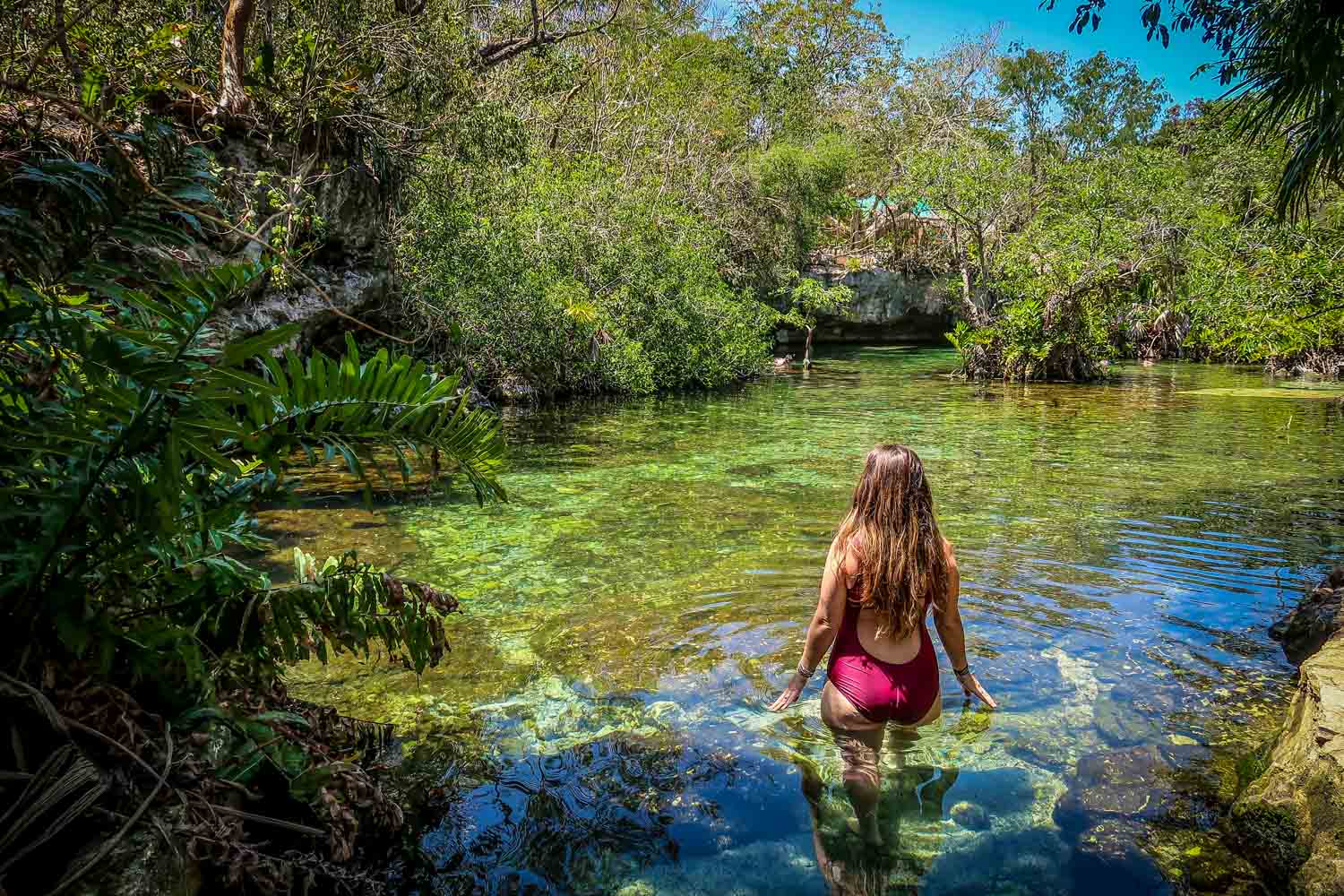 We've visited Cenote Azul a handful of times and love the wide range of activities it has and the endless areas to relax and soak up the sun (or shade) on those hot Yucatan days.
It's an ideal paradise whether you're traveling solo, as a family, or in a group!
Fun spot for cliff jumping
Get your adrenaline pumping by jumping off a 15-foot cliff into the turquoise blue water. This is an exciting way to enter the cenote and step outside of your comfort zone.
Otherwise, if you're not a fan of heights, there is a dock for a less intimidating alternative, where you can watch the thrill seekers jump.
You can see fish
Freshwater fish of all shapes and sizes can be spotted around the cenote. The pool also serves as a natural fish spa, where the smaller guppies will come and nibble your feet.
There is a shop on site where you can buy fish food or rent snorkel gear to get a better look at all the different species.
Family friendly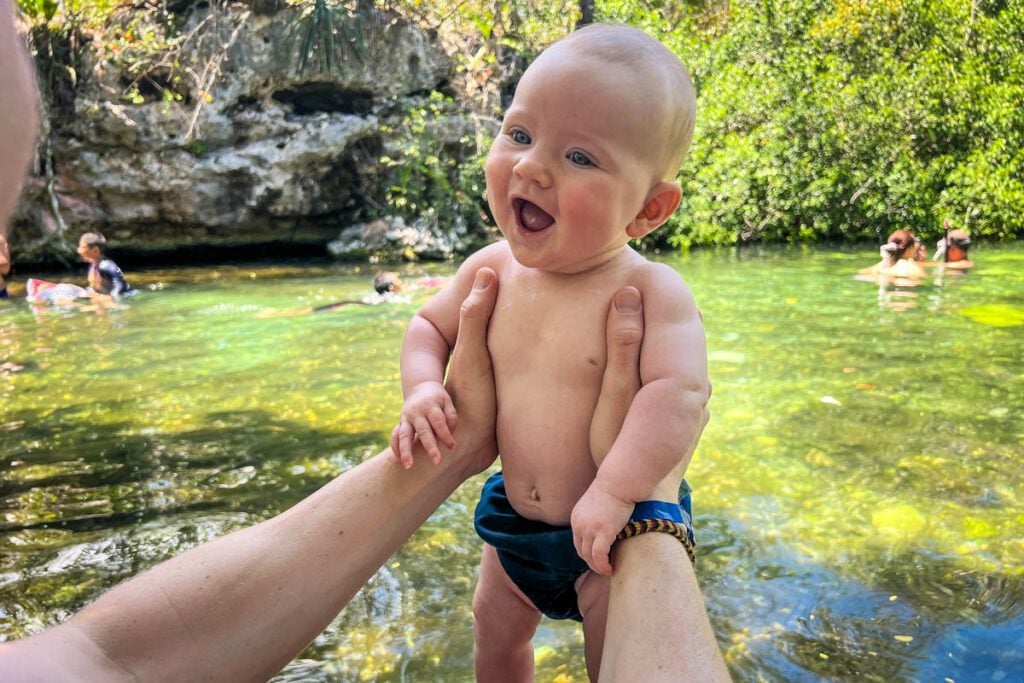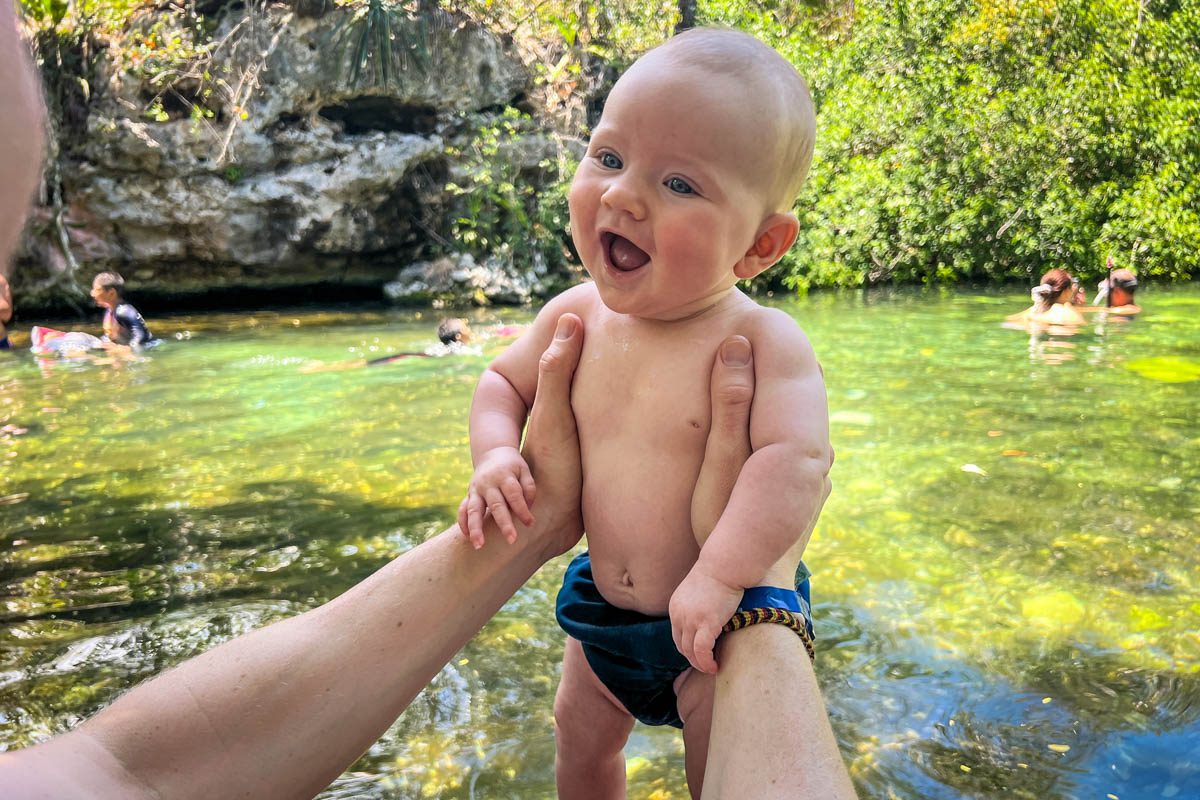 Cenote Azul is one of the most easily accessible pools in the Yucatan, making it very easy to bring little ones along.
Since the cenote is rather large and open-air, there are many spots with shallow water, plenty points of interest to keep kids entertained, and areas with ample shade.
Trails and benches
Benches are dotted around the cenote where you can enjoy a snack or relax. If you're interested in exploring, use the trails around the cenote to try and spot local wildlife.
Shade and sun
Since the cenote is so large, there are many areas where you can soak in the sun or enjoy a picnic under cool shade.
Small pools for privacy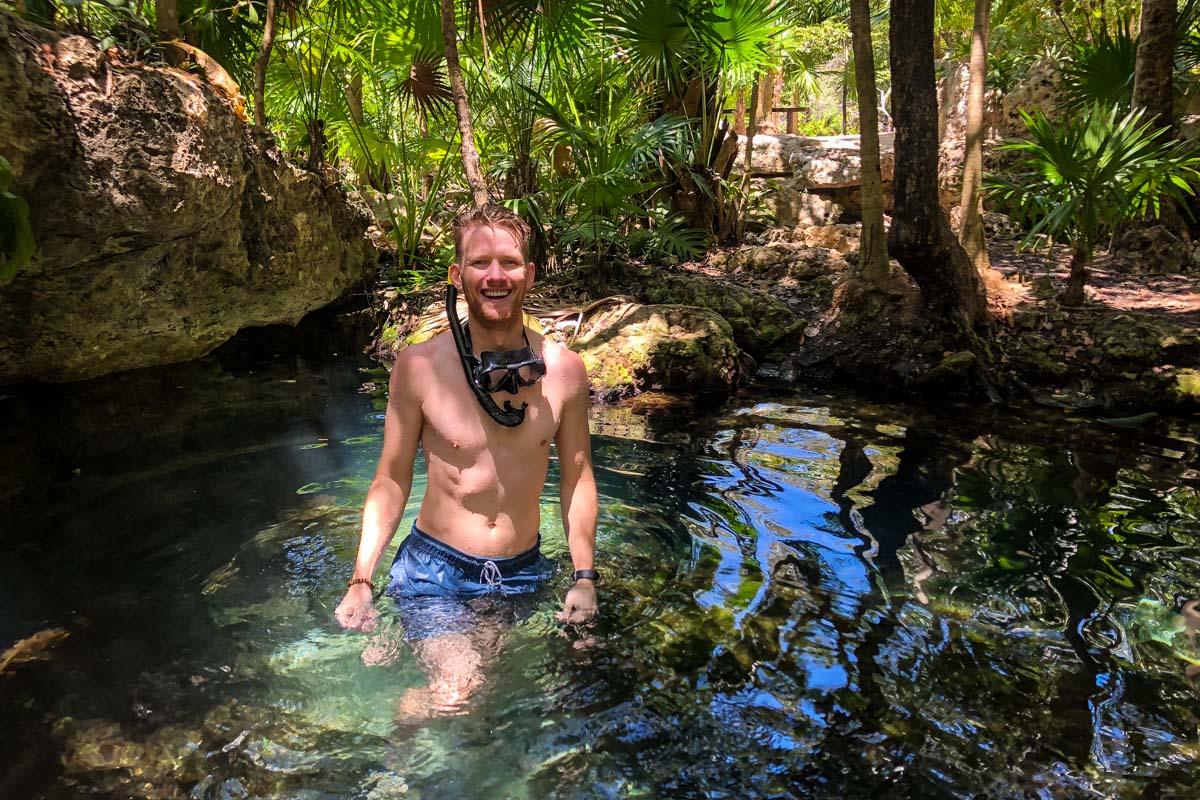 There are a variety of smaller, shallow pools that make up the cenote offering a bit more solitude from the main swimming area.
Clear waters
Limestone filtered rainwater is one of the cenotes main sources. This filtration creates crystal clear freshwater where you can see all the way to the bottom!
History of Cenote Azul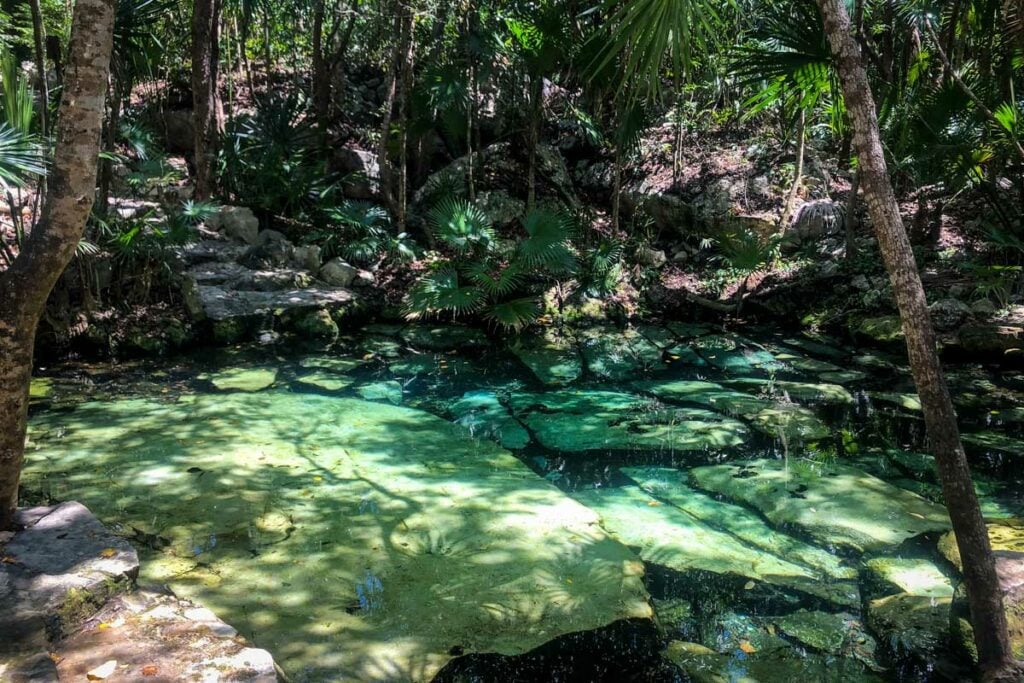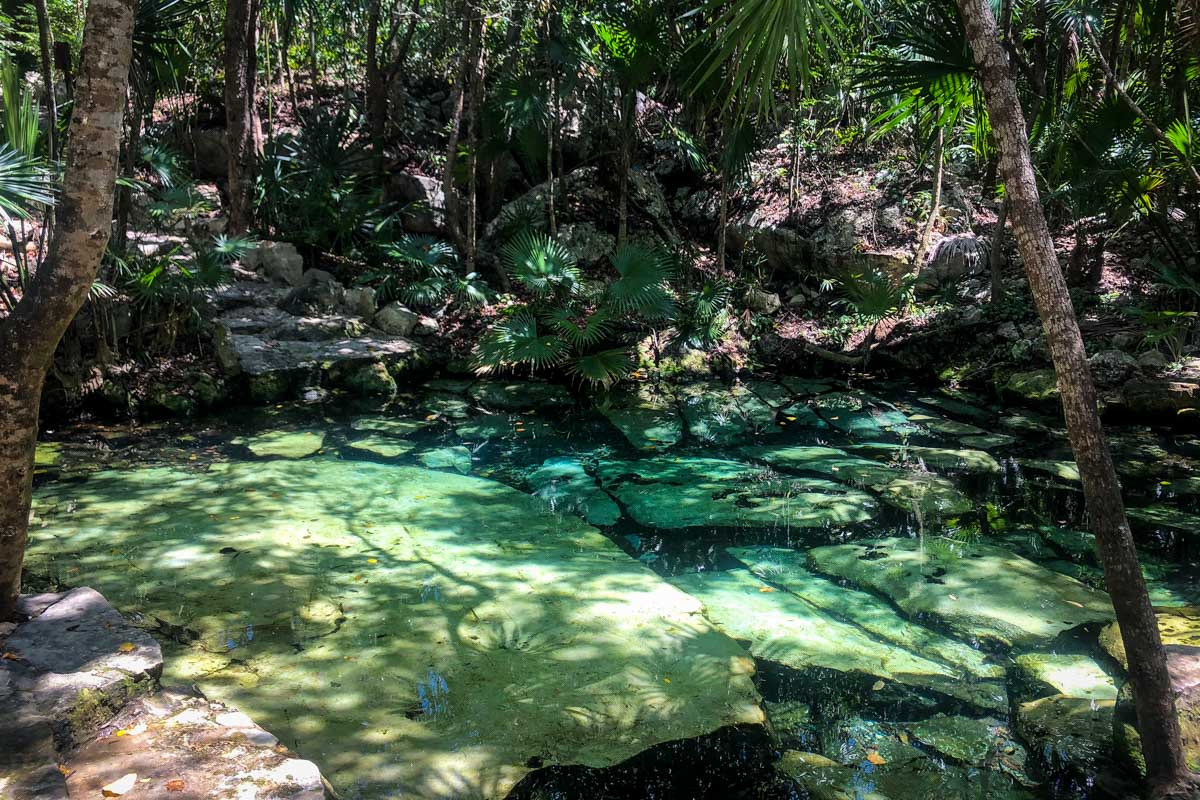 At an impressive 600-feet wide, Cenote Azul is believed to be one of the largest in all of Mexico.
What separates it from the other thousands of cenotes is that it's open air, whereas most are tucked away in cave systems among stalactite and stalagmite formations.
Although Cenote Azul began as an underground cave and river system, once the limestone roof eroded and eventually collapsed, it created a massive sinkhole.
Then, the pristine lagoon was formed by rainwater and the hundreds of miles of connected streams and waterways flowing into the hole, creating the cenote.
Rules at Cenote Azul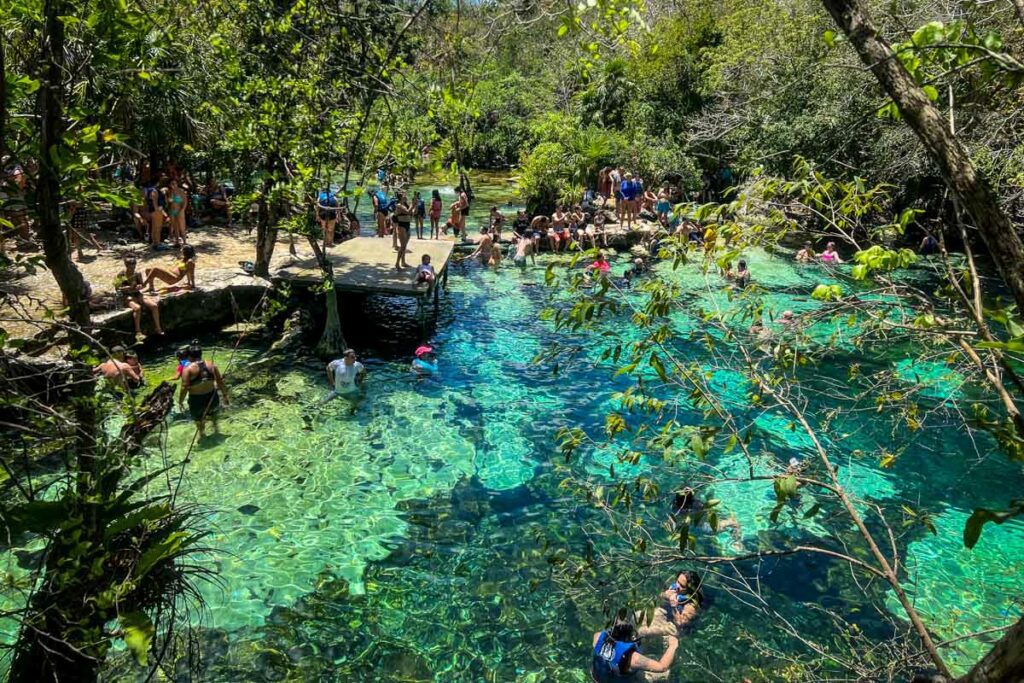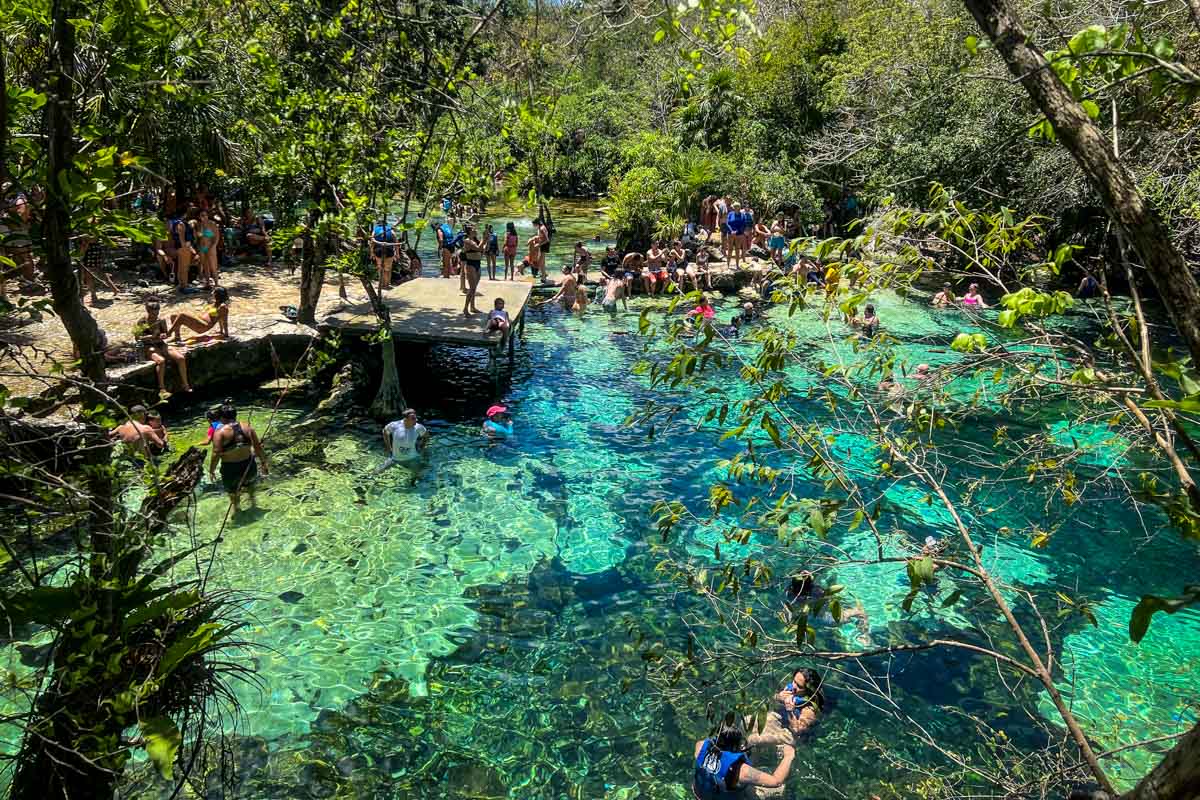 There are several rules that you must follow at Cenote Azul. Please be respectful of this special place and follow the rules.
1. Shower before entering the cenote
There is an open-air shower area near the entrance where you can rinse off.
2. Sunscreen is prohibited
This is a rule at all cenotes. Yes, even reef safe sunscreen.
If you are fair-skinned (like Ben!), you might want to stick to the shaded parts of the cenote. Thankfully there are many spots in the shade!
Be sure to wear a hat and sunglasses. You can also wear a layer, like a thin shirt, to protect your skin.
Psst! This also goes for bug spray as well. Anything with chemicals can damage this fragile ecosystem.
3. No drinking or smoking
This should be self explanatory.
4. Know what you CAN'T bring
There are many things that are not allowed at Cenote Azul.
Alcohol
Smoking
Pets
Sunscreen
Snorkeling Fins
Drones
5. Be respectful when taking photos
This isn't a rule as much as a common sense practice. Be mindful when you are taking photos, especially in a place like a cenote where people are wearing bathing suits.
6. Do not feed the fish (or other wildlife)
This should be another common sense thing, but do not feed the fish or any other animals you see. This is not good for them, and it is not good for the environment for food scraps to be left out.
7. Dispose of waste properly
There are trash bins for this purpose. If you see any litter, it's nice to pick it up and put it in a bin so you leave the place better than you found it.
Where is Cenote Azul?
Cenote Azul is located on the Yucatan Peninsula.
The closest nearby city is Playa del Carmen, which is just over 20 minutes by car.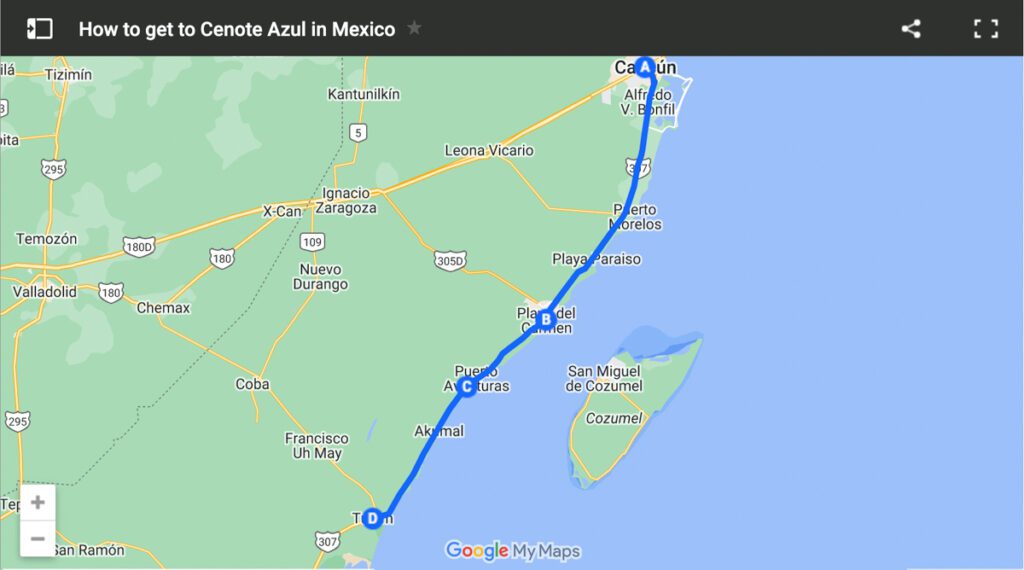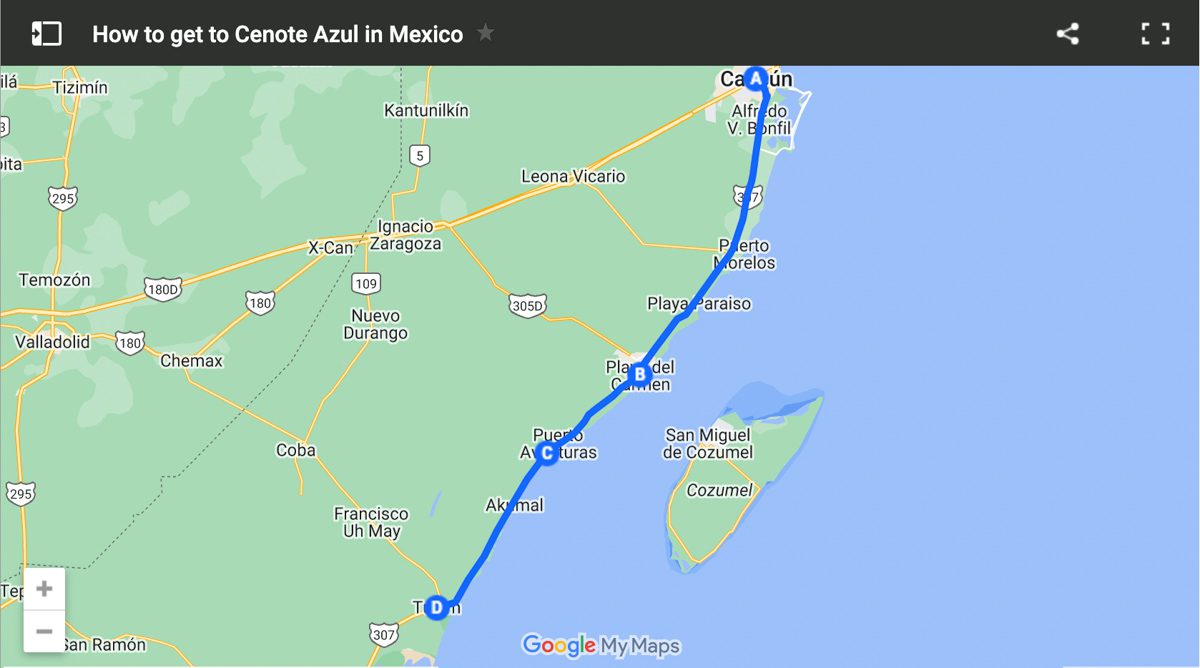 A. Cancun to Cenote Azul
Distance from Cancun to Cenote Azul: 57 miles (92 km)
Driving time: just under 2 hours
B. Playa del Carmen to Cenote Azul
Distance from Playa del Carmen to Cenote Azul: 16 miles (25 km)
Driving time: 22 minutes
D. Tulum to Cenote Azul
Distance from Tulum to Cenote Azul: 25 miles (40 km)
Driving time: 32 minutes
How to get to Cenote Azul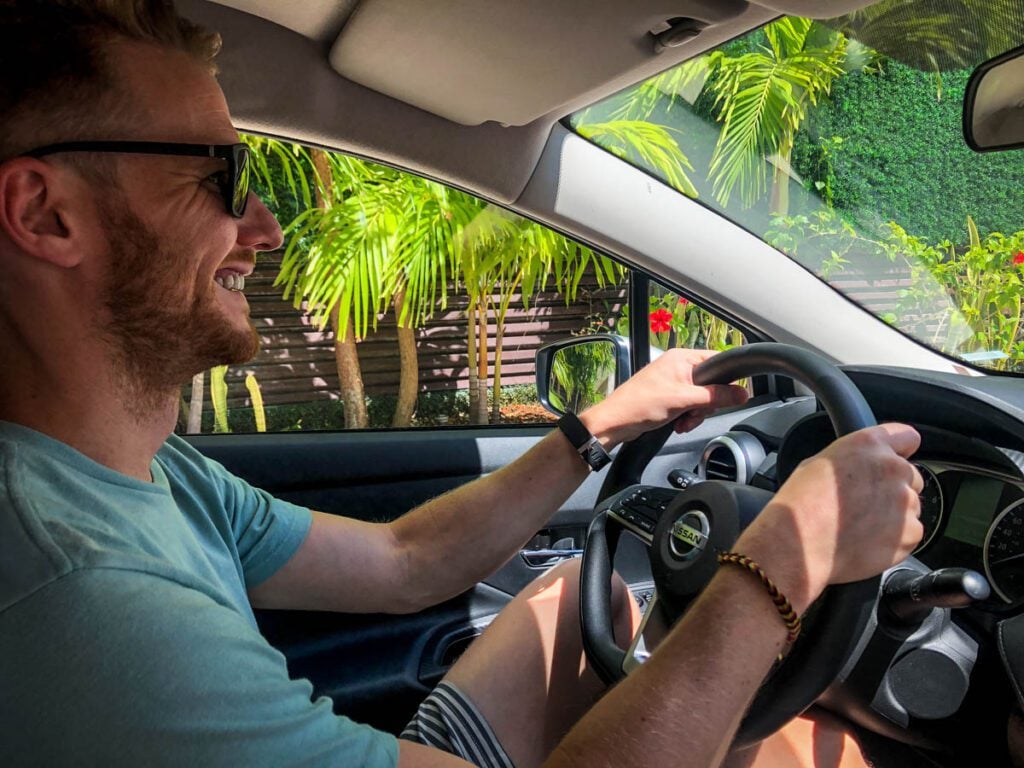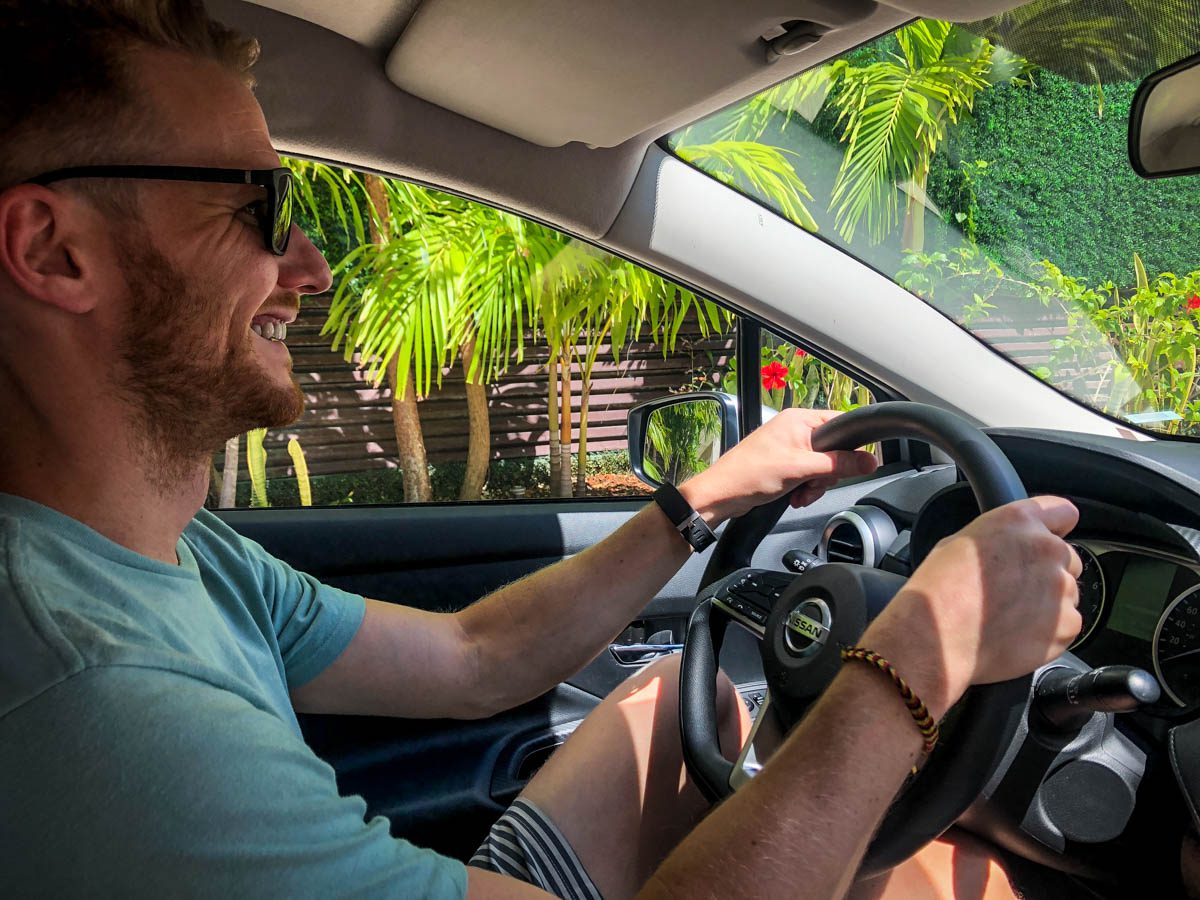 Cenote Azul is 40 km (25 miles) away from Tulum and 25 km (15 miles) from Playa del Carmen.
There are a few ways to get there depending on your budget and travel style, however we discuss the best two methods of getting there below.
Rental Car
A rental car in Mexico is one of the best ways to get to Cenote Azul since it gives you the ultimate freedom with your schedule. There are also a handful of other cenotes nearby that you'll be able to visit if you have your own car (more on those at the end of this post).
Getting there is straightforward from many popular areas of the Yucatan since it's right off the highway and there is a large sign at the pulloff.
Directions (from Tulum, Cancun, or Playa del Carmen): Follow the Carretera Federal (Federal Highway) until you see a pull off with a sign for Cenote Azul.
We use Discover Cars to search and compare prices from all the rental car options in the area, and have found it generally saves us money in the long run.
While browsing for your rental, note that the prices will seem much cheaper than the actual price you end up paying. Listed prices often don't include the cost of insurance or additional fees, so it's important to read the fine print during your search.
Colectivo
Traveling by bus is a cheap and convenient way of getting to Cenote Azul.
There are many Colectivo buses that depart from Cancun, Tulum, and Playa del Carmen that will drop you off directly at the entrance. From there, it's only a short walk to the main swimming area.
Tips for visiting Cenote Azul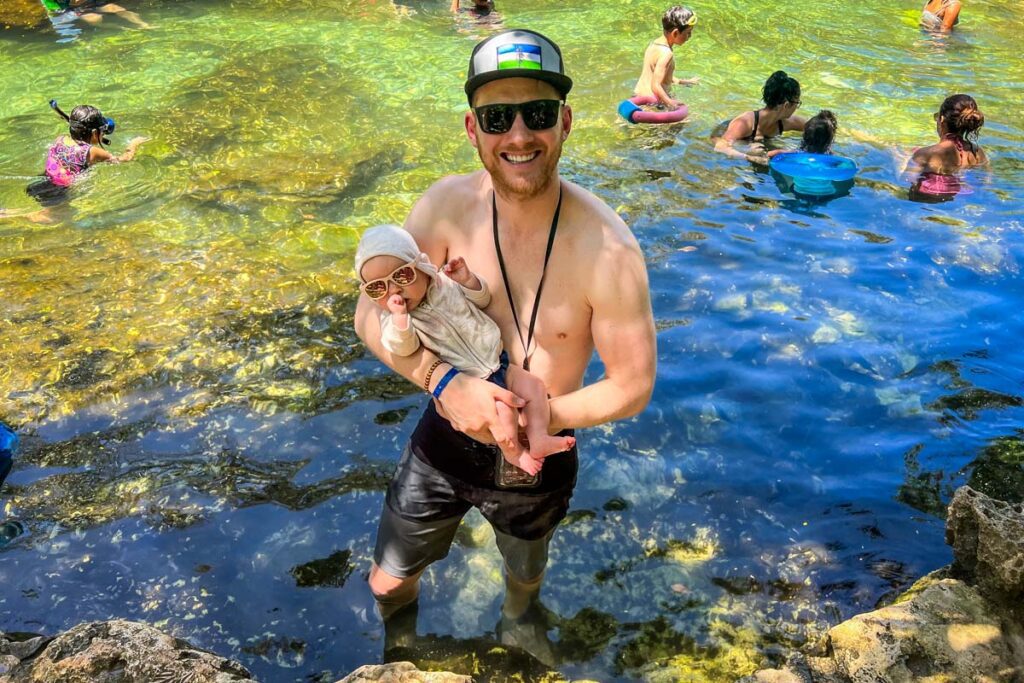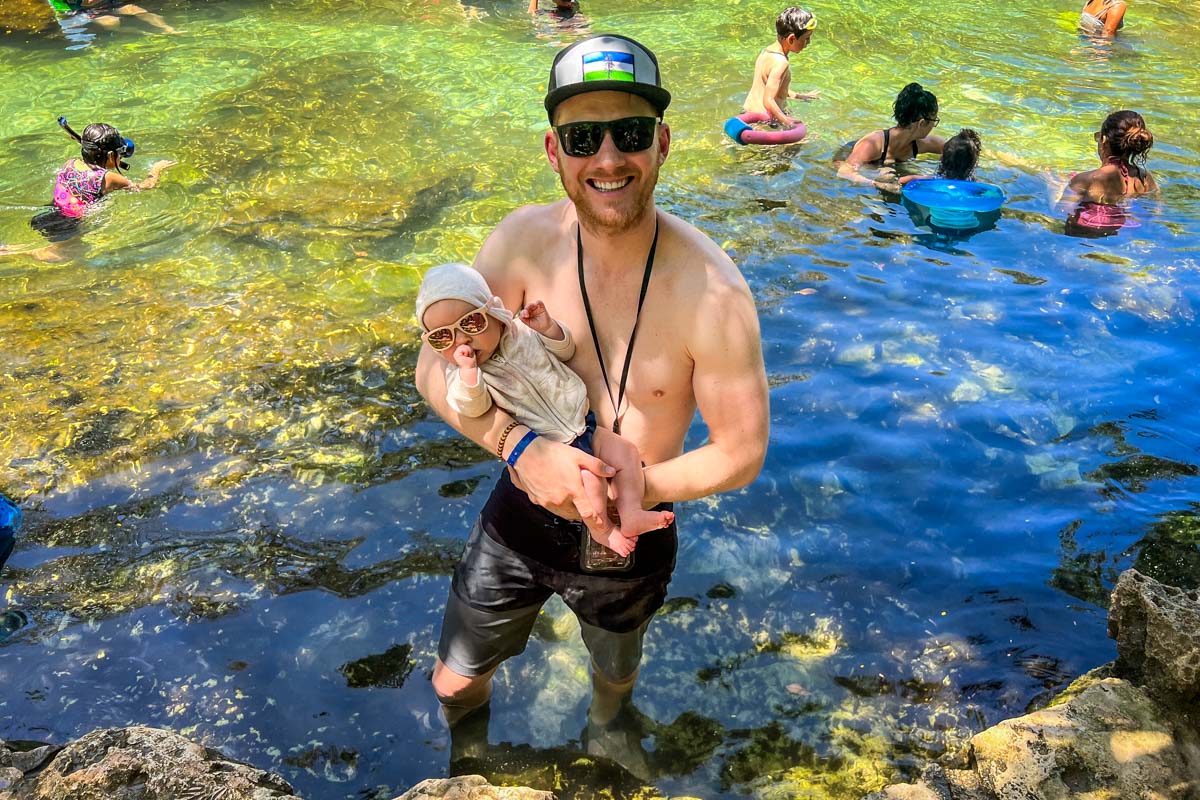 We've been to Cenote Azul on a number of different occasions and put together this list of helpful tips from our personal experience.
1. Wear shoes that can get wet
The bottom of the cenote has some sharp rocks, so we'd recommend wearing shoes that can get wet, like Chacos.
2. Pack your own food
Bring your own snacks and (non-alcoholic) drinks, as the onsite snack shop doesn't have many options.
3. Plan on snorkeling
The waters are really clear and you'll be able to see many fish. We'd recommend bringing your own snorkel if you have one.
4. Don't bother with the lockers (unless you really need to)
The lockers are basically next to the parking lot, so they aren't very convenient if you need to access your belongings.
Unless you have something valuable that you need to keep secure, we'd recommend keeping your belongings on you or leaving them in the trunk of your car (out of sight).
5. Bring sun protection
Since sunscreen is not allowed in cenotes, wear a light layer that covers your skin.
Also, bring a hat and sunglasses, and find spots in the shade to limit your direct sun exposure.
Important Tip: If you are snorkeling, we'd encourage you to wear a shirt as your back will be exposed to the direct sun. It can be deceiving because the water keeps you cool, but it can lead to a nasty sunburn!
6. Don't forget cash
They don't accept credit cards, so be sure you have Mexican pesos for your entrance fee and any rental equipment or snacks you will need.
There is no ATM on site, so you will need to get money out before you get here.
7. Come on a weekday if possible
Weekday mornings are the least busy time to visit Cenote Azul.
Best time to visit Cenote Azul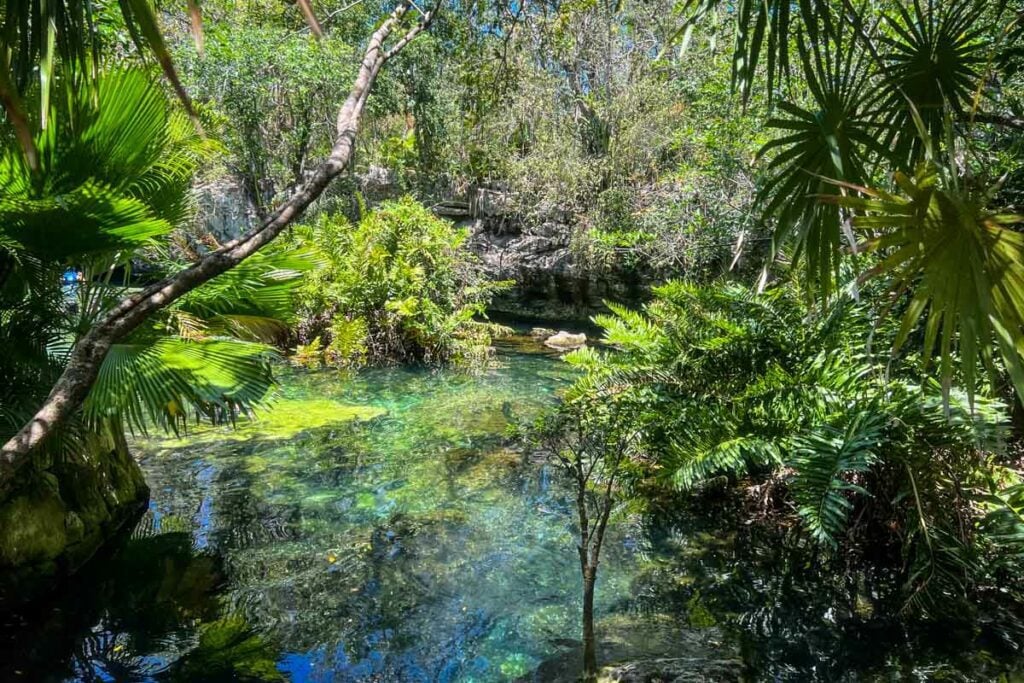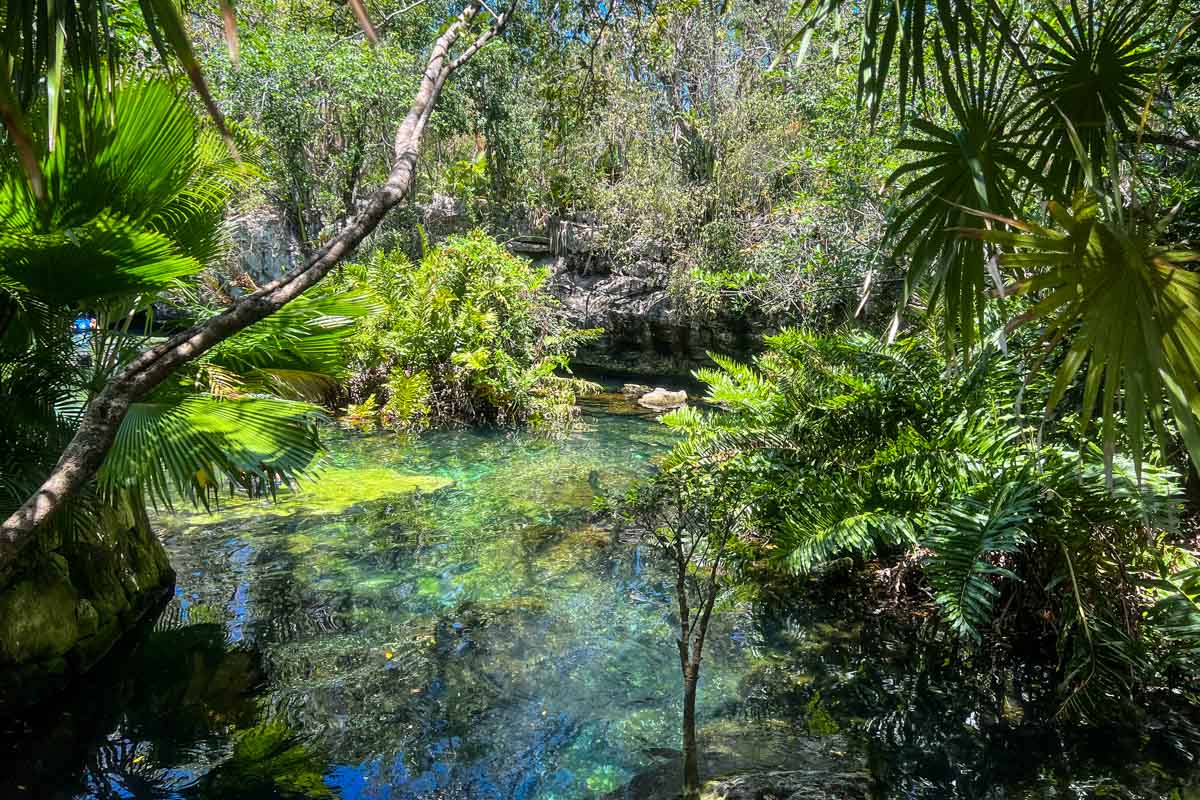 Azul is one of the most popular cenotes in the Yucatan Peninsula, so you can expect to share the area with plenty of other tourists.
Overall, weekdays and mornings are the least crowded. Weekends, especially Sundays, are one of the busiest times to visit.
Visitation is also dependent on the local weather. The Yucatan is divided into two seasons: wet and dry.
Expect the highest crowds during the dry season when the weather is sunny and mild and the fewest crowds during the hot and humid wet season.
Psst! For an in-depth guide on the seasonal weather patterns and other factors, check out our complete guide on the best time to visit Mexico.
Facilities at Cenote Azul
There are actually quite a few facilities built up around Cenote Azul. Here is what you can expect.
Parking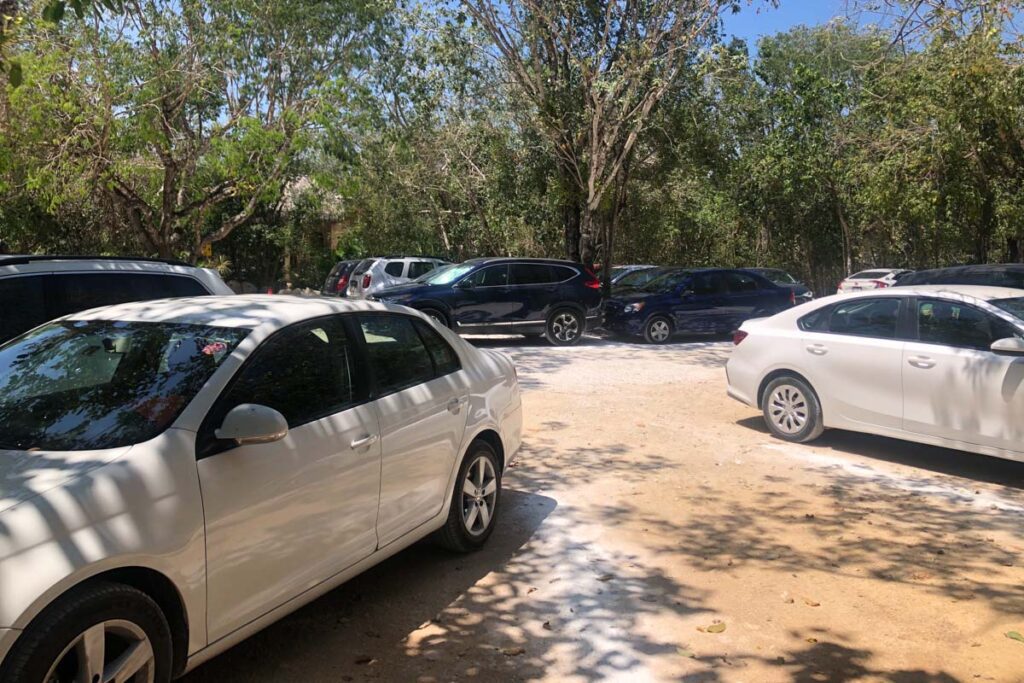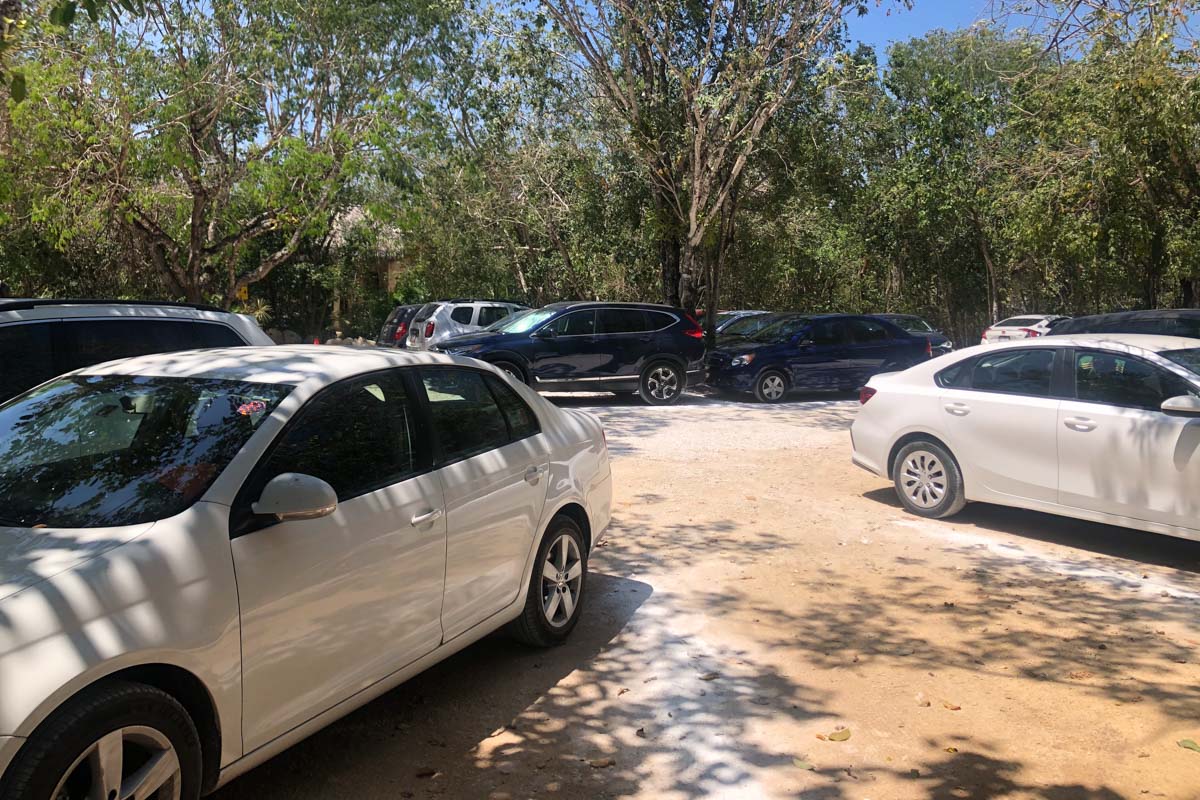 It is free to park if you have paid the entrance fee to the cenote.
Restrooms
Nothing special, but you can change into your swimsuit here if needed.
Showers
Cold water, open air showers to rinse off before entering the cenote.
Small snack shop
There aren't many options, so we'd recommend bringing your own food.
Rental Equipment Available
Life jackets, snorkel equipment and lockers are available for rent.
Snorkel rental: 70 pesos ($4)
Good to know: If you plan to rent gear, you will need to leave your ID (drivers license) or pay a refundable deposit of 400 pesos (~$20).
Cenote Azul FAQs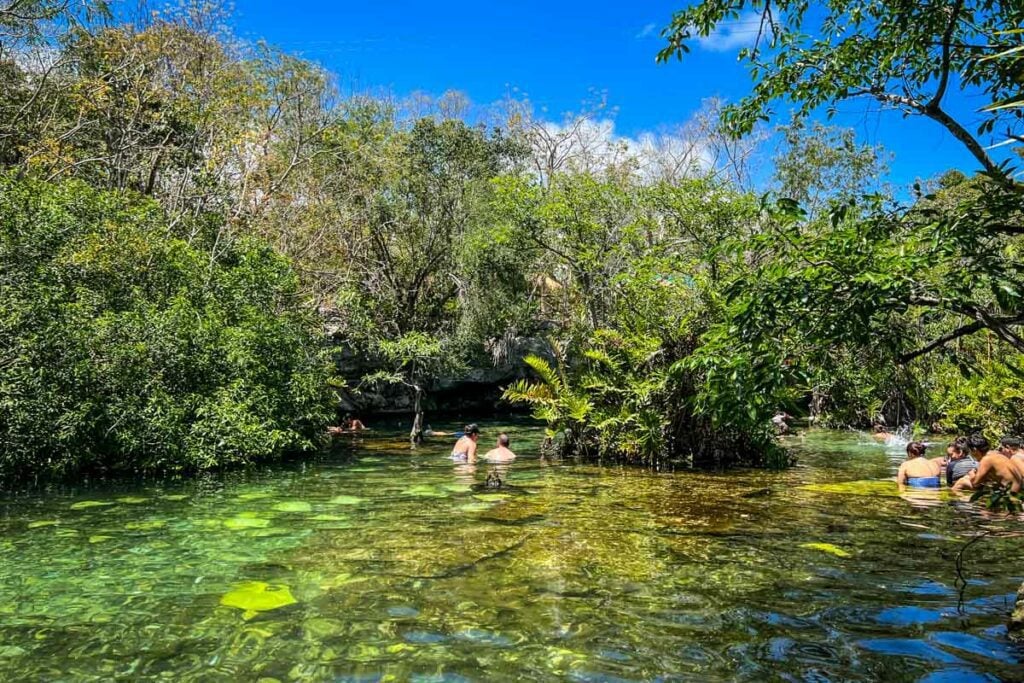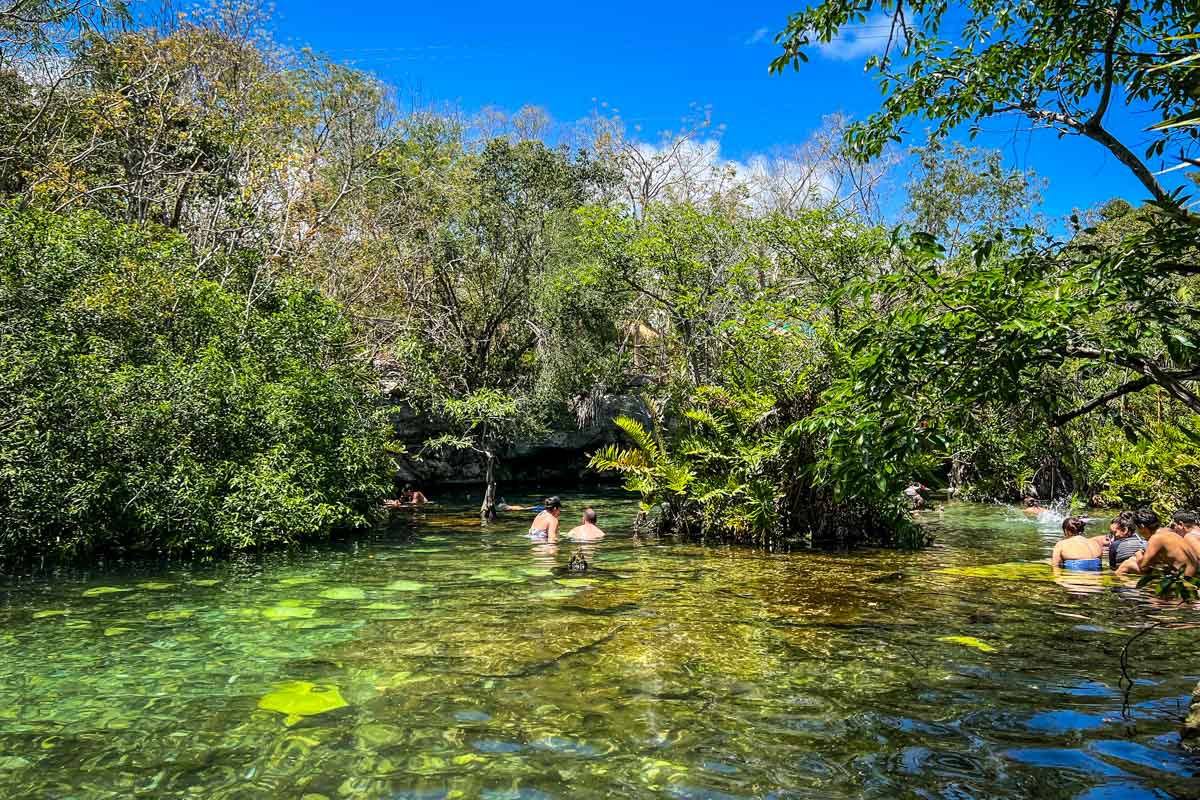 Do you have more questions about Cenote Azul? We've got some answers for you…
How long do you need at Cenote Azul?
We'd recommend allotting around 2 hours at Cenote Azul.
This will give you plenty of time for relaxing in the shade, swimming and snorkeling and maybe even cliff jumping.
How deep is Cenote Azul?
Much of Cenote Azul is very shallow, with lots of sections that are waist-deep. However, there are some deeper areas too.
The deepest part of Cenote Azul is said to be around 33 feet (10 meters).
Is Cenote Azul suitable for children?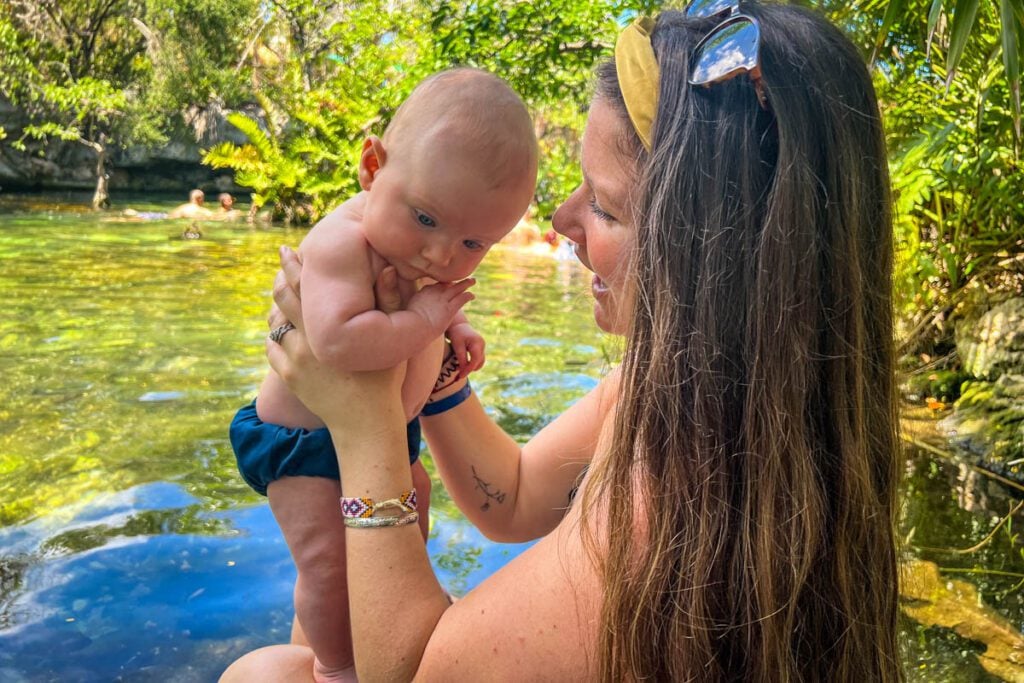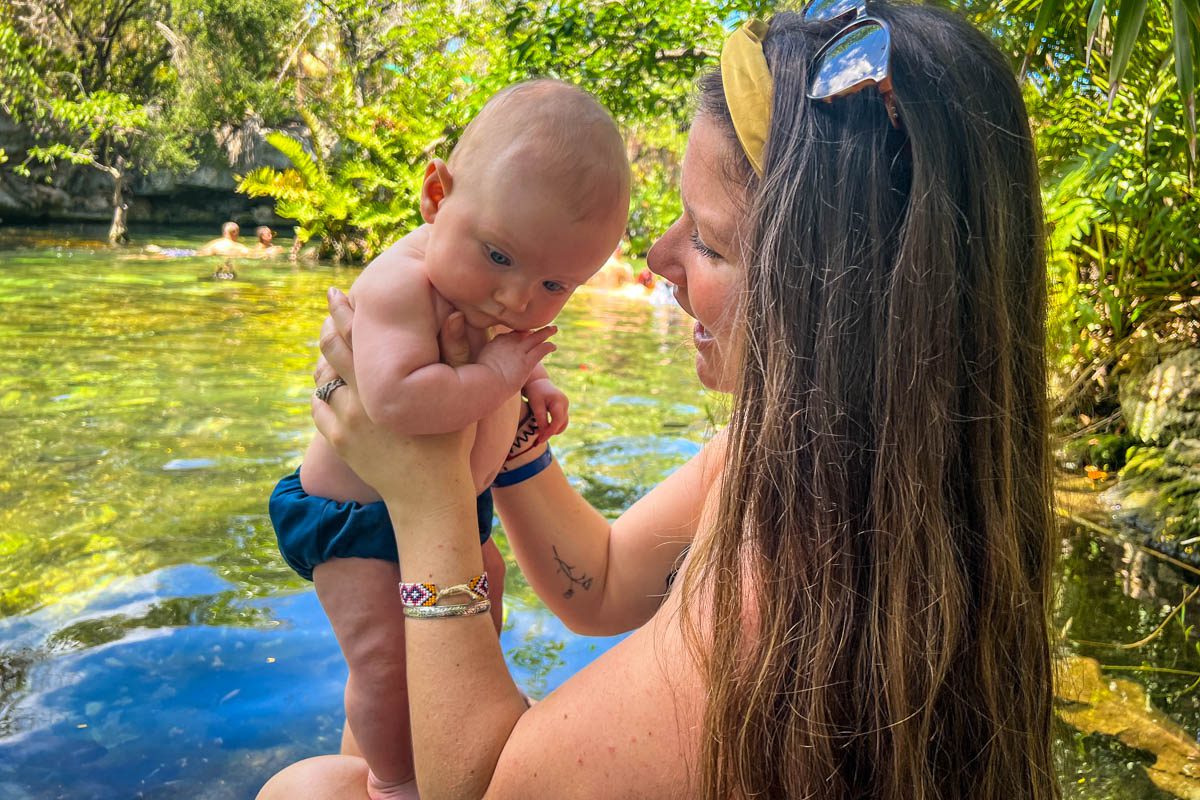 Yes, this is a family-friendly cenote.
We brought our daughter when she was just 5 months old and we had a great time. We saw lots of other families with kids of all ages.
Just be sure to keep an eye on your children when they are in the water (obviously!).
What to pack for Cenote Azul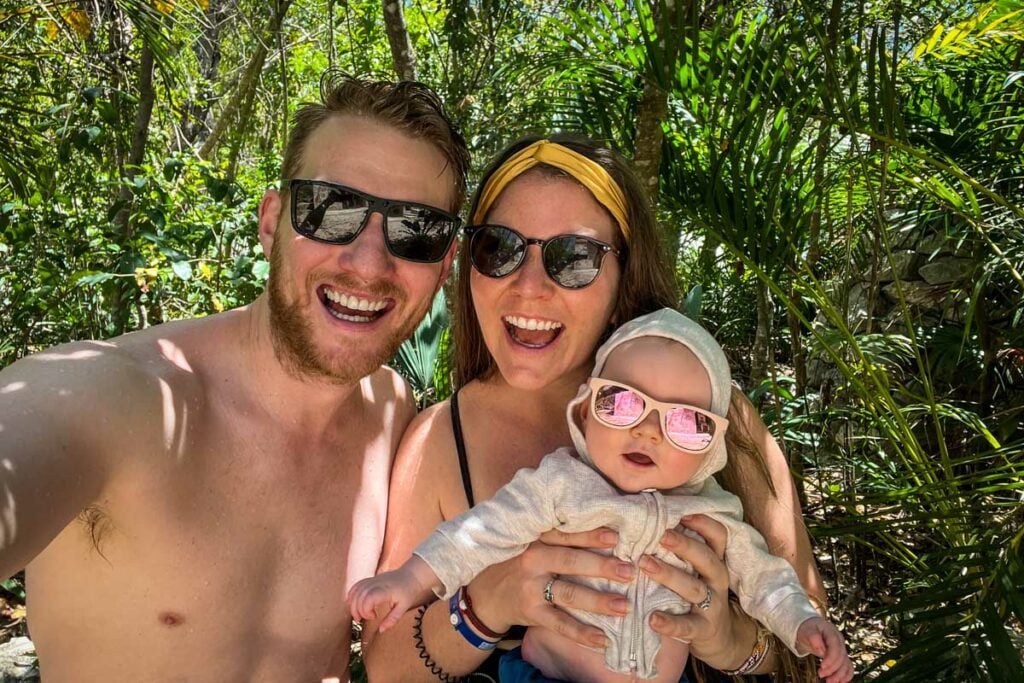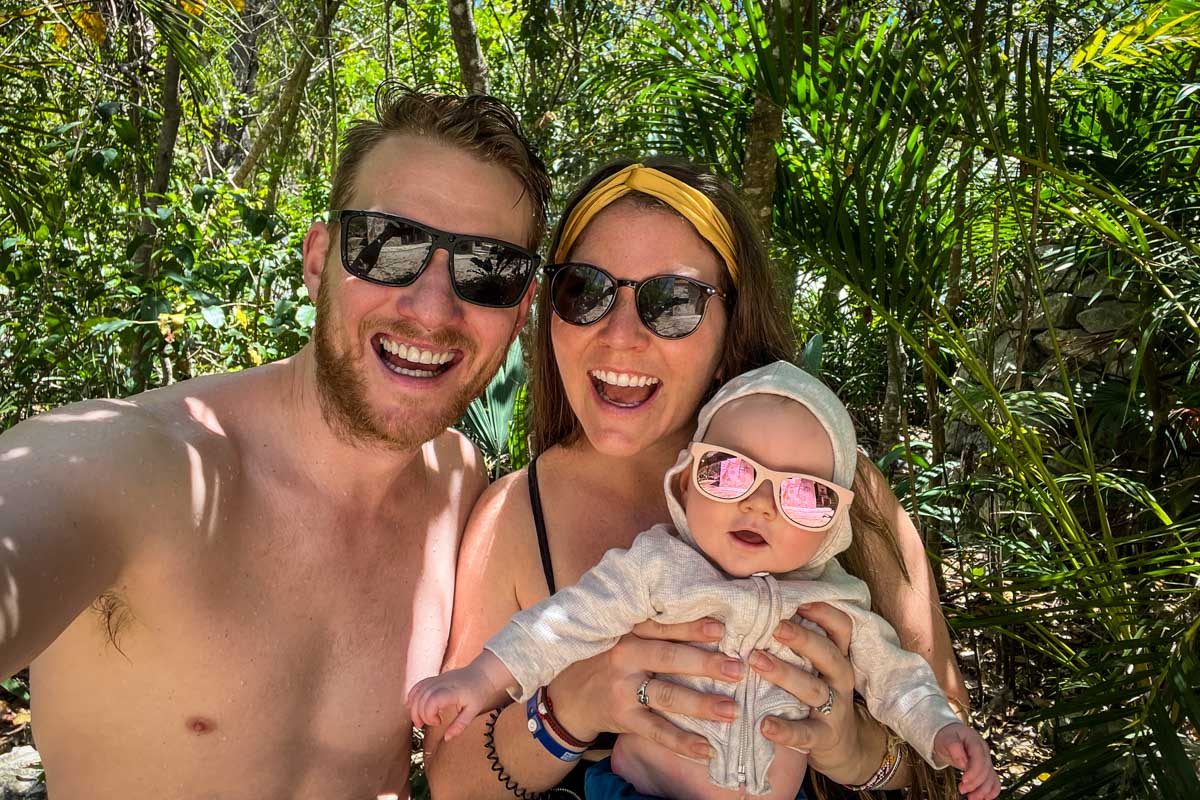 Mask and snorkel
Sarong or cover up
Turkish Towel or microfiber towel (this is our favorite!)
Wide brimmed hat
Long sleeve swim shirt or rash guard for sun protection
Sunglasses
Deck of cards
Snacks
Water
Change of clothes
Cash (they do not accept credit cards)
Be sure to download our complete packing list for Mexico! It's packed with good suggestions and insider tips to help plan your Mexico vacation. And it's completely FREE, so why not!?
Other cenotes nearby
---
More resources for planning your Mexico trip
If you're planning a trip to Mexico, we've got loads of helpful resources for you! Start with our Mexico Travel Homepage, where you'll find general info, and be sure to check out the articles below. Leave us a comment if you have any questions!
Save this article on Pinterest for later!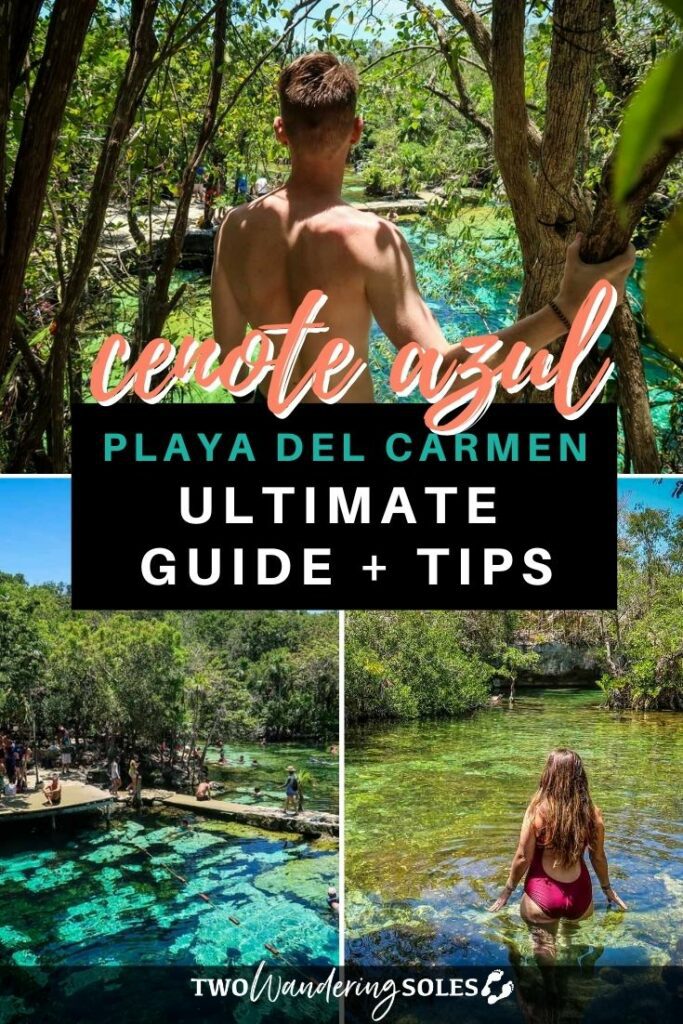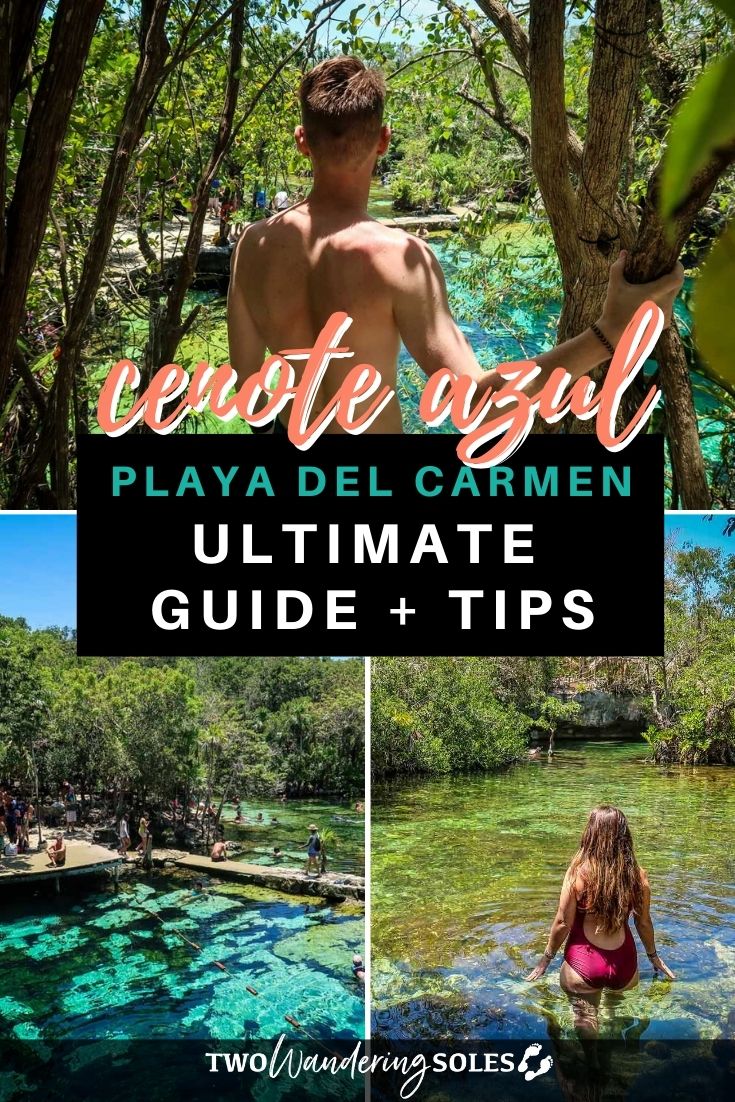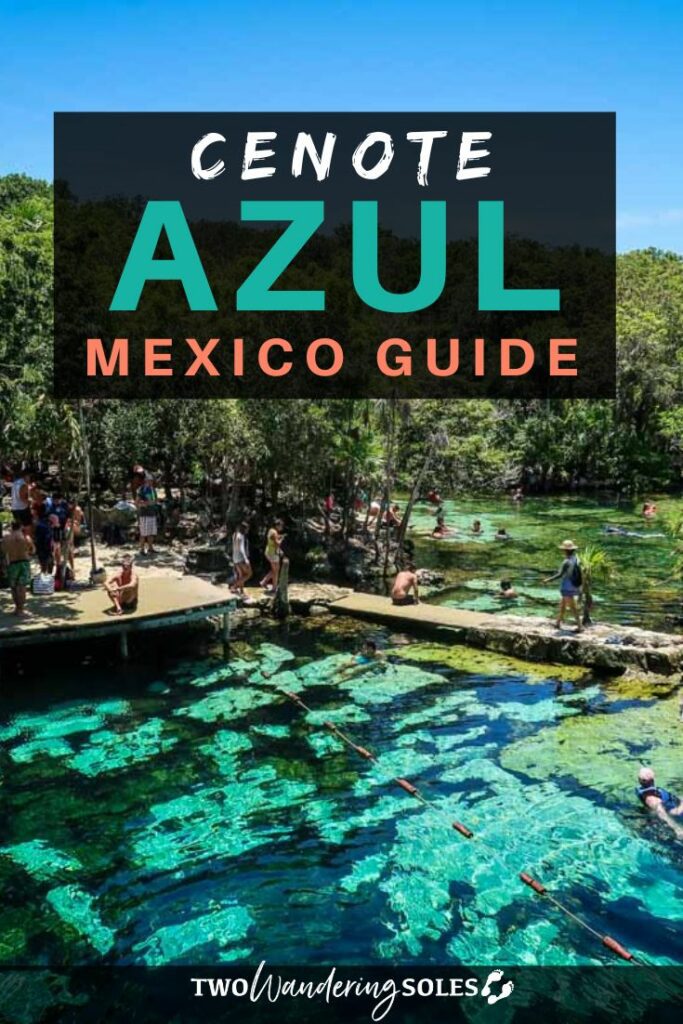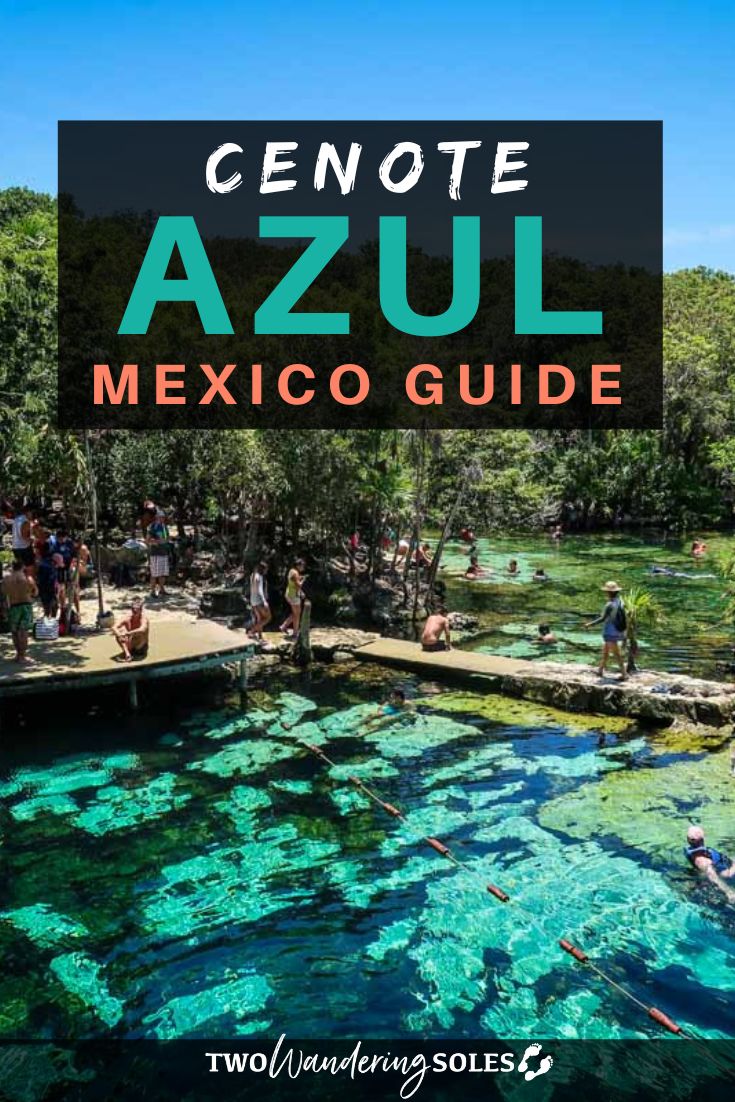 We want to hear from you!
Are you planning a trip to experience Cenote Azul near Playa del Carmen and have more questions? Leave us a comment below and we'll do our best to get back to you!