We are addicted to taking cooking courses overseas. We love them so much that think that you should take a cooking class on your next trip too! Here's why.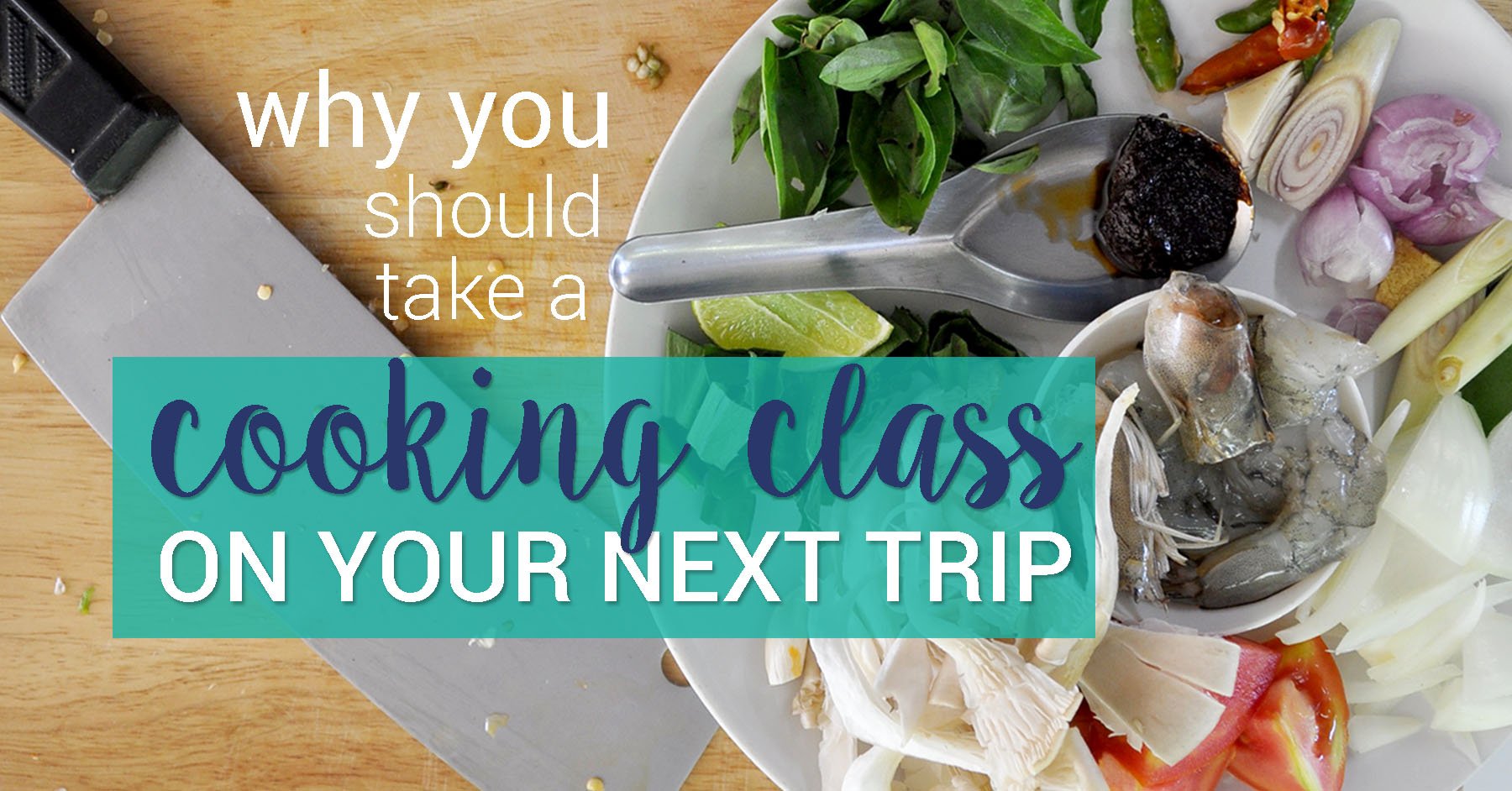 Cooking is one of my biggest hobbies, followed closely by eating. Or maybe it's the other way around… 
Either way, food has always been a passion of mine. And when combined with travel, I am seriously in my element.
Over time, my love for cooking has rubbed off on Ben, and it turns out we make a pretty good team in the kitchen. (He's a damn good sous chef, for the record!)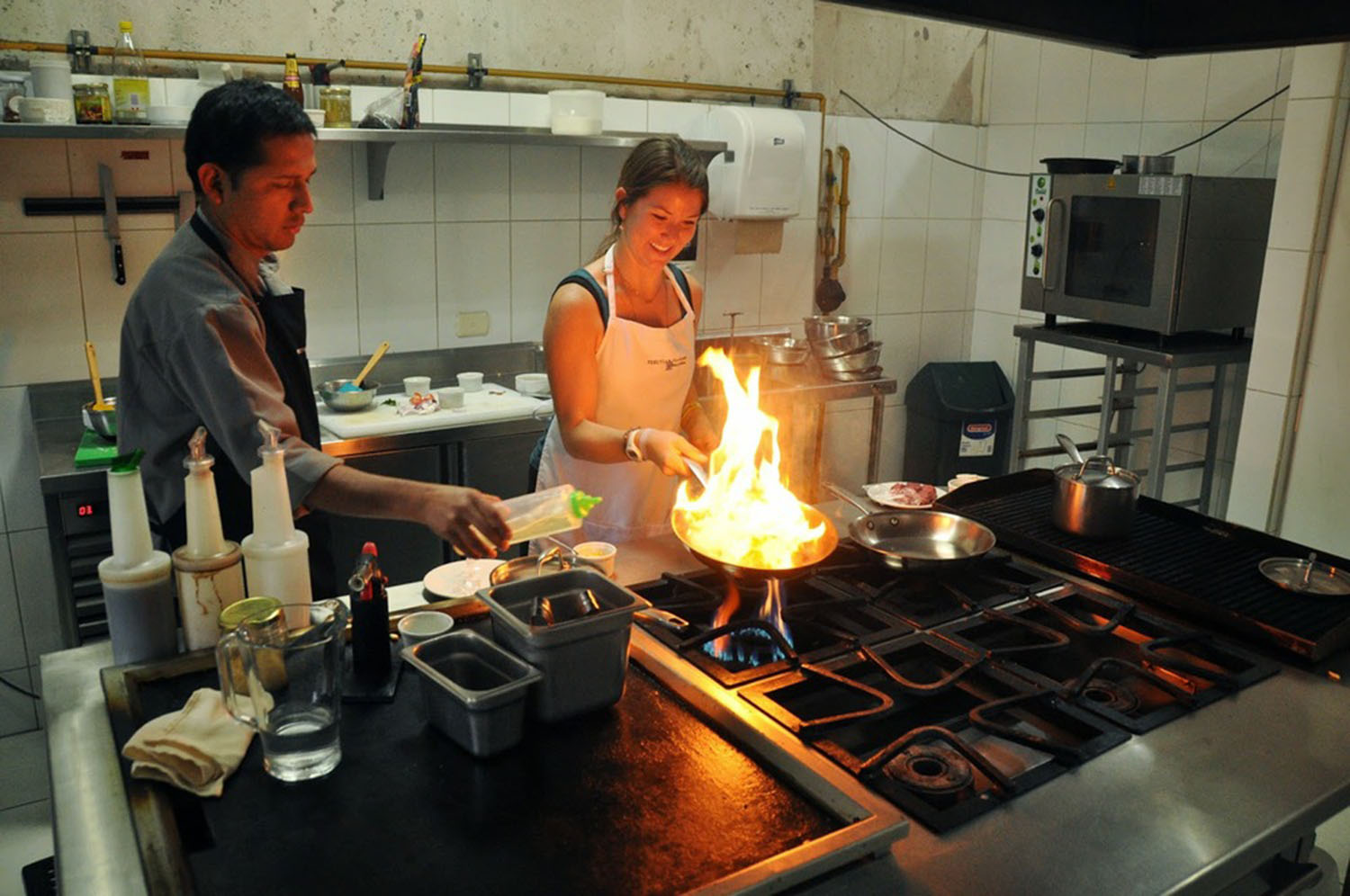 We both get excited when trying to plan a new meal, and cooking is one of the things we miss most while traveling.
But we've discovered a way to get our fix – if only for a day – and it's one of our favorite ways to experience a new city or country.
Our first overseas cooking class…
In university, Ben and I studied abroad in Florence, Italy and we had 2 classes together, one of which was Food and Wine Pairing. Best class ever, right?!
Our Wednesday evenings during those 4 months were spent learning about Italian cuisine while eating and – you guessed it – drinking wine. Like I said, best class ever!
So when we quit our jobs for a 3-month trip in South America, I got to thinking about that class in Italy and wondered if we could do something similar… even if only for a day.
What I discovered is that cooking courses are widely available in most countries. So we signed up for a cooking class in Peru, and we've been hooked ever since.
Book your first class on our favorite cooking class site, Cookly.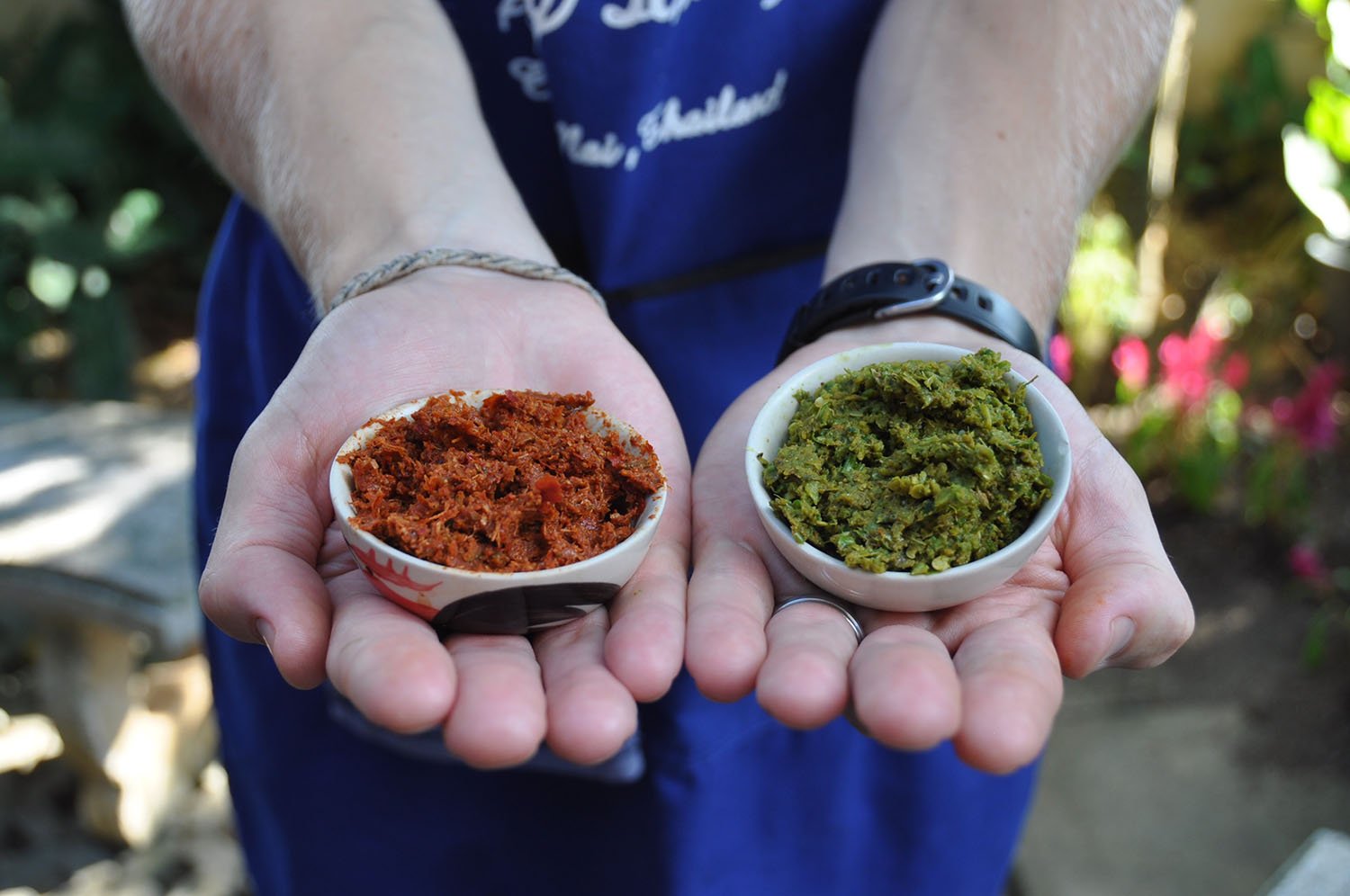 To date, we have taken courses in 12 countries: Italy, Peru, Japan (twice!), South Korea, Indonesia, Thailand, Vietnam, India, Nepal, Turkey, Croatia and Mexico.
Yeah, we're kind of obsessed.
We've found that many people overlook cooking classes while traveling, and we think they are missing out on one of the best experiences you can have in a new country.
Here's why we think you should take a cooking course on your next trip…
1. You'll learn about the culture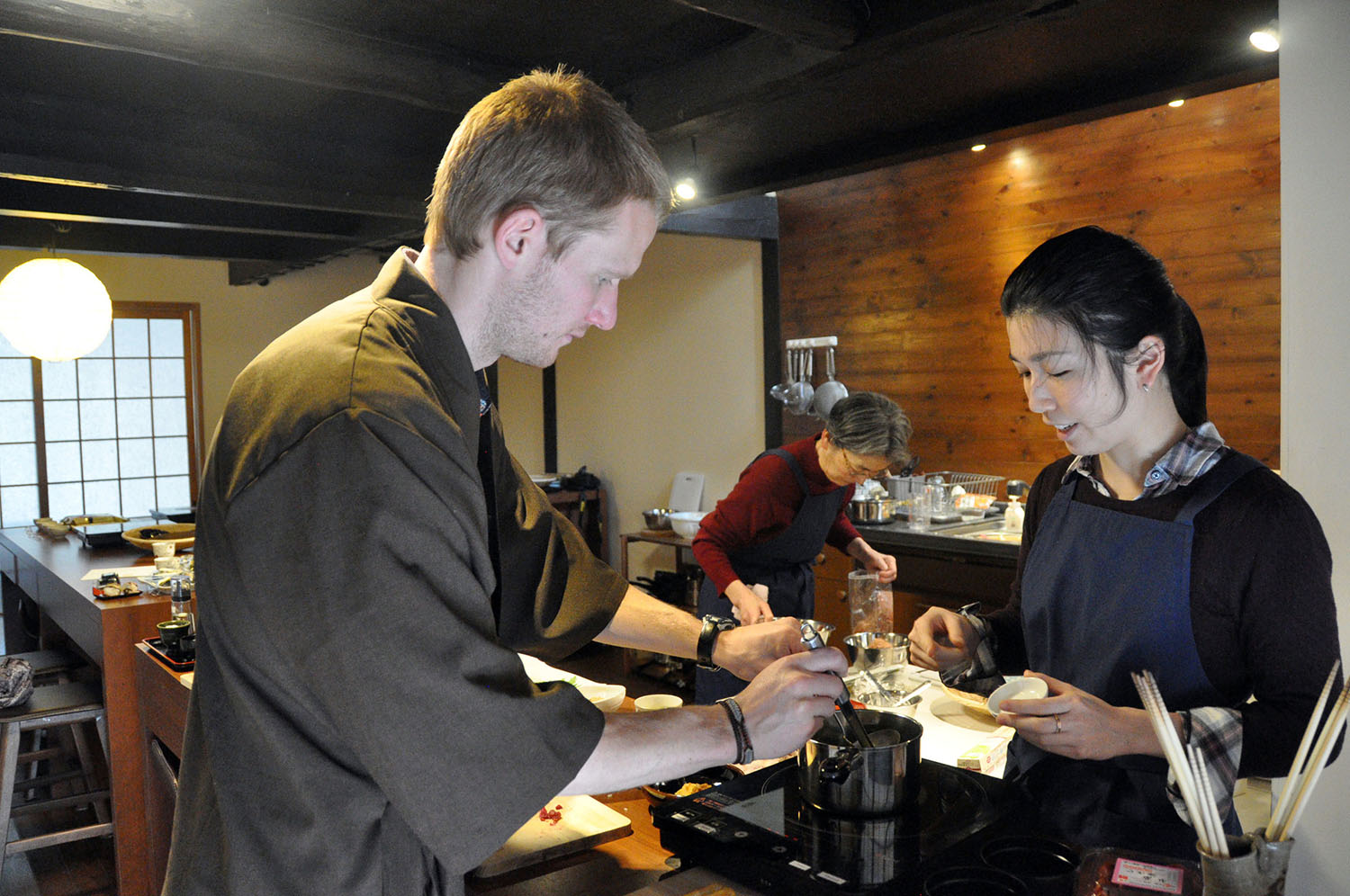 No matter where you are in the world, one thing is for certain: A country's culture is very closely linked to its food. There have been so many times that we come away from a cooking class with a whole new appreciation of the country in which we're staying.
For example, in Korea we learned that the kimchi is made with varying amounts of spice throughout different regions of the country. In the south, the kimchi is spicier because chilies help preserve it in hotter weather. You can tell which part of the country someone is from based on their kimchi preference. 
In Turkey we learned that one of the country's most famous soups was created on the spot when the sultan ordered a meal from a restaurant. The chef noticed that all he had was leftovers, so he threw together some lentils, a mix of veggies and meatballs to create a tasty soup that is still popular today.
We like to take cooking courses at the beginning of our trips if possible because we leave the class with a better understanding of the country's cuisine. They usually give you some tips and teach you how to decipher local menus, which makes eating at restaurants all the more enjoyable. 
2. It's the best meal you'll have on your trip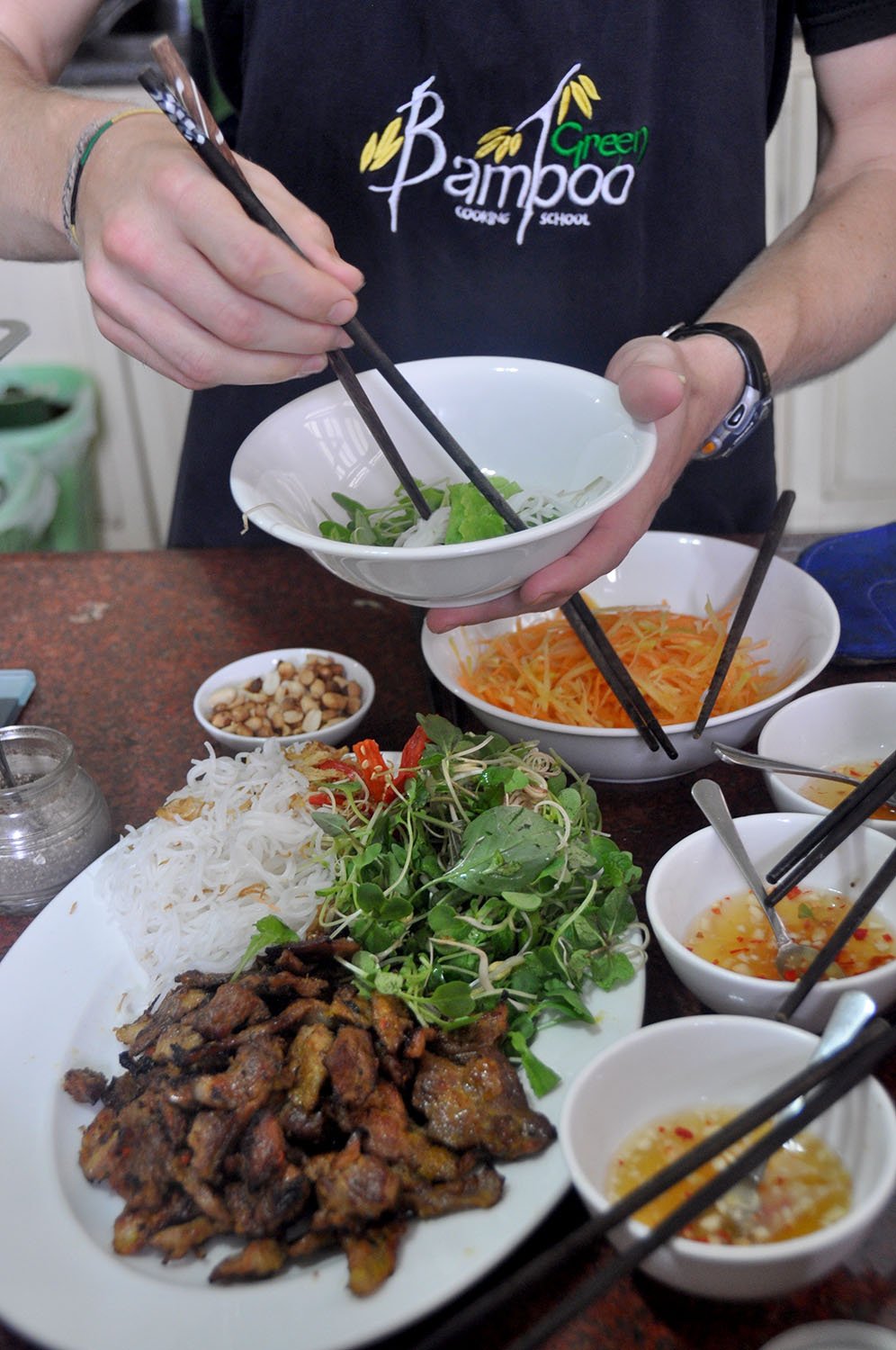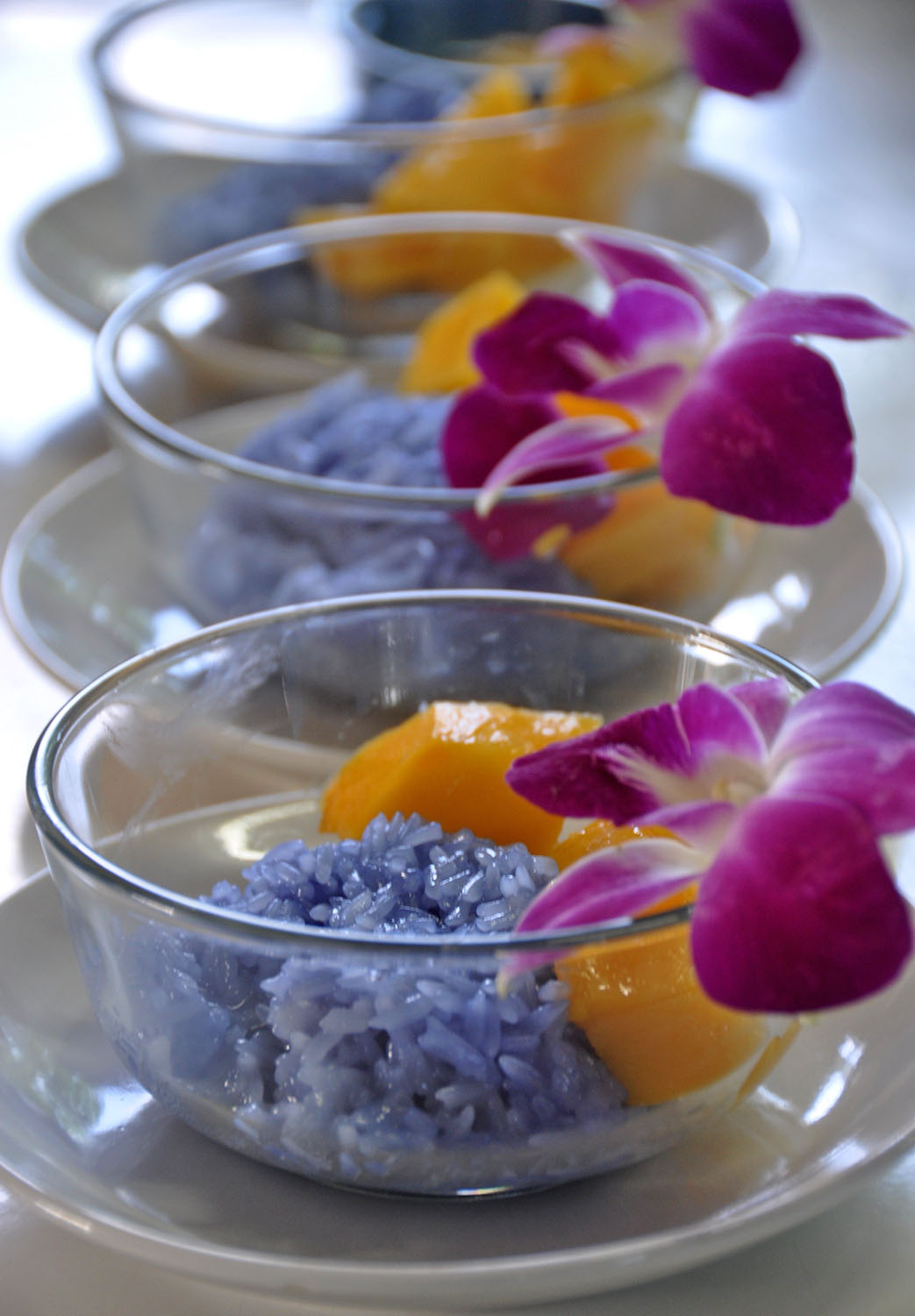 When in a new place, you can scour TripAdvisor for hours and sample the food at all the top rated restaurants, but I promise you will be missing the very best meal that city has to offer. 
I can't think of a country in which we've taken a cooking class where it wasn't the most delicious food we had during our visit. (Well, except for Korea. We ate so many meals during our year there, that it's hard to definitively say which meal was the best!)
The sushi we made in Japan was insane. The ceviche and lomo saltado in Peru were unrivaled. I still have dreams about the homemade gnocchi we made in Italy. And the naan in India was unlike any other I've ever eaten.
If you're a foodie in any sense of the word, you just need to take a cooking class while traveling. You'll thank us.
3. Experience local markets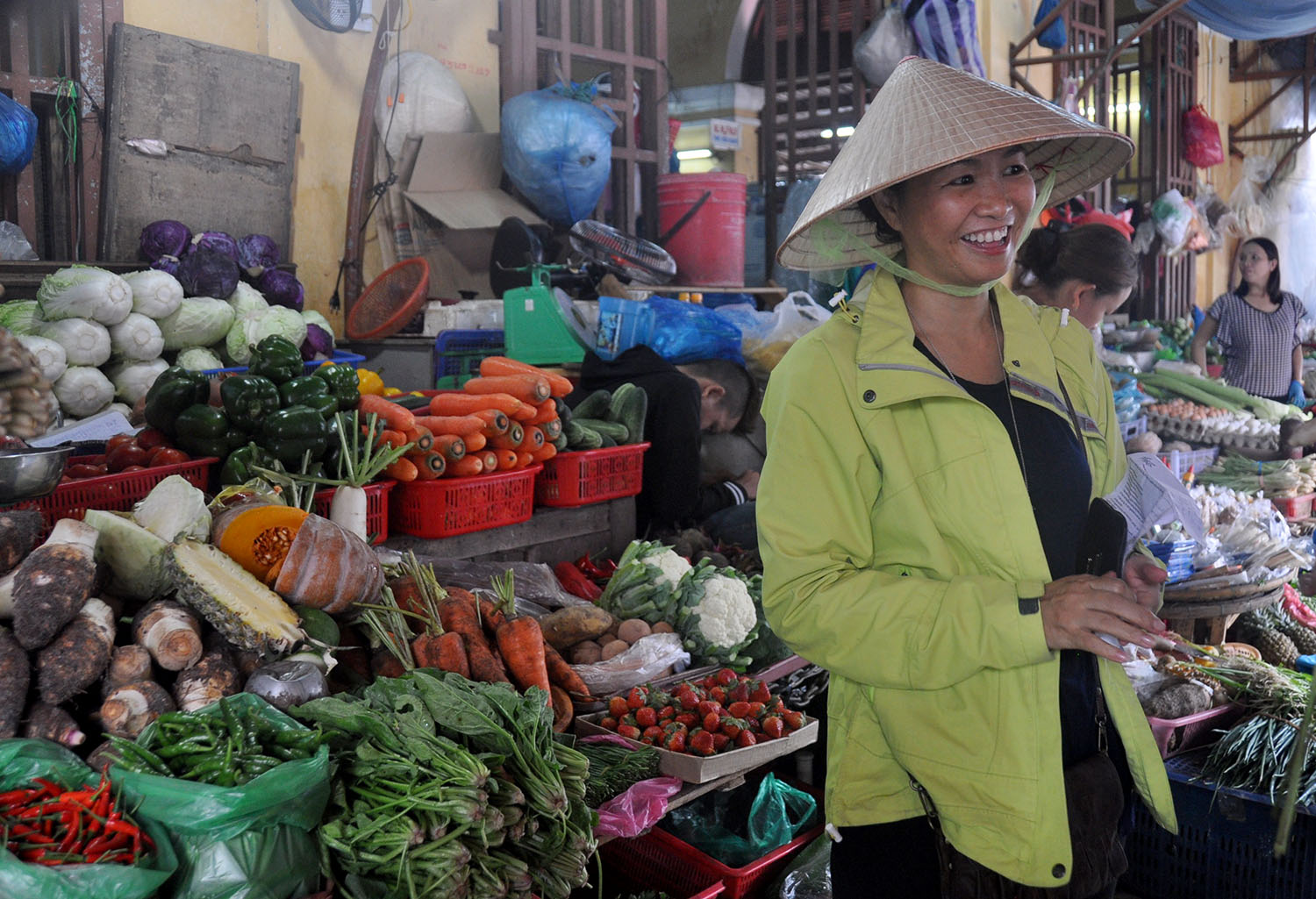 Many of the cooking classes we've taken – like in Bali, Thailand, Vietnam and Turkey – include a tour of the local markets or neighborhoods. Wandering a market on your own is interesting, but going with a guide brings this experience to a whole new level.
You'll learn about the daily lives of the locals. You'll see what spices are important to that country's cuisine, and be able to taste fresh fruits and vegetables that you may not have in your own country. 
4. Learn practical cooking tips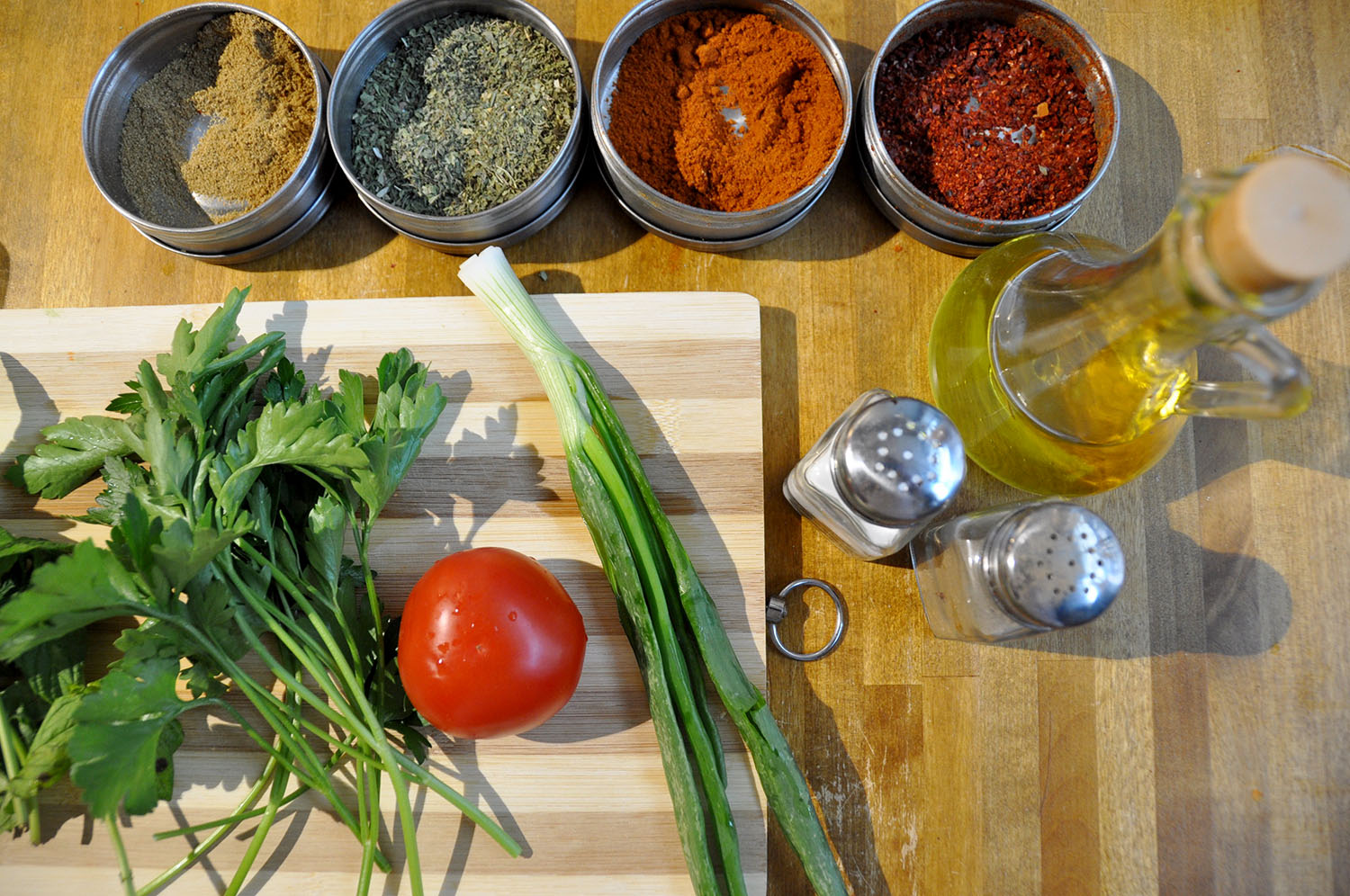 We've learned a ton of little tips here and there from the cooking classes we've taken. In Peru, our teacher told us that at the beginning of each week, he chops garlic, puts it in a jar, and covers it with olive oil. This way he has fresh garlic to use all week with no hassle, as well as garlic-infused oil to drizzle on fresh dishes like ceviche.
Shashi, our teacher in India, told us to peel onions and soak them in water for 5 minutes before chopping so they don't make you cry.
And in Turkey, our teacher taught us to chew on cloves (the spice) after a garlicky meal to rid yourself of stinky breath. (I guess it's not a cooking tip exactly, but it will surely come in handy!) If we wrote down all the tips we've collected in our cooking courses around the world, we'd have a book.
5. Meet other travelers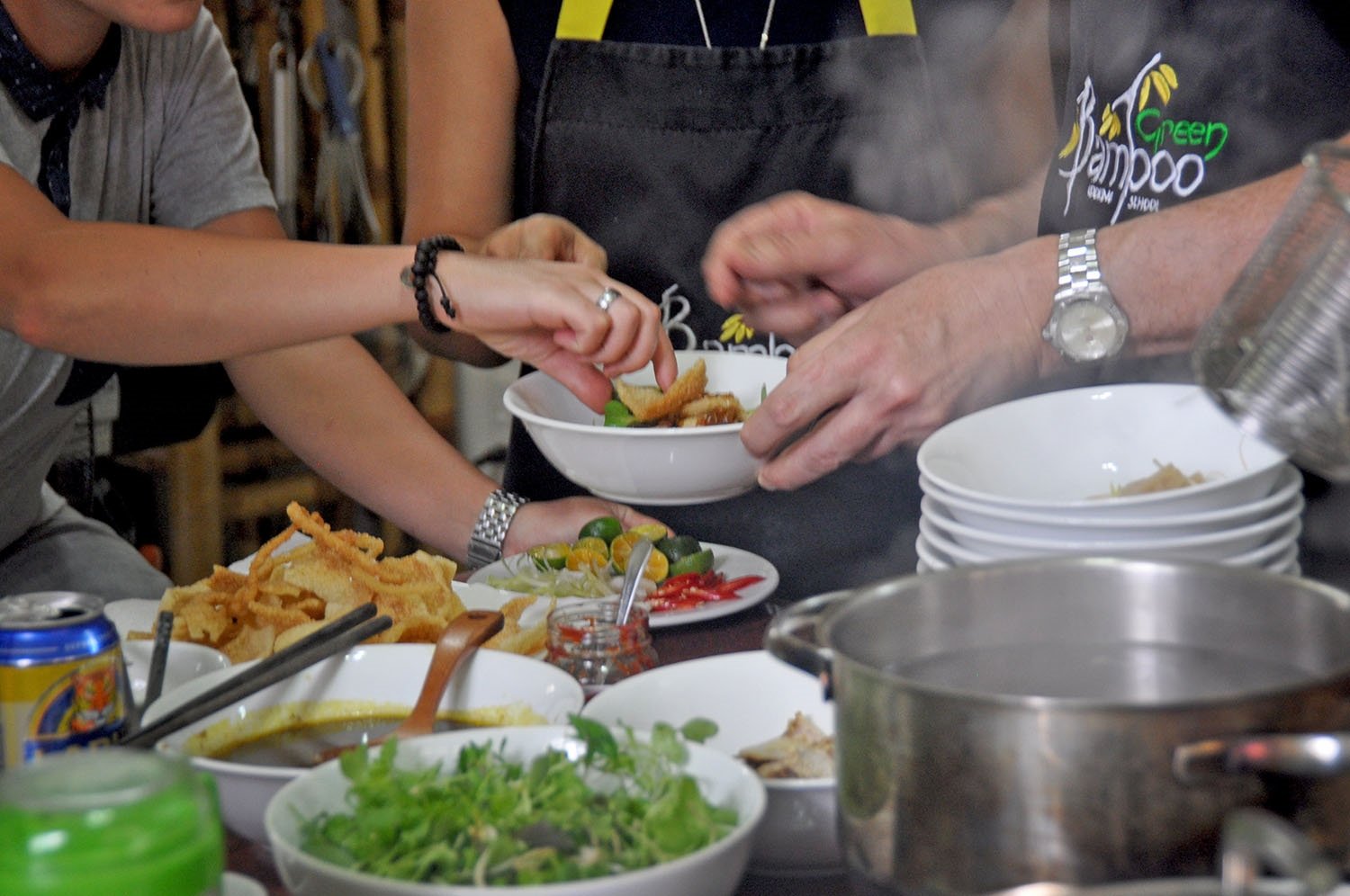 Most travelers we've met in cooking classes are pretty interesting. Everyone's there because they want a unique experience and some insight to the country's culture. More often than not, we've had really great groups in the larger cooking classes we've been a part of. 
6. Interact with locals in a meaningful way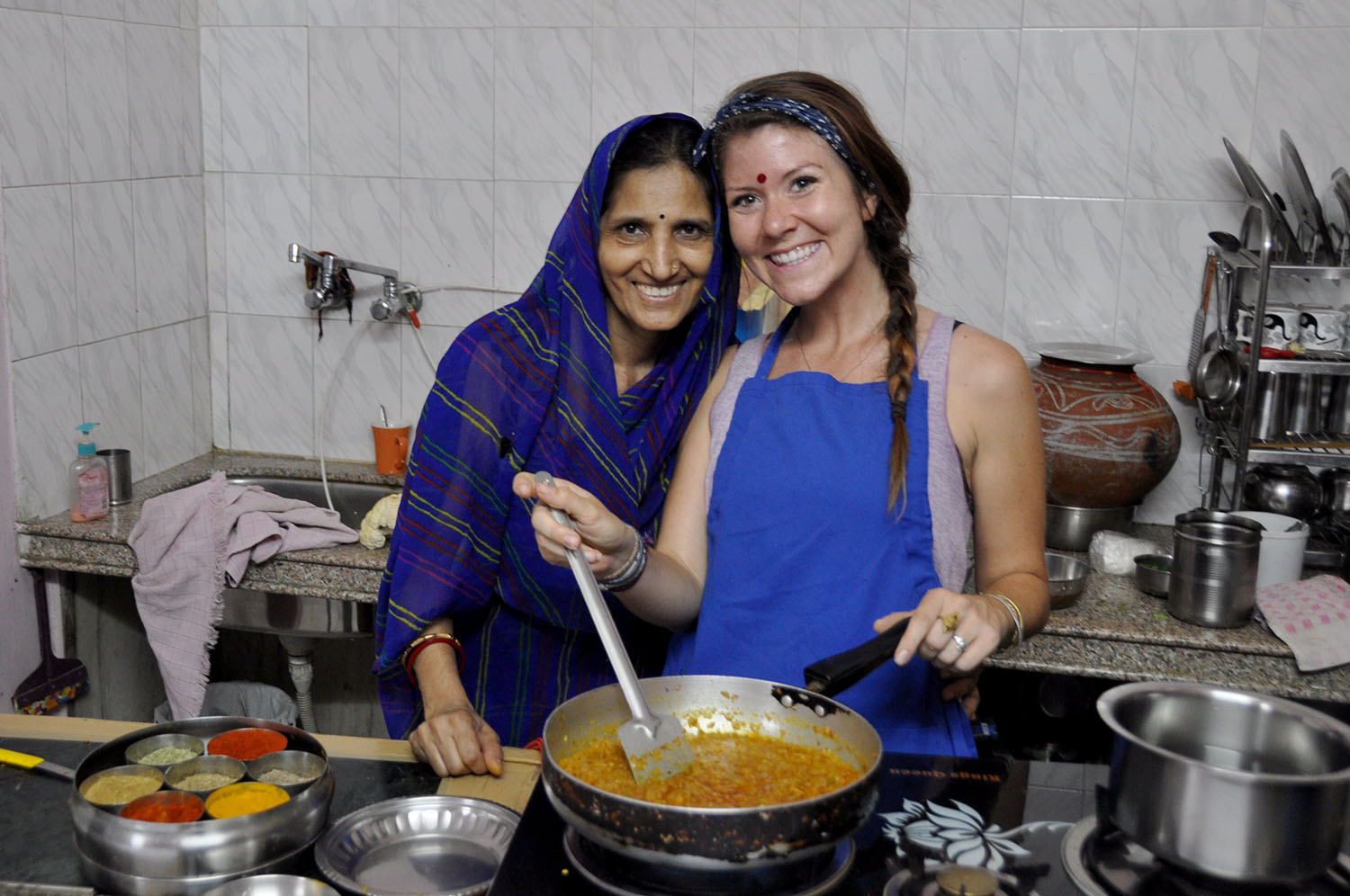 Sometimes it's difficult to have meaningful interactions with local people. They are either serving you food, or passing by on the street and you rarely get their undivided attention for a long time. A cooking course is a perfect environment to get to know a local and ask them questions about their country.
Although it's fun to mingle with other travelers in large cooking classes, it can be difficult to have a real conversation with your teacher. In smaller, more intimate courses like in Turkey and India, we've felt like we really got to know the teacher and have been able to learn about them as a person.
7. Contribute to a person or family
Whenever possible, we try to choose classes that are run by an individual or families as opposed to hotels or culinary schools. Typically, this gives you a more authentic experience and a more intimate look at the culture. We also feel better know that our money is going directly to an individual rather than a bigger company. 
8. Preserve and support a culture
By taking a cooking class in another country you're supporting their culture, which can be a powerful thing. You aren't spending your money at the Western Food restaurants that all tourist towns have, but instead are saying, "I am interested in your country's food, and want to learn more about it."
When we tell locals we have taken a cooking class in their country, they are often very surprised and honored that we took the time to learn about their nation's food.
9. Leave with the best souvenir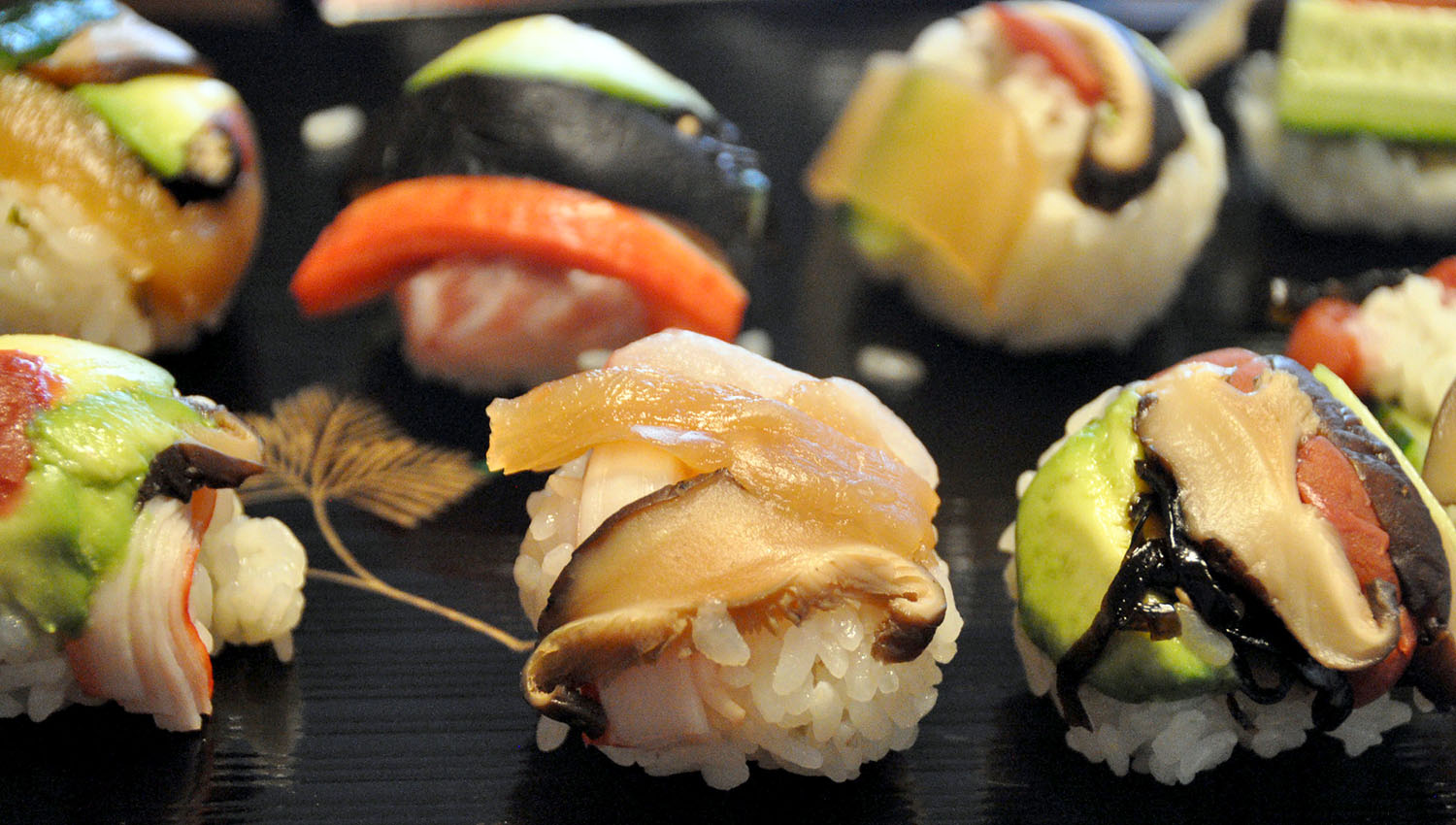 You'll learn how to make a kickass meal, but don't worry – there's no need to memorize the recipe by heart. Most cooking classes provide you with a cookbook, so you can recreate the meals at home. What better souvenir from your travels than learning how to make a tasty meal you can make time and time again!
There's no need to buy trinkets for your friends and family anymore – instead, treat them to a delicious dinner. Trust me, they'll take that over a magnet any day!
Cooking Class FAQs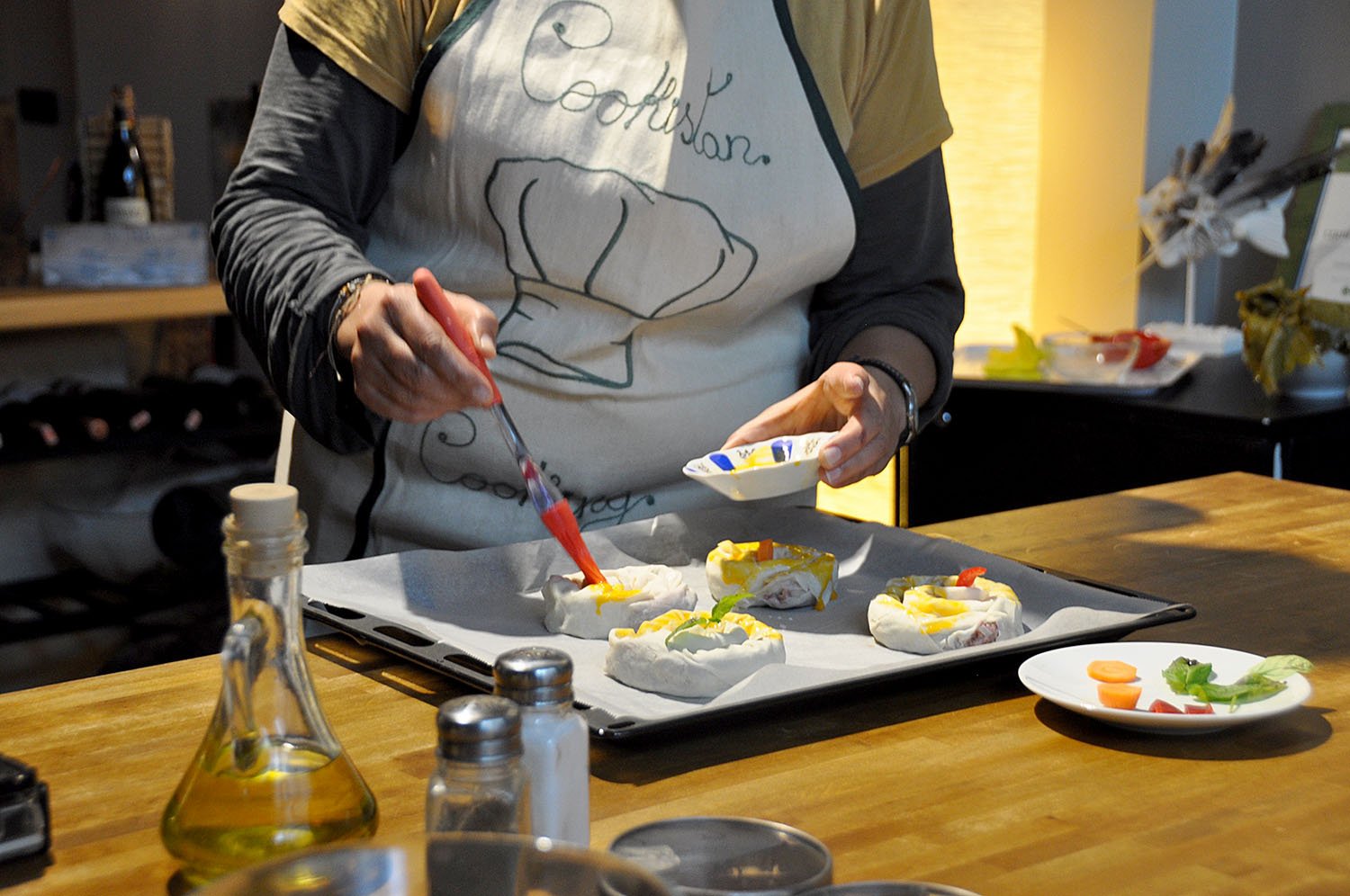 I am vegetarian/gluten free/have allergies/a picky eater. Can I still take a cooking course?
You name it, most cooking teachers have dealt with it before and are very accommodating. We would recommend contacting them in advance to be sure that it won't be a problem.
That said, if you aren't allergic, we would recommend trying a meal prepared the traditional way before judging it – you may just surprise yourself!
How do you find cooking classes while traveling?
It turns out, there are cooking classes in just about every major city. Plus, you'll find small classes in many small towns all over the world. Before a trip, we simply Google "cooking class in _______" and see what pops up. We'll scour reviews on TripAdvisor, and choose a class that sounds like what we're looking for.
You can also try searching on Cookly.me, which is a search engine dedicated to cooking classes around the world!
How long are cooking courses?
This can vary a ton, as can time of day. I think the shortest course we had was 3 hours and the longest was 8 hours, including a market tour and coffee break.
How much do cooking courses typically cost?
Again, this depends, but the cheapest course we took was in India and cost $12 USD each. Typically, the classes we've taken in the rest of Asia (besides Japan) were between $30-35 USD per person, which includes all food and equipment, a market tour, tea or coffee, a bound cookbook, and sometimes other goodies.
In Europe, classes are more expensive, as is cost of living. They are sometimes upward of $100 USD per person. Considering you get a meal, knowledge and entertainment from the course, we think most classes are worth the price.  
How many people are typically in a cooking class?
This can vary immensely. We've taken some of the most popular cooking classes in certain towns and have had as many as 25 people in a class (which was run incredibly smoothly, by the way!). And we've also taken classes in a local's home here we are the only students.
Think about which type of experience you'd enjoy more so you can find a class to suit your preference.
I don't have much cooking experience. Can I still take a cooking class?
Absolutely! Most cooking courses are designed with beginners in mind, and the teachers will walk you through each step. If you consider yourself an expert in the kitchen, you may want to inquire if the company you're looking into has any advanced classes. (Sometimes there offer varying courses for different levels of experience.)
What was your favorite cooking class you've ever taken?
Wow, that's a tough question! Just like it's hard to choose a favorite country, it is difficult to say with certainty which class has been the best. The courses we have taken have been so different from each other that it's hard to compare them. But there are a few that definitely stand out among the rest:
Our cooking class in Istanbul with Cookistan was fantastic! We began with a tour of a historic immigrant neighborhood, and ended up in our host's beautiful home. Together we made 6 different dishes that will be easy to recreate, and enjoyed our meal with Turkish wine! We felt as if we were at a friend's dinner party rather than in a cooking course, which isn't a vibe that we got from any other class we have taken. If we had to choose a favorite of all our classes, I think this one would be the winner!

In Chiang Mai, our experience with Thai Secret Cooking Class started with a market tour. Next, we were able to pick our own veggies from the on-site organic garden. Each guest chose 5 dishes they wanted to make from scratch, so we were able to see the preparation of nearly 20 different meals.

Green Bamboo Cooking School in Hoi An, Vietnam books up quickly, and it's no wonder why. Our group created a feast of 18 dishes. It was fun getting to know the other travelers and sampling the best Vietnamese food we had during our 6 weeks in the country. It was different from many other courses we've taken because although we watched the preparation of all the food, each person only made one dish from start to finish. Depending on what you want to get out of a cooking class, this could be a positive or a negative.
You might also like…
Save this article on Pinterest for later!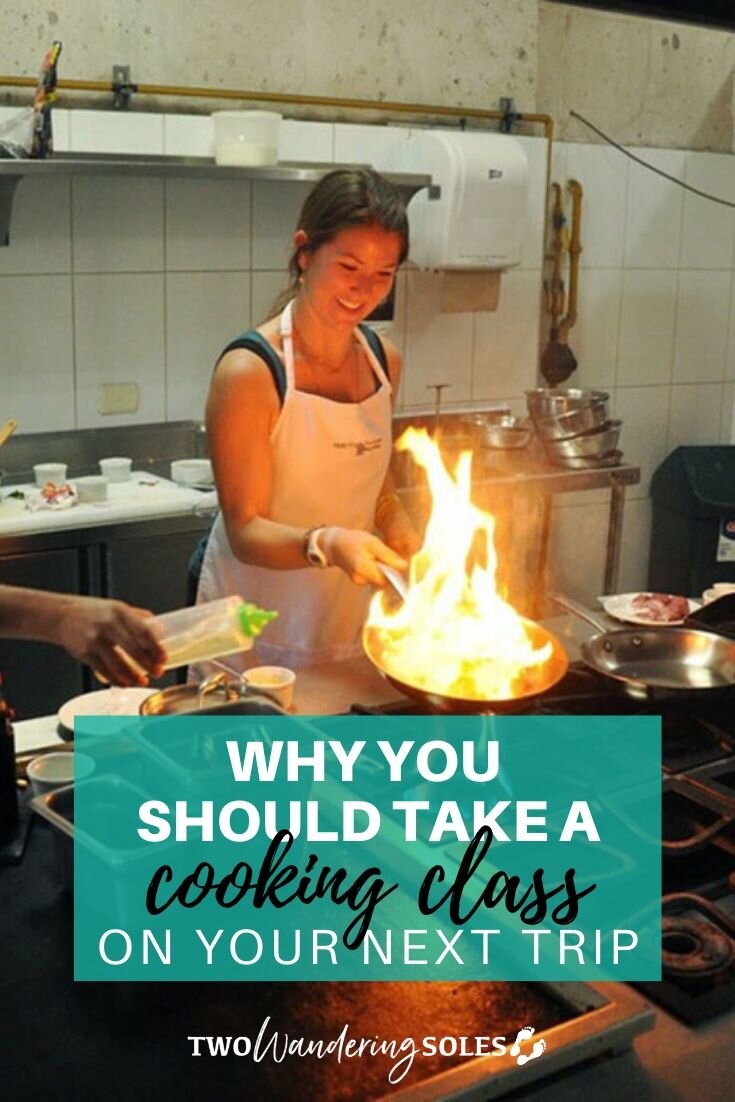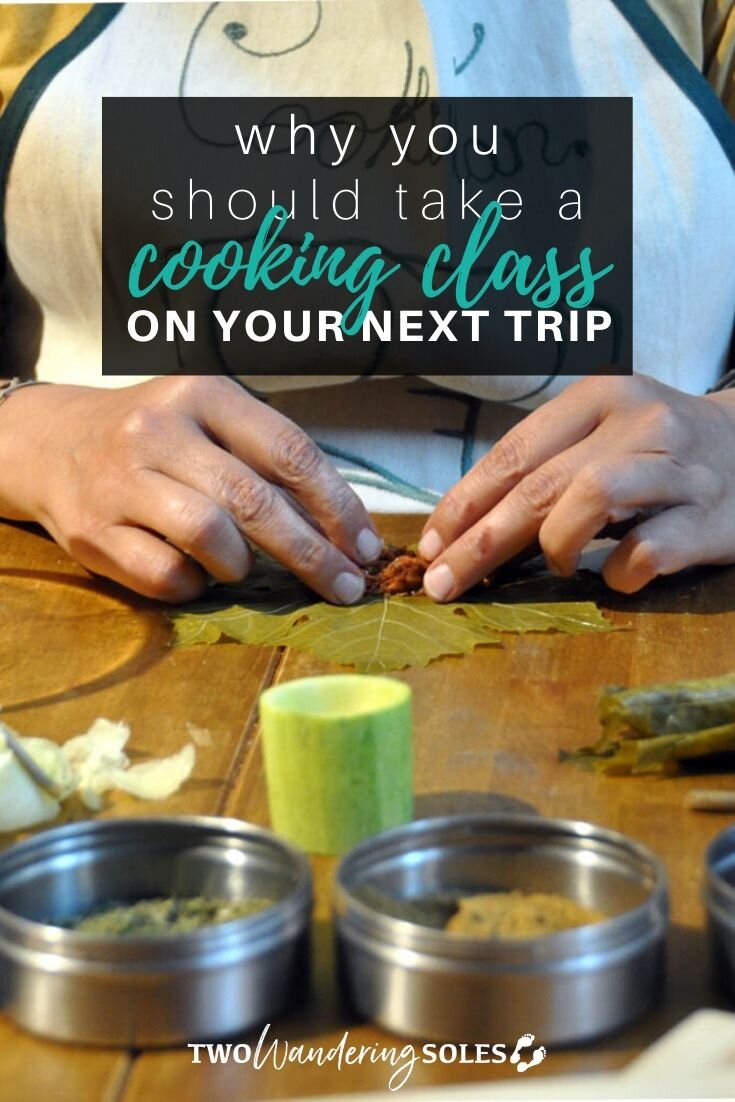 We want to hear from you!
Do you like to cook? Have you taken any cooking courses overseas? What was your experience like? We'd love to hear from you in the comments below!