Getting from Cancun to Playa del Carmen requires road travel and involves some planning and logistics. There are several options to get there, so we've put together this guide with our suggestions and tips.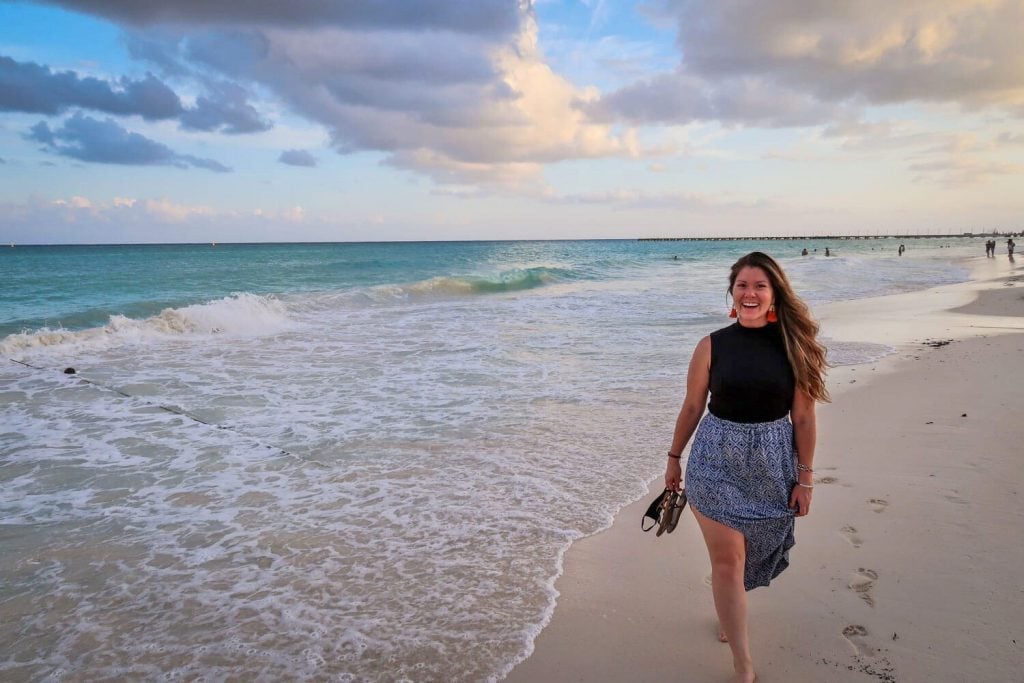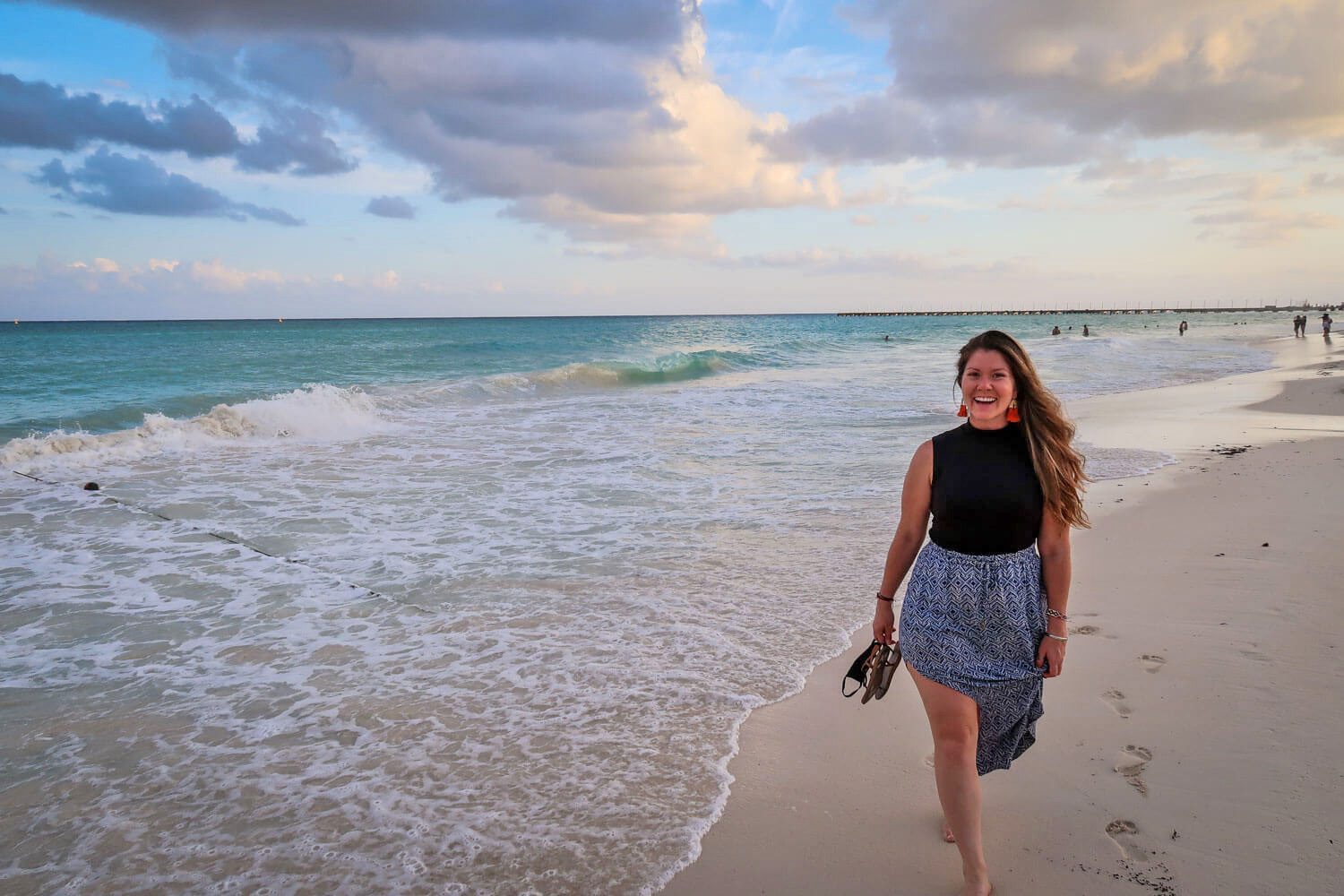 With its fantastic beaches, ideal location, and culture that effortlessly blends bustling activity with a relaxing escape, Playa del Carmen – or simply "Playa," as it's known locally – is an inviting destination.
Interestingly, it attracts many digital nomads alongside beachgoers, partiers, and other vacationers.
This could be because although there's always something exciting going on, it's easy to escape everything and relax on the beach. Or maybe because Playa del Carmen is situated right on the coast between Cancun and Tulum, with Cozumel just a ferry ride away.
It's also easy to find English speakers in Playa, so you won't feel totally lost even if you don't speak great Spanish!
Regardless of the reason, if you're headed to Playa del Carmen, you will almost certainly land at the Cancun International Airport (CUN). Fortunately, getting from Cancun to Playa del Carmen requires just an hour and some fairly straightforward ground transportation.
Figuring out these logistics can be a bit overwhelming at first, especially if you've never been to Playa. That's where we come in! Read on for all the different options you have to get from Cancun to Playa del Carmen, including our preferred methods and which ones we think you should avoid.
Psst! Check out all the fun things to do in Playa del Carmen to help you plan your trip.
Cancun to Playa del Carmen
Be sure to download our complete packing list for Mexico! It's packed with good suggestions and insider tips to help plan your Mexico vacation. And it's completely FREE, so why not!?


---
Before you leave the airport in Cancun
We could go on and on about all the benefits of having cell service while you travel (especially abroad!). It generally makes traveling easier, but it's also safer and gives you some peace of mind.
The Cancun airport doesn't have anywhere to buy a local SIM card, (you'll have to make a separate stop for that), which we highly recommend!
TelCel is hands down the best and most common SIM provider in Mexico with the best coverage and you can pick up a local TelCel SIM card at any Oxxo convenience store location. They are on just about every corner in Mexico so you'll easily be able to find oneon the road from Cancun to Playa del Carmenl.
If you want the peace of mind of having data immediately upon leaving the airport, you can download an eSIM using Airlo. You can connect to the free wifi at the airport to download your eSIM from Airlo, and then you'll have instant access to mobile data.
Note: Your phone will have to be compatible with eSIMs. Iphone models 11 and above are.
Airlo offers an easy way to stay connected for an affordable price (though it's actually quite expensive in Mexico as compared to buying a physical SIM card), and eliminates the need to stress about searching the streets of Cancun for a place to buy a local SIM card.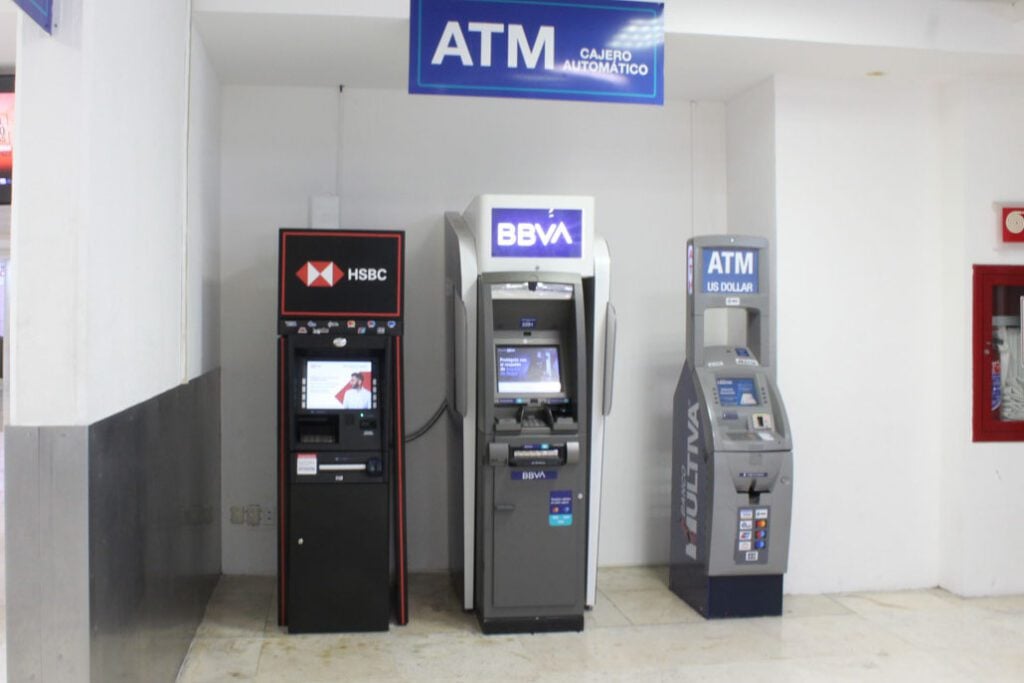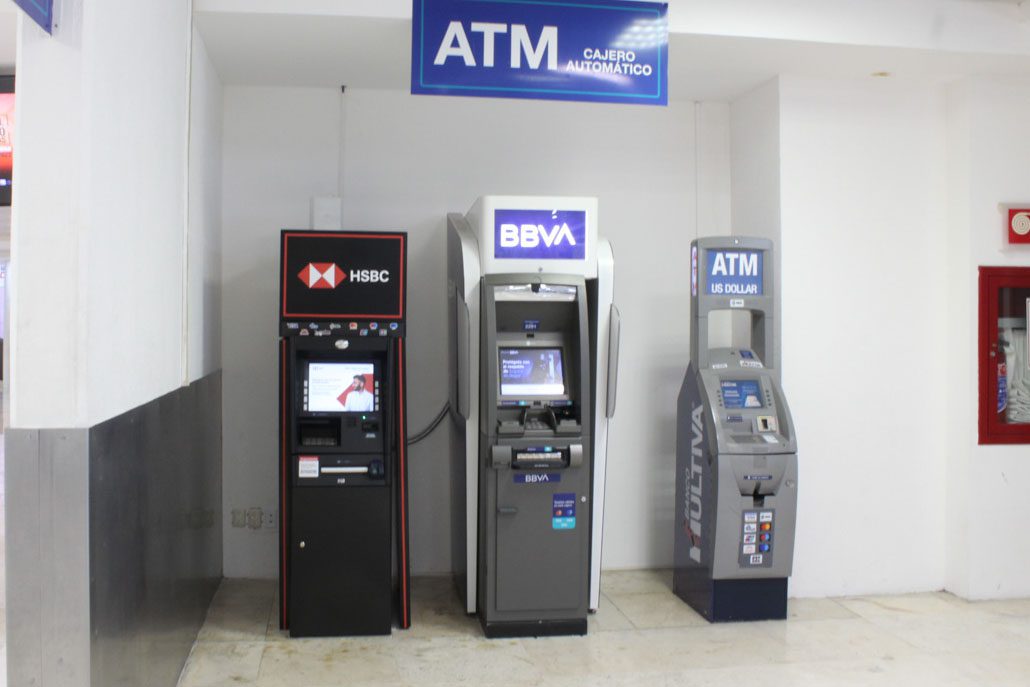 We also recommend taking out some local cash (Mexican pesos) from an ATM before you leave the airport. We do this anytime we're traveling internationally, just to have some cash on hand in case we need it as a backup.
We NEVER use currency exchanges when traveling as they won't give you the best exchange rate and always take a pretty big cut off the top as their fee. Plus, we don't like traveling with large sums of cash.
Tip: When using an ATM anywhere in Mexico, just be sure to decline the currency conversion rate offered by the ATM service. When you do this, you're choosing to go with the rate set by your bank instead. Generally banks will give you a better exchange rate than ATMs.
---
Cancun to Playa del Carmen by bus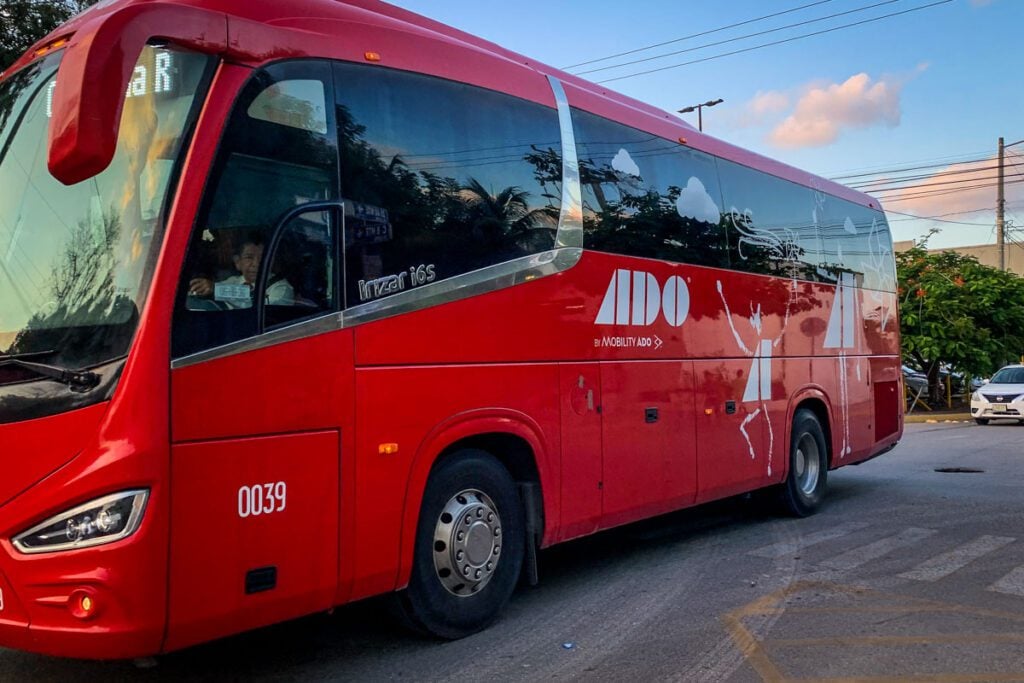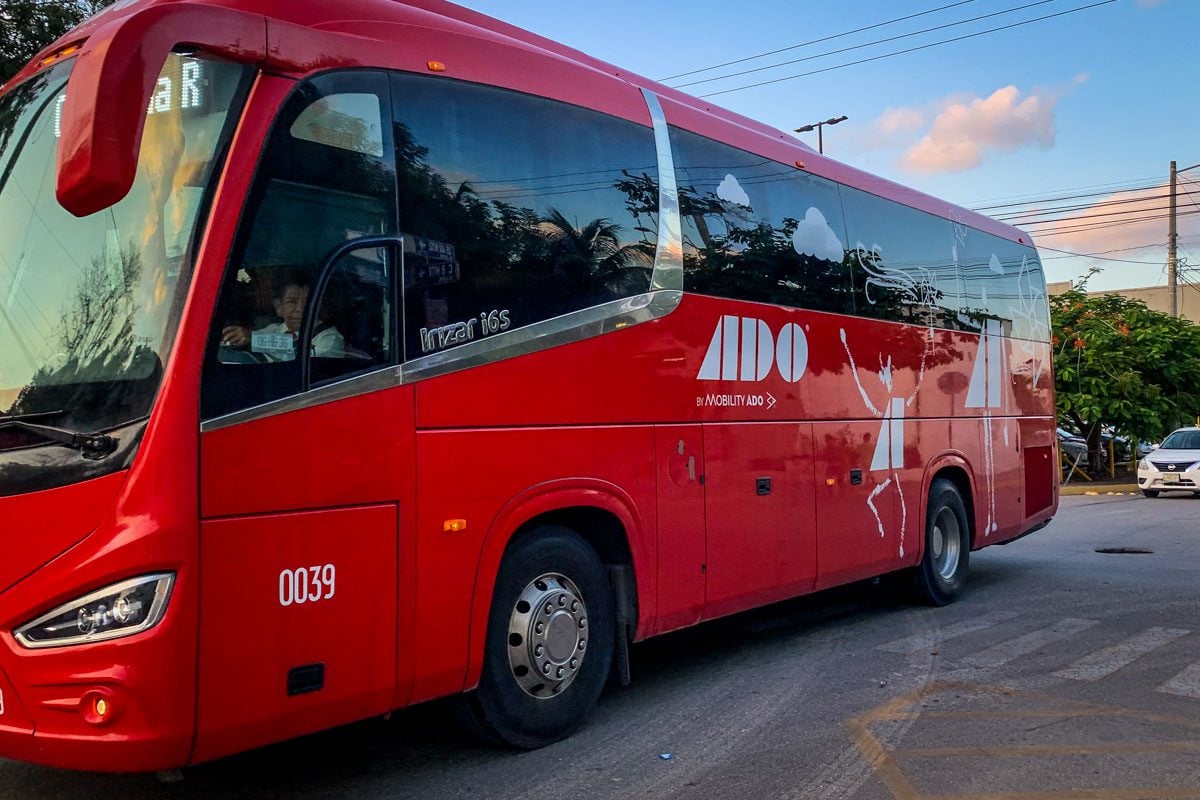 The ADO bus is one of our favorite ways to get from Cancun to Playa del Carmen. In fact, we think it's your best option if you don't have a rental car. It's very affordable, comfortable, relatively quick, and easy to figure out.
ADO buses are modern and clean, and they have plenty of space where you can put your bags in the cargo area underneath. This is not a convenience you'll find with other options like a colectivo, which is one of the reasons it's our recommended way for getting from Cancun to Playa del Carmen.
Where to catch the ADO bus from the Cancun airport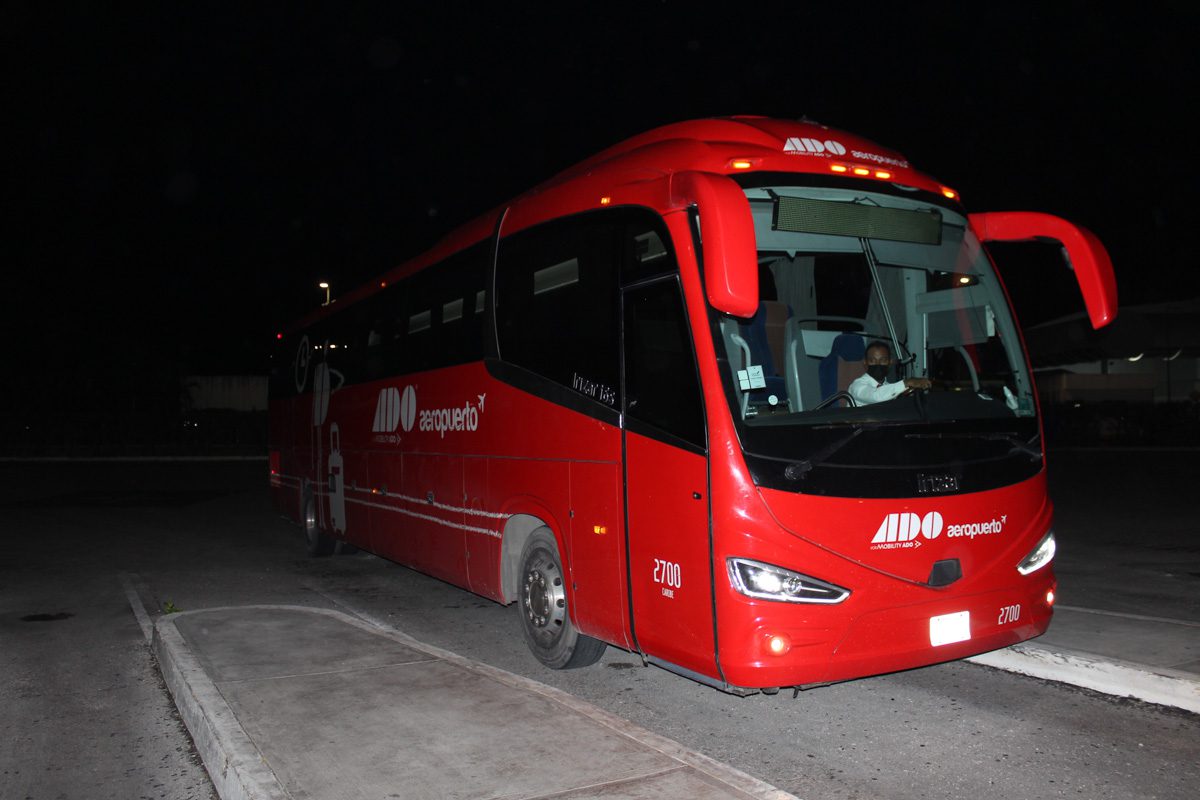 Most international flights into Cancun will arrive at Terminal 3 or Terminal 4. Both terminals have ADO pickups, so you won't have to worry about hauling your stuff across the airport.
Buses will pick up in the parking lots, just outside the Arrivals airport exit at both terminals.
Terminal 3:
As you exit the terminal into the parking lot area, you will see a Margaritaville stand selling drinks on your right. Walk past that and you will see the red ADO bus kiosk just beyond, further out in the parking lot.
Terminal 4:
There are two exits at this terminal, one for friends and family pick-ups and the other is for taxis and buses. Exit left towards the buses. You will see the red ADO kiosk set up in the parking lot in front of the bus stalls.
Where to buy tickets for the ADO bus from Cancun to Playa del Carmen?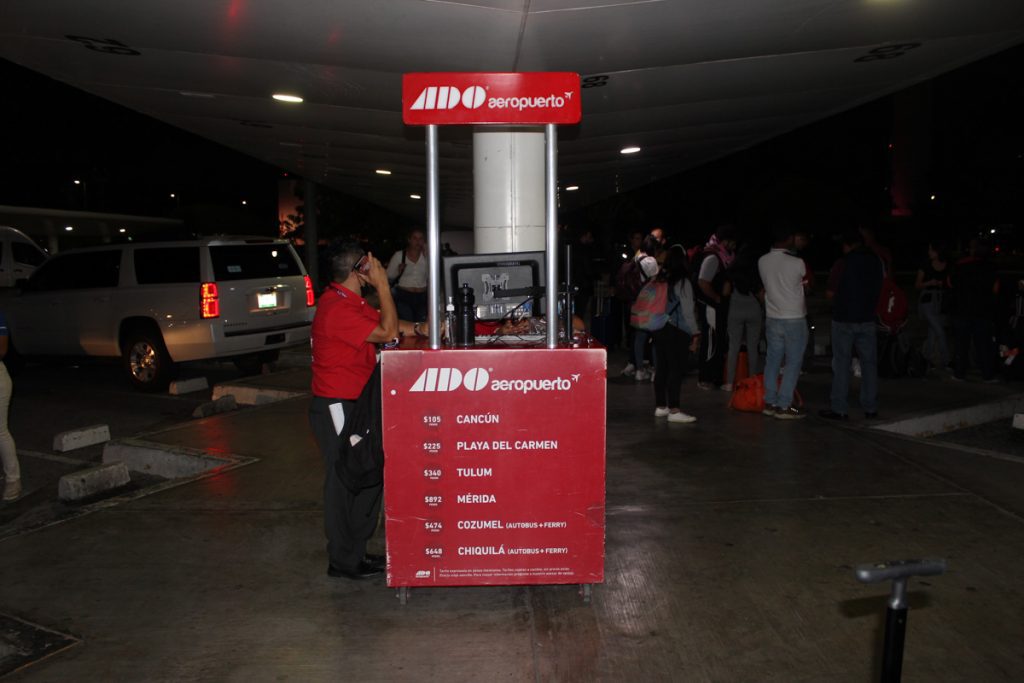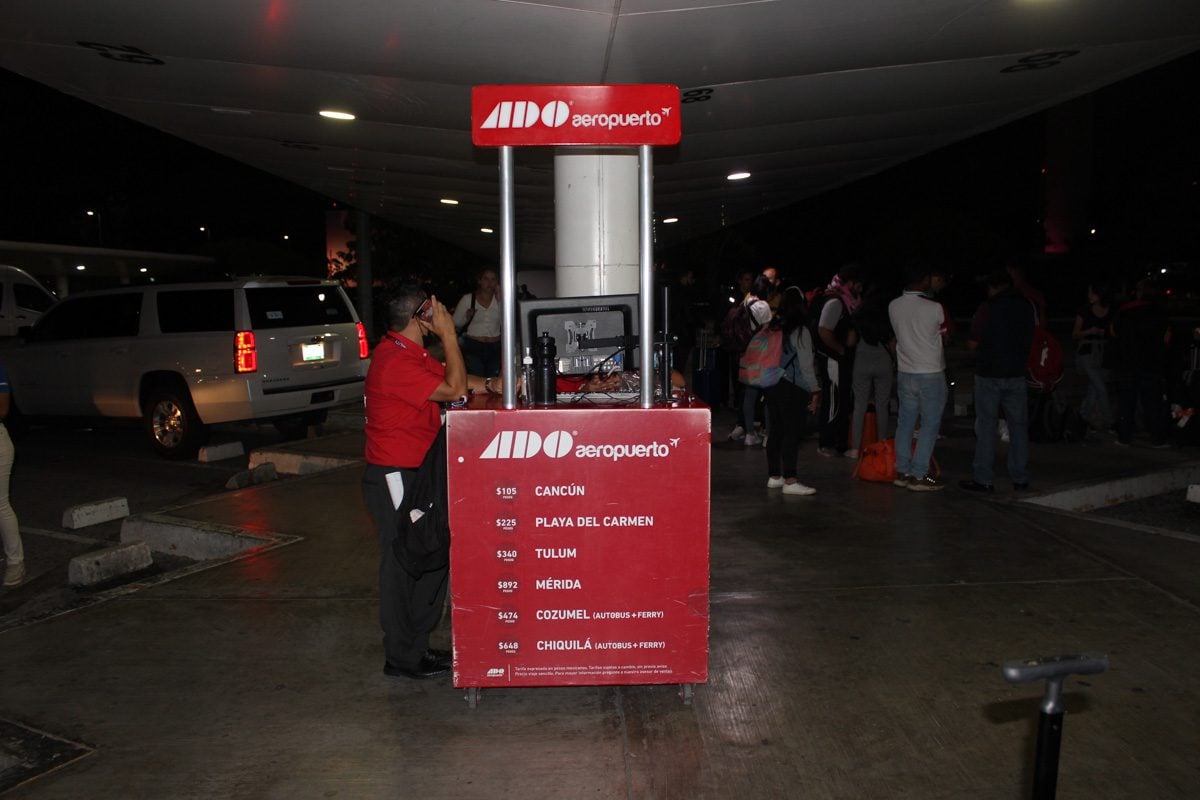 As you exit the airport, you'll walk through a gauntlet of people vying for your attention, trying to convince you to use their transportation or tour services. Just politely ignore them and keep moving and look for the red ADO counter.
If you don't see an ADO counter inside (there is only an ADO counter inside in one of the terminals), look for an ADO kiosk set up outside in the parking lot. Note that the counters inside the airport take cash or card, but the kiosks outside are cash-only, so it's a good idea to take out some Mexican pesos from an ATM before leaving the airport.
How much does an ADO bus ticket cost from Cancun to Playa del Carmen?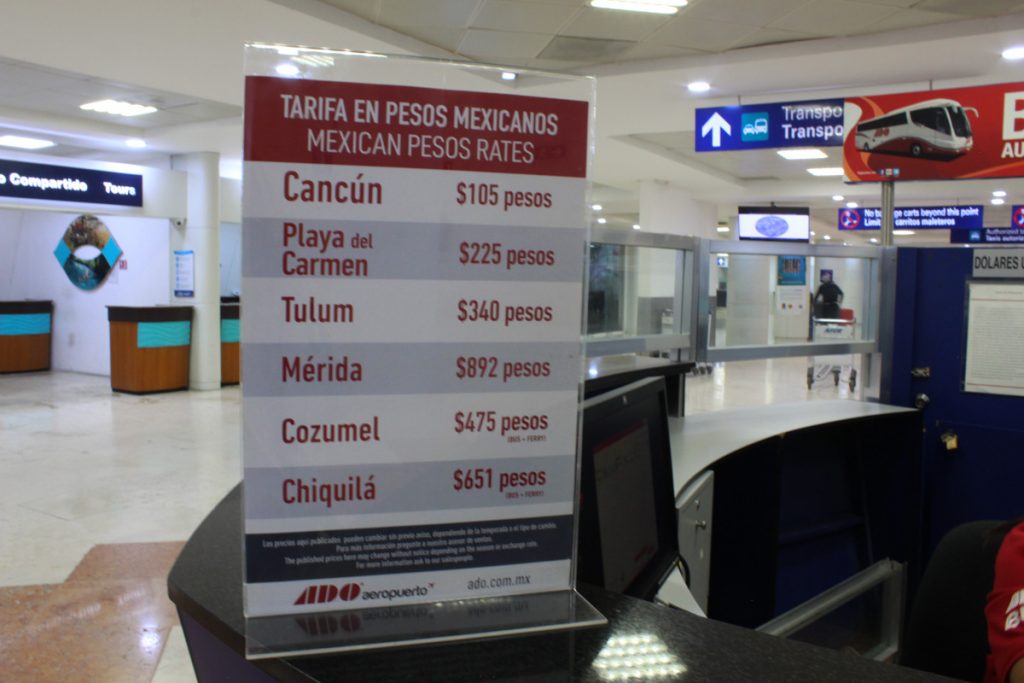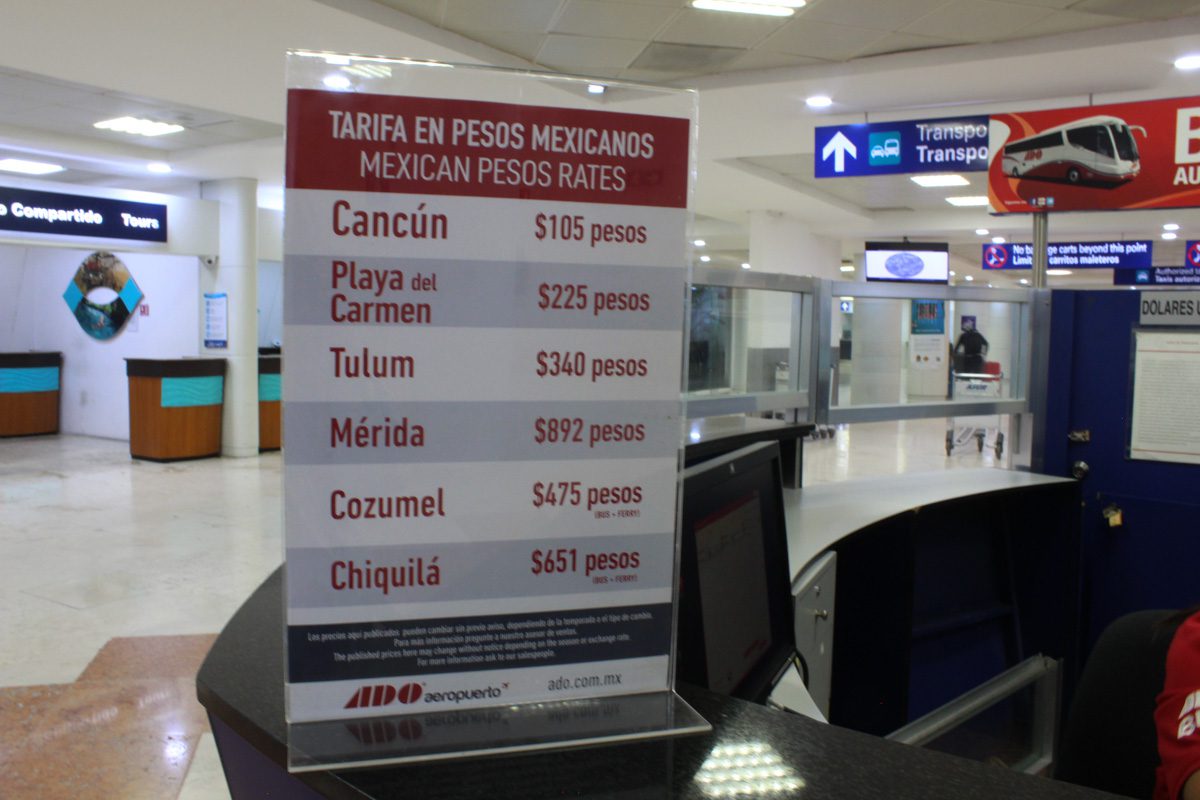 The price should be 225 MXN (about $12 USD) for a one way ticket from Cancun to Playa del Carmen. (It just a bit more if you are continuing on to Tulum instead of departing in Playa del Carmen.)
The ADO bus tickets are time-specific, so you will want to make sure you have enough time to get out to the parking lot if the next bus is soon. You won't need to worry about this if you are purchasing your ticket from the parking lot kiosk as the driver will see you and wait.
Simply tell the attendant you're going to Playa and they'll print you a ticket. You'll then show your ticket (don't lose it or crumple it up!) to get on the bus and find your assigned seat, noted with "asiento."
How often do the ADO buses run from Cancun to Playa del Carmen?
Buses from Cancun to Playa del Carmen run frequently, every 20-30 minutes, so you shouldn't have to wait long for the next bus.
Once you're actually on the bus, the trip goes fairly quickly. You'll likely stop at other terminals to pick up other passengers, but you should be in Playa in a little over an hour. There is only one bus drop-off point in Playa del Carmen, on 5th Avenue, so it's easy to figure out where you need to hop off. From here, you can take a local taxi or walk to your accommodation.
Taking the ADO bus back to the Cancun airport from Playa del Carmen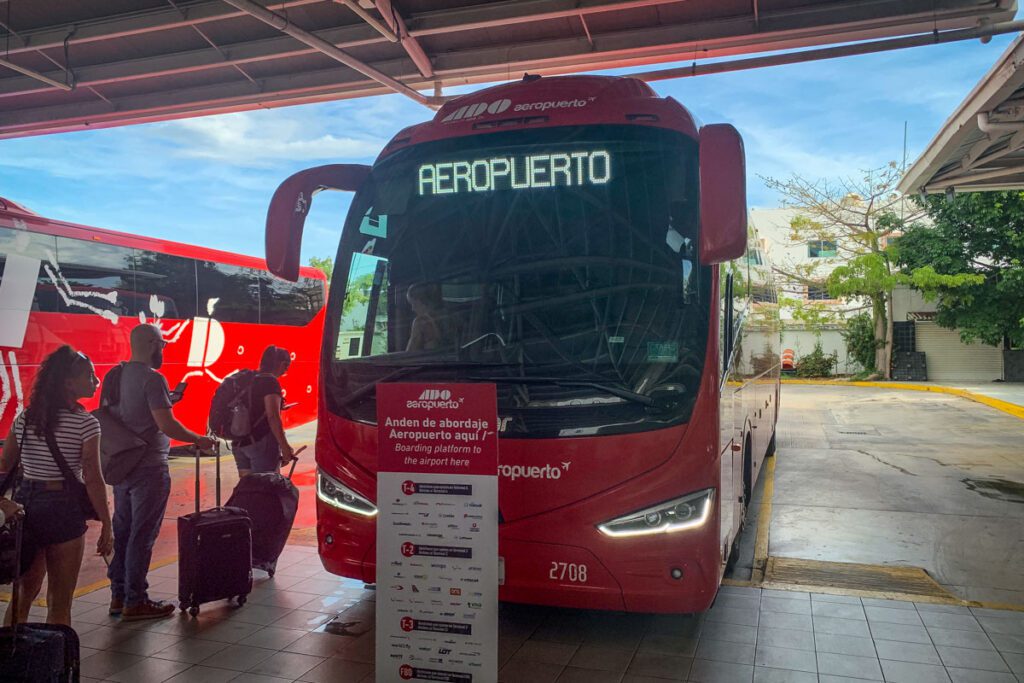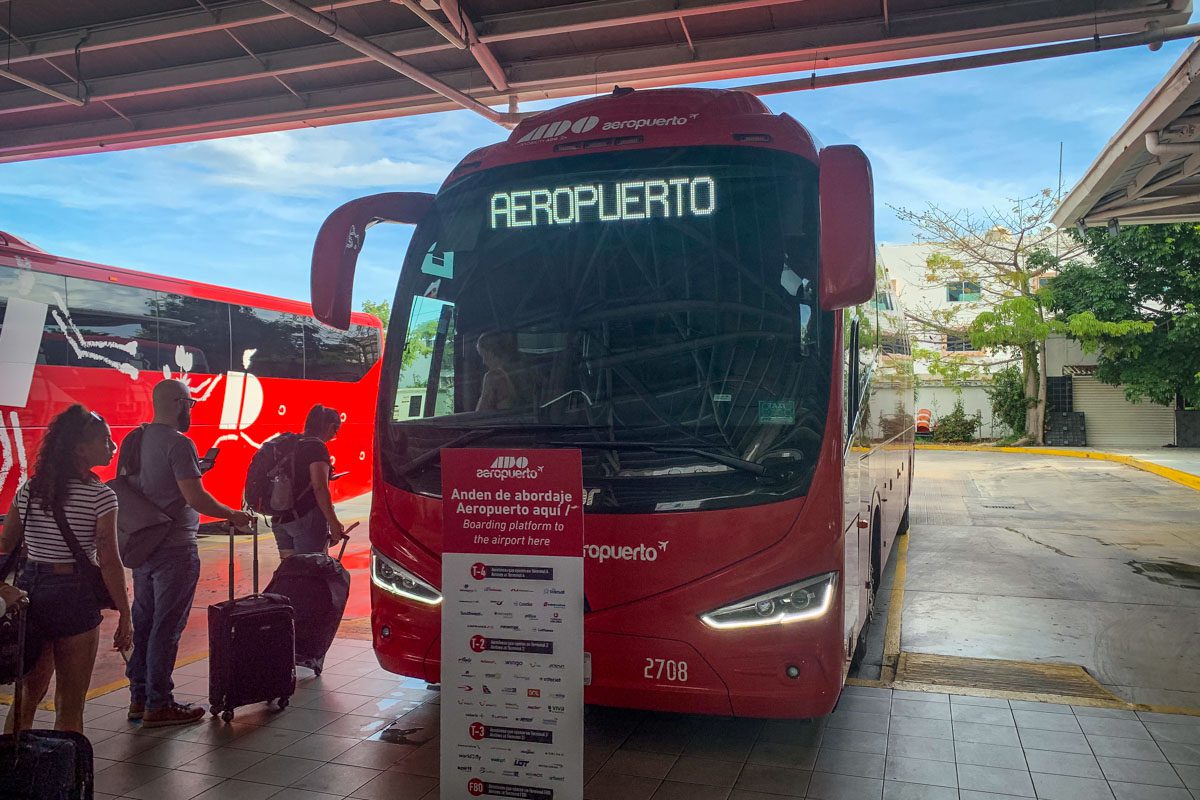 You can purchase bus tickets back to the airport from both ADO bus terminals in Playa del Carmen, on 5th Avenue and on 20th Ave and Calle 12 Nte.
The bus will pick up from the 5th Ave. station first, then swing around to the 20th Ave. station before heading straight to the Cancun Airport. It will stop at all terminals in the Cancun airport for drop-offs.
It's a good idea to show up at one of the stations the day before to check the time tables and purchase your return bus ticket in person. You can pay with cash or card at the window and the cost will be 225 MXN one way.
Cancun to Playa del Carmen by colectivo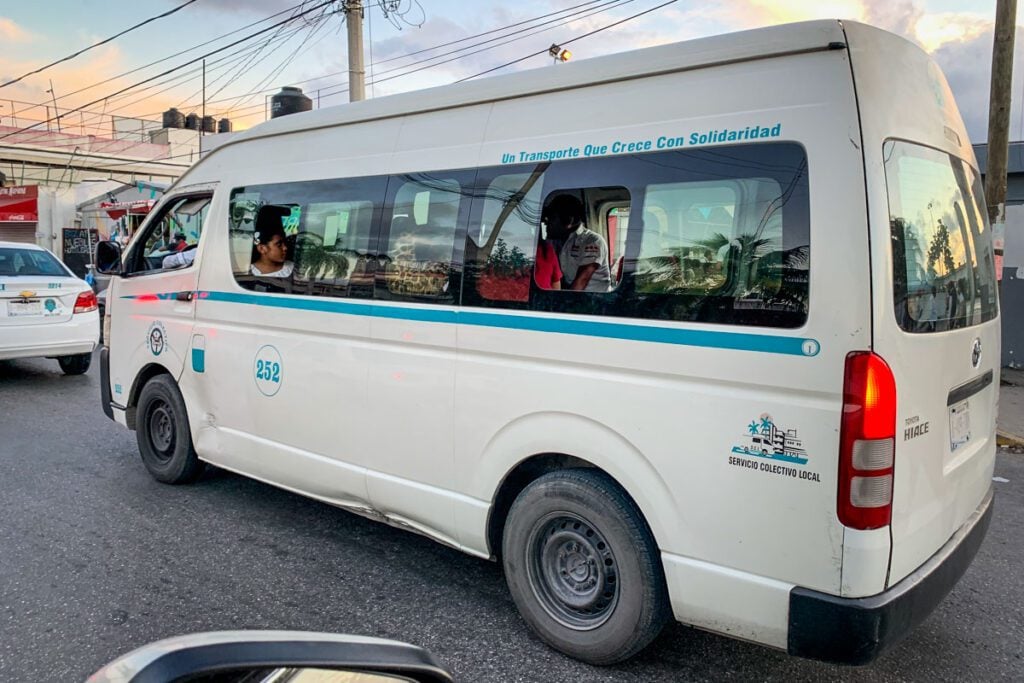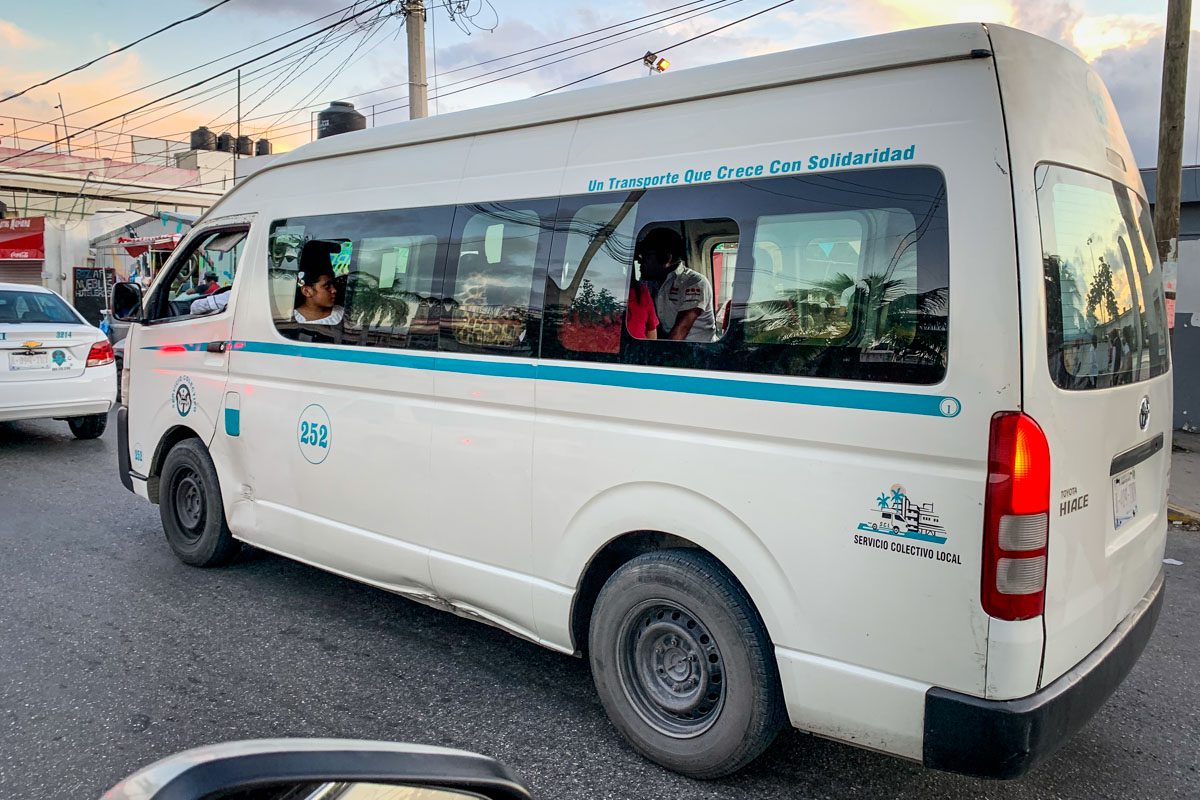 If you're trying to stick to a shoestring budget while traveling through Mexico (hey, we've been there!), the colectivo will be your best bet — but don't expect the ride to be particularly comfortable.
The colectivo costs about 40-60 MXN ($2-3 USD), so it's definitely the cheapest option to get from Cancun to Playa del Carmen, but that low fare comes with some trade-offs. The biggest is that the small vans don't have A/C, and they also don't have bag storage. So not only will you be hot, you'll also have your bags in your lap for the entire ride.
Additionally, the colectivo doesn't run directly from the airport, so you'll have to take a bus from there to downtown Cancun. You can find the Playa Express colectivo right in front of the ADO downtown Cancun bus station. Once there, you can grab a colectivo to Playa.
Although this option is ultra-cheap, taking a bus to downtown and then taking the colectivo from Cancun to Playa del Carmen will take about twice as long as taking an ADO bus directly from the airport.
The ADO bus is a few dollars more expensive, but the colectivo takes twice the time and is less comfortable and less convenient. Most people find it well worth paying the extra $10 or so to take the ADO bus to get to Playa quicker and more comfortably.
Cancun to Playa del Carmen by rental car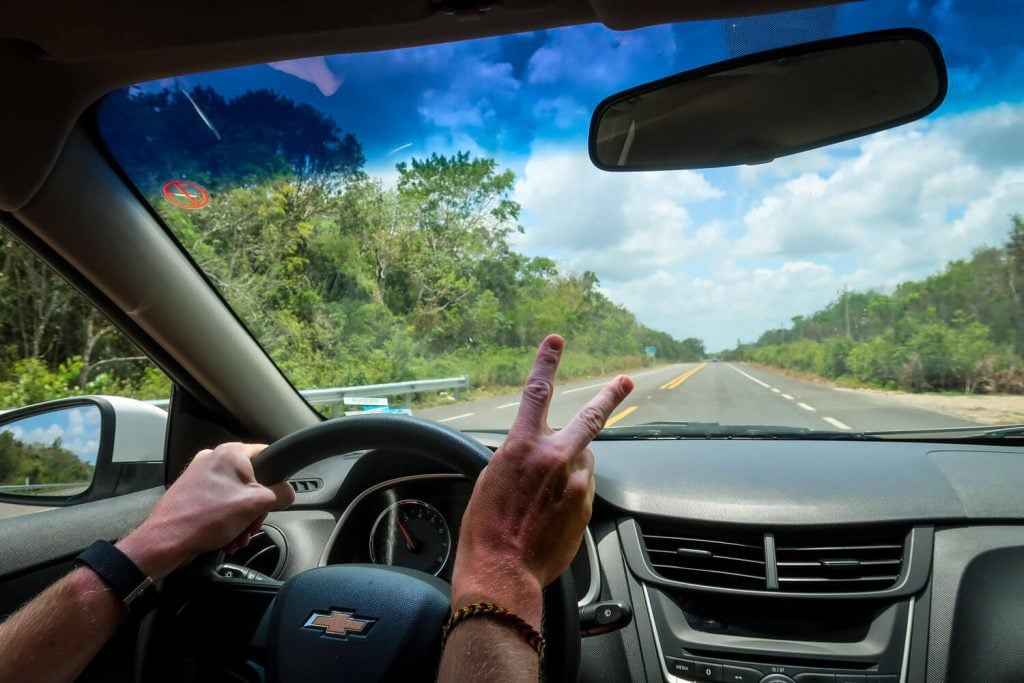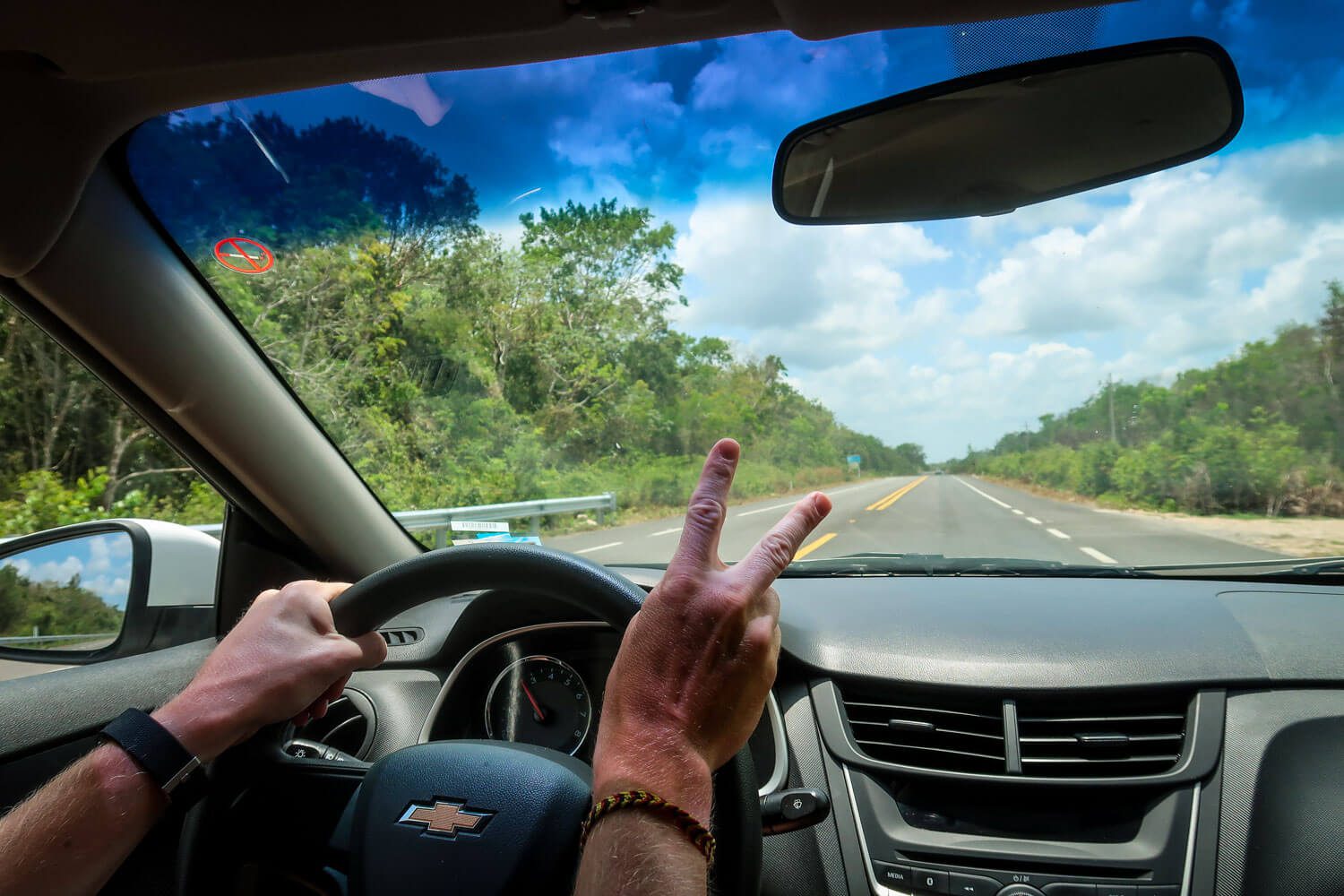 Getting a rental car in Cancun can be a good option, but we really only recommend it if you plan to do a lot of driving to explore the Yucatan. If you plan on just hanging out in Playa del Carmen and enjoying the beach (which is a fantastic option!), it's probably better to save some money and take one of the cheaper public transportation options.
A rental car unquestionably gives you more freedom to explore and take day trips from Playa, but you'll want to check first if your accommodation offers free parking.
If you are interested, we put together a complete guide to getting a car rental in Mexico. This guide will go over everything you should expect from a rental car, where to get the best rates and tips for saving-money and driving in Mexico.
Search & Compare Rental Car Prices
Discover Cars: We personally use this aggregate site to compare rental car prices from all the big name companies and get the best price possible.
RentalCars.com: We've had good experiences finding rental cars with this site in the past.
Cancun to Playa del Carmen by private shuttle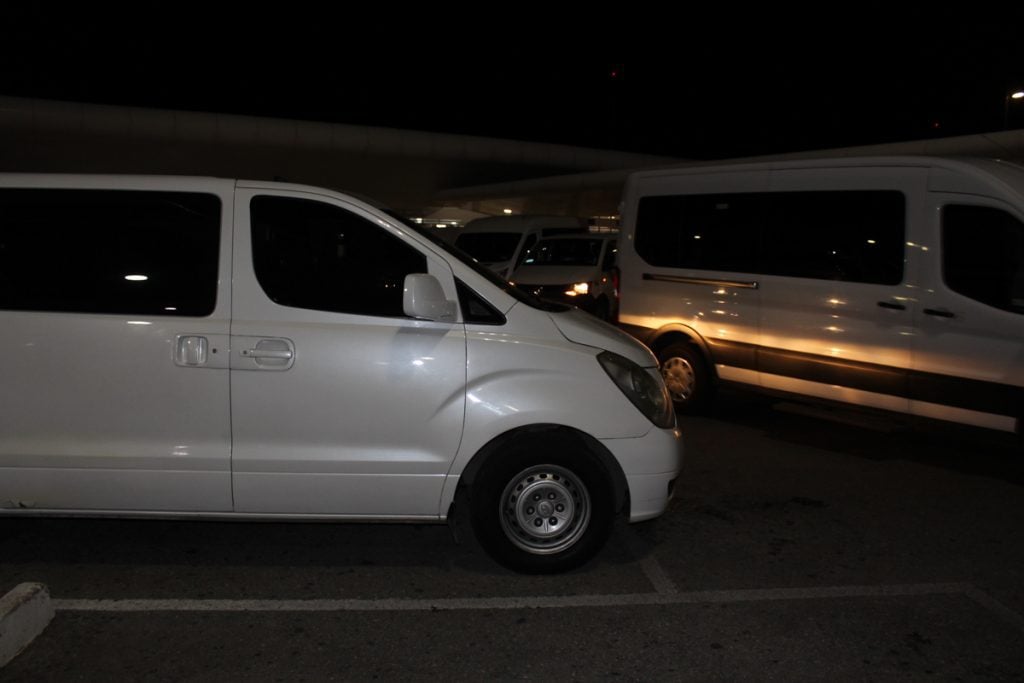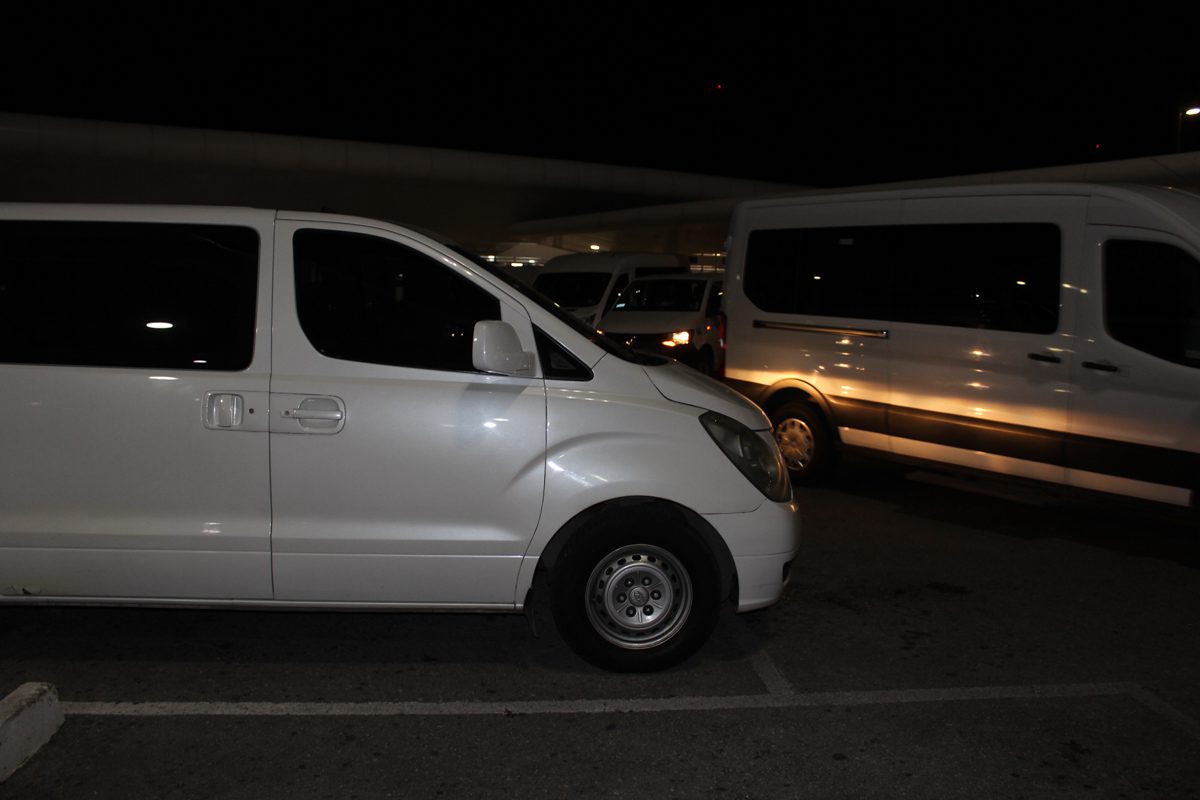 A private shuttle is the most stress-free and comfortable way to get from Cancun to Playa del Carmen. This is an especially great option for families or groups traveling together who can split the cost (or anyone who isn't worried about their budget!).
Not only are private shuttles easy, but they're also the fastest way to get to Playa, as the ride is a door-to-door trip rather than having to make stops in between. It should take just under an hour.
Most private shuttle companies in Cancun have bilingual drivers, so you should be riding with someone who can speak at least some English. This is great to know if your Spanish isn't quite up to par, but we also highly encourage you to to learn some conversational words and phrases before you visit.
You get a significantly nicer vehicle with a private shuttle compared to other transportation methods, typically a newer vehicle with A/C and plenty of room. Your driver will greet you at the airport exit, load up your bags, and swiftly get you on your way to your accommodation in Playa.
There are several private shuttle companies to choose from, so be sure to do some research and book your trip before arriving. Here are a few solid options you may want to consider, all of which include a bilingual driver, A/C, private transportation, and proper insurance.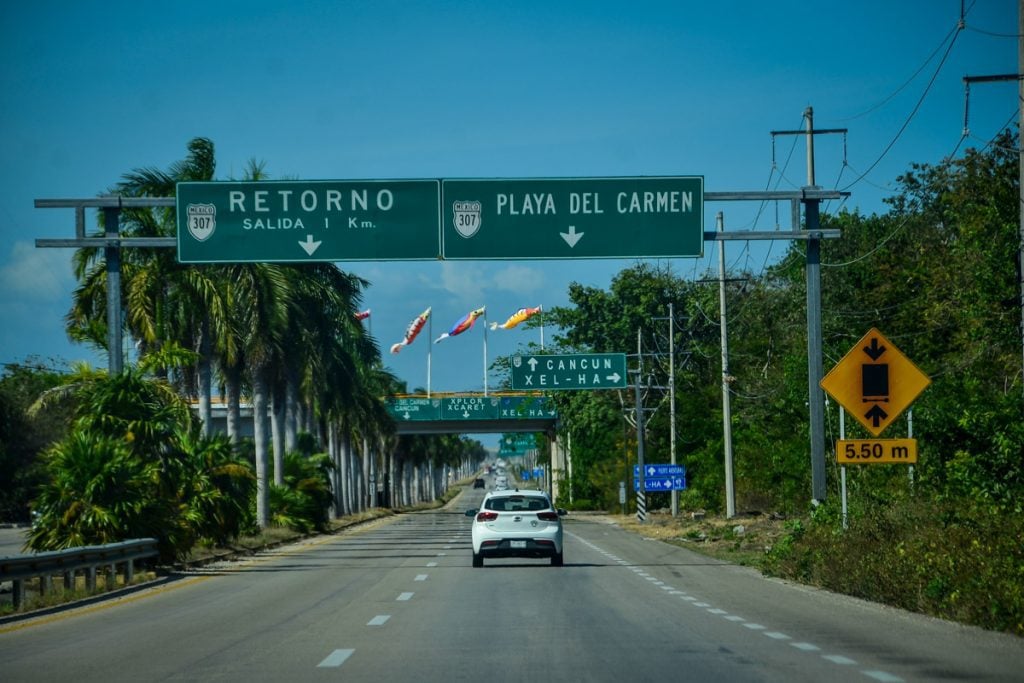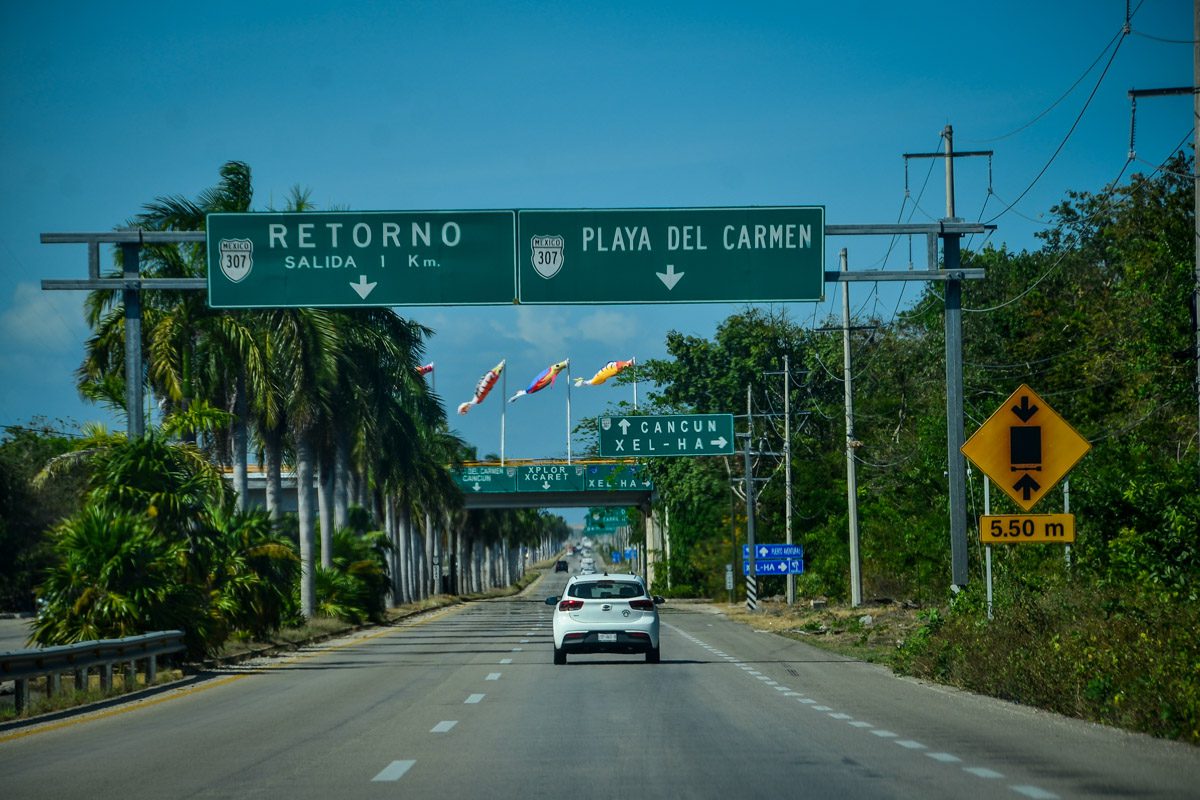 (All prices listed in USD)
Up to 3 passengers: $70 one-way or $125 round trip
Up to 6 passengers: $99 one-way or $175 round trip
Up to 16 passengers: $120 one way or $220 round trip
CUN Shuttle also offers sightseeing and adventure tours in the Cancun area. This could be a great option if you want to stretch your trip a bit and see more of the region. Tour options include Mayan ruins on the Yucatan Peninsula and snorkeling in Cancun.
Up to 3 passengers: $55 one-way or $100 round trip
Up to 6 passengers: $60 one-way or $110 round trip
Up to 14 passengers: $120 one-way or $220 round trip
Something unique that Cancun Private Shuttle offers is a quick 10-minute grocery stop before arriving at your hotel or accommodation. (This is super convenient if you'll be staying at an Airbnb and won't have your own transportation.) The company also has premium Chevy Suburbans that can accommodate larger groups, but they're also significantly more expensive than standard vehicles.
Up to 7 passengers: $43 one-way or $84 round trip
Up to 14 passengers: $99 one-way or $168 round trip
This shuttle service is operated by the Cancun airport itself, so it's typically the most flexible option. They have several different vehicles to choose from and can handle large groups if needed.
Cancun to Playa del Carmen by taxi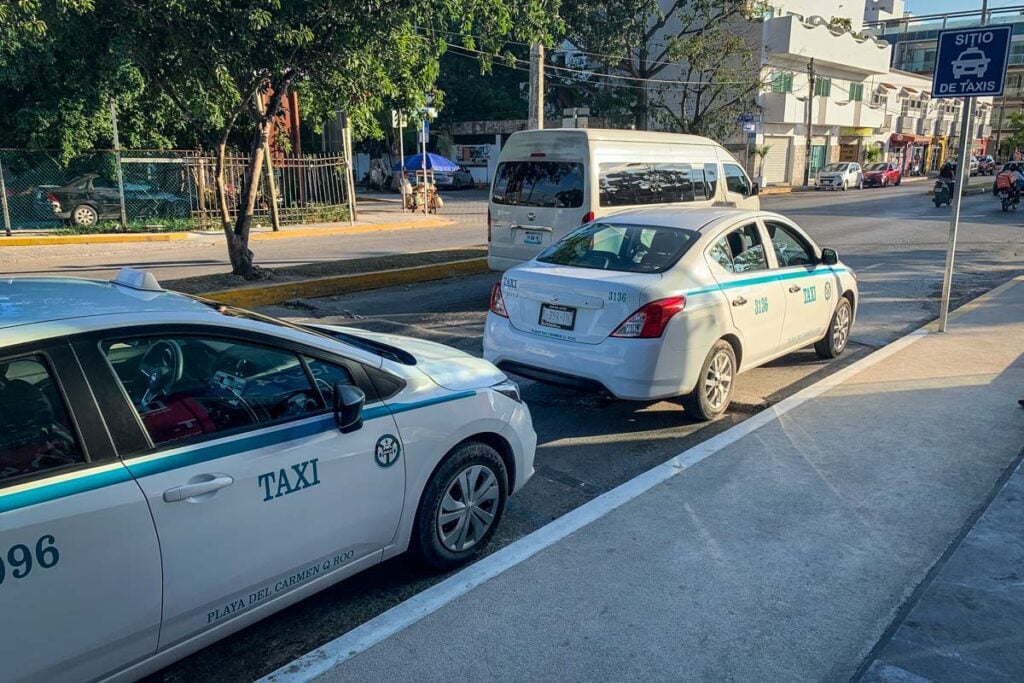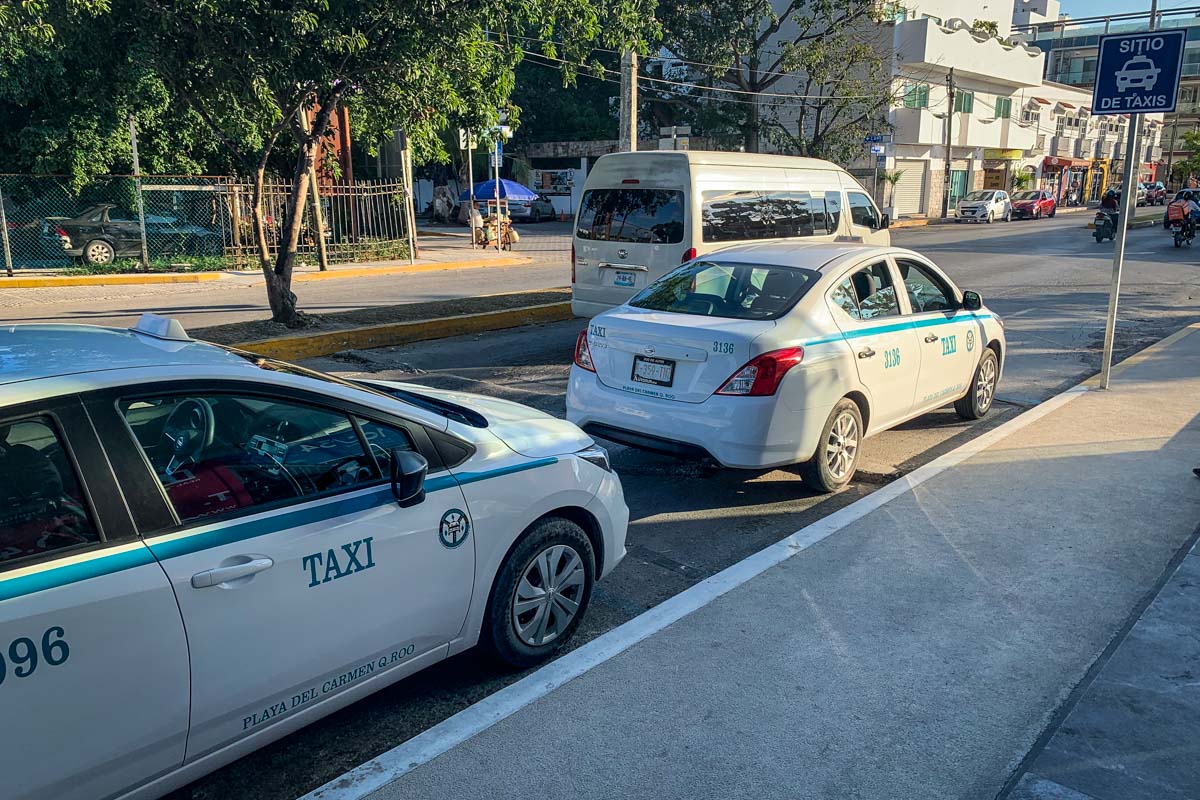 You can almost always find taxis for travel within cities/towns or to nearby destinations, but taxi prices in Mexico are pretty steep compared to other transportation options. As a general rule, taxis from the Cancun Airport have set rates controlled by the taxi company, so there will be no negotiating on price.
Also, unlike other airports, taxis from the Cancun airport must be pre-arranged and prepaid inside the airport. You can do this after you pick up your baggage and just before you exit.
It won't be hard to find someone as there will be plenty of people offering you a taxi as you exit. Only official airport taxi services are allowed at the Cancun airport so you don't have to worry about finding the right one.
Just walk up to someone offering taxis and ask about the price. They will have a rate sheet for you, and remember these prices are non-negotiable. Generally a ride from Cancun to Playa del Carmen will cost about $80 USD.
You will pay with the representative inside and get a receipt for your ride. The nice thing is, you can pay this fare with a credit card. (If you're hailing a taxi on the street in Mexico, they will all be cash-only.)
Once you have your ride receipt, the representative will direct outside where you can find your taxi and be on your way. The drive shouldn't take more than an hour tops, likely it'll be closer to 45 minutes.
Airport taxis are the most expensive method for a solo traveler and definitely our least recommended way to get from Cancun to Playa del Carmen.
---
Are you planning a trip to Mexico?
We have lots more resources on travel in Mexico and destinations throughout the country. Check out our Ultimate Mexico Travel Guide for all the important travel information, or read some of our favorite articles below.
Save this article on Pinterest for later!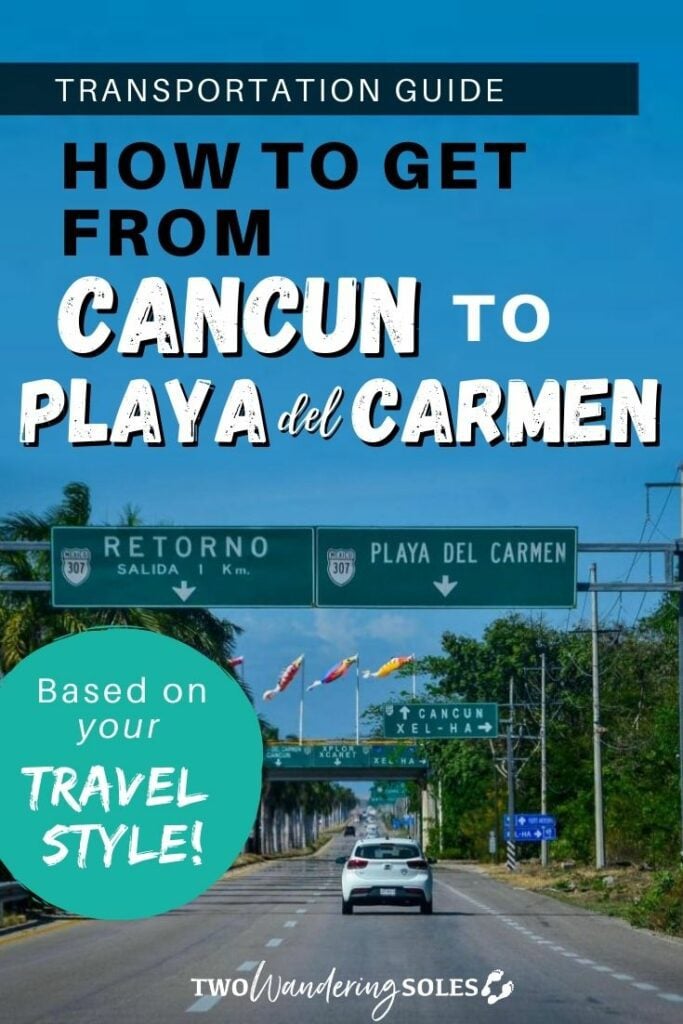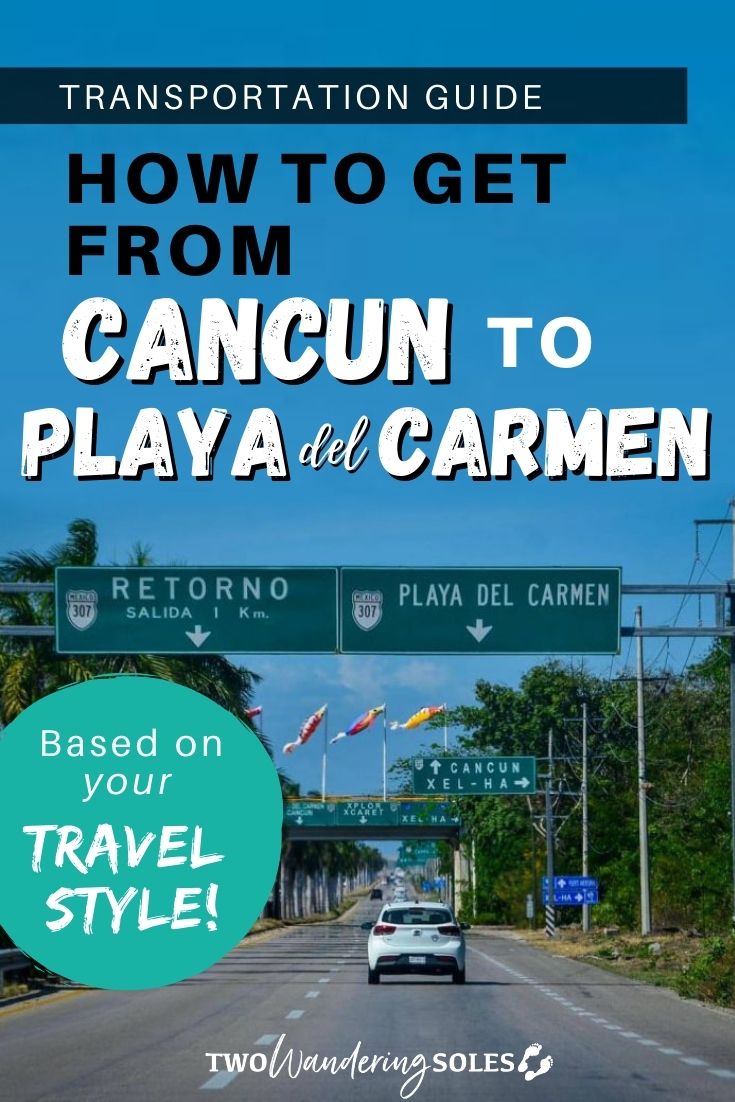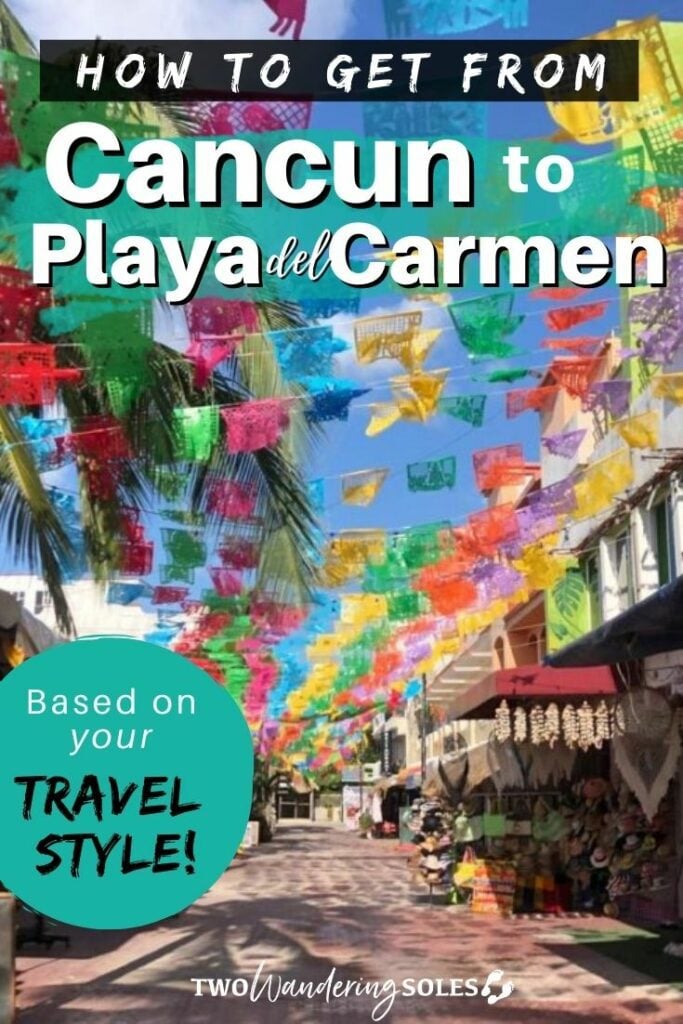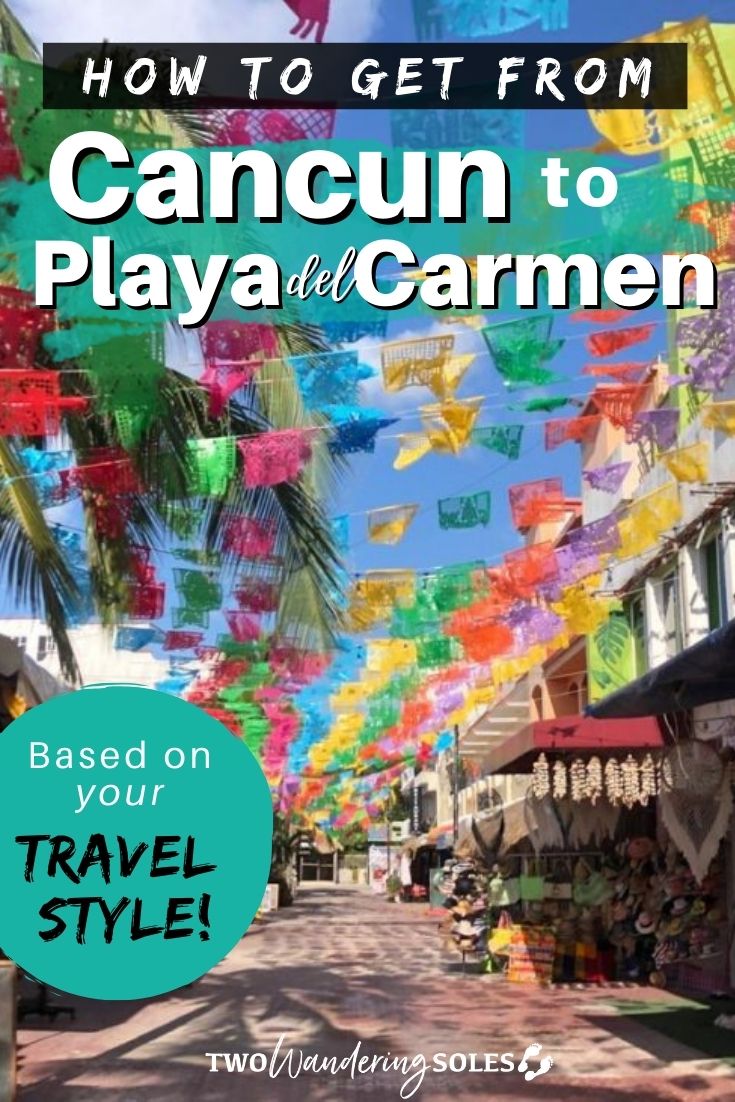 We want to hear from you!
Do you have more questions about getting Cancun to Playa del Carmen, Mexico? Comment below and we'll do our best to get you the answers you're searching for!