The ADO bus service is one of the cheapest and most convenient ways for getting around Mexico. In this detailed guide, we give you the exact steps for riding with ADO Mexico including how to book and what to expect.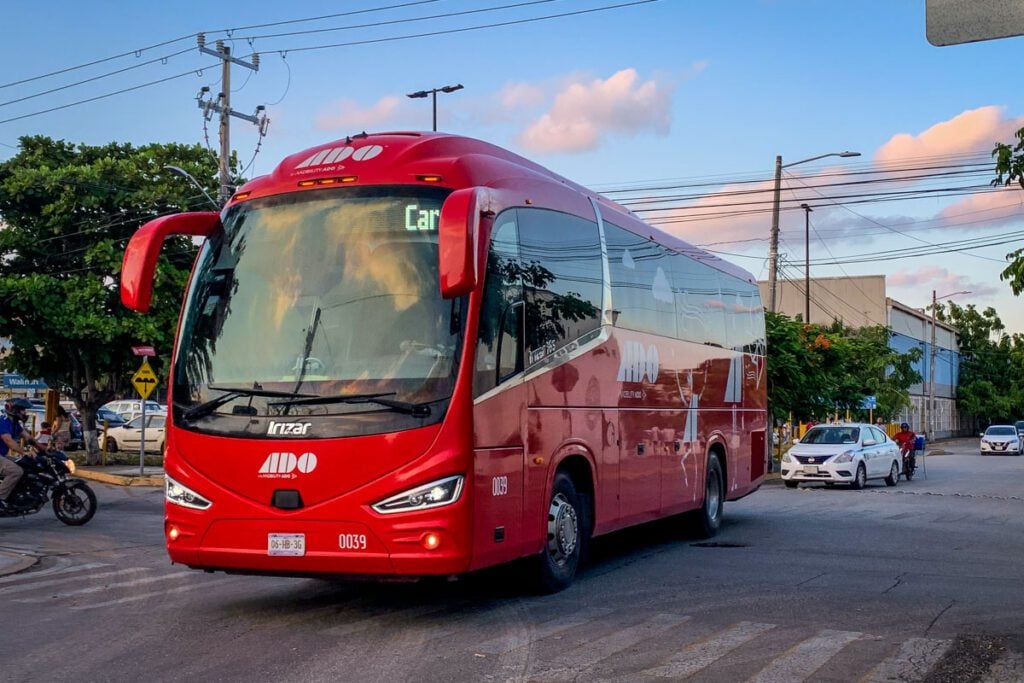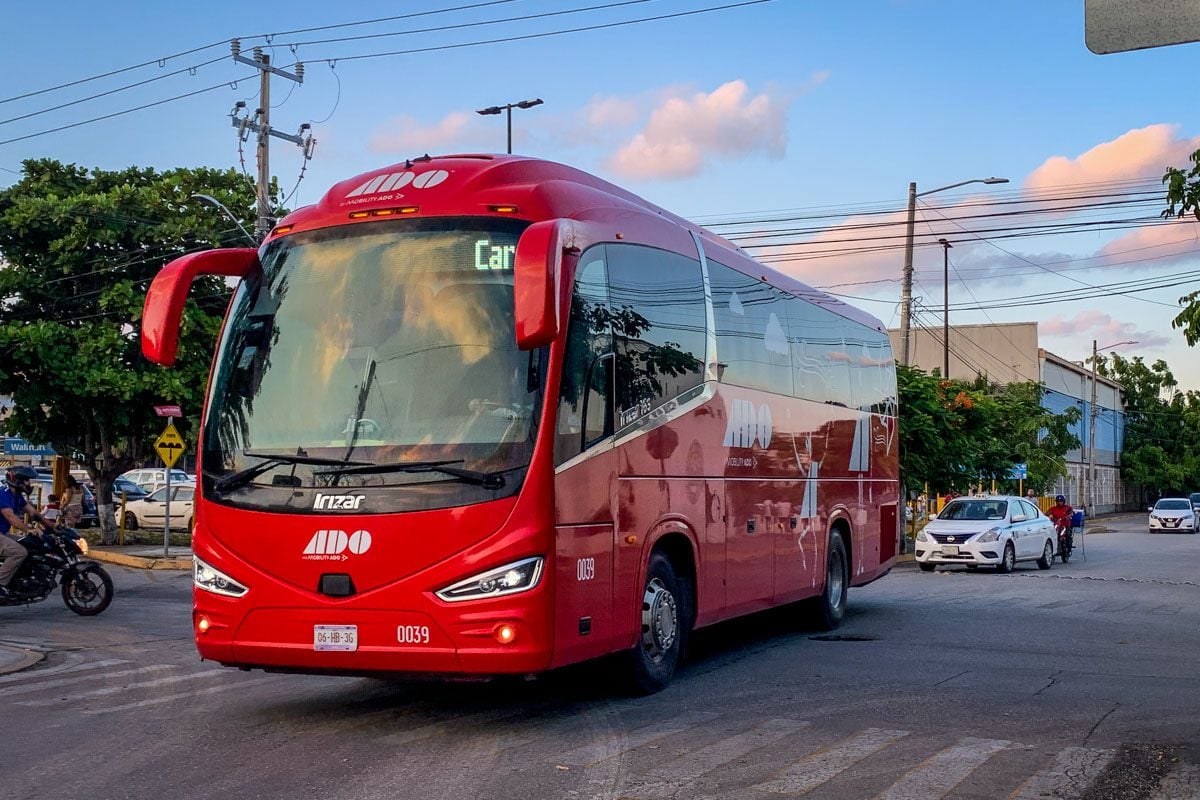 It goes without saying that local transportation is usually the most affordable way to get around any country.
Mexico is an incredibly diverse country with pristine beaches, world-renowned food, and a rich cultural history, so it only makes sense their transportation options offer the same amount of variety.
If you're looking to travel between all the best things to do in Mexico on the cheap, while staying comfortable and safe along the way, taking the ADO bus is going to be your best bet.
Sure, traveling by bus in Mexico doesn't sound like the most glamorous option, but the ADO bus system is actually quite good, even by U.S. standards.
Using our first-hand experience, we created this guide to the ADO bus services in Mexico to give you everything you need to know about traveling with this renowned bus system.
ADO Bus Guide:
---
Be sure to download our complete packing list for Mexico! It's packed with good suggestions and insider tips to help plan your Mexico vacation. And it's completely FREE, so why not!?
---
ADO pronunciation
At first glance, it's tempting to pronounce ADO as "ah-dough" or "A.D.O."
However, it's pronounced in Spanish with three syllables, pronouncing the letters of the Spanish alphabet:
A = "ah"
D = "day"
O = "oh"
Fun fact: The name is actually an acronym for "Autobuses de Oriente", or "buses of the east" since the company began running in Mexico's Yucatan Peninsula in the east.
Where do ADO buses travel?
The ADO bus system operates everywhere south/east of Mexico City. Specifically, the Yucatan peninsula, southern Mexico, and Mexico's East Coast.
Although they make traveling around very seamless, they don't operate in the northern half of the country. If you need to go north of Mexico City, you'll need to use a separate bus company. Luckily there are plenty to choose from.
ADO bus routes focus on long-distance services rather than short, inner-city travel. It's definitely not a one-size-fits-all company, but it's easy to find a combination of buses and other transportation that works for your specific trip.
Here is an brief glimpse of where ADO buses can take you:
Popular ADO bus routes
There aren't many routes ADO buses don't cover around Mexico. These are some of the most popular routes most travelers take.
Cancun to Playa del Carmen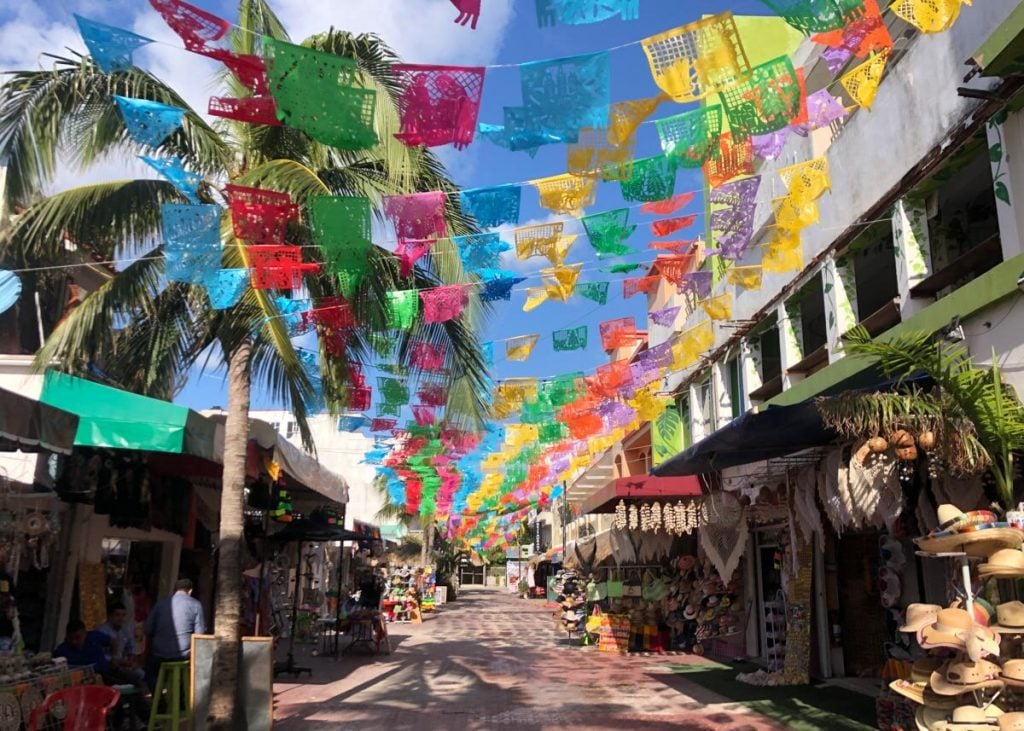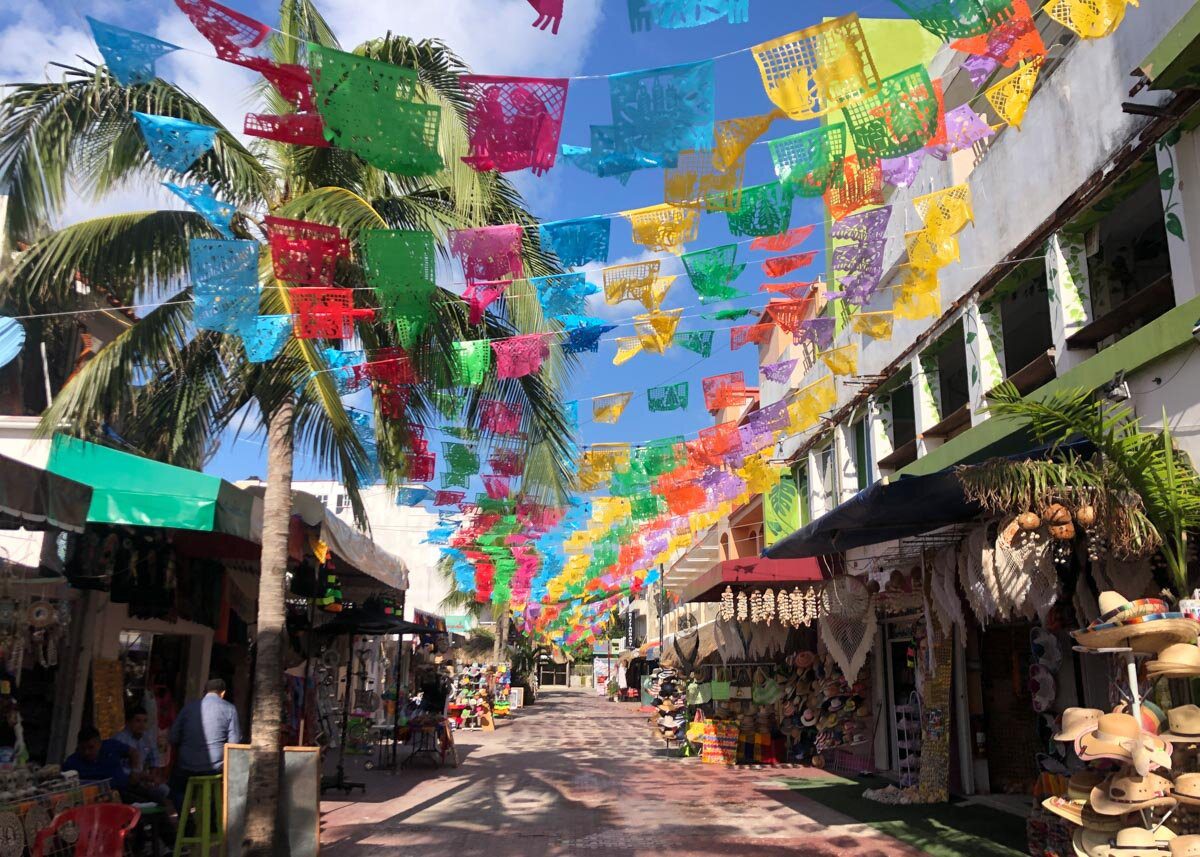 ADO is one of the cheapest and safest ways to get from Cancun to Playa del Carmen. In fact, it's one of our favorite ways to travel between these two hot spots!
You can board the bus directly from the Cancun Airport, or central Cancun, and be in Playa del Carmen in about 2 hours. The same bus continues onward to Tulum, where you'll arrive about 1 hour later.
Buses run every 20-30 minutes, so you can easily catch an incoming bus on your way out of the airport terminal. You can find out exactly where to catch the bus and buy last minute tickets in the Cancun Airport in our detailed guide.
Psst! Check out these fun things to do in Playa del Carmen before your trip!
Mexico City to Oaxaca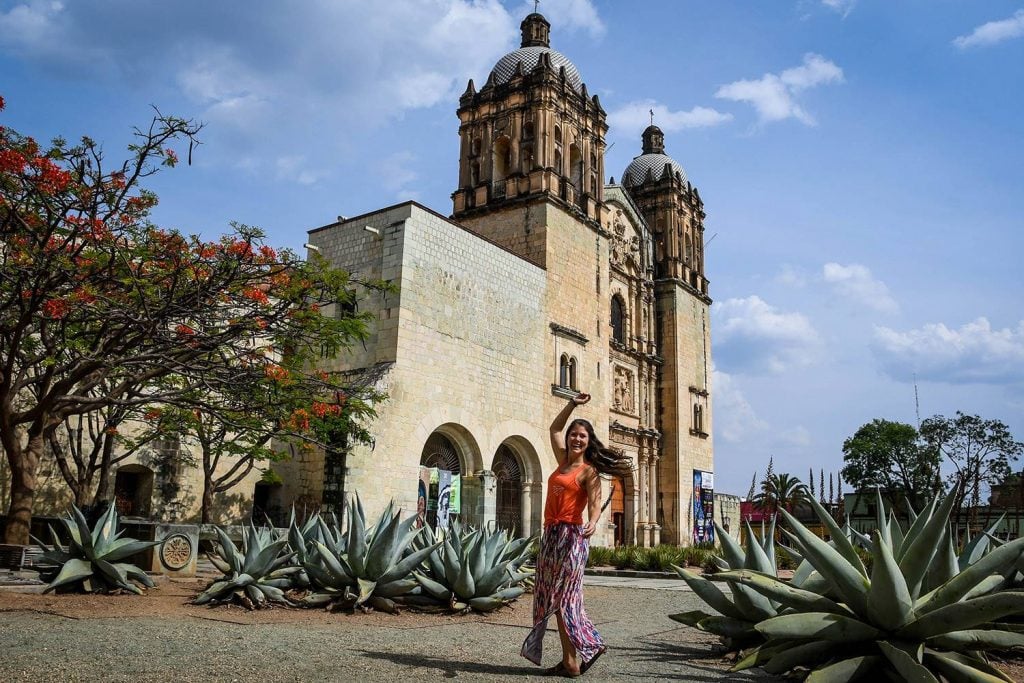 This longer bus route connects the two of the country's most vibrant cities, Mexico City and Oaxaca.
Mexico City has a handful of different terminal options, but you'll want to leave from the TAPO bus station and arrive at the Oaxaca ADO bus terminal.
TAPO is the most centrally located station in Mexico City, so it's likely the most convenient. It's also closest to the Mexico City International Airport.
ADO buses make the 6.5 hour journey from Mexico City to Oaxaca comfortable and safe.
Merida to Tulum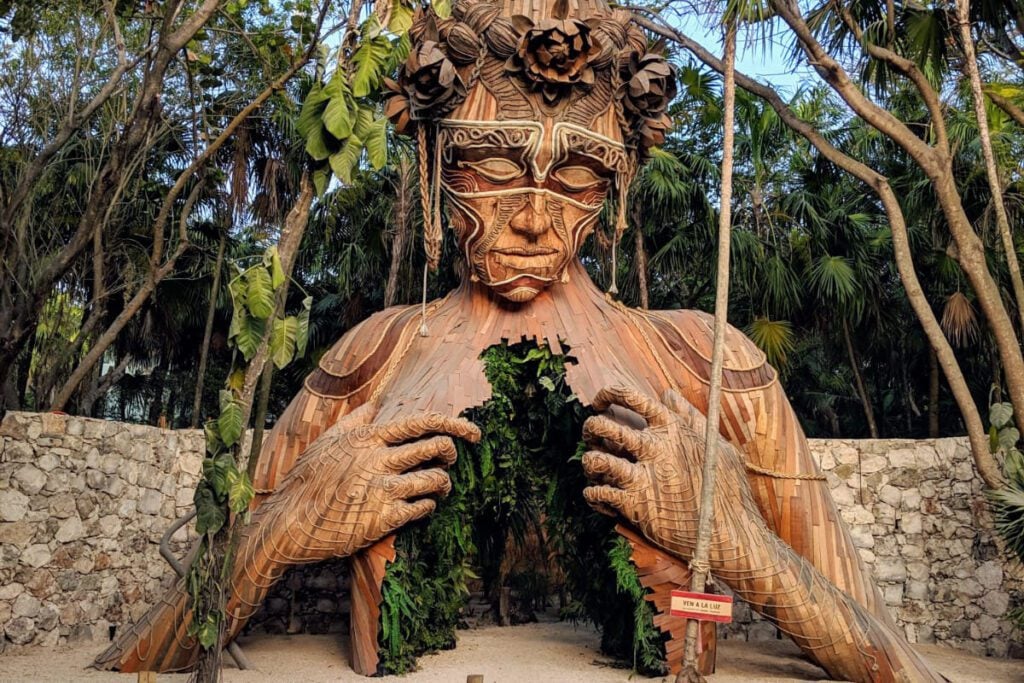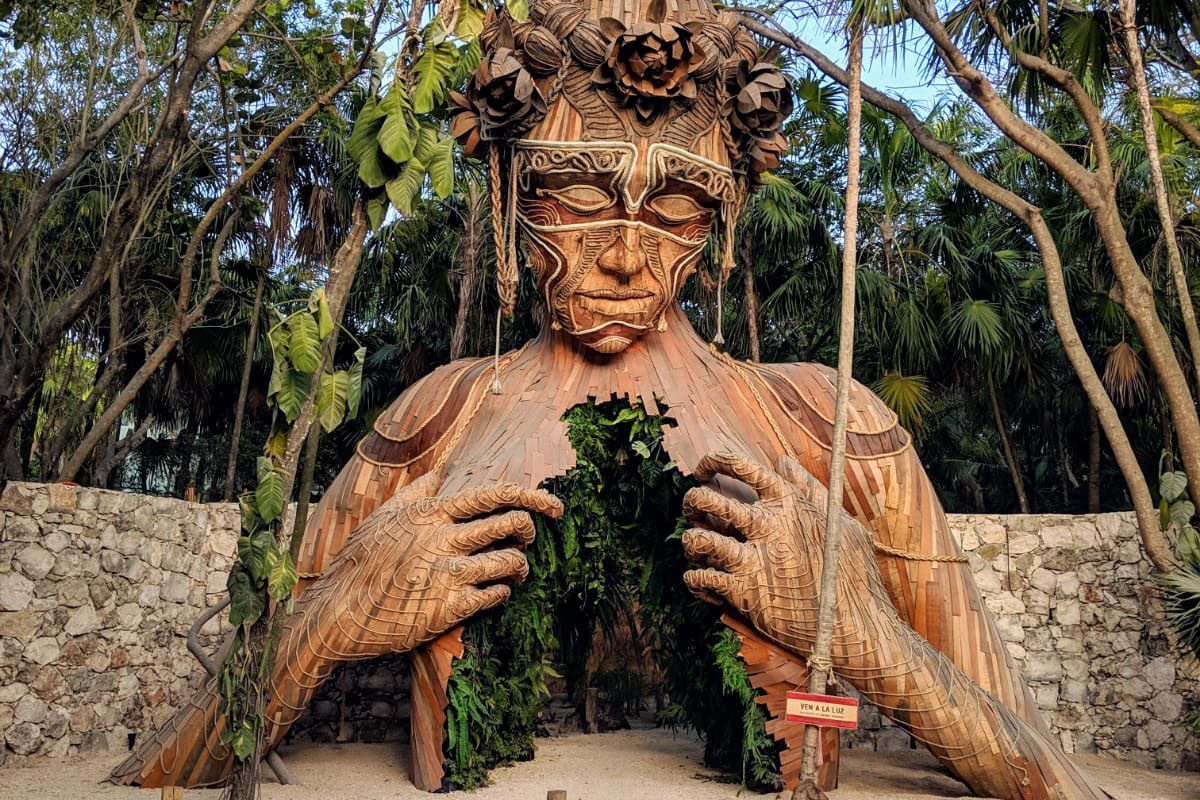 Tulum and Merida are some of the best places to visit in Mexico, so it's no surprise many travelers need transportation between these two hubs.
The route from Merida to Tulum is only about an hour and is more convenient than taking your own rental car. There are about 5 departures each day so consider looking at departure times to plan your trip accordingly.
Psst! Before you go, make sure you check out some of these fun things to do in Merida!
Other popular routes
Playa del Carmen to Bacalar: 4 hours
Cancun to Tulum: 2 hours
Cancun to Merida: 2 hours, 30 minutes
Playa del Carmen to Tulum: 1 hour, 10 minutes
Tulum to Bacalar: 2 hours, 50 minutes
Oaxaca to Puerto Escondido: 9 hours
ADO Airport services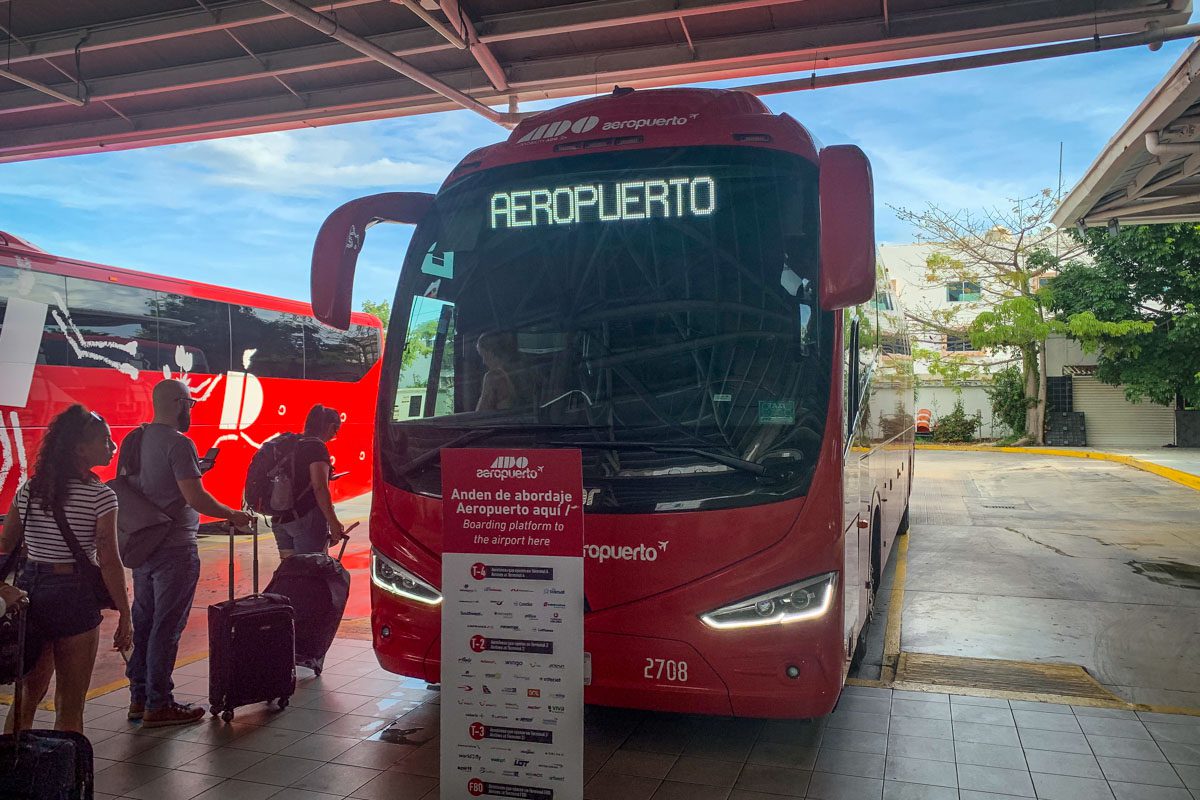 We mentioned above how ADO buses in Mexico are generally exclusive for longer trips, however a few airports around Mexico are an exception.
Listed below are the five different airports ADO has services and destinations you can visit from each one:
Cancun International Airport
Downtown Cancun
Playa del Carmen
Tulum
Merida
Merida International Airport
Downtown Merida
Valladolid
Campeche
Cancun airport
Downtown Cancun
Chetumal International Airport
Chetumal downtown
Bacalar
Limones
Mahahual
Veracruz International Airport
Acayucan
Coatzacoalcos
Cordoba
Jose Cardel
Jaltipan de Morelos
La Tinaja, Minatitlan
Orizaba
Xalapa Enriquez
Carlos Rovirosa Pérez (Villahermosa) International Airport
Palenque
Tuxtla Gutierrez
Tabasco
Veracruz
Is the ADO bus Mexico safe?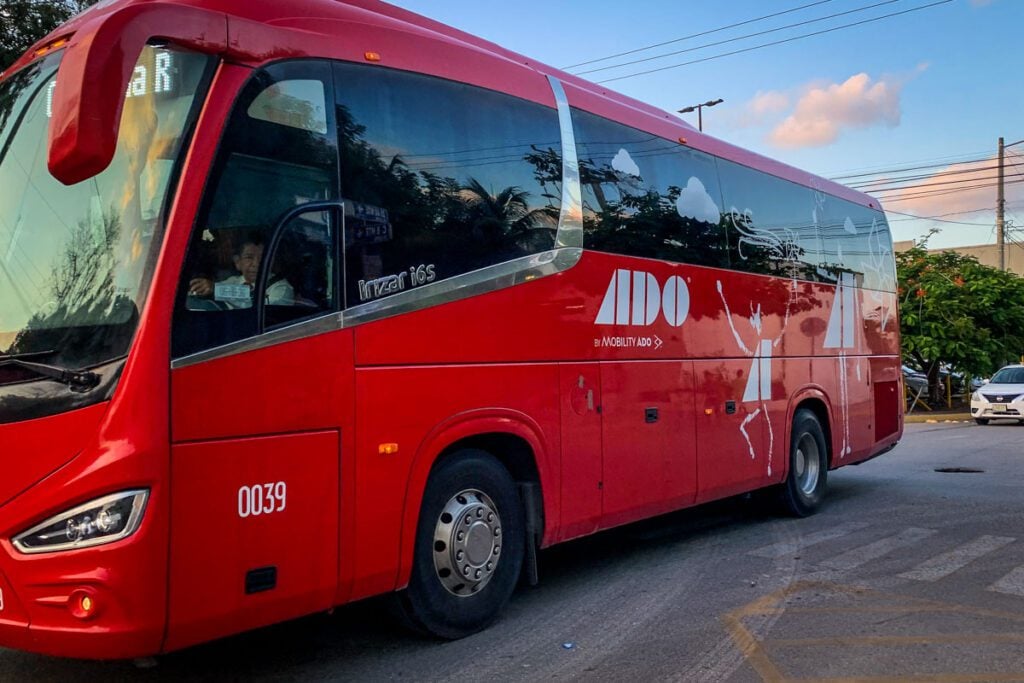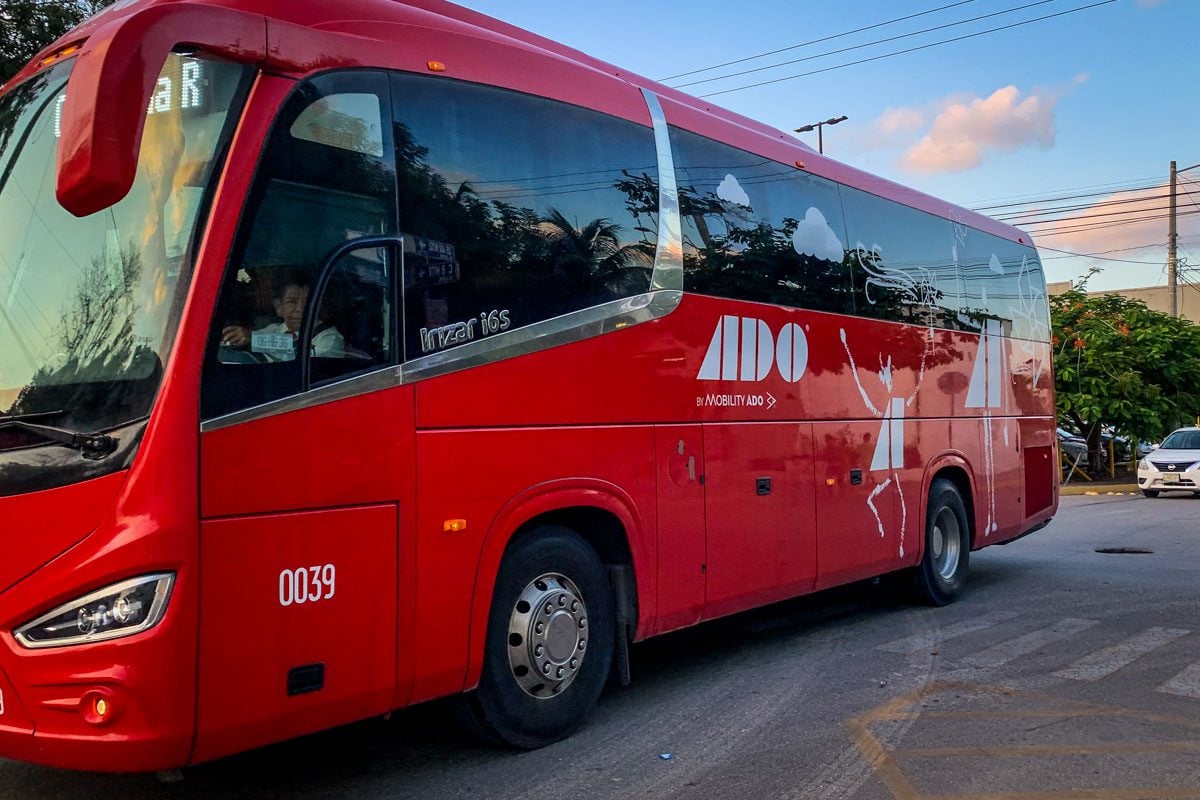 ADO buses are one of the safest ways you can travel around Mexico.
There are a variety of rules and practices they put in place to ensure the safety of everyone riding, including the bus driver.
For starters, the buses only travel in areas that are deemed safe by the U.S. Department of Safety (DOS). You won't have to worry about going through any of the "do not travel states" such as Colima, Guerrero, and Sinaloa.
Important note: the status of Mexican states can change, so always check the travel advisories for Mexico before you head out.
Additionally, ADO buses only travel on toll roads, which are the safest routes in Mexico since they're patrolled regularly and kept in good condition. On these roads, the driver cannot exceed the posted speed limit, otherwise the bus will emit a beeping sound.
As for passengers, no one is allowed on the bus without a ticket. At some stations, everyone goes through a metal detector and bags are inspected. This is to ensure no one is boarding the bus with a weapon and gives that extra layer of security.
At most, you'll need to keep an eye out for petty theft, which isn't common but has happened before.
Police checkpoints
It's very common to be stopped at police checkpoints along ADO bus routes.
This is nothing to be alarmed or concerned about, but you should know a few things so you're in the loop in the event that the bus is stopped.
One of three things can happen: the police will waive the bus through the checkpoint, or they'll do a partial or full bus check.
In any case, you'll have nothing to worry about as long as you aren't carrying any illegal substances and have your passport.
Most of the time, the police will ask the bus driver to open the luggage compartment so their dogs can sniff for drugs, then you'll be back on route. In rare cases of a full bus check, the police may come on board and ask to see all passenger's IDs.
ADO bus service levels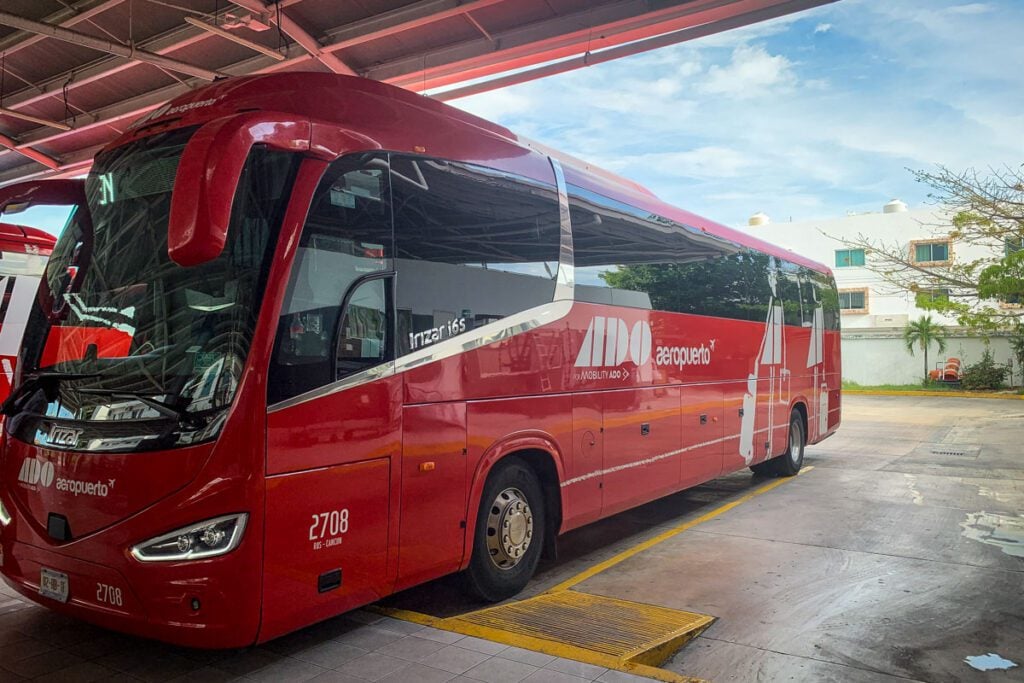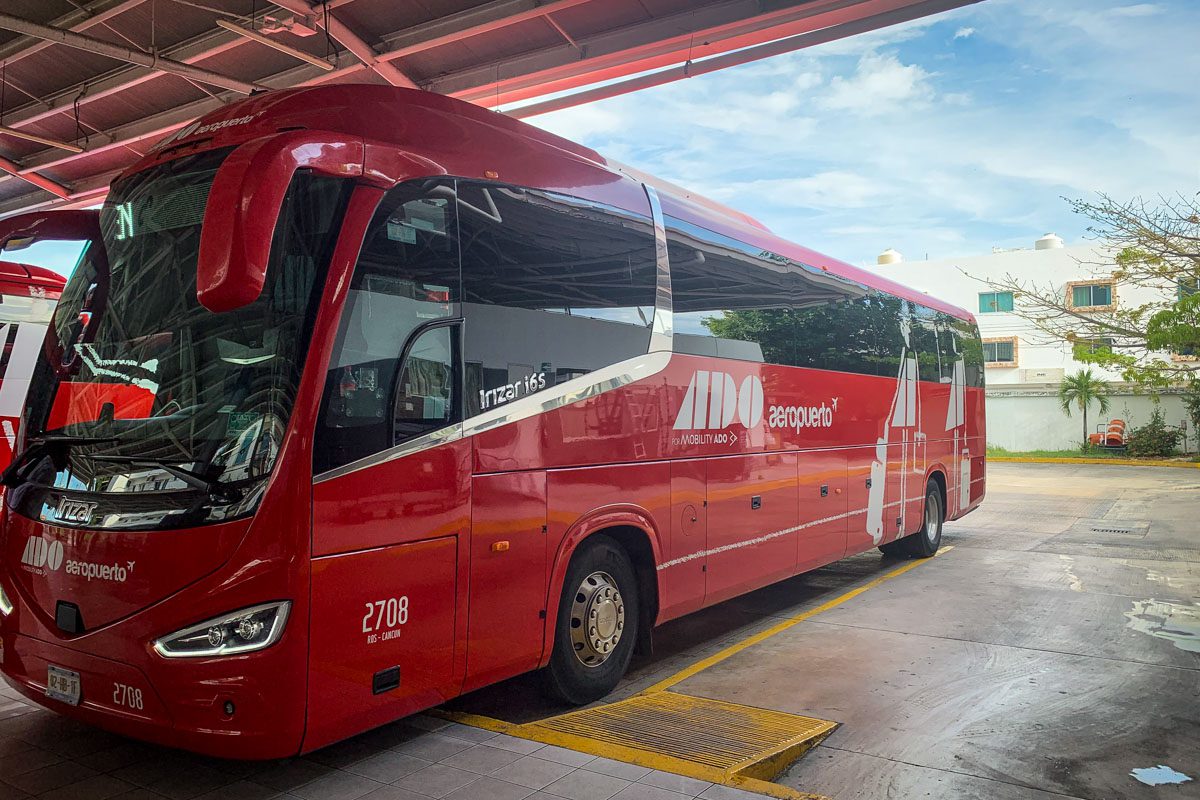 ADO buses offer a variety of different service levels, so you can choose one based on your budget, route, and schedule preferences.
Each option has its own perks for different prices. You'll want to know the difference so you can choose the best option for your trip.
If you have a ride that is longer than 5-6 hours, we recommend getting the best service you can afford since the lower economy tickets make more stops and tend to draw out the journey.
But if you're on a tight budget, or prefer the simple route, know that ADO buses are comfortable and clean, so you don't need the top tier to have a comfortable ride.
Primera Clase (First Class)
Air conditioning
USB charging outlets
Entertainment monitors
One bathroom
Although named "first class", this is the lowest level of service that ADO buses offer.
While still fairly comfortable, the main downside is that the audio on the entertainment monitors is played throughout the bus, which can be a major headache depending on what's playing. That, and there is only one restroom for 40+ passengers—which usually isn't a problem for the shorter journeys.
If your bus route is short and you want something cheap, you can't go wrong with Primera, but if your ride is longer than a few hours, you'll definitely want ADO GL.
ADO GL (Great Luxury)
Access to the Platino departure lounge
Wifi onboard
Air conditioning
USB charging outlets
Entertainment monitors
Mixed gender bathrooms
Cafeteria onboard
Complimentary onboard drink
ADO GL is the sweet spot for ADO bus classes as they have a consistent and frequent schedule and comparable services to Platino for less money.
GL passengers also have access to the same complimentary lounge as Platino, with free wifi, a coffee station, tv's, and a restroom.
Platino
Access to VIP Platino Lobby
Extra legroom
Folding table
Wifi onboard
Air conditioning
USB charging outlets
Personal monitor w/ entertainment
Multiple bathrooms
Cafeteria onboard
Travel kit with pillow and blanket
Platino is the highest level of service ADO buses offer.
If you book this service level, you have a separate waiting area in the bus terminal with complimentary wifi, coffee station, tv's, and a restroom specifically for Platino and GL travelers.
This service tier doesn't run as frequently as the others, and is the most costly, so you may consider booking GL for a more favorable price and departure.
Otherwise, you can't go wrong booking this class on longer journeys, especially with all the amenities.
ADO Conecta
These smaller buses (more like shuttle vans) are used for shorter distances with fewer travelers. They are generally used as transportation between cities and airports.
ADO Conecta is a version of the Primera Clase, but with fewer amenities since they don't go very far. If you are squeezing into one of these for your trip, choose the seats behind the driver for a little more legroom (you'll be glad you did).
ADO partner buses
ADO also is considered an umbrella company for two smaller companies: OCC and AU. They also work with several other companies that we've listed below:
OCC ("Omnibus Cristobal Colon")
AU ("Autobuses Unidos")
Cuenca
Diamante
Estrella de Oro
Important note: ADO bought out OCC and AU, but some buses and stations weren't rebranded and still use the former bus names. If there isn't an ADO bus/bus station, chances are you'll be boarding an OCC bus.
How to buy ADO bus tickets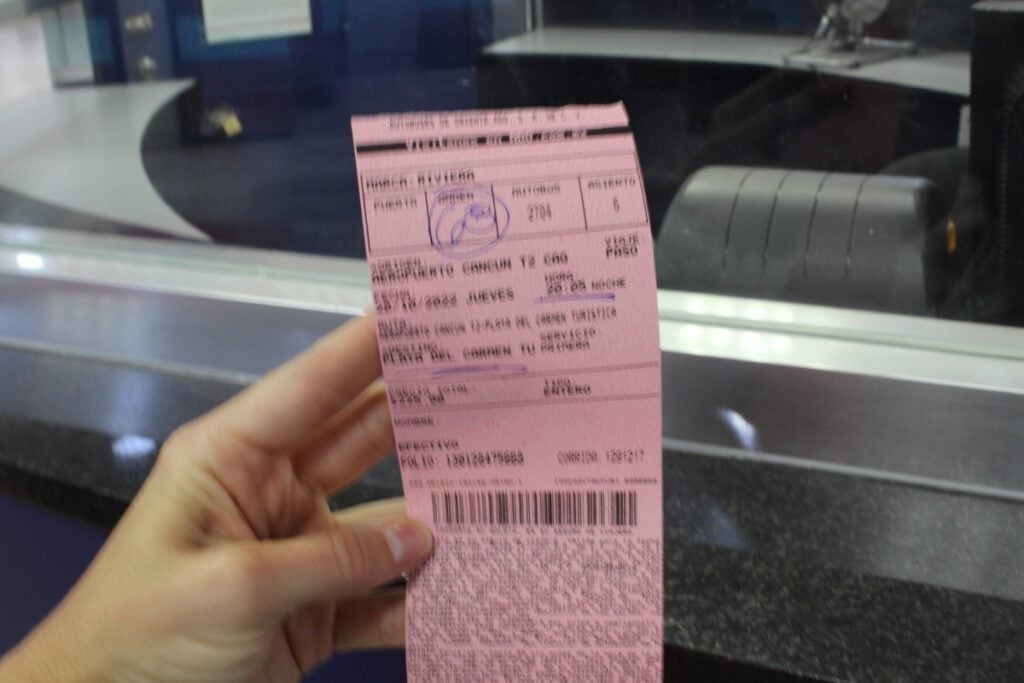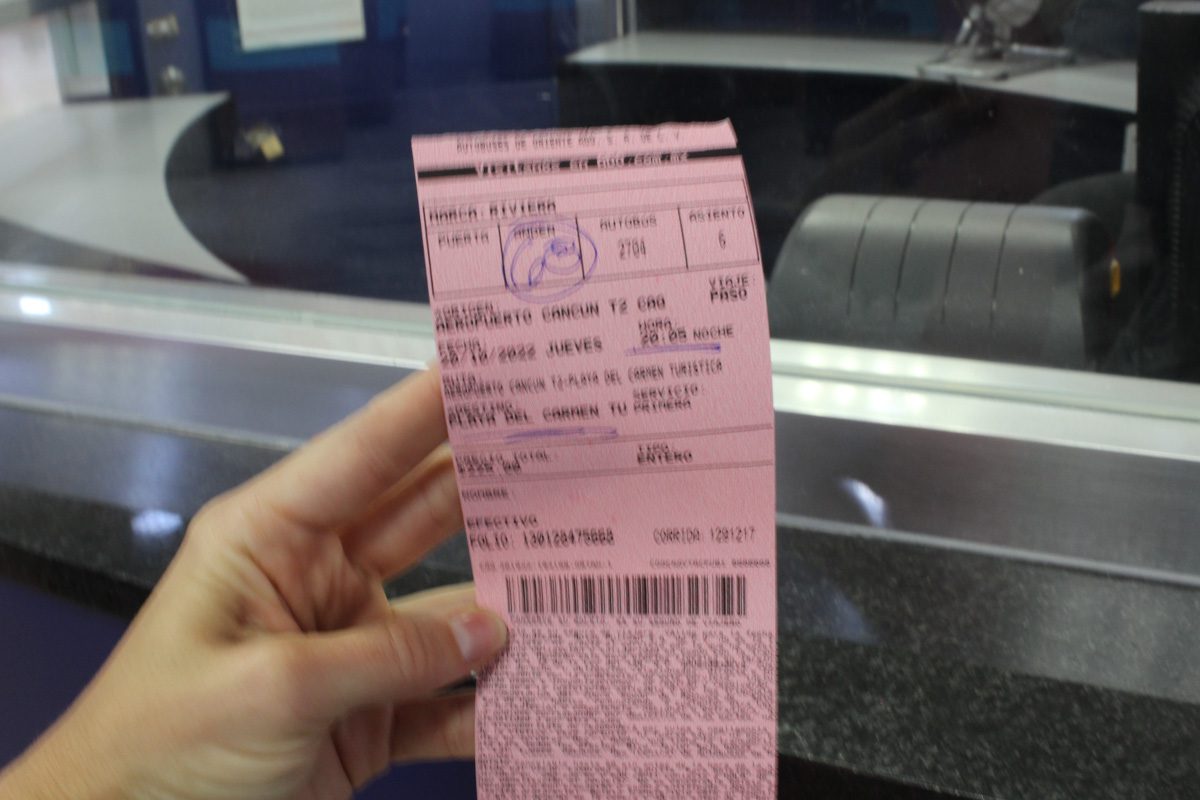 Buying an ADO bus ticket is very straightforward nowadays. There are a handful of different ways you can go about getting one, so you can choose the option that works best for you.
Online in English
If you're still brushing up on your Spanish skills and you'd rather book your ADO bus ticket in English, Bookaway is going to make your life a lot easier.
Bookaway is an online transportation booking site for buses, ferries, and train tickets all around the world. It makes booking transportation in Mexico very seamless, especially for getting around all the hot spots in the Yucatan Peninsula.
Buying your tickets online in English gives you an immense piece of mind if you don't speak Spanish well and prefer reserving your tickets ahead of time.
Once you purchase them, you'll be given an e-ticket to present when you board the bus. It's very straightforward and the most convenient option for getting your ADO bus tickets without hiccups.
At the bus station
Buying an ADO bus ticket directly from the station is very easy and good for last minute plans. You can book for the next available departure or any dates in the future.
You'll pay the booth, the agent will give you a printed ticket, then you're ready to board and be on your way. Many stations accept cards, but keep some pesos on you just in case the machine is broken (sometimes they don't always work).
This is a great option if you lean on the spontaneous side of traveling or if you don't want to jump through the hoops of buying your ticket online, in Spanish.
On most days and routes, you'll have no issue getting the next available departure, but routes to Bacalar tend to fill up fast since there are limited departures.
It's also worth noting to be mindful around peak weekend times and holidays since buses will fill up faster and you may have to wait for a later bus when you book on arrival, or book days in advance.
Online from ADO
You can purchase ADO bus tickets on their website or mobile app only while you are in the country. The mobile app can be finicky, but we've found that the online portal works just as well.
Both platforms are entirely in Spanish, so if you're not confident in your language skills, we suggest booking online in English.
If you're still brushing up on your Spanish and want to have a go at booking using either platform, we suggest having Google Translate on hand to ensure all your boxes are checked.
Note: While browsing the ADO bus website, Google may ask if you want to translate the page into English, making navigation much easier. But it doesn't always translate fully, so you can reference the vocabulary below if you get stuck.
Use this vocabulary list as a reference to help you book using the ADO bus website or the ADO Mobile App:
Origen = origin
Destino = destination
Ver mapa = see map
Ver detalle = see details
Buscar viaje = search trips
Ida = one way
Viaje de ida = one way trip
Ida y vuelta = round trip
Viaje local = Local trip (Bus trip begins at that destination)
Viaje de paso = Bus began at a different destination
Boleto = ticket
Fecha = date
Asiendos = seats
Quedan "x" asientos = "x" seats remaining
Precio = price
IVA = tax
Viaje = trip
Nombre = name
Correo electronico = email address
Seleccionado = selected
Ocupado = occupied
Disponible = available
Tips for booking in Spanish:
All prices are listed in pesos
Military time is used to display arrivals and departures
The middle of the bus is the sweet spot for seats
Write your name exactly as it's seen on your passport
Your total will include something called "asistencia total", which is a type of insurance. You can uncheck the box to decline, or keep it, up to you.
Payments accepted: VISA, Mastercard, American Express, Paypal
The ticket(s) will be sent in a PDF to your email, which you can present when you're ready to board.
What to expect at ADO bus terminals
The size, amenities, and moderness of an ADO bus station will depend on what city it's located in.
You can expect all of them to have at least a ticket counter, snack stand, rest room (usually costs a couple pesos to enter), and seating which may be limited depending on the terminal.
At larger bus terminals, like the one in Mexico City, they operate more like an airport. Different bus companies leave from different stations labeled with either a letter or number.
Smaller towns may have a tiny ticket office with or without seating, or they may sell tickets at a local convenience store.
What to expect onboard an ADO bus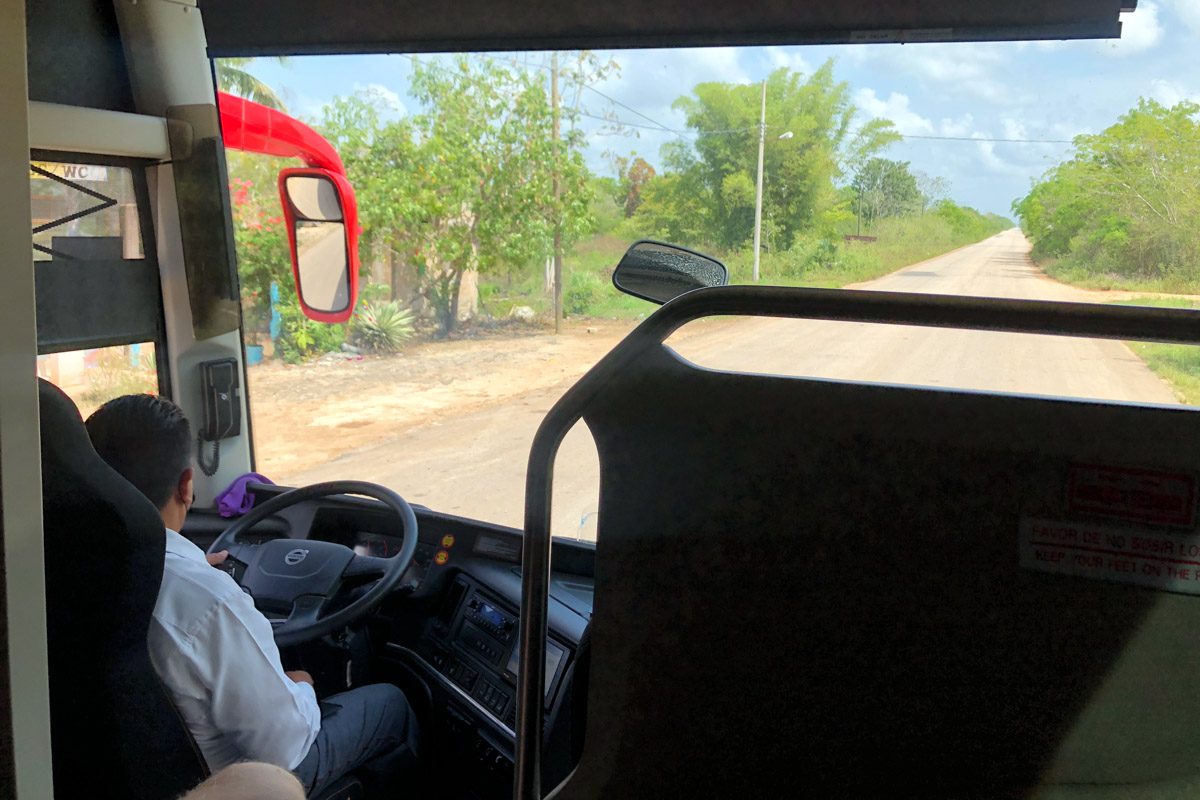 ADO is considered a high-quality bus service, so your ride will be plenty comfortable even at the cheapest ticket level.
Amenities
All ADO buses have AC, USB charging outlets, and varying arrangements of entertainment monitors. They're usually playing movies dubbed in Spanish over the speakers without subtitles.
Depending on the length of your bus ride, you may want to pack some noise-canceling headphones since some movies are played at a very high volume.
Each service level will also have a bathroom on board. Some only have one whereas the higher service levels will have two.
Rest stops
Depending on the length of the route, the bus driver may make a rest stop (10 minutes or more) and allow people to get off the bus, use the restroom, and pick up snacks or a drink. Bathrooms at rest stops require payment so be sure to have spare pesos with you.
If the ride is very long, the bus driver will stop every 4 hours for the restroom and meals.
It's also not uncommon for vendors to board the bus at rest stops and offer snacks and drinks.
Know before you go
Seats are (generally) always assigned. When you buy your ADO bus ticket you'll be able to choose your preferred seat. On shorter routes, seats tend to be first come first served.
The best seats are near the middle of the bus. Not in the back by the bathroom, but not at the front.
ADO employees generally don't speak any English. If your Spanish is rusty, download Google translate to help you communicate more effectively.
Luggage restrictions are minimal. You can bring any amount of luggage free of charge, but only small bags will fit onboard and anything larger will be stowed underneath the bus during the ride.
ADO Mexico FAQs
Now that we've covered all the main details of traveling around Mexico by ADO bus, here are some frequently asked questions you may have.
Is it safe to take the ADO bus in Mexico at night?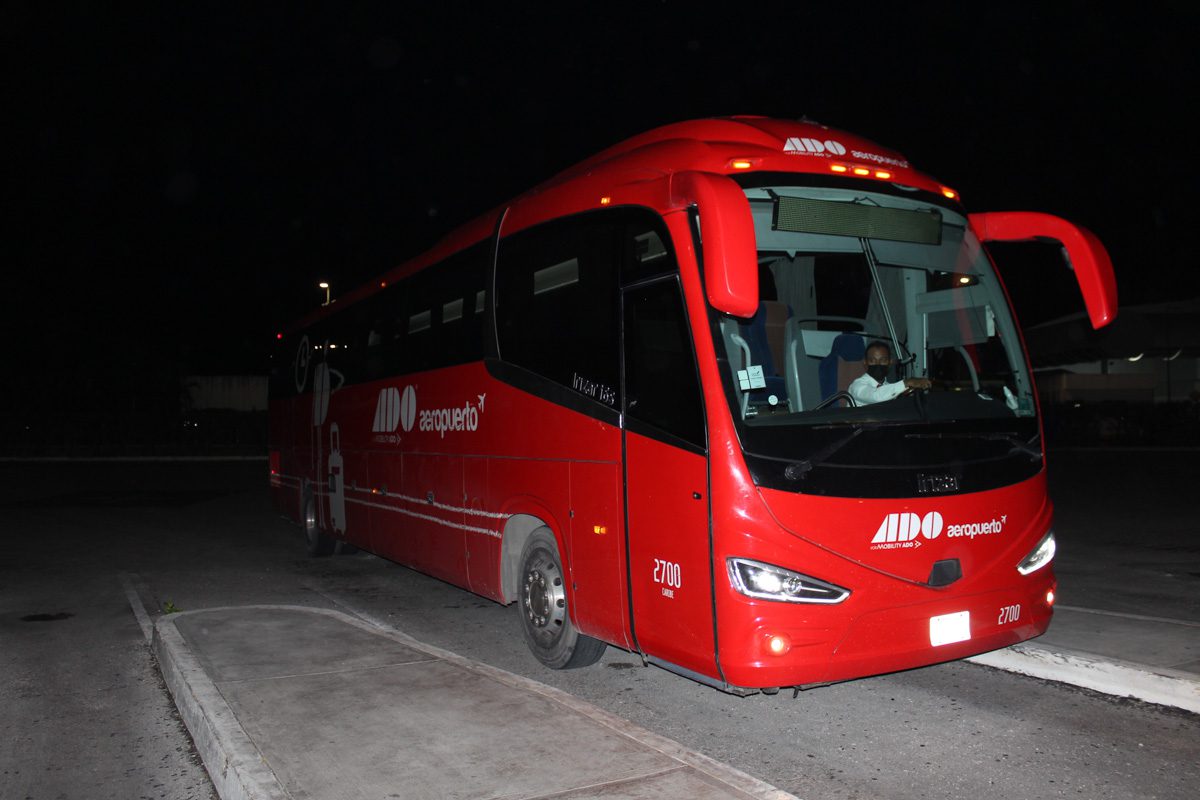 ADO buses are one of the safest ways to travel around Mexico. So yes, it is safe to take the ADO bus at night, as a nighttime airport route or overnight route.
How far in advance do I need to book my ticket?
Outside of holidays and peak time on the weekends, booking in advance typically isn't necessary.
Multiple different buses depart for any given location, so if you didn't book in advance and the bus is full, you can always catch the next one.
However, we recommend booking 2-3 days in advance as there are some perks.
If you buy your tickets online with Bookaway, you'll be able to look at everything in English and you won't waste any time waiting at the bus station. You'll also get a small discount for booking in advance.
ADO buses in Mexico generally don't have a schedule available more than a month in advance, so if you're planning a few months out, check the current schedule to get a good feel for the frequency and days of route options for the future.
Are there toilets on ADO buses?
Yes, there are toilets available on each ADO bus service level.
Do note though, some bus routes tend to be bumpy… we think you can connect the dots there.
Luckily, along some routes, the bus driver will stop for 10-minutes (sometimes more), where you'll be able to use a stationary restroom (bring some peso coins) as well as pick up snacks or a drink. On longer routes, the driver will stop every 4 hours.
No matter your preference, pack travel tissue and biodegradable hand sanitizer since some restrooms lack one, the other, or both.
Can I take food and drinks on ADO buses?
Yes, ADO buses allow food and drinks on board. Both GL and Platino classes provide drinks on board, and a snack is given complimentary on Platino services.
If you're not taking those classes, other buses and routes stop periodically for a snack/beverage pit stop.
Do the ADO buses run on time?
Buses generally depart and arrive as scheduled.
Boarding is generally 10 minutes before departure. If you booked a GL or Platino bus, you can start checking your bag up to 30-minutes before the scheduled departure.
How early should I arrive at the bus station?
If you already have your ticket booked online, we recommend arriving 15-20 minutes before your bus leaves so you have time to get a lay of the land and find your bus.
The same goes if you don't have your ticket, you'll want to arrive at least half an hour early so you have time to get your ticket if there's a line, find your bus, check bags, etc..
Is my luggage safe on an ADO bus?
In short, yes.
ADO buses offer fee-free, unlimited luggage, so you can bring all your things with ease.
Your larger bags will be stored under the bus and you'll be able to bring a smaller bag on your person inside the bus.
Your checked bag is safe in the cargo compartment, but do not put any of your valuables in here. Instead, keep them with you inside the bus.
Although it is safe on ADO buses, you still want to practice good street smarts by always having an eye on your bag and never leaving it unattended.
More resources for planning your trip to Mexico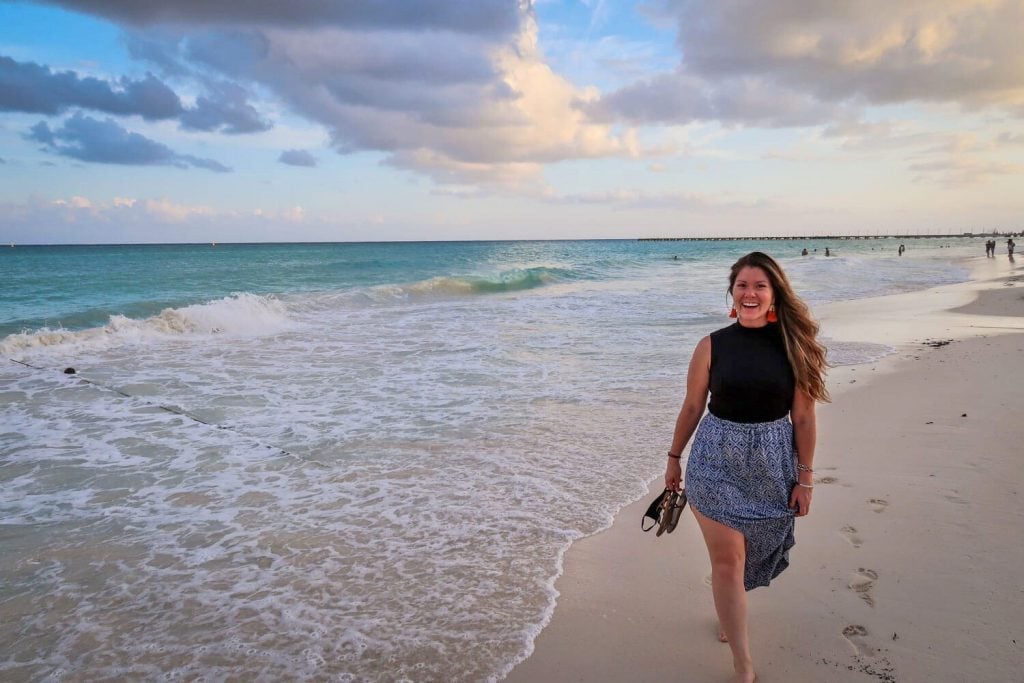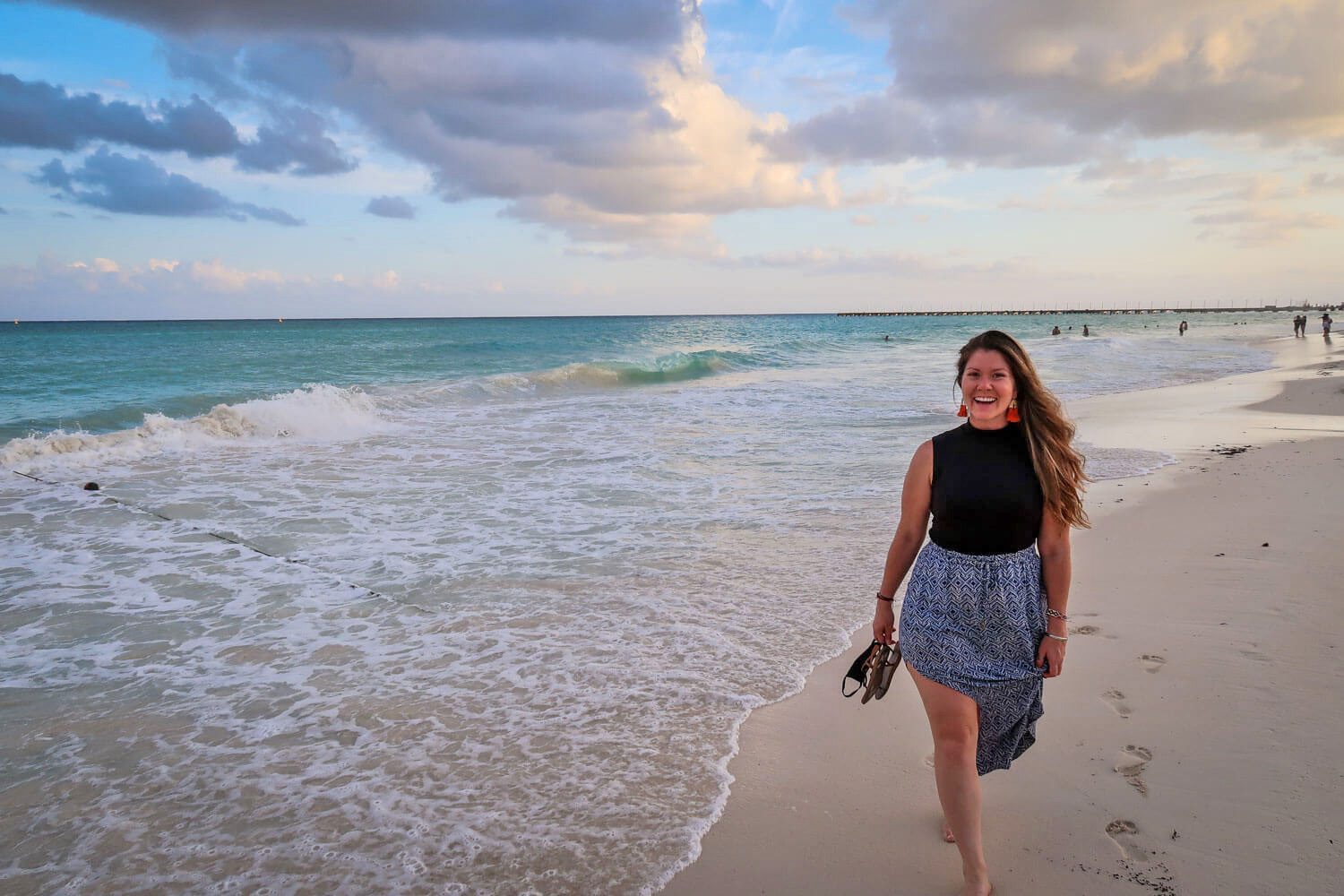 If you're planning a trip to Mexico, we've got loads of helpful resources for you! Start with our Mexico Travel Homepage, where you'll find general info, and be sure to check out the articles below. Leave us a comment if you have any questions!
Save this article on Pinterest for later!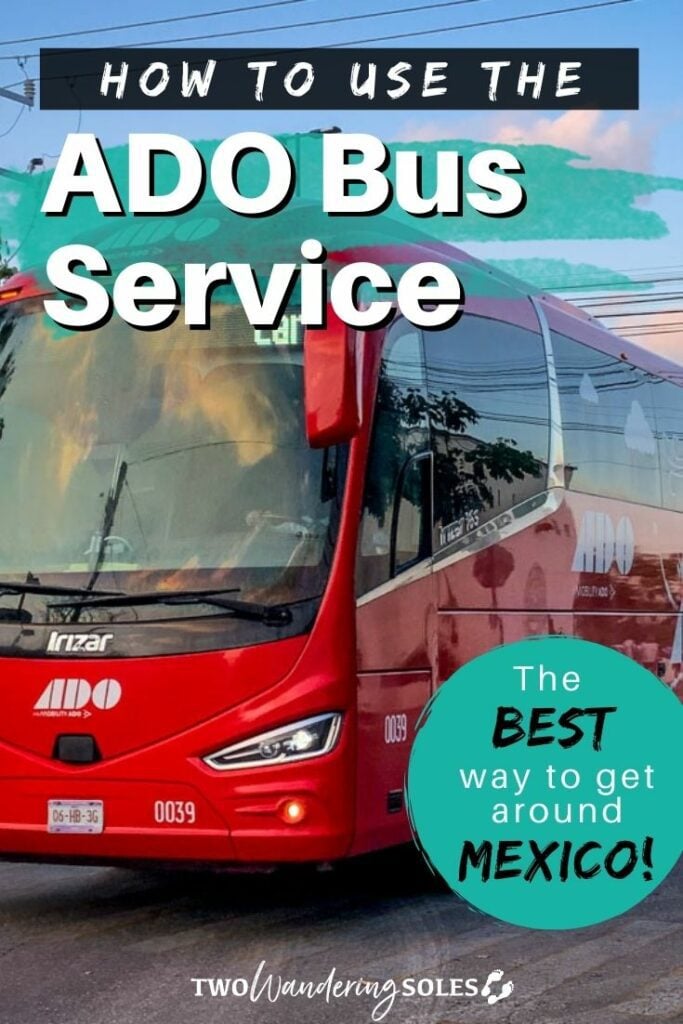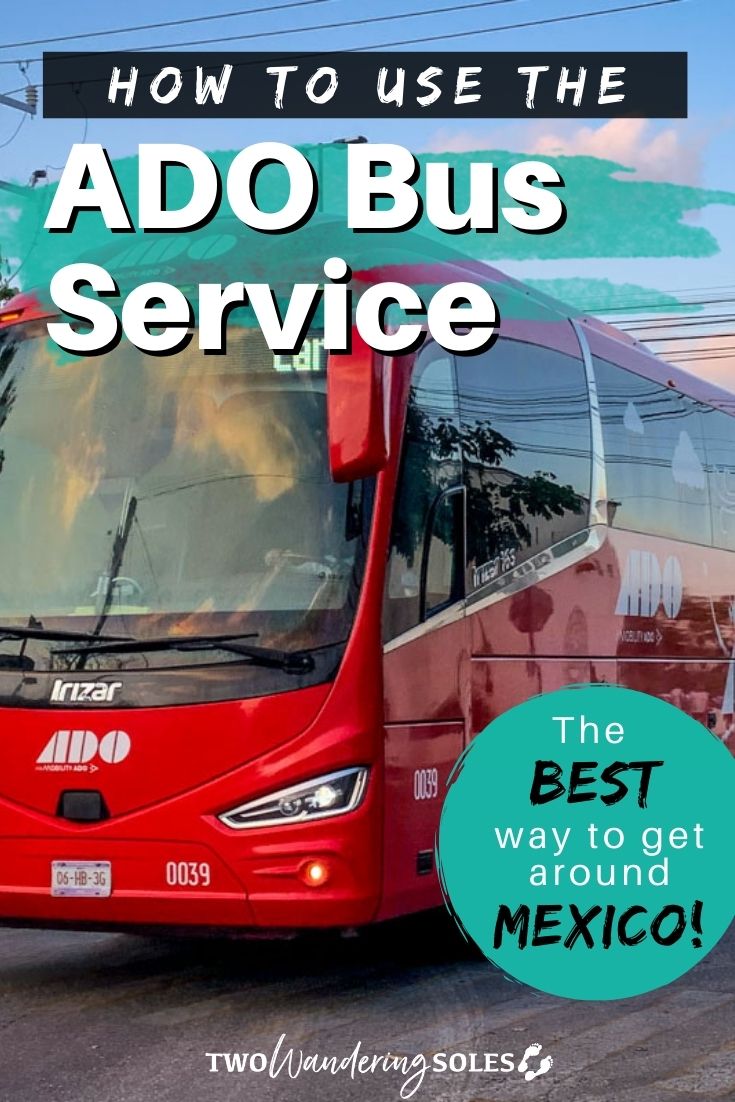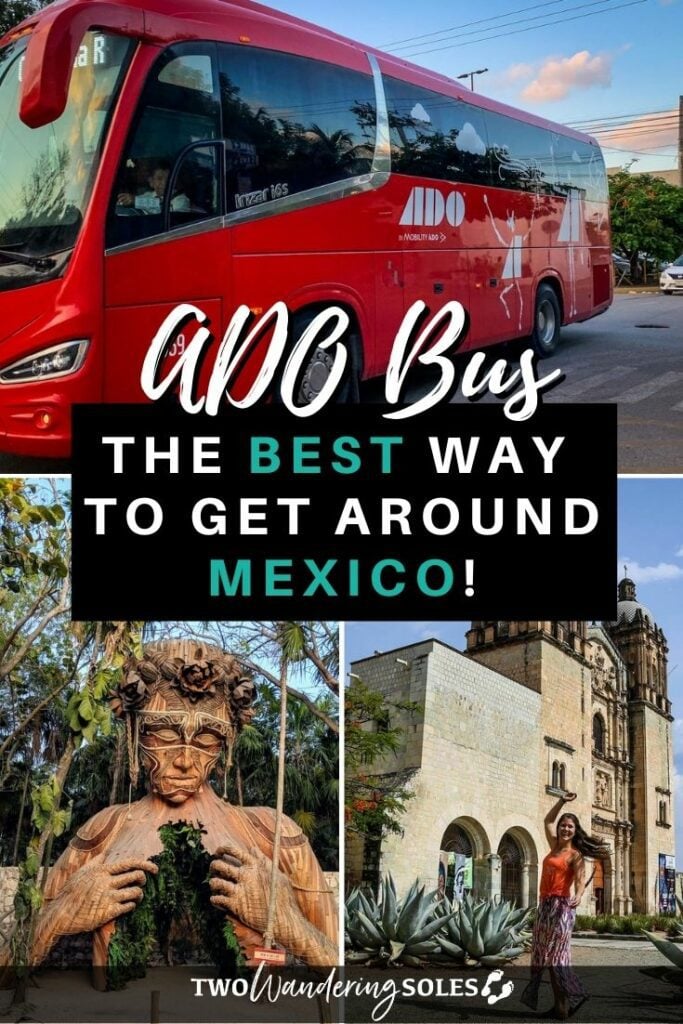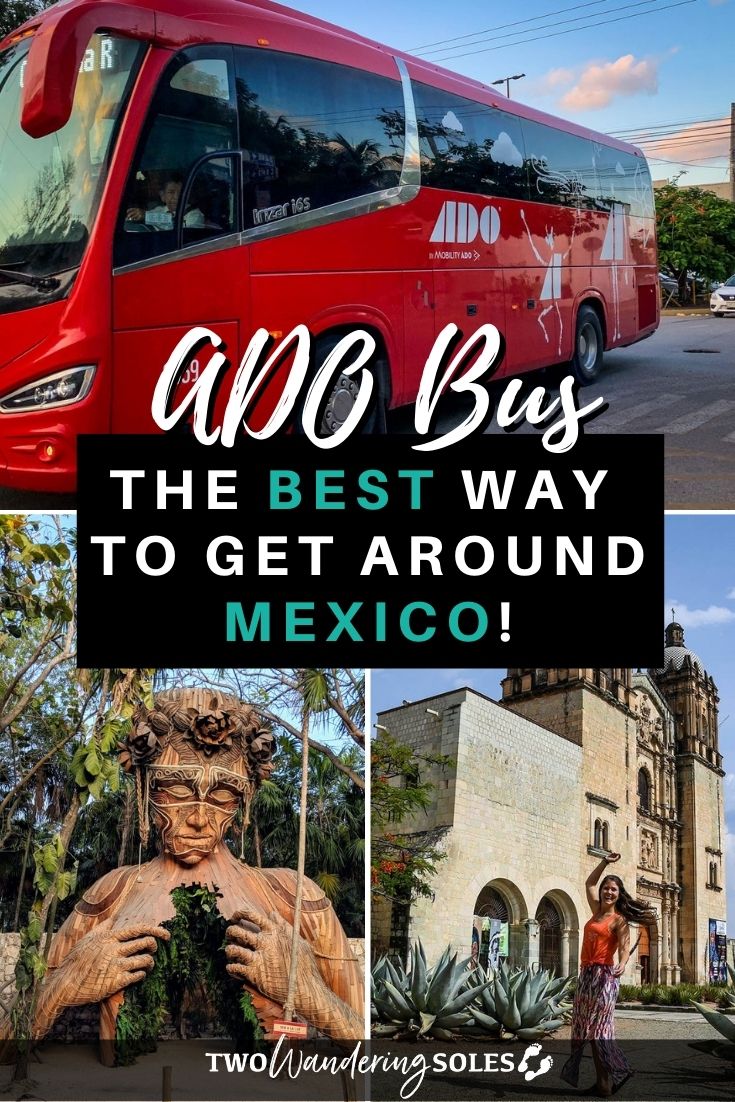 We want to hear from you!
Do you have more questions about riding the ADO bus around Mexico? Did you find this guide helpful? Leave your comment below and we'll do our best to get back to you!