The Mexican state of Oaxaca is full of stunning architecture, agave plants and some of the most delicious food (and mezcal!) in the country. As you plan your trip to this colorful Mexican destination, we're breaking out the top things to see, the best things to eat, and some off the beaten path activities. You'll have no shortage of things to do in Oaxaca, and we're here to help you plan an epic trip to Central Mexico!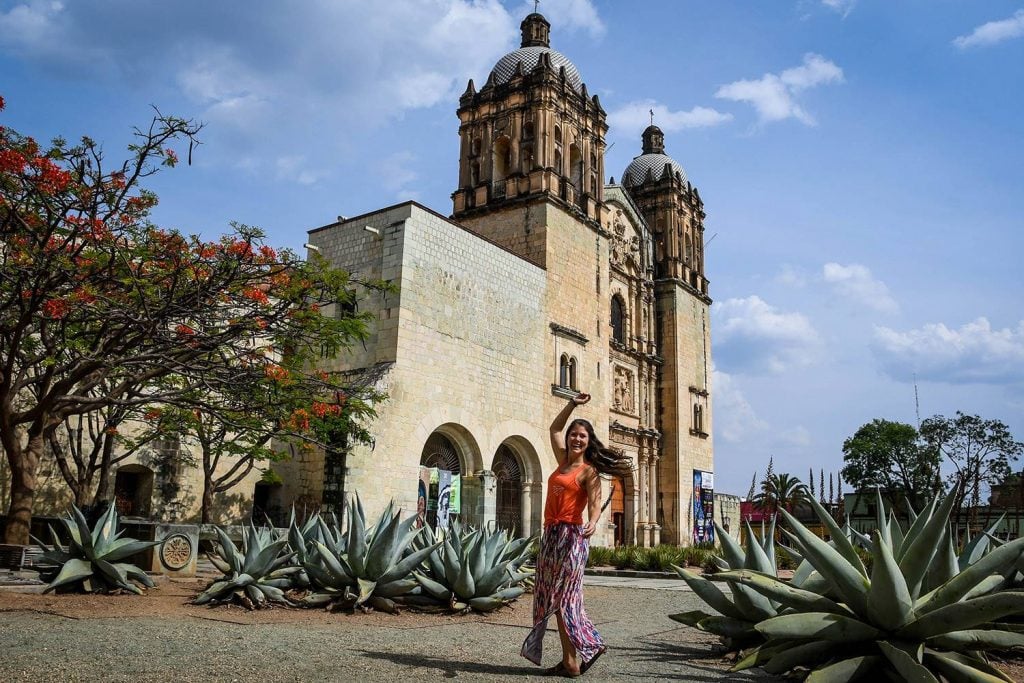 With brightly colored buildings, iconic churches and streets dotted with cacti and agave plants, there's no denying Oaxaca City is breathtaking. But beyond its Instagram-worthy exterior, this city is packed with culture and history, boasts drool-worthy cuisine, has friendly locals and a vibe that you'll be quick to fall in love with.
Whether you're visiting for a few days or a whole week, there are plenty of ways to fill your time. We've rounded up the best things to do in Oaxaca along with what to eat and where to stay.
How to pronounce "Oaxaca": It's pronounced "wa-ha-kah" for all of you who are scratching your head. Don't worry – it took us a while too!
Things to know about Oaxaca:
Be sure to download our complete packing list for Mexico! It's packed with good suggestions and insider tips to help plan your Mexico vacation. And it's completely FREE, so why not!?
---
Watch our epic video of our 2 week trip in Mexico to get some inspiration and wanderlust
Note: Turn off Ad Blocker to watch Mexico Video
Top things to do in Oaxaca
Oaxaca is a region that is incredibly diverse. You'll find tiny villages as well as the cultural hub of Oaxaca City. You'll find mountains and beaches and desert.
So whether you are interested in tasting the best food in Mexico or you want to soak up the sun and snorkel in Huatulco, the region of Oaxaca has something to offer for each type of traveler.
For this article, we are focusing on sights and activities near the heart of Oaxaca City.
1. Explore the Markets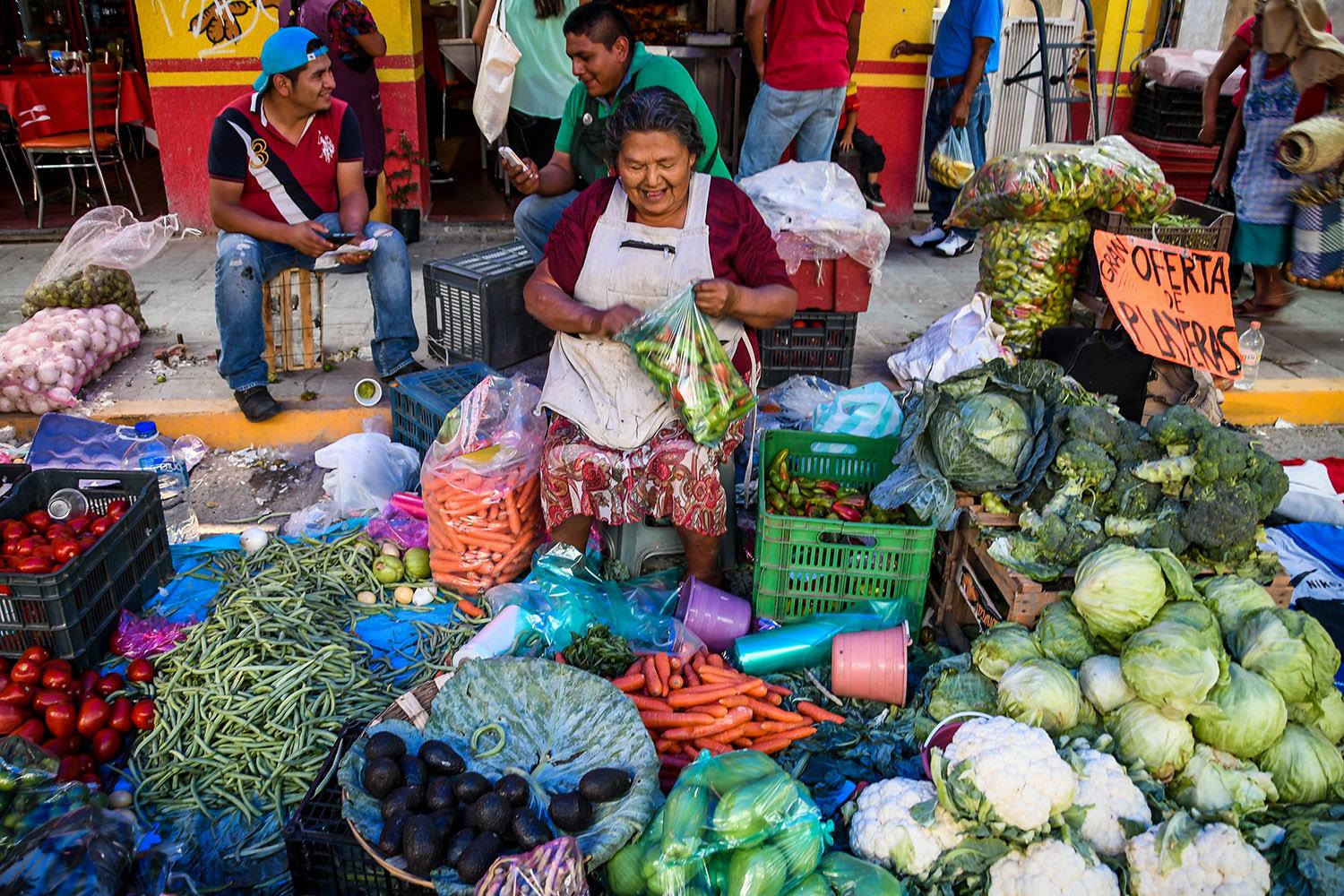 Like many parts of Latin America, Oaxaca City has many markets, each of which has its own unique draw.
Mercado Benito Juárez
Probably the most well-known market in Oaxaca City, you'll find souvenirs and some small snacks in this large, covered area. Open 7 a.m. to 9 p.m.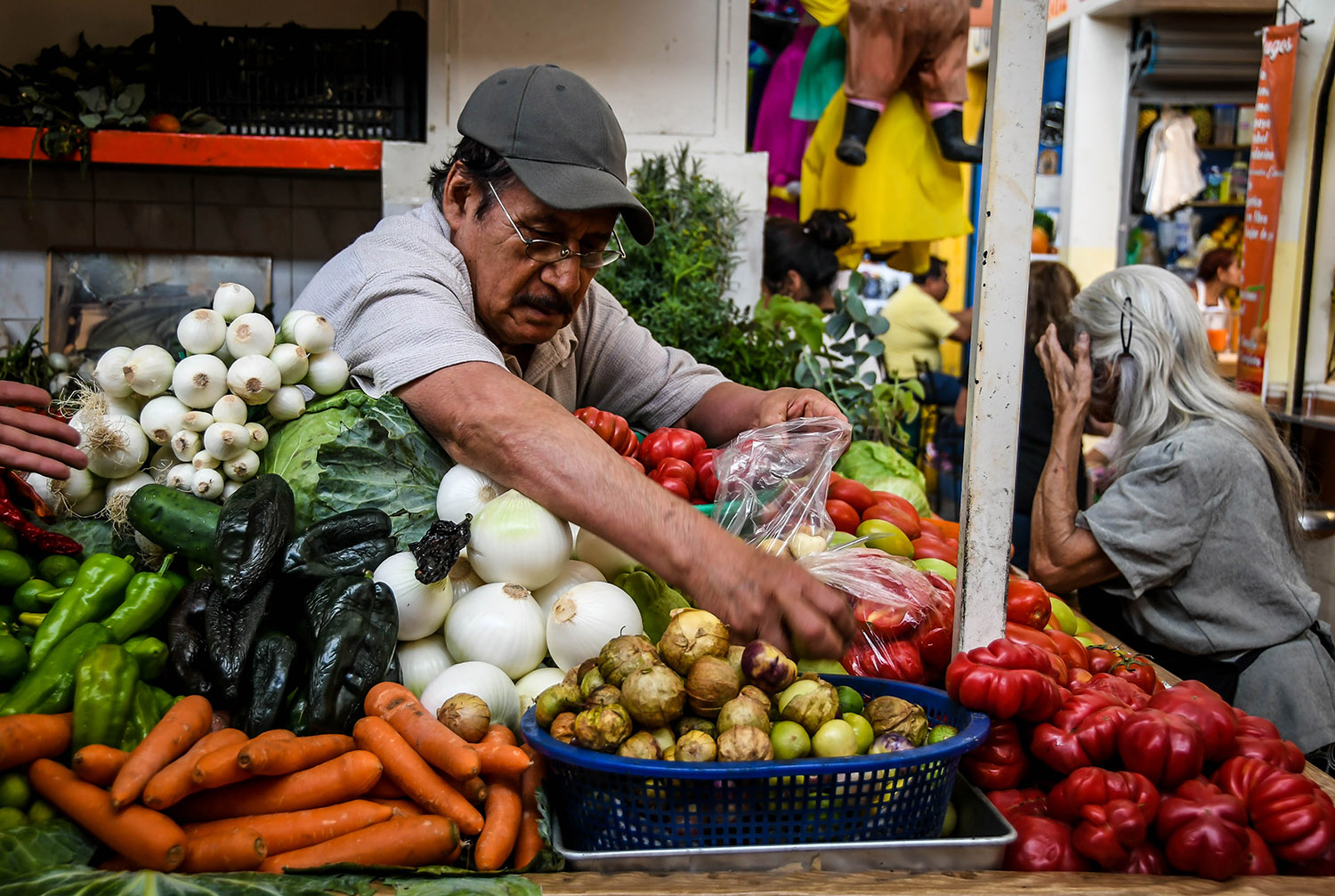 Mercado 20 de Noviembre
This market is one block south of Mercado Benito Juárez and is full of food stalls and various hand-crafted gifts like shoes, table runners and other embroidered fabric. Open 7 a.m. to 9 p.m.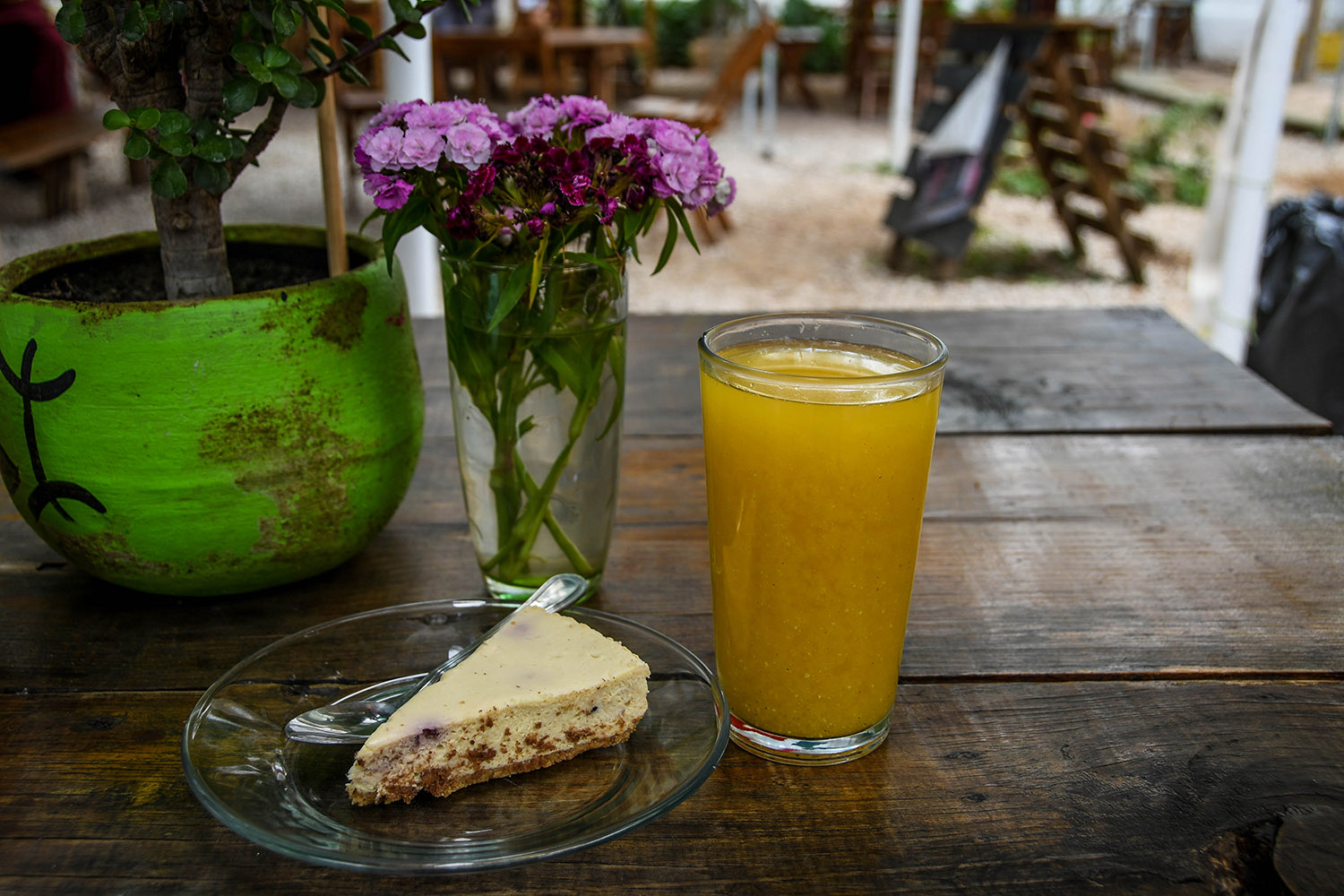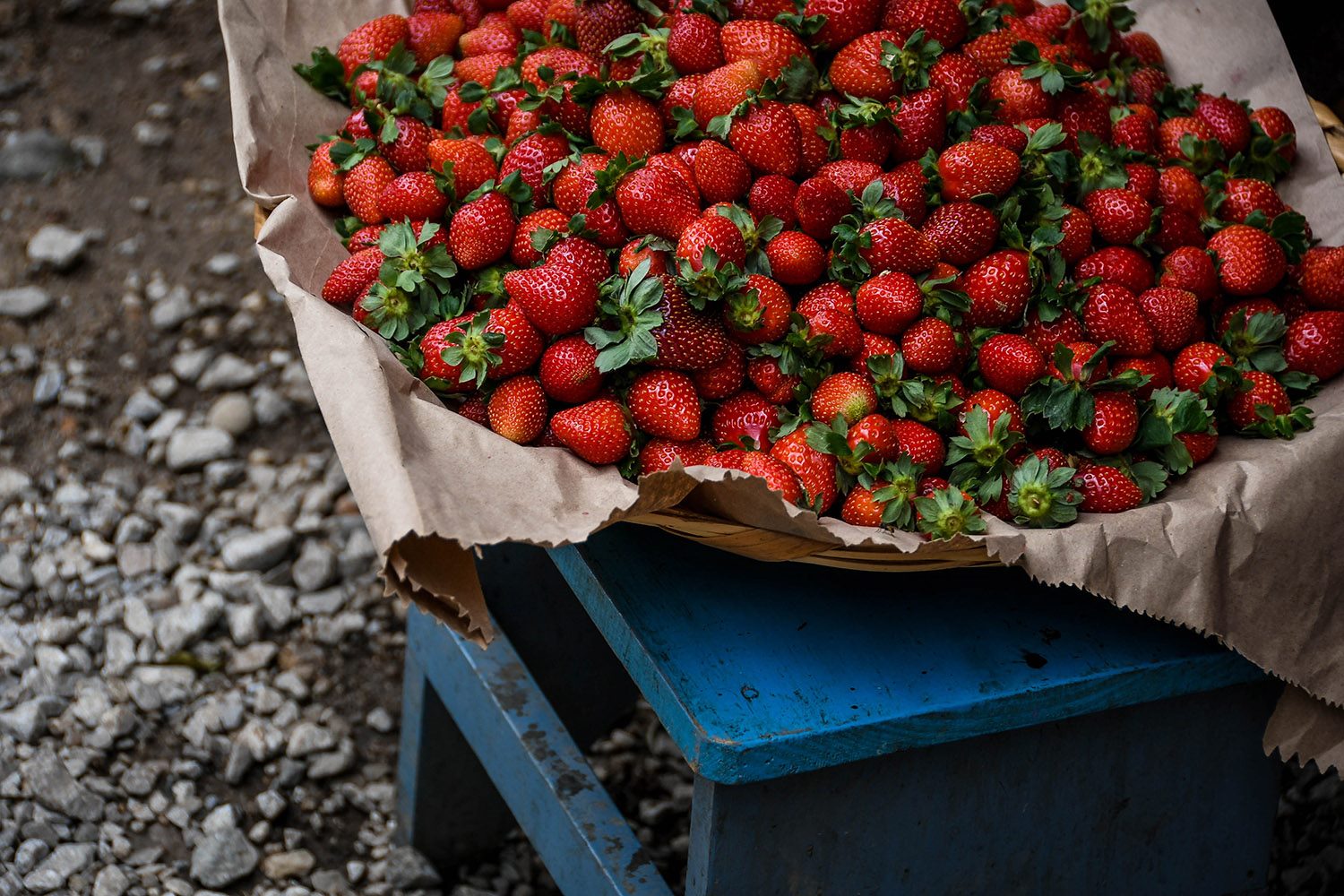 Organic Harvest Market
Open on 8 a.m. – 6 p.m (closed Mondays and Tuesdays), this market is a shaded oasis. Order an agua fresca (fresh flavored water), and a treat like blackberry cheesecake while you enjoy live music and rest your feet.
2. Free Walking Tour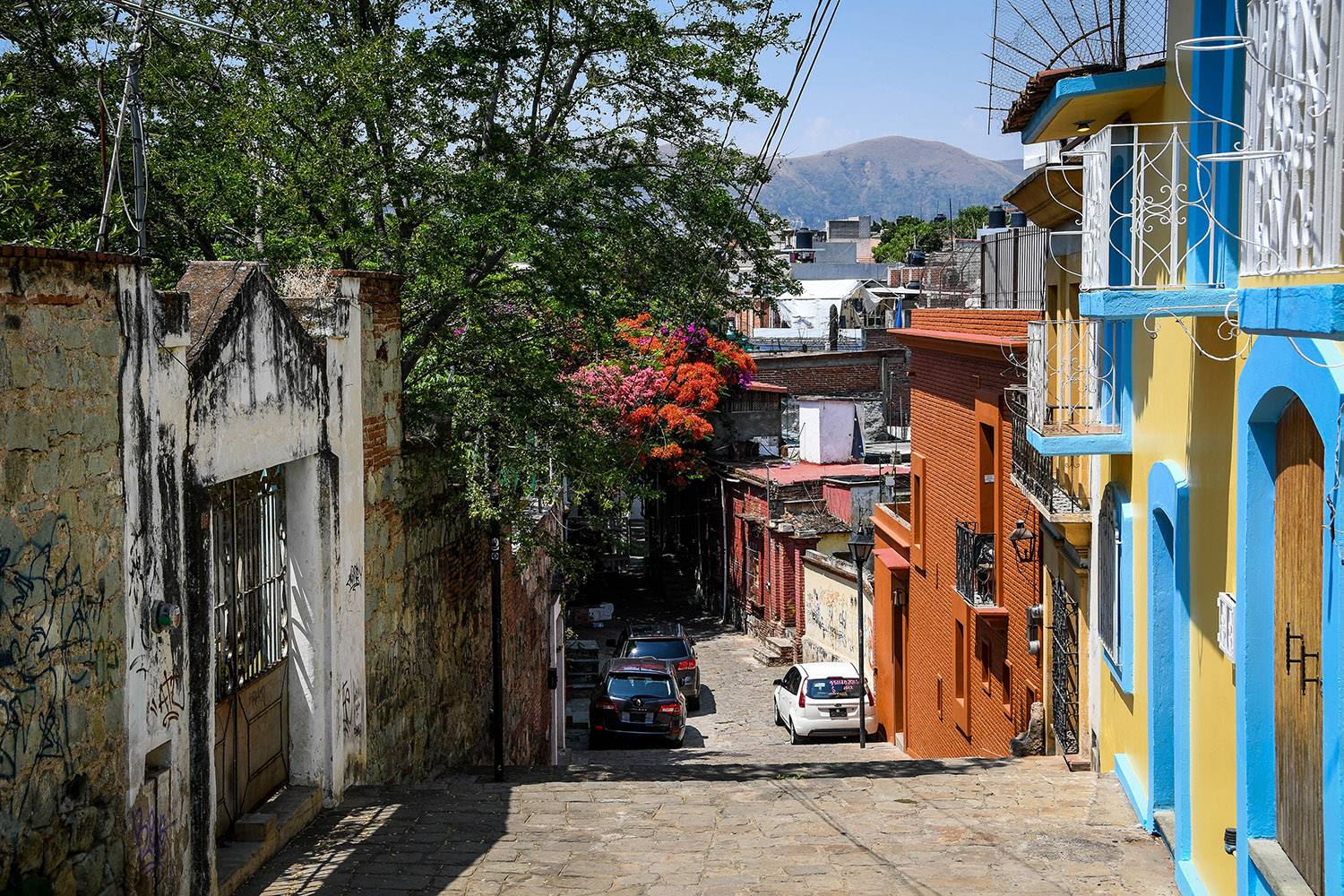 Talking a walking tour is a great way to orient yourself on your first day in a new city. Our hostel offered a free walking tour, which brought us past all the city's beautiful churches and through several markets – both the famous and the little known. Our guides shared stories and history of the region, which was a great way to get acquainted with the city.
Though the tour is run through the Casa Angel Hostel, they welcome anyone to join (even if you're staying somewhere else). The tour starts from the hostel at 10:30am on Mondays, Thursday, and Saturdays (but check with the hostel first).
Looking for another city bursting with Mexican flavor and culture? There are so many fun things to do in Merida, which is located in the Yucatan Peninsula.
3. Hierve el Agua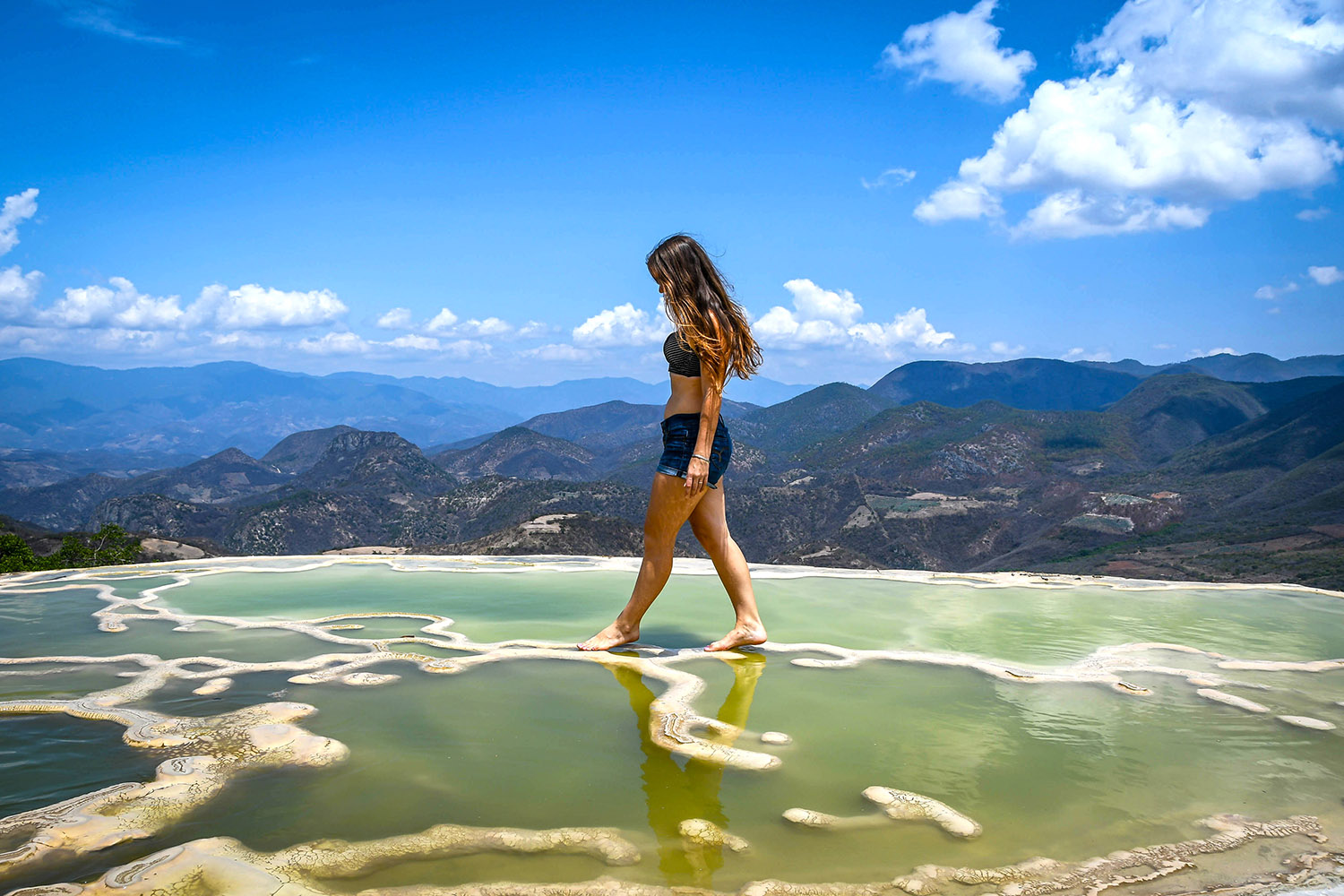 Meaning "boiling water", this stunning waterfall was created by a mineral rich spring and is good for more than just taking photos. Pack your swimsuit so you can take a refreshing dip in the water (yes the water is cold, not boiling) or make a short hike to a lookout point near the falls.
How to get to Hierve el Agua
There are several ways you can get to Hierve del Agua:
Take a collective (shared taxi). You can find these small maroon and white cars parked on the east side of the baseball stadium (Estadio Eduardo Vasconcelos). They pack 6 people inside, and the ride will take up to 2 hours to Mitla, depending on traffic, and it costs 25 MXN per person.
From there you need to take a covered pickup truck (yep you hop in back) to Hierve el Agua taking about 1 hour and costing an additional 40 MXN per person. To get back you need to do the reverse.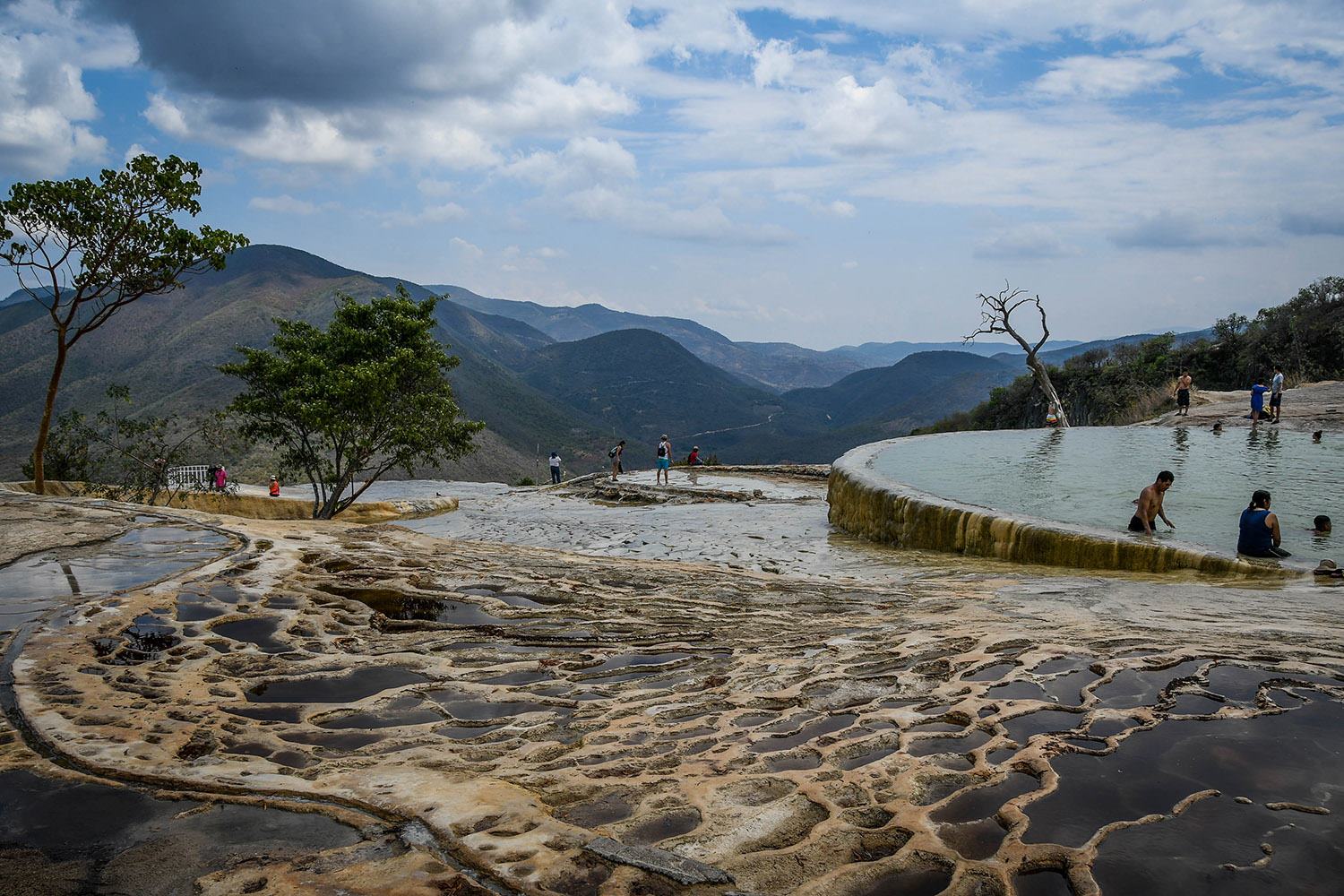 Go on a tour. We're typically not that big of fans of guided tours, but we chose this option since our hostel offered a tour that included a stop at the waterfalls, Mitla ruins, Thule tree, a mezcal distillery, and a stop in a weaving village.
All this cost just 200 pesos per person for the transportation and guide, which is cheaper than it would cost to do it all on your own. It also meant we didn't need to worry about figuring it out on our own.
There are several operators running similar tours, and you can book them the day before you'd like to take the tour. No need to book far in advance online! While it was a nice day, the highlight was definitely the falls, so if you're rushed for time, you don't need to feel badly missing out on Thule or Mitla.
Note: You will have to pay for the entrance to Hierve el Agua (usually 30 pesos per person but our tour charged us 45 pesos per person) and entrance to the Mitla ruins (75 pesos).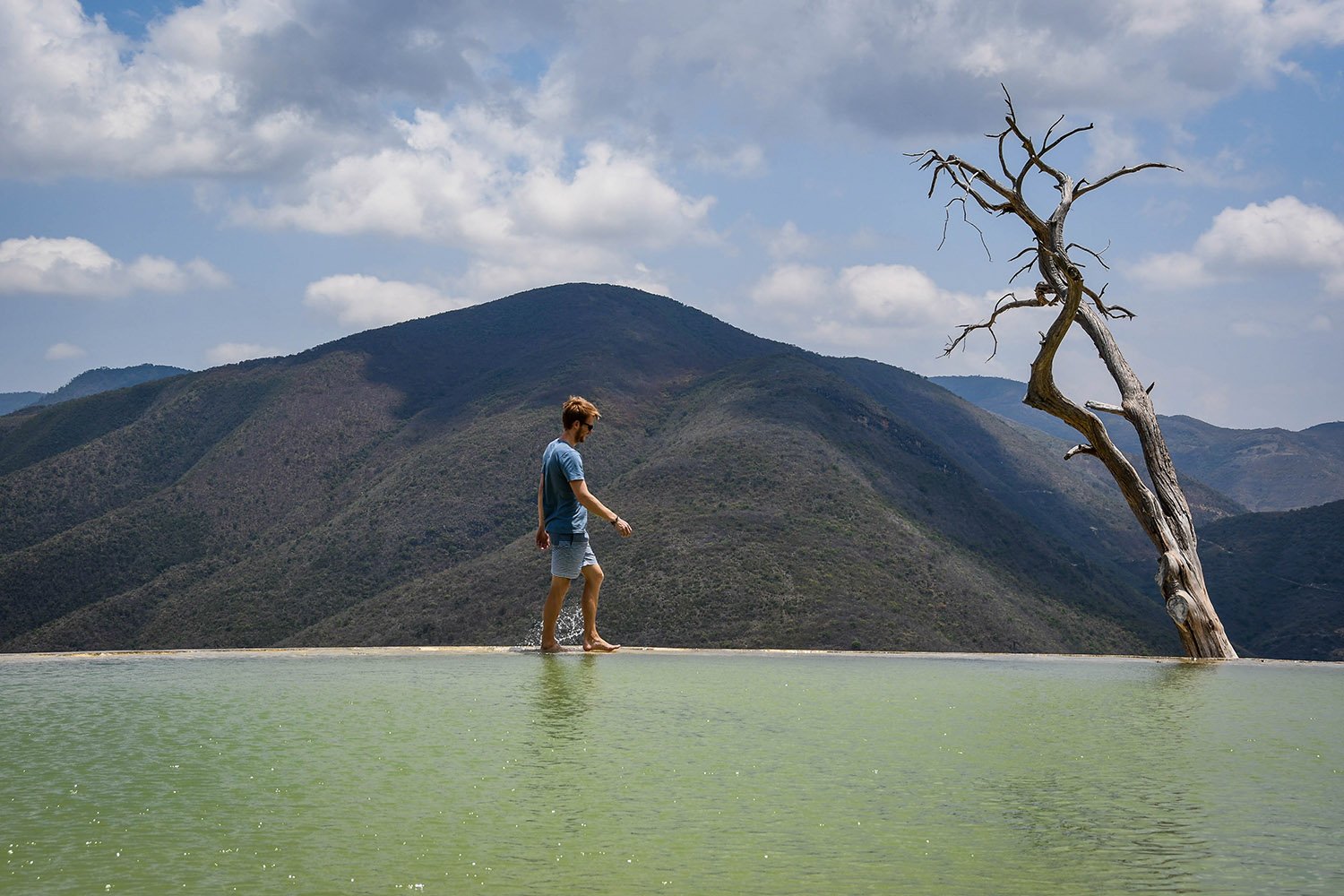 Hire a driver or a rental car. If you want to go at your own pace, consider hiring a private driver (typically 200 pesos per hour) or renting a car and making the drive on your own. The roads aren't difficult to drive on, and you will have the most freedom. That said, this is the most expensive option.
Hierve del Agua Hours
The waterfall opens at 9 a.m. and closes at 6 p.m. The entrance fee is 30 pesos per person.
Other things to know about visiting Hierve el Agua
There is a bathroom near the entrance that costs 3 pesos per person. You can change into your bathing suit here if you'd like.
There are lots of snack stands around this area. If you go on a guided tour, they will stop at a buffet for lunch that costs 150 pesos per person. We opted to grab snacks at the waterfall instead of eating the buffet, since we didn't want to stuff ourselves on mediocre food when Oaxaca has some amazing place to eat.
4. Take a Mexican Cooking Class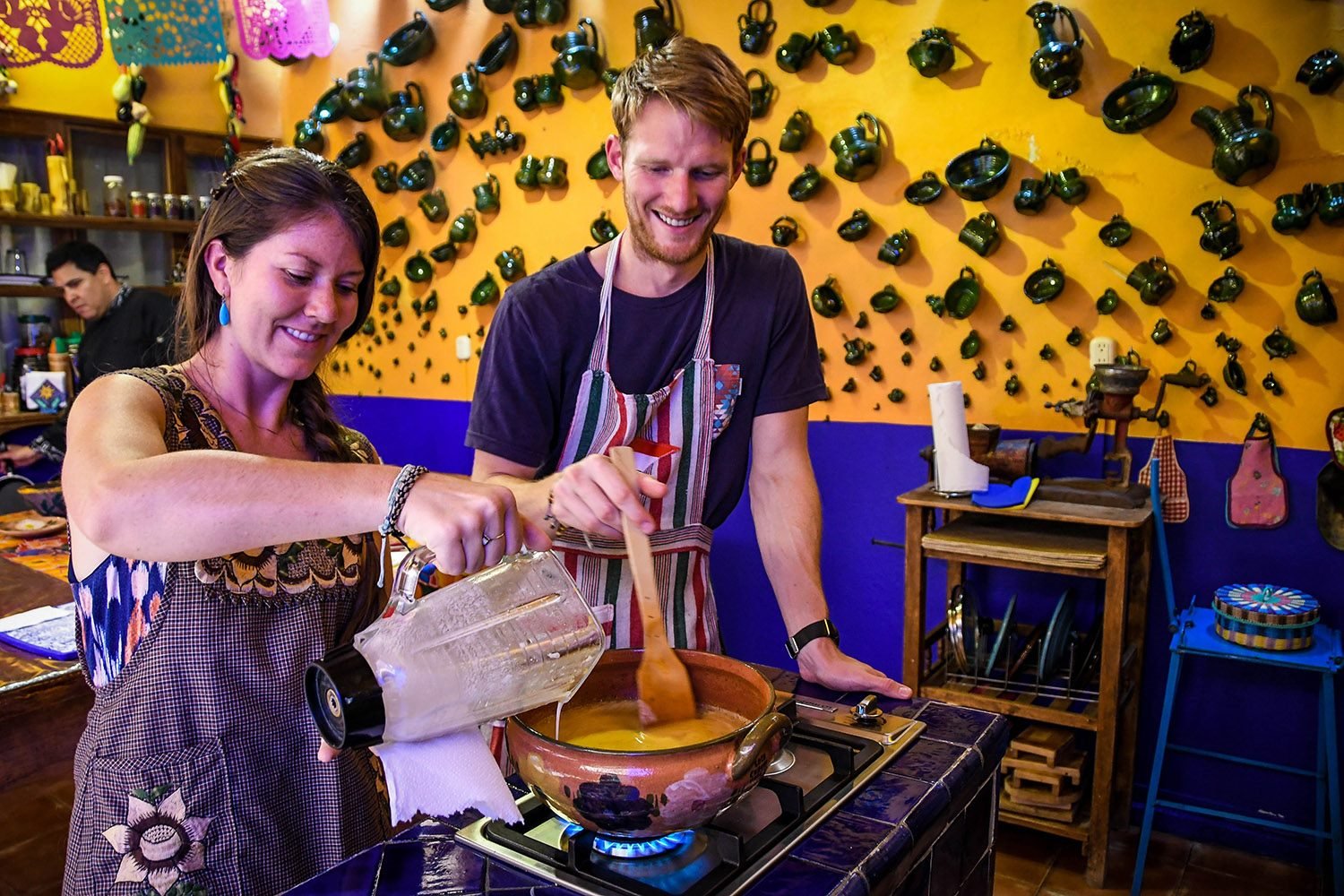 If you've been following our blog for a while, you'll know we're obsessed with taking cooking classes along our travels. (In fact, this was the 10th cooking class we've taken around the world!) We love Mexican cuisine and have been itching to learn how to make some of the staples ourselves, so we couldn't pass up the opportunity to take a cooking class in Oaxaca.
The first stop of our cooking class was at a local market, where the instructor bought some local ingredients for the dishes we'd be making and let us try a few things that we probably would otherwise pass up.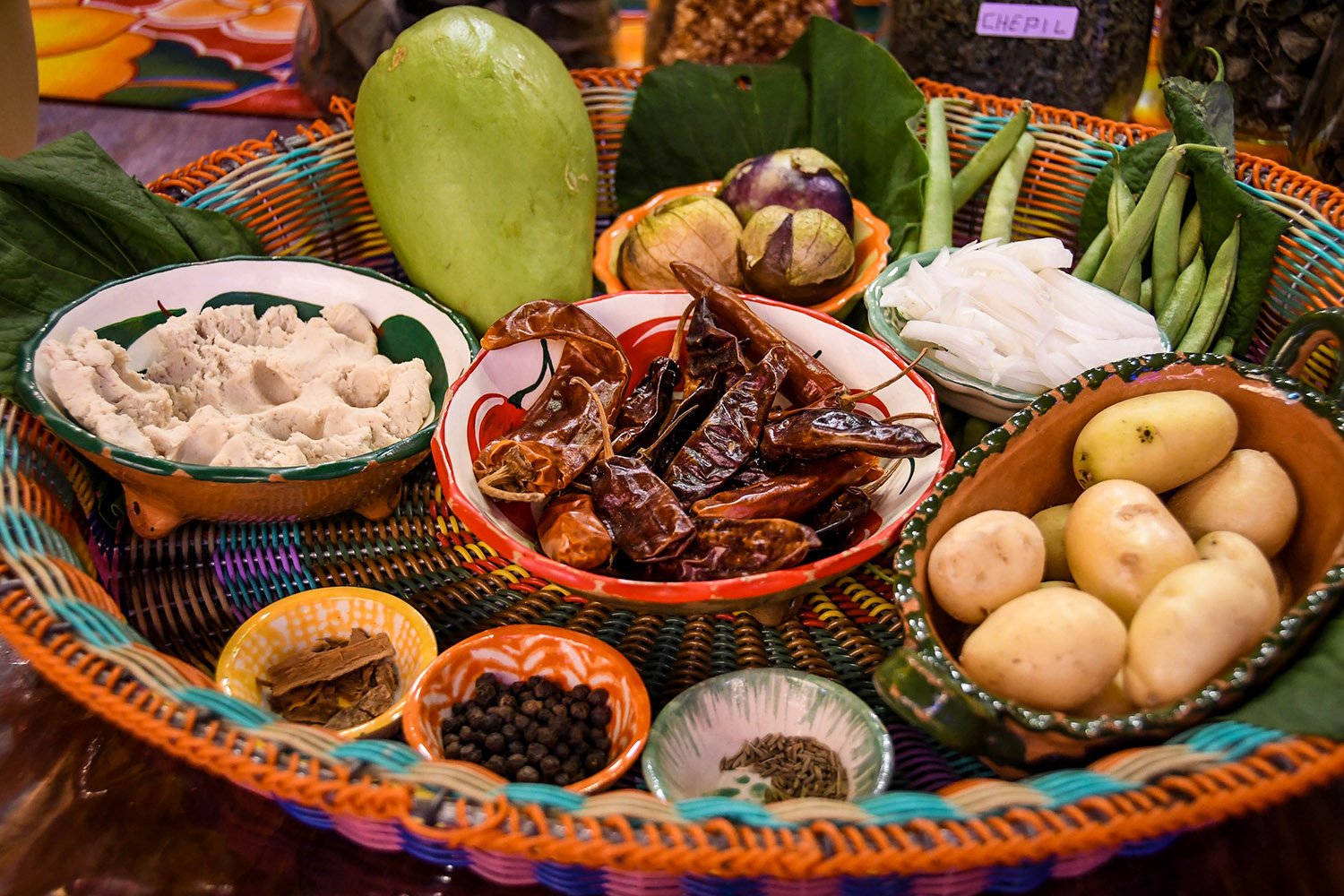 We then returned to his family's home where we learned how to cook dishes like zucchini flowers stuffed with ricotta and honey, fresh green mole, enchiladas with a scratch-made salsa verde, and the best guacamole I've ever tasted. Oh, and we also made tortillas from scratch, which is a lot harder than it may sound!
We enjoyed wine, margaritas and conversation while eating the food we had prepared.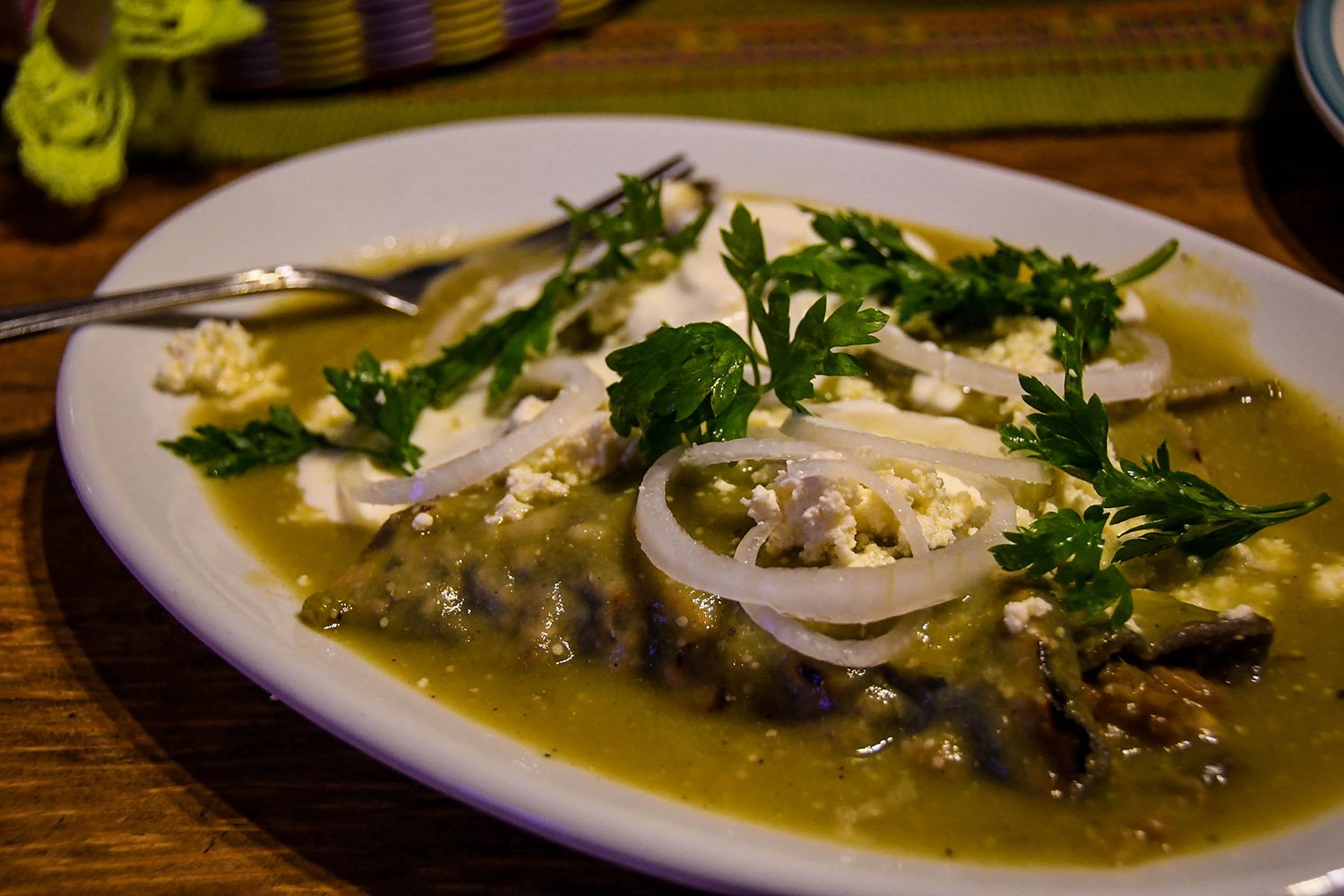 There are many cooking classes in Oaxaca, but we booked a class with La Cocina Oaxaquena and were happy with it. We booked through our hostel, Casa Angel, the day before and paid 800 pesos each. They can accommodate vegetarians and provide recipes of all the food you cook at the end of the class.
Interested in Mexican Culture? If you're lucky enough to be traveling in Oaxaca during Dia de los Muertos, which takes place each year on November 2nd, you're in for a cultural experience that you'll never forget. If you have flexibility in your travel schedule, consider planning your trip to Mexico over this holiday.

And if you don't know much about Dia de los Muertos, several Mexican people we met told us the Disney/Pixar film "Coco" does a good job explaining the traditions that make up this beautiful celebration. Plus, the movie is entertaining and adorable, so go watch it if you haven't already!
5. Trekking in Sierra Norte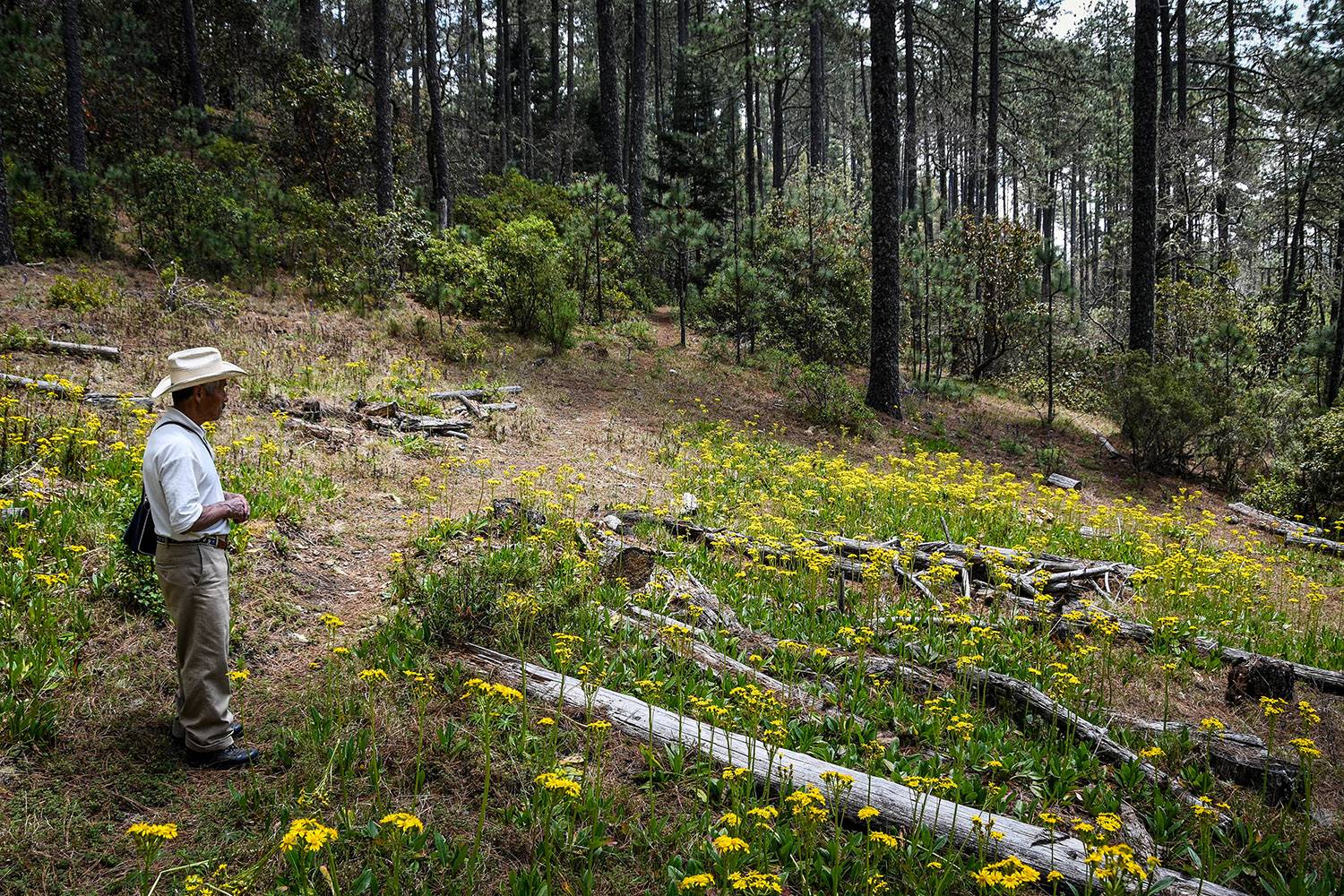 Oaxaca is split into 8 regions, one of them being the Sierra Norte. Set high in the mountains in this region lie 8 communities that make up the Pueblos Mancomunados. They are self-governing and have different customs and laws than the rest of Mexico.
The communities have a focus on ecotourism and offer people the chance to trek between them with local guides. Plus, trekkers get to stay in the villages in beautiful cabins, complete with wood burning fireplaces.
This trek was definitely the highlight of our time in Oaxaca and was so different from anything else we experienced in the city or even in Mexico in general. Read more about our experience trekking in the Sierra Norte through communities, and how the money goes directly to the people in them.
6. Traditional Weaving Village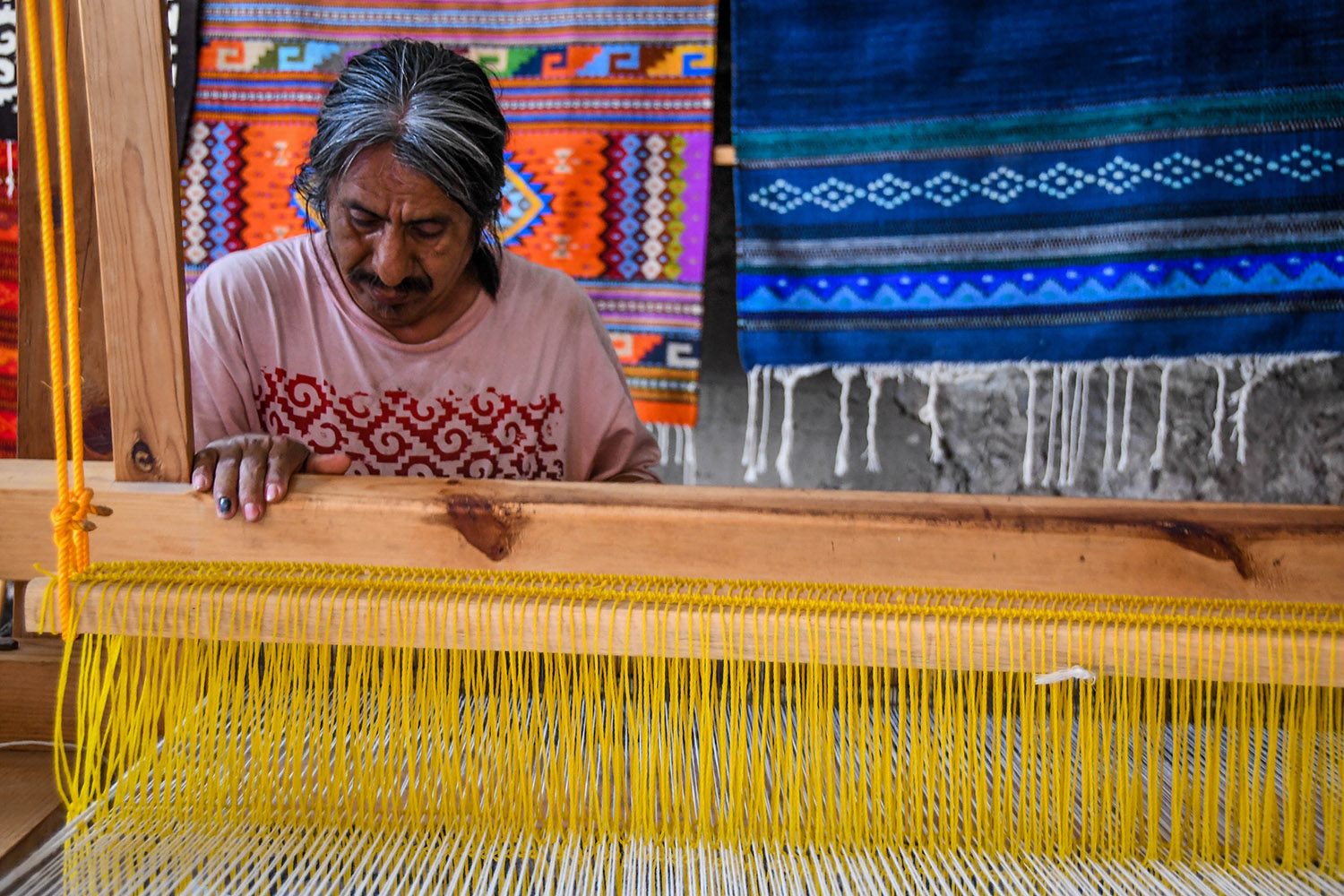 Using natural dyes and the fibers of sheep wool, weaving is a traditional craft of the Oaxacan people. The town of Teotitlan del Valle is just 28 kilometers from Oaxaca City and is home to a community of people who have been weaving their whole lives, often starting at the age of five.
A stop to this village is included in many of the tours to Hierve el Agua, but it is possible to take a collectivo here on your own as well. Stop in any shop and they can explain the process to you and show you how they dye the wool different colors using things found in nature, like bugs, flowers and moss.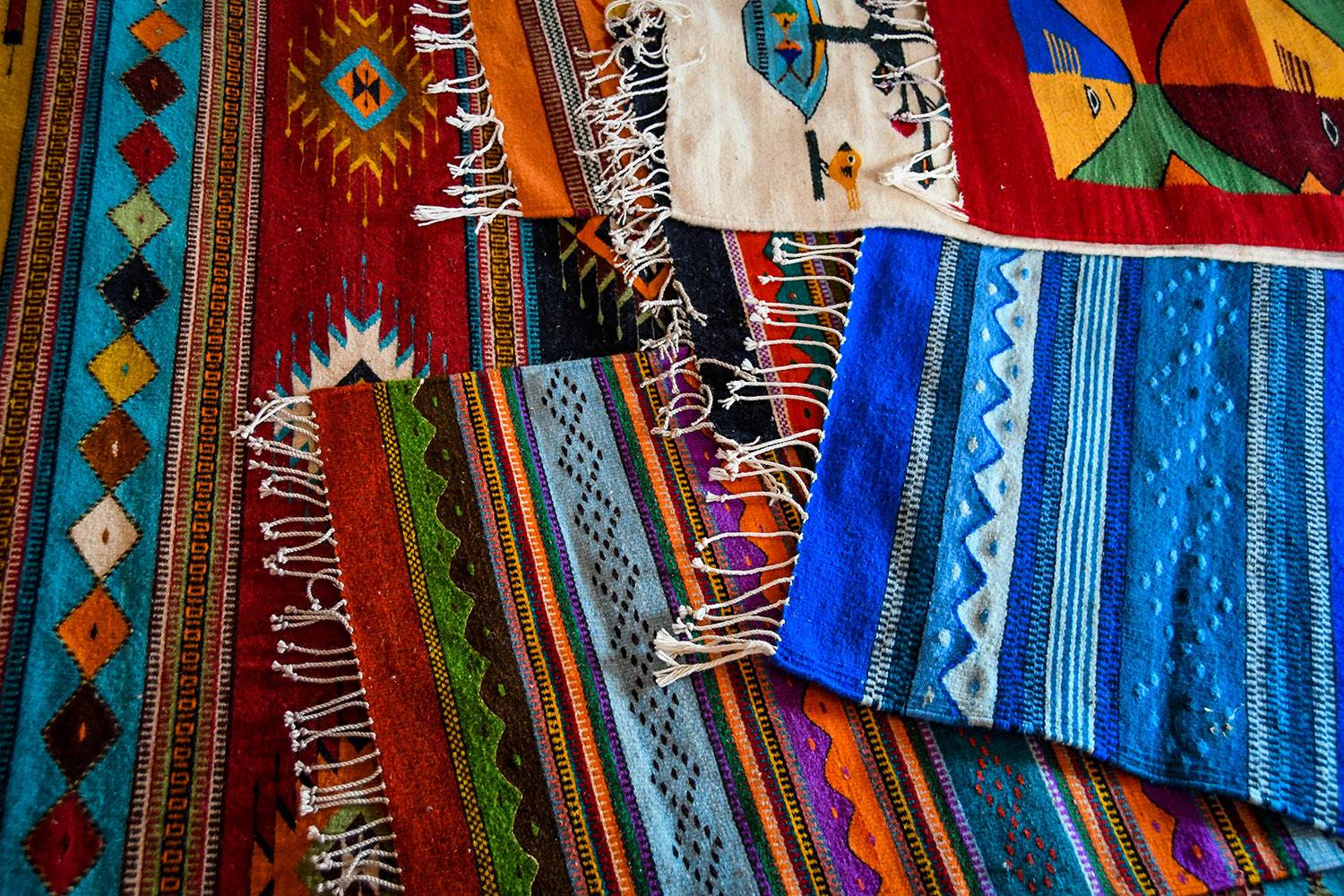 You can also purchase textiles from these shops, but know that they aren't cheap. Some of the smaller weavings were around 1,000 pesos ($50 USD), which is fairly priced considering the amount of work that goes into them.
7. Temazcal Ceremony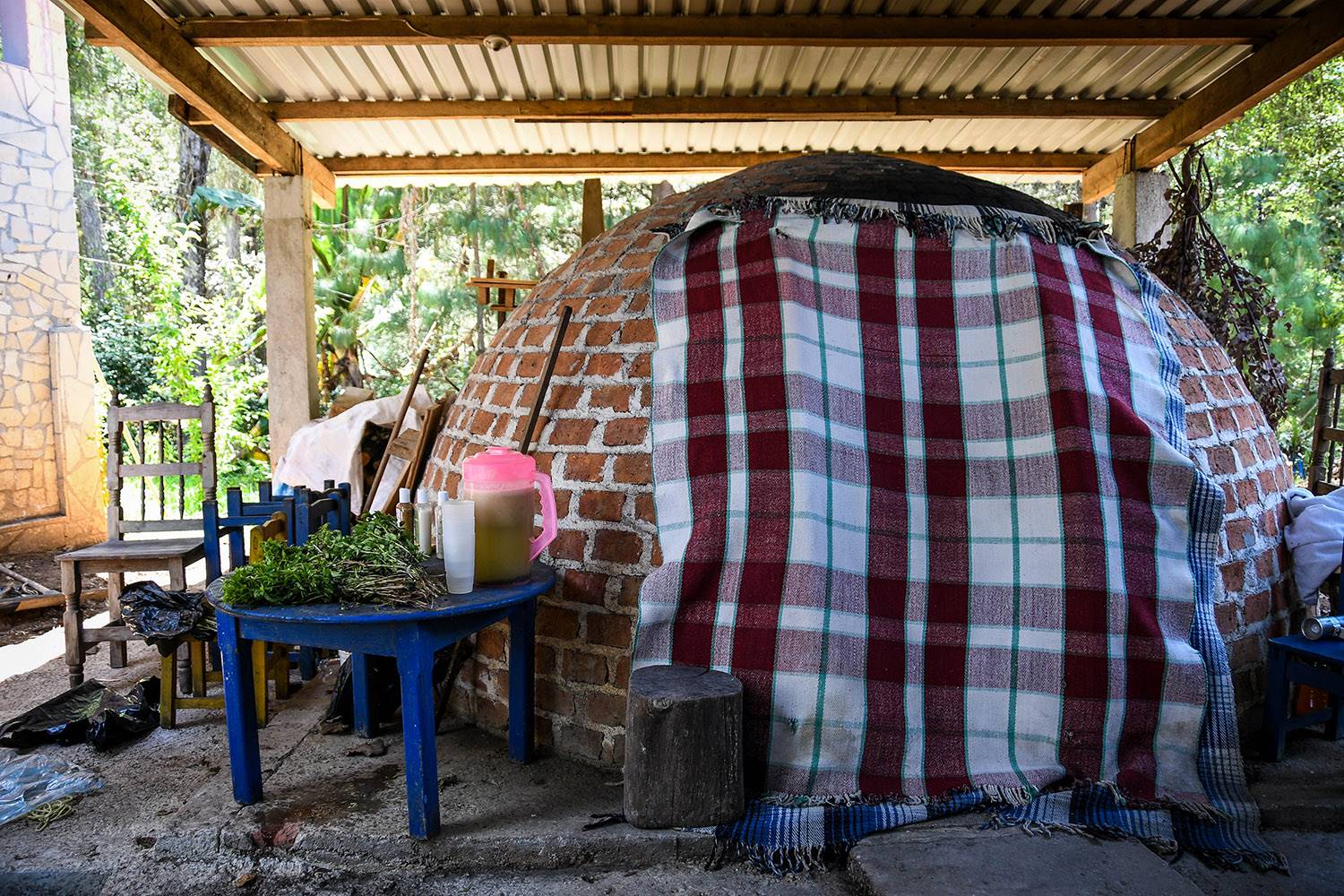 If you want to have a spiritual experience that's rooted in ancient Mayan culture, you might be interested in a temezcal ritual.
This Mayan cleansing ritual has been practiced for centuries to heal a variety of ailments including tight muscles, bad blood circulation and it helps remove toxins from your body.
Unfortunately, Ceviarem Temazcal Oaxaca was all booked up during our time in Oaxaca, but we heard wonderful things.
Read about our temezcal experience here and decide if it's for you.
8. Churches in Oaxaca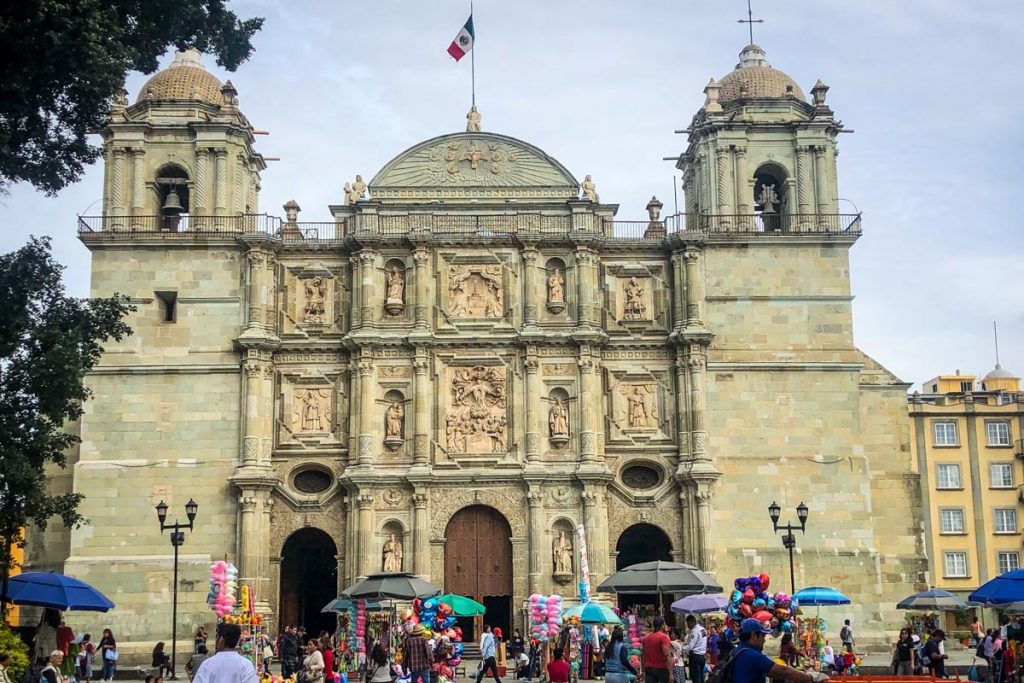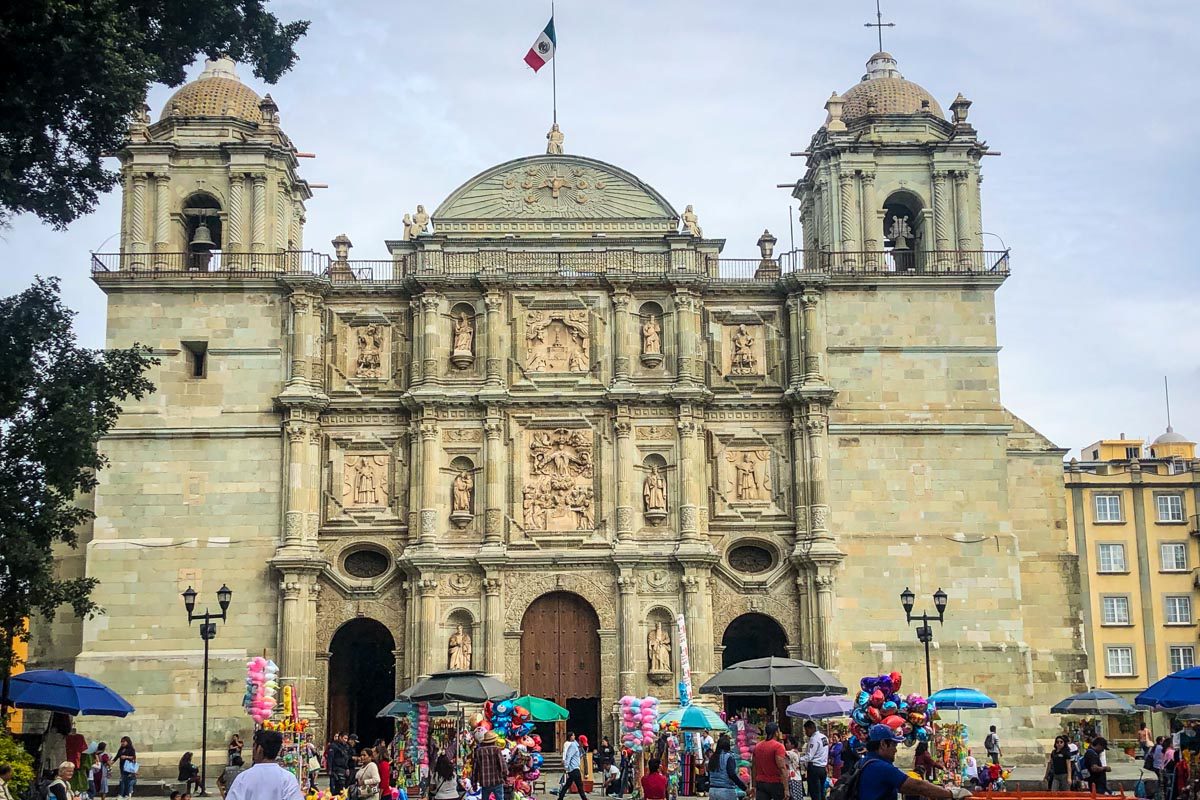 There's no way you'll miss the Santo Domingo church, situated in the center of town. It is nice to photograph, wander inside or to just hang out in front of beneath the shade of a tree. In the afternoon and evening hours, there's street food in this area, like corn covered in mayonnaise, cheese, lime and chili powder as well as other tasty snacks.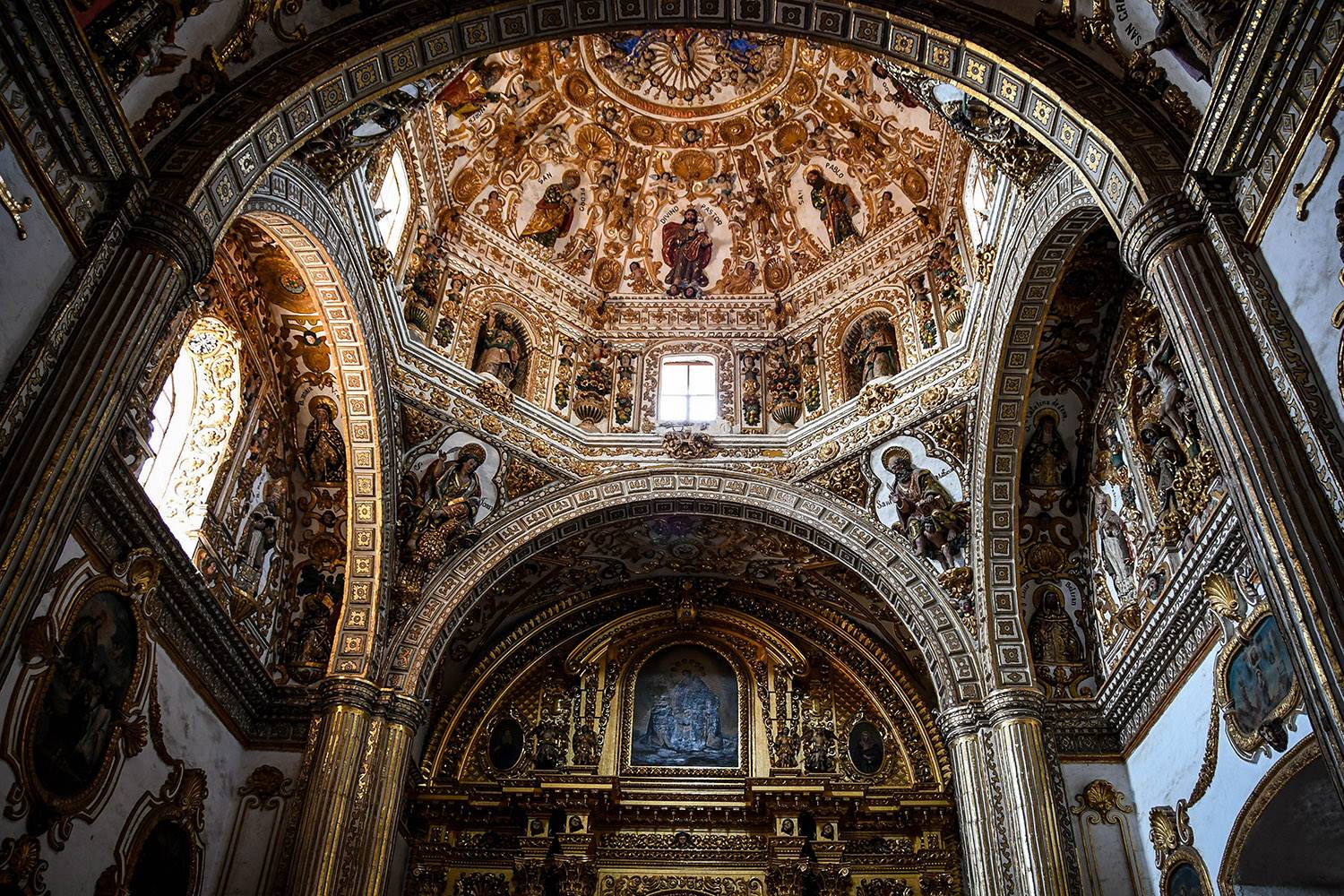 If you head down to the Zócalo, you can relax in the park facing the Cathedral of Our Lady of the Assumption. It's a nice place to people watch and relax in the evening.
9. Ethnobotanical Garden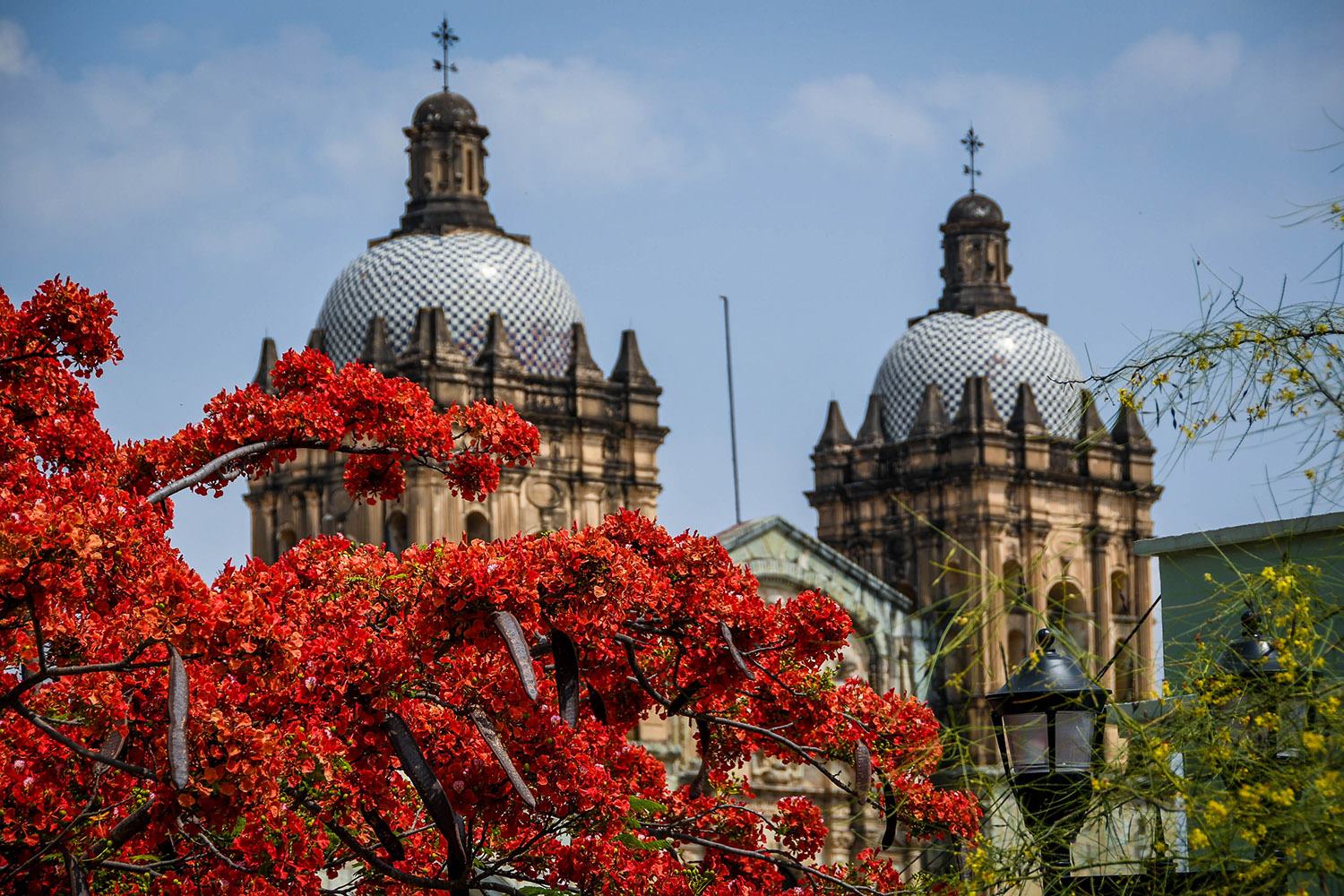 We've heard that the botanical garden is lovely, but when we rolled up expecting to just pay a small entrance fee and wander around, but we were turned away. Apparently, you can only enter with a guided tour. And from what we've read online, it is worthwhile if you have the time! You'll learn about the local ecosystem and gain insight into how the people in the region are connected with their land.
English tours are only held Tuesday, Thursday and Saturday at 11 a.m. and run for 2 hours. Cost is 100 pesos pesos per person. Spanish tours are cheaper, at 50 pesos person, and run daily Monday to Saturday at 10 a.m., 12 p.m. and 5 p.m.
10. Sunday Market in Tlacolula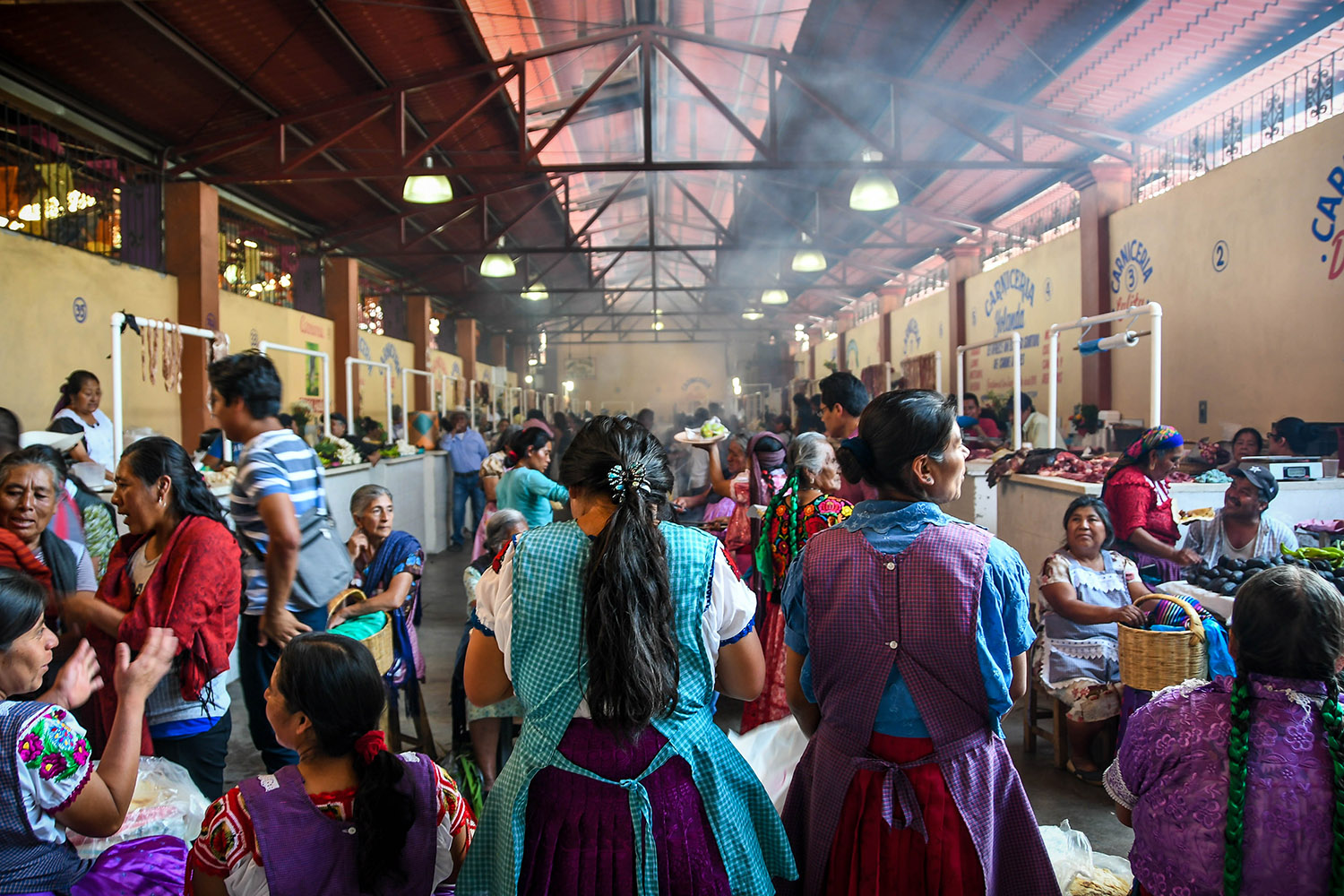 If you happen to be in Oaxaca on a Sunday and want to have an authentically off the beaten path experience, follow these instructions: Head to the baseball stadium and look for a collective (small maroon and white car that is a shared taxi) with the name Tlacolula on the windshield.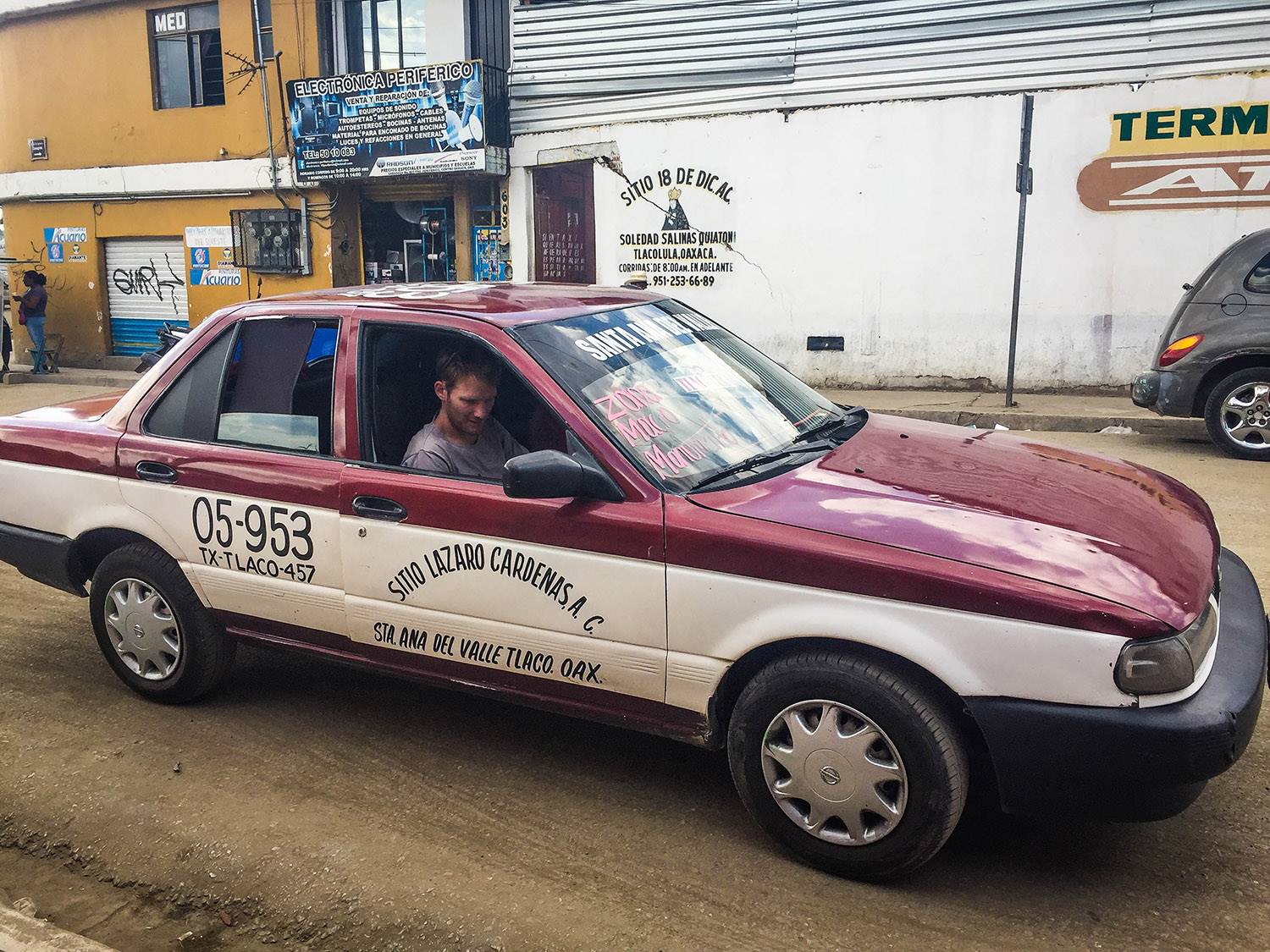 If you don't see any, ask around: "¿Donde esta el collectivo a Tlacolula?" Where is the collectivo to Tlacolula?
This trip will be about 45 minutes depending on traffic, and will bring you to the nearby village of Tlacolula where they hold the largest indigenous market in Latin America on Sundays.
Covering over 1.5 miles, this market is a great place to people watch, try some street food and buy fresh produce.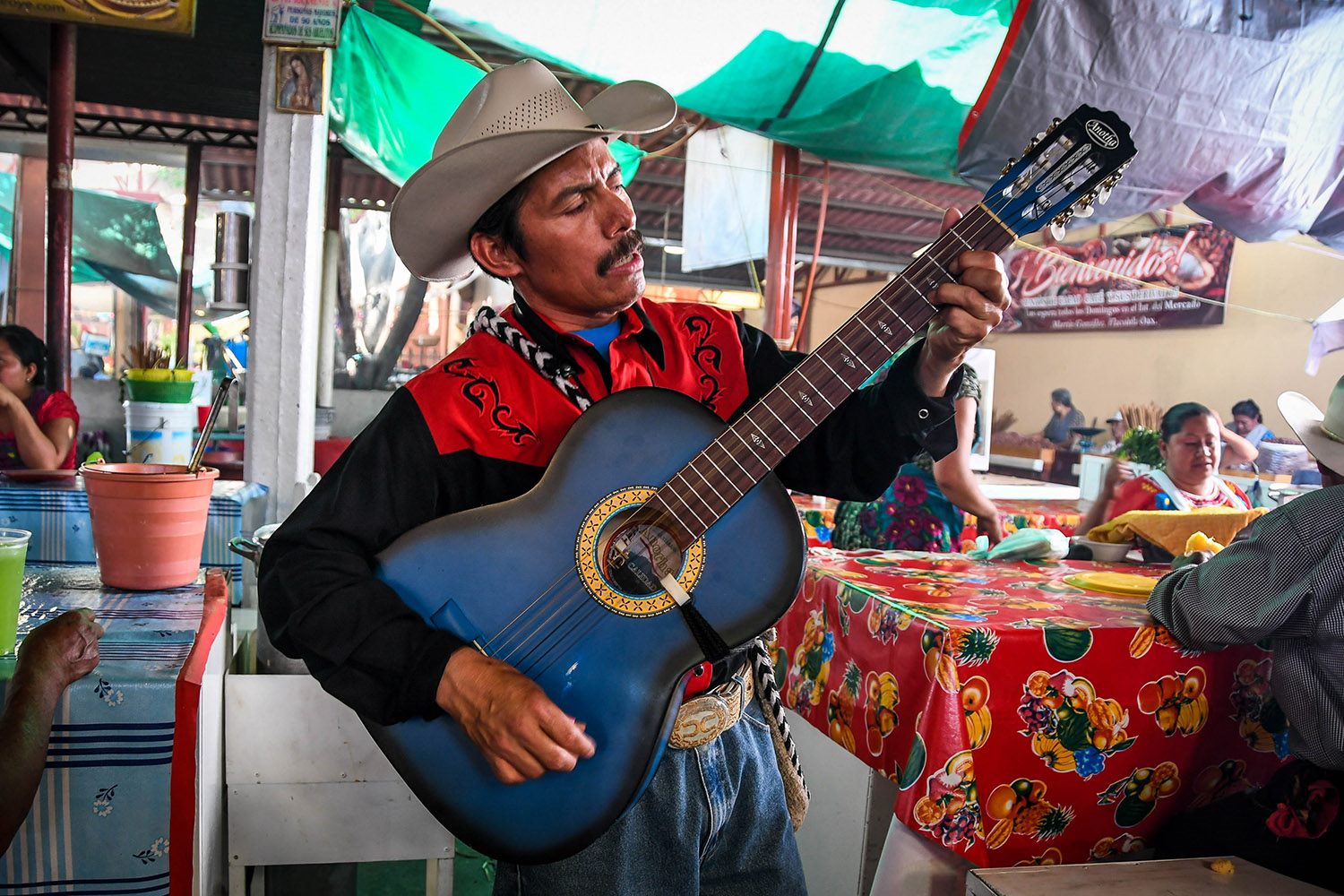 Just make sure you actually get to the covered market itself (Mercado Municipal Martín González). You'll see people wearing the traditional clothes of their villages and you'll see families spending the day together.
11. Search for Street Art in Oaxaca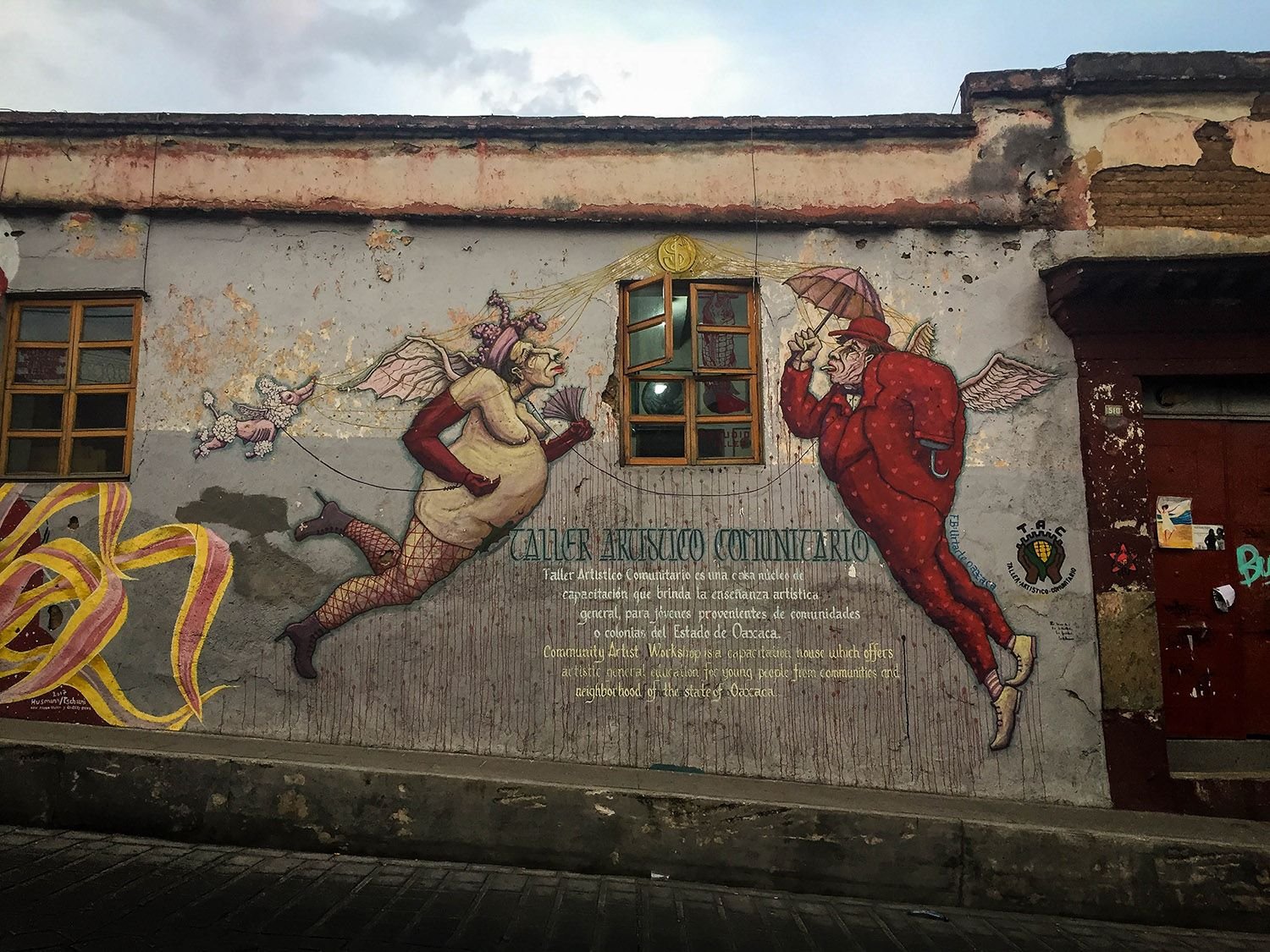 Thoughout this colorful city, your will see murles around every corner. There are some duds, but most are pretty good with great detail.
Unfortunately, we did not find a street art tour, but this blog does a good job describing where some of the good murals are located. Stroll through the street and take pictures of your favorites.
While you are looking for street art, keep your eye peeled for vintage VW Bugs scooting around the city. We have never seen so many in one city.
12. Try Mezcal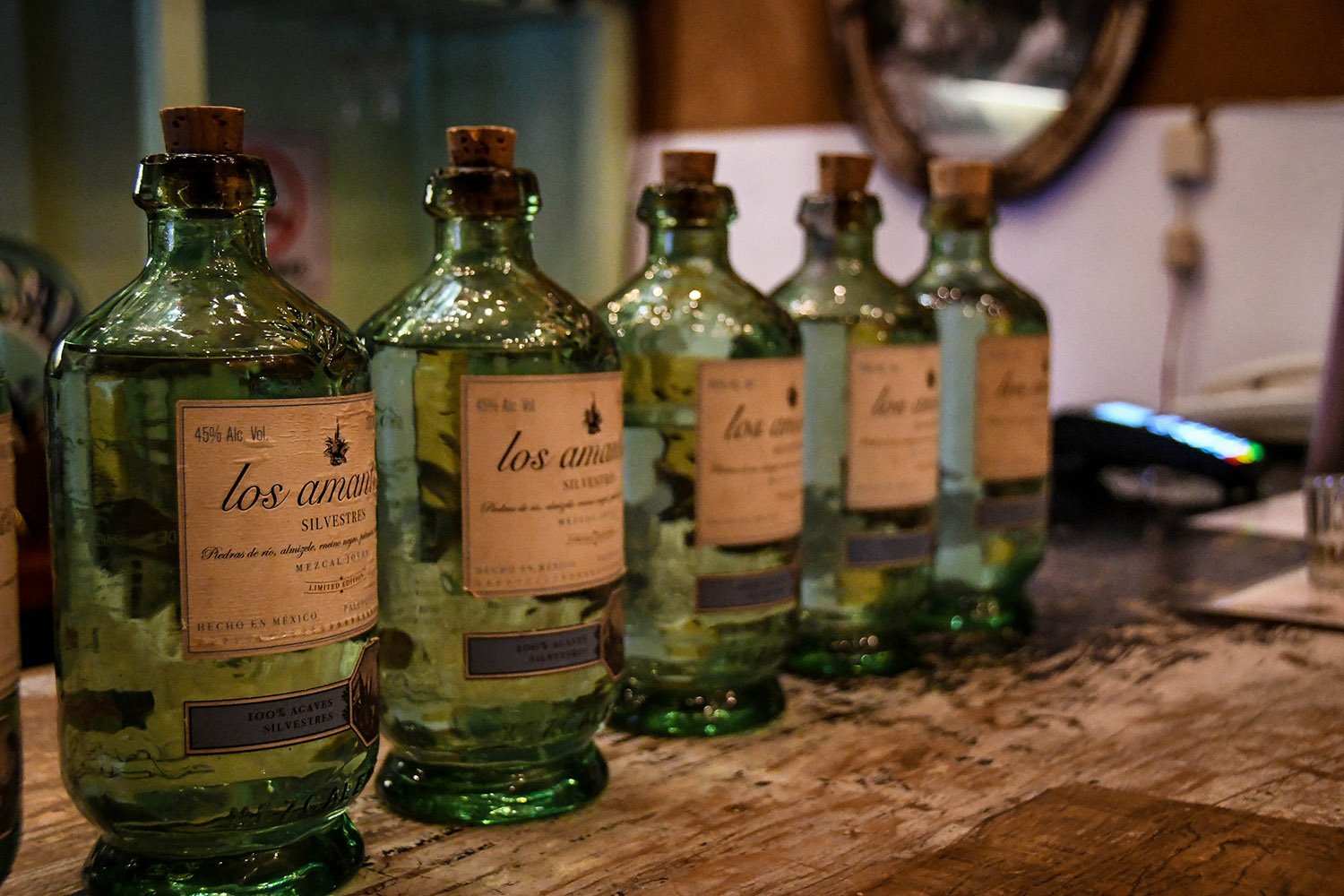 You'll find mezcalerias – places to try Mezcal – on just about every block in Oaxaca. This liquor is made from the agave plant, and while it's similar to tequila, mezcal is much more widely consumed by Mexicans.
So what exactly is the difference between tequila and mezcal? Our friends over at Food Fun Travel go over everything you'd wanna know about the two spirits in article and podcast form. Click through that link to give it a read/listen and impress everyone you meet in Oaxaca with your newfound knowledge!
If you drink alcohol, be sure to taste this famous drink while in Oaxaca, since some of the most famous varieties come from this region.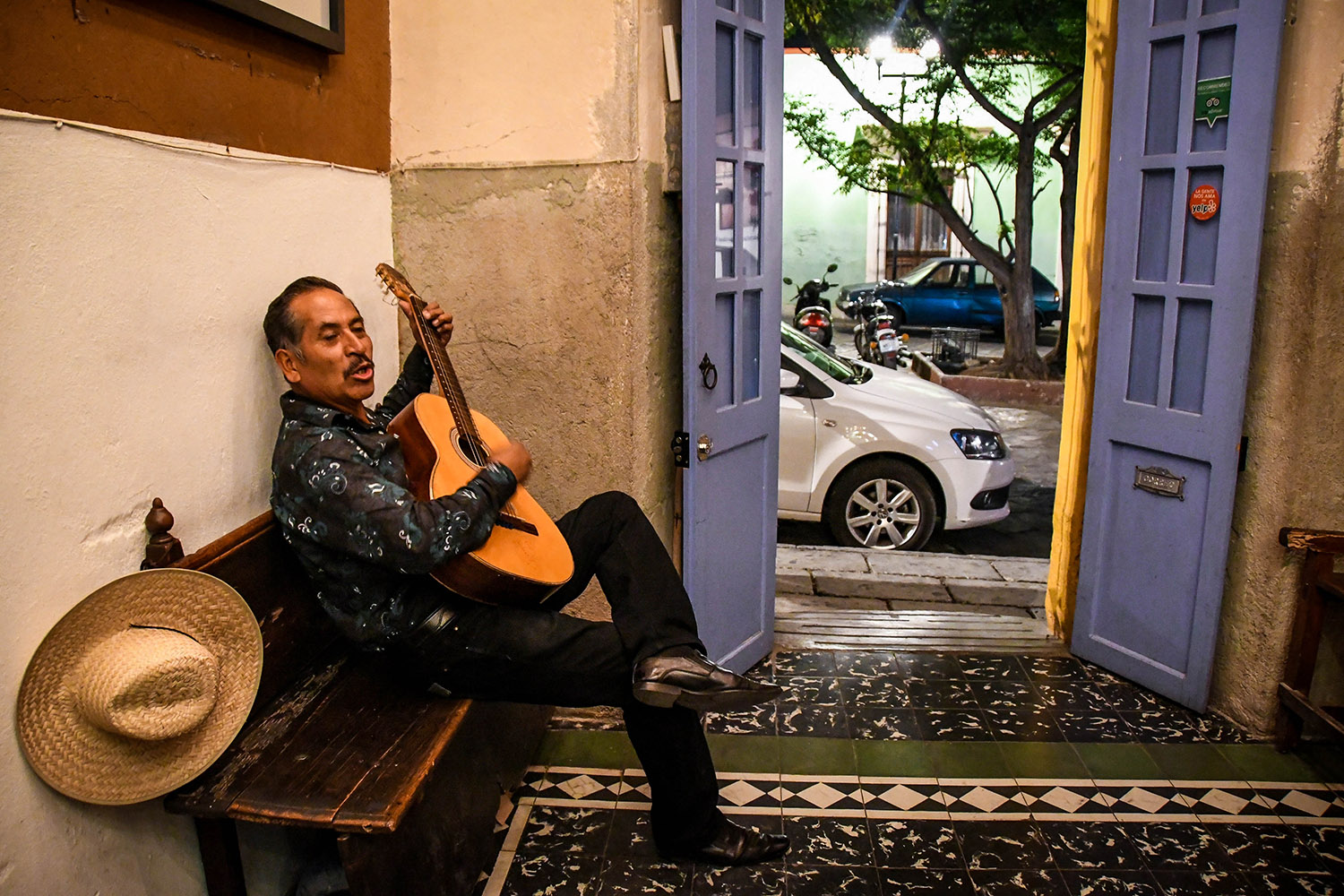 There's no shortage of mezcalerias to try, but for a quaint "hole in the wall" experience, pop into the tiny shop called Los Amantes Mezcalería near Santo Domingo church.
You can choose from a couple different tastings, the least expensive of which gives you a 1.5-ounce sample of 3 different mezcals for 200 pesos. You can split this between two people and enjoy the quirky décor, ask questions about the liquors and agave plants and enjoy live music as you're serenaded by a mustached man wearing a cowboy hat.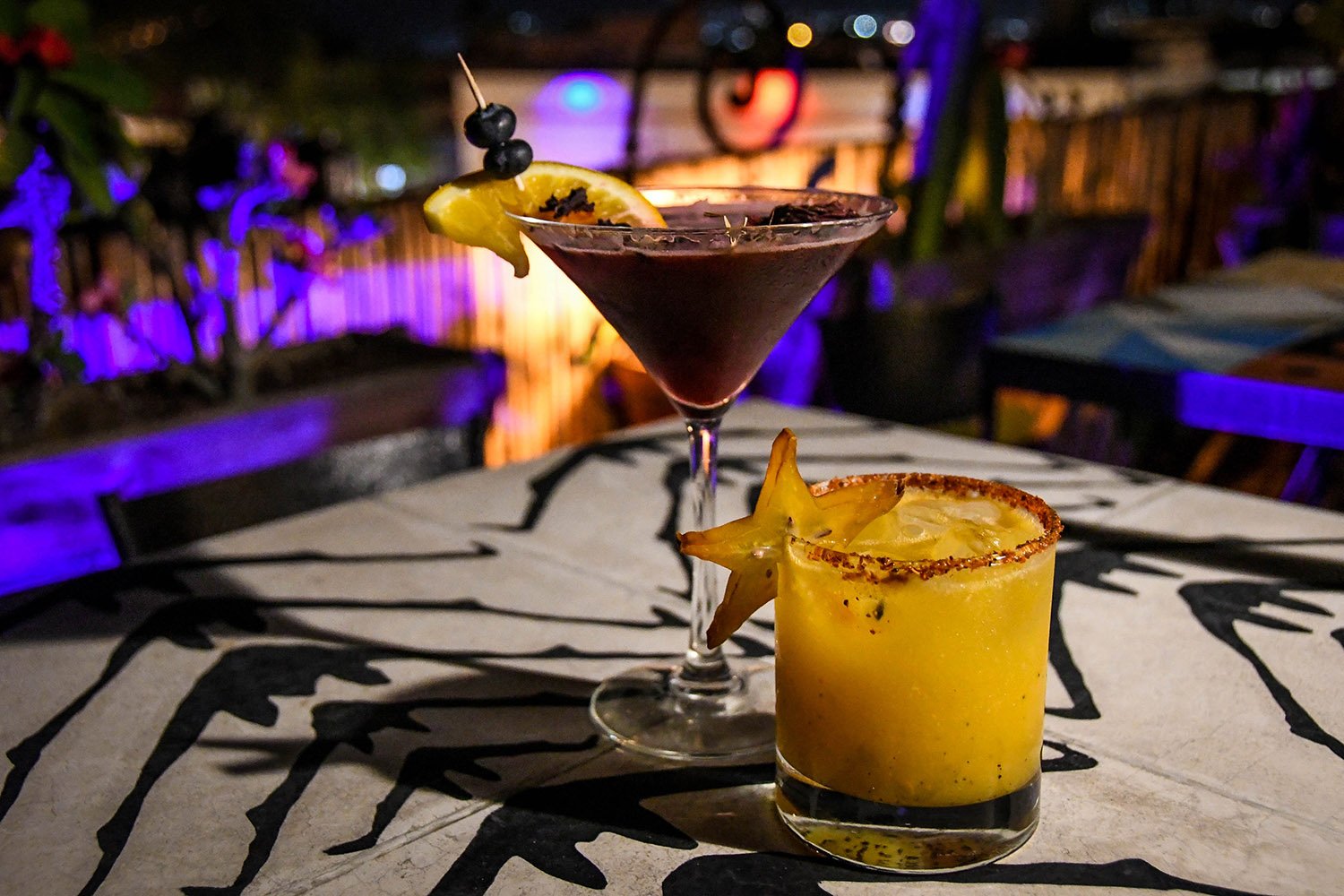 Just across the street is the popular Prague Bar, and on many nights there is live music on the first floor. But head directly upstairs for an artisan cocktail made with mezcal and one of the best views of the Santa Domingo church.
An inventive combination like agave maracuya (passion fruit) or honey jamaica (hibiscus) will only set you back around 86 pesos ($4.39 USD). On cold nights they even give you blankets to keep warm.
Note: Many of the tours to Hierve de Agua include a stop at a mezcal distillery so you can understand the process. You will also be able to try some of their mezcal and can purchase some if you wish. You can even have the opportunity to try the mezcal worm if you're feeling adventurous!
If you're really into mezcal, some others to try are: Cuish Mezcalería, Cortijo La Mezcaleria, or Expendio Tradición.
Good to know: If you're vegetarian, avoid the orange slices. The stuff that looks like chili powder that they're dipped in is actually ground up mezcal worms mixed with salt. It is actually quite nice and has a salty, smoky flavor, but if you don't eat meat/insects you might want to avoid this!
13. Hit the beach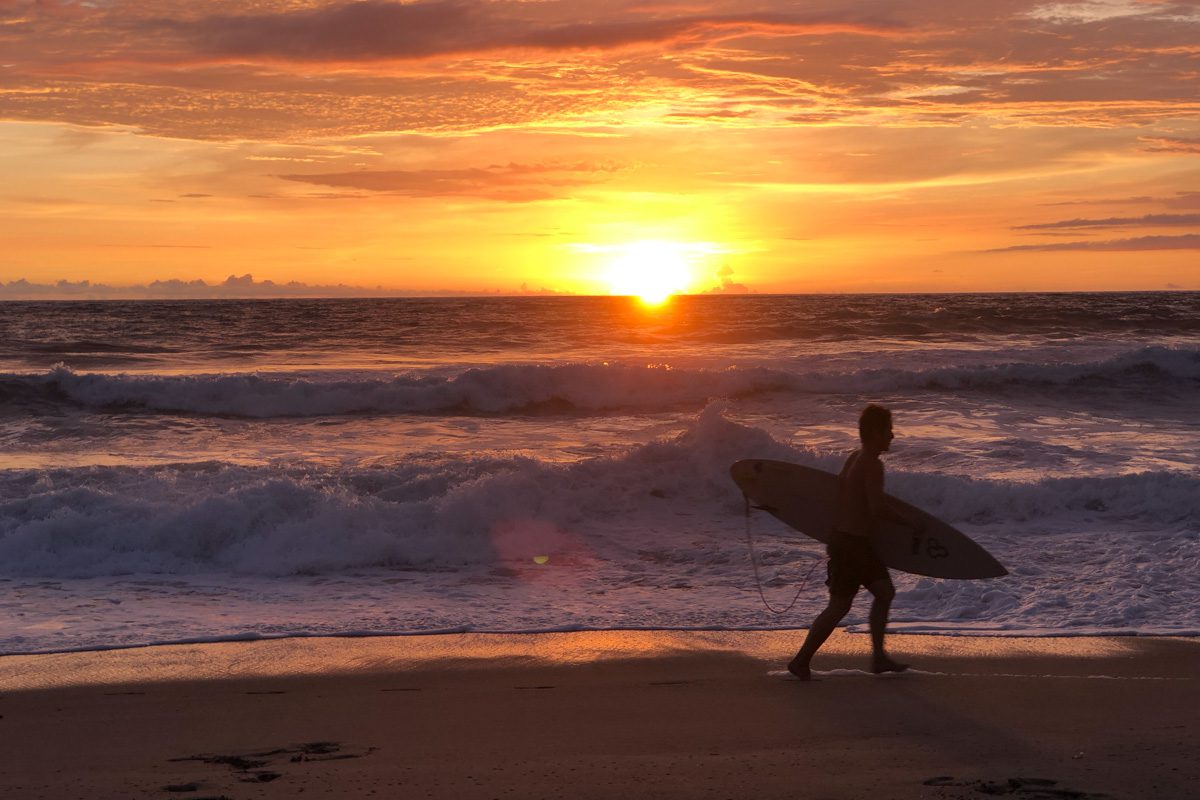 Whether you are looking for a relaxing beach vacation to take in as many sunsets as possible, or want to catch some waves, the beaches of Oaxaca on the Pacific coastline are some of the best in the country.
The most popular beach destination for backpackers and young travelers is undoubtably Puerto Escondido, a developing beach-side town with a hippie vibe. For a more secluded vacation try Puerto Angel or Mazunte, or the National Park of Huatulco.
14. Food to Try in Oaxaca
When we told people in Mexico City we were going to Oaxaca, they all said, "You're going to love the food!" And they were right! Oaxaca is known for having some of the best food in Mexico, which includes regional specialties that aren't as easy to find anywhere else.
You could easily spend a month in this state and still be left craving more, but if you have a limited amount of time, here are some of the dishes, drinks and snacks you should try:
Tlayuda
This delicious dish is served on a large crispy tortilla topped with vegetables, meat, and a whole lotta cheese! They are everywhere in Oaxaca so you better try a few of them.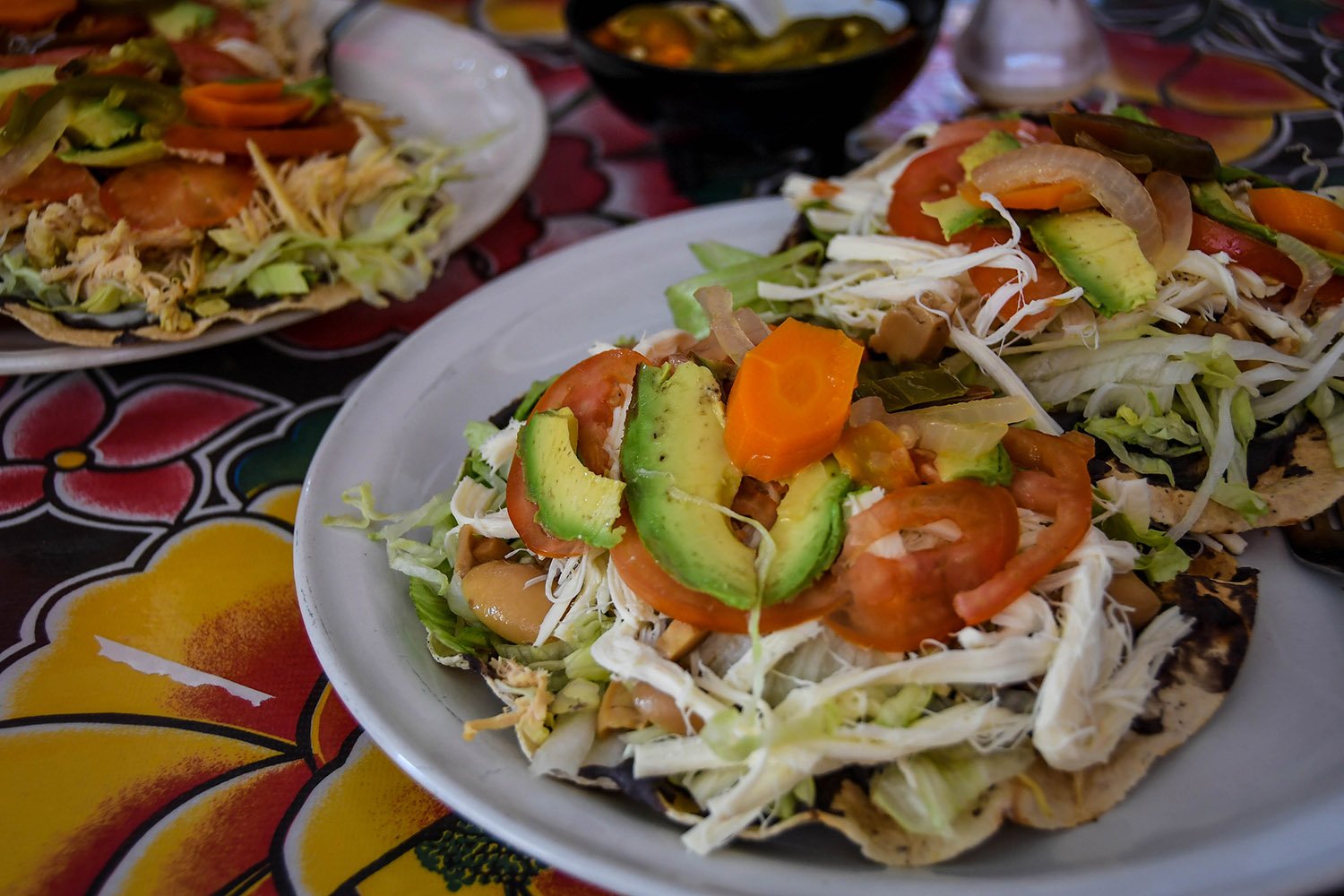 Mole (7 types)
Oaxaca is known for mole, a sauce typically made with 25 to 40 different ingredients. While we were in Oaxaca, we got to try green, yellow, and black mole, but there are 7 different kinds you can try.
Chapulines (Grasshoppers)
Imagine sitting at a local bar, sipping on a good cervesa, listening to the live music. But instead of bar peanuts, there, sitting in front of you, is a bowl full of seasoned chapulines or grasshoppers. Typically you can find these bugs sitting outside of markets with flavors like chili, garlic, or lemon.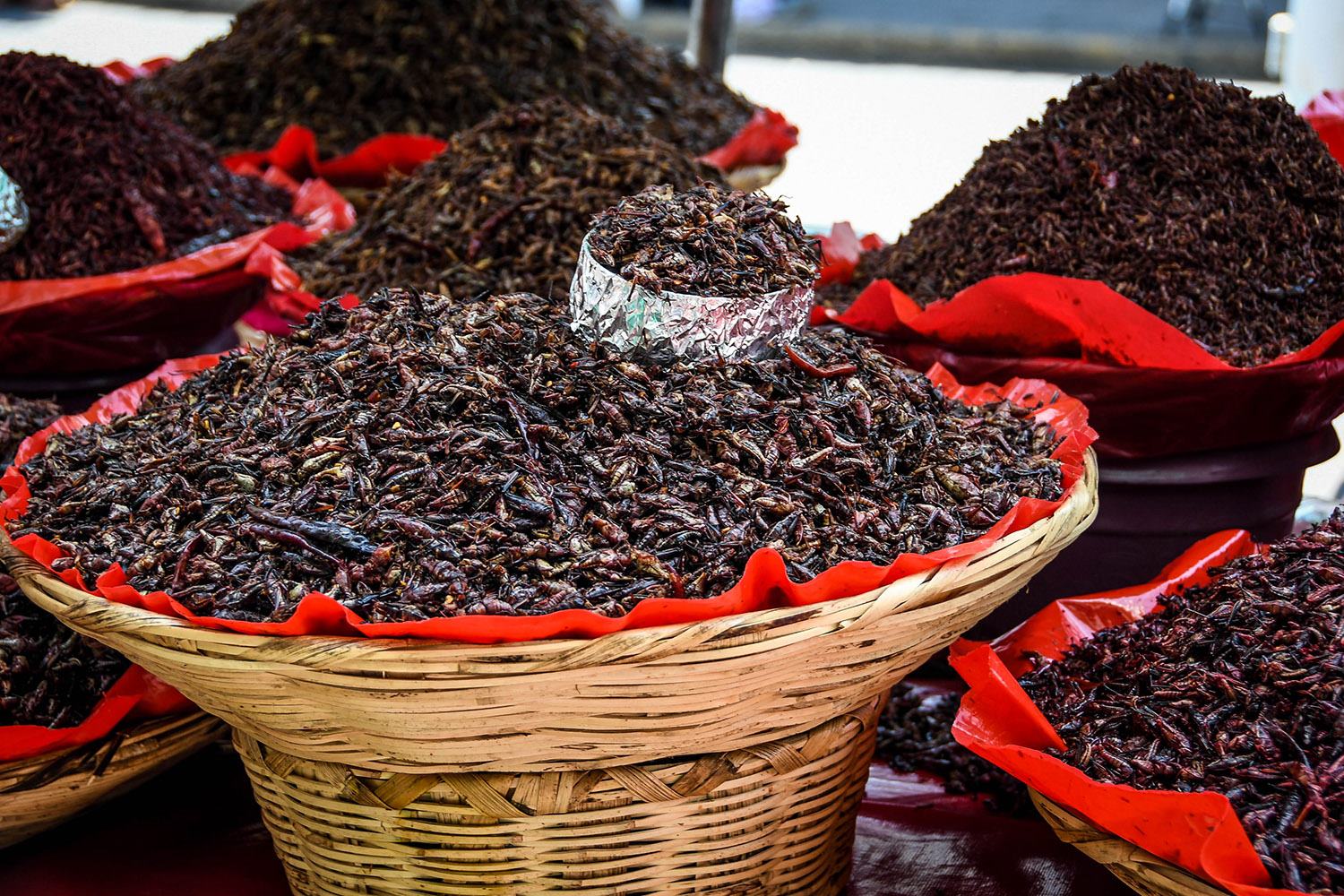 Hot (or Iced!) chocolate
If you've got a sweet tooth, be sure to try the hot chocolate in Oaxaca. There are several chocolate shops around town, but we sat down at Chocolate Mayordomo and ordered 2 chocolatey drinks.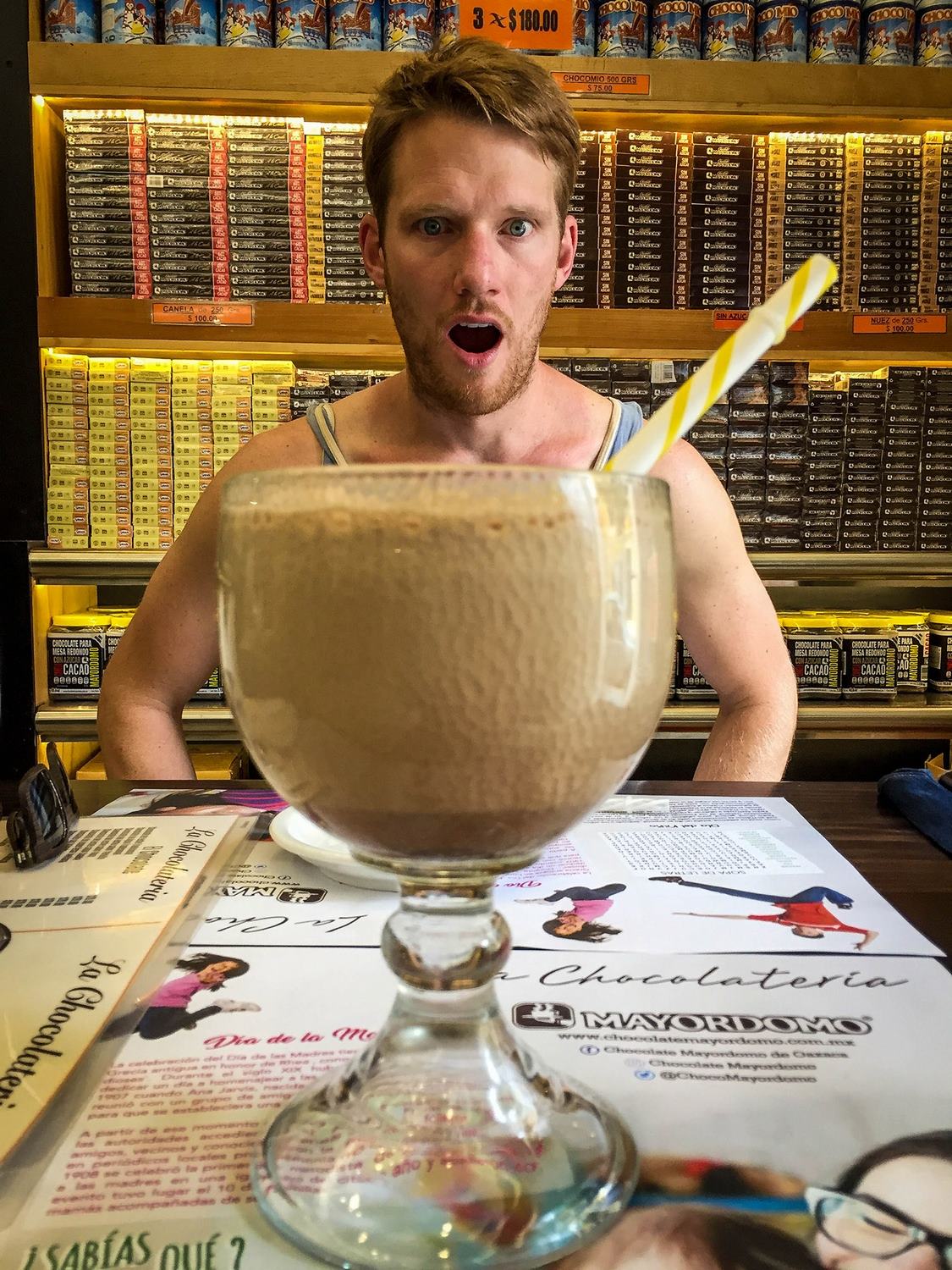 One was cold and refreshing in the heat, and the other was the traditional hot chocolate that is frothed in front of you using a wooden whisk called a Molinillo. While the chocolate was sweeter than I typically prefer, it was still nice to try!
Tejate
Served in a painted gourd shell, this drink made from cacao and maize has a chunky whitish layer floating on top. Don't be put off though, it's actually quite nice and unlike anything you've tried before. It has a somewhat chalky texture, kind of like a protein drink and tastes faintly of chocolate.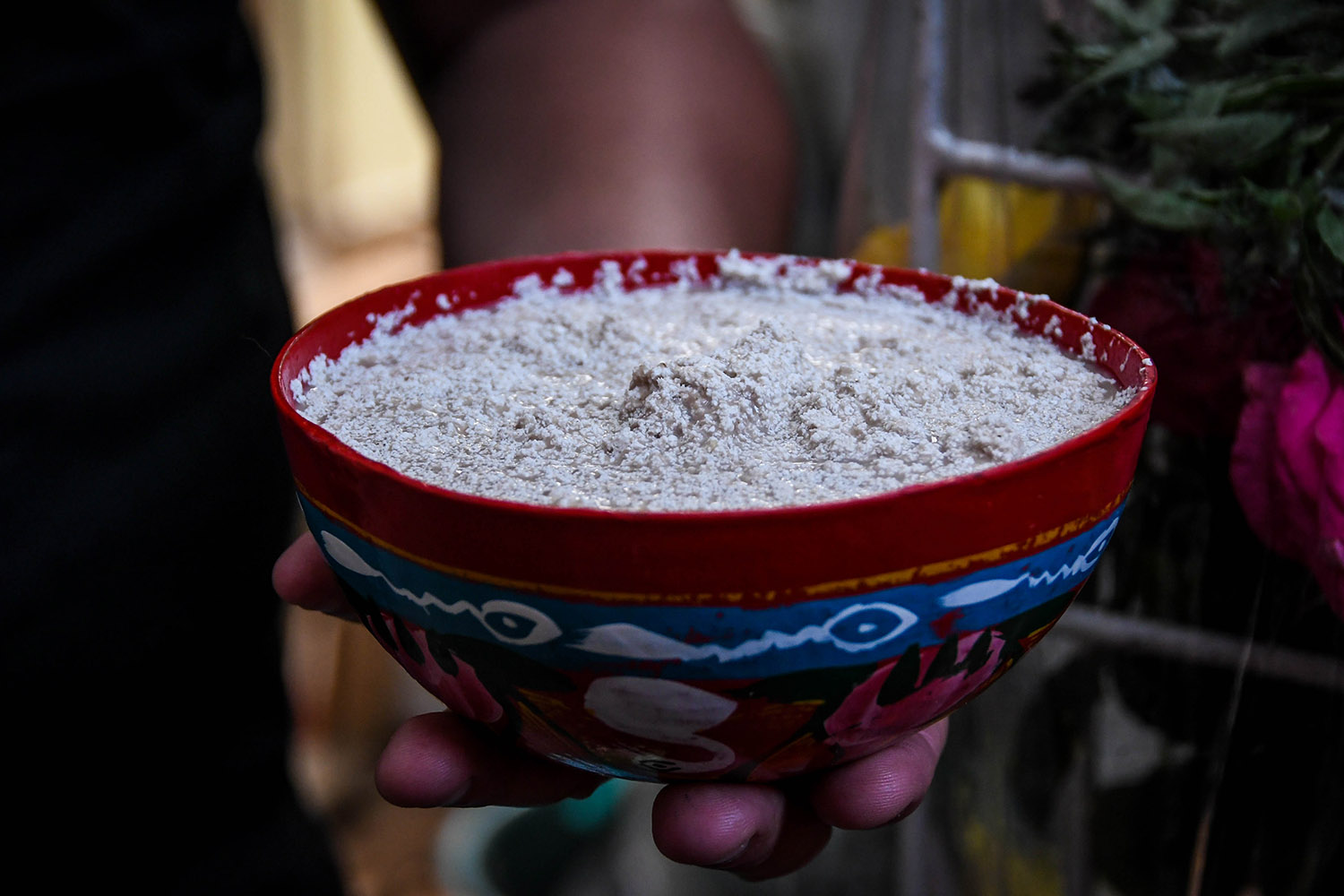 Chorizo
While at the market, order a few links of chorizo and they can fire them up on the grill, for tasty quick snack.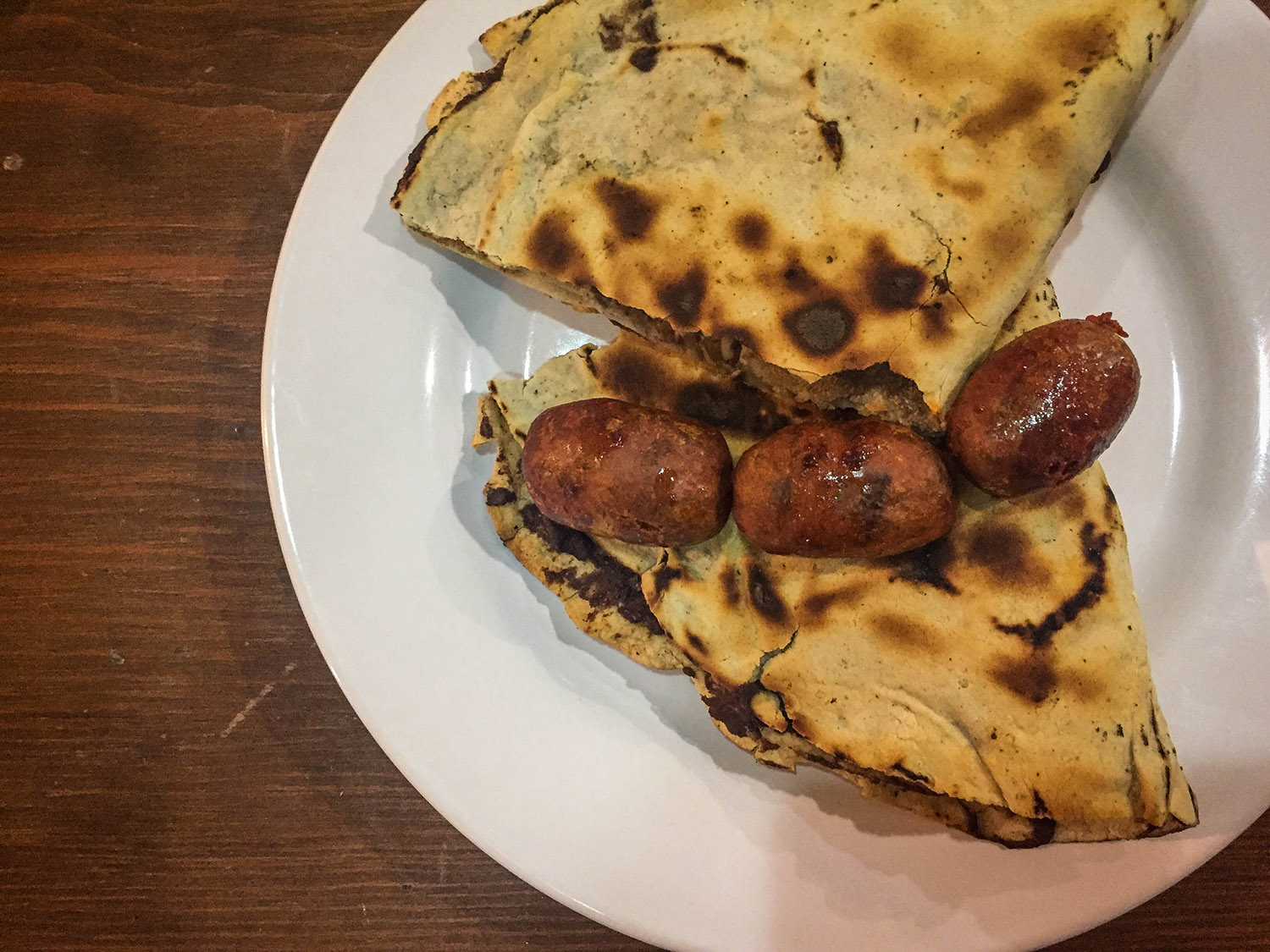 Local Ice cream
The local ice cream is more similar to a sorbet, and comes in all sorts of flavor combinations that you won't find anywhere else. For a local favorite, try tuna. No, it's not the fish, it's made from prickly pear and is quite refreshing. You can ask for them to mix a couple flavors. We loved the combination of maracuya (passion fruit) and tuna! A single serving should cost around 30 pesos.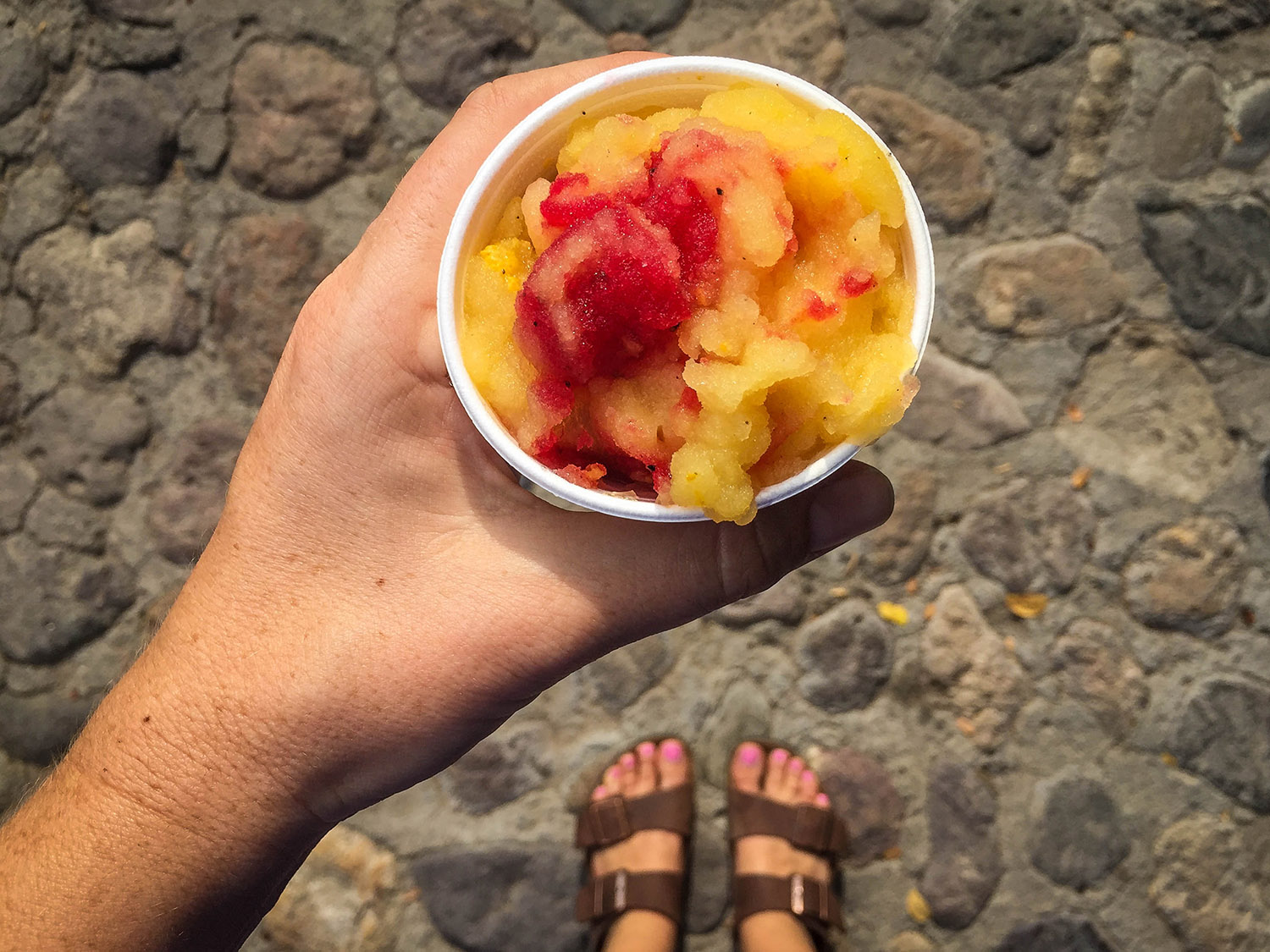 Mexican Street Corn
Usually only 15 pesos a piece, these steamy cobs get slathered in mayo, sprinkled with chili powder (not too spicy), parmesan cheese, salt and pepper, and then drizzled with fresh lime juice. Is your mouth watering yet? Because mine is. You can typically find these around any plaza.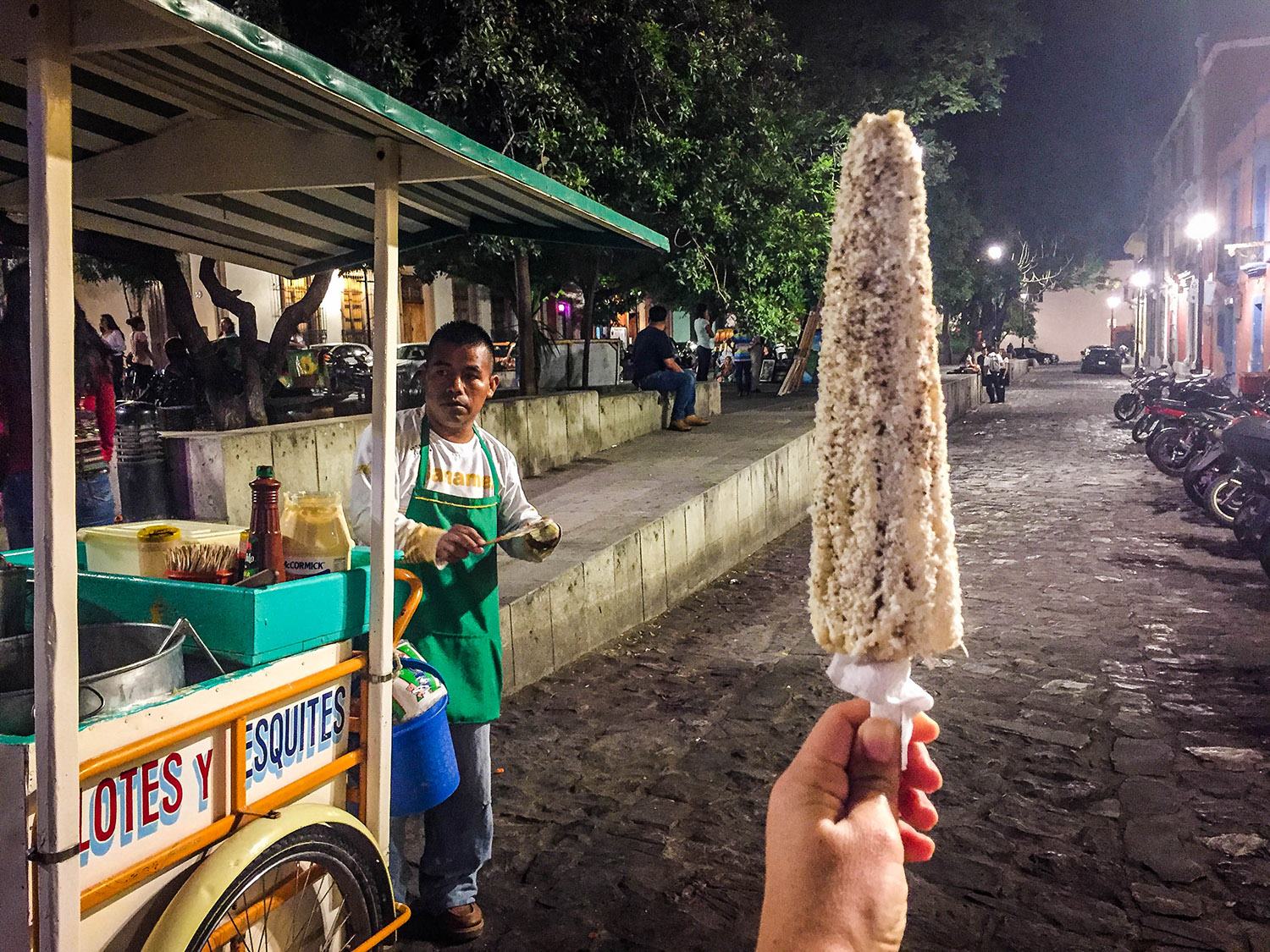 If all this talk of food is making your mouth water, keep reading for some suggestions of the best restaurants in Oaxaca…
---
Where to Eat: Restaurants in Oaxaca
There is no shortage of restaurants to choose from in Oaxaca. And part of the fun is just wandering around with your nose as your guide.
But if you want some tips for some of the best places to eat in Oaxaca, keep reading… We're sharing some great vegetarian options too!
Calabacitas Tiernas: If you're craving a good meal, veggie or not, this cute restaurant has an open air courtyard and serves large portions with a specialty in Mexican fusion.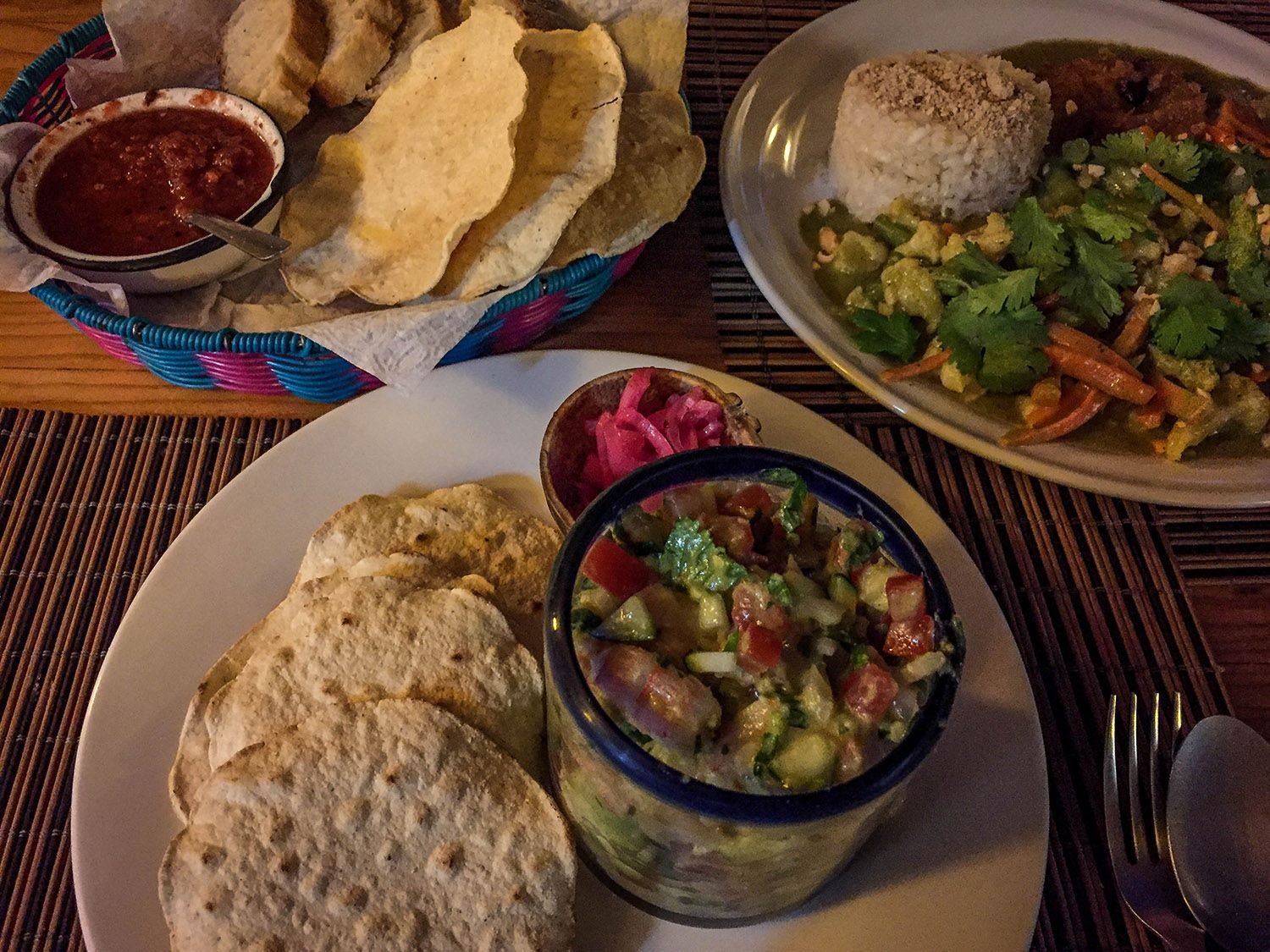 PAN:AM: Brunch please! This has been one of the best breakfast spots we found throughout our time in Mexico. Everything that came out of the kitchen looked delicious, so you really can go wrong.
La Gran Torta: Small mom and pop shop known for serving Pozoles, yummy traditional Mexican stew. They serve large portions at cheap prices.
Eat at a market: You won't be able to beat the prices or the freshness anywhere in the city.
Is Oaxaca Safe?
Absolutely! We felt 100% safe the entire time we were in Oaxaca. We interacted with some of the kindest people here and never questioned our safety at all. We met several young women traveling solo and even saw families with children.
All that said, it's a good idea to always be aware of your surroundings and use common sense because bad things can happen anywhere in the world – even in your hometown!
Related Reading: Travel Safety Tips you Need to Know
Where to Stay in Oaxaca
Best overall place to stay on a budget: Casa Angel Youth Hostel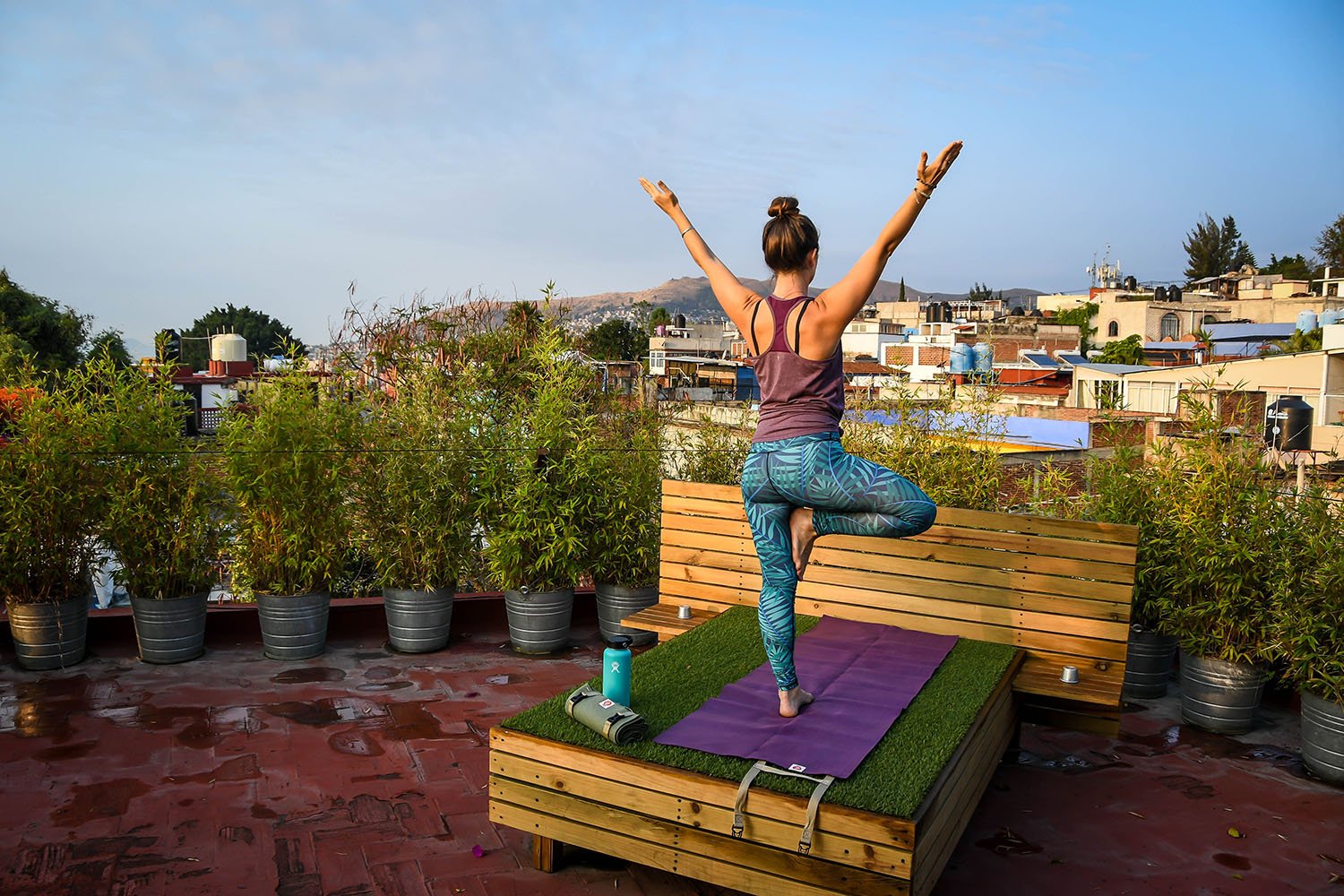 With deluxe private rooms as well as dorms, a lovely rooftop terrace (perfect for morning yoga!), a communal kitchen and incredibly friendly and helpful staff, Casa Angel is a perfect choice for accommodation in Oaxaca City.
In addition to comfortable rooms and a great location, they offer a generous free breakfast of eggs to order, black beans, homemade salsa, bread, jam, cereal and coffee. Casa Angel also organizes events like a free walking tour, happy hour, barbecues, salsa lessons and movie nights.
And unlike the name implies, this hostel is not just for youth. We saw people of all ages, including a family with a young boy and a few older travelers. The deluxe rooms are just like a hotel; plus you get to enjoy amenities like a tranquil rooftop, free (delicious!) breakfast and the opportunity to mingle with other travelers.
Hotels to Stay at in Oaxaca
Mid-Range/Couple Stay: City Centro Oaxaca – Beautifully decorated and centrally located, this 4-star hotel has an amazing bar, wonderful views from the rooftop terrace and a fitness center. Perfect for a couple looking to explore the city.
Feelin' Fancy: El Callejón Hotel Boutique – This 5-star hotel has large modern rooms with a lobby and lounge with a Oaxacan charm. Enjoy the free WiFi and free bike rental to explore the city. This is a great hotel for a family or if you're in Oaxaca on business.
How to Get To and From Oaxaca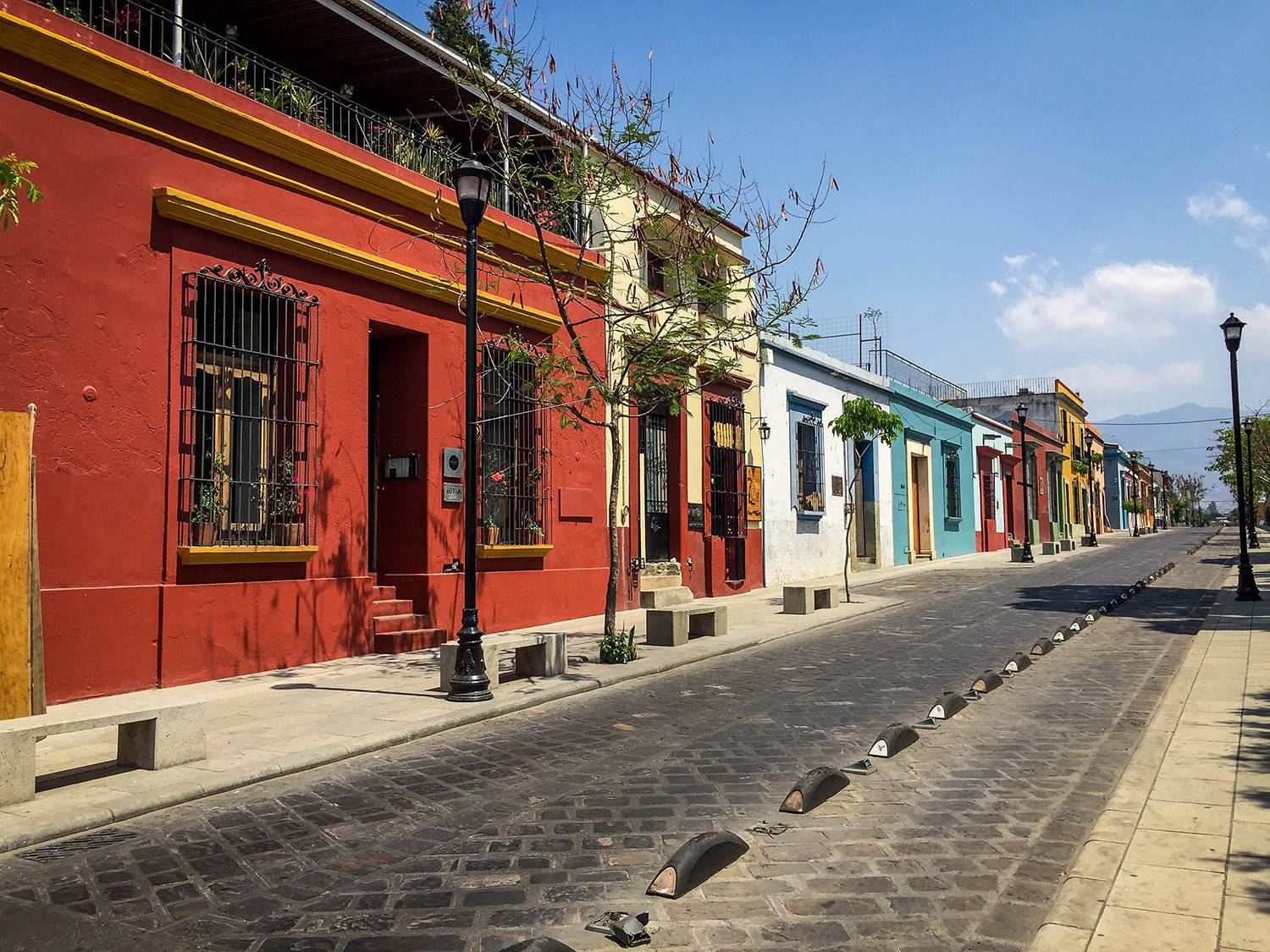 From Mexico City to Oaxaca
One of the easiest ways to get around Mexico is by driving a rental car. You get to explore on your own, it's safe, and crazy cheap. We got a rental car in Costa Rica for so cheap one day, we decided to keep the car for two weeks. We use RentalCars.com to search for the best deals on rental cars around the world.
Buses in Mexico are also a very convenient way to get around. ADO is the most popular company and they offer different levels of luxury. The cheapest option (OCC) is actually decent, with seats that recline and sufficient leg room. Depending on your budget though, you might wanna treat yourself to the ADO GL class which has super plush chairs.
From Mexico City to Oaxaca, buses leave frequently, and we simply took an Uber (free ride on us with code katied10703ue) to the Terminal de Oriente "TAPO" station and purchased seats on the next available bus. You can also reserve in advance on ClickBus (which is sometimes cheaper) and pay with a foreign credit card, unlike the ADO website.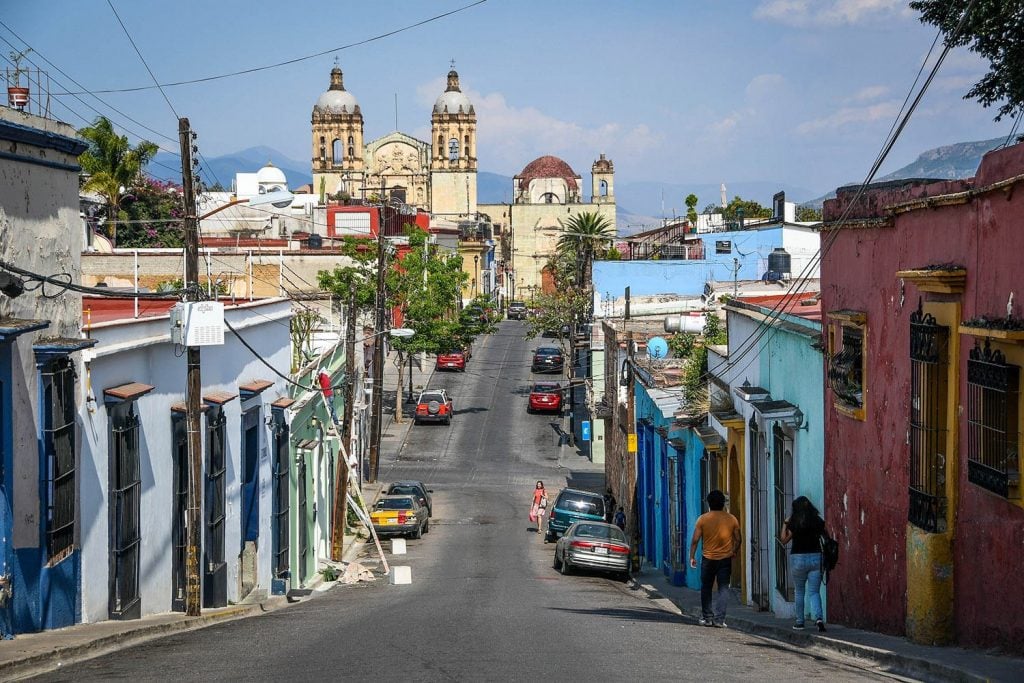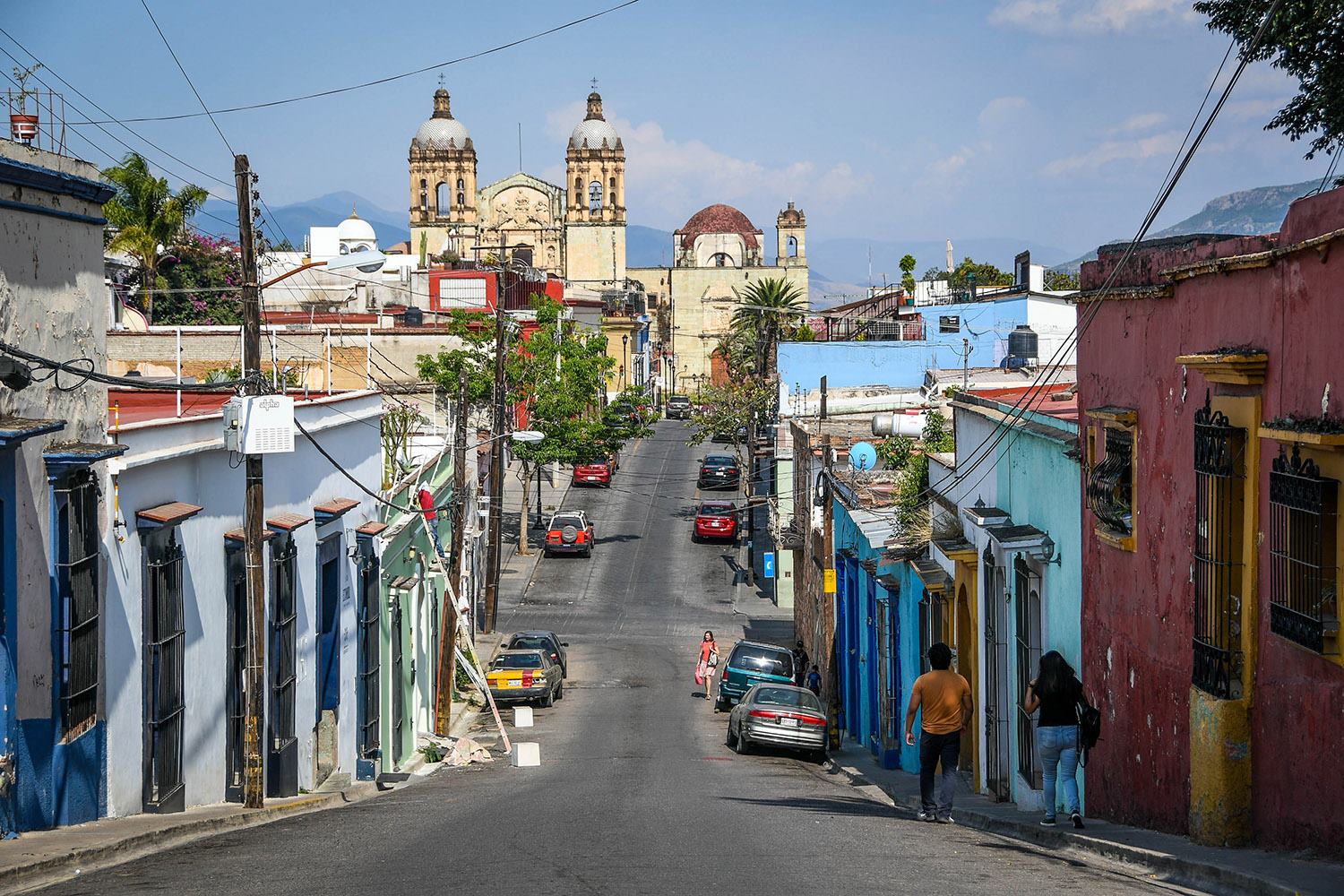 Our bus left at 4 p.m. and took 7 hours to reach Oaxaca. The price was 650 pesos. If we would have know to book a least on day in advance on ClickBus, we would have probably gotten a ticket for half the price.
You can also fly from CDMX to Oaxaca if you're short on time. Check Skyscanner for the best deals on flights in Mexico.
From Oaxaca to San Cristóbal de las Casas
Take the ADO bus from Oaxaca to San Cristóbal de las Casas which takes 10 hours. You can book it on ClickBus to get a good deal. We chose to take a night bus so that we could save money on a night stay.
---
Are you planning a trip to Mexico?
We have lots more resources on travel in Mexico and destinations throughout the country. Check out our Ultimate Mexico Travel Guide for all the important travel information, or read some of our favorite articles below.
Save this article on Pinterest for later!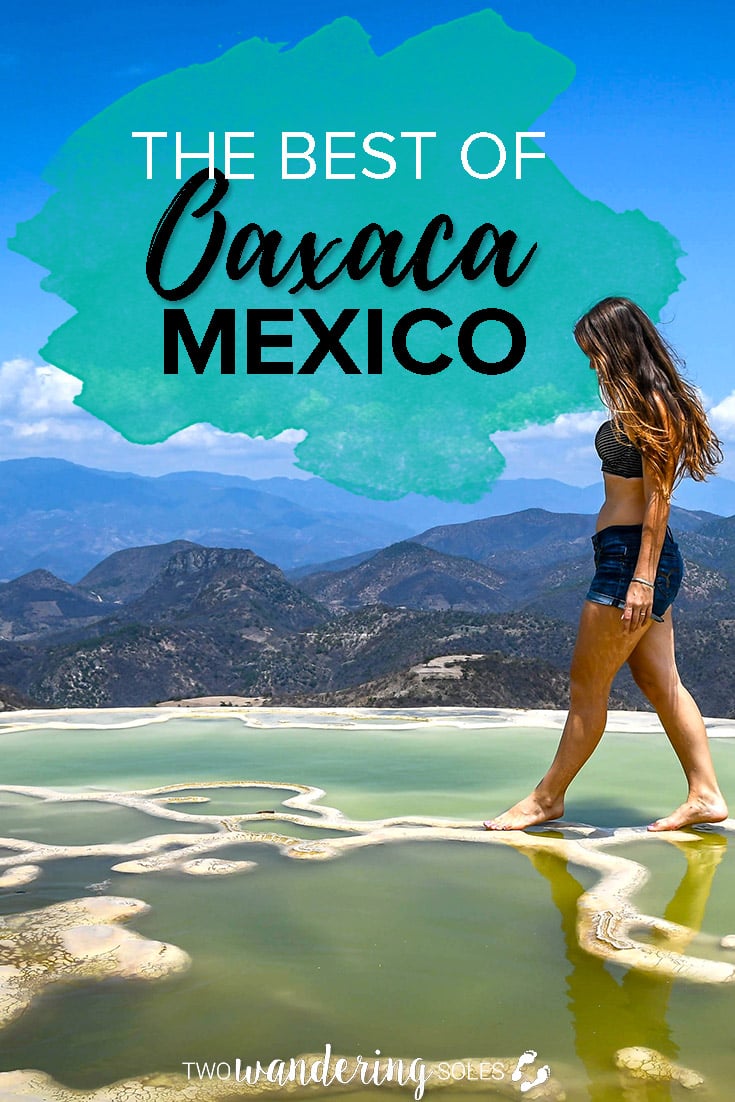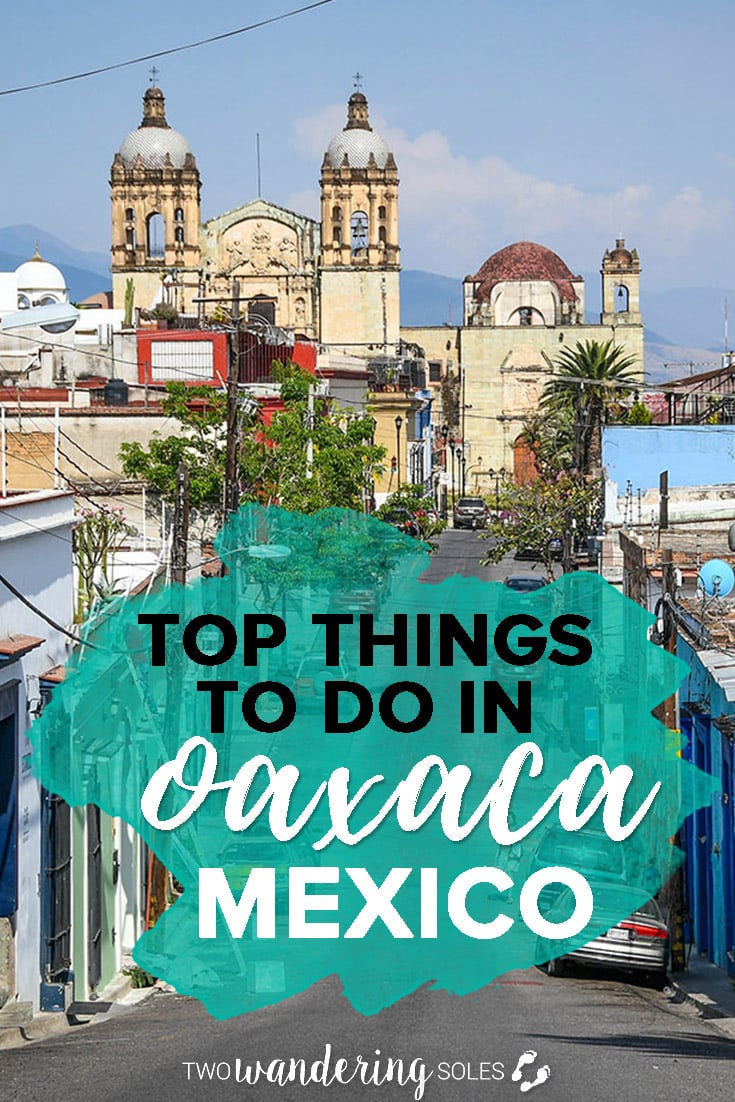 Have you ever been to Oaxaca?
What other tips do you recommend? Are you planning a trip to Oaxaca soon? Let us know in the comments below and we'll get back to you!