Merida is often overlooked by tourists who flock to nearby Cancun and Tulum, meaning this exciting city has fewer crowds and offers a more authentic glimpse into the "real Mexico". We're sharing the top things to do in Merida as well as where to eat and where to stay.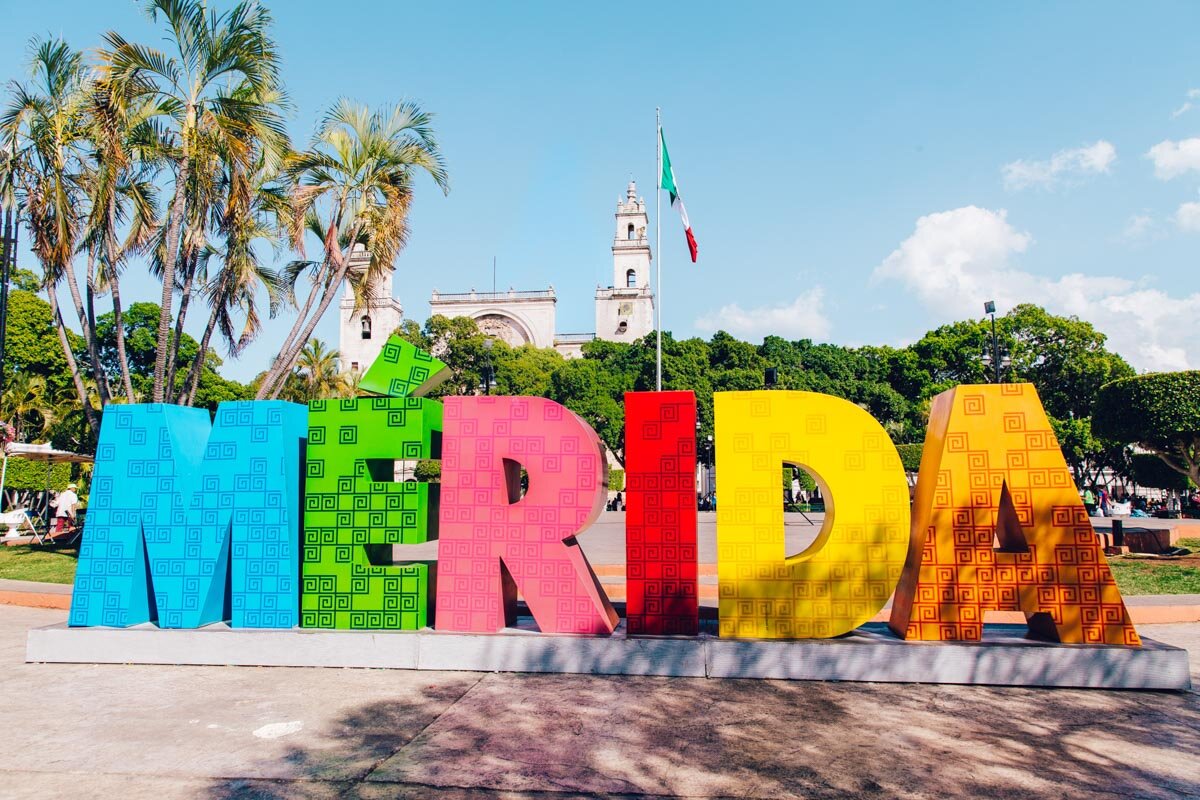 Co-Authored by: Michael Anderson
Mérida is a sprawling city in southern Mexico, situated just inland from the coast. It's often overlooked in favor of it's more popular coastal neighbors, Cancún and Tulum, meaning many travelers miss out on this lesser-known and arguably underrated gem.
Mérida makes an excellent addition essential to any trip to Mexico's Yucatan Peninsula, and in this article, we're going to walk you through the top things to do while you're there. Along the way you'll discover vibrant colonial cities, ancient Mayan ruins, captivating museums, and a culture that strives to maintain its historical traditions. From its rich culture to its diverse adventure activities, this authentic destination reveals a side of Mexico that can't be found alongside the country's Caribbean coast.
Are you ready? Let's leave the big resorts of Cancún in the rearview mirror and begin to explore all the exciting things to do in Mérida, Mexico. We're about to prove that some of the best places to visit in Mexico aren't on the beach!
In addition to sharing the best things to do in the city, you'll also find:
---
Be sure to download our complete packing list for Mexico! It's packed with good suggestions and insider tips to help plan your Mexico vacation. And it's completely FREE, so why not!?
---
Mérida Overview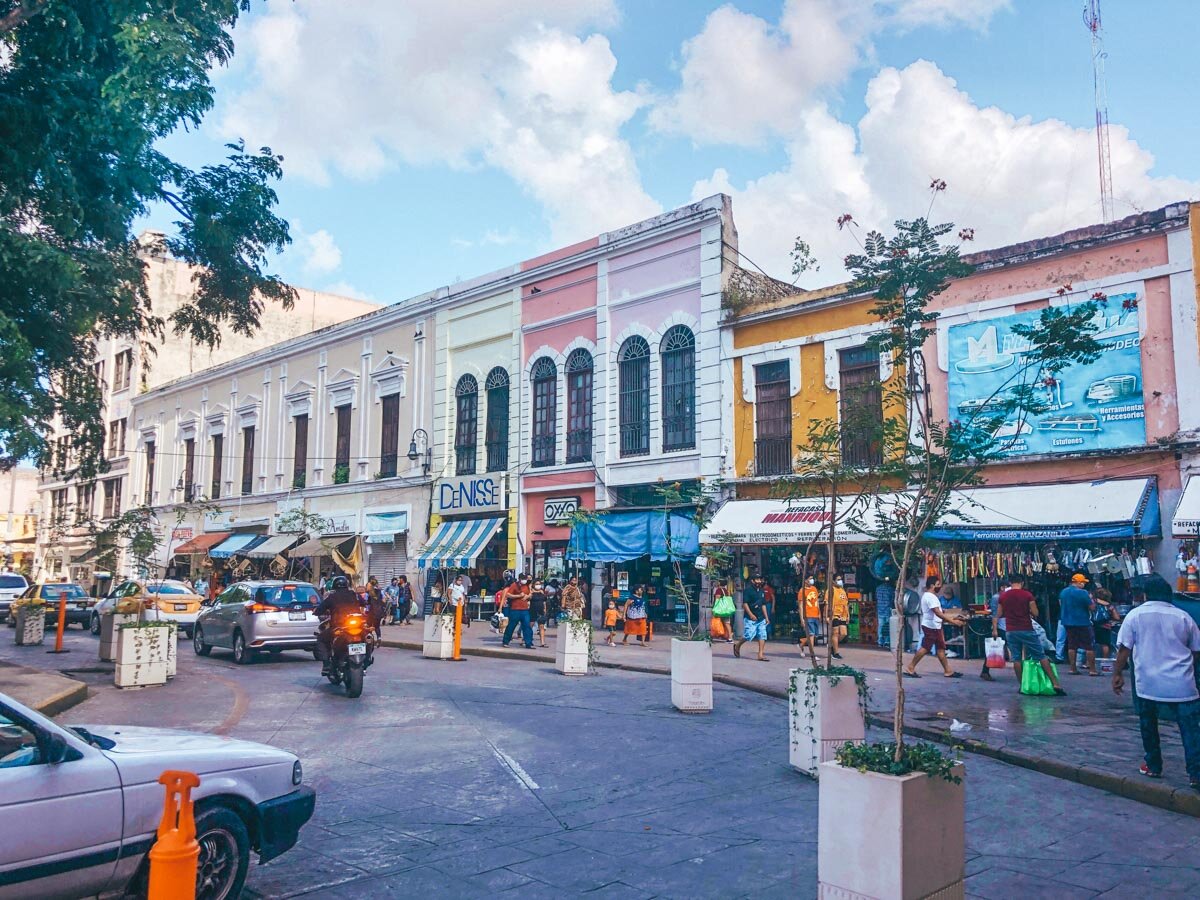 Before we take a look at things to do in Mérida, let's start with a brief overview of the city and the people that live there.
With a population of approximately one million people, Mérida is the largest city within Mexico's Yucatan Peninsula. About 60% of the city's residents are Mayan, and of indigenous origin. Their ancestors populated the region before the Spanish conquest of Mexico in the early 16th century.
Now if you're thinking that the Mayans existed hundreds or thousands of years ago, you'd be correct. However, what many people don't realize is that this ancient civilization never truly disappeared. Although the population dwindled substantially after the Spaniards introduced smallpox to the region, a small percentage of Mayans survived and continued to live in this new era of European occupation.
While many people associate Mayans with the ancient past, they are in fact still living in southern Mexico, Guatemala, Belize, Honduras, and El Salvador today. This is why, as we will see shortly, there is a richness of Mayan culture throughout Mérida.
Fun Things To Do in Mérida
Alright, now that you know a little more about this city and its residents, let's get to what you came for… all the fun things to do around Mérida!
Bonus: many of these activities are free or very cheap!
1. Attend a free event in the Plaza Grande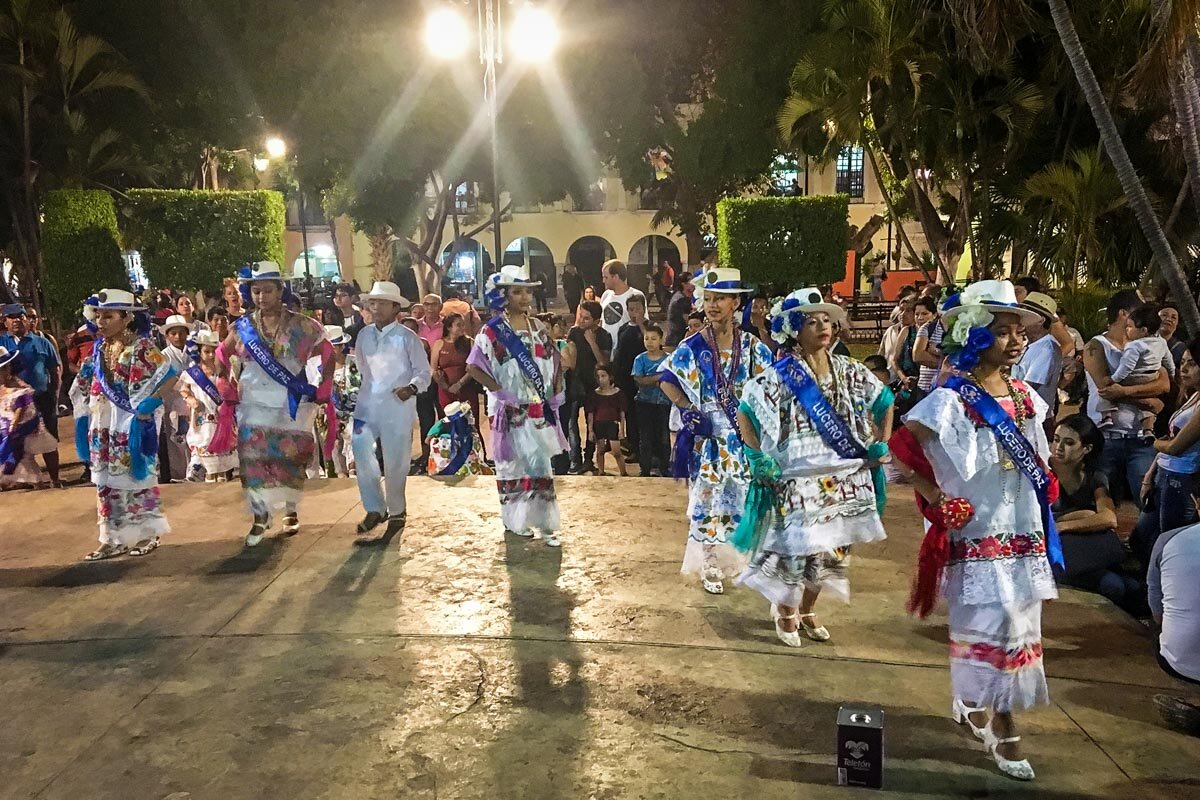 Those traveling to Mérida on a tight budget will find that food, accommodation, and activities throughout the city are very affordable. But even so, there's no better way to stretch your budget than by finding free things to do!
Lucky for you, Mérida's Plaza Grande hosts free events almost every single night and they vary depending on the day of the week. Some of these events include live musical performances, sound and light shows, theatrical performances, and Pok-ta-Pok reenactments.
In case you're wondering what this interesting hyphenated word is: Pok-ta-Pok was an ancient Mesoamerican ballgame that was played by the Maya civilization. It involves players attempting to hit a heavy rubber ball through a small stone hoop using only their hips. The hoop was usually placed high up on a wall so it was very difficult to score.
The modern-day reenactment uses a hoop that's lower to the ground so that the teams can actually score without playing for hours (phew!). Pok-ta-Pok is a very interesting cultural activity to witness, as are most of the other events in Plaza Grande.
Traveling more throughout this region? Check out these other can't-miss things to do in the Yucatan Peninsula for more travel tips and advice.
2. Take a free walking tour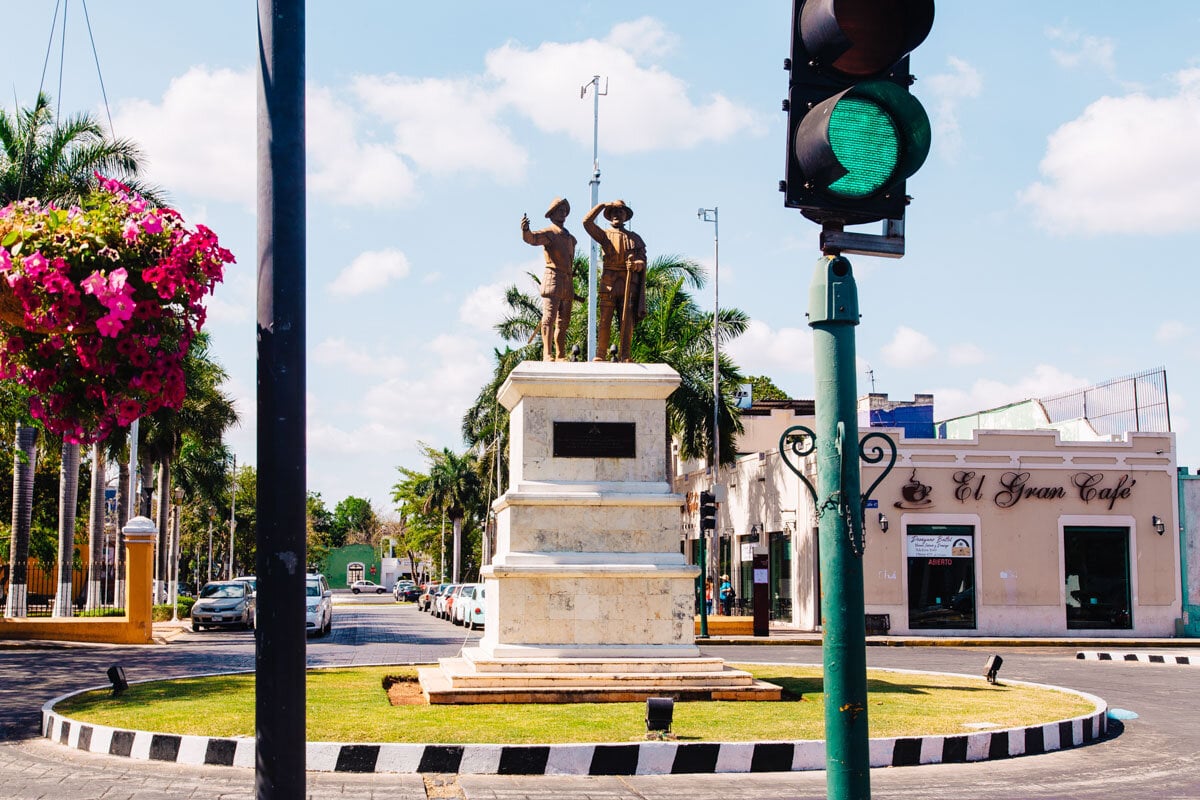 If you're just arriving to Mérida and would like to get a feel for the city, a free walking tour is a great option.
These tours start at 9:30 a.m. most days from Mérida's tourism office, which is located on the western side of the central plaza. The tour should last for about an hour and will provide you with insight into the city's history and culture.
Good to know: Although the tour is free, you should consider tipping the guide at the conclusion of the tour.
3. Shop for artisan-made souvenirs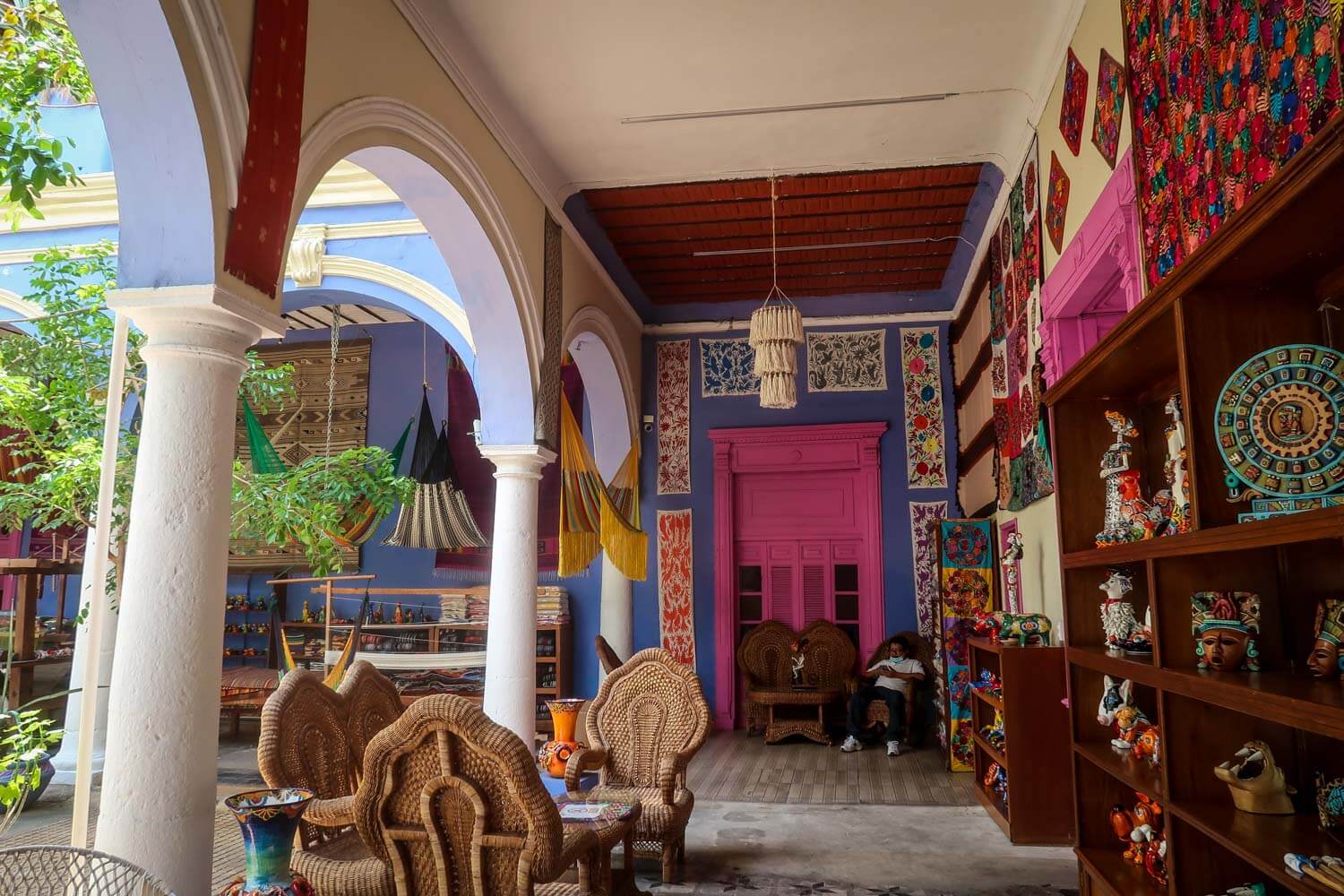 Mérida is a great place to shop for souvenirs, as there are plenty of shops with artisan-made goods and textiles. Beware of shops where the salespeople are pressure-some (as there are quite a few of these in town).
Here are a couple of good options:
4. Visit an Abandoned Train Museum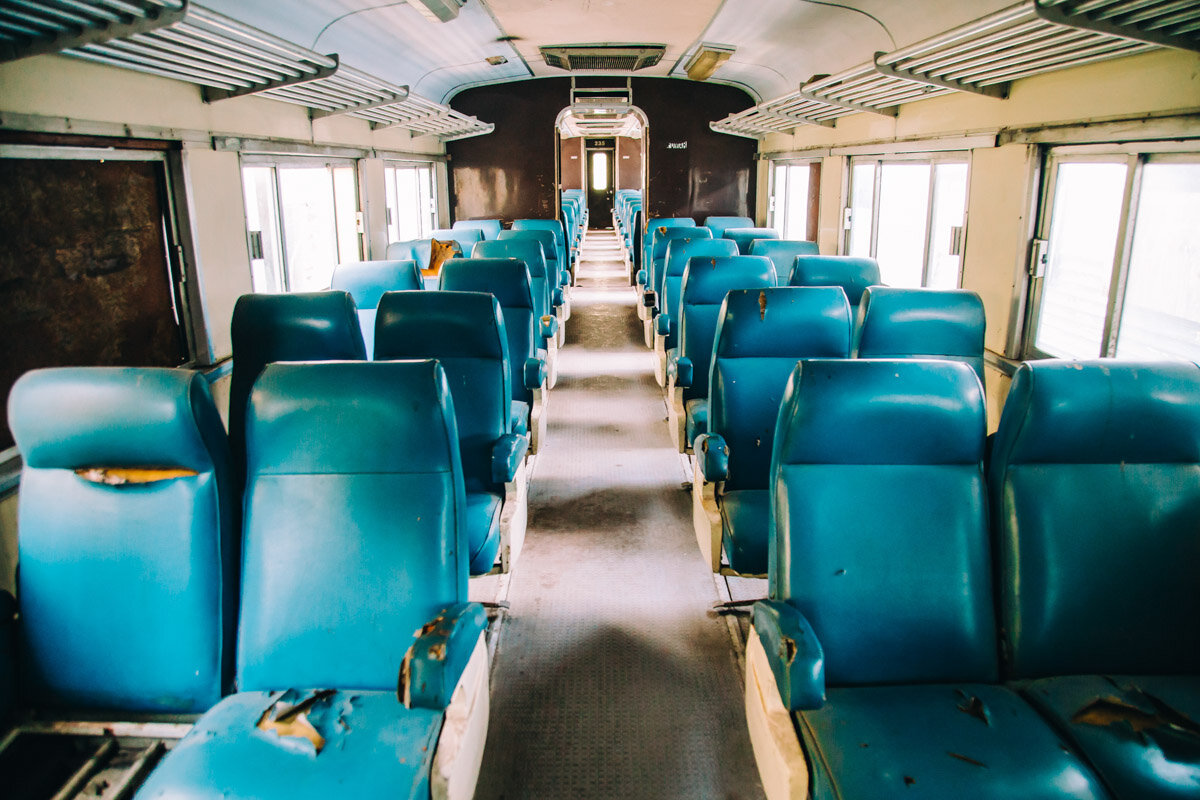 This fascinating and somewhat creepy exhibit is located about ten blocks northeast from the Plaza Grande and is definitely one of the most unique things to do in Mérida. The museum is called Museo de Ferrocarriles de Yucatan, or the Yucatan Railway Museum in English.
For about one dollar you can tour these antiquated trains that were used as a popular method of transportation long ago. Many of them are in a state of immense disrepair, which only adds to the intrigue of the museum.
While walking through these trains, you'll see not only the seats but also various rooms such as sleeping quarters, bathrooms, and libraries. It's a surreal experience to say the least and definitely worth your time if you're into unique activities and history. Plus, if you're into photography, you can capture some really moody pictures along the way.
Want to get more out of your travels in Mexico? We've put together the ultimate list of things to do in Mexico (and none of the things on this list are beaches!).
5.Explore the Mercado Lucas De Gavéz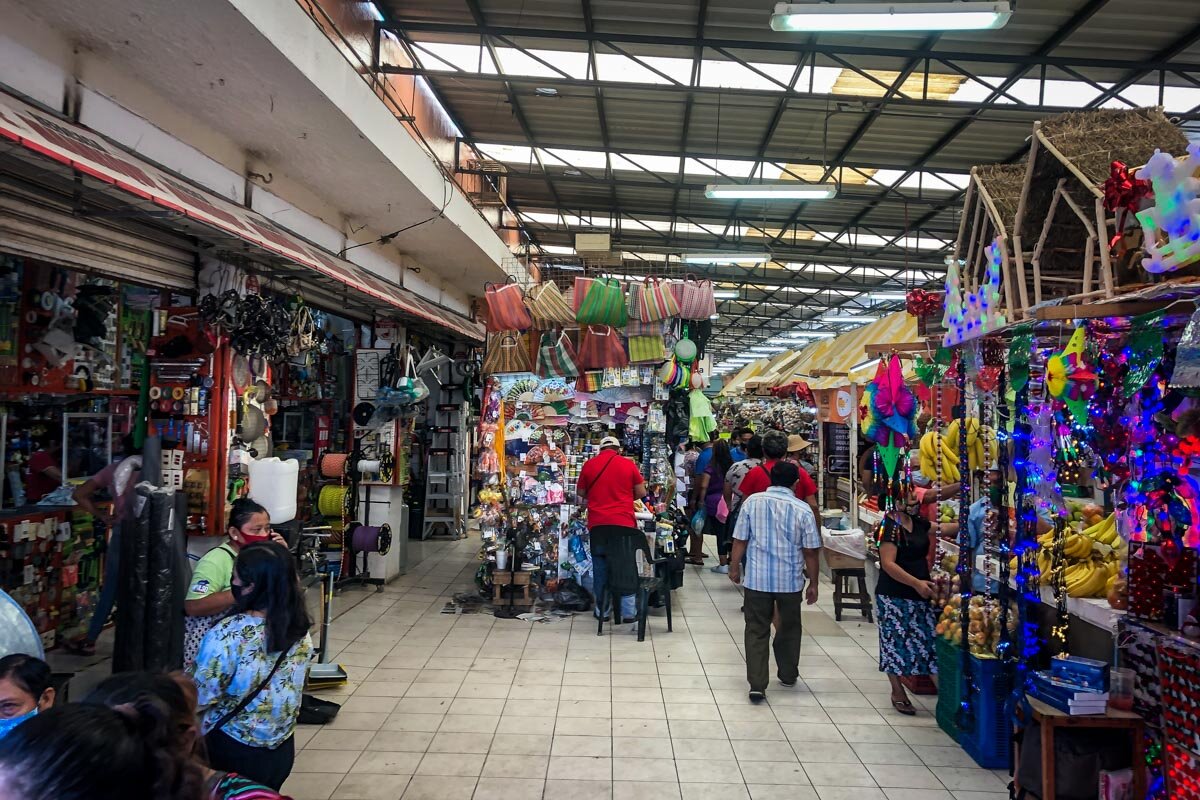 If you've never experienced a local marketplace in Mexico before, prepare to be a bit overwhelmed! This giant market houses everything from food – fresh produce, meats, seafood, spices – to clothing, electronics, even Christmas decorations. You can find literally anything here.
The market makes for an interesting place to walk around and get a feel for the local culture. Plus there are tons of options for food if you are looking for a bite to eat.
6. Walk along Paseo de Montejo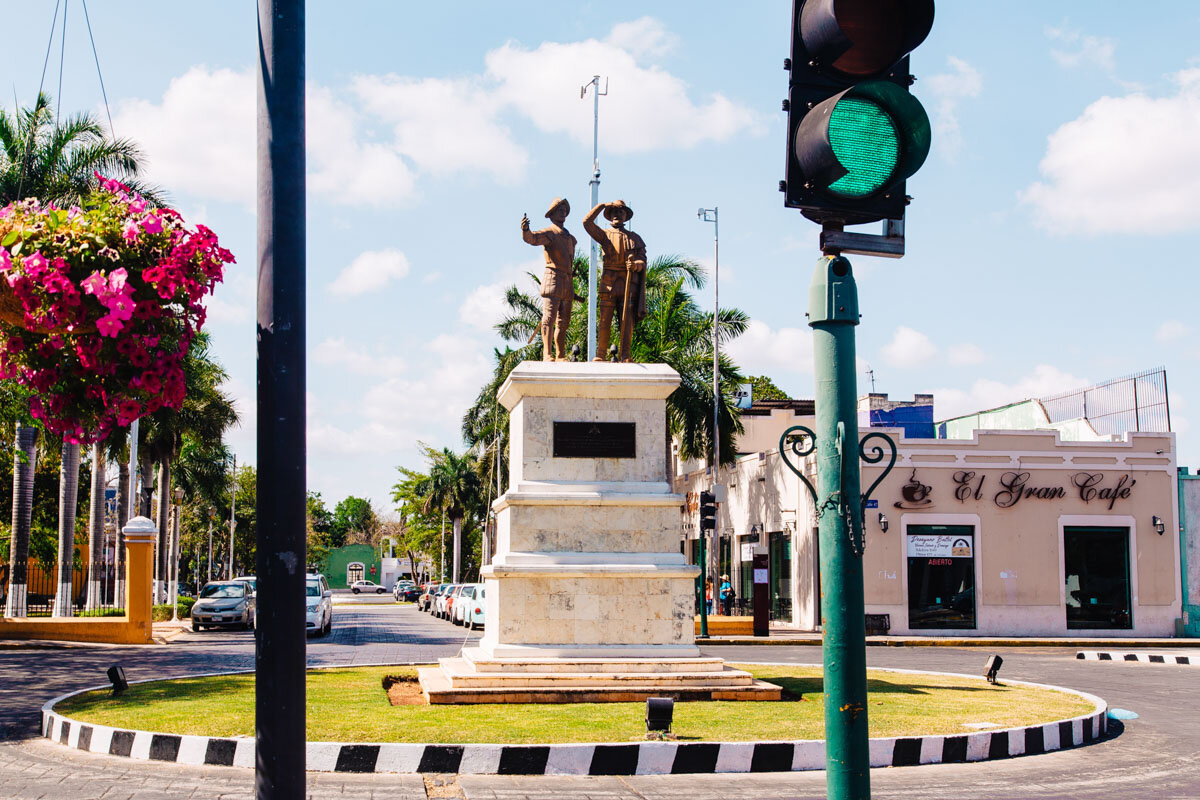 Paseo de Montejo is a long avenue in Mérida that's home to numerous historical buildings and monuments. The street was made to resemble a French boulevard and was named after Francisco de Montejo, the Spanish conquistador who founded Mérida in 1542.
Walking along Paseo de Montejo is very interesting because you can see various estates that belonged to Mérida's elite class during the 19th century. Many of these historical homes have been preserved and are now museums that can be toured in order to learn more about life in Mérida during this time period.
Alongside these 19th century estates, Paseo de Montejo also boasts various monuments that are positioned in the middle of the street's numerous traffic circles. The most famous monument along this street is called Monumento a la Patria, which features the likeness of a Mayan king wearing an elaborate headdress.
So go for a stroll and take in all the grandeur of the historic architecture that lines the boulevard.
7. Explore the Grand Mayan Museum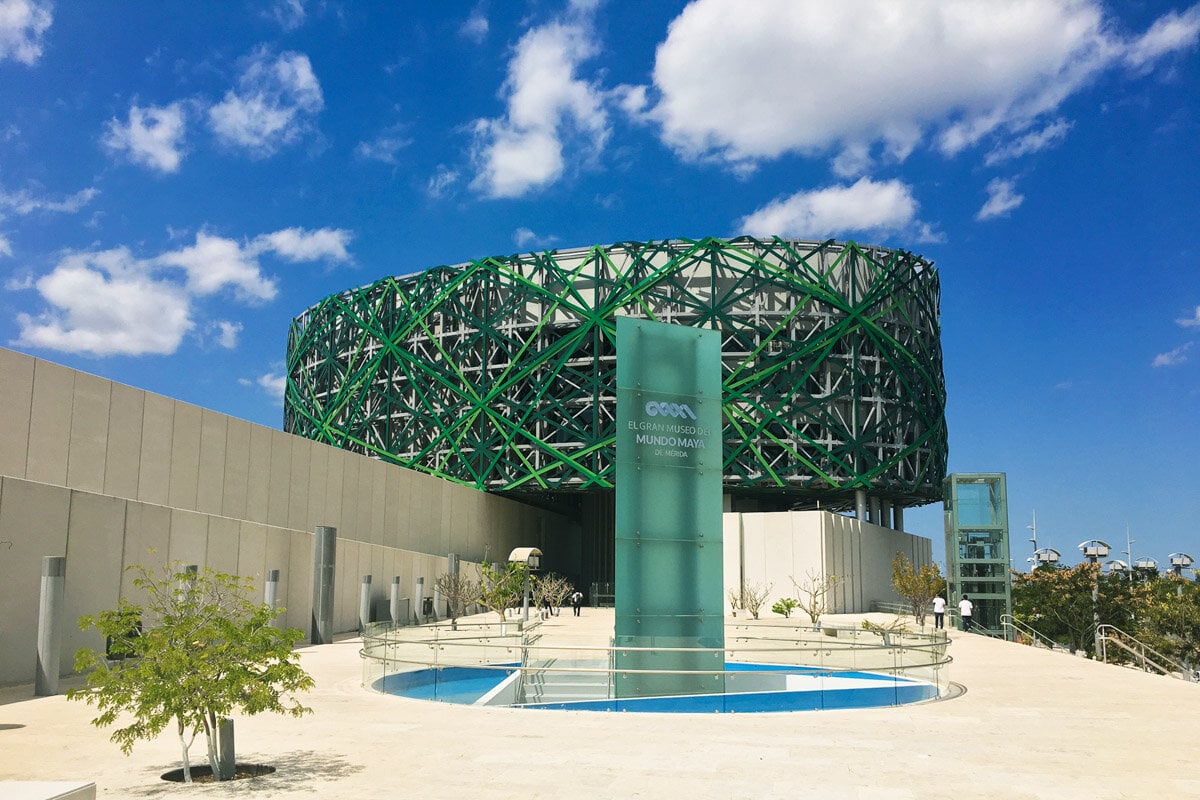 The Grand Mayan Museum is an enormous museum that details almost every aspect of both the ancient Mayan civilization as well as the modern-day Maya that still populate the region. It's a fascinating exhibit containing a seemingly infinite amount of artifacts and interactive elements that could easily entertain you for an entire day.
By the time you leave, you'll hopefully have both a greater understanding and appreciation of the ancient Mayan civilization and the culture that still lives on today.
How to do it yourself: The museum is located on the northern end of Mérida, just above the end of Paseo de Montejo. To get there, you can either catch a colectivo traveling north and ask them to let you off by the museum. Alternatively, you could spend a little extra money and hire a taxi.
Entrance Fee: around $8 USD
8. Try a Food Tour or Cooking Class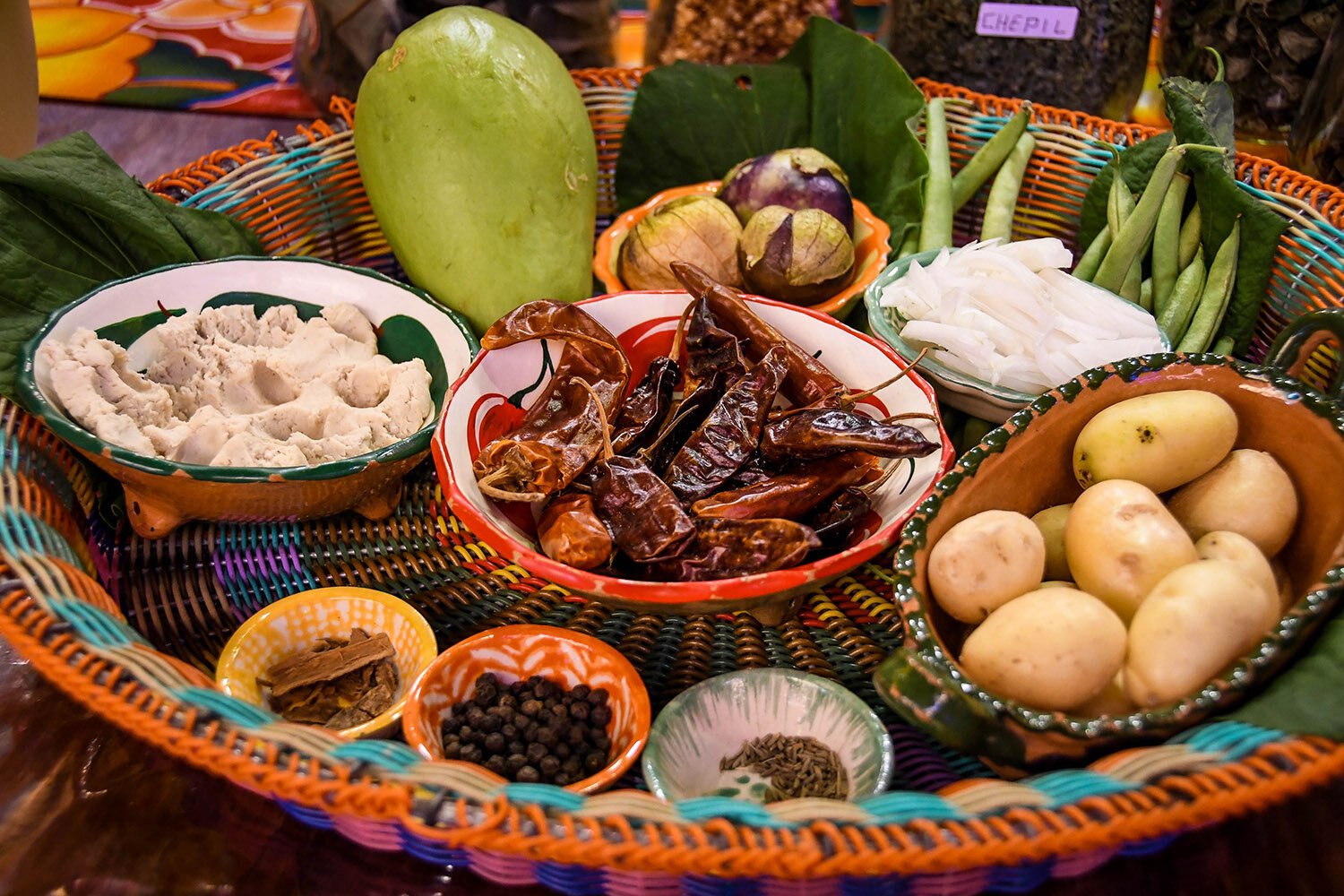 You can't come to Mexico without trying as much local cuisine as possible. Taking a cooking class or food tour is one of the best ways to learn about a country's culture and get a glimpse into local life that you wouldn't otherwise see.
Street Food Tour in Mérida
One of the great things about a food tour is you can try several different dishes and eat where the locals eat. This is also a great thing to do at the start of your trip so you get your bearings in a new city and find out right away where to find all the best food!
Cooking Class in Mérida
If you're more of a hands-on kind of learner, why not try your hand at preparing some local dishes in a cooking class? Not only will it likely be the best meal of your stay in Mexico, but you'll get to bring the recipes home as a souvenir that keep on giving!
9. Tour the Free Public Buildings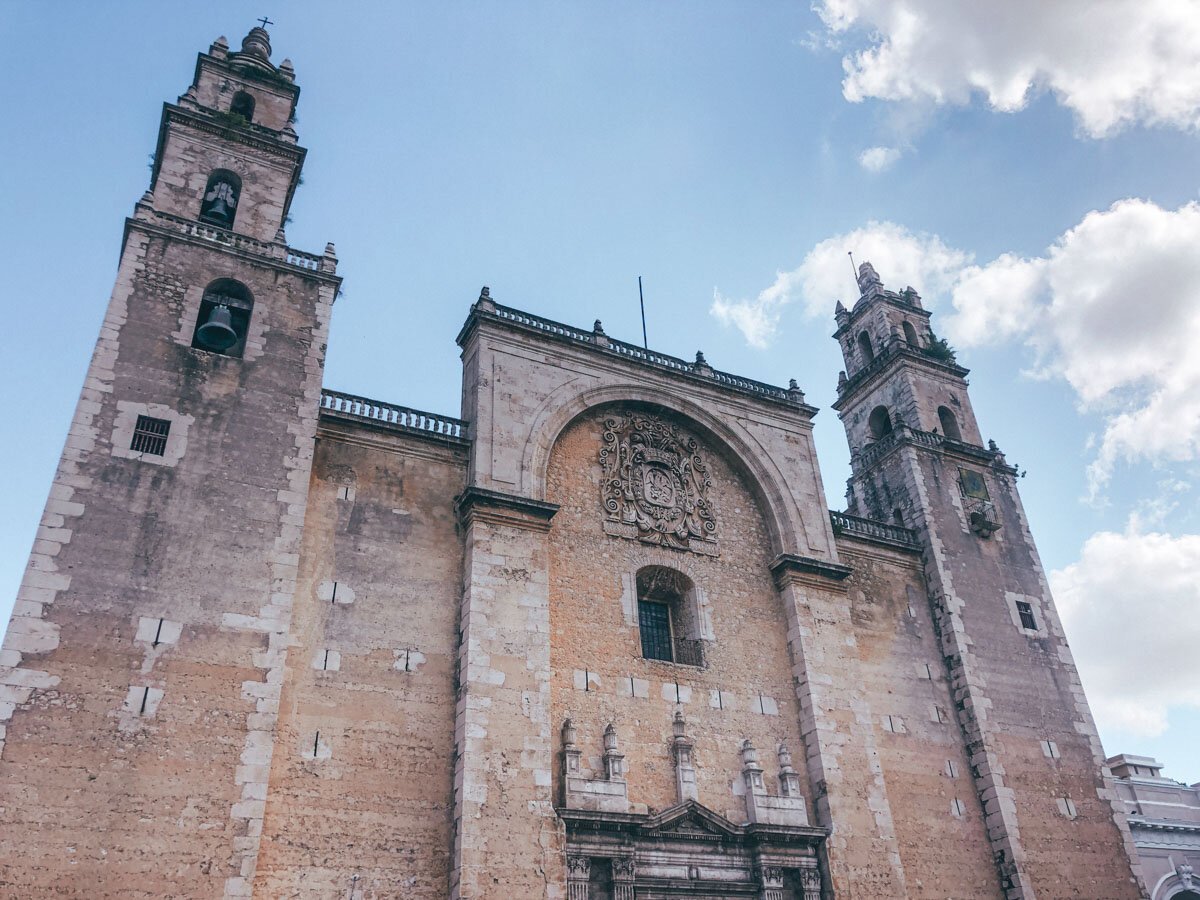 Many people who visit Mérida don't realize there are actually a number of buildings surrounding the Plaza Grande that are open to the public and entirely free to enter.
From museums to government buildings, exploring the inside of these buildings offers visitors some interesting sites and a well-deserved reprieve from the outdoor heat.
Catedral de San Ildefonso: Marvel at this architectural wonder from the late 1500s. This is still a functioning church, so be sure to dress appropriately if entering.
Casa de Montejo: Inside this Victorian-style former Meridian mansion, you'll get a glimpse of what life was life back in the hacienda days for the wealthy upper-class.
Palacio de Gobierno: The open-air "Government Palace" was built in the late 1800s and features halls full of murals by artist Fernando Castro Pacheco depicting the history between the Mayans and Spaniards.
Museo Fernando García Ponce-Macay: Find permanent and temporary collections of art from the Yucatan and beyond in this interesting museum.
Palacio Municipal: Capture panoramic views of the plaza from the long shaded balcony of the municipal building on the west side.
10. Explore Mayan Ruins
Being that Mérida has a large population of descendants of the indigenous Mayan people, it should come as no surprise that there are a plethora of ancient Mayan ruins in the region. Exploring these ruins is a reason a lot of travelers come to the Yucatan Peninsula and Mérida puts you right in the middle of the action.
Dzibilchaltun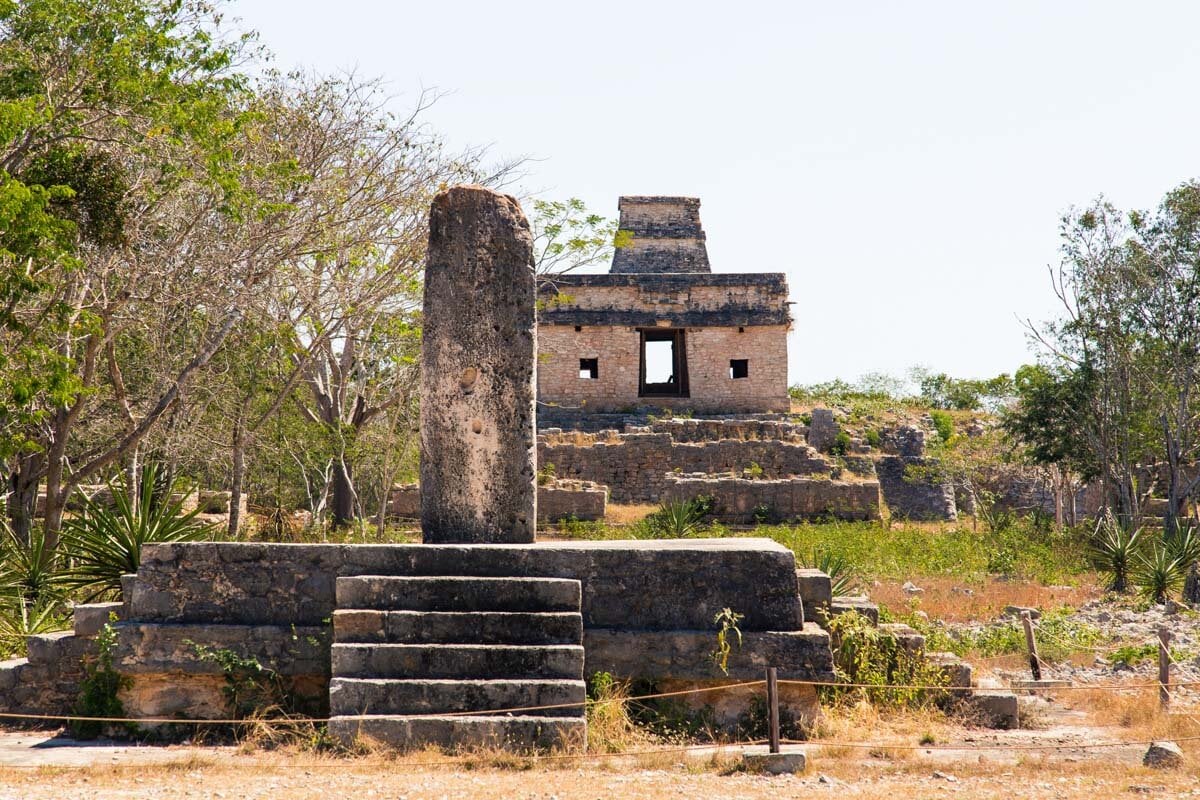 Dzibilchaltun, pronounced zivil-chaltun, is one Mexico's lesser-known Mayan ruins. While just about everyone knows about Chichen Itza, odds are that you've never even heard this word that seems intimidating to pronounce…
Upon entering Dzibilchaltun, you'll notice that there's a long path to your left and some stone structures immediately to your right. Our recommendation would be to start off by turning left and walking the somewhat long distance over to a square structure called the Temple of the Seven Dolls. This is the most famous famous building within Dzibilchaltun and was named after the seven sculptures that were found when the archaeological site was originally excavated in the 1950s.
After you've finished taking pictures of the Temple of the Seven Dolls, you can walk back over to the main plaza, which hosts numerous structures in a relatively small area. As an added bonus, there's a cenote located within the ruins that you can swim in during your visit!
Interesting Fact: Cenotes are natural sinkholes that form when limestone bedrock collapses and exposes the previously hidden groundwater. These pools are located throughout much of the Yucatan Peninsula and they're perfectly safe for swimming. In fact, you may be compelled to do so seeing as though Mérida and the surrounding region is incredibly humid!
How to get there: The nice thing about Dzibilchaltun is that it's located just north of Mérida, making it a relatively easy day trip from the city. From Mérida you'll want to catch a colectivo, which is a shared bus, over to a small town called Chablekal.
From there you can hire someone to take you to Dzibilchaltun, which is only a short distance away, by bicycle. Alternatively, if you're willing to pay a little more money you could hire a taxi to drive you directly to the entrance of this archaeological site.
Entrance Fee: about $10 USD
Uxmal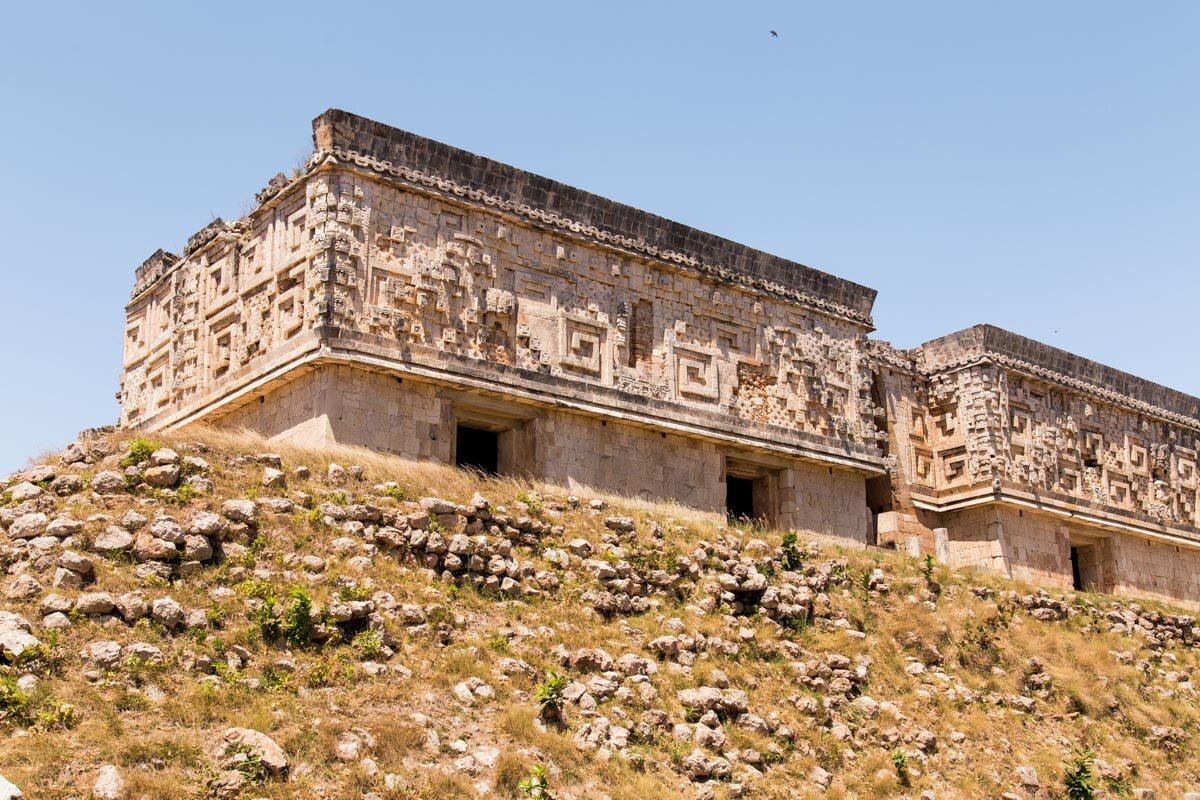 Uxmal is an impressive archaeological site located a little over an hour south of Mérida. Although Chichen Itza is certainly more popular, I actually found Uxmal to be infinitely more interesting as you can climb to the top of most structures and see ancient carvings that have been preserved for over a thousand years.
From there, you can wander the ruins and experience the grandeur of this ancient city. The first structure you'll see is an enormous stepped pyramid called the Pyramid of the Magician, which is actually the only structure within the entire site that you can't touch. From there you can take a left and make your way towards other magnificent structures such as the Governor's Palace, the Great Pyramid, and the Temple of the Doves, among others.
It should be noted that Uxmal covers a very large area and that you'll want to set aside a full day in order to explore the entirety of the ruins at a leisurely pace.
How to get there: In order to reach Uxmal, you'll need to purchase a ticket from the ADO TAME station, which is a second class bus terminal across the street from the first class ADO CAME station. Alternatively, you could opt for a tour or a private taxi to take you to the ruins.
Entrance Fee: about $12 USD
Chichen Itza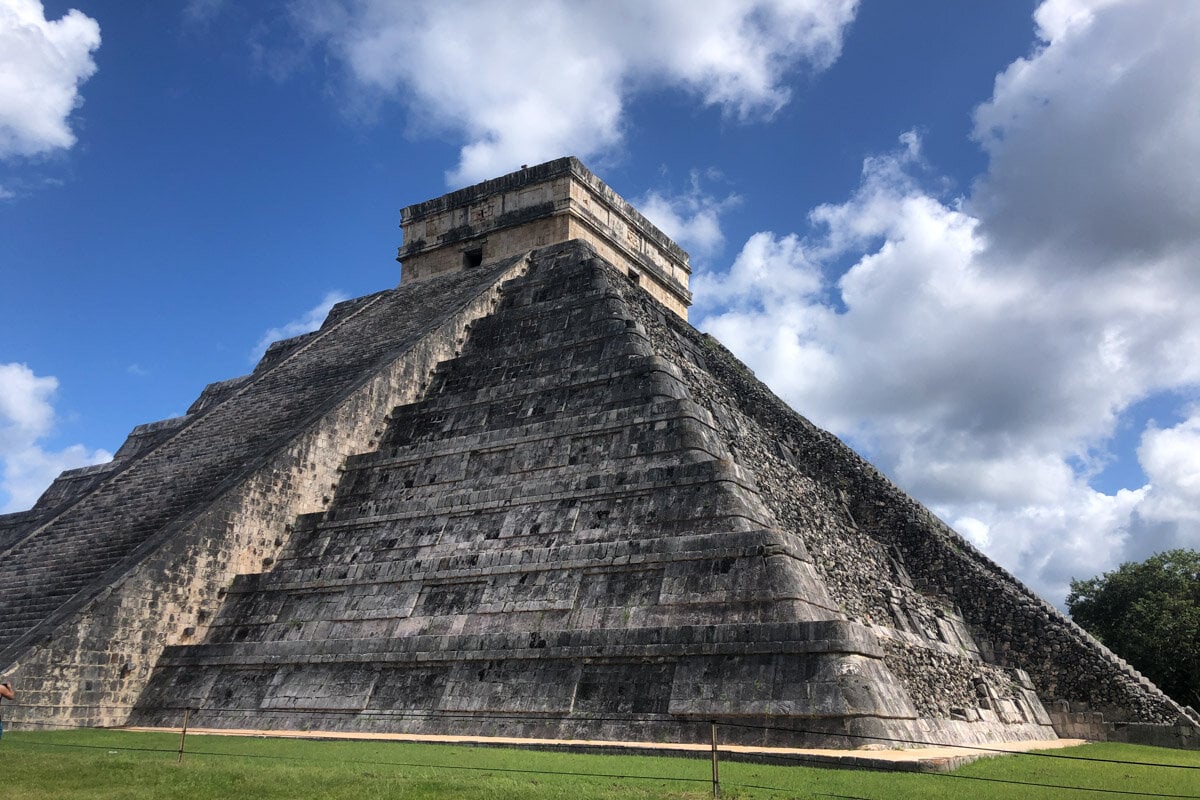 It would be a shame to skip Chichen Itza seeing as though these ruins have the distinction of being one of the New Seven Wonders of the World.
Once you've arrived at Chichen Itza, you can wander through this ancient city and appreciate the sophistication of the Maya that lived there. If you'd prefer to tour the ruins with a guide, you should be able to hire one at the entrance as there are numerous guides waiting for work. Additionally, you should have no problems finding souvenirs as the entire site is lined with vendors that sell a wide range of items.
As a final suggestion, you'll want to get there as early as possible for two reasons. The first and most obvious reason is due to the fact that Chichen Itza is incredibly famous and thus becomes packed with tourists as the day progresses. The second reason is that the area surrounding the ruins is immensely hot and there's not a whole lot of shade within the site itself.
Tip: The town of Pisté is the nearest town, just outside of Chichen Itza. You'll likely have worked up an appetite after walking through the ruins all morning. Instead of getting the overpriced tourist food at the park, make your way down the main street of Pisté (Hwy 180) and stop at The Mexican Chicken place. You'll recognize this unassuming place by the man standing behind a grill loaded with chicken on the sidewalk. For just a few pesos, you can have a delicious meal, supporting a local family-owned restaurant.
How to get there:
Luckily you have a couple of options when it comes to traveling between Mérida and Chichen Itza. You could take a first class ADO bus, which departs at 6:30, 8:30, and 9:30 a.m. This option should take an hour to an hour and a half and will cost somewhere in the range of eight dollars.
Alternatively, you can take a second class bus through the Oriente bus terminal. These buses leave more frequently and the cost will be more in the five dollar range. However, these buses stop along the way so you'll need to allocate extra time if you select this option.
Tip: If you are driving a car, you will notice cars starting to line the streets leading up to the entrance. You can park there for free and walk, but there is a paid parking lot right at the entrance and it only costs about $2 USD to park in the shade, so we'd recommend getting to the lot.
Entrance Fee: about $13 USD
11. Take A Day Trip To Valladolid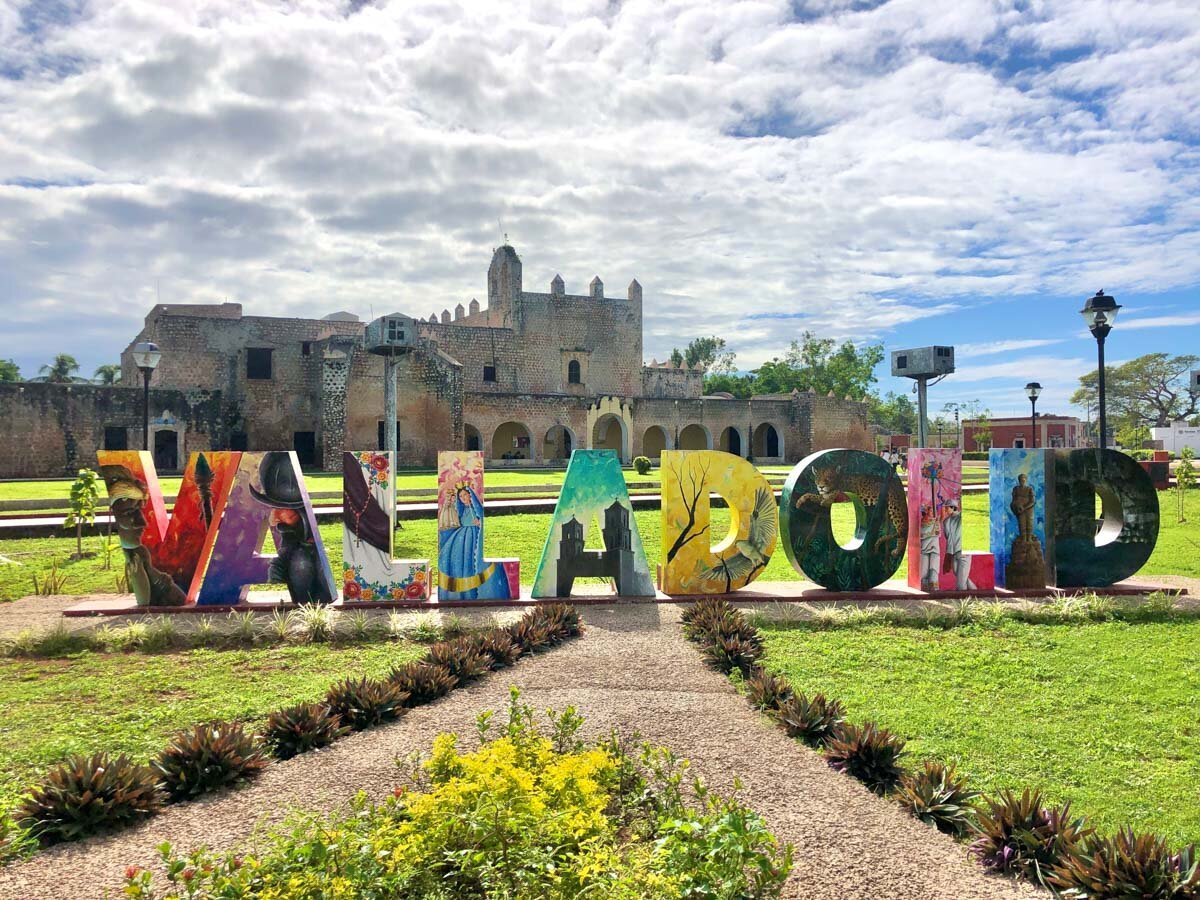 If you're looking for a slightly longer excursion, you can take a trip to Valladolid, which is reminiscent of a smaller version of Mérida. This stunning colonial city is located about two hours outside of Mérida, in between there and the Caribbean coast, and is filled with vibrant colors and Spanish architecture.
Tip: Since it's a bit of a journey, you may want to consider spending a night or two in Valladolid and then returning to Mérida afterwards. I stayed at Hotel El Masón del Marqués, which is reasonably priced and right off the central square. It also has an incredible restaurant attached.
Valladolid is a great people-watching destination as you can sit back and witness locals going about their daily lives. Similar to Mérida, there isn't a lot of tourism taking place in this quaint little city.
Things to do in Valladolid
Check out Cenote Zaci, which is only about a five minute walk from the central plaza. This is one of the nicest cenotes in the Yucatan Peninsula and the entrance only costs a few dollars.
There are a few other cenotes located within a few minutes drive of Valladolid including Cenote Saamal and the Insta-famous Cenote Suytun.
Grab a bite at the Bazaar Municipal food court
Have a cocktail and enjoy the views from the rooftop bar at Condesa Cocina-Bar
See some live music at Cafeina
Bring your camera to stroll the photogenic street of Calzada de Los Frailes
Try the Jicama Margarita at the Hostería del Marqués restaurant
Do some chocolate tasting at the Tienda Chocolate Shop
How to get there: Head to the ADO bus station in Mérida and book your ticket at the counter. Tickets will cost anywhere from $10 – $35 USD and the journey will last about 2 hours and 15 min.
12. Visit the Beach in Progreso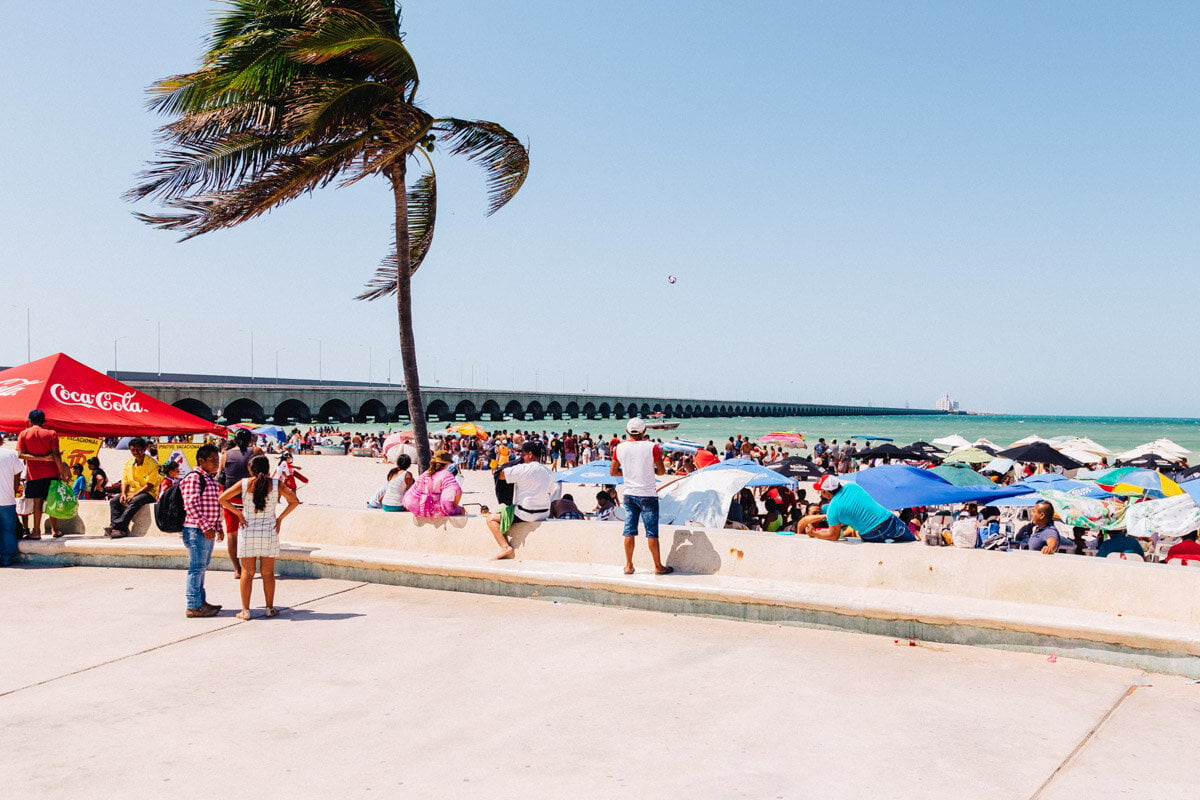 As previously mentioned, Mérida is extremely hot. After walking around this cement metropolis for a few days, odds are that you'll be yearning for the cool breeze of a tropical beach. Luckily, you won't have to venture too far to find one.
Progreso is a port city along the Gulf of Mexico and is located about forty five minutes north of Mérida. It's immensely popular among native Meridians and you'd be hard pressed to find a single foreign tourist among this beachfront destination. You'll be better off visiting on a weekday as hordes of locals flock to Progreso on weekends and take up almost every grain of sand along the beach.
Although there isn't a whole lot to do in Progreso, you can enjoy the long stretch of beach and eat delicious seafood in one of the various local restaurants within the town. I would recommend walking a couple of blocks inland before selecting a restaurant as the ones along the beach can be overly expensive.
Another interesting aspect of Progreso is that it's home to the world's longest pier, which stretches for a staggering 4 miles (6.5 km)!
How to get there: Purchase a bus ticket from Auto Progreso, which is located less than two blocks south of Plaza Grande. There may be a long line so make sure to get there early and bring plenty of water.
The round trip fare is around $2 USD, and the journey should take about an hour each way depending on traffic. The buses depart every ten or fifteen minutes so you can just show up and purchase a ticket for the next available bus.
13. See Flamingos in Celestun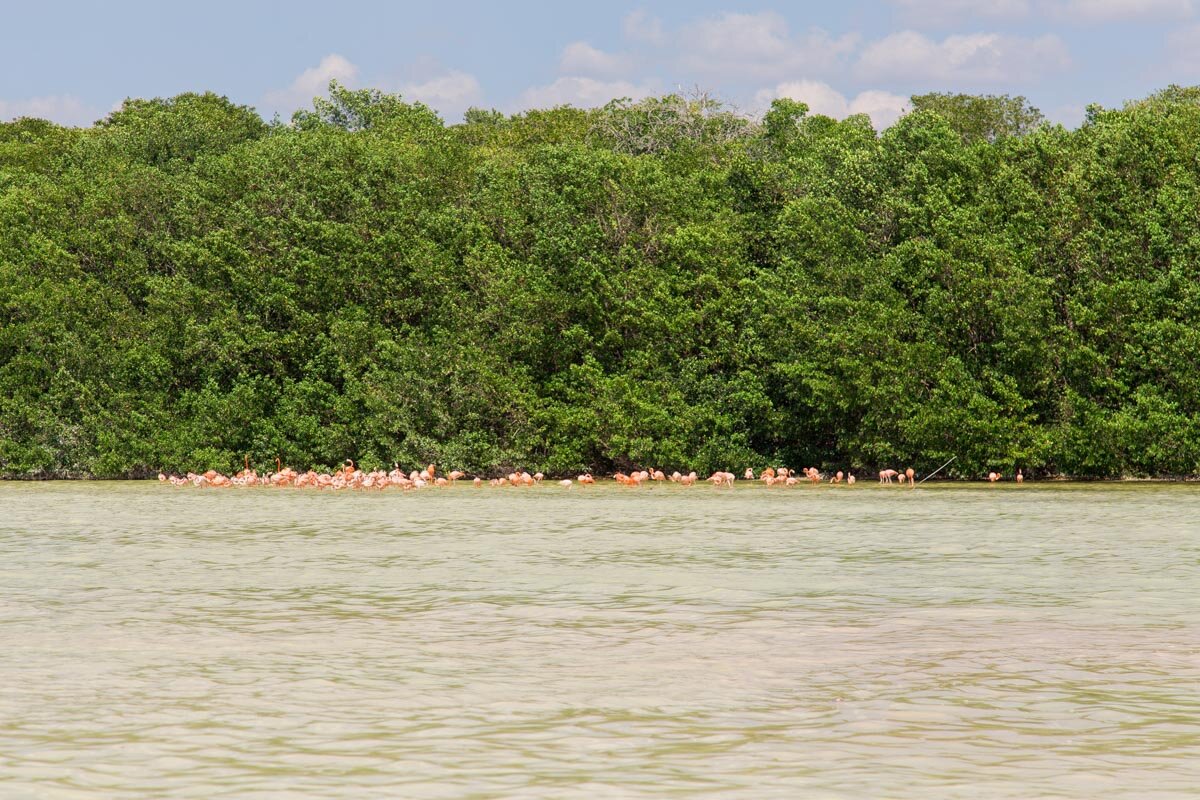 Another beachfront destination that makes for a great day trip is Celestun, which is about an hour and a half west of Mérida. Although Celestun is further away than Progreso, the fact that you can see Flamingos in their native habitat makes up for the longer journey.
Upon arriving to this small town you can simply walk towards the beach and find some boats offering tours of the Biosphere Reserve; they're pretty easy to spot as long as you walk onto the beach near the center of town. In fact, someone might actually approach you and ask if you'd like to do the Flamingo tour.
At that point you'll pay the operator (the price varies depending on how many people are in the boat), and will be on your way towards the Flamingos. At some point you'll also traverse through a mangrove swamp, which is pretty neat!
On a side note, if you'd like to see the most Flamingos possible then you should visit between November and February as this is their mating season. However, you should be able to see Flamingos during any time of the year.
How to get there: The easiest way to reach Celestun is to purchase a bus ticket from Mérida's Noreste Terminal, which is one of Mérida's second class bus terminals. Whereas the main ADO station services larger cities, these second class terminals make trips to smaller destinations such as Celestun.
Cost: The boat captains will usually charge somewhere in the range of $80 to $100 USD total for everyone in the boat; these boats generally hold up to eight people. So basically you'll want to make sure that the boat is full, in which case you should be paying somewhere in the range of $10 – $13 USD per person for the tour.
If there aren't other passengers ready to take the tour you can either wait until more people show up or you could pay extra to make up for the empty seats.
14. Dive into a cenote (or two!)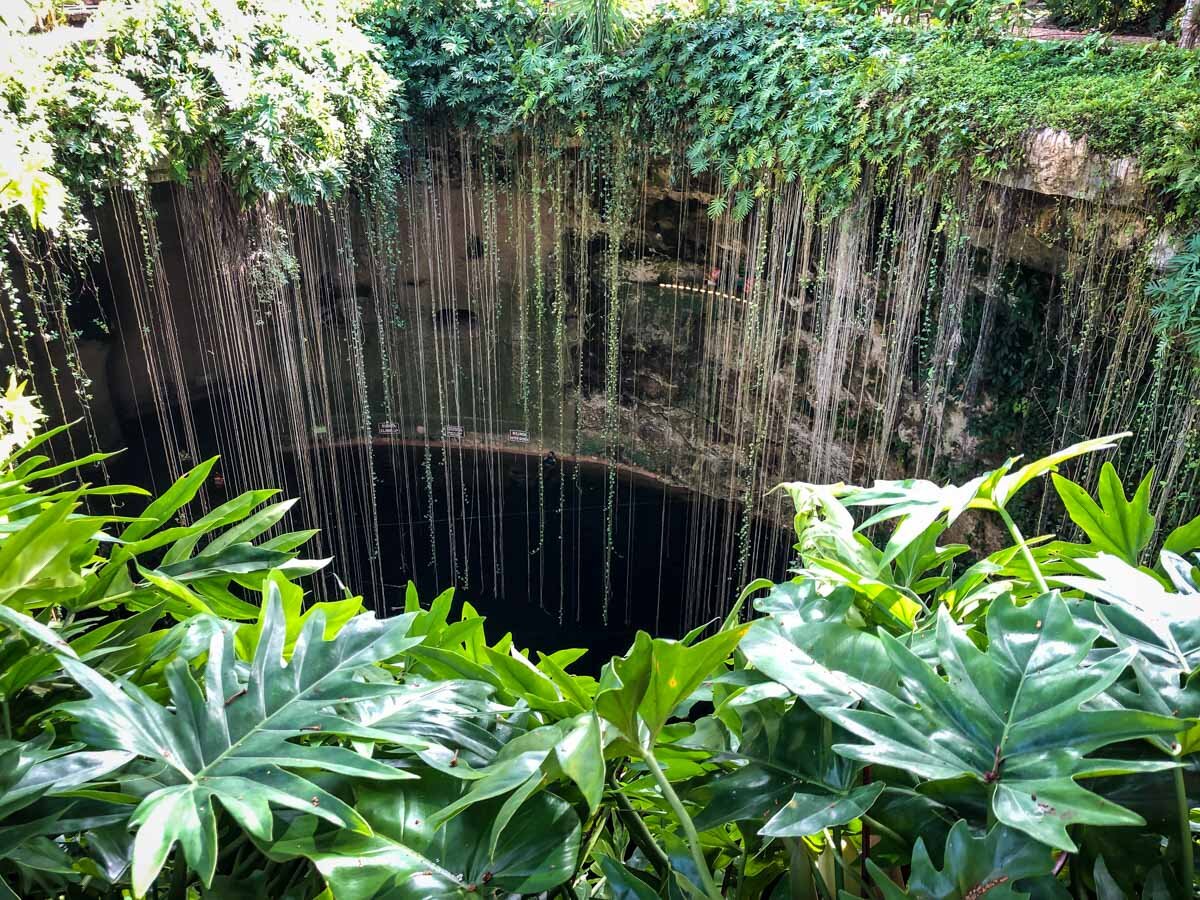 Cenotes are natural sinkholes filled with freshwater that can be found all over Mexico, particularly in the Yucatan Peninsula region.
There are countless cenotes located near Mérida that you may want to visit. Some of them are located within private haciendas whereas other are situated amongst Mayan ruins.
Some of the most notable natural pools around Mérida include:
the three Cuzama Cenotes
Santa Barbara Cenotes
Cenote Yax Bacaltun
Cenote Kankirixche
Centoe Dzonbakal
Cenote Xlacah (located within Dzibilchaltun ruins)
It should be noted that this list only begins to scratch the surface off all of the cenotes that you could potentially visit while spending time in Mérida.
How to get there: You can find plenty of cenotes (including all of the ones mentioned above) within about an hours drive from Mérida. The cheapest way to get there would be to travel by colectivo, but you can also pay a taxi to take you there as well.
13. Take a Day Trip to Izamal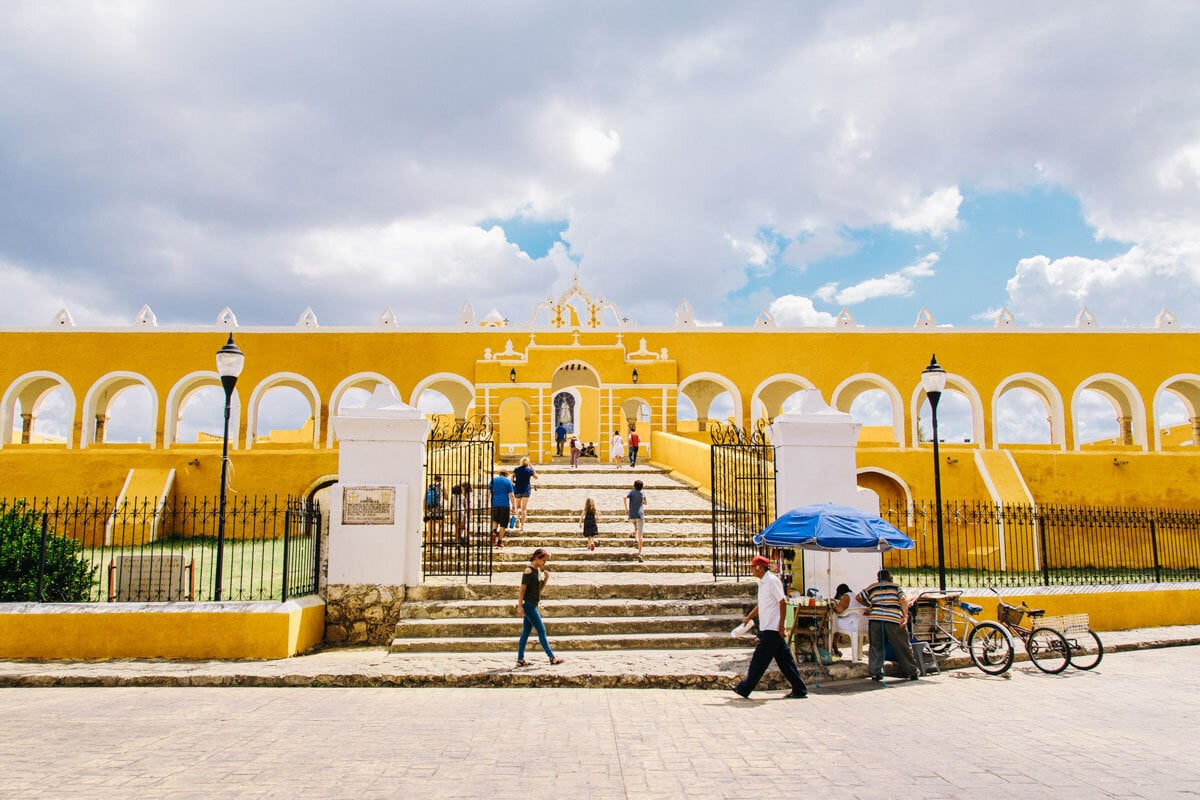 Last but certainly not least, you can take a day trip over to the yellow town of Izamal. This vibrant location is located about an hour east of Mérida and is likely one of the most unique destinations you'll ever visit. The main draw of Izamal is the fact that every single building in the town is painted the exact same shade of yellow.
When you get to Izamal, you'll notice that there's a large convent located in the center of the town. This convent was visited by Pope John Paul II in 1993 and there's a museum dedicated entirely to his visit. You can even see the exact chair that he sat in! You'll want to take some time to walk around and admire the beautiful architecture that comprises the convent.
From there, you can visit some of the numerous Mayan ruins that are scattered throughout Izamal. Although it should be noted that these ruins are not nearly as impressive as sites such as Uxmal and Dzibilchaltun, they're very easy to get to and they give you an insight to the ancient peoples who once populated Izamal.
Along the way, you'll be able to appreciate and take pictures of the vibrant yellow color that saturates every building in the town.
How to get there: The cheapest way to reach Izamal is to catch a colectivo near the intersection of Calle 65 and Calle 54 in downtown Mérida. Although you could take a second class bus from the Noreste terminal, these buses will make stops along the way whereas a colectivo will go directly there.
You'll have to pay separately for the return ticket but the total round trip cost should be less than $4 USD.
---
Best Food in Mérida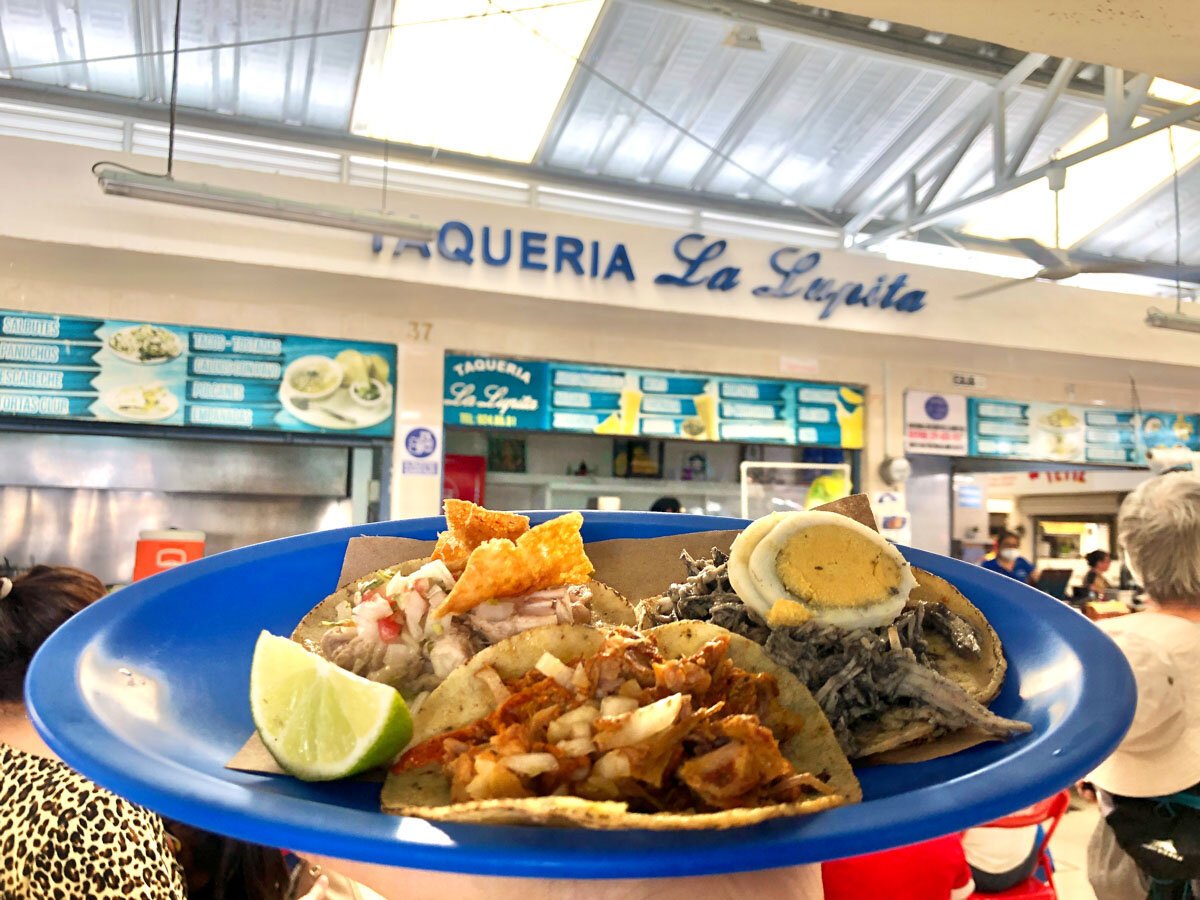 When it comes to food in Mexico, there's a rule of thumb that you should try to follow: If a restaurant is located within the central plaza of any city, odds are it's a tourist trap. In general, the further away you walk from the central plaza the cheaper and more authentic the restaurants will be.
That being said, Mérida is known for its food scene and there are plenty of gems located here. Just ask Netflix, they've filmed multiple specials such as Salt, Fat, Acid, Heat and The Taco Chronicles featuring restaurants located in Mérida. Below are some popular can't-miss spots as well as some local recommendations we loved.
Tip: A lot of the restaurants and taco joints we loved in Mérida close after noon (usually around 2 or 2:30 p.m.). So be sure to check the hours before planning your meal times!
Good to know: As a final note, the best restaurants in Mérida don't look like much from the outside. Oftentimes they appear very bland and have simple wooden chairs that aren't very comfortable. That's often how you know you're getting authentic local cuisine at a reasonable price.
Nightlife in Mérida
If you're looking for nightlife, you'll find many options to choose from. The following are located on the same street just a few blocks from one another:
How to get to Mérida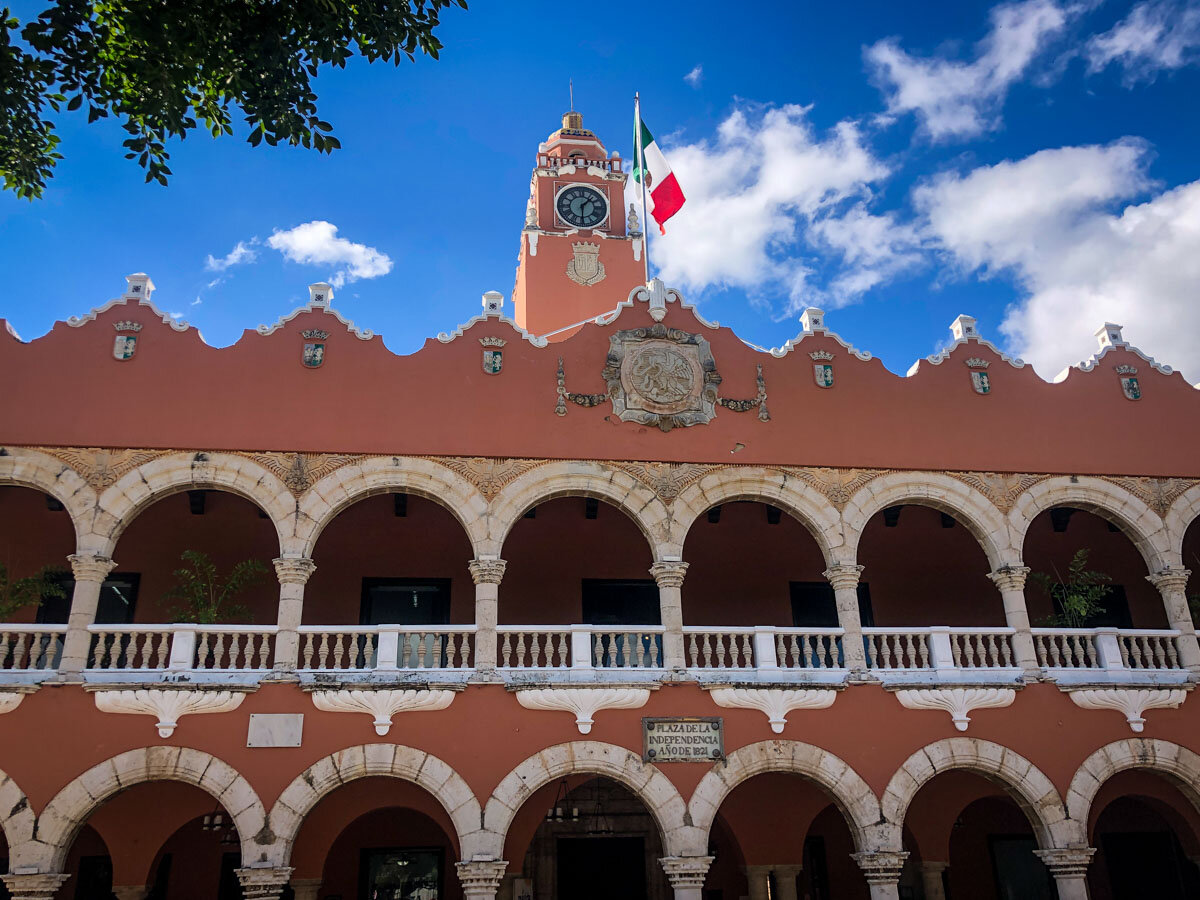 Mérida is located about three and a half hours west of Cancún (the closest major airport) and about an hour and a half northwest from the fabled Mayan ruins of Chichen Itza.
Psst! There are usually very cheap flights to Cancún, making Mérida an inexpensive vacation spot!
The easiest way to reach Mérida is to catch an ADO bus from Cancún (or any other city in Mexico's Yucatan Peninsula). ADO is the most convenient form of transportation in this region, as it services all of southern Mexico.
You can look up the ADO schedule online and then walk into one of the bus stations and buy a ticket right there on the spot. The prices are reasonable and the buses are surprisingly comfortable with air conditioning and power outlets.
Overall, it's very easy to reach Mérida regardless of your starting point.
Transportation in Mérida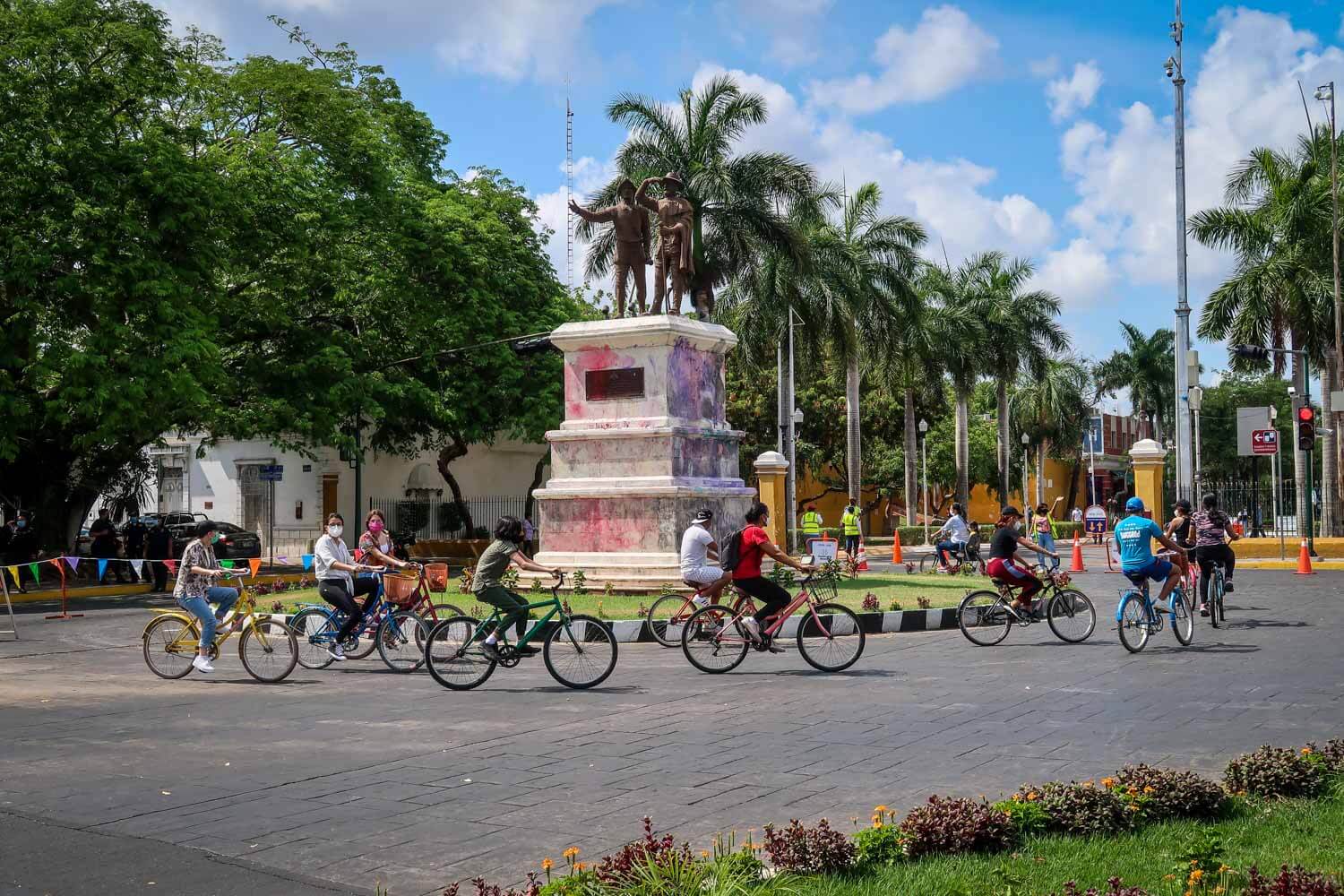 Although it can be confusing at times, there are many reliable options for transportation throughout Mérida and the surrounding area.
Buses
You can use ADO first class buses to travel to other large cities (Valladolid, Cancun, Campeche, etc.) and use either ADO or Noreste second class buses to travel to smaller destinations like Celestun and Uxmal.
Collectivos
There are also colectivos, which are shared shuttles, that will take you to nearby destinations such as Dzibilchaltun and the Grand Mayan Museum. Sometimes you'll have the option to either take a colectivo or a second class bus to your destination, as is the case with Izamal.
Taxi/Uber
You can also take a taxi or Uber (yes Uber works here!) directly to your preferred destinations within and around the city without having to worry about logistics. The cost of taxis within the city center are reasonable, but you will pay more to go elsewhere in the region.
Where to stay in Mérida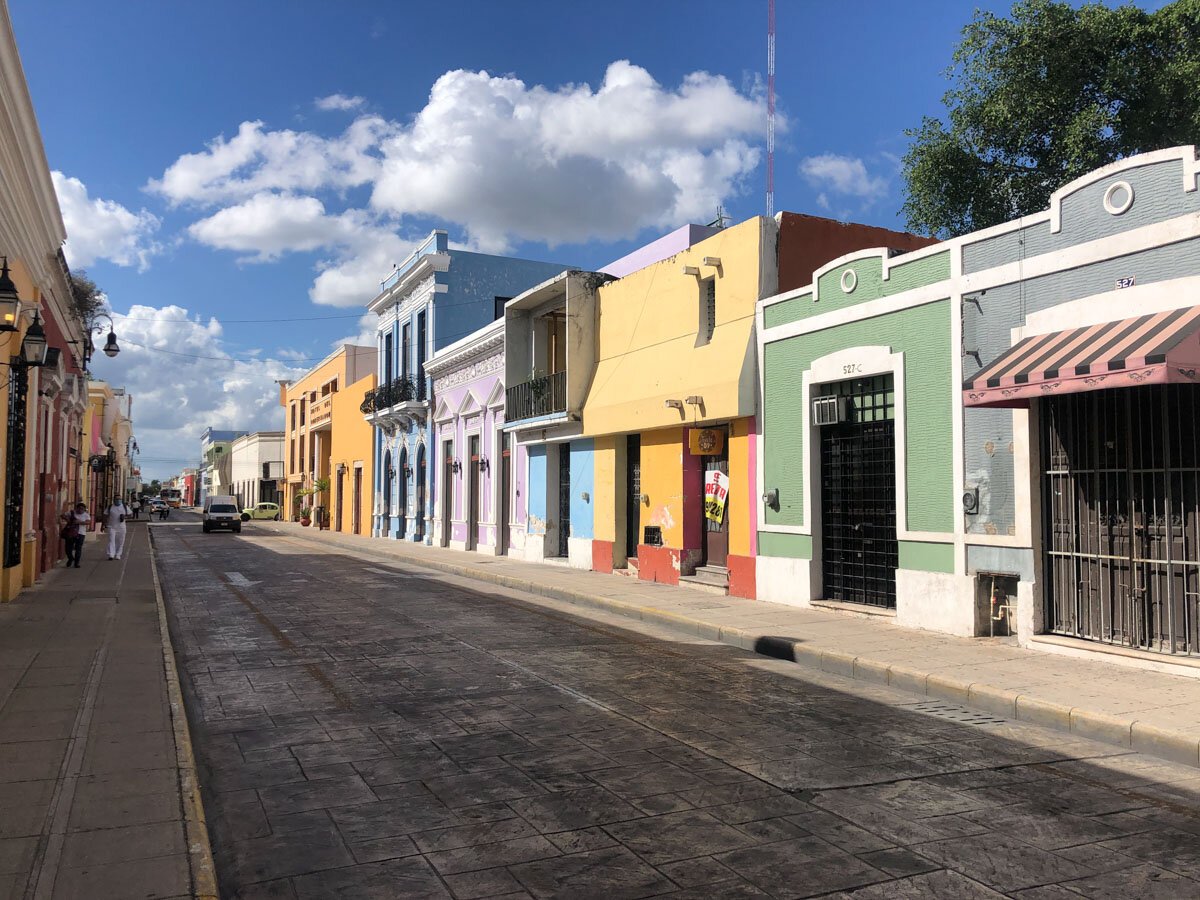 There are two general areas that I would recommend using as a base for your Mérida adventures: Plaza Grande or Paseo de Montejo. Each has its own pros and cons, which I'll discuss below.
Plaza Grande
The Plaza Grande is more conveniently located as this is where most events, restaurants, and bars are located. It's also not too far away from the two ADO stations either.
The drawback of staying in this area is that it's definitely louder and busier. Additionally, since there are so many people moving about in a hectic manner, it's not exactly the cleanest part of Mérida.
Paseo de Montejo
For those who would prefer a quieter and more relaxed experience, you may want to consider staying near Paseo de Montejo. This is one of the nicest areas in Mérida and there are numerous hotels and guesthouses that offer fantastic deals.
Although you'll find plenty of restaurants in this area, it's somewhat of a long walk to Plaza Grande and you'll likely need to take a taxi to and from the ADO stations. Paseo de Montejo will let you experience a more upscale side of the city.
Budget stays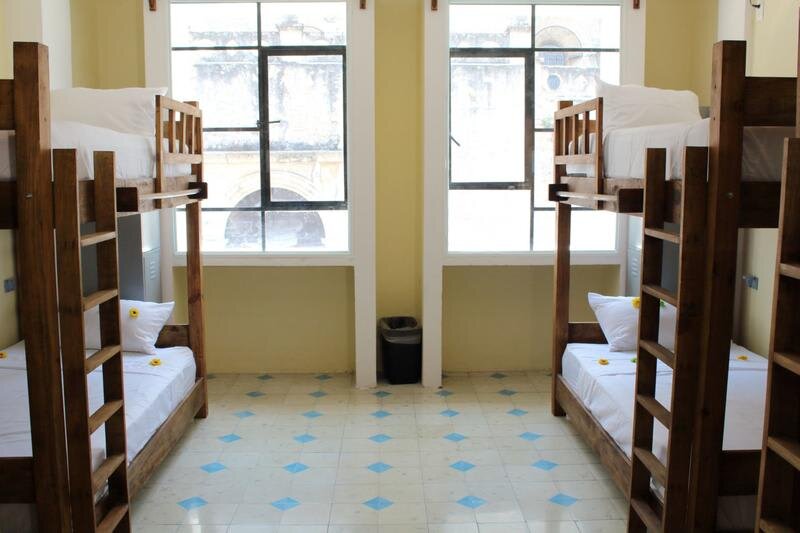 Location: Just in front of the cathedral in the plaza grande.
This hostel has 6 air conditioned dorm rooms with the option of female-only or mixed. In an excellent location, it's known for excellent customer service with friendly staff and being super clean.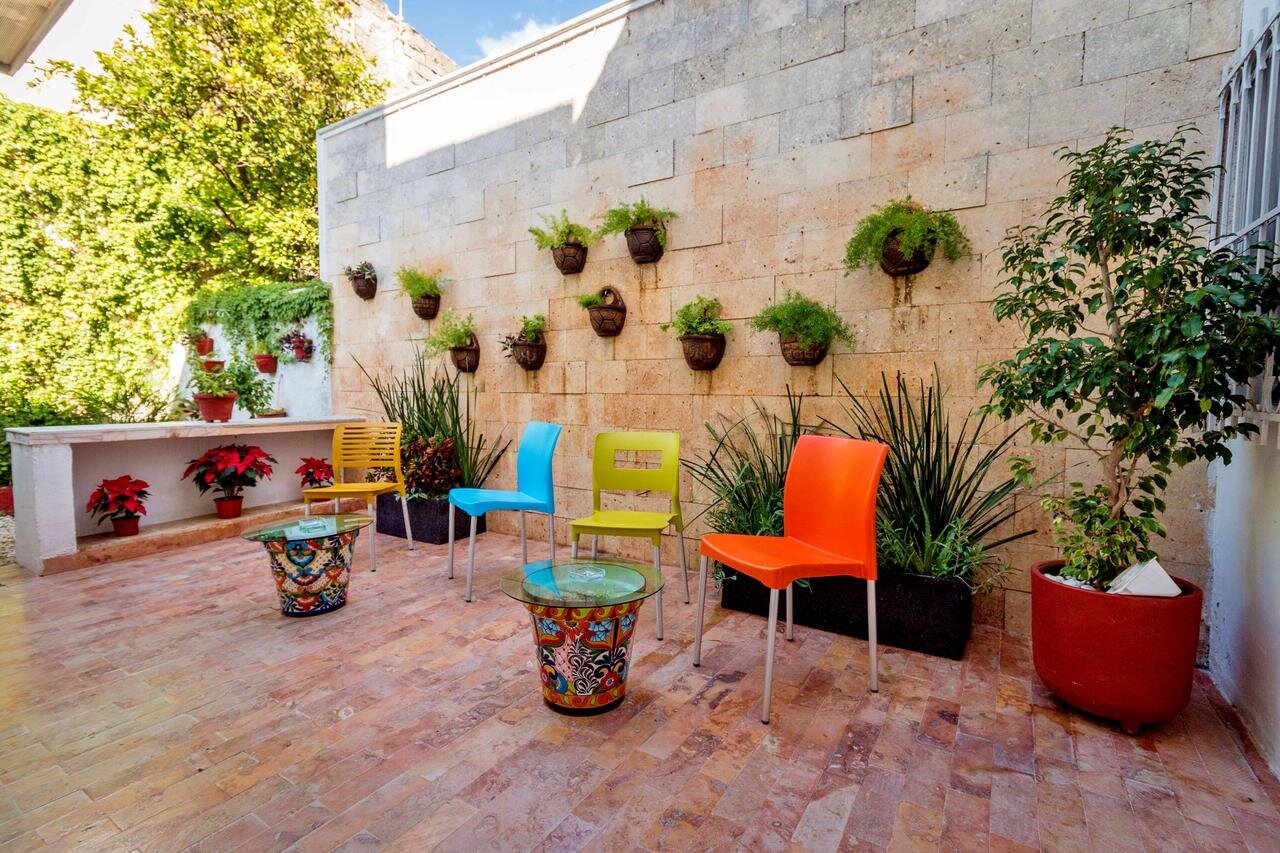 Location: In the Paseo de Montejo region and within walking distance of the plaza grande.
This guest house is known for their beautiful terrace, comfortable rooms and quiet but ideal location.
Mid-range stay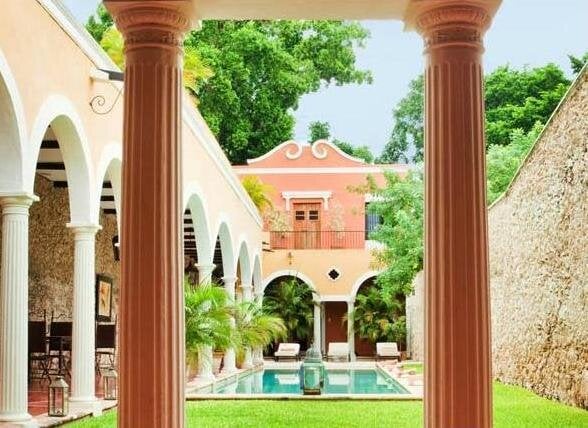 Location: 10 minute walk from the city center
This beautiful colonial-style property is in an excellent location for exploring Mérida. Air conditioned rooms, an onsite restaurant and outdoor pool are just a few of the amenities worth staying here for.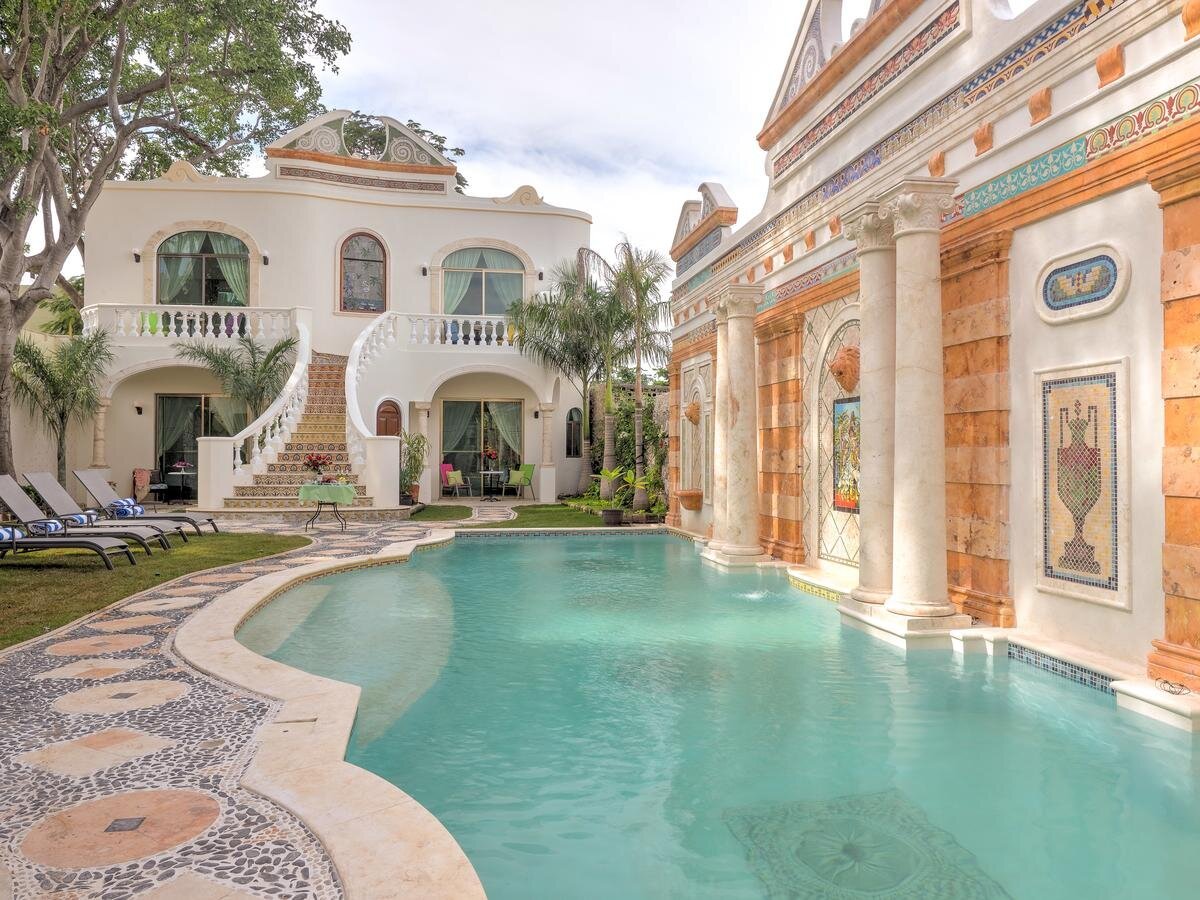 El Palacito Secreto Luxury Boutique Hotel
Location: 10 minute walk from the city center
This hotel is a beautiful display of French architecture in the historic center of Mérida. An outdoor pool and friendly staff make this an excellent place to stay.
If you're looking for more information on where to stay, we've put together a detailed list of the best Airbnbs in Mexico for every type of traveler. This list includes Airbnb stays in Mérida and all across the Yucatán so be sure to bookmark it before your next trip.
---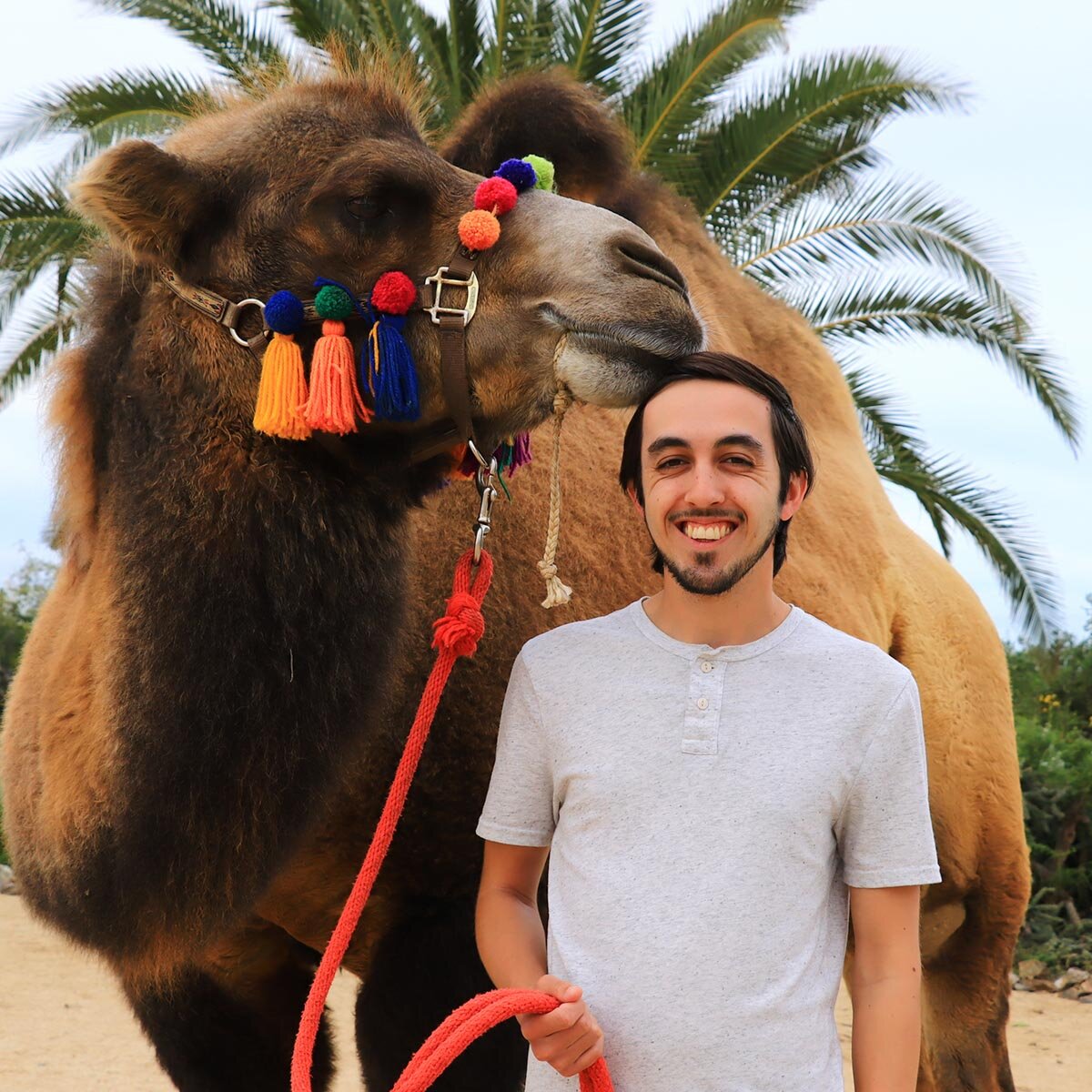 Guest Author Bio
Michael is the founder of Passport Explored, an adventure travel blog that focuses on unique destinations and cultures. His goal is to inspire people to step outside of their comfort zone and live without regrets. You can follow along with his adventures on Instagram.
---
Are you planning a trip to Mexico?
We have lots more resources on travel in Mexico and destinations throughout the country. Check out our Ultimate Mexico Travel Guide for all the important travel information, or read some of our favorite articles below.
Save this article on Pinterest for later!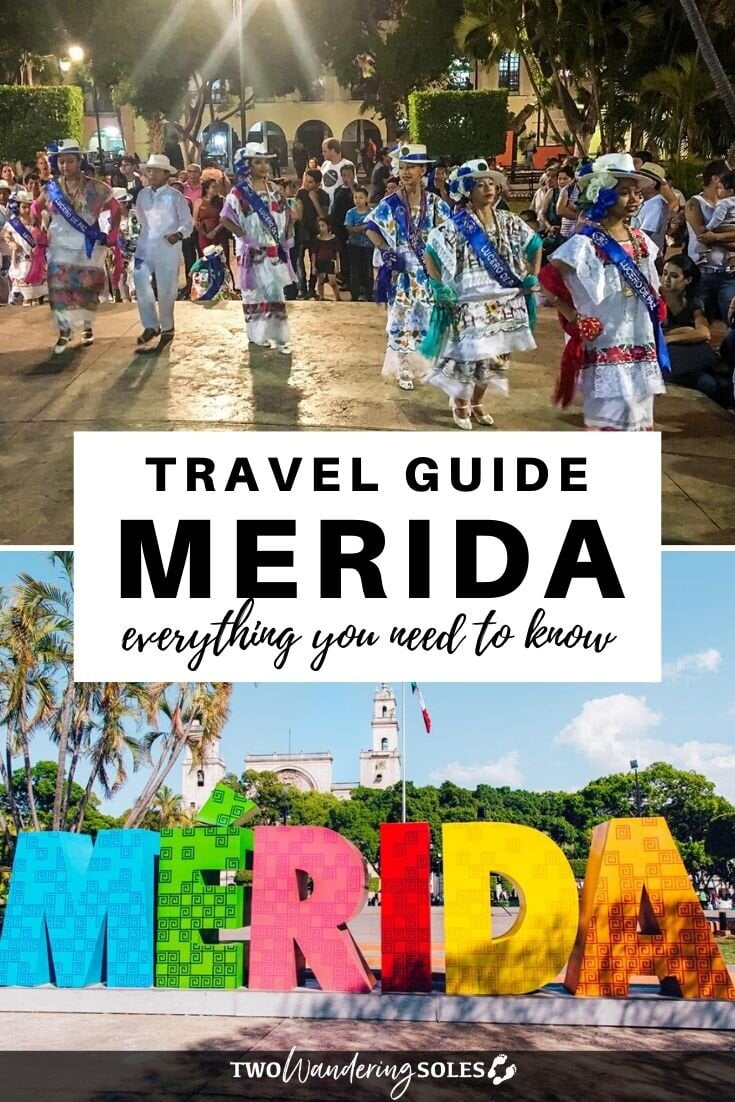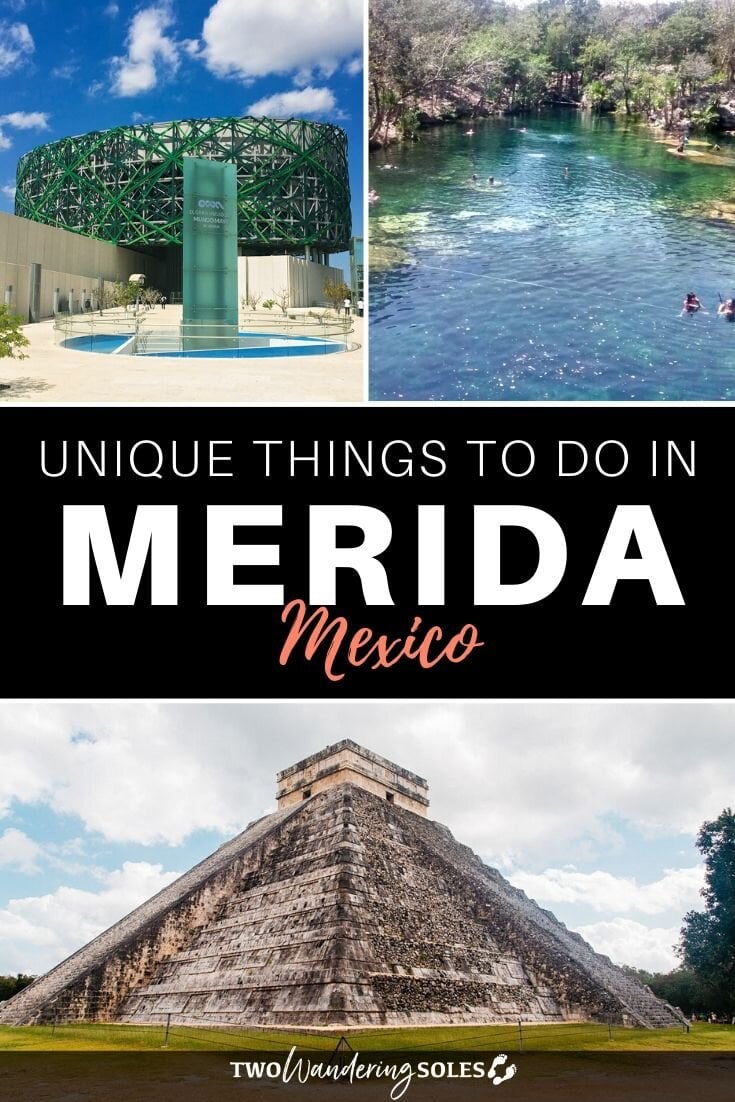 We want to hear from you!
Have you ever been to Merida before? What was your experience like there? Do you have any suggestions you think we missed on this list? Comment below and let us know!