The Sian Ka'an Biosphere Reserve is teeming with wildlife, and makes for an unforgettable day trip adventure. The diverse jungle ecosystem reserve offers one of the most unique experiences in the region. Here's everything you need to know on how to visit Sian Ka'an without a tour.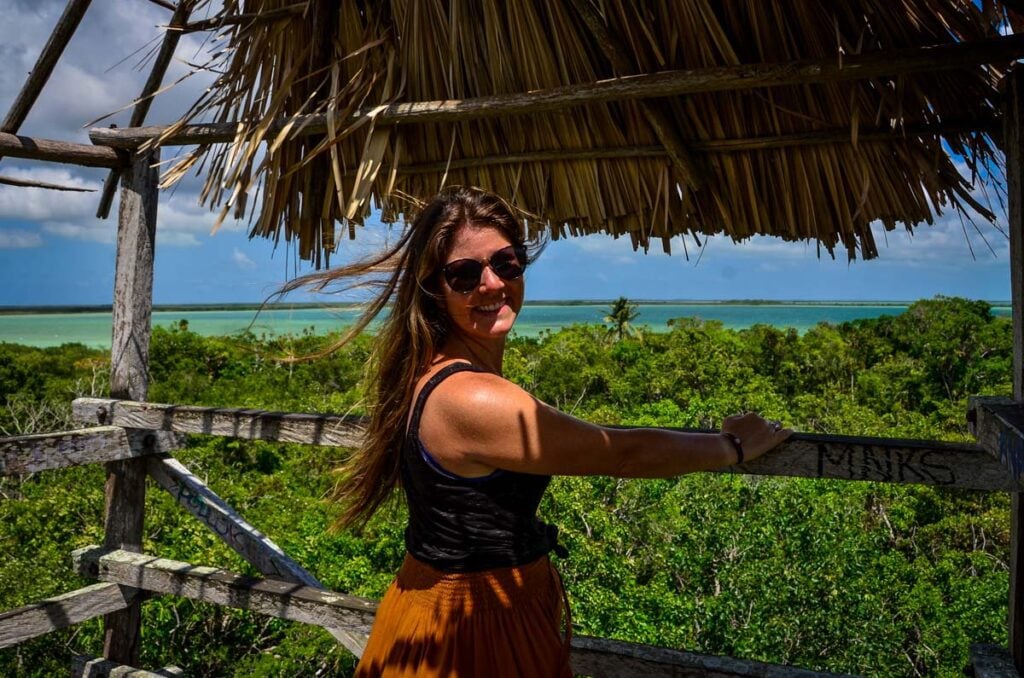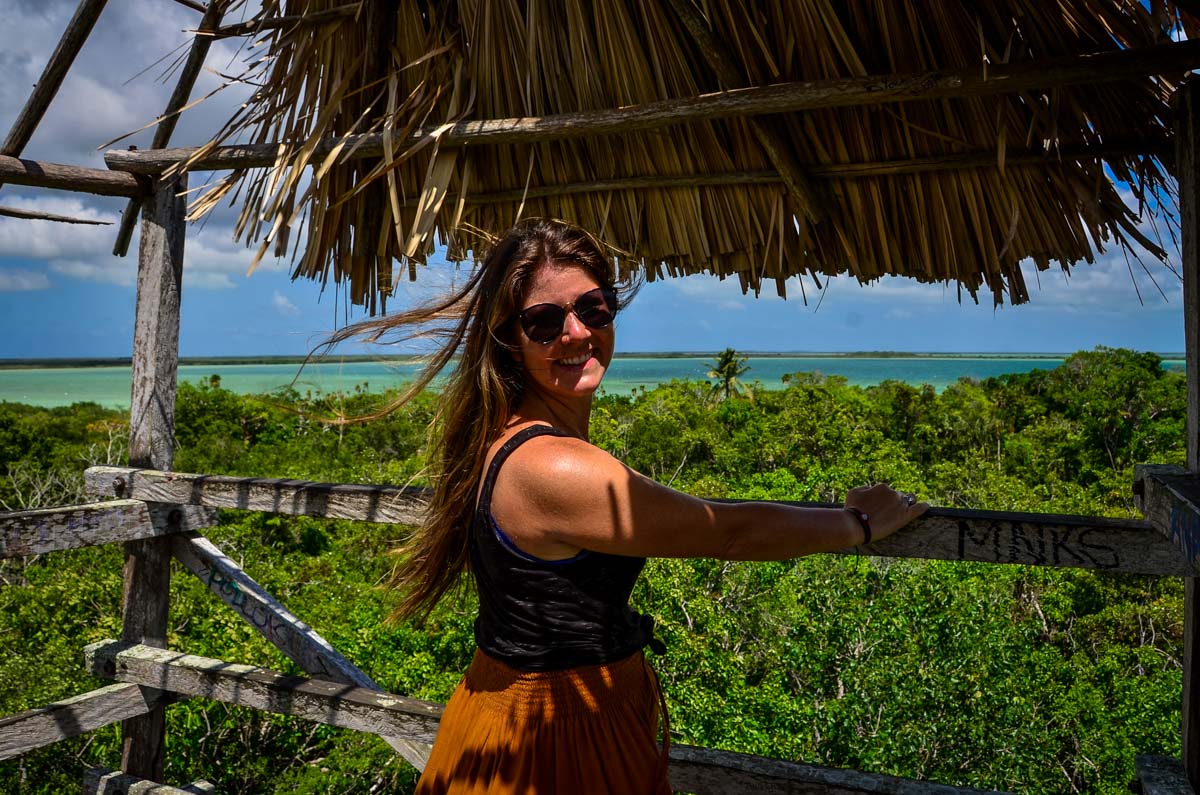 A sublime area of unspoiled natural beauty just south of Tulum, the Sian Ka'an Biosphere Reserve is recognized as an UNESCO World Heritage Site covering 1.3 million acres of land and sea.
This is the largest protected area in all of Mexico and is home to a diverse population of species—including some rare and endangered species like the black-handed spider monkey and the West Indian manatee.
The name Sian Ka'an comes from the indigenous Maya people, meaning 'origin of the sky' or 'the gate of heaven.' It is surmised that the name is a reference to the incredible beauty that can be found there.
When researching the Sian Ka'an Bio Reserve, we had a hard time finding a lot of information on how to get there and what to do. Many sites said it was worth booking a tour and quite hard to do on your own.
However, tour prices were upwards of $150 USD per person and we found the majority of the cost went toward transportation.
If you want to explore Sian Ka'an on your own without a tour, keep reading for everything you should know to plan your visit…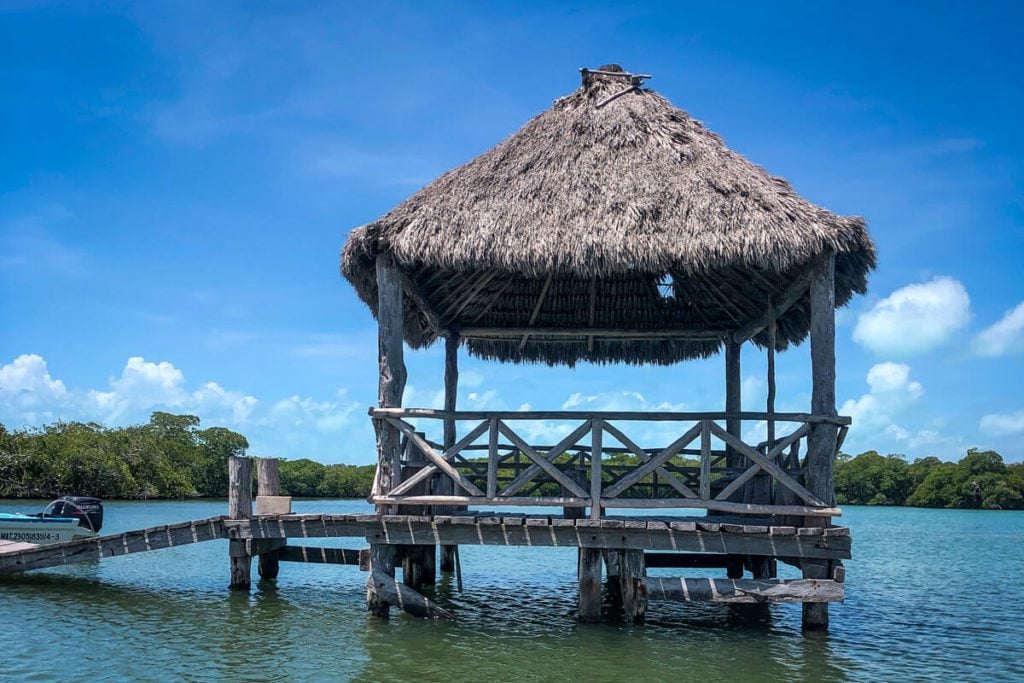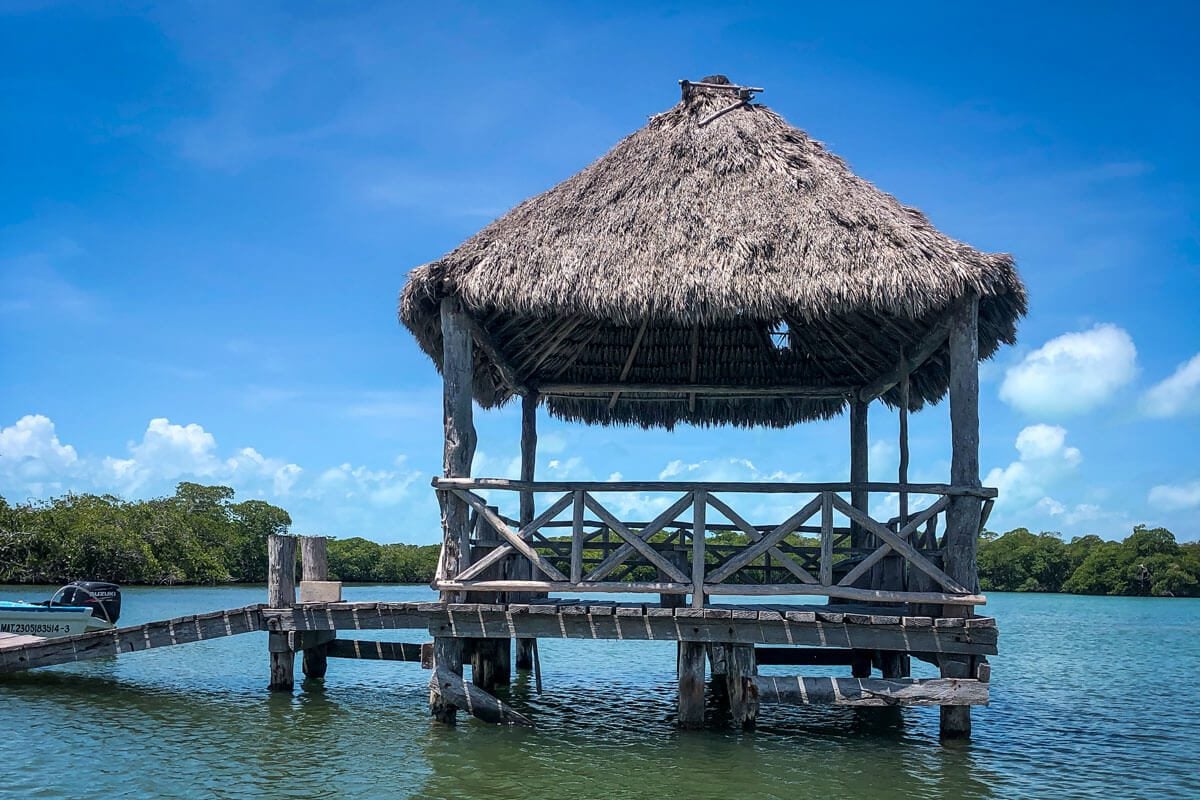 Important Note: Due to the incredibly delicate ecosystem in the Sian Ka'an Biosphere Reserve, it is asked that you not wear sunscreen when swimming in the lagoons there. The chemicals in average sunscreen that are designed to protect your skin can actually poison fish, coral and other delicate marine life over time.

Instead, we recommend you bring UV protectant clothing like a long sleeved swim shirt. If you are not swimming in the lagoons or plan to only visit the ocean, it is important that you wear only 100% biodegradable natural sunscreen. (We like this one from Raw Elements.)
Sian Ka'an Travel Guide
---
---
Sian Ka'an access points: Muyil vs. Punta Allen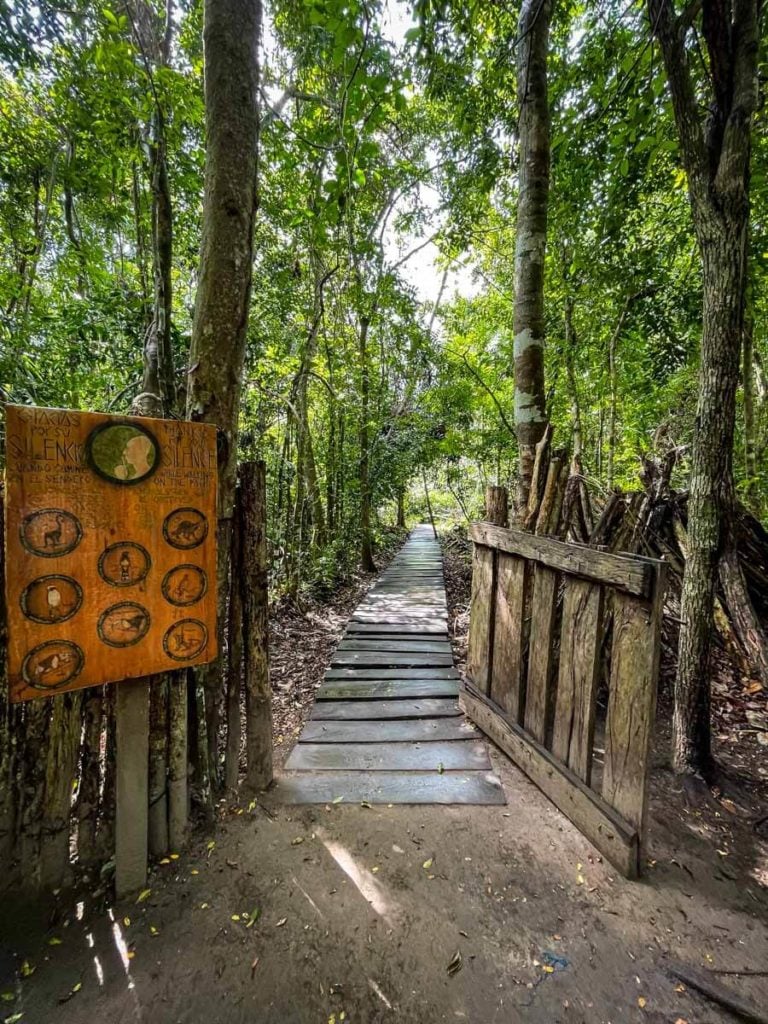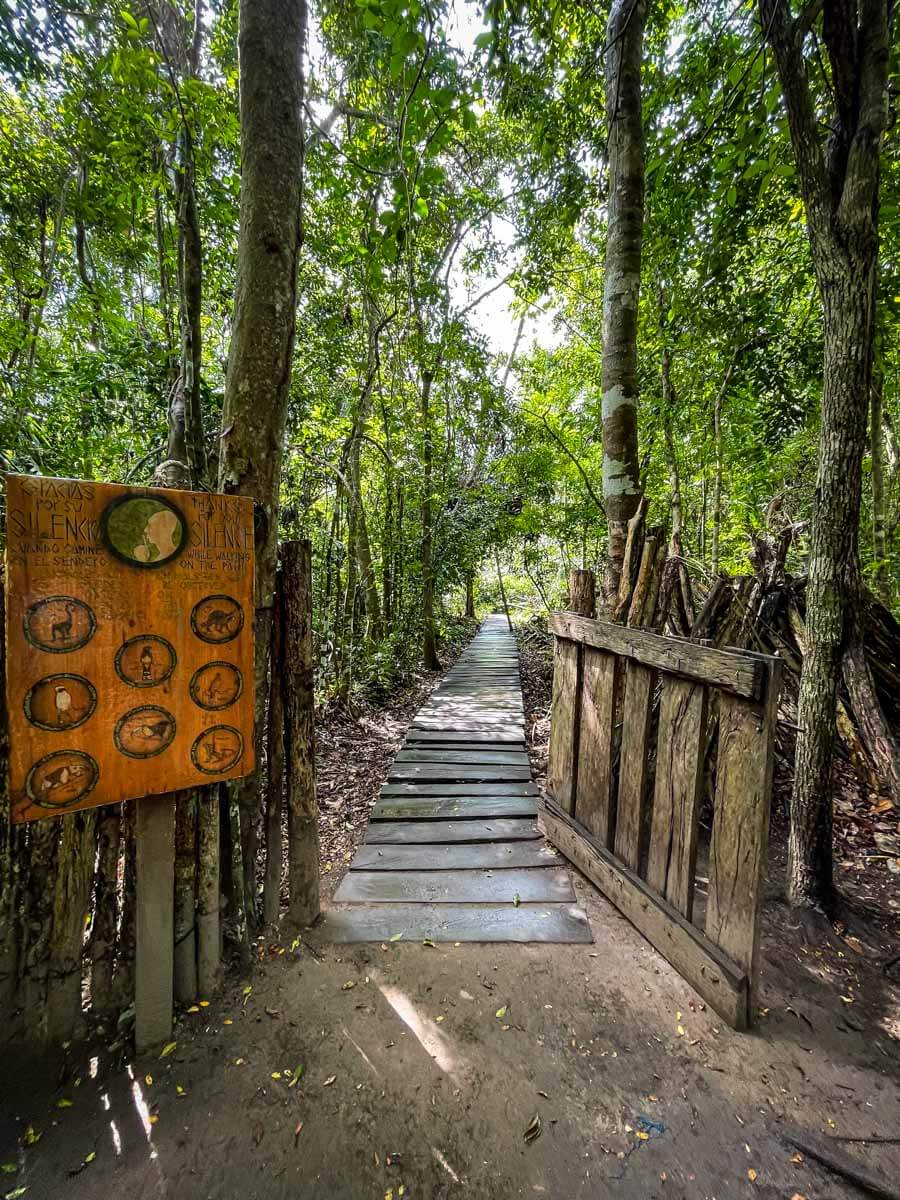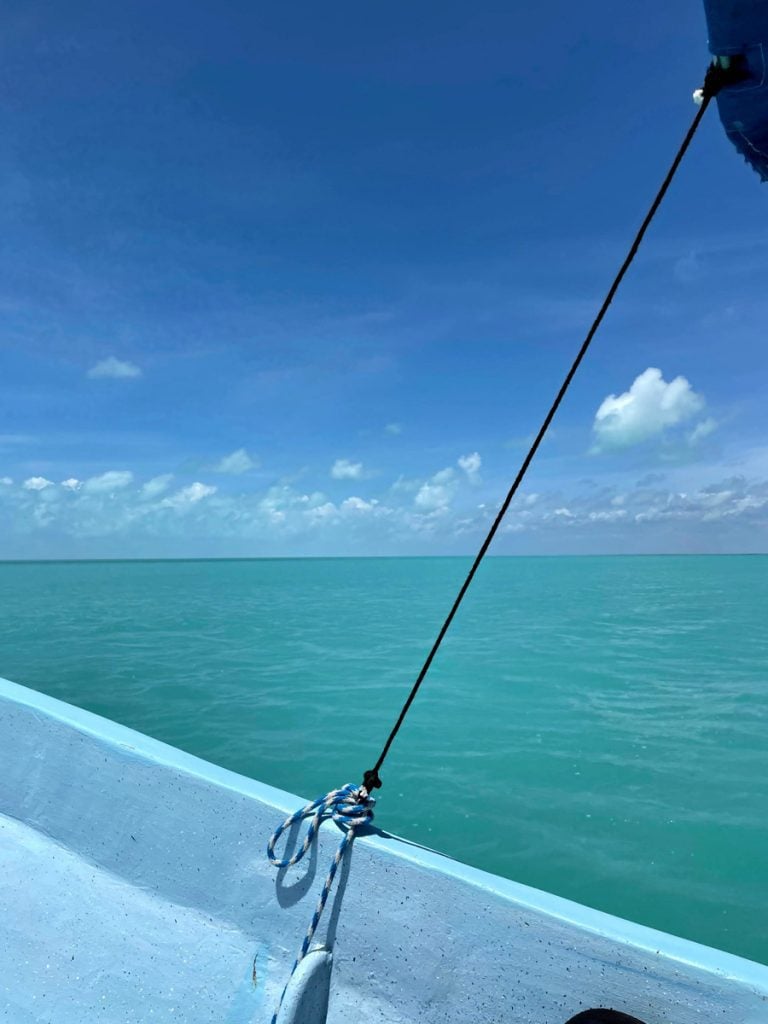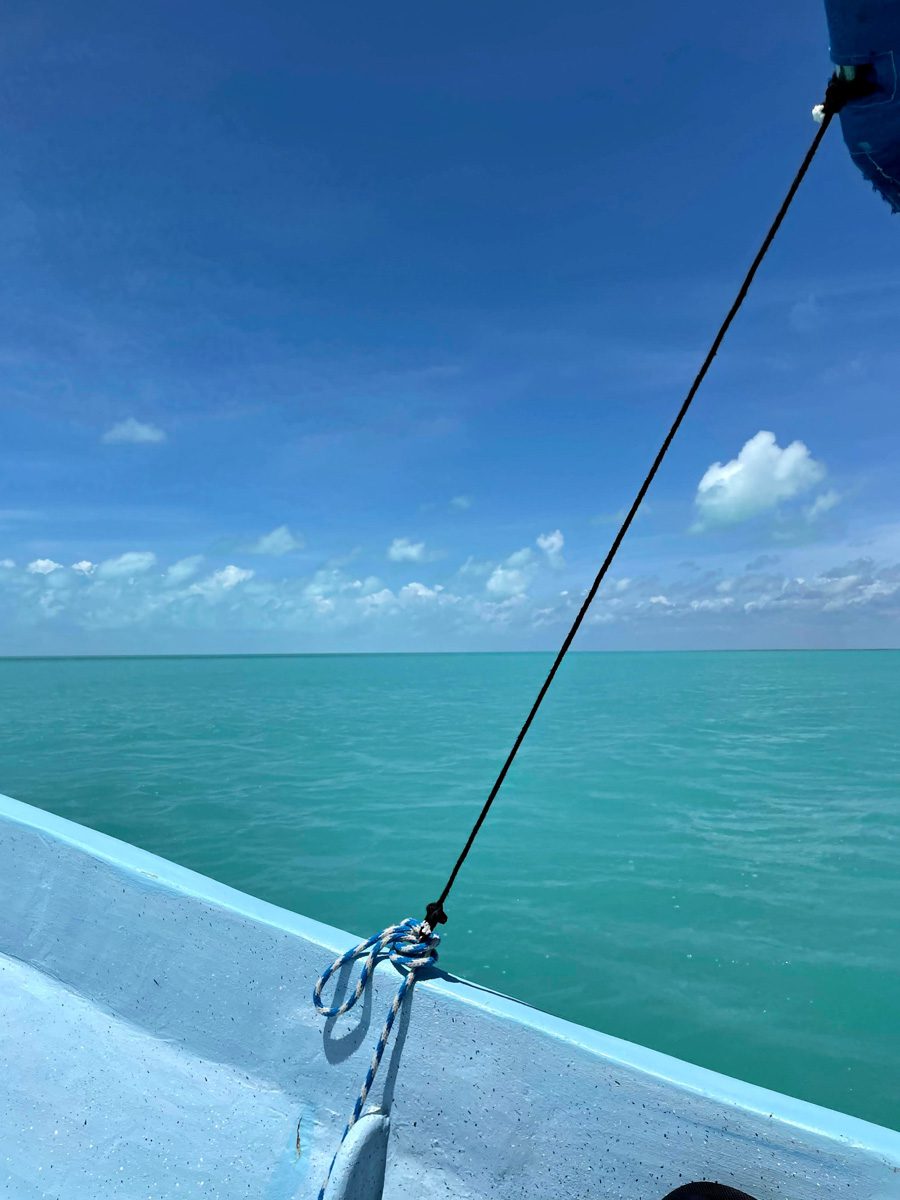 There are two main areas of the massive reserve that are best for exploring: Muyil and Punta Allen. Each of these access points will provide entirely different experiences.
Since they are over a 2-hour drive apart, it may be best to break up your visit into two separate days. However, with careful planning (and lots of driving) you can see both in one trip.
Muyil is further inland and provides access to the jungle, wetlands, and the freshwater lagoons, lined with mangrove forests, including Mayan-created canals you can actually float down.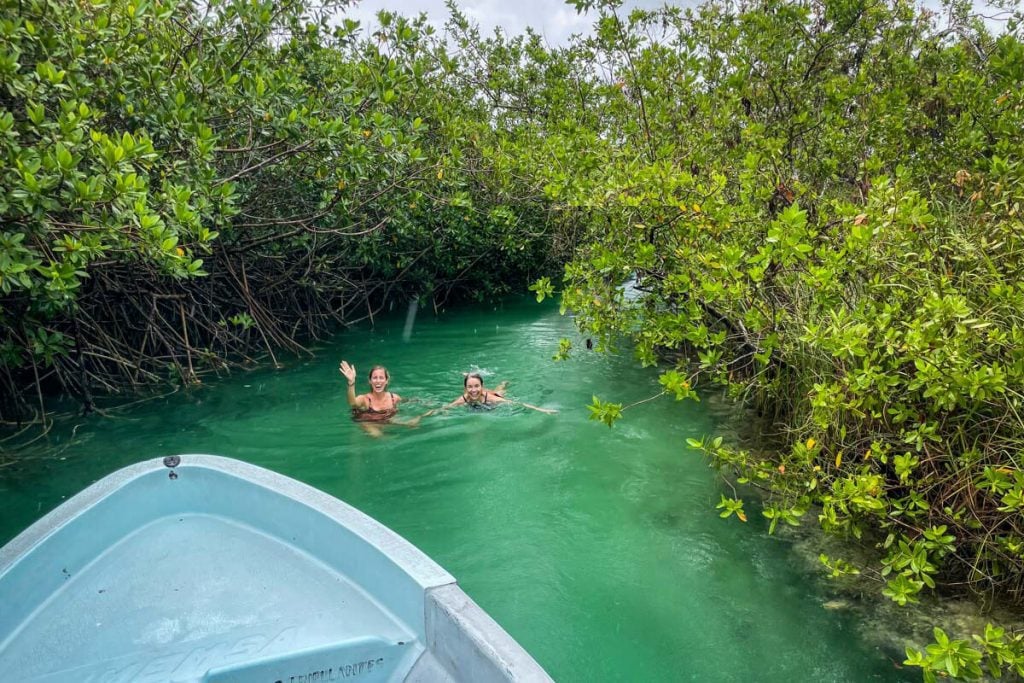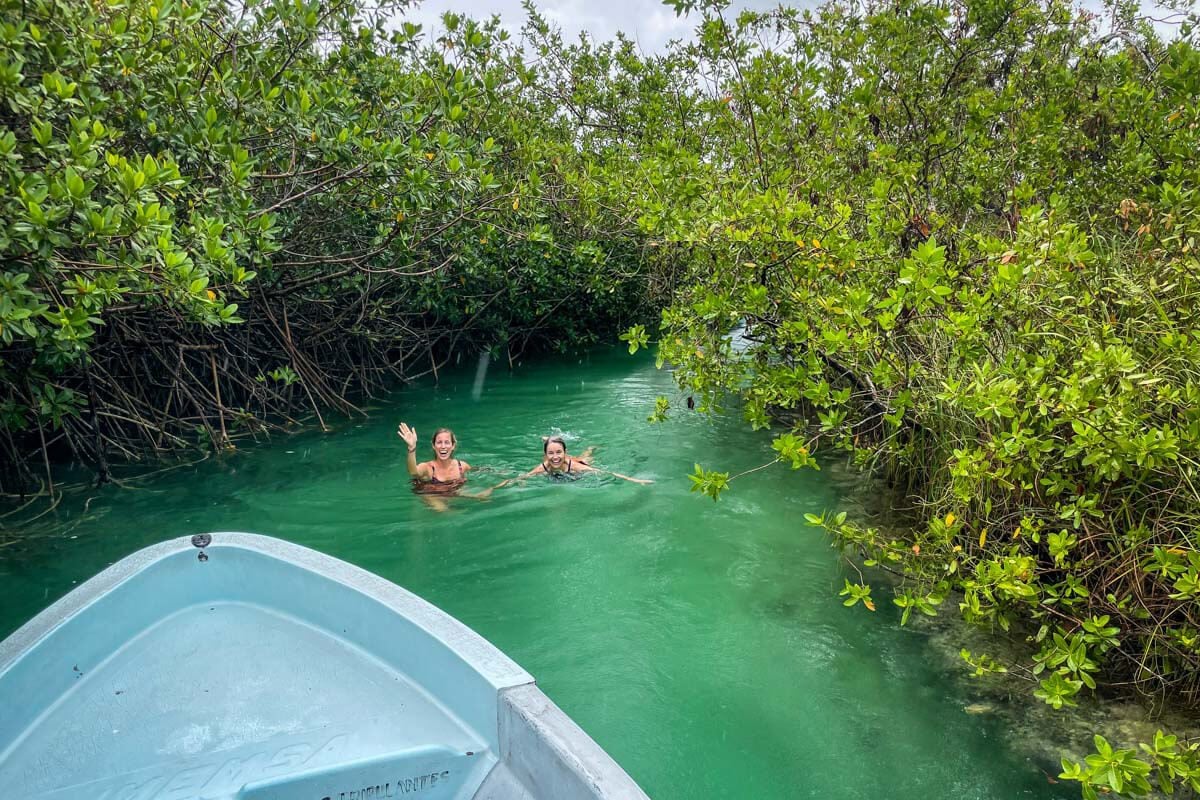 There are also some notable Mayan ruins here that aren't technically part of Sian Ka'an, but worth a visit, especially since they provide a secret entrance to the reserve (more on that below…)
Punta Allen is on the coastal side of Sian Ka'an and more challenging to reach. The town provides access to the sea, including snorkeling and wildlife viewing, and of course the coral reef. It's a great place for spotting dolphins and sea turtles in their natural habitat.
Entrance fee for Sian Ka'an
For either access point, you will have to pay an entrance fee to the park, which according to our wristbands was only 90 pesos (though our tour company charged us an extra 200 pesos). The entrance fee at the secret entrance in Muyil was only 50 pesos, and we still got the official wristbands.
Tip: Don't forget to bring bug spray on your trip, especially if you are walking through the jungle near Muyil.
Visiting Punta Allen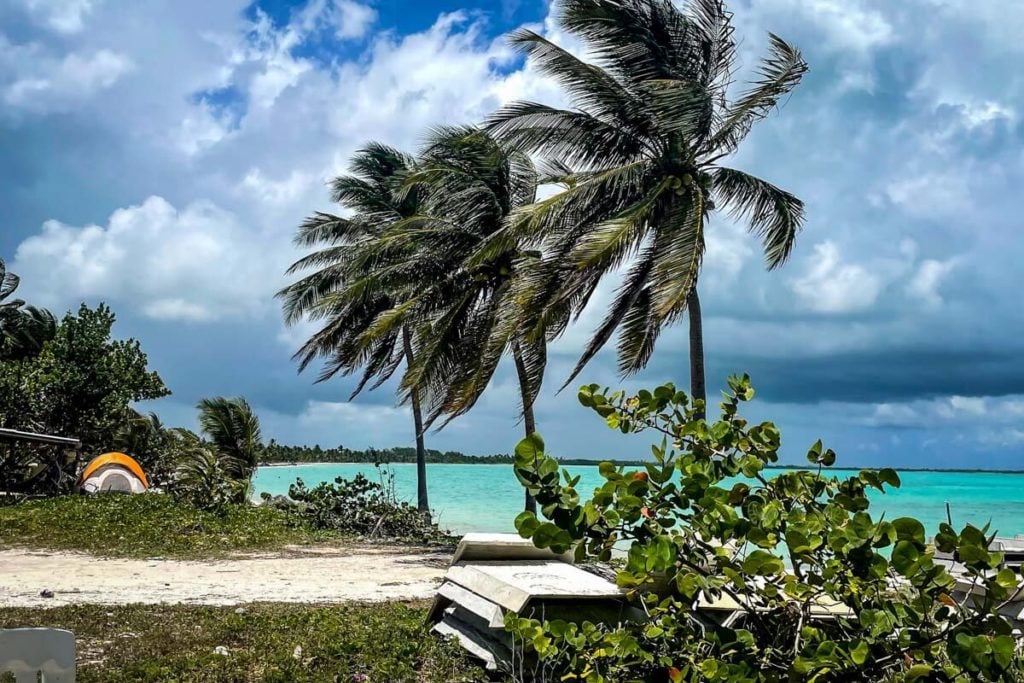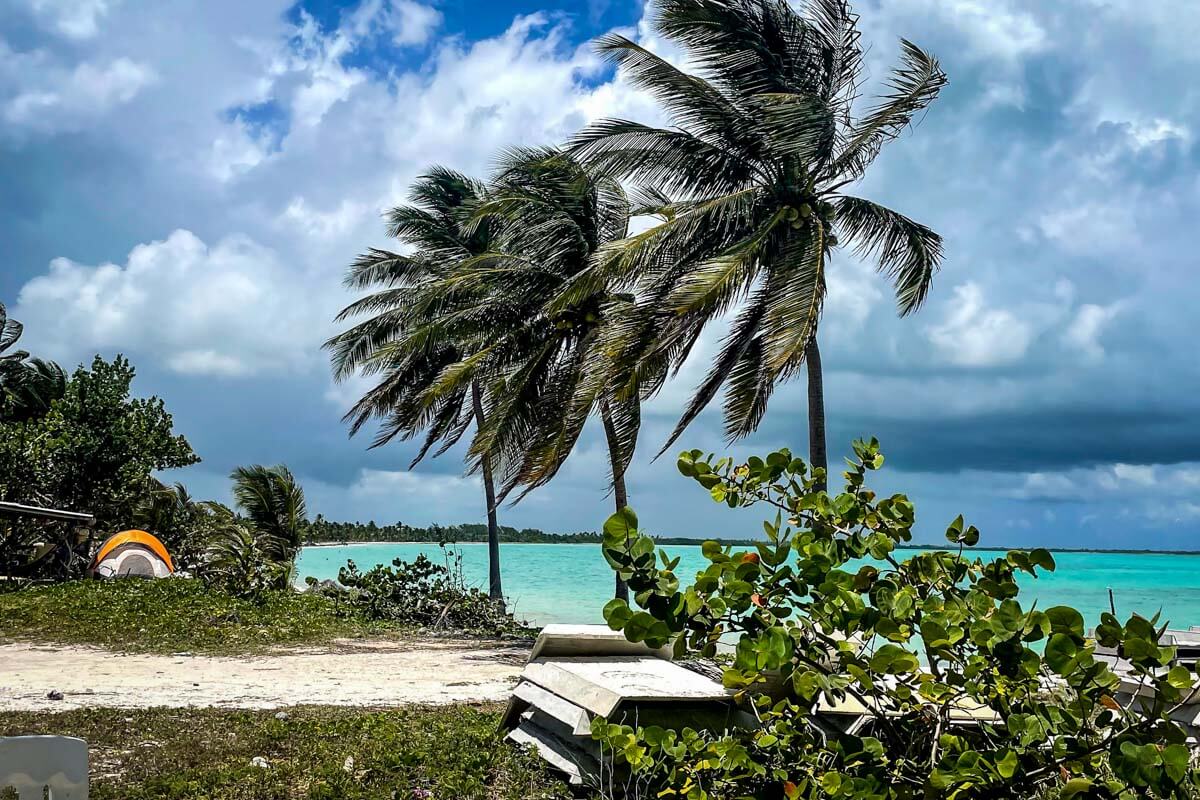 Punta Allen is the small fishing village on the coastal side at the south end of the biosphere reserve. Though it looks like a short distance on a map (it's only about 25 miles) from the reserve entrance to Punta Allen, the drive will take you around 1.5 to 2 hours. This is due to the poor quality of the single access road.
Tip: Whether you are going in a tour shuttle, rental car or collective, you'll want to bring medication if you are prone to getting car sick!
There will be plenty of pull-offs along the way where you can stop and enjoy a pristine beach all to yourself. Be sure to make a stop at the Boca Paila Bridge where the lagoon and Caribbean Sea meet to check for wildlife like crocodiles and manatees.
Once you arrive in Punta Allen, you will see a few hotels and restaurants on the main road. The town is just a few blocks by a few blocks, so there isn't much to see there.
If you're ready to get right into the action, make your way to the docks where you can find a driver to take you on a boat tour. Head towards Las Boyas on Google Maps to find the docks. If you're having trouble, ask one of the local restaurants where you can find a boat tour.
Note: Typically tours within Sian Ka'an have fixed prices so you won't be able to bargain.
On this ocean-side boat tour you'll have the opportunity to spot dolphins and sea turtles in the wild. Then go snorkeling over the protected coral reef. The tour takes about 2 hours in total, with much of that time spent swimming/snorkeling in the ocean.
How to get to Punta Allen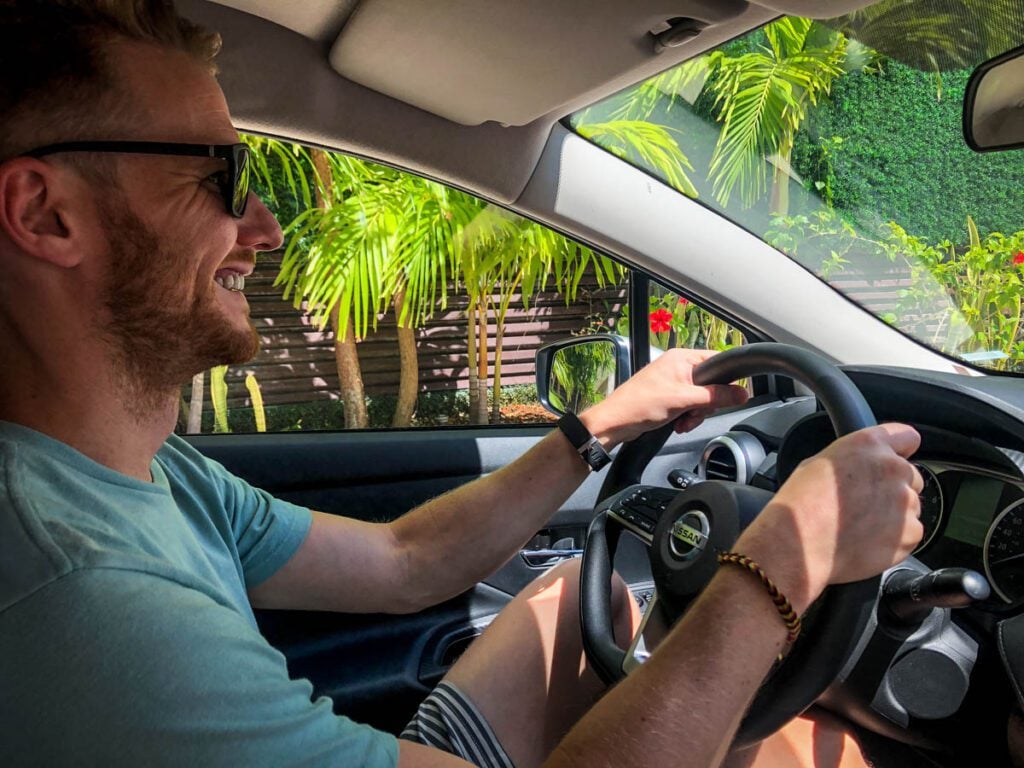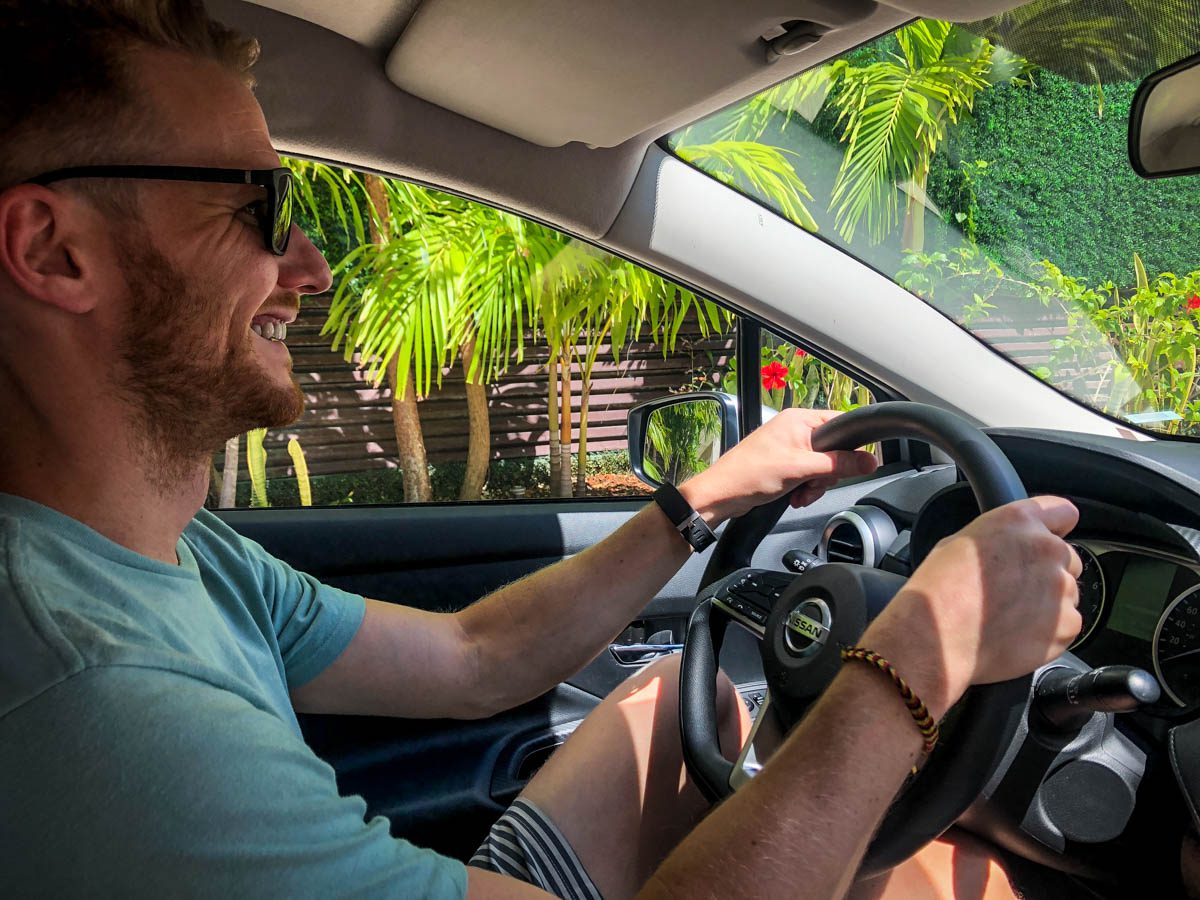 By Rental Car: Renting a car in Mexico is easy and affordable. This is the only way to visit Sian Ka'an on your own for a single-day trip. Follow State Highway 15 past Tulum. The drive will take you just 15 minutes from Tulum, or about an hour from Playa del Carmen to get to the entrance of the reserve.
Important Note: You'll want to rent a car with 4-wheel-drive and good suspension as the roads through this part of the reserve are littered with potholes — so much so that you will not be able to drive much faster than a crawl. And on that note, bring medication if you are prone to getting car sick!
Psst! We have an entire guide to getting a car rental in Mexico including where to find the best deals and tips for driving and safety.
By Colectivo: If you are up for spending a few nights in Sian Ka'an, there is an option to take a colectivo (shared minibus taxi) from Tulum down to Punta Allen. The colectivo picks up in Tulum Pueblo on the corner of Centauro Norte and Avenida Tulum everyday at 2 p.m. and arrives in Punta Allen around 6 p.m.
However, the return ride from Punta Allen back to Tulum Pueblo is at 5 a.m. daily, so you'll have to stay at least 2 nights in Punta Allen to make the colectivo option work.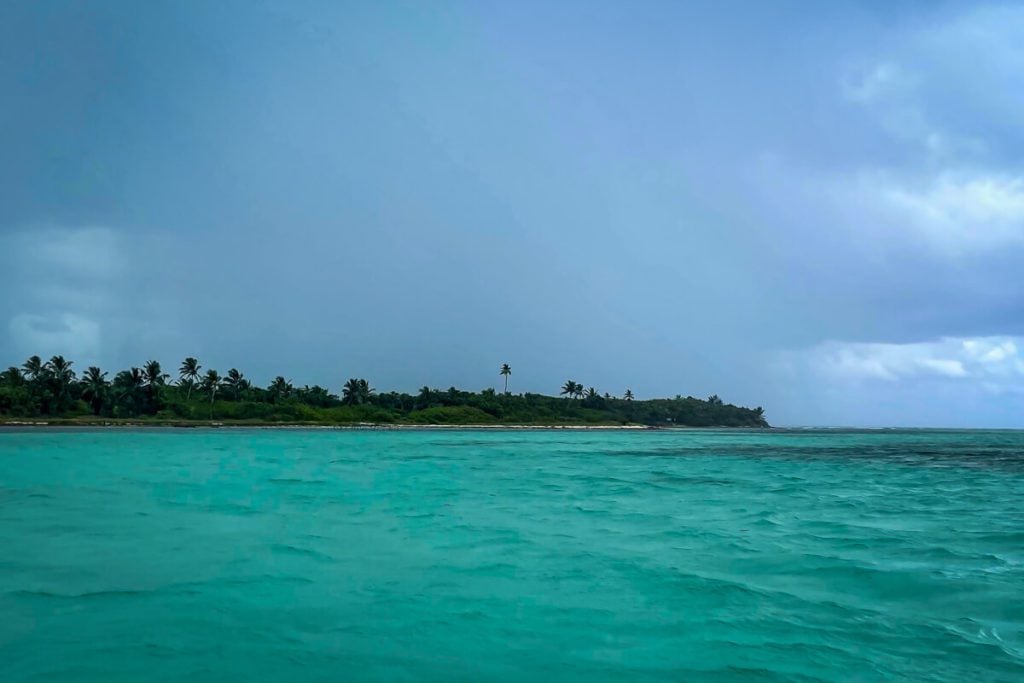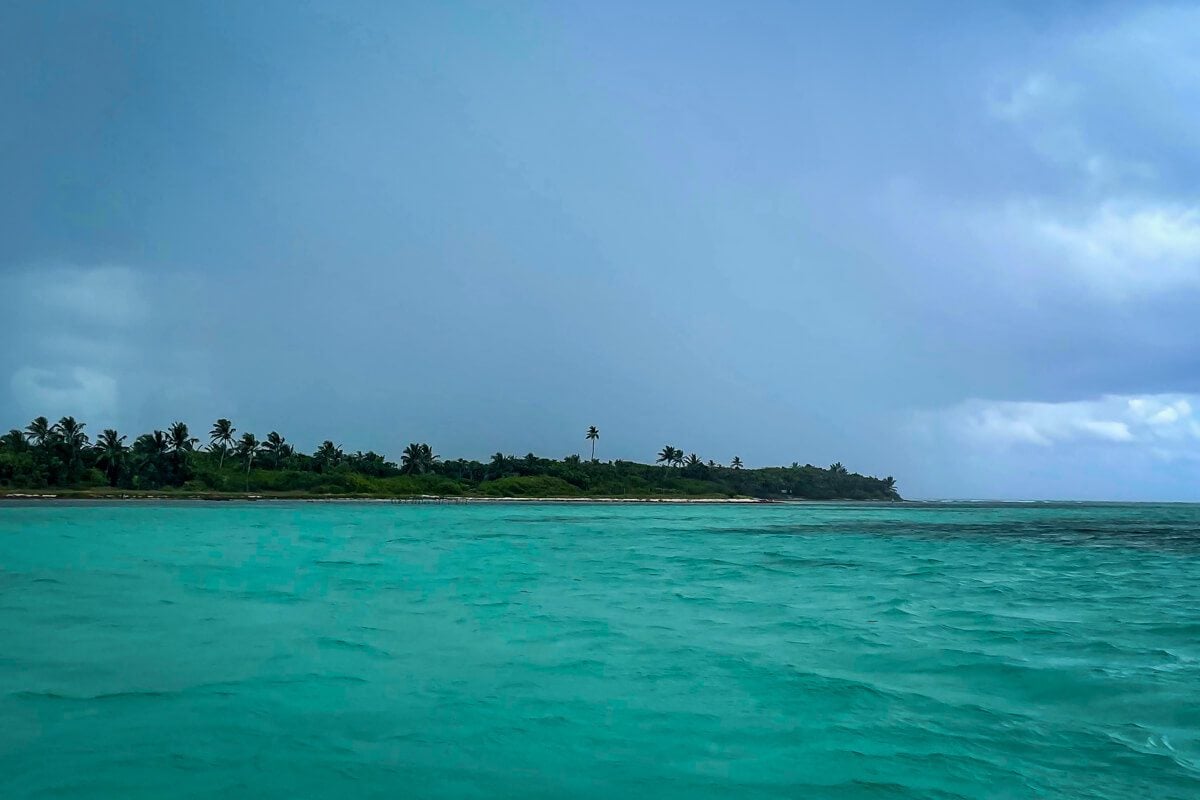 By Colectivo & Boat: There is another option to get from Tulum to Punta Allen on public transportation (and avoid the treacherous road). Catch the daily colectivo from the iTour Mexico travel agency in Tulum Pueblo at 2 p.m.
This colectivo will bring you to the pier, just beyond the Sian Ka'an entrance and visitors center. From there, you'll hop in a boat to Punta Allen. You should expect to pay around 400 pesos for the colectivo + boat fare, one way.
You'll need to check with the captain to see what time the boats return from Punta Allen in the morning to catch the colectivo back to Tulum.
Visiting Muyil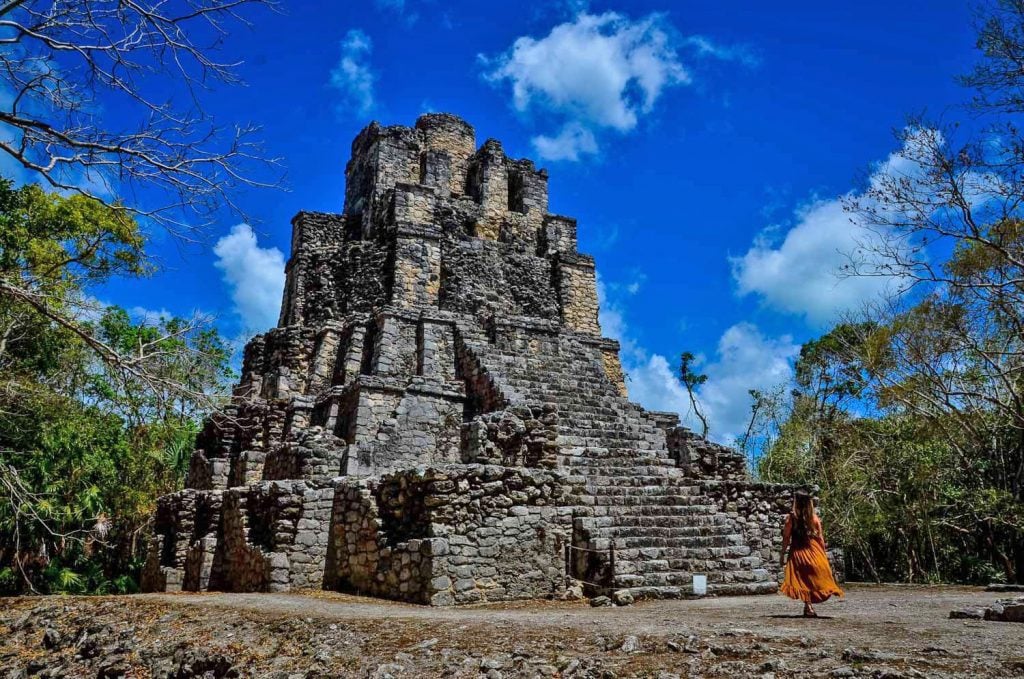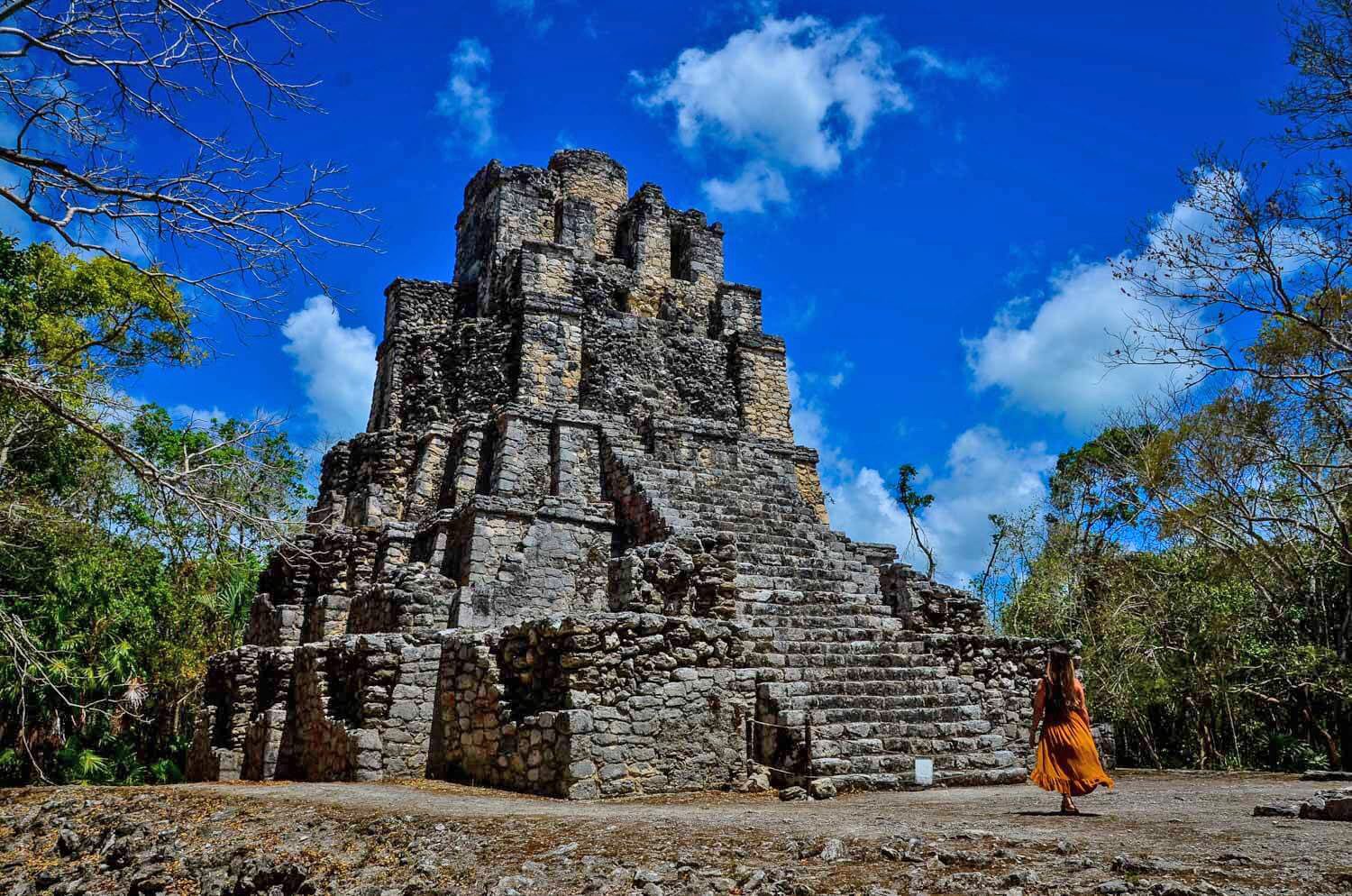 Logistically speaking, it is much easier to reach Muyil on your own. The drive to Muyil will take about 20 minutes from central Tulum, or 1.5 hours from Playa del Carmen, and won't be nearly as rough as the coastal road to Punta Allen (it's actually on a perfectly paved stretch of highway).
It's recommended to get there early in the day and spend about half an hour or so exploring the ruins.
When you're ready to head to the reserve, instead of exiting the ruins, make your way to El Castillo (the Castle) ruin. On the backside of this ruin is where you'll find the path leading to the boardwalk into the Bio Reserve.
Walk through the jungle for about 5 minutes until you reach the official entrance to the park and the start of the boardwalk. You'll need to pay the entrance fee of just 50 pesos and receive your wristbands before you can continue.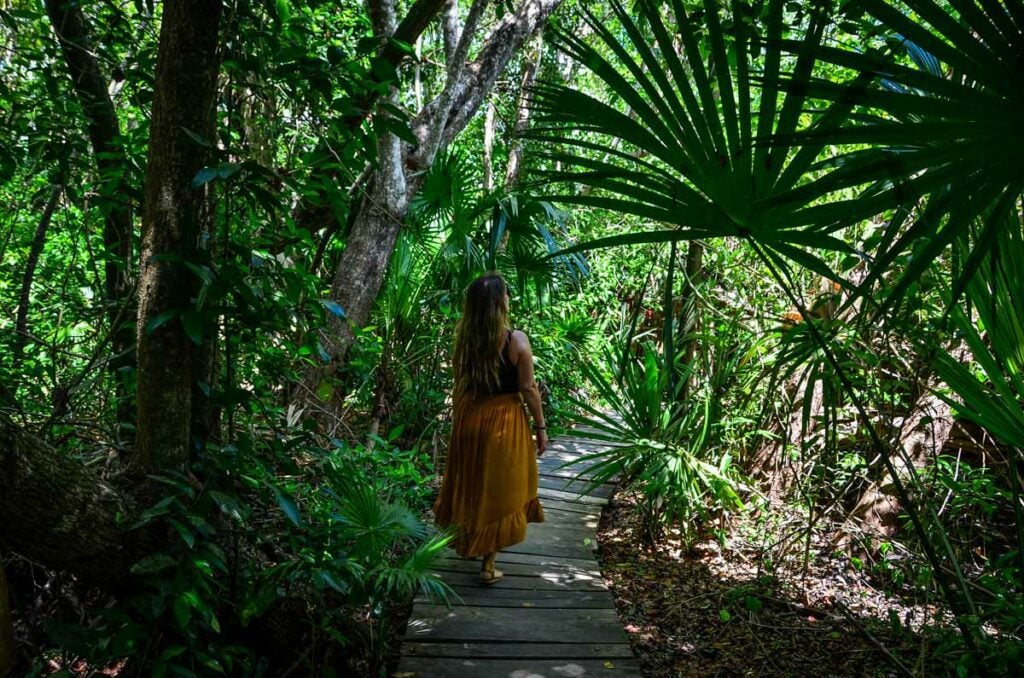 The boardwalk only takes about 20-30 minutes and leads you through the jungle, which is a pretty cool experience in itself. About halfway through you'll find an observation tower with a sign that says climb at your own risk. It may seem a bit daunting, but the views from the top are unparalleled!
Continue on the boardwalk past the observation tower and eventually pop out at the Sian Ka'an Lagoon.
Tip: If you prefer to skip the boardwalk, you can also reach this area near the lagoon by car. Just keep driving into Muyil past the Archeological zone parking and the Oxxo, and take the second left (first left after the Oxxo).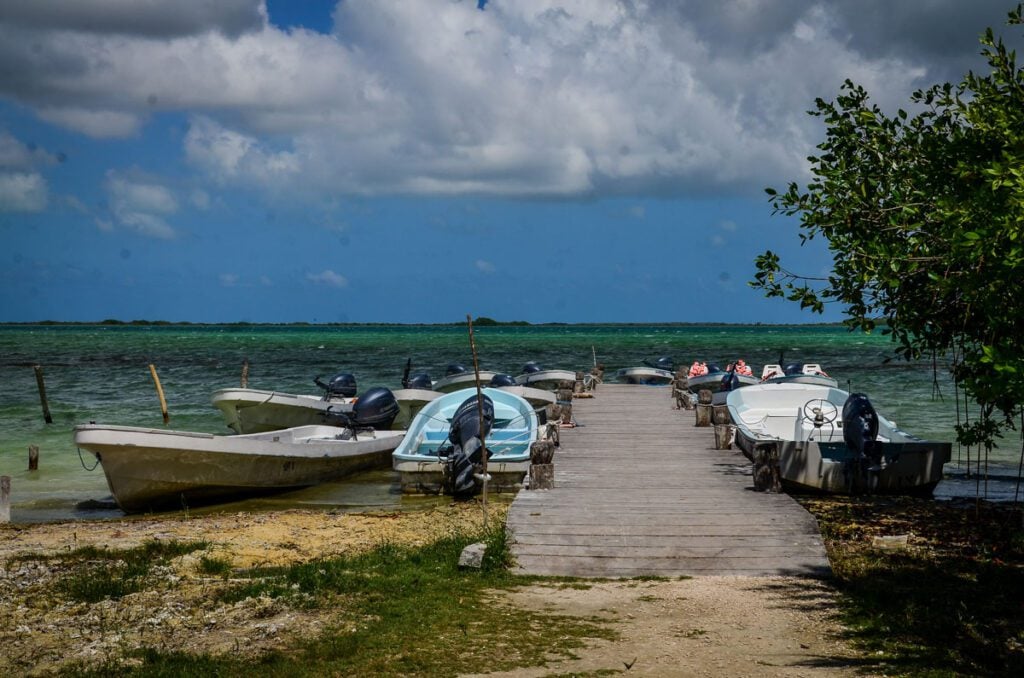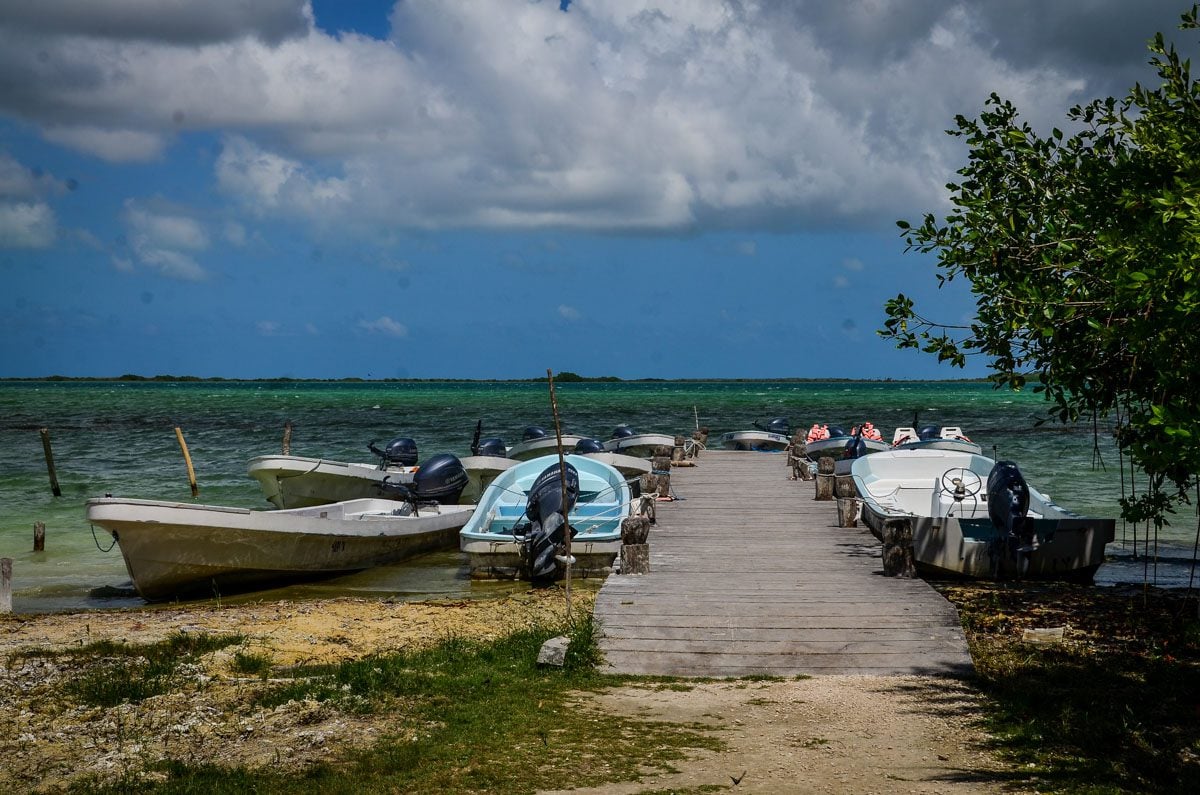 You'll see a small dock with boats lined up to take tours. A boat tour of the lagoons and channels is the highlight of this trip and comes at a fixed price of 1000 pesos per person. The boat ride takes just over 2 hours, passes through two lagoons (Muyil and Chunyaxché) and the natural channels as well as the Mayan-built canals between.
At one point you'll have the opportunity to get out of the boat and float with the currents, making your way through the channels lined with mangroves. The original Lazy River!
How to get to Muyil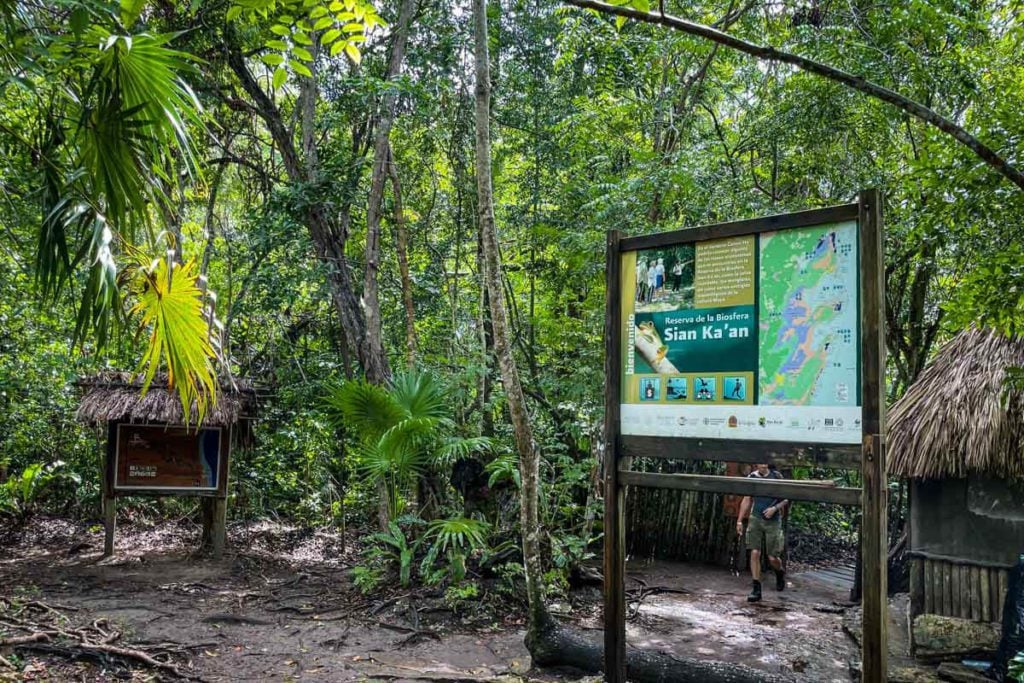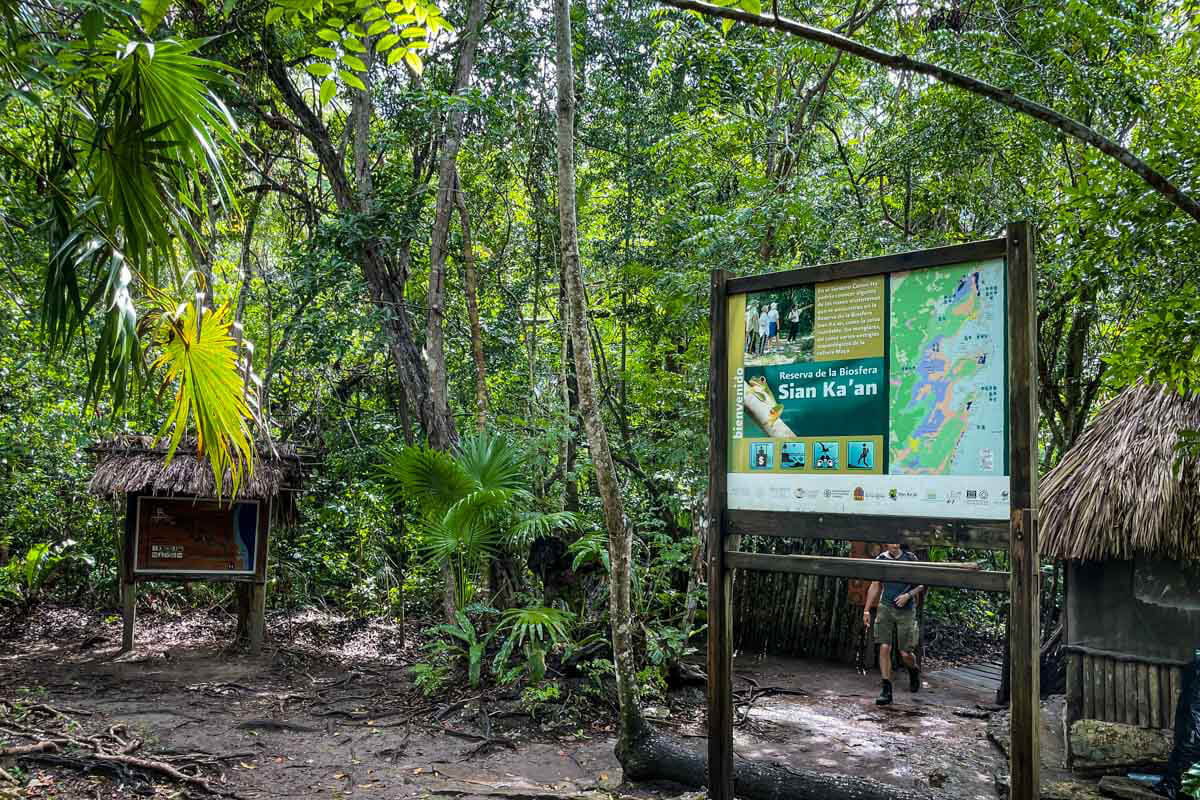 By Rental Car: Take Highway 307 through Tulum and continue south towards the Muyil ruins. It'll take you roughly 15 minutes once you've passed through Tulum town. There is a small parking lot for the ruins which you can easily locate on Google Maps. Parking here is free and entrance to the ruins is 45 pesos per person.
By Bus: The buses run between Tulum and Muyil about every 20-30 minutes daily, and there is no need to book a ticket ahead of time. Simply head to the ADO bus terminal in Tulum Pueblo and purchase your ticket at the counter.
Tickets to Muyil are 28 pesos one way. The bus will stop in Muyil about a 2 minute walk past the entrance to the Muyil ruins.
What to pack for visiting Sian Ka'an
Bug repellent
Sarong
Wide brimmed hat
Swim suit
Comfortable sandals for walking (we recommend Chacos if you plan to do the canal float)
Beach towel or quick dry travel towel
Be sure to download our complete packing list for Mexico! It's packed with good suggestions and insider tips to help plan your Mexico vacation. And it's completely FREE, so why not!?
---
FAQs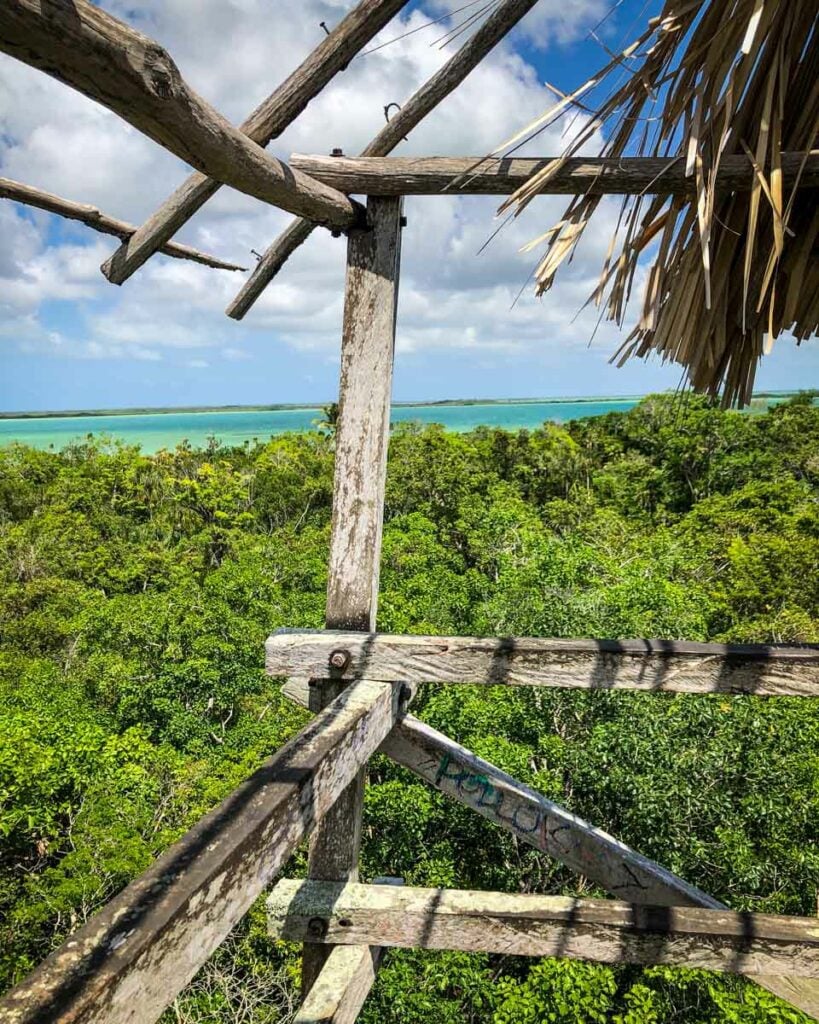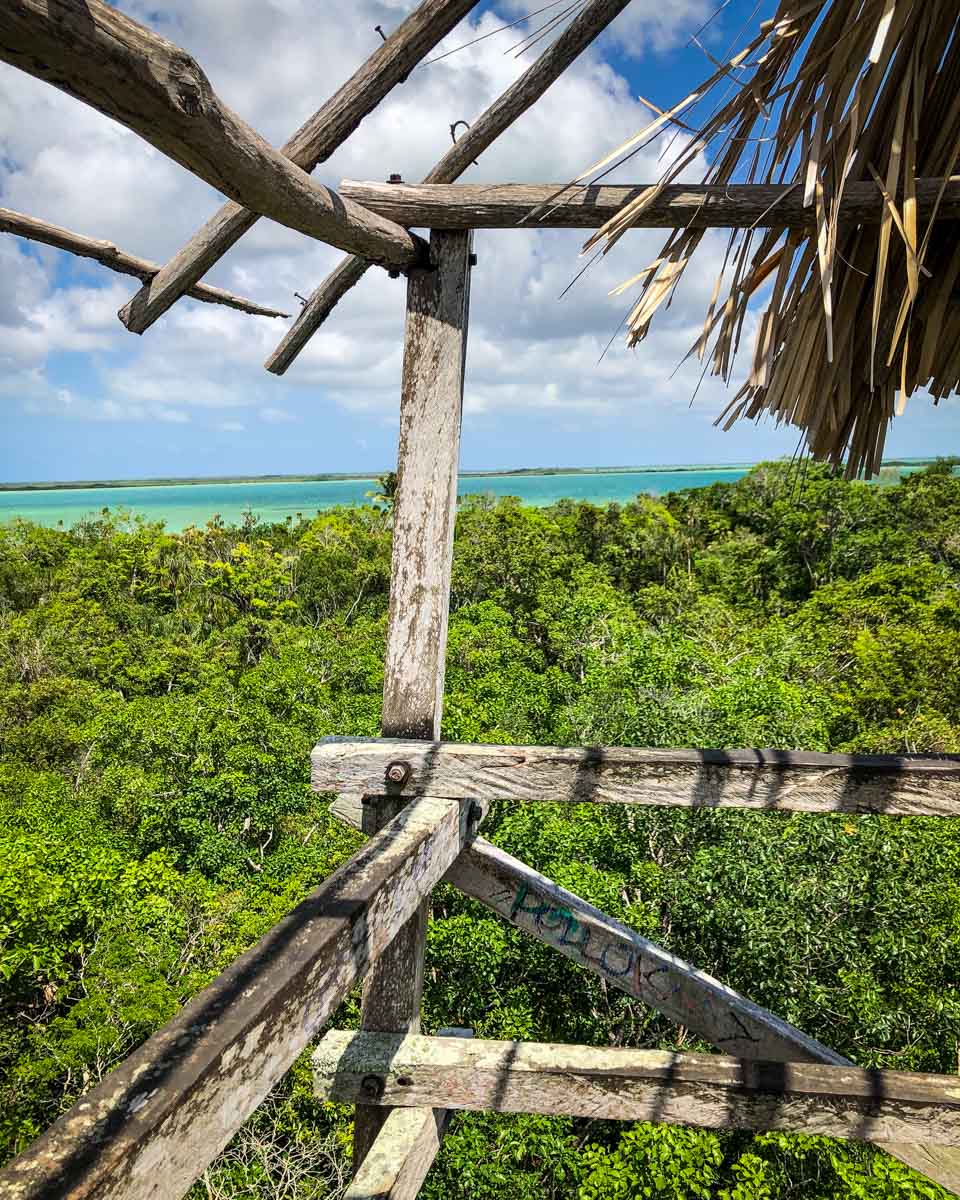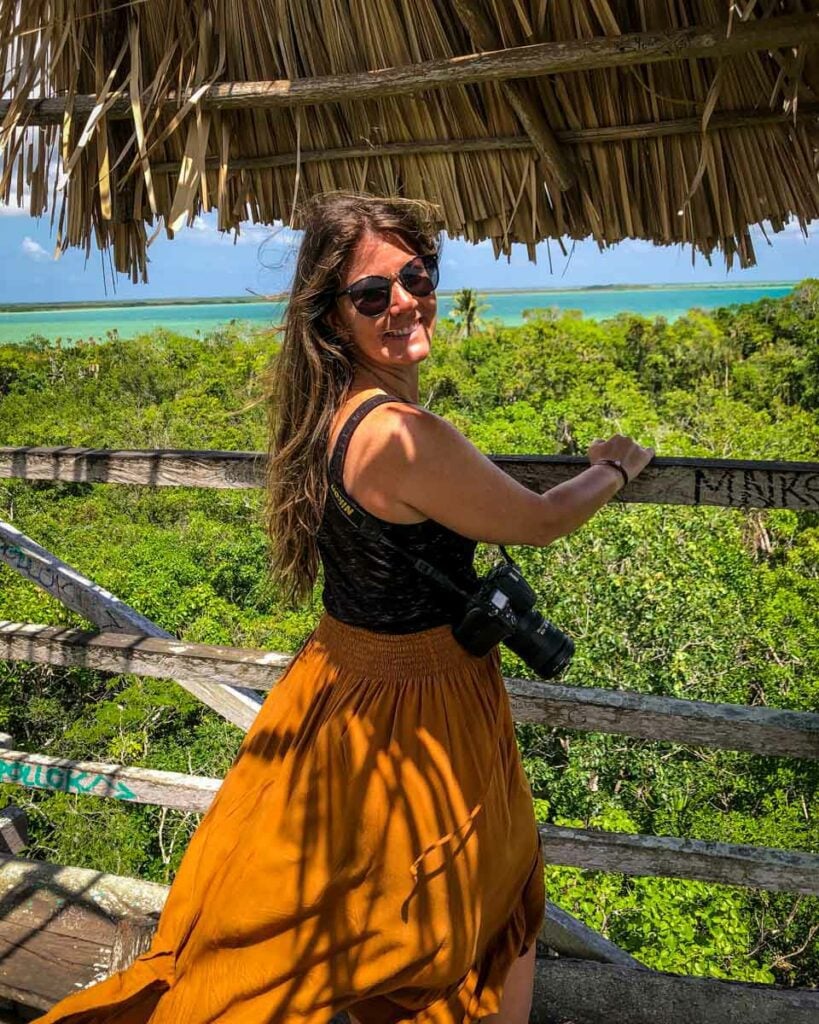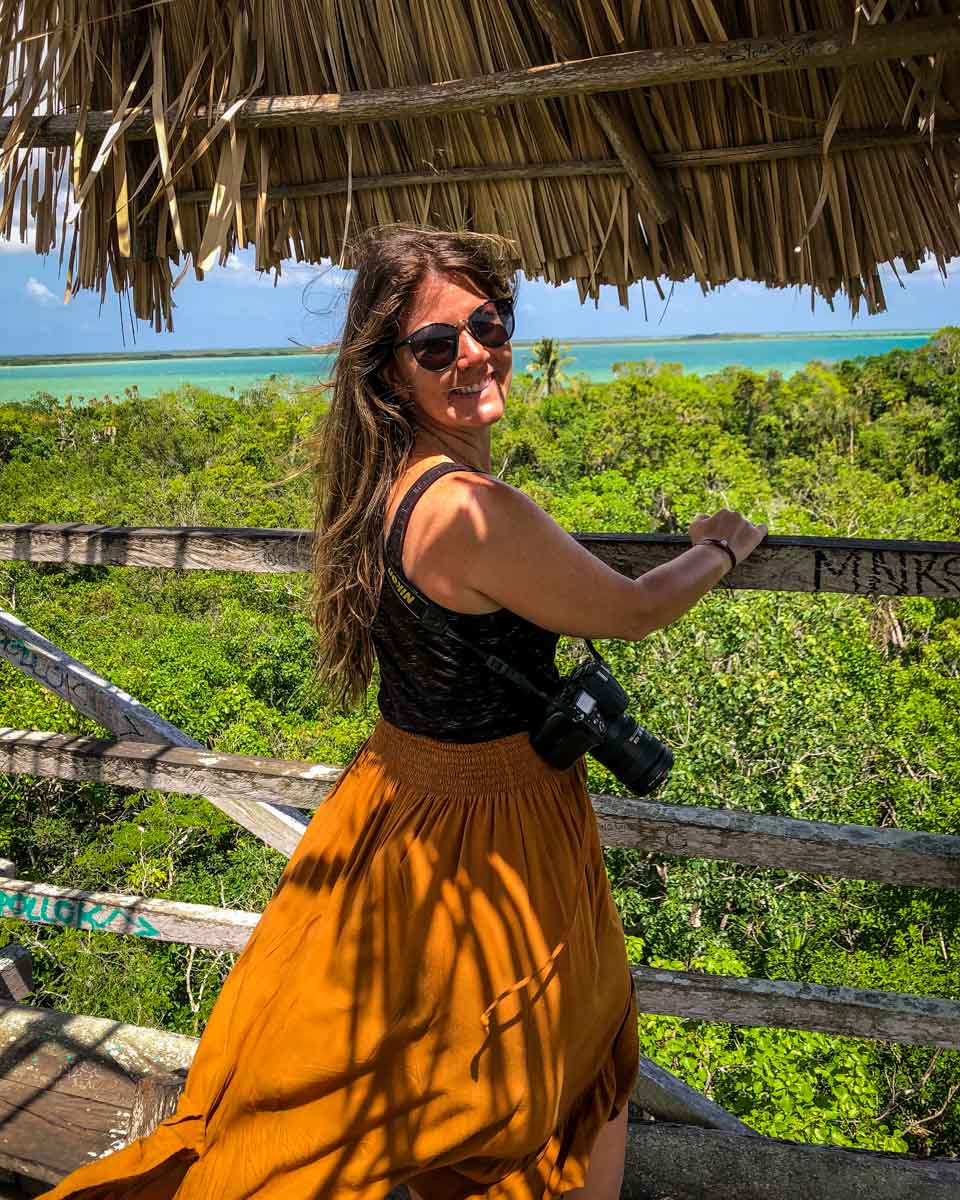 Now that we've gone over the main points of the Sian Ka'an Bio-Reserve, here are answers to some frequently asked questions.
Is Sian Ka'an worth it?
In our opinion, absolutely! Visiting Sian Ka'an was one of the highlights of our time spent in the Riviera Maya. The range of biodiversity in the reserve is seriously impressive and we would never pass up a chance to surround ourselves in nature.
If you had to choose just one side of the reserve to visit, we'd recommend prioritizing Muyil because it is logistically easier to visit and there is still plenty to see there.
Can you stay in Sian Ka'an?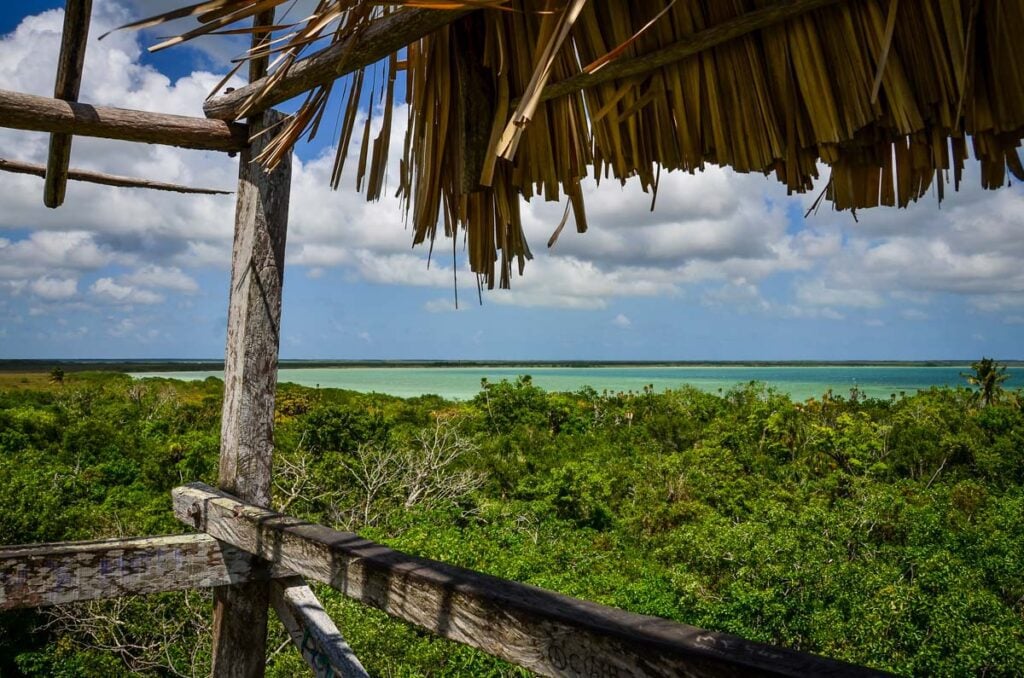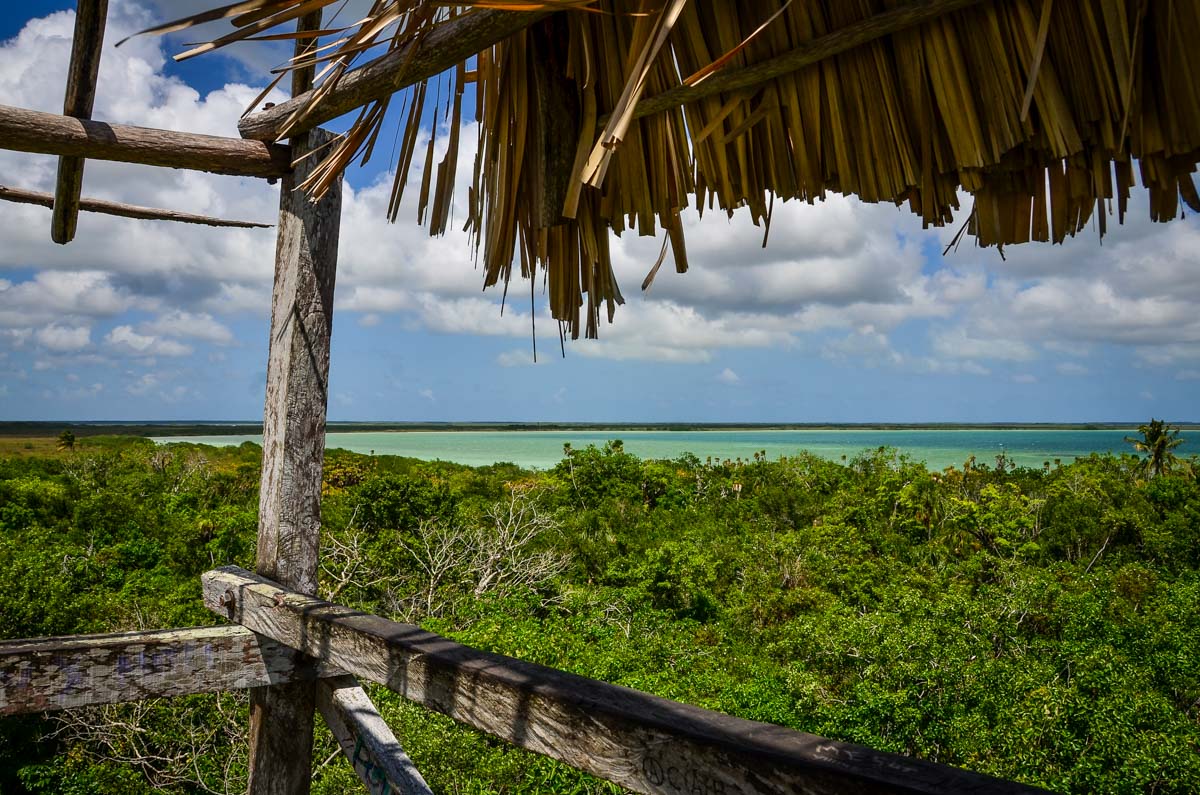 Actually, yes. There are a handful of accommodation options on the coastal side of the reserve ranging from tents on the beach for around $20 USD/night to luxury eco-villas. There are also a few moderately-priced hotels in Punta Allen starting from $70 USD/night.
Our recommendation: Hotel Cielo y Selva is a highly-rated property in Punta Allen offering beach-front villas and beach camping. The hotel features a pool, free Wifi and an onsite restaurant and bar.
How much is the entrance to Sian Ka'an?
Entrance at the Visitors Center just south of Tulum, costs 90 pesos. Entrance at the Muyil boardwalk is only 50 pesos.
Can you drive through Sian Ka'an?
If you enter through the Sian Ka'an Visitors Center, on QROO 15 just south of Tulum, you'll need to drive through the biosphere reserve to get to Punta Allen where the boat tours are.
Though it's only about 25 miles from the Visitors Center, the drive to Punta Allen will take you about 1.5-2 hours. This is due to the extremely poor quality of the road and heavy traffic.
Imagine crawling down the gravel road at 10-15 m.p.h. tipping and dipping into endless pot holes. It's not a very pleasant drive, but the scenery more than makes up for it.
If you plan to do the drive on your own without a tour, make sure to give yourself plenty of time to reach Punta Allen and make stops along the way at the completely undeveloped beaches.
Can you swim in Sian Ka'an?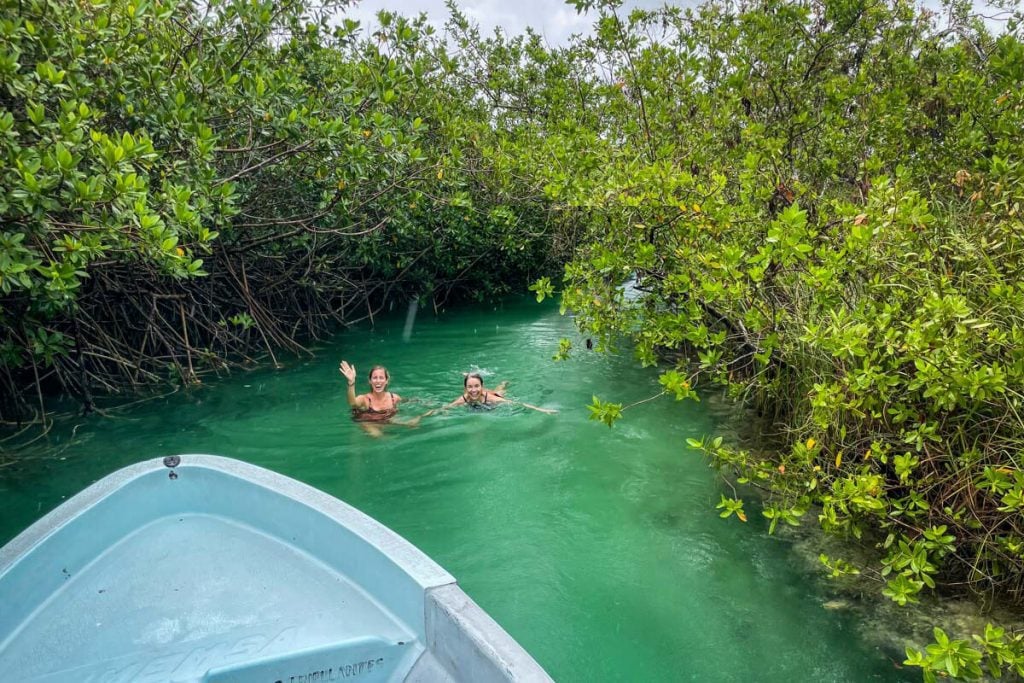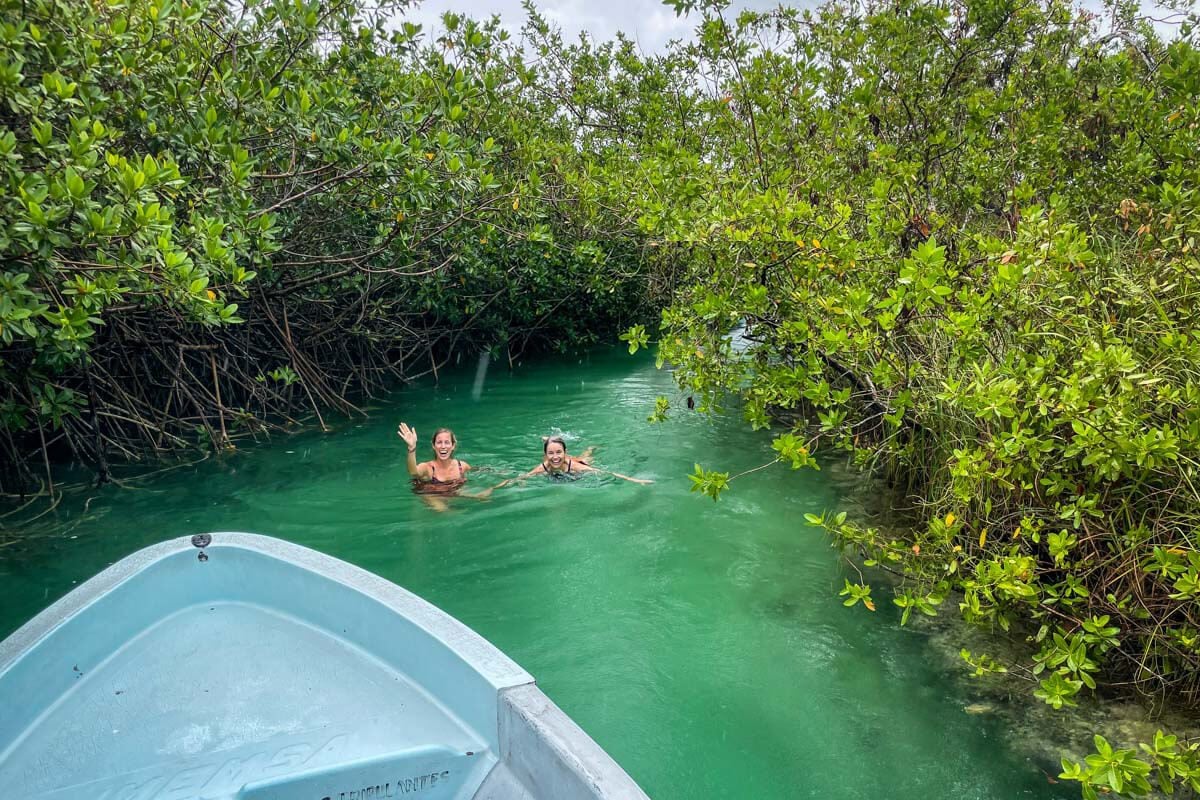 Absolutely, yes! In fact, swimming here is one of the coolest experiences, especially if you bring your own snorkel gear.
Being a protected marine environment, there is tons of sea life to witness. The water is crystal clear and you can see all the way to the bottom pretty far out from shore.
The lagoons also make great places to take a dip. One of the coolest parts about visiting Sian Ka'an from the Muyil side was floating down the canals between the lagoons.
Are there any responsible tour companies you'd recommend if I want to book a tour instead?
Community Tours Sian Ka'an (aka Pixan Ka'an) is a cooperative of local guides and boat captains who run tours in the biosphere reserve. The guides grew up in the nearby villages and are able to share their innate knowledge of the unique ecosystem.
Plus, they keep the group sizes small so you'll have less of an impact on the reserve than the larger 20 person groups that come through.
---
More resources for planning your trip to Mexico
If you're planning a trip to Mexico, we've got loads of helpful resources for you! Start with our Mexico Travel Homepage, where you'll find general info, and be sure to check out the articles below. Leave us a comment if you have any questions!
Save this article on Pinterest for later!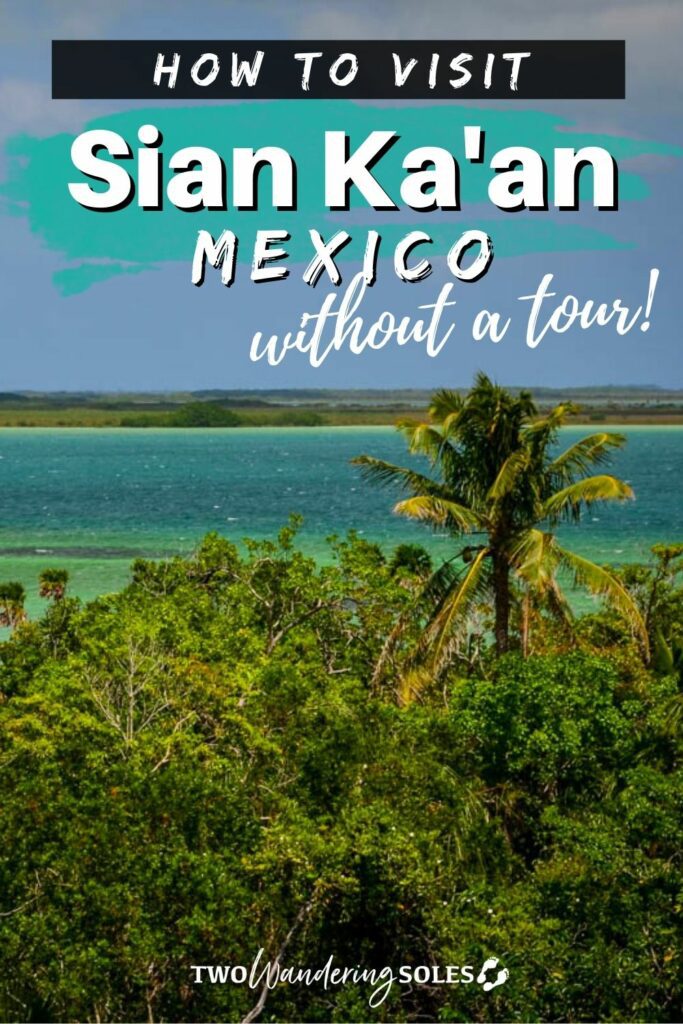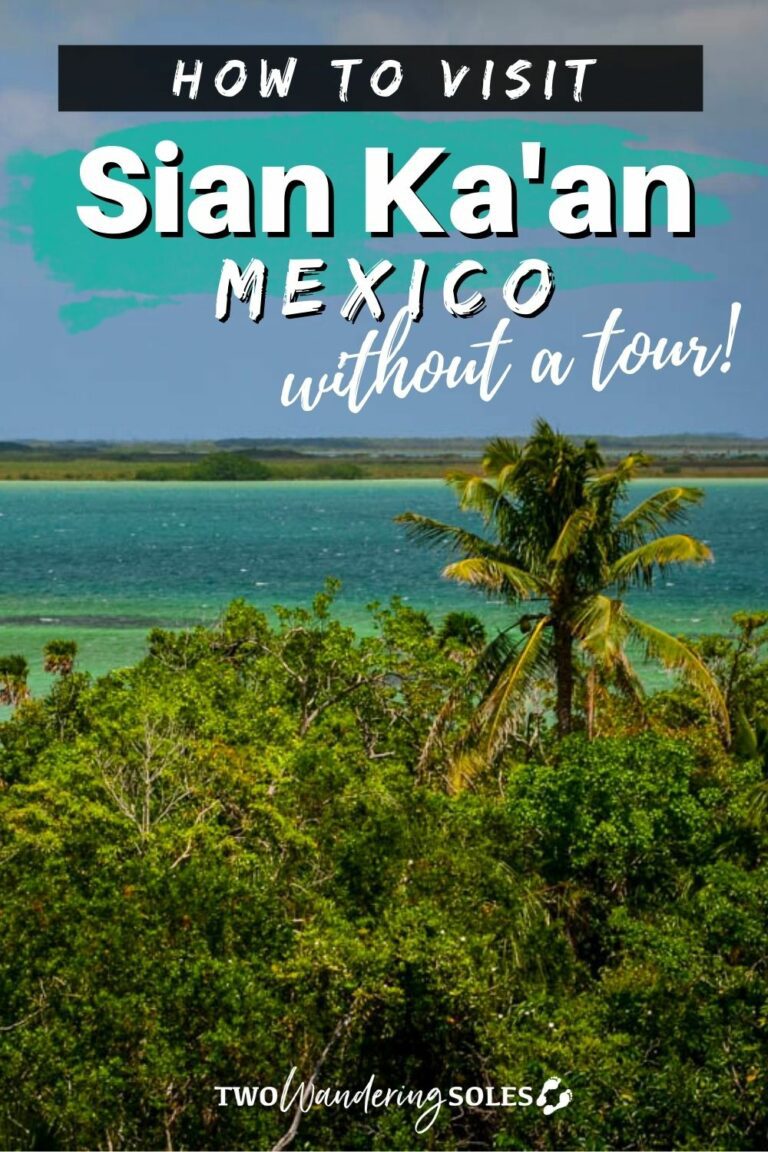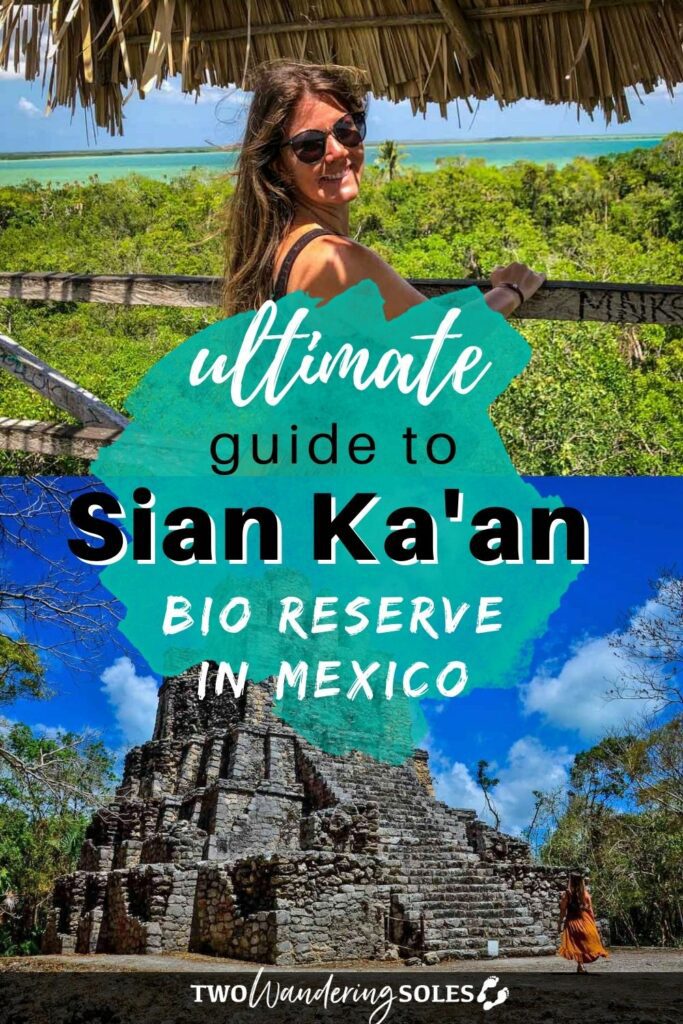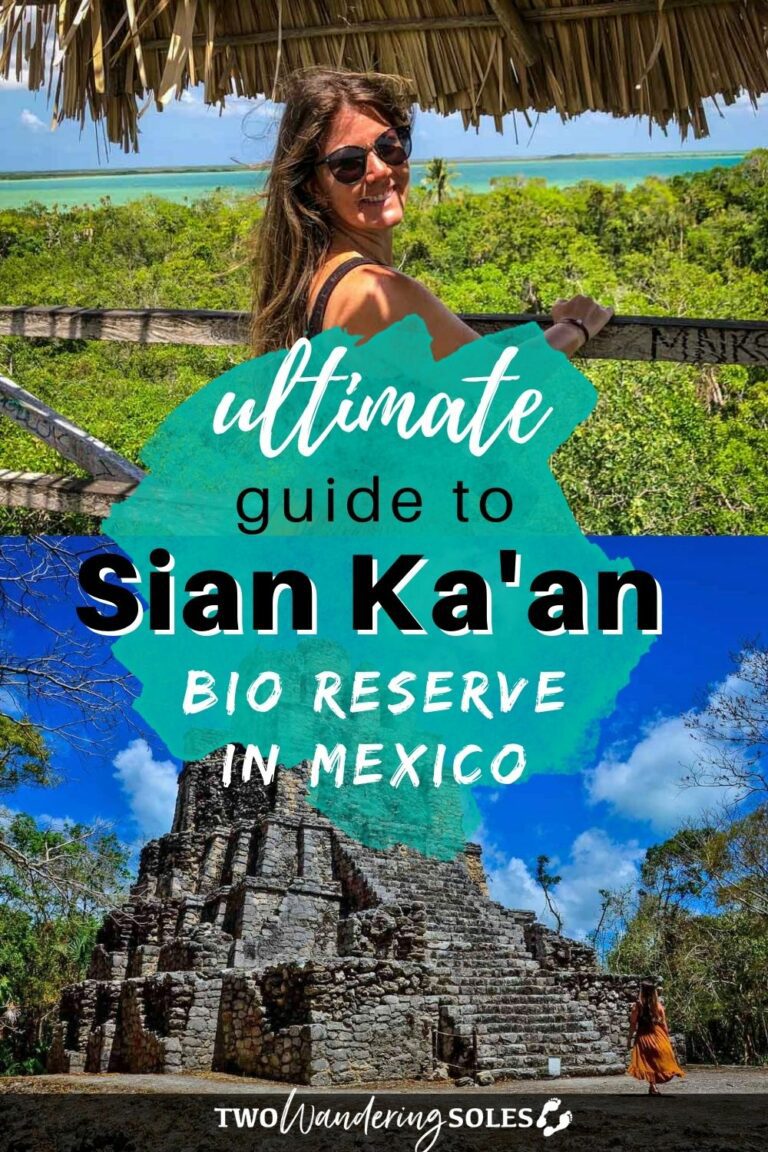 We want to hear from you!
Are you planning a visit to Sian Ka'an and still have questions? Leave your comment below and we'll do our best to find you the answers you're looking for!