There's never a shortage of hidden gems and new places to discover in this beautiful corner of the U.S. With so many options, it can be tricky knowing what to see and do first, so we rounded up the best places to visit in Oregon to help you get started planning your trip.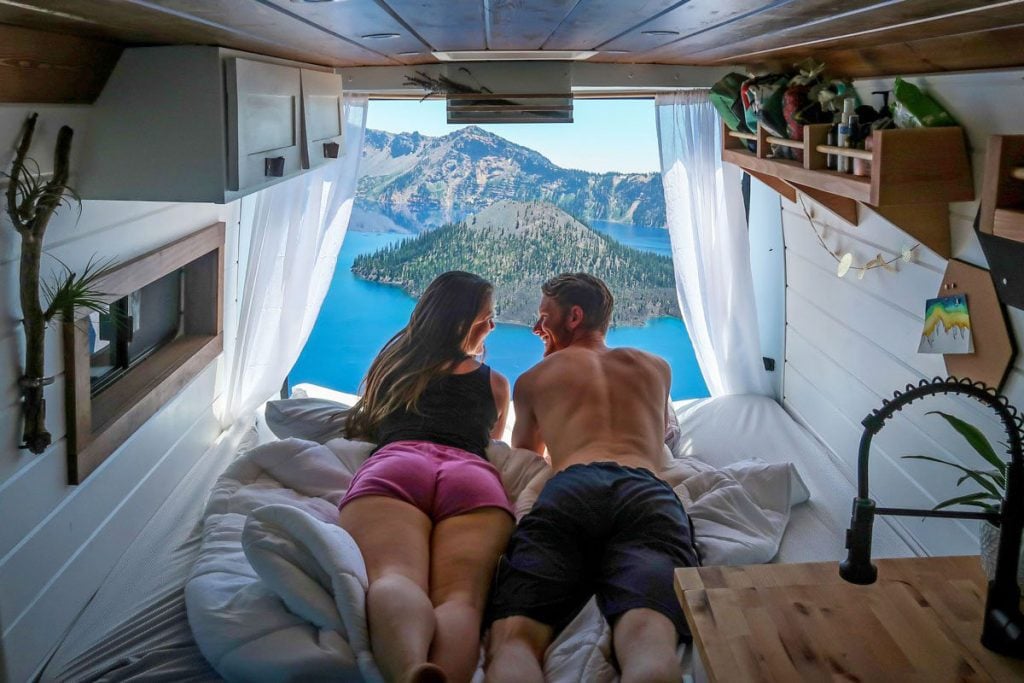 We're pretty vocal about our love for the Beaver State (yes, that's Oregon's official nickname!). Oregon's natural attractions are incredibly diverse, encompassing lush rainforest, beaches, desert, countless waterfalls, sand dunes, and of course, lots and lots of mountains.
That's just the beginning, though — there are also fantastic vineyards and wineries, great food and beer scenes, every type of festival and event imaginable throughout the year, and tons of small-town charm.
Whether you're exploring a specific region or road-tripping through Oregon, there's breathtaking nature, quaint coastal towns, and excellent local craft beer around every corner. But there's only so much time you can spend wandering (sadly!), so we've narrowed down the most outstanding places to visit in Oregon.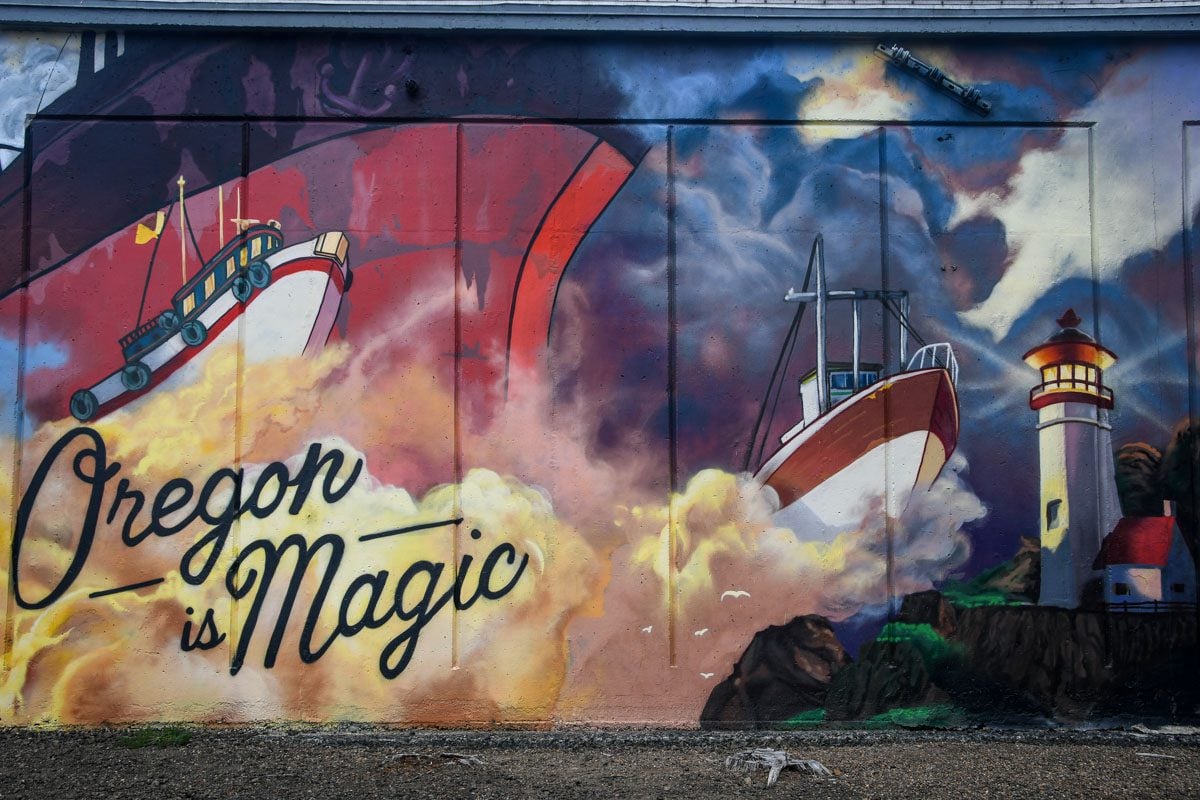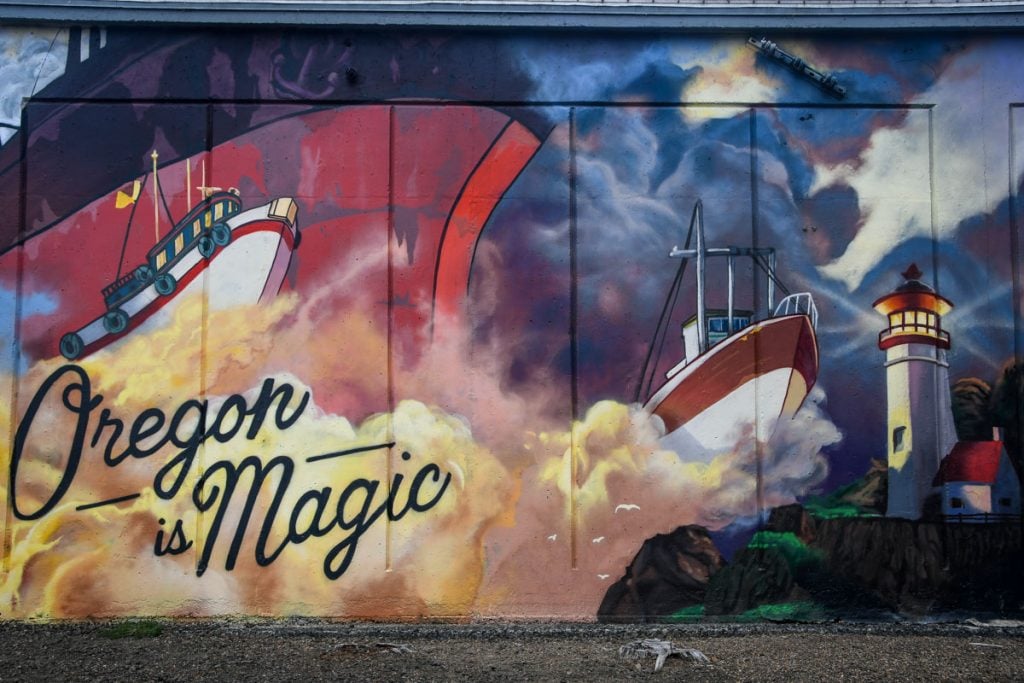 Article Contents
Know exactly what you're looking for? Click on the link to jump down to that section of the article, or just keep reading!
---
---
1. Bend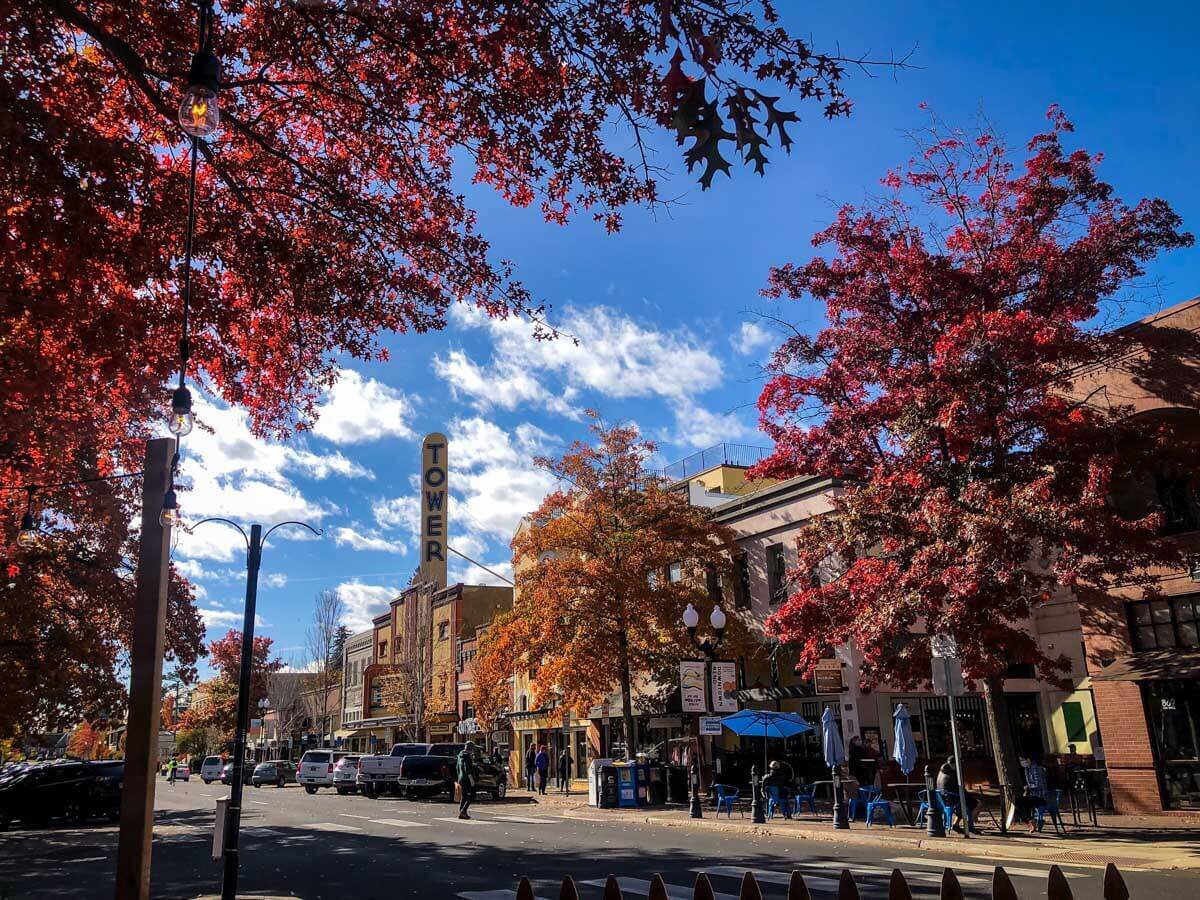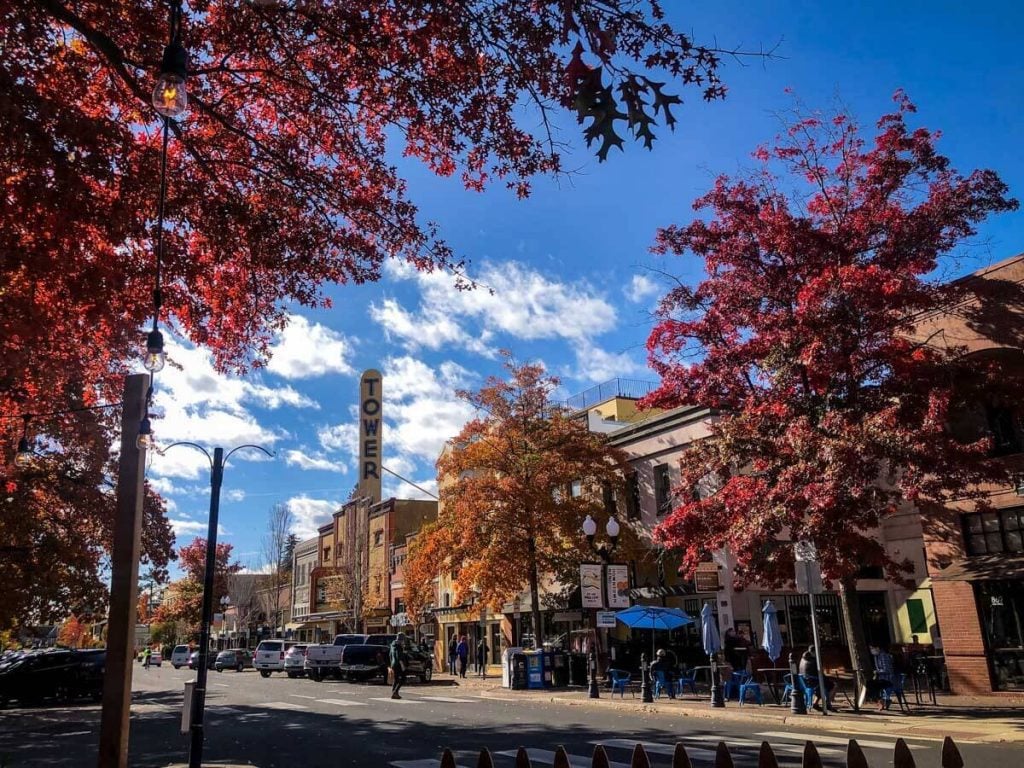 As some of you may know, we've really come to love this city, even calling it our new home! We may be a bit biased, but we'd bet you that after visiting, you'll fall for it too!
With a vibrant downtown, incredible brewery scene, cute shops, and great restaurants, Bend warrants at least a weekend visit. However, beyond that, the city is also home to one of Oregon's top natural areas, Smith Rock State Park, with just about every outdoor activity imaginable!
Things to do in Bend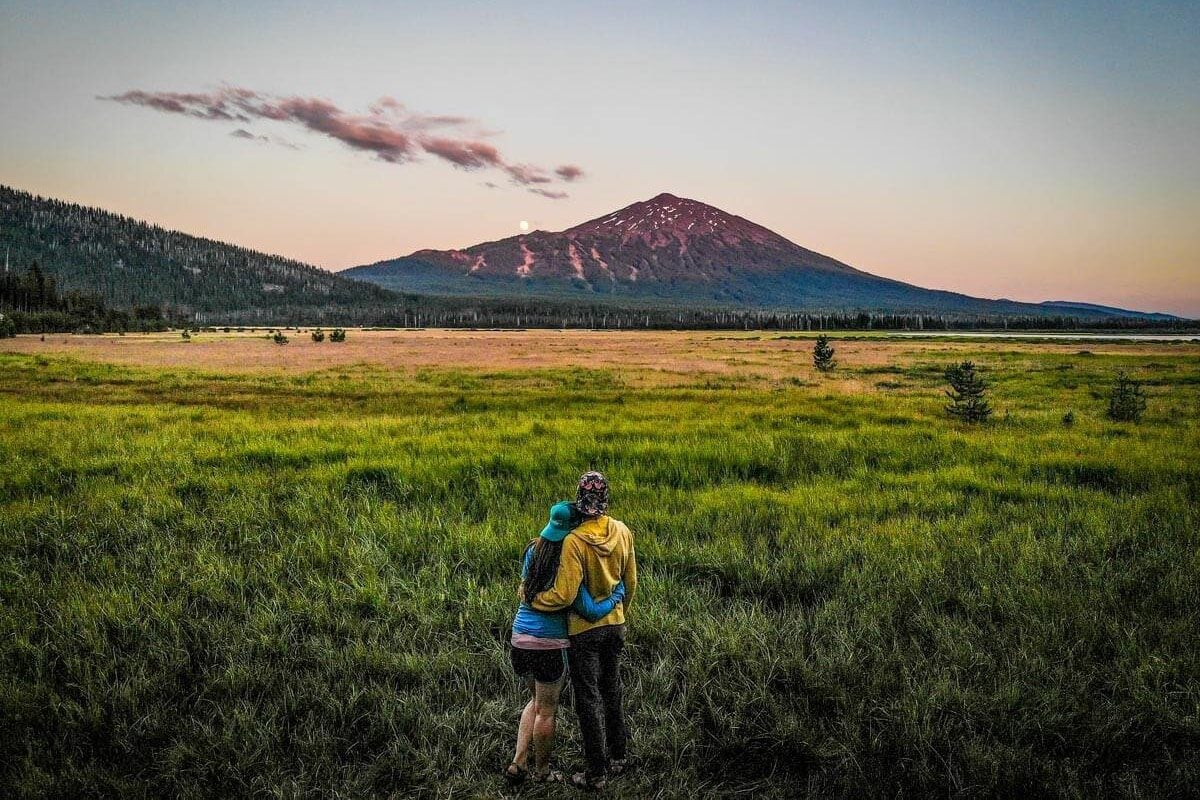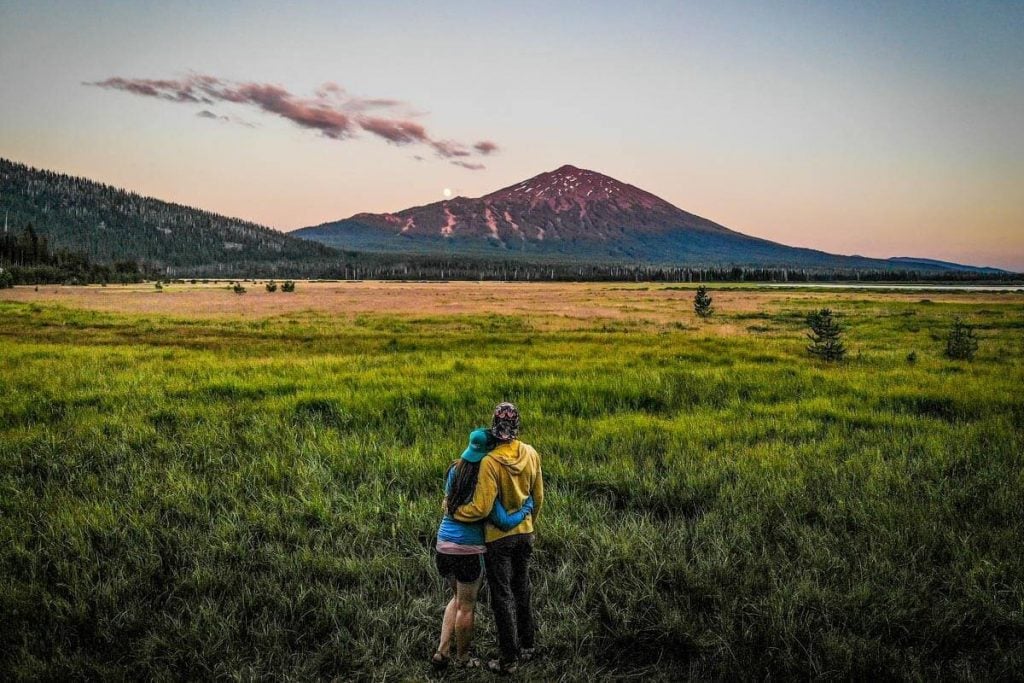 Take a hike. With breathtaking natural attractions and an easy drive in every direction, Bend is a premier destination to lace up your boots and hit the trails. Some of our favorite hikes in Bend include Broken Top, Green Lakes, and Tumalo Mountain trails. For the ultimate mountaineering challenge, tackle the South Sister Summit (no gear required).
Sample the incredible beer scene. Bend punches far above its weight for a medium-sized city with several acclaimed breweries. Stop by Crux for delicious brews and a laid-back atmosphere, 10Barrel for great pizza and a large beer variety, and The Ale Apothecary for innovative wild ales aged in oak barrels.
Enjoy the Deschutes River. Stroll the many walking paths, try your luck fishing, or in the summer, float or tube down the river starting at the appropriately-named Riverbend Park.
Hit the slopes. One of the big reasons that Bend is one of the best places to visit in Oregon is that it offers four-season outdoor recreation. When winter sets in, the state's largest ski resort, Mt.Bachelor, is just 30 minutes away. If you're not much of a skier, you can also snowshoe to a mountain hut or go cross-country skiing.

We even have an article detailing all the activities you can do during winter in Bend.
For more ideas and information, check out our complete guide to Bend, Oregon.
Where to stay in Bend
If camping is more your speed, we have a whole list of the best camping near Bend.
2. Portland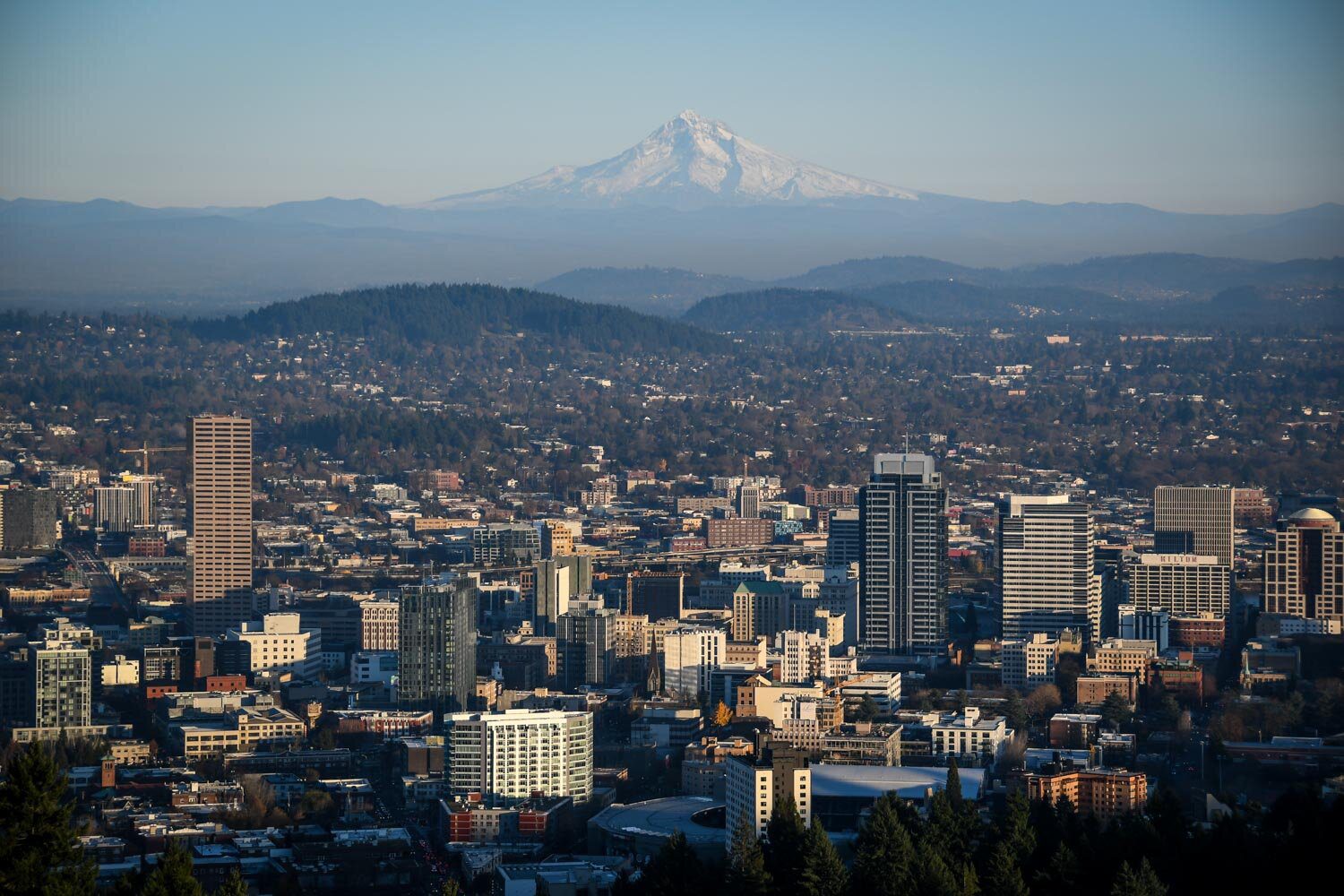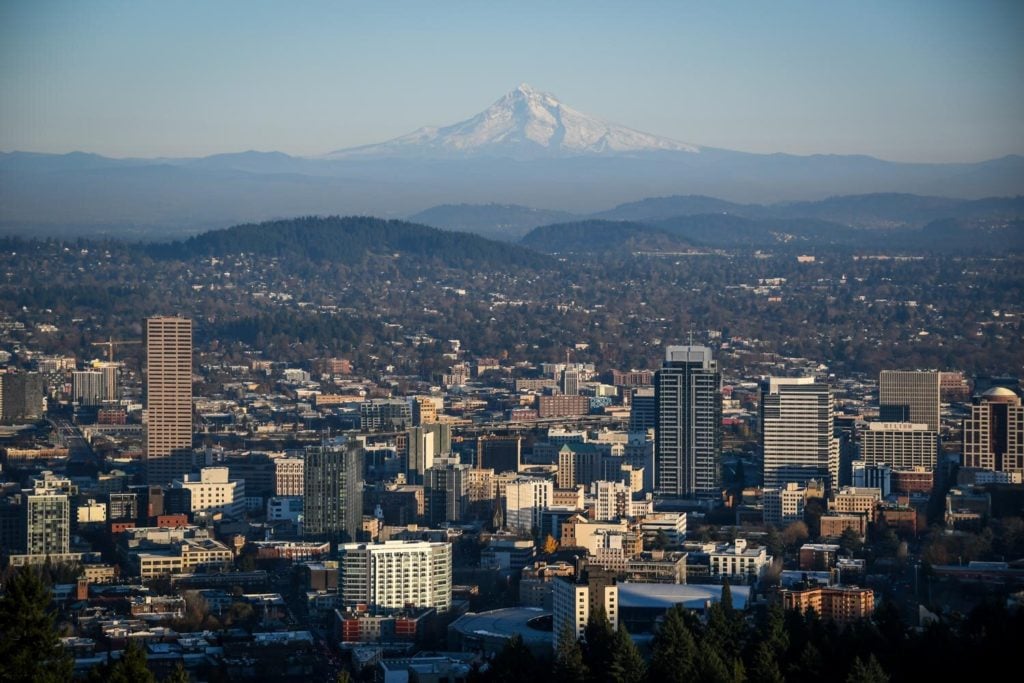 Fun-loving Portland marches to the beat of its own drum in just about every measure. This quirky city is full of character and home to a never-ending array of new restaurants, parks, fun events, and attractions.
For an exhaustive list, check out our guide for things to do in Portland, which we update regularly (and it keeps getting longer!).
You'll likely pass through Portland no matter which destinations are on your list of places to visit in Oregon, but you should definitely stick around. Whether sampling foods from around the world, discovering breweries, or exploring diverse neighborhoods, Portland highlights some of the best of urban Oregon.
Things to do in Portland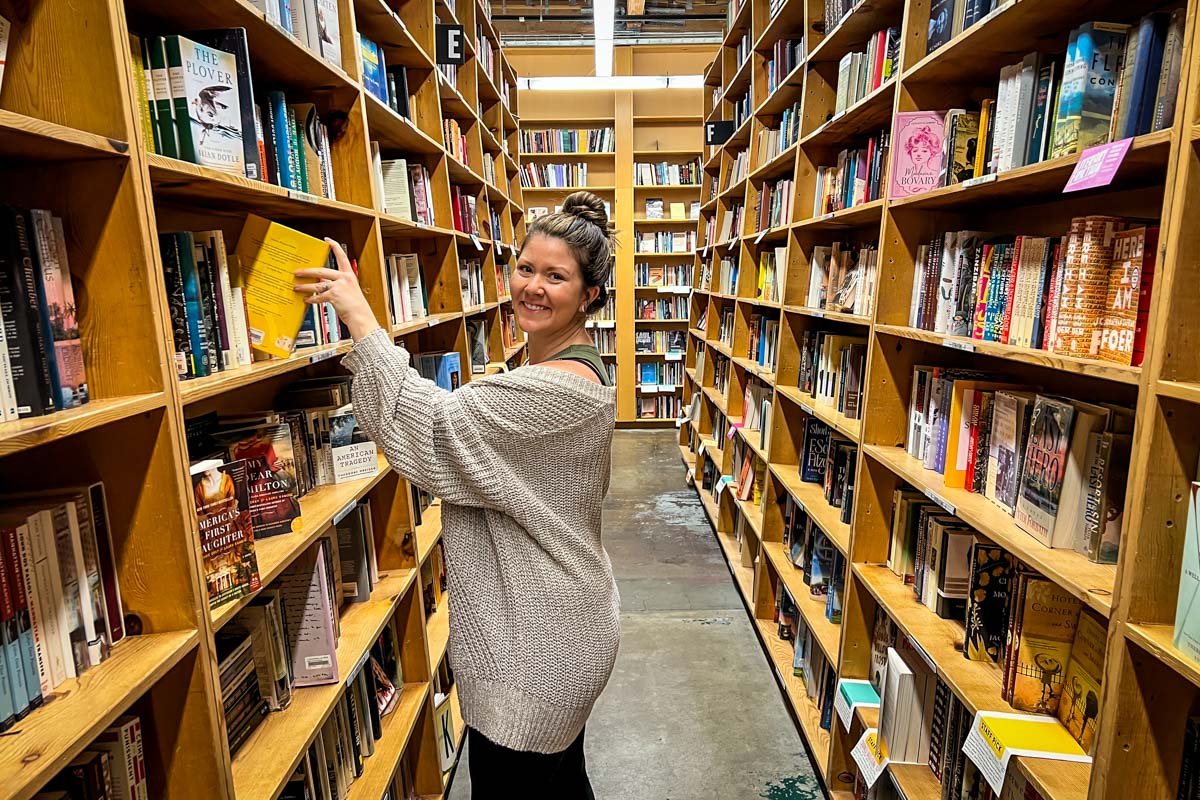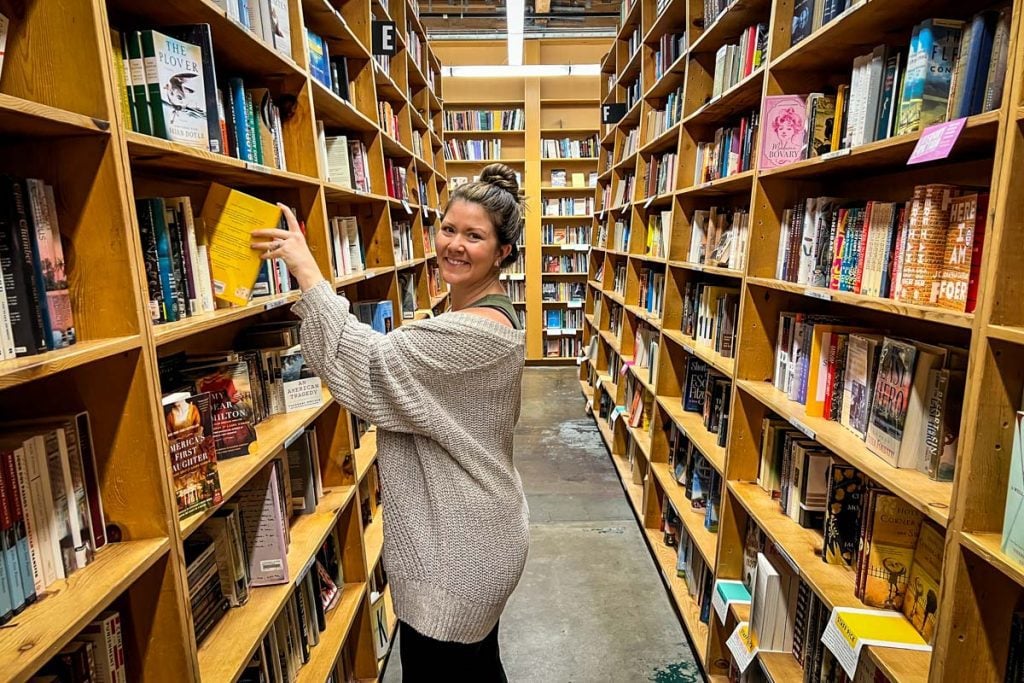 Rent a bicycle to get a genuine feel for Portland's soul! A supremely bike-friendly city, there are plenty of scenic routes to explore, from tranquil riverside trails to bike lanes through bustling neighborhoods.
Wander through cute neighborhoods like Mississippi, Richmond, Hawthorne, Alberta, and Downtown, each with their own unique personalities.
A trip to Portland isn't complete without a stop at Powell's City of Books, the largest independent bookstore in the world!
Go on a food tour. We've found this to be one of the most approachable ways to dive into Portland's diverse (and delicious!) food scene. There are so many to choose from, but each lets you experience several tasty bites and beverages from local establishments.

We had a great experience with Lost Plate, a family-run company offering food tours in exotic locations around the world. Use our discount code when booking: twowanderingsoles and get $5 off your tour!

Get yourself a cup of Joe. Portland has one of the best coffee scenes in the U.S. Some places worth stopping into include Never Coffee, Heart Coffee Roasters, and Proud Mary Cafe.
Grab a beer in one of America's best beer cities. Our personal favorite selection is at Ecliptic, but we also love Lucky Labrador and Stormbreaker. With sooo many options, try out as many as you can to find one that suits your taste (hard work, we know!).
If you have more time in the city, you'll wanna check out this list of the best day trips from Portland to see if there are any nearby adventures to add to your itinerary.
Where to stay in Portland
And if Airbnb is more your thing, we've rounded up an extensive list of the best Airbnbs in Portland for every budget in all the best areas.
3. Hood River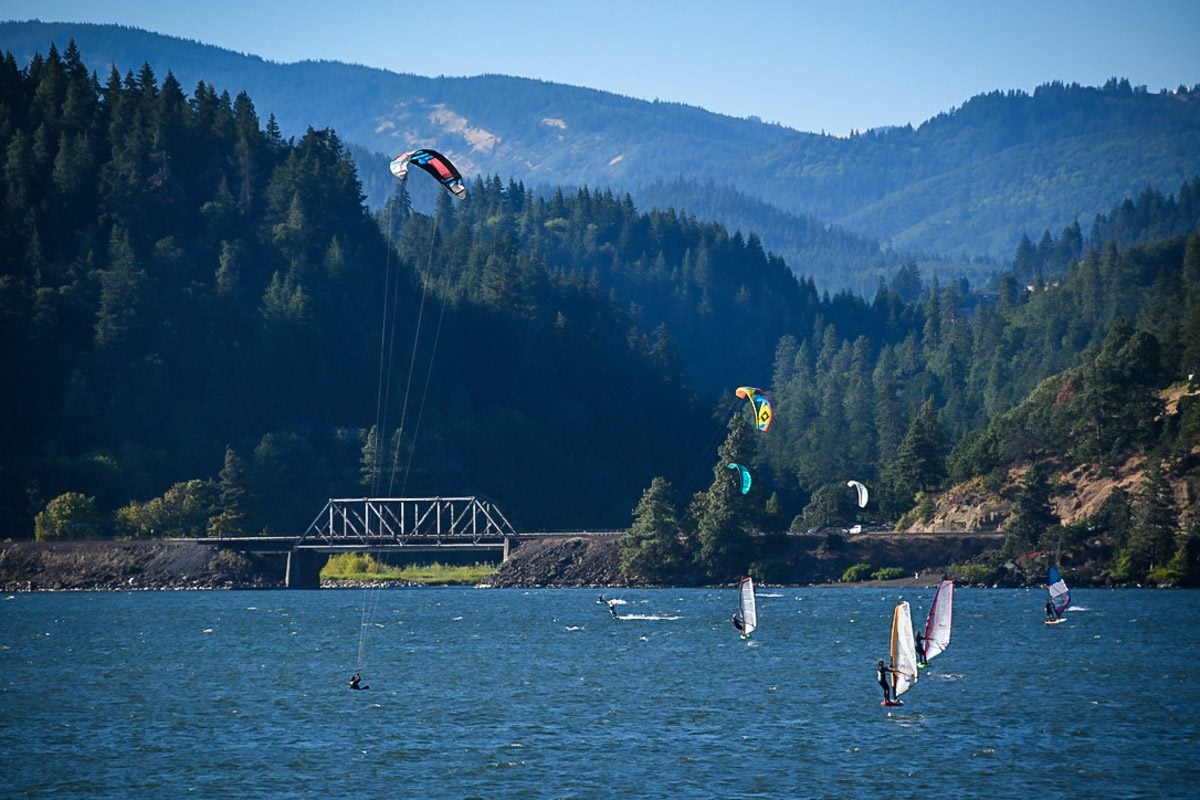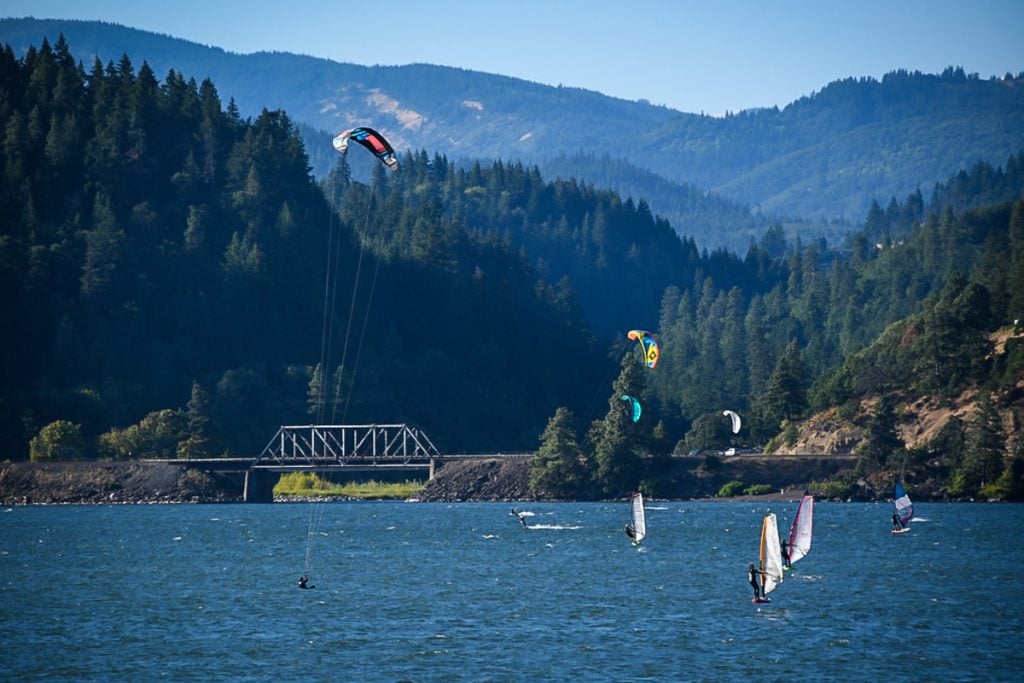 Hood River's picture-perfect location next to the Columbia River Gorge and on Mt. Hood's doorstep makes it one of the best places to visit in Oregon. Synonymous with wineries, outdoor recreation, and kite- and windsurfing, Hood River has something to do for everyone, from adrenaline junkies to vino-loving tourists.
While it's a widely-known wine destination, Hood River also has plenty of excellent breweries, cafes, and restaurants. Plus, there's fantastic hiking trails nearby, including several waterfall hikes!
Things to do in Hood River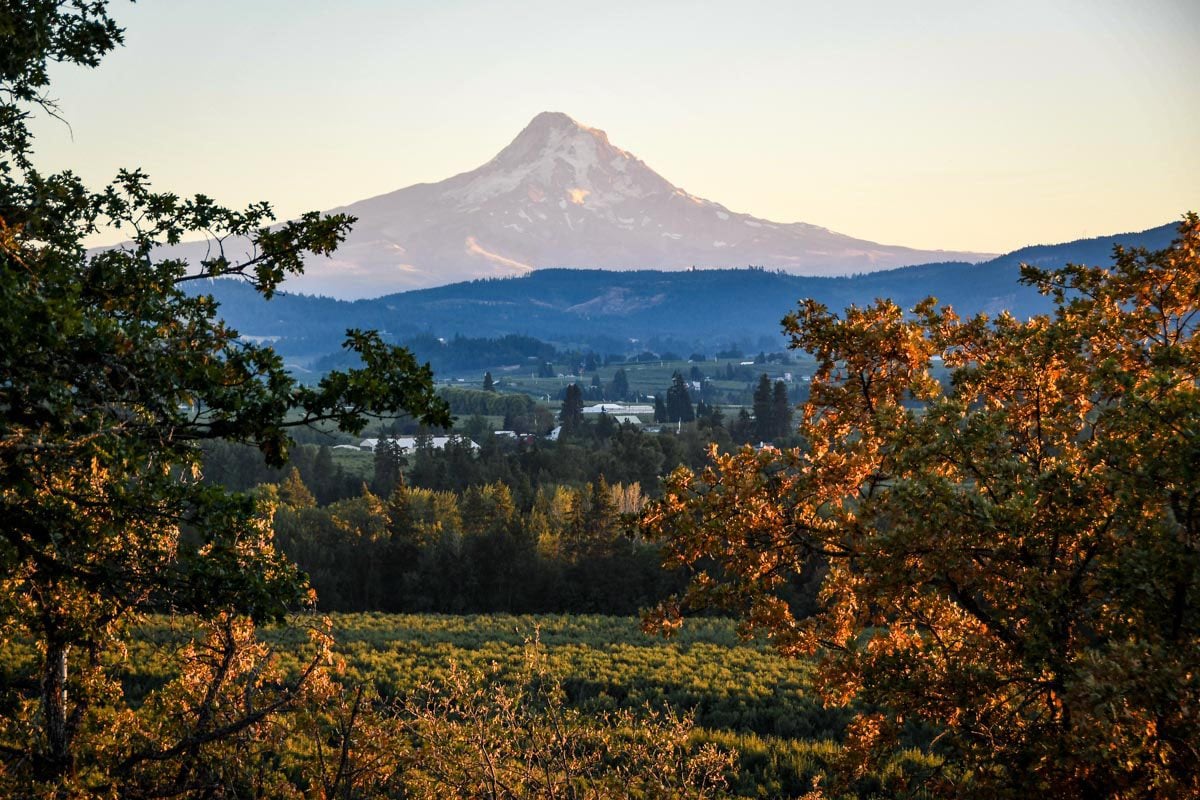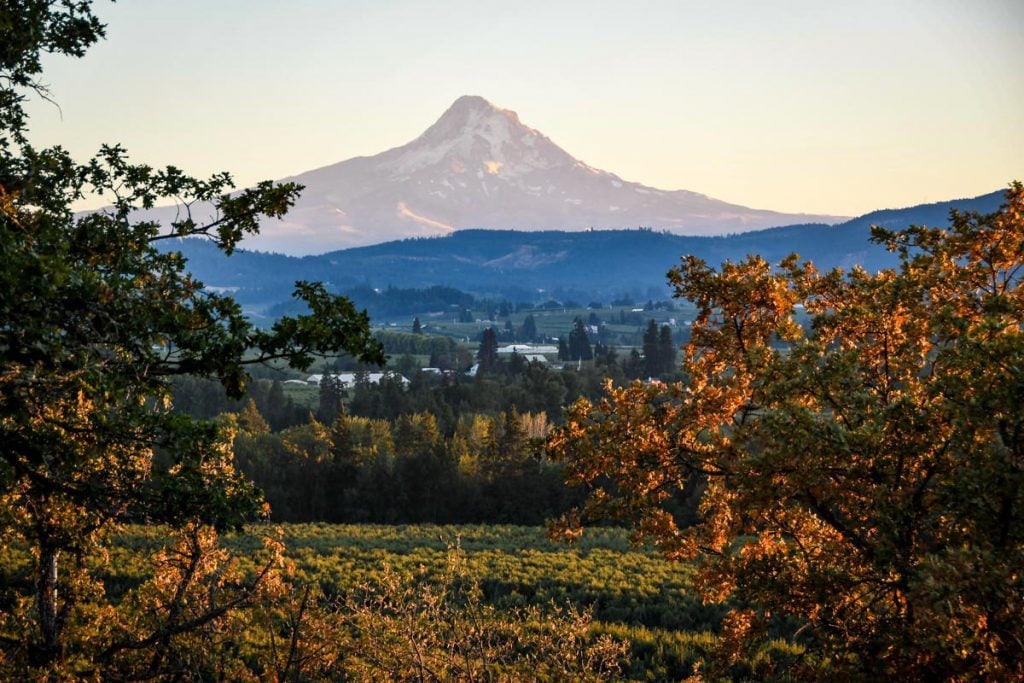 Take part in (or just watch!) Hood River's iconic extreme sports. Windsurfing and kitesurfing aren't exactly beginner-friendly activities, so unless you're experienced, it takes some serious preparation. Then again, everyone starts somewhere, right?! There are several schools and instructors in town to introduce the adrenaline-fueled sport, but there's also no shame in picnicking on the shore and watching others fly through the air.
Explore the Hood River Fruit Loop, a 35-mile scenic drive through delightful local farms, wineries, cideries, fruit stands, and orchards. We recommend visiting as many as possible, but not all are open year-round, so check the official website to create your self-guided tour.
Like many other places to visit in Oregon, we recommend hitting the trails. Hood River is ideally located to explore many incredible hiking trails, particularly in the Gorge and Mt. Hood areas. Some of our favorite trails close by include the Trillium Lake Trail near Mt. Hood and Dog Mountain, which even has a FREE shuttle that runs from town to the trailhead in the summer.

We also put together an article with our top recommendations for Mount Hood hikes, if you want to explore more of the area.

Do some wine tasting. Post up at one of Hood River's famous wineries for a relaxing day of indulgence as you sip Pinot Noir and take in the views of Mount Hood looming in the distance.
Take in incredible views of Mt. Hood at Panorama Point. Just 10 minutes from downtown, this spectacular viewpoint showcases the mountain beautifully, with fruit orchards in the foreground (if you time your visit just right in the spring, the trees will be bursting with colorful blooms!). On your way, grab a couple of beers from nearby pFriem Family Brewers to accompany the breathtaking sight.
For more ideas and information, check out our complete guide to Hood River, Oregon.
Where to stay in Hood River
Inn at the Gorge: Adorable 6-room B&B with comfy amenities and a lovely outdoor space with a hot tub.
Klickitat Treehouse: Dreamy, unique treehouse with tons of modern amenities and 18-foot floor-to-ceiling windows showcasing Mt. Adams.
Gorge Nest: Cozy, centrally located guest suite with a private entrance and thoughtful touches including snacks and a coffee bar.
4. Sisters
Named after the three adjacent 10,000+ ft peaks towering just to the west, Sisters has a charming small-town feel with an Old West theme and a ton of outdoor recreation. It's quite small; it only takes 15 minutes to walk across Sisters' main strip, but there are many cute shops, cafes, and eateries to keep you occupied.
Located just 30 minutes from Bend, Sisters is situated right next to some of Oregon's most breathtaking scenery. And as an alternative to Bend (which can run out of accommodation during peak season), Sisters is an excellent basecamp for exploring this impressive region.
Things to do in Sisters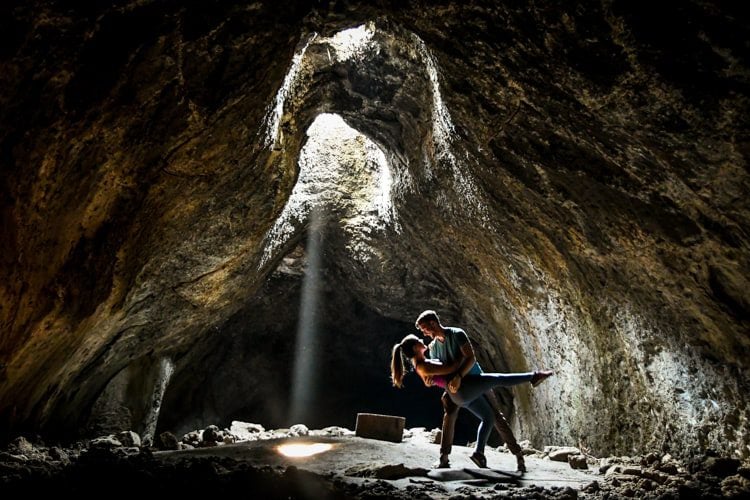 Wander the quaint and kitschy (in a good way!) Western-themed downtown, stopping by Sisters Bakery for a treat and Sisters Coffee Company for a caffeinated pick-me-up.
Venture to Skylight Cave, just outside city limits. Although it may look like any other cave at first, three beams of light pierce the darkness from the ceiling on sunny mornings, creating distinct natural skylights that are extremely photogenic! If this sounds intriguing, check out our guide to visiting Skylight Cave, an easy-to-miss attraction.
Hike to the summit of Black Butte. This moderate hike to an abandoned fire lookout offers up a huge reward with 360-degree views of nearby volcanoes and the Cascade Range.
Go for date night at the Sisters Movie House. Set in an old converted barn, this old-fashioned cinema oozes nostalgic charm.
Where to stay in Sisters
FivePine Lodge: Upscale wooden chalets with private waterfall soaking tubs in the middle of the forest, yet mere minutes from town.
Pursuit of Happiness: Three-bedroom bungalow with a large deck, loft, and complimentary bicycles in downtown Sisters.
Creekside Getaway: Affordable private room with parking included and a very welcoming host!
5. Cannon Beach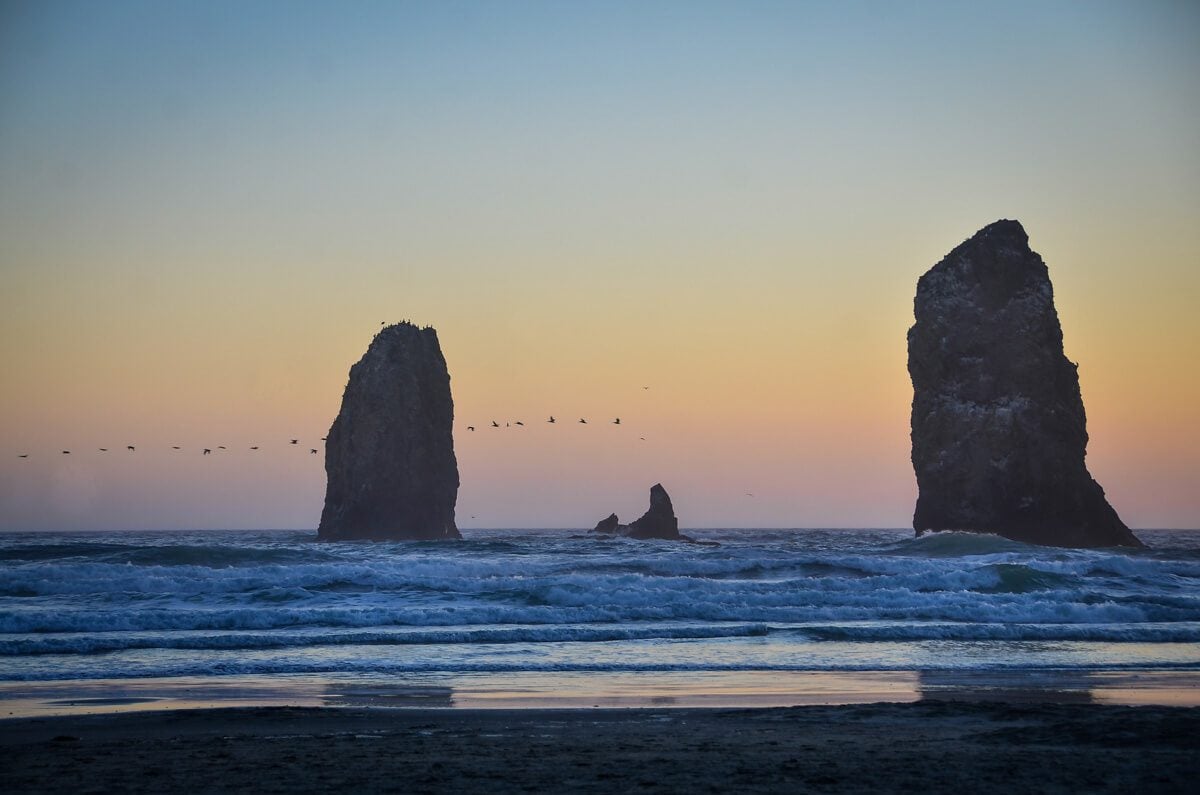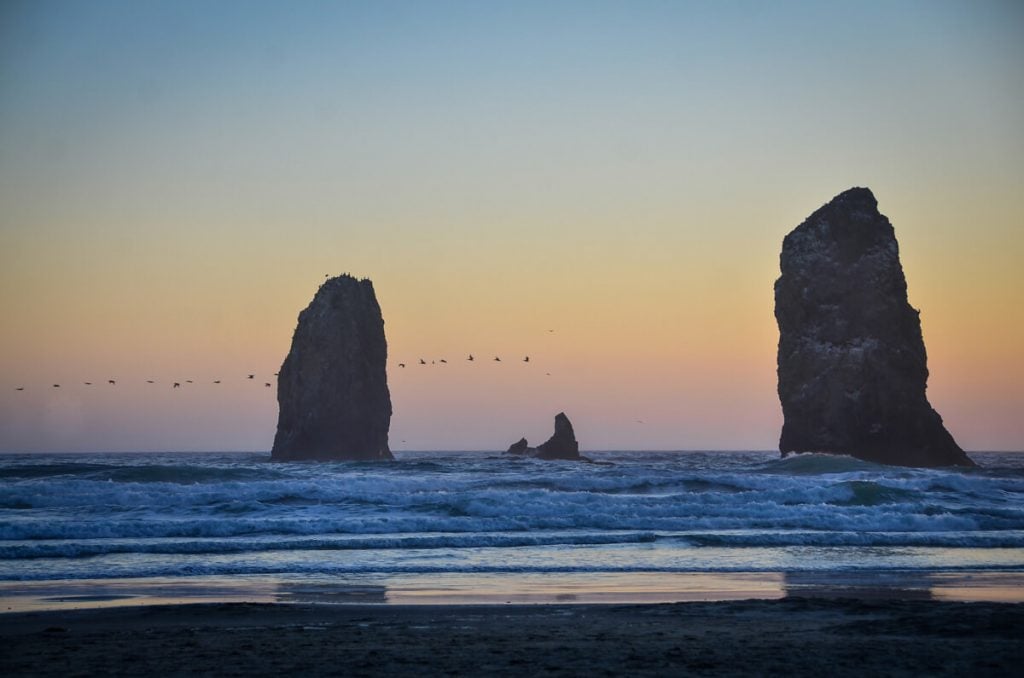 Cannon Beach is one of our very favorite places to visit in Oregon! With iconic coastal scenery, an adorable city center, and great coffee and beer options, it's easy to fall in love with this seaside town.
We've spent quite a bit of time in Cannon Beach — so much so that we've created an article with our top recommended things to do in Cannon Beach. Here, you can enjoy little-known, undeveloped beaches, incredible hikes, and some of the best coastal sunsets in Oregon.
If you didn't already have this one on your Oregon Coast itinerary, you should probably plan to add it, stat!
Things to do in Cannon Beach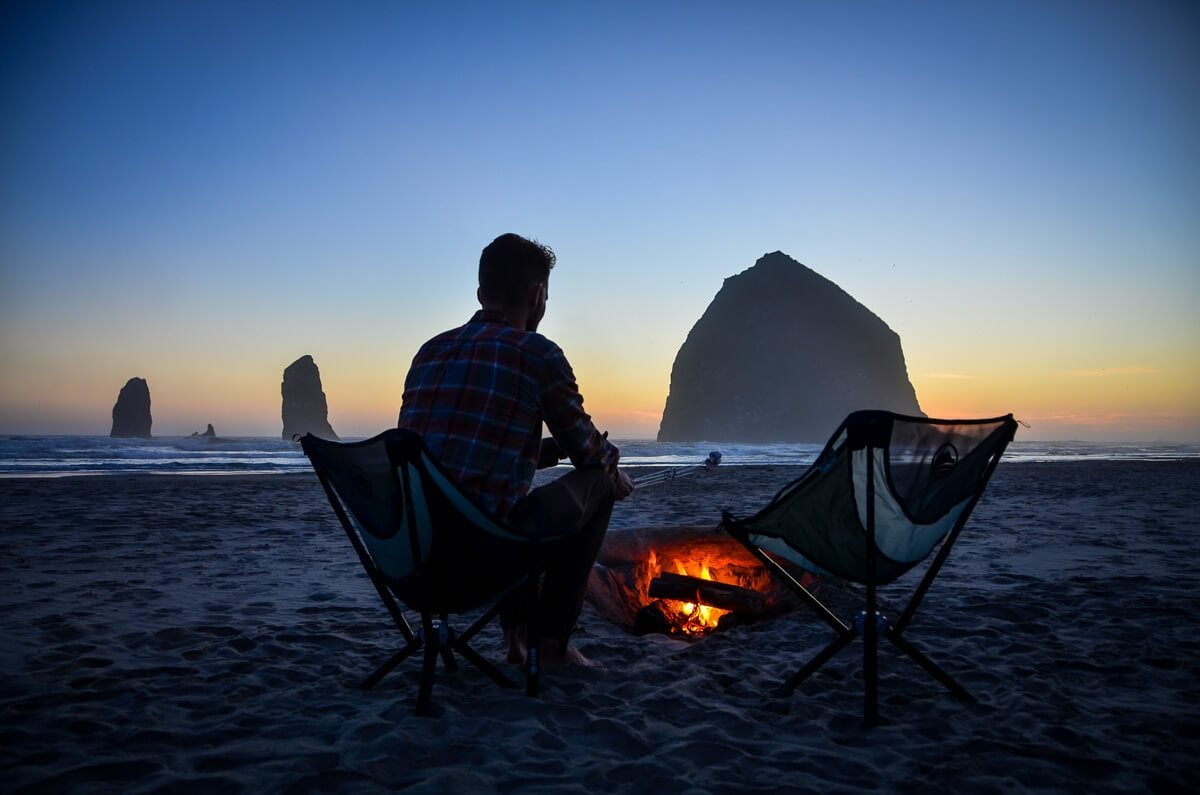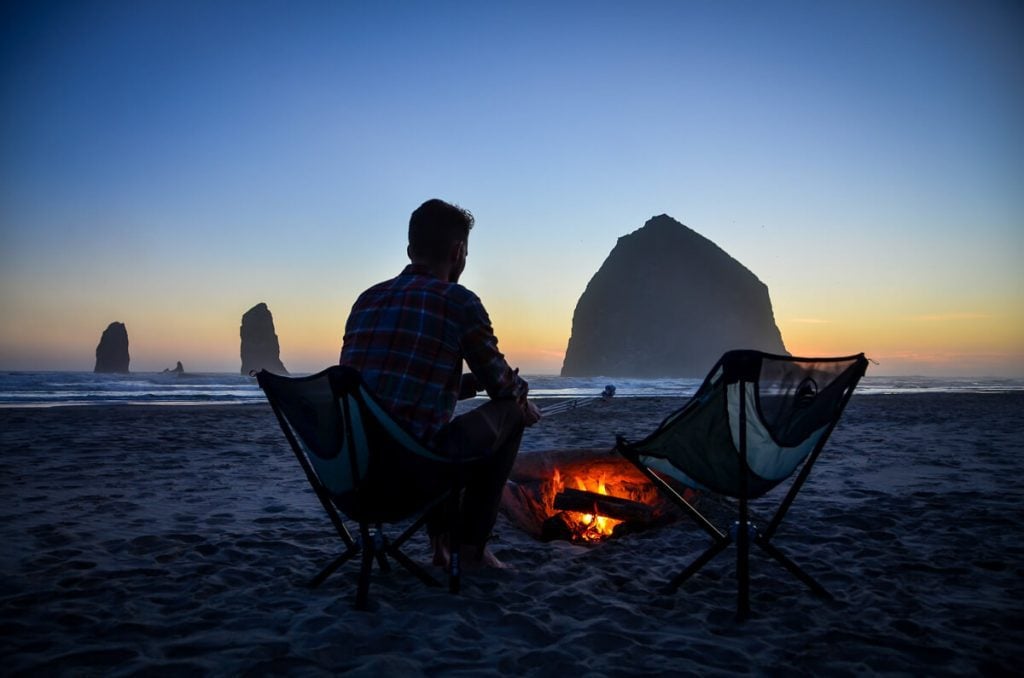 Build a bonfire on the beach. We'd easily call this one of our favorite activities on the entire Oregon Coast! There's nothing quite like watching the sunset behind Haystack Rock accented by glowing embers, while you're bundled up in a blanket by the fire.
Head to Ecola State Park for rugged beaches, lush forests, and dramatic rock formations.
See an incredible waterfall on the beach at Hug Point, just 10 minutes outside town!
Explore the abundant sea life in the tide pools right on Cannon Beach itself. Make sure to visit at low tide for the best experience!
Grab a seriously delicious coffee and lemon-poppy pastry at the Sleepy Monk. Yum!
Explore Cannon Beach's adorable town center, overflowing with cute (admittedly a bit touristy, but still cute) galleries and shops.
Where to stay in Cannon Beach
If you need more recommendations for campsites, we have a whole list of the best Cannon Beach campgrounds.
6. Astoria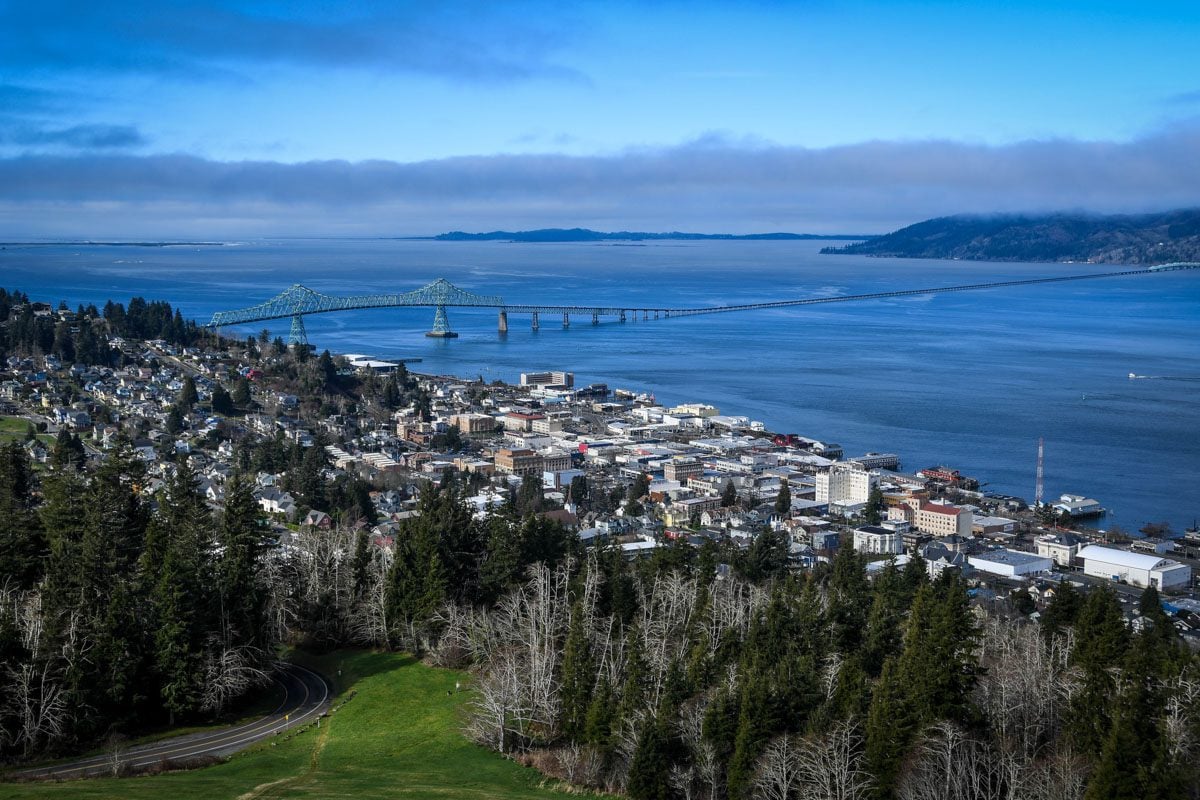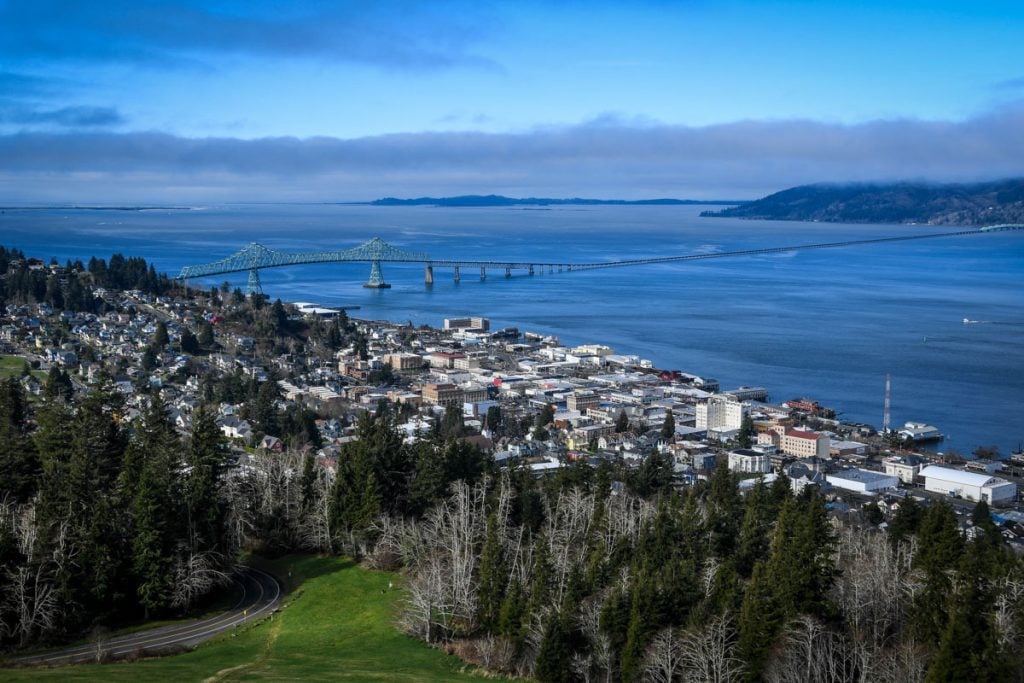 Located at the mouth of the Columbia River, this charming town keeps drawing us back. With a different vibe than the rest of the Oregon coast, Astoria is less beachy and has more of a quaint maritime atmosphere.
As the very first settlement on the West Coast (yep, really!), Astoria has a fascinating history and a concentration of unique historic buildings. There's a ton to keep you occupied here, from the hikes and nearby beaches to breweries and restaurants. In fact, we've written about them all in our guide to Astoria.
Things to do in Astoria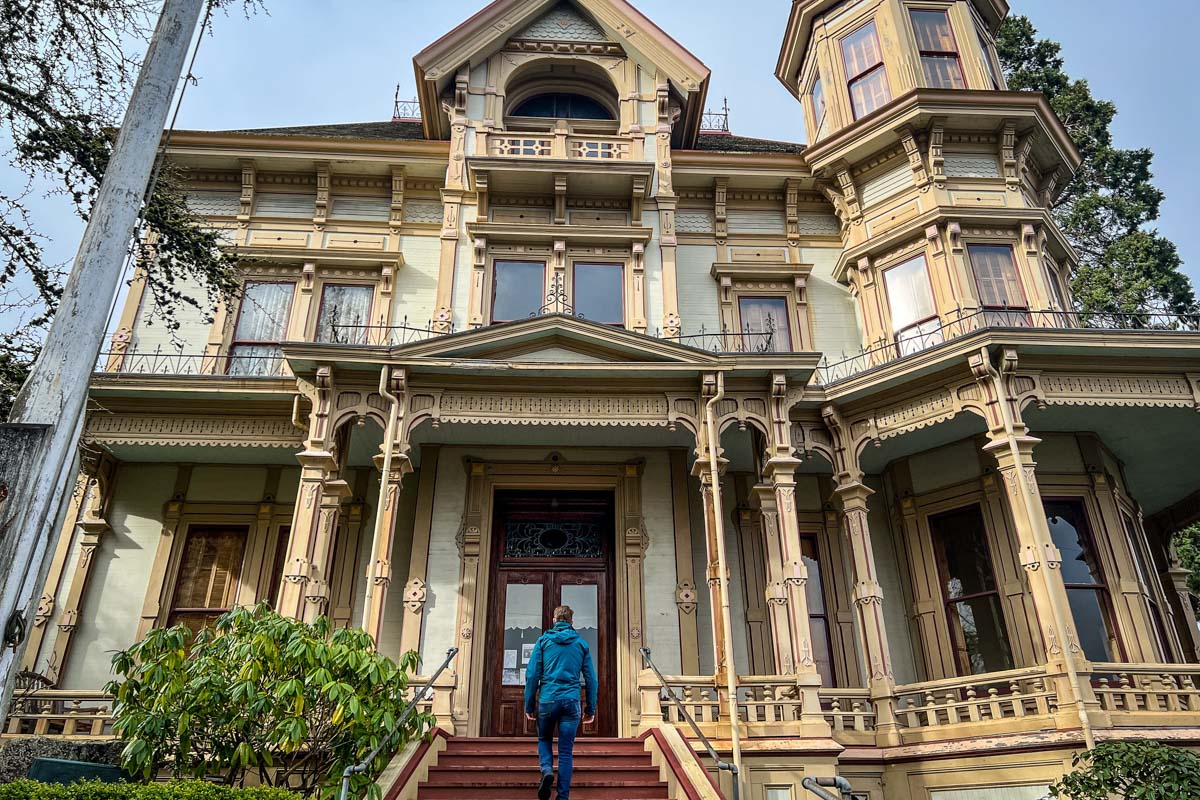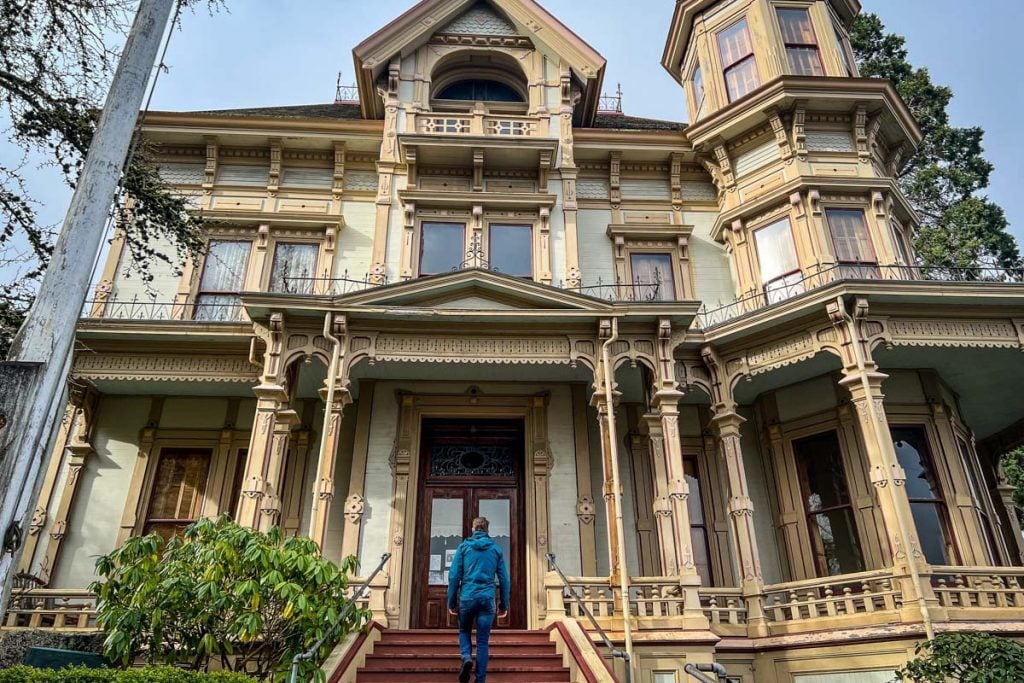 A visit isn't complete without climbing the iconic Astoria Column. At 125 feet tall, the top reveals goes-on-forever type of views of the town and Columbia River.
Hike the easy trail to the Cathedral Tree, which is 200 feet tall and has a circumference of 27.5 feet. Best of all, this trail connects directly to the Astoria Column and is rarely crowded.
Explore historic downtown Astoria, filled with 19th- and 20th-century architectural gems. You can follow a loop or simply pop in and out of places that catch your eye, plus enjoy museums like the Flavel House.
Check out a shipwreck right on the beach. Just 20 minutes from town, Fort Stevens State Park has a wide sandy beach and the remains of a 1906 war vessel.
Drive over the bridge to Washington state to visit Cape Disappointment State Park. This scenic natural reserve has beaches, dramatic cliffside views, and a lighthouse.
Where to stay in Astoria
7. Florence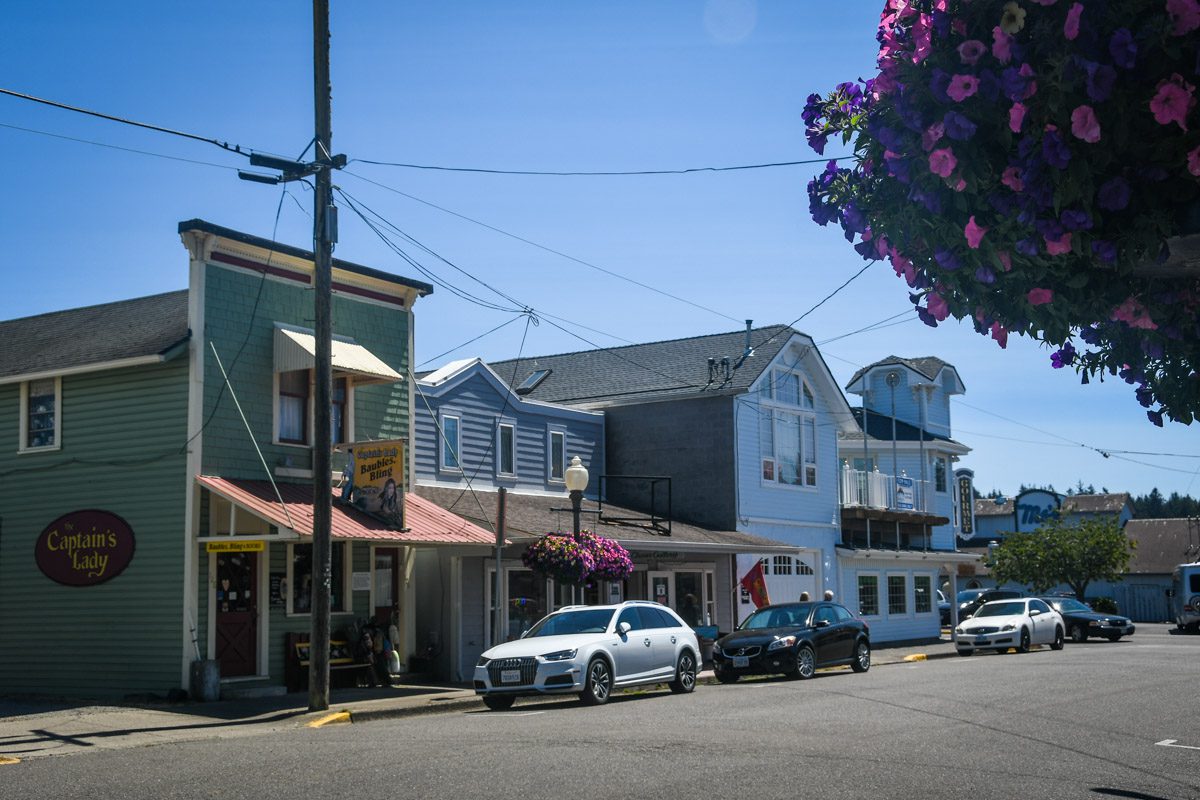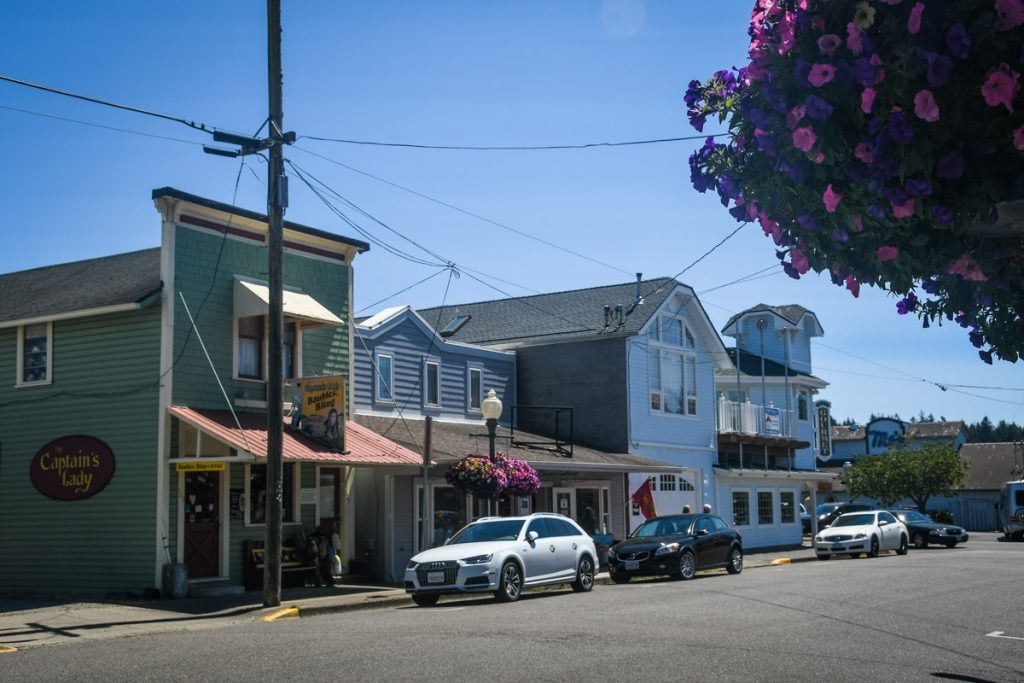 Super cute Florence is a slightly different kind of Oregon Coast town. It sits facing the mouth of the Siuslaw River rather than the Pacific, so it flies somewhat under the radar and doesn't draw the same heavy crowds as some of its well-known neighbors. In fact, we think Florence is refreshingly slow-paced.
Located right next to massive dunes, Florence is a popular sand-boarding destination (you HAVE to try it when you visit!), as well as an excellent jumping-off point for other natural attractions like lakes, beaches, and short-and-sweet hikes.
The town's center is one of the most charming on the coast, and there's a lively farmers market on summer weekends.
Things to do in Florence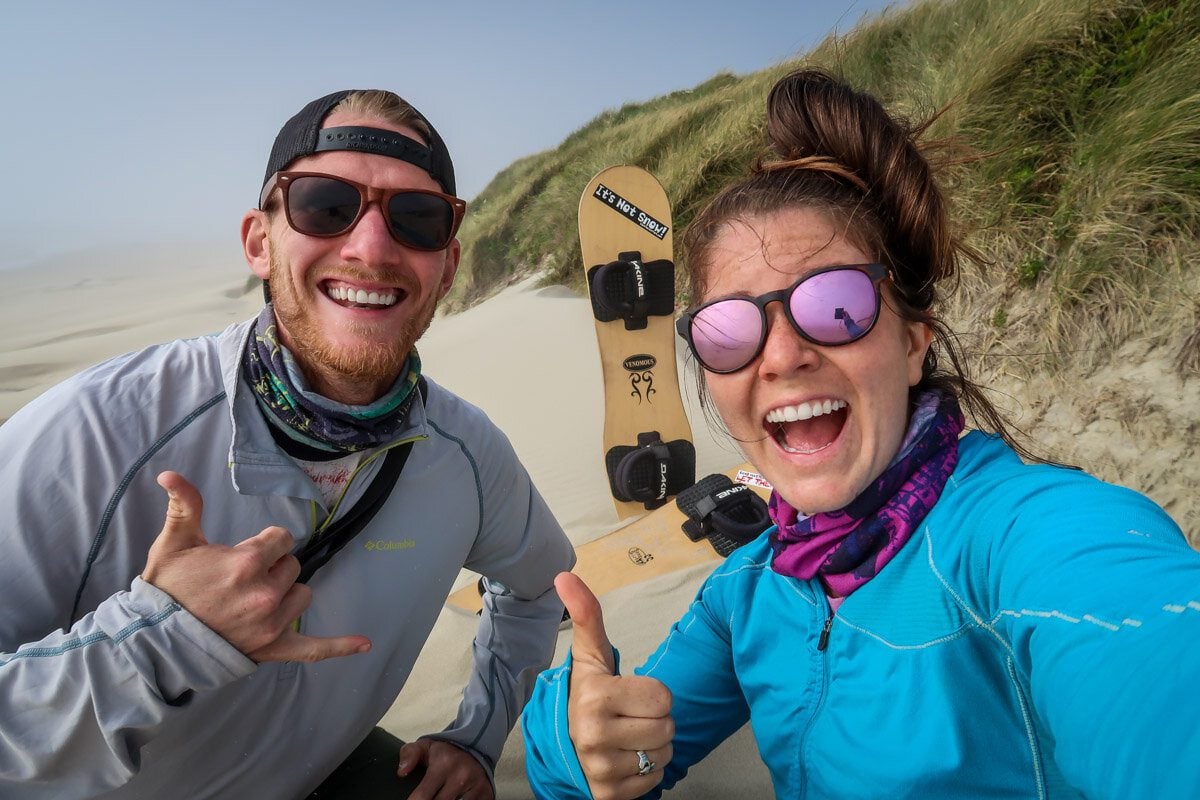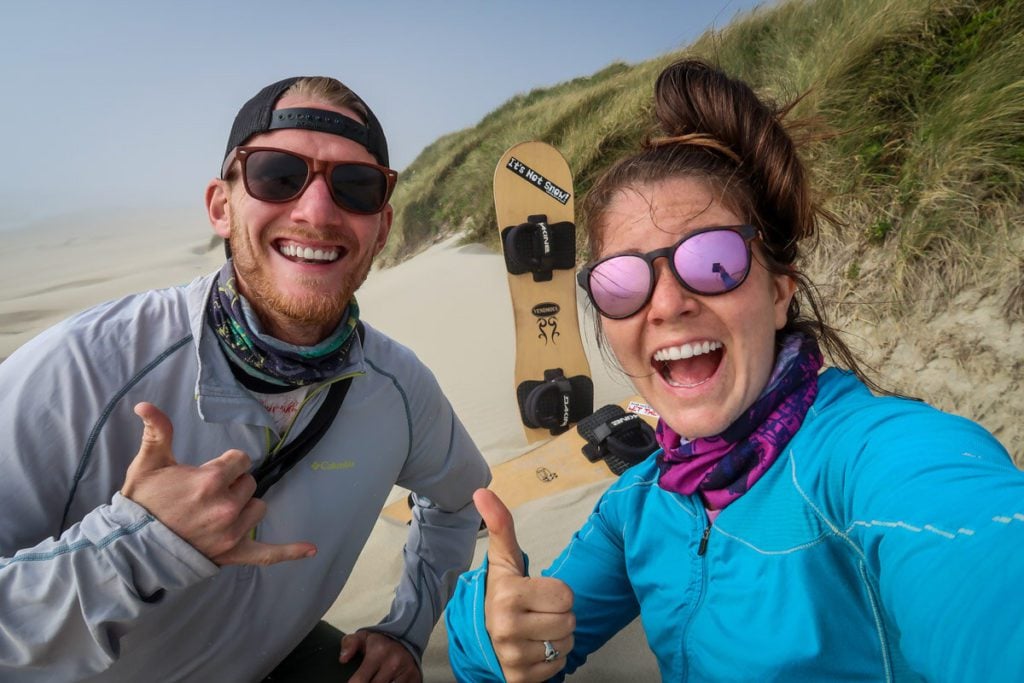 Go sandboarding. Sand Master Park offers board rentals and happily gives newbies tips on where to find the best spots.
Enjoy the short hike at Hobbit Beach, a large magical beach surrounded by cliffs. Fog often rolls through, creating an eerie, quintessentially PNW vibe, and best of all, there's rarely a crowd here!
A short drive away, Heceta Head is home to one of our favorite lighthouses on the coast.
If you're more interested in freshwater, visit one (or more) of the 27 lakes near Florence. Many allow swimming, kayaking, and fishing, and others simply offer a serene escape.
Where to stay in Florence
8. Columbia River Gorge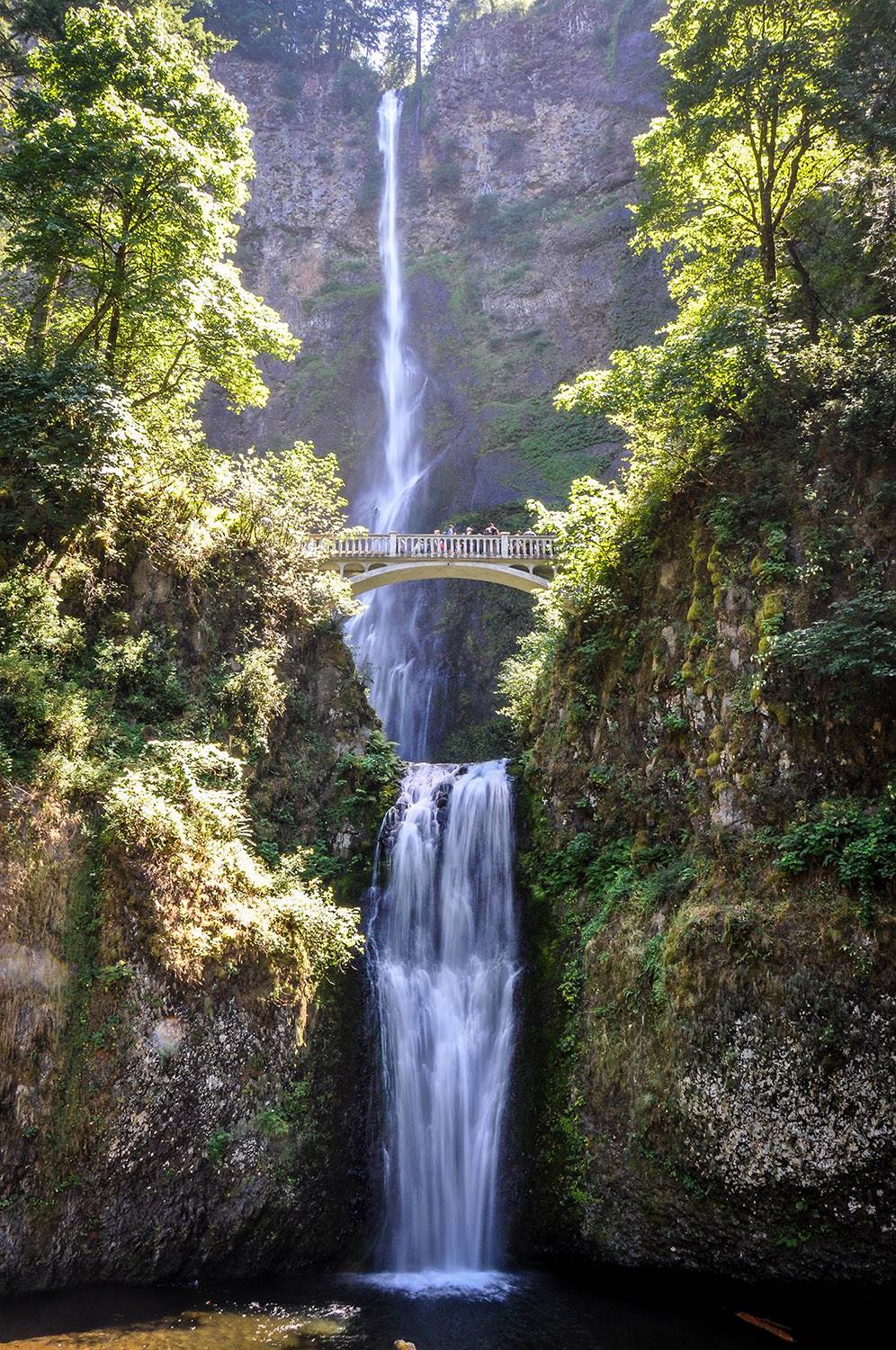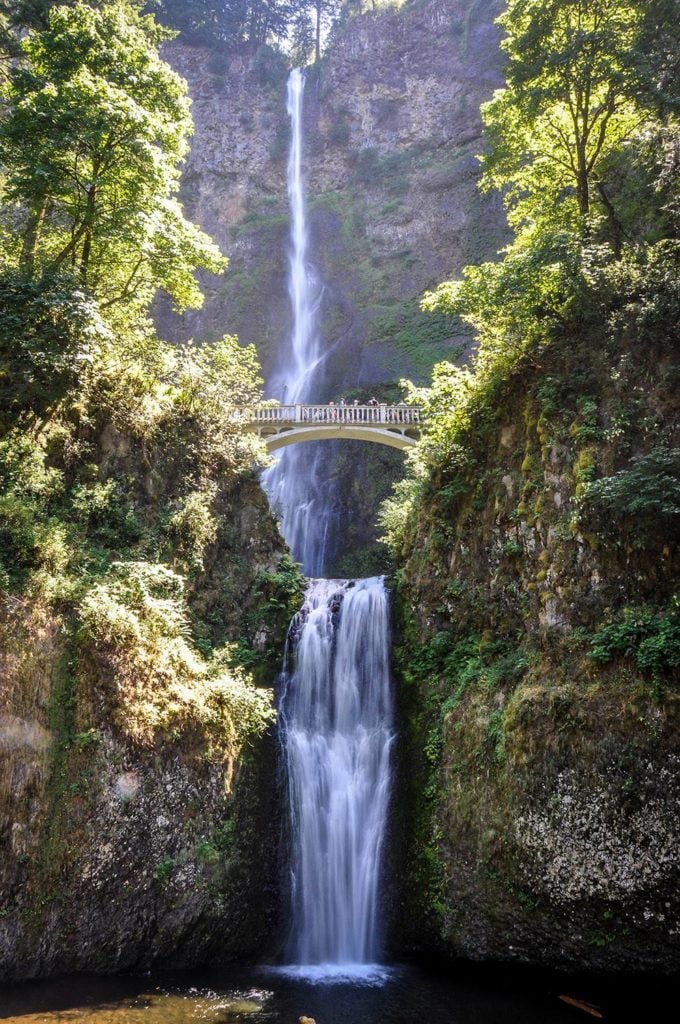 Oregon's northern border is a jaw-dropping canyon carved out by the Columbia River. Just 30 minutes from Portland, the Gorge region is full of scenic lookouts, short and steep hikes, and waterfalls galore — the Oregon side alone has a staggering 90 cascades!
Wherever you're traveling within the state, if at all possible, you should allocate at least one full day to explore the largest National Scenic Area in the U.S. Considered one of the 7 wonders of Oregon, many of the most accessible stops in the Columbia River Gorge are some of the best places to visit in Oregon!
Things to do in the Columbia River Gorge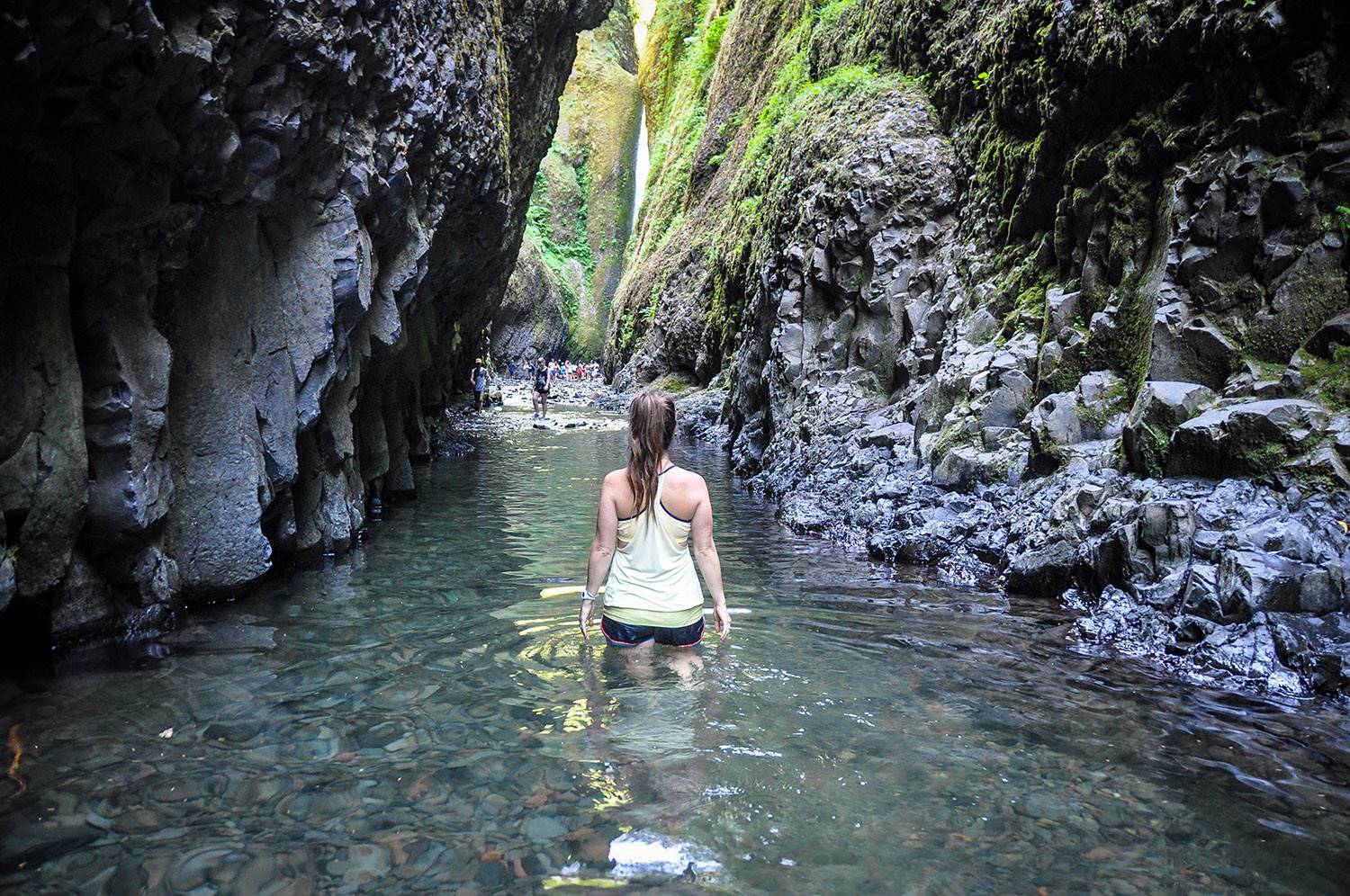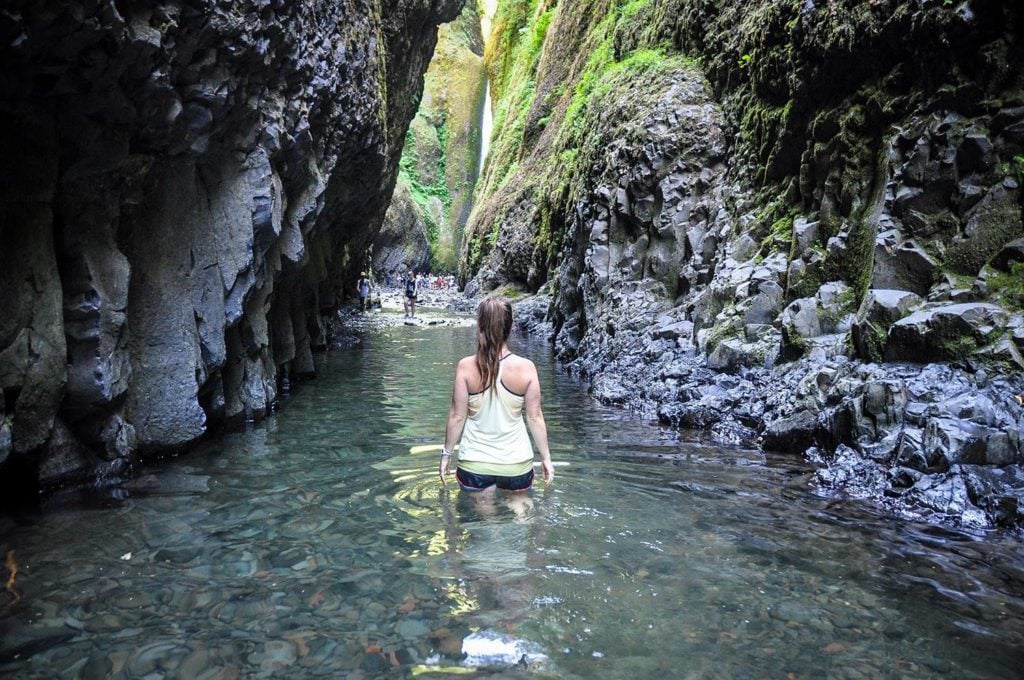 Visit Multnomah Falls, the state's tallest and most iconic waterfall. Famous for many good reasons including short, accessible hikes and incredible photo ops, we ranked it first in our guide to Oregon's best waterfalls!
Check out some other waterfalls. It can be overwhelming deciding which to pick, but we recommend Horsetail and Ponytail Falls. Not only do you get fantastic views of the gorge, but you can also walk right behind Ponytail Falls!
Embark on a river cruise on the Sternwheeler, then finish off your excursion with a local craft beer and pizza in Cascade Locks.
Stop at the Crown Point Vista House, a unique 100-plus-year-old observatory built on one of the most scenic points in the Gorge region.
During the summer, hike not by but through the river on the Oneonta Gorge Trail (one of our favorite Oregon waterfall hikes!).
Where to stay in the Columbia River Gorge
9. Smith Rock State Park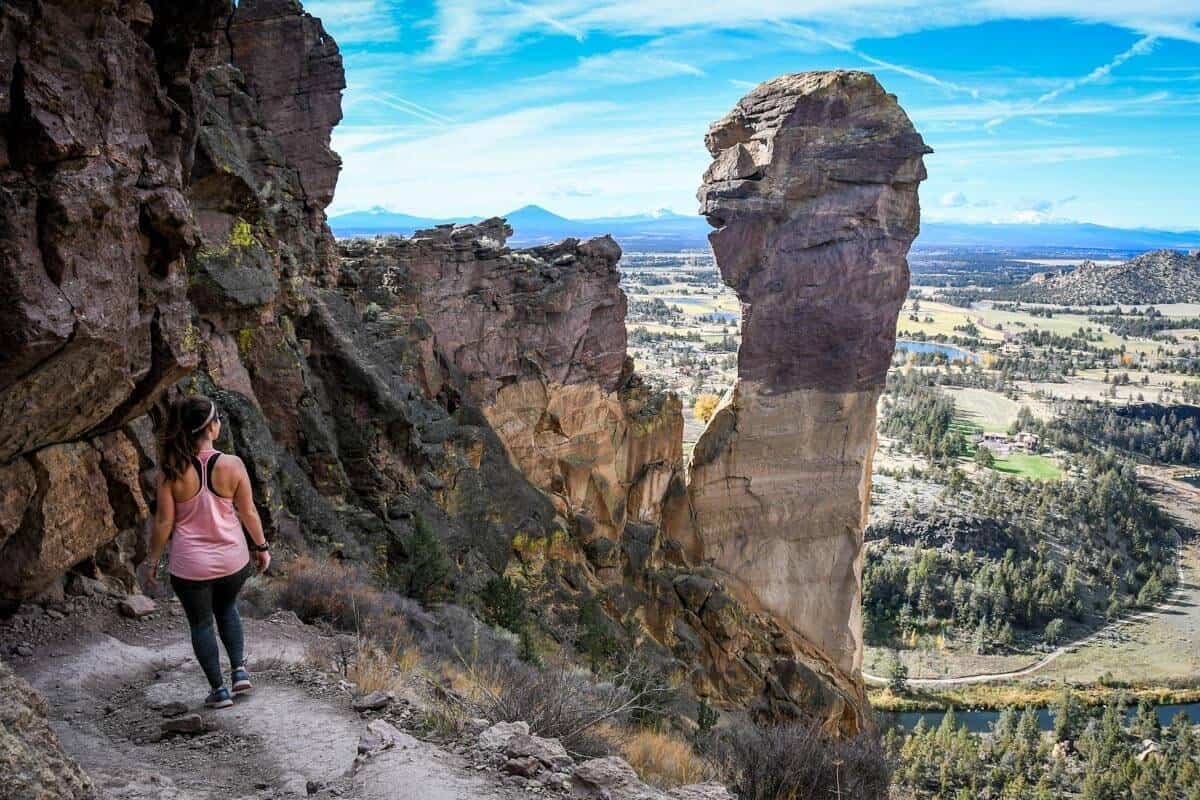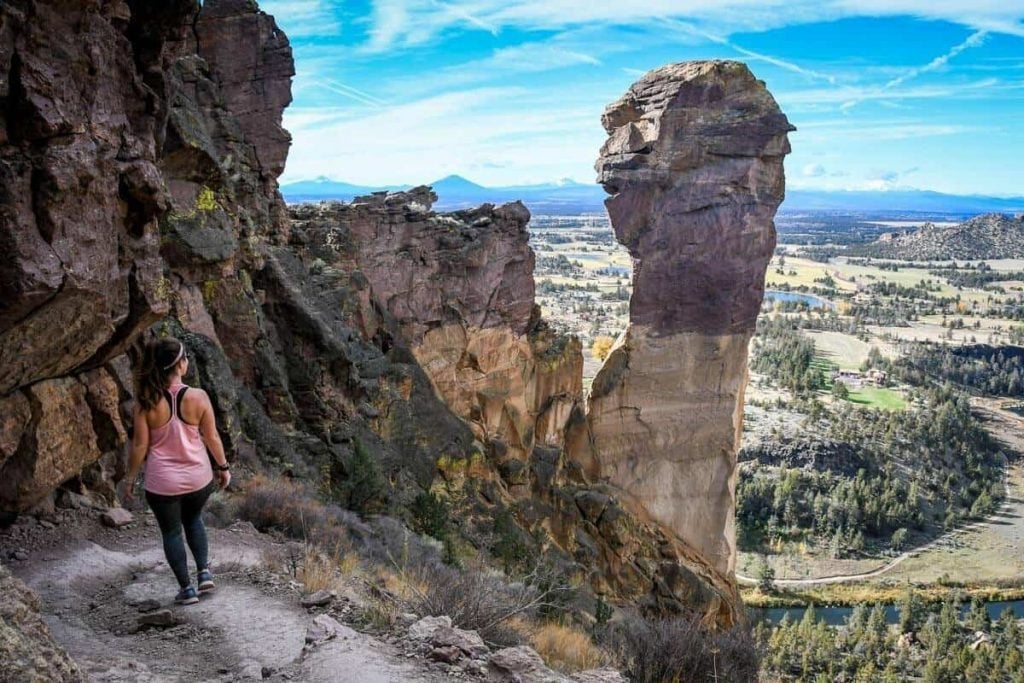 Just north of Bend, Smith Rock is a stunning state park with a dramatic river-carved canyon, soaring red cliffs, and expansive views far into western Oregon. The environment is surprisingly much drier and more desert-like than the lush forests just a few hours away.
The birthplace of sport climbing in the U.S., this moderately-sized park has something for everyone: easy-to-reach vistas, challenging leg burners, adrenaline-inducing rock climbing, and awesome in-park camping.
We have an entire guide to Smith Rock State Park to help you plan your visit, but if you're looking for the highlights, here are some of the top recommendations…
Things to do in Smith Rock State Park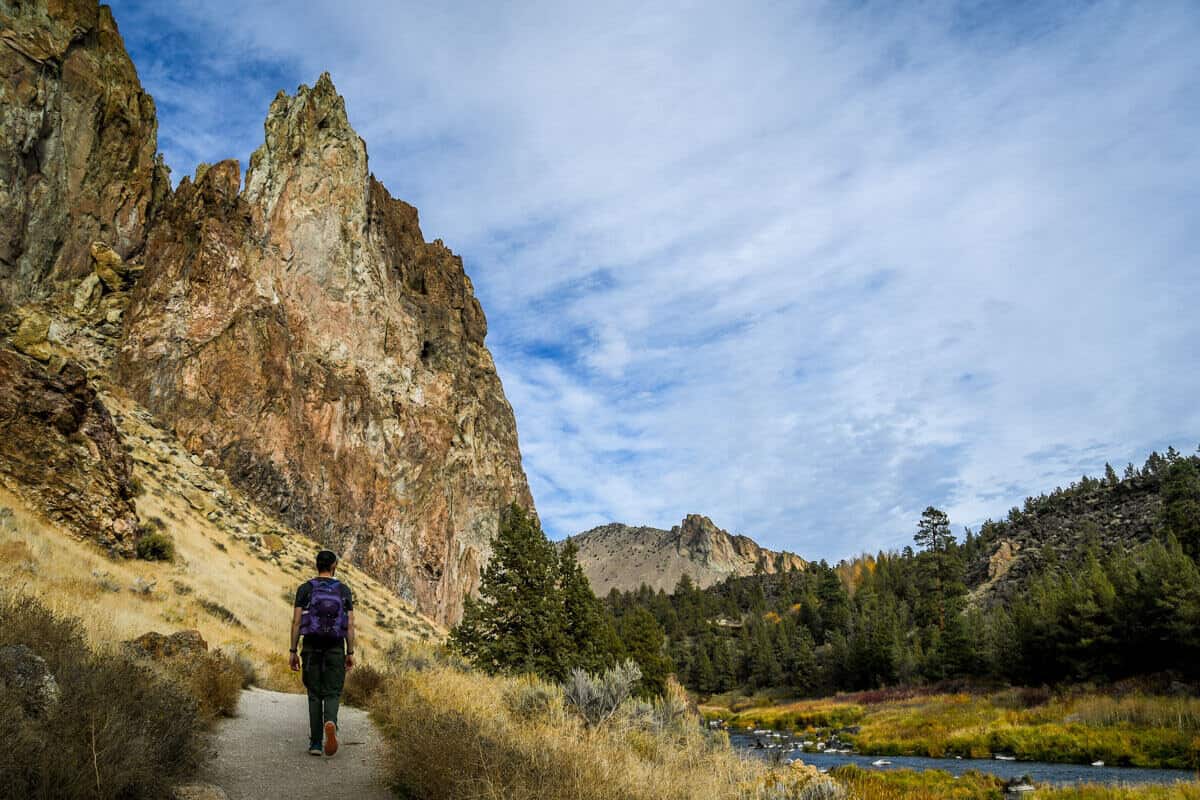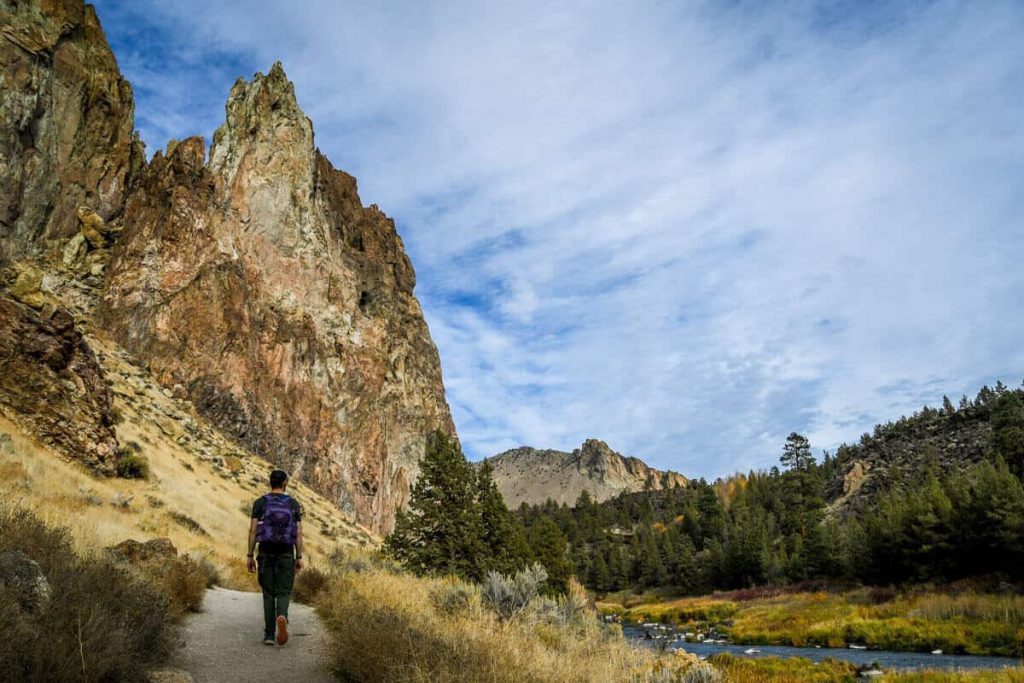 For one of the easiest hikes in the park (really more like a stroll), walk along the banks of the Crooked River and gaze up at the cliffs towering 600 feet above.
Misery Ridge Trail takes you to the best views in Smith Rock State Park. You'll get a glimpse of the river before tackling a thigh-burning ascent up to an amazing viewpoint.
If you're a beginner, hire a rock-climbing instructor! There's no better place on Earth to learn or improve your climbing skills.
Go mountain biking. Summit trail is popular with cyclists, and you can continue onto wide-open BLM land near the park.
Where to stay near Smith Rock State Park
10. Mount Hood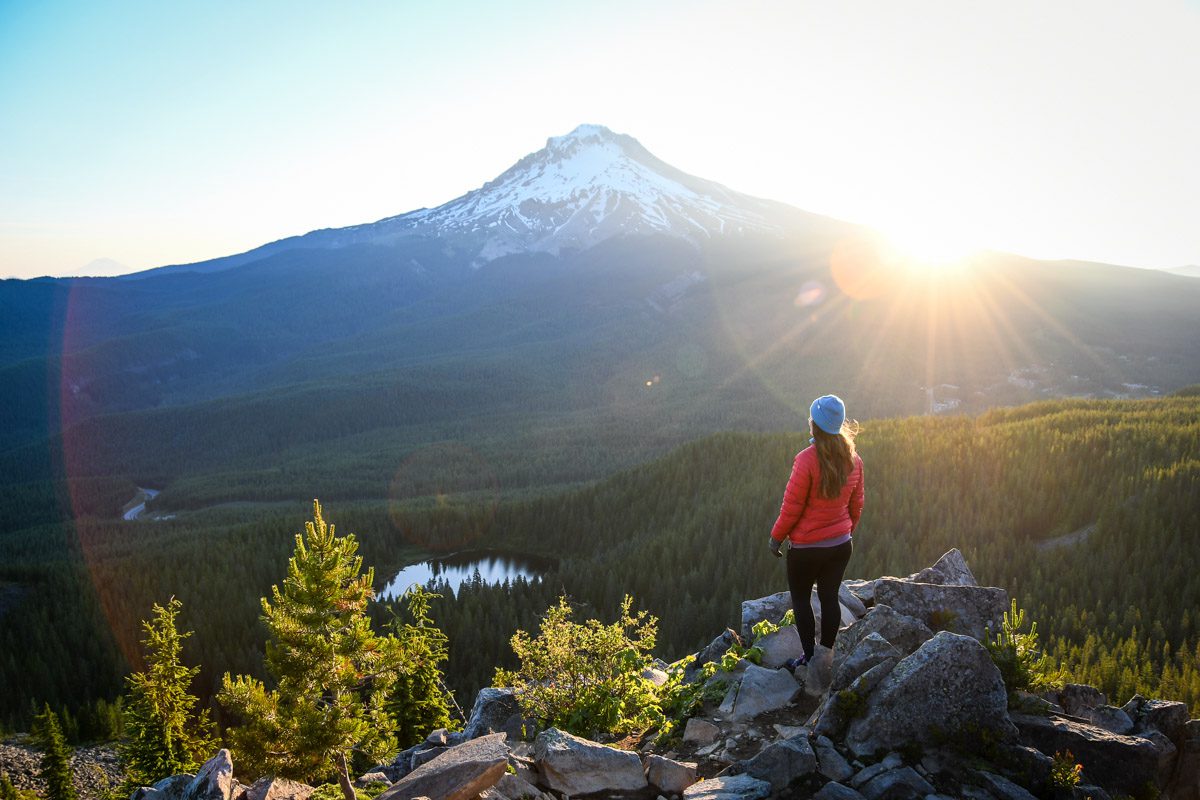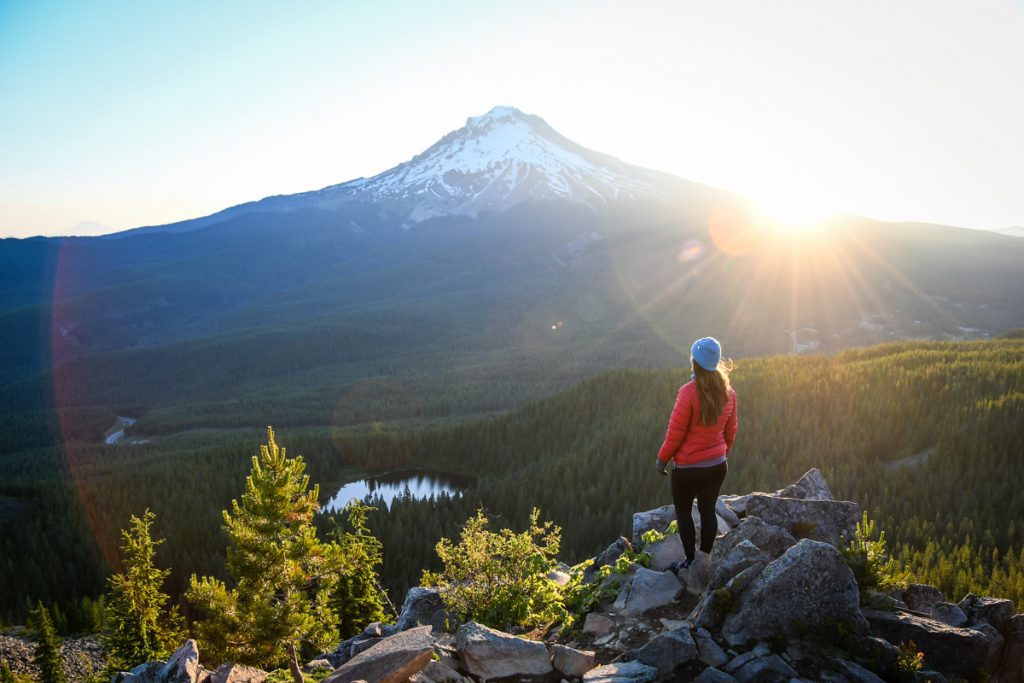 A picture-perfect stratovolcano, Mount Hood is one of the best places to visit in Oregon (and certainly one of the most iconic!). Offering endless opportunities for hiking, mountain-biking, water recreation on the many lakes, some of the best camping near Portland, and even a ski resort.
The mountain is incredibly beautiful from every vantage point, looming over the entire region. You can get close to its base at the historic Timberline Lodge and even closer on ski lifts (one of our favorite epic things to do in Oregon!). It's truly one of the most accessible alpine environments in the entire PNW.
Things to do in Mount Hood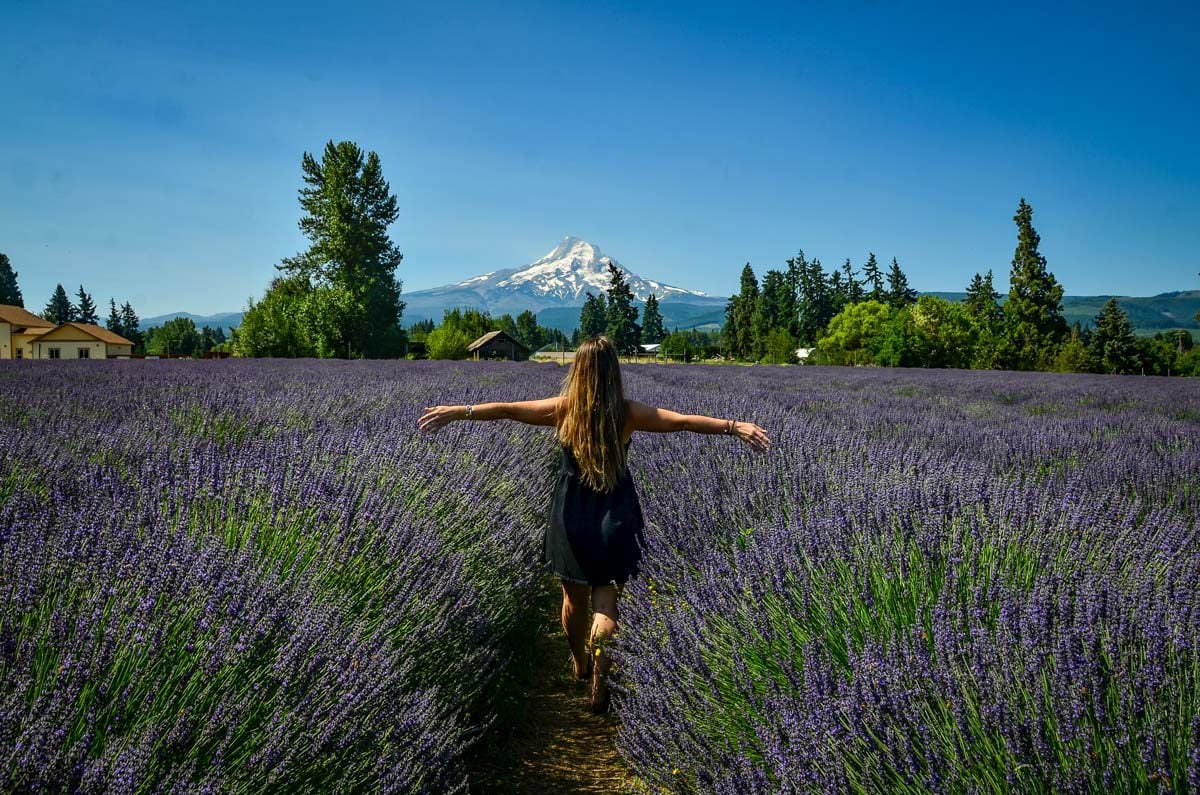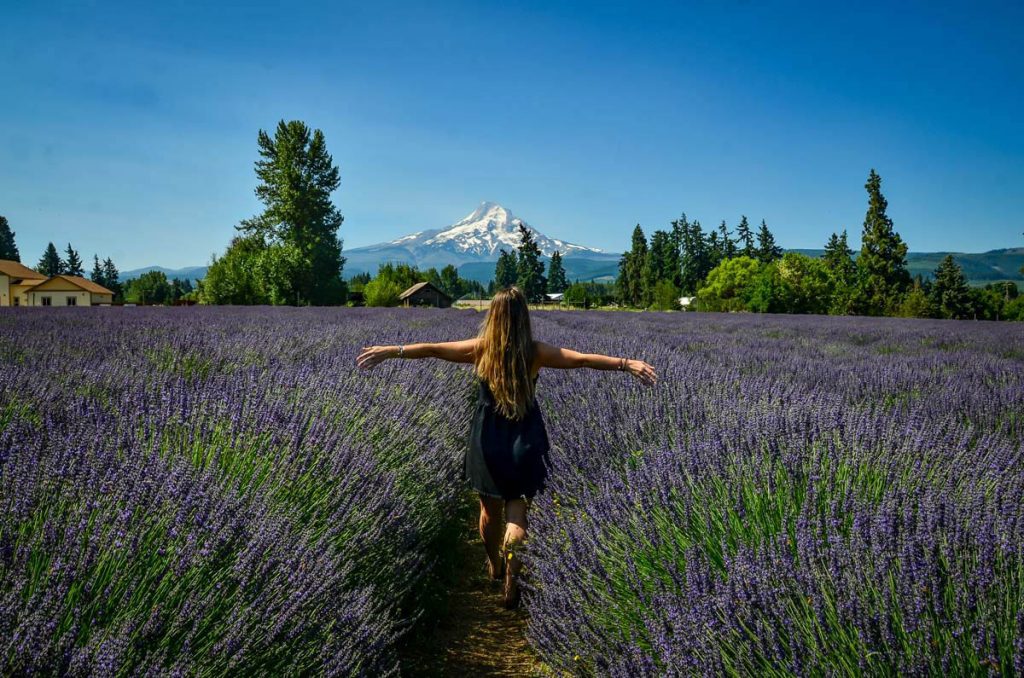 Hiking is the obvious starting point.Tom, Dick & Harry (pictured above), and McNeil Point are both awesome trails that can be completed as either day excursions or overnight trips.
For a less intensive hiking experience, stroll to one of several picturesque, mirror-still lakes for a view of Mt. Hood's reflection (on clear days!). We highly recommend Lost, Trillium, and Mirror Lakes.
Ski or snowboard at Mt. Hood. The resort has the longest ski season in the U.S. (really!) and during the summer, there are also tons of lift-serviced mountain biking trails.
Book a stay at the historic Timberline Lodge, which was used for filming exterior shots of The Shining. Be sure to sample some local Mount Hood brews on the ski resort's dining patio!
Head to the Hood River Lavender Farm for gorgeous views of the mountain overlooking flower fields.
Where to stay in Mount Hood
Timberline Lodge: Stay in luxurious, historic accommodations right on the mountain!
McNeil Campground: Riverside camping close to many great hikes. If you're interested in free boondocking options, there are plenty a bit further downstream.
Salmonberry Cabin: Quaint, modern cabin with a loft tucked into the lush forest near Mount Hood.
11. Willamette National Forest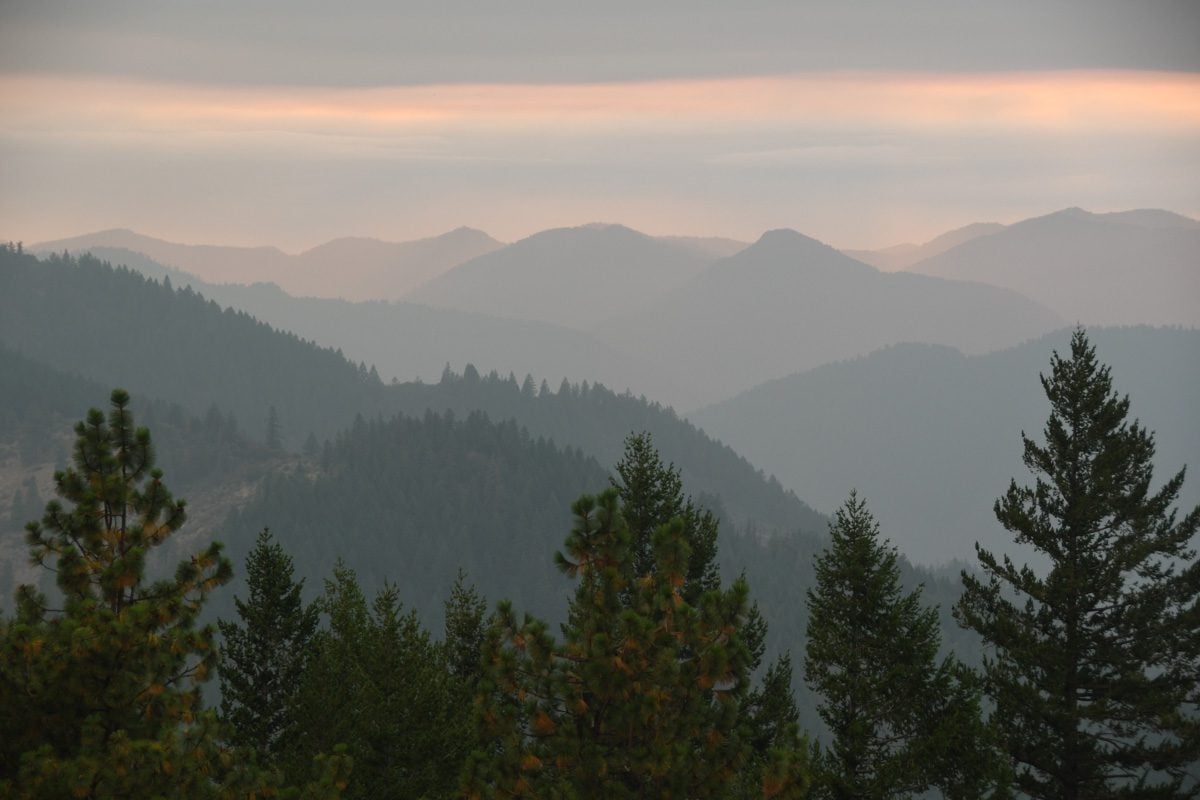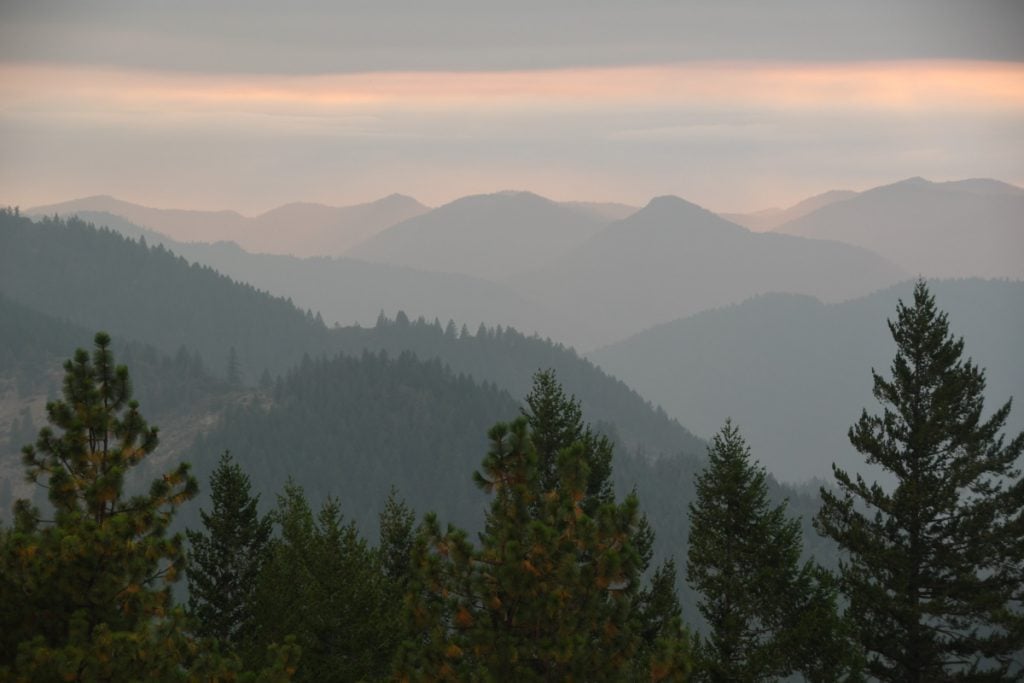 This gorgeous national forest stretches for 110 miles along the western edge of the Cascades, halfway between Bend and Eugene. It's only a 1.5-hour drive from both cities but feels worlds away, a beautiful immersion into lush forests, mountains, waterfalls, lakes, and rivers.
Willamette National Forest offers endless opportunities for hiking, camping, swimming, skiing, and water recreation along the Mckenzie River. This often-overlooked natural playground is jam-packed with breathtaking sights we can't get enough of!
Things to do in Willamette National Forest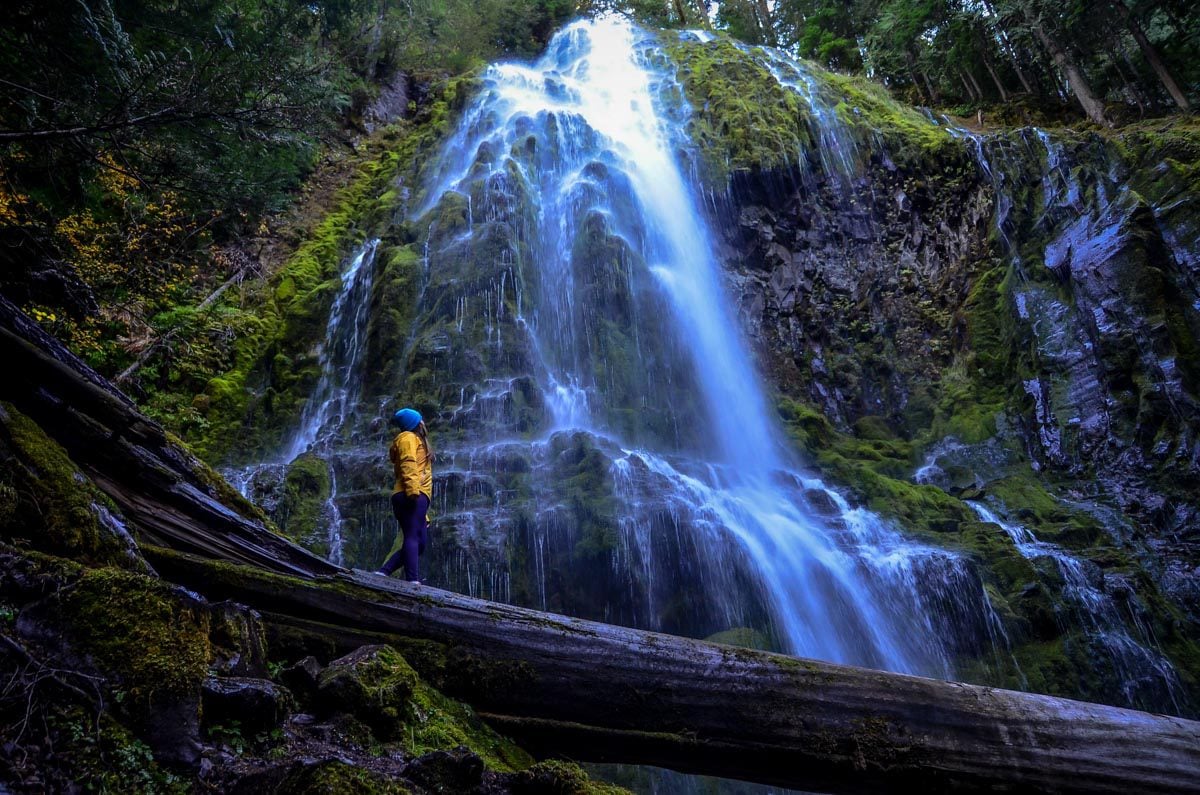 Soak in hot springs. The geothermal activity under the surface creates several natural mineral springs, perfect for a soak. Cougar Hot Springs has four stunning pools tucked away in a canyon, while riverside McCredie Hot Springs can be hard to find, but is accessible year-round.
Spend the night in a fire lookout. There are a handful of former fire lookout stations in Oregon that can you actually rent to the night. We stayed the night in Gold Butte (pictured above) and had a great time, despite the smoky skies (from actual forest fires in a different part of the state).
Proxy Falls is a must-visit. A short trail through a lava field takes you to the jaw-dropping 226-foot cascade set against a moss-covered backdrop in a pine forest.
Especially during hot summer days, visit the nearly unbelievable Tamolitch Blue Pool. It's tempting to take a dip, but be careful; it's colder than you expect!
Hike around Clear Lake, which lives up to its name with extraordinarily see-through water. In fact, it's a popular diving spot due to the pristine water quality. There are also great campsites right on the shore.
For even more waterfall action, hit up Sahalie and Koosah falls. The former is a powerful wall of water, while the latter is a more relaxing cascade in the forest.
Where to stay in Willamette National Forest
12. Willamette Valley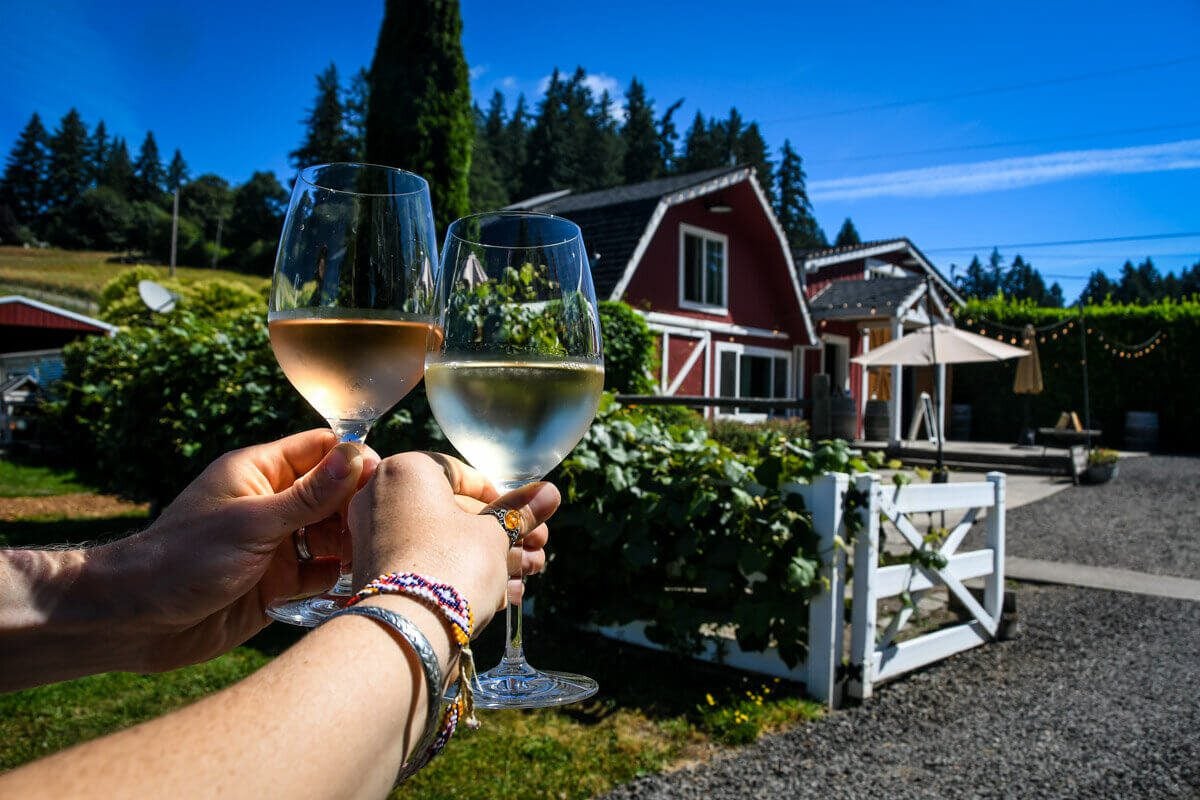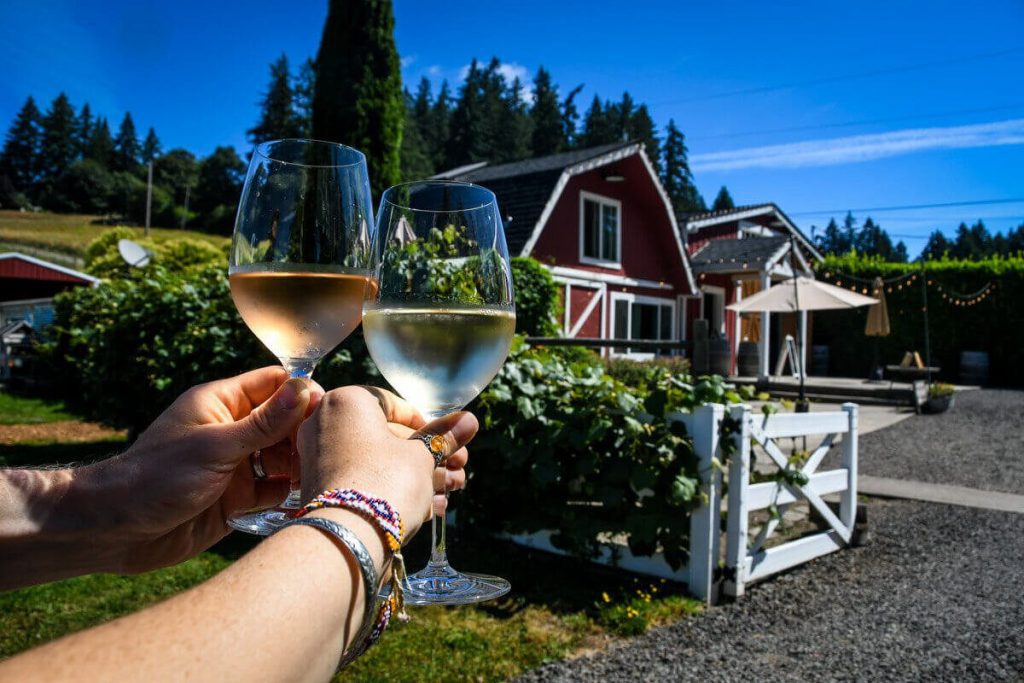 This beautiful valley stretches 150 miles from Portland to Eugene. Famous for its wine production, especially Pinot Noir, the Willamette Valley is the perfect region for vineyard hopping and taking in natural vistas, wine glass in hand, of course!
Some vineyards require reservations, while others allow you to simply pop in. We personally think a sense of spontaneity and discovery adds something magical to the experience.
In particular, the drive between Newberg and Mcminnville has lots of winery options; stop into any that strike your fancy without having a firm plan. Make sure to have a plan for a designated driver, as it's a little too easy to get carried away with the delicious wine here.
Things to do in Willamette Valley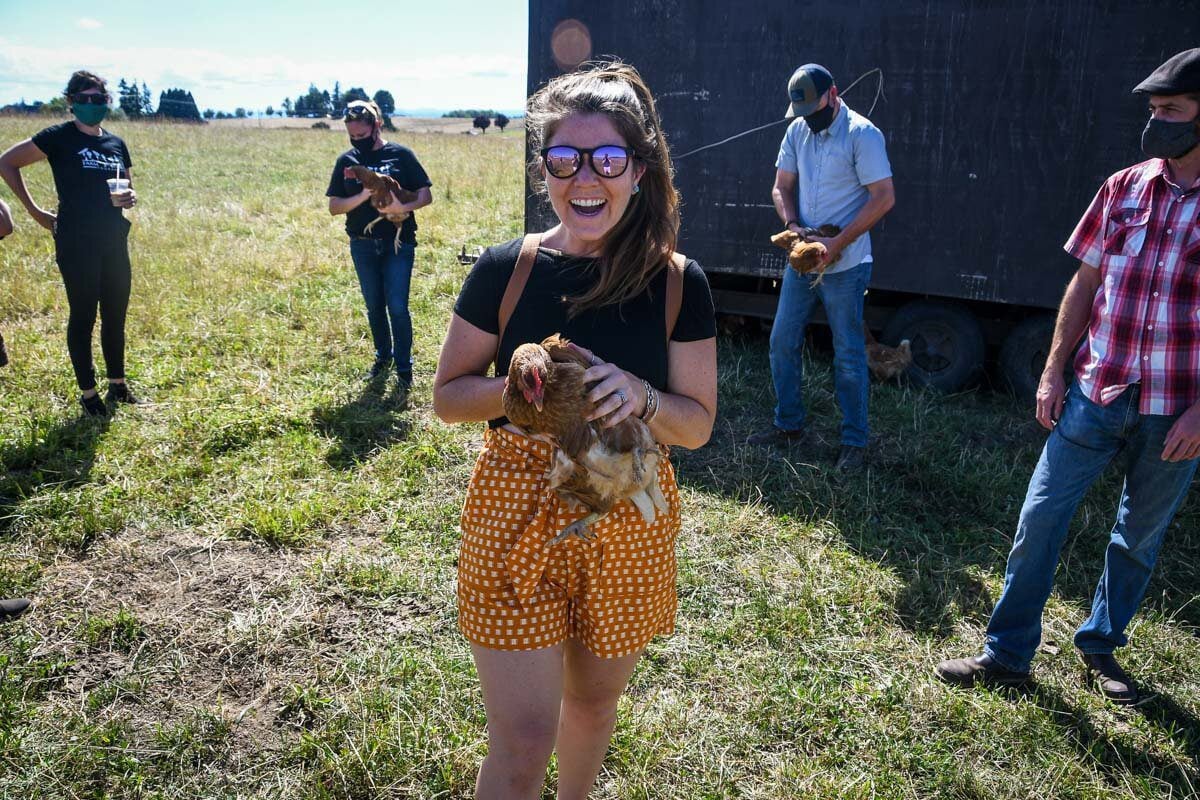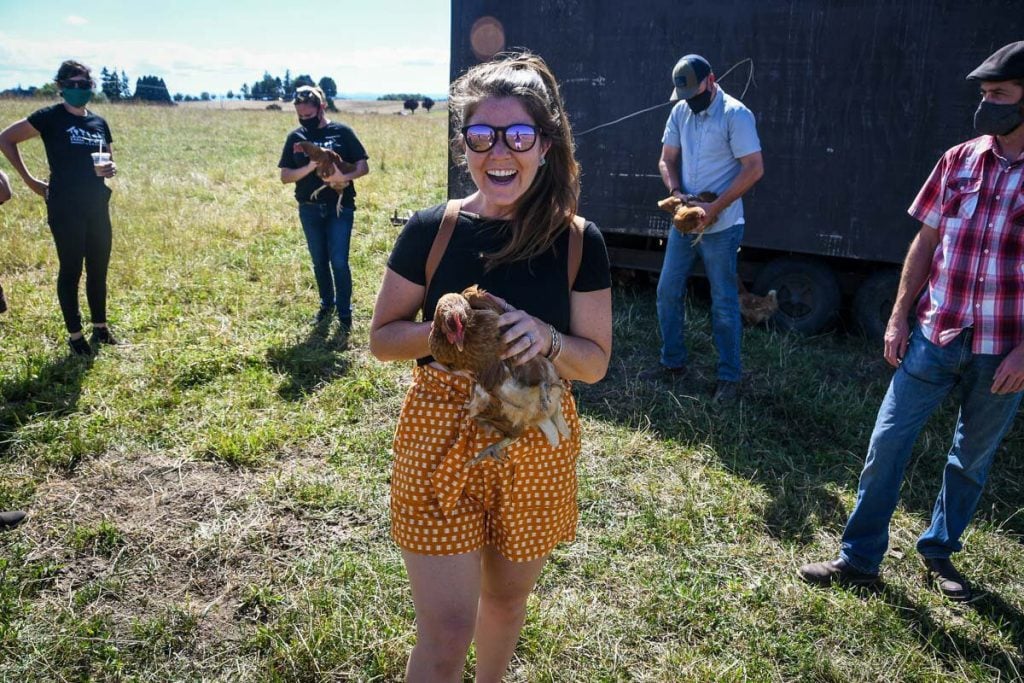 Go on a Food Tour.Farm 2 Fork offers guided tours of several sustainable farms in the Willamette Valley, including oyster farms on the coast!

BONUS: Use our discount code: 2Wander for $5 off your tour!

Furioso Vineyards is one of our favorites. If you can't get in with a reservation, buy a bottle of wine to go and enjoy it on a secluded bench with winery views.
Book an appointment at Villa Catalana Cellars. The winery looks like it's plucked straight out of Spain or Italy, with Mediterranean architecture and its own pond.
For outstanding Willamette Valley views, head to Stoller Family Estate.
Explore the vineyards and hills from the seat of a bike. In fact, the Willamette Valley Scenic Bikeway was the first official scenic bike route in the U.S.
Where to stay in Willamette Valley
13. Crater Lake National Park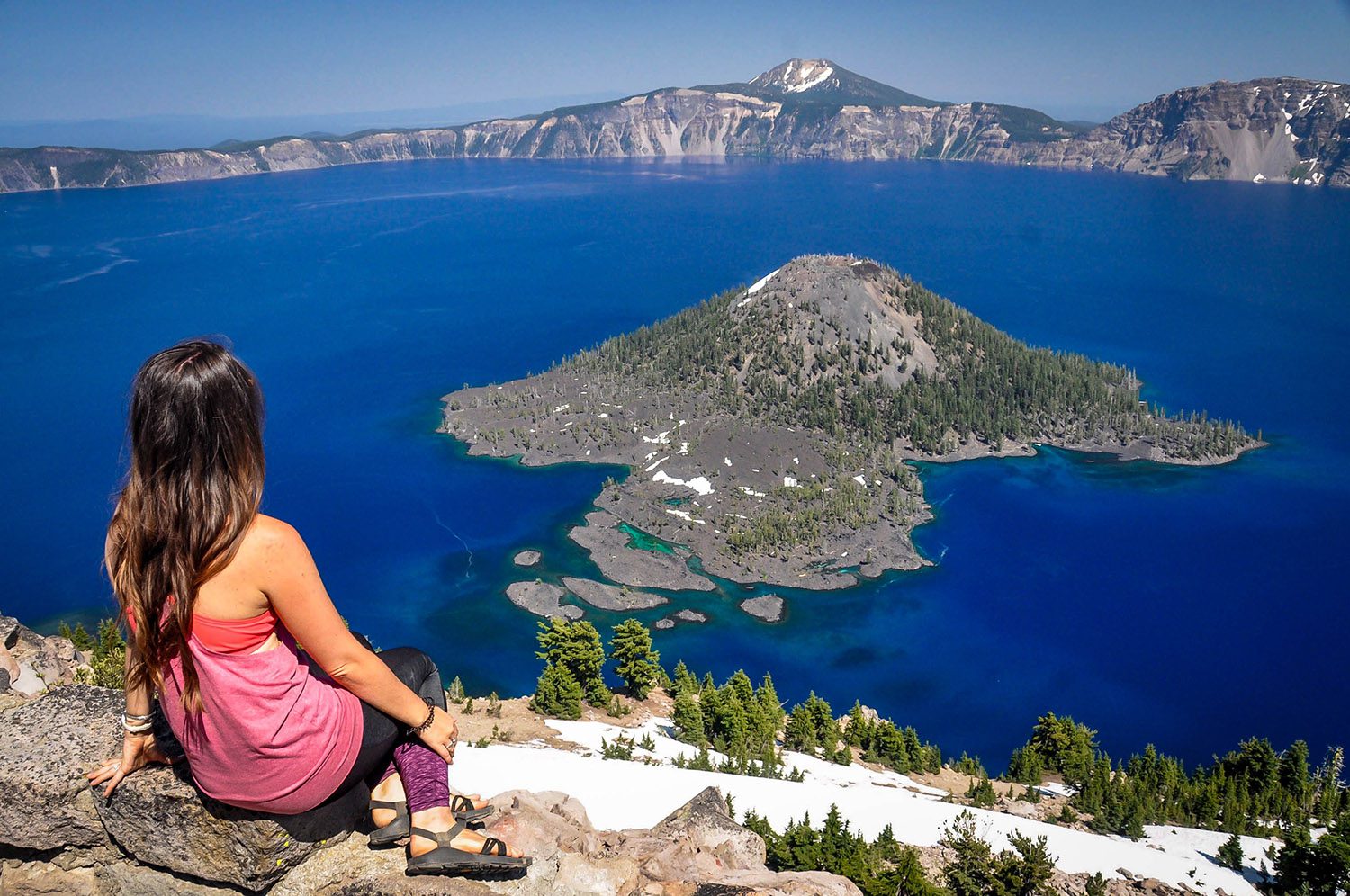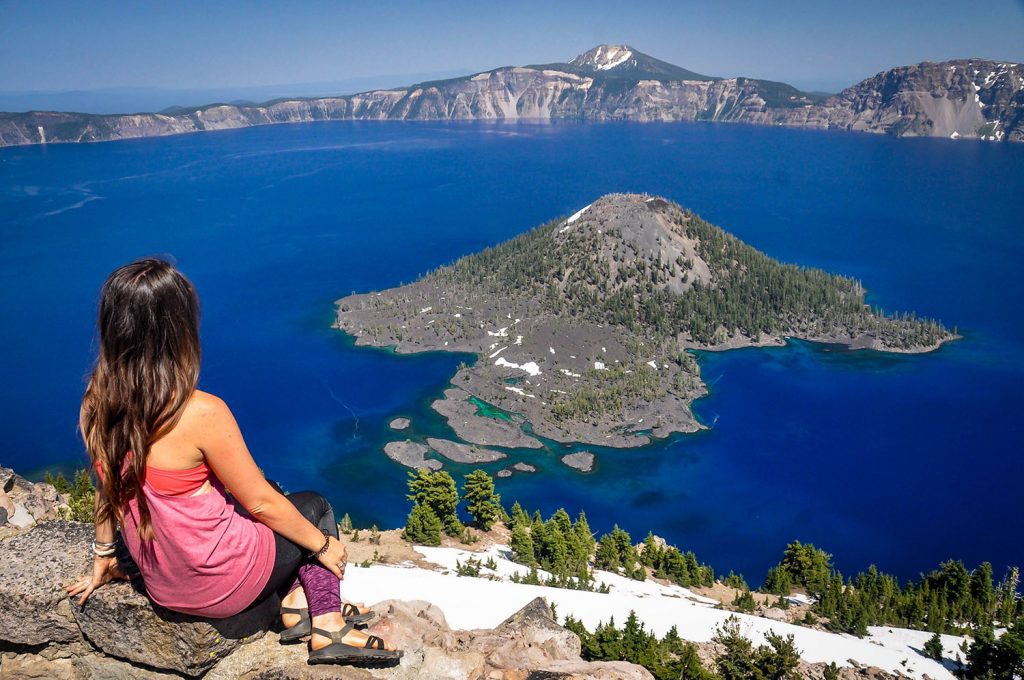 America's deepest lake is a nearly indescribable sight – an unreal, have-to-see-it-to-believe-it hue of blue, dotted with tiny islands. The water is unbelievably clear, often ranked as one of the cleanest lakes in the world. And if that's not enough, a collapsed volcanic cone created Crater Lake, so it's perfectly encircled by dramatic ridges and mountains.
Truly mind-blowing, Crater Lake is one of the best places to visit in Oregon and in our opinion, one of the most underrated national parks in the U.S. It's best explored by driving around the rim, stopping at viewpoints, and embarking on epic hikes along the way.
Things to do at Crater Lake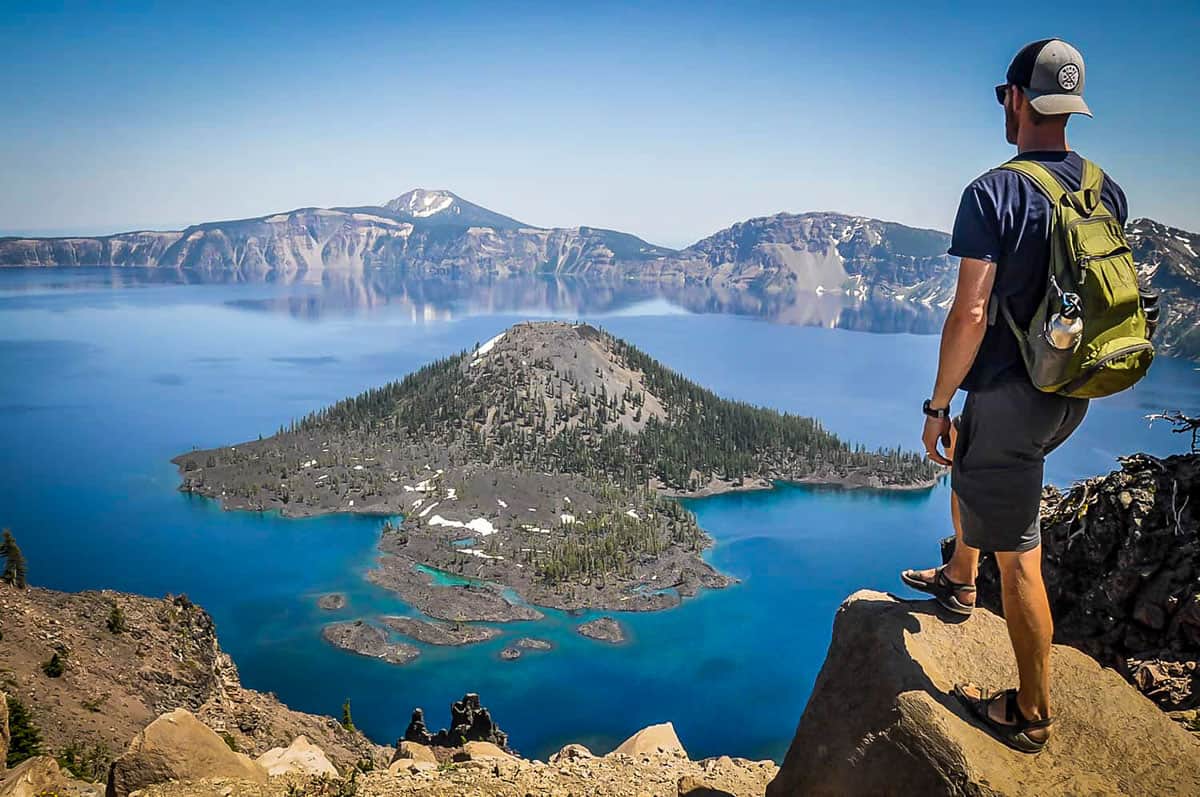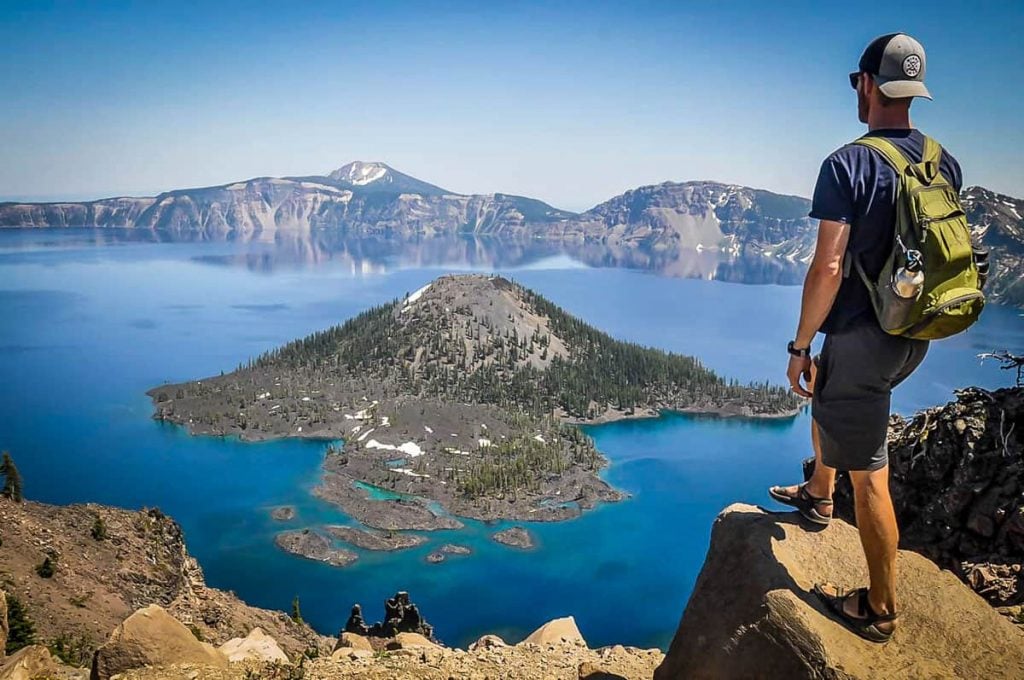 If you want more information and ideas, we put together an entire article outlining the best Crater Lake hikes.
Where to stay near Crater Lake
Mazama Campground: The only camping option currently open inside the park.
Crater Lake Lodge: A luxurious lodge within the national park boundaries (make reservations WAY in advance!).
Cool Creek Cottage: Rustic but well-equipped cottage, 25 minutes from the park.

14. Umpqua National Forest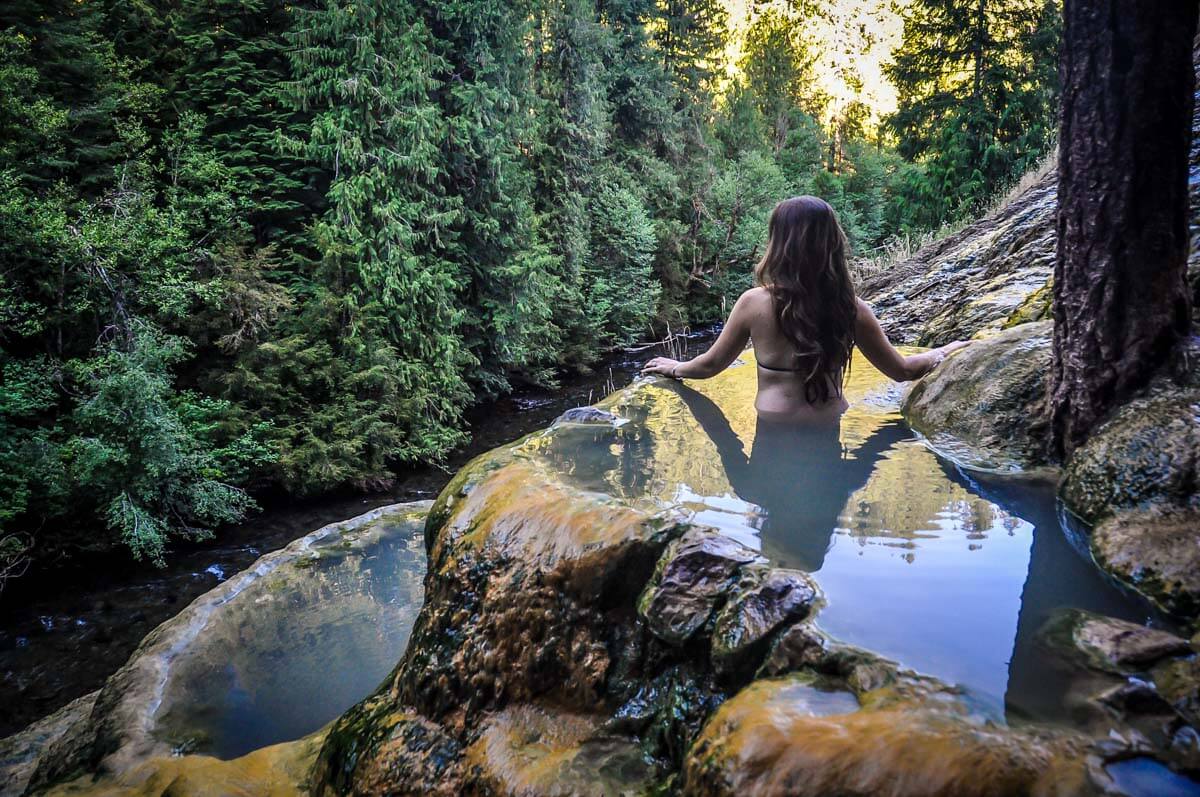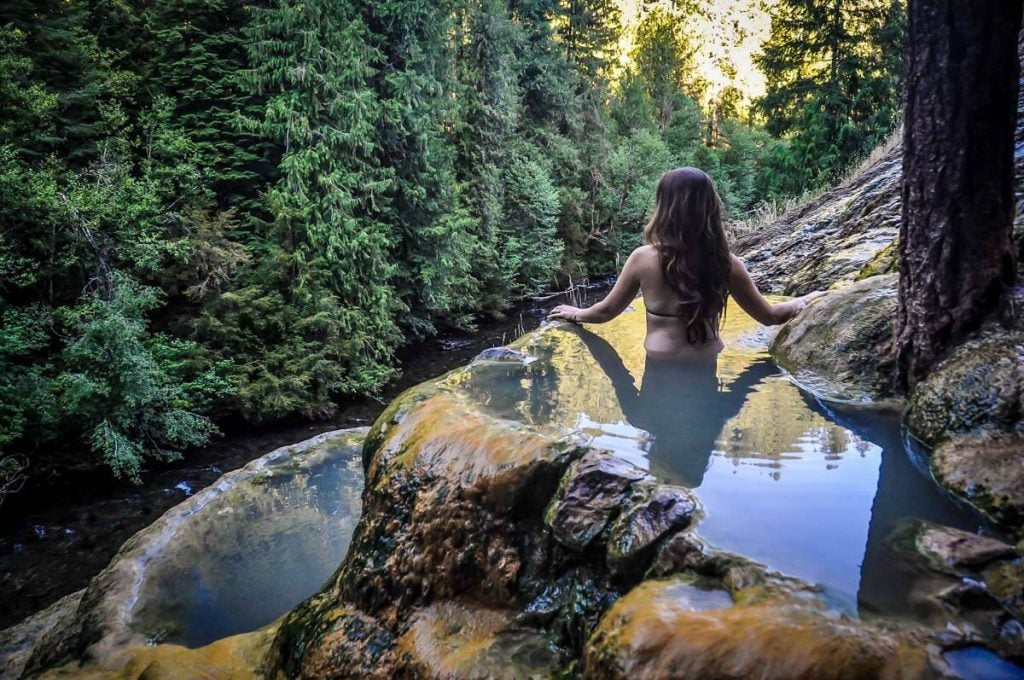 Located in Oregon's southern Cascades, Umpqua National Forest is filled with untamed lakes, mountains, and waterfalls.
On the way to Crater Lake from Eugene, Umpqua is a great natural area to escape the crowds. You'll want to stay awhile to discover the region's endless wonders and hidden gems, including Oregon's most Instagrammable hot springs! There are abundant camping opportunities (including many free options!) and amazingly, they typically don't book up like other parts of the state.
Things to do in Umpqua National Forest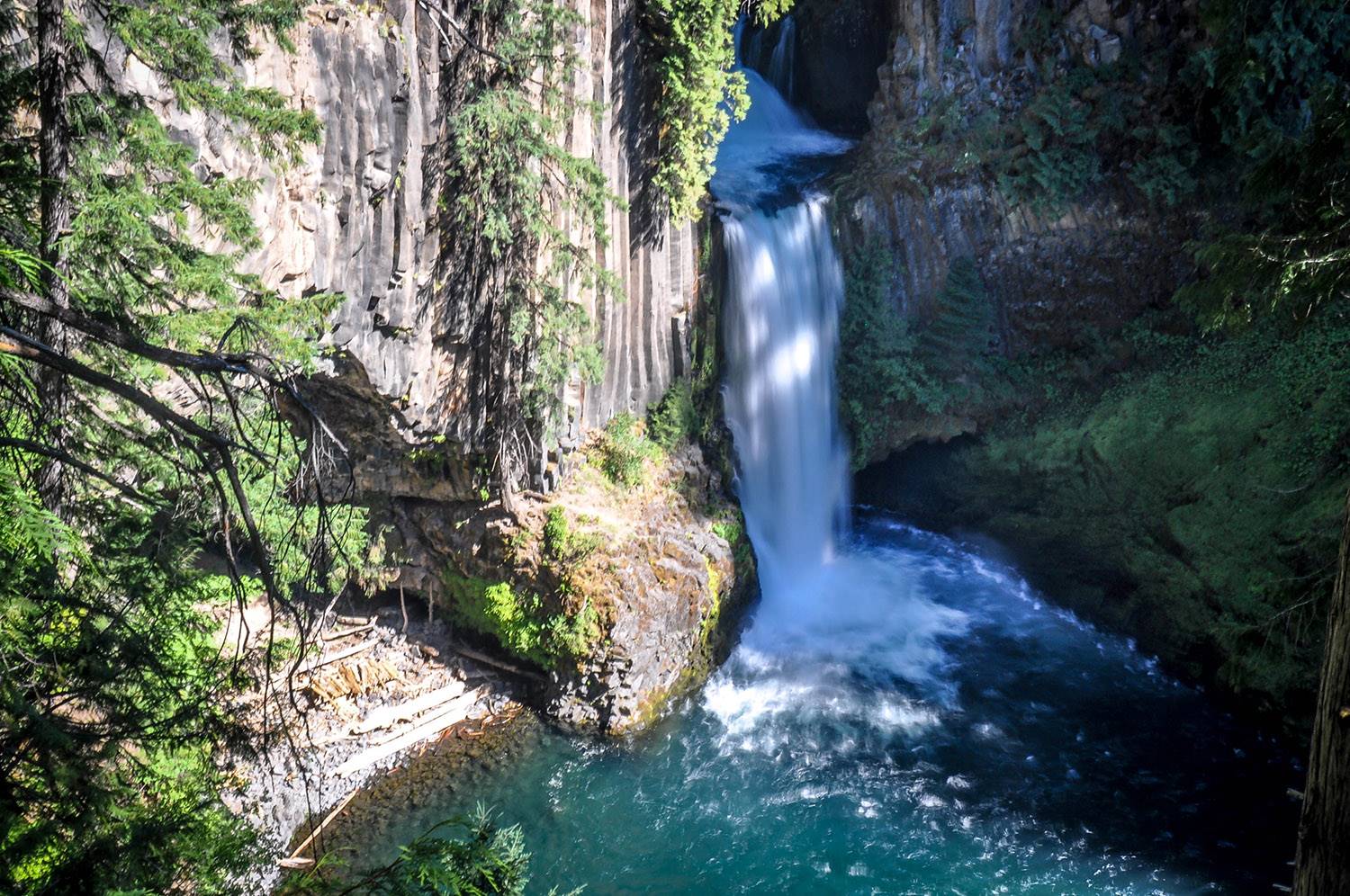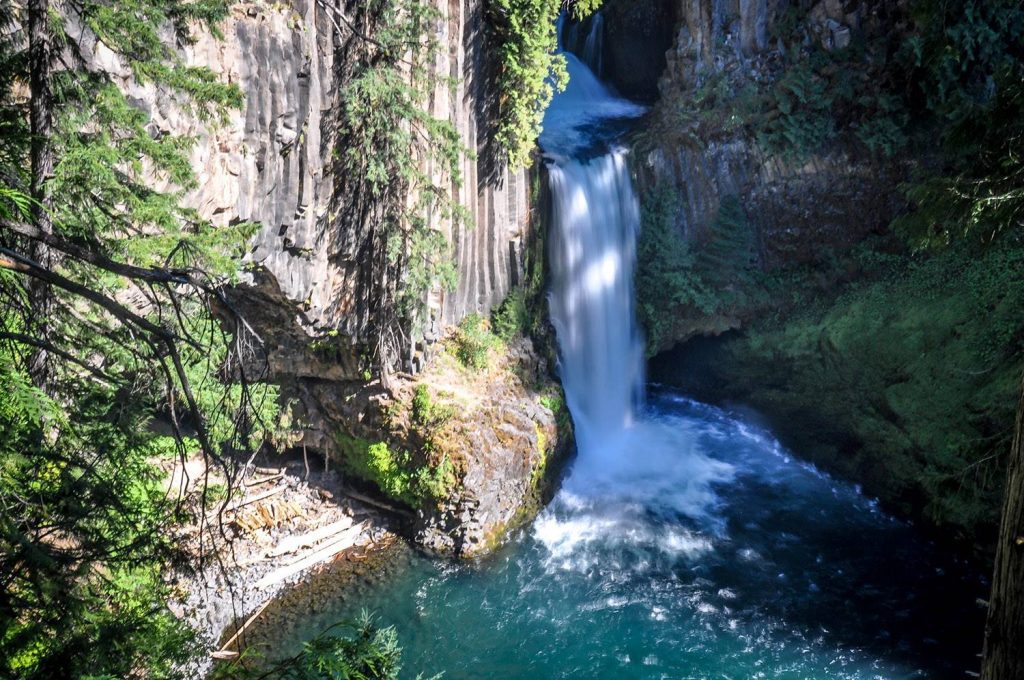 While they can get crowded, don't skip the Umpqua Hot Springs! With three or four (depending on conditions) hot pools perched on a cliff over the river, the springs are a scenic place to soak.
Stop at Tokotee Falls, a beautiful cascade dramatically sandwiched between basalt rock formations.
Hike the .6-mile trail to Watson Falls, a 272-foot-tall waterfall you'll likely have all to yourself!
Paddleboard or simply relax on the shores of Diamond Lake.
Hike the strenuous trail to Mt. Bailey for outstanding views of the surrounding lakes and peaks. The leg-burning elevation gain is worth it for the best vista in the region!
Where to stay in Umpqua National Forest
Steamboat Inn: Beautiful and rustic "unplugged" resort with riverside cabins and cottages, and a top-notch restaurant.
Umpqua's Last Resort: Wilderness cabins, RV Park, and glamping options including luxury tents and tiny homes.
Use The Dyrt App to find campsites in the region, or drive around to find free boondocking sites off of forest roads!

Bonus: Try their Pro Membership for FREE for 90 days and gain access to the offline version of the app, utilize their trip planning feature AND get exclusive discounts on campsites and gear!
15. Silver Falls State Park
Looking for waterfalls, waterfalls, and more waterfalls? This state park is your place. We've said many times that the Trail of Ten Falls is one of our favorite hikes in the entire state, so trust us, Silver Falls is worth a visit!
If you don't want to hike the full 7.2-mile loop, it's possible to tackle smaller sections and still see several falls. That's one of the things that makes Silver Falls one of the best places to visit in Oregon – there's something for everyone! For more details, check out our complete guide to Silver Falls State Park.
Things to do in Silver Falls State Park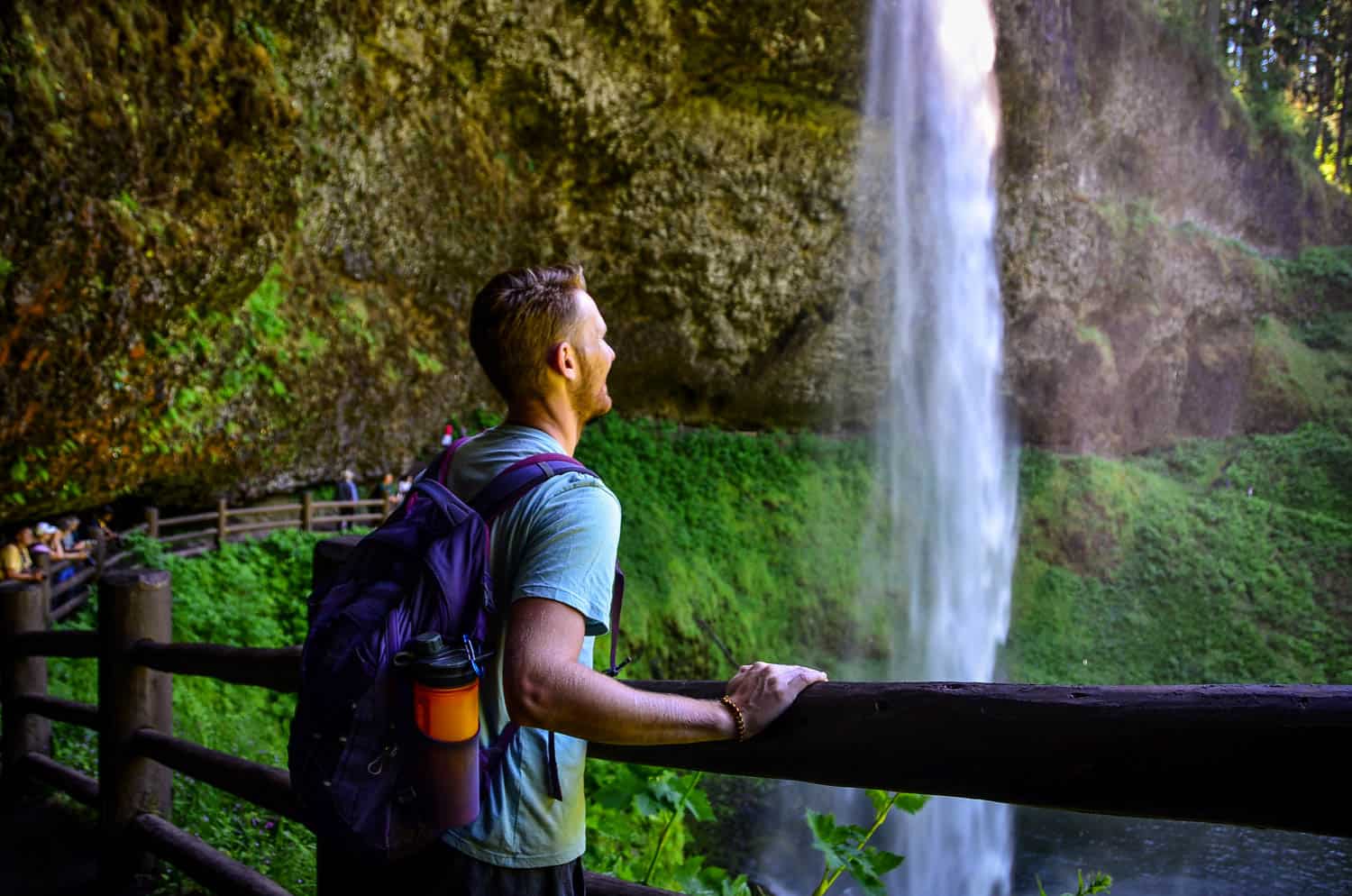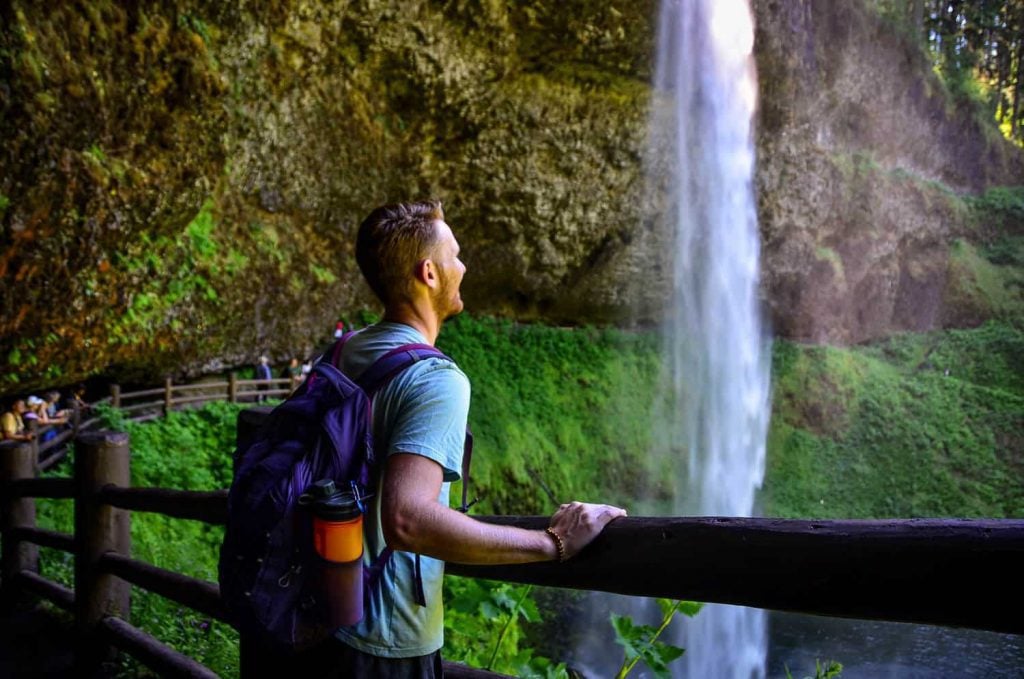 Where to stay near Silver Falls State Park
16. Tamolitch Blue Pool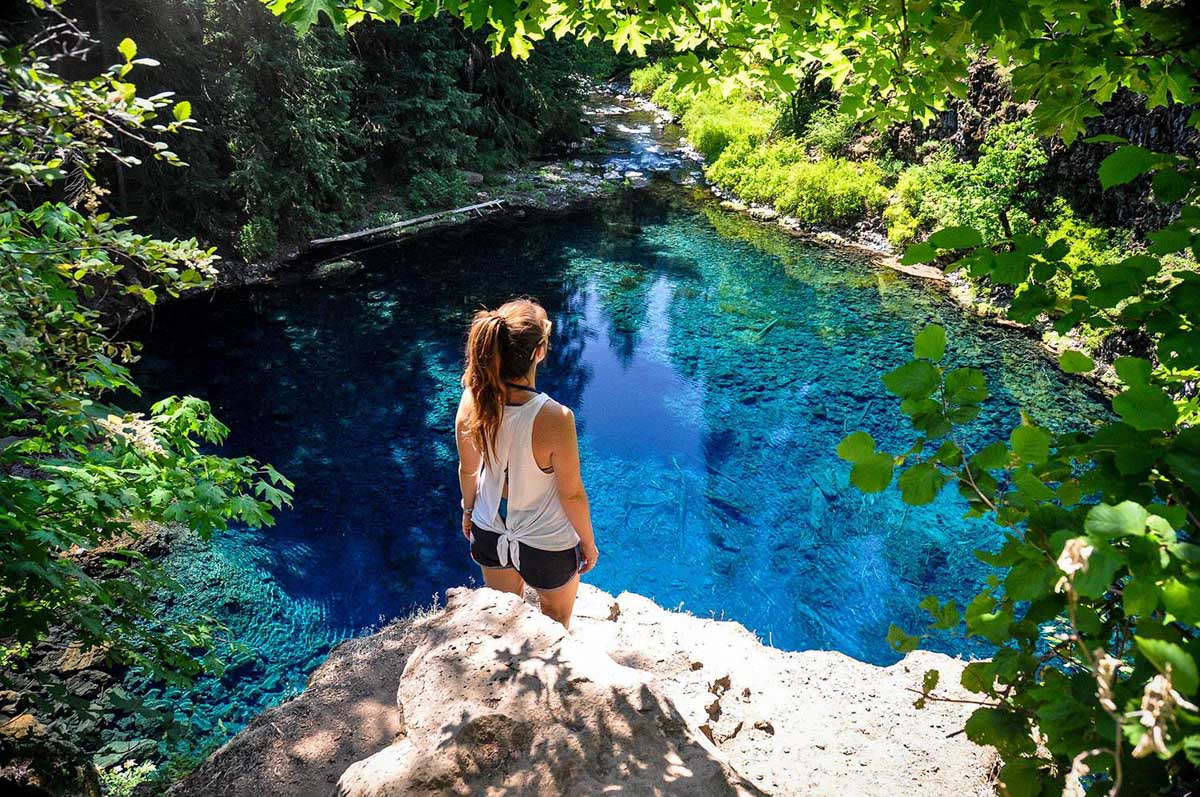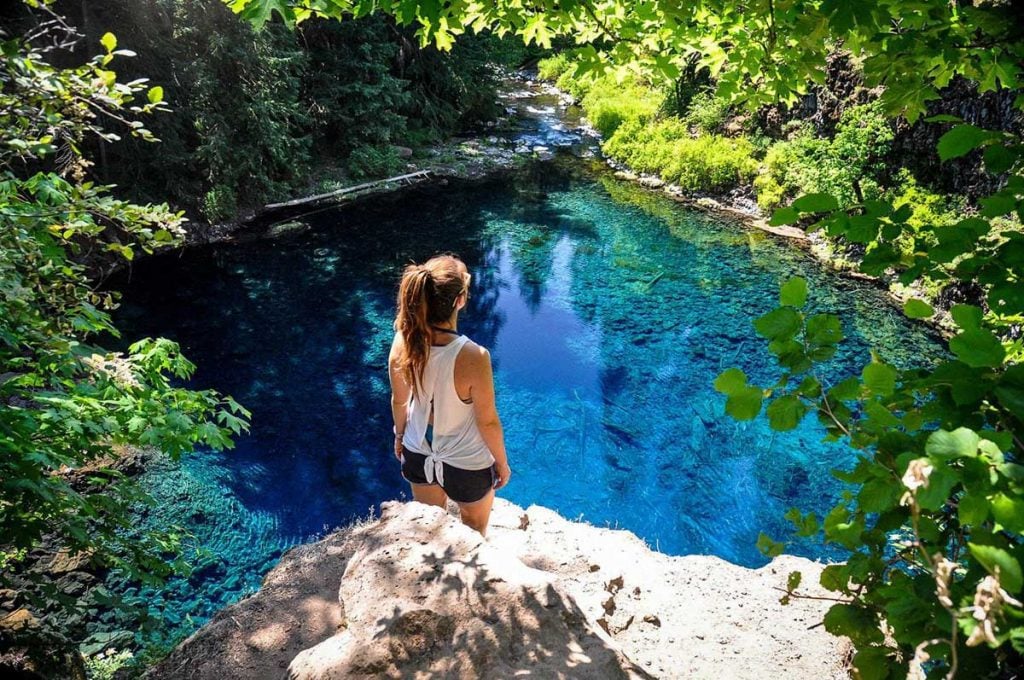 Even in person, it's hard to believe the striking blue color of the water at Tamolitch Blue Pool! Situated at the base of a seasonal waterfall, reaching this natural wonder requires a fairly easy 1.8-mile hike.
The unique turquoise hue was created when a few miles of the Mckenzie River were covered by a volcanic eruption. Ever since, the water seeps back up to the surface through porous rock. Coming from an underground spring, it retains a chilly 38-degree temperature year-round.
Picturesque cliffs surround the pool, and Tamolitch Falls cascades into it seasonally. We definitely consider this one of the very best places to visit in Oregon—we've been five times!
Read more tips on visiting in our full guide to visiting Tamolitch Blue Pool.
Things to do in Tamolitch Blue Pool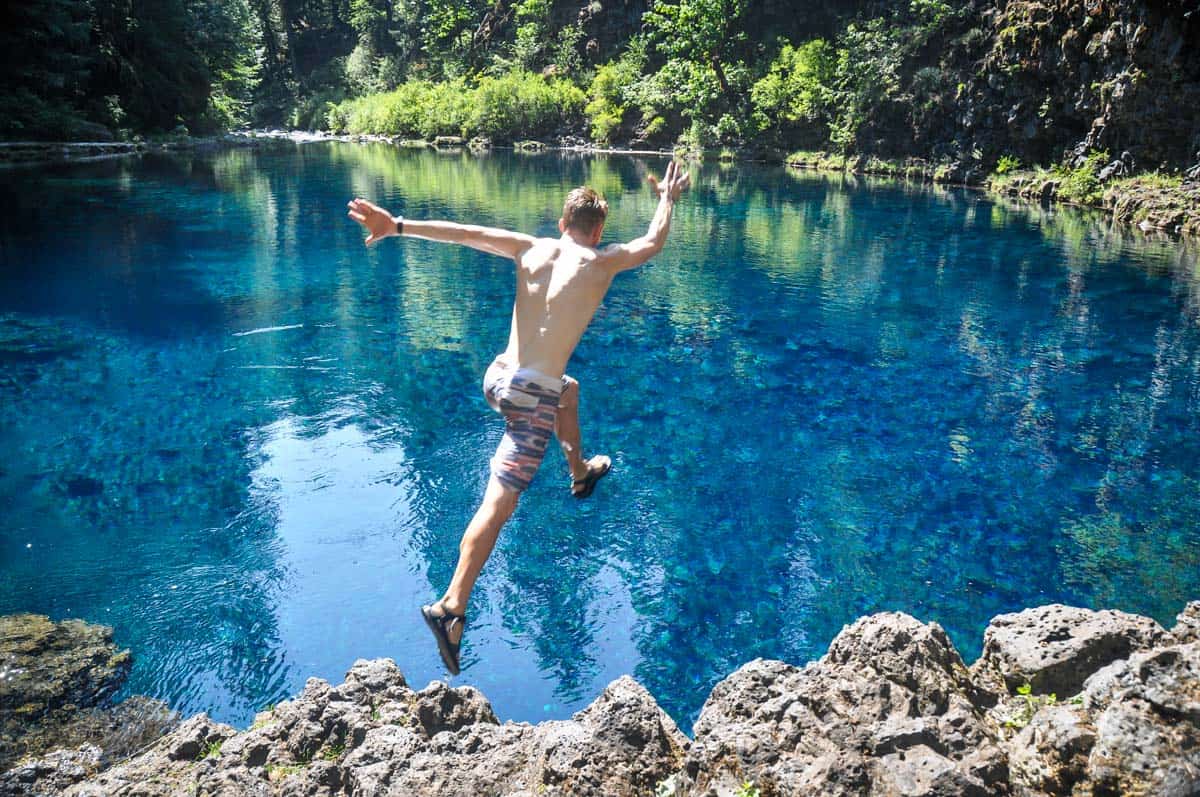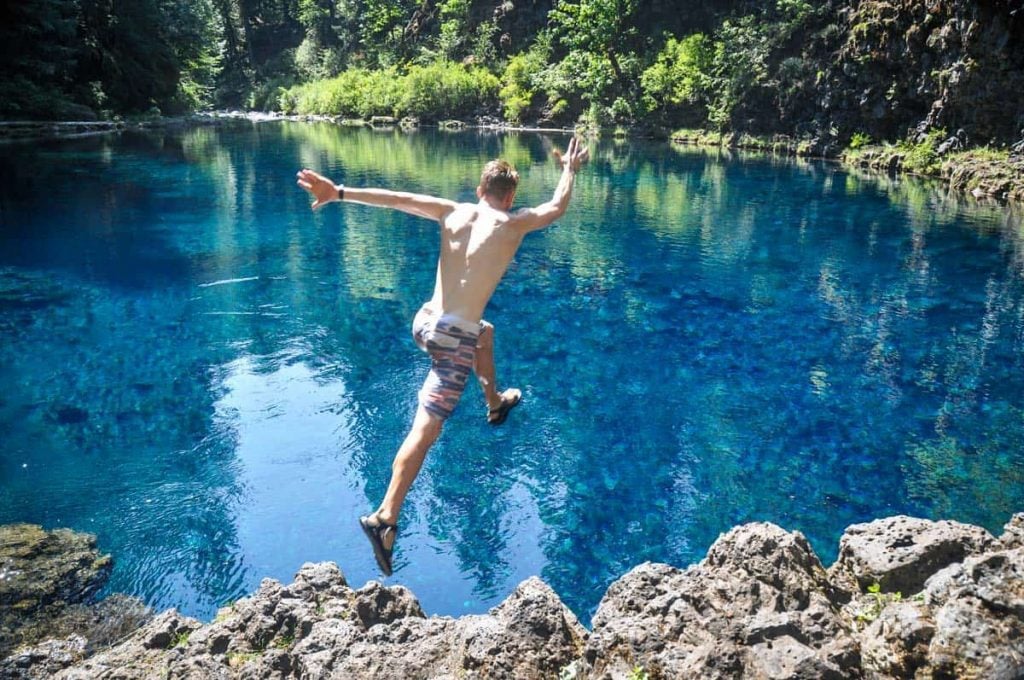 Swim and relax by the pool (notice we said "by," not "in" – it is COLD!). It can get a little crowded in the summer, but it honestly doesn't take away from the enjoyment.
Visit on a sunny day for the best photo ops. The pool doesn't appear nearly as blue when it's cloudy.
Stop at Sahalie and Koosah Falls, which are located near the Tamolitch Blue Pool trailhead.
Explore more of Willamette National Forest, including the Cougar Hot Springs and Clear Lake.
Where to stay in Tamolitch Blue Pool
Loloma Lodge: We've personally stayed here and had an incredible experience. The riverside lodge is the perfect tranquil oasis and it's just 20 minutes south of the Blue Pool, making it a great jumping-off point.
Eagle Rock Lodge: Located in Vida, halfway between Eugene and the Blue Pool, this lodge is a great option for immersing yourself in nature without actually sleeping on the ground.
Since it's far from towns, camping is a great option! Find campsites on The Dyrt App, one of our most-used apps.
17. Ashland
Located in far southern Oregon, Ashland is best known for its vibrant theater scene. The small town organizes a massive annual Shakespeare Festival, which brings in some 400,000 visitors.
If modern productions are more your scene (pun very much intended!), those are also frequently put on! Most performances run from June into October; check the calendar here.
Off-stage, Ashland is at the doorstep of several incredible and under-visited natural attractions, making it one of the best places to visit in Oregon particularly if you're looking for less-crowded regions. The Pacific Crest Trail (PCT) passes not far from town, and many other hiking trails stem from that route. We especially love Cascade-Siskiyou National Monument and Mt. Mcloughlin for day hikes.
Things to do in Ashland
Attend a theater production. Especially after a few tiring days on the trail, settling into a comfy theater seat and watching the incredible local actors is a great way to spend an evening. Purchase your tickets and browse the productions calendar here.
Go hiking in the southernmost part of Oregon's Cascade Range. Hobart Buff in the Cascade-Siskiyou National Monument opens up to expansive views despite its short distance, and Mt. Mcloughlin is a strenuous summit that packs a huge reward with some of the best views in Oregon!
Visit a vineyard. Southern Oregon's wineries are highly-regarded, and as a bonus, the vineyard views in this region are absolutely incredible! Check out Irvine and Roberts Vineyard and Weisinger Family Winery, two of our faves.
Spend some time in Lithia Park. Located just inside city limits, this is one of Oregon's best urban green spaces. With a canyon, streams, springtime blooms, and autumn foliage, it's worth a stroll during any time of year.
Where to stay in Ashland
18. Painted Hills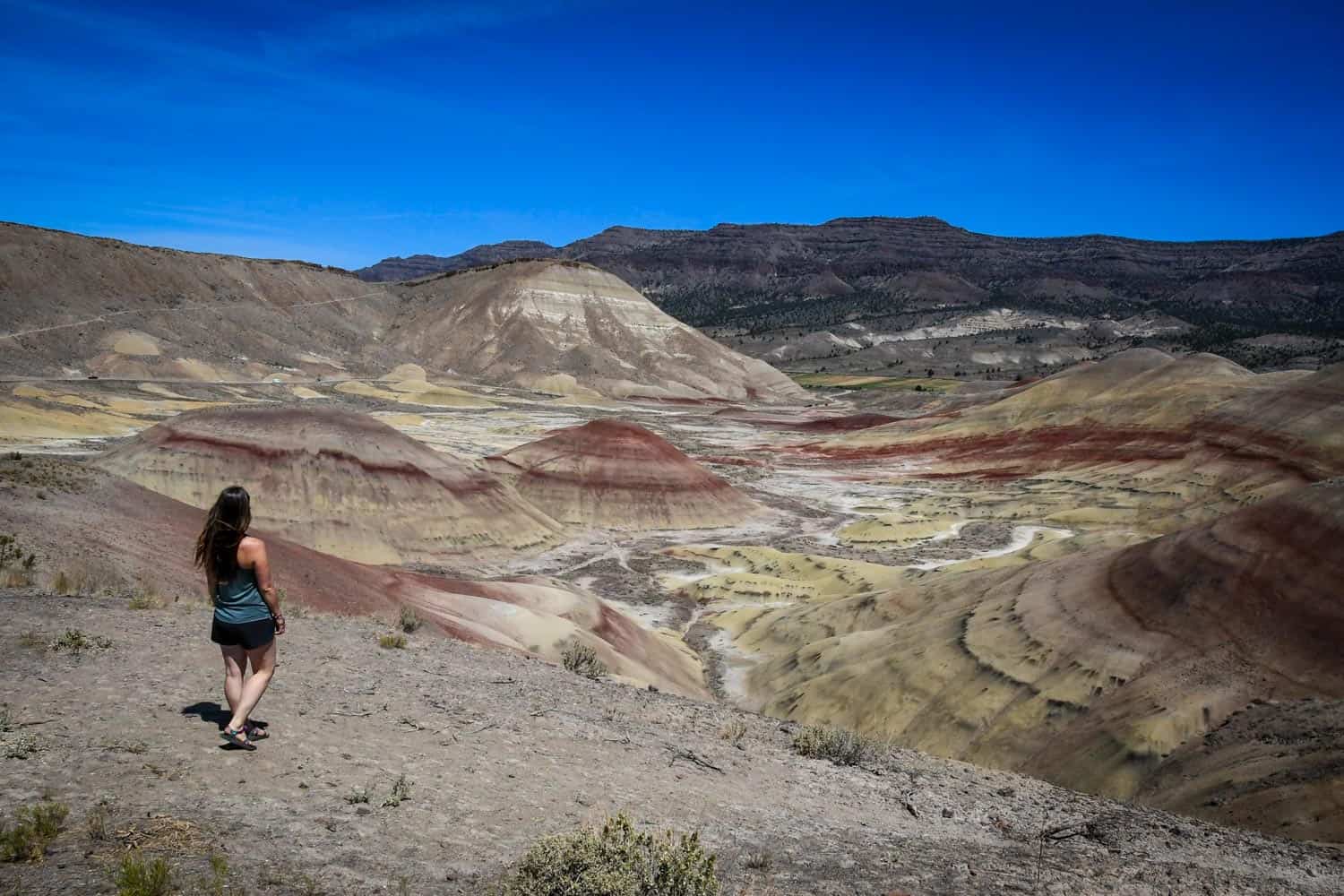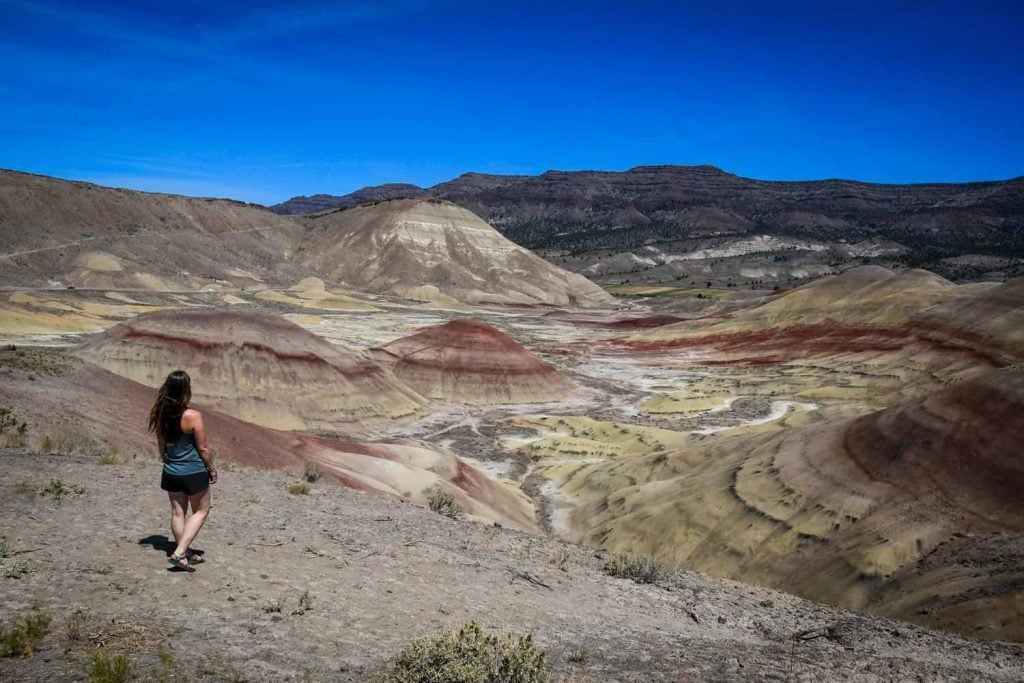 A vivid martian-like landscape with red, orange, and yellow-colored rocks, the dramatic Painted Hills are undoubtedly one of the best places to visit in Oregon. They're also considered one of the 7 Wonders of Oregon.
One of three units of the John Day Fossil Beds National Monument, the Painted Hills are completely different from western Oregon's landscape and climate. They're also super accessible; since the ecosystem is so sensitive, all the trails are on boardwalks.
Read our complete guide to visiting the Painted Hills, which preserve the climate history of the last 40 million years!
Things to do at the Painted Hills
Walk around to see the incredible multi-colored earth from the Painted Hills Overlook and Painted Cove Trail.
For more of a traditional hike, climb the Carroll Rim Trail for views over the entire preserve.
Explore the other, lesser-visited parts of the Fossil Beds National Monument, Clarno and Sheep Rock Unit.
Check out the nearby town of Mitchell for a bite, a brew, and fun Western vibes.
Where to stay near the Painted Hills
19. The Wallowas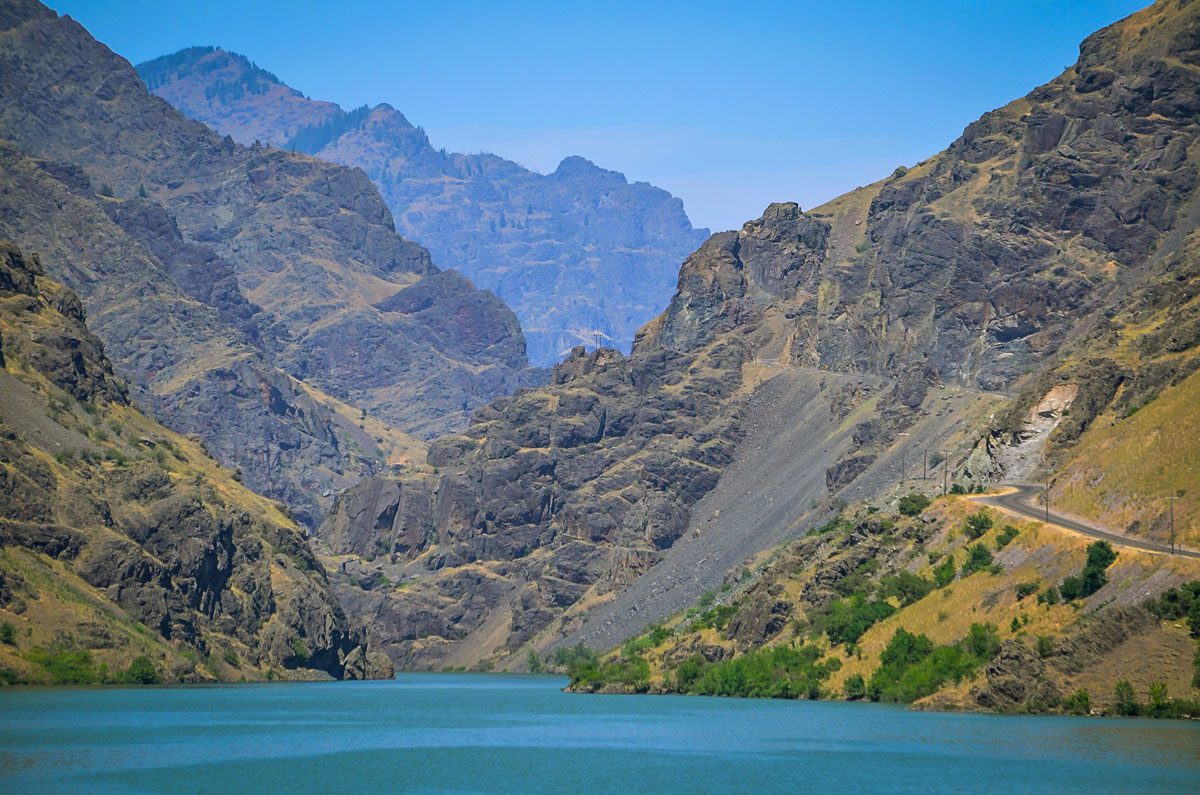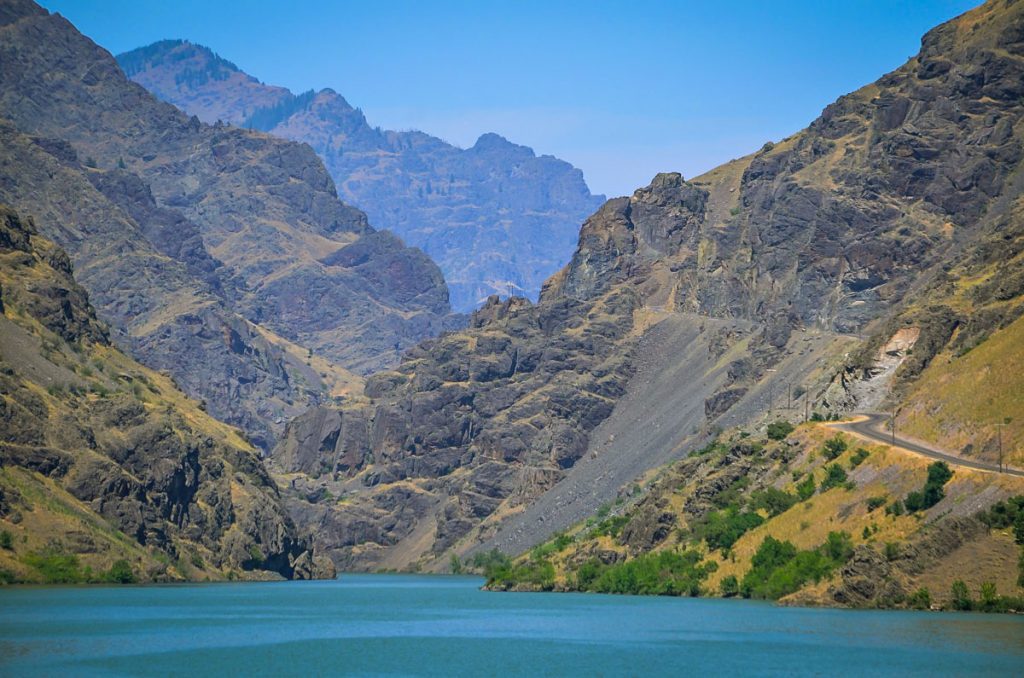 Tucked away in a less-visited corner of northeastern Oregon, the Wallowas are a spectacular mountain range near the Idaho border.
Studded with glacial lakes, chiseled peaks, and expansive valleys running into private ranch land, this region of Oregon has more of a Rockies-esque frontier vibe rather than the Cascades. It's a great area to explore on a road trip, especially if you're heading further east into Idaho.
Things to do in Wallowas
For a quick and straightforward introduction, visit the beautiful Wallowa Lake and take the cable car to the summit of Mount Howard.
Go on an overnight backpacking trip. Since the Wallowas are remote, most of the trails are long. The gorgeous Wallowa River Loop passes through mountains, rivers, and lakes over 26 miles.
Check out Hell's Canyon, which the Snake River carved even deeper than the Grand Canyon! There are a few hikes and viewpoints, or you can go rafting in the river itself.
Visit the town of Joseph, an artsy town filled with galleries and an excellent local distillery.
Where to stay in Wallowas
20. Alvord Desert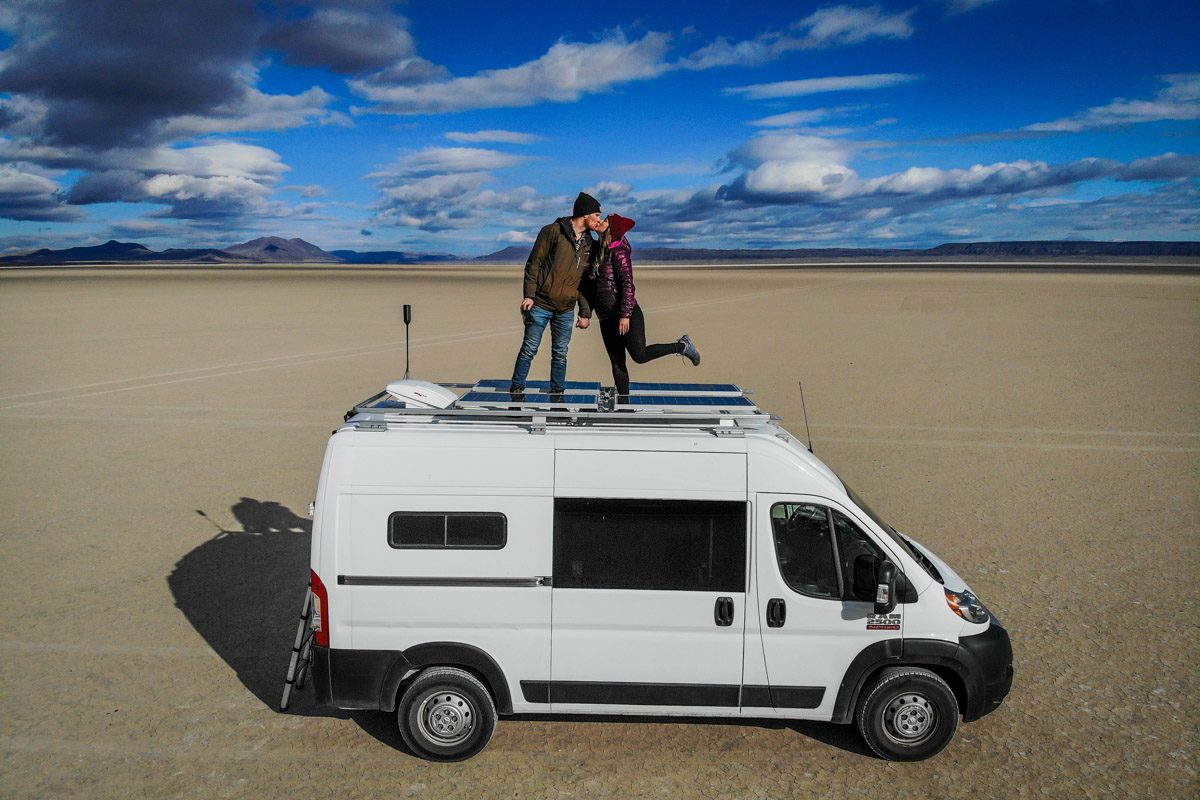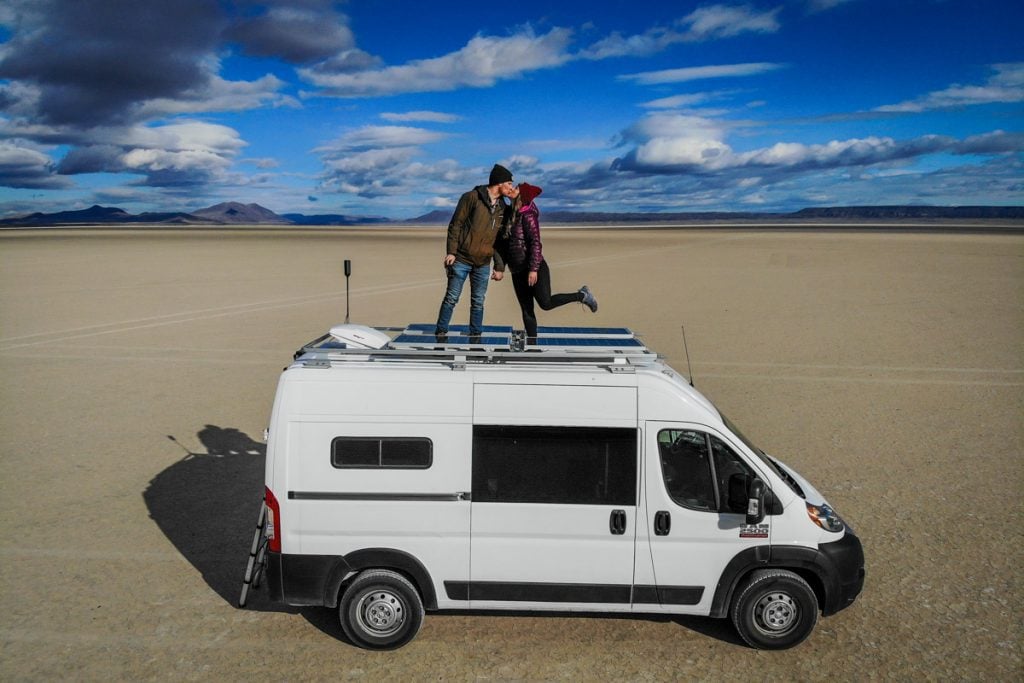 An otherworldly expanse of cracked earth, dust, and emptiness, the Alvord Desert is a sharp contrast to the rest of lush, green Oregon. Made up of an eerily beautiful dried lake bed, the scenery is worth the long drive to the southeastern corner of the state.
Surrounded by mountains, sunsets here light up the sky as if it's on fire. However, be prepared for the elements; it can be viciously hot or brutally cold any time of year. It can also get extremely windy. Regardless, it's an incredible camping spot – you can stay overnight anywhere on the lake bed, making it one of the more unique places to visit in Oregon.
Things to do in Alvord Desert
Drive around the desolate lake bed, stopping at various points for pictures and new vistas. Once sunset approaches, set up camp and enjoy the natural show.
Check out nearby Alvord and Willow Creek Hot Springs for a soak in the desert.
Go hiking in the Steens Mountains. The nearby mountain range is full of incredible views. Wildhorse Lake Trail and Steens Mountain Summit are both short but pack a serious punch.
Head to Fields Station to refuel with tasty burgers and milkshakes.
Where to stay in Alvord Desert
21. Strawberry Mountain
Located in eastern Oregon, the Strawberry Wilderness Preserve doesn't get nearly the attention it deserves! It's a beautiful pocket of scenery with layers of mountains, waterfalls, and lakes.
Perhaps being overlooked is due to its isolation; the nearest large population center is over 100 miles away. However, that means you can enjoy a slice of this spectacular nature all to yourself — no worrying about booked-up campsites or full trailhead parking lots.
As with other remote natural areas, the best way to explore Strawberry Mountain is by hiking or planning a one or multi-night backpacking trip into the wilderness.
Things to do in Strawberry Mountain
Summit Strawberry Mountain itself. Follow this 12-mile trail past waterfalls and lakes for the most expansive views of the area. There are also several cool campsites en route.
Hike to Strawberry Lake and its smaller counterpart Little Strawberry Lake. Nestled underneath a beautiful ridgeline, mountain goats frequent its shores.
Check out Slide Lake. A popular fishing spot, the water is so clear you can see the trout before catching them!
Embark on the Onion Creek Loop trail, a popular wilderness backpacking route.
Where to stay near Strawberry Mountain
Strawberry Campground: Accessible first-come, first-served campground among beautiful ponderosa pines.
Go backpacking: All you need is a Northwest Forest Pass and money for trailhead fees, if applicable.
Creekside Cabin: Stunning secluded cabin with a large patio overlooking a pond and creek.
22. Samuel H. Boardman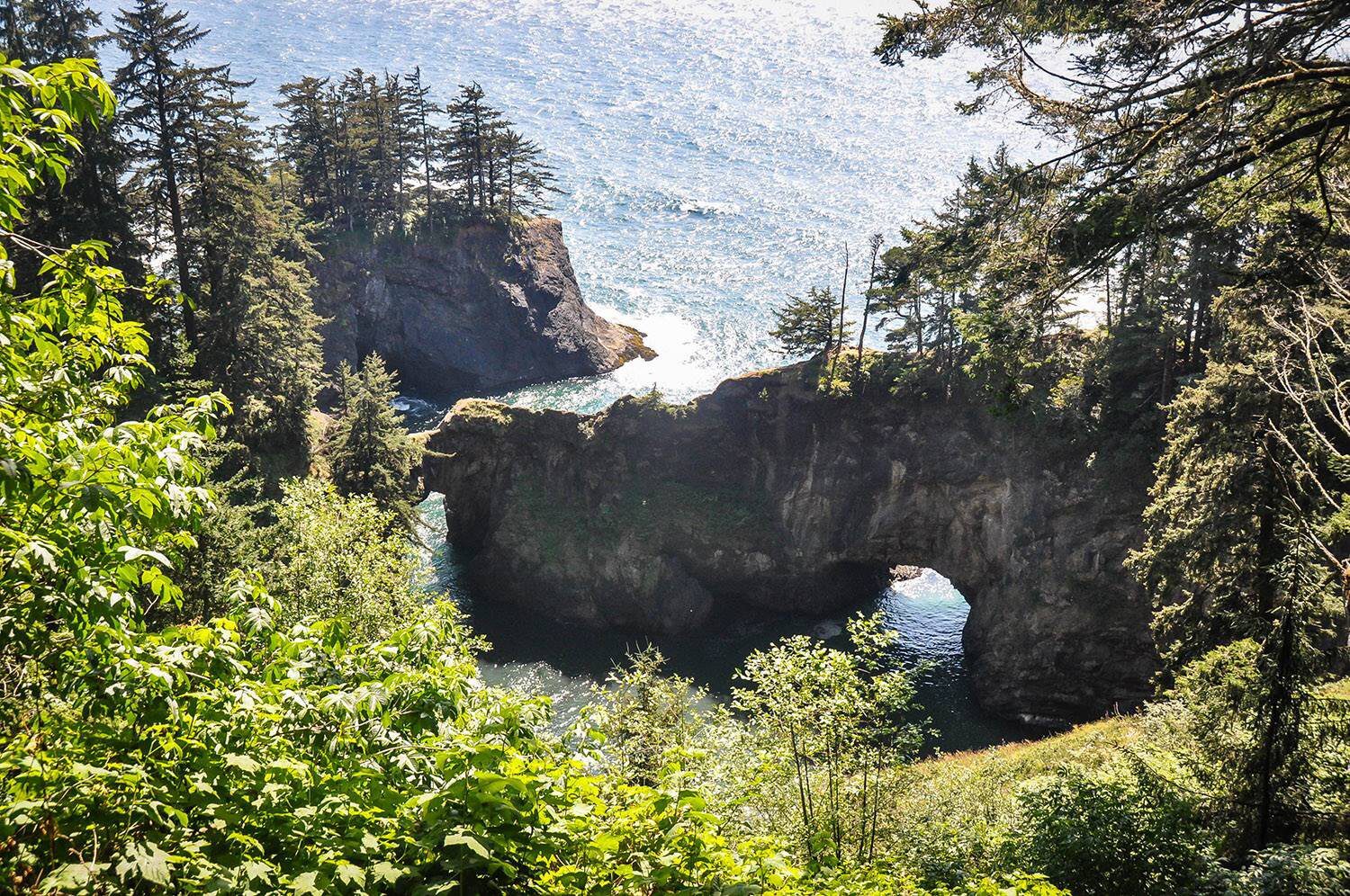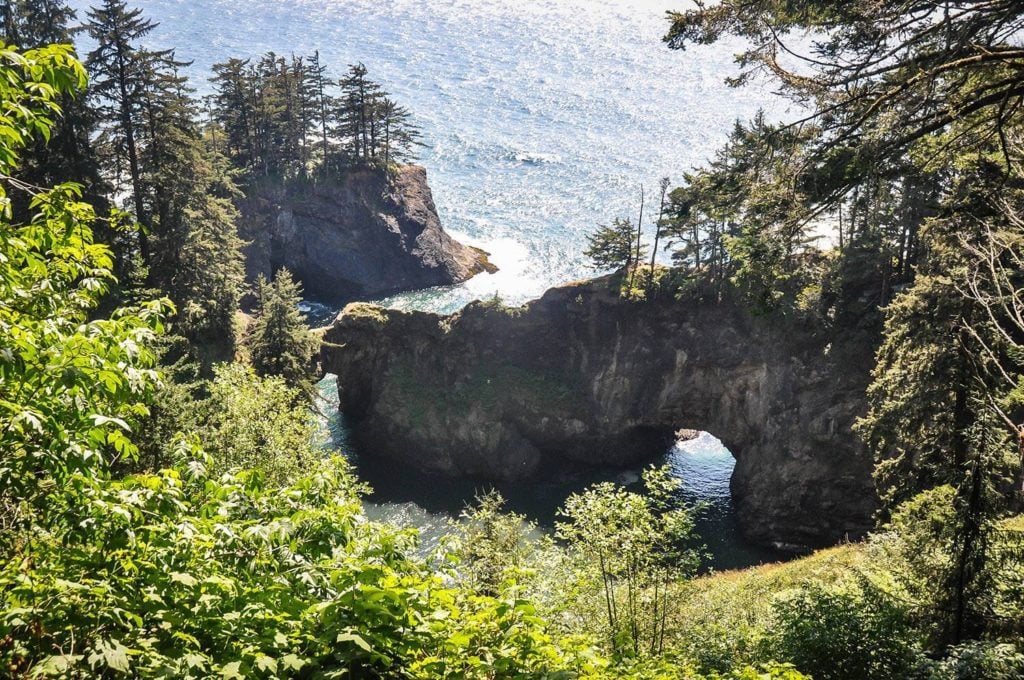 Off the beaten path in far southern Oregon, the Samuel. H Boardman State Scenic Corridor offers some of the most breathtaking views on the entire coast (and some would say anywhere in the country!). Due to its relatively far distance from any major cities, Samuel H. Boardman receives much less traffic than Oregon's northern and central coasts.
It's easy to find blissful slices of the coastline all to yourself on the corridor, as well as lush forests, secluded beaches, and awesome hikes. Trust us: allocate at least an extra day to explore this scenic stretch; you'll want to stop at every viewpoint!
Things to do in Samuel H. Boardman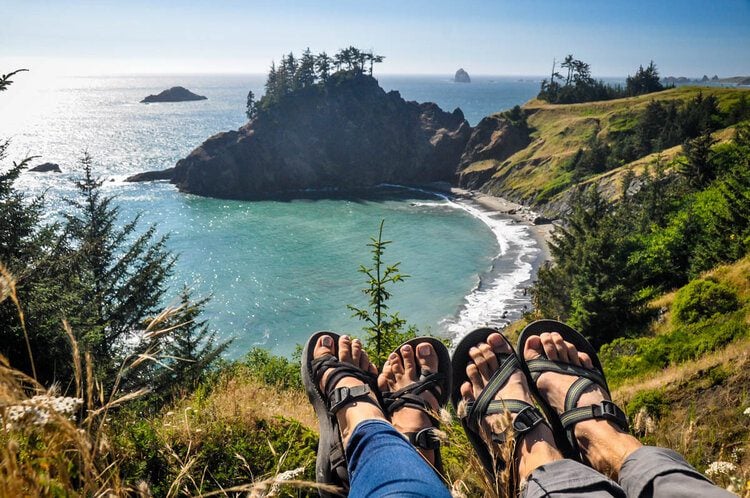 Whaleshead Beach is an absolutely gorgeous slice of sand with numerous sea stacks and a lush forest.
Hike the Natural Bridges Viewpoint to see impressive cliffside formations in the ocean. The small, moss-covered islands dotted with pines are some of the most iconic views in Oregon.
Descend the easy-to-miss trail to Secret Beach for dramatic sea cliffs, a waterfall tumbling right onto the beach, and a small pebble beach hidden from crowds.
Set out on the Indian Sands hike for colorful wildflowers, sand dunes, and incredible dramatic coastal scenery!
Where to stay in Samuel H. Boardman


Are you planning a trip to Oregon?
We've got TONS of resources for on our Oregon Homepage. Plus, you'll definitely want to check out these articles to help you plan your trip!
Save this article on Pinterest for later!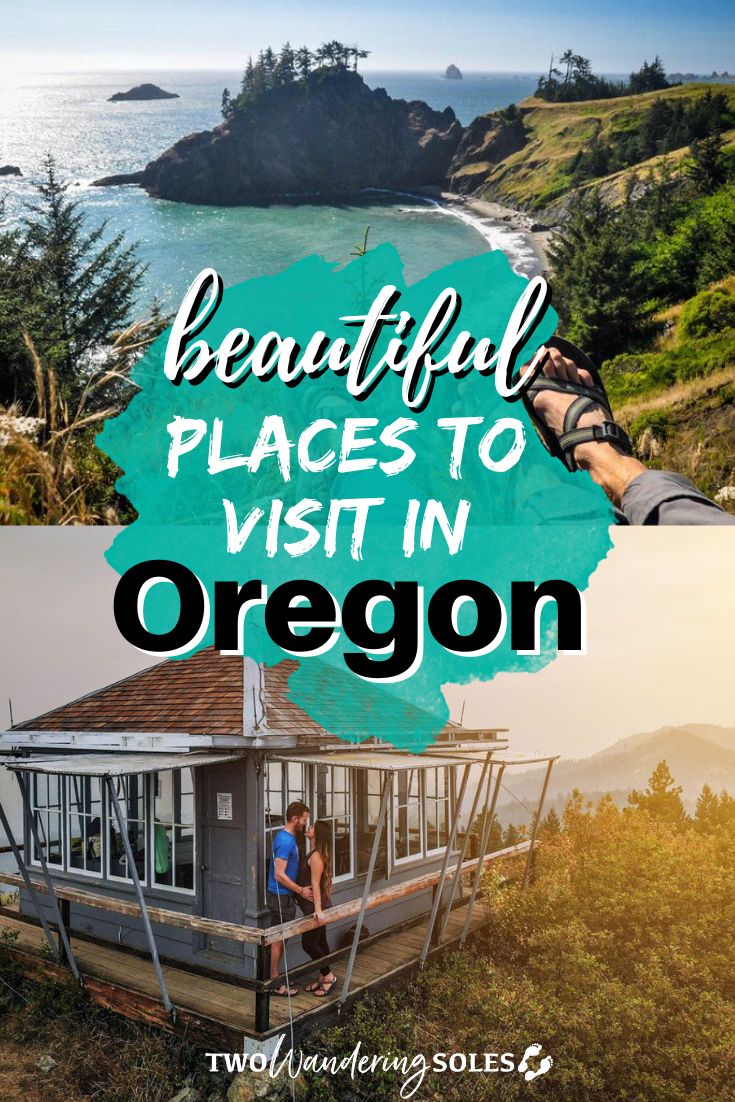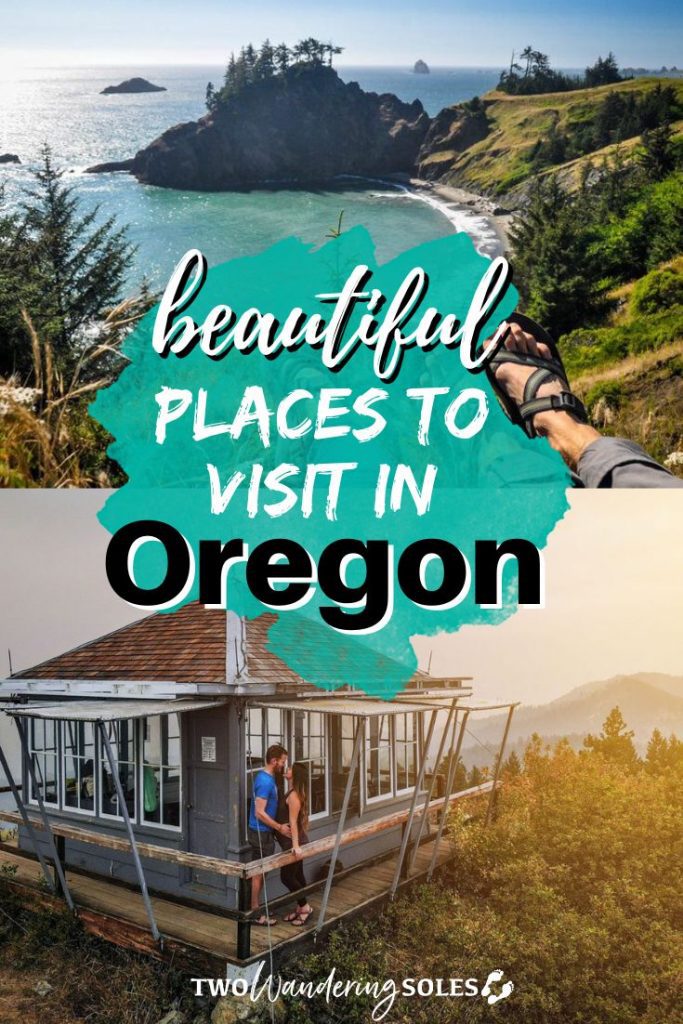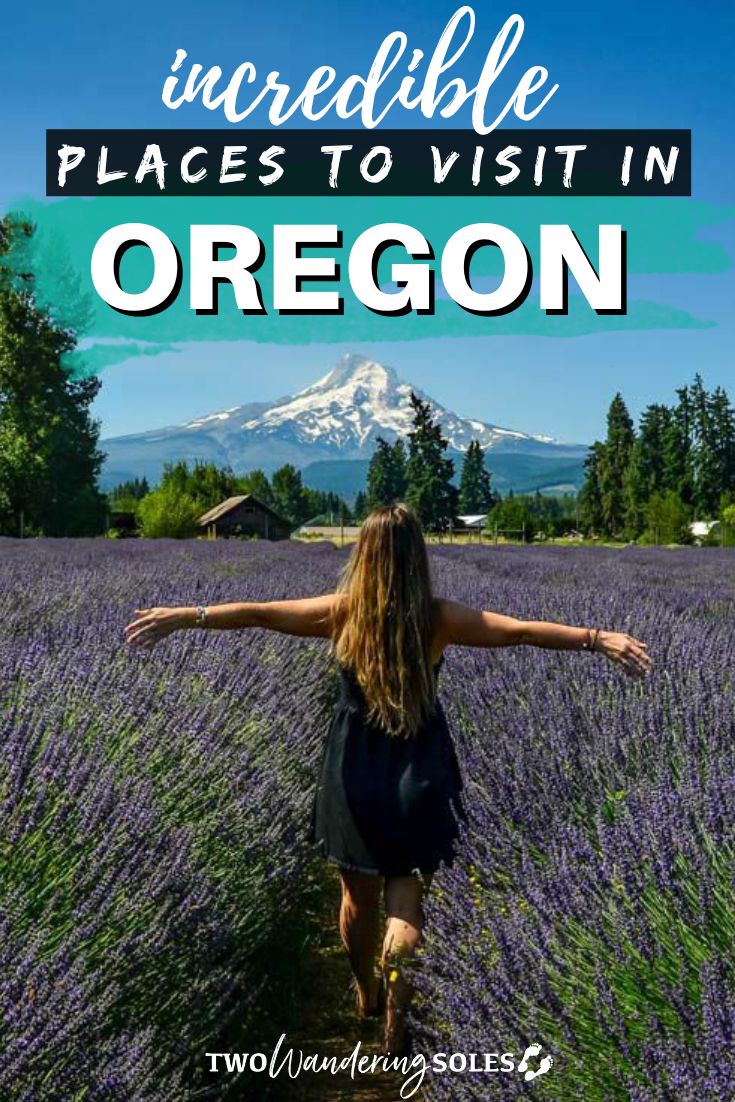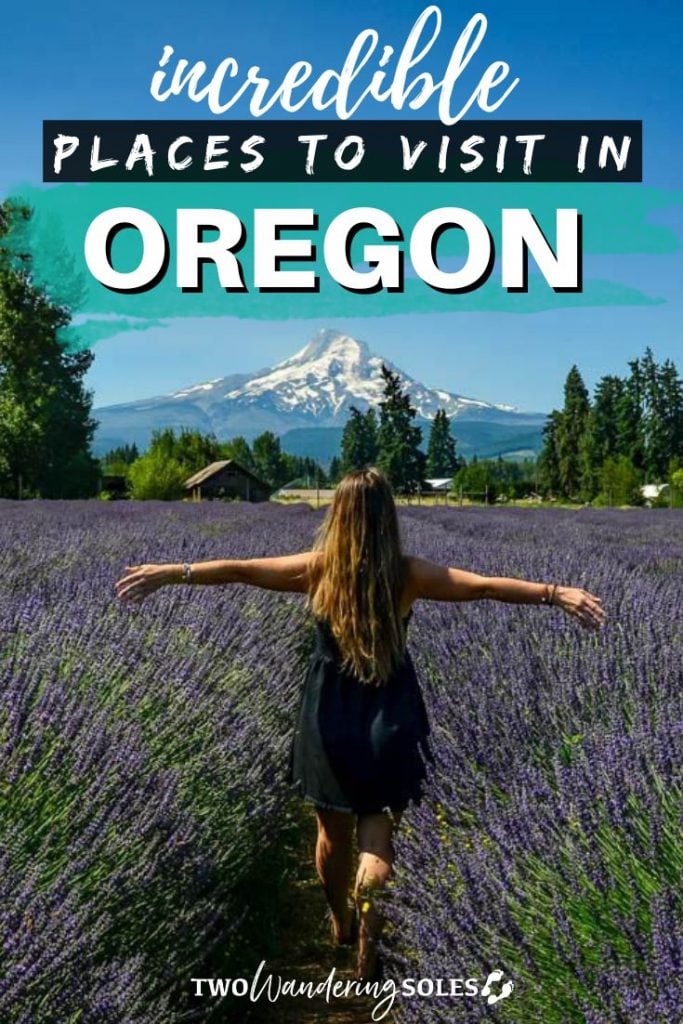 We want to hear from you!
Which of these places to visit in Oregon is going to the top of your itinerary? Do you have any other ideas you'd suggest we add to this list? We'd love to hear from you in the comments below!