With Liveaboard, you can experience scuba diving in Thailand in an entirely unique way. In this article, we will walk you through the basics of participating in a Liveaboard dive trip and suggest some of the best Liveaboard experiences in Thailand for every budget.
With all of Thailand's world-class diving sites, it's no wonder that divers from all over the world are attracted to this country. Koh Bon, Richelieu Rock, the Similan Islands, and the Surin Islands are just a few of the best sites for scuba diving in Thailand that come to mind.
Diving is your gateway to this beautiful country's underwater treasures. There are coral gardens, rock formations, and a variety of marine life you are likely to come across under the surface.
Get the most out of your diving experience in Thailand with Liveaboard. Reach remote areas and dive in places where marine life is plentiful and diverse, away from the disruption of regular tourism.
Wondering what a Liveaboard is? Here is everything you need to know about Liveaboard diving trips.
In this article, we will walk you through the basics of participating in a Liveaboard dive trip and suggest some of the best Liveaboard experiences in Thailand for every budget.
Let's get started…
---
Best Thailand Liveaboards Article Contents
Jump to the section you are looking for, or just scroll down the page.
---
Best Time of Year for Scuba Diving in Thailand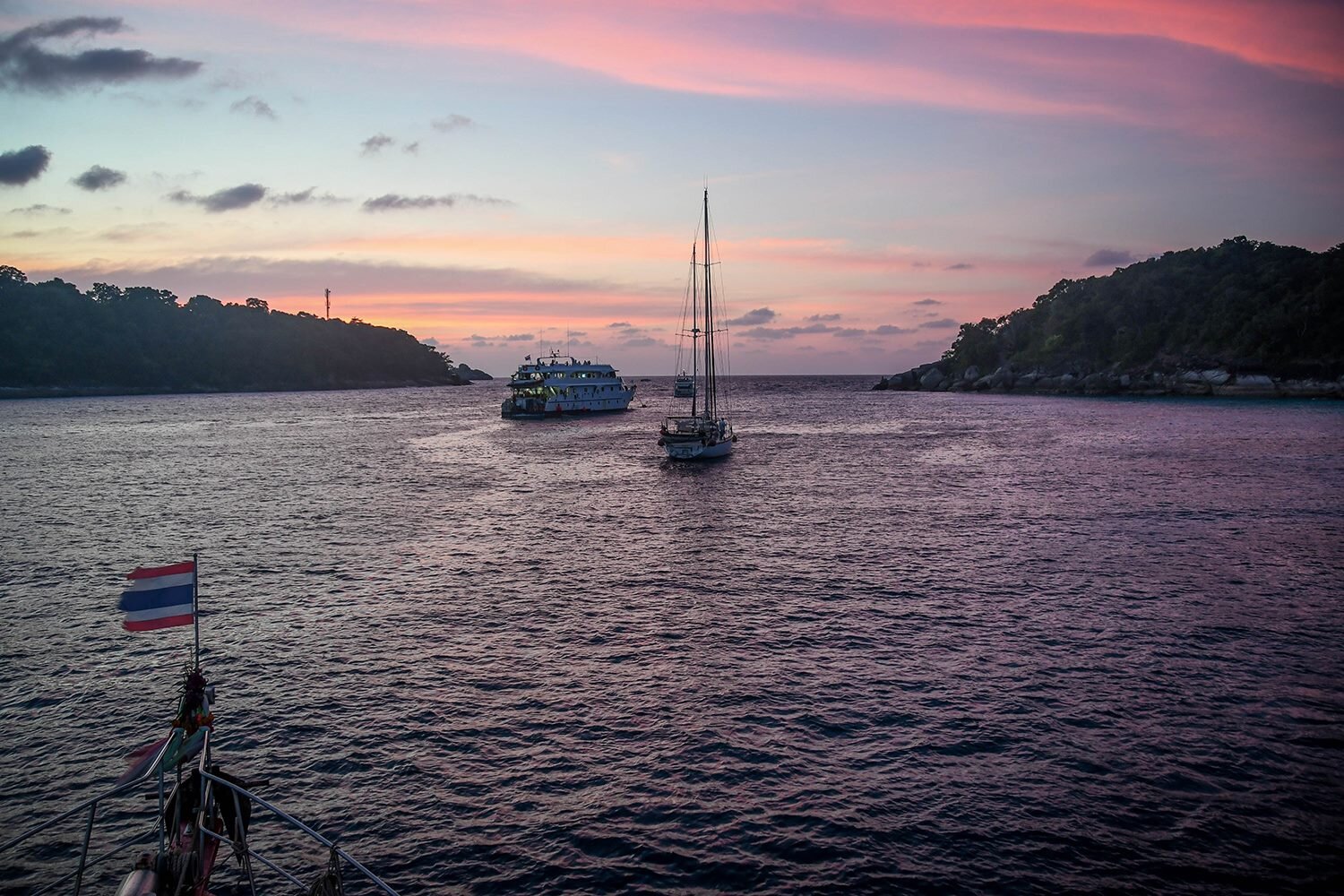 Most, if not all, of the Liveaboard diving destinations in Thailand are found in the Andaman Sea. The best time to go scuba diving in Thailand is during the dry season – November to April.
December and January will be more crowded since it's the peak season. If you want to see some mantas and local whale sharks, it's best to plan your trip around February to April.
We first got our open water certification for scuba diving in Koh Tao during February and it was really nice. Not too crowded but still busy enough to meet other travelers.
From June to September, it's best to do a Liveaboard in Phuket since they are protected from the rainy season weather and are open to divers all year round.
Planning a trip to Thailand? Find out the pros and cons of visiting each region of Thailand during different times of year, and especially, when to avoid visiting the country.
Best Regions for Diving in Thailand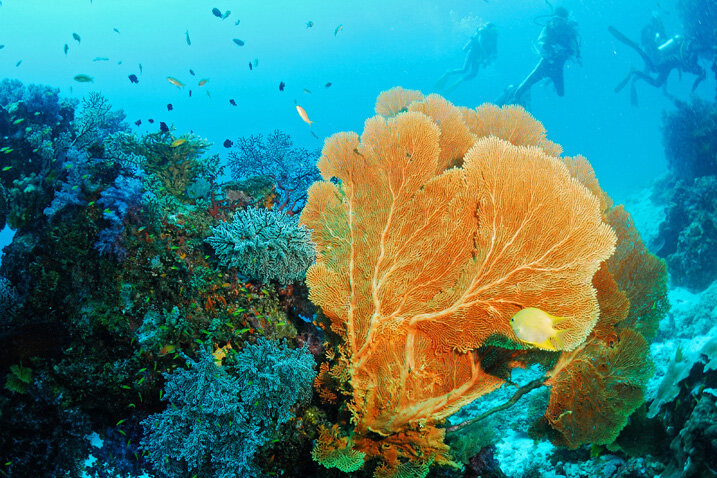 Similan Islands National Marine Park
Located 100 km Northwest of Phuket, the Similan Islands are one of the most popular places for Liveaboard diving in Thailand. In fact, the National Marine Park is considered to be one of the best places for diving in the world.
The Similan Islands are composed of nine islands that offer white sandy beaches, picturesque views and spectacular diving conditions with crystal clear waters. Here you will find thriving reefs with more than 500 species of soft and hard corals. As well as a variety of marine life including guitar rays, leopard sharks and mantas.
The area is also known for having gorges, caves, and passages where you can swim through when diving. If that doesn't have you have ready to pack your bags, then I don't know what will!
It is important to note that the marine park is only open for diving from October to May, so be sure to plan your trip accordingly.
Read Next: Similan Islands Diving: Our Liveaboard Experience in Thailand
Richelieu Rock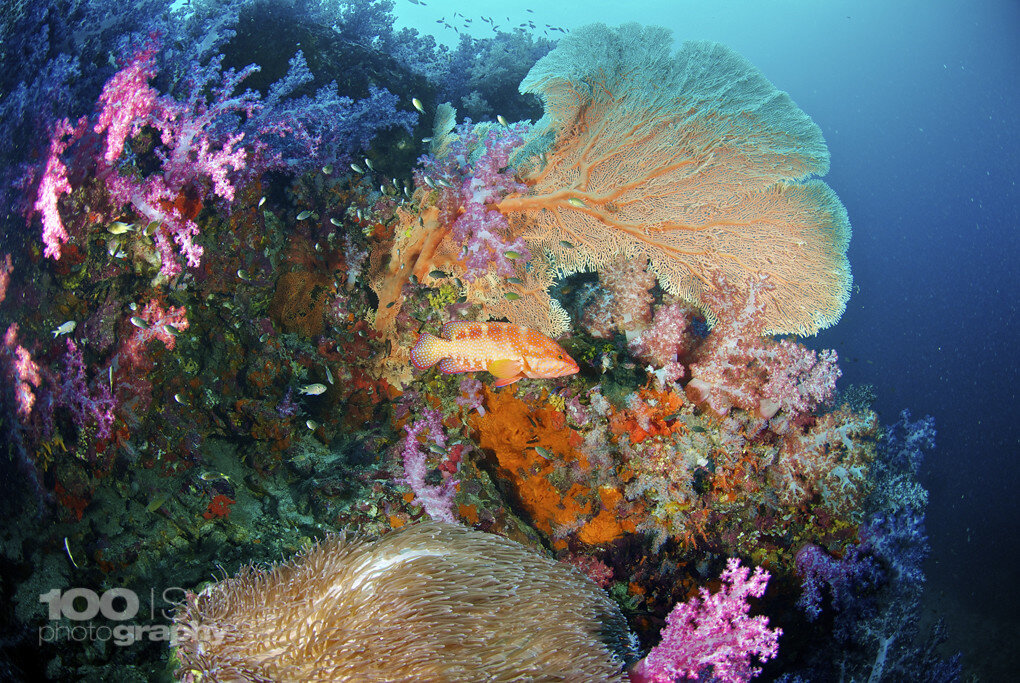 Just north of the Similan Islands is the the famous Richelieu Rock site, which attracts more than its fair share of marine life. This is one of the most famous Liveaboard diving sites in Thailand. It's well known for chance encounters with whale sharks.
The rich planktonic blooms attract are what attract the whale sharks to this area, and they usually hang around for days. So your chances of seeing one on a Liveaboard trip are very high!
Sail Rock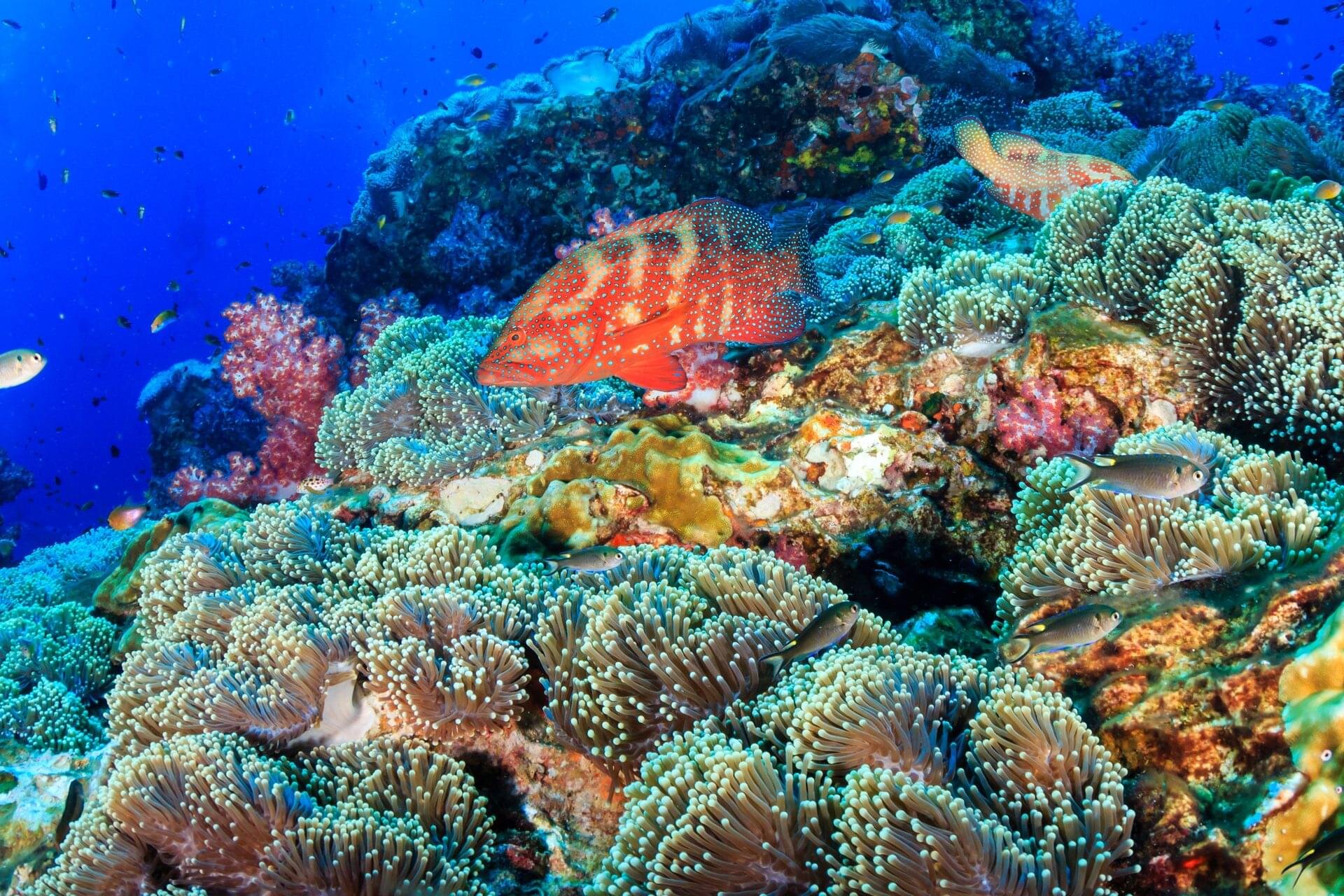 Located between Koh Phangan and Koh Tao islands in the Gulf of Thailand, Sail Rock is one of the best diving sites in all of Thailand. The large reef wall plunges to around 40 meters deep, so it's a good site for both beginners and more advanced divers.
Divers come here from all over the world to see large schooling fish, giant morays, and if they are lucky, even whale sharks. The large vertical chimney at Sail Rock is also a draw as a unique swim through.
Hin Daeng, Hin Muang & Koh Haa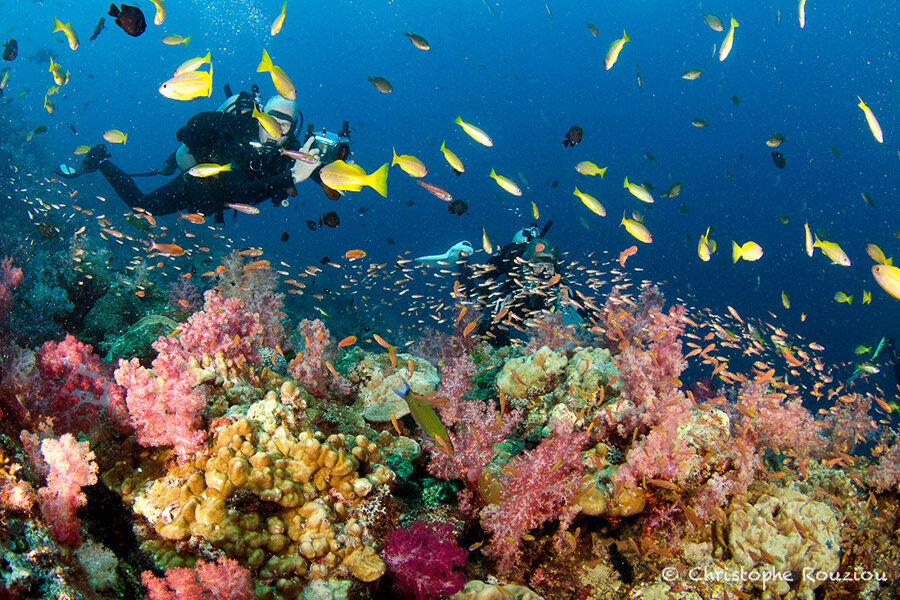 South of Phuket and the Phi Phi Islands near Koh Lanta in the Andaman Sea are three world class diving sites. Hin Daeng, Hin Muang and Koh Haa feature steep reef walls, lush soft coral gardens and large fish. In fact, these dive sites are feeding grounds for large pelagics, which means you have a good chance of spotting a whale shark or manta ray.
Hin Daeng (Red Rock) is a huge dive site that offers depths down to 60 meters — which is well below usual recreational limits. So unless you have some serious diving experience and credentials, you'll likely stay closer to the surface. Which is just fine as leopard sharks are often seen in the area.
Hin Muang (Purple Rock) is a long rocky ridge connected to Hin Daeng. However, the depth of the ridge prohibits diving between the two, so they are treated as two separate sites.
The surface of the dive site is covered in purple soft coral, which is how it got it's name. Leopard and whale sharks are also seen here, and swarms of tiny fish are constantly under attack from large predators such as jacks and trevallies.
Koh Haa (Five Islands) is nearest to Koh Lanta, situated between Hin Daeng and the Phi Phi Islands. The site features — you guessed it — five small islands with a number of different walls and caverns. Koh Haa is a good spot for night diving and also offers the popular "Twin Cathedrals" cavern dive.
Best Budget Liveaboards in Thailand
Dolphin Queen
This budget Liveaboard ship features 3 decks with multiple cabin options from private to shared for different budget levels. There is plenty of space for relaxation between dives on the sundeck and lounge areas. Food served onboard is a mix between Thai and Western style dishes, freshly prepared. And breakfast is made to order.
Destinations: Similan Islands, Richelieu Rock and the recently opened Mergui Archipelago in Myanmar (Burma)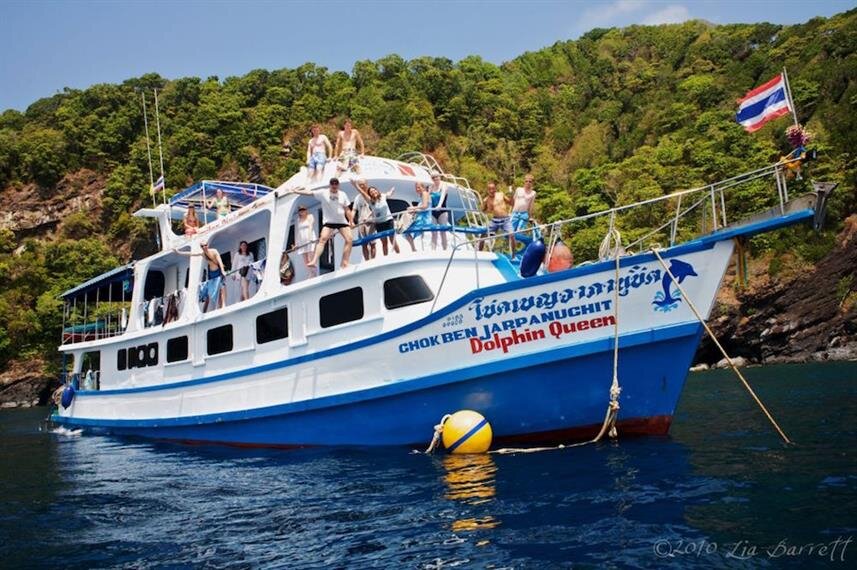 Length of Voyage: 5, 7 or 9 days
Ship size: Up to 22 guests
Cost:$130 USD / day
Known for: Budget liveaboard
Manta Queen 3
Enjoy the beauty of the Andaman Sea with Manta Queen 3. The great crew, diving guides, and delicious food is a great way to explore the Similan Islands and Richelieu Rock.
Divers have a choice between private ensuite cabins or shared cabins with shared bathrooms for a range of budgets. When not diving, there is plenty of space to relax on the sundeck or air conditioned lounge, captains balcony and open air dining area.
Destinations: Similan Islands, Koh Bon, Koh Tachai and Richelieu Rock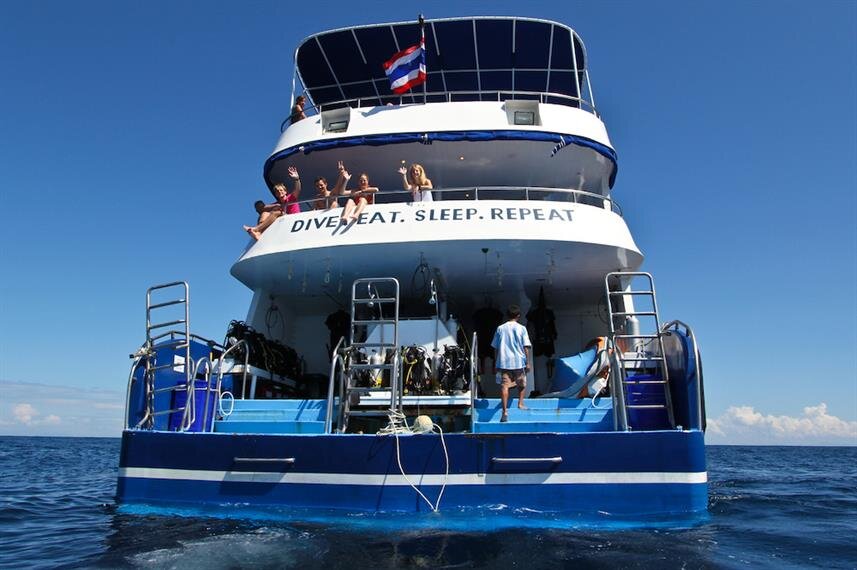 Length of Voyage: 4 or 5 days
Ship size: Up to 28 guests
Cost:$122 USD / day
Known for: Great food and itineraries
The Junk
Once part of a small merchant trade fleet, The Junk underwent a complete renovation to turn this authentic sailing vessel into a diving Liveaboard adventure. The ship now features 6 air-conditioned cabins with ensuite bathrooms, an entertainment salon and sundeck with shaded area for lounging. Diving from the Junk is done via dingy, to ensure you get to the best dive sites.
Destinations: the Andaman Sea or the unexplored waters of Myanmar (Burma)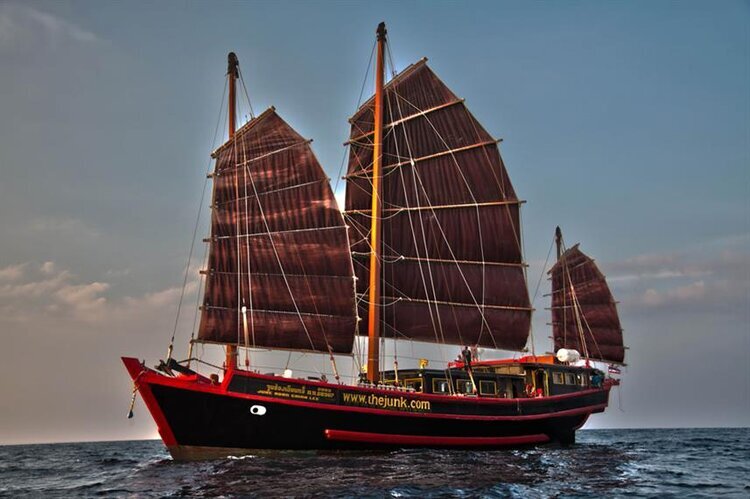 Length of Voyage: 5 or 7 days
Ship size: 6 guest cabins
Cost:$132 USD / day
Known for: It's feature in Hollywood films such as James Bond and Swiss Family Robinson
What to Pack for a Liveaboard Diving Trip
Figuring out what to pack for a scuba Liveaboard can be tricky… you want to be prepared, but you definitely don't want to overpack when you're going to be living in tight quarters. There are some definite musts that you don't want to forget, and even more things that you should just leave on land.
We've taken all the guess work out of packing for you and complied a complete liveaboard packing list, including tips and advice for first-timers and some specifics you should definitely leave at home. Oh, and it's totally free!
Sign up below to get the FREE PDF download sent directly to your inbox!


Best Mid-Range Liveaboards in Thailand
MV Hallelujah
With its 10 twin cabins and 2 deluxe doubles, the MV Hallelujah provides its guests with enough privacy and space for ultimate comfortability. The top deck provides wide spaces to soak up some sun while the common areas offer a lot of room for relaxation.
The diving staff onboard are highly-trained and multi-lingual to offer the best and more relaxed diving experience for each individual.
Destinations: Similan Islands, Koh Bon, and Richelieu Rock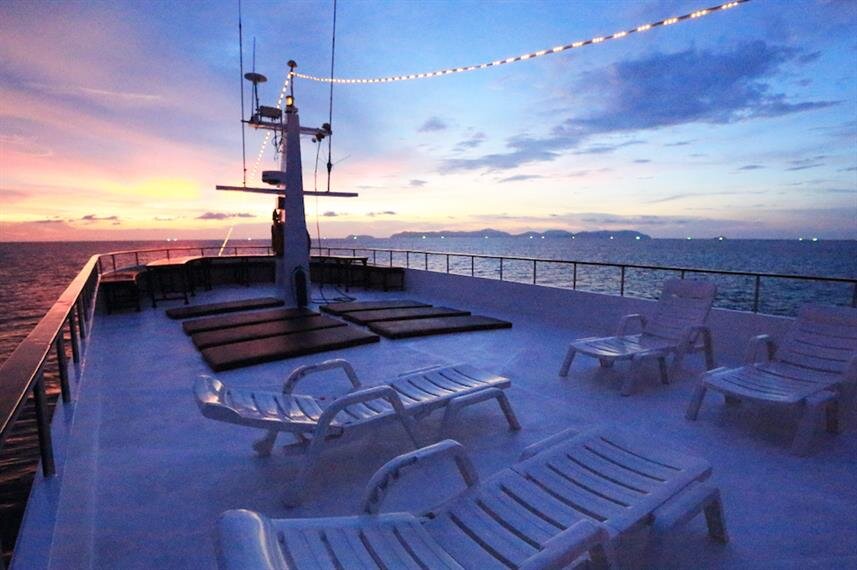 Length of Voyage: 5 days
Ship size: Up to 25 guests
Cost:$238 USD / day
Known for: Multi-lingual staff
Sawasdee Fasai
Sawasdee Fasai offers trips to several diving sites in Thailand from October to May. The ship is well-equipped for accommodating a large number of divers with a huge dive deck and gear storage space. With professional dive experts and a friendly onboard staff, you'll feel comfortable and at ease on your Liveaboard experience.
Destinations: Richelieu Rock, Koh Bon, Elephant Head Rock or Koh Tachai in the Similan Islands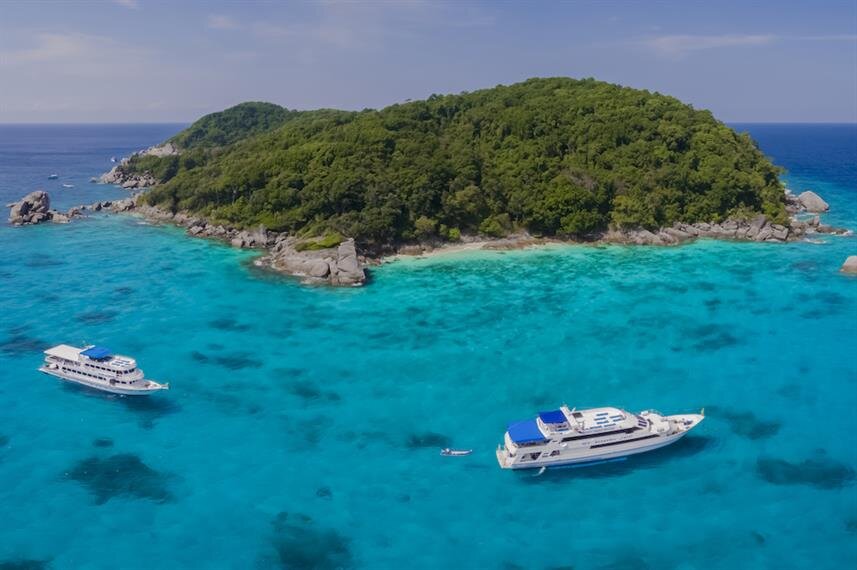 Length of Voyage: 5 Days
Ship size: Up to 30 guests
Cost:$189 USD / day
Known for: Friendly boat crew
Giamani
Based in Phuket, the Giamani Liveaboard offers scuba diving trips to the best dive sites in Thailand. Catering to small dive groups, you are sure to have an individualized experience onboard. In between dives, you can watch a movie, browse the marine library, relax in the cushion area, and enjoy your meals buffet style.
Destinations: Similans, Koh Bon, Koh Tachai, Phuket, Phi Phi, Surin, and Richelieu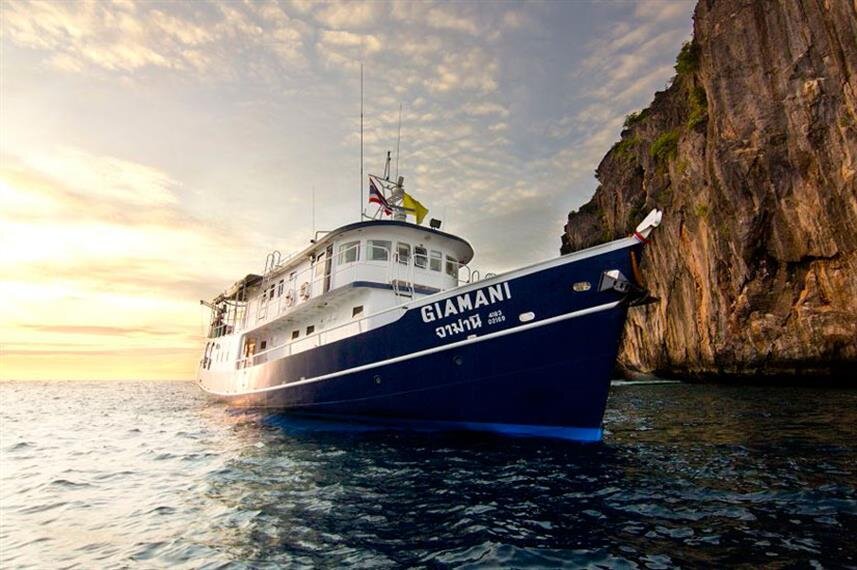 Length of Voyage: 3-5 days
Ship size: Up to 10 divers
Cost:$218 USD / day
Known for: Spacious dive deck with a camera table
Best Luxury Liveaboards in Thailand
DiveRACE Class E
In 2014, the DiveRACE Class E was custom built to provide the best diving trips in Thailand. With plenty of room for relaxation, the cabins inside can accommodate a small group or family. Enjoy a relaxing massage or watch the latest movies while waiting for your turn to dive and explore Thailand's underwater treasures.
Destinations: Similan Islands and the Mergui Archipelago in Myanmar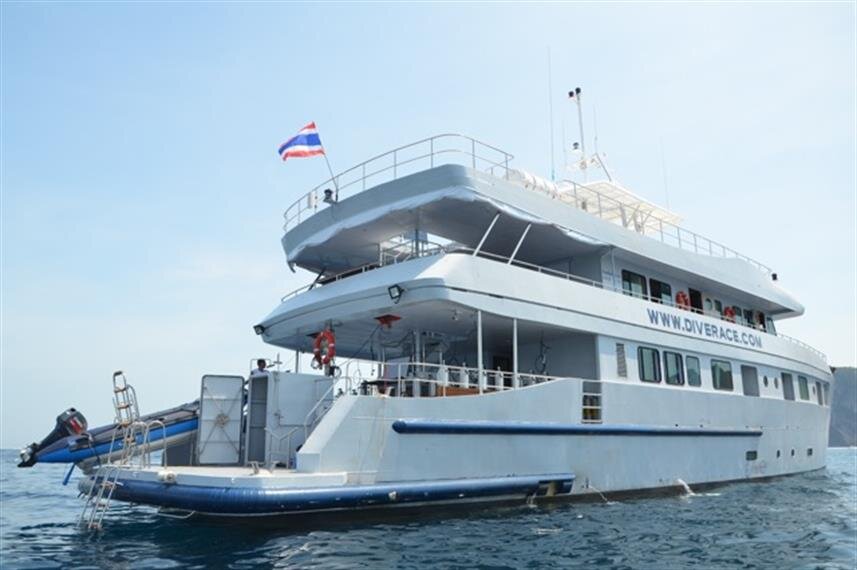 Length of Voyage: 5-6 days
Ship size: Up to 20 guests
Cost:$250 USD / day
Known for: Elegant design
Diva Andaman
If you want to go on a diving adventure and experience luxury, look no further than the Diva Andaman Liveaboard. This stunning sailing yacht offers relaxing cocktails, traditional Thai massages, wine cellars, and a great onboard chef to keep you satiated.
Destinations: Similan Islands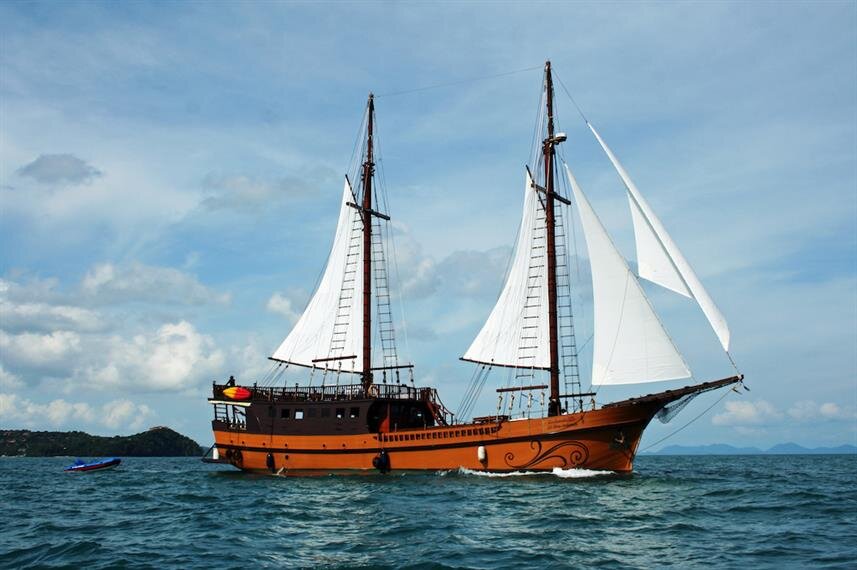 Length of Voyage: 7 days
Ship size: Up to 14 guests
Cost:$445 USD / day
Known for: Air-conditioned luxury
---
Are you planning a trip to Thailand?
We have TONS of resources on travel in Thailand and destinations throughout the country. Check out our Ultimate Thailand Travel Guide for all the answers to your most burning questions, or read some of our favorite articles below.
If you're an avid diver, be sure to check out our round up of the best places for scuba diving around the world and other articles on our scuba diving page.
Save this article on Pinterest for later!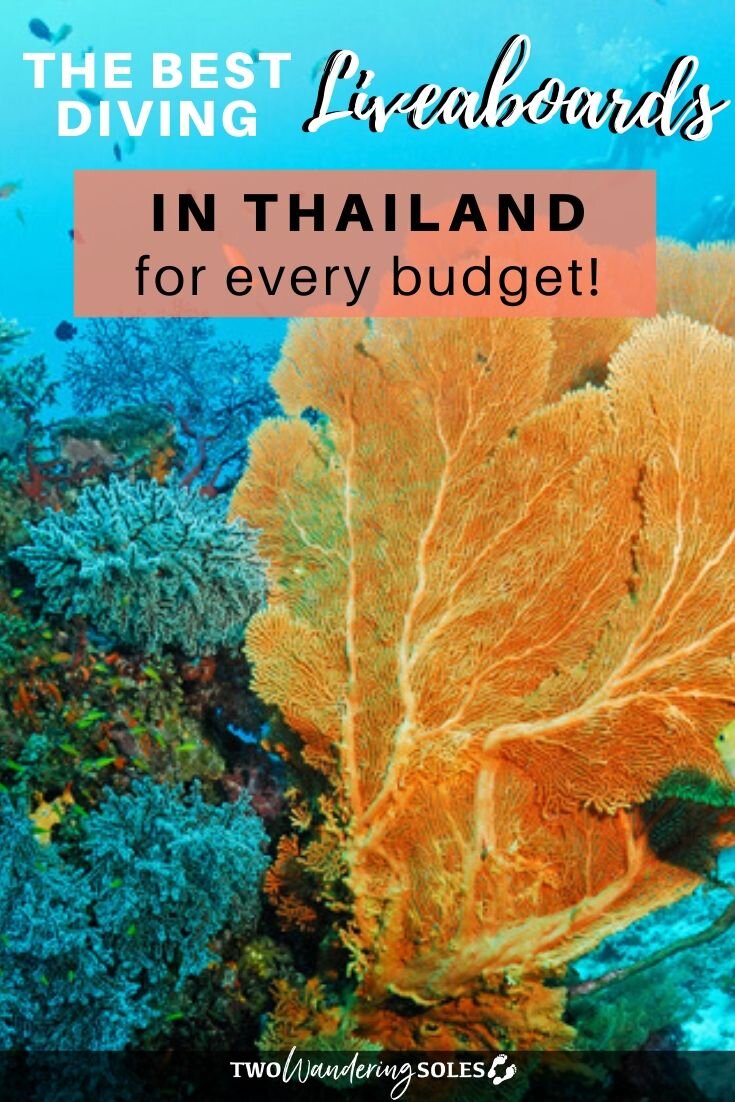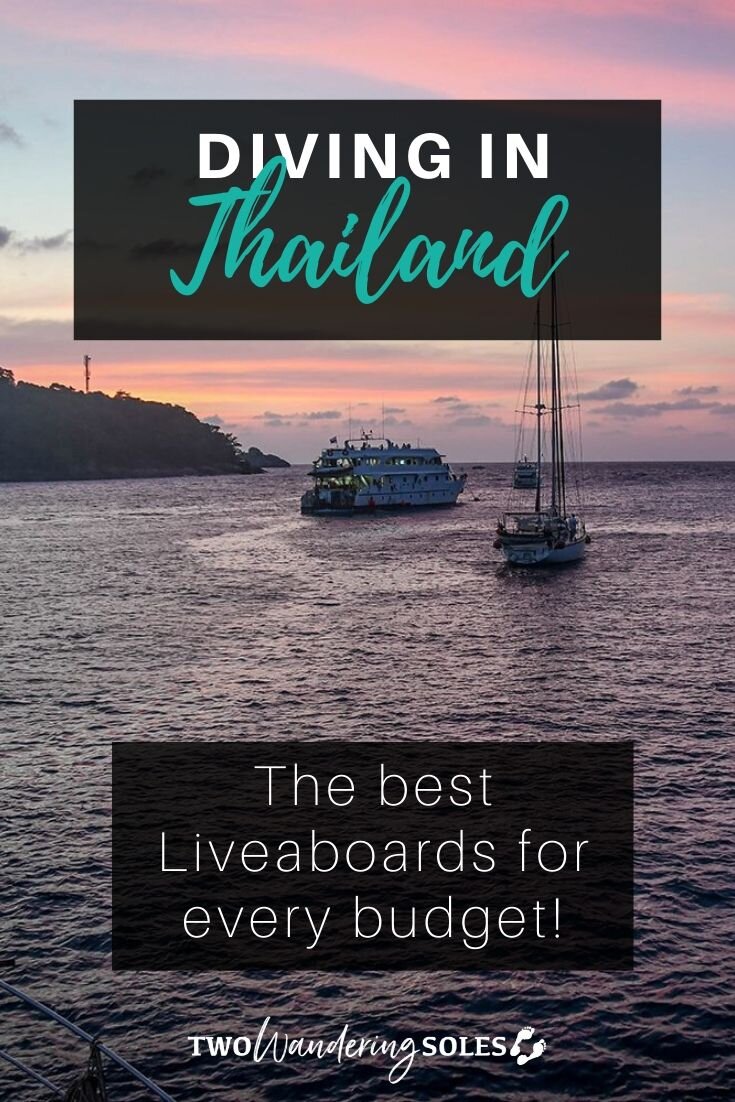 We want to hear from you!
Have you gone diving in Thailand? Would you ever try a Liveaboard trip? Let us know in the comments below.