Oregon has something for everyone, from heart-pumping adrenaline sports to charming small towns, a delicious food scene and more than its fair share of epic nature. In this article, we're going over all the best things to do in Oregon from our personal experience having lived in this state for a few years now.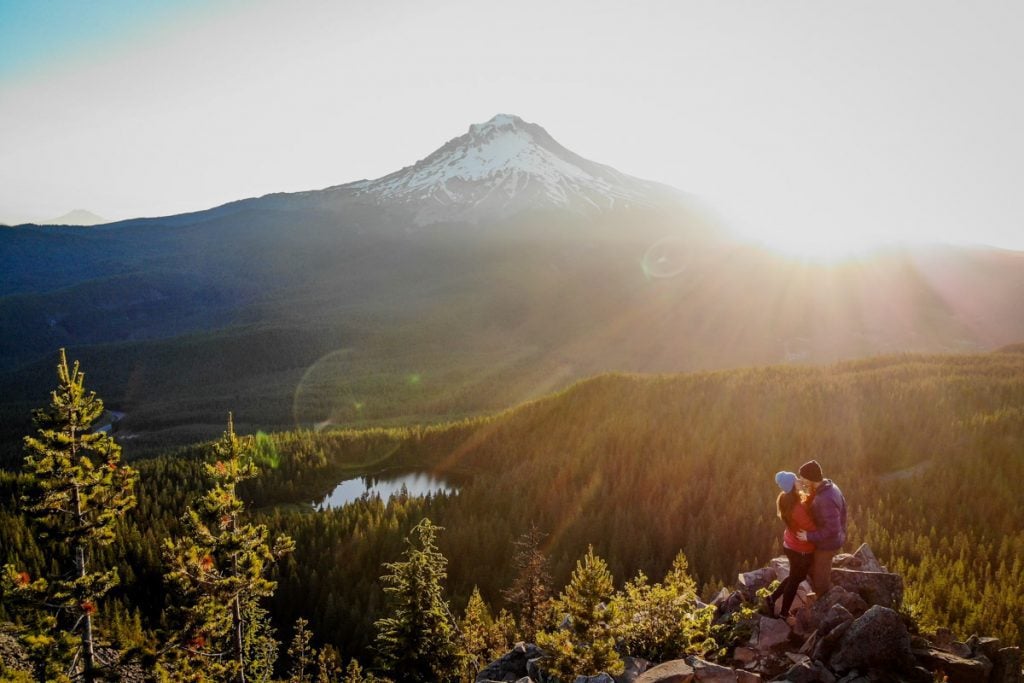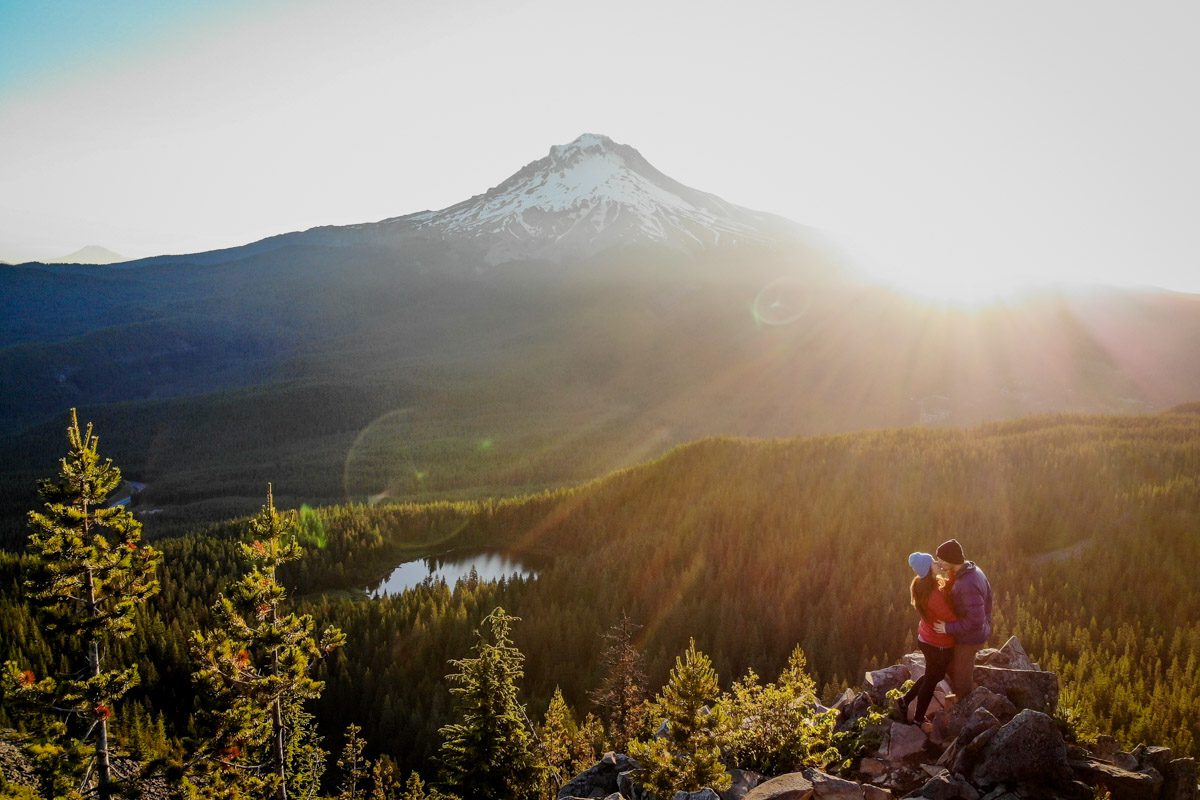 With snow capped peaks, high deserts, raging rivers, alpine lakes, quirky cities and charming small towns, there are endless things to do in Oregon.
Whether you're an adventurous spirit looking for heart-thumping experiences, a foodie hoping to sample some mind-blowing cuisine (paired with a local pinot noir, of course), or a nature enthusiast searching to escape into a classic moss-covered PNW forest, Oregon will steal your heart.
We speak from experience, as we chose this west coast state as a home base when we moved back to the USA after years of traveling and living the "digital nomad life".
We're about to divulge some of the best things to do in Oregon, our new-ish home state. Some of the things on this list are super secret gems you've likely never heard of, while others are those "must do" experiences that are well worthwhile.
Whether you're a fellow Oregonian seeking weekend activities or you're planning a west coast road trip from afar, this article will give you all sorts of Oregon bucket list experiences to daydream about!
---
---
1. Hot springs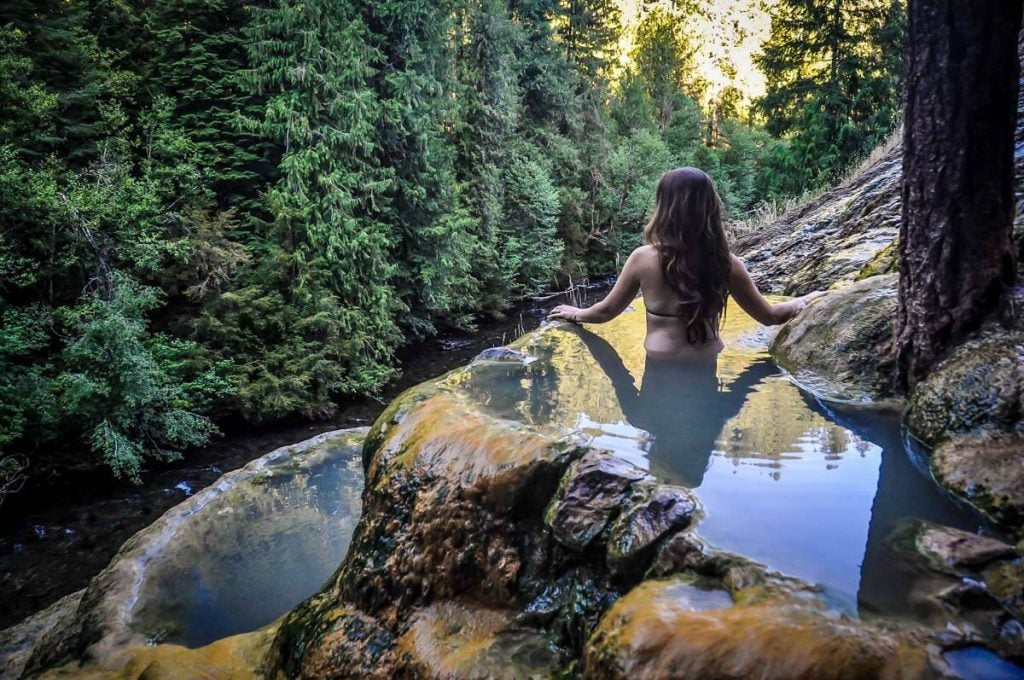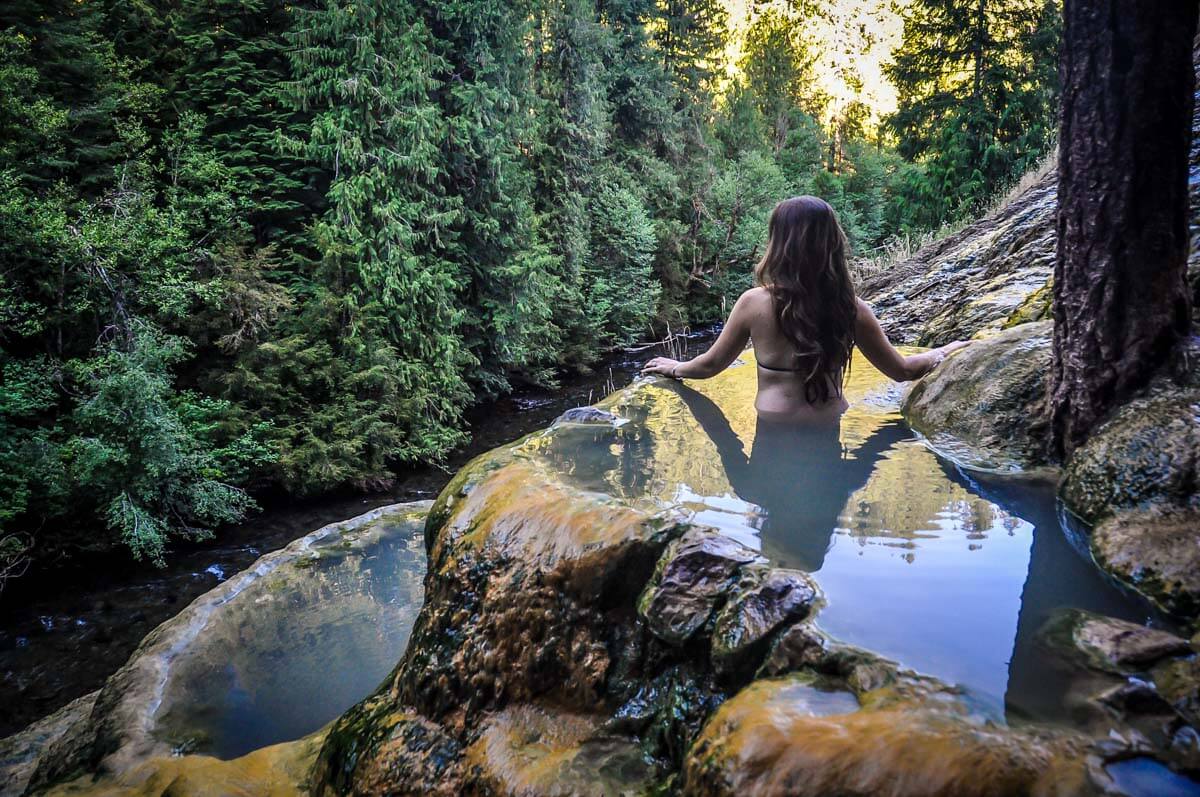 With volcanic landscapes and geothermal activity, it should come as no surprise that Oregon has a ton (more precisely, 37) of hot springs scattered throughout the state.
We're huge soaking fanatics and have dipped our toes in many 'a Oregon hot spring over the years, and we think this experience should definitely be on your PNW bucket list.
Our favorite hot springs in Oregon
Umpqua: Three tiered picturesque hot spring pools nestled in a pine forest and overlooking a river valley in Umpqua National Forest.
McCredie: Man-made rock walls contain these natural hot springs buried in the Willamette National Forest.
Terwilliger (aka Cougar): Six tiered geothermal pools ranging in temperature and separated by rock walls in the Willamette National Forest.
Crystal Crane:  A resort offering a variety of soaking options from a geothermal pond to private bath houses, situated in Oregon's high desert region.
Paulina Lake: A rugged natural hot spring on the shores of Paulina Lake in central Oregon.
Are you a soaking fanatic?! We've got a more detailed list of the best hot springs in Oregon!
Hot Spring Etiquette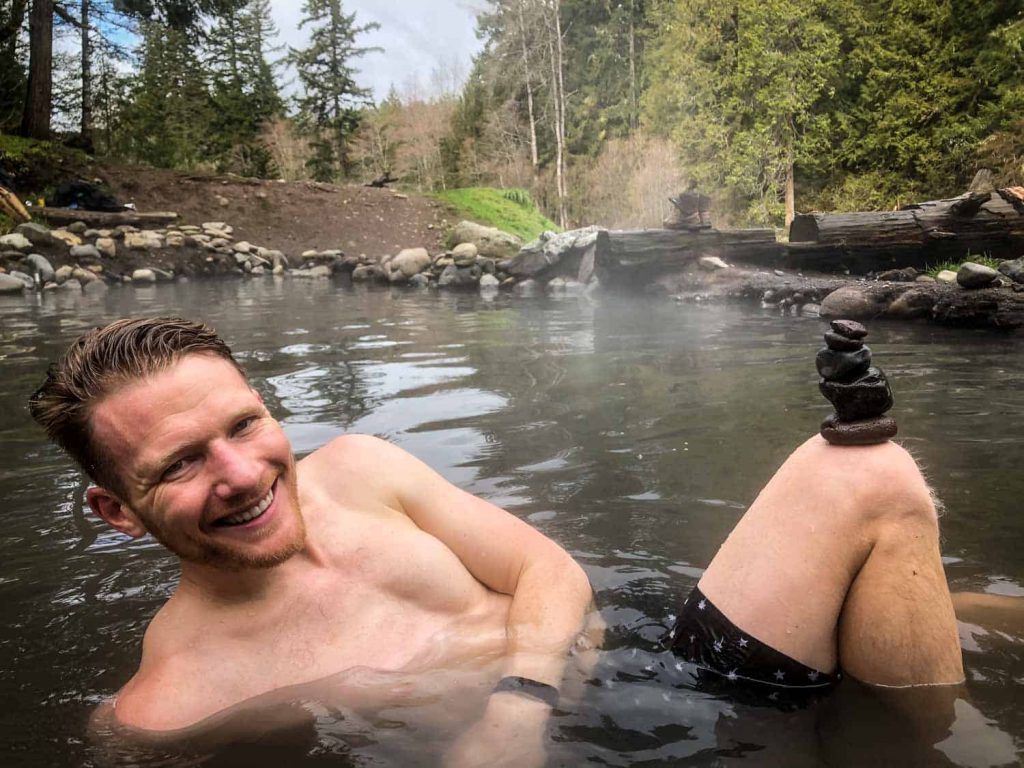 If you choose to go hot spring soaking, please be respectful of the environment and fellow soakers.
Know the rules on nudity. Most hot springs in Oregon allow nudity, but be sure you know for sure beforehand. And expect other soakers to be nude. Don't go if this will bother you.
NEVER leave any waste behind. This includes fruit peels and nut shells, as they are not native to the environment and can be harmful to local wildlife. Plus, it's gross for others to see a rotting apple core right next to their soaking spot. Go above and beyond and perhaps carry out any trash you see that others have left behind.
Follow the rules about the particular hot spring: What hours are they open? Is camping allowed nearby? Can you bring dogs? Is a fee or a pass required? Do a bit of planning and don't break these rules, so that the springs can stay open for years to come.
Be respectful when taking photos. If people are nude, be sure you're not making anyone uncomfortable, and perhaps refrain from taking pictures in some places.
2. Take a road trip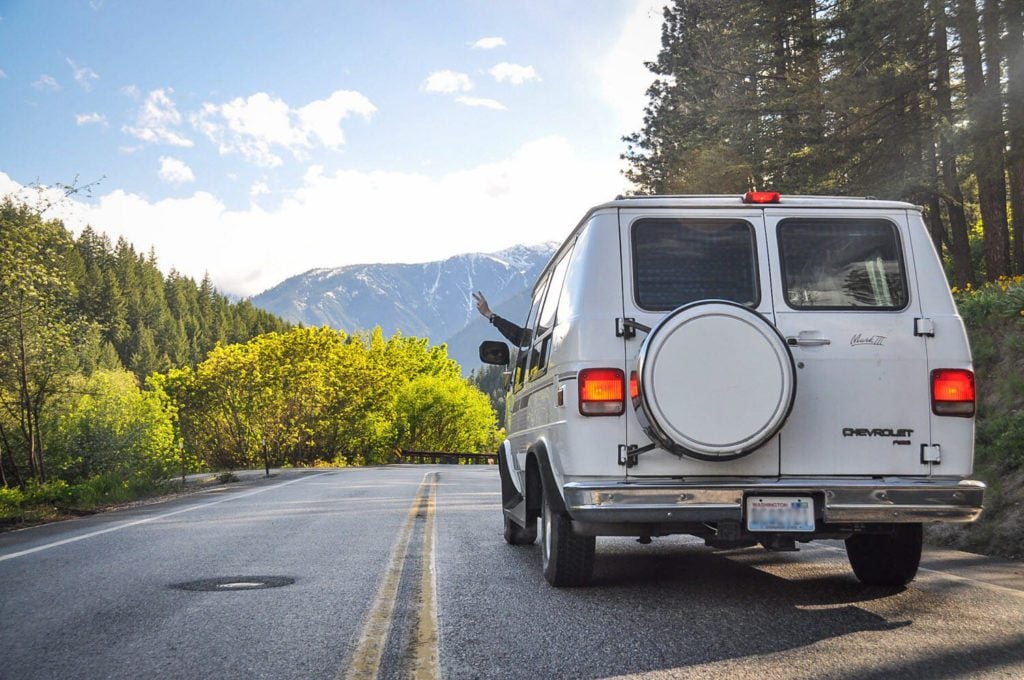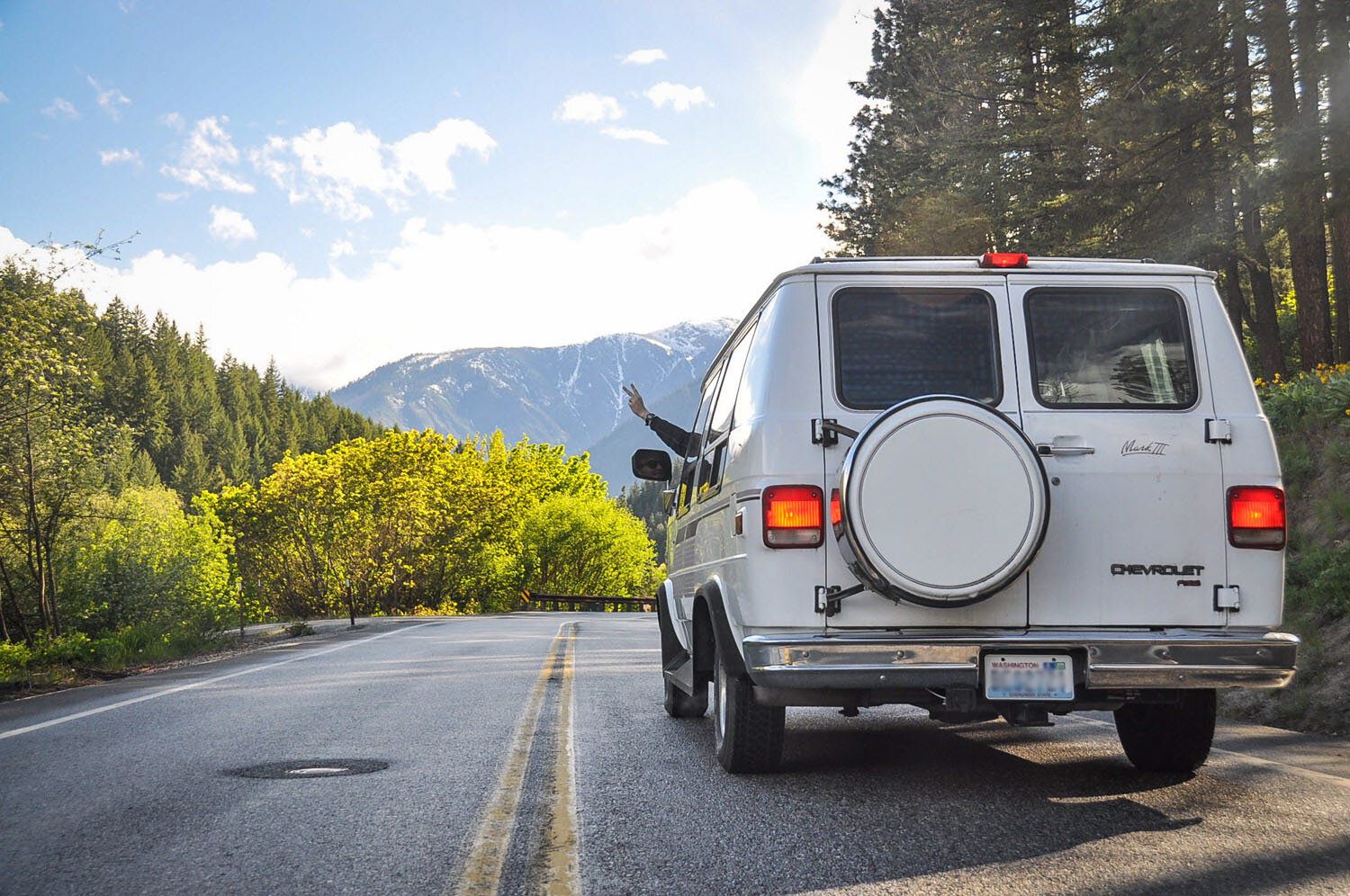 We've traveled all over the world, and can tell you with 100% honesty that Oregon is one of our very favorite places to take a road trip.
In a relatively short drive, you can see the ocean, snow capped mountains, and a vast desert. Plus, with exciting cities as well as quaint small towns, there are so many worthwhile places to stop.
We've created an unforgettable Oregon road trip route so all of the planning is done for you. You just need to get yourself there!
Insider Tip: We've got a great resource for you if you're planning a road trip. It's packed with lots of tips and our exact method for making sure we find the best hidden gems along our route. There's also a Google Maps hack we're pretty proud of!
Renting a campervan in Oregon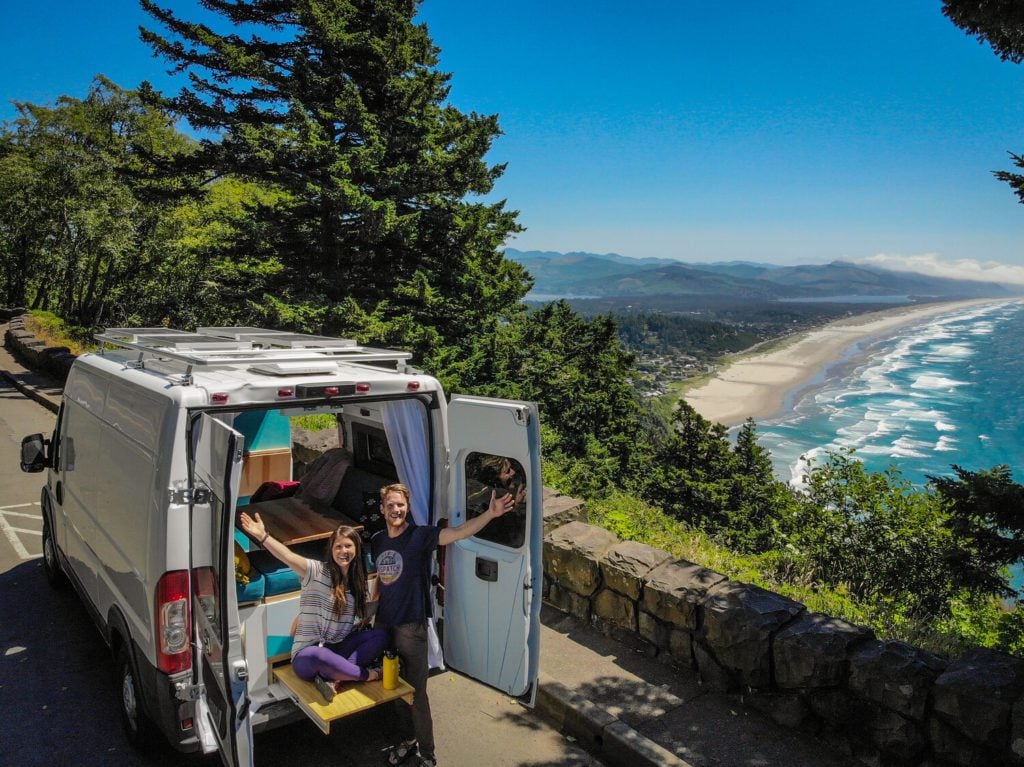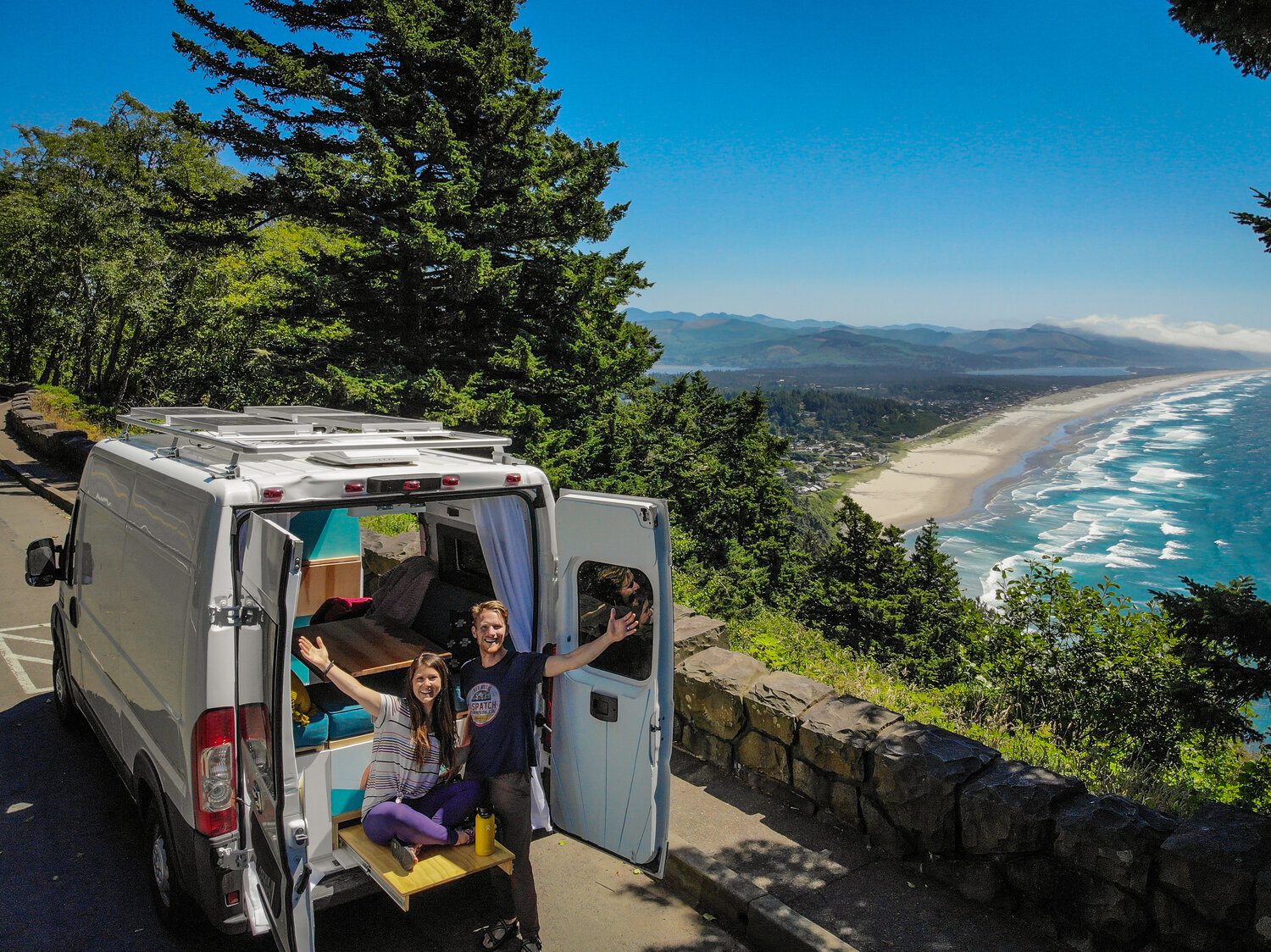 One more thing… If you've ever been curious about vanlife, Oregon is the perfect place to try out a campervan. We should know – we've spent tons of time exploring Oregon in our campervan!
There's tons of BLM land around the state, making it easy to find free campsites. It'll be an adventure waking up in the wilderness, plus, it'll save you quite a bit of money on hotels.
We have a whole guide to the best campervan rentals in Portland, but one company we'd recommend looking into is Escape Campervans. They have all your basic needs and are super budget-friendly.
BONUS: We've partnered with them to give you a 10% off discount when you use our link!
3. Go crabbing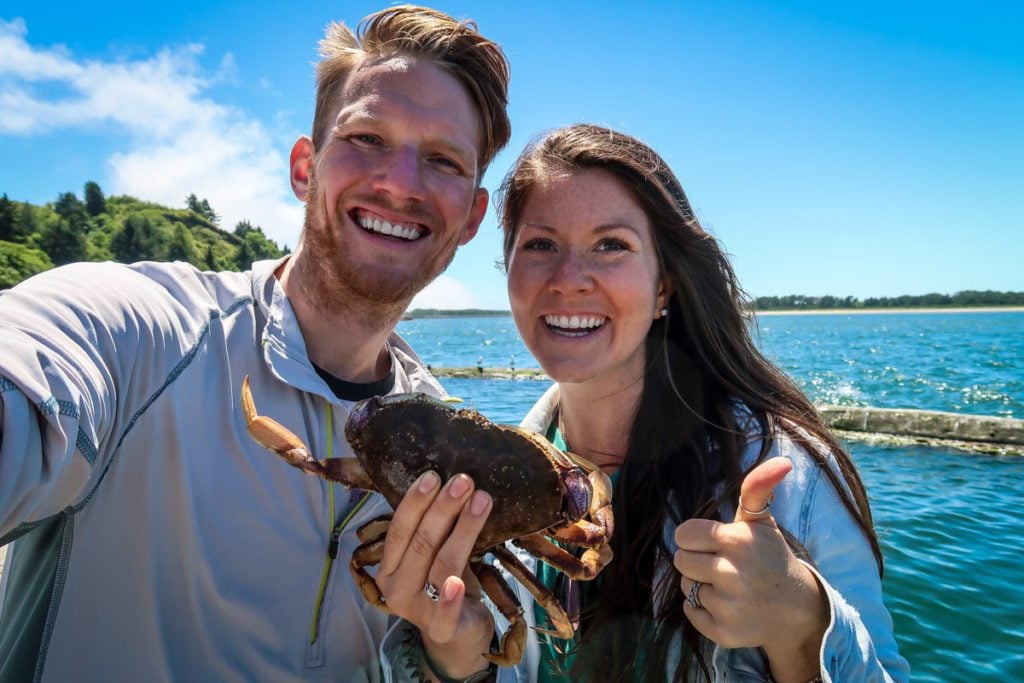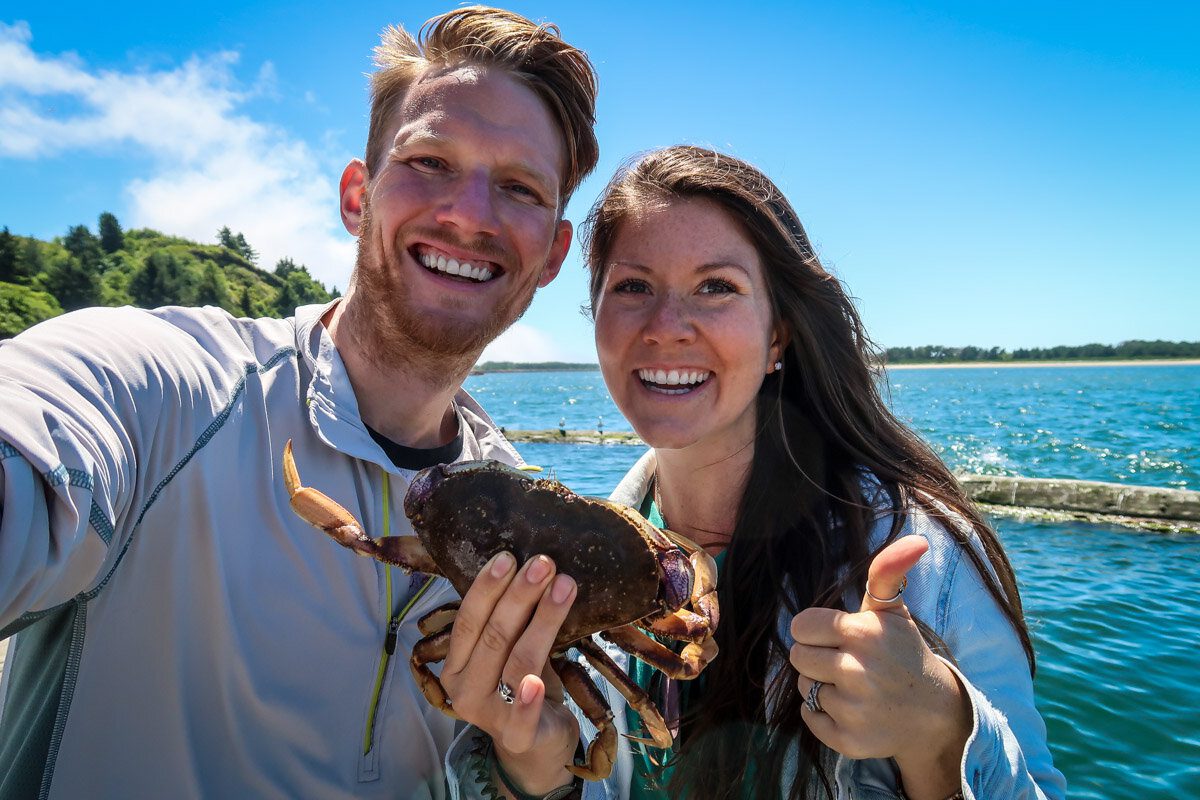 That's right – try your hand at crabbing on the Oregon coast. If you get lucky, you'll be able to enjoy your fresh catch with melted butter, a local brew and a scenic view.
Are you drooling? Because I sure am…
The best part is you don't need any equipment or experience to go crabbing.
Here's how to do it yourself:
1) Pick the crabbing spot: There are a few places you can try crabbing, but our personal recommendation is to go to Kelly's Brighton Marina.
2) Get a shellfish license: In the office, you can get an Oregon shellfish license (which is required). An annual license costs $10 for a resident and a 3-day non-resident pass is $19.
If you like planning ahead, you can also purchase your license online.
3) Get the equipment: Next, you can rent a baited crabbing ring, bucket and measuring device for $17. Alternatively, Kelly's also offers 2-hour boat rentals for $120, which includes 3 crabbing rings.
4) Toss it in: Head out to their dock, toss in your ring and cross your fingers that when you pull it it's full! Don't worry if you're not experienced, the staff will give you some instructions.
5) Eat: If you catch male crabs that are of the legal size (they'll show you how to measure and tell if it's male), they will cook them for you free of charge. Don't forget the butter! And if you don't catch any crabs that are of legal size, you can order from the menu, so you'll get crab one way or another!
Tips for crabbing in Oregon:
Come early, as the crabbing tends to be better in the morning.
They sell cans of local beer in the onsite store for reasonable prices, which is nice to enjoy on the dock.
Bring lawn chairs, as it's nice to have a place to sit while you're waiting.
Dress warmly, as it can get cold and windy on the dock.
Kelly's Brighton Marina has campsites, if you want to stay.
4. Ski on a volcano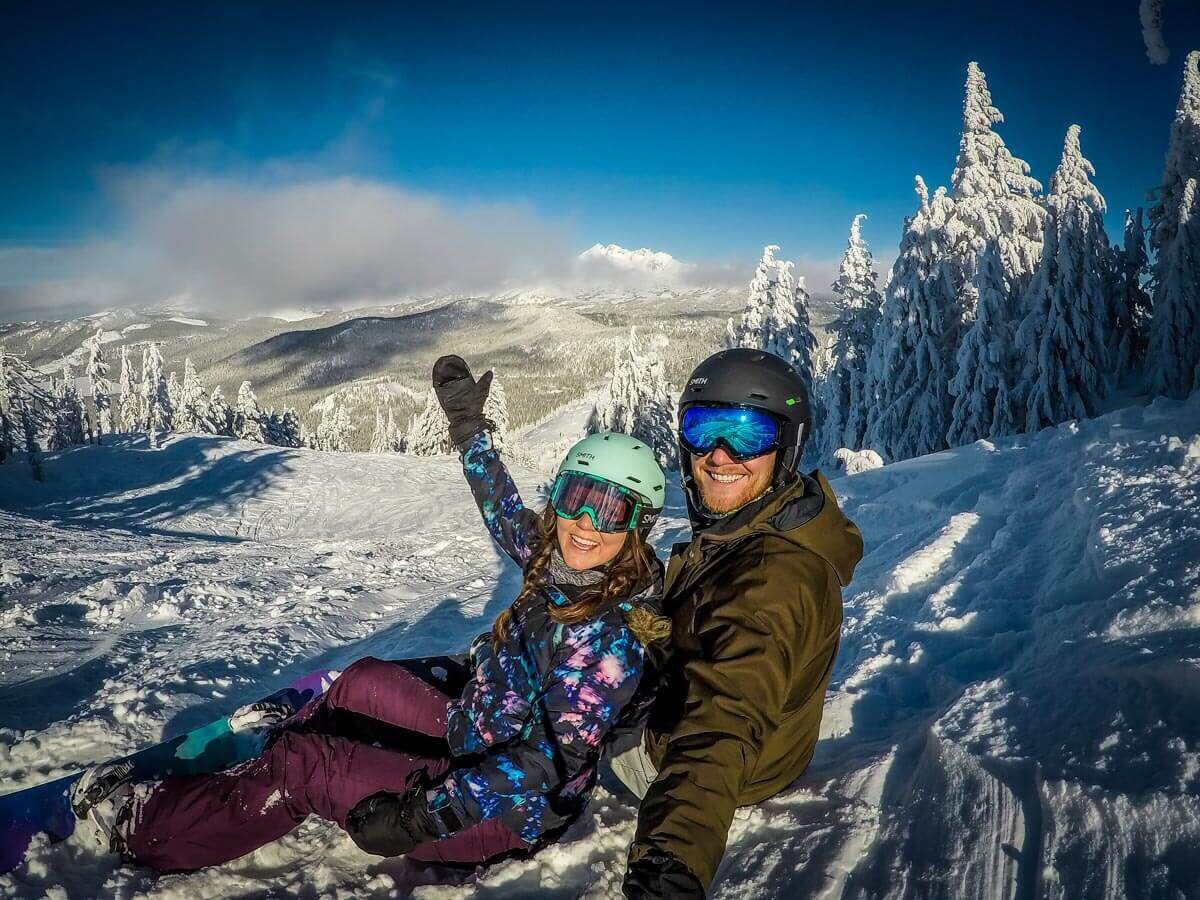 Winter sports enthusiasts can cross this off their adventure bucket list – twice! Both Mount Hood and Mount Bachelor are volcanoes. But don't worry – they pose a minimal threat of erupting.
Both ski resorts have long seasons: Mount Bachelor is typically open through the end of May while Timberline (on Mount Hood) has the longest ski season in North America. With a 10-month season, Timberline boasts one lift that is open through the summer months, meaning you can get turns on the Fourth of July!
Psst! Check out this guide for what to wear skiing to help you pack for your trip!
Budget skiing in Oregon
Mount Bachelor and Mount Hood are both iconic places to ski or snowboard, but they're not cheap. Ticket prices vary depending on the day and month.
If you're looking for a cheap place to ski in Oregon, Hoodoo is where it's at! From early January to mid-March, head to Hoodoo for "Thrifty Thursdays" when lift tickets are just $29! While not nearly as big as Hood or Bachelor, you sure can't beat the price!
5. Sample Oregon's craft beer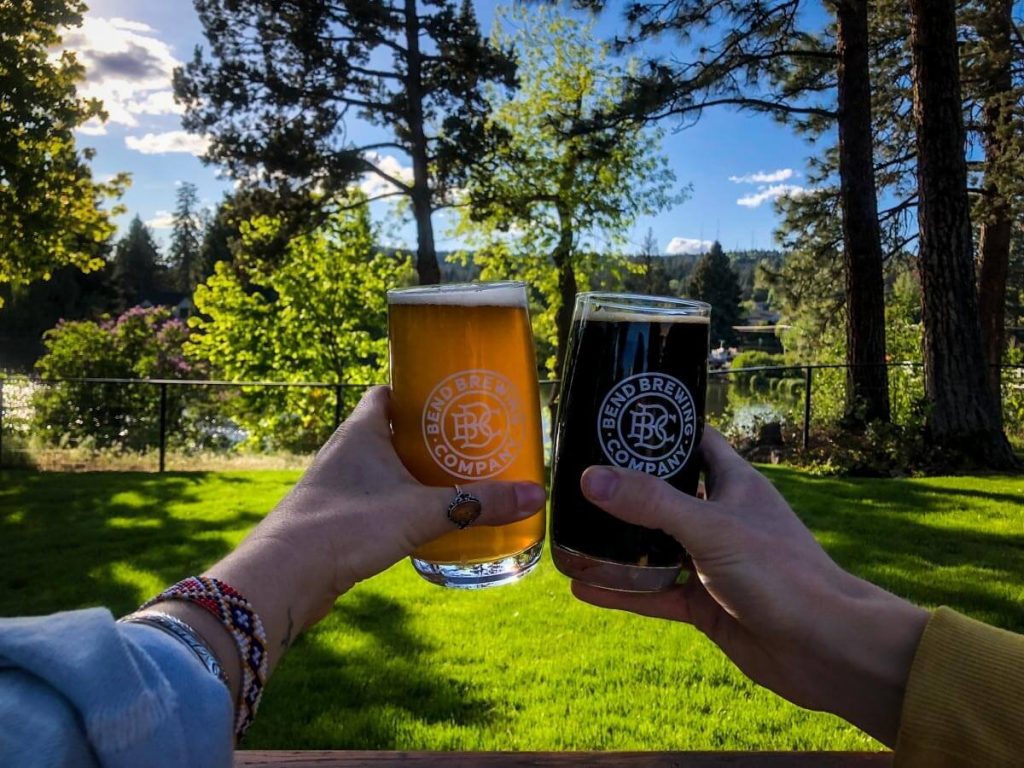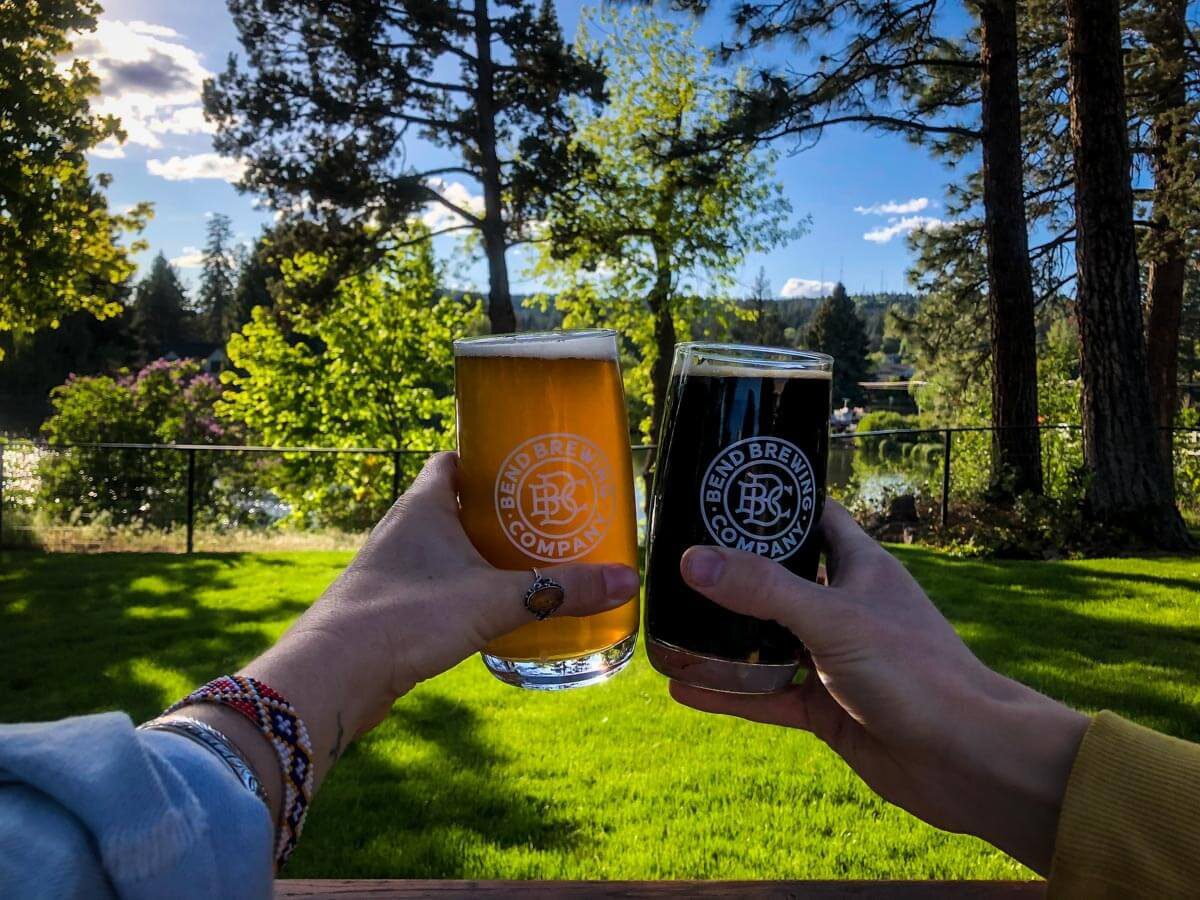 Portland has long topped the lists of the "beer capitals of the world", and it's far from the only place in the state to get excellent brews.
Oregonians take their beer seriously, and you'll find breweries all over the state – from small coastal towns to nestled in the mountains.
You really won't have to look far to find incredible beer, but if you want a few suggestions from us, here are some of our favorite breweries in Oregon. (There are SO many more, but we had to stop ourselves.)
Portland Breweries
Ecliptic Brewing: Brewpub with great beer and food options and two Portland locations (Mississippi neighborhood and Southeast Portland). We love their Starburst IPA!
Ex Novo Brewing Company: With excellent beer and good bites, this non-profit brewery donates 100% of their net profits to "organizations building a better world". We'll drink to that!
Oregon Coast Breweries
Pelican Brewing Company: With several locations on the coast, this brewpub has good food options and great beer. We love their Hazestack Double Hazy IPA.
Buoy Beer: This Astoria staple has good beer and a lowkey atmosphere right on the Columbia River. If you like oyster shooters, get an order to enjoy with your beer!
Fort George Brewery: Another Astoria favorite, this huge venue is pretty cool and their woodfired pizzas are excellent.
Hood River Breweries
Double Mountain Brewery: Local favorite spot with good beer and pizzas.
pFriem Brewery: Highly regarded for their excellent beer that pushes the envelope of craft brewing. They also have elevated cuisine, making it a good dinner choice. This place is very popular and often has a wait!
Bend Breweries
6. Chase waterfalls around the state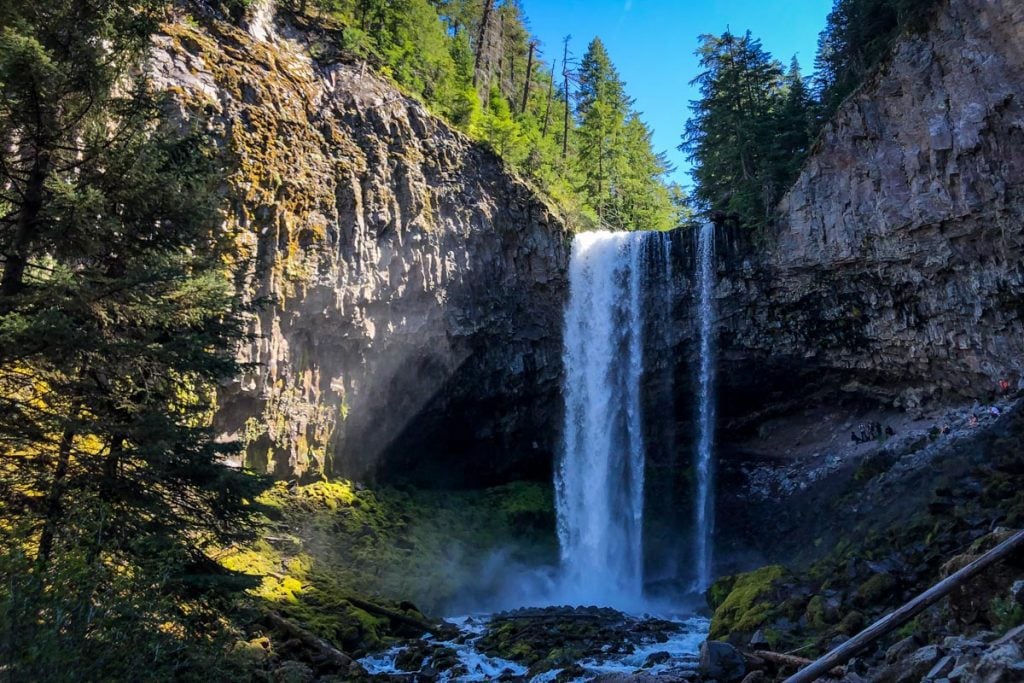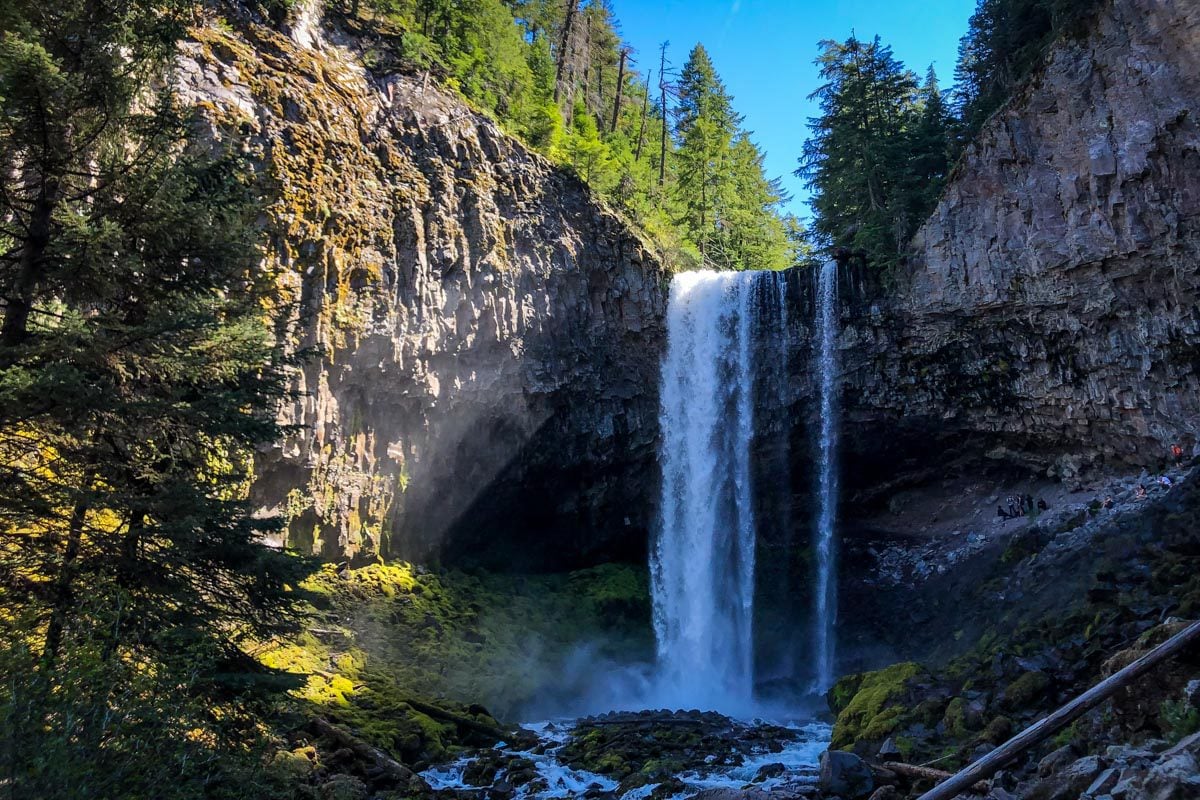 Oregon has a seriously high concentration of waterfalls, each with its own unique draw. If you're a fellow waterfall lover (they're the best, aren't they?!), you'll be in heaven as there are so many around the state to explore.
Proxy Falls: While this one requires a bit of effort to reach (both in a car and on foot), this is one of the best waterfall hikes in Oregon. Walk first through a lava field, then through a lush forest before reaching this cascading waterfall that is beautiful beyond belief.
Tumalo Falls: An impressive 97-foot waterfall along Tumalo Creek in Deschutes National Forest, just 30 minutes from downtown Bend.
Silver Falls State Park: The largest state park in Oregon is home to some pretty impressive falls. Hike the moderate 7.2-mile Trail of Ten Falls loop to see many of them in one go.
Columbia River Gorge: A designated National Scenic Area that stretches over 80 miles is one of the best places to see waterfalls near Portland, including the famous Multnomah Falls.
Salt Creek Falls: The highest single-drop waterfall in Oregon, Salt Creek is a tributary of the Willamette River, plunging 286 feet into a gaping canyon.
Toketee Falls: Located in remote southern Oregon, this iconic waterfall tumbles 128 feet over distinctive basalt columns on the North Umpqua River. It's best to combine a trip here with visiting Crater Lake National Park.
7. Go on an epic hike (or a few!)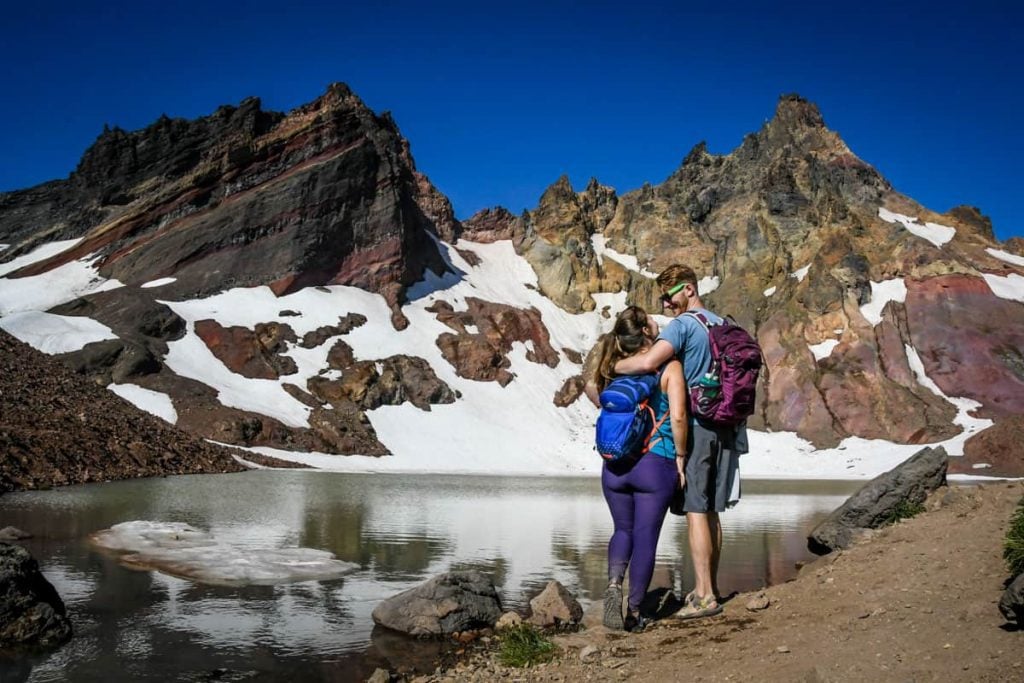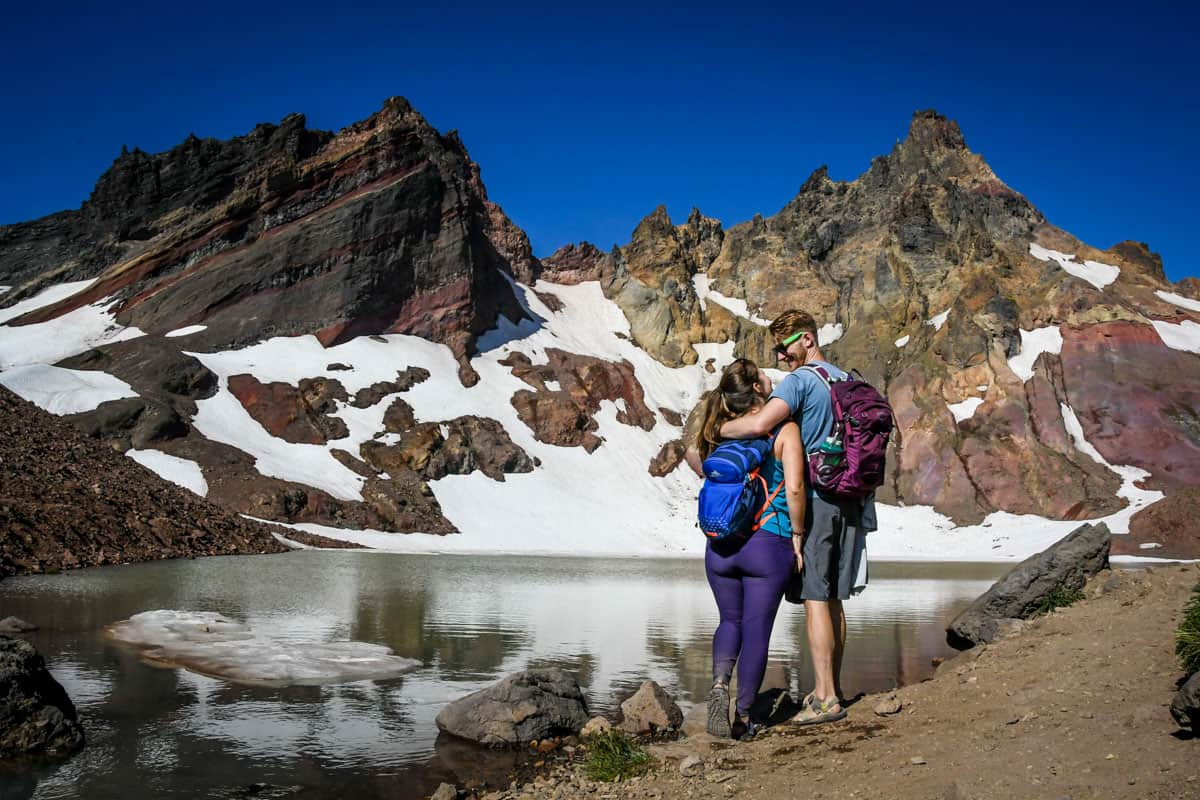 If you're a hiking enthusiast, Oregon will blow your (wool!) socks off.
From the classic PNW hikes with moss clinging to giant pines to treks through the high desert and excursions in remote mountain wilderness, there are hiking opportunities for people of all levels and interests.
South Sister Summit: This difficult summit hike is not for the faint of heart. But those who put in this full-day hike and reach the top of Oregon's third tallest mountain will be rewarded with epic views and a feeling of accomplishment.
Broken Top: This is a long day hike that brings you through stunning high desert landscapes and culminates at the stunning No Name Lake. Keep hiking a bit further along the rim of this stratovolcano for epic views of the Three Sisters Wilderness.
Not only is this one of our favorite hikes near Bend, it is probably our favorite hike in the entire state.
Tom, Dick & Harry: This is one of the best hikes in Mount Hood National Forest, and is a good backcountry option for those wanting to camp.
Green Lakes Trail: This 9-mile out-and-back hike has 1,200 feet in elevation gain, making it less difficult than most others on this list. This is a great trail run and culminates at the beautiful Green Lake, which makes a good place to enjoy a picnic lunch.
Tumalo Ridge: This relatively short yet challenging trail grants hikers with sweeping views of the Three Sisters and Mount Bachelor.
And if you're going to be exploring the coast, read up on the best Oregon Coast hikes and be sure to arrive at the trailheads early so you don't miss out on parking!
8. Explore Crater Lake National Park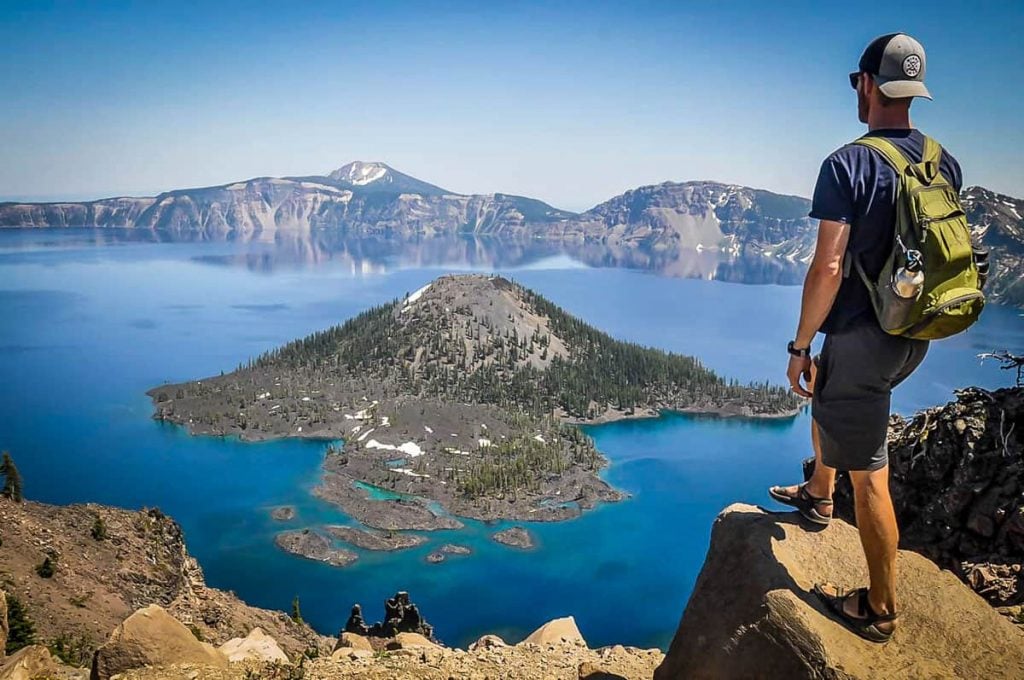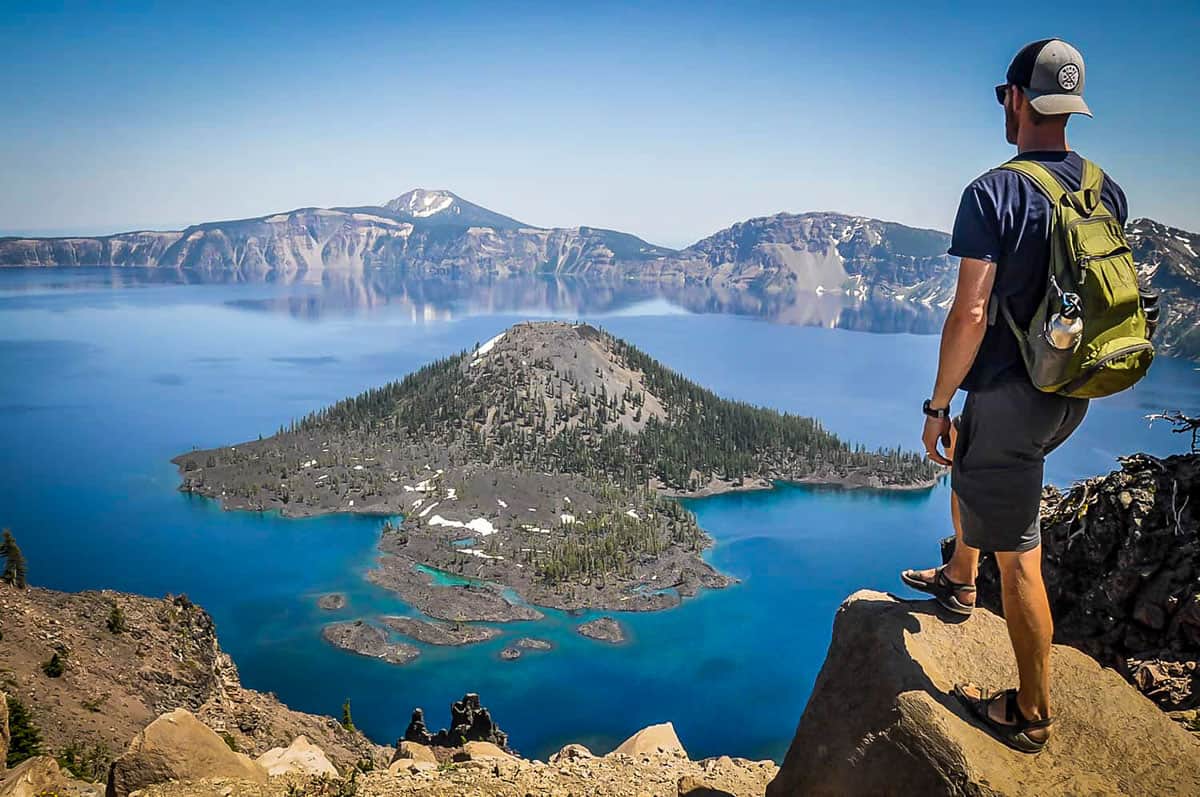 Crater Lake is Oregon's only National Park, and it is a magnificent sight to behold.
Inside this volcanic caldera is a shockingly blue lake that'll make you wonder if you're seeing things through a filter!
Fun Facts about Crater Lake National Park
Deepest lake in the USA
Deepest volcanic lake in the world
The water in the lake is completely from rain and snow, making it incredibly clear
This area gets an average of 43 feet (13 meters) of snow per year!
Wizard Island is a volcanic cinder cone
Things to do in Crater Lake National Park
Have a picnic with a view. There is some food onsite, but it's mediocre in our opinion so we'd recommend bringing something from outside the park.
There are a few excellent hikes in Crater Lake National Park for all levels.
If you're visiting in the summer, go swimming!
9. Go on a farm tour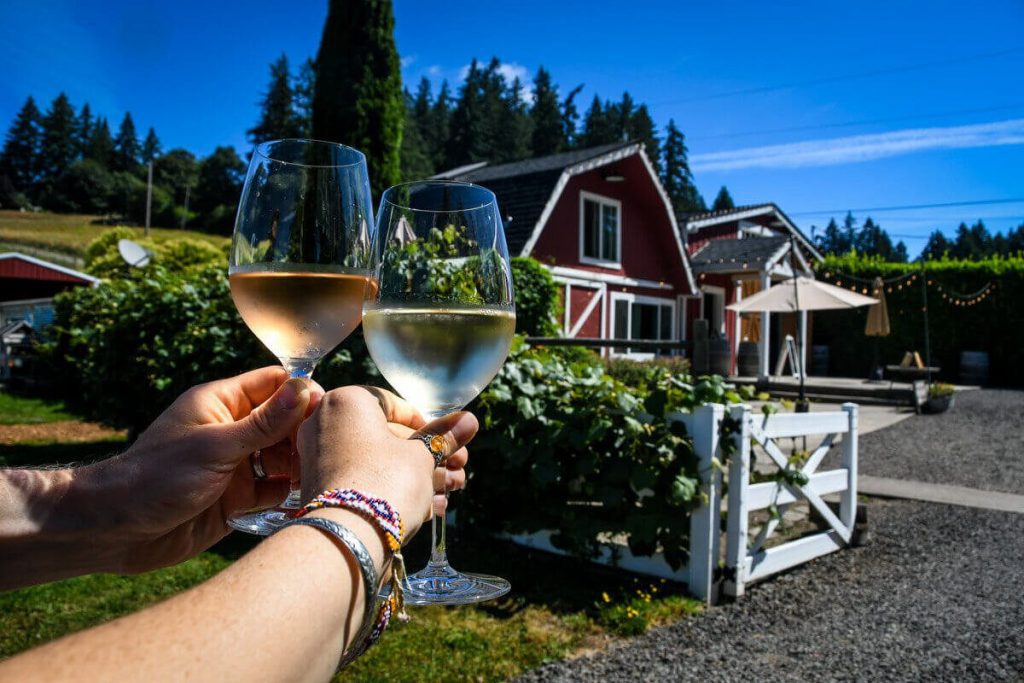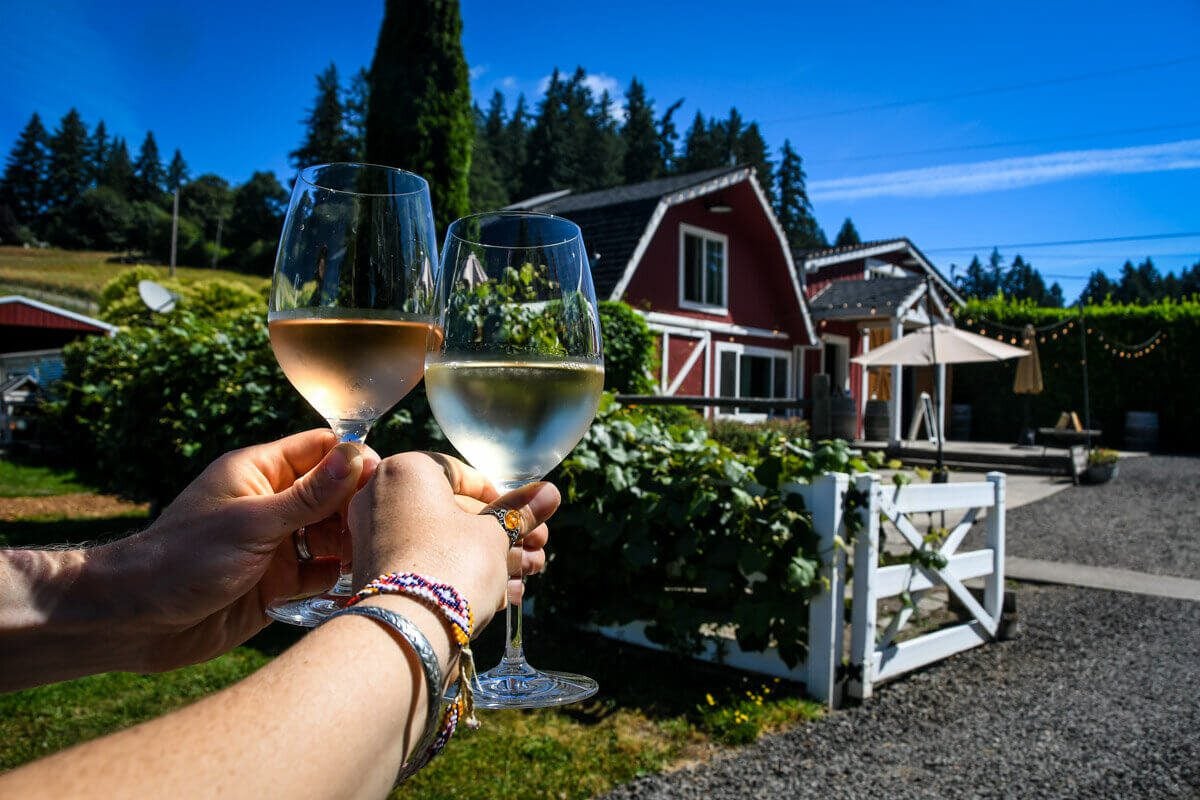 If you're interested in learning more about where your food comes from, or you just want to have a really unique experience, listen up…
Farm 2 Fork offers a variety of unique tours that foodies will love. We personally went on both tours described below and had a blast on each of them!
Psst! As an added bonus, we've got a little discount code for ya! Use discount code: 2Wander for $5 off your tour!
Taste of the Willamette Valley tour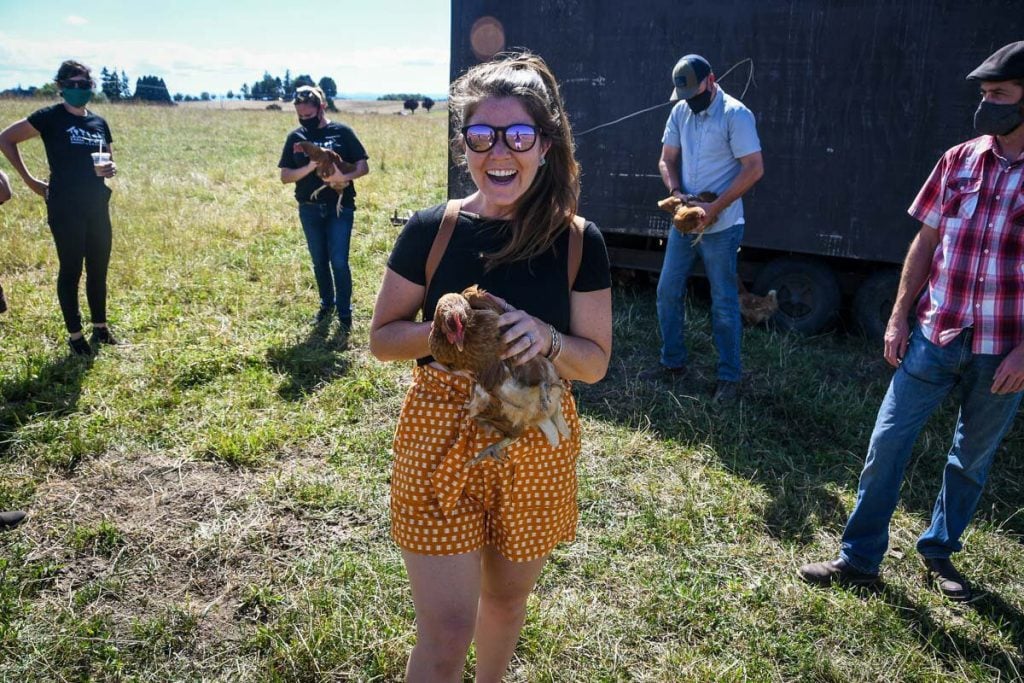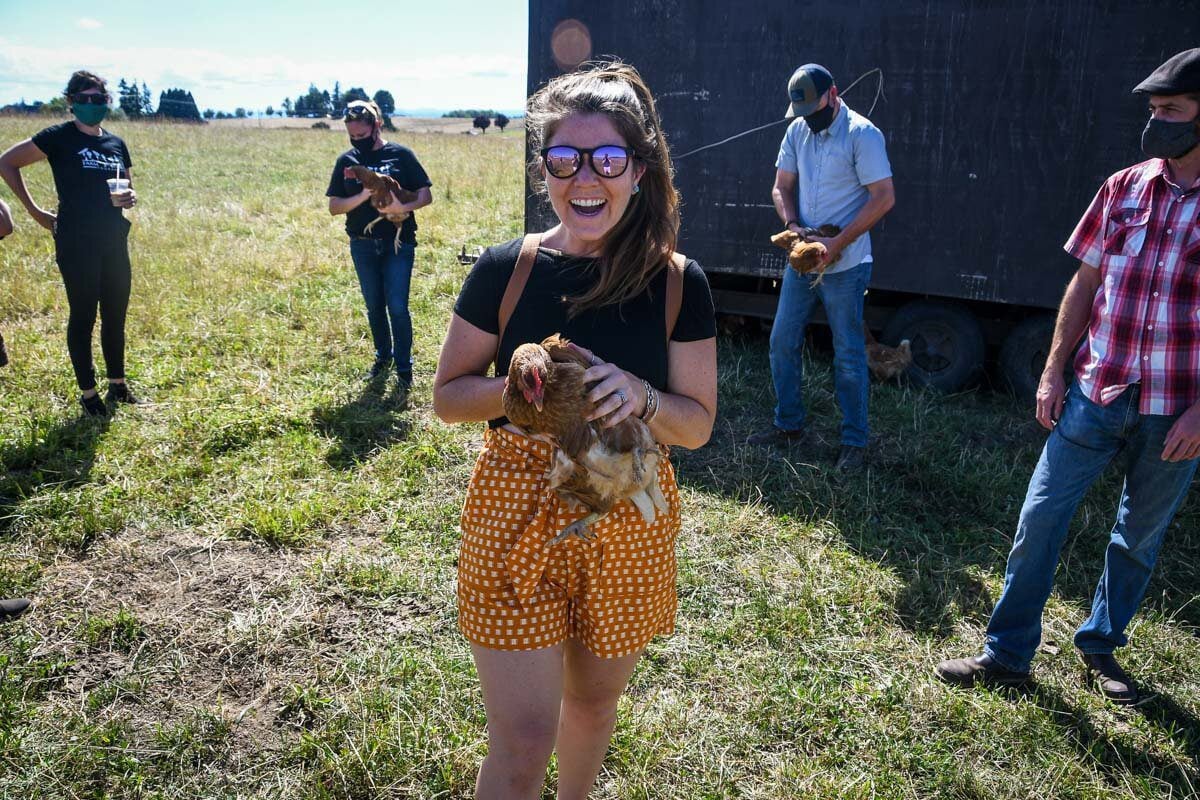 Start Time: 10:00 am | Tour lasts 5-6 Hours
Price: $149 per person + service fee
Begin at a local sustainable farm and learn how they raise animals and produce. Enjoy a beautiful lunch made completely with local ingredients in an idyllic garden setting. Oh, and pair it with local Willamette Valley wine for the perfect touch.
Tour a working dairy farm and see what life is like for the cows. You can even try milking a cow before sampling a bunch of delicious cheeses and ice cream!
Tour a poultry farm where the chickens are truly well taken care of and allowed to roam free. Play with some resident pigs and learn about the sustainable practices that make this farm different than most. Then enjoyed a stunning hor d'oeuvres spread with local wines to round out the day!
Learn more about the Taste of Willamette Valley Tour.
Coastal Exploration tour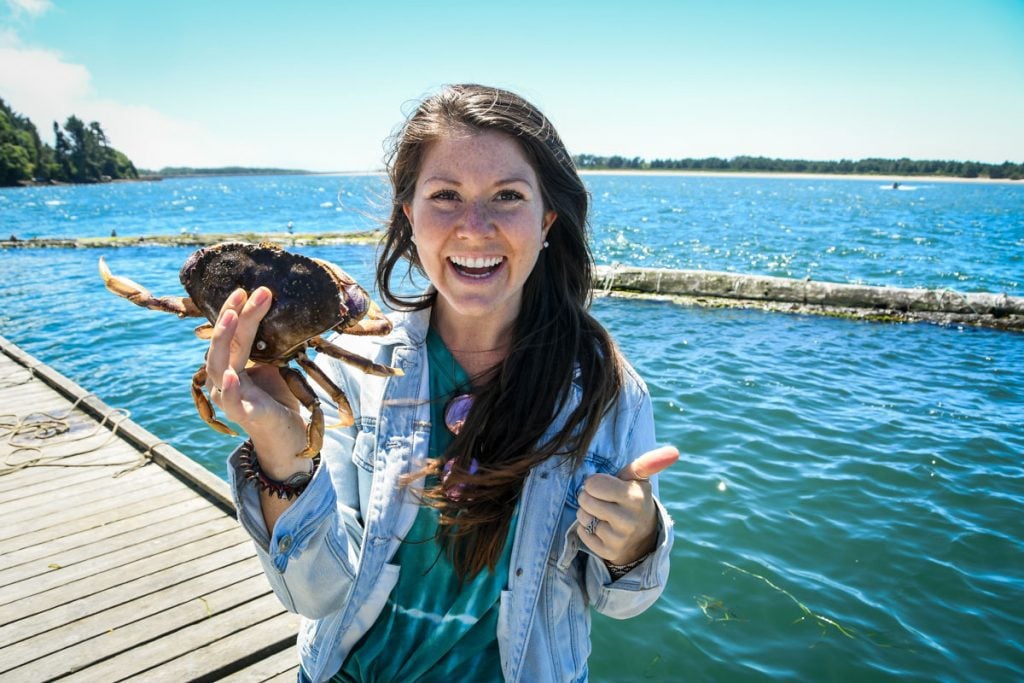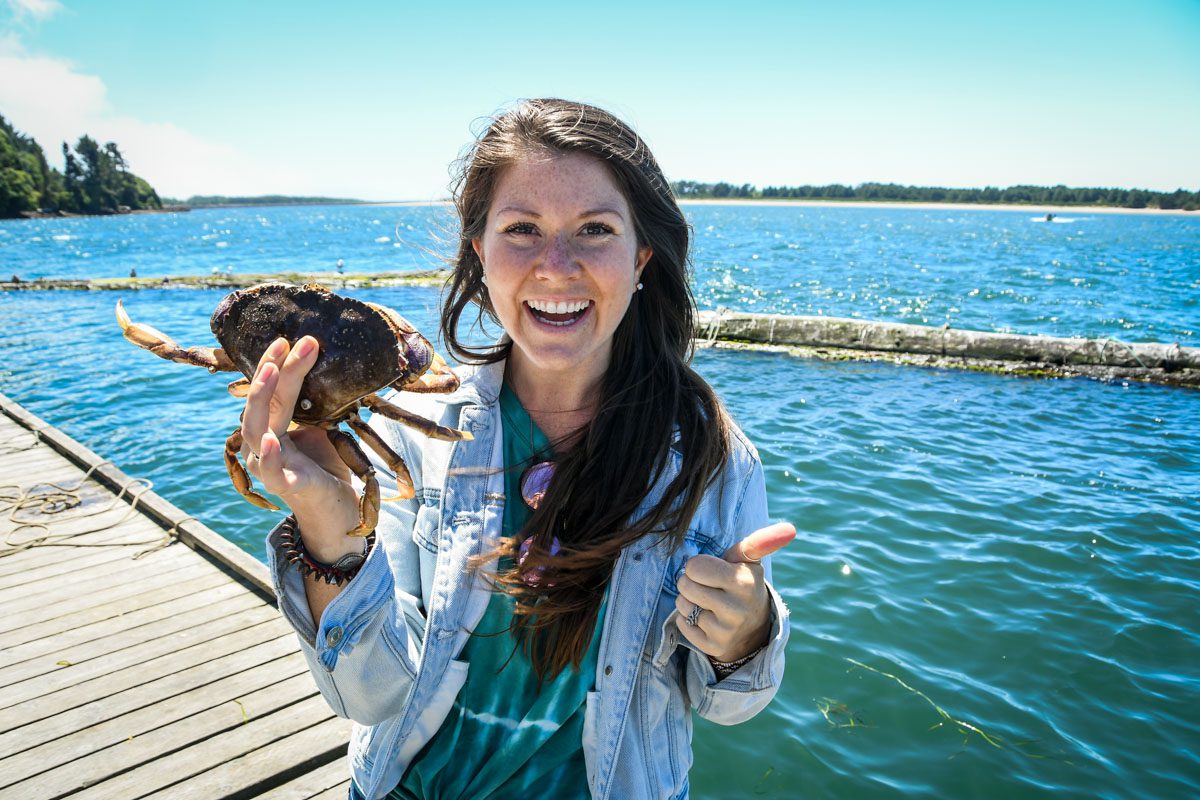 Start Time: 10:00 am | Tour lasts 5-6 Hours
Price: $149 per person + service fee
Head to small fishing villages on Oregon's Coast and see where lots of the local fish is caught and processed.
Try your hand at crabbing! It's pretty fun and you'll likely catch some — though they do have to be male and over a certain size to keep. We caught quite a few but had to throw them all back in. But even if you're not so lucky, you still get to eat an incredible crab lunch!
Learn how to shuck oysters and eat them to your heart's content (with some white wine or beer, of course!)
Learn more about the Seafood Farm Tour.
Not only do you get a day's worth of incredible food, but you're helping to support small farmers who are passionate about what they do and are operating with the environment in mind.
Disclaimer: Farm 2 Fork invited us on these tours as a complimentary experience. As always, all opinions are our own.
10. Camp on the moon… err, the Alvord Desert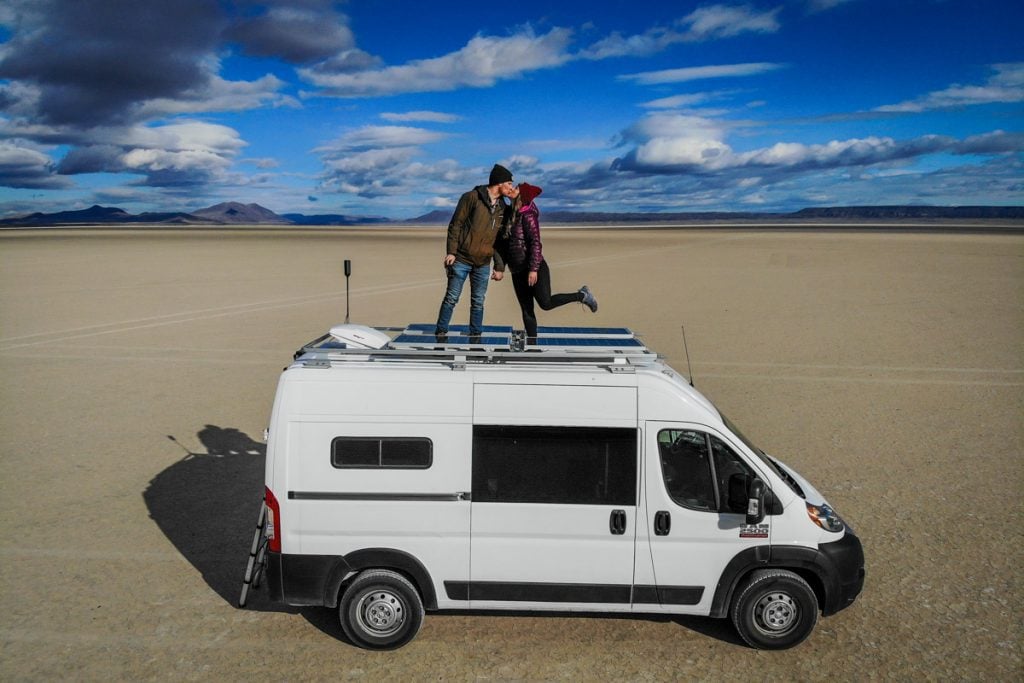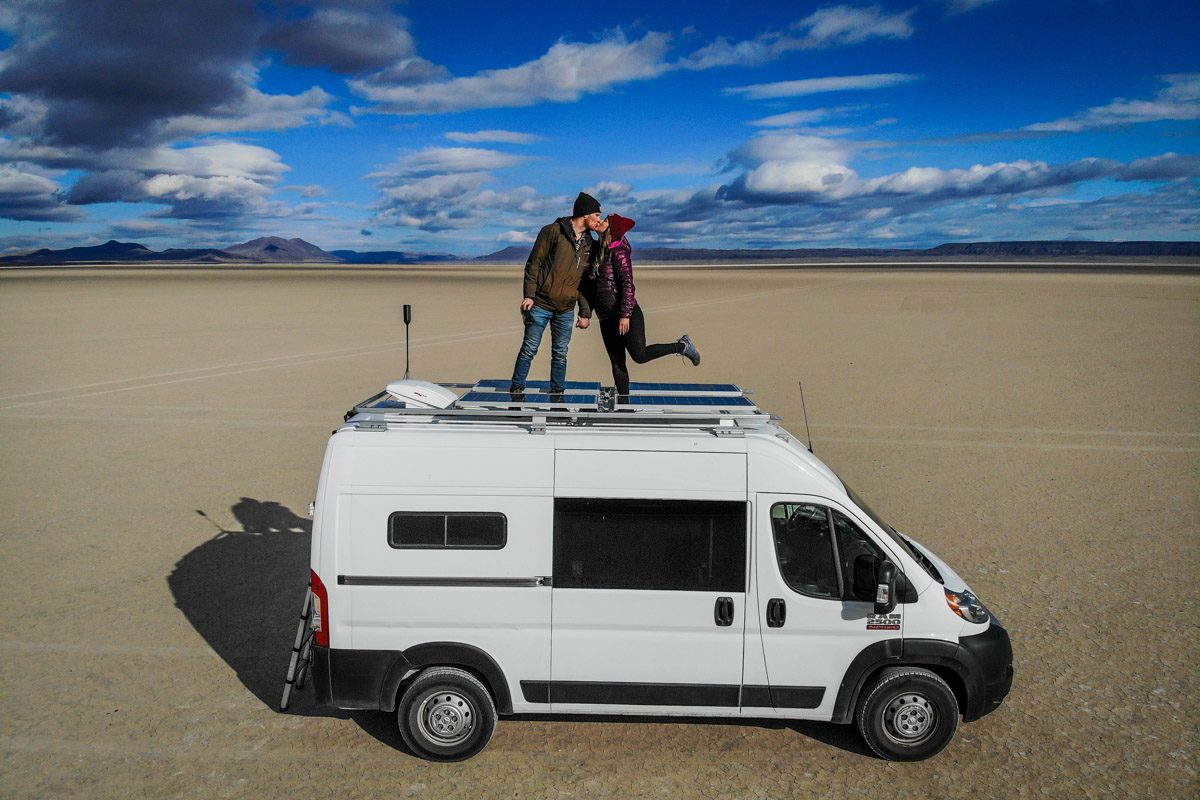 I can pretty much guarantee that you've never camped in a place like this before…
The Alvord Desert is located in the southeastern part of Oregon, and as soon as you see this massive dry lake bed, you'll feel as if you've landed on another planet.
Before you will be an expanse of cracked earth that extends for miles. Often referred to as "the playa", the Alvord Desert is a popular place for adventure-seekers to go camping. It is BLM land, so you can technically park your van or pitch your tent anywhere on the playa.
But before you pack your gear, there are a few things you should know:
There's little to no cell signal in this area, so it's important that you download the offline version of Google Maps before your trip.
Have a plan for going to the bathroom. Since you'll be camping on a dry lake bed, it's hard to dig a hole and your "business" won't just disappear. If you camp near the Frog Spring access point, you can use the drop toilet here. Alternatively, if you have a campervan with a toilet, you're all good to camp anywhere on the playa, as you
Avoid going here during the rainy season (spring), as you can get stuck out in the playa after a flash flood. It has happened to many unsuspecting campers and can lead to dangerous situations.
Bring warm clothes and sleeping gear, as it can dip below freezing at pretty much any point of the year. The winds can also get incredibly strong, so be prepared.
Stop at Fields Station for a killer (and huge!) milkshake.
If you like hot springs, Willow Creek and Alvord Hot Springs are worth a visit.
11. Explore Bend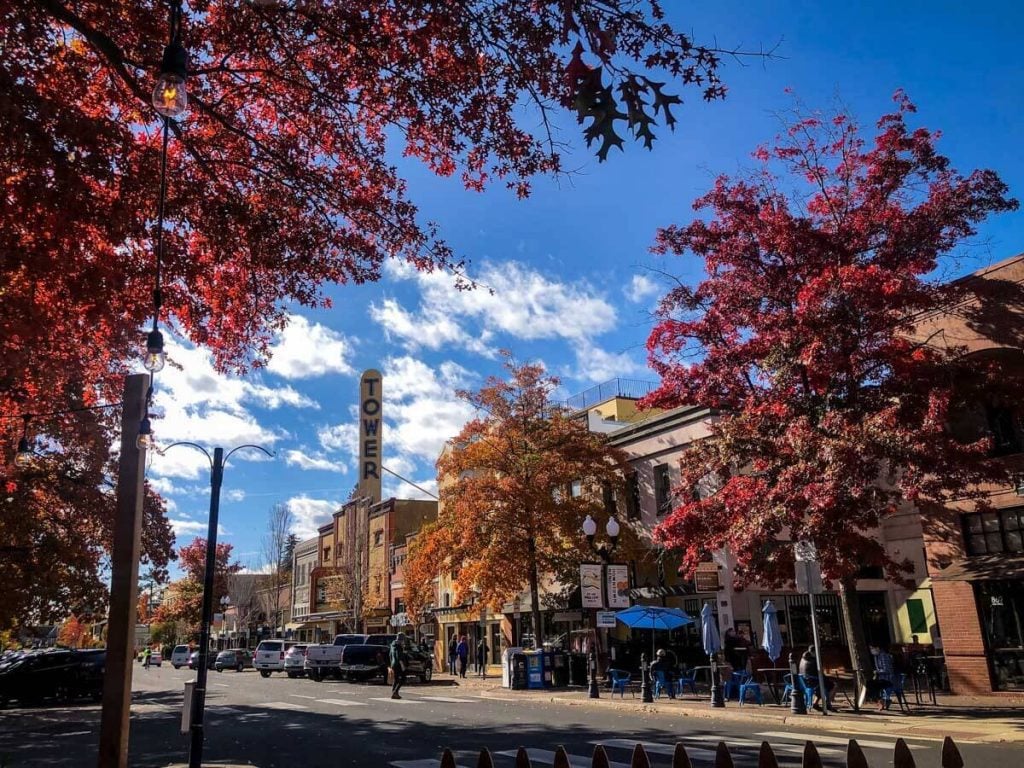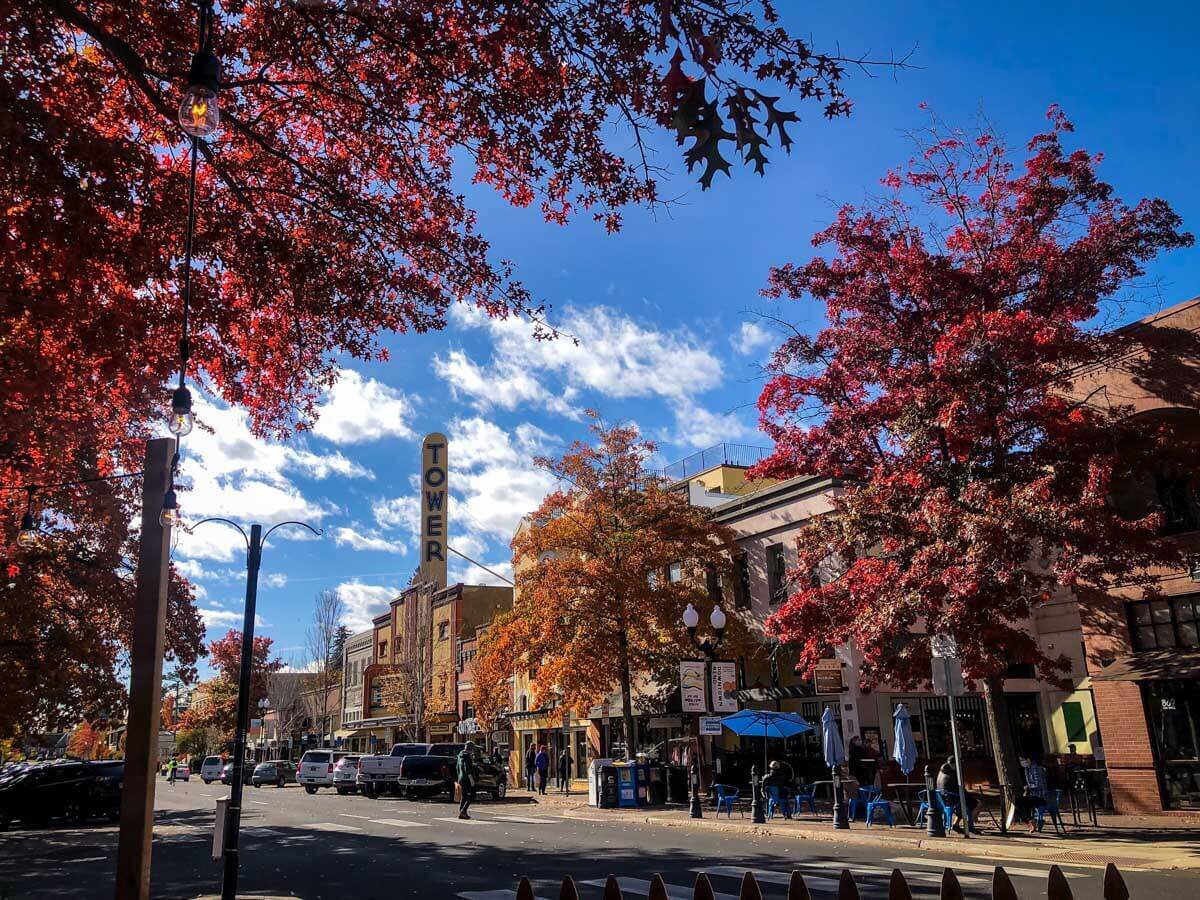 We may be biased (because we live here!), but Bend is truly one of the coolest places in Oregon.
Be sure to put this Central Oregon hub on your Oregon itinerary, as we seriously think pretty much anyone can fall in love with this town.
Here's what we mean…
Love hiking? Well, you're going to love Bend! From easy riverside jaunts to some seriously challenging (and equally epic!) mountain summits, people of all levels will find amazing hikes in Bend.
Prefer staying in town? Downtown Bend is super cute! There are boutiques, coffee shops and restaurants galore!
Consider yourself a foodie? You're gonna go crazy for the options in Bend. There's an overwhelming amount of excellent restaurants in town – from authentic Thai to boozy brunches – and we've eaten our way through some of the best (all in the name of "research", of course!). Check out our guide to restaurants in Bend so you can plan out your meals while you're in town.
Visiting in the colder months? There are tons of things to do in Bend in the winter! From snowshoeing to some epic destinations to cozying up with a fireside beer, we think this makes a great year-round destination.
Want more tips for visiting? We have a giant guide with all the best things to do in Bend (plus some local secrets!), so as you plan your trip you'll definitely want to check that out.
12. Shakespeare Festival
Between late April through December each year, the southern Oregon town of Ashland plays host to the legendary "Shakespeare Festival", which attracts nearly 400,000 people annually.
First things first: While it's known as the "Shakespeare Festival", the name is a little deceiving…
With more than 800 shows during the nearly 8-month timeframe, it is less of a traditional "festival" and more of an ongoing event.
Also, the plays are not limited to just those of Shakespeare – in fact, there are many contemporary works as well as Shakespearean dramas, performed on 3 different stages.
The most famous of the three theaters is the Allen Elizabethan Theatre. The original stage was built in 1935, making it the oldest Elizabethan-style theater in the United States. Modeled after London's iconic Globe Theatre, watching a performance on this stage will make you feel as if you've been transported in time and across the Atlantic.
You can see a lineup of the upcoming performances and purchase tickets on the OSF website.
13. Spend the night in a fire lookout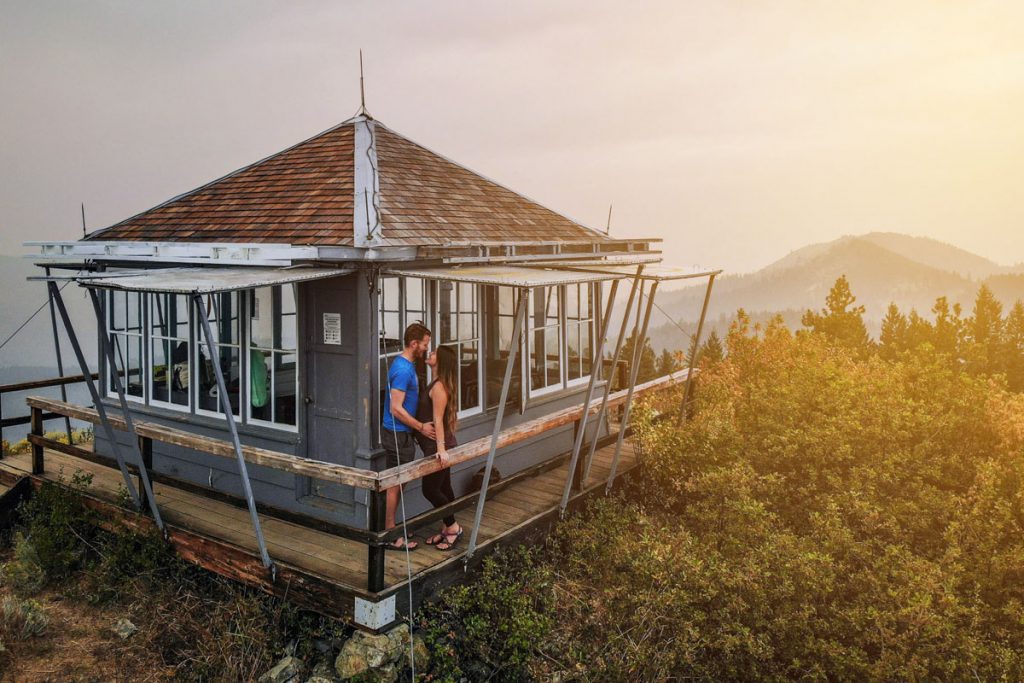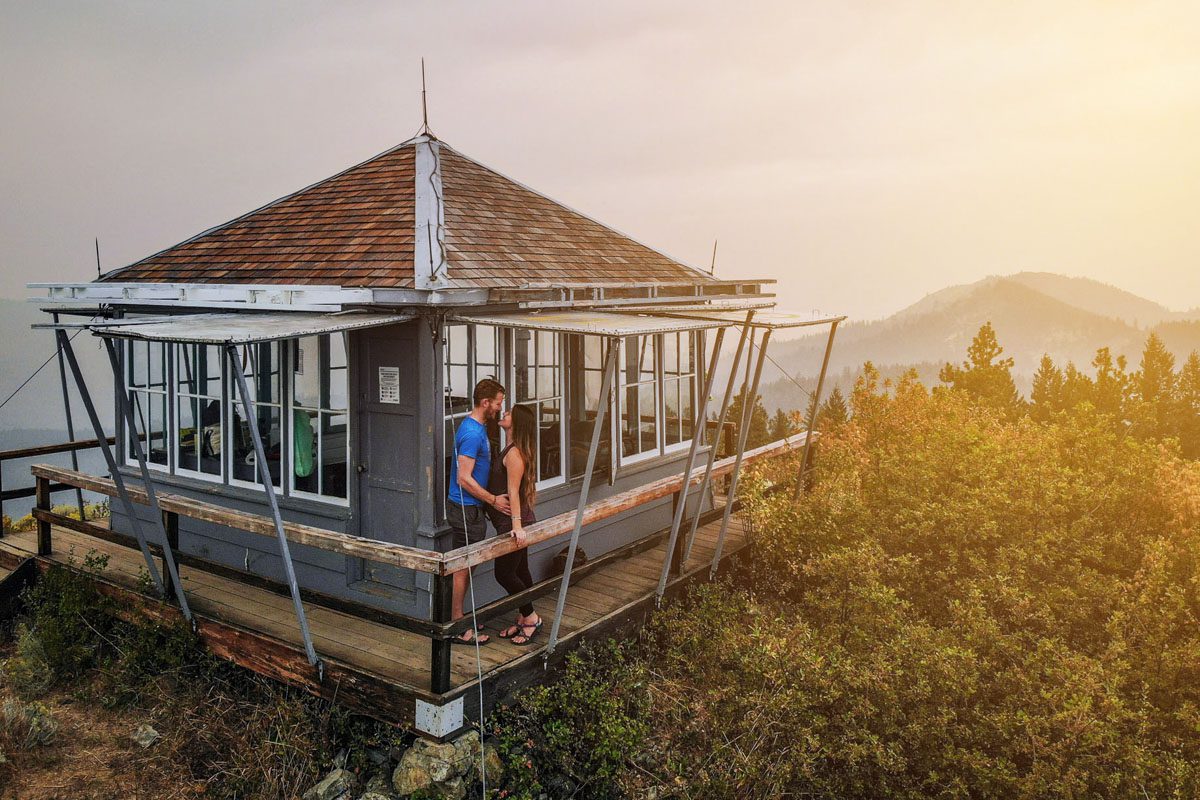 Spending the night in a fire lookout is a bucket list item for lots of PNW locals, and something we had no idea even existed until we moved to Oregon.
That's right – many fire lookout towers are no longer in use, as the way wildfires are monitored has changed. Now, around 20 of these rustic structures in Oregon are available to rent out for an unforgettable night beneath the stars.
Booking fire lookouts is sadly very competitive. Since there are only about 20 in the state for rent, they book out well in advance.
You can find them on Recreation.gov (use filters to see only fire lookouts). Often, they are available on a rolling basis, meaning reservations for a particular day open up 6 months in advance.
Our advice for booking a fire lookout:
Be flexible with your dates if possible.
Be open to any fire lookout that becomes available. It's nice to know which are your top choices, but it is likely that those are other peoples' top picks too. Being open-minded will give you a better chance at getting lucky!
Set a daily alarm and check the website as soon as the listings become available (usually in the morning PST)
You can expand your search to neighboring states, as Idaho, Washington, California and Montana (among others) have fire lookout rentals too.
Psst! If curling up in front of a fireplace is on your Oregon bucket list this winter, check out these cozy cabins in Oregon you can rent for your next holiday (or staycation!).
Things to know about staying in a fire lookout: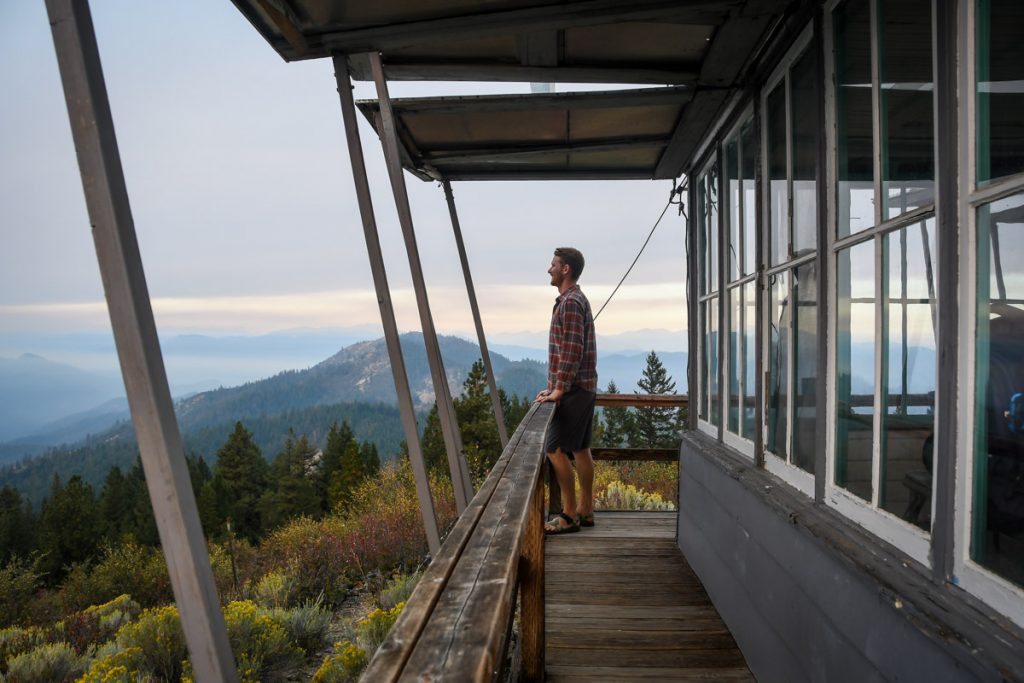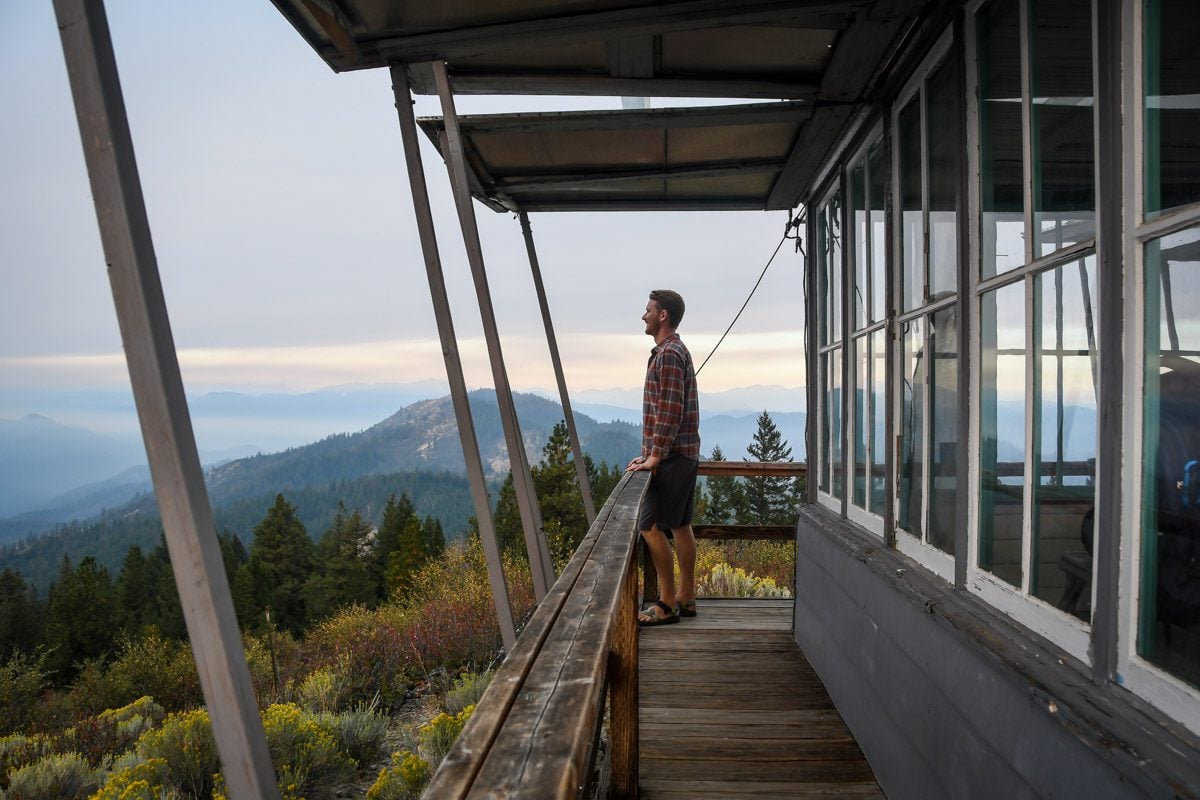 They are quite affordable but prices vary. We've seen them listed from $40 per night all the way up to $150 per night.
Expect very rustic accommodations. They do vary quite a bit, but there's often not a lot of information online so it can be difficult to know what to expect. For example, the tower we stayed in had a single metal cot, but no mattress or stove.
You will likely need to bring in your own water for drinking and cooking. Plan accordingly.
Before booking, understand if you must hike in or if it can be accessed by vehicle. Often, even if the tower is accessible by car, the roads getting there can be quite rough – think unmaintained forest roads.
Most often, you'll have an outhouse that is outside of the main structure.
Most lookouts are only available seasonally. Some are only rentabel in the summer months as they can't be easily accessed in the winter. Alternatively, there are some that are still in operation during the summer and can only be rented in the off-season.
Some towers have a minimum stay of 2 nights; be sure you look at this before booking.
Insider Tip: This Facebook group is dedicated to Oregon Fire Lookouts and can be a kind of interesting place to see other people's stays/reviews. You can also ask questions about specific towers, and people tend to have lots of useful information. It's also a good place to swap reservations if needed.
14. Painted Hills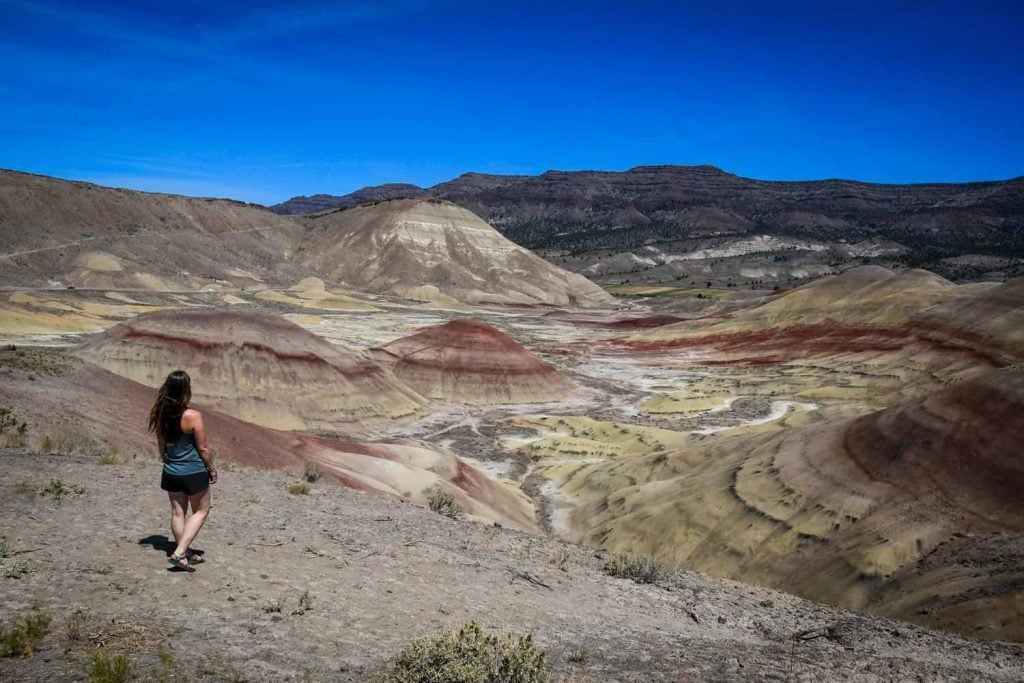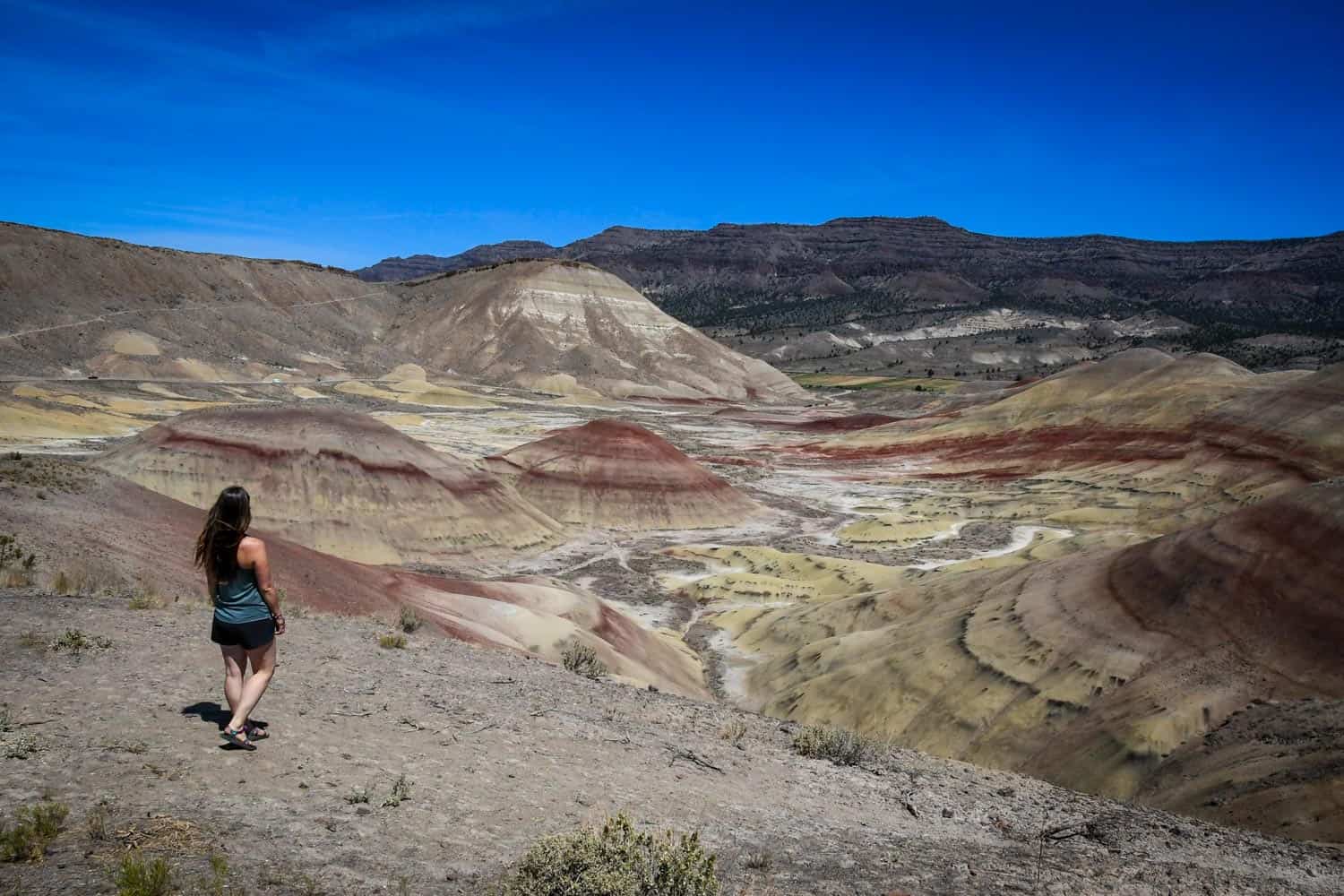 If you've had your fill of misty forests, or you just want to switch it up a bit, this geological site in eastern Oregon is about as far as you can get from moss and pine.
The Painted Hills is one section of the John Day Fossil Beds National Monument, and features a landscape that looks strikingly similar to Mars. And getting there is a hell of a lot easier!
While in the Painted Hills, you can go on short hikes and learn about the history of this part of the state.
Check out our guide to the Painted Hills to help plan your visit.
Insider Tip: Mitchell is the closest town to the Painted Hills, and while it's small they have an excellent brewpub, Tiger Town Brewing Co. They have great beer and food options, so it makes a good place to refuel after a morning of hiking in the desert.
15. Take a food tour in Portland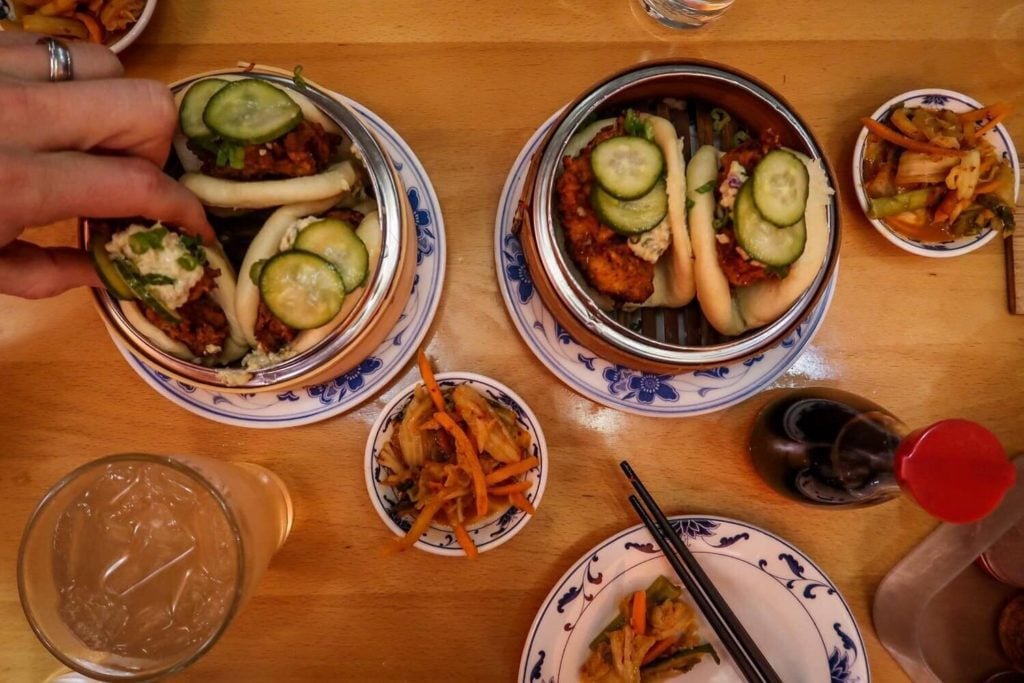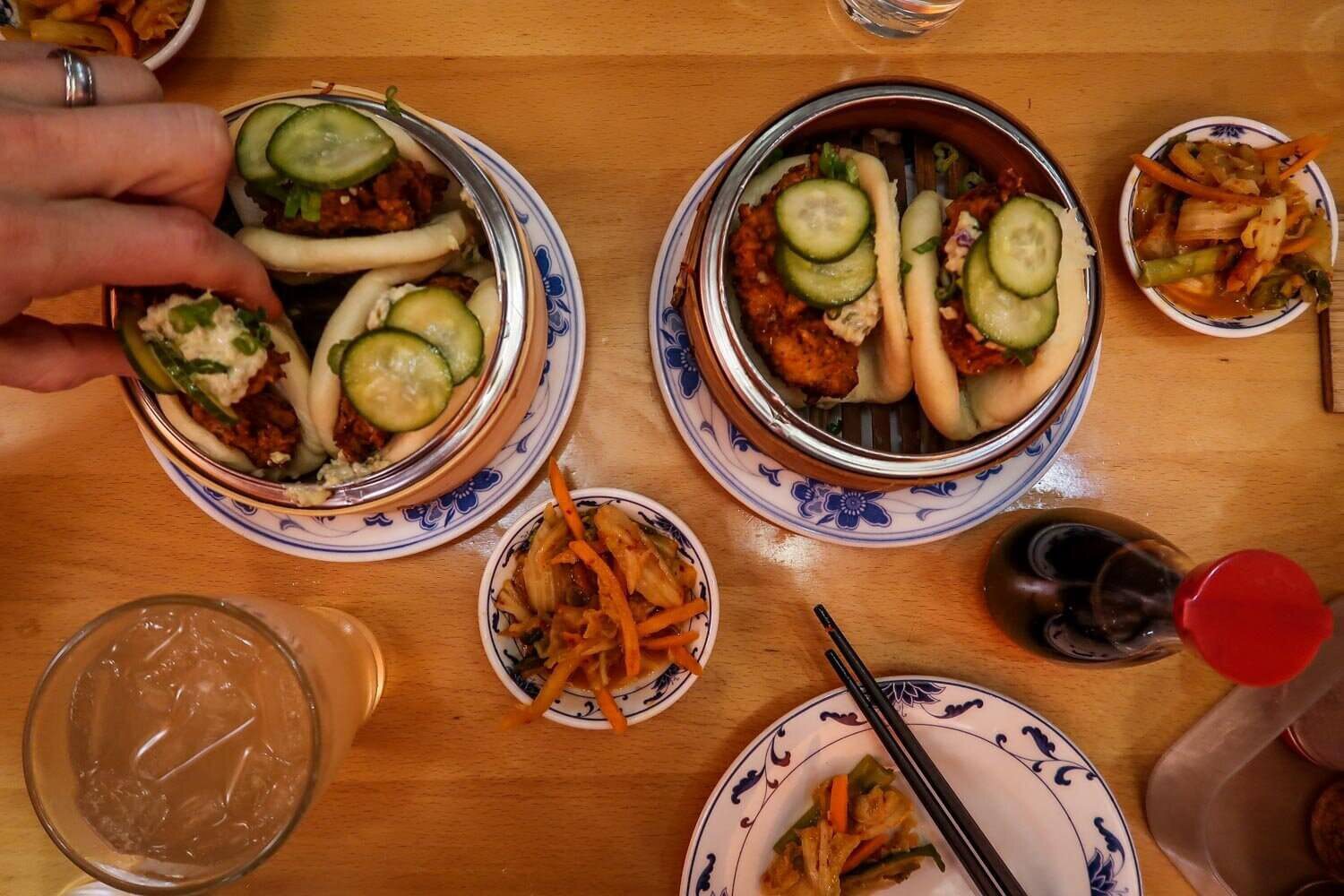 Foodies will delight in the incredible restaurant scene of Portland.
With an abundance of global cuisines, a movement of restaurants with a focus on local ingredients, and casual food trucks to world-class fine dining, Portland truly has it all.
Unless you live in Portland or are a frequent traveler to this metropolis, it can be difficult to scratch the surface of the city's food scene…
…unless…
…you take a food tour!
We've taken food tours in cities all around the world, and love that you can sample a variety of cuisines and cooking styles that represent a city in a short amount of time. It would quite literally take you a week of eating out in Portland to try all the stops on Lost Plate's food tour.
Lost Plate offers a few different food tours in Portland:
DISCOUNT CODE: Use the discount code: twowanderingsoles and you will get you $5 off your tour!
Disclaimer: Lost Plate invited us on this tour as a complimentary experience. As always, all opinions are our own.
16. Eat seafood on the coast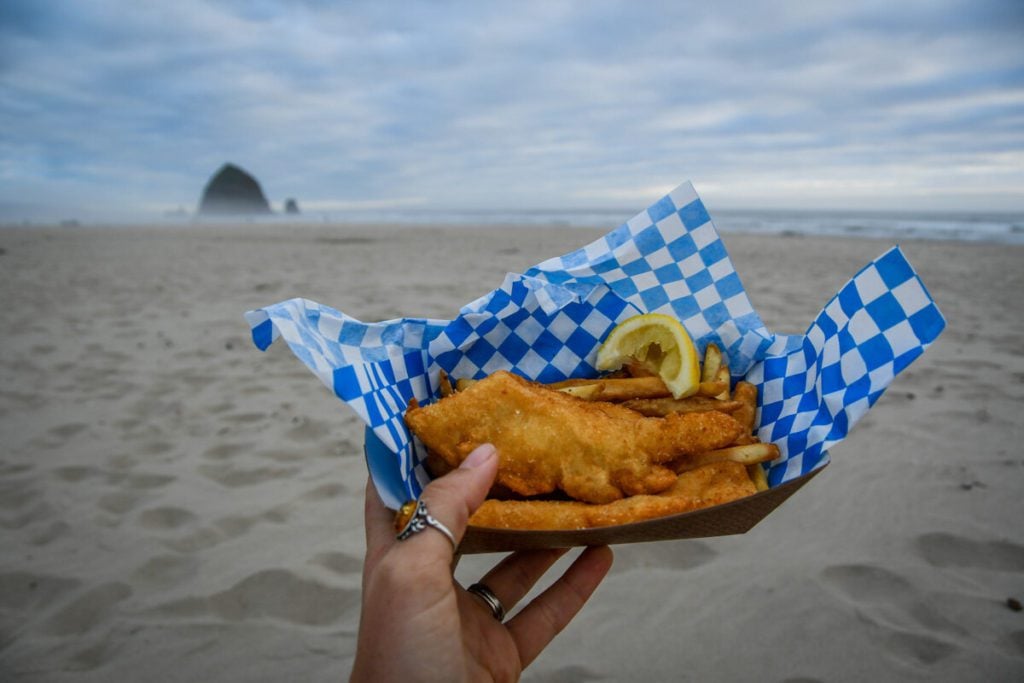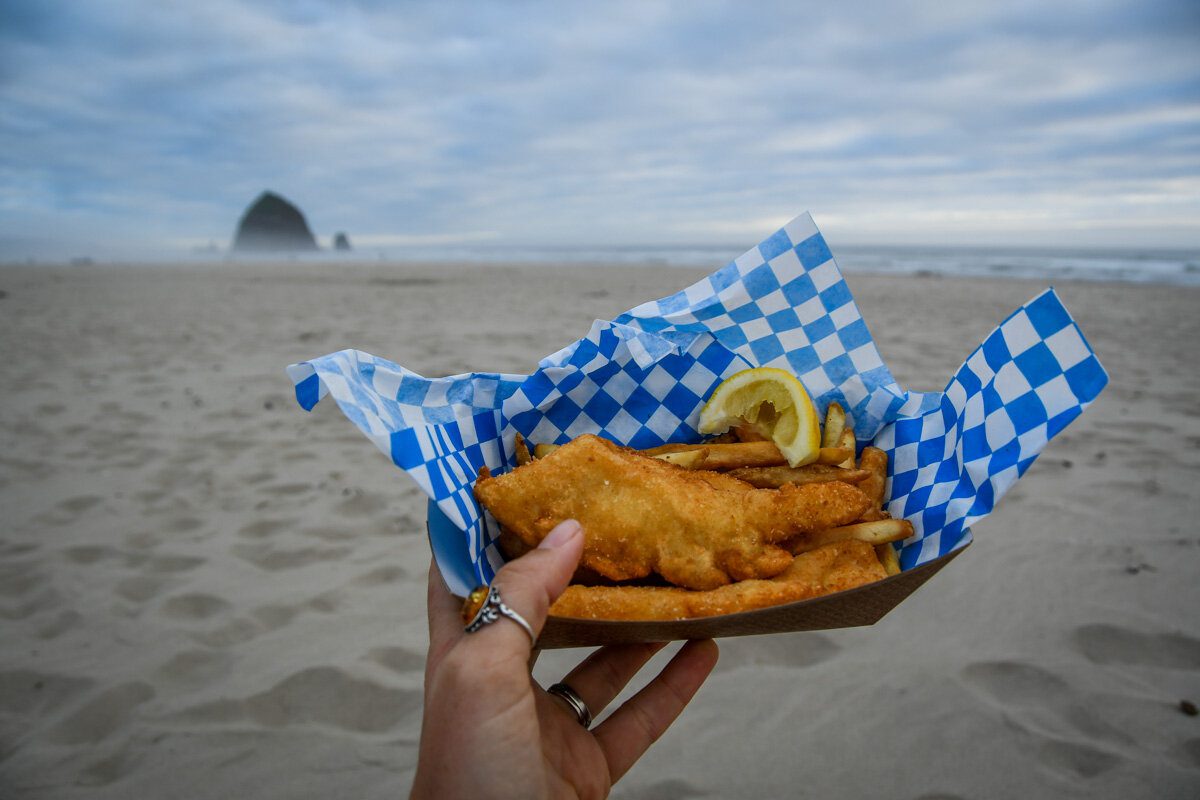 Fish & chips, clam chowder, grilled fish, fresh oysters, all of the above… which would you choose?
The good news is you don't have to choose!
The Oregon Coast has some incredible seafood, and if you're a fan, you'd be crazy not to eat as much as possible while next to the Pacific.
Here are some of our favorite seafood options on the Oregon Coast:
Enjoy a splurge-worthy seafood dinner
Located in Newport, Local Ocean Seafood is higher-end, but well worth the splurge. Plus, with a focus on sustainable seafood, you'll know your money is going back to the local fishermen and supports good fishing practices.
We'd highly recommend the Moqueca de Peixe (Brazilian Stew): rockfish, scallops, wild prawns, Dungeness crab, mushroom, red bell pepper, tomato, onion, green curry-coconut milk sauce, cilantro. Do yourself a favor and order it. I'm drooling over my laptop just thinking about it.
Sample the self-proclaimed "best chowder" on the coast
Decide for yourself if Mo's really does have the best clam chowder on the coast. This Oregon Coast staple claims to have world famous clam chowder. While there are several locations up and down the coast, the original is in Newport.
Our opinion: We think the chowder is excellent, though we found several other spots on the coast that we think rival its claims of being the best. Try it and compare it to others for your own clam chowder taste test. What's your verdict?!
Catch your own crab (and eat it too!)
There's nothing quite like catching your own crab and having it cooked right in front of you! You can do both at Kelly's Brighton Marina (see #3 on this list for more info).
Indulge in fresh oysters in Netarts Bay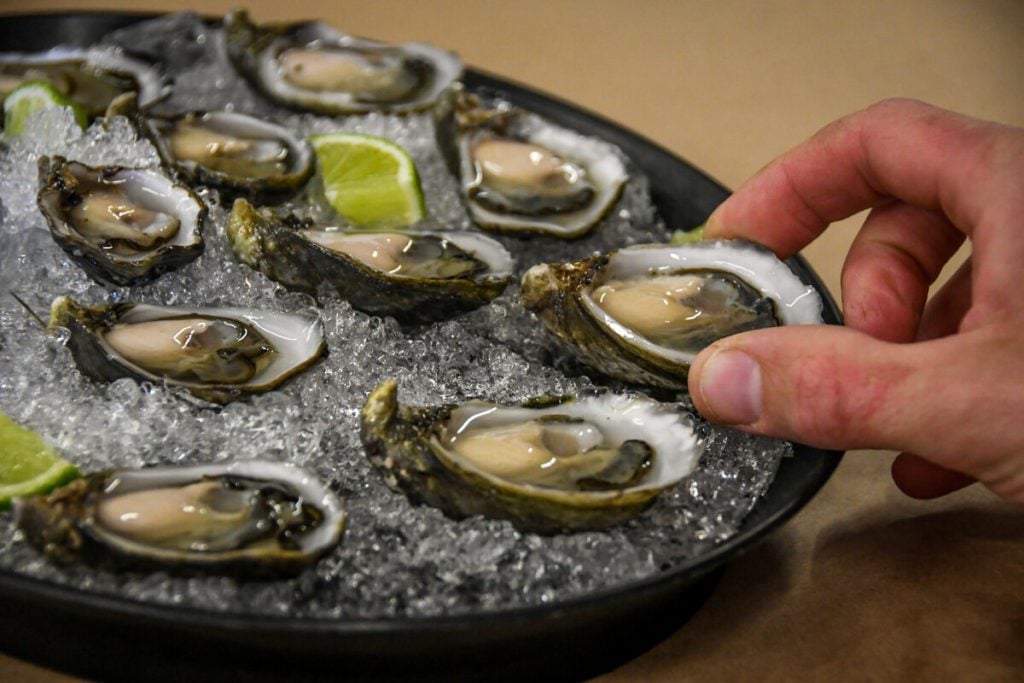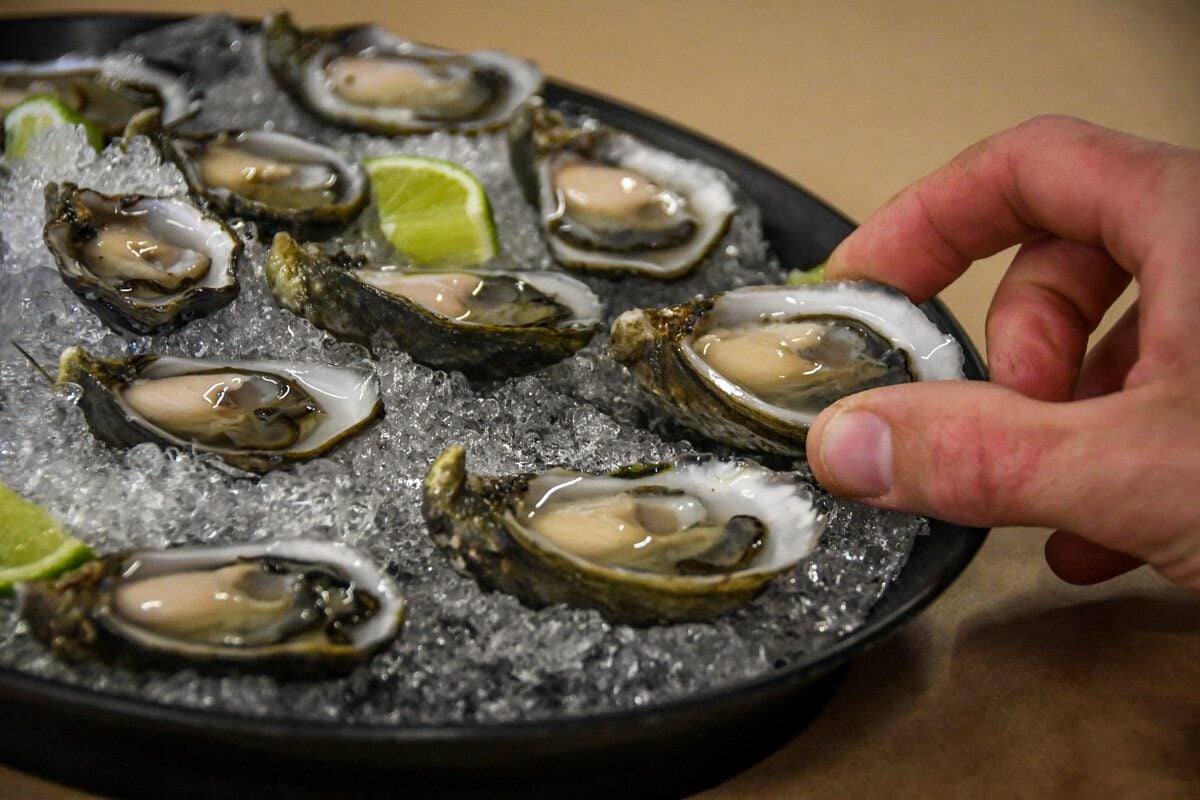 If you're a fan of oysters, this town is the place to get them. Head to Nevør Shellfish Farm or Jandy Oyster Co. to enjoy freshly-shucked oysters (and wine to pair!)
Have a fish 'n chips picnic on the beach
There are so many places to get your fish 'n chips fix on the coast. Here are just a few of our favorites!
Bandon: Tony's Crab Shack and Bandon Fish Market sit across from each other with ocean views, and they are both excellent. Tony's has more fresh seafood options, while Bandon Fish Market might just have the better fish 'n chips.
Cannon Beach: We are partial to the fish 'n chips at Ecola Market.
Astoria: At Bowpickers, you can order out of a boat converted into the most popular fish 'n chips shop in town.
Pick up smoked fish for the best road trip snack
While there are several shops on the coast selling smoked seafood, we love the smoked salmon at Barnacle Bill's in Lincoln City.
17. Snowshoe (or XC ski!) to a hut in the woods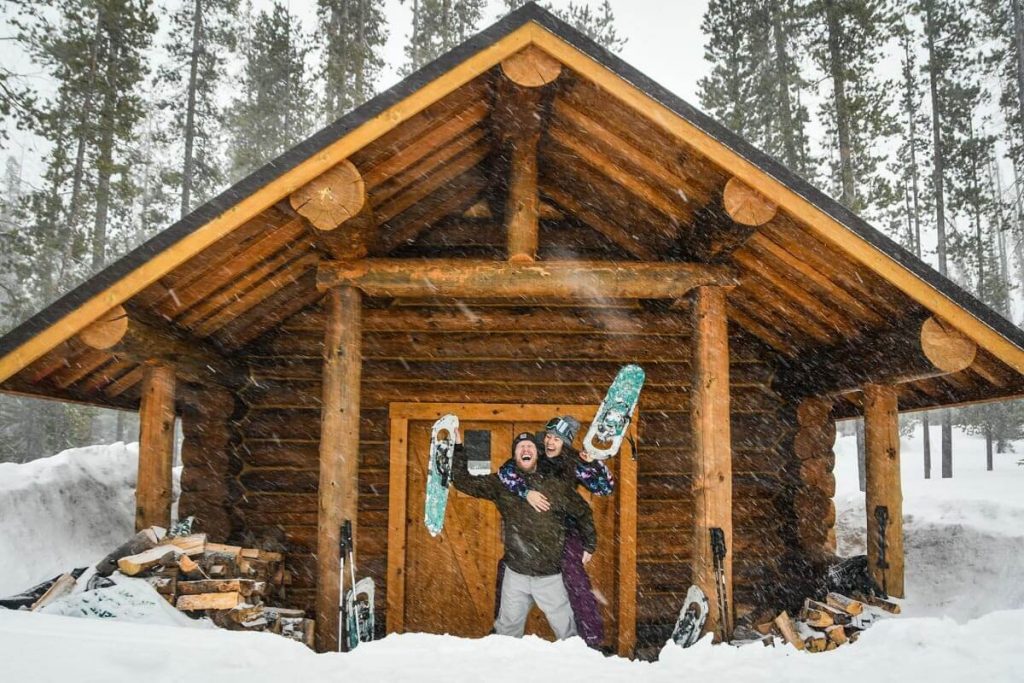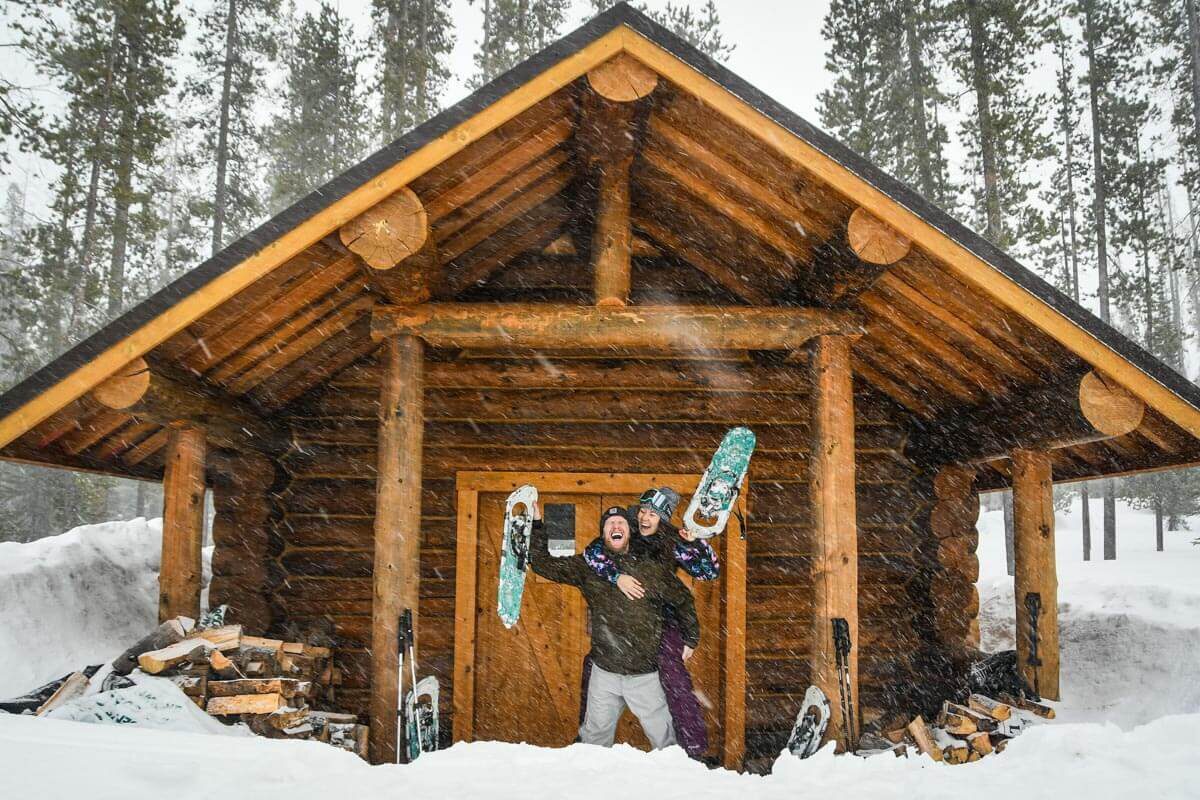 If you're looking for a true winter wonderland experience, strap on your snowshoes and head into the woods.
The state of Oregon has many networks of snowshoe and cross-country ski trails, making it easy to experience the magic of winter no matter where you are in the state.
Our personal favorite snowshoe trails in Oregon:
Swampy Lakes Shelter
From the trailhead, it's just over a 1.5 mile trek to the Swampy Lakes shelter. The fully enclosed hut is a great mid-point to enjoy some snacks and a thermos full of your favorite hot beverage. There's even a wood-burning stove inside to keep you toasty warm.
Depending on the day and time you arrive, be prepared to share the space with others and take it as an opportunity to make friendly conversation!
Virginia Meissner Shelter
This 3-sided hut isn't quite as cozy as the fully-enclosed one at Swamy Lakes, but it's a slightly shorter trek (2.5 miles round trip). Plus, on a clear day, you'll get some pretty spectacular views of the nearby mountains.
Paulina Lake Lodge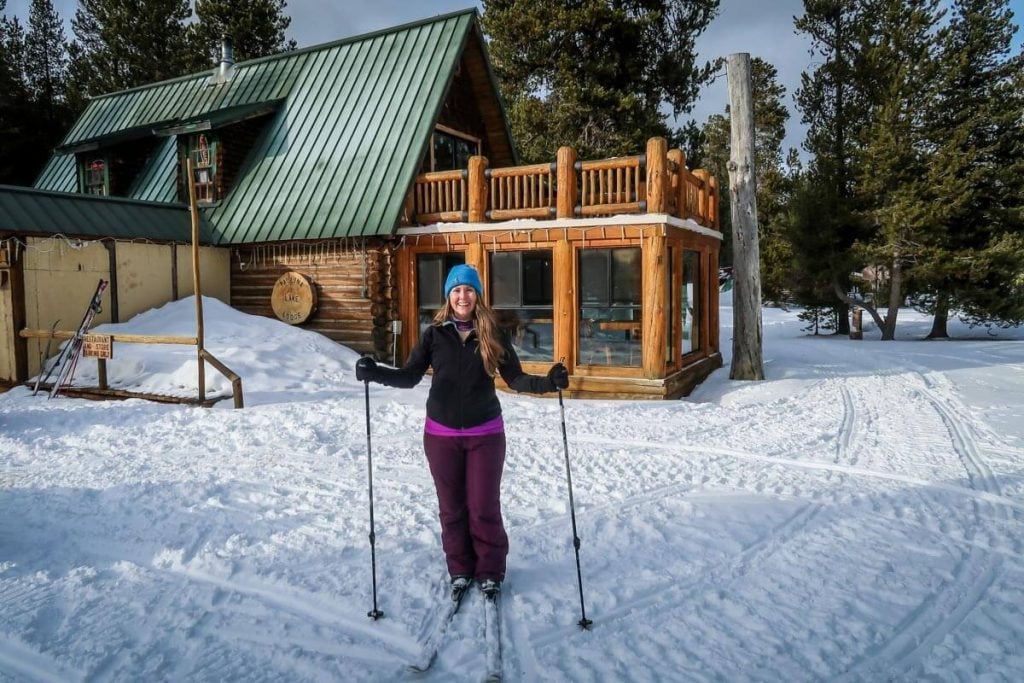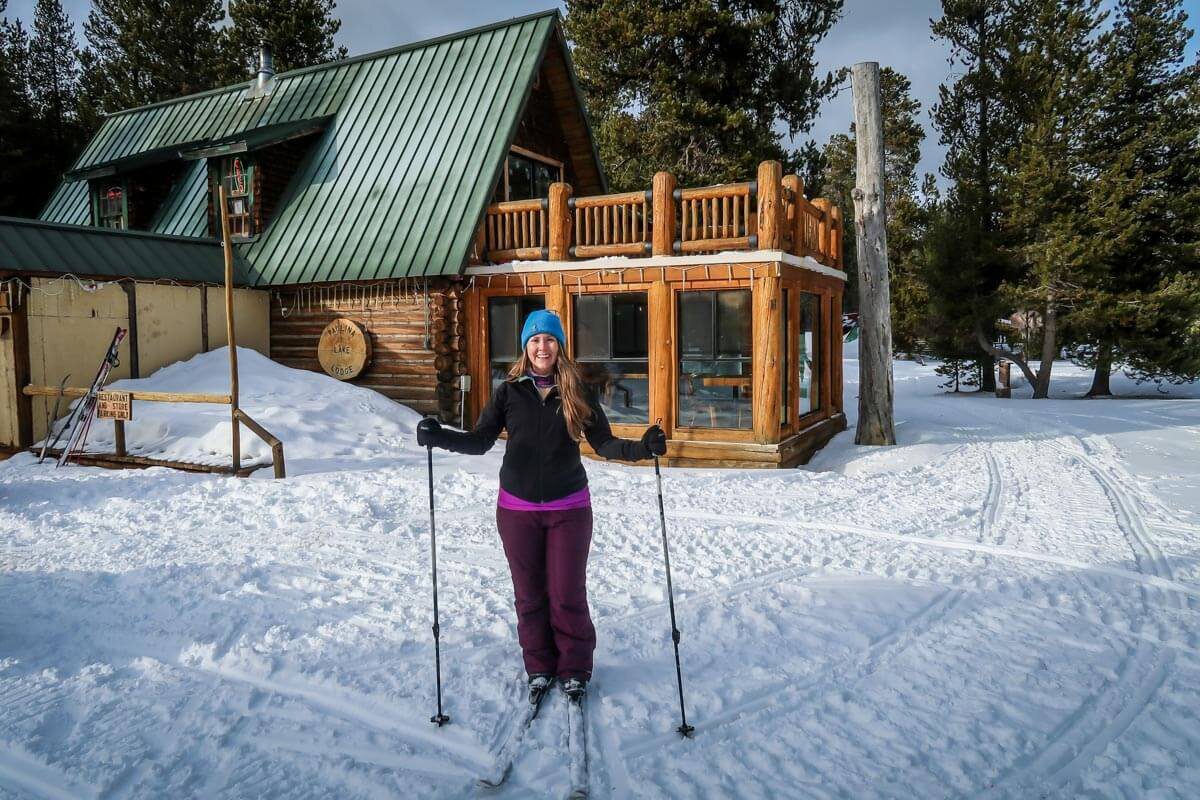 This one is a bit different than the two suggestions above, as you'll snowshoe (or ski) into the forest to a lodge with a restaurant.
Warm up (and fuel up!) with a bowl of chili, a burger and a beer before heading back the way you came. It's a pretty spectacular reward to trekking out in the snow! Plus, on the way, you'll pass by Paulina Falls.
Good to know: Find more information about where to start and the distance in this guide to Bend in the winter (it's #7 on the list).
Note: Since we live in Bend, most of our snowshoe experience is in this area, as you'll see reflected in our recommendations. There are plenty more options elsewhere in the state.
How to do it yourself
Pick up your Sno Park Pass at an REI, ranger station or local outdoor gear shop. You can purchase a day pass for $5 or a season pass for $30. This is required to be able to park at the trailheads and it helps fund the snow plowing and maintenance of the trails.
Dress & pack accordingly. Be sure you're dressed properly for this outdoor adventure and have some food and water packed. If you're new to this sport, be sure to check out our beginner's guide to snowshoeing.
Gear up! Don't have snowshoes of your own? You can rent them from REI for $22 per day or at Gear Fix for $15 per day.
18. Build a bonfire on the beach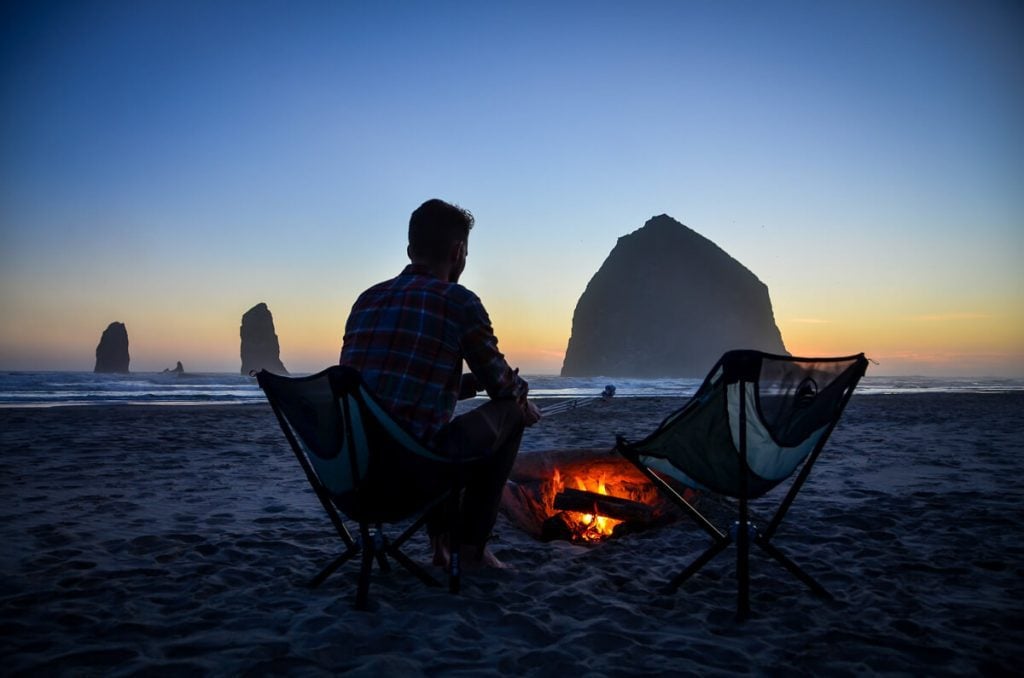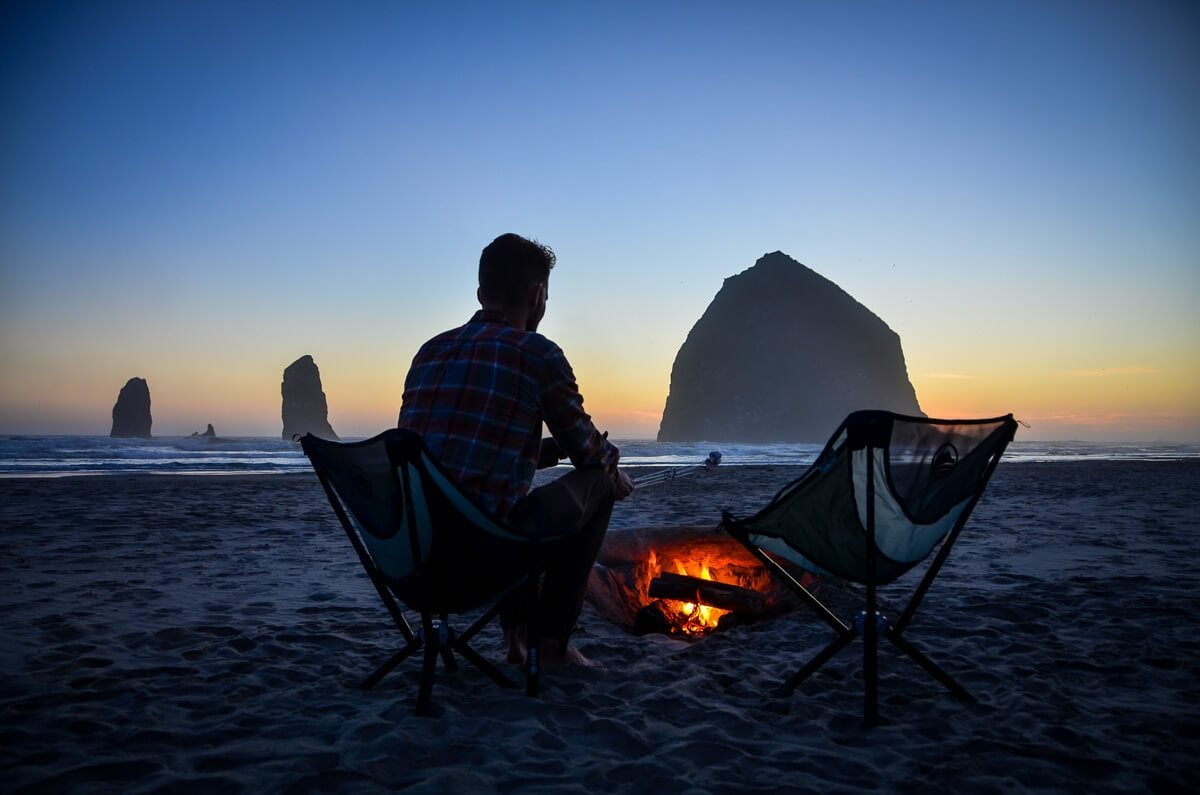 Watching the sun sink into the ocean while you roast marshmallows over a bonfire is an Oregon Coast experience you'll never forget.
Our favorite spot to do this is on Cannon Beach, with the iconic Haystack Rock looming in the not-so-far distance.
How to do it yourself: Grab a bundle of wood from one of the grocery stores in town (we got ours at Mariner Market for $7). Be sure you check high tide and also the time of sunset. You definitely don't want to be building your fire in a spot where the tide will wash it away!
Pack s'more fixings and roasting sticks for an extra special treat. And don't forget blankets and extra layers, as it gets pretty cold and windy on the beach in the late evening.
Insider Tip: If the sand is wet, it's a good idea to put a flat piece of wood on the ground as a base for your fire. We had a bit of a rough start getting ours started directly on the sand. We also like to keep fire starters in our "camping kit" to give us a little extra help!
19. Eat at the Cowboy Dinner Tree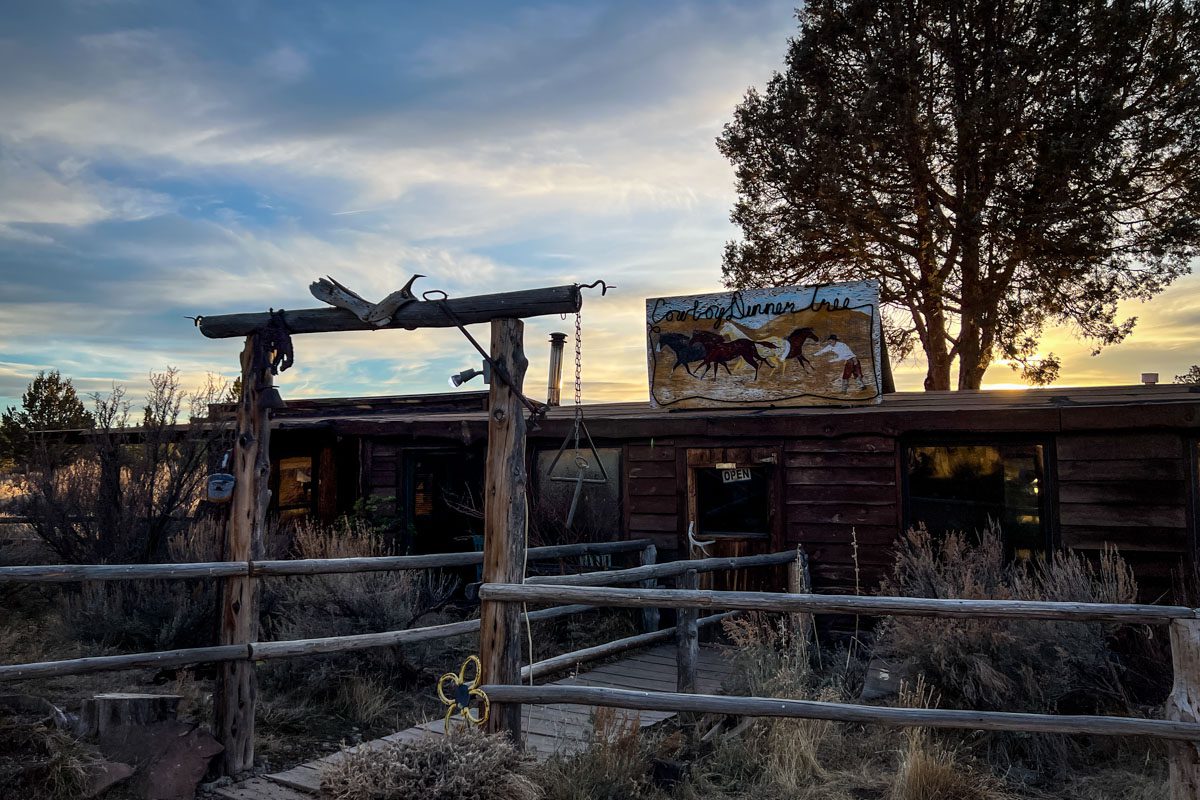 If you're someone who doesn't like going out of their way for food, you're gonna want to skip this one… Oh, and vegetarians should move on as well.
However, if you like the idea of going on a little adventure to get to a destination restaurant, keep reading because we're going to tell you about an unforgettable dining experience.
The Cowboy Dinner Tree is located in the middle of nowhere. Quite literally. There's truly not much around it, and no matter where you're coming from, it'll likely be out of your way. But that's kind of the magic of it. You'll feel as if you've both stepped back in time and discovered a hidden gem (which you have!).
Now pay attention, as you can't simply roll up and expect dinner.
Things to know before you go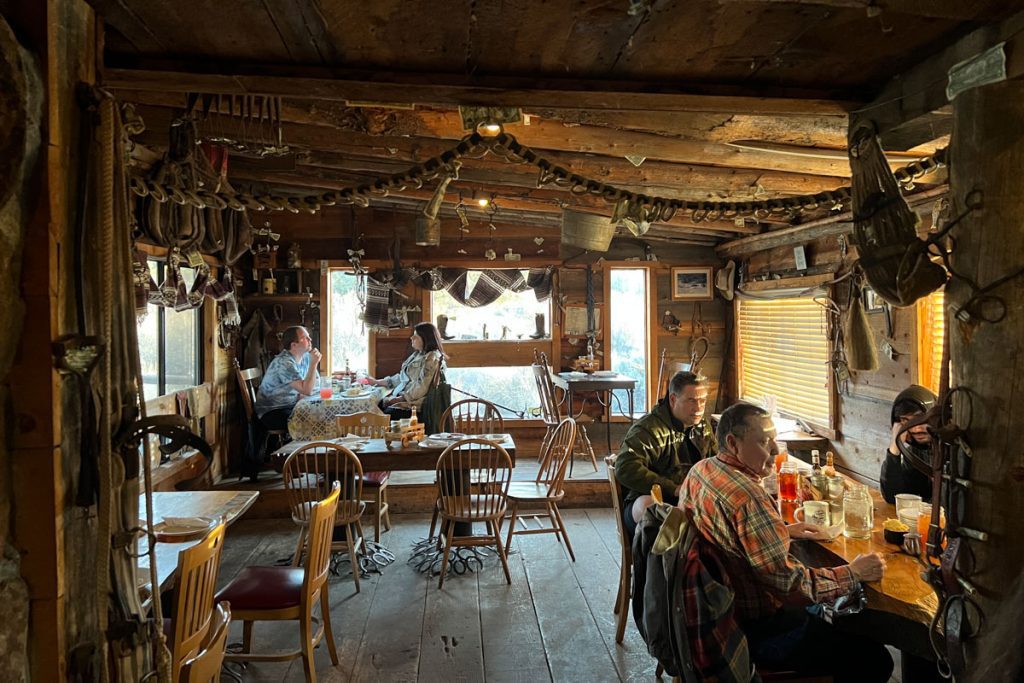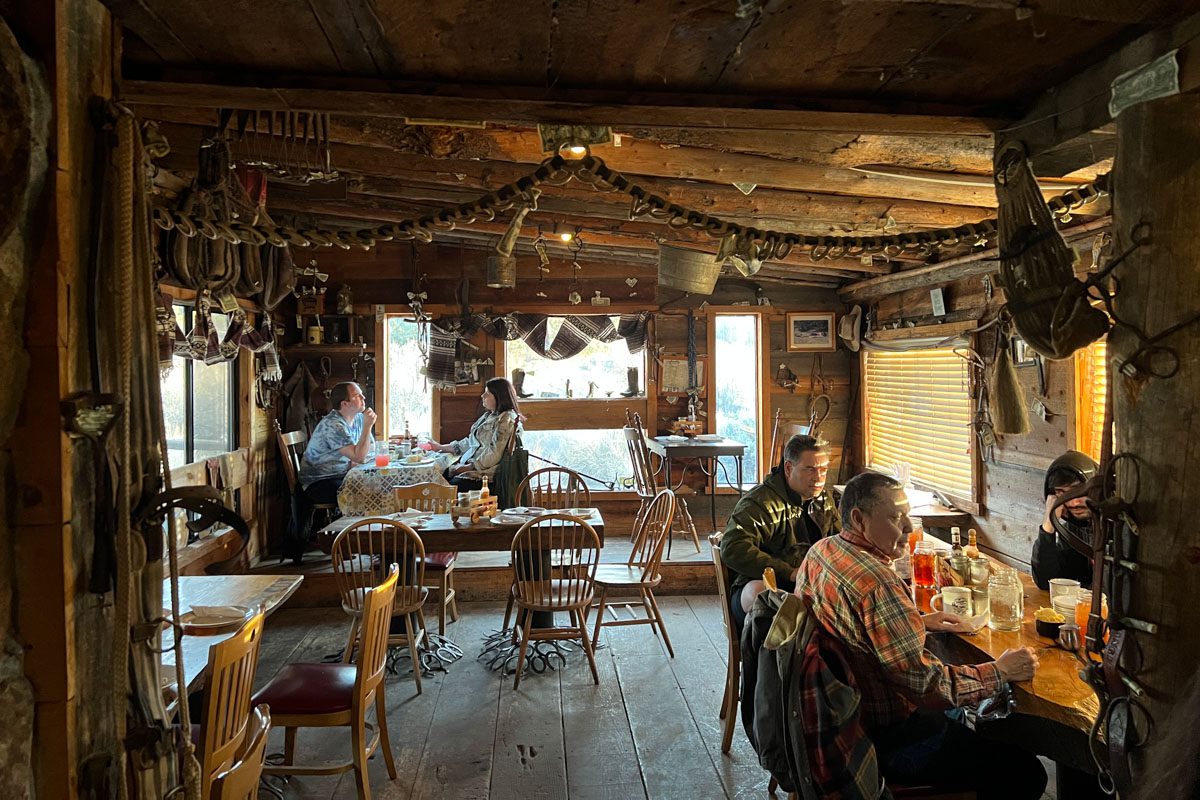 You must make reservations at the Cowboy Dinner Tree. And they're old school about it – you've got to actually talk to someone on the phone *gulp*. Here's the number: (541) 576 – 2426
Speaking of old school, they only take cash. No credit card, so come prepared.
They are only open on the weekends. Check out their website for the exact days and hours, as they vary seasonally.
There are two meal options: Whole Roasted Chicken or Cowboy Cut Top Sirloin (26-30 oz!). Each meal is $45. We ordered one of each and split them, and while they were both fabulous, we both agreed that the sirloin was our favorite (and cooked medium-rare, to perfection!).
There are sides galore! In addition to the meat, each meal comes with many sides: salad, soup, old fashioned sweet yeast rolls and butter, baked potato, and dessert.
They do not serve alcohol, but each diner gets their choice of coffee, iced tea or pink lemonade.
Portions are huge! Splitting one meal is not allowed, but they provide everyone with to-go bags, as it is kind of expected that you'll have leftovers.

Cool Tip: You may want to bring a mini cooler in the car to keep your meals fresh.
20. Cozy up at a cabin on the McKenzie River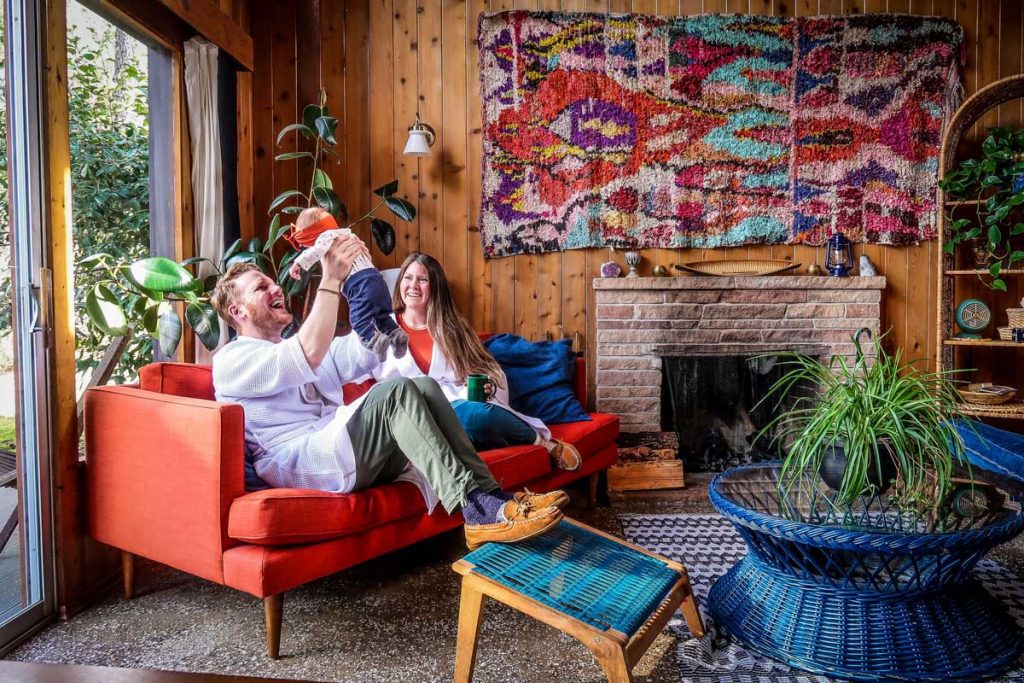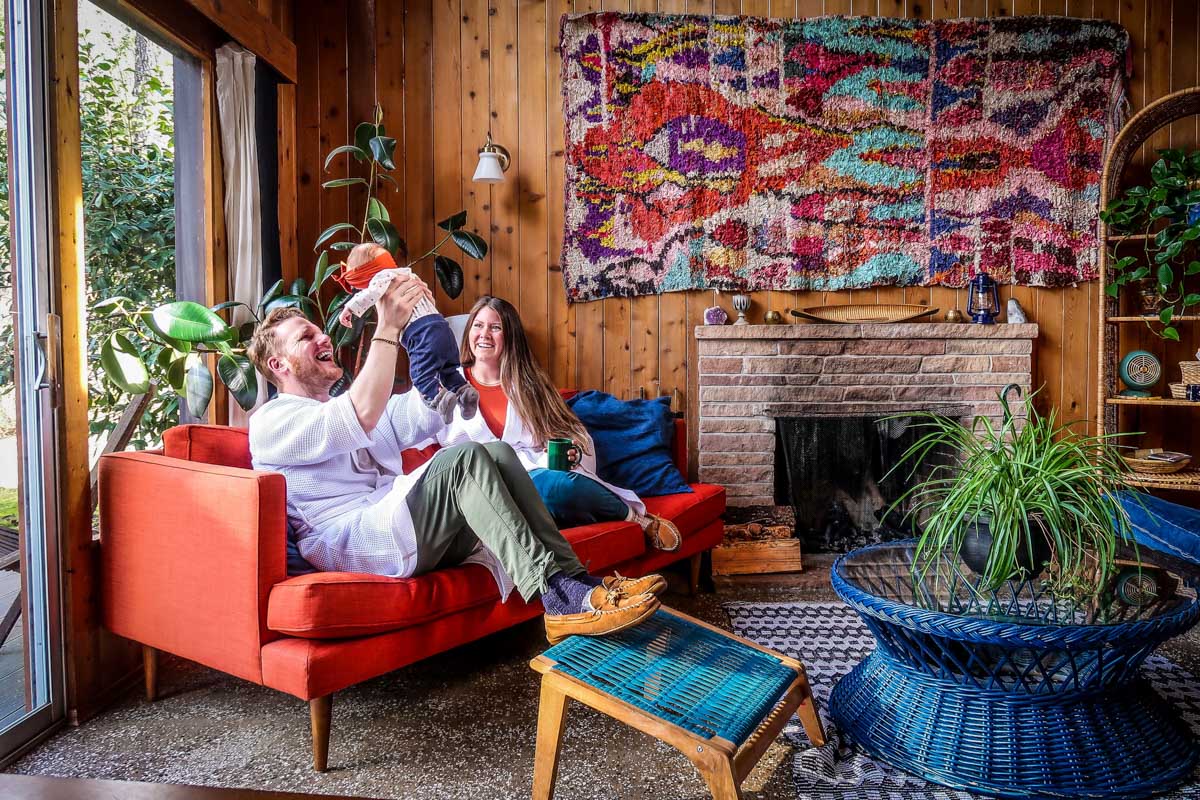 If you like to think of the PNW as a place with moss-covered pines, secluded trails, rushing rivers – essentially a place where fairies live! – you'll find your oasis on the McKenzie River.
Follow highway 126 east of Eugene to reach a special part of the state, void of big box stores and crowds. What it lacks in hustle and bustle the McKenzie River makes up for in beauty. This is one of our favorite parts of Oregon to go for a peaceful retreat where you can really disconnect from it all.
If you're camping, you'll find a handful of campgrounds along this stretch of road. But if it's a cozy cabin you seek, we'd highly recommend booking a night (or 2!) at Loloma Lodge, which has comfortable riverside cabins. Cozy up next to the fireplace with a mug of hot coffee (or hot toddy!) and spend your time playing board games, reading and walking around the beautiful property.
Things to do near the McKenzie River
If you want a little bit of adventure, hike to the famed Blue Pools (#23 on this list).
For some relaxation, soak in Terwilliger Hot Springs.
If you've worked up an appetite, head to the McKenzie General Store for excellent burgers, onion rings with homemade marionberry barbecue sauce (yum!) and local beer. If you're lucky, you might catch some live music in the summertime!
Alternatively, Takoda's Restaurant has excellent pulled pork "potato nachos" and a nice patio.
21. Do a Pinot Noir tasting in Oregon's wine country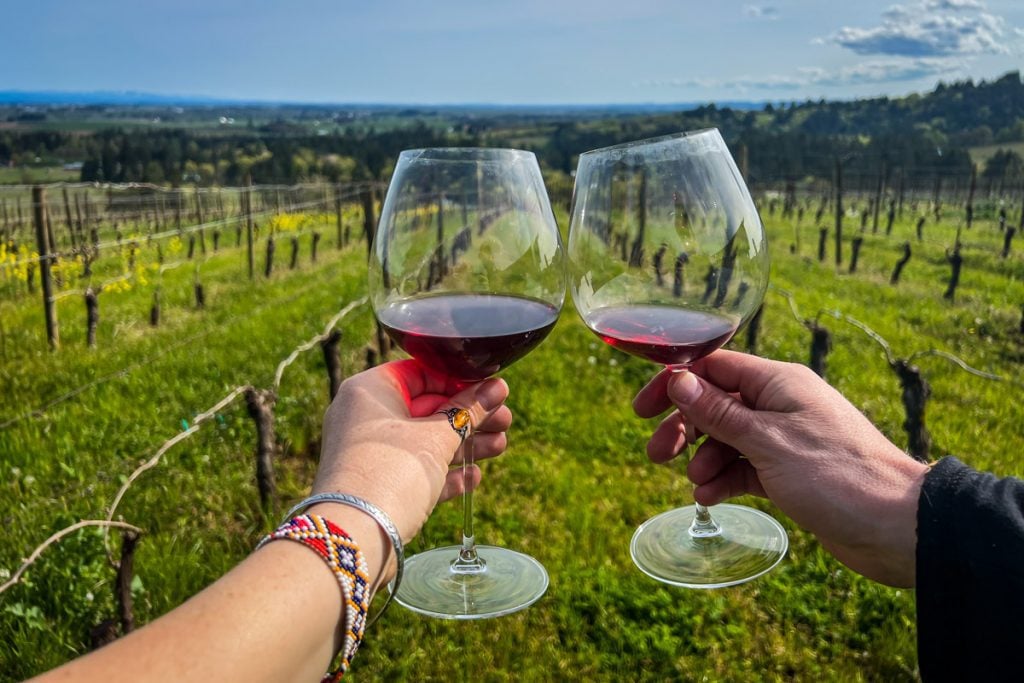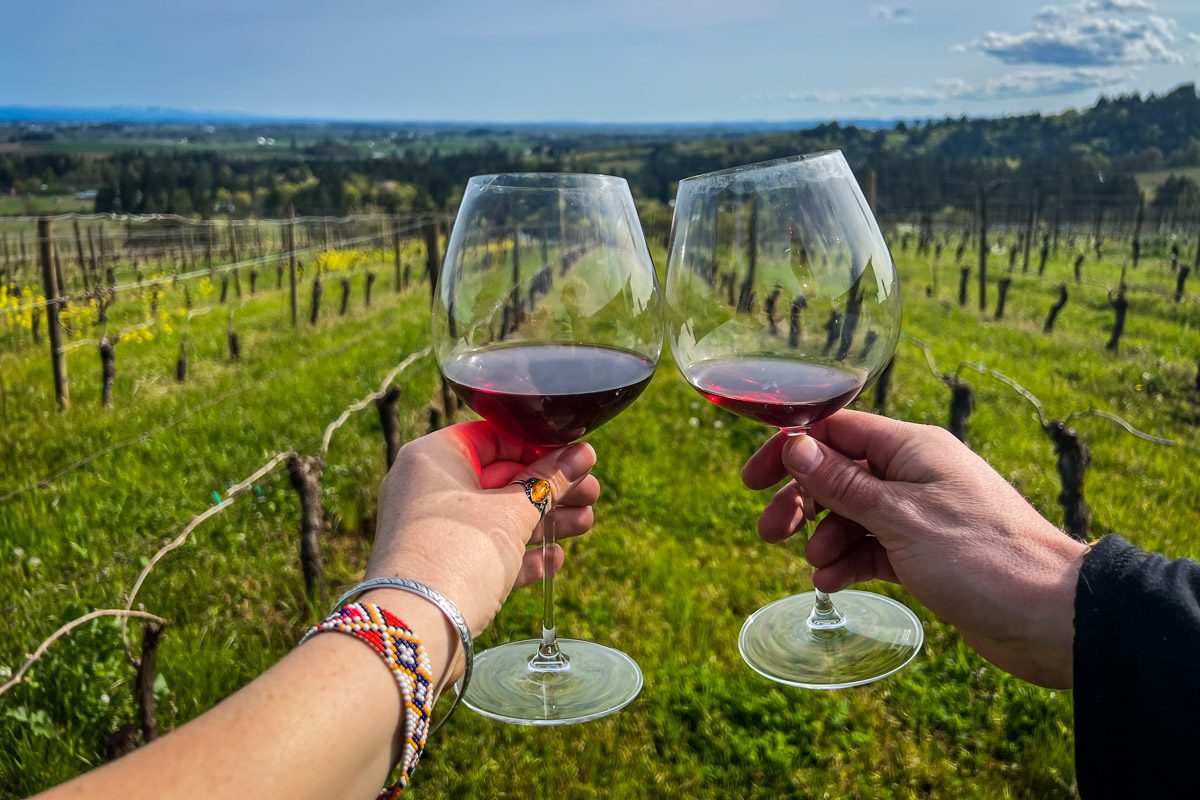 France's Burgundy region is the true home of pinot noir… but did you know that Oregon is one of the next best places in the world to sample this light-bodied and complex wine.
The Willamette Valley (pronounced will-AM-it, like "will-AM-it, damn it!") stretches south of Portland to Eugene. Following the Willamette River, this region has a perfect climate for growing the pinot noir variety of grape, and is actually home to an annual International Pinot Noir Celebration at the end of July.
You don't have to be at the festival in order to sample some of the best pinot noirs in the world. Simply plug McMinnville into your map and be prepared for a day of sips and bites for the ultimate wine-lovers day trip from Portland. Just be sure to have a designated driver if you plan to return to the city in the evening.
Willamette Valley Vineyard recommendations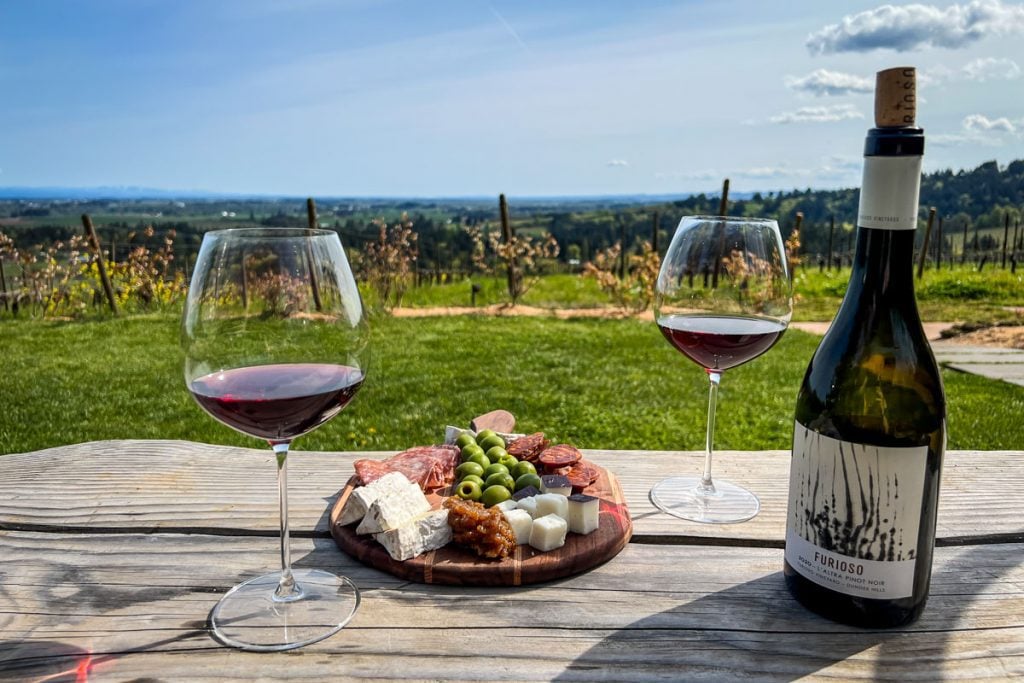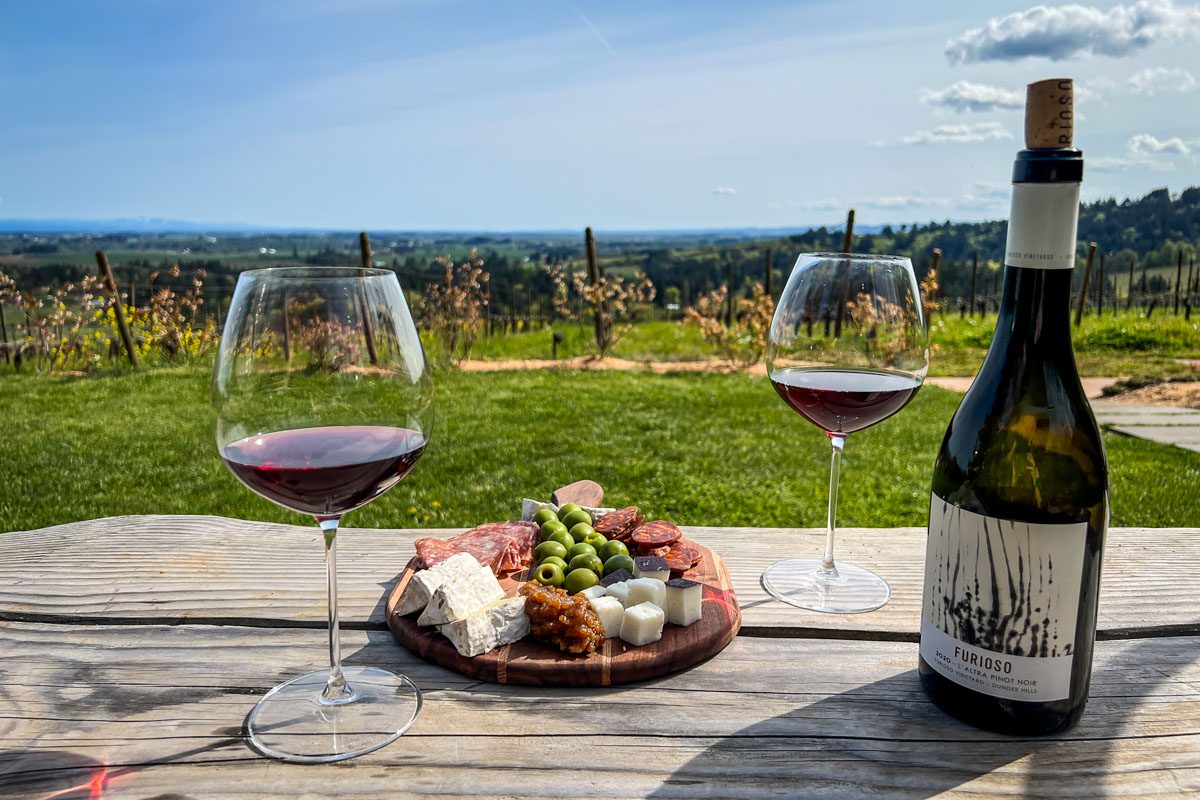 You can drive through the scenic roads that wind through the countryside between Newberg and McMinnville, popping into any of the many vineyards in the countryside nearby that strikes your fancy. Or you can book reservations in advance, as many of the wineries do book out all their seats.
We particularly liked Furioso Vineyard, just outside Dundee. We arrived mid-afternoon on a Sunday, and while all their tables were booked out for the rest of the day, we could purchase a bottle and sit on a secluded bench with a view of the vineyard (which we honestly prefered over a tasting table). There's an upscale food truck that serves woodfired pizzas and charcuterie boards if you need a nosh.
More recommendations:
22. Experience the magic of McMenamins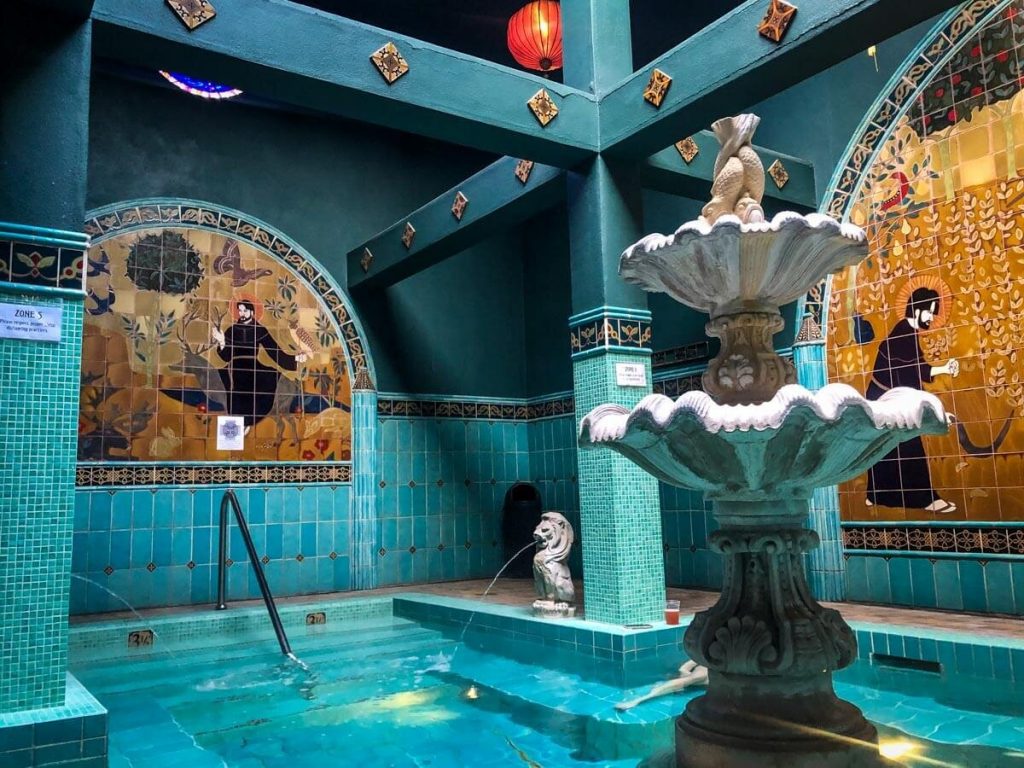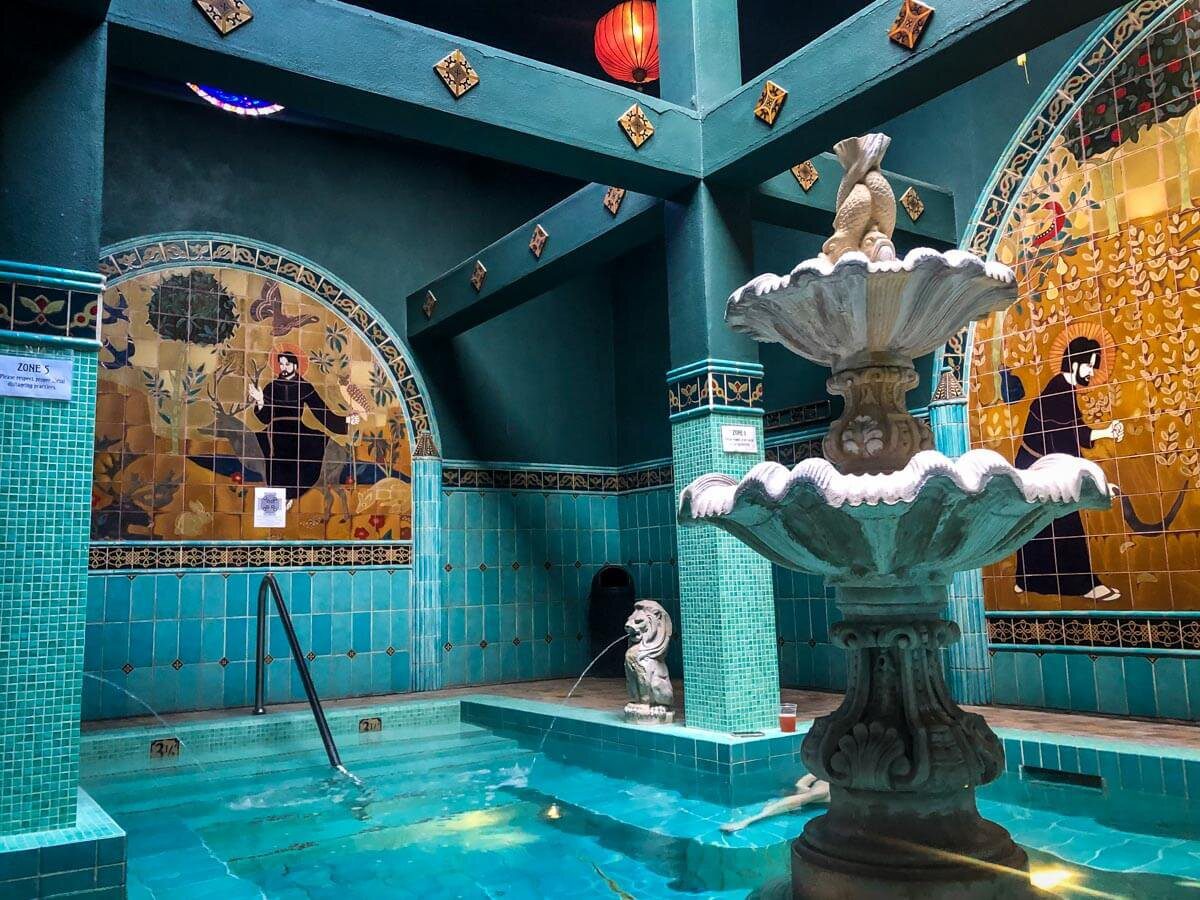 If you're not from Oregon, it's likely that you've never heard of McMenamins (we certainly hadn't until we moved here!).
And truthfully, it's a little difficult to fully explain the magic and full-on quirkiness that is McMenamins. But I'll do my best…
Founded by two brothers, McMenamins is a family-owned chain of brewpubs and entertainment venues throughout Oregon and Washington. Many of their 62 locations are historic buildings – like former schools and hotels. And they're kind of a big deal in Oregon.
With eclectic decor, each building has been transformed into what can only be known as a decidedly "McMenamin's style". Once you visit a McMenamin's property, you'll understand what I mean.
In these unique properties scattered around the state, you'll find some combination of brewpub, speakeasy, soaking pool, hotel, cigar bar, movie theater, concert venue and more. McMenamins has even been ranked as one of the 50 largest craft breweries in the United States.
Like I said, it's kind of hard to put into words, so you'll just have to go and see for yourself.
Check out their website for a full list of their venues, or put these favorites on your list:
23. Be blown away at Tamolitch Blue Pool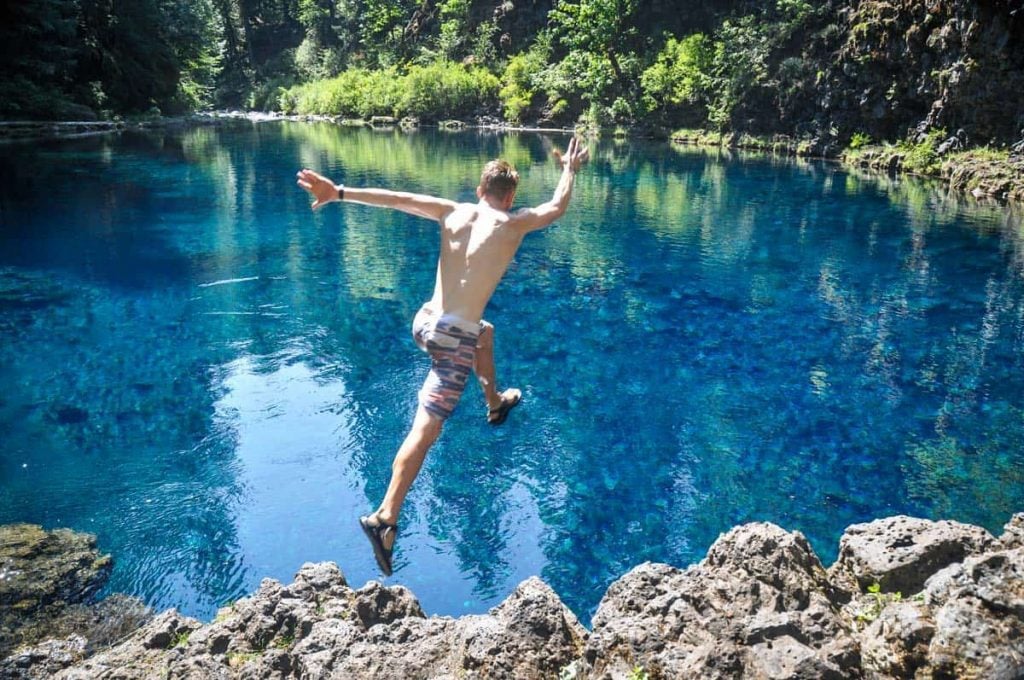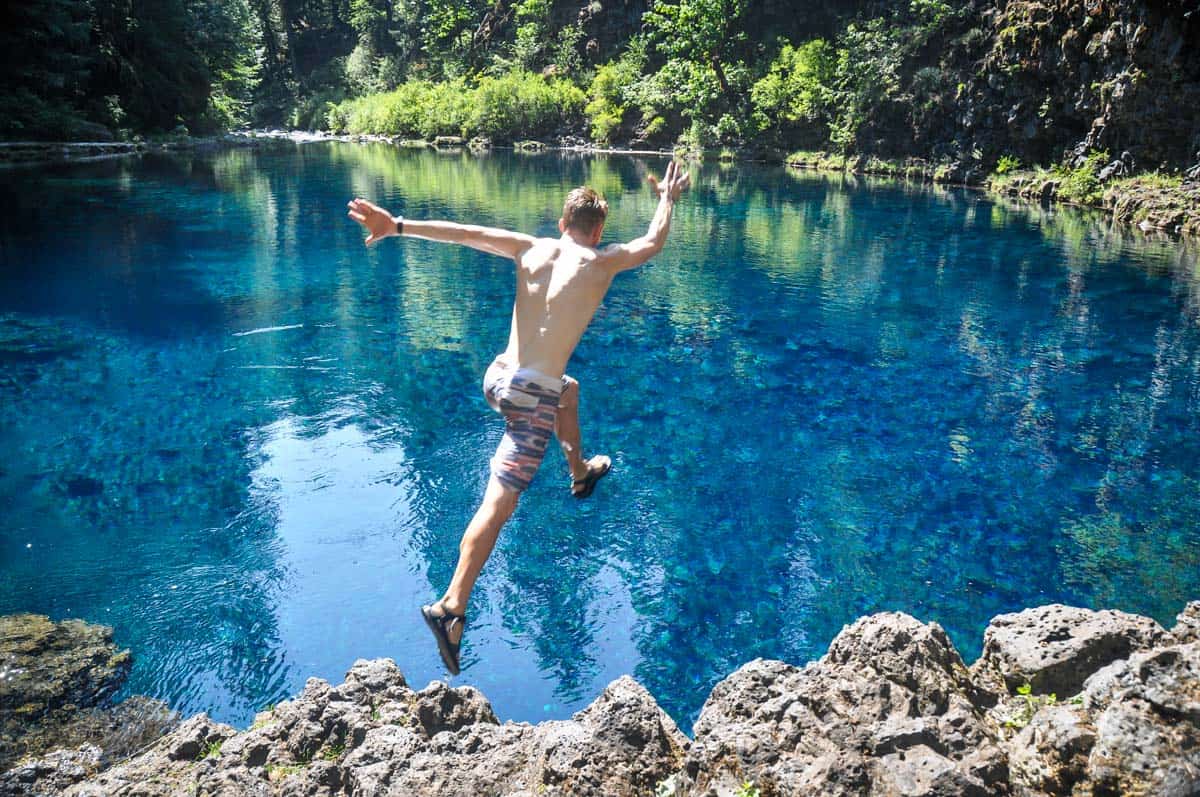 I can almost guarantee you that you've never seen water like this…
Tamolitch Blue Pool is nestled in the Willamette National Forest between Bend and Salem. And while it feels like a hidden gem of a spot, it is far from secret.
The shockingly blue waters of this pool draw visitors year round, and for good reason: This place is magical.
I can assure you that there is no dye or Kool Aid in the water. And yes, it really is that blue. At least most of the time. Sunny days will make the water more bright and brilliant, while overcast days mean it's a deeper blue.
Getting here requires a bit of driving and an easy 3.6-mile out and back hike, so be sure to plan accordingly.
We've been to this spot many times and created a Tamolitch Blue Pools guide so that you know exactly what to expect (there are a few essential things to know before you go!).
24. Taste the best cheese & ice cream in the state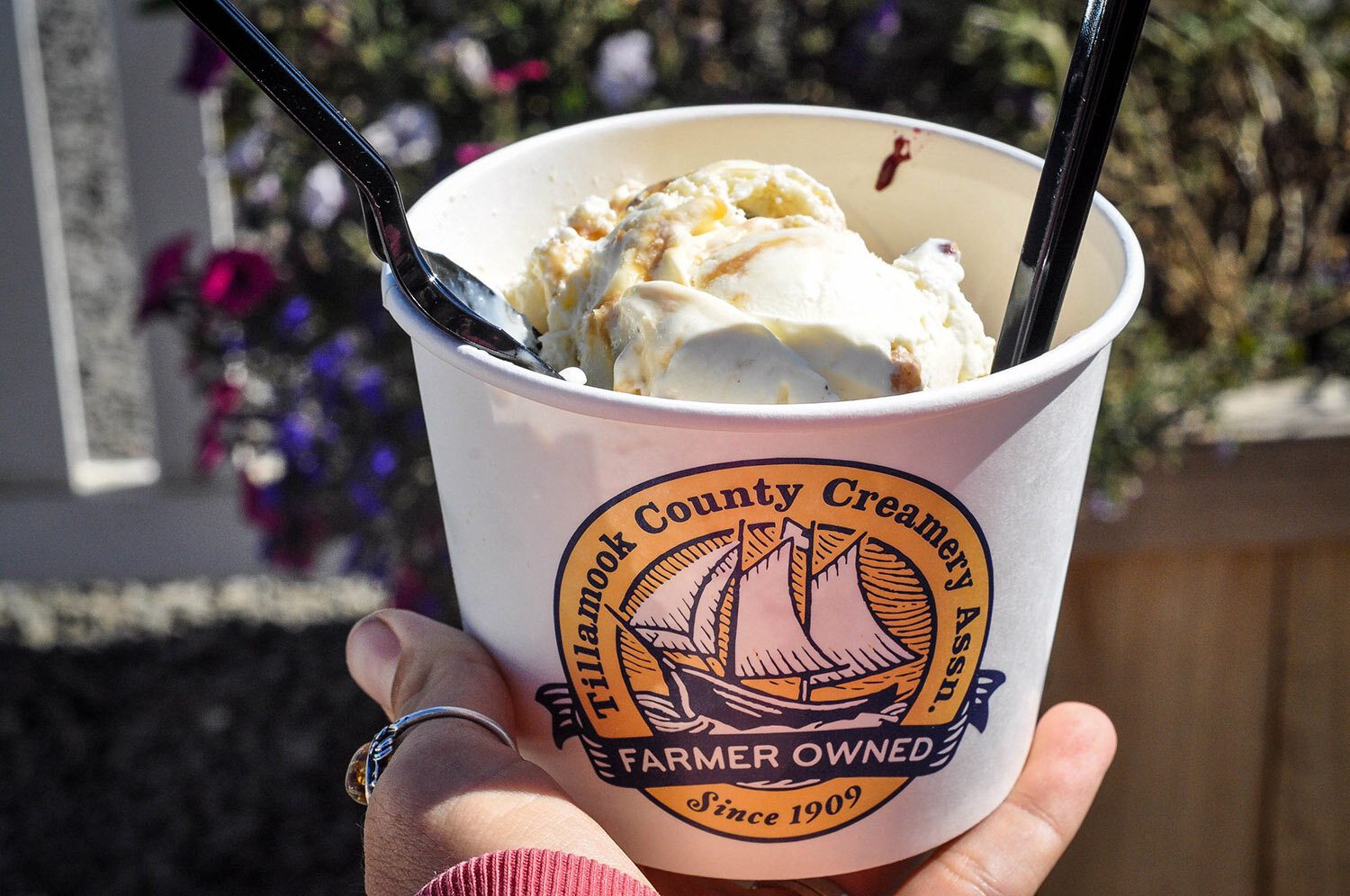 Any other cheese-lovers out there?! What about ice cream fanatics?!
If you, too, are a dairy queen (or king!), you'll definitely want to make a pilgrimage to the Tillamook Creamery.
Following a self-guided tour, you can get a glimpse into the working factory, where all the dairy magic happens.
There's also an onsite ice cream shop where you can sample flavors from the source, as well as a counter where you can order cheese-focused dishes, like grilled cheese, mac 'n cheese, cheeseburgers and cheese curds. Need I say more?
25. Do the Fruit Loop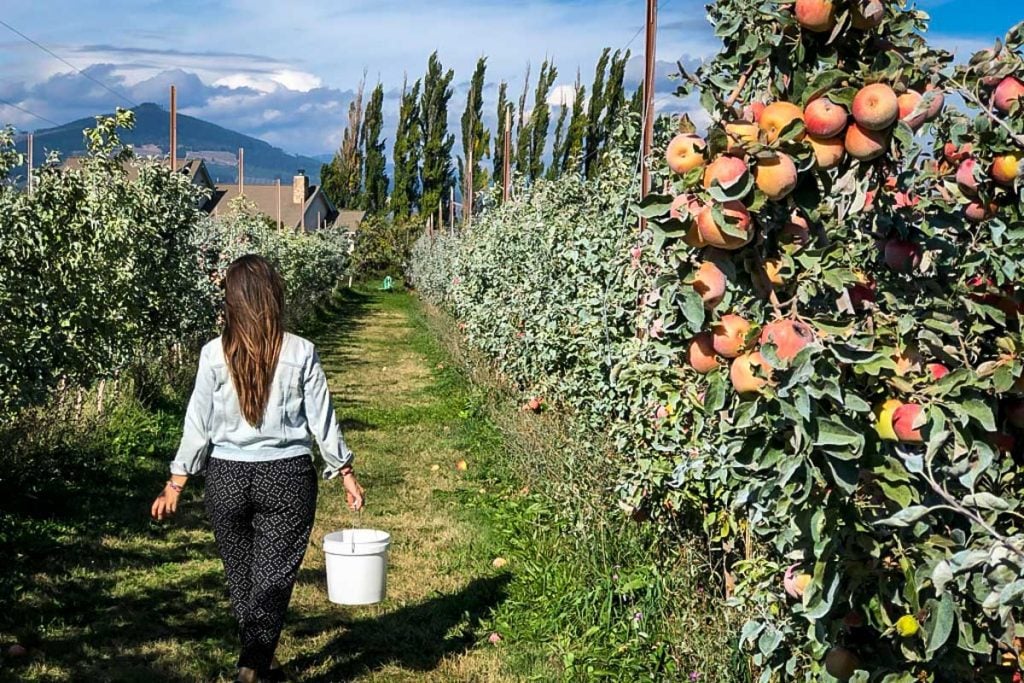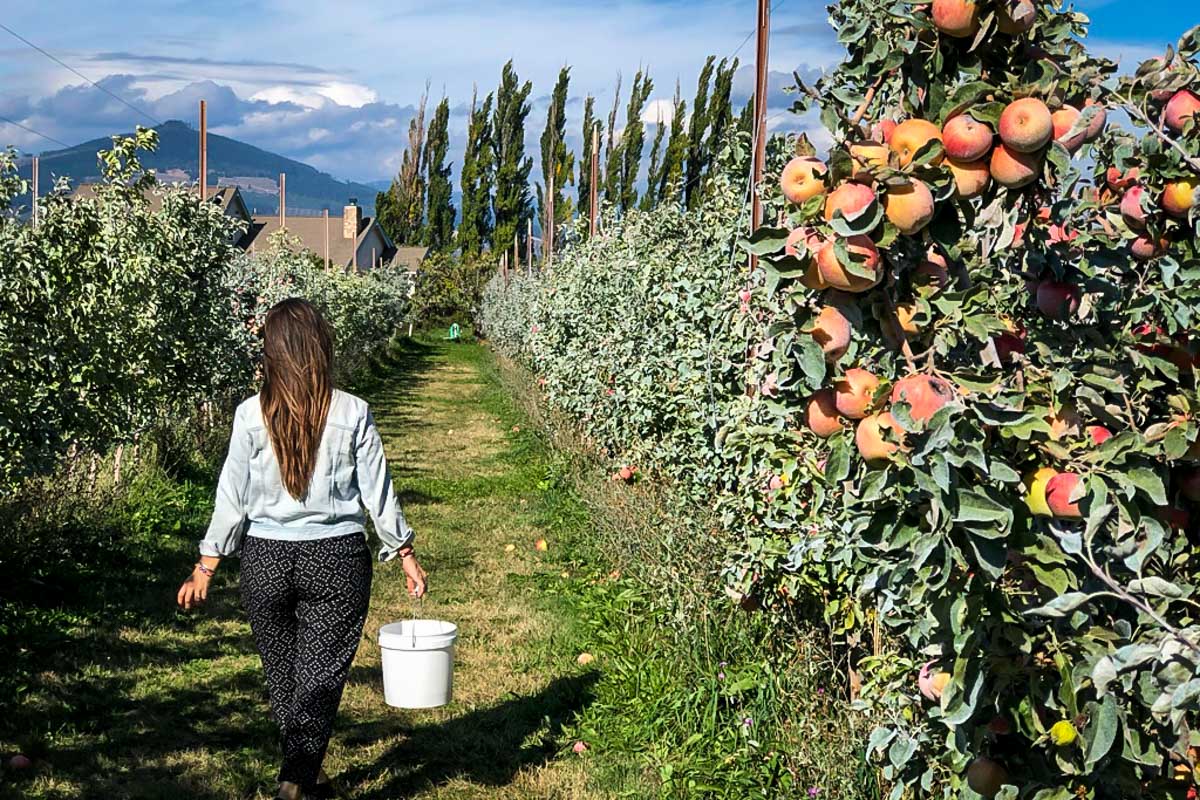 Just outside of Hood River is a surprisingly high concentration of orchards, farms and vineyards.
You can follow the Hood River Fruit Loop at just about any time of the year. Create your own self-guided tour by following 35 miles of scenic country roads and stopping at any of the 27 fruit stands, orchards, farms or vineyards along the way.
Check out our guide to the Hood River Fruit Loop to see which stops we recommend along the way, and our guide to Hood River wineries so you can curate a tour that fits your interests.
Some of our favorites:
Best time to do the Fruit Loop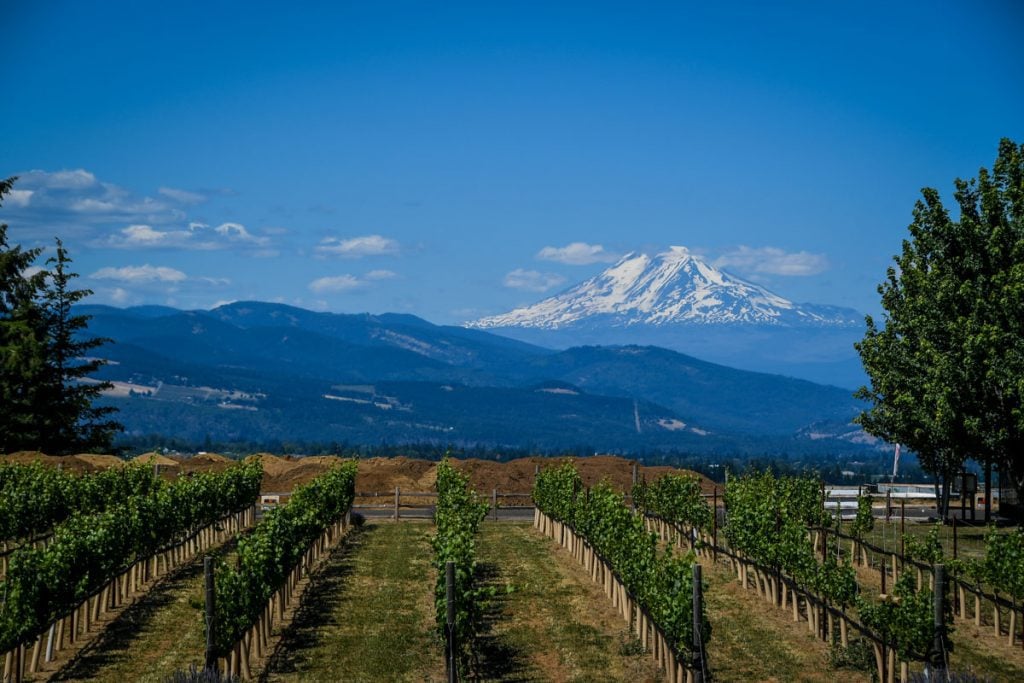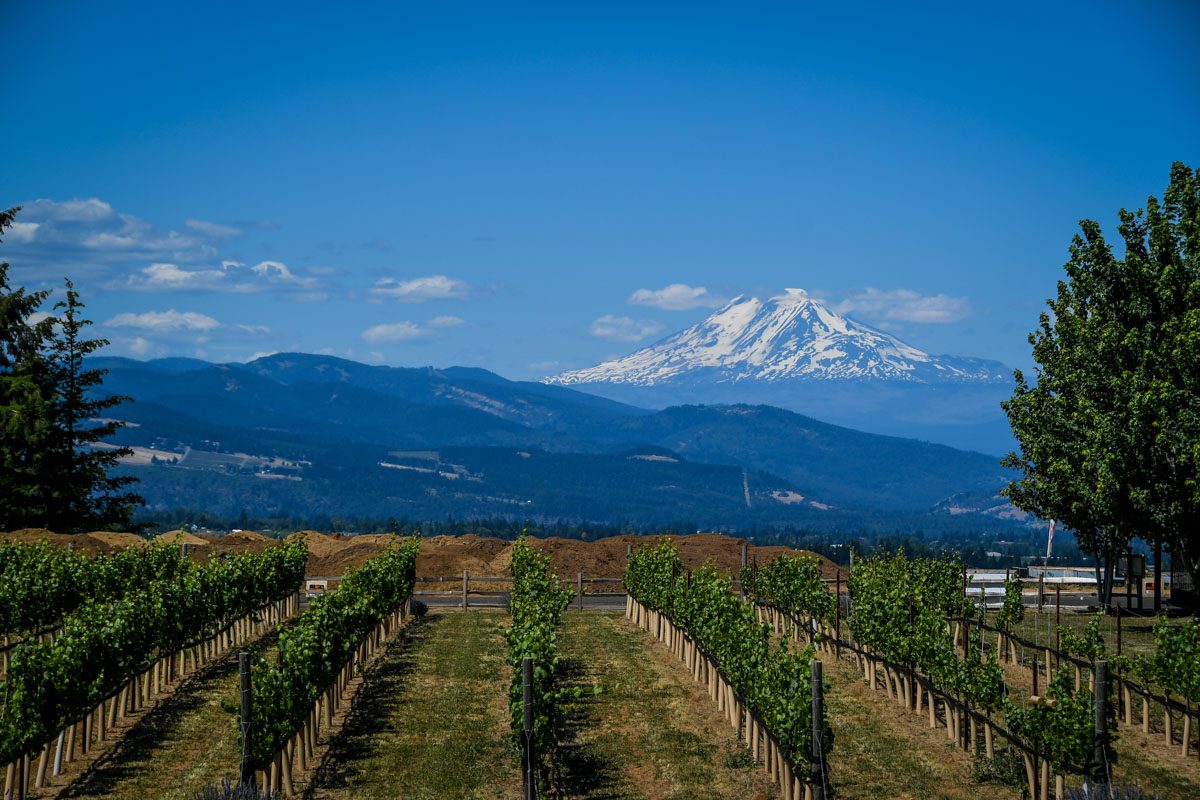 With the exception of winter, each season boasts a unique draw:
Spring weather means you'll see lots of fruit trees blossoming with jaw-dropping flowers, making it a photographer's dream.
Summer is the perfect time to pick your own berries, wander through lavender fields, and enjoy local wine under the sun.
Fall harvest season is a fun time to pick out pumpkins, pick your own apples, and enjoy the changing foliage.
Psst! There are lots of other fun things to do in Hood River if you want to plan a longer stay!
26. Float on the Deschutes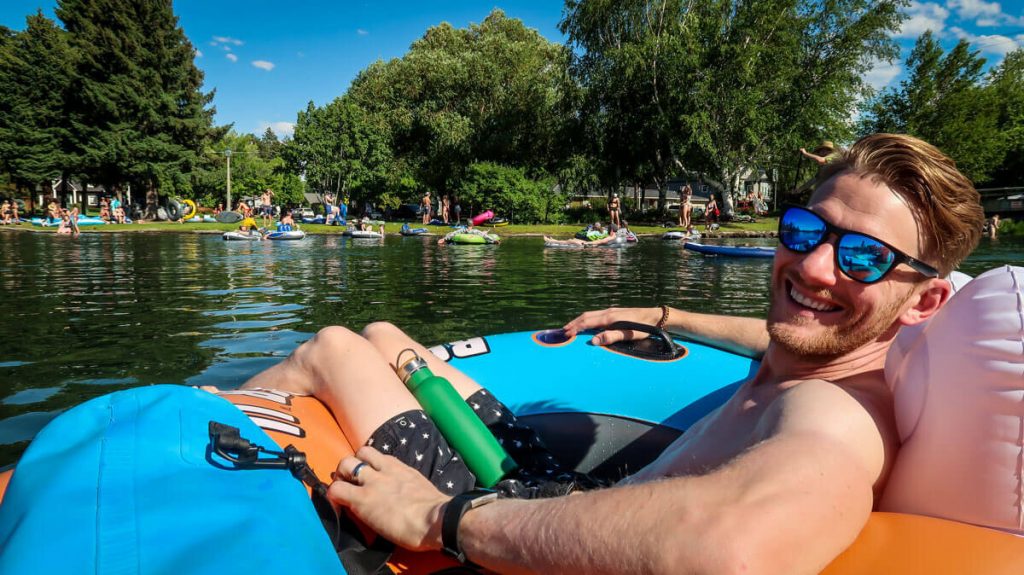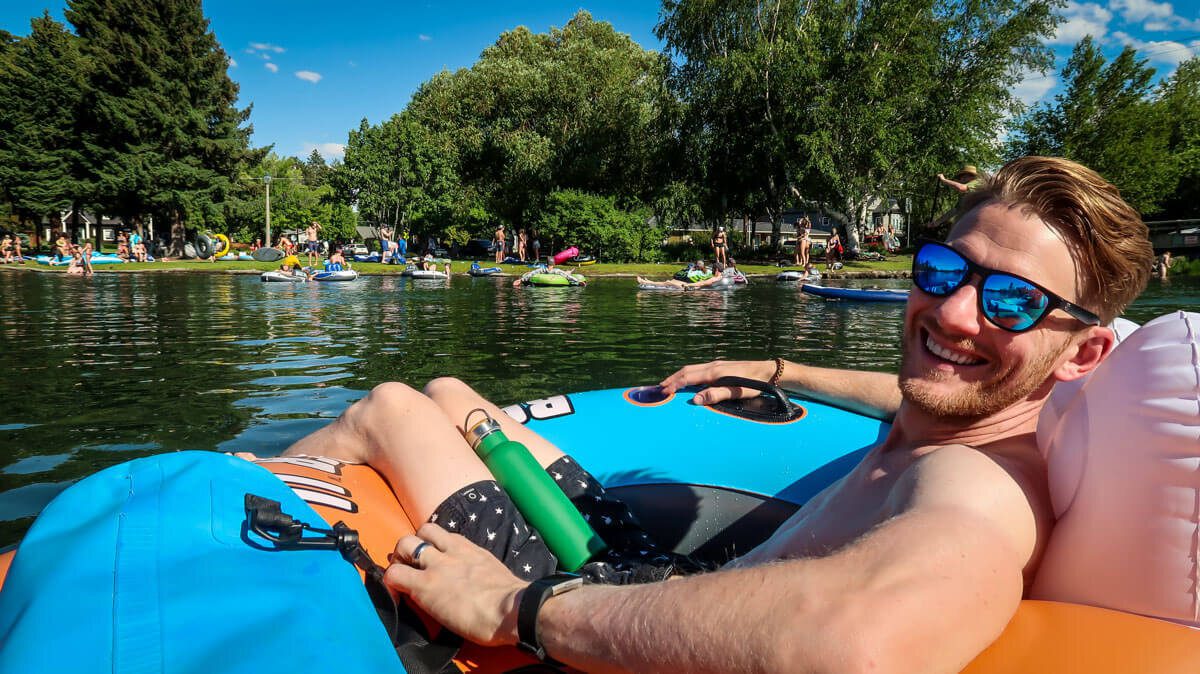 One of the best things to do in Oregon during the hot summer days is to grab a tube and get on the water!
The Deschutes River is arguably the best place in the state to get your tubing fix.
With a mostly lazy-river-like situation, float at a leisurely pace, past the Old Mill District and Hayden Homes amphitheater before descending the rapids at Bend's Whitewater Park.
If you're visiting from out of town, it can be a little confusing trying to figure out where to put in and where to get out, so we put together a handy guide to floating the Deschutes River with everything you need to know including where to put in, shuttle service recommendations and how to get yourself a tube.
Good to know: There are shuttle services and tube rentals during the summer months.
27. Explore Mount Hood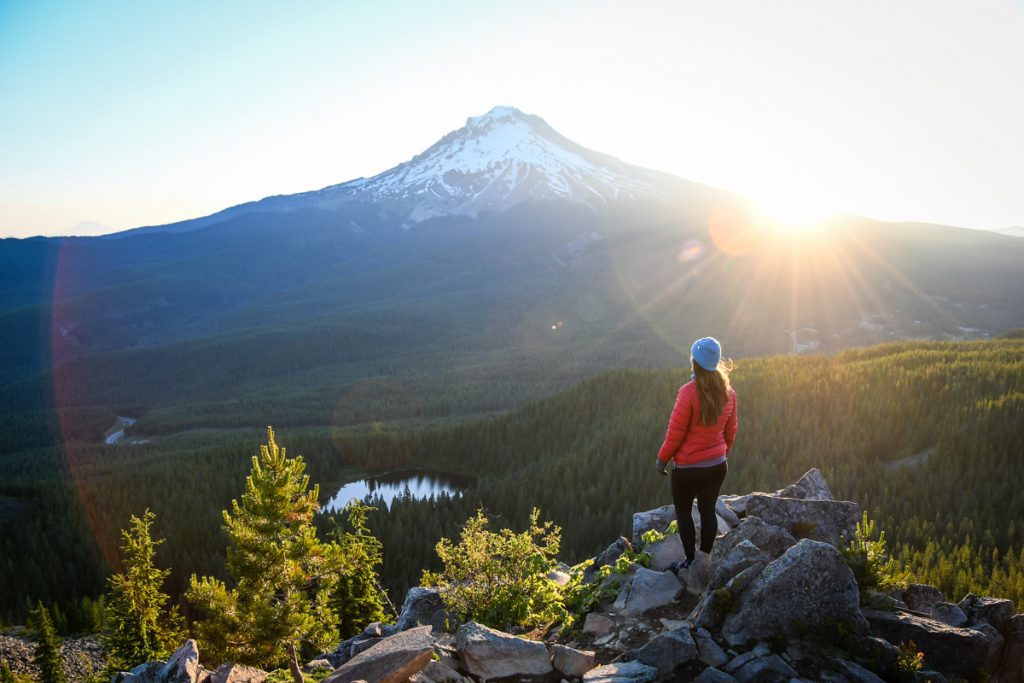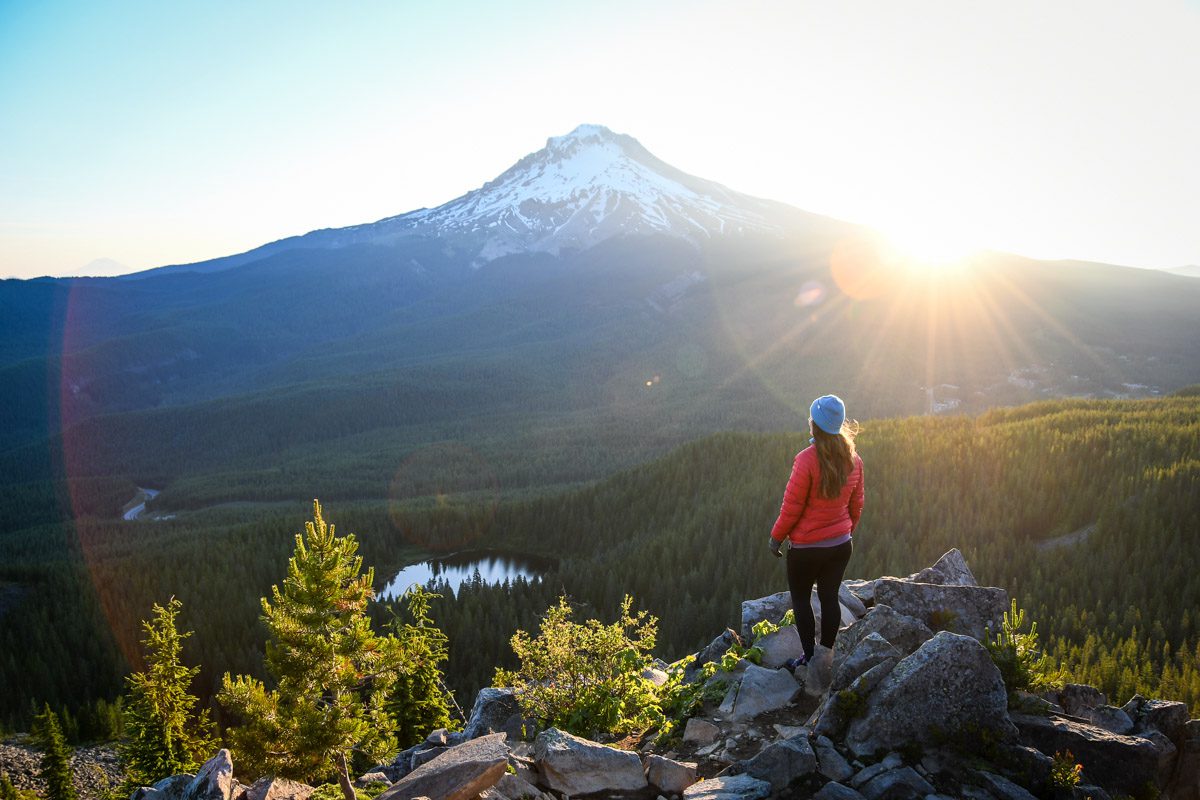 This towering mountain is the tallest in the state of Oregon, and has a majestic beauty that is worthy of a top spot on your Oregon Bucket List.
Pack your hiking boots and sense of adventure, because there's lots to explore in this area:
Go hiking! From epic trails where you can camp overnight, like Tom Dick and Harry Mountain, to roadside trails that are well-worth the stop, like Tamanawas Falls, to the 42-mile loop that circumnavigates the mountain, known as the Timberline Trail, there are plenty of Mount Hood hikes for adventurers of all levels to choose from.
Sample the local brews at Mt. Hood Brewing Co.
Go skiing (any time of the year!). Mount Hood has the longest ski season in the United States, making it totally possible to get turns in January or on the Fourth of July!
Hang out at a lake with a view! There are several stunning lakes that boast jaw dropping views of Mount Hood. Three of our favorites are Lost Lake, Trillium Lake, and Frog Lake.
Insider Tip: Pair a visit to Mount Hood with a stay in Hood River for an epic getaway that allows you to both explore nature as well as a stay in one of Oregon's cutest towns!
28. Take an Oregon Coast road trip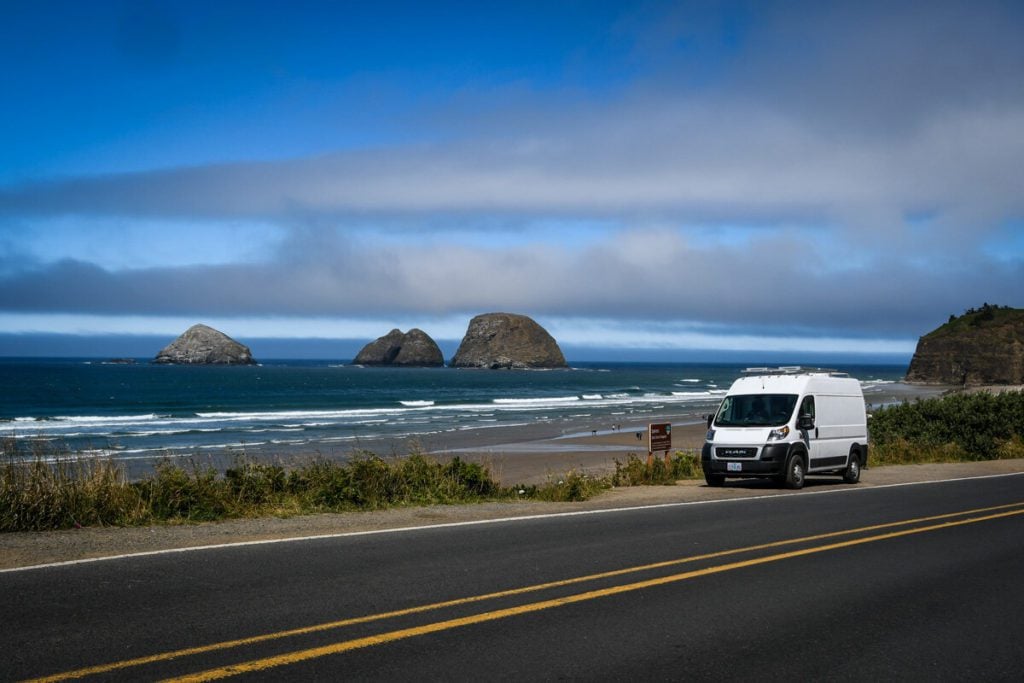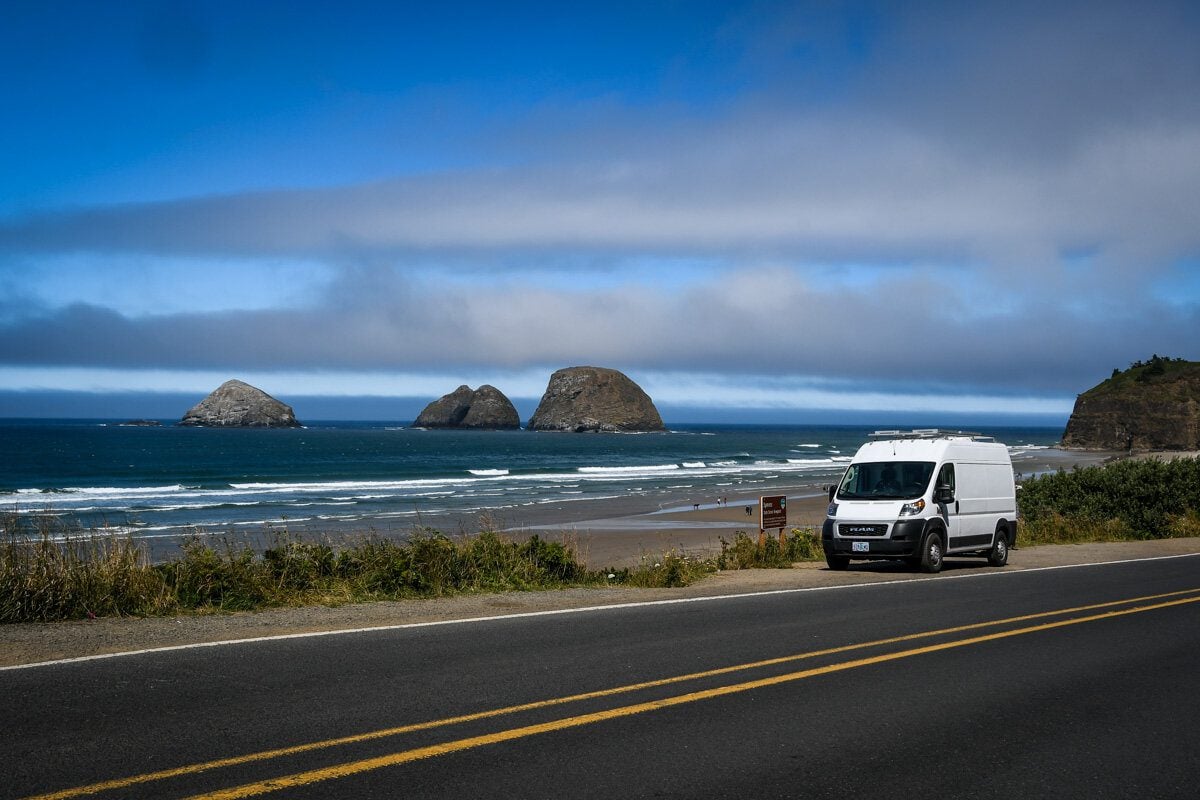 One of the best things to do in Oregon is — without a doubt — taking a road trip along the Oregon Coast. There's something just magical about it.
With driftwood-strewn beaches, cute oceanside towns, and plenty of fresh seafood, it's easy to see why this part of the state is worth exploring.
Here are some of our favorite Oregon coast towns:
Manzanita
Oceanside
Rockaway Beach
Florence
Bandon
Have more time? There are so many more towns and sights to see along the way that we created an entire Oregon Coast road trip guide to help you plan the perfect vacation!
Psst! We also put together a list of the best Oregon Coast campgrounds over on our sister site, to help you know where to stay. Split up by region, the list includes campgrounds and their facilities, plus advice to help you plan your trip.
29. Wander through a lavender field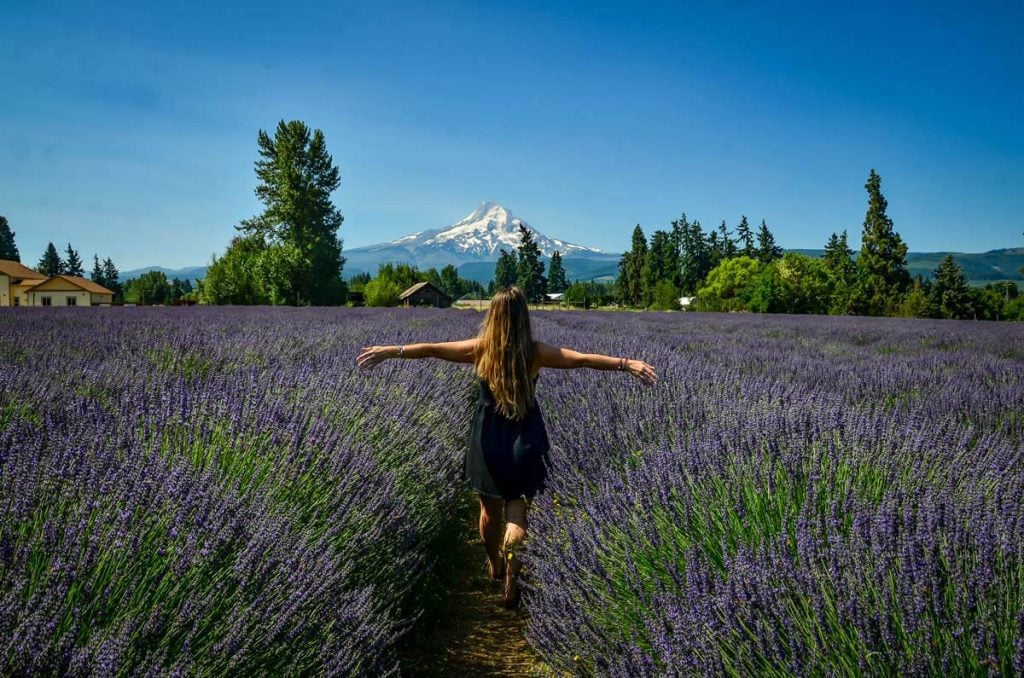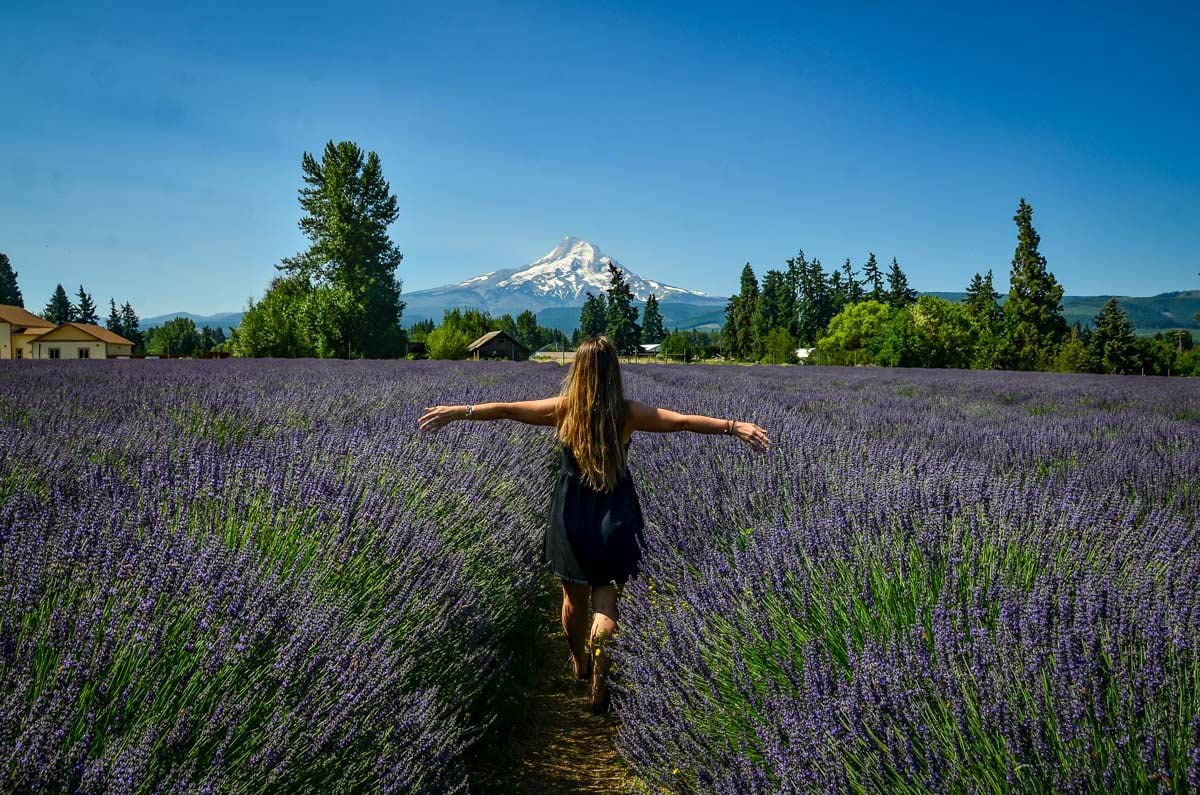 You don't have to go to the Provence region of France to wander through a lavender field in a flowy skirt and pretend you're a goddess.
You guessed it – Oregon has its share of stunning and aromatic lavender fields just waiting for you to twirl through the rows of pleasantly fragrant blooms.
We have a whole round up of breathtaking Oregon lavender farms you can visit on our sister site. However, our two favorite lavender fields in the state are just outside of Hood River.
Lavender Valley: The best views of Mount Hood, with a blanket of lavender in the foreground, can be found here. Pure magic! Note: There is a small entry fee to get in.
Hood River Lavender Farms: Located beside our favorite winery in the area, Stave & Stone, this picturesque (and free!) farm offers U-pick lavender and between it and the winery, is a really fun place to spend an afternoon with bites, drinks and views.
When to go: The farms are typically open from June through September, but for peak blooms, plan your visit between late June and mid-July.
30. Find zen in Portland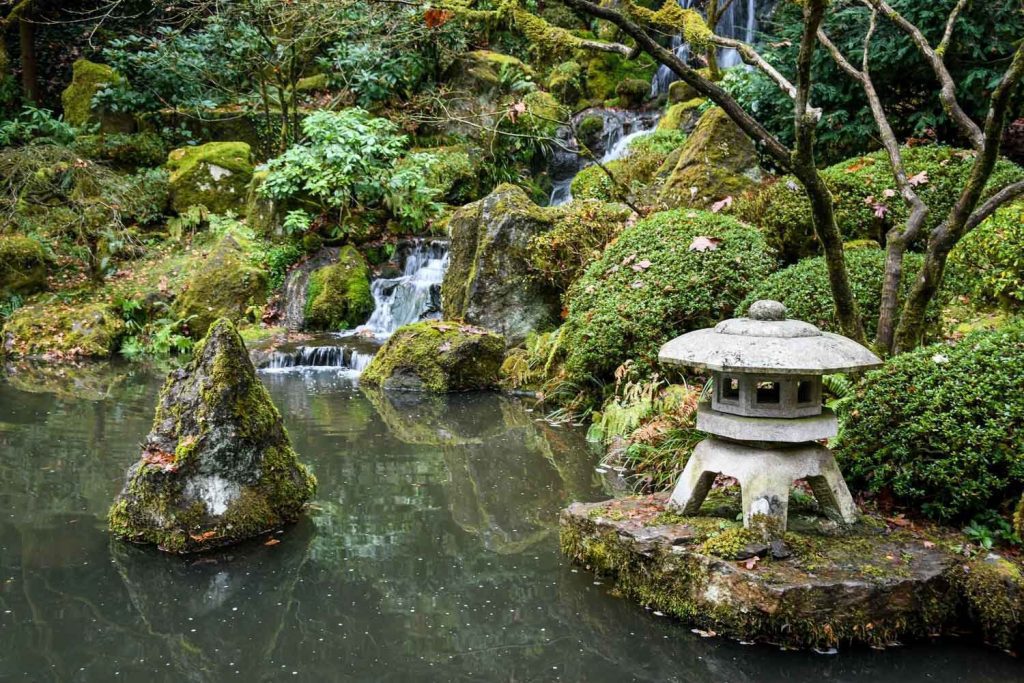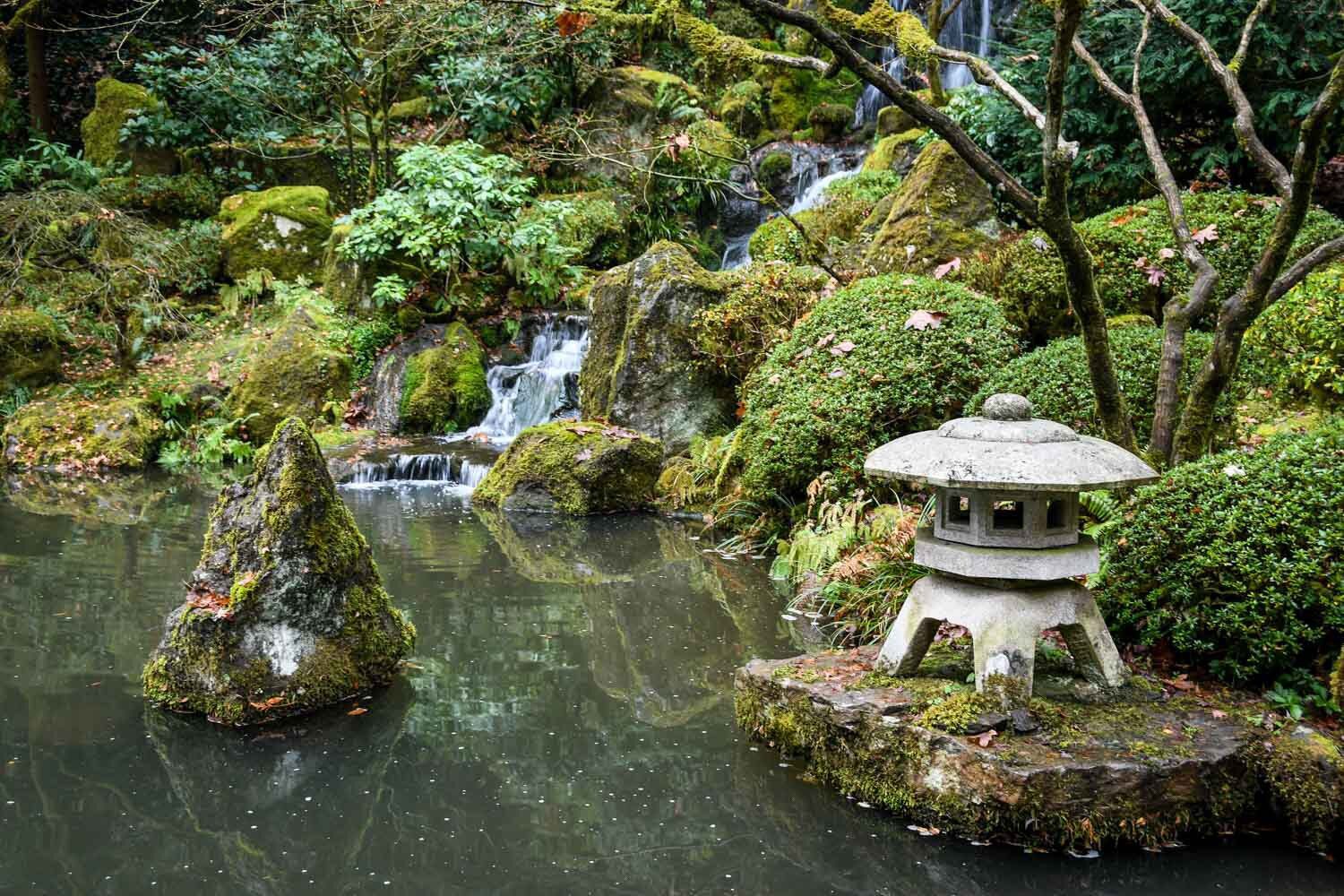 We love Portland, but we won't sugarcoat it… just like any major city, there are dirty and chaotic pockets. But then there are places so clean and peaceful you won't believe they are in the same city.
In fact, the two spots we're recommending will have you feeling like you've just landed in Asia.
No exaggeration.
Portland's Japanese Garden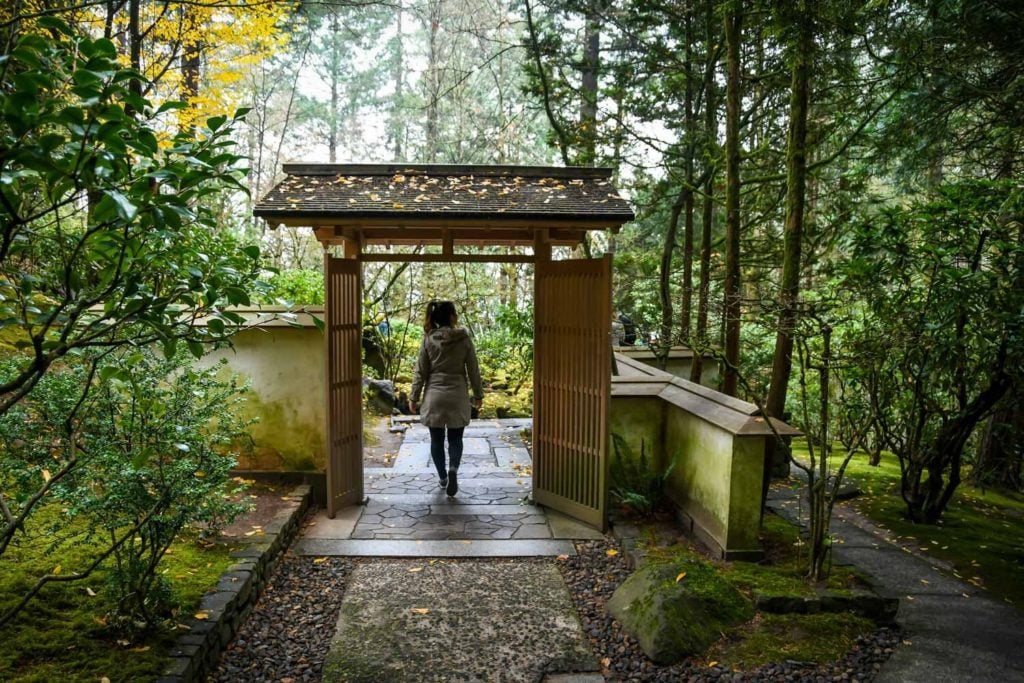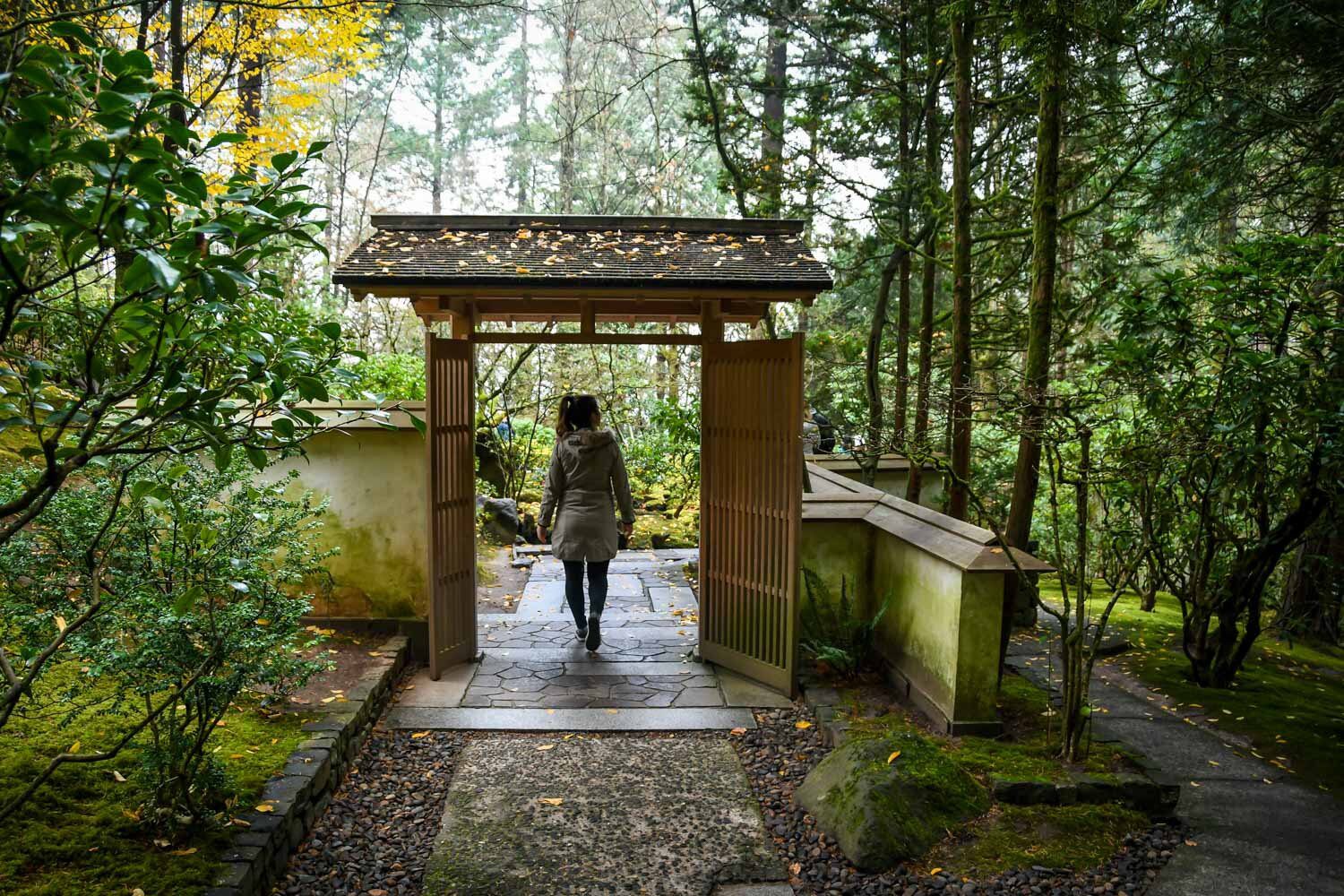 This is one of the most famous attractions in all of Portland, and for good reason. It is dreamy.
We visited this garden just a month after traveling in Japan for a few weeks, and lemme tell you: This is as close to the real deal as you can get outside Japan.
Give yourself a few hours to fully enjoy this stunning escape from the city.
Location: Portland Japanese Garden
Chinese Garden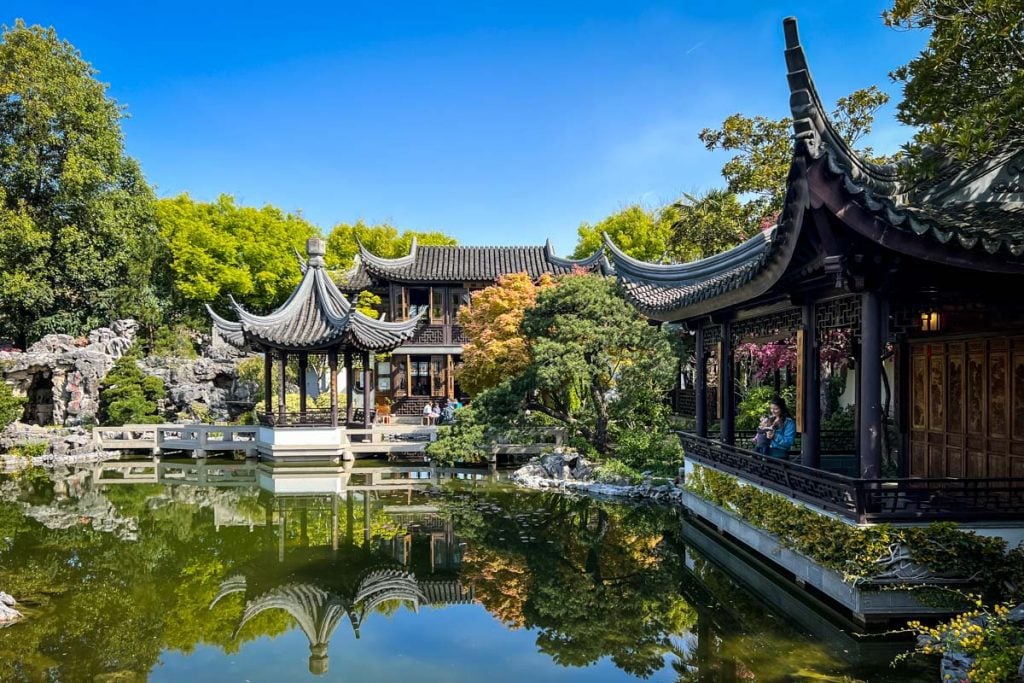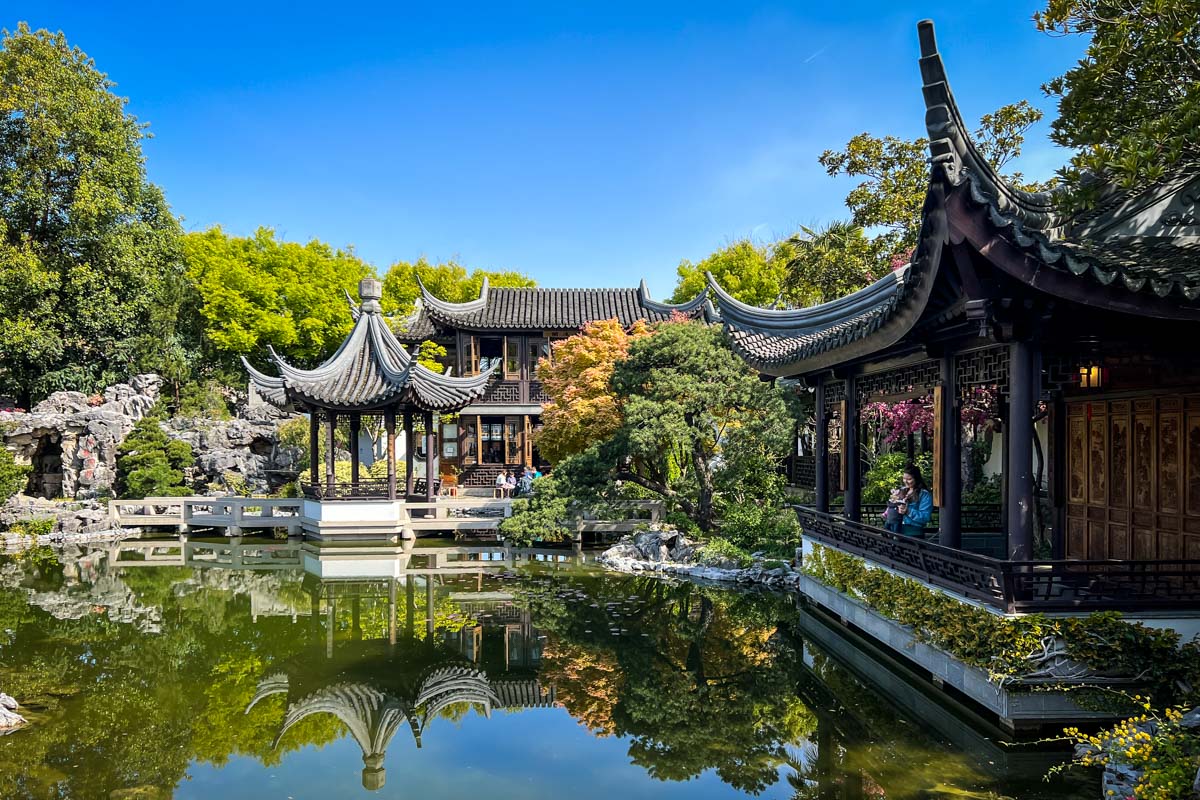 We didn't visit this spot until our most recent trip to Portland, and I don't know why we waited so long. While significantly smaller than the more famous Japanese garden, this one still takes up an entire city block.
Located in the somewhat seedy Chinatown neighborhood, these perfectly manicured gardens feel a world away. Relax at the teahouse with a pot of tea and some traditional Chinese snacks.
Location: Lan Su Chinese Garden
31. SUP with a view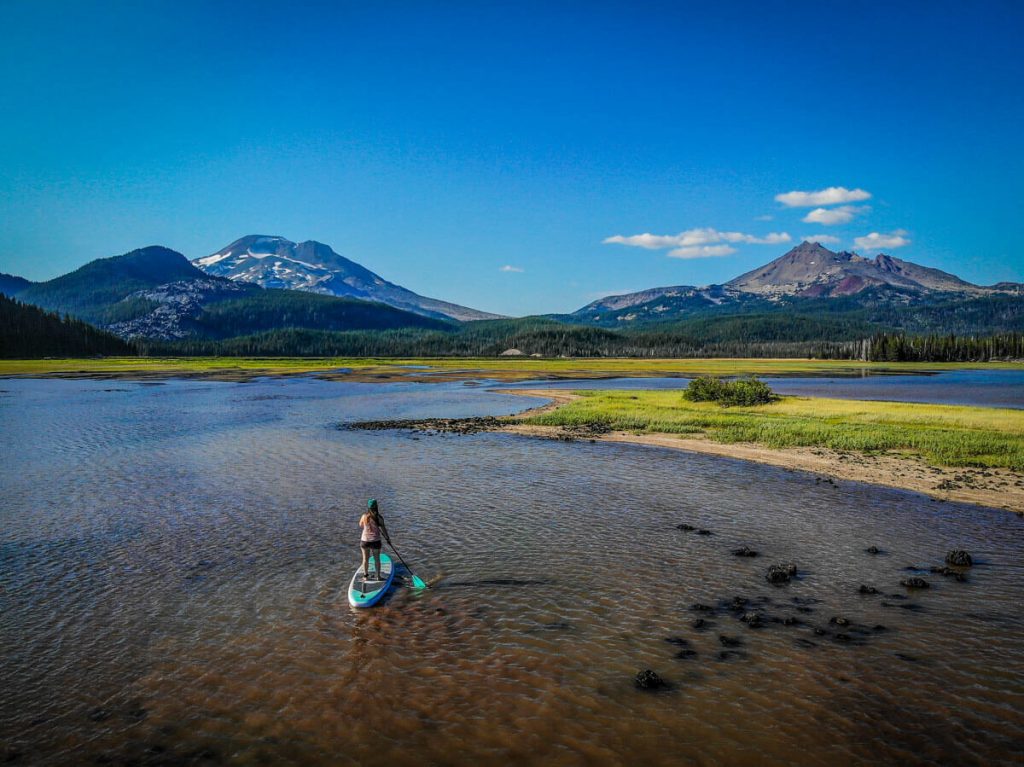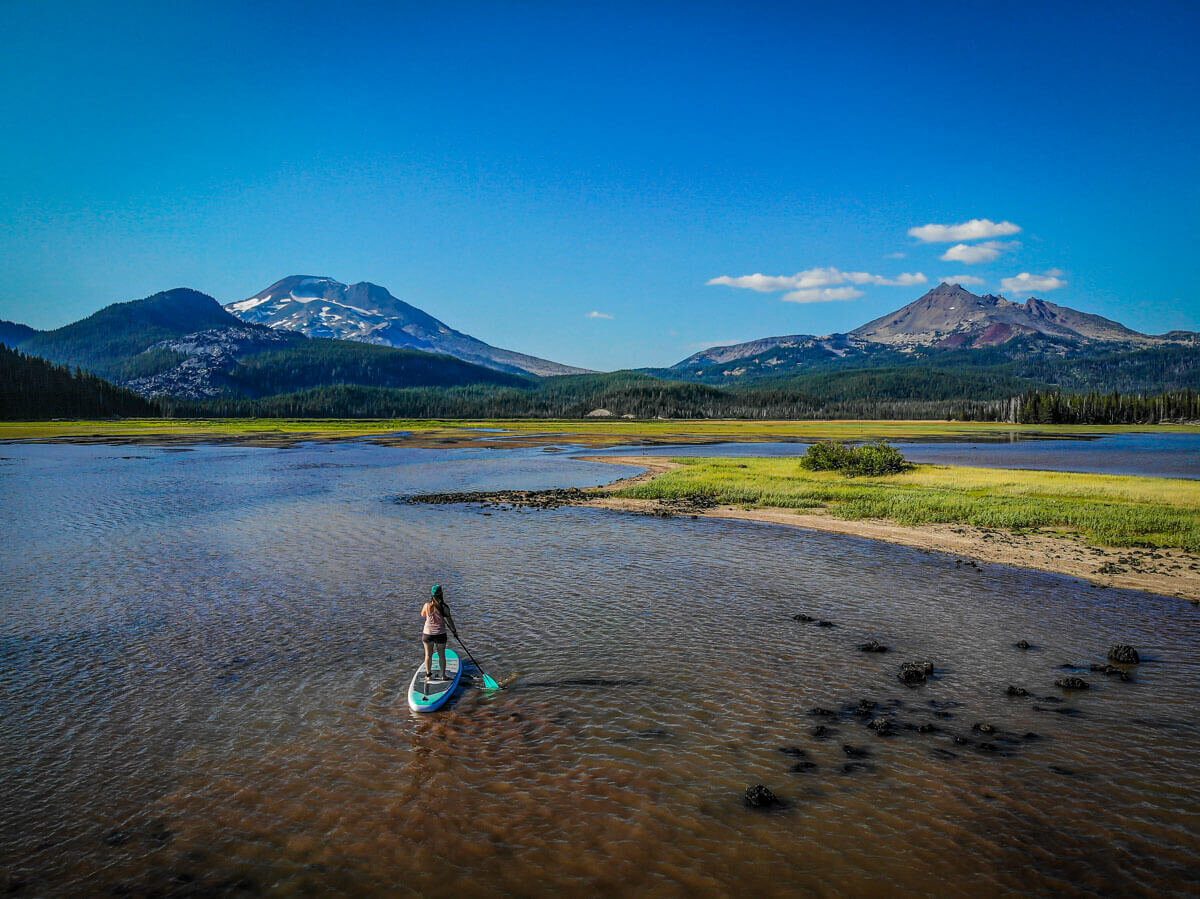 Whether you're a paddle boarding enthusiast or a total newbie, there are plenty of places to get your SUP on in Oregon.
Here are 3 of our favorites:
Sparks Lake: Just under an hour from Bend, this shallow lake is the picture perfect place to get on the water. Summer sunsets here are epic!
Trillium Lake: With one of the best views of Mount Hood, paddle boarding on this lake is a dream!
Deschutes River: Instead of tubing (see #26), you can float the river on a SUP. Just know that you'll have to paddle upstream if you want to return to your starting point, giving you a nice little workout!


Are you planning a trip to Oregon?
Being that Oregon is our home state, we have TONS of content to help you plan your trip. Start with our Oregon Homepage and be sure to check out the articles below. Leave us a comment if you have any more questions!
Save this article on Pinterest for later!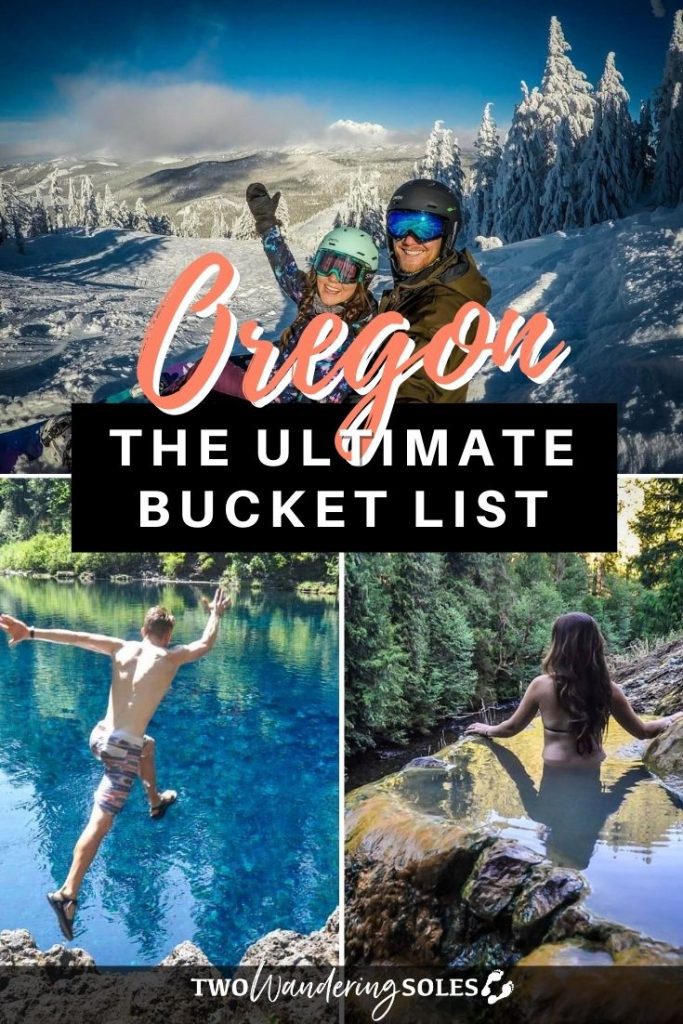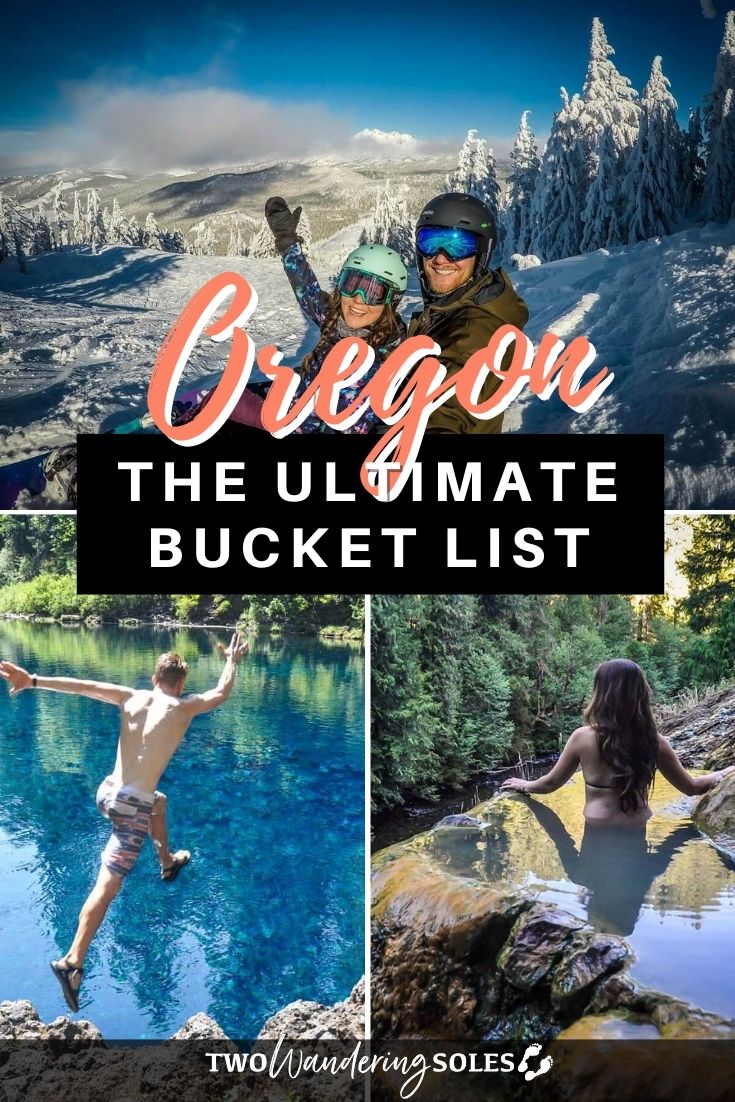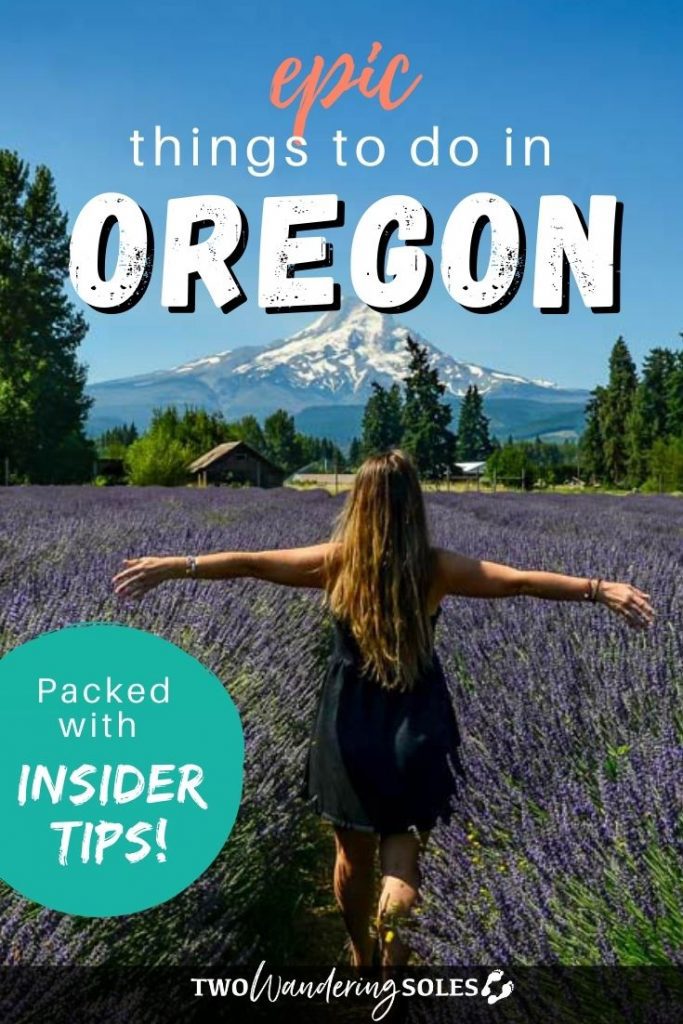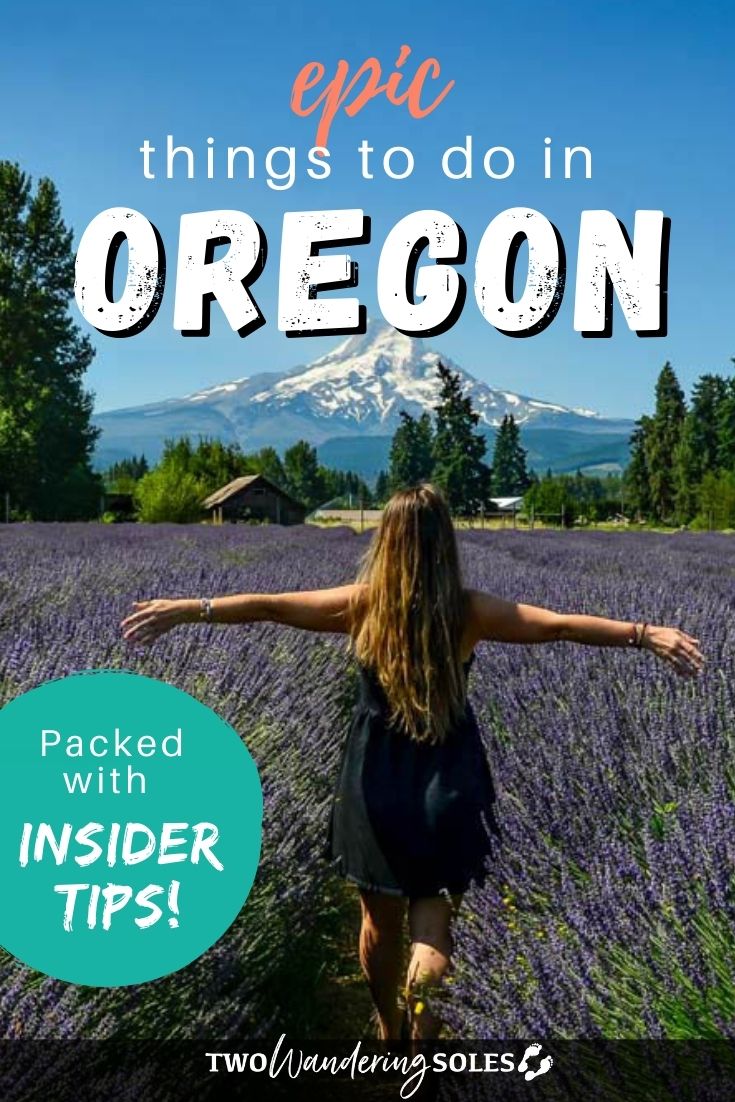 We want to hear from you!
Which of these epic things to do in Oregon is going to the top of your bucket list? Do you have any other ideas you'd suggest we add to this list? We'd love to hear from you in the comments below!