With hundreds of thousands of acres of pristine wilderness filled with glaciers, rugged peaks, sparkling alpine lakes, and some of the best hiking in the US, North Cascades National Park in Washington state is spectacular. This guide details everything you need to know to plan your trip!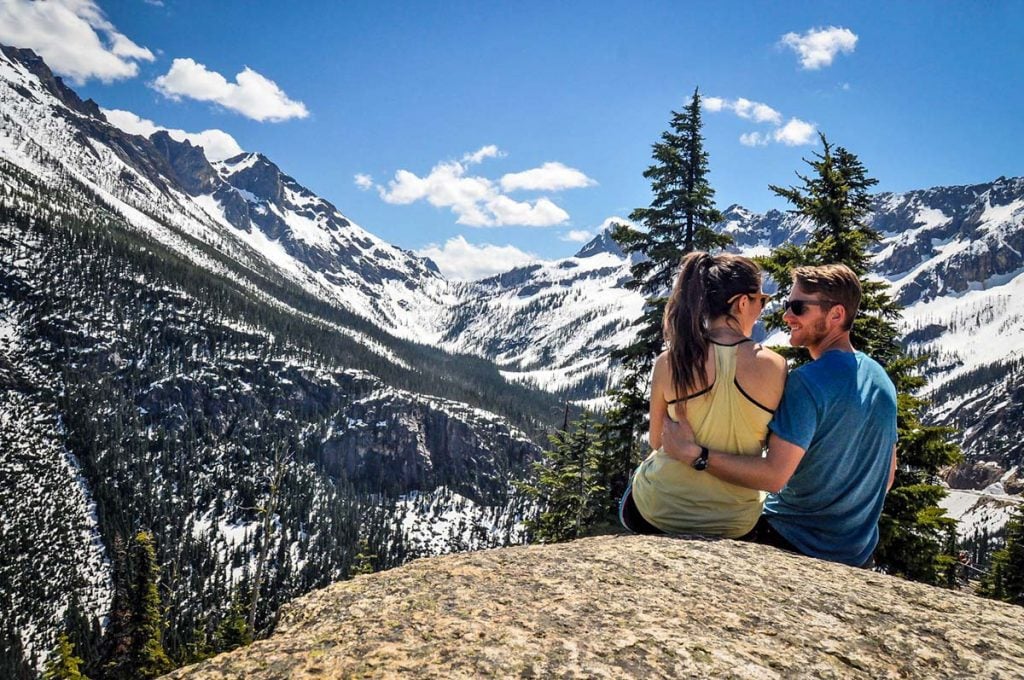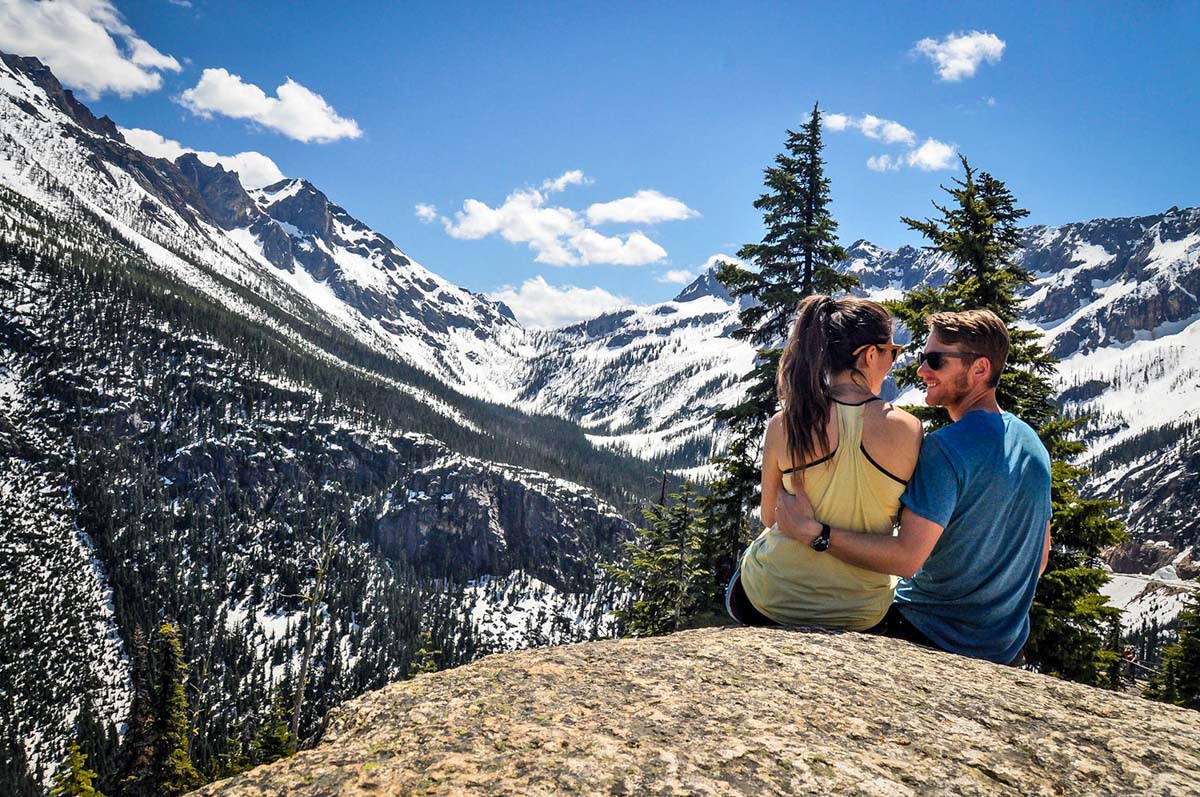 If you were to ask us which USA National Park we think is the most underrated, we would, without hesitation, answer: North Cascades National Park.
From the shockingly turquoise waters of Diablo Lake to the iconic Liberty Bell Mountain to the charming town of Stehekin (only accessible by boat or hiking), North Cascades National Park is chock full of epic adventure.
With more than 300 glaciers and 400 miles of trails, North Cascades is home to some of the most incredible scenery we've seen anywhere in the world, yet is is one of the least visited US National Parks.
According to CNN, there were just 17,855 recreation visits to North Cascades National Park in 2021.
Compare that to the millions of visitors that explore the bigger names like Great Smoky, Zion and Yellowstone, and you might (incorrectly) assume that you'll have the entire place to yourself.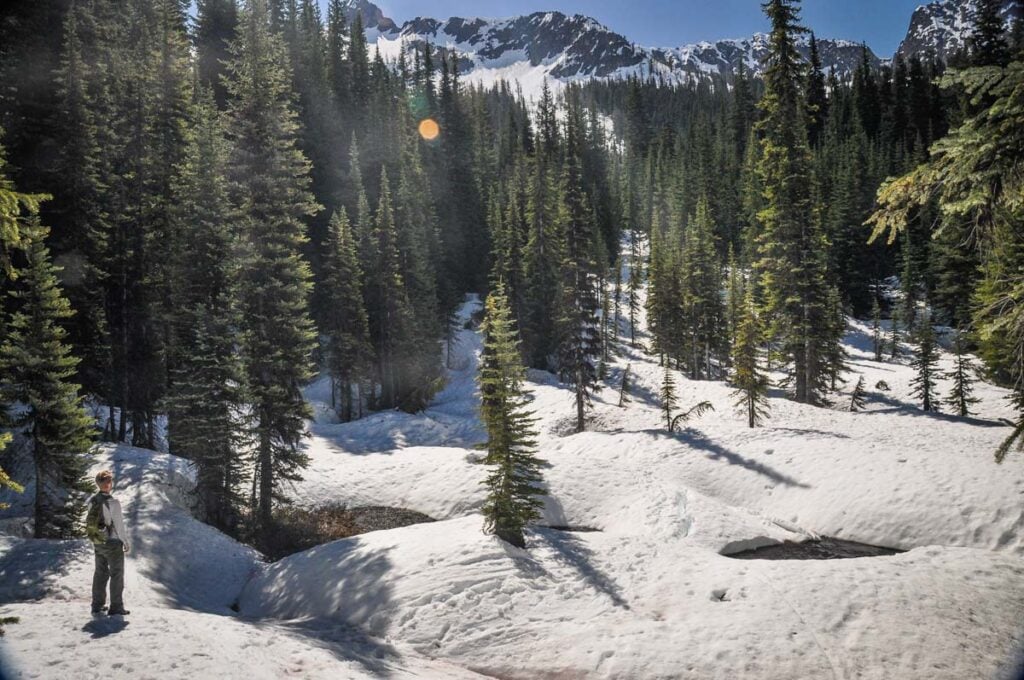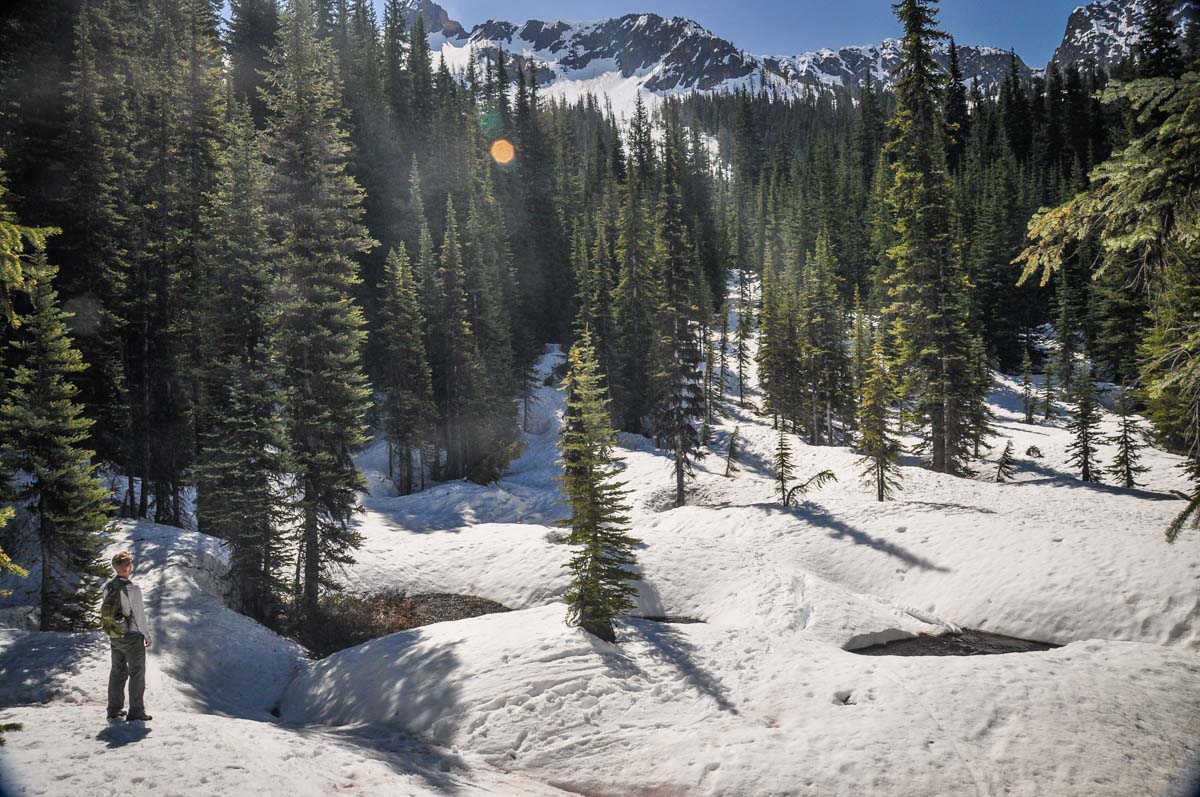 While it doesn't see the same numbers as the "giants", that doesn't necessarily mean you'll find complete solace. Even some of the more remote hikes have gained attention on Instagram and TikTok over the last couple of years, giving North Cascades National Park a spot on more and more people's bucket lists.
And rightly so.
It is an absolute paradise for backcountry camping, rock climbing, hiking and backcountry skiing.
If you're an adventurous soul, we have a feeling you'll love North Cascades as much as we do.
In this guide we're sharing the best viewpoints, top hikes, and fun things to do in North Cascades National Park. Plus, we're including some insider tips and essential things to know before you make the trip.
Article contents
---
Ultimate PNW Bucket List!
Traveling around the Pacific Northwest? We have just what you need!
We've created the ultimate PNW Bucket List, filled with fun and unique adventures. From epic outdoor escapes to off-the-beaten-path foodie experiences, we have a little something for every type of traveler!
Go ahead and grab your copy now. It's free, so what do you have to lose?!
---
North Cascades National Park at a glance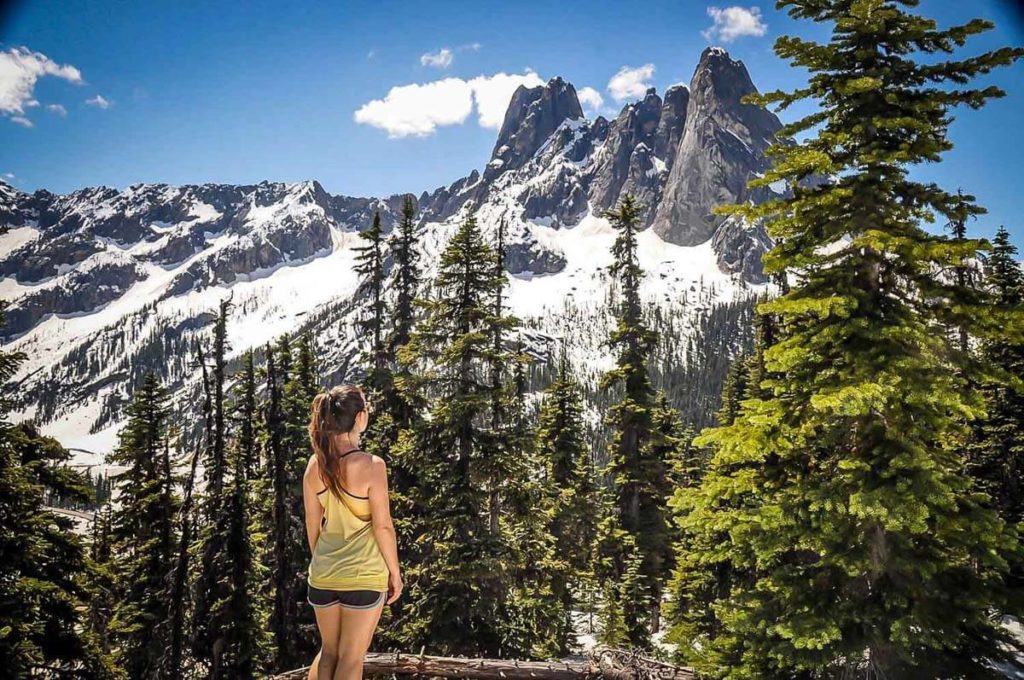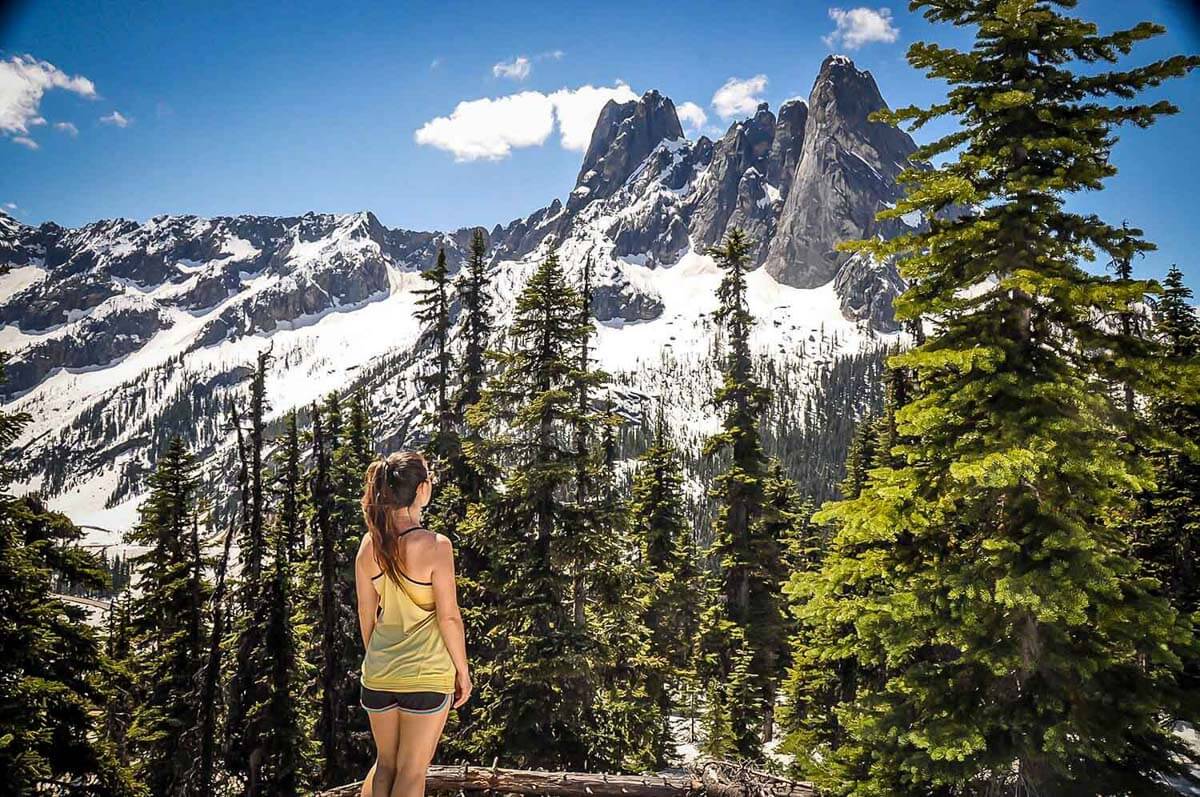 Open: Technically open year-round, but extremely limited access and few services available from late September through late May
Entrance Fee: Free to all visitors
Wildlife: Mountain goats, deer, bears, beavers, and rattlesnakes (particularly on the dry eastern side)
Established: October 2, 1968
Ancestral Lands: example: Given the vastness of Yellowstone, 27 tribes called this land home. Tribes like the Crow, Umatilla, Shoshone, Bannock, and Blackfeet used the area for hunting and gathering.
Area: 505,000 acres
How to get to North Cascades National Park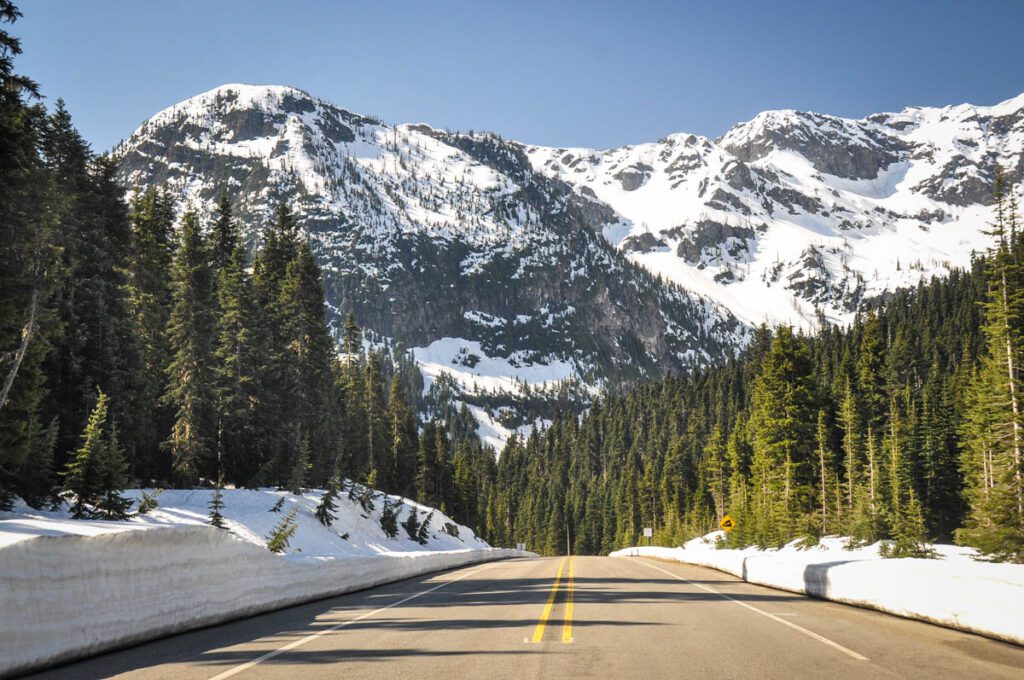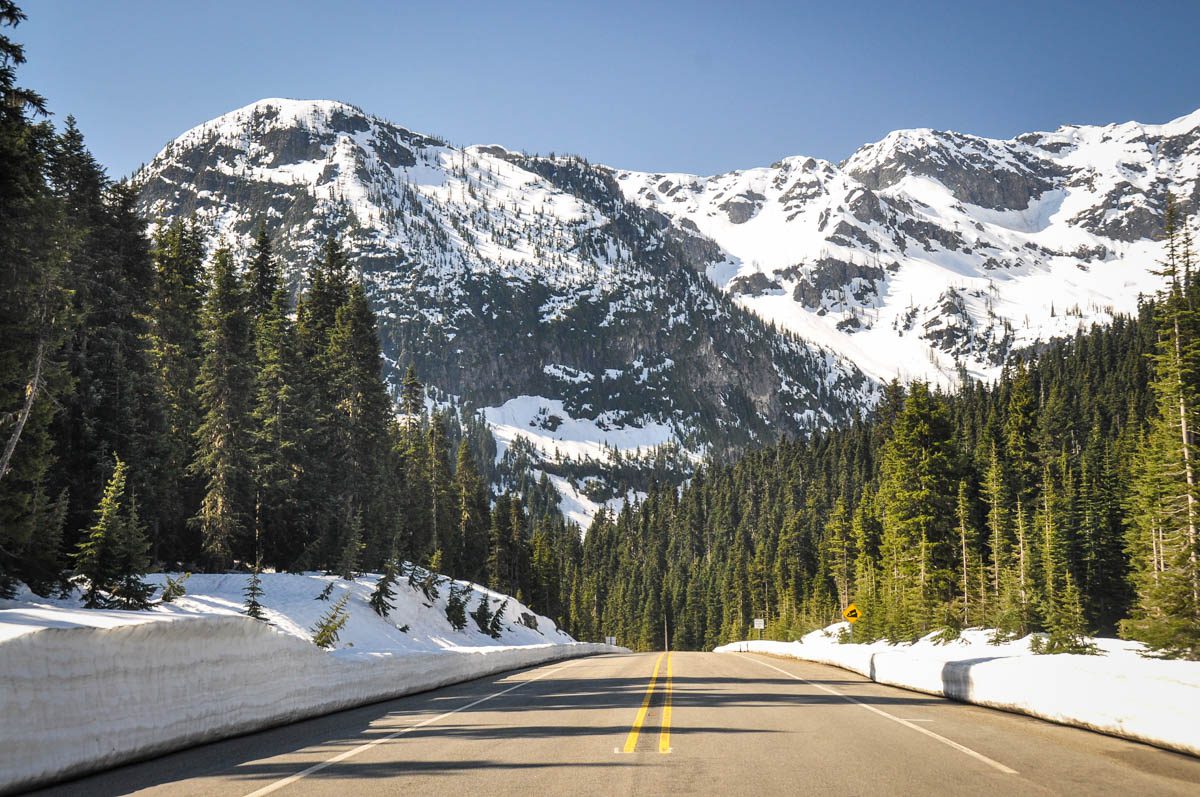 North Cascades National Park is nearly equal distance from Seattle, Washington, and Vancouver, BC. 108 miles and 125 miles (201 kilometers), respectively—about 2 hours driving time. Most people fly into either city and then drive, and depending on traffic, the trip typically takes about 2.5 hours.
The small college town of Bellingham, near the Canadian border, also has an airport, but it's much smaller and offers limited flights.
There are no shuttles or public transportation that run into North Cascades, although you may be able to find a day trip tour departing from Seattle in the summer.
Getting around in North Cascades National Park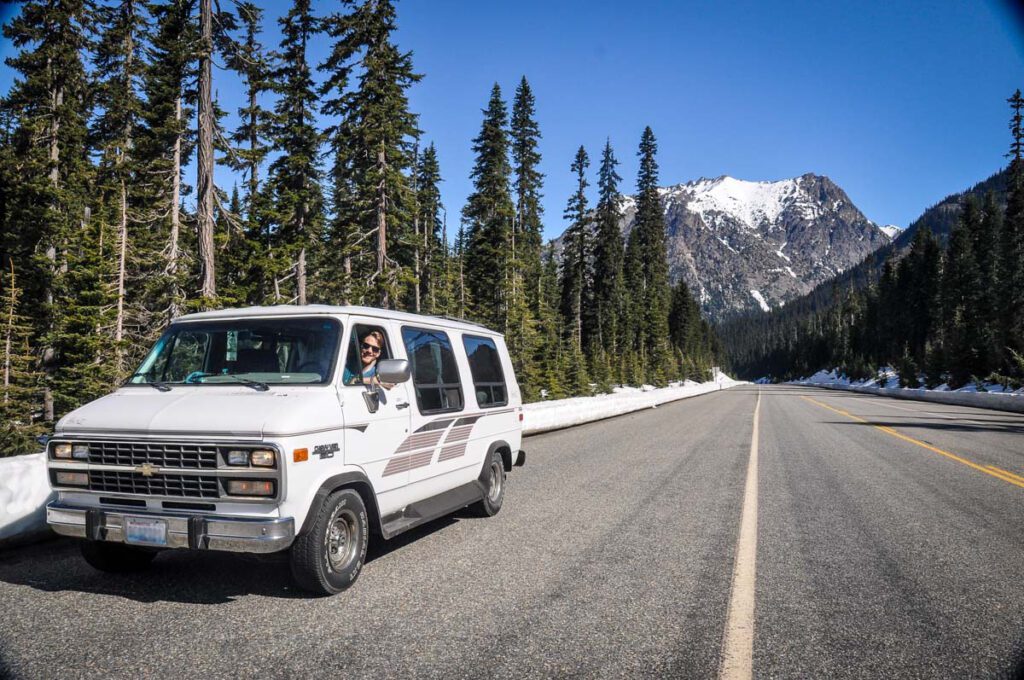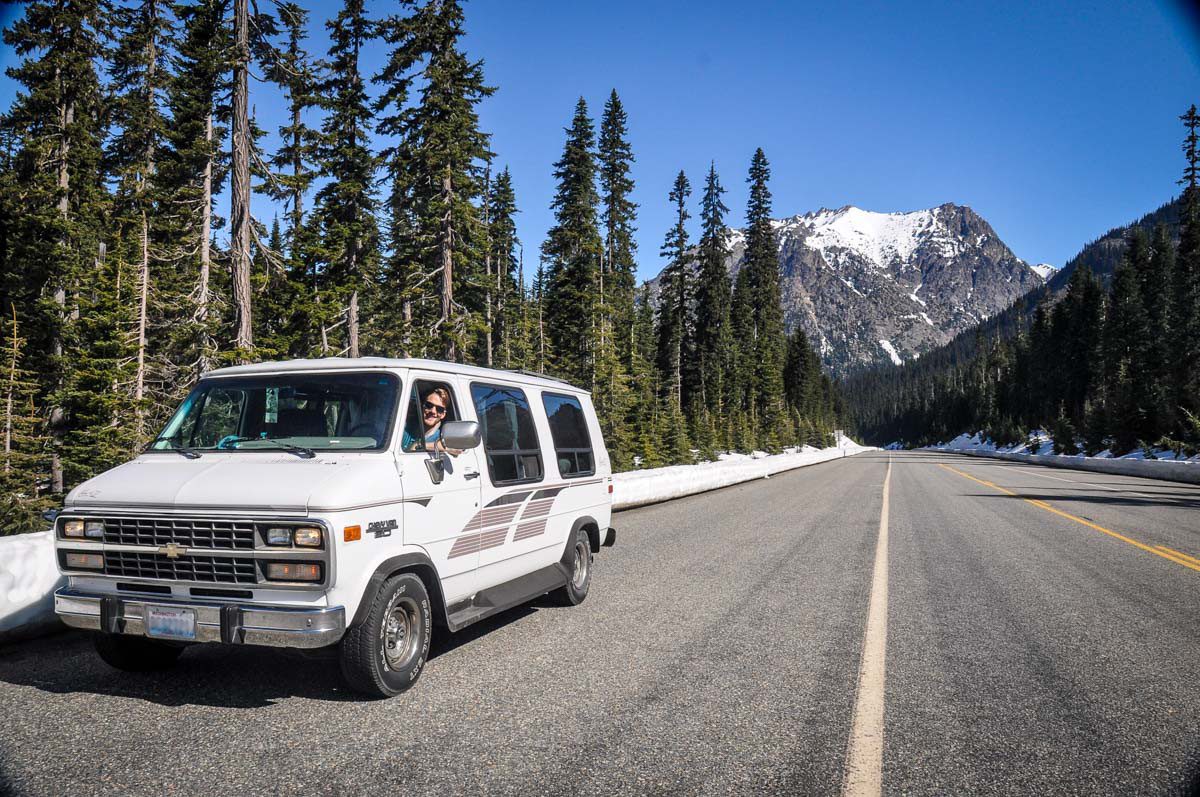 Unlike many large national parks, North Cascades does not have any sort of main shuttle system. This is one park you definitely need a vehicle to visit.
There is the ferry system on Lake Chelan to access Stehekin in the summer, but that's the only form of "public transportation" in the park. Once there, there's a shuttle that operates only within the Stehekin Valley.
If you need to rent a car to visit North Cascades, we recommend booking through DiscoverCars.com.
Discover Cars pulls information from a large number of companies to find you the best price for your rental car. They are also the only aggregate platform for rental cars that includes the cost of mandatory insurance in the price. This way you know you won't have any surprise costs when you land and start your travels.
Check what's available for your trip to North Cascades:
Wanna try out vanlife while visiting North Cascades National Park?
It's no secret we're obsessed with #vanlife. If you don't have the time (or interest!) in building your own conversion but you still want to give vanlife a test drive, we've got some ideas for you…
Check out our list of top companies for USA Campervan Rentals, from budget to bougie, we've even included some exclusive discounts for our readers!
Or, if you know you'll be starting in Seattle, we also have a guide to the best campervan rentals in Seattle specifically.
One company we'd recommend looking into is Escape Campervans. They have 12 different locations across North America (including Seattle!) and come fully loaded with all the gear you need for an epic road trip. Plus, their rates are fair and affordable.
BONUS: We've partnered with them to give you a 10% off discount when you use our link!
We have plenty of recommendations for campervan-friendly campsites in the where to stay section below.
How many days do you need in North Cascades National Park?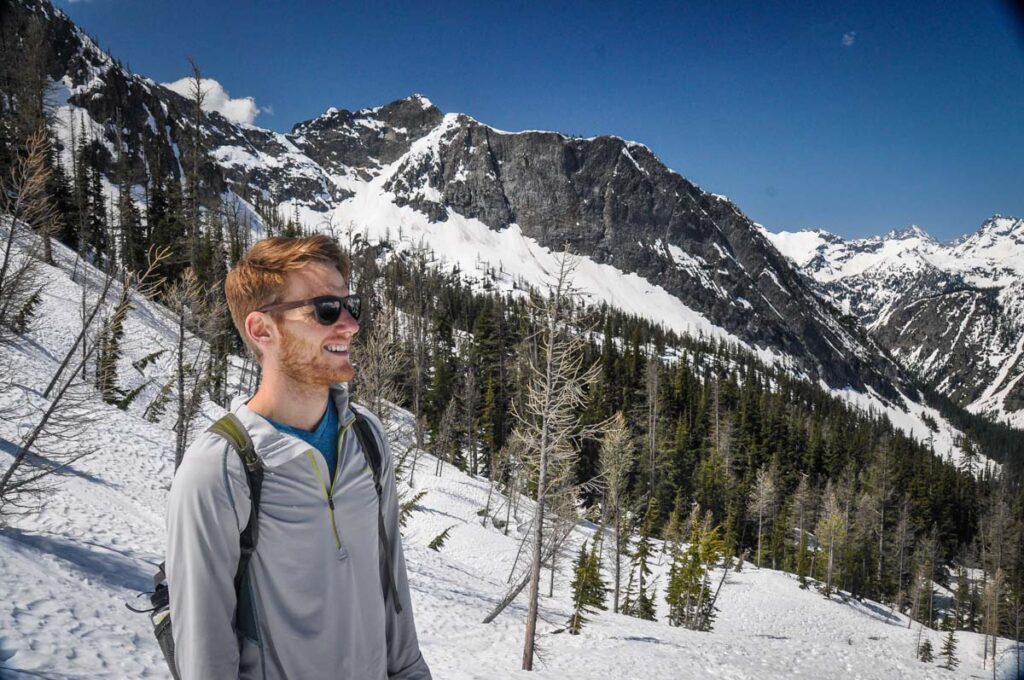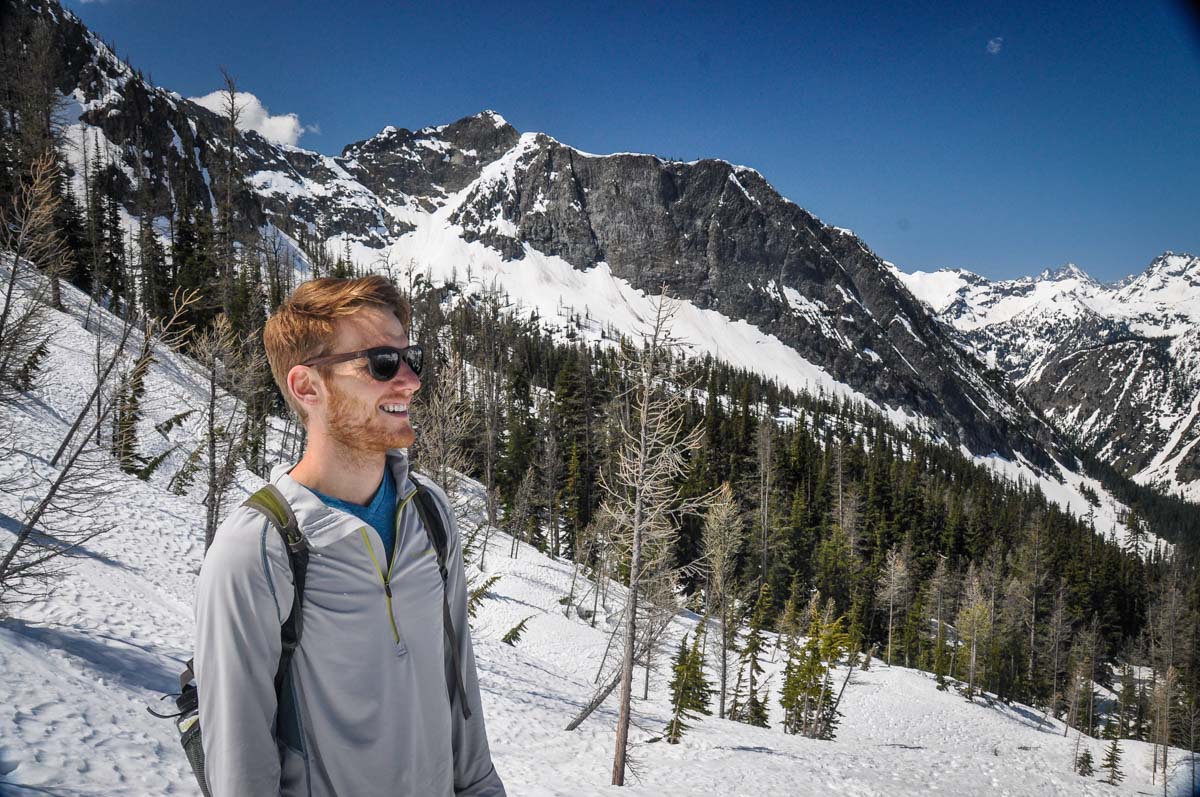 We recommend spending 2-3 days in North Cascades National Park, particularly if you're an avid hiker. You could get away with one full day, if perhaps you're visiting Seattle and don't have more time to spare. However, that won't allow you to do much more than drive through the park and check out the overlooks.
If you want to do some backpacking, plan to spend at least three days, up to a week.
Best time to visit North Cascades National Park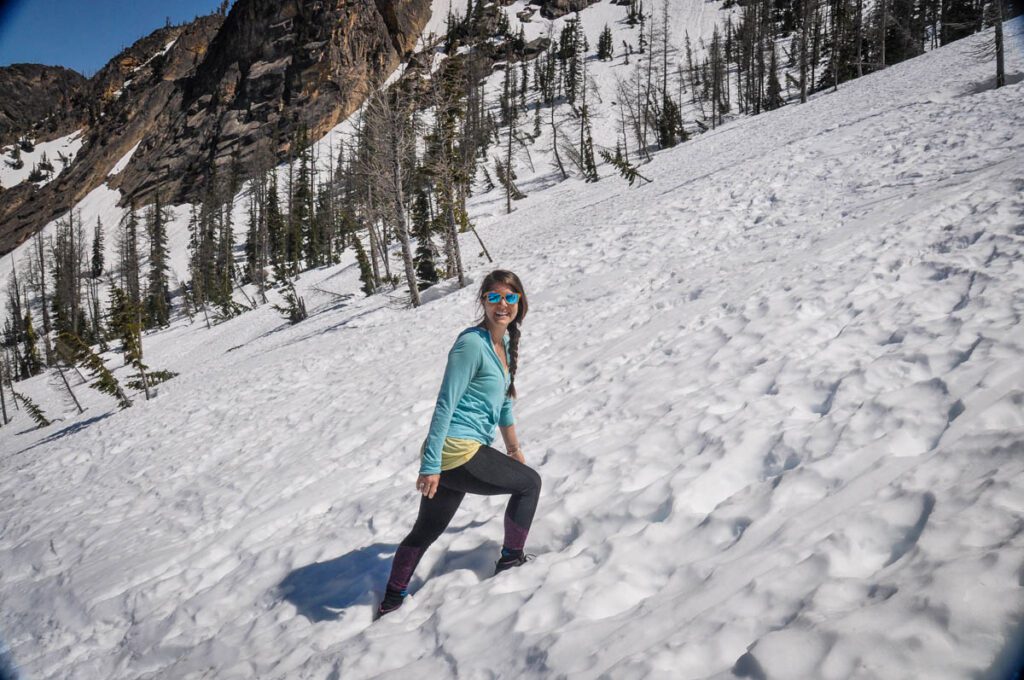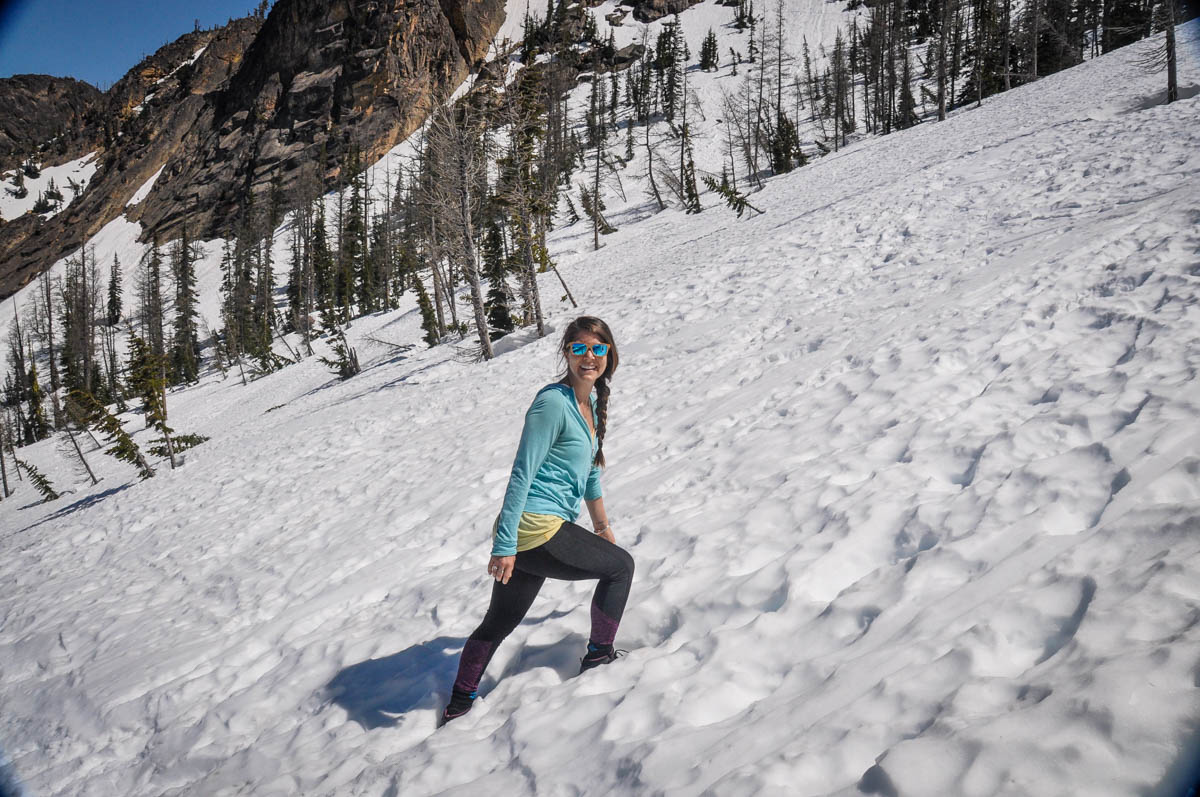 The best time to visit North Cascades National Park is from mid-June to mid-October.
Summer in North Cascades
Summer is undoubtedly the best time to visit North Cascades National Park as you will be able to access the entire park and the best chances of hiking and camping (which is why most people come in the first place!).
But be warned: Being that the higher-elevation snowpack doesn't melt out until late in the summer, there is a very short window for doing some of the major hikes in North Cascades.
We found this out the hard way when we tried to go on a hike in early July and had to turn around mid-way because the trail was too packed with snow. For that reason, it is a popular place for backcountry skiers to get in some turns in the summer!
Fall in North Cascades
North Cascades is a popular spot to catch some early and vibrant fall colors toward the end of September and early October (the exact timing varies from year to year).
Be prepared for snowfall and cold temperatures beginning in September.
Winter & Spring in North Cascades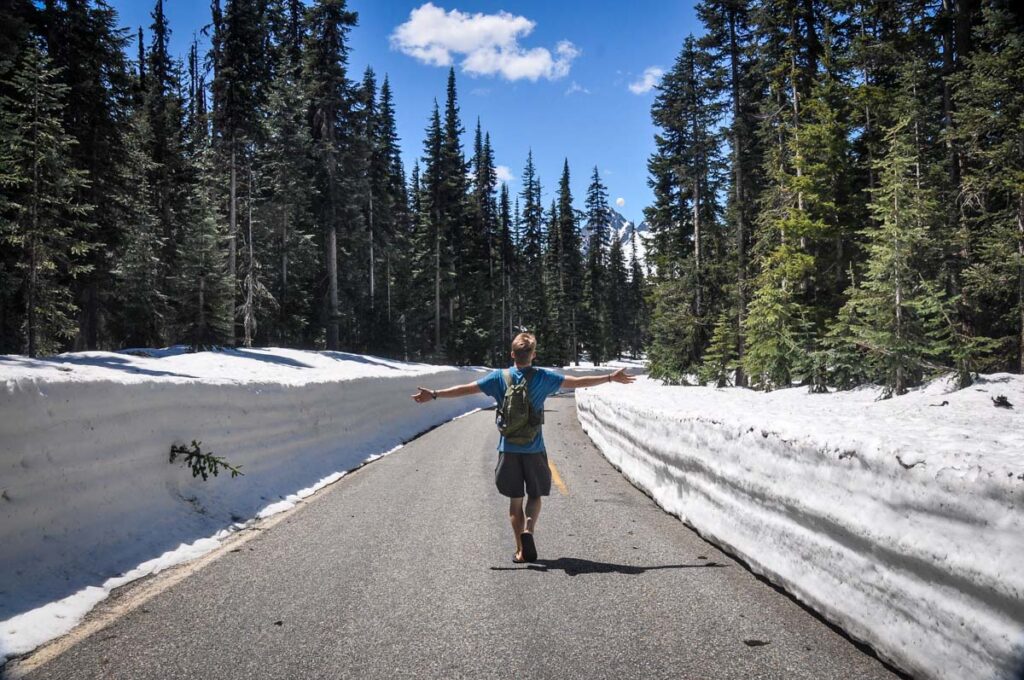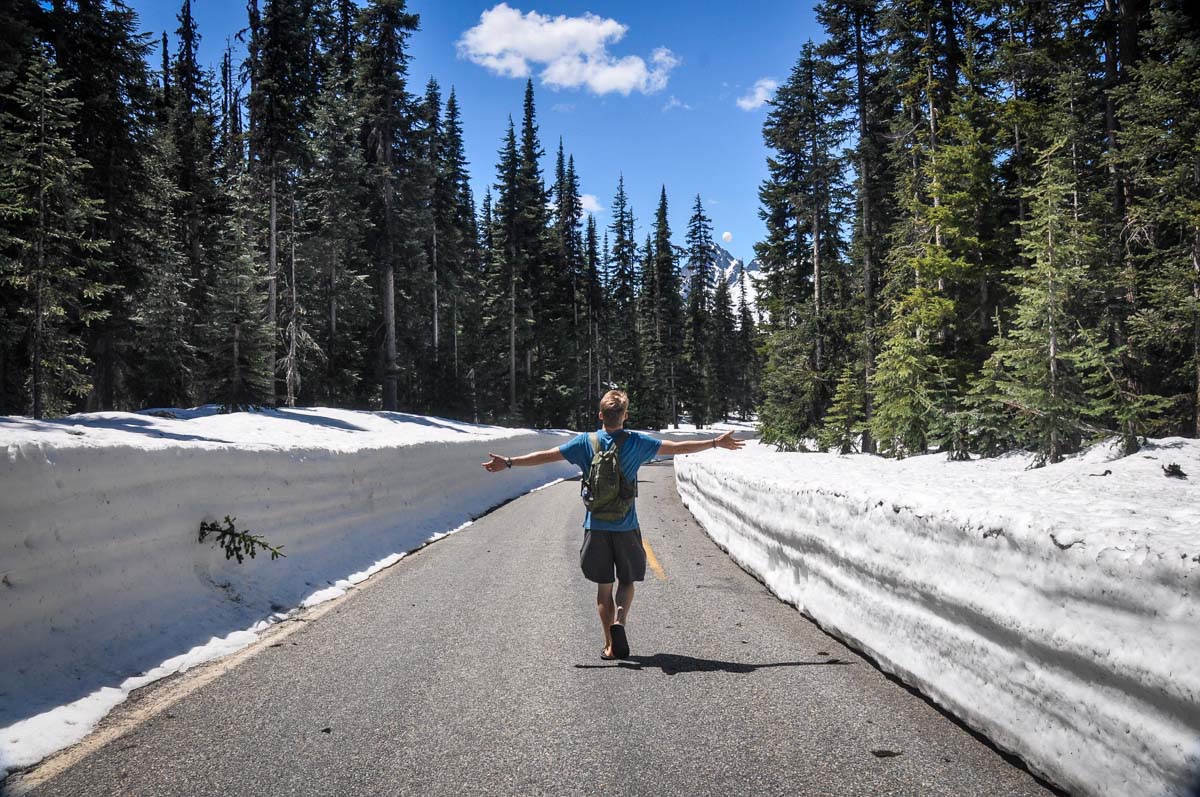 Winter and spring are difficult times to visit North Cascades as snowstorms and avalanches are very common.
Part of Highway 20 (North Cascades Highway) is closed during the winter, making parts of this National Park inaccessible to most visitors during this season.
The road opens up fully in June of each year (exact dates vary).
North Cascades National Park map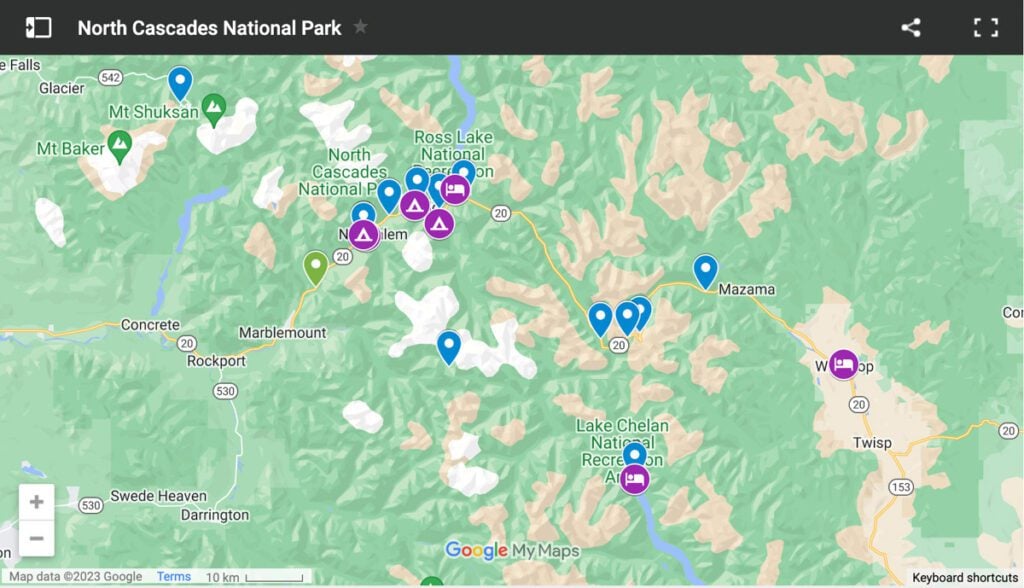 The map above displays the main entrances, campgrounds, lodging options, and locations for the best things to do in North Cascades National Park.
---
Things to do in North Cascades National Park
Whether you plan to hike, camp, marvel at one of the many alpine lakes or glaciers, take a scenic drive, or explore the tiny community of Stehekin, there's plenty to do in North Cascades National Park.
1. Hike the epic Maple Pass Loop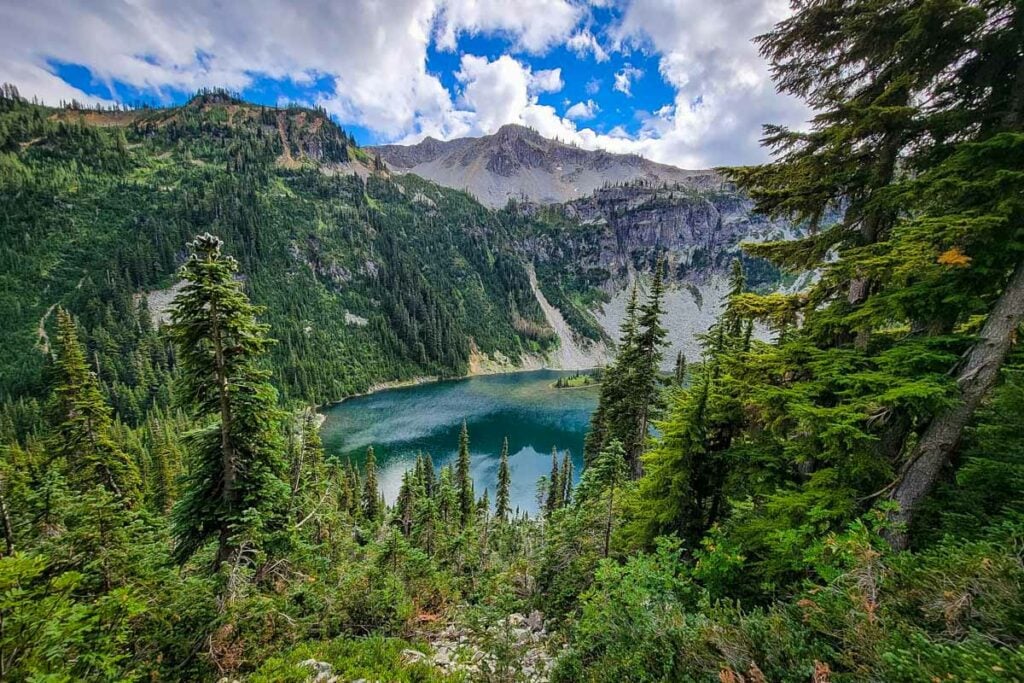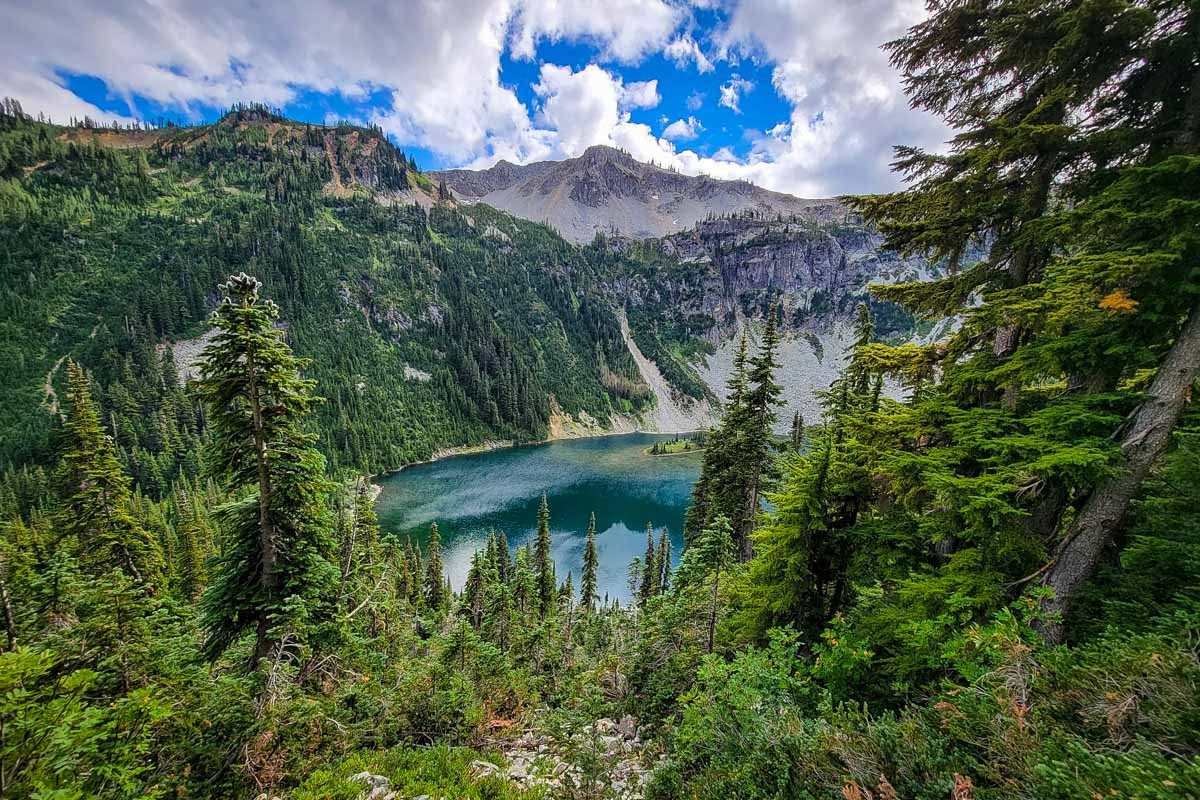 Distance: 7.4-mile loop
Elevation gain: 2,191 ft
Difficulty rating: challenging
Technically just outside North Cascades National Park, this is a popular and incredibly scenic hike. Between the high-alpine scenery, views of Lake Ann, wildflowers in the summer, and golden larches in the fall, it's no wonder Maple Pass Loop is widely considered one of the best hikes in Washington state!
Snow often sticks around (literally!) on the trail until well into July, so it's a good idea to plan this hike for later in the summer or the fall.
The trail starts at the Rainy Lake Picnic Area, and you can add an optional one-mile detour to Ann Lake.
2. Take a scenic drive along North Cascades Highway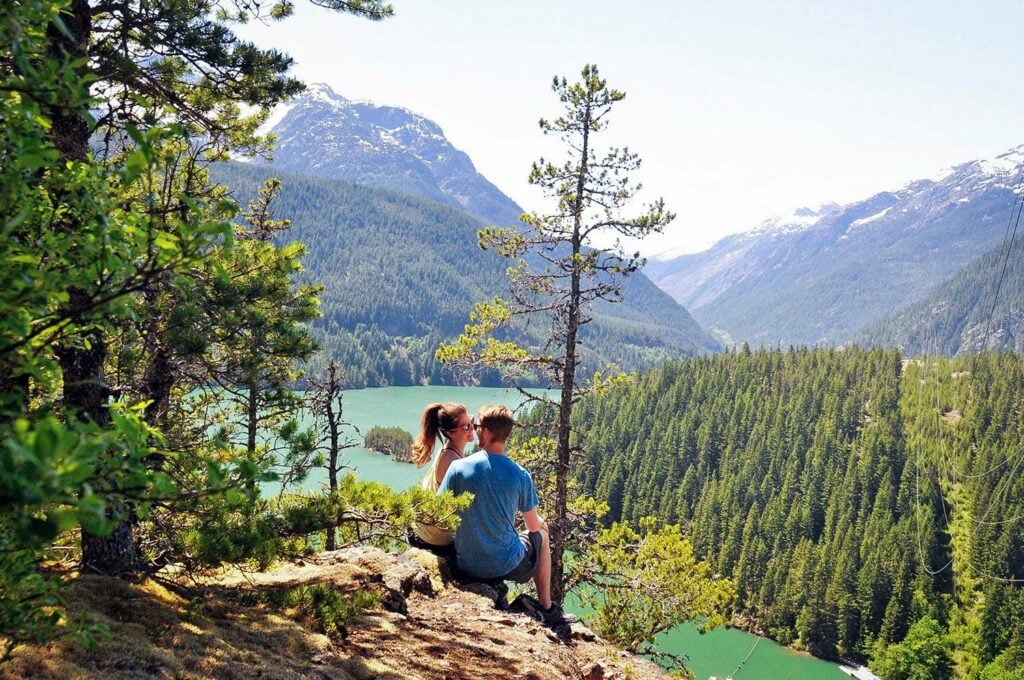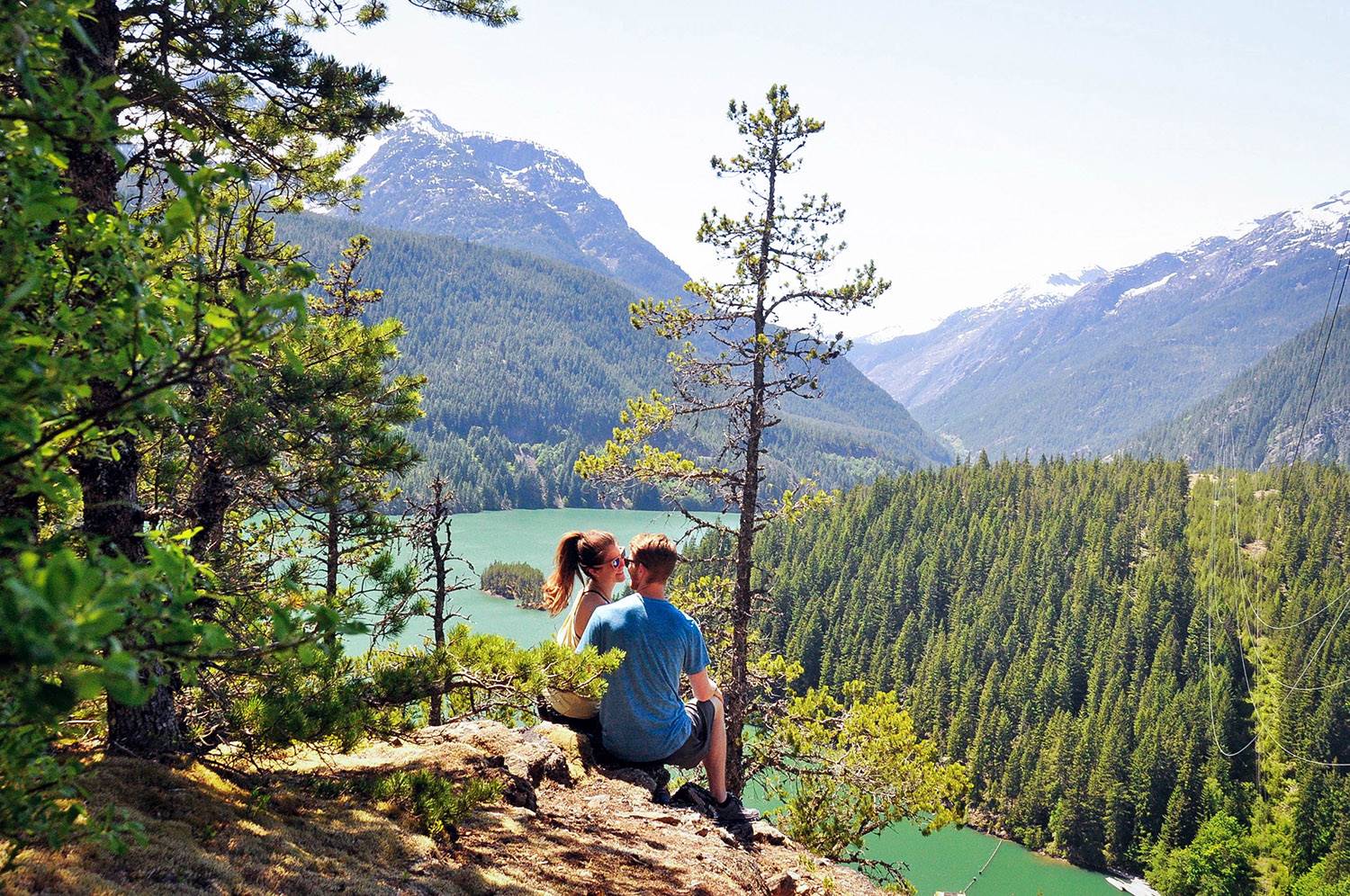 The park's only paved road runs east-west through the park for 30 miles. Along the way, there are several overlooks (including Diablo and Ross Lakes!) and trailheads for short, easygoing hikes.
It takes roughly one hour to drive the entire North Cascades Highway, but allow for 2-3 hours if you plan to make multiple stops.
3. Stop at Washington Pass Overlook for an epic view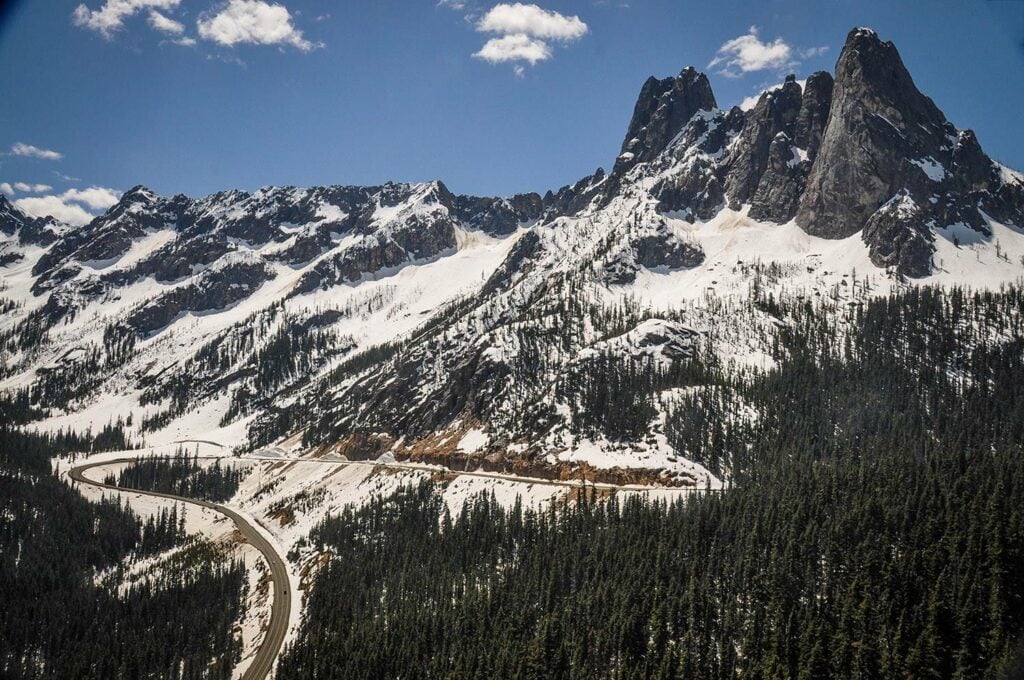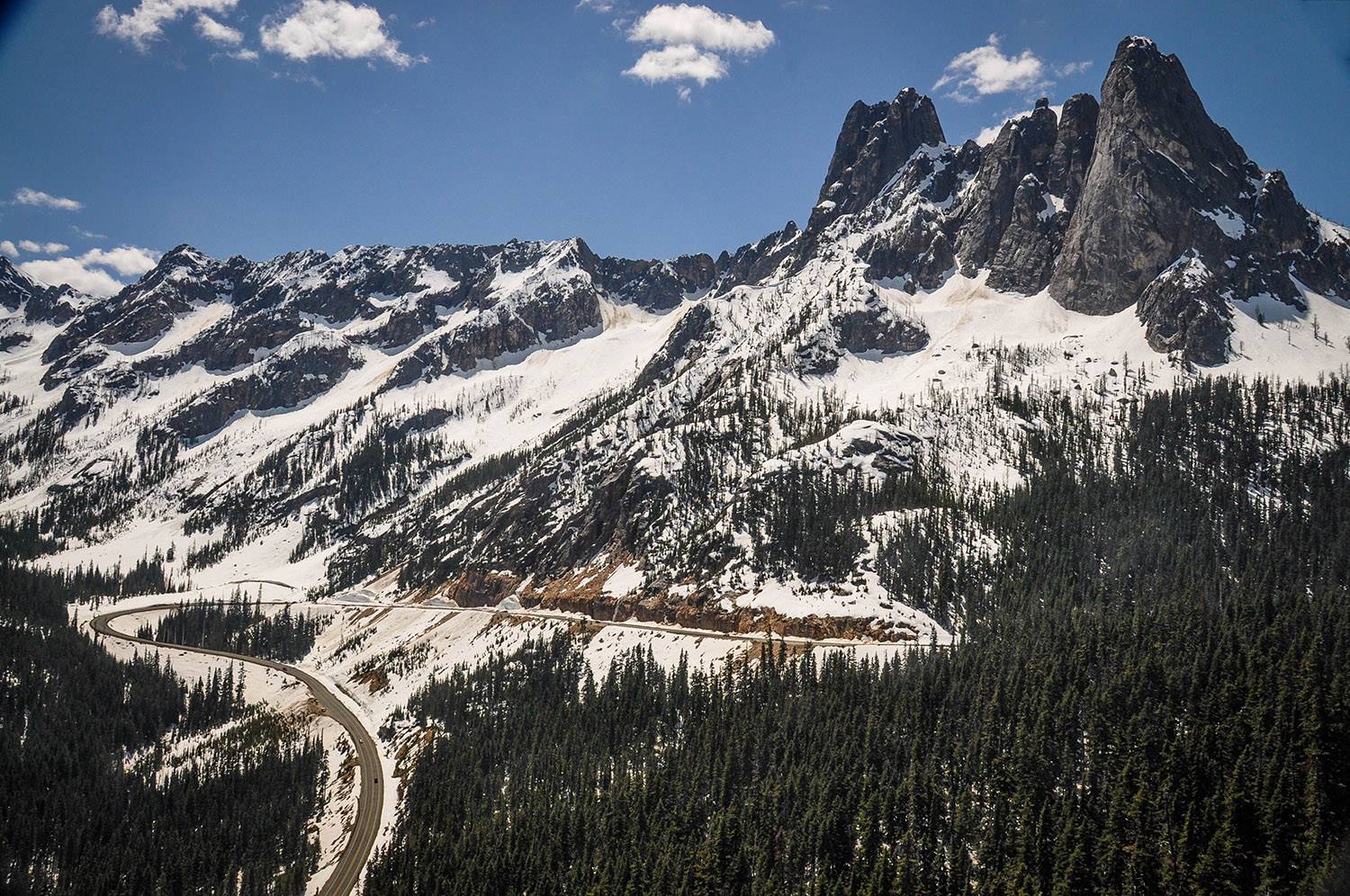 A short 400-foot loop trail off North Cascades Highway offers fantastic views of Liberty Bell Mountain and the surrounding rugged peaks. The trail is dog-friendly, and the overlook is a great viewpoint for stands of larch trees in the fall.
Like Maple Pass Loop, Washington Pass Overlook is technically just outside the national park.
4. Walk the Sterling Munro Boardwalk
No matter what else you're planning to do in North Cascades National Park, you can squeeze in this short and sweet boardwalk trail. This shouldn't take any longer than 10 minutes!
The boardwalk is behind the visitor center and leads to a picture-perfect view of the dramatically rugged Picket Range and Terror Glacier. This is one of the only glaciers you can see in the park that doesn't involve a tough hike!
Insider tip: Use the indoor restrooms at the visitor center before heading farther into the park.
5. Hike to Blue Lake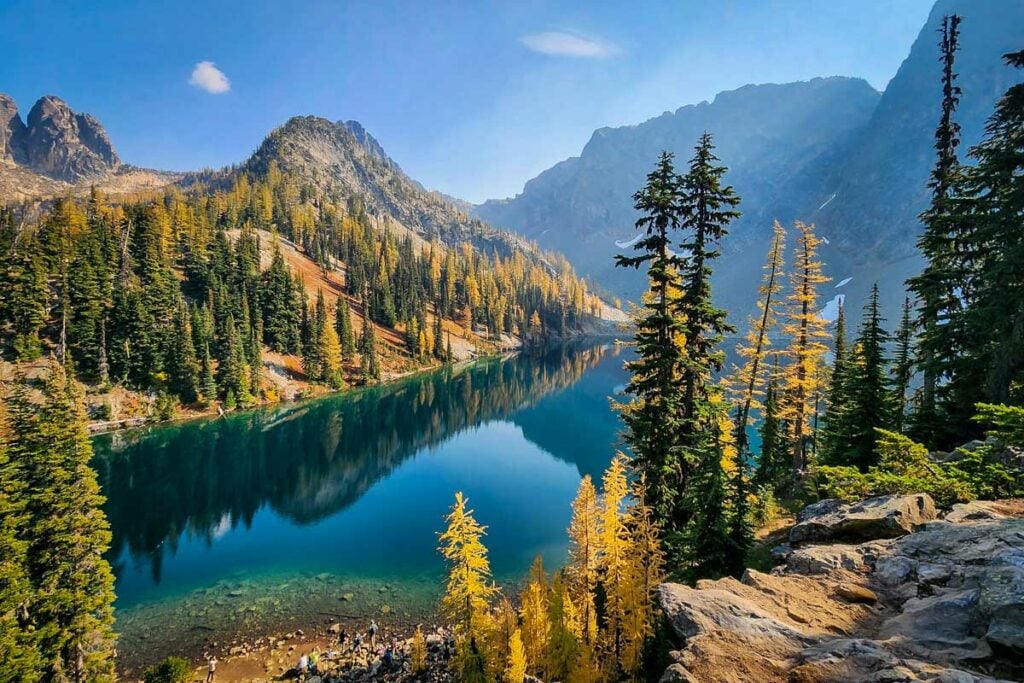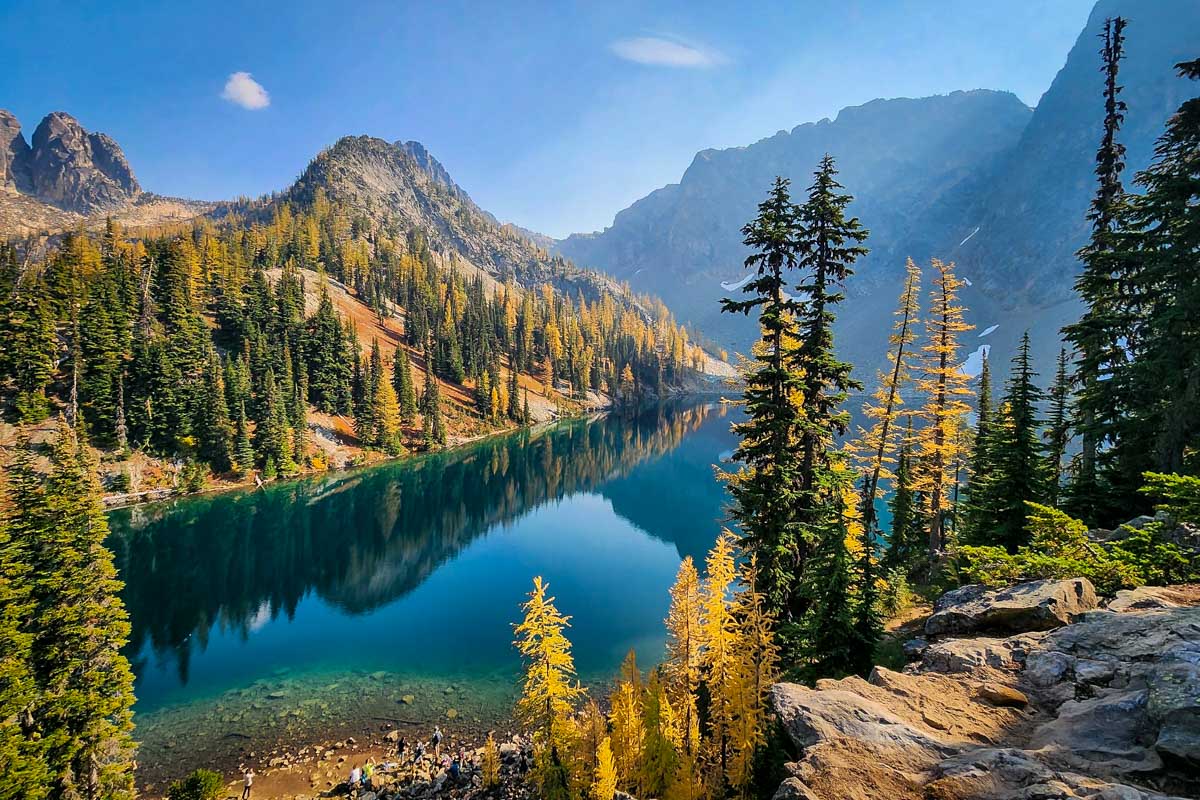 Distance: 4.6 miles, out and back
Elevation gain: 921 ft
Difficulty rating: easy
In a park renowned for its rugged, challenging hiking trails, Blue Lake is one of the shorter and easier ones — and also one of the most scenic (which is saying a lot!). Many PNW locals suggest this hike as a must-do, even if you have just one day in North Cascades National Park.
The hike to Blue Lake is extremely popular, because of its shorter distance and excellent effort-to-reward payoff. If possible, time it to arrive at the lake for sunset, when most other hikers are heading out of the park for the day.
Because of the way the lake sits below a steep ridge, there isn't much of a true sunset. You'll hardly notice when you see the mirror-still water in magical golden hour lighting, but it's important to be aware of daylight heading back out.
Blue Lake is also popular for rock climbing (Blue Lake Peak) in the summer and ski touring in the winter.
6. Check out the otherworldly emerald waters of Diablo Lake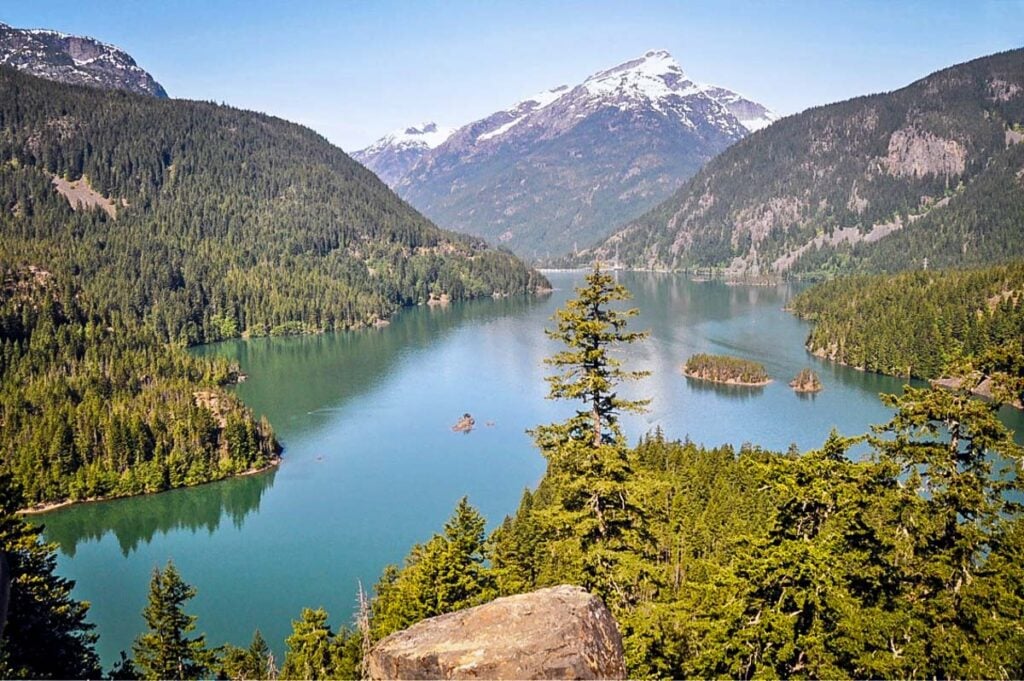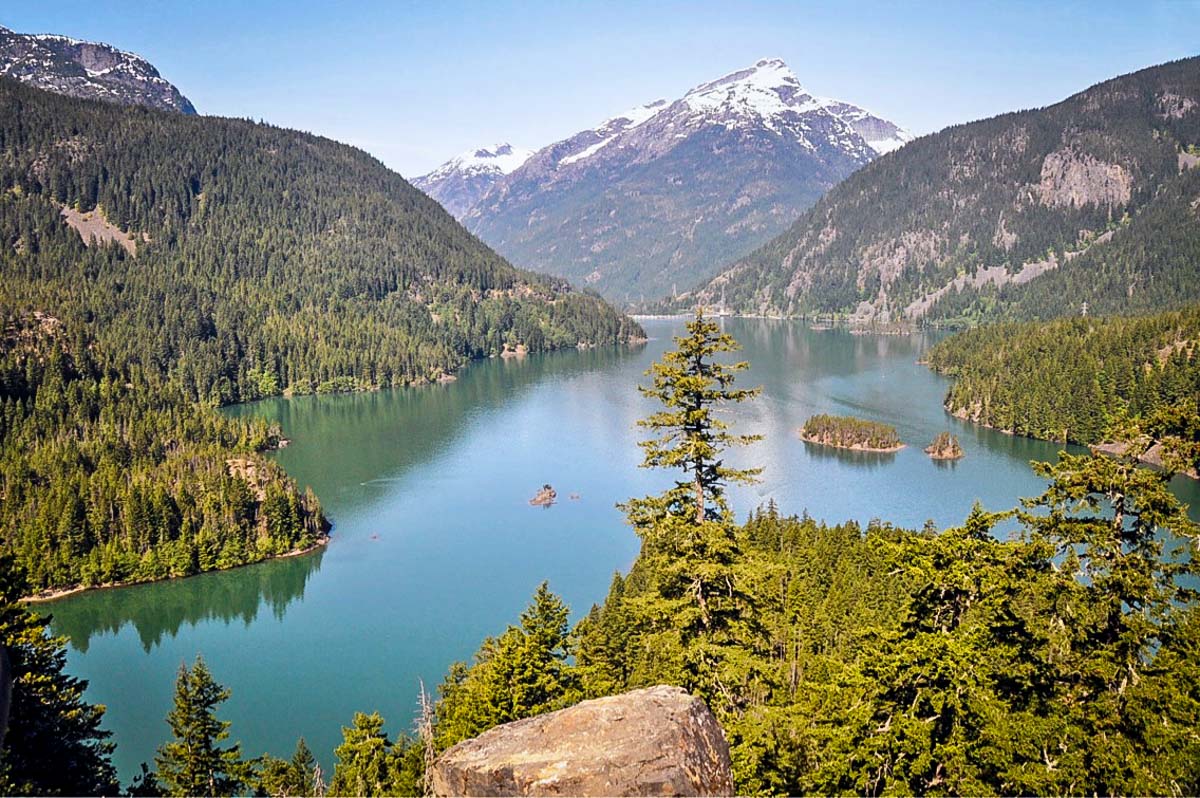 Milky blue Diablo Lake is one of the best and most iconic views in the park. In fact, if you've seen any photos of the North Cascades prior to this blog, you've almost certainly seen Diablo Lake!
The Diablo Lake Overlook is right along the North Cascades Highway, and the photo op you get there is that photo! There are several individual viewpoints in the parking lot, plus restrooms.
If you'd prefer to earn your views, hike the 7.6-mile Diablo Lake Trail. The hike is moderate, mostly due to steep switchbacks, but the birds' eye view of the lake serves as a great distraction.
In the summer, you can try to time your hike so that you hike in, then ride the Diablo Lake Ferry back. The ferry, which is a North Cascades highlight in its own right, departs from the Ross Dam twice a day, at 9:00am and 3:30pm.
7. Fall in love with the tiny, lost-in-time town of Stehekin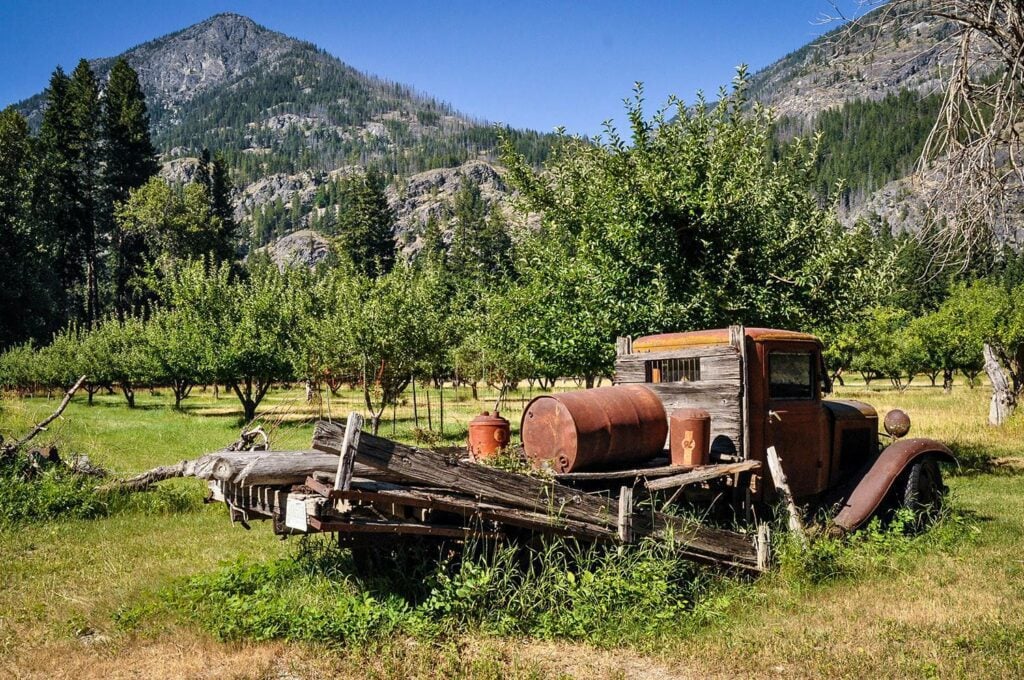 Situated on the northern shore of beautiful Lake Chelan, getting to tiny Stehekin (there are only about 75 residents!) is an adventure in itself — there are no roads! The only way into the town is on foot, a boat, or a small plane.
The vast majority of visitors arrive in Stehekin via ferry. There are two operators, Lake Chelan Boat Company and Stehekin Ferry, both offering round-trip summer service.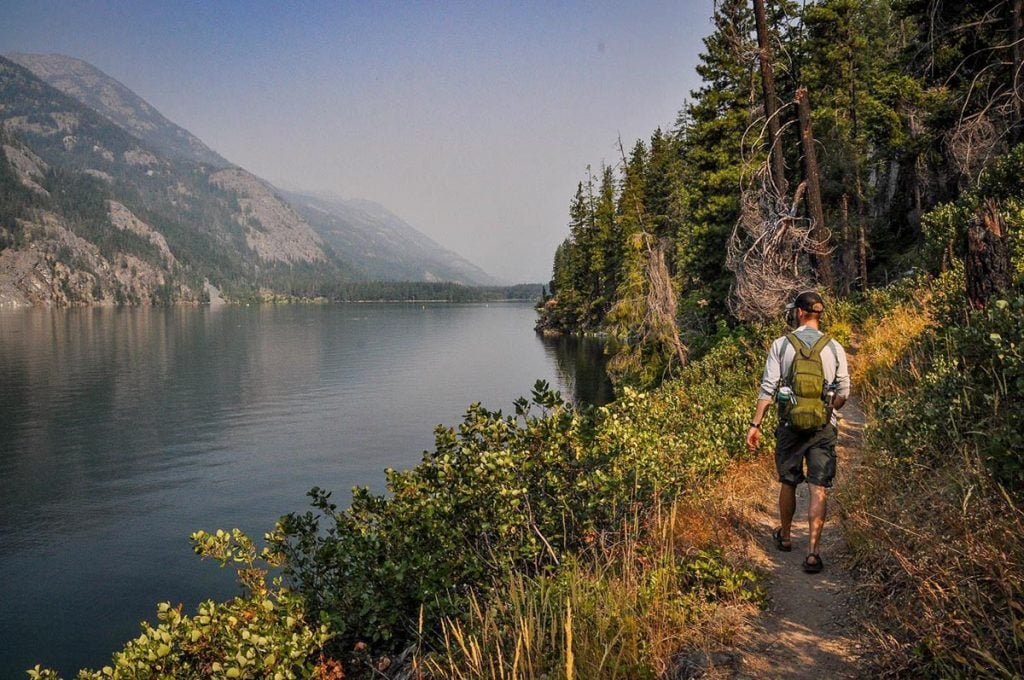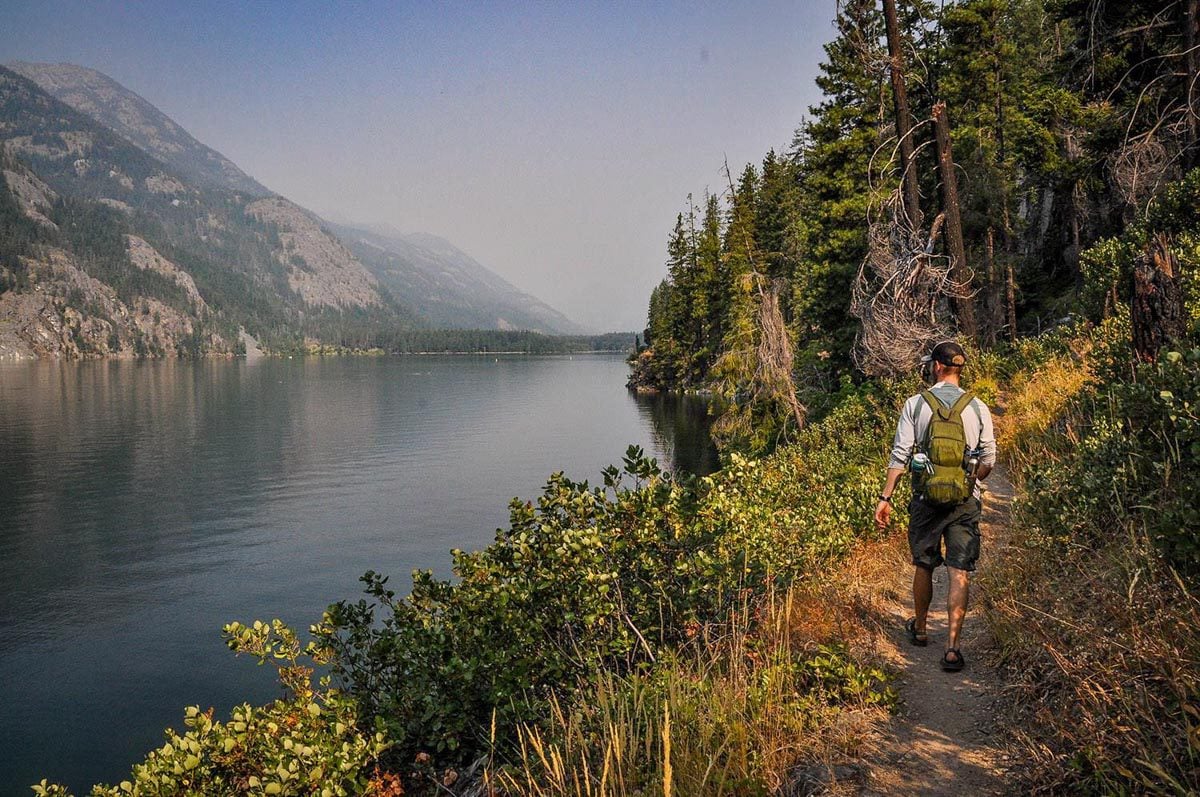 Once there, hike to Rainbow Falls, rent bicycles or paddleboards to explore, and don't miss the bakery shuttle (yep, it's exactly what you think it is!).
Needless to say, Stehekin is one of the most remote areas in the North Cascades. Because just getting there takes a significant amount of time, you should only include it in your itinerary if you have multiple days in the park. There are plenty of accommodation options in Stehekin, including campsites.
8. Hike the popular Cascade Pass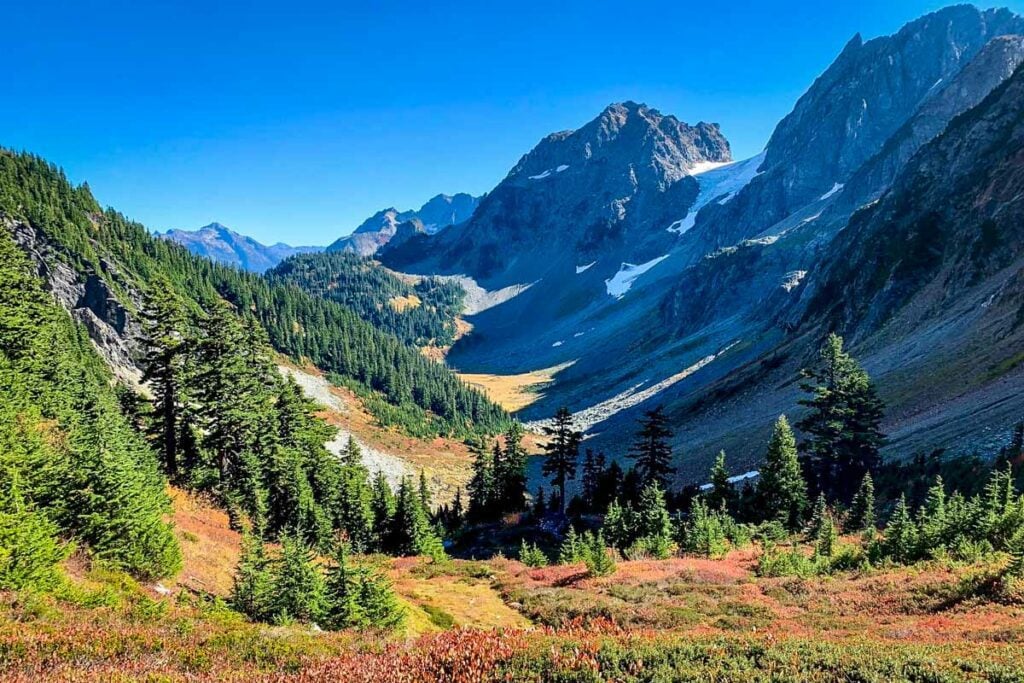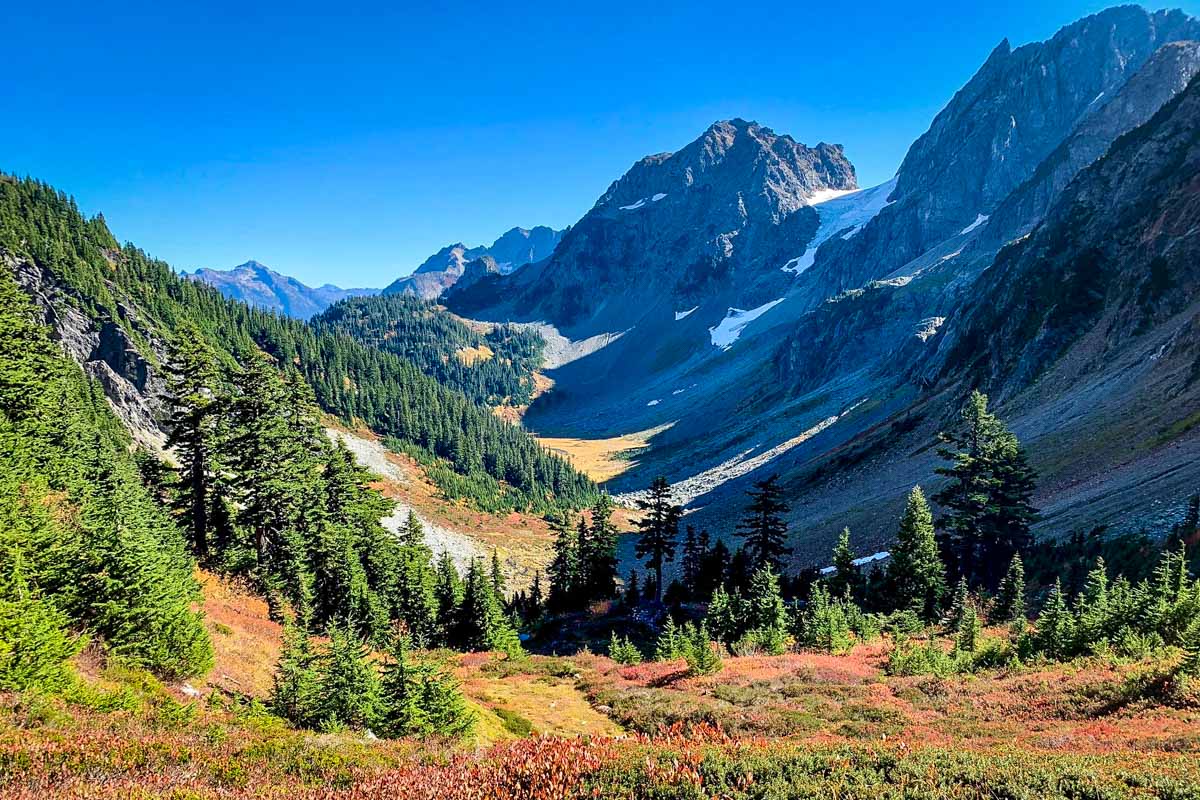 Distance: 6.7 miles, out and back
Elevation gain: 1,784 ft
Difficulty rating: moderate
Arguably one of the most popular day hikes in North Cascades National Park (for good reason!), Cascade Pass is a must.
The trail offers a vast variety of alpine scenery, including glaciers, some of the North Cascades' most iconic peaks, wildflowers galore, and wildlife. You may encounter mountain goats, chatty marmots, or even black bears.
Cascade Pass itself is about seven miles roundtrip, but for more of a challenge, continue past it on the Sahale Arm Trail for a little over two miles to Sahale Glacier. This is a strenuous hike and if you do this, your total will be just shy of 12 miles roundtrip, with a 4,100-foot elevation gain.
This trail is often snow-packed until early July, and the last few miles of the road leading to it (Cascade River Road) are also often inaccessible until then. Plan to hike Cascade Pass between late July and early September, but prepare for crowds and start early.
9. Stop at the Ross Lake Overlook
The Ross Lake Overlook is a quick and very scenic stop along the North Cascades Highway. From either of the two pullouts, you'll be looking at two picturesque bends in the southern end of the lake, and rugged Desolation Peak in the distance.
It's not quite as impressive as Diablo Lake, but still well worth a few minutes. There are no facilities at this overlook.
10. Stay in a fire lookout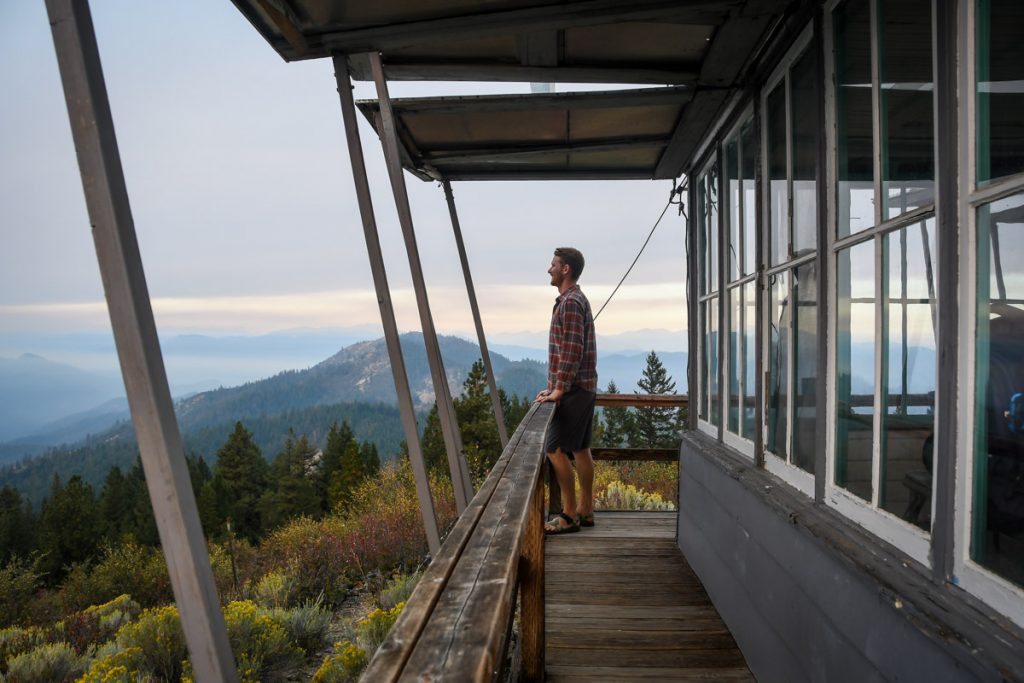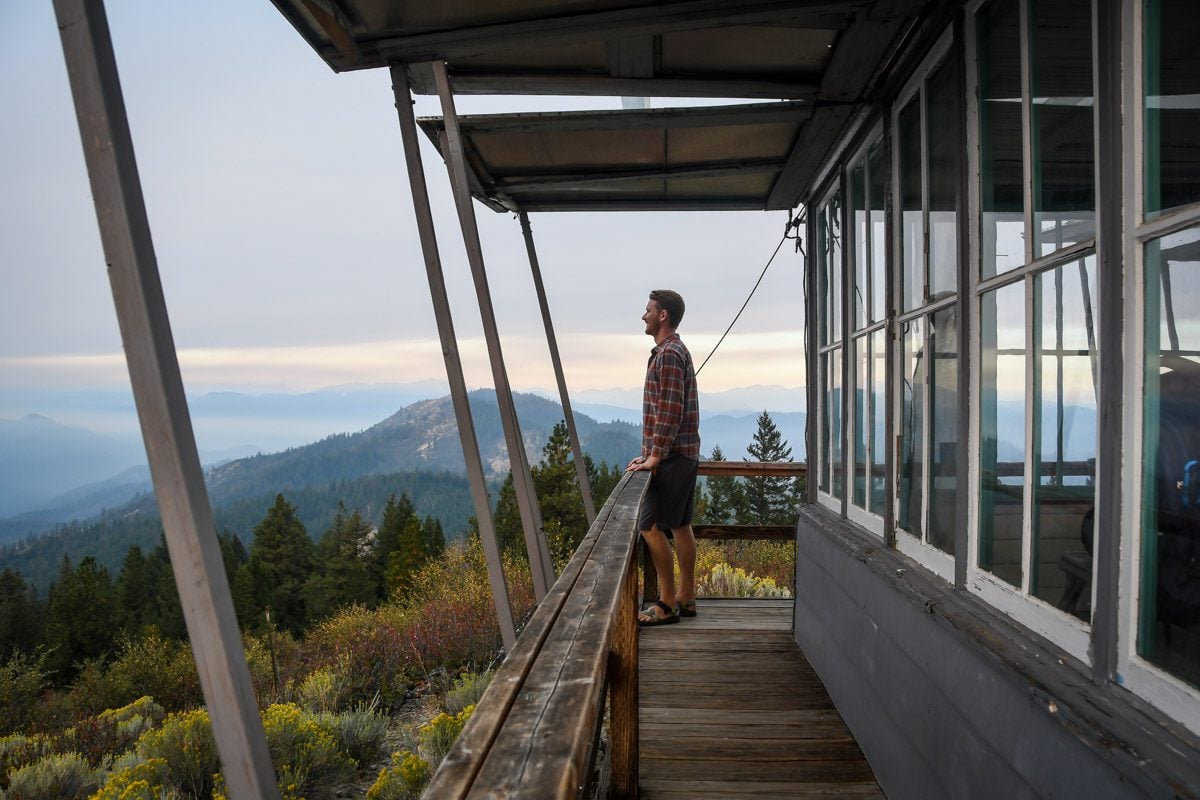 One of the most unique things about the PNW wilderness is the fire lookouts. You can hike to several, and some are even available for overnight stays…including a few in North Cascades National Park!
Pilchuck Fire Lookout is one of the most popular, because it involves a relatively short hike (5.4 miles roundtrip). Don't be fooled, though, the trail climbs 2,300 feet in 2.7 miles!
Lookout Mountain, technically just outside the park boundary near the small town of Marblemount, involves a steep 4.7-mile one-way hike. Hidden Lake Lookout, within the park, requires a similarly challenging 4.5-mile one-way hike.
Arguably the most famous is Desolation Peak, which author Jack Kerouac famously spent one summer in. It's a tough hike in a remote area, ranging from 9-14 miles depending on your approach.
Overnight stays in these fire lookouts are first-come, first-served. Start early in the day and prepare yourself for the possibility that other hikers may have beat you to it.
The general attitude is that they're available for everyone to enjoy, but be respectful and open-minded if you arrive to find others. You just may make some new friends!
11. Visit the Gorge Lake Overlook
Near the visitor center, this is a quick stop that's very unique in the national parks system. From the overlook, you can see the hydroelectric Gorge Dam, as well as the jade green Gorge Lake.
To reach the overlook, take the short 0.3-mile paved trail from the parking lot. It's well-suited for wheelchairs and strollers. The second overlook on the trail offers by far the best views!
If you're not bothered by heights, be sure to walk out onto the metal grate bridge for some great photo ops before leaving this area.
12. Take in the views as you hike up Sourdough Mountain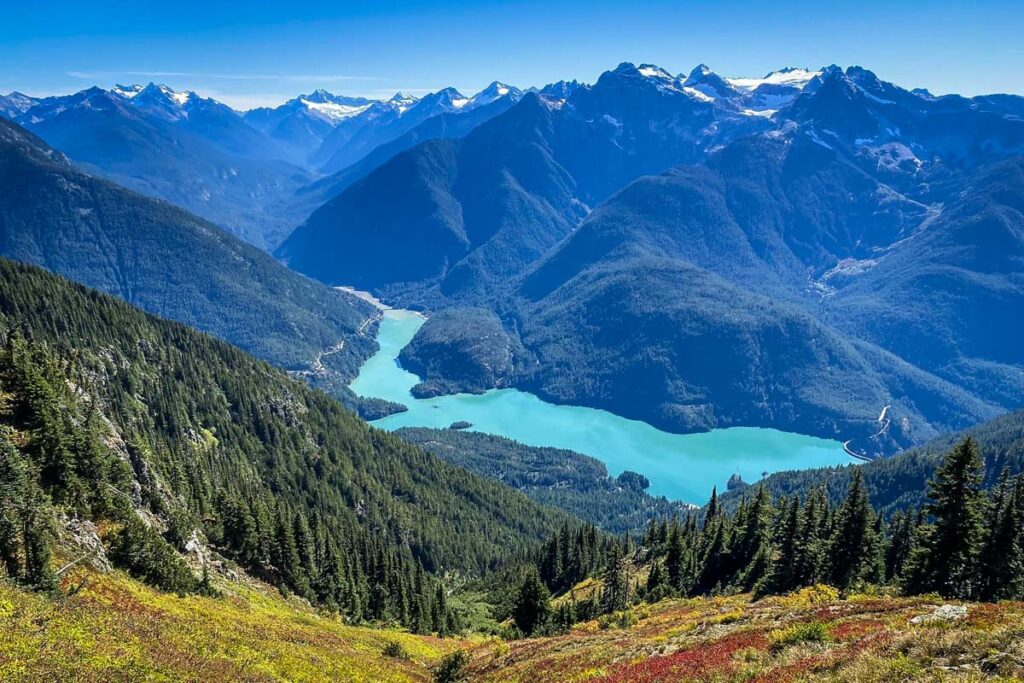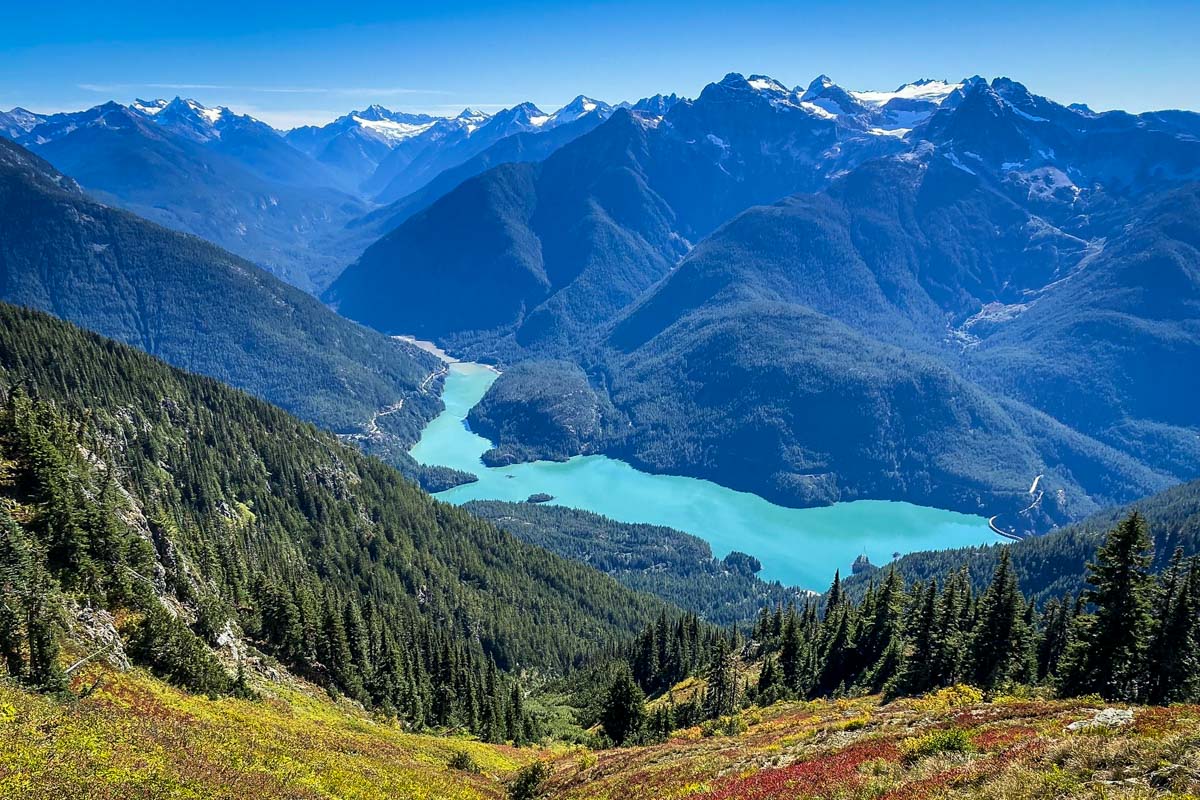 Distance: 9.9 miles, out and back
Elevation gain: 5,055 ft
Difficulty rating: challenging
Sourdough Mountain has a well-earned reputation for being one of the most difficult hikes in the North Cascades, ascending over 5,000 feet in five miles (and 3,000 just in the first two!).
Those up for the challenge will be richly rewarded with unforgettable views of Diablo Lake, nearly one mile below.
This makes an excellent backpacking trip, and there are two camps along the route: Sourdough Camp and Pierce Mountain Camp. For details on how to secure a backcountry permit for either site, see the next section!
Note that Sourdough Lookout is no longer operational or maintained, so while you can hike to it, it's not available for overnight stays.
13. Go on a backpacking trip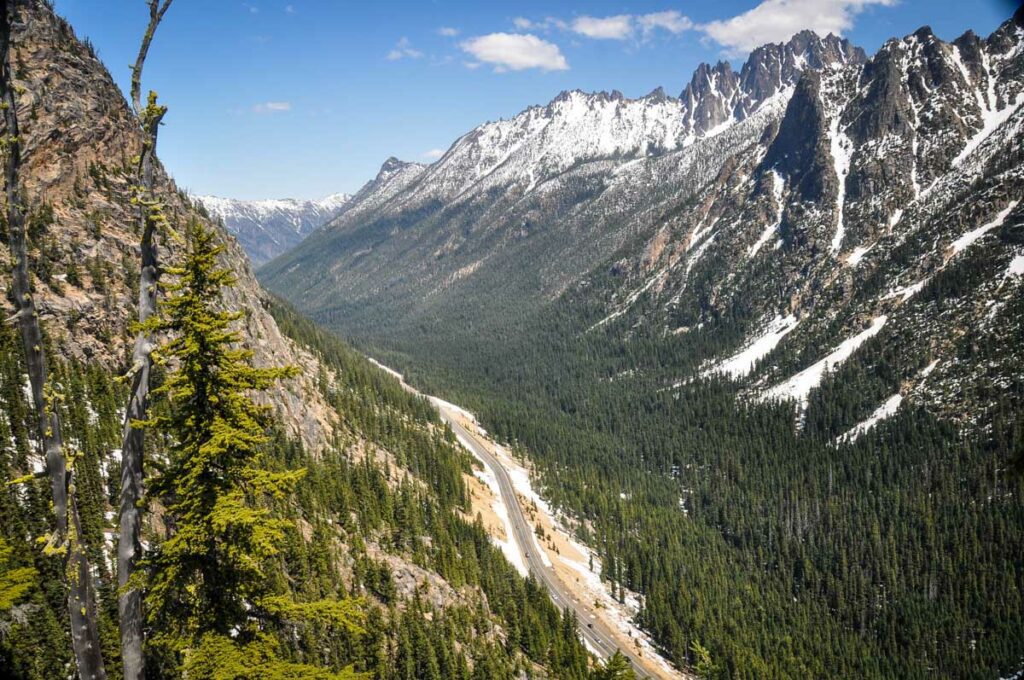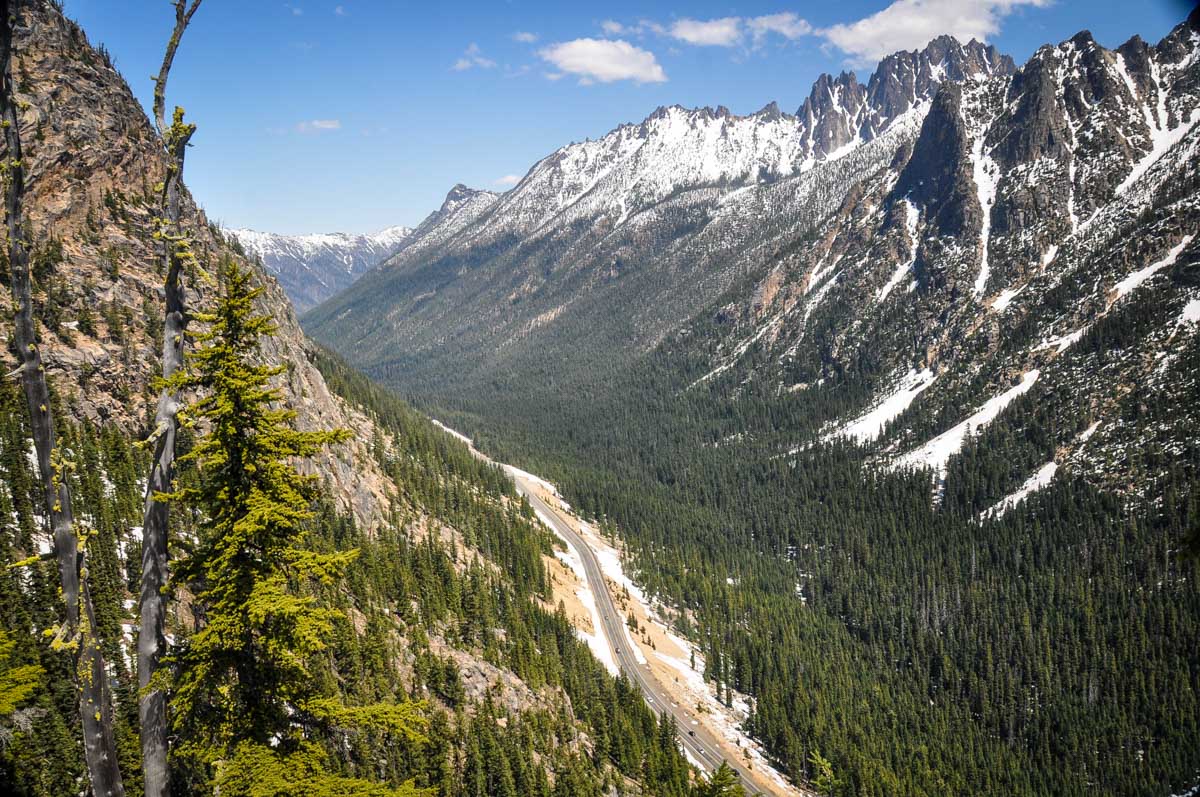 North Cascades National Park is a world-renowned paradise for backpacking, with the majority of its acreage (about 350,000) pristine designated wilderness in the North and South units. Routes vary from straightforward overnight trips to extremely challenging multi-day treks.
The park maintains a robust backpacking homepage on its official website, with details on all available routes, camping guidelines, and more. Backcountry permits are required for overnight wilderness stays (find all the details for applying here), and there are three ways to get them.
Early-access lottery: Apply in early March for the best chances of securing popular campsites. Some, like Sahale Glacier Camp, notoriously sell out in minutes.
General on-sale: On May 1, all remaining permits available after the early-access lottery are released to the public. Reservations must be made at least two days in advance.
Walk-up permits: 40% of the park's permits are reserved for walk-ups. These permits must be picked up from the Wilderness Information Center in Marblemount the day before or day of your intended hike.
Pro tip: Check recreation.gov before attempting a walk-up permit. Campsites with availability will display a "W," whereas full ones show "0." You must also have an itinerary in mind, meaning the different campsites on your route and expected dates of stay.
Important note: Backpacking requires proper gear and advanced planning in order to be done safely. Be mindful of your capabilities and experience levels and make sure you're prepared before heading out. Read up on these tips for backpacking for beginners.
14. Go whitewater rafting on the Skagit River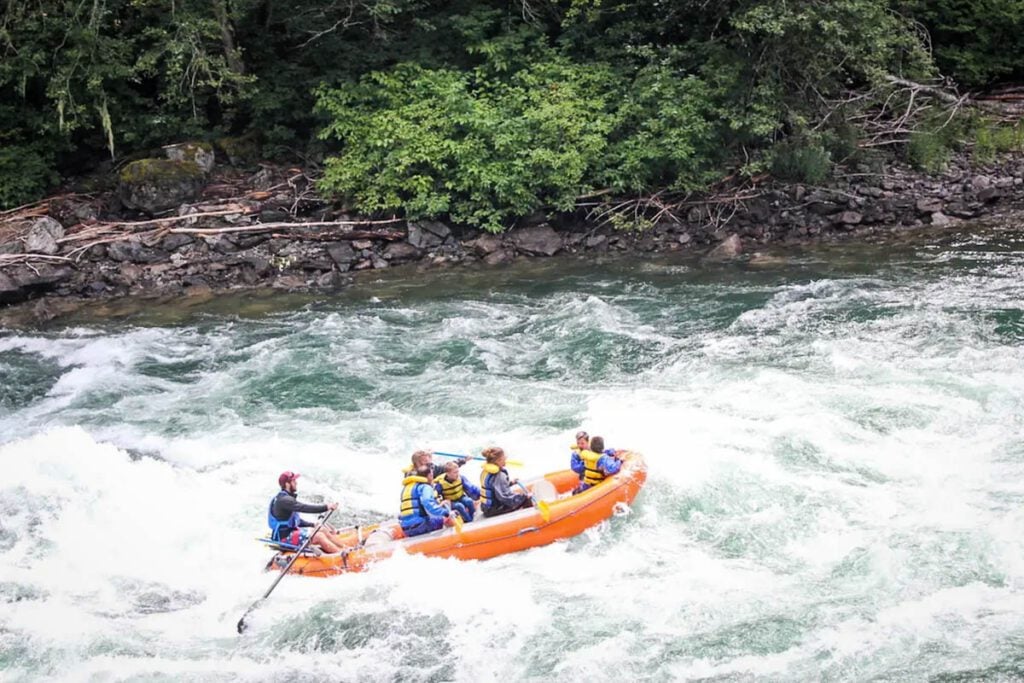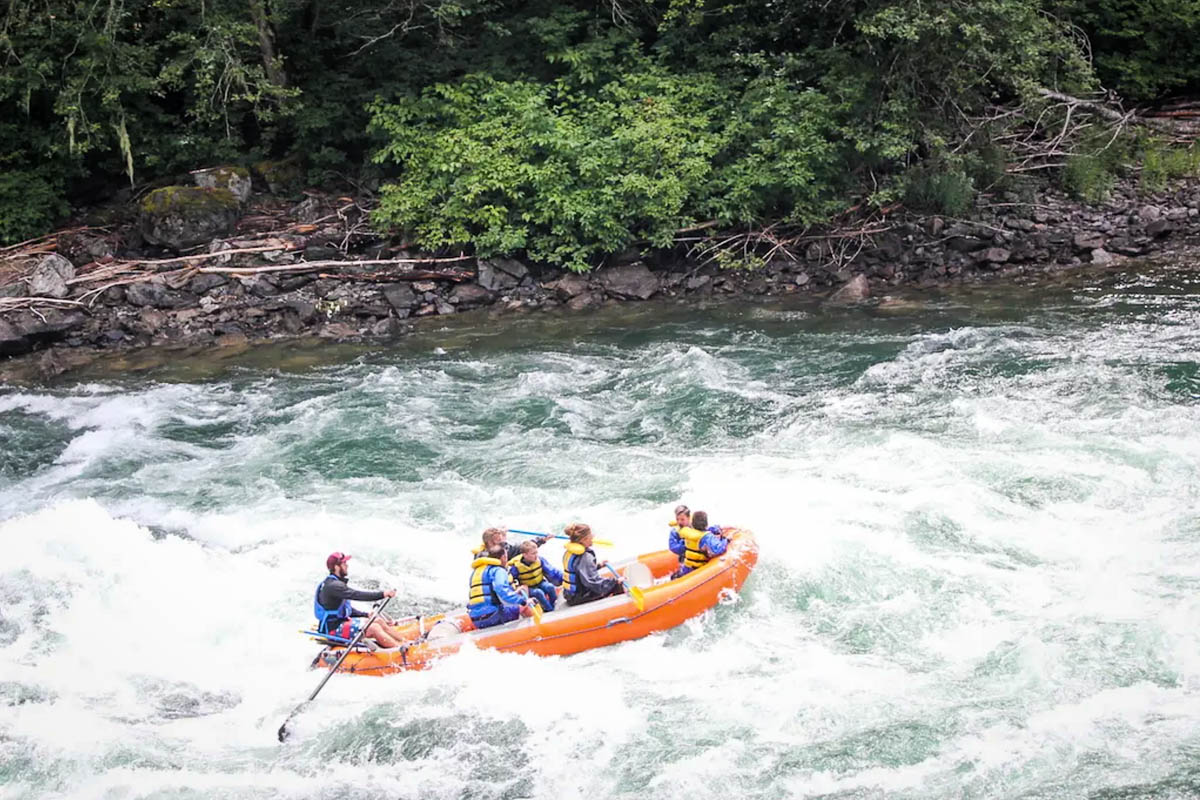 The mighty Skagit River snakes its way through North Cascades National Park, spanning from BC all the way down to the Puget Sound.
There's a 9-mile stretch of the river that's excellent for whitewater rafting, accessible just off I-20 between Goodell Creek Campground and the Copper Creek Take-out point near milepost 112. It's primarily Class II and III rapids (easy to moderate) and a mostly wide-open stretch — in other words, excellent whitewater conditions!
Several outfitters in the North Cascades area offer guided rafting trips from June through September, including Alpine Adventures and Cascadia Rafting.
15. Rent a boat and get out on the lake
One of the best things to do in North Cascades National Park is experience it from the water! Ross Lake, Diablo Lake, Lake Chelan, and Gorge Lake all have excellent setups for boating (and some also have boat camping!).
You can rent your own boat and play captain for the day on Ross Lake and Lake Chelan, although rentals are quite limited for Lake Chelan (in Stehekin). Options include kayaks, canoes, and small motorized boats, and each lake has a boat ramp and launches.
If you're interested in boating on Diablo or Gorge Lake, this is an excellent opportunity to bring your own inflatable kayak or paddleboard!
Bonus: Snap the iconic photo from Picture Lake
If you have some extra time, consider adding Picture Lake to your North Cascades National Park itinerary. This iconic viewpoint is technically 2.5 hours outside the park in Mount Baker National Forest, but it's such a breathtaking scene, it's worth the trip!
The photo op features prominent Mount Shuksan (which is inside the national park!) looming over the glassy lake. It's gorgeous year-round, but especially photogenic with colorful fall foliage.
---
Where to stay in North Cascades National Park
Because of how much of the park is designated wilderness, North Cascades has noticeably fewer lodging options than many parks. However, there are still some great, unique options.
Lodging inside the park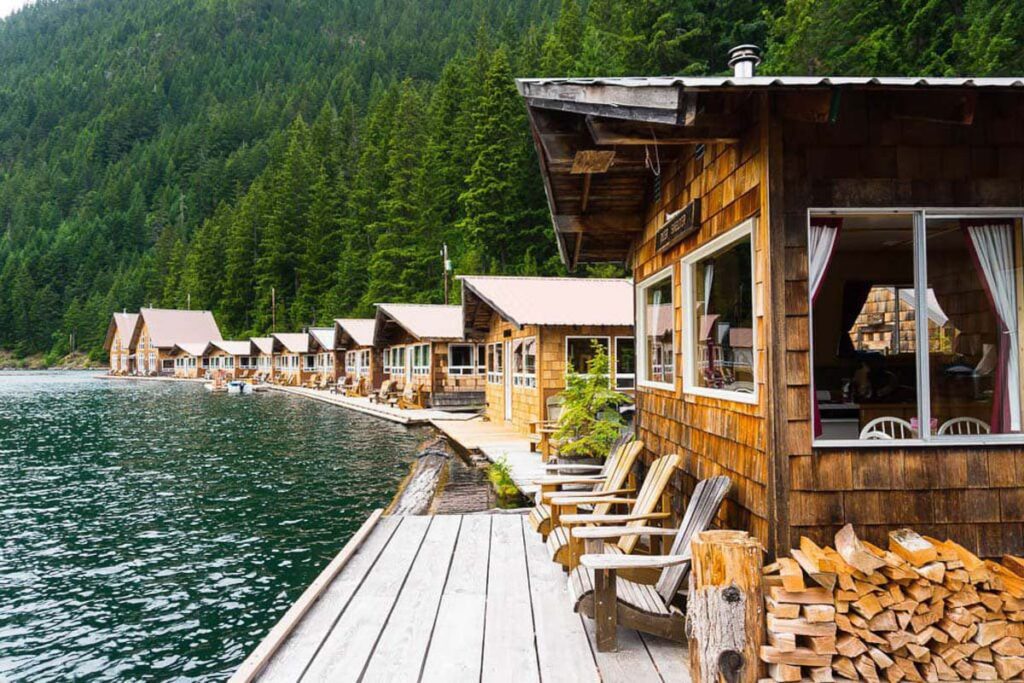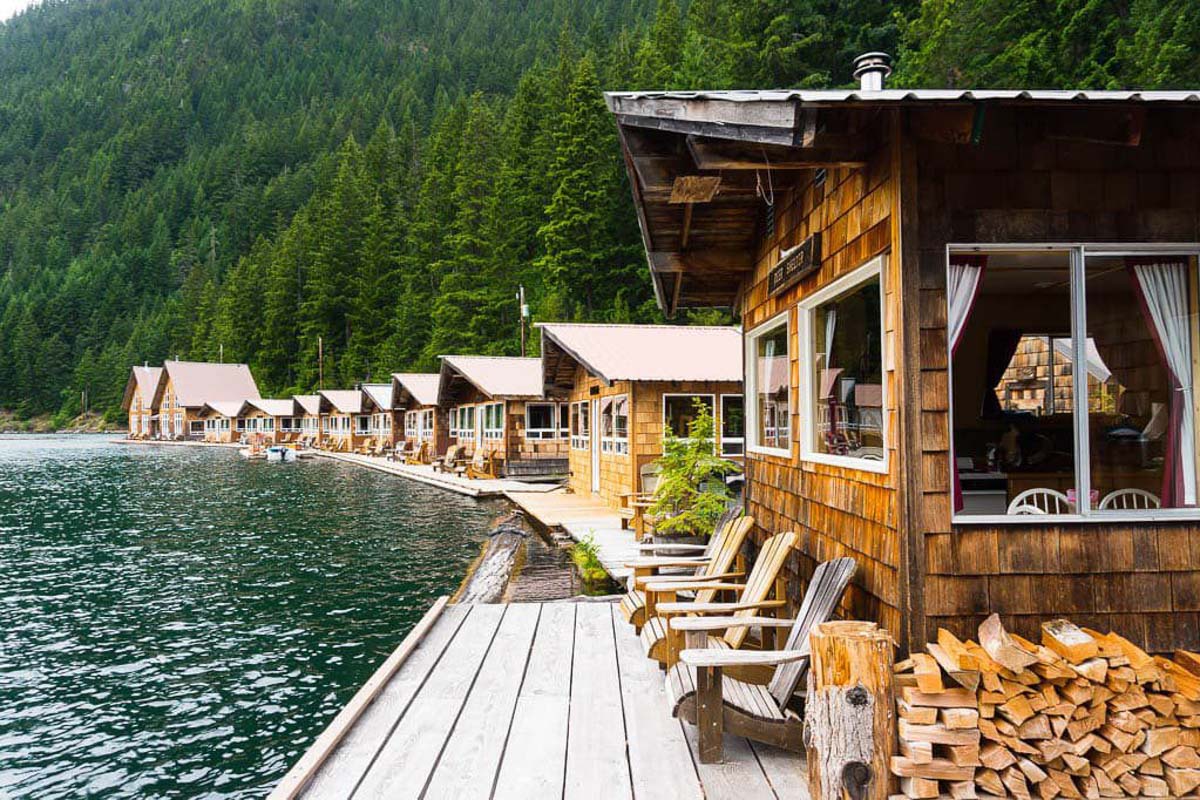 If you have the opportunity to stay in one of the 15 incredible floating cabins on Ross Lake, there will be no question how the North Cascades earned the nickname "the Alps of North America." Although it's one of only two in-park lodging options, it's spectacular.
The resort is open from June through October, and the only ways to get to it are the Diablo Ferry or booking a shuttle.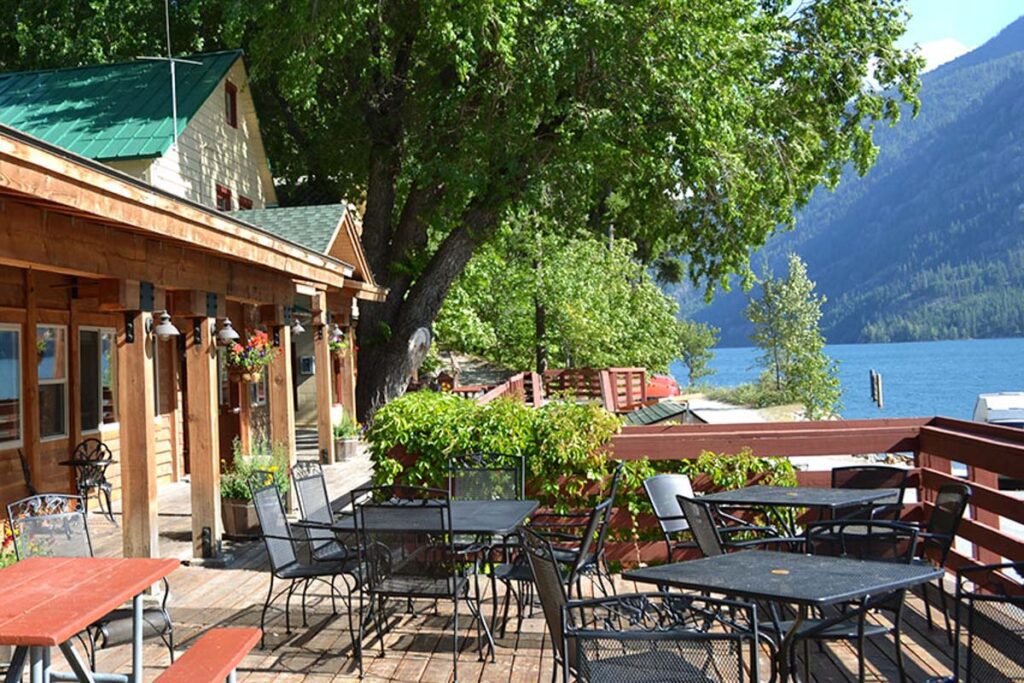 North Cascades Lodge at Stehekin
The only other in-park accommodation, the North Cascades Lodge is incredibly remote. Getting here requires a ferry ride, minimum 23-mile hike, or a sea plane.
Options include standard guest rooms or private cabins, some with kitchens, all with spectacular views of Lake Chelan.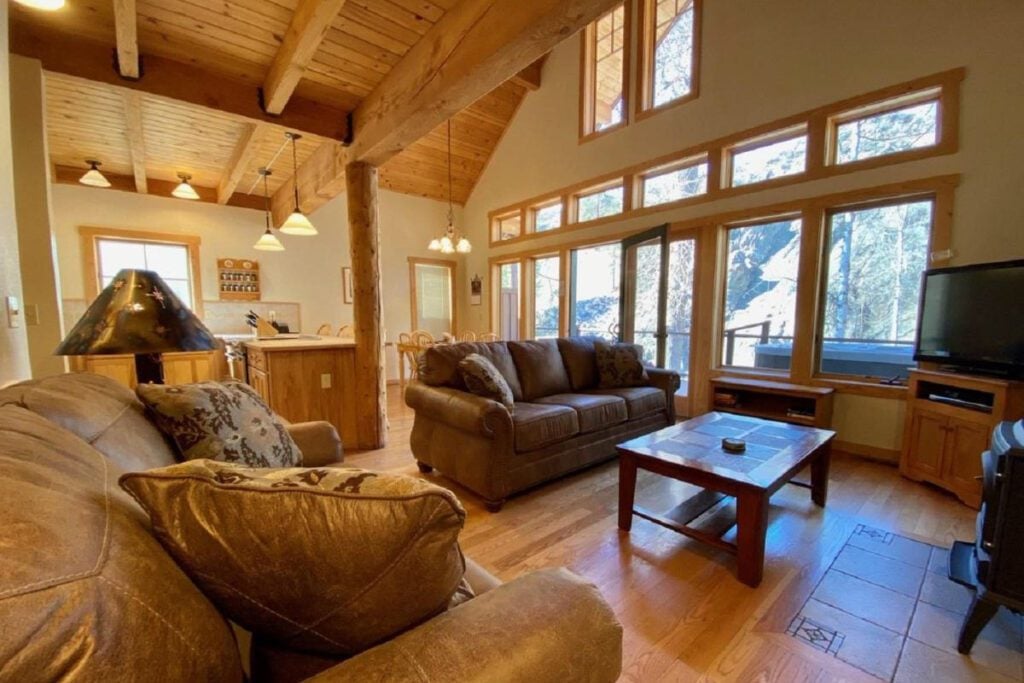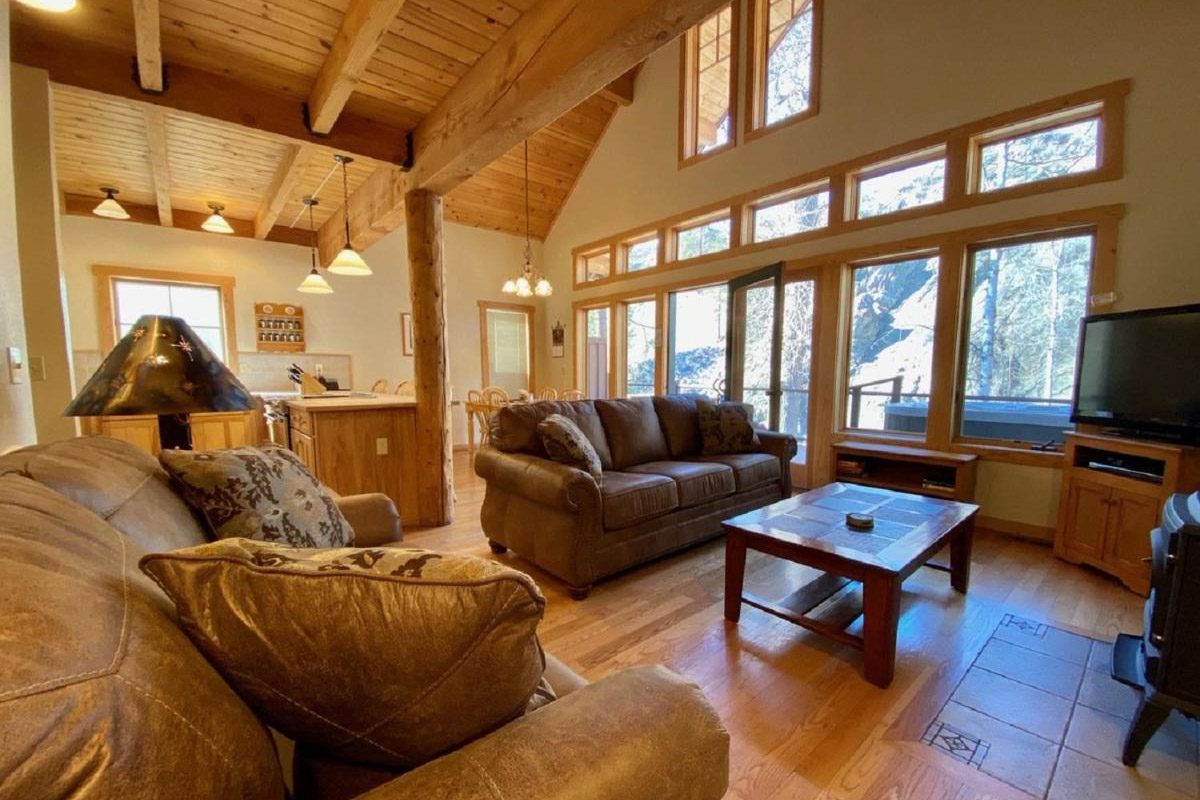 While technically not in the park, this lovely property in nearby Winthrop is a great option for North Cascades lodging. The resort offers 1-3 bedroom cabins, all with balconies, kitchenettes, and private hot tubs.
Campgrounds in North Cascades National Park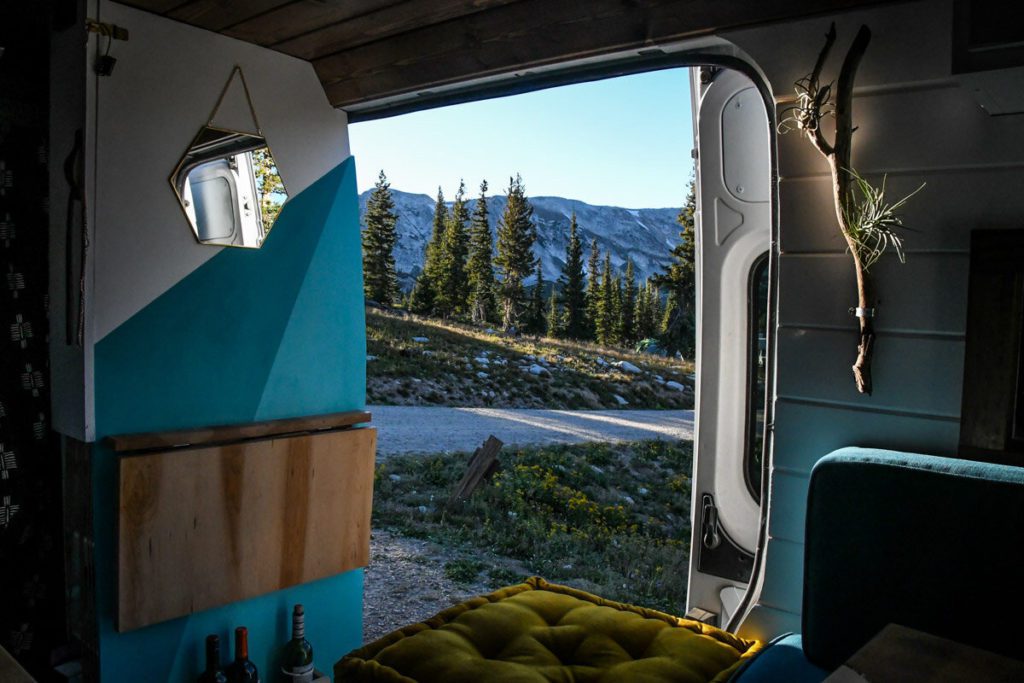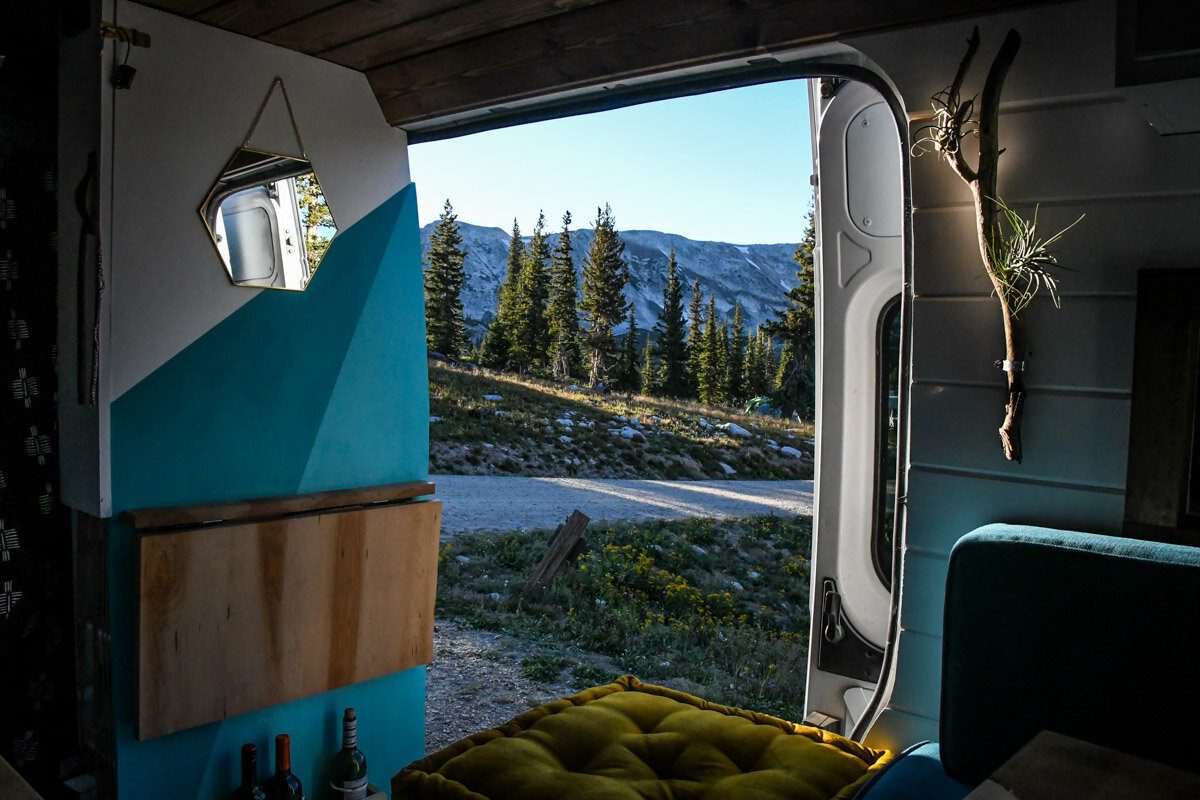 In addition to the many backcountry campsites in North Cascades National Park, there are several drive-in campsites.
Generally speaking, all campsites (other than those specifically designated first-come, first-served) can be reserved in advance from mid-May through mid-September.
In the winter, a handful of sites remain open in Colonial Creek South Loop, Goodell Creek, and Gorge Lake. There are no services, but they do have vault toilets.
There are also remote boat-in campsites on Ross Lake, Diablo Lake, and Lake Chelan, which require the same backcountry permit needed for overnight backpacking trips.
Campgrounds outside the park
Camping inside North Cascades National Park is more convenient but, if you aren't able to get a spot in the park, there are many campgrounds located around the park as well.
If you're traveling in a campervan or simply hoping to save money on your visit to North Cascades National Park by camping along the way, we have a deal for you!
The Dyrt is our favorite campsite locating app with the largest database of campgrounds (44,000+ campsites and counting!) and over 1 million user-submitted reviews. Plus, it's super user-friendly, and has some pretty cool features, like outdoor gear contests and forums to connect and seek advice from fellow campers, that you won't find on any other camping app.
Try their Pro Membership for FREE for 30 days and gain access to the offline version of the app, utilize their trip planning feature AND get exclusive discounts on campsites and gear!
What to pack for visiting North Cascades National Park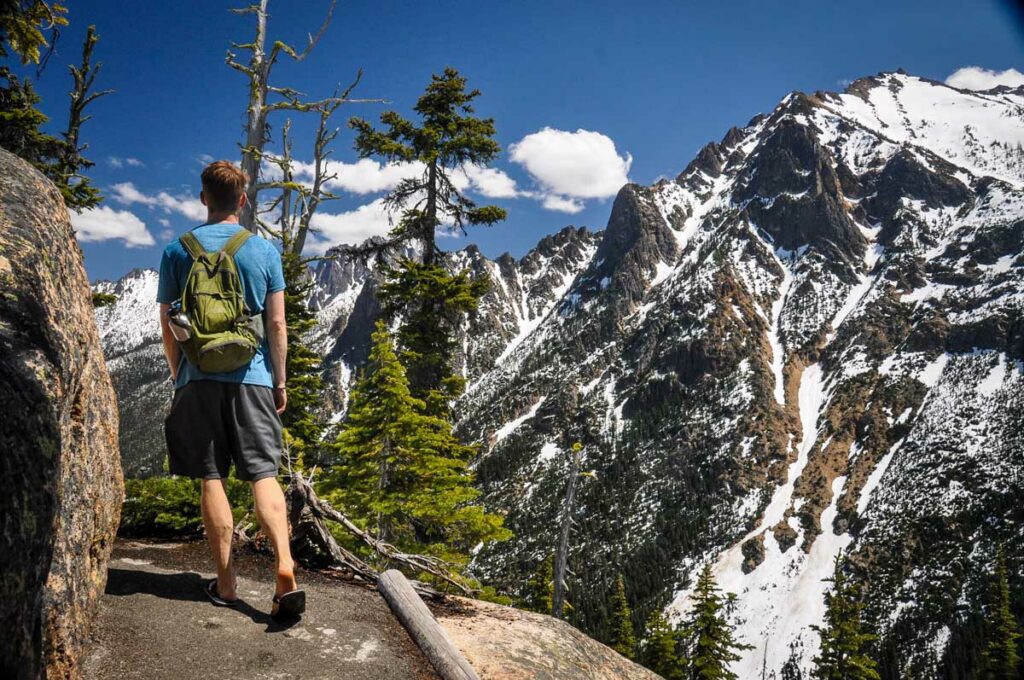 Hydration pack and/or water bottles
Sun protection: sunscreen, sunglasses, hat
Bug repellent (we prefer the natural stuff)
Camera (be sure you have a bag so you can put away your camera for the Angel's landing hike!)
Hiking shoes or boots
Comfortable hiking clothes (always dress in layers!)
Snacks
AllTrails Pro (or download Google Maps offline for the area in case you lose service)
Tips for visiting North Cascades National Park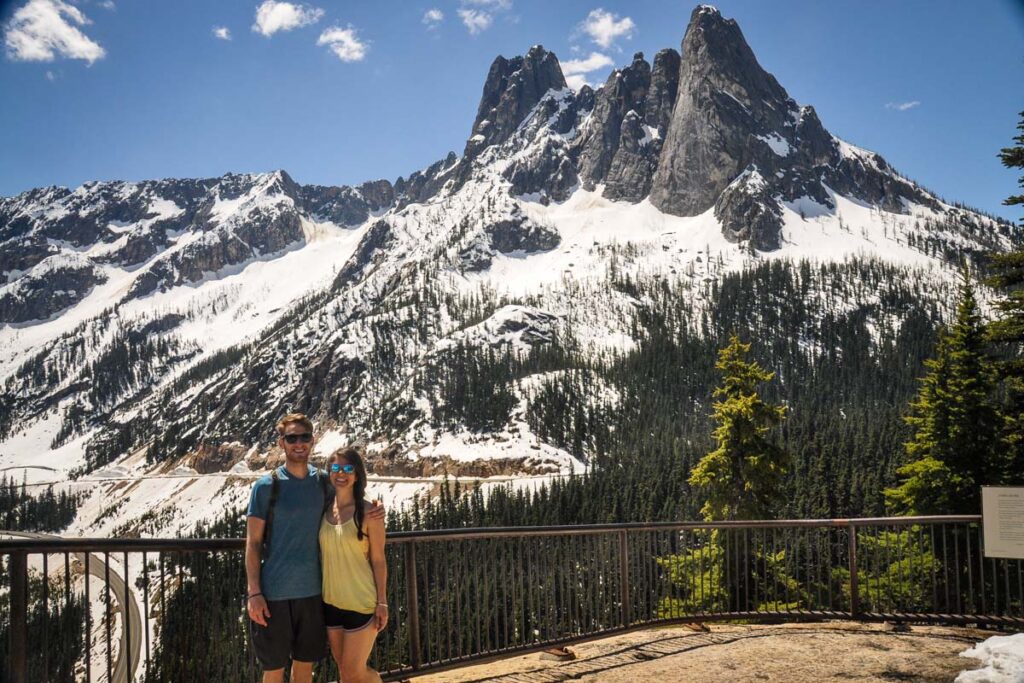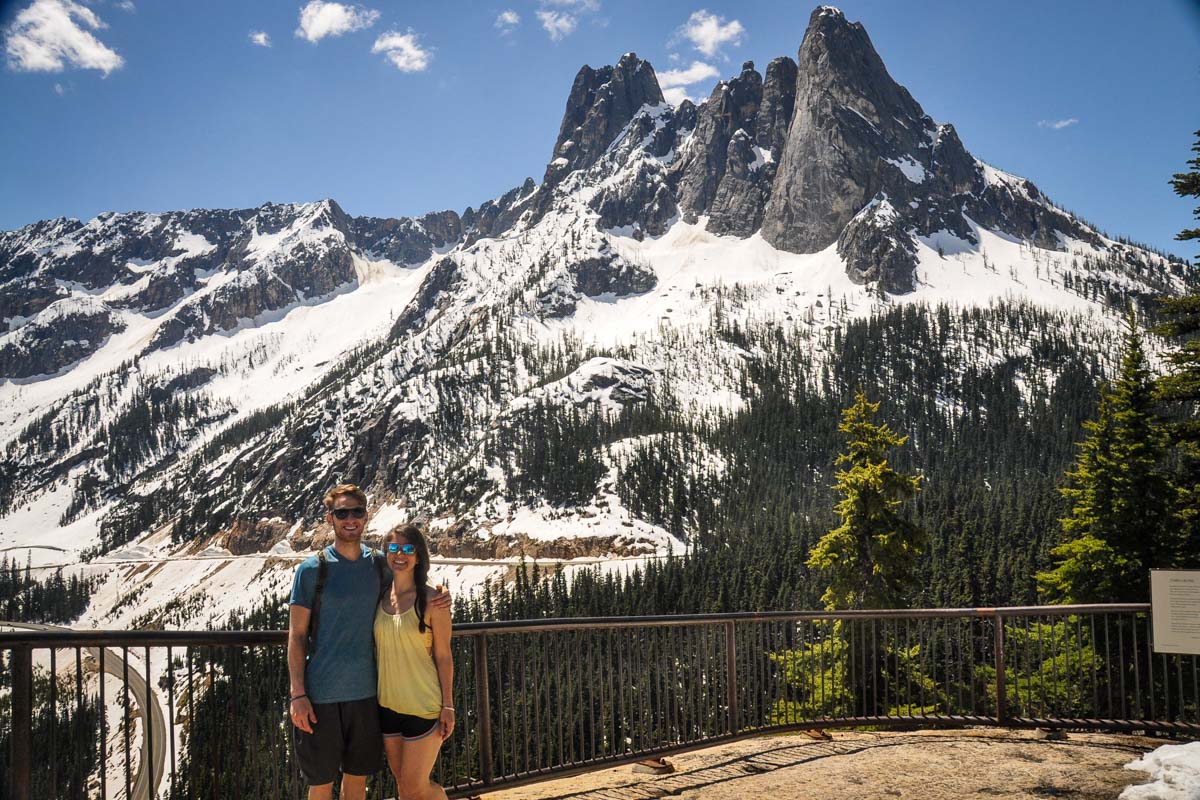 Visit the park on weekdays or later in the season (September is an ideal time!), for the best chance to avoid the crowds.
Hit the most popular trails on your list at off-peak times, either for sunrise or sunset.
Make reservations for campsites and/or backcountry permits as early as possible
Because of the LONG winters, trails are often inaccessible until late in the summer, so have a "Plan B" for your itinerary.

Bonus tip: you likely won't have cell service anywhere in the park, so do this before your trip!

Pack bug repellent — with so much water, the bugs can be terrible on hot, humid summer days!
Wear microspikes if you're planning to do high-alpine hiking before August. Trails often still have snow and ice into mid-July!
Use the indoor restroom and take advantage of (possible) cell service at the visitors center before heading into the park.


---
Are you planning a trip to Washington?
We've had the privilege of calling Washington state "home" for a while and we have tons of resources to help you plan your trip. Start with our Washington homepage and be sure to check out the articles below. Leave us a comment if you have any more questions!
Save this article on Pinterest for later!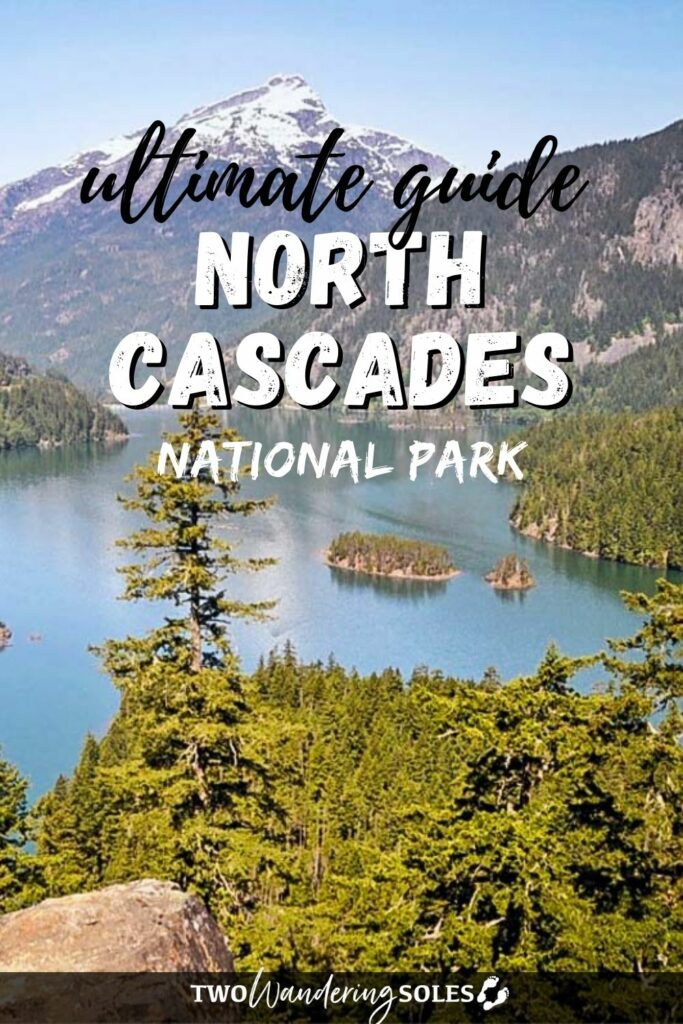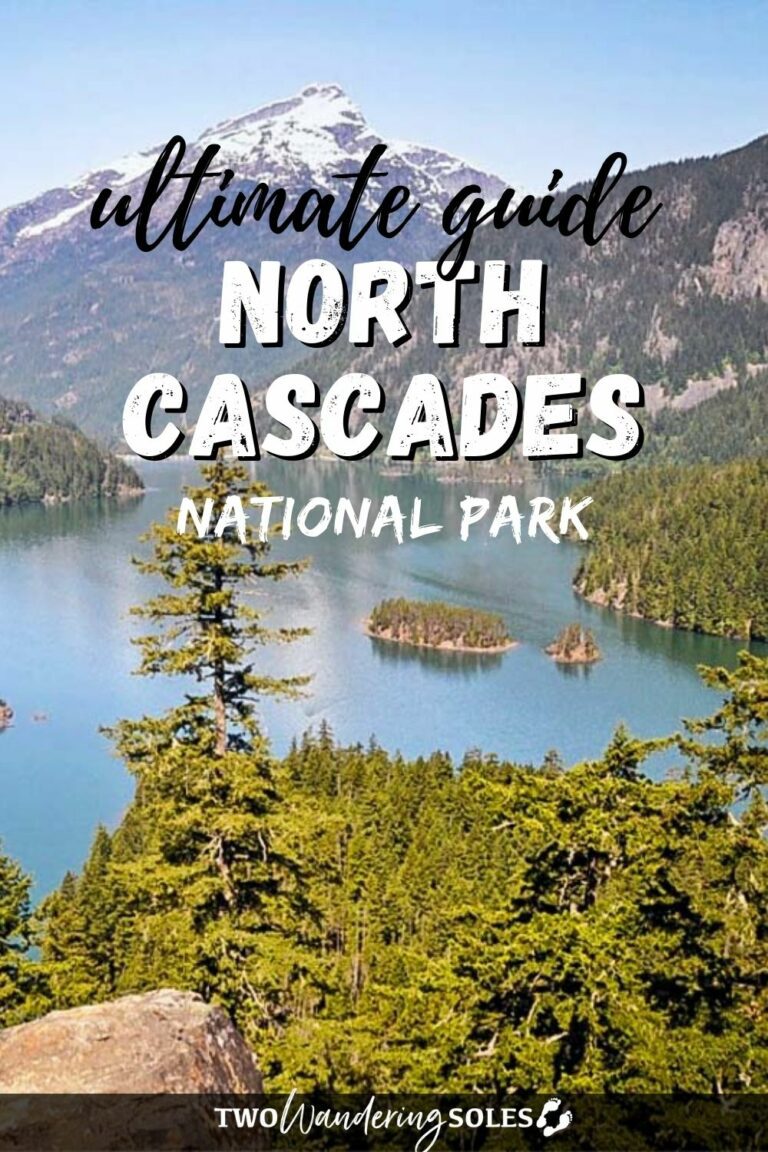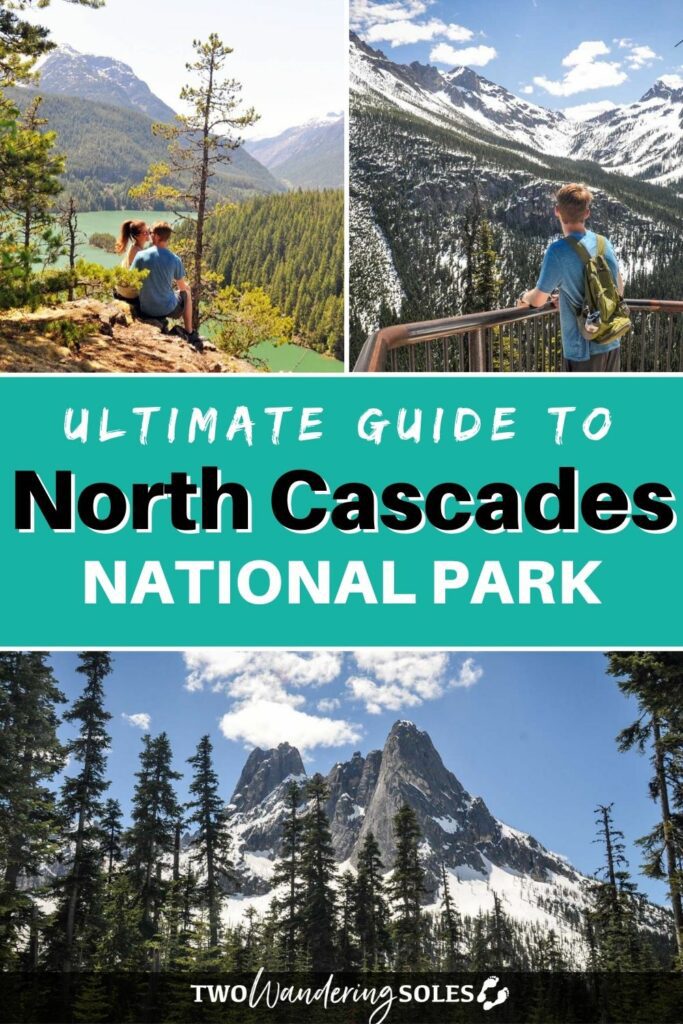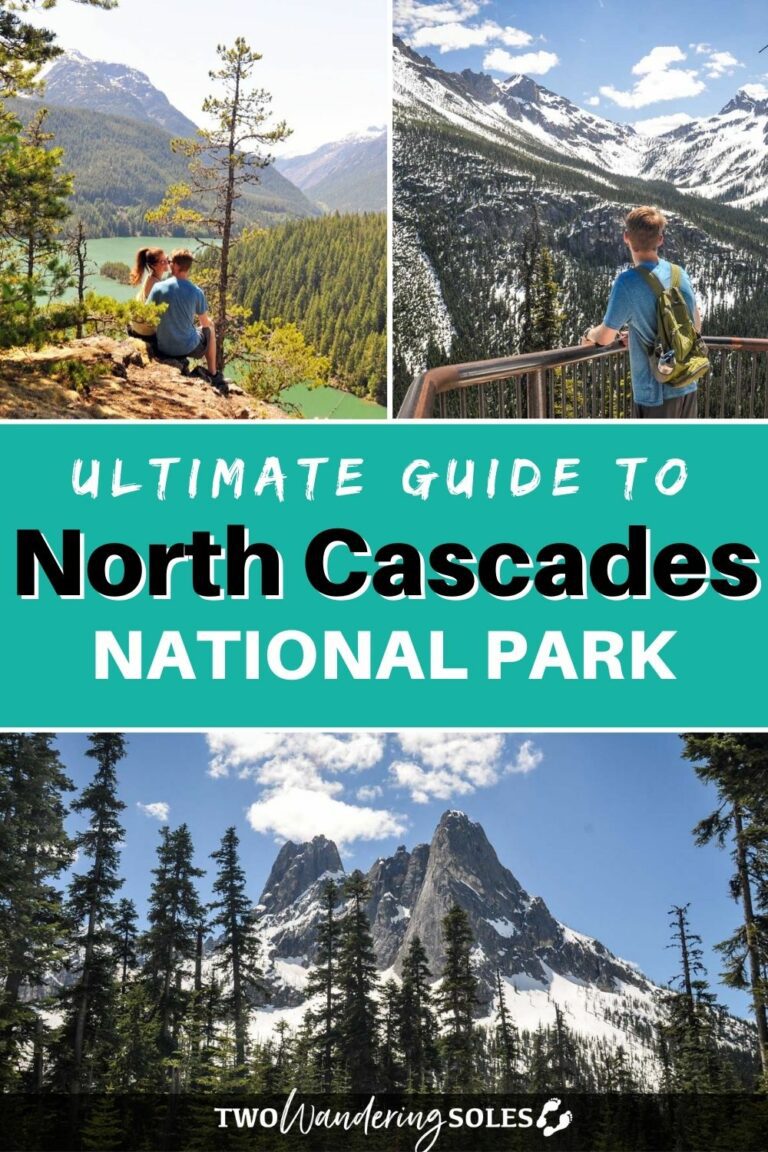 We want to hear from you!
Which of the things to do in North Cascades National Park is going on your bucket list? Is there anything about this national park that surprised you? Let us know in the comments below.