For those looking to get out of the city, there are countless day trips from Las Vegas. Whether you're looking to explore the surrounding national parks or visit a nearby ghost town, our detailed guide will offer all the information you need to plan.
Unless you've been living under a rock, you've definitely heard of the infamous Sin City before. Las Vegas is an incredible city with loads to do and see—even if you're traveling on a budget. As a massive tourist destination, the city is constantly swarming with activities, lights and life.

However, just a short distance outside the city, you'll be able to escape the bright lights and find both solitude and adventure. Las Vegas is surrounded by spectacular landscapes, canyons and rivers. There are endless hiking opportunities in the nearby areas and a rich history to uncover.

We've put together a list of quick, easy and totally worthwhile day trips from Las Vegas for you to explore because every once in a while you need a little break from the Vegas Strip!

What's even better? All the day trips we've included are under three hours driving time from the city, making these perfect adventures to fit into your travel plans as you can easily drive there and be back in time to put a penny in the slots or catch a glitzy show.
Psst! If you have more time, be sure to check out our bucket list of cool things to do in Las Vegas (besides gambling!).
---
Before we get to the good stuff, we have a few helpful resources we wanted to share with you…
America the Beautiful Annual Park Pass

Many of the destinations on this list charge an entrance fee and those fees can stack up. For this reason, we'd highly encourage you to look into getting an annual park pass.
For just $80 per year, you can purchase the America the Beautiful park pass. This pass grants you free access to all of the U.S. National Parks.
Plus it also covers your entrance to over 2,000 natural, historical, and recreational sites across the United States (including Red Rock Canyon and Lake Mead Recreation Area from this list!).
If you still need convincing, check out our article: America the Beautiful Annual Park Pass: Is it Worthwhile?
Getting a rental car in Las Vegas
Having your own vehicle when visiting will give you a lot more freedom to explore the best day trips from Las Vegas.
We personally like using Discover Cars when we rent vehicles around the world, as they gather options from all sorts of rental companies in one place. It makes it really easy to compare prices and vehicles so you can determine which is the best option for you.
Search & Compare Rental Car Prices
Discover Cars: We personally use this aggregate site to compare rental car prices from all the big name companies and get the best price possible.
RentalCars.com: We've had good experiences finding rental cars with this site in the past.
Don't let a trip to Vegas break the bank! Check out our ultimate guide to Las Vegas on a budget.
---
Now let's get to it, shall we…
1. Valley of Fire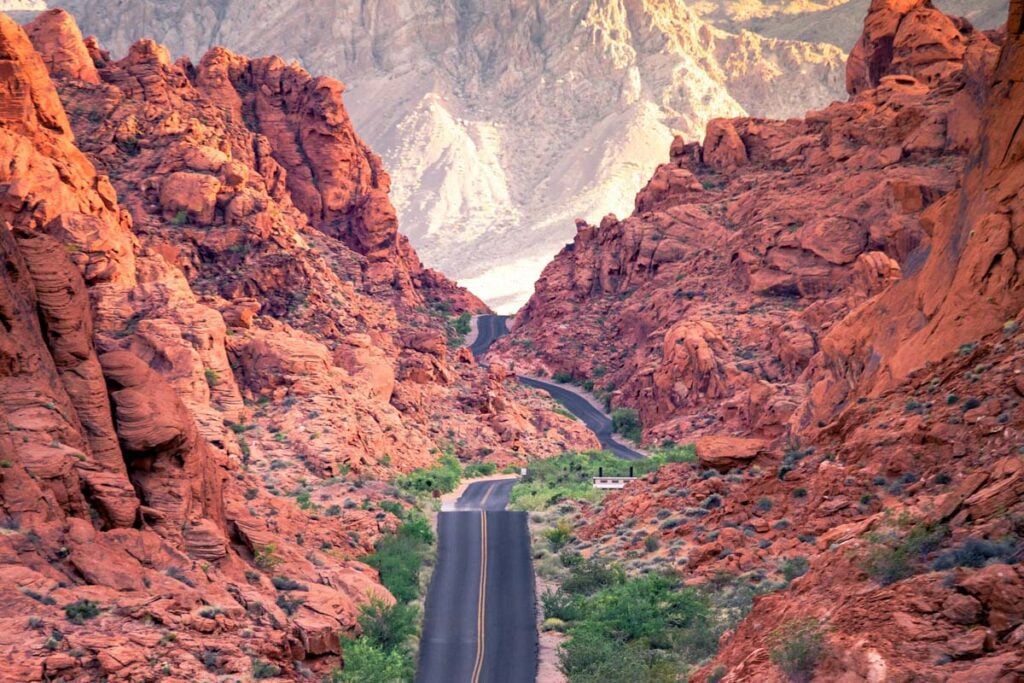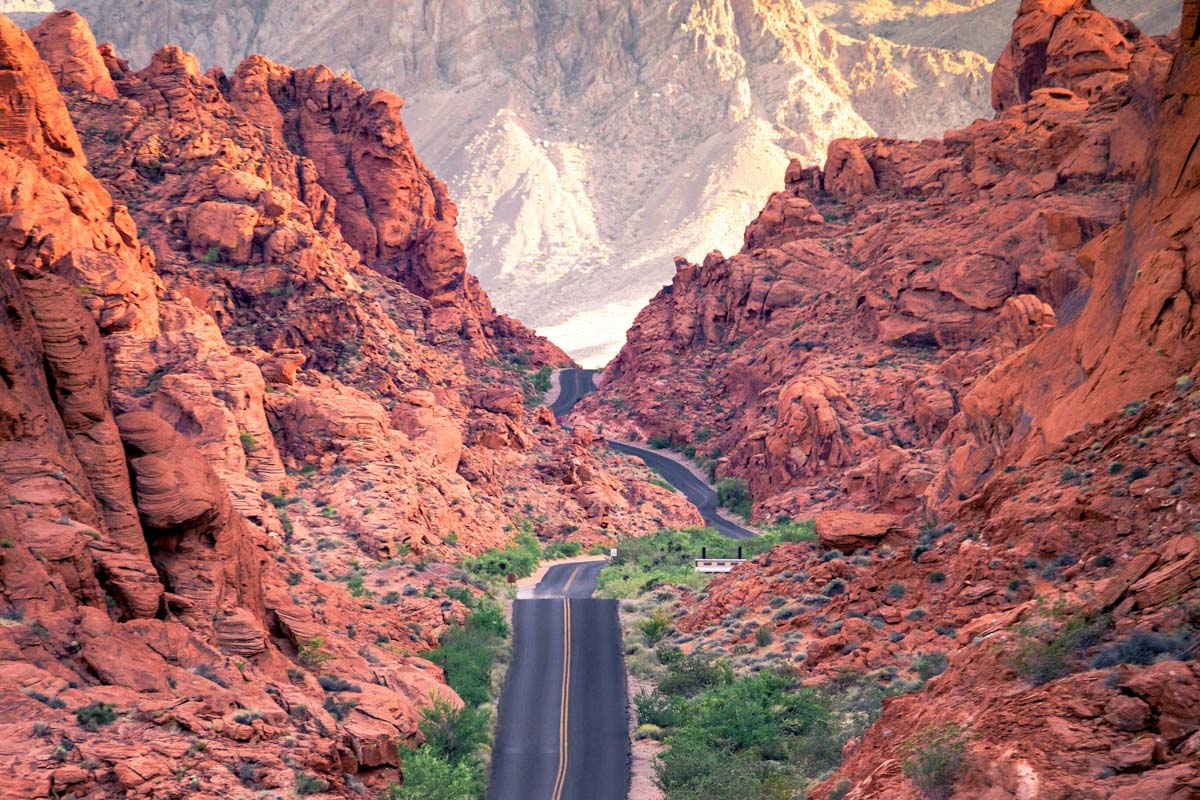 At a glance: explore the oldest state park in Nevada, surrounded by ancient Aztec sandstone and prehistoric rock formations
Distance from Las Vegas: 47 miles, 45 minutes
Appropriately named, the Valley of Fire is splashed with hues of campfire: bright reds, crisp oranges and vibrant pinks. Whether you decide to take a drive through the park or spend some time hiking, you'll be truly awe-struck by the infinite beauty of this place.

Since the Aztec sandstone within the park dates back to the Jurassic period, you're literally walking alongside ancient history. There are also preserved petroglyphs (aka: ancient wall carvings) from over 2,000 years ago.
We don't know about you, but that just gives us the chills (in a good way)!
Valley of Fire is one of the best day trips from Las Vegas as it's less than an hour away from the Strip. We recommend (as always) taking the scenic route past Lake Mead—another noteworthy stop (see #7 on this list)!
The route
There are two routes to take within the park, but for a day trip we recommend taking Mouse's Tank Road. There are many places to stop along the way to visit some of the famous rock formations.
There's plenty of wildlife to spot such as roadrunners, bighorn sheep and desert tortoises so keep your eyes peeled for these desert dwelling creatures.
This roadway also offers plenty of turn offs where you can embark on a hike or two. In fact, Valley of Fire is one of the best destinations for hiking near Las Vegas.
While there are many choices, the Seven Wonders Loop seems like a reasonable pick for a day trip as the 2.3-mile loop only takes about an hour and is relatively easy. On this hike you'll witness so much goreous-ness you'll think you stepped into a literal fairy tale.
Cost: It costs $10 per vehicle to enter the park which you can pay upon arrival. No reservations are required ahead of time.
While the park is technically open all-year round, certain hikes are likely to close in summer due to the high temperatures; it is best to avoid traveling here in the heat of summer.
Psst! Have you considered getting an annual pak pass?
2. The Grand Canyon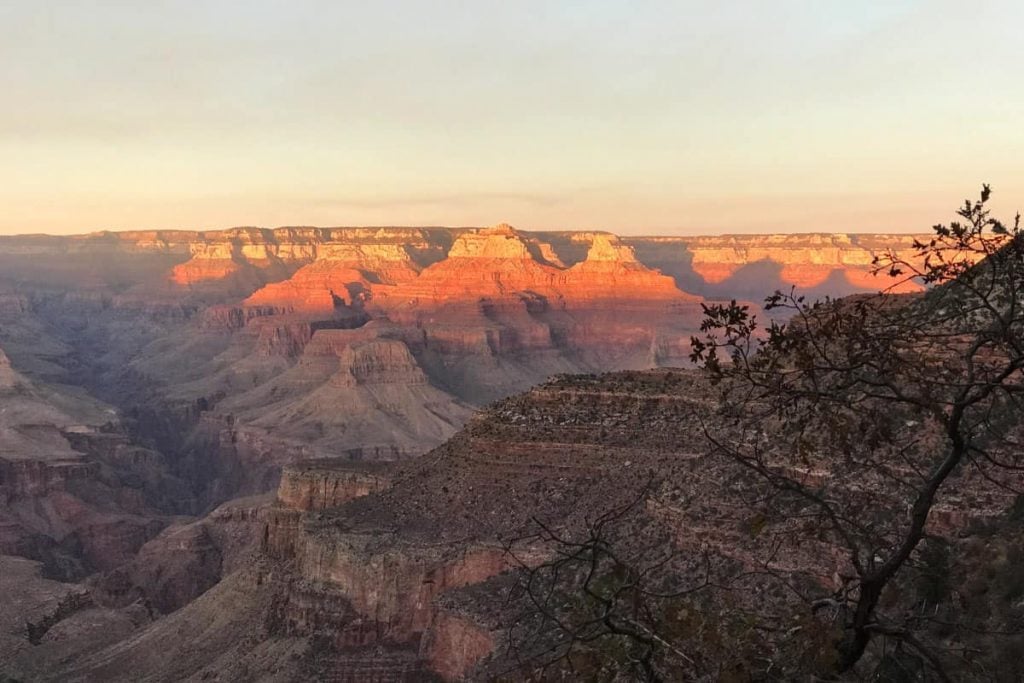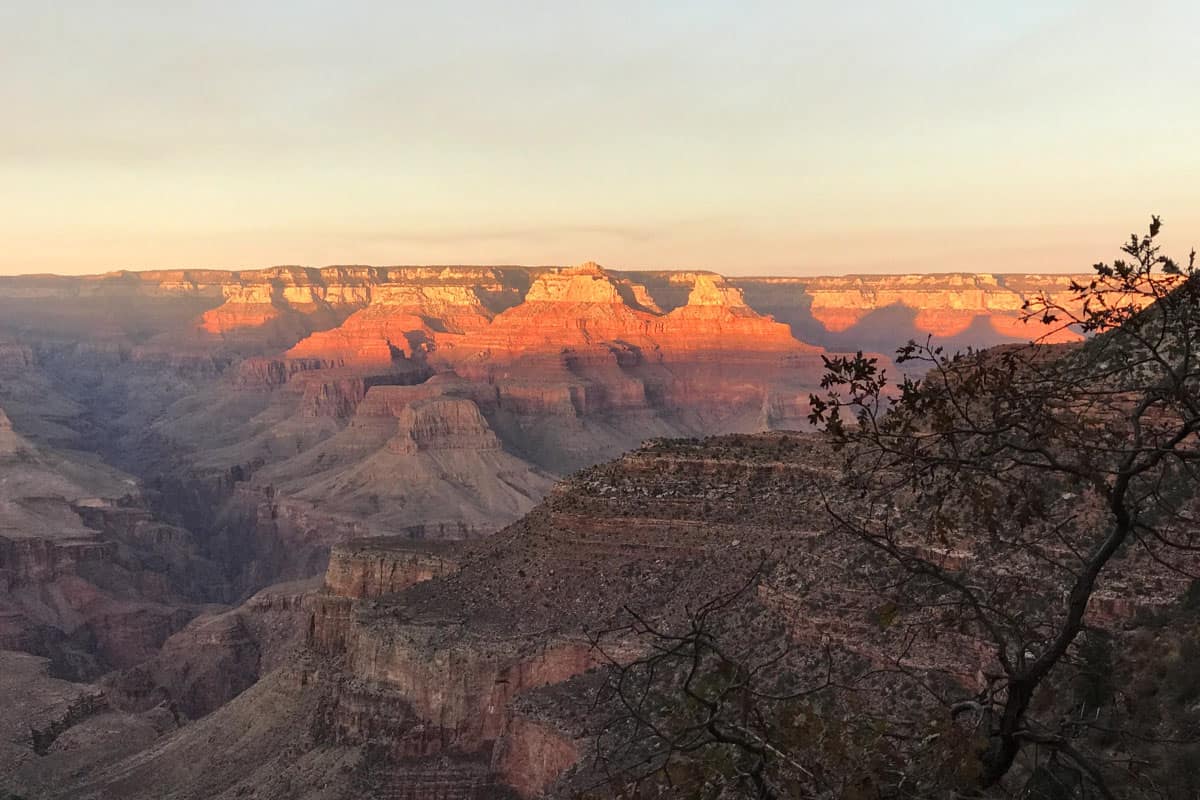 At a glance: get up close and personal with the largest canyon in North America
Distance from Las Vegas: 125 miles, 2 hours
In around two hours, you can easily hop on over to the world-famous Grand Canyon from Las Vegas. While some parts of the Grand Canyon can take over five hours to reach, Grand Canyon West is in perfect proximity from the city for a day trip.

This part of the Grand Canyon is a little commercialized for our taste and not nearly as scenic as the South or North Rim, but it is still a worthwhile visit as there are quite a few attractions to see.
Not to mention it's an absolutely gorgeous drive and you can totally pair it with a trip to the Hoover Dam or Lake Mead (#5 and #7 respectively on this list).
Cost: One unique part of the West Rim is that it isn't technically part of the Grand Canyon National Park, but rather owned by a private Native American tribe. The admission fee ($49) helps support the Hualapai tribe and you can even take a self-guided tour through the village.
Top things to do in Grand Canyon West Rim
Drive to Eagle Point and visit the Hualapai tribal village. Here you can learn about the indigenous people, catch a live performance or buy some hand-crafted souvenirs. Access to the village is included in the entrance fee.
Take advantage of the Hop-On Hop-Off shuttle services to explore some popular spots within the Canyon. This is included in the initial entrance price to the park.
If you're feeling adventurous or—umm—super brave, you can walk across the skywalk that extends straight over the rim of the canyon. All we can say is: yikes and good luck!
Hike the short 30 minutes to Guano Point for 360 views of the canyon. There is also a cafe at the top, Guano Point Cafe, if you're feeling hungry after your hike.
Consider booking a helicopter tour for a real adventure. While helicopter tours tend to be quite pricey, they are remarkable.
Witness the grandeur of the Grand Canyon from below on a whitewater rafting trip down the Colorado River. Gaze upon the miles and miles of ancient rock formations as you challenge the rapids!
3. Death Valley National Park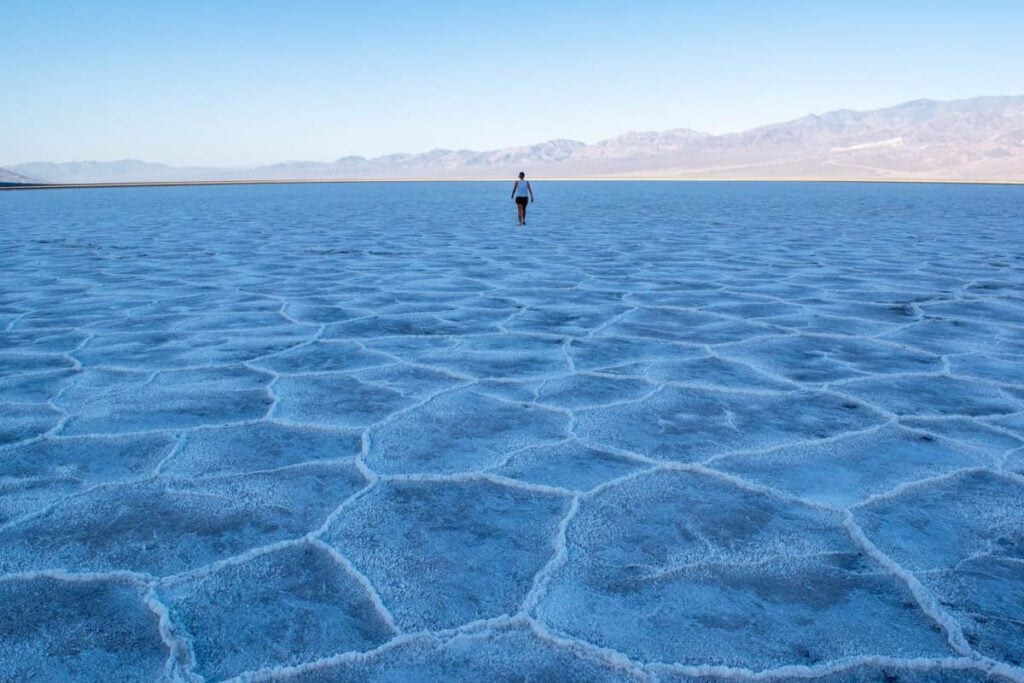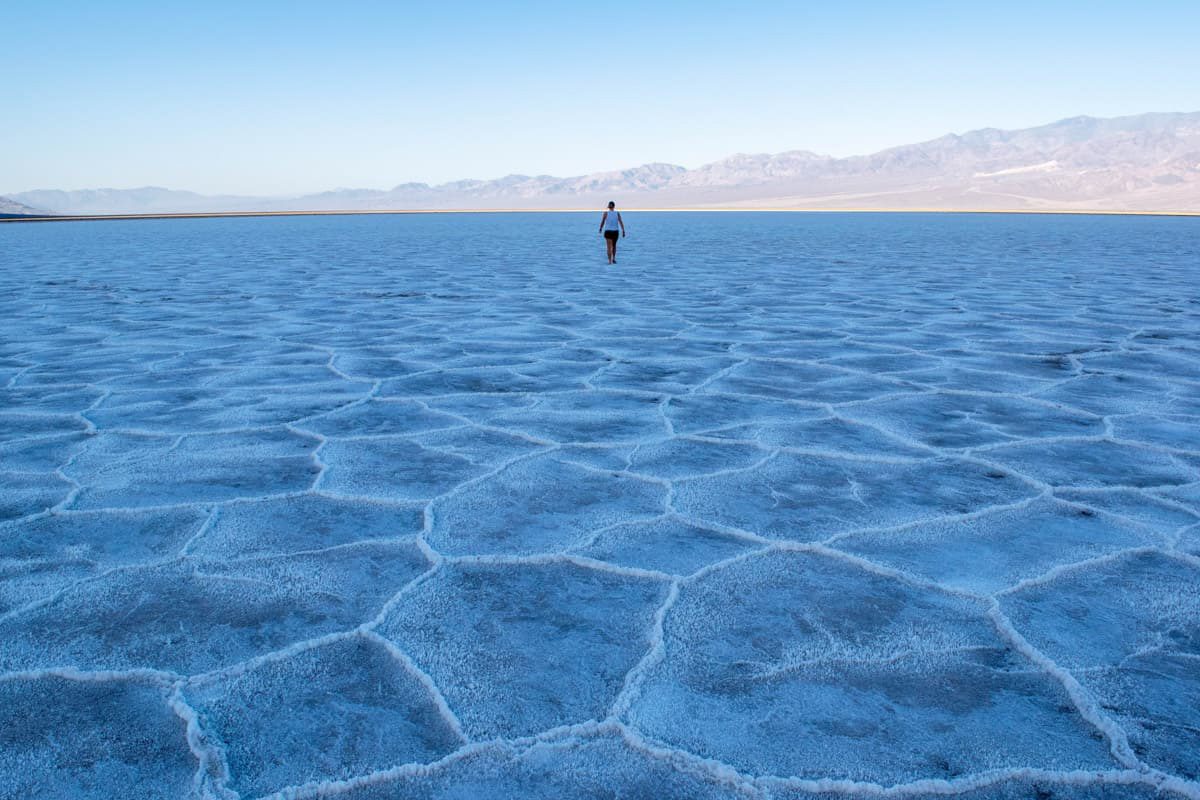 At a glance: endless unique landscapes and hiking opportunities in an underrated national park
Distance from Las Vegas: 149 miles, 2 hours
In our humble opinion, Death Valley is an extremely underrated national park that makes one of the best day trips from Las Vegas! In just two hours, you'll leave Sin City in the rearview mirror and discover totally unique landscapes in this desert oasis.

Whether you decide to spend some time hitting the trails, playing on the sand dunes or simply enjoying a delicious desert sunset, we have a guide for the ultimate Las Vegas to Death Valley day trip.
In this guide, you'll find easy-to-follow directions, packing suggestions and, of course, the top things to see and do in the park.
4. Red Rock Canyon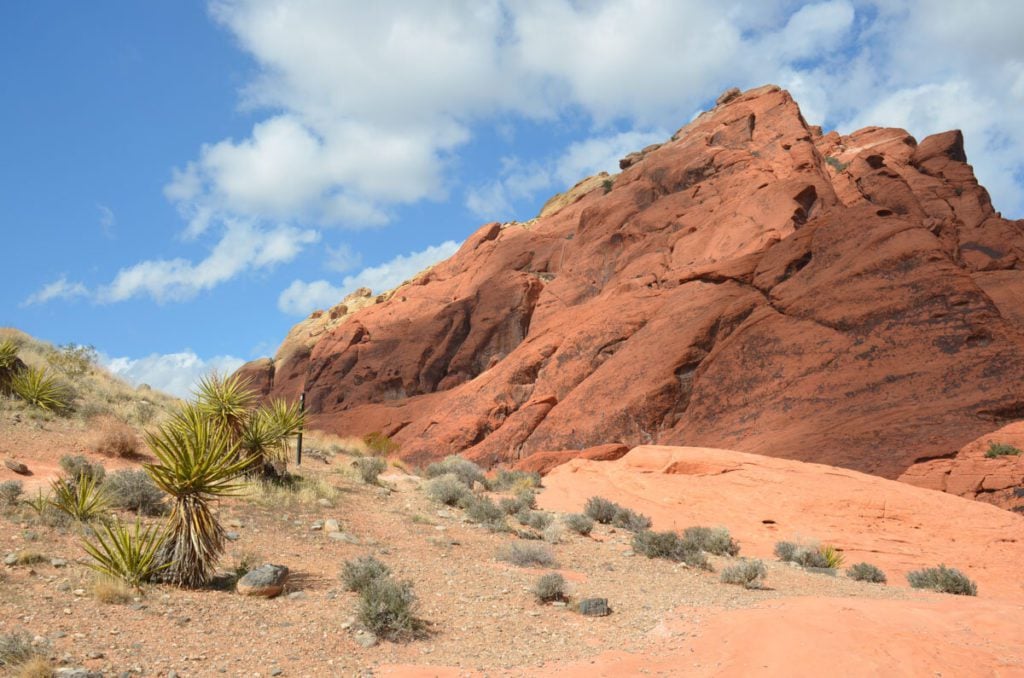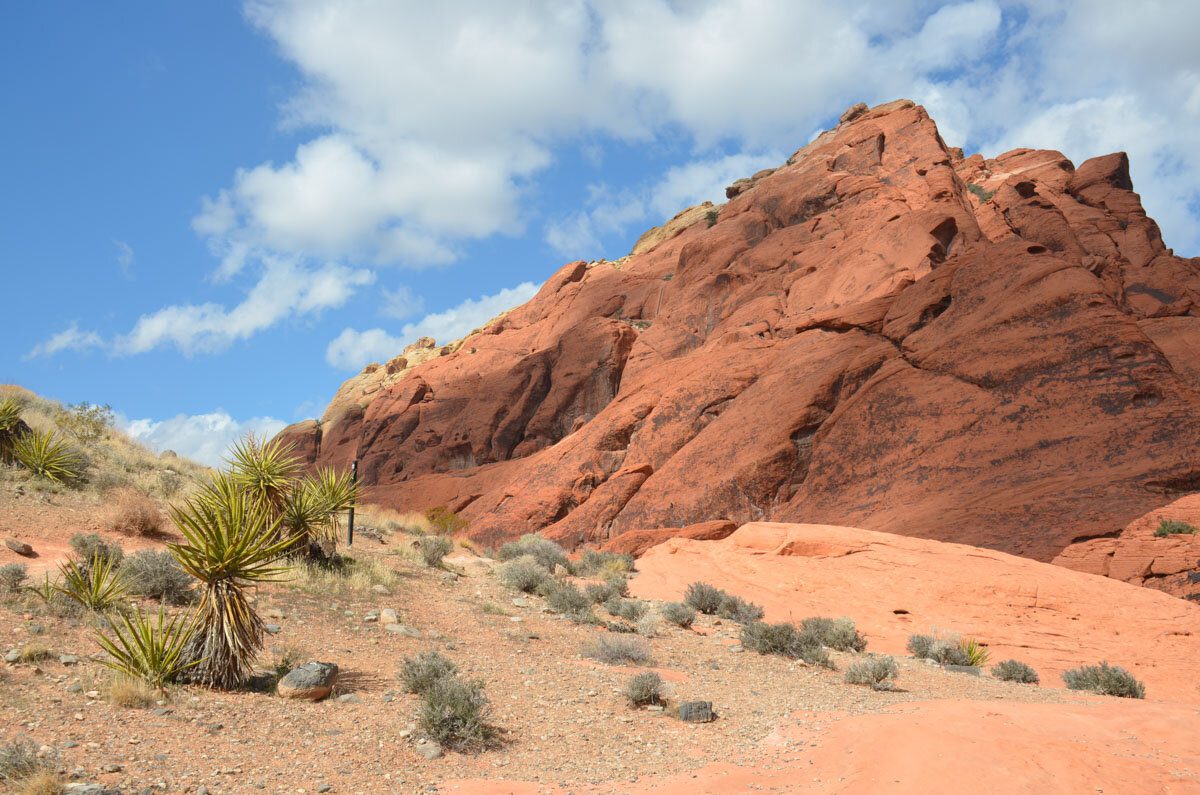 At a glance: Get among the pink and rusty-colored rocks in this scenic and famous canyon
Distance from Las Vegas: 16 miles, 20 minutes
A true escape from the city lies in Red Rock Canyon. This National Conservation Area is adored by both tourists and locals due to its scenic beauty and array of hiking trails.
Plus, due to its close proximity, the canyon is easily accessible via Beltway-215 as a quick day trip from Las Vegas.
This fact, however, does mean the park can get crowded. Even overly-crowded at times which can be a bummer.
An incredibly photogenic place, you'll no doubt be wanting to snap a gazillion photos of the colored rock and unique formations in the park.
Red Rock Canyon is also a climber's dream due to the massive sandstone, jutting cliffs and (mostly) dreamy weather conditions. There are multiple companies from which you can hire a guide and embark on a climbing experience.
Cost: It costs $15 per vehicle to enter and from October-May you need to make a reservation to visit ahead of time.
Top day hikes in Red Rock Canyon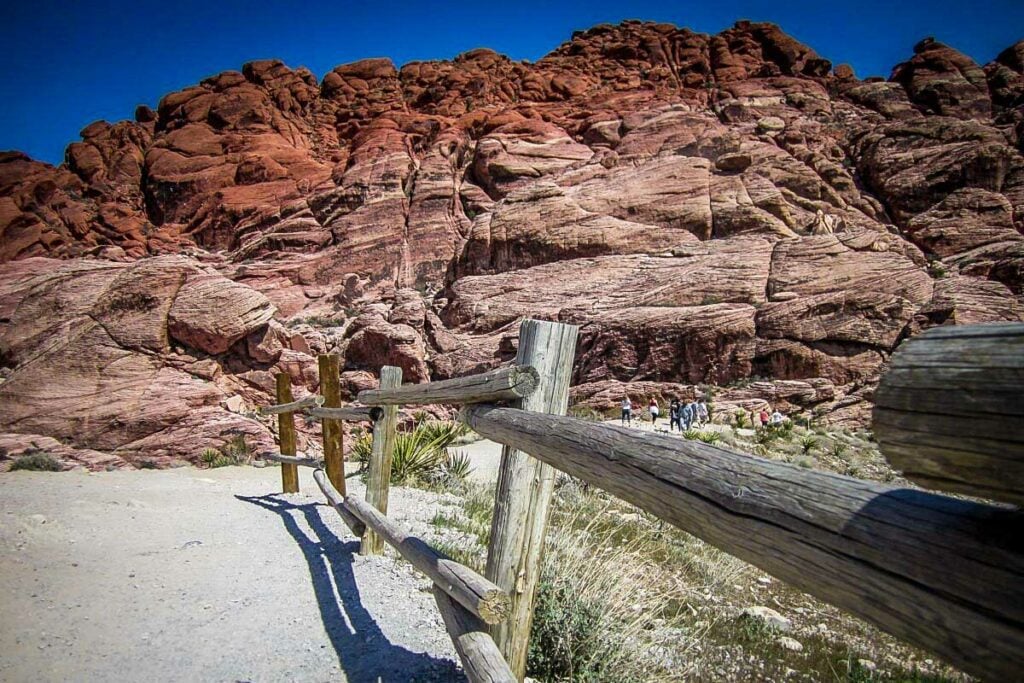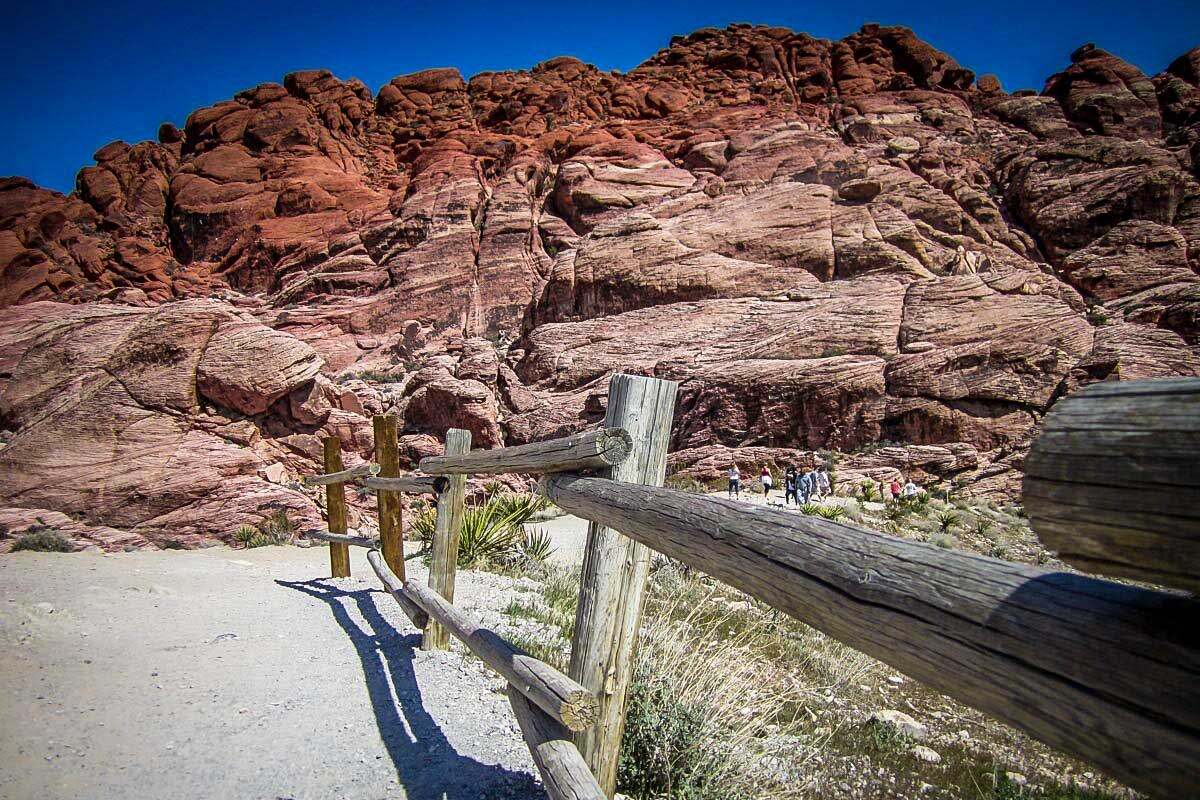 We almost insist you go hiking when in Red Rock Canyon! It is the best way to get up close and personally with the ancient rock formations surrounding you.
Fortunately there are loads of hikes to choose from catering to all skills levels. We've compiled a few hikes that are totally do-able if you're planning a day trip from Las Vegas.

Pine Creek Canyon Trail for some of the most diverse scenery in the canyon; it takes about 1.5 hours to complete
Distance: 3.4 miles, out and back
Elevation Gain: 515 feet
Level: Easy
Calico Tanks Trail for a lovely view of Las Vegas; it takes about an hour to complete.
Distance: 2.2 miles, out and back
Elevation Gain: 407 feet
Level: Easy-Moderate
Ice Box Canyon Trail for a peek at a waterfall; it takes a little over an hour to complete.
Distance: 2.3 miles, out and back
Elevation Gain: 407 feet
Level: Easy-Moderate
Lost Creek Trail for a glimpse of a waterfall; it takes about 15 minutes to complete
Distance: 0.6 miles, out-and-back
Elevation Gain: 91 feet
Level: Easy
White Rock Hills Trail for a longer hike through rich vegetation and juniper trees; it takes about 3 hours to complete.
Distance: 6.1 miles, loop
Elevation Gain: 1135 feet
Level: Moderate
If you're interested in more hikes – especially the more difficult or less-traveled trails – check out our complete guide to hiking Las Vegas. It is on these hikes that you'll find it easier to escape some of the busier areas of the park and the touristy crowds.
Top things to do in Red Rock Canyon
Drive along the Red Rock Canyon Scenic Drive. Roll down the windows and get that desert air in your hair!
Hire a guide and go climbing. There is climbing for all skill levels and you definitely don't have to be an expert. In fact, trying your first climb in Red Rocks Canyon sounds positively epic!

There are many companies located within the park to choose from, but Red Rock Climbing Center seems like a great choice.

Take an electric bike tour. This is a perfect tour if you have limited time in Red Rock Canyon as it only takes about 3 hours. If you're planning a day trip from Las Vegas, you can easily pair this activity with a short hike or the scenic drive to get the most out of your trip.
Check out the Petroglyph Wall. Simply park your car and walk a short distance to get there. It is an outstanding display of dozens upon dozens of ancient figures, animals and symbols from the Pueblean people.
Have a picnic at Willow Springs. Packing up some of your favorite snacks (and perhaps a bottle of wine) is a great way to cut costs when you're traveling. This picnic area is about half-way along the Scenic Drive so a perfect time to get out and stretch.

Keep in mind, however, this area can get crowded. This isn't a huge issue, but there are also many trails and overlooks along the route so you can easily hobble over some rocks and find your own private spot.
As always, be mindful of the environment and take your trash with you!
5. Hoover Dam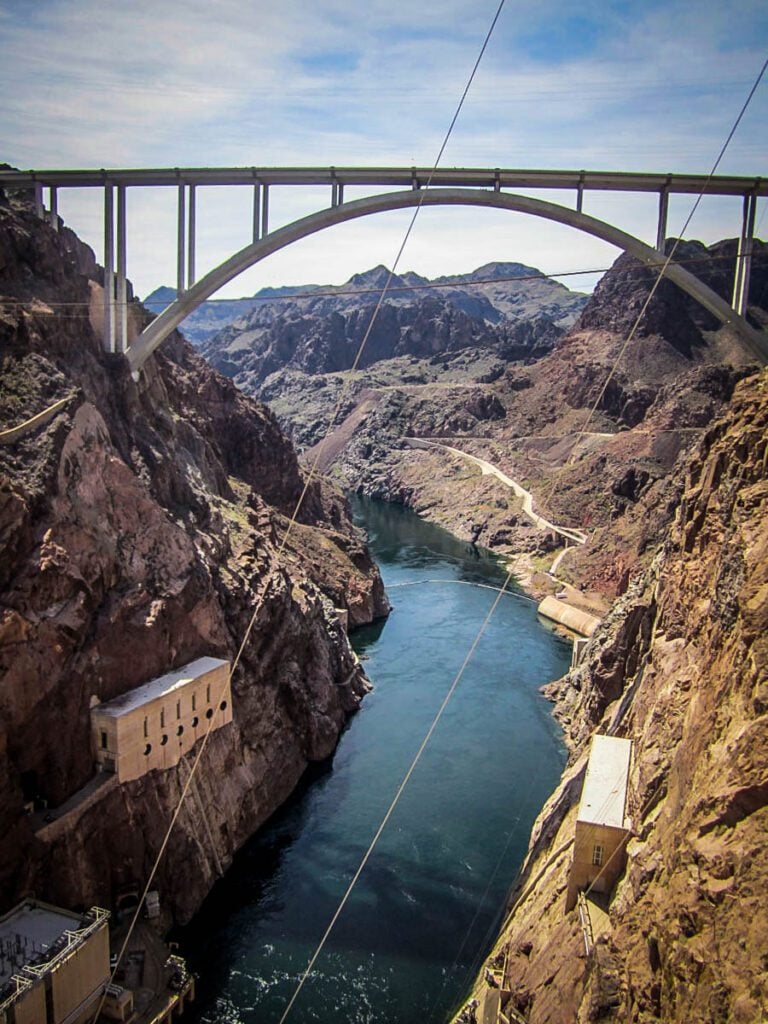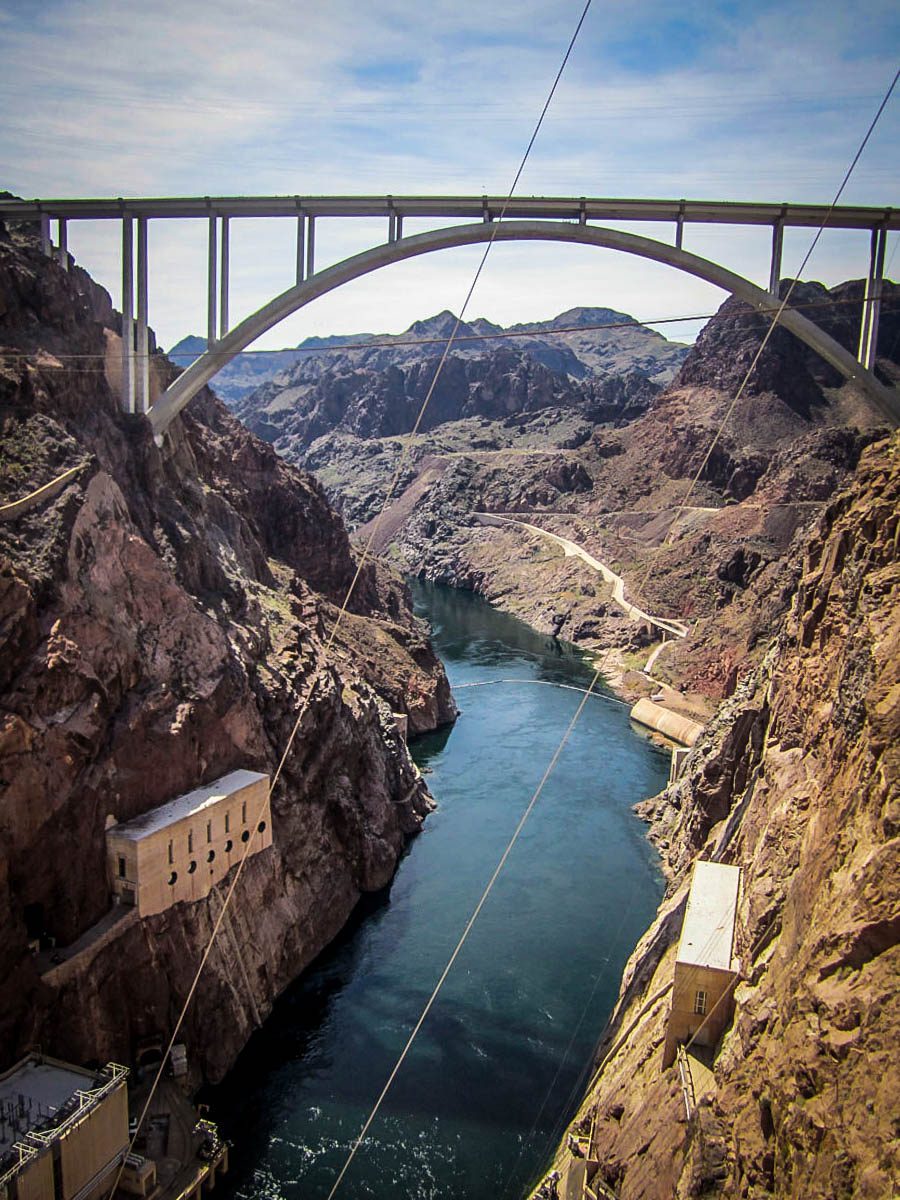 At a glance: an iconic historical landmark that has been named a 'Steel Wonder of the World'
Distance from Las Vegas: 37 miles, 40 minutes
One of the easiest (and quickest) day trips from Las Vegas would have to be a visit to the Hoover Dam. In just 40 minutes you'll be out of the city center witnessing the wonders of this historical landmark.
The Hoover Dam draws in millions of tourists every year and due to its close proximity to Las Vegas, you definitely won't be alone here. Therefore, we recommend heading out early in the morning to beat the majority of the crowds.
There are two tours to choose from and both include access to the Visitor's Center.
The Hoover Dam tour costs $30 per person and The Hoover Dam Power Plant tour costs $15 per person. Each tour offers a colorful and detailed history into this iconic engineering feat.
Insider Tip: If you're traveling on a budget or aren't interested in a tour, park on the Arizona side (in a more remote lot) and walk to the dam for free.
How to get there: Take the I-215 to I-11. Connect to US 93 and follow signs to Boulder City.
If you don't have your own transportation, there are numerous guided tours from Las Vegas to the Hoover Dam. Although tours can sometimes feel restrictive, they can also be quite relaxing as you don't have to worry about any planning once you're on board!
Another way to access the Hoover Dam is by water. Blazinpaddles offers kayak tours down the Colorado River through the Hoover Dam.
6. Zion National Park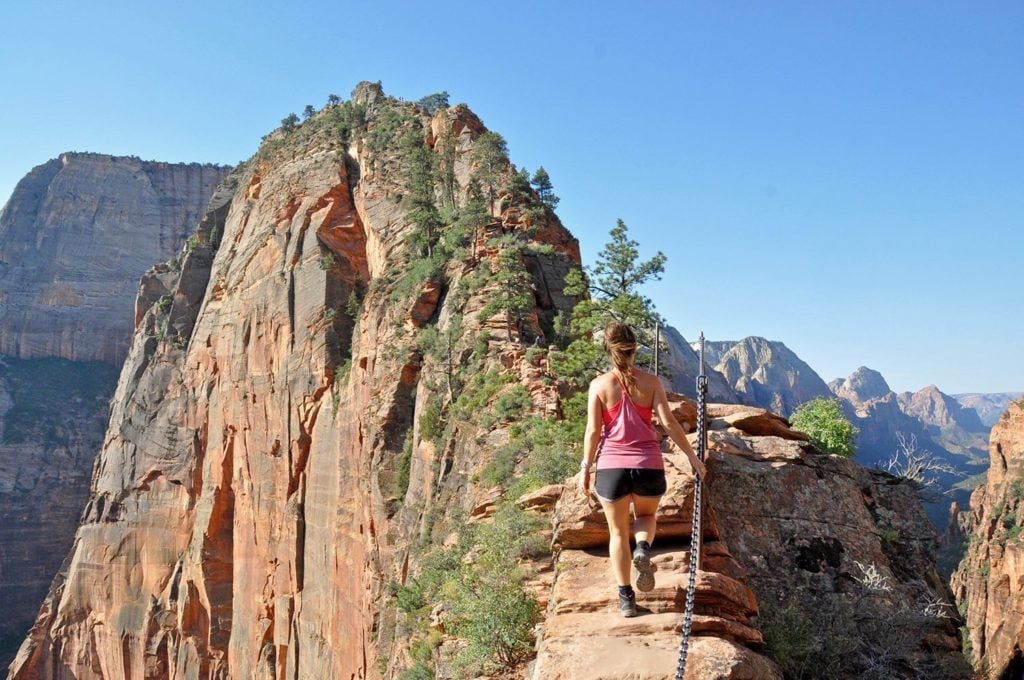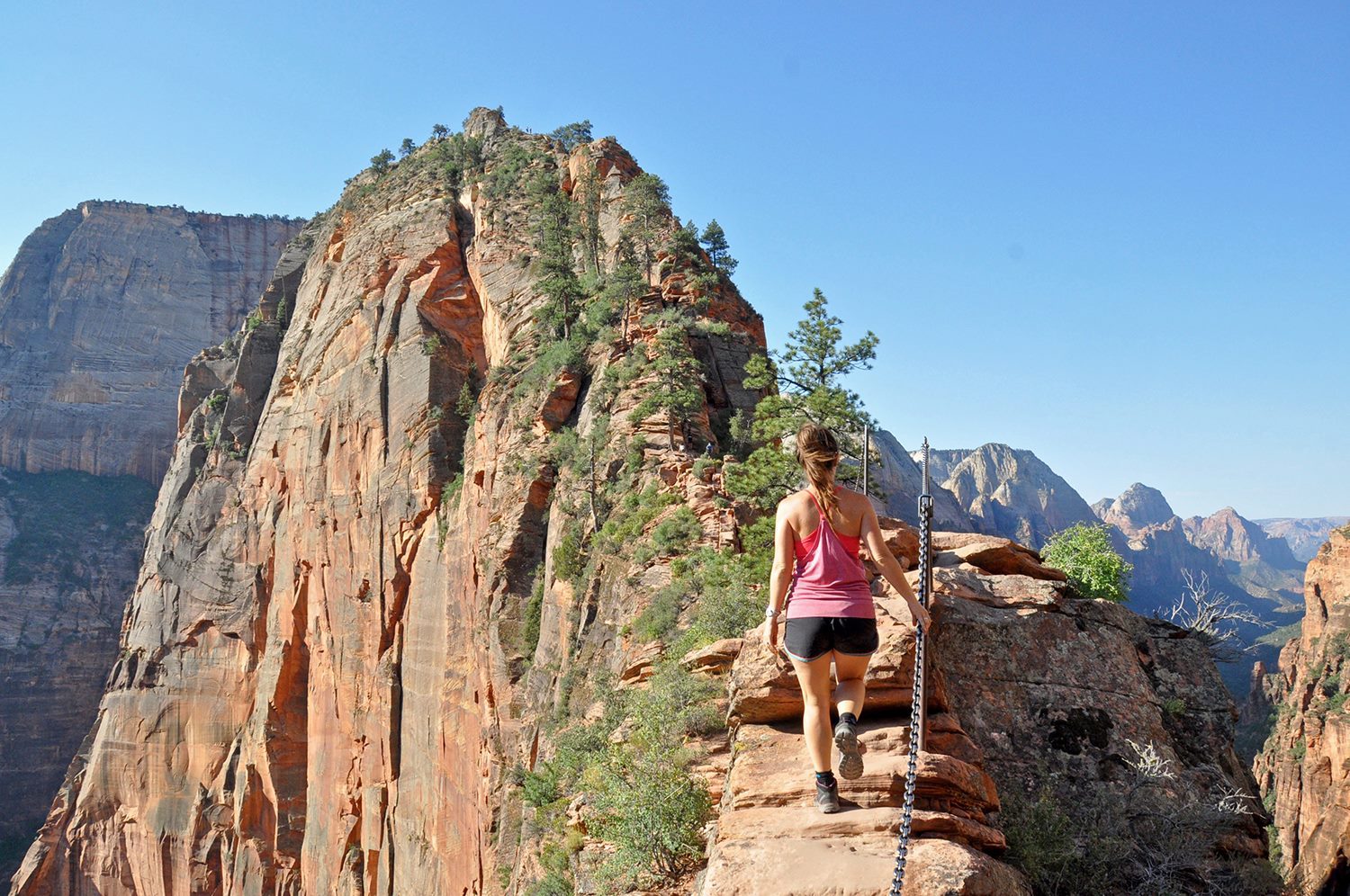 At a glance: one of most popular national parks in the nation with jaw-dropping landscapes and enormous red rock formations
Distance from Las Vegas: 159.6 miles, 2 hours and 40 minutes
In just over two hours from Las Vegas you can leave the entire state of Nevada behind. Hop over to Utah to visit the popular and extremely gorgeous Zion National Park.
With its vibrant sandstone, red rock canyons, sprinkle of pine trees and exquisite views of the stunning Virgin River, Zion National Park is one of America's most famous and beautiful National Parks. And once you visit, you'll know exactly why!
Full disclosure: This place is crazy busy and crazy popular. We're not saying it isn't worth it (it totally is!) but if you're going to plan a trip, check out our detailed guide to Zion National Park for the best times to go and how to avoid the crowds. Plus, we've detailed the best hikes and things to do in the park.
How to get there: It's pretty much a straight shot down I-15 from Las Vegas. While the drive isn't especially scenic, there are numerous places to stop along the way to make the best out of your day trip.
On the route you'll pass Valley of Fire (#1 on this list) and Lake Mead (#7) so you could easily pair these three trips together!
Psst! Don't miss some of the best hikes in Zion National Park.
7. Lake Mead Recreation Area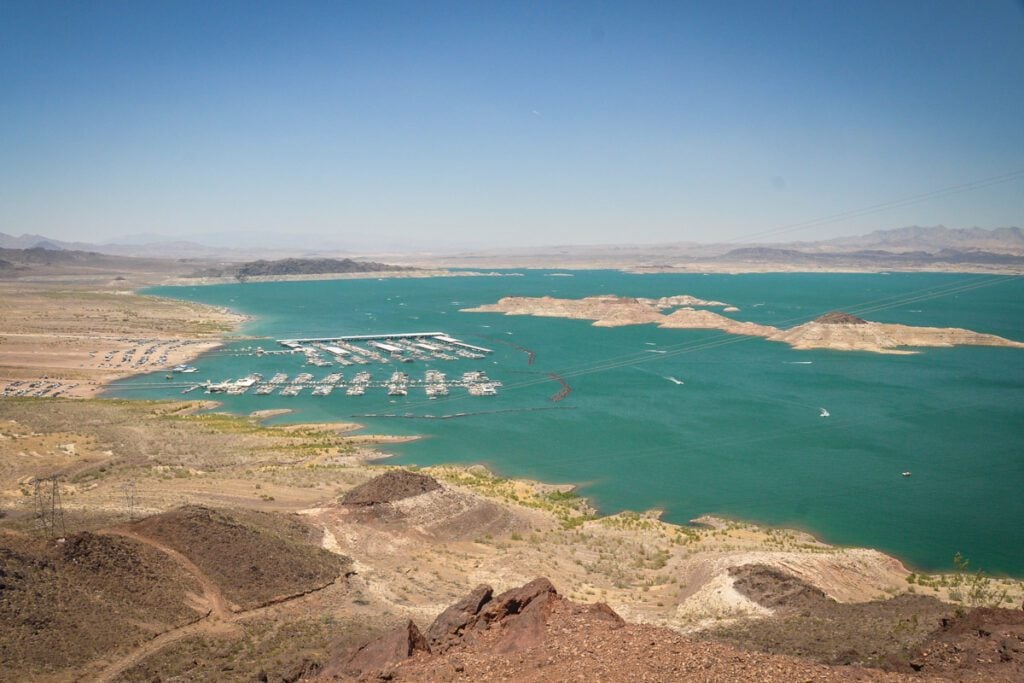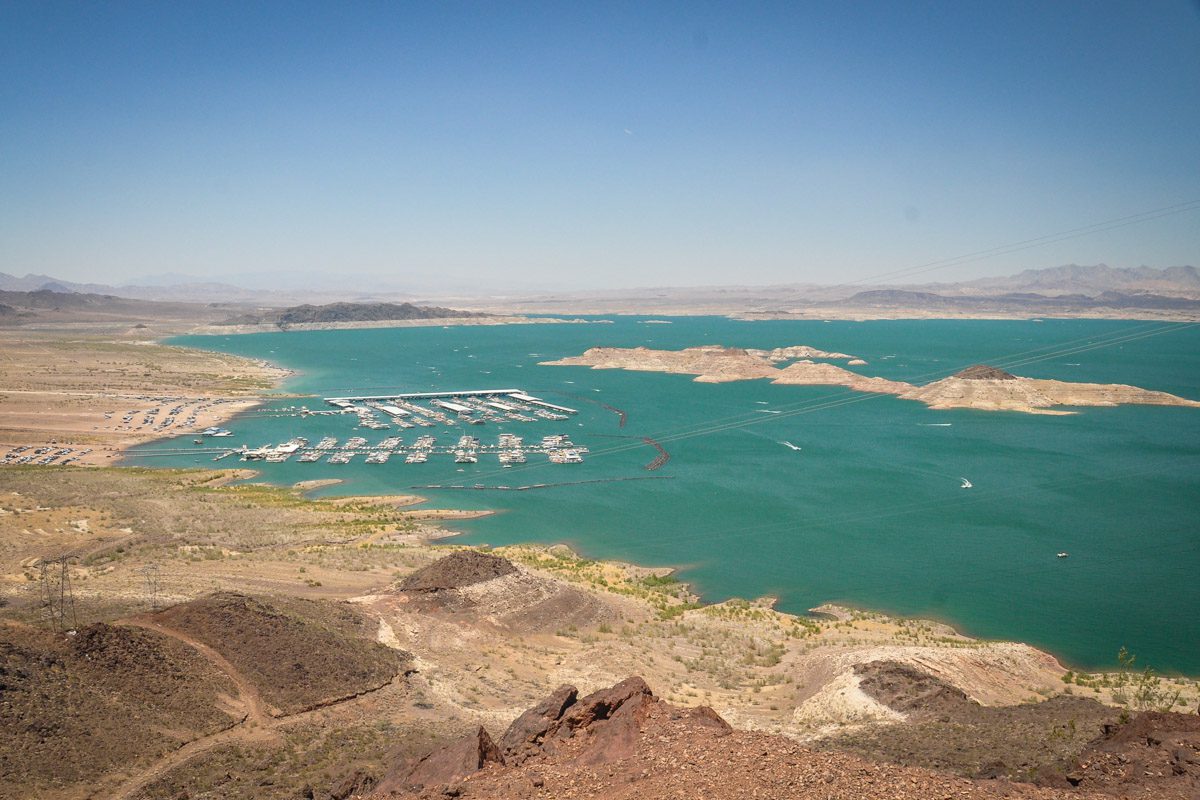 At a glance: acres upon acres of mountains, canyons and clear lakes, perfect for nature enthusiasts
Distance from Las Vegas: 31.7 miles, 35 minutes
Lake Mead spans across over a million acres of stunning scenery: mountains, canyons, lakes and a surplus of wildlife. That may sound like a lot, but you can plan a day trip to Lake Mead to spend a relaxing day at the beach.
We know what you're thinking … a beach in the middle of the desert!?
Well.. yes. Despite being in the middle of the Nevada desert, Lake Mead offers visitors the opportunity to cool off by plunging into its crystal-clear waters.
Cost: It costs $25 per vehicle which you can pay upon arrival; no prior reservations are required.
Since the entrance price is quite expensive, we recommend spending the whole day there to get your money's worth. And because there is literally so much to do there, you definitely won't be bored.
Top things to do at Lake Mead Recreation Area
Go for a swim. Lake Mead offers 2 miles of flawless shoreline, but the two most popular areas for swimming are at Boulder Beach or Special Events Beach; both located on the Southwestern part of the lake.
Paddle the magical waters of Lake Mead on a kayak tour. On this particular tour, you'll also visit Emerald Cave and Black Canyon.
Rent a kayak and explore Willow Beach.
Take the 12-mile scenic drive down Northshore Road. This is a paved and safe way to cruise around Lake Mead, but be aware that there is no gas available on the route so fill up ahead of time.
Stop for some delicious seafood at the Harbor House Cafe. Not only does this restaurant offer outstanding food loved by locals, but it's also a floating restaurant with excellent views.
Hike or kayak to the stunning Arizona Hot Springs. Check out #11 in this guide for more information.
Get out into nature and explore some of the surrounding trails. A few hikes we think would be good for a day trip from Las Vegas include Railroad Tunnel Trail, Liberty Bell Arch, and Arizona Hot Springs Trail (see #10 for more info!).
8. Area 51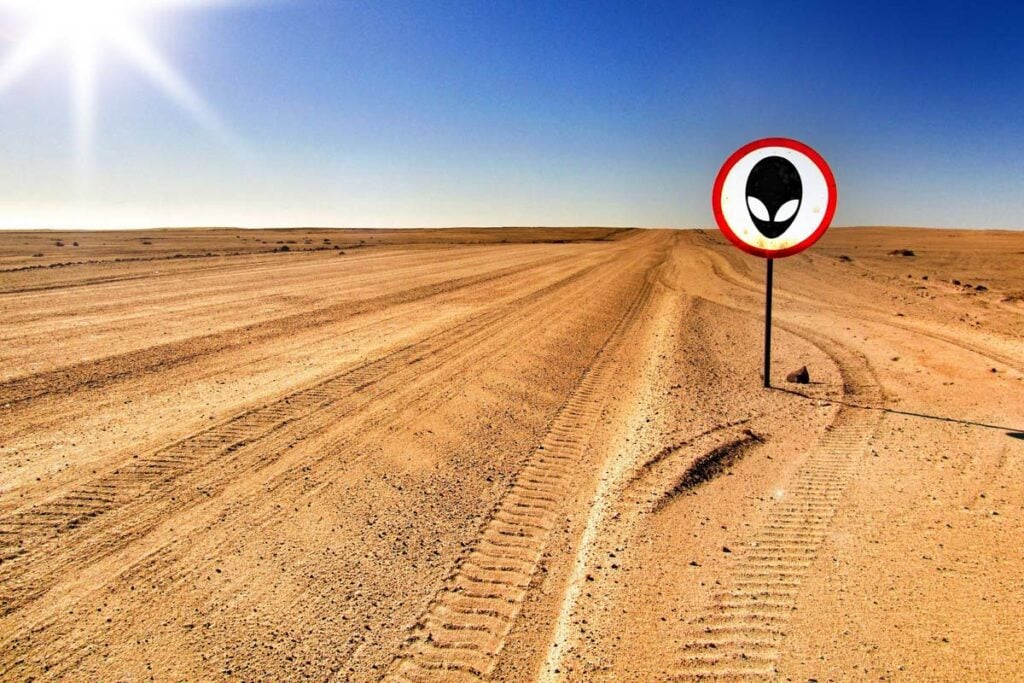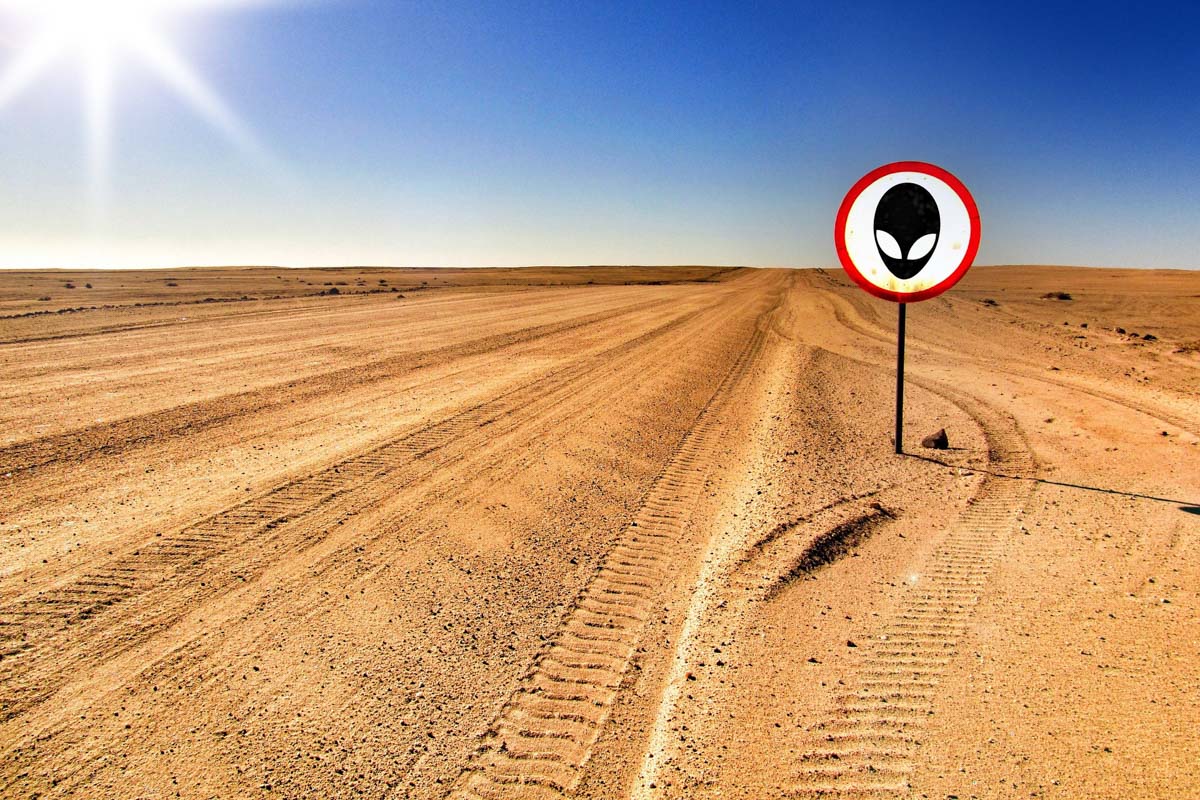 At a glance: cruise down the Extraterrestrial Highway for some quirky and out-of-this-world adventures
Distance from Las Vegas: 82.4 miles, 1 hour 20 minutes
Take the two hour drive from Las Vegas and cruise down Route 375, nicknamed the Extraterrestrial Highway, for some really strange and quirky stops. We're talking about alien murals, strange souvenirs, Alien Amber Ales … amongst other things.
This roadway is really popular among paranormal enthusiasts and definitely has the making of a good travel story. If you have time and like peculiar and rather bizarre adventures, this could just be one of your favorite day trips from Las Vegas.
The drive itself is pretty deserted and dull, but the prospect of a UFO sighting is sure to keep you on your toes. Plus, there are loads of unusual places to stop along the way.
Please note: The actual Area 51 is an active U.S. military base and it is completely prohibited to visit the area. So, while you can make presumptions of what is inside, the secrets within Area 51 remain tight-lipped…
Top places to stop on the Extraterrestrial Highway
9. Mount Charleston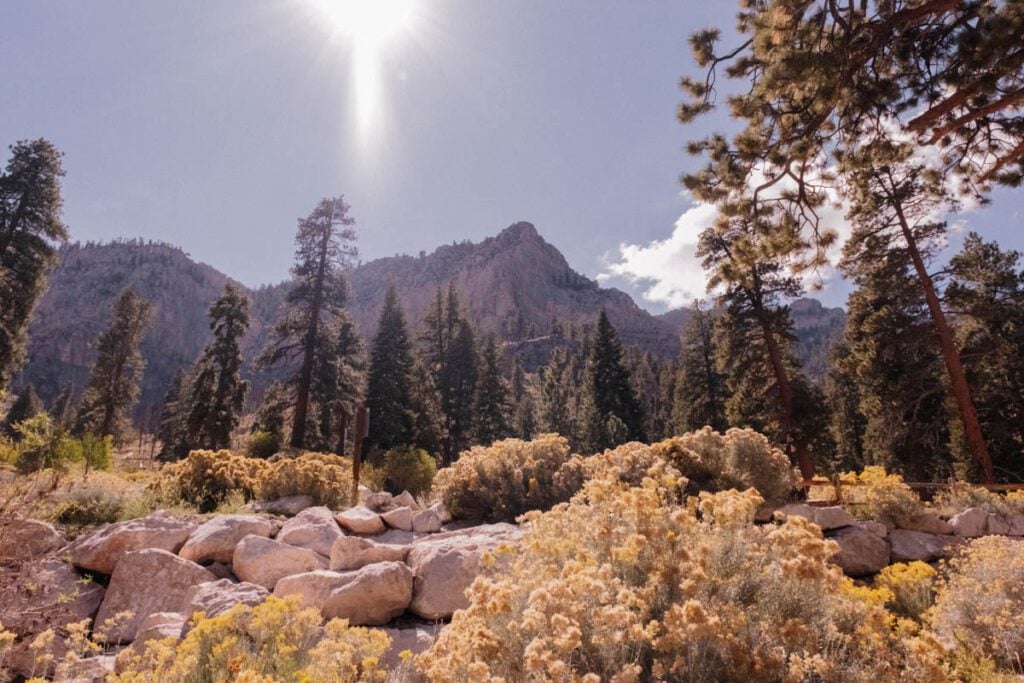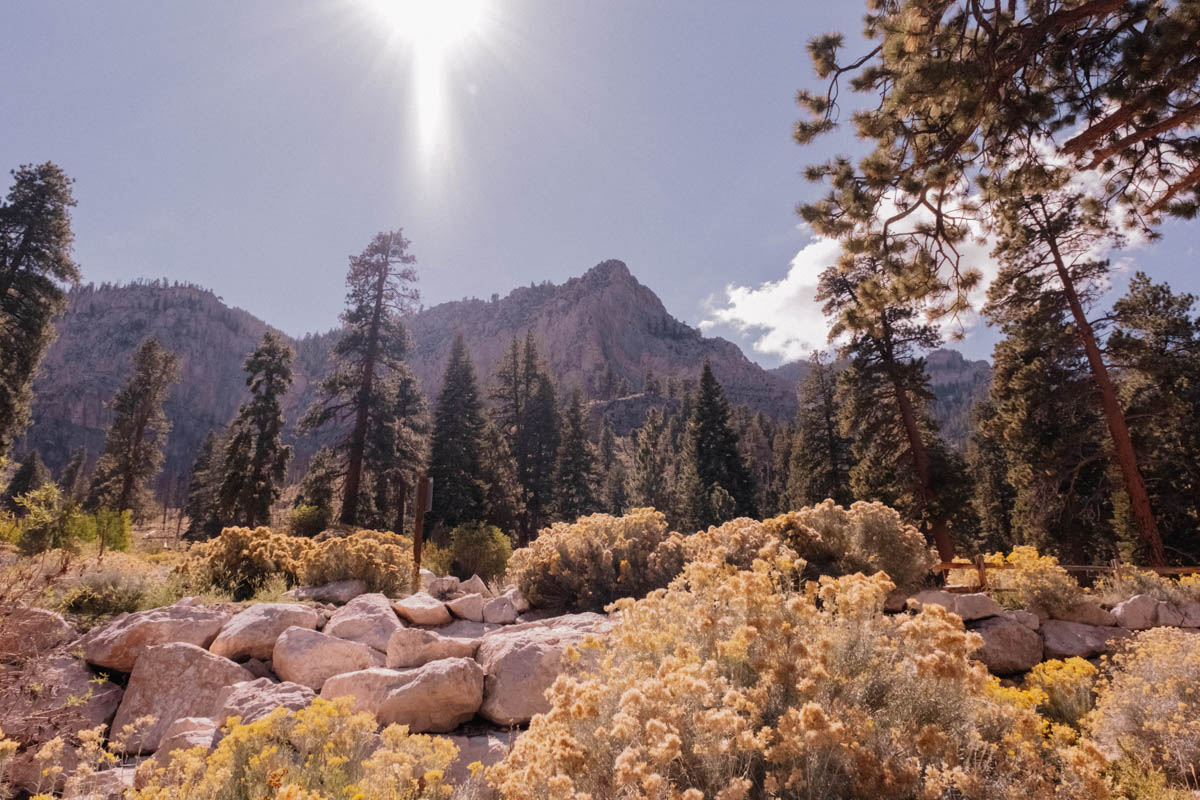 At a glance: a true escape from the desert that might just include real snow
Distance from Las Vegas: 38.9 miles, 45 minutes
A visit to Mount Charleston will easily make you forget you're in the middle of the desert with its snow-capped mountains and lush canyons. Not to mention the wildlife! Forget those desert scorpions and lizards – Mount Charleston is home to animals such as wild horses, eagles and deer.
A great way to experience Mount Charleston is by taking a drive. Start at the Spring Mountain Visitor's Center There are three byways to choose from – Kyle Canyon, Lee Canyon Road & Deer Creek Road – all of which are paved and offer phenomenal views.
Overall, the loop takes about an hour to complete and you'll cruise through a variety of elevations. Be prepared to say goodbye to that thick, desert air and hello to the crisp mountain breeze!
Believe it or not, you can even ski here. In winter, check out Lee Canyon ski resort to hit the snowy slopes of Mount Charleston.
In summer, this is an incredibly popular place for nature enthusiasts. The highest elevation rewards visitors with cooler temperatures which makes hiking here an actual dream.
Hikes at Mount Charleston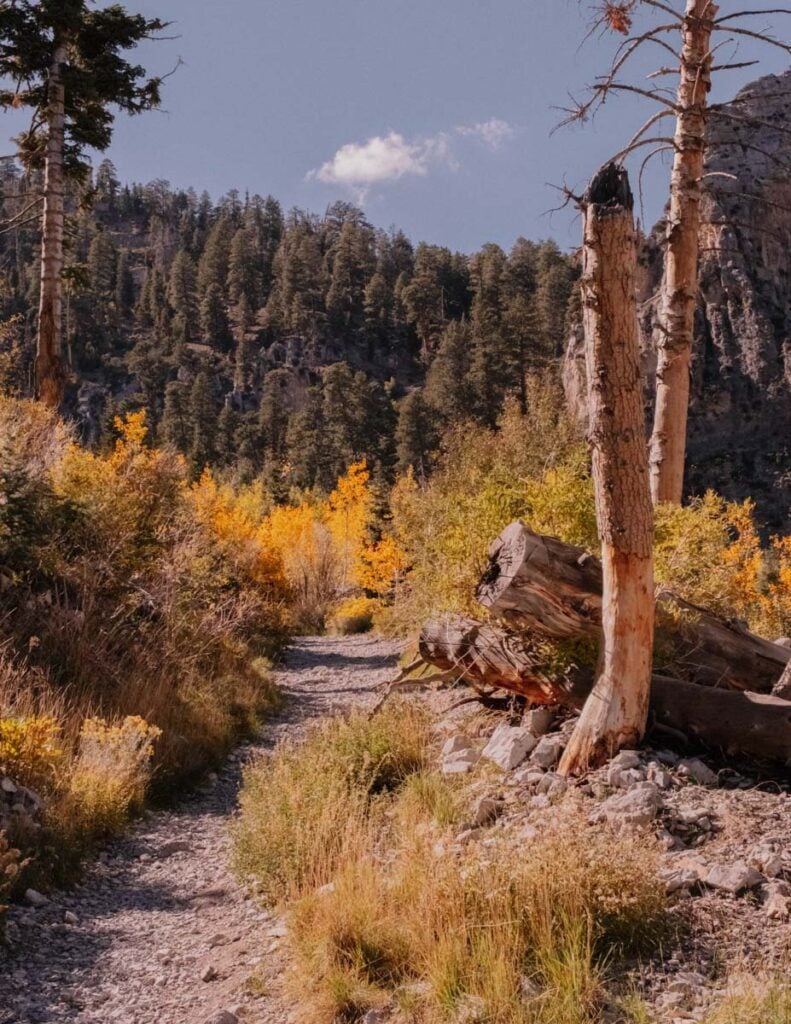 Many travelers opt to reach the summit, but if you're planning a day trip from Las Vegas, we recommend taking the South Loop Trail instead. It is still challenging, but a lot shorter so you can easily complete it in a few hours. This trail is around 8.5 miles with an elevation gain of a little over 4,000 feet.
To access this route, start at the Cathedral Rock Trailhead and take a right once you reach the fork in the trail.
Aside from the South Loop Trail, there are a variety of other hikes in the area perfect for a day trip so choose one that suits your needs and skill level.
Eagle's Nest Trail for an easy and well-marked hike perfect for families; it takes about 1 hour to complete.
Distance: 2.6 miles, loop
Elevation Gain: 413 feet
Level: Easy
Mary Jane Falls for a view of a waterfall and a cave for exploring; it takes about 2 hours to complete.
Distance: 3.9 miles, out-and-back
Elevation Gain: 1,135 feet
Level: Moderate
Echo Overlook Trail for a more challenging (but gorgeous) hike; it takes about 3 hours to complete.
Distance: 4.5 miles, out-and-back
Elevation Gain: 1,417 feet
Level: Challenging
Where to eat near Mount Charleston
Looking for a place to eat after a day of exploring this gorgeous area? There are numerous restaurants peppered along the route:
Have a beer or share some nachos at Mt Charleston Lodge while taking in the stunning surroundings.
Take advantage of the large outdoor patio at Bighorn Grill and enjoy some local bar food.
What is better after a long hike than indulging in some carbs? Honestly, nothing. Grab some pizza at Mark Rich's NY Pizza & Pasta before heading back to the big city.
10. Arizona Hot Springs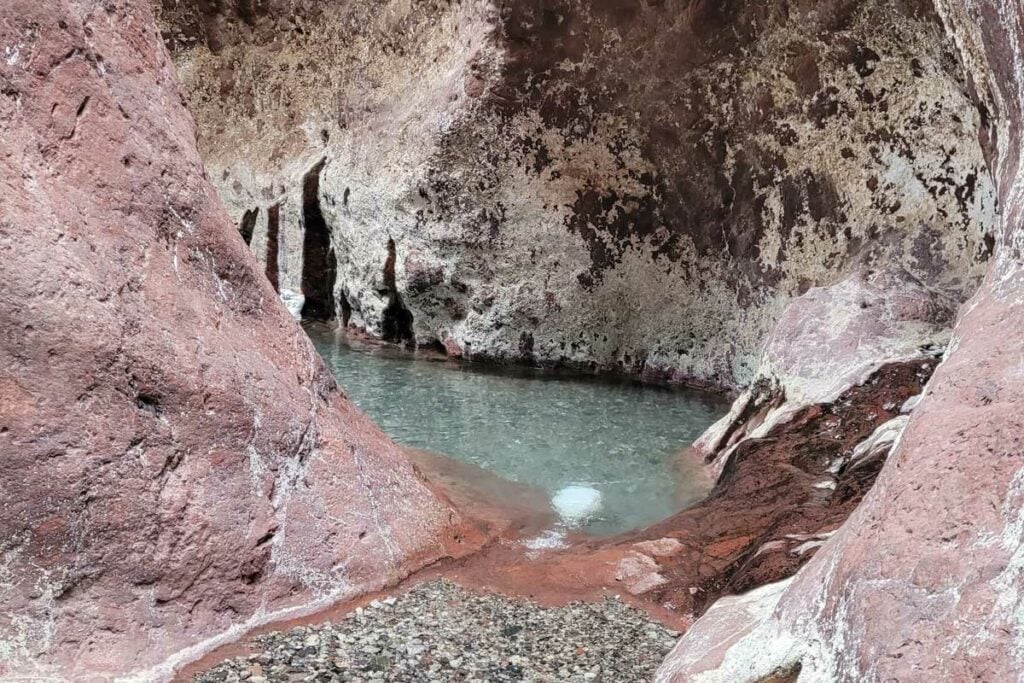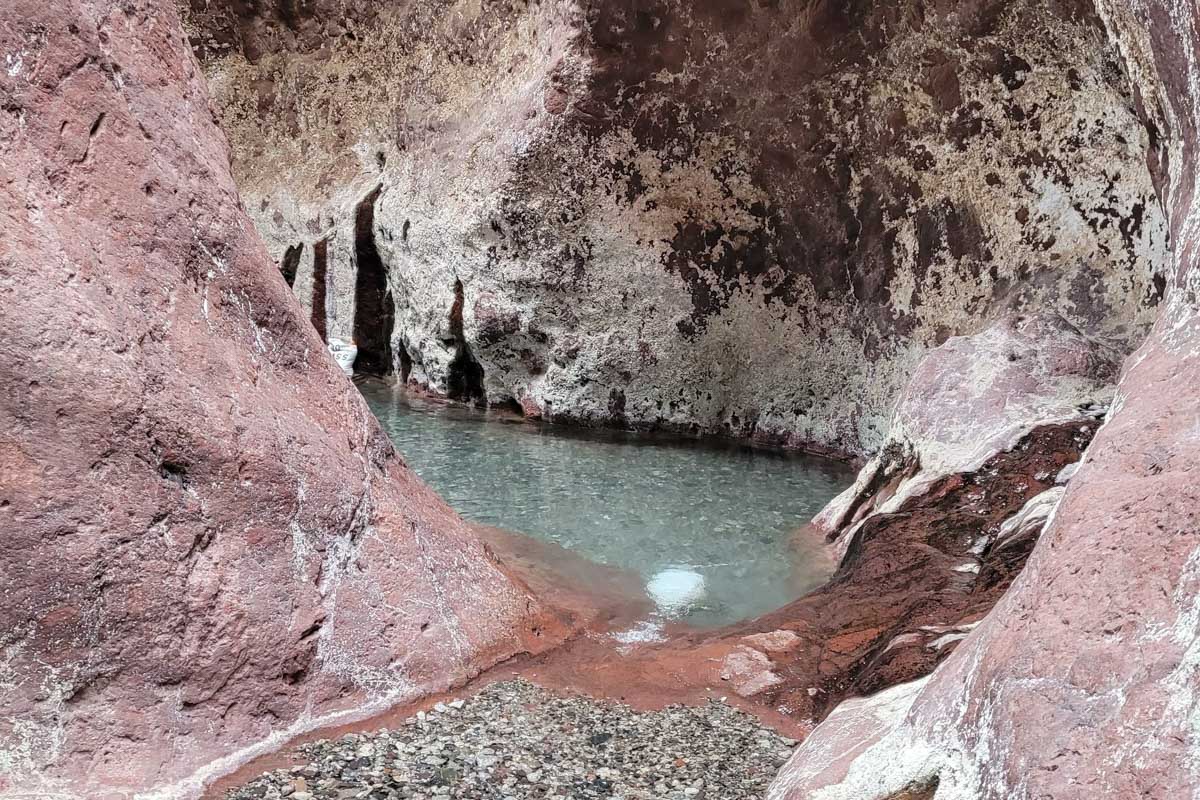 At a glance: cozy (and hot!) natural hot springs tucked alongside ancient volcanic rock
Distance from Las Vegas: 40.1 miles, 40 minutes
We loveeee a good soak after a day of hiking and while we've visited quite a few hot springs in our day, the Arizona Hot Springs look truly unique. Tucked between ancient volcanic rocks with shades of burnt orange and hues of pink, you'll feel quite secluded and completely at ease in this heavenly place.
The hot springs can be accessed in two ways: by hiking or by boat. (Directions below!)
Whether you choose to hike or kayak, you will be rewarded with a steamy, stunning oasis.
We should note, too, that the Arizona Hot Springs are clothing-optional so feel free to literally drop your sweaty workout clothes before getting in. Now that's one way to be up close and personal with nature, hey?
Arizona Hot Springs hike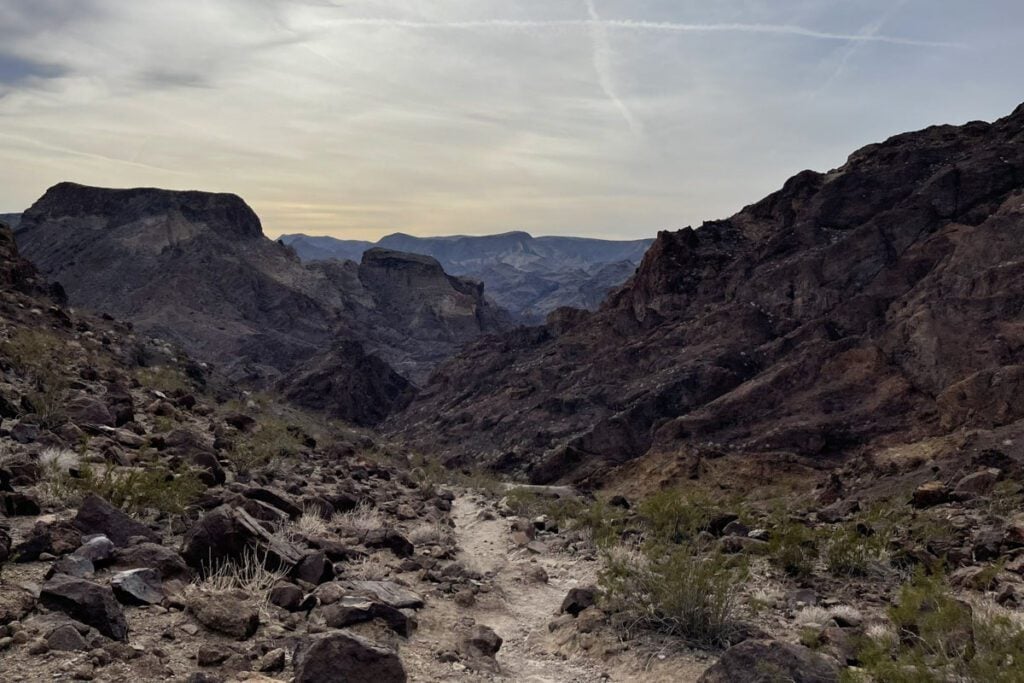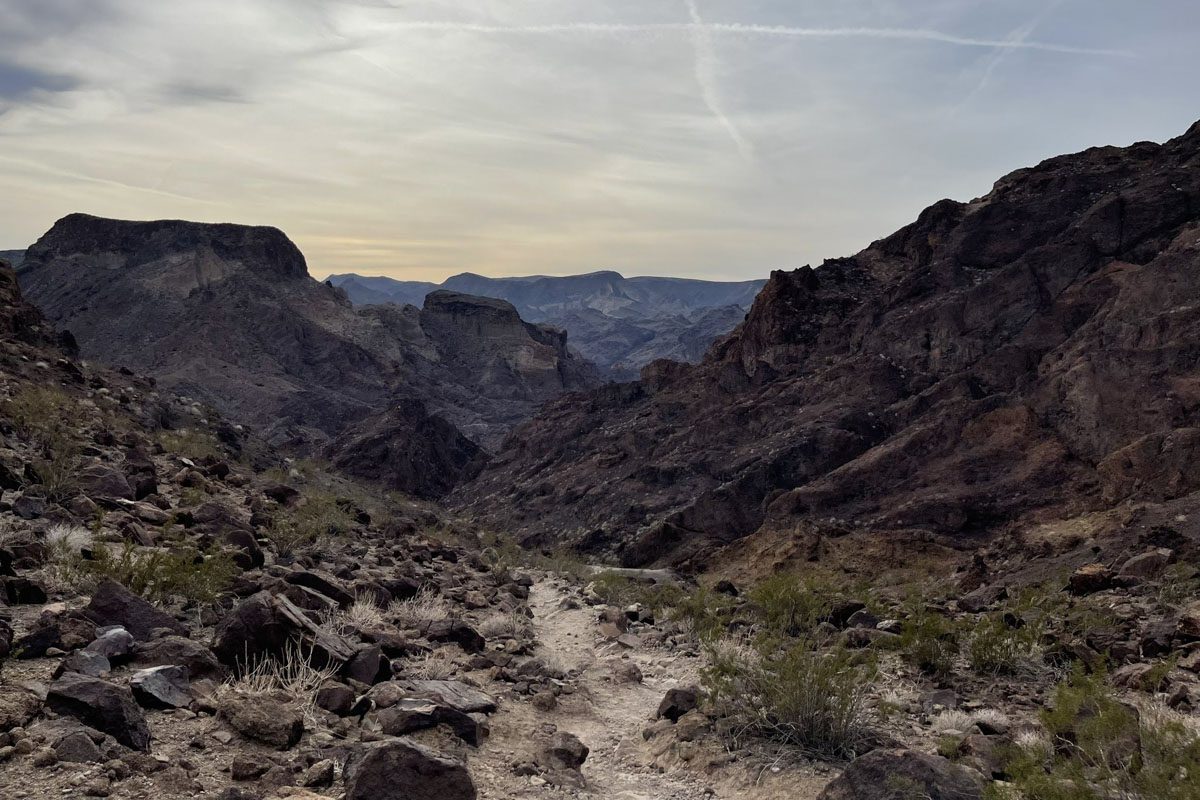 Distance: 5.9 miles, loop
Elevation: 1,223 feet
Difficulty Rating: challenging
Take a quick 45 minute drive down I-93 from Las Vegas to the White Canyon Rock Trailhead. These springs are part of the Lake Mead Recreation Center, but at this time, there is no entrance fee to park at this trailhead.
In total, the hike itself takes about three hours to complete and it's considered quite challenging. While there are signs along the trail, we also recommend downloading the hike on Alltrails ahead of time since there is no cell service along the trail.
In addition, pack extra water. After soaking, you're likely to get a bit dehydrated so having a surplus of water is key for this hike.
Access by boat
To access the hot spring by boat, rent a kayak at the Willow Beach Marina in Black Canyon and paddle up the Colorado River (about 8 miles).
There are clear mile markers that you follow until you reach the beach. From there, follow the trail into the canyon and climb the ladder that is partly in (yes, in) the waterfall to reach the hot springs.
Tip: When spending an extended period of time outdoors in the heat, be sure to take precautions such as packing enough water, using sunscreen and having your route downloaded to ensure you have a healthy and enjoyable experience.
11. Gold Strike Hot Springs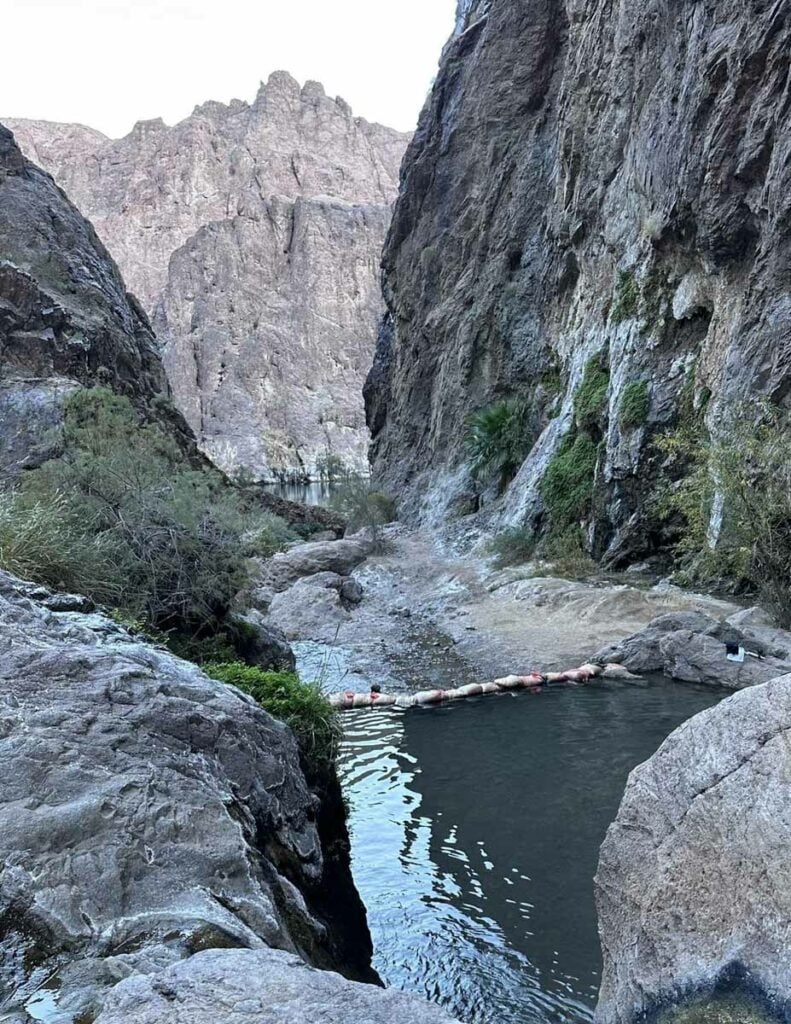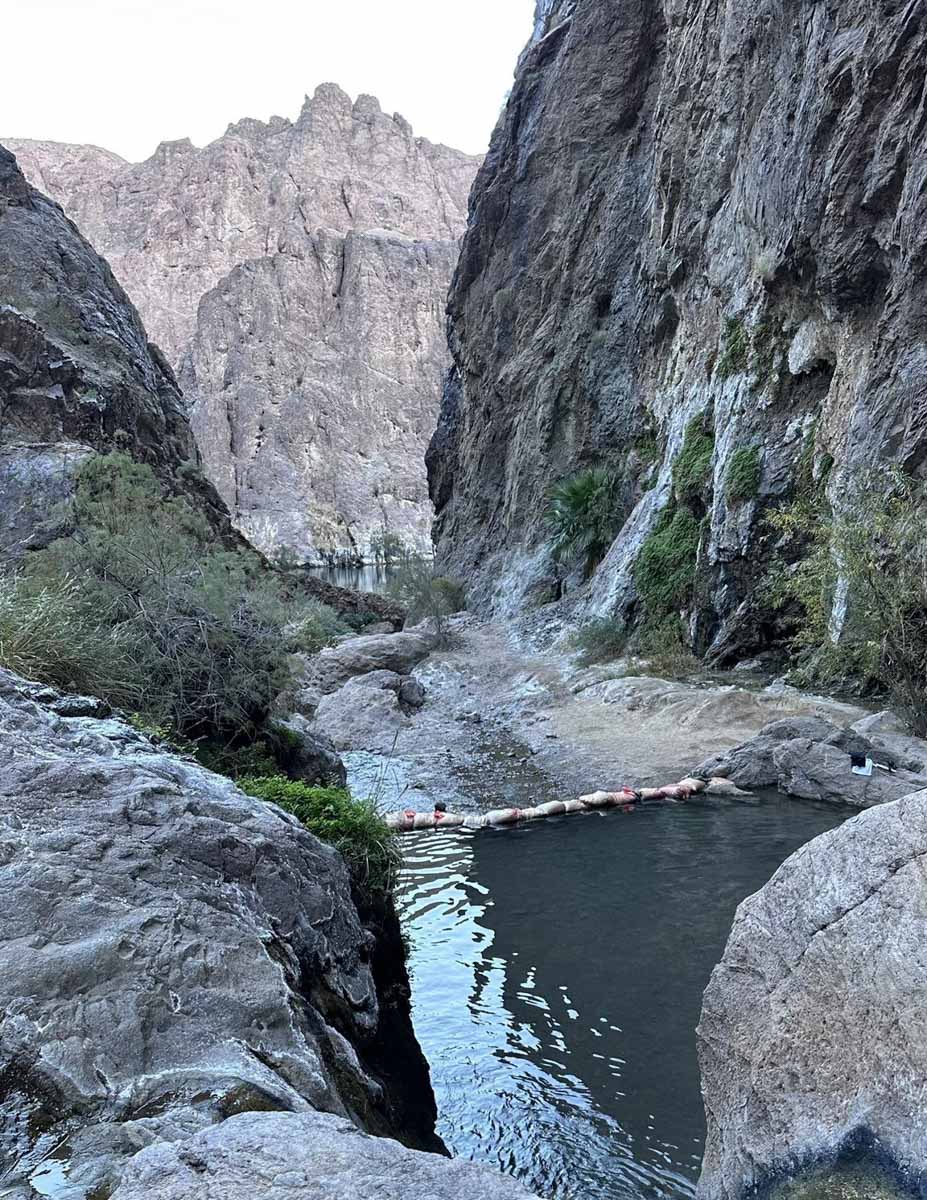 At a glance: a challenging hike with a steamy reward
Distance from Las Vegas: 36.4 miles, 40 minutes
If you're traveling to Las Vegas in the fall and winter months (September through May), pop over for a visit to Gold Strike Hot Springs. Although it's just a half hour from the bright lights of the city, you'll feel like you're a trillion miles away.
To reach Gold Strike Hot Springs, you'll need to first navigate a challenging hike.
Gold Strike Hot Springs hike
Distance: 6 miles, out-and-back
Elevation: 1,466 feet
Difficulty Rating: challenging
This three-hour hike is a bit technical with some steep climbs and ropes, so you'll actually need a soothing soak when you reach the summit.
There are technically three hot springs along the hike, but the second and third ones are the most worthwhile. If you keep hiking after the last hot springs, you'll reach the Colorado River which might be a nice place to cool off after your soak.
Similar to the Arizona Hot Springs (#11), these springs are technically part of the Lake Mead Recreation Area, but there is no entrance fee at this trailhead making this a really cheap day trip from Las Vegas.
Insider Tip: Unfortunately many people have reported that their car has been broken into while hiking so we recommend leaving anything valuable back at your accommodation so you can enjoy your hike worry-free.
12. Nelson and Eldorado Canyon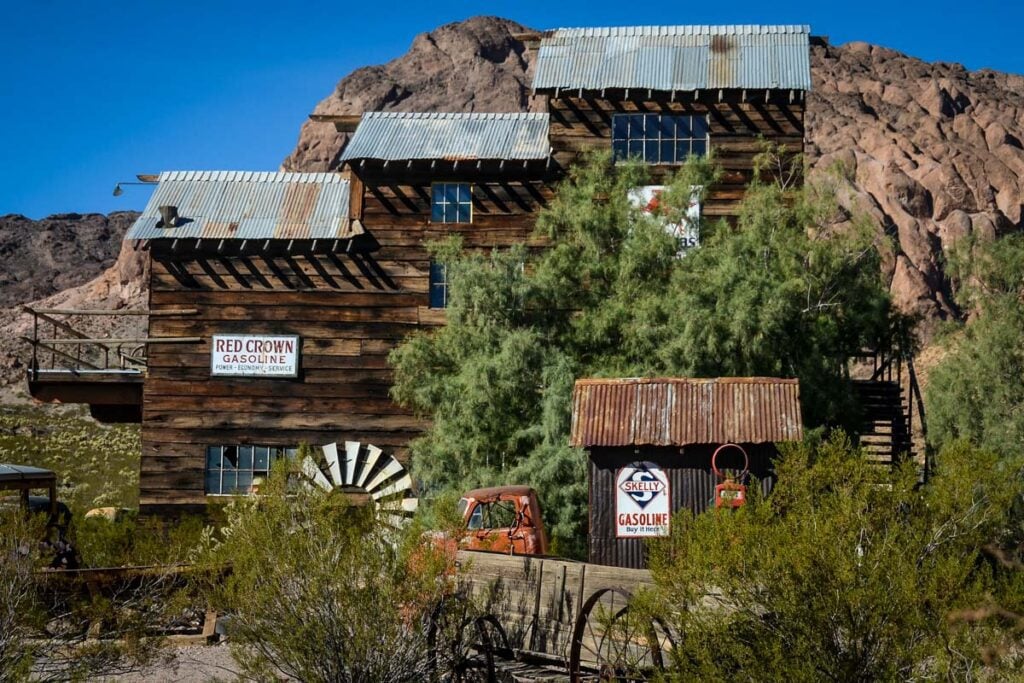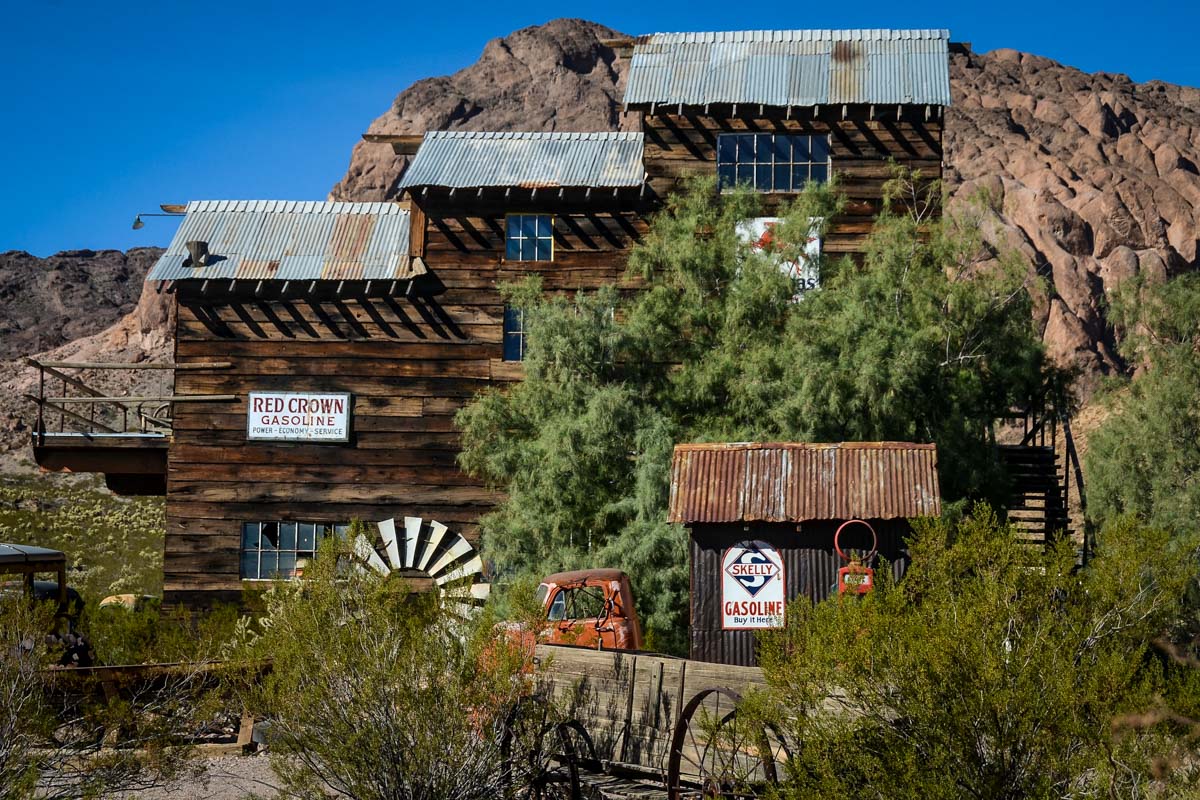 At a glance: a unique ghost town and picturesque canyon make a 2-for-1 day trip
Distance from Las Vegas: 50.1 miles, 1 hour
About an hour south of Las Vegas is the quirky 'ghost town' of Nelson. A visit here will offer a chance to witness what life was like in the golden-olden days. With an array of Western-style buildings, backdrops, classic cars and other relics, it is a true blast into the past.

Don't forget to bring your camera! This is kind of a photographer's dream location.
Aside from snagging some epic shots, history enthusiasts will be especially interested in the Techatticup Mine Tour. You'll explore the tunnels of the gold mine that ran for over 40 years beginning all the way back in 1861.
The tour has some rave reviews, but also books out quickly so be sure to make a reservation ahead of time.
If you drive about five miles past the ghost town, you'll be welcomed with some stunning scenery of Eldorado Canyon, carved by the Colorado River. This area is famous for its cliff jumping, swimming, hiking and private picnic spots.
Note: There are little to no garbage cans in the area so please pack your own (compostable) garbage bag and take your trash out with you.
Honestly, checking out the town's antique relics, exploring the gold mine and flipping off some cliffs seems like the perfect day trip from Las Vegas to us!
A little side note: When searching this location on Google Maps, be aware there is also an Eldorado Canyon Street (5 minutes from the Strip) as well as an Eldorado Canyon State Park (all the way in Colorado)! The one you're looking for – Eldorado Canyon – is about an hour from Las Vegas near the town of Nelson.
13. Cathedral Gorge State Park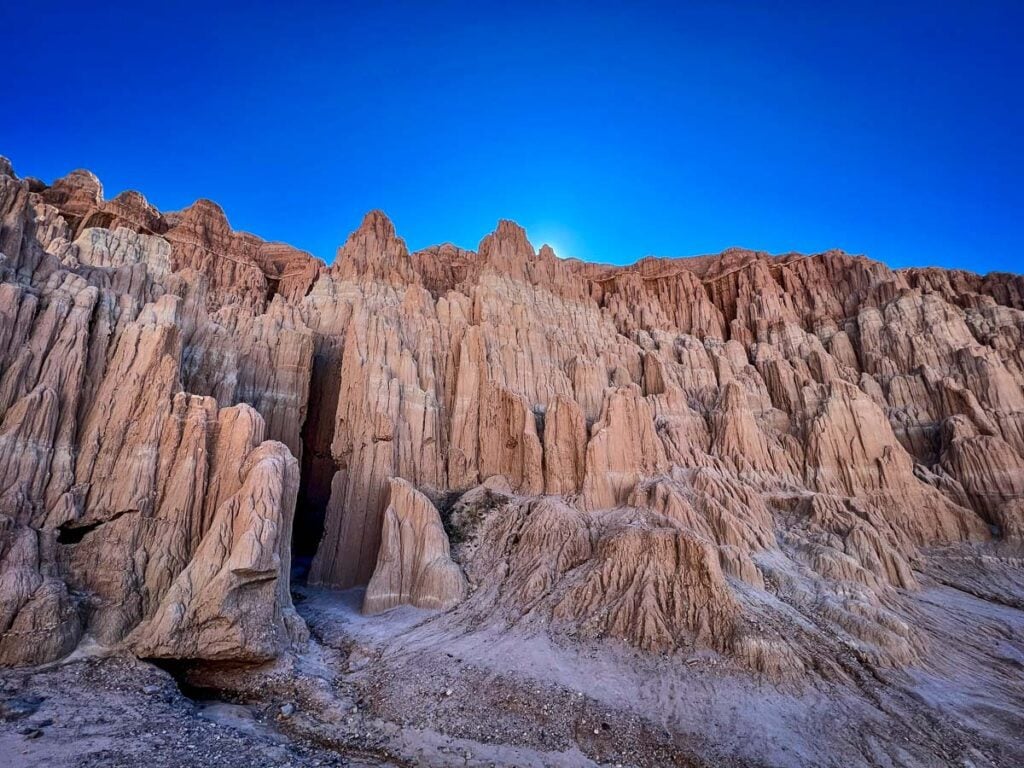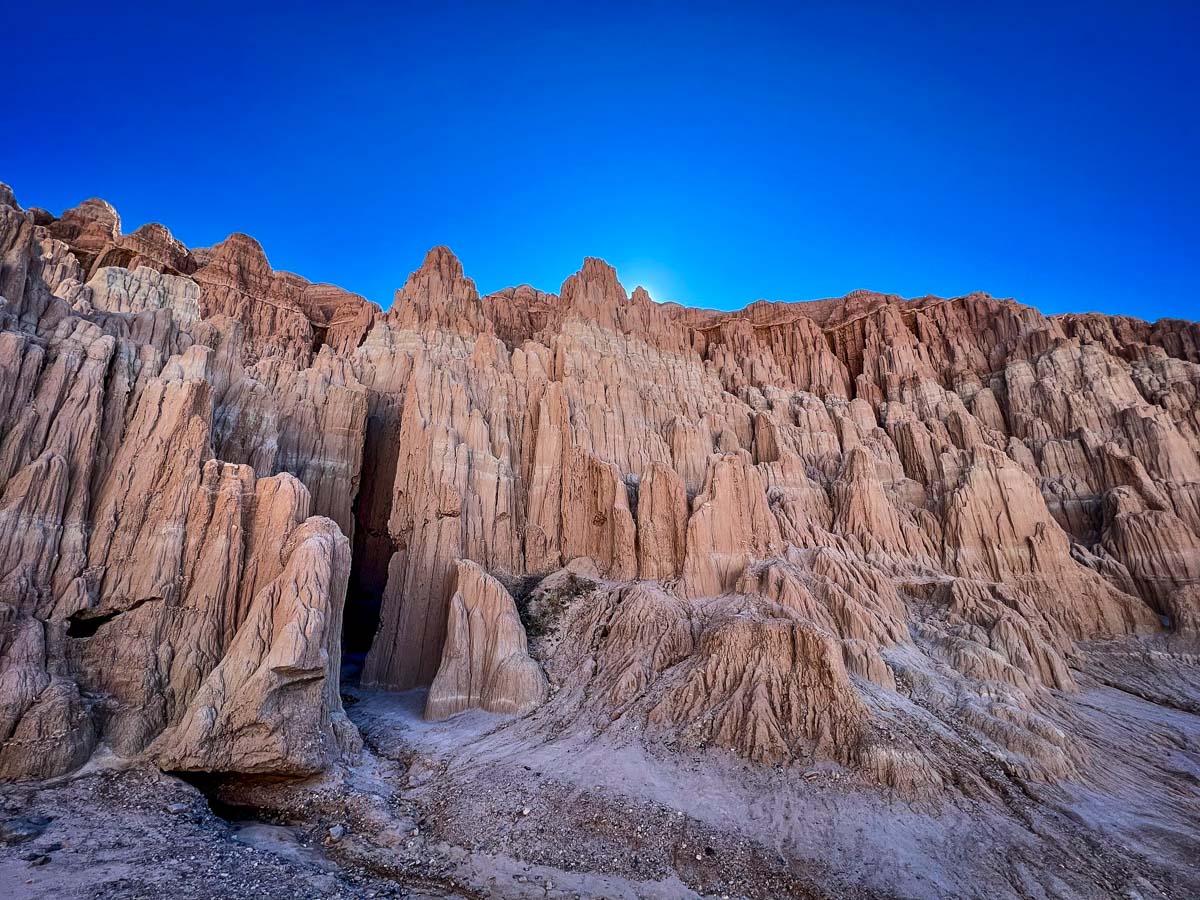 At a glance: stunning park with a rich geographic history, perfect for a pleasant day in nature
Distance from Las Vegas: 165.4 miles, 2 hours and 30 minutes
When you visit Cathedral Gorge State Park, it is hard to imagine that the truly unique and stunning rock formations are the result of devastating volcanic eruptions and searing hoards of lava. If only the rock walls could talk, right!?

From Las Vegas, this is a totally easy route straight down I-93. Although the drive isn't too exciting in terms of mind blowing scenery, there are a few small towns you can stop at along the way for a bite to eat, a stretch or as a quick chat with a local (our favorite)!

The entrance fee is $10 to visit the park and you can easily spend the majority of your day here, especially if you want to really kick back and relax. There are numerous shaded picnic spots and hiking trails to explore – all of which offer sensational views of the cliff-like rock formations throughout the park.
Hikes in Cathedral Gorge
While there are a few to choose from, we recommend the Juniper Draw Loop Trail for a day trip because you'll be able to access a lot of the beauty of the park in a short amount of time.

To experience a series of vibrant colors dancing along the rock formations, this easy 3-mile loop trail is best experienced at sunrise or sunset. There isn't much shade along the hike itself, so pack extra water if you're hiking in the afternoon.

If you're really pressed for time, Eagle Point and Nature Loop, which is under 1 mile and will only take you about 20 minutes to complete. It isn't a particularly busy trail, either, so you aren't likely to run into a bunch of other people.
14. Snow Canyon State Park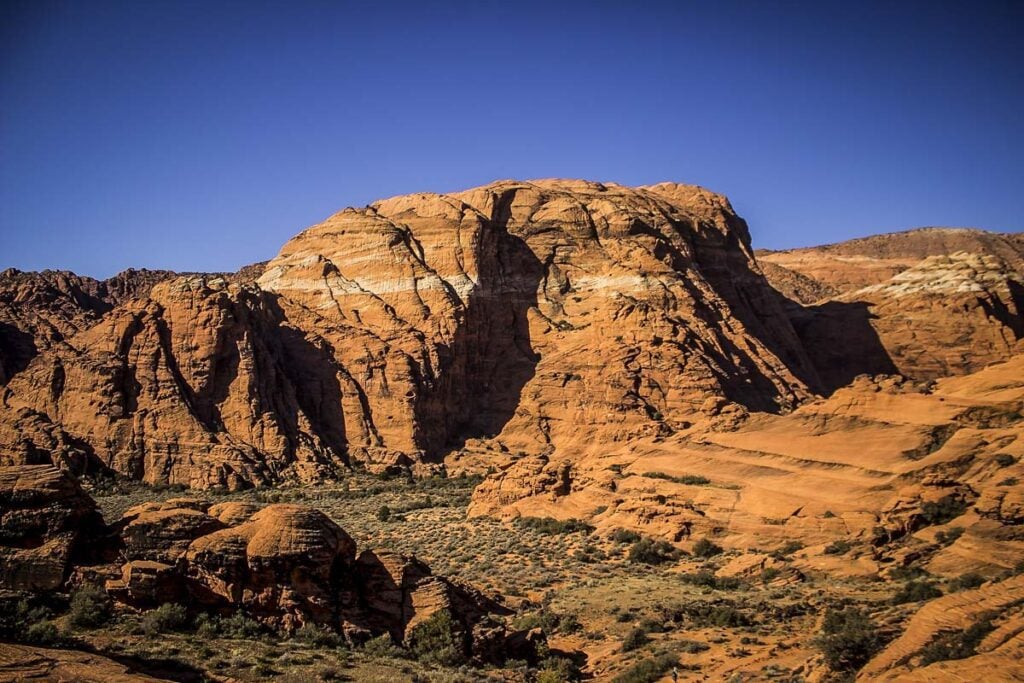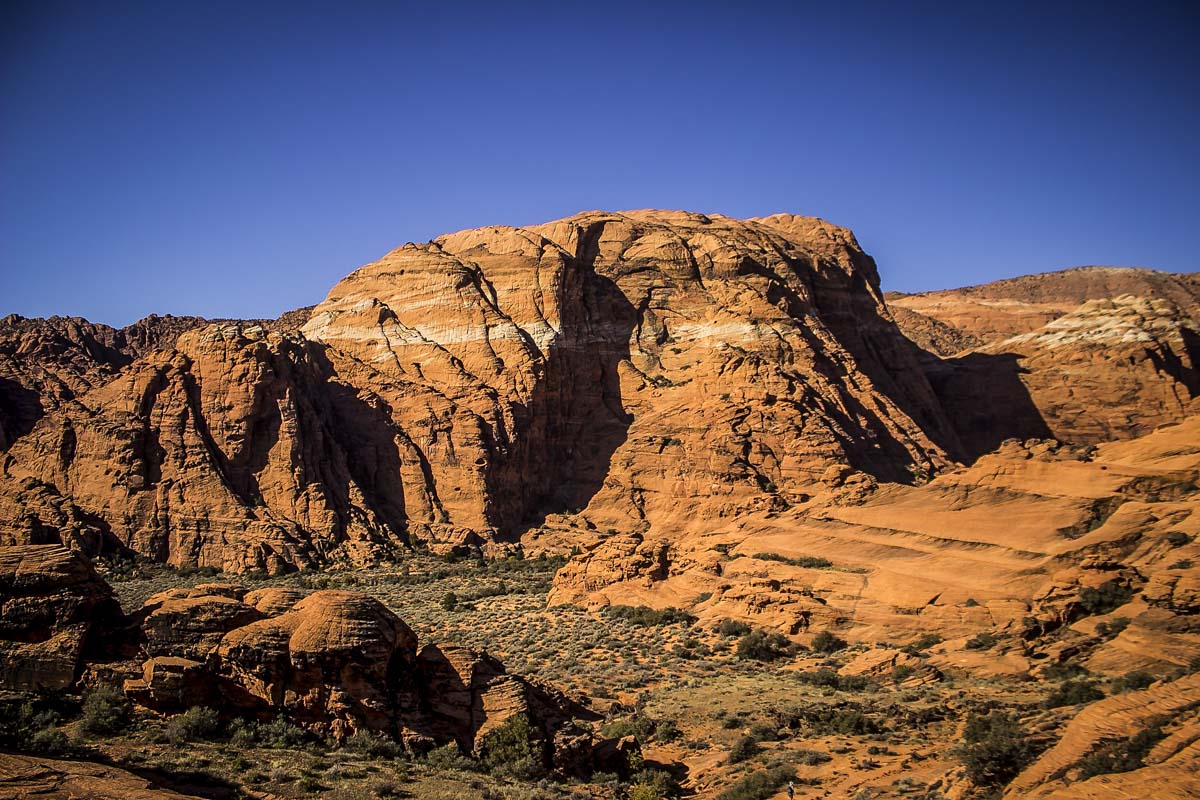 At a glance: a medley of geographic gorgeous-ness, perfect for those looking to spend their day outdoors
Distance from Las Vegas: 128.5 miles, 2 hours
For this adventure, you'll have to hop state borders, but don't that deter you—it's just two hours outside of Las Vegas and totally worth the drive!
As with most places we've recommended on this list, Snow Canyon is best to visit in the spring or fall due to the ideal weather conditions for outdoor adventures. With that being said, the park is open all-year round so you can really visit anytime.
Cost: It costs $10 per vehicle to enter the park and no reservations are required ahead of time. Alternatively, you can park outside of the park and walk in for $5 per person.
Top things to do in Snow Canyon State Park
Go for a hike, of course! This park is on the smaller side, but still has over 20 miles of trails to explore. Pick up a map at the visitor's center and choose which hikes suit your time and skill level best.
Play in the nearby sand dunes.
If you're into climbing, Snow Canyon State Park has some great walls to scale for both beginners and experienced climbers alike. If you need to rent equipment or hire a guide, there are loads of companies in the St. George area; Paragon Adventures has great reviews!
Hike to Snow Canyon Overlook or the Petrified Sand Dunes and watch the colors dance around the canyons during sunset. Pack some wine to make this a romantic end to your day!
15. Lake Havasu City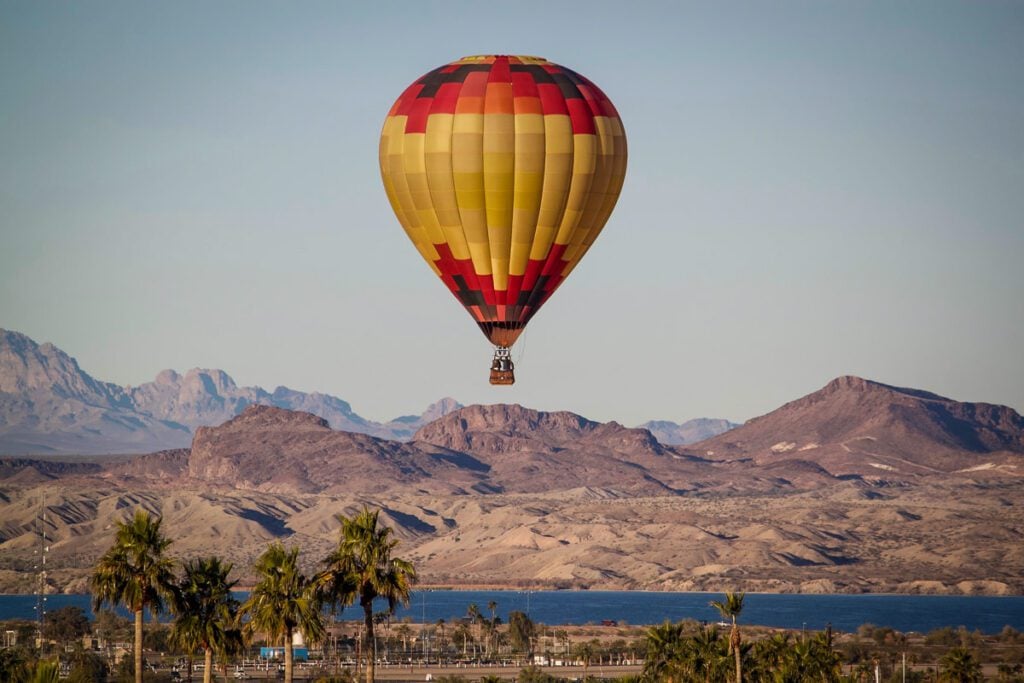 At a glance: a relaxing getaway spot with gorgeous scenery and plenty to do
Distance from Las Vegas: 152.6 miles, 2 hours and 30 minutes
Located in sunny Arizona within close proximity to Las Vegas, Lake Havasu has secluded beaches, pristine hiking trails and loads to do.
We think this is a perfect day trip from Las Vegas because in less than three hours you'll not only be in a whole new state, but you'll be surrounded by miles of immaculate coastline and the turquoise waters of Lake Havasu.
Honestly, any opportunity to cool off in the middle of the desert is a win in our book.
Top things to do in Lake Havasu City
Spend some time on Lake Havasu. Meander around to find a private spot to have a picnic and a swim or rent a kayak, jet ski or boat from Go Lake Havasu.
Visit the famous London Bridge. You can take a guided walking tour (which you can book at the visitor's center) along the bridge to learn about its interesting history and local tips about the area.
Do some cliff jumping at Topock Gorge. As part of the National Wildlife Refuge, this is a no-wake zone so it'll feel more tranquil than other parts of the lake. You'll also have the opportunity to spot some cool wildlife here like big-horn sheep and a variety of rare birds.

You can only access this gem by boat so take a kayak from Topock Marina or Lake Havasu area. If you're limited on time, however, you might consider booking a boat tour.

Take a ferry to Havasu Landing Casino and try your luck at the floating casino!
If you're traveling in January, attend the annual Havasu Balloon Festival. It looks amazing!
16. Colorado River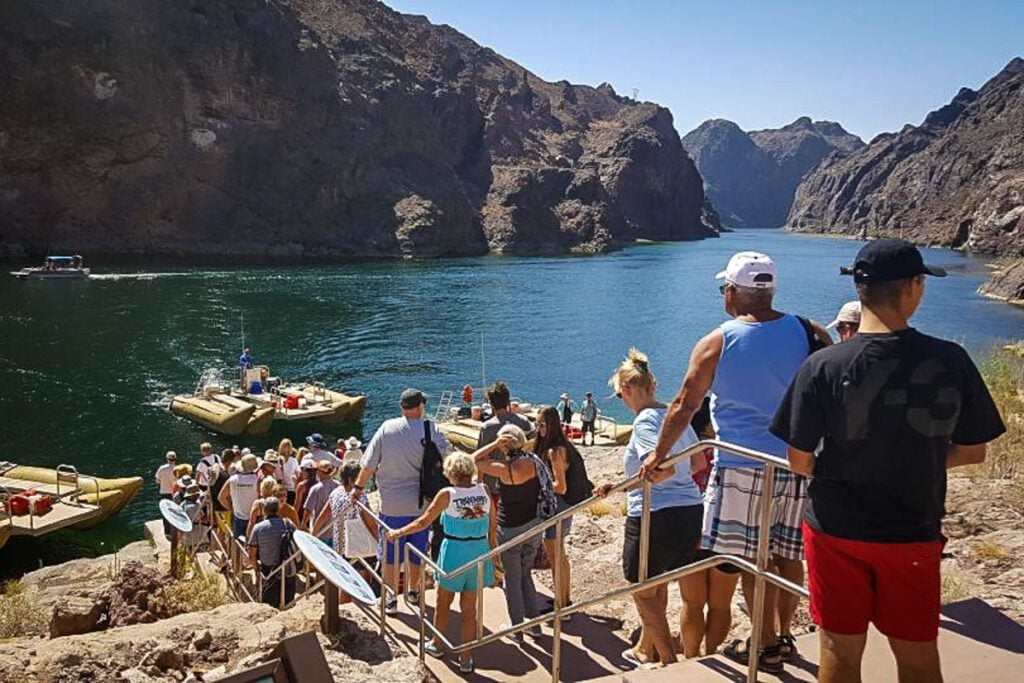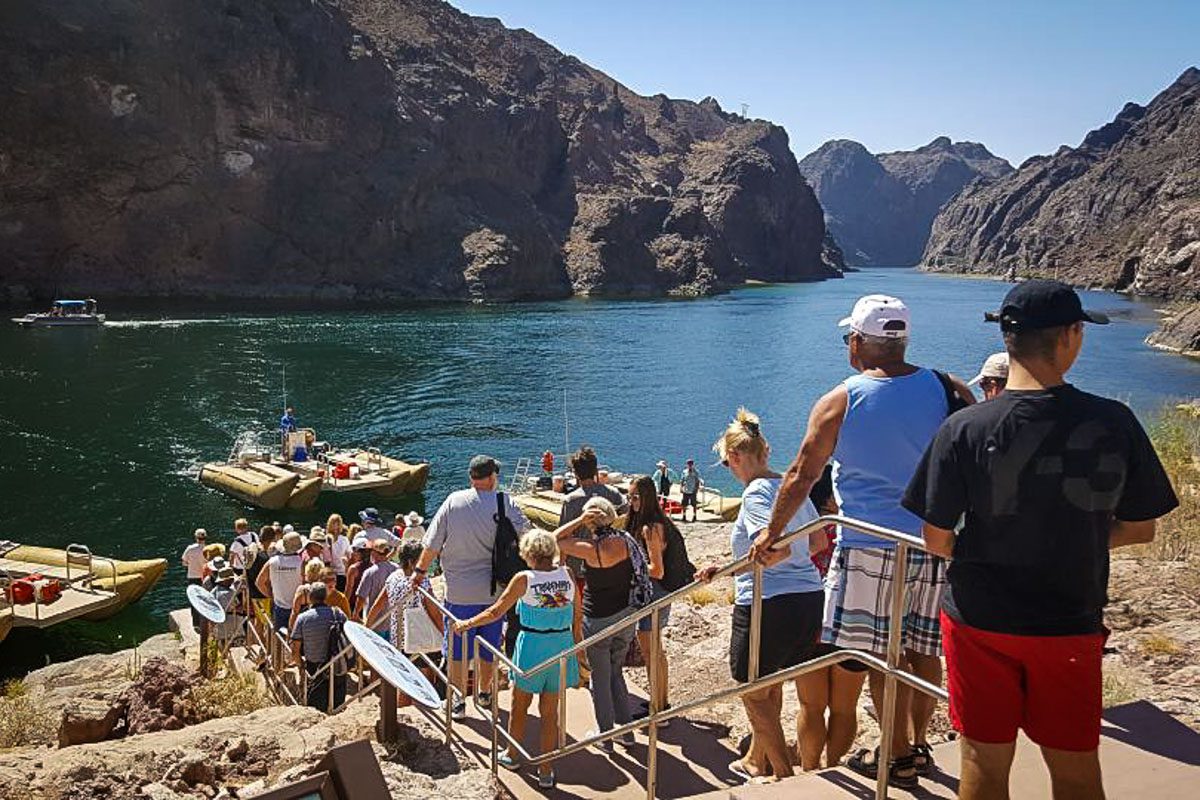 At a glance: enjoy the array of adventures this beautiful river offers
Distance from Las Vegas: 177 miles, 3 hours
The Colorado River is in close proximity to Las Vegas and is the perfect spot for nature and water enthusiasts.
One of the most popular (and closest) things to do when coming from Las Vegas is taking a kayak tour and cruising down the Black Water Trail. As the name suggests, this is a literal water trail. You'll move through coves, spot wildlife and visit Emerald Cave – which is an absolute must!
You can also hop into a raft and float down the Colorado River right past the Hoover Dam!
If you're feeling adventurous, the Colorado River is a great location for white water rafting. This is one of our favorite adrenalin activities that we've experienced in a few different places around the world.
While this particular tour is quite expensive, you are voyaging through the actual Grand Canyon—so—kinda worth it, right?
17. Antelope Canyon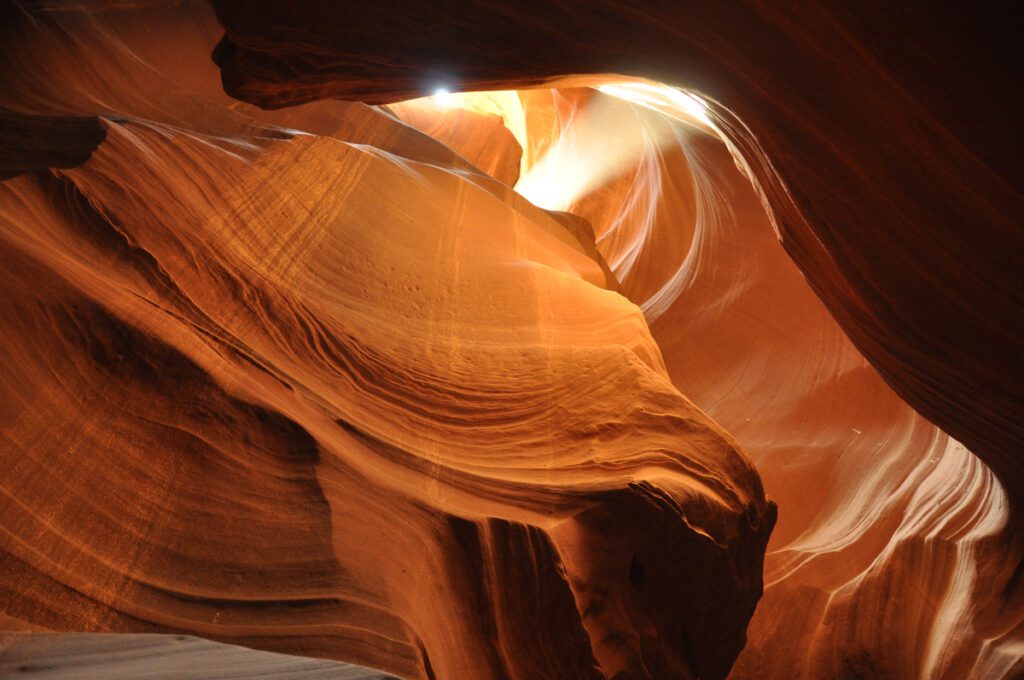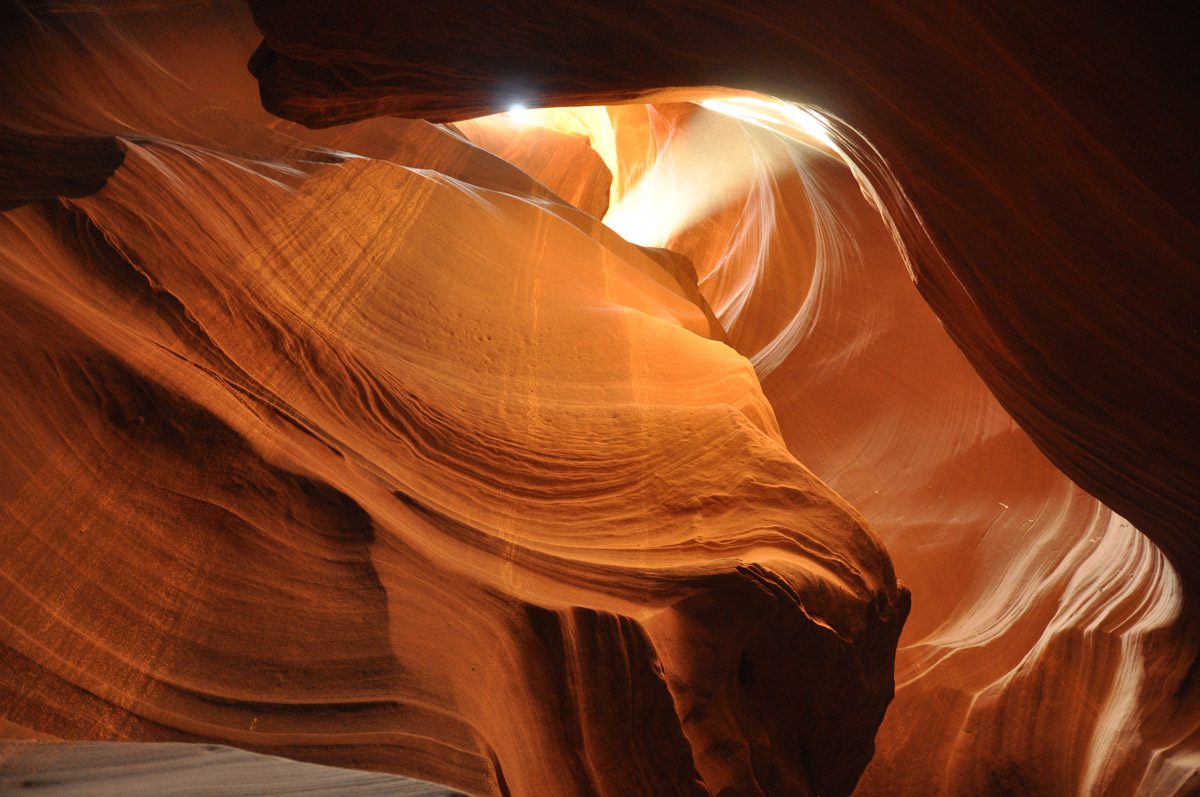 At a glance: one of the most photographed slot canyons in the U.S.
Distance from Las Vegas: 177 miles, 3 hours
Created by millions of years of erosion, Antelope Canyon is one of the most sought-after locations in the American Southwest as photographers from all over the world come here to gaze at the canyon's orange and gold illuminated walls.
Visiting Antelope Canyon from Vegas is a full day's journey since the canyon is a 4-5 hour drive away from the city, but there are spots to break up the drive to or from the canyon that will make the trip a little more fulfilling: Page, Horseshoe Bend, St. George, and Lake Powell. Any of these would make a fantastic addition to a trip to Antelope Canyon.
In order to tour either the Upper or Lower Antelope Canyon, you'll need an authorized Navajo guide. You'll also need a permit, but that should be included in your guide fee (be sure to double check). Most tours cost between $50 and $90 and last around 90-minutes. Be sure to book in advance as most sell out weeks in advance.
This Lower Antelope Walking Tour includes your admission ticket and 1.5 hour tour through the canyon. Learn about the local Navajo traditions and rich history as you walk through a kaleidoscope of colored passageways.
Please note: You are going to be on Navajo Land, so there are a handful of rules you must follow in order to go into the canyon: food, drinks, selfie sticks, tripods, fanny packs, bags, and purses are not allowed in the canyon. Be sure to wear sturdy shoes and pack a bottle of water (you can only bring one).
---
You might also like…
Save this article to Pinterest for later!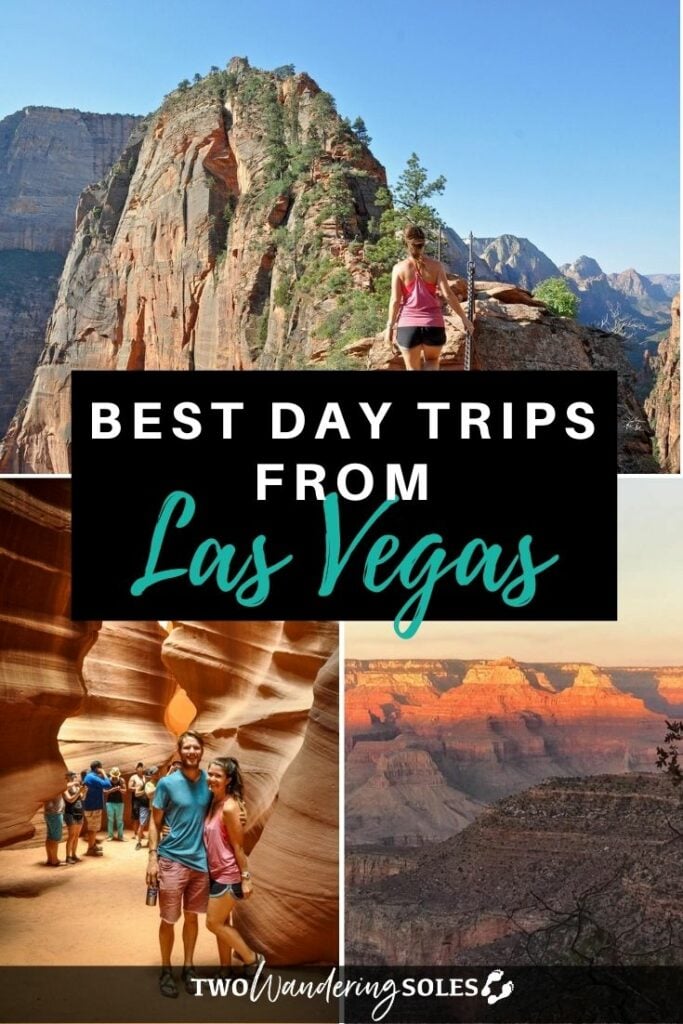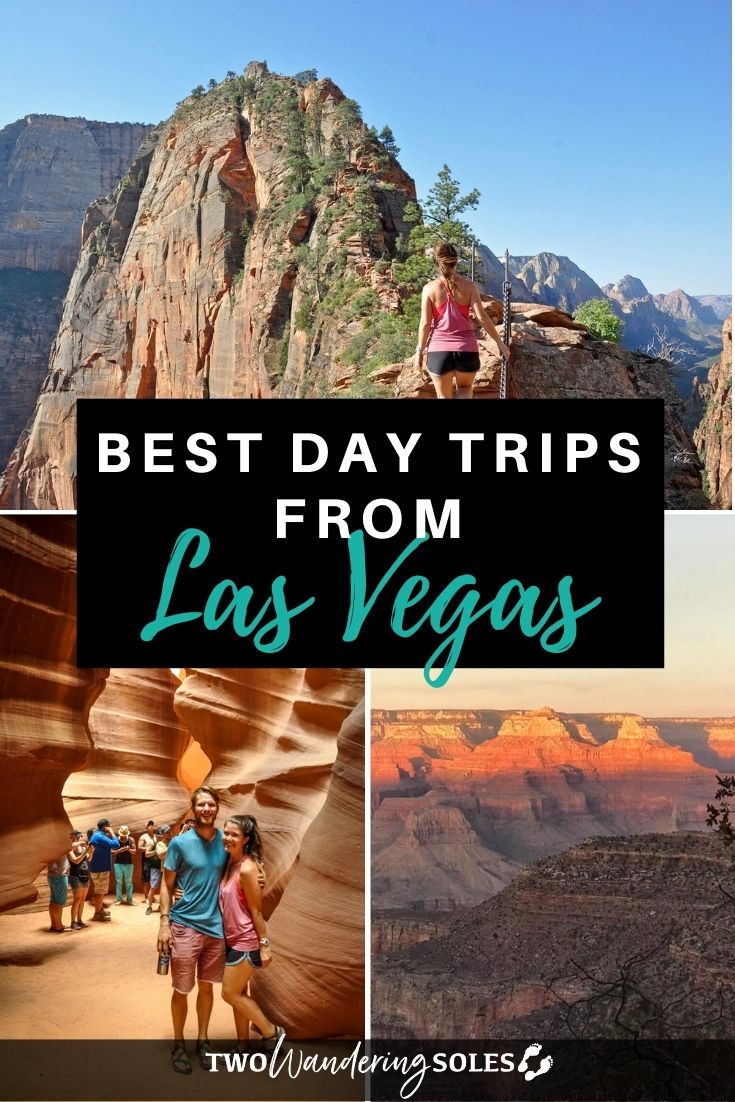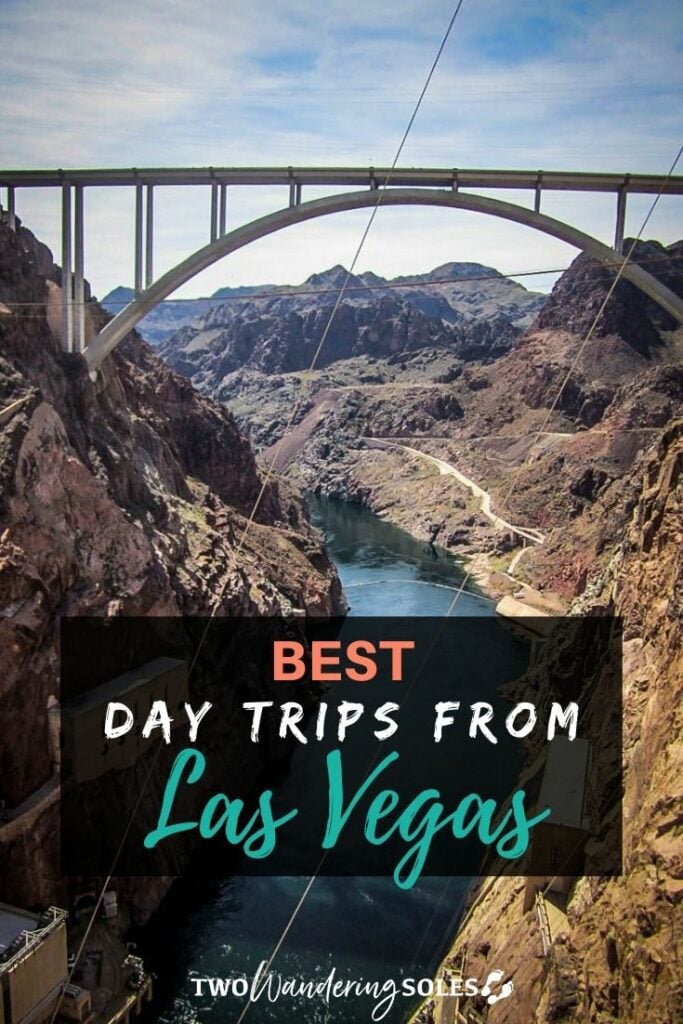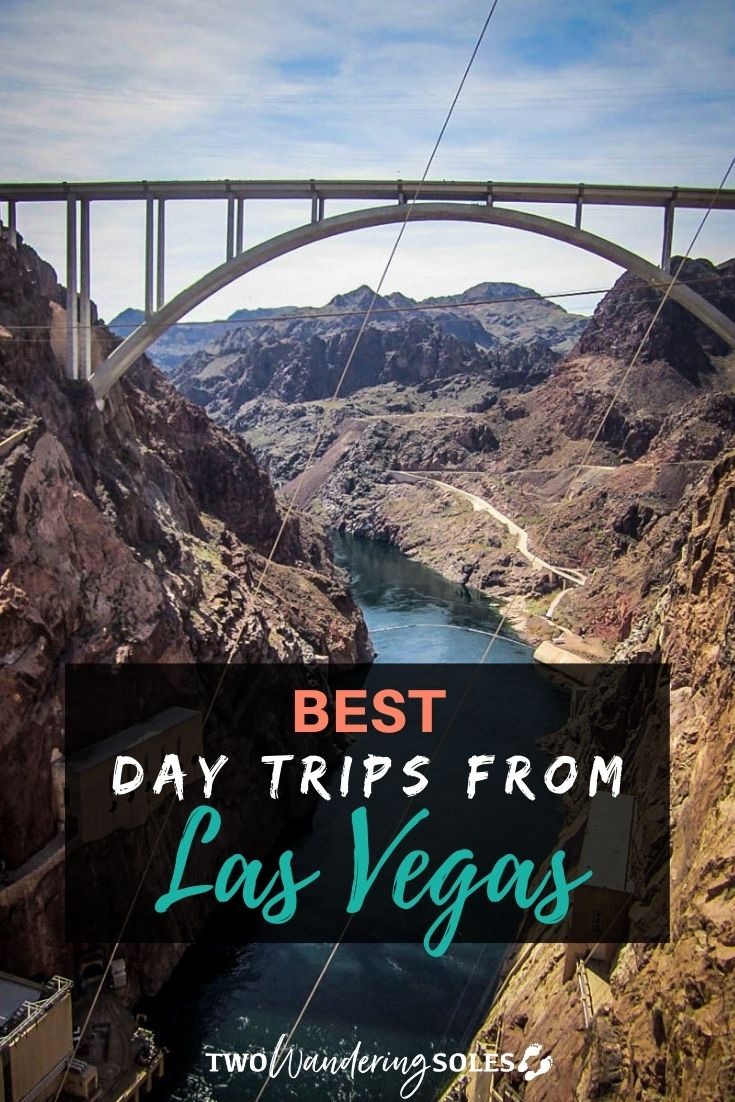 We want to hear from you!
Which of these day trips from Las Vegas are you most excited about? Have you been to any of these destinations before? What was your experience like? Leave your comment below and we'll do our best to get back to you!