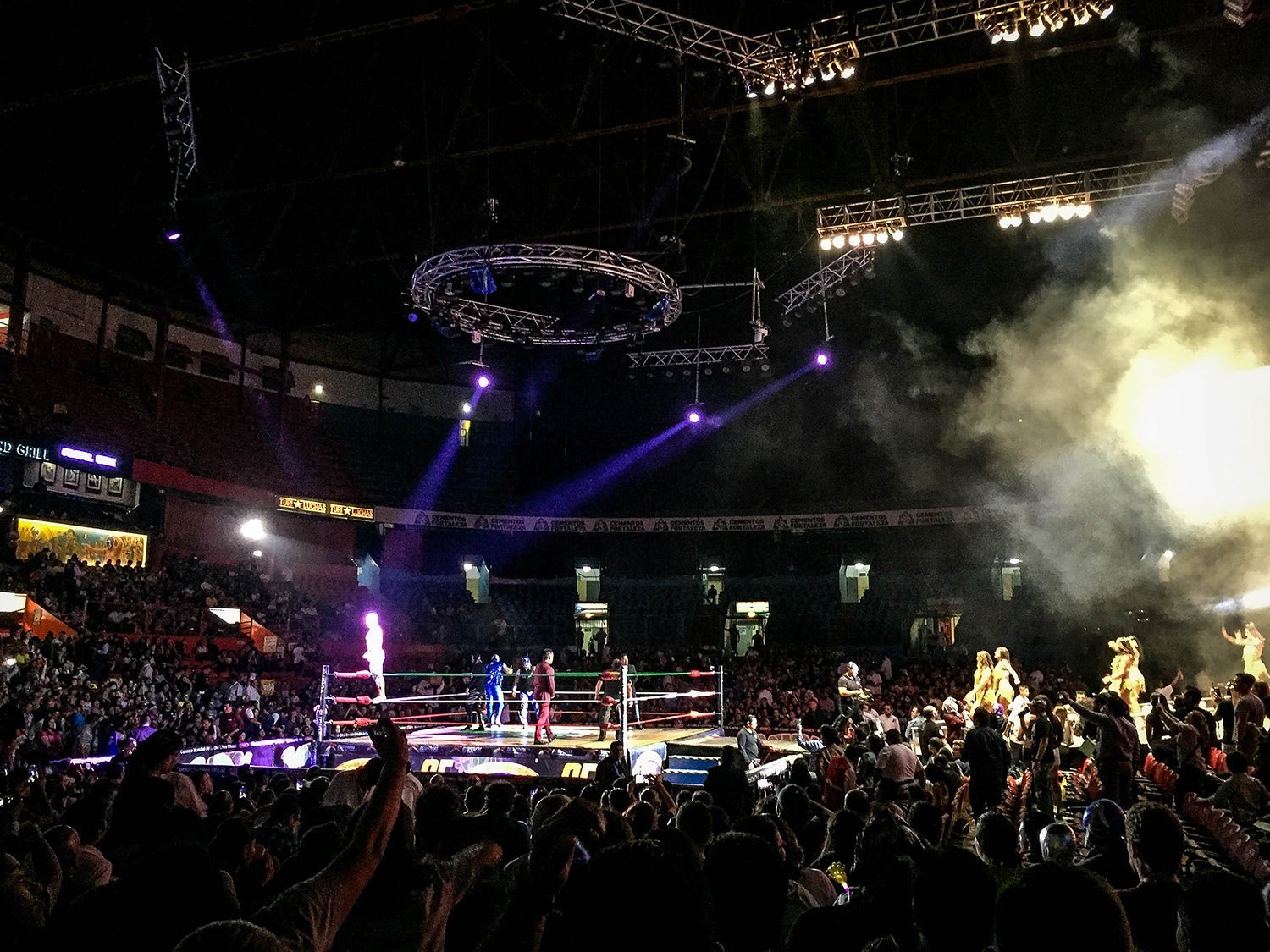 Before arriving in Mexico City, we'd heard that going to a Lucha Libre show was a fun experience, but we couldn't find much information about going to one of these Mexican Wrestling shows on your own.
It seemed as though most people writing about this experience went with a guided tour. And while that might be a good option if you're traveling solo and want a bit of camaraderie, it is totally doable (and safe!) to go on your own! In fact it was one of our top things to do in Mexico.
When you arrive to Arena Mexico, you'll notice lines to the ticket booth. Ignore anyone trying to sell you tickets outside the booth and get right in line. When you get to the window, it's a bit hard to hear so you'll have to get close and say how many tickets you want: "Dos personas por favor" = Two people, please.
The staff at our hotel recommended we get seats in ring 2 or 3, but by the time we had arrived they were sold out in that area. Instead, we got seats in ring 7 and they cost 190 pesos each.
They weren't super close to the ring, but we were able to see everything just fine! Unless you're very particular on where you're sitting, we think you'd enjoy the experience from anywhere in the arena.
Once you're in the arena, you can get beer and snacks from the concession booth if you want. Vendors also bring them around during the show as well.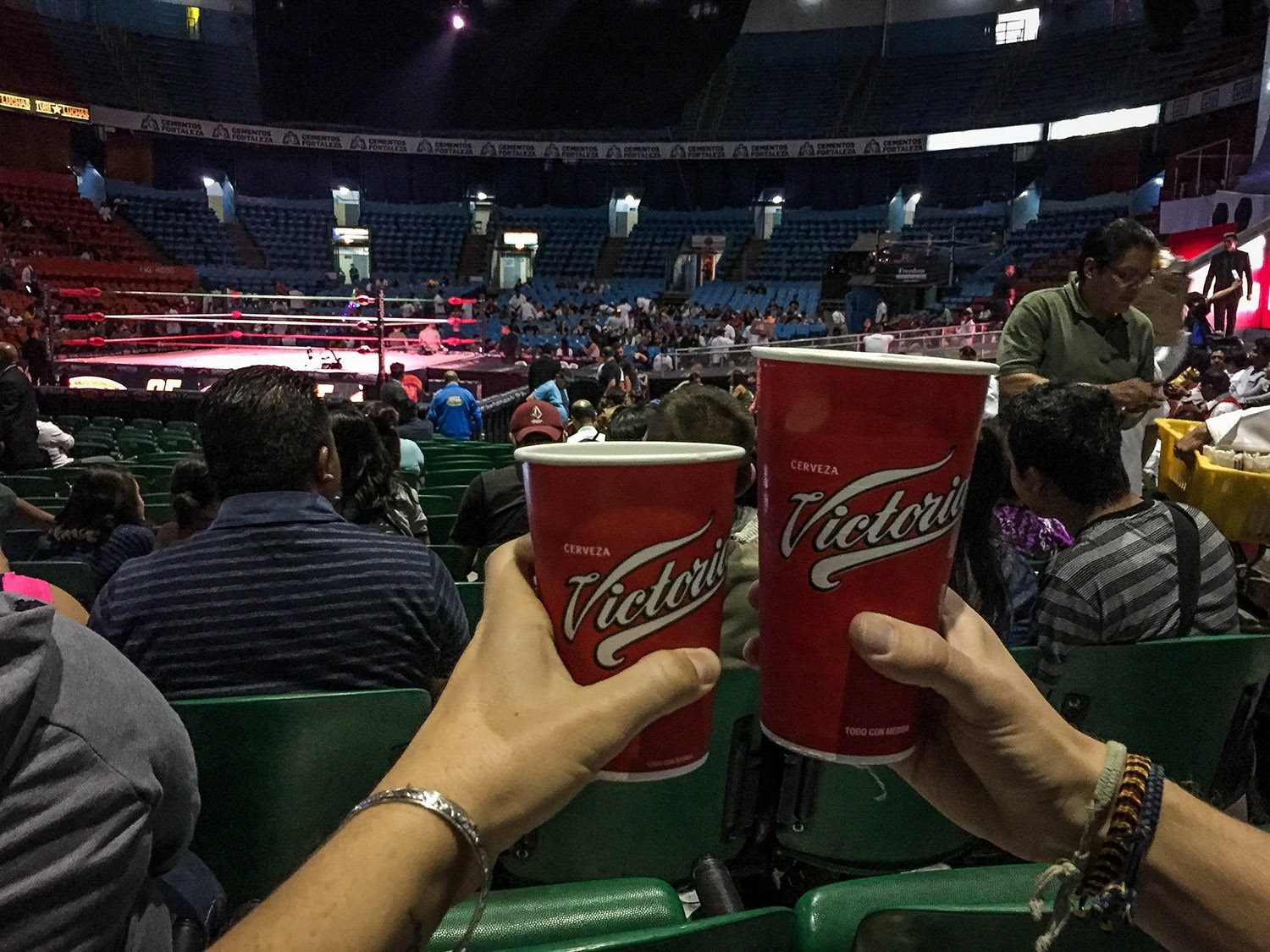 You have 2 options for beer: Corona or Victoria, and large (2 bottles poured in a paper cup) or small (1 bottle). They are reasonably priced at 40 pesos for the small and 80 pesos for the large.
The snacks inside aren't all that great (think chips and instant noodle cups), so we'd recommend eating before hand.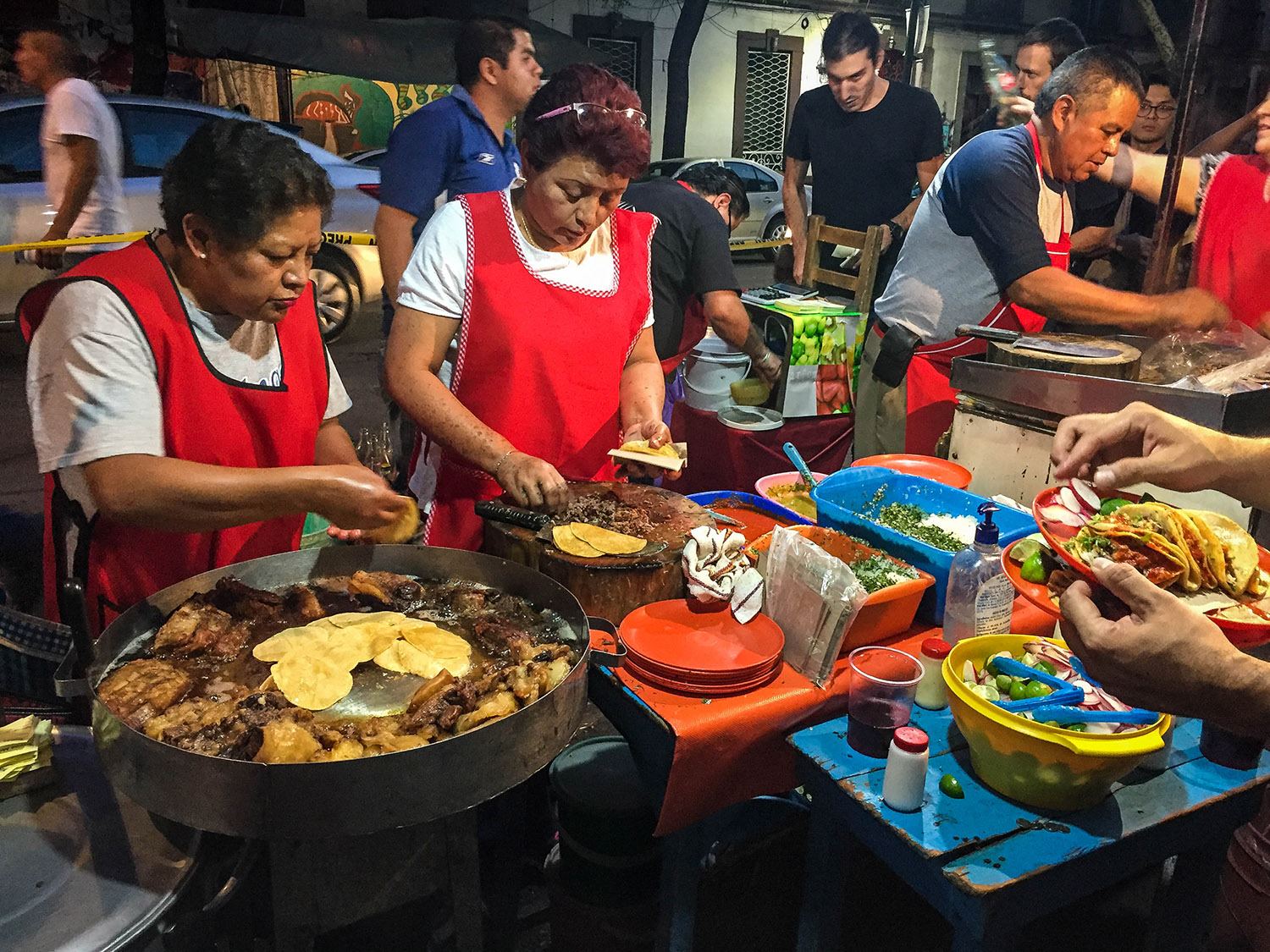 Right next to the ticket booth is a stand where two women prepare tacos, and they were some of the best we had in Mexico City! At just 8 pesos each, get a few. There is only one type of taco, but you can preference green or red salsa.
Finding your seat can be a bit difficult, so there are people wearing blue vests who will escort you to your seat. They will ask for a small tip once you are seated.
Do I need to book Lucha Libre tickets in advance?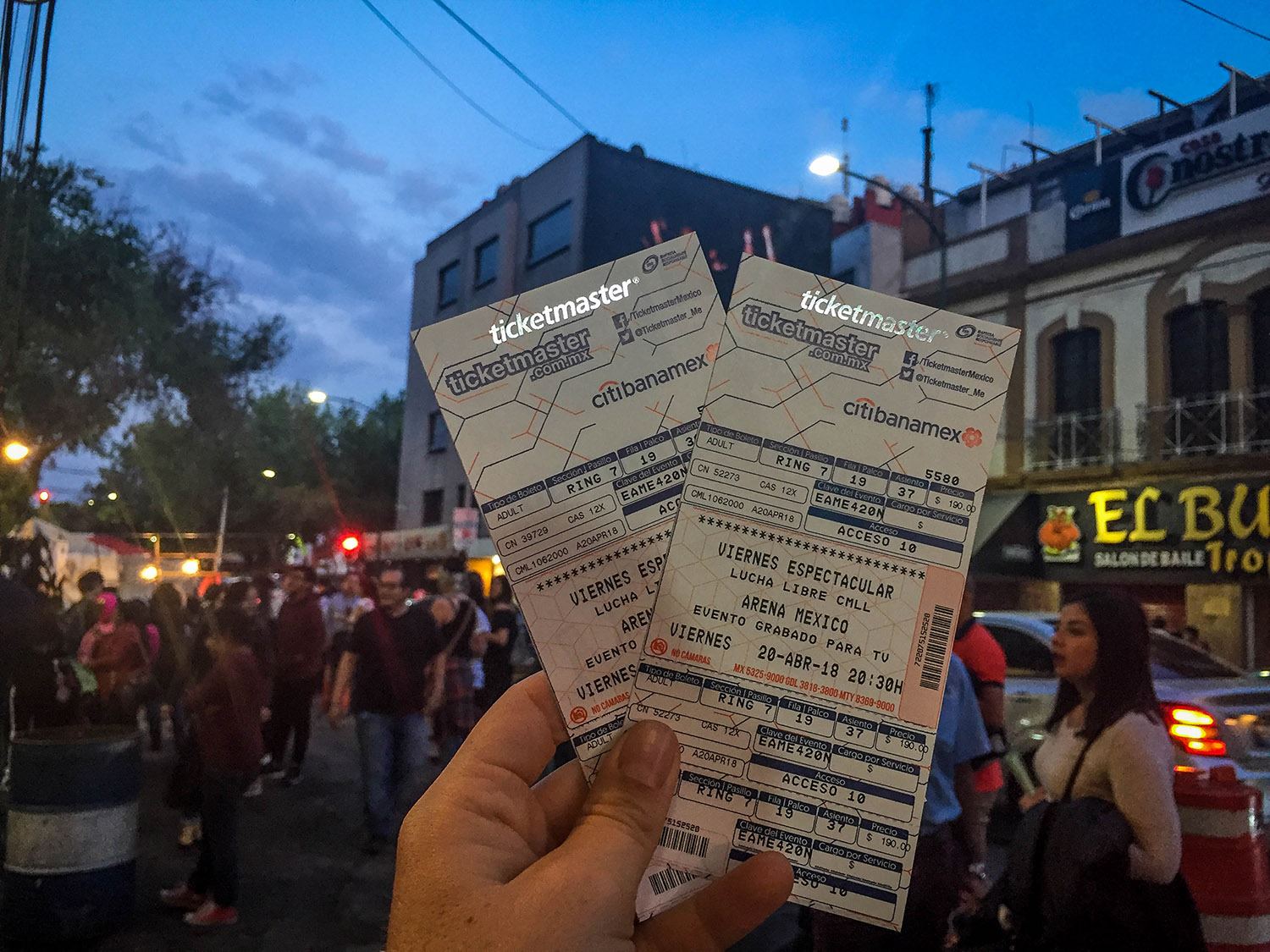 We had read online that sometimes the more famous wrestlers sell out the arena, but after having been to a show, we have a hard time believing that is a regular thing. We went on a Friday night and the area filled out pretty well, but there were still plenty of seats remaining.
We arrived at 7:55p.m. for the 8:30pm show and had no problem getting seats.
Is Lucha Libre safe?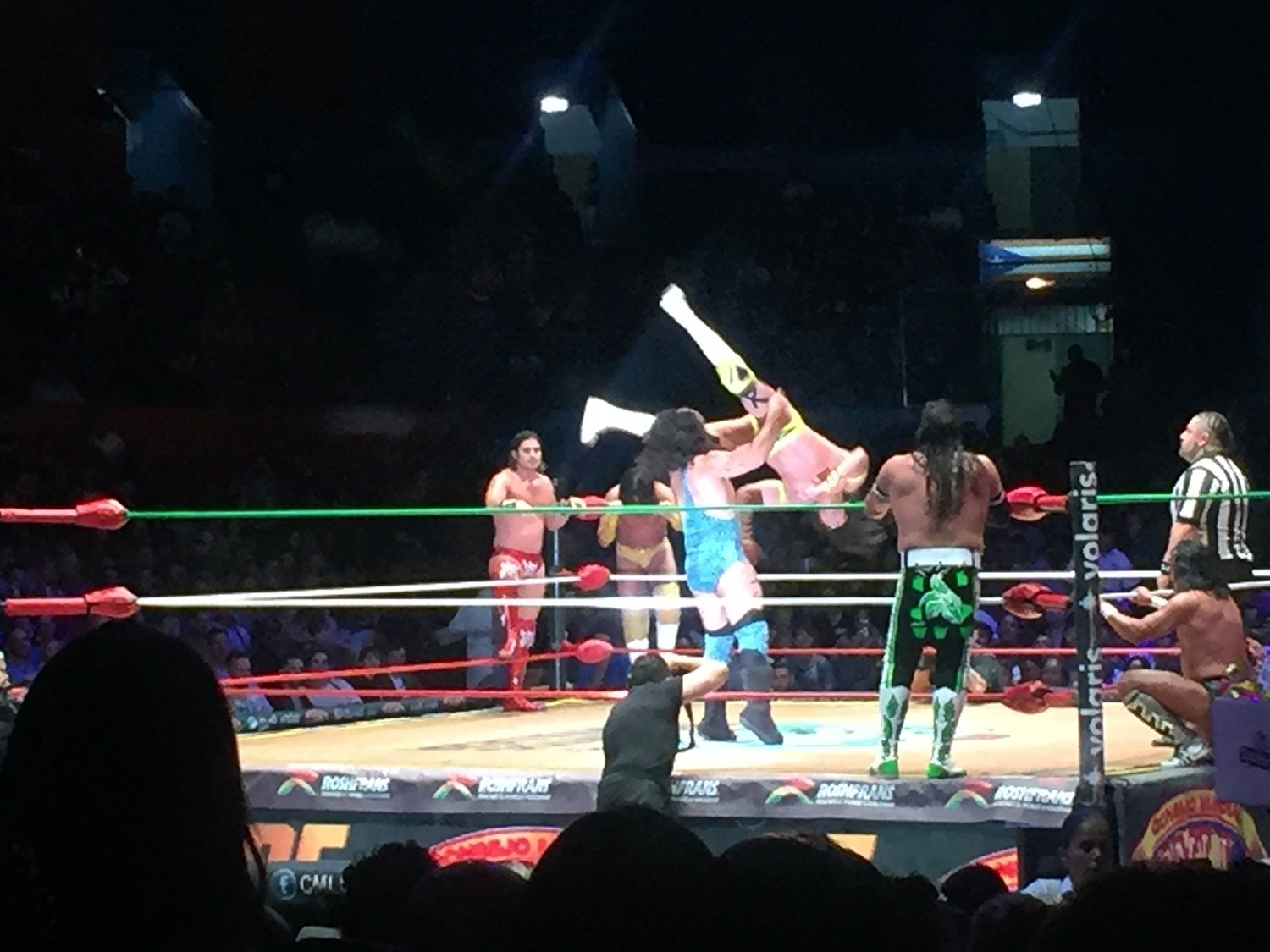 We read a few things that made us hesitate going to the Lucha Libre show without a group, but as soon as we arrived we realized there was no reason to be concerned. You'll see families with young children, young professionals, locals and foreigners alike, and there was no time we felt unsafe at all.
As with any situation when you're in a crowded area, pay attention to your surroundings. But honestly, there is no reason to be worried about going to a Lucha Libre show. The crowd gets into it, but it is not rowdy in a dangerous way at all.
You are not allowed to bring in bags or big cameras, but cell phones are okay.
Lucha Libre Match Days and Times: Tuesdays and Fridays, matches start at 8:30 p.m. in the Arena Mexico.
What to expect at a Lucha Libre Wrestling Match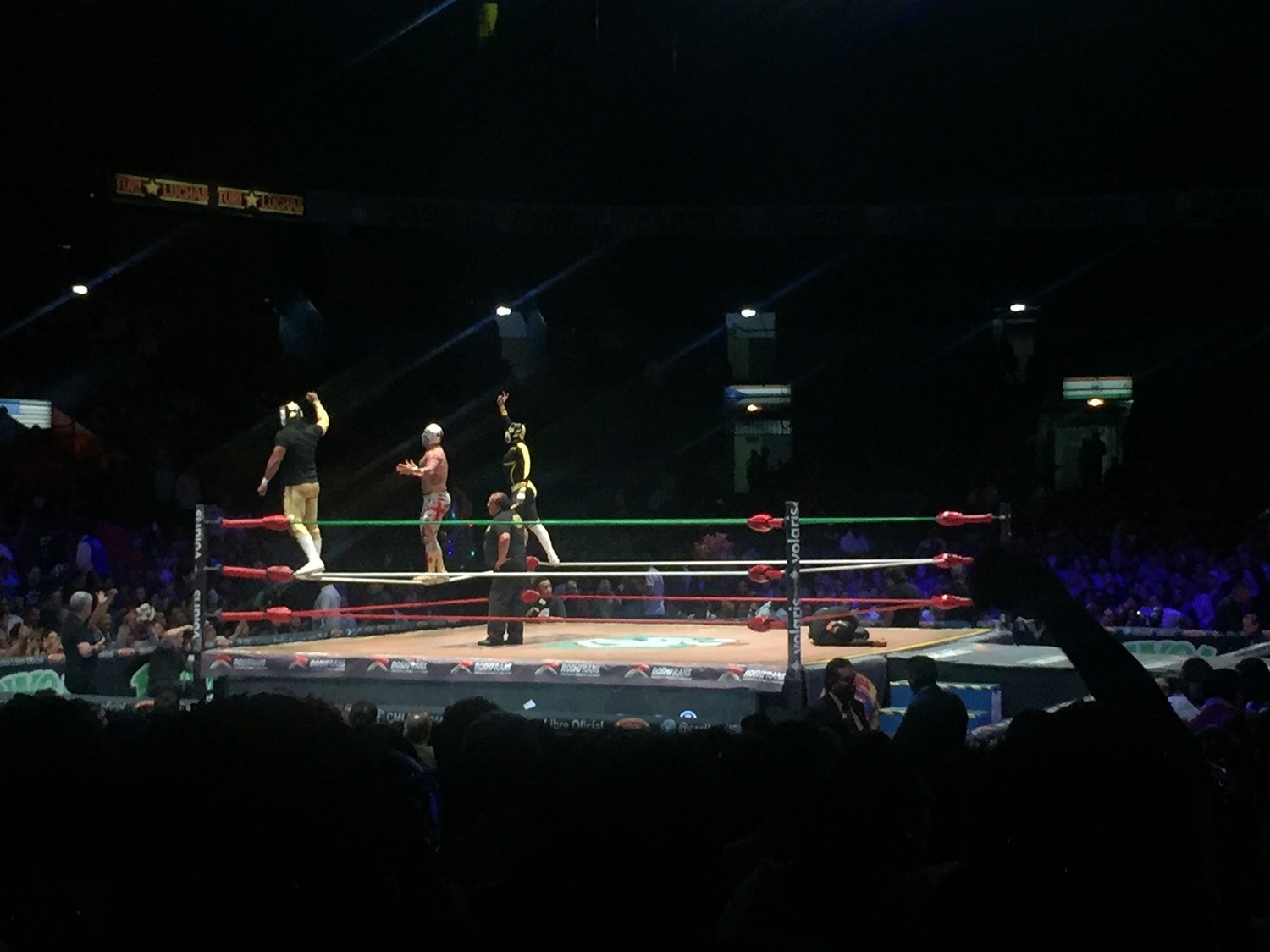 Lucha Libre is often described as Mexico's version of the WWE. Instead of skilled fighting, expect a show featuring acrobatics and rehearsed tricks and dancers that have more costume changes than dance moves.
The first few rounds were more or less organized with teams of three men each and a referee that was kind of comically not doing much. During the first rounds, the wrestlers wear the famous masks for which Lucha Libre is known. Eventually there is a women's round, during which we observed lots of hair pulling and slapping.
Towards the end of the 2-hour show, some of the wrestlers will come out without masks on, and the fighting tended to get less organized and more of a "free for all" with some of the body slamming taking place outside the ring.
During one of the last matches, a "doctor" (wearing a white coat like you'd find at a Halloween store!) came out and then ordered the fighter to be carried off in a stretcher. Some of the "injuries" are a bit comical in how much they are over-exaggerated.
The show started right on time at 8:30pm and ended at a punctual 10:20pm without much or a finale. A fight just ended and the bleachers started emptying. Then the lights came on, so we figured it was over.
Would we recommend Lucha Libre?
Of course we would! It was really fun watching the wrestlers "fight" on stage and do their acrobatics. The acting was terrible but it made for a pretty good show.
Price of Lucha Libre Group Tour vs On Your Own
There are several companies that offer tours of the Lucha Libre show. The one offered by Estacion Mexico (the company we took the free walking tours with) cost 450 pesos per person (minus a 50 peso discount if you attend a walking tour). We paid less than half of that, at 190 pesos each for a ticket.
That said, if you want company while attending the Lucha Libre show or just don't feel like organizing it on your own, it's not a bad option. The tour with Estacion Mexico also includes a tasting of pulque (fermented drink made from the agave plant), but you can easily by that yourself at any restaurant if you want to try it.
Traveling to other parts of Mexico? One of the easiest ways to get around Mexico is by driving a rental car. You get to explore on your own, it's safe, and crazy cheap. We got a rental car in Costa Rica for so cheap one day, we decided to keep the car for two weeks. We use RentalCars.com to search for the best deals on rental cars around the world. 
Be sure to download our complete packing list for Mexico! It's packed with good suggestions and insider tips to help plan your Mexico vacation. And it's completely FREE, so why not!?


---
Are you planning a trip to Mexico?
We have lots more resources on travel in Mexico and destinations throughout the country. Check out our Ultimate Mexico Travel Guide for all the important travel information, or read some of our favorite articles below.
Save this article to Pinterest for later!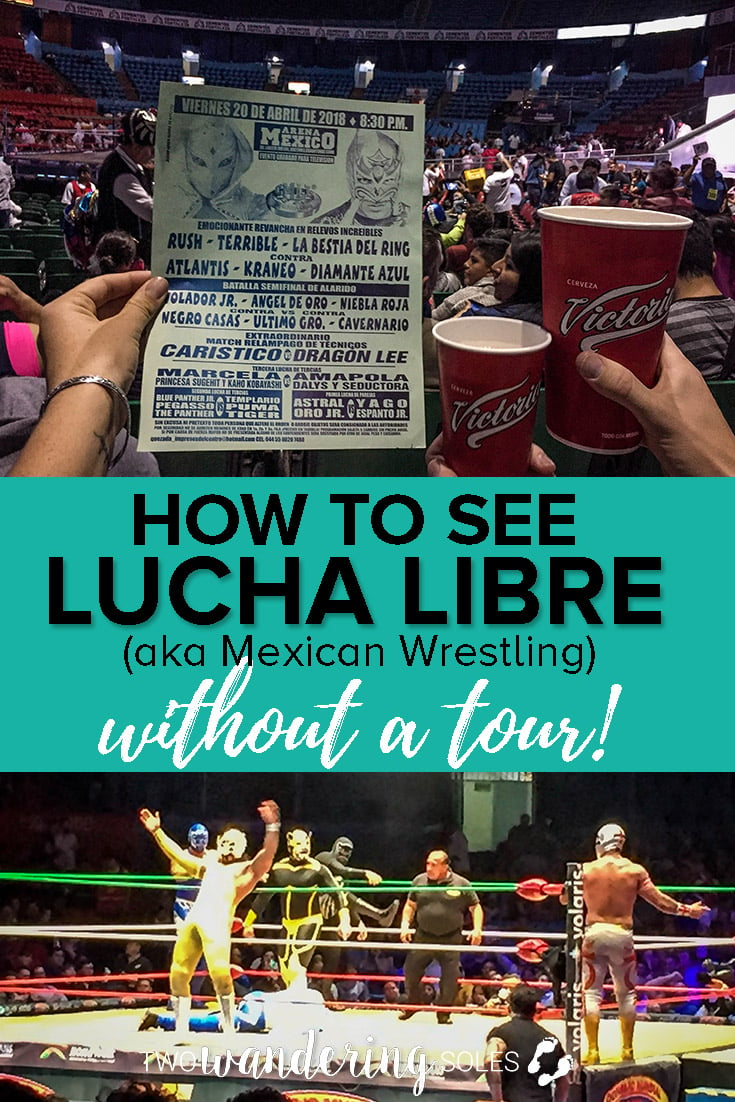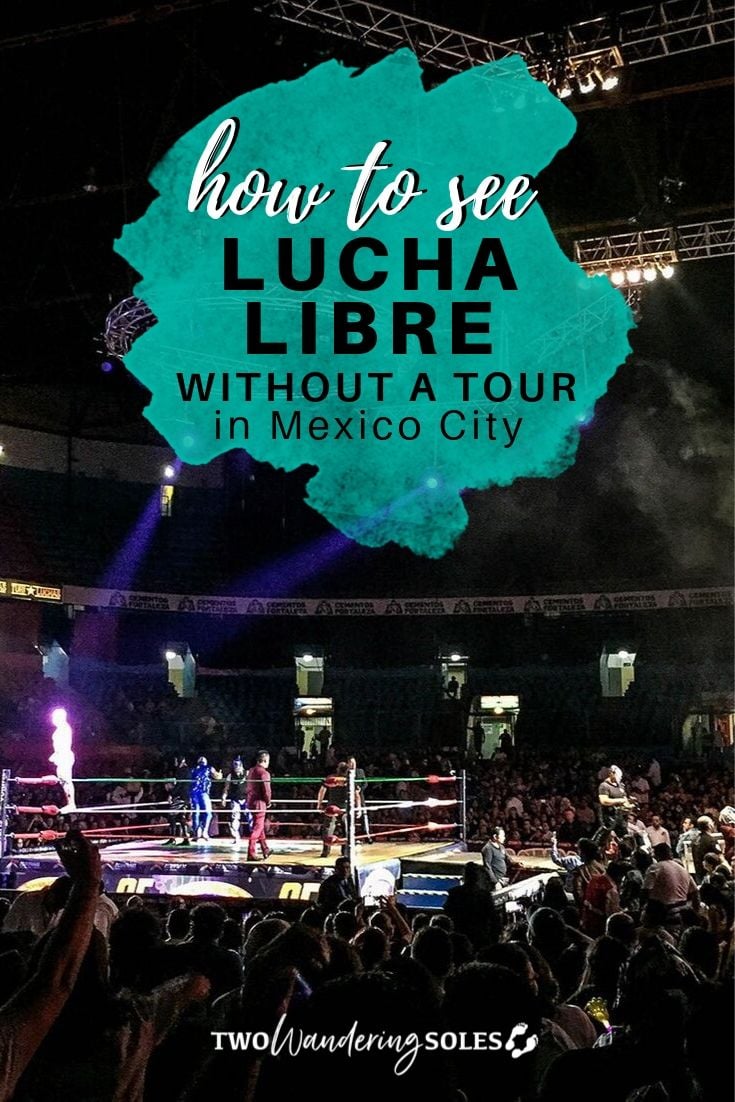 We want to hear from you!
Are you planning a trip to Mexico City? Do you want to go to a Mexican Wrestling match? Let us know your questions below in the comments.