Las Vegas is much more than its famed reputation for slot machines and high rollers. We put together a detailed list of the best things to do in Las Vegas to help you plan your ultimate trip to Sin City.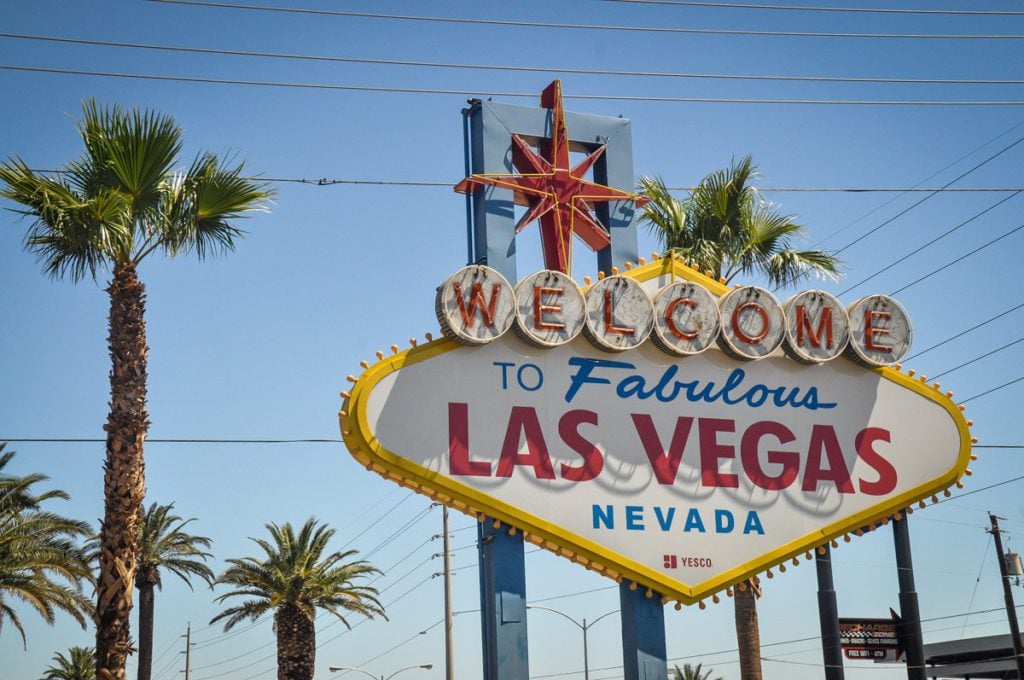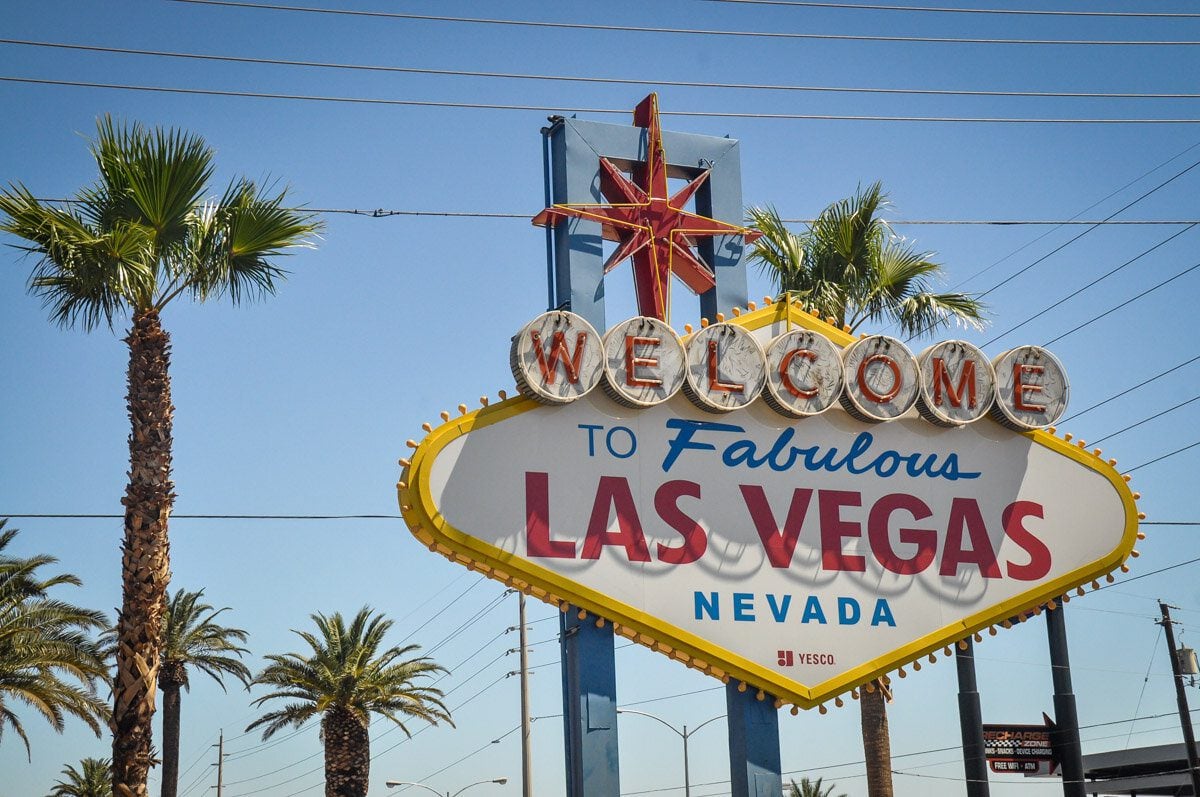 Sin City's neon lights welcome visitors from all over the world to indulge in some of the best entertainment, gastronomy, and adventure in this booming desert epicenter.
If you even hear buzzwords like casino, gamble, or buffet, your mind immediately goes to the endless wonders of Las Vegas. And while rolling the dice and getting lost in a maze of poker tables is how many people spend their time in the gambling capital, it's not the only way you can experience the city.
Whether it's your first trip to Vegas or your 50th, you'll peel back the layers and discover that there are endless things to do in Las Vegas. From quintessential spots on the Las Vegas Strip to adventurous day trips, there are limitless ways to have fun on your Las Vegas vacation.
In this guide, we break down the best things to do in Las Vegas so you can plan the perfect trip. Whether you're looking to indulge in the foodie scene, dance the night away, or immerse yourself in nature, this article covers it all.
Article contents
Other Las Vegas resources:
---
Best time to visit Las Vegas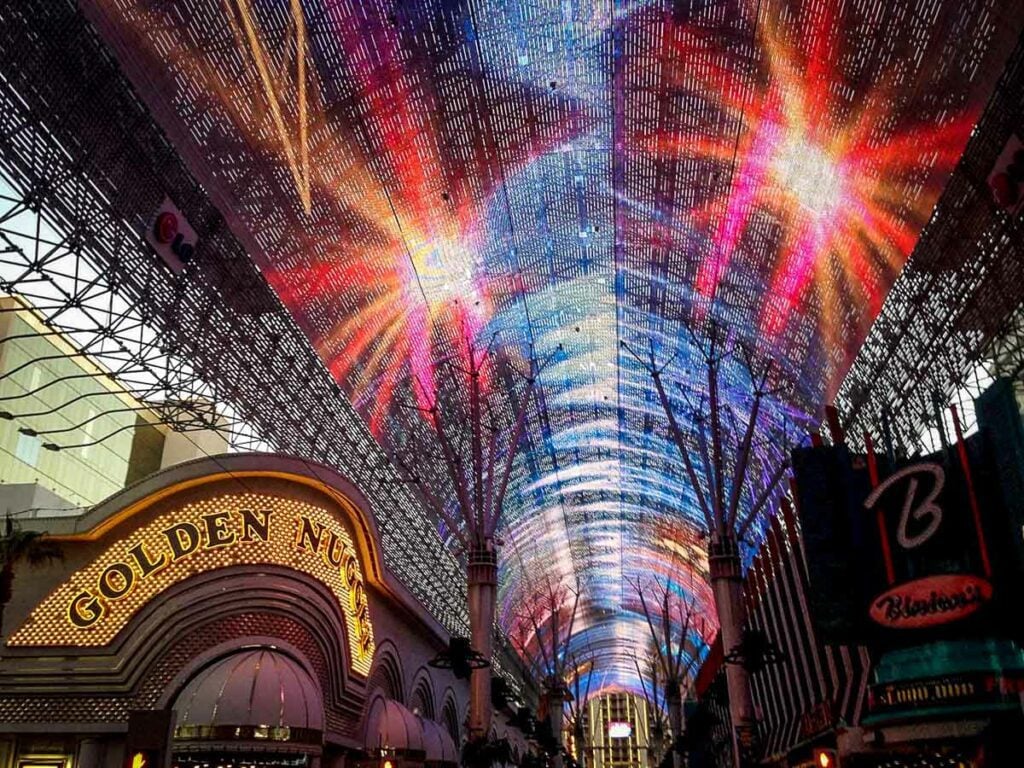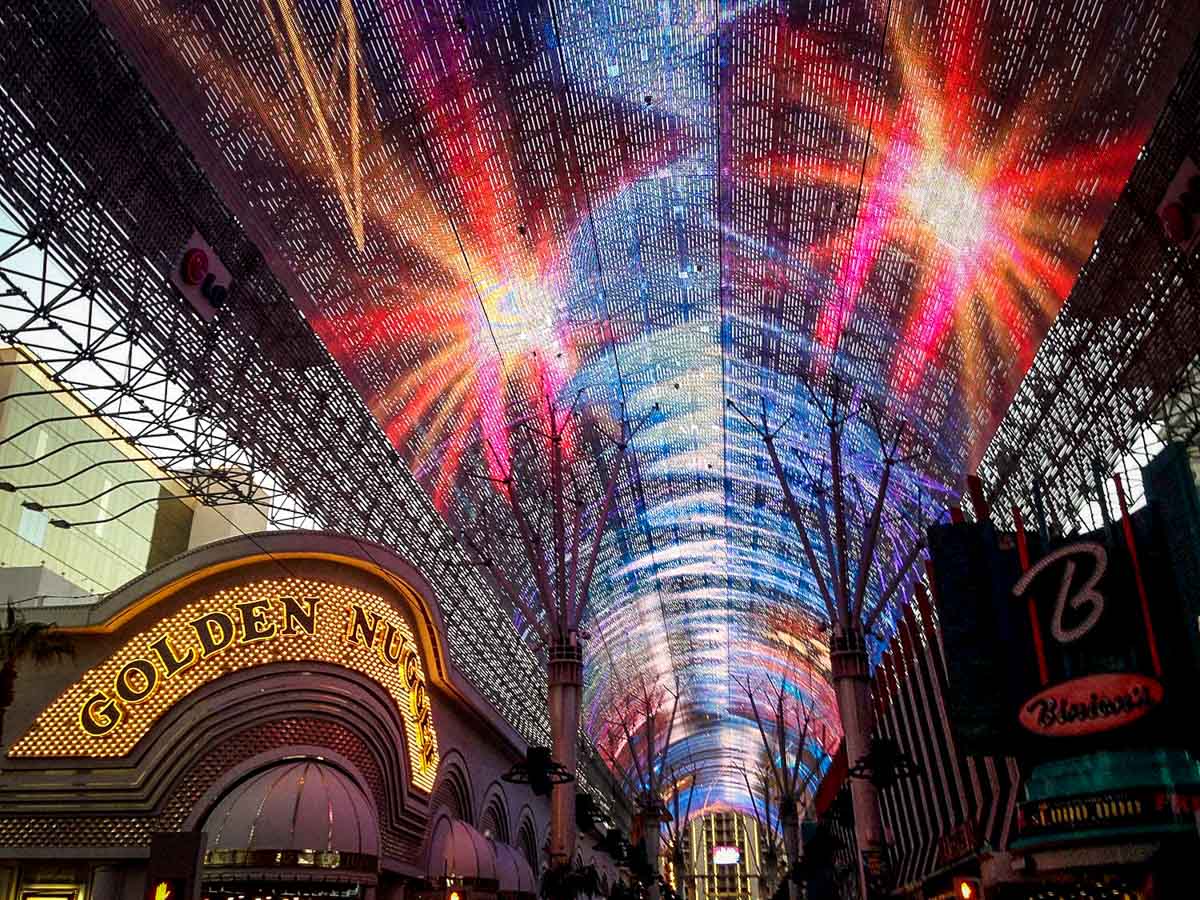 Although you can expect sunny, clear skies in Sin City year round, some months are better than others when it comes to planning a visit. Desert climates have a reputation for scorching hot temperatures, but it cools down dramatically during the wintertime.
The best things to do in Las Vegas require a lot of walking to be explored and enjoyed, so you'll want to ensure you're visiting when the weather is just right.
The spring and fall seasons in Vegas bring daytime temperatures around the high 60s and 70s, and dips into the 80s, which is perfect for walking the Strip, relaxing by the pool, or taking a day trip to any of the nearby parks and attractions.
March through May, and September and October have favorable weather and minimal crowds as long as you avoid major holidays and events, like March Madness. During the day you'll enjoy mild weather and the temperatures won't be freezing at night.
During the winter, you won't get to relax at the beach clubs, but you will get to enjoy less crowds and all the holiday lights.
Getting around Las Vegas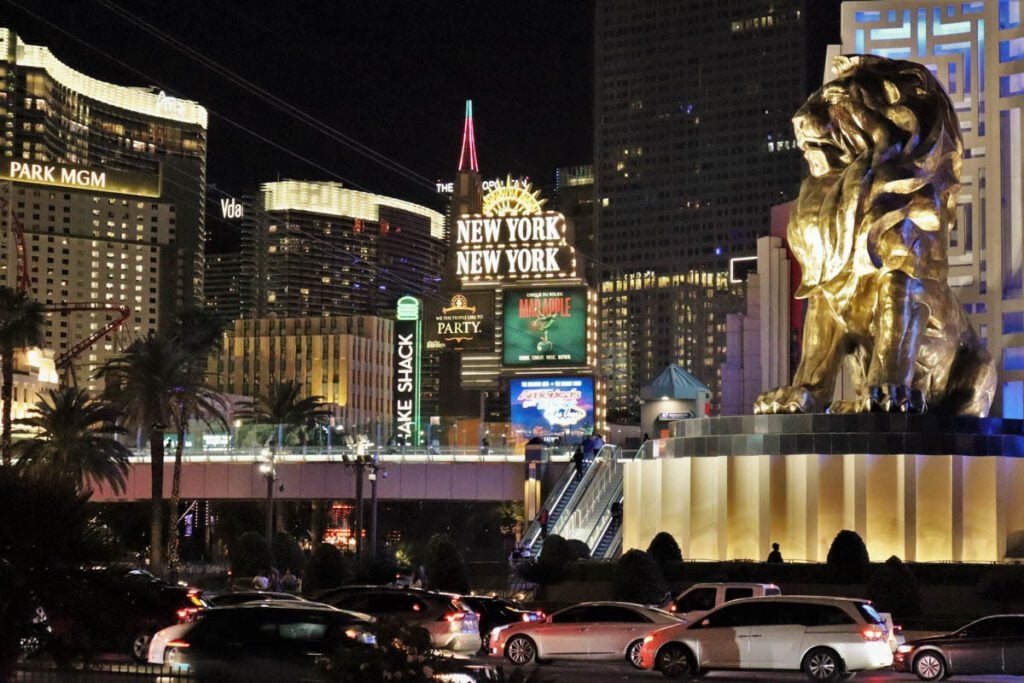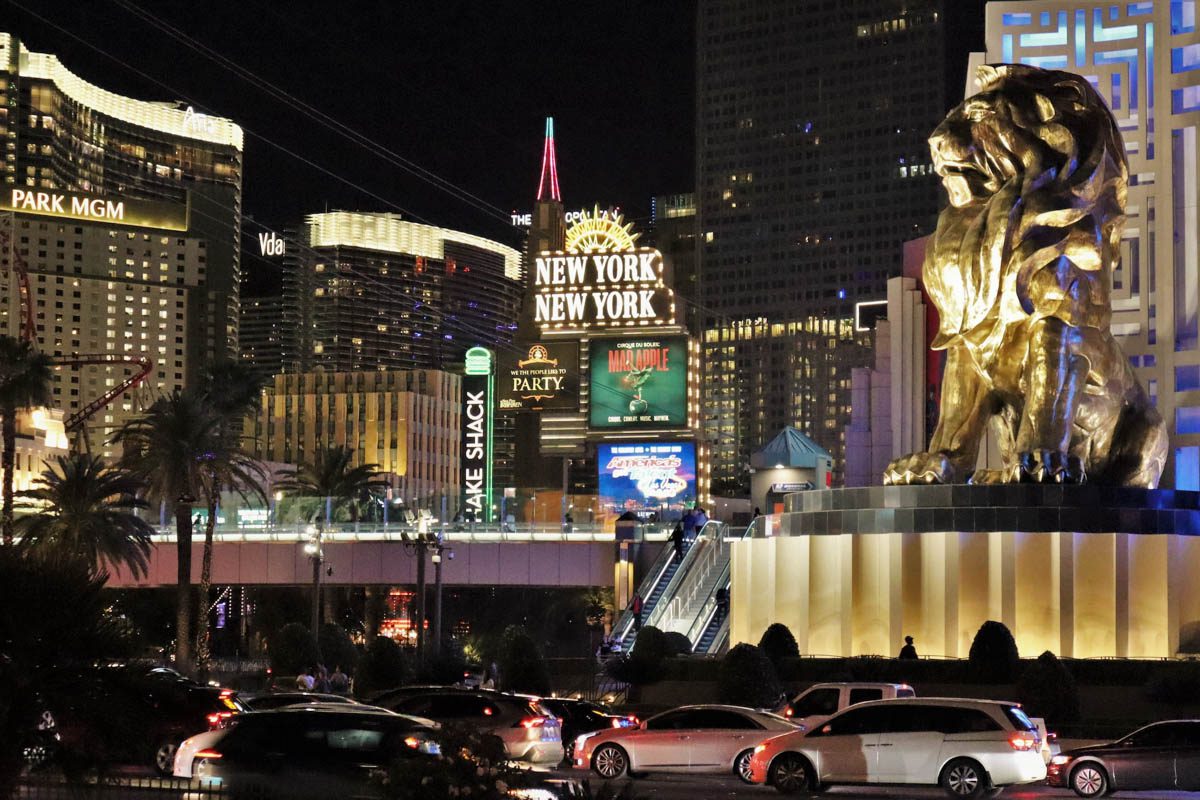 A lot of the best things to do in Las Vegas are relatively close together, but getting to and from certain points can be deceptively long and notoriously expensive. From end to end, the Vegas Strip is around 4.5 miles, and that's JUST the main drag.
From the Strip to Fremont Street in the old downtown area, where you can visit the original casinos (more on those below!), is a whopping 6 miles away. So while walking around is a great idea, you'll need to figure out alternative modes of transportation to really experience all that Vegas has to offer.
We've detailed the best options for getting around the city below.
Free transportation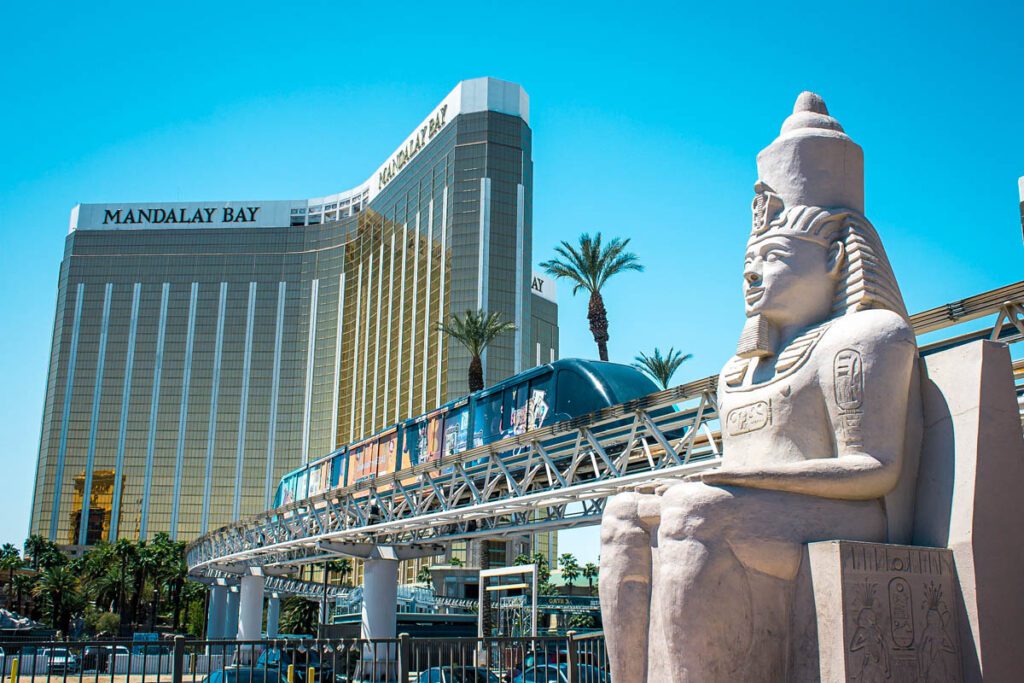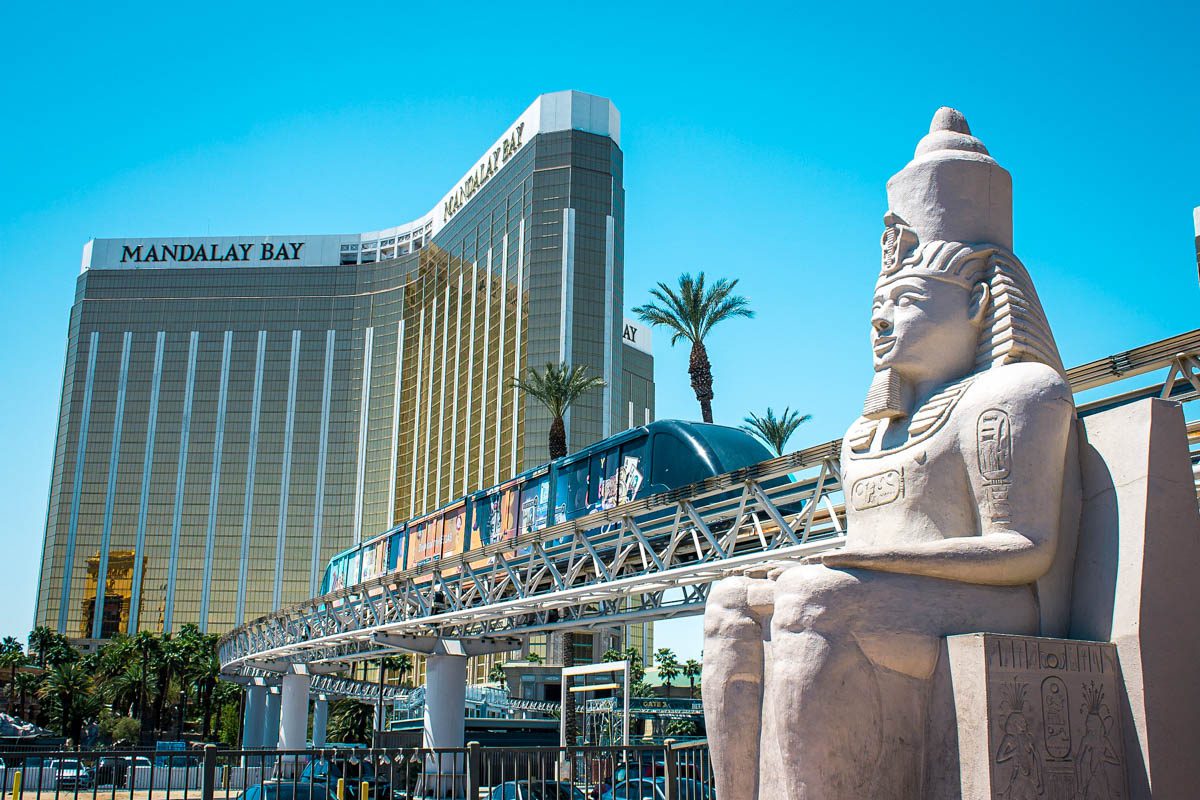 Walking: A lot of the top things to do in Las Vegas are all along the main strip, which makes walking a convenient way of getting around to see everything. If you're visiting Las Vegas at all during the summer months, walking will be absolutely miserable in the heat, so we recommend finding other options to reduce baking under the desert sun.
Trams: There are three different trams that operate between the hotels on the Strip that you can hop on and off as you please.
A lot of the hotels in Vegas are owned by the same company, so these trams run between the sister hotels. They don't make stops at tourist attractions, but a quick ride can get you closer just a short walk from your destination.
Mandalay Bay to Luxor to Excalibur: This route connects Mandalay Bay to the Excalibur Hotel on the west side of the Strip, making a stop at Luxor in between.
Park MGM to Aria to Bellagio: This route starts at the Park MGM (near the Aria entrance), stops at the Crystals Shopping Mall near the Cosmopolitan, and ends at the South Tower of the Bellagio (near the spa).
Mirage to Treasure Island: This tram runs between the two hotels with no stops in between and takes less than 5 minutes to get you from one casino floor to the other.
Shuttle: The free shuttle is a great option for exploring downtown as it stops at the Arts District, Mob Museum, and Fremont Street. These areas are all extremely walkable and easy to get around, just watch your belongings as pickpocketing is common here, especially on Fremont Street.
The monorail
This is a popular way of getting around the downtown strip as the monorail runs from the SAHARA Station at the north end to the MGM Station at the south. The route includes stops at five different hotels along the Strip, which can dramatically reduce your walking distances.
The monorail reaches one of the seven stops every 4-8 minutes, and prices vary depending on seasons and holiday weekends. Single rides run about $5, full-day passes go for $13, or you can grab 3, 4, 5, and 7-day passes for a discount. (If you purchase online you can get a better deal).
The Deuce
The Deuce is a double decker bus that runs 24/7 from the South Strip Transfer Bus Terminal up to the Fremont Street Experience downtown. This is a great option if you're spending most of your time downtown since the bus stops at the tourist attractions and all the hotels along the Las Vegas Strip.
Taking the Deuce is the cheapest way to get around Vegas via public transport. For only $6, you'll get two hours of access, or for $8 you can have unlimited rides for 24 hours.
Our advice is to go ahead and pay the extra $2 for unlimited rides so you don't have to worry about missing the two-hour mark. Plus, if you're visiting Las Vegas for the weekend, you can pick up a three day pass for $20 which is a steal!
There are a few different ways to purchase a pass for the deuce, with the most convenient being with the rideRTC app.
Taxis/rideshares
Taxis and ridesharing apps are another popular way of getting around Las Vegas, as with most major cities. From our experience, it's best to avoid taxis since they will likely try to overcharge you.
While we were visiting Las Vegas, we asked a taxi driver how much the fare would be from the Strip to downtown and he quoted us $25-30, when the same ride on a rideshare app was running $8-12. You can probably guess which ride we chose! However, it's always important to compare prices to get the best rate.
While using Uber and Lyft, it's best to compare the rates between the apps since prices constantly fluctuate with demand and drivers available in the area. This is probably the easiest and most convenient way to get around but it can get expensive, especially if it's your main mode of transportation.
Renting a car
Renting a car will be very tempting to avoid so much walking, but unless you're making day trips and going hiking outside of the city, it's really not necessary. There are a lot of free and public transport options that can take you to all the main hotels and attractions in and around the city.
Plus, parking at hotels can be expensive and driving along the Las Vegas Strip is not recommended. To get a better look at all your options for getting around, we break them all down below.
Psst! If you do have your own vehicle or rental car, you're going to want to check out these fun day trips from Las Vegas! All within a 2-hour drive of the big city.
How to get from the Las Vegas airport to the Strip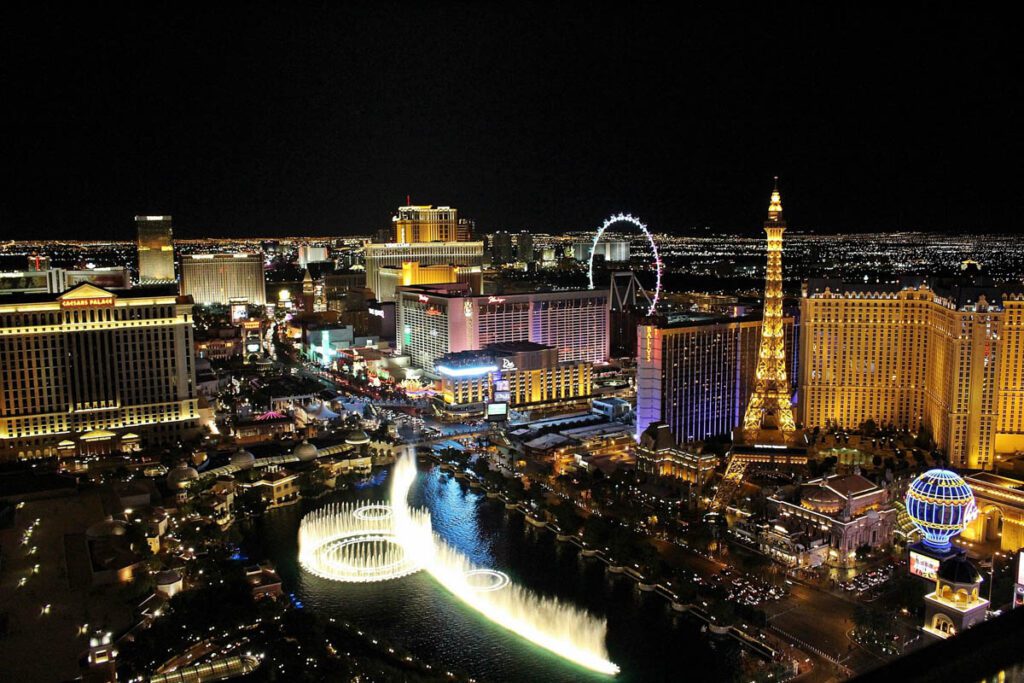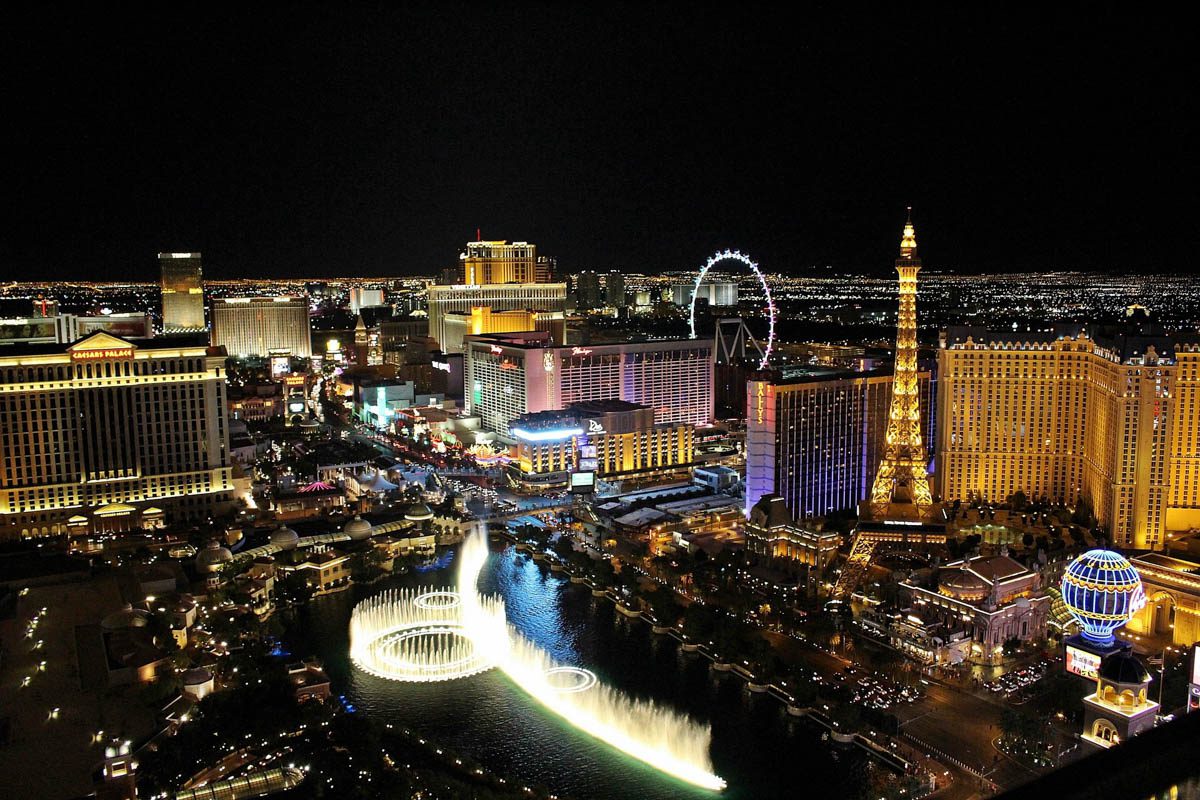 From the Harry Reid International Airport (LAS) to the Strip is only a 3-mile journey and there are a bunch of different shuttle options to choose from.
It's easy enough to get a taxi or ride share from the airport to the Strip. Follow the signs in the airport to find the taxi line, or follow directions on your ride share app for pick up. Taxies will generally offer a flat rate fee of around $25.
Before grabbing a taxi or an Uber/Lyft, double check to see if your hotel offers a free shuttle service as many of them do. If your hotel or stay doesn't offer this, there are a variety of shuttles running to and from the airport for a reasonable price.
Another option for getting to the Strip is via Super Shuttle. They offer reasonably priced, roundtrip rides that you can book online.
Alternatively, the Deuce (mentioned above) also stops at the airport, so if you bought a pass, an airport transfer is (technically) included in your ticket.
Where to stay in Las Vegas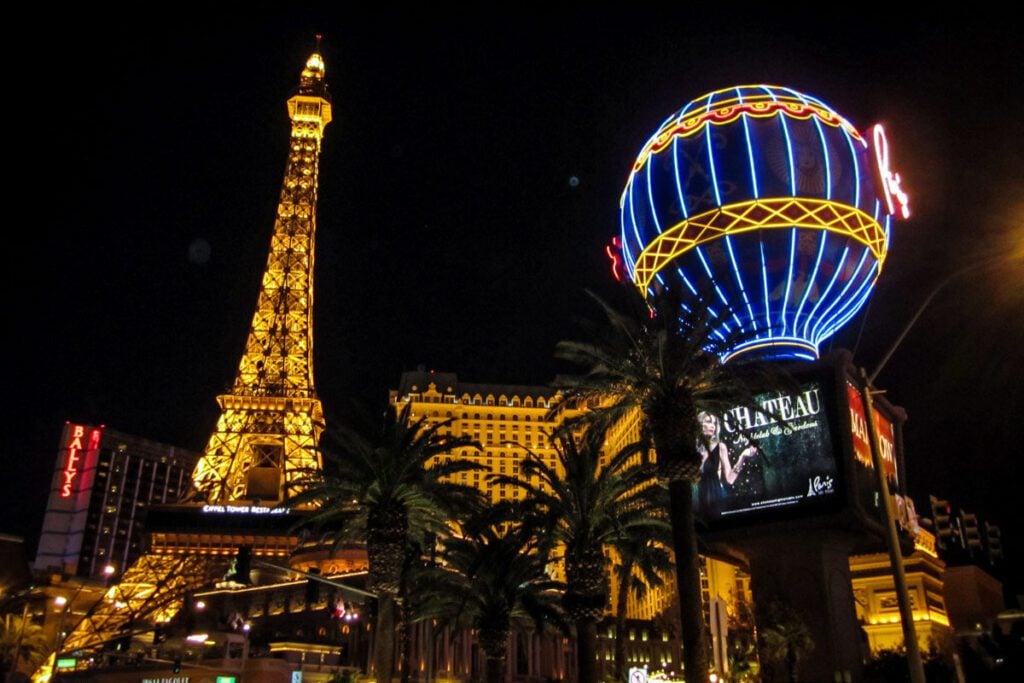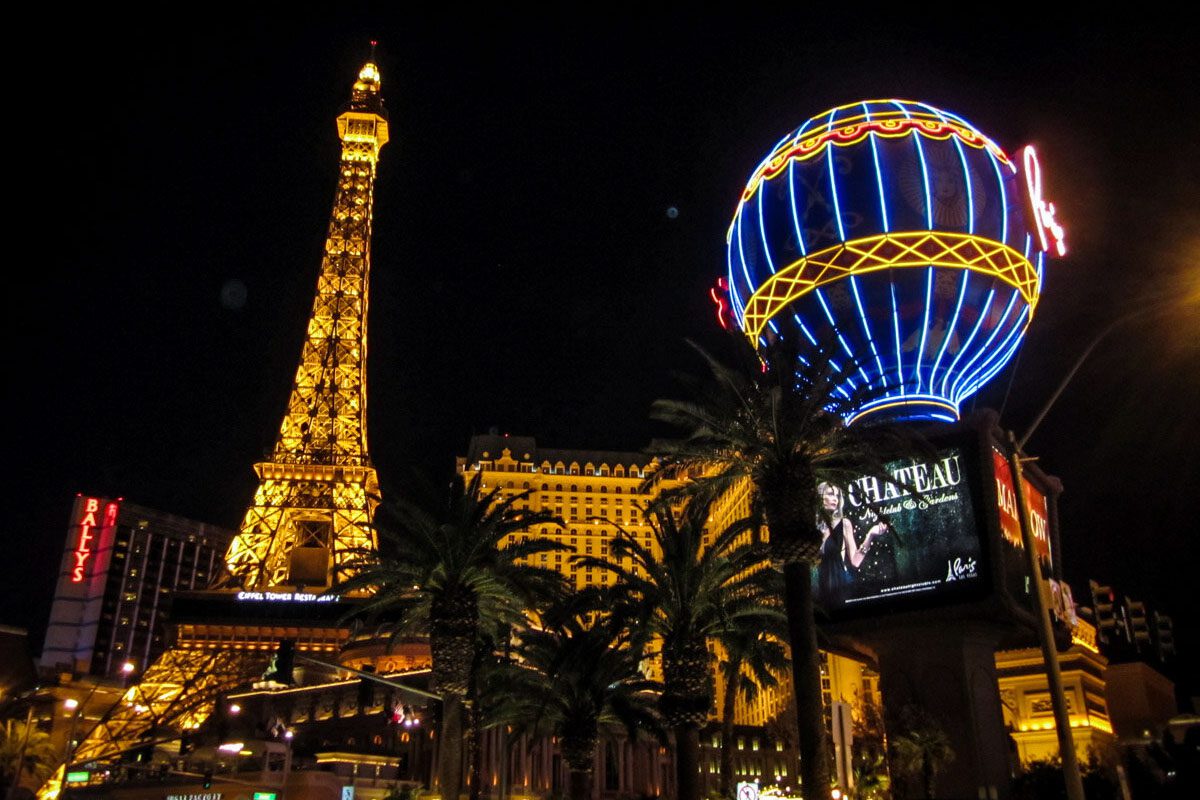 Las Vegas is known for its luxurious and iconic hotels along the Strip. Places like the Venetian and Bellagio make it seem like an expensive travel destination, but there are actually hotels and places to stay for all budgets.
As long as you know where to look, you can find a hotel you love that's also in your price range. We did tons of research for our first trip to Vegas. Below we'll go over some of the iconic Vegas hotels in different price ranges.
Budget hotels on the Strip
Mid-range hotels on the Strip
Luxury hotels on the Strip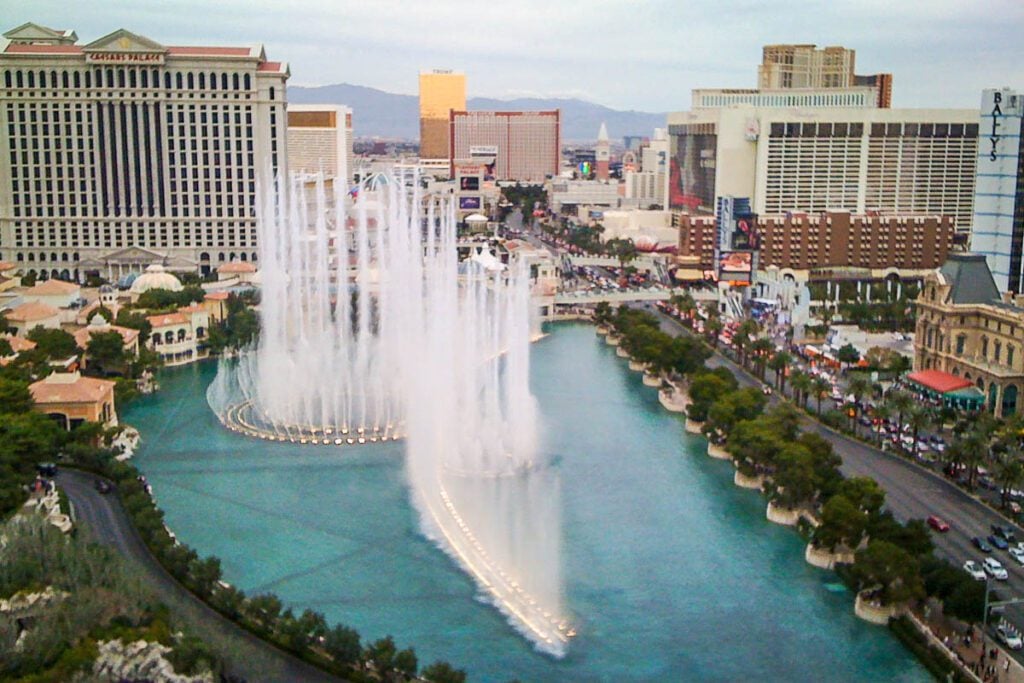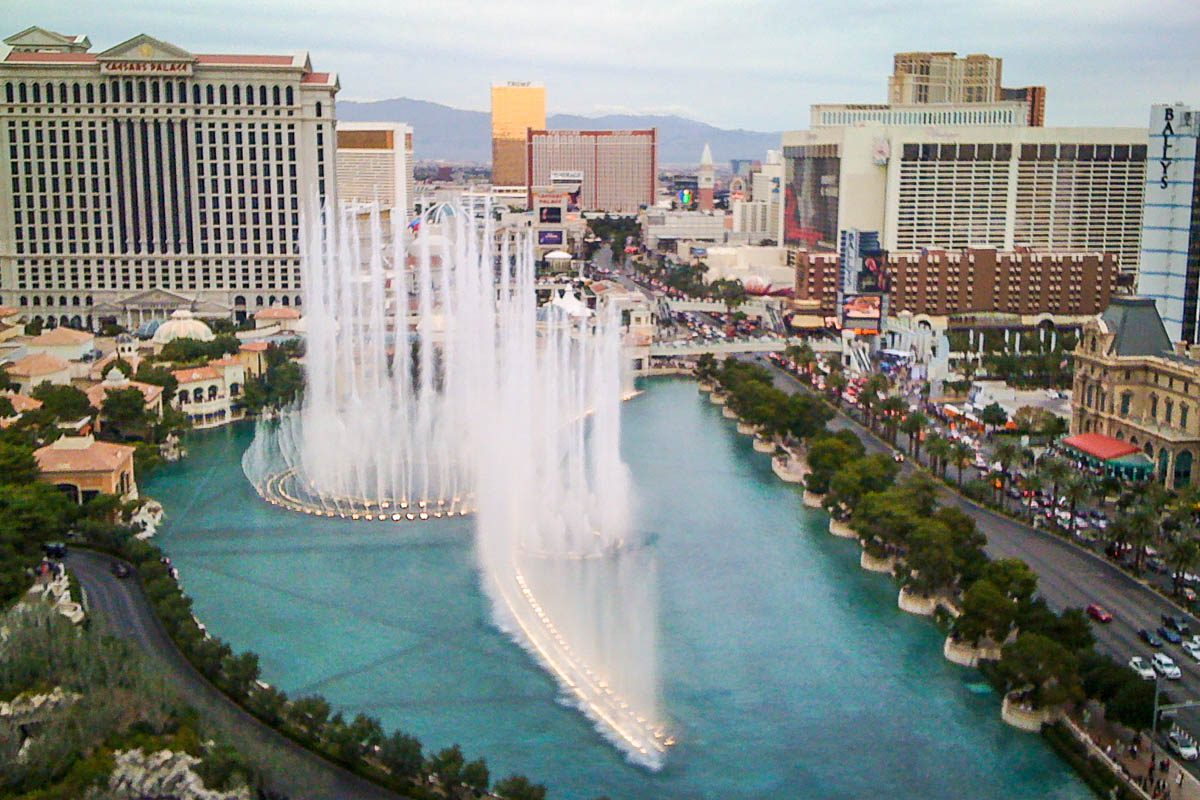 Off-Strip accommodation
Downtown Grand Hotel: Relax at the largest pool deck in downtown Las Vegas, play a hand at the casino, or venture to nearby Fremont Street.
The Golden Nugget: Right next to the iconic Fremont Street, this Vegas casino has a spa, 9 onsite restaurants, outdoor pool complete with a poolside bar, and endless bars with happy hours.
Now let's get to the good stuff…
---
Quintessential things to do in Las Vegas
We are huge advocates for getting off the beaten path when we travel, but no matter where in the world you're traveling to, each destination seems to have certain quintessential things that make up the charm of the city.
There are so many different things to do in Las Vegas and ways to enjoy this dazzling city. But if it's your first time visiting, you don't want to miss these iconic highlights.
1. Explore the Strip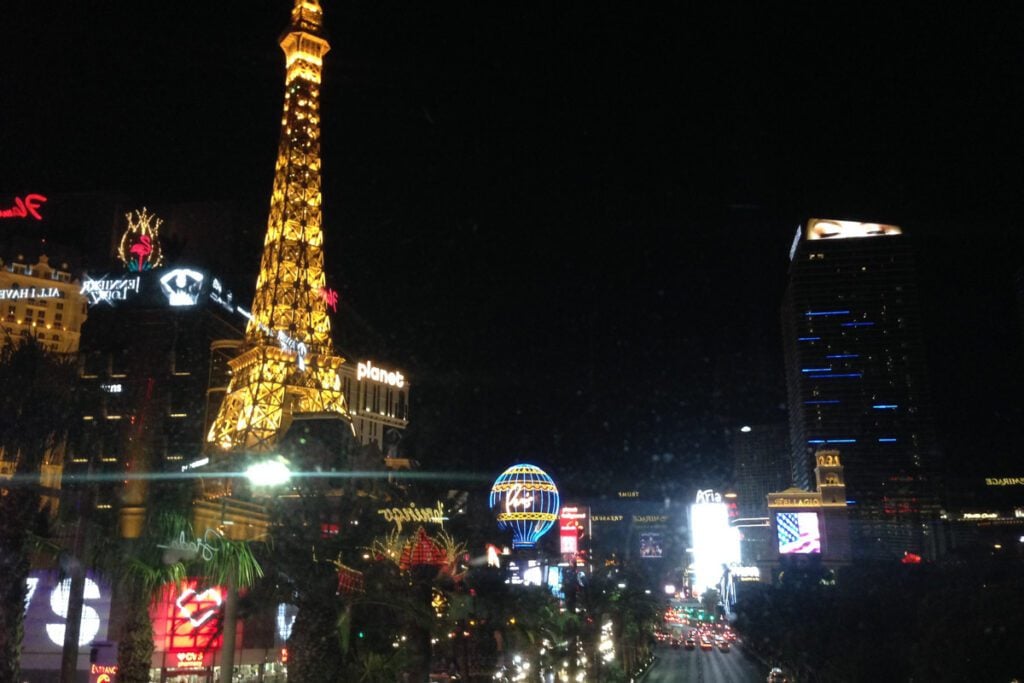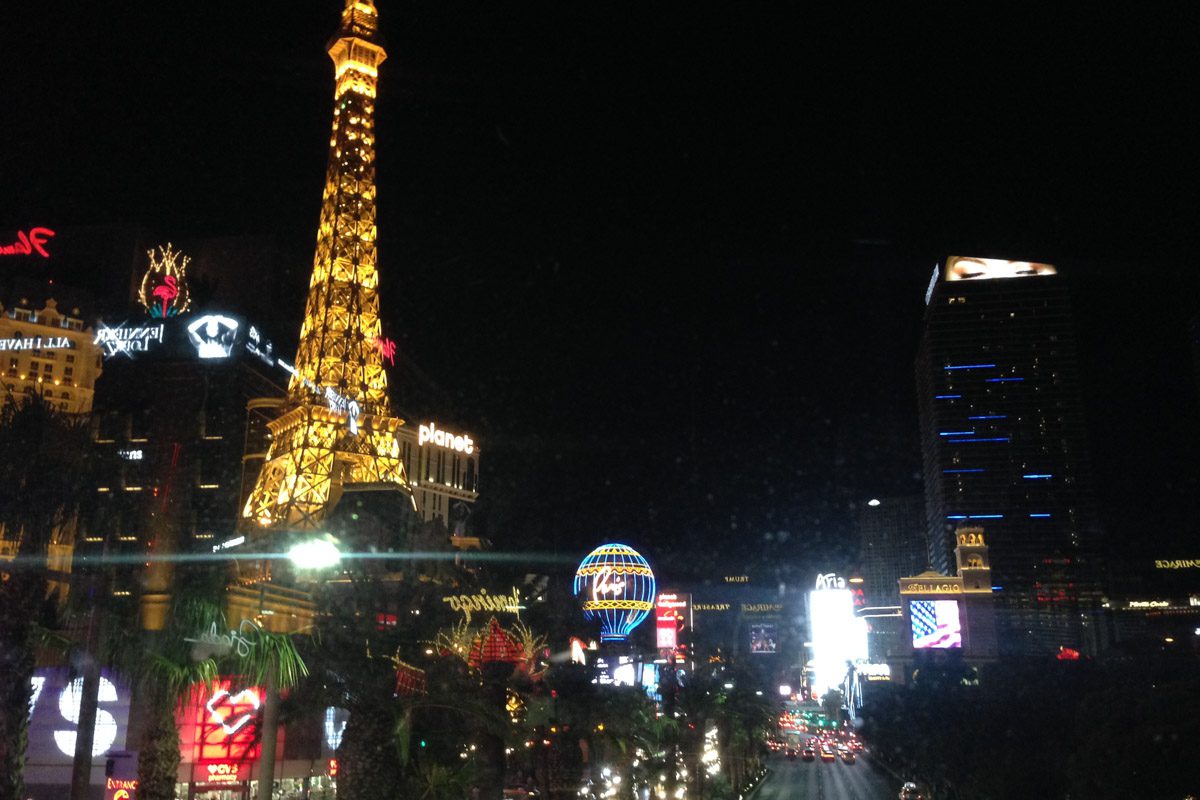 When you think of Las Vegas as a destination, the Las Vegas Strip is probably the first thing that comes to mind. It's one of the most famous destinations in the world with miles of neon lights, noisy casinos, hoppin' nightclubs, and exciting atmosphere.
Made up of a 4.5-mile stretch of Las Vegas Boulevard, between Sunset Road and Sahara, the Strip is where you'll find the most quintessential and iconic things to do in the city. You won't want to miss your chance to explore this area.
The first thing you'll notice when you arrive on the Strip is that most of the hotels are based on places and cities all around the world. So even though you're on the Las Vegas Strip, you can see replicas of the Giant Sphinx at Luxor, the Statue of Liberty at New York New York, the Trevi Fountain at Caesar's Palace, and even the Eiffel Tower at The Paris.
Despite Vegas's late night reputation, the Strip is actually a fun place to explore during the day as well. You can visit shops, spas, amusement parks, museums, and malls during the day. But once the sun goes down, that's when the Strip really comes alive!
2. See a show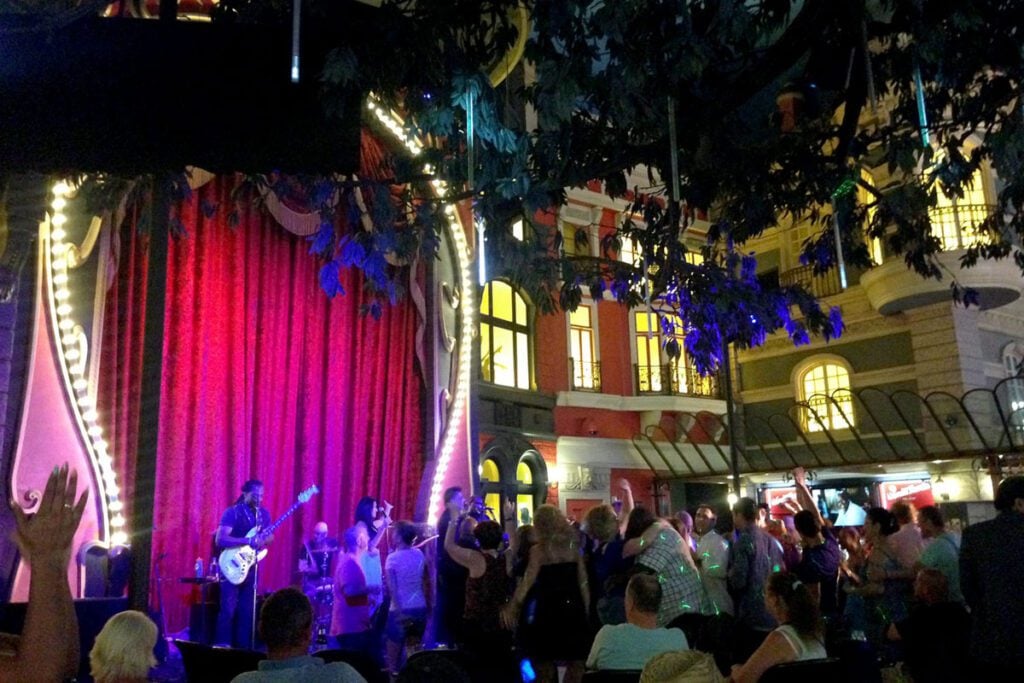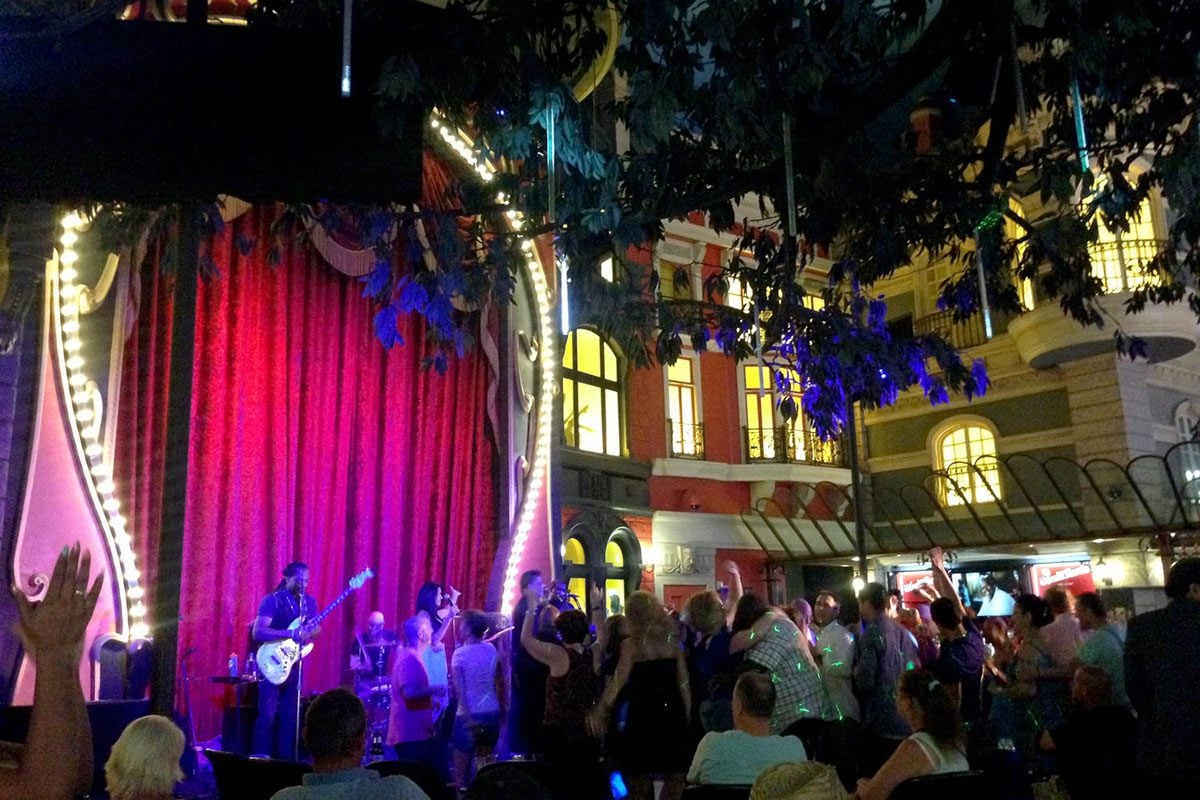 Las Vegas is a hub for entertainment with some of the most incredible comedy, musical, acrobatic, and magic shows in the world. No matter what your preferences are, there is something for everyone which is another reason why Vegas is such an exciting and diverse place to visit.
Concerts
From Jimmy Buffett to America's Got Talent, concerts run year-round in Vegas so you'll always have an impressive selection of dates and artists to choose from, no matter when you're visiting.
The only issue you'll run into when looking for concerts is not when and where, but which one! One night on the Strip can showcase up to ten different performers, making use of all the different entertainment venues in the city.
Classic Vegas
Magic Mike: Ladies flock to the SAHARA to see one of the most talked about shows in Las Vegas. The diverse and spicy performances from the cast are an experience few forget.
Jabbawockeez: This hip-hop group puts on a stellar performance at the MGM Grand with world-famous choreography and special effects.
Blue Man Group: Experience art without expectations as three non-verbal, blue-painted men take you on a journey with painting, science, technology, and the iconic smoke drum.
Magic Shows
Cirque du Soleil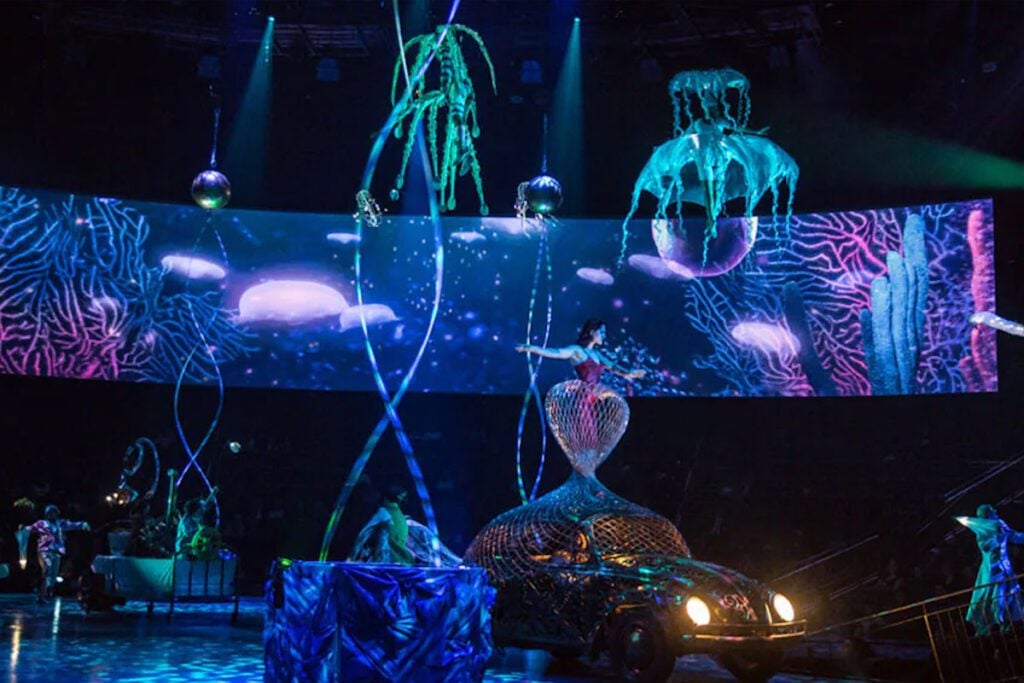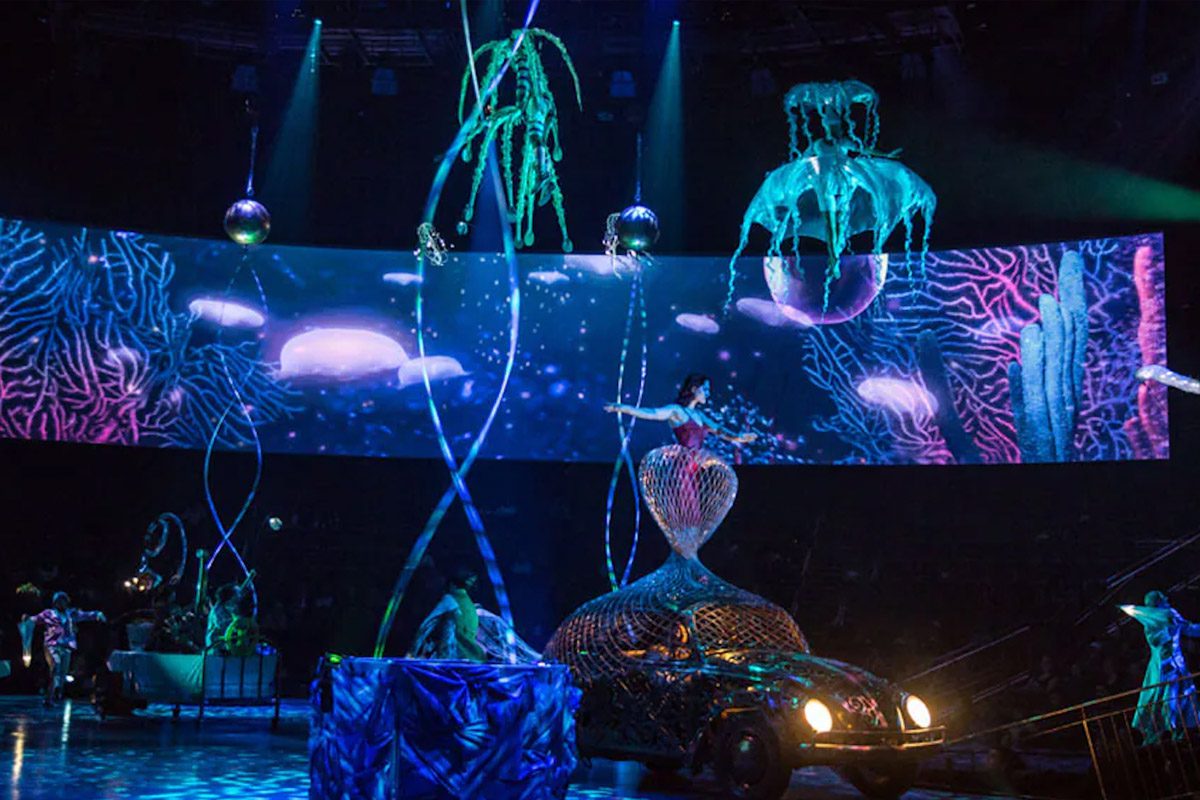 O: Be wow'd by Cirque du Soleil's most famous production inspired by the elegance and beauty of water, and the concept of infinity.
Mystère: Stimulate your five senses with the show's inspiring imagery combined with powerful athleticism and high-energy acrobatics.
KÀ: Watch an action-packed and adventurous show featuring martial arts and gravity-defying acrobatics in front of a colossal empire.
Michael Jackson ONE: Go on a journey through the King of Pop's legacy with choreography, dance, and acrobatics.
The Beatles LOVE: This Grammy award-winning show celebrates the 60s spirit and highlights the Beatles' music.
Mad Apple: This show celebrates the city that never sleeps with high-flying acrobatics, music, comedy, dance, and magic.
Comedy
Carrot Top: Head to the Luxor Hotel to laugh your way through comedic gold of the prop-comedy king of Las Vegas.
Comedy Cellar: Head to where comedy history is made to catch a lineup of famous comedians showcasing their side-splitting acts.
Laugh Factory: This world-famous comedy club has a rotating roster of both beloved comics and new rising stars in the comedy scene.
Free shows in Vegas
3. Have the Fremont Street Experience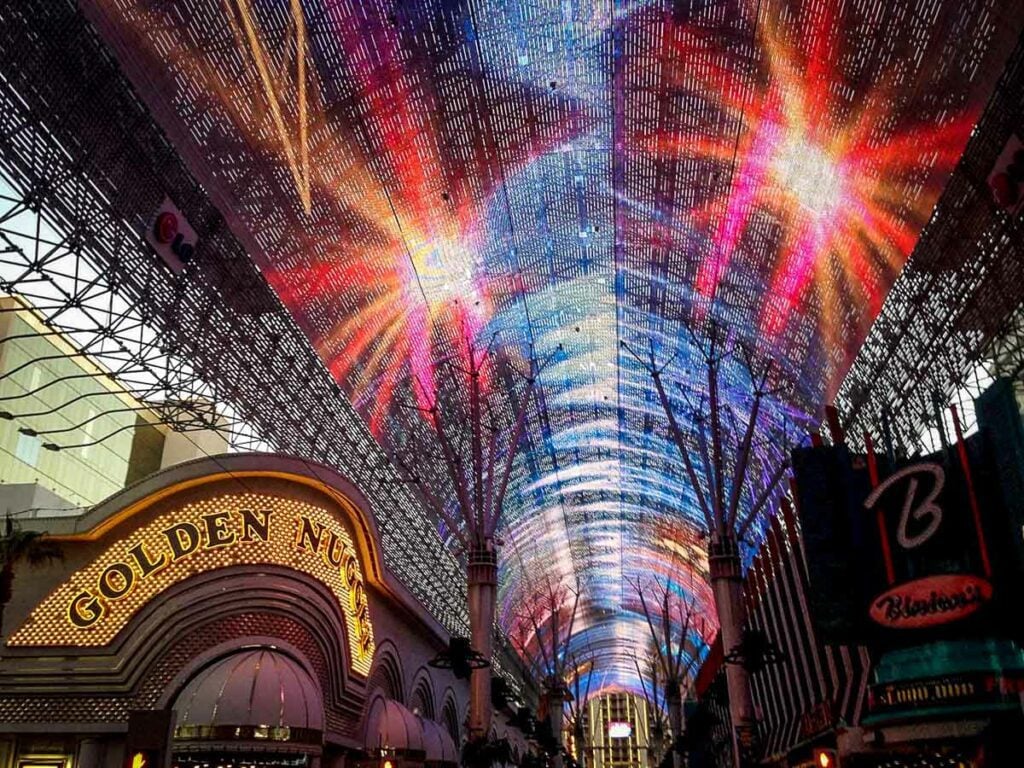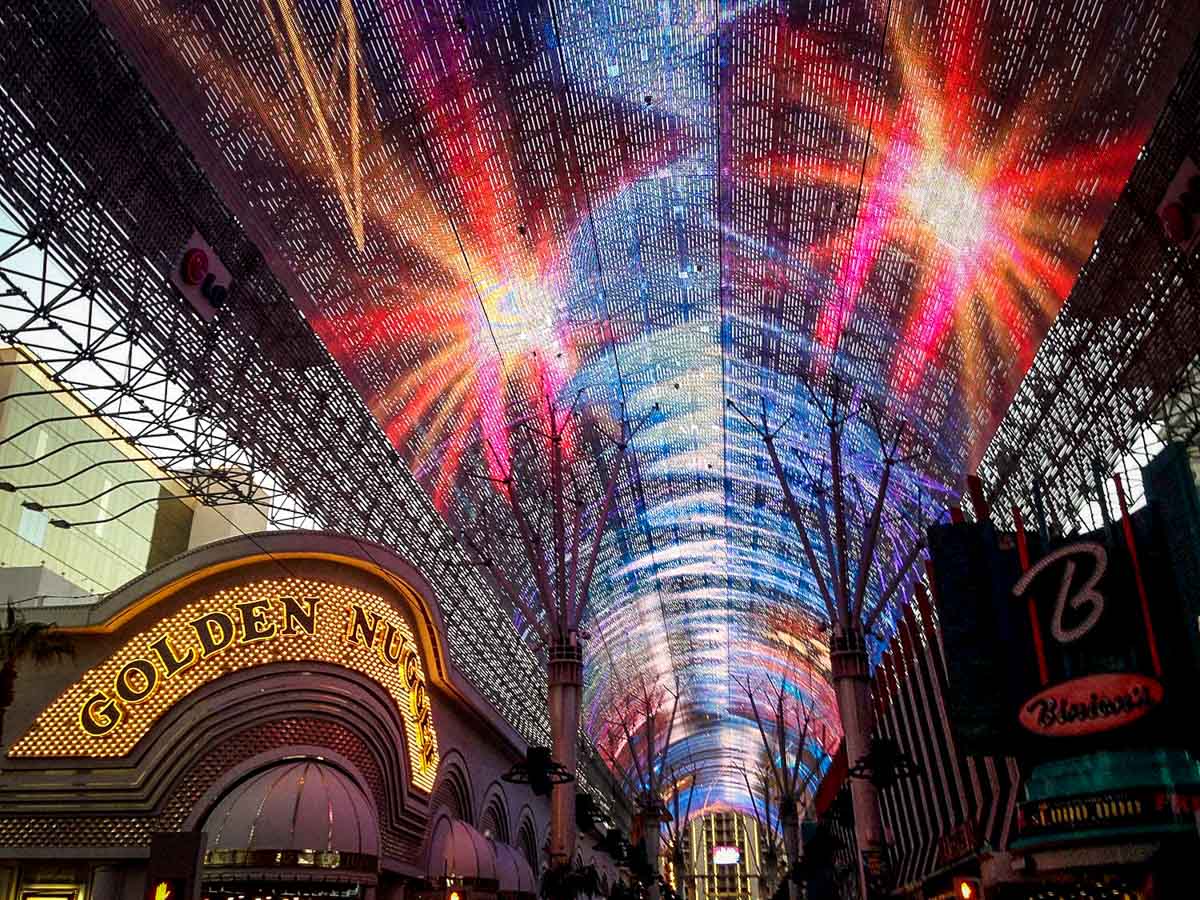 Fremont Street is one of those places that you could spend a whole day touring around and still not see everything this stretch has to offer. Much like the Vegas Strip, it's filled with casinos, hotels, bars, and vibrant neighborhoods, some with exciting names like "Neonopolis" and "Glitter Gulch".
What makes this part of the city so electrifying is the LED "canopy" that runs over the entire street, creating a 24-hour "mall" of sorts that will capture all five of your senses.
This is a great place to eat some of the best food in the city (for cheap!), enjoy street performers, gaze up at people ziplining overhead, and enjoy some of the best people watching you'll likely ever experience.
4. Peep the Bellagio fountains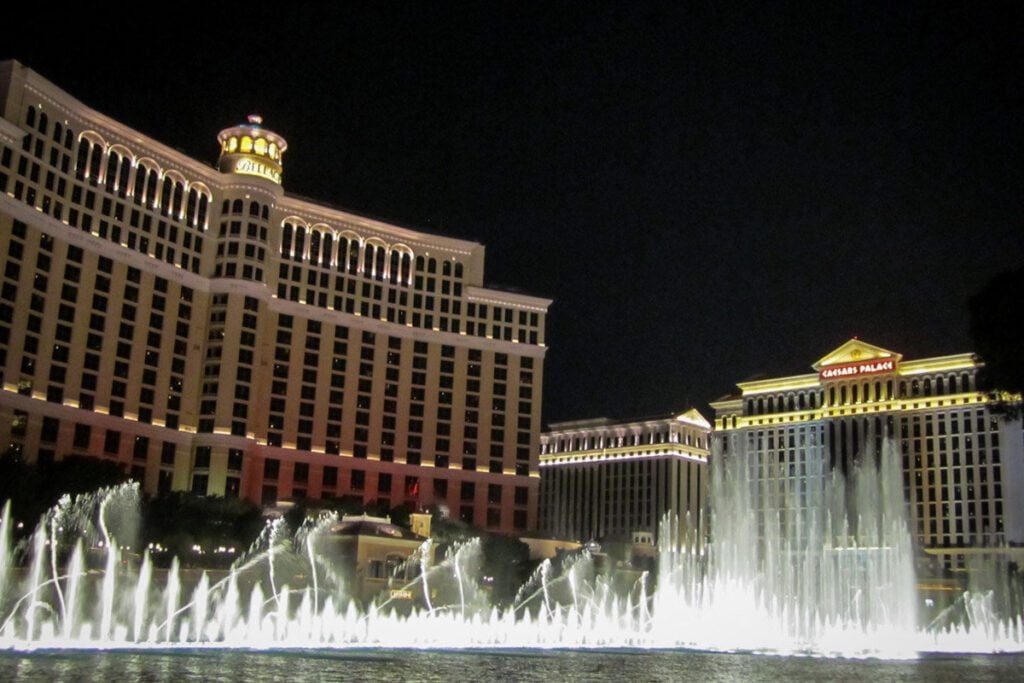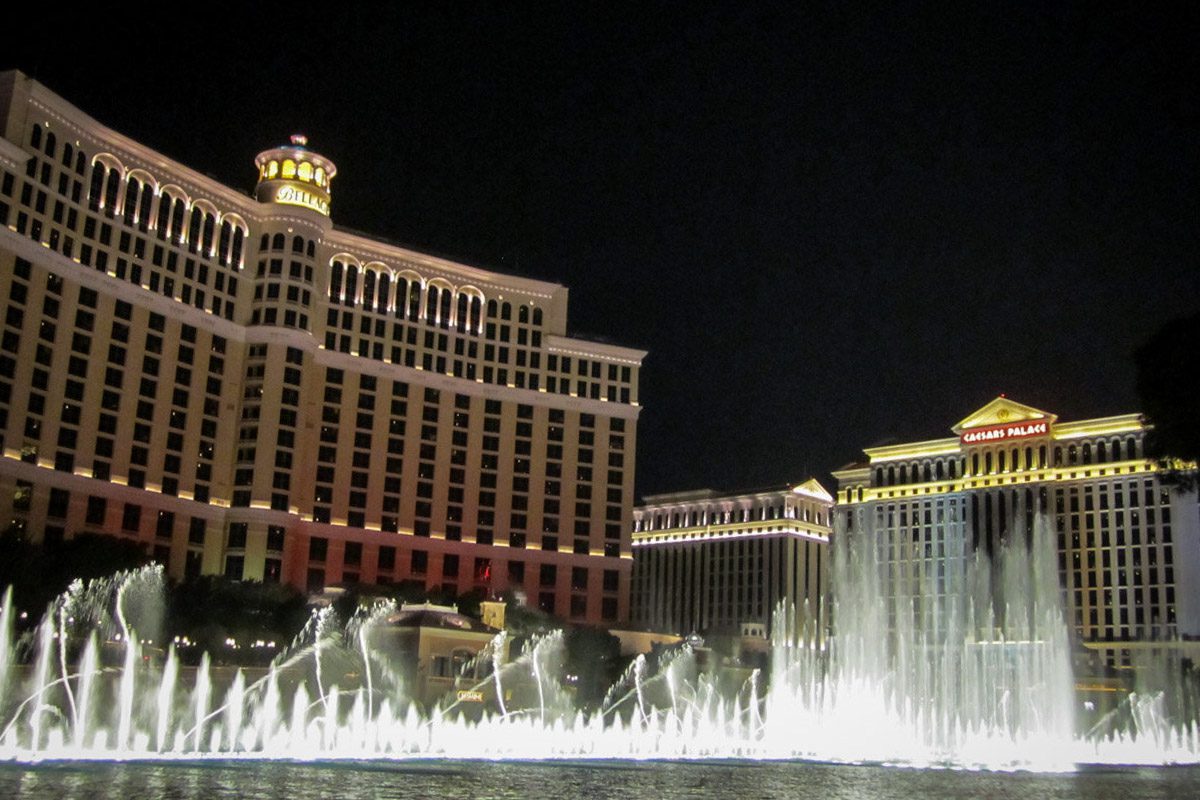 The Bellagio Hotel is an entertainment epicenter all on its own as it offers so many more exciting endeavors than what you'd expect from any regular hotel. If you're not splurging on a few nights of luxury in one of their suites, you're likely paying a visit to witness the iconic Bellagio fountain show.
Located just in front of the hotel's golden archway, over one thousand fountains put on a unique show every 30 minutes during the day and every 15-minutes at night until midnight. This show is a must and one of the top things to do in Las Vegas.
Another must-see while you're exploring the Bellagio is the Indoor Conservatory. With each season, a team of over one-hundred people select flora and fauna to create an impressive display correlating with the season.
This 14,000 square-foot botanical garden is unlike anything you've ever seen before as they create shapes, animals, and objects with live plants to create an immersive experience.
When the season changes, they replant and repurpose as much of the living plant material as possible to uphold their commitment to sustainability.
5. Visit the iconic Las Vegas sign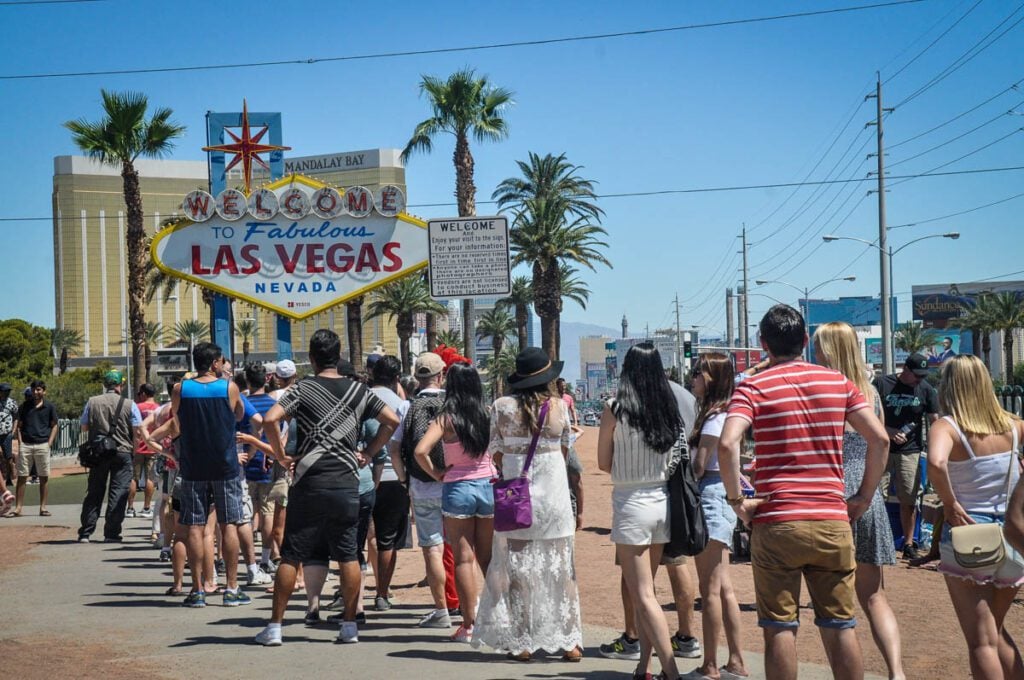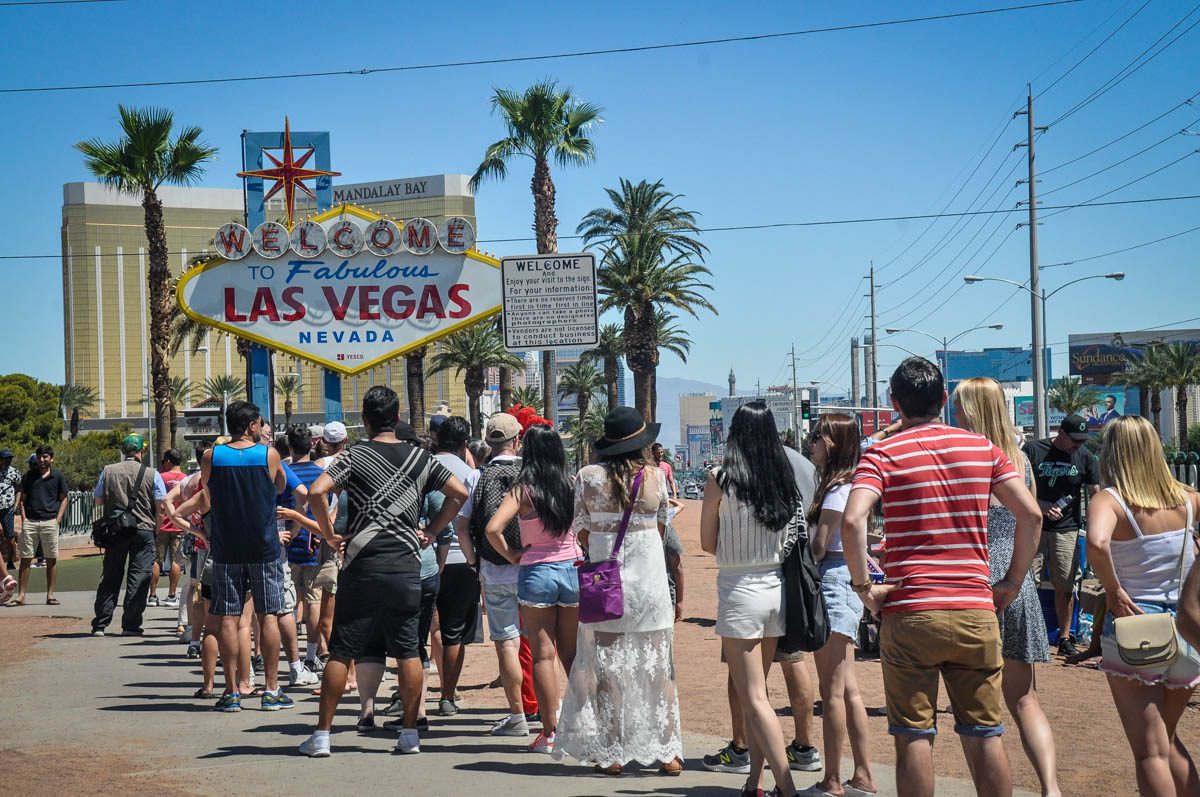 There is nothing more quintessential in Vegas than the classic "Welcome to Fabulous Las Vegas" sign, located at the very south end of the Strip.
This sign is a must-do photo op for anyone visiting Las Vegas for the first time, so expect this area to be crowded with people waiting to take a photo.
If you're set on getting an Insta-worthy shot, try to visit early in the morning before the crowds come in. The lighting isn't as harsh in the morning, either, so it's prime time for a good shot!
6. Take a tour around the world without leaving Vegas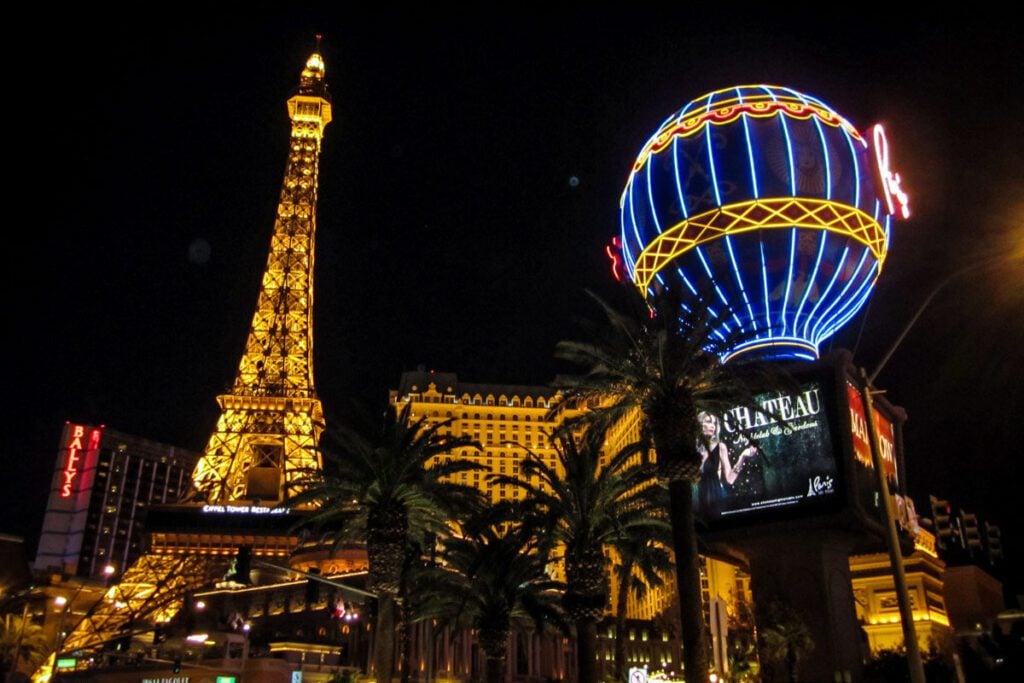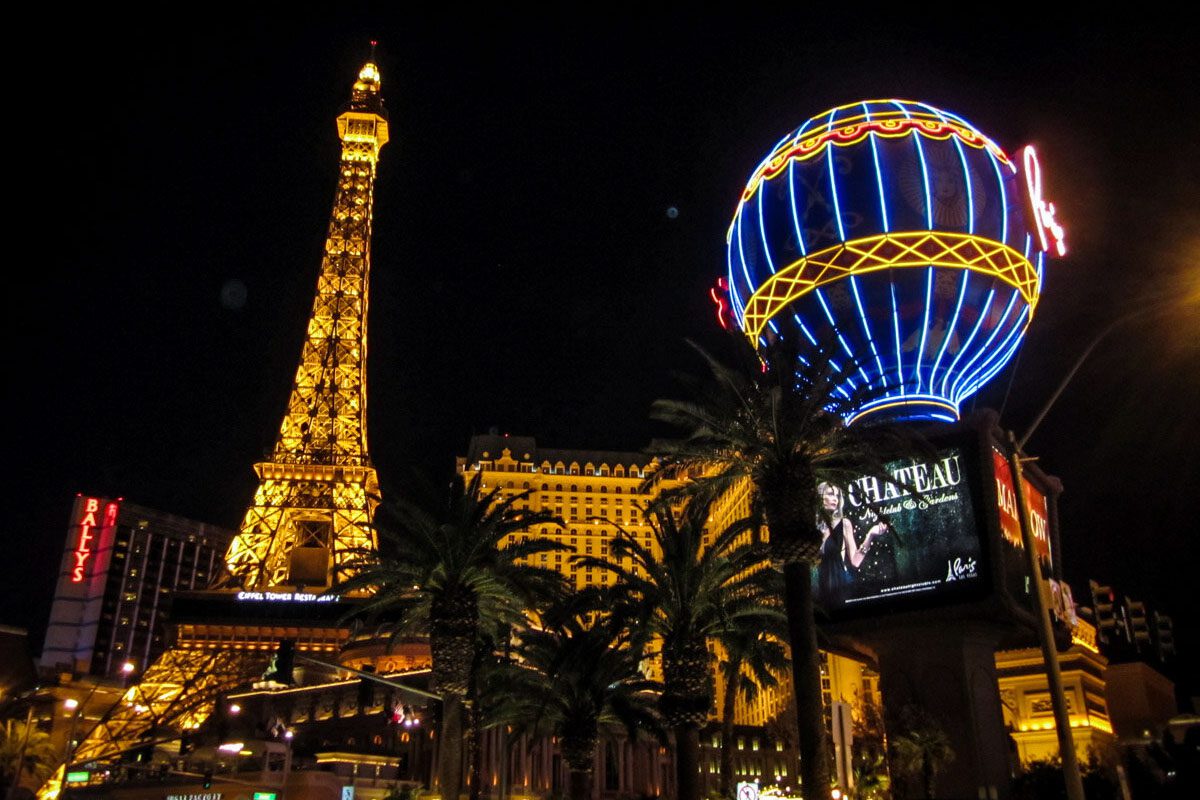 One of the most intriguing things to do in Las Vegas is to admire all the destination-themed hotels and resorts along the Strip. Many of them have iconic landmarks and skylines from around the world, so you can take a round-the-world trip in only a few short miles.
The Venetian: Transport yourself to Venice, Italy as you pass beautiful renaissance art in the lobby, gondolas gliding through the famous canals, and recreations of famous Italian landmarks.
The Luxor: The main feature of this Egyptian-themed hotel is a replica of the massive sphinx that is normally photographed in Luxor, Egypt. At night, marvel at the twin ziggurat towers and the Luxor Sky Beam, the strongest beam of light in the world.
Caesar's Palace: Travel back in time to the Roman Empire at Caesar's Palace. See the world-famous statue of David, Trevi Fountain, the goddess Venus, and the Emperor Nero among Roman-inspired columns and fountains.
Paris Hotel: Marvel at this sample-size version of the City of Lights on top of the Eiffel Tower, under the Arc de Triomphe, and at La Fontaine des Mers.
New York-New York: Leave Sin City and step into the bustling metropolitan environment of the Big Apple. View the glittering skyline of New York City, visit the Statue of Liberty, gaze up at the Empire State Building, and pay a visit to the Brooklyn Bridge.
7. Head to the beach (club that is)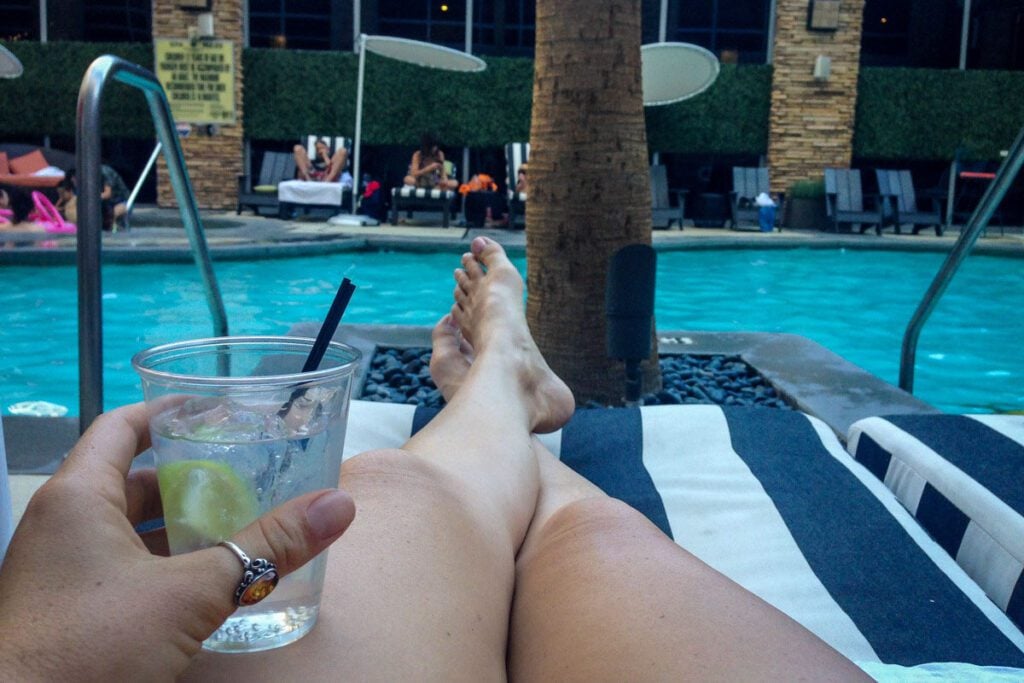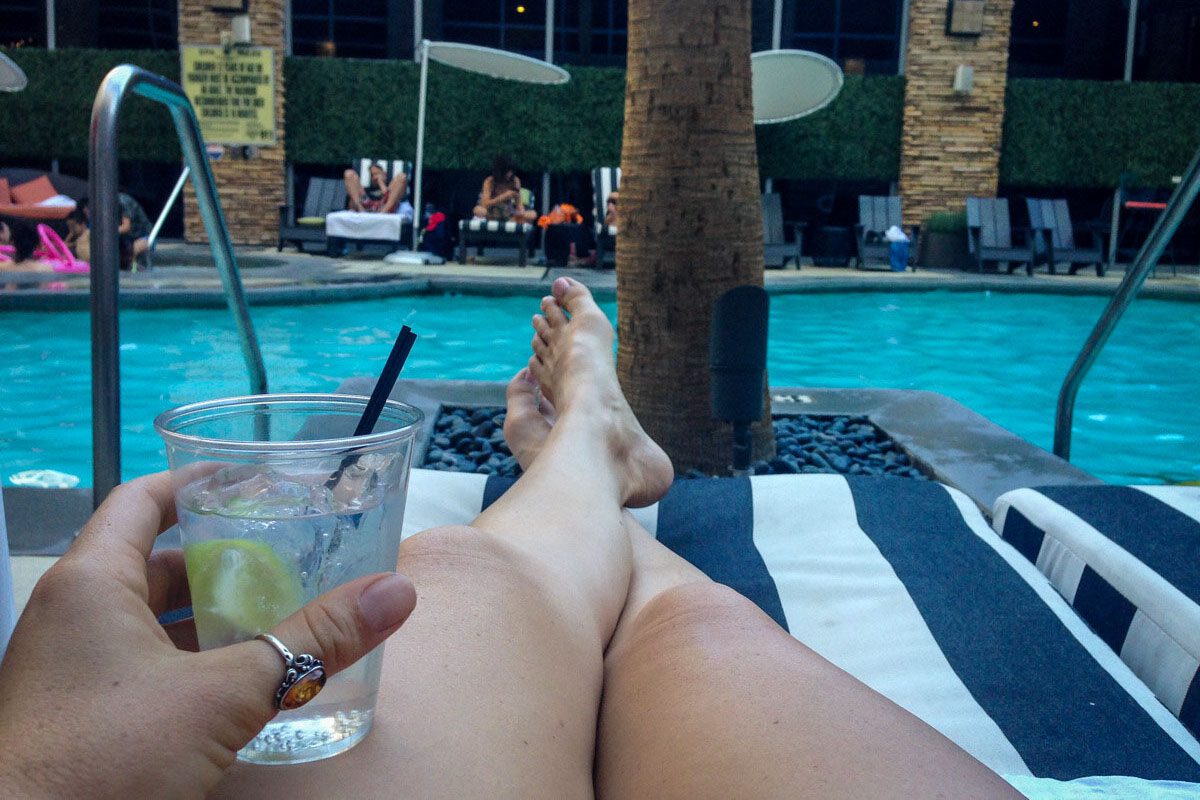 When you're not shopping, making day trips, and visiting other attractions in Vegas, the next best way to enjoy your time in the sun is to spend the afternoon at a beach club. Vegas beach clubs are basically next-level pool parties that are both boozy and relaxing.
Many spots require tickets for the DJ's and the option to book cabanas and daybeds. So make sure you book in advance if that's something you're interested in, especially on weekends.
Encore Beach Club: Experience one of the best pool parties in Vegas at Encore. They have a rolling lineup of some of the best DJ's and you'll arrive at the kind of party that is normally experienced at Vegas' hottest nightclubs.
Marquee Dayclub: Luxury day beds, cabanas, cocktails, and food from Vegas' most renowned chefs make up the ultimate Marquee Dayclub experience. Grab tickets for the main musical talent or book out one of their luxurious daybeds and cabanas.
Wet Republic: This is the "it" spot when it comes to beach clubs in Vegas. Enjoy their 54,000 square foot venue with party cabanas, tricked out bungalows, and their poolside bottle and pitcher service.
8. Dance the night away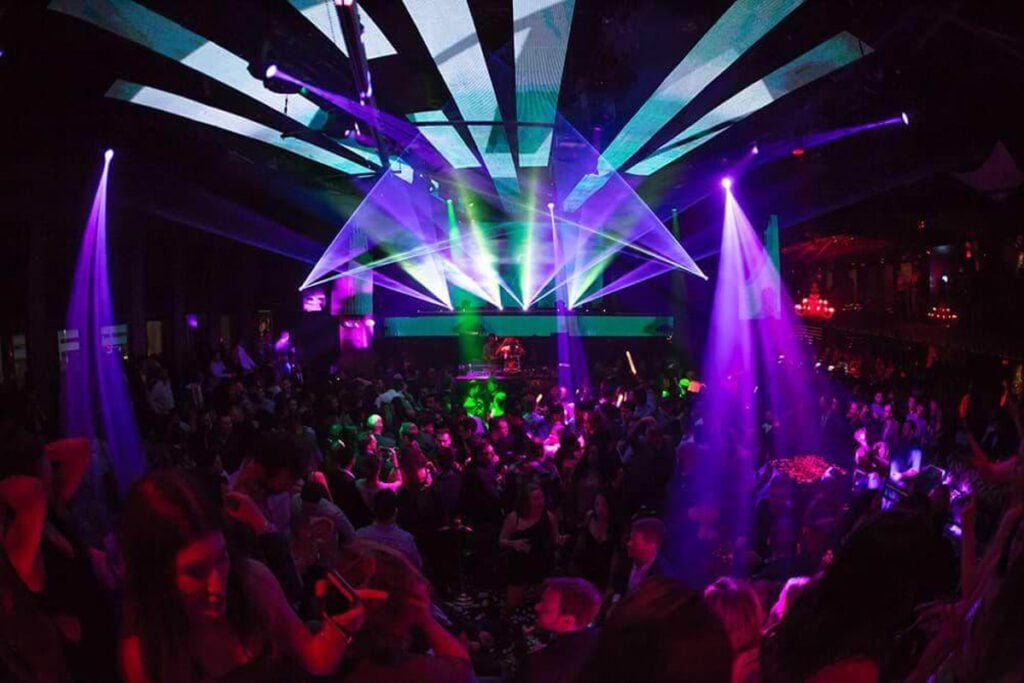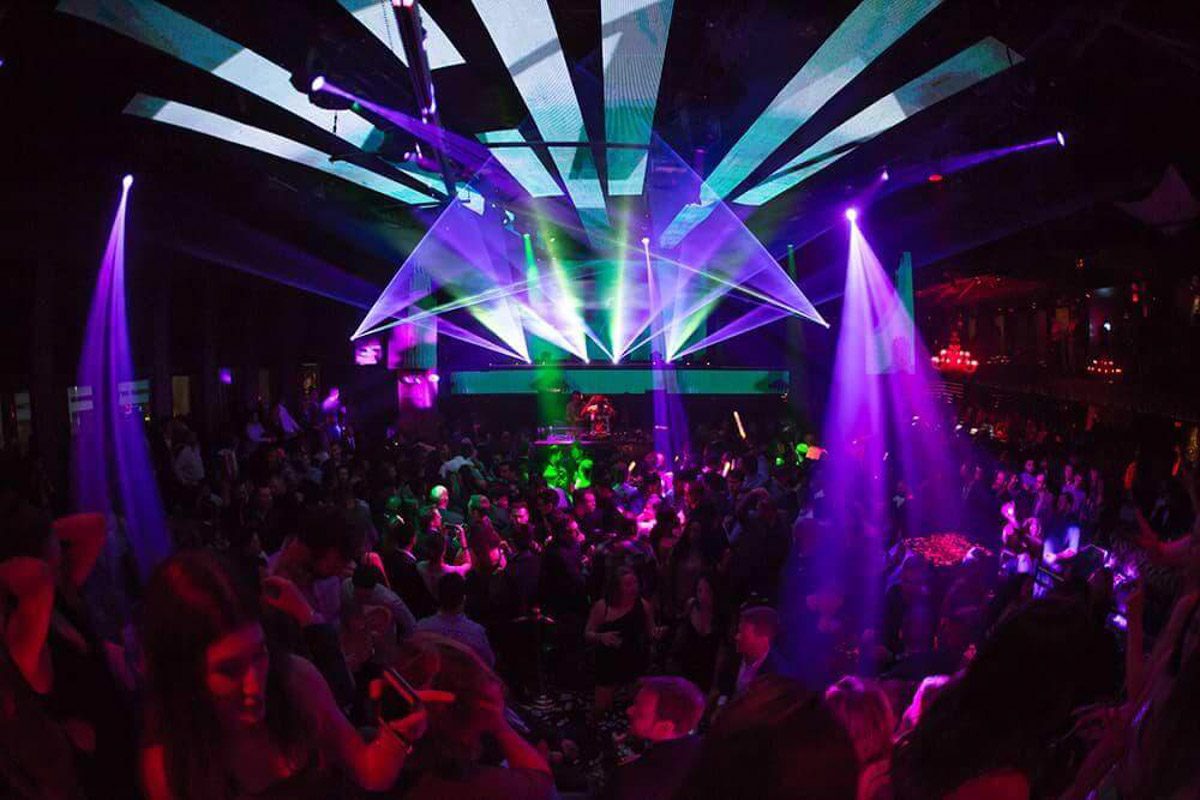 One of the most quintessential things to do in Las Vegas is to enjoy the sheer production value of their nightclubs. We're talking lights, music, bass, size, all of it is of the highest possible caliber and you cannot leave Vegas without experience just one of the cities incredible night clubs:
XS: Known for its lavish nightlife and big name DJs, XS is an elegant and intimate nightclub experience. Taste their signature cocktails and listen to popular DJs like Diplo, the Chainsmokers, and Marshmello.
Omnia: The word "Omnia" means "everything", and that's exactly what you'll get when you enter this jaw-dropping club. This club is like nothing you've ever experienced before.
Jewel: This is a multi-level nightclub with an other-worldly DJ booth that can rotate 360-degrees. You must experience this club to appreciate it, especially with artists like TYGA, Lil Jon, and Steve Aoki regularly making appearances.
9. Relax and unwind at a spa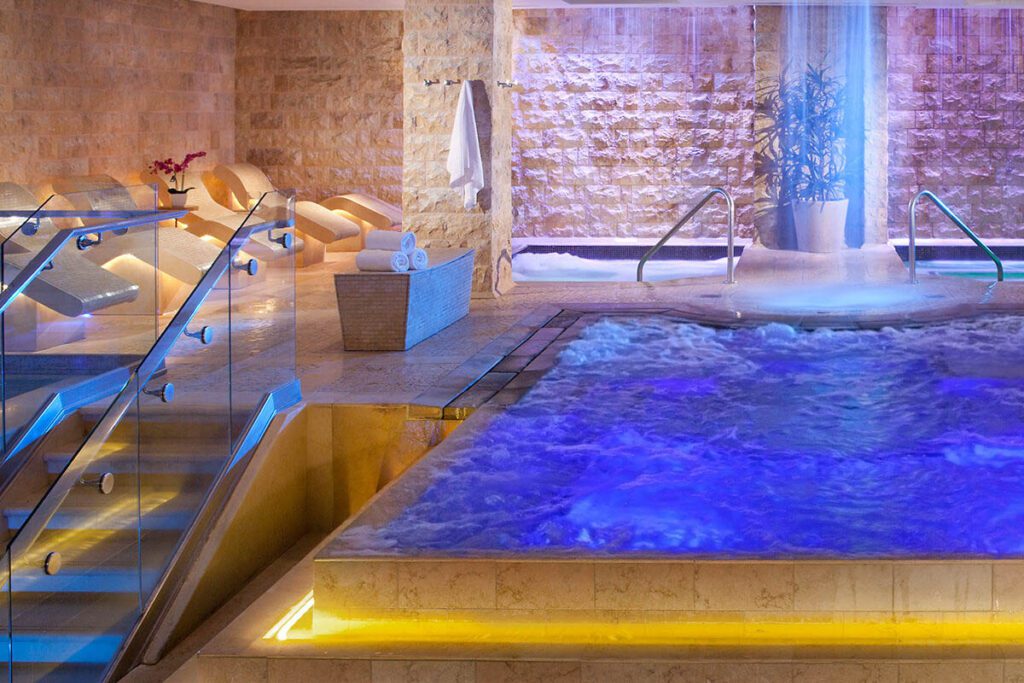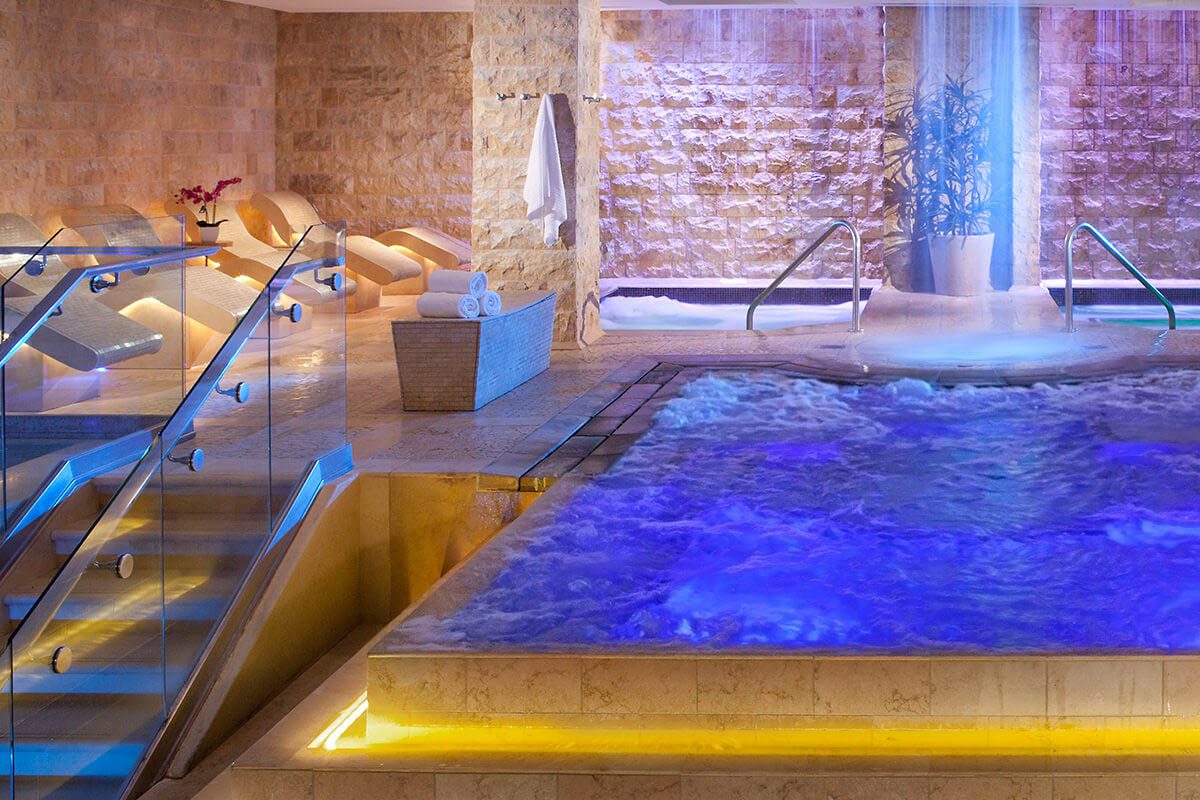 Leave the bustling strip behind and step into a peaceful and relaxing spa experience. As we mentioned above, the hotels in Vegas are MUCH more than your regular stay, so you can add luxury spas to their already extensive lists of amenities.
While enjoying a massage or facial, you can also access all the spas amenities for the entire day. And YES, you could totally spend an entire day exploring a single spa!
Qua Baths & Spa: Caesar's Palace reigns the title for one of the best spas in Vegas. Their 50,000 foot square foot spa will blow your mind, particularly their snow room.
Sahra Spa at Salon & Hammam: This spa at the Cosmopolitan of Las Vegas inspires intimate experiences in the desert with their canopies of clear skies, moonlit nights, and sand sculptures.
If you could choose any city that would require a deep cleansing and detoxing, Las Vegas takes the cake. With its over the top nightclubs, day clubs, and casinos, it only makes sense for the city to make your recovery just as grand.
10. Have a boozy brunch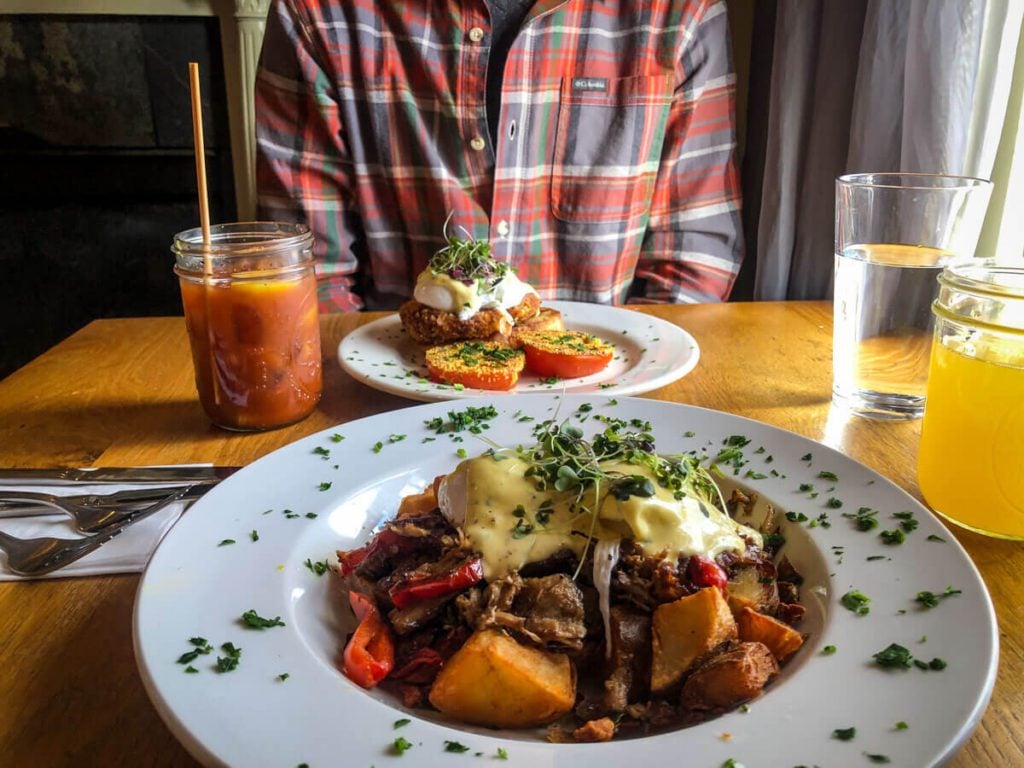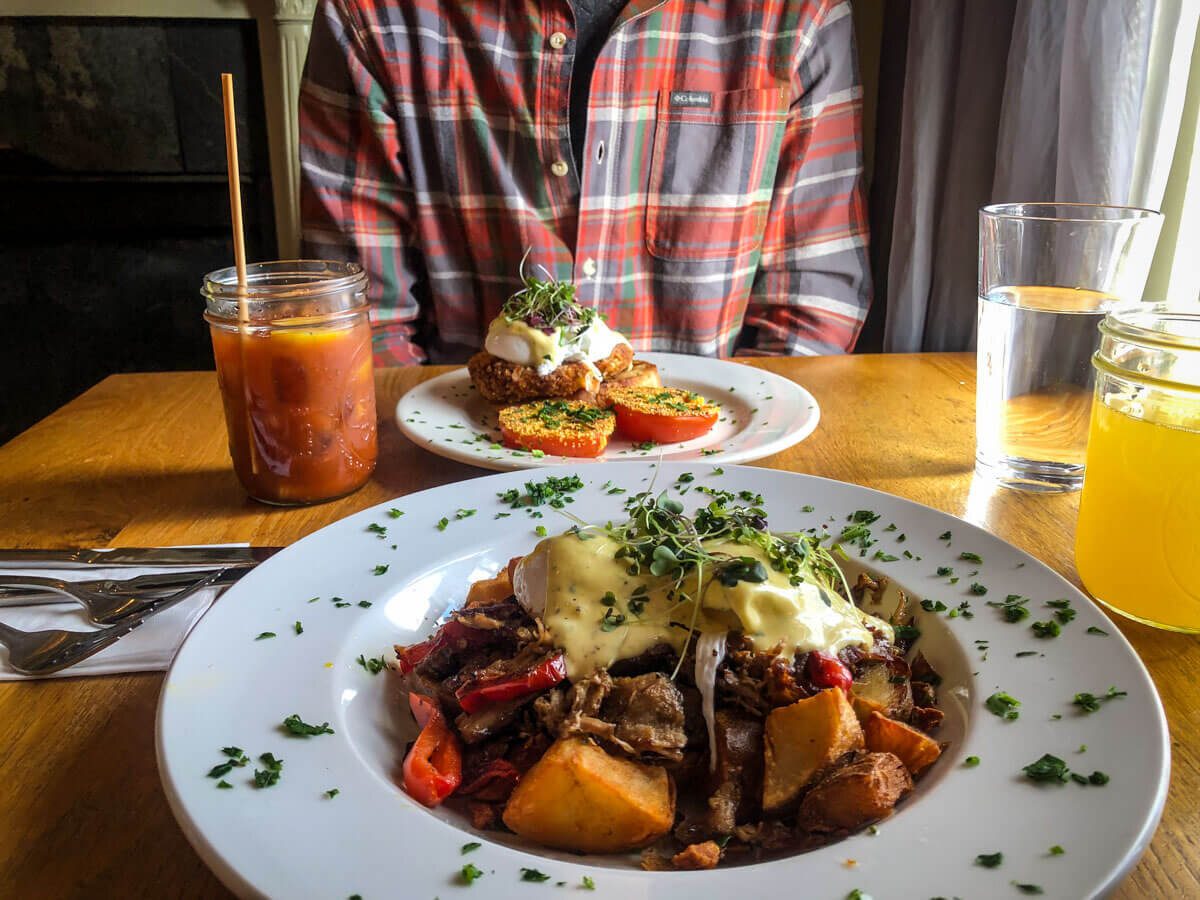 A classic night in Las Vegas will have you in need of a hearty brunch to recoup and refuel. And lucky for you, they do brunch just as good as an iconic evening out on the Strip.
Brunches in Vegas are popular late-morning endeavors, so double check to see if you can make a reservation in advance to beat the lines. Otherwise, be prepared to wait a bit to be seated.
Bardot Brasserie: This French-inspired spot features an adult beverage list much larger than the actual food menu. Start with classic cocktails, bloody marys, or a pastry basket and then indulge in their classic steak and eggs.
Tableau: This spot almost always has a celebrity guest appearance, so you know the brunch and drinks are worth a visit. Enjoy their extensive brunch menu on their sunny patio or solarium.
Mimosa Gourmet: Locals flock to this brunch spot for none other than their giant mimosas served in goblets. Choose from 14 different flavors and pair it with their classic breakfast plates and skillets.
11. Catch a happy hour or two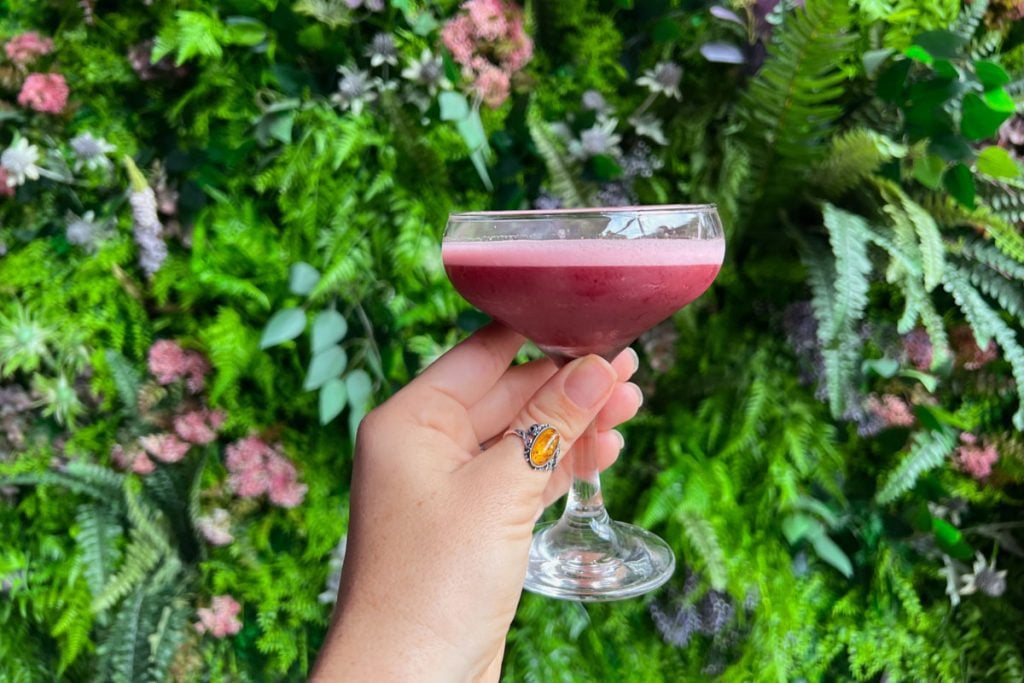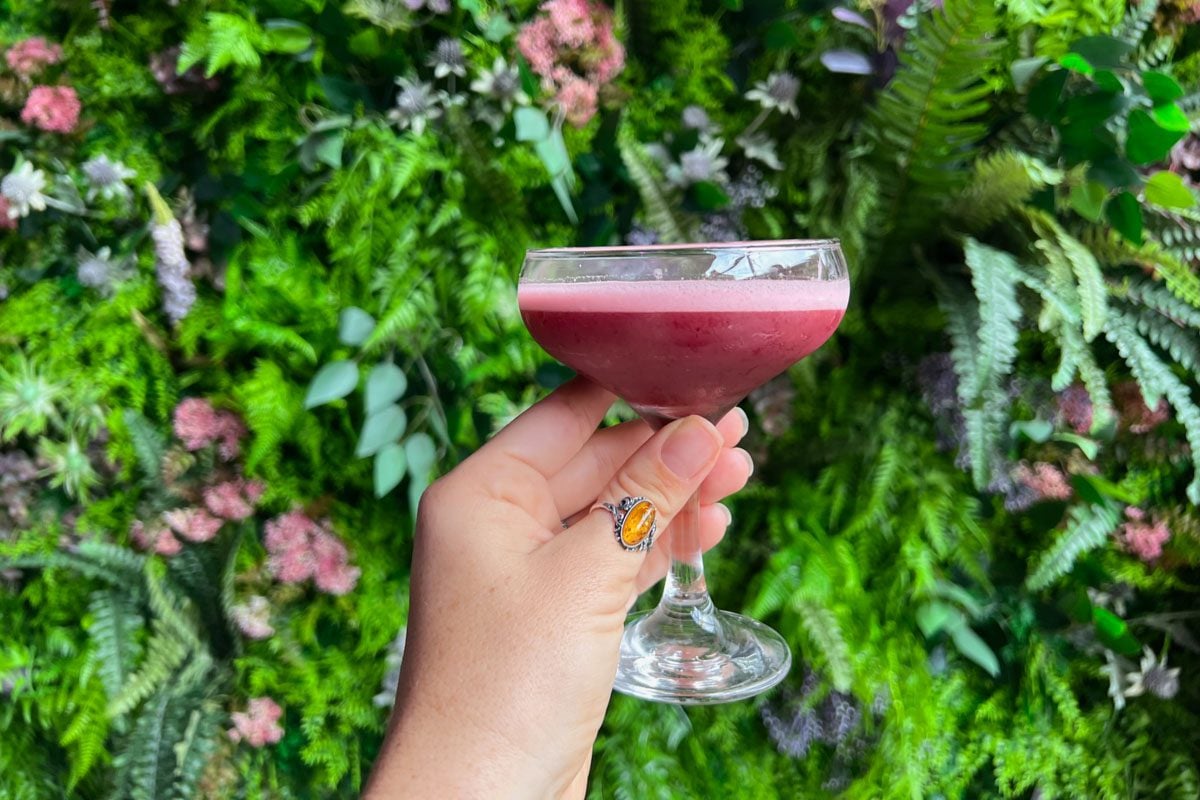 It goes without saying that 3-6:00 p.m. in Las Vegas is one of the best ways to get boozy on the cheap. You could visit a different bar in Vegas for happy hour every week and STILL not get to all of them within a calendar year.
High Roller: One of the best happy hours in Vegas is on the High Roller observation wheel. For $60, you'll get unlimited drinks in your half-hour rotation. Considering a regular ride is around $30, this is more than worth the price, and with expert bartenders, you'll get plenty to drink on your ride.
Downtown Cocktail Room: Head here for their acclaimed "Halfy Hour" where everything on the menu is half off. They offer the classic recipe for a good time and one of the most experimental cocktail menus in Vegas.
Commonwealth: The best time to drink in downtown Las Vegas is on the weekends, and Commonwealth has a unique happy hour that's conveniently exclusive to weekends from 7-9:00 pm. This is a great way to get your night of downtown bar-hopping started on the cheap.
12. Take a gondola ride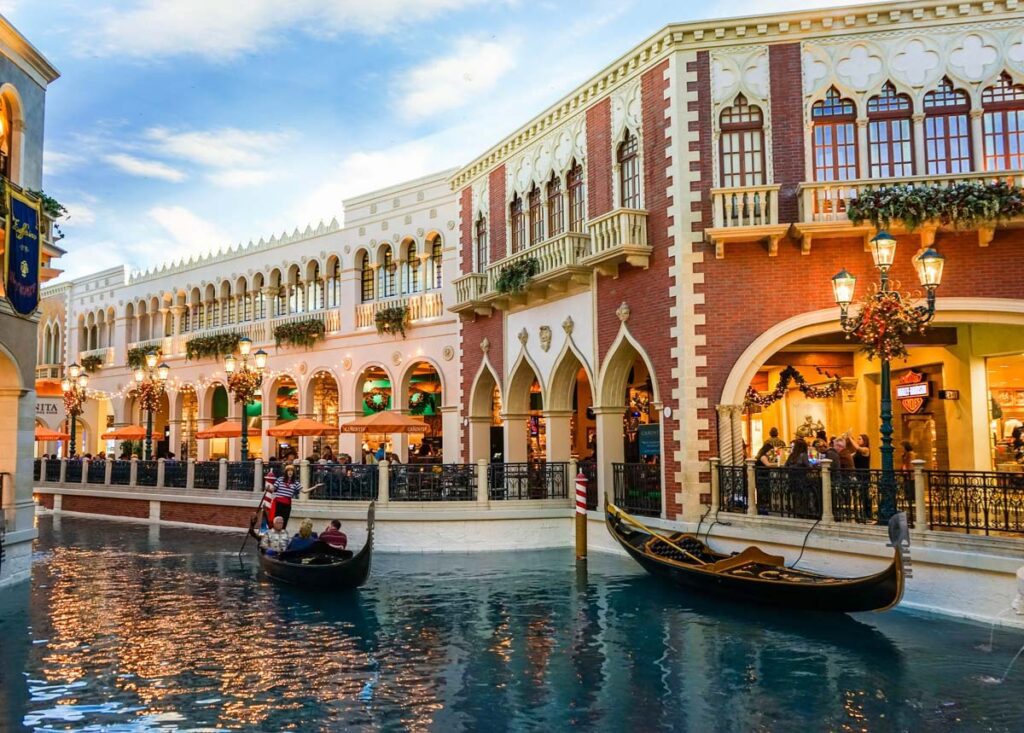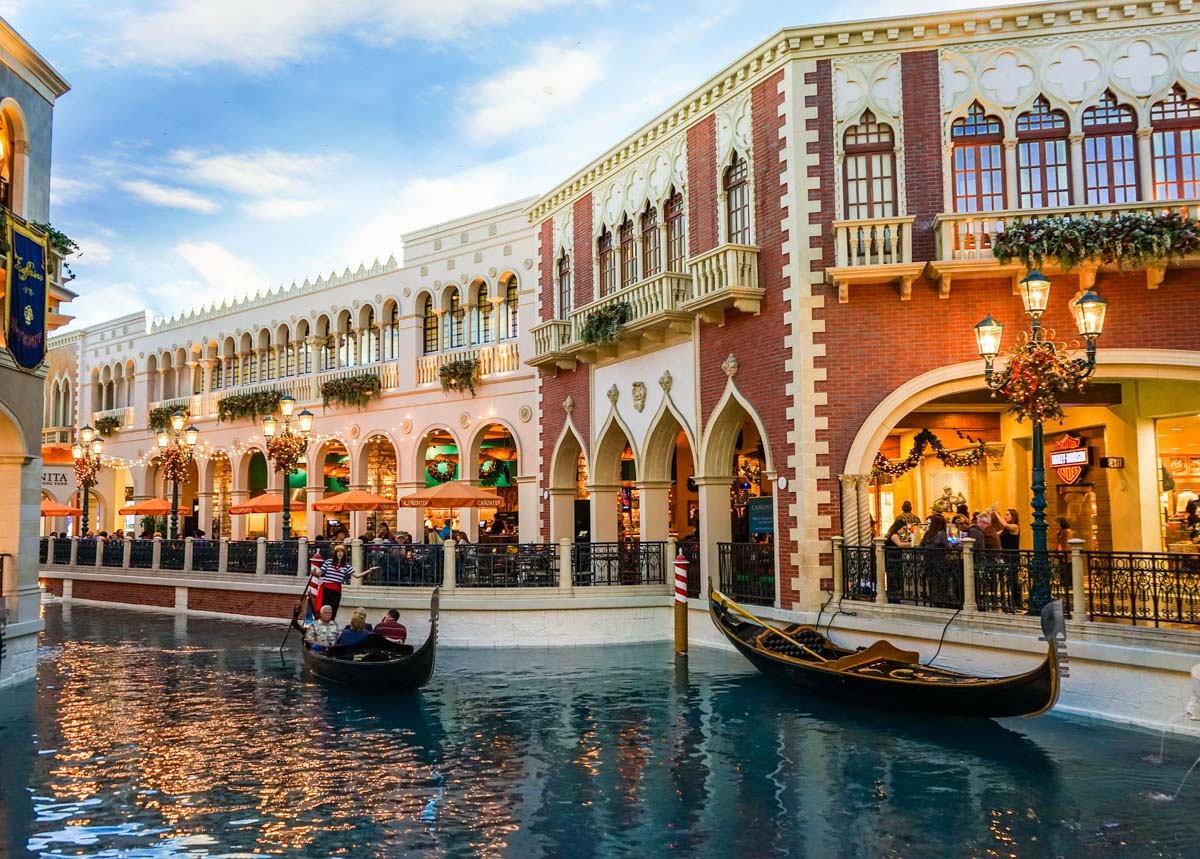 Transport yourself to the canals of Venice, Italy as you float down a replica of the famed Grand Canal. You'll forget you're in Las Vegas on this authentic gondola ride passing bridges, balconies, and cafes while listening to a singing gondolier guiding you through the water.
The Venetian offers an indoor and outdoor gondola ride depending on your preferences. Each of them are memorable, although the indoor is more of the touristy ride and the outdoor is more private and relaxing. In the summer months however, you'll definitely want to book the indoor ride to get out of the heat.
It's best to book your tickets online, in advance since the rides get booked up very quickly. This ticket includes entrance to the Madame Tussauds Wax Museum (see #15), where you can see some of your favorite celebrities in wax form before your ride.
13. Ride the Big Apple roller coaster at New York, New York Hotel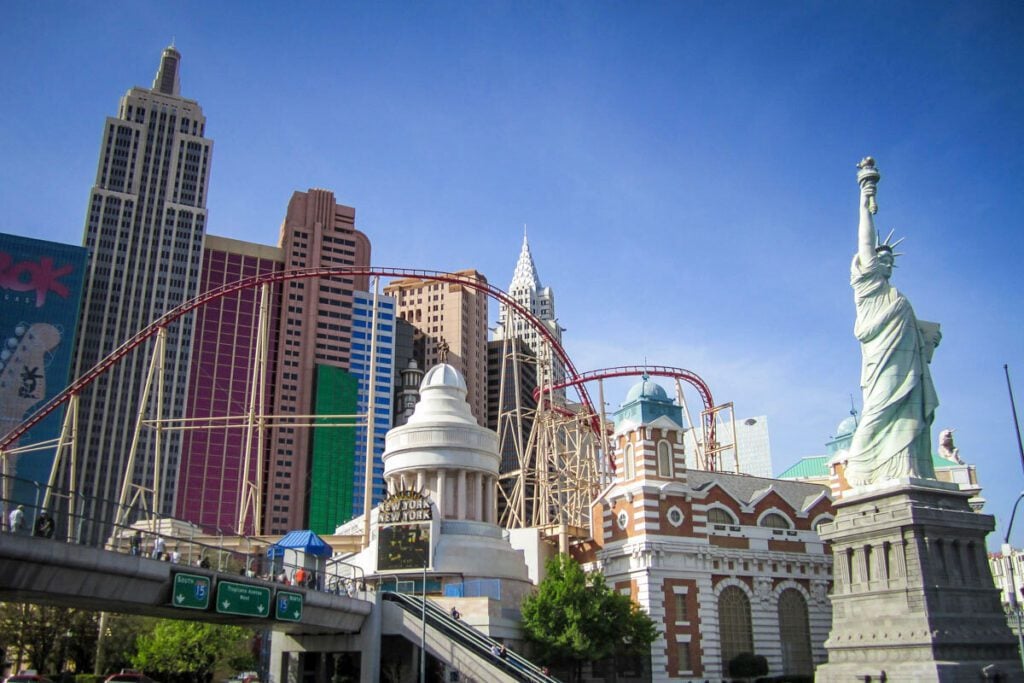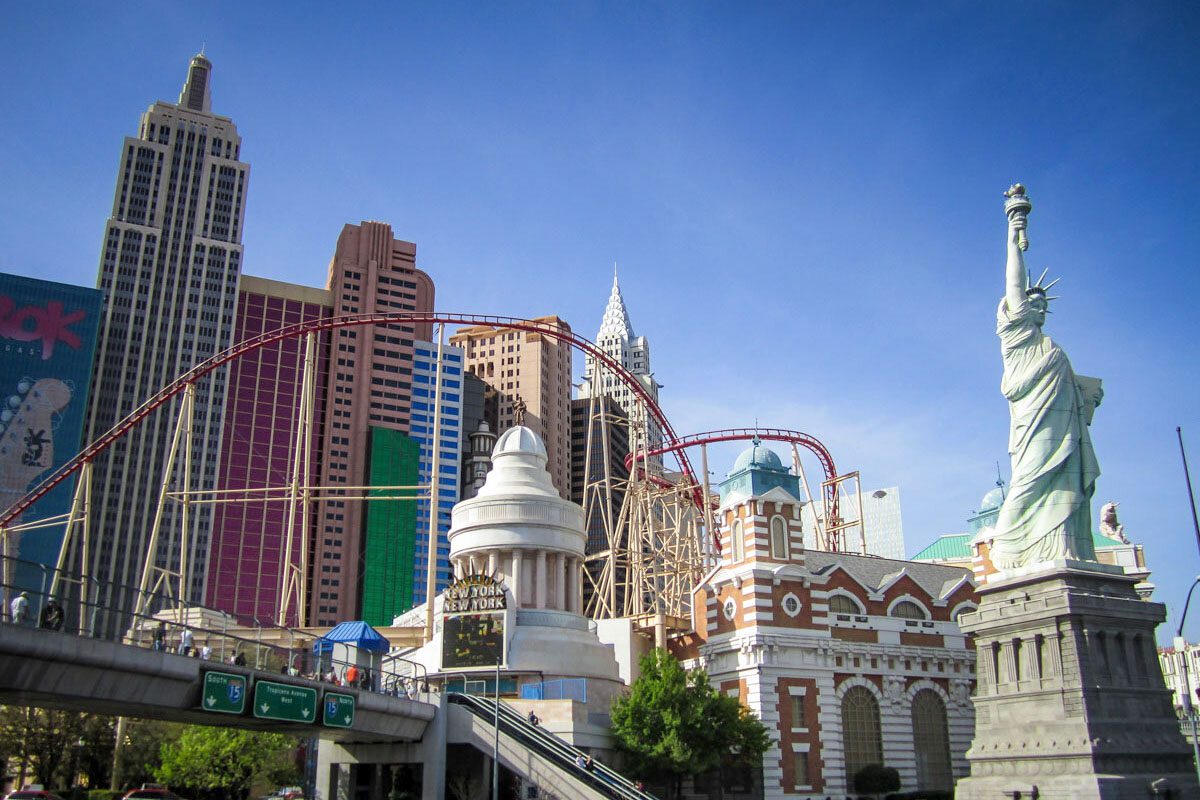 Like just about everything else in Las Vegas, they went over and above creating this iconic roller coaster.
The Big Apple roller coaster is the first coaster to have a full 180-degree twist among exciting turns and vertical drops. Feel as though you've just hailed a taxi in downtown Manhattan, as you whizz by at 67 mph in a taxi-themed train.
The coaster has timed ticket entry, so make sure you book your ticket in advance to make sure you get a ride.
14. Get high (at the Stratosphere Hotel)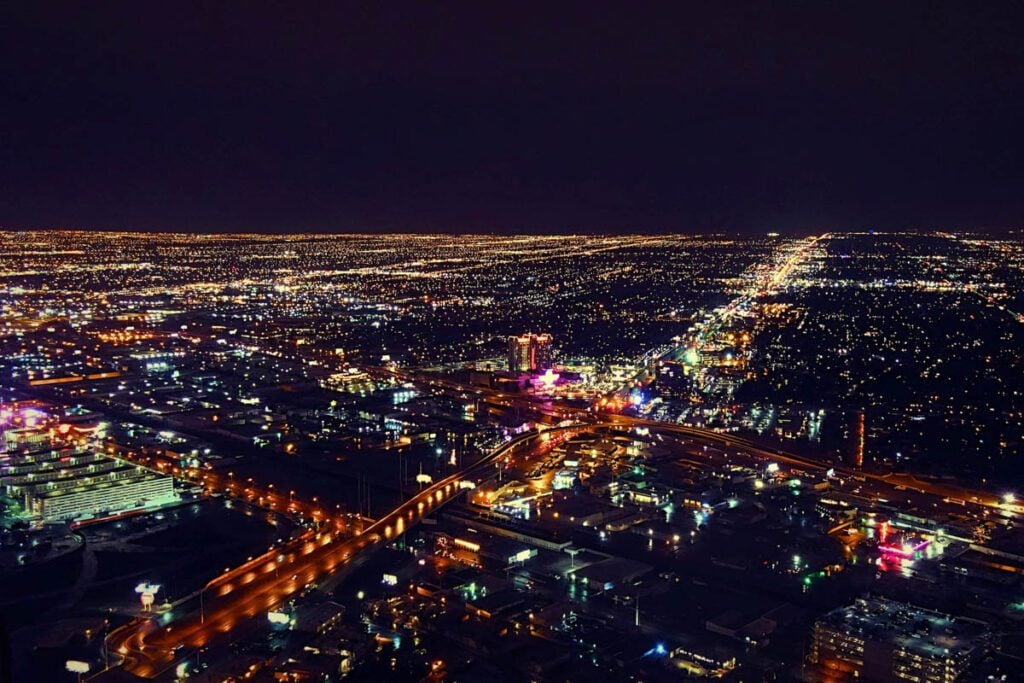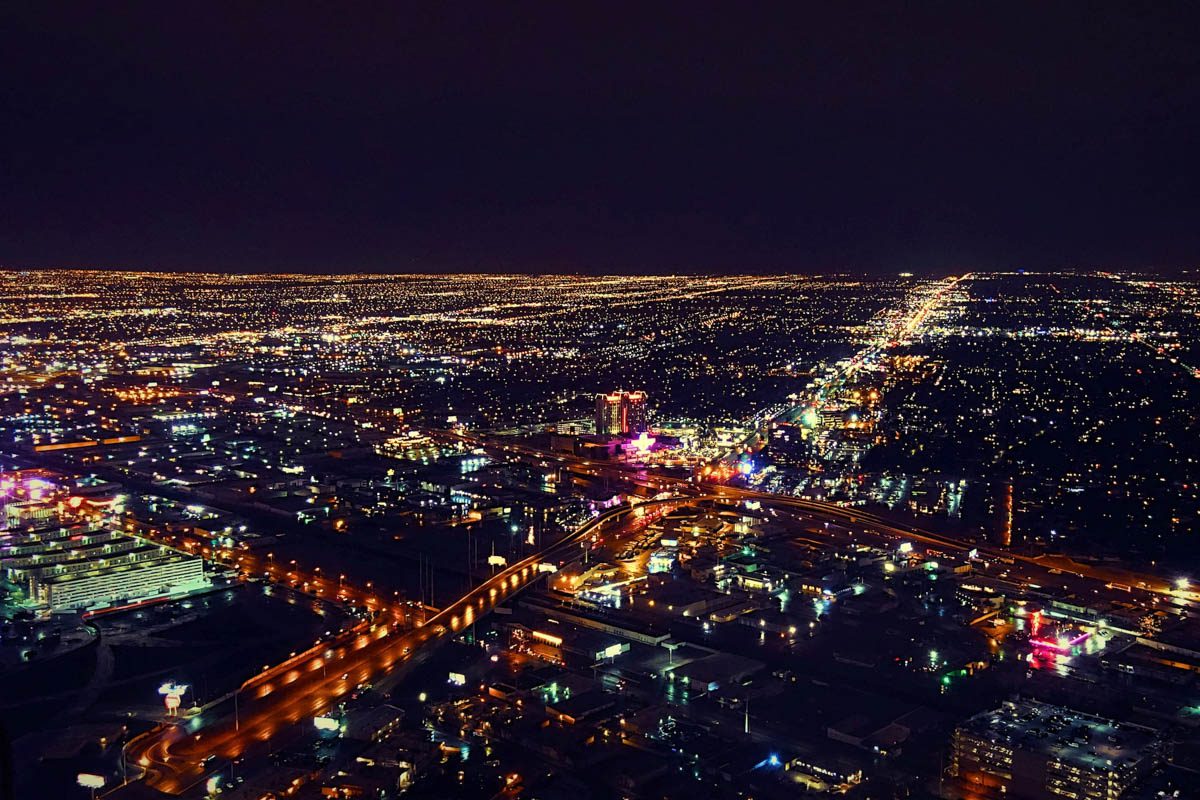 Conquer your fear of heights on top of the tallest freestanding observation tower in the world. At 1,149 feet tall, you'll find out why this was voted the best view in all of the city. Head to floors 108 and 109 of the SkyPod to see the best 360-degree view of Las Vegas.
There is both an indoor and outdoor observation deck to enjoy the glittering casinos and hotels from above, so if heights aren't your thing, you can enjoy the same views from behind angled windows. After viewing, visit the bars or lounges or indulge in their award-winning cuisine.
15. Snap a selfie with your favorite celebs at Madame Tussauds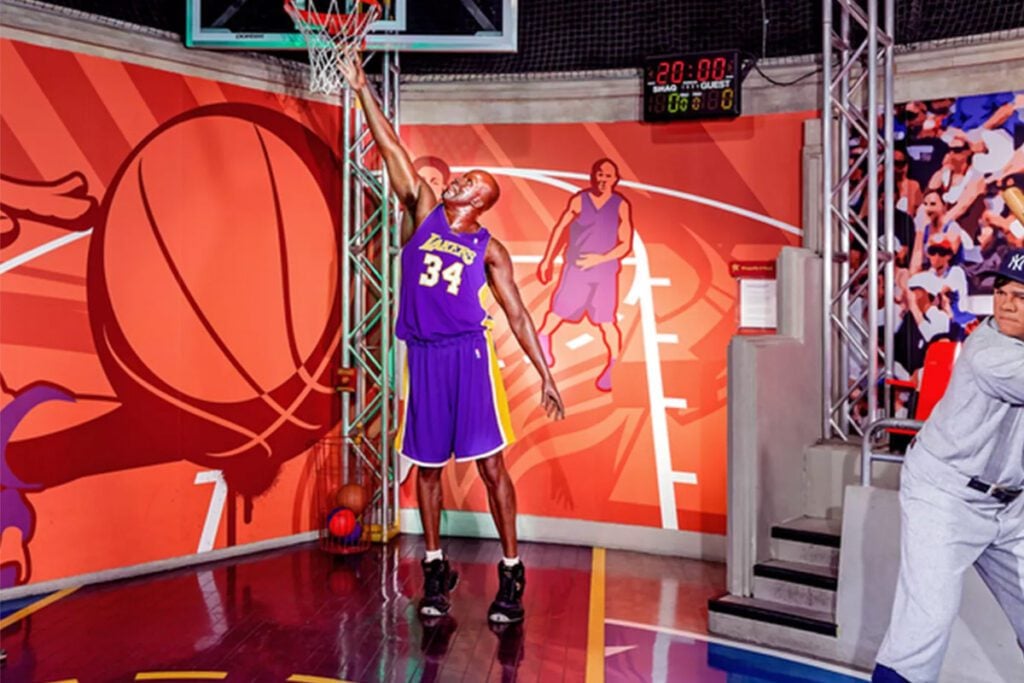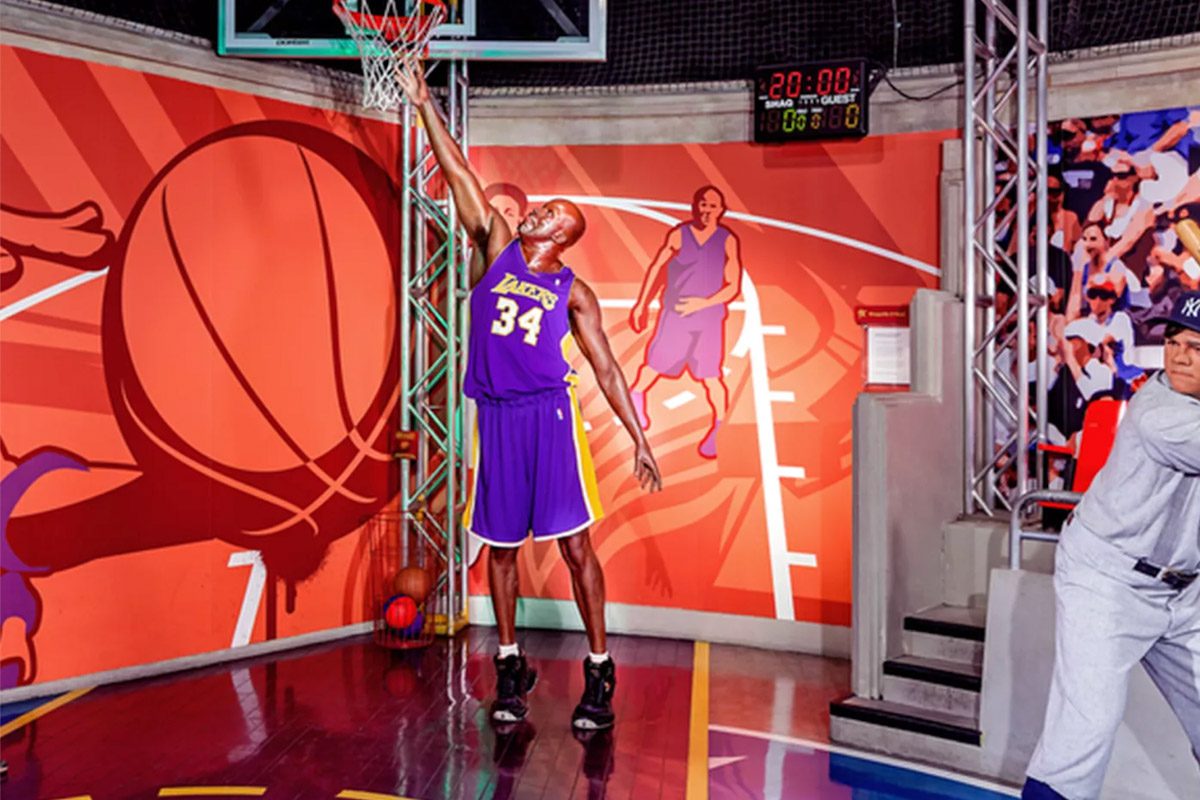 Experience the ultimate celebrity meet and greet at Madame Tussauds Wax Museum. Wander through 80 different wax figures of well-known figures like Snoop Dog, Miley Cyrus, Beyonce and many more famous musicians, actors, and athletes!
The museum has two floors with a maze of figures, a bar, gift shop, and even photo ops that add to the fun of your visit. Make sure you don't miss the 4D Avengers movie that will transport you into the Marvel Universe.
What makes this wax museum different from others is that it's entirely interactive. On your visit you can have a drink at the Hangover Bar, star in a music video with Drake, and join Beyonce for Coachella.
Different tickets have different perks, but be sure to buy your ticket online to get the best price and to ensure you'll get a spot.
16. Ride the High Roller Observation Wheel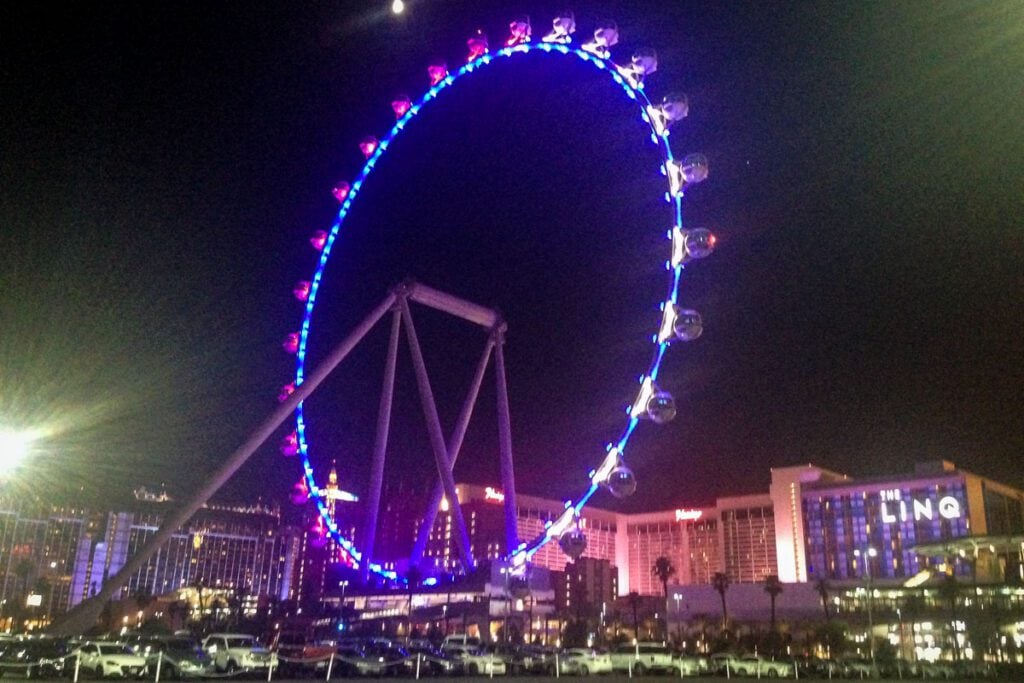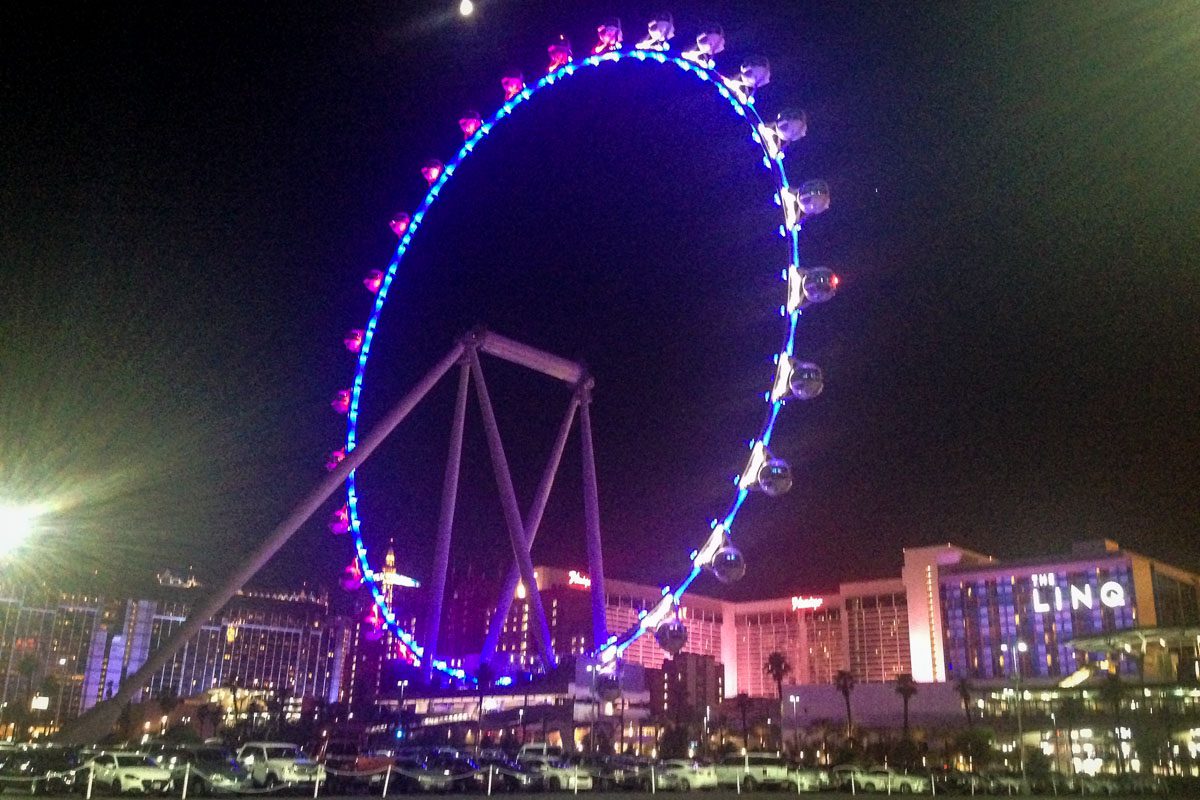 Step into the largest observation wheel in North America and enjoy the Las Vegas skyline from 550 feet above the Strip.
This observation wheel will crush any other ride you've had since their spacious gondolas feature floor-to-ceiling glass, TV-lined walls, and even the option to hire a bartender to mix screwdrivers for you.
You'll enjoy 360-degree views of Vegas as an audio tour explains the history of the city and points out landmarks as they appear during the 30-minute rotation.
The wheel is in the heart of the Las Vegas LINQ, an area filled with restaurants, bars, and shops, which is the perfect spot to visit after a scenic ride over the area.
---
Unique things to do in Las Vegas
After you've tackled the highlights of Sin City, you may want to take on some more one-of-a-kind experiences. These attractions are not only unique to Las Vegas, but they're exclusive, so you cannot find them anywhere else in the world.
17. Visit the Neon Museum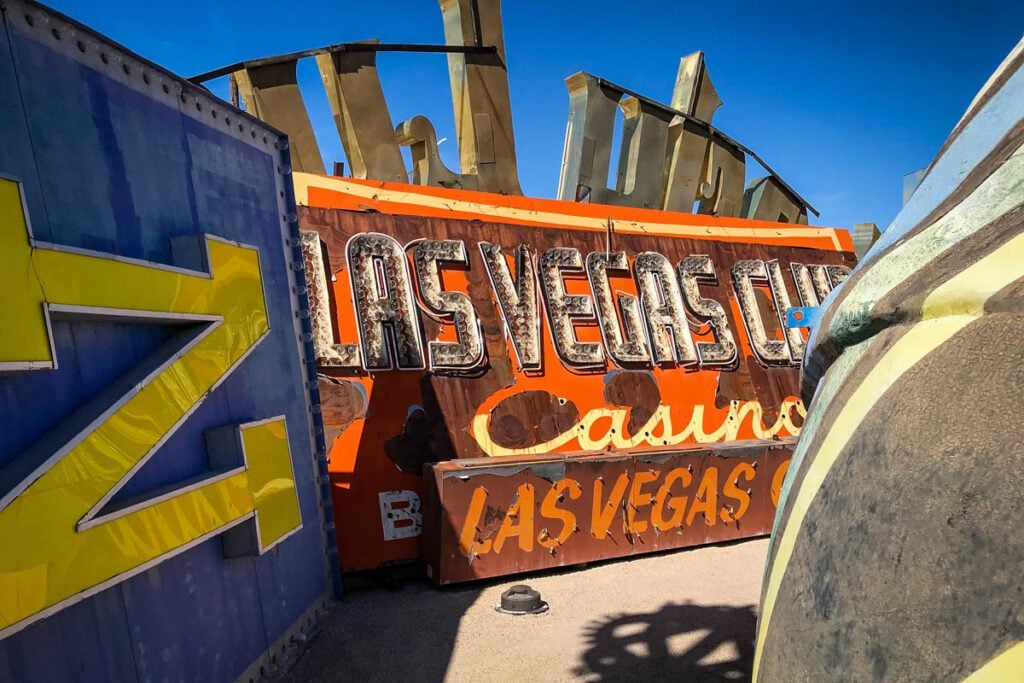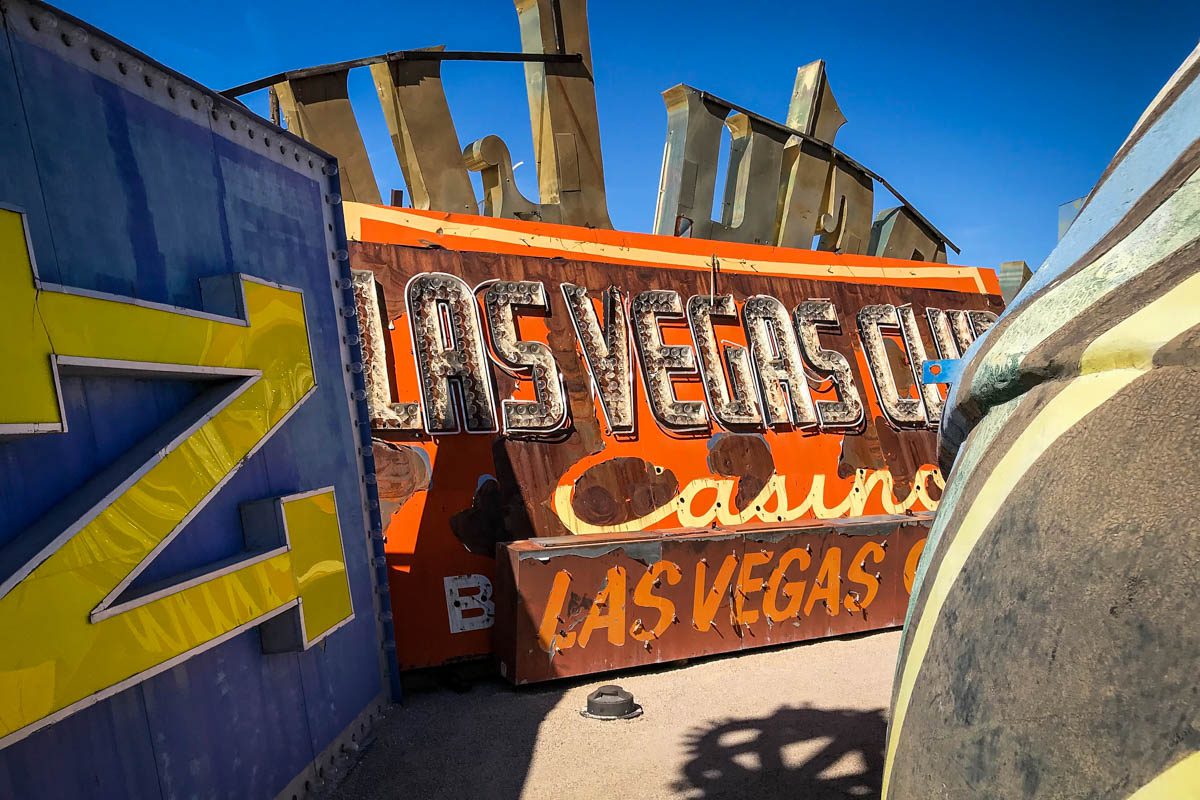 Walking down the Las Vegas Strip you're immediately in awe over the sheer number of neon signs lining the streets. If you've ever wondered what these signs look like up close and personal, the Neon Museum is essentially a "boneyard" for old and historic Las Vegas signs.
Inside the museum, there are two different areas to explore, the Boneyard and the Boneyard North. In both areas, many of the signs have been donated by private collectors that want to help preserve the history of the city.
Although historic, the signs have been extensively restored to shine brand new in the museum. In the Boneyard North, more of the signs are in need of restoration, so you'll find this portion a bit dimmer than the former, but it's still a unique experience.
Many nights at the museum are sold out, so they recommend buying a ticket in advance. You can do an in-person tour at your own pace or join a guided tour that will break down the history of some of the most iconic signs. Be sure to book your ticket at night so the lights will be even more mesmerizing.
18. Check out the Arcadia Earth Immersive Experience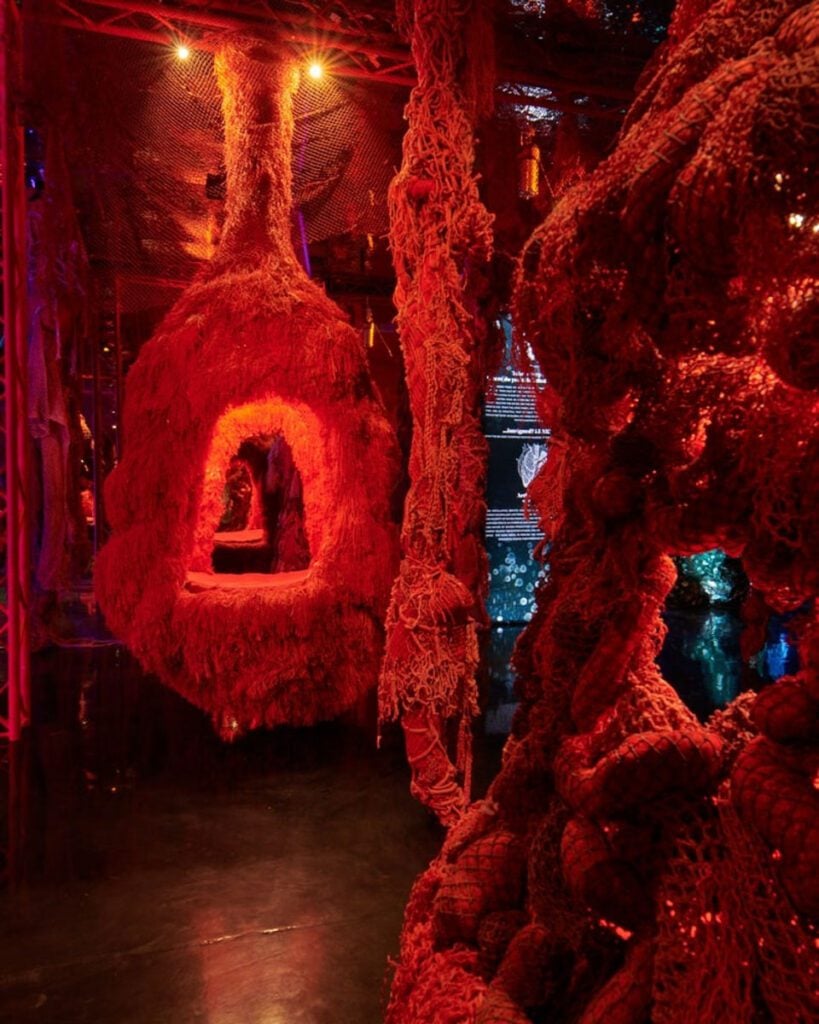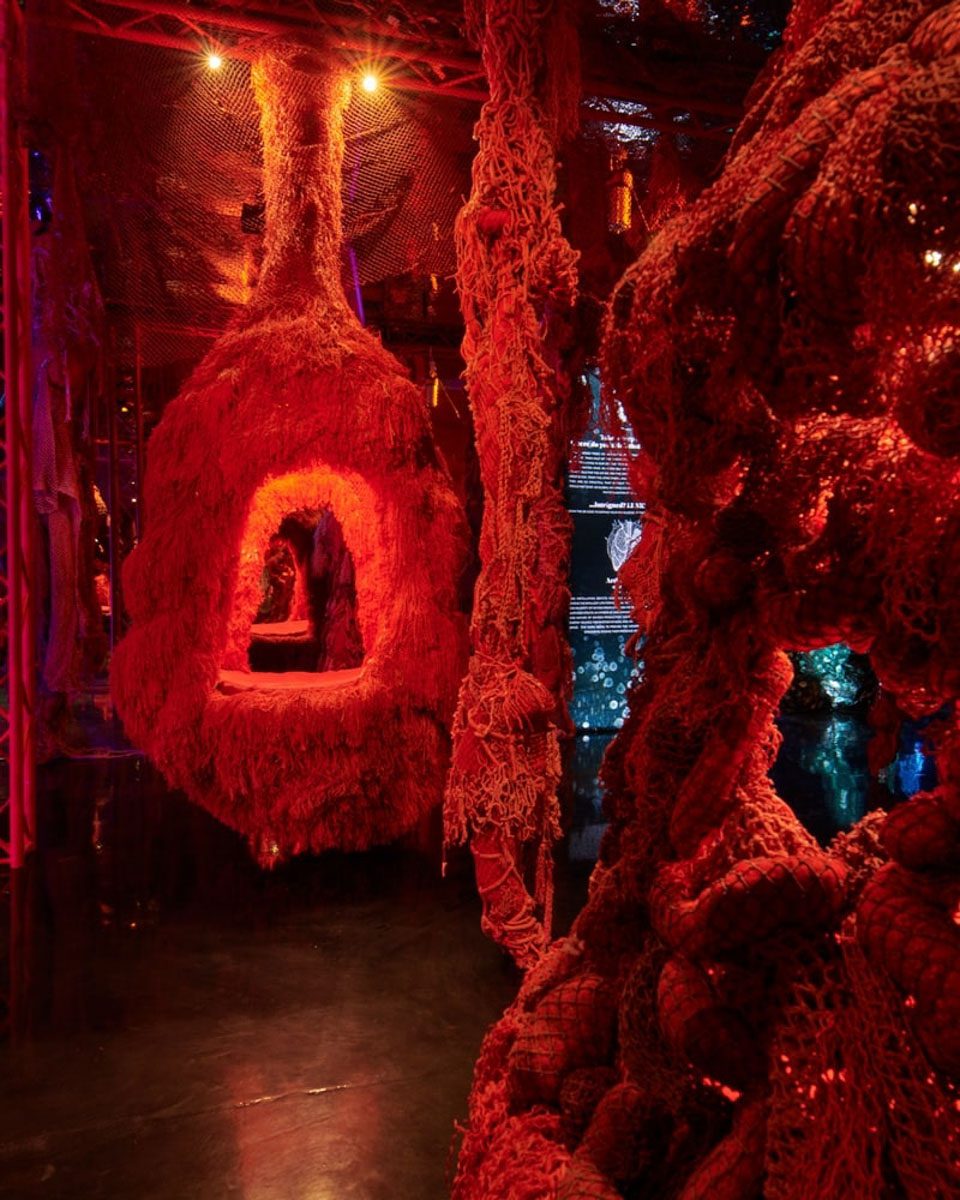 Step into a multi-sensory journey with the Arcadia Immersive Experience. Augmented and virtual reality technology take you on a journey through fantasy lands, deep into underwater worlds, and among inspirational art to raise awareness about important environmental issues.
Much of the exhibit is made with repurposed, discarded materials, most notably plastic, to create scenes that showcase both the beauty of the planet and the realities of how everyday choices are impacting these areas.
This is an amazing exhibit to learn about the world in a fun and interactive way as well as small changes you can make in your life for a more positive impact on the planet. Ticketing for this exhibit follows the same protocol to others in Vegas, book your tickets online to ensure you get to experience this.
19. Experience the "Willy Wonka of booze" at Lost Spirits Distillery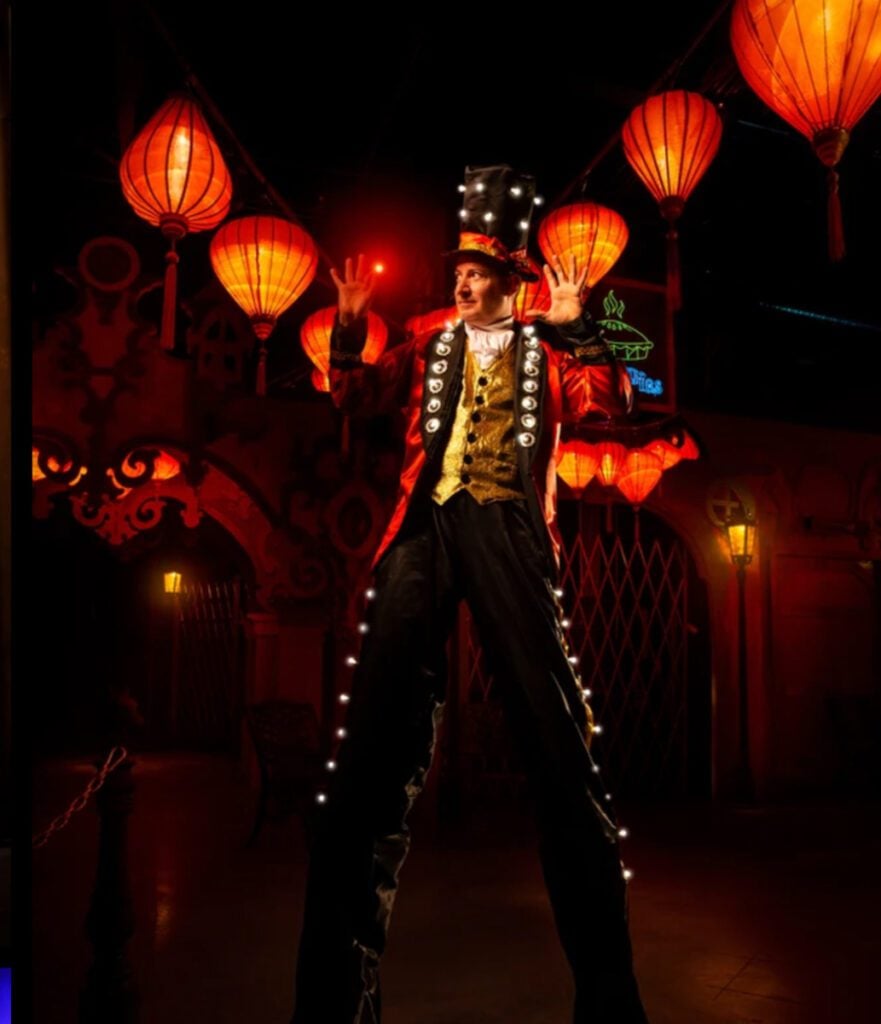 A visit to the Lost Spirits Distillery combines art, science, and innovation to transport you to an imaginative location that correlates with the spirit in your hand. It's hailed nicknames like "adult Disneyland" and "the Willy Wonka Factory for booze", so this is the perfect for boozy travelers.
The imagery and production of this distillery tour is in a league of it's own so we won't spoil it and let each theme remain a mystery for you to uncover. The artists and engineers are always making improvements and additions to the experience, so new elements are always being implemented.
Tours through the distillery run Thursday through Monday, with some extensions for holiday weekends. The experience lasts 2 hours, includes 4 drinks, and prices range from $74-$129 depending on the time of day and package you choose.
The shows are popular and sell out fast, so make sure you don't wait and buy your ticket online.
Insider Tip: The Lost Spirits Distillery is right at home in it's location in Area 15. It's important to note that they aren't shy with their pours, so you may want to organize a ride to and from, or bring an additional designated driver if you're heading back to the Strip.
20. Do an escape room
The mysteries and puzzles of escape rooms have slowly risen to popularity over the years, and of course when they made their way to Vegas they were taken to the next level. In typical Vegas fashion, these escape rooms are fully-immersive in a variety of themes from prison breaks to classic films.
The Fortune Teller: Those that love stories, puzzles, and tarot will love this experience known as one of the best escape rooms in Vegas. Begin the game in a fortune tellers studio and after discovering your impending doom through a tarot reading, you'll begin your journey to change your destiny.
Official SAW Escape Room: Immerse yourself in the twisted games of the SAW film franchise once you take an after hours tour of the Egan & Co Meat Packing plant. Upon your arrival, discover that you're actually the player in an elaborate game by the infamous Jigsaw killer. Combat your fears to navigate the twists and turns of Jigsaw's games in order to earn your freedom.
Gold Rush: Travel back in time to the 1800s at the peak of California's gold rush. Fortunes from the west found their way to your relative Clyde Hamilton, who you discover passed away and left you a large gold inheritance. That is, if you can find it before word reaches others in town.
21. Manuver life-sized Tonka trucks at Dig This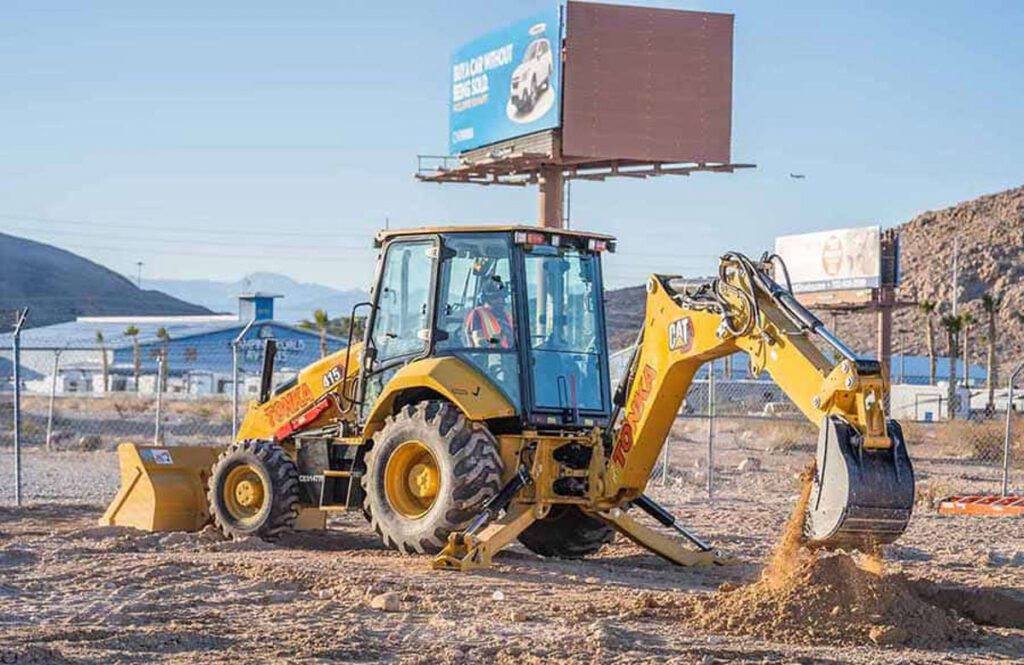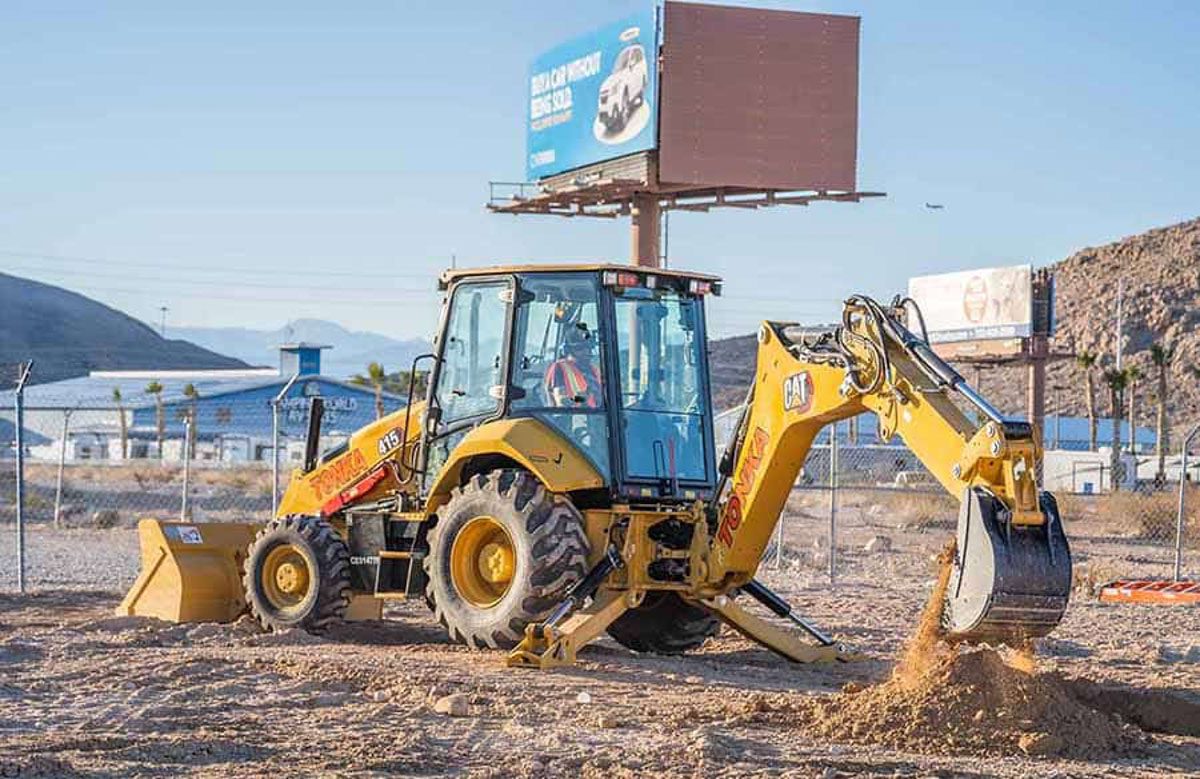 Only in Vegas can you enjoy the world's first adult sandbox where you can operate modern Caterpillar equipment like bulldozers, excavators, skid steers, and wheel loaders.
At Dig This, choose any of these mighty machines and test your skills by digging trenches, stacking 2,000 pound tires, and playing "bucket basketball".
You don't need to be well-versed in the world of construction to have a good time here. In fact, you'll have instructors teach you about every lever and knob in the cab and they'll even be connected via headset as you warm-up with specific exercises to get the hang of the controls.
Take part in a group dig or take things solo on an individual excavation. Dig This even has mini versions of the machines just for kids to join in on the fun.
22. Uncover the Vegas underworld at the Mob Museum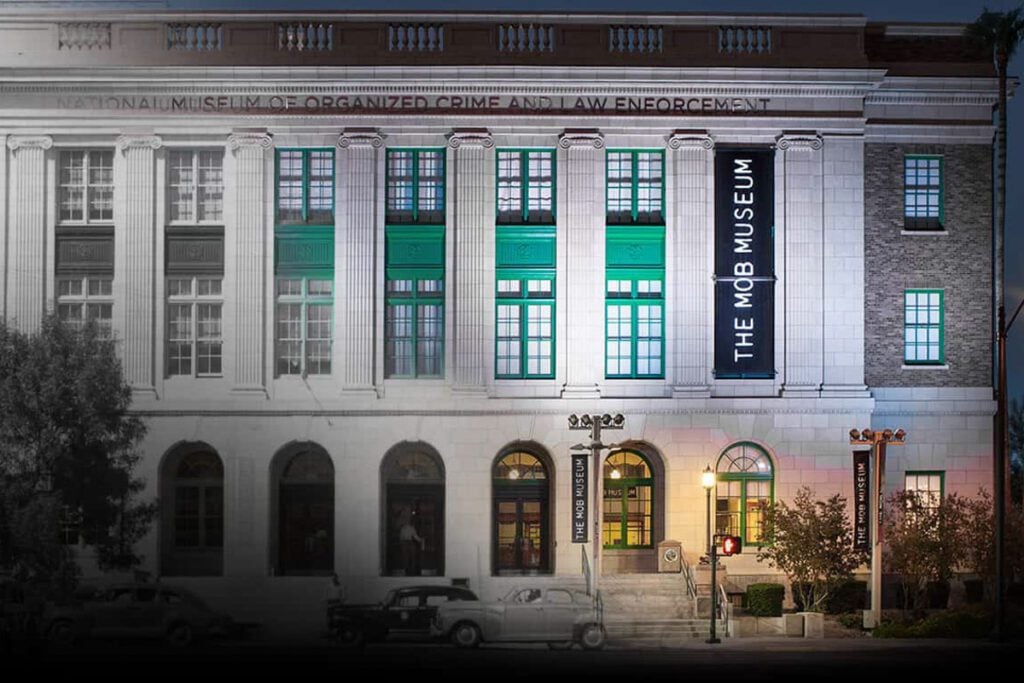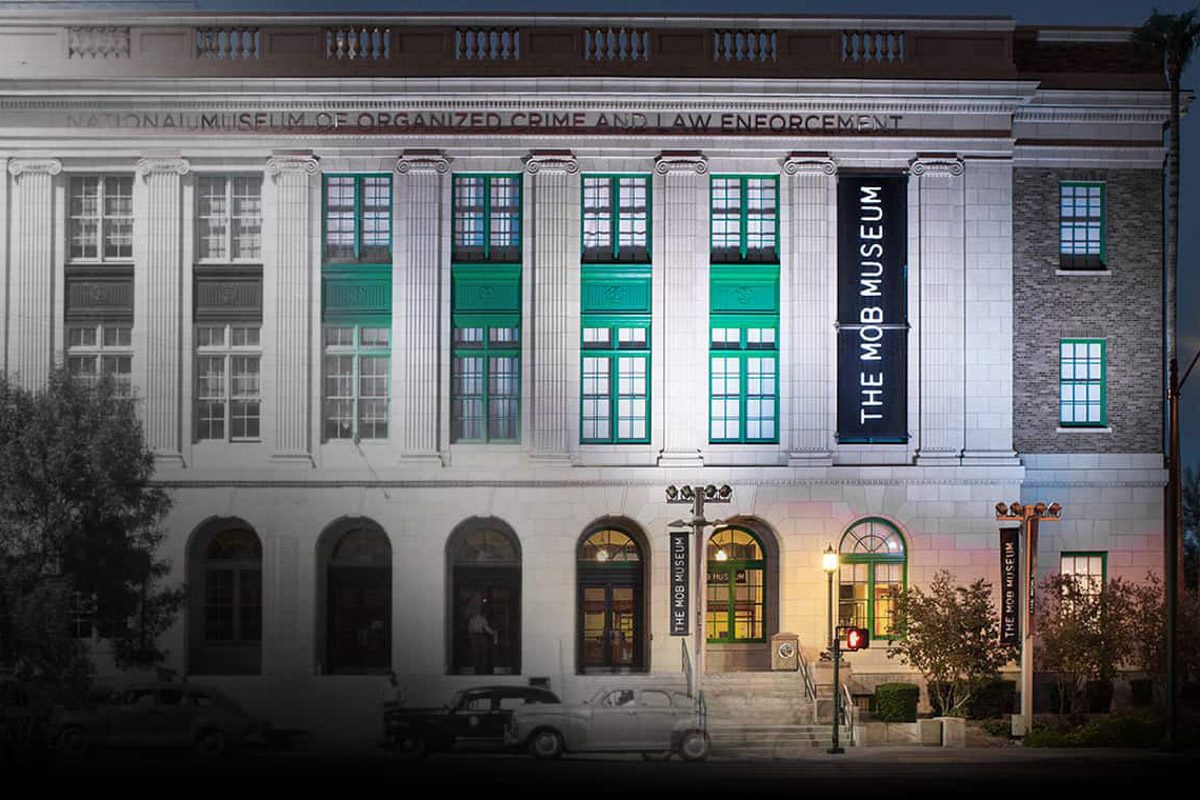 Learn about the history of gangsters and the notorious battle between organized crime and law enforcement in Las Vegas at the National Museum of Organized Crime & Law Enforcement (aka "the Mob Museum"). A pretty spot-on title if you ask us.
Learn the stories of Al Capone, Whitey Bulgur, Bugsy Siegal, and John Gotti, and get acquainted with the leaders of the opposing law enforcement: Joe Petrosino, Eliot Ness, and Estes Kefauver.
The museum features artifacts like the wall from the St. Valentine's Day Massacre and the actual courtroom where one of the 14 federal Kefauver hearings were held in the 1950s. The museum showcases both sides to the feud and finishes off the tour with a visit to the museum's 1920s underground speakeasy.
23. Tour a Wild West ghost town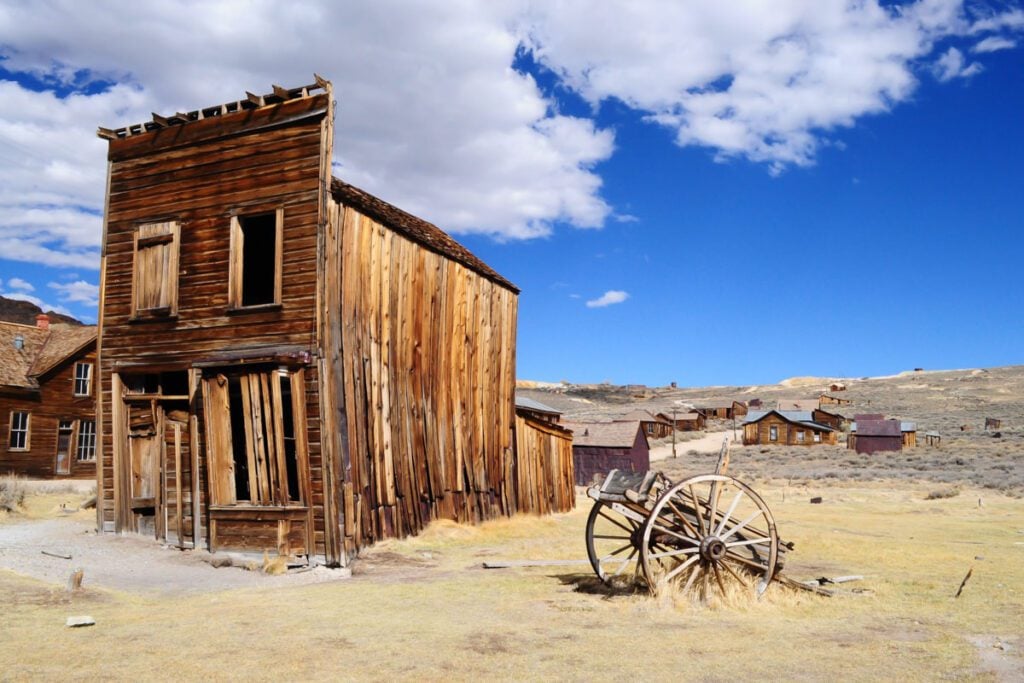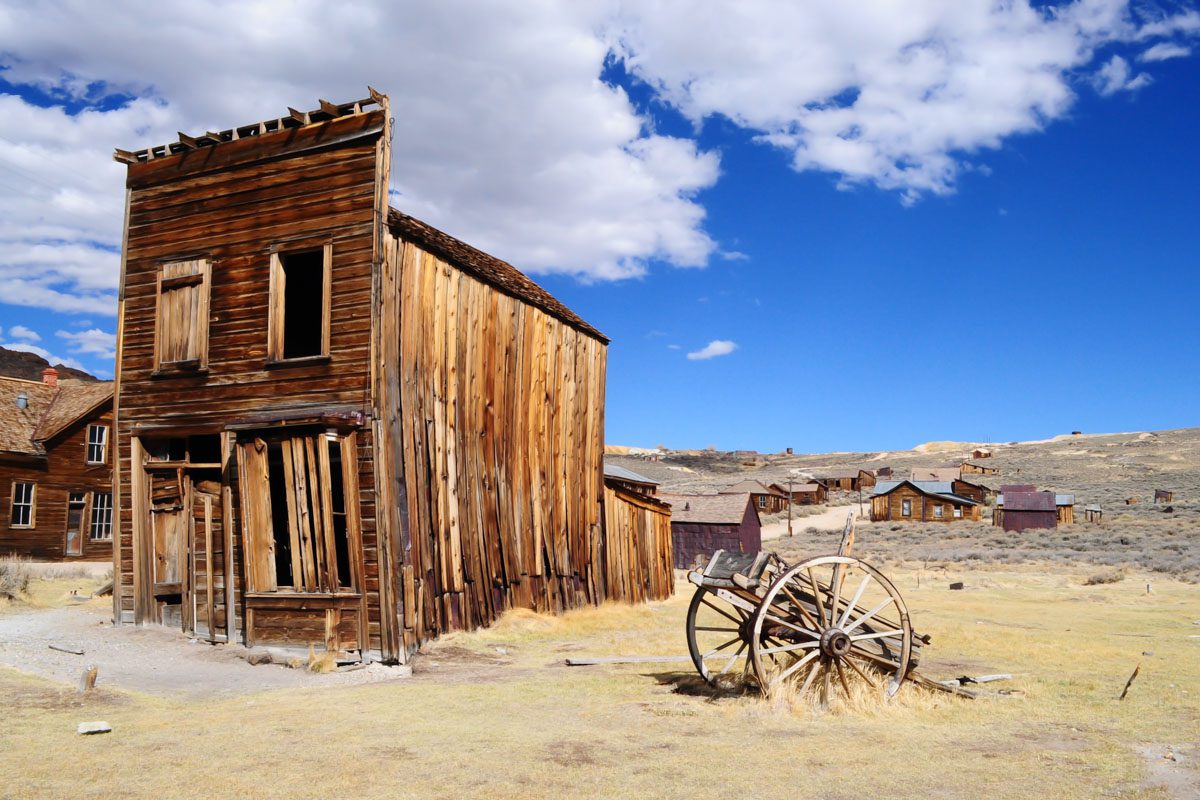 Did you know Nevada is home to more ghost towns than populated ones? And some of the BEST ones are only a short drive away from Las Vegas!
If you want to awaken your inner cowboy, head to some of the most popular ghost towns nearby: Rhyolite Ghost Town, Gold Point, Nelson, Goodsprings, and St. Thomas.
The closest towns to Vegas are St. Thomas, Nelson, and Goodspring. And certainly the most interesting is St. Thomas.
This ghost town was washed away due to the impact of the Hoover Dam in 1935. One of the last residents had to, quite literally, paddle away from his home. But due to the extreme drought happening in and around Lake Mead today, it has been uncovered.
This is a great stop to pair with a day trip to Valley of Fire State Park (#42 on this list) since Lake Mead is only a short drive away.
Otherwise, the Nelson Ghost town offers a bit more infrastructure and attractions to enjoy for the day and it's less than an hour drive from Las Vegas. Moreover, the Goodsprings Ghost Town is another great day trip since you can stop at the Seven Magic Mountains (#37) on the way.
24. Get your game on at the Pinball Hall of Fame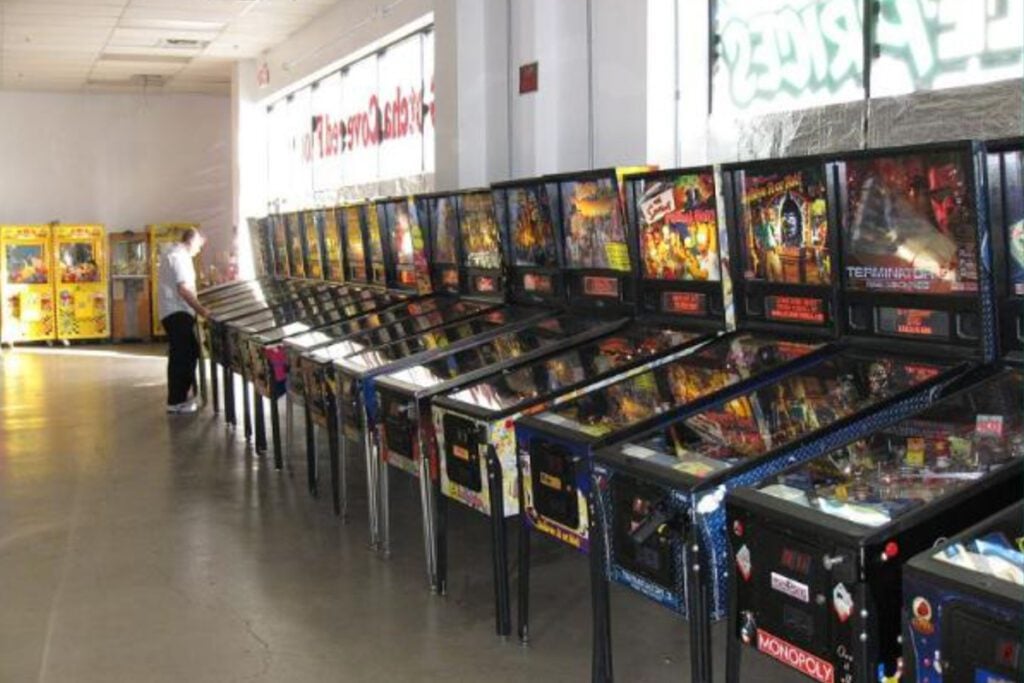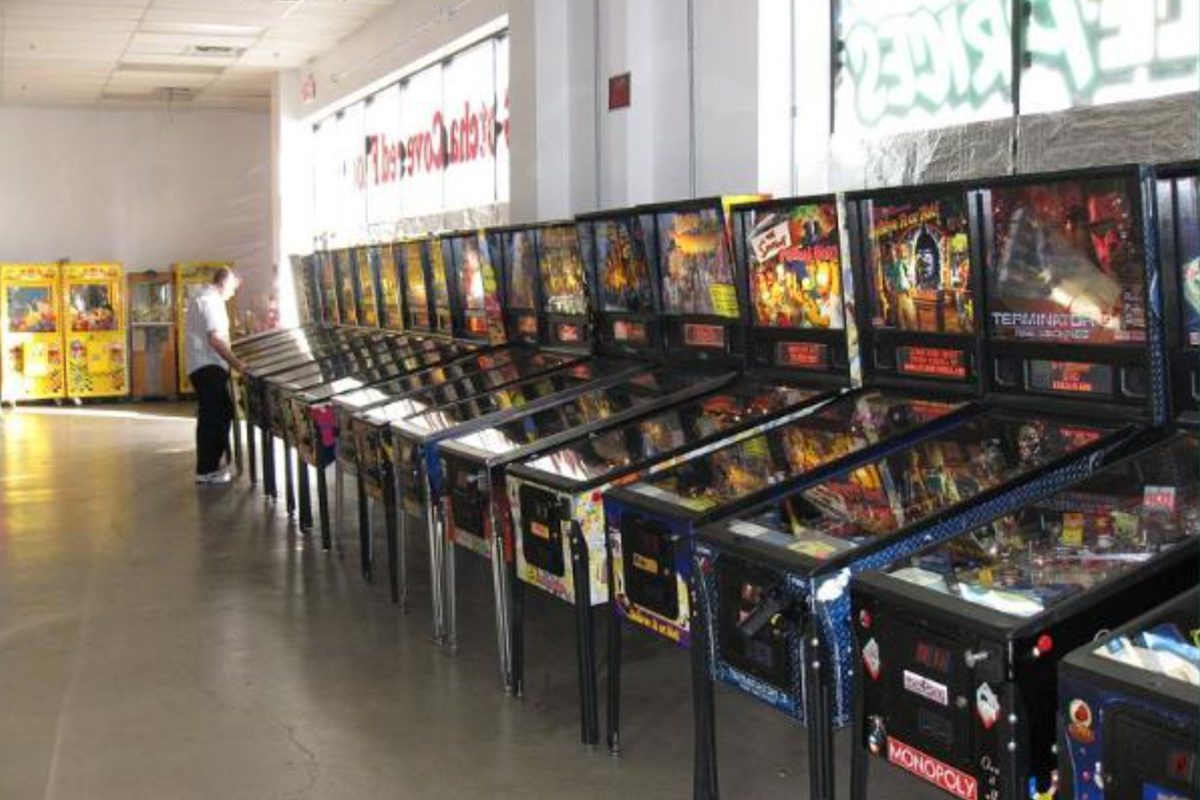 Tim Arnold of the Las Vegas Pinball Collectors Club has kept the spirit alive at the Pinball Hall of Fame. In their new location just south of the Vegas Strip, they have nearly 152 pinball machines and 54 classic arcade games that have been restored and are in like-new playing condition.
The cost to play ranges from 25-50 cents, which is a bargain when it comes to gaming in Vegas.
From old-school marvels to some of the rarest machines ever made, you'll experience days of nostalgia whether you've been a pinhead for years or are just stopping to admire and enjoy one of Vegas' many cheap thrills.
25. Let your inner sci-fi freak out at Area 51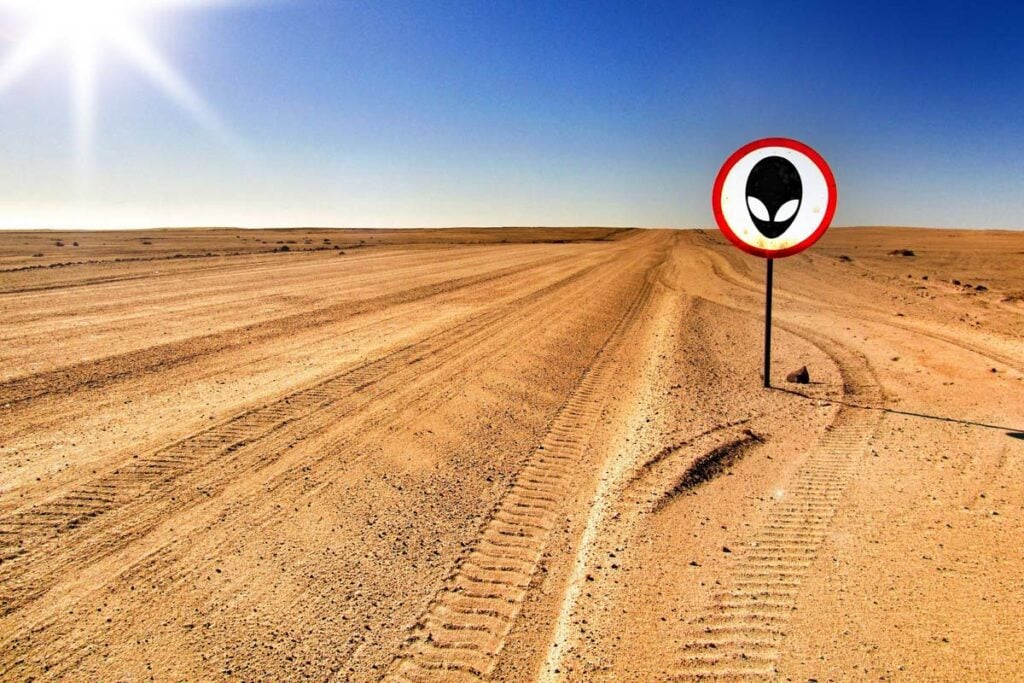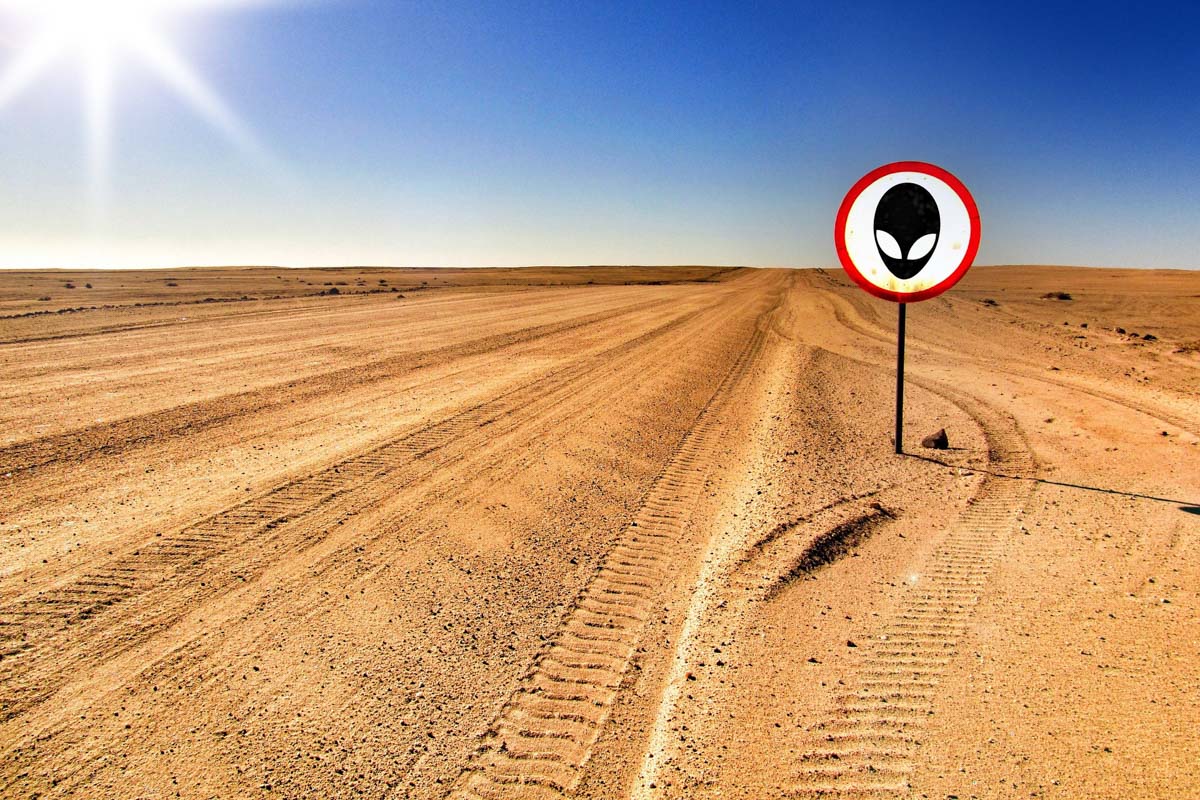 The existence of Area 51 remained a mystery for over 50 years, until the U.S. Government finally admitted to the site's existence in 2013. Since then, this desolate area has sparked the interest of millions all over the world, but it remains patrolled and guarded by some of the heaviest security on Earth.
The area is part of the Edwards Air Force Base that can easily be spotted on the map, but due to it's high security, it's important to know that you cannot visit the actual site of Area 51, or even get remotely close to it. Signs around the base notify passersby that deadly force is authorized for anyone that tries to trespass, even if you're just hiking to a vantage point to try and sneak a peek.
So while it's fun to theorize about what lies in Area 51, keep yourself safe by maintaining a safe distance and enjoying many of the nearby attractions.
The most popular stop nearby is in Rachel, Nevada, named the "UFO Capital of the World". For a more immersive experience you can visit the Nevada National Security Site managed by the National Atomic Testing Museum or join an Area 51 Full-Day Tour to see the Extraterrestrial Highway, visit the very edge of Area 51's perimeter, Black Mailbox, and the 'airline that doesn't exist'.
26. Unleash your inner superhero at Marvel Avengers S.T.A.T.I.O.N.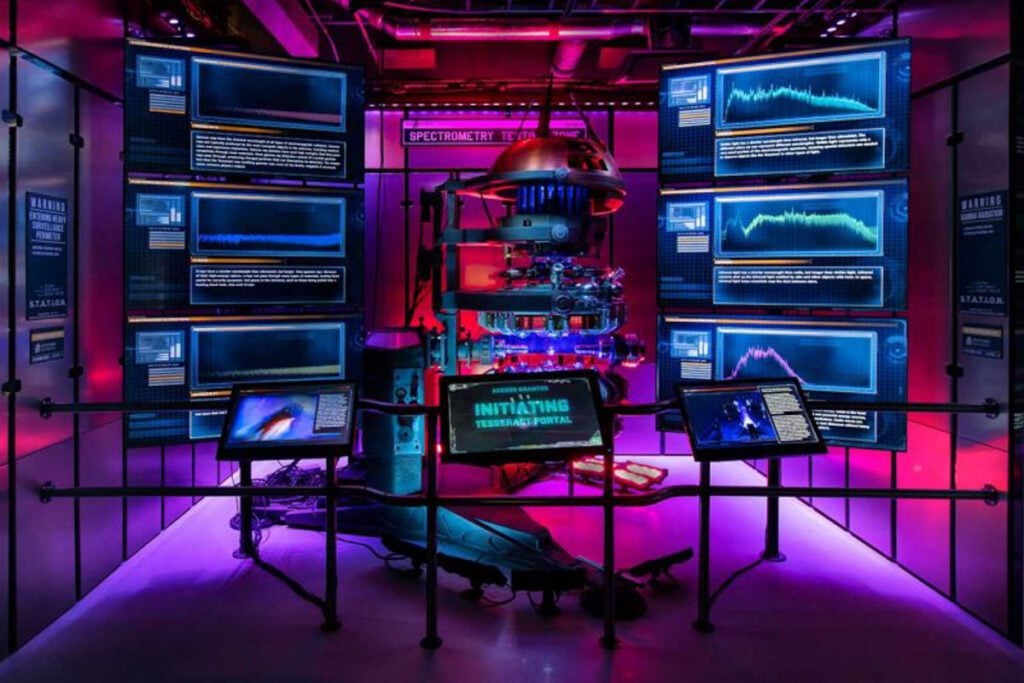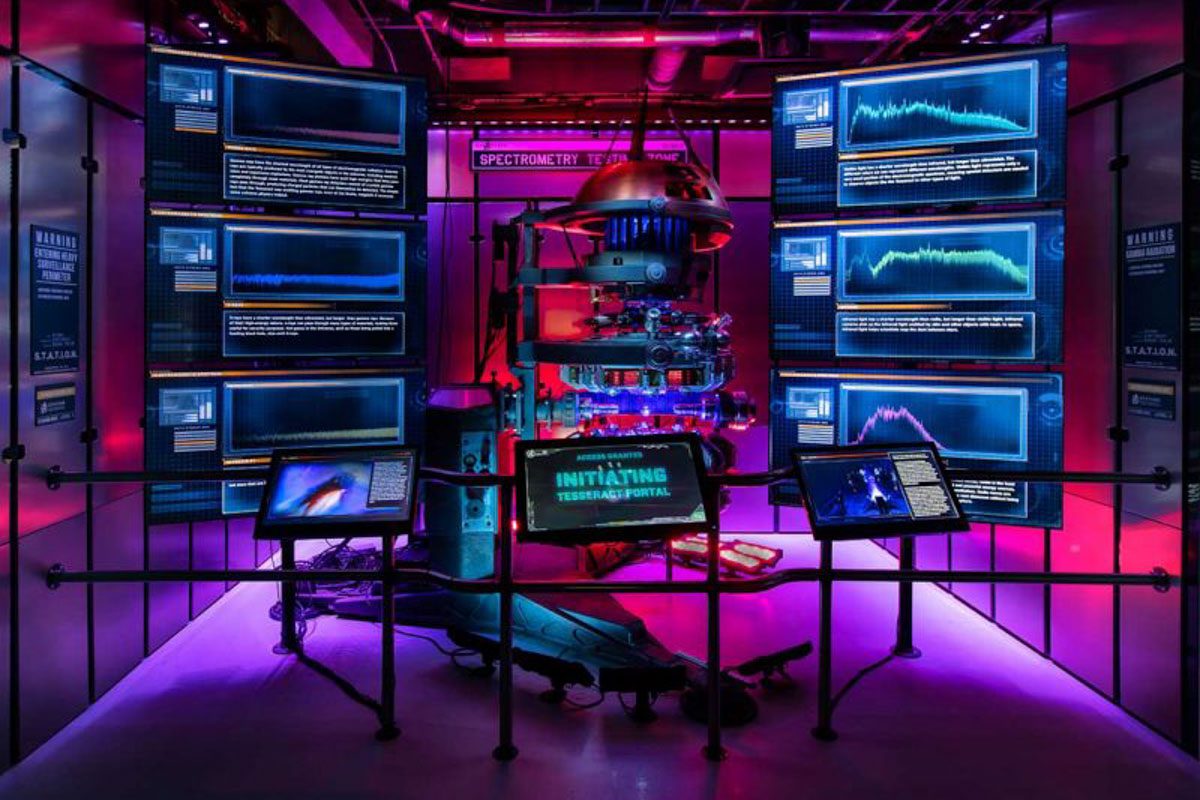 Immerse yourself in the world of the Avengers as you explore intelligence files, experiments, history, and scientific origins of classic Marvel characters.
When you first enter the station you'll begin as a new recruit and your goal is to assemble the case files of each character to become an official Avengers S.T.A.T.I.O.N. agent.
There are multiple stations around the world that reflect different characters, but the station in Vegas has a focus on Captain America, the Hulk, Iron Man, and Thor. Activate the Tesseract, take Captain America's motorbike for a spin, and test your skills at the themed interactive exhibits.
27. Go back in time at the Titanic Exhibit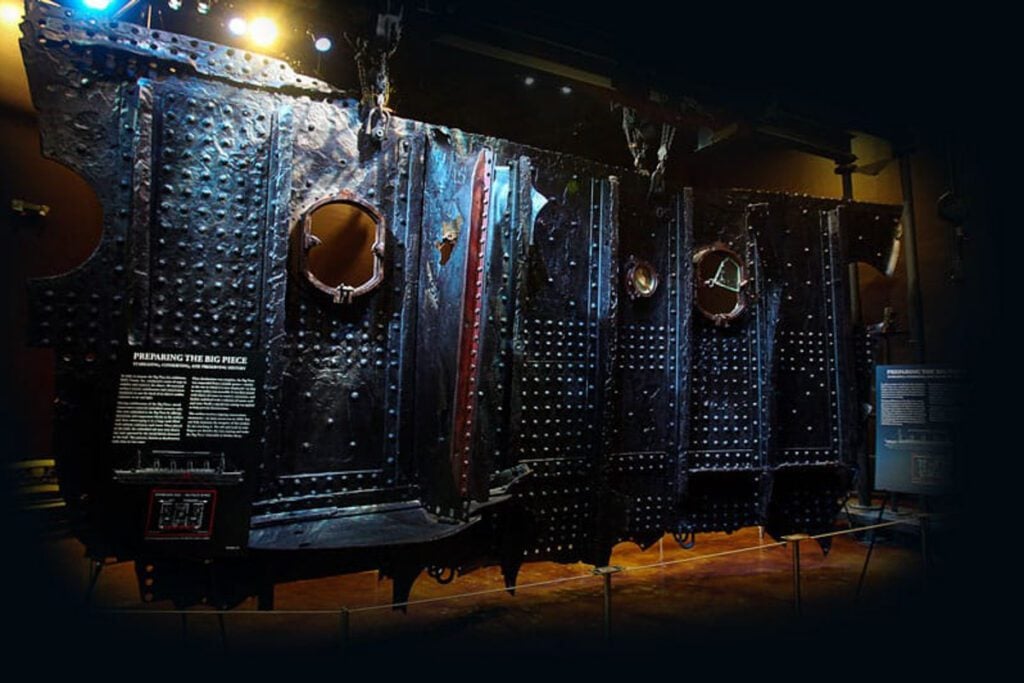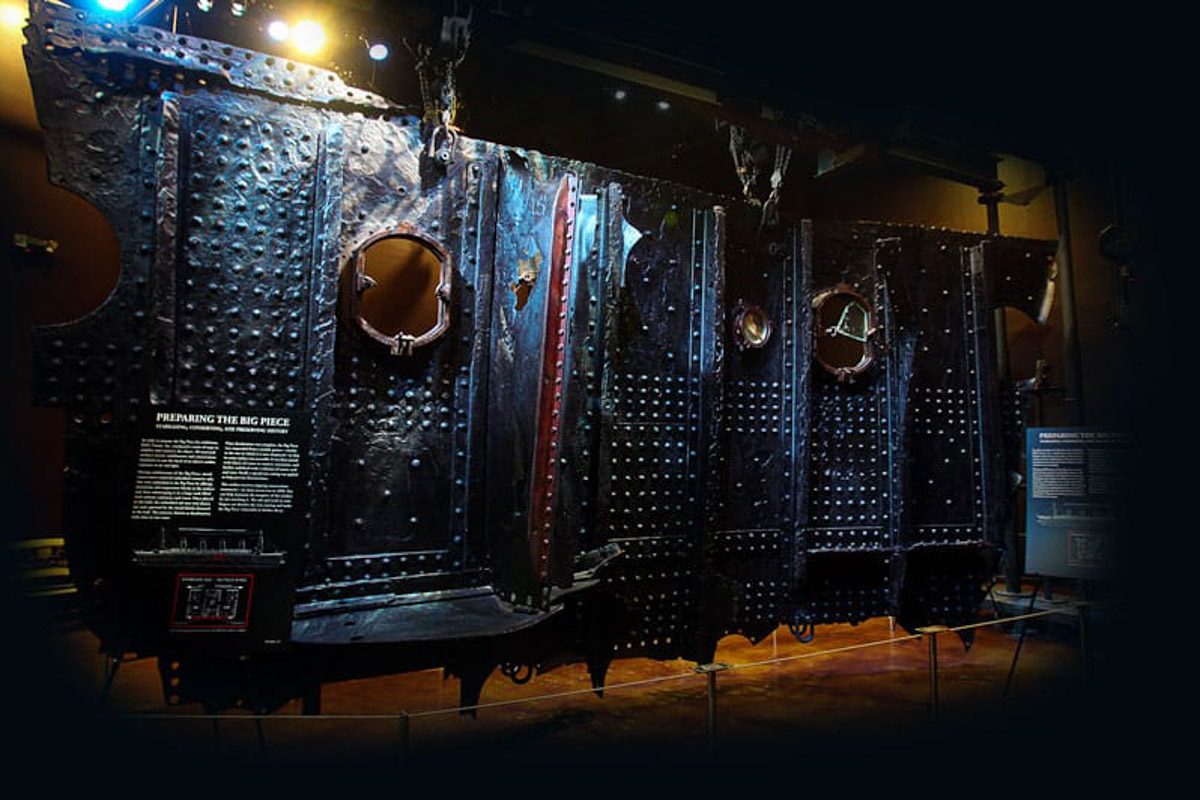 Travel back to the beginning of the 20th century and experience what it was like to be aboard the world's most famous ocean-liner. Over 70-years after the Titanic sank, a US-French expedition discovered the ship's wreckage 13,000 feet below the surface of the North Atlantic.
Since its discovery, more than 5,000 artifacts have been recovered from the site and you are able to view more than 350 at this exhibition. What makes this such a transforming experience is that you'll experience the Titanic as if you were a passenger when it set off in 1912.
You'll get a replicated boarding pass from the original voyage and follow a chronological journey through full-scale room re-creations, personal artifacts, and the story from the ship's construction to recovery.
This exhibit pays homage to all the lives lost that were aboard the ship and is one of the most visited exhibitions in the world. Get tickets in advance and prepare to relish in the wonder and extravagance of the Titanic.
28. Browse the collect at (TV famous) Las Vegas Pawn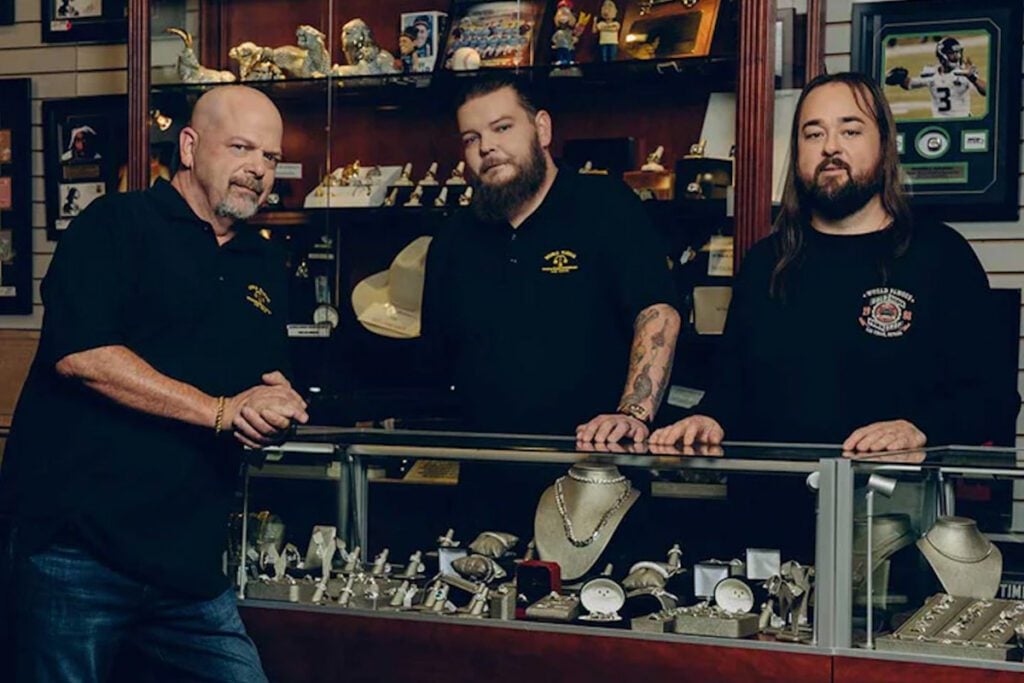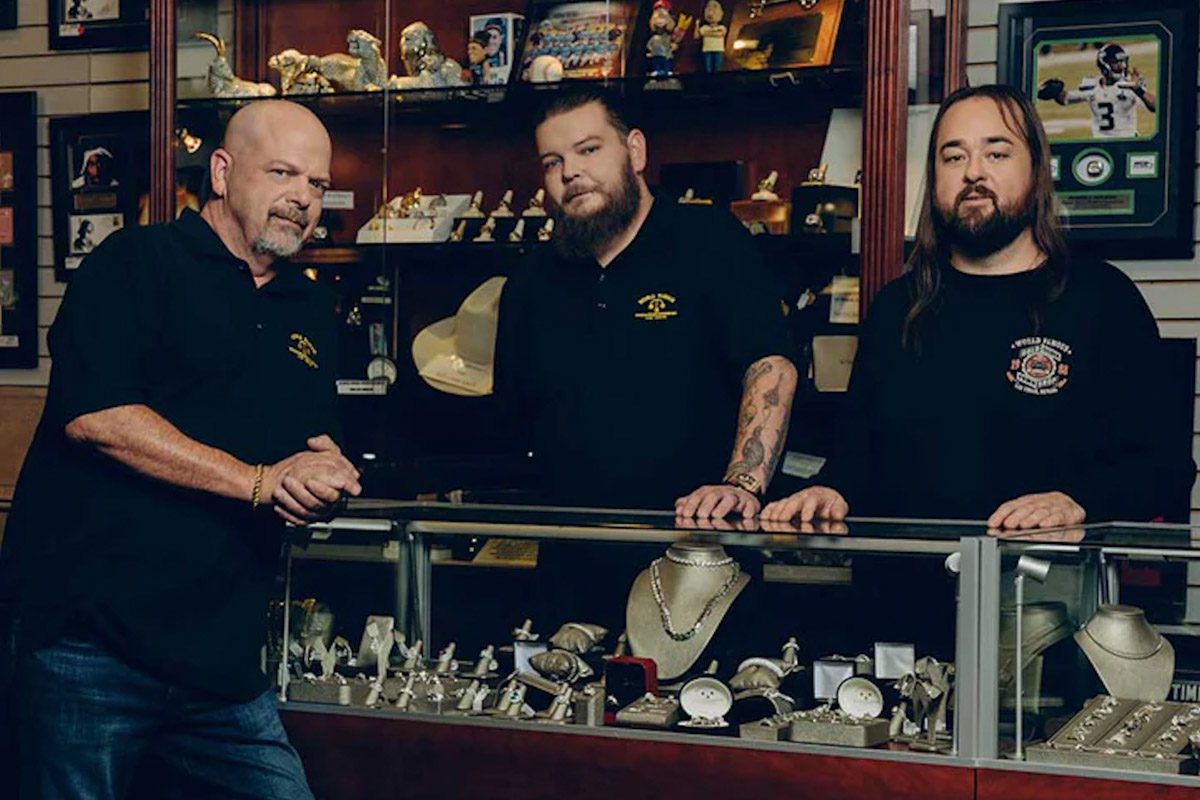 Just north of the Las Vegas Strip is the iconic Gold & Silver Pawn Shop from the hit TV show Pawn Stars. From collectibles, antiques, and paintings from artists like Salvador Dali and Pablo Picasso, you could easily spend hours roaming the shop's treasures.
Whether you're looking to buy, browse, or pawn, you'll want to get to the shop right as they open or an hour or two after, otherwise you'll be waiting in a long line to get in. Aim to get there between 10:00 am and 12:00 pm.
If you're interested in buying anything, it's worth browsing their catalog so you can get a good grasp of what you want and what they have. With so many people shopping around the store, it can be pretty packed, so going in knowing what you're looking for will help a ton.
29. Enter a virtual reality
Vegas is home to the most effortless and immersive virtual reality experience in the world. Zero Latency takes gaming to the next level with their 'free-roam VR' concept where no backpack PC's or additional equipment is needed, giving you the most realistic gaming experience as you freely explore a 2,000 square-foot arena.
In groups of up to 8 players, you can fight off zombies, battle killer drones, or enjoy a puzzle-filled adventure with flying animals and a show of colorful creatures.
Another innovative virtual reality experience is with Flyover Las Vegas. Soar through impressive landscapes at different destinations around the world without ever leaving the Las Vegas Strip.
With your ticket, you can choose from three different experiences: the Real Wild West, Iceland, and Windborne: Call of the Rockies. Whether you want to transport yourself to the Land of Fire and Ice or explore the gems of the American Southwest, your journey will be exhilarating.
---
Foodie experiences in Las Vegas
Some of the top things to do in Las Vegas revolve around glitz and glam, but it may come as a surprise that the city is also a prime location for foodies. From celebrity restaurants to classic dives, Vegas is the perfect spot to get your grub on.
30. Go on a Las Vegas food tour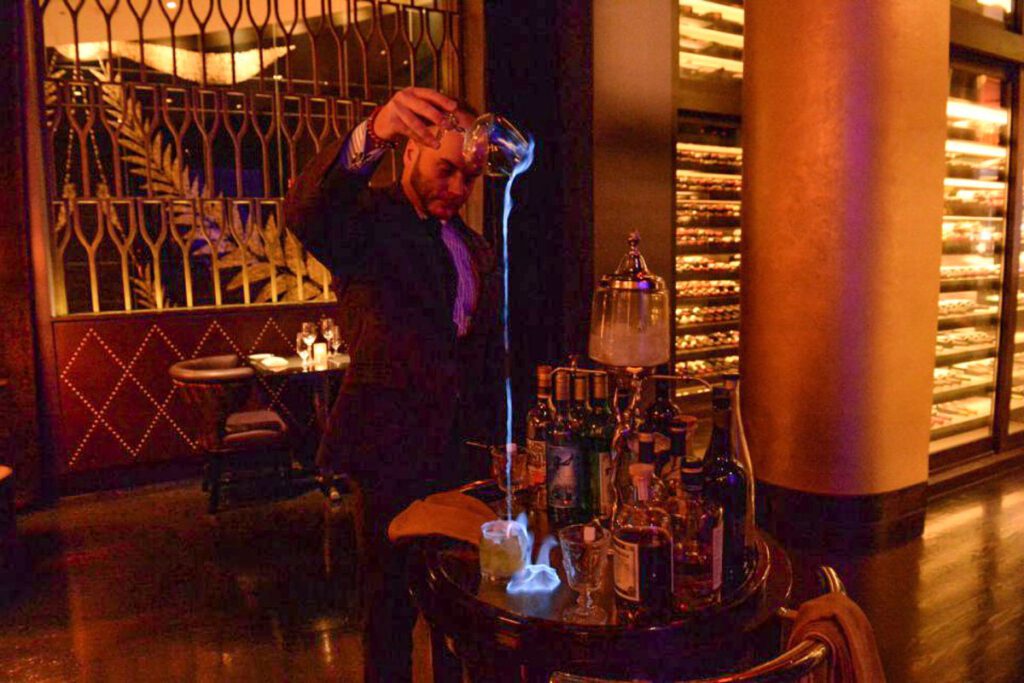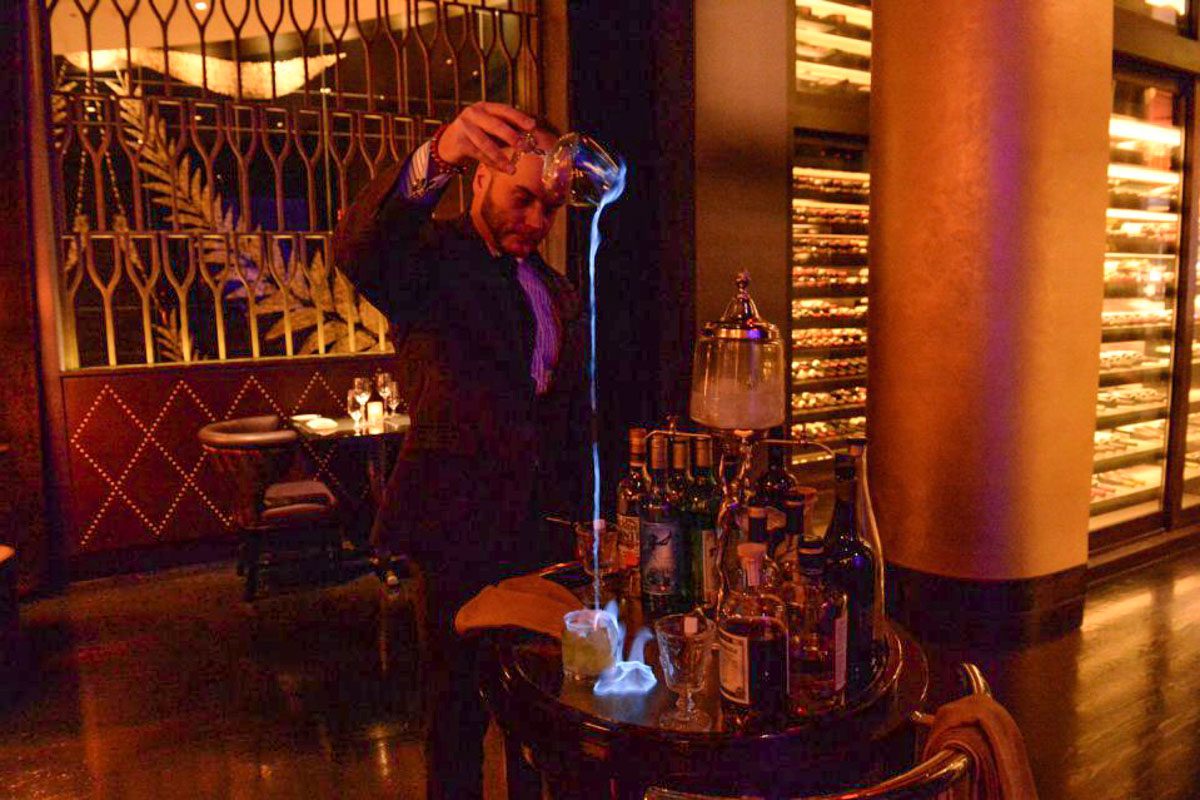 The buffets in Vegas aren't the only way to sample a wide range of the city's specialties. As foodies ourselves, food tours are a must-do in any city and country that we visit. We've had our fair share of dives from around the world and Vegas is another gem of a city for some seriously good food.
31. Eat at world-class restaurants
If you're looking to splurge on more than just your hotel in Vegas, there are dozens of high-end restaurants that will exceed your expectations tenfold.
While Vegas was once fueled by steakhouses and buffets, the culinary scene has evolved to showcase some of the country's top chefs and ingredients from around the world and in the city's own backyard.
Bavette's Steakhouse & Bar: Moody lighting and smooth jazz create the perfect setting for an intimate dining experience at the new Park MGM. One bite of their famous steaks will take you on a flavor-filled journey.
Joël Robuchon: Settle into an Art Deco backdrop and experience the best, and likely most expensive, meal of your life. This legendary tasting menu features small plates inspired by French cuisine.
Wing Lei: This was the first Chinese restaurant in North America to receive a Michelin star with its Cantonese, Shanghai, and Szechuan flavors. Relish in the lavish dining room, century-old pomegranate trees, and rich flavors of the east.
32. Eat at a celebrity chef's restaurant
One of the best ways to experience Vegas is through splurge-worthy food, and world-famous chefs have gathered along the Strip and beyond to bring you culinary experiences from all over the world:
33. Don't miss the iconic eateries in Vegas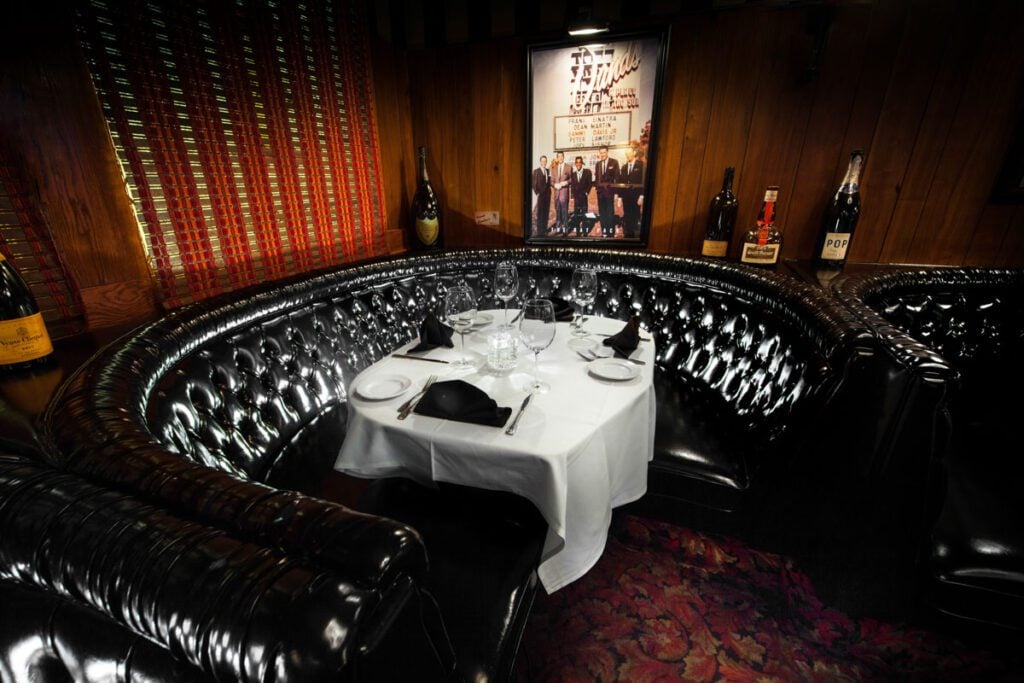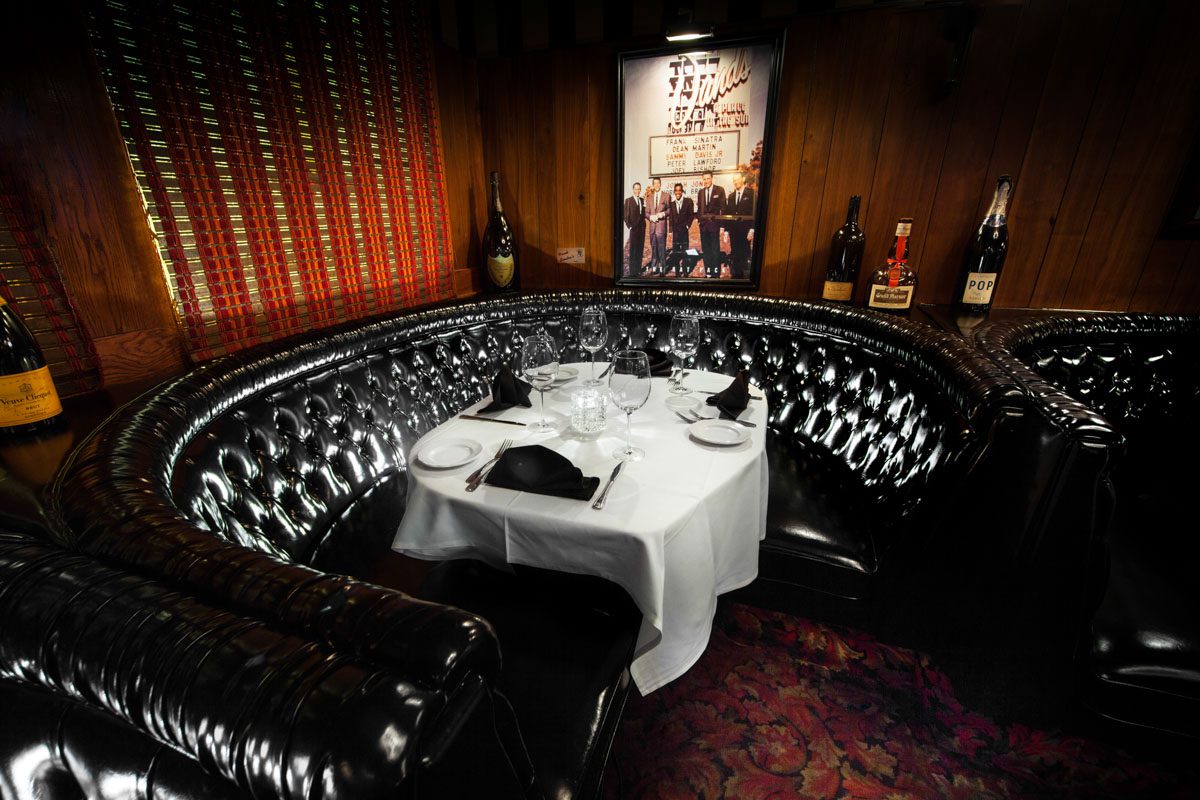 While Las Vegas' gastronomy scene has been shadowed by the appeals of lengthy buffet lines, there are many restaurants and eateries in the city that have stood loud and proud as the city has transformed into a league of its own when it comes to dining.
Golden Steer: Sin City is known for their steakhouses, and there's no better place to go for your tender, juicy fix than the oldest steakhouse in Vegas. This restaurant has watched the city bloom since 1958 and has even hosted the one and only, Elvis Presley, among many famous and infamous celebrities.
Sterling Brunch: Bottomless French champagne and lobster, anyone? Sterling Brunch has combined the city's love for brunches and buffets for over 40 years and has been voted the best in the city year after year.
Bootlegger Bistro: Since 1949, this restaurant features southern Italian cuisine from the original recipes of chef Maria Perry. House made specialties and live music have made this spot "The Place in Las Vegas Where Locals and Celebrities Gather".
34. Make your own candy at the M&M factory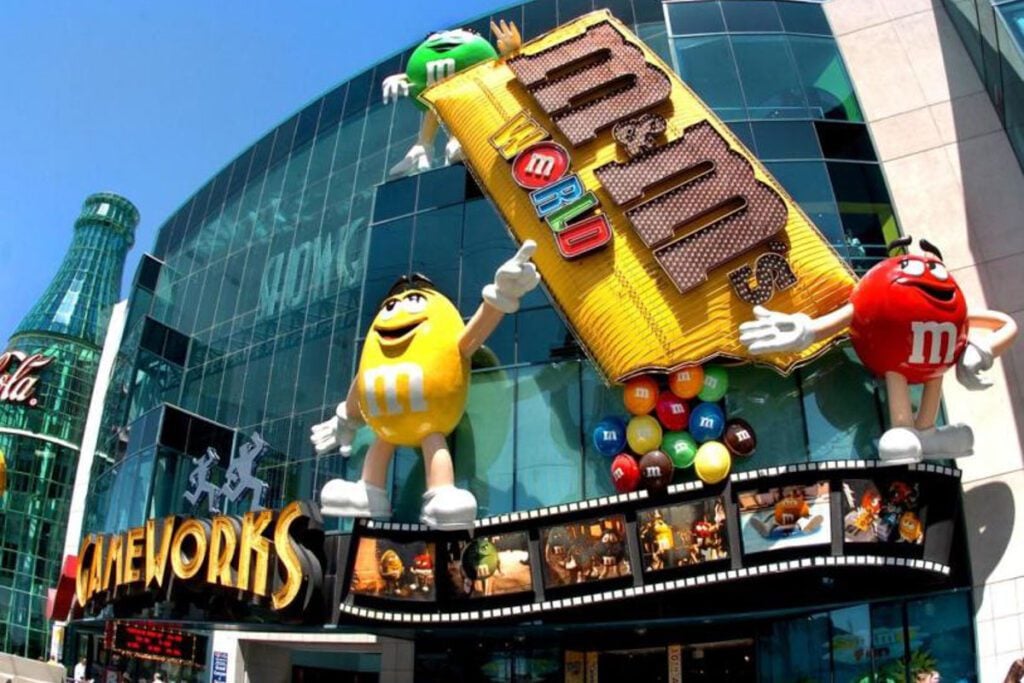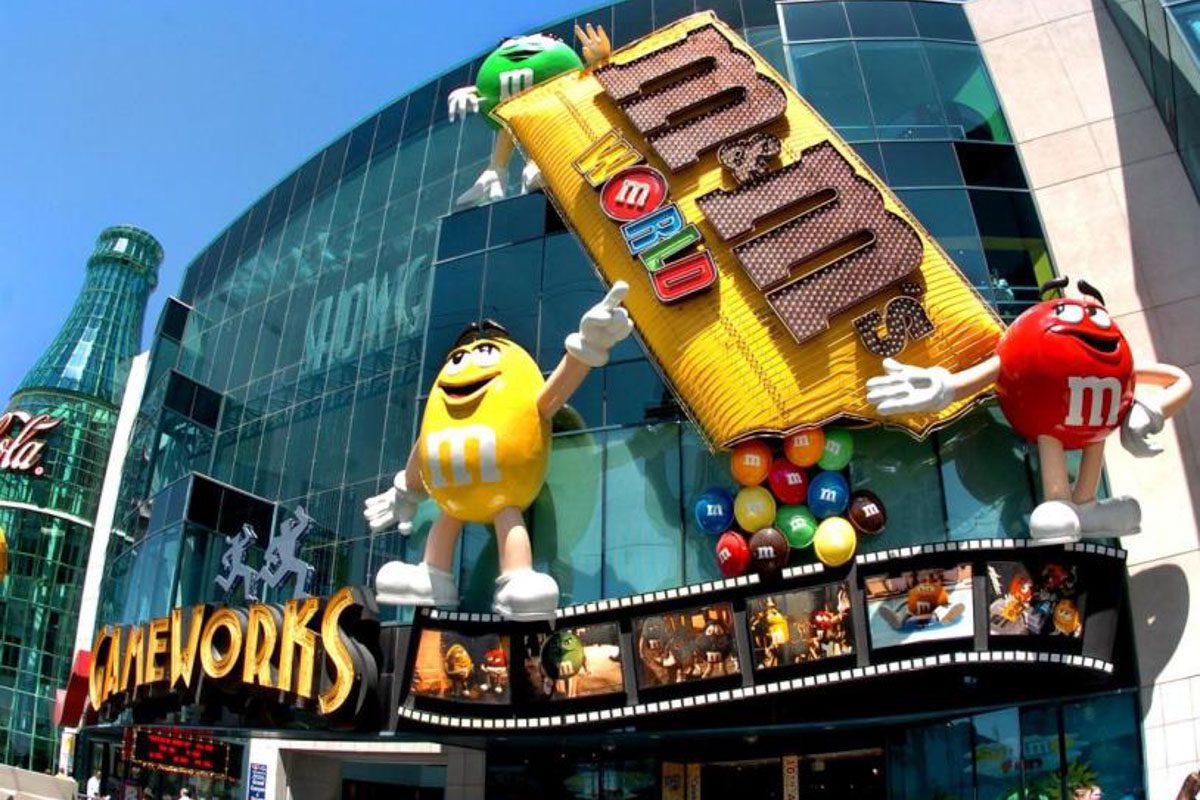 Among all the jingling and sparkling casinos, the four-story M&M Factory lives up to the extravagance of Sin City. The main highlight of this mega candy store is grabbing your own personalized M&M candies, but you'll want to explore each of the floors to see all the different candies and gifts.
On the first floor, grab a photo with the famed M&M characters, make a customizable ID tag, and shop themed souvenirs. Venture to the next floor to marvel at the M&M wall, a 62-foot wall of every color M&M you can imagine.
If you're looking to customize your own candies, head to the third floor. Also shop themed home decor and visit the movie theater, which is great if you have kids. The short films feature the M&M characters and run all day, so catching a show is relatively easy.
The final floor has a replica of the Kyle Busch M&M sponsored race car, more memorabilia, gifts, and merchandise.
The best part about visiting the factory is that it's completely free, making it one of the best free things to do in Las Vegas. But we totally understand if you can't pass up a bag of your favorite colored-candies.
---
Outdoor adventures to have in Las Vegas
One of the many ways Vegas is praised is for its proximity to amazing outdoor adventures in the Southwest. With exciting states like California, Arizona, and Utah just a short drive away, there are plenty of places to find a beautiful slice of nature outside the city.
35. Go hiking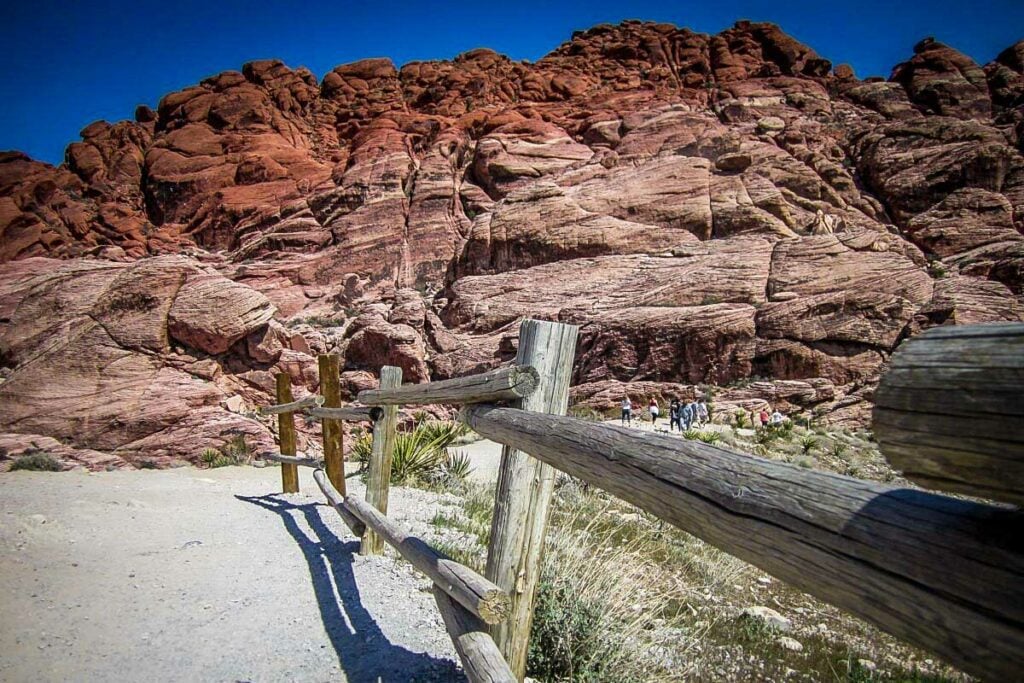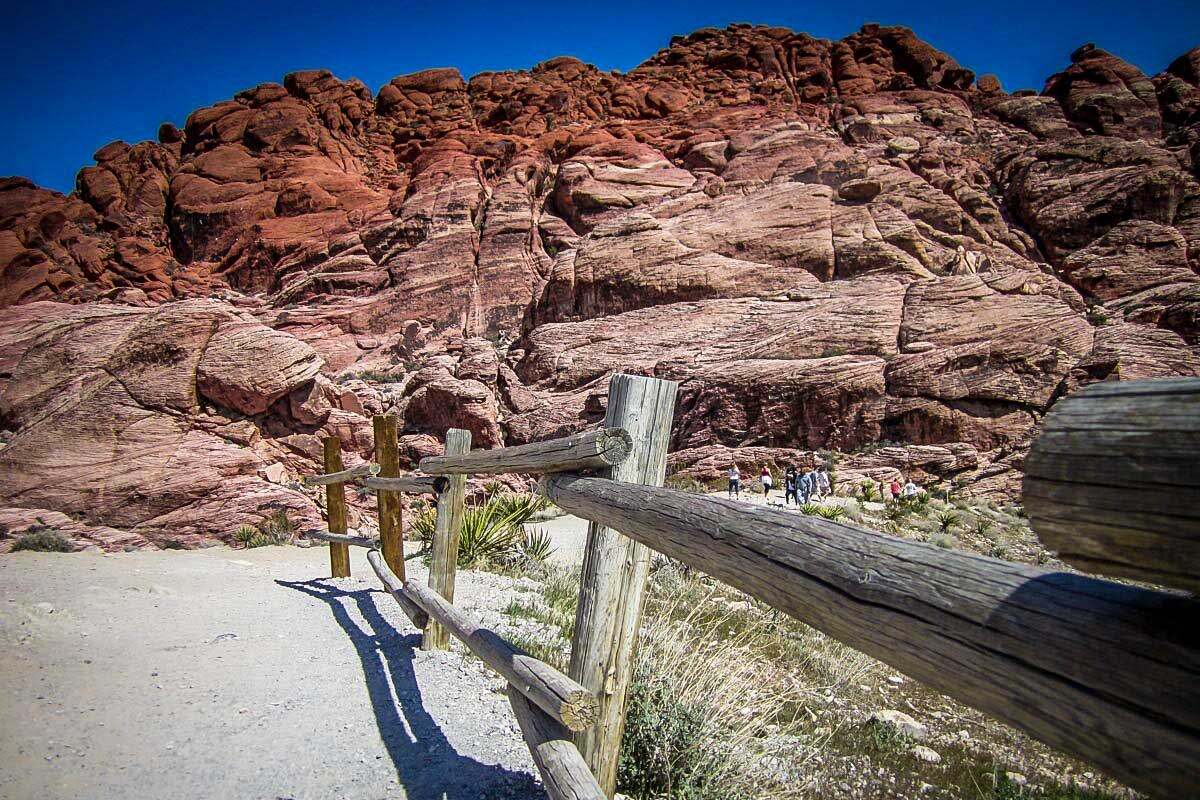 Red Rock Canyon, the Spring Mountains, Valley of Fire State Park, and Lake Mead are all nearby stops that are perfect for hiking in Las Vegas. There are plenty of trails to experience the allure of the desert, but these are some of our favorites:
Calico Trails: Find stunning features of Red Rock Canyon and views of Vegas along the Calico Trails. Take the hills route for a challenging 6.4-mile hike with scrambling and exciting views of the hills or take the tanks route for an easier 2.2-mile stroll with petroglyphs, and excellent views of the Calico basin.
Fire Wave Trail: One of the most popular day hikes near Vegas is the Fire Wave in the Valley of Fire State Park. It's a 1.5 mile trail that takes you through impressive sandstone and rock formations striped with red and white resembling candy canes.
Mary Jane Falls Trail: Cool down on this 3.2-mile trail in the Spring Mountains to a flowing waterfall. It's best experienced in the winter or spring after a spout of rain, and early in the morning to avoid crowds.
36. Take a hot air balloon ride over the desert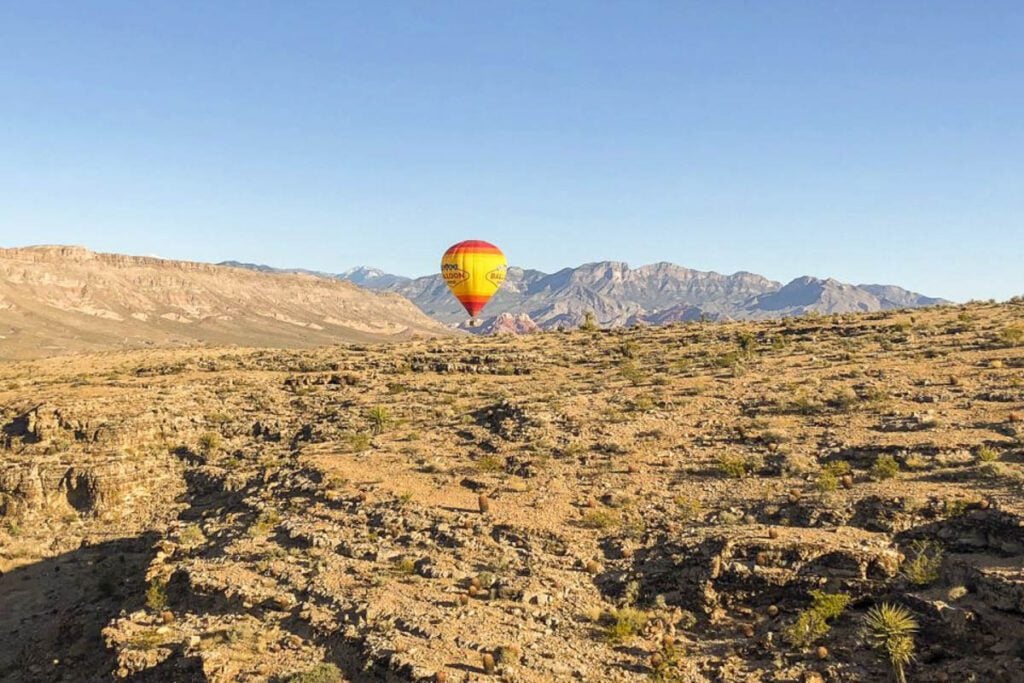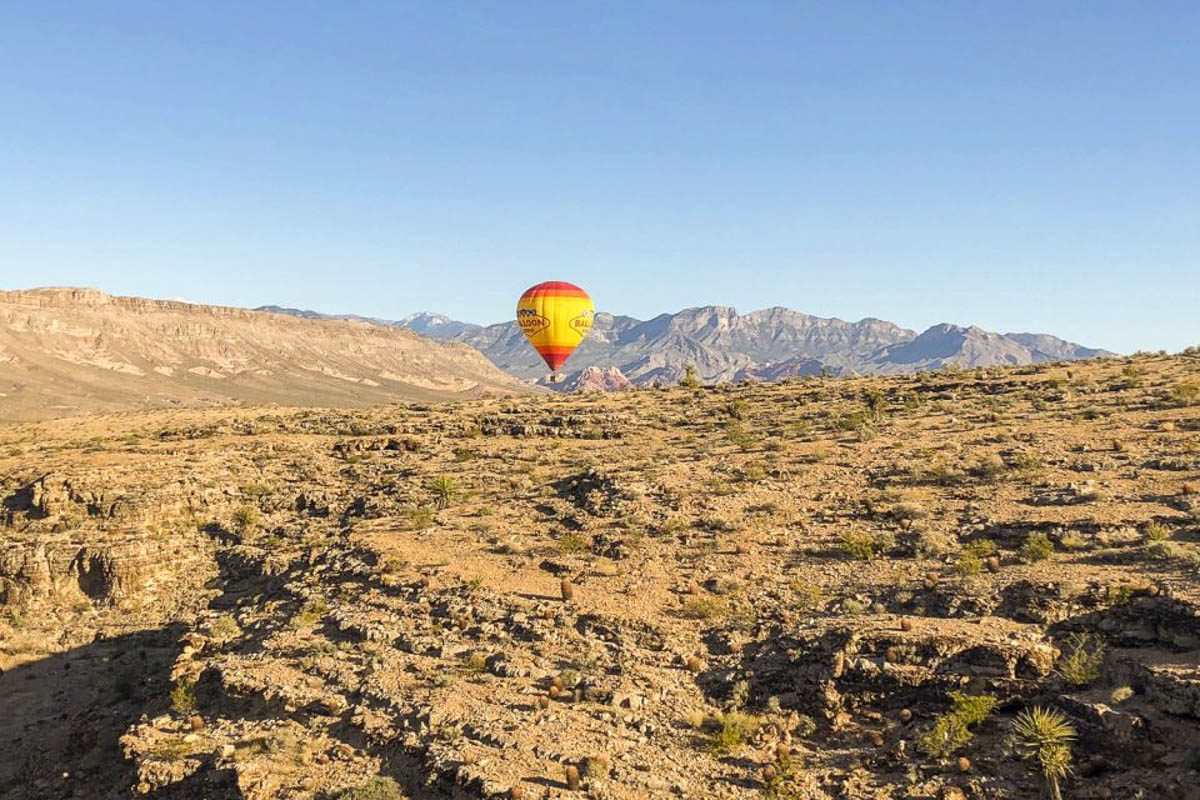 One of the best ways to wake up in Vegas is over 10,000 feet in the air on a hot air balloon ride. On this Balloon Ride over the Mojave Desert, you'll discover the desert from a new perspective as the sun rises over Death Valley and the Nopah Mountain Range.
This entire tour takes about 6 hours from start to finish. An hour and a half before sunrise, you'll meet with the pilot and balloon crew, then you'll transfer to the launch field about an hour West of the Vegas Strip.
Float into the sky and enjoy a 45-60 minute ride with birds eye views of the desert, mountains, and as far as Eastern California. After landing, share a champagne toast and hear the story of how hot air ballooning began before returning back to the check-in office.
37. Visit the Seven Magic Mountains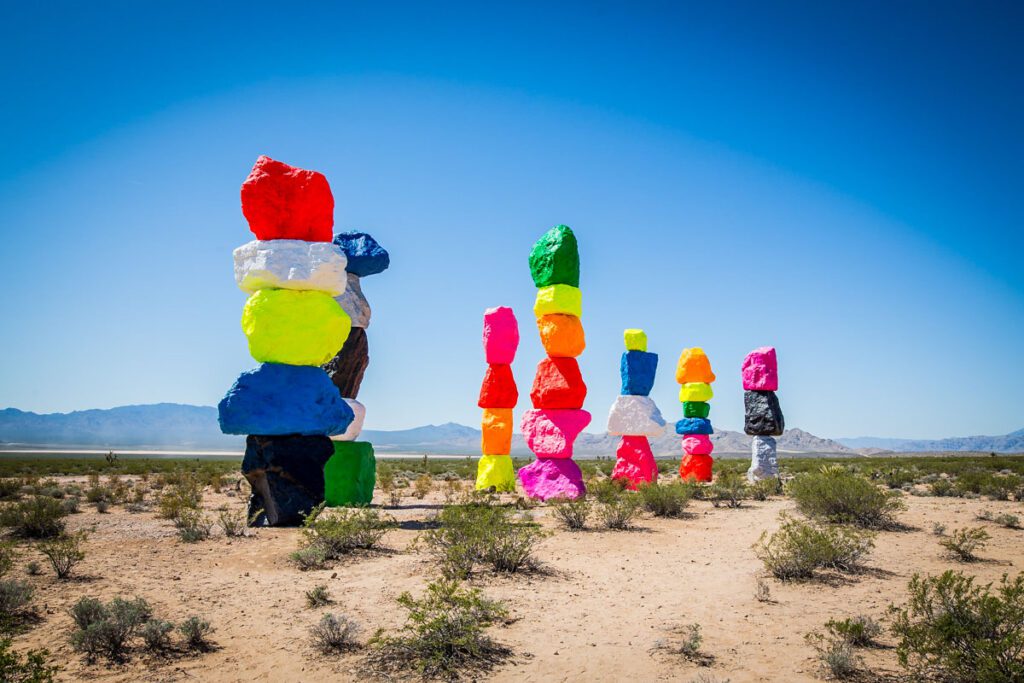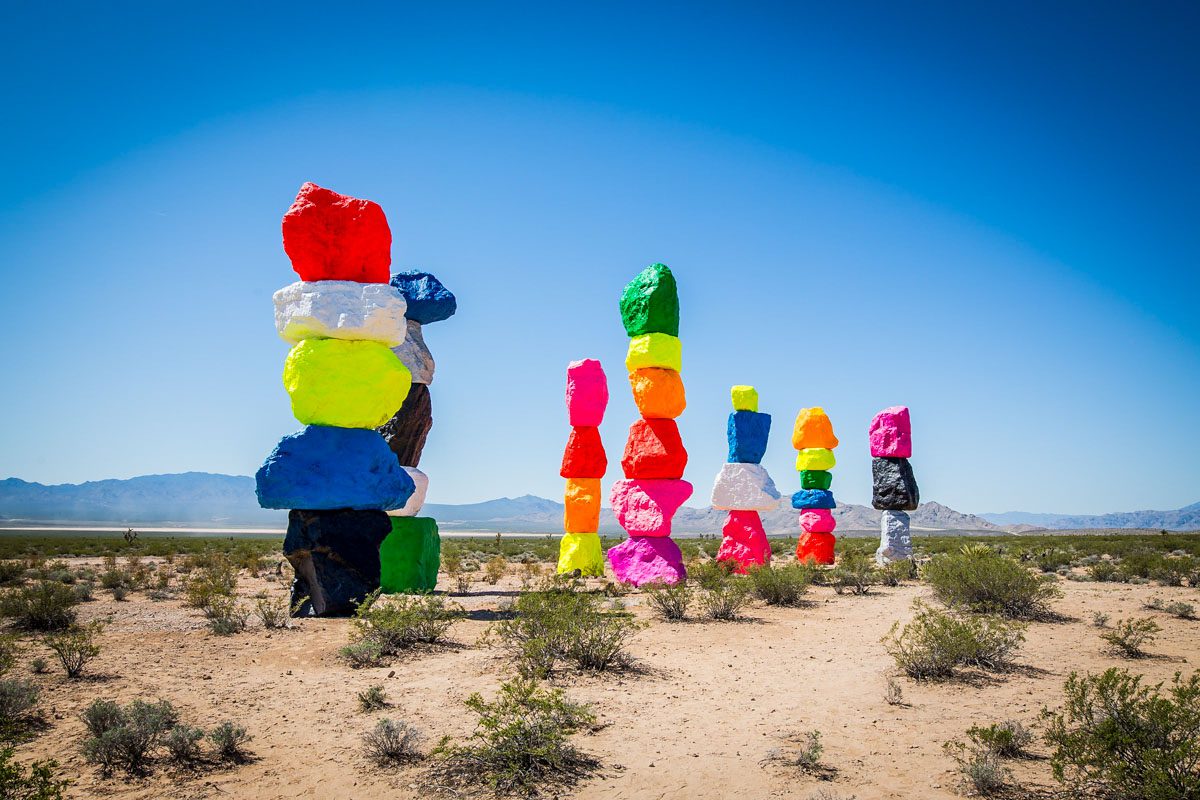 In the Ivanpah Valley of the Mojave Desert, just 10-miles south of Vegas, world-renowned Swiss artist Ugo Rondinone built this art installation to show a creative expression of human presence in the desert. The Seven Magic Mountains represents the middle ground between old and new, naturally and man made.
Each structure was constructed by painting massive boulders in neon and saturated paints that stood out among the neutral arid tones of the desert. Then, the boulders were stacked in 3-6 high towers in various color gradients to make the seven mountains.
The installation was first revealed in 2016, with intentions to only be up for two years, but as the project made its way to the top of anyone's must-sees in Vegas, Ugo Rondinone is working to keep the art here for the foreseeable future.
As one of the best free things to do in Las Vegas, you wouldn't believe the project took four years to make and cost 3 million dollars.
38. Marvel at the Grand Canyon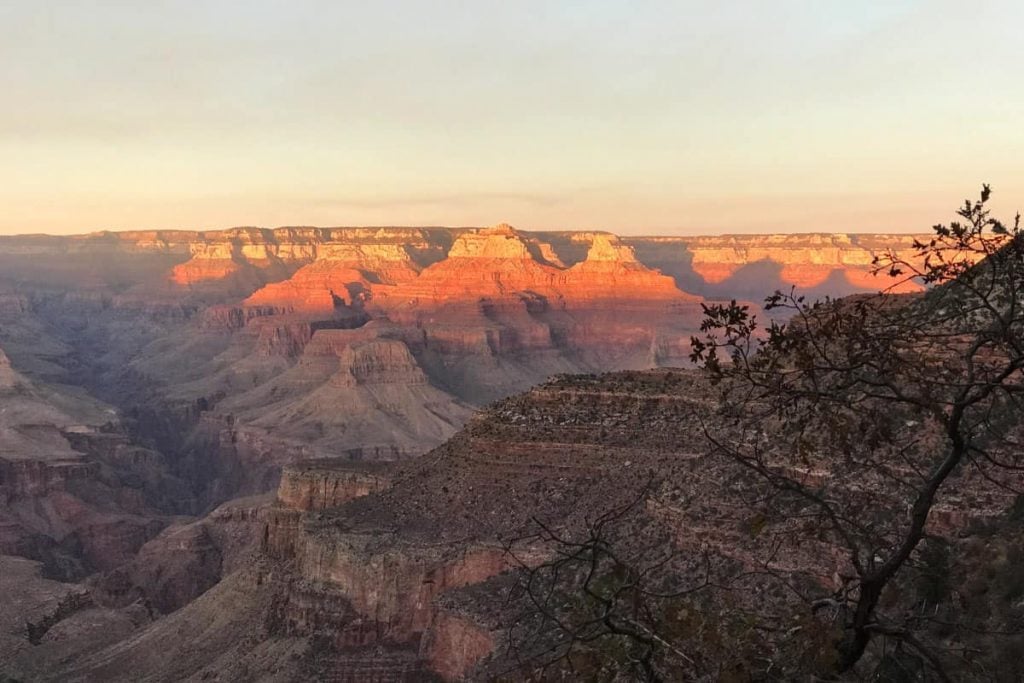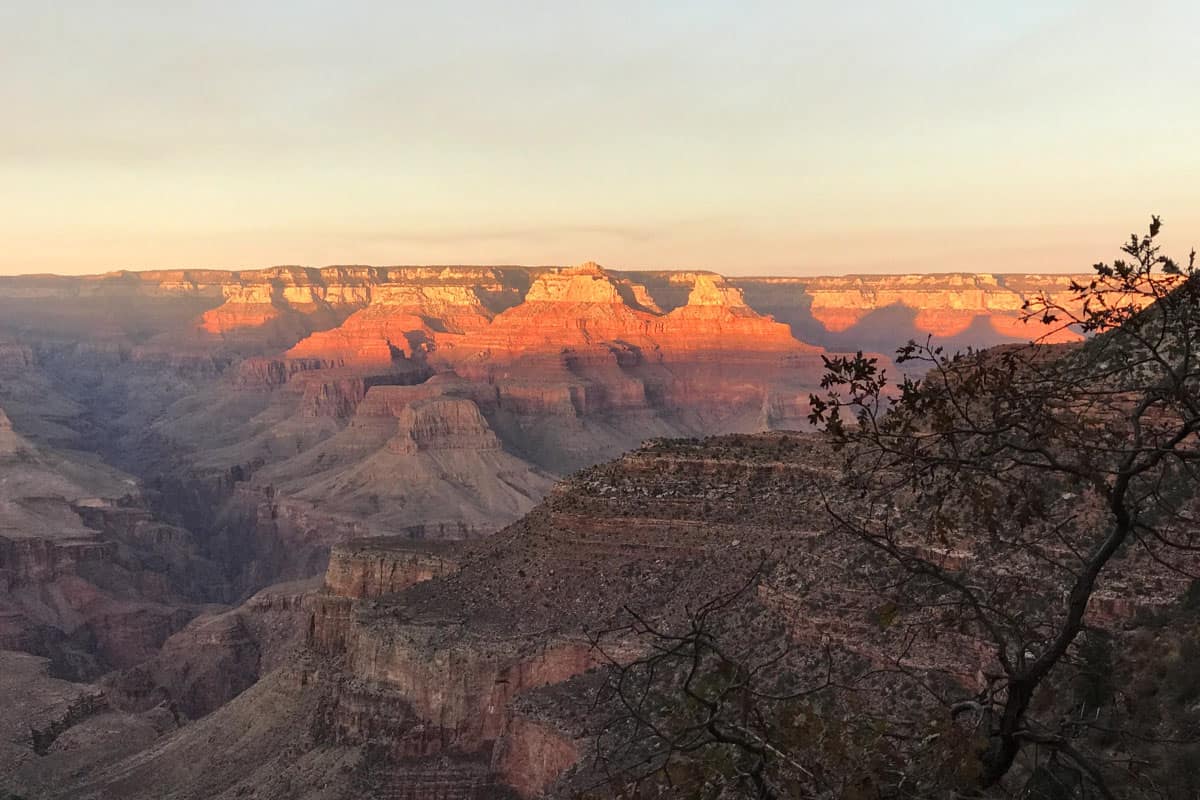 If you're already going to be in the heart of the American Southwest, there's no better base camp for a visit to the Grand Canyon. This 18-mile wide, 1-mile deep canyon runs 277 miles along the Colorado River and is one of the most visited National Parks in the United States.
Due to the sheer size of the canyon, there are plenty of ways you can explore it. The canyon hosts 6 million visitors a year, so if you're already close by make sure you're one of them!
The first thing you need to think about when planning your visit is what part of the canyon you'd like to visit since they all feature different viewpoints and unique features.
West Grand Canyon (127 miles, 2 hours): This is the closest access point from Las Vegas and features the famous SkyWalk over the canyon. This area is on the Hualapai Reservation, and isn't part of the National Park, but the views are just as good as the North and South Rim.
North Rim (269 miles away, 5 hours): This is the quietest area of the Grand Canyon since only 10% of the millions of yearly visitors make it to this side. This is about the same distance away as the South rim, so if you want to avoid lots of crowds, this is an ideal option. Note it's closed during the winter.
South Rim (292 miles away, 5 hours): Visitors flock to the South Rim of the Grand Canyon to enjoy the developed trail systems, facilities, and viewpoints along the edge of the rim.
How to get to the Grand Canyon from Las Vegas
Car: The best way to experience the Grand Canyon is with your own rental car. It gives you the freedom to explore all the small pit stops and viewpoints at your own pace where you can really take in the views and enormity of this geological wonder.
Bus: A bus ride to the Grand Canyon is quite the journey as it takes upwards of 15 hours one way compared to the 8 roundtrip hours of a self driving tour. If you have the time, we always recommend taking the scenic route, and this is the perfect way to see the Mojave Desert, Hoover Dam, and other stops in the southwest.
Helicopter: If you're short on time and don't mind splurging, the quickest way to get to the Grand Canyon from Las Vegas is a scenic helicopter tour. This tour gives you a front row seat to the best views of the canyon.

In the four hours you would spend just driving to the canyon, you can take this scenic flight to the Grand Canyon that includes views over Lake Mead and the Hoover Dam, stops at the West Rim for exploring, and even includes a champagne tasting.

Small Plane: If the prices for a scenic helicopter flight are a little too steep for your budget, there are small plane tours over the Grand Canyon that are a bit cheaper and just as scenic.

This Discovery Air Tour flies over the Zuni Corredor, Imperial Point, Colorado River, Kaibab National Forest, and Kaibab Plateau.
If you want the opportunity to fly over Lake Mead and the Hoover Dam, the West Rim Airplane Tour is a longer tour for just a little bit more money.
Psst! If you'll be visiting the Grand Canyon via bus or rental car, be sure to bring your national park annual pass, or extra cash with you for admission.
Guided tours to the Grand Canyon
Joining a guided group tour is another more affordable way to see the Grand Canyon from Las Vegas.
Almost all guided tours to the Grand Canyon from Las Vegas go to the South Rim. It'll take a full day getting to and from the canyon, giving ample time for a walking tour or a hike on the Bright Angel Trail.
Grand Canyon South Rim with Snacks & Lunch: Start your day with an early wake up call to head to the Grand Canyon South Rim. Take in the views along classic Route 66 all the way to the canyon. Once you arrive, visit the iconic Mather Point, follow the Bright Angel Trail into the canyon, or opt to stay along the South Rim Trail to enjoy more views from above. On your way back, stop at a locally-owned diner in Arizona before heading back to Vegas.
Grand Canyon West Bus Tour with Hoover Dam Stop: On this tour you'll be able to visit the Grand Canyon West Rim, Hoover Dam, and Arizona's Joshua Tree National Forest all in one go. Relish in the history of Guano and Eagle Points as you look out at stunning canyon vistas and walk across the famous Skywalk. This is a great option with the Hoover Dam since you'll save money seeing both on one tour.
Grand Canyon Guided Day Trip with Lunch: Head out on Route 66 bright and early as you make your way to the Grand Canyon South Rim. Stop along the route in Seligman, Arizona to learn about the history of Route 66. Arrive at the park and enjoy views at Mather Point and along the Bright Angel Trail. Before you get back to Vegas, stop in Arizona to enjoy dinner at a locally-owned American diner.
39. Visit the Hoover dam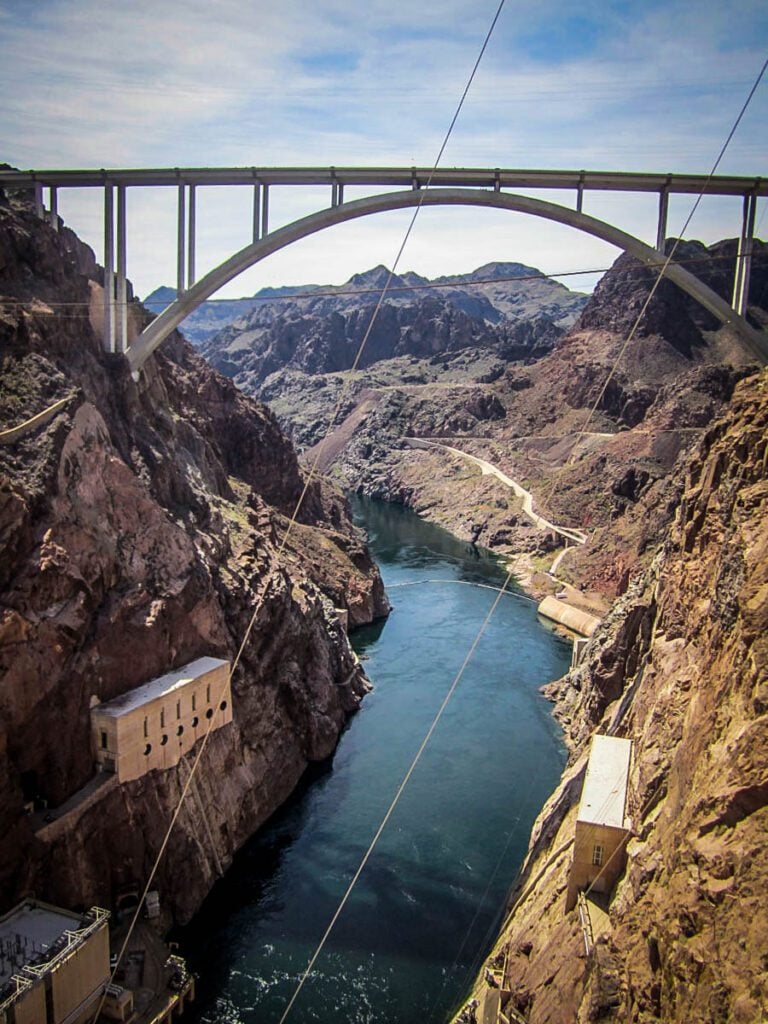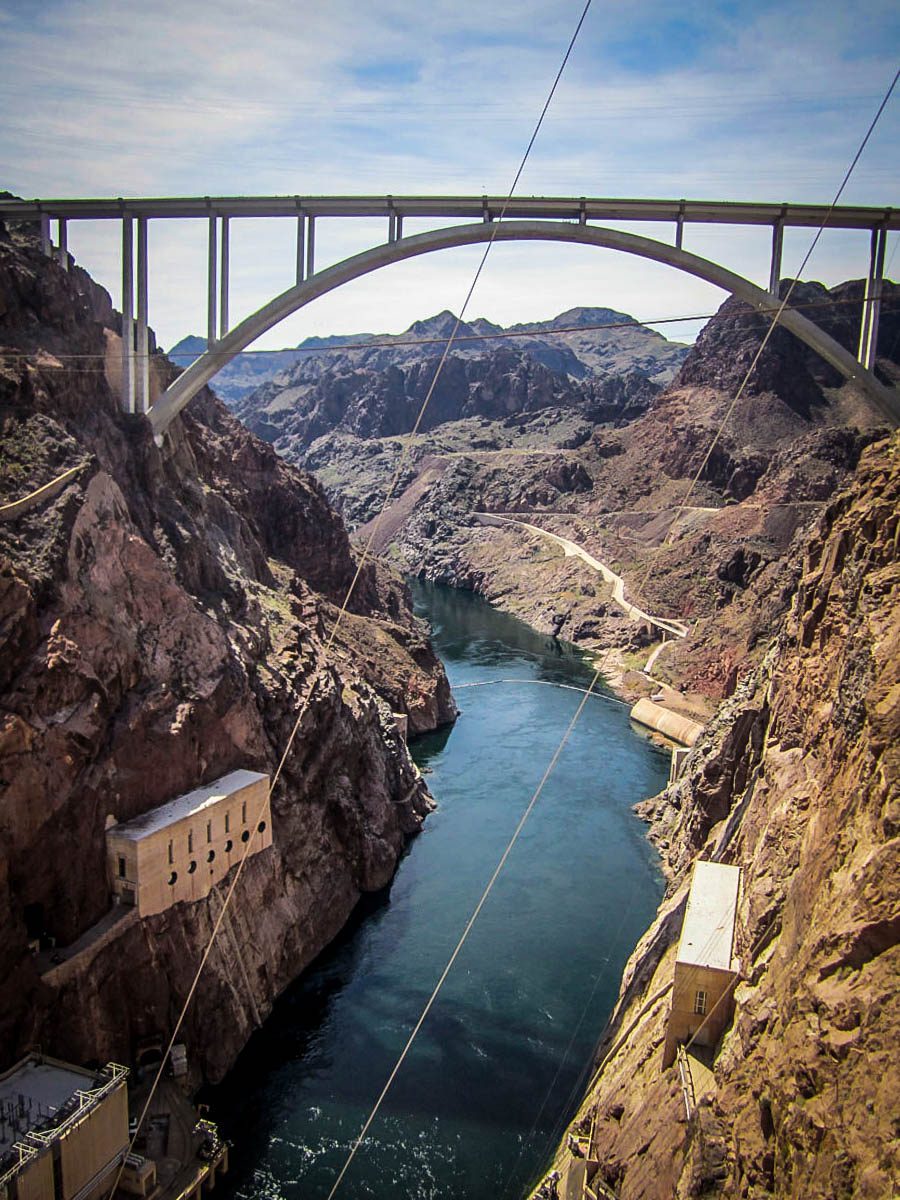 Just 40-minutes southeast of Las Vegas is a feat of engineering that contributed greatly to the development of the United States and its major cities. Five million barrels of cement, 45 million pounds of reinforcement steel, and 21,000 workers brought the Hoover Dam to completion in 1935.
The Hoover Dam was built on the Colorado River, along the border of Nevada and Arizona. It's an amazing thing to do in Las Vegas if you enjoy history as it played a massive role in the development of the city.
How to get there: Although it's a bit out of the way, you won't need your own rental car to pay a visit. The Boulder City Express shuttle can take you from some of the major hotels along the Strip. It's more of a tour than it is a shuttle, so a ticket includes transport to and from the dam, as well as the fee to enter.
Cost: After forking over $15 per vehicle (if you self drive), $10 for the Visitor Center, and $15 per person for a tour, a visit just to see the dam is upwards of $40, more if you book a tour, but there is a way to view the dam for much cheaper…
Money-saving tip: If you want to pay a visit to the Visitor Center and get on a tour by all means go, but if you just want to see the dam and don't care for the other frills, park on the Arizona side (after you cross the dam) and you can view the dam for free.
40. Kayak tour through Emerald Cave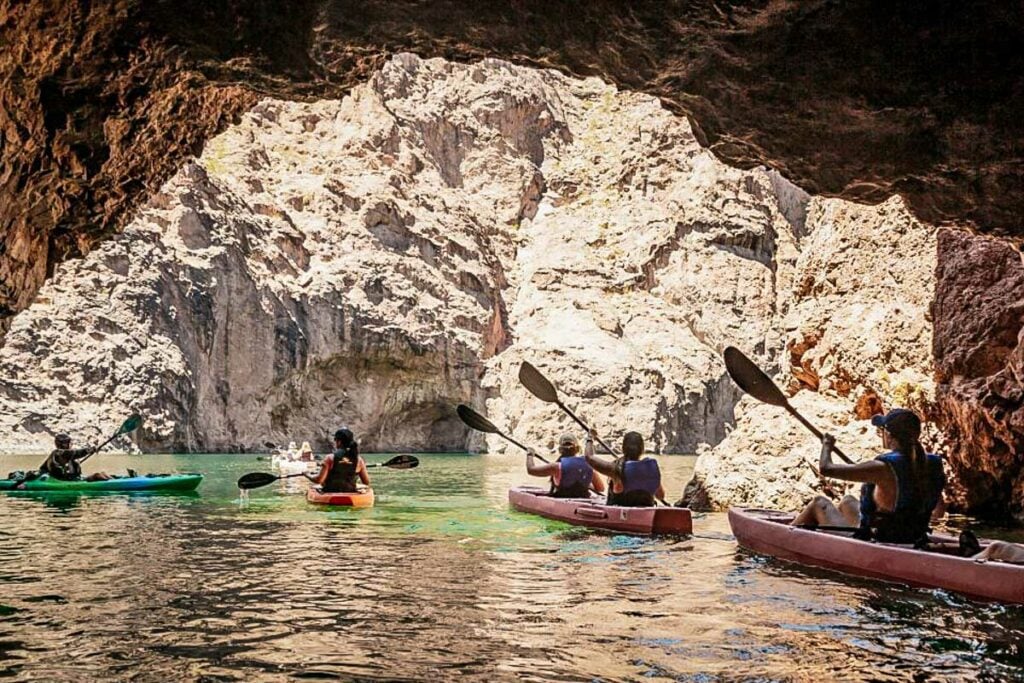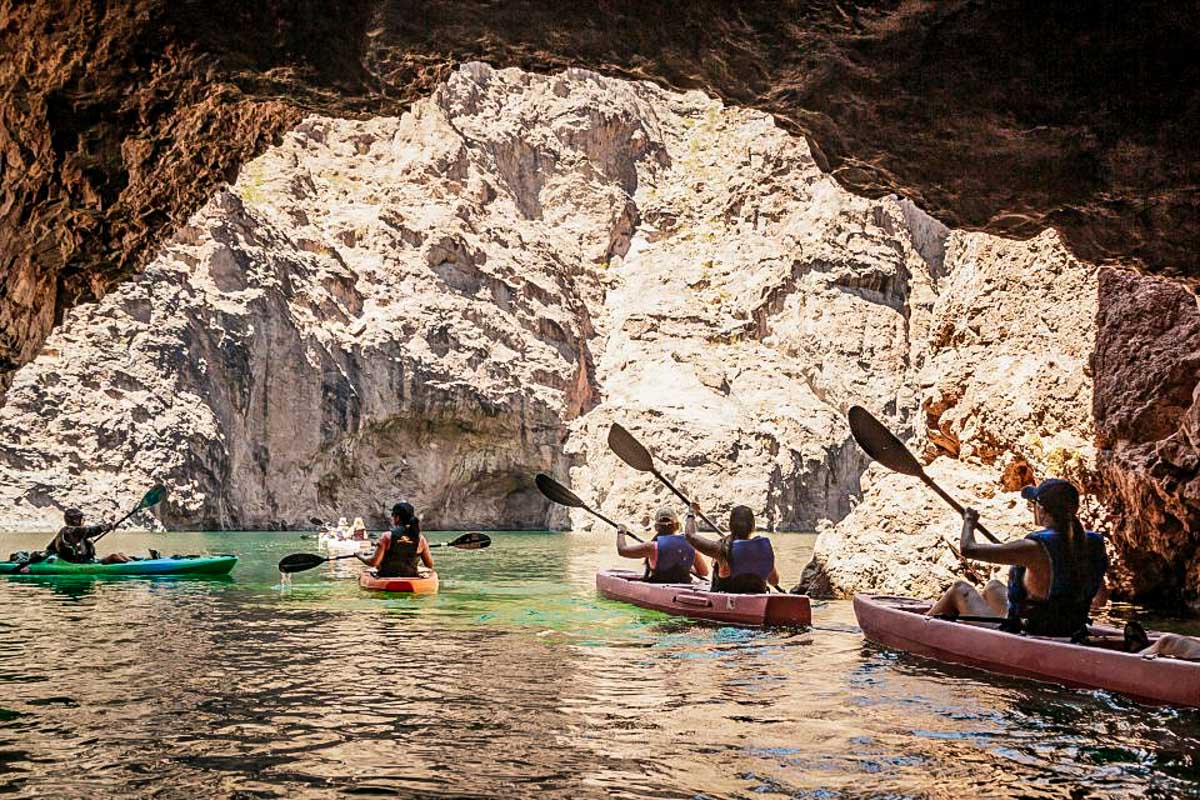 Situated right along the Colorado River in the Black Canyon are the glittering waters of Emerald Cave. Among the arid and neutral tones of the desert, the spectacular green waters of this natural cave shine like a jewel all on its own.
To make the most out of your kayaking experience, you want to book a tour with glass-bottom kayaks. The day trip includes pick-up and drop-off at one of the resort hotels along the Strip, where you'll transfer to Willow Beach, Arizona to begin your paddle.
The guides will help you brush up on your kayaking skills, then you'll paddle towards Emerald Cave, enjoying the underwater views from the bottom of your kayak. Once you arrive at the cave, it'll be much smaller than you think as it only holds a few kayaks at a time.
Paddle back down the Colorado River to the beach access point, then transfer back to the Strip. Note the cost of the tour doesn't include the entry fee to the Lake Mead National Recreation Area, so make sure you bring your Annual Park Pass or extra cash for the admission fee.
41. Day trip to Death Valley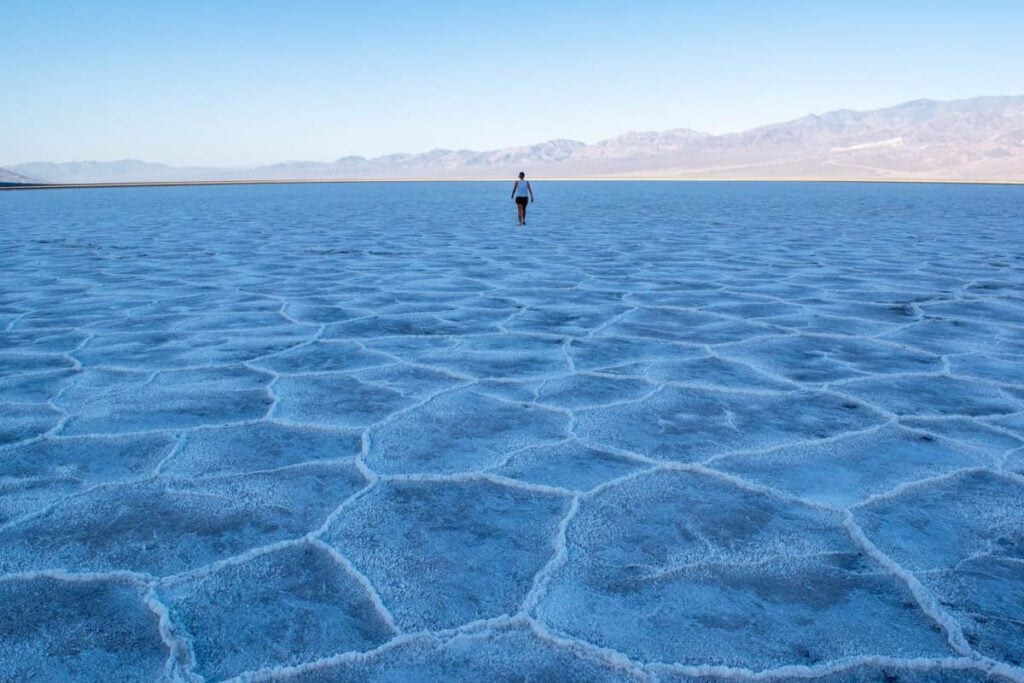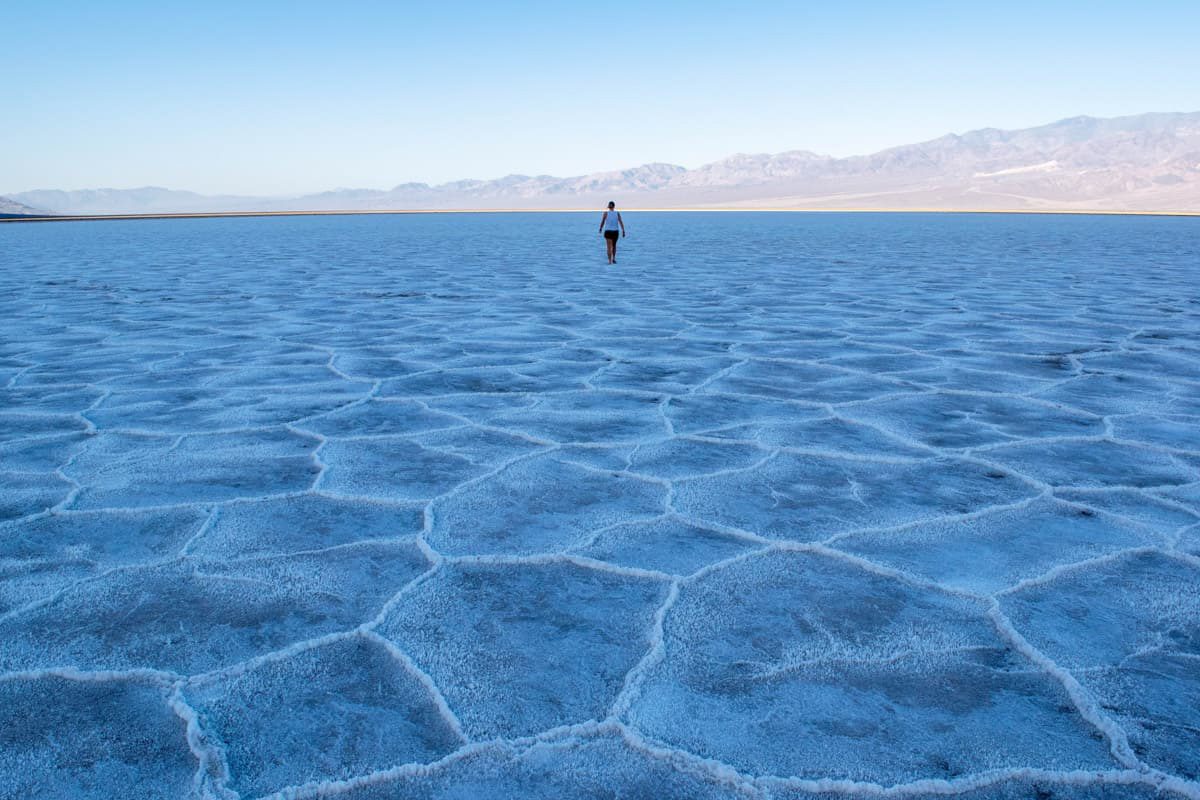 One of the best ways to get out of the Neon City and into nature is with a day trip to Death Valley National Park. While it may seem counterintuitive to drive two hours west to the lowest and hottest place in North America, Death Valley is actually one of the most underrated National Parks in the country.
It's assumed by many that Death Valley is solely a desert with no sign of any life, hence the name. However, because of the valley's extreme weather conditions, the ecosystem has adapted and flourished, making an incredibly unique environment to experience.
Painted hills, massive sand dunes, and panoramic vistas are only a 2-hour drive away from Vegas, so it's totally doable in a day and you can get a break from the bustle of the Strip.
If you want to avoid the hassle of renting a car for only one day, there are Death Valley day tours that cover the highlights and pick you up directly from the hotel.
Insider tip: If you are planning to check off Death Valley on your trip to Vegas, aim to plan your visit during the spring months. Temperatures are mild this time of year and if you're lucky, you can see the superbloom in Death Valley.
42. Explore the Valley of Fire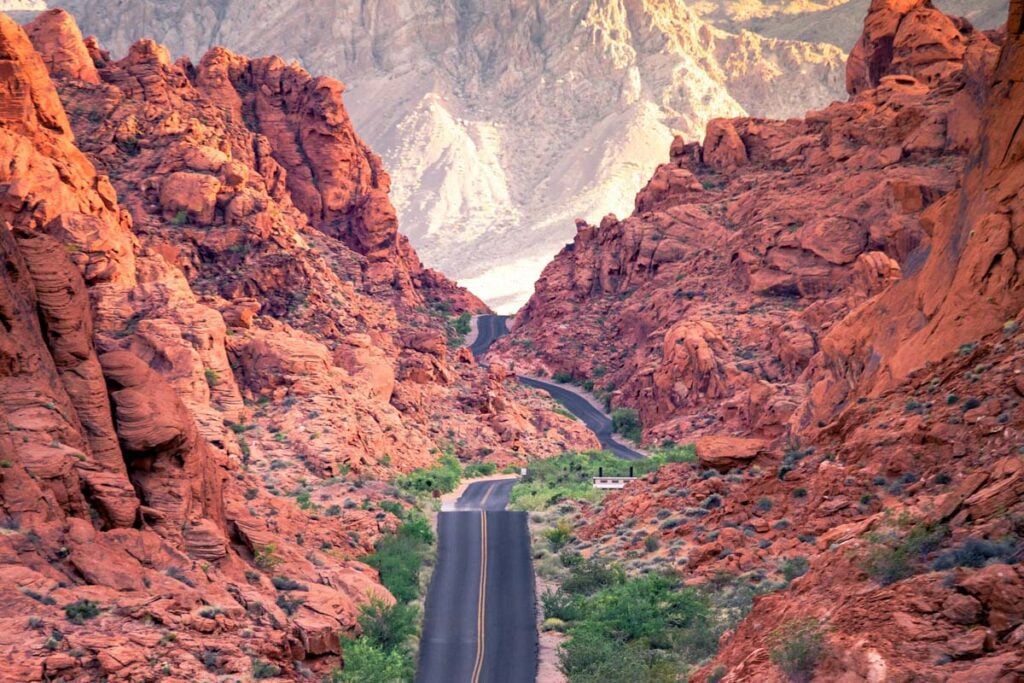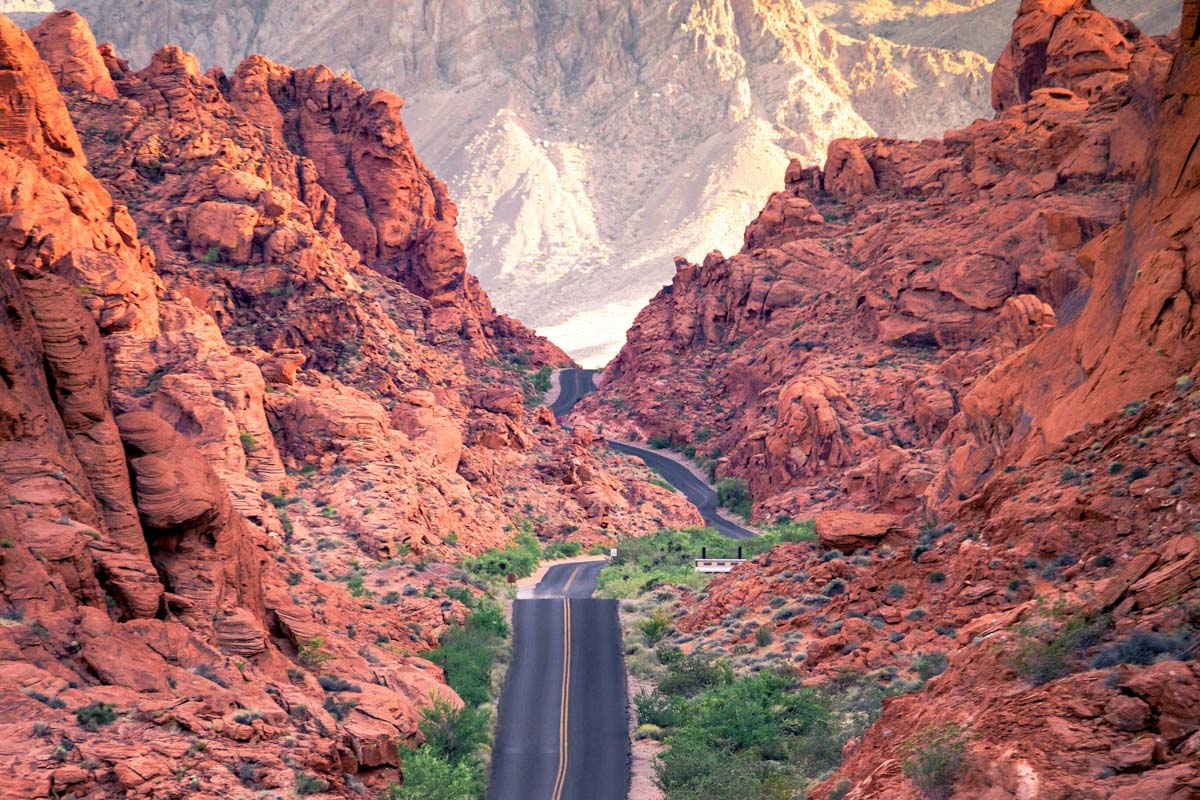 Another incredible day tripping opportunity near Las Vegas is the Valley of Fire State Park. You can hike and explore over 40,000 acres of red rock formations made from Aztec sandstone. During the day, the rocks appear to be on fire under the desert sun, giving the park its name.
Snap a photo of Mouse's Tank Road, one of the most photographed locations in the park, hike any of the scenic hiking trails, or drive around and enjoy the zebra-painted rocks and otherworldly atmosphere.
Although the area is expansive, you can spend half a day here visiting the popular trails and viewpoints, or opt for a full day to really get a good feel of the area. Be sure to visit the Fire Wave, Pastel Canyon, the Beehives, and Mouse's Tank Road as they're some of the most beautiful spots in the park.
43. Visit Lake Las Vegas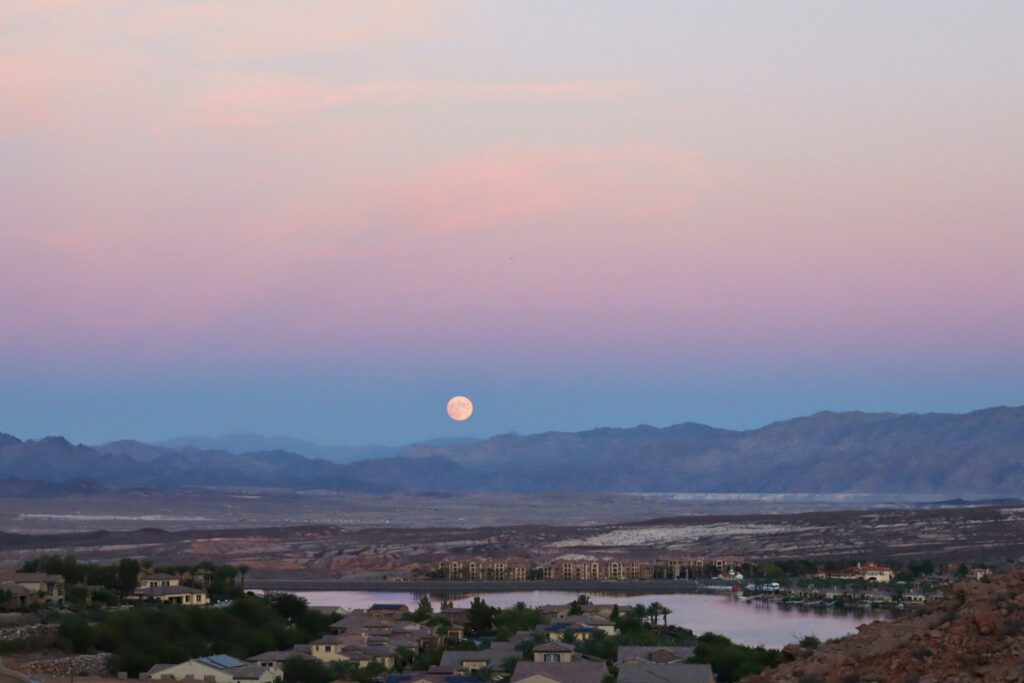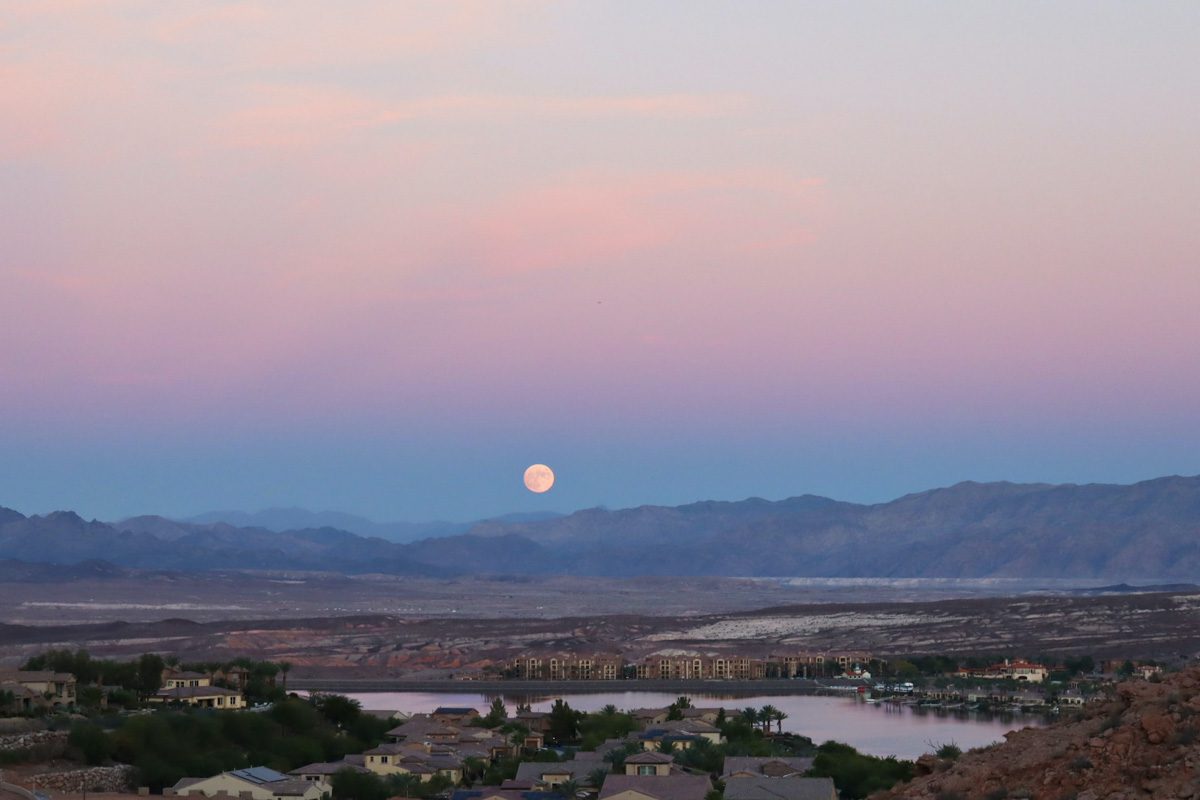 We're not going to lie… Nevada has the potential to get sweltering HOT! Especially if you're traveling in the summer.
With temperatures sometimes reaching triple digits, you'll definitely want to find a place to cool off. Lake Las Vegas is just twenty minutes outside of the city and the perfect place to take a dip.
Lake Las Vegas has a beach that is open to the public for swimming and Lake Las Vegas Water Sports rents an array of water sports rentals from paddle boards to flyboards to—wait for it—a yacht.
The surrounding Italian-inspired village consists of beautiful scenery alongside a series of higher-end resorts, fine-dining and swanky golf-courses.
Aside from taking advantage of the lake or playing some golf, the area is quite appealing to foodies as well. The Village offers quite an array of restaurants:
Although there are certainly more thrilling day trips from Las Vegas, this beautiful reservoir has the advantage of being quite convenient and easily-accessible from the city which makes it a sensible pick for a quick day (or even a half-day) trip!
44. Go horseback riding through Red Rock Canyon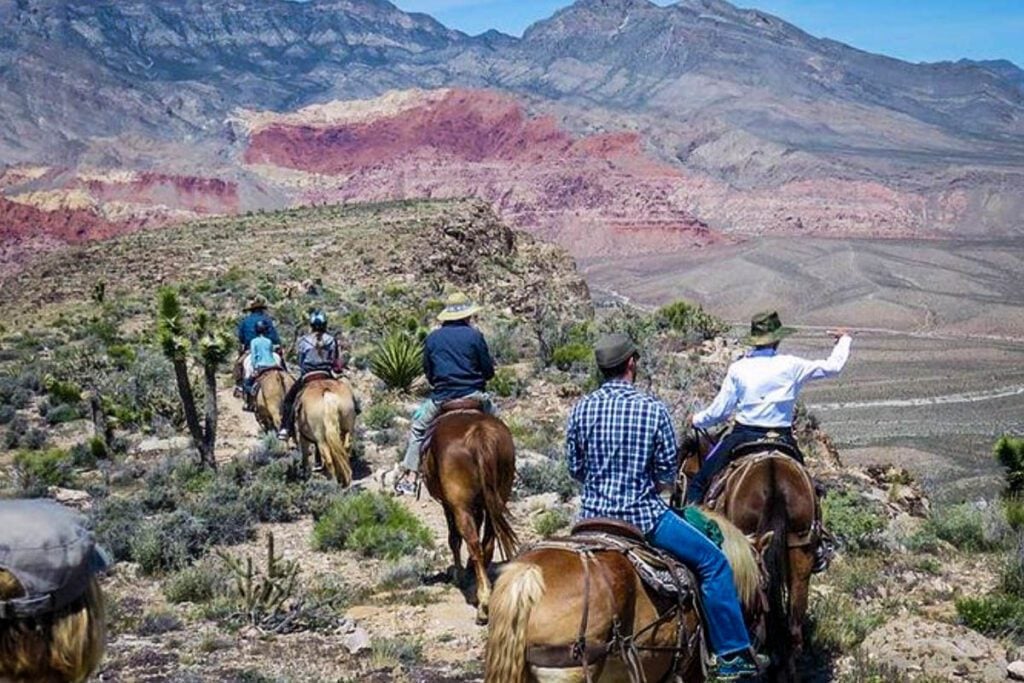 Just 20 minutes west of Las Vegas is the Red Rock Canyon National Conservation Area where you can saddle up and enjoy a true western adventure. A scenic and relaxing horseback ride will take you through miles of the mystical Nevada desert.
This 2-Hour Horseback Riding Tour through Red Rock Canyon is the perfect choice for any experience level with riding horses. The professional guides will show you the ropes and proper technique for riding your horse as they take you up mountains and through a rugged landscape of desert valleys and ravines.
This area also makes for a great day trip since it's filled with hiking trails, scenic drives, rock climbing, and mountain biking trails. So if you're up for either a half or full day here, you can extend your time here after your ride.
---
Things to do in Las Vegas for thrill-seekers
Get your heart rate up on any of these exciting adventures in, above, and outside of fabulous Las Vegas. From splurges to family-friendly ventures, there are endless ways to feel the thrill of Nevada's desert playgrounds.
45. Take a helicopter tour over the Strip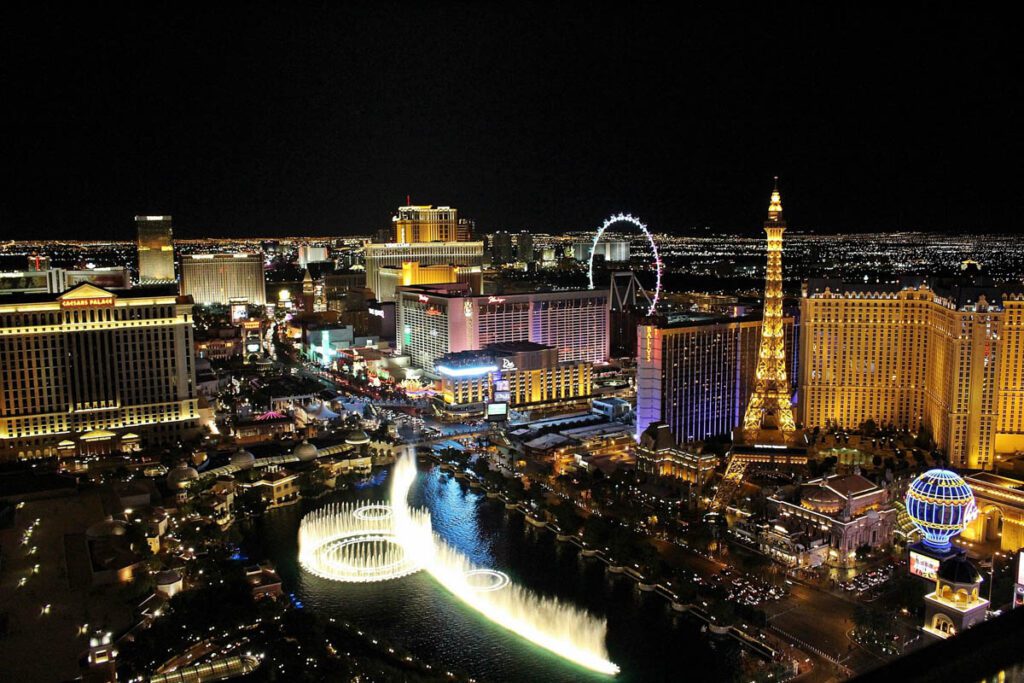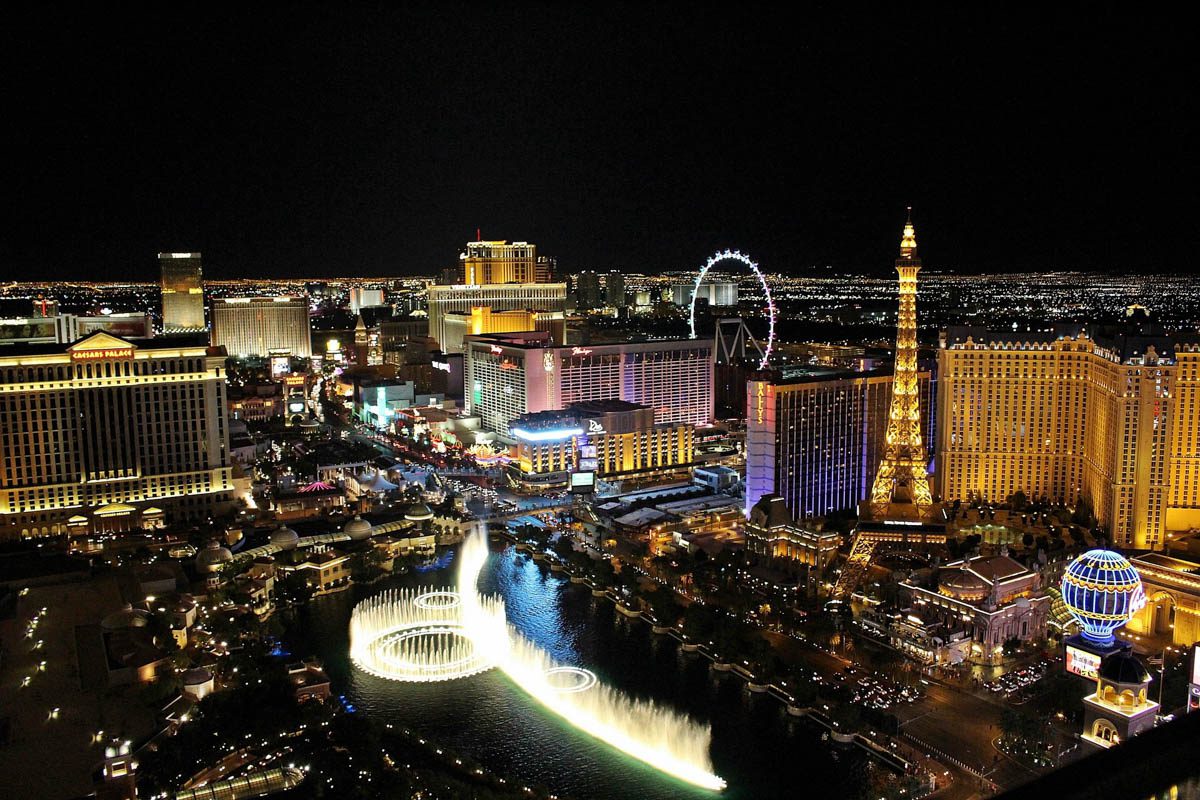 While views over the Vegas Strip can be enjoyed from the impressive heights of the resorts, casinos, and observation towers, there is nothing more impressive than flying over the sea of neon lights via helicopter.
Within minutes of taking flight, you can spot the most iconic landmarks all in one frame. This is one of the best things to do in Las Vegas if you want to splurge on a memorable experience in the sky. If you do book a scenic flight, make sure you do it at night since the skyline is much more impressive when the Strip is illuminated by millions of lights.
Maverick Helicopters offer world-class tours over the Strip and have the highest safety record of any tourism-based aviation company in the world. They offer a handful of different tour options from their classic Vegas Strip Tour to the complete 'Savory Bites and Lights" tour.
46. Exotic Car racing at Motor Speedway
Car enthusiasts and those with a need for speed gather at the SpeedVegas Motorsport Park to experience the unparalleled horsepower of the world's most impressive supercars. Their fleet features classics from the Porsche 911 and Lamborghini Gallardo to the Ferrari 488 Challenge Evo.
The driving packages start at 5 laps and go all the way up to 20 laps for the ultimate driving experience. You can even purchase combo packages to take multiple cars for a spin around their 1.3-mile track.
Everyone from casual drivers to professional drivers pay a visit to take turns around this track. The experience includes an in-depth briefing and two free discovery laps around the track so you can make the most out of your joy ride.
47. Ride the thrill rides on top of the Stratosphere Hotel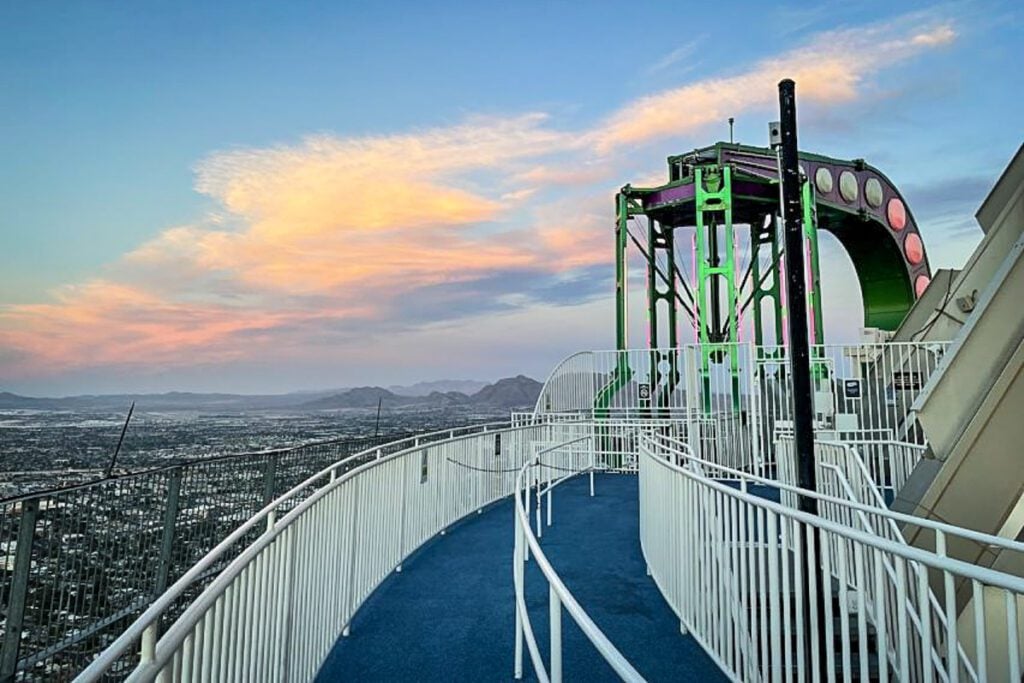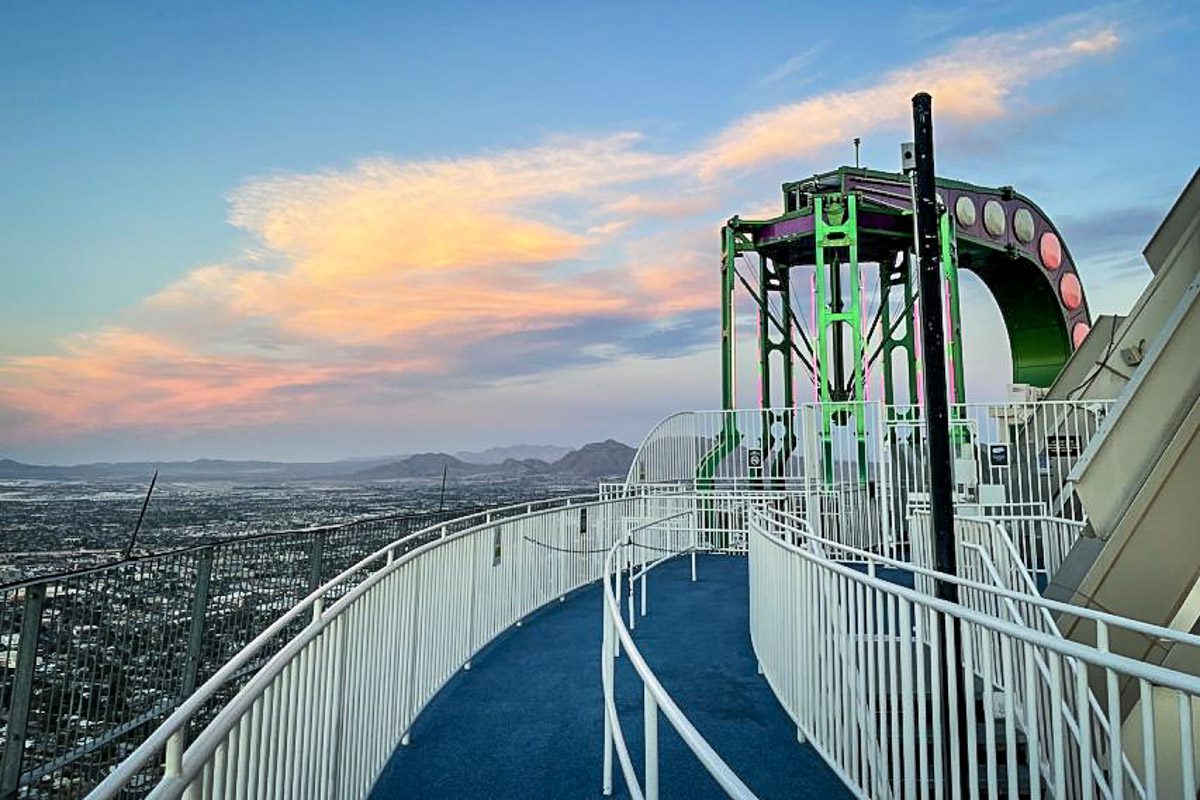 At an incredible height of 1,149 feet, the STRAT tower is one of the most iconic features of the Las Vegas Strip. From the ground, you may only think the tower serves as a viewing platform for the city, but in fact, it includes four thrill rides that rival others in the best amusement parks in the country.
Note that the three main rides, Big Shot, Insanity, and X-Scream are all included on this ticket, but if you want to do the SkyJump it requires an additional ticket.
Rides on top of the Stratosphere Hotel
48. Bootleg Canyon zipline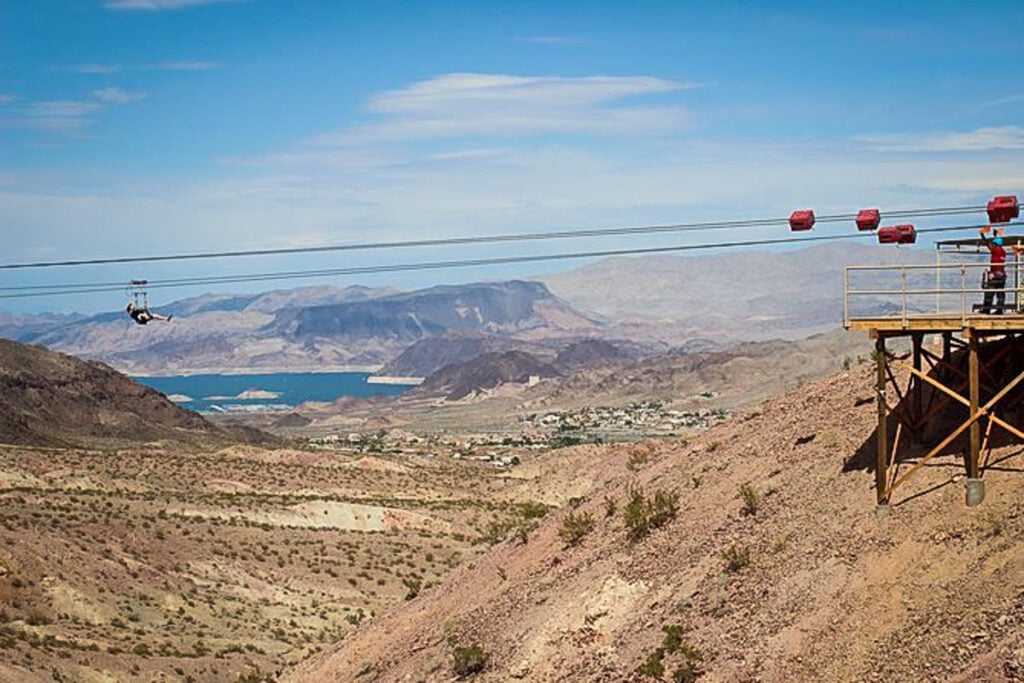 From the top of Red Mountain, take in views of Las Vegas, Lake Mead, and the El Dorado Valley before whizzing down the mountain through bright blue skies and blankets of vast desert landscapes.
Although soaring at upwards of 50 mph will be the highlight of your visit, the area is filled with an abundance of desert wildlife like red-tail hawks, chuckwallas, and bighorn sheep. This ziplining tour includes historical, geological, and ecological information as you descend down four different zip lines.
49. Quad bike and dune buggy tours through the desert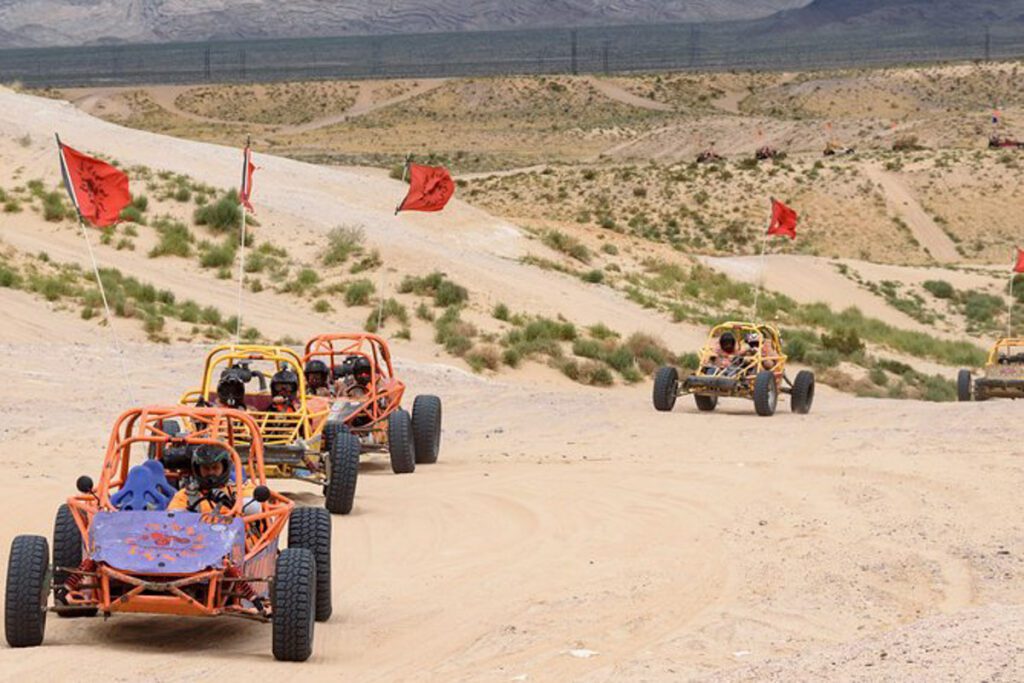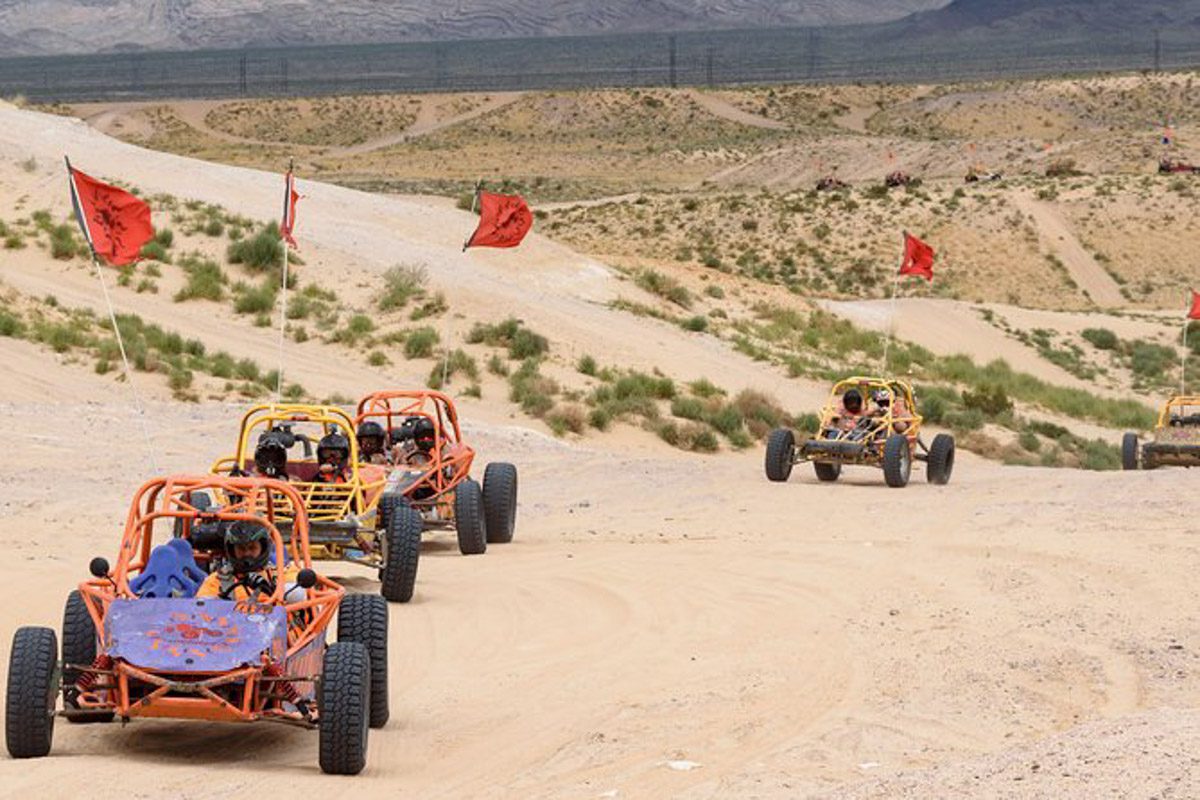 There is no better place to test your off-roading skills than in the heart of the Mojave desert. Navigate sand dunes and fiery red rocks while searching for ancient petroglyphs. There are a variety of different quad bike and dune buggy tours that leave from Las Vegas.
The best tours are going to include everything you need to have a safe and fun experience. Most of the trails and tracks are more remote and don't offer any type of ride-sharing service. You'll want to book a tour that includes transport to and from the Las Vegas Strip.
Hidden Valley and Primm ATV Tour: This dune buggy tour is perfect if you're not an avid dune buggy or ATV connoisseur. The trails in the Hidden Valley don't require any special skills, so you can enjoy an exhilarating ride even as a newbie. This tour includes pick-up and drop-off at certain hotels along the Las Vegas Strip, an ATV or quad bike rental, and equipment, as well as food and drinks. 
Vegas Mini Baja Chase Dune Buggy Adventure: If you're well-versed in the world of off-roading and want to get rugged in the desert, this dune buggy tour was named the "best near-death experience" by Rolling Stone. With a thorough safety briefing, protocols, and specially-equipped buggies, you can adventure through 10-15 miles of adrenaline-filled trails safely and adventurously.   
50. Go whitewater rafting down the Colorado River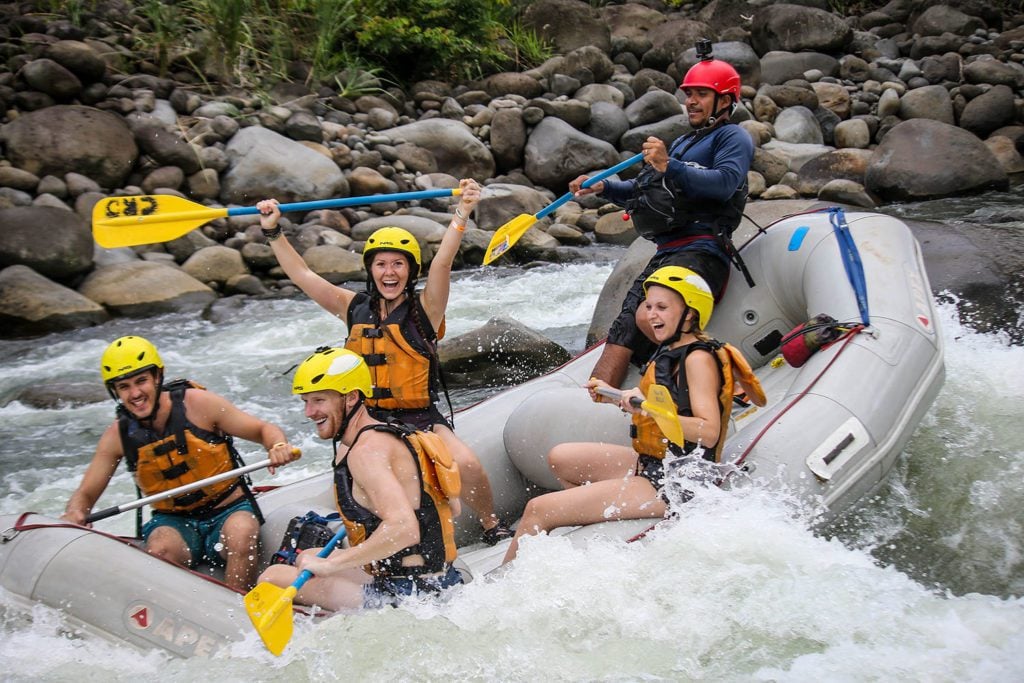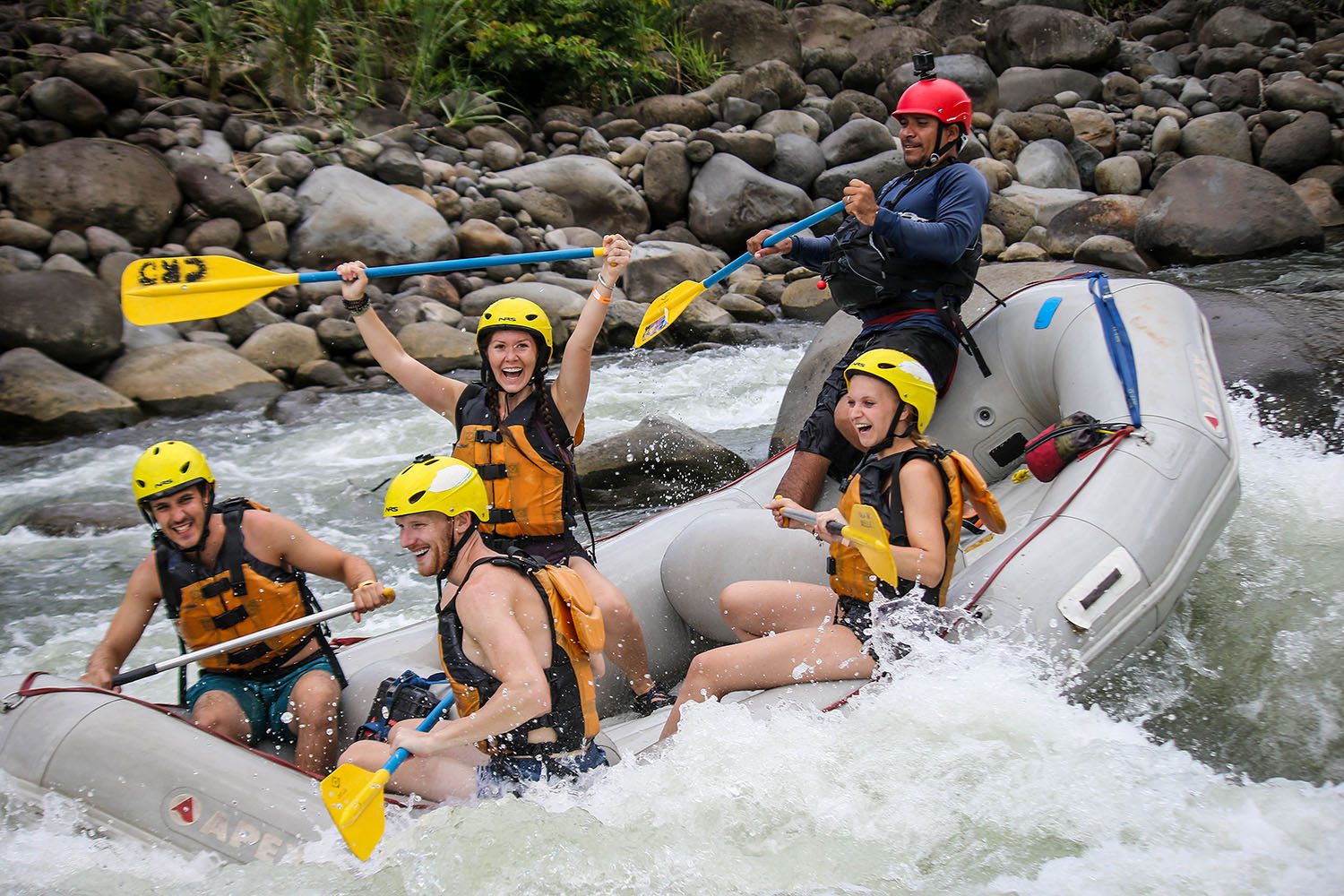 One of the most exhilarating experiences to have in Las Vegas is whitewater rafting through the Grand Canyon. Look up with awe and wonder as the walls of the canyon jut hundreds of feet above the currents of the Colorado River.
One of the most famous ways to view the Grand Canyon is on top along the rim, but nothing compares to the solitude and excitement of rafting down the river that carved the Grand over millions of years. 1-2 day whitewater rafting trips are the perfect amount of time to enjoy the wonders of the canyon.
Grand Canyon 1-Day Rafting Trip: Run rapids along 35 miles of the Colorado River, hike to a waterfall, enjoy lunch on the banks of the river, and take a helicopter to the rim of the canyon all in a day. A local guide will traverse rapids while guiding you down the river and teaching you about the rich traditions of the Hualapai people.
Grand Canyon 2-Day Rafting Trip: A two-day whitewater rafting trip down the Colorado River will give you two unique experiences in the canyon. The first day your native Hualapai guide will navigate exciting class II and III rapids, then you'll change boats for the flat water section and enjoy the rest of the river aboard a peaceful pontoon boat. You'll spend the night under millions of stars and wake up to the first morning rays lighting up the canyon walls. Spend the second day exploring historical sites, floating the remaining miles of the river, and then take a helicopter ride to the rim of the Grand Canyon.
---
You might also like…
Save this article to Pinterest for later!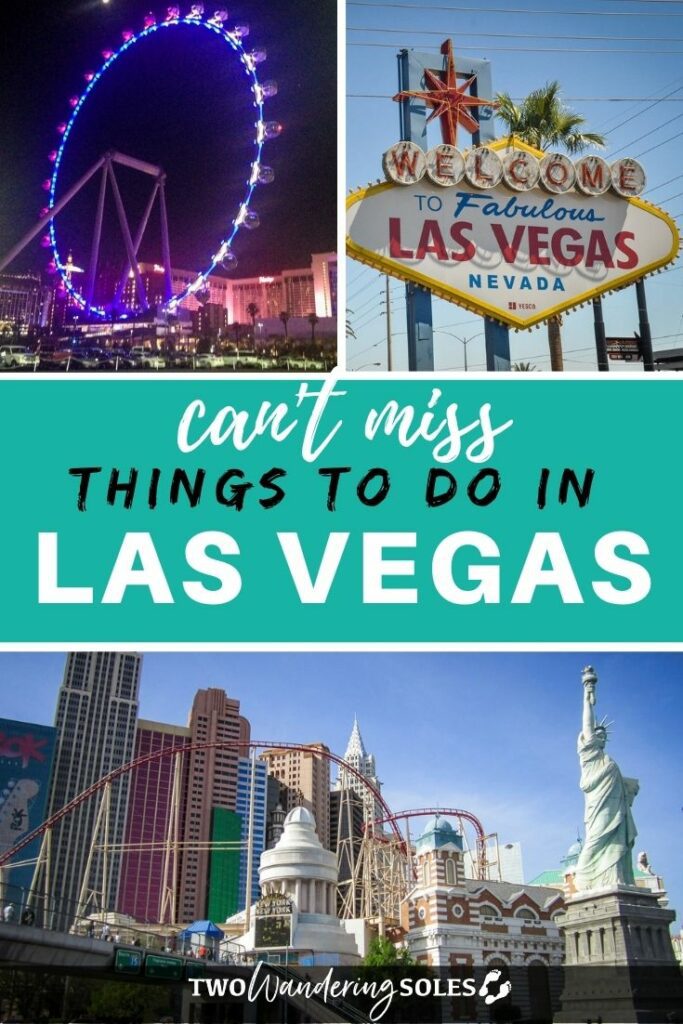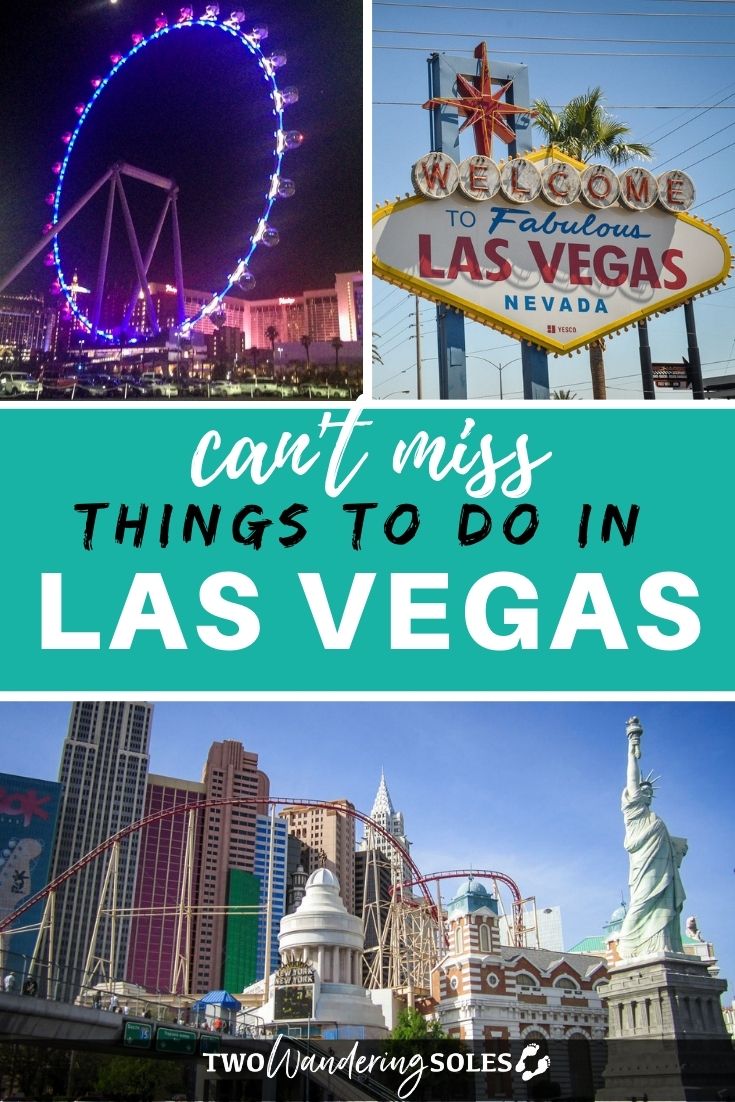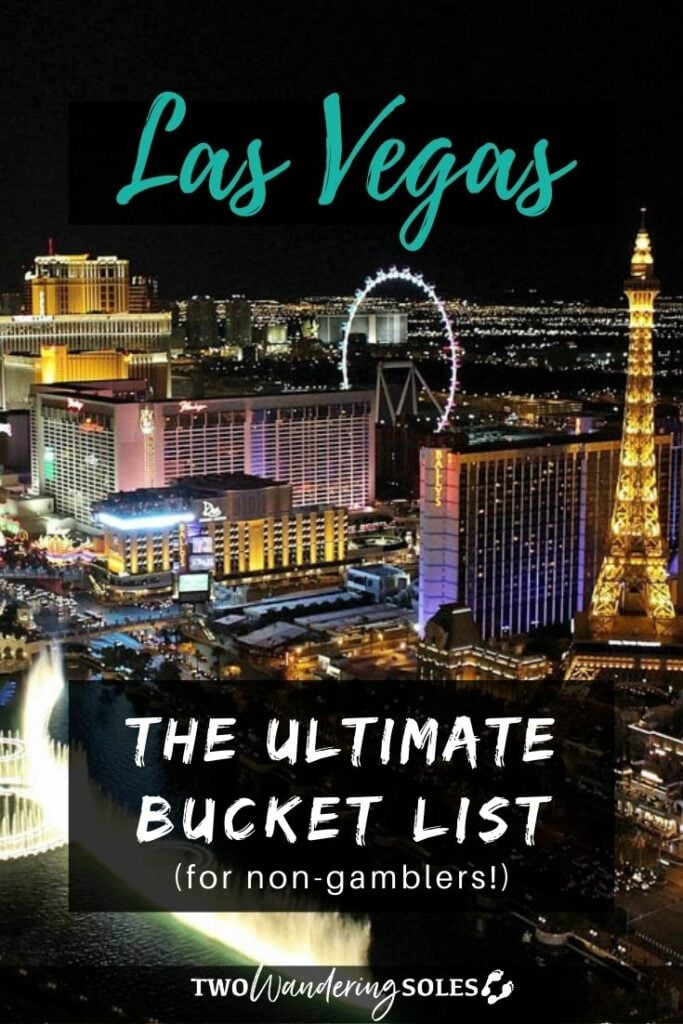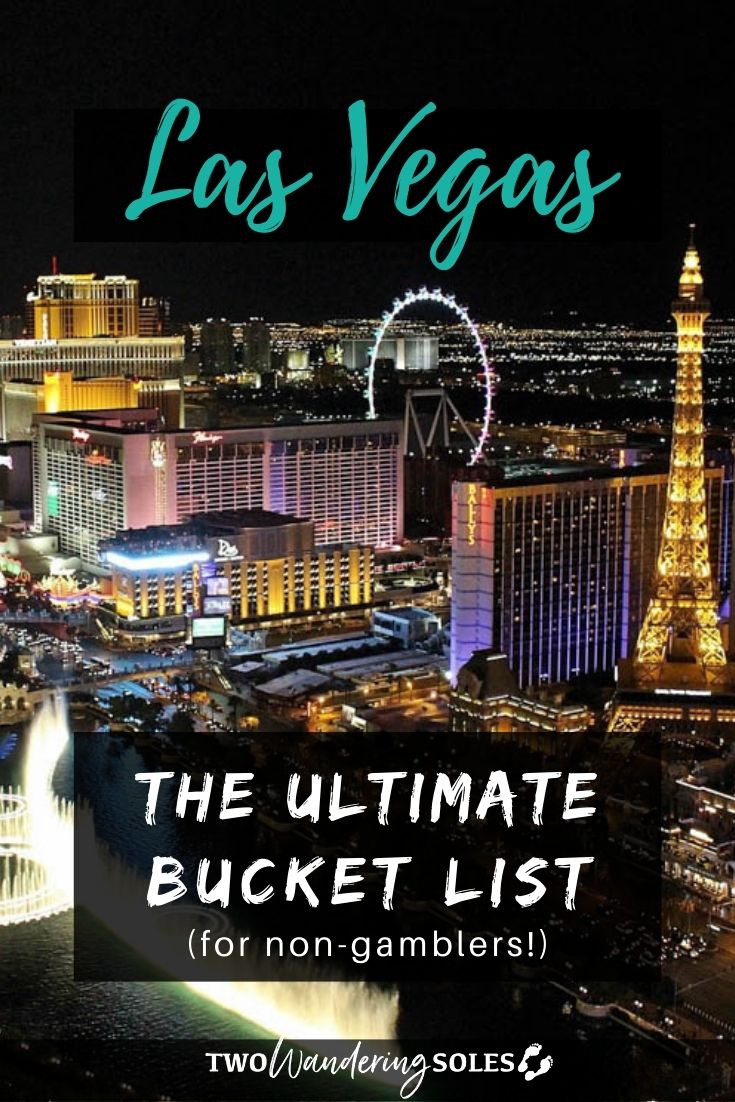 We want to hear from you!
Did you know there were so many things to do in Las Vegas besides gambling? Which of these experiences is going straight to the top of your bucket list? Leave your comment below and we'll do our best to get back to you!