With endless outdoor adventures and a rich cultural heritage, Chiapas is a place in Mexico that we consider a hidden gem among tourists. After visiting this unique corner of Mexico, we put together a list of the best things to do in Chiapas. In this article, you'll find all sorts of insider tips to help you plan and prepare for your visit.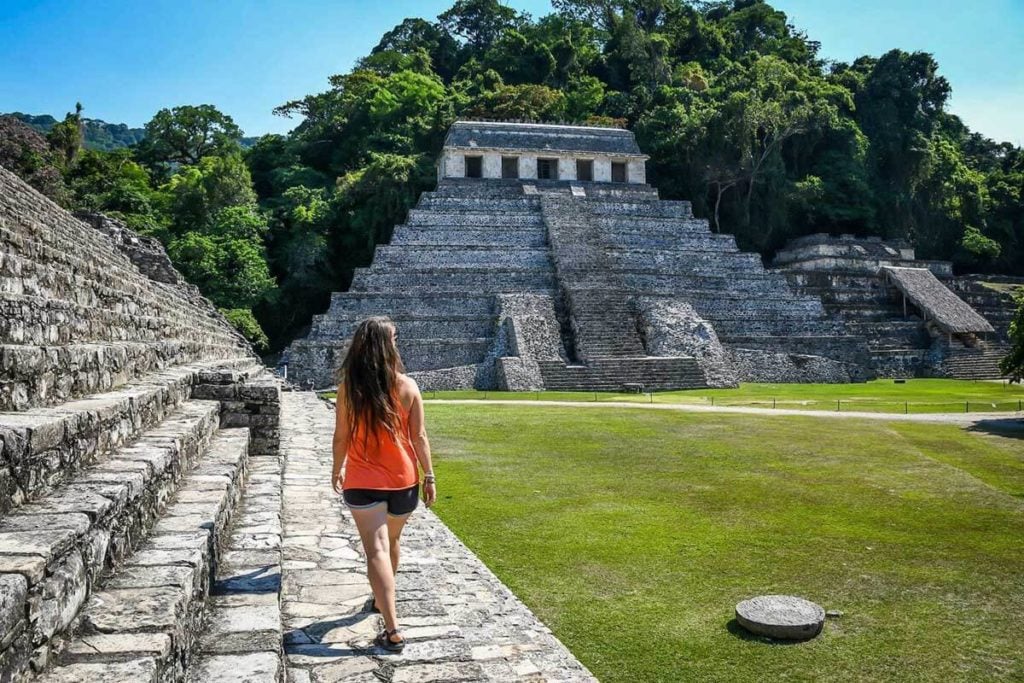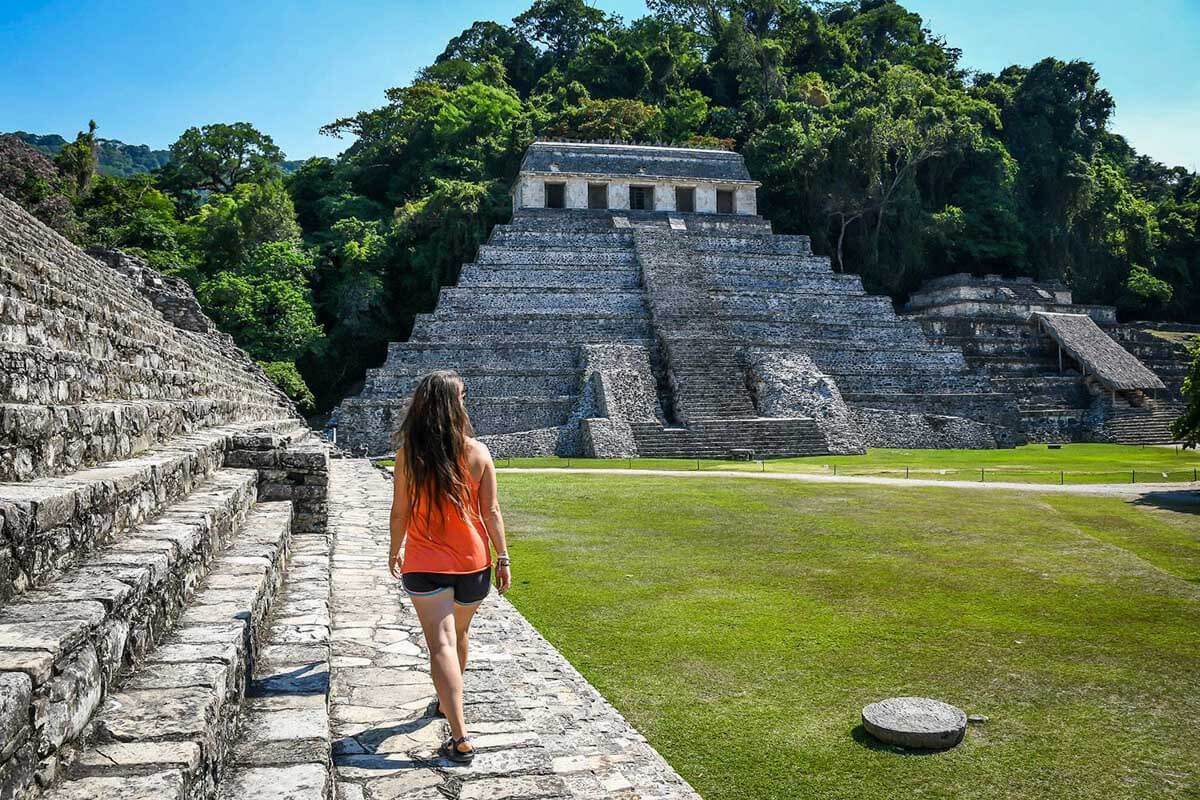 Chiapas is the southernmost state in Mexico that shares the majority of the Mexico/Guatemala border. While most people think Mexico is all white sand beaches and margaritas, Chiapas is actually quite the opposite. The region's mountainous highlands and dense rainforests are home to the largest number of indigenous peoples in Mexico.
We fell in love with this still mostly undiscovered gem of a region while backpacking through Mexico. It's diverse nature means you can trek through the jungle discovering hidden waterfalls and explore cozy colonial mountain towns in the same day.
The unique cultural practices passed down through the indigenous communities means this is a great place to learn more about the pre-Spanish history of Mexico as well.
Whether you're making a quick stop in San Cristóbal for a few days, or you're able to spend more time exploring the entire state, we have a list of the top things to do in Chiapas, Mexico that'll satisfy any type of traveler.
Tip: One of the easiest ways to get around Mexico is by driving a rental car. You get to explore on your own, the roads are usually pretty decent, and rental cars are crazy cheap. We use Discover Cars to search for the best deals on rental cars around the world and we even have an entire guide to getting a rental car in Mexico including tips for driving and safety.
A note about safety in Chiapas
While San Cristóbal and the other destinations we recommend in this article are all safe places for tourists to visit, we felt it important to share a light warning about the safety around the state of Chiapas.
Being the poorest state in Mexico, some of the residents of Chiapas have a history of clashing with the Mexican government. Oftentimes the only disturbance to your travel may be from protests that shut down roads, or blocades from unofficial 'authority' asking for tolls to pass, but we've heard stories of more violence in some areas.
We read a few times that it was unwise to travel by rental car through the city of Ocosingo (which is between Palenque and San Cristóbal) as this area has a history of unrest. Instead, if you are driving a rental car, it is recommended to take the highway from Villahermosa to San Cristóbal via Tuxtla-Gutierez.
We hope this does not deter you from traveling to what is easily one of the most beautiful regions of the country filled with plenty of kind and welcoming people, but rather reminds you to be more aware of your surroundings and do your own research to see what you are comfortable with.


1. Explore the ruins in Palenque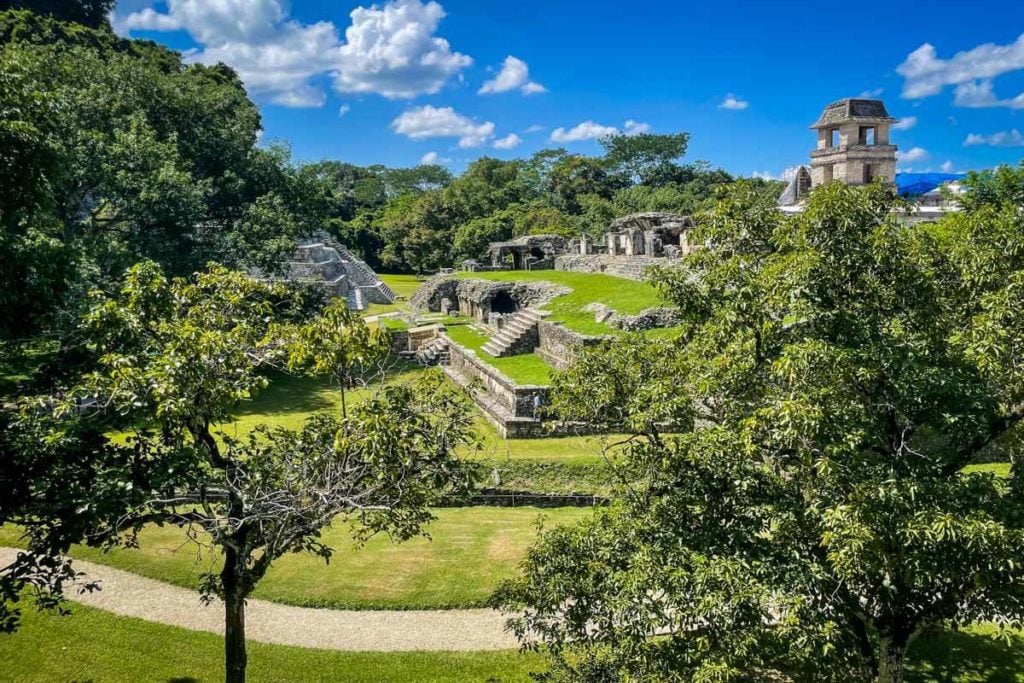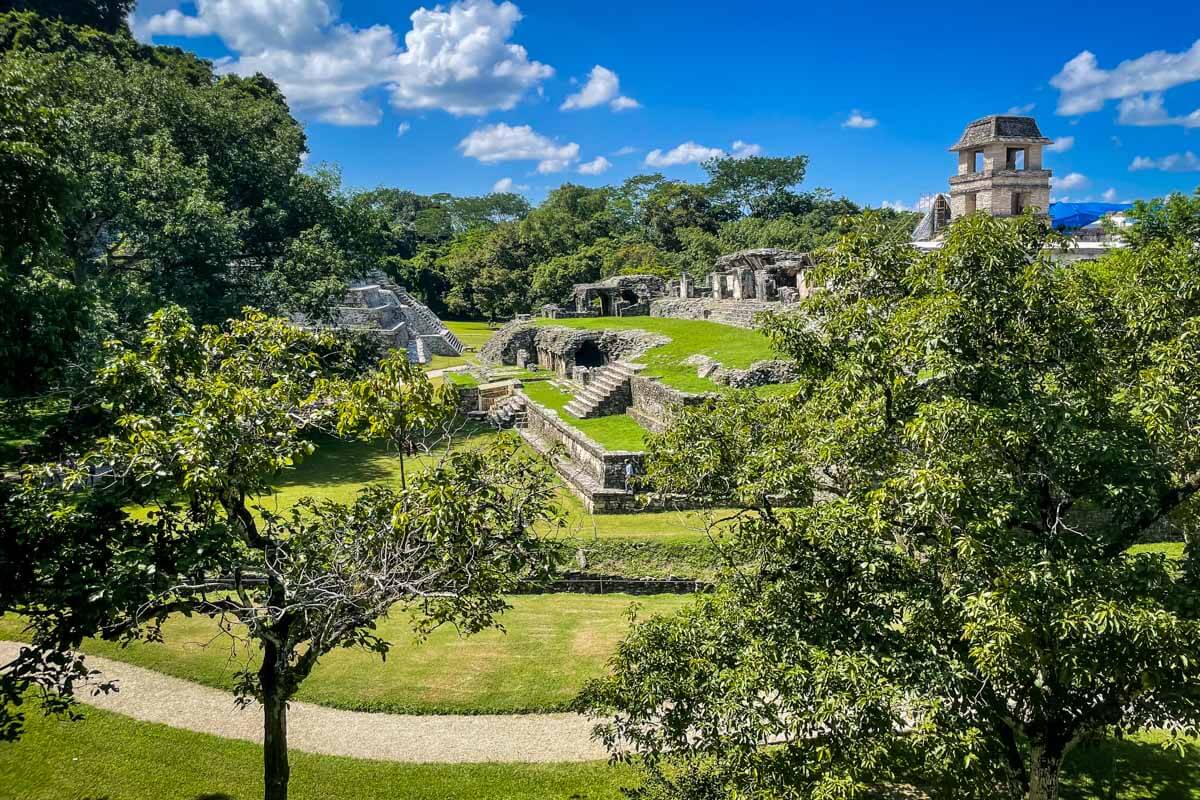 Ancient ruins can really start to blend together once you've seen many, but some stand out as really special. Palenque is our favorite archeological site we've visited in Mexico.
Situated in the jungle near the border of Mexico and Guatemala, getting there can be a lengthy journey, so it is far less crowded than the likes of Chichen Itza and Teotihuacán. Instead of being caught up in a crowd of sweaty tourists clutching selfie sticks, you'll hear howler monkeys screeching and spot exotic birds flying overhead.
While the grounds are significantly smaller than Tikal in Guatemala, it has a similar feel and is well worth a visit if you are seeking a truly unique and off the beaten path ruins experience.
How to get there:
If you are staying in Palenque, the ruins are an easy 15 minute drive from the center of town. Taking a cab will bring you right to the ticket office, which is about 1.5 km from the entrance to the ruins. There are 2 queues for 2 separate tickets: One for the National Park and one to enter the ruins. They may tell you you need both, but if you just want to see the ruins, you will only need the ticket for the ruins and not the national park. (The national park is a separate area where you can walk through the jungle and see more ruins.)
Tip: If you are in a rental car, you may get stopped about 3 km from the entrance by people trying to sell you tickets and guide services. Just say no thank you and if they give you a hassle, tell them you already have your tickets.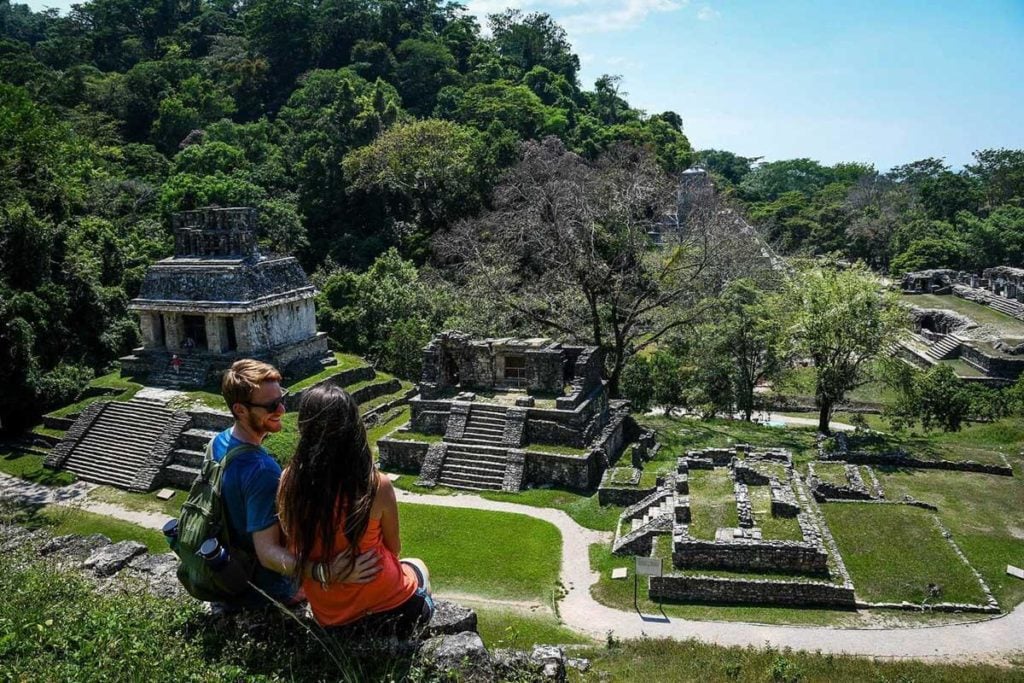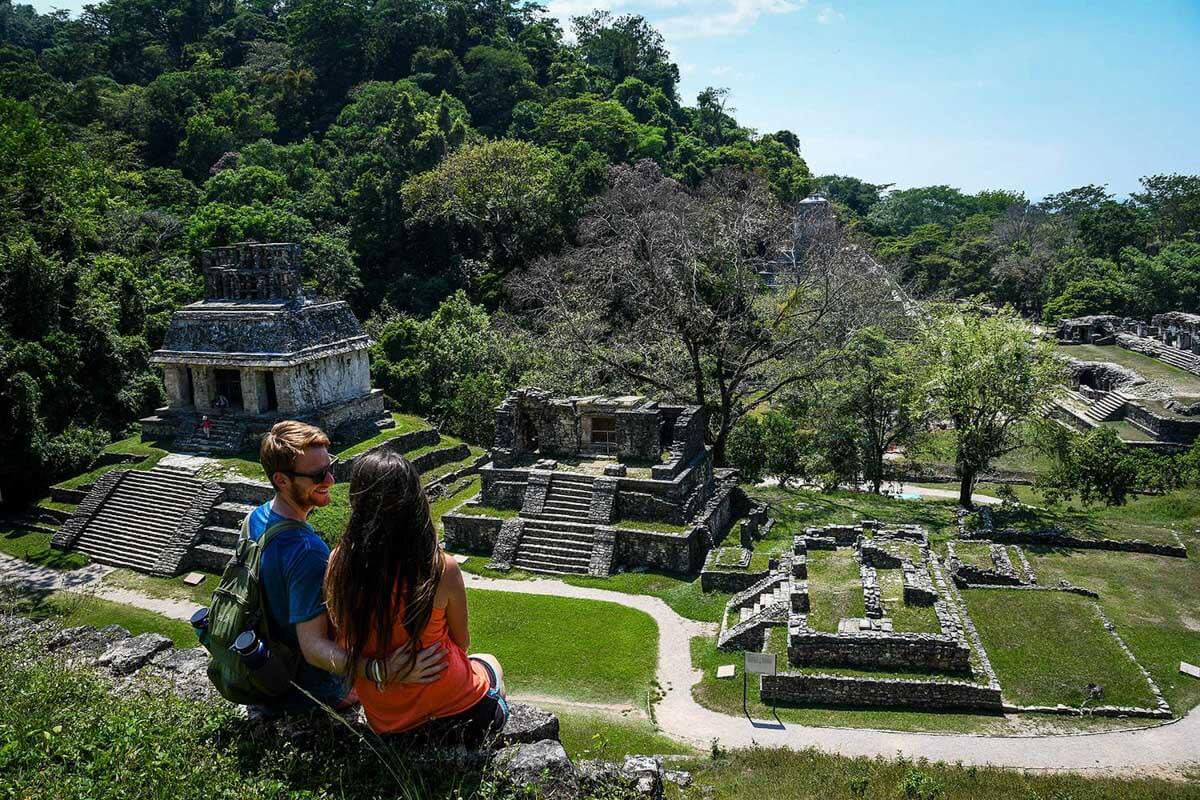 Entrance Fees:
Palenque Ruins tickets: 80 MXN per person
National Park wristbands: 90 MXN per person
If you're staying in San Cristóbal, it's possible to organize a day trip to Palenque. Beware that it is a full day starting at 4 a.m. and you'll return to town at 9 or 10 at night. In addition to a 2-hour stop at the ruins, you'll also spend time at Agua Azul and Misol Há waterfalls. The price for this full-day tour is 450 pesos per person, and does not include meals or guides.
Tip: Bring your own snacks. The meal stops on this trip are at rather overpriced restaurants. They are a fine last resort, but we wished we had been prepared with our own food.
You can also get to Palenque independently via the bus from San Cristóbal. This journey takes roughly 8-9 hours and does not stop at the waterfalls. The normal bus during the day costs around 324 MXN per person, and there is an overnight bus that's a good option if you'd like to get to Palenque in the morning.
We chose to go with the tour to expedite the travel time and so we could see Agua Azul, which was surprisingly similar to El Chiflon and more touristy.
Where to stay in Palenque
If you are planning to travel to Guatemala or to the Yucatan, you can spend the night in Palenque and continue on your journey the next morning.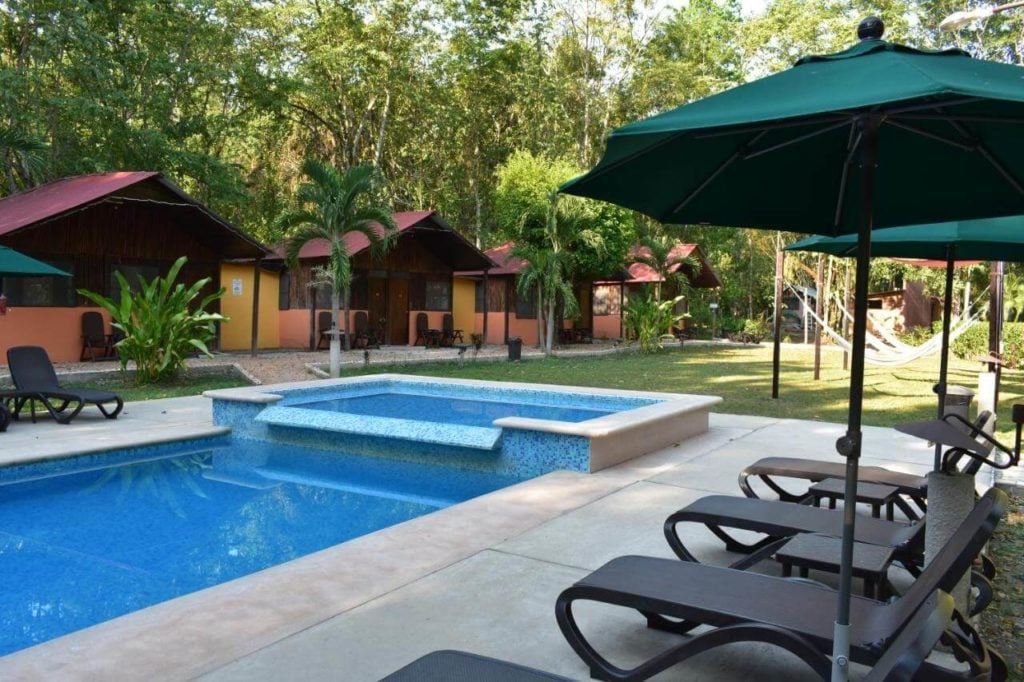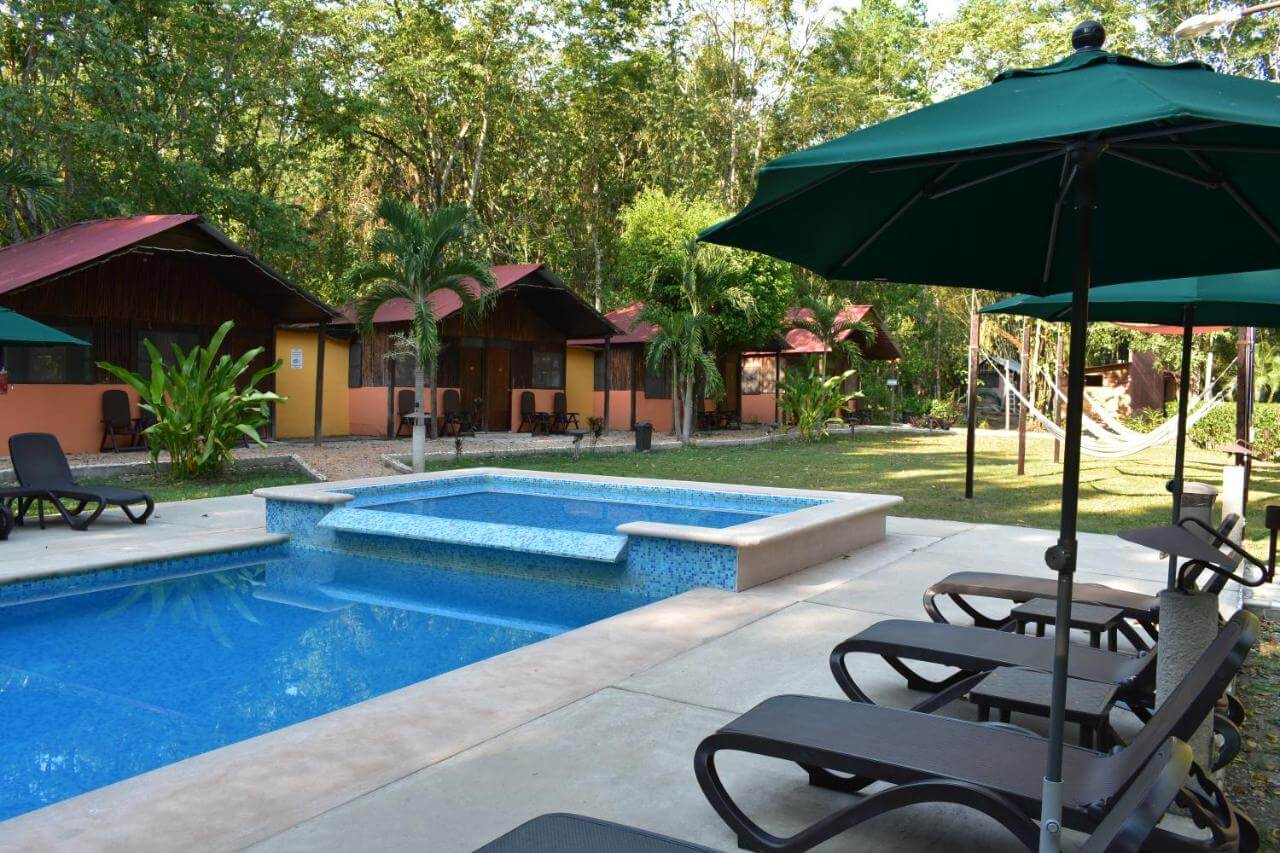 Budget Stay: We spent the night at Kin Balam's Bungalows in Palenque, which was nice and had a pool. We then crossed the border to Flores, Guatemala via a private shuttle the next morning at 10 a.m.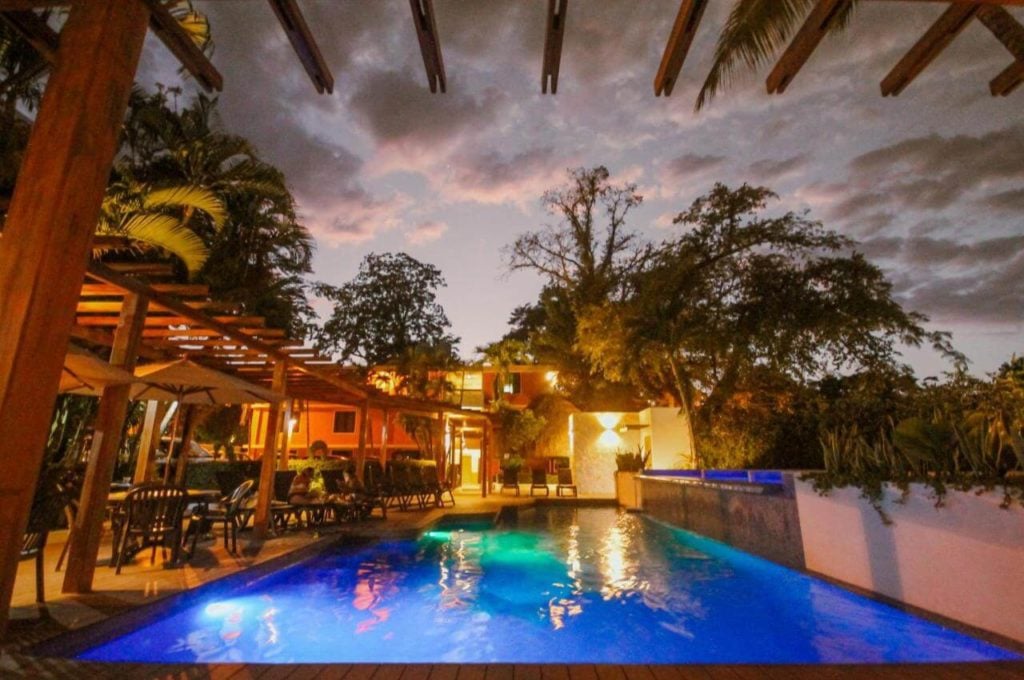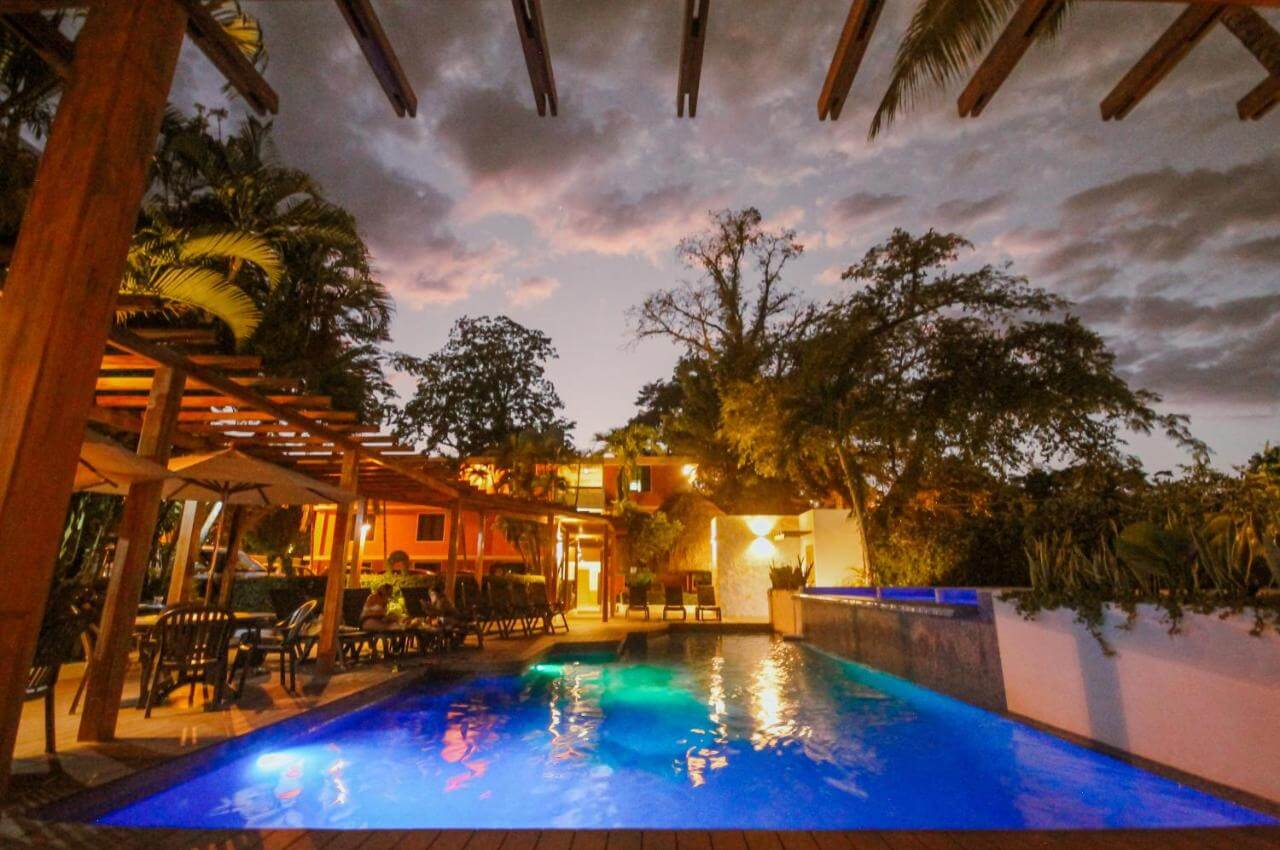 Couples/Mid-range Stay: Our Editor Amanda and her mom took a trip to Chiapas and stayed at the Hotel Maya Tulipanes in Palenque. The hotel was clean and comfortable and the pool was a great place to cool off after a long day or exploring the ruins. Plus the onsite breakfast made for an easy morning before check out.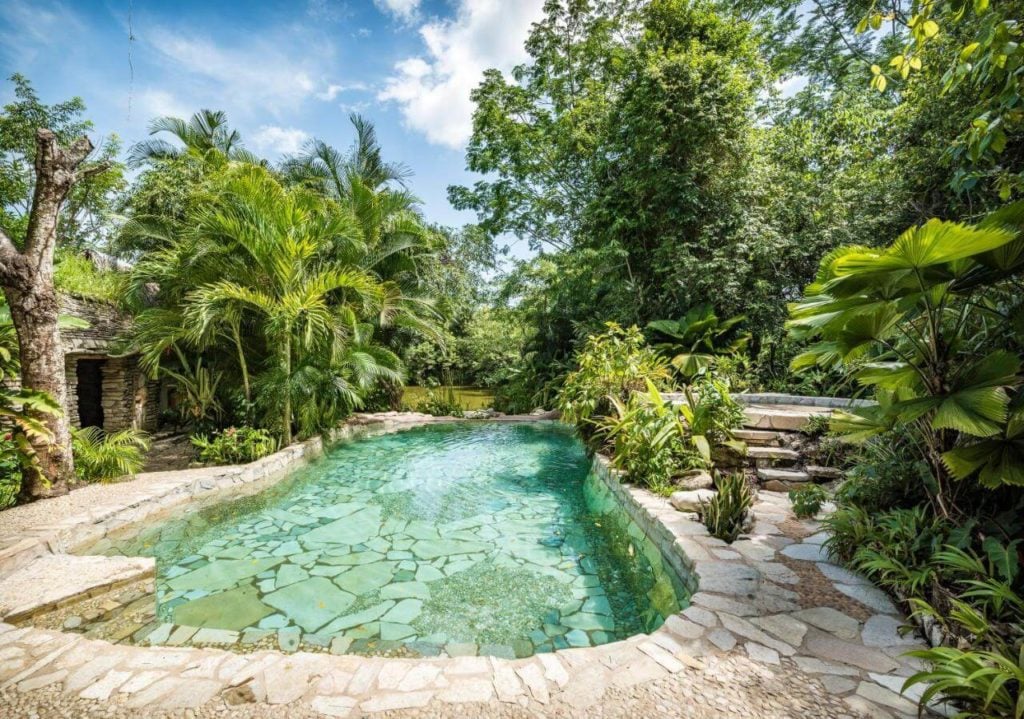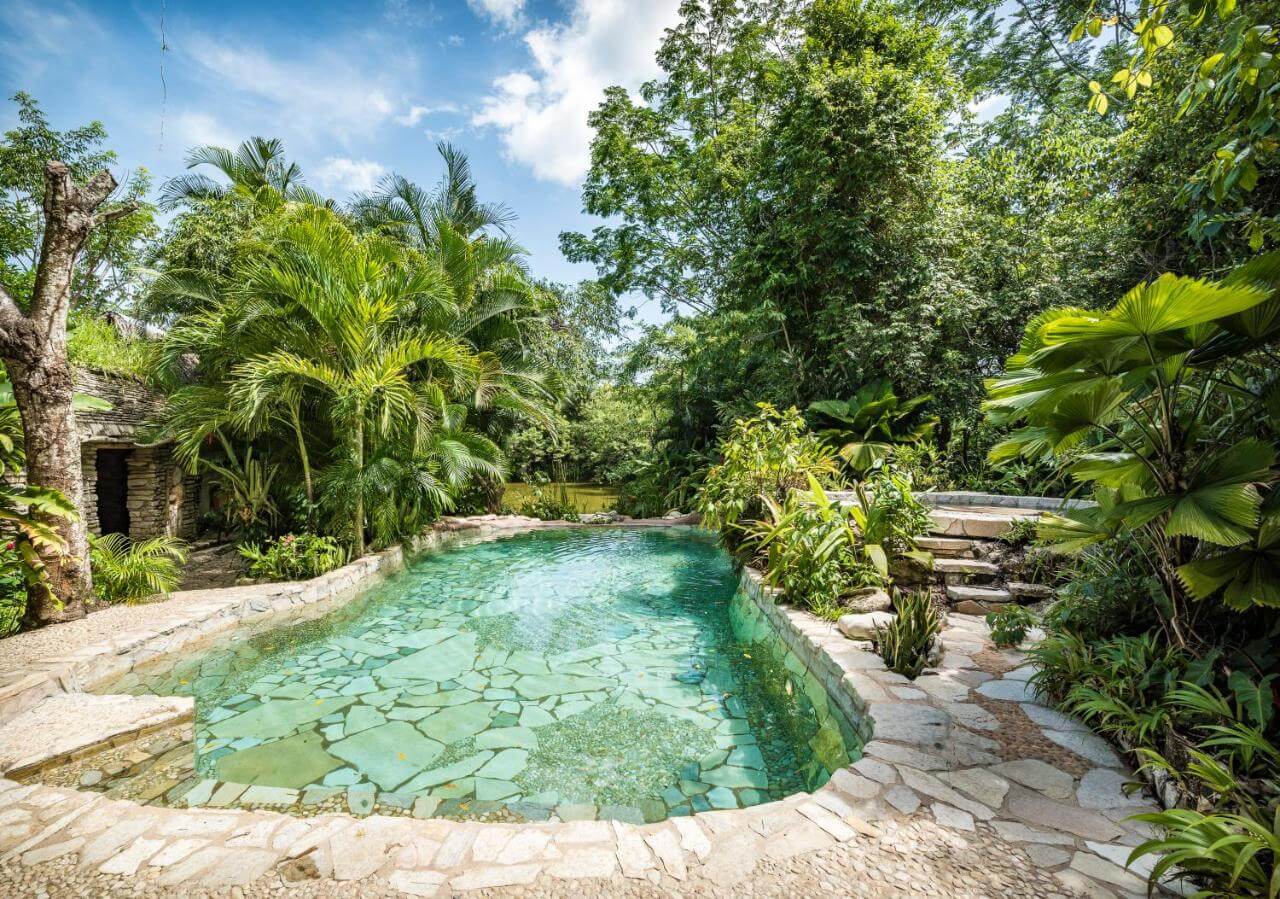 Luxury Stay: Palenque doesn't have much in the way of luxury hotel accommodation, but there are a few highly rated 5-star properties in the area. We'd recommend the Boutique Hotel Quinta Chanabnal for its excellent reviews on Booking.com.
2. Swim in Agua Azul and Misol Há waterfalls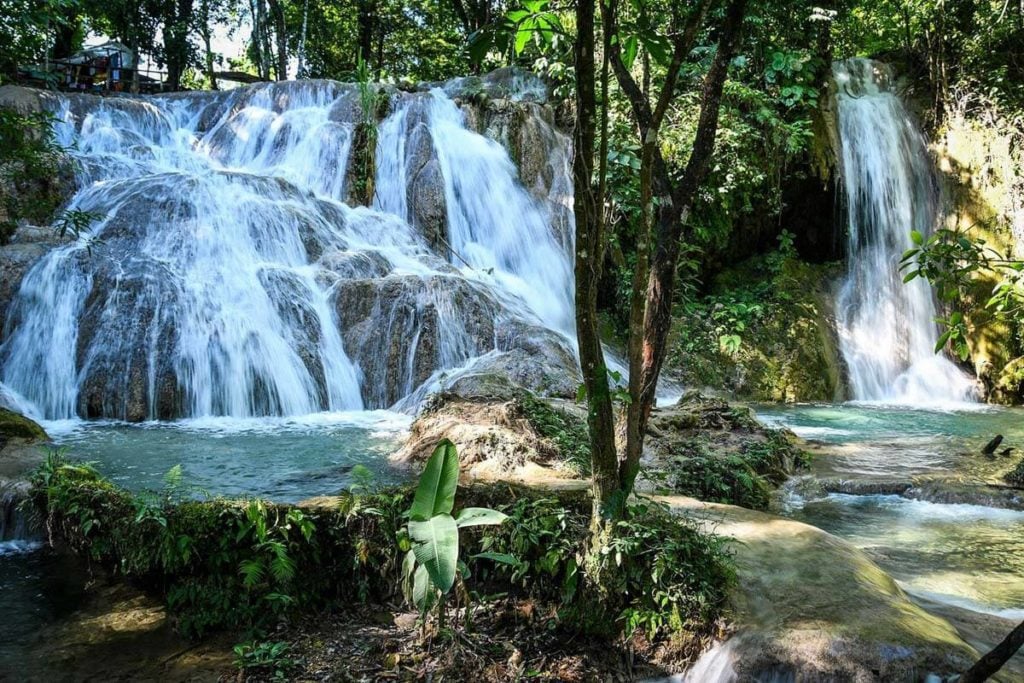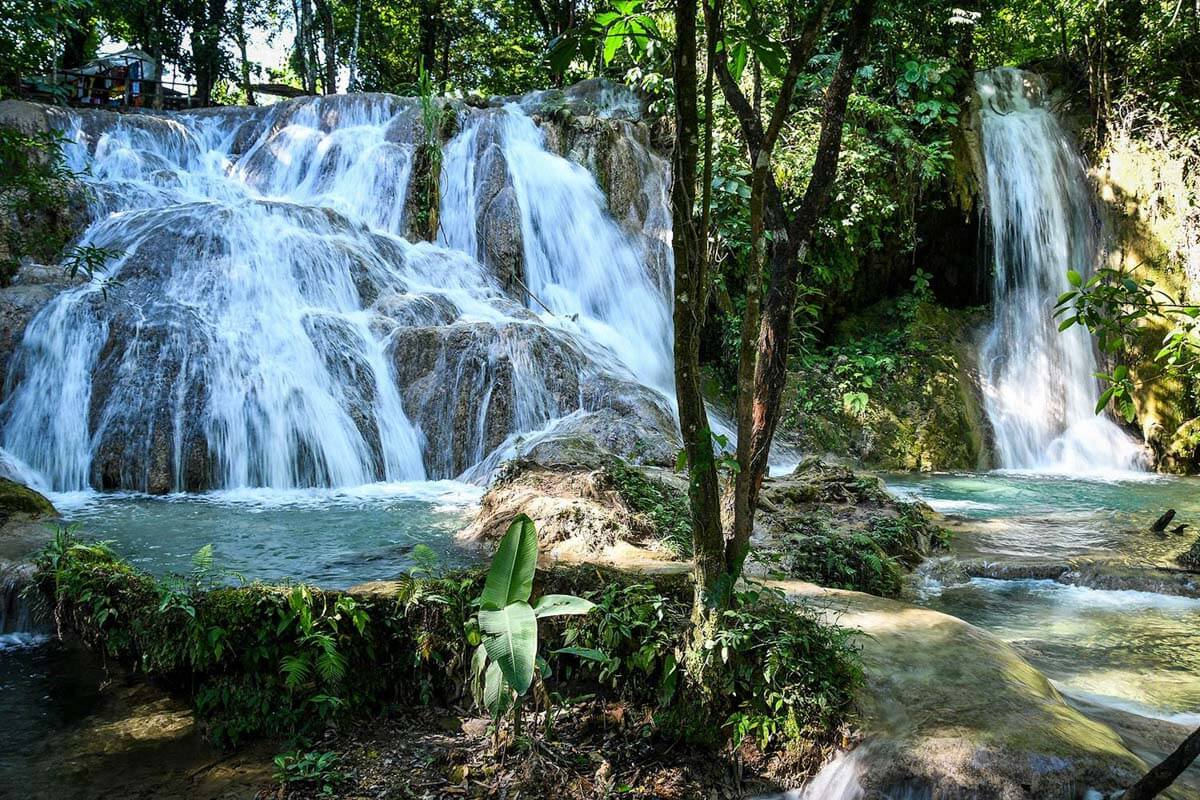 About an hour and a half south of the town of Palenque, through winding mountain roads showcasing magnificent vistas, you'll find the beautiful turquoise cascading waters of Agua Azul and it's lesser-known neighbor Misol Há.
Agua Azul reminded us a bit of Krka National Park in Croatia, especially because you are allowed to swim amongst the falls! Whereas Misol-Há consists of one single cascade dropping 35 m over the edge of a lush green cliff.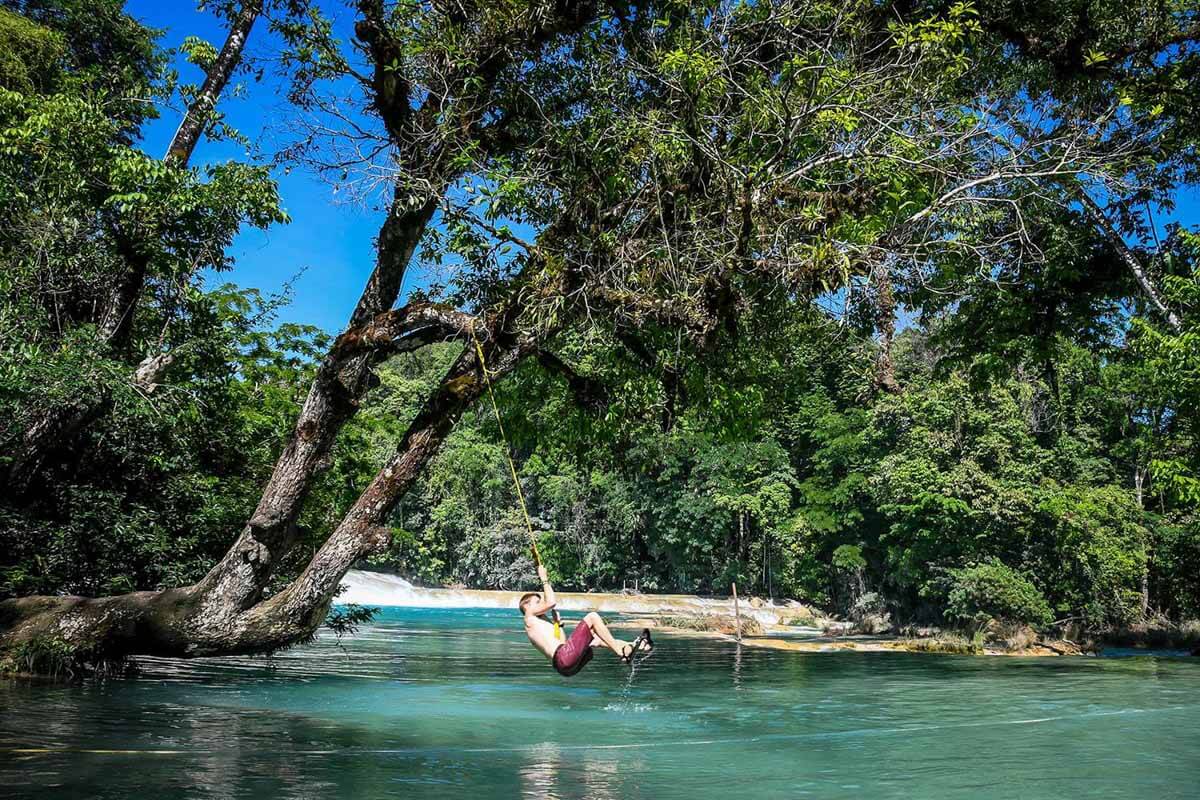 How to get there: There are two ways to get to the waterfalls from Palenque: by tour or independently. A tour to Agua Azul and Misol Há will likely take about half the day and include transportation from Palenque.
However, the benefit of visiting the falls on your own is having the flexibility to arrive early, before 10 a.m. when all the tourists descend on the area.
Entrance Fee: 50 MXN per person for Agua Azul; 20 MXN per person for Misol Há
3. Fall in love with San Cristóbal de las Casas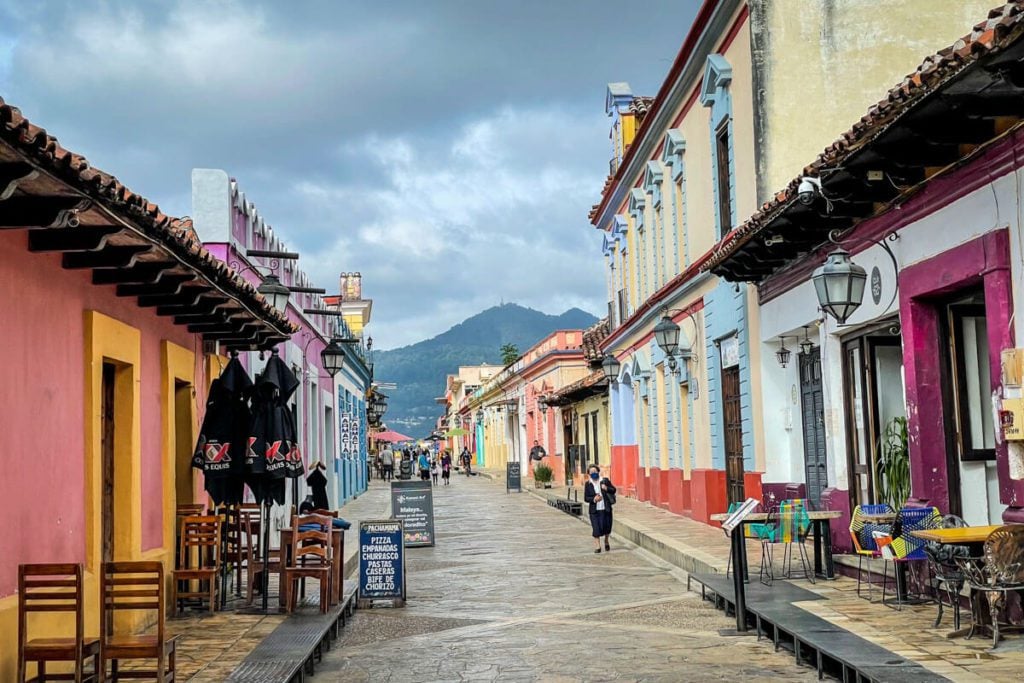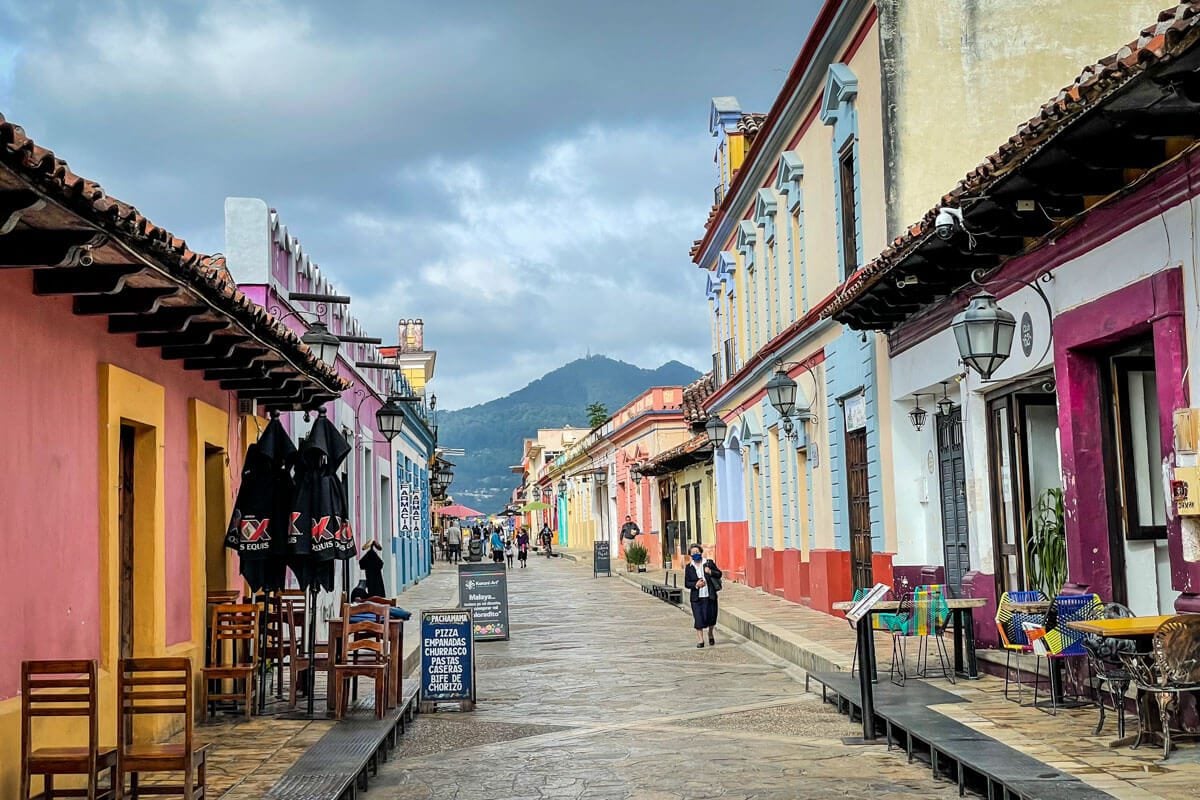 San Cristóbal de las Casas has a way of making those traveling through fall in love and often stay longer than expected. Packed with culture, cute cafes, amazing textiles, nearby nature and a laid back vibe, it's easy to see why.
This colorful town in the Mexican state of Chiapas reminded us a bit of one of our favorite towns in Colombia: Salento, and we knew right away we would have a hard time leaving.
In fact, there are so many fun things to do in SanCristóbal de las Casas, we decided it needed it's own article.
4. Visit the Indigenous villages of Chamula and Zinacantán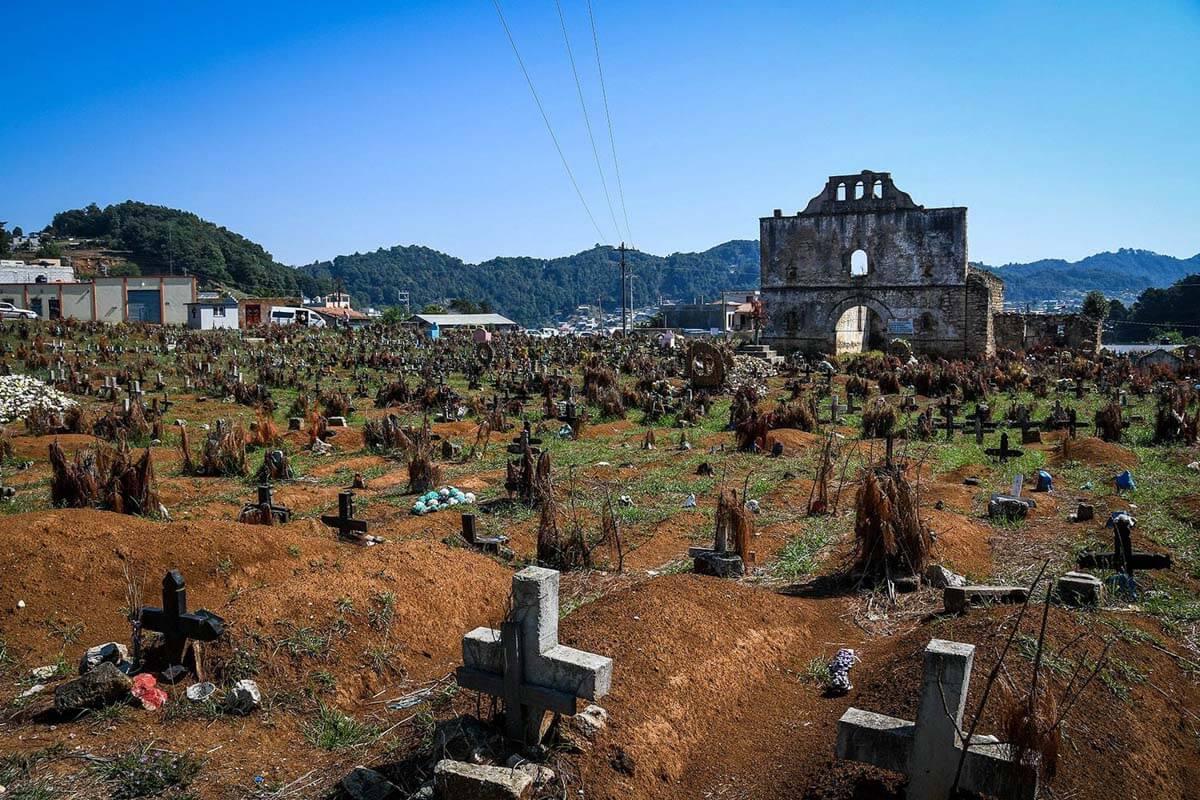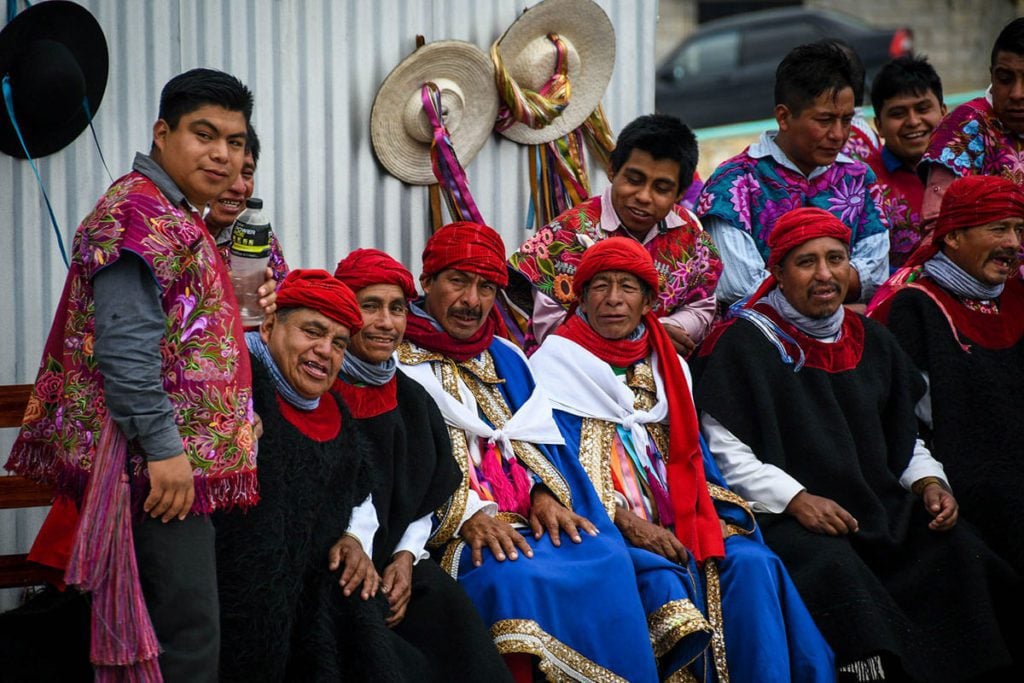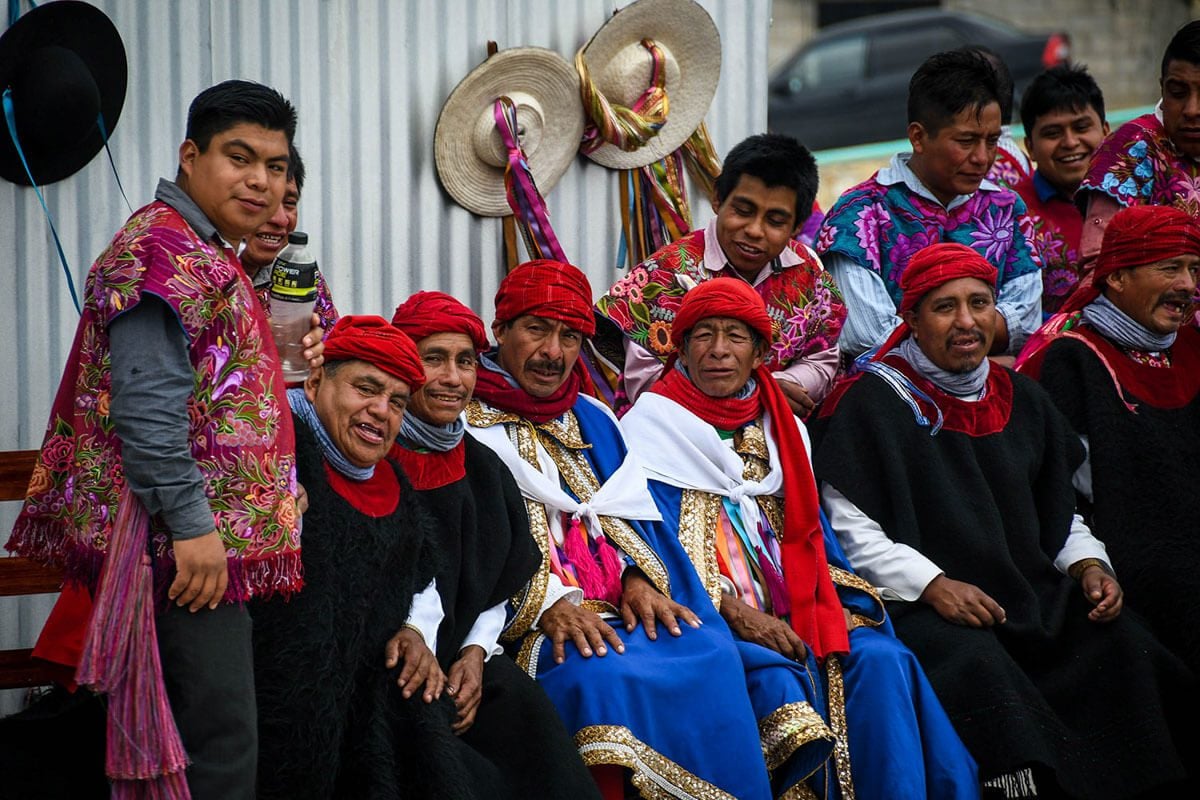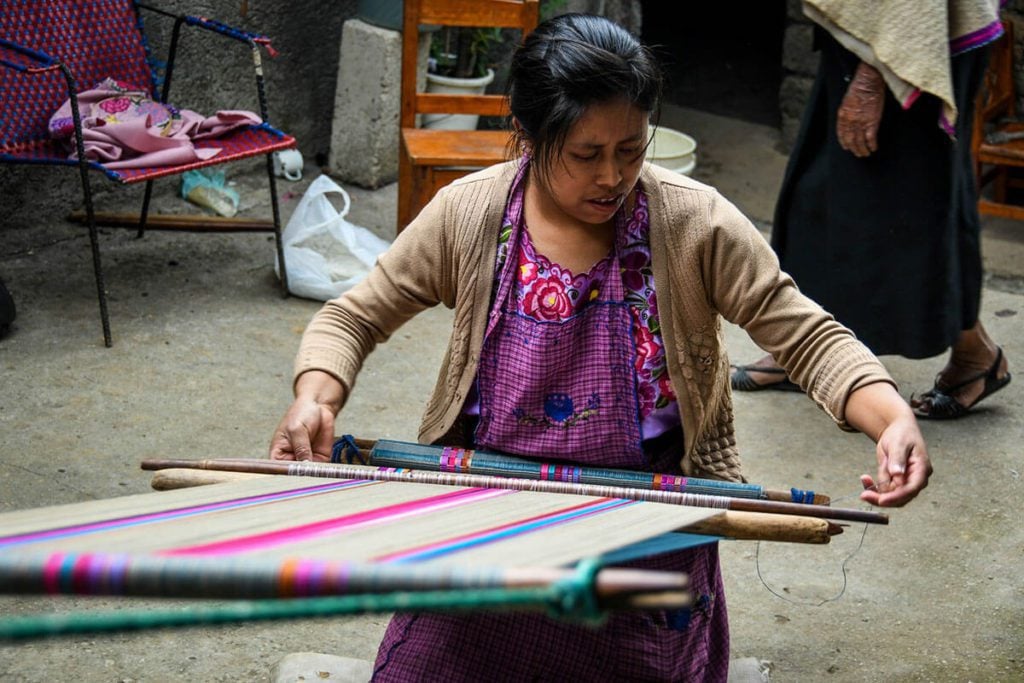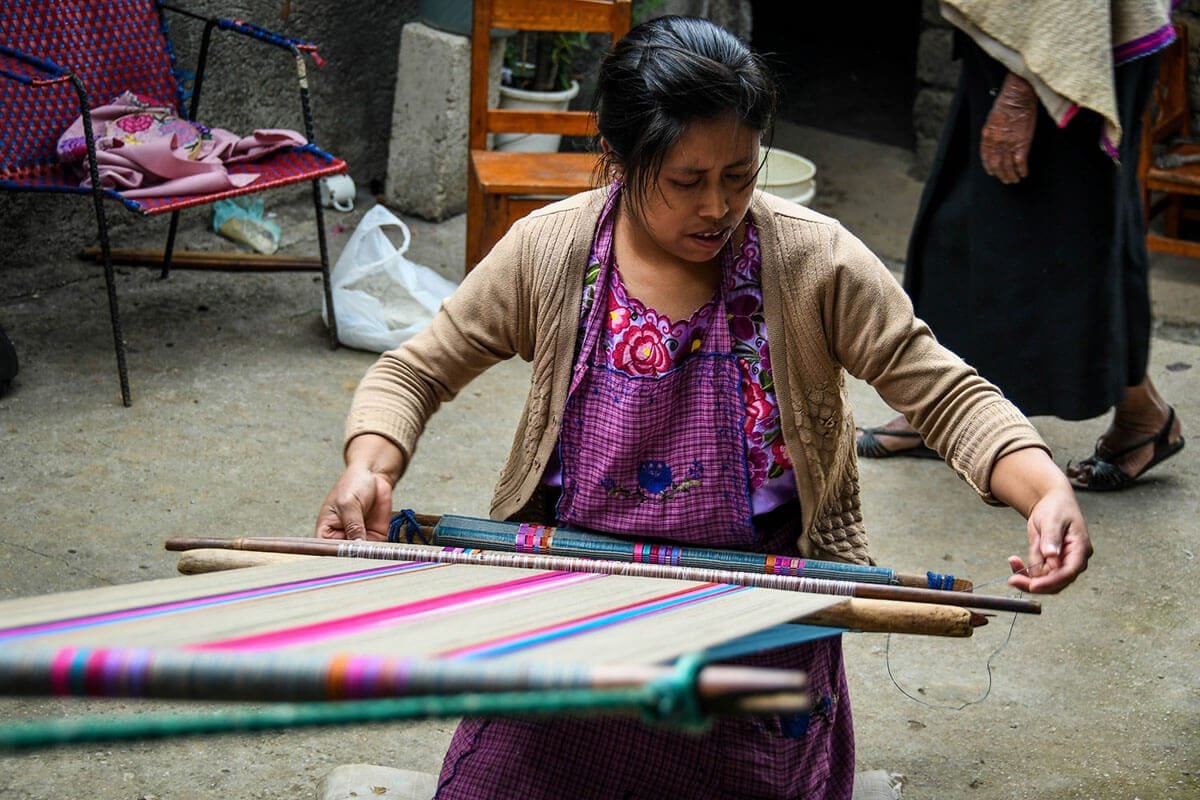 The most prominent of the indigenous groups in the state of Chiapas, Mexico are the Tzotzil and Tzetzal peoples. These communities are located just a 15-20 minute drive from San Cristóbal in the villages of Chamula and Zinacantán.
The communities are autonomous from the Mexican government, meaning the people there follow their own laws. They practice a blend of ancient Mayan rituals mixed with Catholic beliefs, and wear traditional clothing specific to their village.
Alex y Raul Tours is a culturally responsible local tour company that offers visits to the villages of Chamula and Zinacantán. We learned so much on our tour and were able to experience so much more than we would have on our own, like going inside the home of one of the village leaders as well as a family of artisans. We cannot recommend this tour enough, it was even one of our favorite things to do in Mexico.
The tours run daily from 9:30 a.m. and you'll be returned to San Cristóbal by about 2:30 p.m. You can fill out the contact form on their website to make a reservation ahead of time and they will pick you up directly from your accommodation in San Cristóbal.
The tour costs 300 MXN per person, which is significantly more than you'd pay for a collectivo to the town (around 30-40 pesos each way). But trust us when we say this tour is well worth your time and money. However, there are no meals included so we'd highly advise you to bring your own snacks!
Chamula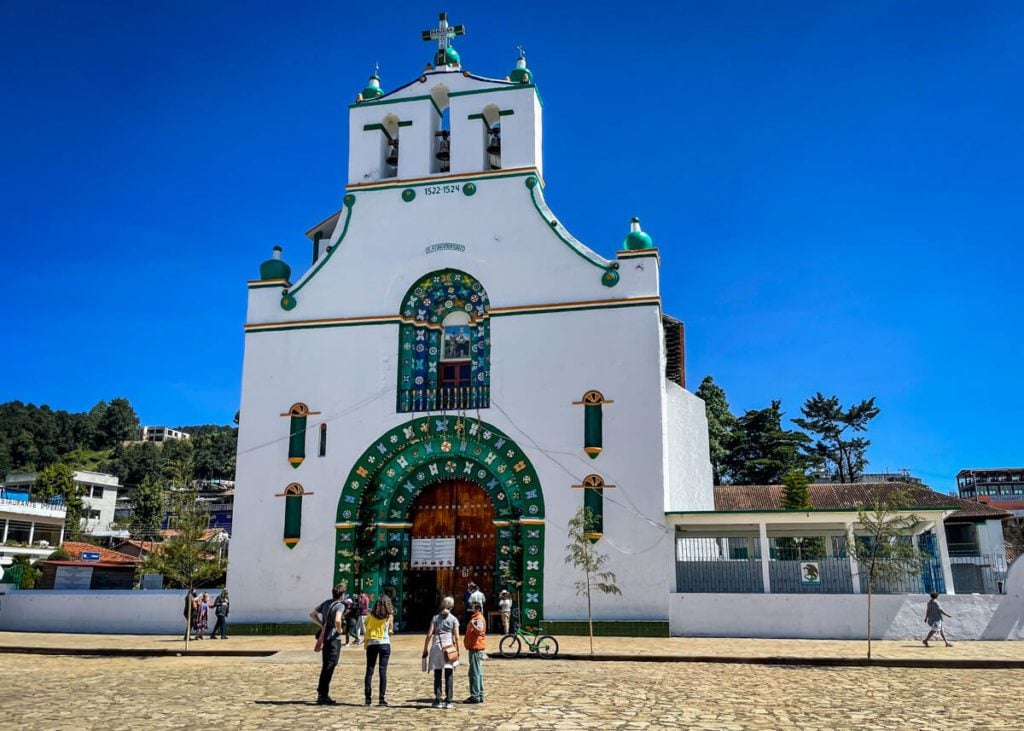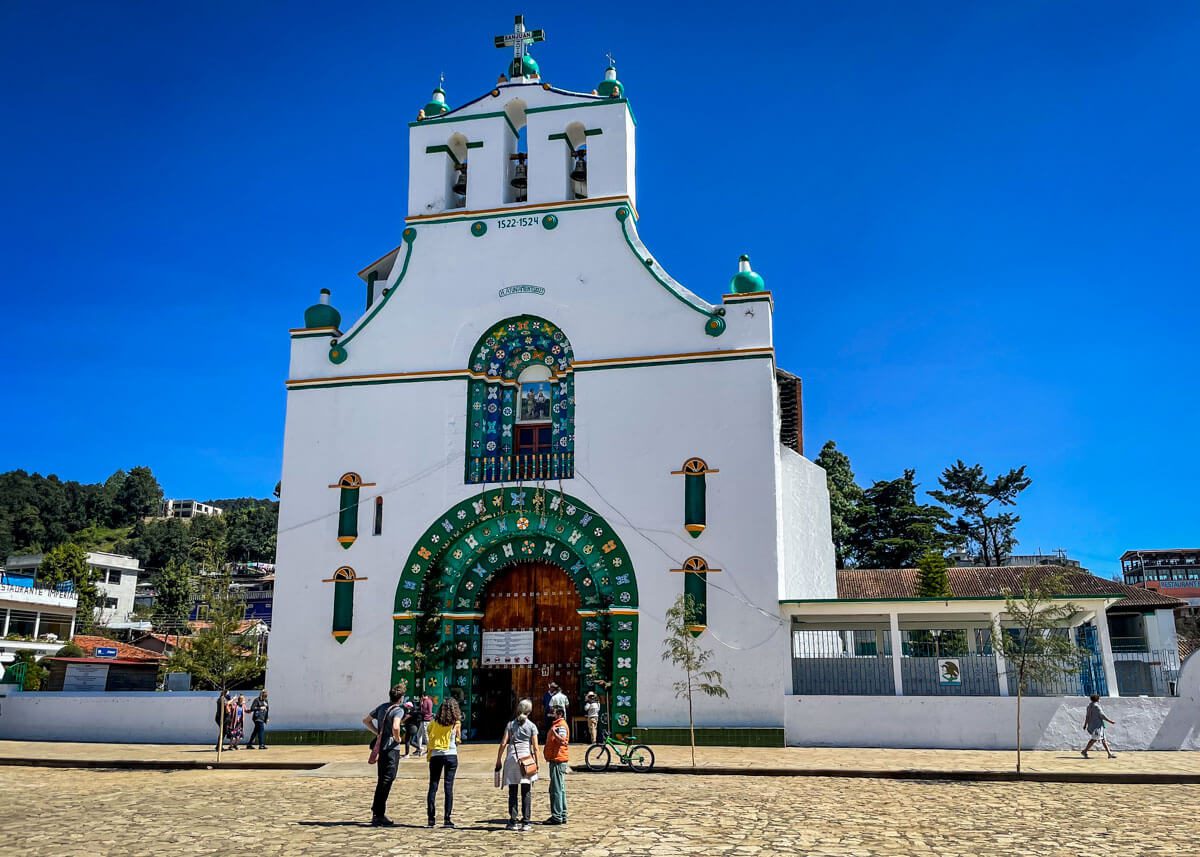 The town itself is incredibly interesting, but the main draw here is the San Juan Chamula Church.
It might seem strange to list a church as one of the top things to do in Chiapas, but trust us, it's well worth it. From the outside, San Juan Chamula Church looks like any other church in Latin America, but inside you'll be transported to another world.
Pine needles cover the floor, thousands of candles flicker, women kneel and pray dramatically to different saints. You may see chickens being sacrificed, and you'll definitely see people drinking what looks like water, but what is actually pox (a local liquor).
While it is possible to visit this village and see the church on your own, we would highly, highly recommend taking a tour. We were planning to go on our own, but after talking to several people at our hostel, they all had the same consensus: You will not understand anything that is going on if you enter on your own.
Zinacantán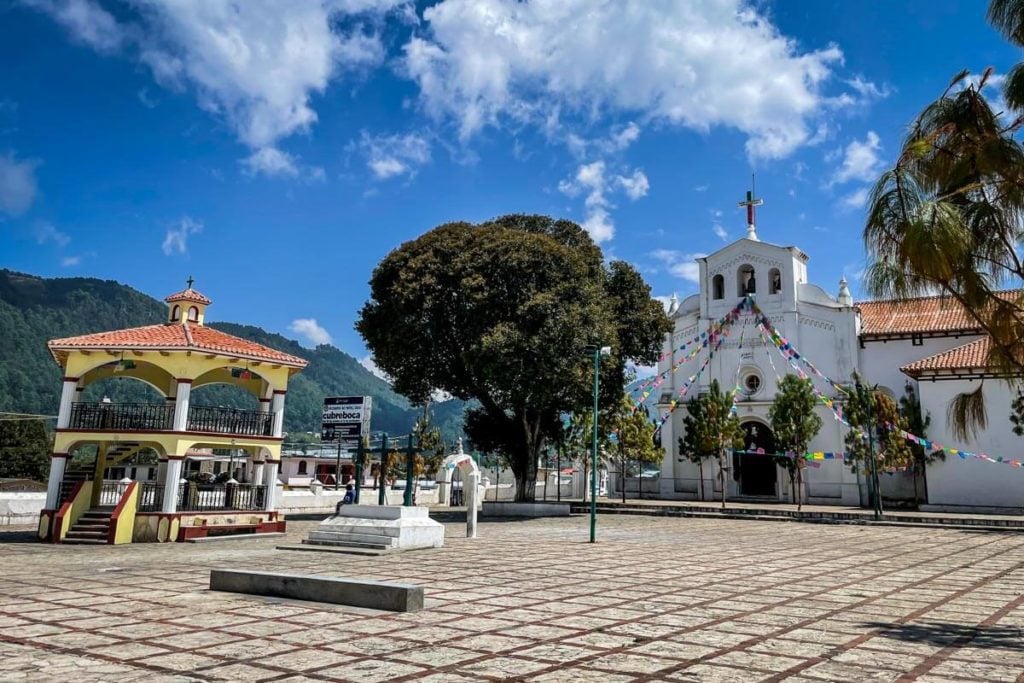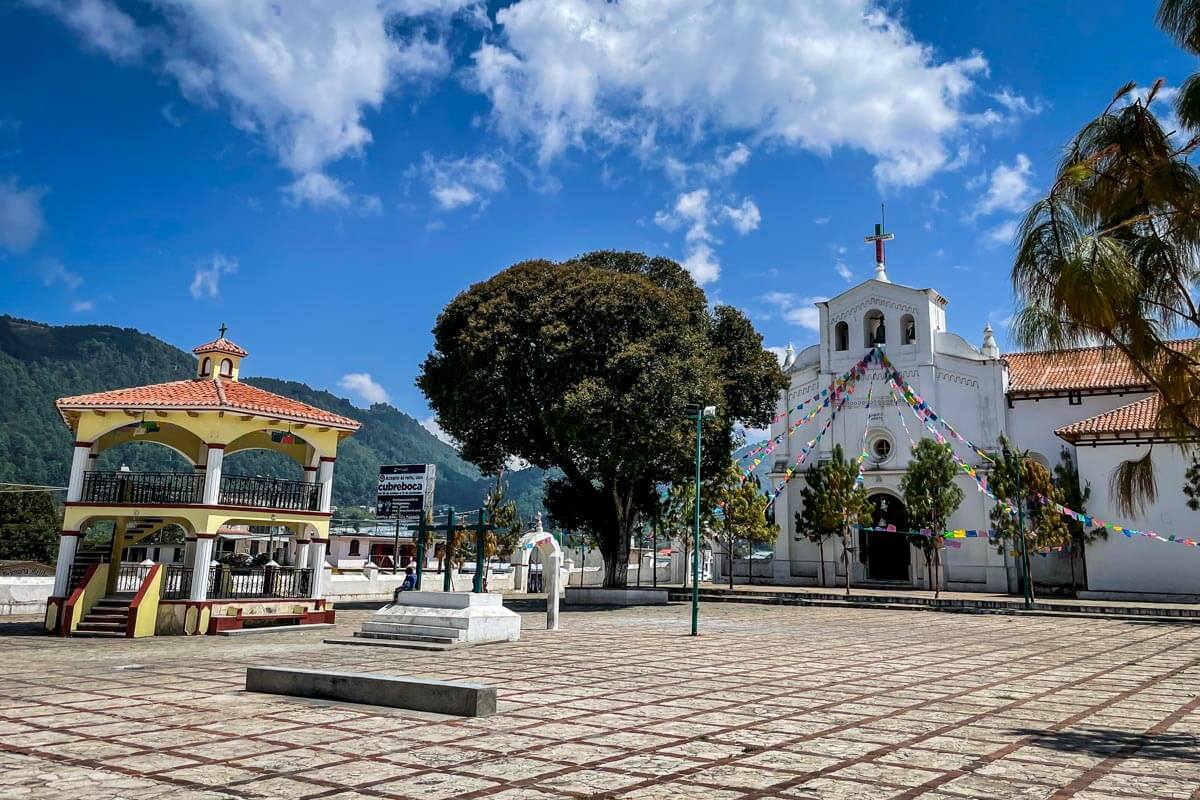 A vibrant town just 10 minutes up the road from Chamula, Zinacantán is also home to the Tzotzil Maya indigenous people, but their practices are notably different. The name Zinacantán directly translates to 'land of bats' and you will see their official mascot all over the village.
One of the most notable differences, aside from the traditional dress, is the religious practices. The people here still practice a unique blend of Mayan ritual and Christianity, however their Churches will look more familiar to traditional Catholic sanctuaries.
The village people are also expert gardeners and using vast networks of greenhouses, they produce the majority of flowers exported to the Yucatán peninsula.
4. Discover the Magic of El Chiflon Waterfalls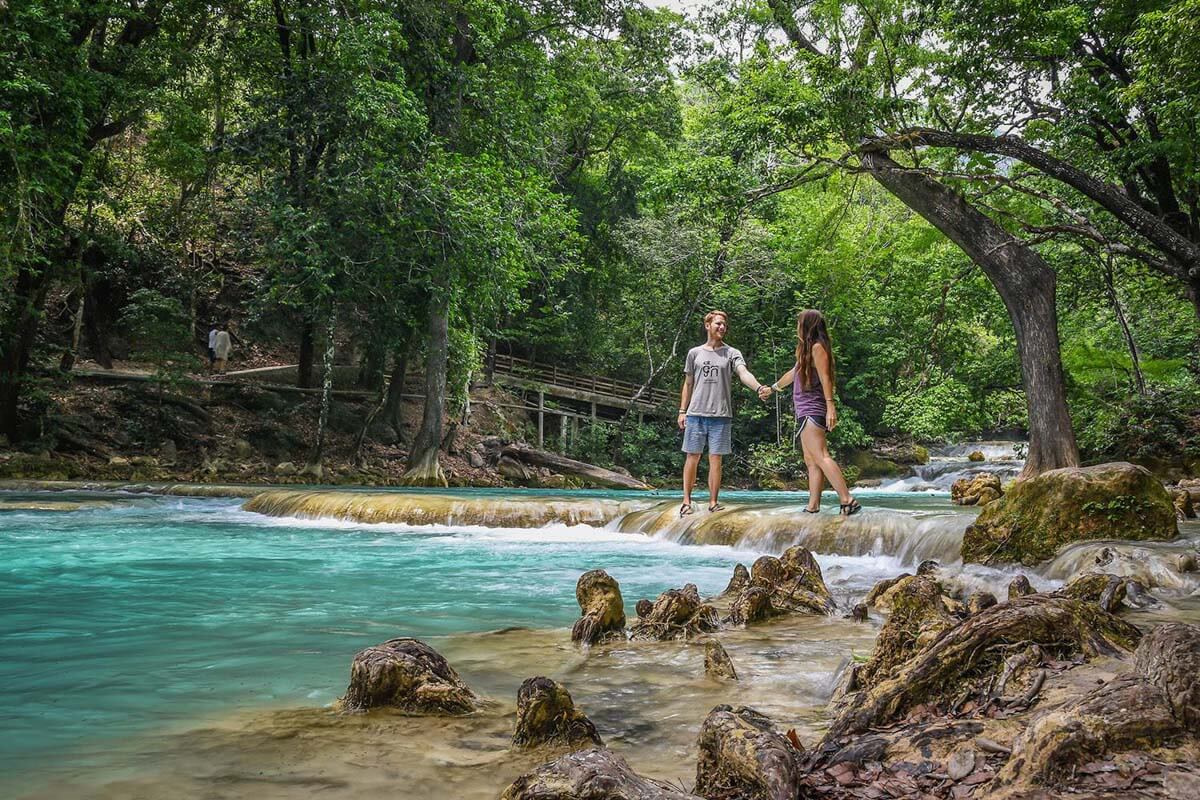 We love waterfalls, but we've been spoiled by our travels in Laos, Indonesia, Croatia and Iceland, so we weren't sure if it would be worthwhile to make the 3-hour journey to El Chiflon Waterfalls. But after talking to a few people at our hostel in San Cristóbal, we realized it was something we just shouldn't miss! And we're so glad we listened.
With stunning aqua pools you can swim in, tree-lined paths, picnic spots and impressive falls, El Chiflon is a gem and definitely worth a visit if you have the time.
You can either get to El Chiflon via tour or public transportation. Typically the tour also includes a stop at Montebello Lakes and they run daily from 8 a.m. and return around 7 p.m.
We heard from several people that the lakes were not worthwhile and they wished they had more time at the falls instead. For this reason, we opted to skip the tour and go to the falls on our own, and it was not all that difficult. We wrote an entire article about our experience visiting El Chiflon without a tour to help you plan your travels.
5. Venture to Lagunas de Montebello National Park
Even further past El Chiflon, very near to the Guatemala border, is Lagunas de Montebello National Park. Known for its multi-hued lakes, there are 59 of them to be exact, that glisten in the sunlight with bright blues and greens and are surrounded by pine forests.
Part of the national park is a UNESCO designated biosphere reserve, plus there are plenty of things to do in the area like hiking, kayaking, cave exploration and even cenotes (which are less common this far south).
This national park makes a great day trip from San Cristóbal as it's about a 3-hour drive, and if you really want to be adventurous, you can do both El Chiflon and Lagunas de Montebello in the same day.
6. Cruise past crocs in the Sumidero Canyon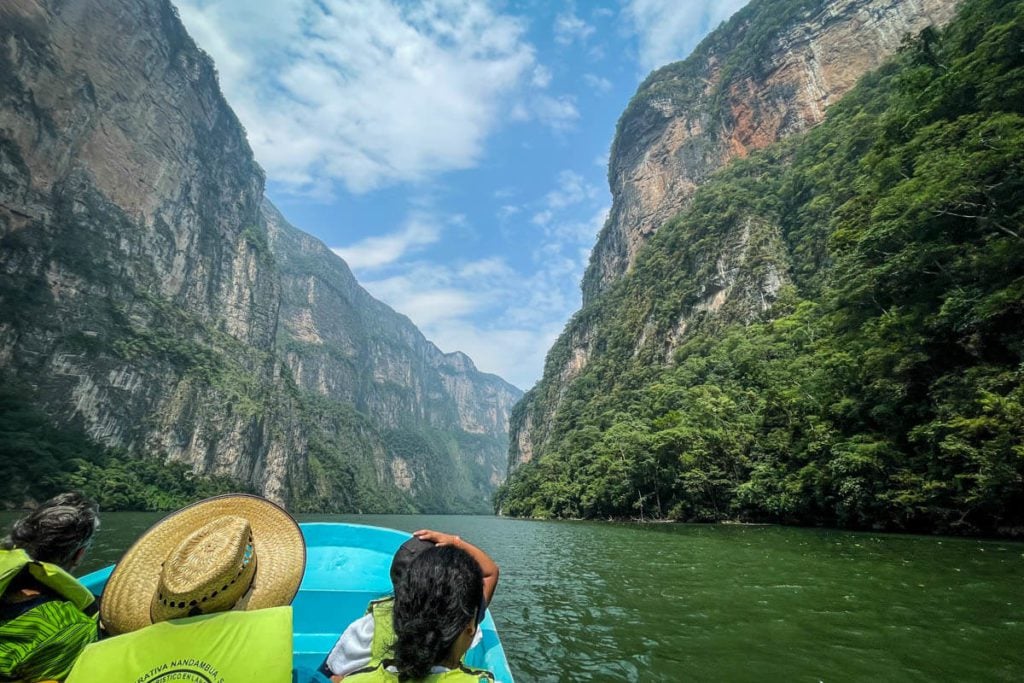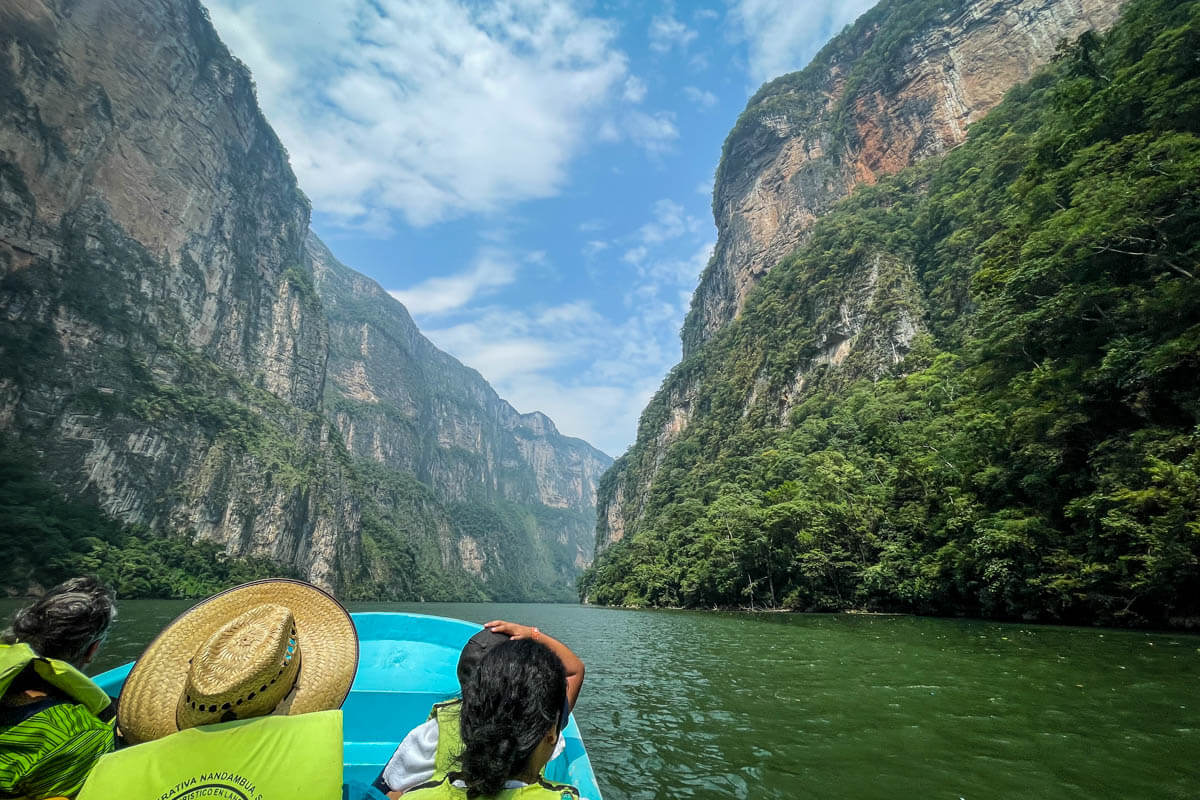 We heard mixed reviews about this canyon tour that includes a boat ride where you'll likely spot spider monkeys and crocodiles. Most people seemed to think it was cool, but they always followed it up with "if you don't have time, it's okay to skip".
We opted to pass on this tour, since there is so much to do in this area and 4 days just isn't enough to do it all!
That said, our Editor Amanda visited Chiapas most recently in 2021 and had a great experience on the Sumidero Canyon tour. We asked her to give us some insight into the experience…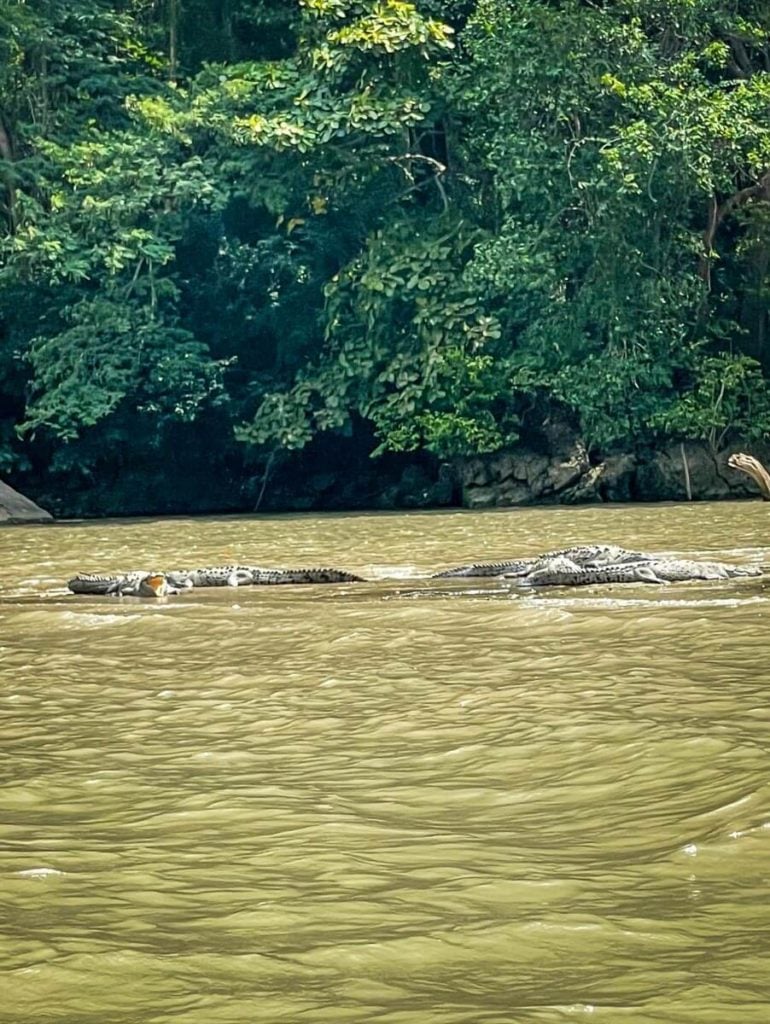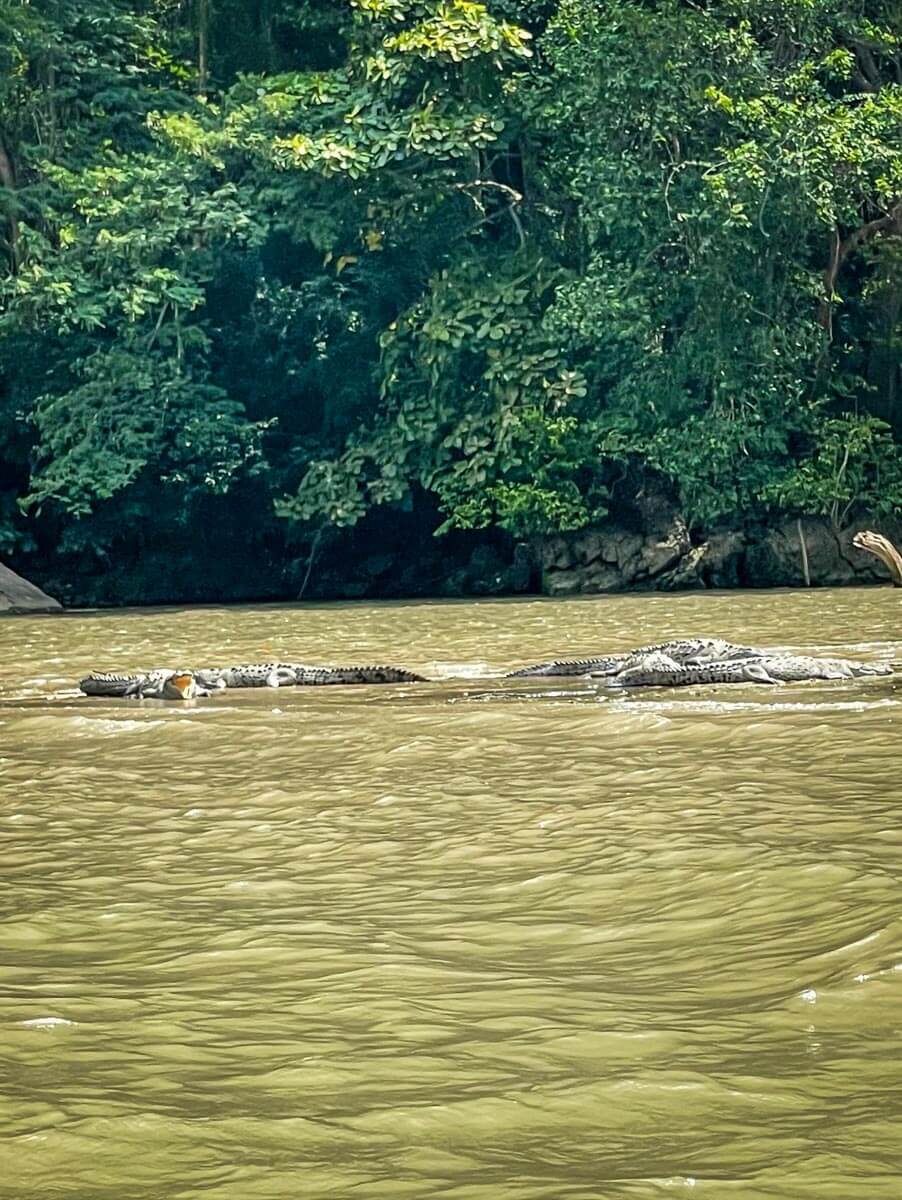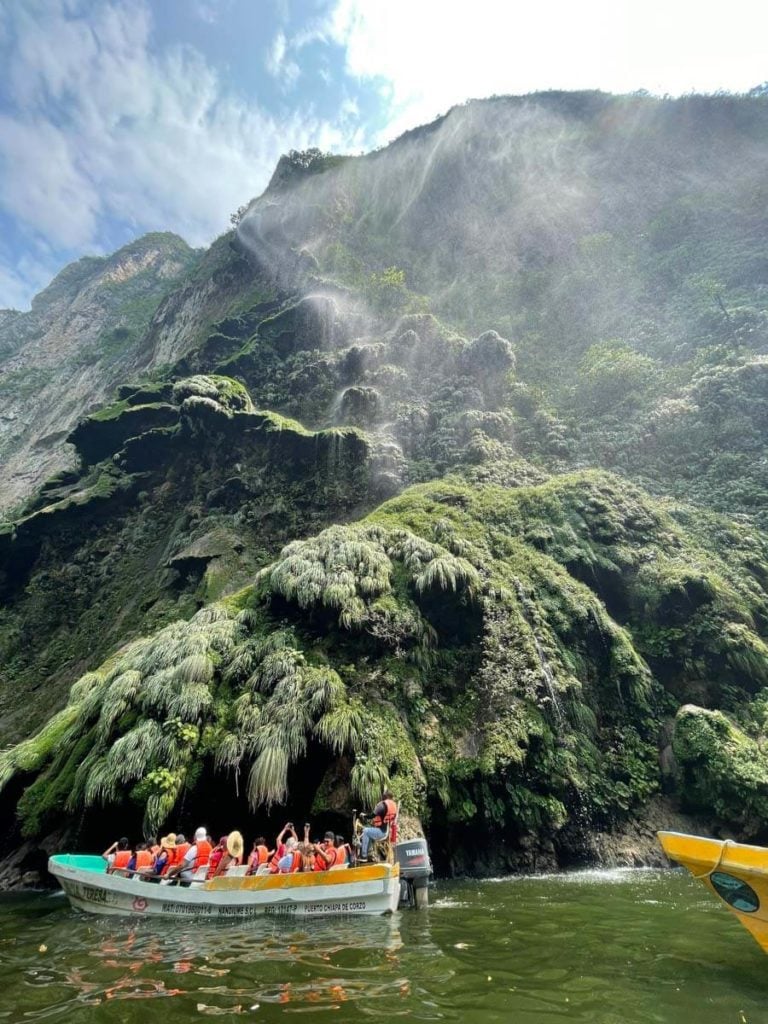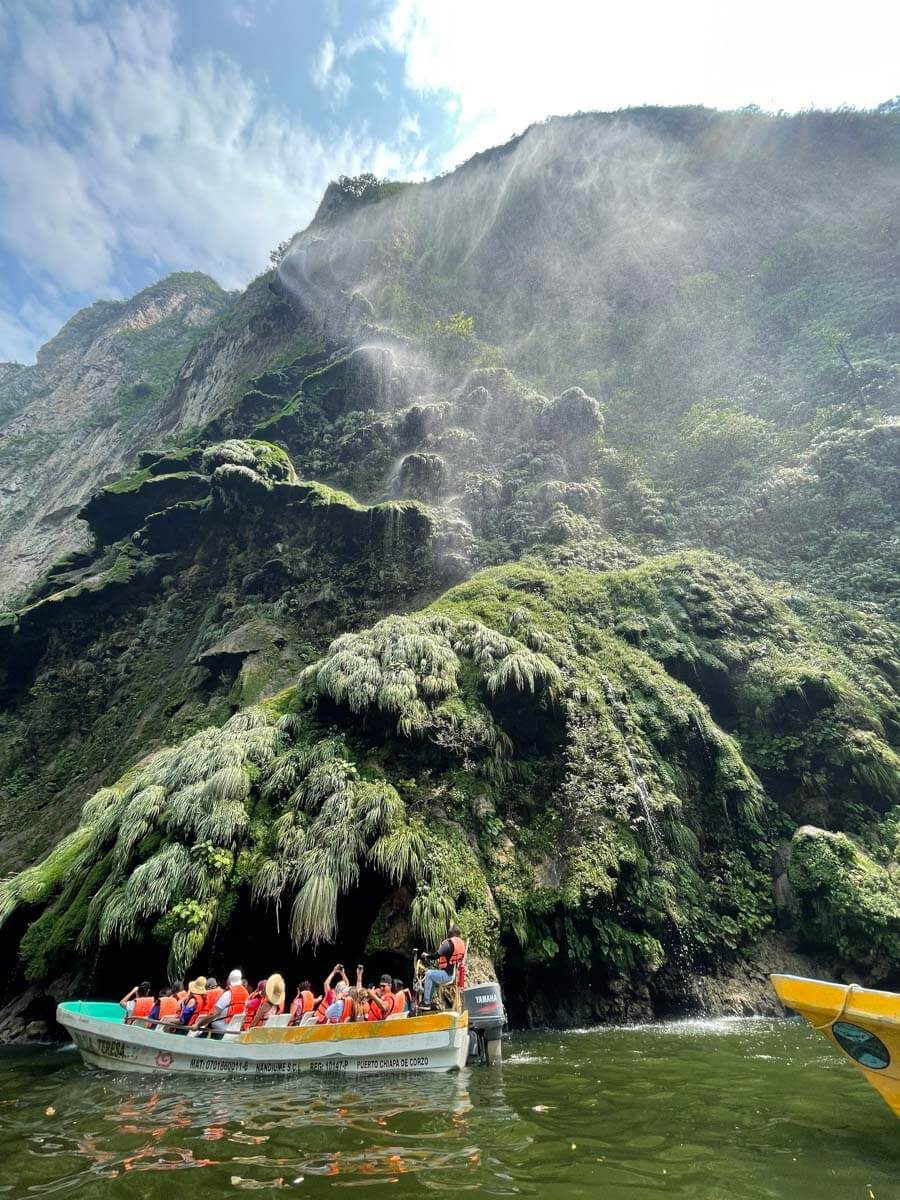 I opted to do the Sumidero Canyon tour the way the locals do instead of signing up for a guided tour and had an absolute blast (albeit I could only understand about 10% of what the guide was explaining in Spanish).
The easiest and most affordable way to see the canyon is to roll up (in your rental car or taxi) to the Embarcadero Bella Cahuaré and buy tickets on-site for a guided boat tour. Boats leave as soon as they are full — we went on a Sunday and didn't have to wait more than 10 minutes.
The views were spectacular! The tour was in Spanish, but you don't need to understand the language to enjoy the ride and spot the animals everyone is pointing out. We saw plenty of crocodiles lounging on the river banks and the driver would stop the boat to allow for better photos. We also saw monkeys, interesting birds and a waterfall straight out of a fairytale.
The ride lasts about 2 hours and you'll cruise through the entire Sumidero Canyon and other parts of the Rio Grijalva. Tickets cost 200 MXN for the boat tour + 50 MXN for the National Park wristband. Be sure to bring sun protection and a water bottle as it gets very hot without shade in many parts of the river.
6. Marvel at the fountain in Chiapa de Corzo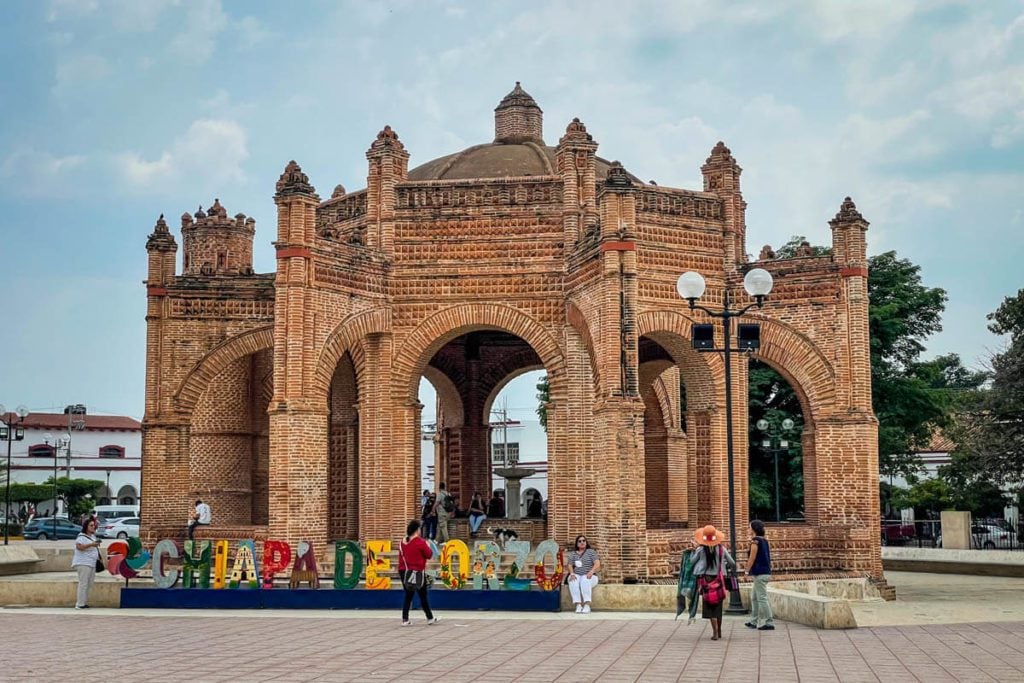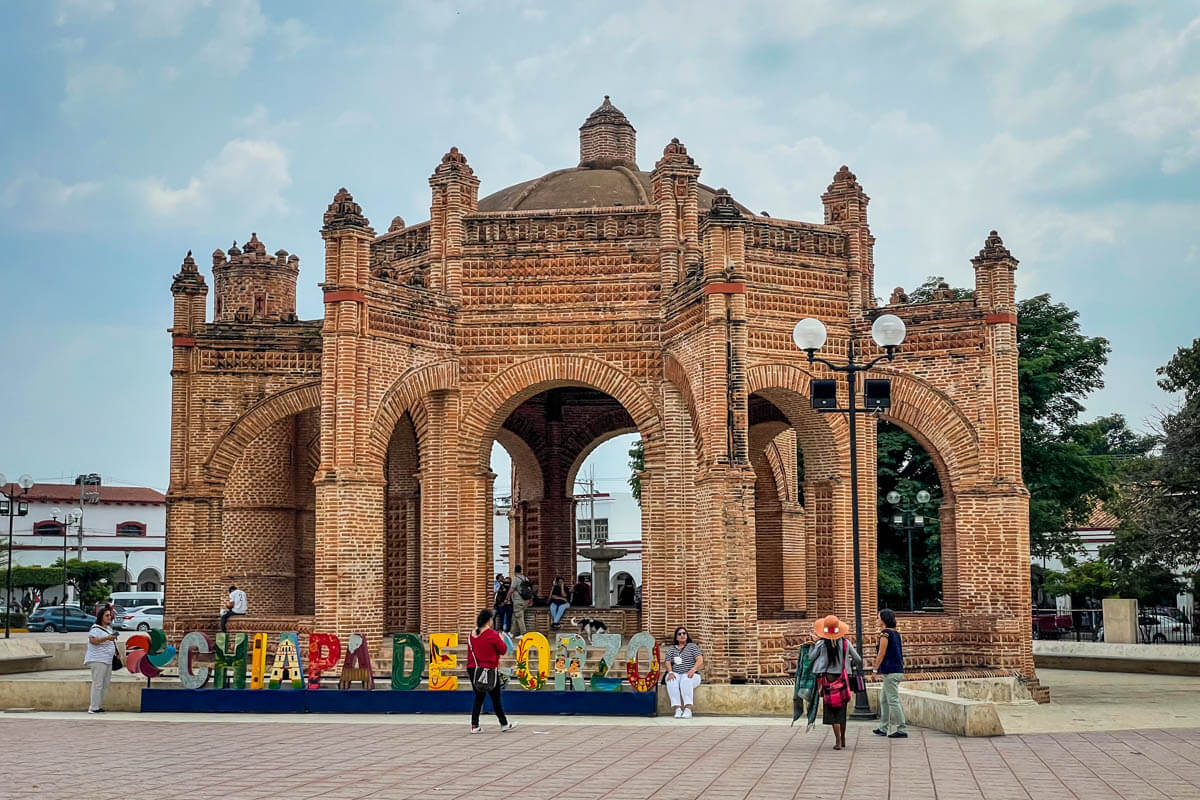 The quaint little town of Chiapa de Corzo was the first colonial city in the state of Chiapas, founded by the Spanish in 1528. Many travelers visit Chiapas on a day trip from San Cristóbal and spend time wandering the cobbled streets and marveling at the Fountain La Pila in the town's main square.
The Moorish-style fountain was constructed in 1562, built from bricks in the unique octagonal form featuring 8 arches with a cylindrical tower. The fountain, which according to some historians is attributed to the Dominican churchman, Father Rodrigo de León, was completed by the Spaniards.
What was once used as a watchtower, today serves as a gathering place in the center of town for tourists and locals alike.
---
Sample Itinerary for Chiapas, Mexico
Trying to figure out how you can fit all these sights into one trip?? You could easily spend weeks in this beautiful part of the country and not see everything there is to see. However, if you want to experience all the adventurous things to do in Chiapas on our list, we'd recommend spending 6 days exploring. You can follow this itinerary exactly or make adjustments to it to fit your travel style.
Editor's Note: This is the exact itinerary I followed for my Chiapas trip. However, due to the safety concerns of self-driving between Palenque andSan Cristóbal, we took the safer route, doubling back from Palenque to Villahermosa and taking the highway down toSan Cristóbal. This route took us about 9 hours total in the car. Instead of all this driving, I'd recommend taking the bus from Palenque toSan Cristóbal, or cutting out Palenque entirely and flying into and out of Tuxtla Gutiérrez to visit just the sights nearSan Cristóbal.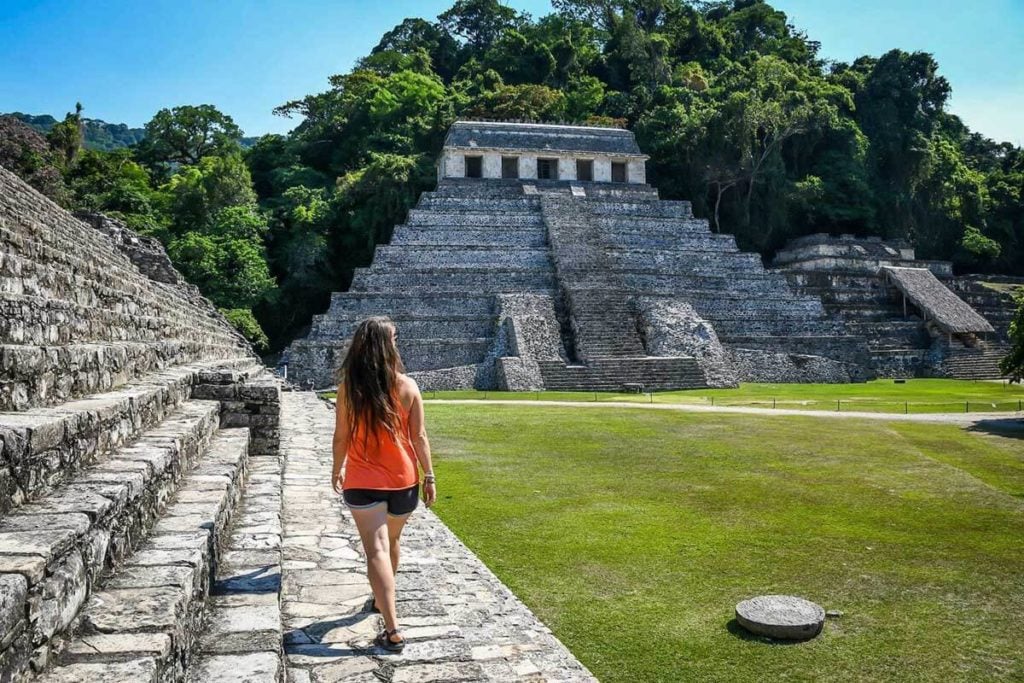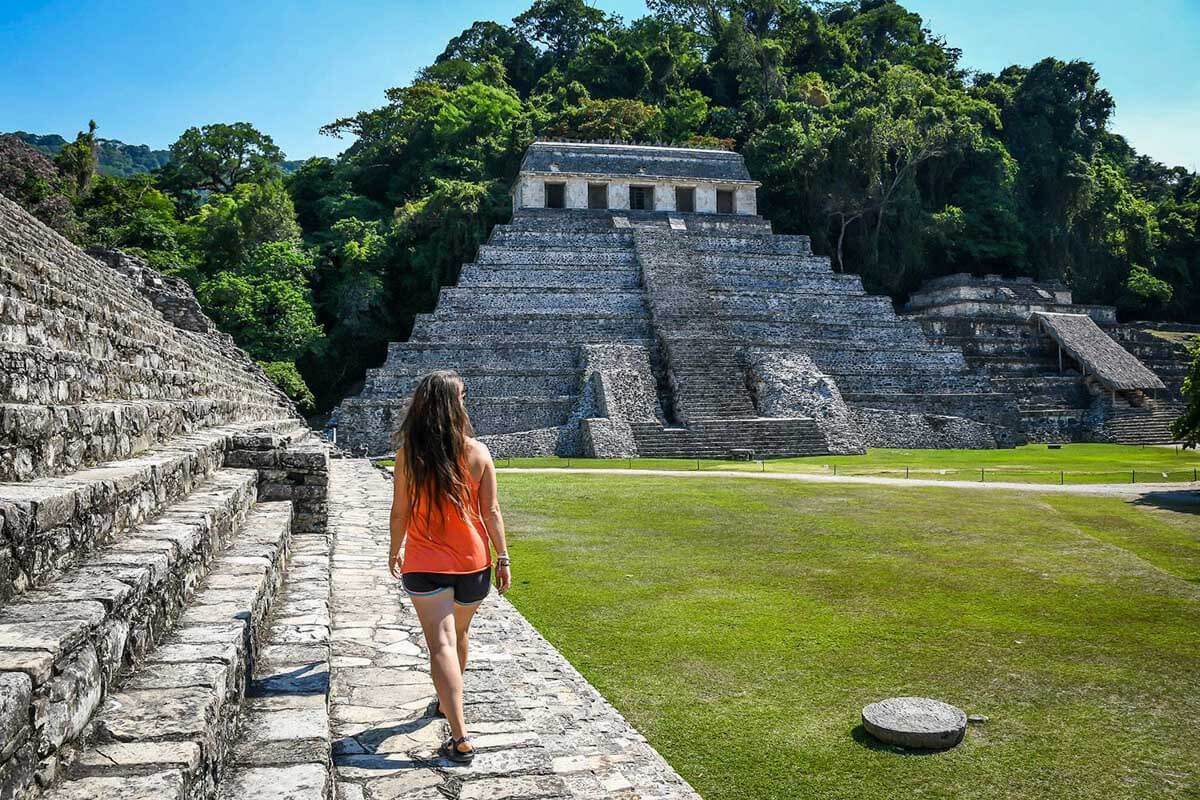 Day 1:
Fly into Villahermosa Airport (VSA) and either rent a car or take the bus to Palenque.
Explore the Palenque ruins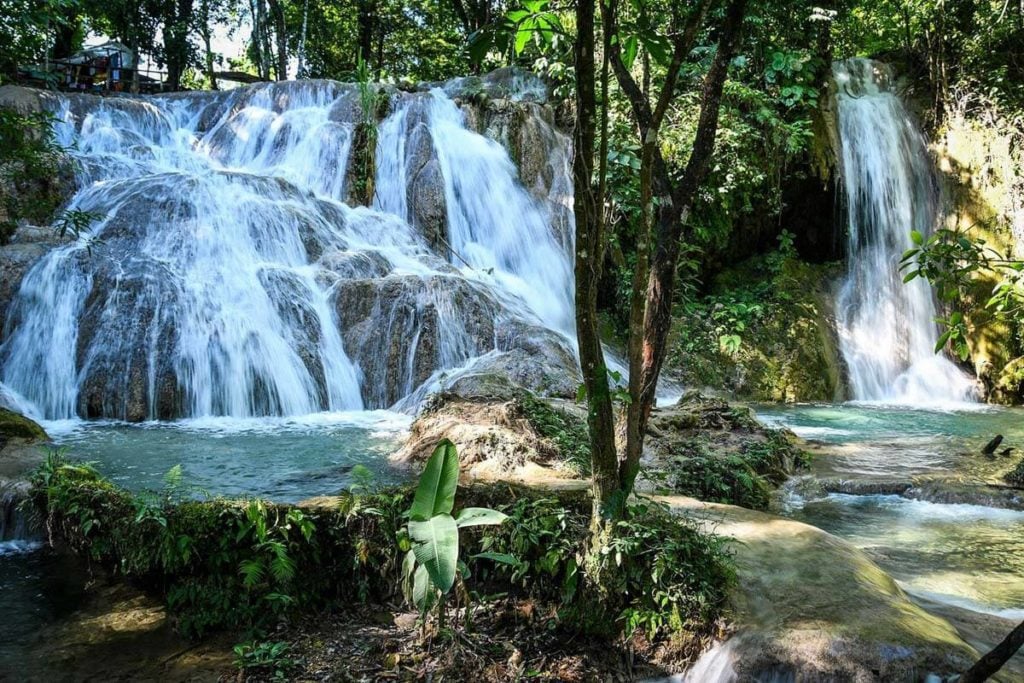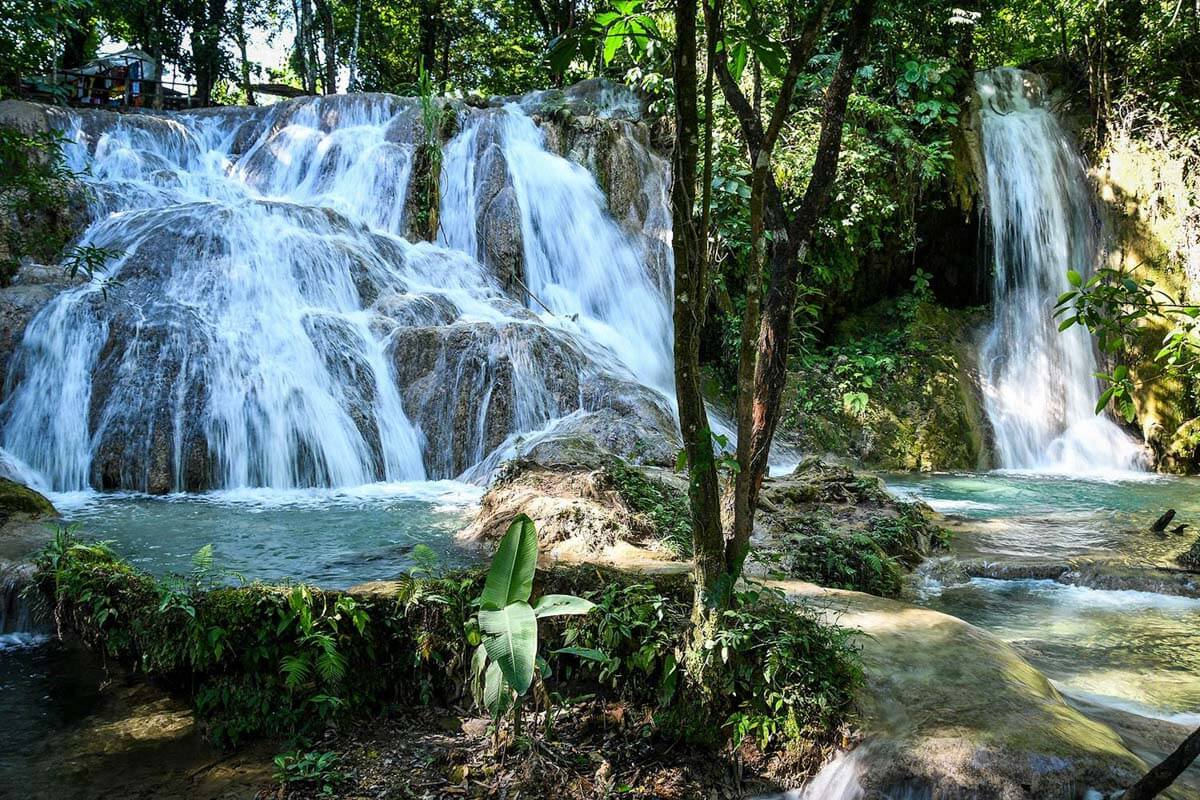 Day 2:
Visit Agua Azul andMisol-Há Falls in the morning
Make your way down toSan Cristóbal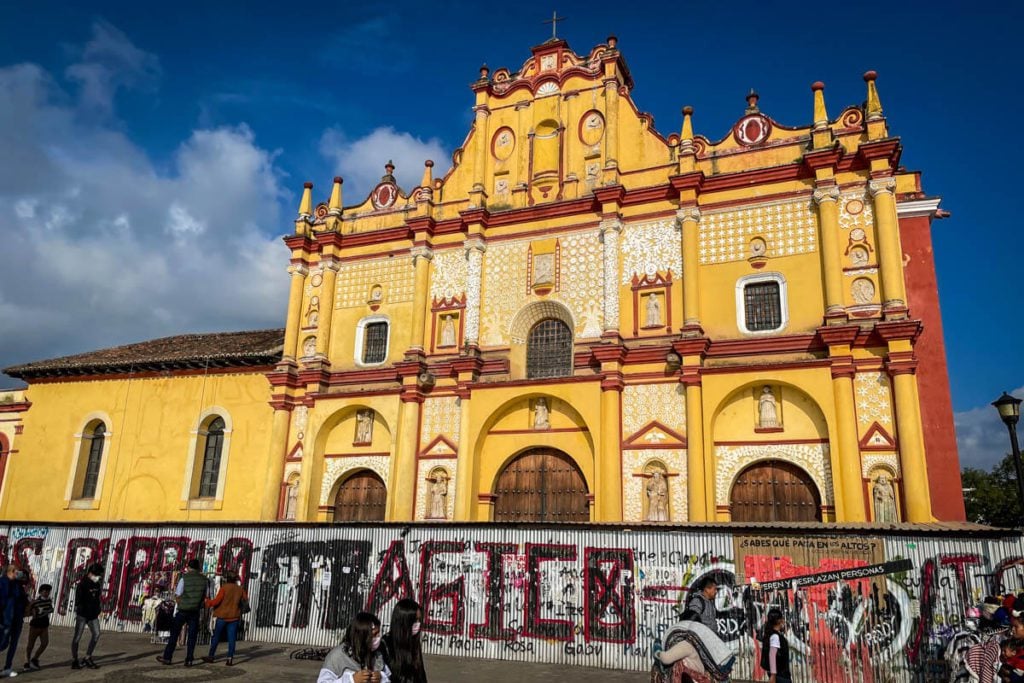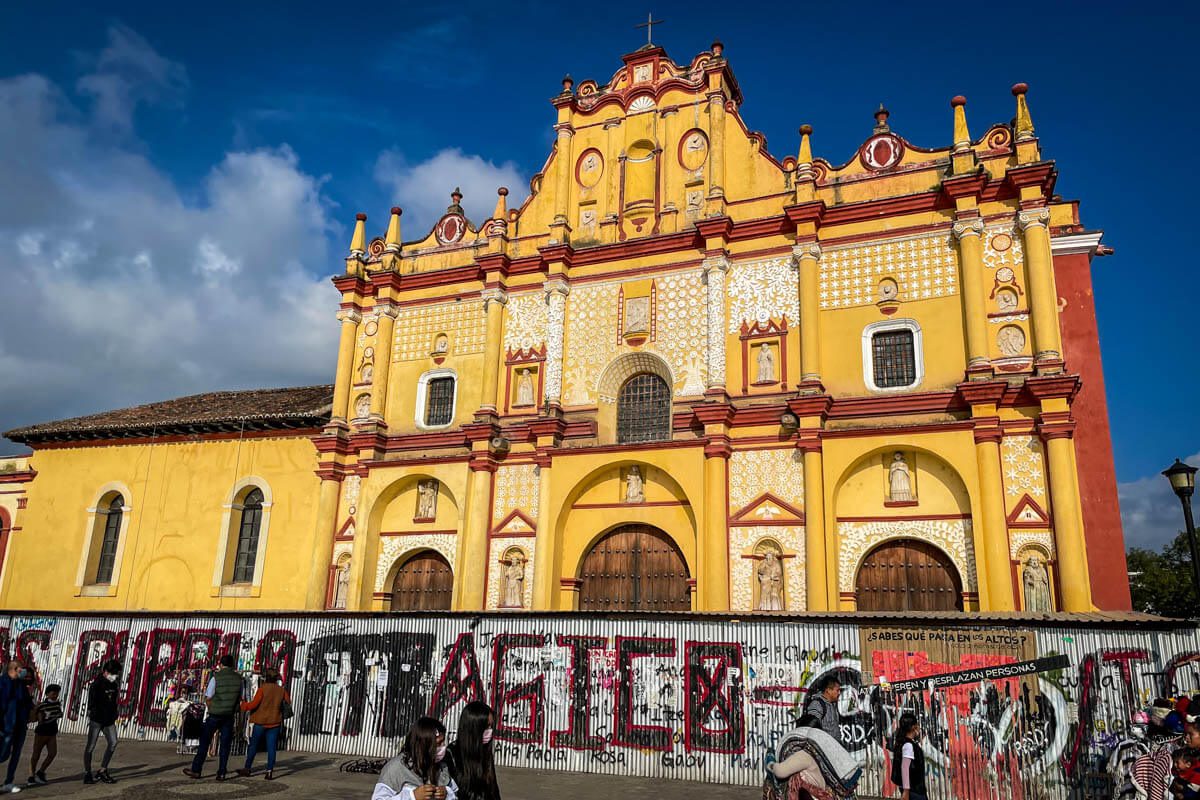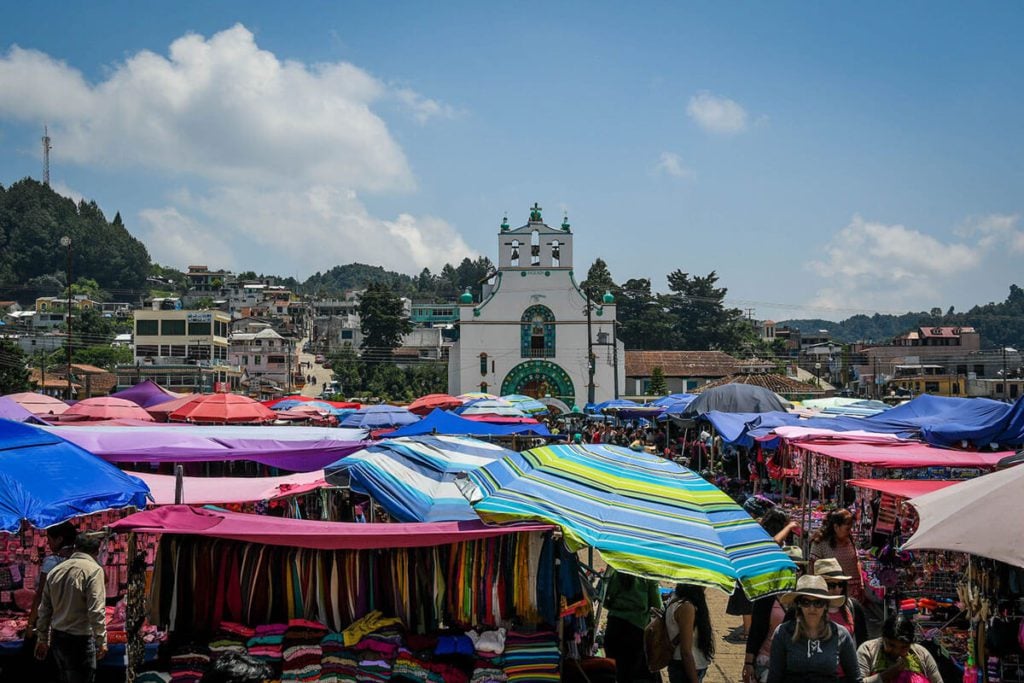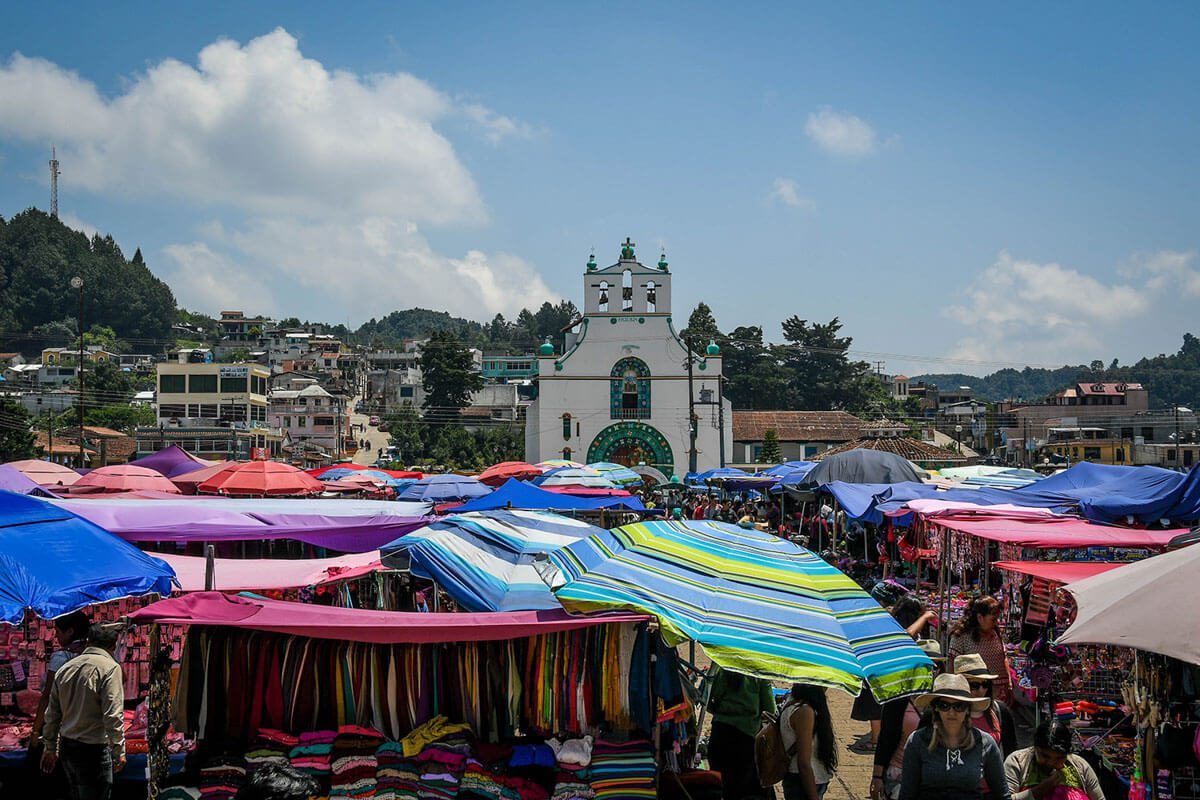 Day 4:
Indigenous villages tour with Alex y Raul Tours in the morning
Visit Sumidero Canyon in the afternoon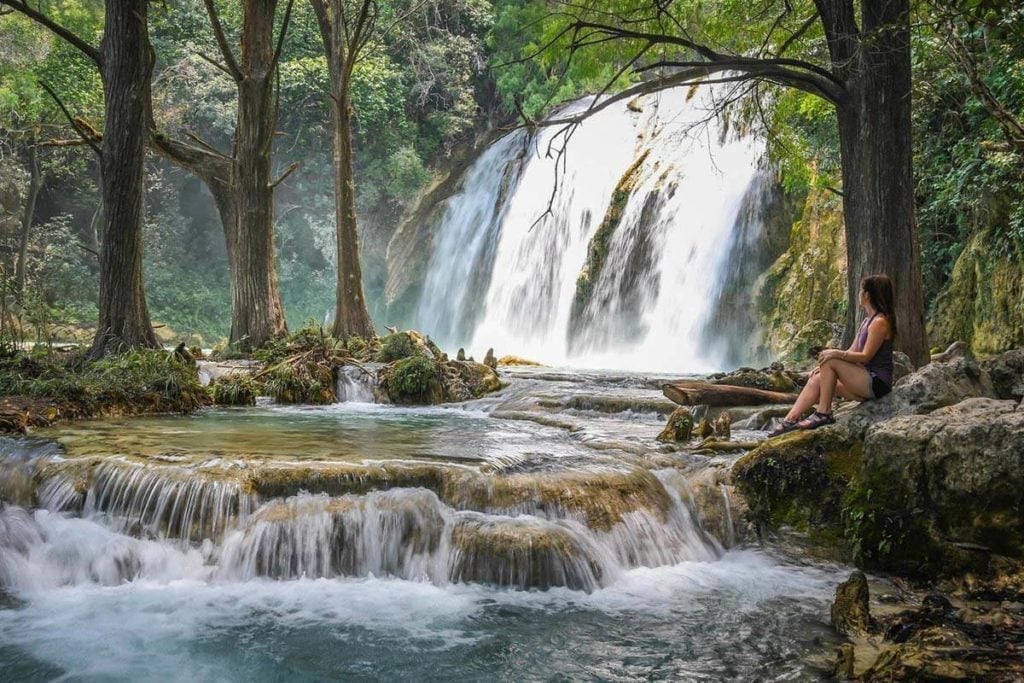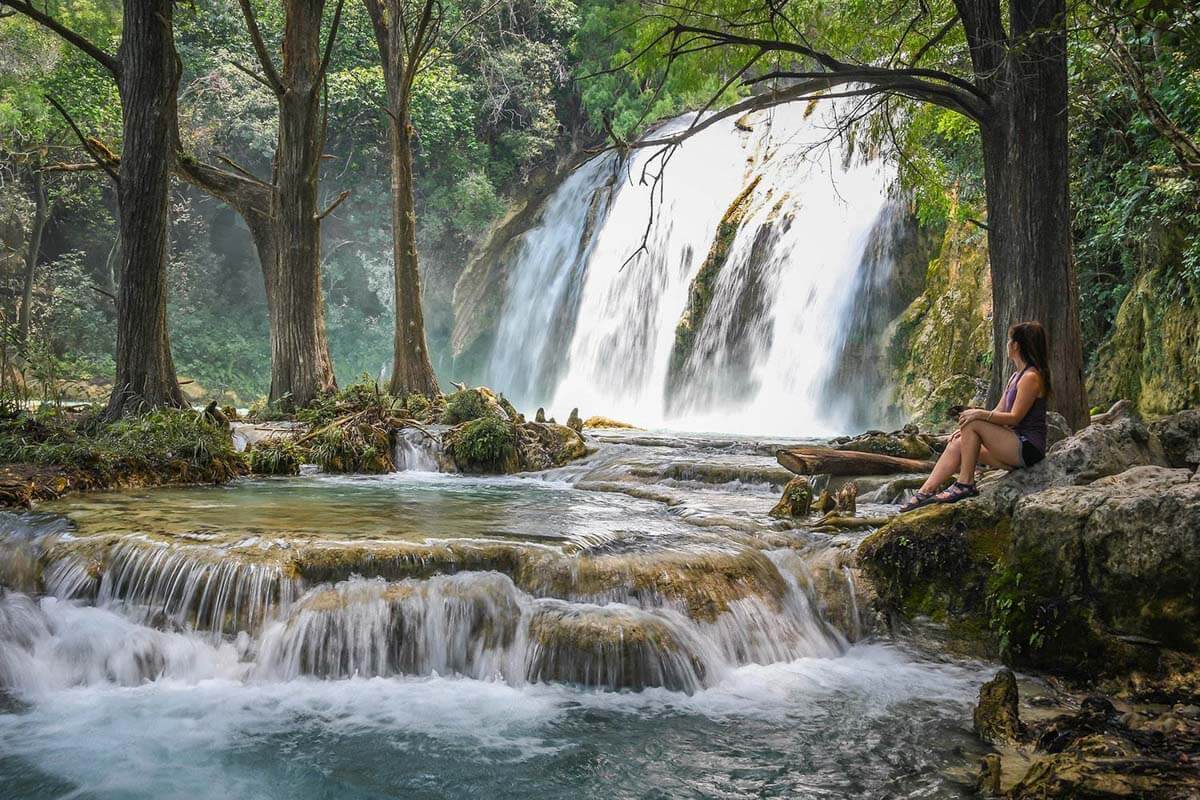 Day 5:
Spend the day at El Chiflon Waterfalls
Optional: Go even further to Lagos de Montebello before returning toSan Cristóbal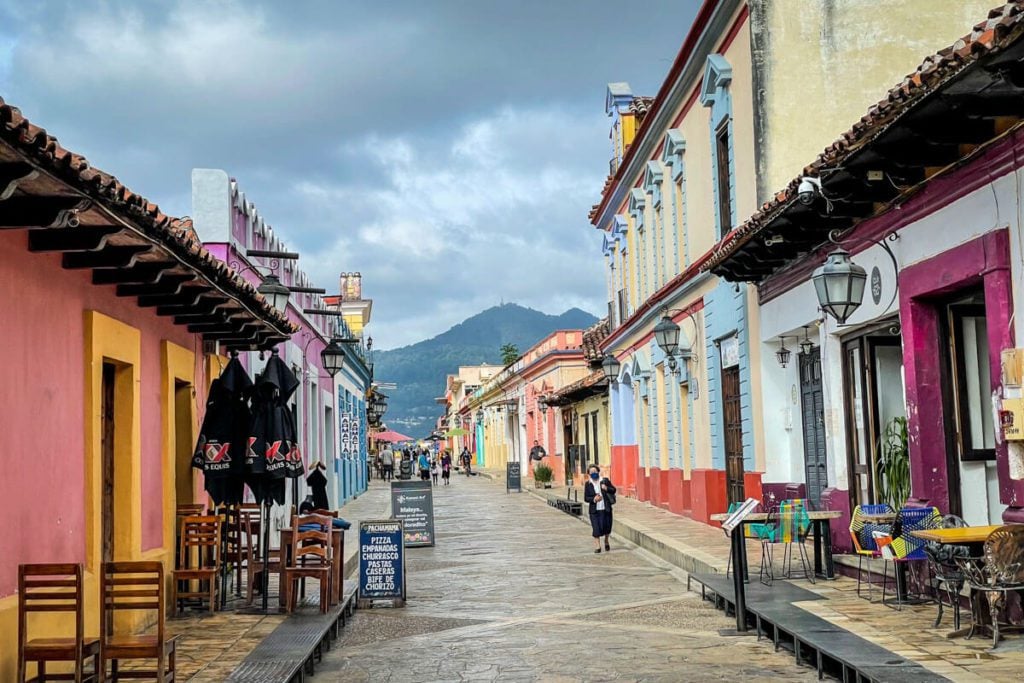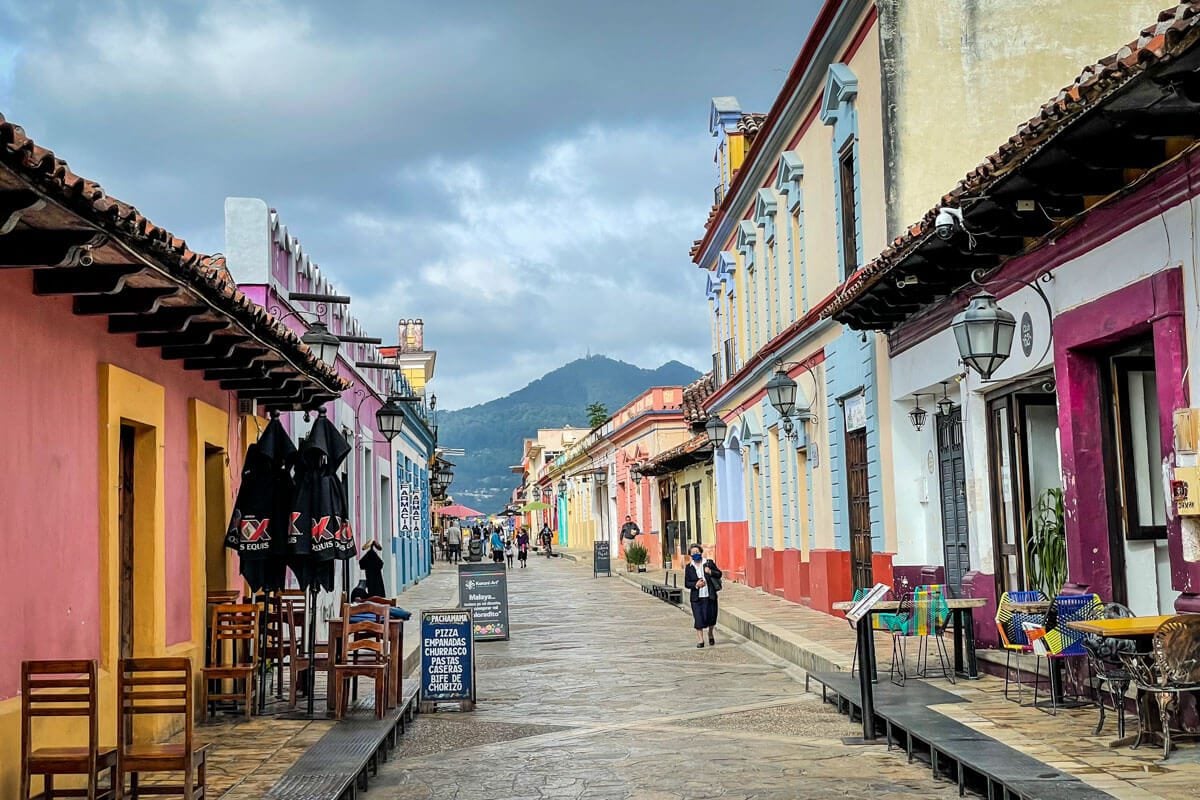 Day 6:
Spend your last morning inSan Cristóbal at one of their cute cafes
Make your way to the airport to fly out of Tuxtla Gutiérrez (TGZ)
Be sure to download our complete packing list for Mexico! It's packed with good suggestions and insider tips to help plan your Mexico vacation. And it's completely FREE, so why not!?


---
Are you planning a trip to Mexico?
We have lots more resources on travel in Mexico and destinations throughout the country. Check out our Ultimate Mexico Travel Guide for all the important travel information, or read some of our favorite articles below.
Save this article on Pinterest for later!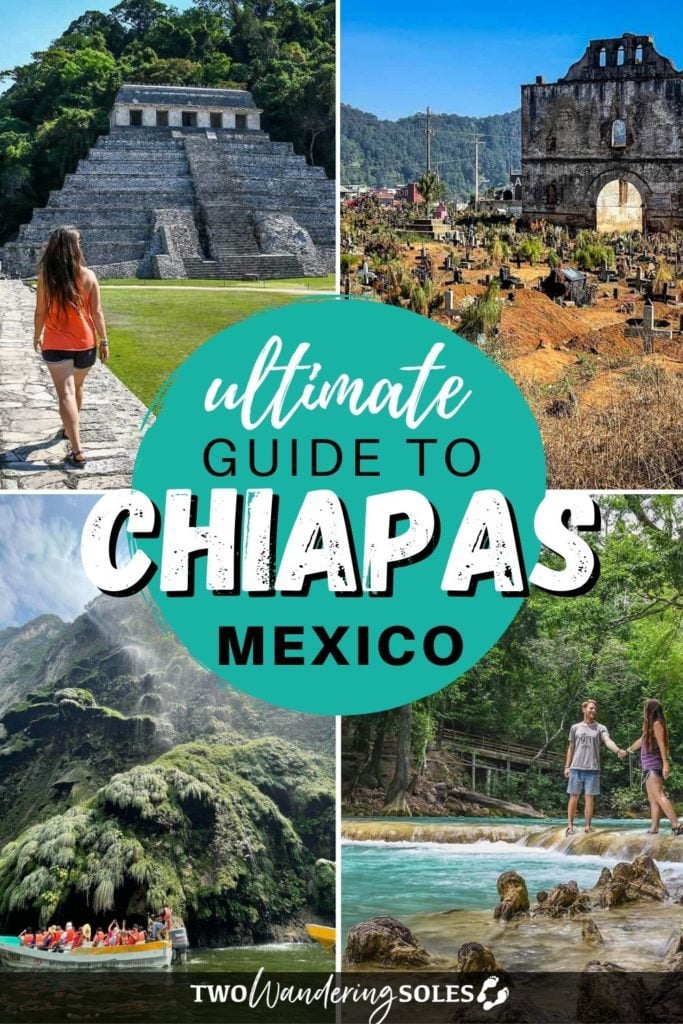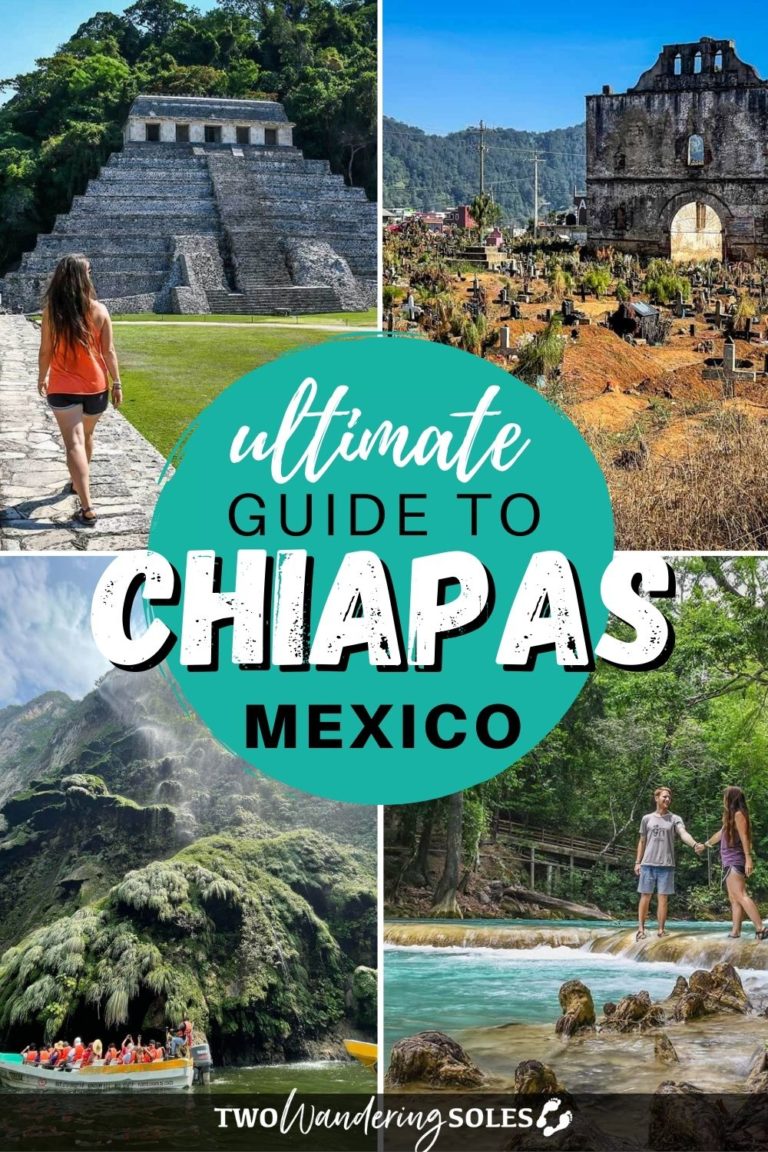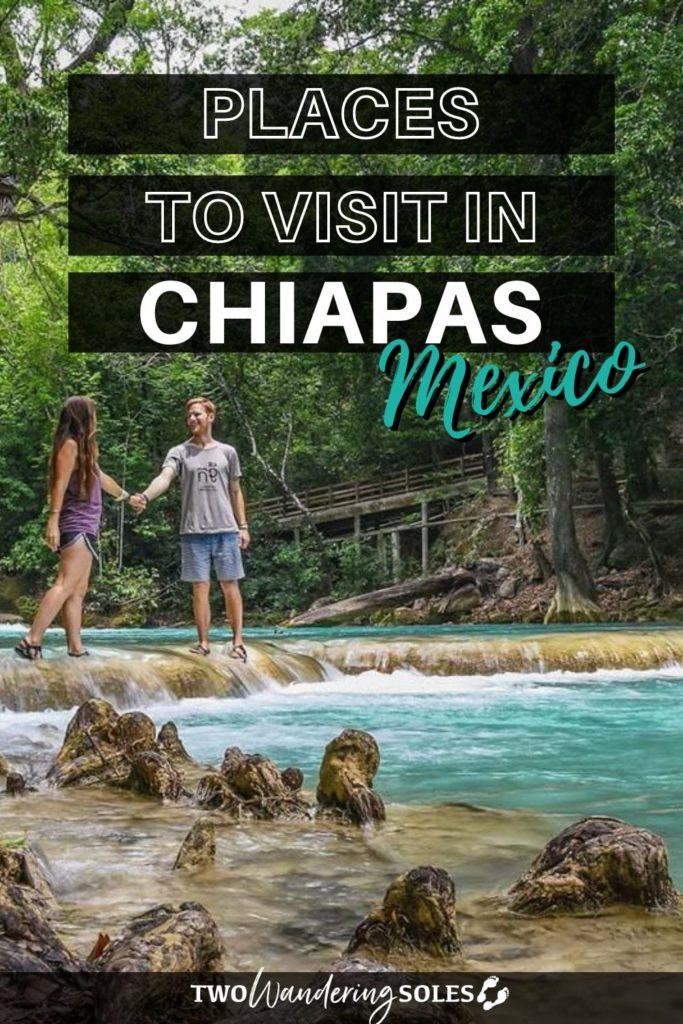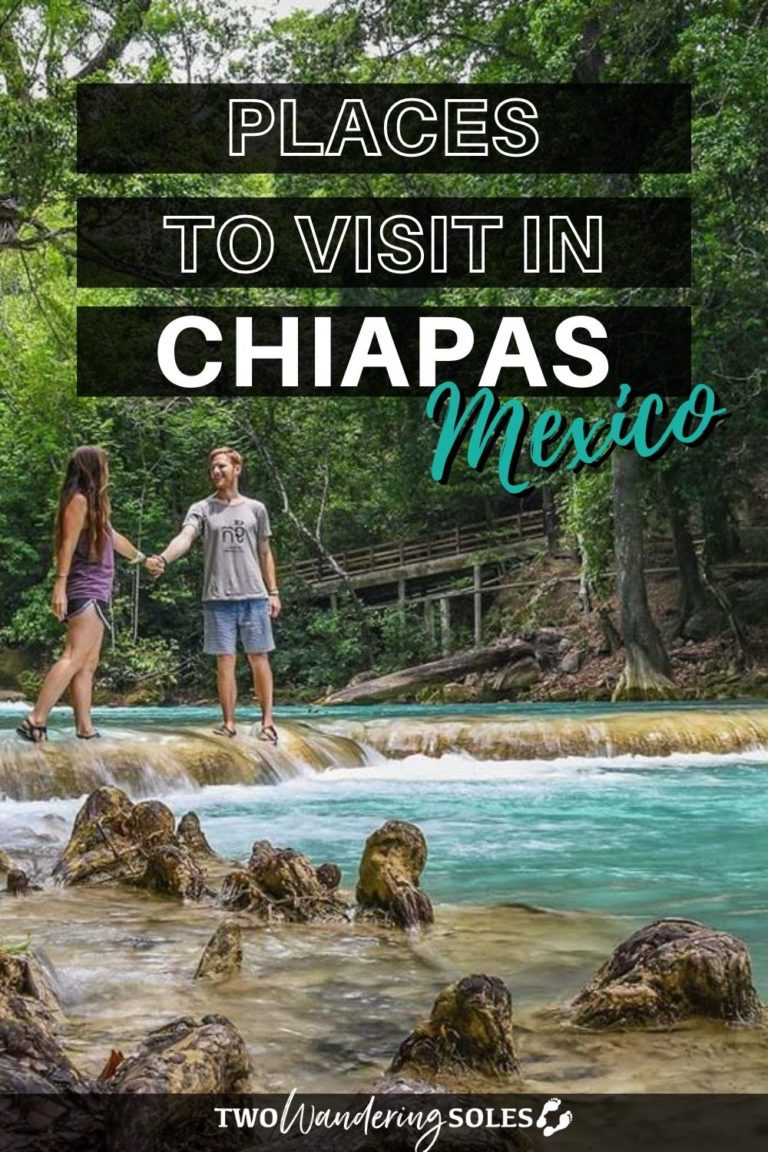 We want to hear from you!
Which of these adventurous things to do in Chiapas are you most excited about? Are you planning a trip to Chiapas, Mexico and still have questions? Comment below and we'll do our best to get back to you!