The El Chiflon waterfalls are stunning and well worth the day trip from San Cristobal. However, after talking to others who did the tour, they wish they had more time at the waterfalls. We decided to visit El Chiflon on our own without a tour, and it was so easy. We have all the information you need on how to get to El Chiflon and back.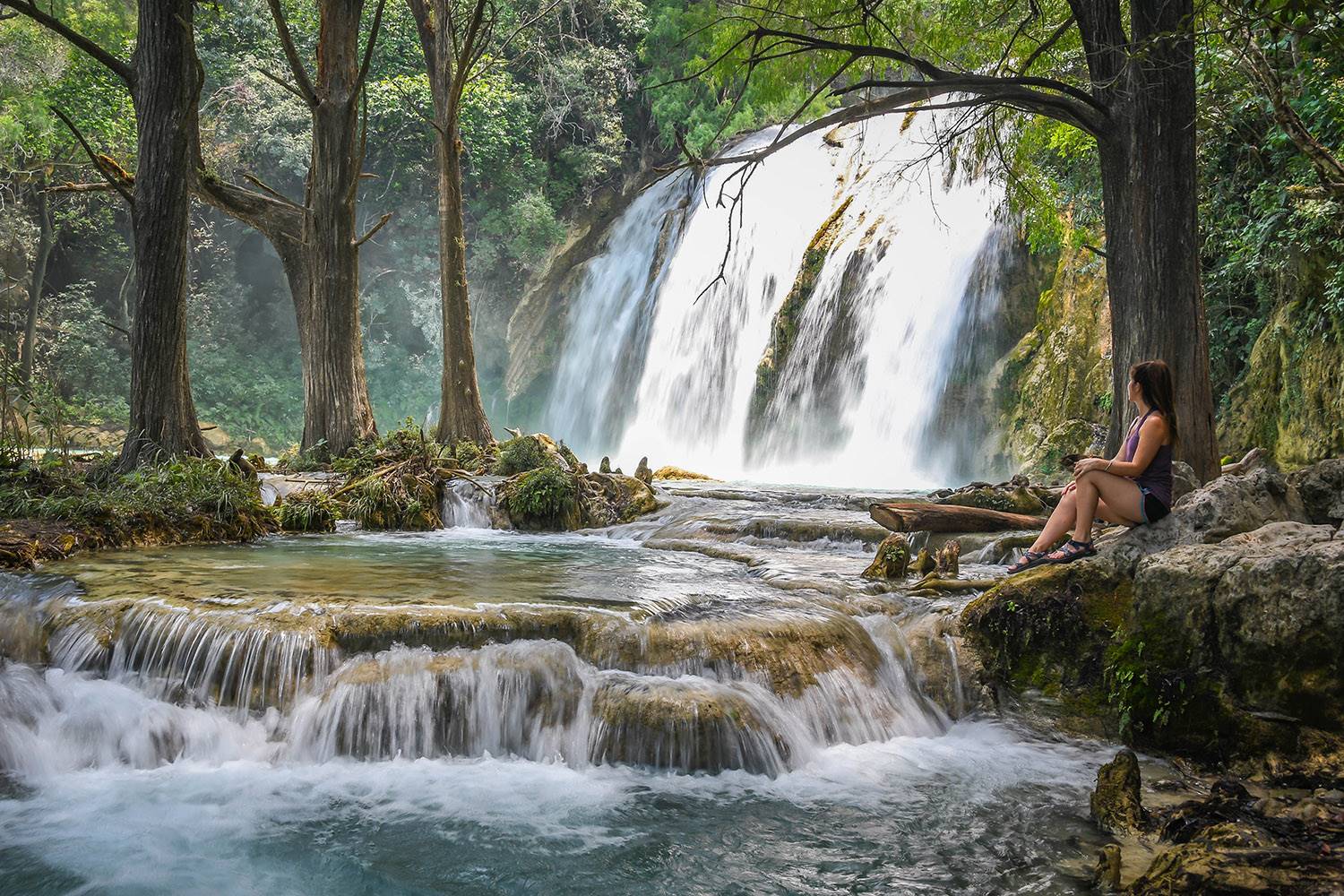 This stunning place in Chiapas Mexico is more than just a waterfall. Wander through forest paths past stunning aqua waters that you can swim in. The smaller falls along the path are beautiful, but you'll be blown away by the main cascade which drops an impressive 120 meters.
You can get to El Chiflon from San Cristobal de las Casas via tour or public transportation. Typically the tour also includes a stop at Montebello Lakes and run daily from 8 a.m. returning to San Crisobal around 7 p.m.
We heard from several people that the lakes were not as exciting and they wished they had more time at El Chiflon instead. For this reason, we opted to skip the tour and go to the waterfalls on our own for a day trip, and it was not all that difficult.
Psst! There are plenty of other fun things to do in San Cristobal, so be sure to check them all out.
If you'd like to visit El Chiflon on your own, you're in luck. We've laid out all the steps (as well as the total cost) so all the work is done for you. And you should be excited because this little day trip made it on to our top things to do in Mexico that aren't beaches list.
One of the easiest ways to get around Mexico is by driving a rental car, and it would make your trip to El Chiflon so much easier. You get to explore on your own, it's safe, and crazy cheap. We got a rental car in Costa Rica for so cheap one day, we decided to keep the car for two weeks. We use RentalCars.com to search for the best deals on rental cars around the world.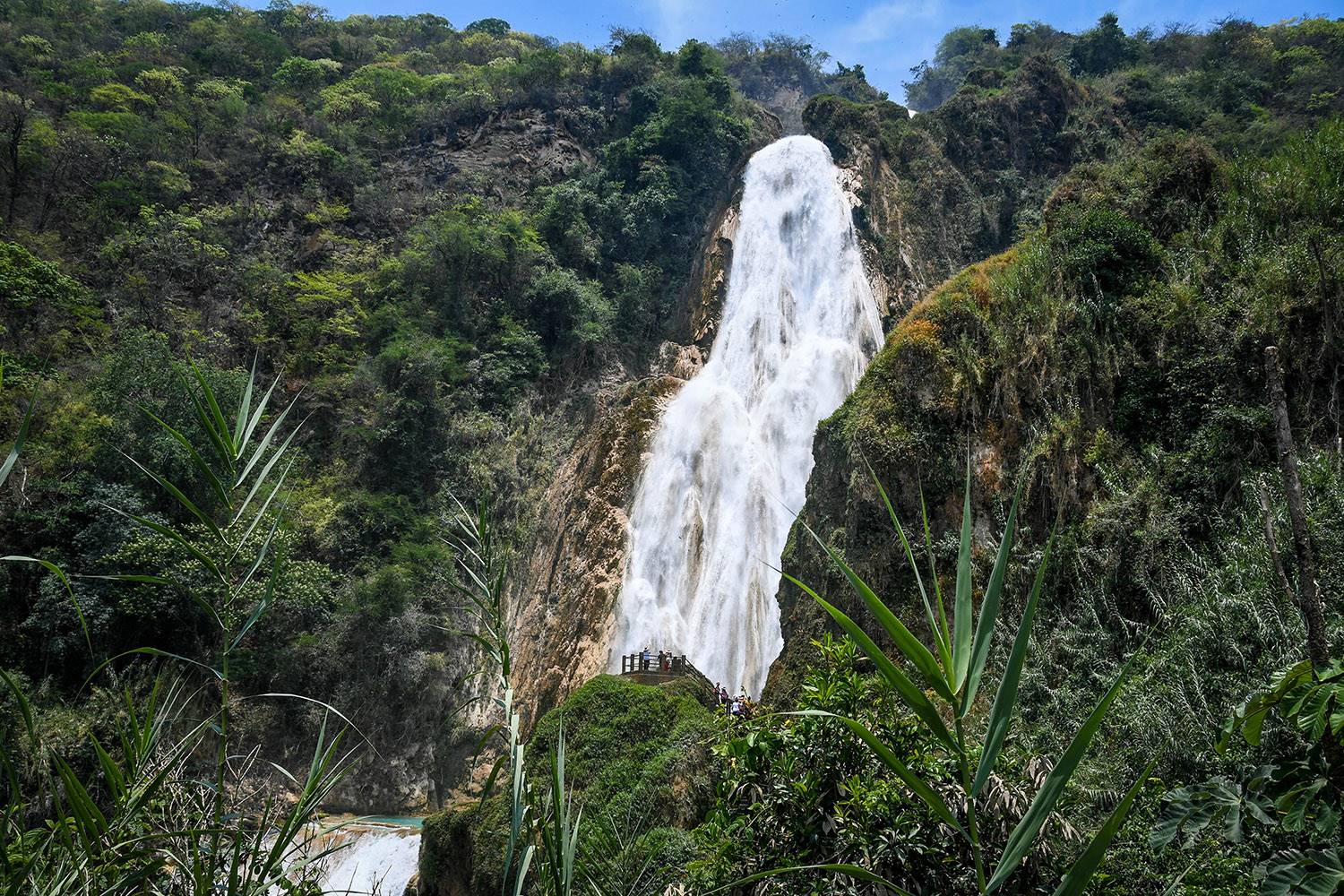 Step #1: Bus from San Cristobal to Comitán
Head to the bus station in San Cristobal and purchase a ticket bound for Comitán. We bought ours ahead of time on Click Bus, but there really was no need to do this. (There were plenty of spaces available had we just shown up.)
Though it would be helpful to look up the bus times in advance so you know when they leave. On the day we went, there was one bus leaving at 7:45 a.m., but the next one didn't leave until 9:45 a.m. We'd recommend getting there as early as possible!
You can also hire a colectivo (shared taxi) nearby, but unlike the bus, they might need to wait until there are enough people or make stops along the way (or you might arrive just at the right time!). The cost of the colectivo to Comitán is 60 pesos per person.
Our bus ticket for the ADO-GL (luxury one!) was 96 pesos per person. If a regular ADO or a OCC bus is leaving at a similar time, the cost is around 84 pesos.
The bus ride is 2.5 hours and you will be dropped off in the town of Comitán.
Step #2: Colectivo from Comitán to El Chiflon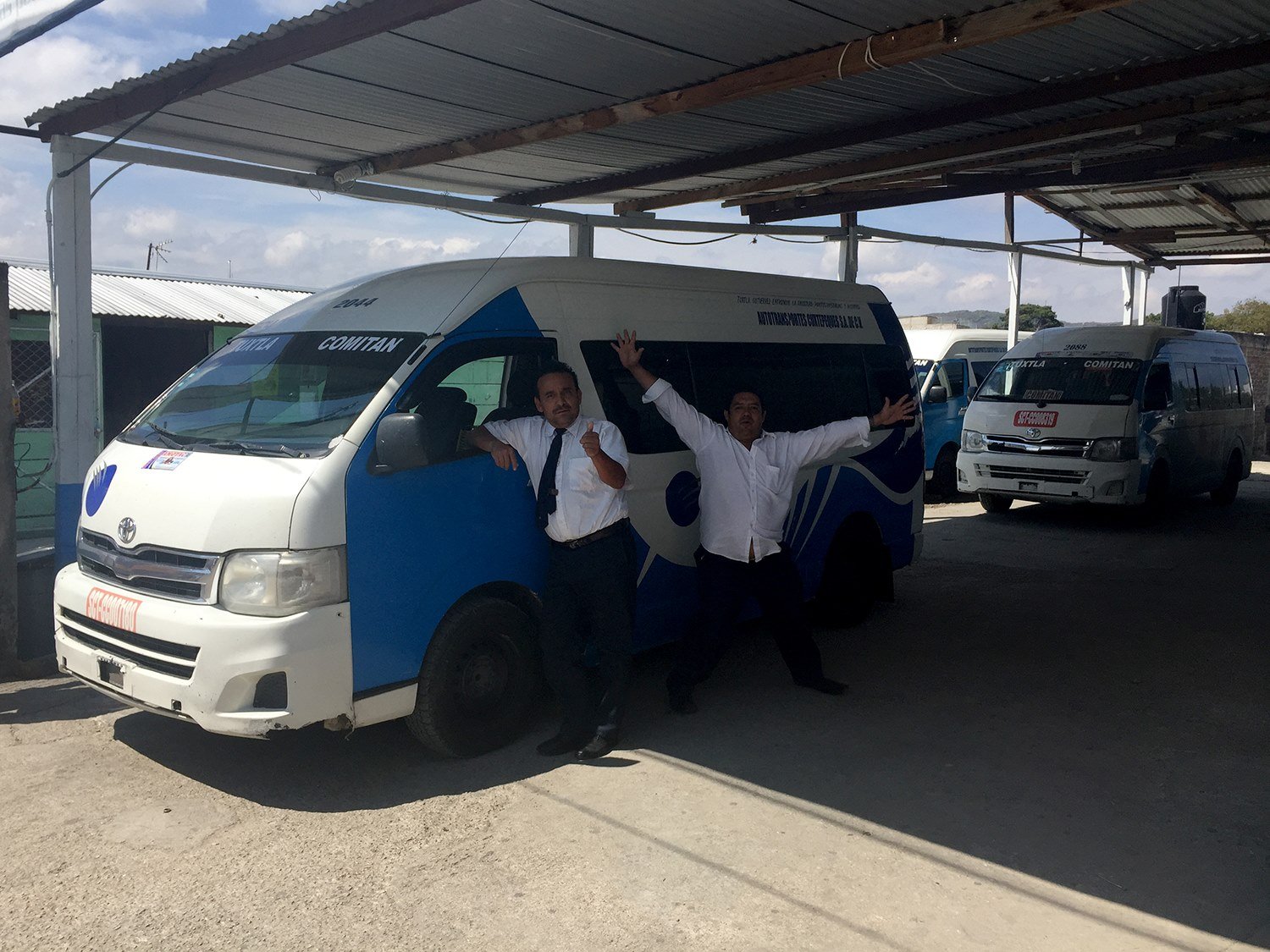 From the bus station, walk 3 blocks northwest on Highway 190 and you will see many 15-passenger vans with the word "colectivo" painted on top with men calling out the destination. Ask the driver "¿Vas a la cascada El Chiflon?" (Do you go to El Chiflon waterfall?).
The price for the colectivo to the waterfalls is 30 pesos per person. They will try to wait for more people, but we left the station less than half full, so we didn't wait more than 15 minutes.
This ride should be around 40 minutes and you will be dropped off at the entrance to the park.
Step #3: Walk up to the entrance to El Chiflon
Walk about 1 kilometer (about 10 minutes) to park gate. Here, you will need to pay the entrance fee of 30 pesos per person and you will receive a wristband.
Note: There are small tuk tuks that can drive you to the park entrance if you don't feel like walking or are pressed for time. The walk isn't bad though, so we skipped this.
Step #4: Walk to the waterfall trails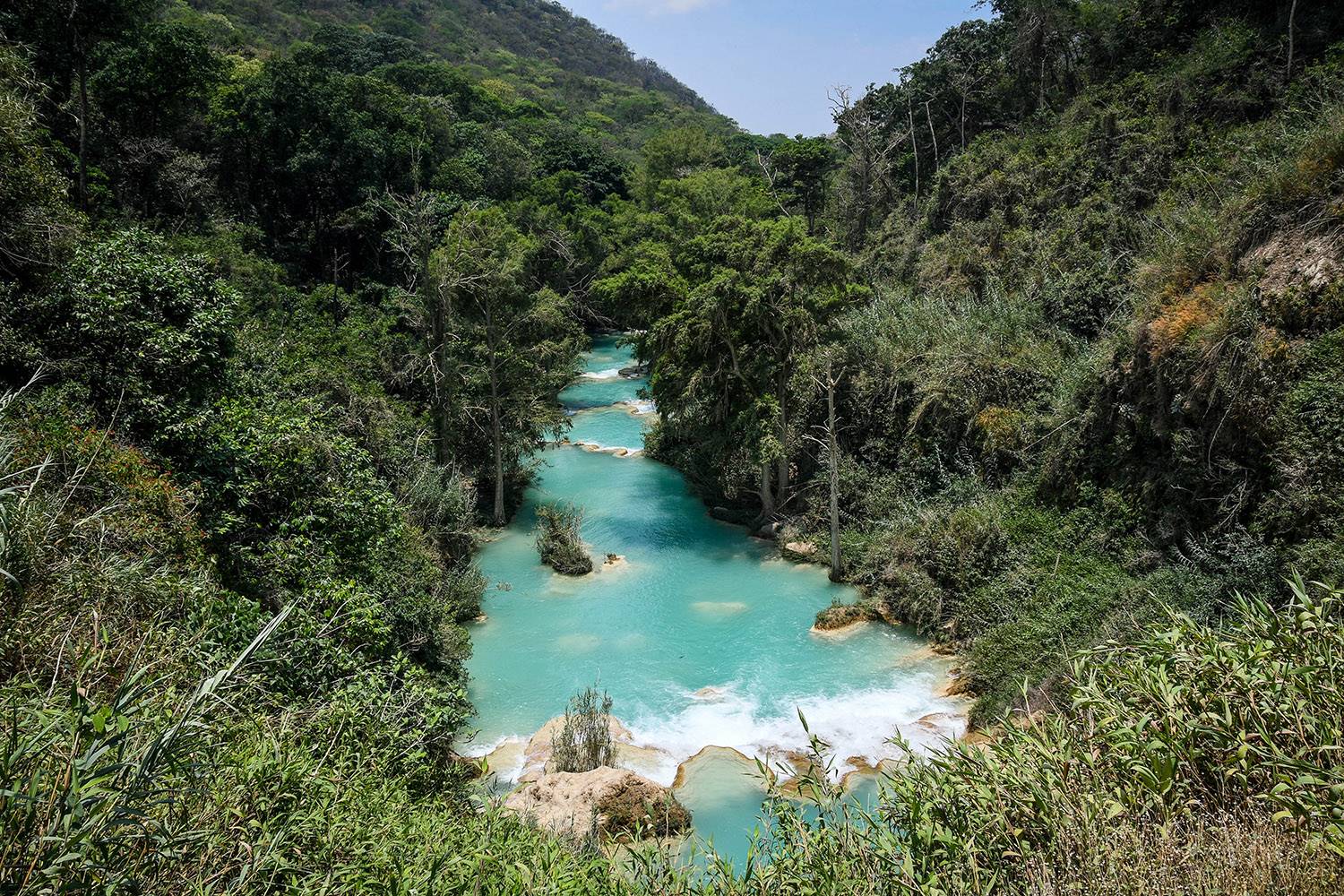 Walk another 10 minutes or so and you'll find the actual park entrance. If you keep your eyes to the left, you'll see a spot where large iguanas hangout and sunbathe.
At the actual park entrance, you will show your wristband here, and as you enter, you will see the stunning turquoise waters on your left-hand side.
Step #5: Hike on the trails beside the El Chiflon waterfalls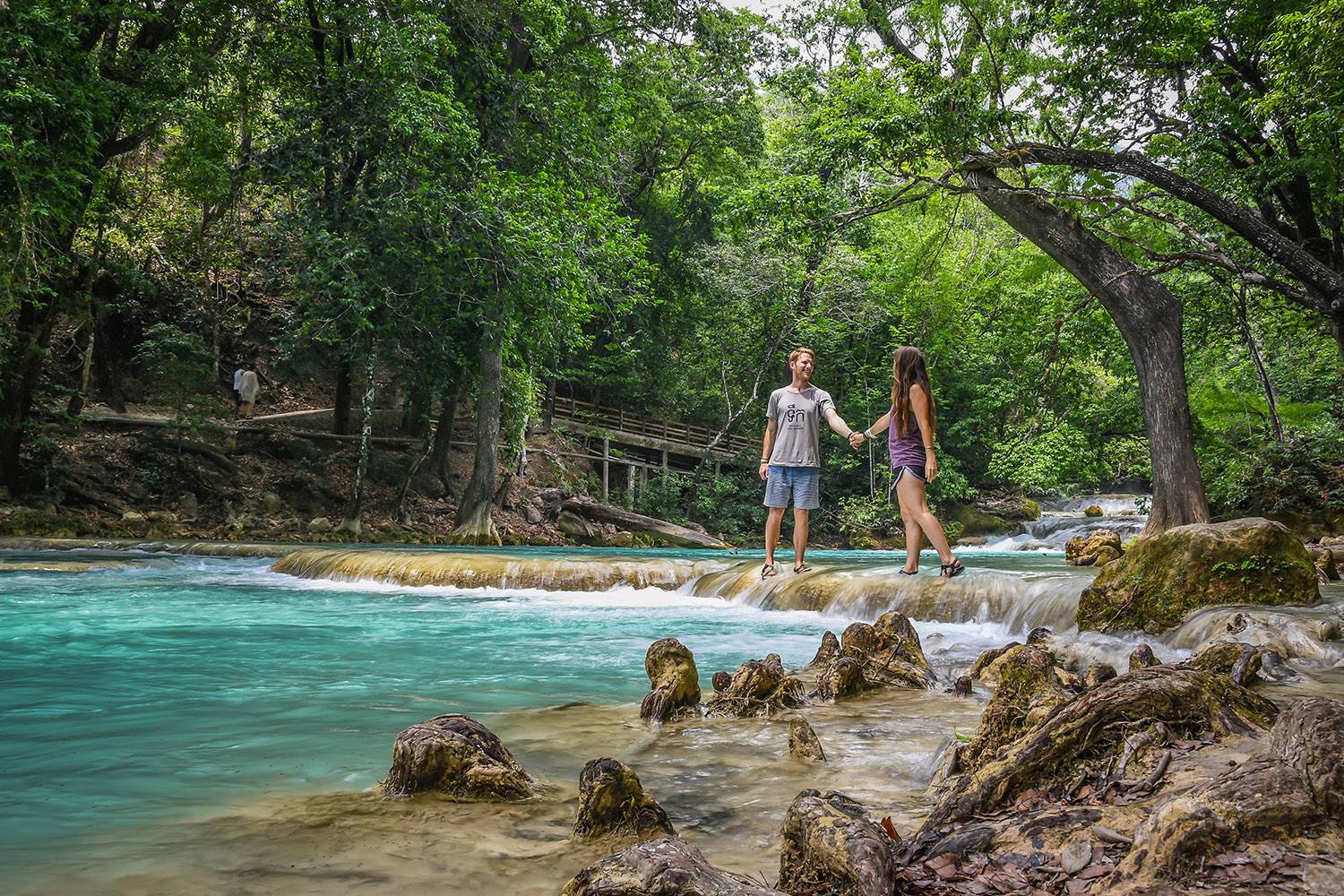 Now it's time to explore! The path is paved and has both steps and ramps, making it pretty accessible to everyone. (No hiking boots needed!)
From the bottom to top, expect to spend an hour walking if you want to explore the side trails and take some photos. The main waterfall called Velo de Novia (Bride´s Veil) is the last stop and is really impressive.
Note: You will get a bit wet on the top platform, so be sure your camera is okay before climbing up! (You won't be drenched or anything, but it's good to be prepared!)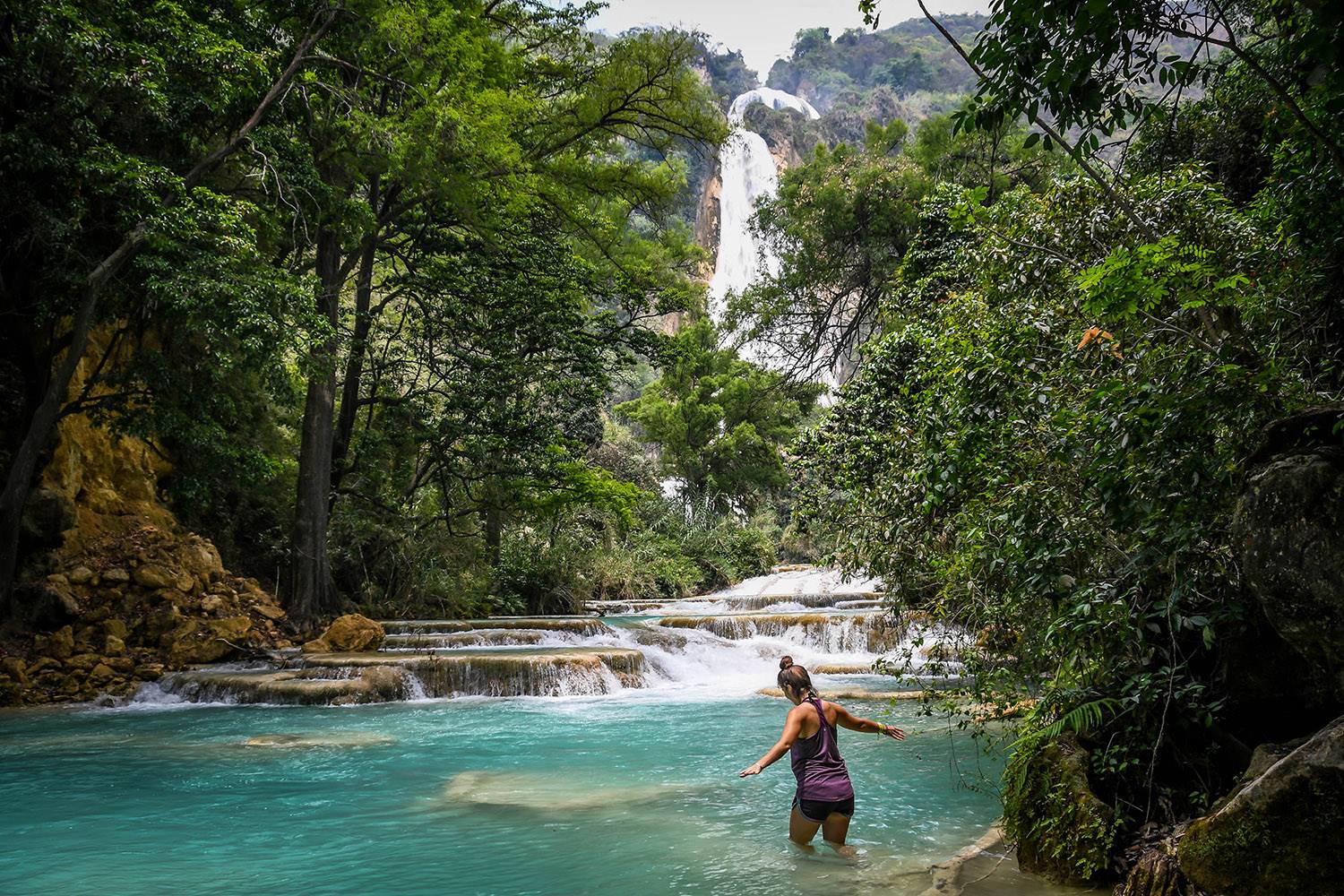 If you have the time, take a dip in the stunning cool turquoise pools and mingle with the Mexican families spending the day here. You could also relax in the shade with a beer and just take in the beauty that surrounds you.
You can also take the zip line back down if you wish! Starting at just 150 pesos per person (up to 300 pesos, depending on which course you do), it's pretty reasonably priced. Plus, you will save some time walking back to the entrance!
Where to eat at El Chiflon
There is a restaurant near the entrance of the park, El Pariso, that has decent food if you need lunch. We got an order of guacamole for 40 pesos and quesadillas for 40 pesos. It was nothing spectacular, but not bad either. While you eat, you'll also be able to see many iguanas in the surrounding forest.
If you're short on time, you can also purchase small snacks or beer inside the park (though there aren't many options). You can also bring your own food, as there are plenty of picnic places.
How long to spend at El Chiflon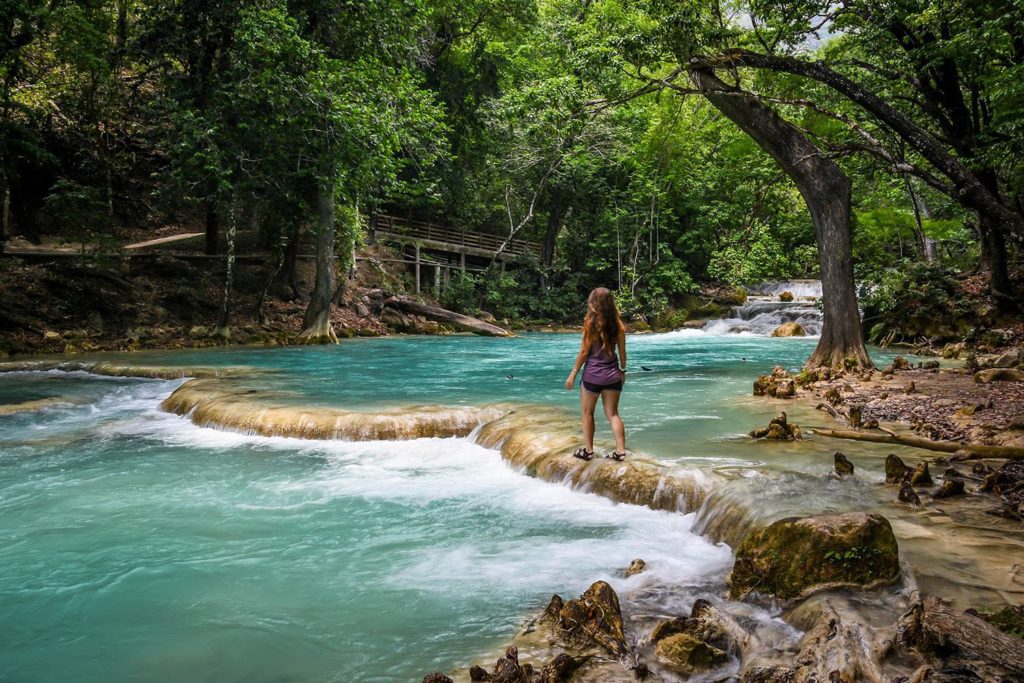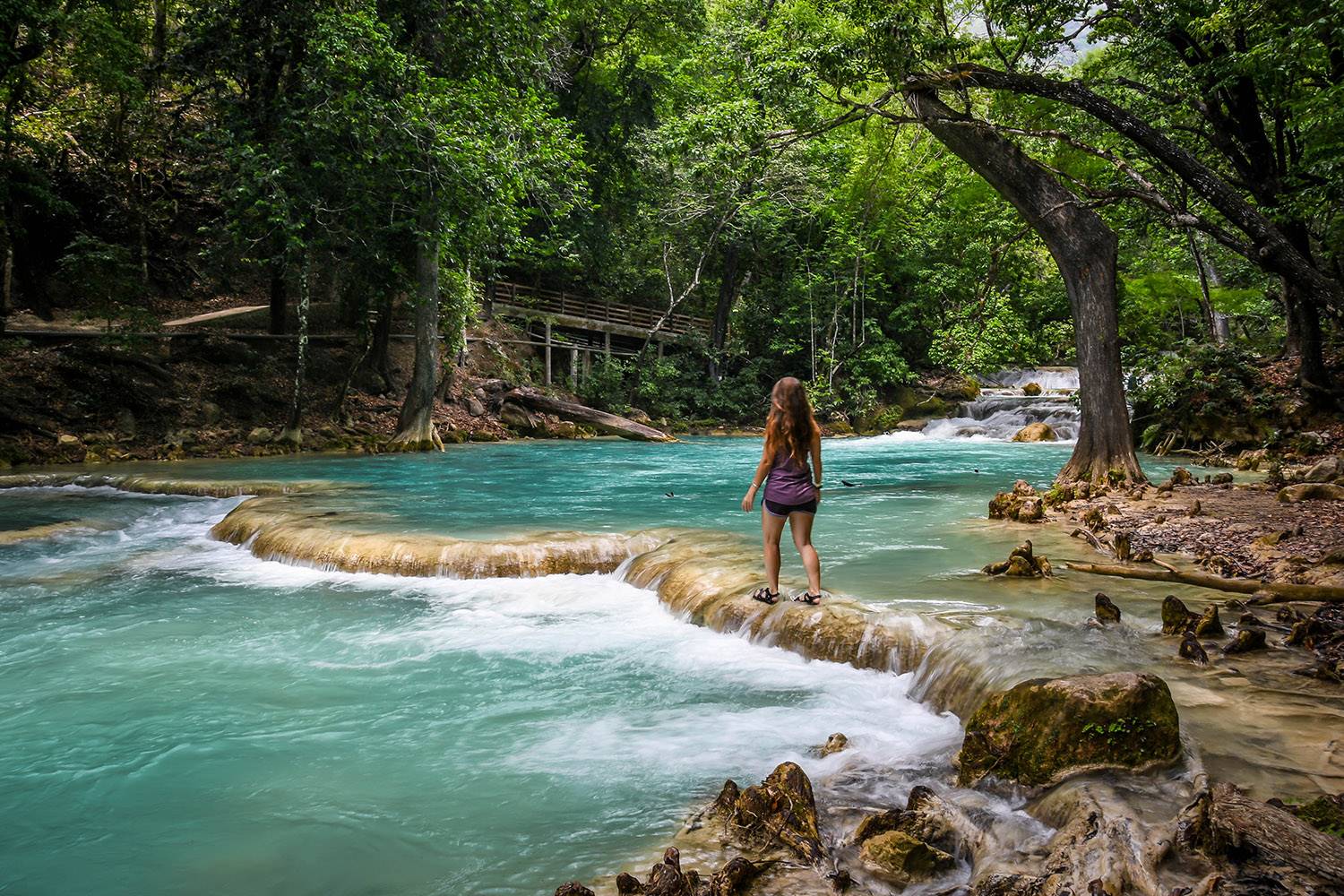 We spent a total of 3 hours in the park, but we think 4 hours would have been perfect.
It took us about an hour to walk from the entrance to the top waterfall, exploring some of the side trails and taking photos along the way. We also spent some time relaxing near the water and eating lunch.
Getting back to Comitán
Walk out of the park the way you entered and cross to the opposite side of the street here the colectivos heading back to Comitán stop.
We waited about 10 minutes for one to arrive, and from what we gathered, they are supposed to come every 30 minutes or so. On the way back, expect the ride to be much more crowded (we had to sit on the floor and makeshift stools) and expect it to take longer with afternoon traffic. The ride back to Comitán took us approximately one hour and 15 minutes.
We had a bus already booked, and unfortunately missed it by a few minutes due to traffic. We paid a small fee and got tickets on the next bus, which left 45 minutes later.
Again, we wouldn't necessarily recommend booking tickets in advance because they are quite frequent (and you might miss it like we did!). Just be sure to look up the departure times on ClickBus so you have an idea of what time to get there.
Note: If you're driving yourself and are thinking about heading into Guatemala next, Lake Atitlan would be a good next stop along the Pan-American Highway. We have a great list of top things to do in Lake Atitlan if you're thinking about exploring Guatemala after Mexico.
Total Price of visiting El Chiflon Waterfall (per person)
Bus to Comitán – 96 pesos (ADO fancy bus, 84 pesos for regular OCC bus)
Colectivo to El Chiflon – 30 pesos
Entrance Fee – 30 pesos
Colectivo back to Comitán – 30 pesos
Bus back to San Cristobal – 96 pesos (ADO fancy bus, 84 pesos for regular OCC bus)
Total cost: 282 pesos ($14.44 USD) per person
Note: You could spend a bit less if you take the non-luxury bus or a colectivo. But in the end, a couple dollars didn't matter all that much to us.
---
Are you planning a trip to Mexico?
We have lots more resources on travel in Mexico and destinations throughout the country. Check out our Ultimate Mexico Travel Guide for all the important travel information, or read some of our favorite articles below.
Save this article on Pinterest for later!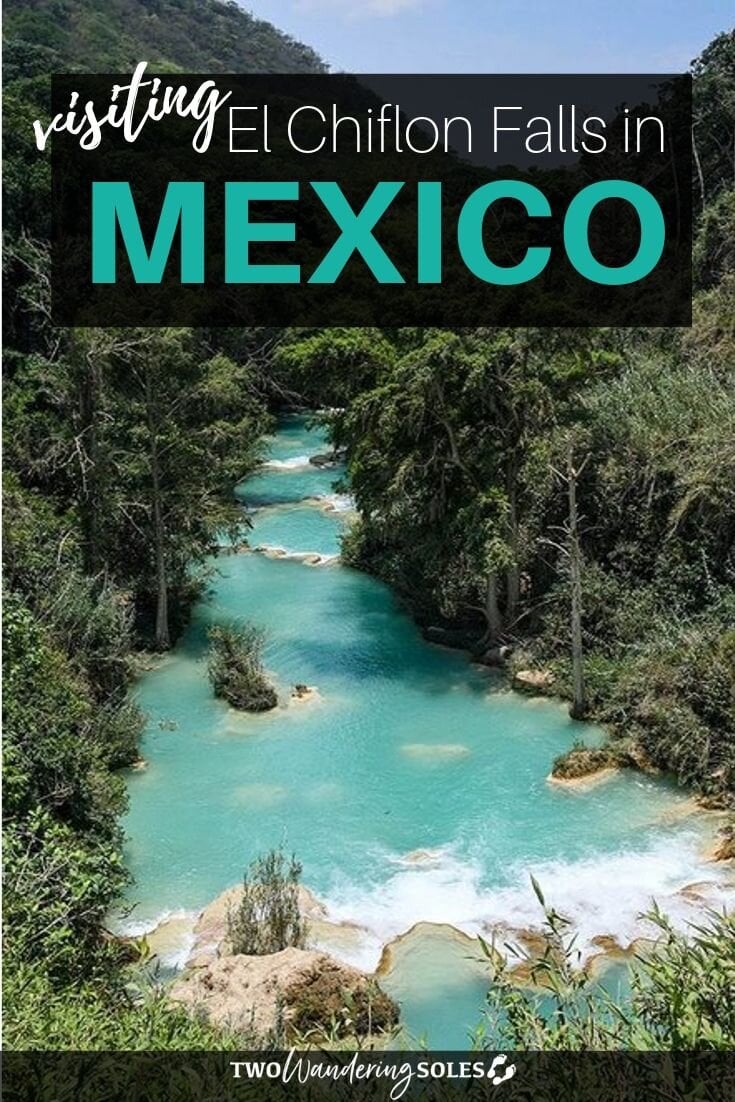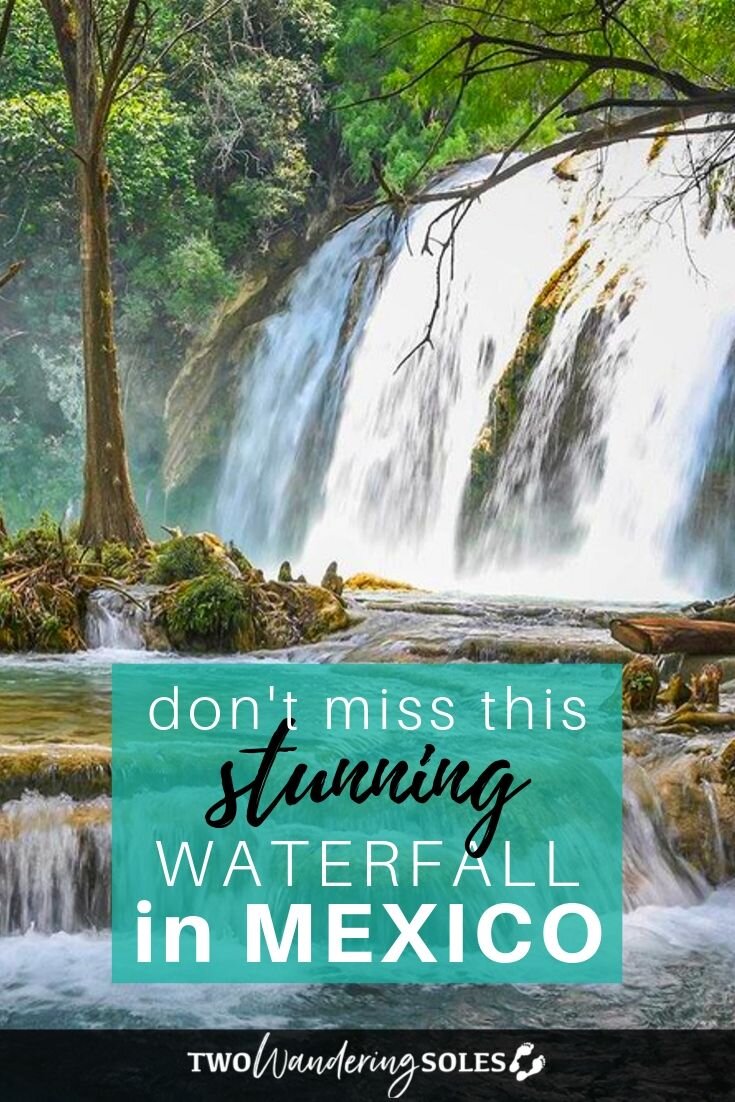 We want to hear from you!
Have you visited El Chiflon? Are you planning on a trip here from San Cristobal? Let us know your questions or suggestions in the comments below.