This city completely exceeded our expectations and for good reason; there are actually tons of really exciting things to do in Mexico City! We've rounded up the top adventures, sights to see and culinary experiences so you can plan your time in CDMX according to what you want to do most.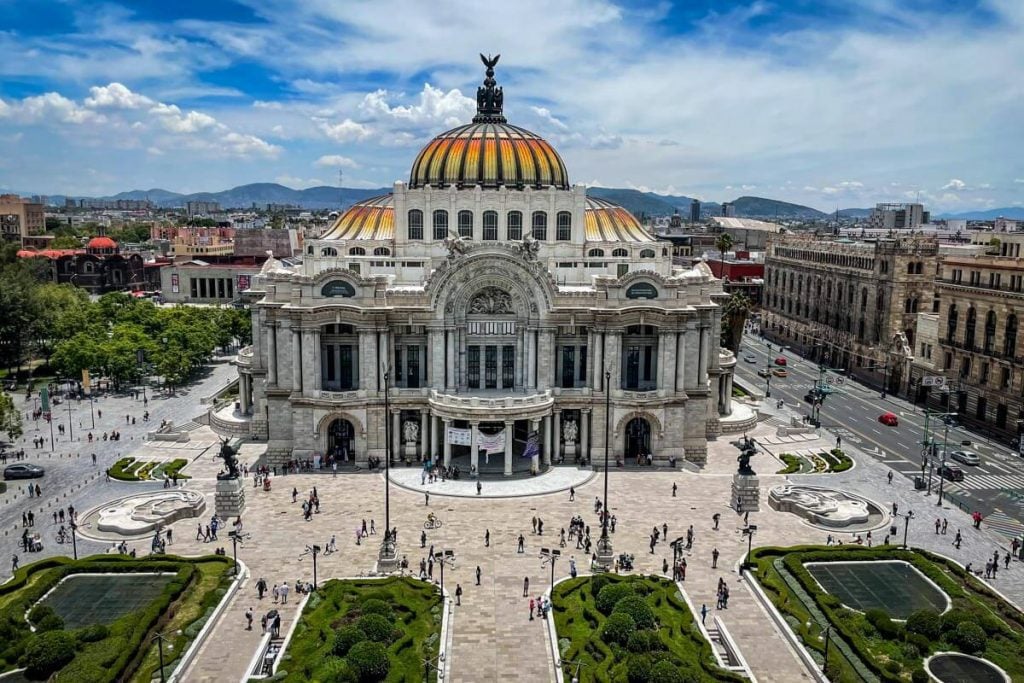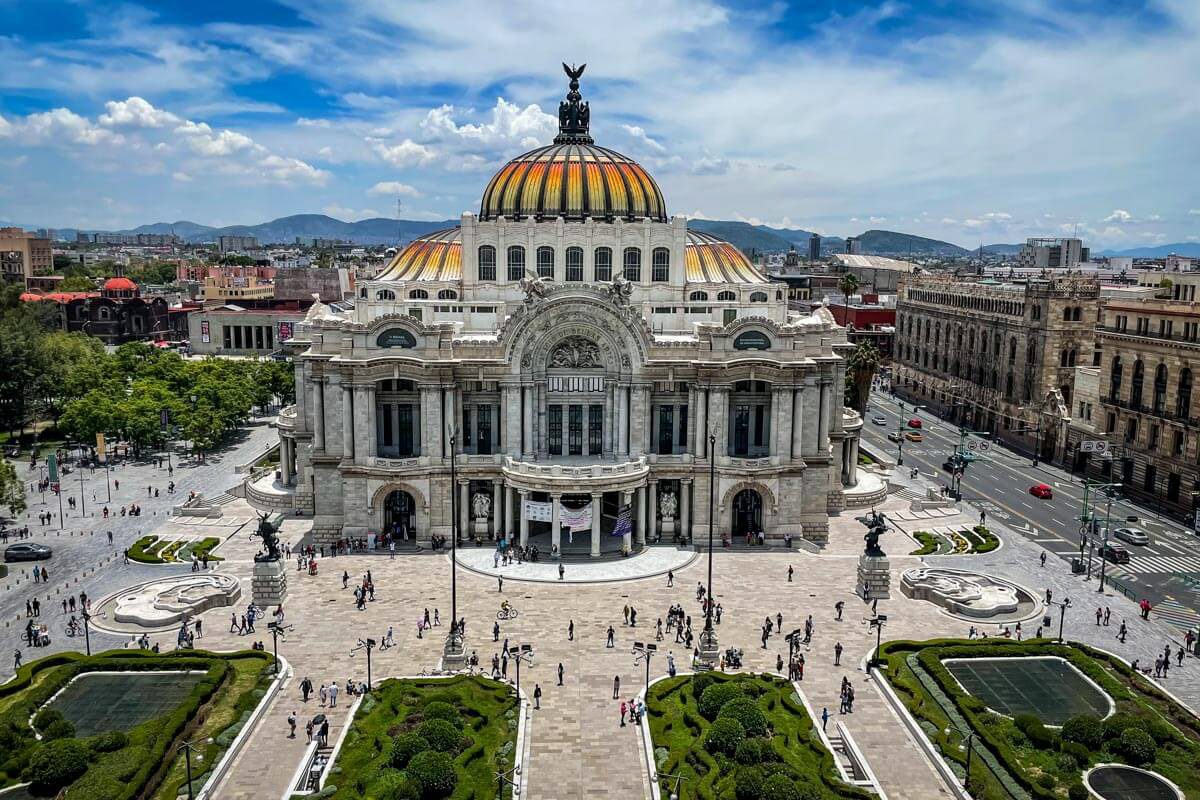 I'm going to start by saying that we never really had any interest in visiting Mexico City. "Polluted" and "dangerous" were the two words we had come to associate with the largest city in Mexico. But we could not be more wrong.
When we started planning our trip to Mexico and Central America, we kept hearing other travelers rave about Mexico City, and we finally started to listen. They told us of cute neighborhoods, friendly locals and some of the best food in the world.
We decided to give Mexico City (aka CDMX: Ciudad de México) a shot, and we're so glad we did. We fell hard for this modern and beautiful metropolis and were overwhelmed by just how much there is to do.
Article Contents
---
Be sure to download our complete packing list for Mexico! It's packed with good suggestions and insider tips to help plan your Mexico vacation. And it's completely FREE, so why not!?
---
First things first…
Why should you visit Mexico City?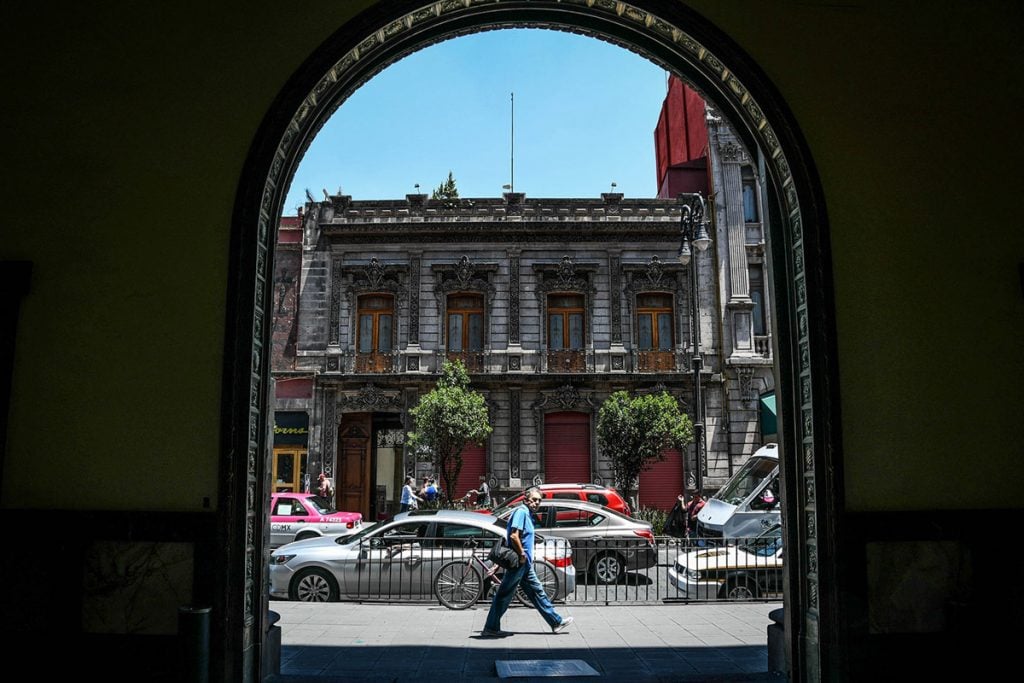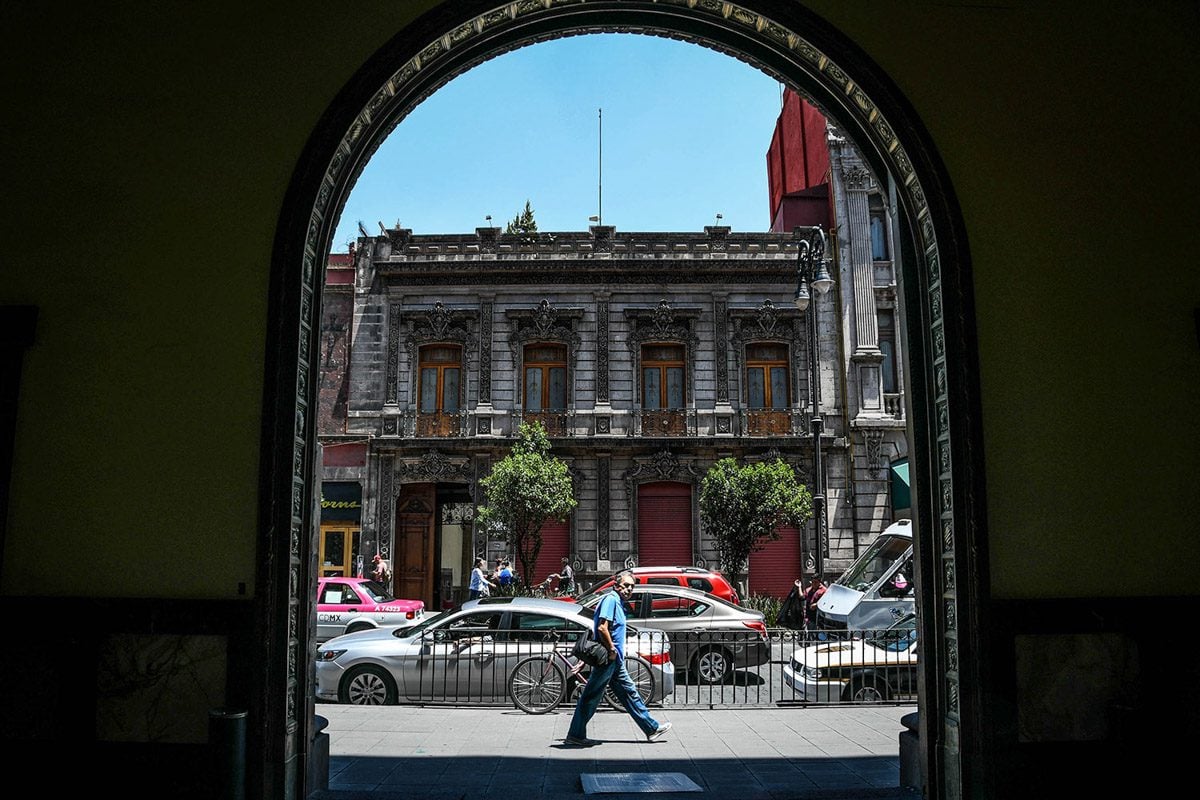 I'm going to cut straight to the case: Mexico City has a somewhat bad reputation. When we told friends and family we were traveling to Mexico City, many of them stared back and asked, "Why?! Isn't it dangerous and polluted?"
After having some time in Mexico City, we can confidently say the negative reputation of CDMX is quite undeserved. Just like any big city, there are dangerous areas and neighborhoods that are nicer than others. But there is so much more good to this city than bad.
However, if you need a little convincing, here are our top reasons to visit Mexico City:
1. Getting there is easy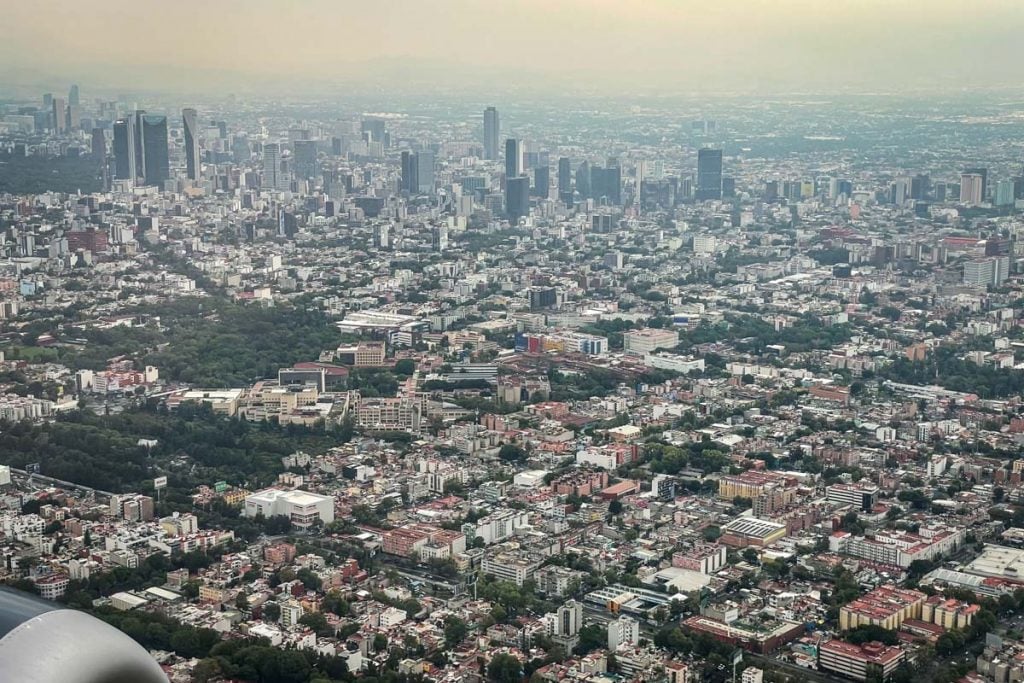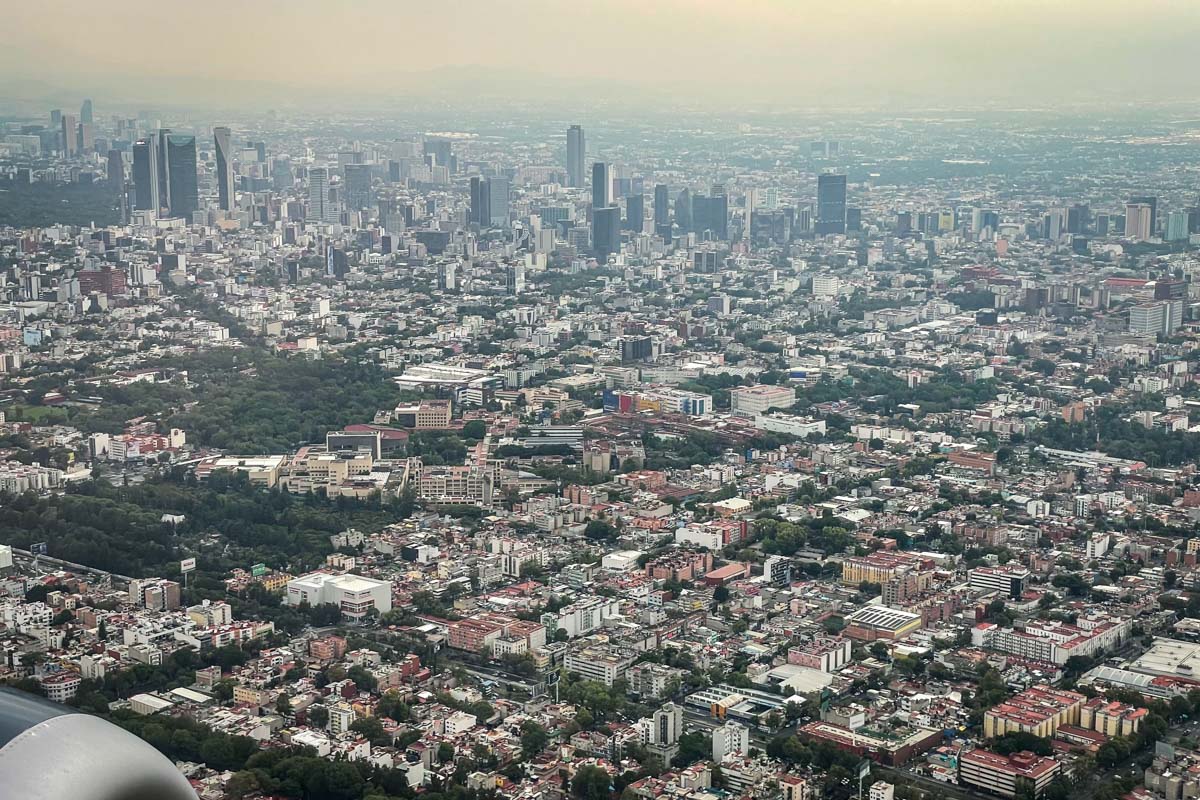 Some destinations take a bit of effort to get to: Three flights, a bus, then a ferry. But Mexico City is pretty straightforward. Once you've arrived at the airport, you're looking at just a short taxi ride to your hotel and you're set. No more hopping about!
2. There's lots to do
Mexico City literally has endless amounts of things to do. It's almost to the point that it's overwhelming. (Just keep reading and you'll see what we mean!)
Whether you have 3 days to explore CDMX or 2 weeks, you'll find plenty to fill your time.
3. It's full of green space
I don't know why, but I wasn't expecting much green space in Mexico City. I guess I just imagined it being more concrete than green, but I was incredibly surprised to find neighborhoods where giant flowering trees shade the sidewalks.
Like much of Latin America, parks are a large part of the culture, so of course there are plenty in Mexico City. And the parks in CDMX are so, so green! If you enjoy exercise on your travels, Mexico City is actually a great place to go for a run alongside locals (in one of the many parks!) or rent a bike and work up a sweat.
4. The food. THE. FOOD.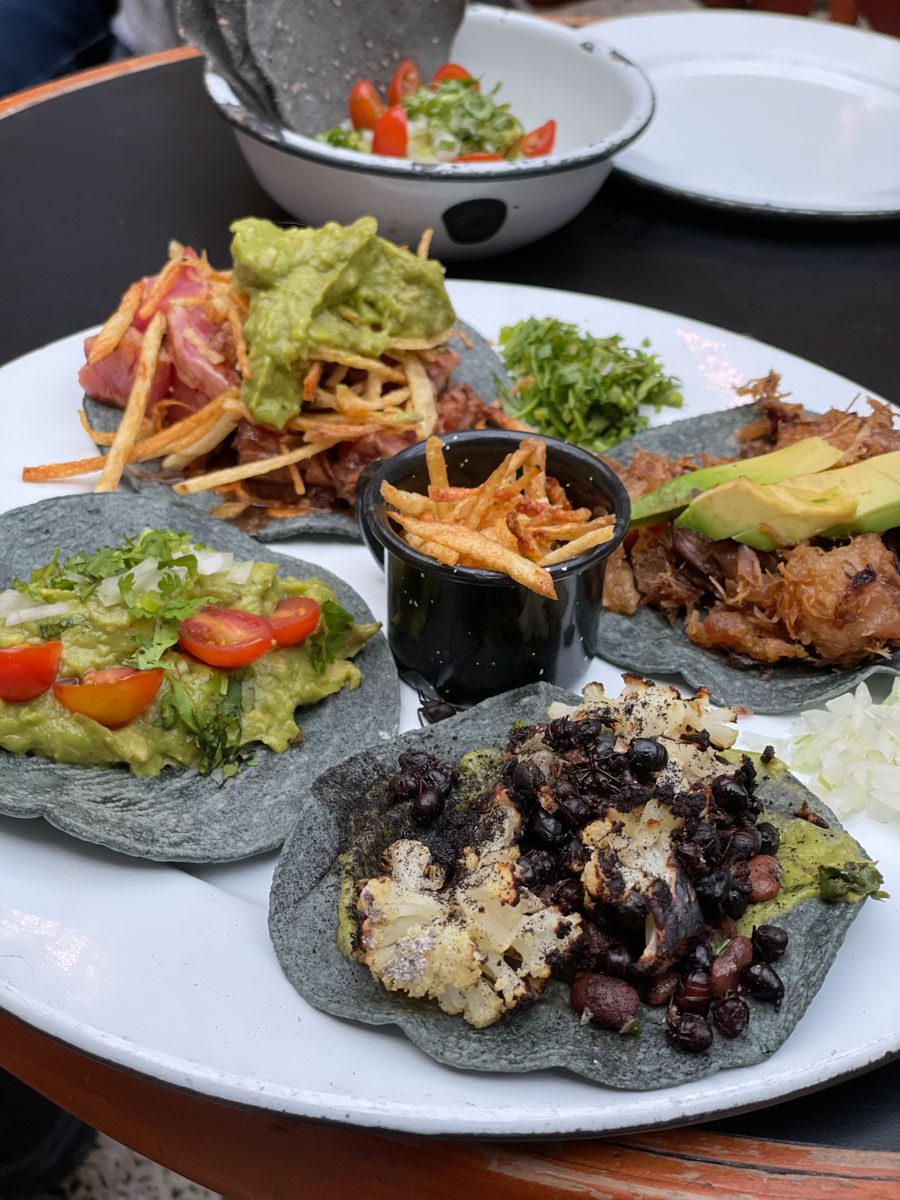 Mexico City has been listed amongst the top cities for food in the world, and it's no wonder why. With a mix of street food and fine dining, as well as local eats and international cuisines, you could eat every meal at a different restaurant for a year and not exhaust your options.
5. It's inexpensive
If you're traveling on a budget, Mexico City is a good destination. Though certainly not the cheapest place in Latin America (it is a super modern city after all), it is affordable. You can find a nice hotel for less than $80 and can enjoy a delicious meal for just a few dollars.
6. It's actually quite safe
There's this rumor going around that Mexico City is unsafe. And while I'm sure this reputation is founded in some truth (every major city has dangerous neighborhoods and crime), there's no reason to be scared while visiting Mexico City.
There was no point during our time in Mexico City that we felt unsafe at all. In fact, we've visited parts of America and Europe where we felt far less safe than we did in Mexico City.
But I know traveling in a pair can feel different than going solo, so asked our Director of Content, Amanda, for her input after she spent months living in Mexico City as a woman on her own. When I asked if she felt safe there, she replied, "Absolutely!"
"I walked around by myself all the time, asked total strangers for help, took the metro alone (safety tip: the front two cars are for women and children only!), took Ubers by myself, and had no problems whatsoever."
Just like you would in any big city, be cautious of your surroundings, take care of your belongings and you'll be just fine.
7. It's surprisingly clean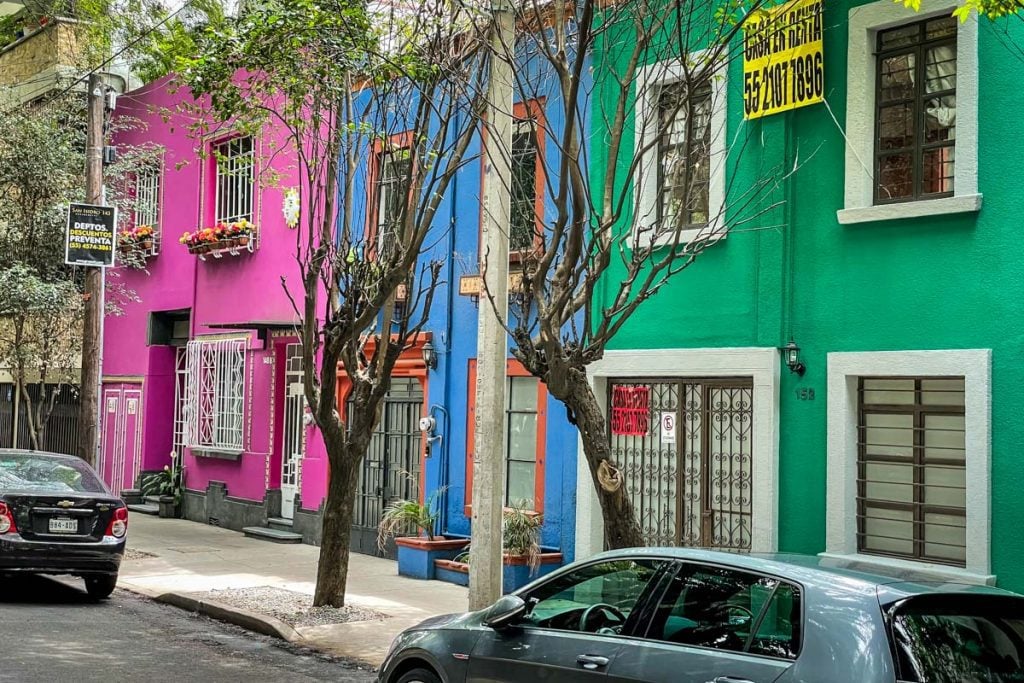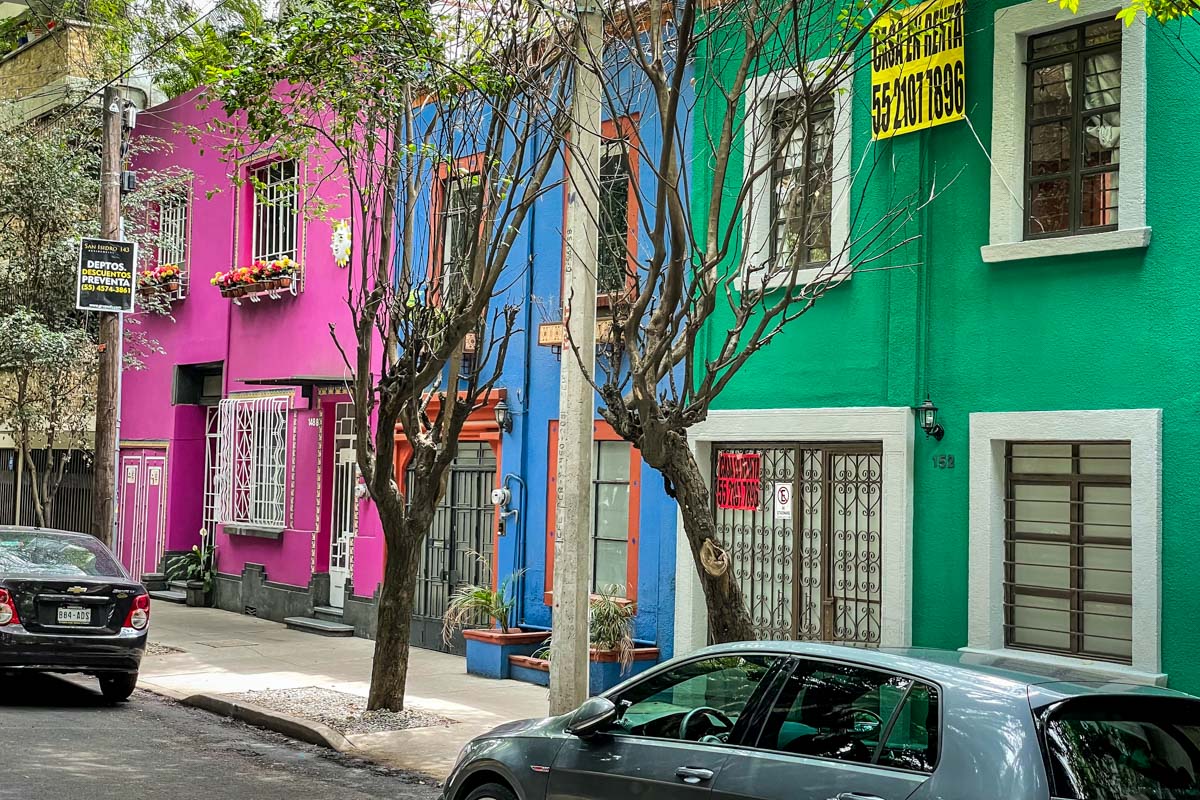 You always hear about Mexico City as being polluted, so I had been picturing a city shrouded in smog, with trash littering the streets. Imagine our surprise when we arrived in CDMX to clear blue skies and streets free of rubbish.
Just like any big city, there are times of the year when pollution is more noticeable, and Mexico City certainly has (lots) of room for improvement, but that said, as a visitor we didn't notice pollution as much as we expected.
8. People are friendly
We found most of the people in Mexico City to be warm and friendly. We asked a few people for directions and were greeted with smiles. Attempting to speak in Spanish does help a bit, but overall the people in Mexico City were friendlier than we were expecting for a big city.
9. The culture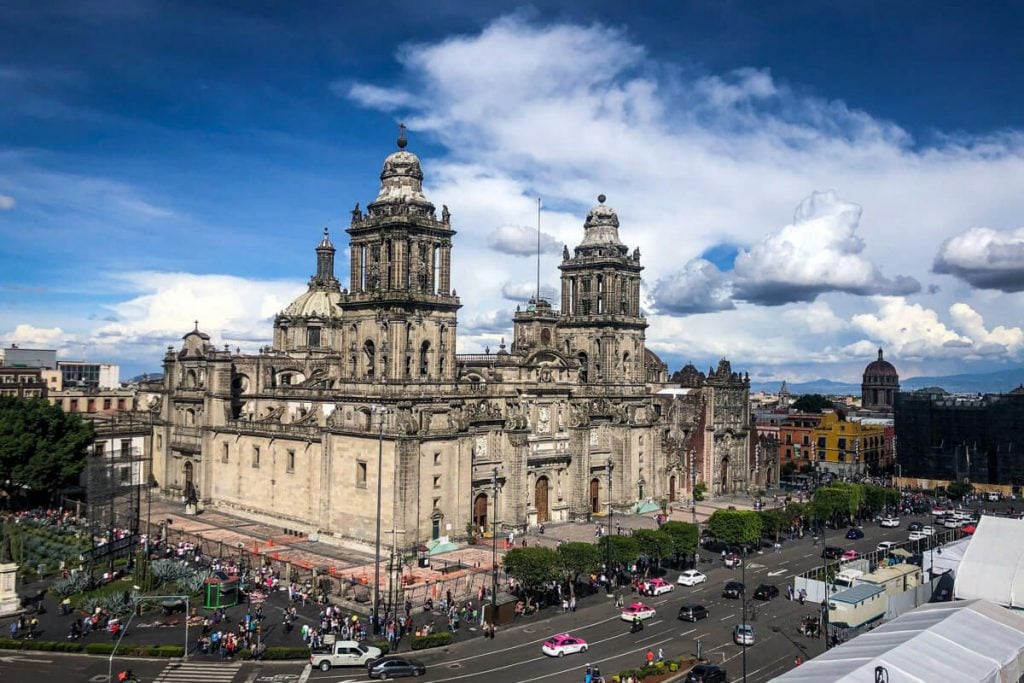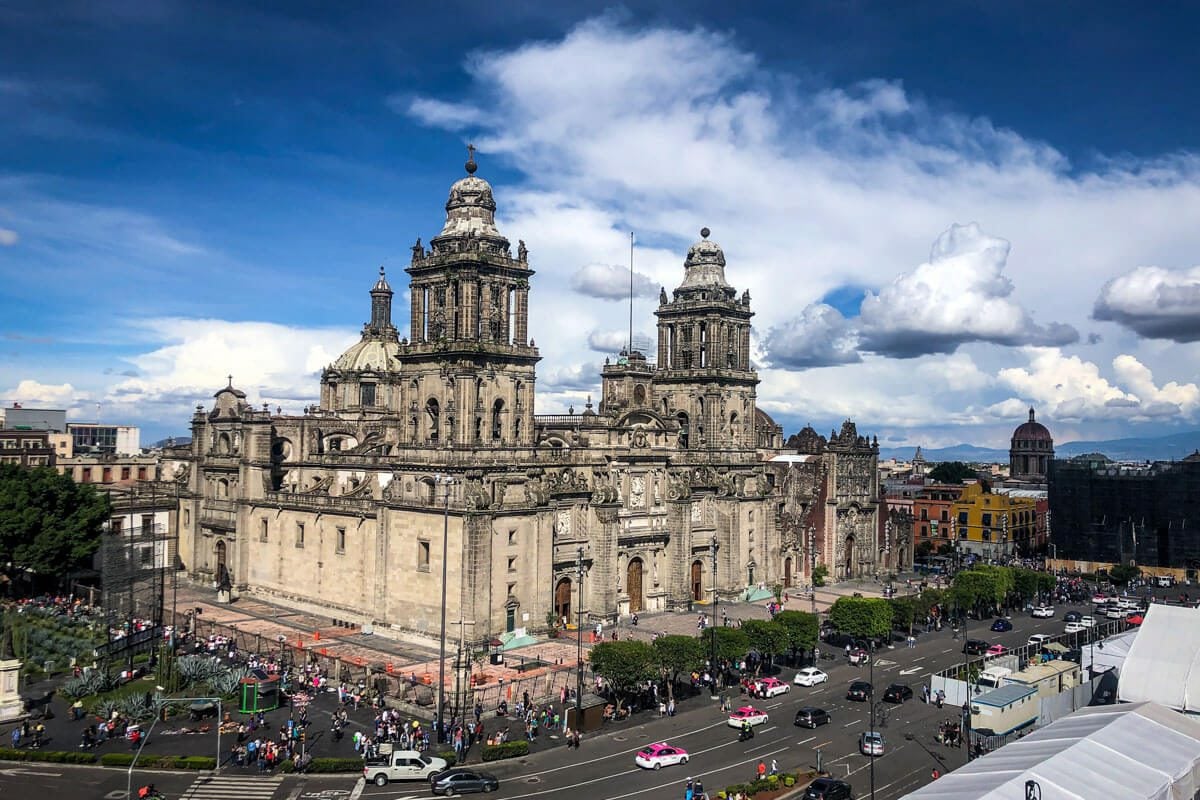 Some big cities feel like they've lost their roots, and truthfully there are some modern, hipster parts of CDMX that feel like they could be in London or Budapest. But if you know where to look, you'll have no trouble experiencing true Mexican culture.
And in addition to traditional culture, there's plenty of arts, music and dance happening in this surprisingly modern city. And the museums… Oh there are so many museums that are actually worth your time!
10. It's becoming increasingly eco-friendly
Mexico City still has a long way to go when it comes to protecting the environment. So do a lot of cities. But there are some cool programs that are nice to support while you're visiting CDMX.
Mexicans consume more bottled water per capita than anywhere else in the world, and to reduce this, water fountains have been installed at metro stations all around the city. The water is purified and safe to drink (we drank it the whole time we were in CDMX and were fine!).
Also, the city has a number of bike share programs, and it is getting easier to explore the city on two wheels, as they have several bike lanes. And there are plenty of vegetarian and vegan-friendly options for food around the city as well.
---
Best things to do in Mexico City
Alright, now that we have you convinced, let's jump right in to the best things to do in Mexico City!
1. Take a Free Walking Tour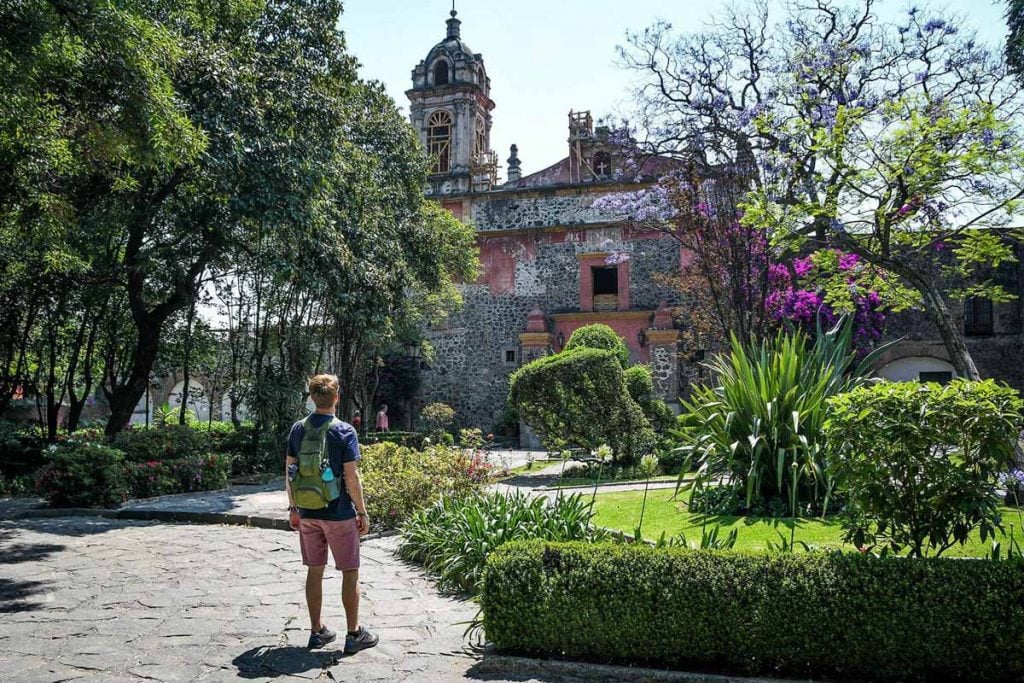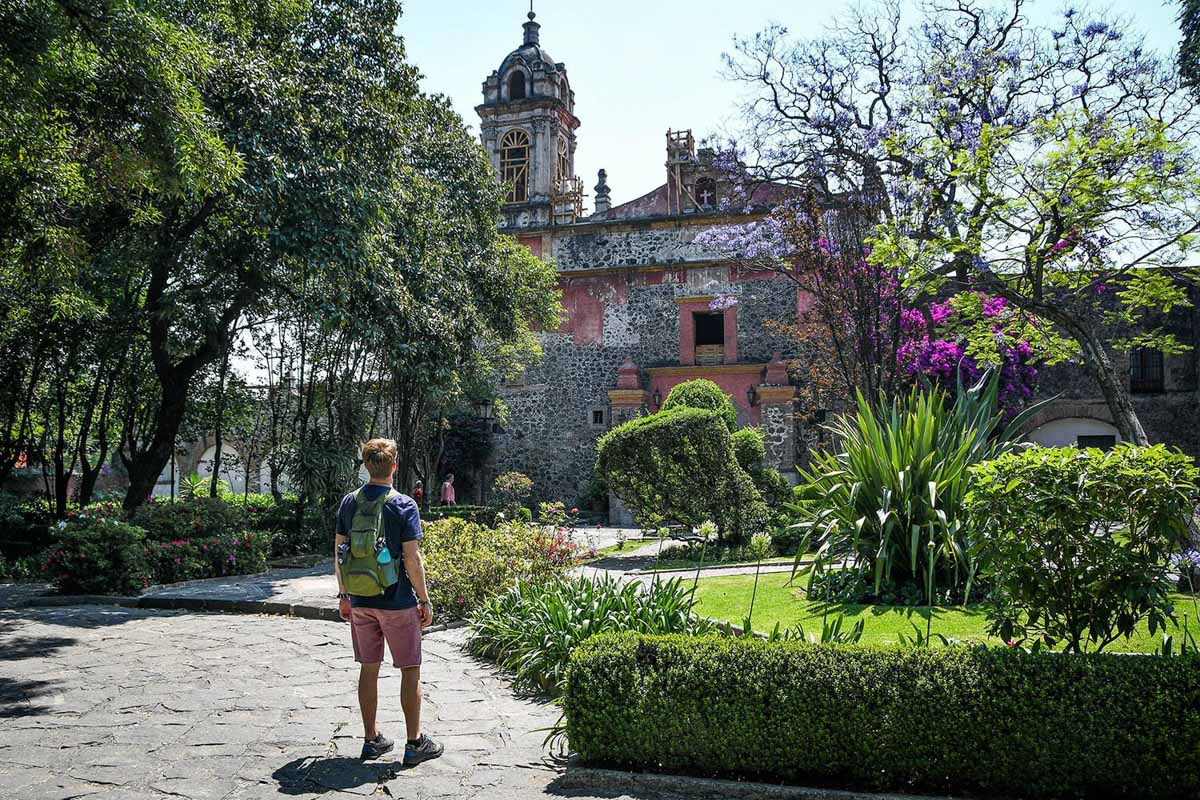 If you've been following our blog for a while, you know we love free walking tours. They allow you to see the most important places in a city, as well as some hidden gems you'd never discover on your own. You can also learn some of the stories that guidebooks don't tell you and meet fellow travelers.
There are a handful of different free walking tours available throughout the city. You can choose the neighborhood you prefer, like the Historic Downtown, Coyoacan, or La Roma.
There are a handful of free tours listed here. Otherwise, we'd suggest checking Guruwalk as well.
Important note: Free walking tours are meant to be accessible to travelers on all budgets. However, the guides make their living on tips. So if you enjoyed your tour, be sure to tip your guide!
2. Go on a food tour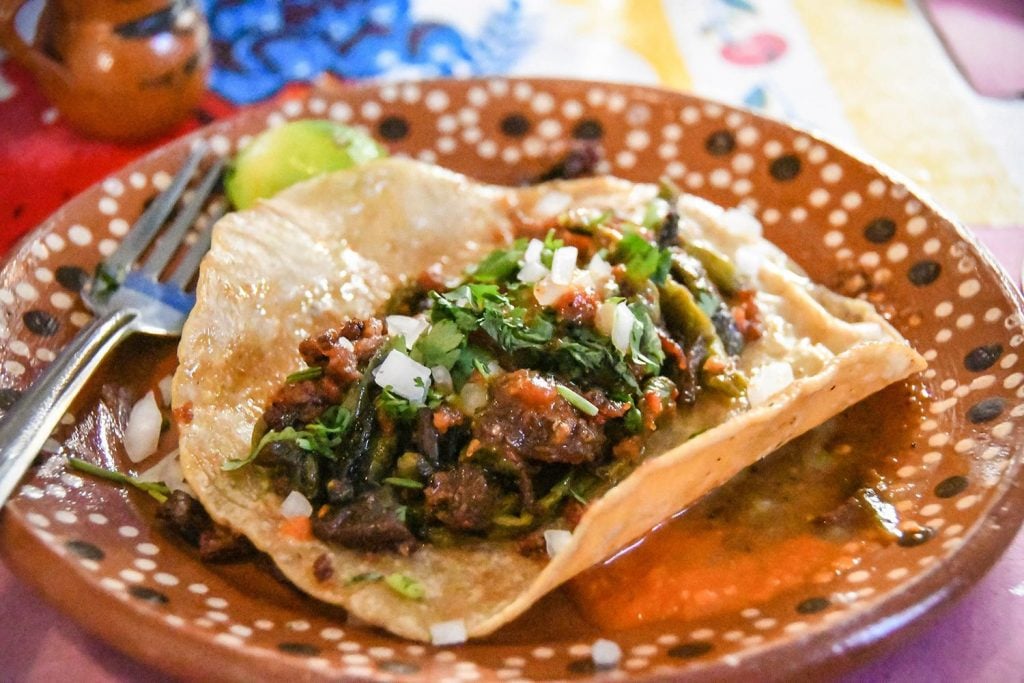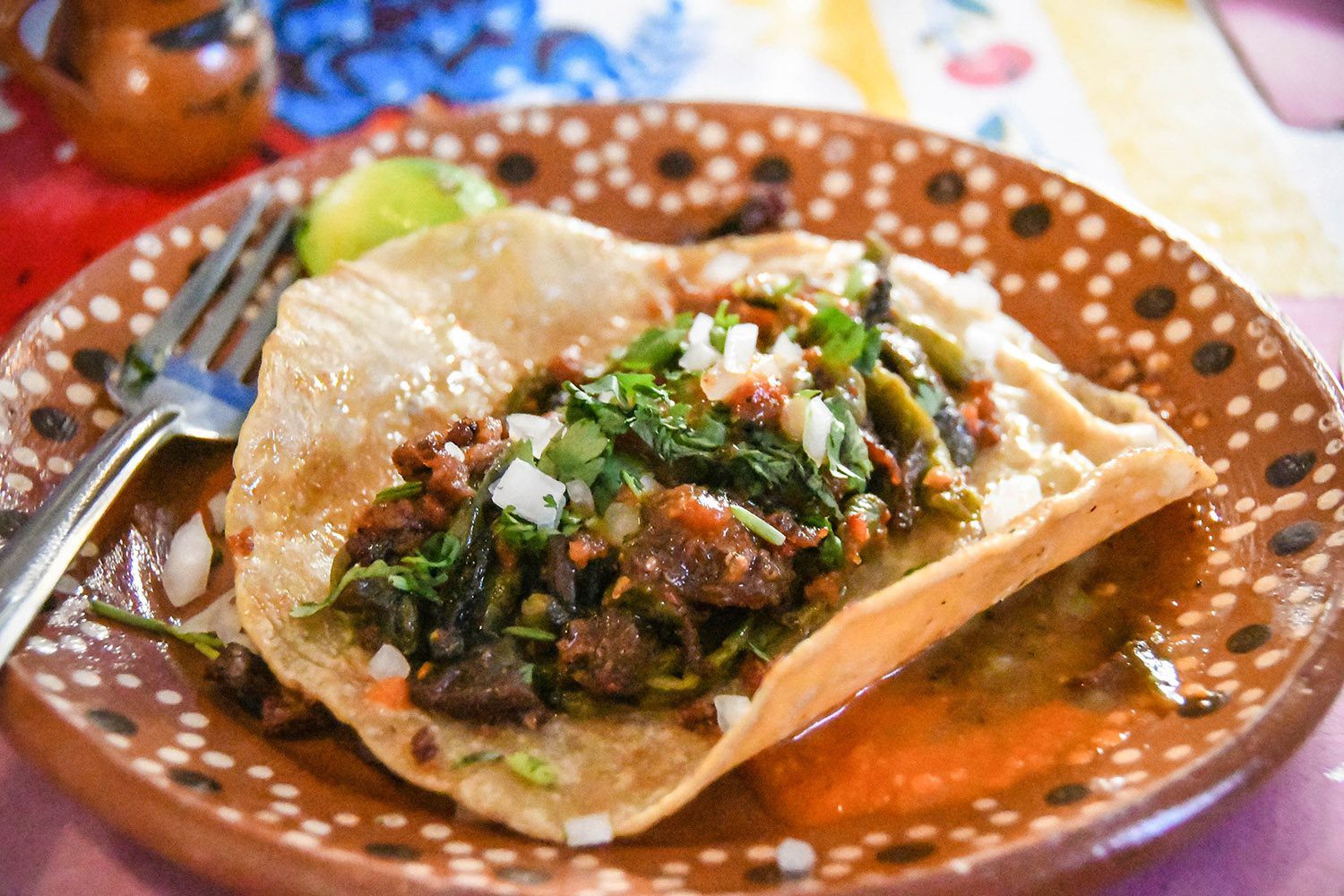 There is no better place in the world to get your fill of Mexican food than in CDMX!
And what better way to get to know a place than through its food? That's why we love taking food tours on our travels. Not only do you get to try all sorts of delicious bites, but oftentimes you can learn a lot more about a place from your local guide.
We had a great time with Mexican Food Tours and wrote all about our experience on a traditional Mexican food tour in Mexico City.
However, if you're on a budget, you may want to DIY your own…
We'd suggest choosing one neighborhood where you can explore and try a bit of everything without filling up too quickly on a full meal. (This works best at small shops or stands instead of sit down restaurants.)
Be sure to try tacos al pastor, tortas, quesadillas (different than what you might be used to!), flautas, tamales, pozole, churros, aguas fresca, horchata and anything else that makes your mouth water!
And if you're wondering what the heck some of those things are, give our ultimate guide to food in Mexico a read through before you go.
3. Catch a Lucha Libre wrestling match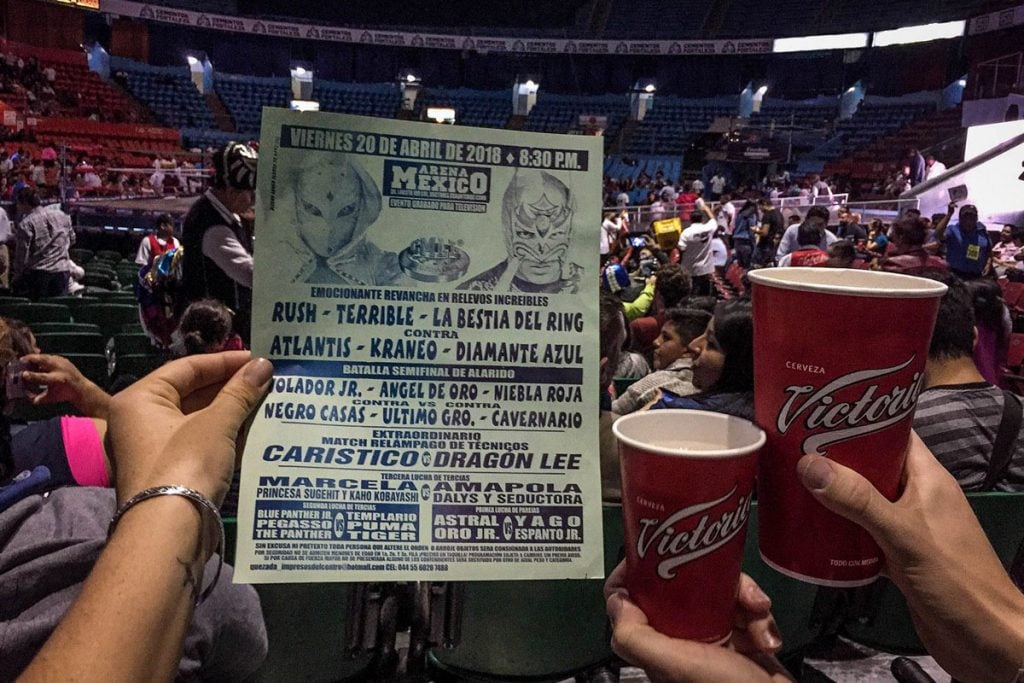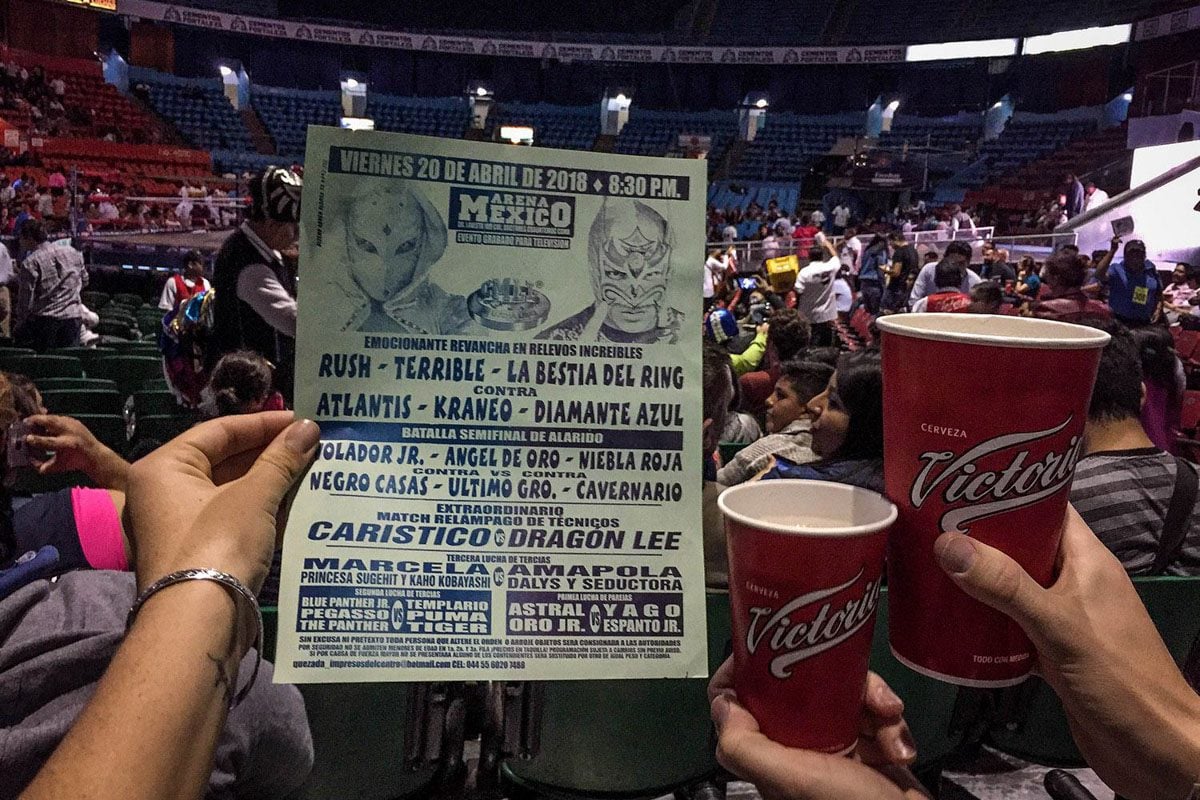 Before arriving in Mexico City, we'd heard that going to a Lucha Libre show was one of the top things to do in Mexico City at night, but we couldn't find much information about going to one of these Mexican Wrestling shows on your own.
It seemed as though most people writing about this experience went with a guided tour. And while that might be a good option if you're traveling solo and want a bit of camaraderie, it is totally doable (and safe!) to go on your own!
We figured it out and created a whole article on how to book and watch a Lucha Libre match on your own.
We loved our experience and had way too much fun watching the *bad* acting and acrobatics while sipping beers in the stands. And the best part, the whole thing only cost us about $10 USD per person, which was considerably more affordable than the tours!
4. Rent a bicycle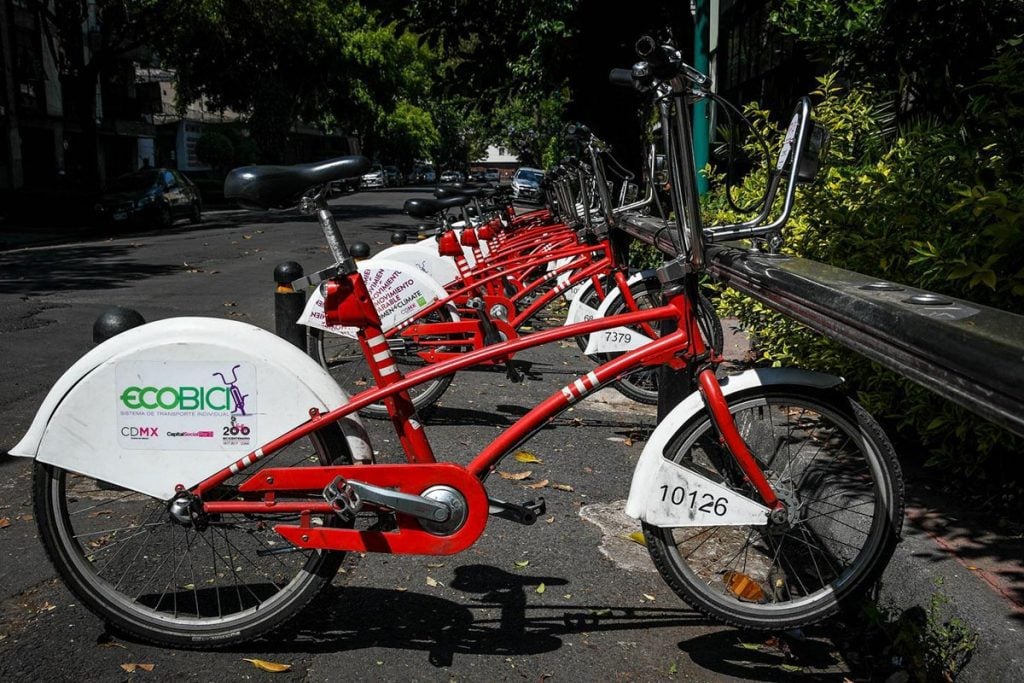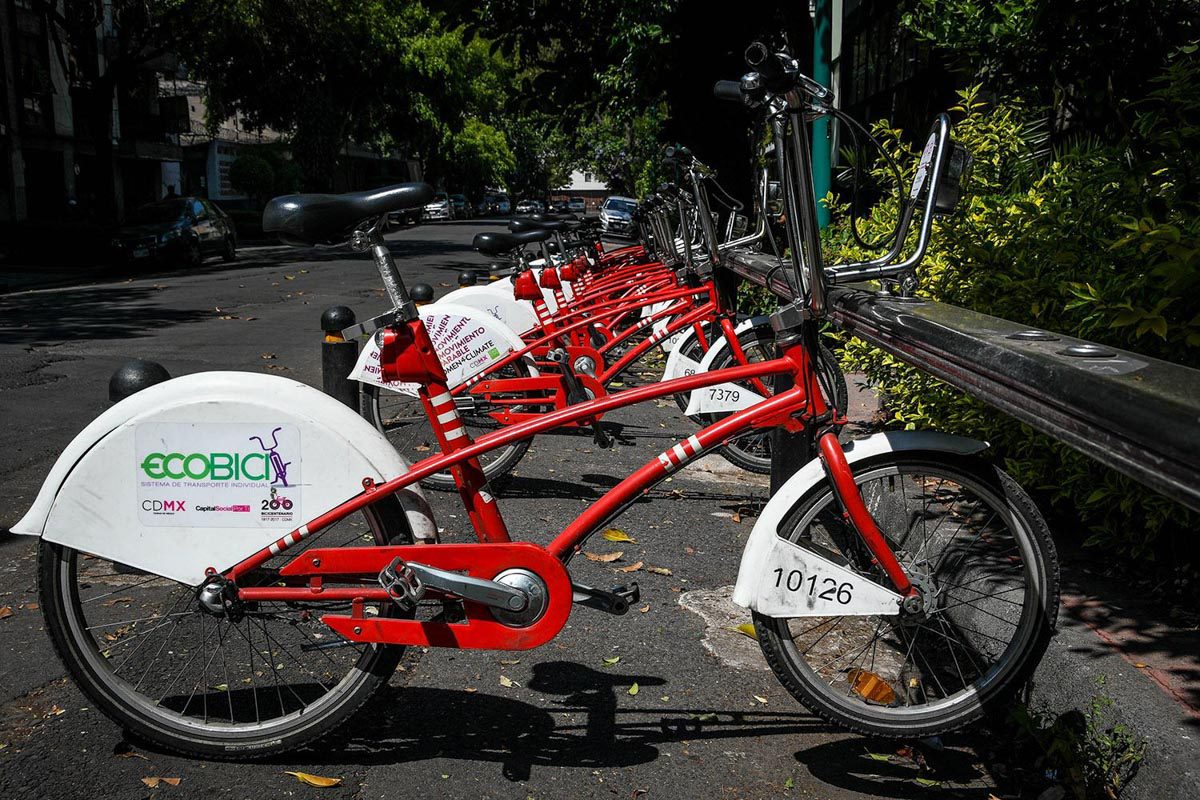 You may be surprised to find just how bike-friendly Mexico City really is. You'll find affordable rental stations on just about every block in the city's center as well as dedicated bike lanes on the major roads.
Sign up for Ecobici Bikes, the government-subsidized bike share program, and get a one-day membership for just $99 pesos. With the membership you can use any of the bikes in the bike-share program, and travel up to 45 minutes for free. You can take as many 45-minute rides as you want, but if you go over, you will be charged a little fee.
Getting around by bicycle is not only easy and affordable, it's one of the fun things to do in Mexico City.
If you happen to be here on a Sunday, join the crowds riding their bikes down the Paseo de la Reforma. This is typically one of the most congested streets in CDMX, but it is closed to all motorized vehicles every Sunday from 8 a.m. to 2 p.m.
This government-backed initiative is meant to encourage residents to get outside and lead a more active lifestyle. You'll see hundreds, if not thousands, of locals and tourists alike taking over the street on bikes, rollerblades, and on foot.
5. Check out the markets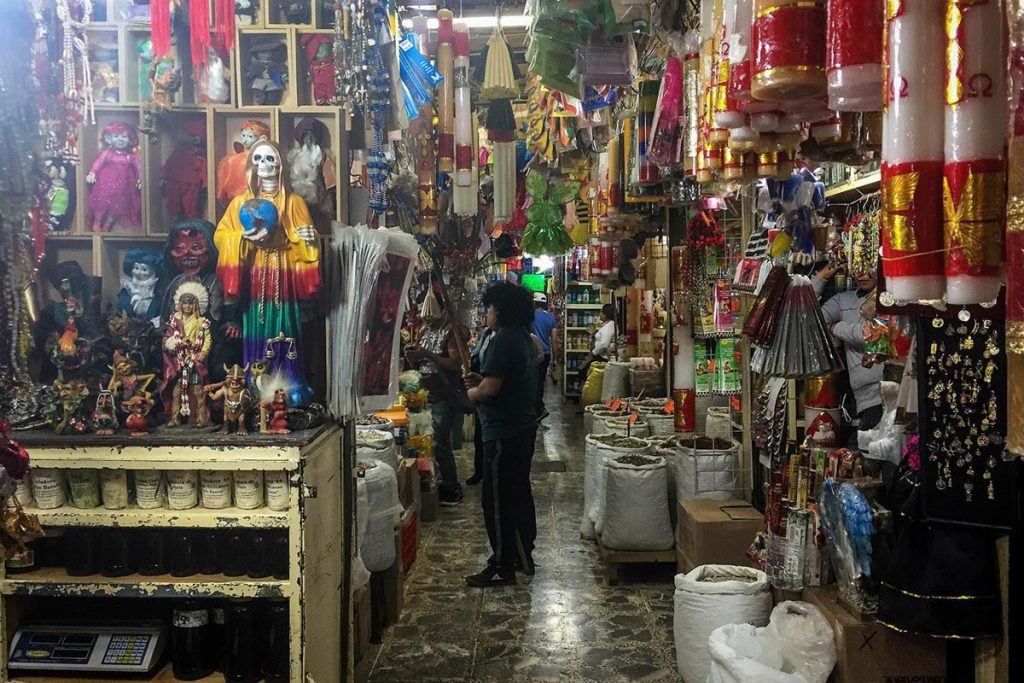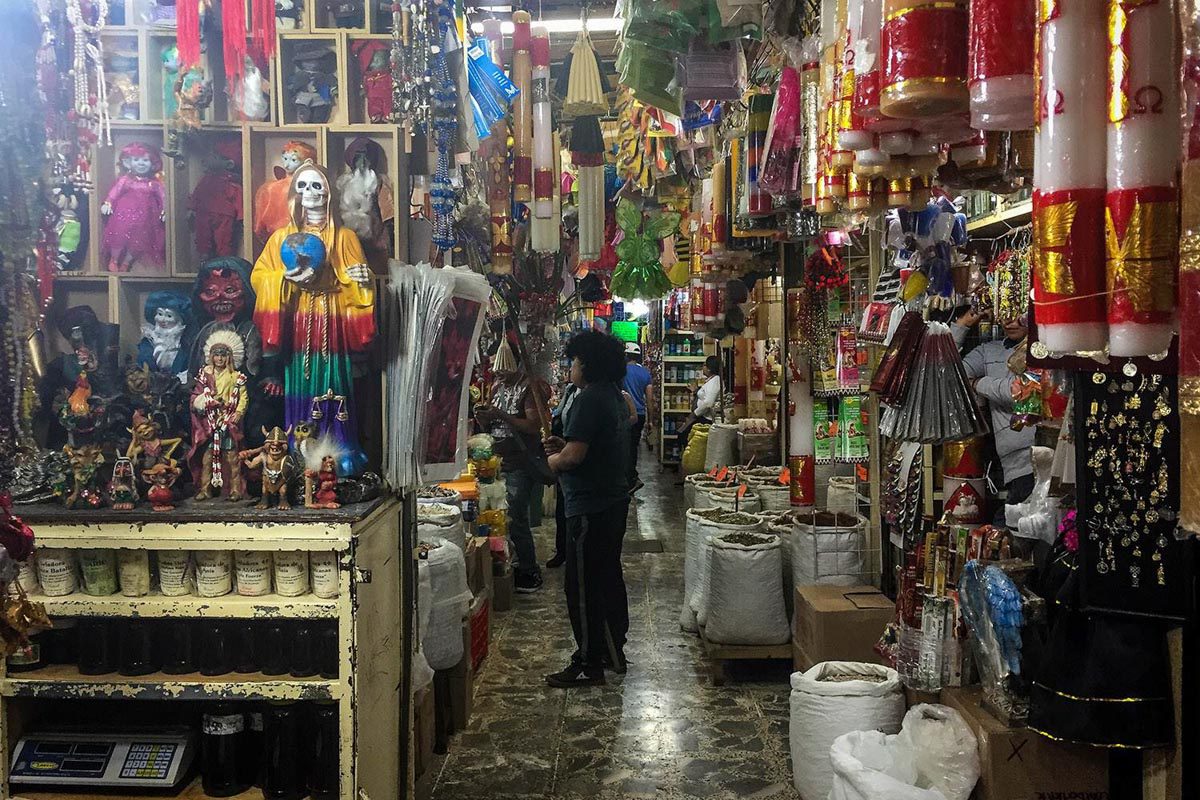 Visiting local markets is one of the best ways to get a glimpse into the true culture of a place and Mexico City has incredible markets that are well worth checking out.
Here are some of the best markets to peruse when in Mexico City:
Mercado de San Juan: Situated near the historic center, Mercado de San Juan is known for its selection of exotic meats, like crocodile and wild boar. Just wandering through and people-watching is an experience!
Mercado de Artesanal Mexicano: This handicrafts market is the perfect place to find souvenirs. With an assortment of handicrafts, pottery, clothing and textiles, we encourage you to walk through once and see all the vendors before making any purchasing decisions.
Coyoacan Market: This meat and produce market is a great place to stop to grab a fresh juice and taste the local speciality, Tostadas de Coyoacan.
Sonora Market: If you'd like more of a local experience, head to the Sonora Market. The appeal of this market isn't what is being sold, but instead the local culture you'll witness here as opposed to some of the busier more touristed markets.

Note: Beware that this market begins from the metro station and it can be quite a maze to get through!
6. Bike around Chapultepec Park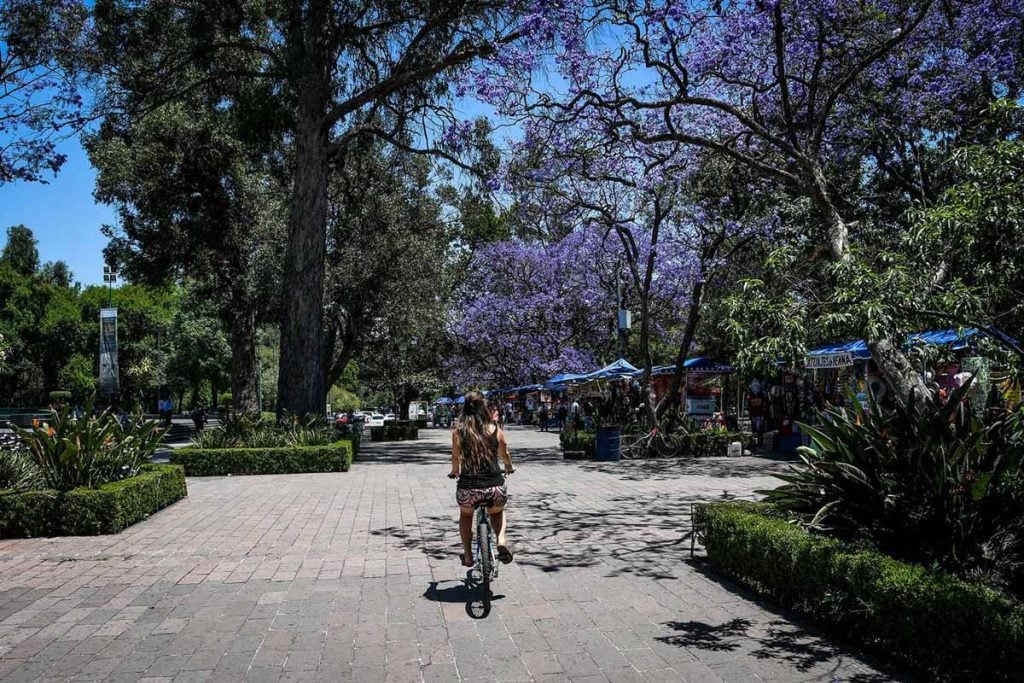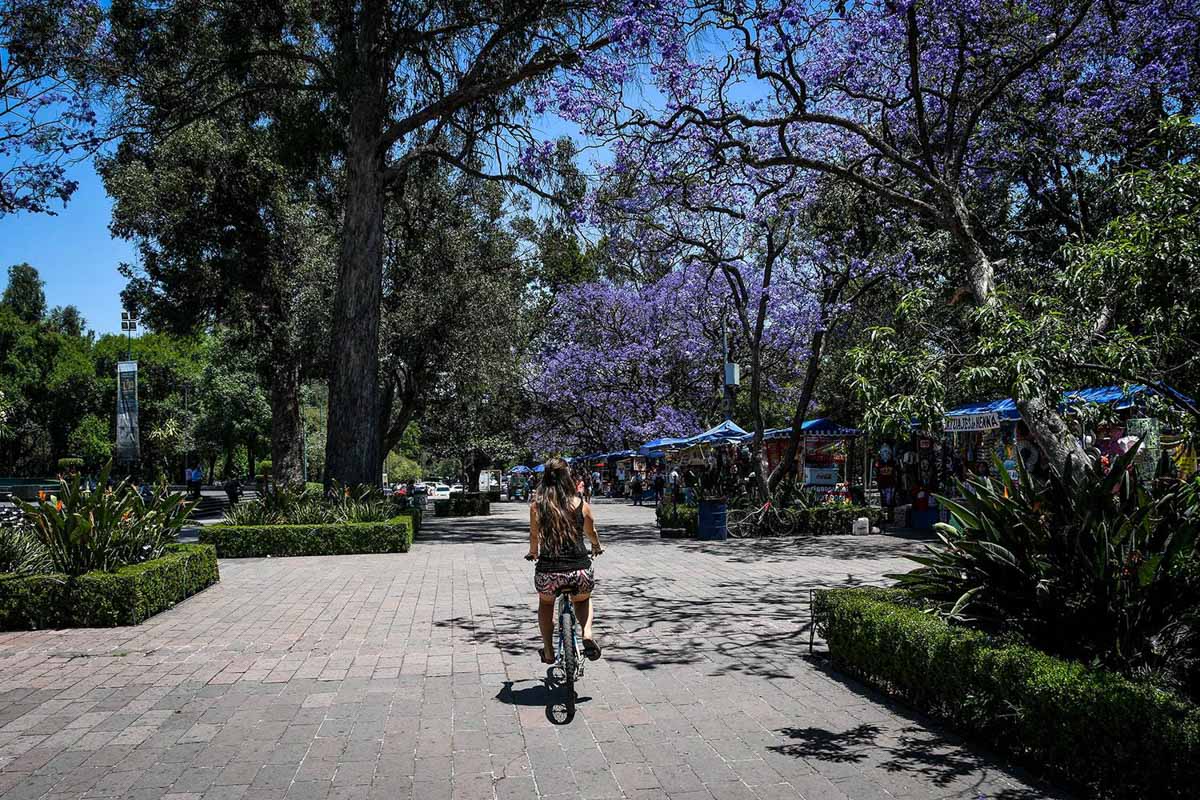 We already mentioned one thing that sets Mexico City apart from other capital cities is the abundance of green space and Chapultepec Park is at the center of it all. As one of the largest city parks in the Western Hemisphere, the park is considered the "lungs" of CDMX.
Measuring in at just shy of 1,700 acres, it's twice the size of NYC's Central Park, encompassing a lake, forest, 3 popular museums, and even a zoo.
There is so much to explore in this park you could easily spend a full day here, enjoying snacks from the street vendors, renting a paddle boat in the lake or lounging in the shade with a picnic and a good book.
With plenty of paved paths and walkways, it's no wonder the best way to experience this park is by bicycle.
You can peddle around and pay a visit to the Official Residence of Los Pinos, or the Mexican President's House. The main attraction of this park, however, is the castle that sits atop the park's highest hill…
7. Explore Chapultepec Castle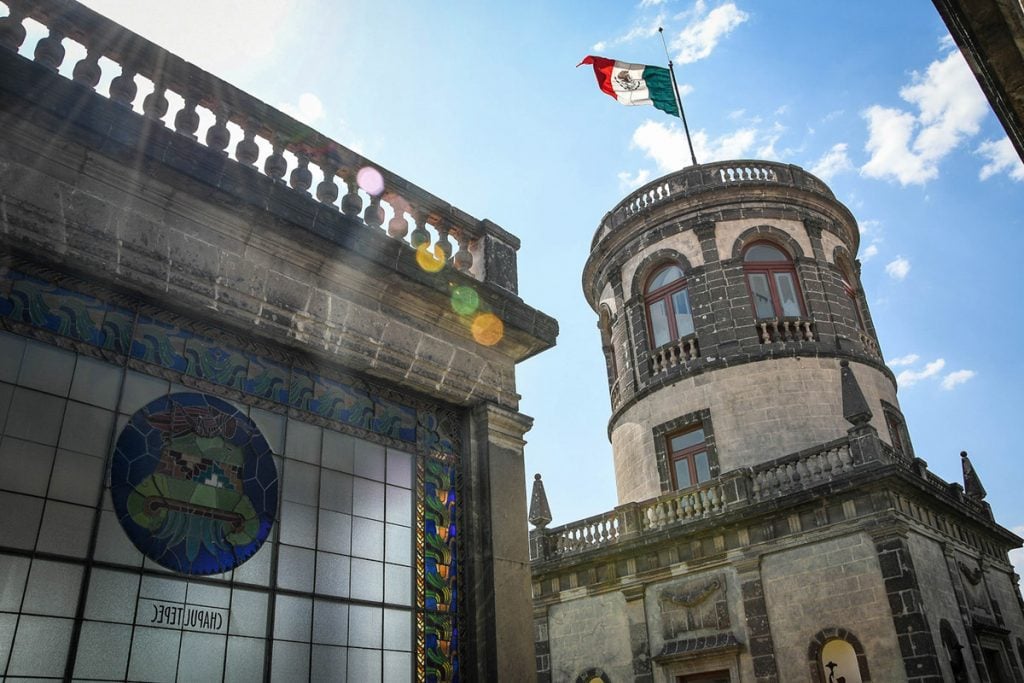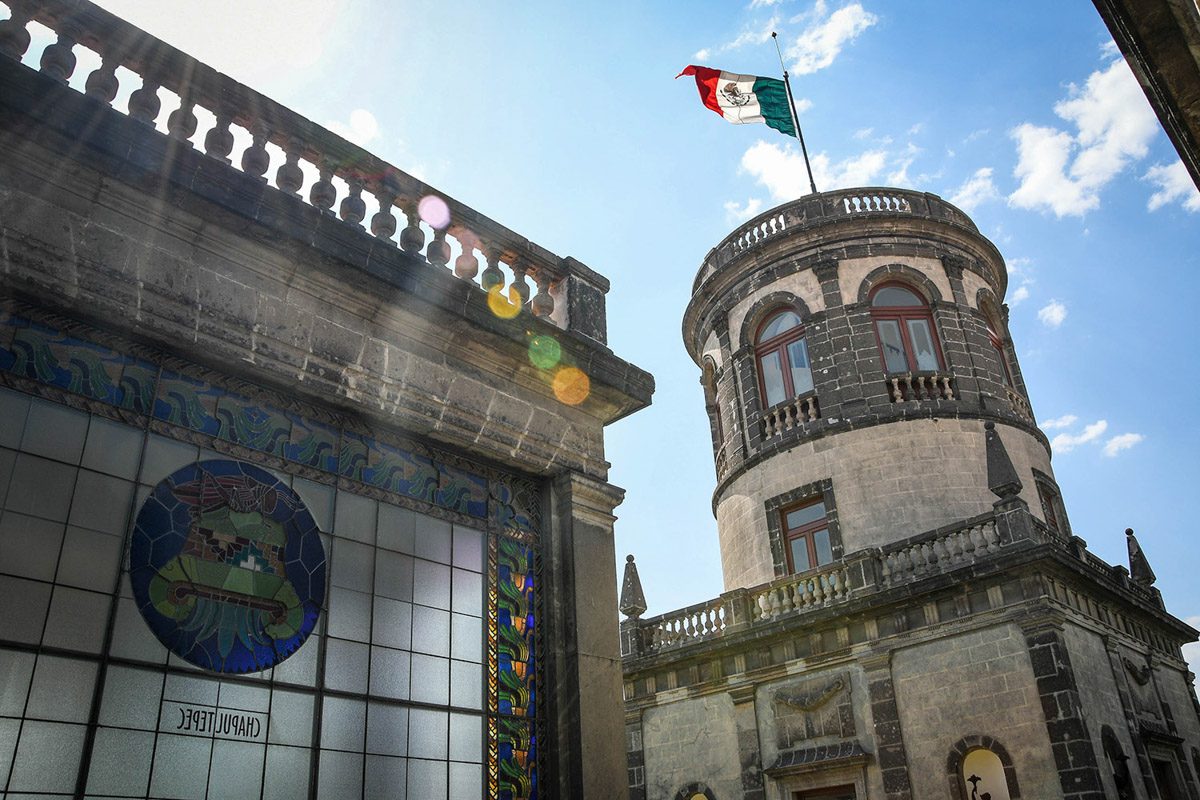 Perched atop the tallest hill in the park, Chapultepec Castle (Castillo de Chapultepec) is a worthwhile visit, even if just for the sweeping city views.
Once the home to several Mexican Presidents, the castle is the only royal castle in all of North America. Inside, you'll find rooms preserved as they were in the 18th century. It is quite impressive, especially the stairways and the rooftop garden.
Much of the existing décor can be attributed to Emperor Maximilian I, an Austrian archduke who reigned as the only Emperor of the Second Mexican Empire from 1864 – 1867. Maximilian designed the castle to embody the neoclassic style that was popular in Europe at the time of his reign.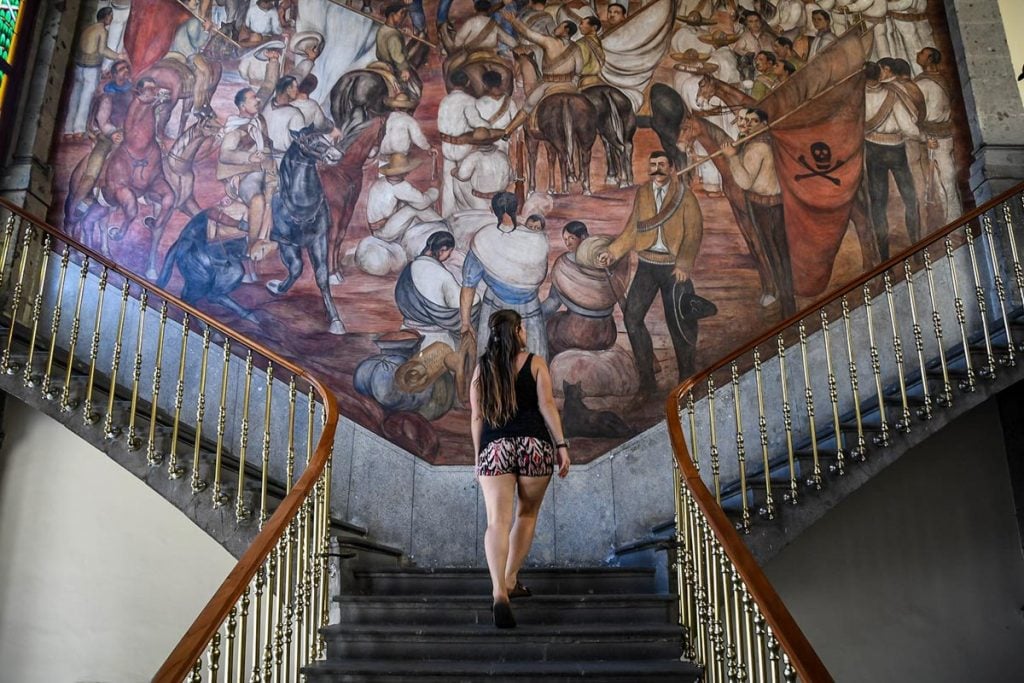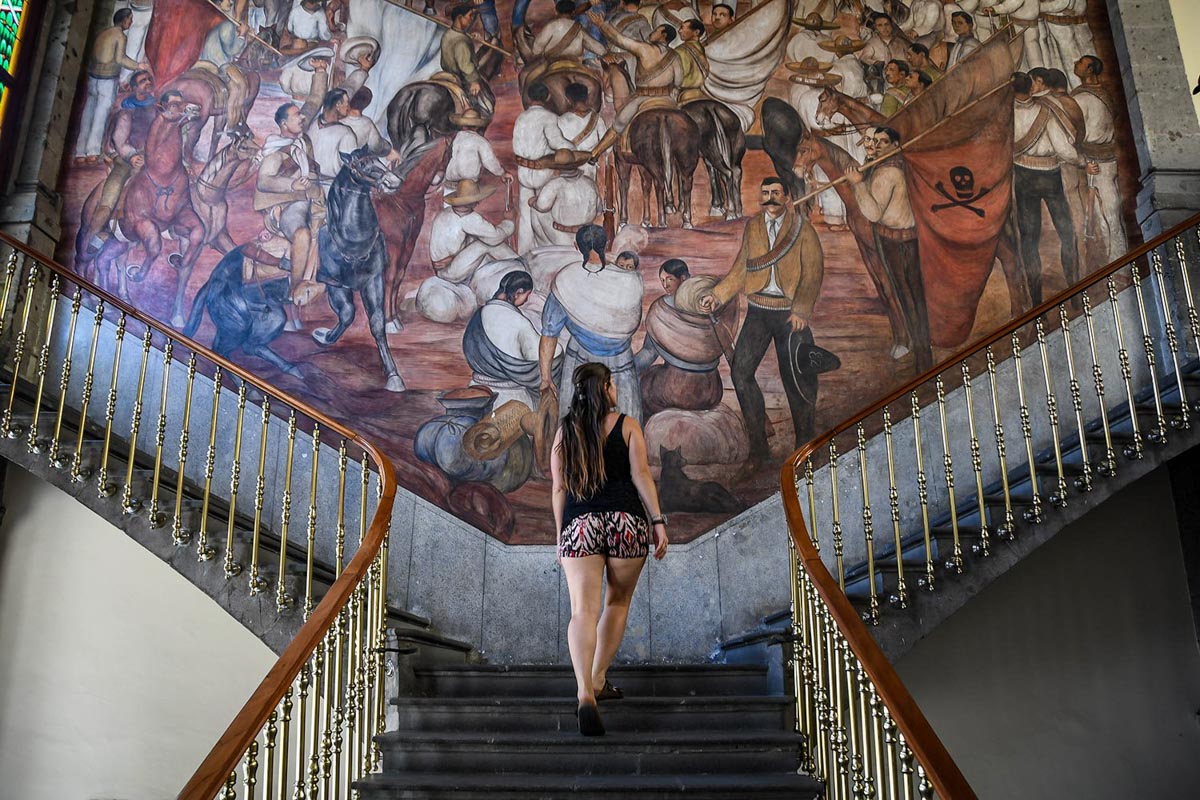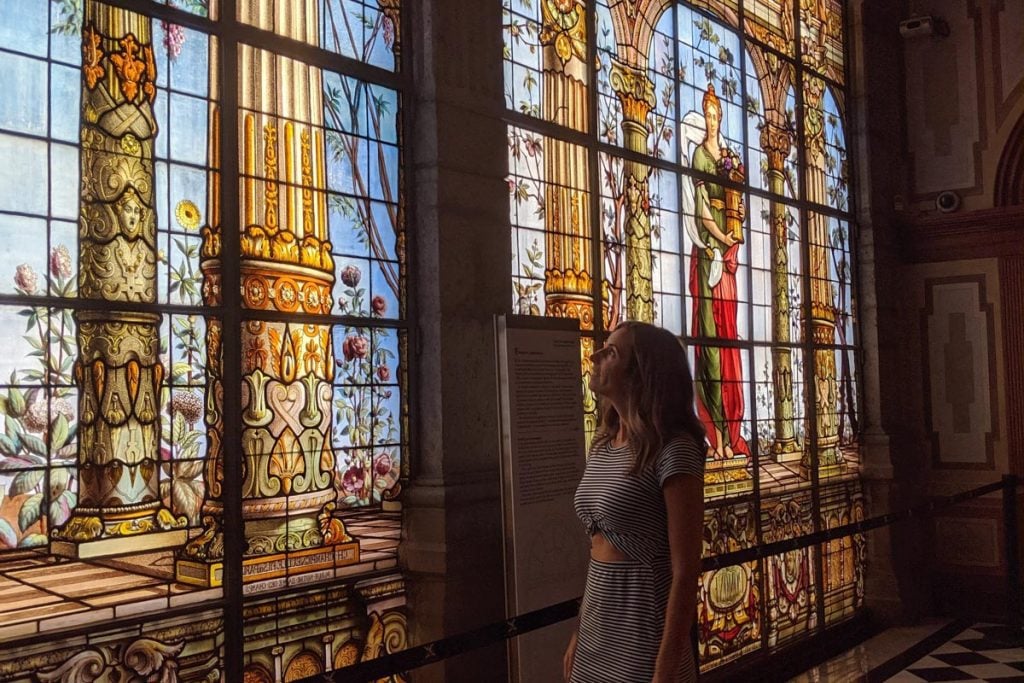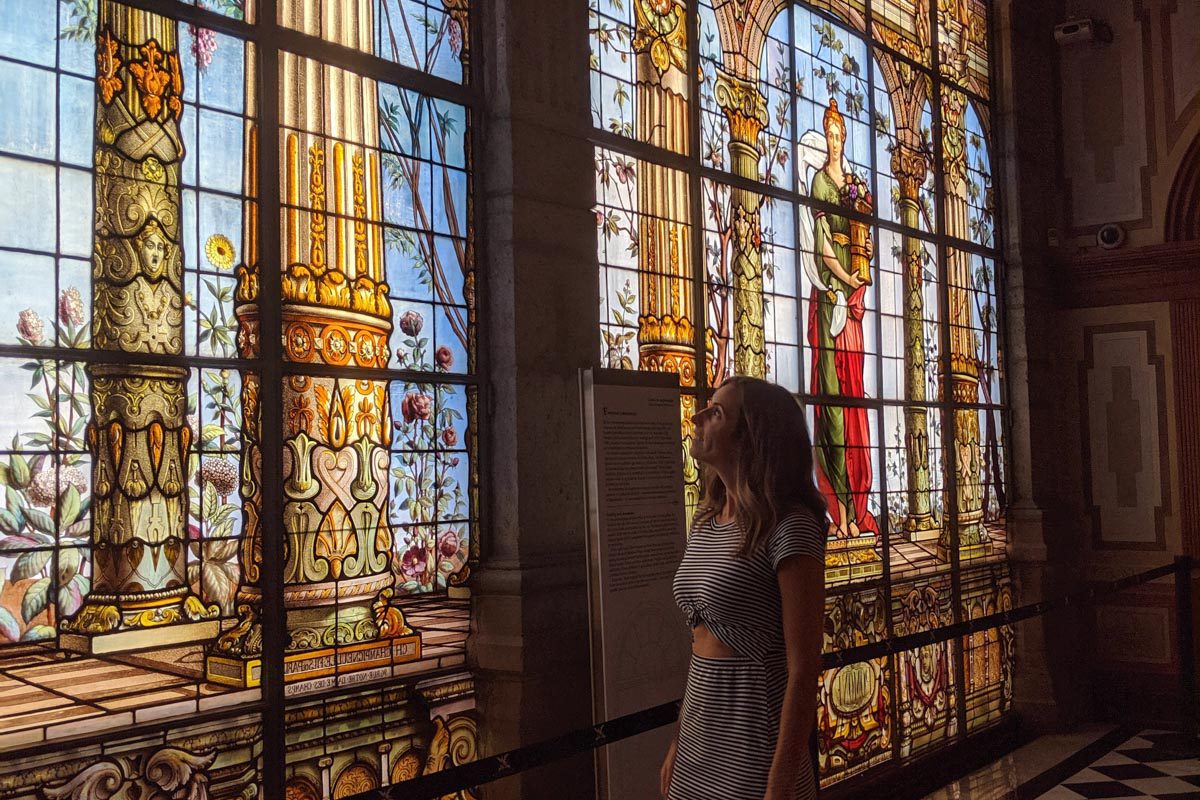 Be sure to wander through the onsite museum that houses more weapons than you'll be able to wrap your head around.
Tickets can be purchased at the ticket booth at the bottom of the hill. Be sure to allow at least 45 minutes to climb the hill, see the castle and walk back down. Add more time if you get the audio guide or want to snap some photos.
Entrance Fee & Hours: 80 MXN. Open Tuesday – Saturday 10 a.m. to 5 p.m., closed Sunday & Monday.
8. Marvel at the Anthropology Museum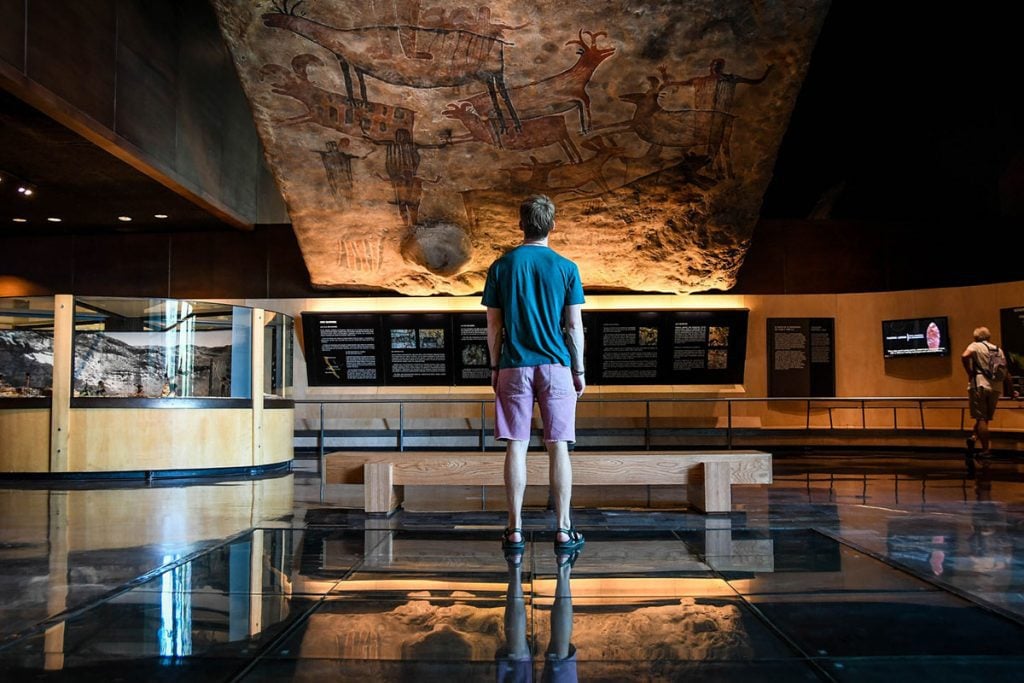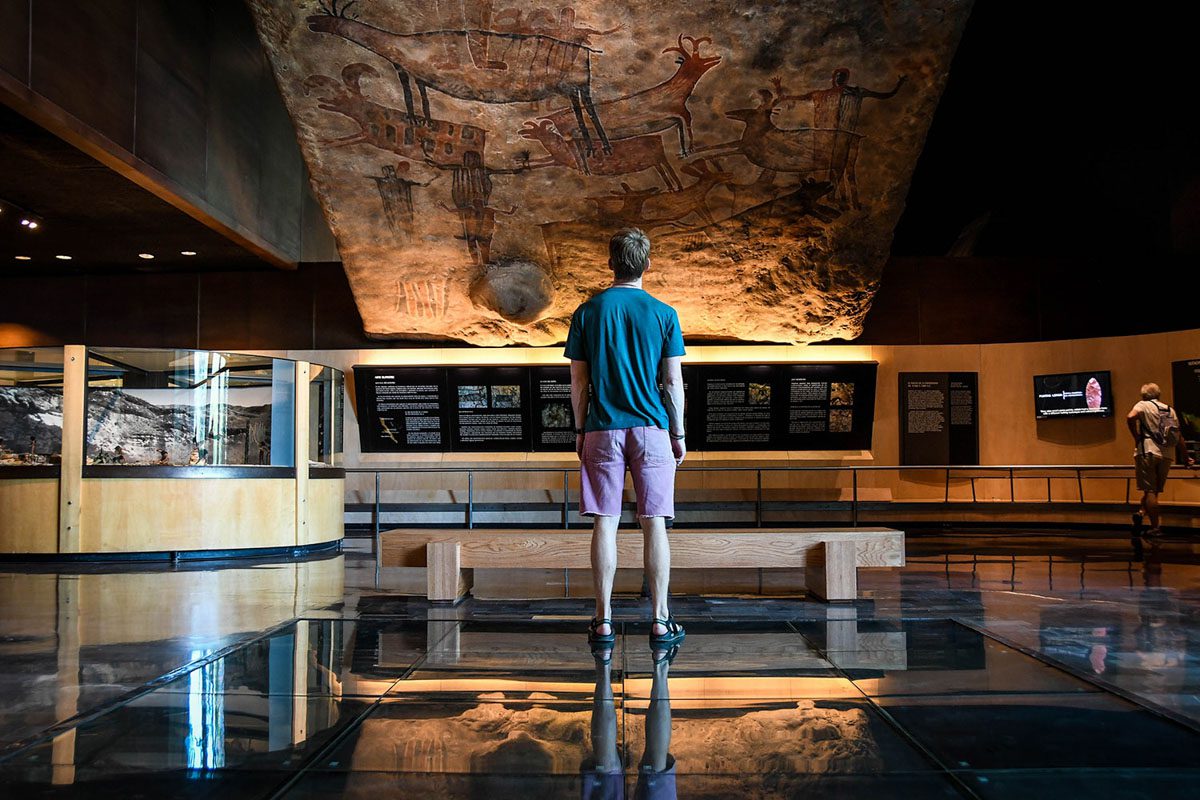 Often touted as the best of Mexico City's 150+ museums, the Museo Nacional de Antropología is a history buff's dream. You'll find prehispanic artifacts, dioramas and interactive displays that give you insights into how Mexico and its ancient people settled in the region.
While this must-see museum is totally worth a visit, even on a short trip to CDMX, it's also worth noting that it can feel a bit overwhelming.
Guided visits are offered daily at 11:00 a.m. and 1:00 p.m. and can be arranged at the information desk next to the ticket office. We joined a free English tour during our visit and really appreciated the extra information.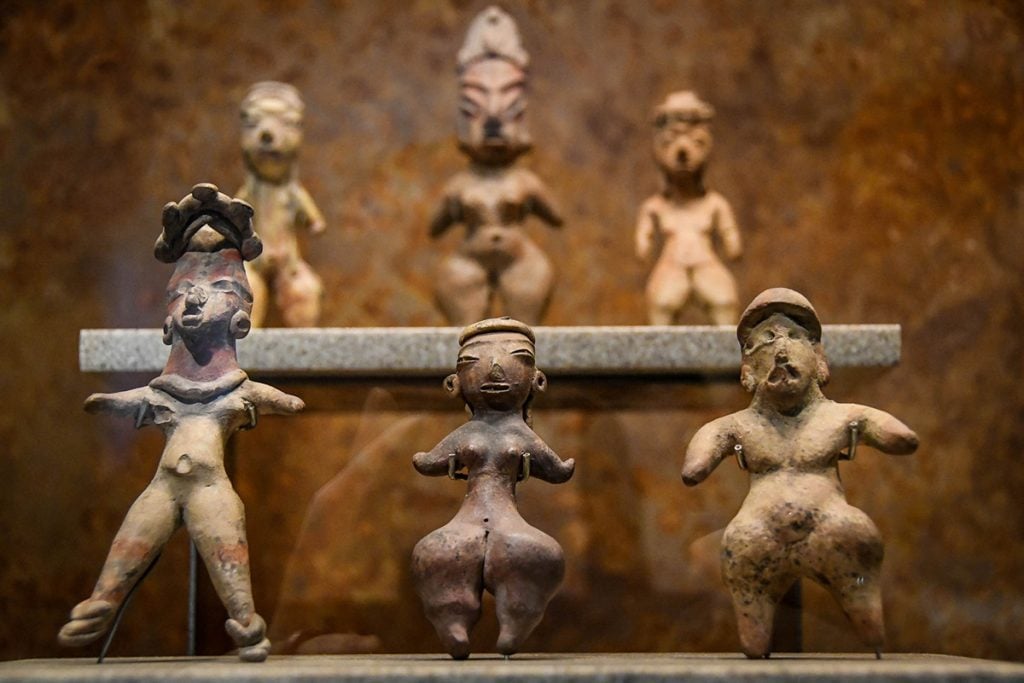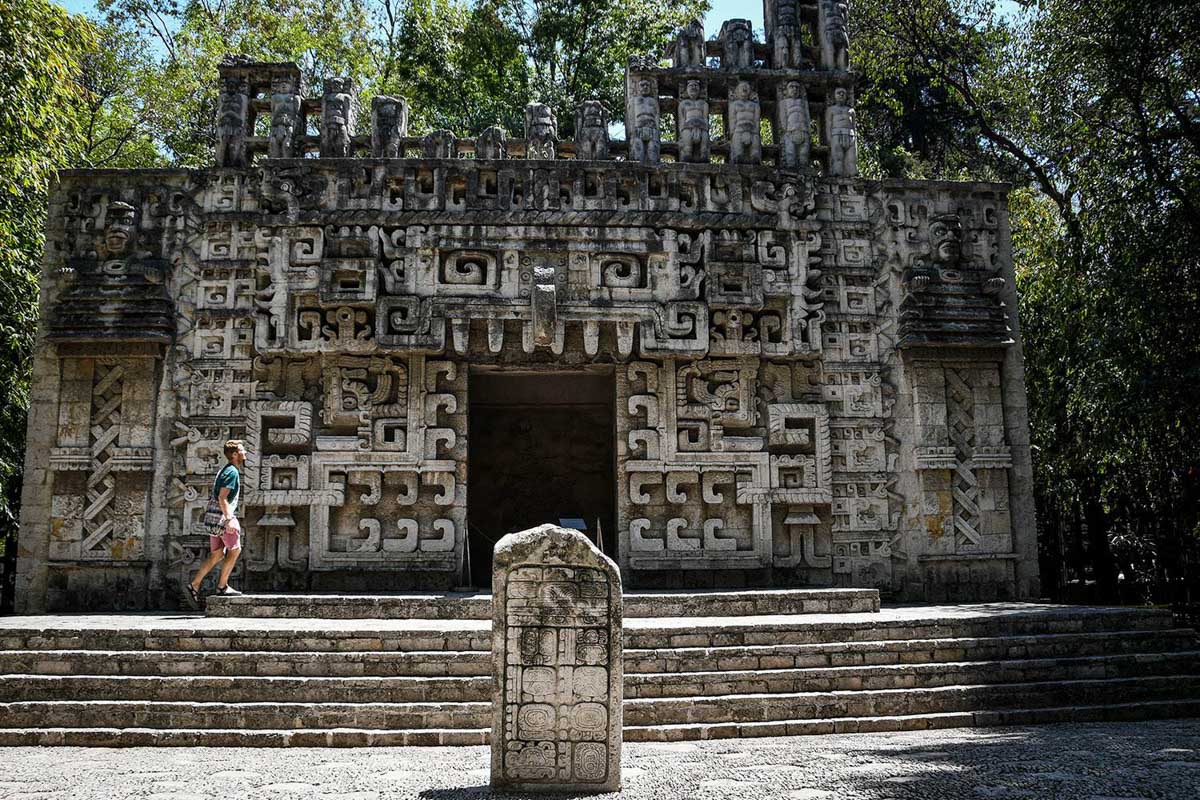 If you are touring the museum on your own, we recommend starting with room #1 and making your way through each room in order. If you are pressed for time, be sure to check out the highlights: the Sun Stone (Aztec exhibit), the recreation of Pakal's tomb (Maya exhibit) and the jade mask of the Zapotec Bat God (Oaxaca exhibit).
Entrance Fee & Hours: 80 MXN. Open Tuesday – Saturday 10 a.m. to 5 p.m., closed Sunday & Monday.
9. Visit other CDMX museums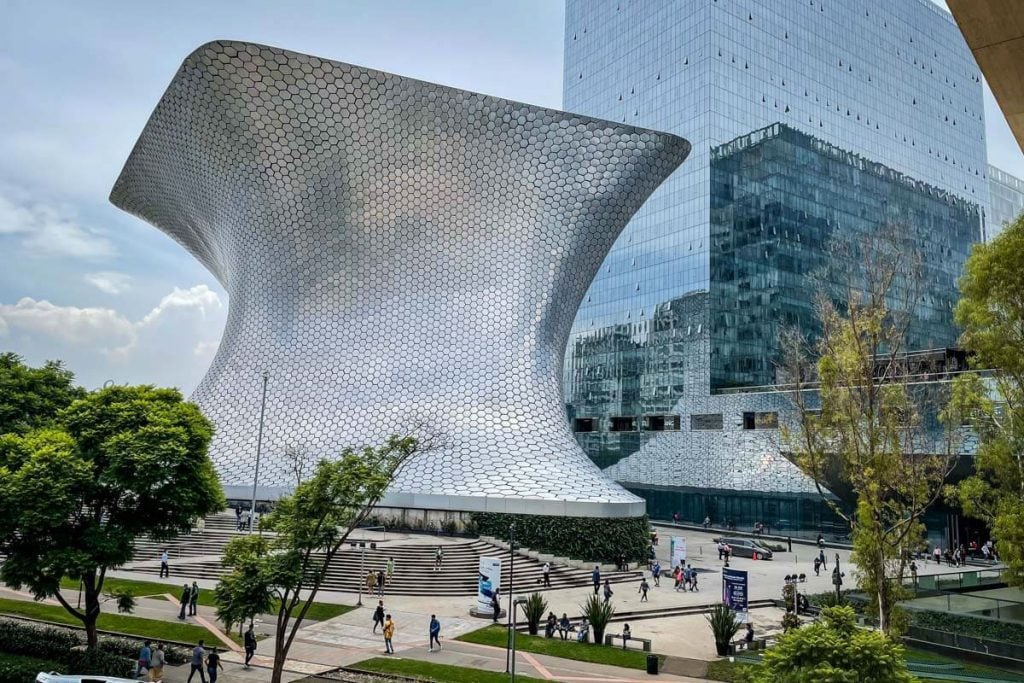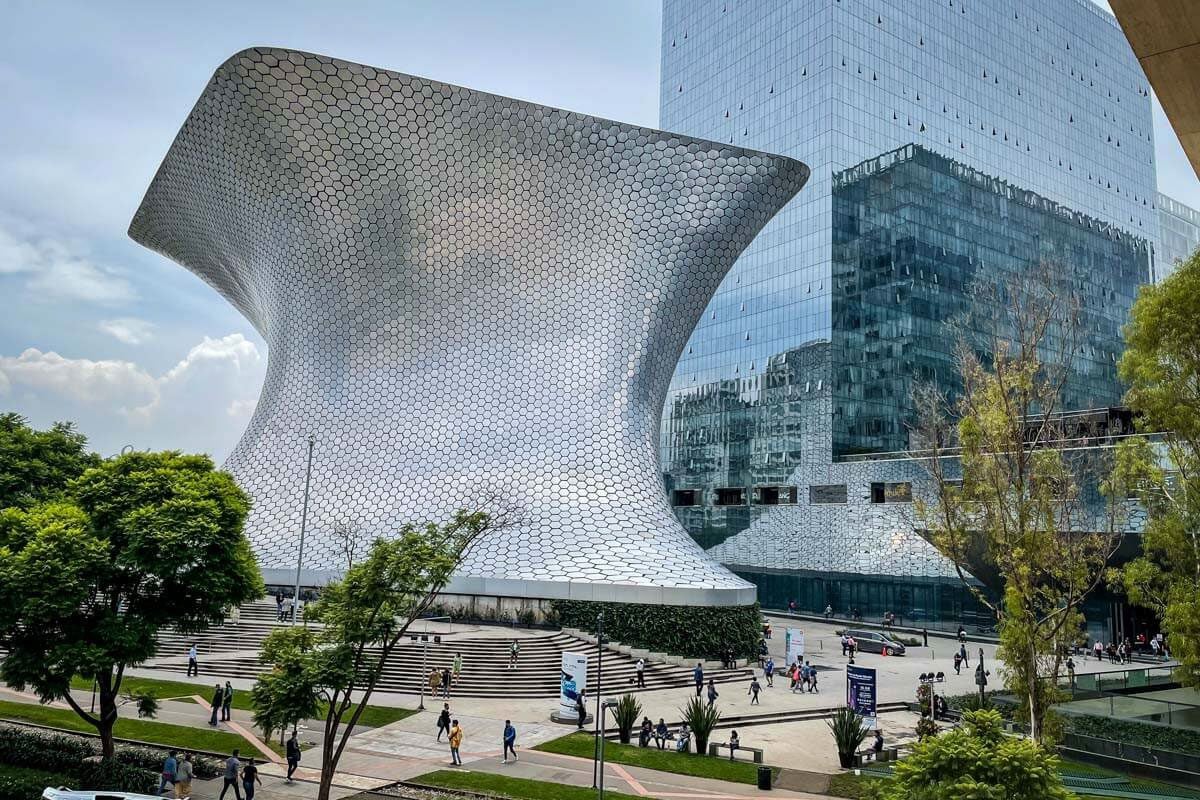 Fun fact: Did you know Mexico City once held the title of having more museums than any other city in the world!? We're talking as recently as 2015 here!
While that title has since been passed on, CDMX is still up there in its museum count and there are a number of notable spots to check out.
10. Explore the Zocalo and Historical City Center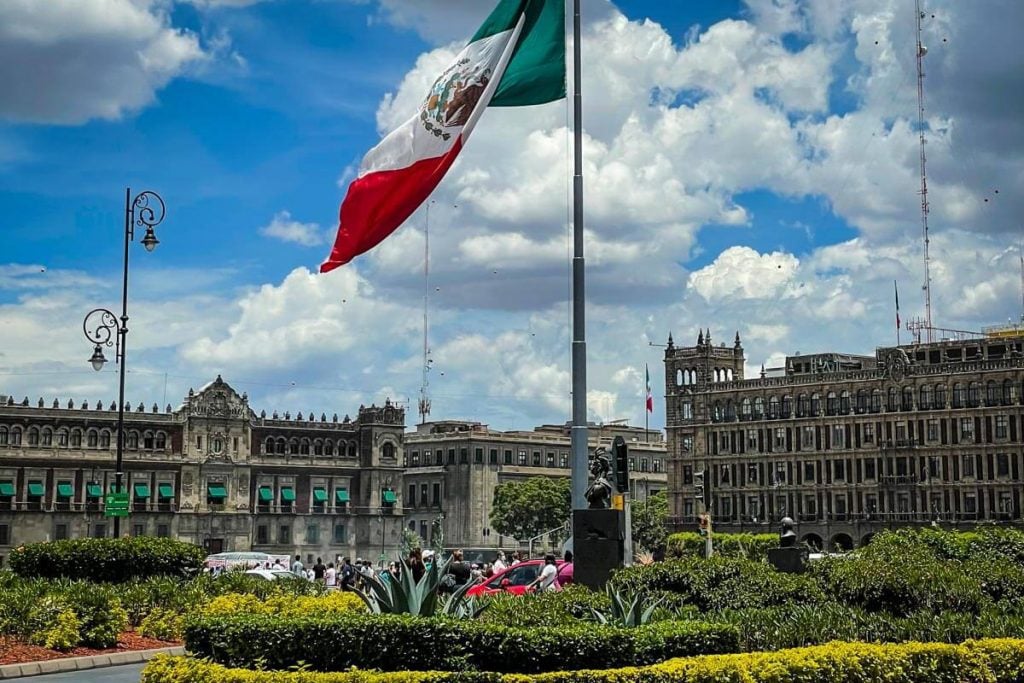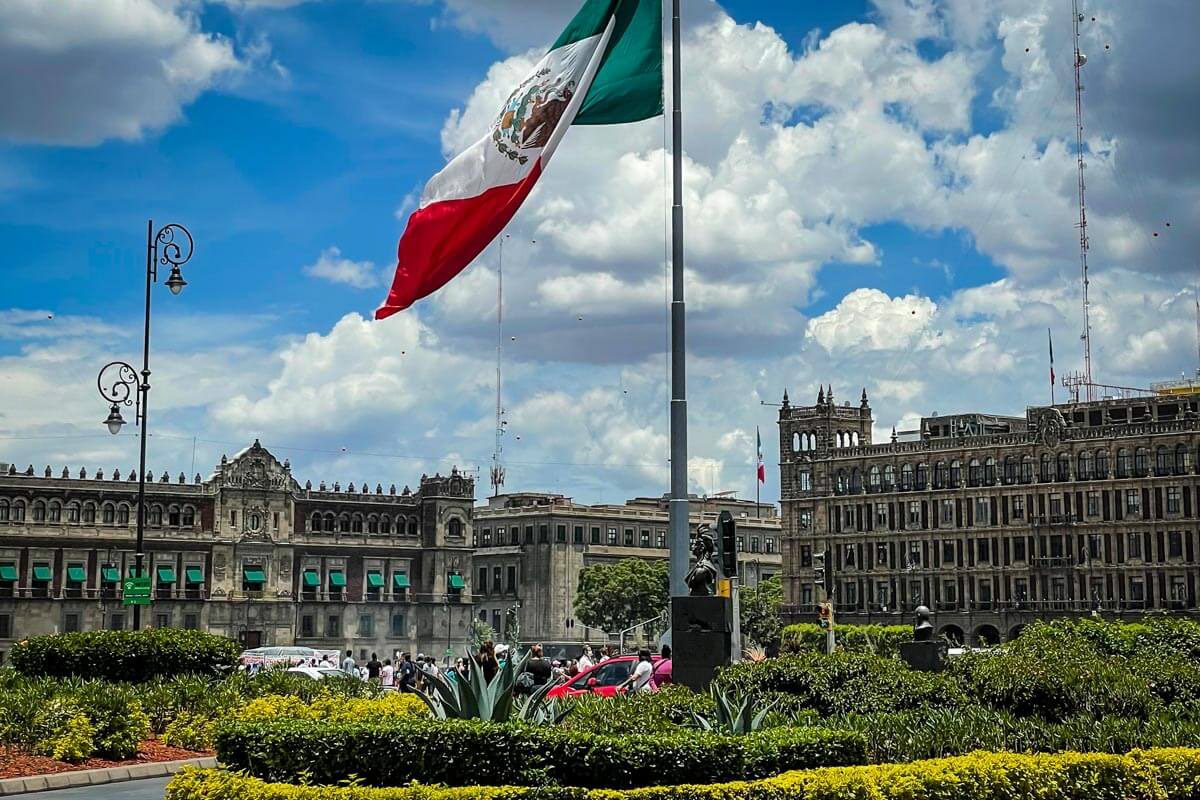 Located in the heart of the historic city center, the Plaza de la Constitución (known as the Zocalo) is a great place for exploring.
Centuries ago, before the arrival of the Spanish, the large square was the political and religious center of Tenochtitlan. Even today it remains a prominent cultural hub and hosts many large events including a gathering for Mexico's Independence Day celebrations on September 15th.
Many prominent and important buildings surround the Zocalo including the Metropolitan Cathedral of Mexico City, the National Palace, the Historic City Hall and the Government Building.
A giant flag of Mexico is erected in the center of the plaza, enhancing the national sentiment.
The President's Office (or National Palace) is free to enter and houses some of Diego Rivera's murals. Note: You must bring a photo ID (one per group) in order to enter.
It's impossible to miss the Catedral Metropolitana (the Metropolitan Cathedral of Mexico City) as it dominates the square. With no entry fee, a peek inside is worth it to marvel at the architecture which combines Gothic, Baroque, Churrigueresque and Neoclassical styles.
11. Take a peek inside the golden Post Office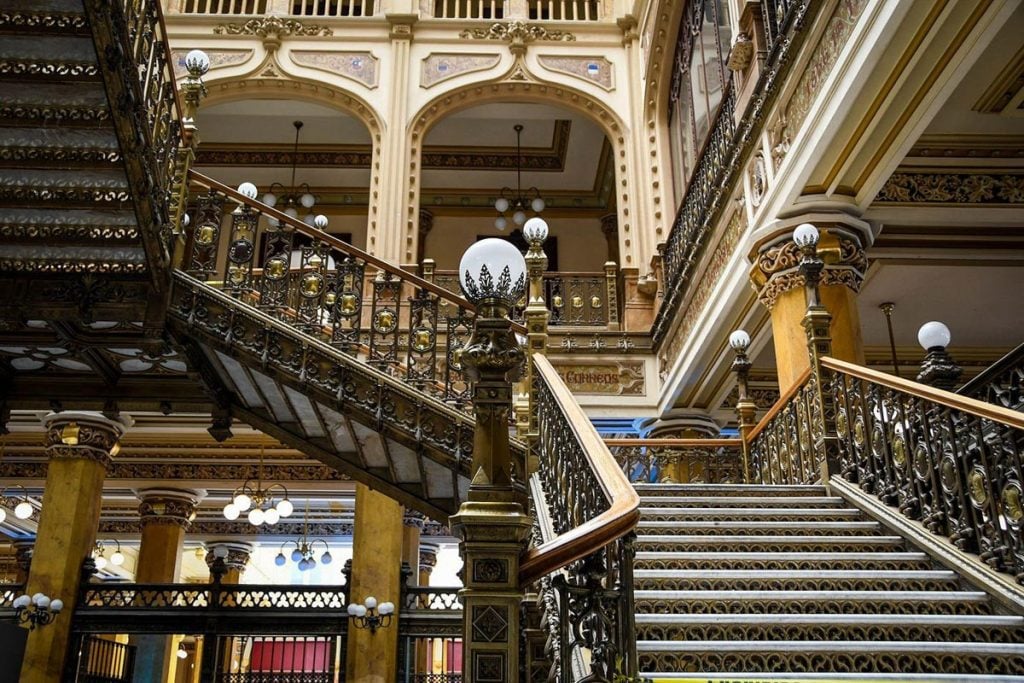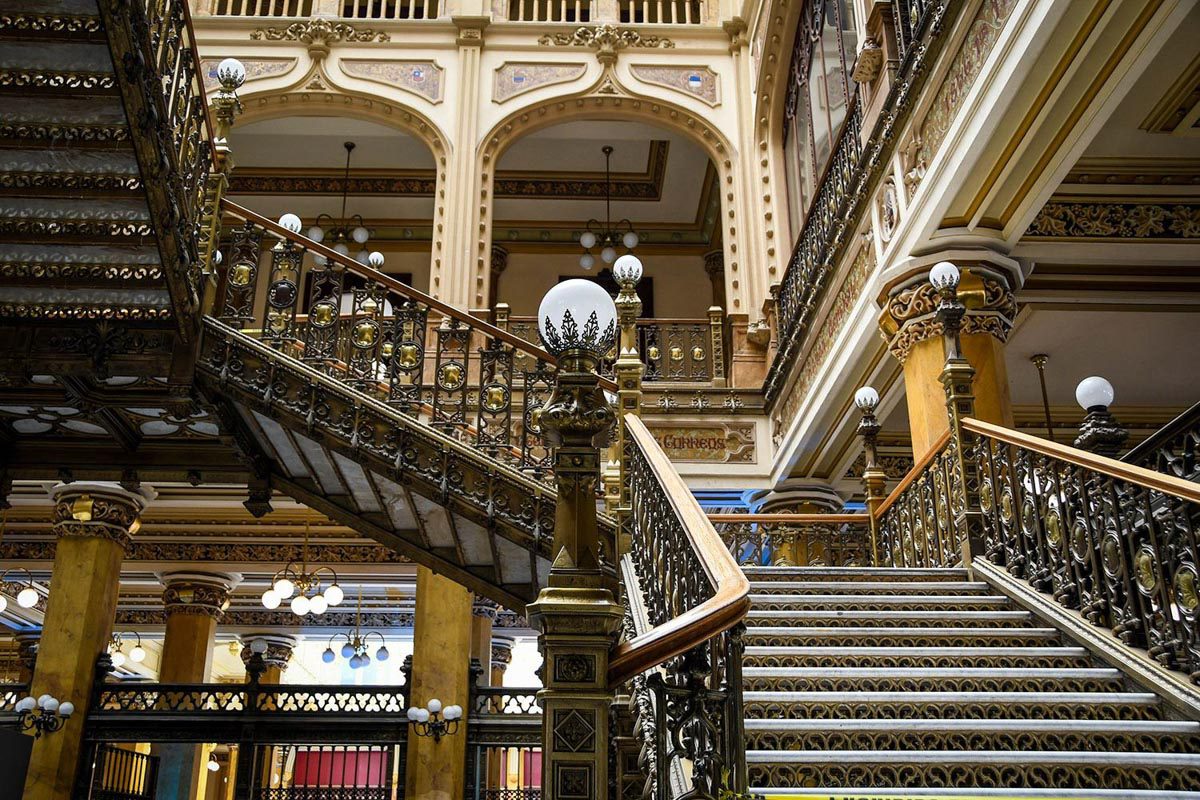 If you're into architecture, be sure to take a peek inside the city's central post office, known as the Palacio Postal or Correo Mayor. The opulent building boasts turn-of-the-century architecture adorned in gold on nearly every surface.
Step inside to marvel at the design and snap a few photos, but be respectful of the workers, as you'll notice this is still very much an operating post office.
12. Snap a selfie in front of the House of Tiles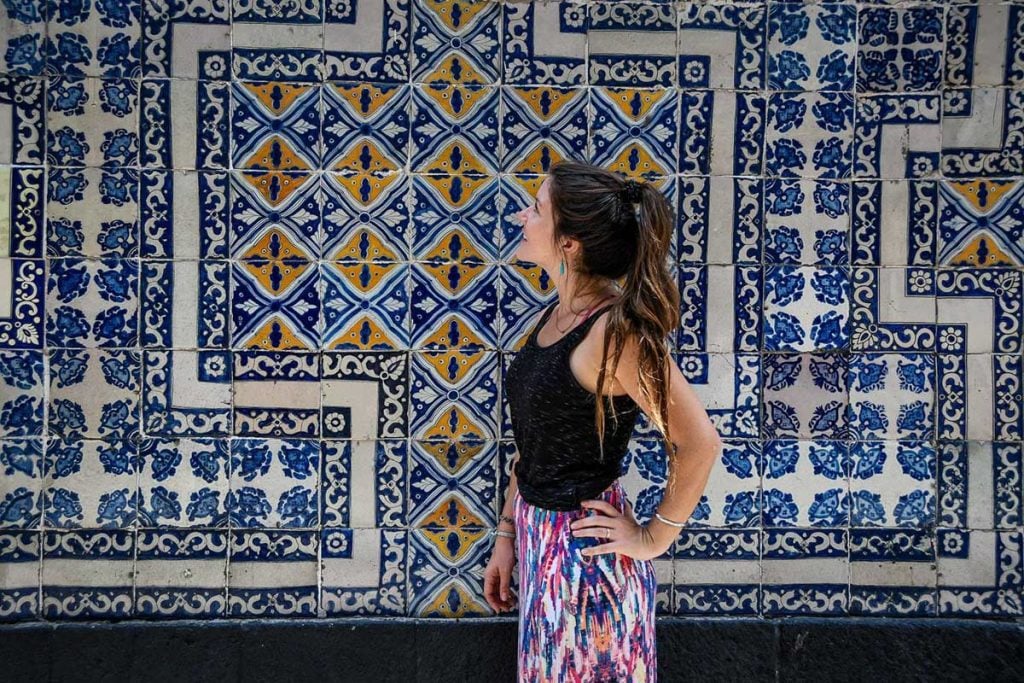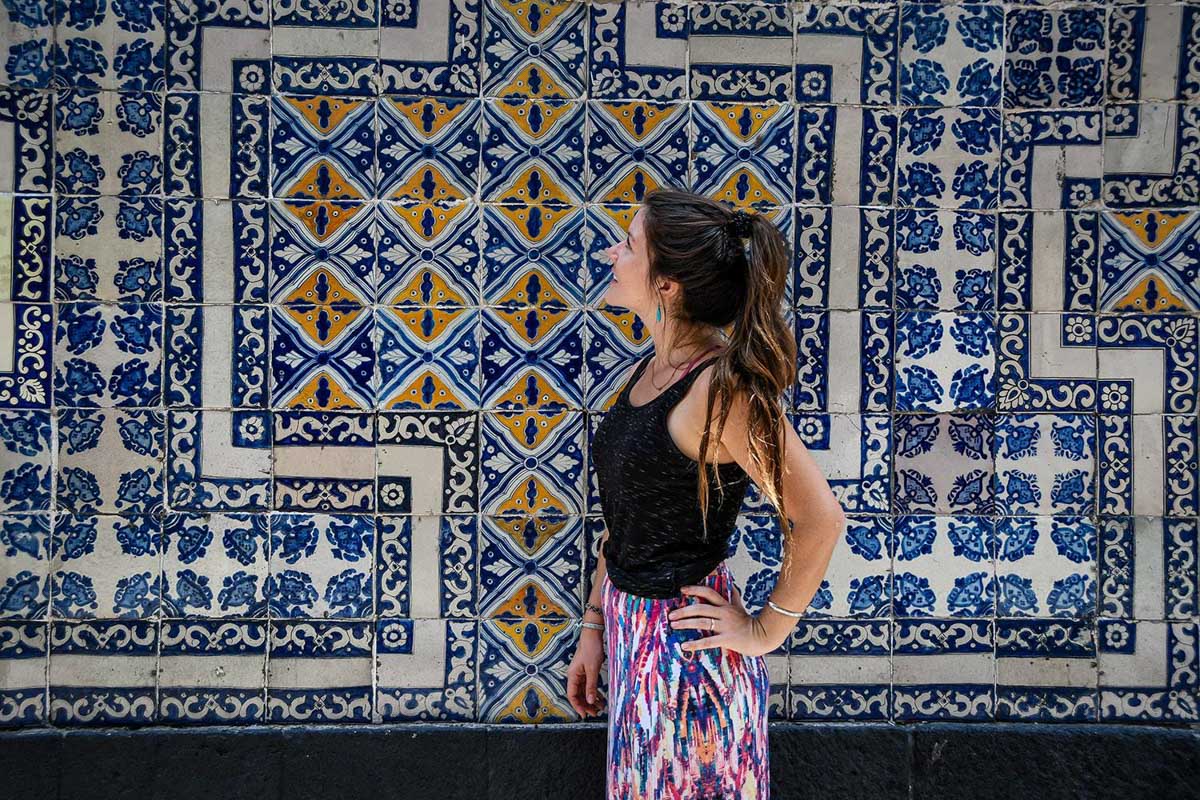 Known as Casa de los Azulejos, the House of Tiles is an Instagrammer's dream. The blue-tiled wall on the outside of the building has become one of Mexico City's most popular photography spots.
Insider Tip: Lighting here is best before noon or in the late afternoon.
And the best part, it's located just around the corner from the Palacio Postal so you can easily cover both as you explore the city center.
13. Take a boat ride in Xochimilco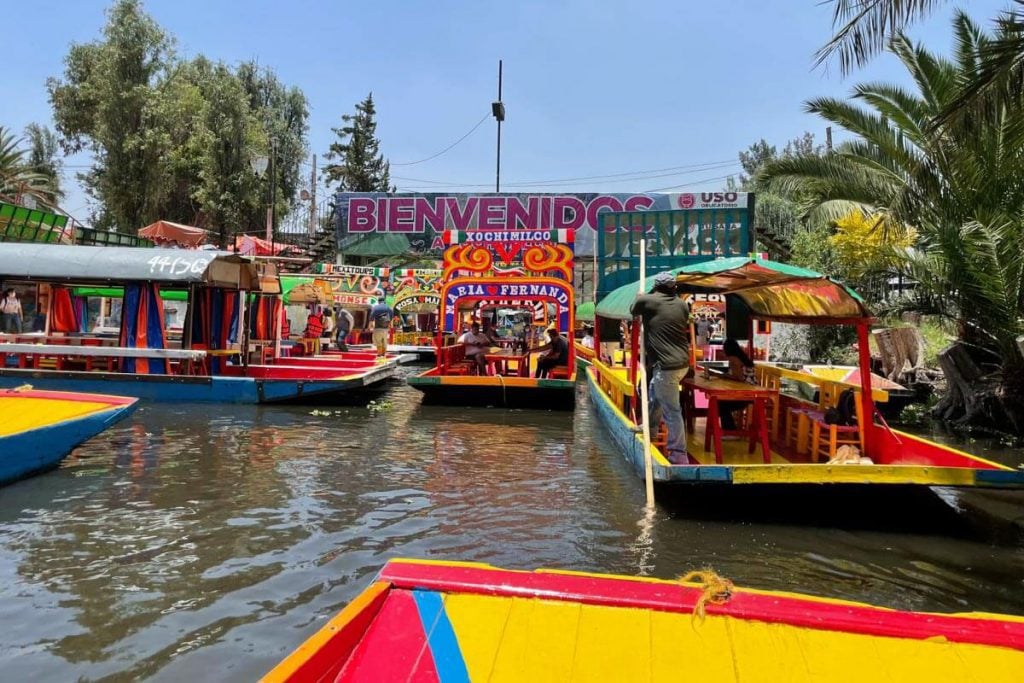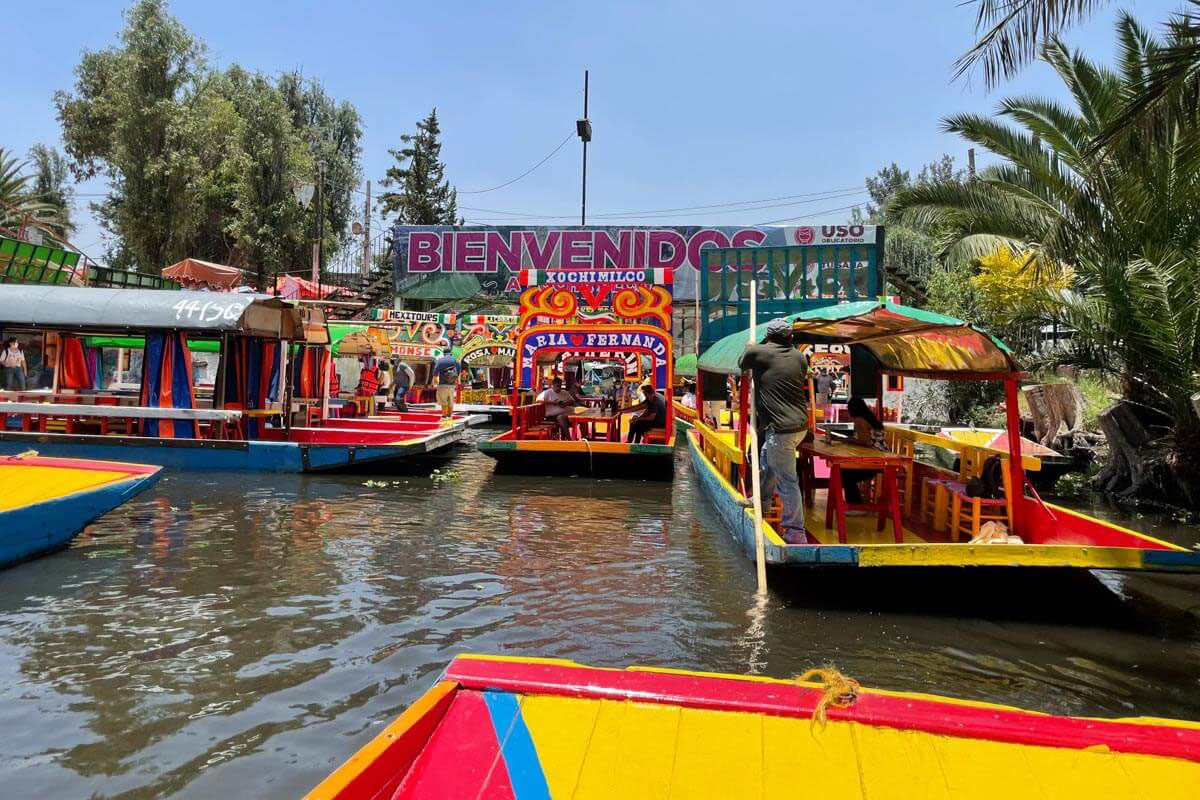 The colorful neighborhood of Xochimilco is an UNESCO World Heritage Site known for its canalways and floating gardens. As one of the most touristy things to do in Mexico City, it's also a popular place for locals to celebrate special occasions, like birthdays and quinceañeras.
Some love it and others hate it, but no matter where you stand, there's no arguing Xochimilco is unlike anything you've ever experienced.
It is a little ways outside of the city (about a 45 minute Uber-ride), but if you make it down to Xochimilco, you can spend about half your day floating down the canals in trajineras, the colorful, hand-painted traditional boats.
The waterways are filled with trajineras, which you can rent by the hour and ride through the canal way, past mariachi bands and food vendors. This activity is best enjoyed in large groups (the boats can carry up to 15 passengers!) but you can still get a private boat if you are only a few.
There are tours to this famous spot, but it's easy to visit Xochimilco on your own.
Bring your own alcohol and snacks or wait until you get there to fill up on local favorites (like Micheladas!). There will be boats selling all kinds of snacks and drinks along the canals, so come hungry!
Tip: Bring your own speaker to enjoy your favorite music (though you may be competing with other boats and mariachi bands passing by!)
14. Learn about Frida Kahlo at La Casa Azul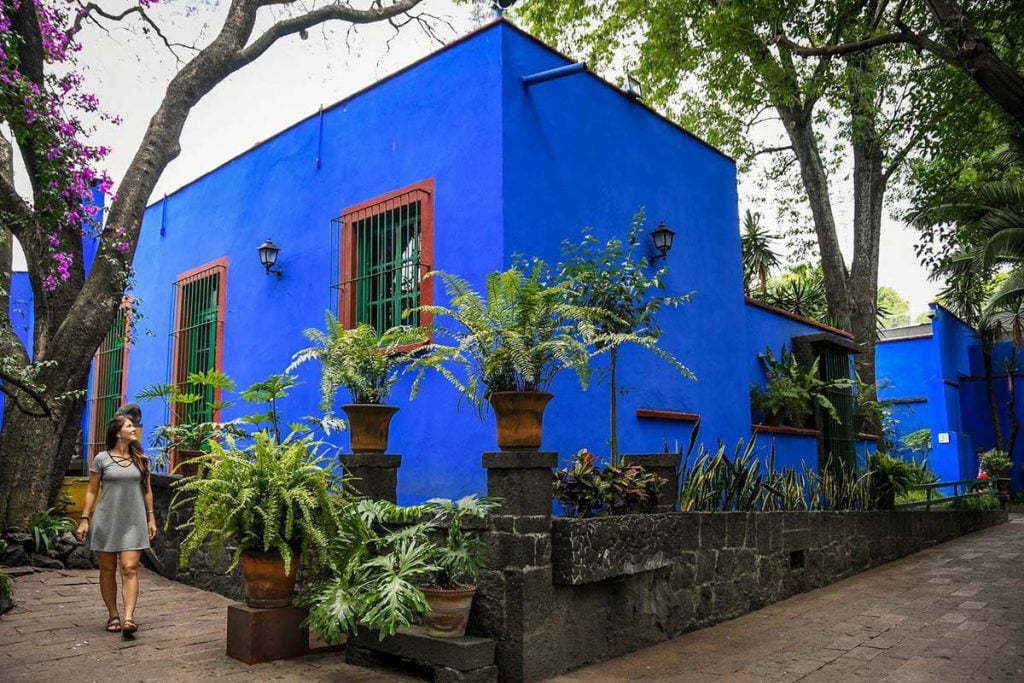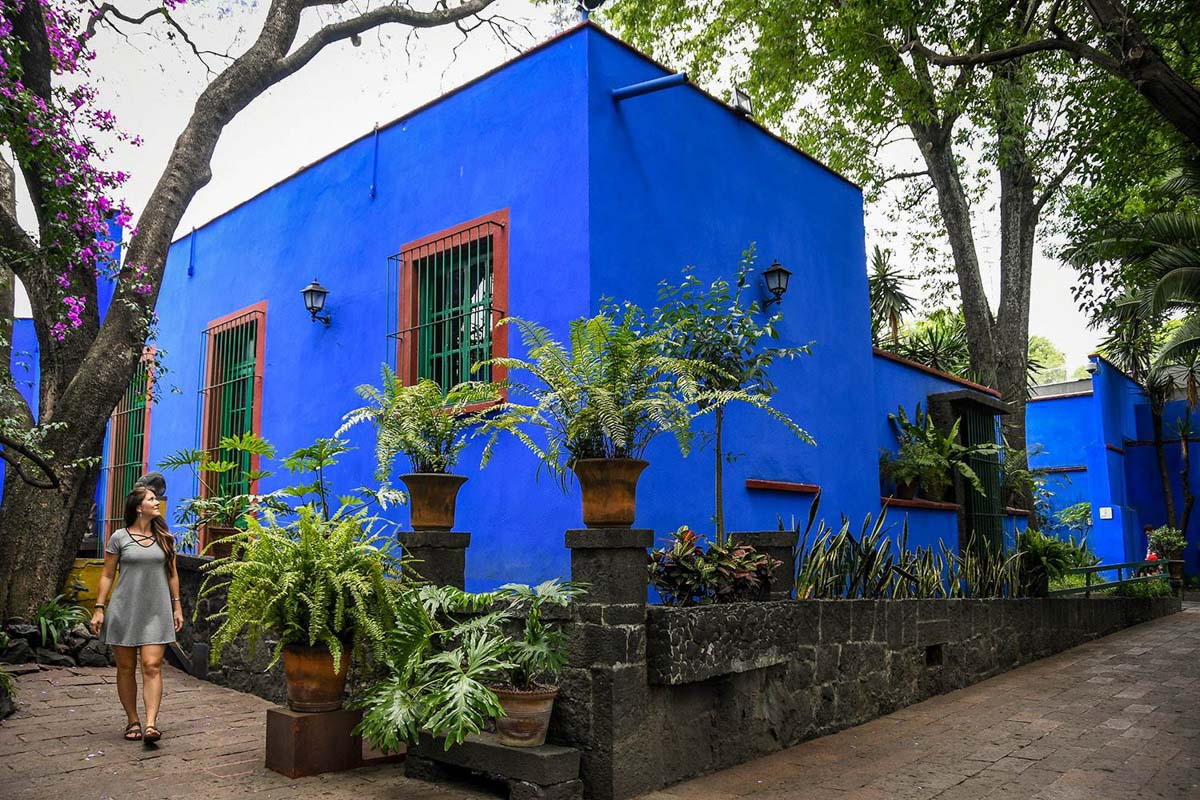 Even if you're not all that familiar with Mexico City's beloved Kahlo, the Blue House (La Casa Azul in Spanish) is well worth a visit. While considerably more expensive than the other Mexico City museums, the steeper entrance fee hardly deters visitors.
The museum is set in the house where the famous painter was born and later shared with her famous husband, painter Diego Rivera. On display are various pieces of artwork and also many of her personal belongings.
Walk through her art studio, glimpse her beautiful kitchen, and see the bed where she slept and the garden in which she spent her afternoons dreaming or entertaining guests. The museum is relatively small, but if you choose to take the audio tour (highly recommended) it'll be about 1.5 hours.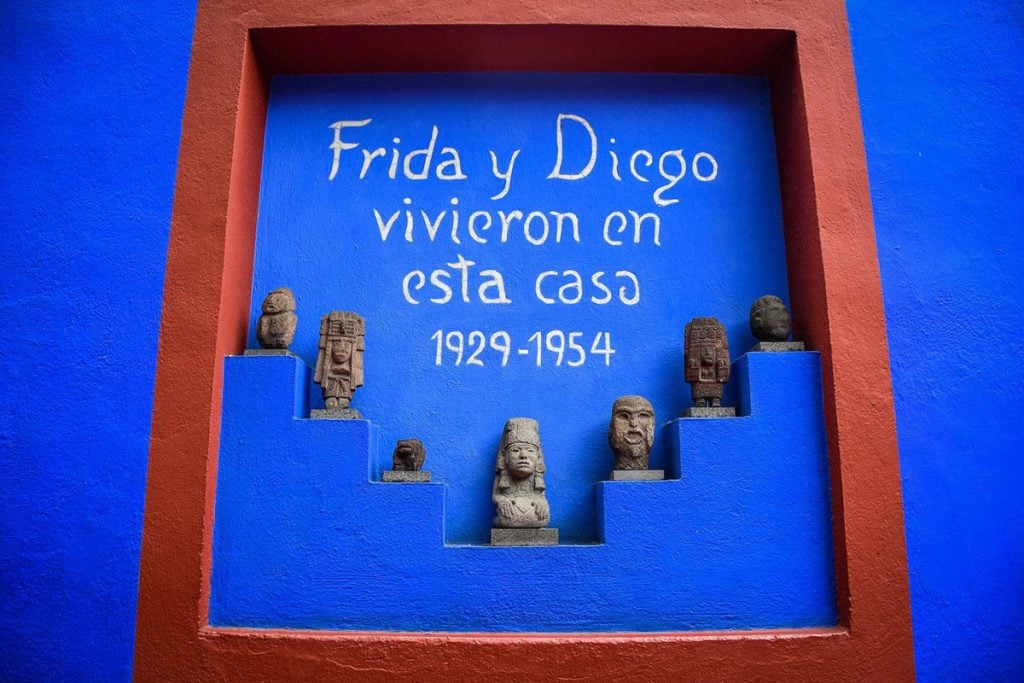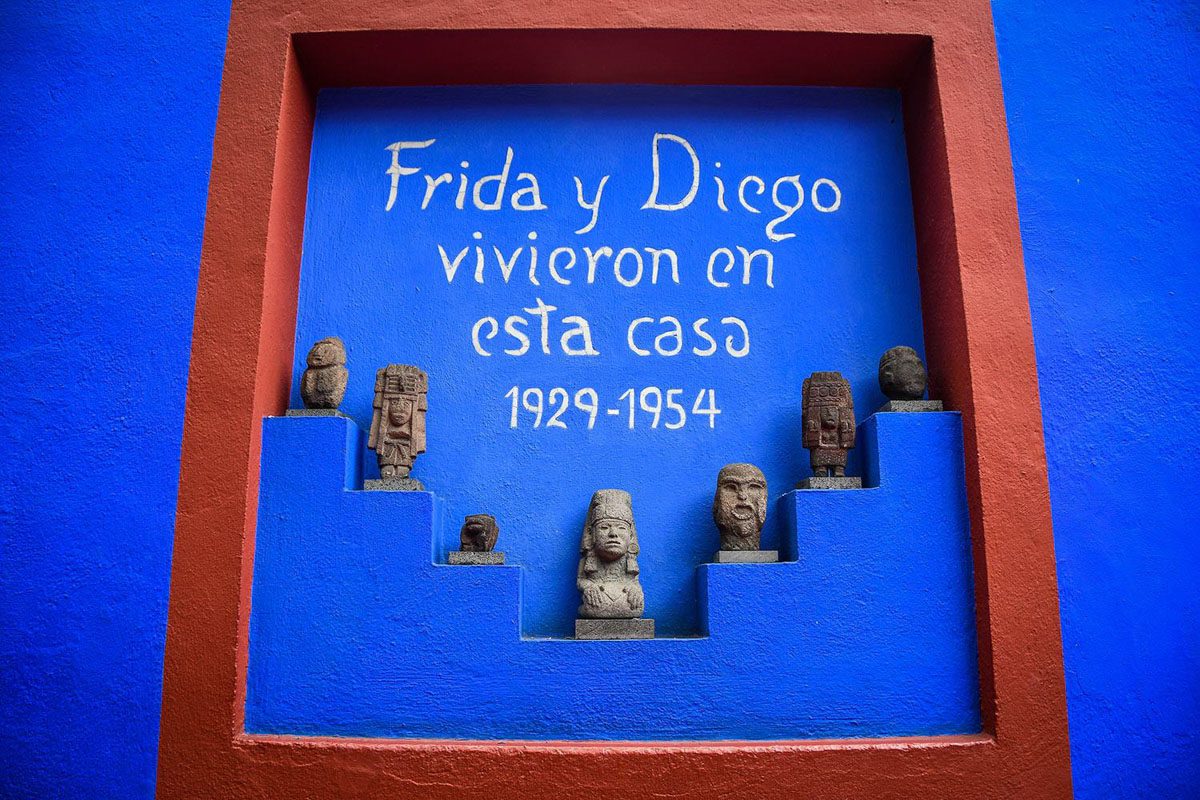 Top Tips for Frida Kahlo Museum
Insider tip: Sometimes audio guides are not worth renting, but in the case of the Frida Kahlo Museum, we would strongly suggest paying the additional 80 MXN. Not only is it an audio guide, but it shows you relevant pictures and has activities as well. It was one of the most well put together audio guides we've done. Without the guide, there's not a ton of information. Each painting has a short description in Spanish, and each room has an introduction in both Spanish and English. But without the audio, you'll miss many aspects, stories and tidbits about the home and Frida's life.
Money-saving tip: If you're traveling with a companion, bring two pairs of headphones and a headphone splitter. This way, you can share one audio guide (saving your 80 pesos) and use your own headphones instead of the ones provided.
Booking Tip: As of 2020, you have to book your tickets to La Casa Azul online. Head to the official ticket booking website to snag your tickets ahead of time. Daily entrance is limited and tickets do sell out, so we recommend booking a few days in advance, especially if you plan to visit on a weekend. Remember, the museum is closed on Mondays so plan accordingly.
Before you go: Even though you'll learn a ton about Frida Kahlo at this museum, we'd recommend reading up on her life if you don't know much of her back story. The movie "Frida", starring Selma Hayek, is a good introduction, too.
Entrance fee & Hours: $230 MXN (around $11 USD) on weekdays and $270 MXN (around $13 USD) on weekends. Open daily from 10 a.m. to 5 p.m. and closed on Mondays.
15. Wander the Coyoacan Neighborhood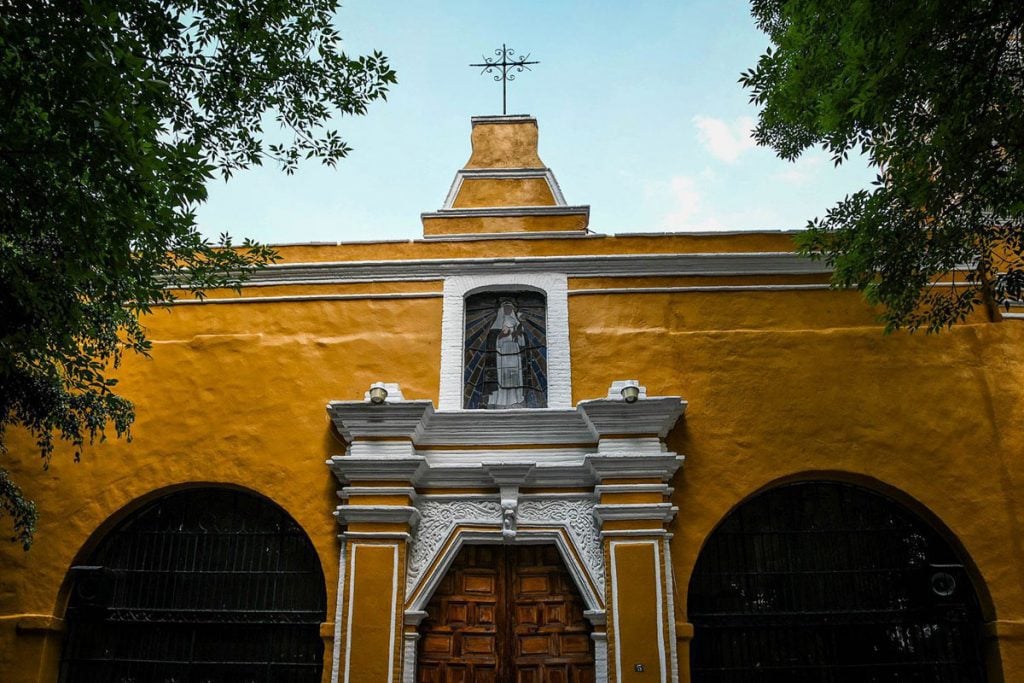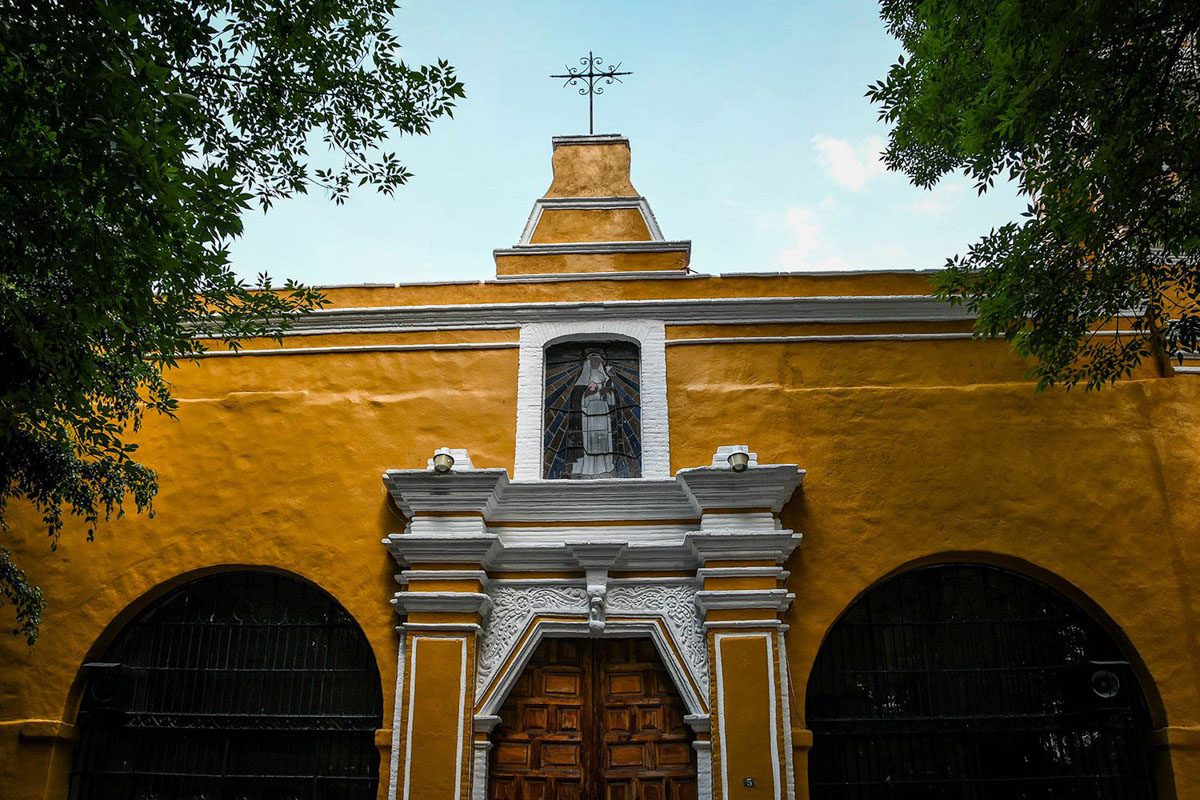 Coyoacan is the neighborhood home of La Casa Azul, making it a great place to explore before or after visiting the museum. Situated about 30 minutes south of the historical city center, you'll find streets lined with colorful colonial homes of the well-to-do, amongst cute cafes and boutiques.
You could easily spend a day here, getting lost in the tranquil streets of Coyoacan. But if you're short on time, or want more context, a walking tour of the neighborhood is highly recommended.
We did the Coyoacan Free Walking Tour with Estacion Mexico and had a great experience. Tours meet daily at 11:00 a.m. (English version) and 3:00 p.m. (Spanish version). Meet your guide inside the subway station at the ticket office for "Viveros/Derechos Humanos".
Tip: Don't forget to bring water and check the weather to see if you'll need an umbrella or not.
The super informative tour lasts for about 2.5 hours and offers insight into the history of one of Mexico City's most inviting neighborhoods. Small groups make the perfect size to stay engaged as you wander through the beautiful streets and colonial courtyards.
If you'd prefer to wander through Coyoacan on your own, here are some spots you should hit:
Fonoteca Nacional (National Sound Archive)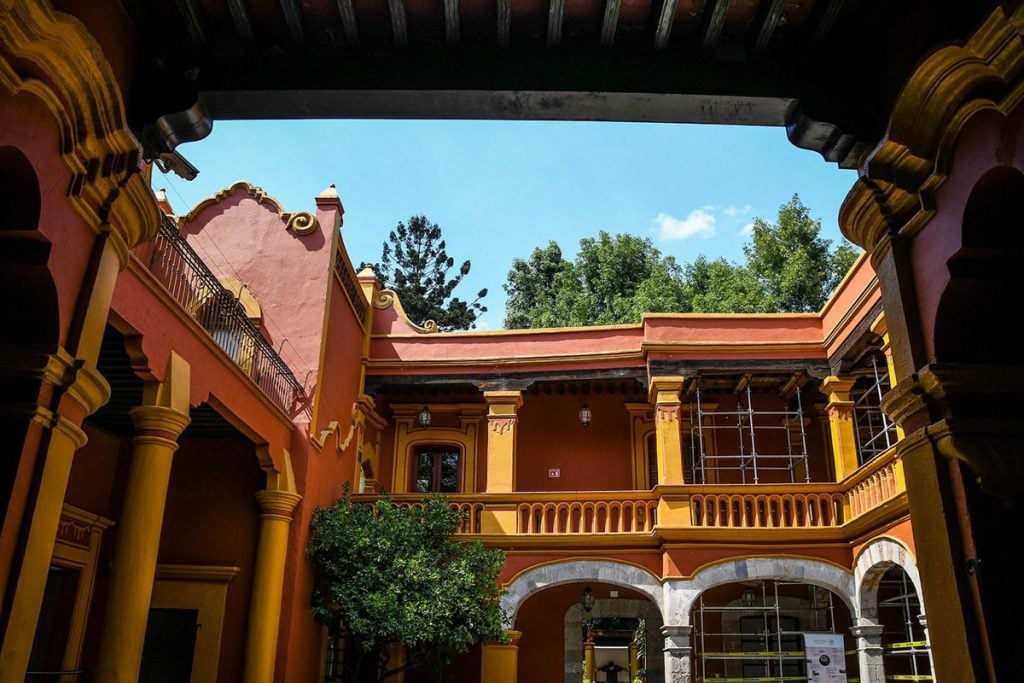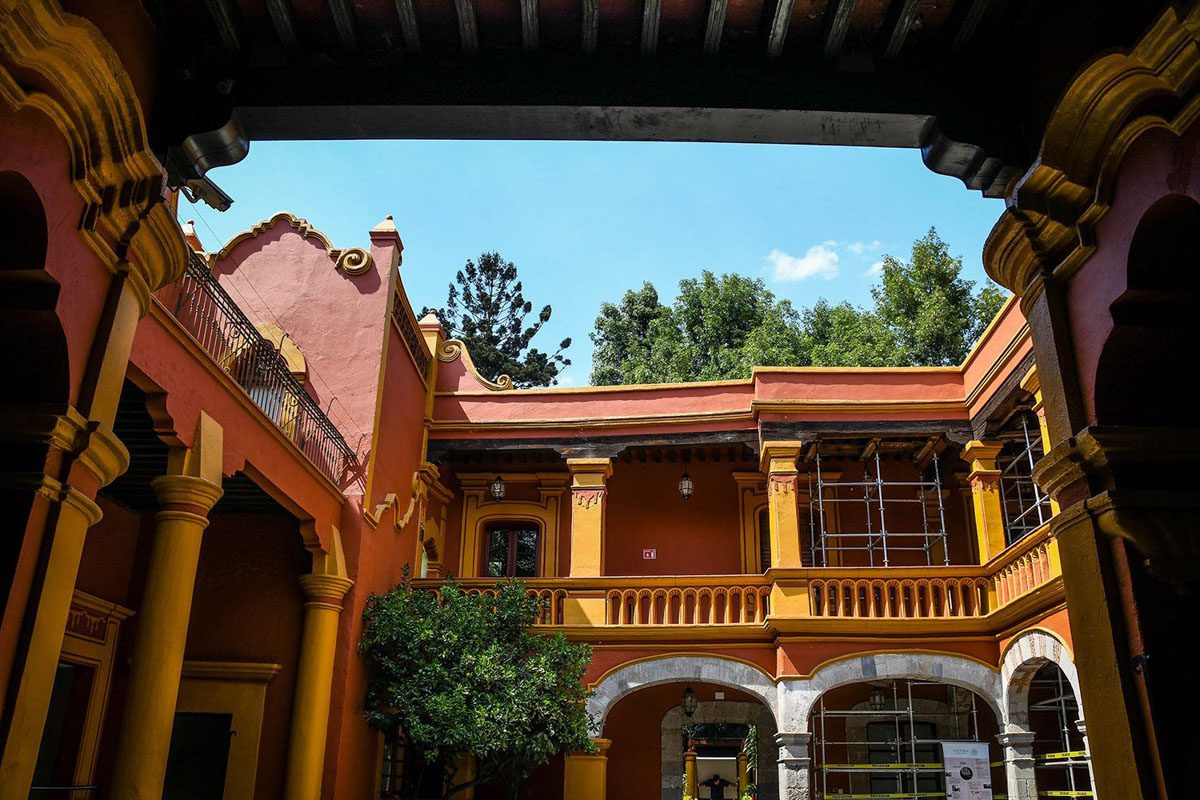 This cultural center is set in the courtyard of a colonial home and is known for its collection of famous people speaking, including Diego Rivera. There's no fee to get in, but when you enter, you simply need to sign your name, age, gender and country of residence.
You can listen to the recordings if you'd like, or you can enjoy the tranquil courtyard and free (yes, free!) coffee. You'll likely see university students studying and you may even be lucky enough to be there during one of their regular live music performances.
Mercado de Artesanal Mexicano (Artisan Market)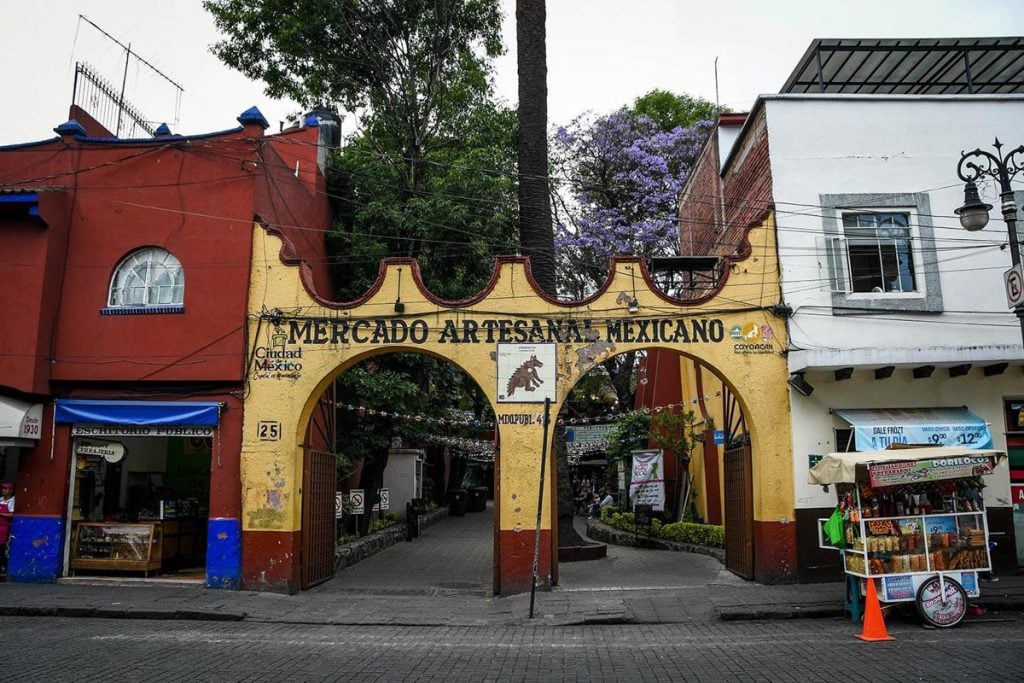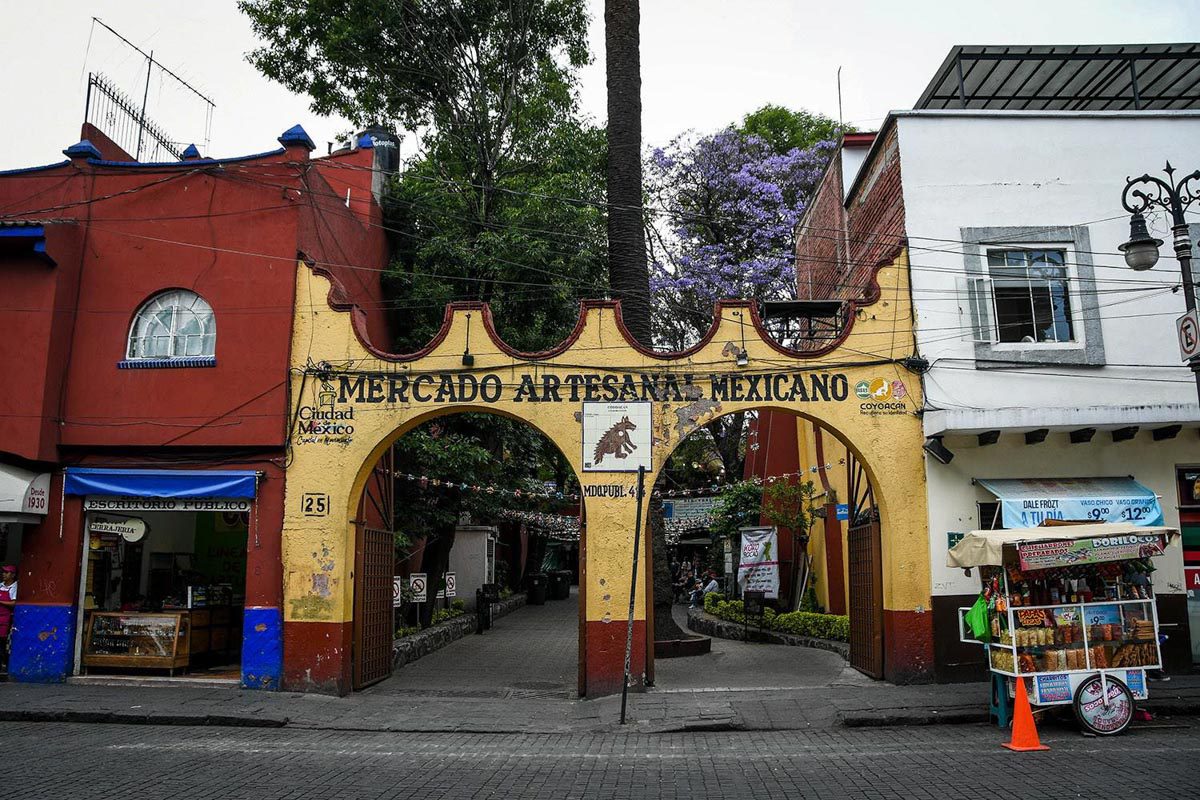 Enter through the yellow arches and you'll find yourself in a multi-level market with stall upon stall of handicrafts and souvenirs for sale. (Tip: This is a great place to find some gifts to bring home to loved ones!)
Parroquia San Juan Bautista
You can take a look inside the church if you'd like, but the main attraction of this area is the square in front of it. You'll find locals hanging out around the fountain with the neighborhoods' namesake coyotes and musicians performing in the open square.
Coyoacan Market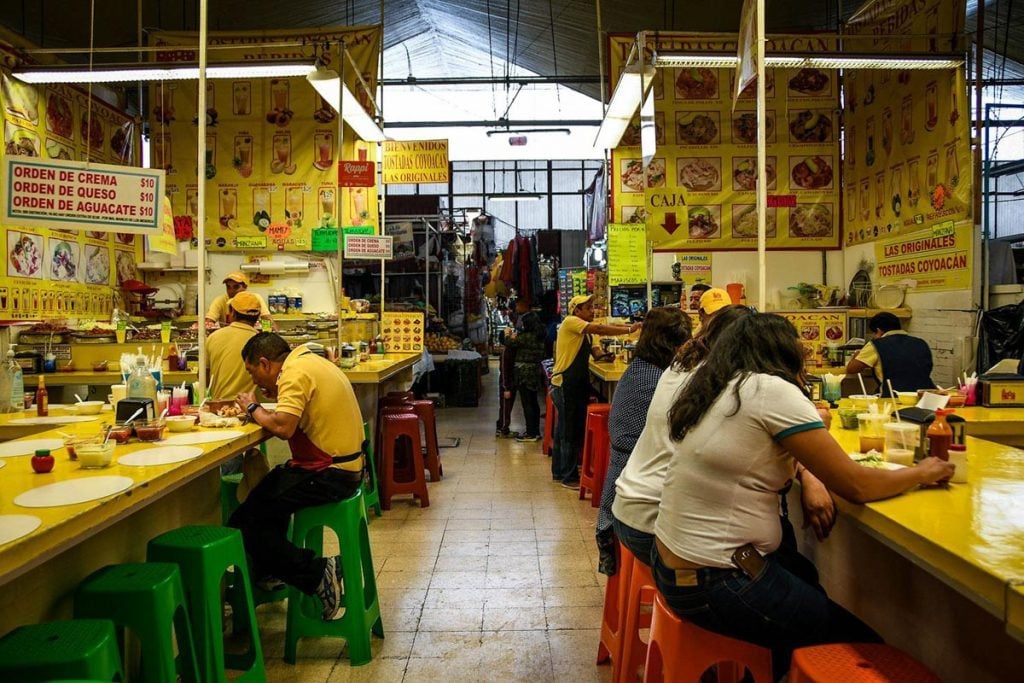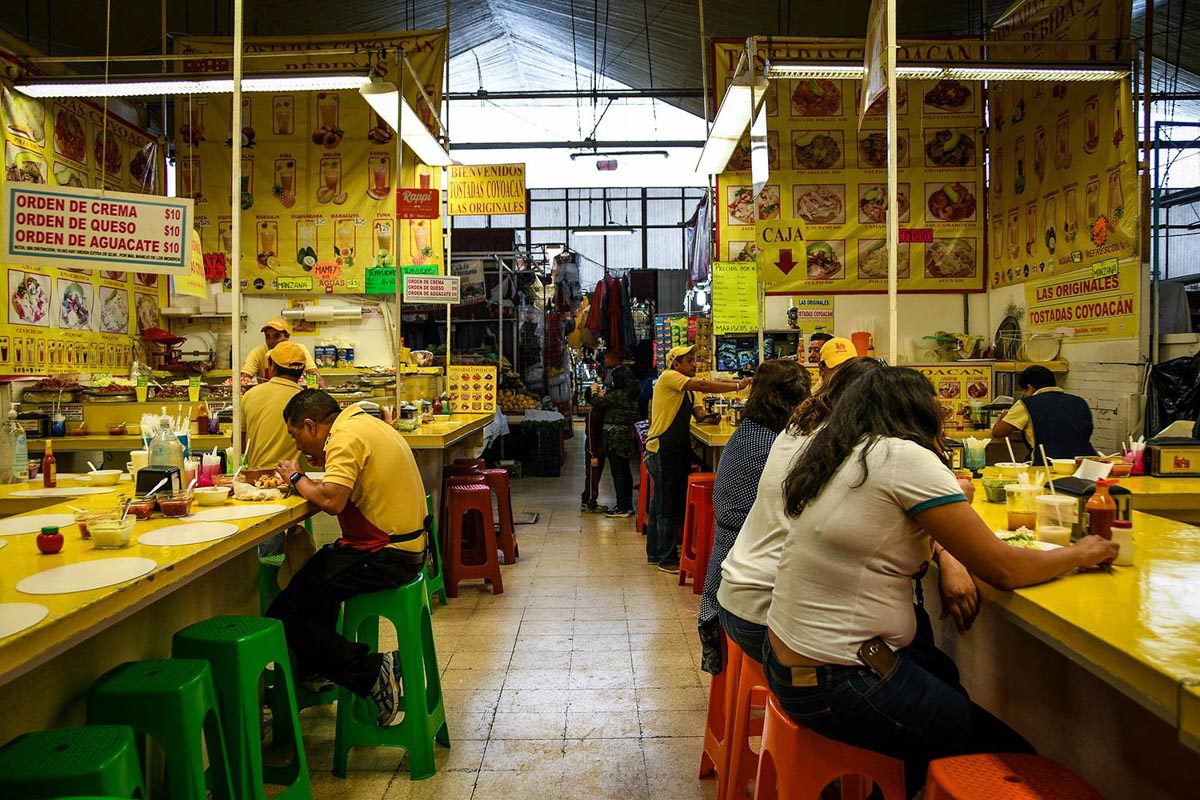 On the outer perimeter of this market, you'll find fruits and vegetables for sale alongside clothing and children's toys. But if you venture inside, you'll see stands selling all sorts of food. Keep going until you are near the back of the market, and here you'll find the signature Coyacan tostadas.
One of the most famous ones is the ceviche, which was great, and we also really enjoyed the chicken tinga. There are a handful of vegetarian options, too. Wash your tostada down with a fresh juice!
Cost: Tostadas range from 30 – 40 pesos, and the juices are around 25 pesos.
Local Food Market – Antojitos Mexicanos Market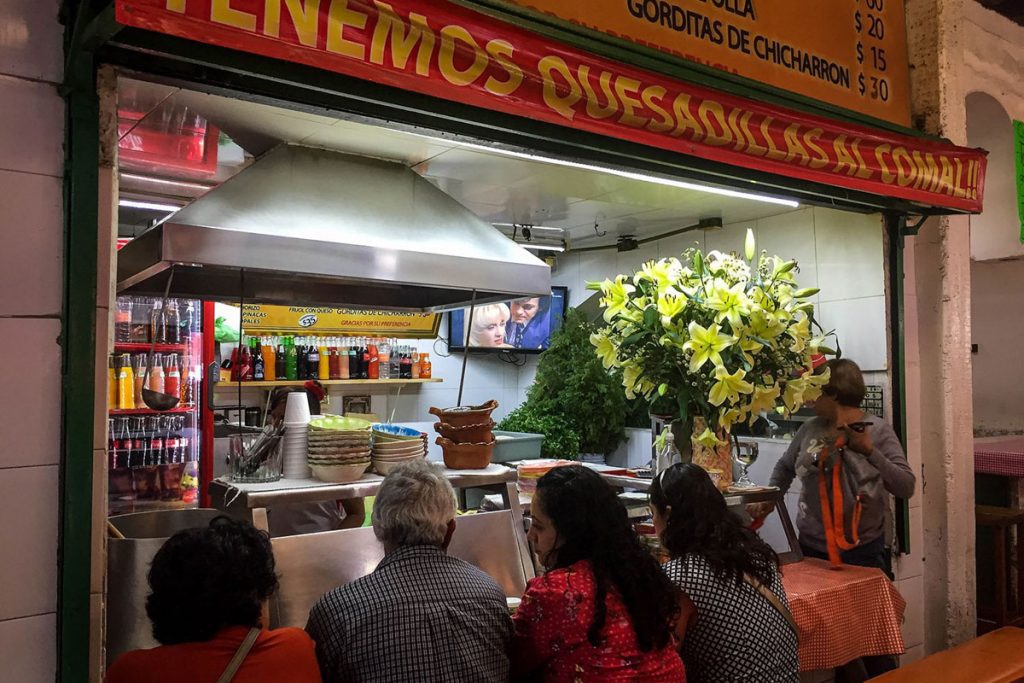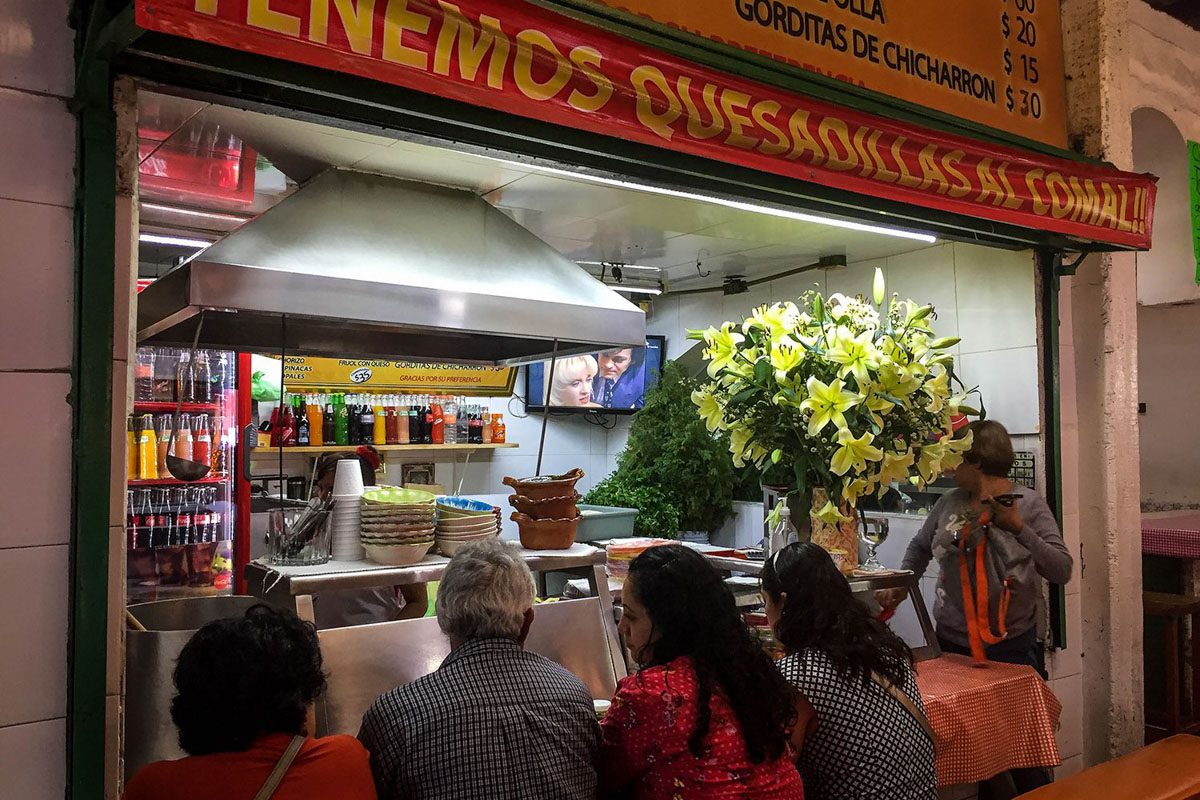 Just off of the main square, the Antojitos Mexicanos Market has an awesome selection of local Mexican foods. When we were there, we were the only foreigners.
Everything looked delicious, but if you're feeling adventurous and want to try something a little "different" head to the back left corner to the shop selling quesadillas. Order the huitlacoche.
This quesadilla will be made right in front of you and is stuffed with huitlacoche, or corn fungus, a delicacy in Mexico. The black filling is not as scary as it looks or sounds; it almost tastes and looks like a mixture of refried beans and corn. There are plenty of other options too, both vegetarian and meat based.
Tip: Know that in Mexico City, unless you order your quesadilla with cheese, it typically won't come inside unlike those in other parts of Mexico.
Cup of coffee: Head to Cafetzalli Coyoacán or Café El Jarocho for some of the best coffee in the neighborhood.
Churros: For a more unique churro experience, head to the popular Churros Jordan on the corner of Cuauhtemoc and Aguayo. These are the only churros around that are stuffed with the sauces (instead of dipping). You can get chocolate, caramel, condensed milk and other delicious flavors.
16. Glimpse the Palacio de Bellas Artes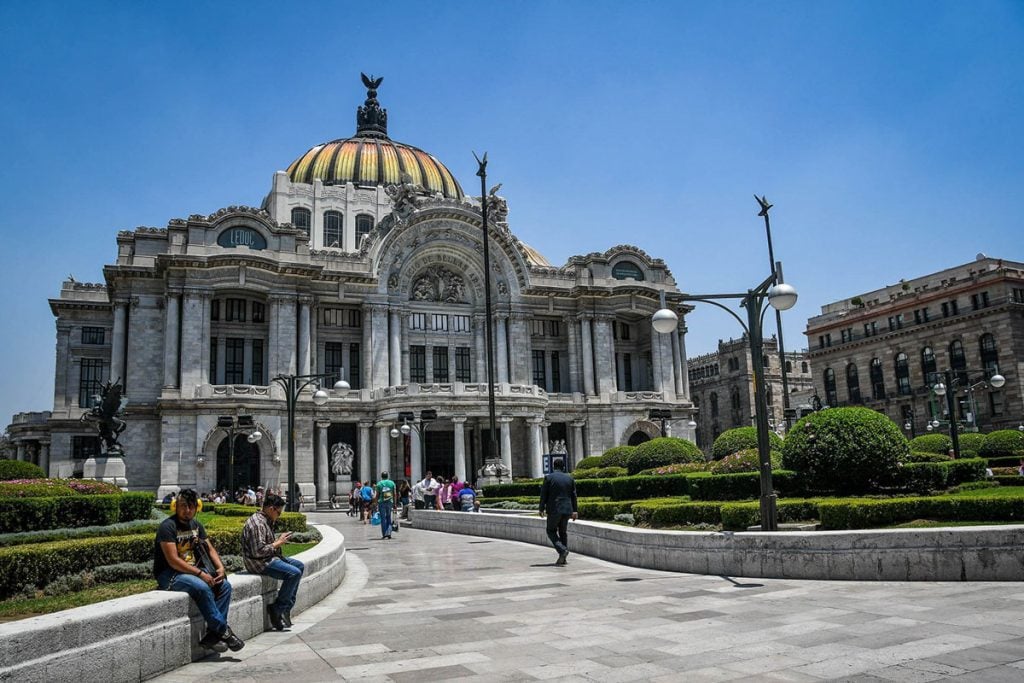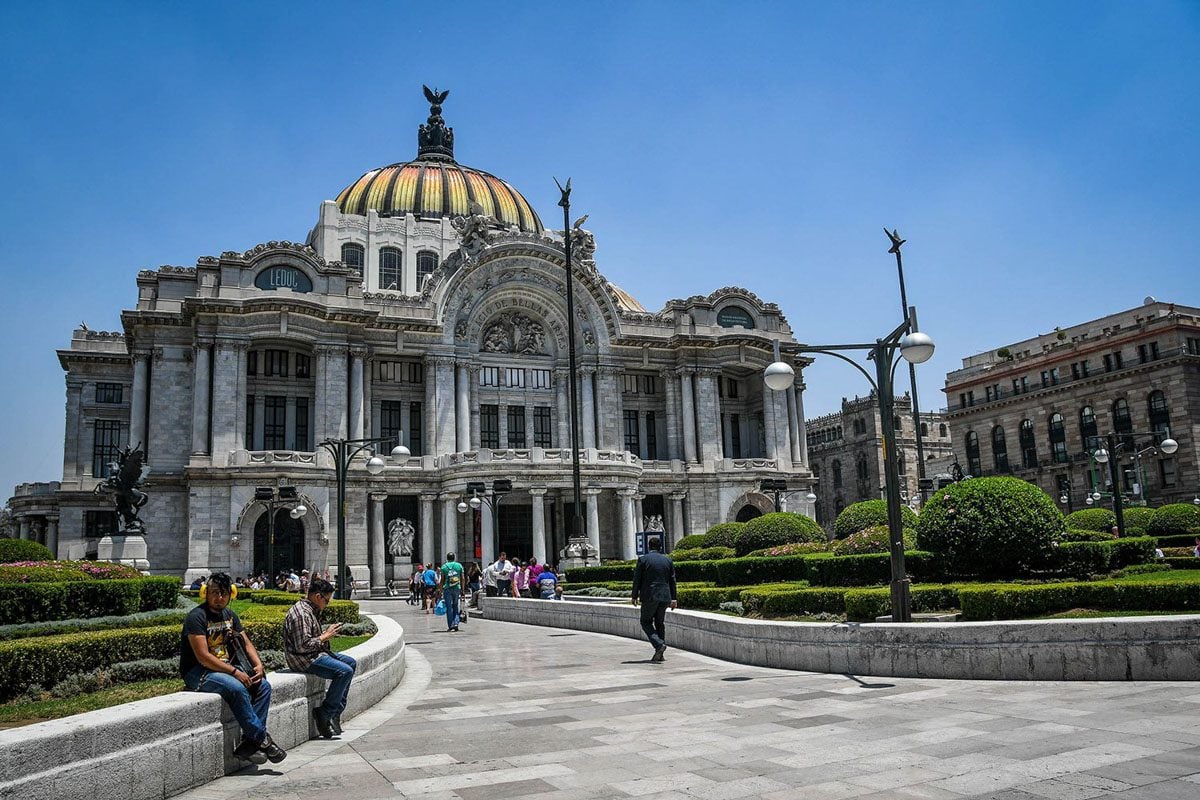 Arguably the most iconic building and a must-see in Mexico City is the Palacio Bellas Artes. Part museum, part performance hall. Inside, the museum houses murals painted by famous artists like Diego Rivera.
The building is an architectural spectacle worth a place on your tour of downtown CDMX, if only just for a glimpse.
Entrance Fee & Hours: The typical entrance fee to the museum is $70 MXN. Open daily from 11 a.m. to 5 p.m. and closed on Mondays.
Insider Tip: To get the best view of the outside of the Palacio Bellas Artes, head to the Sears building across the street (yes, there are still Sears department stores in Mexico). Make your way up to the rooftop coffee shop on the 8th floor, and don't forget your camera! You'll have to purchase a coffee or something from the cafe to sit and enjoy the view, but believe us, it's worth it!
17. Seek out a mariachi performance in Plaza Garibaldi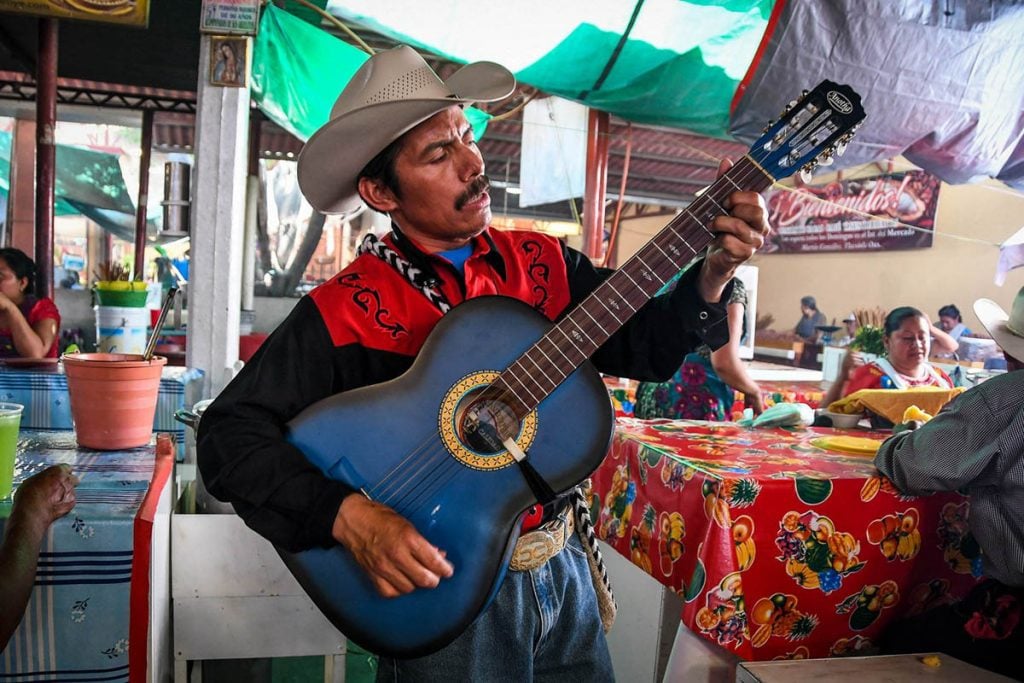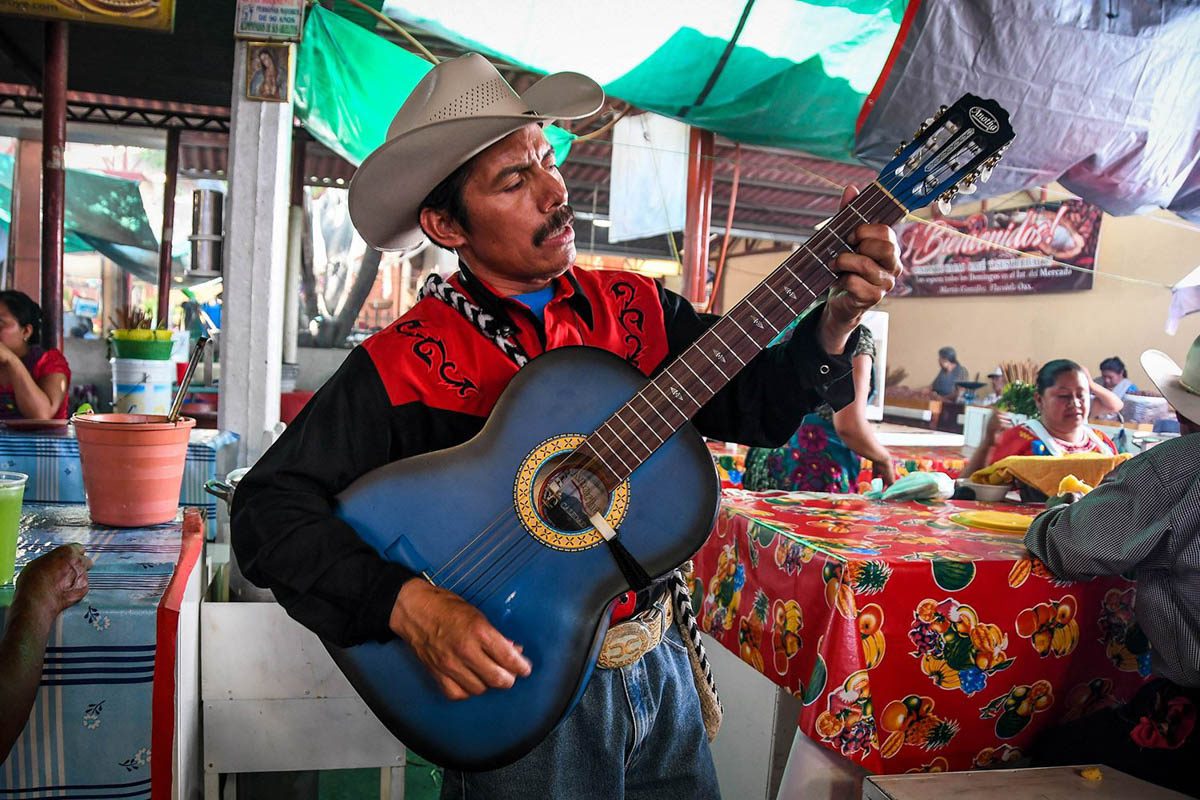 This style of music is ubiquitous in Mexican culture, and it's likely you'll hear the catchy melodies of stringed instruments and cheerful voices without searching hard. Make your way to Plaza Garibaldi, also known as Mariachi Square, to see a singing quartet in their signature suits.
18. Monument to the Revolution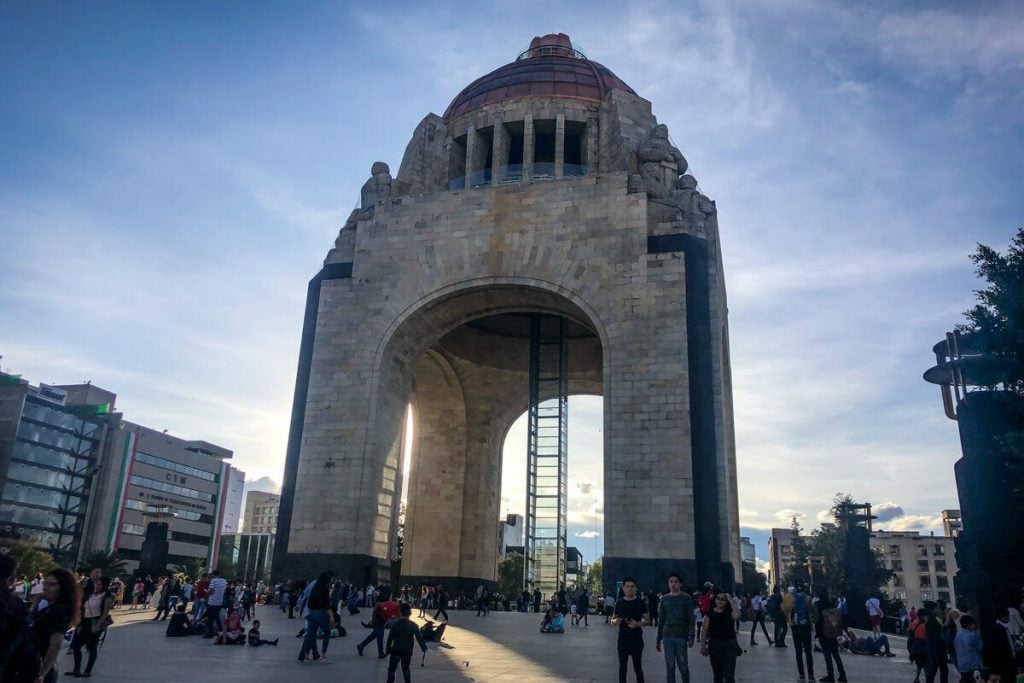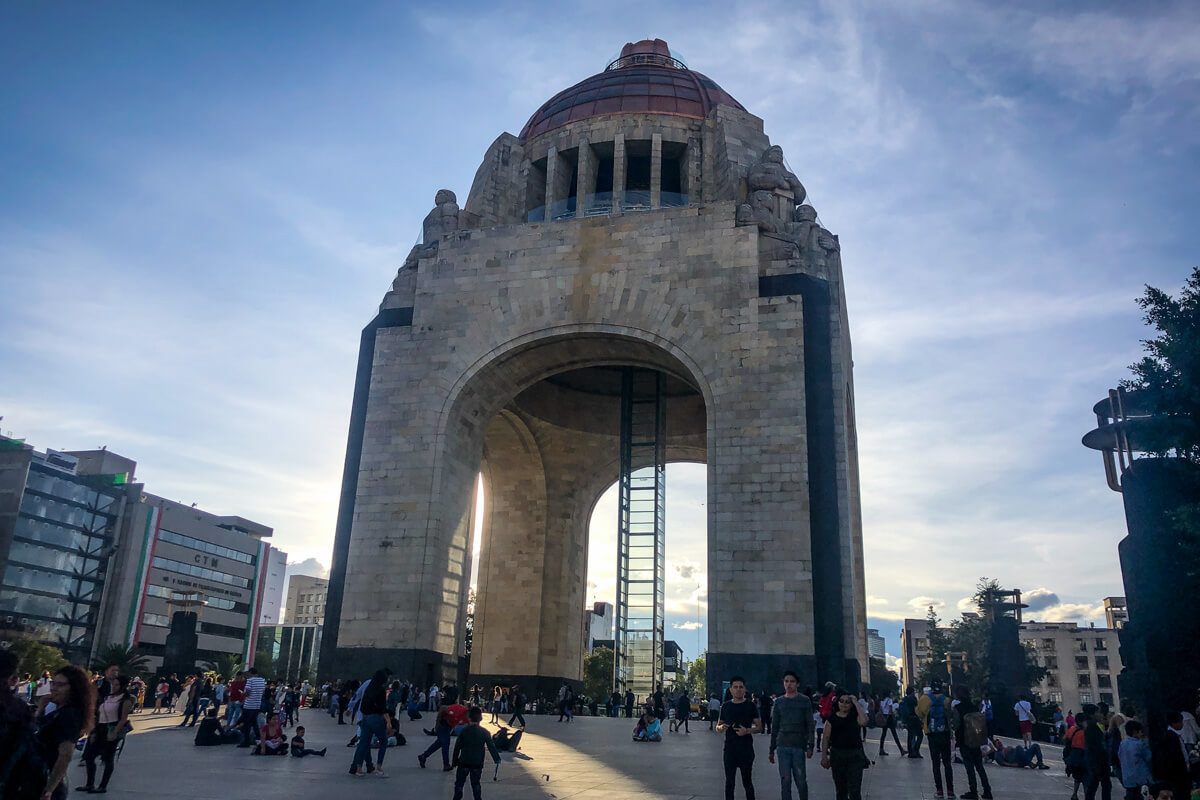 This landmark monument commemorating the Mexican Revolution is located in the Plaza de la Repúblics, just across la Reforma from the historic city center.
Before the Mexican Revolutionary War, the building was originally planned as a Federal Legislative Palace. Construction was halted during the war and left unfinished with only the dome in place. Five years later, the structure was converted into a monument considered to be the tallest triumphal arch in the world (at 220 ft high!).
Today it's part architectural feat, part gallery and part tomb.
Yes, you read that right. It's actually the final resting place, containing the tombs of some of Mexico's revolutionary heroes.
Visitors can take in the views from the observation deck or access the summit (at an extra fee) with a round terrace and panoramic views of the city. Then check out the National Museum of the Revolution, which is housed underneath the monument.
19. Take a cooking class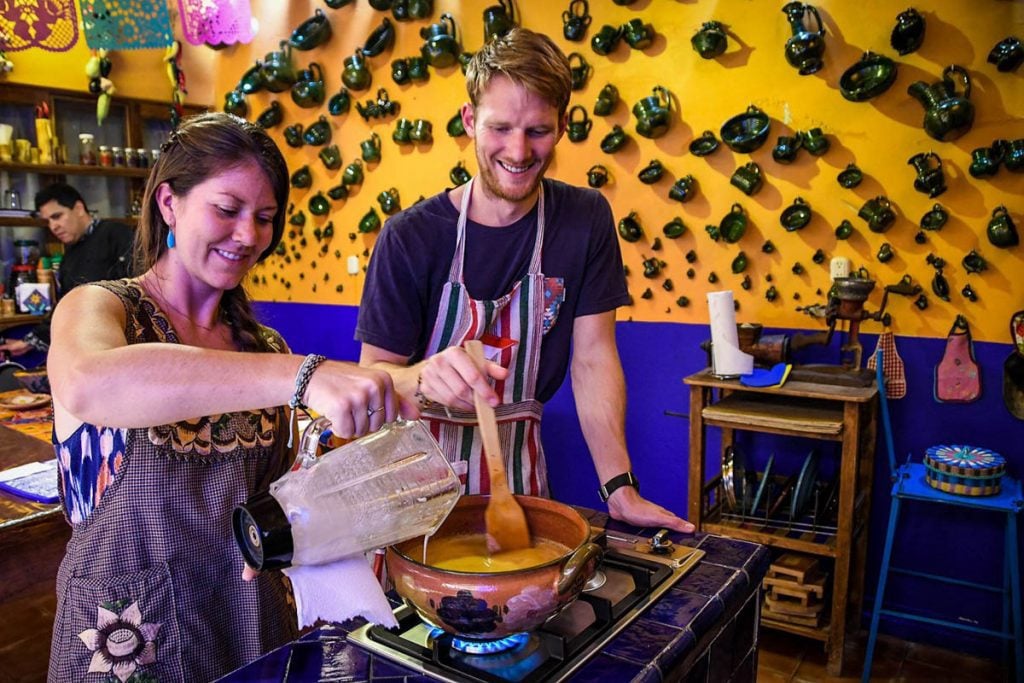 If you want to take your knowledge of Mexican cuisine to a whole new level, one of the best things to do in Mexico City (and one of our favorite things to do on all of our travels) is taking a cooking class.
Learn local secrets for making handmade tortillas, marinated meats and freshly prepared mole, passed down through generations.
Let your foodie heart delight as you enjoy the best meal of your time in Mexico, while learning skills you can take with you!
We firmly believe that cooking classes are one of the best (and tastiest!) ways to connect with a local and gain a deeper understanding of a country's culture.
20. Sample the street food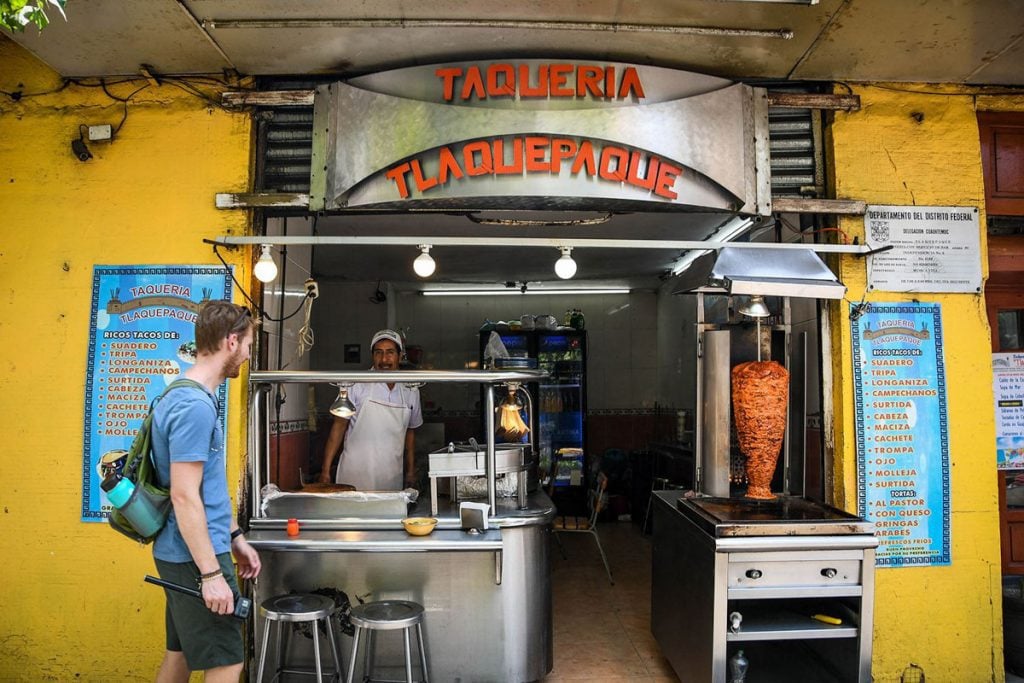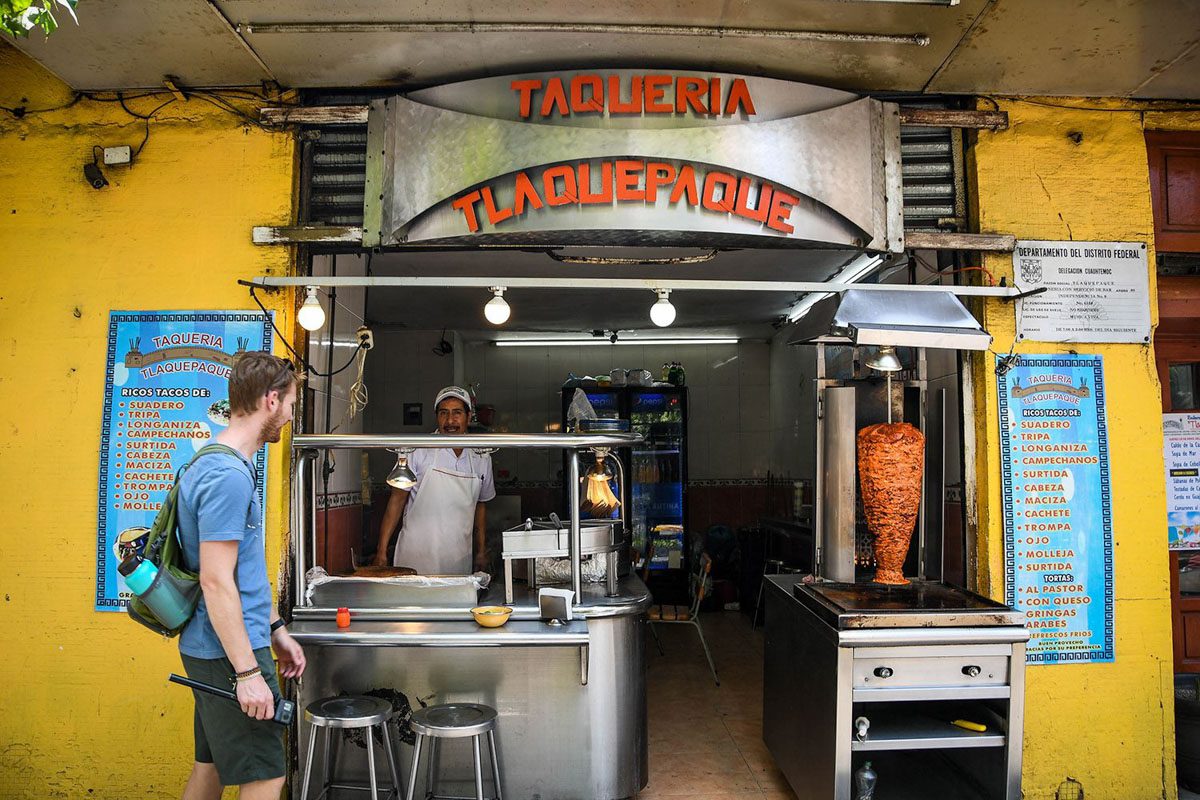 Even if your budget or schedule doesn't allow you to take a cooking class or food tour, rest assured there are still plenty of options for sampling some incredible cuisine while in Mexico City.
Street food in Mexico City is as prominent as the streets on which it is sold.
Around just about every corner of this metropolis you'll find vendors selling everything from tacos to elote and plenty of other interesting foods. It's one of our top recommendations for things to do in Mexico City and we highly encourage you to try as many street foods as possible!
Trust us… you won't be disappointed!
Popular street foods to seek out and try in Mexico City
Tacos al pastor: Slow-cooked rotisserie pork traditionally topped with pineapple.
Elote (Mexican street corn): Corn on the cob smothered in mayo and topped with cotija cheese, chili powder, and lime.
Torta: Mexico's version of a sub sandwich, which is served on a crusty white roll and grilled with similar toppings of typical taco flavors.
Quesadillas: For something that you'll only find in Mexico, order a huitlacoche quesadilla.
Tlacoyos: A popular street food that dates back to pre-Hispanic times, which is basically a stuffed tortilla
Gorditas: Stuffed masa pancake.
Tostadas: A crispy, deep-fried tortilla topped with generous portions of meat or seafood, veggies and salsas.
Tamales: A popular snack for any meal of the day, made of corn masa typically stuffed with sweet or savory fillings, and wrapped in a corn husk or banana leaf to be steamed.
Churros: Fried sweet dough coated in sugar, which usually comes with a dipping sauce or chocolate, caramel or sweetened condensed milk.
Horchata: A sweet and creamy drink made with rice milk, cinnamon and vanilla.
Agua Fresca: A cross between fresh fruit juice and water, this is a staple street-vended drink.
Michelada: Sort of like Mexico's version of a Bloody Mary, a Michelada is an alcoholic beverage made with beer, lime juice, tomato juice and assorted sauces and spices.
21. Taste mezcal, not just tequila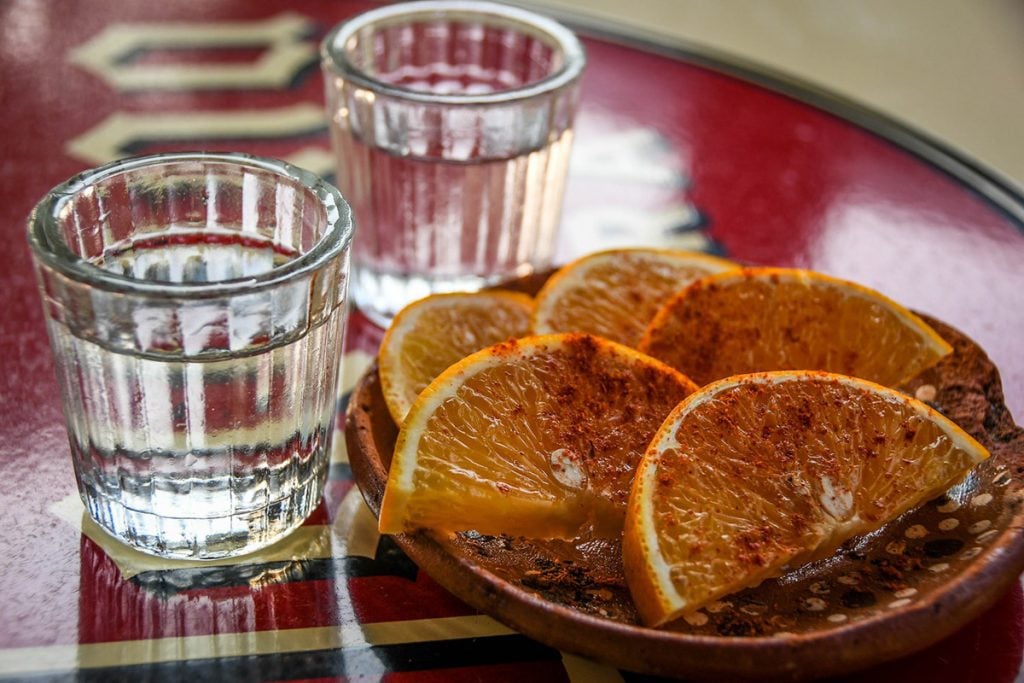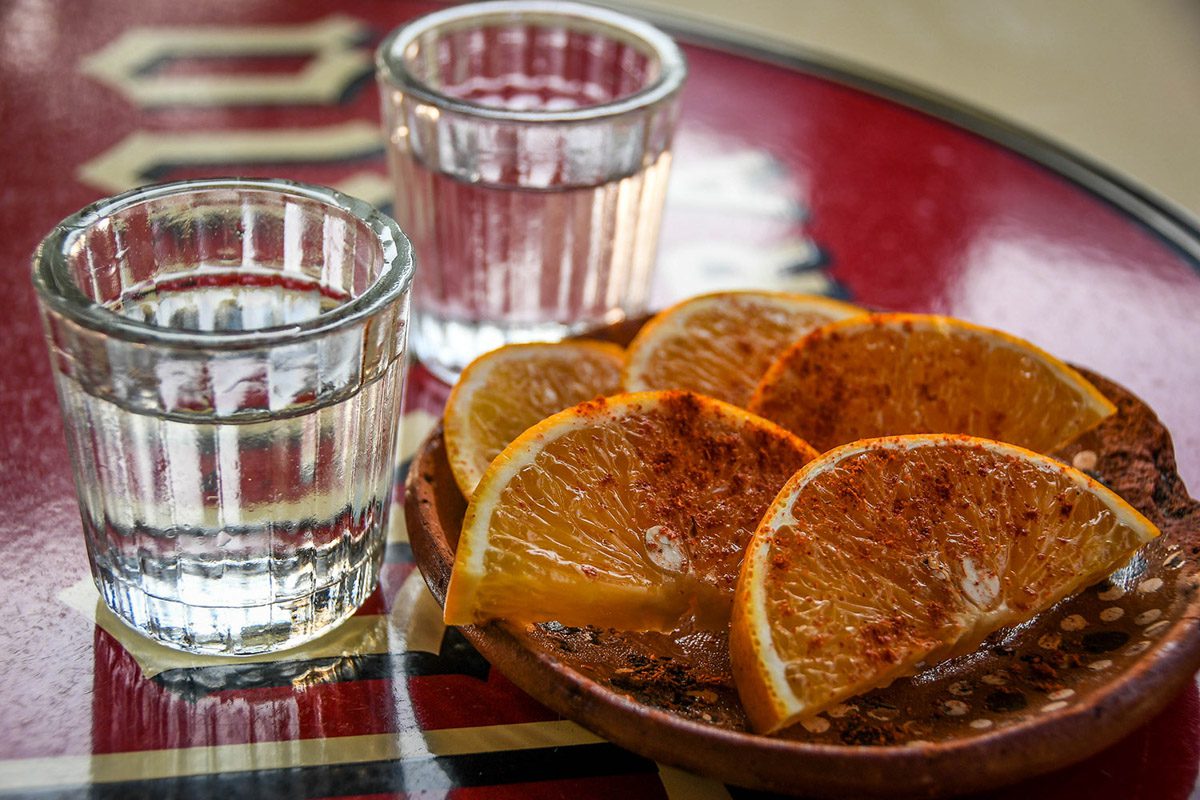 Of course when you picture a typical Mexico beach vacation, I'm sure shots of tequila come to mind. But when in Mexico City, Mezcal is the drink of choice.
Sort of like a cousin to tequila, mezcal is a distilled alcoholic beverage that is made from the same agave plant as its more popular relative. Different methods for distilling give mezcal a strong, smokey flavor profile and it is typically consumed straight alongside a slice of orange and sal de gusano or worm salt.
You'll find plenty of mezcal bars in Mexico City where you can park yourself for a tasting. However, if you're looking for a recommendation, we enjoyed La Nacional in La Roma neighborhood.
With tons of different variations of mezcal to choose from, the people here really know their stuff. They'll serve you one ounce pours alongside orange slices sprinkled with worm salt and carrots and jicama slices to cleanse your palate in between sips.
22. Try churros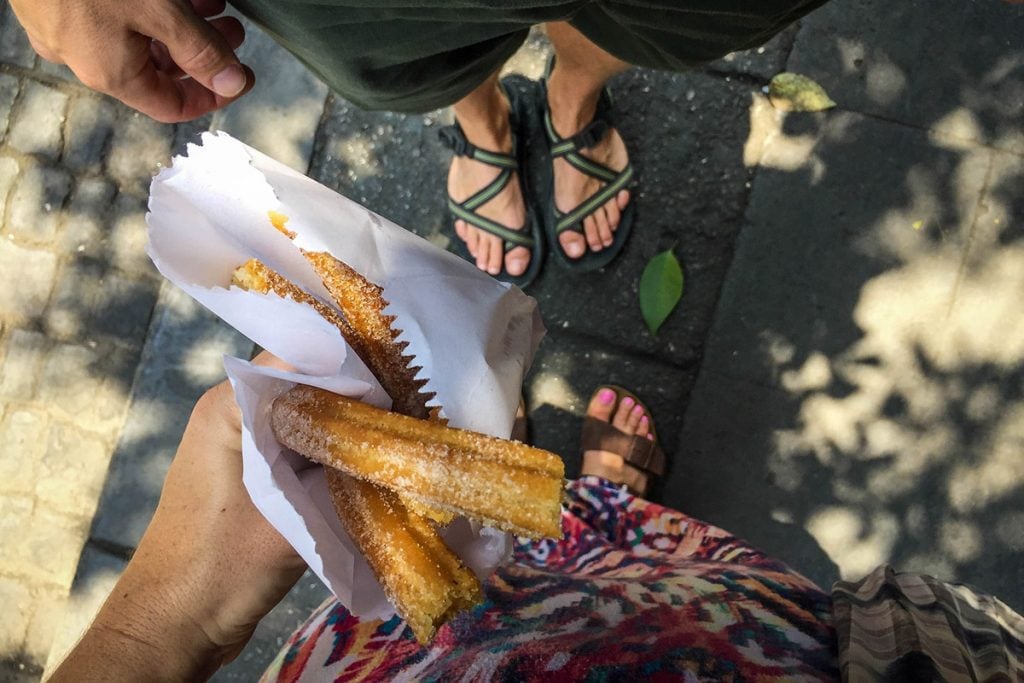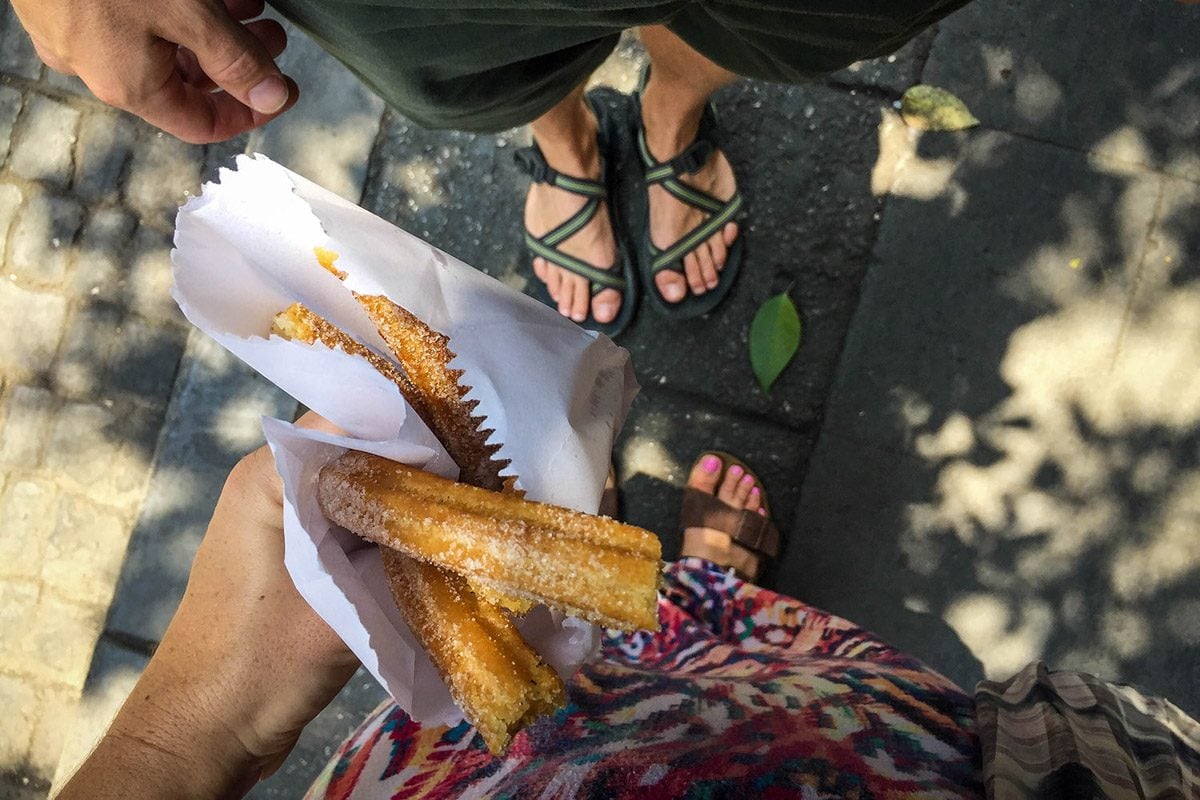 If you've got a sweet tooth, you won't want to miss out on tasting churros in Mexico City. One of the most famous places to try these cinnamon sugar magic sticks is at El Moro.
There are a couple locations in the city, but their original location in the historic district is a convenient stop while wandering around the center. They're open 24 hours a day and serve hot chocolate too, so you'll be sure to have your cravings satisfied no matter what time of the day (or night!) they strike!
Otherwise their La Condesa location has a cute cafe vibe. But there's usually a line forming out to the door by the afternoon, so go early if you want to avoid the wait times.
23. Visit the Teotihuacan Ruins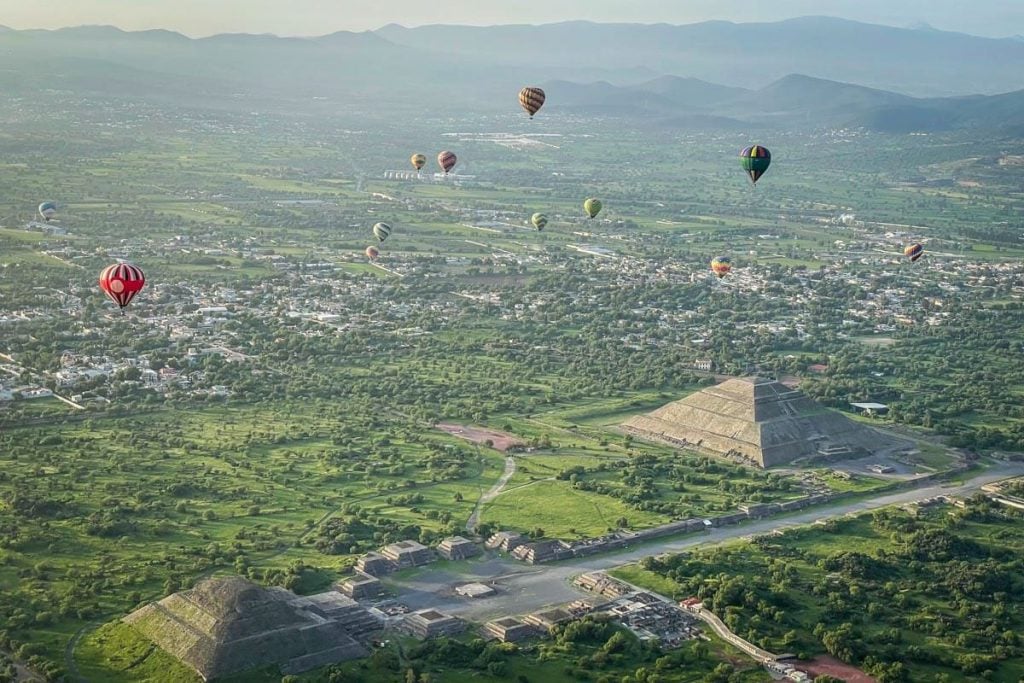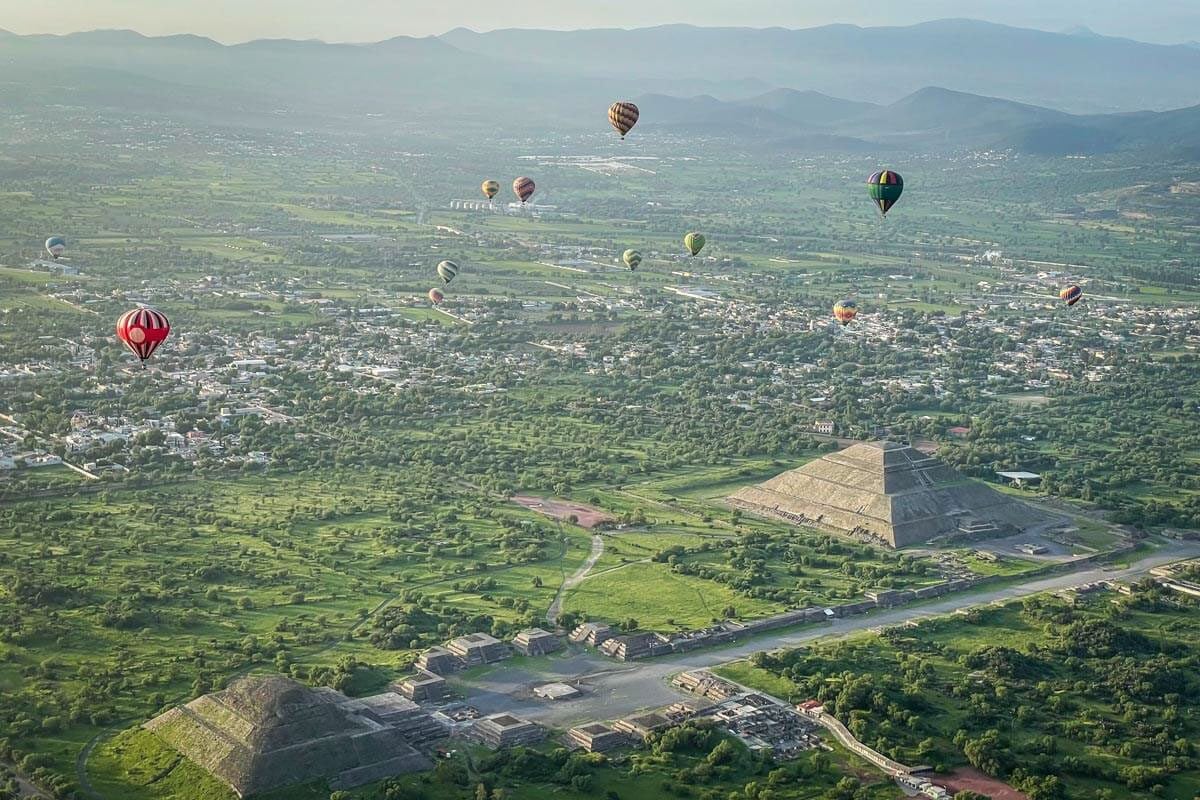 The ruins of Teotihuacán are all that's left of what was once a thriving Mesoamerican metropolis. This massive archaeological complex is about 25 miles, an hour and half drive northeast of Mexico City.
Pronounced "tay-oh-tee-wah-KAHN", the highlights here are the Pyramid of the Moon and the Pyramid of the Sun which you can climb up to get a view of the whole ruins.
There are many tours that run from Mexico City to Teotihuacán, but it is easily accessible by public transportation. The cost to enter the ruins is 70 pesos and you should plan at least 2-3 hours there.
While climbing the pyramids can be entertaining, the best way to see Teotihuacán is from the sky!
A hot air balloon tour of the ruins at sunrise is one of the top things to do in Mexico City. You can find tours on Get Your Guide to include transportation to and from the city, plus breakfast, a 1 hour balloon flight and entrance to the park on foot afterwards.
Insider Tip: To avoid the crowds, try to arrive at the site as early as possible (the site opens at 9 a.m.). Don't forget to pack plenty of water and wear sun protection, as there isn't much shade at this archeological site.
24. Get lost in the Vasconcelos Public Library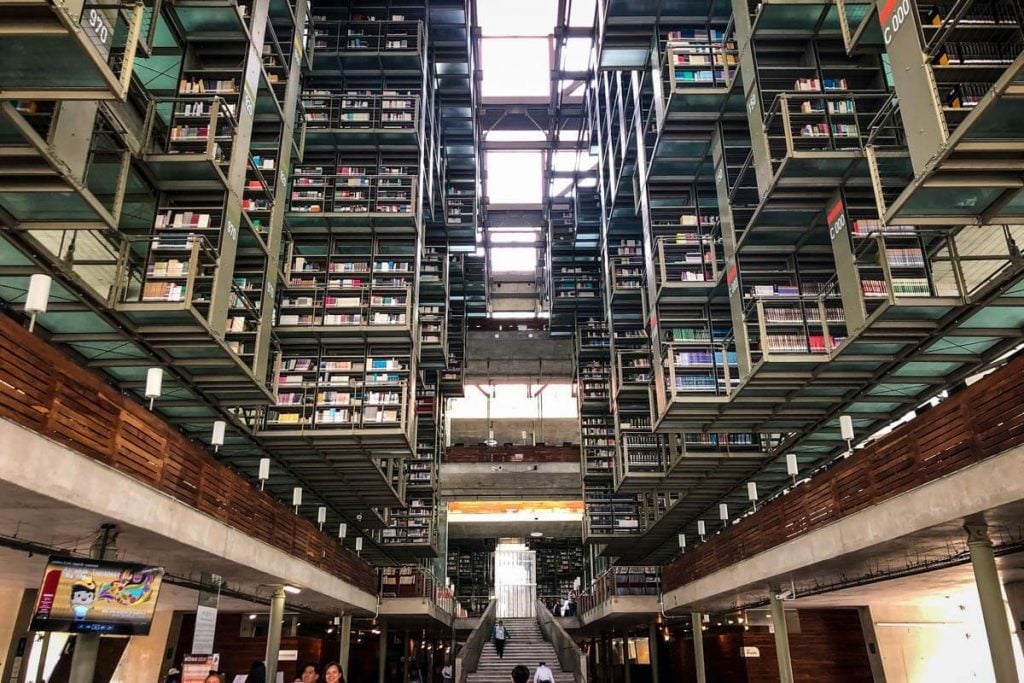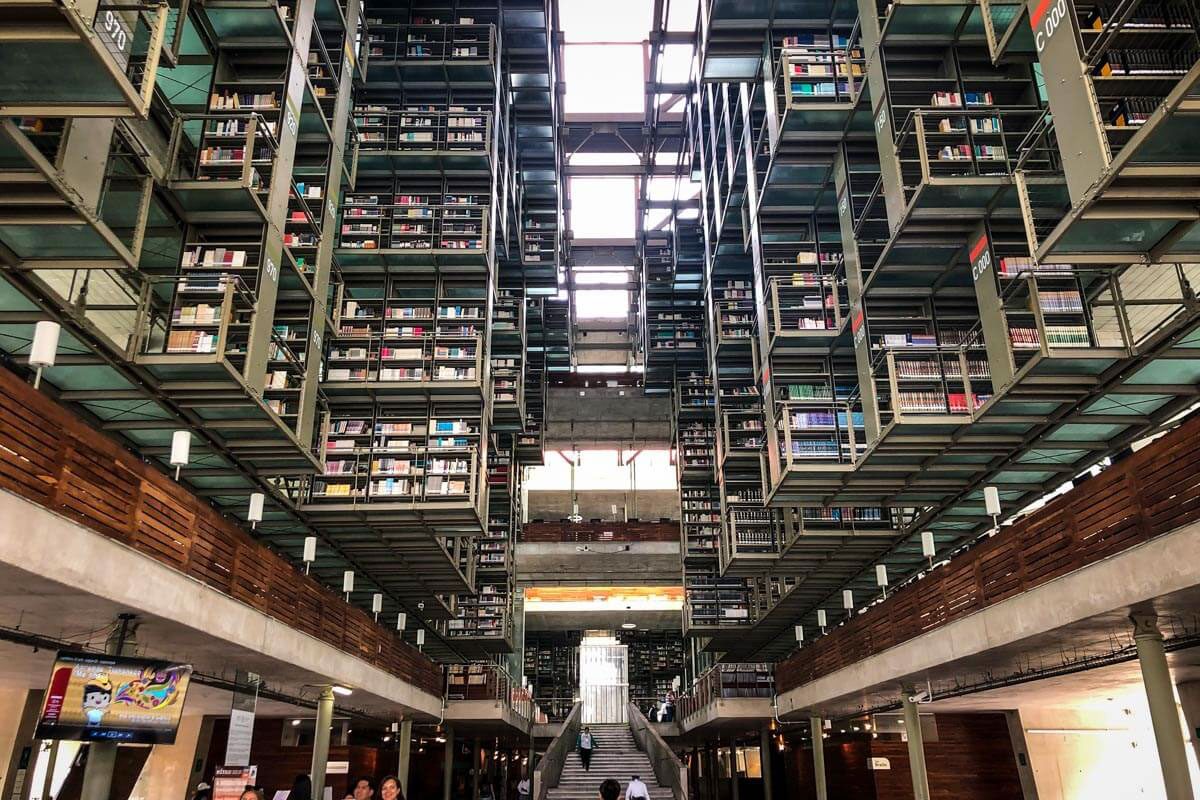 You may be thinking to yourself, now why on earth would I want to spend my time in Mexico City visiting a public library? I have plenty of those at home…
This isn't just any public library. Since its completion in 2006, the library has been called one of the most advanced constructions of the 21st century.
Dubbed the megalibrary by the media, the massive structure is spread out across over 400,000 square feet and features multiple stories of intentionally misaligned stacks and transparent walls giving it a geometric affect like none you've ever seen.
Spend a few minutes or a few hours wandering through this remarkable structure, snapping a few photos, or getting lost in a book.
How to get there: The library is located in an area of downtown Mexico City at the Buenavista Train Station where the metro train, subway and Metrobus meet.
25. Find peace in the San Angel Neighborhood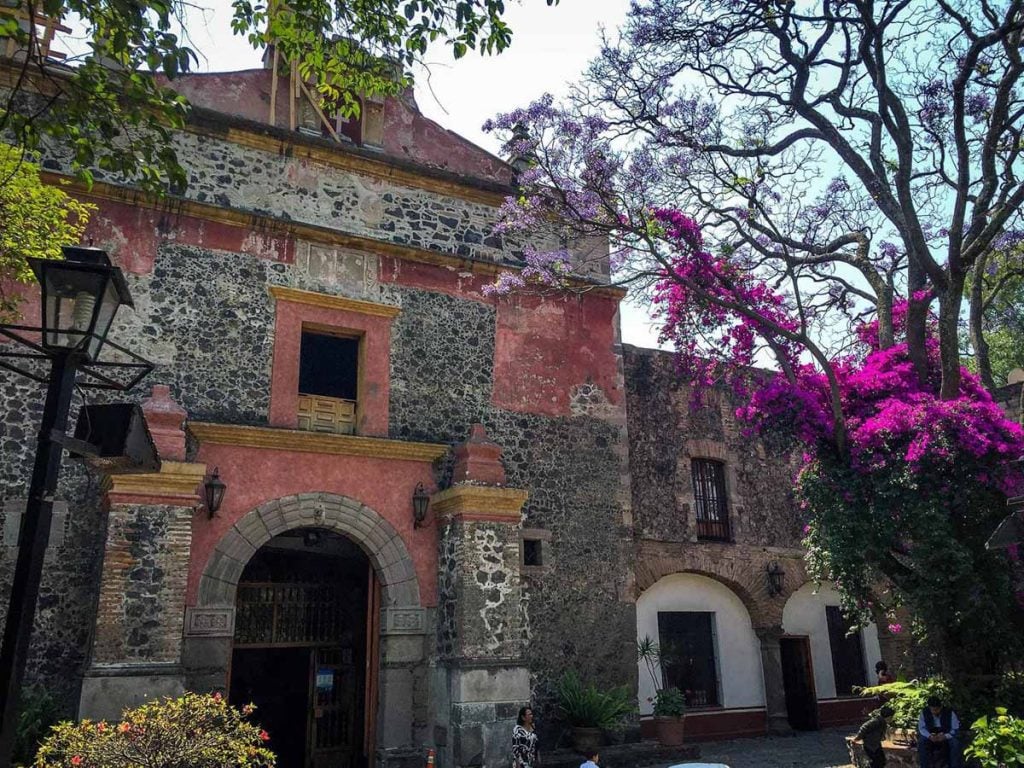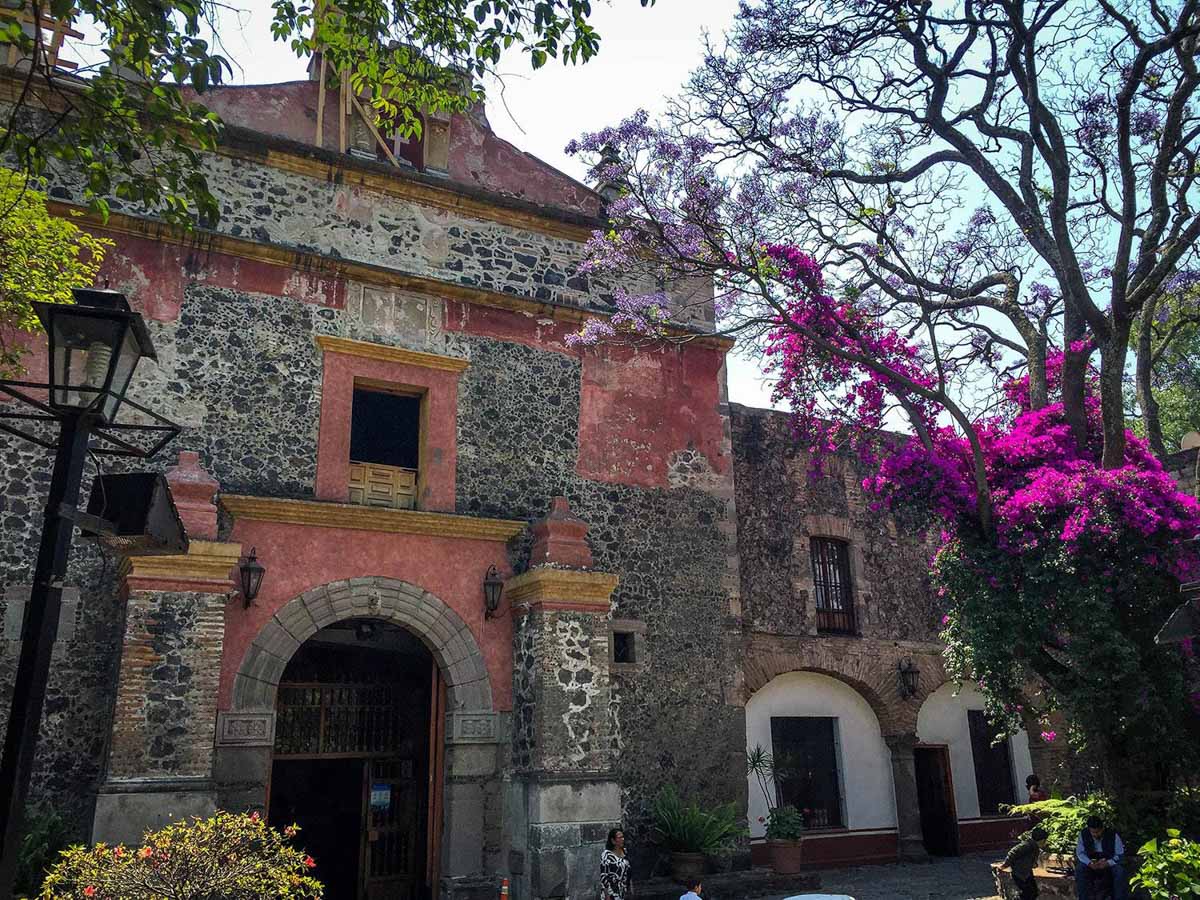 This picturesque neighborhood just southwest of Coyoacan was probably our favorite area in Mexico City. If you're in Coyoacan, make the short trip here, and you won't be disappointed.
Plaza San Jacinto
This park is filled with lots of green space and has a beautiful fountain in the middle. Around the edges there are cafes and restaurants for you to refuel while looking at the numerous museums in San Angel.
Saturday Bazaar
If you happen to be in Mexico City on a Saturday, consider checking out the market that takes place in the San Angel neighborhood once weekly.
You'll find streets and parks lined with artists and local vendors. Eventually, you'll make your way to a building known as the bazaar (northwest of the Plaza San Jacinto), and it's worth a gander inside. The goods for sale in the bazaar are much higher-end (with price tags to match) than what the vendors outside are selling.
House – Studio Museum of Frida Kahlo and Diego Rivera
Situated on one of the major streets in a busier part of San Angel, you'll find the home that Frida Kahlo and Diego Rivera shared toward the end of their lives.
Their notoriously tumultuous relationship meant they needed time apart, so there are actually two homes on the property – one for Frida and one for Diego – with a bridge adjoining them for times they felt like visiting. (See #14 for more information!)
---
Where to eat & drink in Mexico City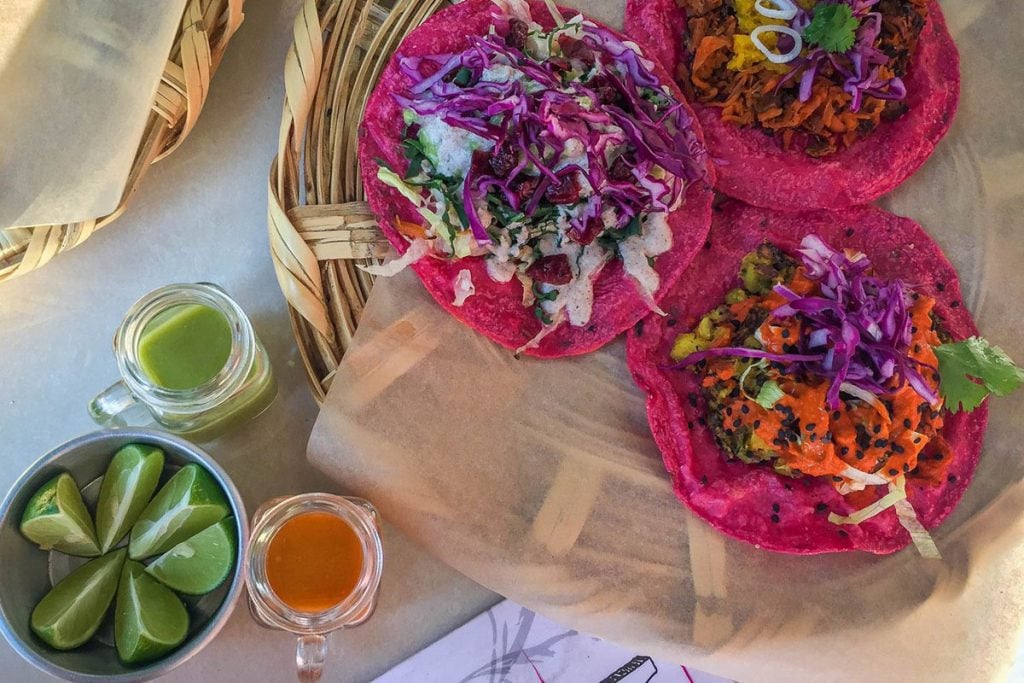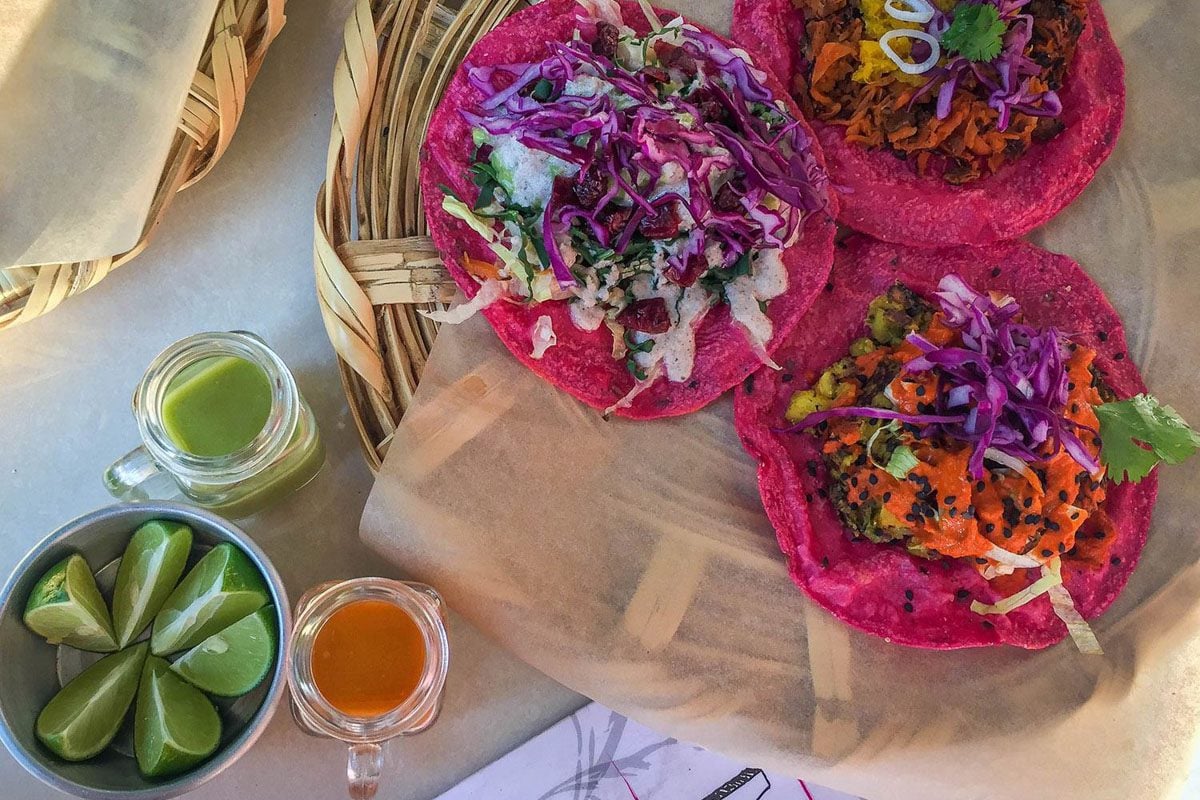 If you haven't already figured it out, Mexico City is a foodie heaven. This large metropolis is home to some of the best food in the world, from abundant fine dining restaurants all the way down to the street stalls slinging tacos into the wee hours of the morning.
There are endless options for delicious eats in CDMX, but it can be a bit overwhelming to know where to look. Here are some of our favorite Mexico City eats to get you started:
Centro Historico
La Condesa & La Roma
Polanco
Pujol: Last we checked, this was #12 on the list of World's Best Restaurants.
El Turix: The best cochinita pibil tacos you'll find.
Coyoacan & San Angel
Coyoacan Market: Venture inside and all the way to the back of this local market to find the signature Coyacan tostadas.
Antojitos Mexicanos Market: Just off of the main square, this local food market has an awesome selection of traditional Mexican foods.

Tip: Order the huitlacoche for a "different" experience. This quesadilla will be made right in front of you and is stuffed with huitlacoche, or corn fungus, which is a delicacy in Mexico.
Where to stay in Mexico City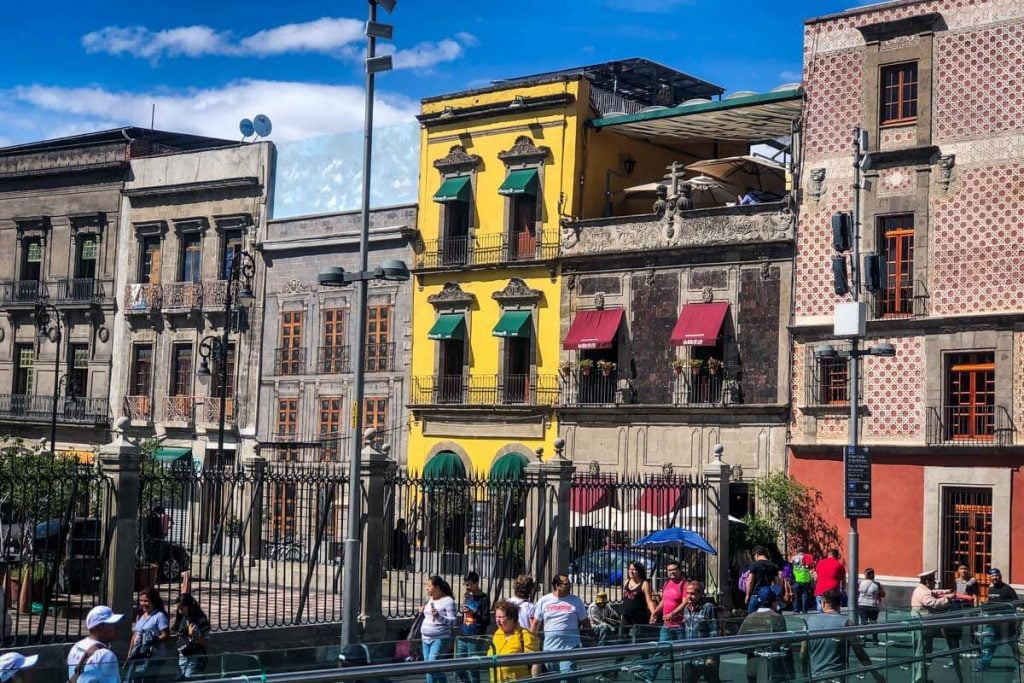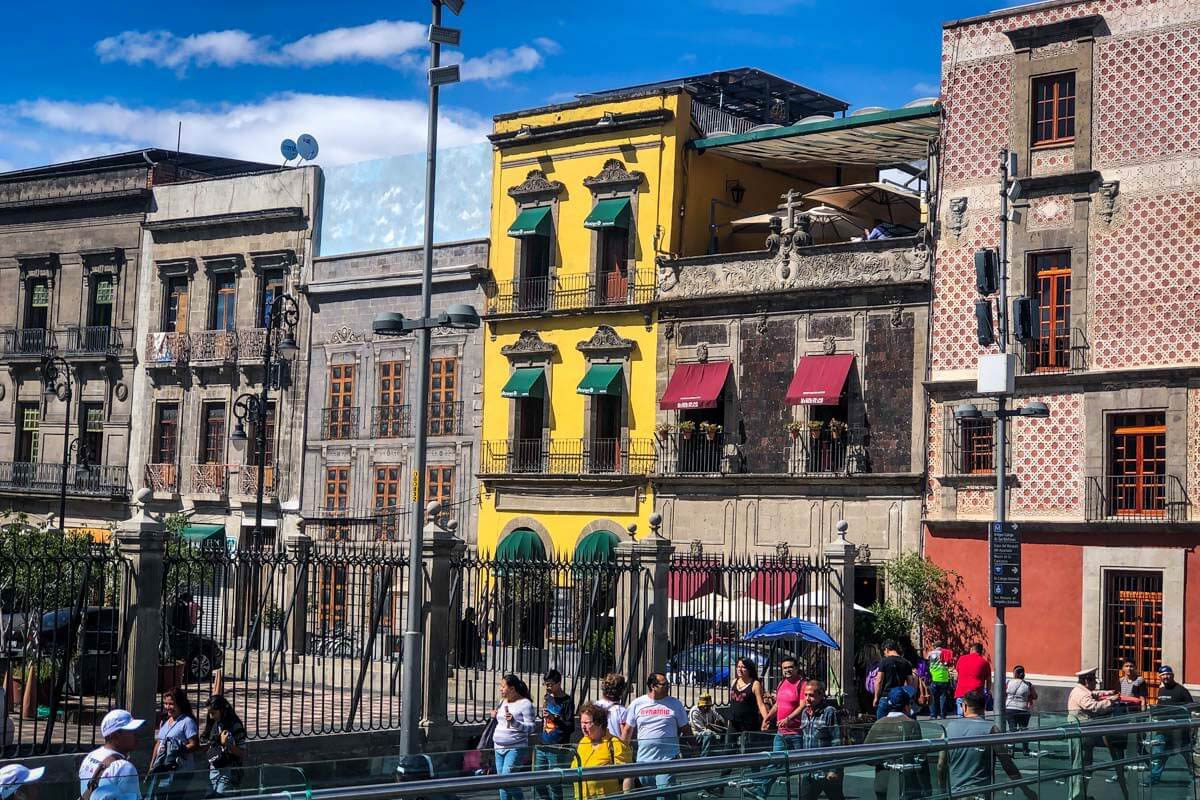 The most popular neighborhoods in CDMX for visitors include Centro, La Condesa, and La Roma (divided into Norte and Sur). Another option is to stay in the Coyoacan/San Angel area, but you'll be much farther from a lot of the things to see and do.
Best budget stay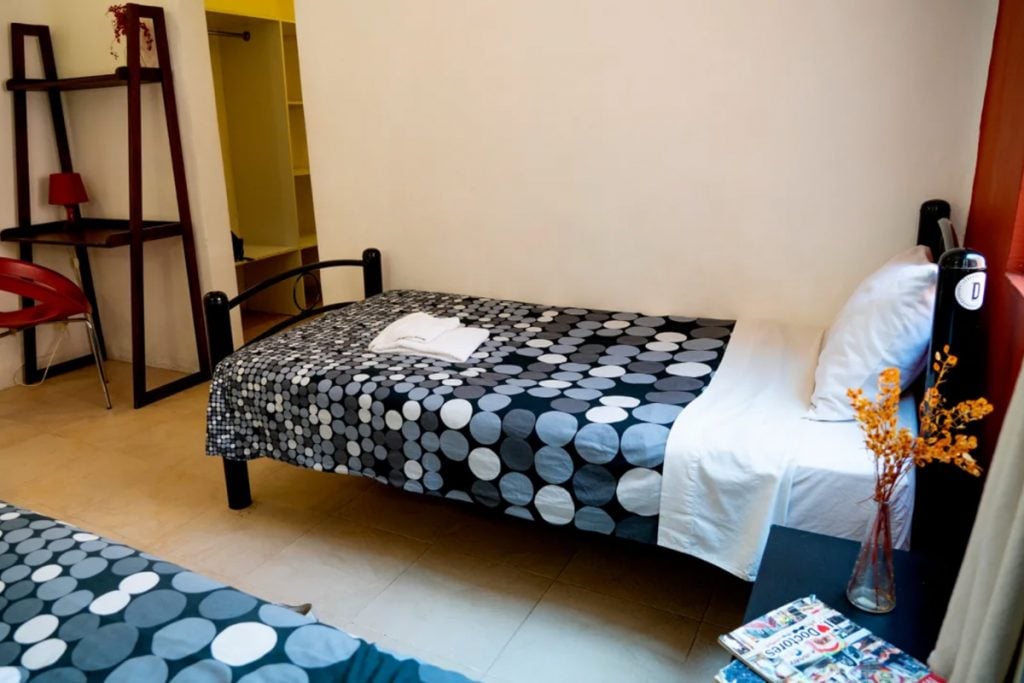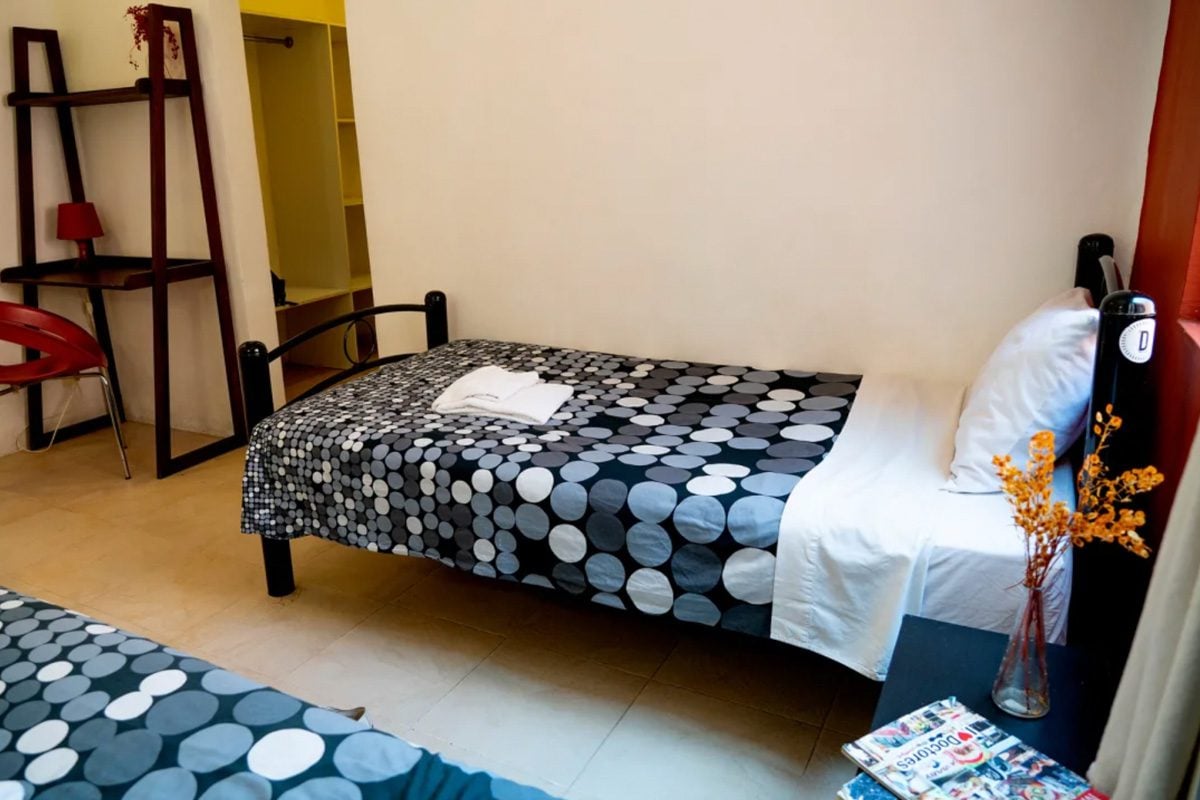 Suites DF Hostel: Smack in the middle of the city, this fun backpacker hostel has a great vibe and is a nice place to meet other travelers. They have private rooms as well as dorms and is steps away from a metro stop.
Mid-range/couples stays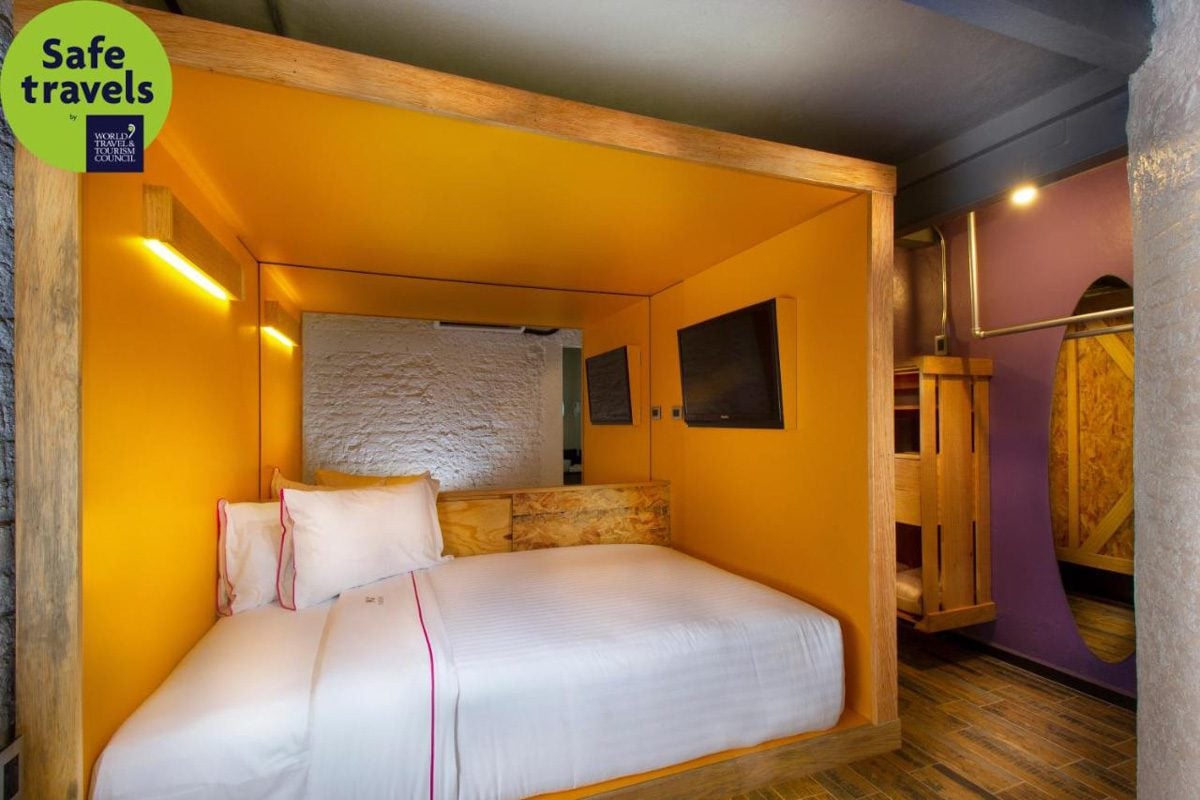 Hotel MX Roma: This hotel is conveniently located in the hip La Roma neighborhood and comes with amenities like free breakfast, complimentary bike rentals and a free espresso machine! They have a fitness center with a squash court available.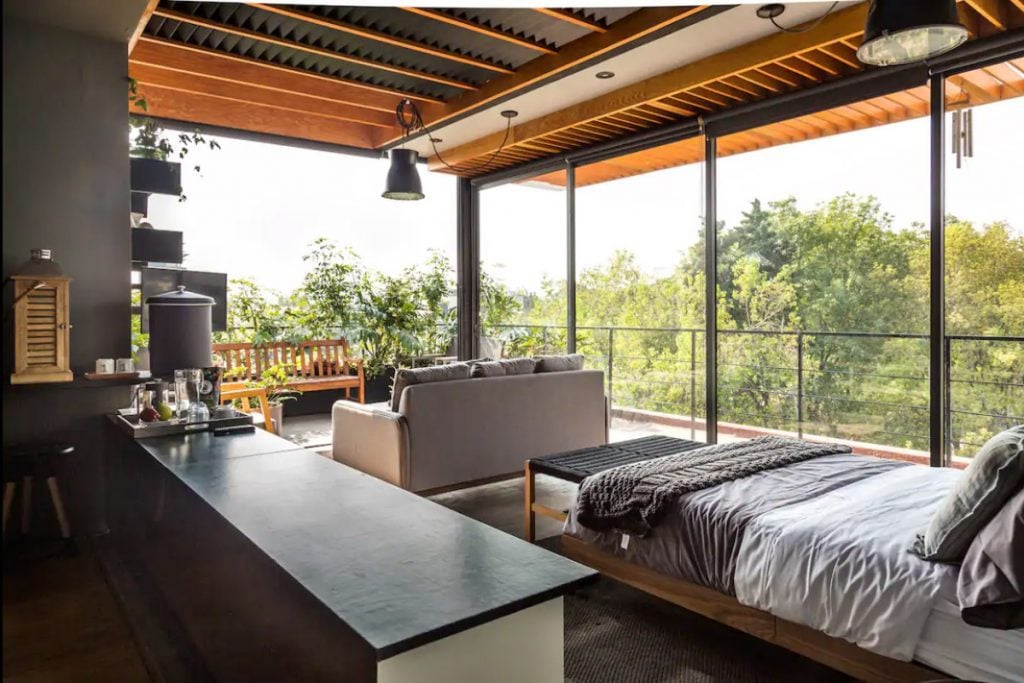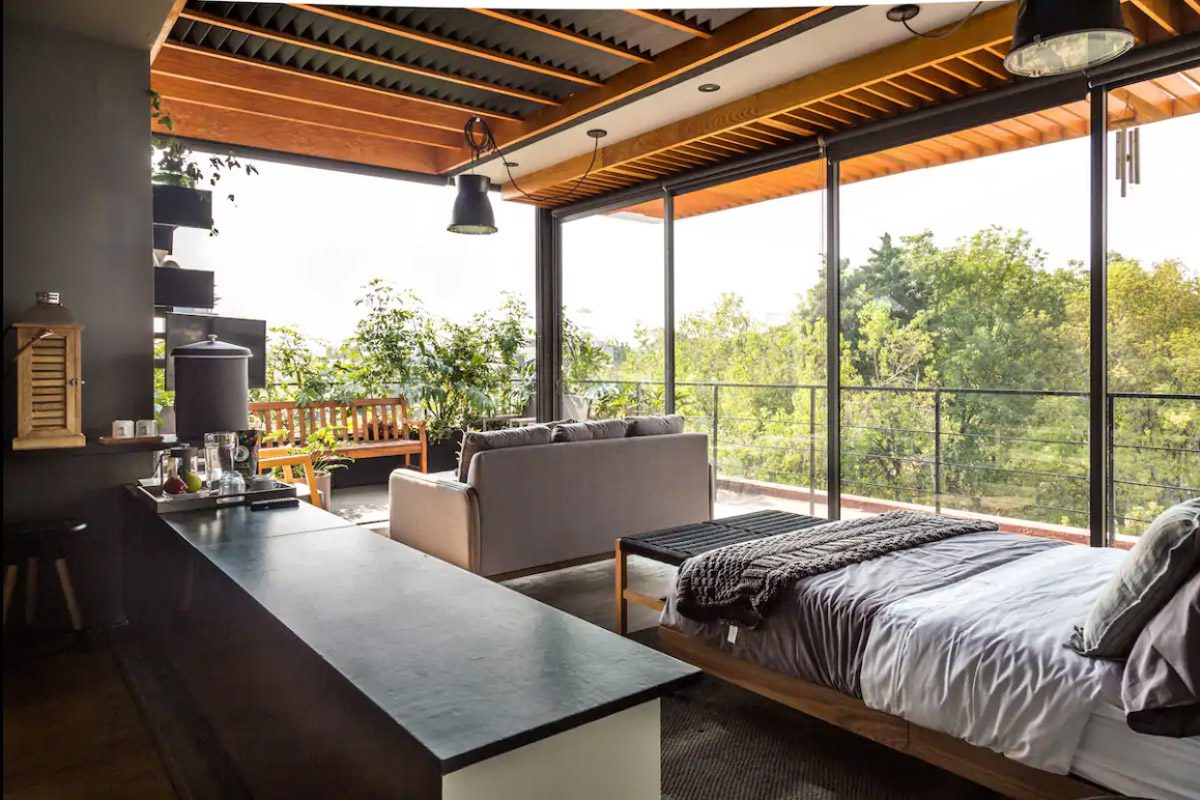 Airbnb Loft with Private Terrace: This modern studio loft is situated in the heart of La Condesa so you can walk to tons of restaurants, markets and parks. The beautifully decorated apartment opens up to a large private terrace full of plants.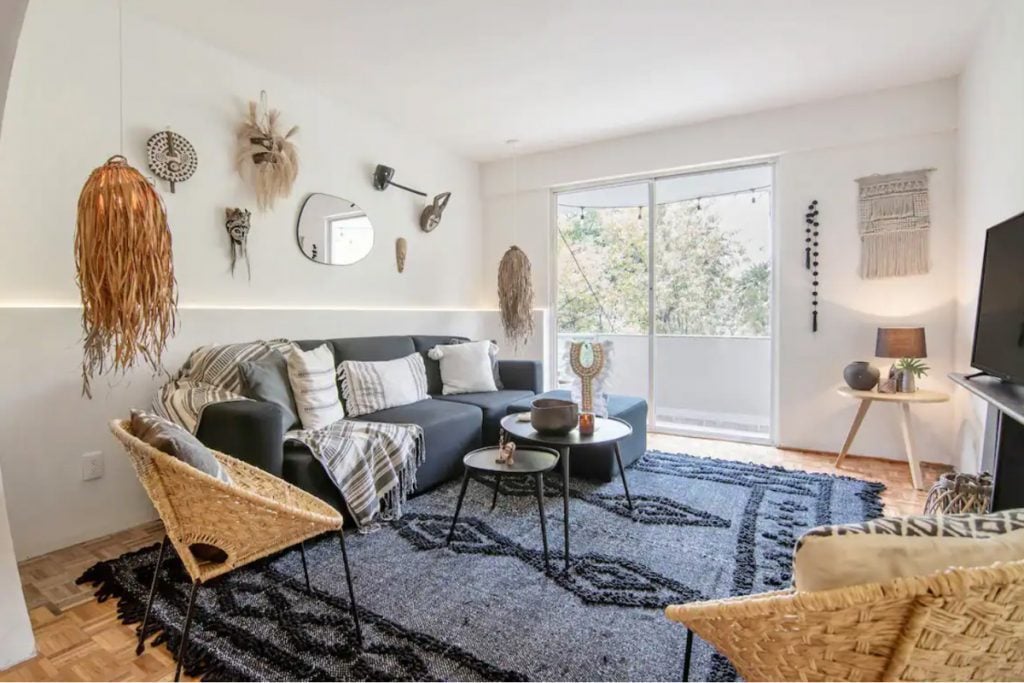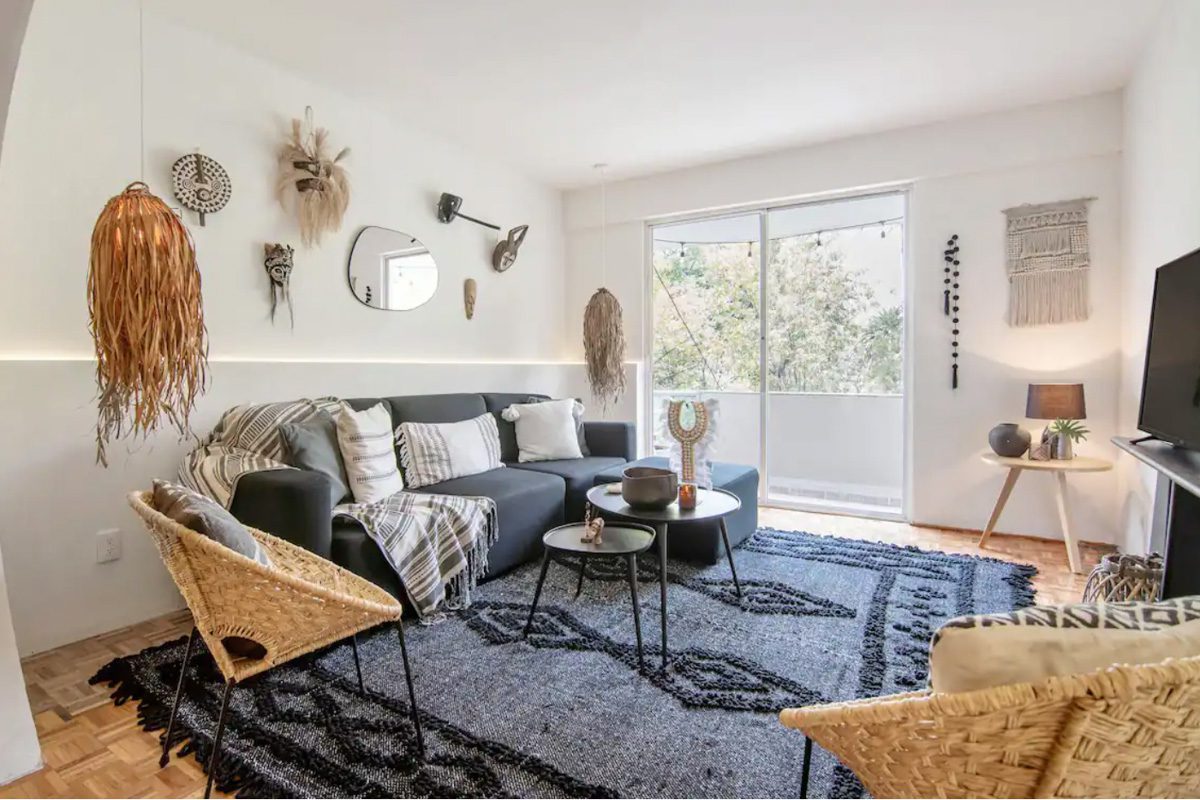 Airbnb Condesa Penthouse: Walk to restaurants, shops and Parque Mexico from this stylish bohemian penthouse. The 4 bedroom space is bright and sunny with a full kitchen and small private terrace.
Splurge Hotel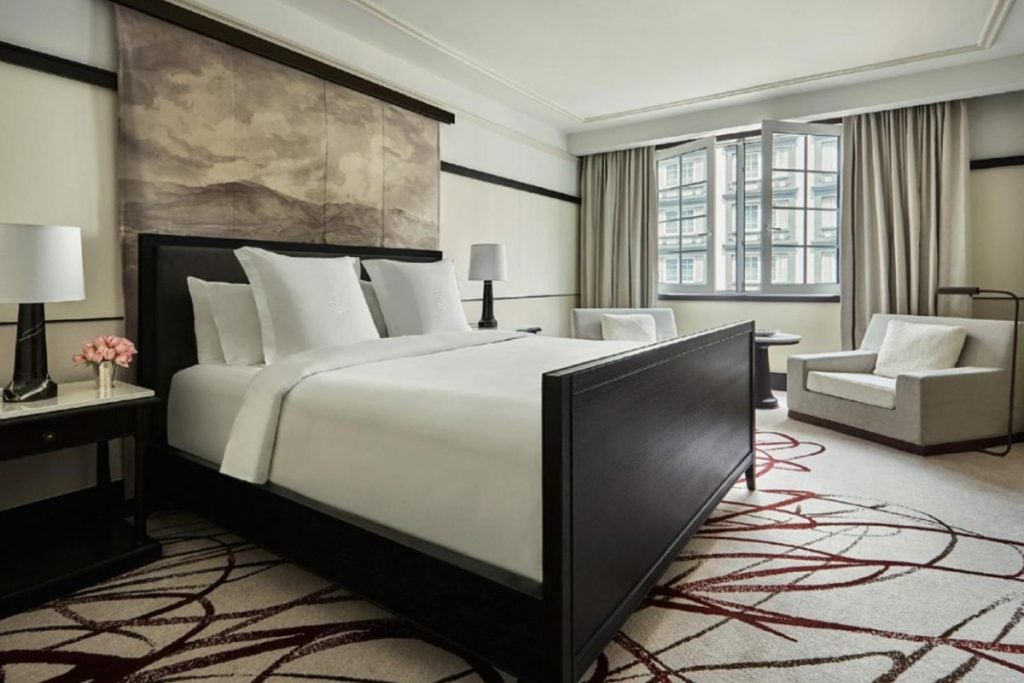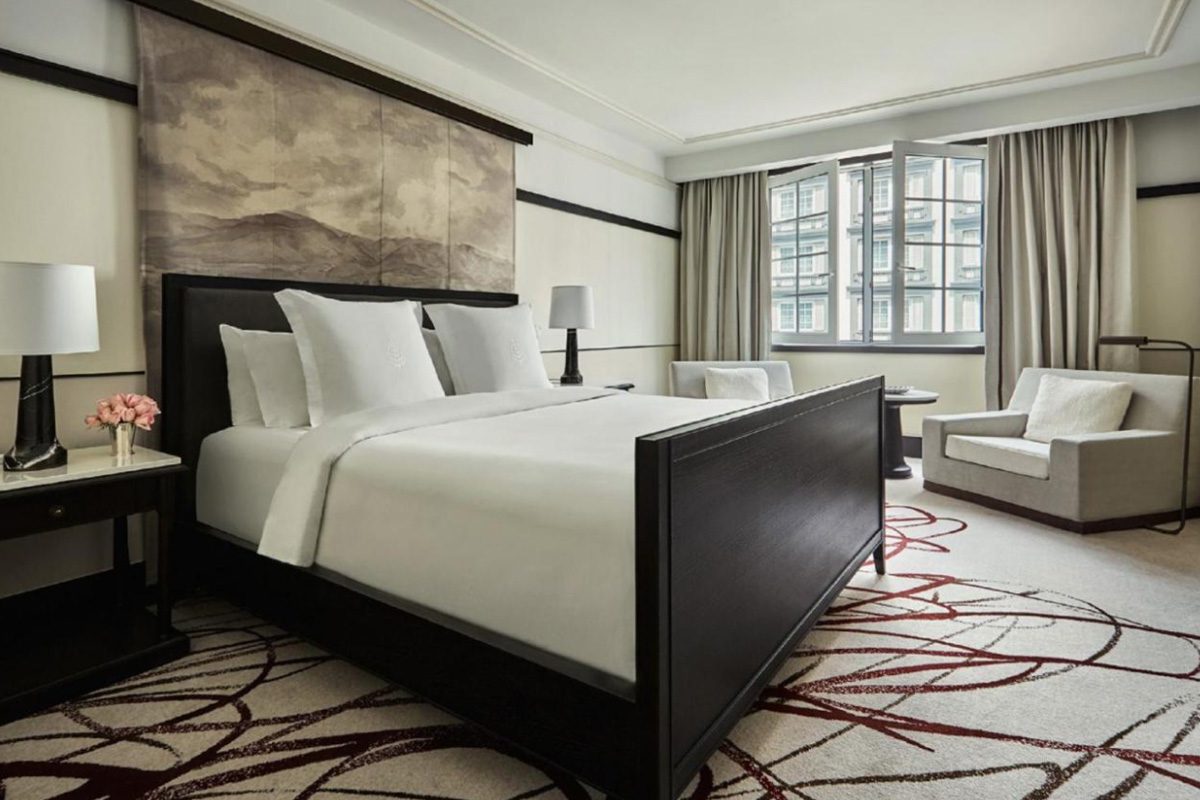 Four Seasons Hotel Mexico City: It doesn't get much more fancy than this place. 5-stars, fitness center, outdoor pool, on-site spa and restaurant and is in a great location steps aways from Chapultepec Park.
Need more info on where to stay? We put together a detailed rundown of the best airbnbs in Mexico, including some stunners in Mexico City good for all budgets.
How to use the metro system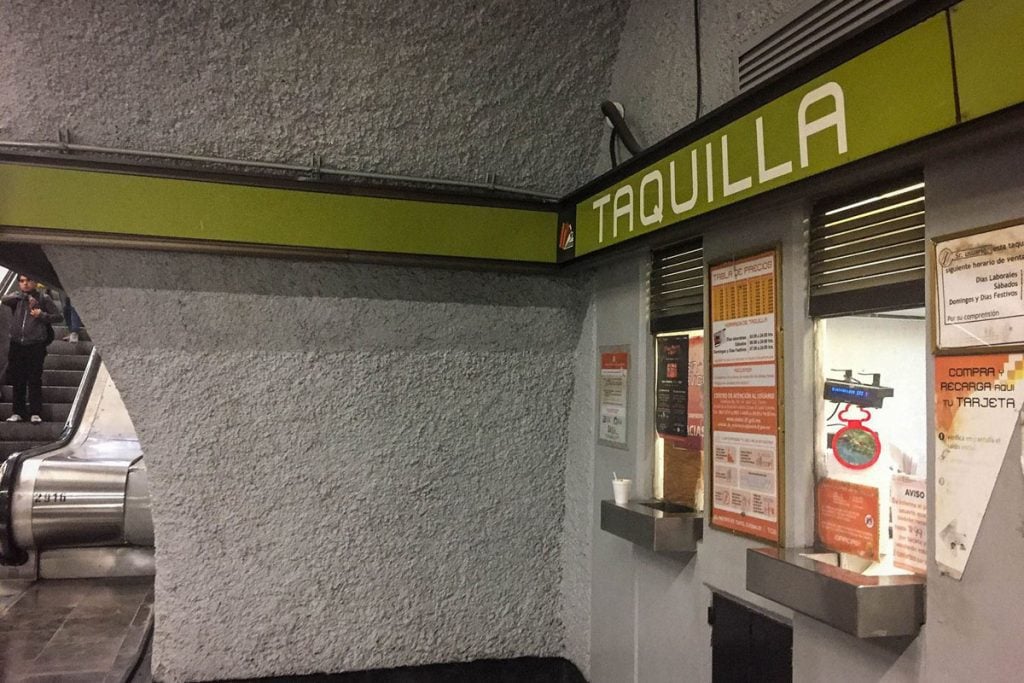 Mexico City is pretty spread out so the easiest and cheapest way to get around is by the metro. With 12 metro lines, you can basically get anywhere in the city you want. And the best part is metro tickets for any distance are only 5 MXN ($0.27 USD).
In each metro station there is a Taquilla (ticket office). Just say "un boleto" (one ticket) or "dos boletos" (two tickets) and pass the pesos to the person behind the counter.
Once you have a ticket, head to the turnstyle (make sure you know which direction you are going) and slip the ticket in the slot to the right of the turnstyle. It will beep and you can walk through. If you have any troubles there is always a guard standing near the turnstyles that can help you out.
To leave the metro, simply look for the signs that say "Salida" and walk through the exit turnstyle (no ticket needed).
Sustainable Travel Tip: The water fountains in the metro stations are safe for drinking! Simply fill up your water bottle and satisfy your thirst while saving money and plastic!
How to get cell service in Mexico City
If you'll be in Mexico for a while, the cheapest way to get cell phone service is to get a SIM card in Mexico. Just make sure your phone is unlocked and is able to accept international SIMs (we learned the hard way when we moved to Thailand).
We've been told that you can get SIM cards at the popular convenience store, OXXO, but the one we went into did not have SIM cards, so we decided to go straight to the Telcel store and get it there. Our phone plan had 300 MB of data for one month and unlimited talk and text in Mexico and the US, and only cost $379 MXN ($21 USD).
If you run out of data, you can top off at OXXO or 7-Eleven. You can download the app Mi Telcel to check your data usage as well.
Are you traveling from the U.S? Many of the popular cell phone carriers in the U.S. offer free service in Mexico in Canada. Check with your cell provider for more info before you arrive in Mexico.
---
Are you planning a trip to Mexico?
We have lots more resources on travel in Mexico and destinations throughout the country. Check out our Ultimate Mexico Travel Guide for all the important travel information, or read some of our favorite articles below.
Save this article on Pinterest for later!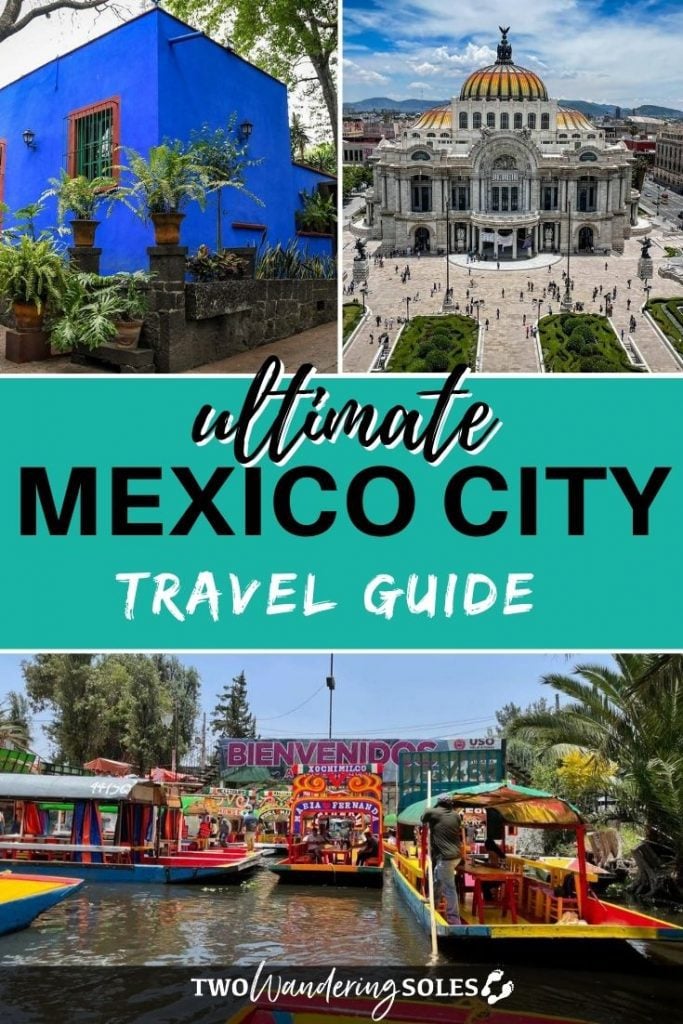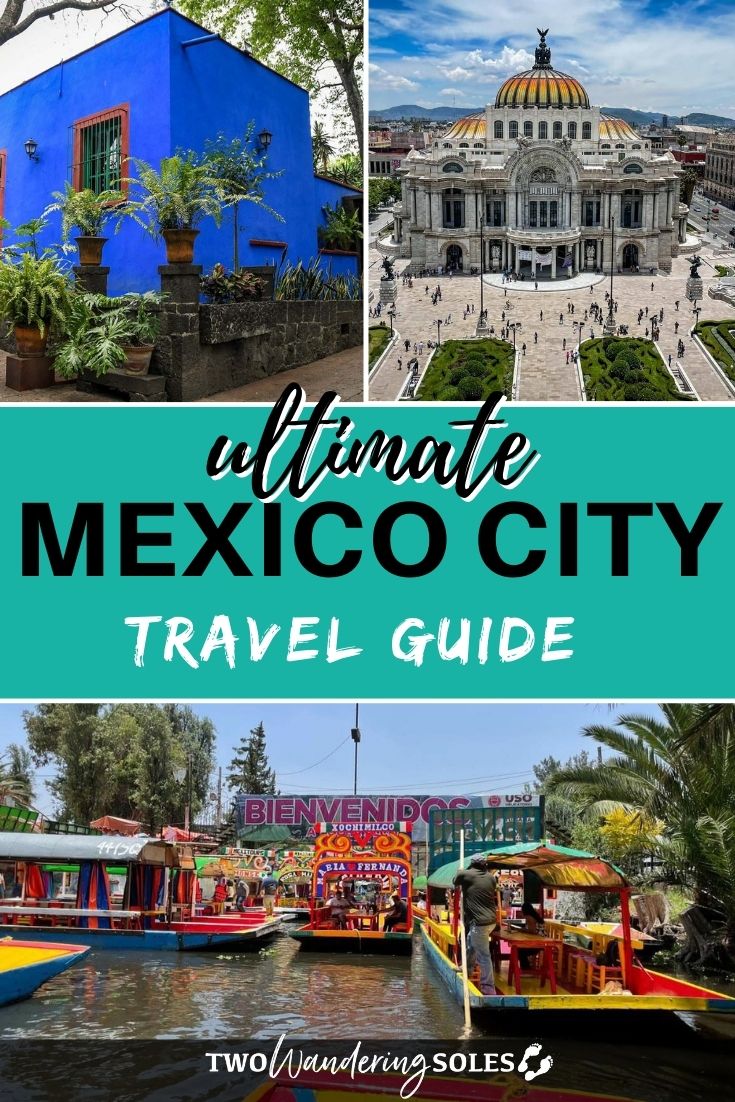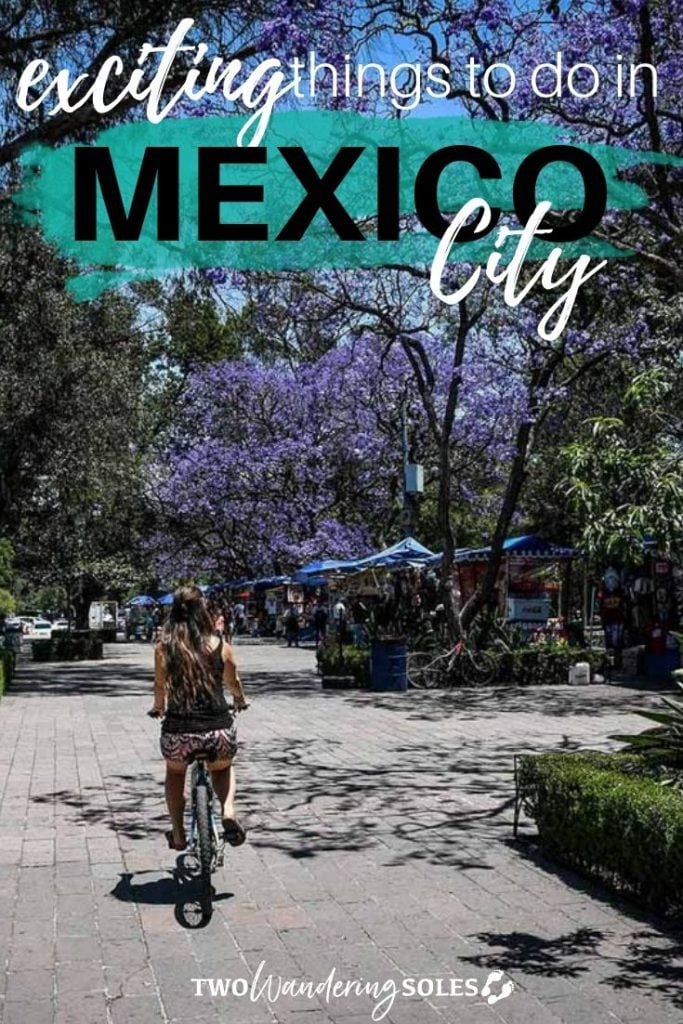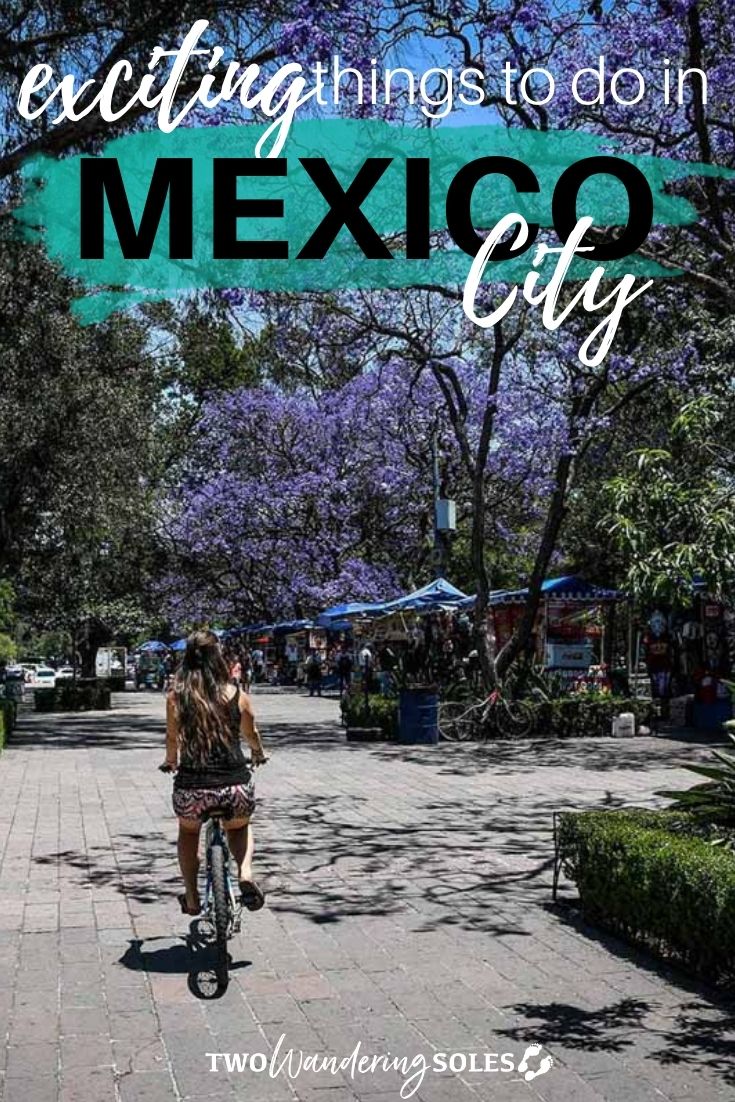 We want to hear from you!
Which of our top recommended things to do in Mexico City are you most exited about? Are you planning a trip and have more questions? Let us know in the comments below and we'll do our best to get back to you!