From rural retreats nestled in the jungle and sunny beach cottages to apartments in the bustling city center, there's an impressive selection of unique Airbnbs in Auckland for every type of traveler. We gathered up the most noteworthy to help you plan your stay!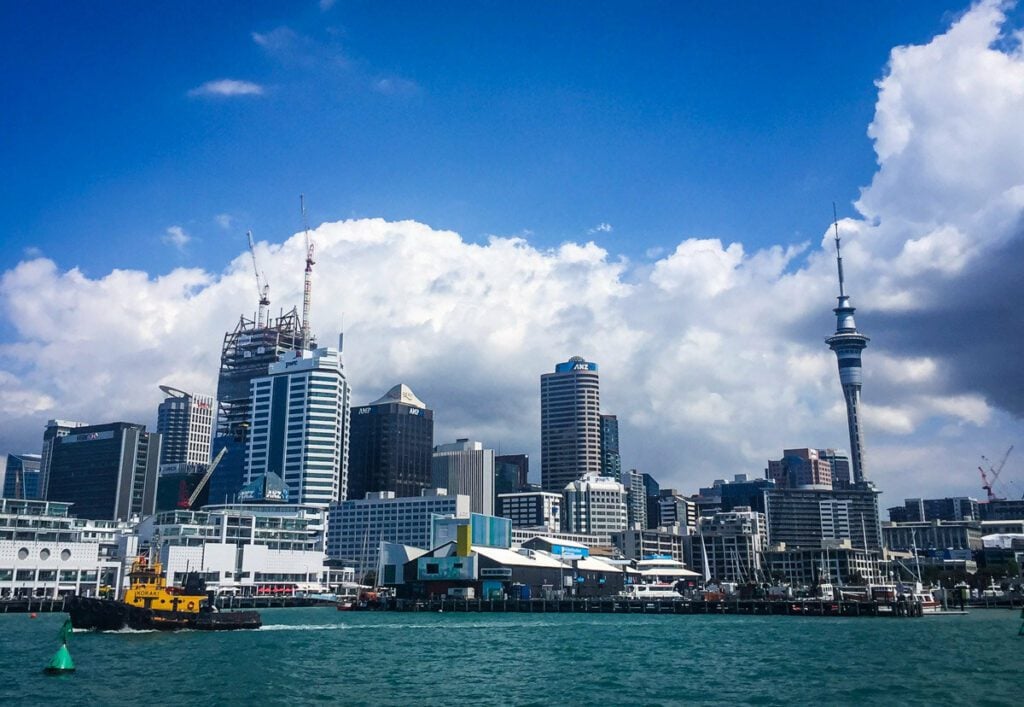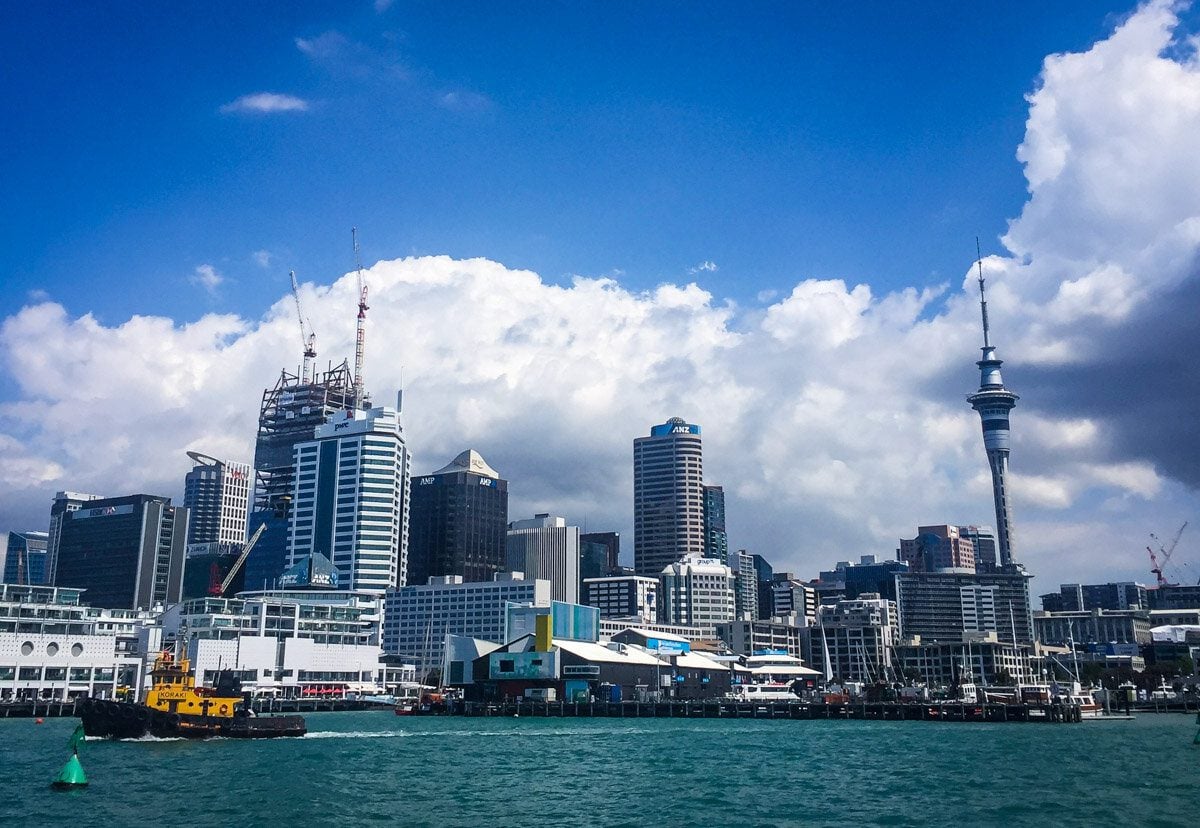 If you're visiting New Zealand, chances are you'll at the very least pass through Auckland. The country's largest city is home to 30% of the total population and also contains the largest international airport.
A culturally diverse city with fantastic food, beautiful beaches, an abundance of green spaces, and a long list of easily-accessible adventures and day trips, there's plenty of fun things to do in Auckland.
Auckland consists of a dense, bustling urban core surrounded by two picturesque harbors, a handful of volcanic cones, and several nearby islands. Needless to say, you'll want to allot a couple of days to explore New Zealand's only metropolis!
Luckily, there are many great Airbnbs in Auckland. From sleek, modern apartments downtown to tranquil nature-inspired getaways in the bush, we put together unique Auckland vacation rentals throughout the city and at a variety of price points.
Why stay at an Airbnb in Auckland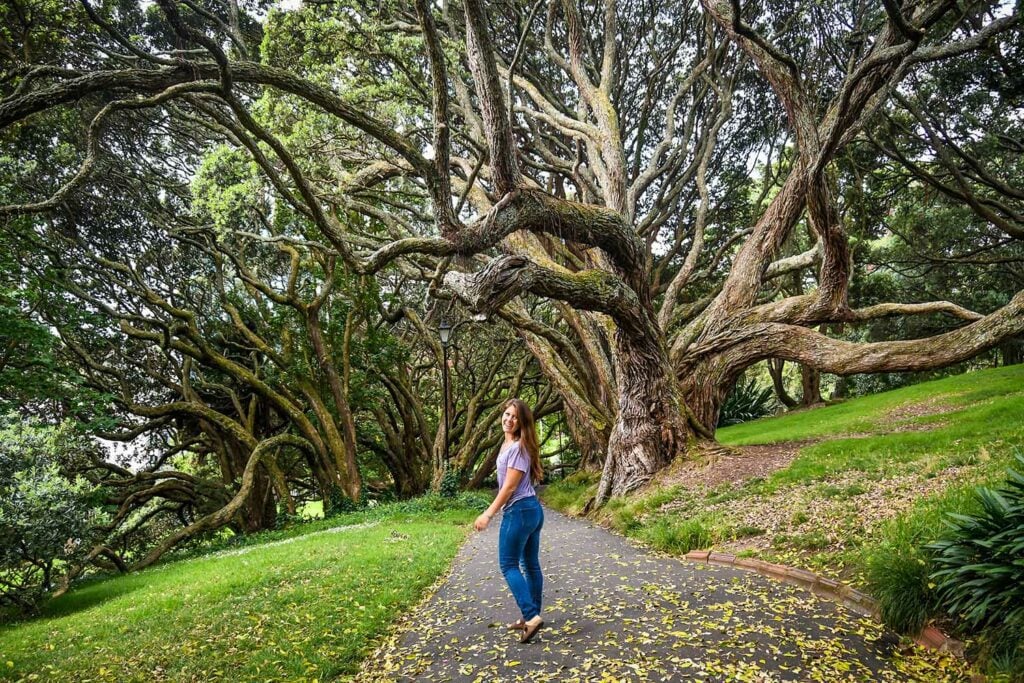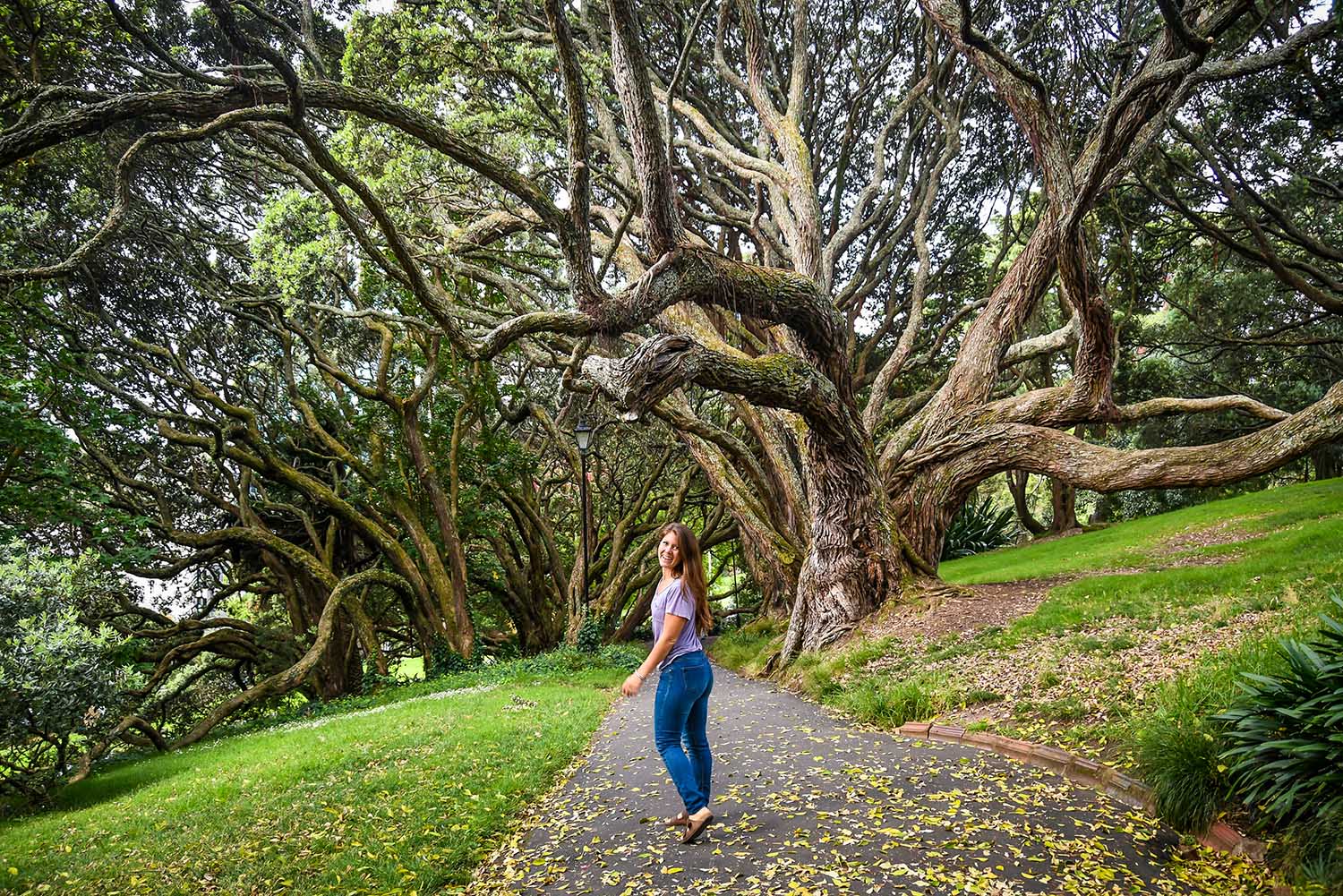 Renting an Airbnb is an excellent way to familiarize yourself with a new city. Airbnbs in Auckland cover the whole spectrum — relaxing beach bungalows, walk-up apartments on bustling city streets, and single-family homes in quirky local suburbs.
Auckland Airbnbs also offer experiences you won't find in a hotel:
Escape and unwind in the city's natural surroundings. There aren't many hotels in these outer suburbs!
Experience hotel life, but often with a kitchen and personable host
Get to know the city from a local's perspective
Discover parts of Auckland you wouldn't otherwise
Share accommodation with larger groups or families
Save money!
Where to stay in Auckland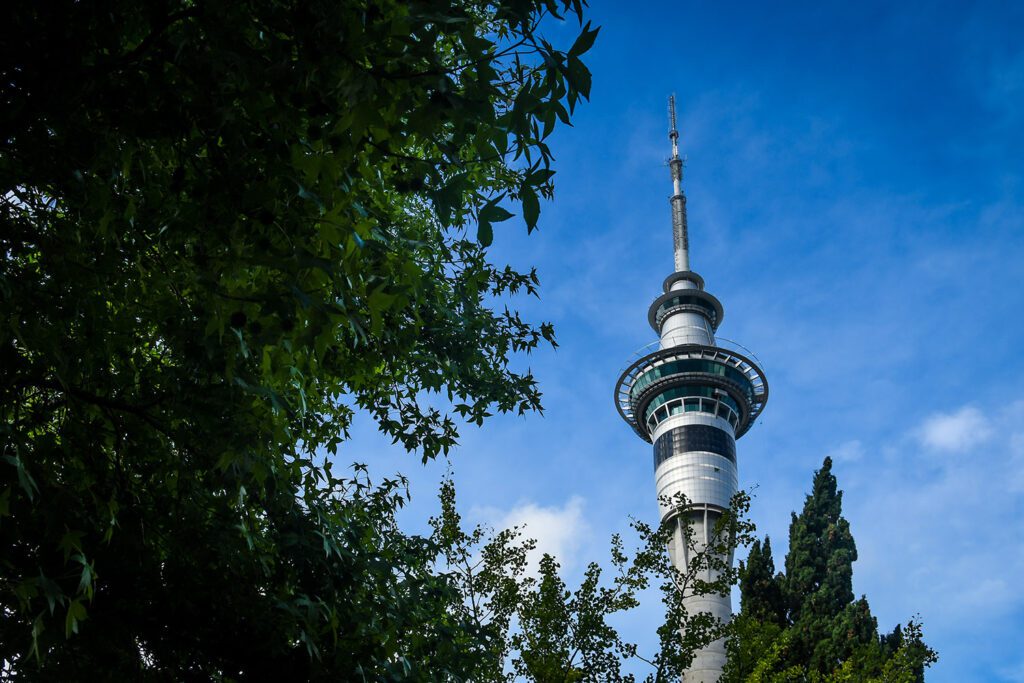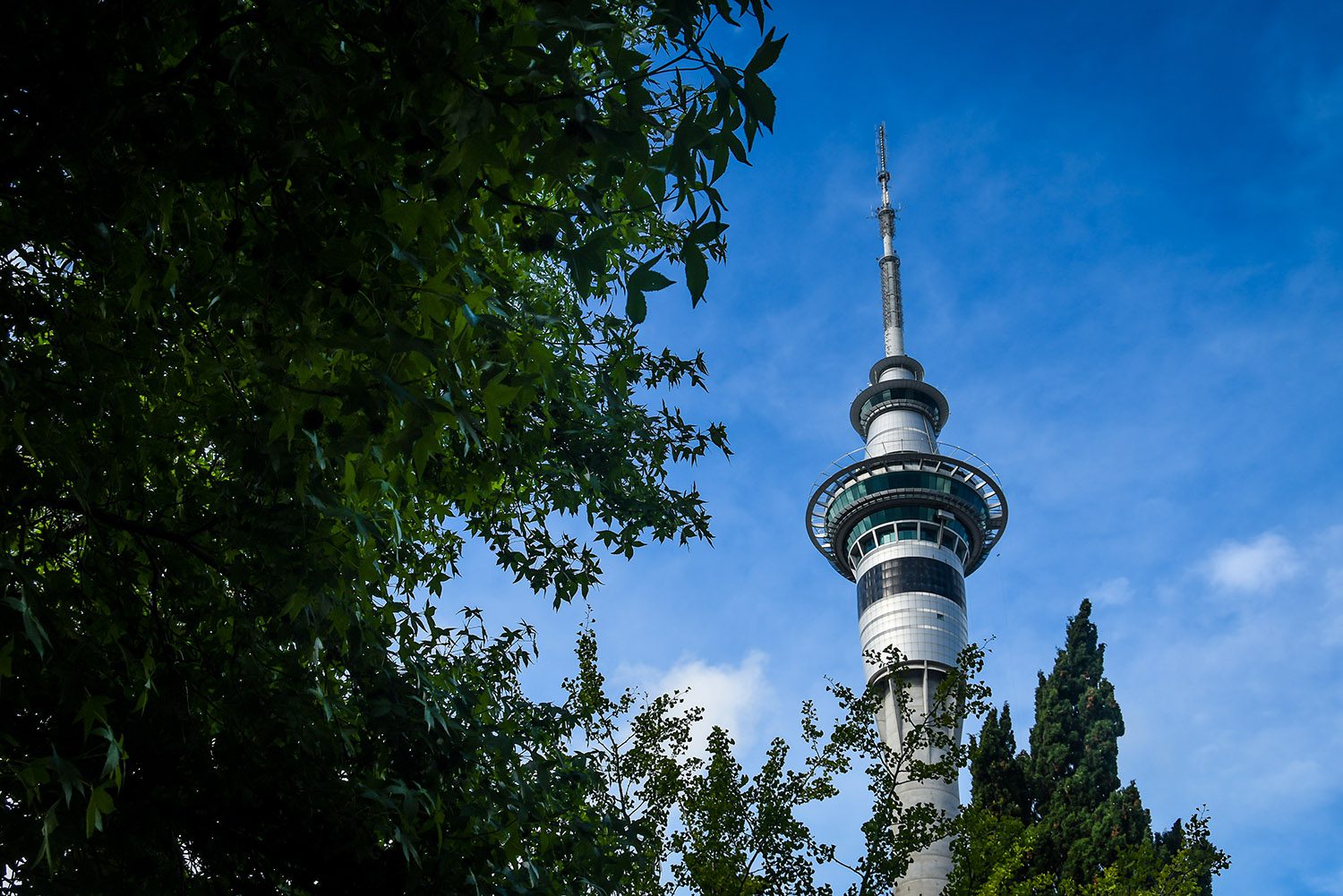 Situated on a narrow strip of land on New Zealand's North Island and with many harbors, Auckland has a unique geography.
As a result, there are tons of different neighborhoods, each with their own unique identity and atmosphere. Sometimes, it doesn't feel like you're in the city at all, but the CBD may be within a 30-minute drive!
It's helpful to learn about the city's neighborhoods before choosing your Auckland Airbnb. You may find that you're drawn to one in particular or that one is ideally located for your planned activities.
CBD (Central Business District): The dense and very walkable urban core (AKA downtown) with countless restaurants, bars, and activities
Ponsonby: An upscale neighborhood on the outskirts of downtown known for its nightlife, fancy restaurants, and boutiques
Mount Eden: Quiet, family-oriented residential neighborhood with excellent parks
Newmarket & Parnell: Historic, upscale area known for shopping and the home of Auckland Domain, a large park situated in a volcano crater!
North Shore: Laid-back beach neighborhoods with a small-town vibe
West Coast: Stunning wild beaches and jungles sprinkled with small coastal towns including Piha and Muriwai
Our top 5 recommendations:
Psst! Be sure to check out our bucket list of incredible things to do in New Zealand on your first visit!
---
Best Airbnbs in Auckland
Whether it's a studio apartment with a skyline view, a modern house nestled in the jungle, or a practical home well-suited to families, Airbnbs in Auckland perfectly reflect the city's combination of urban and natural roots.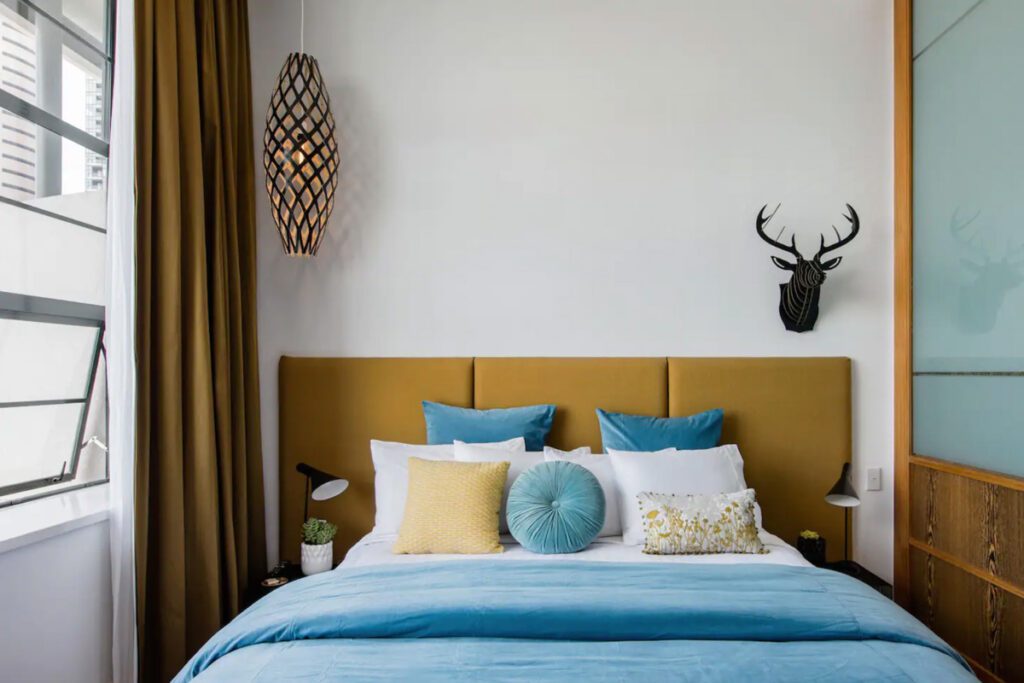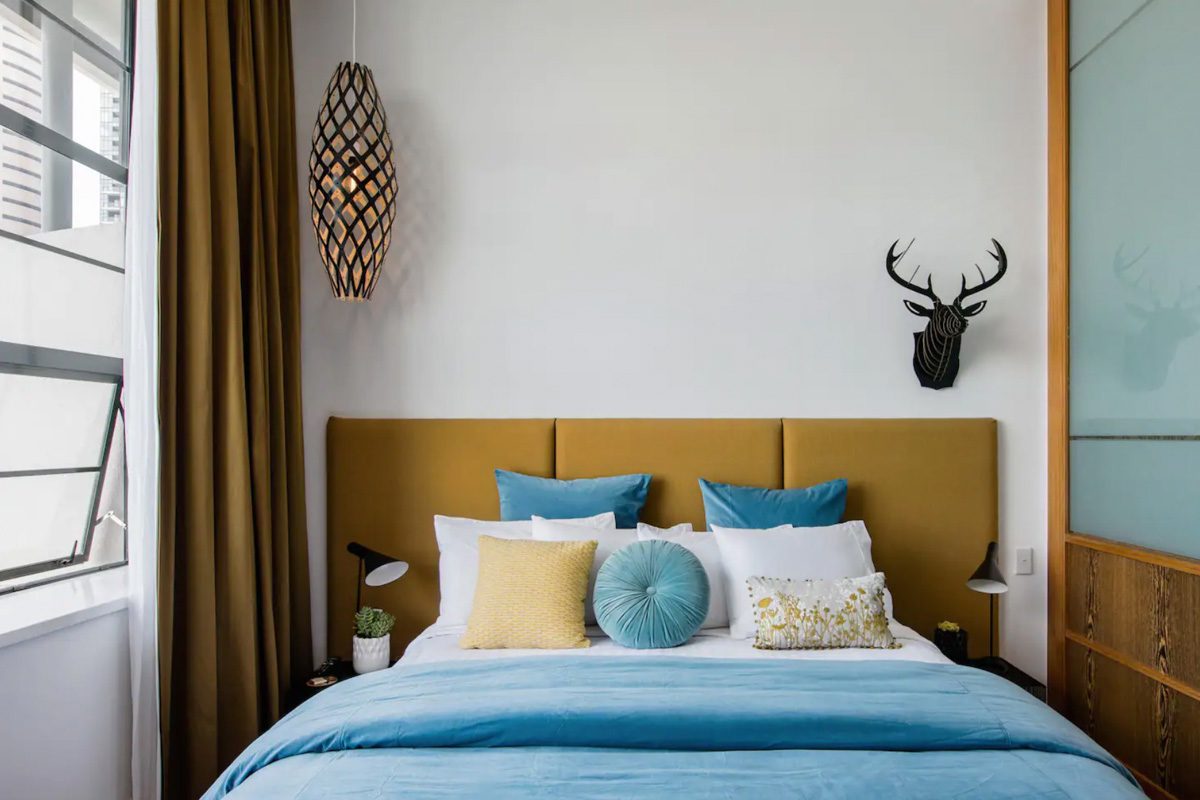 Sleek Art Deco hotel suite with a kitchen and harbor views
Budget: $$
Number of guests: 3 guests
Minimum stay: 4 nights
Plus | Superhost
This Auckland Airbnb combines homey touches of an apartment with hotel conveniences. Its location is as central as it gets, with bustling urban energy right outside the door.
The harbor is mere blocks away, with views from the large bedroom window, and guests have access to the hotel's excellent amenities — rooftop pool, gym, and sauna.
Reviews commend the host's friendly communication and warm hospitality, making the property feel more personalized. There's also a fully-equipped kitchen with a dishwasher, making longer-term living and working a breeze.
What guests love: With a rare perfect 5-star rating, guests rave about the entire experience!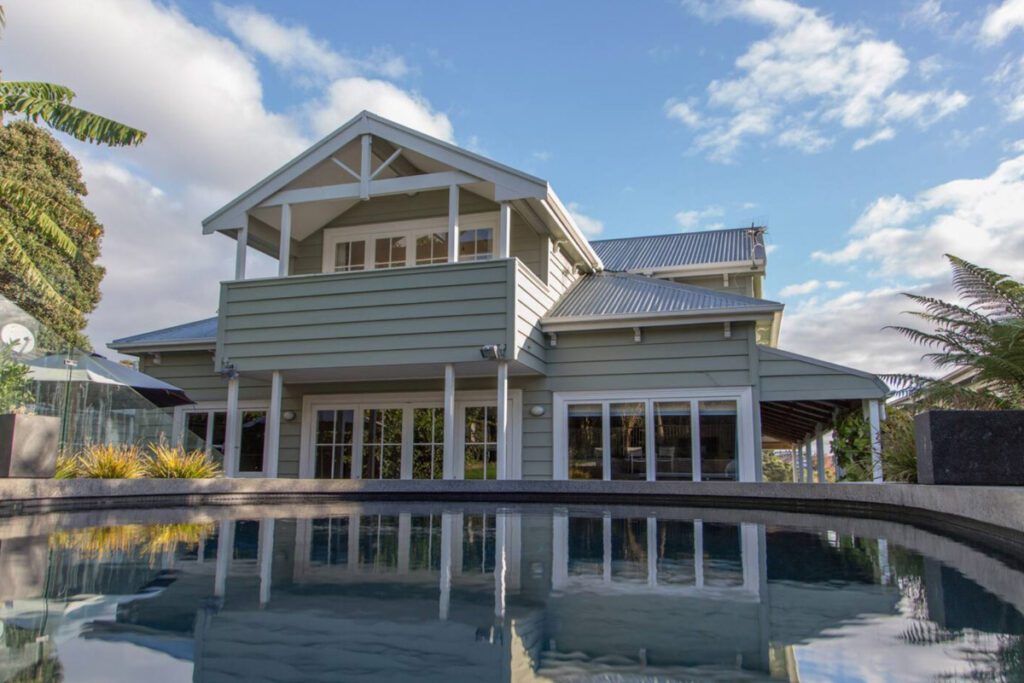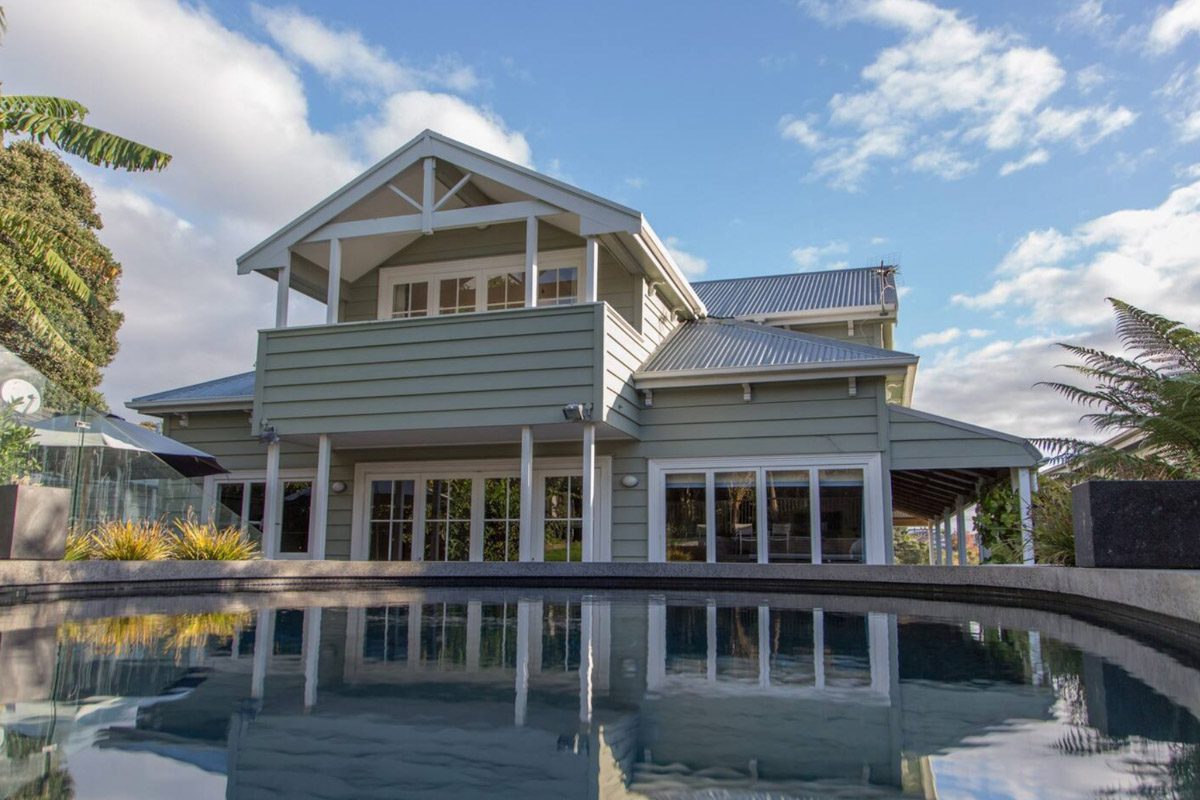 Large family-friendly home designed to unwind
Budget: $$$$
Number of guests: 9 guests
Minimum stay: 5 nights
This spacious, bohemian-style home has a relaxing pool, four bedrooms, large living room, and plenty of outdoor living space, all designed to bring people together.
The well-equipped kitchen has six gas burners to keep everyone fed and happy, and there's even a play area for kiddos.
The neighborhood is full of parks, cute cafes, and restaurants, and Central Auckland is just minutes away. With a relaxing, family-friendly atmosphere, this house truly feels like a tucked-away treasure!
What guests love: The large pool and yard, perfect for summer fun!
"Lovely spacious home in a great area with a huge heated pool and double garage. Next to park. Highly recommend – particularly for families. Good internet too." – Lucy, January 2021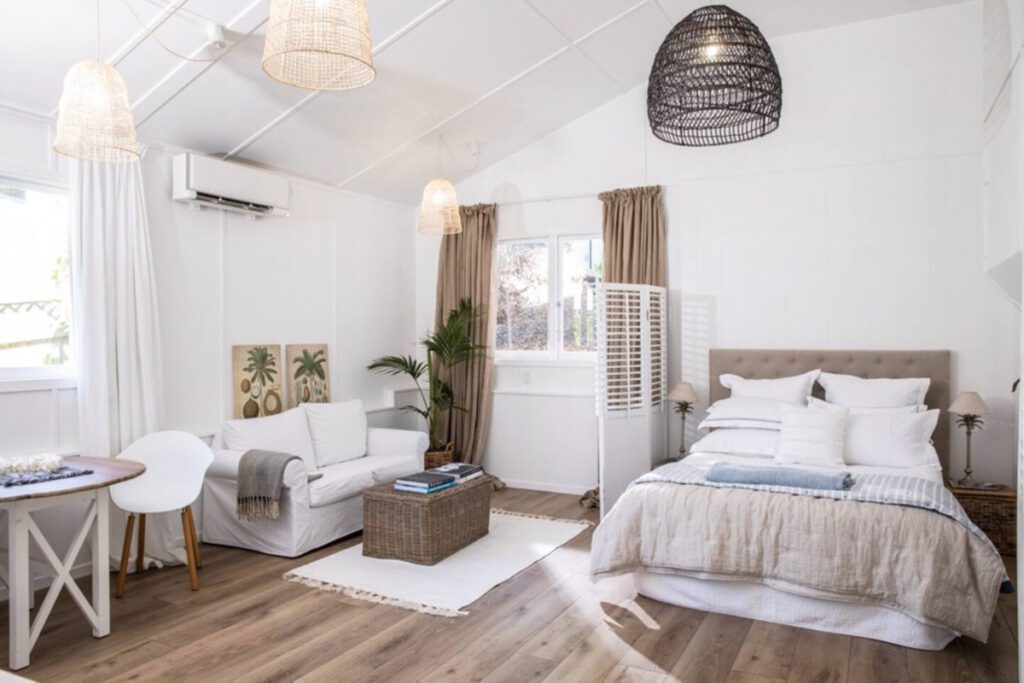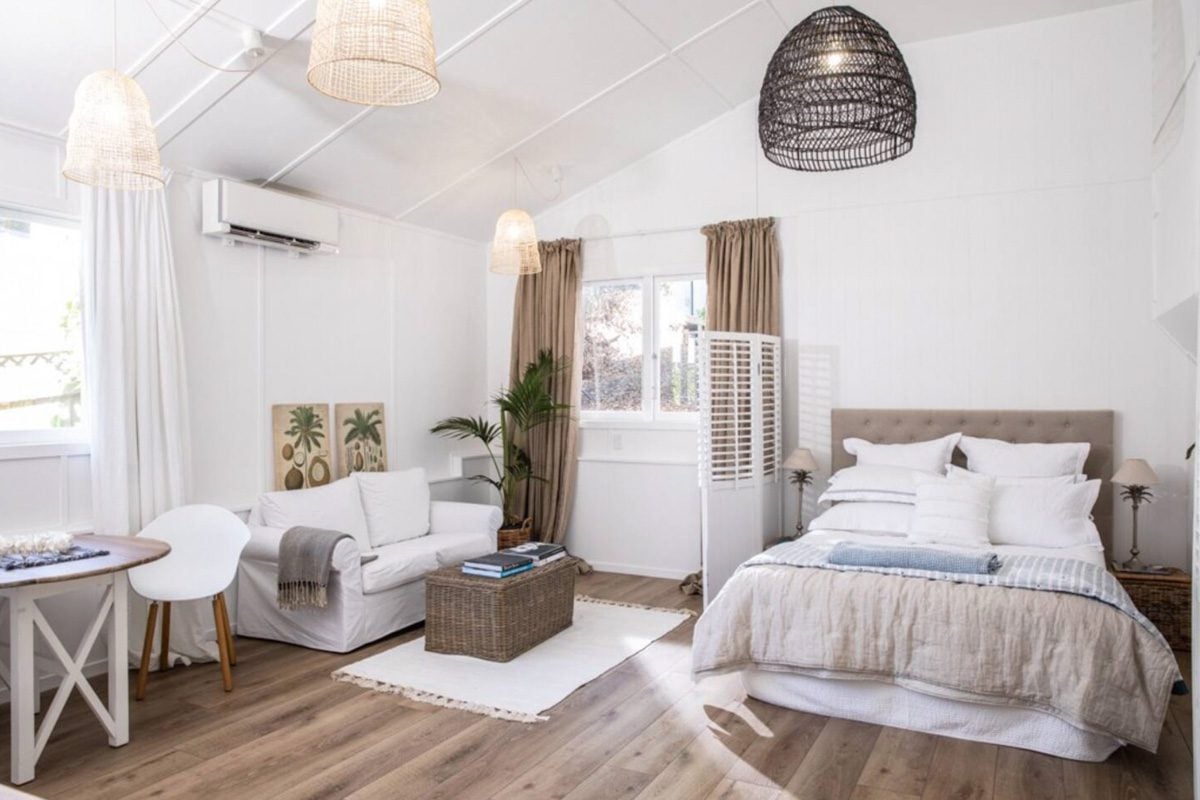 Airy, tropical studio practically on the beach
Budget: $$
Number of guests: 2
Minimum stay: 2 nights
Superhost
Owned by a designer, this tropical-themed property is bright and airy, making a stay feel like a literal breath of fresh air. Gorgeous Takapuna Beach is within a 2-minute walk, and there are tons of adorable cafes, bars, and restaurants just around the corner.
The host brings her attention to detail beyond the decor, providing complimentary breakfast, and tea upon arrival.
Although it's less than a 20-minute drive from central Auckland, this studio is made to unplug — aptly named "a slice of paradise."
What guests love: The tasteful decor and the perfect beachside location
Psst! Is this your first trip to NZ? There are a few things to know before traveling to New Zealand you'll want to be aware of!
Secluded apartment in a lush jungle setting with a spacious deck
Budget: $$
Number of guests: 2
Minimum stay: 2 nights
Plus | Superhost
As one of the most unique Airbnbs in Auckland, it's hard to believe this property is in the city! Outside the door is a lush, native jungle — an incredibly relaxing backdrop.
With a regional park and stunning west coast beaches at its doorstep, the location is ideal for exploring either nature or the city.
The interior has a distinctly Kiwi style, and there are several cozy nooks for catching up on a book. The owners live onsite, so they're easy to reach, but guests have a private entrance.
What guests love: The relaxing environment (especially unwinding outside!)
"What an amazing place to spend a week! The house is tucked away in an incredible natural setting that you will not want to leave. It is quiet and peaceful, and the bed couldn't be more comfortable. Kitchen was well equipped, and a great bonus with a Bluetooth speaker." – Andy, December 2022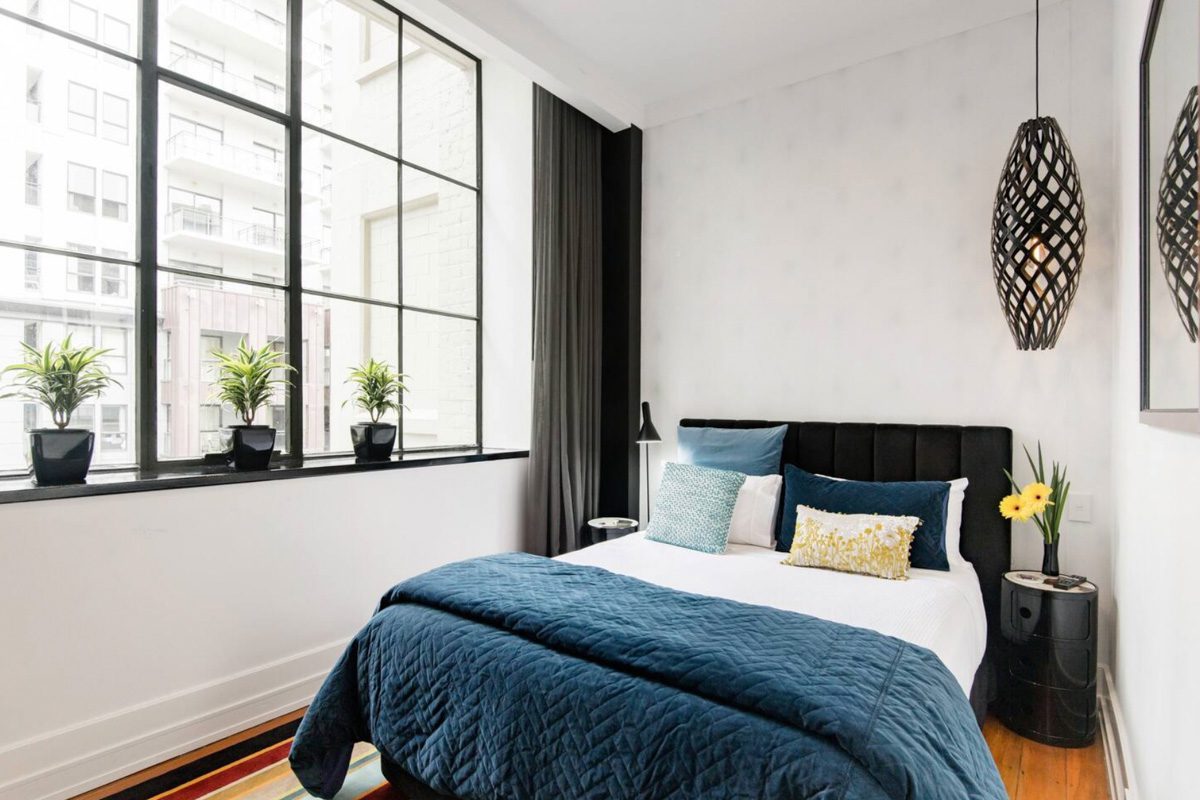 Urban apartment in a historic Art Deco hotel
Budget: $$
Number of guests: 2 guests
Minimum stay: 3 nights
Plus | Superhost
This studio, owned by a very thoughtful host is the ideal mixture of vacation rental and hotel. Guests have access to amenities including the spa, rooftop pool, and gym, but get a more personalized experience.
The room's decor is modern yet cozy, and there's even a full kitchen. Despite its position in the city center, it's still great for resting, with blackout shades and ultra-soft sheets.
Its location makes this an excellent option for travelers without a car (keep in mind, there's no parking space).
What guests love: The host's communication and the ultra-comfy bed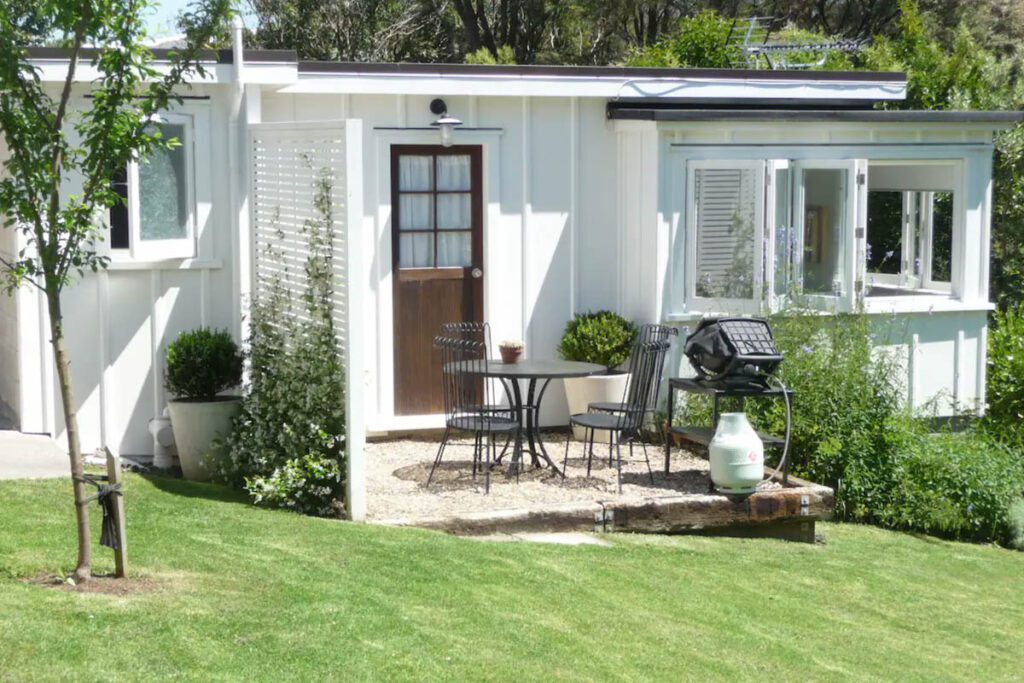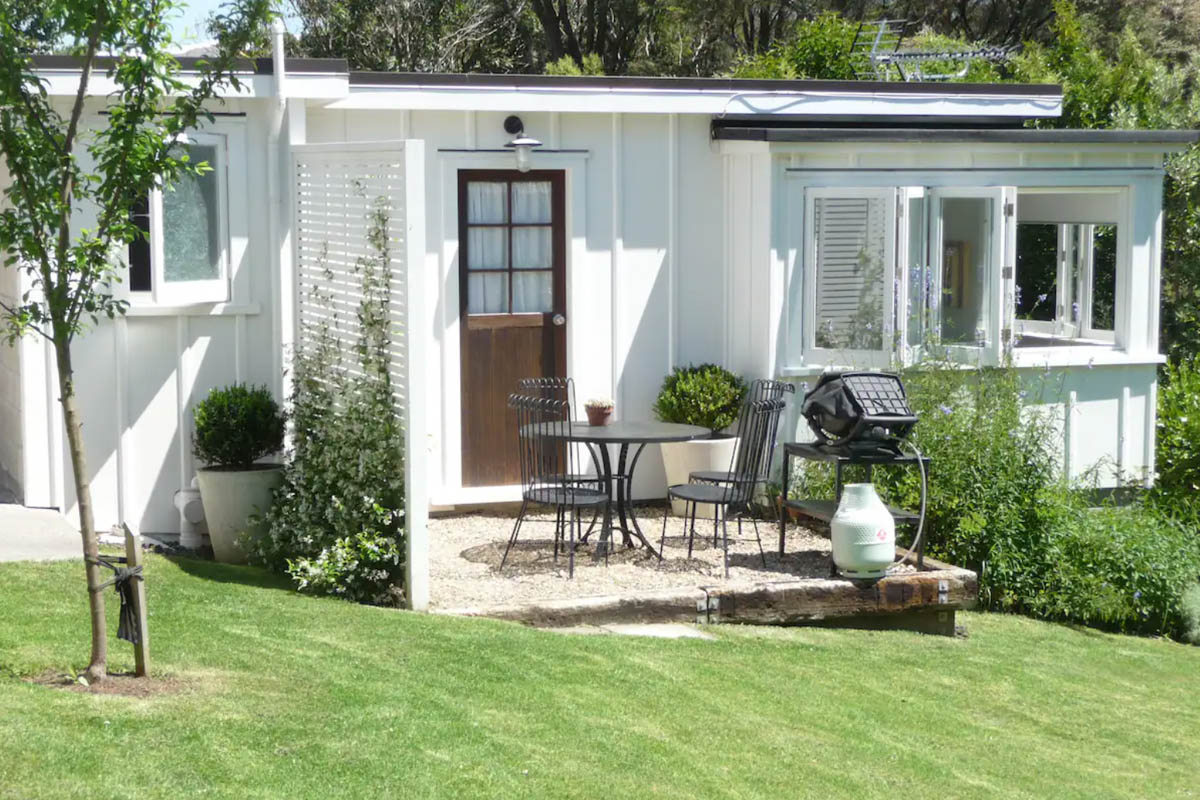 Sunny, private studio adjacent to a popular park
Budget: $
Number of guests: 2
Minimum stay: 3 nights
Superhost
Surrounded by lush greenery yet within walking distance to urban attractions, this parkside studio is the kind of place you want to wake up in!
There's plenty of sunlight, and the white color palette keeps it airy. The patio is delightful, positioned with a view of Cox's Bay Park. Outside, there's a grill for an afternoon "barbie" (the Kiwi term for BBQ!).
The host lives on property, so any concerns are addressed quickly, but guests enjoy their privacy.
What guests love: The private, peaceful location and that it's sparkling clean
"I loved my stay at Colleen's place. It's very well set up, sparkling clean, and super private. The location is great, lots of cool places to walk and so handy to the supermarket and lots of great cafes. I highly recommend a stay!" – Nicola, December 2022
Luxurious Auckland Airbnb close to the beach with a sunny patio
Budget: $$
Number of guests: 2
Minimum stay: 3 nights
Plus | Superhost
Perfectly styled and ideally located, this is one of the best Airbnbs in Auckland to soak up the sun! Located right next to the beach, transitioning from relaxation on the patio to swimming in the ocean is seamless.
The apartment's decor is impeccable, a perfect blend of modern and homey, with plenty of art and upscale touches.
It's no surprise that many guests end up extending their stay here…who would want to leave such a stellar gem?
What guests love: The outdoor space and location within walking distance of Kohi Beach
Planning a trip to New Zealand? Find out the best time to visit New Zealand based on seasonal weather patterns and your personal travel style.
8. Fab Pad | Auckland Central
Spacious central apartment with a balcony and upscale amenities
Budget: $$
Number of guests: 2
Minimum stay: 3 nights
Apartments in the city core sometimes feel cramped, but that's certainly not the case with this Fab Pad!
With a big living room, large couch, open floor plan, and picture windows with harbor and city views, this apartment doesn't make you feel cooped up.
The building's amenities are top-notch, with a rooftop pool (with views of the iconic Sky Tower!), indoor lap pool, gym, sauna, and even a parking garage — a rarity in this neighborhood! The internet is also hyper-fast, so this is also a great place to work.
What guests love: The show-stopping interior design, central location, and views
Large, stylish apartment in the city center
Budget: $$$$
Number of guests: 8
Minimum stay: 2 nights
Superhost
With four bedrooms, two bathrooms, a sleek living room, and a large outdoor patio, this Auckland Airbnb is the perfect launchpad for a group or multiple families.
Located in the center of the city, just about everything is within walking distance. There's even a parking garage with allowance for two cars, if necessary.
The apartment's design is the real standout, with a modern chicness, yet also warm. It's the kind of vacation rental you remember forever!
What guests love: The sleek decor and the host's attention to detail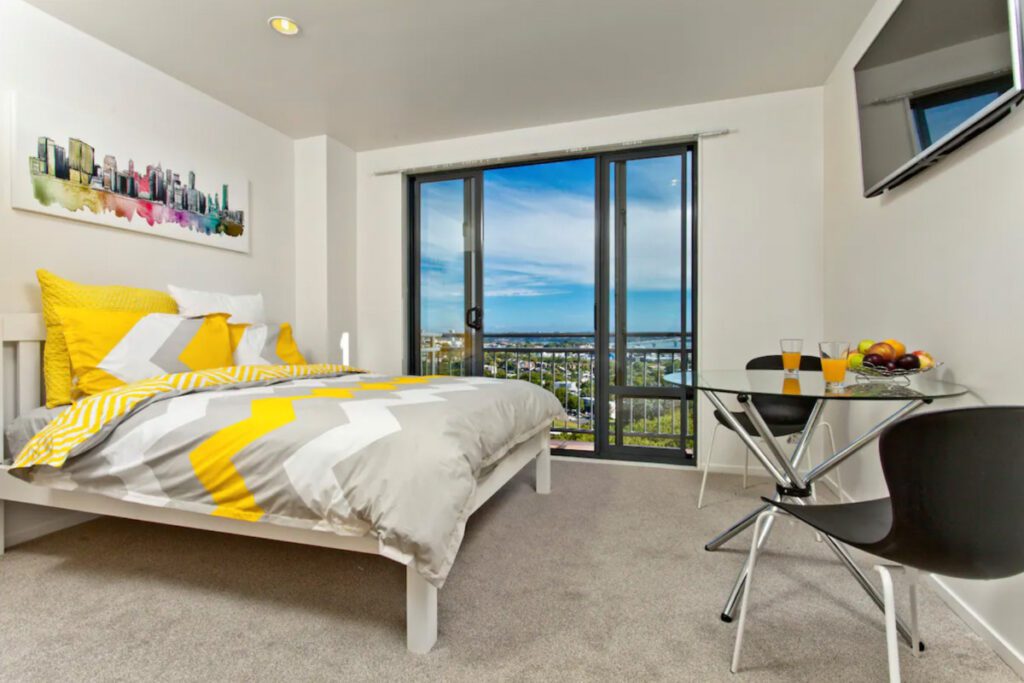 Compact apartment with stellar city view
Budget: $
Number of guests: 2
Minimum stay: 1 night
Superhost
Who says a small space can't pack a big punch? This tiny apartment has all the necessities for daily living: a kitchen, table, and even washer and dryer, all in just 21 square meters!
The real star is the balcony, with expansive views over the bay and Auckland skyline.
The hosts go above and beyond, providing grocery essentials and fresh fruit for breakfast. Add in the great urban location, and this might just be the best value among Auckland Airbnbs for solo travelers and couples.
What guests love: The view, host's attention to detail, and the surprising efficiency of the space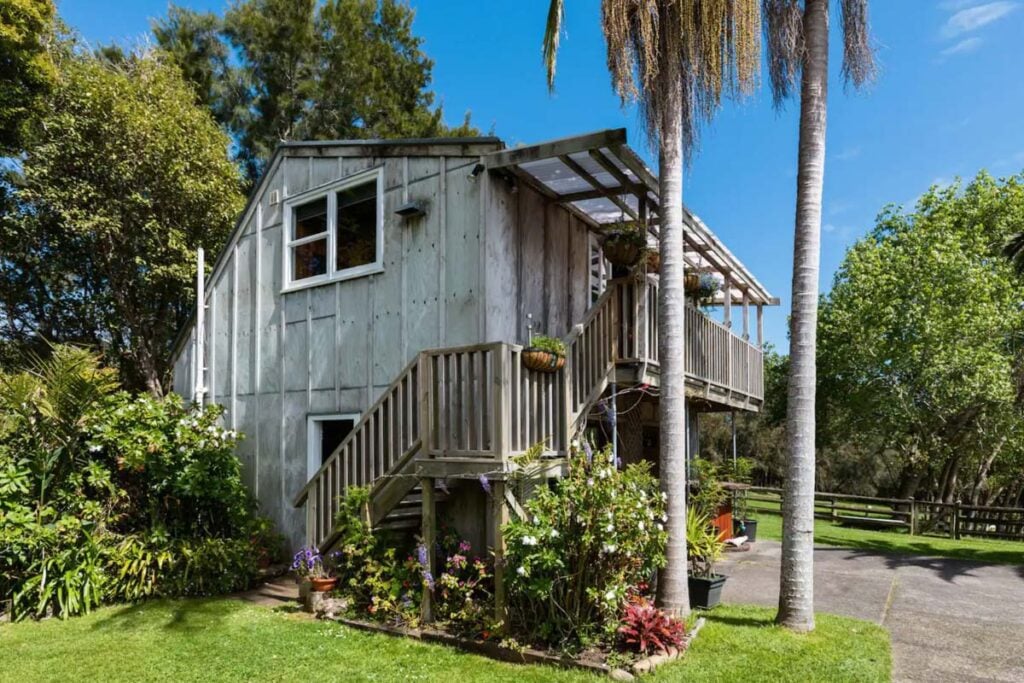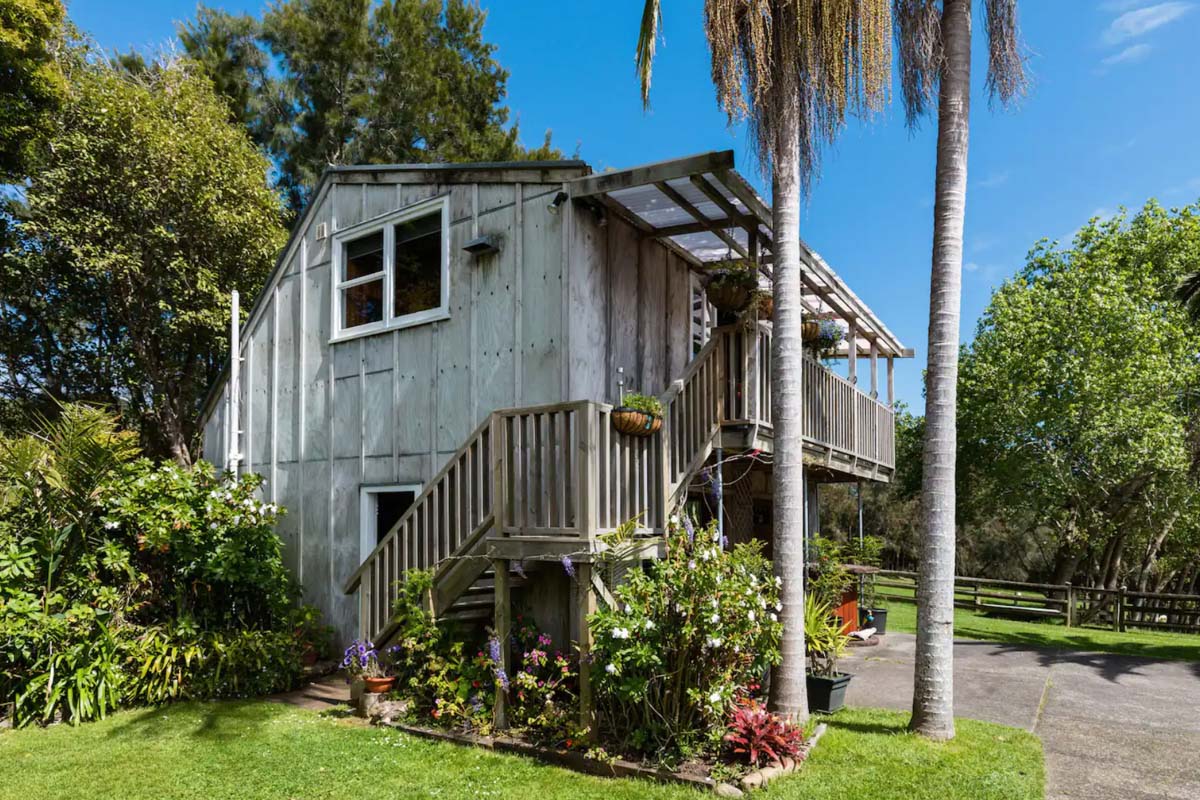 Quaint country home getaway close to west coast beaches
Budget: $$
Number of guests: 2
Minimum stay: 2 nights
Plus | Superhost
This charming cottage perfectly blends rustic rural elements, modern living, and a fantastic location. Stunning west coast beaches including Piha, Muriwai, and Te Henga are within a short drive or hike, while central Auckland is less than an hour away.
The bedroom is light and airy, complete with a sunny balcony for rejuvenating mornings. The kitchen has just the right amount of old-timey charm, and the view out the window is of a bright meadow filled with grazing sheep!
What guests love: The cozy vibe and perfect location for beaches and outdoor adventure
"Very clean, cozy and beautiful little cottage with peaceful surroundings – lovely break from city life. Great location for beach, gannet colony and small townships. Gillian is an incredible host with very prompt communication. Highly recommend!" – Shona, December 2022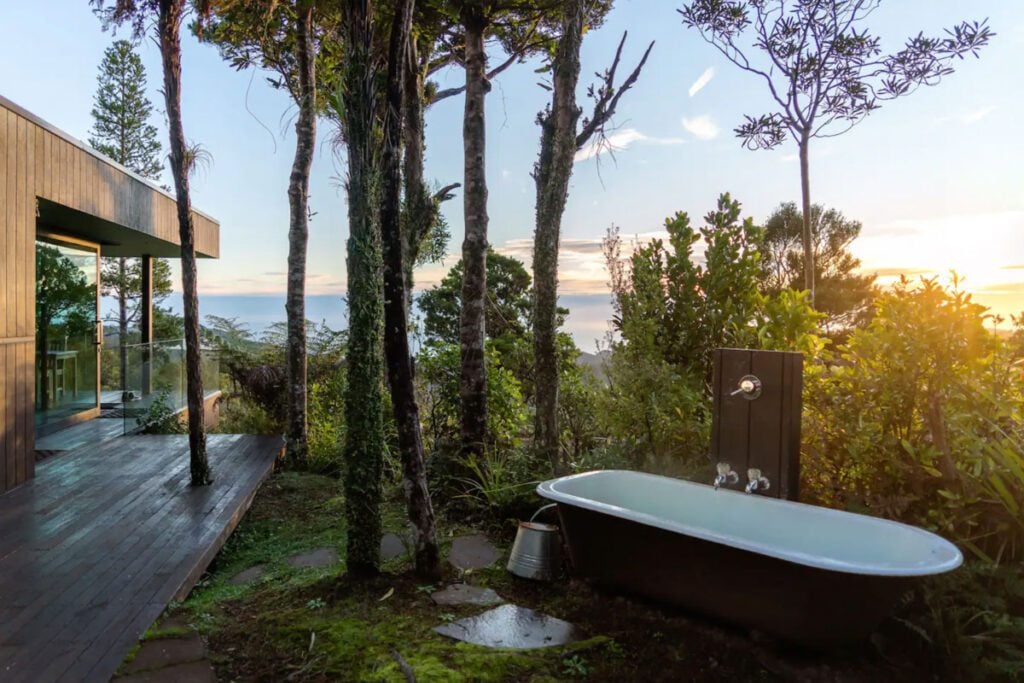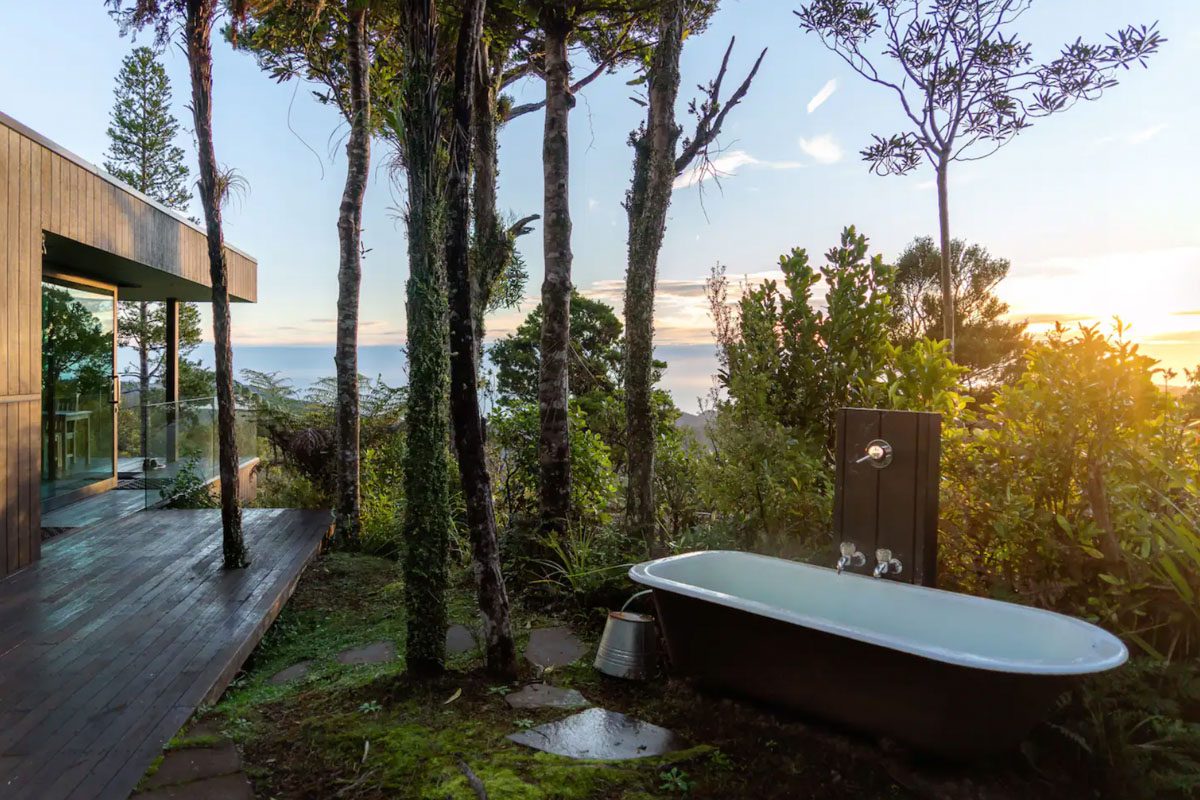 Modern, secluded home immersed in the rainforest near Piha Beach
Budget: $$$
Number of guests: 4
Minimum stay: 1 night
Superhost
A destination in its own right, this is undoubtedly one of the most memorable Airbnbs in Auckland! Super scenic Piha beach is a short drive downhill, and central Auckland is about an hour away.
Designed by an acclaimed architect, the house is constructed to blend seamlessly into its incredibly scenic location. Surrounded by native bush and perched high on a hill with ocean views, the scene is unforgettable.
The glass walls and large balcony maximize those views, and we can't neglect to mention the outdoor soaking tub!
What guests love: The tranquility, surrounding trails, and outdoor spaces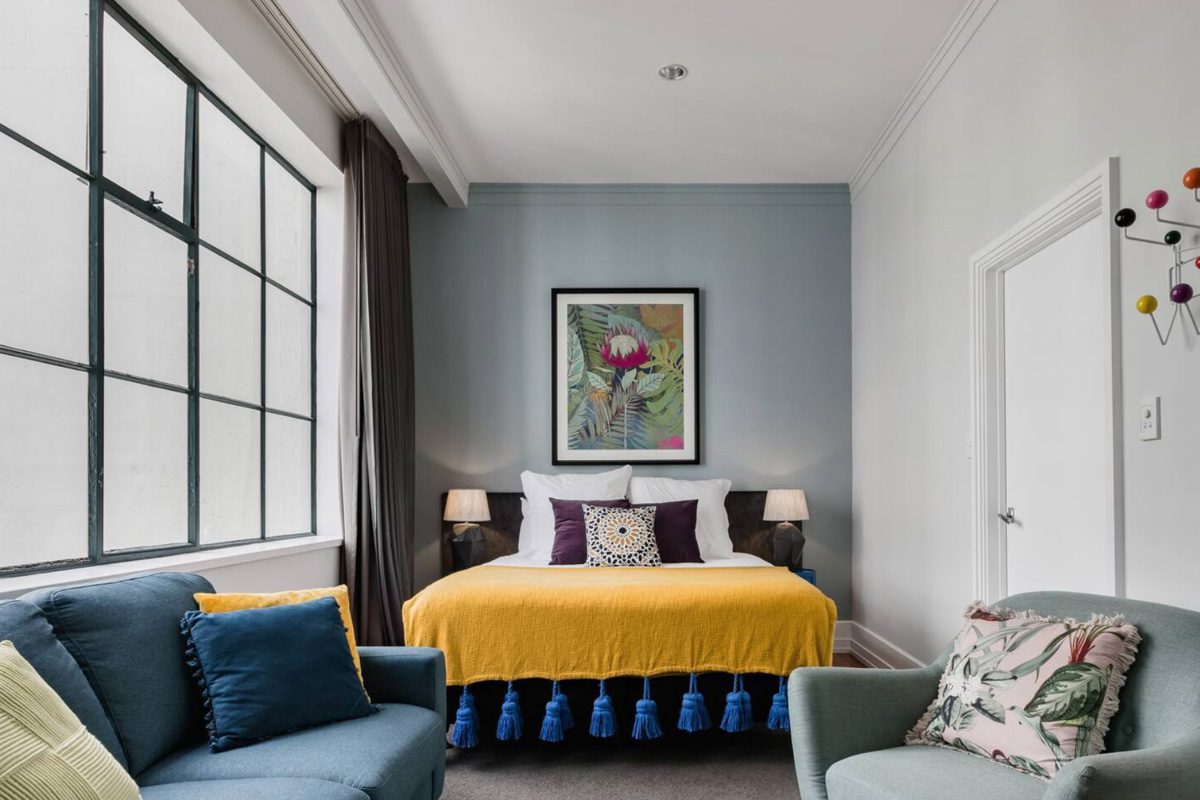 Colorful studio in a posh building with a rooftop terrace
Budget: $$
Number of guests: 2
Minimum stay: 1 night
Plus | Superhost
With just the right amount of both simplicity and vibrancy, this bright studio is the ideal basecamp for exploring Auckland.
There's a kitchen, king-size bed, washer/dryer, and soaking tub. The chic building offers amenities including a rooftop terrace with a pool, tennis courts, gym, and paid parking available (a rarity in the CBD!).
Best of all, downtown Auckland is just out the front door, with dozens of shops, restaurants, bars, and things to do within walking distance.
What guests love: The central location and watching sunset from the terrace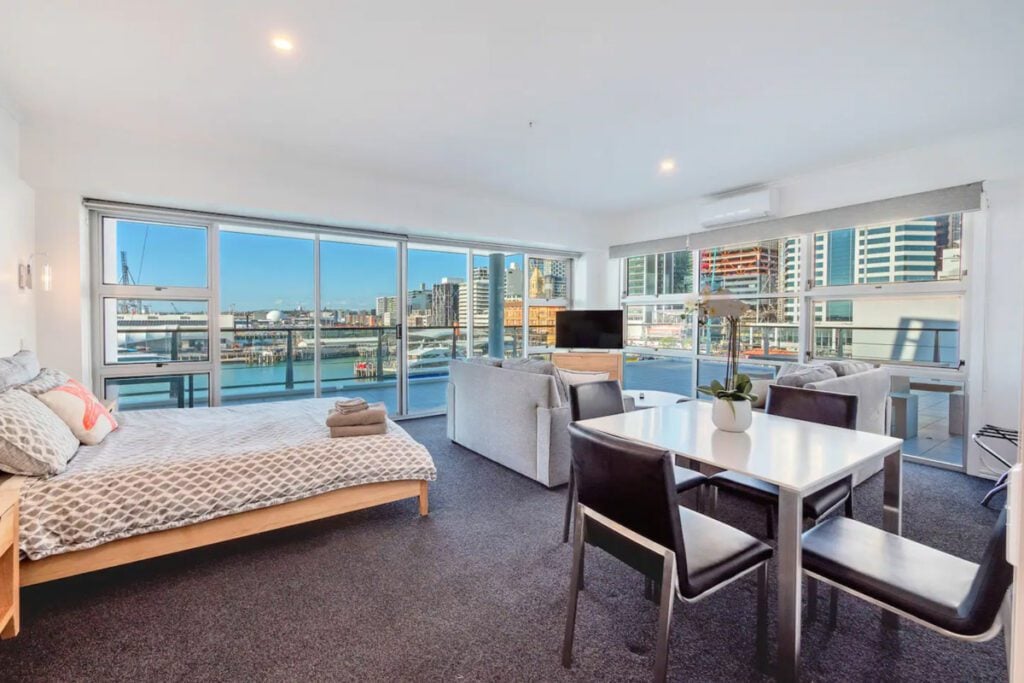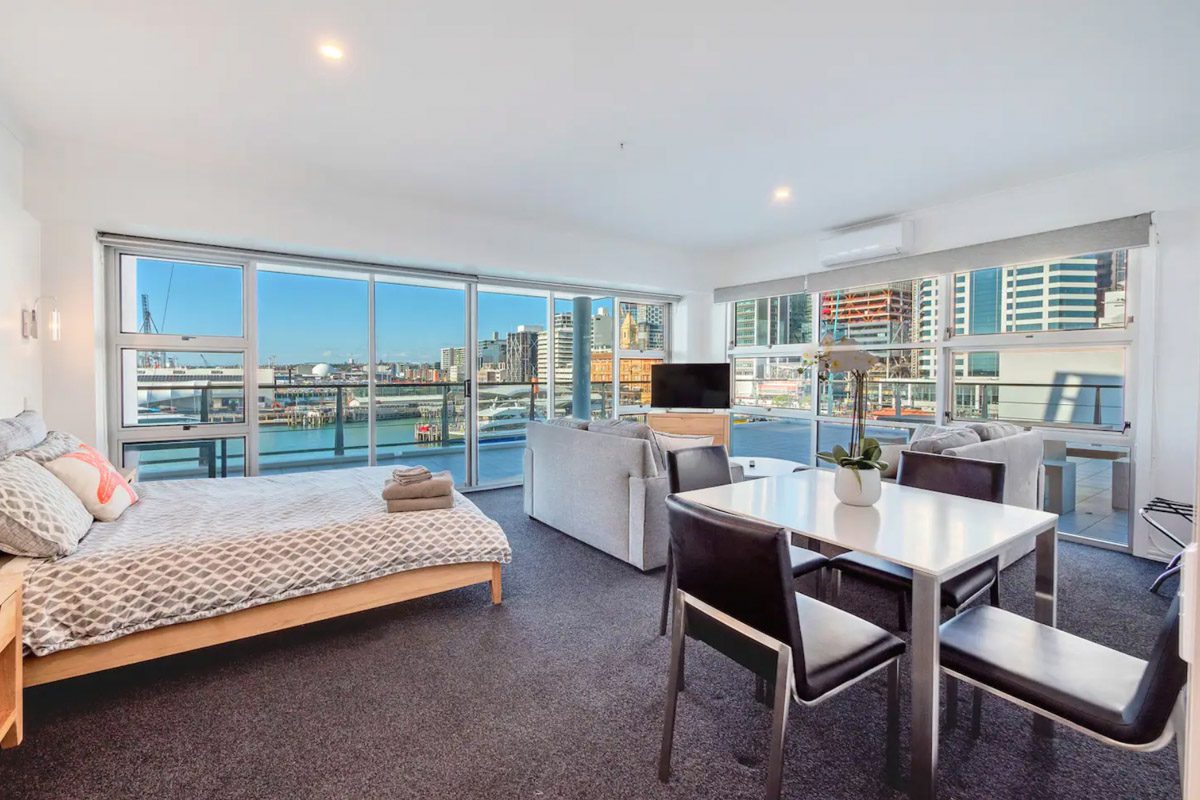 Spacious, modern studio right on the Inner Harbour
Budget: $$
Number of guests: 2
Minimum stay: 2 nights
Superhost
With an incredible location overlooking the waterfront, this Auckland Airbnb allows you to relax and recharge among the urban hustle and bustle.
There's an enormous patio to enjoy the view with a drink, and even the bed is positioned so it directly looks out onto the harbor.
All the amenities are flawless, with fast internet, AC, and a washer/dryer. Plus, the ferry departs just a short walk away, so this is an ideal base for exploring Waiheke Island!
What guests love: The views, outdoor space, and close proximity to Auckland's best restaurants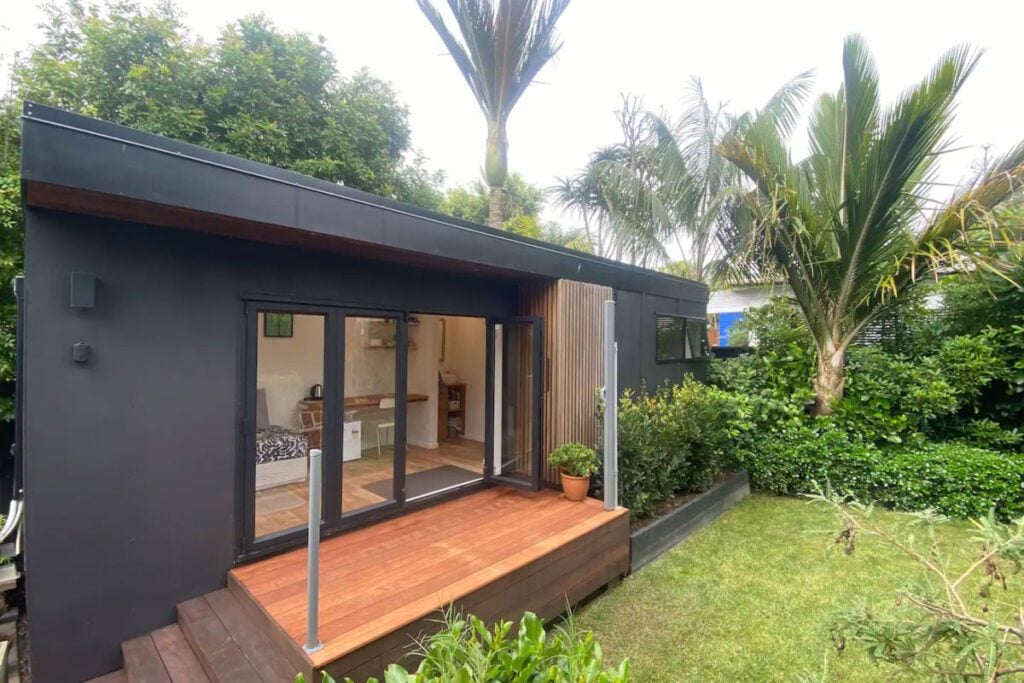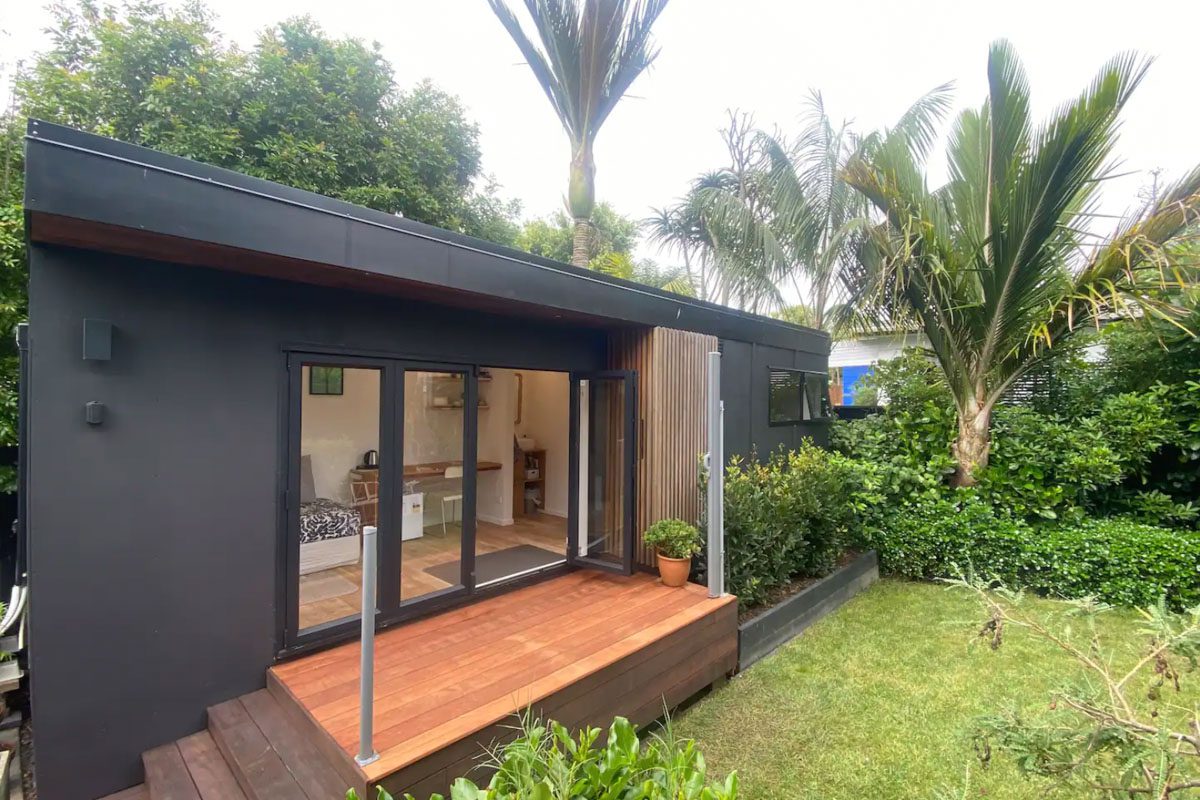 Airy studio tucked away in a vibrant neighborhood
Budget: $
Number of guests: 3
Minimum stay: 1 night
Superhost
This charming, tropical hideaway is small but contains all the essentials for a multi-day stay. In addition to a queen bed and pull-out sofa, there's a desk for working, a mini-fridge, hot water kettle, and toaster.
Nestled in a happening Auckland neighborhood, this Airbnb is walkable to several local hotspots, and well-connected to the rest of the city via public transportation.
Located in the backyard of the owners' home, the friendly hosts are close by, but there's enough distance for privacy.
What guests love: The walkable location, with quick access to dozens of restaurants and cafes
Quirky, thoughtfully decorated central apartment
Budget: $$
Number of guests: 2
Minimum stay: 1 night
Plus | Superhost
This colorful apartment's boho stylings pop, from the numerous flowers and quirky toys, to the blue-framed mirror and tulip chairs.
Play a match of tennis, work up a sweat in the gym, or enjoy a sunset from the rooftop terrace, which also has a pool.
There's street and secure garage parking available nearby, but with a convenient CBD location, many of Auckland's best attractions are within a short walk.
What guests love: The stellar location and eclectic, memorable furnishings
Pleasant suburban studio with a life-changing shower
Budget: $
Number of guests: 2
Minimum stay: 3 nights
Plus | Superhost
This light, bright Auckland Airbnb on the city fringe is outrageously comfortable. It has all the essentials including a small but efficient kitchenette, plus a comfy king bed and a large deck with views of the Waitakere Ranges.
Well-connected to the rest of the city, the bus stops just a literal minute away, and the train station is a 10-minute stroll.
While it may look like any normal bathroom, guests rave about how incredible the shower is.
What guests love: The property is dog-friendly property and the shower pressure is amazing
"This place is amazing! My mom stayed in it for 2 and a half months and it had everything she needed! It was a great location, everything was super tidy and clean, the bed was very comfortable and Chris and Ange were incredibly hospitable! Couldn't recommend this place more!" – Hannah, July 2022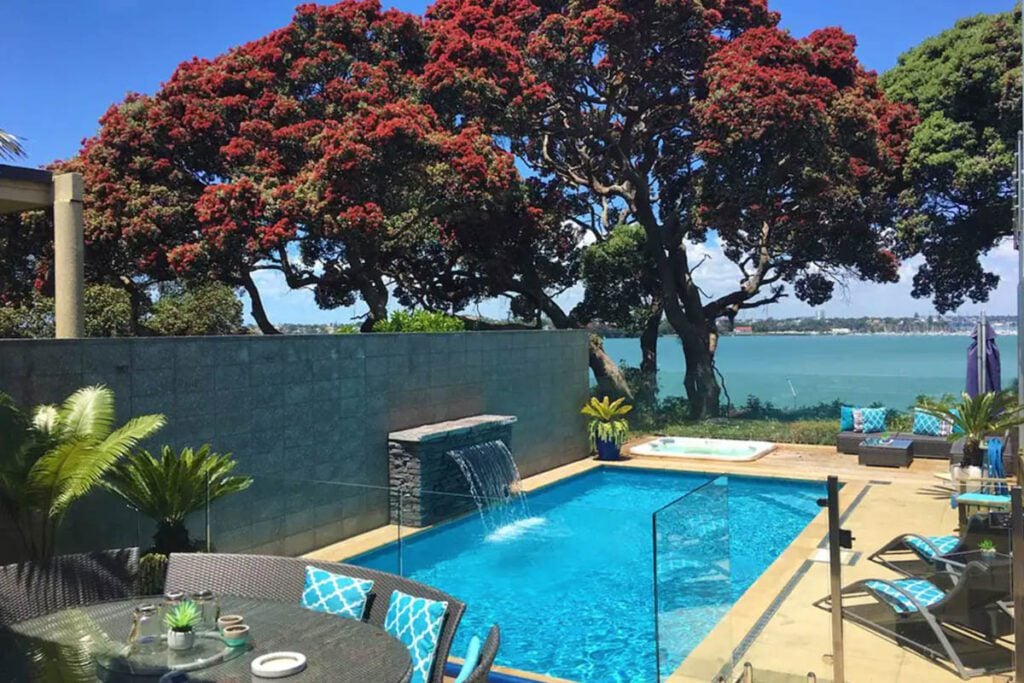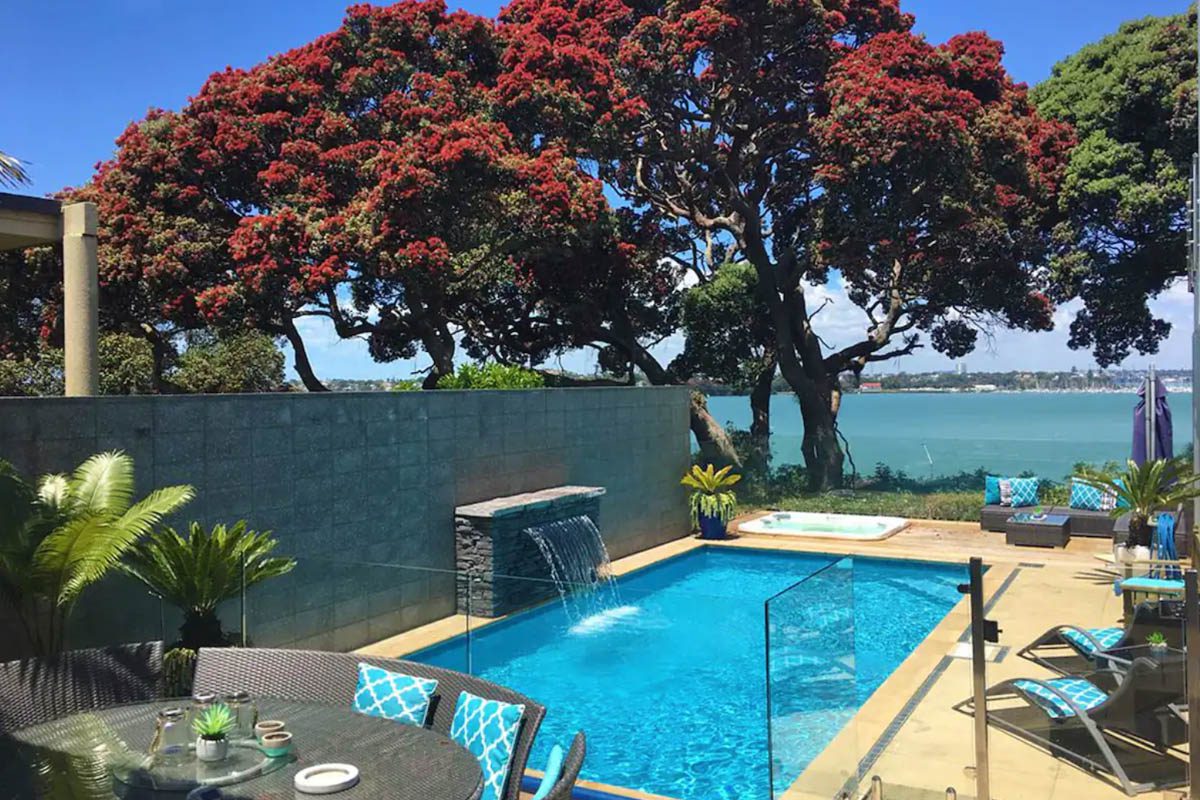 Comfortable room with a resort-style pool overlooking the harbor
Budget: $
Number of guests: 4
Minimum stay: 1 night
Combining city and harbor views, a central location, and even a pool, this may be one of the best overall Airbnbs in Auckland.
This private room with en suite bathroom is directly off the back patio area, with a resort-style pool, hot tub, kids' play area, and outdoor dining setup. Catch a bus to the city center right outside the front door!
Many guests note the ultra-thoughtful host, who provides breakfast ingredients, personal notes, and even a small welcome gift.
What guests love: The amazing outdoor area combined with views of Auckland's skyline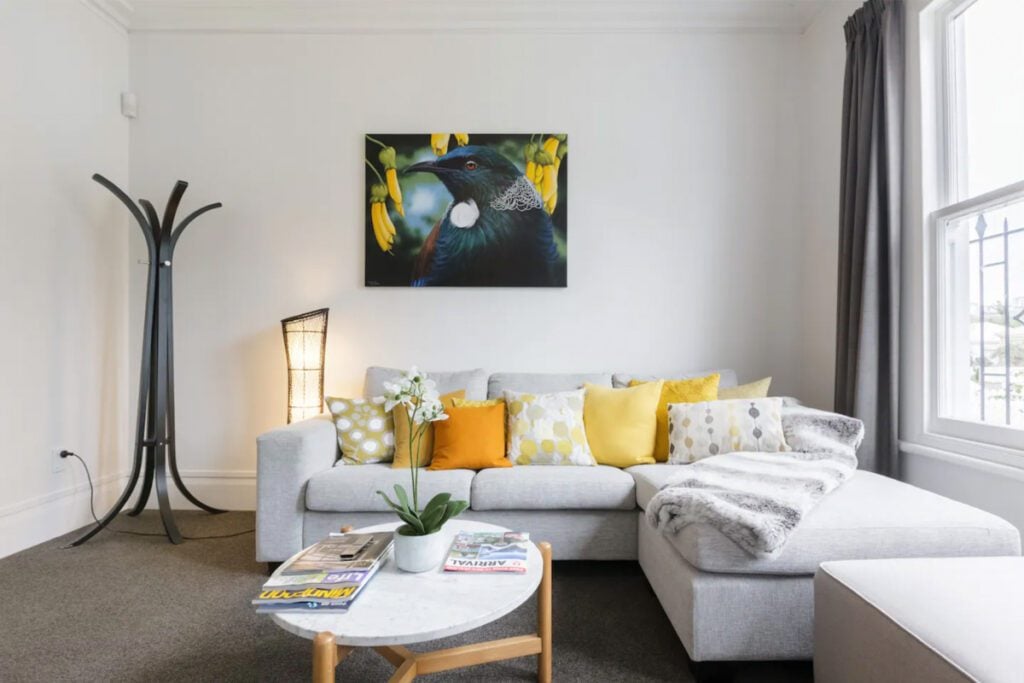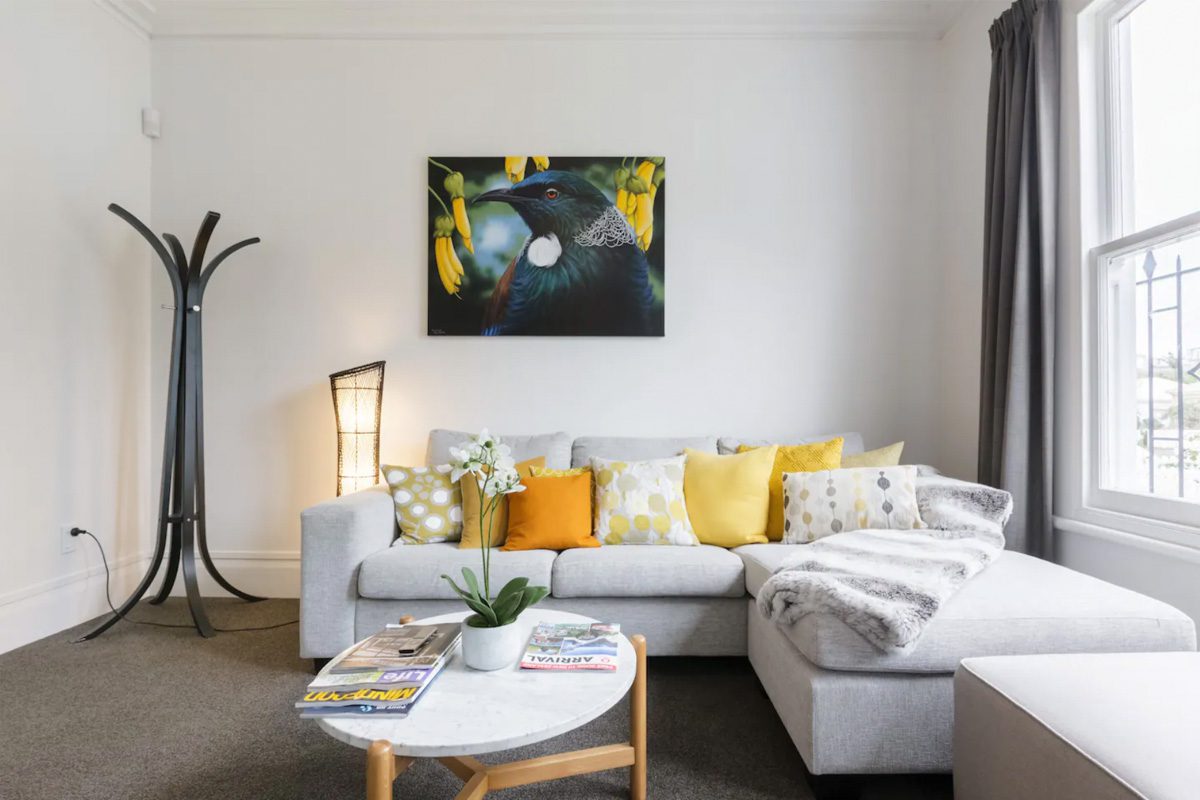 Comfy villa with excellent amenities in a fantastic neighborhood
Budget: $$$
Number of guests: 6
Minimum stay: 2 nights
Plus | Superhost
This well-furnished three-bedroom cottage makes you feel at home from the get-go. There's a large living room, dining table, and a patio, so your group can gather before exploring the city.
Located in vibrant Ponsonby, several of Auckland's best restaurants and bars are within easy walking distance. Note that the kitchen is small but functional — but in this neighborhood, you'll want to eat out anyway!
Thoughtful, unexpected extras include heated towel bars in the bathroom and lightning-fast fiber optic wi-fi.
What guests love: Location, location, location!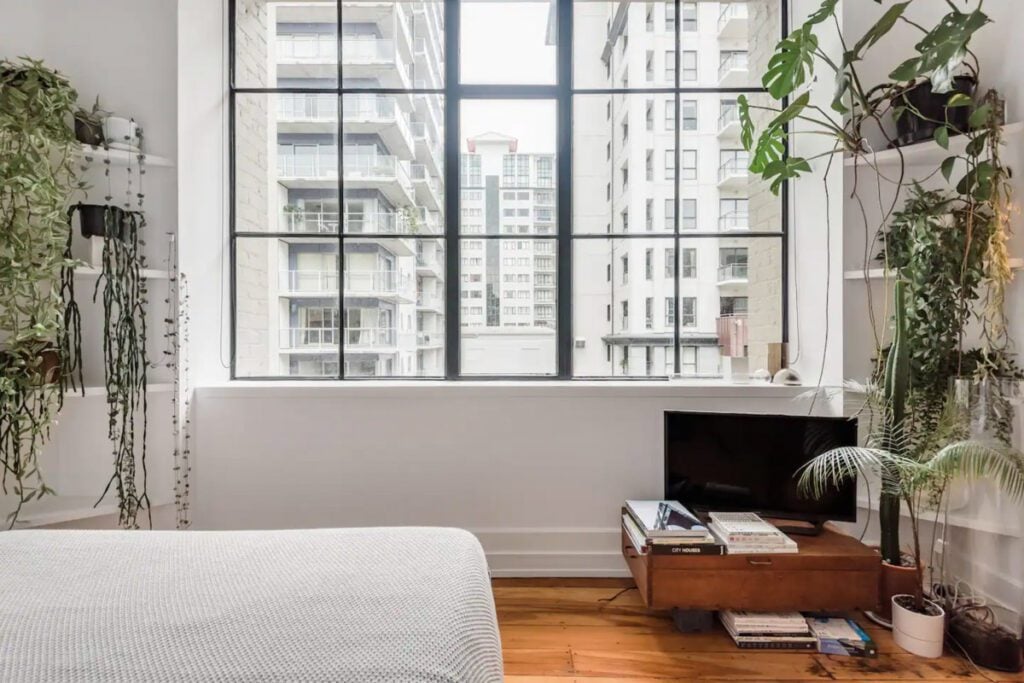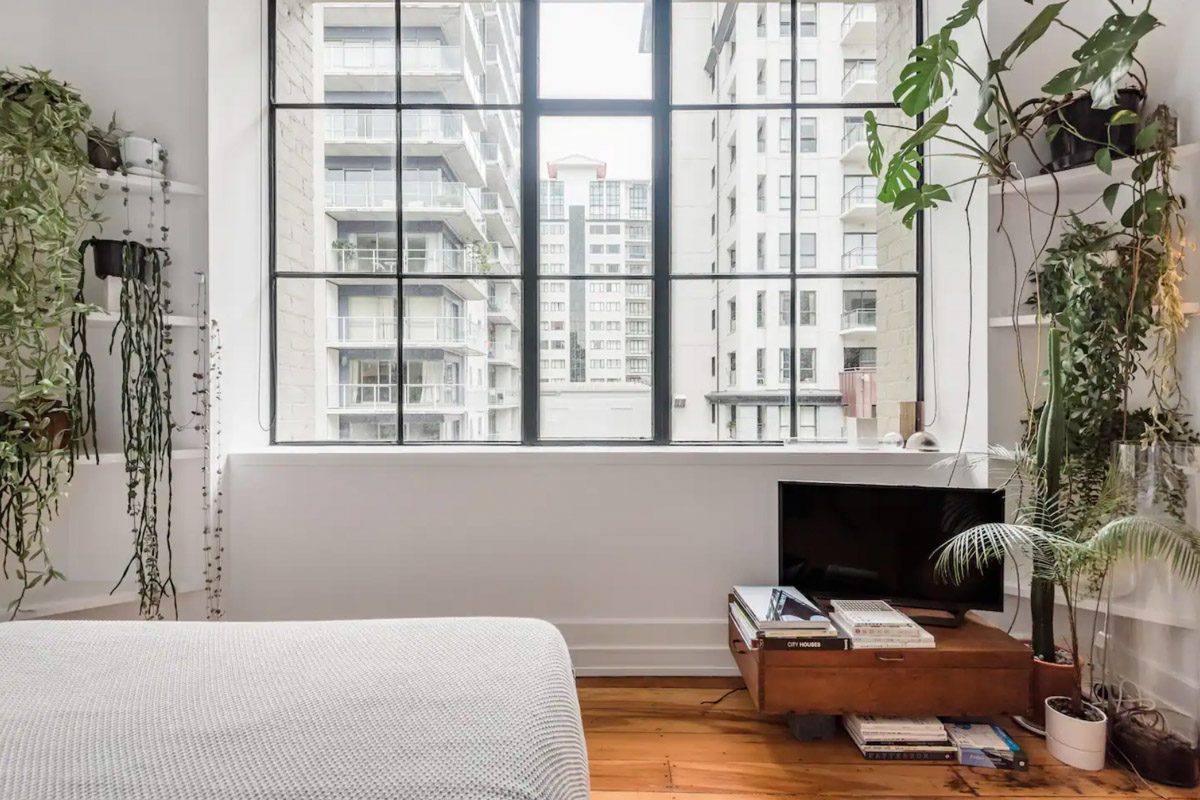 Chic, minimalist studio in a coveted historic hotel
Budget: $$
Number of guests: 2
Minimum stay: 1 night
Plus | Superhost
This airy studio makes the most of its modest size with large windows, an abundance of plants, an ultra-comfy bed, and sleek furnishings.
Like other Airbnbs in Auckland located within a hotel, guests have access to the pool, sauna, gym, and other in-building amenities. Indulge in little treats in the studio itself, including an espresso machine, well-curated selection of design books, and soaking tub.
Note: this building is on one of Auckland's busiest streets, so bring earplugs if you're sensitive to street noise.
What guests love: The walkable location and access to hotel amenities
---
Can't find an Airbnb?

---
Are you planning a trip to New Zealand?
We have TONS of resources on travel in New Zealand and destinations throughout the country. Check out our Ultimate New Zealand Travel Guide for all the answers to your most burning questions, or read some of our favorite articles below.
Save this article for later on Pinterest!
We want to hear from you!
Are you planning a trip to New Zealand? Do you have any questions? Have you visited Auckland? What was your favorite part about this city? Comment below and we'll do our best to get back to you!