If you're planning a trip to this PNW hotspot, you'll want to check out this highly curated list of the best Airbnbs in Seattle. We're sharing our favorite stays to meet every need — from budget-friendly, to the most unique accommodation, to some seriously outrageous finds!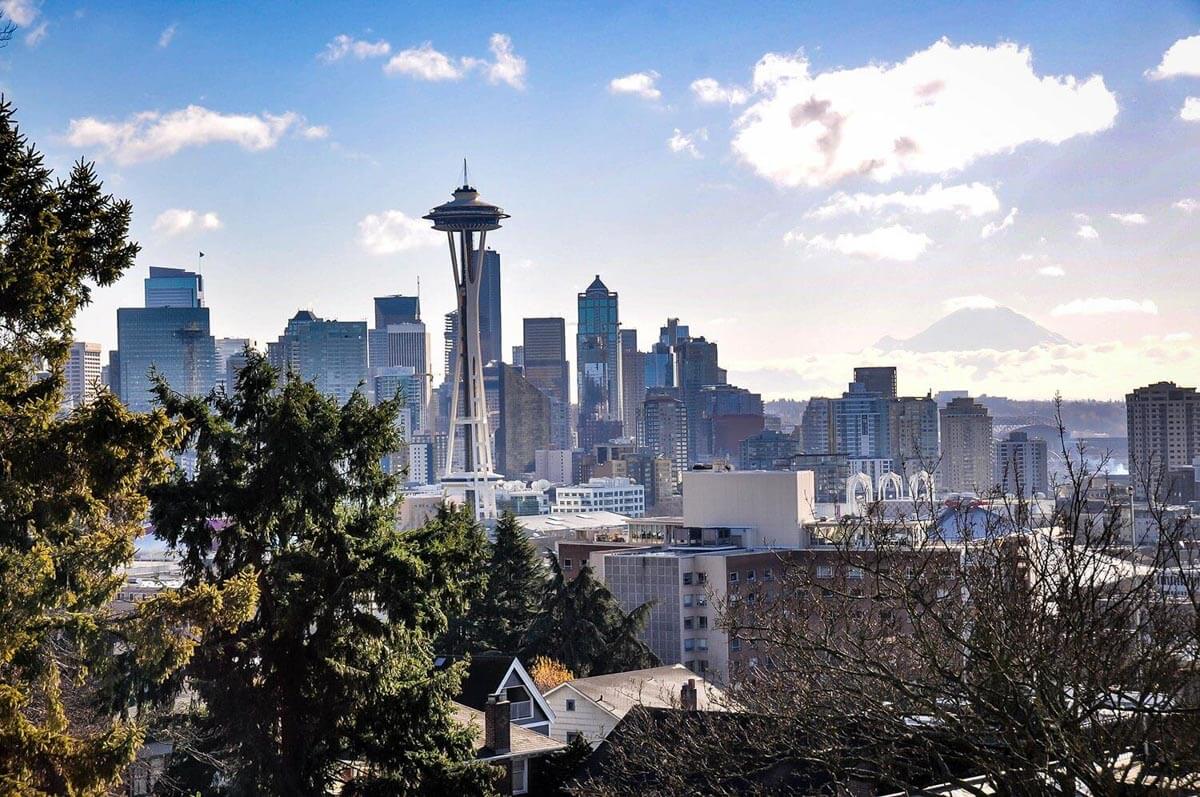 Sandwiched between the Pacific Ocean on one side and majestic mountains on the other, Seattle is a city that both urbanites and nature lovers can appreciate. This Pacific Northwest staple is known for its undeniable beauty, tech-forward thinking and world-class food scene. 
With easy access to epic mountain adventures as well as a distinct food and music scene, there is no shortage of fun things to do in Seattle.
We used to live in Leavenworth, just a couple of hours from Seattle, and we found ourselves staying in new neighborhoods during each visit to kind of "compare" them. 
Whether you're visiting the Puget Sound metropolis for vacation, business, or planning the perfect staycation, you'll want to check out this list of the best Airbnbs in Seattle. 
Why stay at an Airbnb in Seattle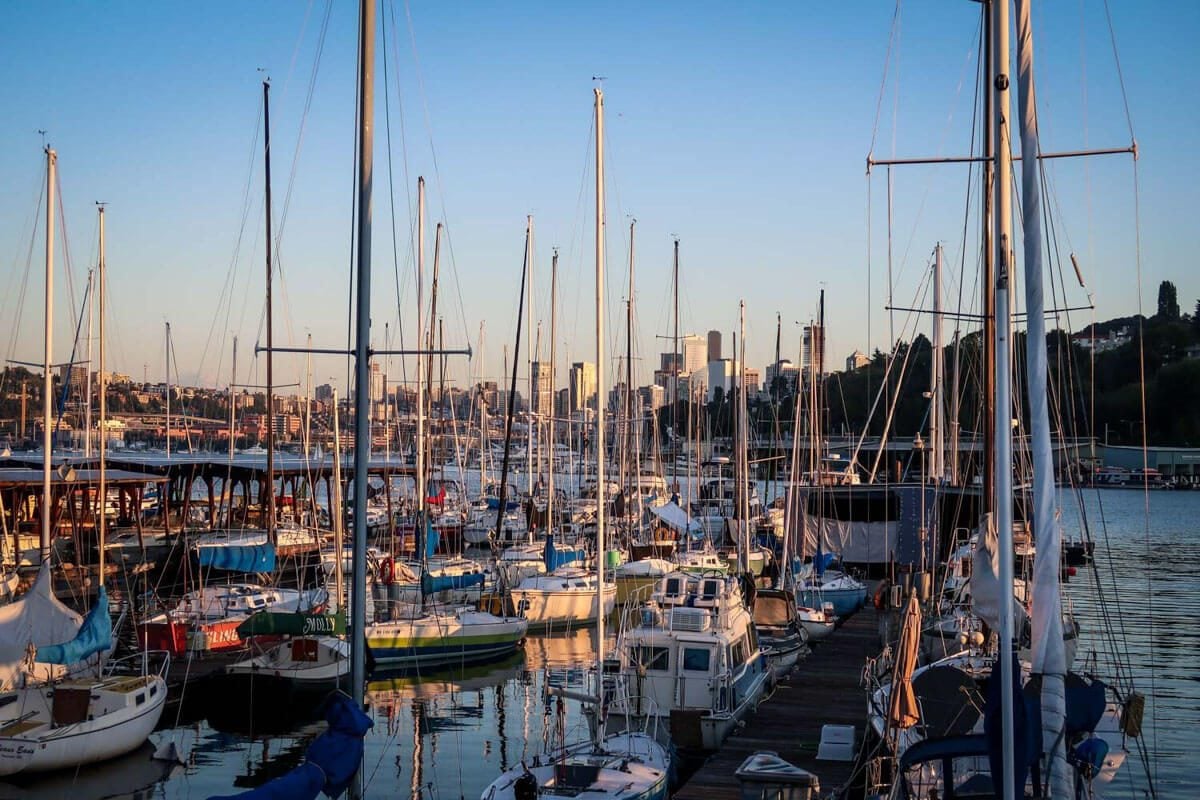 Renting an Airbnb is one of our favorite ways to get to know a place. Airbnbs in Seattle range from modern downtown lofts to quirky houseboat stays. Plus, they offer experiences you won't get in a hotel:
Experience the city from a local's point of view

Stay in a neighborhood outside of the downtown hotel district

Enjoy the comforts of home like a stocked kitchen or laundry facilities

Stay together with your family or larger group

Save money on longer stays

Try out a unique accommodation like a houseboat, tiny home or beach cottage
Psst! Is this your first time considering staying in an Airbnb? We put together an entire article on how to book an Airbnb, from setting up your profile to exactly which filters we use.
Where to stay in Seattle
Like most major metropolises, Seattle is broken down into neighborhoods, each with a distinct vibe and unique draws. Depending on your travel style and the purpose of your trip, the best area can vary.
We've organized this article by neighborhood to showcase the best Airbnbs in each of the areas we'd recommend you stay. Click on the link to jump straight to the neighborhood recommendations, or continue scrolling through them all to make your pick.
Psst! If you need a bit more help, we've broken down where to stay in Seattle by neighborhood based on your specific travel needs in this detailed article.
Our top 5 recommendations:
Don't have the time or patience to read through the entire article? Here's the quick n' easy rundown of the best Airbnbs in Seattle for your specific needs.
Best budget Airbnb in Seattle: Centrally Located Condo
Most unique/quirky stay: Classic Tug Boat
Best retreat near the city: Kayaker's Tiny House
Best family or large group stay: Architectural Retreat with Lego Kitchen
Most romantic stay for couples in Seattle: Romantic Pioneer Square Loft
19 Best Airbnbs in Seattle
This list is rounded out with stays for solo travelers, couples and families or larger groups. It includes unique stays like a tugboat in the marina, romantic loft in Pioneer Square or a backyard tiny home with a private hot tub. All of which are as beautifully decorated and well-kept as the city itself.
Ballard: Great spot for foodies and hipsters alike. Find quirky boutiques, thrift stores, bookshops and lots of bars and restaurants to choose from.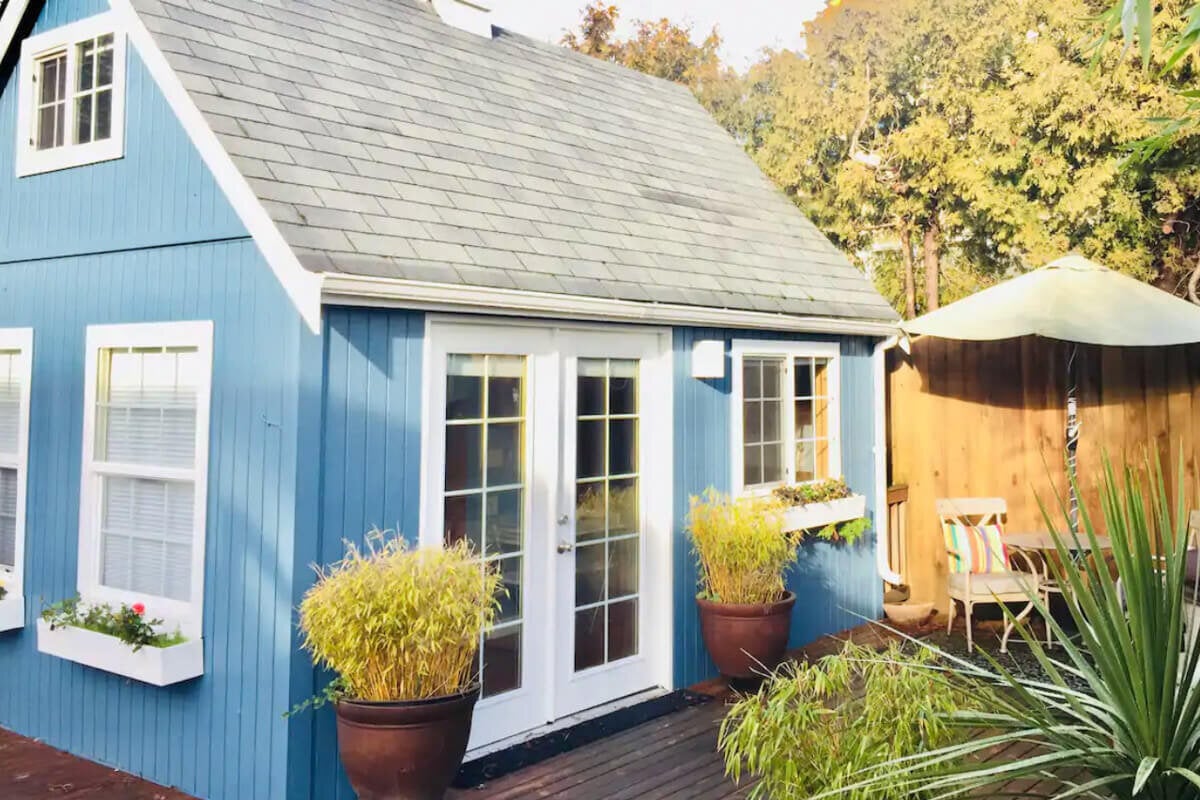 Private tiny home experience with amenities
Location: West Woodland

Budget: $$

Number of Guests: 2 guests

Minimum Stay: 3 nights

Superhost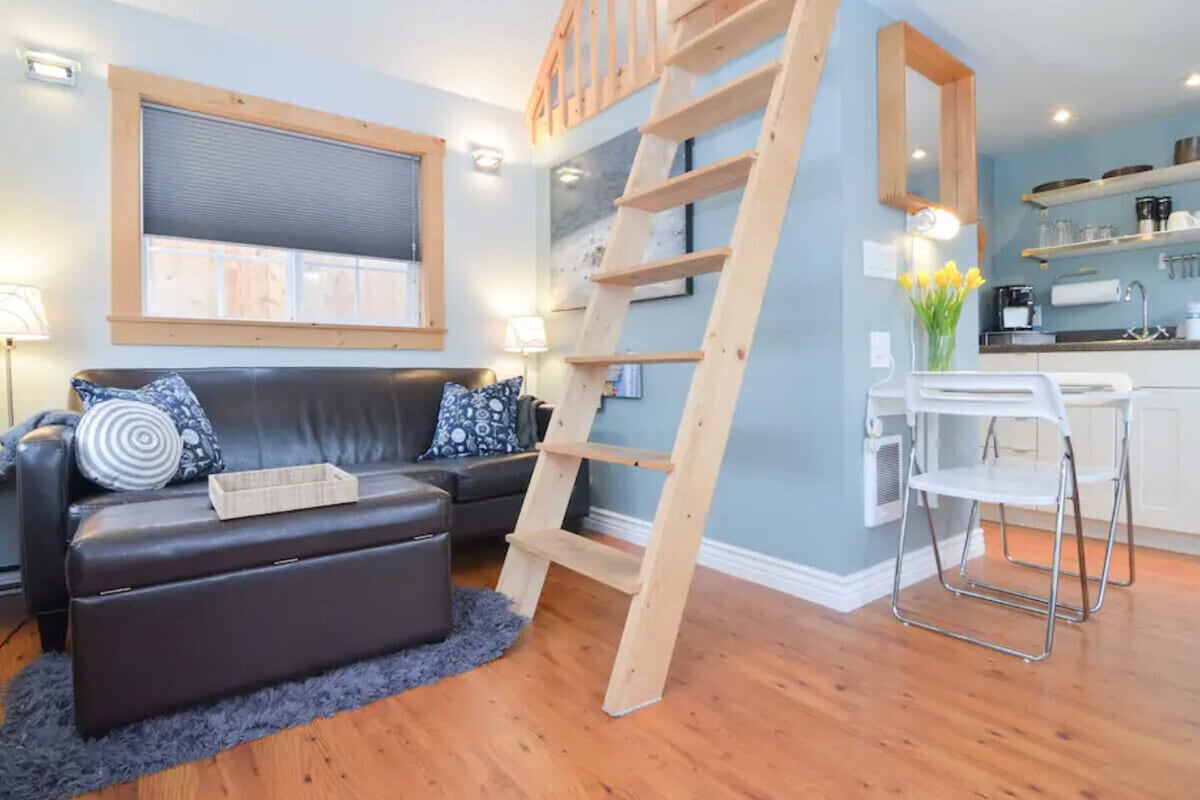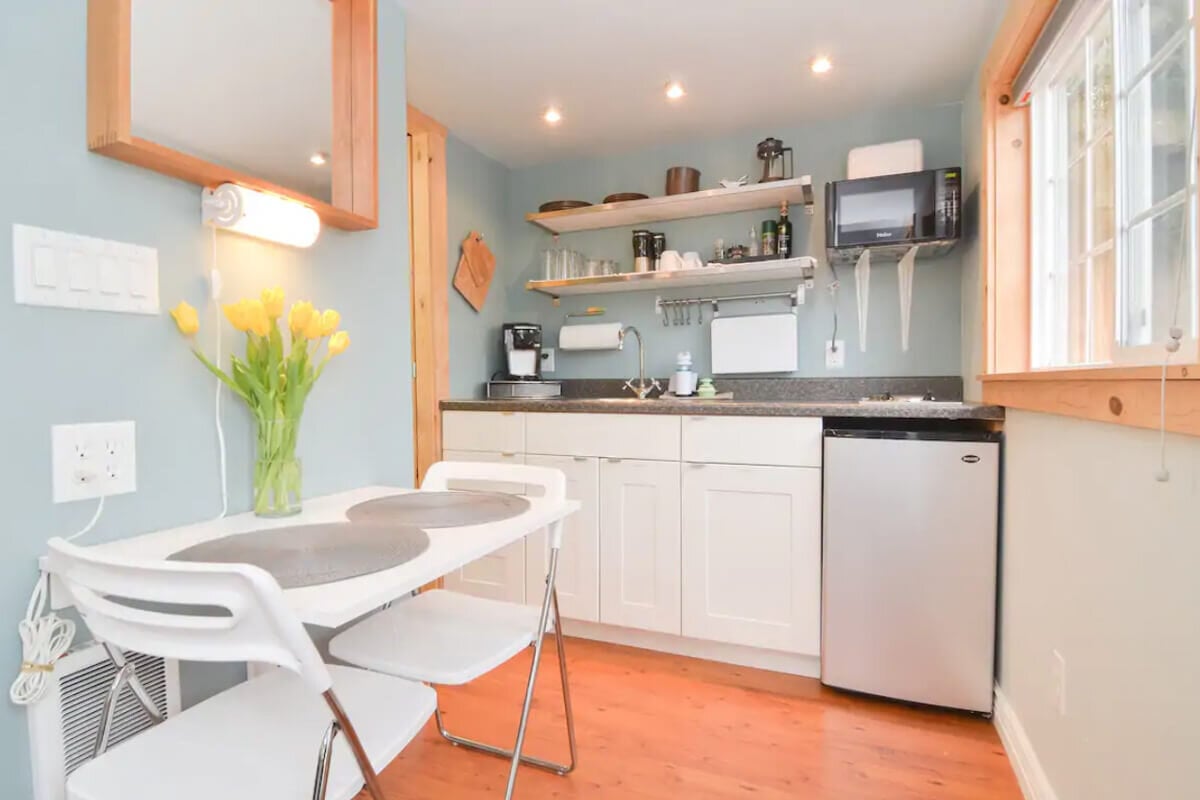 Conveniently located just blocks from central Ballard, you can enjoy your own tiny home experience while enjoying the luxuries of amenities like a private outdoor sitting area and hot tub. The 250-foot space includes a kitchenette with 2-burner stove, mini fridge and kitchen essentials. Climb the retractable ladder to the cozy lofted bedroom with double bed. A full bathroom and living room round out the space.
Guests rave about the private hot tub for relaxing after a long day.
"This was a great tiny house for our Seattle trip! The location was perfect for everything we wanted to do and just enough space for us as a couple. The hot tub was a nice perk after long days of walking – and overall the space felt very private even though it was in her backyard." – Monique, June 2021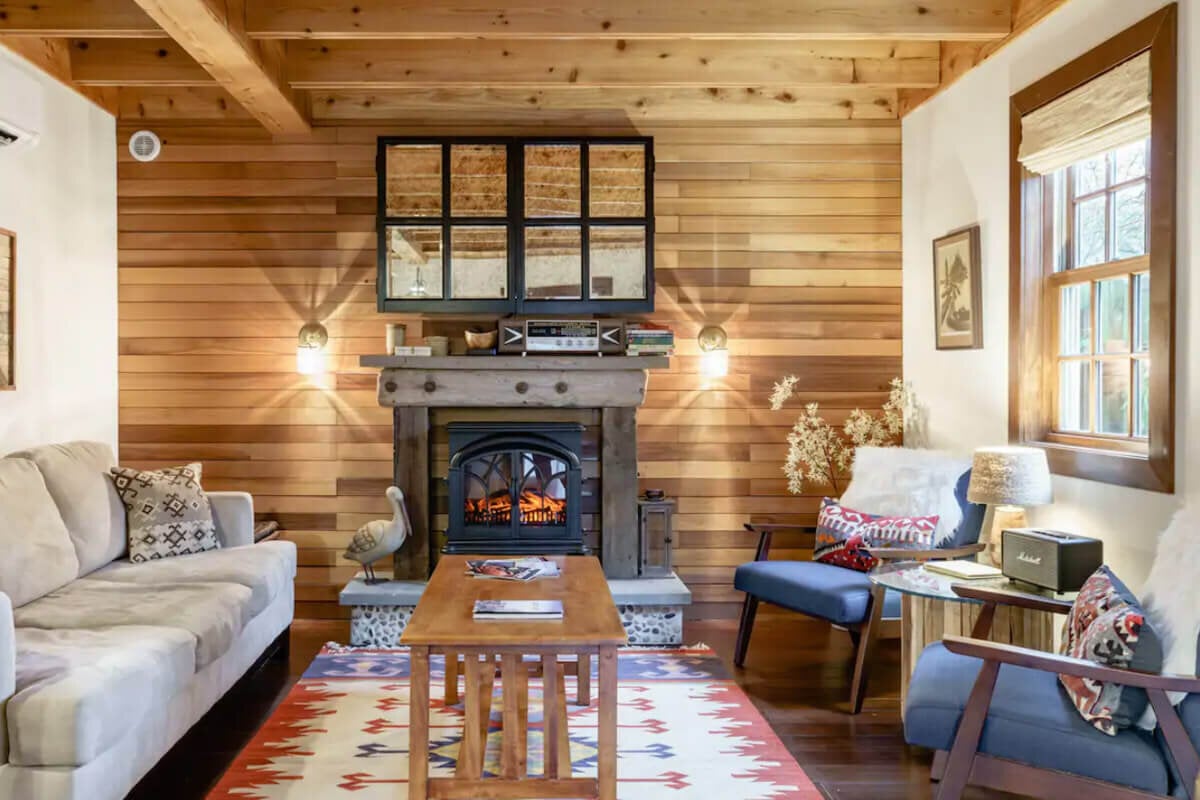 Beautifully decorated two story guesthouse in Ballard
Location: Ballard

Budget: $$$

Number of Guests: 2 guests

Minimum Stay: 4 nights

Plus | Superhost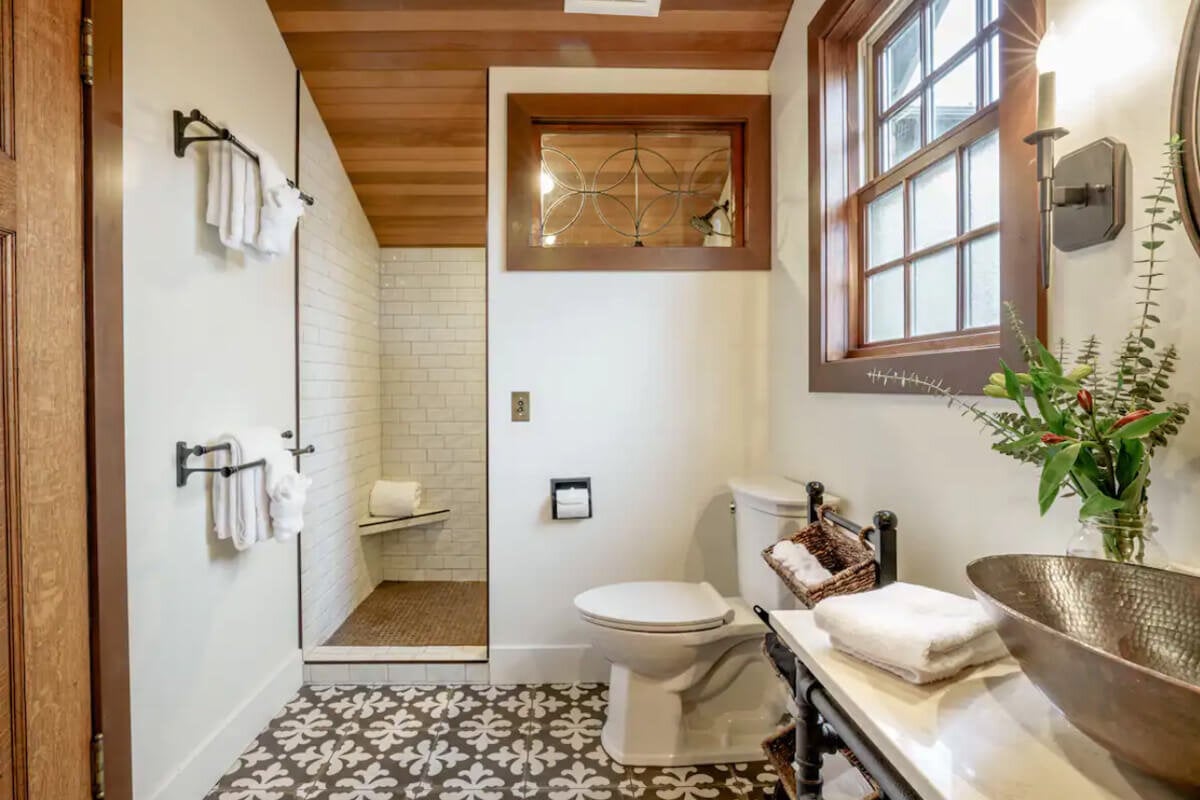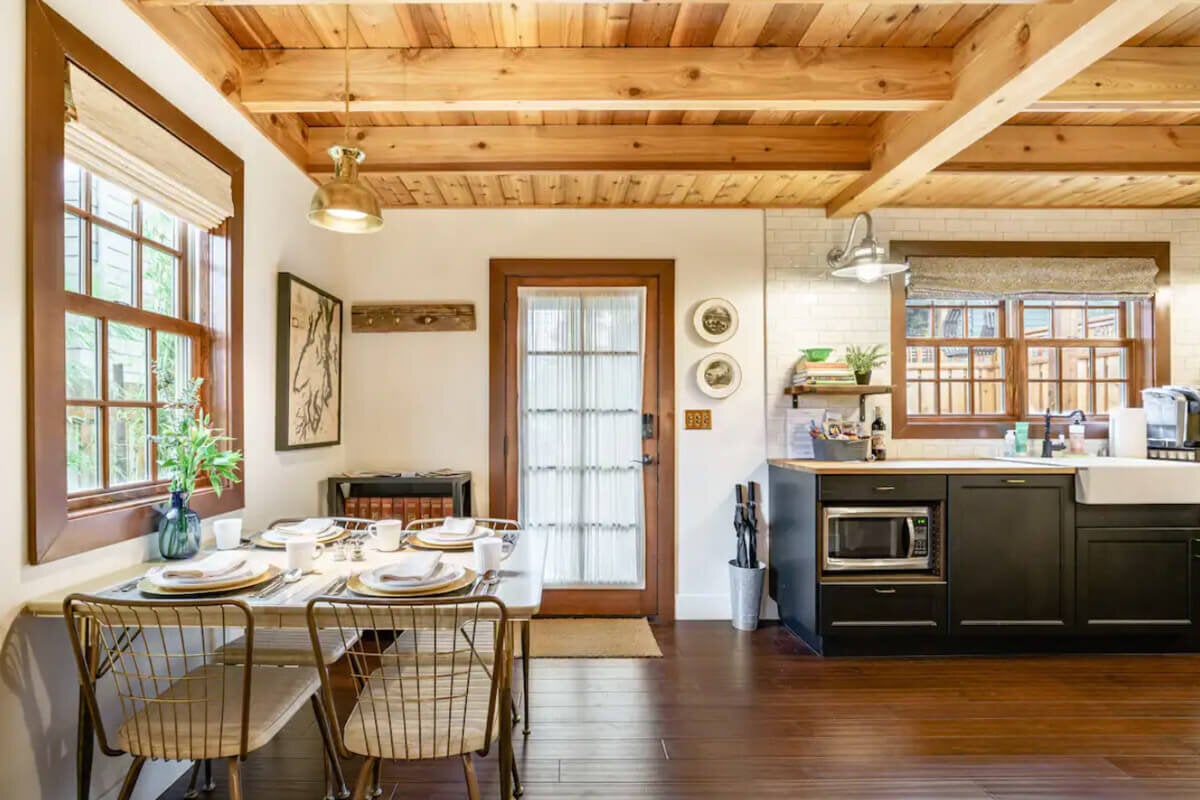 Conveniently located on a quiet tree-lined street in central Ballard, this two story, one bedroom guest house is full of charm. Enjoy all the comforts of home in this beautifully decorated space from the fully-stocked kitchen to dining space and in-home laundry.
Guests gush about the host's attention to detail.
"We strive to provide a 5-star hotel experience with all the comforts and conveniences of home." – Virginia, your host
Honorable Mention
---
Green Lake & Wallingford: This area has lots of small shops and parks around the lake, and staying here will make you feel like a local. And just a short drive away from downtown, it's a laidback base for your Seattle trip.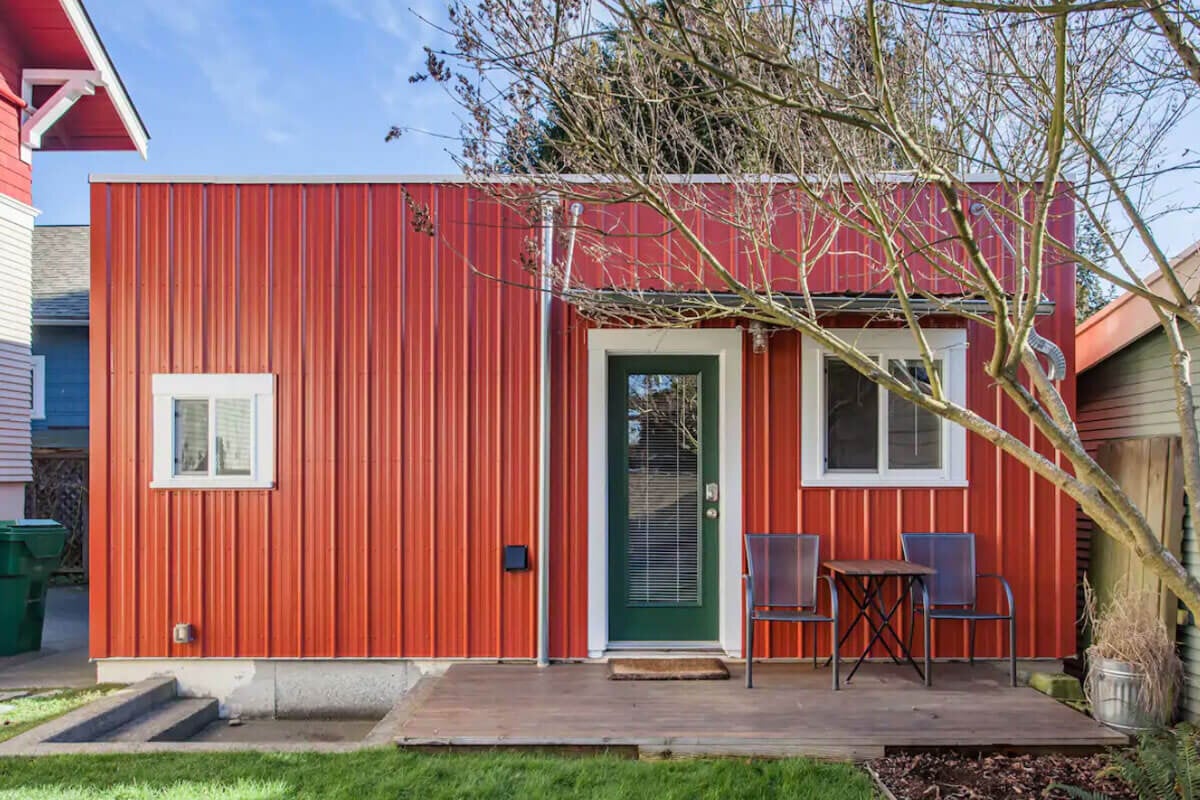 Former workshop turned backyard studio steps from Woodland Park
Location: Wallingford

Budget: $

Number of Guests: 2

Minimum Stay: 1 night

Plus | Superhost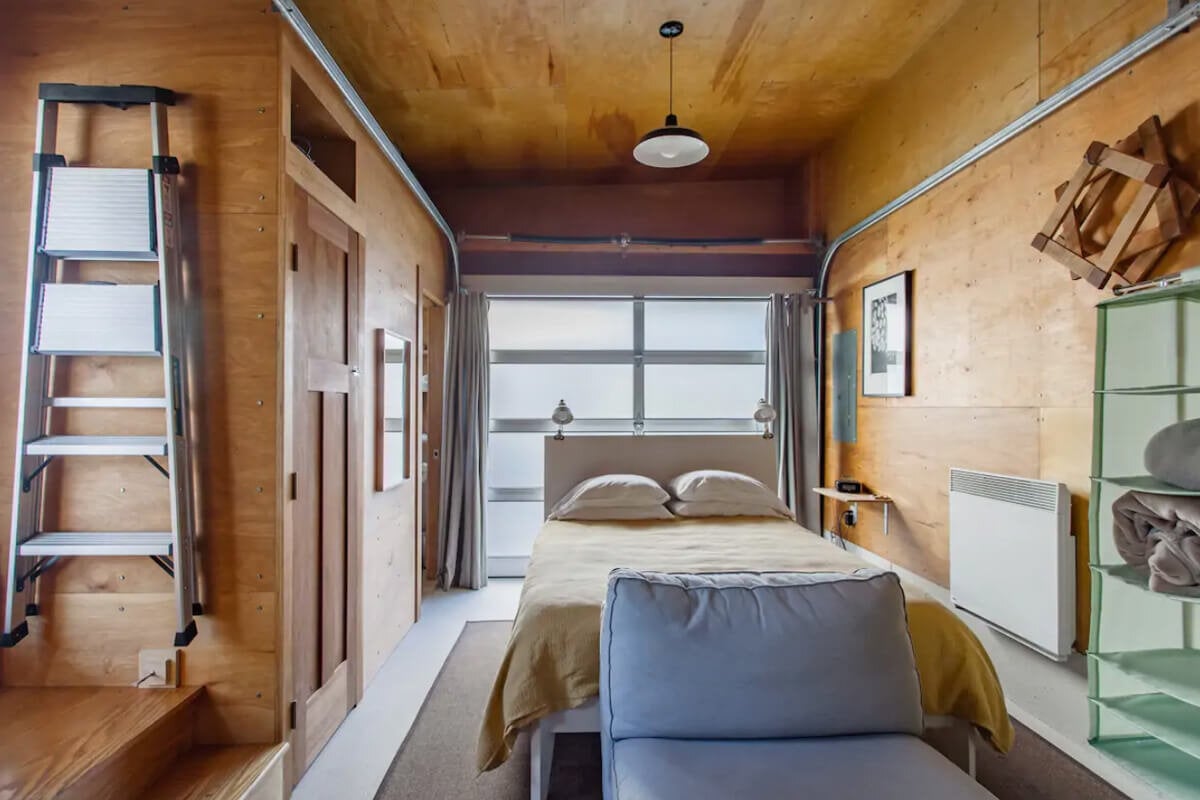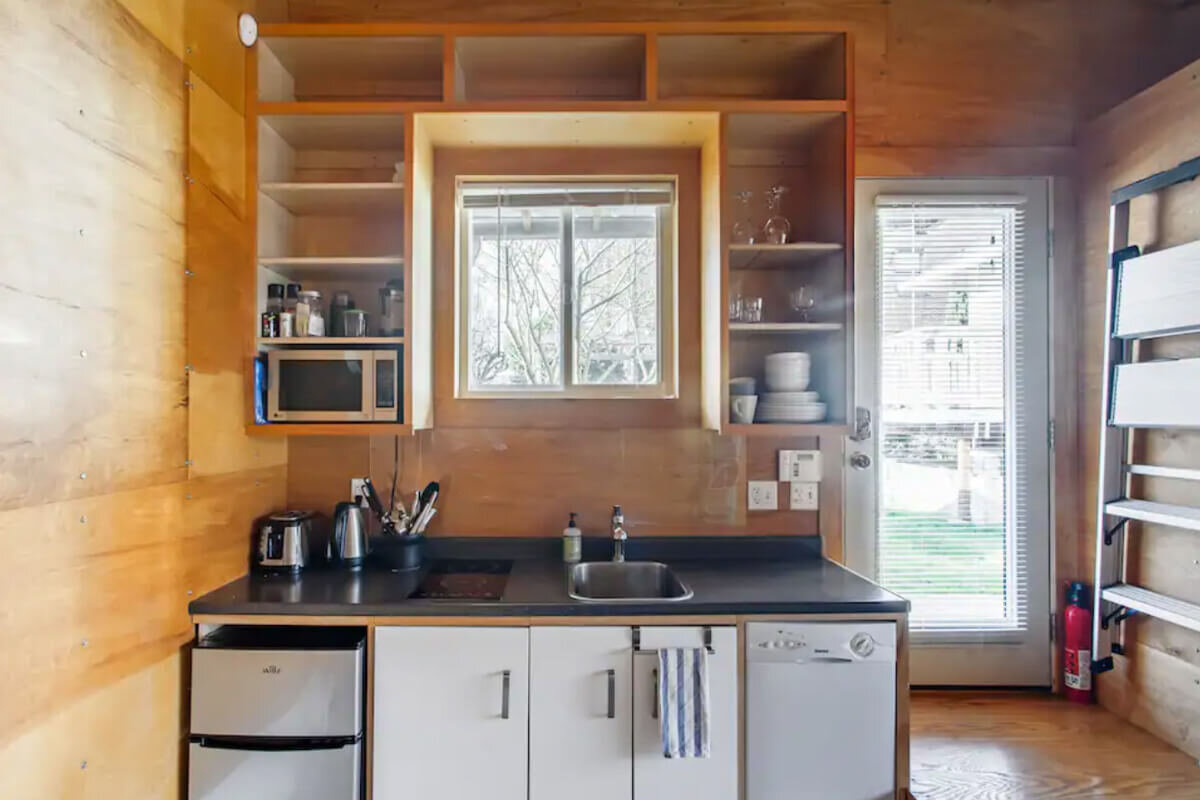 This tiny house has a great location just south of Woodland Park. Check yourself in and out and enjoy being in a quiet neighborhood. The elevated design incorporates the industrial feel with concrete floors, shop lights and wood paneled walls. This is where we stayed on our most recent trip to Seattle, and it was a good location and staying in a tiny house was kind of fun!
Guests love how clean and well-kept the space is.
"We had a very nice weekend at Hugo's, and his place served as a great jumping off point to explore Seattle. Many tasty coffee shops and restaurants within a half mile. The space was clean and comfortable!" – Vicki, June 2021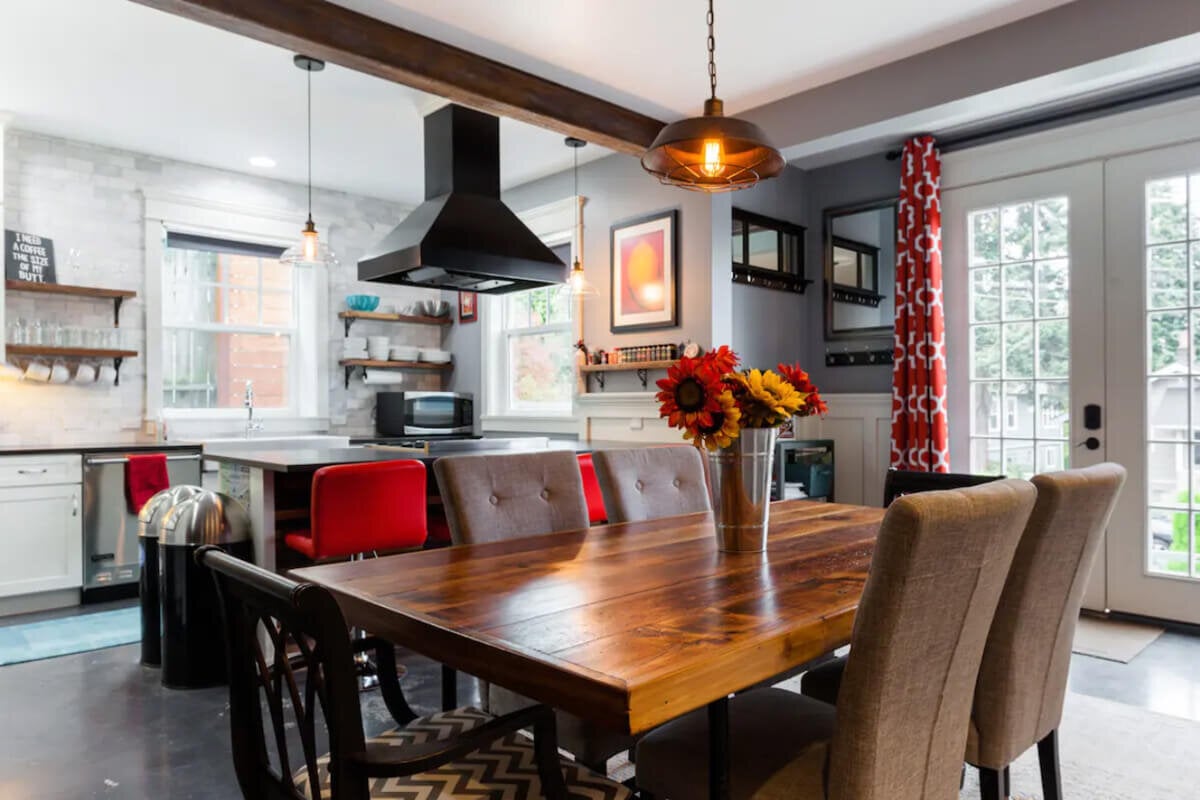 Private first-floor apartment in updated Craftsman home near Green Lake
Location: Meridian

Budget: $$

Number of Guests: 6 guests

Minimum Stay: 30 nights

Plus | Superhost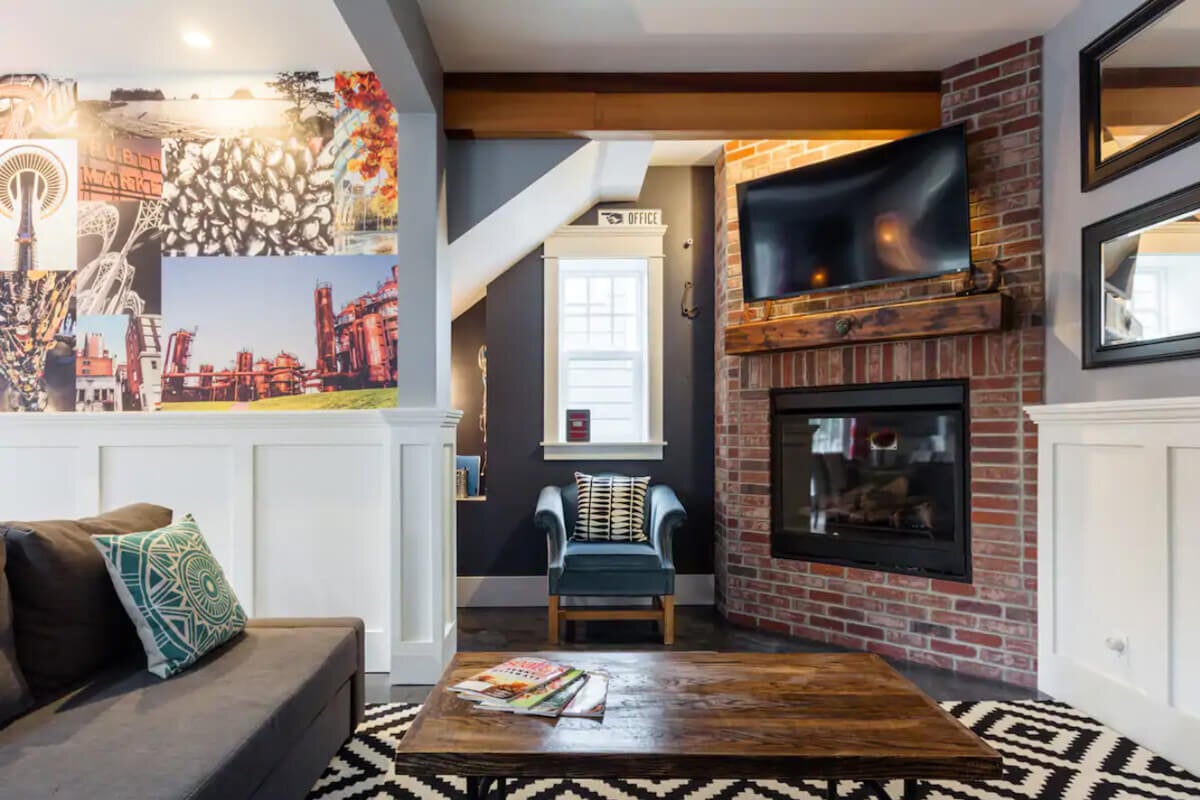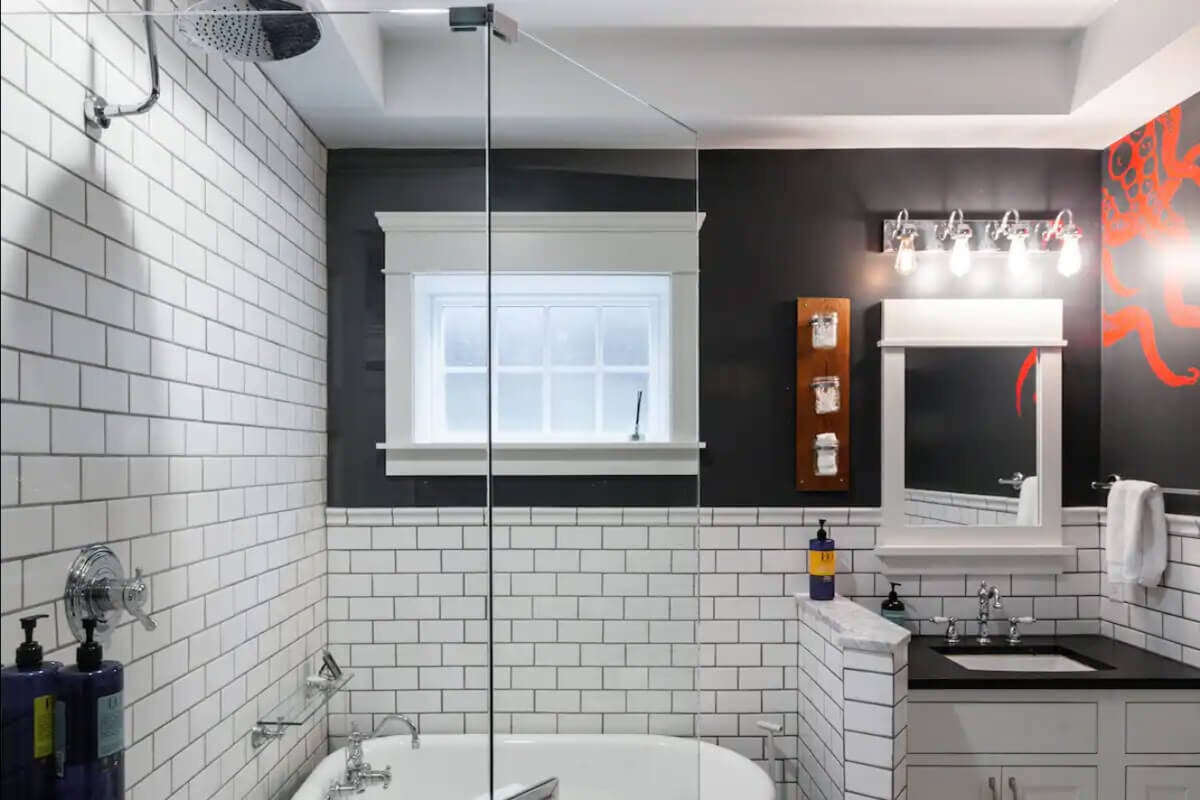 This 100-year-old Craftsman in the Greenlake/Wallingford area of Seattle is an eclectic retreat in the city perfect for a family stay. The two bedroom apartment boasts modern amenities like a gas fireplace in the living room, keyless entry and in-home laundry.
The owners kept some of the original charm of the house with wainscoting, mill work, a claw foot tub and subway tile in the bathroom. Sit down for a family-style dinner around the large dining room table or kick back on the private backyard patio.
Guests love the beautiful decor and thoughtful touches.
"Everything from amenities, to location, to decor, to ease-of-access, to communication with the hosts, to thoughtful touches – definitely would love to stay again!" – Elsa, May 2020
Honorable Mention
---
Fremont: This is one of our favorite neighborhoods to explore. It has a quirky, laid back vibe and there are lots of cool cafes, coffee shops, breweries and boutiques that you can walk to.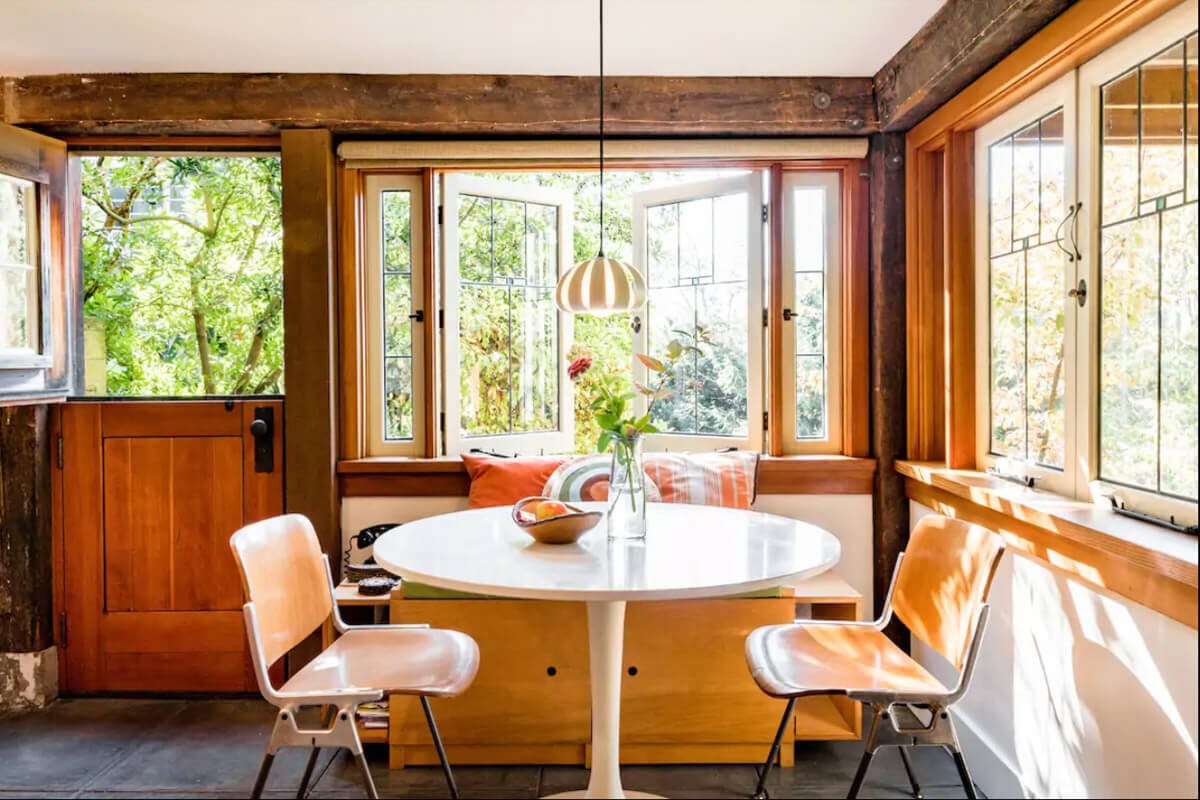 Rustic cabin-like guest suite with private terrace and views over Woodland Park
Location: Fremont

Budget: $$

Number of Guests: 2

Minimum Stay: 2 nights

Superhost | Plus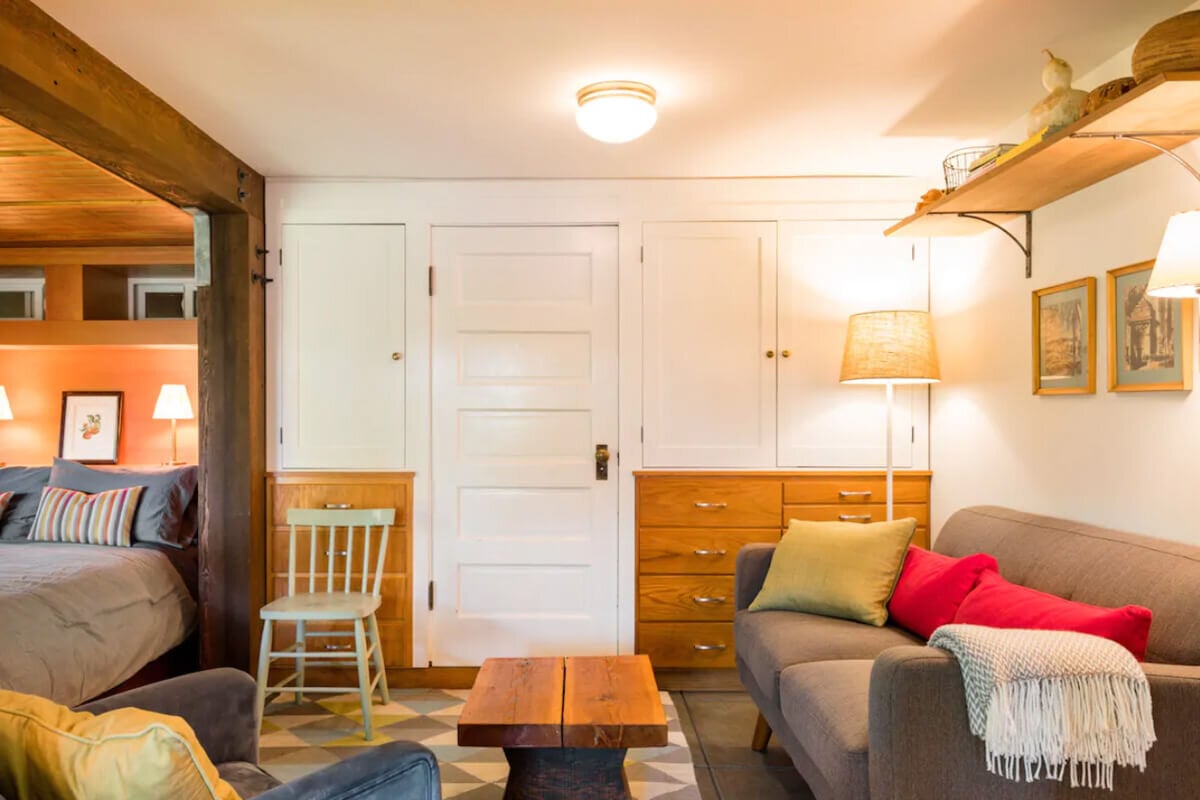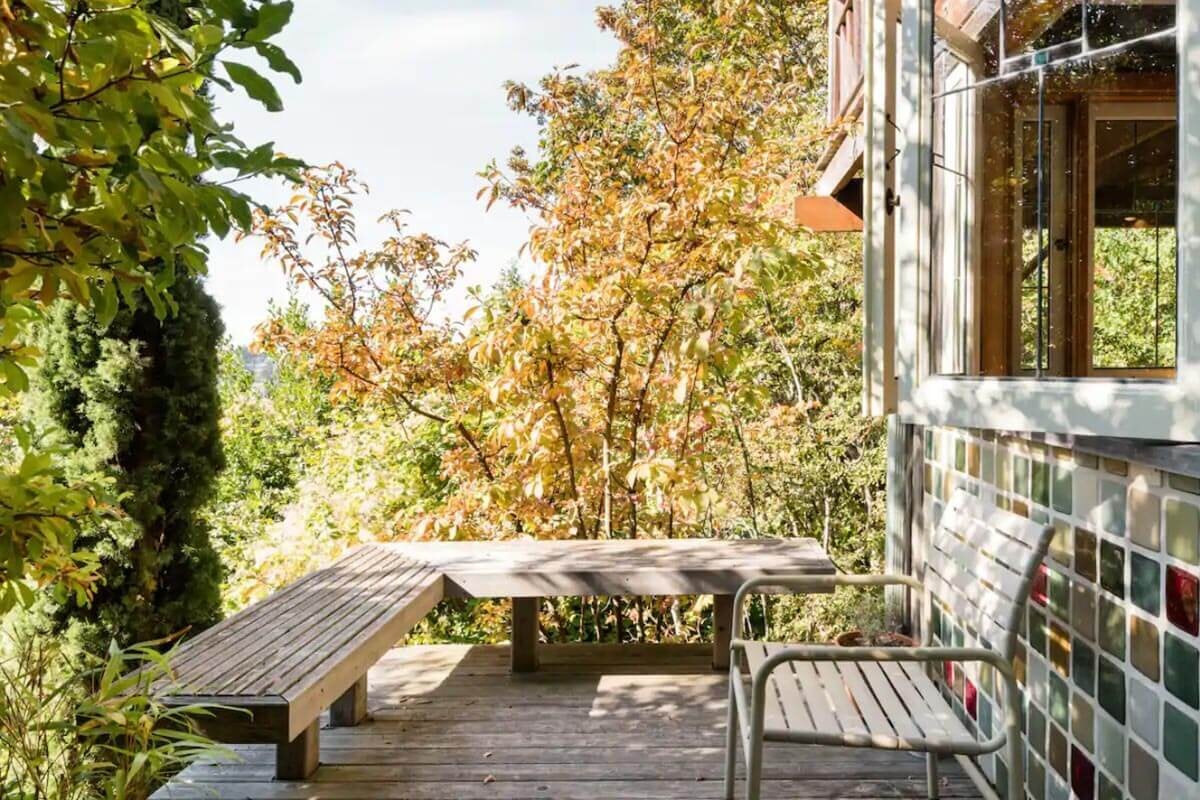 This charming one-bedroom guest suite is beautifully decorated and bursting with character giving us major tree house vibes. Surrounded by foliage, you'll have plenty of peace and quiet while staying in a prime location near plenty of restaurants and cafes.
Guests rave about the cozy space and best location.
"Amazing place to stay in Seattle! Brent was super welcoming and easy to communicate with. The space feels like you're in a treehouse—surrounded by foliage and no other houses really in sight. It's quiet, cozy, and so thoughtful. We especially loved the outdoor space where we could enjoy the incredible sun…" – Makayla, May 2021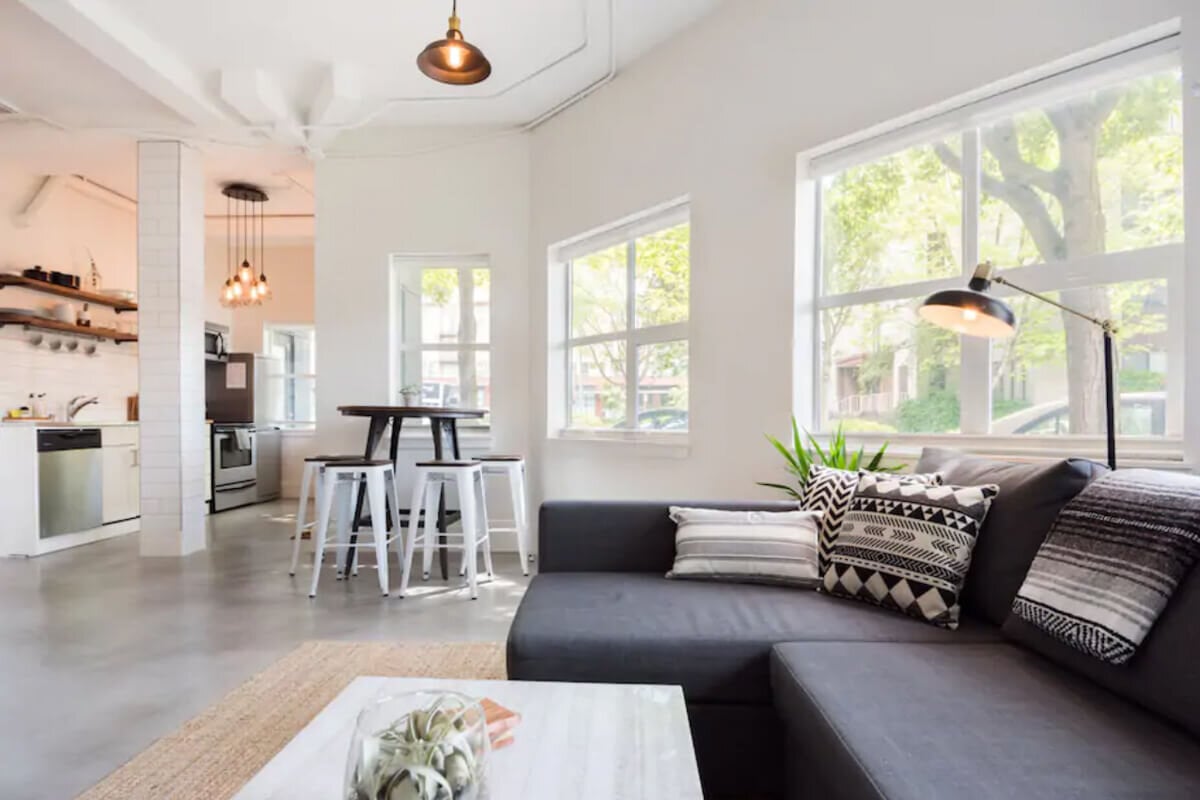 Bright and modern studio in a prime location between Fremont and Wallingford
Location: Fremont

Budget: $$

Number of Guests: 4 guests

Minimum Stay: 1 night

Superhost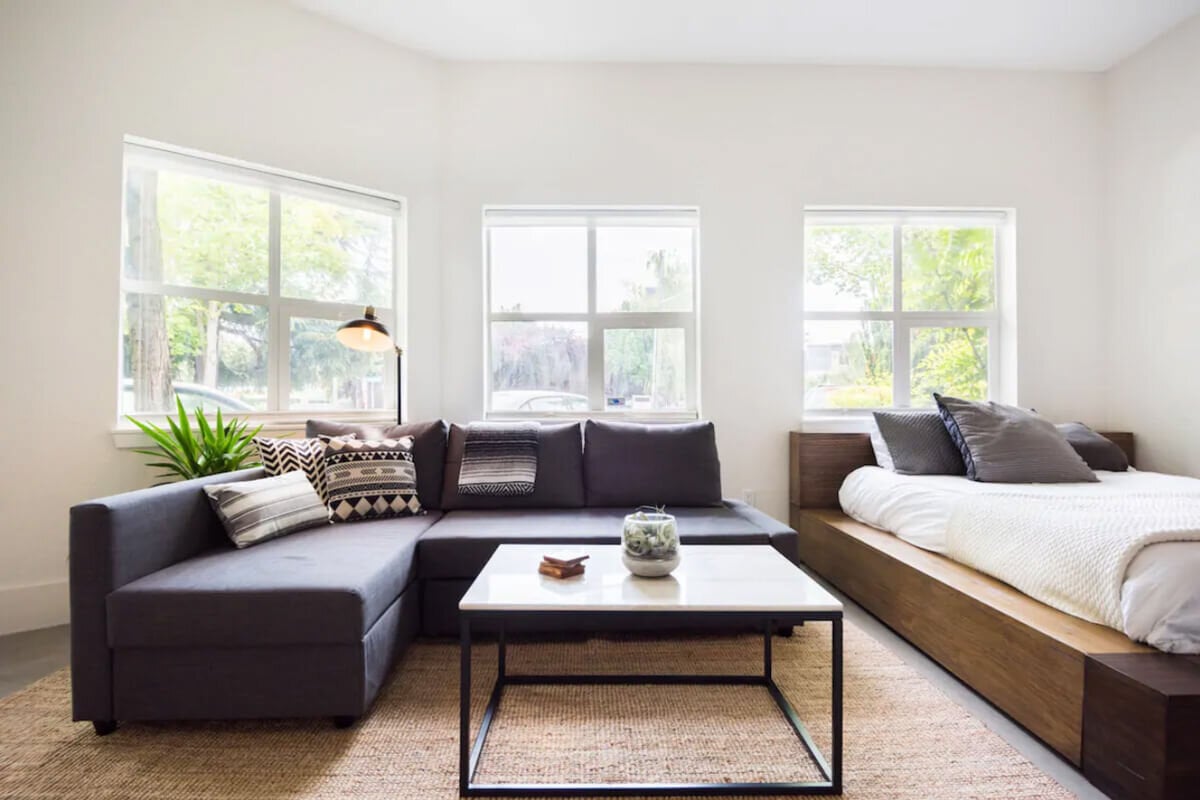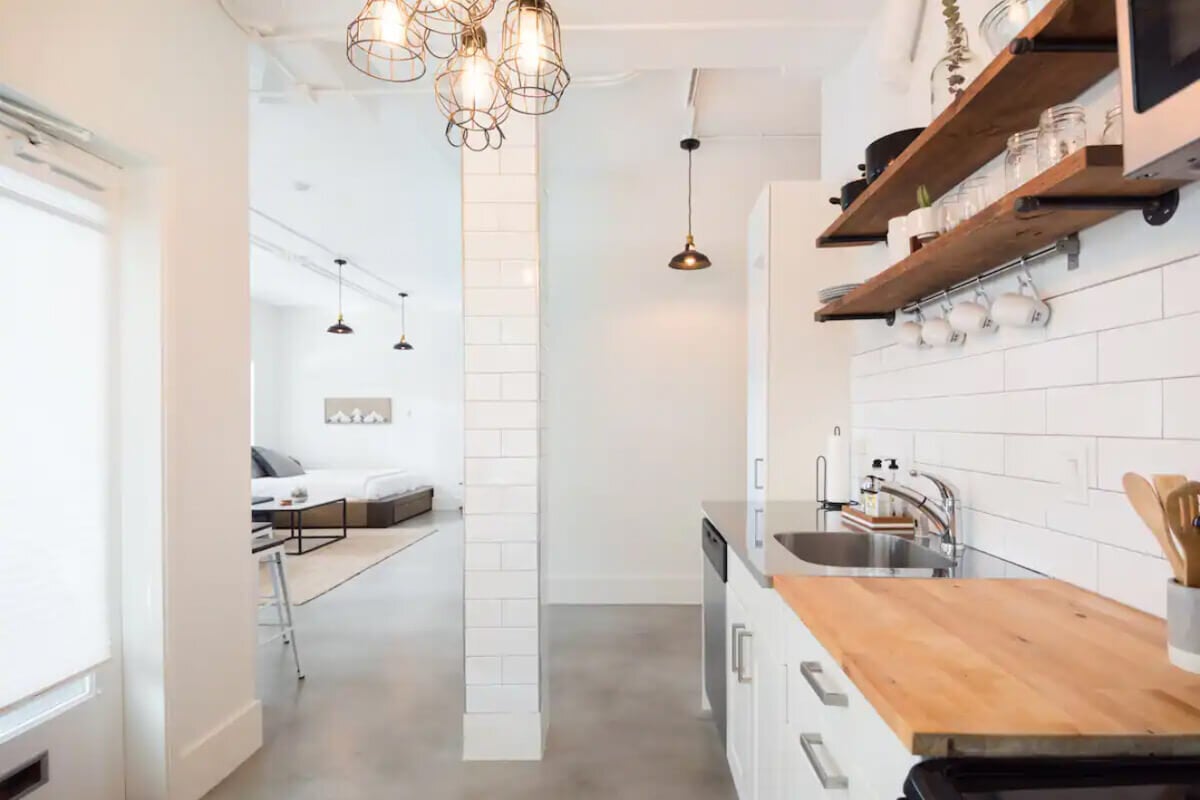 This trendy apartment has been completely remodeled for an up-to-date cosmopolitan feel. Stylish design features, large bright windows and modern touches set this place apart from others nearby.
The apartment features an updated kitchen, large seating area and ¾ bathroom. With just a 12 minute walk to central Fremont and 10 minutes to the bars and restaurants in Wallingford, you cannot ask for a better location.
Guests gush about the central location.
"This is a superb location for all things Fremont/Wallingford/Ballard related…If you're in town to visit all Seattle has to offer, you could do way worse than staying here. Overall a great experience." – Tyler, June 2021
Honorable Mentions:
---
Queen Anne: This neighborhood has two distinctly different sections; Lower Queen Anne is more lively, with bars and the Seattle Center (where you can find the Space Needle, among other attractions). Upper Queen Anne on the other hand, is quieter and has historic houses and shopping streets with quirky boutiques.
Most unique/quirky stay in Seattle | Classic Tug Boat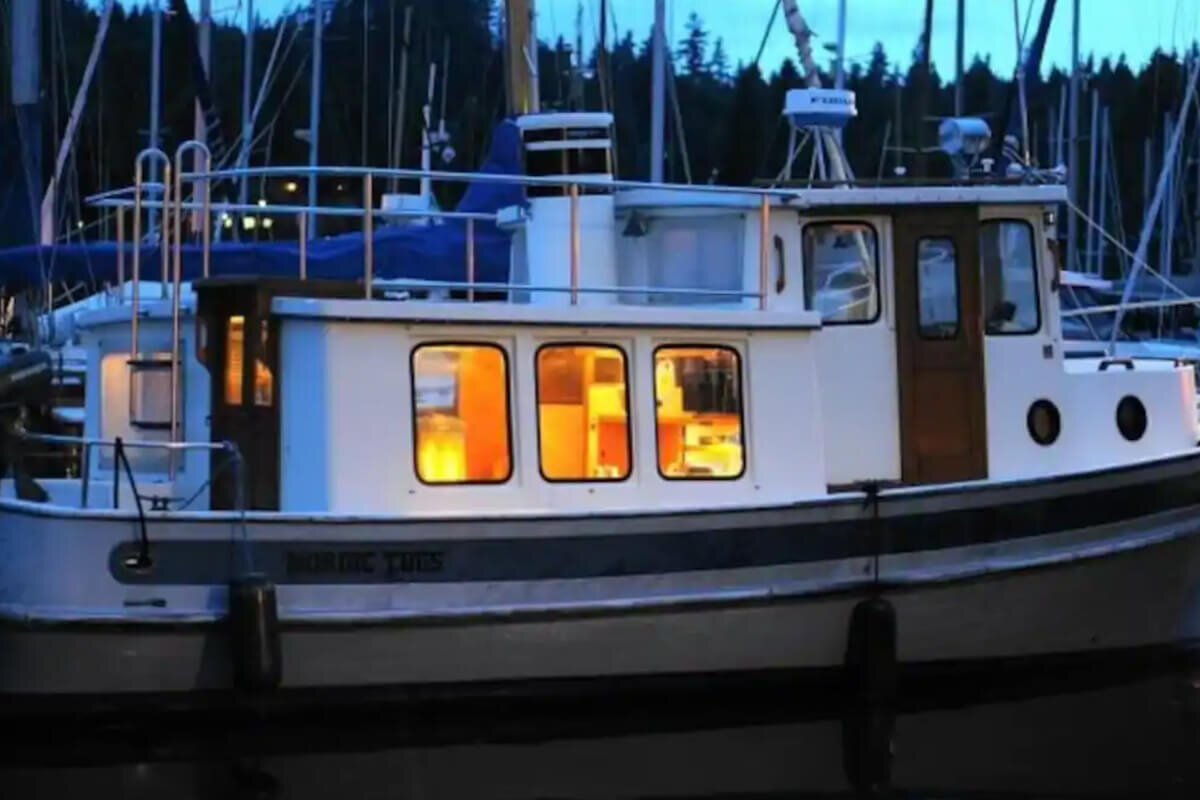 Stay on a 1988 Nordic Tug boat in the marina
Location: Westlake Marina

Budget: $$

Number of Guests: 4 guests

Minimum Stay: 30 nights

Superhost
With all of the amenities of an apartment, but on the water, this classic tug boat stay is as unique as it gets. Moored off of Westlake Ave. on a dock in the marina, the waters here are very calm and you'll be surrounded by other houseboats, fishing boats and business offices nearby. The floating home includes a stateroom that can comfortably sleep 2 guests, a bathroom with 6 gallon hot water tank for the shower, and a galley kitchen among other spaces.
Guests rave about the experience of living on the water in the bustling Seattle marina.
"Sean is a wonderful host!! He is so accommodating. I lived on the boat for 2 months with my dog. It's a studio floating on water. It's right by the hustle and bustle of the city if that is what you prefer. Down on the dock, it was quiet and an escape. There's a kayak available too. If you are looking to experience living on a boat, I highly recommend this boat and having Sean be your host." – Fauna, May 2021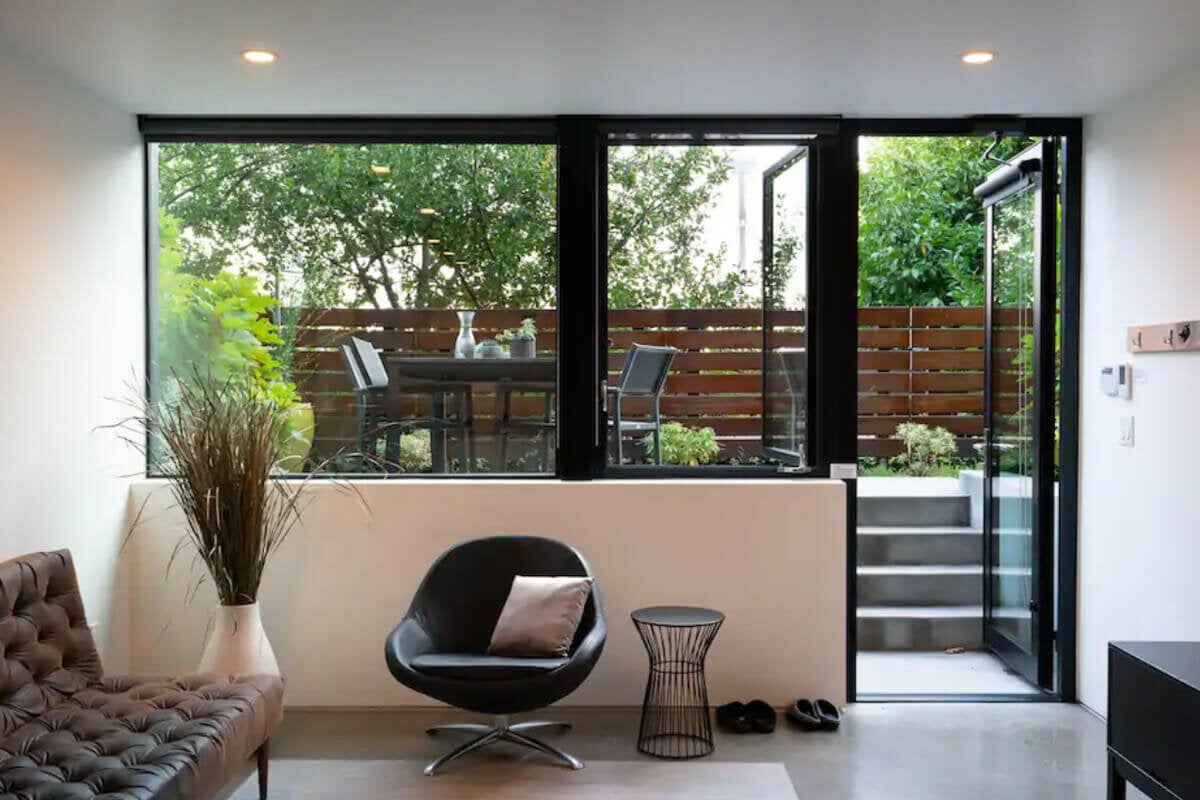 Walk to the Space Needle from this modern ground floor apartment
Location: Lower Queen Anne

Budget: $$

Number of Guests: 2 guests

Minimum Stay: 1 night

Superhost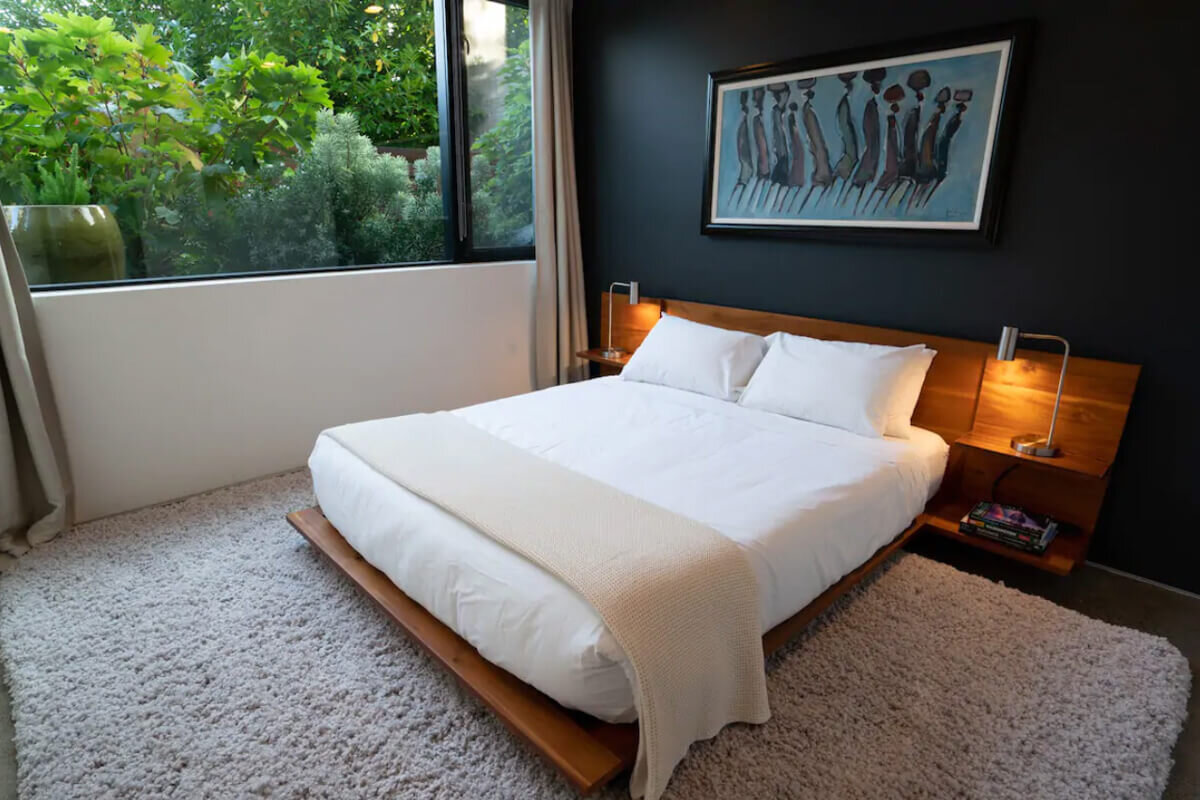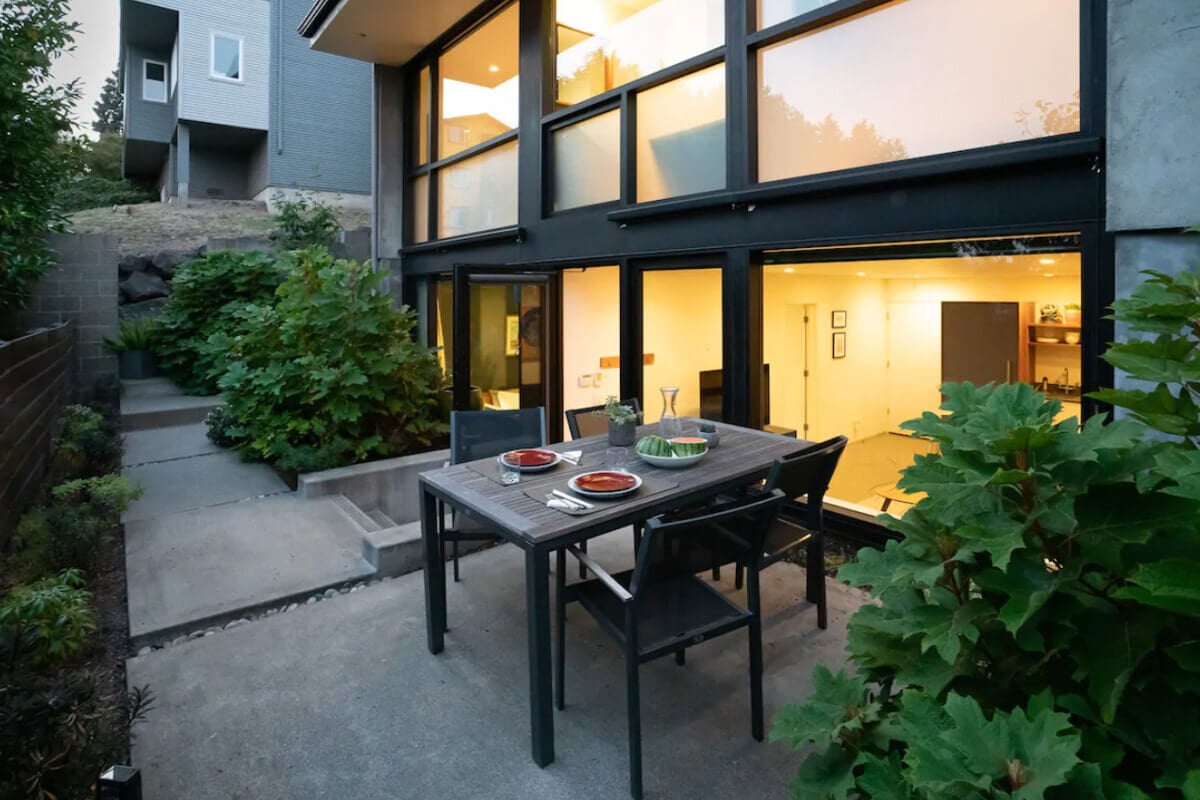 Explore all that Seattle has to offer from this modern and bright one bedroom garden level apartment. The space has its own private entrance from the hosts who live in the home above. Plenty of light streams in from the large windows, but there is privacy from the street with the private patio and garden.
Guests love the quiet but central location.
"This is such a cute spot! Super clean and in a very convenient location! Walking distance to a lot of things. The hosts are very friendly and communication was great. Would definitely stay again." – Suzette, May 2021
Honorable Mention
---
Belltown: Just north of the center of downtown, this is a lively and well-situated neighborhood that is very close to Pikes Place Market and other major tourist attractions.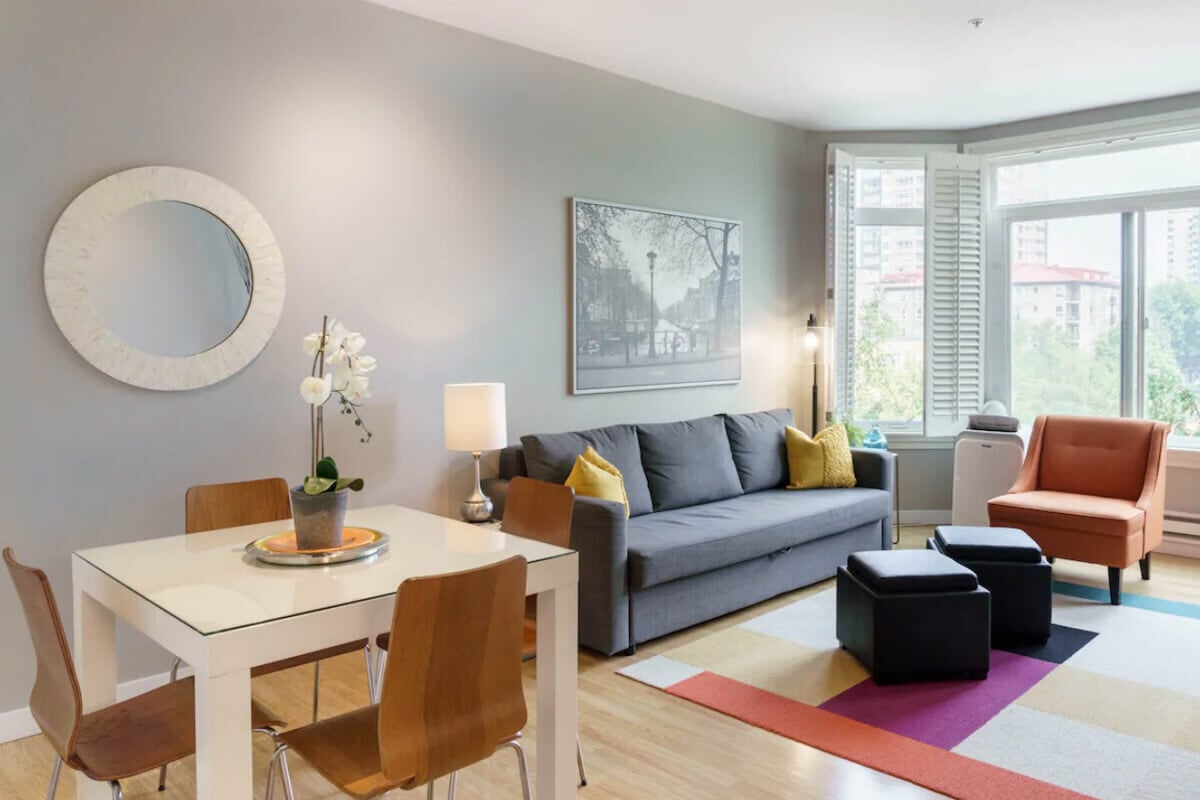 Modern apartment near Pike Place Market with amenities
Location: Belltown

Budget: $

Number of Guests: 4 guests

Minimum Stay: 2 nights

Plus | Superhost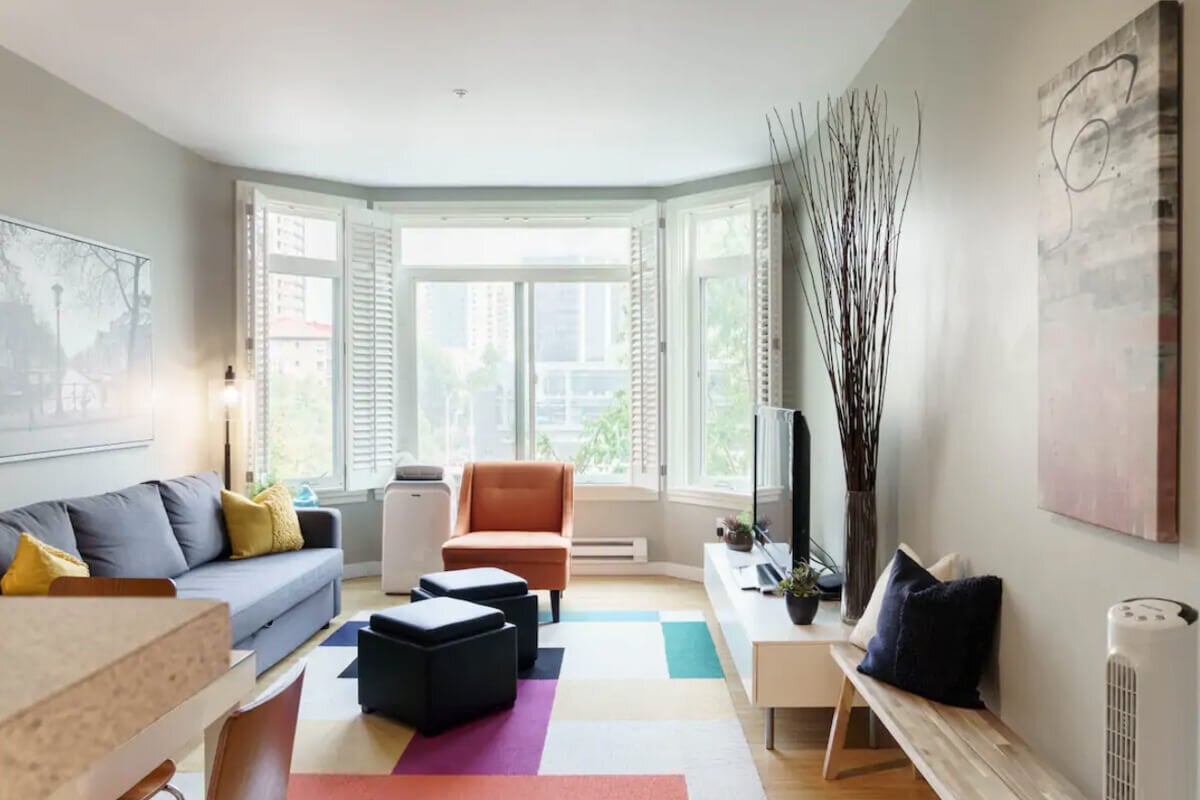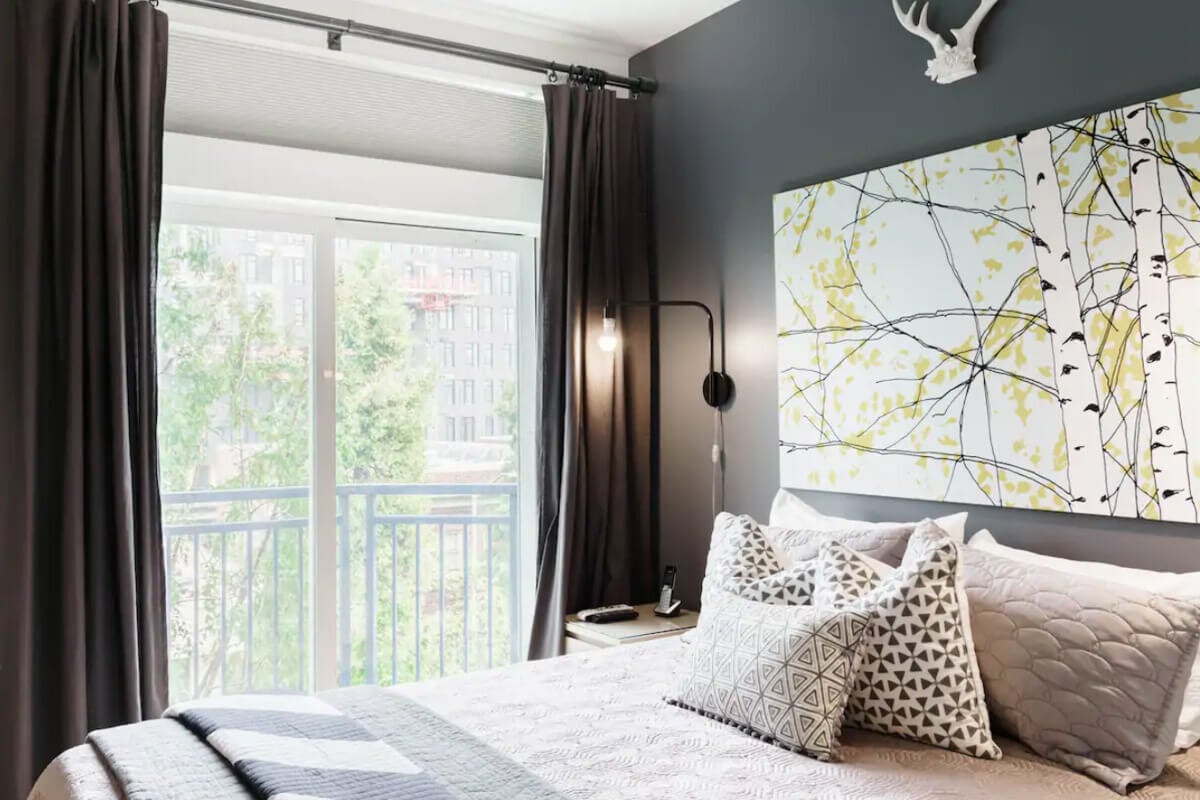 If you are a first-time visitor, you cannot get much more centrally located to all of Seattle's best sights than this location in Belltown. This bright and clean one bedroom apartment will make a great homebase for the budget-minded traveler as you explore the nearby sights. And afterwards you can come home to use all the apartment amenities such as the pool, fitness center and rooftop.
Guests rave about the location and proximity to Pike Place Market.
"If you are staying in Seattle, stay here! This is the place you want to be, walking distance from most things!" – Kanah, May 2021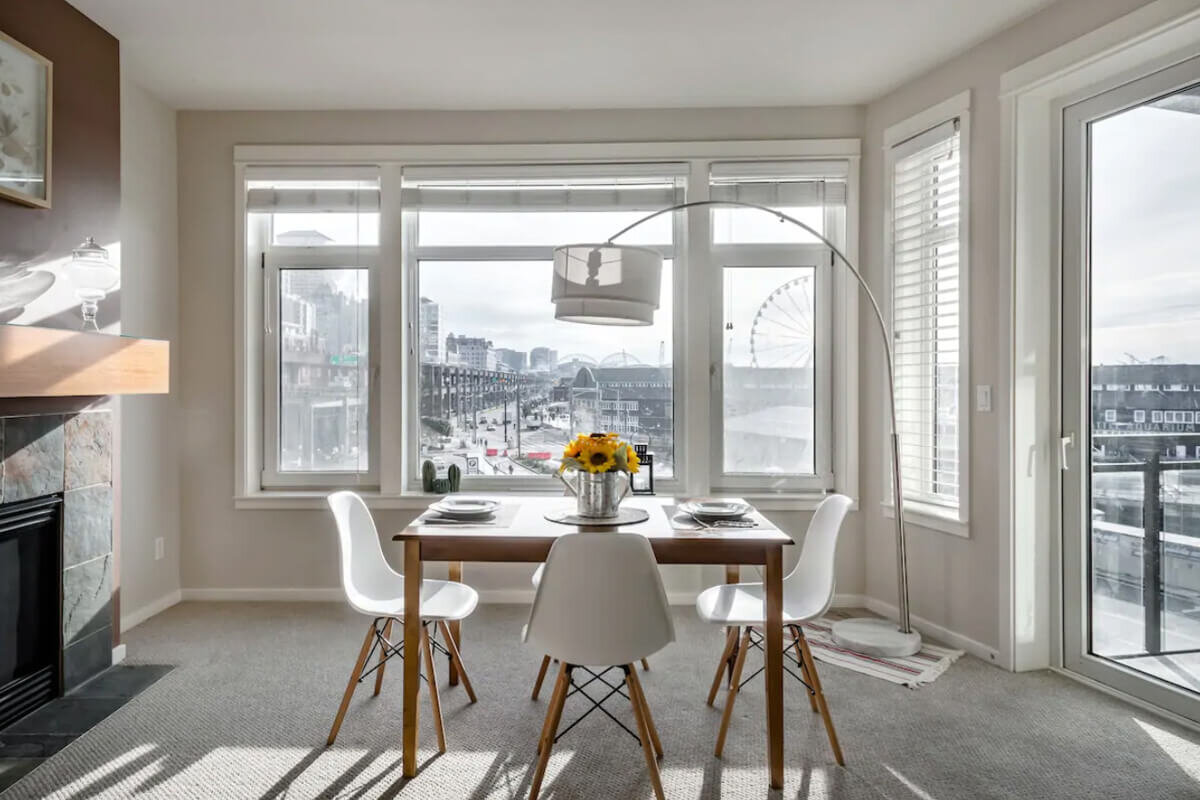 Bright and airy one bedroom condo on the waterfront in Belltown
Location: Belltown

Budget: $$$

Number of Guests: 5 guests

Minimum Stay: 1 night

Plus | Superhost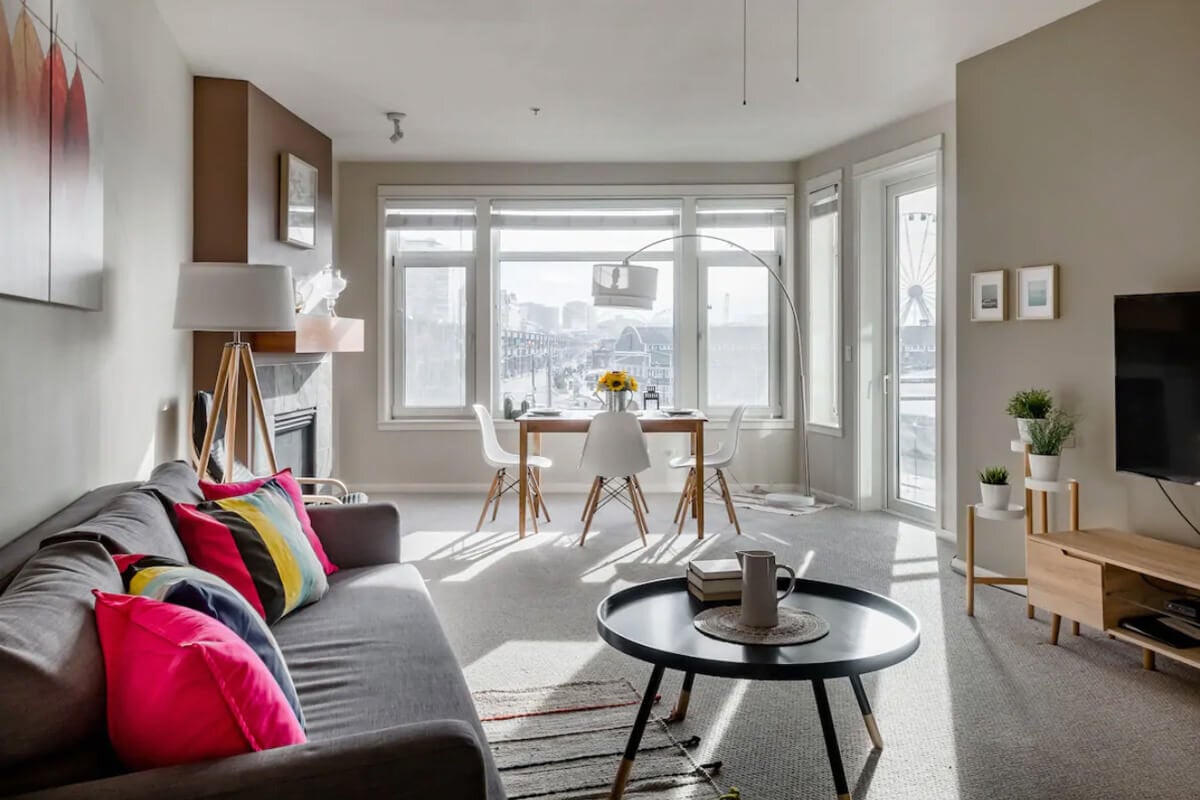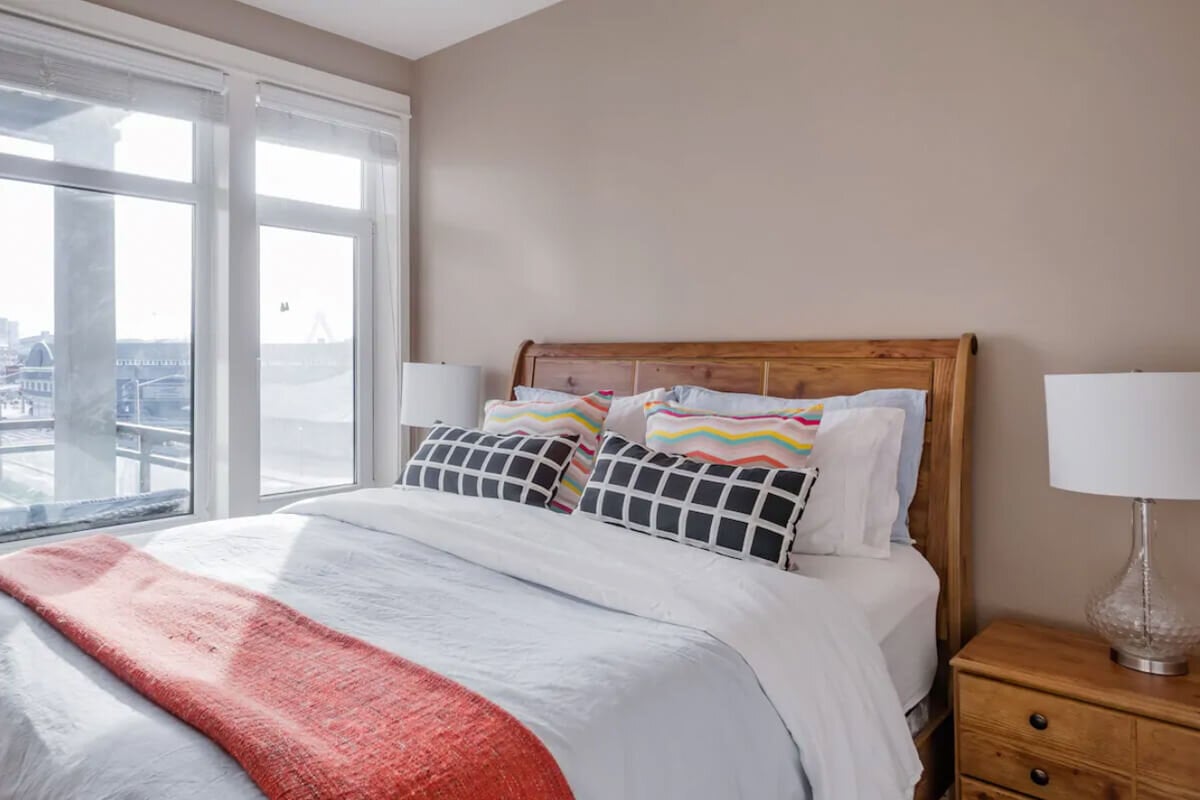 Situated in one of the best locations for sightseeing in Seattle, this bright and airy one bedroom condo is right on the waterfront in Belltown near Pike Place Market. You can sip your morning coffee while peering through the picture window at the busy streets below. The apartment is made that much cozier with a gas fireplace in the dining area.
Guests have access to the shared rooftop terrace, building fitness center and hot tub as well as private parking.
"Shirley's place looks just like the pictures. It was cozy and cute, it made me feel like i'm home! Furthermore, Shirley is extremely responsive, kind, friendly, and a great host in general. I highly recommend her place to anyone who is visiting Seattle!" – Melissa, June 2021
Honorable Mention
---
Capitol Hill: This is the LGBTQ epicenter and a great place for both partying and brunching, so it shouldn't come as a surprise that Capitol Hill is often referred to as "Seattle's coolest neighborhood".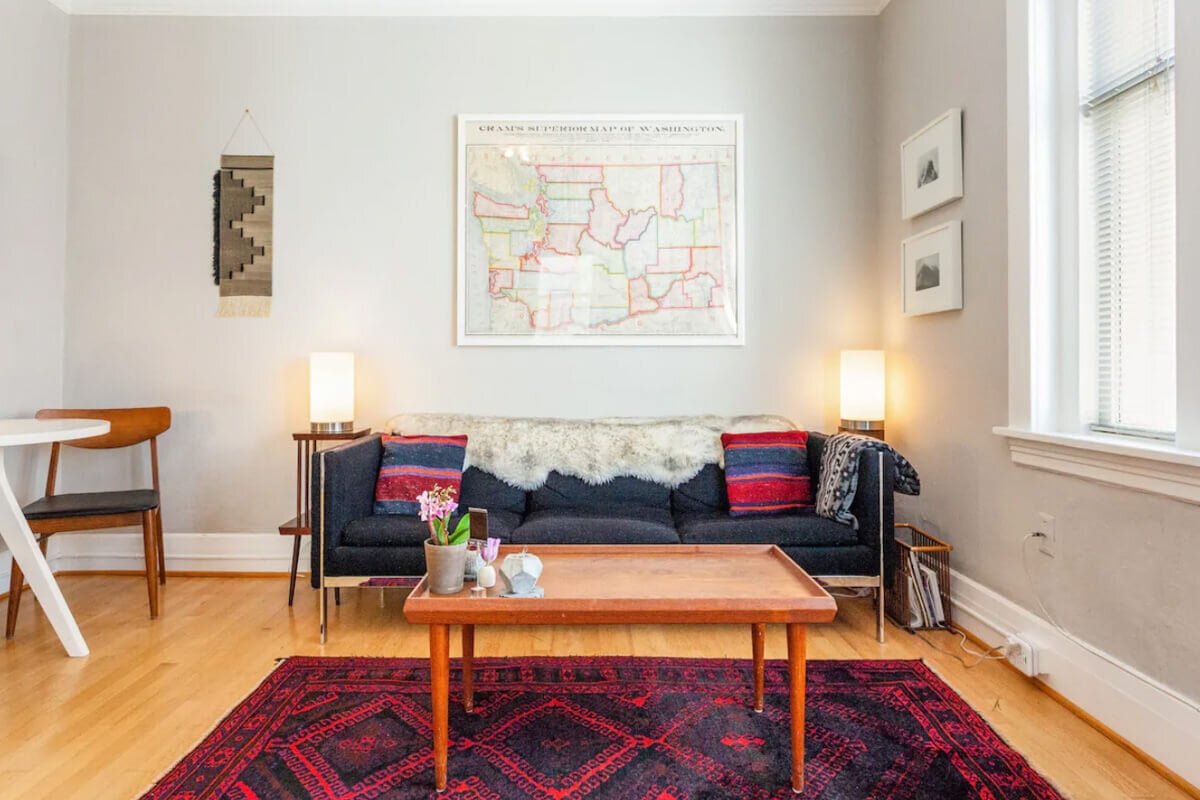 Contemporary apartment with rooftop views of the Space Needle
Location: Capitol Hill

Budget: $

Number of Guests: 2 guests

Minimum Stay: 1 night

Plus | Superhost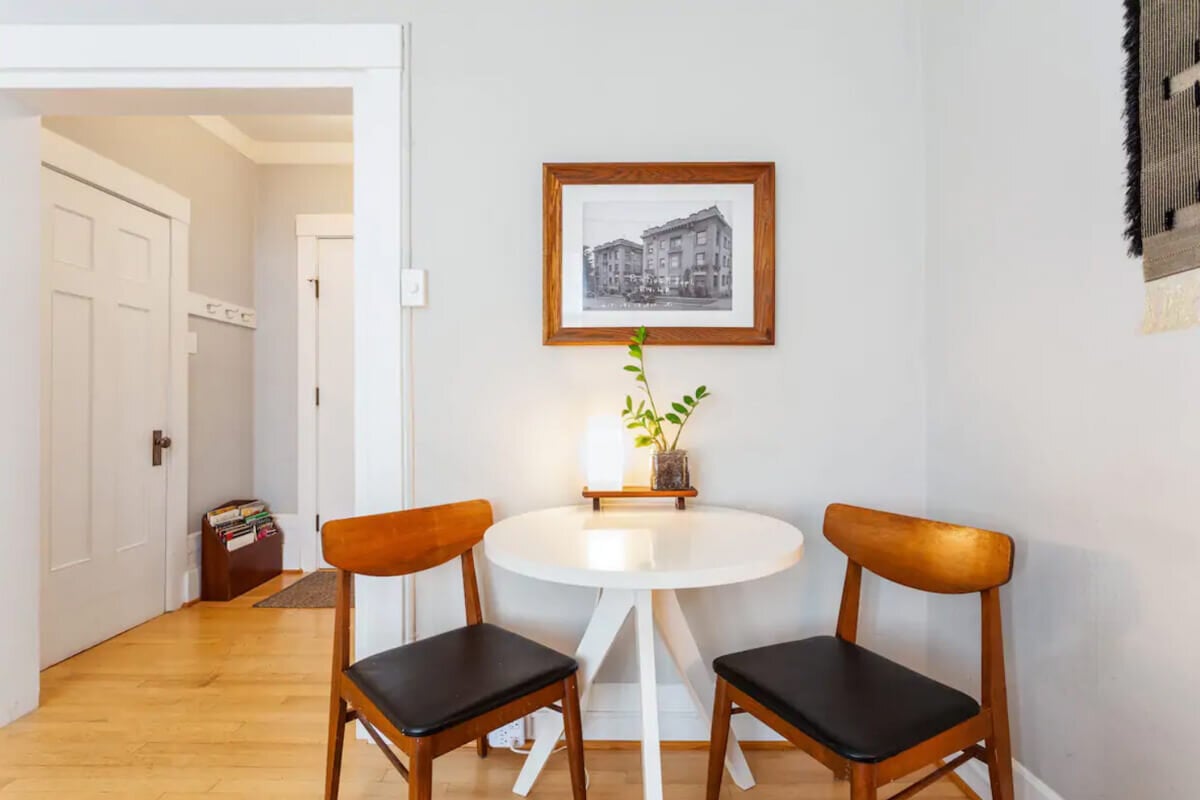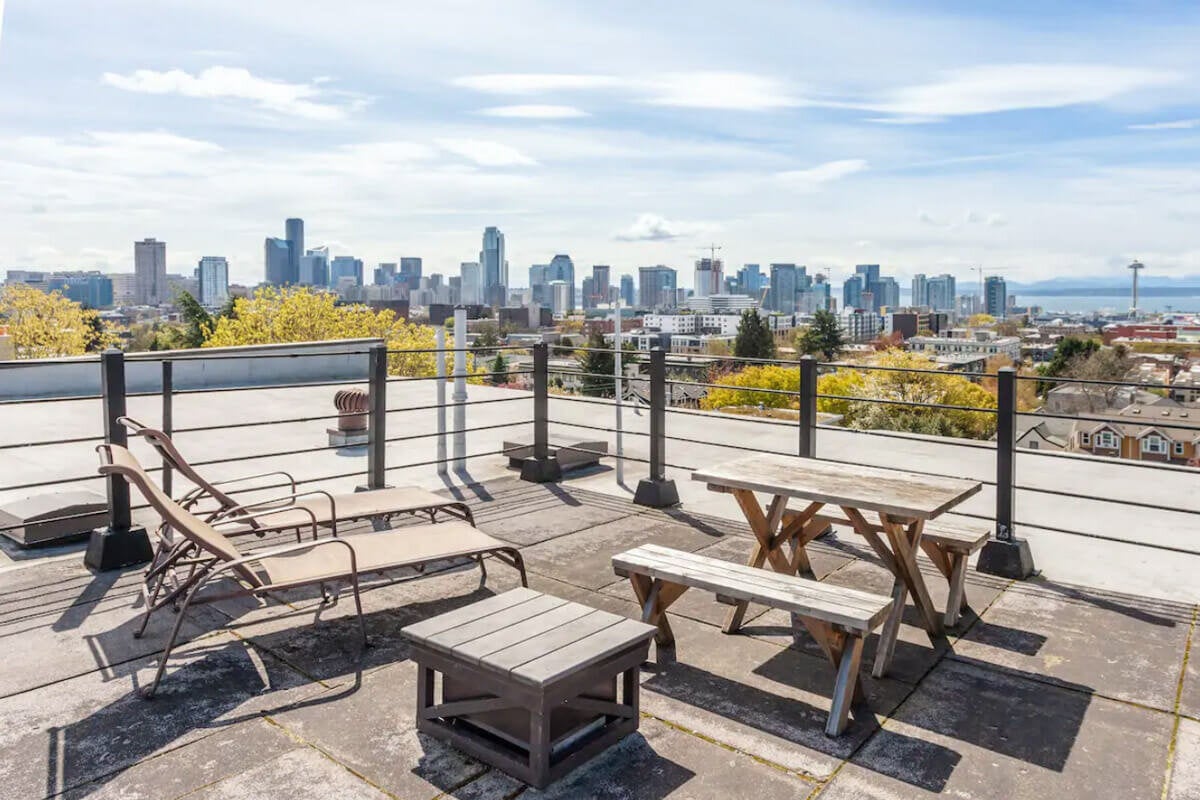 This beautifully decorated one bedroom apartment is in a historical building with accents like hardwood flooring and a clawfoot tub. Amenities include a small but complete kitchen, dining space for two and a large shared rooftop with uninterrupted skyline views.
Guests gush about the location and the views, but note that the place is quite small and can feel a bit cramped.
"This Airbnb was perfect! Great location, great little apartment and great views." – Josie, June 2021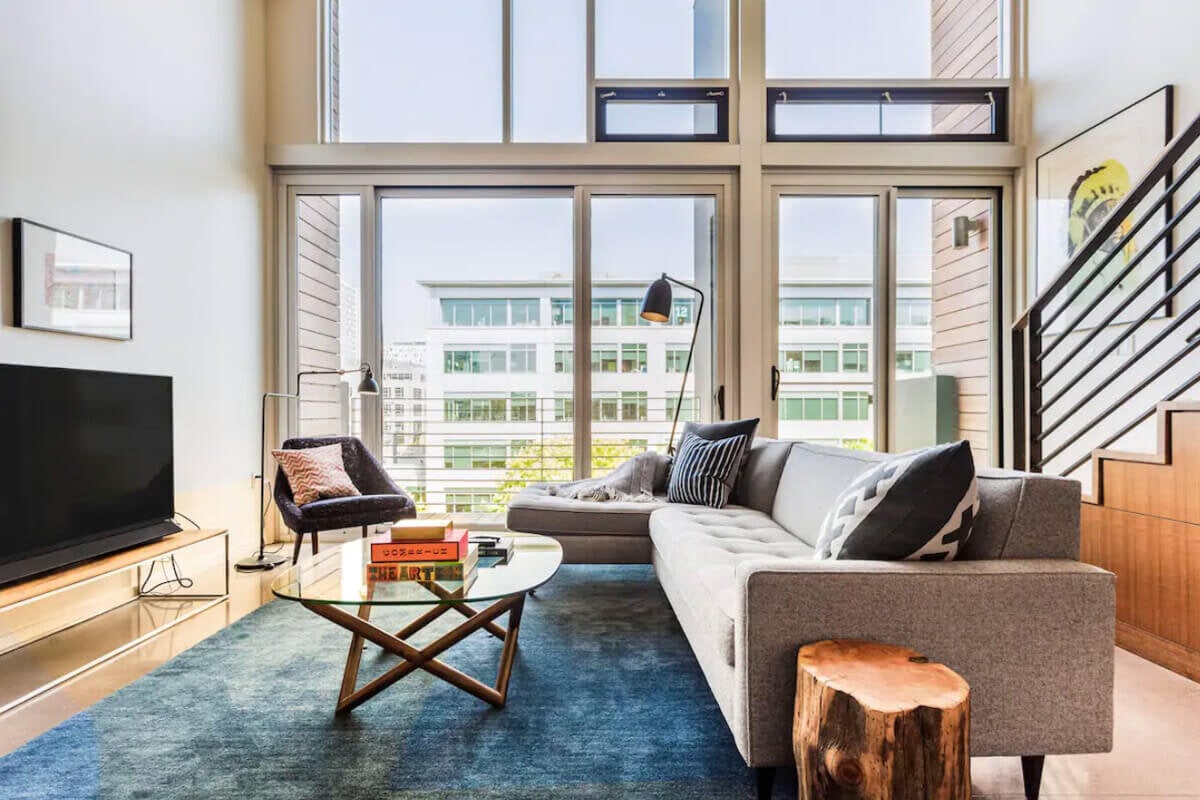 Chic industrial loft in South Lake Union
Location: South Lake Union

Budget: $$

Number of Guests: 4 guests

Minimum Stay: 2 nights

Plus | Superhost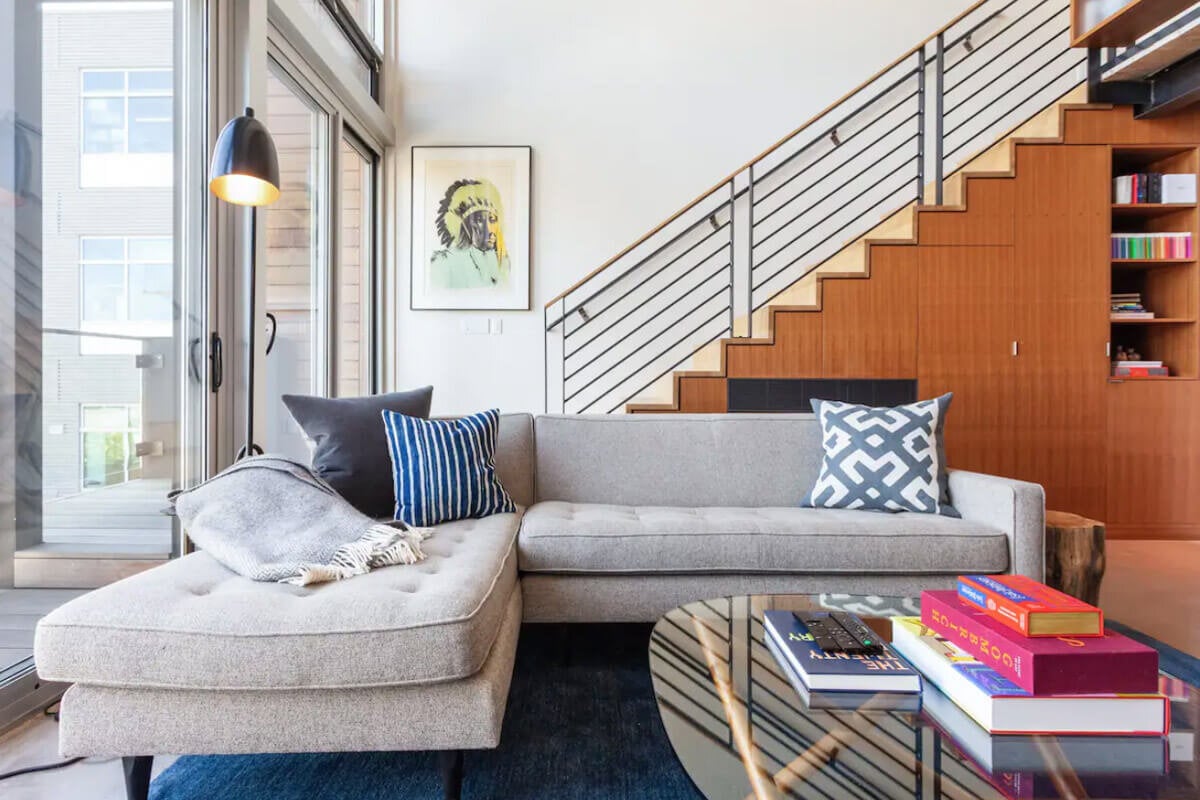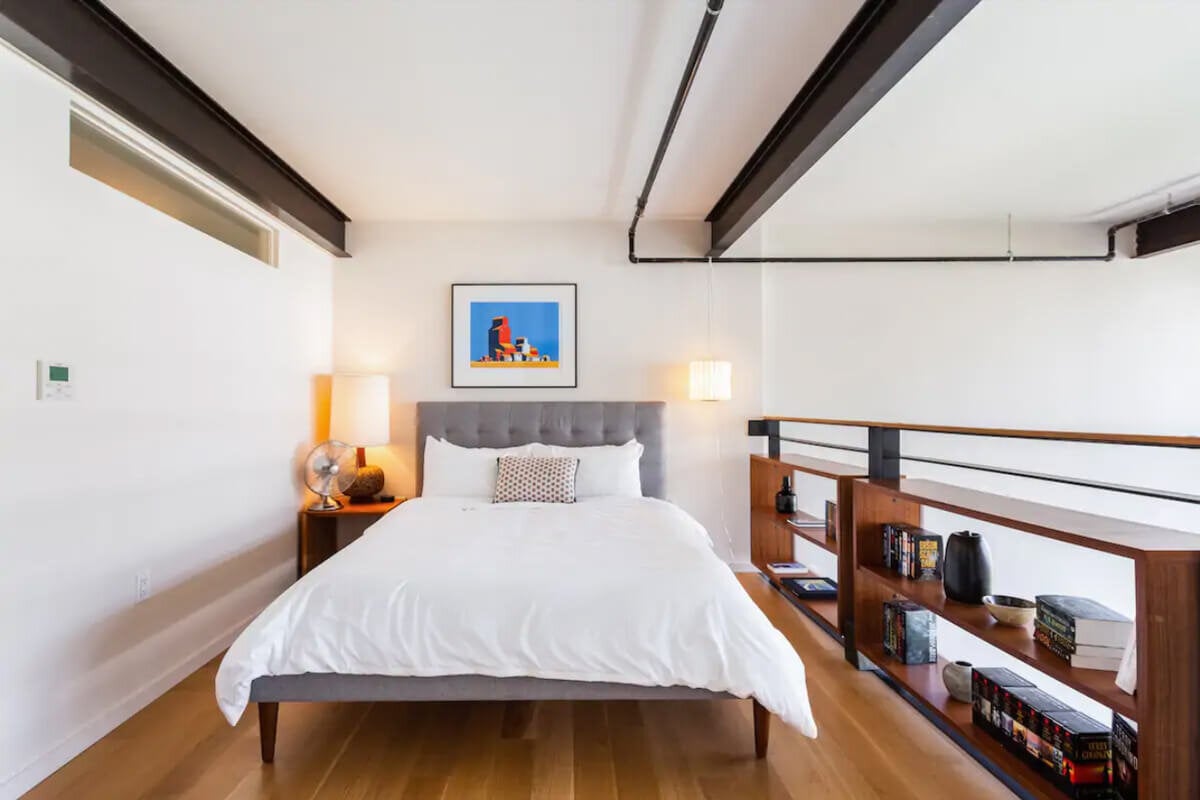 Enjoy the views from this modern loft flooded with natural light from the 17-foot floor-to-ceiling windows. A narrow staircase leads to the lofted queen-sized bed and ensuite bathroom. Your host provides everything you will need in the fully-stocked kitchen and has decorated the industrial space with his own unique art collection.
Guests raved about the decor and location of this unique space.
"The loft is beautiful and centrally located to tons of spots in Downtown Seattle… I really appreciated the lengths he went to make us feel comfortable. Overall, a great place and a great host!" – Lydia, June 2021
Honorable Mention
---
Pioneer Square: Close to lots of major attractions, this is the birthplace of Seattle and is a good spot to base yourself if you don't have a car.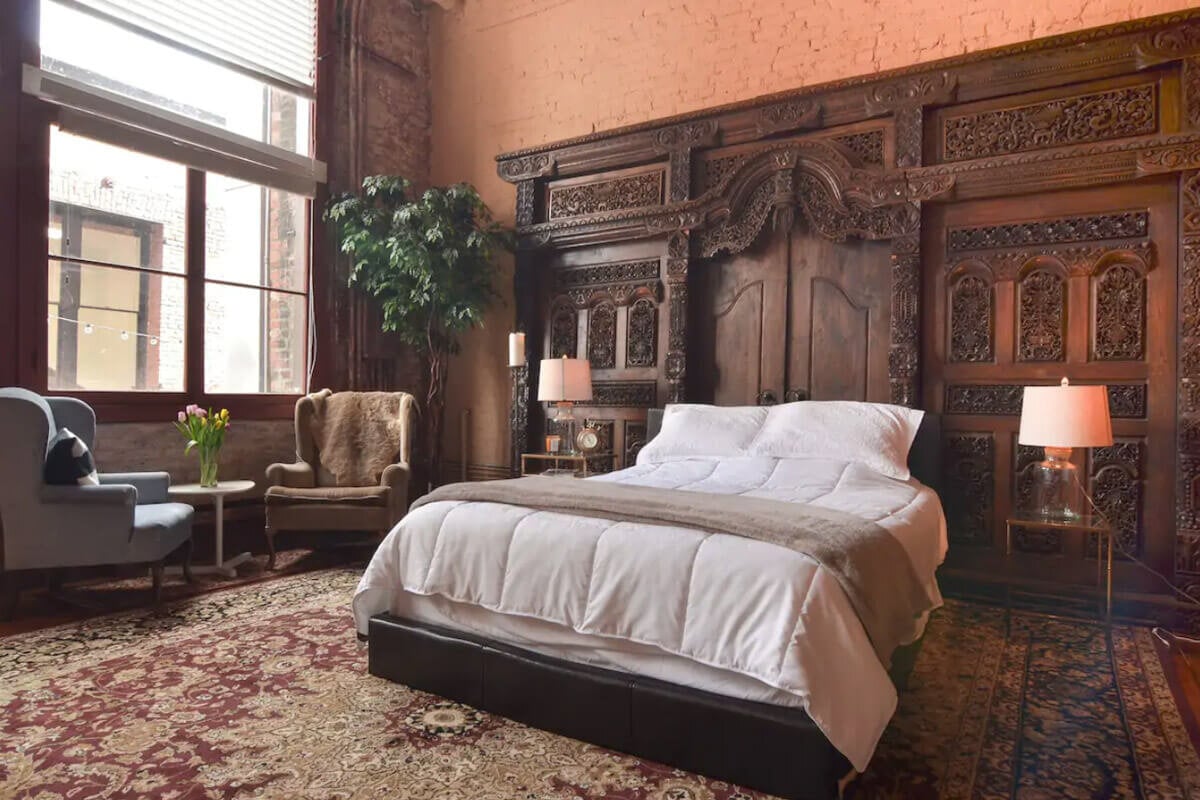 Spacious historic loft in the heart of Pioneer Square
Location: Pioneer Square

Budget: $$

Number of Guests: 4 guests

Minimum Stay: 2 nights

Superhost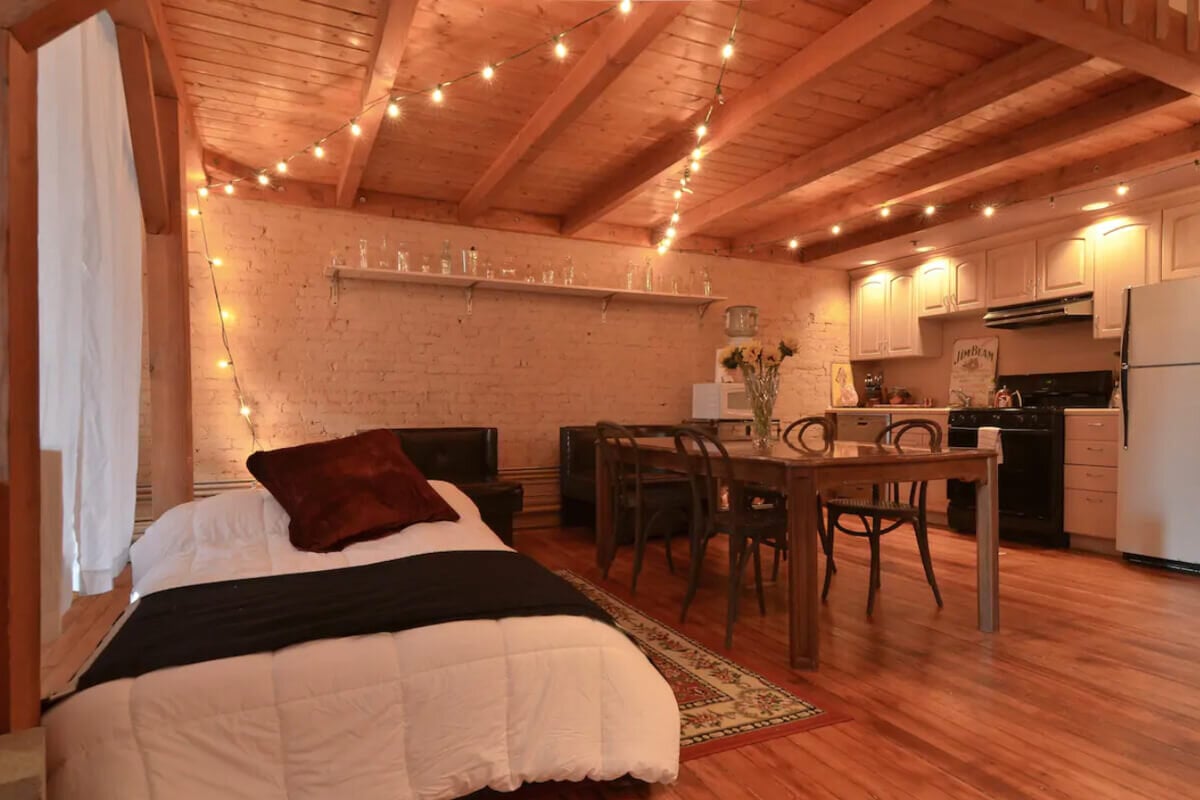 Feel like royalty in this beautifully restored Pioneer Square loft. With two queen sized beds and a sleeper sofa, you'll have plenty of space for the whole family. The spacious loft is rounded out with a fully stocked kitchen, dining and seating area in front of a large picture window so you can take in the sights below as you sip your morning coffee.
Guests love the location and cozy feel of the spacious loft.
"Really great location, hard to get any closer to Seattle's amenities. The host was very communicative and the space is very urban loft while also being cozy." – Jamie, June 2021
Beautifully remodeled loft overlooking historic 1st Ave in Pioneer Square
Location: Pioneer Square

Budget: $$$

Number of Guests: 2 guests

Minimum Stay: 2 nights

Superhost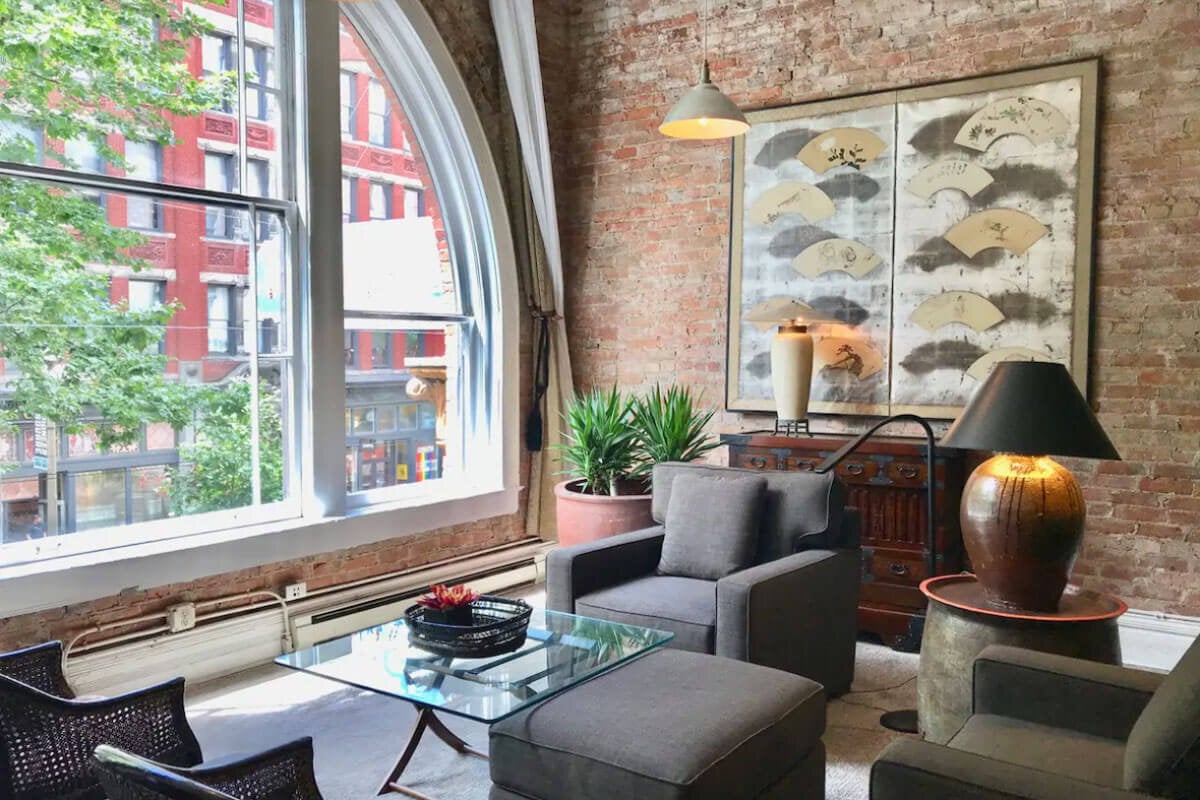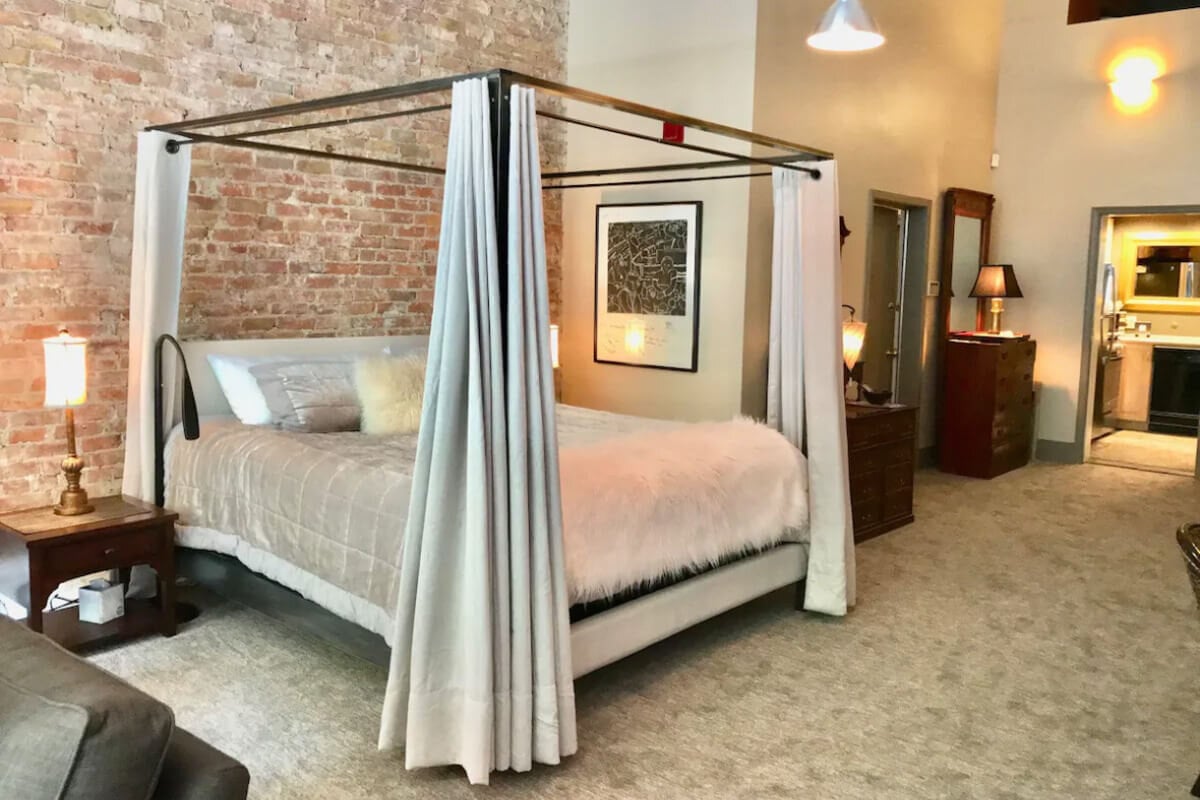 Situated just above First Ave overlooking Pioneer Square, this beautifully remodeled 780 sq. ft. historic loft in a unique stay unlike any other. The 14-foot ceilings and brick walls lend to the historic feel, but the space is completely modernized centered around a king-sized canopy bed, full kitchen, bath, smart TV and in-unit laundry.
The dramatic arched window lets in plenty of natural light and gives you the perfect perch for people watching as you sip your morning coffee.
Guests love how unique the loft is, unlike any other stay available!
"Nice and cozy stay! The home is exactly as pictured. Bonnie was extremely responsive and had lots of items in place for anything you might need. Very thoughtful host. The bed is so comfy!! Big beautiful window was perfect for people watching. I enjoyed my stay!" – Alana, June 2021
Honorable Mention
---
West Seattle: If you're looking for a laidback stay near the water, West Seattle might be just the perfect spot. Alki Beach is lined with cute coffee shops and is especially nice during the summertime.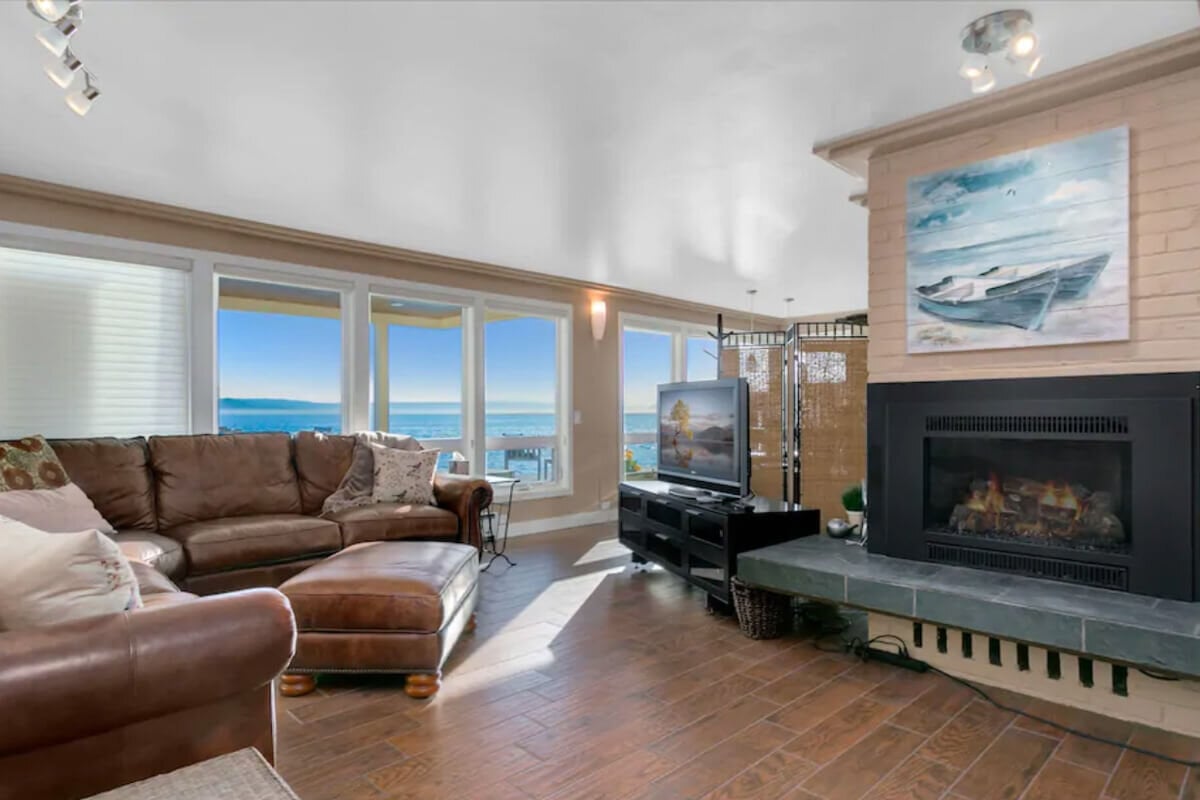 Waterfront duplex apartment with hot tub and private deck
Location: West Seattle

Budget: $$

Number of Guests: 4 guests

Minimum Stay: 30 nights

Superhost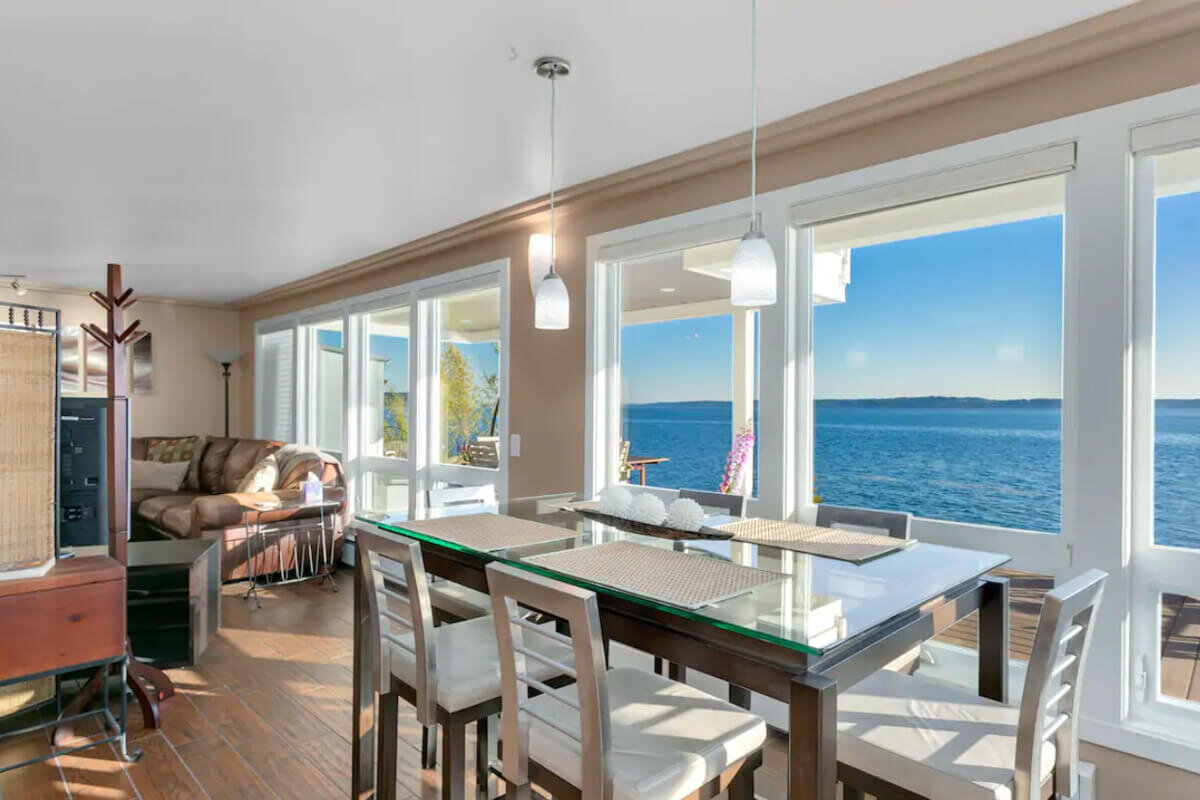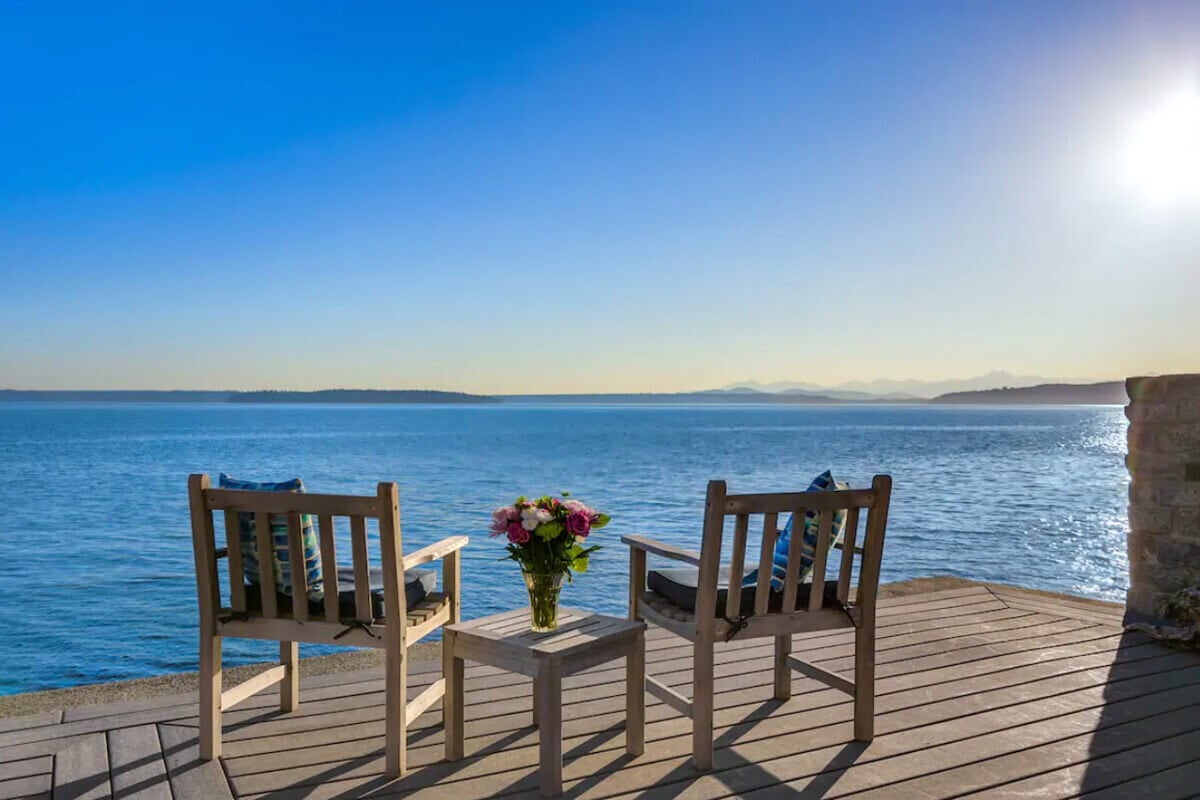 Situated just one mile from Alki Beach and the shops and restaurants on Alki Ave, this one bedroom apartment is the downstairs unit of a waterfront duplex. The large living space features picture windows with incredible views of the water, a cozy indoor fireplace and fully-stocked updated kitchen.
A single-person hot tub is tucked on the side of the house, but the best part is by far the private deck overlooking the water with beach access.
Guests love waking up to the beautiful views.
"This place is amazing! The place was clean and had everything you needed in the kitchen. The view is absolutely gorgeous. We saw bald eagles, blue herons, seals, river otters and all sorts of birds. It was very special. Location was great and very walkable. 20 min walk to Alki Beach and close to restaurants and grocery stores. Highly recommend." – Brendan and Natalia, May 2021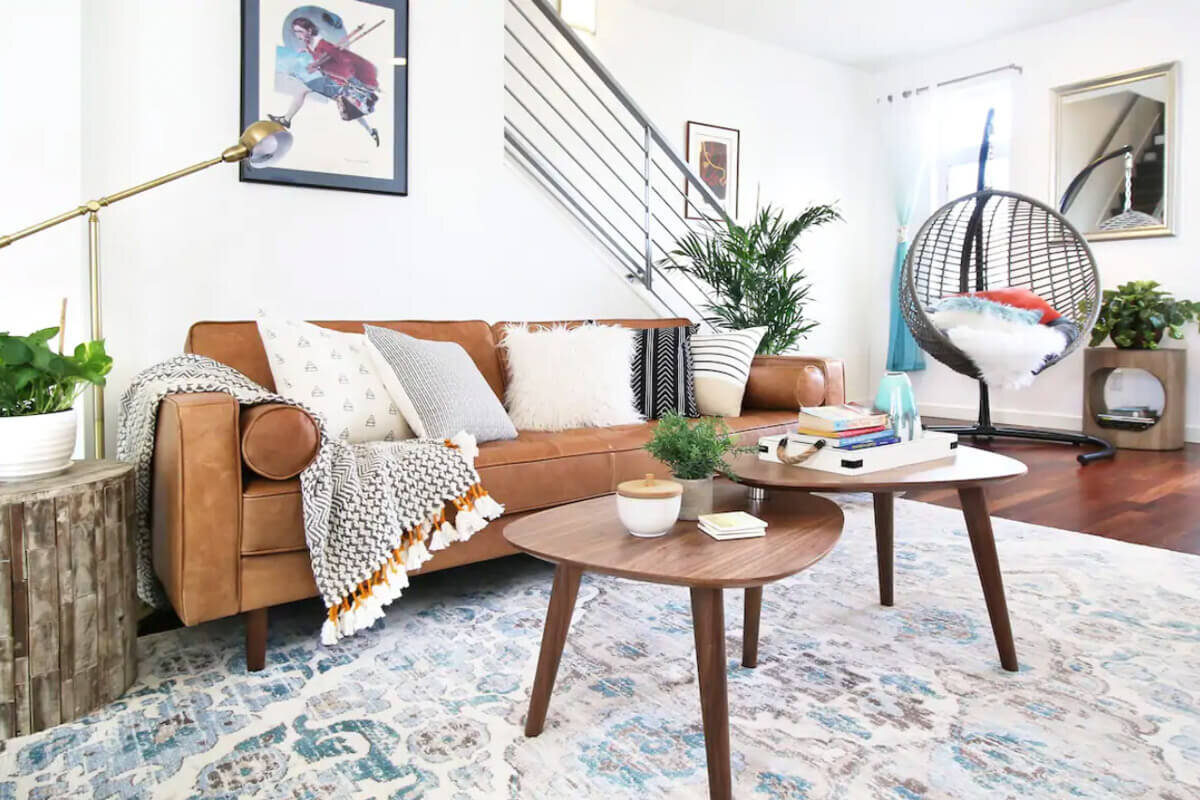 Modern townhome near Alki Beach with super fast internet
Location: West Seattle

Budget: $$$

Number of Guests: 4 guests

Minimum Stay: 3 nights

Superhost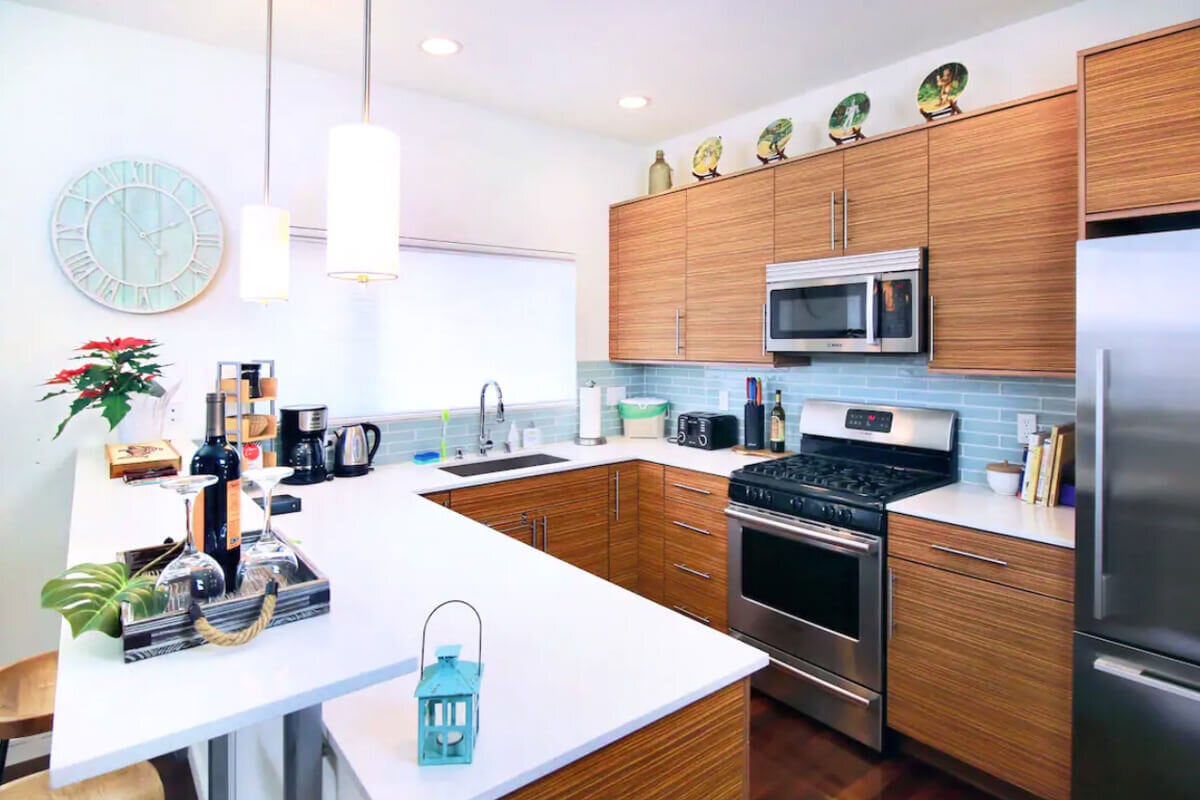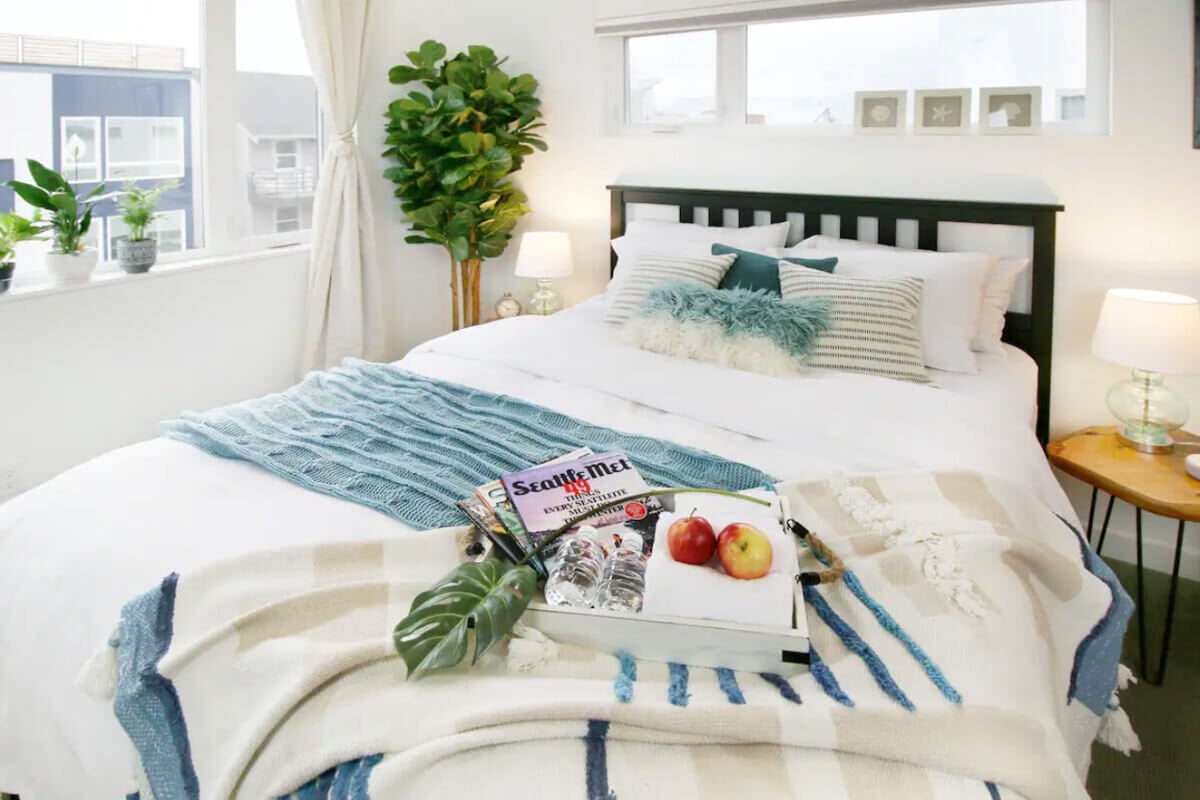 Located within steps from Seattle's most popular beach and the restaurants and shops lining Alki Ave, this modern two-bedroom townhome makes the for the perfect family or small group getaway. With ultra high speed internet for those that work from home, you're also just half a block from the free shuttle that takes you to the ferry across to downtown Seattle.
Guests love that the place is always stocked with all the essentials.
"Loved staying in Michael's place: Great location, modern and stylish interior. Very clean and well stocked. Highly recommended!" – Ellie, June 2021
Honorable Mention
---
Other neighborhoods: From North Seattle to East Lake, here are some Airbnbs in neighborhoods other than what's listed above.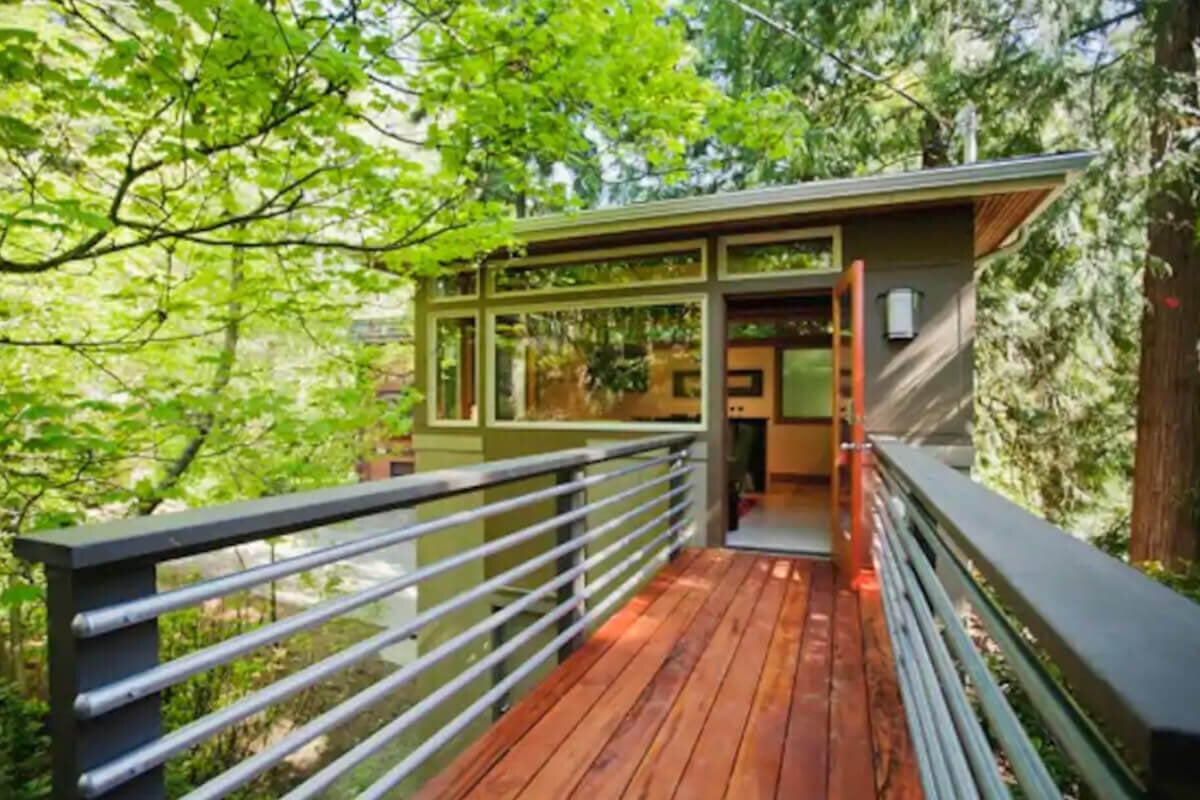 "The perfect blend of modern convenience in a serene forested setting"
Location: North Seattle

Budget: $$$

Number of Guests: 2 guests

Minimum Stay: 3 nights

Superhost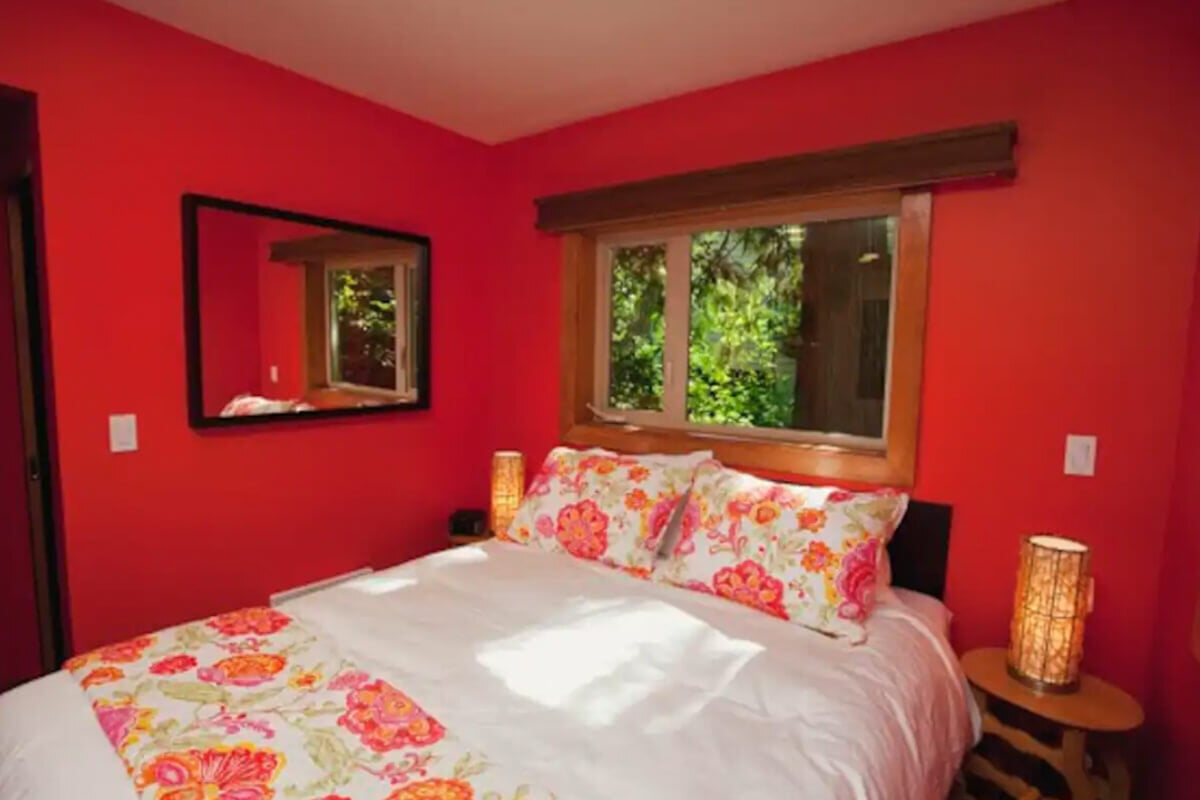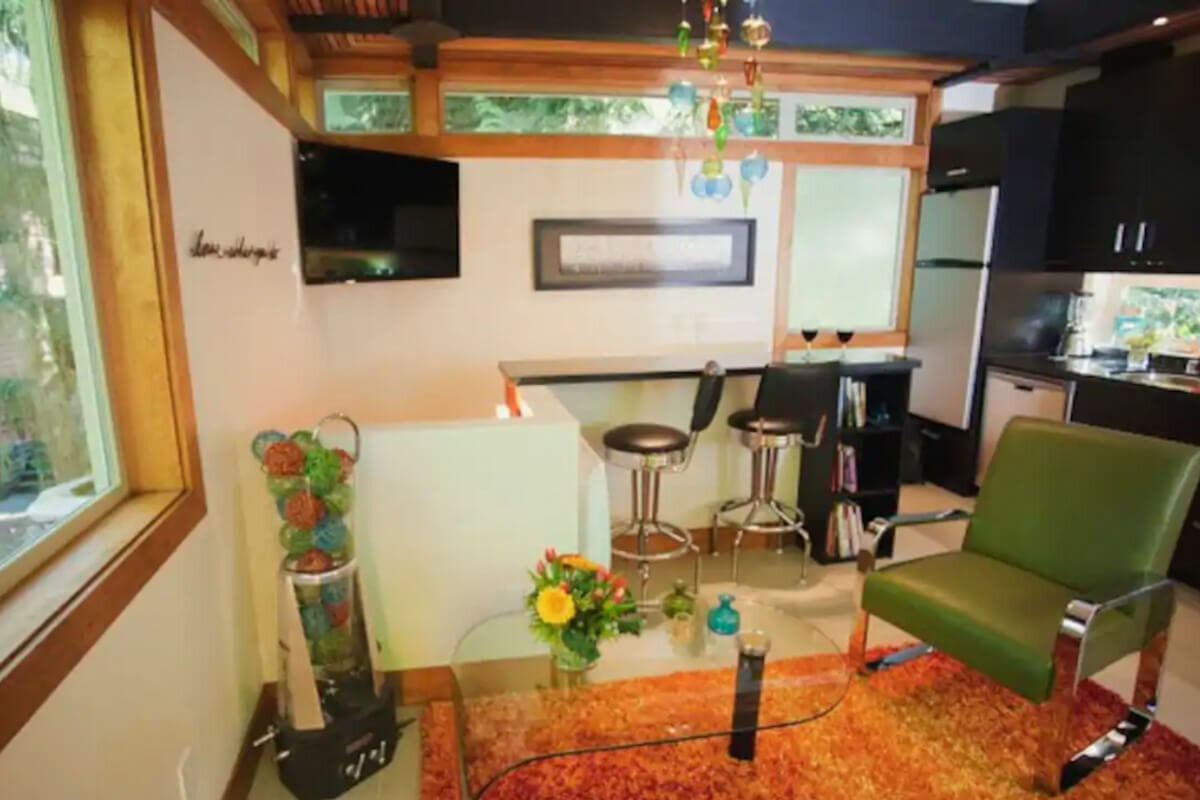 Just 8-miles from downtown and minutes from Lake Washington, The Urban Treehouse is a conveniently located one bedroom retreat within the city. Surrounded by nature on all sides, you'll forget you're so near a giant metropolis. Relax in the outdoor hot tub or enjoy the beautiful architectural features such as high ceilings, large windows and exposed overhead beams in this unique home.
Guests loved the convenience to the city, but privacy of being surrounded by nature.
"What a hidden gem! Kirk was a wonderful host and the treehouse was amazing! Location was perfect for getting to downtown Seattle and many great spots to explore outside of town. The personal touches and outdoor hot tub made the space extra special. Do not pass up booking this AirBNB! Thank you for allowing us to stay in your treehouse." – Mike, May 2021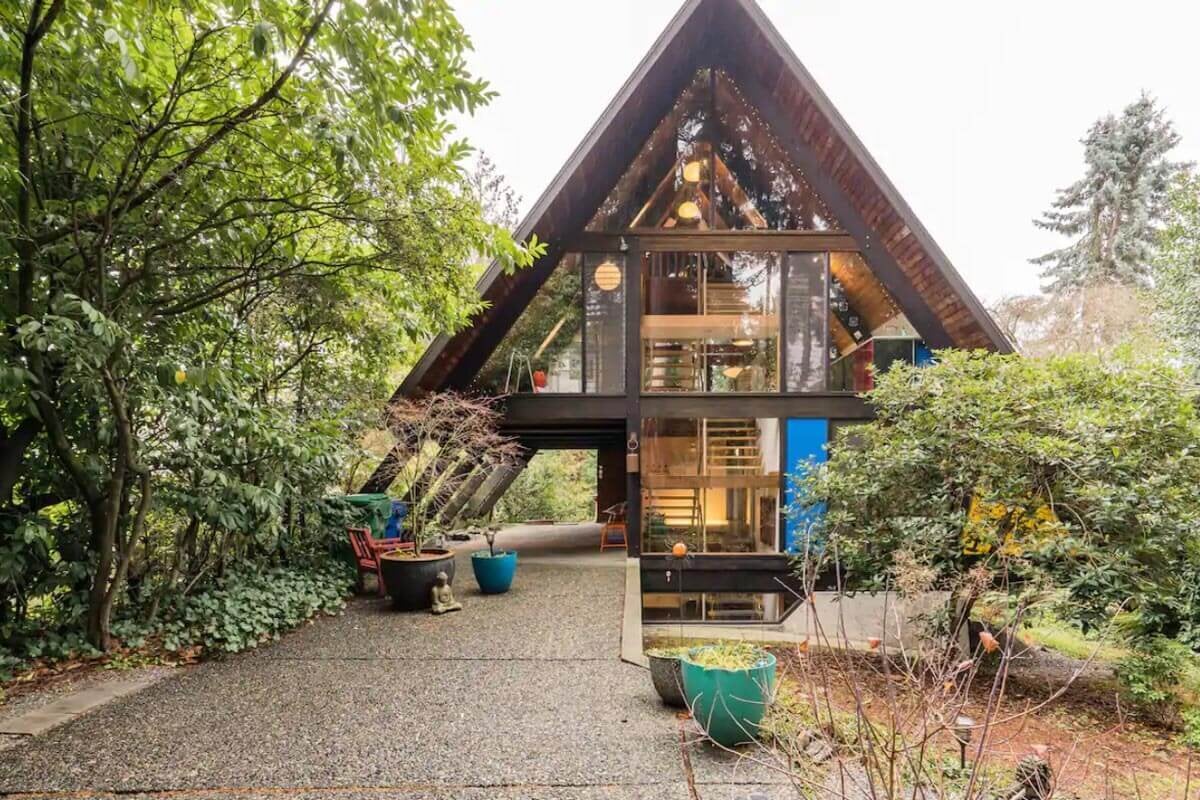 Unique architectural retreat in North Seattle
Location: North Seattle

Budget: $$$

Number of Guests: 6 guests

Minimum Stay: 2 nights

Plus | Superhost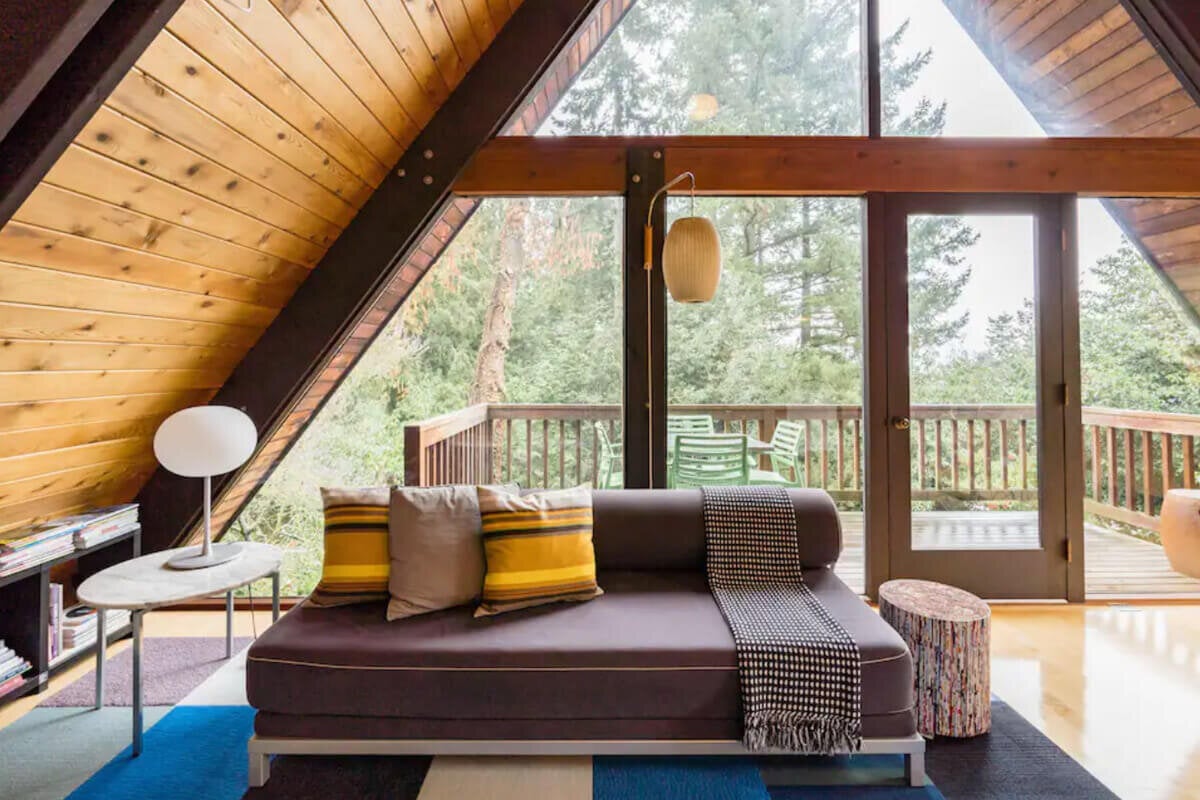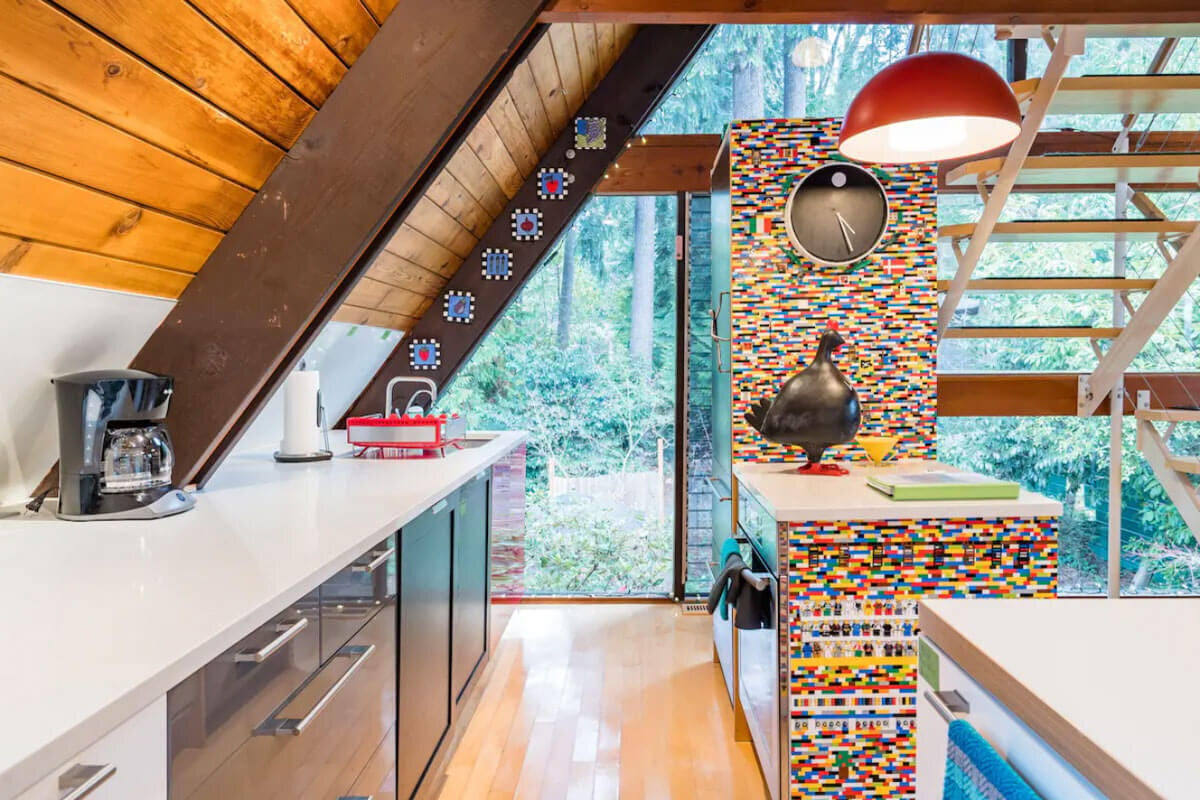 Full of bold colors and eclectic furnishings, this unique A-frame 4 bedroom home makes the perfect stay for families or groups. The host has gone out of their way to welcome families offering a lego-find (to go with their lego theme), puzzles, games and cards. The home is also conveniently located one block from Matthew's Beach & playground and Burke-Gillman biking/jogging trail for those who want to get outdoors.
Guests love the hosts' special touches and attention to detail.
"We loved the house! The kids loved the lego decor, including looking for the list of objects that can be found in the lego kitchen as a scavenger hunt. The house is walking distance to the beach and the bike trail. The neighborhood was very quiet. The hosts live right next door, which was great for when we needed anything. They were super friendly and responsive!" – Eva, June 2021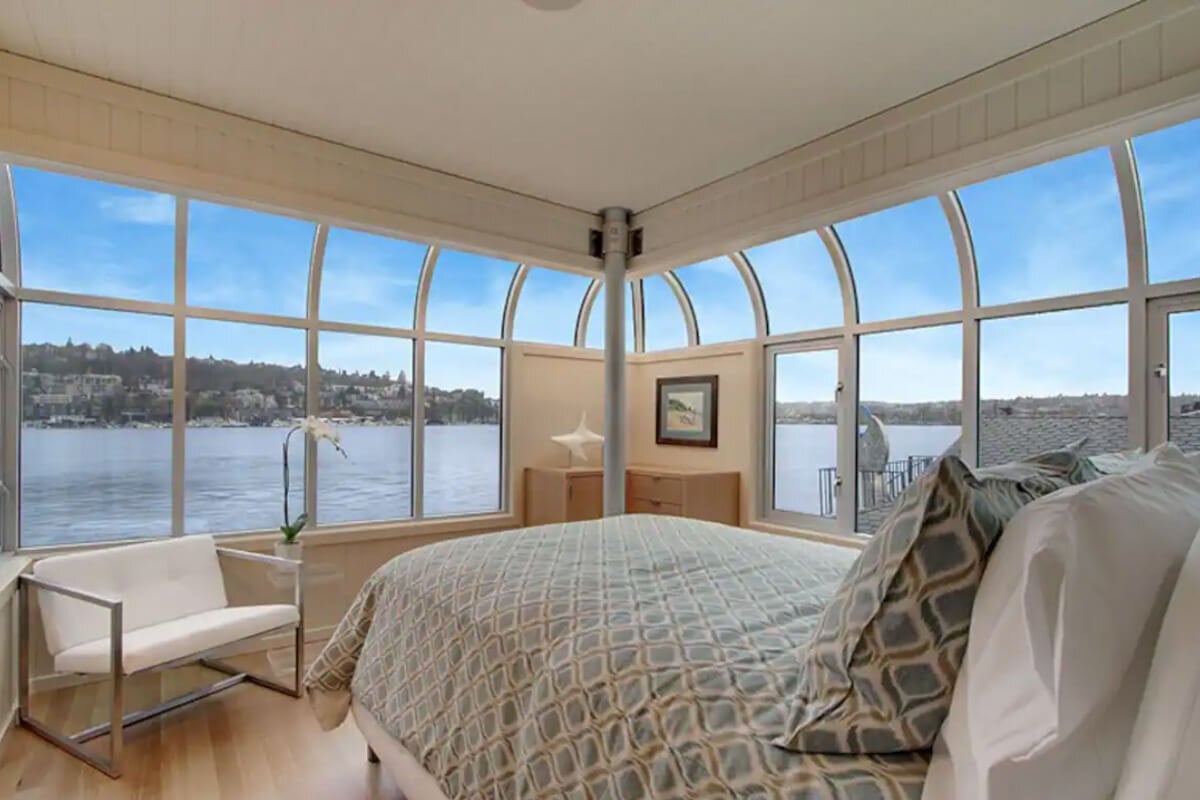 Luxury houseboat in East Lake featured on Discovery Channel's Ultimate Homes
Location: East Lake

Budget: $$$$

Number of Guests: 5 guests

Minimum Stay: 30 nights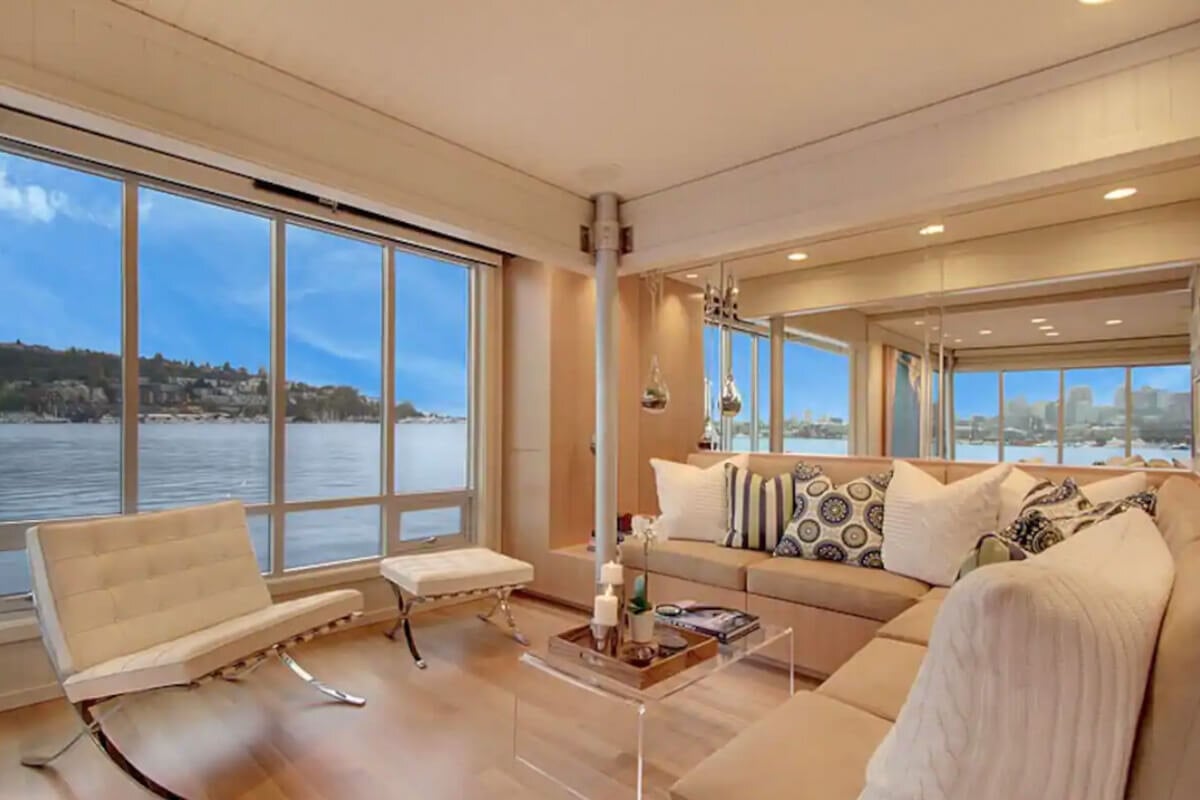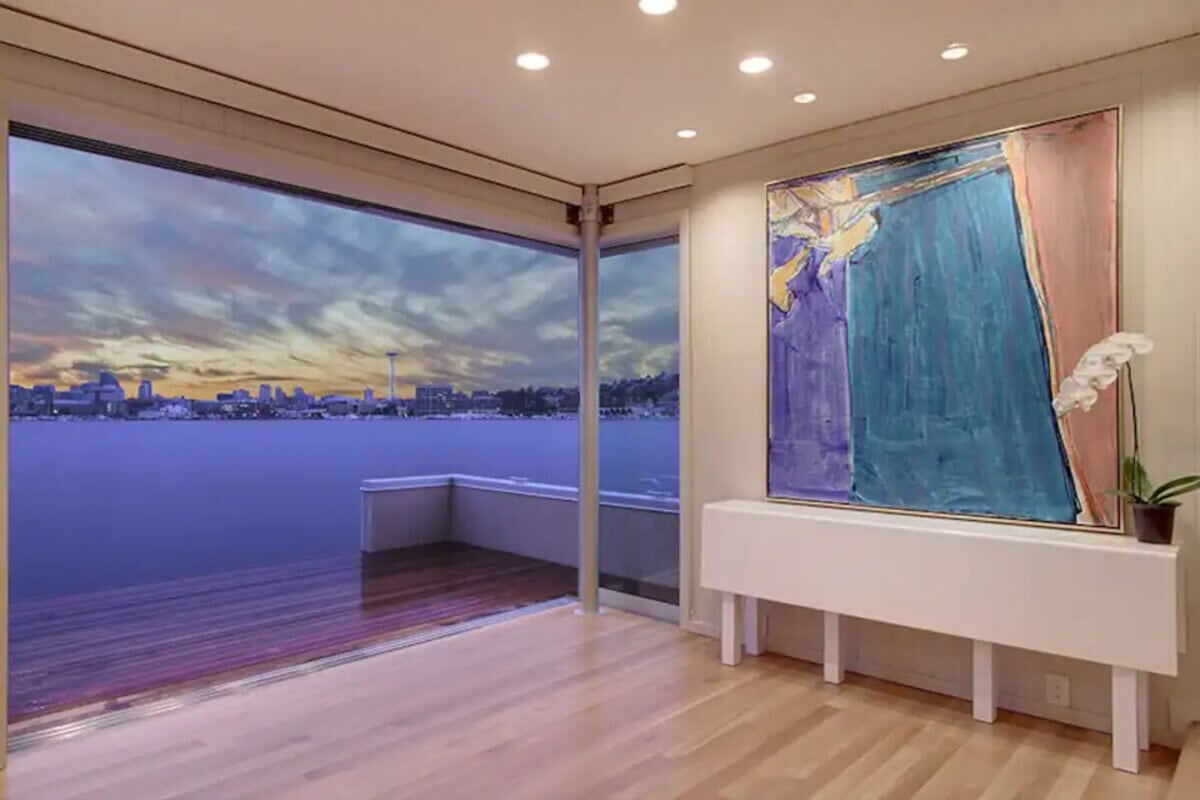 Experience a unique and luxurious stay unlike anything you could dream up on this 3 bedroom house boat. Docked on the east side of Lake Union, you'll enjoy sunset views over the Seattle skyline from the living areas onboard. The two-story houseboat comes complete with a fully stocked kitchen, one and a half bathrooms and a study for those that work from home. As an added bonus, you'll get access to the hot tub and SUP boards for your leisure.
Guests consistently rave about the best views in Seattle.
"We needed a COVID break, and this floating home was just the fix…Even in winter, we found the kayak and paddle board useful and easily accessible. Hot tub at any time was an absolute luxury. The sliding wall, amazing fish tank and views from every room were well icing on the cake. We left refreshed and ready to reenter the real world." – Alexa, February 2021
Honorable Mention
---
Just outside the city: A retreat from the big city without getting too far out of town.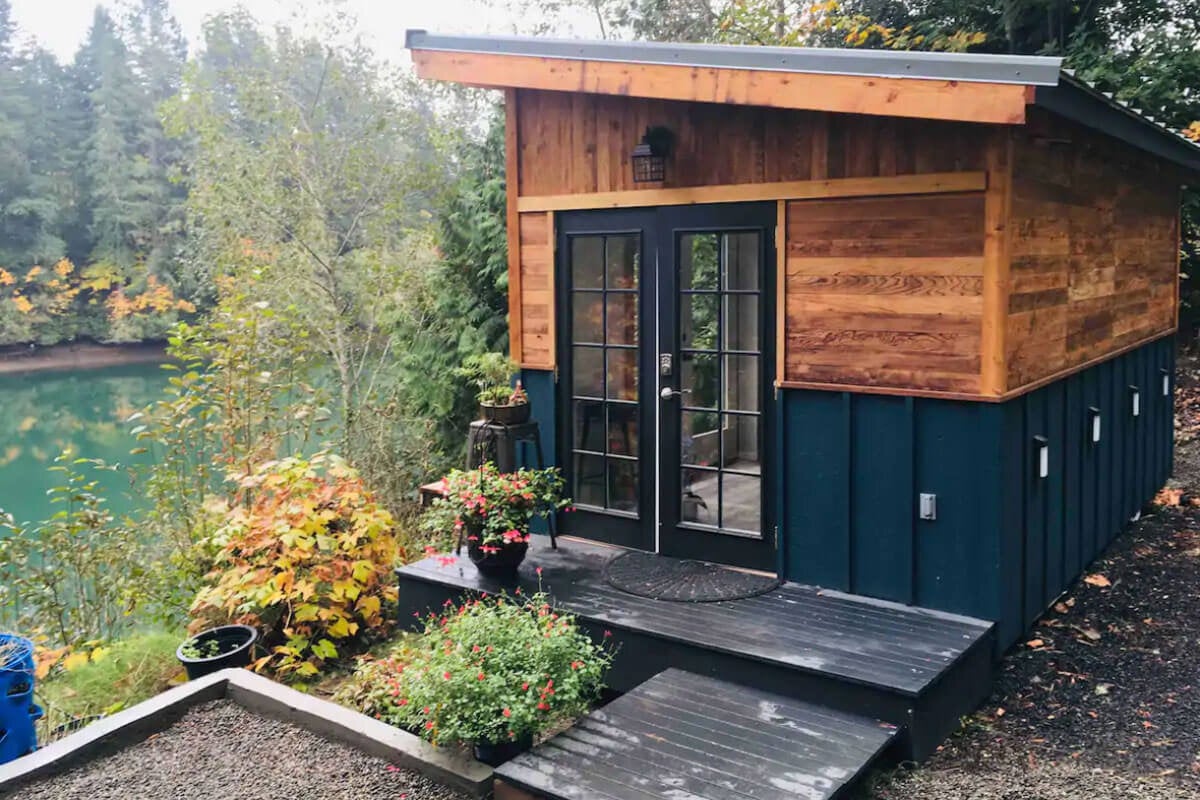 Private and secluded tiny house on a peninsula overlooking the bay
Location: Mason County

Budget: $$

Number of Guests: 2 guests

Minimum Stay: 2 nights

Superhost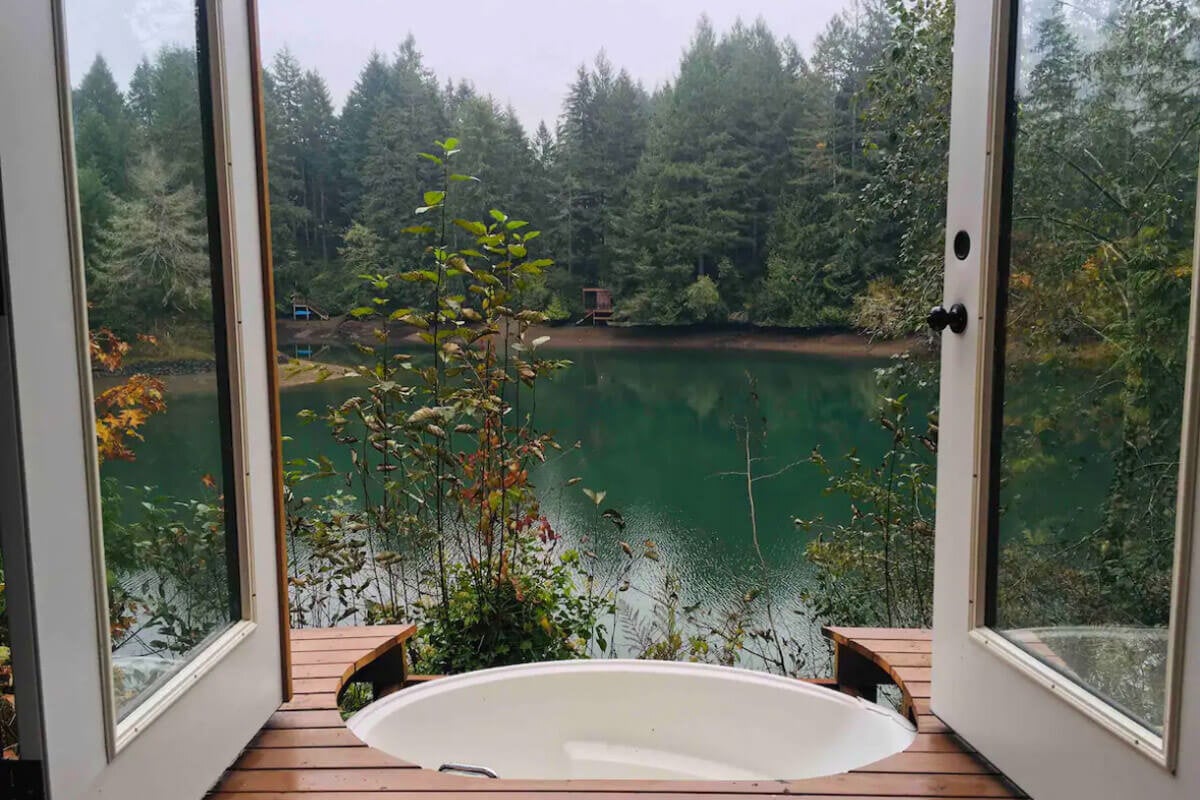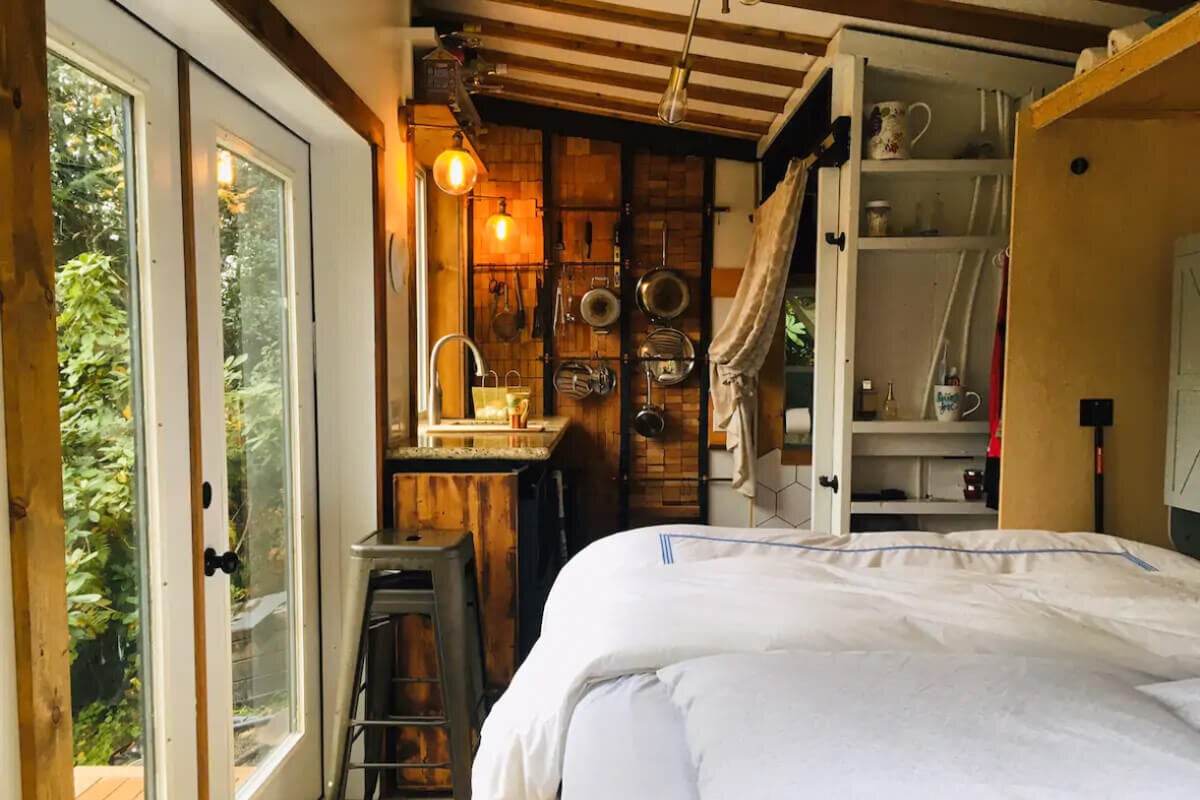 This custom built tiny house is a kayaker's dream situated on a peninsula with access to the beach and kayaks. High ceilings make this 130 square foot tiny house feel big and the windows maximize natural lighting. The house features fiber optic internet, a queen size Murphy Bed, kitchenette with portable stove, microwave, and mini smart oven, tiled bathroom with toilet and shower and outdoor soaking tub.
Guests loved having access to the kayaks and the suggestions from the host.
"Ana prepared a comfortable, beautiful space for us! We loved kayaking and enjoying the sea creatures, right outside of the tiny home. Ana's kayak routes were perfect for my adventurous husband and I! We loved our stay!" – Kathryn, June 2021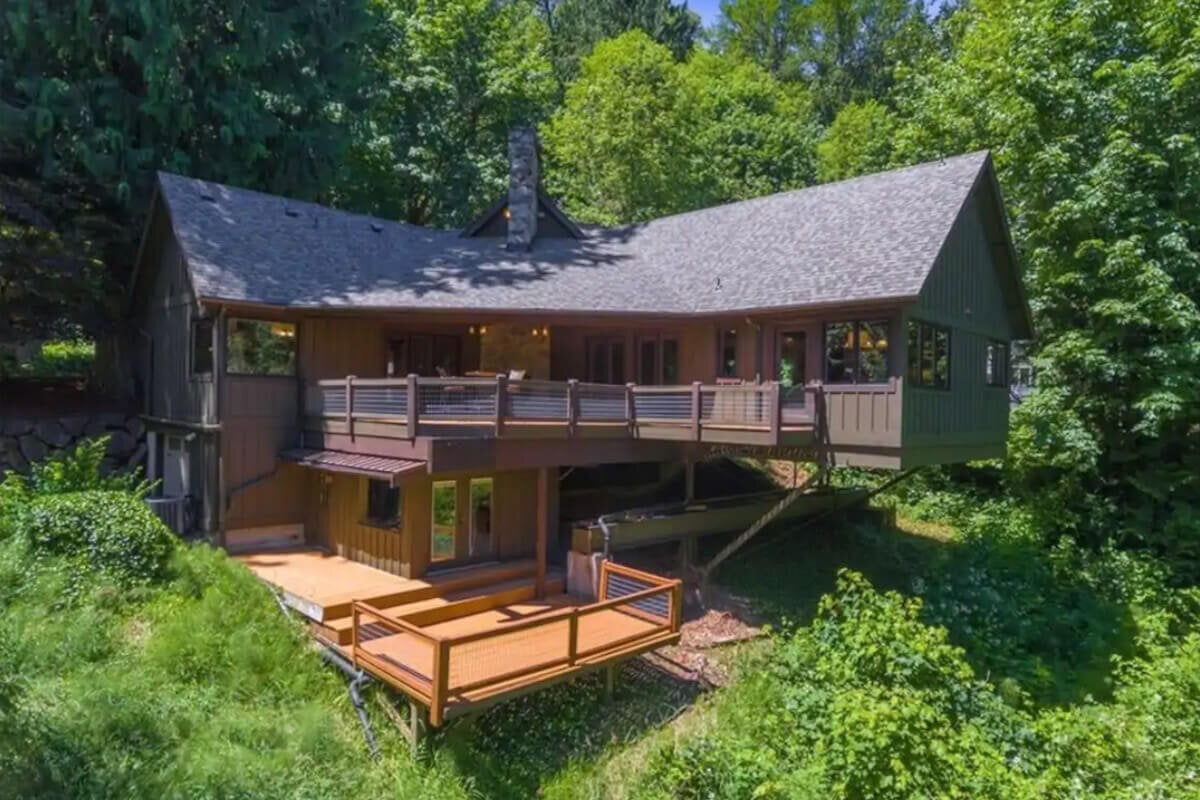 A magical retreat on the river's edge
Location: Fall City

Budget: $$$

Number of Guests: 2 guests

Minimum Stay: 2 nights

Superhost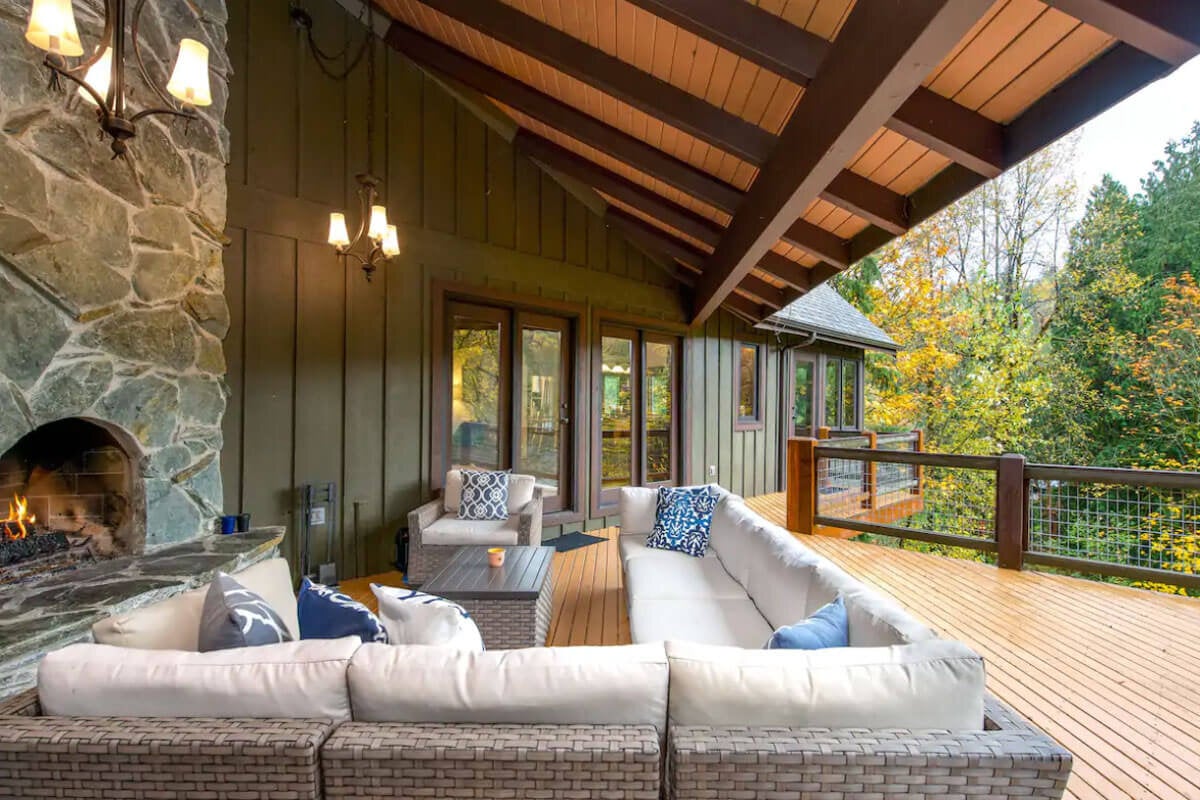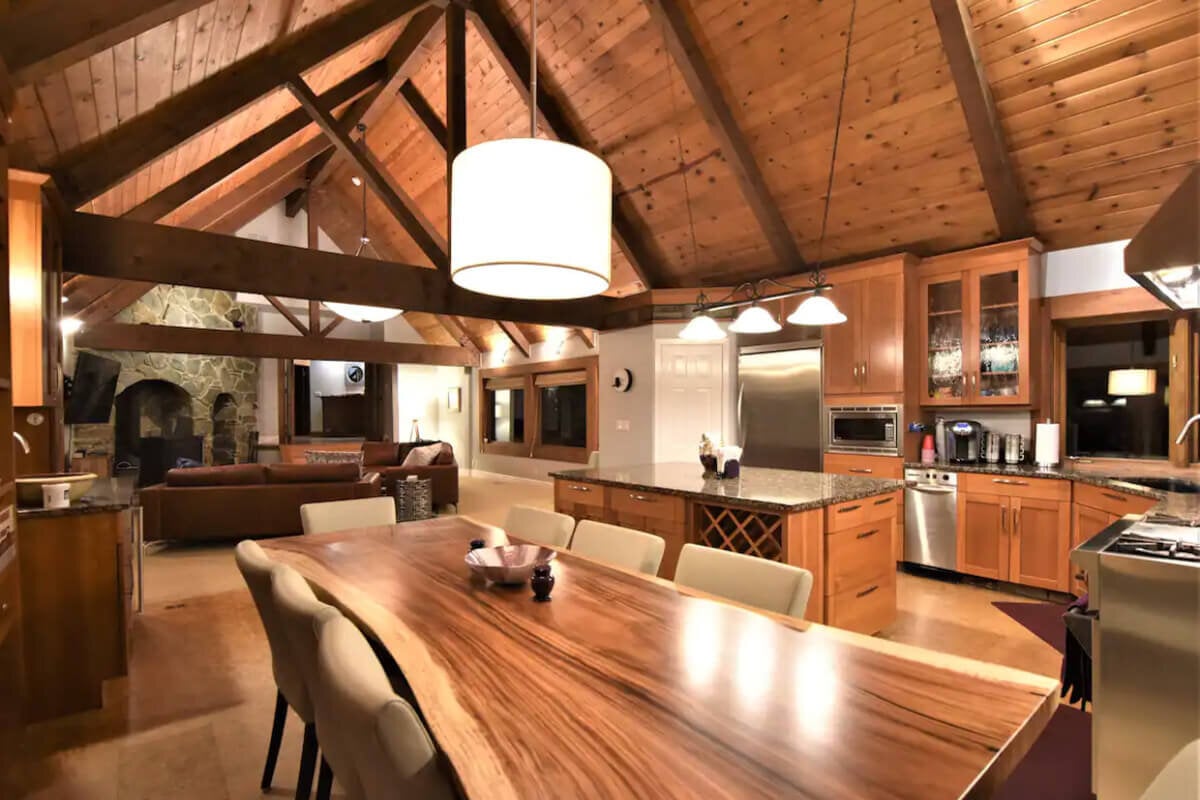 Nestled on 5 acres overlooking the Raging River in Fall City, this spacious home is nothing short of luxurious. While the home has more rooms available, the host is offering it at a reduced rate for the use of a single master bedroom and ensuite. You'll still have access to all of the other amenities this property has to offer including a large covered deck with outdoor fireplace, private seating area down by the river with firepit, and a large open floor plan with chef's kitchen.
Guests rave about how quiet and serene the home feels.
"This place is amazing! You feel as though you have your own slice of a wooded paradise. It is super private and serene. The view, bubbling of the river, everything about this place screams relaxing and rejuvenating. Just what the wife and I needed." – Ryan, June 2021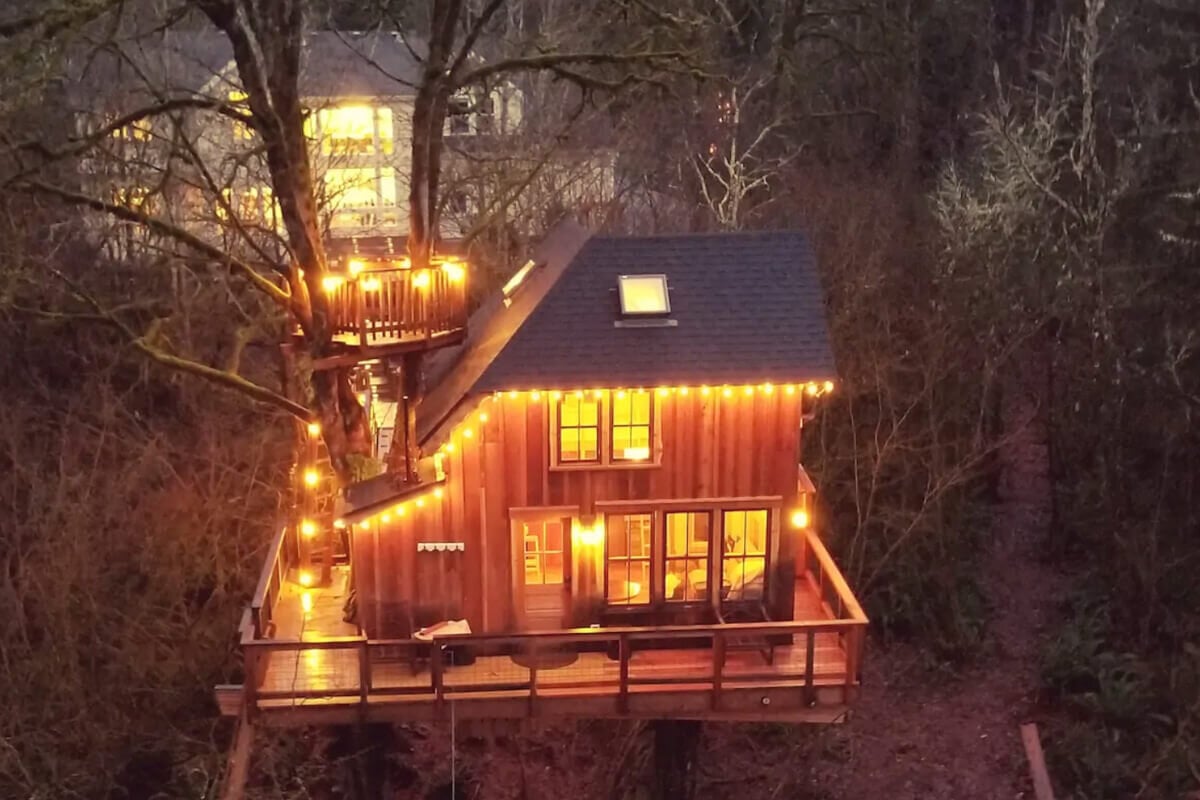 Cozy and luxurious forest retreat featured on Treehouse Masters
Location: Redmond

Budget: $$$

Number of Guests: 4 guests

Minimum Stay: 1 night

Superhost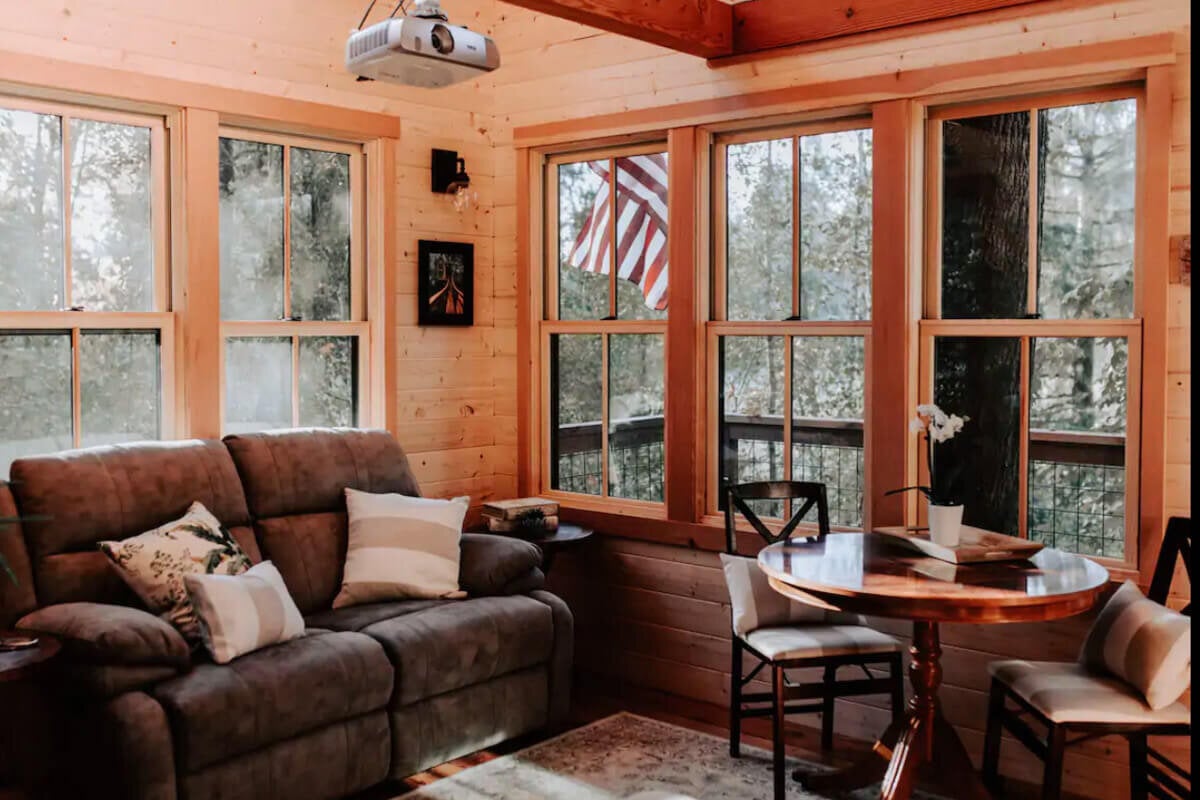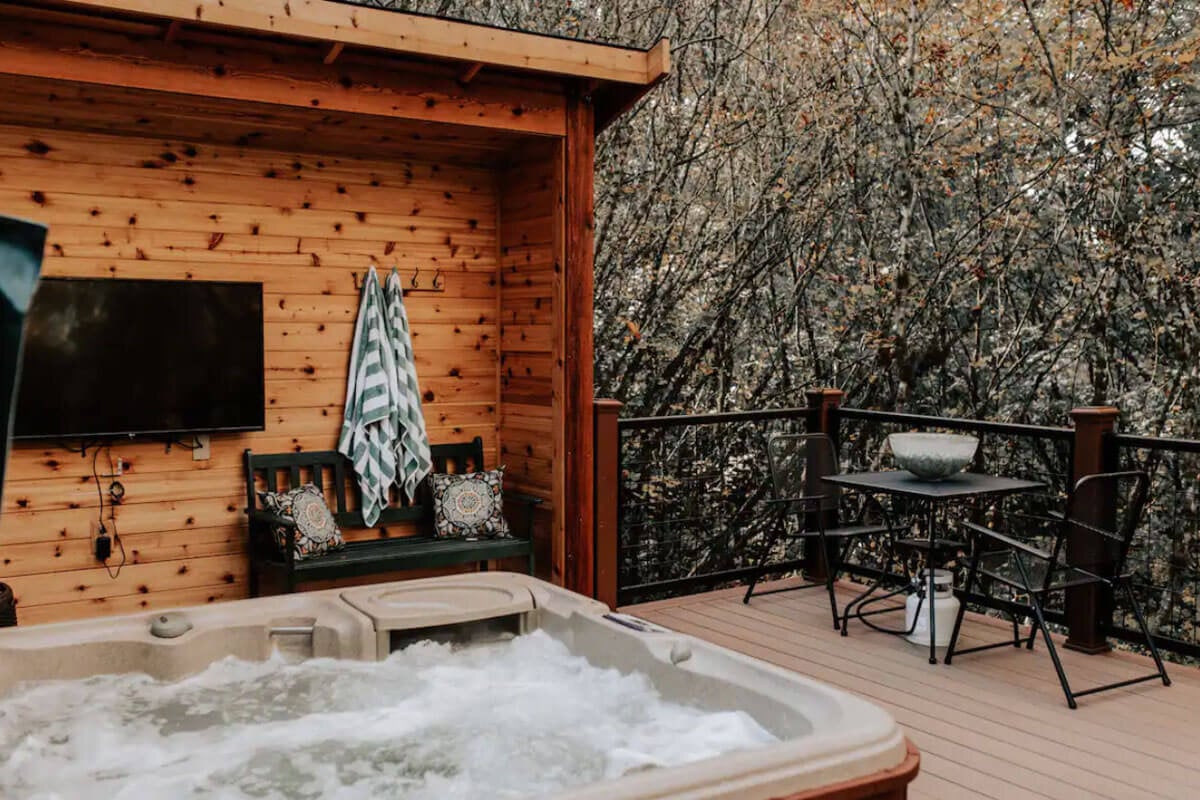 Tucked away on thirty forested acres, this magical treehouse is comfortably furnished and bursting with natural light from the floor to ceiling windows. The unique home offers a queen bed and twin bunks in the loft. Other features include an outdoor shower, hot tub, and 100" screen with projector.
Guests love the thoughtful touches and many surprises from the host and give all 5 star reviews.
"You definitely have an impressive offering and this was the best Airbnb we've ever stayed in…This stay is definitely more of an experience, than just a place to lay your head. I know we aren't supposed to give away all of the little surprises, but just know that if you stay here, many little surprises await you. You won't be disappointed – it's a real gem!" – Angela, June 2021
Honorable Mention
Can't find an Airbnb?
Here's a quick list of recommended boutique properties, hotels and vacations rentals in Seattle.
---
Save this article on Pinterest for later!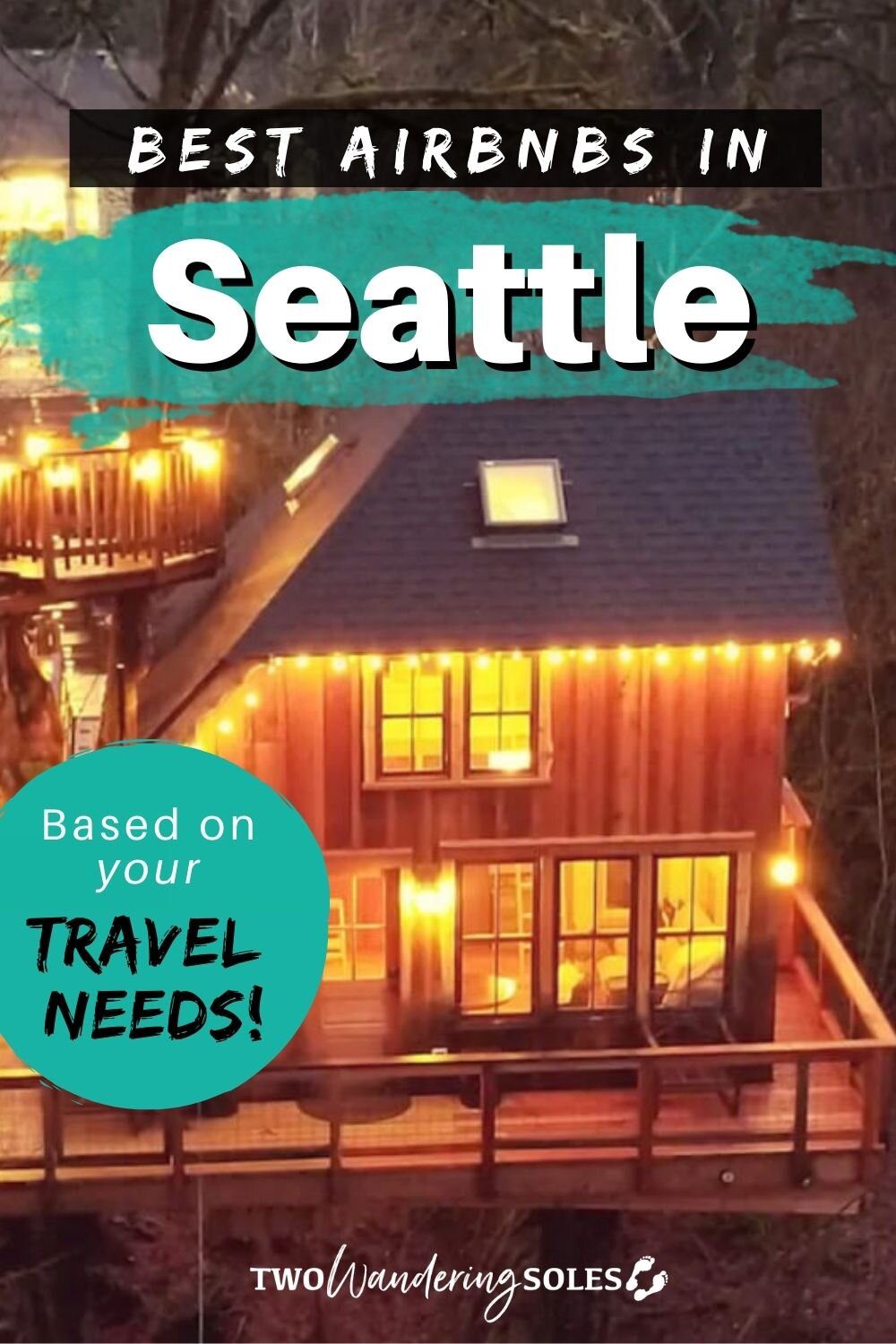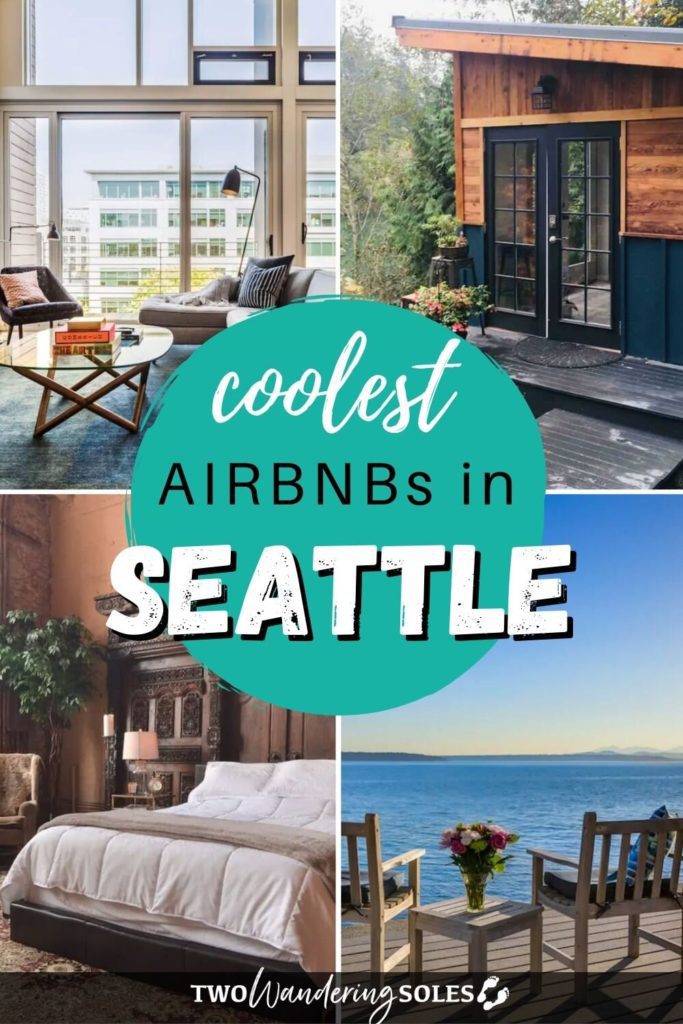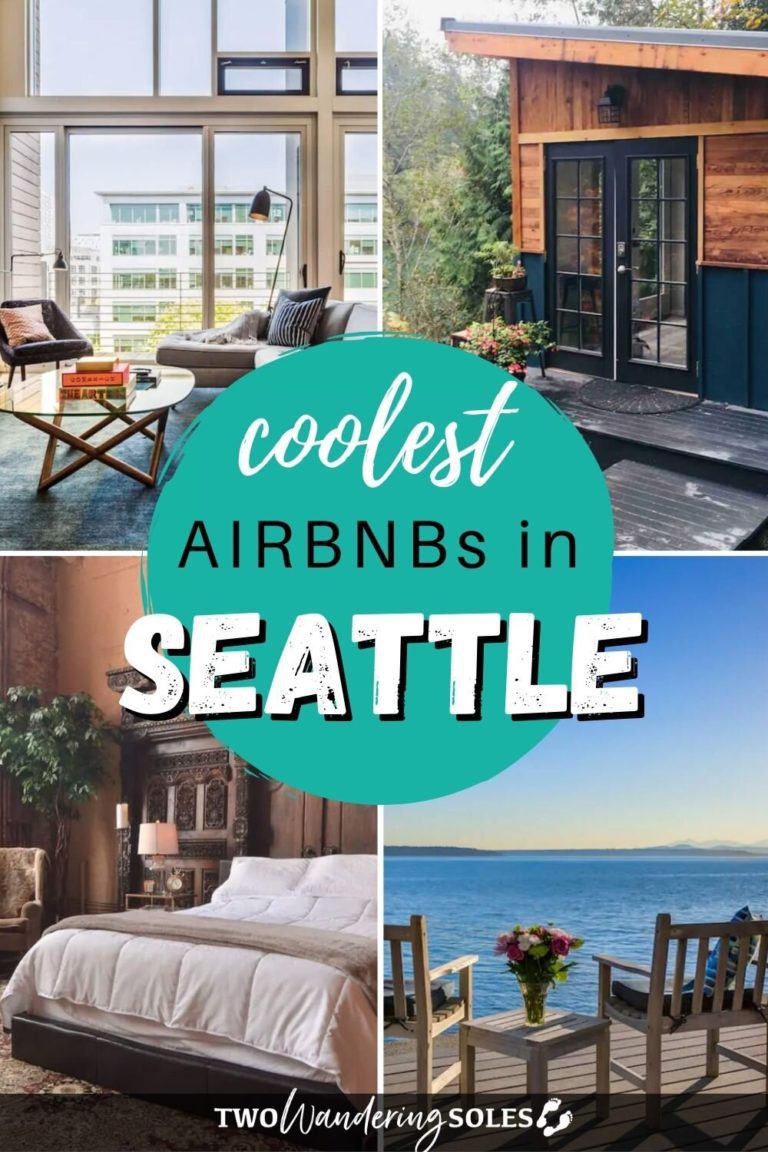 We want to hear from you!
Which of the Airbnbs on this list do you like the most? Are you planning a trip to Seattle soon and have more questions about where to stay? Drop us a comment below and we'll do our best to get back to you!