Surrounded by dramatic coastline and stunning mountains in all directions, it's no surprise there are abundant options for day trips from Seattle. Whether you want to shop for art in a quaint town, summit a mountain, or simply relax by the sea, we've rounded up a diverse list of the best Seattle day trips within 2.5 hours of the city.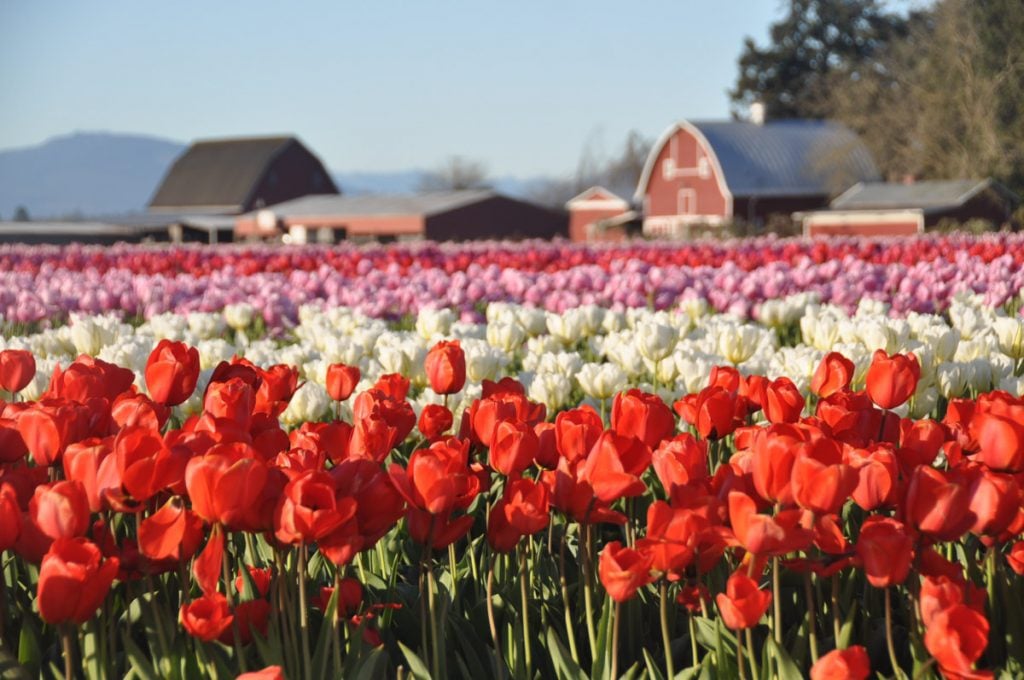 Forward-thinking Seattle effortlessly combines urban charm, offbeat attractions, open green spaces, and a vibrant foodie scene. There's so much to do in this city, Seattle is typically everyone's first thought when it comes to visiting Washington state.
However, just beyond the city's fast-paced energy, there are endless opportunities for incredible Seattle day trips — quaint seaside towns, stunning coastline, jaw-dropping mountains, and much more.
Whether you're a visitor or a local looking for adventures to fill your weekend, we've rounded up the best day trips from Seattle.
Oh, and don't worry about wasting too much of your weekend in the car — every destination on this list is less than a 2.5-hour drive from the city. We figure that's the max amount of time in a car to still be considered a "day trip."
---
Before we get to the good stuff, we have a few helpful resources we wanted to share with you…
Getting a rental car in Seattle
Having your own vehicle when visiting will give you a lot more freedom to explore the best day trips from Seattle.
We personally like using Discover Cars when we rent vehicles around the world, as they gather options from all sorts of rental companies in one place. It makes it really easy to compare prices and vehicles so you can determine which is the best option for you.
Search & Compare Rental Car Prices
Discover Cars: We personally use this aggregate site to compare rental car prices from all the big name companies and get the best price possible.
RentalCars.com: We've had good experiences finding rental cars with this site in the past.
Don't forget to download your Pacific Northwest bucket list!
---
1. Mount Rainier National Park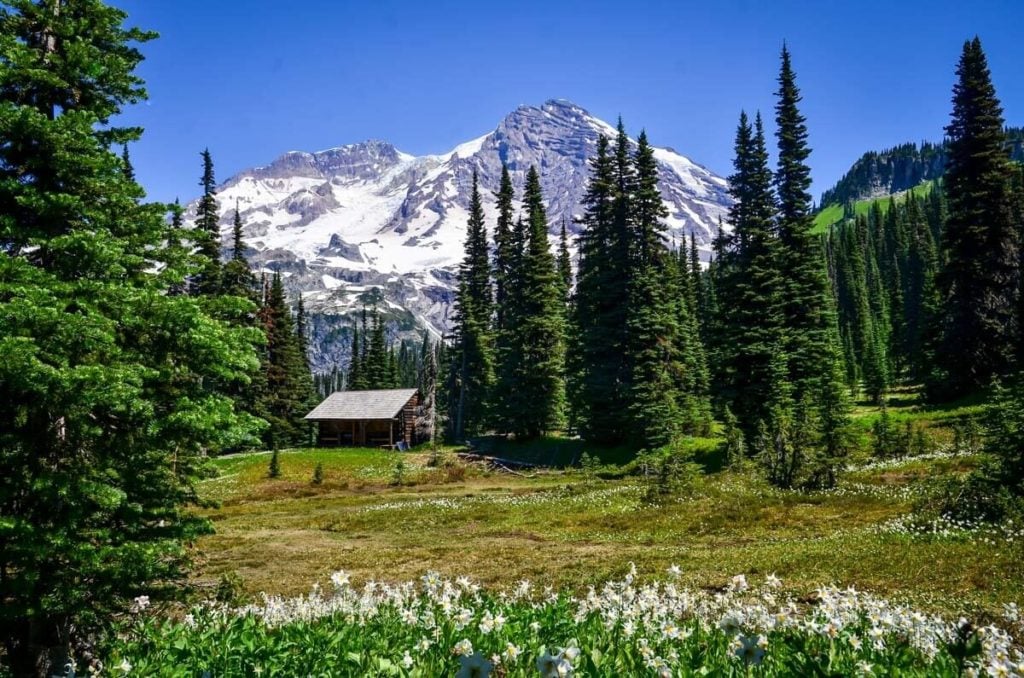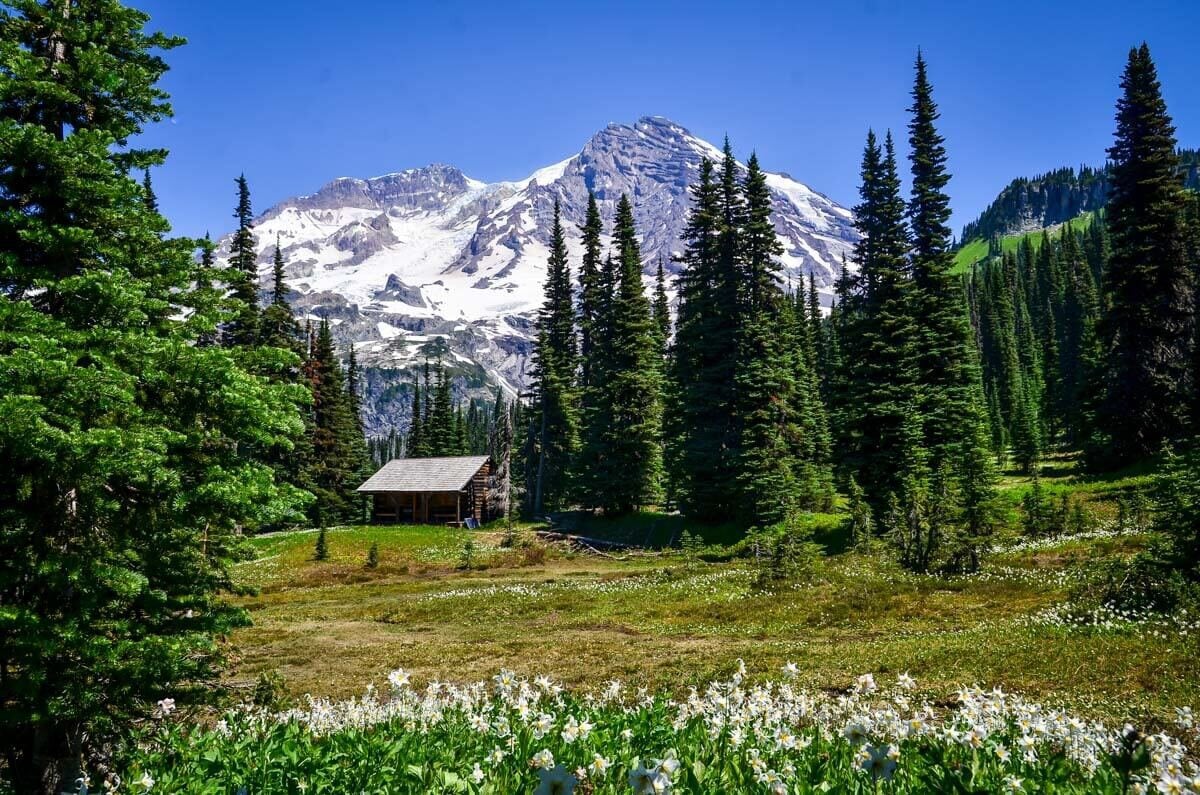 At a glance: The area surrounding the tallest stratovolcano in the Cascades; overflowing with natural wonder
Distance from Seattle: 90 miles; 2 hours
Open: 24/7, year round
Entrance Fee: $30 for a private vehicle, good for 7 days (Or free with your America the Beautiful National Parks Pass)
Mount Rainier National Park is filled with jaw-dropping scenery at every turn. We know it sounds like we're being dramatic, but Mount Rainier is dramatically beautiful!
Layers of mountains, breathtaking waterfalls, and wildflower-filled meadows, all with towering Mount Rainier as a backdrop… Need we say more? Made up of 97% wilderness, Mount Rainier is truly one of the most beautiful national parks on the west coast.
At just about 2 hours southeast of Seattle, Mount Rainier is best explored in your own vehicle so you can traverse to the far corners of the park quickly. You'll find the best views in the regions known as Paradise and Sunrise.
The best time to visit Mount Rainier is going to be during the months of July through October. These months give you the most favorable weather conditions and you know the trails will be snow-free.
Note: If exploring Mount Rainier during the off-season, check road conditions ahead of time; many close in the winter.

Top Things to Do in Mount Rainier National Park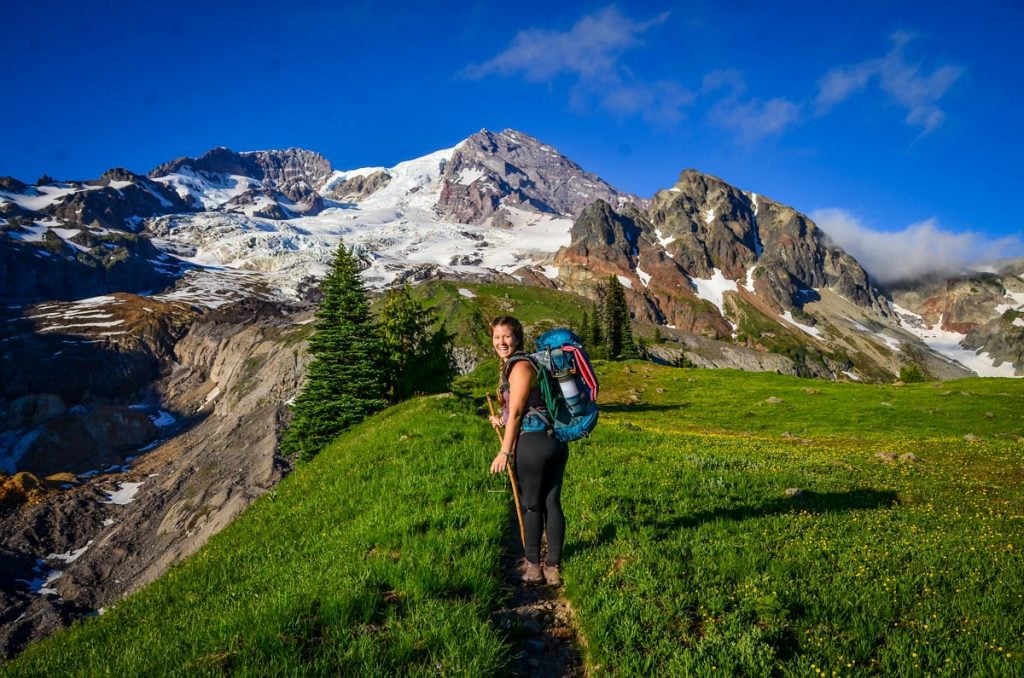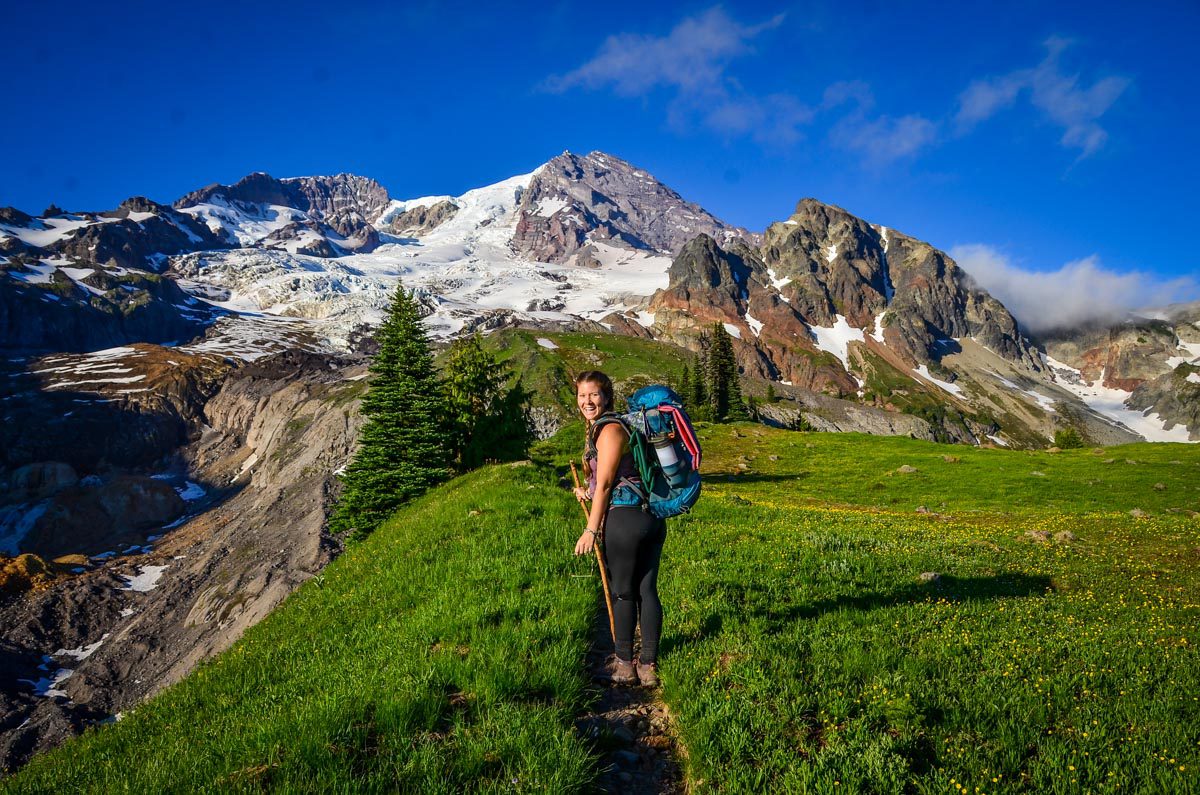 Paradise, the area south of the mountain, has the most accessible and close-up views of Rainier with tons of great hiking options. The paved Alta Vista Trail offers impressive views for all abilities, or continue onto Skyline Trail for a longer, varied hike.
Ride the Mount Rainier Gondola up to Summit House Restaurant for expansive views. In the winter, you can ski at Crystal Mountain Resort.
Drive Sunrise Point Road, stopping at viewpoints along the way. The drive ends at Sunrise Picnic Area, an incredibly scenic spot to spend an afternoon and a perfect jumping-off point for stunning hikes including the Mount Fremont Fire Lookout.
For a quieter section of the park, head to the lush northwest entrance near Carbon River. Embark on spectacular day hikes like Tolmie and Spray Peak or mountain bike through forest roads.
2. Rattlesnake Ledge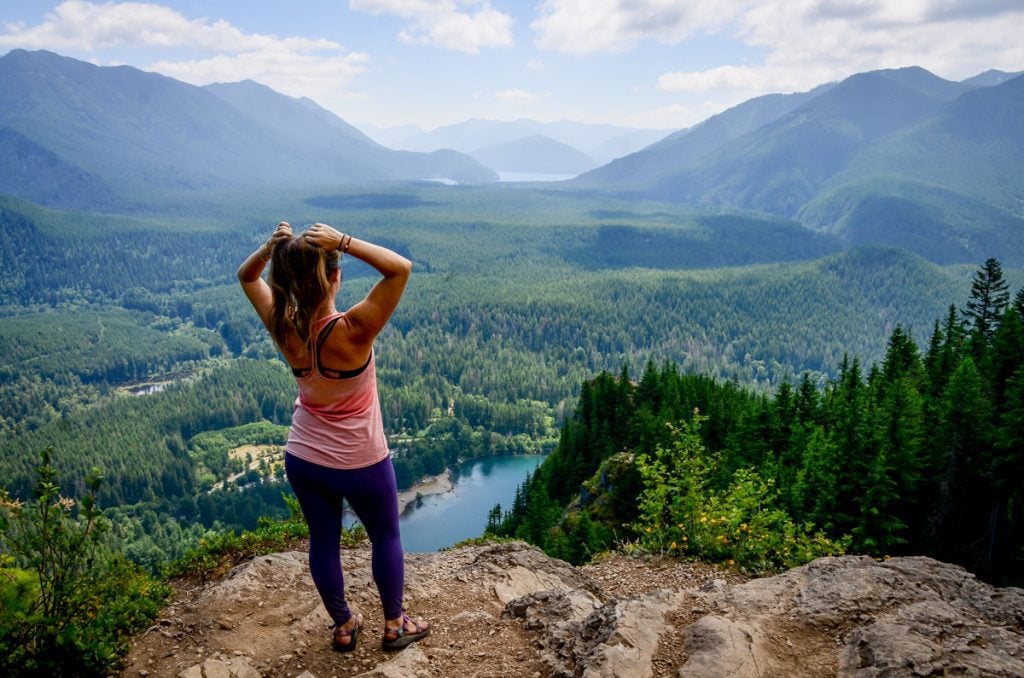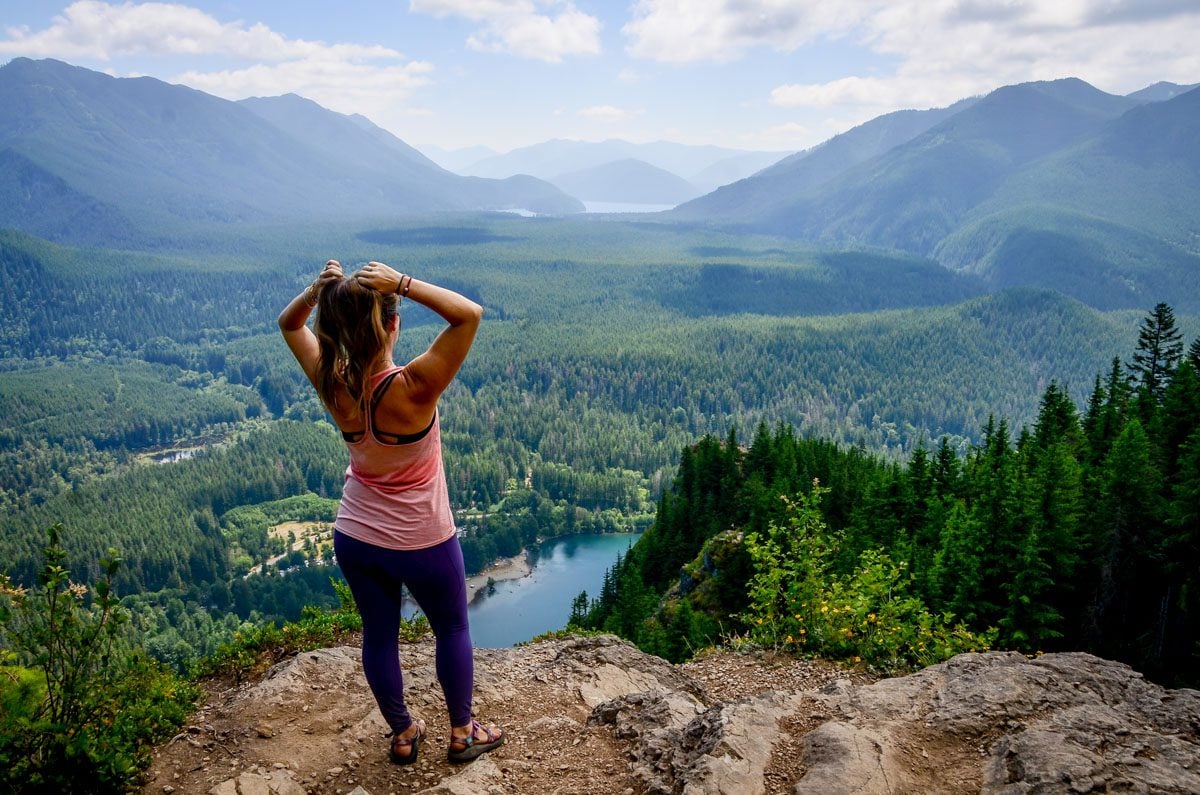 At a glance: A breathtaking hike just 30 minutes from the city
Distance from Seattle: 35 miles; 40-minute drive
Distance: 5.3 miles, out & back
Elevation: 1459 ft
Difficulty Level: moderate
Located at the entrance to Snoqualmie Valley, Rattlesnake Ledge is one of the best easy-access hikes near Seattle with a big payoff.
The hike is 5.3 miles and ascends through a beautiful pine forest before reaching the ledge. A steady but not-too-exhausting incline takes you to a sheer drop with impressive views of Rattlesnake Lake and nearby peaks.
Find a complete guide to hiking Rattlesnake Ledge on our sister site for more information.
For more solitude and additional hiking, continue climbing for another hour to East Peak, part of the Rattlesnake Mountain Trail.
If you're visiting on the weekend, reward your efforts after summiting the Ledge at the nearby Chateau NoElle Winery (only open Saturdays).
At just a 40-minute drive from the city, this is one of the quintessential Seattle day trips.
3. Snoqualmie Falls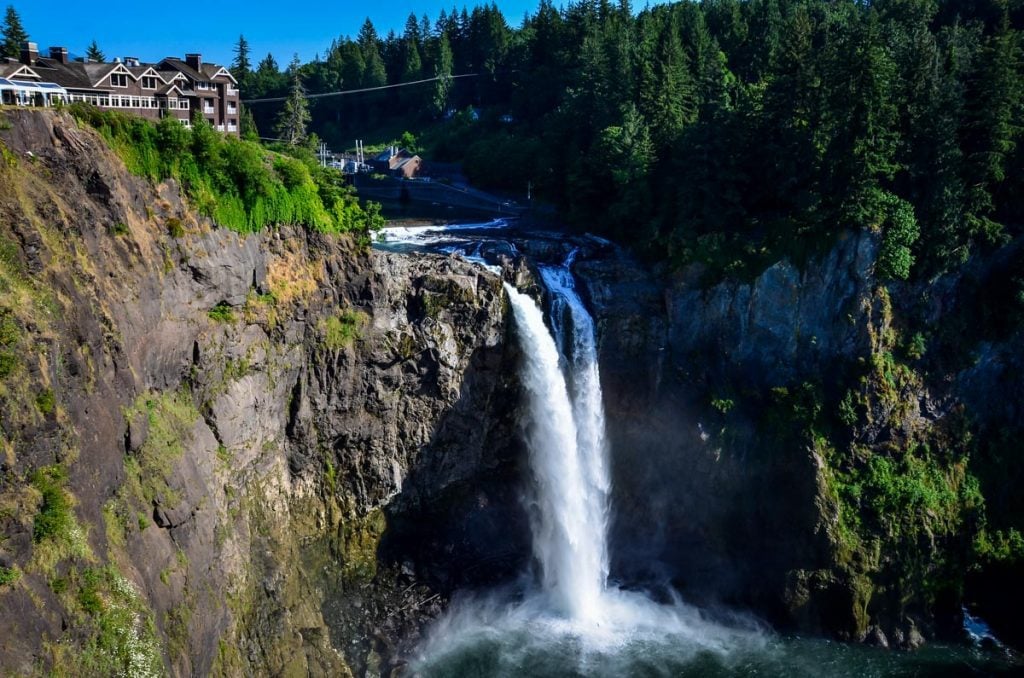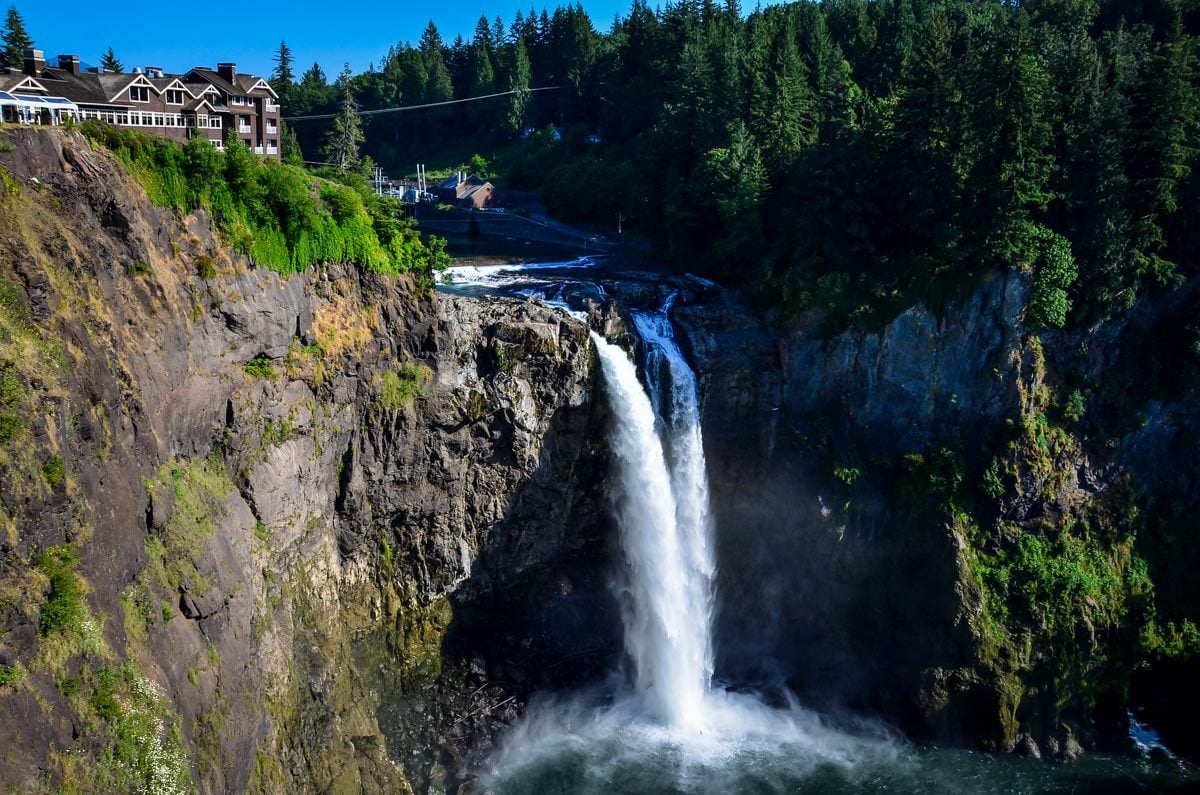 At a glance: A famous, spectacular waterfall only 30 minutes outside the city
Distance from Seattle: 34 miles; 30-minute drive
Located about a half hour east of Seattle, Snoqualmie Falls is one of Washington's most recognized landmarks. It stands at an impressive 268 feet tall and ranges from 50 to 150 ft wide, depending on the season and the water level.
A significant spiritual site for the indigenous Snoqualmie Tribe, this incredible Washington waterfall has mesmerized humans for thousands of years.
A short paved trail from the parking lot takes you to the falls. Enjoy the vantage point from above next to the lodge, then continue onto the beautiful boardwalk to see the powerful cascades.
Afterwards, you can sit down for a meal (or at least a cocktail and snack!) at the nearby Salish Lodge. Or, for a more casual drinking experience, head to Snoqualmie Falls Brewery.
This easy-to-reach natural wonder makes for an ideal city escape, as it's open year-round. The falls are even more spectacular after heavy rain or in snow. Even better, combine your day trip from Seattle with your hike to Rattlesnake Ledge (see #2 above!).
Psst! Check out these other beautiful waterfalls near Seattle that can easily be visited on a day trip!
4. Bainbridge Island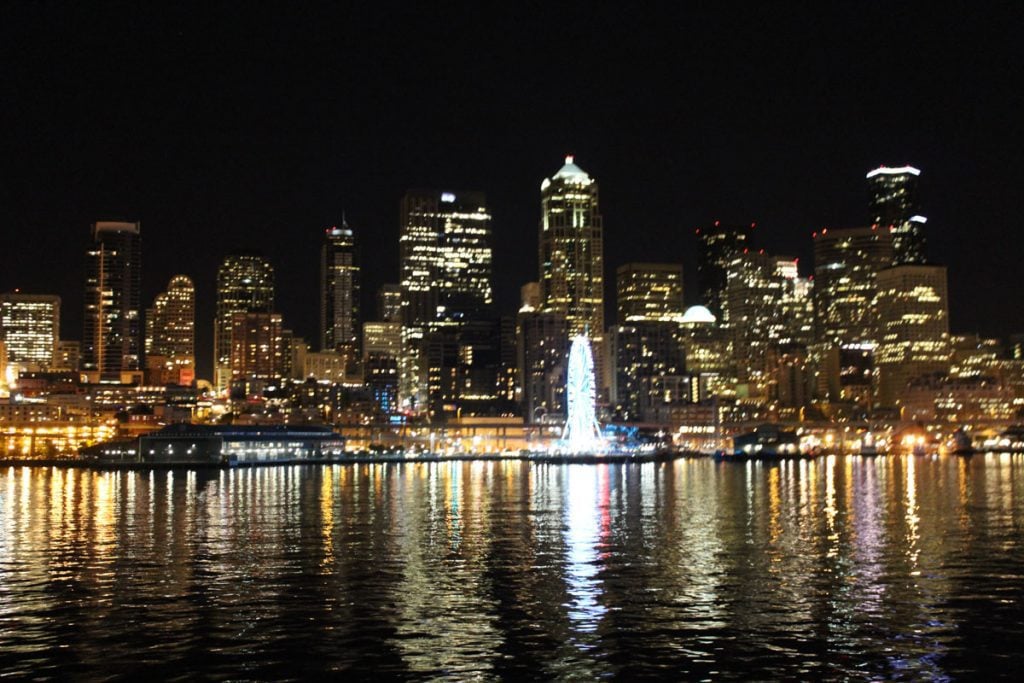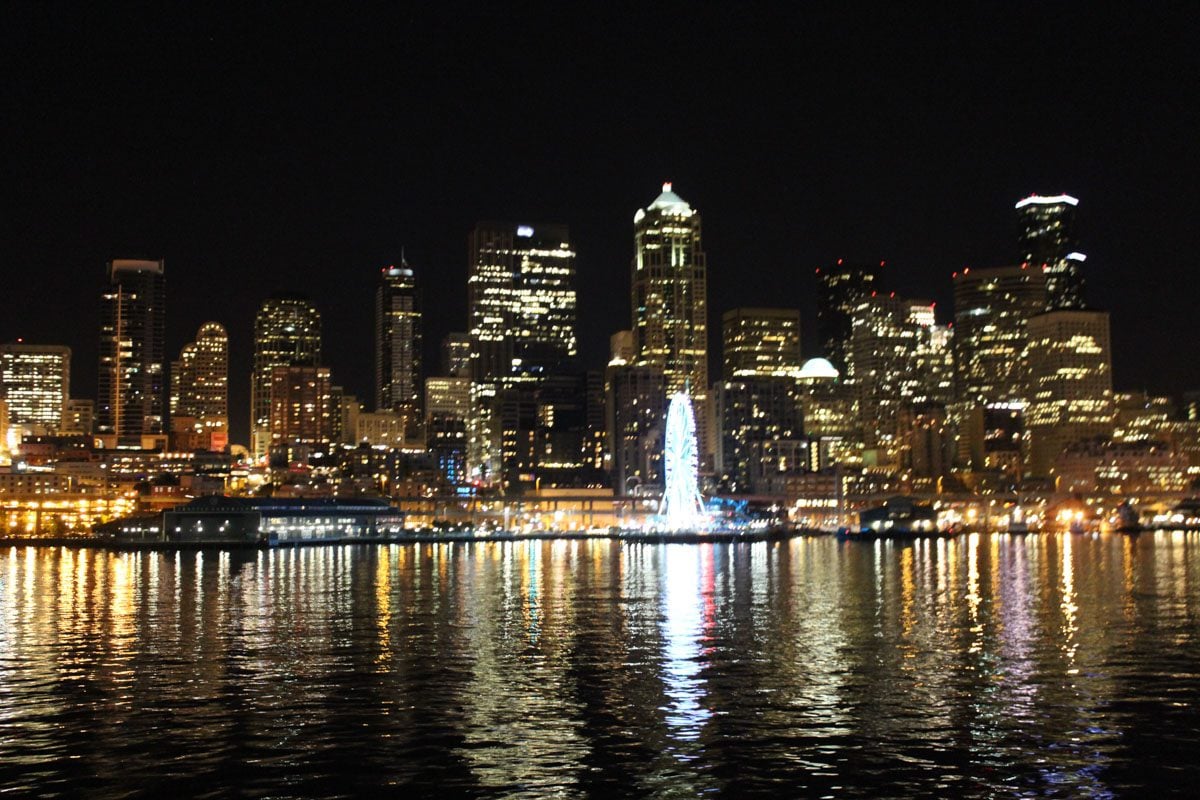 At a glance: A peek into slow-paced rural life just a ferry hop from Seattle
Distance from Seattle: 10 miles; 1 hour by ferry
A quick ferry hop across Puget Sound from Seattle, Bainbridge Island is the antithesis of fast-paced urban life.
With a vibrant art scene, charming historic small-town feel, and excellent museums, Bainbridge Island is a perfect Seattle day trip for travelers without a car. The nearby natural attractions are also pleasant, not to mention accessible year-round.
Oh and don't forget about the views! Taking the ferry across the bay is a great way to get a view of the cityscape from the water. If you happen to be returning from your day trip after dark, the Seattle Skyline will be lit up like twinkling lights against the black sky backdrop.
Top Things to Do in Bainbridge Island
Stroll through the quaint namesake town, stopping by for a morning (or afternoon!) pick-me-up at Pegasus Coffee House.
Learn about somber wartime history at the Bainbridge Island Japanese American Exclusion memorial.
See an impressive collection of local and international art at the Bainbridge Island Museum of Art.
Visit the Bloedel Reserve, an immaculately maintained Japanese Garden with bayside views. Please note: advance timed-entry tickets are required for entry.
5. Scenic Hot Springs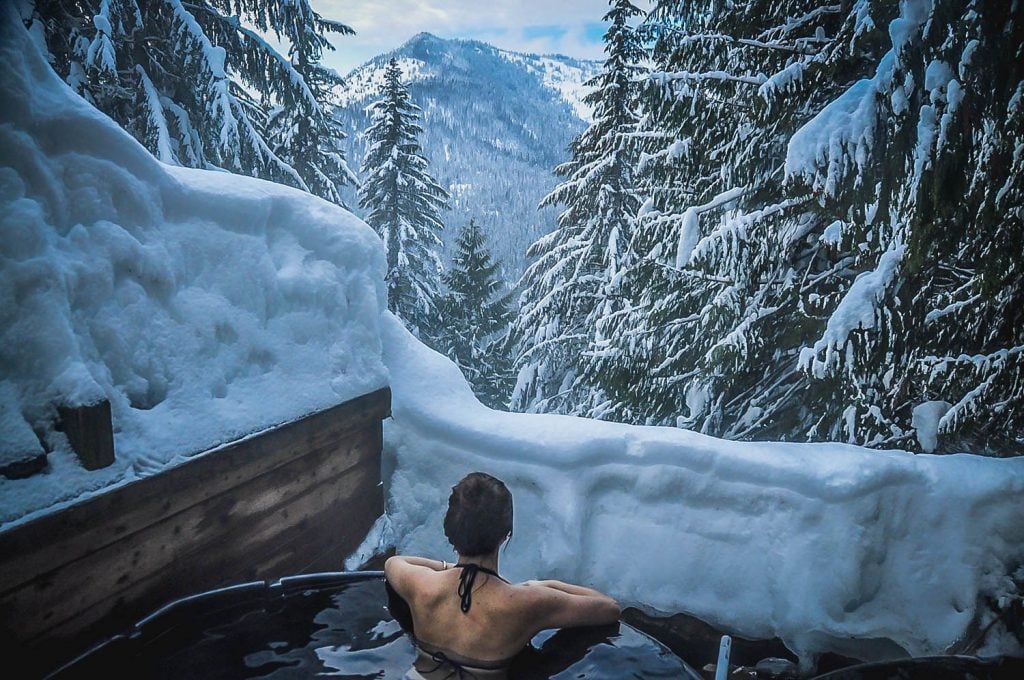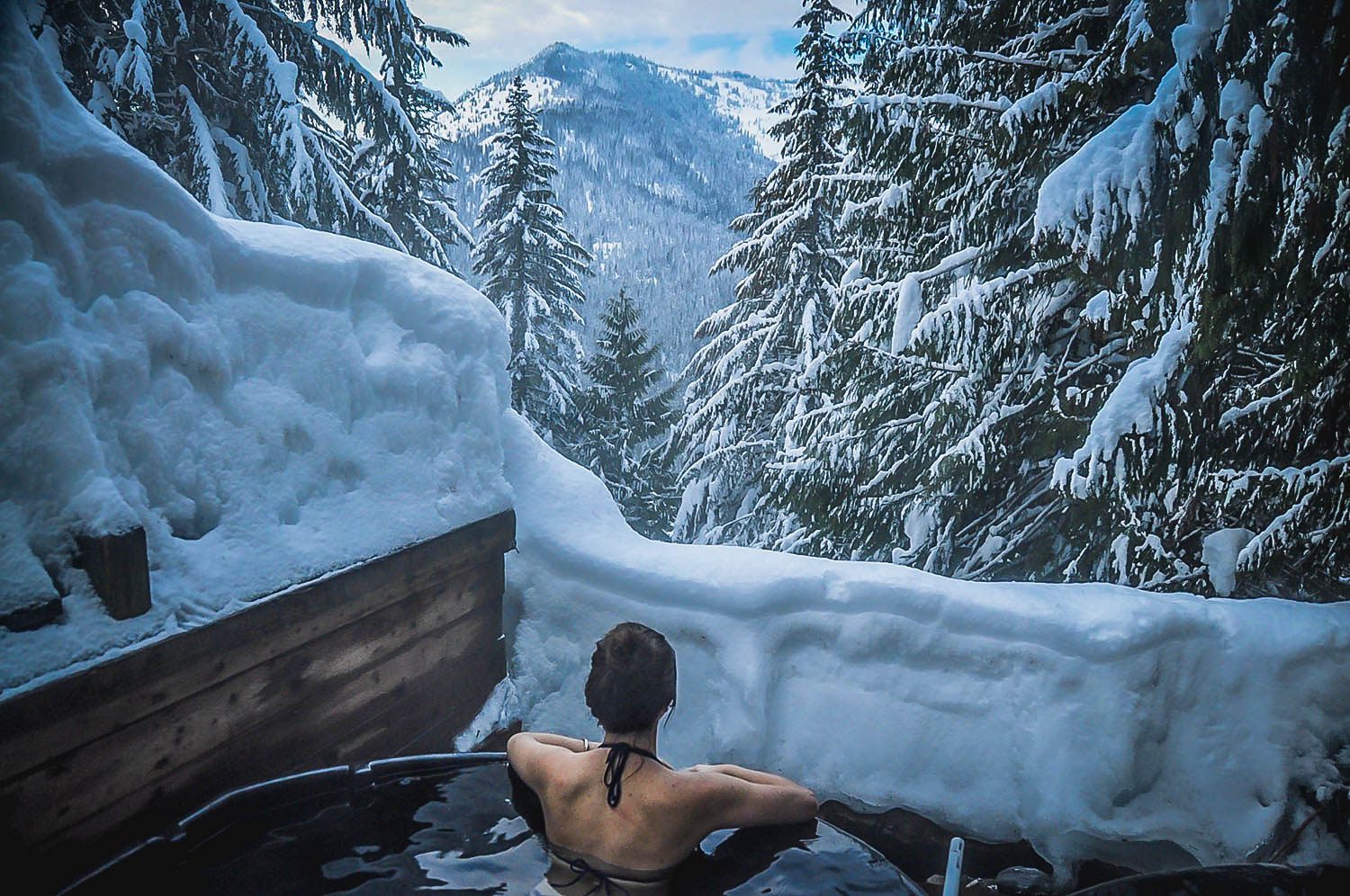 At a glance: A hike in to private hot springs overlooking a picturesque Ponderosa Pine forest
Distance from Seattle: 80 miles, 1.5 hours driving
Entrance Fee: $5 per person on weekdays and $10 on weekends or holidays
Among the most incredible Washington hot springs, Scenic Hot Springs is our personal favorite. With 3 steaming tubs overlooking a vast ponderosa pine forest, what more could you ask for in a hot spring?
The journey to Scenic Hot Springs includes a 1.5 – 2 hour hike into the mountains, making the destination all that much more rewarding.
Each of the 3 separate tubs are naturally heated with varying temperatures of water. The tubs are fed by tubes so the water isn't the clearest and you may notice some debris.
Only 10 people are allowed to soak here at one time which makes the experience all the more peaceful.
Important Note: Scenic Hot Springs is on private property and you'll have to make a reservation in advance if you want to visit. Make your reservation according to the guidelines on this website.
Once you've made your reservation and paid the fee, you will get detailed directions to the hot springs. Out of respect to the man who maintains the springs, we will not post the directions in this article.
We think the best time to visit Scenic Hot Springs is during the winter. Particularly on a snowy day where you can soak and enjoy the views of snow-dusted pines. Just remember the hike will require snowshoes (or skis with skins) after a fresh snow!
We have a complete guide to Scenic Hot Springs, including exactly how to get there on our sister site.
6. Leavenworth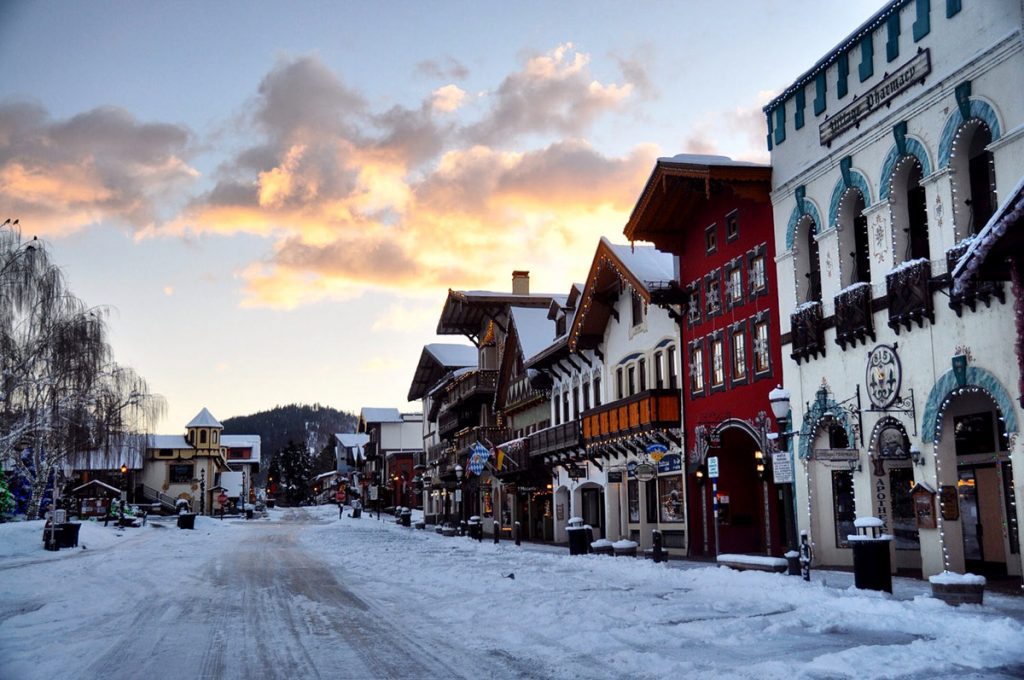 At a glance: An adorable Bavarian-themed town near several stunning natural attractions
Distance from Seattle: 135 miles; 2 hours, 10 minutes
Arriving in Leavenworth feels like stepping through a portal into a historic Bavarian village. It's an endlessly Instagrammable small town with an especially festive spirit around Christmas.
Leavenworth's Bavarian-themed architecture draws many tourists from Seattle and the surrounding areas, especially during popular times like Oktoberfest and the Christmas lighting ceremonies. Hot chocolate, or local craft beer, in hand, you'll fall in love with the cheerful spirit of Leavenworth, no matter what season you visit during.
Not only does the town itself make an excellent day trip from Seattle—with so many things to do—but Leavenworth's nearby natural attractions are stunning and well worth the trek.
Top Things to Do in Leavenworth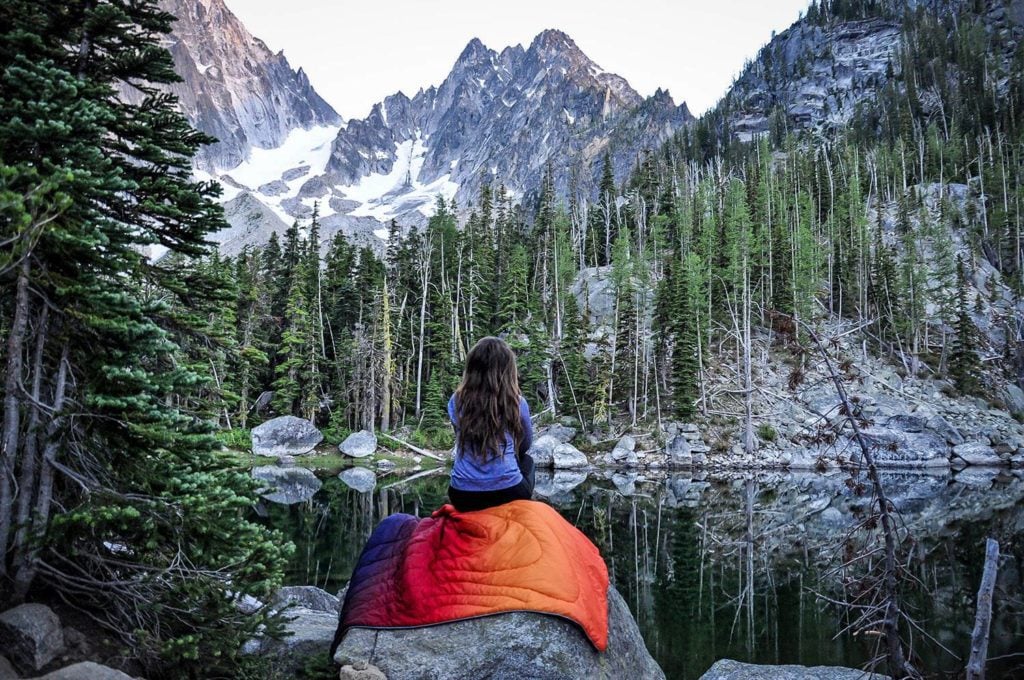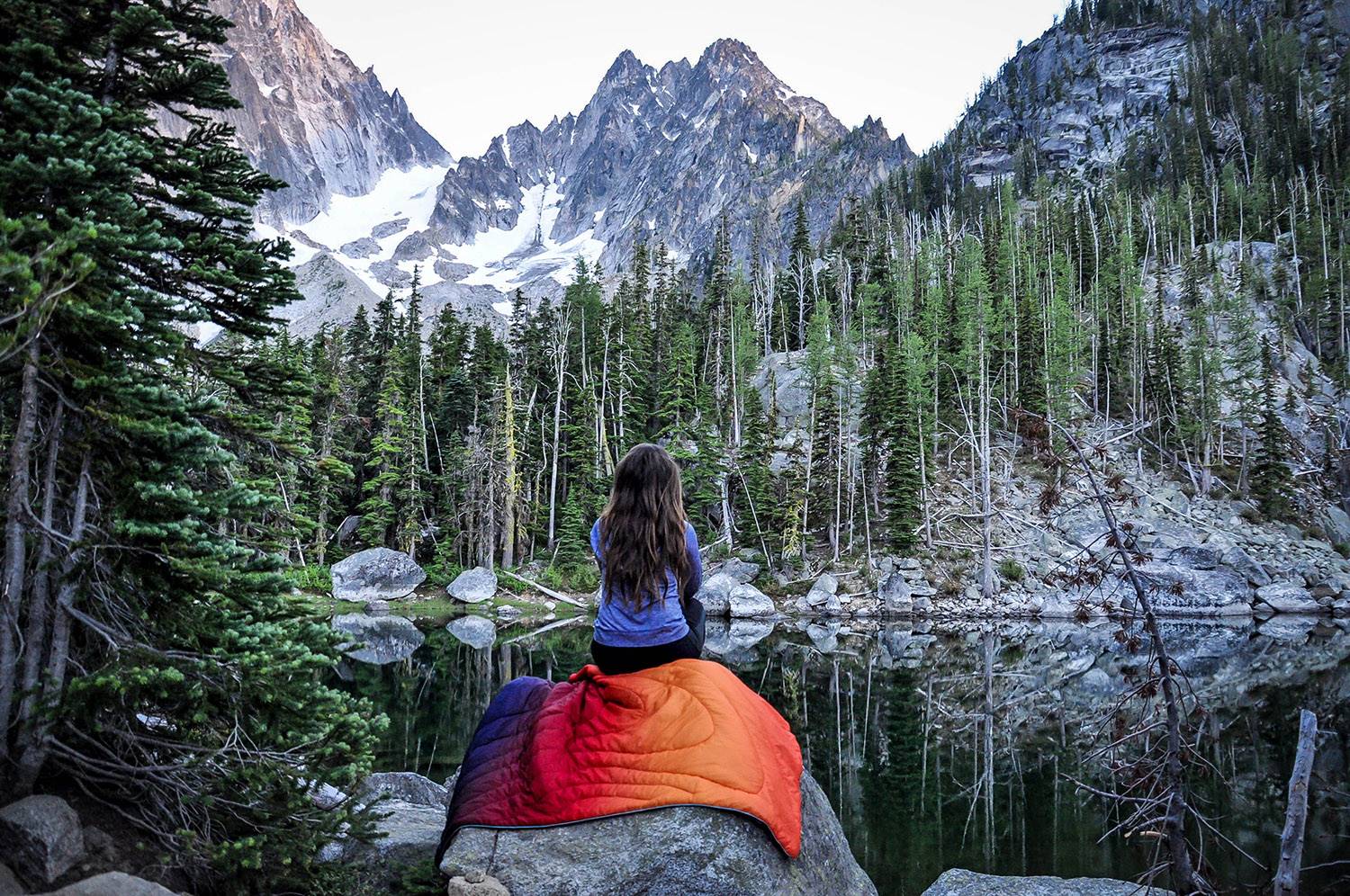 7. Deception Falls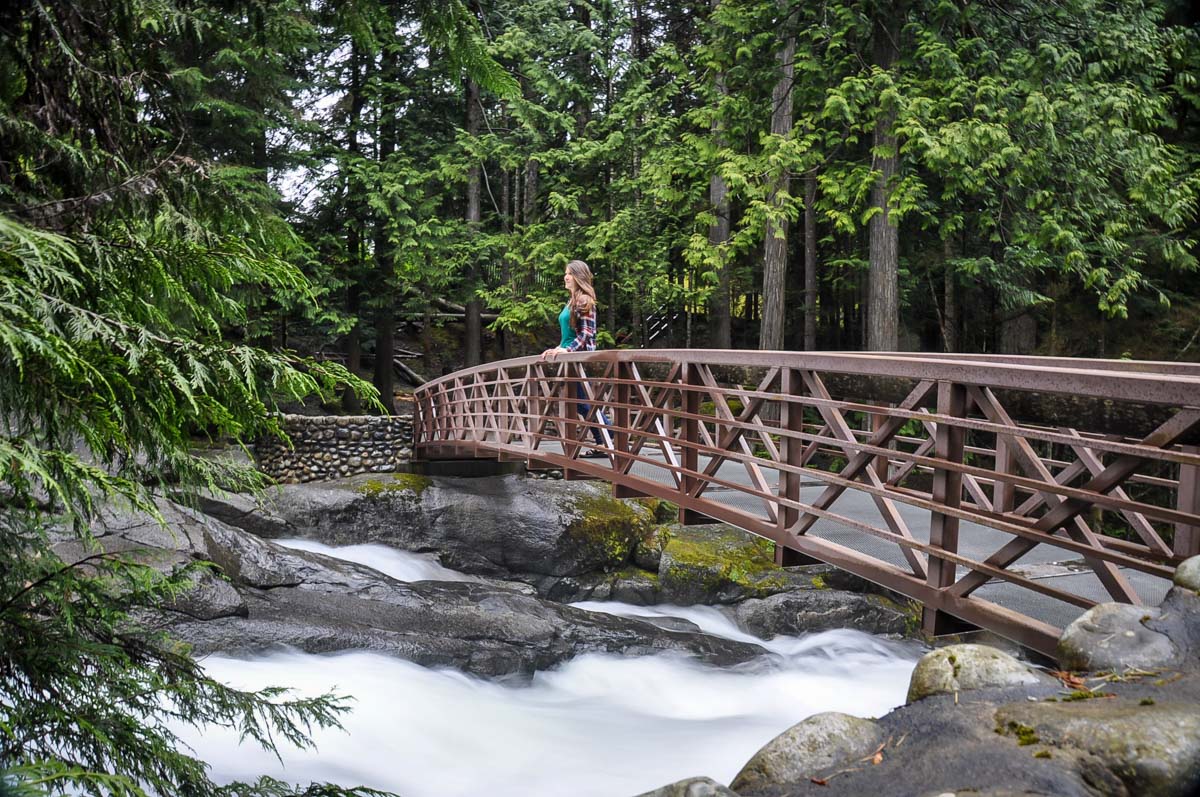 At a glance: A short scenic trail takes you to a beautiful waterfall in Stevens Pass
Distance from Seattle: 75 miles; 1 hour and 40 minutes
Length: 0.6-mile loop
Elevation Gain: 72 feet
Difficulty Level: Easy
The drive on Highway 2 between Seattle and Leavenworth is a beautiful one with plenty of places to pull over and enjoy the view. One such place is the Deception Falls Interpretive Trail, located just outside the small town of Skykomish.
A stop at Deception Falls is one of the quickest immersions into the gorgeous Stevens Pass area.
Despite the trail being just a half-mile long, you'll feel far from civilization after only a few steps. Throughout the hike, Deception Creek zig-zags between rocks before plunging almost 100 feet, creating the mesmerizing falls.
Tip: The trailhead can be found at an easy-to-miss rest area.
For a longer hike to scenic alpine lakes, check out Surprise Creek Trail just down the road. This route is also a wonderful option for an overnight camping trip. There is also the option to hike the Iron Goat Trail, a beautiful half-day hike to combine with Deception Falls.
Stop at Deception Falls on a day trip to Lake Valhalla or Leavenworth, two other incredible day trips from Seattle on this list.
8. Lake Valhalla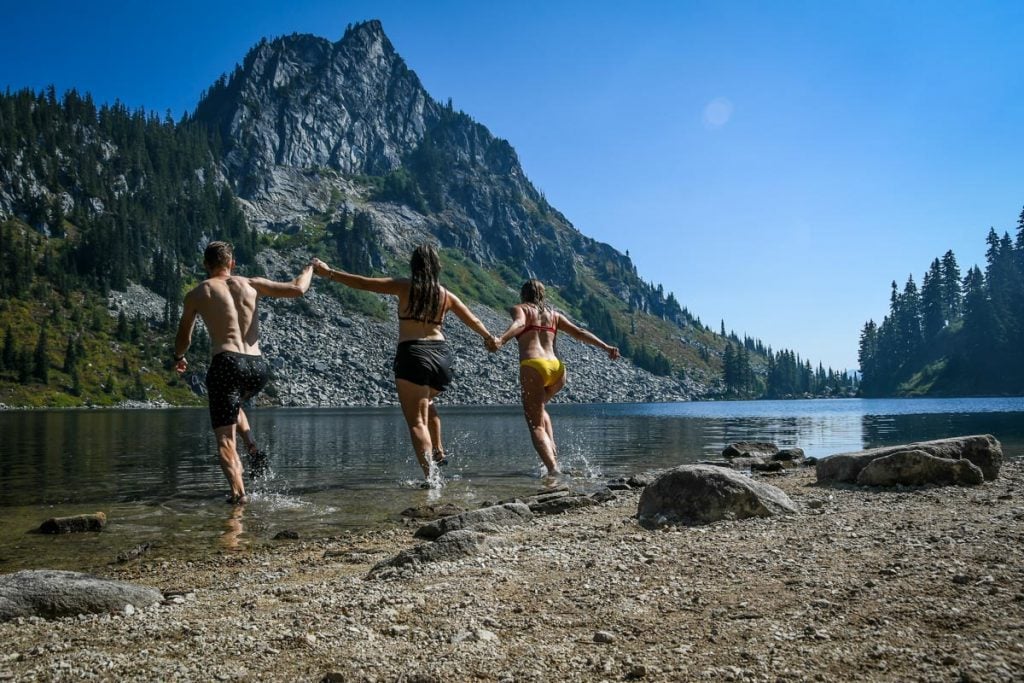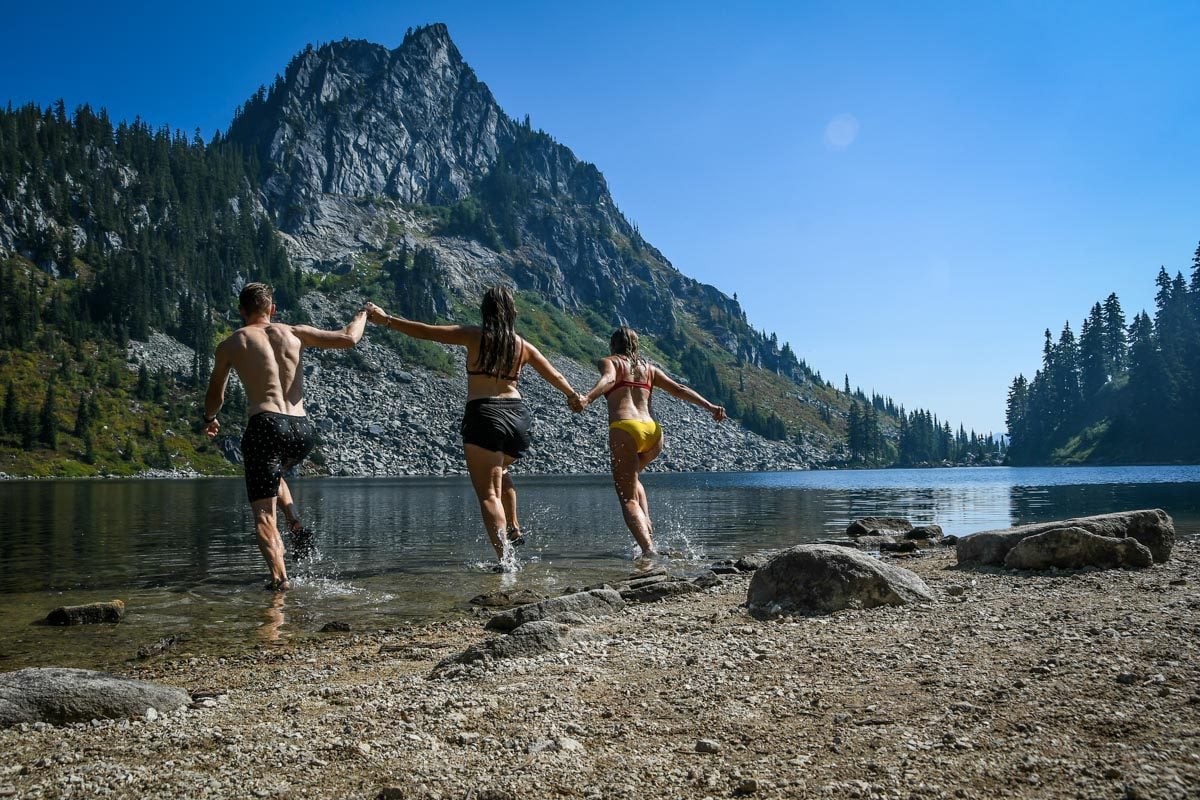 At a glance: A stunning glacial lake accessible via several hiking routes
Distance from Seattle: 88 miles; 1 hour, 50 minutes
Lake Valhalla provides an epic opportunity for outdoor adventure in any season: snowshoeing in winter, picnicking amongst wildflowers in late spring, swimming in the summer, and strolling through gorgeous fall foliage in autumn.
Several trails of varying difficulty access the lake, making it suitable for hikers of all experience levels.
The easier trail approaches from the east via the Smithbrook Trailhead. It's a moderate 3.6-mile (one way) trail that's also popular with snowshoers in the wintertime. This route is less scenic but has more shade and a more manageable incline.
The slightly longer Lake Valhalla Trailhead follows part of the PCT and offers awesome views of Stevens Pass, making for a more memorable summer day trip from Seattle.
You can also take the half-day trail up Mount McCausland, which starts at the Smithbrook Trail and looms over the lake.
Check out our Lake Valhalla hiking guide on our sister site for all the info you need to plan your hike.
9. Stevens Pass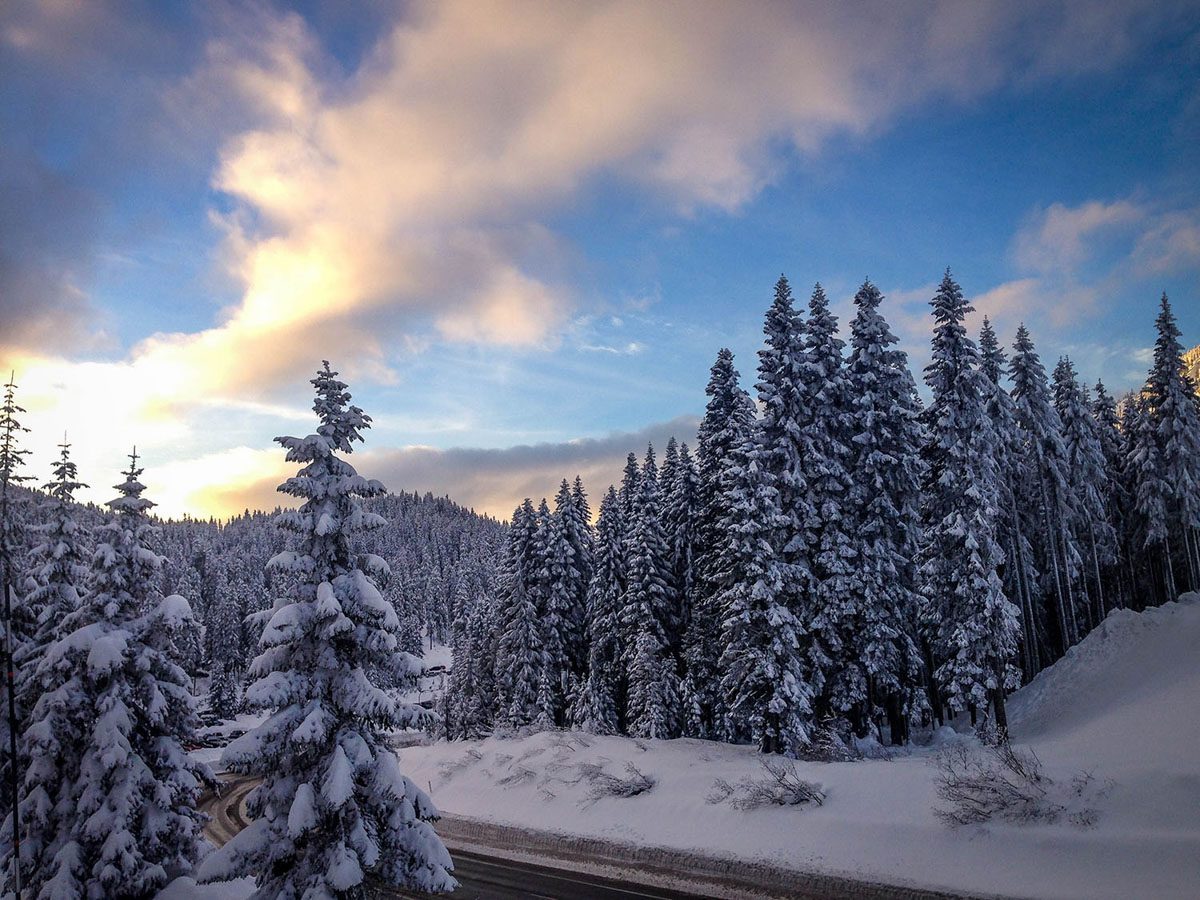 At a glance: Dramatic mountain pass with excellent hiking and skiing
Distance from Seattle: 83 miles; 1 hour, 45 minutes
Many simply zip through Stevens Pass on their way to Leavenworth or other eastern Washington destinations, but this stunning area is worthy of one — or even several — days of exploration.
During the winter, you'll want to check out the ski area, which, while small, has many highly technical runs due to the area's steep peaks. The same applies to summer hiking; the most striking views in Stevens Pass require full-day hikes.
Top Things to Do in Stevens Pass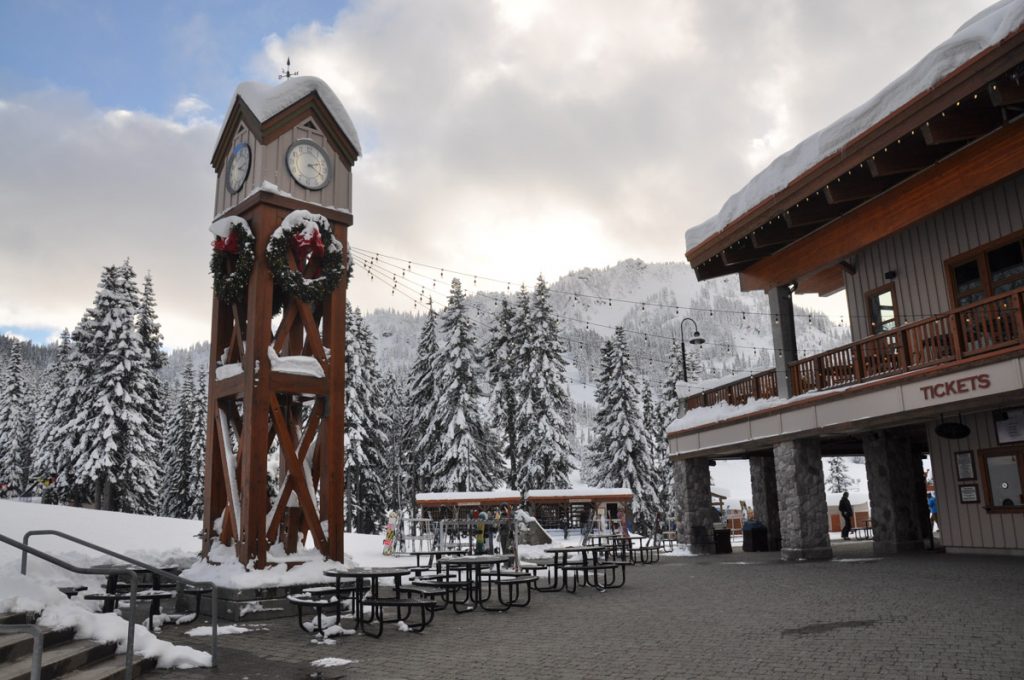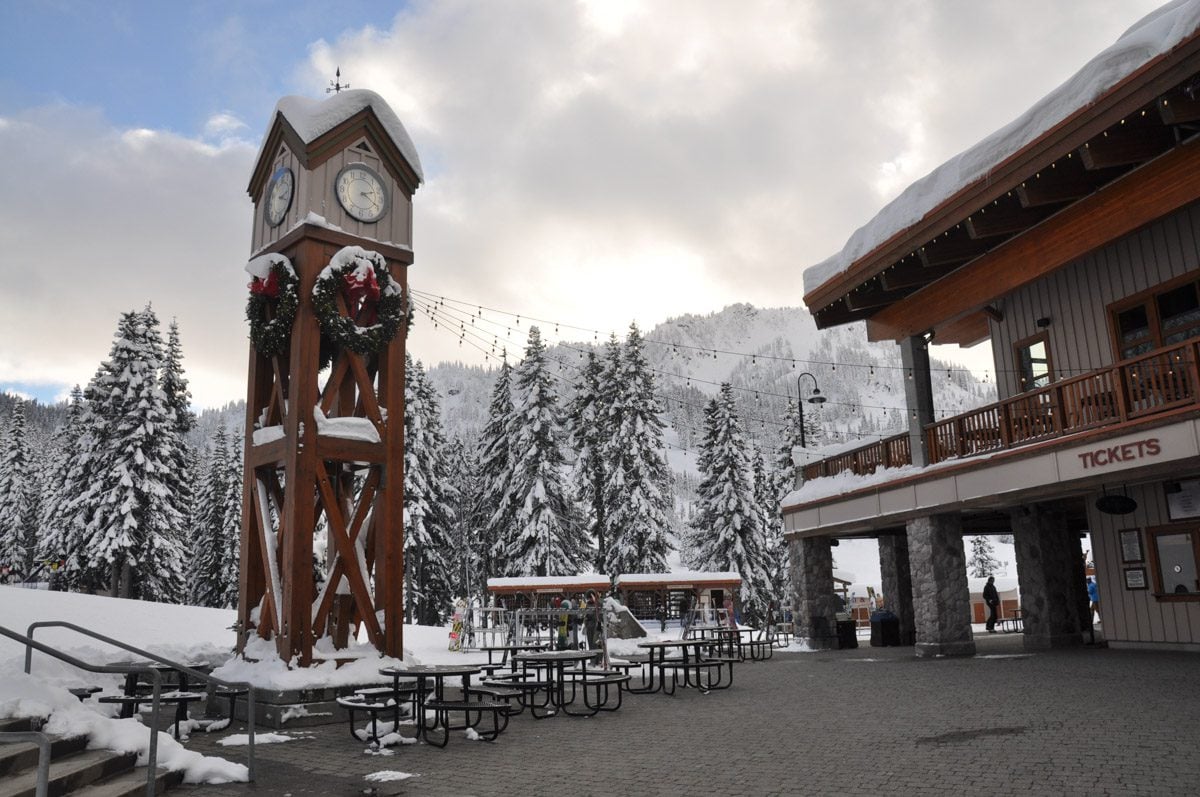 Head to the small but scenic Stevens Pass Ski Resort. Despite its size, the resort features ski runs for all experience levels.
If you want to attempt a summit hike in Stevens Pass, Beckler Peak is a tough but jaw-dropping option.
The area is full of strenuous but incredible day hikes; check out Thunder Mountain for one of our favorite options.
Combine your trip with nearby Deception Falls and Lake Valhalla, two other must-do Seattle day trips on this list.
10. Tiger Mountain
At a glance: A beautiful state forest less than 30 minutes from Seattle
Distance from Seattle: 20 miles; 25-minute drive
A quick 25-minute drive from the city toward Issaquah takes you to Tiger Mountain, a peaceful slice of natural beauty. With a multi-use trail for every age, interest, and ability, Tiger Mountain State Forest is easily one of the best day trips from Seattle.
Top Things to Do in Tiger Mountain
11. North Cascades National Park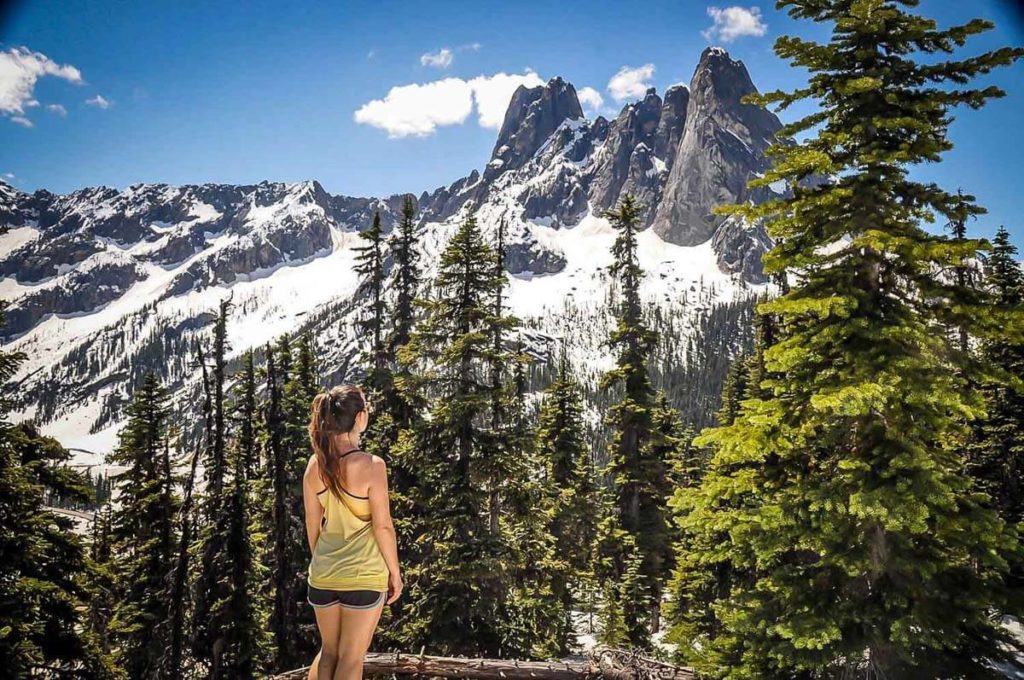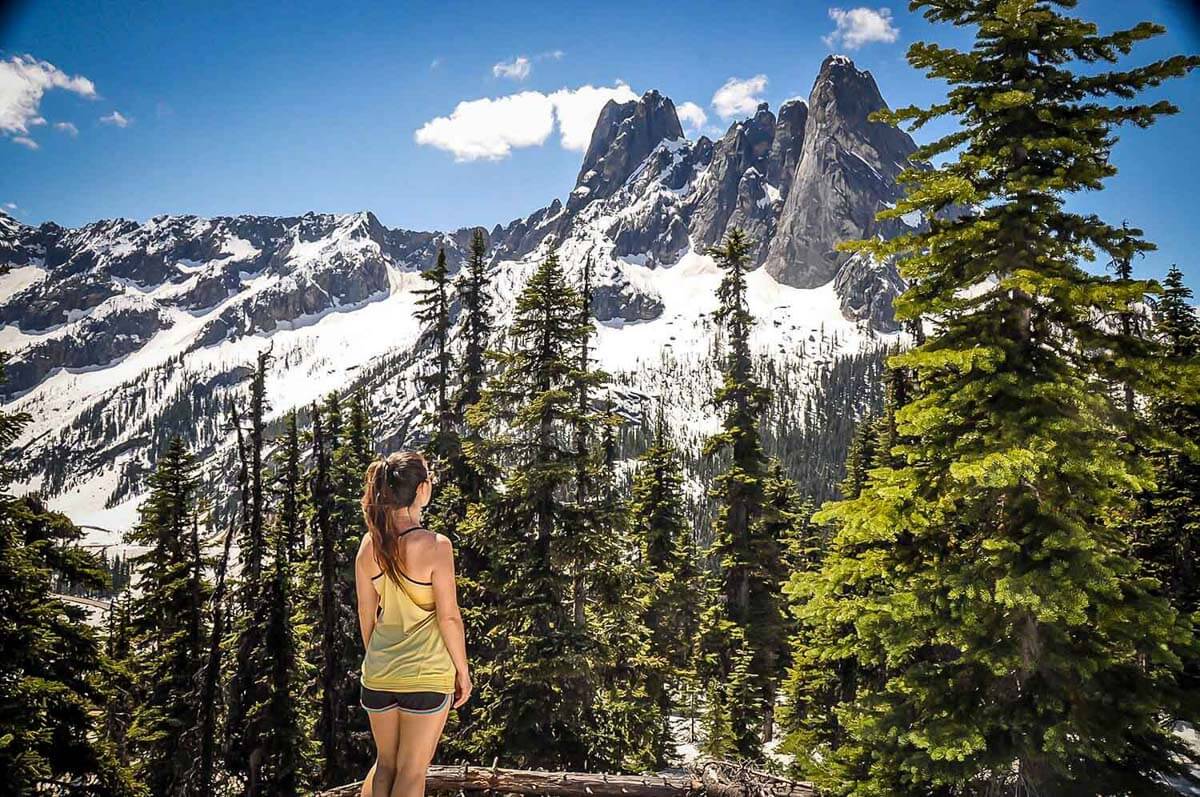 At a glance: Dramatic, rugged, and fairly remote mountainous national park with spectacular hiking
Distance from Seattle: 107 miles; 2 hours, 20 minutes
Open: 24/7, year round
Entrance Fee: Free
The Cascade Mountain Range truly offers some of the most dramatic scenery in the entire state, with an endless variety of spectacular chiseled peaks.
Nicknamed "America's Alps", North Cascades is the least visited of the Washington National Parks and of the entire National Park system.
In North Cascades, whether you're exploring by foot or by car, we guarantee you'll be stunned by the park's vistas. No matter how you choose to spend your time, you'll likely notice that residents are some of the nicest people you'll ever meet.
Since the snow melts later in the year in the Cascade Mountains than other ranges in the region, we think the best time to visit North Cascades is in the late-summer/early-fall. There aren't many roads in the park and most of the trails are at higher elevations, so you'll want to ensure the roads are open and trails are snow-free to have the best experience.
Use our guide to North Cascades National Park to help you plan your day trip from Seattle!
Top Things to Do in North Cascades National Park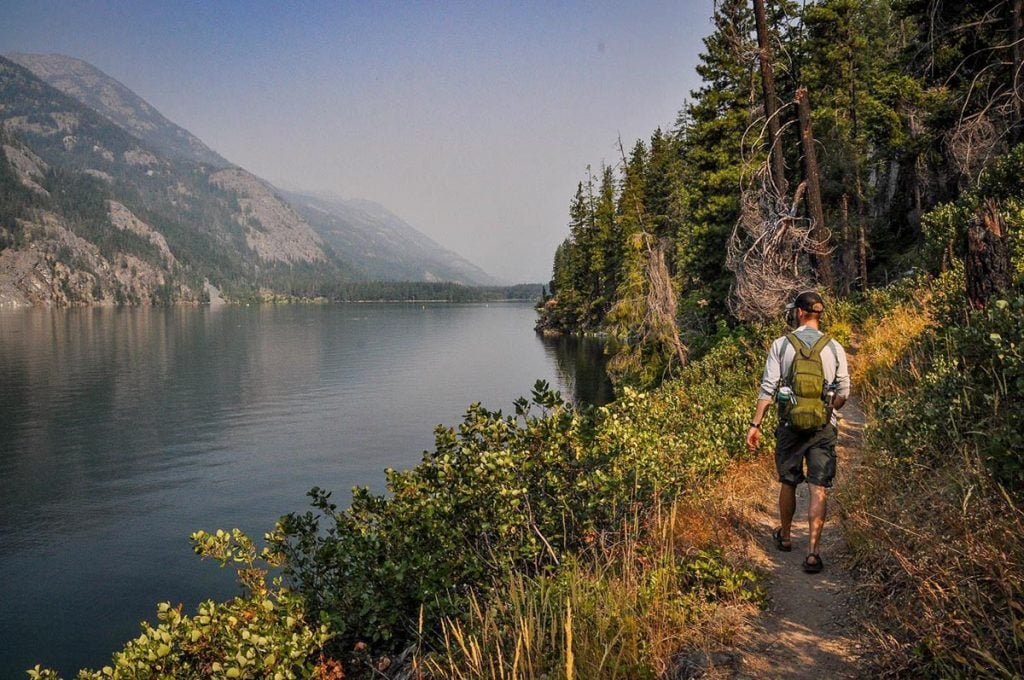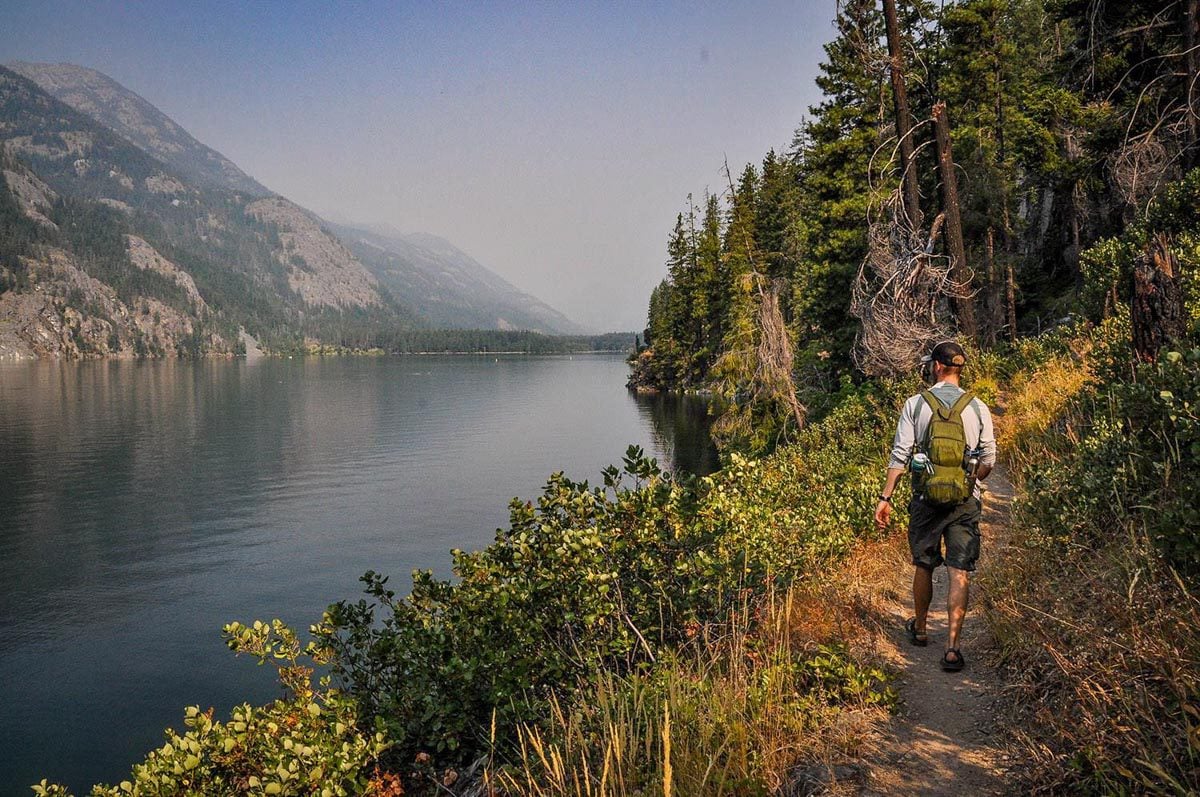 Drive the North Cascades Scenic Highway and stop at some of the many staggering roadside vistas. We especially love the Diablo Lake overlook.
Embark on a moderate all-day hike on the Maple Pass Loop, then finish your day by relaxing on the shores of nearby Rainy Lake.
Drive the bumpy road to the Cascade Pass Sahale Arm hiking trail to a much less-visited corner of the park. Many consider this one of the most stunning hikes in the nation!
Book a ferry across Lake Chelan to Stehekin, a beautiful, remote small town with no road access whatsoever. Kayak the lake, stop by acclaimed Stehekin Pastry Company for a treat, and take in epic lake views.
12. Mount Baker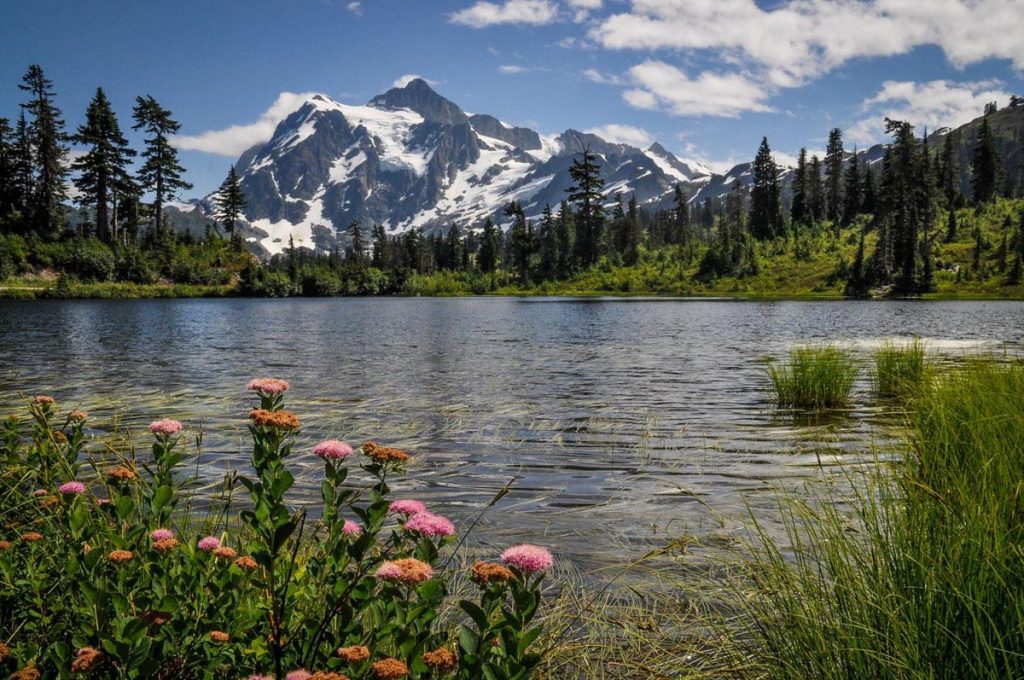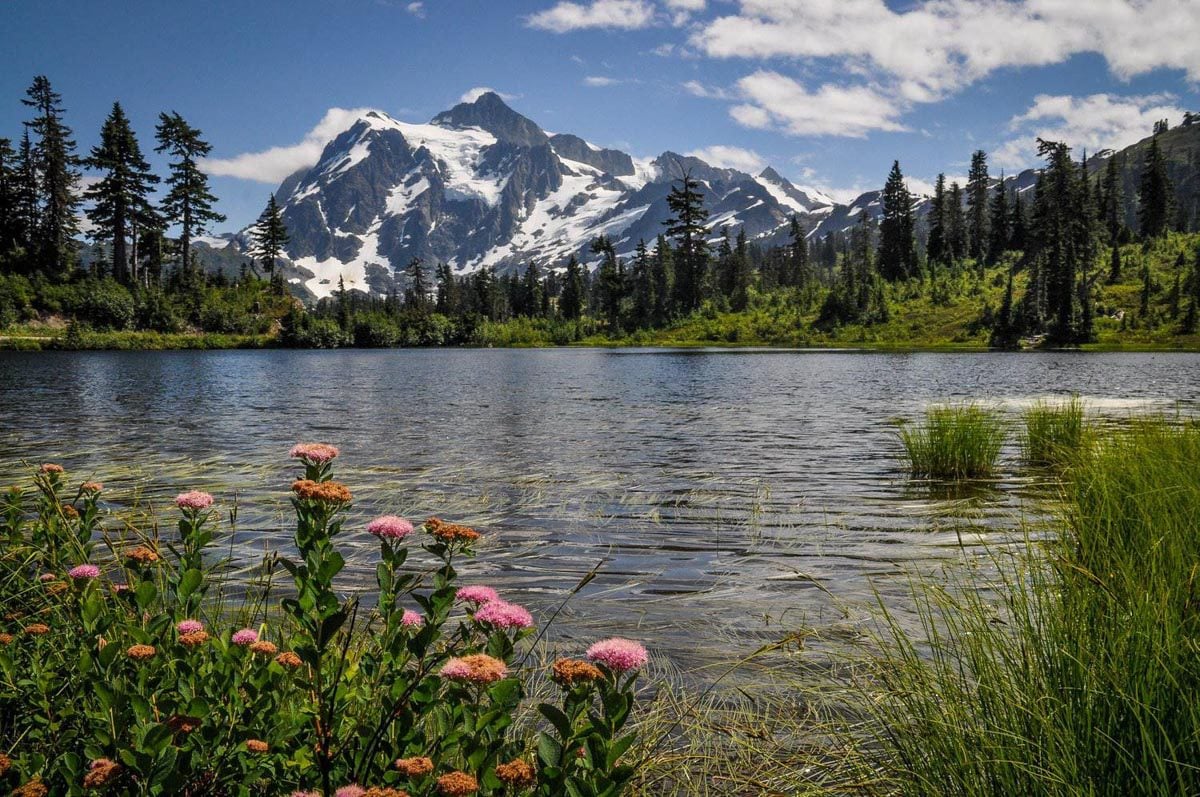 At a glance: Iconic and imposing volcano with year-round recreation opportunities
Distance from Seattle: 132 Miles; 2 hours, 40 minutes
Snow-capped Mount Baker may not be the state's tallest volcano, but its staggering width and surrounding natural beauty draw visitors in every season.
The skiing here is some of the best in the state, with several runs of varying difficulty and epic views. While summer is the perfect time for hiking and photographing the scenic wilderness.
We visited during both the winter and summer and truly can't decide which season we prefer.
Top Things to Do in Mount Baker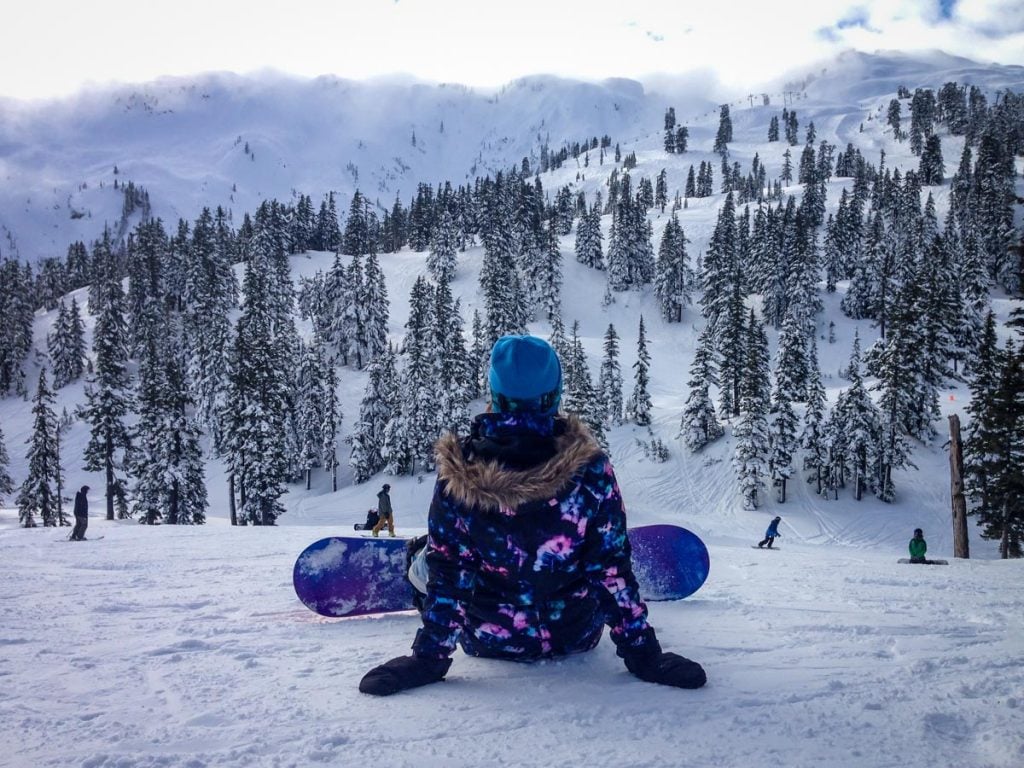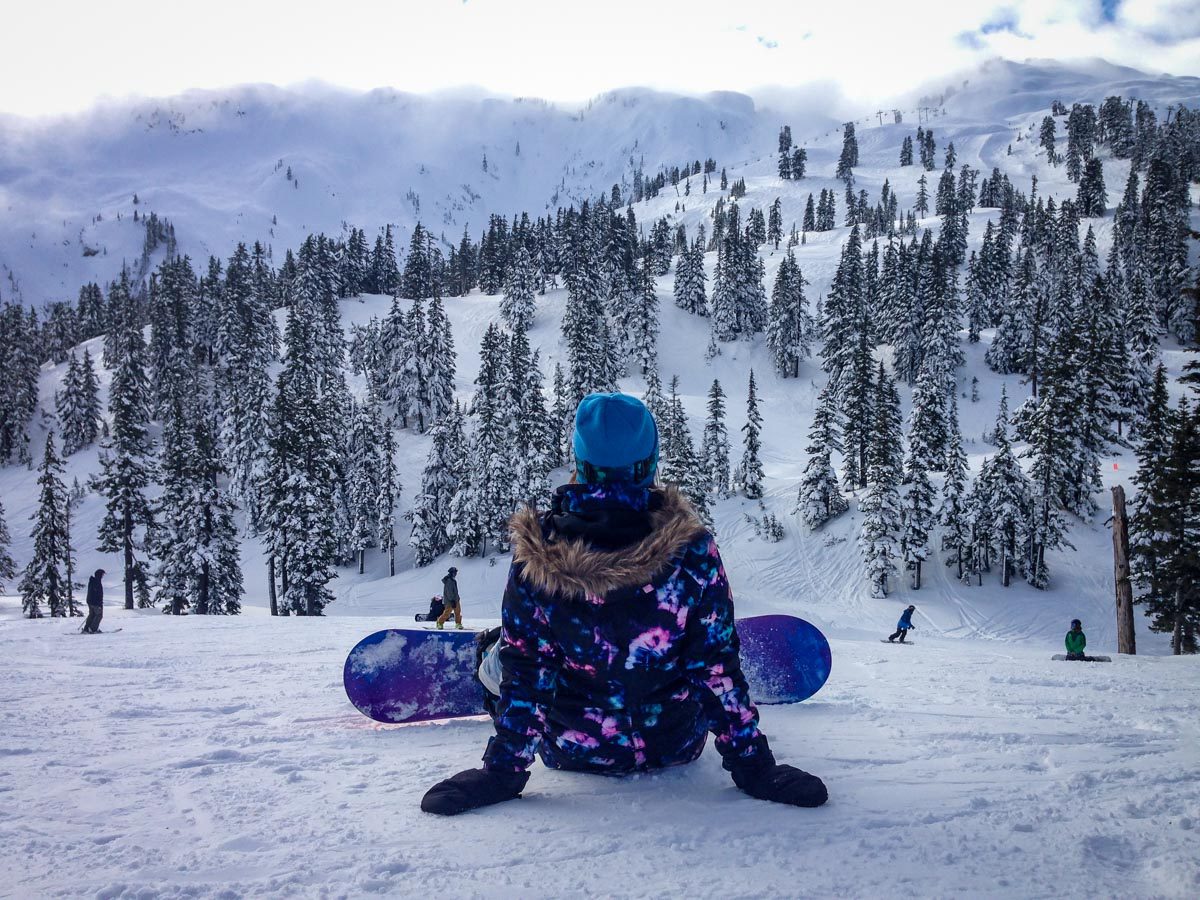 Head up to Mount Baker Ski Area for incredible views at the snowiest resort in Washington (and reportedly, one of the snowiest resorts anywhere in the world — Mount Baker gets over 640 inches annually!)
Hike to Park Butte Lookout for jaw-dropping 360-degree vistas and an up-close view of Mount Baker.
Artist Point, popular for cross-country skiing, offers some of the best views in the area.
For canoeing, camping, fishing, and swimming, spend a summer day at Baker Lake.
13. Port Angeles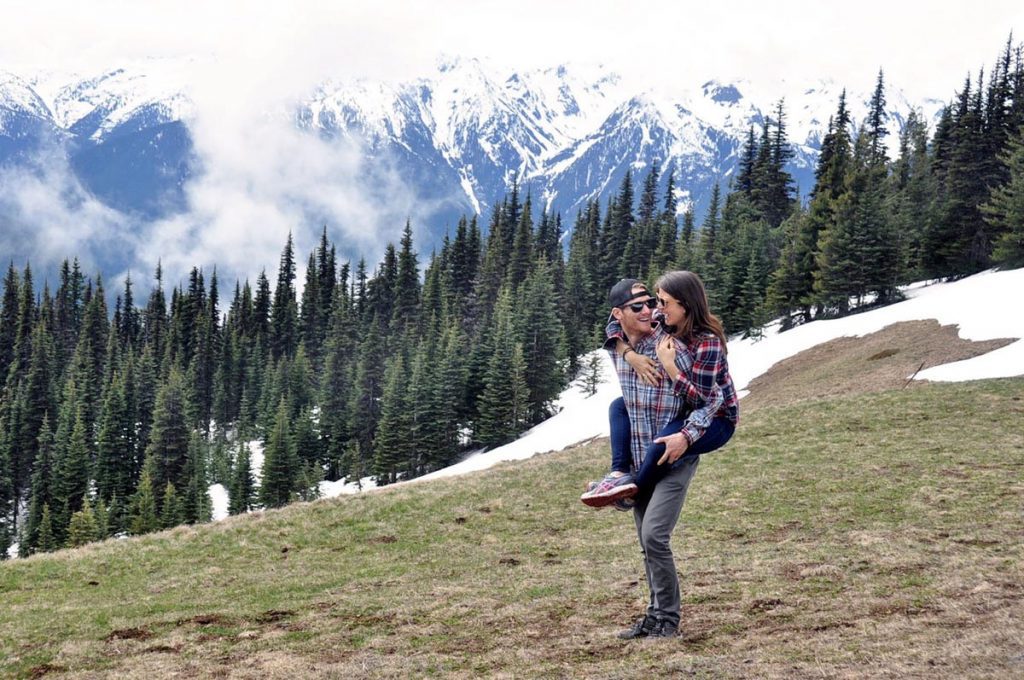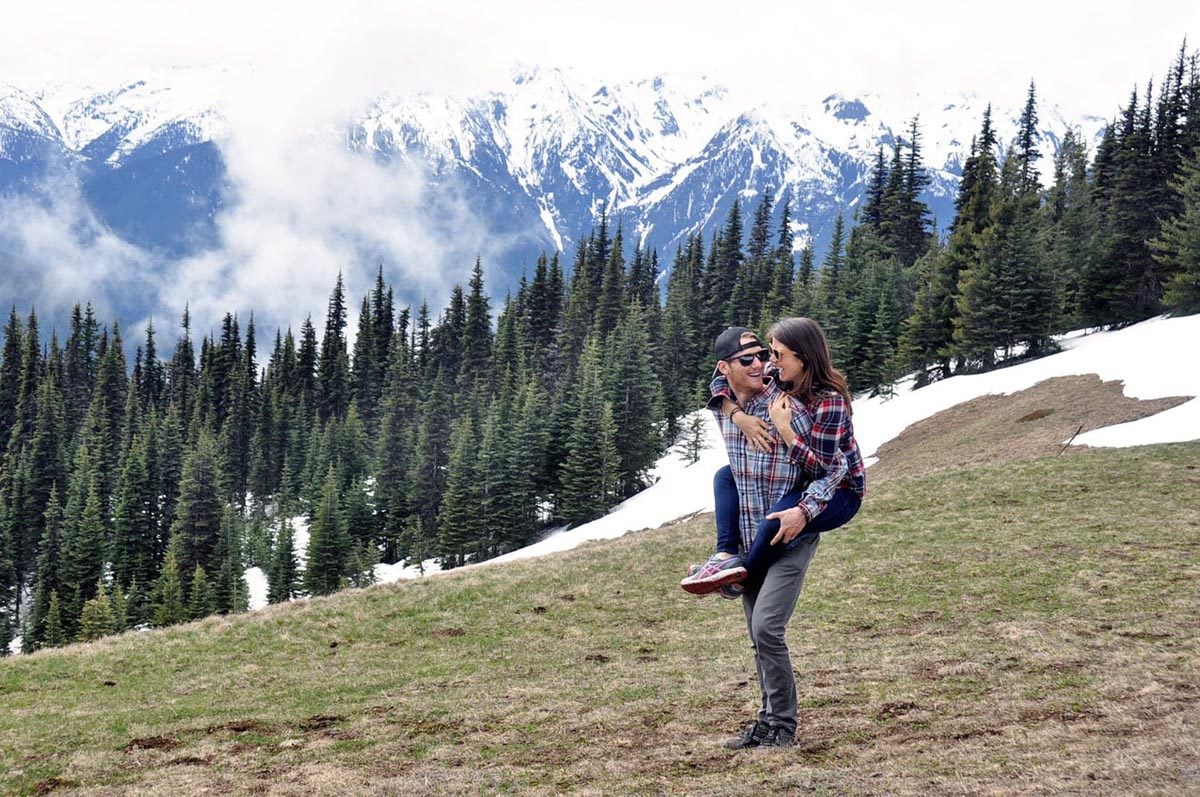 At a glance: A tiny seaside town with an impressive amount of nearby outdoor attractions
Distance from Seattle: 138 miles; 2 hours, 30 minutes (Note: there are several ferry options, but driving is often quicker and you'll likely want a car to explore)
The largest town on the Olympic Peninsula makes for an ideal day trip from Seattle for visiting several natural attractions.
The options are endless: take in oceanside vistas, head up to the mountains, or run or bike on the Olympic Discovery Trail. Such a naturally scenic and diverse place makes Port Angeles one of our favorite Seattle day trips.
Top Things to Do in Port Angeles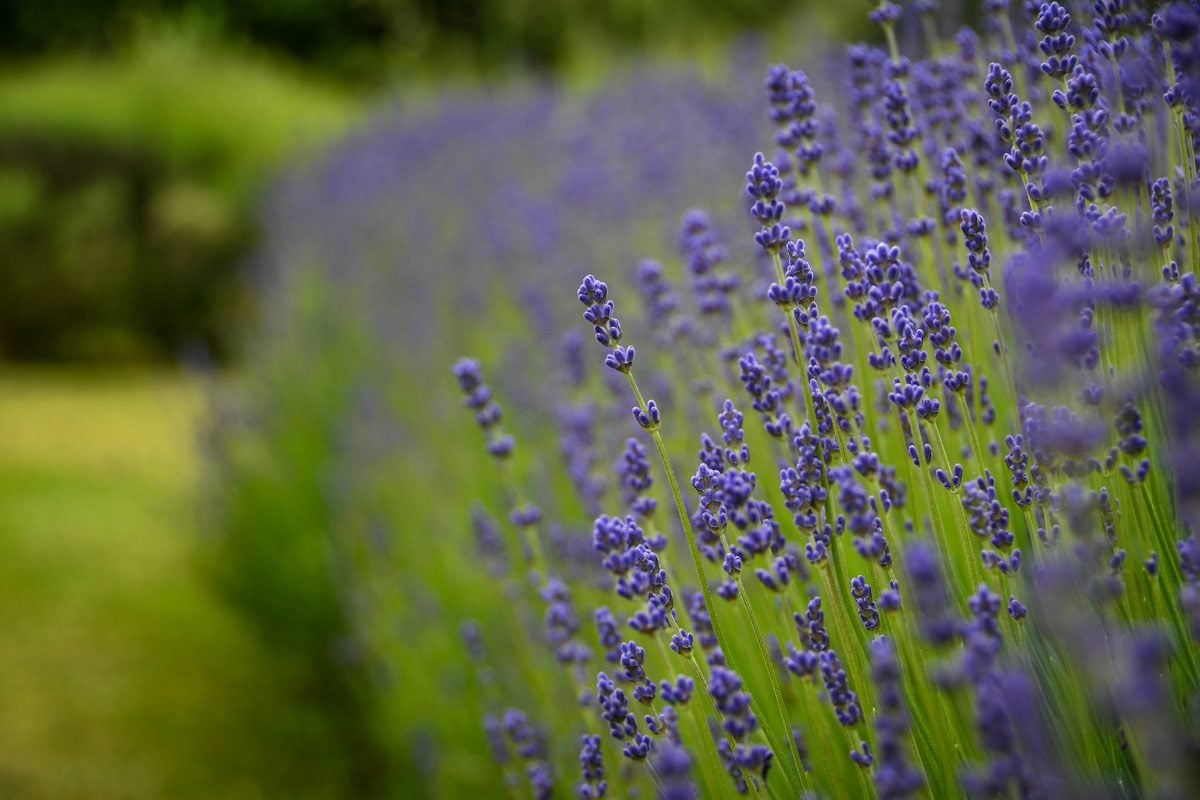 Bike a portion of the Olympic Discovery Trail, either towards Crescent Lake or the oceanfront Washington Lavender Farm near Sequim.
Drive the Ediz Hook Road to Harborview Park for incredible coastal views, especially at sunset.
Head to nearby Hurricane Ridge for sweeping mountain views and hiking opportunities. The road starts right in town!
Use Port Angeles as a starting point for exploring Olympic National Park, Crescent Lake, the coast, or Sol Duc Springs.
14. Olympic National Park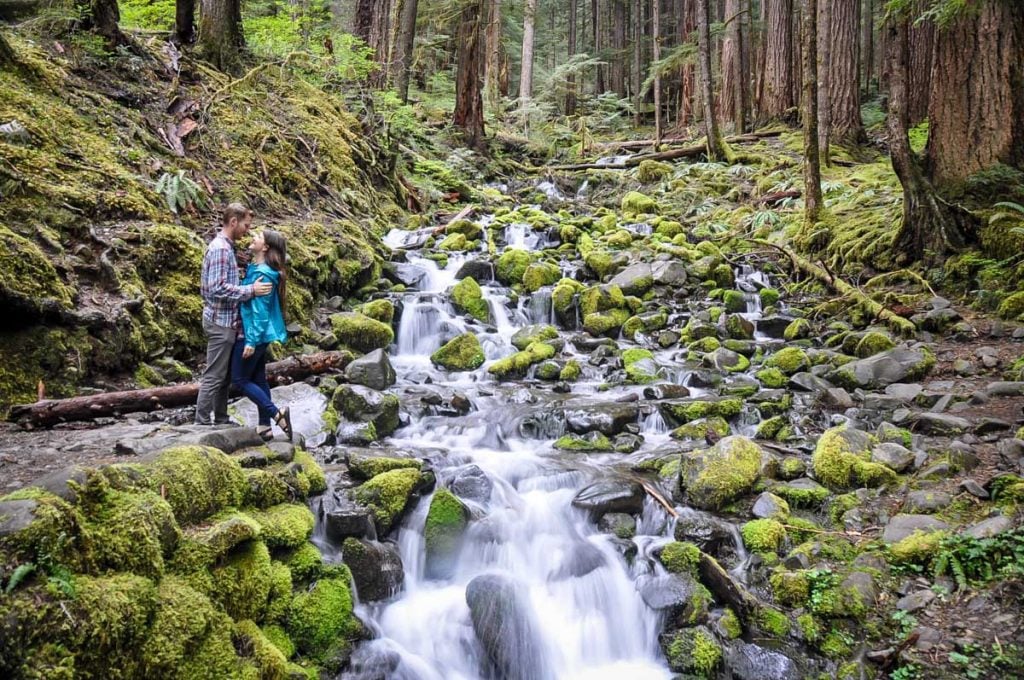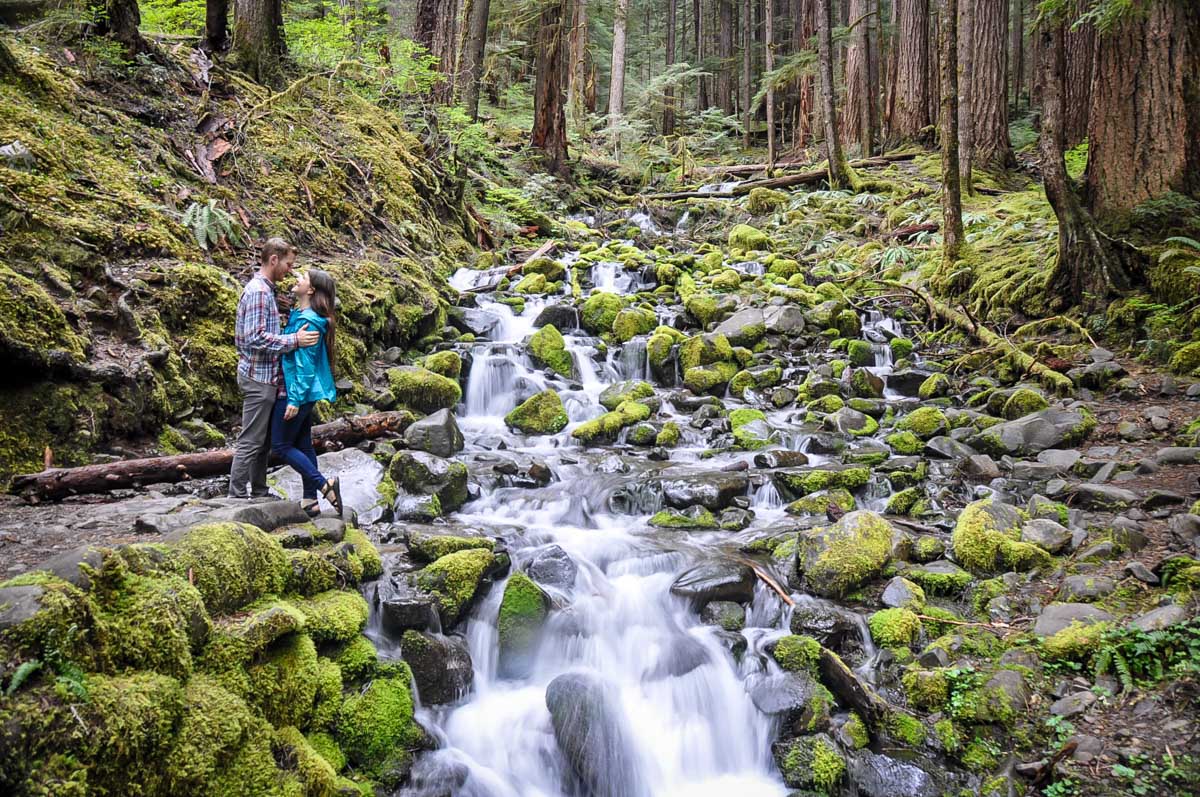 At a glance: Iconic national park with staggering scenery, both on the coast and in the mountains
Distance from Seattle: 83 miles; 2 hours, 30 minutes to the Port Angeles Visitor Center
Open: 24/7, year round
Entrance Fee: $30 for a private vehicle, good for 7 days
Coined as the most diverse of all of the Washington national parks, in Olympic National Park you can go from views of soaring glacier-covered peaks to verdantly green old-growth rainforest to dramatic coastline with sea stacks, all within a few hours.
The Pacific coastline, alpine areas, the temperate rainforest on the west side, and the forests of the drier east side make up the 4 distinct regions of Olympic National Park. Due to its enormous size and diversity, we recommend sticking to just one region of the park if you only have a single day to explore.
Visiting during the summer months, July and August, gives you the best chance for warm and dry weather in the park. However, this means the park will also be at its busiest, so be prepared for crowds.
Use our guide to Olympic National Park to help you plan your day trip from Seattle!
Top Things to Do in Olympic National Park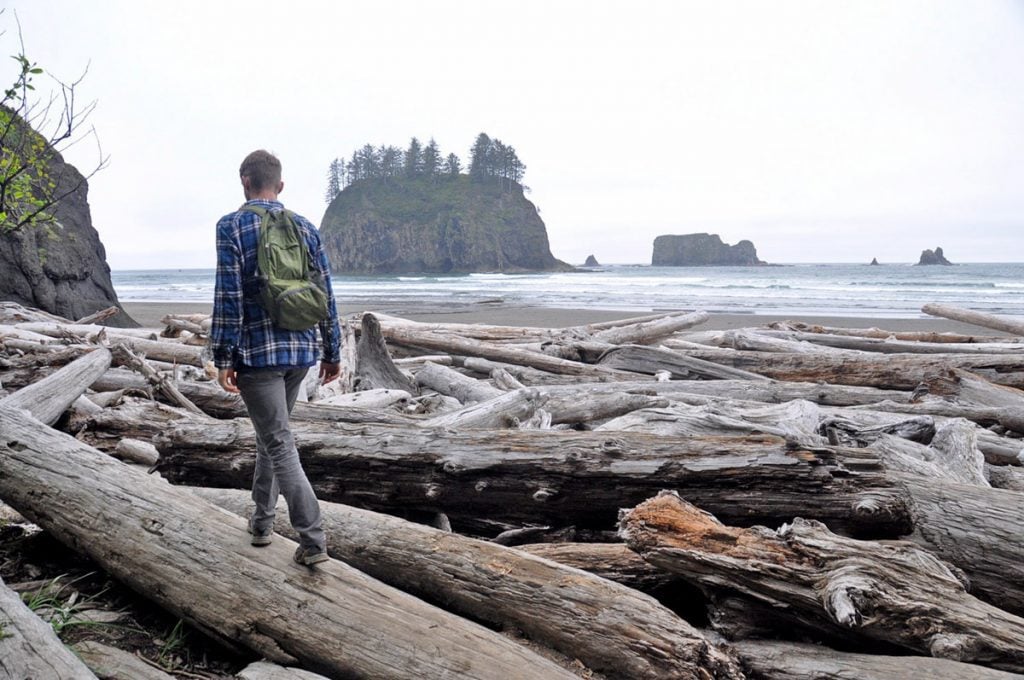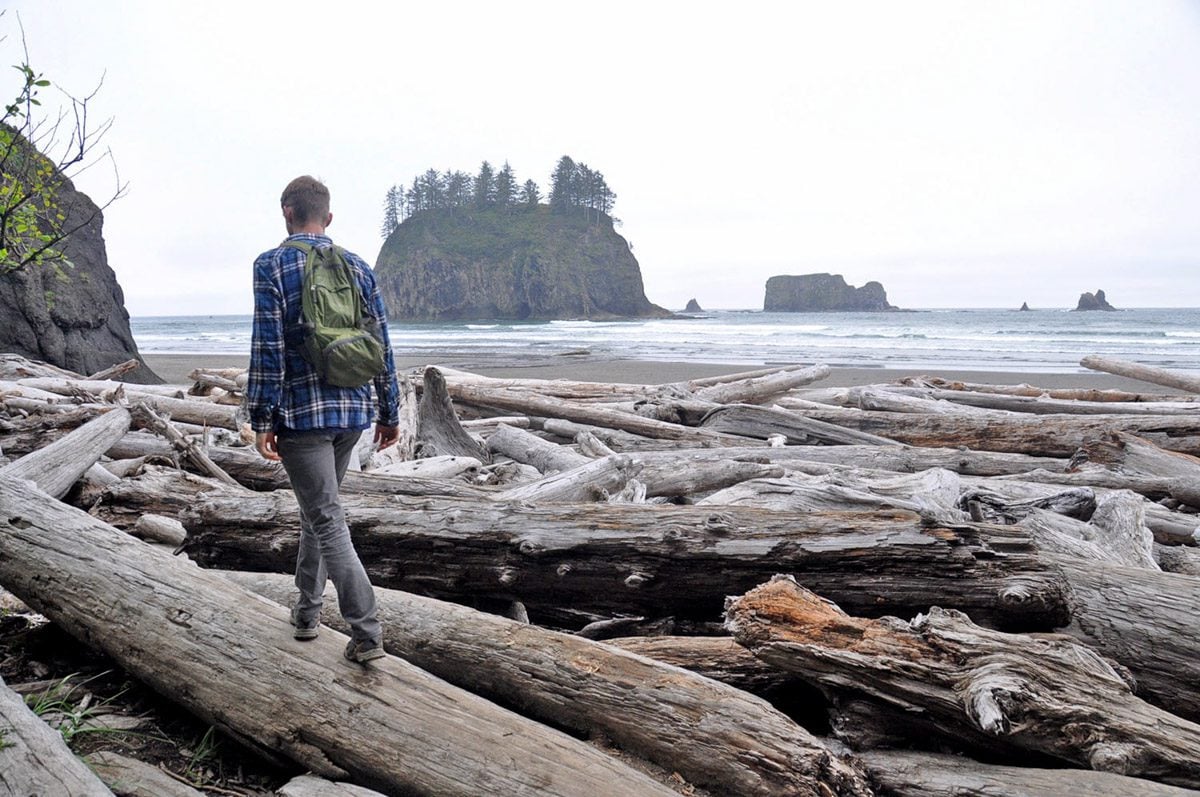 Kayak, swim, or simply relax on the shores of stunning Lake Crescent.
To scratch the hiking itch, summit Mount Storm King for expansive views all the way into Canada— one of the best Olympic National Park hikes.
Visit the Hoh Rainforest, a true dense rainforest that receives the most precipitation of anywhere in the contiguous U.S. (about 200 inches a year!).
Drive the coastal highway, stopping at Rialto, Shi Shi, and Ruby Beach. For an all-day coastal experience, hike the Ozette Triangle Loop.
Book a relaxing day at Sol Duc Hot Springs Resort. Hike to the nearby Sol Duc Falls or, for a more challenging hike, set out on the High Divide Loop.
If you have the time to turn this day trip into an overnight, we cannot recommend camping on Shi Shi Beach more highly!
15. Olympia
At a glance: A vibrant food and music-loving city surrounded by gorgeous scenery
Distance from Seattle: 60 miles; 1 hour on I-5
Nestled between the Olympic Peninsula, Mount Rainier and Puget Sound, the capital city of Olympia is often overlooked as a Washington destination. However, we think it's worth more than a pitstop on the way to other nearby attractions.
With a fantastic food and drinks scene and an attractive city center, the town has a distinct spirit. Plus, it's just an hour from Seattle!
Washington's history is strong in Olympia. As the capital, it's home to a number of historic buildings. There are plenty of museums and art galleries to discover here as well, making Olympia one of the best Seattle day trips especially during the rainy winter season.
Top Things to Do in Olympia
Tour the stunning interior of the Washington Capitol building. Afterward, don't miss the photo ops on the well-maintained grounds and nearby Capitol Lake.
Spend an afternoon strolling historic downtown and satisfying your sweet tooth at The Bread Peddler or Sofie's Scoops.
Shop for fresh produce, seafood, and treats at the Olympia Farmers Market, one of the best in the state.
Drive 20 minutes to discover Mima Mounds Natural Area Preserve, a cluster of small mounds whose origins remain a mystery to scientists.
16. Poulsbo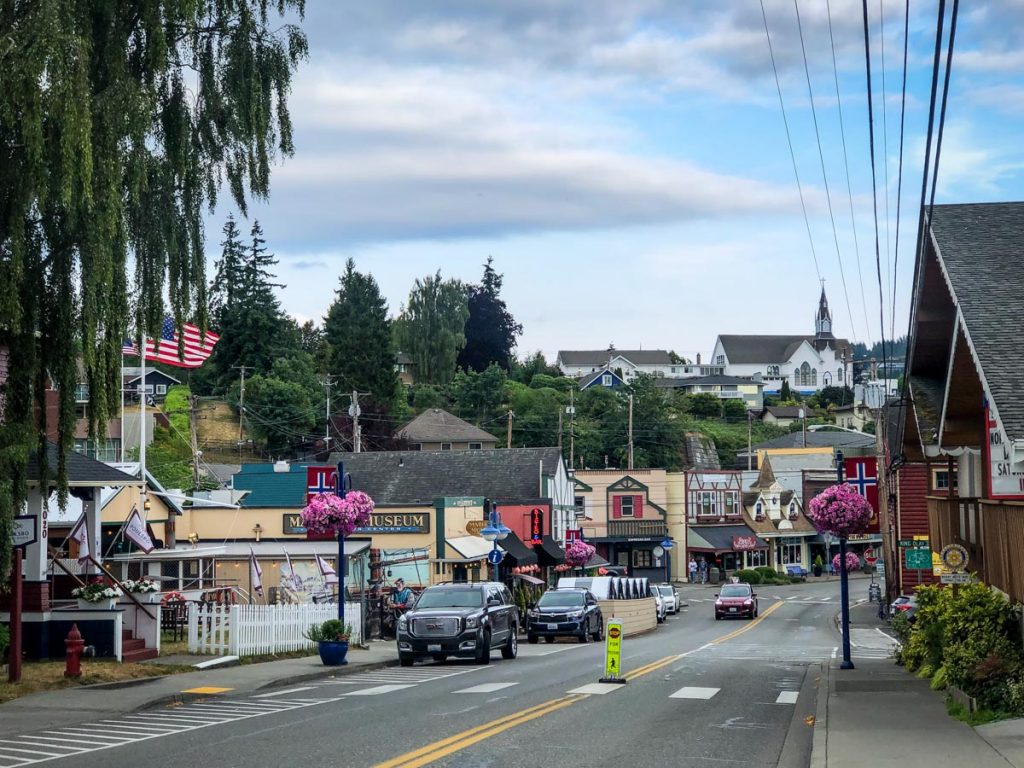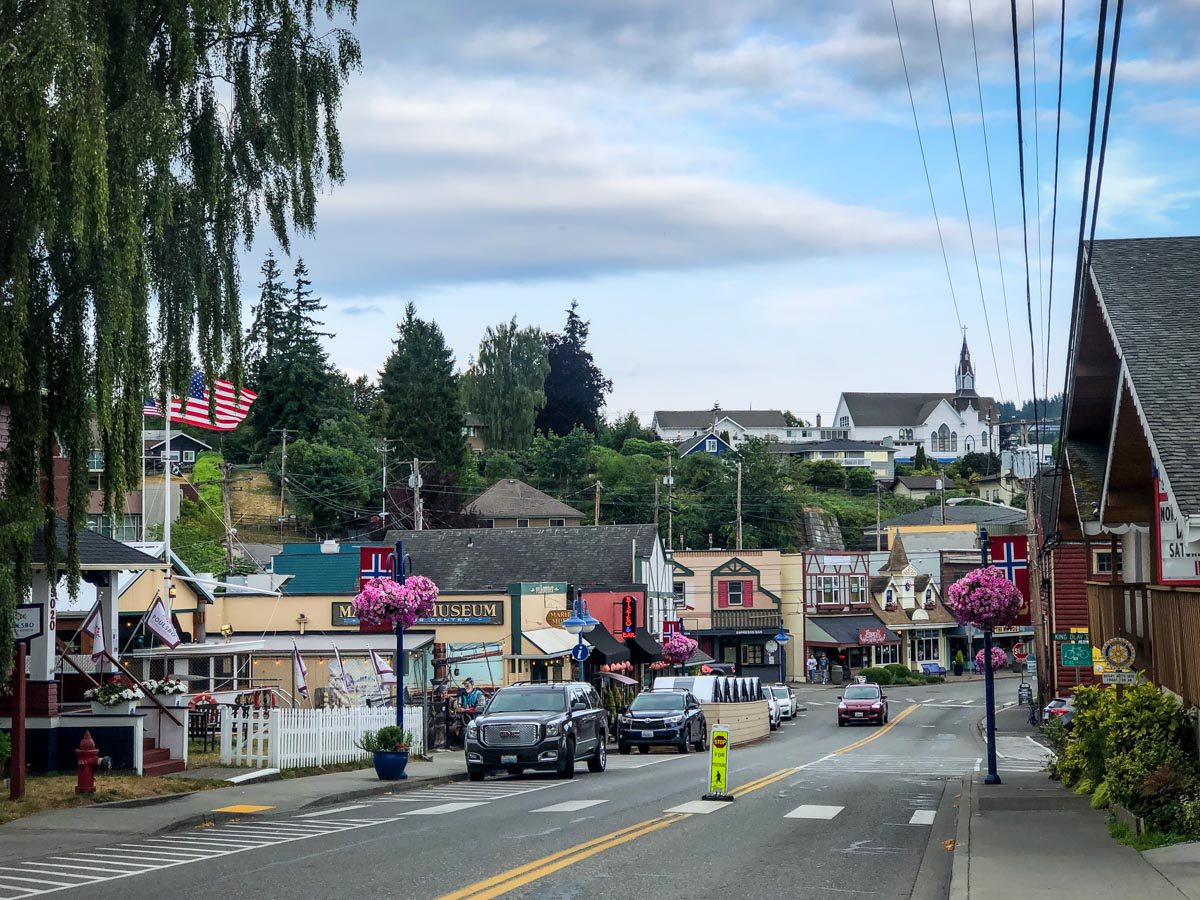 At a glance: A charming, Scandinavian-themed maritime village
Distance from Seattle: 22 miles; 1 hour 15 minutes if taking the ferry
Quaint and charming, Poulsbo proudly displays its Scandinavian heritage through its architecture and atmosphere.
At just over an hour from Seattle by ferry, the town known as "Little Norway" makes an ideal jumping-off point for a Kitsap Peninsula day trip. Savor its relaxed artisanal ambiance before exploring the picturesque rural scenery nearby.
Top Things to Do in Poulsbo
Wander through the lovely historic downtown, stopping by Verksted and Front Street Gallery for local artwork.
Grab coffee at waterfront cafe Poulsbohemian and watch the boats come and go from the marina.
Discover an endless variety of plants at Heronswood Garden.
Venture to Scenic Beach State Park, a campground and day-use area that lives up to its name.
17. Anacortes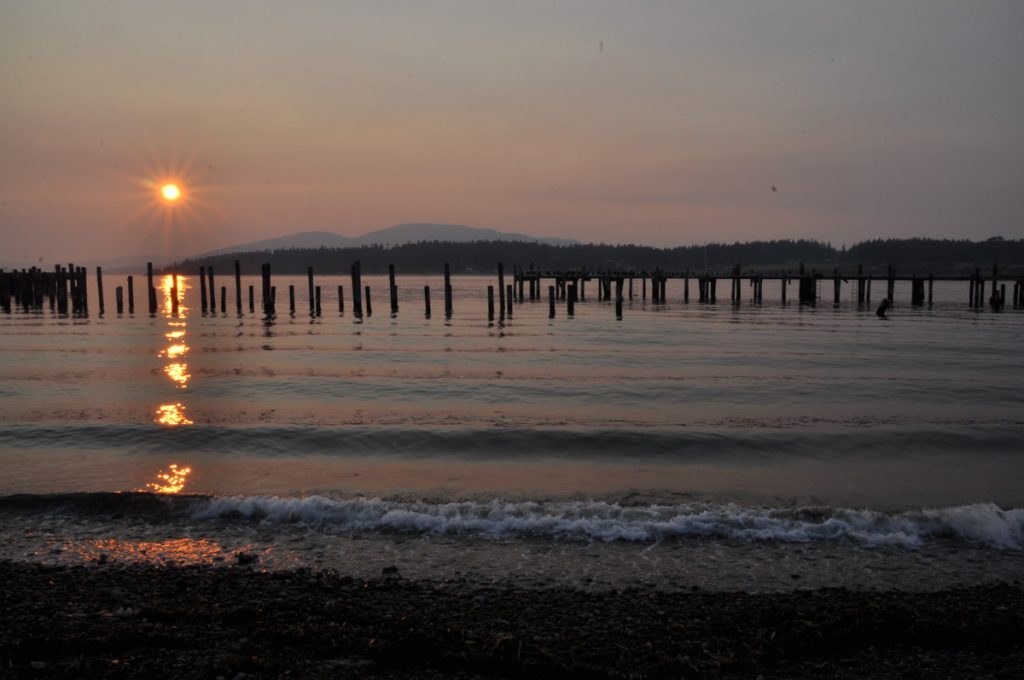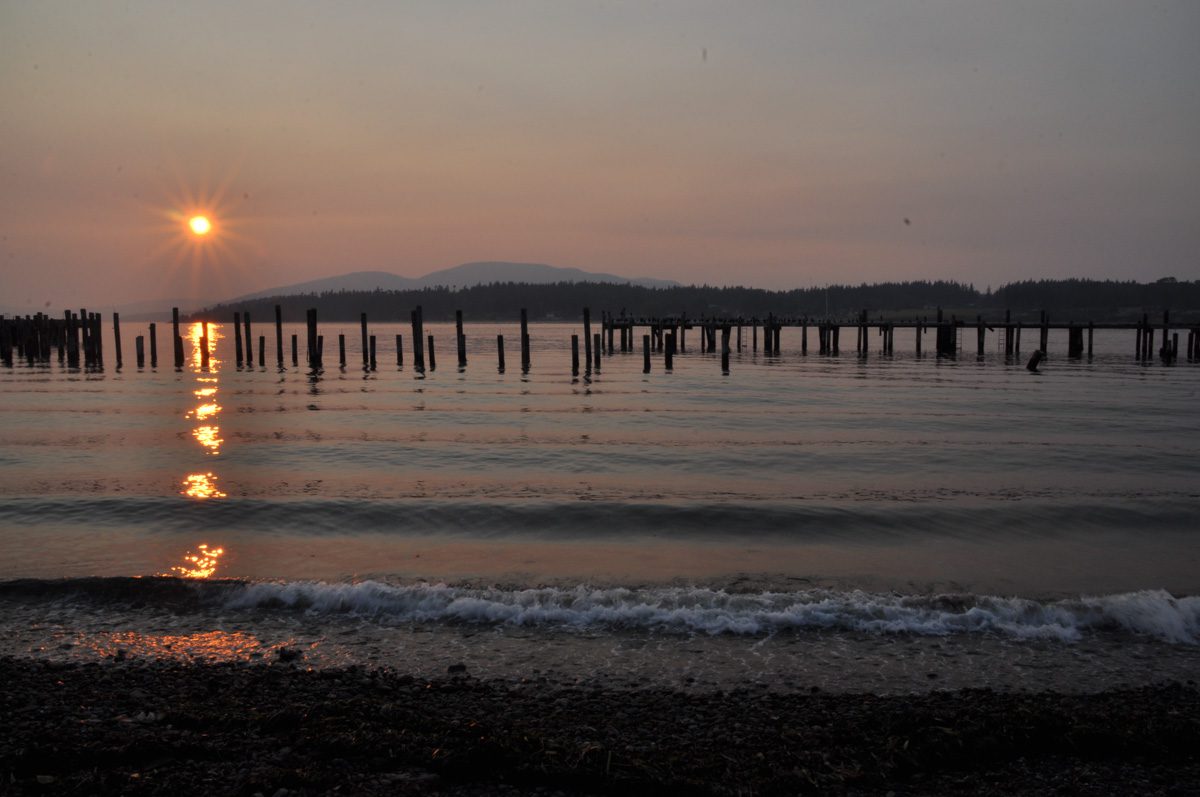 At a glance: A highly underrated seaside town with loads of charm
Distance from Seattle: 80 miles; 1 hour, 30 minutes
If you're looking for one of the quietest, most peaceful day trips from Seattle, take a drive to Anacortes.
With highly walkable coastline and beaches, miles and miles of multi-use trails, dozens of farm-to-table restaurants and small-town breweries, there are plenty of things to keep you occupied here. And with virtually no crowds, a few hours on the island will leave you feeling rejuvenated.
Top Things to Do in Anacortes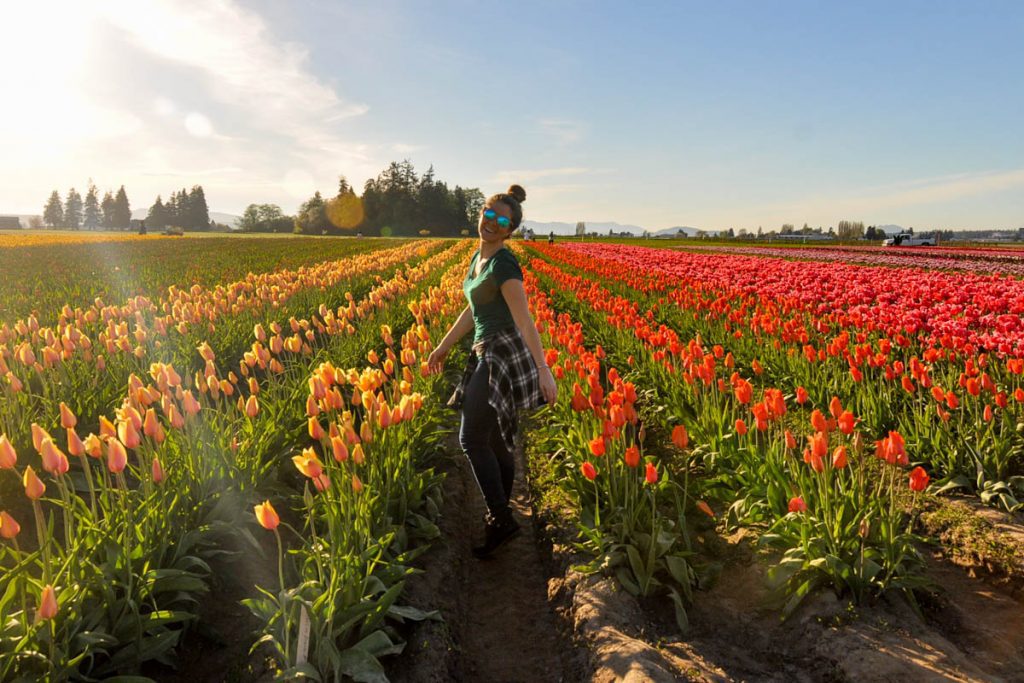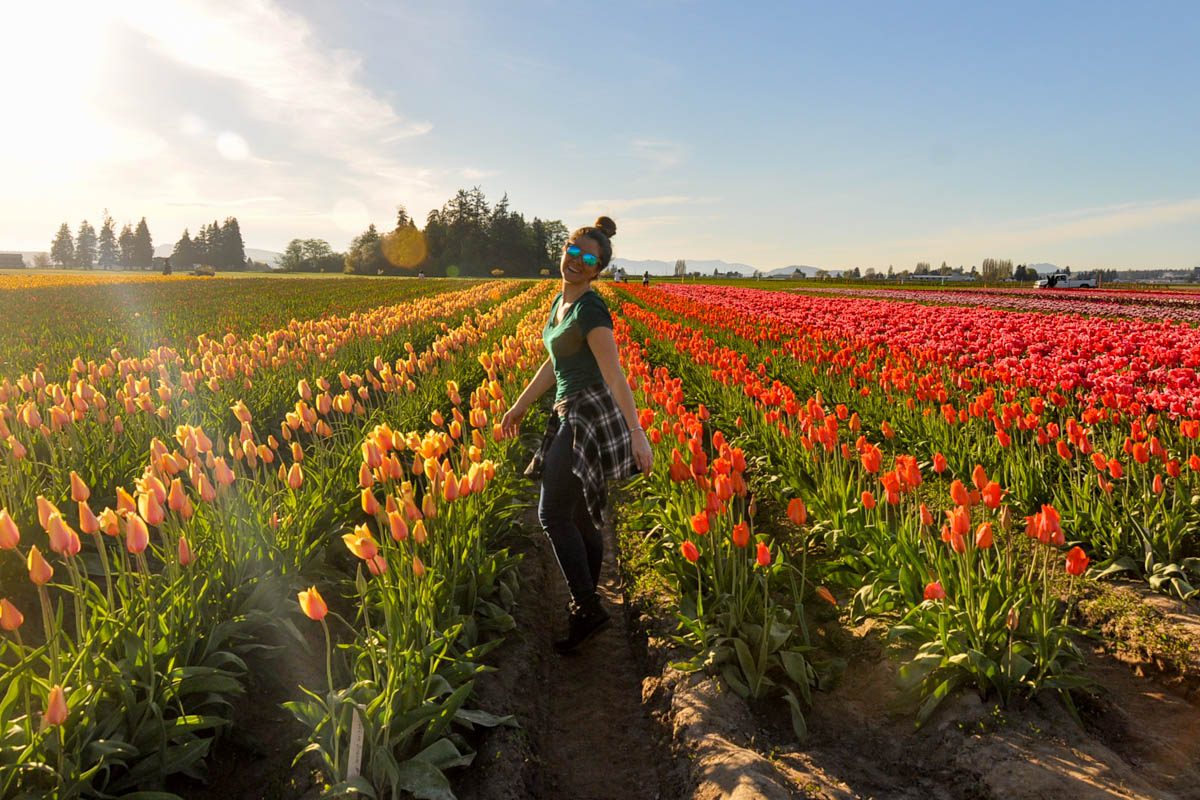 Grab a coffee and peruse the shelves at the endearing Pelican Bay Books & Coffeehouse while exploring historic downtown.
Take a leisurely stroll along the paved Washington Park Loop for picturesque bay views.
For more of a challenging hike, take in the coastal breeze, sea life, and beautiful greenery on the trail to Lighthouse Point.
If visiting somewhere between mid-April to late May, the Skagit Valley Tulip Festival is an absolute must for photo ops against a dazzling, colorful backdrop of thousands of tulips. The exact festival dates vary based on the tulip blooms.


Are you planning a trip to Washington?
We've had the privilege of calling Washington state "home" for a while and we have tons of resources to help you plan your trip. Start with our Washington homepage and be sure to check out the articles below. Leave us a comment if you have any more questions!
Save this article on Pinterest for later!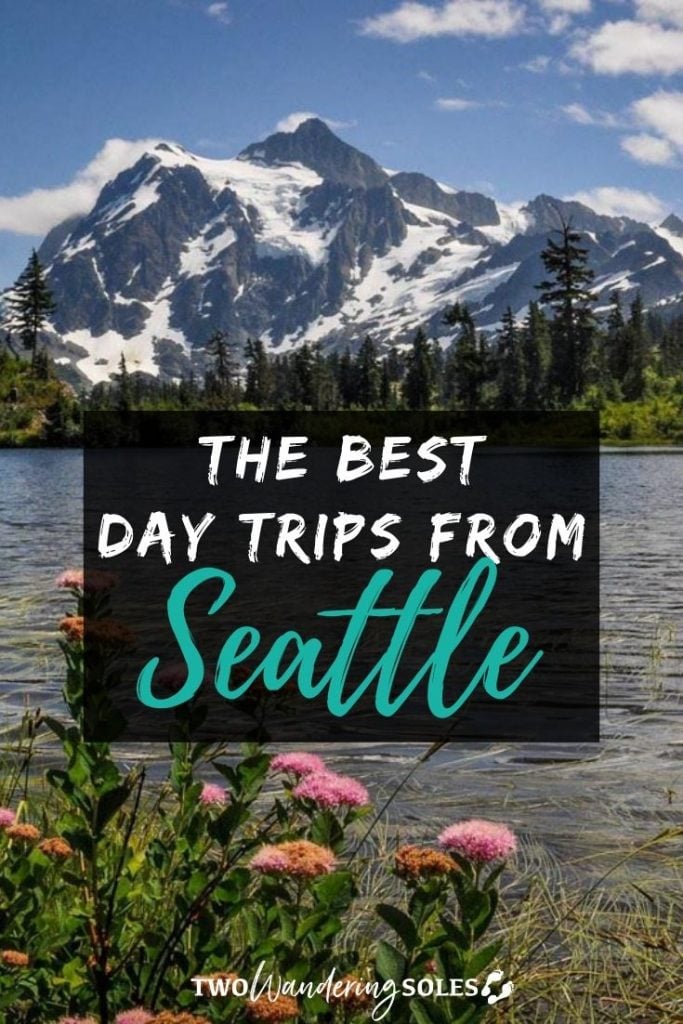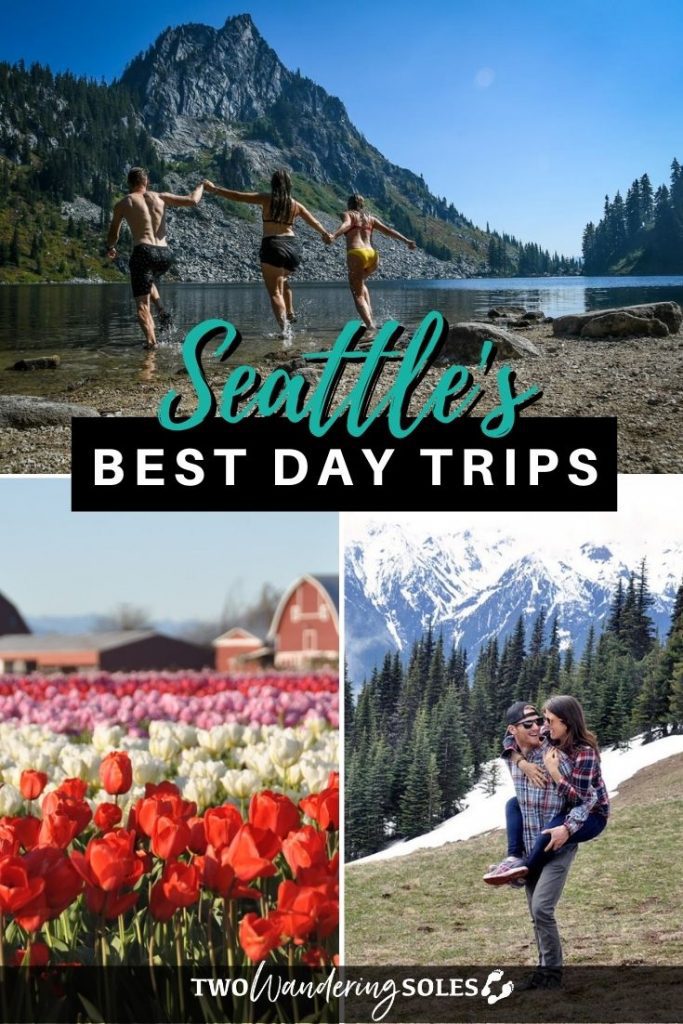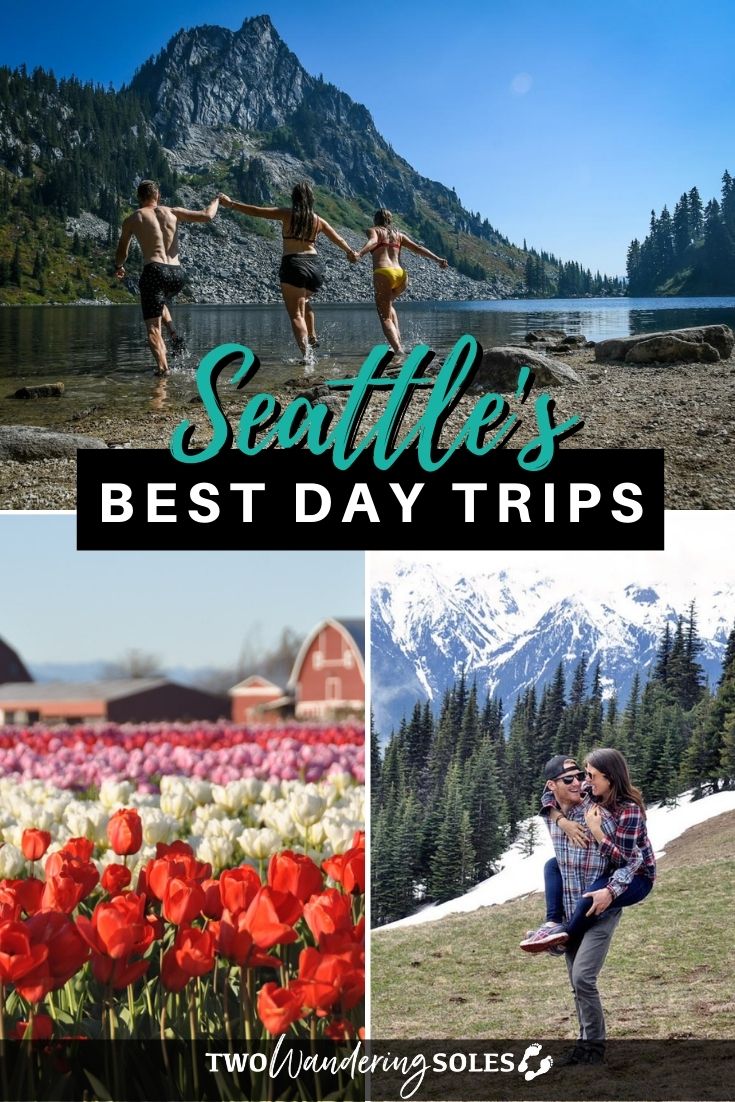 We want to hear from you!
Which of these Seattle day trips is going to the top of your bucket list? Do you have any other day trips near Seattle you'd suggest we add to this list? We'd love to hear from you in the comments below!