From rugged sea cliffs to rolling green hills, bustling cities to quaint villages, Ireland is full of enchanting destinations. This guide will walk you through the best places to visit in Ireland for all types of travelers, so you can plan the ultimate Irish adventure.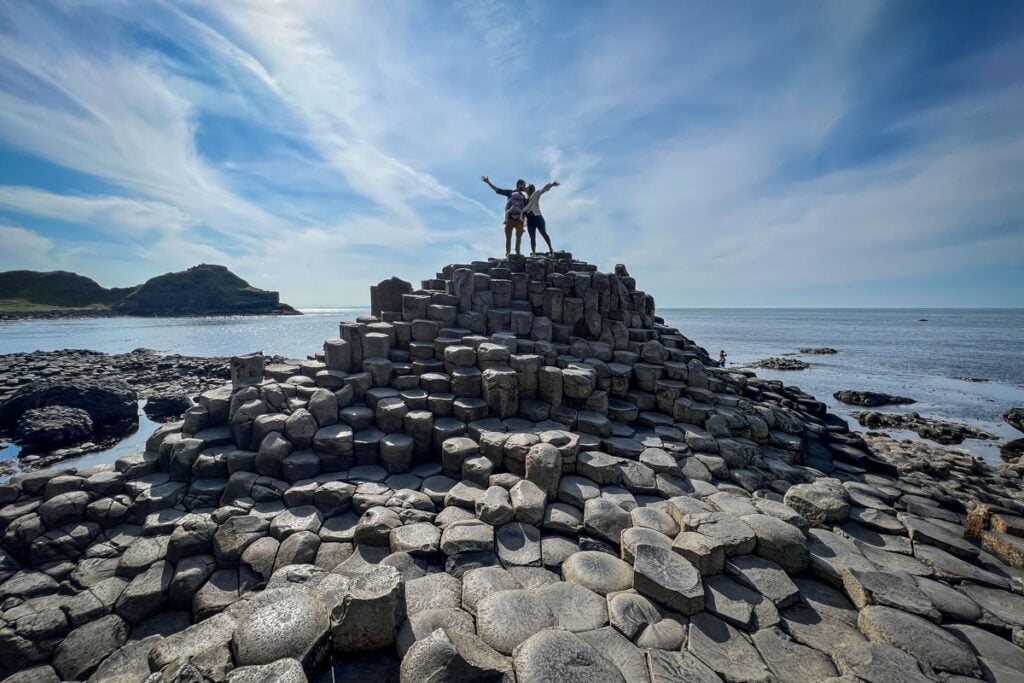 The Emerald Isle is a tapestry of legend, ancient history, breathtaking landscapes, and the warm spirit of its people. We've traveled to Ireland twice now and it has totally captured our hearts!
We've used our experience to put together this list of the best places to visit in Ireland, including both must-sees and hidden gems. Whether you're a history buff, a nature lover, a music enthusiast, or simply seeking the magic of a new adventure, you'll find something in this guide for you.
So put on your wittiest banter, grab a cup of Irish coffee, and get ready to be enchanted and inspired as we explore the places that make Ireland an irresistible travel destination. Sláinte!
Ireland travel guide
Jump to the following sections for information on that topic, or keep reading for all the juicy deets!
---
Top places to visit in Ireland
If you're looking for the very best places to visit in Ireland, here are our top recommendations.
Ring of Kerry
Galway
Dublin
Antrim Coast
Kinsale
Keep reading for more detailed information on each of these towns, as well as all sorts of fun things to do in each.
Psst! Don't miss these tips and mistakes to avoid while planning your trip to Ireland! (You'll thank us later!)
1. Ring of Kerry
Known for: stunning coastal scenery and dramatic landscapes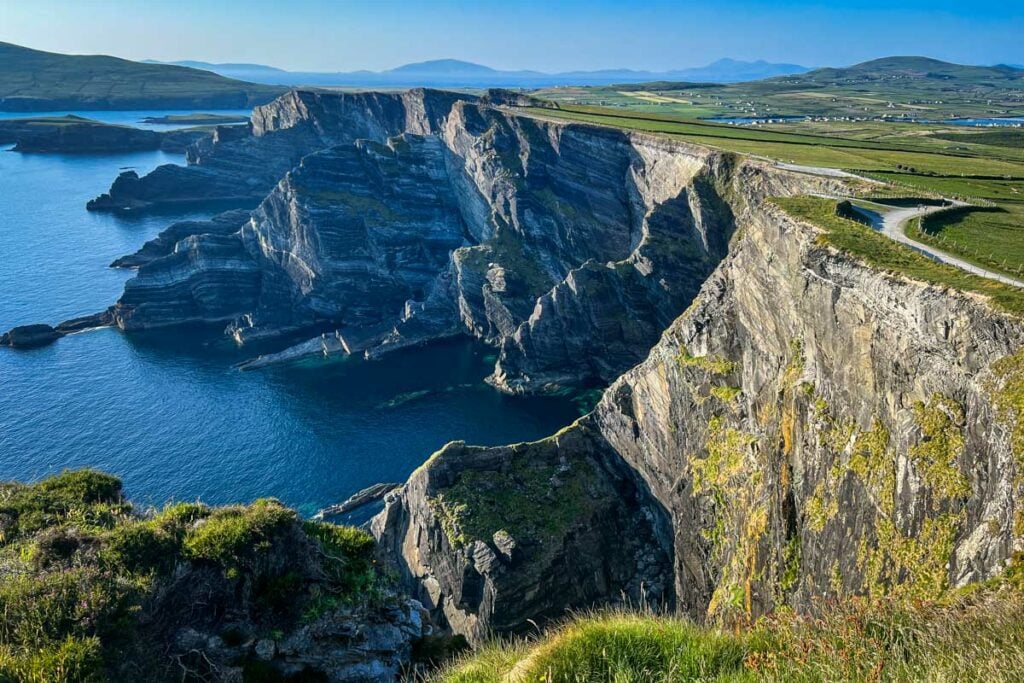 Embark on a road trip along the famous Ring of Kerry, a scenic road that winds its way through the stunning landscapes of County Kerry in southwestern Ireland.
This iconic route follows winding roads past charming villages, pristine lakes, rugged coastline, and mountain vistas. Be sure to give yourself plenty of time for can't-miss stops along the way, such as the colorful town of Killarney and the mystical Gap of Dunloe.
Whether you're driving the route yourself, joining a guided tour, or even cycling the scenic roads, the Ring of Kerry promises an unforgettable adventure that will show you the heart and soul of Ireland.
Psst! Before you hit the road, you'll want to check out these helpful tips for driving in Ireland.
Best Things to Do in the Ring of Kerry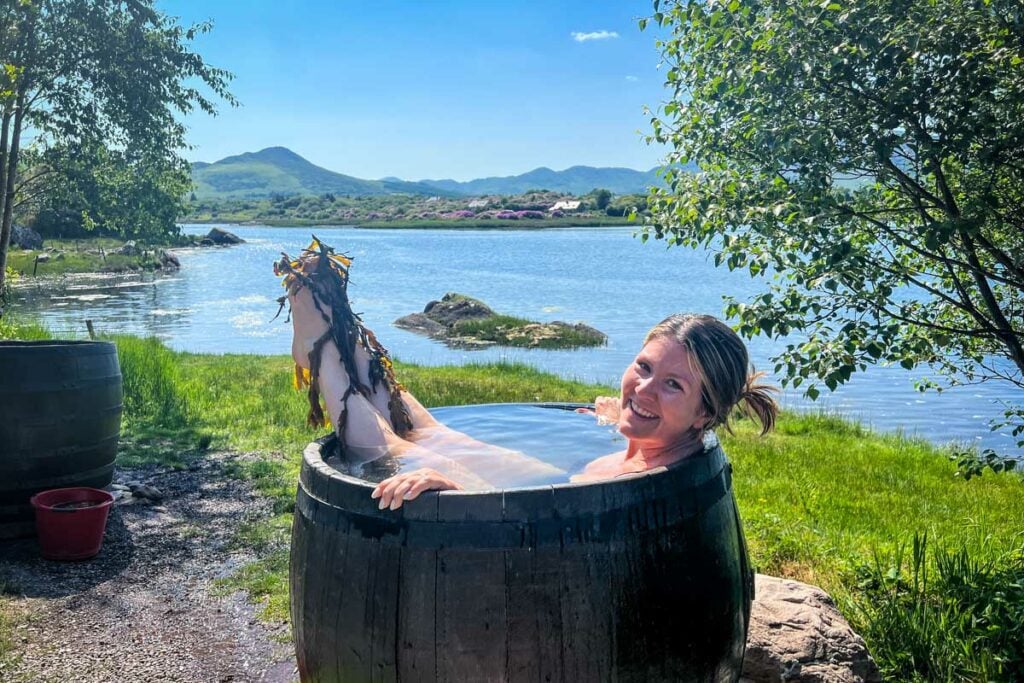 Take a boat trip to the iconic Skellig Islands. Explore the ancient monastic site on Skellig Michael, which was famously featured in the Star Wars films.
Immerse yourself in the enchanting beauty of Killarney National Park. Hike through lush forests, discover hidden waterfalls, and cruise serene lakes.
Journey through the breathtaking Gap of Dunloe, a narrow mountain pass that will leave you in awe.

You can join a guided tour (like this one), or you can visit on your own. But if you're visiting independently, there are some tips and warnings you'll definitely want to read up on. We have an entire guide packed with everything you need to know about how to visit the Gap of Dunloe.

Catch some rays at Castlecove Beach, a sandy stretch of shoreline with water so clear you won't believe you're still in Ireland.
Feel rejuvenated after a visit to Sneem Seaweed Baths. Rain or shine, a soak in one of these waterfront wooden barrels is the epitome of relaxation.

Cost: €48 (~$51.43 USD) per person for a 1-hour soak. Daily sessions begin from 10 a.m., 1:30 p.m., and 5 p.m.

Stop at Fisherman's Bar in Portmagee for amazing seafood with waterfront views.
Cross the bridge from Portmagee to explore Valentia Island. Enjoy sightseeing at the Valentia Lighthouse and Bray Head Tower, visit the famous Slate Quarry, or hop on a Valentia Harbour boat tour.
Venture off the beaten path and visit the Kerry Cliffs, a lesser-known (and way less crowded) alternative to the Cliffs of Moher.
Step back in time with a visit to Muckross House, a Victorian mansion surrounded by beautiful gardens in Killarney National Park (think Downton Abbey). Wander elegant rooms and manicured gardens.

Admission to the house is €7.00 (~$7.50 USD). Hours vary by season and can be found here. Pre-booking is not required.

Visit a working farm for a sheep herding demonstration. Watch experienced sheepdog Rose in action and learn about sheep farming from a local couple.

Cost: $18 USD. Duration: 1 hour.
---
Want to save time and energy on planning?
In June 2023, we spent 2 weeks traveling around Ireland and living in a campervan. We were lucky enough to explore a lot of what this country has to offer!
We took our 2-week travels and are in the process of creating the perfect Ireland road trip itinerary. We'll send you our complete 2-week itinerary, filled with tips and advice, once it's finalized! Just click below to get on the waitlist for our 2-week Ireland road trip itinerary!

---
2. Galway
Known for: cultural hub on Ireland's west coast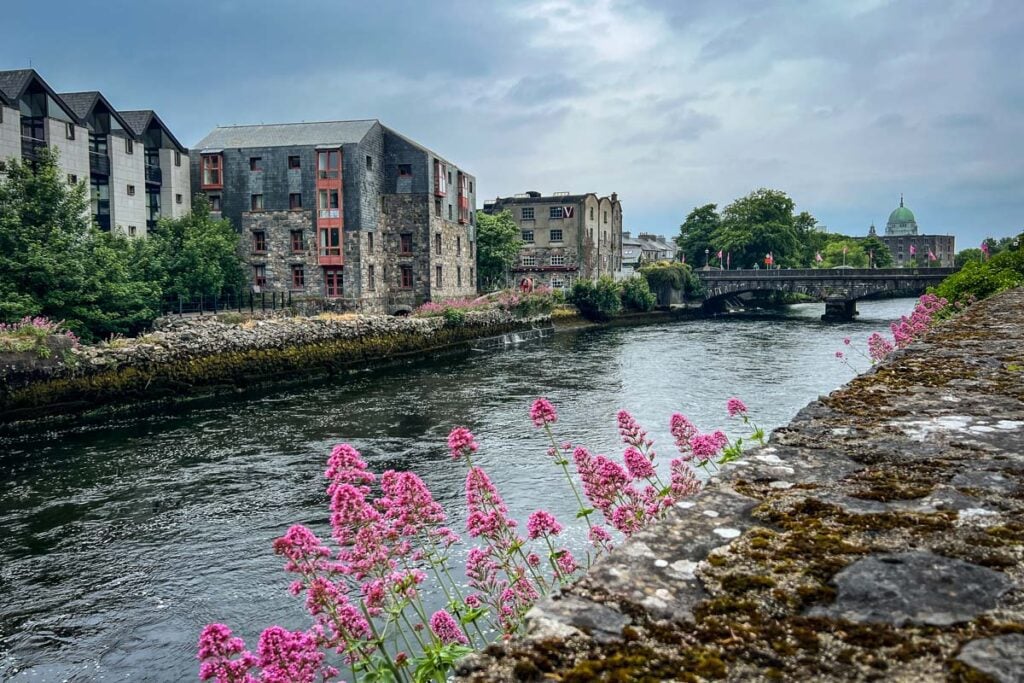 Galway offers an enticing fusion of tradition and modernity that appeals to all types of travelers.
Known as the "city of festivals", Ireland's vibrant music, arts, and culture scene shines in Galway. While you wander through the cobblestone streets, you'll be captivated by colorful buildings, lively pubs, and infectious music.
Outside the bustling city, nature lovers can explore emerald hills, mirror-like lakes, heathered moors, and County Galway's 689 km (~428 mile) coastline, which makes up part of the Wild Atlantic Way scenic drive.
Best things to do in Galway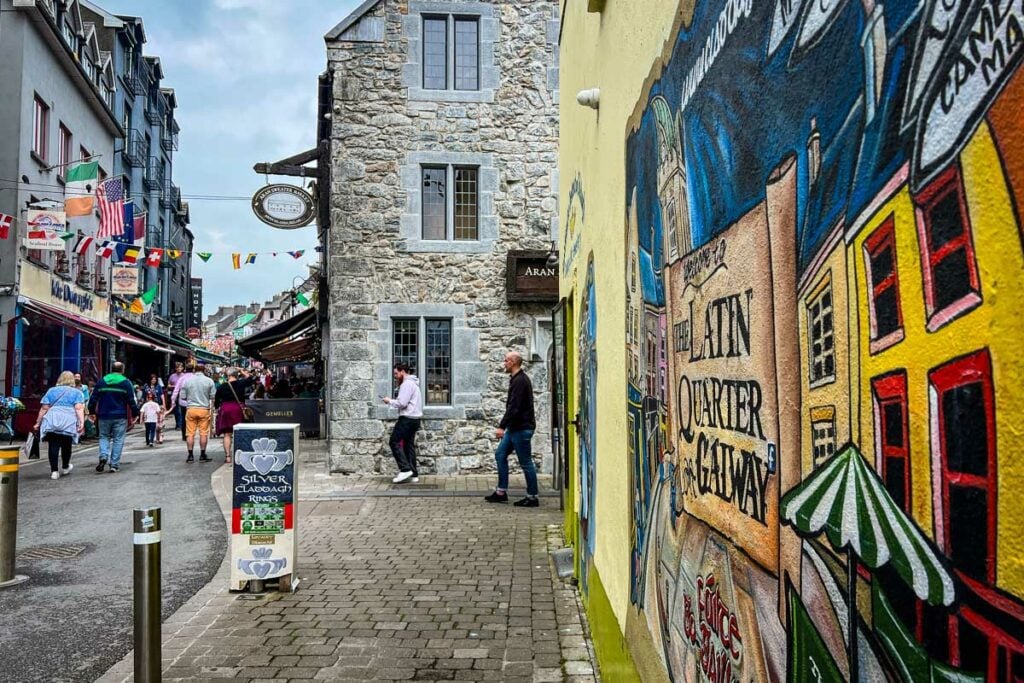 You'll definitely want to read our guide to all the best things to do in Galway, but for now, here are a few highlights:
Embark on a legendary pub crawl to mingle with locals over trad music and pints of Guinness. Start with these top picks – they're all within a 1-minute walk of each other:
Visit the historic Claddagh neighborhood, birthplace of the iconic Claddagh Ring. Learn about its rich heritage and maybe even find your own token of love and friendship to take home.
Take a day trip to the iconic Cliffs of Moher. Marvel at the sheer beauty of these majestic cliffs as they tower above the crashing waves of the Atlantic Ocean.
Enjoy one of the city's many festivals, such as the Galway International Oyster Festival (September) or the Galway Film Fleadh (July).
Catch a performance of traditional Irish dances, such as sean-nós, step, and ceili. Trad on the Prom is the big show in town, but you may even be able to spot buskers dancing in the streets.

Or, fully immerse yourself in the culture and learn Irish dance from an experienced local!

Wander the narrow, colorful streets of Galway's Latin Quarter, home to some of the city's most unique boutiques, restaurants, and bars. Grab a gin & tonic (the Latin Quarter is known for having the best in the country) while enjoying the talented street performers.
Browse the bustling, centuries-old Galway Market. From artisan crafts and fresh produce to tasty treats and live music, this vibrant market is a feast for the senses.

Good to know: the market is open Saturdays 8 a.m. to 6 p.m. and Sundays 12 p.m. to 6 p.m. year-round, with additional hours during the summer months and certain festivals. Check the hours here.

Get outta the city and immerse yourself in the rugged beauty of Connemara. Embark on a scenic drive through mountains, lakes, and charming villages. Keep an eye out for ponies roaming freely!
For a unique foodie experience, take a tasting tour at a seaweed & abalone farm. Forage for seaweed on the rugged shoreline and enjoy fresh seafood dishes made with both farm-grown and wild ingredients gathered from the nearby sea.
Read more: We put together a guide with everything you need to know about renting a car in Ireland.
3. Dublin
Known for: historic landmarks, lively pub culture, and literary heritage
Ireland's capital is a bustling city that seamlessly blends history, culture, and modernity, offering a wealth of attractions and experiences that cater to every type of traveler.
As the birthplace of legendary authors like Oscar Wilde and James Joyce, Dublin is a city steeped in literary heritage that you can explore at Trinity College or the Dublin Writers Museum.
Step into Dublin's historic streets and you'll be greeted by a tapestry of architectural wonders, such as Dublin Castle and St. Patrick's Cathedral.
For nightlife, look no further than the cobblestone lanes of Temple Bar, famous for its lively pubs and traditional Irish music.
Best things to do in Dublin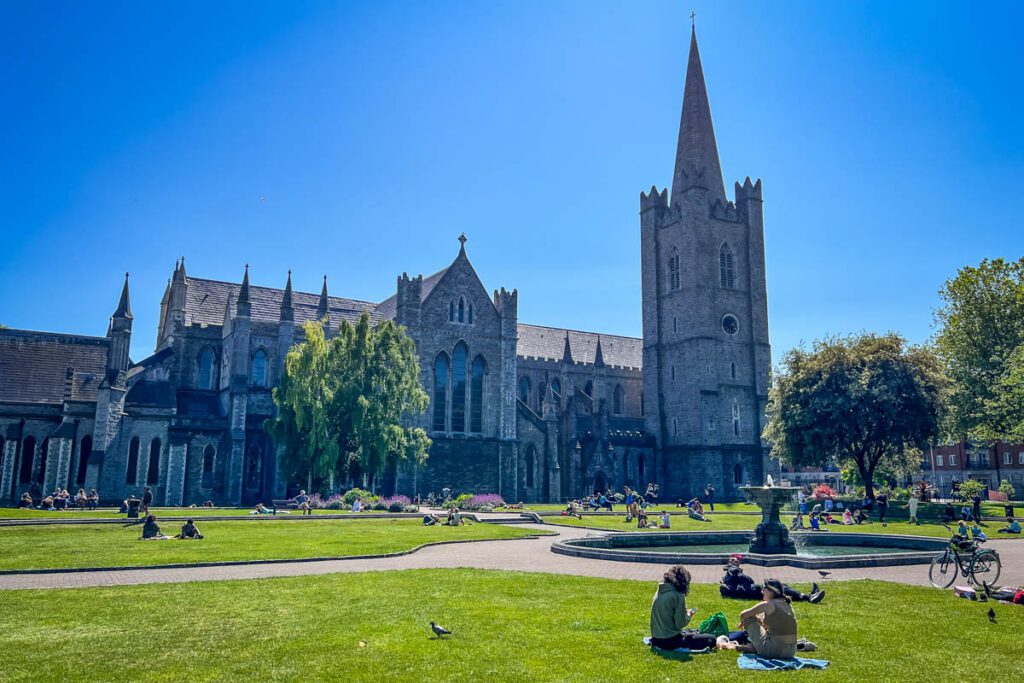 4. Antrim Coast
Known for: captivating coastal beauty and otherworldly landmarks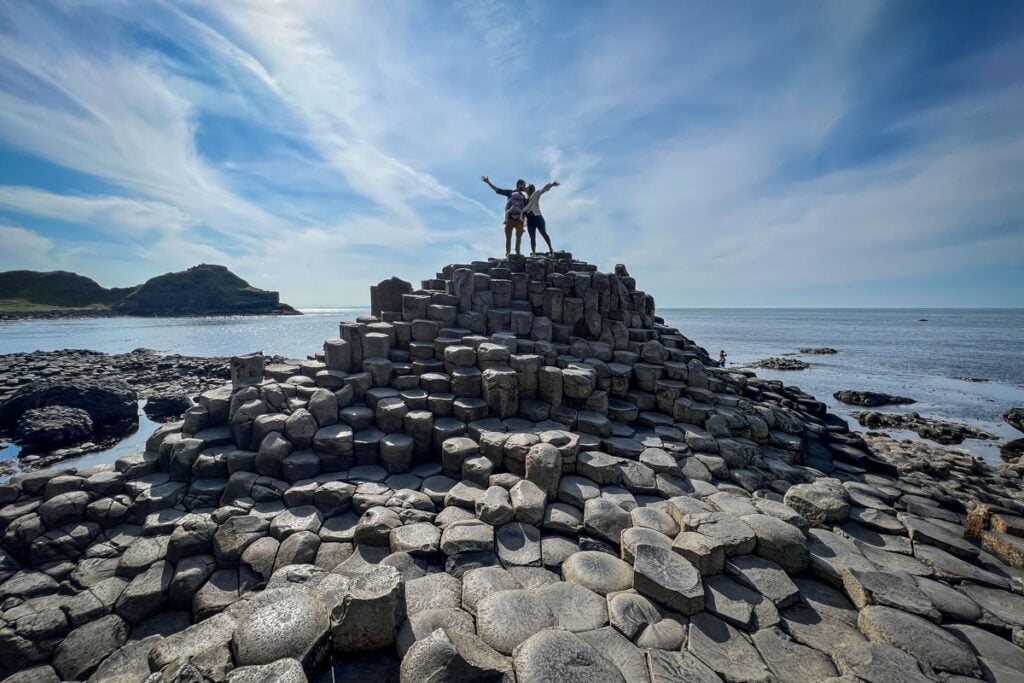 The Antrim Coast of Northern Ireland is a breathtaking stretch of coastline full of magical scenes that feel like stepping into a painting.
This mysterious region is not only a feast for the eyes, but also a place of history and folklore. Its crown jewel is the iconic Giant's Causeway, a UNESCO World Heritage Site of interlocking basalt columns steeped in legend.
Perhaps because of its mystique, the Antrim Coast was famously featured as the backdrop to many memorable scenes from HBO's hit series Game of Thrones.
Note: Northern Ireland is part of the United Kingdom, not the Republic of Ireland. Keep in mind that prices here will be in pounds sterling.
Best Things to Do in Antrim Coast
Explore the tens of thousands of hexagonal stepping stones that make up the Giant's Causeway.

It costs £13.50 (~$16.87 USD) per adult to park at the site. If you're up for it, you can visit the Giant's Causeway for free with a hike from Dunseverick Castle or Portballintrae. Both of these scenic coastal trails provide stunning views and are well worth it if you have the time!

Brave the famous Carrick-a-Rede Rope Bridge, an exhilarating journey across a 20-meter (65.5-foot) chasm, suspended nearly 100 feet above the Atlantic Ocean.

Reservations are required. Book tickets here.

Slip into a fairytale at the enchanting Dark Hedges. This ethereal avenue of 18th-century beech trees set the stage for "the King's Road" in Game of Thrones and is one of the most photographed natural sites in Northern Ireland.
Discover the haunting beauty of Dunluce Castle. Perched dramatically on the edge of a cliff, these ruins hold centuries of both history and legend.

Insider tip: stop at the nearby Magheracross Viewing Point for awe-inspiring views of the rugged coastline, Dunluce Castle, and (on a clear day) the Skerries islands.

Take a self-guided tour of the Game of Thrones filming locations scattered along the Antrim Coast, such as Ballintoy Harbour ("Lordsport"), Murlough Bay ("Slaver's Bay"), and Cushendun Caves (the infamous "shadow-birthing" scene).
Sample world-renowned whiskey at Bushmills Distillery, the world's oldest licensed whiskey distillery.

Tours (1 hour) start from £15 (~$18.74 USD) and tastings (2.5 hours) from £40 (~$49.97 USD). Book here.
5. Kinsale
Known for: colorful streets and renowned gastronomical scene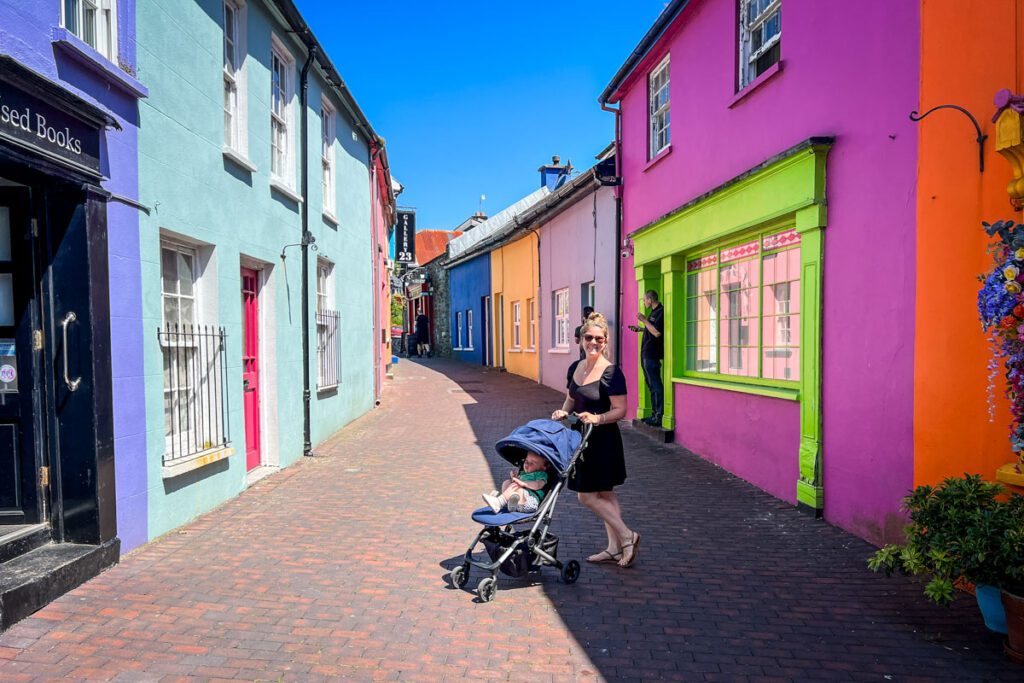 The quaint coastal town of Kinsale has earned a well-deserved reputation as the gourmet capital of Ireland, enticing visitors with its exceptional culinary scene and warm hospitality.
Beyond its culinary delights, Kinsale offers a wealth of things to do. Explore the rugged coastline and enjoy water activities such as sailing and kayaking, or simply bask in the sunshine on the nearby beaches.
The town's maritime heritage as a bustling fishing port is reflected in the historic forts and museums that tell tales of pirates, naval battles, and seafaring adventures.
Stroll through colorful streets, savor delectable seafood, and soak in the breathtaking views of the harbor.
Personal note: Kinsale was one of our very favorite towns in all of Ireland, and we'd highly recommend adding it to your itinerary!
Best things to do in Kinsale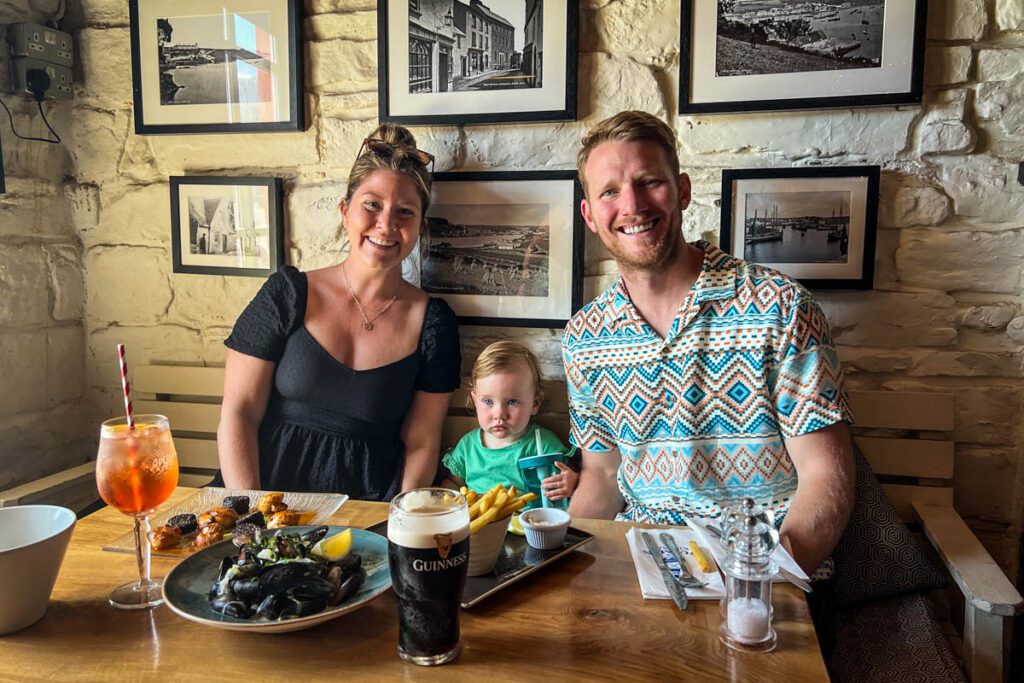 Indulge in fresh seafood straight from the Atlantic at one of Kinsale's award-winning restaurants.

Our personal recommendation is to stroll along the seaside Scilly Walk (around 40 minutes one way) to The Bulman Bar & Restaurant for a delightful lunch.

Step back in time at Charles Fort, a 17th-century star-shaped fortress that offers breathtaking views of the harbor (just a short walk from The Bulman Restaurant).
Take a leisurely stroll along the picturesque harbor, breathing in the salty air and admiring the colorful boats bobbing in the water.

Tip: The Scilly Walk is a good one and takes roughly 40 minutes each way.

Book a memorable foodie experience: either a walking food tour, an adventurous foraging and picnic tour, or, for the bougie travelers, a private yacht and picnic tour.
Brace yourself for a spooky adventure with the Kinsale Ghost Tour. Follow your guide through the town's narrow streets and dark corners, as chilling tales of ghosts and ghouls send shivers down your spine.
Marvel at the rugged beauty of the Old Head of Kinsale, a stunning headland that juts out into the Atlantic Ocean.
Discover the town's maritime past, delve into its connections with the Spanish Armada, and learn about the lives of its inhabitants at the Kinsale Regional Museum.
Experience the lively atmosphere of the Kinsale Farmers Market, where local producers showcase their artisanal products. Sample delicious cheeses, taste homemade treats, and fill your basket with gourmet goodies.
Take to the ocean for deep sea angling, scuba diving, fishing, or kayaking.
6. Wicklow Mountains National Park
Known for: breathtaking landscapes and wild beauty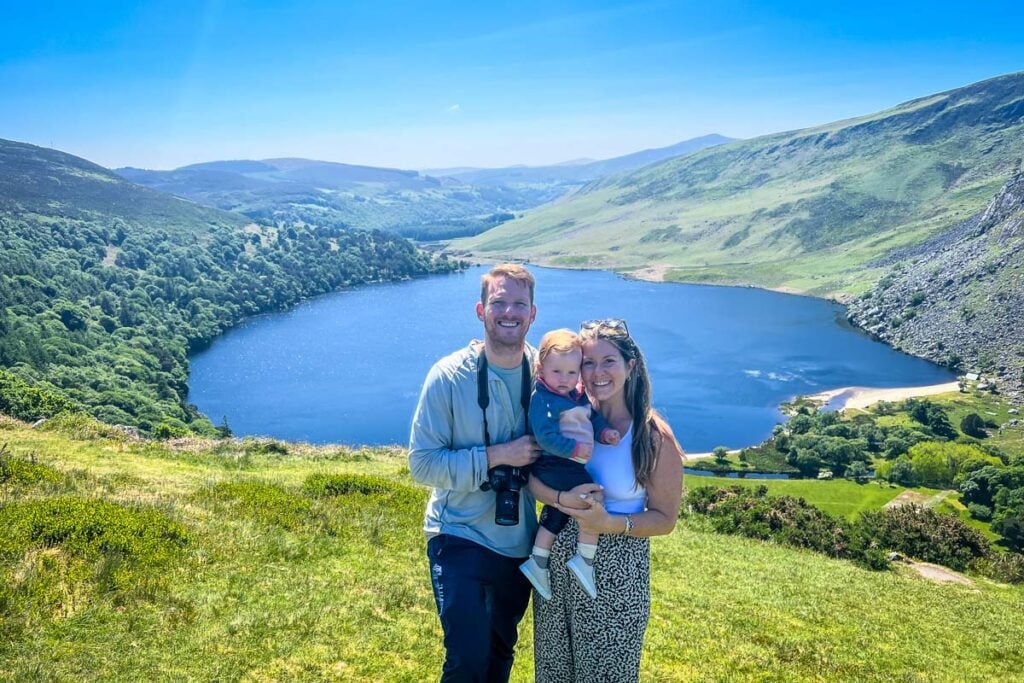 Just a short drive from Dublin, Wicklow Mountains National Park is a picturesque haven known as "the Garden of Ireland".
Lush green valleys, rolling hills, pristine lakes, and majestic peaks offer a tranquil escape as well as a paradise for outdoor enthusiasts.
Meandering trails wind through heather-covered moors, ancient forests, and hidden glens where you can discover mirror-like lakes and cascading waterfalls.
The park is also home to historical and cultural treasures, such as the iconic Glendalough Monastic Site.
Best things to do in Wicklow Mountains National Park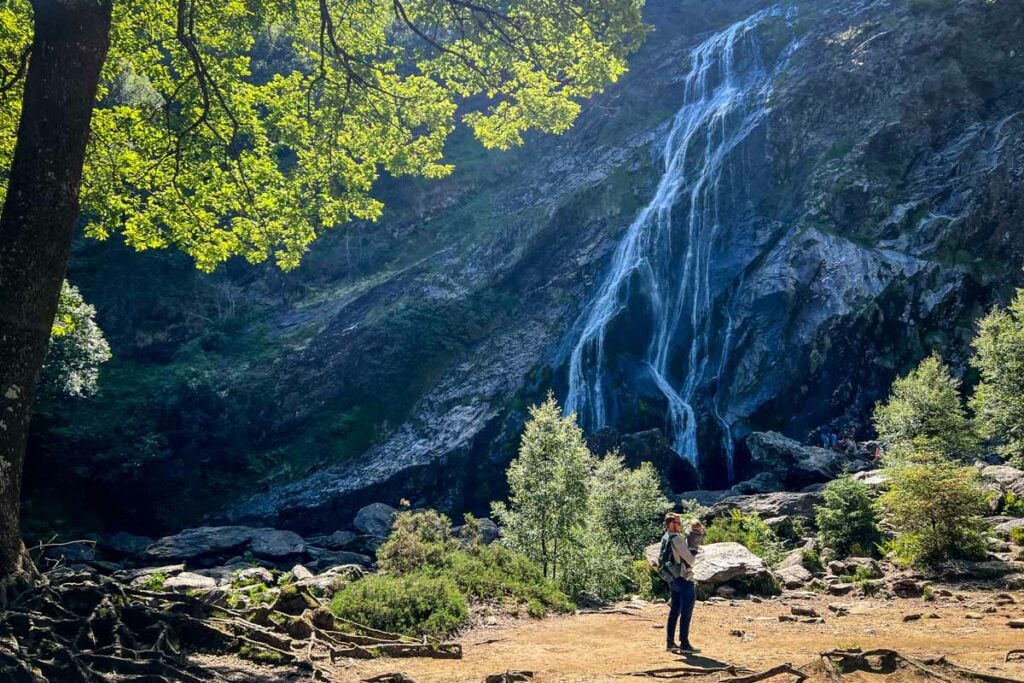 Hike the scenic trails of the enchanting Glendalough, a hidden valley dotted with ancient monastic ruins and serene lakes.
Discover the elegance and grandeur of Powerscourt Estate, home to both stunning gardens and a magnificent mansion. Take a leisurely stroll through its manicured landscapes and see Ireland's highest waterfall.

Entrance fees: €12.50 (~$13.39 USD) for the gardens and €7 (~$7.50 USD) for the waterfall.
Hours depend on the month and which attraction(s) you plan to visit. For more info, visit the official website.

Feast your eyes on the stunning beauty of Lough Tay, affectionately known as Guinness Lake due to its dark waters and a crescent-shaped sandy beach that resembles the famous pint.
Drive through the iconic Sally Gap, a mountain pass that offers awe-inspiring vistas and a sense of untamed wilderness. Keep your eyes peeled for wild deer.
Channel your inner movie buff as you explore the film locations scattered throughout the Wicklow Mountains. From P.S. I Love You to Braveheart, trace the footsteps of your favorite characters while reliving cinematic moments in real life.
Be mesmerized by the raw power of Glenmacnass Waterfall, cascading down rugged cliffs in a symphony of crashing water and mist.
7. Killarney
Known for: cute town surrounded by lakes and mountains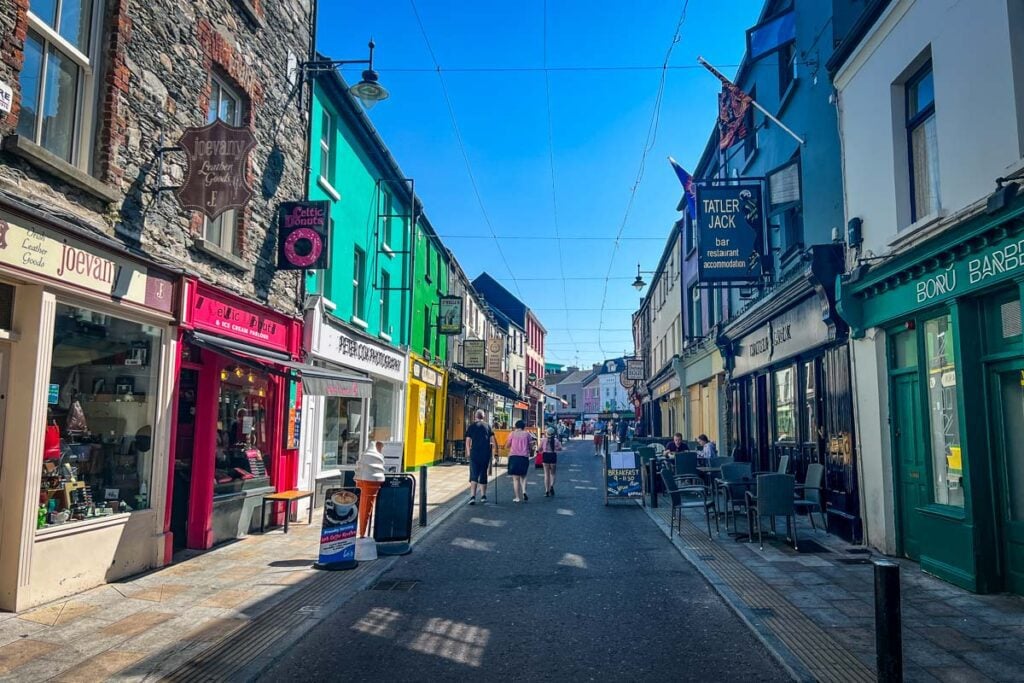 Nestled in the heart of County Kerry, Killarney is a picturesque town that captivates visitors with a delightful blend of outdoor adventures and traditional Irish charm.
Stroll through the colorful streets and you'll find a warm and welcoming atmosphere that invites exploration.
Meanwhile, Killarney National Park beckons nature enthusiasts with its majestic mountains, serene lakes, and ancient forests.
Killarney is also a perfect base for exploring the world-famous Ring of Kerry, a scenic driving route that showcases some of Ireland's most spectacular coastal and mountain views.
Take a boat trip to the idyllic islands of the Lakes of Killarney, savor delicious cuisine in the town's excellent restaurants, or simply soak up the friendly and inviting atmosphere that defines Killarney.
Best things to do in Killarney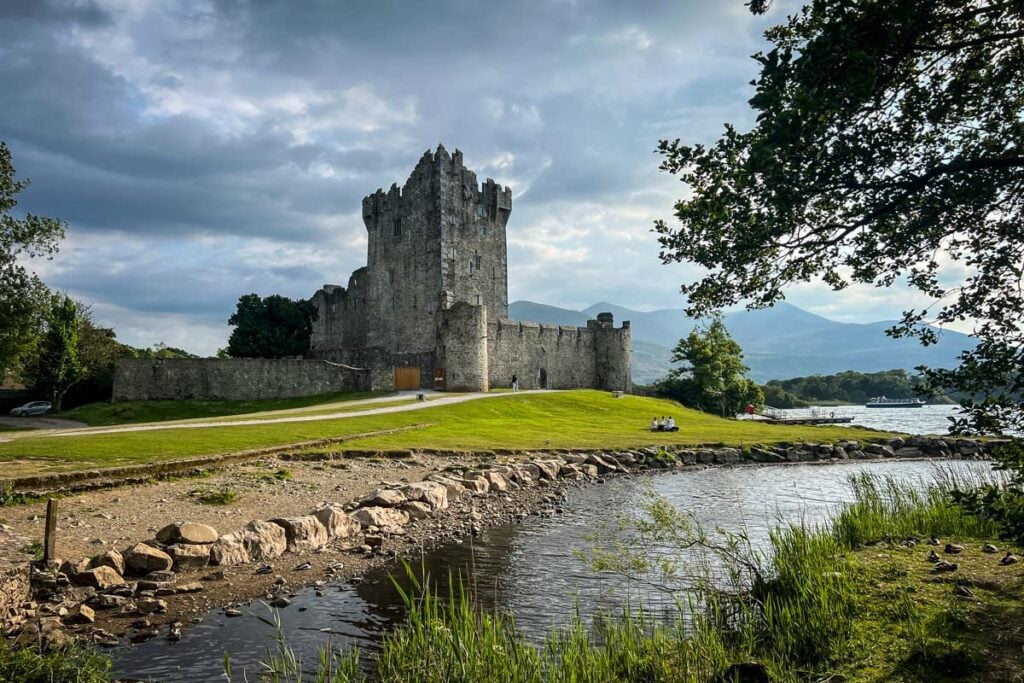 We have a whole guide dedicated to the best things to do in Killarney, but here are a few top picks:
Get your hiking boots on and conquer the mighty peaks of MacGillycuddy's Reeks, Ireland's highest mountain range.

This trail is a good choice if you're looking for a challenging hike with incredible views.

Channel your inner royalty and take a boat ride to the captivating Ross Castle.
Saddle up on a horseback riding adventure through the enchanting Killarney National Park, where you can trot amidst ancient woodlands and spot majestic red deer.
Embrace the spirit of the Emerald Isle by seeing traditional Irish music performed at one of the lively pubs, where you can tap your feet to the tunes, belt out classic folk songs, and maybe even learn a jig or two.
Visit the mystical Gap of Dunloe, a narrow mountain pass with spectacular views and a popular walking route.

Tip: Arrive early, as there is limited parking in this popular area.

Indulge your taste buds in a gastronomic extravaganza at one of Killarney's top-notch restaurants, treating yourself to delectable seafood dishes and traditional Irish stews.

John M. Reidy: lively pub serving woodfired pizzas and Irish coffee that is beloved by locals and tourists alike
Quinlan's Seafood Bar: boasts the "best fish and chips in Kerry", along with an array of mouthwatering seafood caught fresh daily
Bricín Restaurant and Boxty House: cozy restaurant serving traditional dishes worth the splurge

Take a leisurely stroll around Muckross House and Gardens, a stunning Victorian mansion surrounded by beautifully manicured grounds.
Make a fluffy new friend on an alpaca trekking adventure through a magical forest.
8. Cork
Known for: lively atmosphere, historic charm, and rich culture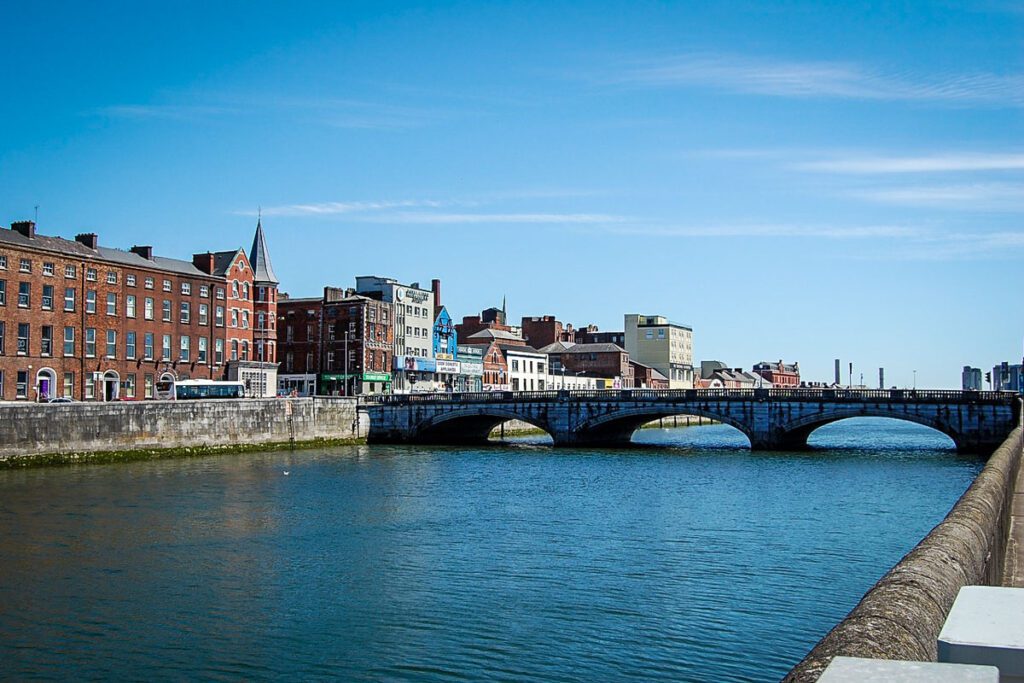 Ireland's second-largest city is a bustling and dynamic destination on the banks of the River Lee that offers a perfect blend of old-world charm and contemporary vibrancy.
Explore the lively streets of Cork and you'll discover a treasure trove of attractions and experiences. Marvel at the stunning architecture of St. Fin Barre's Cathedral, wander through the historic English Market, and soak in the vibrant atmosphere of the city's many pubs.
With its thriving arts scene, Cork also boasts numerous galleries, theaters, and music venues, ensuring a rich cultural experience for every visitor.
Beyond the city center, the picturesque surroundings of Cork beckon with natural beauty and outdoor adventures. From the tranquil landscapes of Fitzgerald Park to the beauty of the nearby Blarney Castle, there's no shortage of places to explore.
Best things to do in Cork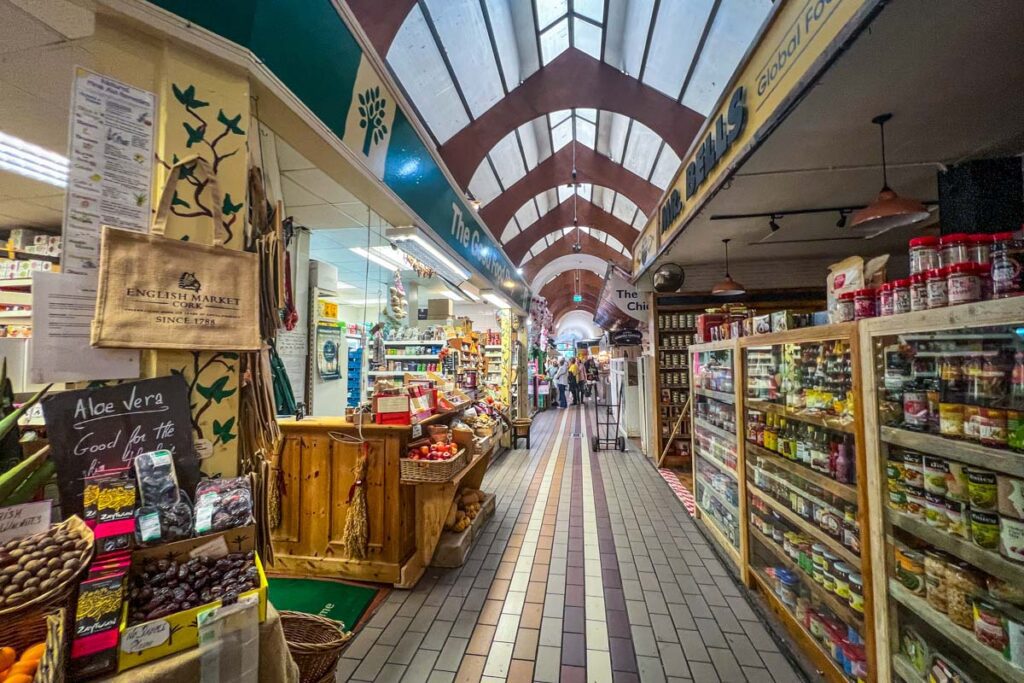 Savor the culinary delights of the centuries-old English Market. If you're feeling brave, try some of the more adventurous local specialties, such as drisheen (blood pudding) and pig's trotters (literally pig's feet).
Visit the magical Blarney Castle & Gardens and pucker up for the famous Blarney Stone. Planting a smooch on this legendary stone is said to grant you the gift of eloquence.

Good to know: the castle & gardens are open year-round, but what you see in the gardens will depend on the season. General admission is €20 (~$21.67 USD) and tickets can be purchased in-person or booked online.

For a spectacular view of the city, climb the tower at St Anne's Church. You'll climb right through the belfry, so don't forget to ring the Shandon Bells along the way!

Entrance to the tower is €6 (~$6.50 USD). Access is dependent on the weather and religious services.

Venture to Spike Island, known as "Ireland's Alcatraz", to discover 1,300 years of history as a monastery, fortress, prison, and island home.

€24.95 regular tour (~$26.83 USD) includes ferry across Cork Harbour, departing from J.F. Kennedy Pier and returning after 3.5 hours. Explore tour options here.

Take a leisurely stroll through Fitzgerald Park, a tranquil oasis in the heart of the city. Visit the Cork Public Museum to delve into the city's history, art, and natural heritage.
9. Dingle Peninsula
Known for: rugged beauty, charming fishing villages, and rich Gaelic heritage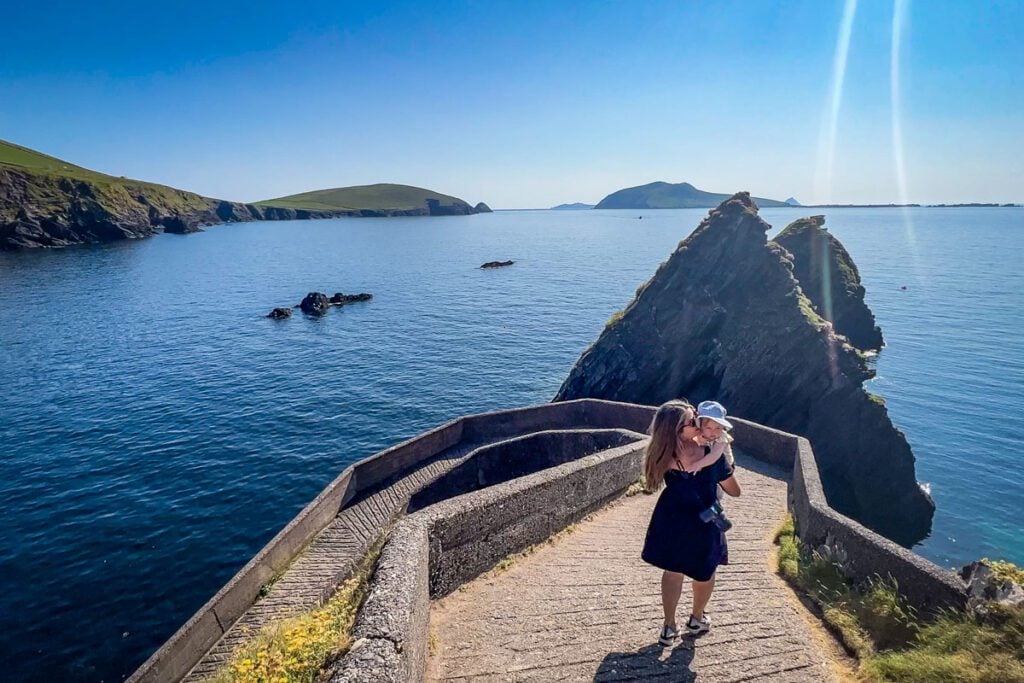 Nestled on the southwestern coast of Ireland, the Dingle Peninsula offers both scenic landscapes and vibrant culture. This makes it a haven for nature enthusiasts, history buffs, and those seeking an authentic Irish experience.
As you traverse the winding coastal roads of the Dingle Peninsula, you'll be greeted by towering mountains, dramatic cliffs, and expansive sandy beaches.
Take a stroll through the colorful streets of Dingle town, where you'll find a lively atmosphere of artisan shops and cozy pubs full of fresh, mouthwatering seafood.
The area is also rich in ancient history, with prehistoric sites, medieval ruins, and the famous Gallarus Oratory, a perfectly preserved stone church dating back over a thousand years.
Best Things to Do in Dingle Peninsula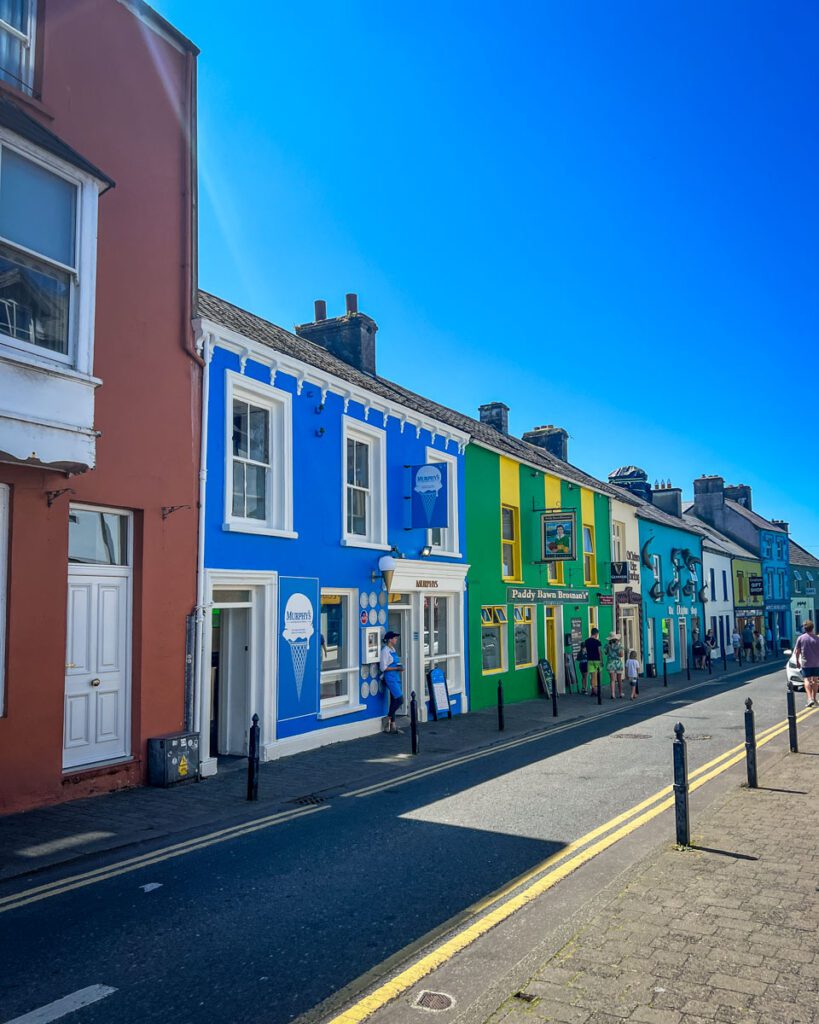 Take a mini road trip along the scenic Slea Head Drive for jaw-dropping views of cliffs, beaches, and ancient ruins as you circle the peninsula.

Good to know: the suggested driving time is at least half a day, but we recommend giving yourself plenty of time for spontaneous stops.

Experience the vibrant energy of Dingle Town, a charming fishing village filled with colorful buildings, lively pubs, and fresh seafood.
Learn to row a naomhóg on this unique tour. You'll learn about the history of this traditional vessel and enjoy the sights of Dingle Harbour from the water.
Marvel at the ancient Gallarus Oratory, a perfectly preserved stone church dating back to the 9th century.
Catch a ferry to the Blasket Islands, the most westerly lands in Europe, and explore the historic abandoned village. Keep your eyes peeled for dolphins, whales (even orcas!), and seals.

Cé Dún Chaoin (Dunquin Pier) ferry: 20 minute crossing, €40 round trip (~$42.86 USD), daily departures 9:50 a.m., 10:50 a.m., 11:50 a.m., 12:50 p.m.
Dingle Marina ferry: 50 minute crossing, €65 round trip (~$69.64 USD), daily departure 9:30 a.m.

Drive the wild and winding Conor Pass, Ireland's highest mountain pass. Brace yourself for hairpin turns, steep and narrow sections, and breathtaking views.

Note: there are length and weight restrictions for vehicles on the Connor Pass. Familiarize yourself with the rules here.

Tour the Dingle Distillery. Sample whiskey, gin, and vodka while learning about the distilling process.

1 hour tour, €18 (~$19.28 USD), must be 18+

Relax at Coumeenoole Beach, a secluded sand beach nestled between jagged cliffs.
10. Cliffs of Moher
Known for: awe-inspiring beauty and dramatic coastal vistas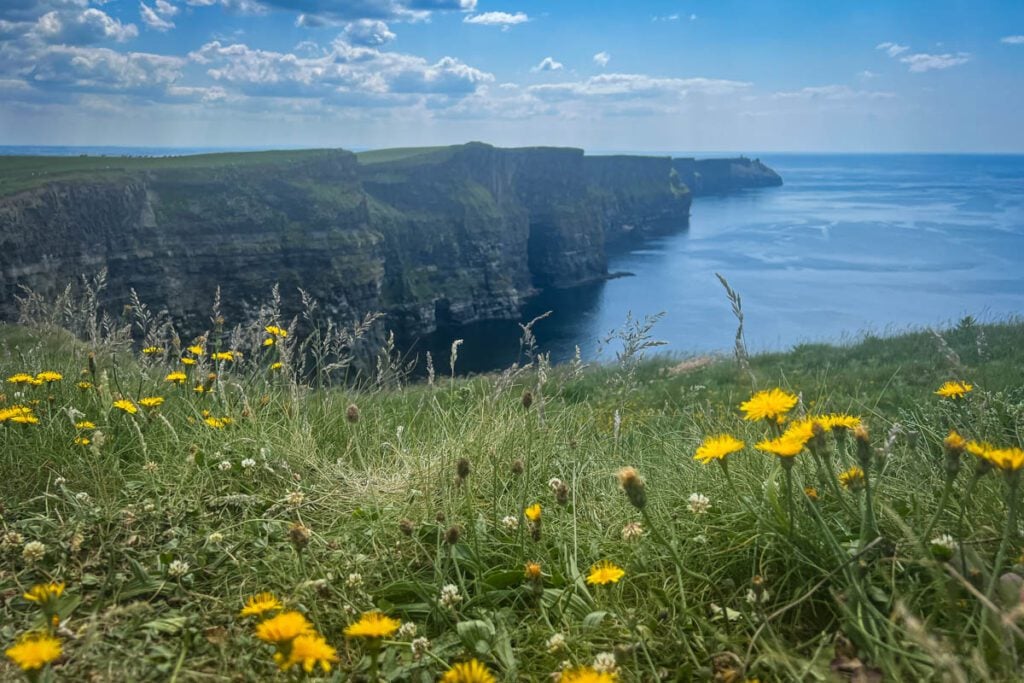 The Cliffs of Moher are an iconic natural wonder, world-renowned for their breathtaking beauty and dramatic coastal vistas. They often top lists of Ireland's must-sees.
Ahem – this may be an unpopular opinion, but the Cliffs of Moher were not our fave. On our most recent trip to Ireland, we visited the Kerry Cliffs, Kilkee Cliffs, and Slieve League, and to be honest, we liked all of them better.
We're not saying don't go to the Cliffs of Moher, just that there are other places to visit in Ireland that offer similar sea cliff views with WAY less crowds.
That said, if 1. it's your first time visiting Ireland; 2. you have FOMO (like me); or 3. you don't have your own wheels, then the Cliffs of Moher are a great experience with lots of tours and day trips offered from hub cities.
Best Things to Do in Cliffs of Moher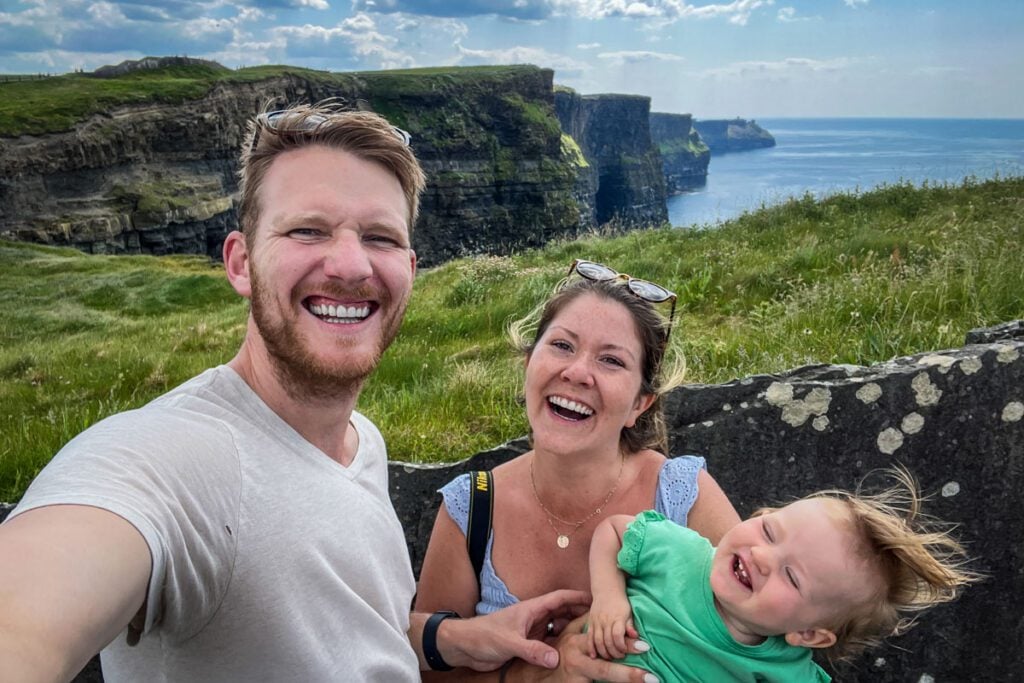 Take a leisurely stroll along the clifftop pathway.
Climb to the top of O'Brien's Tower, an iconic landmark perched on the edge of the cliffs.
Dive deeper into the geological and cultural wonders of the cliffs at the Visitor Centre. Learn about the rich history, folklore, and natural processes that shaped this iconic landmark.

Admission rates vary based on the time of day. Book online to get the best rates.

Try bird watching. The Cliffs of Moher are a Special Protected Area and breeding site for 30,000 seabirds, including the Atlantic puffin and other vulnerable species.

Insider tip: with your admission ticket, you can borrow complimentary binoculars from the Visitor Centre.

Trek the Cliffs of Moher Coastal Walk. From the cliffs, you can take the north route to Doolin (7.1 km / 4.4 miles) or the south route to Hag's Head (10.5 km / 6.5 miles).
11. Slieve League
Known for: jaw-dropping cliffs and untamed beauty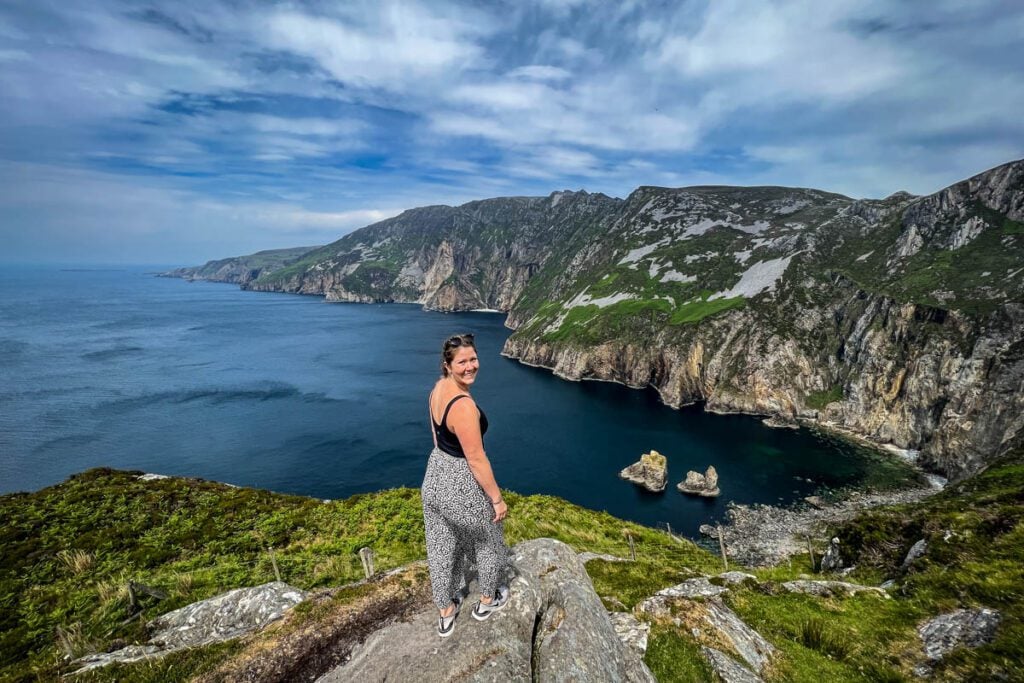 Slieve League, located on the rugged coast of County Donegal, is home to some of the highest sea cliffs in Europe.
Towering 598 meters (about 1962 feet) over the Atlantic Ocean, the cliffs are nearly 3 times higher than the way-more-famous (and way more touristy) Cliffs of Moher.
If you're not afraid of heights, a stroll along the cliff's edge will treat you to panoramic views of the wild Atlantic coastline, with waves crashing against the base of the cliffs and the distant outline of mountains on the horizon.
Best Things to Do in Slieve League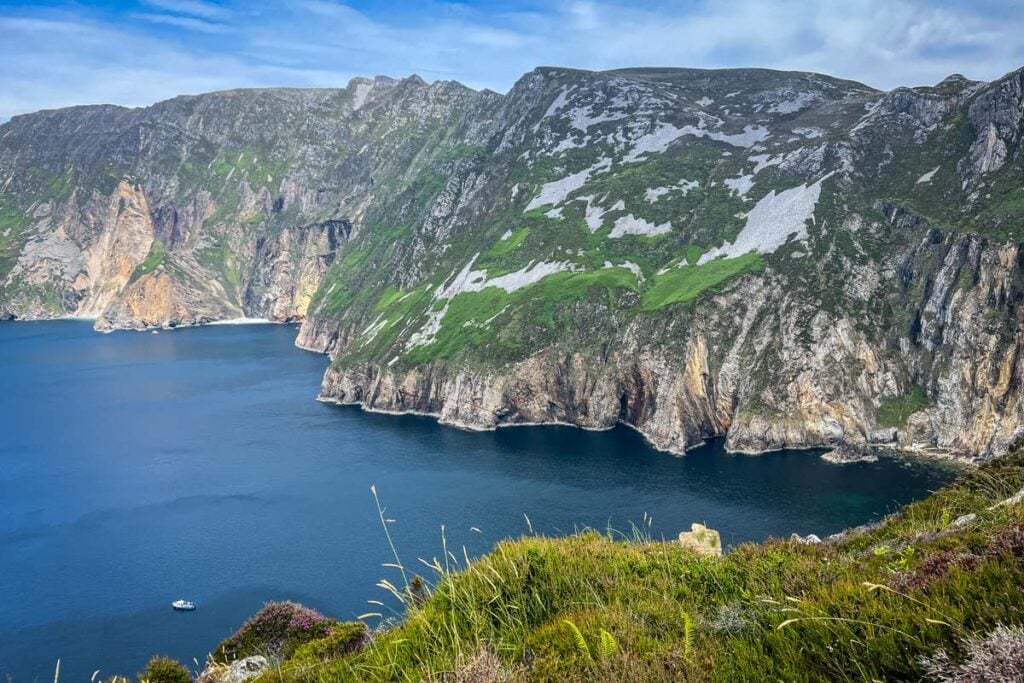 Take in the view from the main lookout point. You can drive right up, or park at the Slieve League Cliffs Centre and walk to the viewpoint.
Follow in the footsteps of history as you hike the ancient Pilgrim's Path, a 5.5 km (3.5 mile) out-and-back trail that makes its way up the back of the cliffs to a panoramic viewpoint.
Test your nerve on One Man's Pass, a knife-edge ridgeline whereby you can continue hiking from Pilgrim's Path to the Bunglass Viewpoint.
View the towering cliffs from below on a boat tour. Spot dolphins and even go for a dip (weather permitting).
Immerse yourself in the local culture by visiting nearby villages, such as Carrick or Teelin. Explore charming pubs and experience the warm hospitality that makes this region truly special.
Witness the magic of a Slieve League sunset, as the golden hues dance across the cliffs, creating a breathtaking display of colors.
12. Rock of Cashel
Known for: majestic ruins and rich history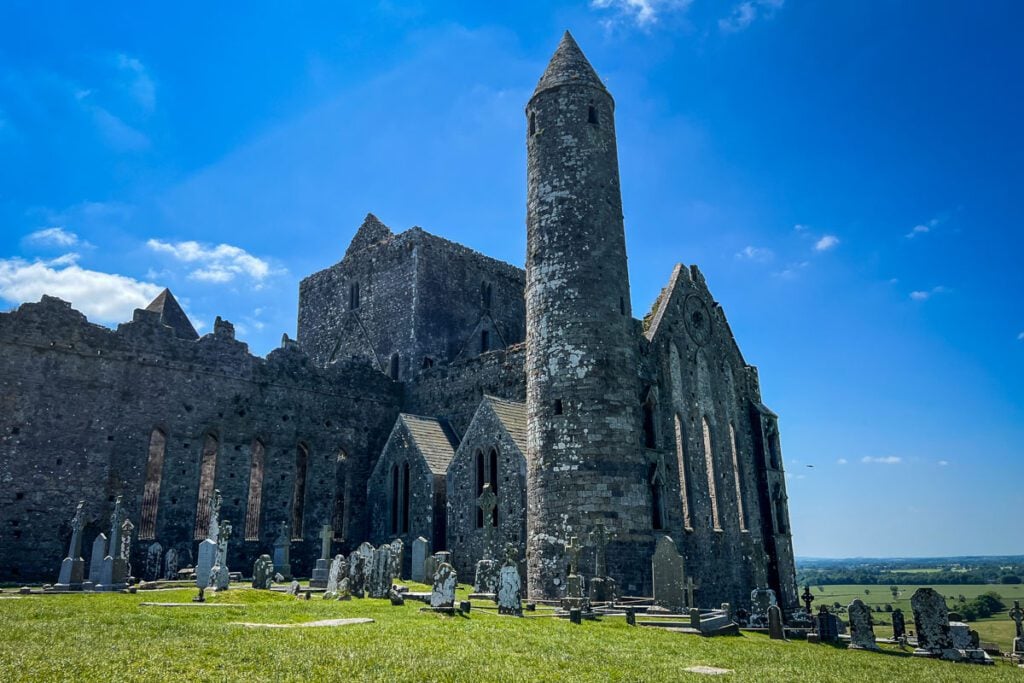 The Rock of Cashel, perched atop a hill in Tipperary's Golden Vale, is an awe-inspiring medieval fortress that captures the essence of Ireland's rich history and architectural splendor.
This iconic landmark is a captivating collection of ancient monuments and centuries-old structures overlooking breathtaking panoramas of the surrounding countryside.
Originally the seat of the High Kings of Munster in the 5th century, the Rock of Cashel is believed to be where Aengus, King of Munster, was converted to Christianity by St. Patrick himself (yes, that St. Patrick!).
Best Things to Do in Rock of Cashel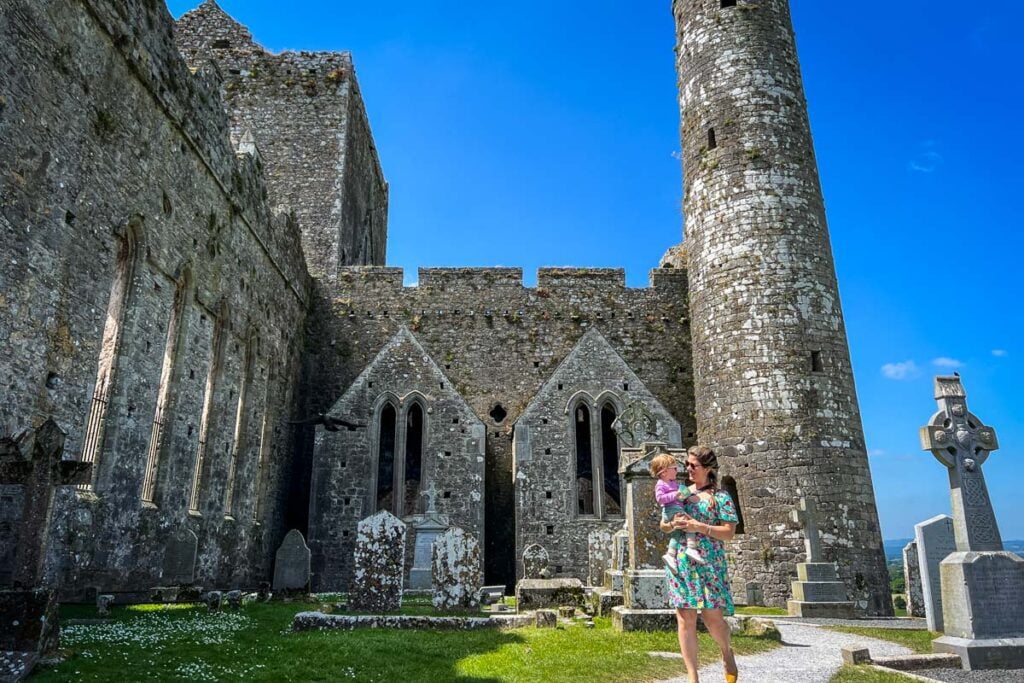 Step back in time as you explore the impressive ruins. Wander through the ancient structures and admire the intricate stonework.
Look up as you walk through the 13th-century cathedral and wonder at the Gothic architecture.
Enter the Chapel of King Cormac and marvel at the collection of Ireland's only surviving Romanesque frescoes.
Admire the stunning architecture of the Hall of the Vicars Choral. Try to spot the Sheela-na-gig carvings that are hidden on the outer wall… let's just say they don't exactly scream church.
Take in panoramic views of the valley from the summit of the Rock.
Explore the historic town of Cashel beyond the Rock. Visit the Cashel Folk Village and Cashel Heritage Centre, then kick back at T.J. Ryan, a traditional Irish pub established in the 17th century.
If you're still craving more history, be sure to check out the haunting ruins of nearby Hore Abbey, a 13th-century Cisterian monastery.
13. Doolin
Known for: lively music scene and breathtaking coastal beauty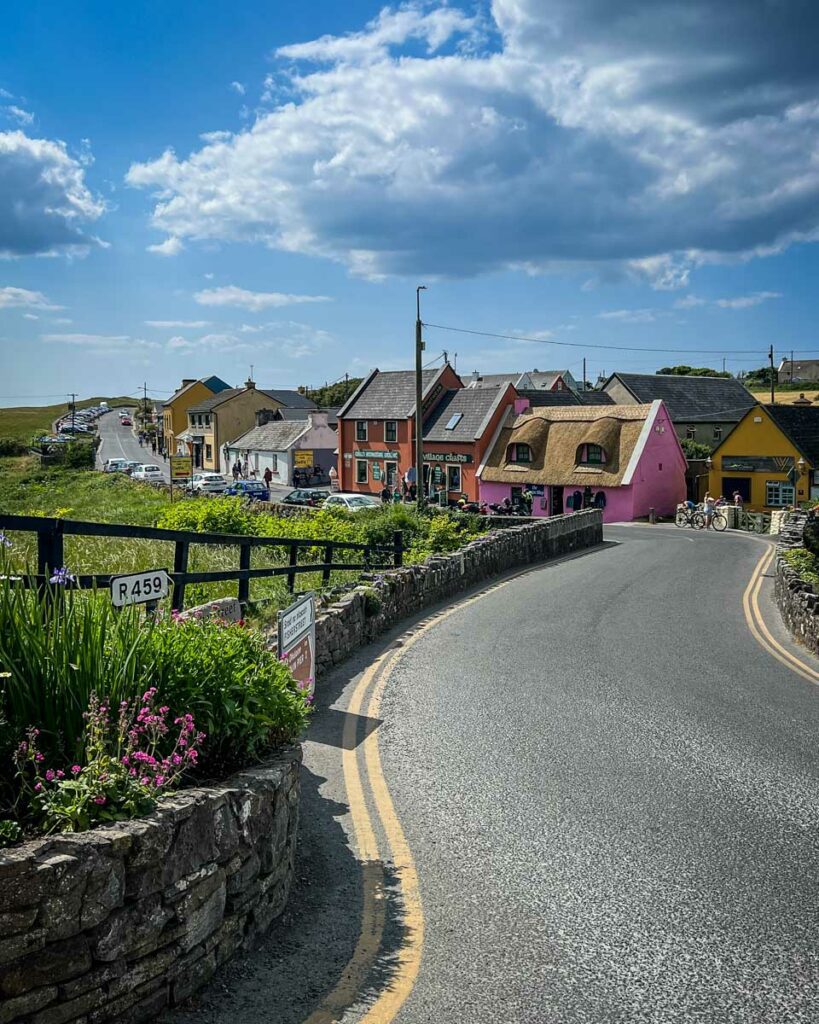 A charming coastal village situated on the edge of the Atlantic Ocean, Doolin is a hidden gem known for its breathtaking cliffs, traditional Irish music, and warm hospitality. Whether you're in search of natural wonders or authentic Irish culture, Doolin has it all.
As you wander through its quaint streets, you'll find cozy pubs where talented musicians fill the air with soul-stirring melodies.
Meanwhile, outdoor adventurers will enjoy hiking in the mystical Burren region, a unique limestone landscape dotted with ancient ruins and vibrant wildflowers.
Doolin is also the gateway to the Cliffs of Moher and a great starting point for exploring the nearby Aran Islands.
Best Things to Do in Doolin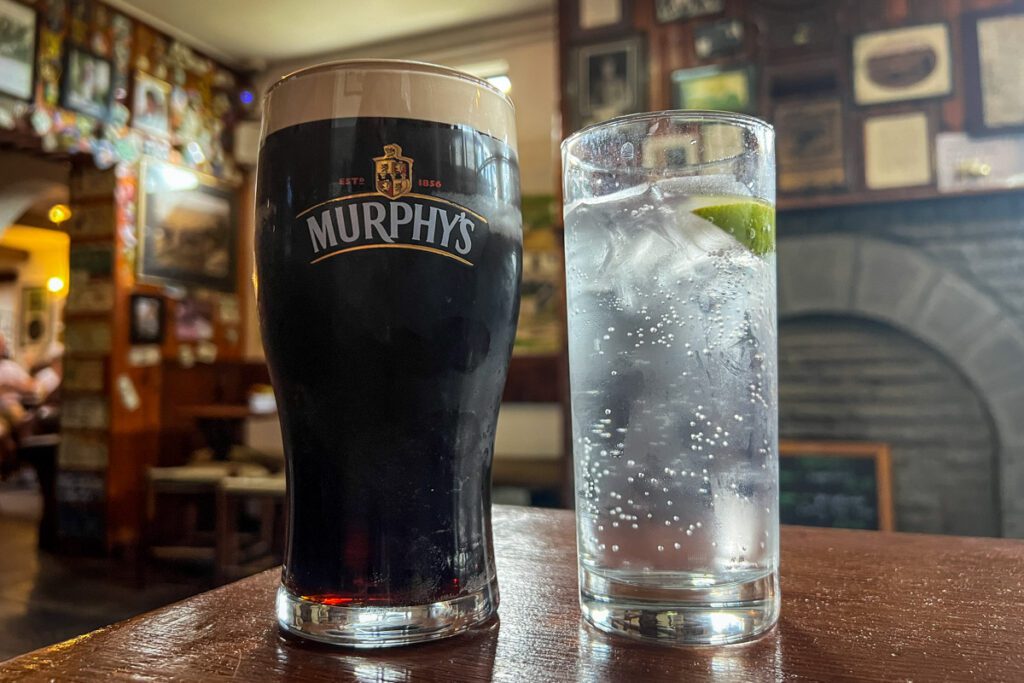 Experience a traditional music session at Doolin Music House. Gather around the fire for an unforgettable evening of music and storytelling in a local couple's home – pretty much as authentic as you can get!
Descend into the subterranean wonderland of Doolin Cave and see the longest stalactite in Europe, a natural phenomenon hundreds of thousands of years in the making.

€17.50 (~$18.75 USD). For seasonal hours, click here.

Hop on a ferry to the enchanting Aran Islands. Experience the unique Gaelic culture, explore ancient forts, cycle along scenic paths, and bask in the untouched beauty of these remote islands.

Ferry times and prices vary depending on which island(s) you visit. Check the official website for more information.

Explore the stunning trails along the coast and throughout the Burren wilderness. The Doolin Cliff Walk will take you down the coast to the iconic Cliffs of Moher.

Insider tip: if you can tear yourself away from the awe-inspiring Atlantic scenery, take the backroad from Doolin toward the cliffs and you'll pass right by Doonagore Castle. Once you reach the cliffs, you can take the coastal walk back.

Engage in a unique foodie experience with a master class in smoking salmon at the Burren Smokehouse.

Cost: €12 (~$12.86 USD). Open 10 a.m. to 5 p.m. daily.

Rent a bike and explore the picturesque countryside surrounding Doolin. Pedal through green fields, discover hidden villages, and experience the Irish countryside at its most charming.
14. Aran Islands
Known for: rugged beauty & rich Gaelic heritage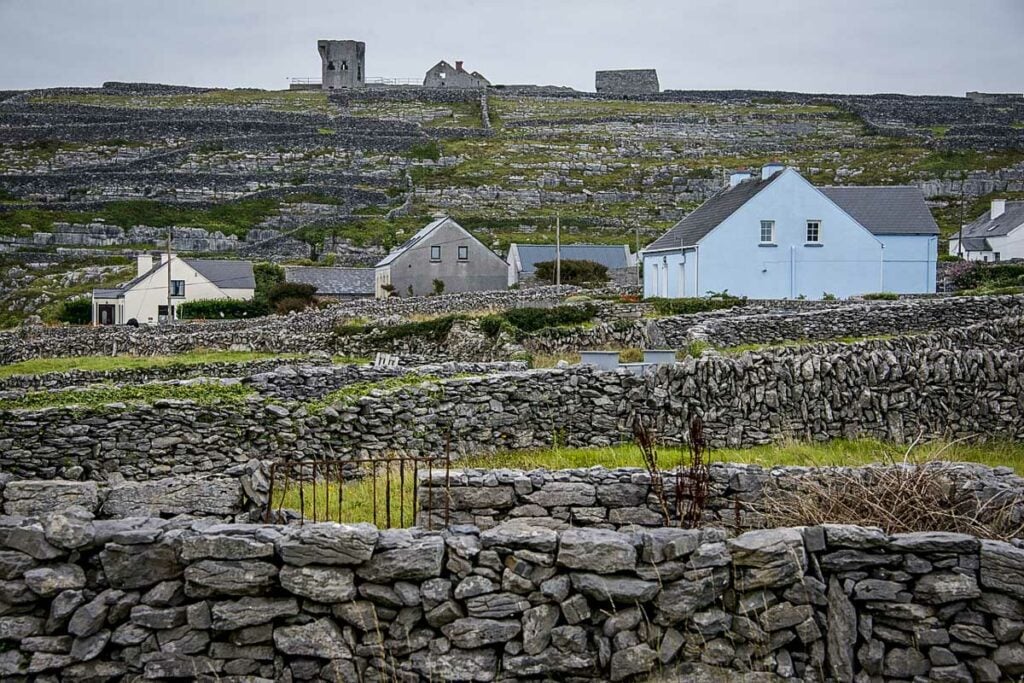 Located off the western coast of Ireland, the Arans consist of 3 main islands: Inishmore (Árainn / Inis Mór), Inishmaan (Inis Meáin), and Inisheer (Inis Oírr).
These captivating islands offer a glimpse into a world of traditional Irish life and untouched landscapes. Cinephiles might recognize them from the award-winning film, The Banshees of Inisherin.
From the iconic stone forts of Dún Aonghasa and Dún Chonchúir to picturesque villages with charming thatched cottages, the Aran Islands are a treasure trove of archaeological sites, stunning coastal cliffs, and fascinating folklore.
Get ready to immerse yourself in a world where time seems to stand still, where the beauty of nature meets the resilience of its people, and where ancient traditions come to life in a vibrant tapestry of Irish charm.
Best Things to Do in Aran Islands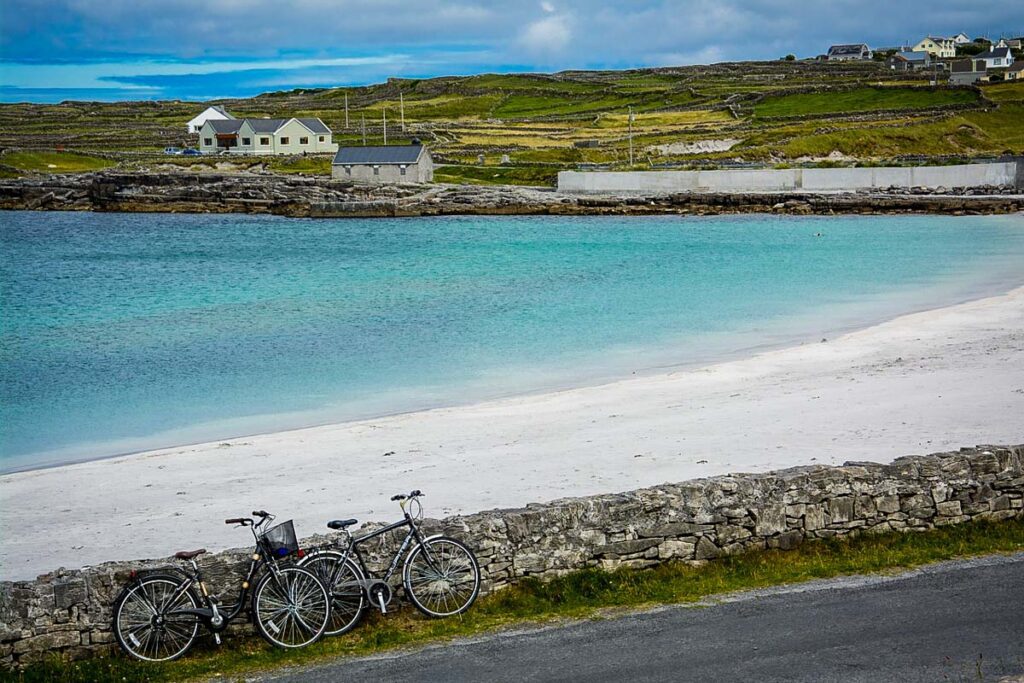 Explore the islands by bicycle. Pedal along winding roads and green fields bounded by traditional stone walls for a leisurely adventure.

There are several rental shops to choose from on Inishmore, as well as two on Inisheer, all located near the islands' respective ferry terminals.

Immerse yourself in the Gaelic culture that still thrives on the Aran Islands. Practice a few Gaelic phrases and witness traditional crafts, such as knitting and basket weaving, that have been passed down through generations.
Step back in time at the islands' fortress ruins.

Dun Aengus, Inishmore: a prehistoric fortress perched dramatically on the edge of a 300-foot cliff.
Dún Crocbhur (Conor's Fort), Inishmaan: the largest stone fortress in the Aran Islands, standing at the highest point of Inishmaan.

Peer into the Wormhole, a massive natural blowhole carved by the sea on Inishmore.

Note: swimming in the Wormhole is extremely dangerous and strongly discouraged.

Discover the haunting allure of the Plassey Shipwreck, the rusted remains of a once-vibrant vessel that now rests against the rocky shoreline of Inisheer.
Watch the sunrise over Galway Bay from Teampall Bheanain on Inishmore. At roughly 15 feet by 11 feet, this wee stone building is thought to be the smallest church in the country.
Take a refreshing dip at one of the islands' serene beaches.

Kilmurvey Beach, Inishmore: sheltered cove with white sand and crystal-clear water.
Frenchman's Beach, Inishmore: popular location for snorkeling and scuba diving with lots of tidepools to explore.
Tra Mor, Inishmore: walk to the end of the paved road in Iaraine and continue north through the sand dunes to find this hidden gem. Chances are you might even have it all to yourself!
Trá Inis Oirr, Inisheer: white sand beach conveniently located between the ferry terminal and the airport.
15. Kilkenny
Known for: medieval history & vibrant cultural scene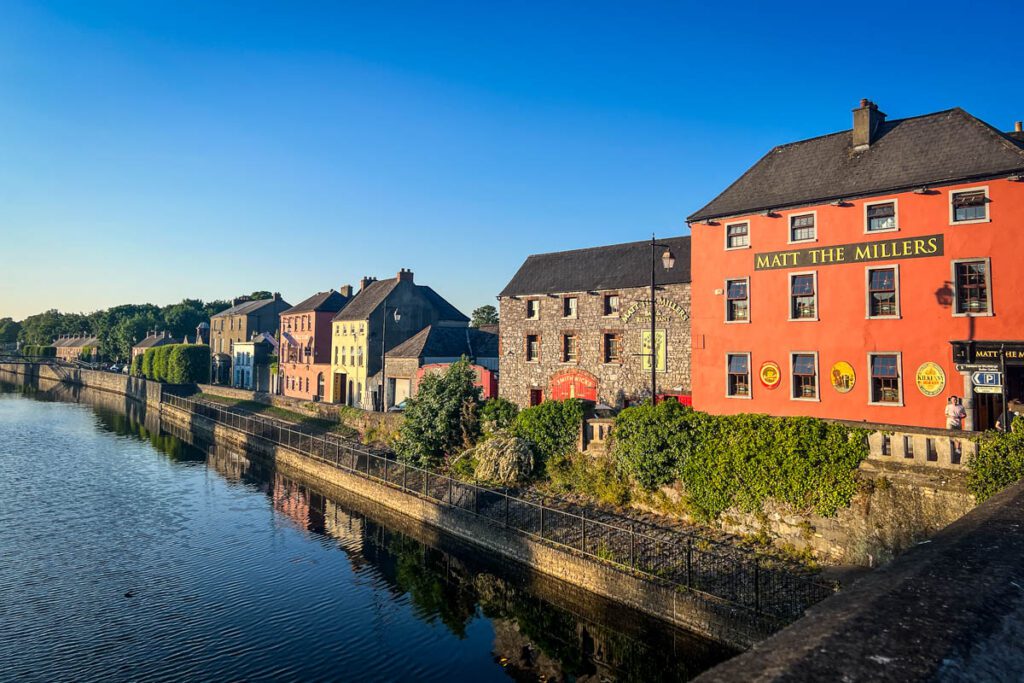 Nestled in Ireland's picturesque countryside, Kilkenny is a gem waiting to be discovered. Known for its well-preserved medieval architecture, you might feel like you've stepped back in time as you wander the cobbled streets.
The star of the show is Kilkenny Castle, a majestic fortress that stands proud amidst beautifully landscaped gardens.
But it's not all ancient history – Kilkenny is buzzing with modern energy. You'll find a vibrant arts and culture scene, music drifting out of lively pubs, and a warm hospitality that'll make you feel right at home.
Best Things to Do in Kilkenny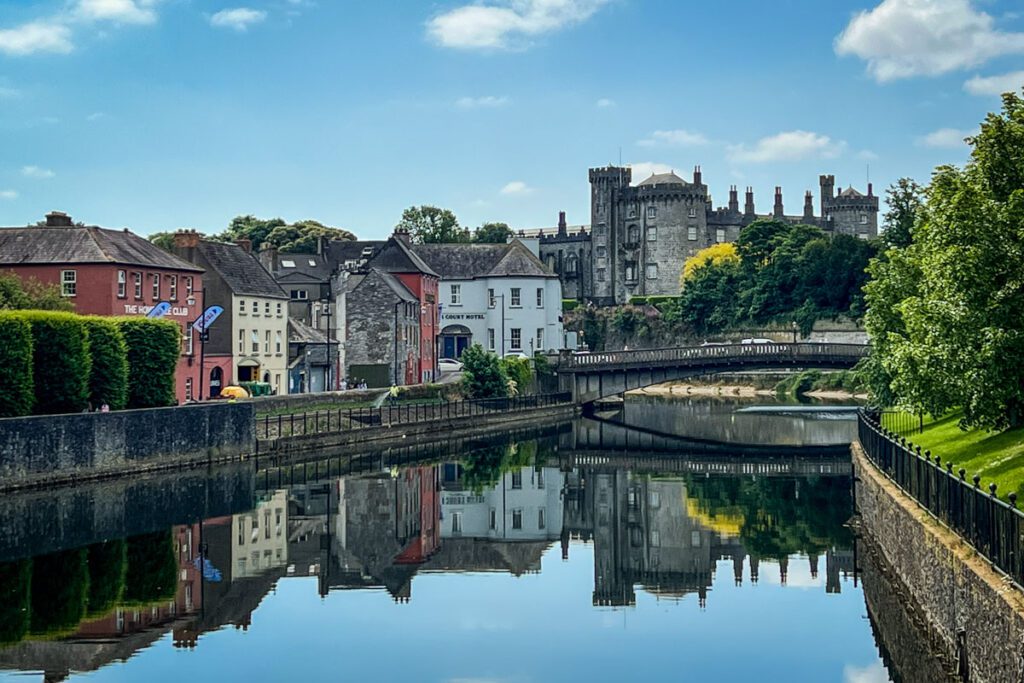 Explore the opulent rooms and gardens of Kilkenny Castle, a historical landmark that has dominated the city for more than 800 years.

Self-guided admission is €8 (~$8.62 USD) and guided tours are €12 (~$12.93 USD). Online bookings are only permitted within 7 days of your visit. Visit the official website to book.

Go beyond the Guinness with an interactive tour of Smithwick's Brewery. For €18.00 (~$19.39 USD), you get a 1-hour brewery tour and a complimentary pint of your favorite Smithwick's ale.

Insider tip: upgrade your ticket for only €4 (~$4.31 USD) and get a tasting paddle instead of a pint.

Stroll the Medieval Mile, a historic street that showcases the city's rich heritage.
See all the sights from the tranquility of the Nore River. Take a guided kayak or SUP tour (€49 / $52.79 USD) or rent a hydrobike for a self-guided adventure (€25 / ~$26.93 USD for 1 hour).
For a fun foodie experience, join a cheese and butter making workshop.

Cost: $49
Duration: 2 hours
Location: Stoneyford (16-minute drive from the city center)

Delve into Kilkenny's hidden dark side on a ghost tour. Hear chilling stories from both legend and history as you walk the streets and visit the city's most haunted sites.

Cost: $21
Time: 7 p.m. to 8 p.m.
16. Belfast
Known for: vibrant culture and tumultuous history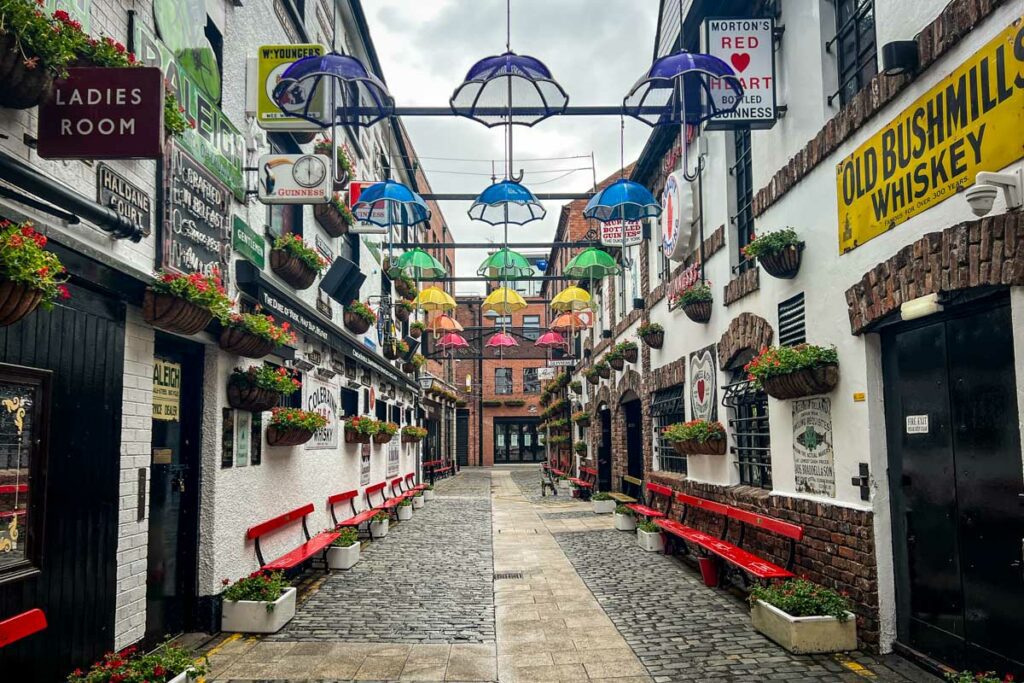 Belfast, the vibrant capital of Northern Ireland, is a city of contrasts where history intertwines with modern urban energy.
Prior to visiting, we knew a little bit about the Loyalist (primarily Protestant)-Nationalist (primarily Catholic) conflicts known as the Troubles. But we had no idea how prevalent the division is to this day.
I say that literally – there are still walls standing that separate communities in Belfast. The "Peace Walls" are now adorned with street art, political murals, and messages of hope and resilience.
Belfast is also known for its shipbuilding heritage, most famously as the birthplace of the Titanic. The tragic yet compelling tale of her construction and ill fate comes to life in the Titanic Quarter.
Despite the grim aspects of its past, Belfast embraces a spirited atmosphere with its thriving arts scene, lively music venues, and eclectic nightlife.
Note: Northern Ireland is part of the United Kingdom, not the Republic of Ireland. Keep in mind that prices here will be in pounds sterling.
Best Things to Do in Belfast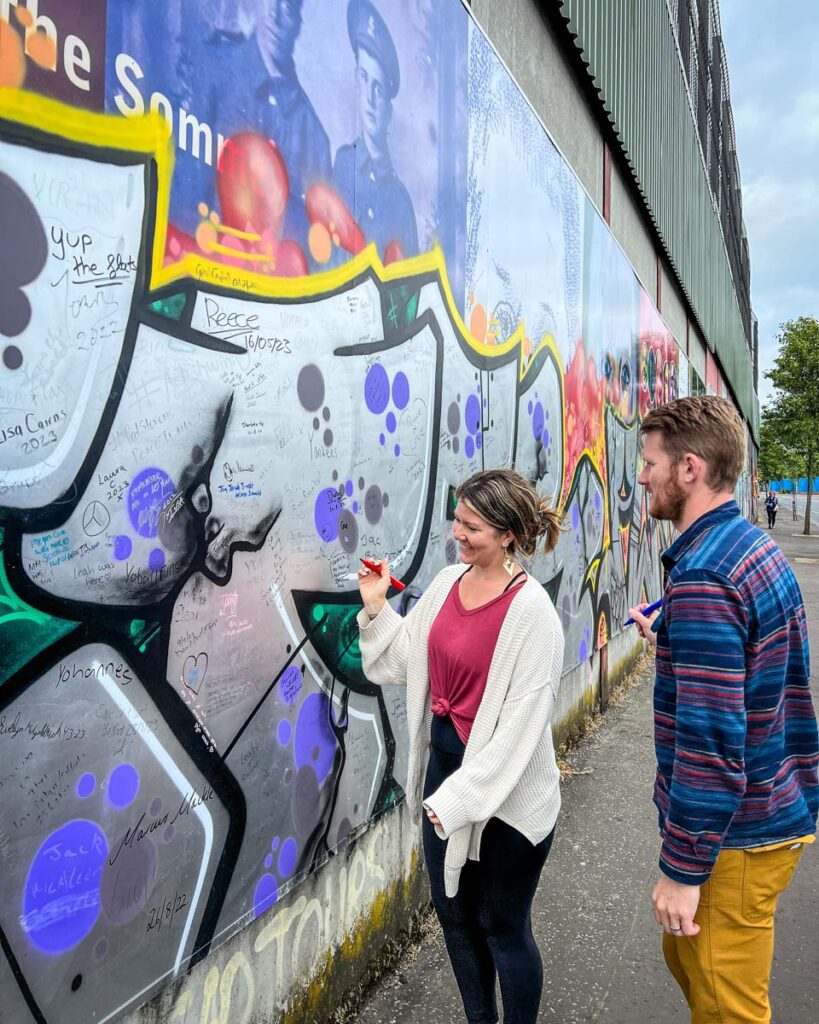 Discover Belfast's political and social history with a black cab tour. Listen to the knowledgeable local guide as they take you through the city's murals and peace walls, sharing captivating stories from the Troubles.
Immerse yourself in the history of the ill-fated RMS Titanic at Titanic Belfast. Experience interactive exhibits, explore Titanic's original tender ship, the SS Nomadic, and walk the slipways where Titanic was built.

Admission is £24.95 (~$31.33 USD)

Take in panoramic views of the city from Belfast Castle, nestled atop Cave Hill. Explore the castle's beautiful gardens, go for a leisurely hike on Cave Hill, and enjoy a nature break just a stone's throw from the city center.
Sample local delicacies and browse unique handmade goods at St. George's Market, a bustling hub of food, crafts, and live music.
Step inside the eerie walls of Crumlin Road Gaol, a former prison turned museum. Take a guided tour to learn about the prison's dark history, explore the haunting cells, and hear stories of its infamous inmates.

Entrance fee: £14.50 (~$18.21 USD)
Open at 10 a.m., last admission at 4 or 4:30 p.m., depending on the day and month.

Feel the vibrant energy of Belfast's Cathedral Quarter. Explore the narrow cobbled streets lined with trendy bars, restaurants, and art galleries.
Get a taste of history at Titanic Distillers. Follow in the footsteps of dock workers at Thompson Dock and Pumphouse, where Titanic last stood on dry ground. Learn why Belfast's whiskey traditions disappeared and how they've returned after nearly 90 years. And, of course, taste their Irish whiskey & vodka!

Tours range from £10 (~$12.56 USD) to £100 (~$125.57 USD). Visit the official website for more information.

Relive your childhood with a scavenger hunt in CS Lewis Square. Look for the statue of the Belfast-born author, as well as 7 bronze statues of characters from The Lion, the Witch, and the Wardrobe.
17. Connemara
Known for: sweeping boglands, majestic mountains, and windswept coastlines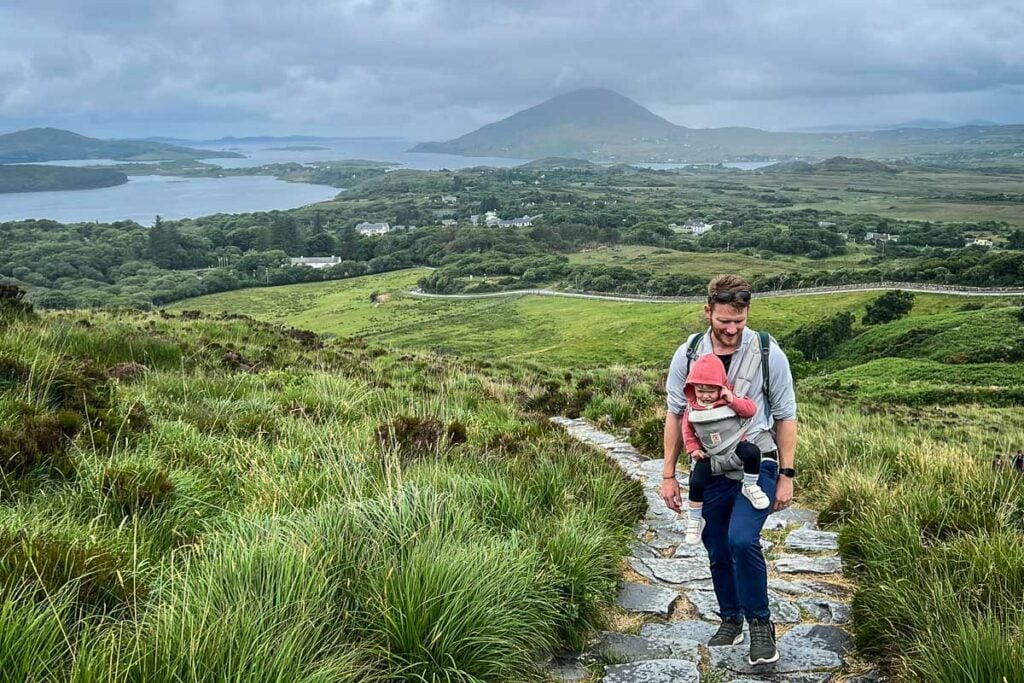 Connemara is a rugged and untamed paradise, huddled between the majestic Twelve Bens mountain range and the shimmering Atlantic Ocean on Ireland's west coast.
This remote region is a playground for nature lovers, with vast stretches of untouched wilderness waiting to be explored.
Traverse through serene landscapes of sparkling lakes, boglands, and heather-covered hills, and discover quaint villages where traditional Irish culture thrives.
Best Things to Do in Connemara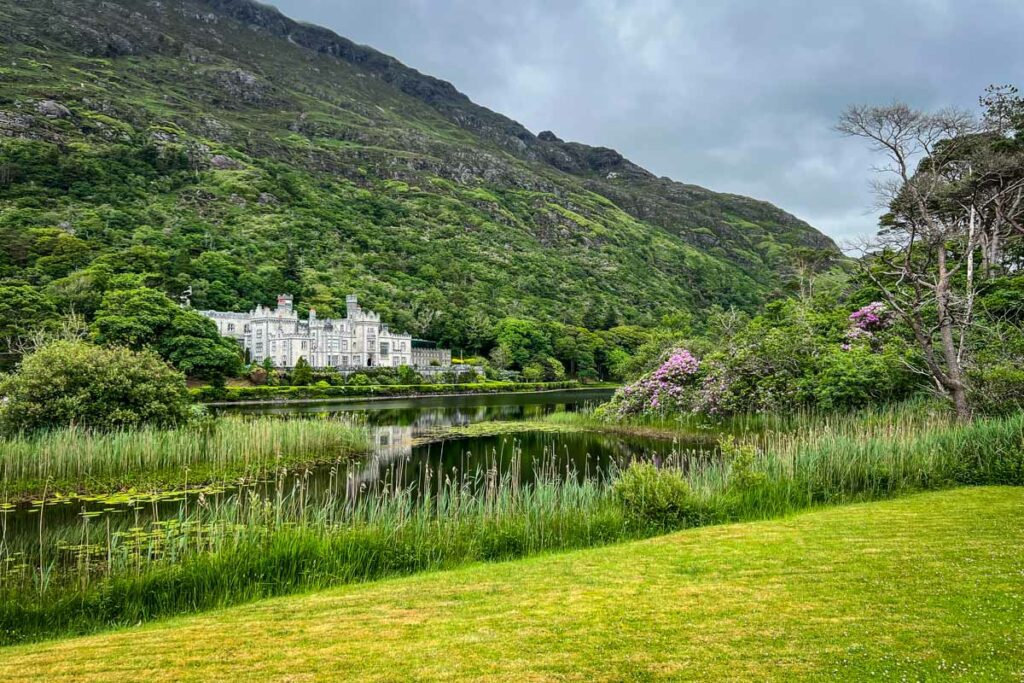 Visit the magnificent Kylemore Abbey with its beautifully restored period rooms, Victorian walled gardens, and neo-Gothic church. Learn the tragic love story behind this place and pay your respects at the mausoleum where the lovers now rest together.

Entrance fee: €16.00 (~$17.24 USD)
Hours: 10 a.m. to 6 p.m.

Venture into the rugged beauty of Connemara National Park. Choose from a variety of walking and hiking trails ranging from easy to challenging. Diamond Hill is a popular route, offering panoramic views.
Drive the iconic Sky Road, a scenic loop that offers breathtaking views of the coastline, rugged cliffs, and rolling hills of Connemara.
Catch a ferry from Cleggan Pier and escape to the wild beauty of Inishbofin Island. This nature-lover's playground offers scenic trails, unspoilt beaches, wildflowers, sea cliffs, and protected wildlife.
Explore the picturesque village of Roundstone on Bertraghboy Bay, known for its traditional Irish music, colorful harbor, and vibrant art scene.
Meet the famous Connemara ponies, known for their gentle nature and beauty. Visit a local pony farm or take a pony trek through the scenic countryside.
Visit a working oyster farm. Learn how one of the oldest oyster farms in Ireland has grown succulent shellfish since 1893. Shuck your own oyster and finish with a tasting!
Take to the sea in Mannin Bay with a Connemara coastal kayaking tour. Admire the breathtaking coastlines against the backdrop of the Twelve Bens. If you're lucky, you might even meet a curious seal or two!

Cost: $86.26
Duration: 2.5 hours
18. Waterford
Known for: rich Viking heritage and vibrant arts scene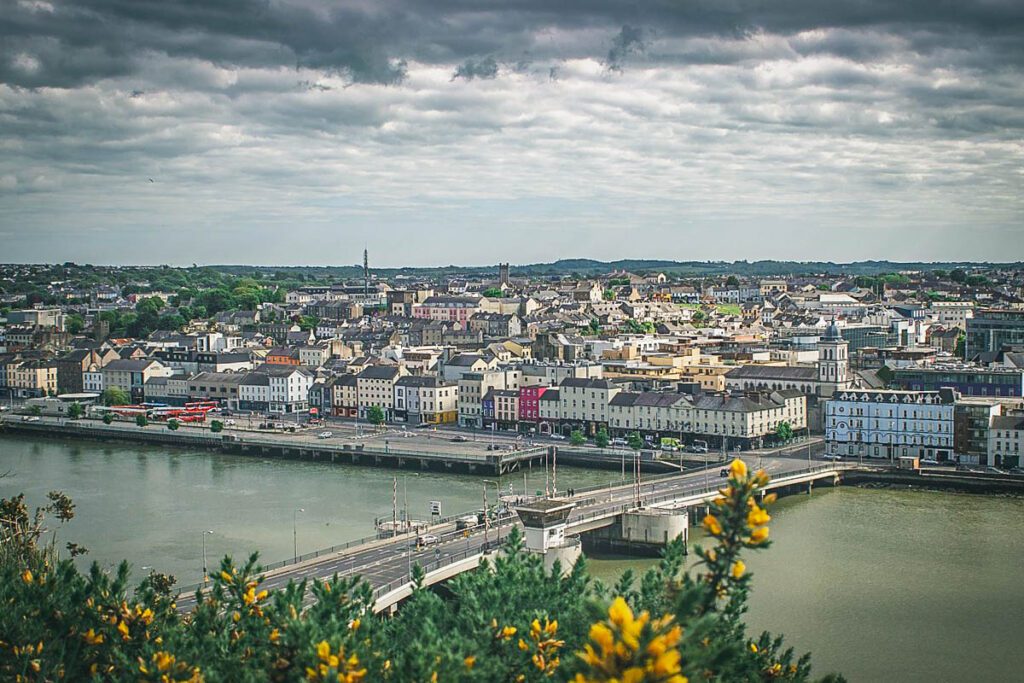 Founded by Vikings in 914, Waterford is the oldest city in Ireland.
History comes alive in the narrow medieval streets, landmarks, and museums of the Old Town, known as the "Viking Triangle".
If you've heard of Waterford, I'm betting it's probably in the context of Waterford Crystal. Drop by the visitor's center to see this dazzling craft that is coveted worldwide.
But Waterford isn't just about history and craftsmanship; it also offers a lively contemporary scene. Stroll along the picturesque quays, indulge in culinary delights at local restaurants, and soak up the vibrant atmosphere in the city's bustling pubs.
Best Things to Do in Waterford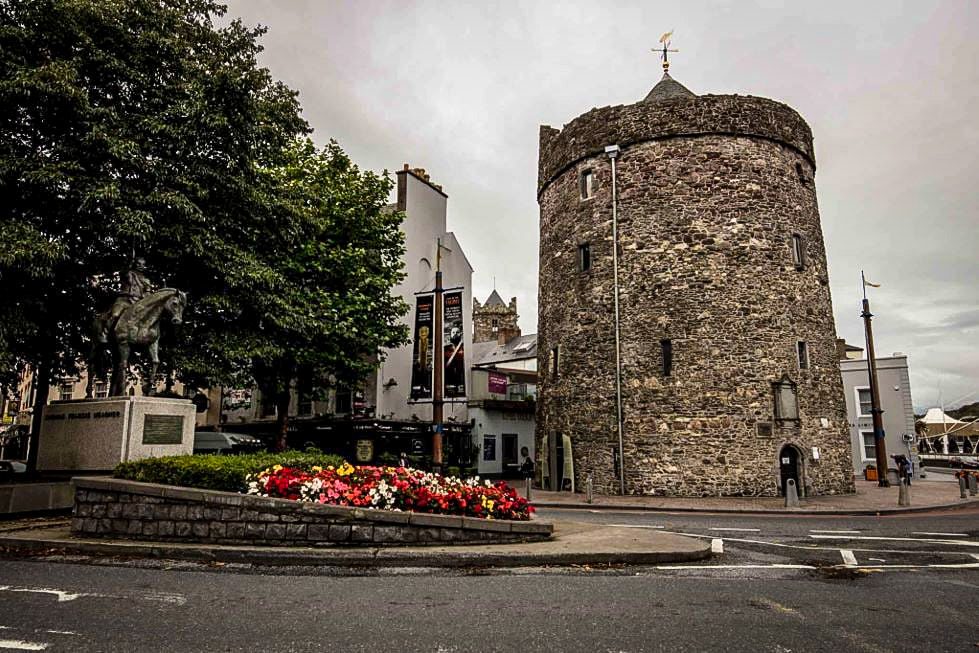 Explore the Viking Triangle, the city's "old town" and an area packed with both historic landmarks and cultural attractions.

Reginald's Tower: Ireland's oldest civic building, named after the viking founder of Waterford.
Medieval Museum: explore the 13th-century Choristers Hall and 15th-century wine vault; see the stunning Heavens' Embroidered Cloths, the only surviving set of Medieval vestments in Northern Europe.
Bishop's Palace: architectural jewel turned museum housing Georgian and Victorian treasures, such as the oldest piece of Waterford glass in the world.

Witness the exquisite craftsmanship of Waterford Crystal on a factory tour. Marvel at the intricate glassblowing techniques, learn about the history of this world-renowned brand, and perhaps even bring home a sparkling souvenir.

Factory tour: €17.00 (~$18.31 USD)
Afternoon tea: €28 – €50 (~$30.16 – $53.86 USD)

Embark on a scenic cycling or walking adventure along the Waterford Greenway, a 46 km (~26 mile) trail that follows a former railway line from Waterford City to Dunvargan with tons of sights and attractions along the way.
Lose yourself in the enchanting beauty of Mount Congreve Gardens overlooking the River Suir. Wander the trails through woodlands, fragrant flower gardens, and a spectacular walk featuring hundreds of magnolia trees.

The entrance fee is €10 (~$10.77 USD), slightly cheaper if you book online.
Try a 1-hour forest bathing experience for €25 (~$26.93 USD)

Try Waterford's specialty bread, blaa (no, we're not making weird noises – that's what it's called!). Pick some up at Hickey's Bakery, the longest-established blaa bakery in the city, or find it on the menu at a local cafe.
19. Blarney Castle
Known for: the famous Blarney Stone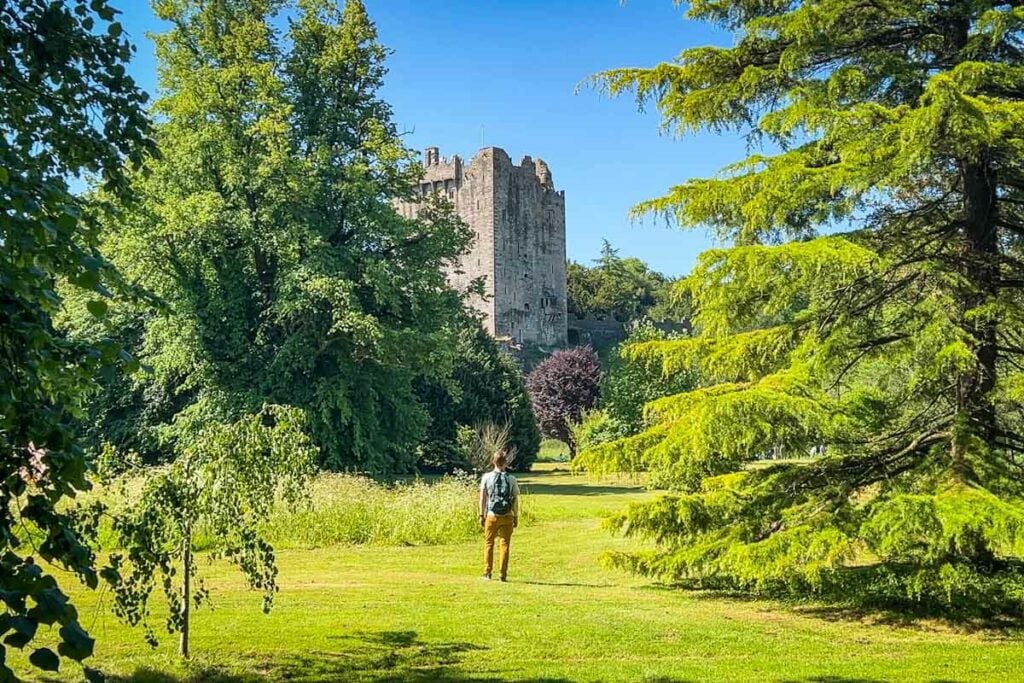 In County Cork, less than 20 minutes from the city center, tourists flock to Blarney Castle for a chance to kiss the famous Blarney Stone.
Legend says that planting a smooch on this ancient stone will grant you the gift of eloquence.
Those who make the pilgrimage are certainly in good company – such influential figures as Winston Churchill, Ronald Reagan, and Mick Jagger have all pressed their lips to this intriguing block of limestone.
If getting fresh with a brick isn't your thing, the castle and gardens are stunning and still very much worth a visit.
Entrance fee: €20 (~$21.67 USD)
Hours: roughly 9 a.m. to 5 p.m., but varies slightly depending on the season
Our experience: We arrived shortly after the grounds opened at 9 a.m., thinking we were getting there early. But the lineup for the castle was already HUGE and the wait time was 90 minutes. Yikes. We felt like we were at Disney World.
We opted to skip the castle rather than waiting in the sun with a baby and explored the gardens instead. Truthfully, we didn't care much whether we got to kiss the Blarney Stone or not (Ben actually has a theory that it's all an elaborate prank to trick tourists!).
Best Things to Do in the Blarney Castle & Grounds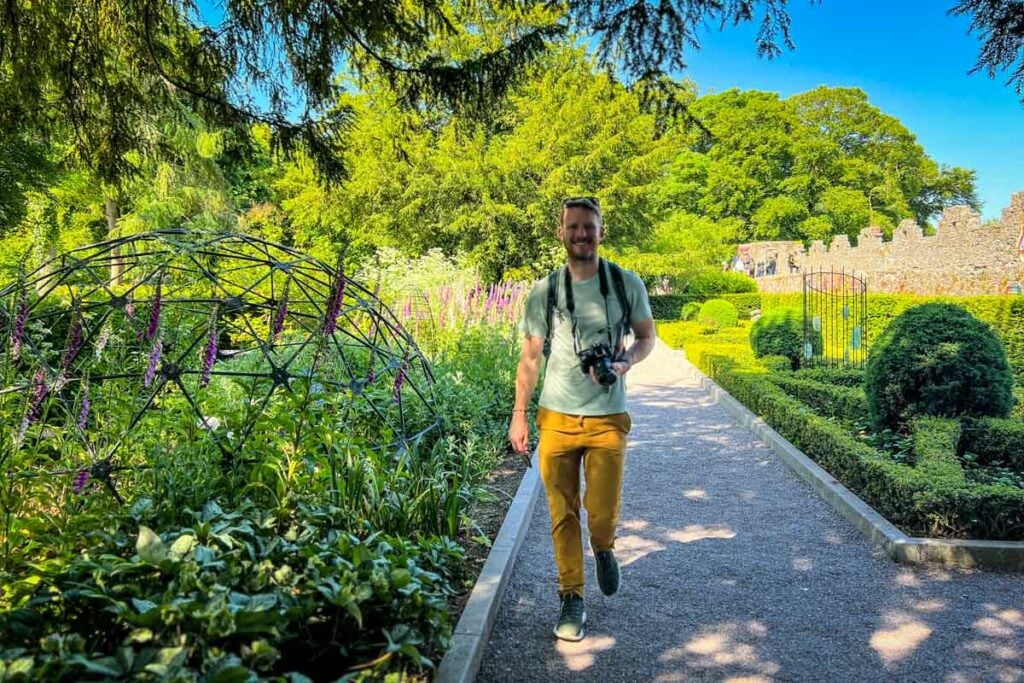 Climb to the top of the castle and pucker up for the ultimate tourist tradition: kissing the Blarney Stone. Sometimes ya just gotta do the tourist thing, right?
Wander the tranquil Fern Garden. Especially after seeing the crowds lined up for the castle, we loved the peace and quiet of the Fern Garden. It ended up being the best part of our visit!
Step into the eerie and fascinating Poison Garden, where deadly plants from around the world are grown. Learn about their lethal properties and the cautionary tales behind them, but remember, don't touch or taste!

We had to laugh when we saw the juniper (our daughter's name!)

Explore the Rock Close, a mystical site said to have once been an ancient druidic settlement. The mysterious landmarks here include a sacrificial altar, a hermit's cell, a witch's kitchen, and the Wishing Steps. Keep your eyes peeled for whimsical fairy doors hidden among the trees.
If you're visiting mid-summer, don't miss the fragrant beauty of the 80-meter (~262-foot) rose pergola of the Herbaceous Border garden.
20. Glenveagh National Park
Known for: dramatic mountain peaks, mirror-like lakes, and vast heather-covered moorlands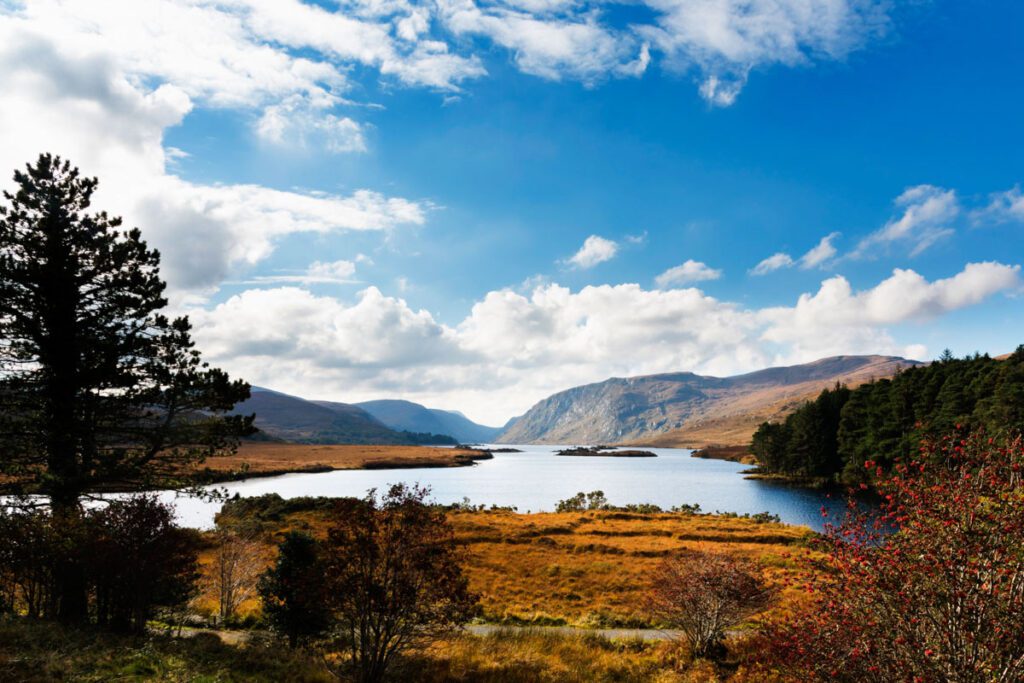 Glenveagh National Park is a breathtaking wilderness of rugged mountains, serene lakes, and lush valleys in the heart of County Donegal.
Spread over more than 110 square miles, this national park captivates visitors with its untouched beauty and sense of tranquility.
Hiking enthusiasts can explore the trails that wind through the Derryveagh Mountains, while nature lovers can revel in the park's diverse ecosystems and protected wildlife.
Insider Tip: Park your car at the Visitor's Centre. From there, you can catch a shuttle to the Glenveagh Castle & Gardens or take the Trail Walkers Bus to either Lough Inshagh or the Glen Walk (Saturdays & Sundays). Rides are first come first serve with no pre booking and cost €3.
Best Things to Do in Glenveagh National Park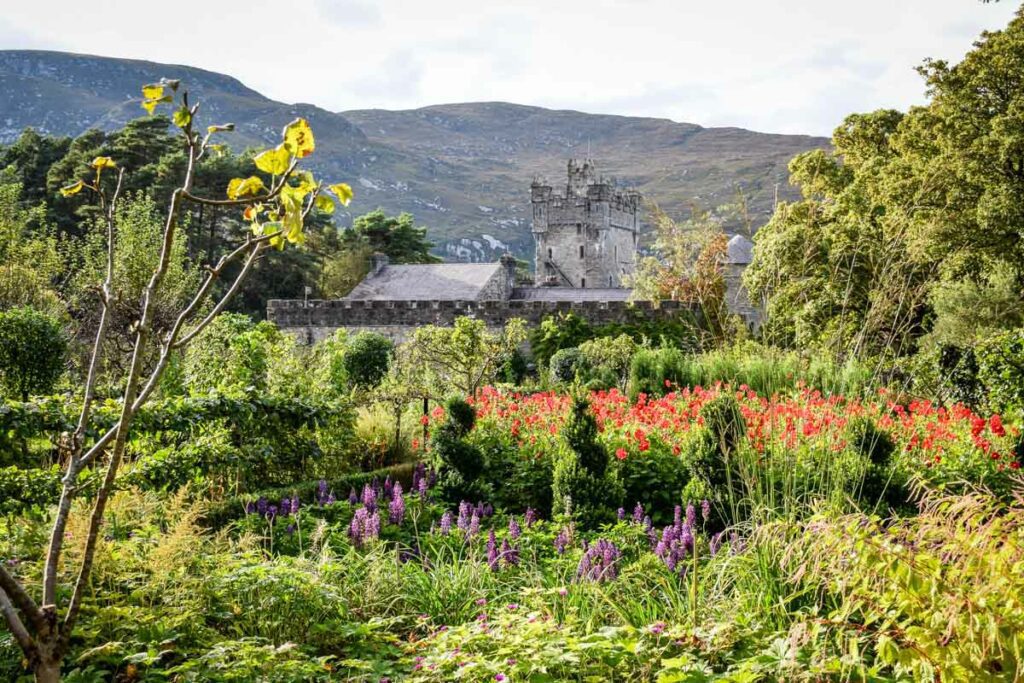 Visit the 19th-century Glenveagh Castle & Gardens, a romantic mansion nestled amidst the stunning landscapes of the park.

Castle tour: €7 (~$7.54 USD)
Hours: 9:45 a.m. – 5:15 p.m.

Explore the wilderness of the Derryveagh Mountains on this trail, which passes through both Crockfadda East Top and Crockballaghgeeha.
Climb Slieve Snaght, the highest peak in the Derryveagh Mountains. Keep an eye out for the park's resident wildlife, such as deer, foxes, and golden eagles.
Stroll along the shores of Lough Veagh, a serene lake surrounded by lush forests and rolling hills. The Lakeside Walk is an easy out-and-back trail.
---
How many days do you need in Ireland?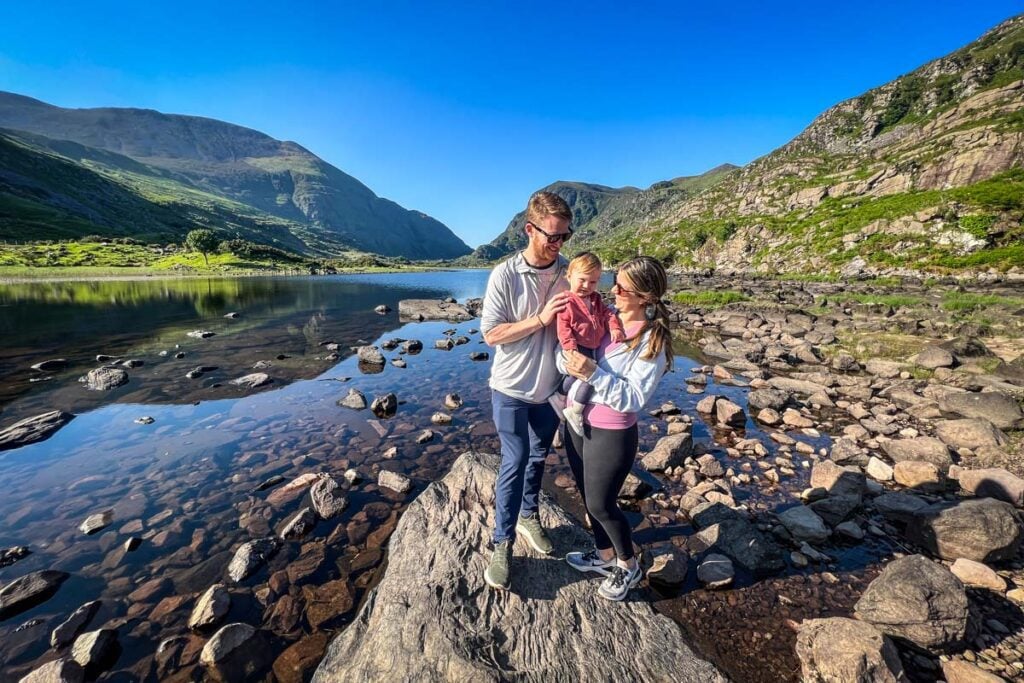 How long you decide to stay depends entirely on which places in Ireland you want to visit.
Below is a breakdown of the number of days we'd recommend for some of the top places to visit in Ireland. The lower number of days will be for just seeing the highlights, while the higher number will allow you to spend more time really enjoying each place.
Ring of Kerry: 1-3 days
Galway: 2-3 days
Dublin: 2-3 days
Antrim Coast: 3-4 days
Kinsale: 1-2 days
Wicklow Mountains National Park: 1-2 days
Killarney: 1-2 days
Cork: 1-2 days
Dingle Peninsula: 1-2 days
Cliffs of Moher: 2-3 hours (longer if you plan on doing the entire coastal walk)
Best time to visit Ireland
Ireland is best experienced during the summer months of June to August, but we would recommend visiting during the shoulder seasons of May or September/October instead to avoid the crowds and price hikes of peak tourism. Christmas is also a magical (albeit expensive) time to visit.
Ireland doesn't experience extreme temperatures and it rains no matter the season, so there isn't really a bad time to visit. That said, we would probably avoid traveling in January/February in order to maximize daylight hours for exploring.
Our guide to the best time to visit Ireland gives the full breakdown on every season to help you decide when you plan your trip.
Trying to decide whether to visit Ireland or Scotland? You're not alone! We've done both, and we have a whole guide where we compare the two and give our personal recommendation on the Scotland vs. Ireland debate.
How to get around Ireland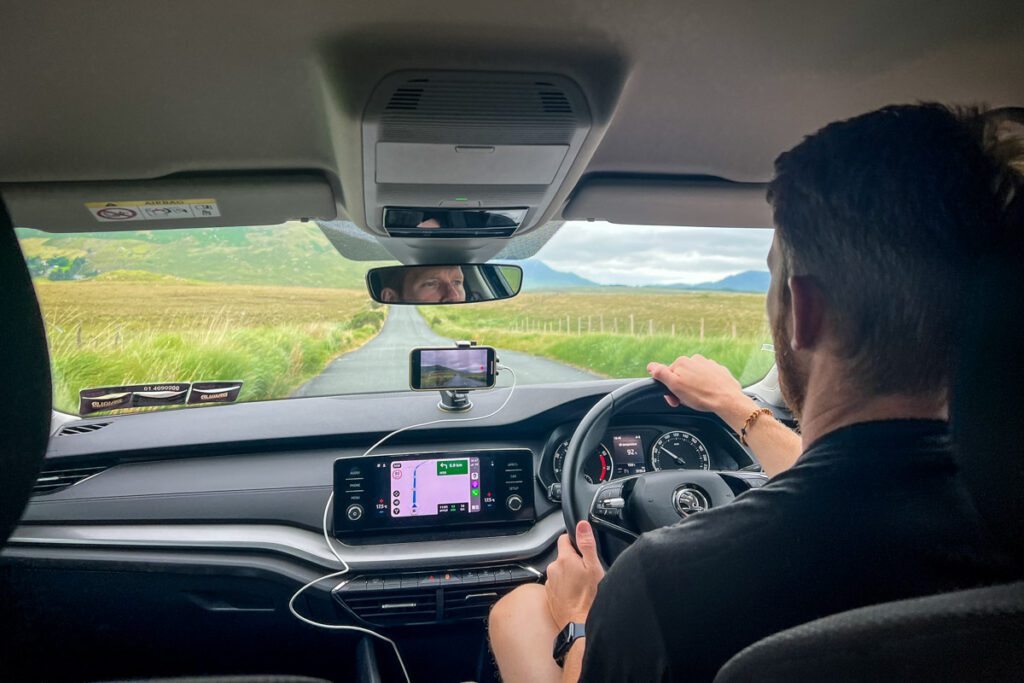 Ireland offers a diverse range of transportation options that cater to different preferences as well as budgets. The country's extensive transportation network ensures that travelers can easily navigate between different regions, cities, and towns.
By car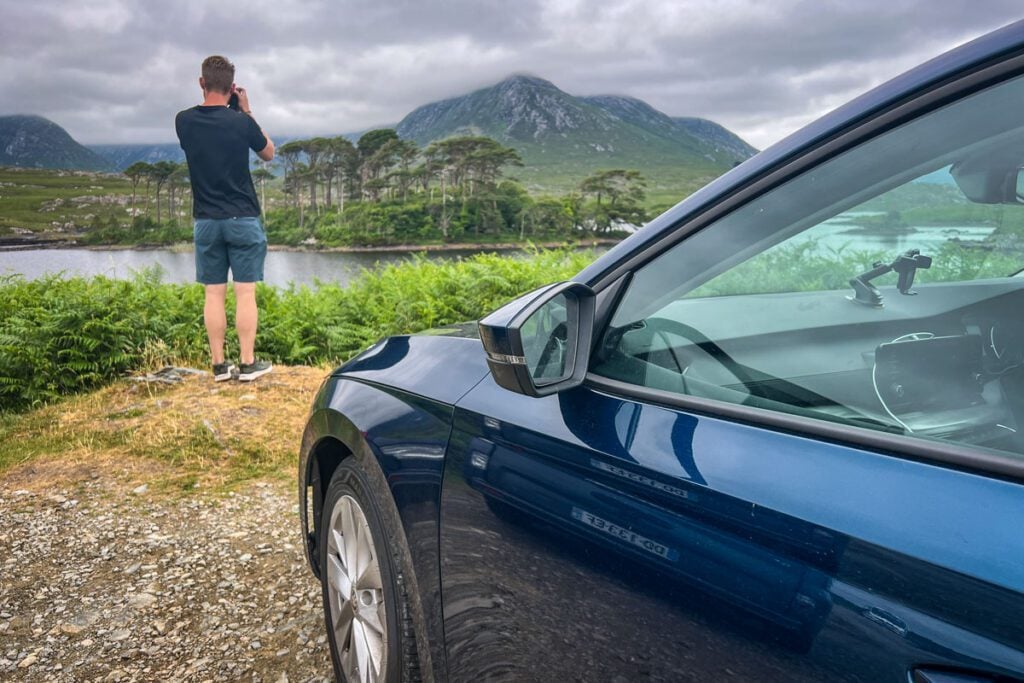 Having your own set of wheels offers the most freedom and flexibility for traveling in Ireland, allowing you to get off the beaten path and pull over to take photos whenever your heart desires (trust me, this will happen a lot!).
Car rentals (a.k.a. car hires) are fairly affordable in Ireland, with mini, economy, and compact cars available at just $25-30 USD per day. Drivers must be at least 21 years of age and have a valid driver's license in their home country. However, prices are significantly higher for drivers aged 21-24, starting at around $70 USD per day.
Driving in Ireland takes some skill and patience, as many of the roads are narrow, winding, and occasionally blocked by wandering sheep. It also helps if you know how to handle a stick, as rentals with automatic transmission are less common and much more expensive. And don't forget that they drive on the left!
We personally like using Discover Cars when we rent vehicles around the world, as they gather options from all sorts of rental companies in one place. It makes it really easy to compare prices and vehicles so you can determine which is the best option for you.
Search & Compare Rental Car Prices
Discover Cars: We personally use this aggregate site to compare rental car prices from all the big name companies and get the best price possible.
RentalCars.com: We've had good experiences finding rental cars with this site in the past.
By bus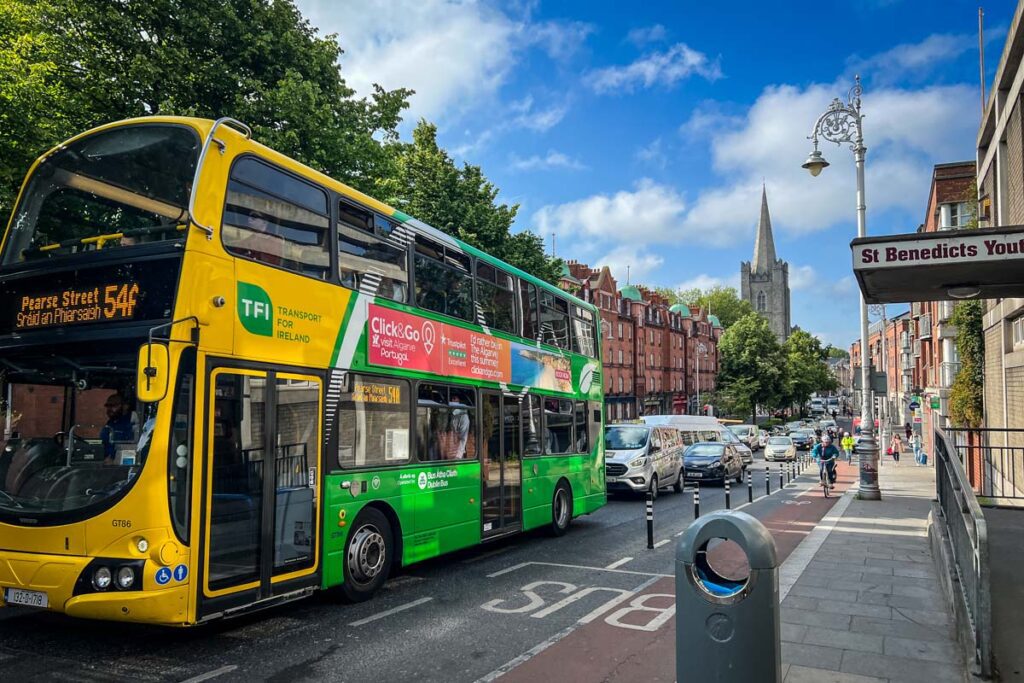 With rising prices of fuel, parking, and tolls, many visitors to Ireland are now choosing public transportation to get around rather than renting a car. Bus travel in Ireland is both efficient and affordable.
Transport for Ireland (TFI) operates a variety of express and city buses throughout the Republic of Ireland, with Bus Éireann serving over 3,000 locations. Online ticketing is available for 500 destinations.
Northern Ireland has its own public transportation services under the umbrella of Translink. The bus lines are Metro and Glider in Belfast, and Ulsterbus servicing various locations.
For sightseeing, some cities like Galway and Cork offer seasonal hop-on hop-off buses, while Dublin and Belfast have HOHO buses that operate year-round.
By train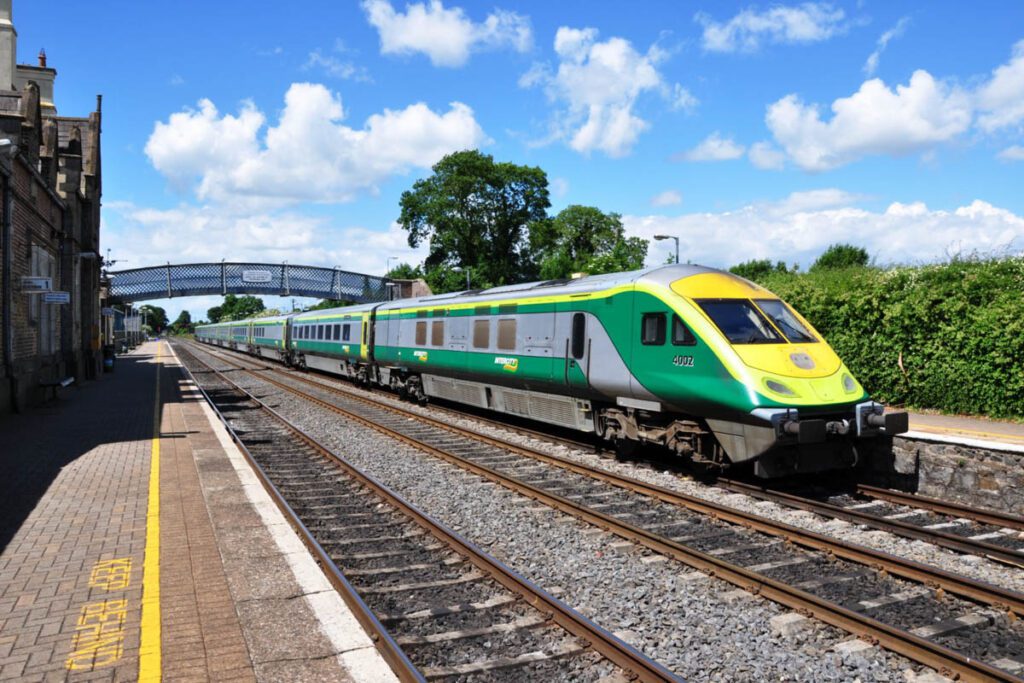 Since all of Ireland's rails are above ground, train travel is a great way to relax and enjoy scenic views of the country while getting from point A to point B. Irish Rail (Iarnród Éireann) operates an extensive train network that covers most of the mainland, including one line from Dublin into Northern Ireland. There are a variety of ticket options available.
If you plan on taking a lot of public transport, then it may be beneficial to get a Leap Card, an electronic payment method that you can reload as you go.
Most commercial buses and trains throughout the Republic of Ireland (also some in Northern Ireland) accept the Leap Card. It'll save you time buying tickets for each journey, as well as money with up to 30% discounts on Leap fares vs single cash tickets. You can buy the card online here.
Similarly, Translink offers a variety of travel cards for both train and bus travel in Northern Ireland.
Insider Tip: There are a few Leap Card types to choose from. Make sure you get the regular adult card as opposed to the visitor card, as the visitor card is only valid on trains within Dublin, whereas the regular card can be used nationwide on both trains and buses.
By Uber
Though you can use the Uber app in Ireland, it's not the same as in the US. Private drivers aren't allowed to carry paying passengers, so Uber is simply used to hire taxis or limos.
By campervan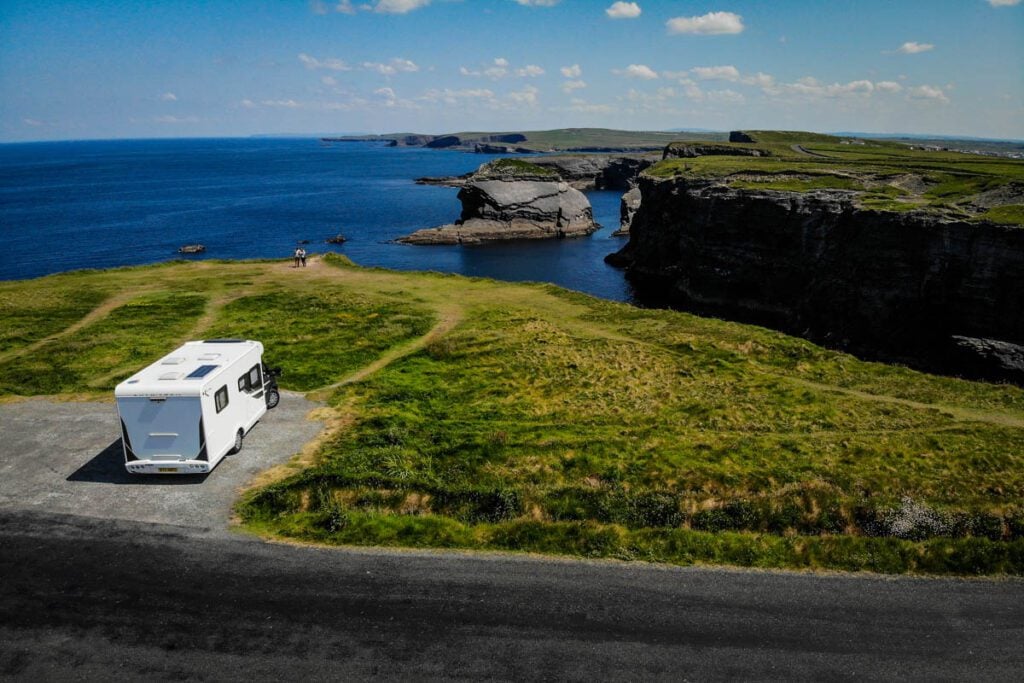 Another option for getting around Ireland that we HIGHLY recommend is to hire a campervan. We truly believe this is the best way to explore, plus you can save money because it's your transportation and accommodation all in one.
We have an entire guide to the best campervan rentals in Ireland to help you plan the ultimate road trip.
Tips for visiting Ireland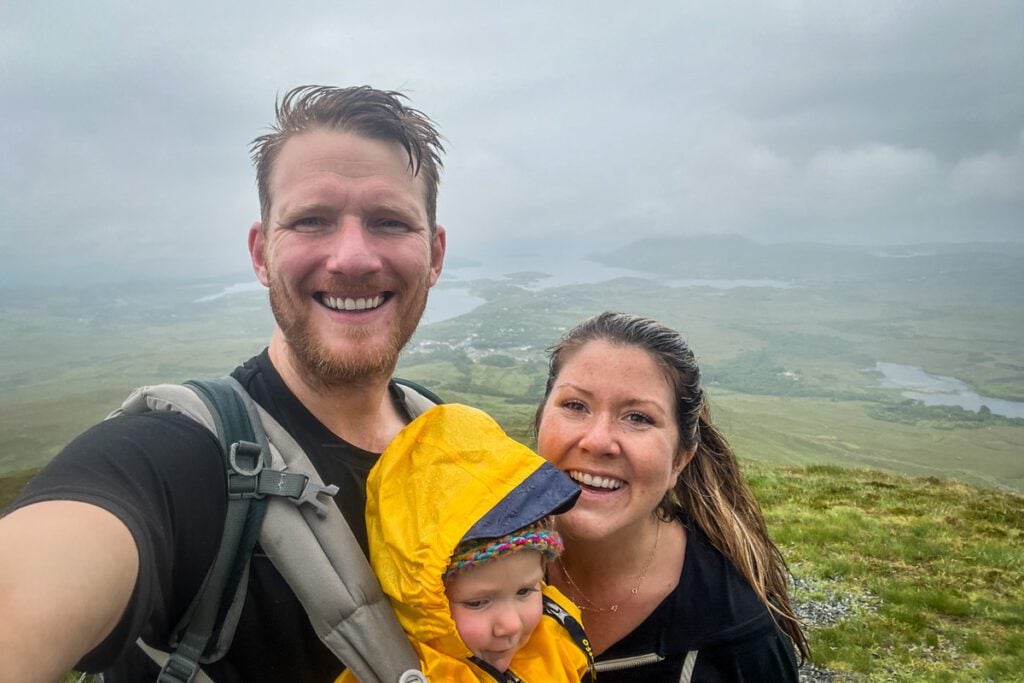 Here are a few things to keep in mind when planning your trip to the Emerald Isle:
Expect sudden changes in weather. The one predictable thing about Ireland's weather is that it's always changing, so be prepared with layers and packable rain jackets.
Plan your driving routes. Especially if you opt to rent a campervan in Ireland (yes, do it!), make sure you're aware of any size or weight restrictions as many of the roads are very narrow.
Know the differences between the Republic of Ireland and Northern Ireland. The ROI is part of the European Union, while Northern Ireland is part of the UK.

ROI uses the euro (€), while Northern Ireland uses pounds sterling (£).

Respect sacred places. Ireland is home to many sacred sites, so be mindful and respectful when visiting religious and historical places and observe any posted rules.
Start your days early. Popular historic attractions like castles and ancient ruins can get busy later in the day, so beat the crowds by visiting early in the morning.
Wear comfortable shoes. From cobbled streets to rugged trails, you'll be doing a lot of walking while visiting Ireland. Be sure to pack sturdy, comfortable shoes (preferably waterproof).
Carry cash. While credit cards are widely accepted, it's good to have some cash on hand, especially in smaller towns or when visiting local markets.
What to pack for traveling to Ireland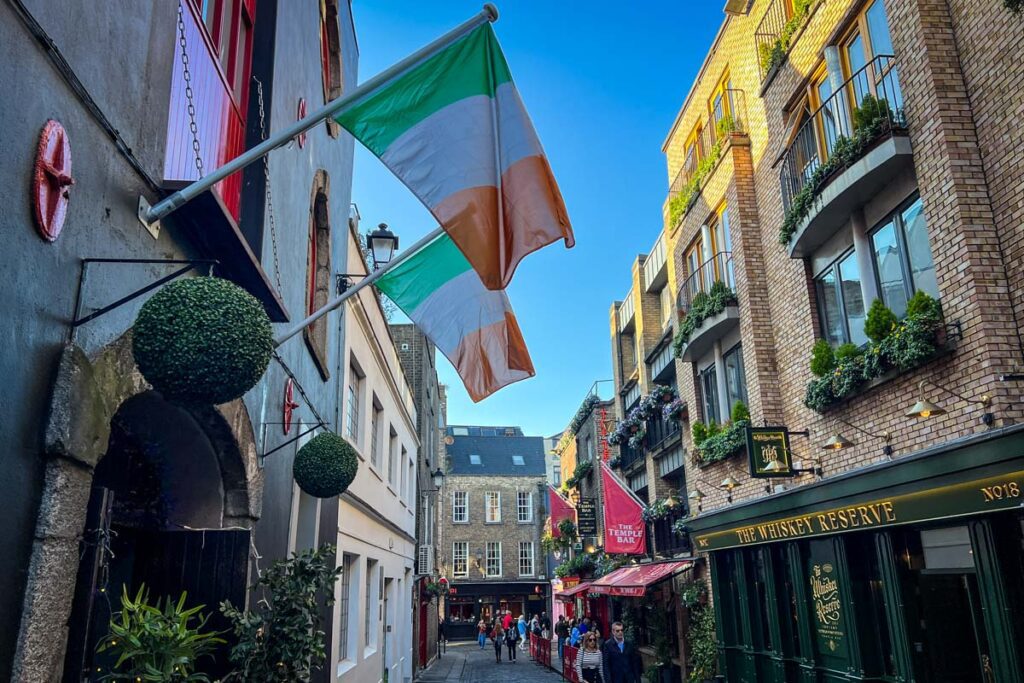 We know it can be overwhelming packing for a trip to a new destination. That's why we spent hours creating this super helpful PDF just for you.
In this free Ireland packing list PDF download, we've provided packing checklists for everything from clothing and toiletries (for both women and men!) to electronics and extra gear you may consider packing if you plan to do some campervan travels.
Plus, we're sharing tons of packing hacks and tips for traveling in Ireland that you won't find anywhere else!

Round up of the top places to visit in Ireland
Here's a recap of all the best places to visit in Ireland so you can see everything in one place.
Ring of Kerry
Dublin
Antrim Coast
Kinsale
Wicklow Mountains National Park
Killarney
Cork
Dingle Peninsula
Cliffs of Moher
Slieve League
Rock of Cashel
Doolin
Aran Islands
Kilkenny
Belfast
Connemara
Waterford
Blarney Castle
Glenveagh National Park
---
Are you planning a trip to Ireland?
We're creating lots of resources for travel in Ireland and destinations throughout the country. Check out our Ireland Travel Homepage for everything you need to know, or read some of our favorite articles below.
Save this article on Pinterest for later!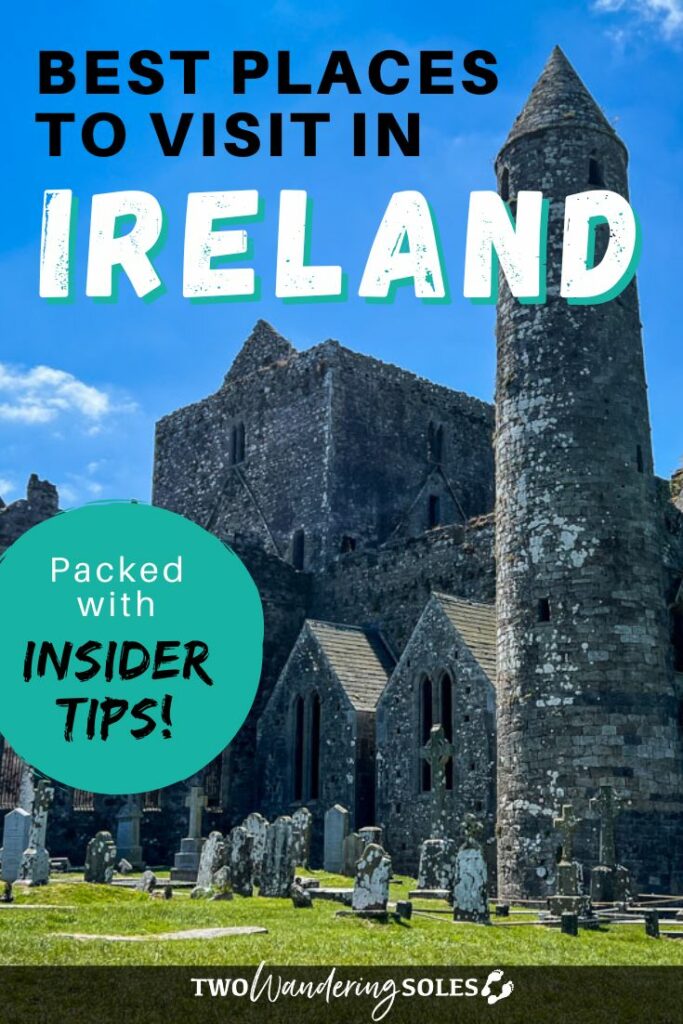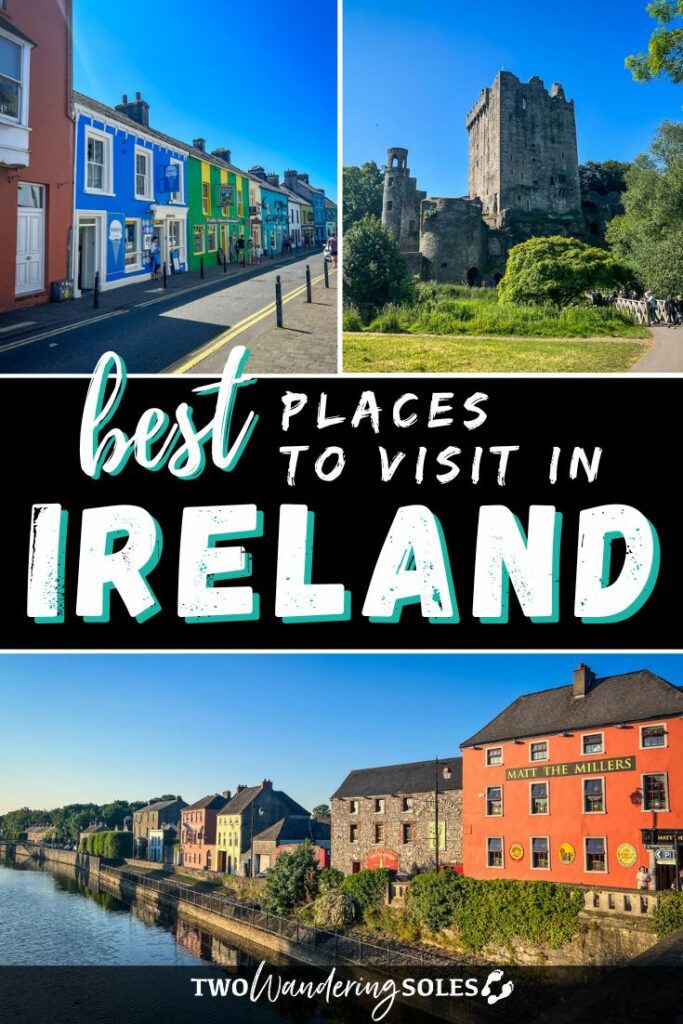 We want to hear from you!
Which of these places to visit in Ireland is going to the top of your bucket list? Do you have any more questions after reading this article? Leave your comments below and we'll try our best to bet back to you!