Glamping in Ireland should be a bucket list experience for anyone exploring this stunning country. From domes to hobbit houses, lodges, and luxurious escapes, this guide covers some of the best glamping stays around Ireland.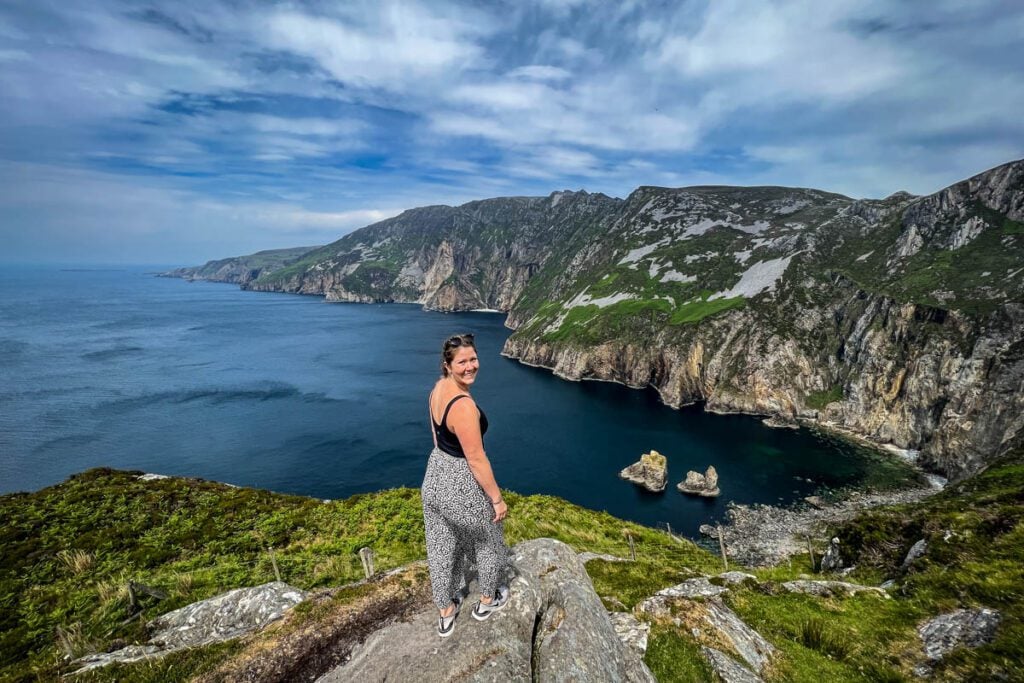 One of the best ways to experience Ireland is by immersing yourself in its wild and rugged nature.
Whether you like your creature comforts when exploring the outdoors or simply want to treat yourself, you'll love the experience of glamping.
In this guide, we highlight all the places you can go glamping in Ireland that you'll definitely want to add to your radar.
Ireland glamping guide
---
Other resources for planning your trip
Be sure to download our complete packing list for Ireland! It's packed with good suggestions and insider tips to help plan your Ireland trip. And it's completely FREE, so why not!?

---
Just how expensive is glamping in Ireland?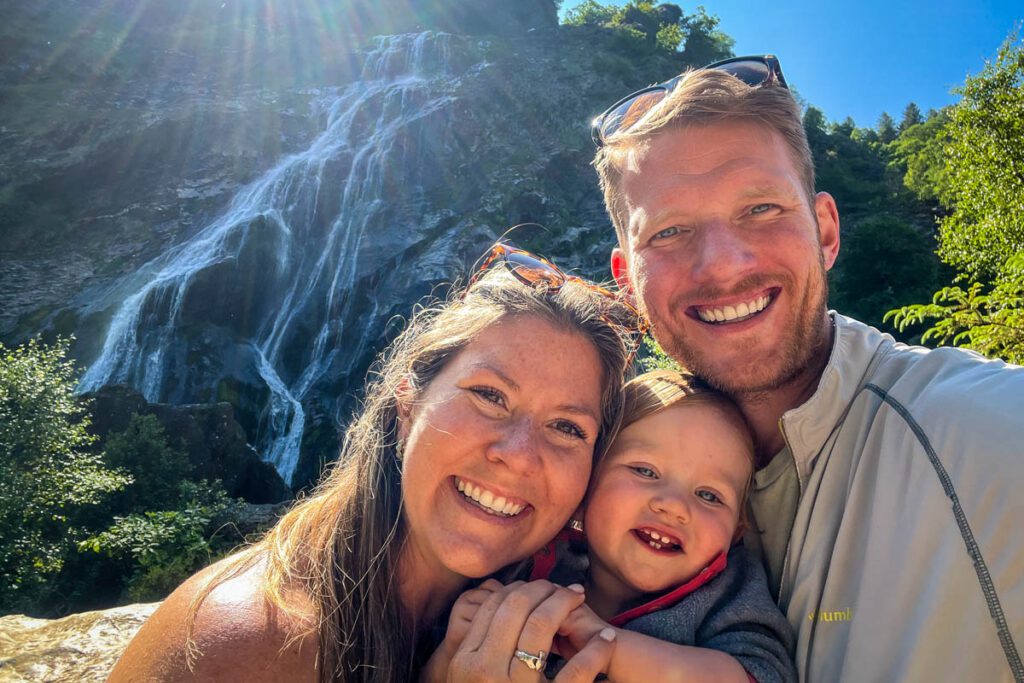 The cost of glamping in Ireland varies depending on what you book.
Most average about the same cost as a mid-range hotel. If you really want to splurge, the opportunities are definitely there; otherwise, we've found spots for as little as $80 USD per night.
Why go glamping in Ireland?
There are countless reasons why glamping is one of the best things to do in Ireland, but here are a few key reasons before we jump into the good stuff:
Unique and memorable stays
Many hotels in Ireland will be priced similarly or higher than glamping sites. For around the same cost, you can book something truly special rather than a regular hotel.
Private with perks
One of the main draws of glamping is the privacy and extras that come with your stay.
Some have hot tubs, saunas, private patios, or postcard-worthy views that you don't have to share with anyone else!
Pet-friendly stays
If you want to bring your furry companion on your adventures, many glamping sites in Ireland allow pets (while many hotels don't). Just be sure to double-check with the property as rules differ for each stay.
Best Ireland glamping stays
Have we convinced you to book your dreamy glamping stay in Ireland yet!? It will be an experience you'll cherish for the rest of your life and we don't think you'll regret it!
Without further ado, here are all the best places to go glamping in Ireland:
1. Fernwood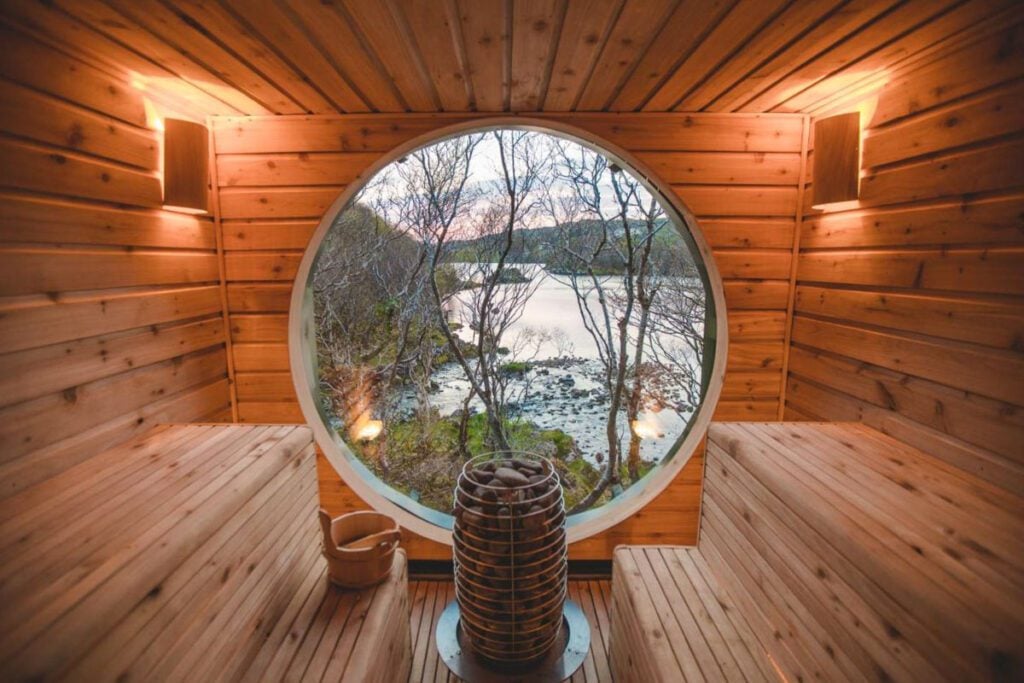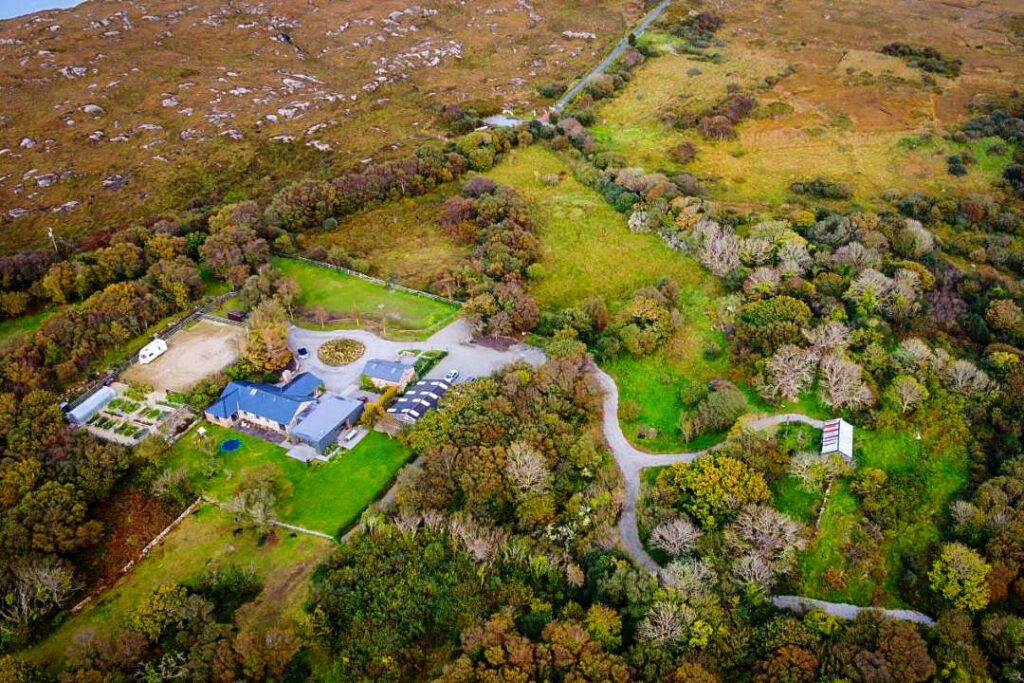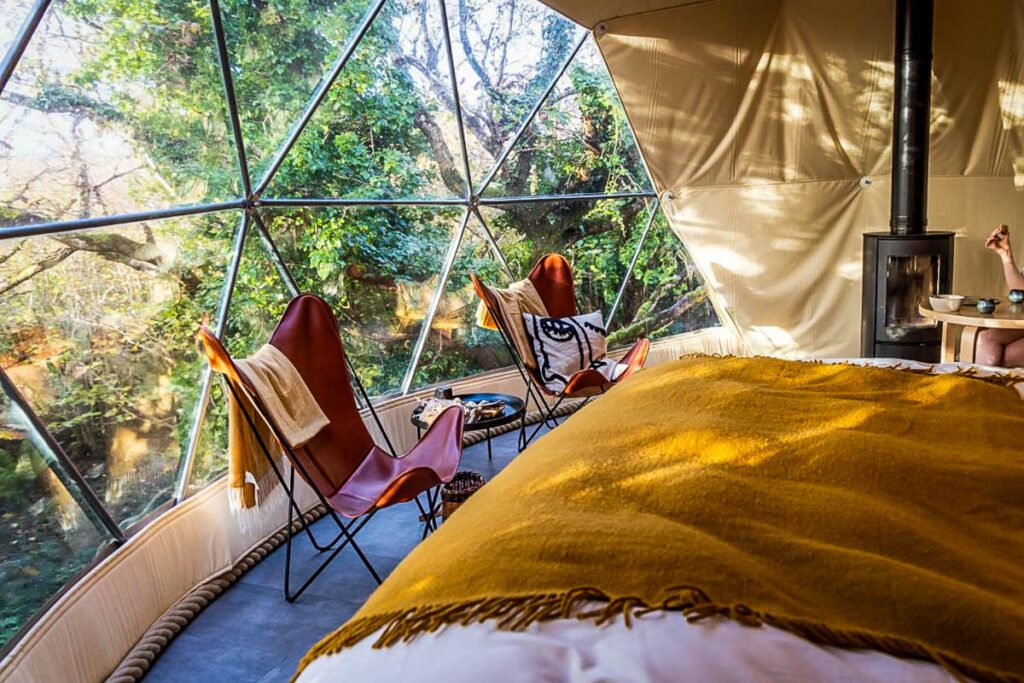 Just west of Galway, these dreamy and modern glamping sites are the perfect escape to Ireland's verdant countryside.
Their geodesic domes are situated in a canopy above the woodland floor and come complete with a woodburning stove, large rain shower, fully-functioning kitchen, and a deck to take in the views.
Venture outside the dome and you can relax in the lakeside sauna house, say hello to the resident dogs and donkeys, explore ancient ruins, and walk along the scenic Salt Lake.
2. Lough Mardal Lodge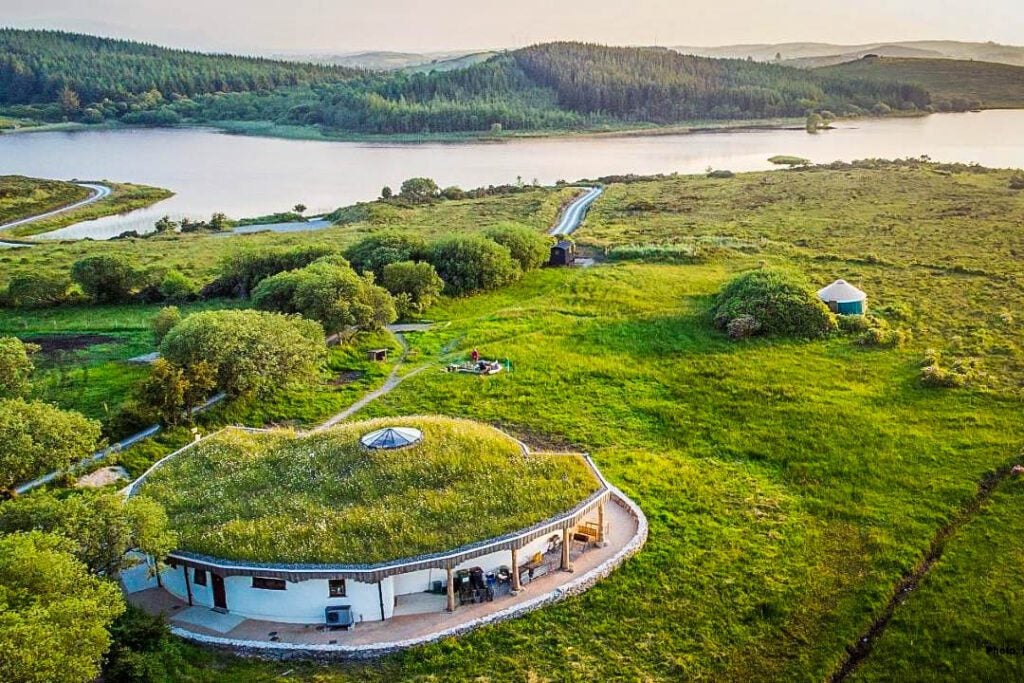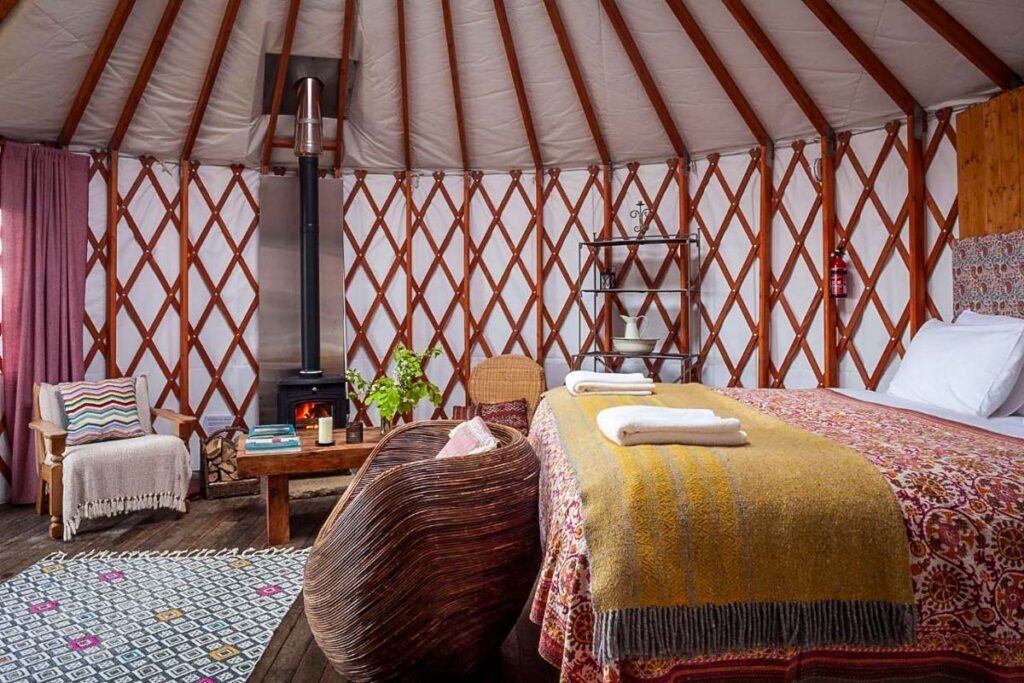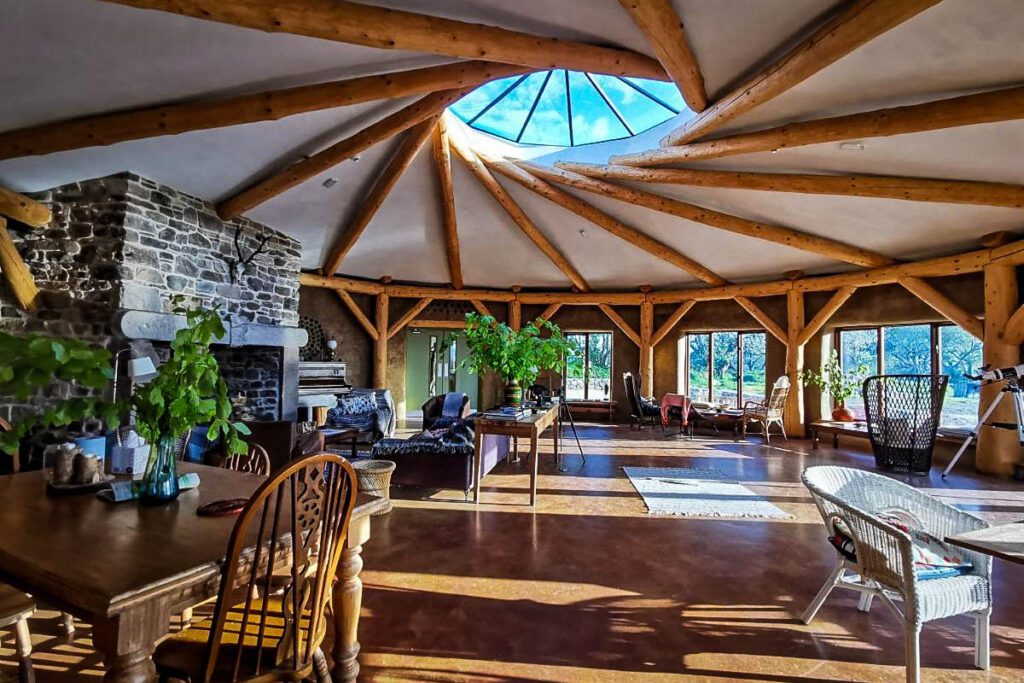 If you're exploring Ireland's northwest, this glamping site is in a prime location along the Wild Atlantic Way. Their yurts and shepherds' huts sit along 90 acres of lakefront, wildflower meadows, and rolling hills over Donegal Bay.
Lough Mardal Lodges have king-sized beds, stunning lake views, and wood burning stoves inside. There is also a communal building on the property with a large kitchen, dining area, showers, bathrooms, lounge areas, and even more views of the surrounding landscapes.
The property is filled with different nature experiences you can book directly, like fishing, hill-walking, surfing, and horseback riding. Plus, two of Donegal's best beaches are just a stone's throw away.
3. Finn Lough Forest Hideaway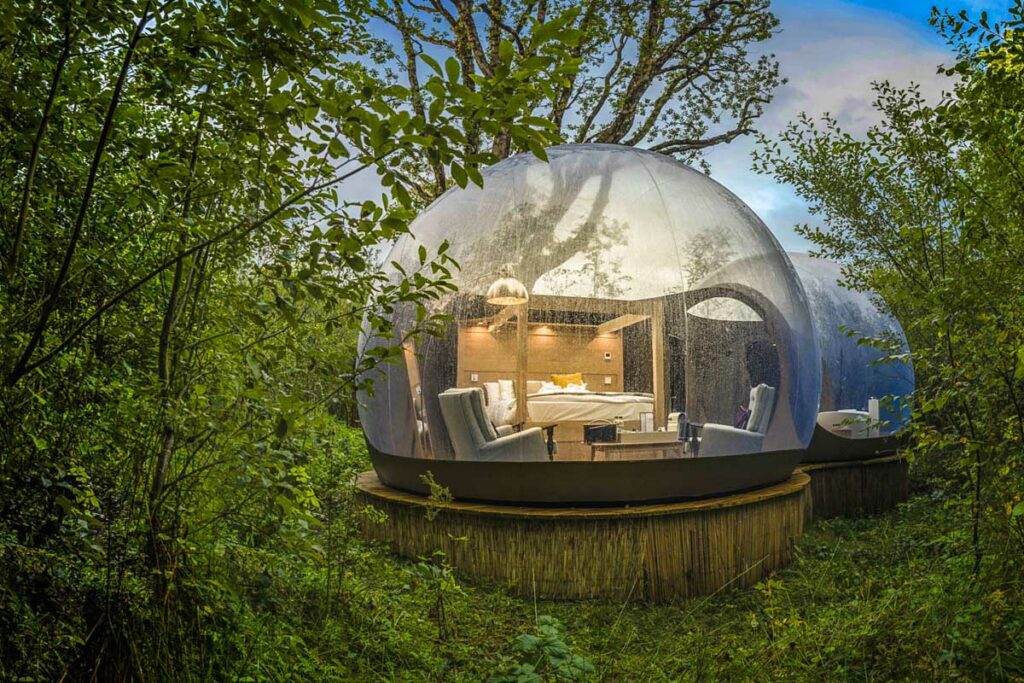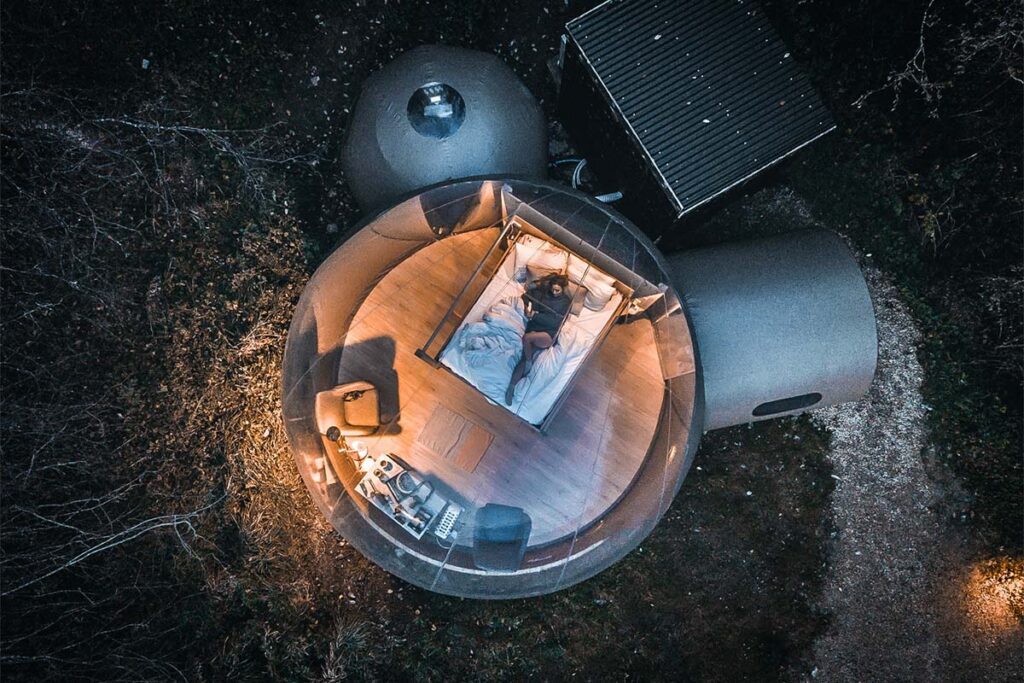 These luxurious and elegant bubble domes sit on a forested property overlooking the banks of Lough Erne, making for the perfect hideaway in Northern Ireland's countryside.
The polished suites have WiFi, flatscreen TVs, sitting areas, Nespresso machines, a bathroom with a shower, and 180-degree transparent walls.
There are three locally-sourced restaurants and bars onsite, as well as an elevated spa. Surrounding the property are miles of walking and biking trails, world-class golfing, fishing, and rich culture.
4. Further Space at Black Knowe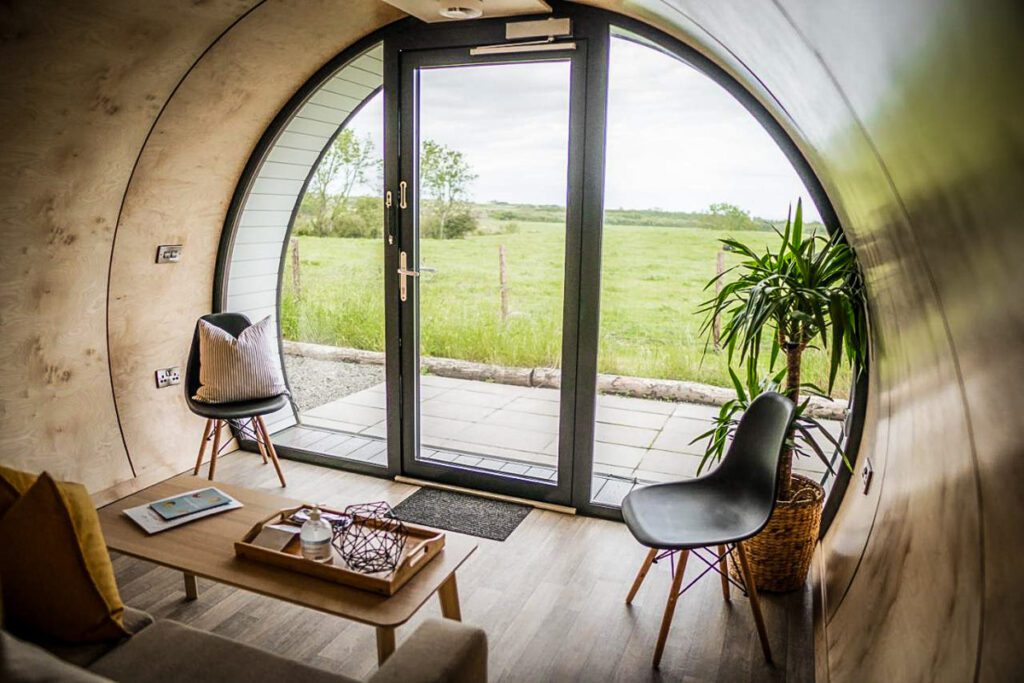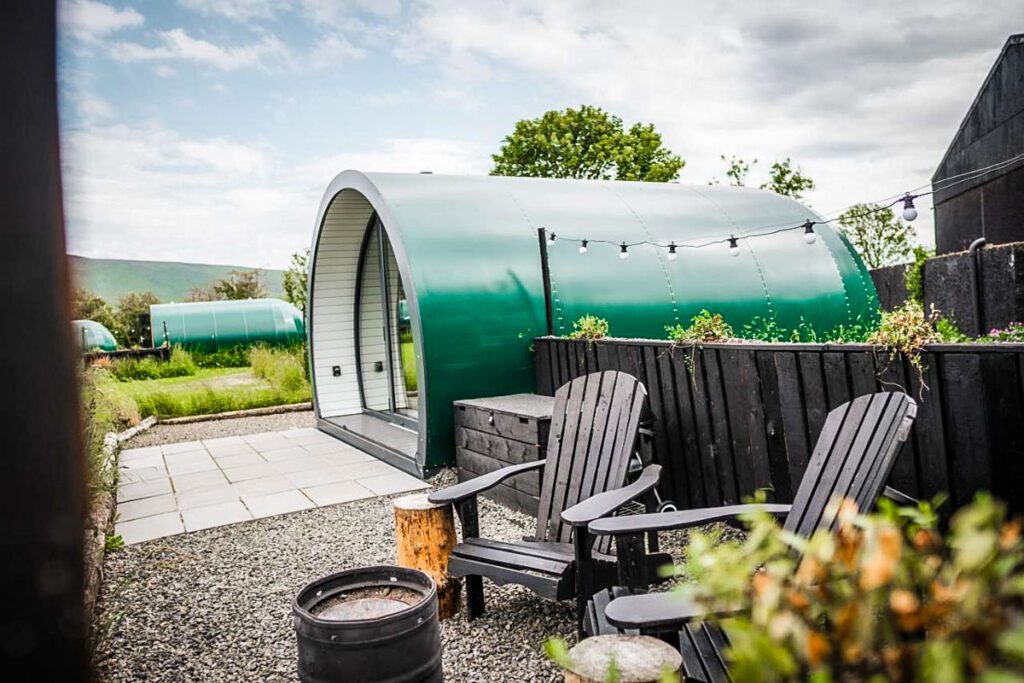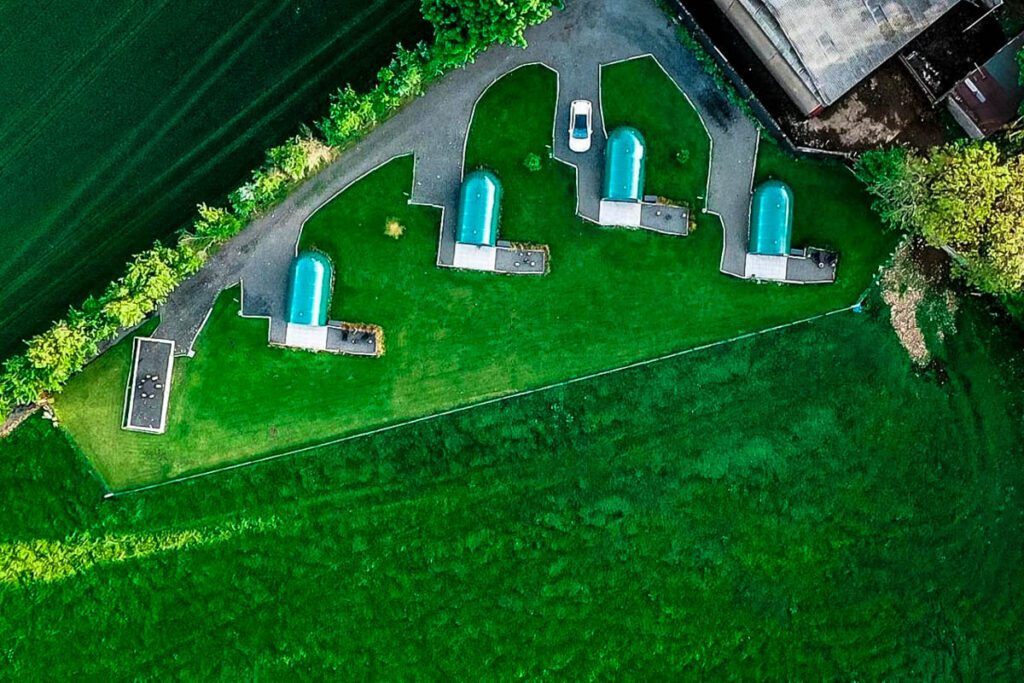 Situated on an early 1600s working farm, this glamping site is the perfect stay if you're visiting Northern Ireland. Black Knowe combines a rural escape with luxury along the Causeway Coastal Route.
Each pod can fit up to four people and is outfitted with all the comforts of home: a mini fridge, heating, running water, ensuite shower room, coffee dock, and an area to sit and relax. Integrated bunk beds are available if you're traveling with little ones.
The location of this glamping site is arguably the most impressive, as you're only a short distance from the Giant's Causeway, Game of Thrones filming locations, and Carrick.
5. Further Space at Belmullet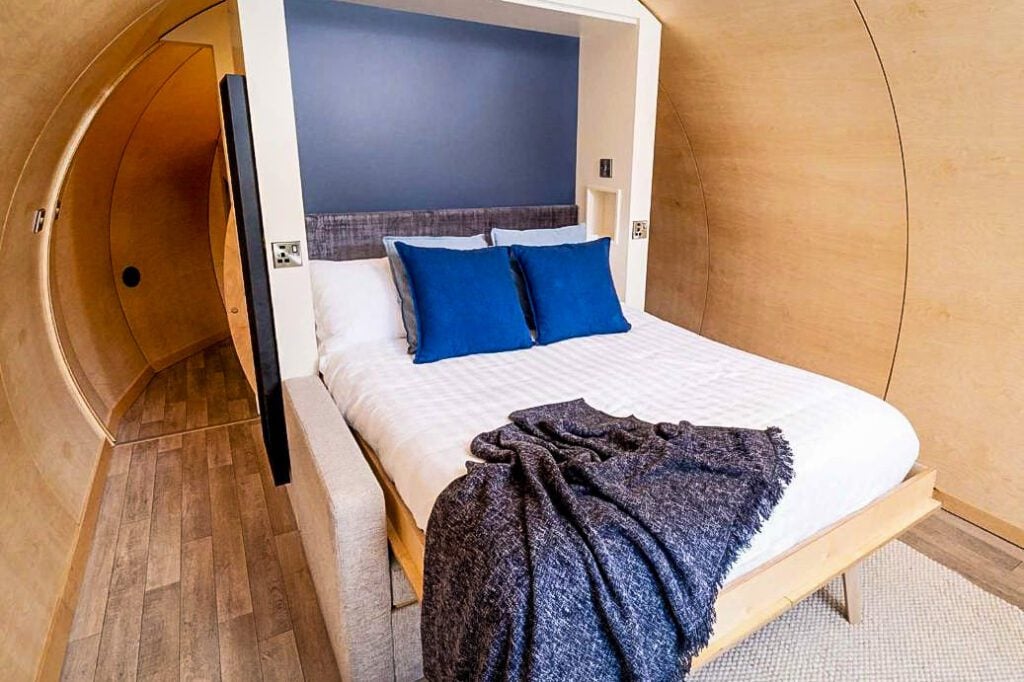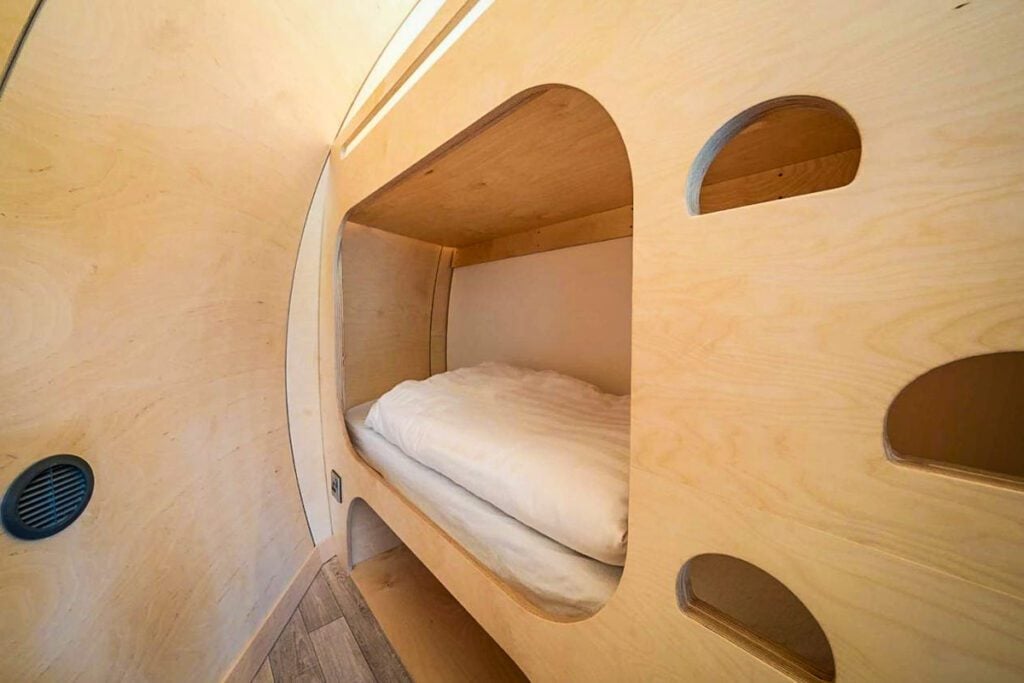 As the crown jewel of Ireland's Wild Atlantic Way, these glamping pods serve as a stepping stone to the area's soaring sea cliffs, sandy beaches, mountains, and rugged beauty.
These glampsites were even voted "One of the Best Places to go Wild in Ireland" by the Irish Times!
Families, friends, and couples can all enjoy these cylindrical pods with a small kitchenette, sitting area, fold-up bed, ocean views, and outdoor fire pit. Choose this stay to go glamping in Ireland if you want the perfect balance of nature, exploring, wilderness, and beauty.
6. Ardmore Glamping Pods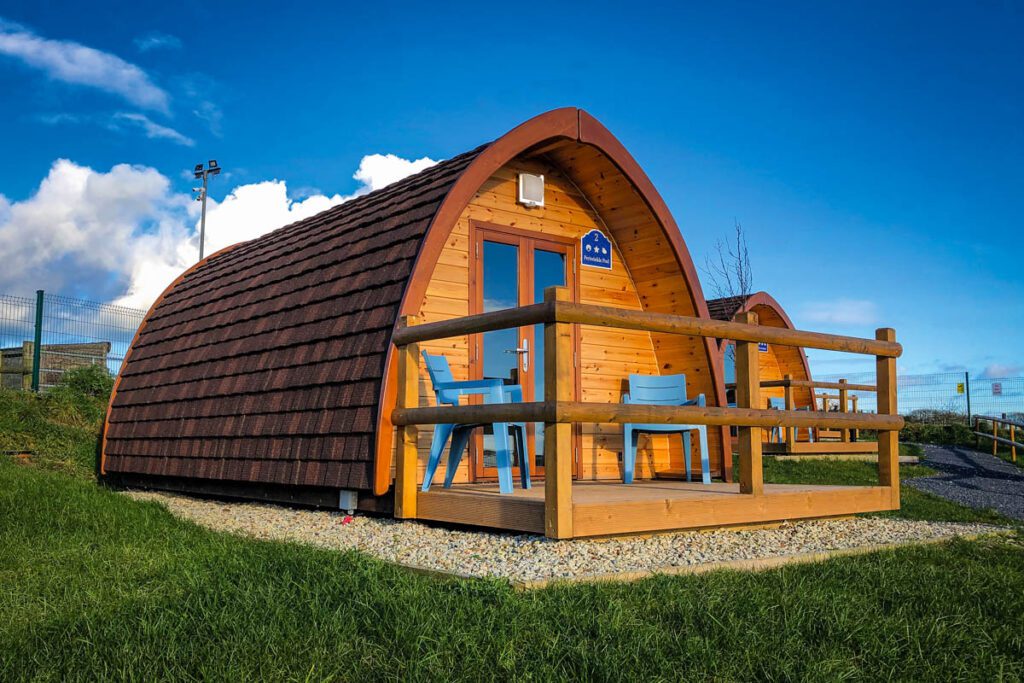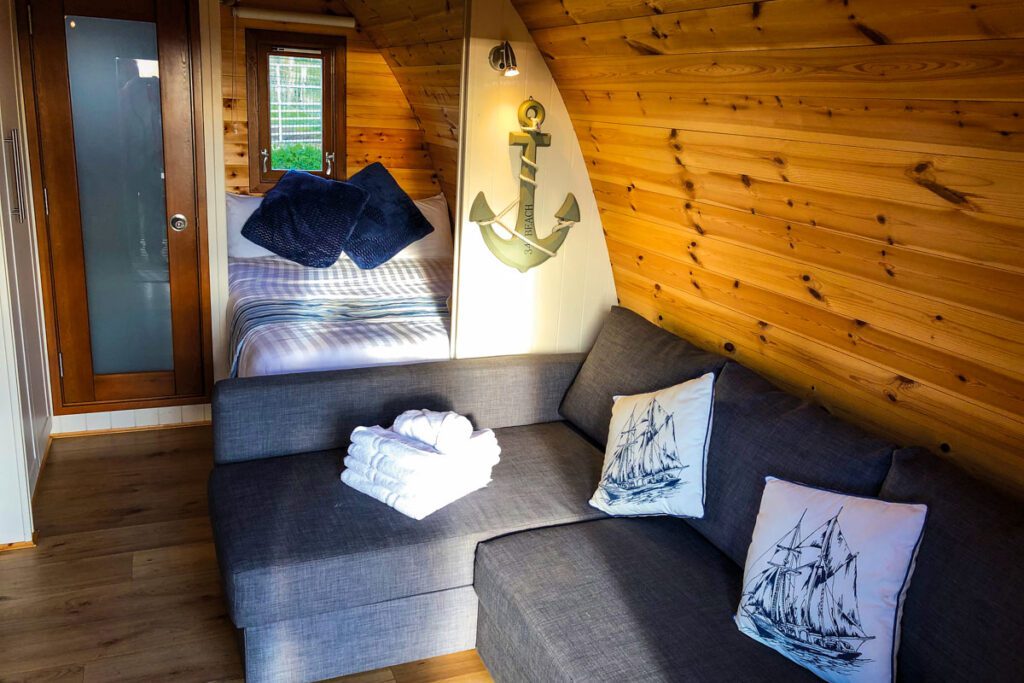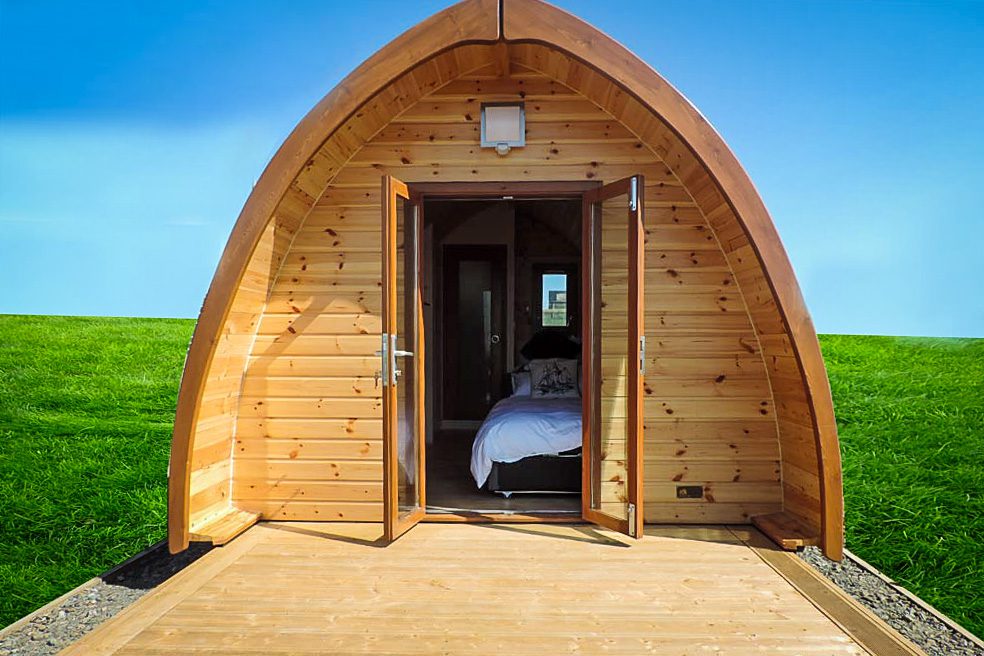 Hugging the Atlantic Ocean, these six large mega-pods offer a scenic escape on the southernmost shores of Ireland.
All six pods are designed the same and welcome family holidays or private weekends away for up to 4 people. You'll feel right at home with all the standard creature comforts you'll need: a double bed, pull-out sofa bed, dining area, wardrobe, fridge, and an area for tea or coffee.
Onsite you'll find a massive Scandinavian log cabin with an open-plan living area, full-service kitchen, bathrooms, and BBQ facilities. From your pod, you can visit the Ardmore Open Farm & Mini Zoo, Ardmore Cliff Walk, Jameson Distillery, or relax at several picturesque beaches.
7. Beds of Silk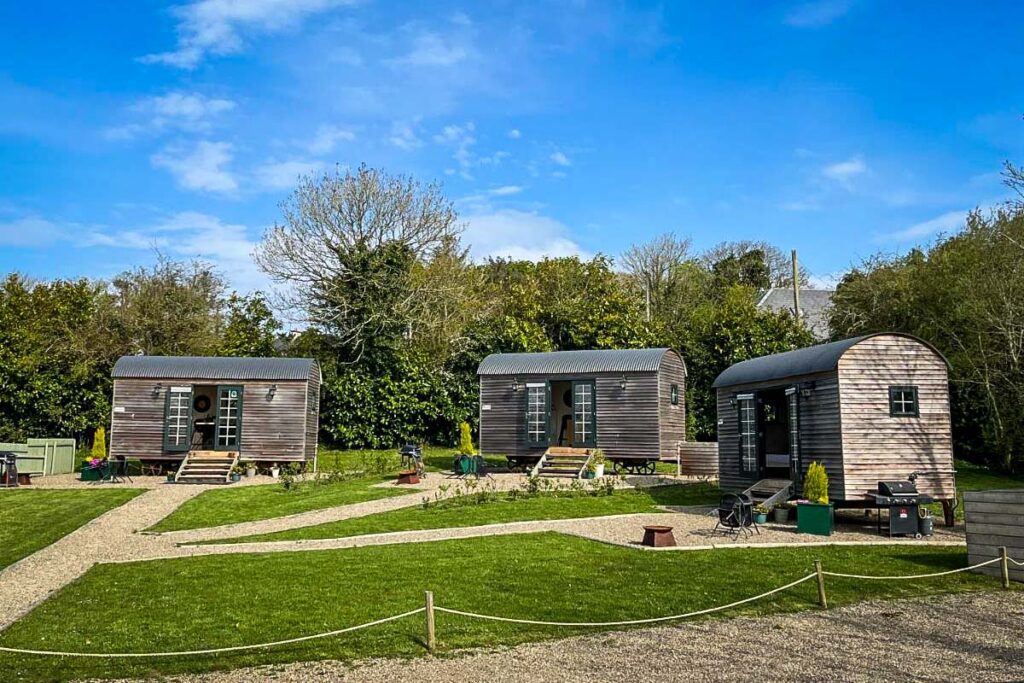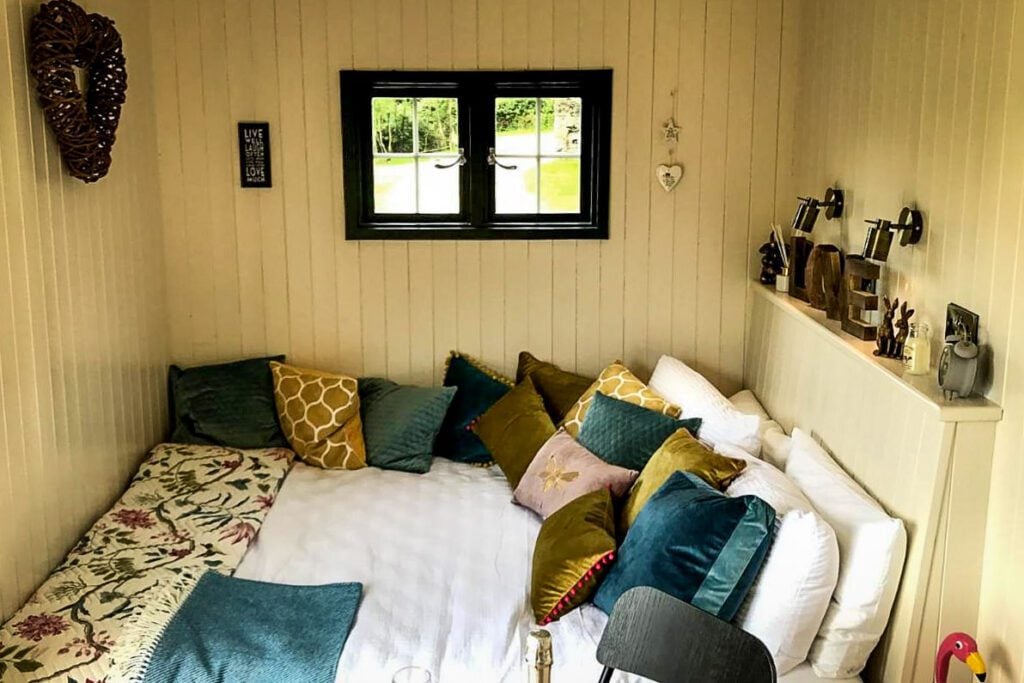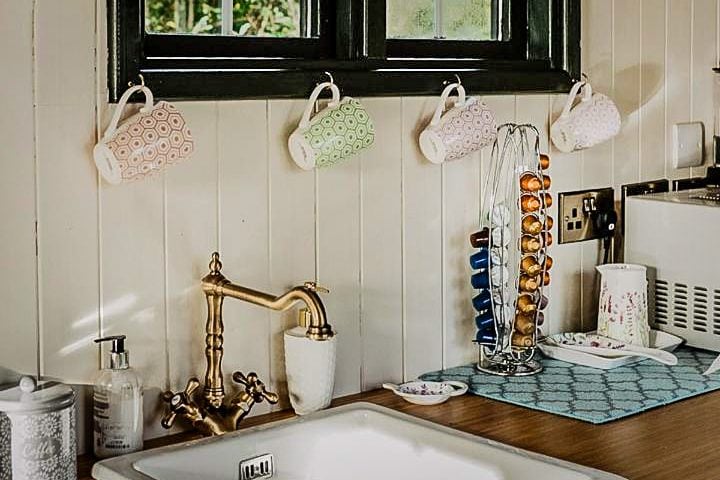 For adventures off the beaten path in Ireland, these glamping cabins provide luxurious, yet affordable places where you can rediscover true nature.
There are three cabins and five glamping tents to book from. All are outfitted the same with WiFi, BBQ facilities, a garden, private parking, hot tub, sauna, kitchenette, and a private bathroom with shower.
This prime location along the Labasheeda Peninsula is rich with archaeology and plenty of historic sites you can visit by bike or on foot.
8. Killarney Glamping At The Grove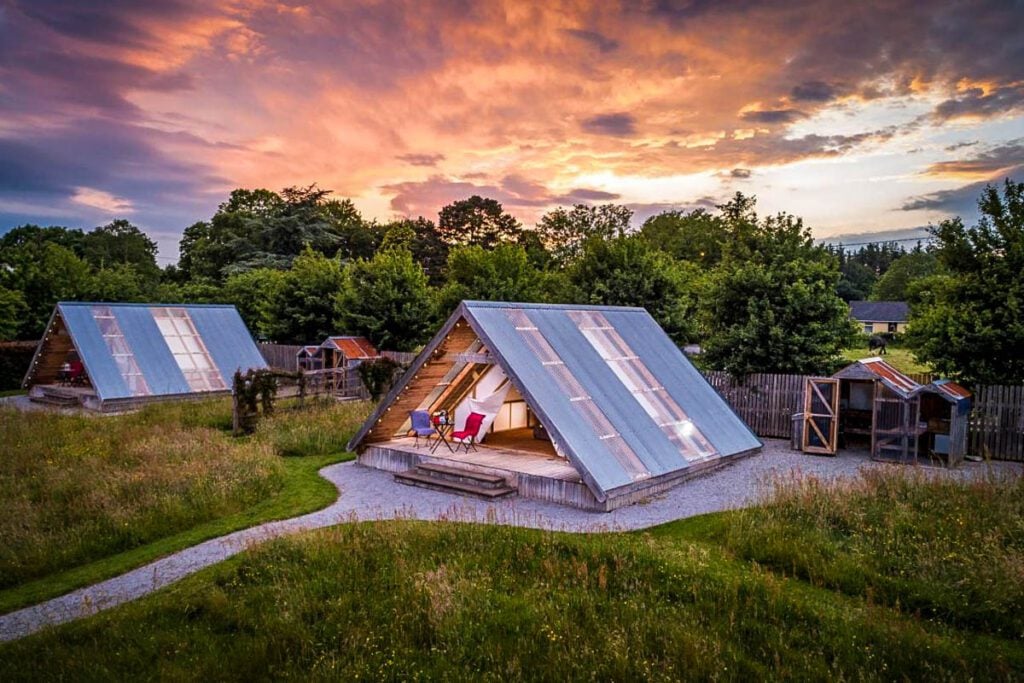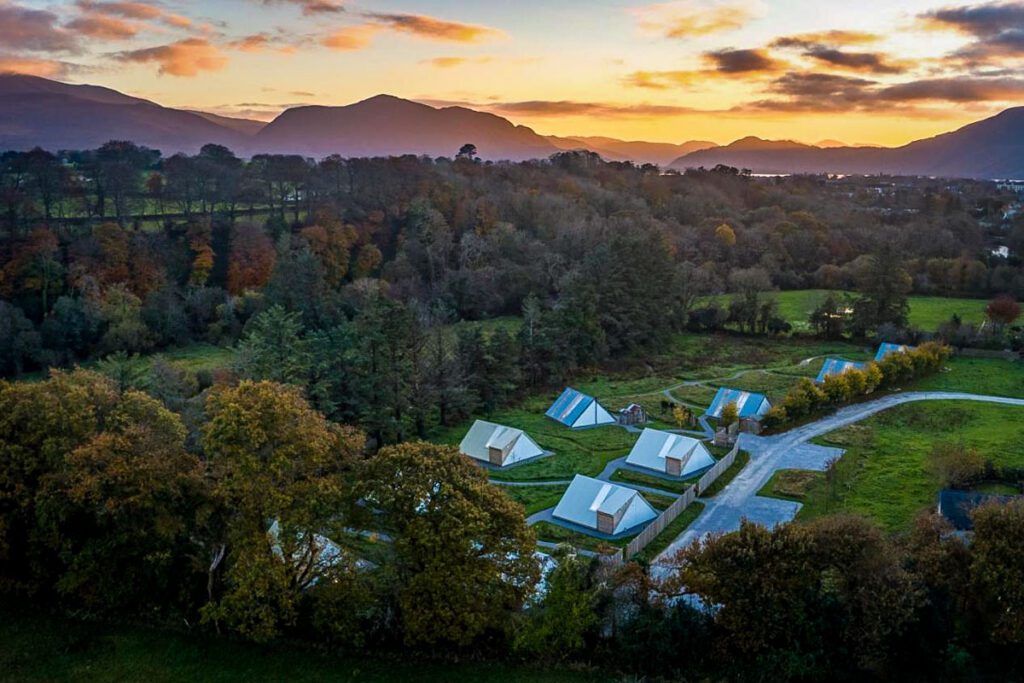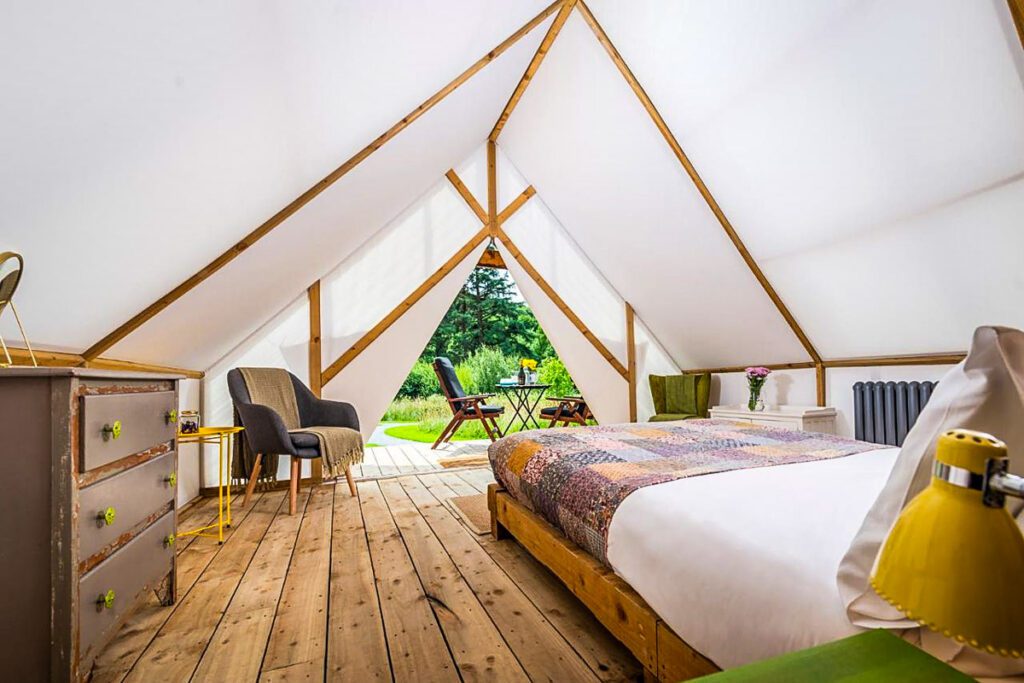 Just a mile away from Killarney National Park, these glamping tents and lodges provide the ideal sanctuary after a day of exploring.
If you're a couple looking for a romantic and private stay, these are for you, as each tent and lodge is laid out to maximize privacy.
Step inside and you'll find a spacious bedroom, private bathroom, and a covered outdoor kitchen with the works. Outside, there are private patios with heating, seating, and board games.
Surrounding the property are endless opportunities to soak up Ireland's natural beauty in Killarney National Park, the Wild Atlantic Way, or the Ring of Kerry.
9. Rossharbour Glamping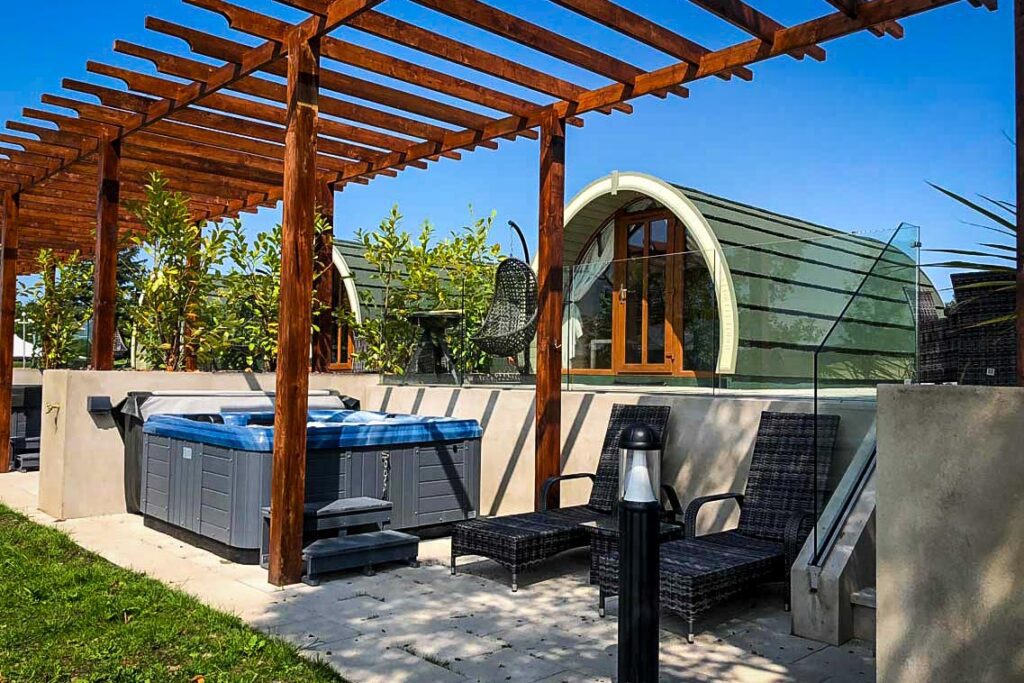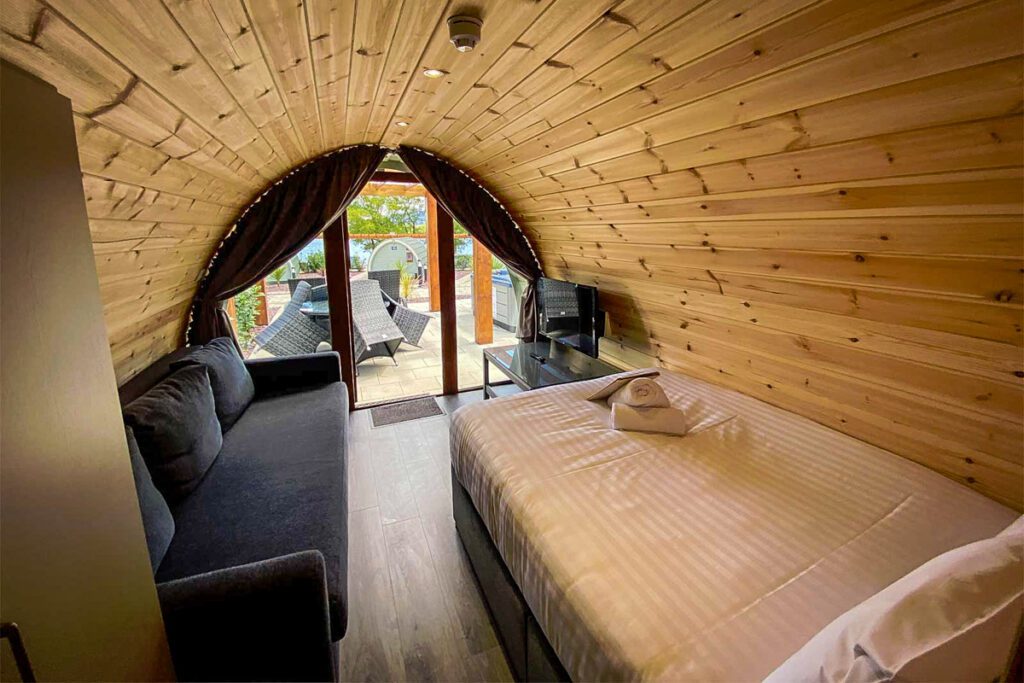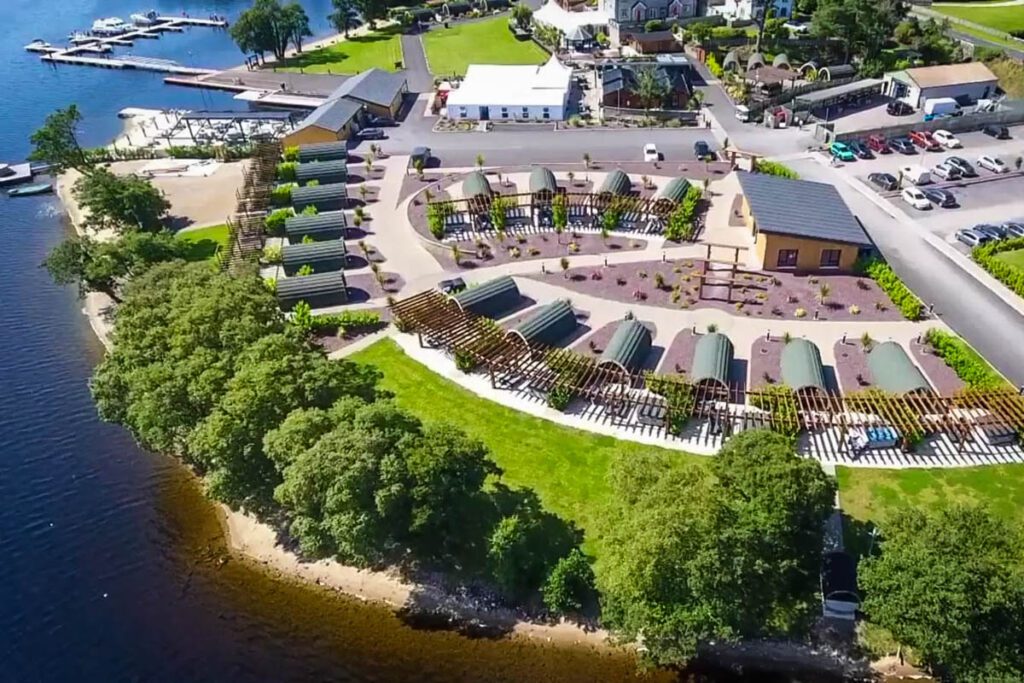 The waterfront glamping lodges and cabins at Rossharbour are a force to be reckoned with. Just a stone's throw from the Wild Atlantic Way, these Northern Ireland glampsites are perfect for adding luxury to a trip along the rugged coast.
The lodges have a fully-equipped ensuite bathroom and kitchen, whereas the glamping cabins have a basic kettle, toaster, and microwave. All have a double bed, TV, and waterfront views.
No matter which glampsite you choose, you'll also have access to the property's full list of amenities: outdoor hot tub, private sand beach, game room, children's play area, adult area, bookable Finnish baths, and onsite bistro.
10. Willowbrook Glamping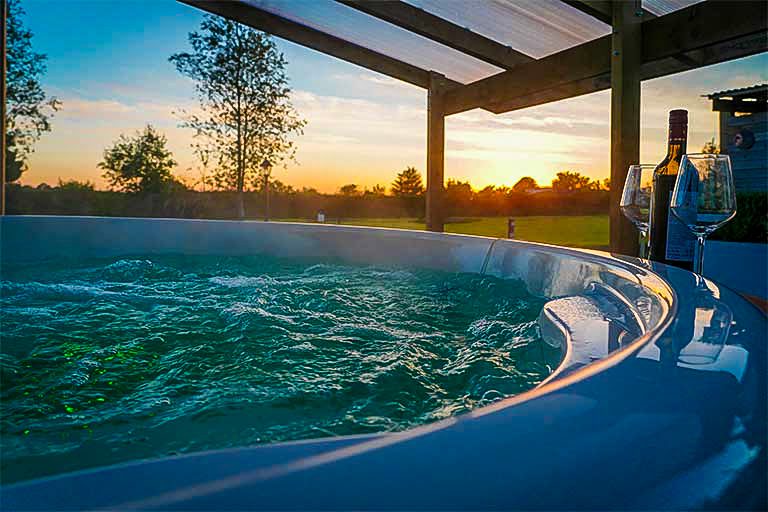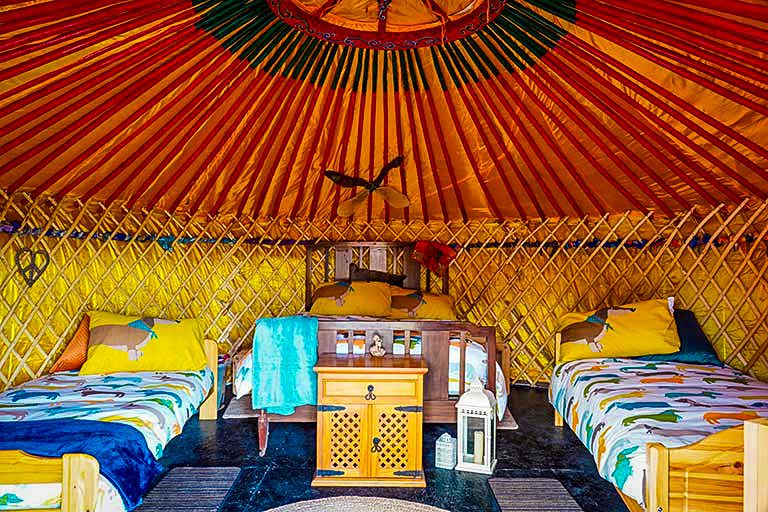 These large Mongolian yurts are quirky and picturesque. Nestled along the banks of the River Lung within Ireland's Hidden Heartland, they provide the perfect base for exploring this untouched region.
All the yurts are heated with an oil-filled electric heater and have accommodating beds, electricity, and a covered timber deck. 'Yurty Ahren' and 'Yurty & The Tramp' have private, wood-fired hot tubs that are entirely yours to soak in for your stay.
Just a short drive from the glamping park, you can discover ancient Irish history at Urlaur Abbey, King House, and Caves of Keash, or stroll along miles of walking trails.
11. Portsalon Luxury Camping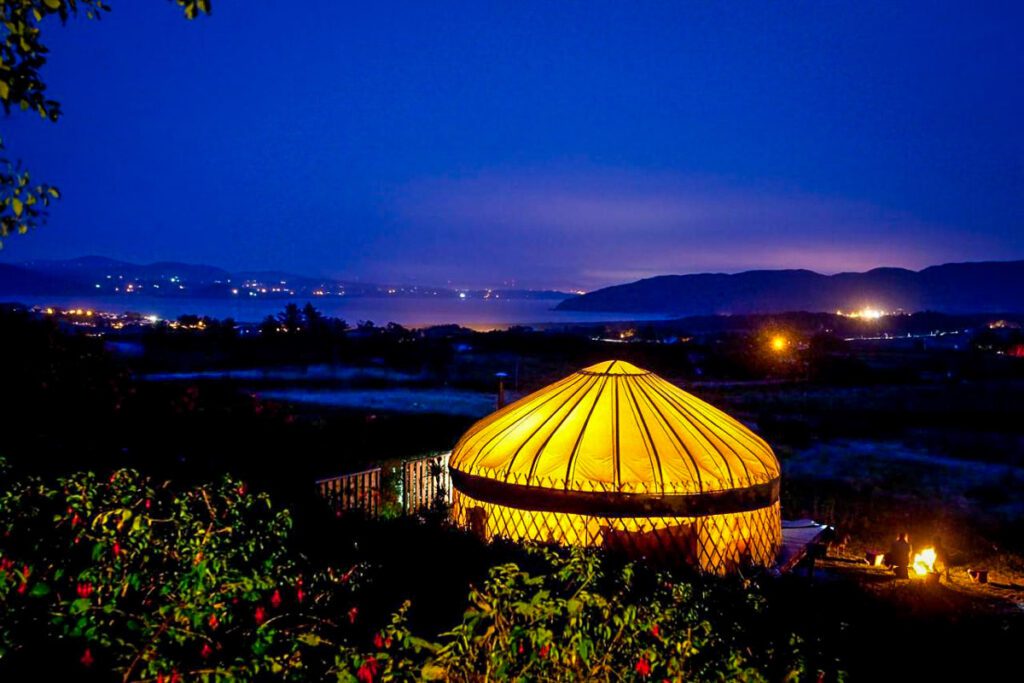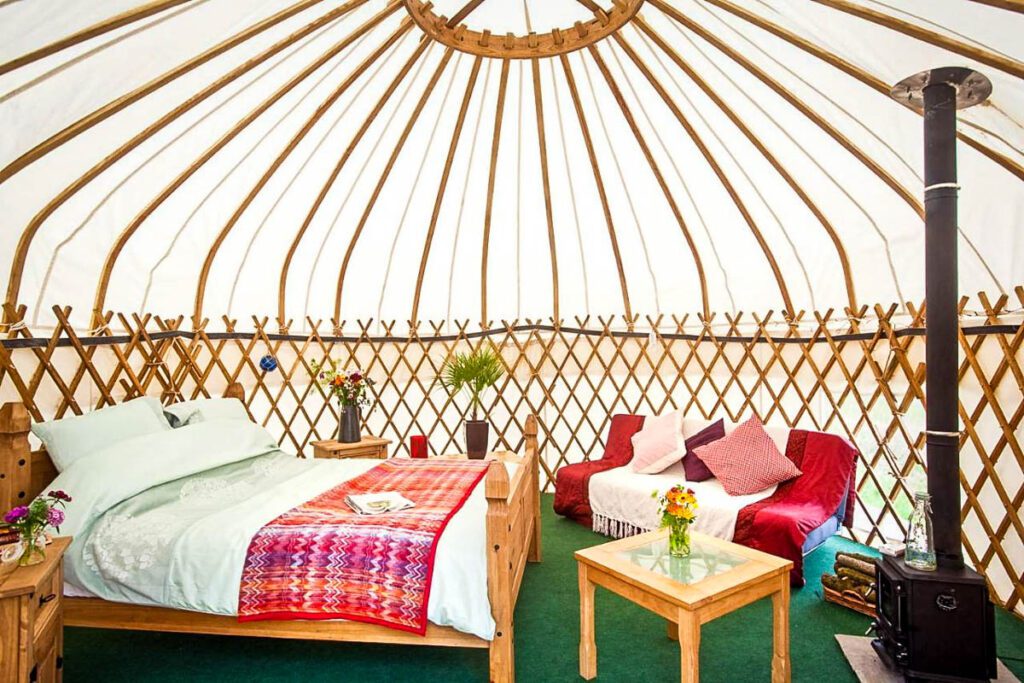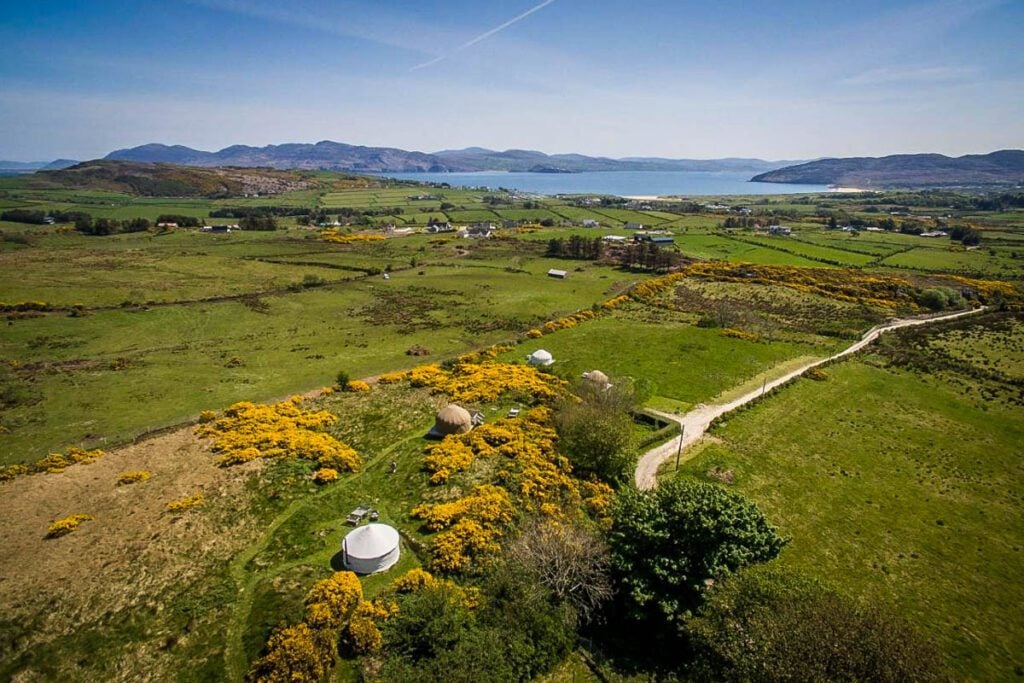 Huddled amongst wildflowers and plush verdant grass, these luxury yurts are perfect if you're exploring the Wild Atlantic Way along Ireland's north coast.
Each yurt is private and secluded with its own small fireplace, comfortable bed, private deck with coastal views, and small touches to make you feel right at home. The property has a shared bathroom, kitchen, and lounging area for relaxing.
Portsalon is prime for a road trip as there are tons of things to see and do in the area. Hike Mount Errigal, wander Glenveagh National Park, and explore expansive beaches.
12. Ballyvolane House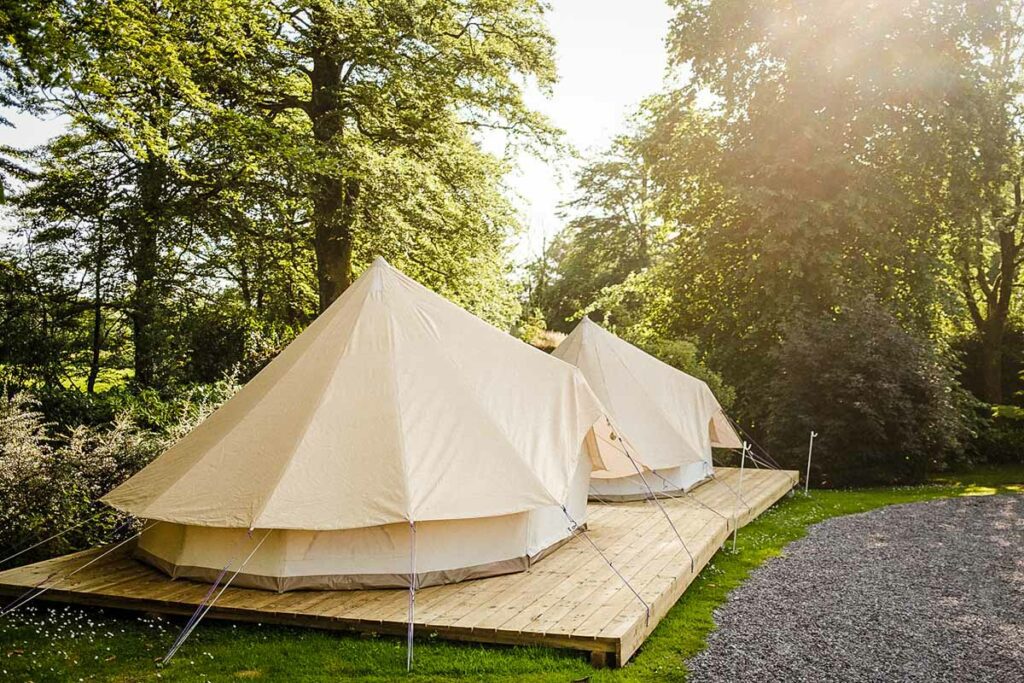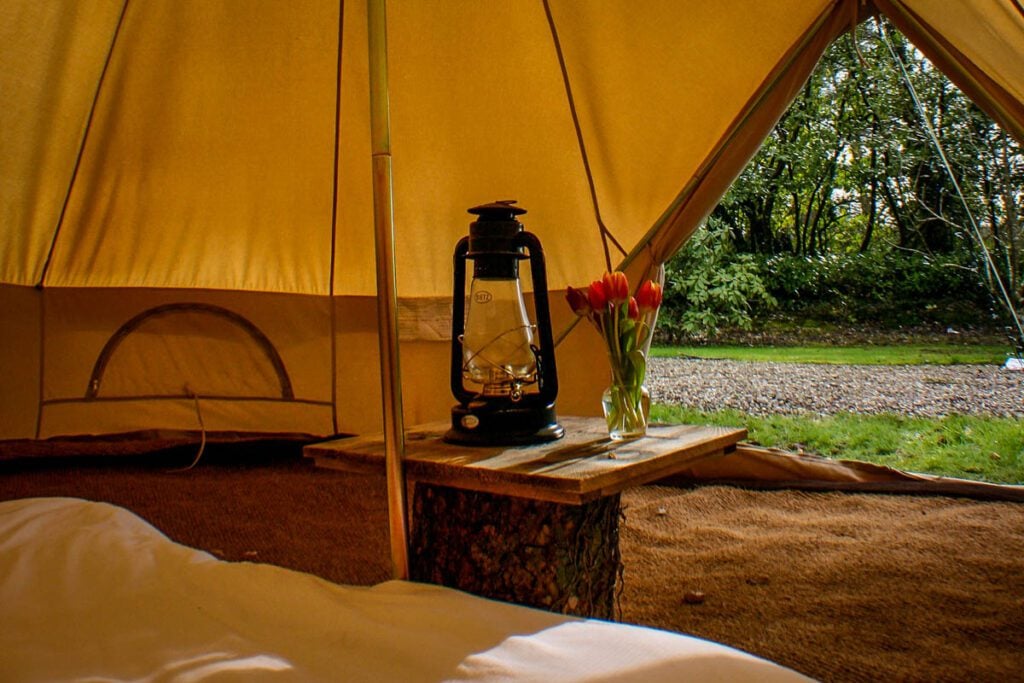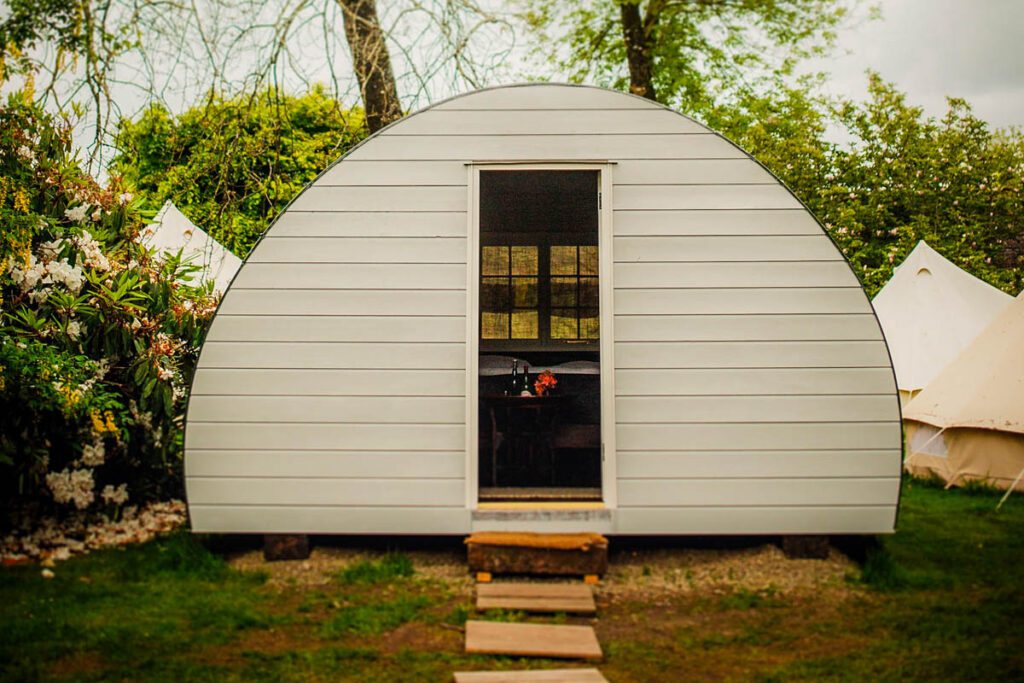 If you're exploring around Cork, the sites on this enchanting country house property are the epitome of luxury glamping.
The bell tents and arks are surrounded by nature and have dressed beds, seating areas, and a welcome box with well water, snacks, and a map of the estate. Showers and toilets are a short walk away with private cubicles and even hair dryers.
Whether you want to relax and unwind or get active, there is something for you here: lay back in a hammock, entertain a board game, or dine on farm-to-fork foods. Otherwise, you can get things moving with a game of badminton or tennis, or explore nearby trails.
Note: There are no kitchen facilities here as all food and drinks are provided by the house.
13. Further Space at Glenarm Castle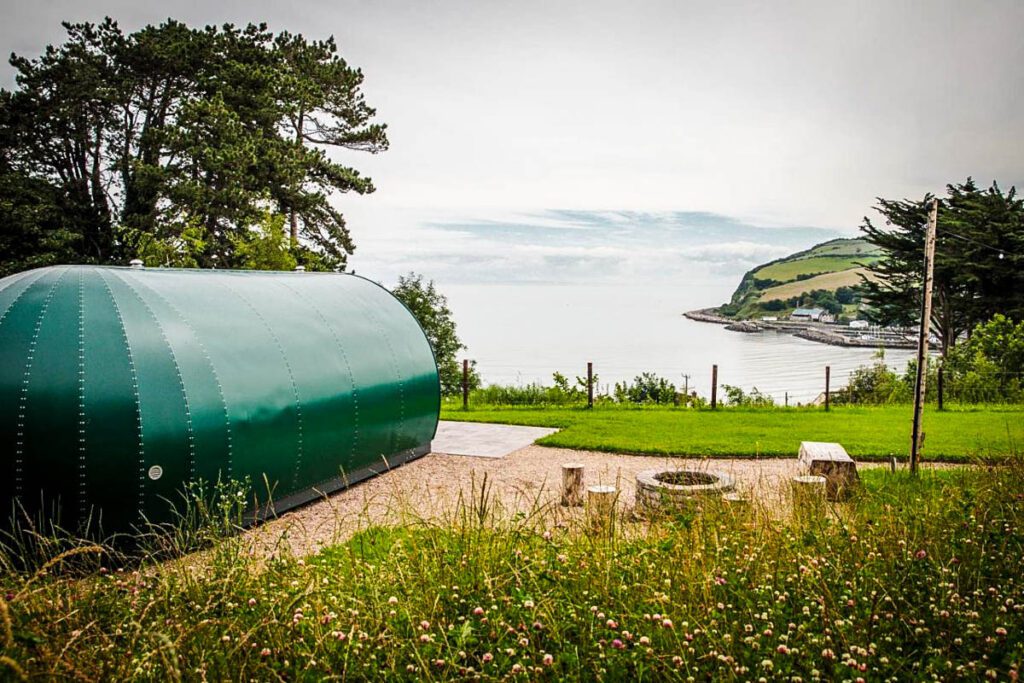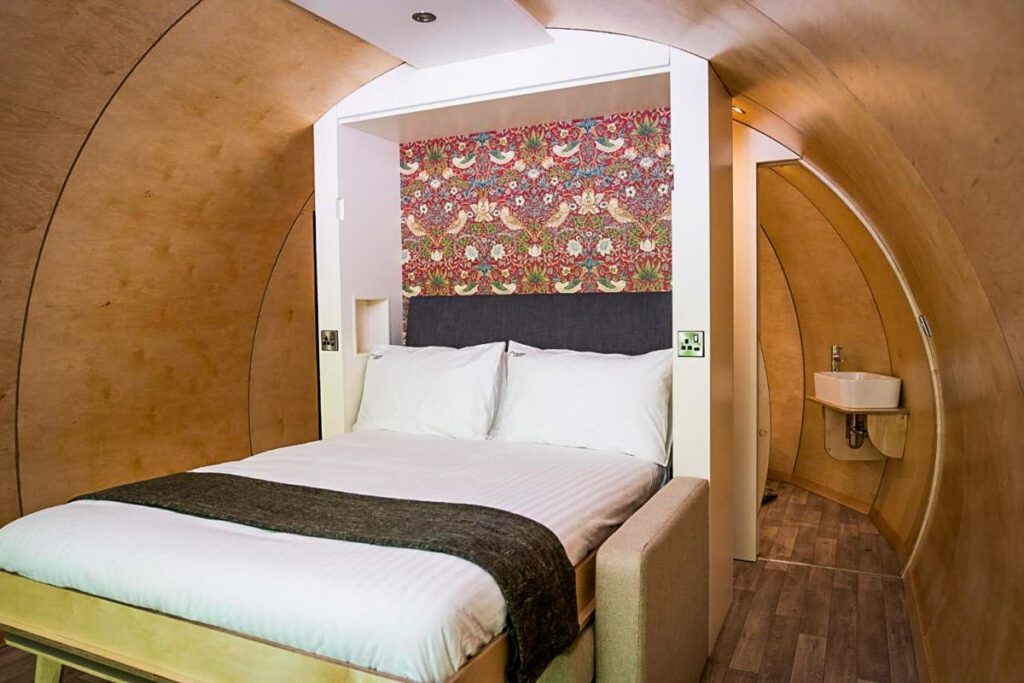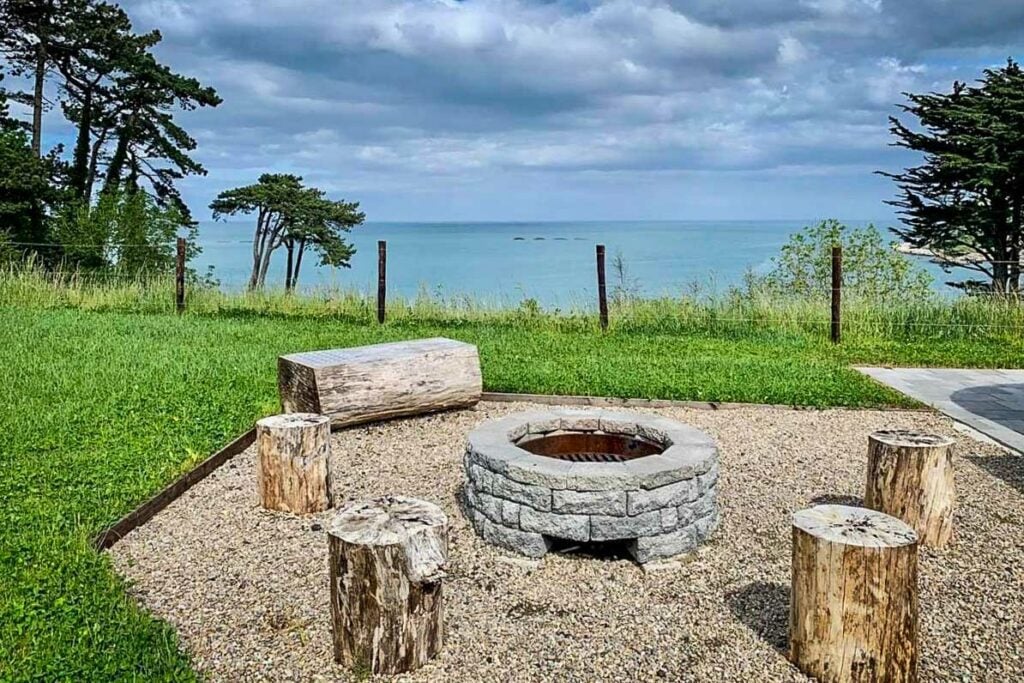 Along the hilltop of a 17th-century castle estate, these glamping pods overlook the opulent grounds and nearby sea. It's the perfect rural getaway along the Causeway Coastal Route.
All the units are outfitted the same with a bathroom, a small kitchenette with a fridge, and a patio with sweeping sea views. Each pod has a double bed and 2 bunk-style beds to sleep 4, which is perfect if you're staying as a family.
Included with your stay is a free visit to the Glenarm Castle grounds. Plus, you can drive to Dunluce Castle, Glenarm Beach, the Giant's Causeway, whiskey distilleries, and many Game of Thrones filming locations from your glampsite.
14. Wild Atlantic Glamping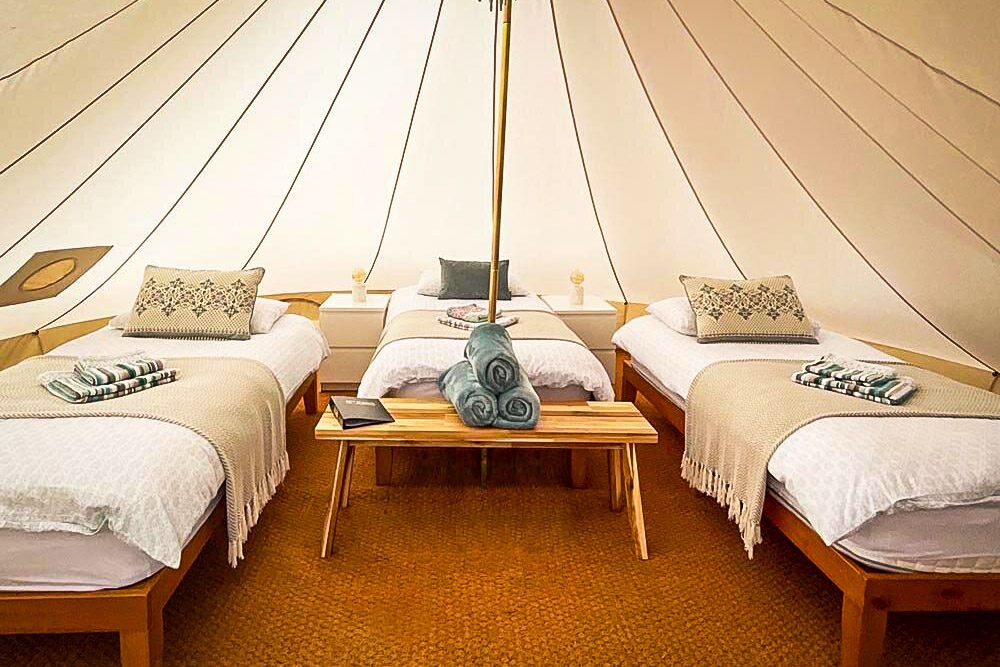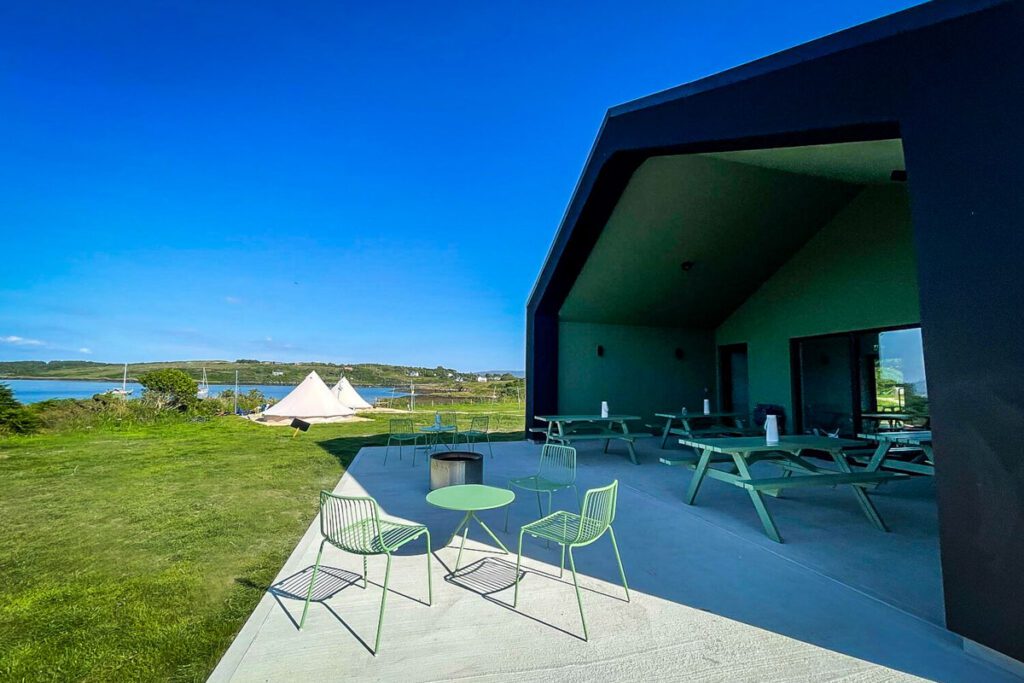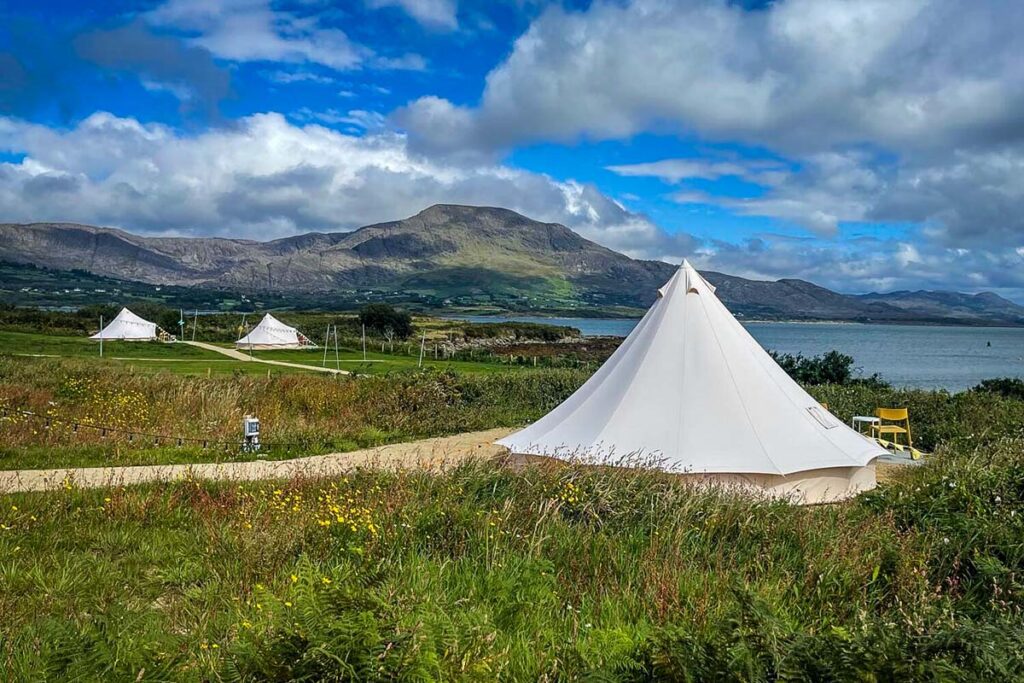 Wild Atlantic Glamping is situated on one of Ireland's southernmost islands.
There are ten bell tents outfitted with accommodating beds, electricity, fresh linens, and a welcome basket with freshly baked scones, Bere Island honey, local blackberry jam, and marshmallows to toast over the fire.
Onsite is a massive communal building with a kitchen, bathrooms, laundry facilities, event space, dining area, and lounge area.
You'll also have shoreline access directly from the glampsite where you can snorkel, swim, or paddle from a private pier. Otherwise, Bere Island's coastline is filled with scenic hikes, historical locations, rock pools, local markets, and pristine nature.
15. Sperrinview Glamping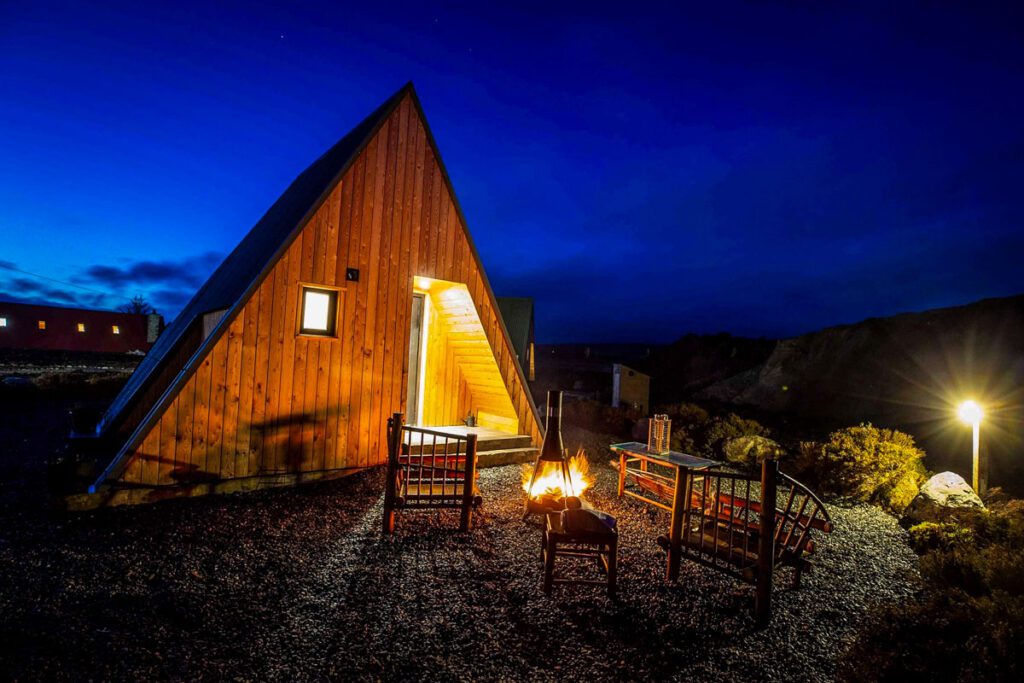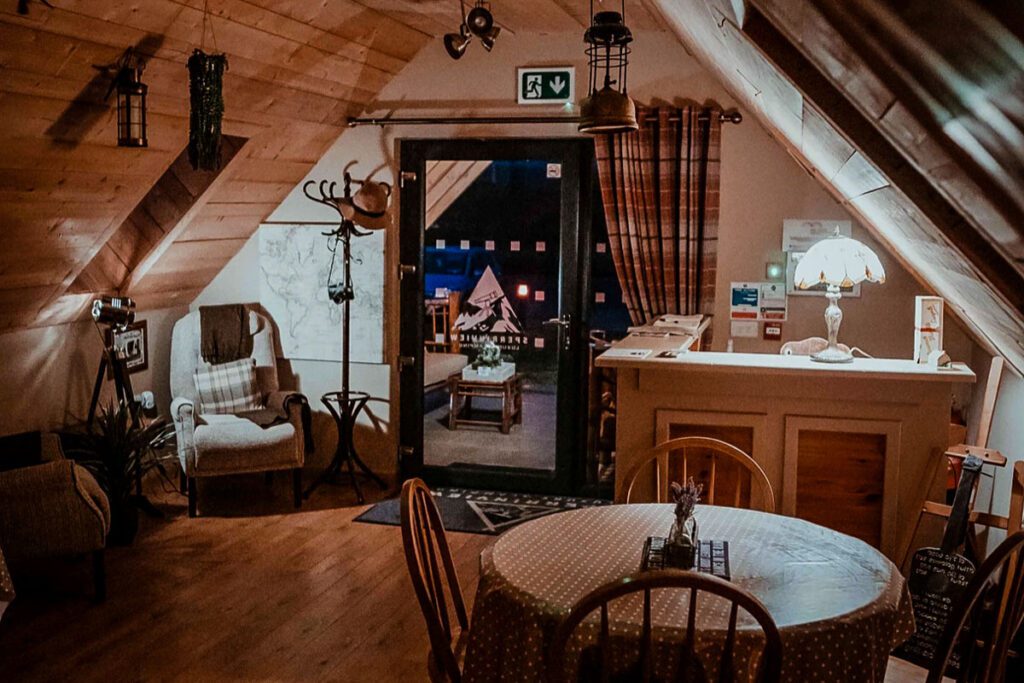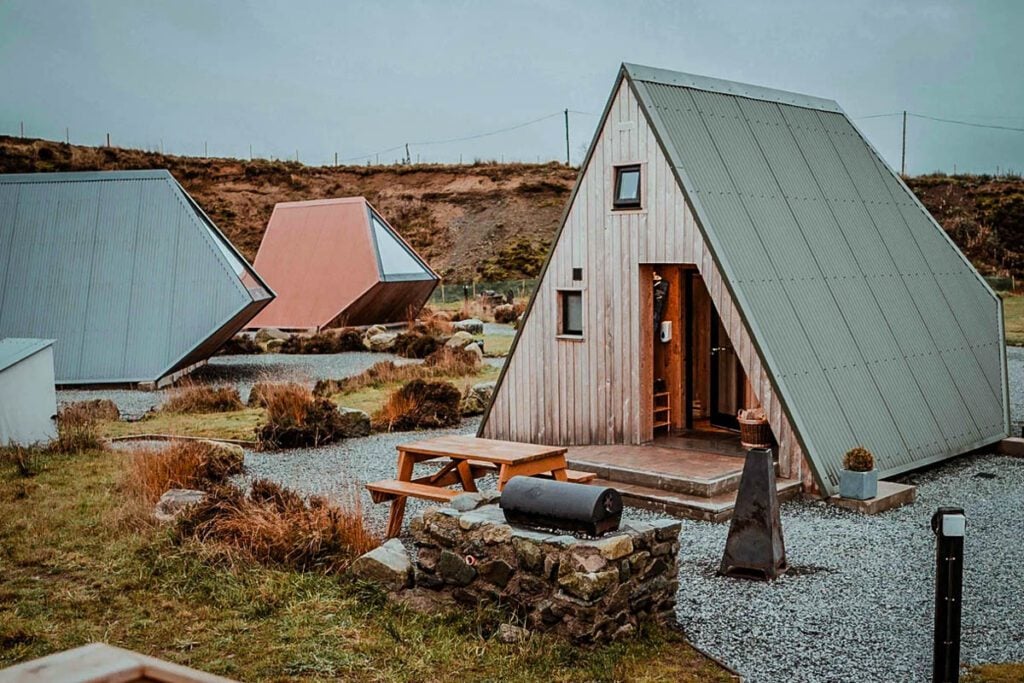 At the foothills of the Sperrin Mountains, these A-frame pods offer a window to the stars from their position on one of Ireland's best Dark Sky sites.
Each pod has its own kitchenette, shower room, TV, free WiFi, and a viewing window directly above your bed.
These modern glampsites are surrounded by ancient heritage, with the Beaghmore Stone Circles and Davagh Forest Trails just a short walk away. You can also drive to the Giant's Causeway and multiple Game of Thrones filming locations.
16. Teapot Lane Glamping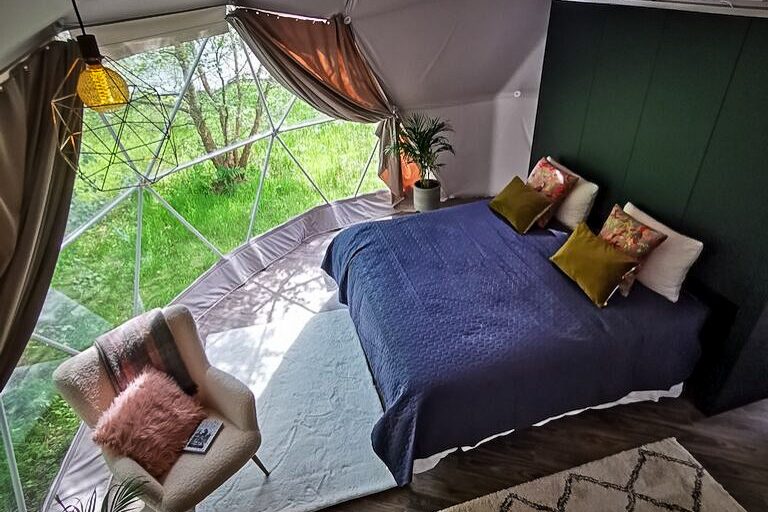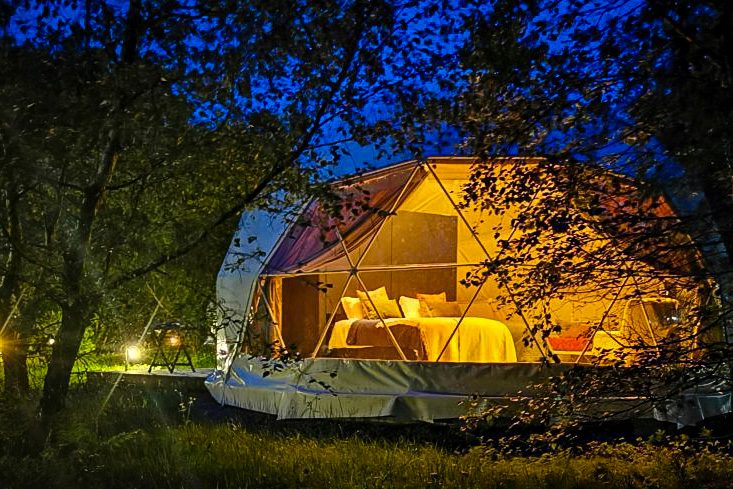 For the ultimate luxury couples' camping experience, escape to Teapot Lane, an adults-only glampsite with a treehouse, forest dome, and cottage.
The treehouse has everything you need with a king-sized bed, pot-belly stove, small kitchen, composting toilet, and rustic shower. The forest dome is more simplistic with no ensuite amenities, but there is a king-sized bed, mini fridge, sofa, and modern stove. Everything is under one roof at the cottage: kitchen, bathroom, and spacious rooms.
Best of all, some of the most sought-after mountains and beaches in Ireland are just a short drive from your glampsite, such as the Dartry Range, Benbulben Mountain, and Mullaghmore Beach.
17. Rock Farm Slane Glamping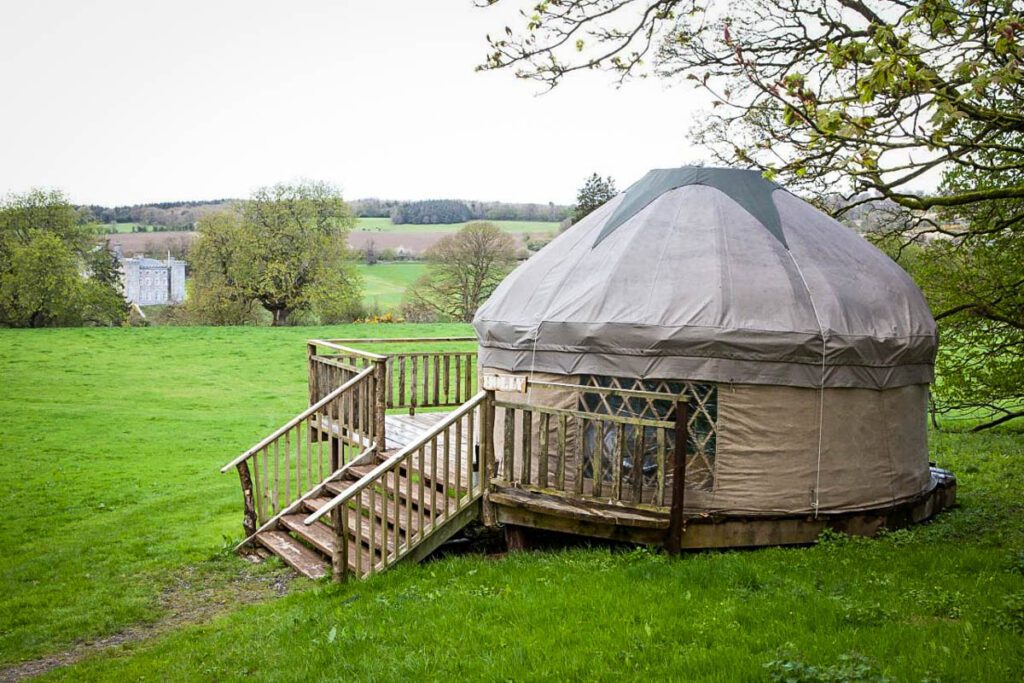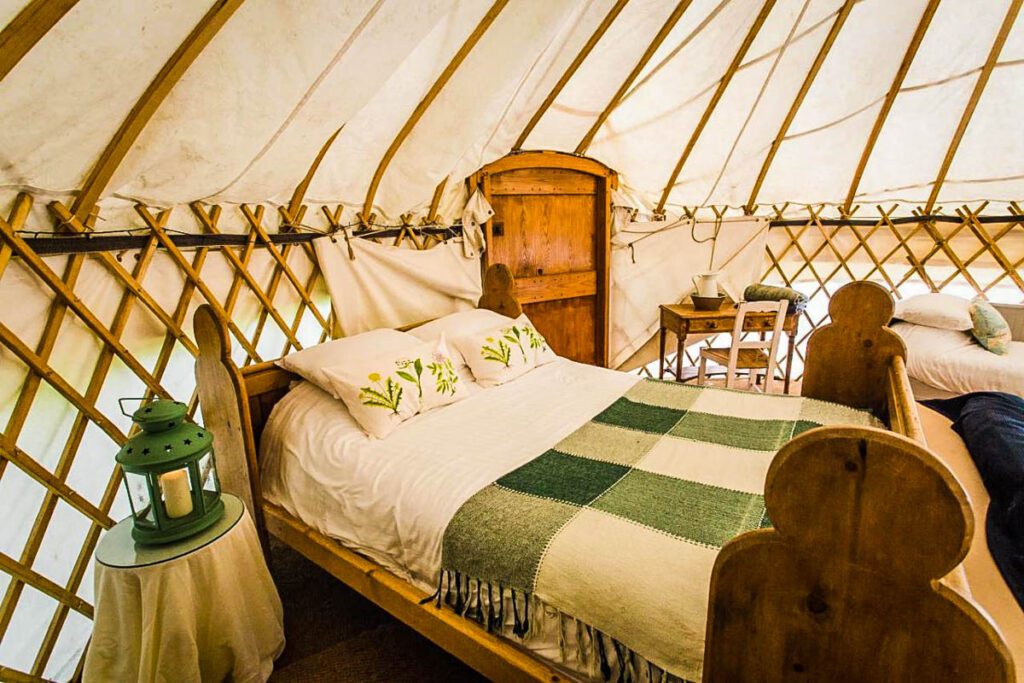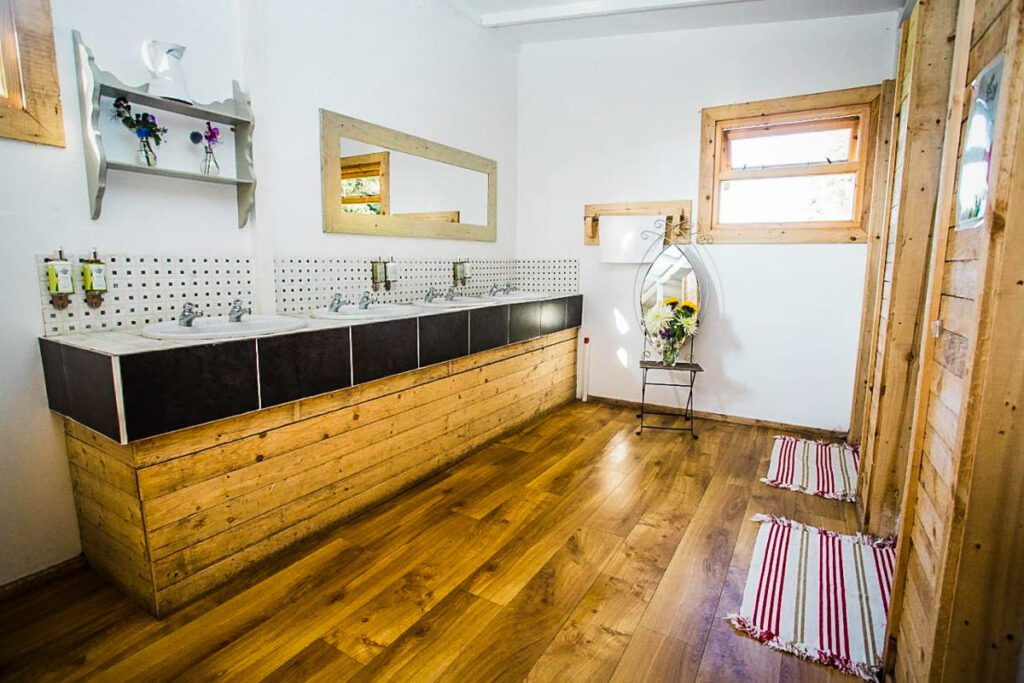 Dotted on the Slane Castle estate along the banks of the River Boyne, the yurts and huts of Rock Farm Slane feel like a world away from the bustle of Dublin.
Each glampsite has its own private entrance and combination of beds, heating, and a seating area. Some even have their own terrace with remarkable views. Included in your stay is access to a shared bathing facility, kitchen, swimming pool, garden, and lounge area with free WiFi.
Nearby are the Slane Whiskey Distillery, Slane Castle, Monasterboice Abbey, plus loads more historical sites you can tour. Slane Village is only a short walk away with local produce, pubs, and restaurants with traditional music.
18. Dromquinna Manor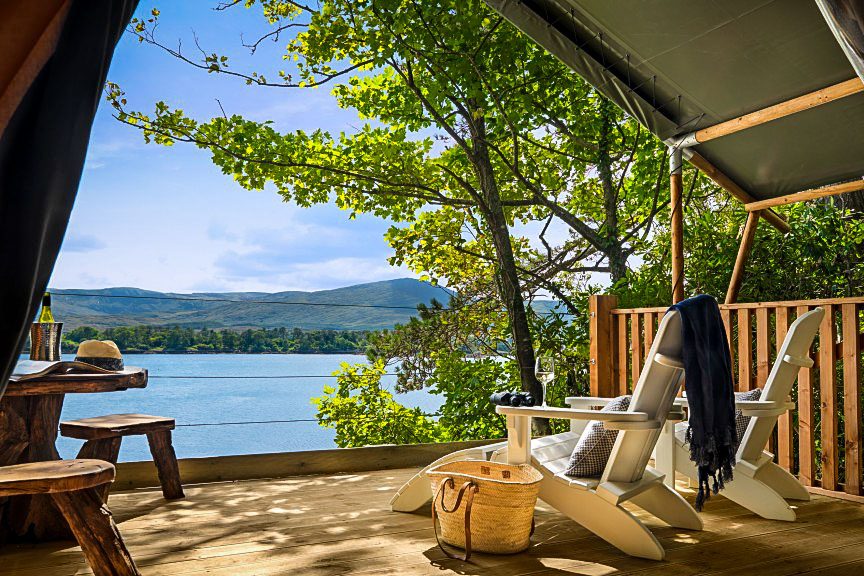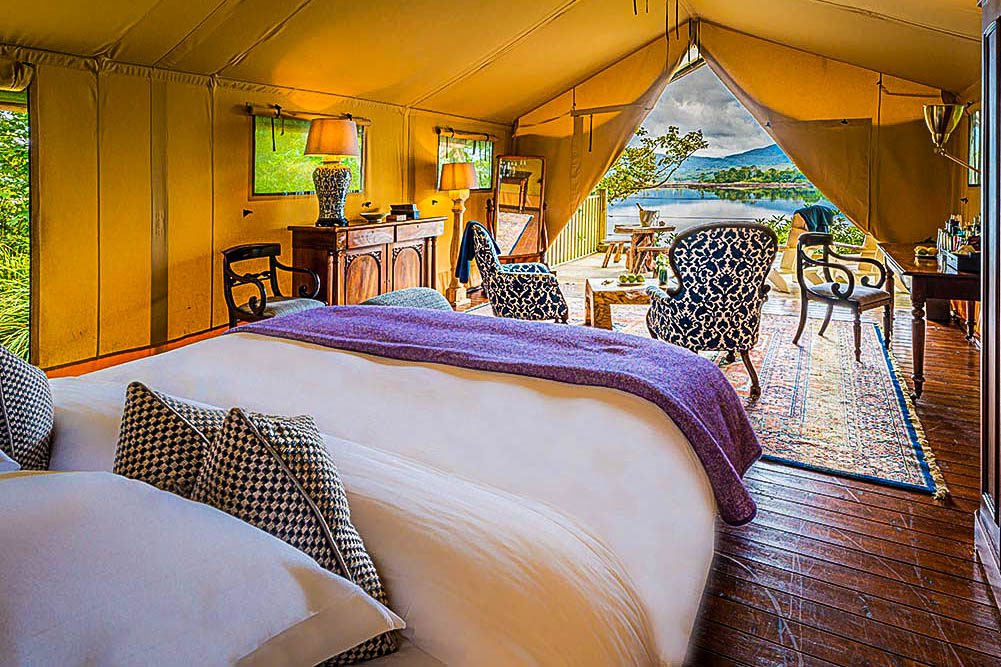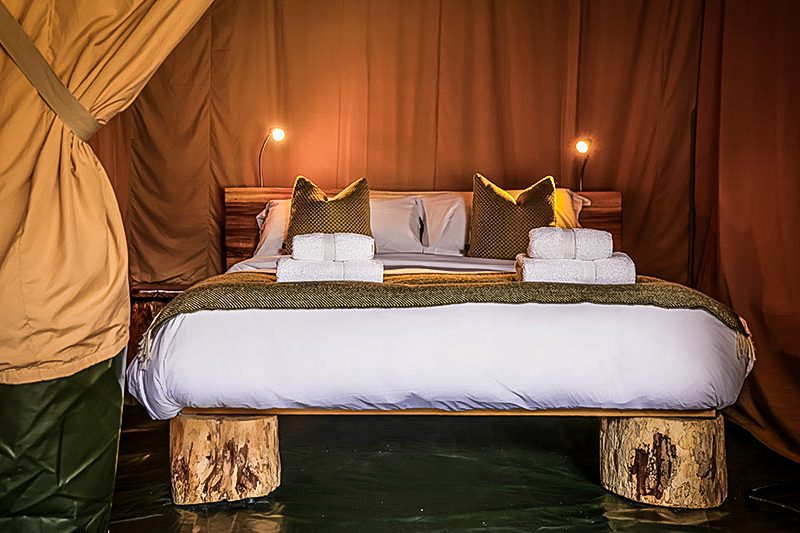 A paradise within a paradise, these tents plotted on the Dromquinna Manor Estate are truly a personal luxury for those who want a complete escape from the real world.
Each is rustic and antique with its own private entrance, king-sized bed, plush towels, private bathroom, and private veranda with armchairs and a breakfast table.
The veranda overlooks Kenmare Bay and is a prime spot to begin or end your day with the best views. Breakfast is included with your stay and hand-delivered each morning to your tent so you can enjoy it against a backdrop of mist-clad mountains.
19. Podumna Village Glamping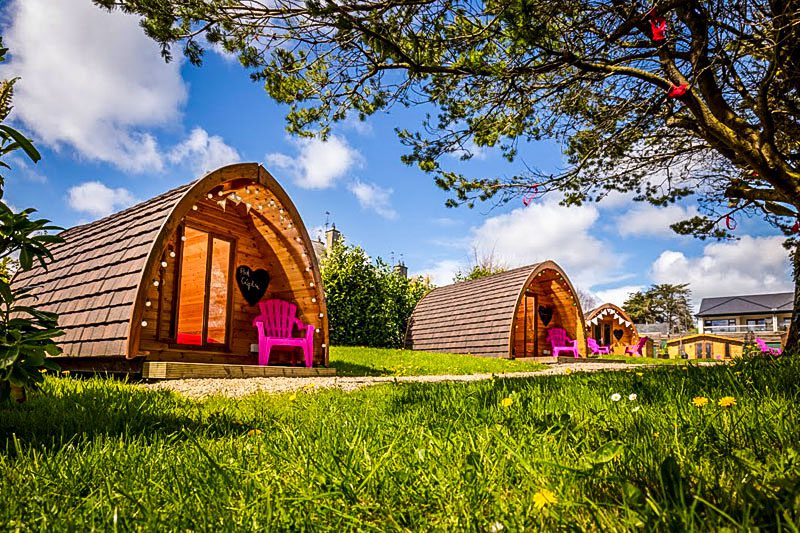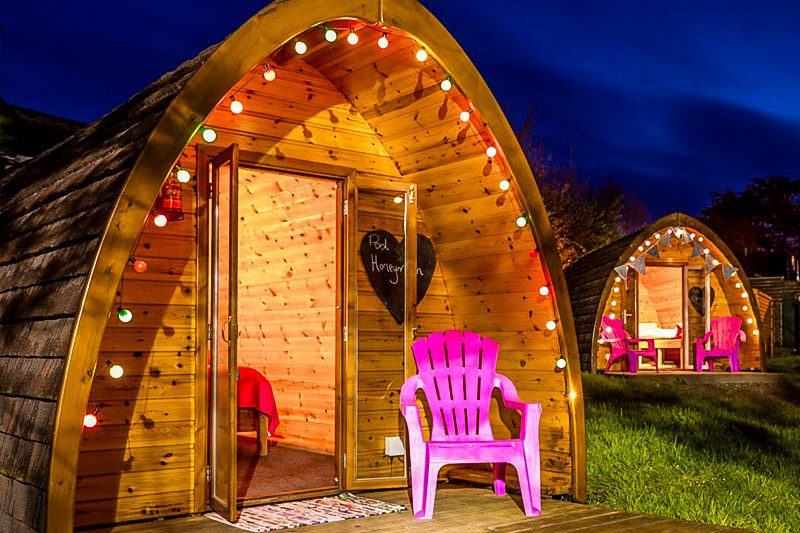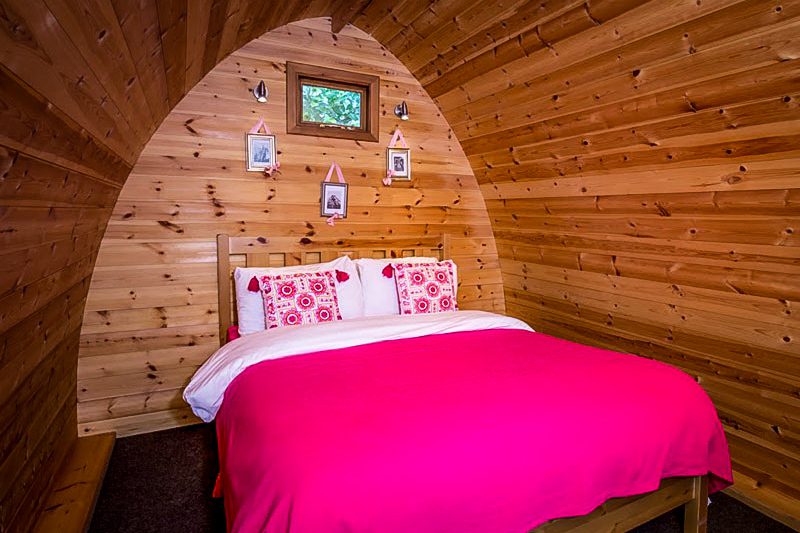 If you want the escape to nature with the convenience of an urban sprawl, this is the perfect place for you to go glamping in Ireland.
Both charming and functional, these glampsites make perfect daytime bases as each of the eco pods are insulated with comfortable beds, power, heating, and a mini-deck area for relaxing. They vary in size and can accommodate a family of up to 5 people.
This site is located in Ireland's Heartland Region right in the middle of Podumna town with plenty to see and do. Castles, forest parks, an abbey, and walking trails are all a stone's throw away.
20. Mayo Glamping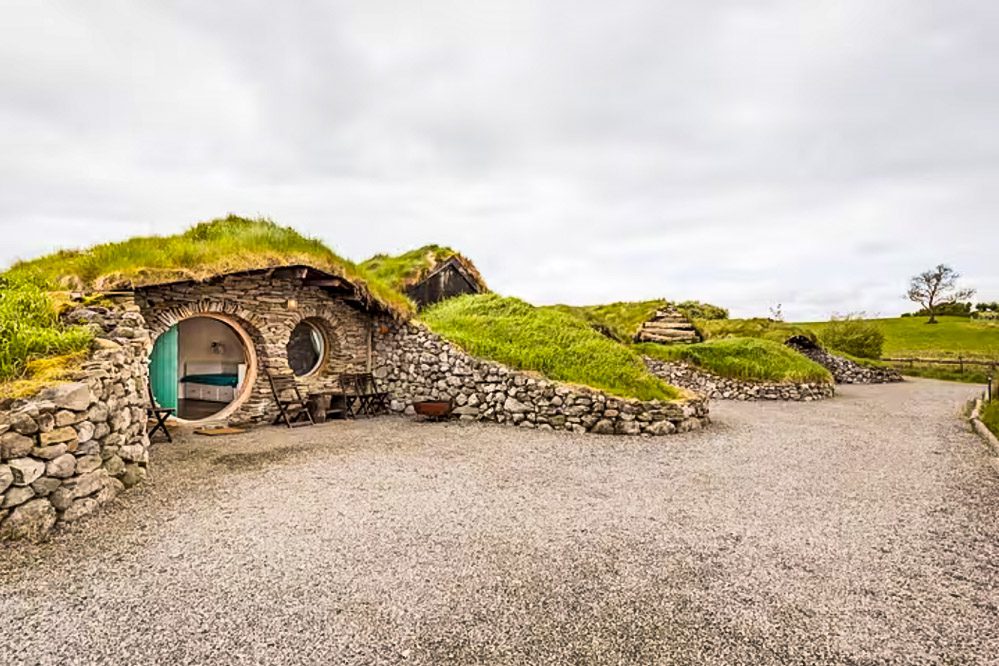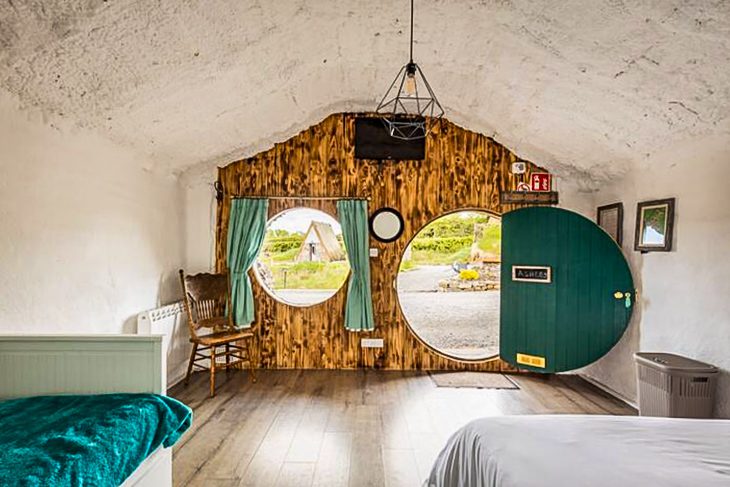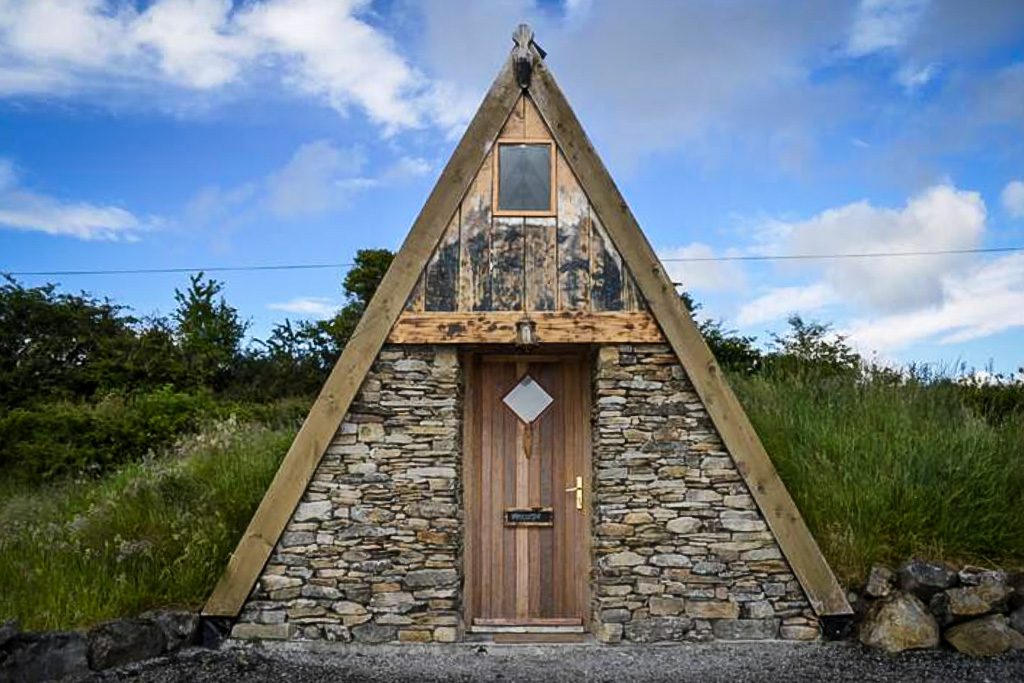 Mayo Glamping provides rustic and novelty glampsites north of Galway. You can book their Hobbit huts, Nordic A-frame cabins, or historic railway cottage for a memorable stay in the countryside.
The handmade huts resembling a real-life Hobbiton are the main highlight of this property. Inside is kept simple with a queen-sized bed, day bed for additional guests, electric heating, and WiFi. The outsides are fitted with an adorable circular door and stone detailing.
Onsite you'll share understated luxury. Relax in the hot tub, whip up a pie in the wood-fired oven, find zen in the sauna, and conclude the night with a glass of wine or s'mores by your own private fire pit.
21. Glasson Glamping Farm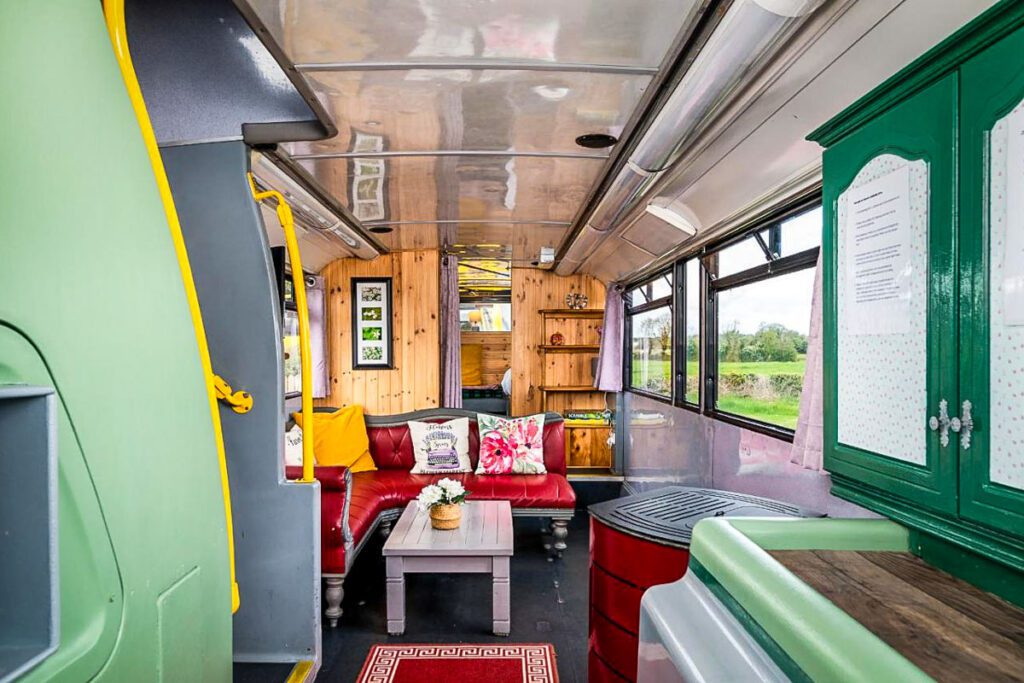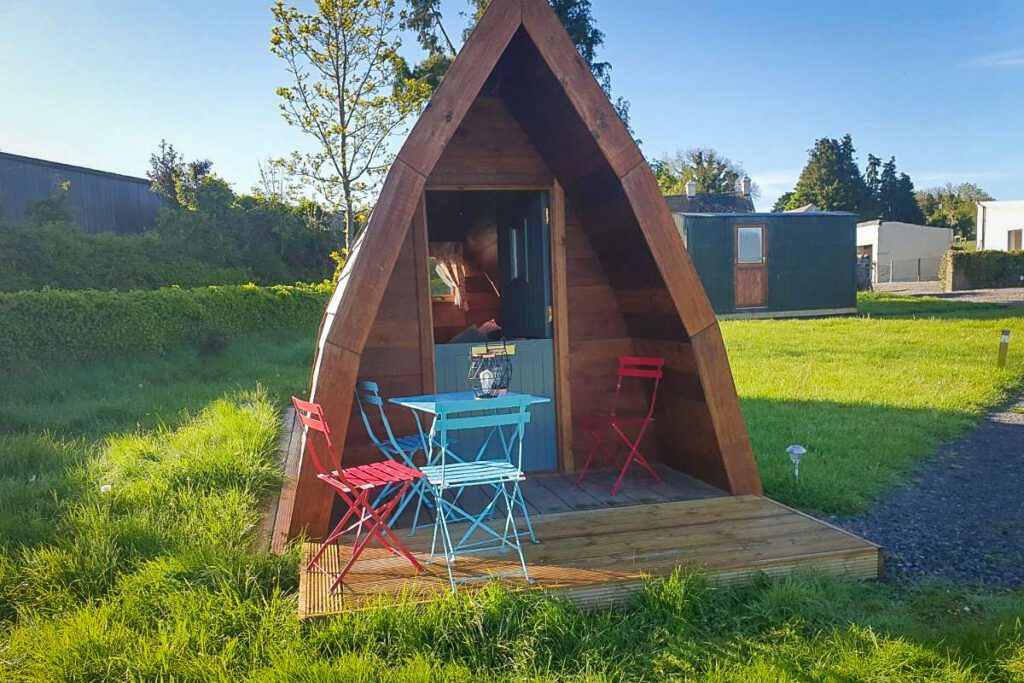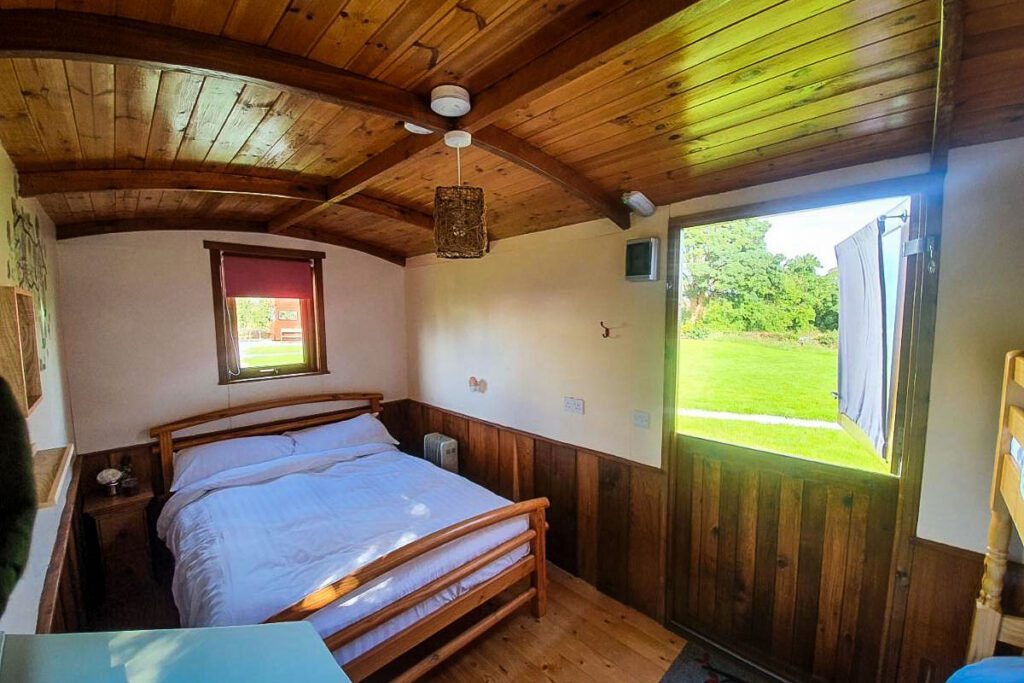 Homey and eclectic, this glamping farm tucked away north of Athlone is prime for exploring and relaxation. You can curl up in any of their renovated buses (one is a double decker!), A-frame cabins, or apartments.
Since each glampsite is so unique, they each have their own list of amenities. Some come with a riverside view, private kitchen, and ensuite bathroom, while others have a shared lounge and kitchen.
No matter which you book, you'll have access to the hot tub, pool table, karaoke machine, and pizza oven. Nearby are cafes, restaurants, museums, parks, a train station, and various tours you can book offsite.
22. Belmullet Coast Guard Station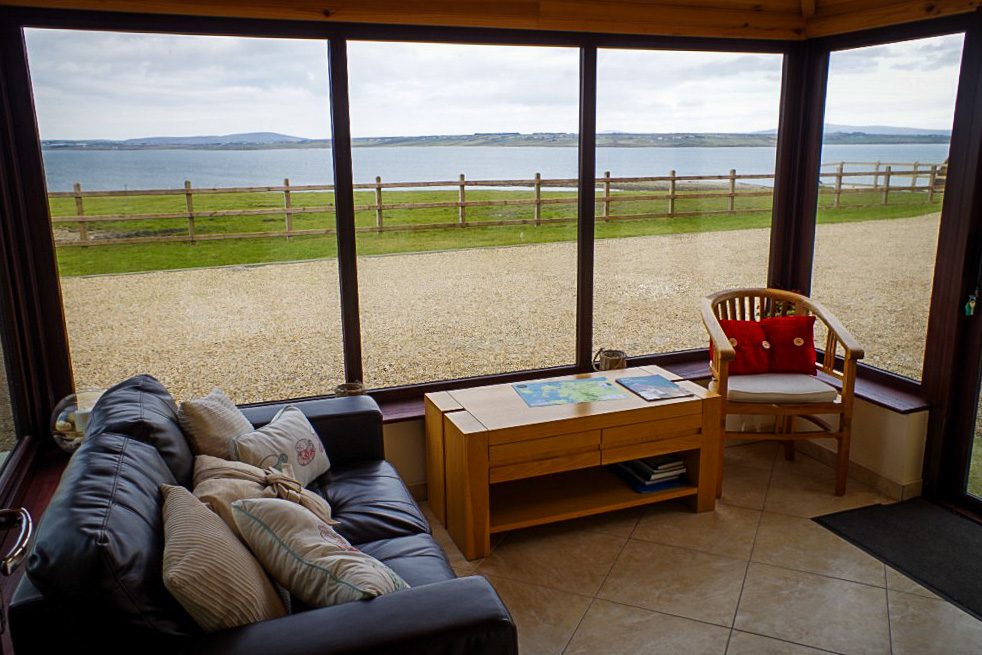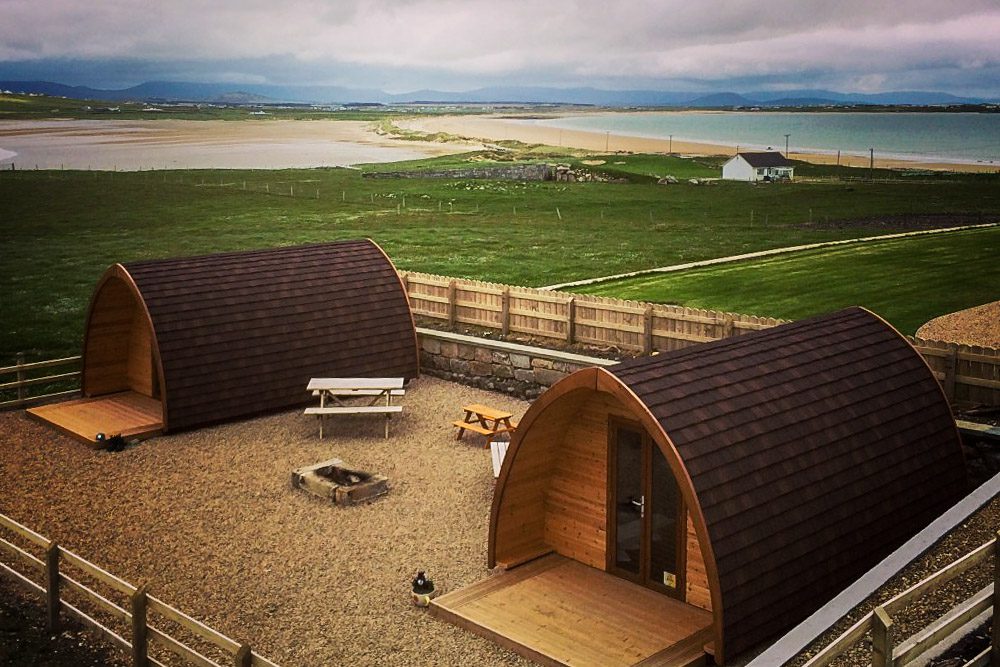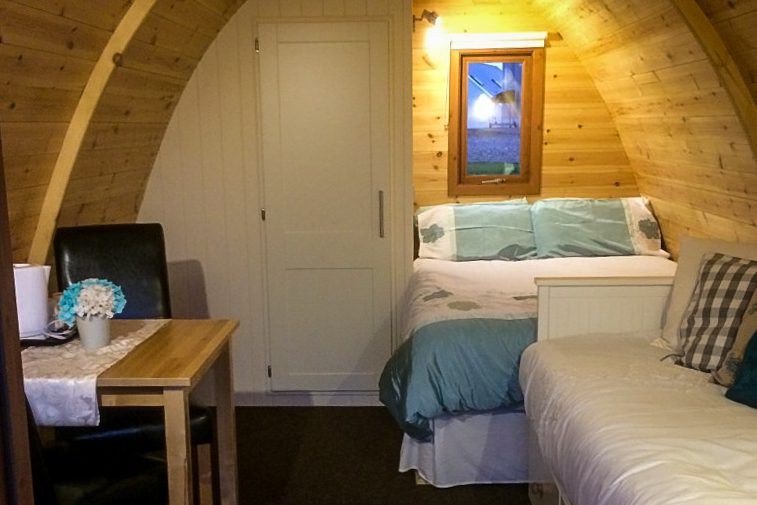 Voted one of the 50 best places to stay along Ireland's coastline, these boutique pods are settled in a stunning location for a truly glamorous escape into nature.
Each pod has a comfortable bed, seating area, and a table with chairs, as well as a hand washing basin and toilet. They have a dedicated shower area on the property inside their converted barn.
The view is arguably the best part of a stay here. The outdoor picnic area next to the pods is the perfect place to watch the sun go down with a glass of wine or your favorite drink and unwind at the end of the day.
23. Slow Cabins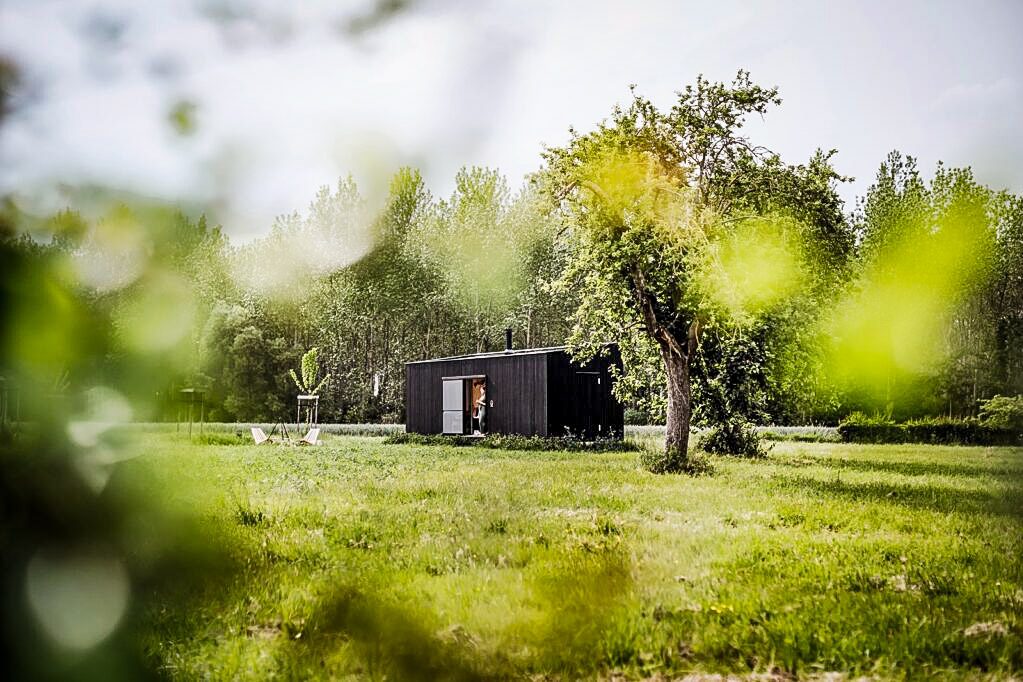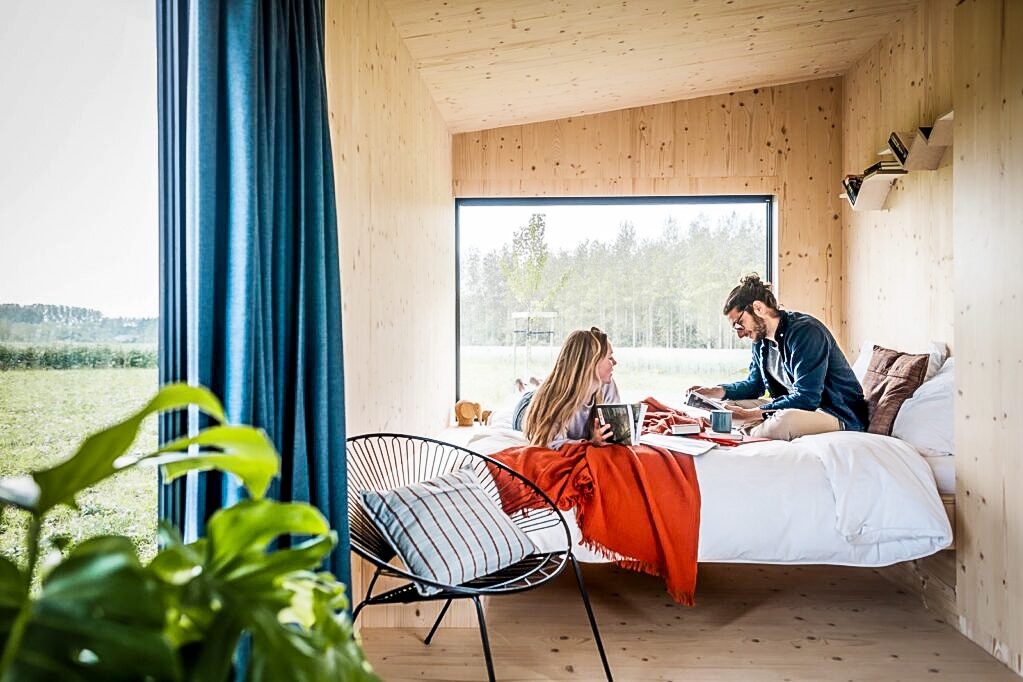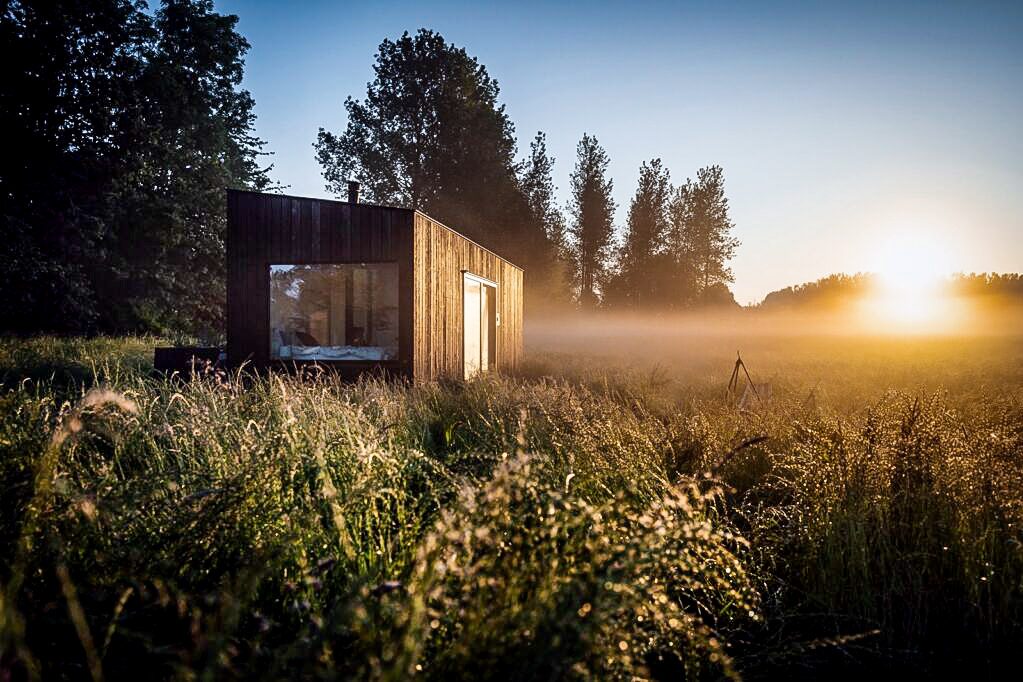 These cabins in the Burren Lowlands highlight luxurious and responsible accommodations along the Wild Atlantic Way.
Sitting on 40 acres of rewilded landscapes, these cabins are entirely self-sufficient and off-grid, creating the perfect place to truly connect with nature and one another.
Upon arrival, you'll be welcomed with a complimentary drink before being shown to your cabin. Outside is a private fire pit with comfortable seating and spectacular countryside views.
Inside the cabin is a lavishly-fitted queen-sized bed, fully-equipped kitchenette, waterfall shower, scandinavian dry toilet, and indoor stove, as well as books, games and a digital detox box to disconnect entirely.
24. Glamping Under the Stars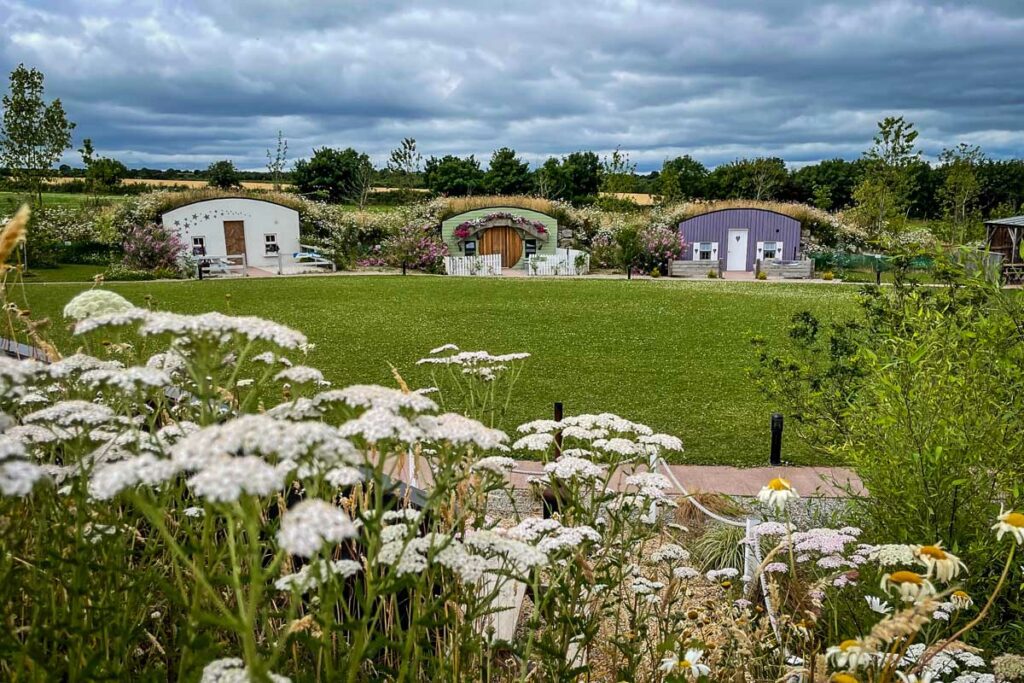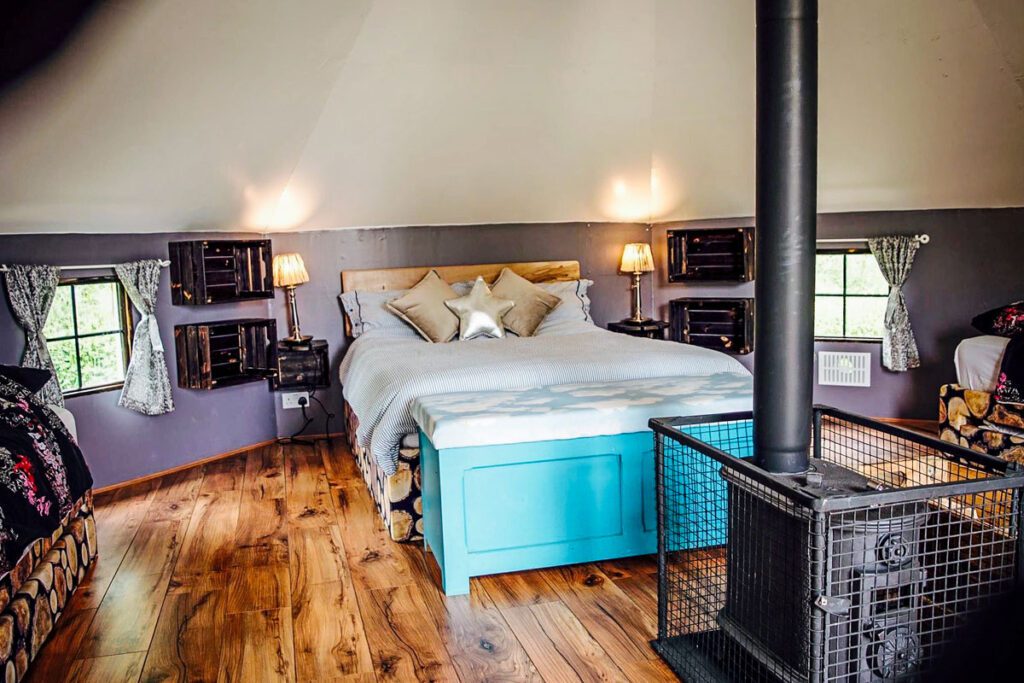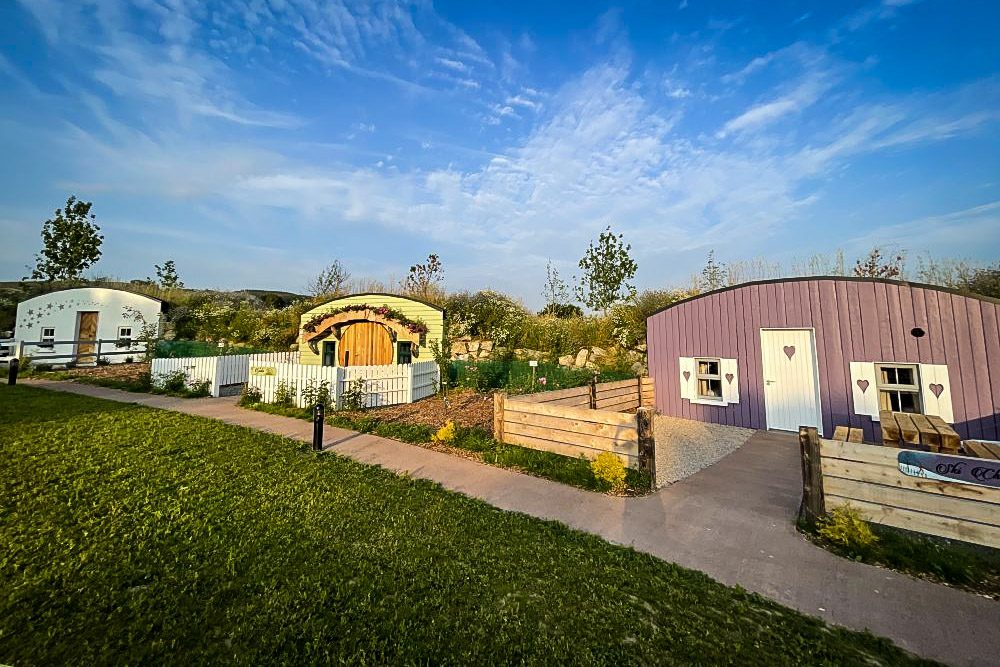 You'll feel as though you've stepped into a fairytale at these glampsites. Their grass-roofed Hobbit houses look as though they've been pulled directly from a storybook, but you can also find the magic in their tents and lodges.
The property is divided into two areas, the Mountain Glampsite and Meadow Glampsite, where on-theme tents and lodges are plotted.
Across both grounds, you'll find comfortable accommodations alongside a communal kitchen barn, glass-covered veranda, manicured lawns, and a shared campfire area.
From your doorstep, you can climb ancient ruins, swim, explore biking trails in the mountains, light up the BBQ, or enjoy the wildflower gardens.
25. River Valley Holiday Park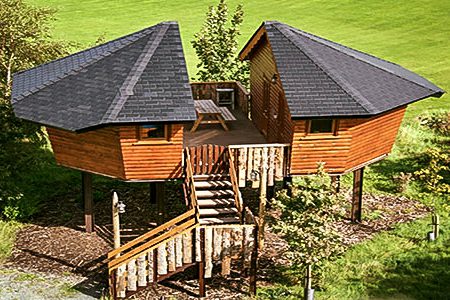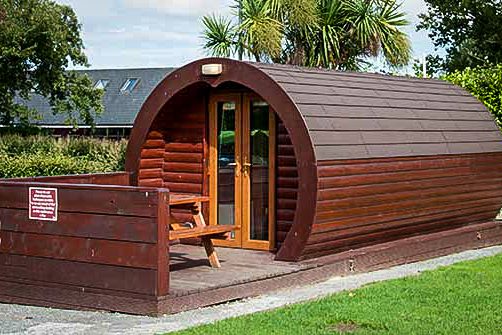 There are four different and unique glamping options you can book at River Valley Holiday Park: the Treehouse, Maxilodge, Kukoo Hut, or Microlodge.
They're all fully-insulated with comfortable beds and a private seating area. Onsite is an amenity block with communal bathrooms, showers, a kitchen, sinks, and laundry.
This glamping site caters both to couples and families with children, as there are adult-only areas as well as a variety of things to book for the kids, such as electric go-karts and jewelry-making.
26. Wildflower Glamping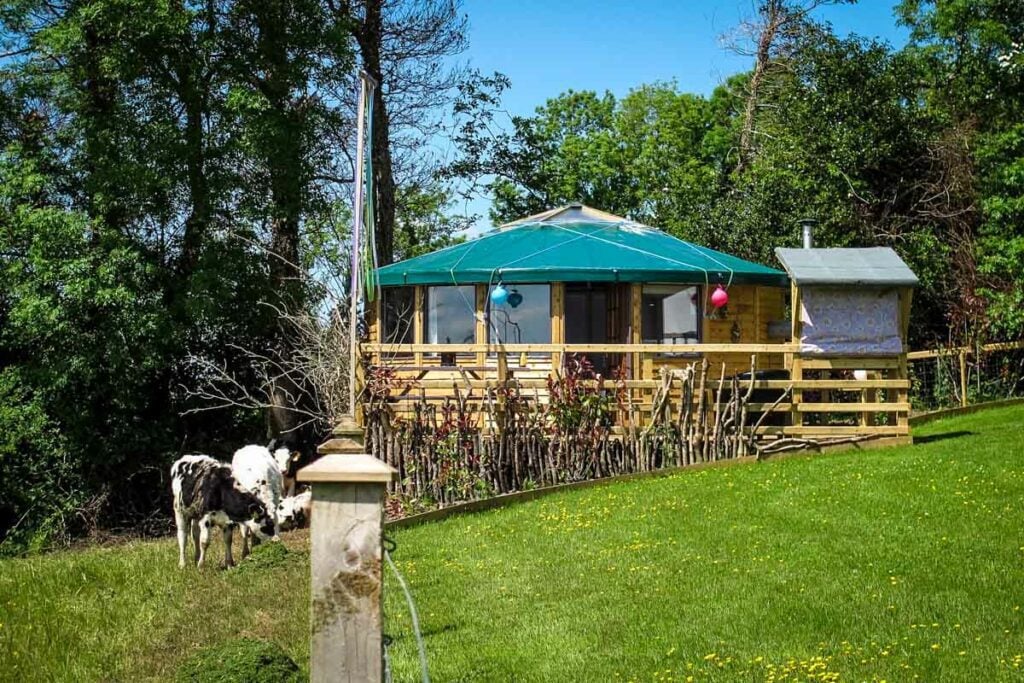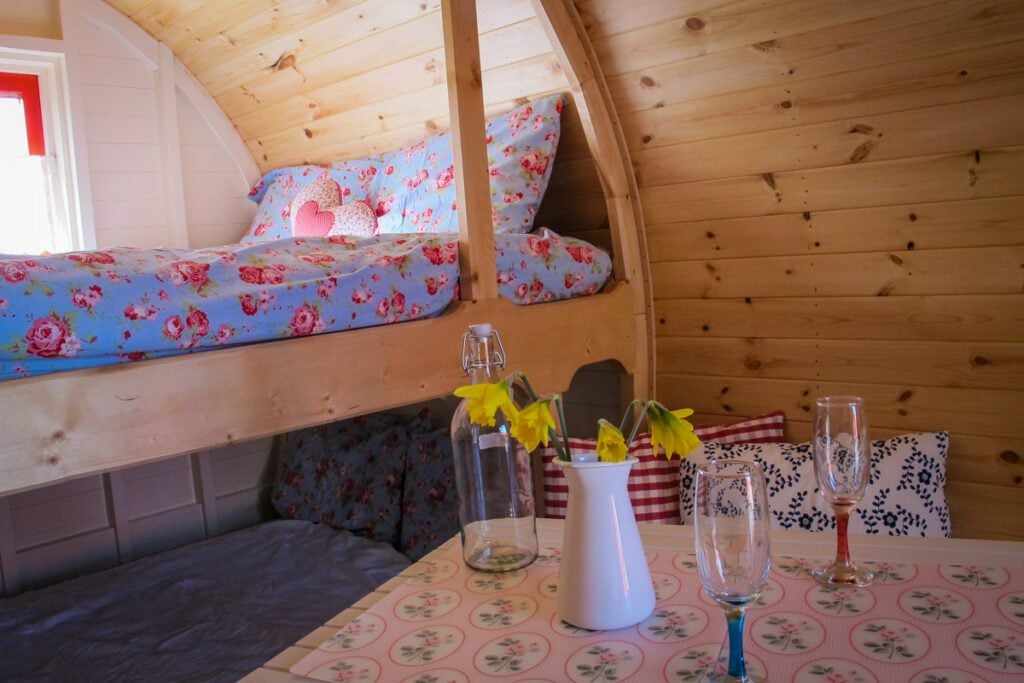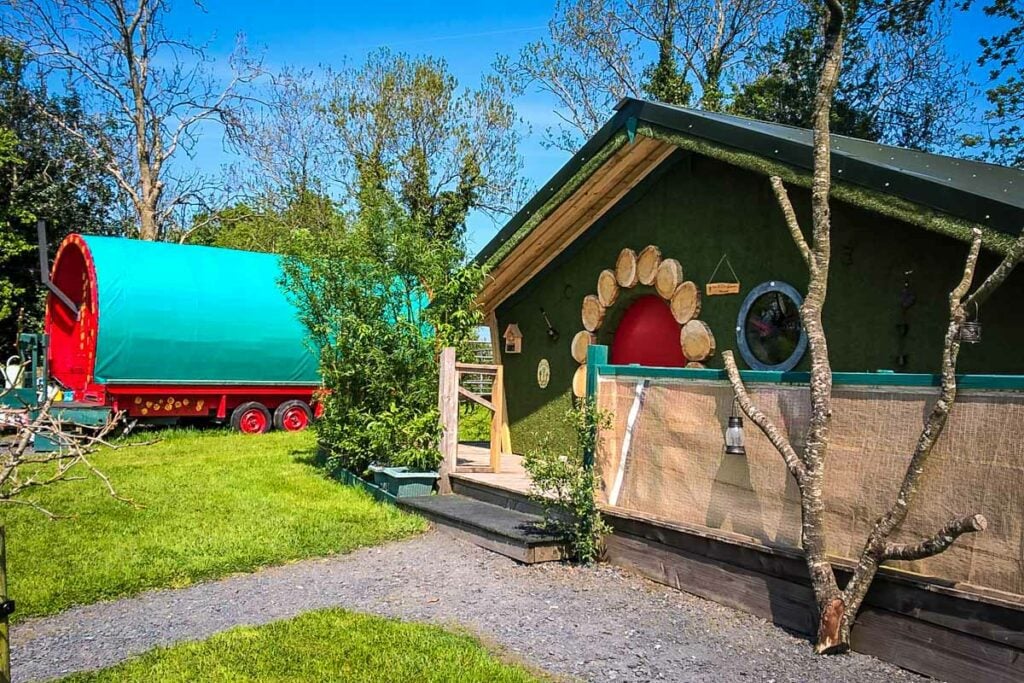 Overlooking the stunning countryside in north-central Ireland, Wildflower Glamping is surrounded by the pristine nature of Killykeen Forest Park. You'll surely find serenity at this quirky spot.
Their glamping sites come in a variety of shapes and sizes. Choose from the Daisy Yurt, Hobbit Hut, Wild Rose Wagon, Foxglove Tent, Shepherd's Hut, and Dotty the Caravan for something truly special and memorable.
Each one has its own perks, but they're all outfitted with a private outdoor seating area, kitchen, comfortable beds, and electricity. There are bathroom and shower facilities onsite, as well as two fire pits and a communal area with picnic tables and seating.
Ireland glamping map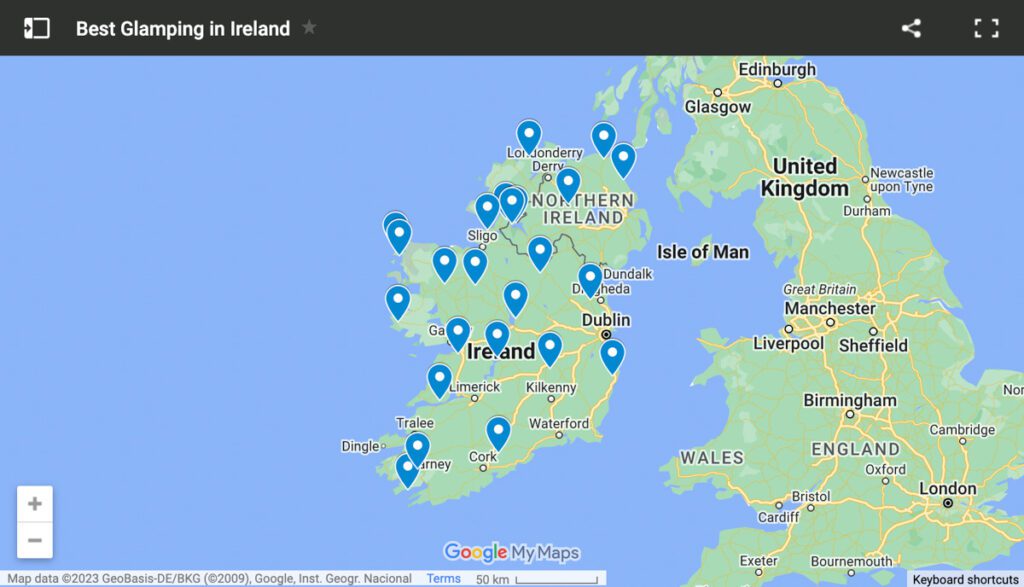 The map above shows all of the best Ireland glamping sites so you can easily figure out where each is located and map the distance to major attractions.
---
Are you planning a trip to Ireland?
We're creating lots of resources for travel in Ireland and destinations throughout the country. Check out our Ireland Travel Homepage for everything you need to know, or read some of our favorite articles below.
Save this article on Pinterest for later!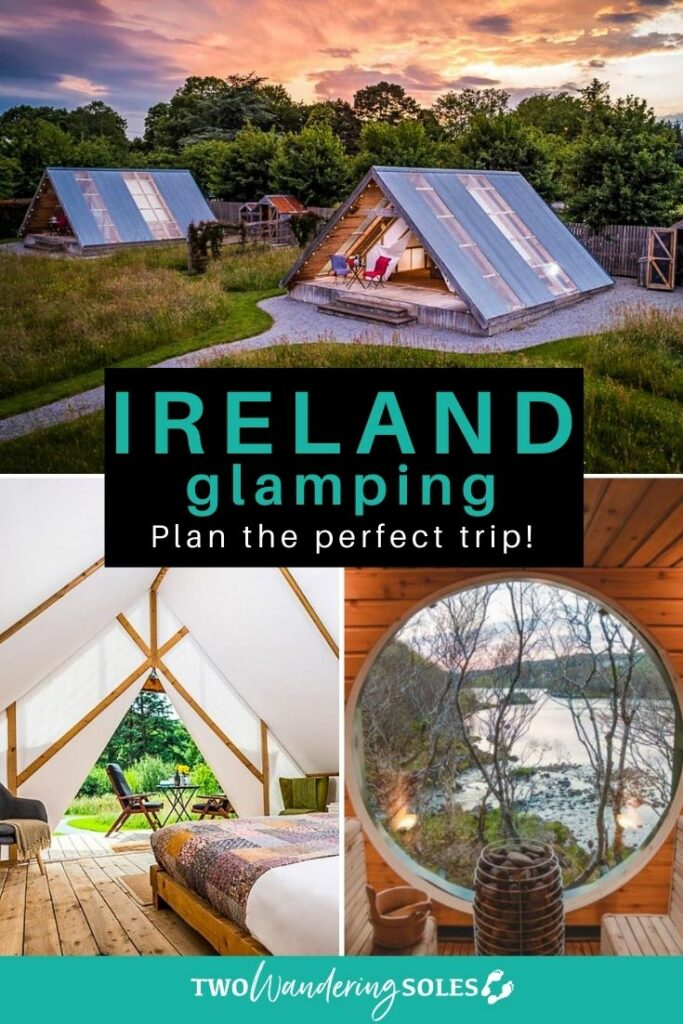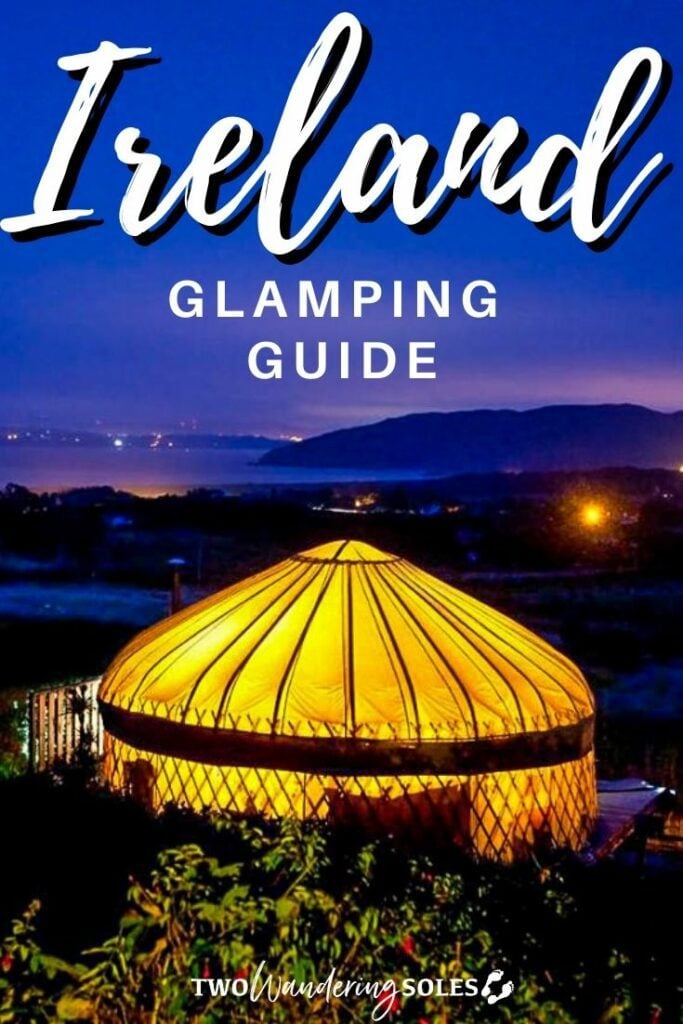 We want to hear from you!
Are you planning a glamping trip in Ireland and still have questions? Or questions about "glamping" in general? Leave your comment below and we'll do our best to get back to you!