From cultural experiences to exploring Ireland's oldest national park, this guide details all the best things to do in Killarney so you can start making your bucket list.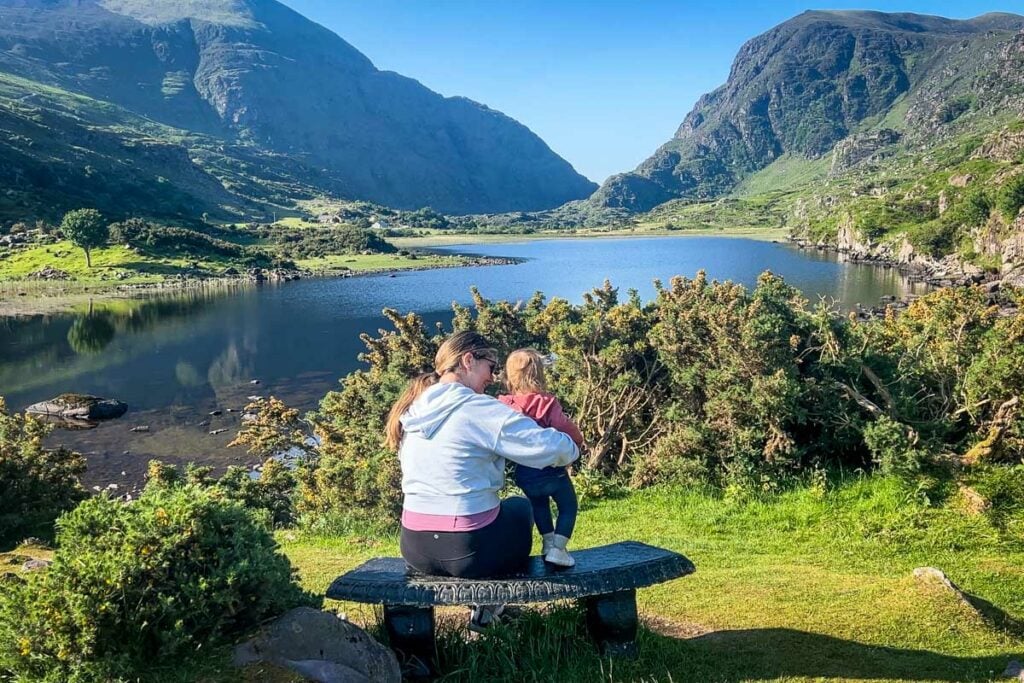 Nestled in the heart of County Kerry, Killarney is a lively gem and easily makes the list of top places you should visit in Ireland. This vibrant town is bursting with charm, breathtaking landscapes, and an atmosphere that will leave you dancing an Irish jig in no time.
With plenty of iconic places to see and fun things to do in Killarney, this region will make all types of travelers fall in love.
For starters, the scenery is a reason in itself to visit. Killarney is surrounded by majestic mountains, rolling green hills, and tranquil lakes that comprise Killarney National Park. From low-key walks and viewpoints to more adventurous activities, there's a little something for everyone.
Foodies will delight in Killarney's culinary scene, with its blend of global cuisine and traditional Irish fare that you can enjoy while tapping your feet to live Irish music. And if you fancy a pint of the black stuff, Killarney's pubs are overflowing with lively locals and friendly banter that will make you feel right at home.
Whether you're a nature enthusiast, a history buff, or just someone looking for good craic (Irish for "a good time"), Killarney should definitely be on your Ireland itinerary.
In this article, we're going through the best things to do in Killarney and walking you through where to stay (there are tons of great places!) and where to eat.
Cute story: Each night, we sing an Irish lullaby to our daughter (Ben's parents used to sing it to him), and it has Killarney in it, so we were really excited to visit this area! (It's a version of this song.)
Killarney travel guide
For more tips and advice for planning your trip to Killarney, Ireland, jump to the following sections (or just keep scrolling to see it all!).
---
Best things to do in Killarney
If you're looking for the top things to do in Killarney, here ya go:
Explore Killarney National Park
Drive the scenic Ring of Kerry
Hang out at John M. Reidy (for breakfast or dinner!)
Walk the Gap of Dunloe
See Ross Castle
Hike to Torc Waterfall
Keep reading for more detailed information on each of these things and more ideas of fun things to do in Killarney, including some truly hidden gems.
Psst! Don't miss these tips and mistakes to avoid while planning your trip to Ireland! (You'll thank us later!)
1. Explore Killarney National Park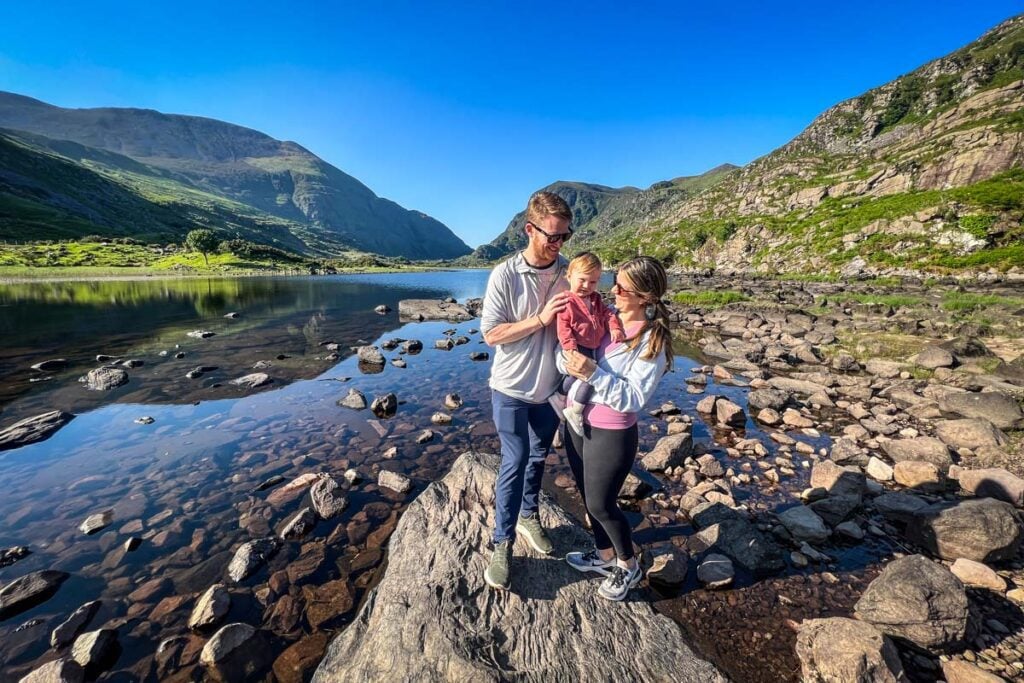 Ireland boasts 6 national parks, which is quite a lot for such a small country.
Ireland's first national park to be established (in 1932) is none other than Killarney National Park, which also sees the most visitors. And it is popular for a reason.
With more than 25,000 acres of lakes and mountains, there are plenty of viewpoints and hikes around the park. If you want to see the best of them all, join this guided hike with a local hiking enthusiast that earns rave reviews from guests!
---
Want to save time and energy on planning?
In June 2023, we spent 2 weeks traveling around Ireland and living in a campervan. We were lucky enough to explore a lot of what this country has to offer!
We took our 2-week travels and are in the process of creating the perfect Ireland road trip itinerary. We'll send you our complete 2-week itinerary, filled with tips and advice, once it's finalized! Just click below to get on the waitlist for our 2-week Ireland road trip itinerary!

---
2. Drive the Ring of Kerry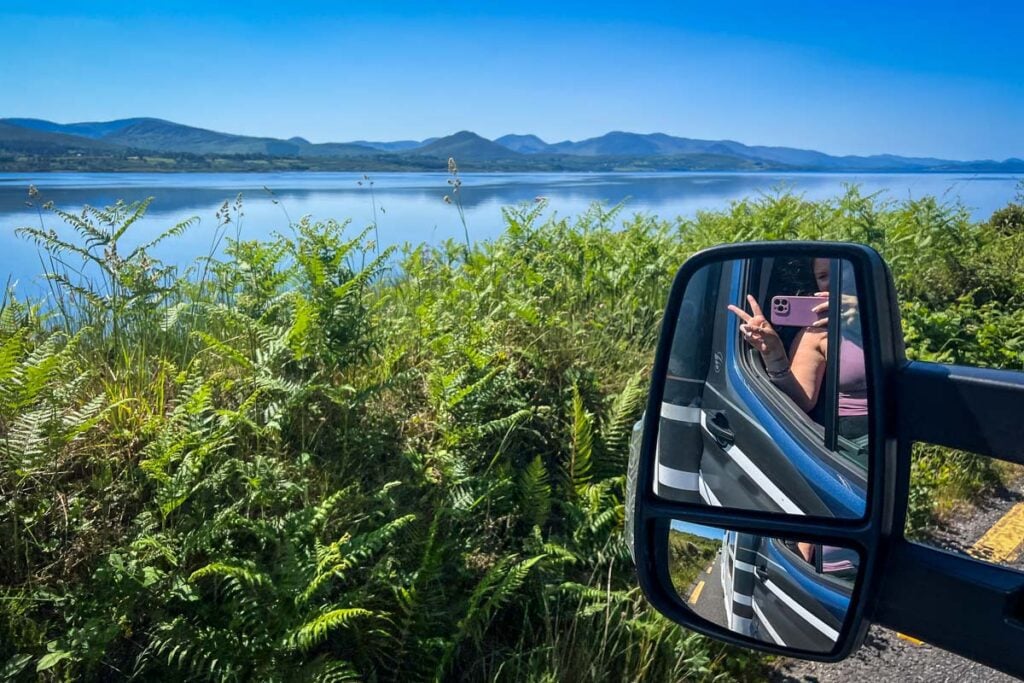 Driving this scenic route is one of the most popular things to do in Killarney.
This loop brings you through Killarney National Park, past epic viewpoints and enchanting coastal towns, and alongside rugged sea cliffs.
In total, the Ring of Kerry is a distance of 111 miles (179 km) and if you were to drive the route without stopping, it would take around 3.5 hours. However, the best part about this drive are all the stops along the way. So be sure to carve out (at least!) an entire day to dedicate to this iconic journey.
It can get busy in some of the more popular places, as this is a classic tour bus route. However, if you get an early start and add in some hidden gems along the way, you can avoid the crowds and have an incredible day.
3. Hang out at John M. Reidy
No matter what time of day you happen to be in Killarney, stop by John M. Reidy!
Come in the morning for excellent coffee and the largest variety of scone flavors we personally saw in Ireland. And in the evening, cozy up in a booth with grub and a boozy but delicious Calypso Coffee! (Or, come for both!)
The building itself is very cool, with a maze-like quality to it. And the atmosphere at night is the best in town, so if you're looking for a taste of local nightlife, this is the place to start your evening!
4. Walk (or bike!) the Gap of Dunloe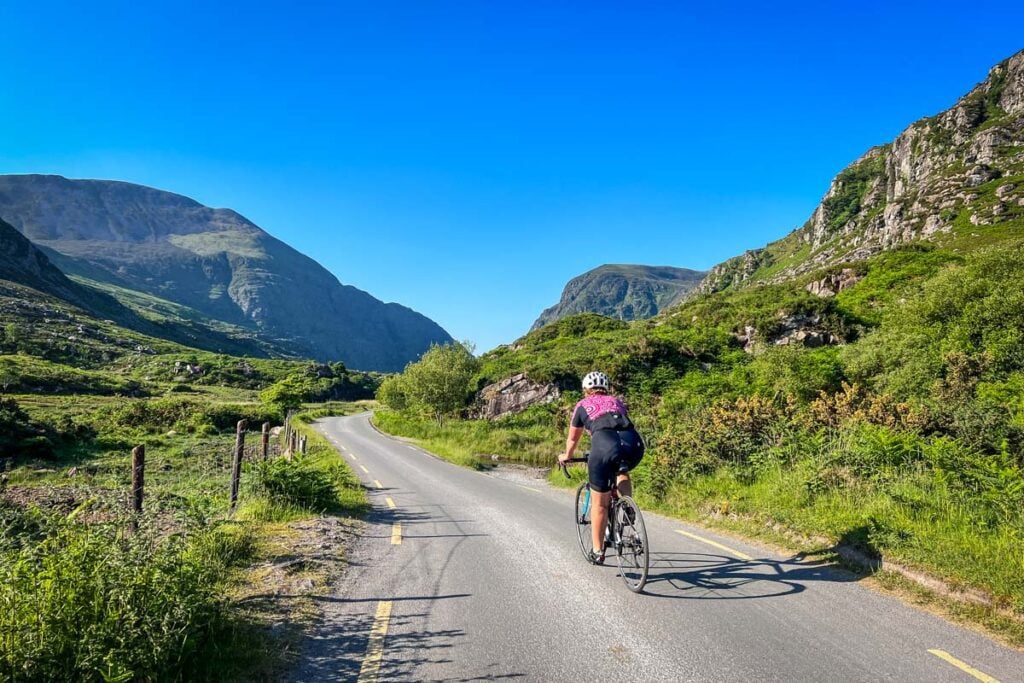 The Gap of Dunloe is a U-shaped valley situated between two mountain ranges – the MacGillycuddy's Reeks to the west and the Purple Mountain Group to the east.
Within the Gap of Dunloe, there are glacial lakes connected by the River Loe, along with seriously stunning views.
This is one of the most popular stops on the Ring of Kerry, and rightly so – it is drop-dead gorgeous.
While it can get crowded throughout the day, if you get there early, you'll be rewarded by having it mostly to yourself. Starting your day at the Gap of Dunloe is one of the best things you can do in Killarney.
Hungry? Grab scones (some of the best we had in Ireland!) at The Coffee Pot Cafe, which is at the parking lot and opens at 9:30 a.m. or get a heartier meal at Kate Kearney's Cottage, which is open from 10:30 a.m. – 8 p.m.
How to visit the Gap of Dunloe
You can join a guided tour (like this one), or you can visit on your own. But if you're visiting independently, there are some tips and warnings you'll definitely want to read…
Lucky for you, we have an entire guide packed with everything you need to know about how to visit the Gap of Dunloe!
5. Visit Ross Castle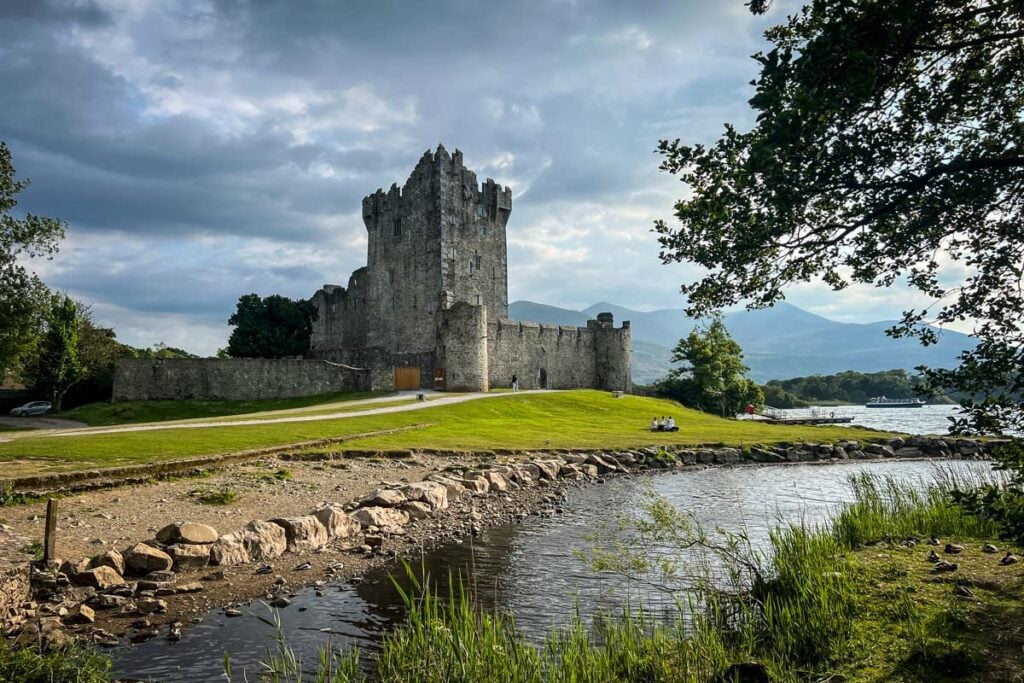 Perched on an inlet of Lough Leane, Ross Castle is thought to have been built in the 15th century.
It is one of the most popular landmarks in Killarney and can be enjoyed from the outside (for free) or by touring the interior.
Those who choose to tour Ross Castle can get an idea of what it looked like in its peak and learn about the legends that surround this citadel.
We arrived after closing hours, so we enjoyed Ross Castle from the outside.
Admission: €5 per person
Hours (during peak season): 9:30 a.m. – 5:45 p.m. (last admission at 5 p.m.)
Psst! If Killarney sounds like your jam, we think you'll also love Galway. Here's our top list of things to do in Galway to help you start planning your visit.
6. See Torc Waterfall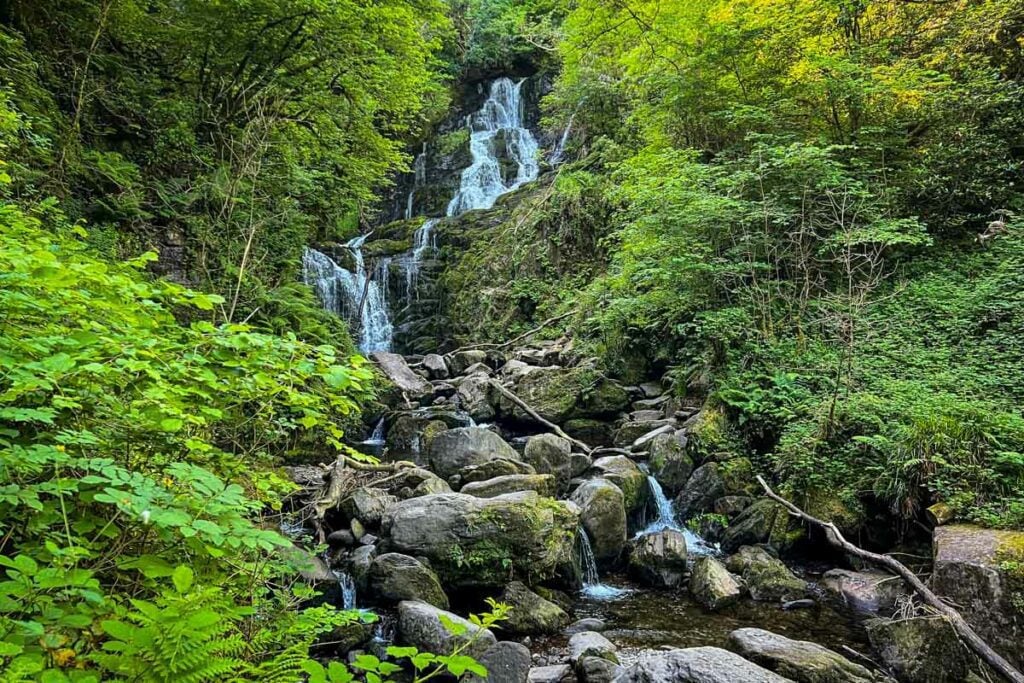 Located just 4 miles from Killarney (7 km), Torc Waterfall is a popular stop along the Ring of Kerry.
At just 66 feet tall (20 meters), Torc Waterfall is not particularly large or impressive in stature. Even so, surrounded by lush forests and mossy rocks, this cascading falls is stunning.
Fun fact: Torc means "wild boar" in Irish.
Being that it is an easy, 5-minute walk from the parking lot, this is a great stop for travelers of all fitness levels. If you want a bit more exercise, you can extend your hike by following a number of different trails, like this loop trail that brings you to and from the Muckross House.
If you're a photographer, don't forget your tripod to get a classic open-shutter shot. There's not a ton of viewing space, so be respectful about where you set up.
Our advice: Since tour buses stop here and the parking lot isn't all that big, aim to make this one of your first stops of the day. Otherwise, it can sometimes be difficult to find parking.
Want to see a less busy waterfall? Check out #19 on this list!
7. Wander the town of Killarney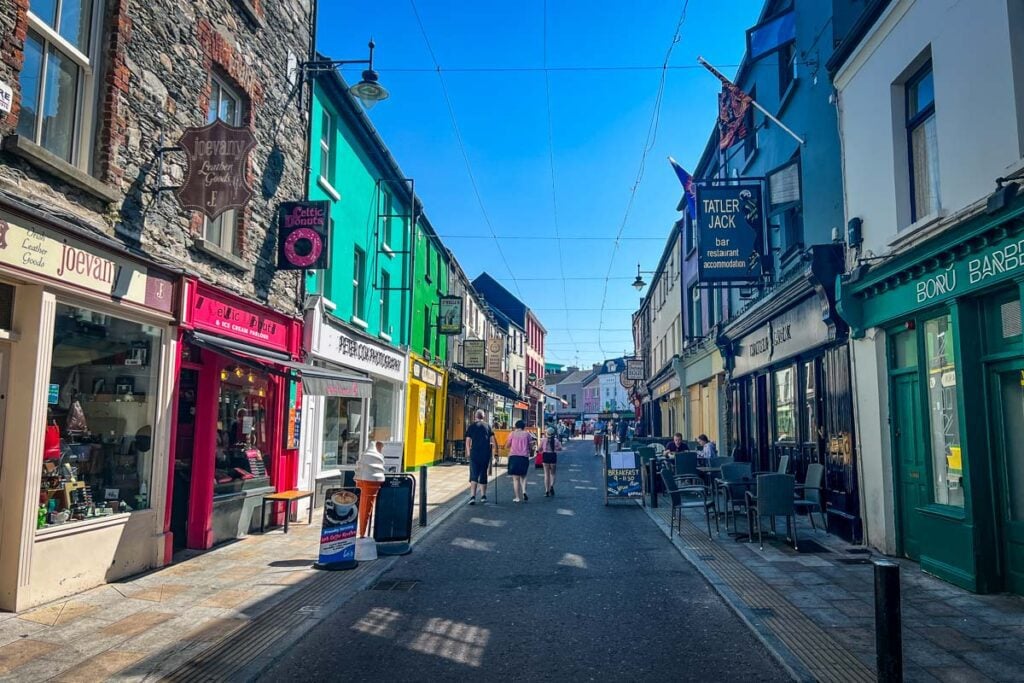 Killarney's town center offers a vibrant atmosphere with charming shops, pubs, and restaurants.
Wander the colorful streets and pop in anywhere that strikes your fancy, whether it's to grab a bite at one of Killarney's top-notch restaurants (jump here for suggestions!), take a coffee to-go for your stroll, or find unique treasures in one of the shops.
As evening falls, the town's vibrant music scene comes alive with Irish trad tunes. Pick a pub, cozy up with a pint, and toe-tap the night away.
8. Go alpaca trekking through a magical forest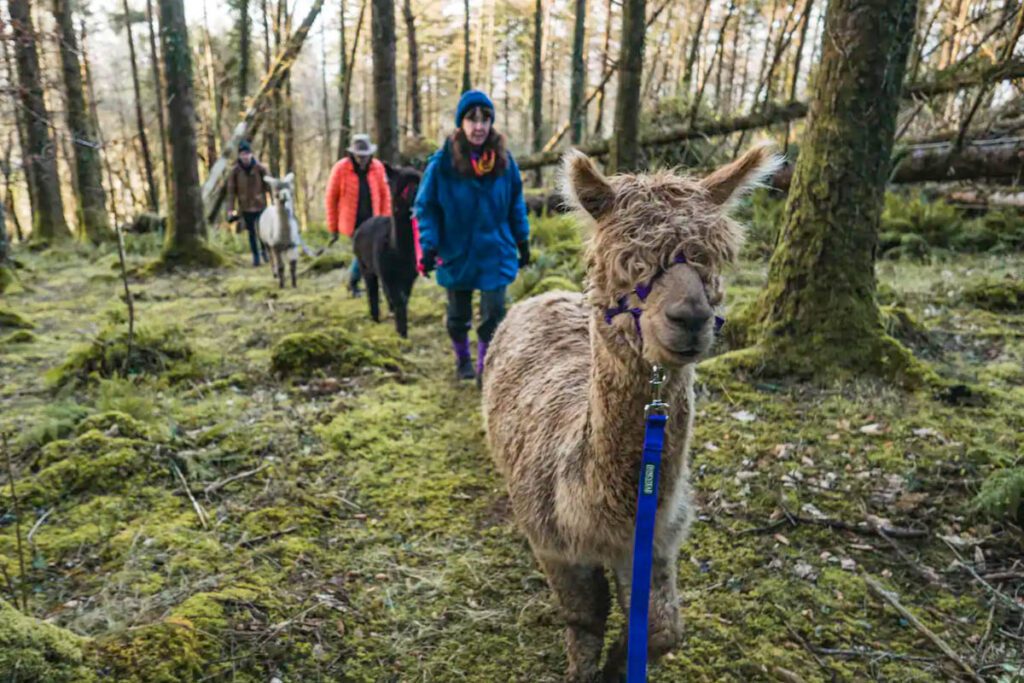 Located about an hour's drive from Killarney, you could combine this visit with several other nearby stops to make a great day trip from the city.
With 630+ 5-star reviews, this is no doubt one of the best things to do in Ireland and definitely on our bucket list for our next trip!
Gather on this alpaca farm and meet your own buddy for the walk. Feed them and get to know their personality and unique quirks before ascending into a lush forest.
This is a leisurely 1.5 hour walk through a magical piece of Ireland's wilderness. End the tour with a demonstration of how the wool is spun into thread.
Duration: Trek lasts 1.5 hours, tour is 2 hours
Tour times: 10:30 a.m. – 12:30 p.m.
Price: $62 per person
Restrictions: Minimum age is 12 (sadly, this is why we couldn't go, otherwise we definitely would have put this on our itinerary!)
Here's what guests are saying:
"This was probably the best thing we did in Ireland. I've done alpaca things before but the setting here was special… and Mia and Emma were amazing … they were so good with the animals….. and the forest setting was 💯."

-Sergio, July 2023
Want to stay nearby?
In addition to leading tours, these hosts also have two guest accommodations, so you can experience a farmstay on your trip to Ireland.
9. See a sheep herding demonstration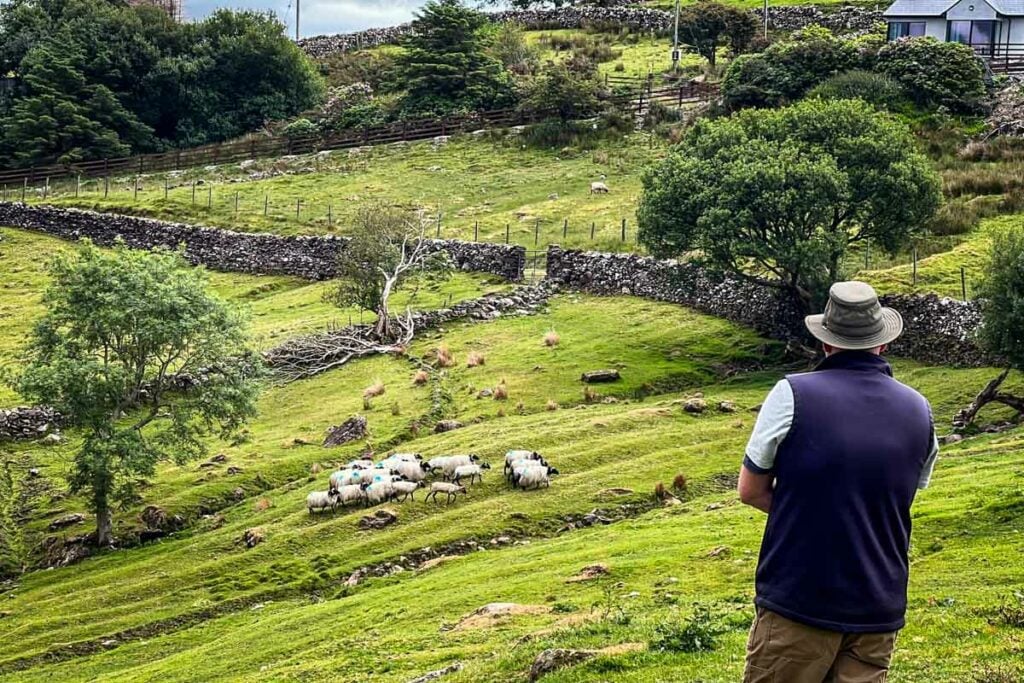 There are several farms around Ireland that have sheepdog demonstrations, making it a fun activity to add to your route wherever it fits.
While individual tours may vary, here's an idea of what you can expect:
Watch a sheepdog herd sheep into a corral (a really fascinating experience).
Watch a farmer shear a sheep – on some tours, you may even get to try it yourself.
Hold and bottle feed baby sheep.
Fun fact: Ever wonder why the sheep you see have colored paint on their backs? This is to indicate which farmer they belong to. Most sheep in Ireland are allowed to roam freely, and the color and shape of the paint is unique to each farmer.
Here are the two farms in the Killarney area we'd suggest looking at:
Kissane Sheep Farm: Located just before Molls Gap, this farm isn't far from Killarney. The tour hours are a bit sporadic, but if it works with your route, it makes a great stop.
Hidden Hills: Situated on the Ring of Kerry, just outside the town of Waterville, this is a top-rated tour and makes a good midway stop along your drive if the tour times work out.
Tight on time but want to see a sheepdog demo? There are several options all around the country. You could skip this one and do it elsewhere instead when you have a little more wiggle room in your itinerary. For example, we went to Killary Sheep Farm in Connemara National Park, during a day trip from Galway.
10. Visit Muckross House & Abbey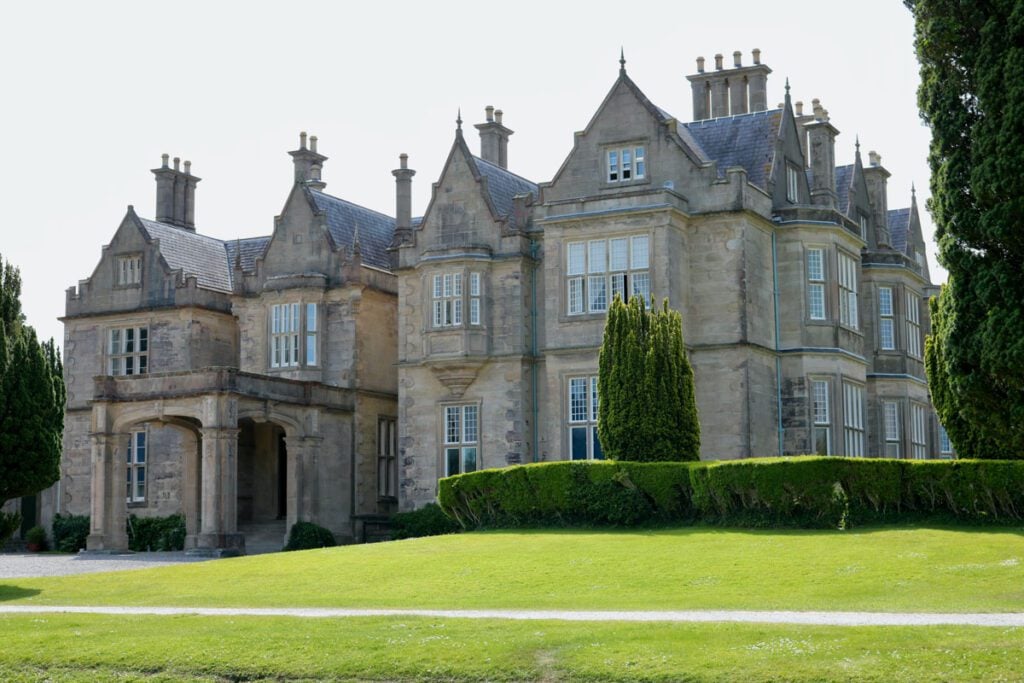 Just a 9-minute drive south of town in Killarney National Park lies Muckross House, a 19th-century historical estate (think Downton Abbey) surrounded by beautiful gardens.
For an admission fee of €12, you can wander elegant rooms furnished in the period style and tour the traditional farms. Hours vary by season and can be found here.
The meticulously manicured Muckross Gardens surrounding the house are free to explore, as are the nearby ruins of Muckross Abbey, an old Irish monastery.
The estate also includes a buffet-style restaurant and a craft shop.
11. Stop at Ladies' View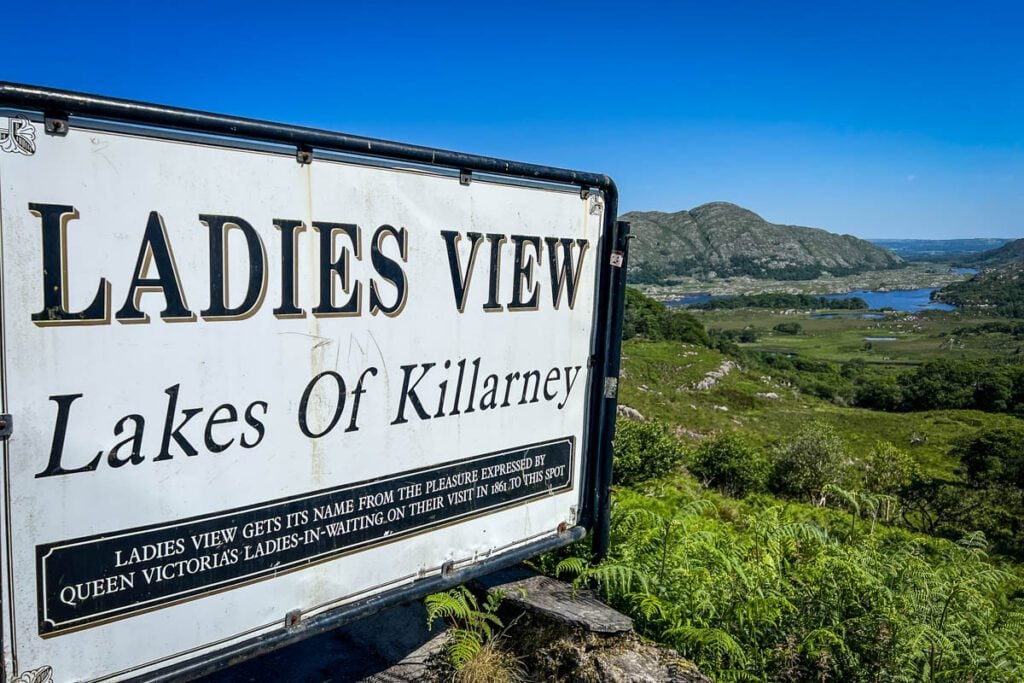 This famous viewpoint offers a panoramic vista of Killarney's lakes and mountains.
You will see parking spaces lining the road, and that's pretty much all it is. Park your car, and voila – a stunning viewpoint that you don't have to work for!
There is a gift shop and a cafe beside the parking spots. If you need a pick-me-up you can enjoy coffee and cake with quite the view. Just be warned that there are many stops along the Ring of Kerry, so be mindful of the time.
12. Drive Moll's Gap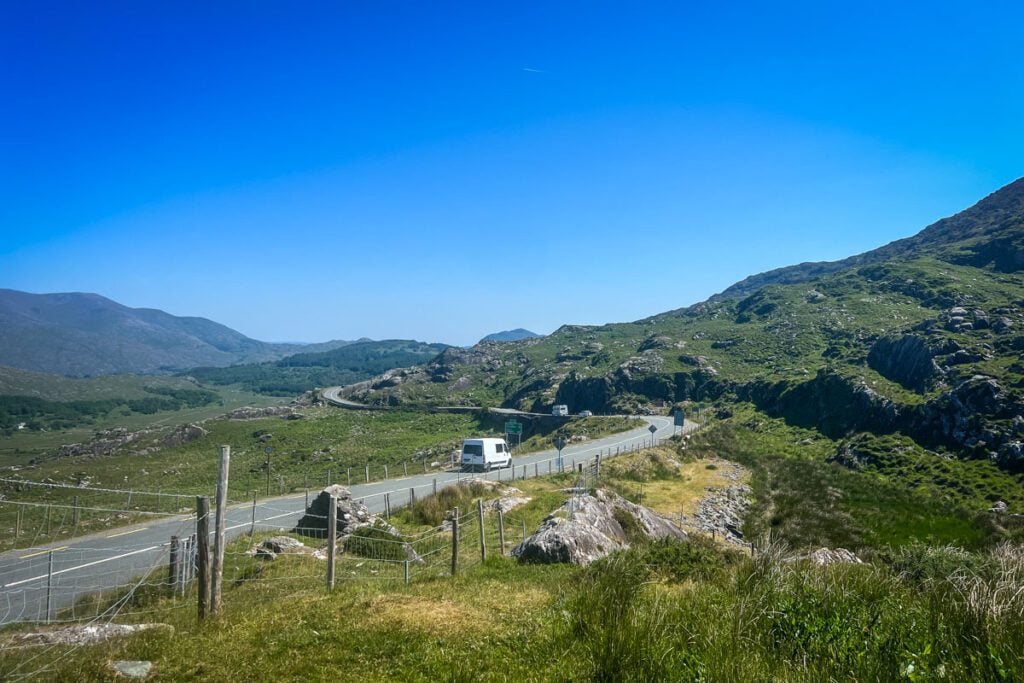 Moll's Gap is a narrow but well-marked mountain pass on N71, just past Ladies View.
This scenic stretch of road offers views of the MacGillycuddy's Reeks Mountains, but be sure to keep your eyes on the road, as it can get tight with oncoming traffic.
13. Go kayaking on Killarney's lakes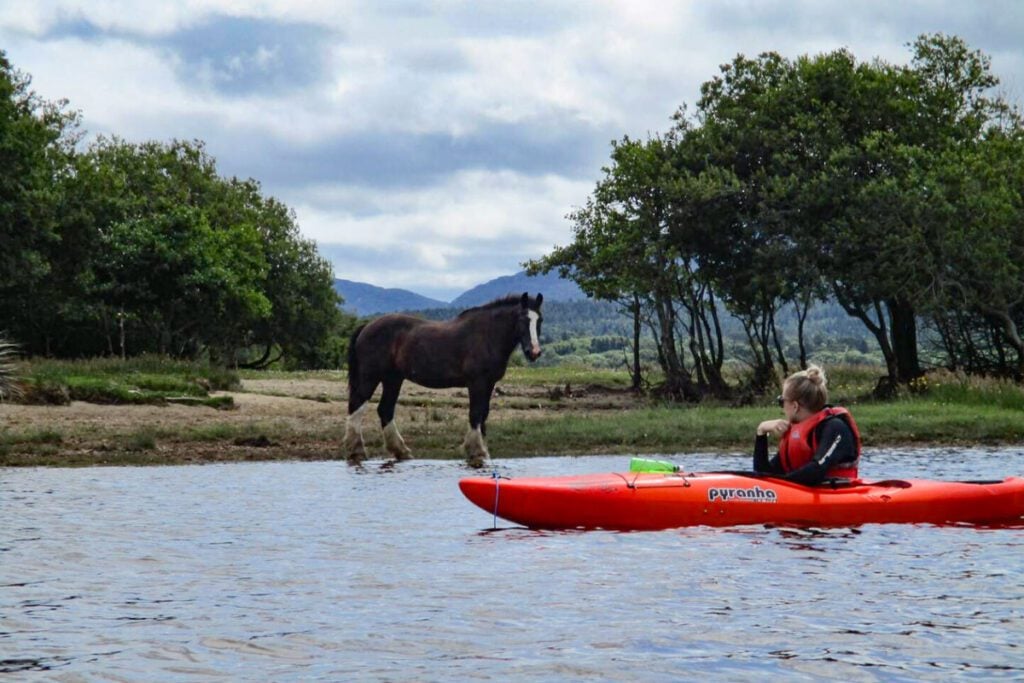 The Lakes of Killarney are world-famous, and there's no better way to experience their beauty than by kayak.
You'll set in at Ross Castle (#5 on this list!) and paddle into Lough Lein. Your experienced guide will share stories of local history as you glide around limestone caves and wooded islands.
Land at Innisfallen Island to explore ancient ruins and spot resident red deer before paddling back to Ross Castle.
Duration: 3 hours
Tour times: Message host directly to arrange dates and times
Price: From $81 per person
Restrictions: Minimum age of 18
Here's what guests are saying:
"Definitely a highlight of our Ireland trip! An absolutely fantastic experience to experience Lough Leane this way. William was a great guide who made us feel safe and welcome from the start. The views of the surrounding nature are unparalleled from the kayak. The short stop at Innisfallen Island was impressive."

-Jan, July 2023
14. Submerge yourself in a seaweed bath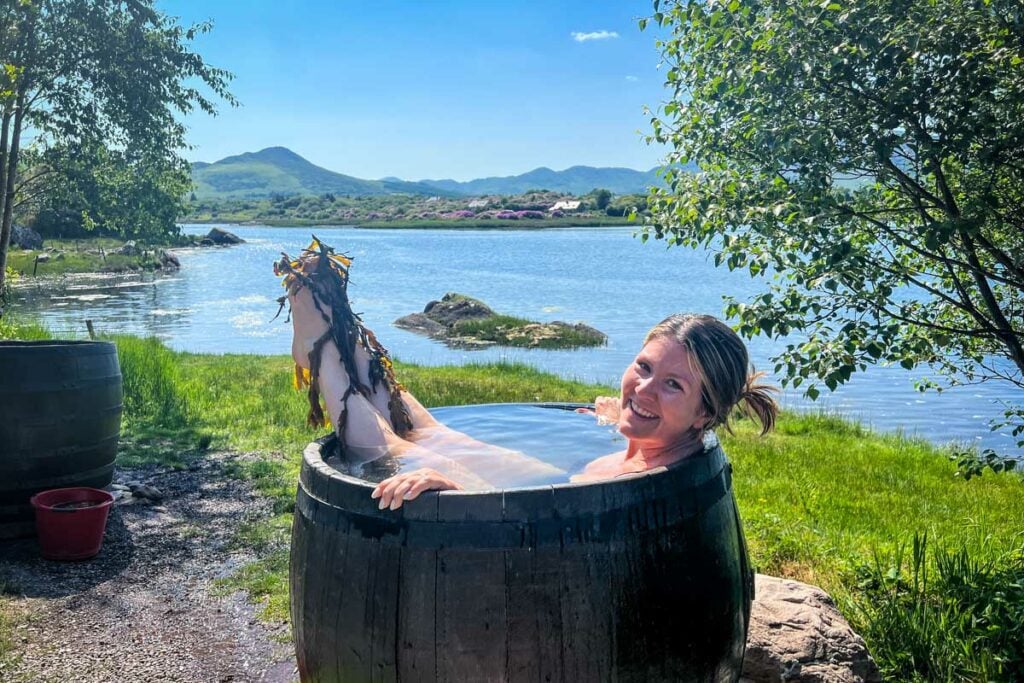 If you like unique, off-the-beaten path experiences, this hidden gem is absolutely worth a spot on your itinerary.
While not in the town of Killarney, it is just an hour from the city and makes a great stop along your Ring of Kerry drive (as long as you've planned ahead).
Located on the grounds of the Sneem Hotel, these barrel baths are nestled along the water with mountains peeking up in the distance. The setting of these seaweed baths is truly magical.
Hang out in your own personal barrel filled with warm water and, you guessed it, seaweed! Seaweed is known to have healing properties, and makes this a really fun and unique experience.
It was one of our highlights on our Ring of Kerry road trip, and we'd highly recommend adding it to your route, as you'll definitely remember this experience more than the typical tourist stops.
Do it yourself:
Price: €48 per person (about $51 USD)
Times: 3 sessions daily; 10 a.m., 1:30 p.m., 5 p.m. (they try to be flexible with timing when possible)
How long: 1 hour
Reservation: Make a reservation by emailing the owner, Brendon, at sneemseaweedbaths@gmail.com. He is super friendly and tries his best to accommodate guests.
15. Visit Killarney Falconry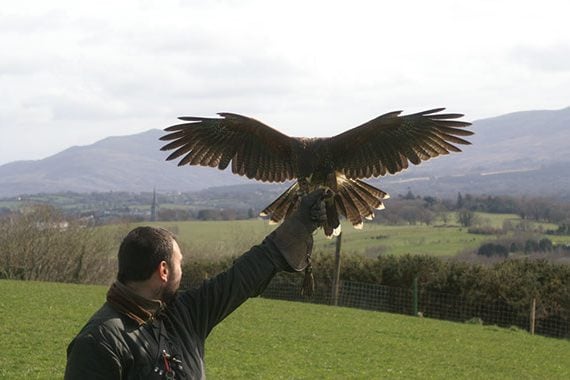 For a truly unique experience, join an experienced falconer for a "hawk walk" around Killarney's lakelands.
Falconry is an ancient craft whereby humans use trained birds of prey to hunt small game. While you won't be hunting on your tour, you will witness the skill and majesty of these beautiful creatures and feel the exhilaration as a trained falcon swoops down and lands on your gloved fist.
Pre-booking is required to tailor this experience to the size, ages, and abilities of your group. You can contact Killarney Falconry via their website.
16. See St. Mary's Cathedral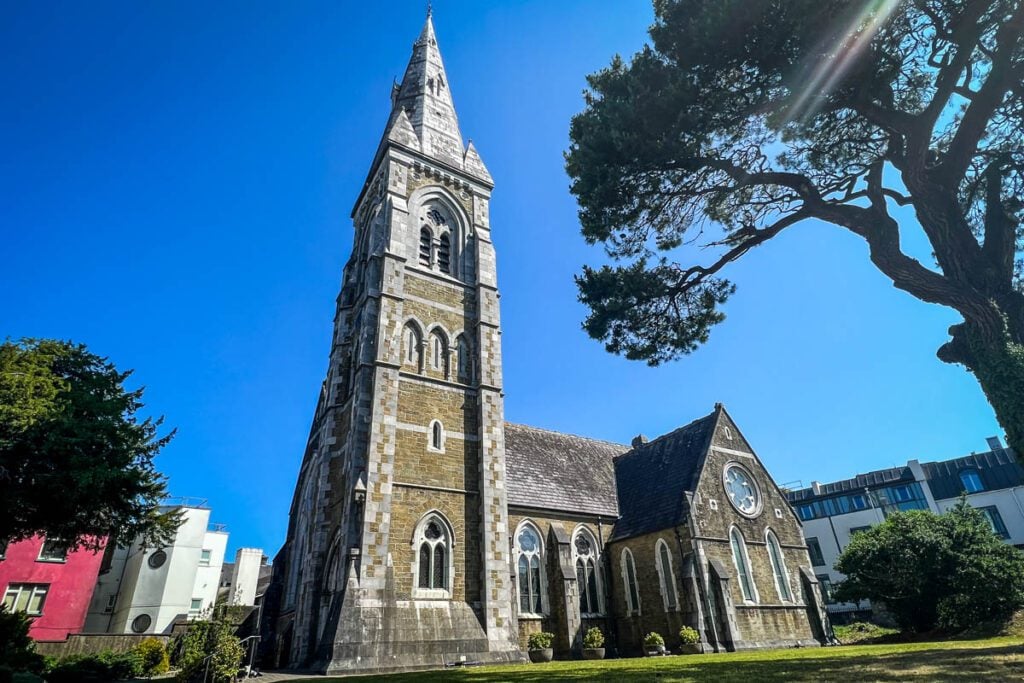 If you're a fan of Gothic architecture or looking for something to do on a rainy day, St. Mary's Cathedral is an easy sight to add to your itinerary.
Built in 1840, this impressive structure sits in a large field on New Street at the edge of Killarney town. The interior is stunning with a large rose window and soaring pointed arches.
Plan your visit outside of mass times, which can be found here.
17. Summit Ireland's highest mountain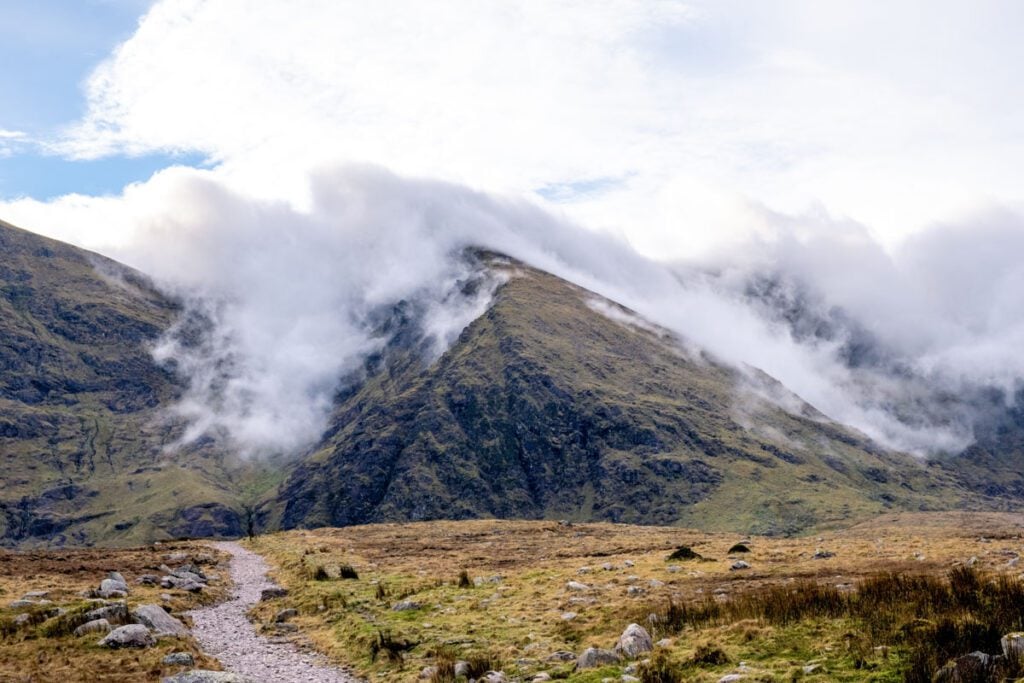 Hikers, lace up your boots to conquer Carrauntoohil, Ireland's highest peak at 3,405 feet (1,038m).
Located near the middle of the MacGillycuddy's Reeks mountain range, Carrauntoohil is not for the faint of heart. The exposed mountains leave hikers vulnerable to sudden changes in weather such as wind, rain, and direct sunlight. Rain and fog can affect visibility, and you can easily lose the trail.
But those who complete the strenuous ascent are rewarded with panoramic views of the surrounding mountains, glittering lakes, and rolling green hills filled with grazing sheep. Simply magical.
Do it yourself:
Distance: 7.3 miles / 11.7 km, loop
Elevation Gain: 3,057 ft / 932 m
Difficulty Rating: Hard
Important note: For this hike, we highly recommend using AllTrails+ to download the offline map, as the trail is not well-marked in some places and can be difficult to follow. You can get your first week of Alltrails+ for FREE when you sign up using our link!
If you're not feeling particularly confident or you want the logistics taken care of for you, you can also summit Carrauntoohil on a guided hike. This one earns rave reviews.
18. Sample local brews at Killarney Brewing & Distilling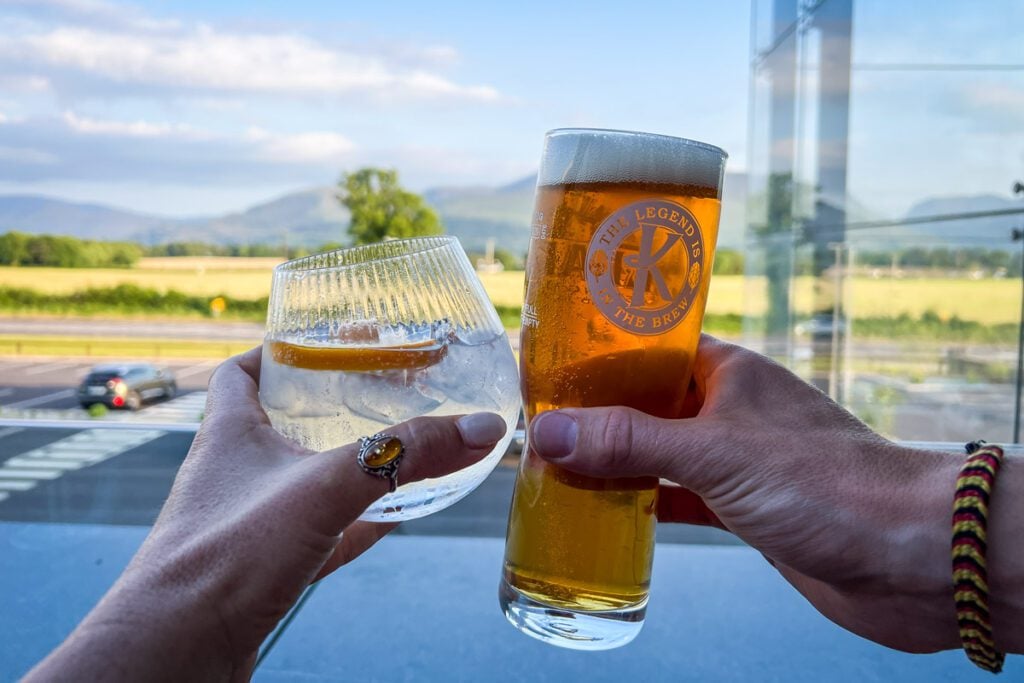 If you're a craft beer lover like we are, then Killarney Brewing will likely be on your list.
In our admittedly snobby opinion (we're really into craft beer!), the beer is average. While it's not the best beer we've ever had, it is always a fun experience to check out the local brewery on your travels. Plus, their two venues are very cool.
Personal recommendation: Our favorite Killarney Brewing beer we tried was their stout.
There are two locations to choose from in Killarney:
Taproom close to city center
Serving crispy woodfired pizza, this casual spot makes a great place for dinner and a beer in the town of Killarney.
Brewery & distillery outside the city
Located a bit outside of the city center, this huge venue is stunning and offers panoramic views of mountainous countryside in the not-so-far distance.
In addition to beer, they also have an onsite distillery and serve cocktails as well as an eclectic menu of American-style comfort foods.
19. Hike to O'Sullivan's Cascade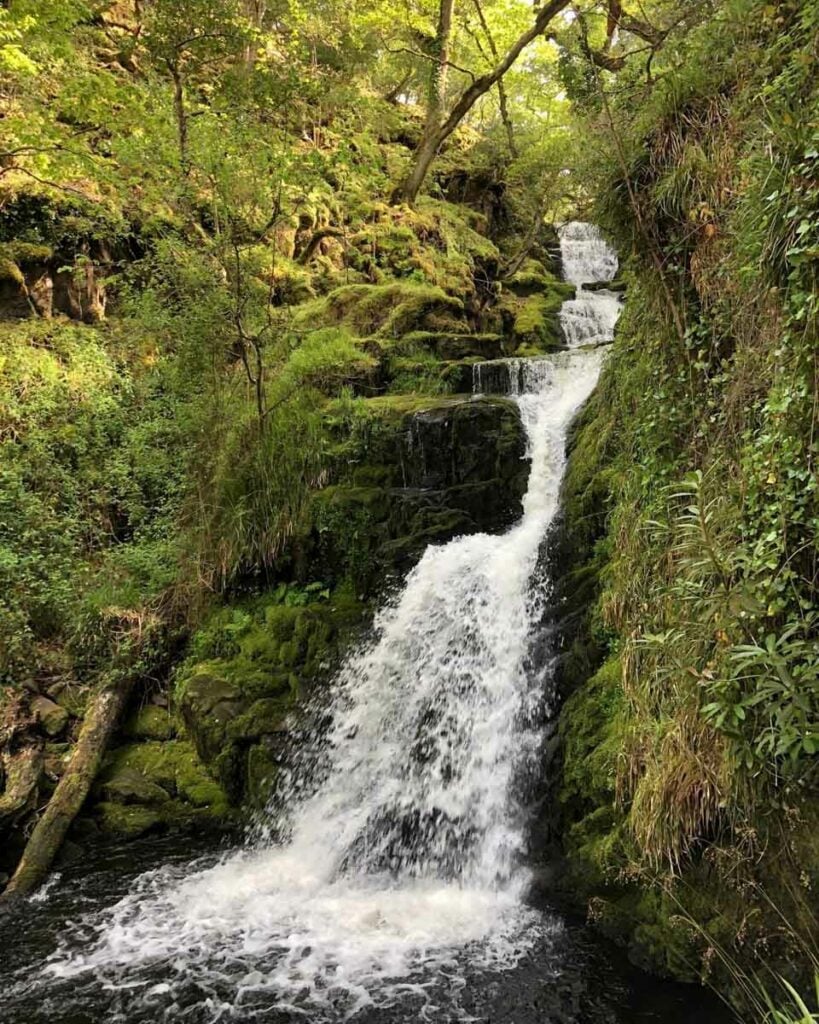 On the opposite shore of Lough Leane from Killarney lies the Tomies Wood, home to O'Sullivan's Cascade.
This tranquil waterfall is a hidden gem surrounded by lush vegetation in an enchanting forest setting.
You can reach O'Sullivan's Cascade via the Tomies Wood Trail. If you enjoy hiking, we recommend doing the full loop for breathtaking views of the forest, lake, and Tomies Mountains. You'll need to take a side trail at the sign for O'Sullivan's Cascade and descend some steps to get down to the falls, but it's worth the detour.
Do it yourself:
Distance: 4.5 miles / 7.2 km, loop
Elevation Gain: 879 ft / 268 m
Difficulty Rating: Moderate
20. Feel fancy at afternoon tea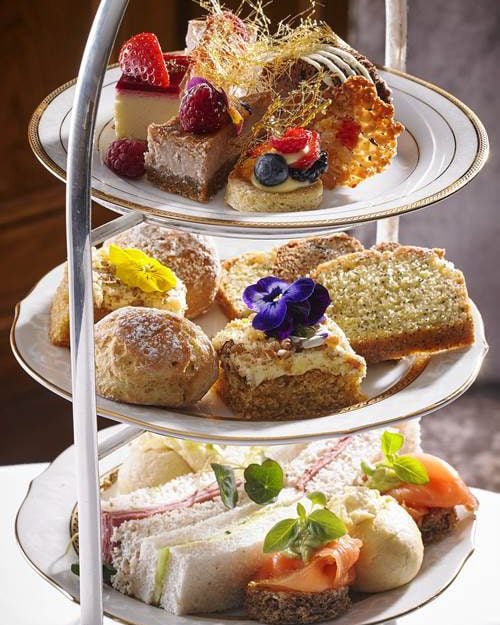 Pinkies up! Indulge in an elegant afternoon tea at the Great Southern Killarney Hotel.
If you've had afternoon tea (or "high tea") before, you're probably already drooling and jotting this down on your itinerary. If you're new to the whole tea thing, then oh baby, are you in for a treat!
Afternoon tea is a delightful tradition with fresh-baked scones, savory nibbles, sweet treats, and – you guessed it – tea. Often, you can add some bubbly for an even bougier experience.
At the Great Southern Killarney, tea is served with a side of history as the iconic hotel has been a fixture of the town for more than 165 years, retaining many of its original Victorian features.
Afternoon tea is served in the lounge from 1 p.m. to 3 p.m. for €38.00 per person (about $40 USD). We strongly recommend making reservations well in advance, as seatings can book up.
Want to make it a whole day? Pair your afternoon tea with a guided tour of the area.
Psst! If this experience intrigues you, be sure to check out our list of the best places for afternoon tea in Edinburgh!
21. Visit Killarney House and Gardens (for free!)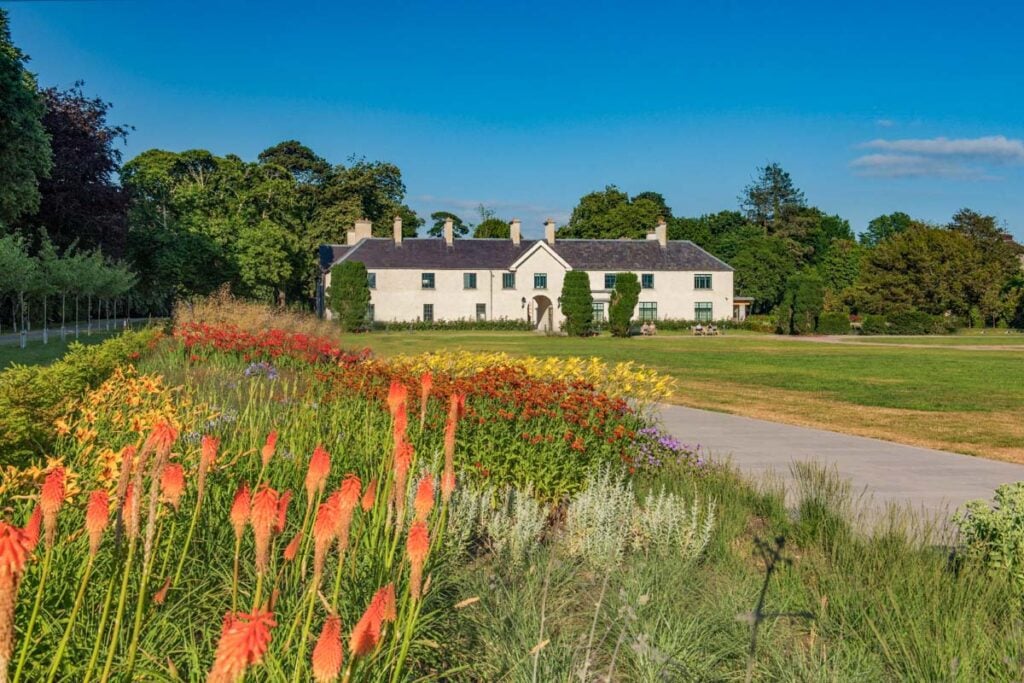 This elegant estate offers a fascinating glimpse into the past, with its beautifully restored Georgian mansion and meticulously landscaped gardens.
Explore the lush greenery and bask in the serenity of this oasis in the heart of Killarney.
There is no admission fee, making this a great free thing to do in Killarney.
---
Where to eat in Killarney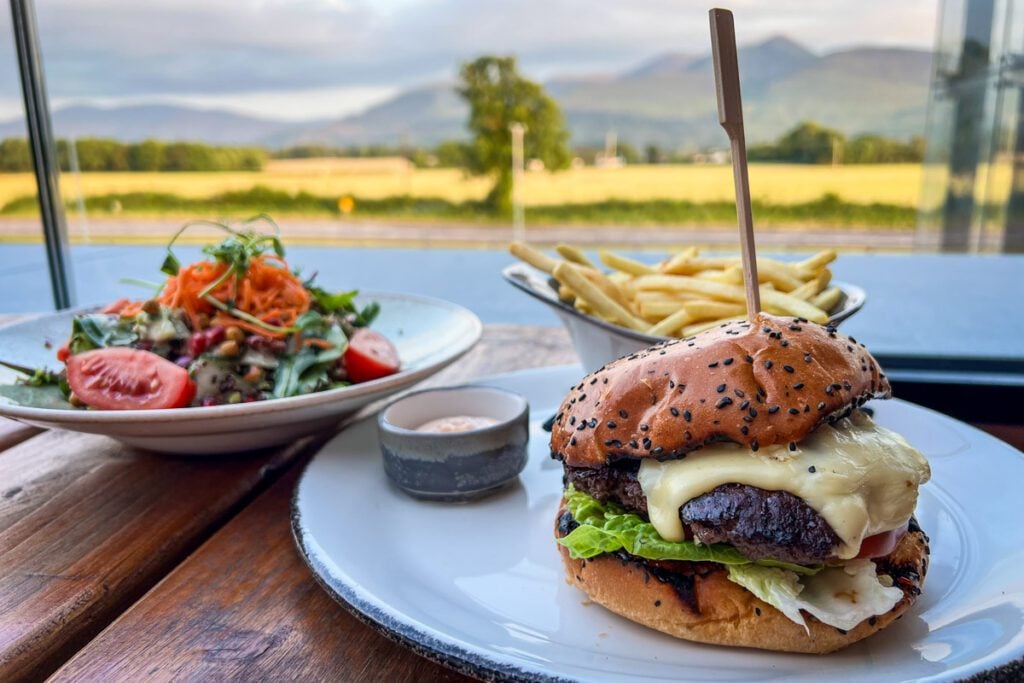 Killarney has a great food scene, and you'll be spoilt for choice.
Here are some of our top recommendations of places to eat in Killarney:
Where to stay in Killarney
Whether you prefer to base yourself in the city so you're walking distance from restaurants and pubs or you'd like to have a peaceful stay in the surrounding countryside, Killarney has no shortage of amazing places to stay.
Here are our top picks, organized by the type of stay you're looking for:
In the city
The Paddocks Cabin (our top pick close to the city!): This cozy, boho-chic cabin is just a 5-minute drive to town and earns rave reviews.
Killarney Randles Hotel: This boutique style hotel is very reasonably priced and offers stunning views from their well-appointed rooms.
Glamping
Glamping at the Grove (our top unique stay!): This glamping site is stunning, conveniently-located, earns rave reviews, and is affordable. What more could you ask for?!
Luxury Lodges: Located close to the city, these glamping cabins make for a comfortable yet unique stay close to town.
Fancy hotel
Muckross Park Hotel & Spa (our top splurge pick!): Staying at this property is an experience in and of itself. With well-appointed rooms and stunning grounds, you'll surely fall in love with this 5-star hotel.
The Lake Hotel: Iconic lakeside hotel with stunning views and all the amenities you could want.
Cozy Bed & Breakfast
Paudie & Anne's B&B (our B&B pick!): This sweet bed and breakfast earns consistent rave reviews for the friendly owners and delicious breakfast.
Countryside stay
Gap of Dunloe Shepherd's Cottage (our top pick for a family): This cozy cabin features a fireplace, a lofted bedroom, and a perfect location on the stunning Gap of Dunloe. This is an excellent choice for a family.
The Apiary: This beautifully-decorated cabin is just a 5-minute drive from Killarney and is situated beside a working dairy farm, making this a peaceful and unique stay.
Psst! Visiting Killarney as part of a longer Ireland road trip? Be sure to check out our full list of Ireland Airbnbs!
Round up of the best things to do in Killarney
Here's a roundup of all the best things to do in Killarney in one handy place:
Killarney National Park
Ring of Kerry
John M. Reidy
Gap of Dunloe
Ross Castle
Torc Waterfall
Wander the town of Killarney
Muckross House & Gardens
Ladies' View
Drive Moll's Gap
Seaweed bath
Killarney Falconry
Killarney Cathedral
Summit Ireland's highest mountain
Killarney Brewing & Distilling
O'Sullivan's Cascade
Afternoon tea
Killarney House and Gardens
---
Planning a trip to Ireland?
We're creating lots of resources for travel in Ireland and destinations throughout the country. Check out our Ireland Travel Homepage for everything you need to know, or read some of our favorite articles below.
Save this article on Pinterest for later!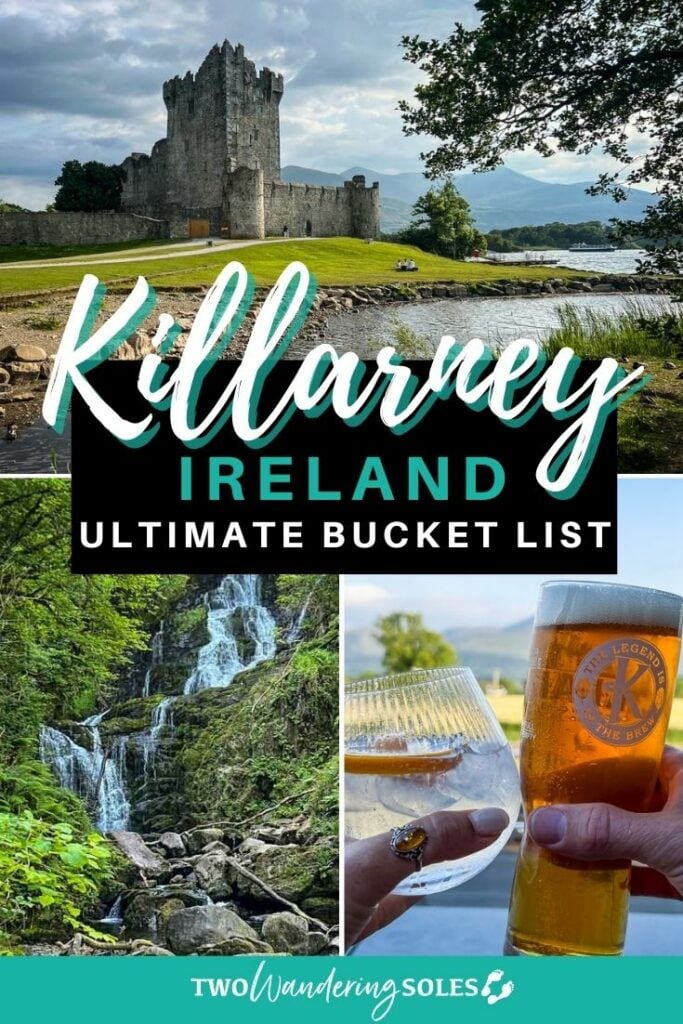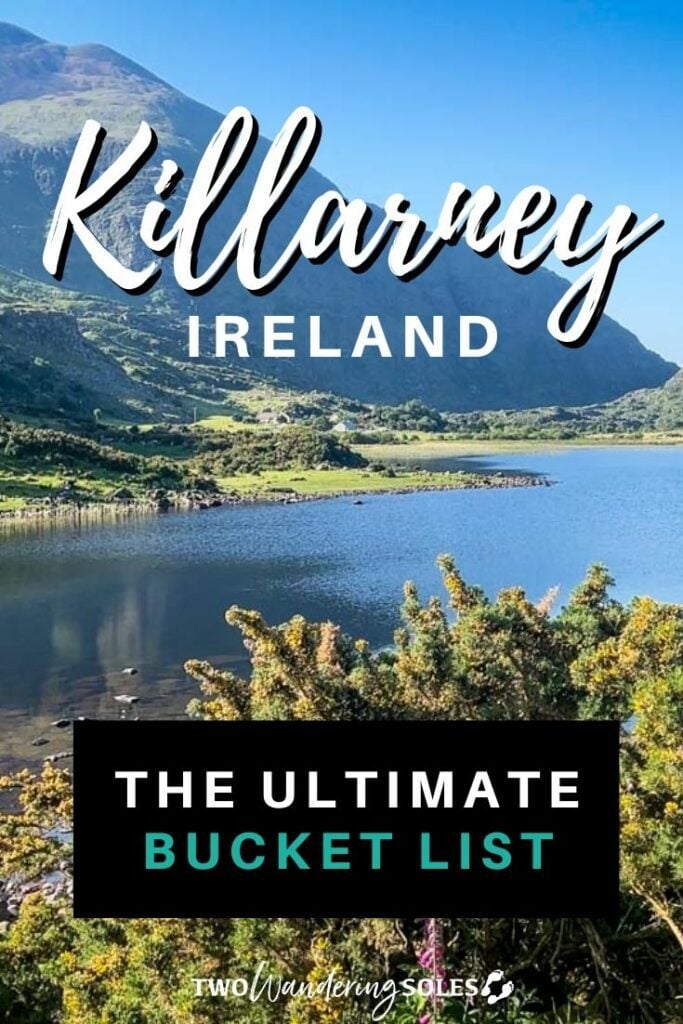 We want to hear from you!
Have you ever visited Killarney? Are you planning a trip and still have questions? Leave your comments below and we'll try our best to bet back to you!