The Emerald Isle is chock-full of magic and adventure. This guide lists all the best things to do in Ireland to help you plan the perfect trip to this enchanting country.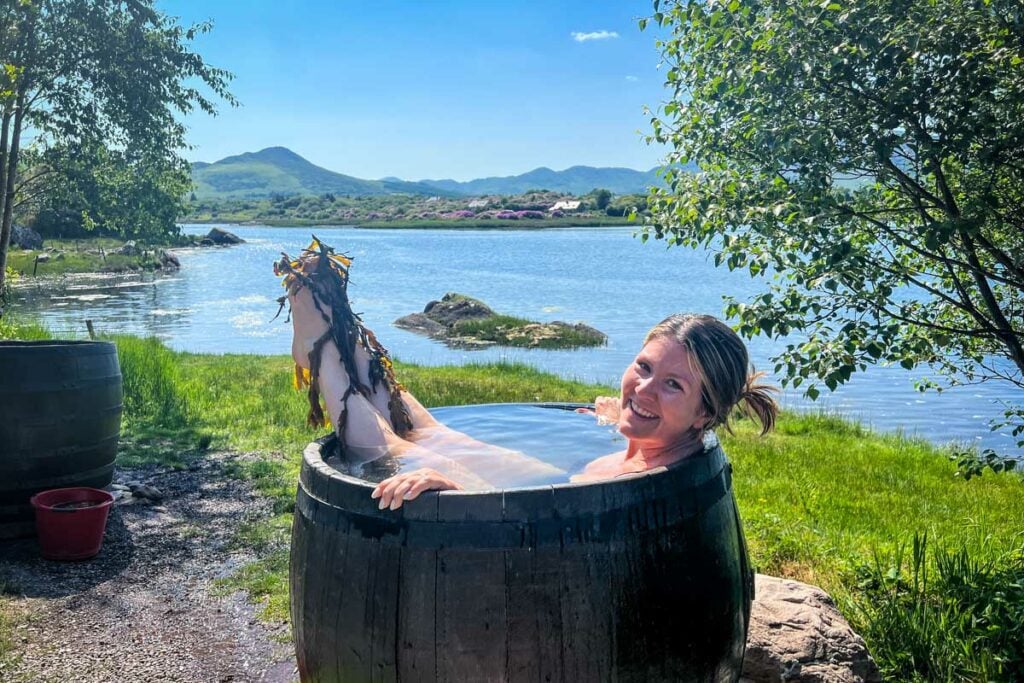 While Ireland is a relatively small country*, there is no shortage of incredible adventures to be had on the Emerald Isle.
With bucket-list road trip routes, memorable foodie experiences, historic sites, and breathtaking hikes (both literally and figuratively), there's something for every type of traveler.
We've traveled to Ireland twice and have done all sorts of on-the-ground research to bring you the can't-miss sights as well as hidden gems you won't find mentioned elsewhere on the Internet.
In this article you'll find the very best things to do in Ireland, along with plenty of tips that'll ensure you have an incredible time. I'm positive you will fall in love with this country – I'm already dreaming of our next trip!
*Fun Fact: Ireland is roughly the same size as the US state of Indiana. It's half the size of Georgia, and one tenth the size of Texas! But don't let its small size fool you – there's so much to do and see in Ireland!
Ireland Travel Guide
For more tips and advice for planning your trip to Ireland, jump to the following sections (or just keep scrolling to see it all!).
---
Top things to do in Ireland
If you're looking for the top things to do in Ireland, here ya go:
Drive around the Dingle Peninsula (our favorite scenic drive in Ireland!)
Eat seafood on the coast
Explore Galway
Enjoy live music in a pub
Stay in a unique Airbnb
See the iconic Cliffs of Moher
Keep reading for more detailed information on each of these things and more ideas of fun things to do in Ireland, including lots of hidden gems!
Psst! Don't miss these tips and mistakes to avoid while planning your trip to Ireland! (You'll thank us later!)
1. Drive the Dingle Peninsula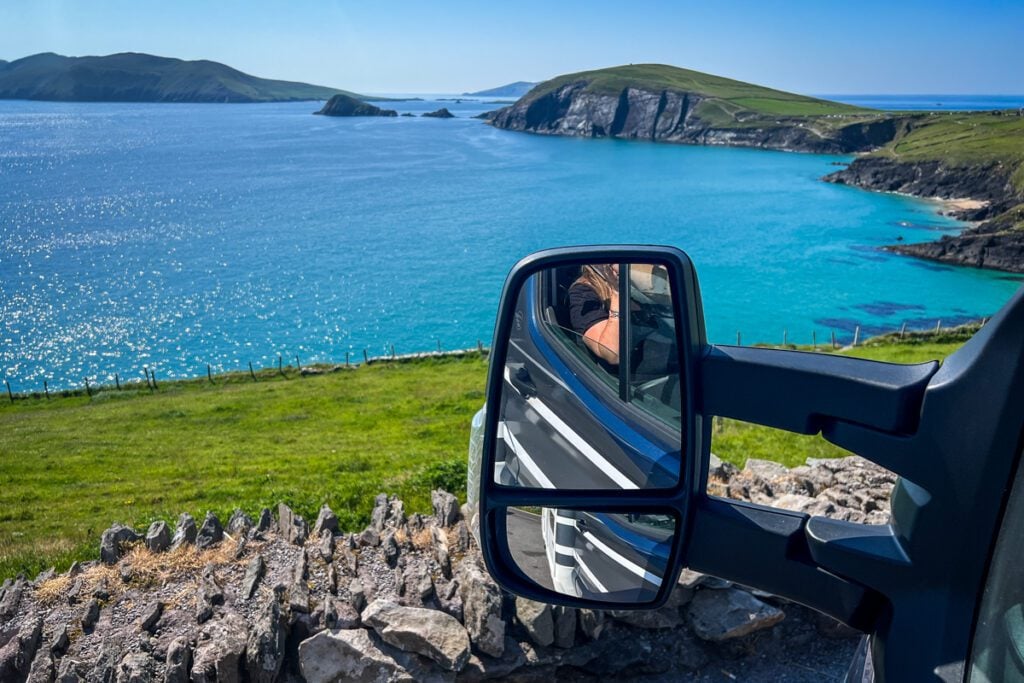 If you're looking for the place that packs the biggest punch (a.k.a. beauty of epic proportions packed into a small area that's relatively accessible), be sure to save some space for the Dingle Peninsula in your Ireland itinerary.
This peninsula has rolling green hills, charming seaside villages, turquoise waters that rival those of the Caribbean, and rugged cliffs that drop straight into the ocean.
Slea Head Drive is arguably the most scenic portion of the peninsula, and is known for views that will make it hard to keep your eyes on the winding road.
Psst! Before you hit the road, you'll want to check out these helpful tips for driving in Ireland.
---
Want to save time and energy on planning?
In June 2023, we spent 2 weeks traveling around Ireland and living in a campervan. We were lucky enough to explore a lot of what this country has to offer!
We took our 2-week travels and are in the process of creating the perfect Ireland road trip itinerary. We'll send you our complete 2-week itinerary, filled with tips and advice, once it's finalized! Just click below to get on the waitlist for our 2-week Ireland road trip itinerary!

---
2. Eat fresh seafood on the coast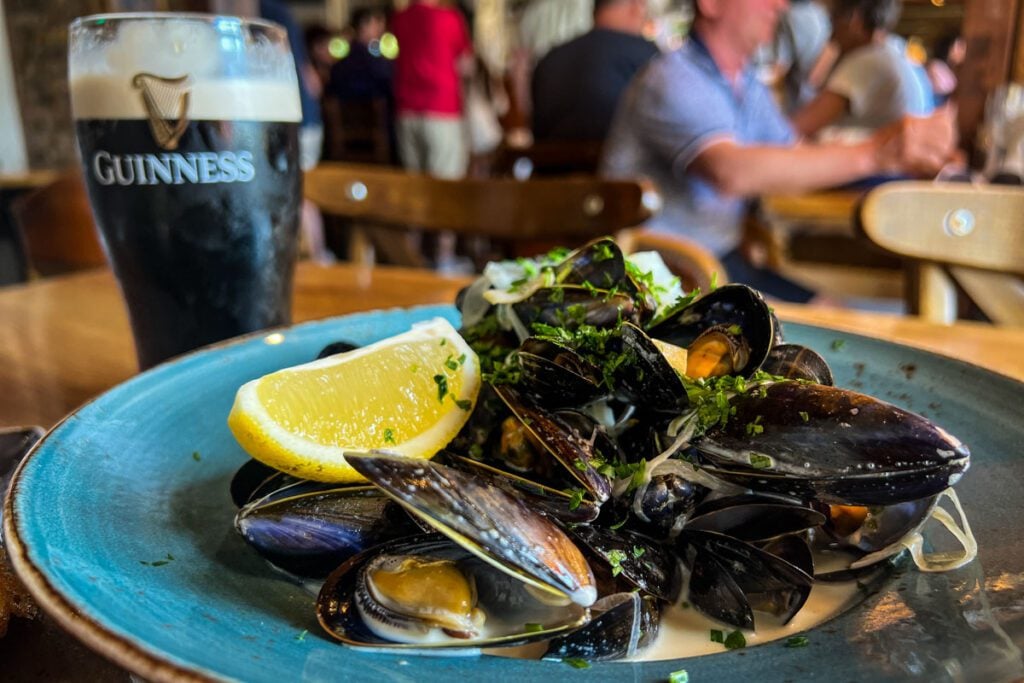 If you're a seafood lover, be prepared to fall in love hard with the food in Ireland. Yes folks, Irish cuisine is more than just Guinness stew!
Scallops, catch of the day, mussels, calamari… you name it, you'll find it. Fresh!
While traveling on the coast, you won't have to look far to find seafood on the menu. But if you're here for some suggestions, you know we've got your back!
Here are some seafood-centric restaurants we loved:
3. Be charmed by Galway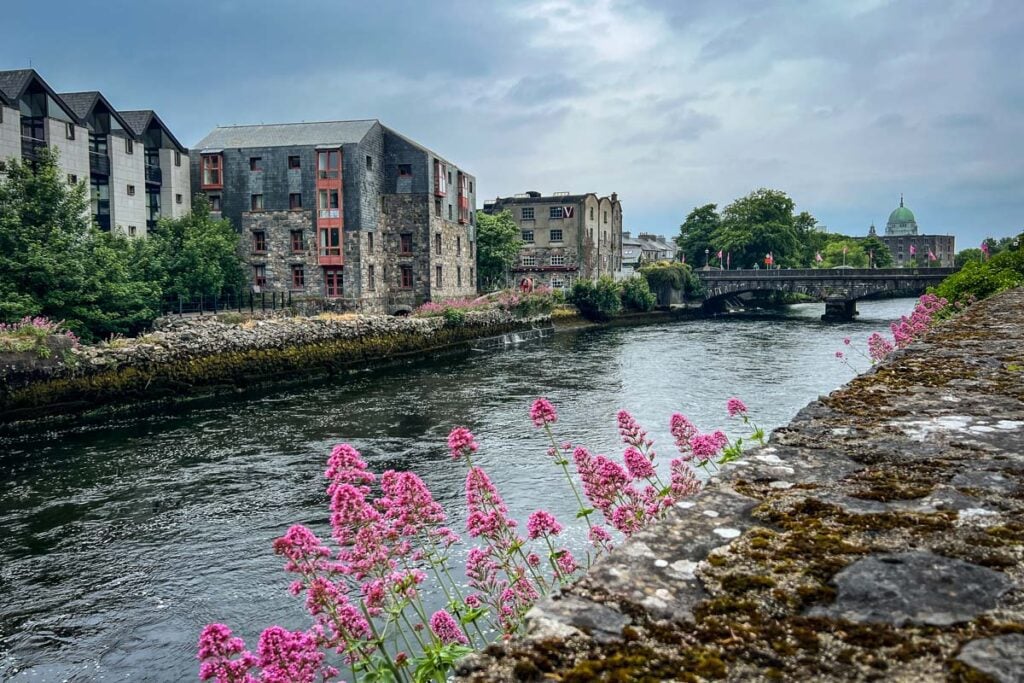 On our very first trip to Ireland (way back in 2009!), we fell in love with Galway and have been itching to get back ever since. During our second visit to this small west coast city, I instantly remembered why I liked it so much!
With an excellent foodie scene, cute shops, plenty of live music, and a buzzy vibe, Galway should definitely be on your Ireland itinerary!
Things to do in Galway
4. Enjoy live music at a pub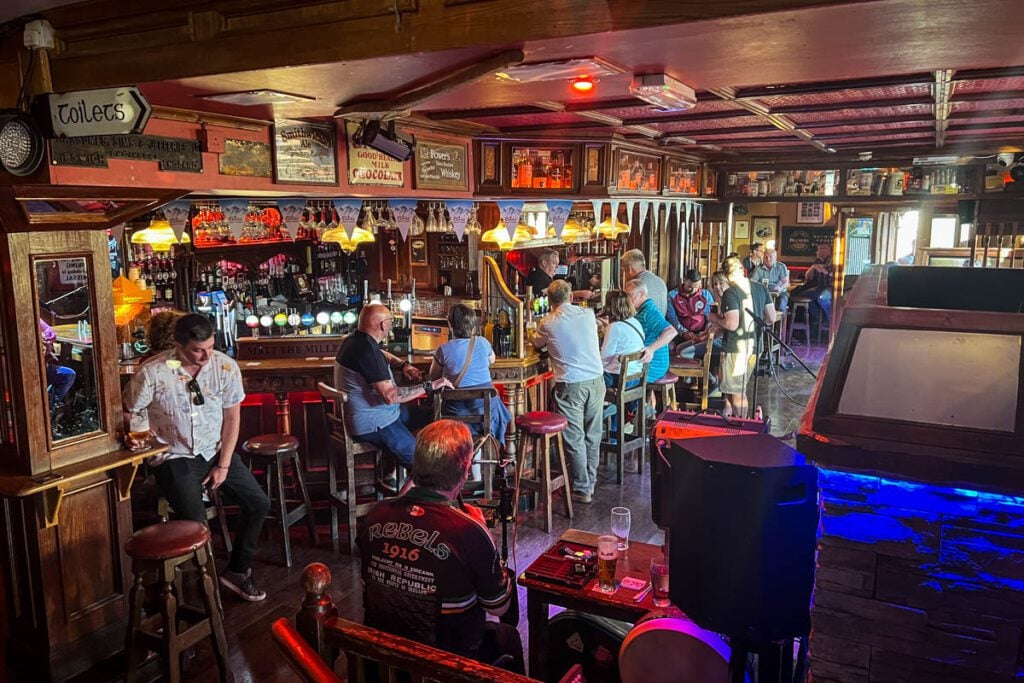 Any pub. Yes, seriously.
While there are some pubs around Ireland that are world-renowned for live music – think Temple Bar and the likes – just about every pub plays host to musicians on a regular basis.
You won't have to look far to find a cozy booth to enjoy a pint and some tunes. I'd encourage you not to try to plan this one out too much as stumbling upon a pub with live music is half of the fun and makes one of the more memorable experiences you can have in Ireland.
5. Stay in a unique Airbnb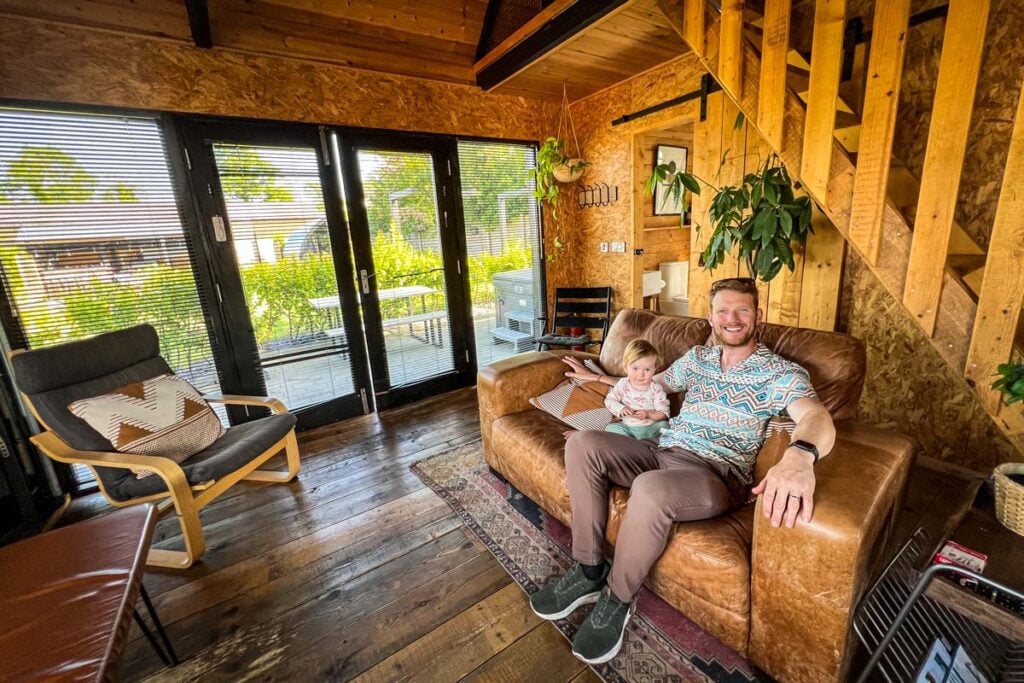 We're big fans of staying in unique Airbnbs.
Think cozy cabin in the countryside with a hot tub, a pizza oven, and Guinness on tap.
No, I didn't make that up! That perfectly describes the (very affordable!) Airbnb we stayed at in Northern Ireland.
We have a huge list of the best Airbnbs in Ireland, but here are a few standouts: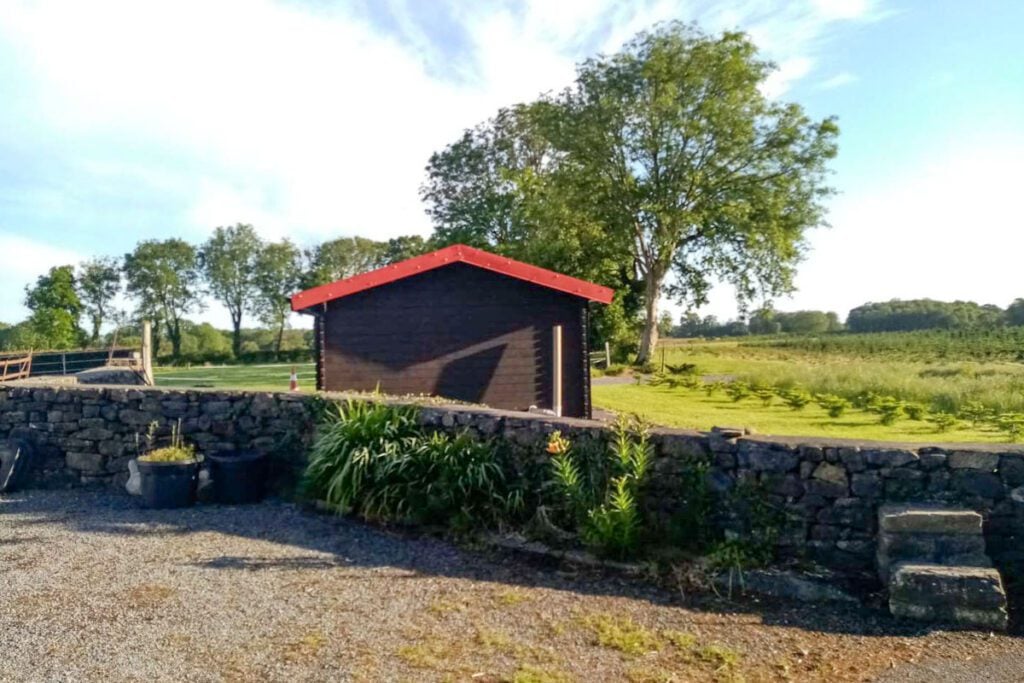 Location: Athenry, County Galway
Situated in the Irish countryside not far from Galway, this cozy cabin is a great choice for budget travelers. Nestled in the midst of a Christmas tree farm and a donkey sanctuary, this is definitely a unique place to stay in Ireland.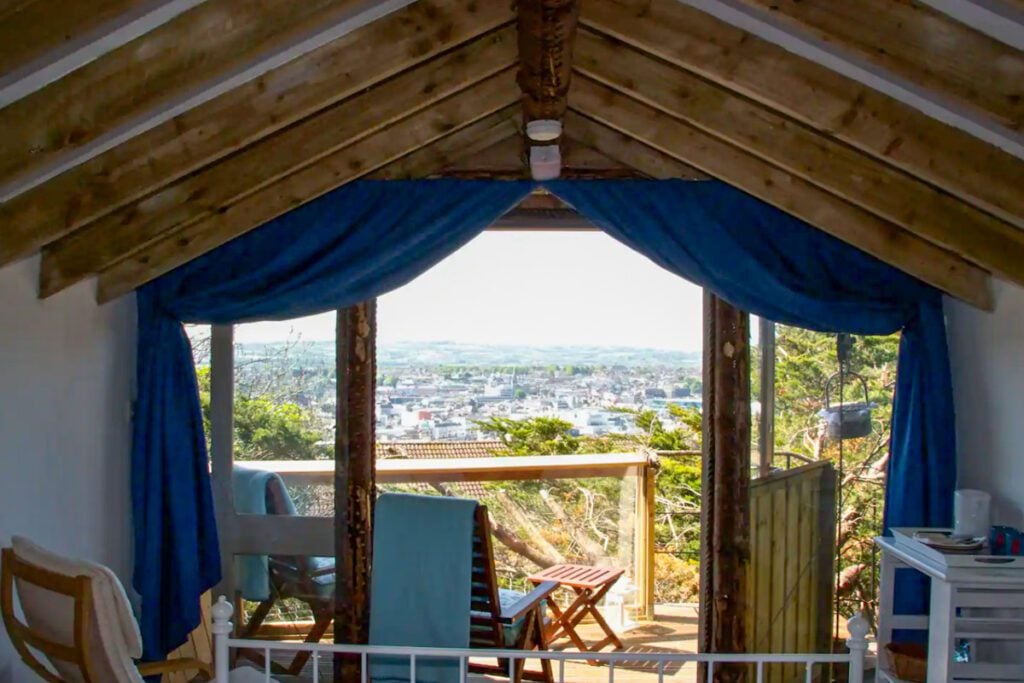 Location: Cork
This one-of-a-kind AirBnb is the treehouse of your inner child's dreams, with a grown-up flair. The bedroom and deck sit 6 meters (almost 20 feet) off the ground, looking down on the city of Cork. Your hosts deliver breakfast via a basket and pulley system. How adorable?!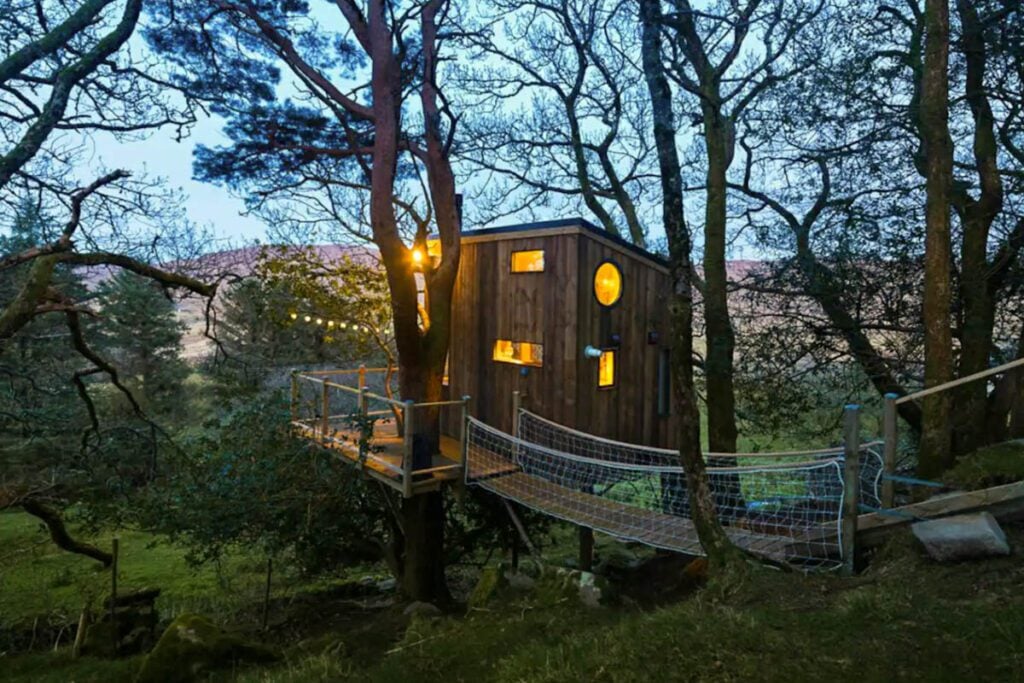 Location: County Donegal
Perfect for couples, this cozy treehouse offers stunning views overlooking the wild countryside toward Glenveagh National Park.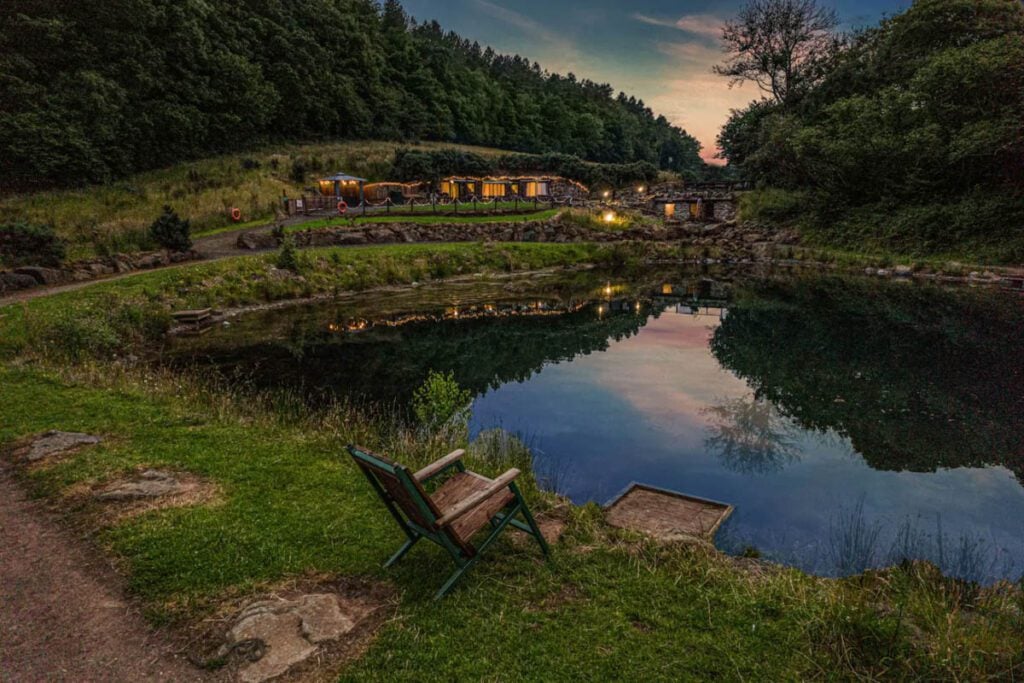 Location: Northern Ireland
The word "cave" doesn't do justice to these gorgeous underground apartments. Right on a lake and complete with a shared hottub, you'll feel like the bougiest Hobbit in the Shire.
Tips for choosing the perfect Airbnb
After we had a baby, we found that we prefer Airbnbs to hotels for a variety of reasons (read more about why here), the biggest of which is we can easily find properties with multiple bedrooms and a kitchen to cook familiar food for our daughter.
Plus, as long as you follow these key "rules" you should be able to find an amazing stay.
When possible, we book stays with a rating of 4.9 or above. I'm kind of a snob when it comes to reviews, and I've found this to be the magic number for finding a really great stay. Hosts that have high ratings want to keep it that way. Depending on the location and your budget, this isn't always possible, but this is what we always aim for.
Read reviews thoroughly. I think a lot of people skip this step, but I always scour reviews to see what people say about a place in addition to the numeric rating. Is it dirty? Cold? Too hot? Not suitable for children? Far from the city center? Pay attention to the things that matter and ignore the aspects that wouldn't bother you.
Look at all the photos. I always find it suspicious when there are very few photos of a property, or when hosts provide lots of stock images from town. When booking a property. I don't need to see the city, I want to see the Airbnb! We typically book places that show all corners of a space because I know what I'm getting.
Book with superhosts when possible. They are the best of the best hosts.
6. See the iconic Cliffs of Moher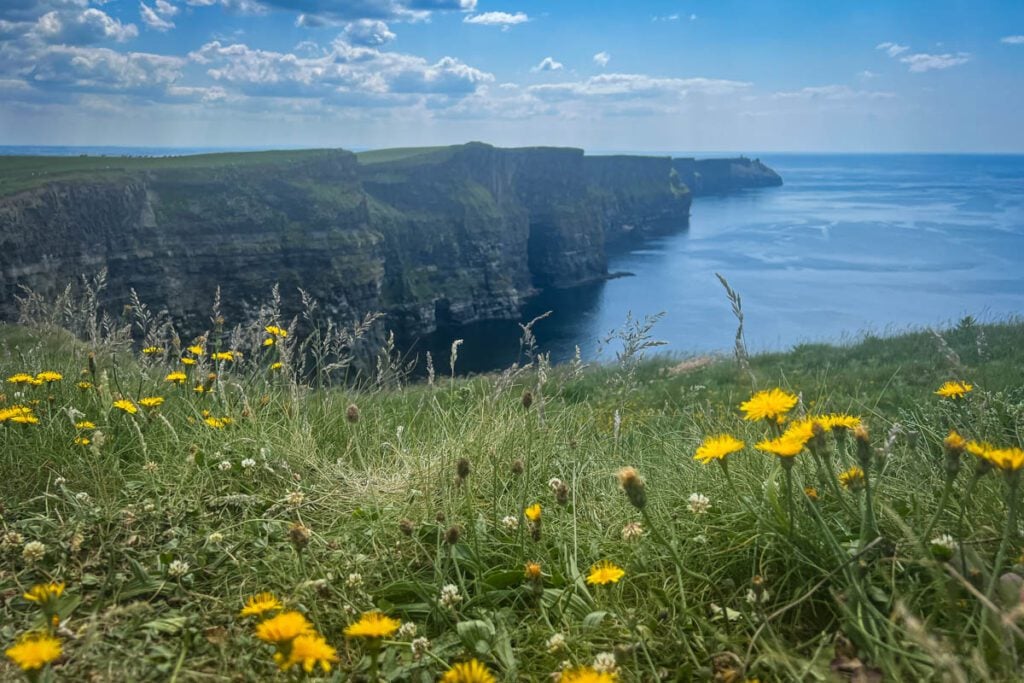 Welcoming more than 1 million visitors each year, the Cliffs of Moher are the #1 attraction in all of Ireland. Listed as a UNESCO Geopark, this iconic landmark in County Clare makes its way onto most travelers' Ireland bucket lists.
Popular? Duh.
Crowded? Probably.
Worth it? Yes!
We've been to the Cliffs of Moher twice, and can say that this is one of those touristy things that is popular for a reason. They are stunning and are very much worth a spot on your itinerary (gotta do the thing in the place!).
There are many ways to visit these famed cliffs, and we'll walk you through the options as well as what we'd personally recommend.
Hiking to the Cliffs of Moher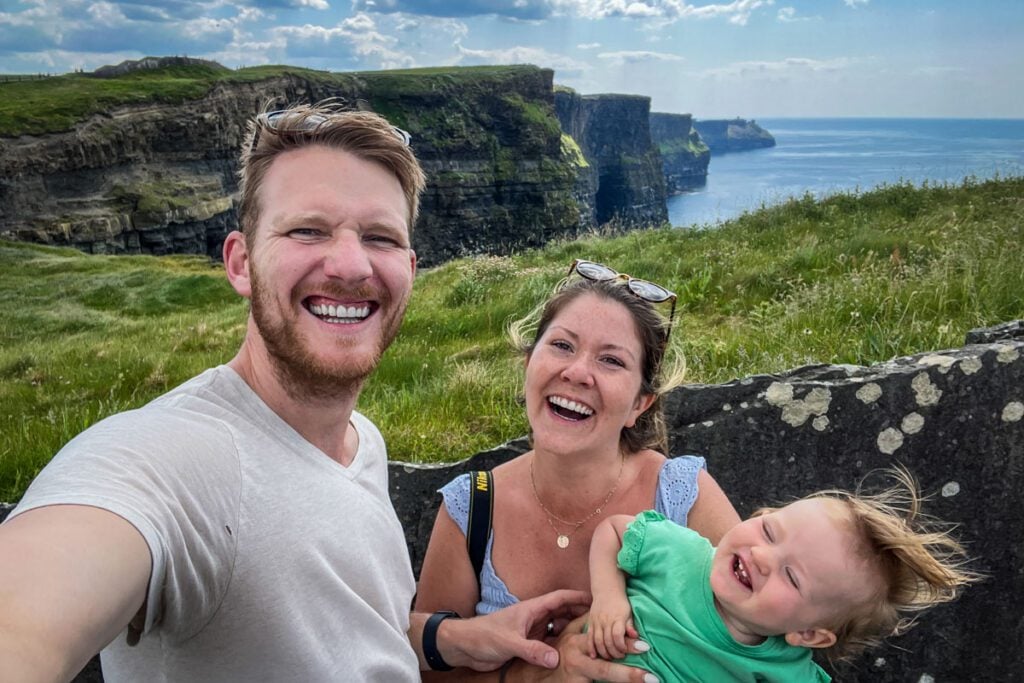 Our top recommendation, if you have time!
There are several walking routes that will bring you to the Cliffs of Moher and lead along sections where you won't find tour bus crowds.
This can be the most rewarding way to really see the Cliffs of Moher and will give you the most adventurous experience. However, depending on which route you take, the hike can take several hours, so be sure to allot plenty of time.
The most popular walking route is the Cliff Walk that begins in the small village of Doolin and ends at Hag's Head. The trail is 14 km (8.7 miles) one way.
You could also do a shorter section of the Cliff Walk, either from Doolin to the Visitors Center or from the Visitors Center to Hag's Head.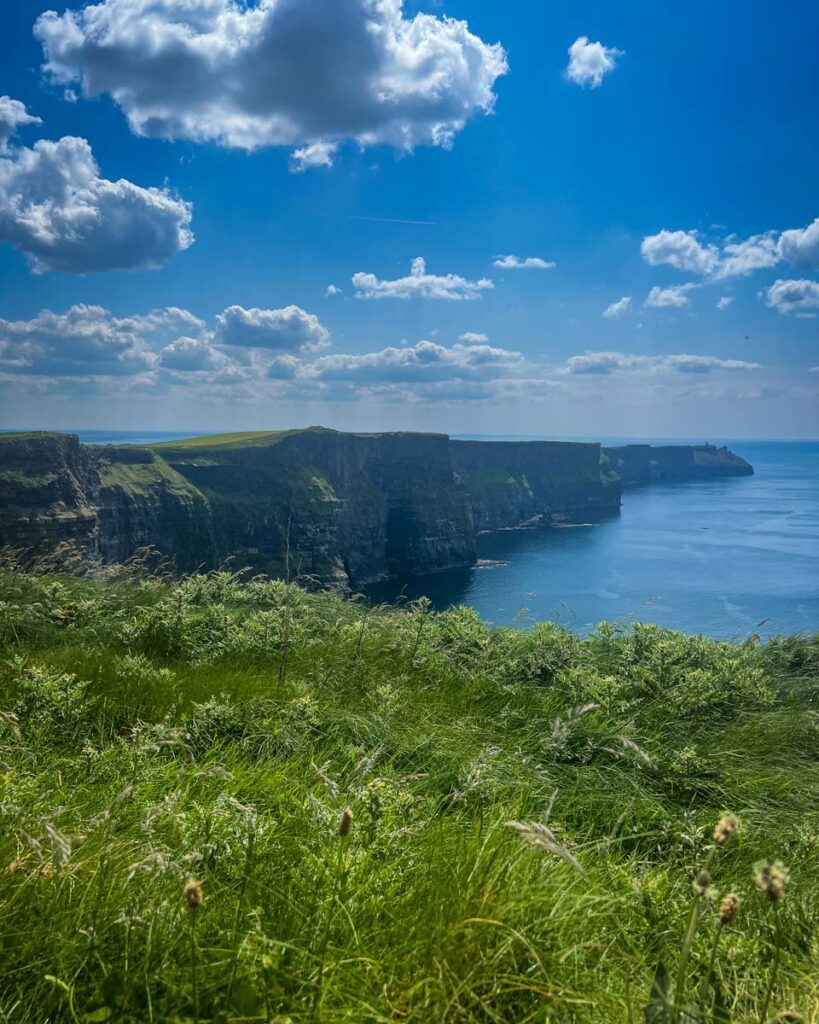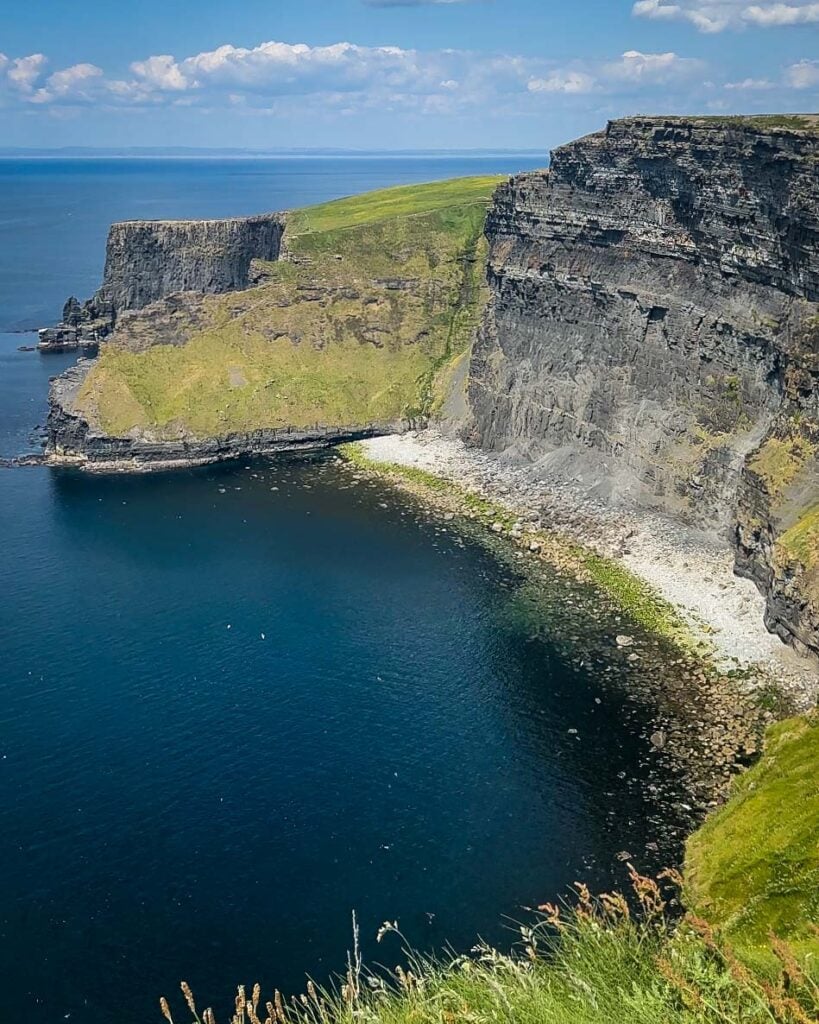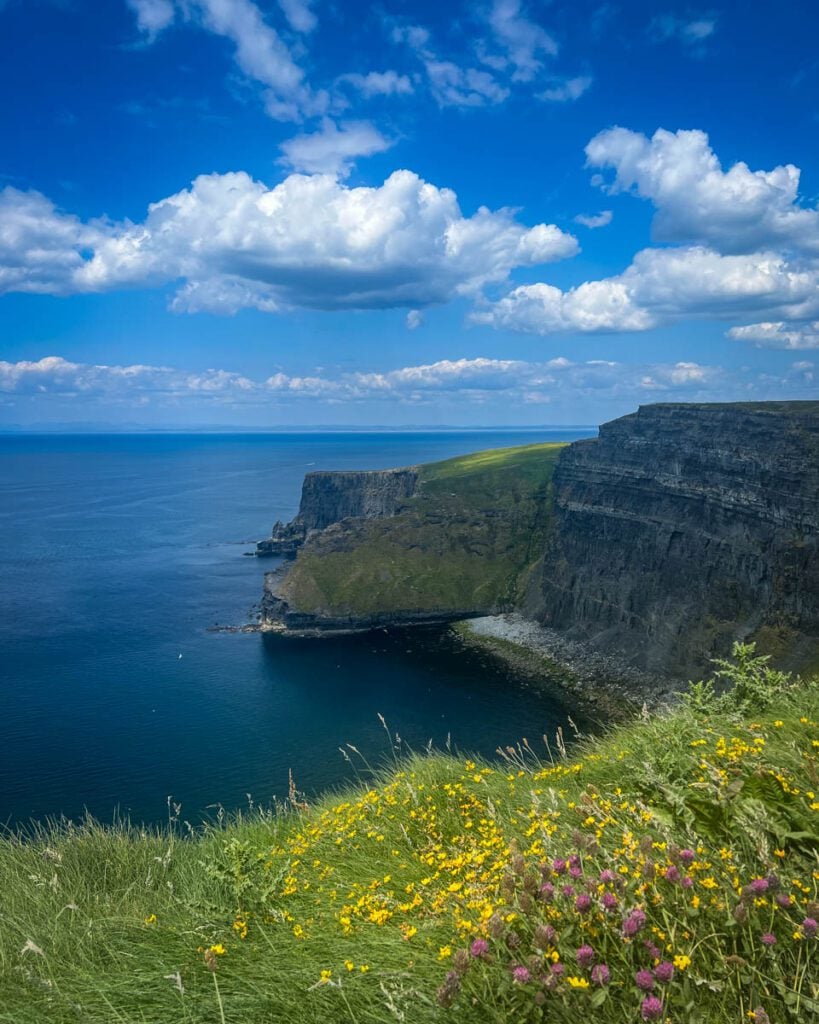 Note: There used to be a shuttle service so you could hike this one-way and get a ride back, but I can't seem to find information online about whether it is still running. Please let us know if you find this info so we can update.
Want to do this hike with a local guide? Check out this highly-rated Airbnb Experience where a local guide will bring you along the hiking trail to the Cliffs of Moher and show you some of the best views along the way. Guests call this a "once-in-a-lifetime experience"!
*Important safety info: If you choose to do this walk, please keep your distance from the cliff's edge, especially when it's windy. There are many places where there are no guardrails or anything to keep you from falling into the water below. People have died trying to get too close for a picture.
Visitors Center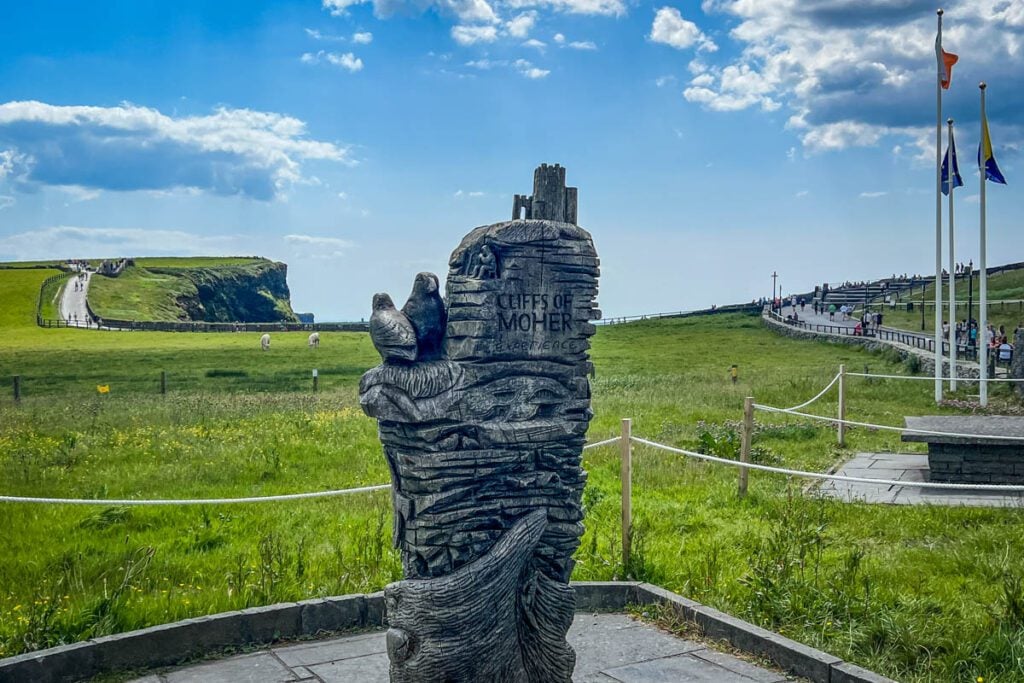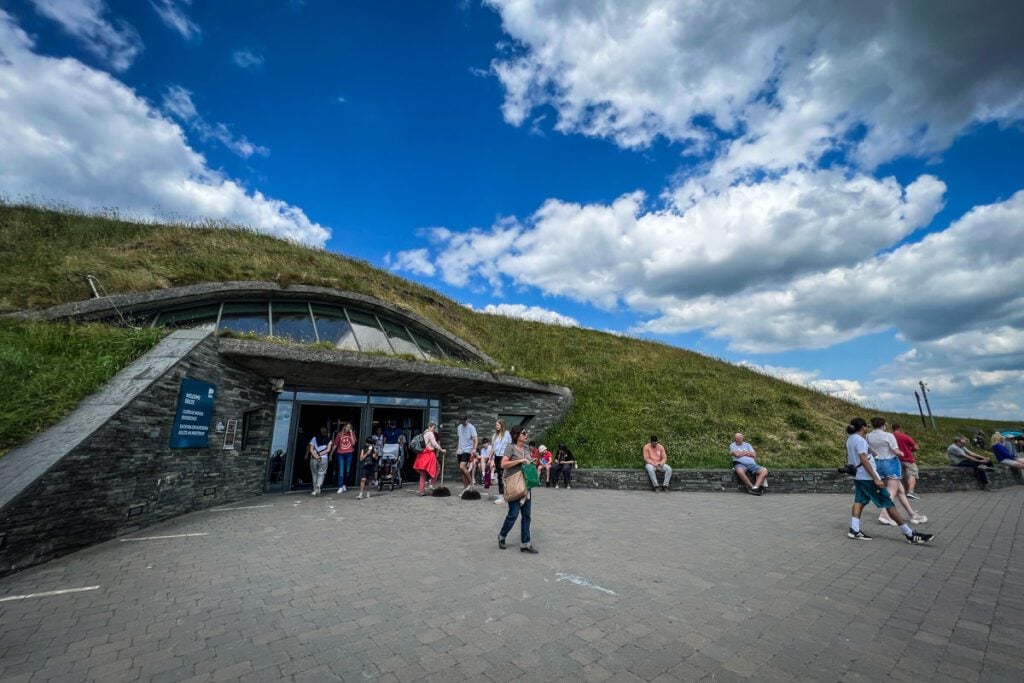 If you don't have the time (or desire) to hike to the Cliffs of Moher, you can simply park at the Visitors Center. This is the easiest and most popular way to see the cliffs.
If you enter here, you will need to pay €7 per person. You can book ahead or simply show up. We've heard that the parking lot can fill up at times, but we visited on a busy day during peak season and were not turned away.
If you go this route, know that this section of the cliffs can get very busy, especially midday during peak season.
The visitors center has some exhibits, food offerings, and toilets if you need them.
Guided Tour
If you don't have a rental car in Ireland or you simply want all the logistics taken care of for you, a guided tour can be a good way to see the Cliffs of Moher.
Here are some we'd suggest:
Cliffs of Moher + Aran Islands Cruise: This tour combines a cruise to the Aran Islands with a visit to the Cliffs of Moher. You'll see them from the ocean and on land, giving you a unique perspective. (Starts in Galway)
Cliffs of Moher + The Burren Bus Tour: This is the tour we did on our first trip to Ireland and while we don't particularly love bus tours, we had a great time and felt like we saw a lot. (Starts in Galway)

Coming from Dublin? This tour is similar to the one listed above, but starts and ends in Dublin which can be a good choice for travelers with an ultra-tight itinerary.
Good to know: I do want to take a moment to say that while the Cliffs of Moher are the most iconic cliffs in Ireland, they are definitely not the only ones. More on that below…
7. Marvel at the lesser-known cliffs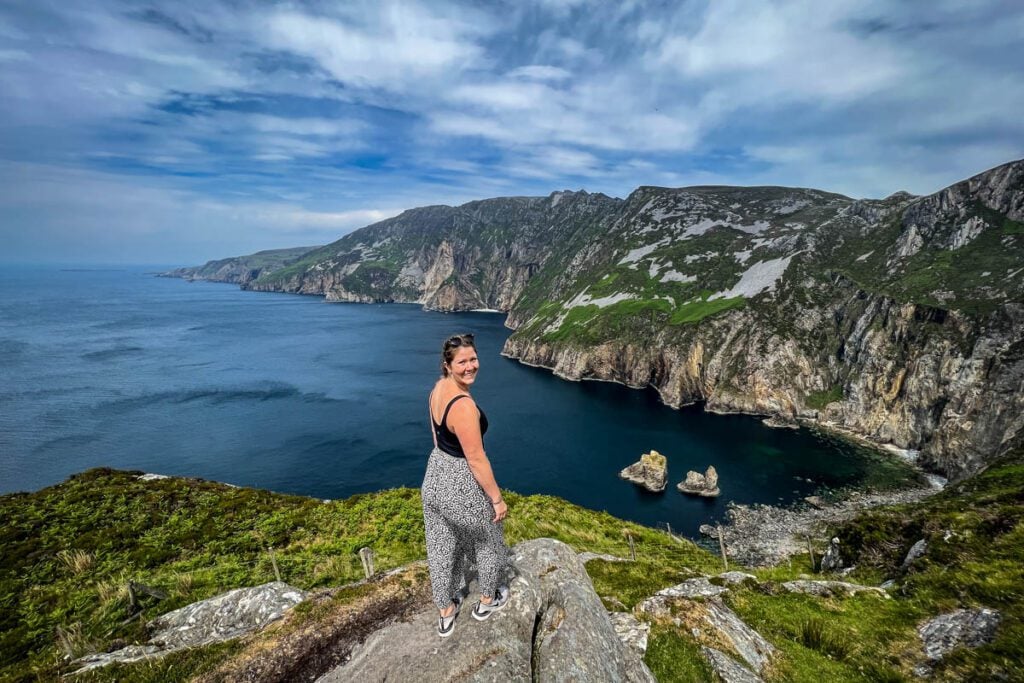 This might be a controversial thing to say, but we visited three other lesser-known sea cliffs that we personally enjoyed more than the Cliffs of Moher.
Read more: We put together a guide with everything you need to know about renting a car in Ireland so you can get to all of these unique destinations on your own.
Slieve League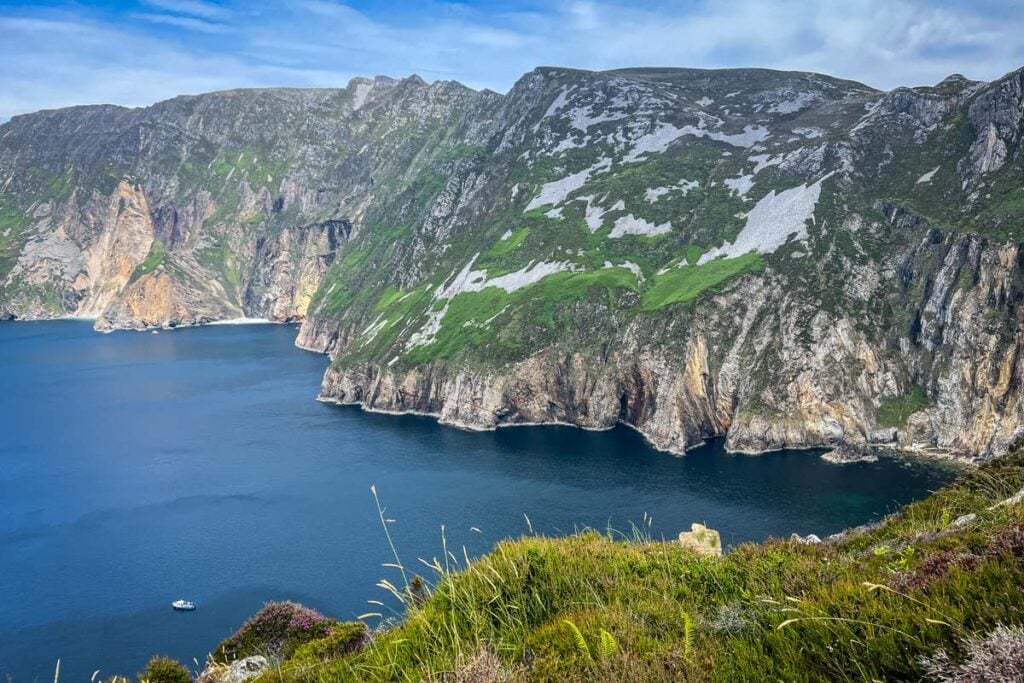 In terms of staggering beauty, we would rate Slieve League at the top.
At 598 meters (about 1962 feet), these are the highest sea cliffs in Ireland — nearly 3x higher than the Cliffs of Moher.
Located in County Donegal, this is an area most first-time visitors to Ireland skip completely. Prior to our trip, we were going to skip it too, but after receiving too many messages to count from Irish friends and readers saying we needed to check out this area, we altered our route. And I'm so happy we did! I only wish we'd had more time here.
There are hiking trails and viewpoints, meaning you could spend a couple of hours or a full day here.
Kilkee Cliffs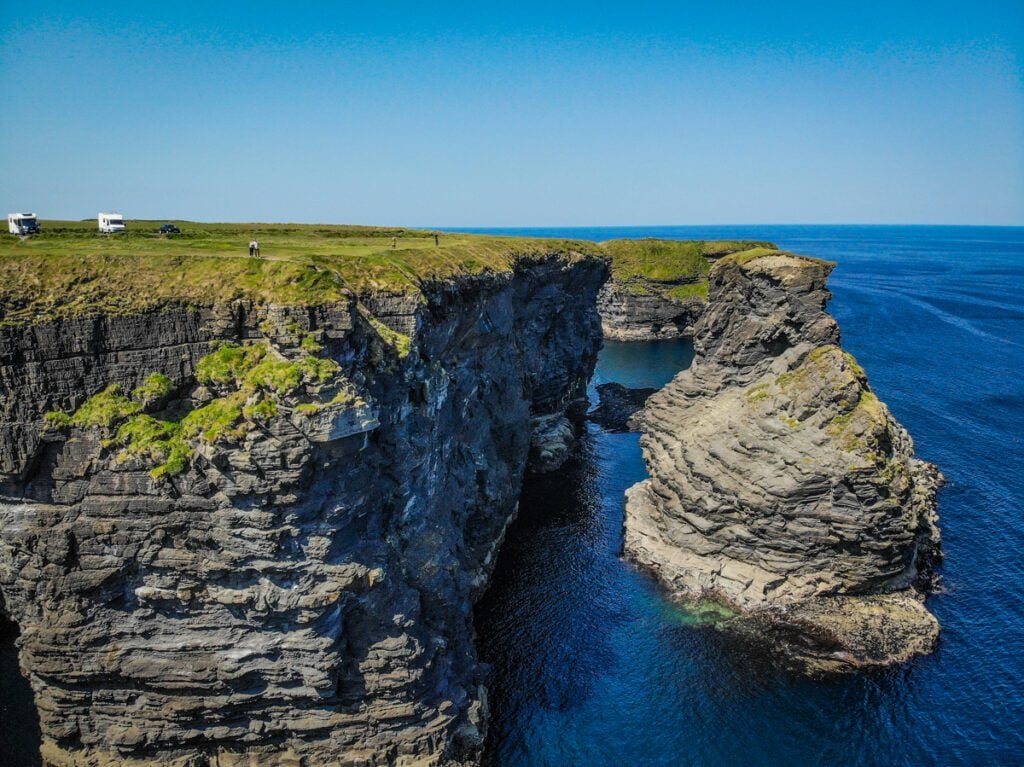 A mere hour drive south of the Cliffs of Moher are the much lesser-known Kilkee Cliffs. While not necessarily as magnificent in size as their northern neighbor, the Kilkee Cliffs feel like a true hidden gem.
You can simply park in one of the two small lots right by the cliff's edge. Or, you can park at Diamond Rocks Cafe and grab a bite to eat to fuel up for a 4-mile (6.5 km) out-and-back hike.
Do it yourself:
Admission: Free to visit
Hours: No opening or closing hours
Camping in Ireland? This makes a great place for wild camping with a self-contained vehicle. Find more info about how to wild camp legally in our guide to camping in Ireland.
Kerry Cliffs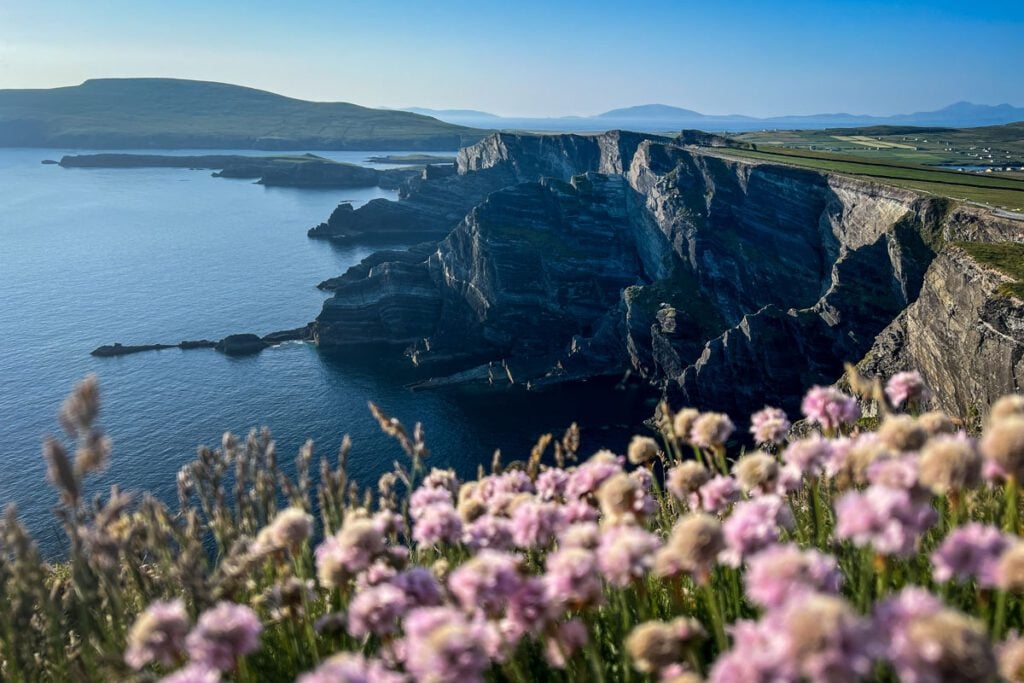 The Kerry Cliffs are one of the stops along the Ring of Kerry, and they are stunning, especially in the golden hour glow.
Towering more than 1,000 feet above the Atlantic Ocean, the cliffs are just a 10-minute walk from the parking lot, making them easy to visit on your Ring of Kerry road trip.
Do it yourself:
Admission: €5 per person
Hours: 9:30 a.m. – 7:30 p.m.
Traveling Ireland in a campervan? You can camp at the Kerry Cliffs! Camping here costs €20 and grants you access to the cliffs after they have closed to the public at night and before they open in the morning. The facilities are very limited, but we were the only ones camped here (on a holiday weekend, no less!), and you can't beat the location! Intrigued? Find more information about renting a campervan in Ireland.
8. Go on an Irish food tour (or DIY it!)
We've been on dozens of food tours around the world and highly recommend making these a staple on your travels – no matter where in the world you might be.
Recommended Ireland food tours:
This small group tour (6 people max) is led by a self-proclaimed foodie and former Dublin restaurateur.
Laura brings guests to 6-7 stops, including both sweet and savory bites as well as drinks. With both daytime and evening times available, this food tour makes an excellent choice.
Here's what guests are saying:
"This was one of the very best organized and thoughtful food tours I have attended across all my travels. Laura is a pro and takes you on a very eclectic tasting tour of the best Dublin has to offer. A great time!!"

-Ryan, July 2023
Alternatives: If that tour is fully booked on your travel dates, here are more options.
Food tours are one of our favorite ways to experience a city, and this tour is undoubtedly one of the best things to do in Galway.
On this 2.5-hour culinary walking tour of the city, guests will sample farmhouse cheese, oysters & local fresh seafood, creative beer projects, artisan chocolates, and more.
Here's what guests are saying:
"Loved this experience so much! Our guide was so friendly, knowledgeable and helpful. A friend had recommended it to us and we were a little leery but decided to do it. Would do it again in a heartbeat! So many good stops and a variety of foods, drinks and sweets. Definitely a highlight of our ten-day trip. Do it!"

-Jennifer, May 2023
DIY food tour
If you'd prefer to DIY it, make a list of Irish foods you'd like to try and put in a little time researching where to get an excellent version of each dish.
You can "check" these foods off your list throughout your trip, or you can do a progressive meal of sorts, splitting dishes with a travel companion until you're both full.
9. Road trip along the Wild Atlantic Way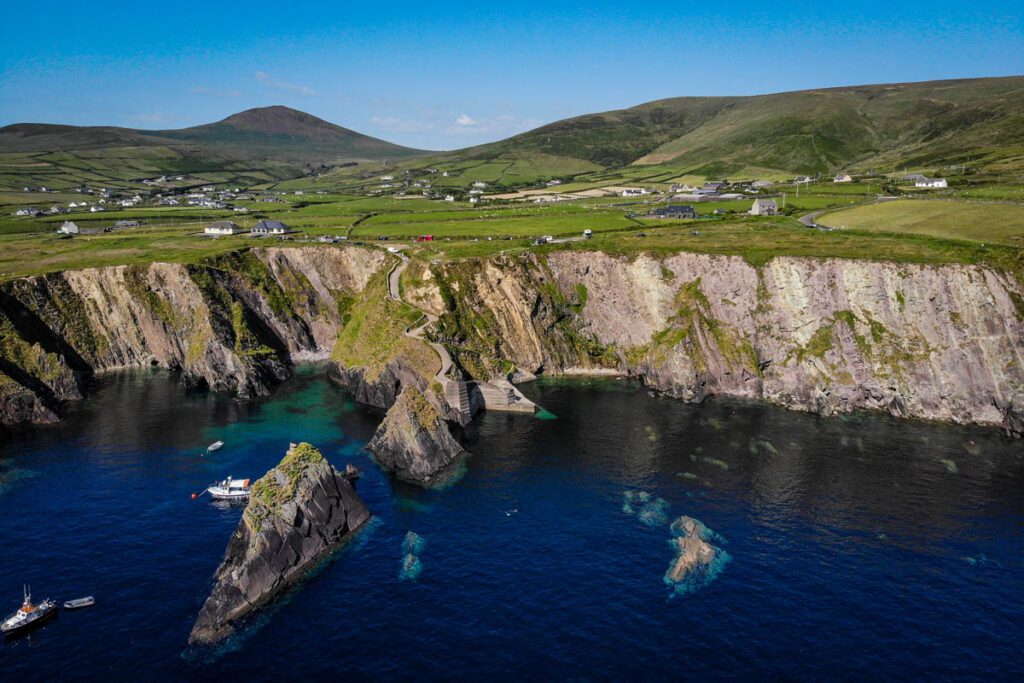 This iconic route hugs the west coast of Ireland, stretching 1600 miles (2600 km) and passing through 8 counties. Driving this often winding and narrow coastal road will bring you to some of the most spectacular views in all of Ireland.
Along your journey, keep your eyes peeled for the road signs with a squiggly line that indicate you're on the Wild Atlantic Way. Some of the bigger attractions along the route (like the Kerry Cliffs and Slieve League) also have large metal versions of this squiggly line, making a fun photo op you can replicate in each spot.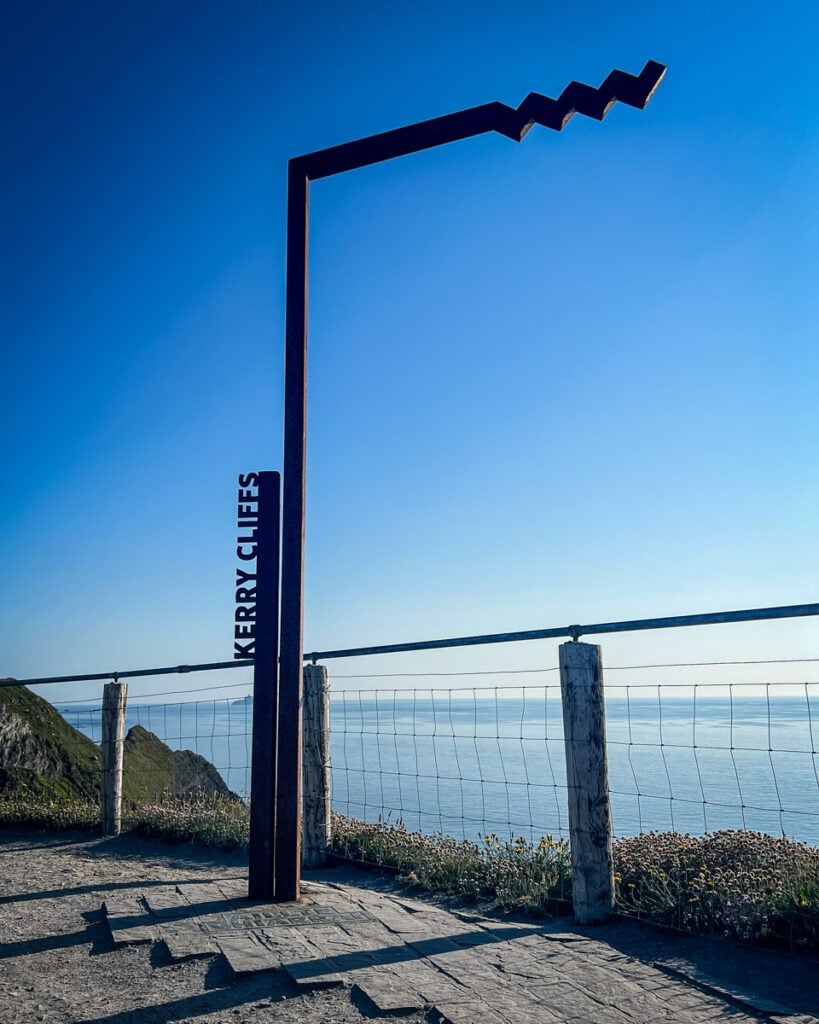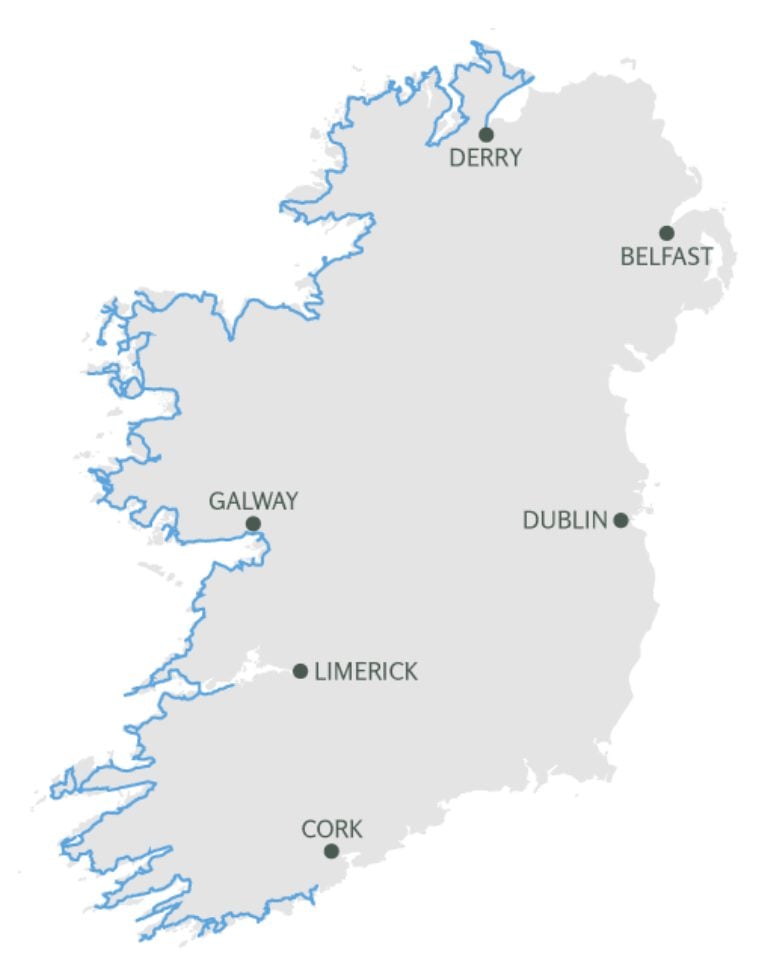 Being that it is so long, the Wild Atlantic Way is broken up into 14 sections, each of which has its own draws.
While driving it in its entirety is pretty ambitious for most first-time travelers to Ireland, two portions we'd suggest adding to your itinerary are the Ring of Kerry (most famous section) and the Dingle Peninsula (our favorite section). If you have the time, the Slieve League Coast is also fantastic.
10. Submerge yourself in a seaweed bath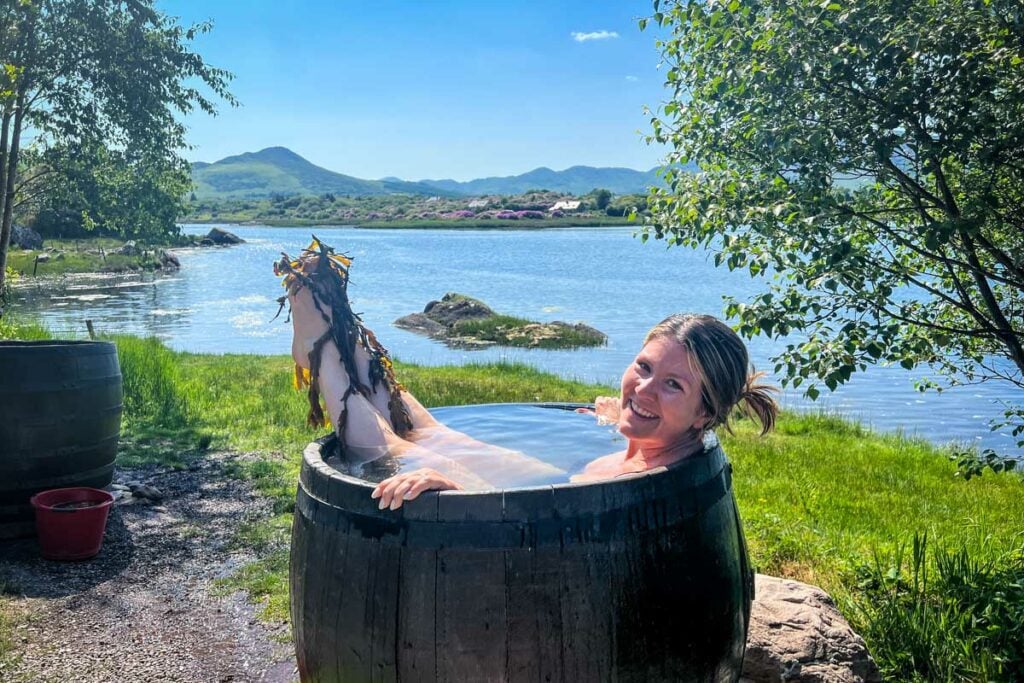 If you like unique, off-the-beaten path experiences, this hidden gem is absolutely worth a spot on your itinerary!
As we were driving around the Ring of Kerry, I spotted a sign for seaweed baths. Intrigued, I contacted them to see if, by chance, they could squeeze us in that afternoon. Turns out there was one slot available for us, so we turned our motorhome right around!
Located on the grounds of the Sneem Hotel, these barrel baths are nestled along the water with mountains peeking up in the distance. The setting is truly magical.
Hang out in your own personal barrel filled with warm water and, you guessed it, seaweed! Seaweed is known to have healing properties, and is a really fun and unique experience.
The owner (and his sweet dog) chatted with us for a bit and gave us some great tips for our trip (some of which you'll find in this info-packed article!).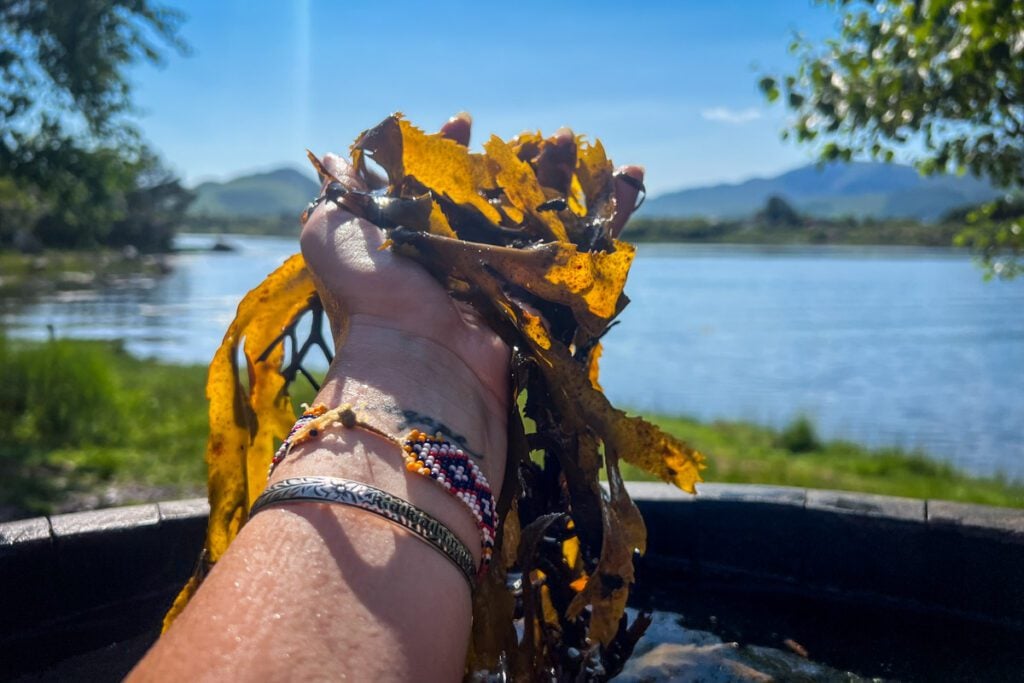 It was one of our highlights on our Ring of Kerry road trip, and we'd highly recommend adding it to your route, as you'll definitely remember this experience more than the typical tourist stops.
Do it yourself:
Price: €48 per person
Times: 3 sessions daily; 10 a.m., 1:30 p.m., 5 p.m. (they try to be flexible with timing when possible)
How long: 1 hour
Reservation: Make a reservation by emailing the owner, Brendon, at sneemseaweedbaths@gmail.com. He is super friendly and tries his best to accommodate guests.
11. Go on an Ireland camping trip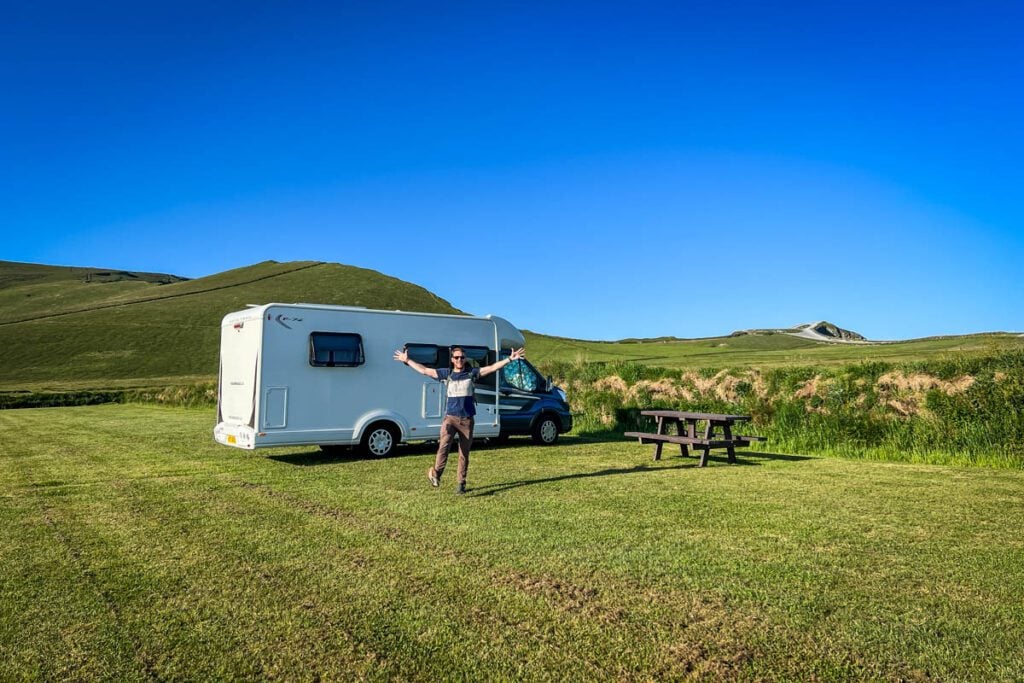 If this is your first time on our website (welcome!), there's something you should know about us… We are obsessed with campervan travel around the world.
In 2023, we rented a campervan in Ireland and had the adventure of a lifetime!
We got to wake up to jaw-dropping views, explore nooks and crannies most people pass by, and go at our own pace. We also saved quite a bit of money compared with the cost of renting a car and staying in hotels along the way.
There are plenty of great campgrounds all around Ireland that are just calling your name!
If your interest is piqued, we've got all the resources you need to have an unforgettable trip.
12. Drive the Ring of Kerry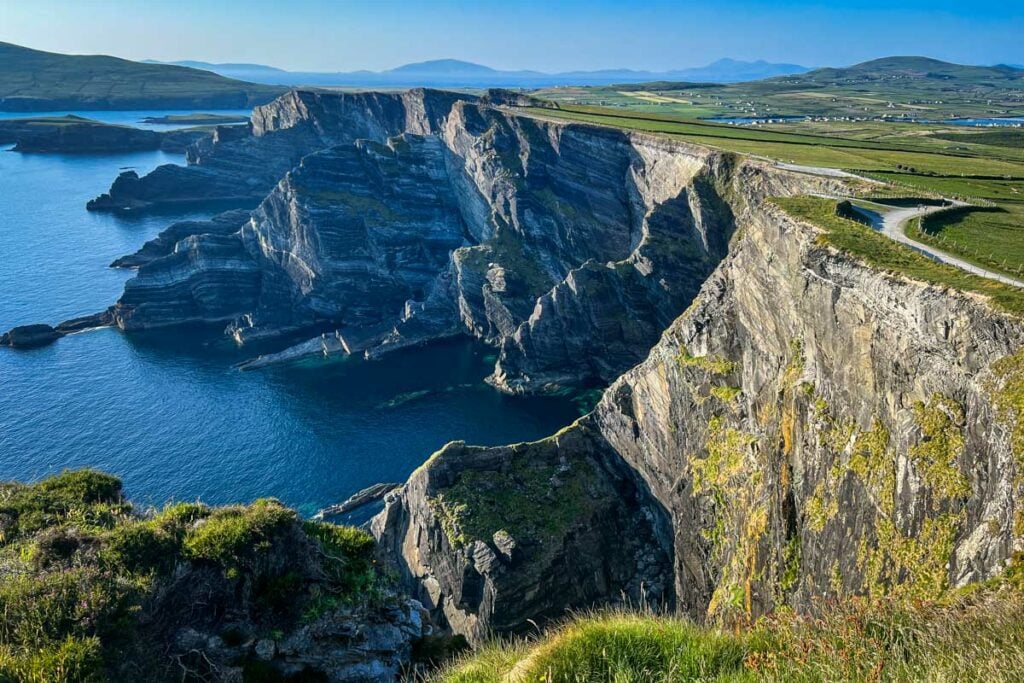 Perhaps the most famous driving route in all of Ireland, you've likely heard a bit about the Ring of Kerry in your preliminary research.
Many people start and end this route in Killarney, making a loop that crosses through Killarney National Park and hugs the coast of the Iveragh Peninsula. Pass by cliffs and through seaside villages on this iconic section of the Wild Atlantic Way.
Spoiler alert: We had a great time and would recommend it, but between the Ring of Kerry and the Dingle Peninsula, we'd choose Dingle!
13. Explore Killarney National Park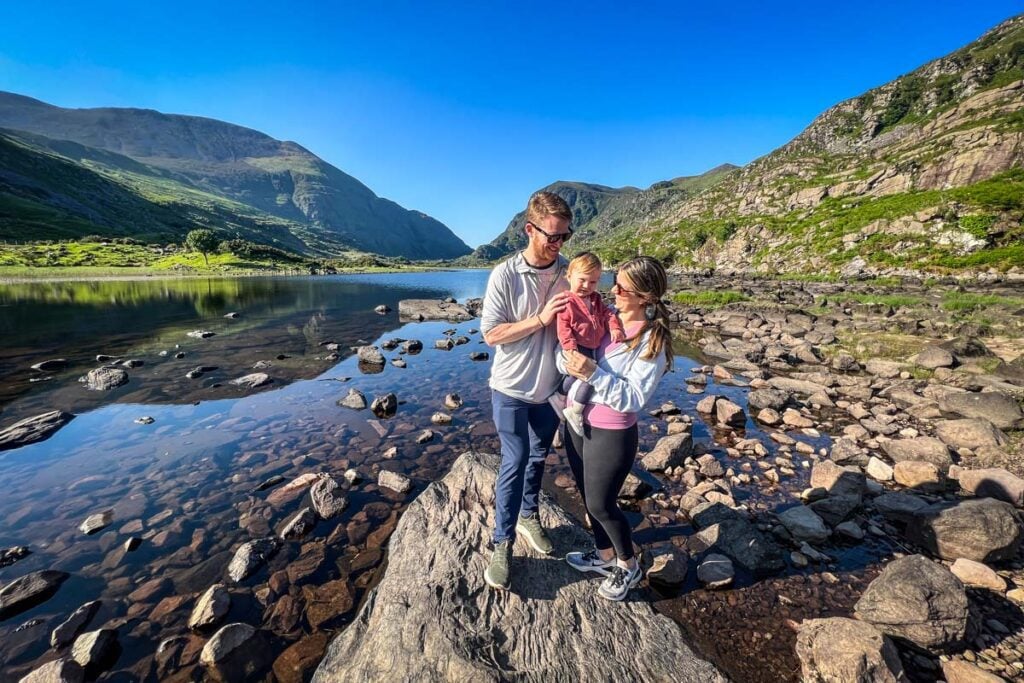 Ireland's first national park (established in 1932) is none other than Killarney National Park, which also sees the most visitors. And it is popular for a reason.
With a stunning lakeside drive, waterfalls, hiking opportunities, and historic buildings, you're in for quite the adventure!
Popular places in Killarney National Park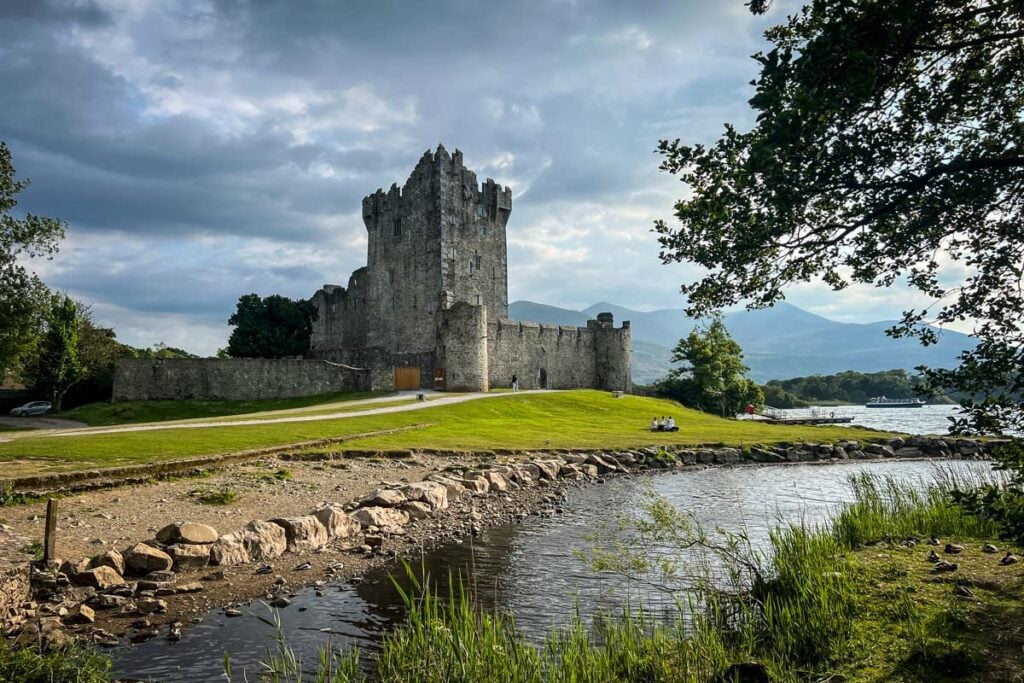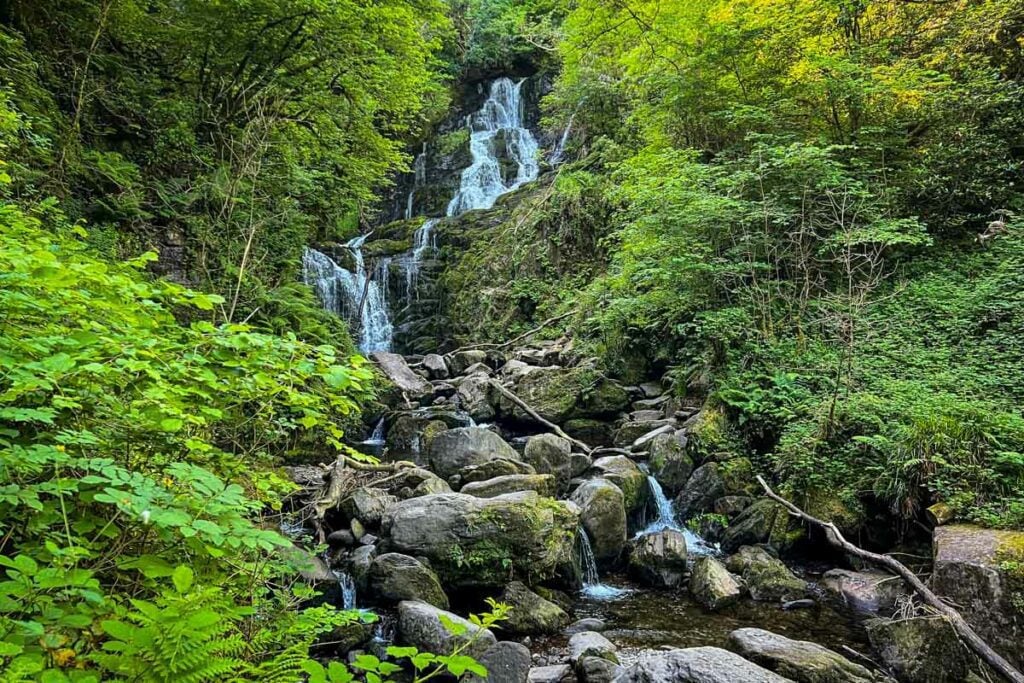 Muckross House & Gardens
Torc Waterfall
Ross Castle
Ladies' View
Want more tips? We've got a guide with the best things to do in Killarney (including tips and hidden gems in the national park).
14. Step back in time at the Rock of Cashel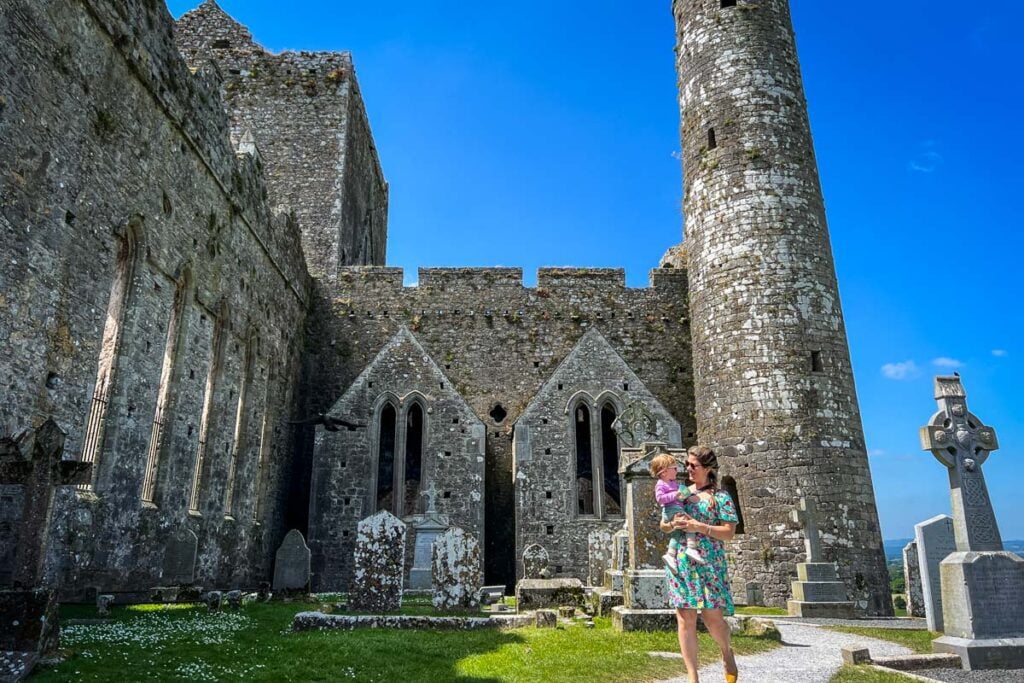 Situated atop a hill that towers above the small town of Cashel in County Tipperary, the Rock of Cashel is one of the most popular historic sites to visit in Ireland. Built in the 12th century, this medieval castle is a sight to behold.
From the parking lot, it is a short walk to the castle grounds where you can purchase entry tickets and join a tour if you'd like. Since this a pretty accessible landmark, it makes it onto many travelers' Ireland itineraries.
Rock of Cashel Details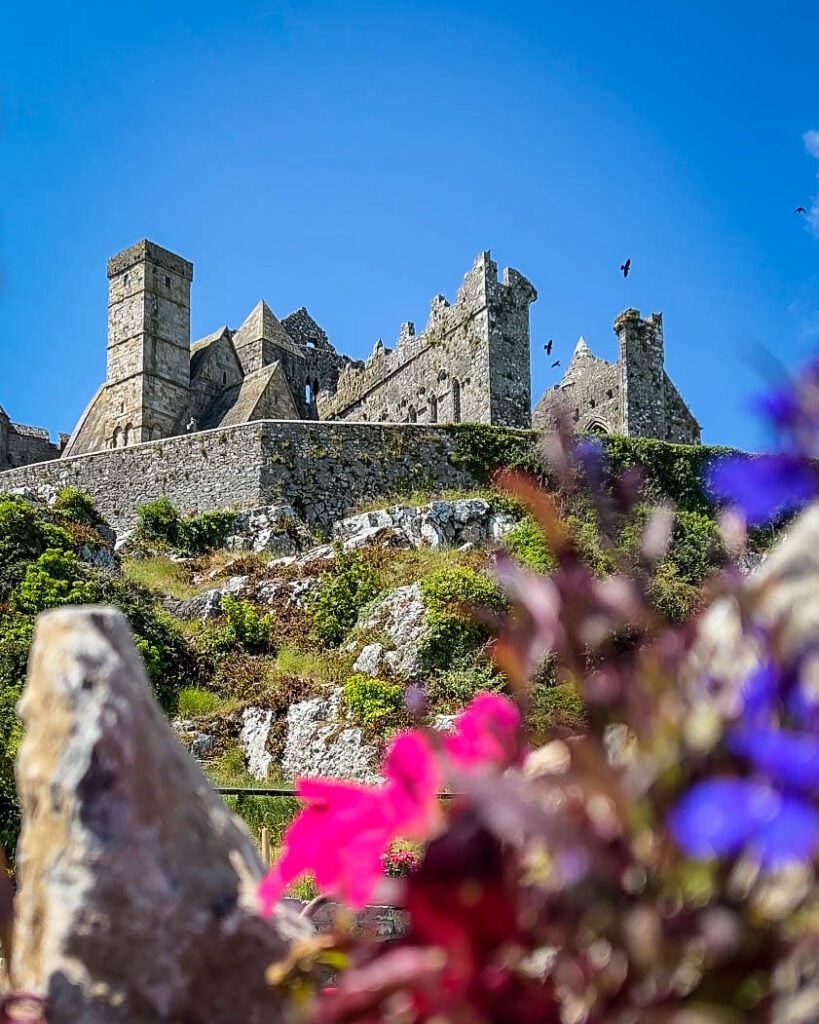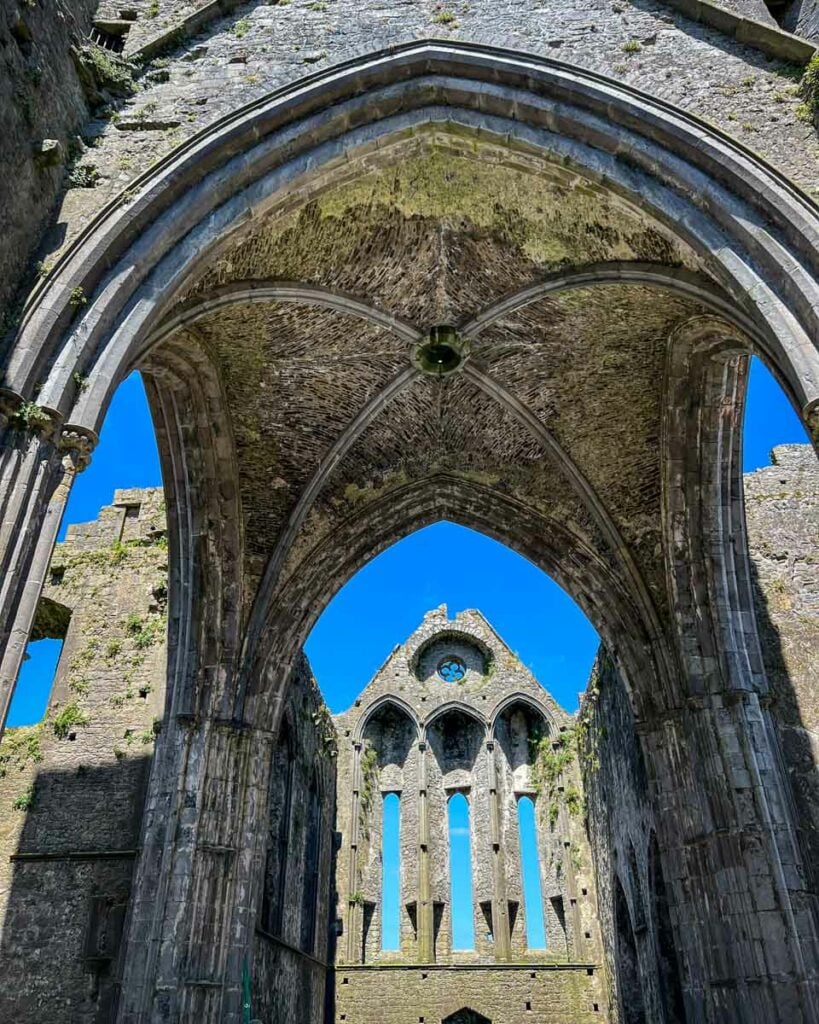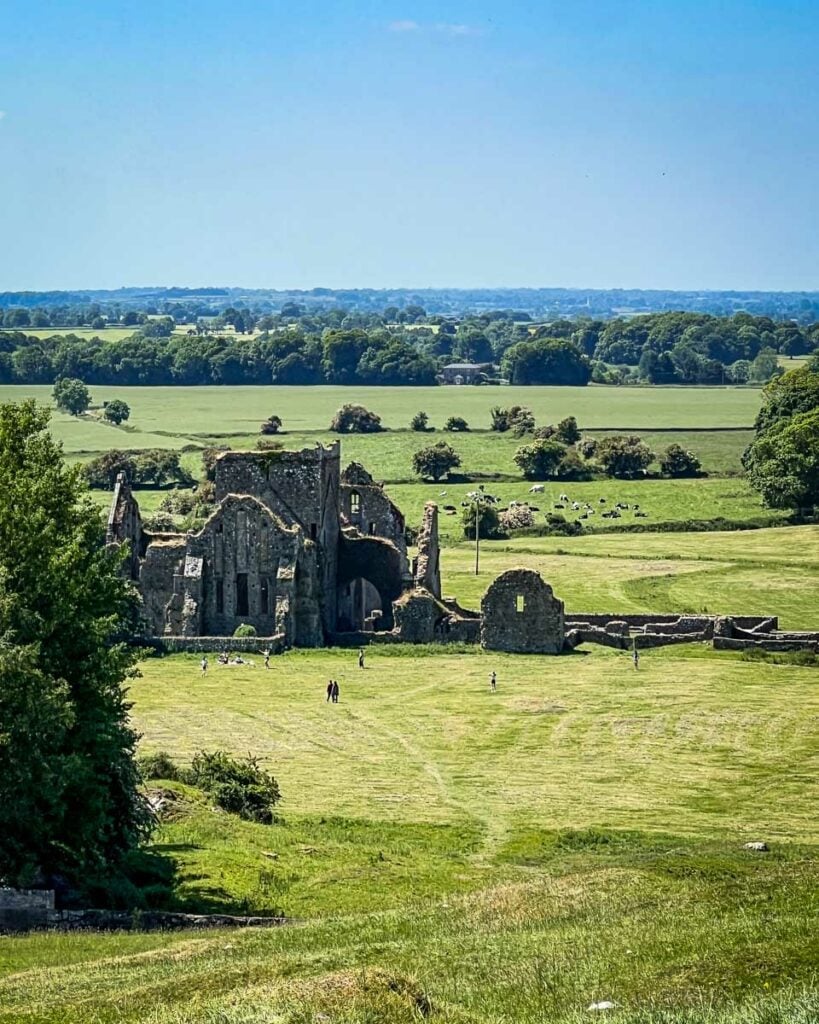 Entrance: €8 per adult

€3 extra for a guided tour of Cormac's Chapel

Hours: 9 a.m. – 5:30 p.m. (peak season: mid-March through mid-October)

During the off-season (mid-October through mid-March), closing time is 4:30 p.m.

Time needed: We spent about 1 hour here, wandering the grounds on our own. If you want to take a tour or explore more, give yourself 2 hours.
Good to know: Last entry is at 4:45 p.m. (45 minutes before closing)
Hore Abbey
While you're at the Rock of Cashel, look into the distance and you'll see the ruins of Hore Abbey not far down the hill. Follow the path to get there and see it up close if you have time! It's free to visit.
15. Kiss the Blarney Stone at Blarney Castle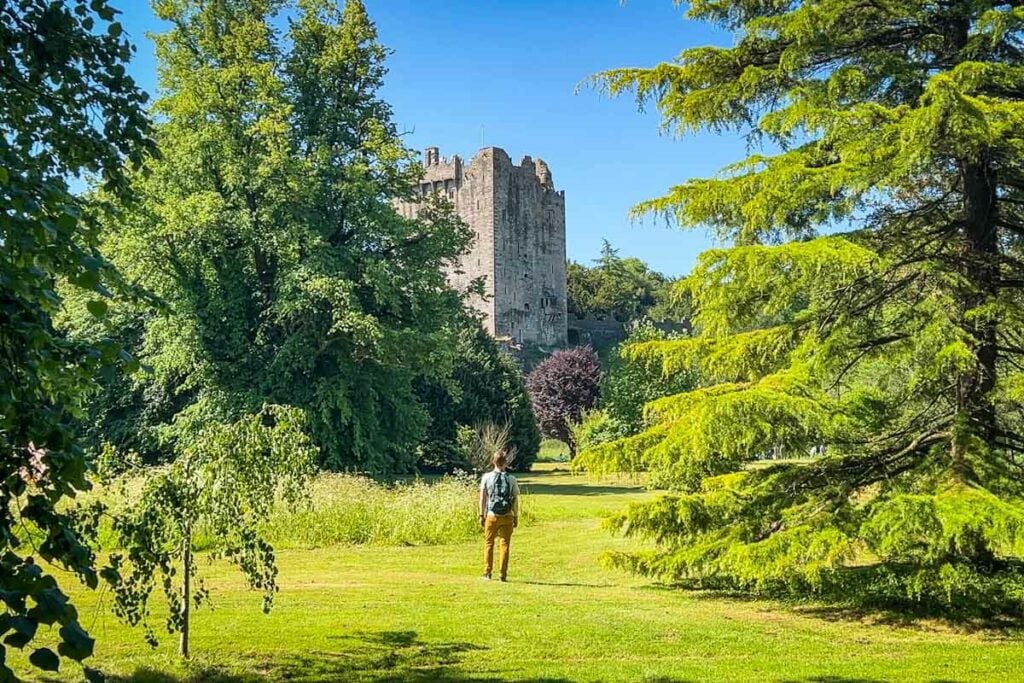 Play tourist and wait in the (sometimes extremely long!) line to climb up the castle stairs, lean back and kiss the storied stone!
Speaking of stories… It is said that those who kiss the stone will be granted the "gift of gab".
But if you arrive and the line is way longer than you'd like to wait, don't feel too bad giving it a miss. Arguably the best part of Blarney Castle is the gardens and the grounds.
Personal experience at Blarney Castle
We arrived at Blarney Castle within 45 minutes of them opening and the line to kiss the stone snaked around to the 90-minute marker. It was hot (weird for Ireland, I know!), and we were traveling with a toddler, so we skipped the Blarney Stone.
I had some FOMO but after posting to Instagram, I received countless messages from people saying the grounds of the castle were their favorite part, and that skipping the stone wasn't a big deal. One person said that the line took much longer than the marker indicated, and she ended up waiting for more than 2 hours.
Tips for visiting Blarney Castle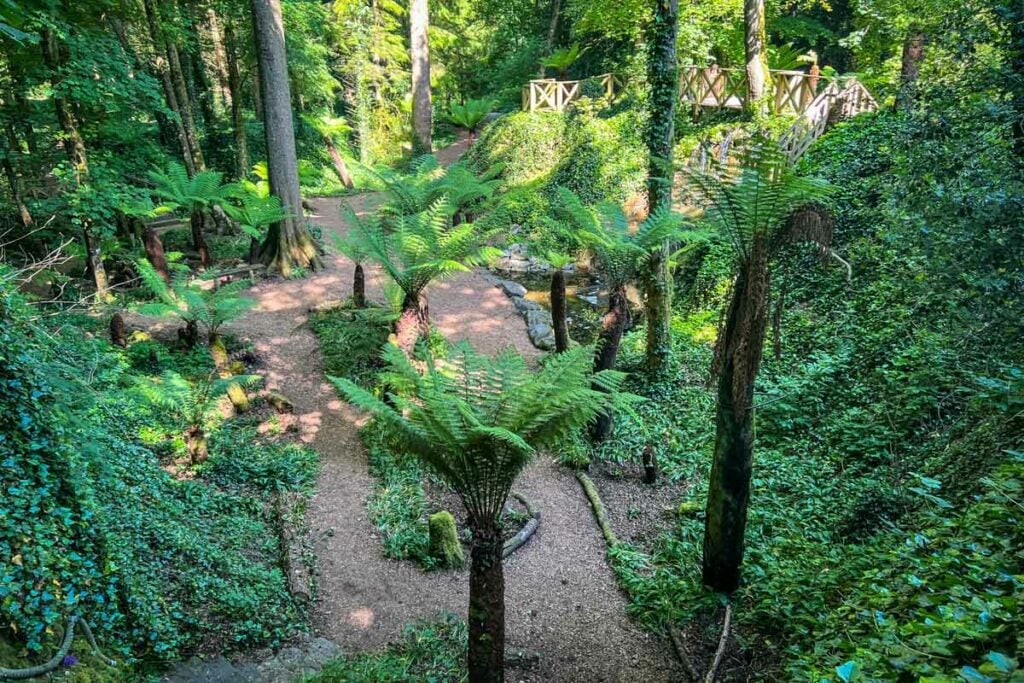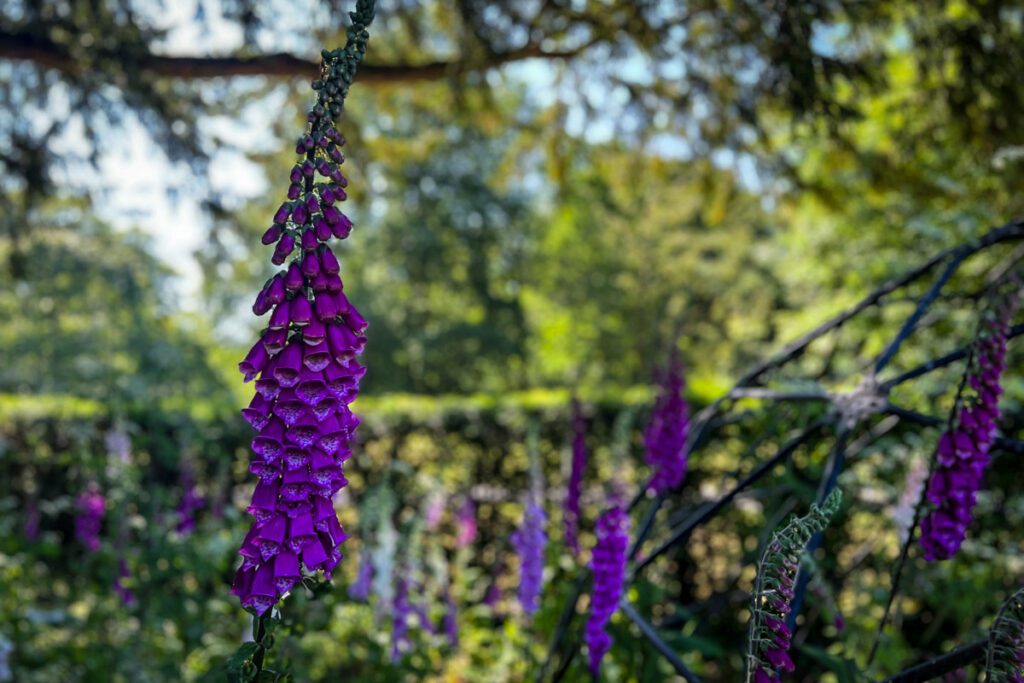 Get there before they open, especially if you're traveling during peak season.
If you want to kiss the Blarney Stone, head straight toward the castle as soon as you get inside. You can take photos elsewhere afterward.
Don't just kiss the stone and leave! The grounds are actually stunning and there are so many different gardens. Our favorites were the Fern Garden (peaceful and very few people) and the Poison Garden (so interesting!).
Blarney Castle Details
Admission: €20 per adult
Hours: they open at 9 a.m. throughout the year, but closing time varies based on the season. Check out detailed hours here.

Last admission is one hour before closing time.
16. Take a day trip to the Aran Islands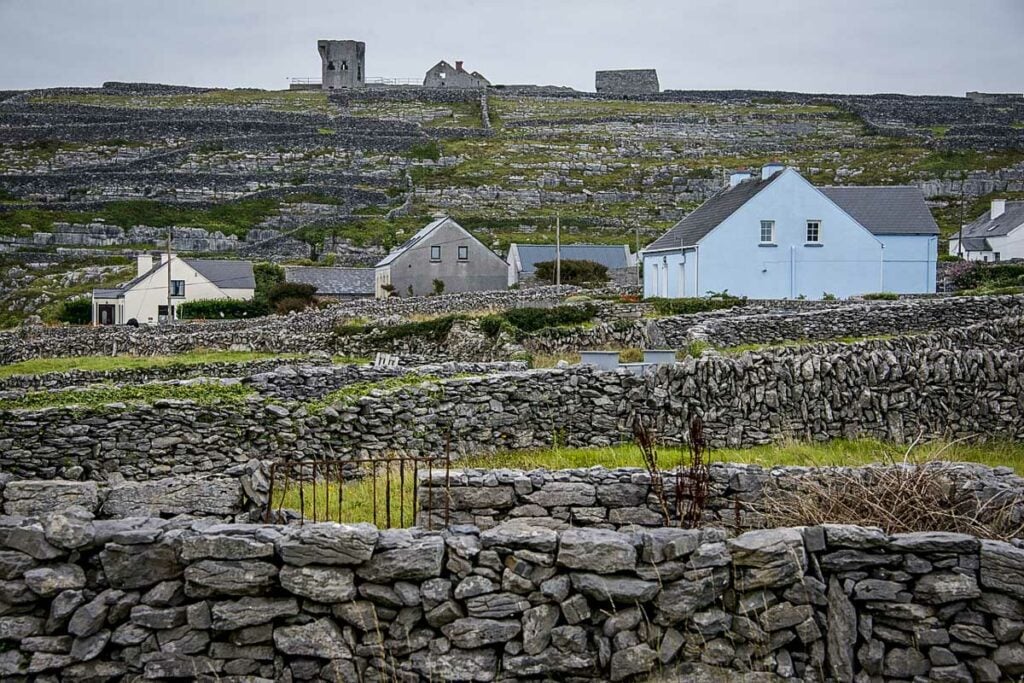 Off the west coast of Ireland at the mouth of Galway Bay are three rocky isles known as the Aran Islands.
Aran Islands in order from largest to smallest:
Inishmore (Inis Mor) = largest
Inishmaan (Inis Meain) = middle
Inisheer (Inis Oirr) = smallest
Known for a dreamy blend of historic cottages amid rugged landscapes along with a unique island culture, exploring the Aran Islands almost feels as if you've stepped back in time. It feels a world apart from Galway City, even though it's just a ferry ride away.
Fun Fact: Ocsar nominated The Banshees of Inisherin was filmed on Inishmore. This film takes place during the Civil War on a fictional island off the coast of Ireland called Inisherin.
Which Aran Island should you visit?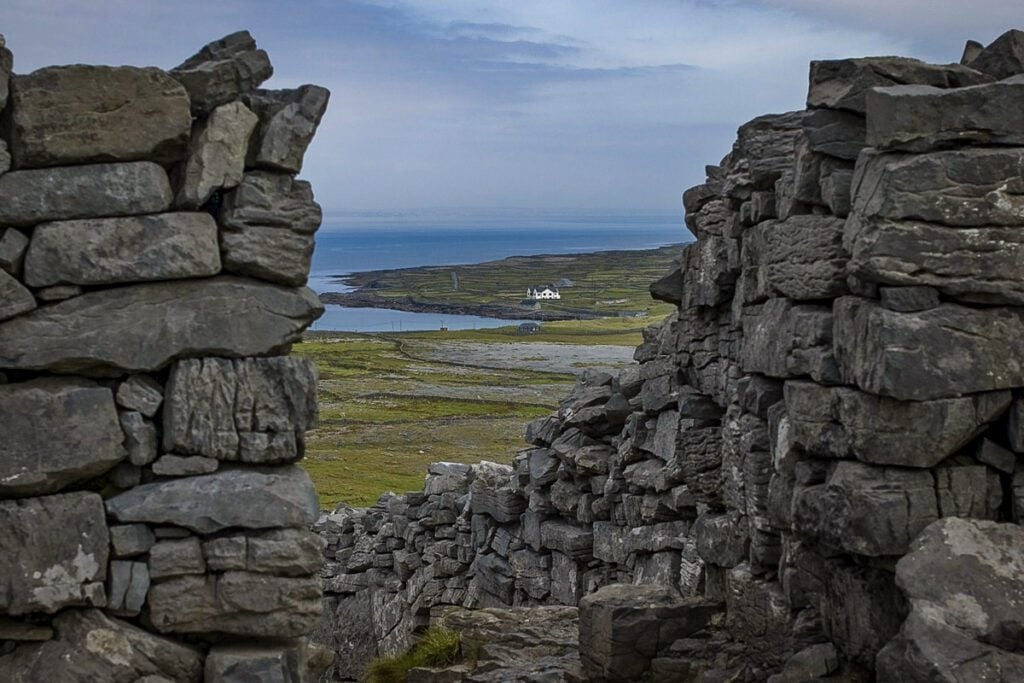 Each island has its own unique draws, but the largest (Inishmore) and the smallest (Inisheer) are the most popular islands for visitors.
Things to do on Inishmore (Inis Mór):
Rent a bike to see the sights around the island
Visit the prehistoric fort of Dún Aonghasa, perched atop a 300-foot cliff
Marvel at the Wormhole, an iconic rectangular natural pool on the ocean's edge
Explore the ruins of the seven churches
Admire Clochán na Carraige, a historic "beehive" structure
Buy an Aran sweater
Inisheer (Inis Oírr):
Rent a bike to see the sights around the island
Grab a pint at Tigh Ned pub
Photograph the Plassey Shipwreck
Visit Inis Oirr Lighthouse
See the ruins of O'Brien's Castle and Cill Ghobnait Church
Buy an Aran sweater
How to get to the Aran Islands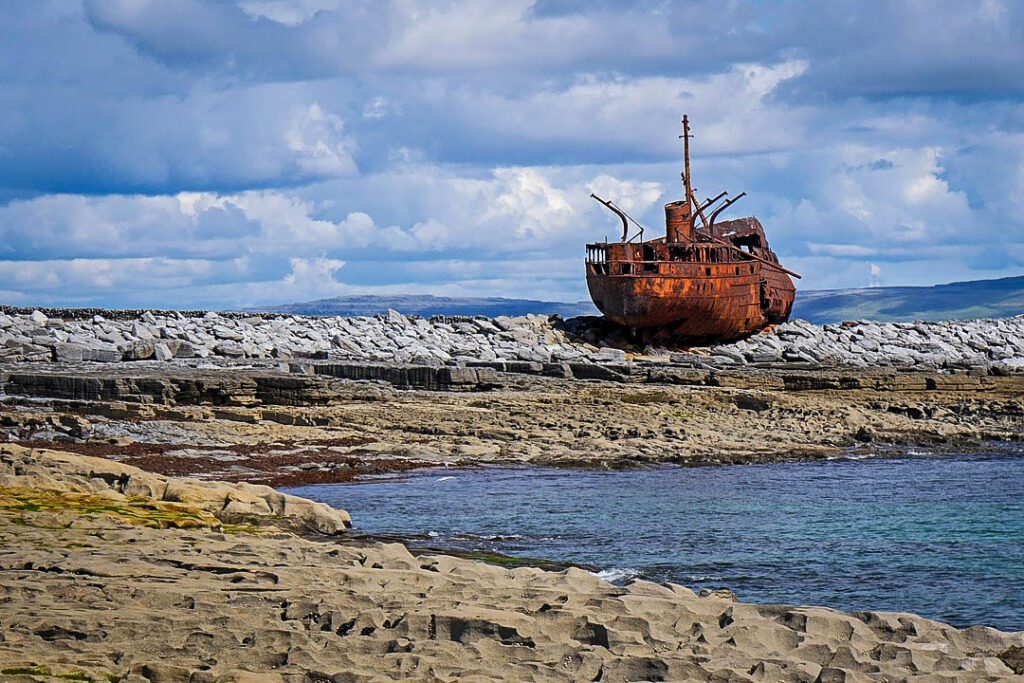 Travelers can reach the Aran Islands by ferry or guided tour. (You could also fly, but why?)
Ferry tickets vary slightly based on where you're departing from, but tend to be around €30 – €36 per person (about $33 – $40 USD). This is the cheapest way to get to the Aran Islands.
From Doolin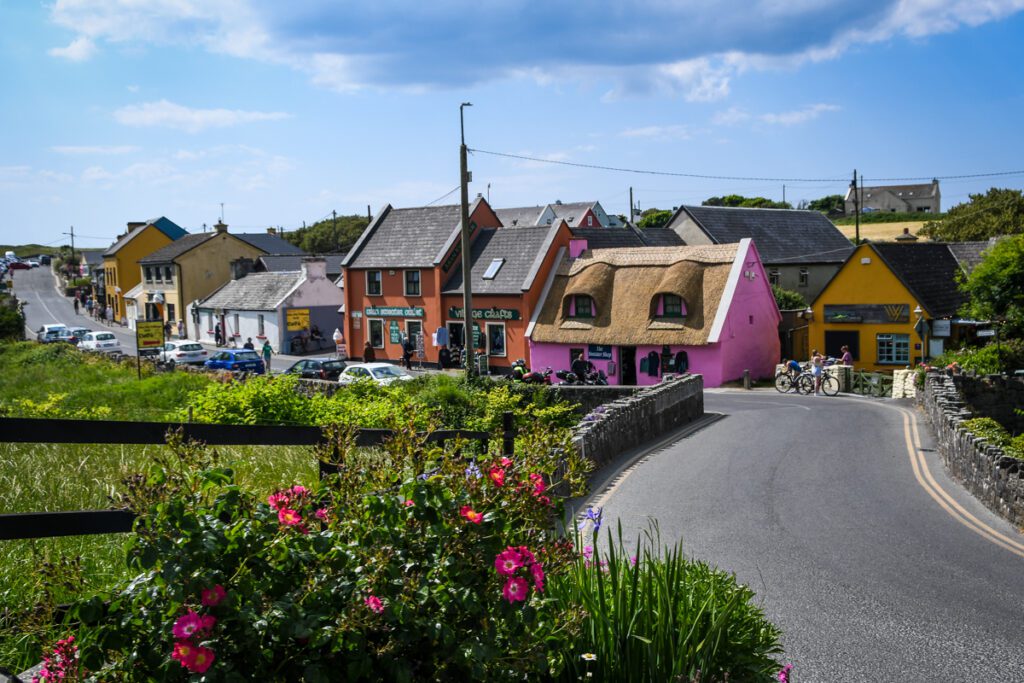 Ferry: The shortest ferry ride is from Doolin, which is just 15 minutes away from Inis Oirr. Book your ferry here.
Tour: This small group tour earns rave reviews and is what we'd personally choose!
It includes the following:
Round trip ferry ticket from Doolin to Inisheer
Bike rental
Tour guide who spent summers living on this island
Tea or coffee and scones in an island cafe
Here's what guests are saying:
"Tommy was our guide and he was fantastic! He was such a good storyteller and so genuinely enthusiastic about sharing the history and tales of the islands. The 3 stops at the castle, sunken church and shipwreck were amazing. Pictures don't [do] them justice. It was a great experience, I'm so glad we did this."

-Shannon, July 2023
From Rossaveel (45-minute drive from Galway City)
The journey from Rossaveel to the closest island (Inis Oirr) takes around 40 minutes by ferry.
From Galway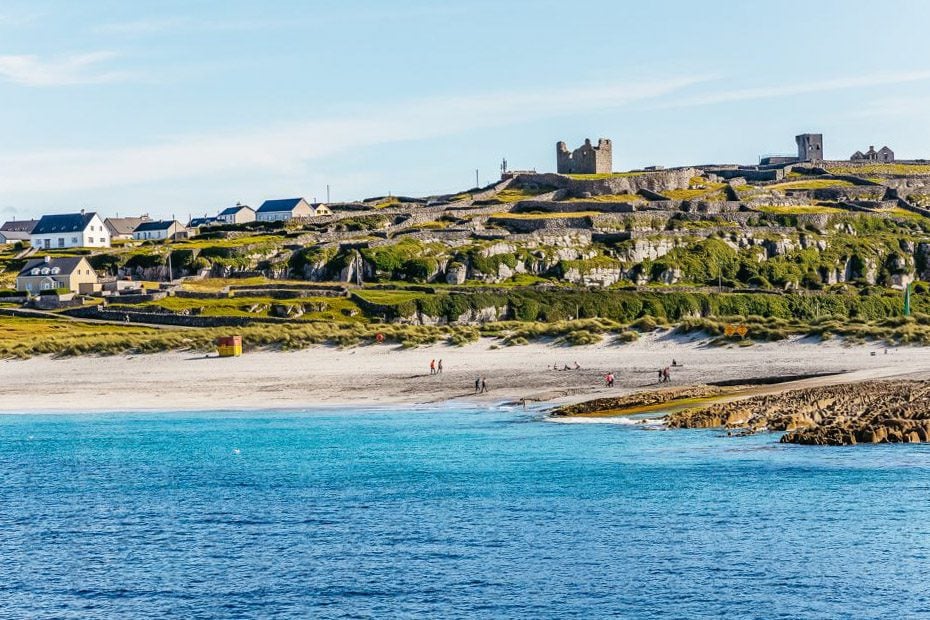 If you're coming from Galway, you'll need to drive from the city to Rossaveel Habour, which adds an additional 45 minutes. From here, you can take one of the ferries listed above.
If you don't have a rental car in Ireland, you can join a guided tour which departs from Galway and includes a bus transfer.
The tour listed below also includes entrance to the Cliffs of Moher, making it a good way to see both sights in one day.
Galway to Inis Oirr Guided Tour (+ Cliffs of Moher)
Guide/driver
Transportation by air-conditioned bus
Return ferry tickets to Inis Oirr
Admission fee to the Cliffs of Moher
17. Learn how to make Irish soda bread
We think taking cooking classes can be one of the best ways to authentically experience a country's culture.
These baking classes in Ireland look top-notch!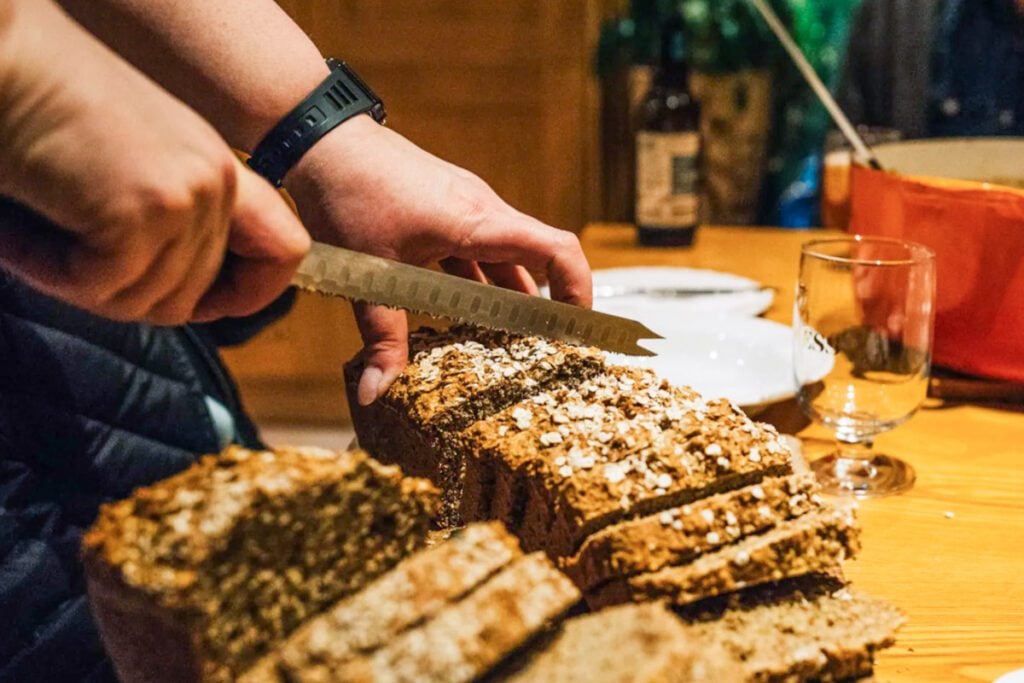 With the help of a local cook, make your own loaf of traditional brown soda bread and Irish stew in her home.
While they cook, gather at a local craft pub for a beer tasting before returning to enjoy your homemade meal.
This may just be one of your favorite meals in Ireland!
Here's what guests are saying:
"We LOVED Bread, Beer, and Bia. This was by far one of the best experiences we had on our trip. It was personal and we learned so much about Irish culture and food. Eimhear was a wonderful host and we felt part of her family for the evening. Could not recommend enough!"

– Allie, June 2023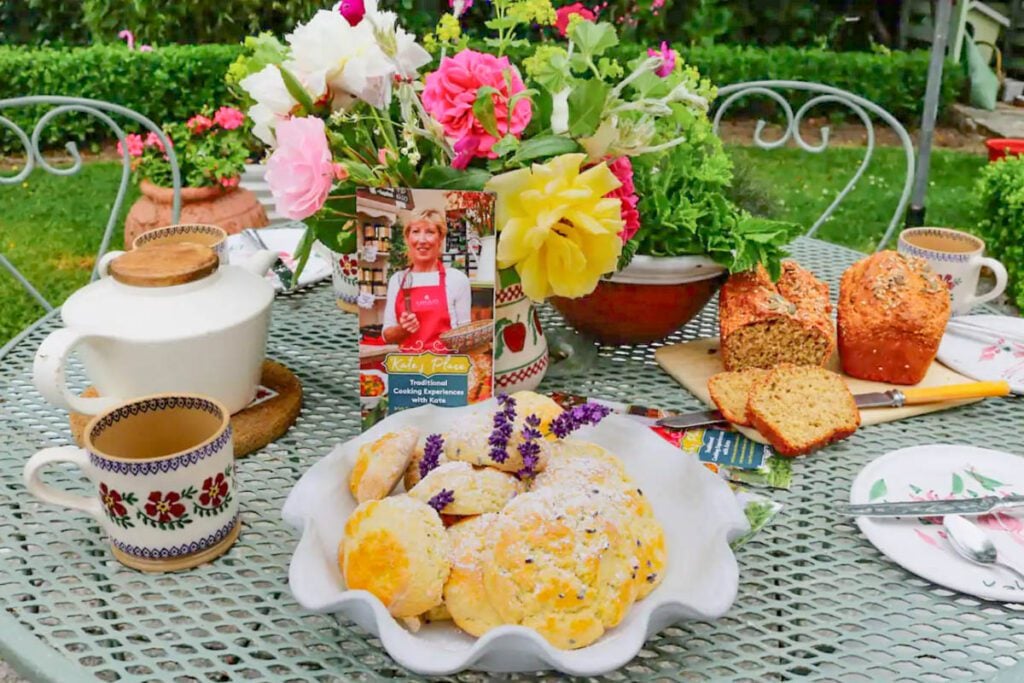 Join a Galway local inside her home and learn the secrets of baking bread and scones from scratch, with fun ingredients like lavender and berries.
Here's what guests are saying:
"Kate was an amazing host. She was warm, welcoming, and made sure the whole experience was great – baking, eating, and opening her home and garden for picture-taking. I'd highly recommend to anyone considering!"

-Aimee, July 2023
18. Do a Black Taxi Tour in Belfast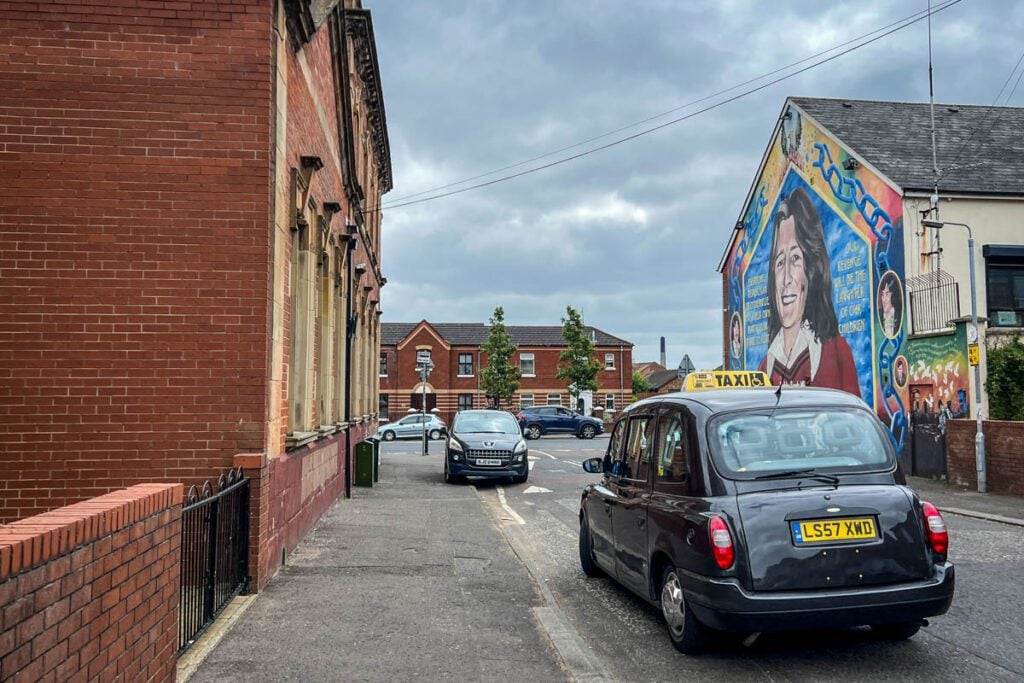 In general, I hate saying something is a "can't-miss" thing to do because everyone has their own timeline and interests.
However, taking a Black Taxi Tour in Belfast is one of those can't-miss-things because it will educate you on a very important piece of history in Northern Ireland: the Troubles.
There are several companies that run "Black Taxi Tours" but the concept is the same: A local who lived through the Troubles will drive you around Belfast to places of historical significance. They will explain the meaning of murals around the city (there are many!) and share personal accounts of the violence and turbulence.
Insider Tip: Be sure to plan ahead and book your tour so you can choose the best time for your itinerary. If you book last minute you may not have a choice on timing, or you may find all tours are full.
19. Visit the Titanic Museum in Belfast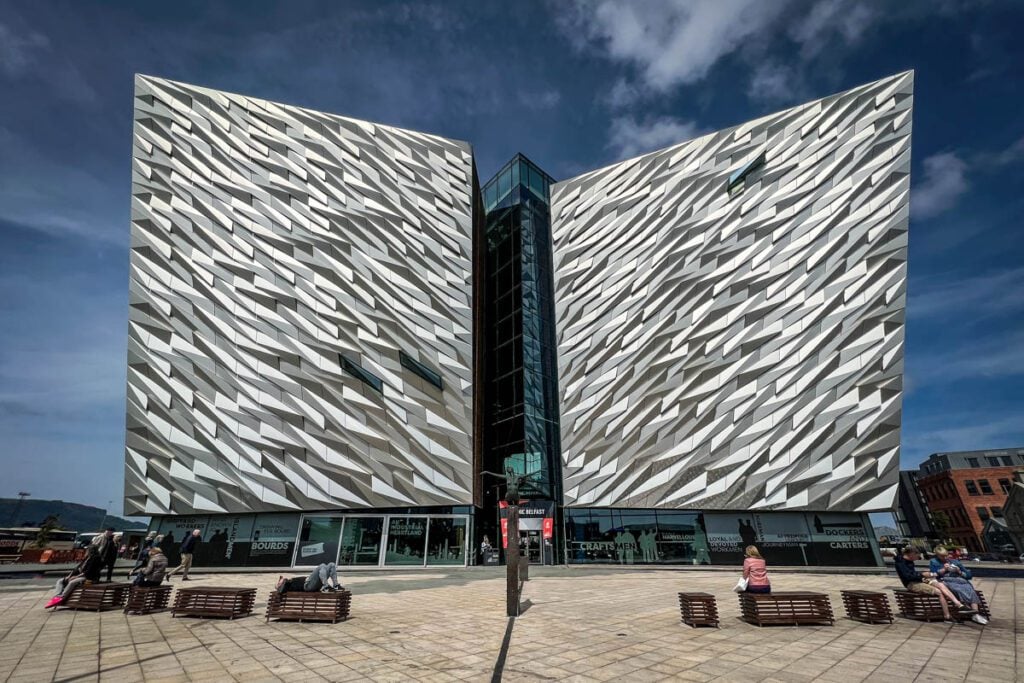 As a child, I was absolutely obsessed with the Titanic. Anytime I could choose a topic for a project or essay in school, guess what it was about? Yep, the Titanic.
So as a former Titanic nerd, I can confidently tell you this museum is well worth a visit. I'm not even a huge museum person, but this one is done really well.
It's pretty fascinating to see the shipyard where the Titanic was built. Be warned: This museum goes into a TON of detail and you could easily spend all day here. If you're on a timeline, keep this in mind and pace yourself.
Interesting fact: Supposedly you could hear workers pounding in rivets throughout the entire city of Belfast while the ship was being built. Some workers even went deaf from the loud noise of the job.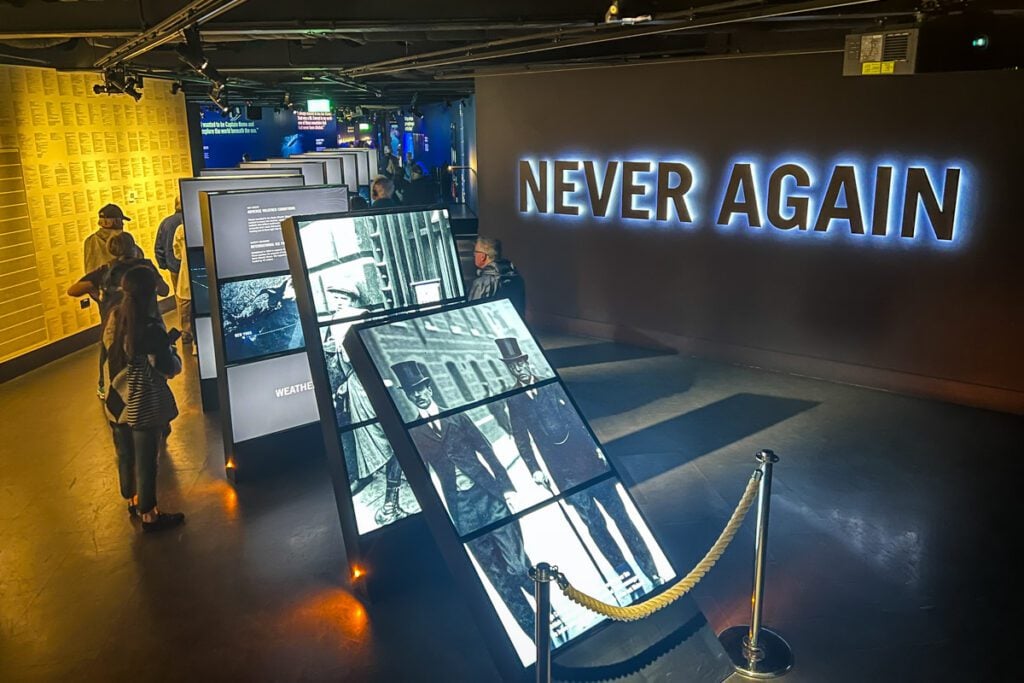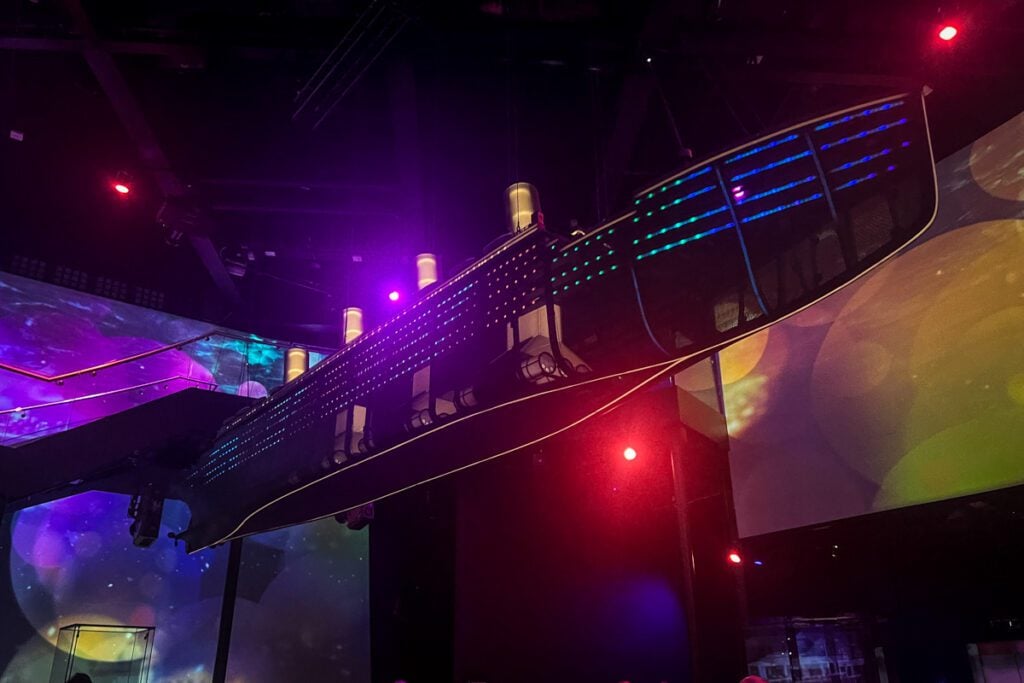 Titanic Museum t​icket types & prices
Museum only: Book your ticket directly on their website for £25 ($33). This will give you the most options for times.
Museum + Ship entrance (our recommendation): Alternatively, you can book a higher-end ticket that includes entrance to both the museum and the SS Nomadic* for the same price ($33). Book your ticket here.
*last remaining White Star Line ship in the world
Our advice: Tickets for the museum do sell out, so we'd recommend getting your tickets in advance so you can choose what time you'll start. This can be particularly important if you have more things you want to see and do that day.
20. Explore Giant's Causeway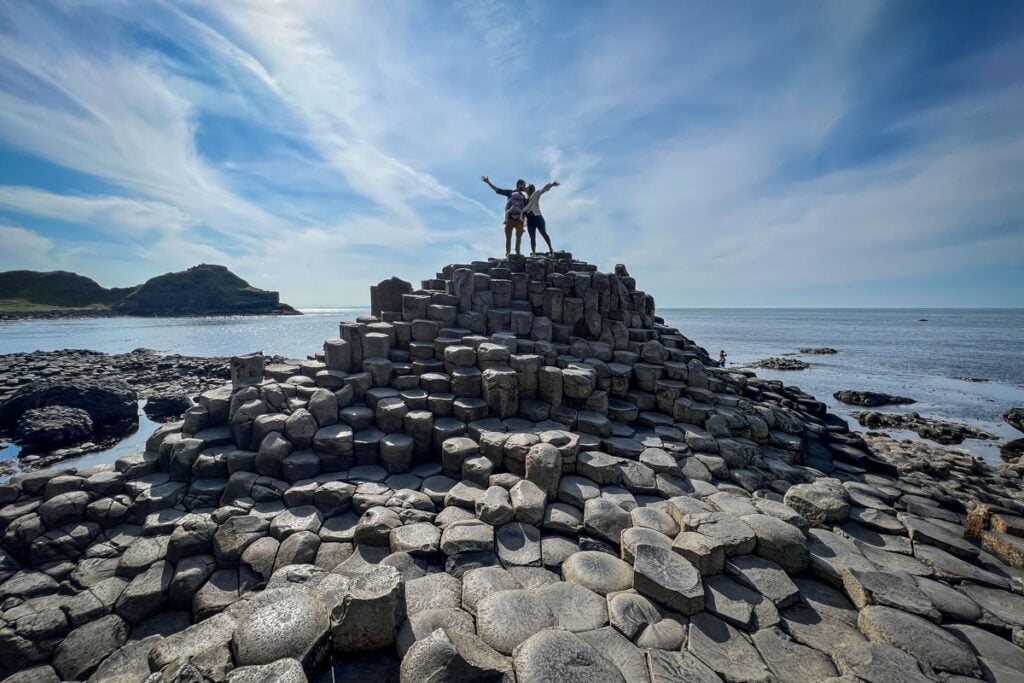 It's a mind-boggling geological formation, a UNESCO World Heritage Site, a place steeped in legend, and one of the most famous landmarks in Northern Ireland: it's the Giant's Causeway.
The gist of the legend is this:
An Irish giant named Fionn mac Cumhaill (Finn McCool) built the causeway so he could cross the Irish Sea to Scotland in order to face his rival, Benandonner.
There was a terrible fight between the two giants. Afterward, Benandonner fled back to Scotland, tearing up the causeway behind him.
That or, ya know, 60-million-year-old volcanic activity.
Either way, the result is a remarkable sight not found anywhere else in the world. Tens of thousands of interlocking basalt columns tumble from the coastal cliffs into the Atlantic Ocean, forming hexagonal stepping stones that resemble a pathway.
It costs £13.50 (~$16.87 USD) per adult to park at the site. If you're up for it, you can visit the Giant's Causeway for free with a hike from Dunseverick Castle or Portballintrae. Both of these scenic coastal trails provide stunning views and are well worth it if you have the time!
21. Explore Antrim Coast
The Antrim Coast is a breathtaking stretch of rugged coastline renowned for its dramatic cliffs, lush green landscapes, and the iconic natural wonder, Giant's Causeway (see above).
Carrick-a-rede Rope Bridge
Looking for an adrenaline rush on your trip to Ireland? Test your nerve on the Carrick-a-Rede Rope Bridge.
Originally built by fishermen to access their salmon-fishing nets, this iconic bridge connects the mainland to the tiny Carrick Island, spanning a 20 meter wide (65.5 foot) chasm.
It's a short but exhilarating journey across the bridge, suspended nearly 100 feet above the crashing waves of the Atlantic Ocean. If you dare to open your eyes, you'll be rewarded with awe-inspiring panoramas.
Reservations are required. Book tickets here.
Dunluce Castle
Perched dramatically on the edge of a cliff, the hauntingly beautiful ruins of Dunluce Castle hold centuries of both history and legend.
The castle's origins date back to the 13th century. Originally constructed by the MacQuillan family, it underwent various expansions and modifications, eventually becoming the seat of power for the MacDonnell clan.
In 1639, a significant portion of the kitchen and supporting wall collapsed into the sea during a storm. Since then, Dunluce Castle has been abandoned as a residence.
Insider tip: stop at the nearby Magheracross Viewing Point for awe-inspiring views of the rugged coastline, Dunluce Castle, and (on a clear day) the Skerries islands.
Murlough Bay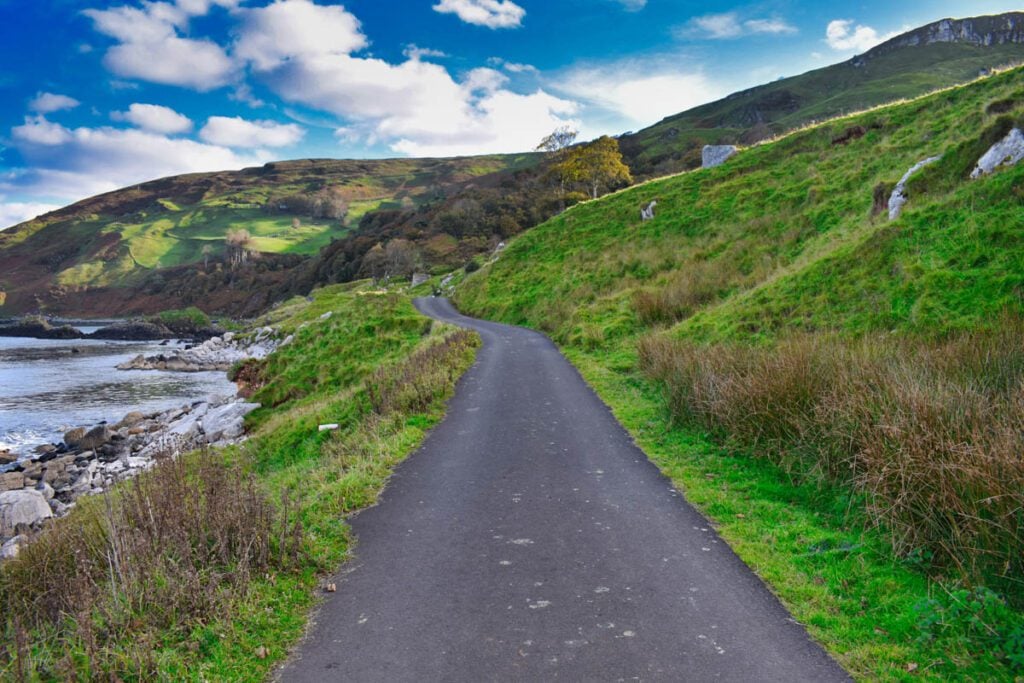 This secluded and picturesque bay is known for breathtaking views of the North Atlantic Ocean, with clear blue waters contrasting against the surrounding cliffs and lush green landscape.
Nestled between Fair Head and Torr Head, Murlough Bay is relatively remote and less frequented by tourists. However, it has gained fame among Game of Thrones fans as the filming location of "Slaver's Bay".
How to get there:
From Torr Road, turn north onto Murlough Road. Note, this is a single-lane drive through farmland and is not suitable for larger or heavier vehicles. Though there are several parking lots along the way, the road gets steeper and narrower after the first. Our advice is to park in the first lot and walk or cycle the remaining 1.3 miles to the bay.
Alternatively, you can reach Murlough Bay by hiking the Drumnakill Point route.
Distance: 3.6 miles
Elevation gain: 702 feet
Type: Loop
22. Hike Diamond Hill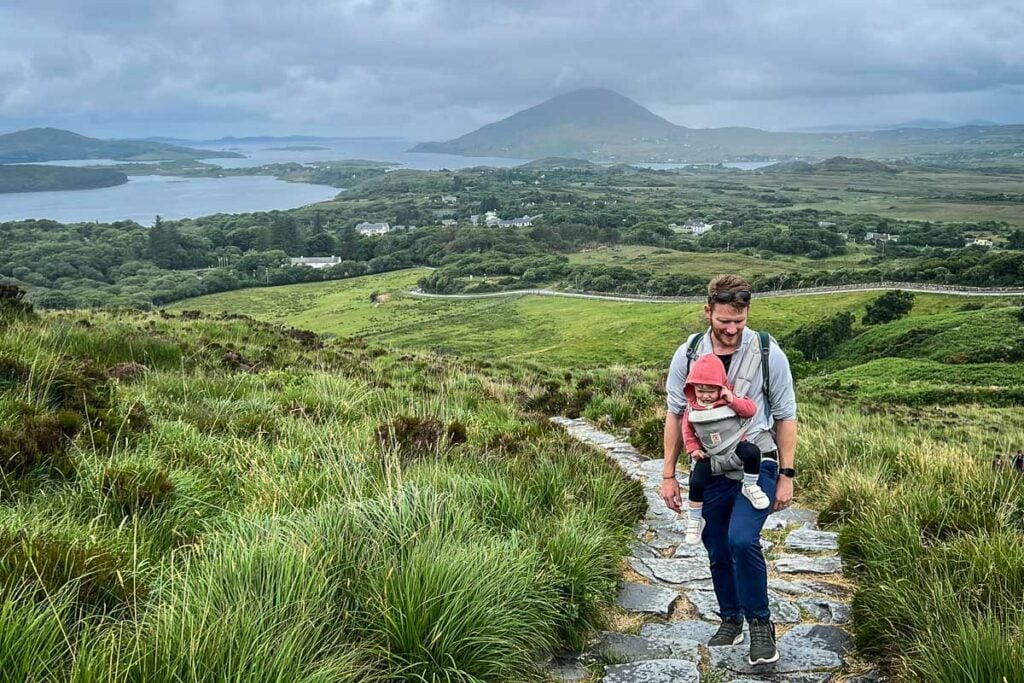 Known as one of the best day hikes in Ireland, Diamond Hill offers hikers sweeping views of the surrounding wilderness.
Located in Connemara National Park, this makes a great day trip from Galway.
Insider Tip: Once you've finished the hike, head to The Misunderstood Heron for lunch with a view.
Diamond Hill hike
Distance: 4.4 miles
Elevation gain: 1,300 feet
Type: Loop
More hikes in Ireland
Here are just a handful to add to your list, but there are plenty more throughout the country:
23. Spend the night glamping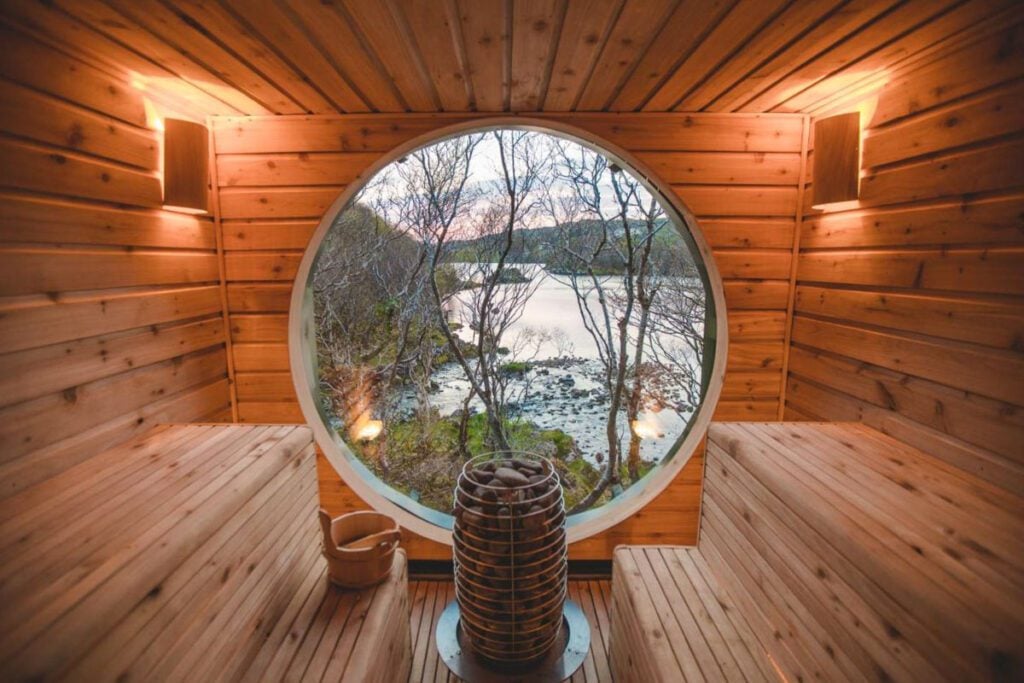 One of the best ways to experience Ireland is by immersing yourself in its verdant and rugged nature.
But what if I'm not into camping?
Answer: glamping!
Maybe you like your creature comforts when exploring the outdoors. Or maybe you simply want to treat yourself. Either way, you'll love the experience of glamping in Ireland.
From domes to hobbit houses, lodges, and luxurious escapes, Ireland has tons of dreamy glamping stays to choose from.
24. See the view from the Caves of Keash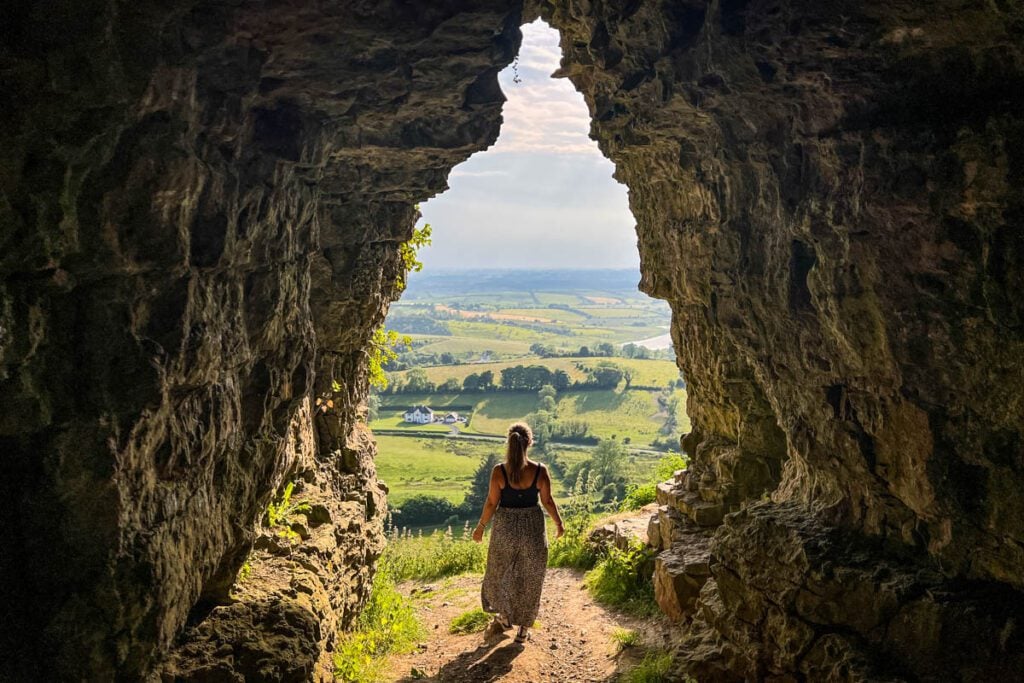 If you're looking for one of the more unique things to do in Ireland that's not on the typical tourist itinerary, this short but rewarding hike should be on your list.
The Caves of Keash (sometimes spelled Kesh or Keshcorran) are perched on a hill that overlooks the countryside of County Sligo.
A short walk brings you to a cluster of around 10 caves, each of which has its own unique view.
If timing works out, this is a particularly good spot to watch the sunset.
Keshcorran Caves hike
Distance: 0.8 miles
Elevation gain: 232 feet
Type: Out and back
25. Go for a walk in Wicklow Mountains National Park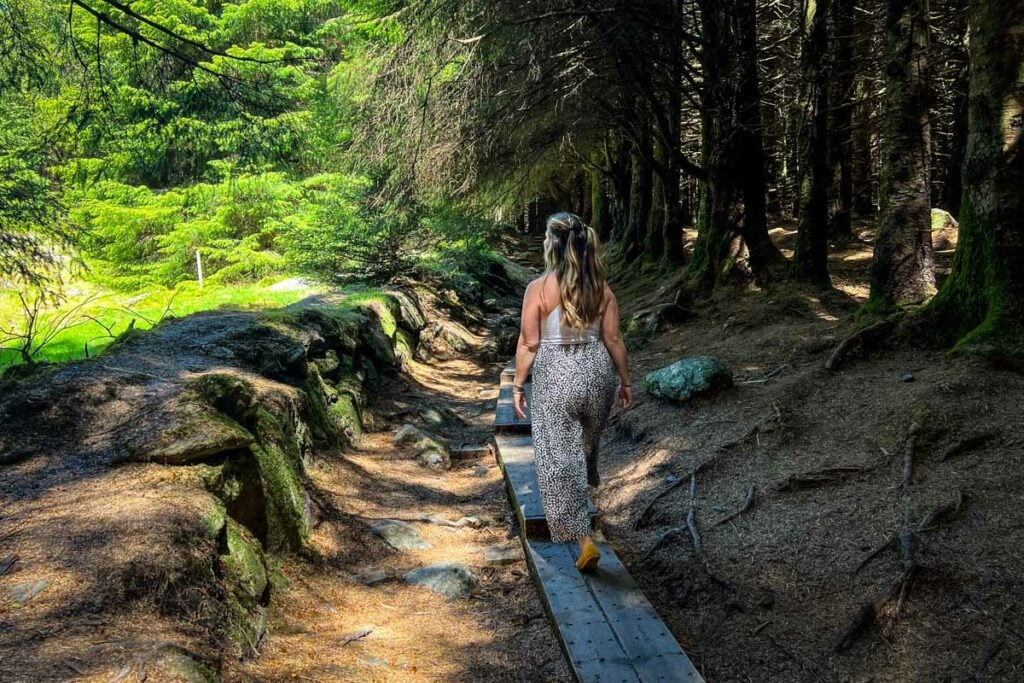 Not too far outside of Dublin is Wicklow Mountains National Park, which is a nature-lover's dream.
With trails for all abilities, serene lakes, and thick fairytale forests, there's a little something for everyone.
Here are a few stops to put on your list:
26. Wander the colorful town of Kinsale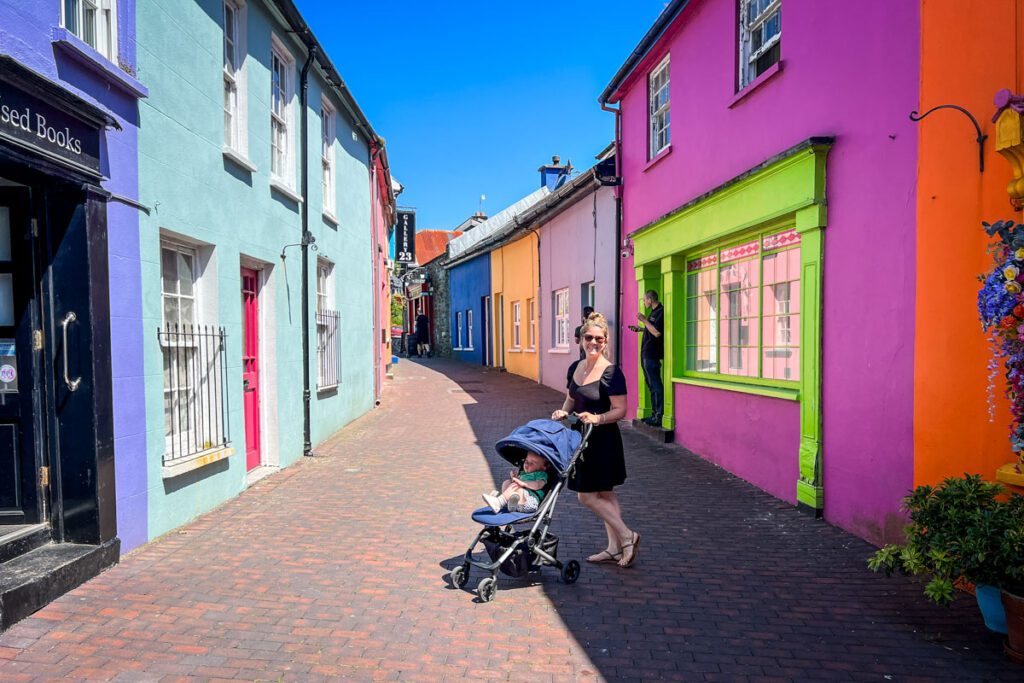 I'm terrible at choosing favorites. Truly, I'm actually the worst.
However, if I were hard-pressed to tell you my favorite town in Ireland, Kinsale would be high up there on the list.
Colorful, cute, and just the right size, this small seaside town is seriously adorable. Plus, foodies will be pleased to learn that Kinsale is known as the "gourmet capital of Ireland" due to its concentration of excellent restaurants.
Insider Tip: We loved walking along the Scilly Walk to The Bulman Bar & Restaurant (a Michelin-rated pub) where we had a spectacular lunch next to the water.
27. Toast with an Irish coffee (or 2!)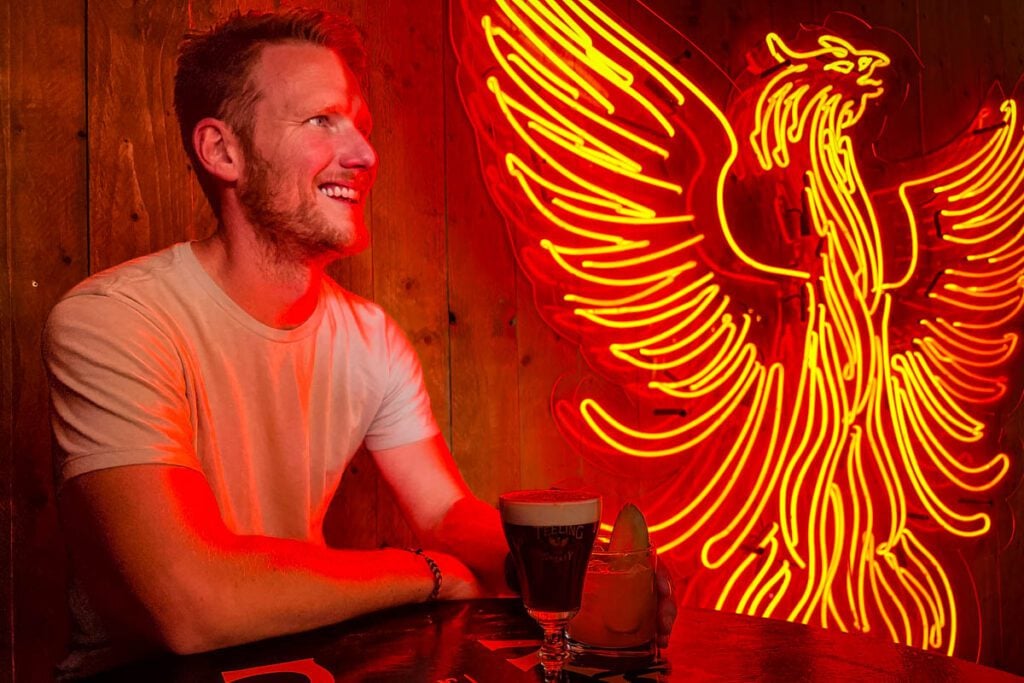 With coffee, whiskey, brown sugar, and a little heavy cream, this boozy drink packs a caffeine kick as well as a buzz.
Even if you order these on the regular at home, Ireland is the place to try some of the best. Order an Irish coffee to start your evening festivities or as a nightcap. You do you!
Want to learn how to make your own Irish coffee? Take an Irish Coffee Masterclass at the Irish Whiskey Museum or follow this recipe at home!
Insider Tip: We had an excellent Irish coffee in the bar at the Teeling Distillery in Dublin.
28. Spend the night in a castle
If you have fairytale dreams of waking up in a castle, Ireland is the place to make them come true.
There are castles all over the country that allow guests the opportunity to stay overnight.
Here are just a few to choose from: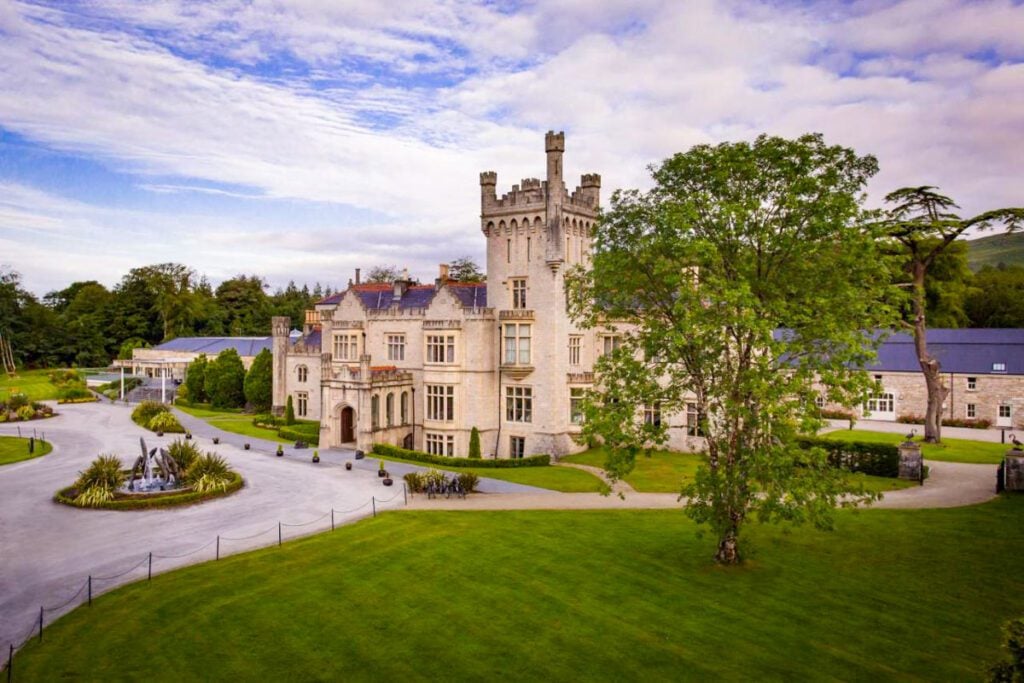 Located just outside the town of Donegal, this castle is truly what dreams are made of. With stunning grounds, an Instagram-worthy indoor pool, and afternoon tea, this castle is our personal pick!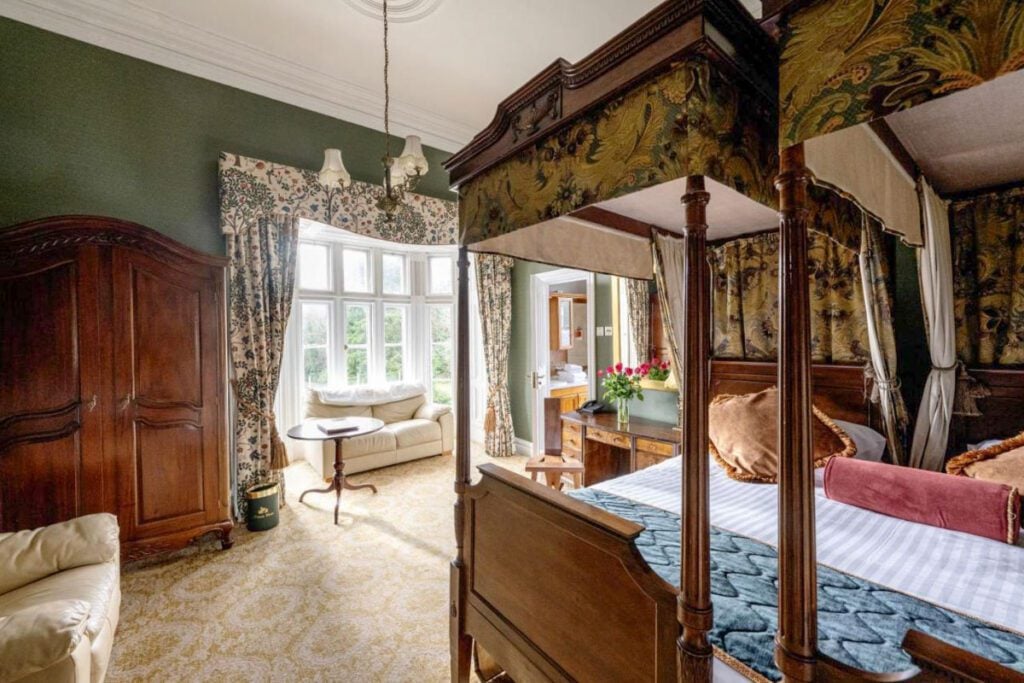 This is one of the most affordable castle stays you'll find in Ireland. Located an hour and a half north of Galway in County Mayo, this castle isn't too far off most travelers' routes, making it a great choice.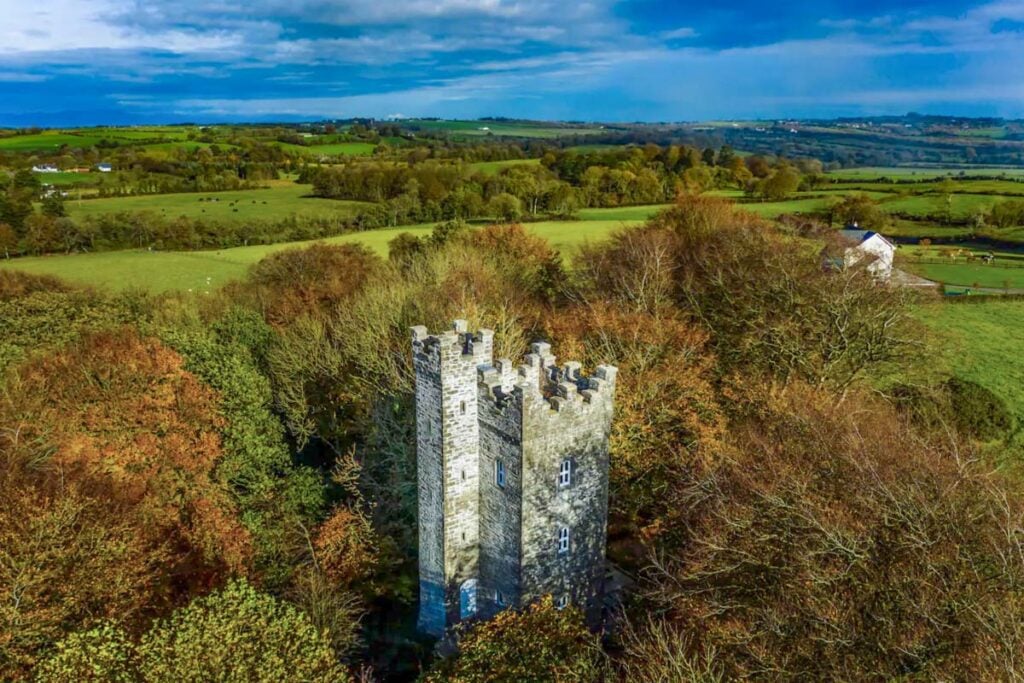 This Airbnb is a historic tower, to which you will have full and private access. Unlike most other castle stays, you have this tower completely to yourself to live your fairytale dreams.
29. Zen out at the Galgorm spa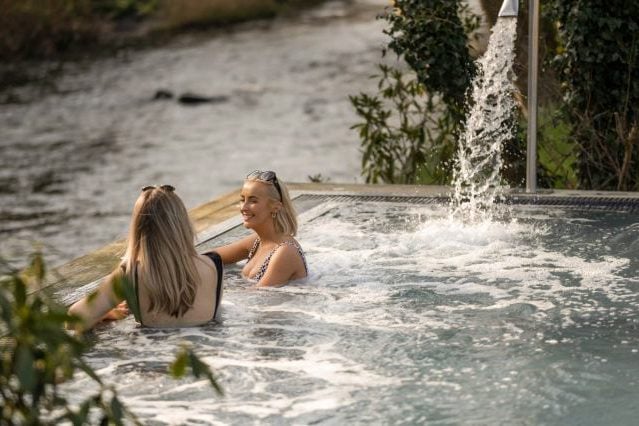 Suggested to us by our friends from Northern Ireland, the spa at Galgorm looks INCREDIBLE.
We weren't personally able to include it on our itinerary because we were traveling with a toddler, which is not allowed (sad for us, but probably a good thing for guests!).
Choose from one of their treatments – which are reasonably-priced for a spa, I might add – and prepare for an afternoon of zen and relaxation.
30. Explore Dublin
This list wouldn't be complete without mention of the capital of Ireland.
Dublin is buzzy and alive with excellent foodie establishments, historic sights, and boozy experiences calling your name (*cough* Guinness, Jameson, and Teeling, for starters *cough*).
31. Go on a distillery tour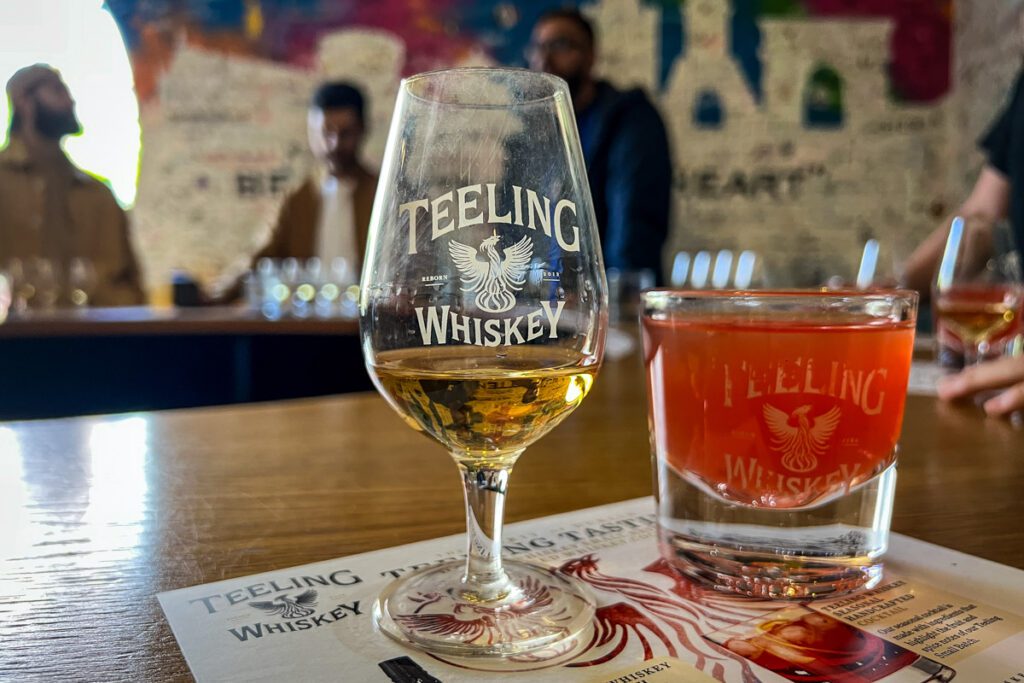 If you're a lover of whiskey, you're going to be in heaven in Ireland.
Even if you're not totally sure you like the stuff, a distillery tour can give you a really good foundation of what to look for in a whiskey and might even give you a new appreciation for this liquor. I speak from experience – I didn't think I liked whiskey until I toured a distillery!
There are countless distilleries to be explored – from the most famous (I'm talking about you, Jameson) to local distilleries that operate on a much smaller scale.
Are you a big whiskey fan? Check out this whiskey tasting tour in Dublin, which brings you to 3 traditional Irish pubs so you can taste some of the finest whiskey alongside an expert.
32. Marvel at Powerscourt Waterfall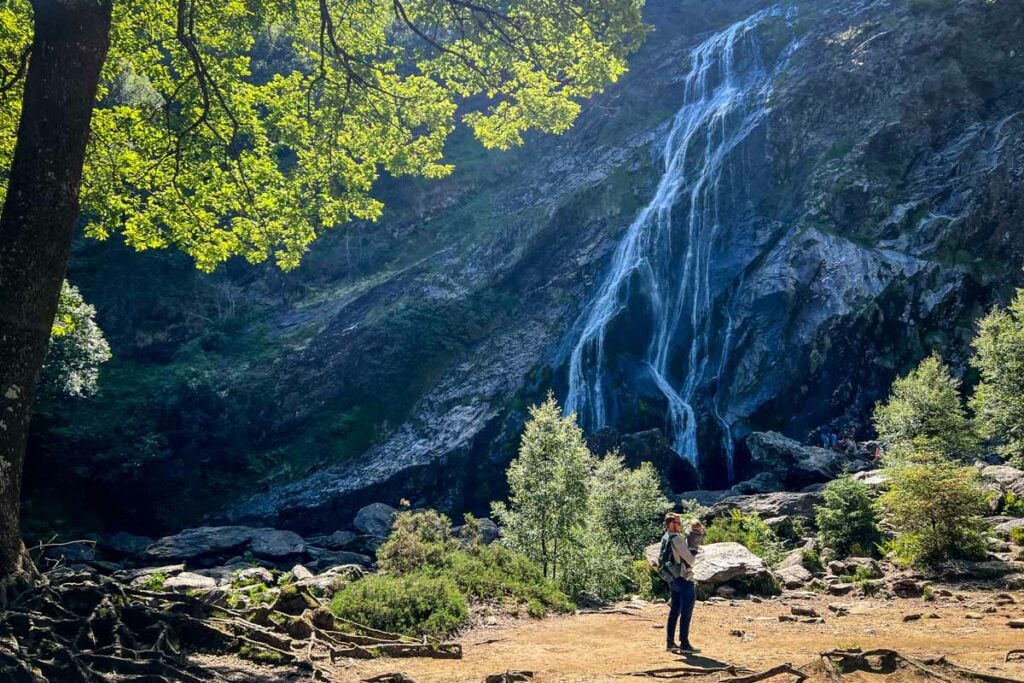 Ireland's tallest waterfall is a beauty and well worth a stop if you're in the area.
The waterfall is on a private estate in County Wicklow and costs €7 for admission. There are also gardens on the grounds, which are an additional cost.
While I don't love having to pay to see a waterfall, it is beautiful and a really peaceful setting.
Insider Tip: If it's a nice day, bring a blanket and a picnic lunch to enjoy in the grass with the waterfall as your backdrop.
33. Go for a dip in the ocean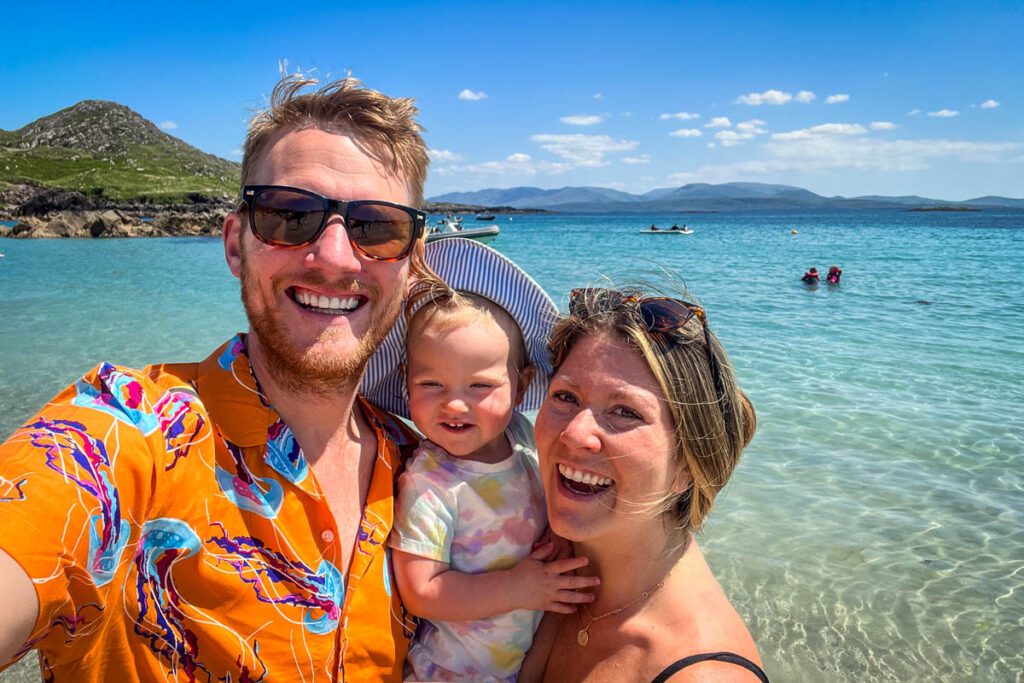 While Ireland likely won't come to your mind when thinking of places to swim in the ocean, it actually can be a great experience. (As long as you have the right conditions and attitude!)
If you're lucky enough to be in Ireland during a good spell of weather like we were (yay!), you're definitely going to want to find a place (or two!) to take a dip in the ocean.
If you prefer sand, there are tons of great beaches around the country that fill up with locals and tourists alike on a rare gorgeous summer's day. We loved this beach on the Ring of Kerry!
But if you'd prefer a good old fashioned plunge into the ocean, aim for a swimming hole instead. Here are just a few:
Insider Tip: If you go to one of the spots in Dublin Bay, head to nearby Scrumdiddly's for some seriously good ice cream after your dip!
34. Walk (or bike!) the Gap of Dunloe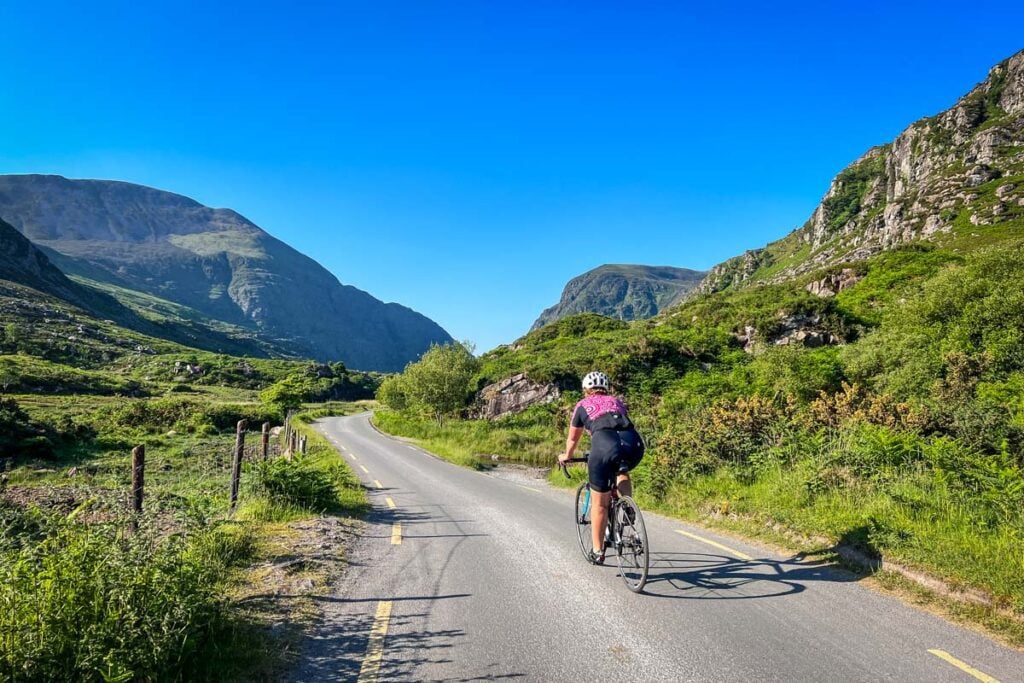 The Gap of Dunloe is a U-shaped valley situated between two mountain ranges just outside of Killarney.
Within the Gap of Dunloe, there are 5 glacial lakes connected by the River Loe, and seriously stunning views.
This is one of the most popular stops on the Ring of Kerry, and rightly so – it is drop-dead gorgeous.
While it can get crowded throughout the day, if you get there early, you'll be rewarded by having it mostly to yourself. Starting your day at the Gap of Dunloe is one of the best things you can do in Killarney.
How to visit the Gap of Dunloe
You can join a guided tour (like this one), or you can visit on your own. But if you're visiting independently, there are some tips and warnings you'll definitely want to read up on. We have an entire guide packed with everything you need to know about how to visit the Gap of Dunloe.
35. Shoot down a giant slide at Beyond the Trees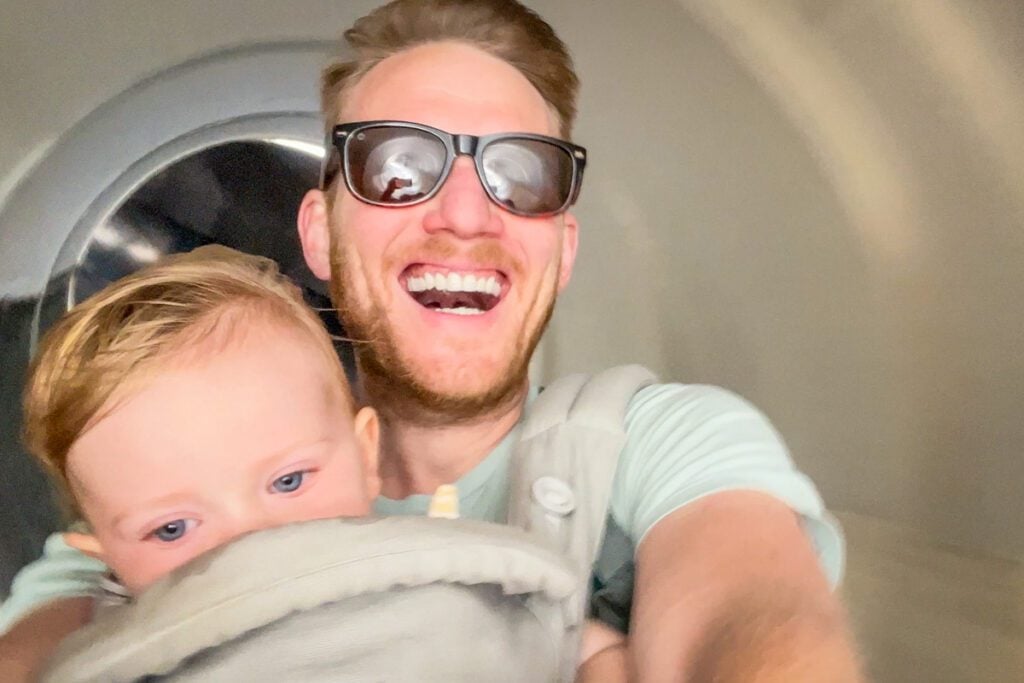 Not far from the Wicklow Mountains, Beyond the Trees Avondale is a really cool installation featuring boardwalks that snake through the forest.
Eventually, the walkway loops around into an upward spiral that you can easily walk (it feels like there's no incline). At the top is a viewing tower that is 125 feet (38 meters) from the ground, and offers 360º views of the surrounding forest.
Once at the top, you can sit on a mat and slide all the way down on what is likely the longest slide you've ever been on.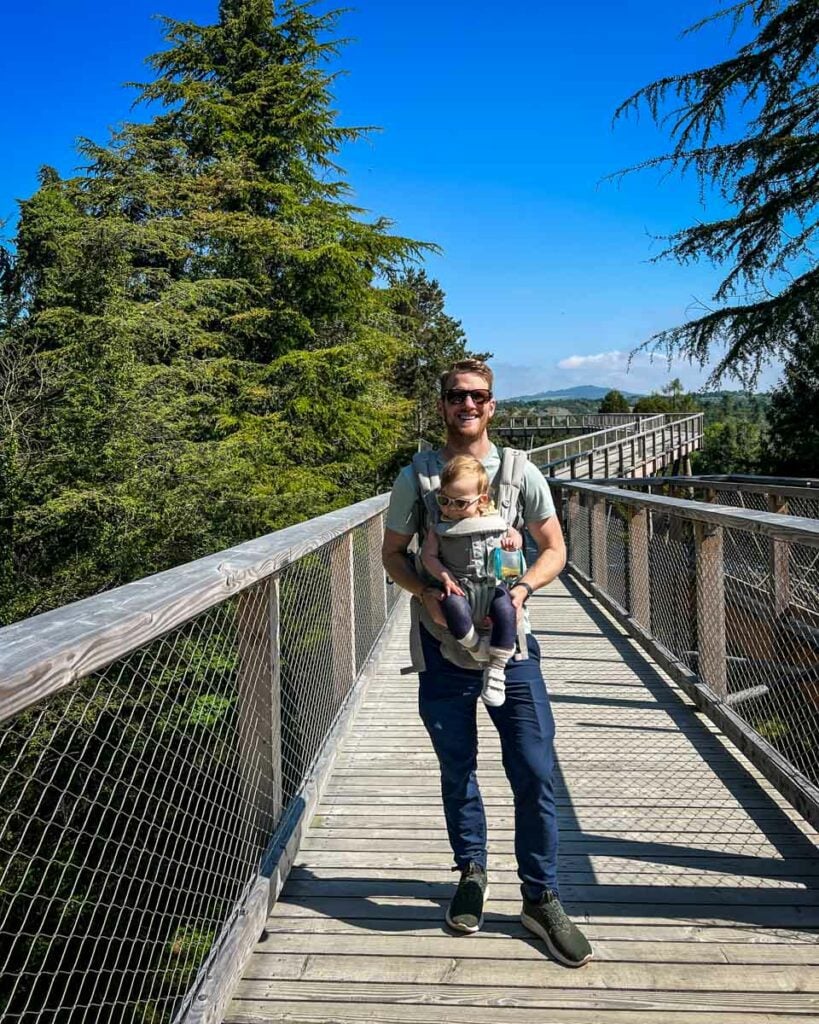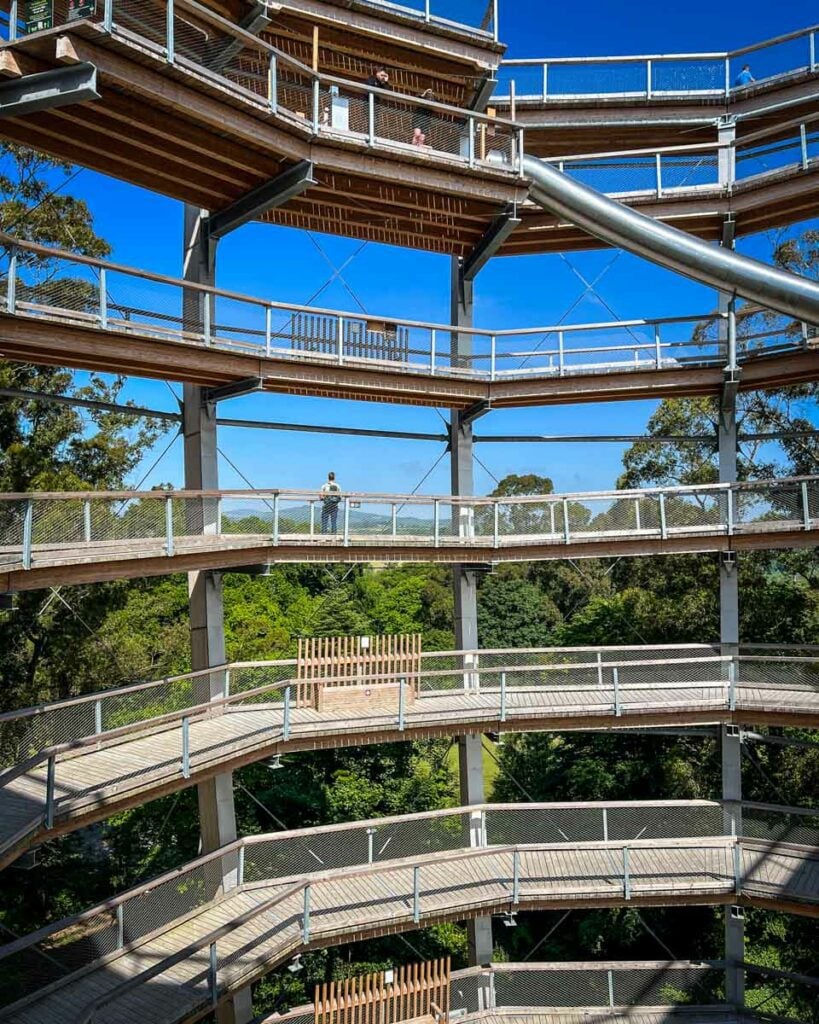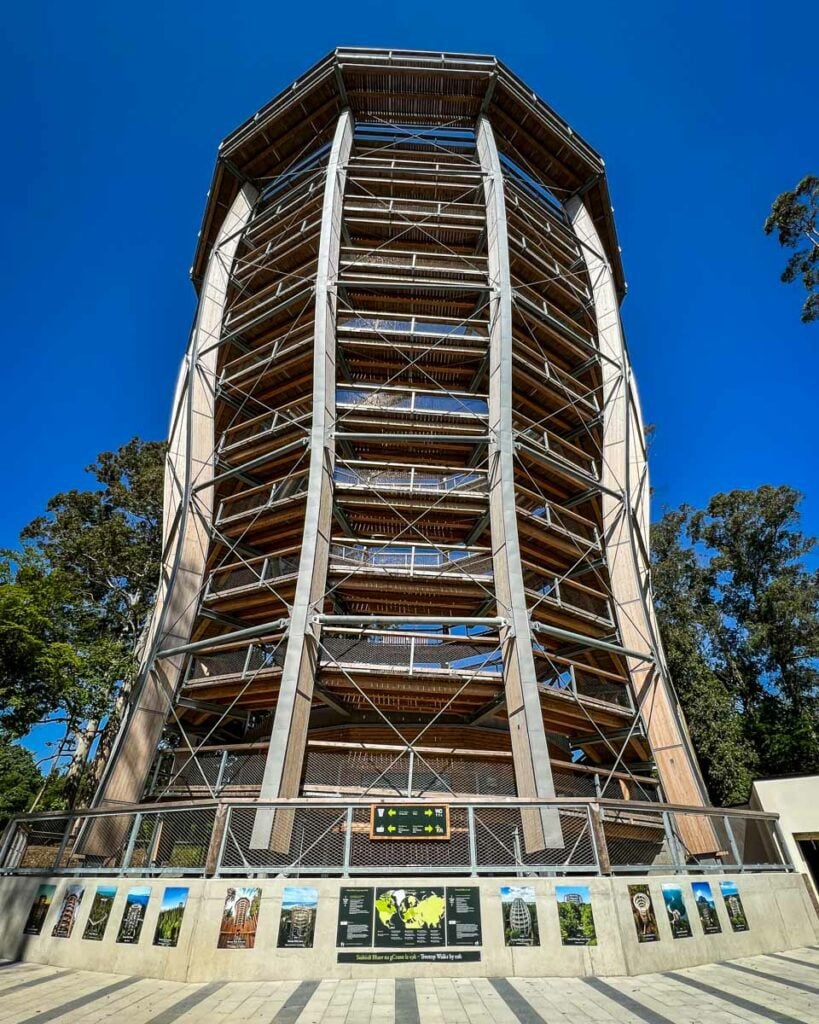 It's as much fun for adults as it is for kids – I speak from experience!
Price: €15 per adult, €12 per child (4-17)
Parking: €5 per vehicle
Book tickets in advance for weekends in the summer
Good to know: One of the missions of Beyond the Trees is to make the outdoors more accessible to people of all abilities. The boardwalk is entirely accessible by wheelchair.
36. See a sheep herding demonstration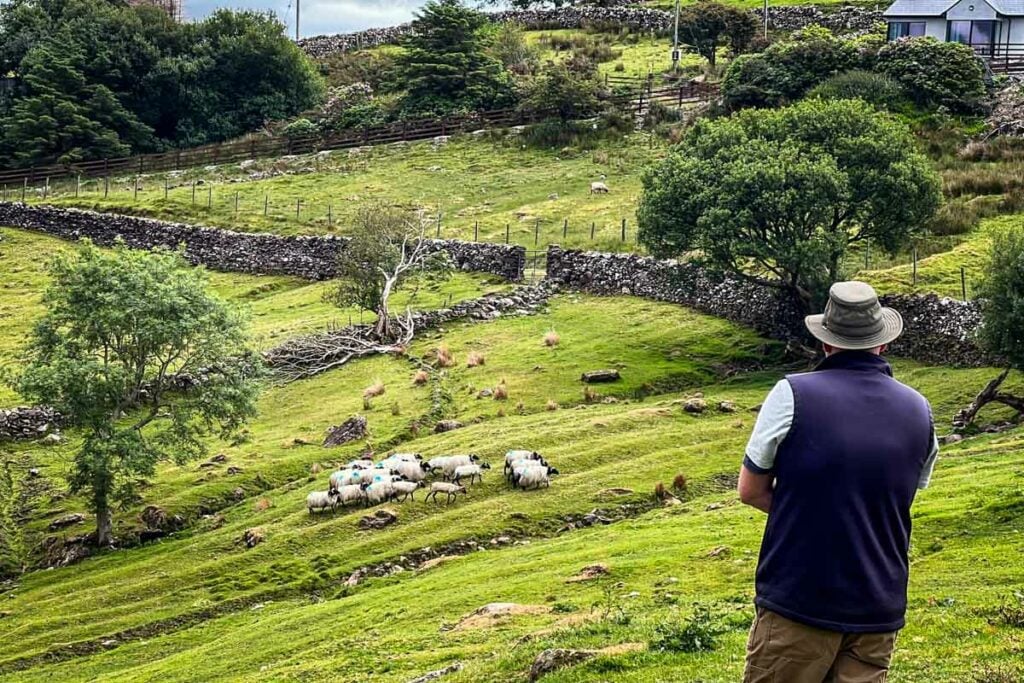 There are several farms around Ireland that have sheepdog demonstrations, making it a fun activity to add to your route wherever it fits.
While individual tours may vary, here's an idea of what you can expect:
Watch a sheepdog herd sheep into a corral (a really fascinating experience).
Watch a farmer shear a sheep – on some tours, you may even get to try it yourself.
Hold and bottle feed baby sheep.
Here are some of the farms we'd suggest looking at:
Fun fact: Ever wonder why the sheep you see have colored paint on their backs? This is to indicate which farmer they belong to (similar to branding cattle). Most sheep in Ireland are allowed to roam freely, and the color and shape of the paint is unique to each farmer.
37. Explore the ancient Glendalough Monastic site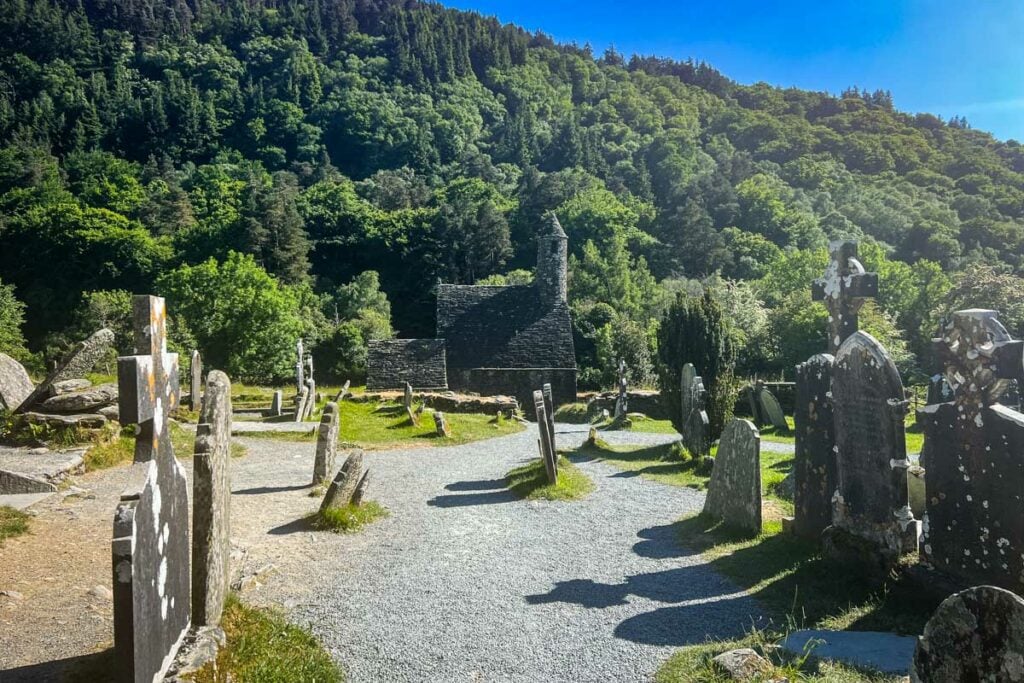 Nestled in the scenic Glendalough Valley against a backdrop of lush greenery and serene lakes is a collection of well-preserved ruins from the 6th century.
The round tower, churches, cathedral, and various other structures of the Glendalough Monastic site provide insights into early Christian life.
Insider Tip: While you're there, make sure to walk down to Glendalough Lower Lake. You can also begin many hikes from this area.
38. Buy an Irish souvenir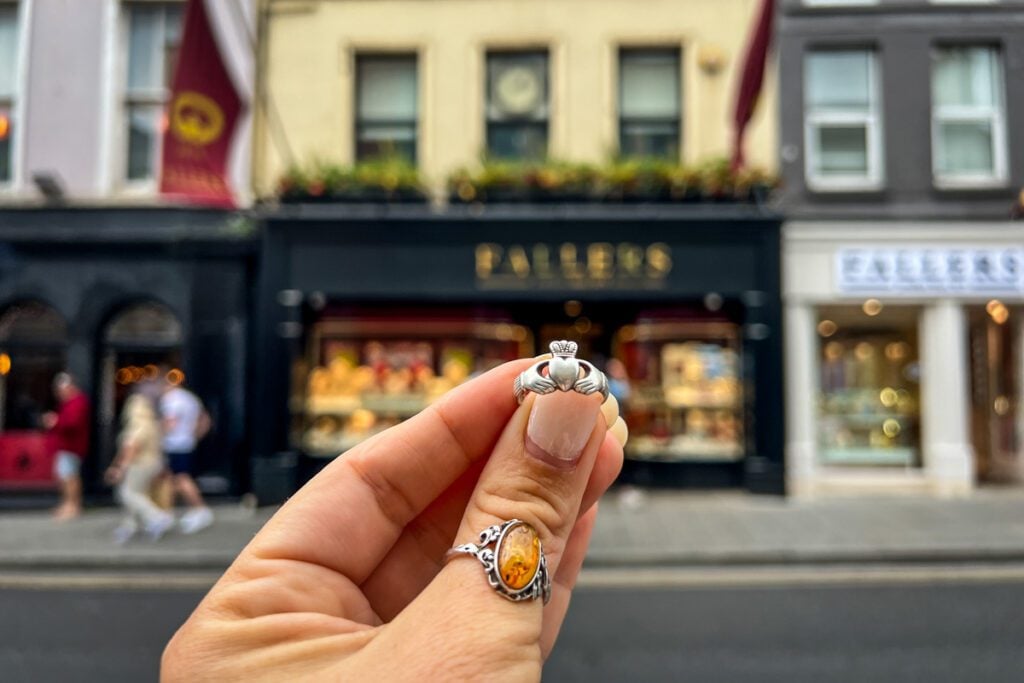 Get something to remember your Ireland trip by.
While you can certainly choose from souvenir classics like magnets, keychains, and shot glasses, we personally prefer getting things that we can actually use or pieces of art on our travels.
This way our home is filled with things that are useful but also have memories instead of just a pile of stuff.
And there are so many great souvenir options in Ireland. Here are some of our favorites:
Claddagh ring: Ben bought me one of these after our first trip to Ireland. It's not a cheap souvenir, but I've been wearing it for more than a decade now!
Art: On this trip, we bought a ceramic wall hanging from the farmers market in Galway, and I love it. There's a sweet little scene of an Irish seaside town on it, and it reminds me of our time there.
Wool sweater: If you love wool, there are few better places to buy a sweater or mittens (or anything, really!) than in Ireland. The Aran Islands are known for their famed wool sweaters that are knit by the islanders.
Irish whiskey: After touring a distillery, it'll give you a new appreciation for whiskey. We love buying a bottle to enjoy on the rest of our trip or to bring home with us.
---
How many days do you need in Ireland?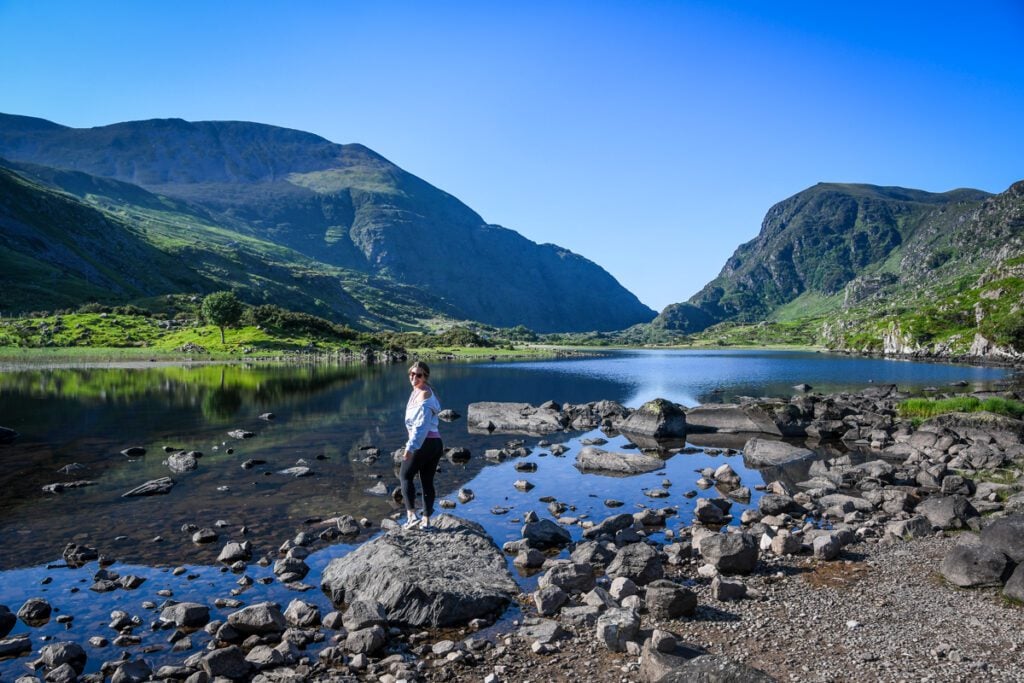 In order to get a good taste of all that Ireland has to offer, we'd suggest spending a minimum of one week in Ireland. If you happen to have more time than that, great!
There is so much to see and do in this country you could spend a lot longer here if you have the time!
We think 2 weeks is the perfect amount of time to soak up plenty of the highlights and get to know the country a bit better.
Trying to decide whether to visit Ireland or Scotland? You're not alone! We've done both, and we have a whole guide where we compare the two and give our personal recommendation on the Scotland vs. Ireland debate.
Ireland itinerary
We've put together the ultimate 2-week Ireland road trip itinerary for your first visit. This itinerary includes day-by-day instructions, photos and tips that will help you plan your road trip through Ireland.

Best time to visit Ireland
In general you'll have the best weather and opportunities for outdoor adventures during shoulder season, either mid-April to May or September to October. These months offer plenty of daylight hours and mild temperatures, but without the crowds and price hikes of peak tourist season (summer).
However, the dark, rainy winters can be cozy as heck and the summer months guarantee that even seasonal attractions and Airbnbs will be open. So, the best time to visit largely depends on what you want to see and do.
For an in-depth guide on the regional weather patterns and other factors, check out our complete guide to the best time to visit Ireland.
How to get around Ireland
There aren't many options for public transportation in Ireland, outside of Dublin. For this reason, we'd highly recommend renting your own vehicle to explore more of the country at your own pace.
By car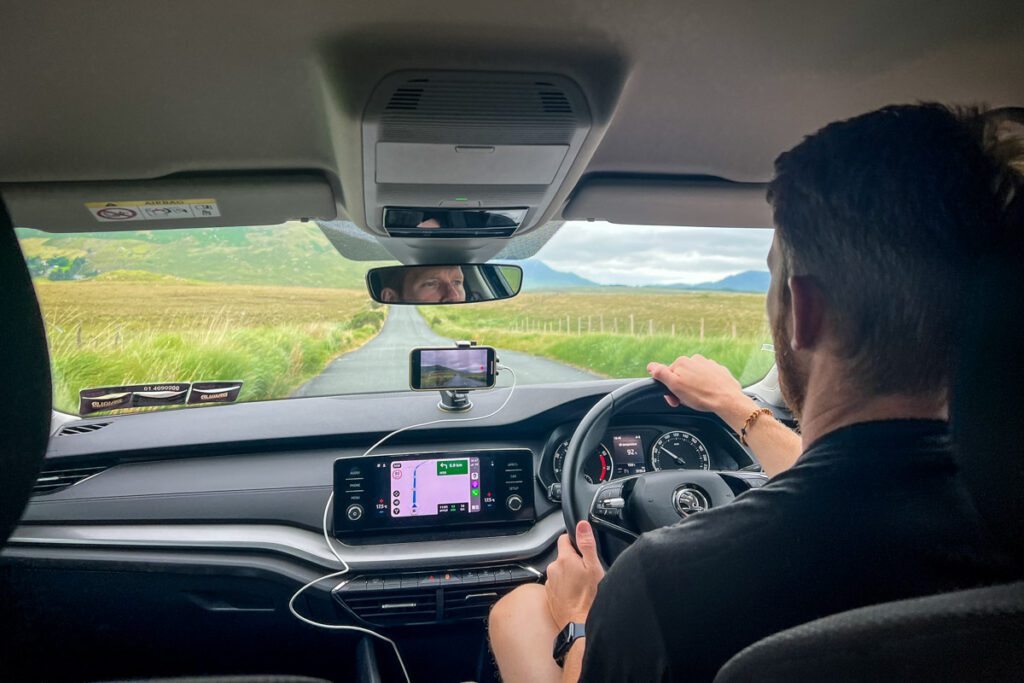 Renting a car will give you absolute freedom to explore Ireland at your own pace, stopping at hidden gems and cozy pubs that the tour buses miss.
The country isn't well-connected with public transportation, so in order to see more than Dublin (which you absolutely should, by the way!), you will need to take a tour bus.
Don't get me wrong, you can still have a great trip on a bus tour. However, we think you'll have an even better time self-driving (as long as you feel comfortable).
We're saying this from experience: We've done both the bus tour and the rental car route, and we much prefer the latter.
We personally like using Discover Cars when we rent vehicles around the world, as they gather options from all sorts of rental companies in one place. It makes it really easy to compare prices and vehicles so you can determine which is the best option for you.
Search & Compare Rental Car Prices
Discover Cars: We personally use this aggregate site to compare rental car prices from all the big name companies and get the best price possible.
RentalCars.com: We've had good experiences finding rental cars with this site in the past.
By campervan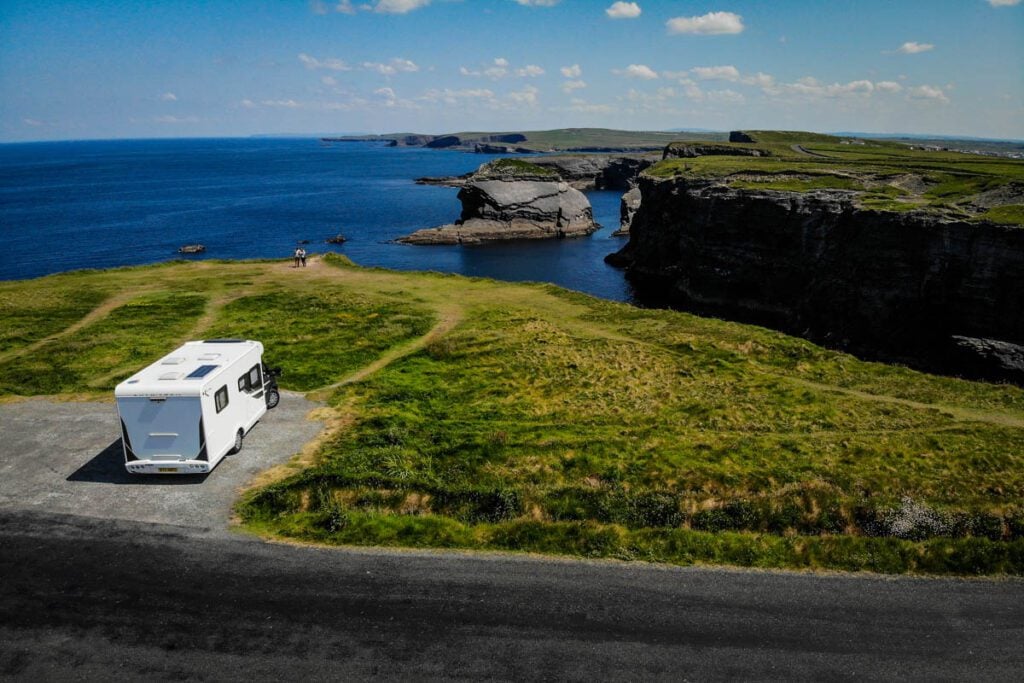 Exploring Ireland in a campervan was a dream trip of ours for many years. When we finally made it happen, I can honestly say it lived up to our expectations in every possible way.
We think Ireland makes a great campervan destination because there are campgrounds throughout the country and it gives you the opportunity to explore a bit off the beaten path. You also have a kitchen and bed on wheels, so you'll likely save quite a bit of money.
If you want to know more about renting a campervan in Ireland, we've got all the info you need!
Bus tour of Ireland
On our first trip to Ireland, we booked a shuttle from Dublin to Galway, and from there were able to do a bus tour of the Cliffs of Moher and the surrounding countryside. We had a great trip, and if you're feeling really uneasy about driving, go for it.
Here's a really highly-rated tour from Dublin that hits many top sights.
Tips for visiting Ireland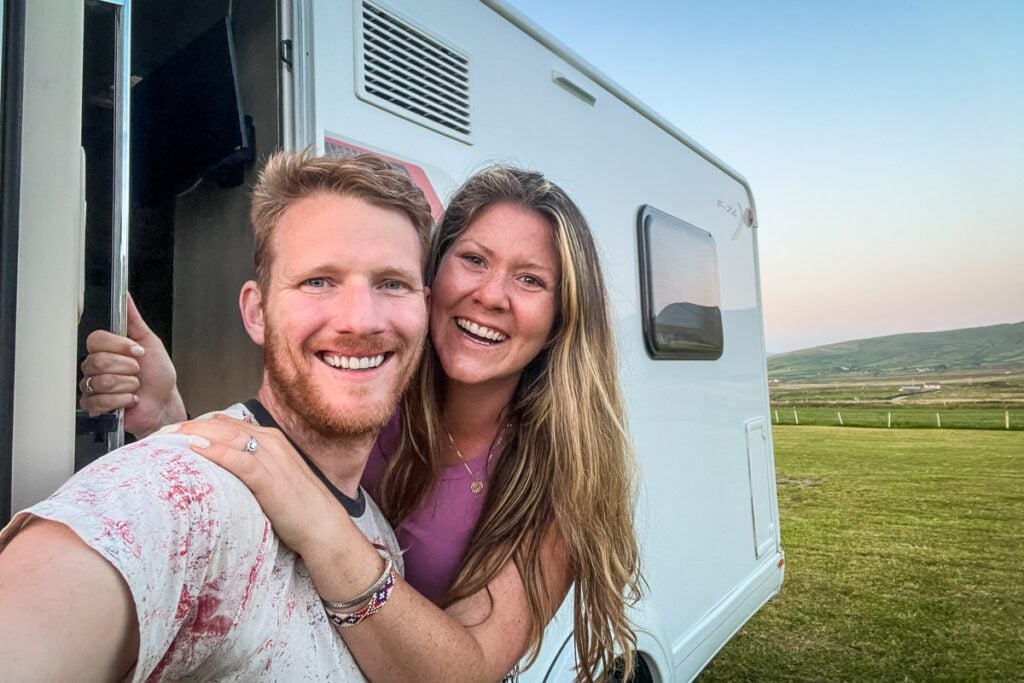 If you're planning a trip to Ireland, here are our top tips to make the most of your visit:
Embrace the weather. Ireland's weather can be unpredictable, so be prepared for rain and pack layers. A waterproof jacket and comfortable shoes for walking are essential. Don't let the rain deter you; it's part of the Irish experience.
Experience pub culture. Ireland is known for its vibrant pub culture. Take the time to visit local pubs for authentic cuisine, live music, and a chance to mingle with friendly locals. It's a great way to immerse yourself in the country's social scene.
Rent a car or campervan to explore. Renting your own vehicle is highly recommended in Ireland, as it allows you to explore the country at your own pace and venture off the beaten path.
Don't skip the countryside. While cities like Dublin and Cork are big draws, Ireland's true charm lies in its stunning countryside. Exploring the scenic landscapes along the Wild Atlantic Way or the Ring of Kerry is a must-do for a more intimate Irish experience.
Respect historical sites. Ireland is rich in history and ancient ruins. When visiting historical sites, such as castles, abbeys, and monuments, be sure to respect the environment by not littering, sticking to designated paths, and following any posted rules and regulations.
Connect with locals. Irish people are known for their warmth and hospitality. Strike up conversations with locals – you'll likely get great recommendations for hidden gems, and it's a chance to learn more about Irish culture and traditions.
What to pack for traveling to Ireland
We know it can be overwhelming packing for a trip to a new destination. That's why we spent hours creating this super helpful PDF just for you.
In this free Ireland packing list PDF download, we've provided packing checklists for everything from clothing and toiletries (for both women and men!) to electronics and extra gear you may consider packing if you plan to do some campervan travels.
Plus, we're sharing tons of packing hacks and tips for traveling in Ireland that you won't find anywhere else!

Best thing to do in Ireland round up
Here's all our top things to do in Ireland in one handy place!
Dingle Peninsula
Eat fresh seafood
Live music in a pub
Unique Airbnb stay
Cliffs of Moher
Lesser-known cliffs
Irish food tour
Wild Atlantic Way
Seaweed bath
Ireland camping trip
Ring of Kerry
Killarney National Park
Rock of Cashel
Blarney Castle
Aran Islands
Bake Irish soda bread
Black Taxi Tour
Titanic Museum
Giant's Causeway
Antrim Coast
Go hiking
Glamping
Caves of Keash
Wicklow Mountains National Park
Wander Kinsale
Toast with an Irish coffee
Spend the night in a castle
Zen out at this spa
Explore Dublin
Distillery tour
Powerscourt Waterfall
Go for a dip in the ocean
Gap of Dunloe
Beyond the Trees
Sheepdog demonstration
Glendalough
Buy an Irish souvenir
---
Are you planning a trip to Ireland?
We're creating lots of resources for travel in Ireland and destinations throughout the country. Check out our Ireland Travel Homepage for everything you need to know, or read some of our favorite articles below.
Save this article on Pinterest for later!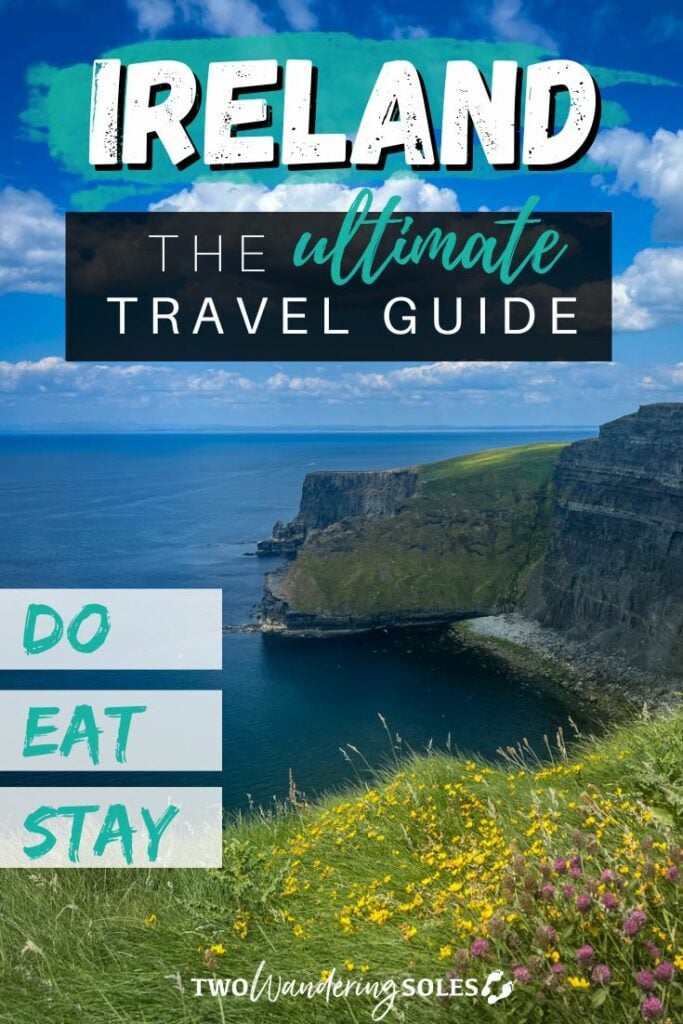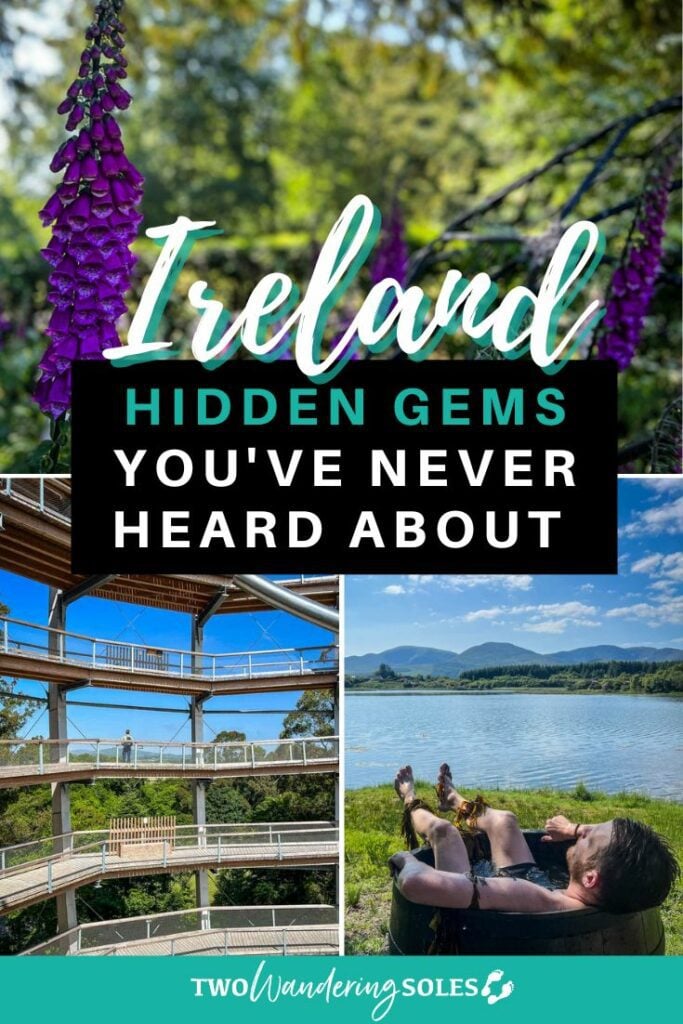 We want to hear from you!
Which of these things to do in Ireland is going to the top of your bucket list? Do you have any questions or recommendations for us? Leave your comments below and we'll try our best to bet back to you!