As Ireland's cultural hub, Galway is a lively city of festivals, art, music, and top-notch restaurants. In this guide, you'll find details on all the best things to do in Galway, along with can't-miss day trips in the surrounding area.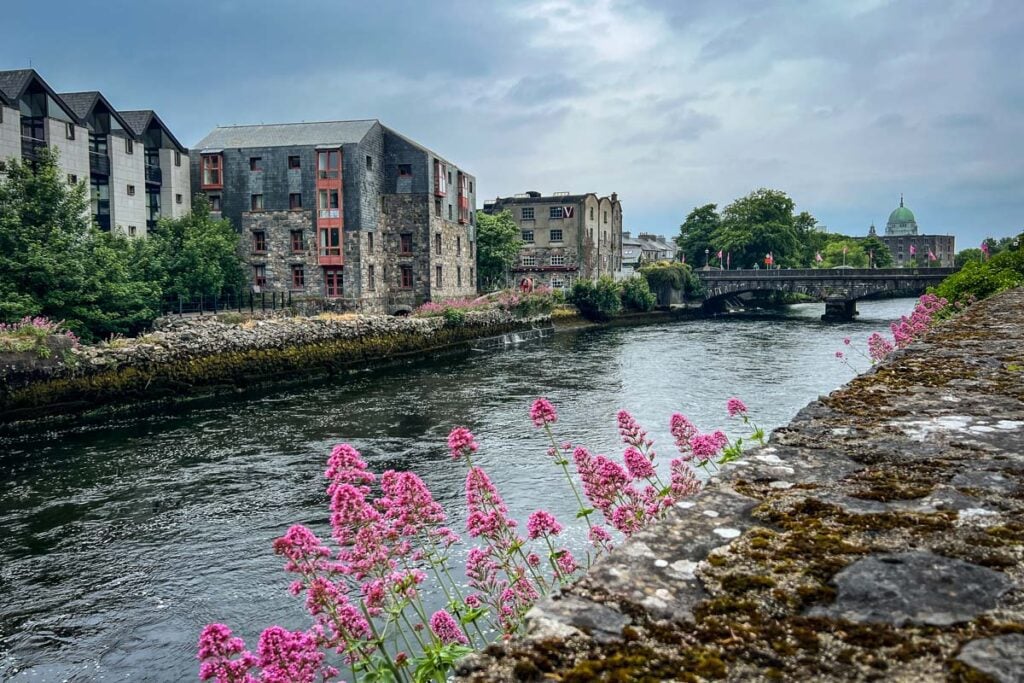 With an excellent foodie scene, cute shops, plenty of live music, and a buzzy vibe, there are many fun things to do in Galway, making it a must on your Ireland itinerary!
On our very first trip to Ireland (way back in 2009!) we fell in love with Galway and have been itching to get back ever since.
Just about everyone we talk to who has been to Ireland also raves about this west coast city. So when we returned more than a decade later, my expectations were high.
Did it live up to what I remembered?
In short: Yes.
While bigger and busier than I remember, I still think Galway is pretty dang charming and is one of the best places to visit in Ireland.
In this article, we're sharing the very best things to do in Galway City (including some unique activities and hidden gems) as well as some incredible day trips in the area – there are lots! We're also rounding up the best places to eat and some seriously dreamy places to stay.
You'll find everything you need to know to have an amazing time in Galway.
Galway travel guide
---
Best things to do in Galway
If you're looking for the top things to do in Galway, here ya go:
Buy souvenirs at the Saturday Market
Cheers with cocktails at the Galway Distillery
Wander the Latin Quarter
Indulge in a cozy dinner at Ard Bia at Nimmos
Enjoy live music in a pub
Stay in a unique Airbnb
Distill your own gin
Keep reading for more detailed information on each of these, plus more fun things to do in Galway City as well as some unforgettable day trips!
Psst! Don't miss these tips and mistakes to avoid while planning your trip to Ireland! (You'll thank us later!)
1. Buy souvenirs at the weekend farmers market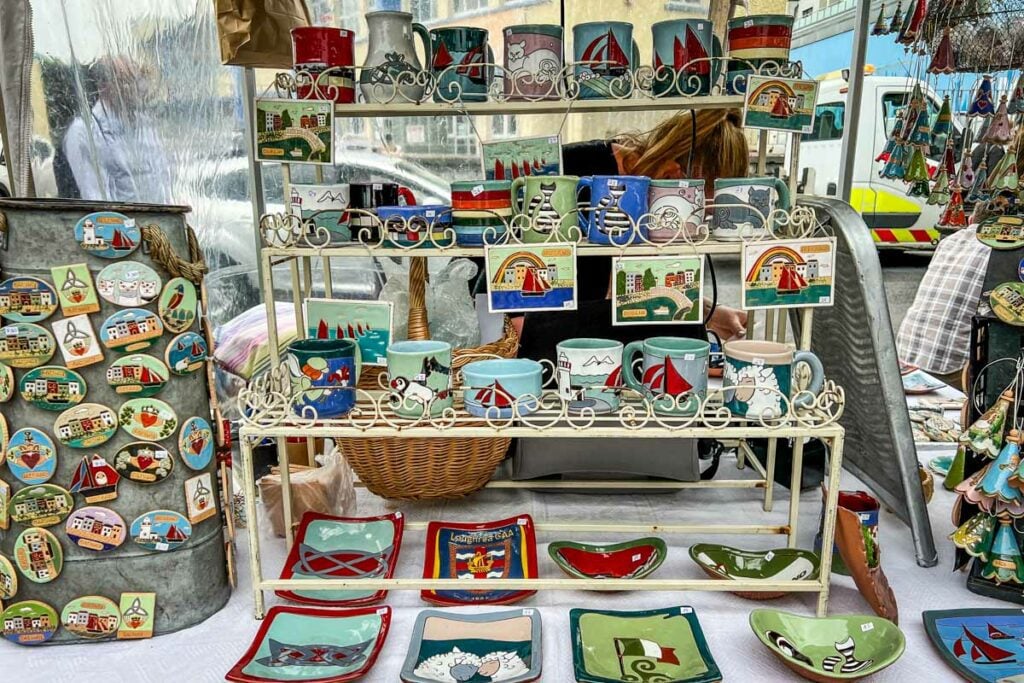 If you're in Galway on the weekend, don't miss the impressive farmers market.
Vendors selling everything from handmade pottery to hand-cured salami to artisan liqueurs to locally-grown produce take over the streets near St. Nicholas Church.
Whether you're shopping for souvenirs (I got a beautiful ceramic wall hanging here), selecting fixings for a fancy picnic, or just looking for a food vendor for a quick bite to eat, you'll find it here.
Saturdays: 8 a.m. – 6 p.m.
Sundays: 12 p.m. – 6 p.m.
---
Want to save time and energy on planning?
In June 2023, we spent 2 weeks traveling around Ireland and living in a campervan. We were lucky enough to explore a lot of what this country has to offer!
We took our 2-week travels and are in the process of creating the perfect Ireland road trip itinerary. We'll send you our complete 2-week itinerary, filled with tips and advice, once it's finalized! Just click below to get on the waitlist for our 2-week Irleand road trip itinerary!

---
2. Cheers with cocktails at the Galway City Distillery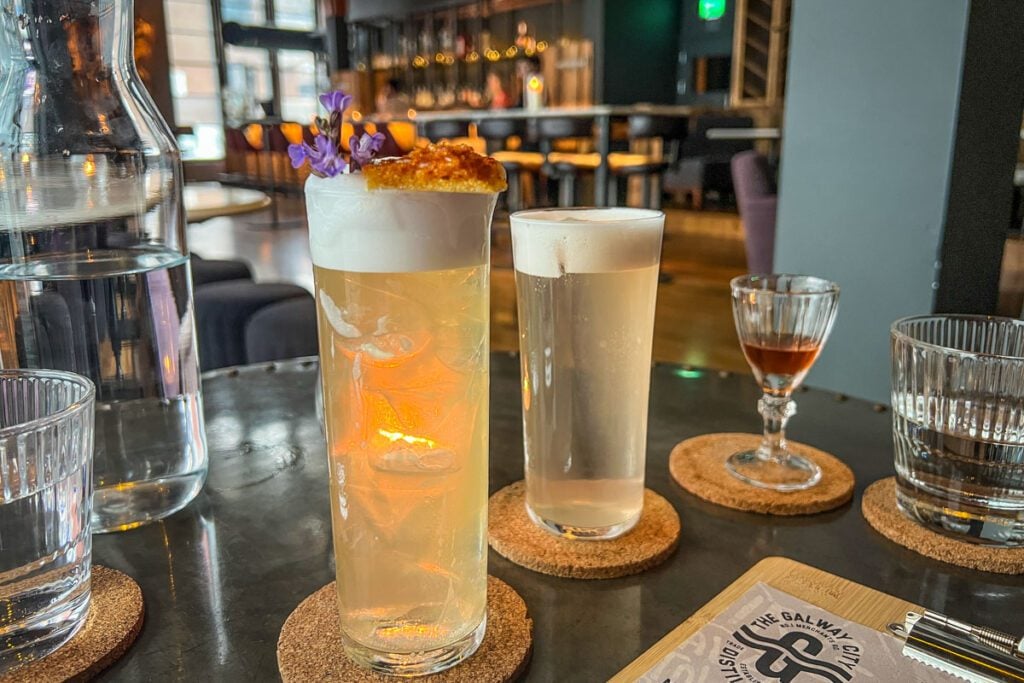 If you are a cocktail fiend, you'll want to pencil in some time at the Galway City Distillery. Trust me.
Located in the heart of Galway, both the space and the cocktail menu are stunning.
Just one glimpse at the menu and you'll see unique flavors that are just too intriguing to pass by, like rhubarb foam, beetroot shrub, goat cheese gin, honeycomb, and woodland bitters… just to name a few.
Oh, and the beautifully-curated cocktail menu highlights locally-sourced, traditionally Irish ingredients, and changes with the lunar cycle. And the cocktail names are Gaeilge (a.k.a. the traditional Irish language). Are you as obsessed as I am?
Order whatever strikes your fancy – choose from cocktails featuring gin, vodka, whiskey, rum, and poitín (Irish moonshine).
If you want a recommendation, we particularly loved these cocktails (recommended by the bartender):
Deatach: a spin on an old fashioned made with whiskey, smoked birch bark, coffee liqueur, and woodland bitters.
Féilire: a take on an espresso martini, featuring poitín, cold brew, stout, cream, and blackberry.
Good to know: They also offer zero alcohol mocktails if you want to sip without booze.
Book a table so you're not disappointed (they do fill up).
P.S. If you really love gin, you're going to love #7 on this list…
3. Wander the Latin Quarter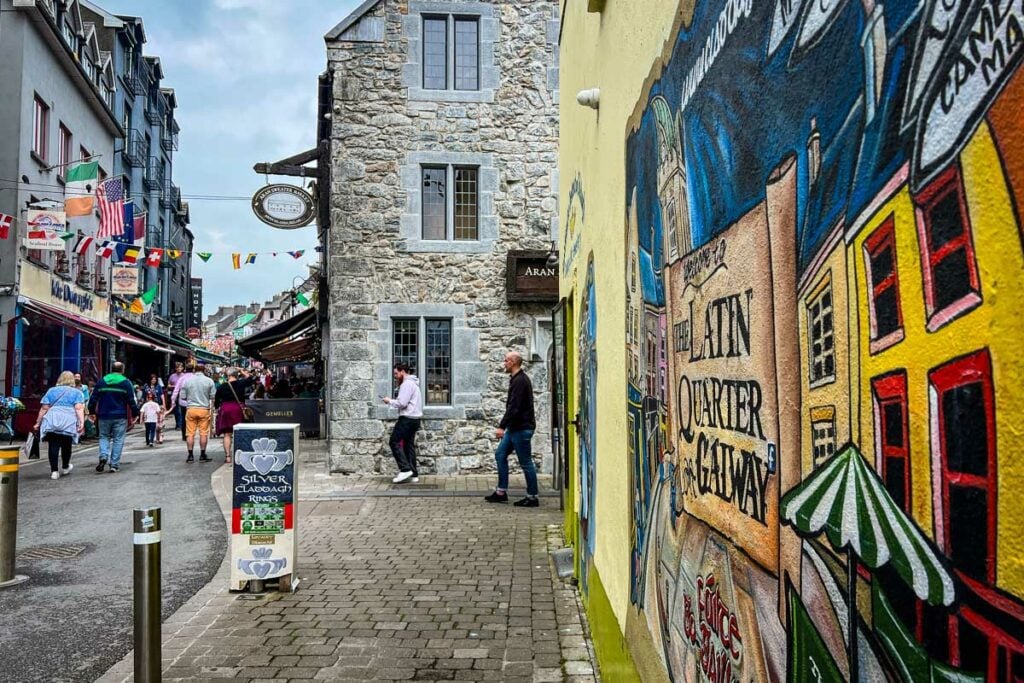 Step into Galway's Latin Quarter and immerse yourself in its lively atmosphere.
With famed High Street and Quay Street (pronounced "key") at its center, this bustling neighborhood is a hub of vibrant energy, with colorful streets filled with music, art, and bustling shops.
Discover the traditional pubs, street performers, and delightful eateries that make this Galway's ultimate hotspot for nightlife, dining, and people-watching.
4. Indulge in a cozy dinner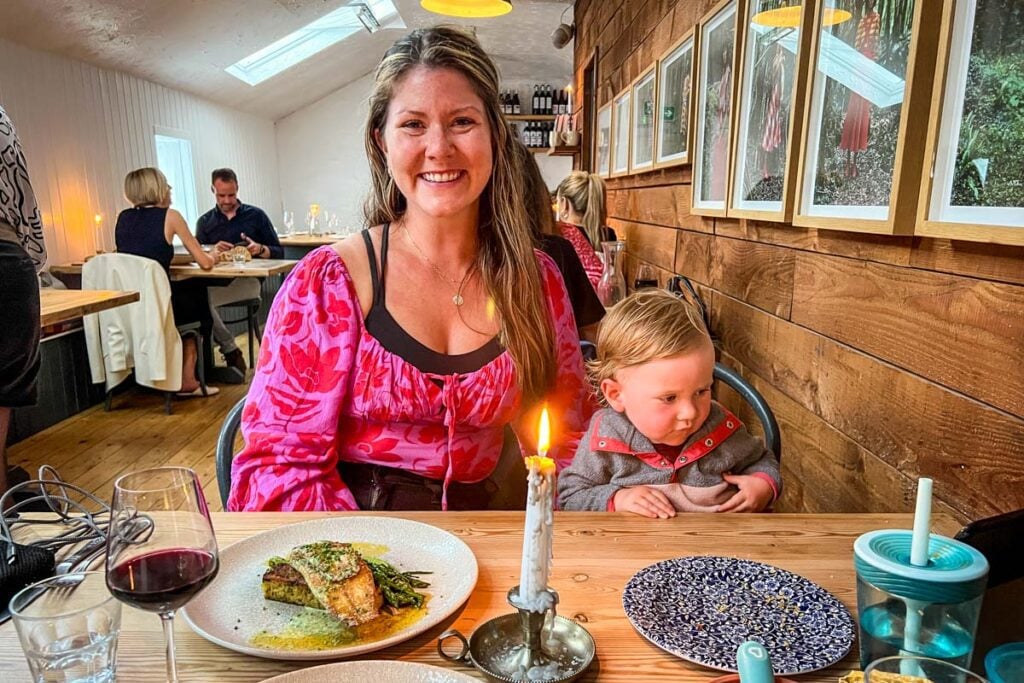 Galway has no shortage of incredible restaurants. If you're a foodie and have the budget, we'd recommend planning at least one nice dinner in the city.
Below are just a few recommendations that are nearly guaranteed to be wonderful. Just be sure to make reservations!
5. Enjoy live music at a pub
One of the very best things to do in Galway is to pop into a pub – any pub! – to enjoy live music. Walk down the city streets and let your ears guide you.
If you want a recommendation, head to Monroe's Tavern for traditional Irish music. We have fond memories of sipping a pint (or two!) of Guinness, listening to Irish folk music, and trying to understand what a (very drunk) local man was saying as he struck up an hour-long conversation with us.
Memories like this will surely be some of your favorites on your trip to Ireland.
6. Stay in a unique Airbnb
We have a thing for unique Airbnbs. We've stayed in Airbnbs all over the world – from a glamping dome in the Yucatan jungle to a farm stay in the French countryside – and it's become one of our favorite things to do on our travels.
We have a whole guide on how to find the best Airbnbs in any destination, but here are our top recommendations for visiting Galway:
Airbnbs in Galway City & suburbs
Airbnbs outside the city
If you plan on renting a car, check out these nearby Airbnbs:
7. Distill your own gin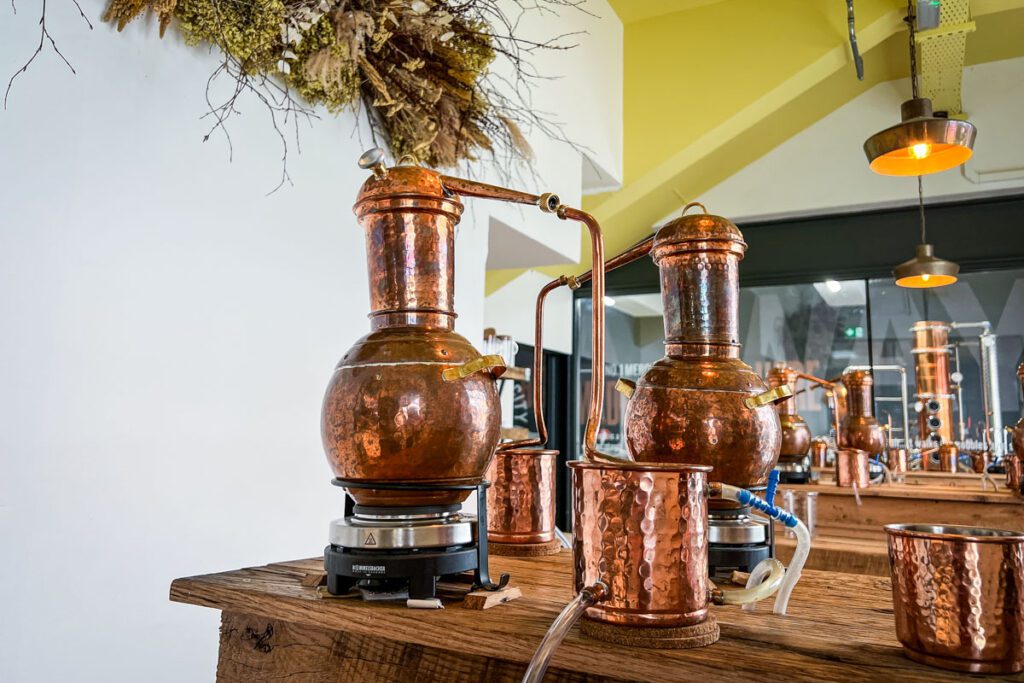 Fancy yourself a gin enthusiast? If so, listen up because this is one of the most unique things you can do in Galway…
The Galway City Distillery (see #2 for more info) welcomes guests to distill their own gin in what they call Flavor Academy.
This is a once-in-a-lifetime experience and probably the coolest souvenir you can bring back from Ireland.
Here's what to expect on a tour:
When you arrive at the Galway City Distillery, you'll be greeted with a botanical cocktail before going on a tour of the distillery facility. You'll then learn the basics of how to build the flavor of gin and will create your own recipe using seasonally-foraged ingredients.
Your concoction is put in the pot-still while you enjoy a G&T and wait for your gin to distill. The last steps are to mix your gin with water, bottle it, and seal it to take home with you.
Flavor Academy
€100 (~$107 USD) per person
Thursday – Sunday
8. Eat one of the world's best pizzas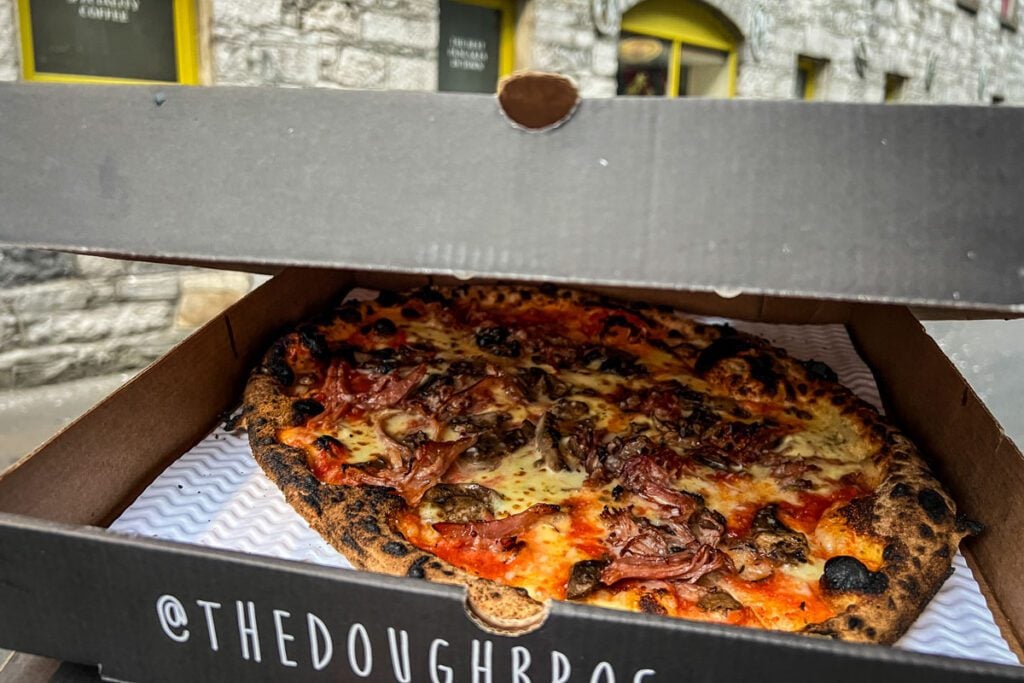 If you're a pizza fanatic, you can't miss The Dough Bros while in Galway.
This casual pizza joint serves excellent woodfired pizzas with unique topping combinations. Oh, and there's a decent selection of craft beer. Need I say more?
Okay, I will…
Ranked as the best pizza place in Ireland, the 16th best in Europe, and #37 in the world, I think that should convince you to march yo' booty over here to taste the 'za for yourself.
Bonus: Unlike a lot of other restaurants in Galway, reservations are not needed (hallelujah!).
Our experience: Both the "Can't Banh Mi Love" and the "Proper Ham & Mushroom" (with truffle oil!) were fantastic. We've heard the crust dips are worth the extra €2.
9. See the Spanish Arch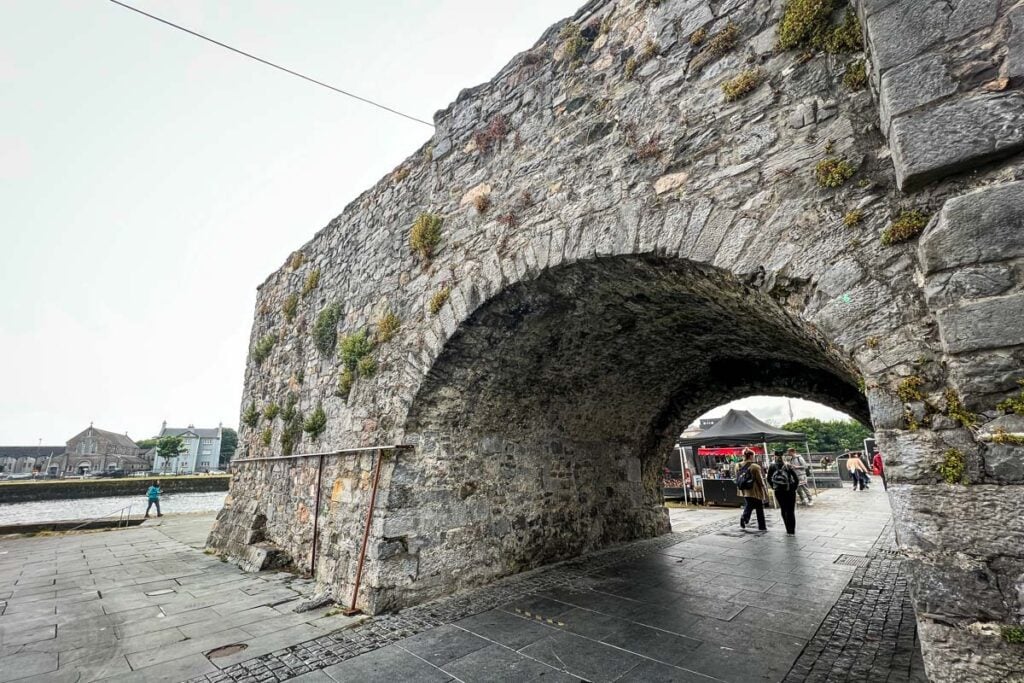 Not gonna lie – I thought the iconic Galway Spanish Arch was a little underwhelming. There, I said it.
The Spanish Arch is on all the lists of "things to do in Galway", so I guess I thought there'd be more to it. But it's really just an archway that you walk through. Built in 1584, there's no arguing it is a piece of history and a city landmark.
It is right on the bank of the River Corrib in an area you'll likely be wandering anyway. So check it out while you're there, but you don't need much more time than a couple of minutes to see it.
Psst! If you're a foodie, read #4 for the perfect dinner spot, located just beside the arch.
Spanish Arch Google Maps location
Are you a history nerd? Until 2006, the Galway City Museum was housed in part of the arch. The museum (which you can visit for free!) is now located just behind the Spanish Arch.
10. Hunt for street art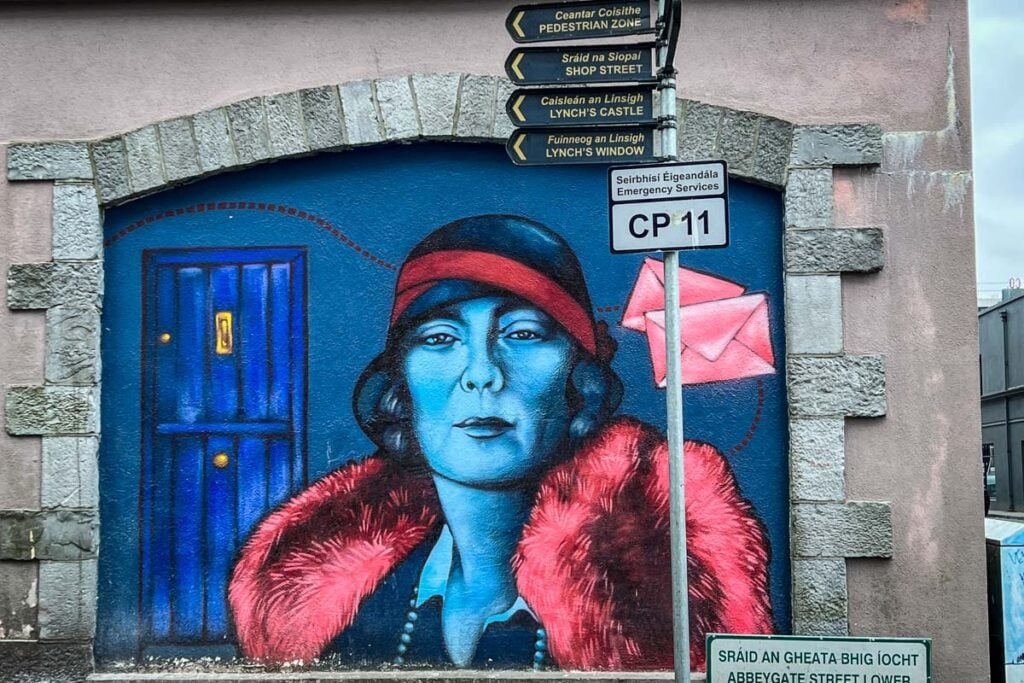 Keep your eyes peeled for the many colorful works of art that adorn Galway's streets.
You won't have to look far to see murals, but if you want some to hunt for, look for the cheerfully colorful splashes and splatters from an artist named Finbar McHugh.
We think his playful works brighten up even the dreariest of buildings. He has both murals on the street as well as commissioned pieces inside Galway restaurants.
11. Walk along Salthill Promenade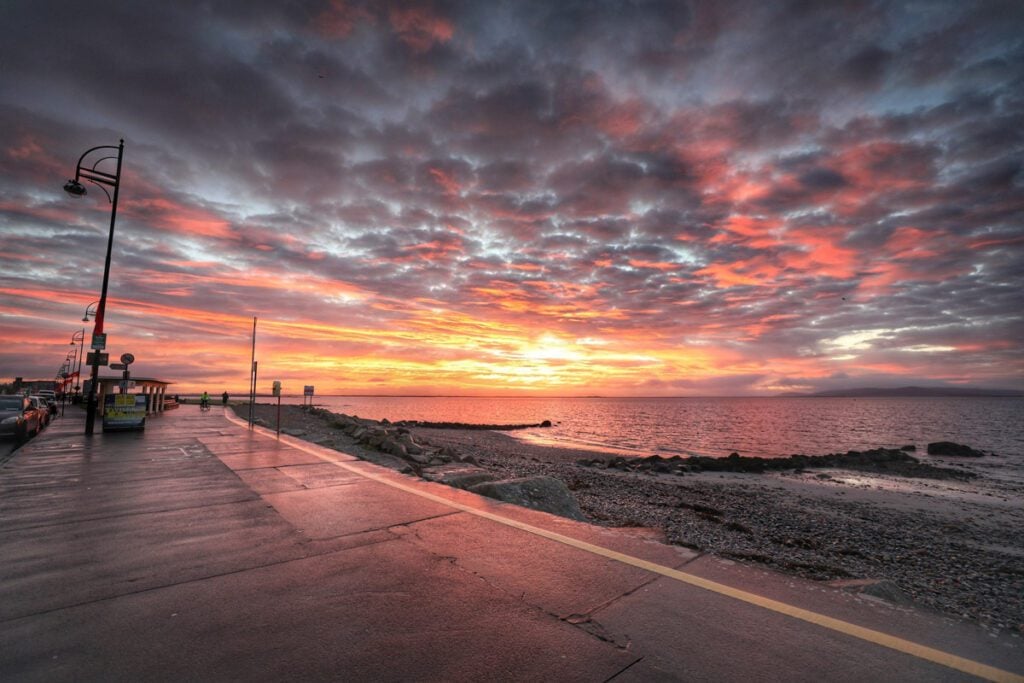 Just 3 km (~1.9 miles) west of Galway City, Salthill is a traditional destination for locals to take their seaside summer holiday, and its main attraction is the prom. (Nope, not a high school dance!)
Salthill Promenade is a leisurely walk that stretches from Claddagh Quay along the coast to the famous Blackrock diving tower, offering sweeping views of Galway Bay. On a clear day, you can even see the Aran Islands and the hills of the Burren across the water.
In the summer, you'll find the promenade crowded – and I mean crowded – with both tourists and locals walking, jogging, and rollerblading.
And before you turn back at Blackrock, don't forget to kick the wall – a longstanding tradition said to bring good luck.
View the trail notes for Salthill Promenade here.
12. Dine in a train carriage
Located on the grounds of the Glenlo Abbey Hotel, the Pullman Restaurant is one of the most unique dining experiences in Ireland.
Guests dine in one of two train cars that were both original carriages on the Orient Express.
This is a splurge meal, but according to most reviews, worth it!
You can choose a 2-course dinner for €70 (~$75 USD) or 3 courses for €85 (~$91 USD). Check out the menu and be sure to make reservations well in advance.
13. Buy a Claddagh ring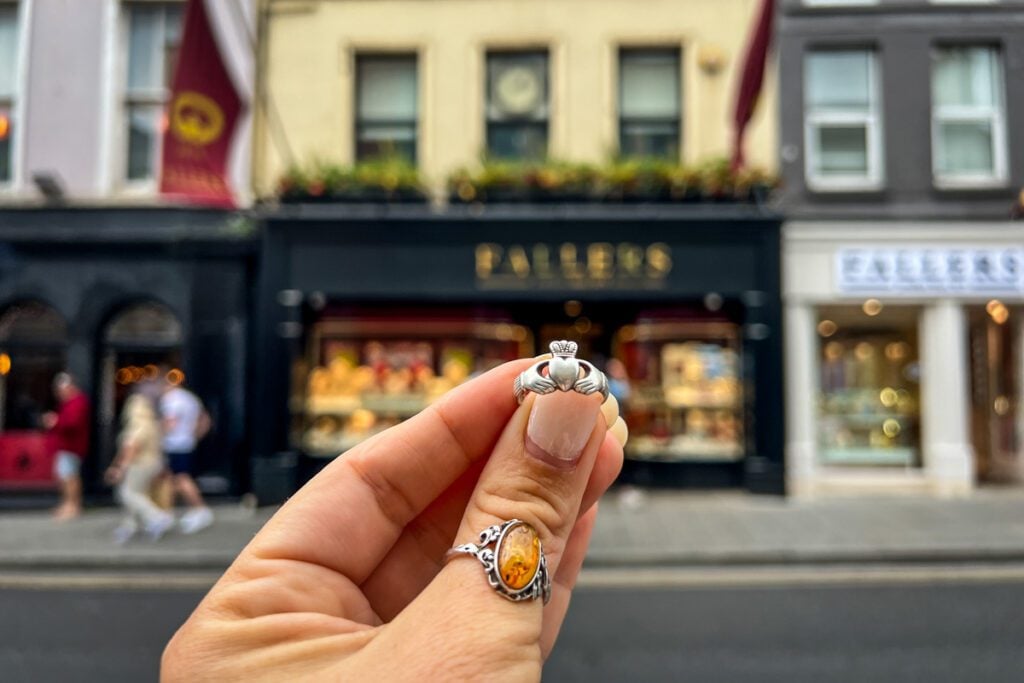 If you have Irish heritage or just love the culture, you may already know about this traditional Irish ring.
Two hands clasp a heart, atop which sits a crown. The symbols represent love, loyalty, and friendship.
Traditionally, Claddagh rings are given as a symbol of friendship or as an engagement or wedding ring. Wearing it on your left hand with the heart facing outward represents engagement, while turning the heart inwards signifies marriage.
If you'd like a Claddagh ring as a souvenir of your Ireland trip (or you want to buy it for someone special), there are plenty of great places to purchase one in Galway.
Fallers Jewellers: In business since 1879, this is where Ben got my Claddagh ring!
Thomas Dillons: Located in the heart of the city, this makes another excellent choice for buying a special piece of jewelry.
Fun story: Ben bought me a Claddagh ring back in 2010, after our first trip to Ireland. I still wear the ring to this day (on my right hand, which I realized isn't correct when writing this article, but oh well!). When we were in Ireland on our most recent trip, we stopped by the place where we purchased the ring more than a decade ago!
14. Bake scones in a local's home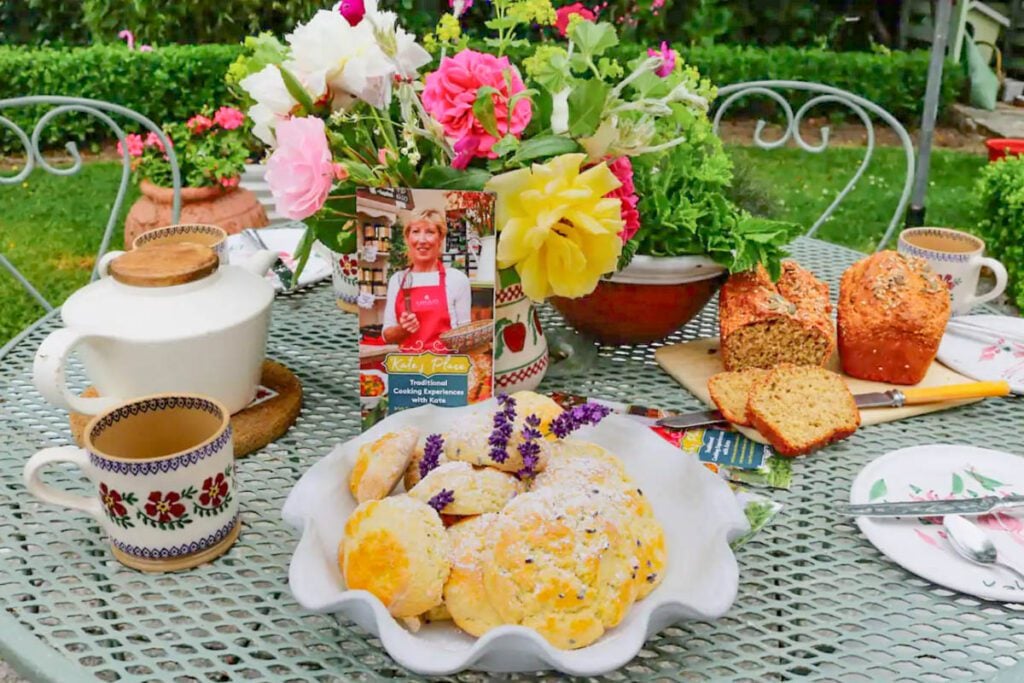 Join a Galway local inside her home and learn the secrets of baking bread and scones from scratch, with fun ingredients like lavender and berries.
This cooking class is one of the most unique things to do in Galway and is the perfect way to spend a rainy afternoon.
Here's what guests are saying:
"Kate was an amazing host. She was warm, welcoming, and made sure the whole experience was great – baking, eating, and opening her home and garden for picture-taking. I'd highly recommend to anyone considering!"

-Aimee, July 2023
15. Learn about the Magdalene Laundries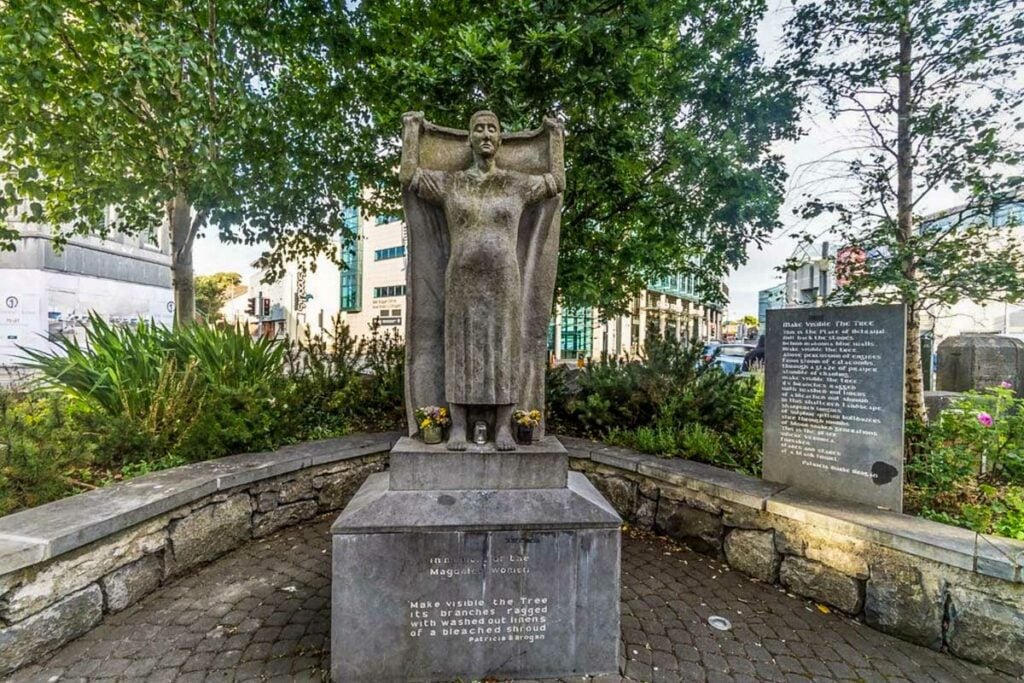 If you've never heard about the Magdalene Laundries (I hadn't either!), listen to this podcast episode for a chilling and fascinating account of this dark piece of Irish history.
There's no way I can adequately sum up this complicated topic; but in short, Magdalene Laundries were institutions around the country that were run by Roman Catholics from the 18th to the late 20th centuries. They operated under the guise of "reforming" at-risk women, but were actually a place where they were under lock and key and subjected to hard labor and abuse.
While in Galway, you can see the statue dedicated to these women.
16. Sample local cuisine on a food tour
We've been on dozens of food tours around the world and highly recommend making these a staple on your travels – no matter where in the world you might be.
You can learn so much about a place through its food.
The Galway Food Tour is a 2.5-hour culinary walking tour of the city where guests can sample farmhouse cheese, oysters & local fresh seafood, creative beer projects, artisan chocolates, and more.
Here's what guests are saying:
"Loved this experience so much! Our guide was so friendly, knowledgeable and helpful. A friend had recommended it to us and we were a little leery but decided to do it. Would do it again in a heartbeat! So many good stops and a variety of foods, drinks and sweets. Definitely a highlight of our ten-day trip. Do it!"

-Jennifer, May 2023
17. Cozy up in a cute coffee shop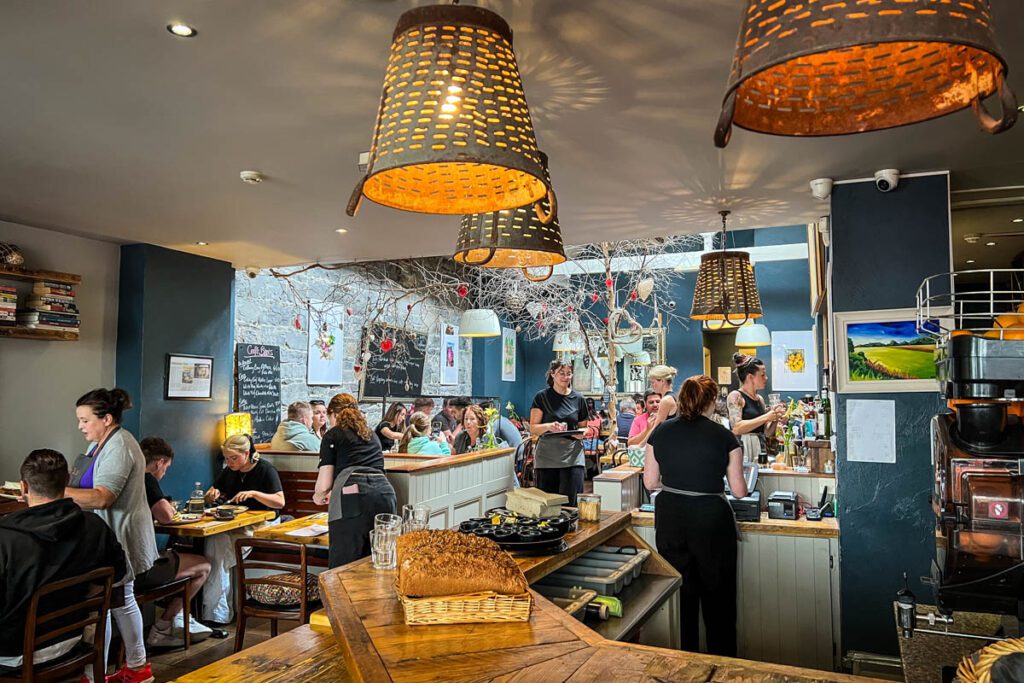 Galway's got a ton! Whether you're looking for a little morning pick-me-up before a day spent exploring or a place to cozy up with a book on a rainy day, you'll find a coffee shop to cure your cravings.
18. Learn about the town on a free walking tour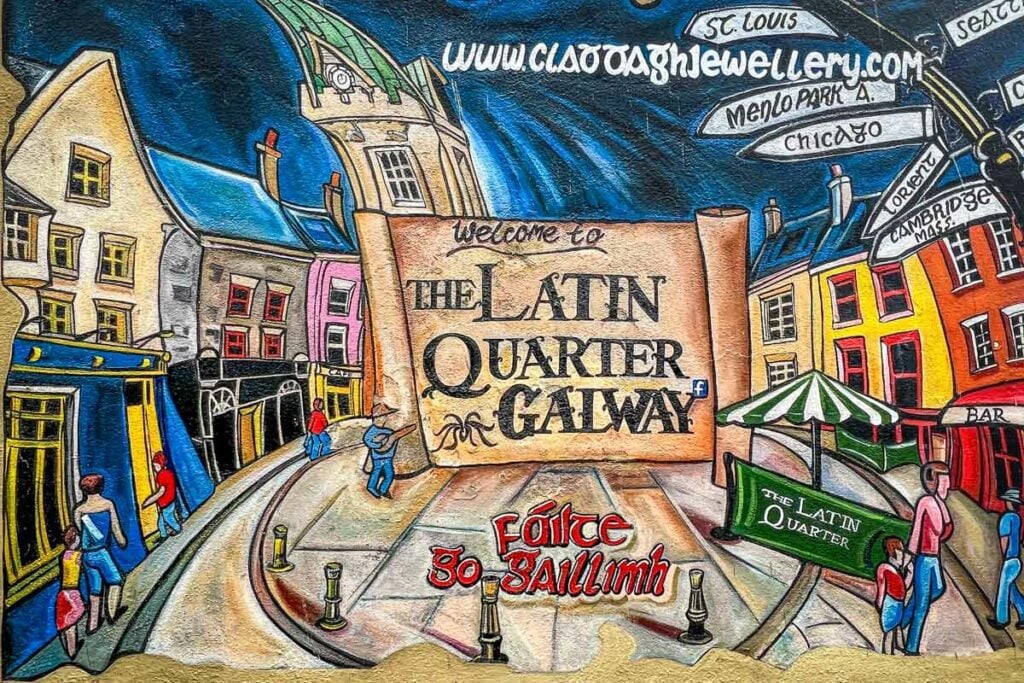 Instead of just wandering about Galway with no direction, join a free walking tour where you'll learn about local history, culture, and hidden gems from someone who calls the city home.
There are a few walking tours, but the most popular is led by Tribes Tours, and it is without a doubt one of the best free things to do in Galway.
Here are some of the sites you'll cover on your tour:
Eyre Square
Lynch's Castle
St. Nicholas church
Kirwan's Lane
Latin Quarter
Spanish Arch
Even though the tour is free, you're still expected to book your spot in advance and tip your guide.
19. Try to escape
We think escape rooms make an excellent indoor activity, which might come in handy if you encounter one of Ireland's famous drizzly days.
Choose from a variety of rooms, then work together with your travel partner(s) to solve clues in order to escape in your allotted 60-minute time slot.
Great Escape Rooms is conveniently-located downtown, making it one of the best things to do in Galway on a rainy day.
20. Get fancy at afternoon tea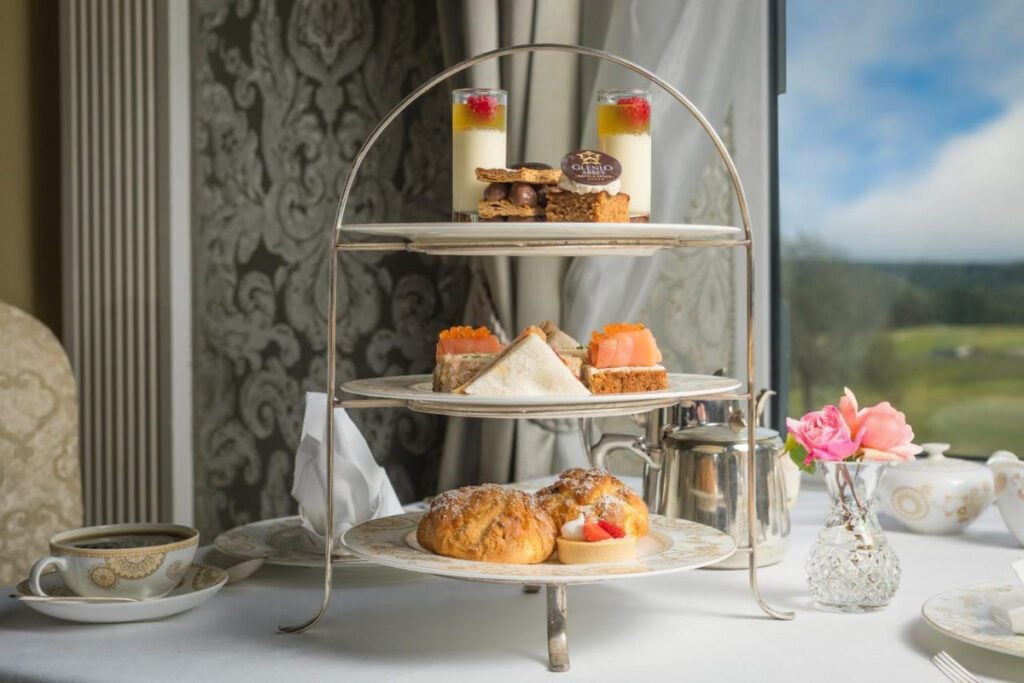 Indulge in a fancy afternoon tea at the Glenlo Abbey Hotel (even if you're not a guest!).
Nibble on freshly baked scones and an assortment of seasonal finger sandwiches, as well as decadent pastries and cakes as you take in the views of the stunning hotel grounds.
Pair it all with your choice of loose leaf tea or coffee. Upgrade your package to include champagne to turn up the fun!
Do it yourself:
Afternoon Tea: €45 (~$48 USD) per person
Champagne Afternoon Tea: €65 (~$70) per person
Psst! If you love a good afternoon tea, you'll adore Edinburgh. Here's our list of top afternoon teas in Edinburgh that you can save for your next trip!
21. Come for a famous festival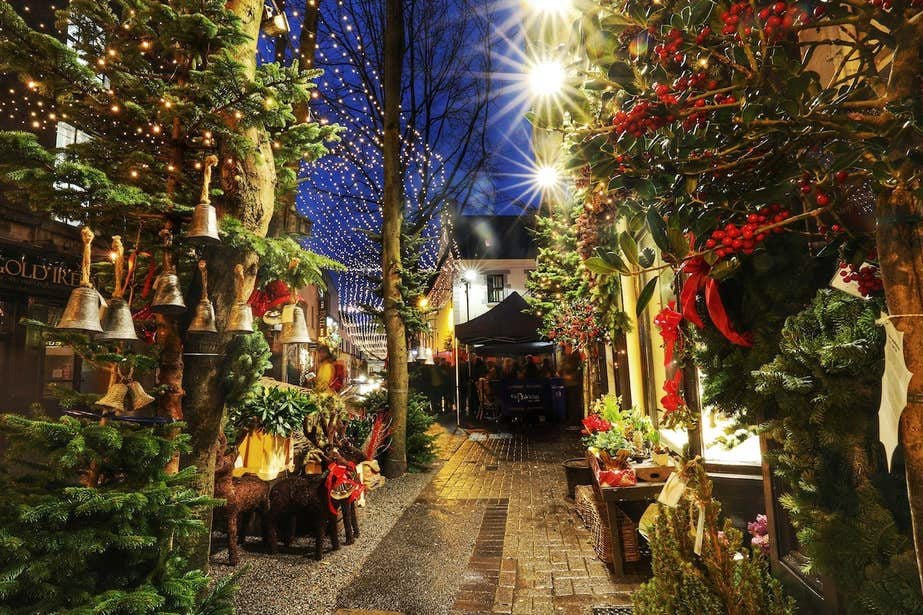 Galway plays host to nearly a dozen pretty large festivals each year, drawing visitors from around the country and the world.
From oysters to comedy to horse racing to magical Christmas Markets, there's a festival for everyone. Below are some that look the most interesting to us!
Important: If you plan to travel to Galway during one of these festivals (on purpose or by coincidence), make sure you book your accommodation well in advance. Here's a list of all the city's festivals so you can see if any fall during your travel dates.
Galway Horse Races (July)
Don your most elegant headwear and immerse yourself in the exciting atmosphere and thrilling events of Race Days.
Galway Comedy Festival (October)
More than 80 acts, from the world-famous to the up-and-coming, take to the stage for a weekend that will leave you with stitches in your sides.
Christmas Market (November & December)
Twinkling garlands, live music, and festive rides fill Eyre Square, alongside chalets offering gift/souvenir ideas and tasty international treats.
Galway International Oyster festival (September)
Cheer on your favorite shuckers and chefs as you eat your way around the Seafood Trail during the oldest oyster festival in the world. Speaking of oysters…
22. Have a shucking good time at the Flaggy Shores Oyster Experience
If you're a fan of oysters, this 90-minute hands-on experience will be right up your alley!
Learn everything there is to know about oysters – from the history of oyster bays to their life cycle – then have a go at shucking them yourself (after getting detailed instructions on the proper technique, of course!).
Then it's time to eat the fruits of your labor, paired with a glass of organic white wine to compliment the oysters perfectly.
This is certainly up there as one of the most unique things to do in Galway, and it'll be a memorable experience for our fellow ​​mollusc-lovers! (Never thought I'd type that phrase!)
Here's what guests are saying:
"We spent a delicious and educational afternoon in the company of Dave the oyster guru. Not only did I learn lots about the history of the oyster and its lifecycle, but it was a hands-on experience too. […] Dave was a great host, humble yet knowledgeable – if you like nature, good food and great company, this tour is for you."

-Jen, May 2023
23. Start your day with brunch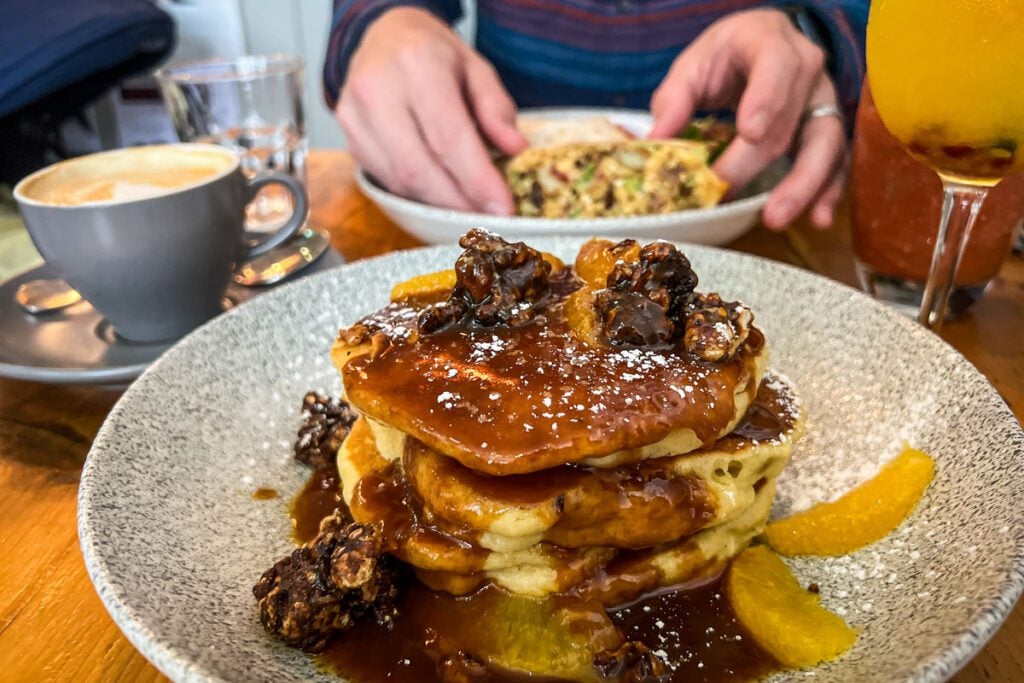 If you're looking for a good brunch, head straight to Dela Restaurant. The buzzy atmosphere and selection of sweet and savory items will be just what you're looking for.
Order the butterscotch pancakes (you're welcome!) and a bloody mary or a mimosa to start your day with a bang!
Know that it does get busy on the weekends and they don't take reservations, so be prepared to wait unless you get there early.
24. Take a Corrib Princess cruise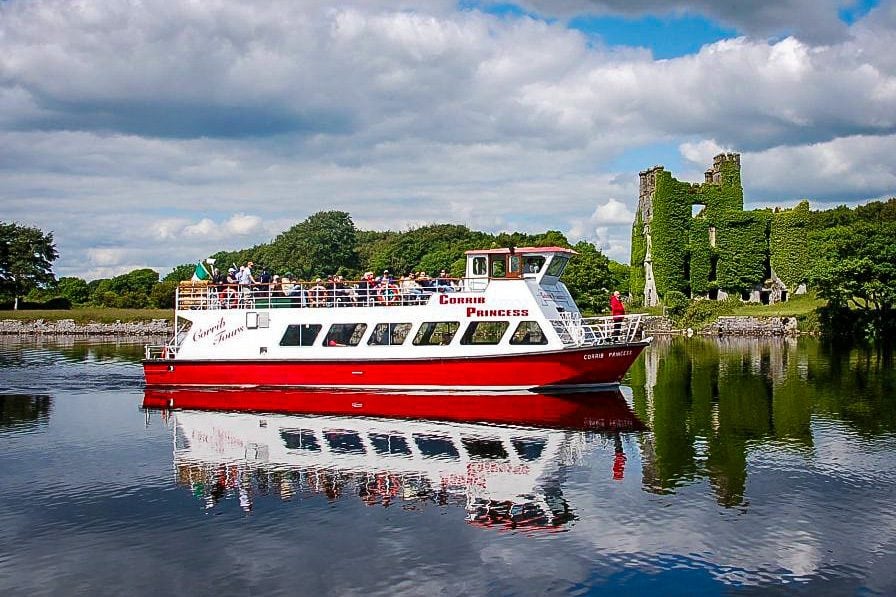 Embark on a leisurely cruise on the River Corrib to the Republic of Ireland's largest lake on this 1.5-hour tour.
From the luxury all-weather boat, you'll be treated to views of castles and other historical sites, as well as breathtaking natural scenery.
Here's what guests are saying:
"Very good! We also had great weather, which made sitting on the upper deck even more attractive! The information was very interesting – the musical background was very pleasant and at the end the demonstration of how to prepare the Irish coffee and the little dance were really great!"

-Elli, August 2023
25. Catch a view of Menlo Castle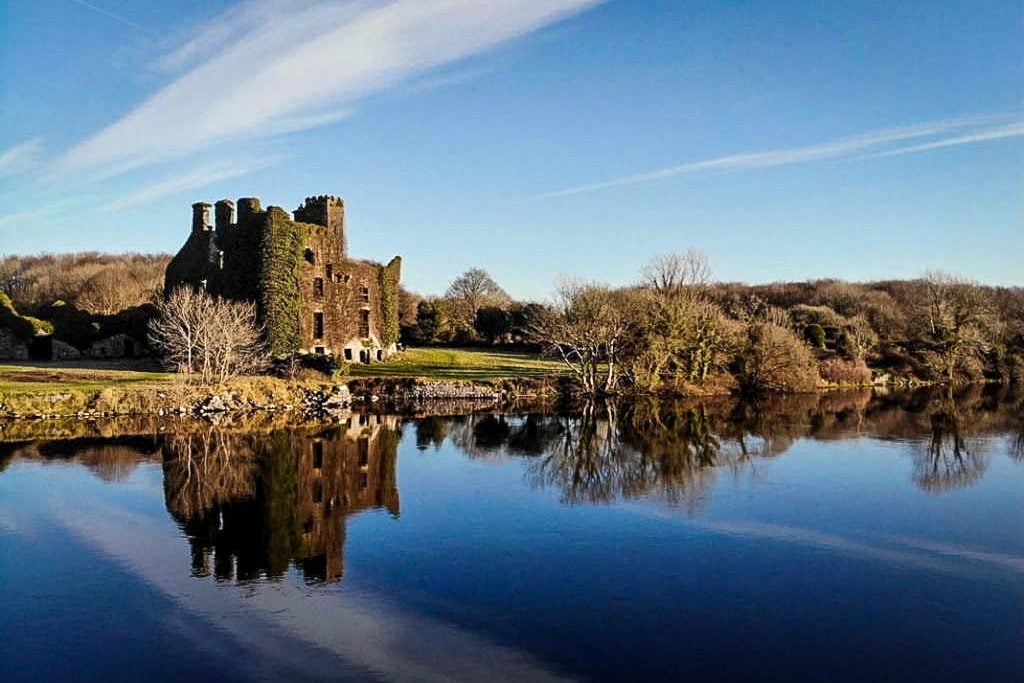 From the bank of the River Corrib looms Menlo Castle, a hauntingly beautiful ruin with a tragic history.
The estate was once owned by English nobles, the Blakes. In 1910, the castle was consumed by a fire that claimed the lives of Lord and Lady Blake's daughter, Eleanor, and two house staff. No trace of Eleanor's body was ever found and the castle was abandoned.
Subsequently, the ruins became overgrown with vegetation, swallowed up by its lush green surroundings. If you Google images of Menlo Castle, you'll see this view. But be aware, it no longer looks like what you see in photos.
In 2022, the ivy was cut down and the castle closed to the public to perform necessary restoration construction.
That said, if you're a fan of castles or intrigued by dark history, it's definitely worth it to get a glimpse of Menlo. Hint: if you do #24 on this list, you'll see Menlo Castle as part of the tour!
26. Explore the Galway City Museum
If you're a big museum buff or simply looking for a way to kill time during a rainstorm, the Galway City Museum is a good place to learn about the area's past.
Admission is free and it's located just behind the Spanish Arch, so you can check it out while you're wandering.
27. Glimpse the Galway Cathedral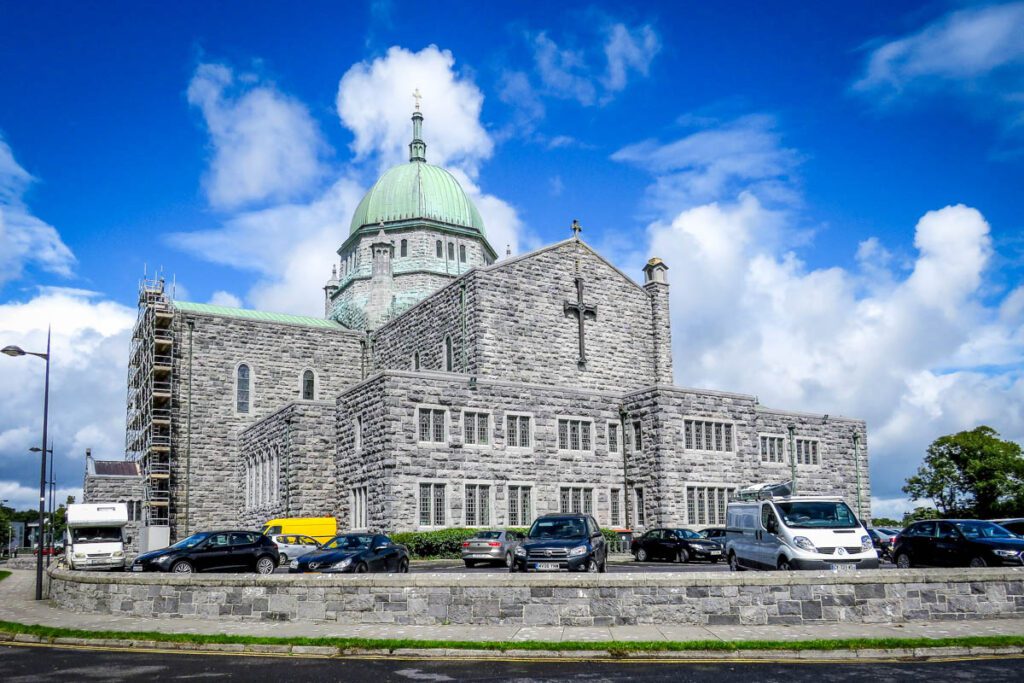 As one of the largest buildings in the city, you will no doubt catch a glimpse of the Galway Cathedral at some point.
This grand edifice dominates Nun's Island on the west bank of the River Corrib, which was once the site of the city jail.
It is free to enter the cathedral to admire the art and architecture inside, though a donation of €3 is requested for upkeep and visitors should avoid entering during mass. You can check the schedule on their official website.
28. Join a pub crawl
Looking to have a fun night on the town but don't know where to start? Want to make some new friends on your trip?
Consider joining a pub crawl led by Tribes Tours, where you'll go to 3 pubs in town and experience Galway nightlight.
The tour costs €15 (~$16 USD) per person and includes complimentary shots at each pub. With the rest of the group, you'll play drinking games, listen to live music, and head to a late-night venue if you're still in the mood after the third pub.
Sláinte! (That's Gaelic for "cheers".) Tip: Pronounce it slawn-che.
Day trips from Galway
When people say they "visited Galway", they're usually referring to the city. But Galway is an entire county as well, and it's well worth a few days on your Ireland itinerary.
From Connemara National Park to the Aran Islands and many places in between, there's a lot to explore in County Galway and the surrounding area.
29. Take a day trip to the Aran Islands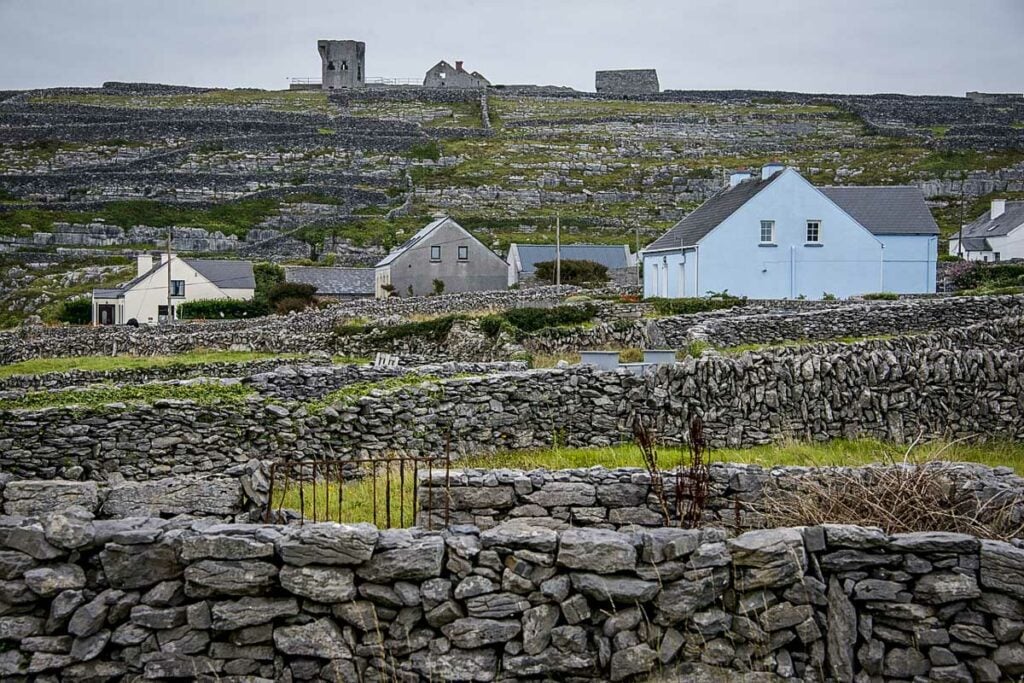 Three rocky isles, known as the Aran Islands, are situated off the west coast of Ireland at the mouth of Galway Bay.
Aran Islands in order from largest to smallest:
Inishmore (Inis Mor) = largest
Inishmaan (Inis Meain) = middle
Inisheer (Inis Oirr) = smallest
Known for a dreamy blend of historic cottages amid rugged landscapes along with a unique island culture, exploring the Aran Islands almost feels as if you've stepped back in time. It feels a world far away from Galway City, even though it's just a ferry ride away.
Fun Fact: Ocsar nominated The Banshees of Inisherin was filmed on Inishmore. This film takes place during the Civil War on a fictional island off the coast of Ireland called Inisherin.
Which Aran Island should you visit?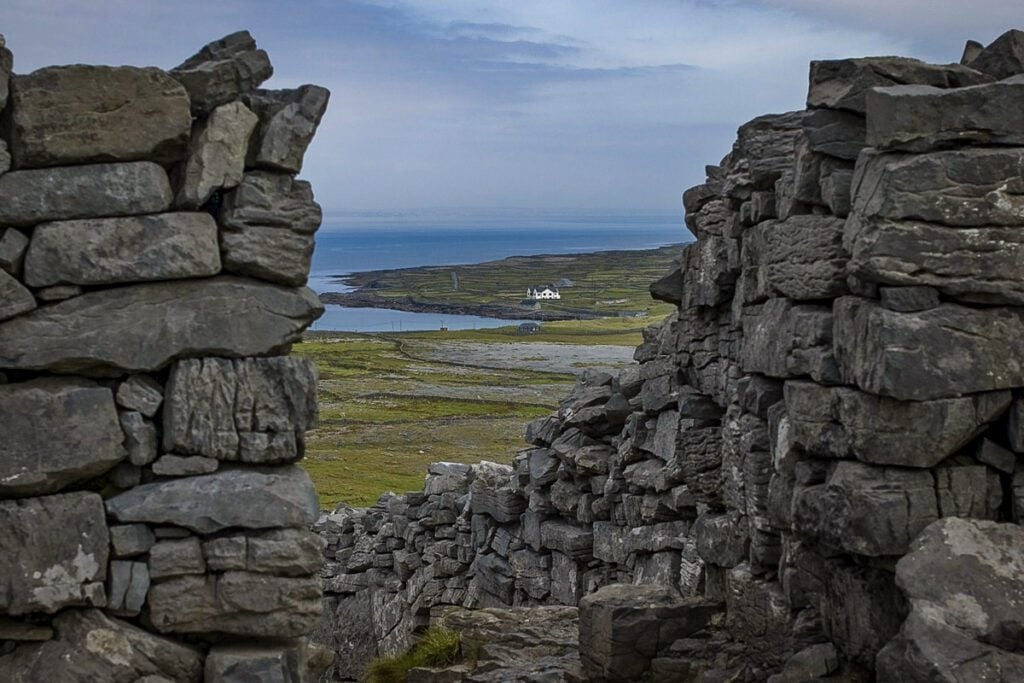 Each island has its own unique draws, but the largest (Inishmore) and the smallest (Inisheer) are the most popular islands for visitors.
Things to do on Inishmore (Inis Mór):
Rent a bike to see the sights around the island
Visit the prehistoric fort of Dún Aonghasa, perched atop a 300-foot cliff
Marvel at the Wormhole, an iconic rectangular natural pool on the ocean's edge
Explore the ruins of the seven churches
Admire Clochán na Carraige, a historic "beehive" structure
Buy an Aran sweater
Inisheer (Inis Oírr):
Rent a bike to see the sights around the island
Grab a pint at Tigh Ned pub
Photograph the Plassey Shipwreck
Visit Inis Oirr Lighthouse
See the ruins of O'Brien's Castle and Cill Ghobnait Church
Buy an Aran sweater
How to get to the Aran Islands from Galway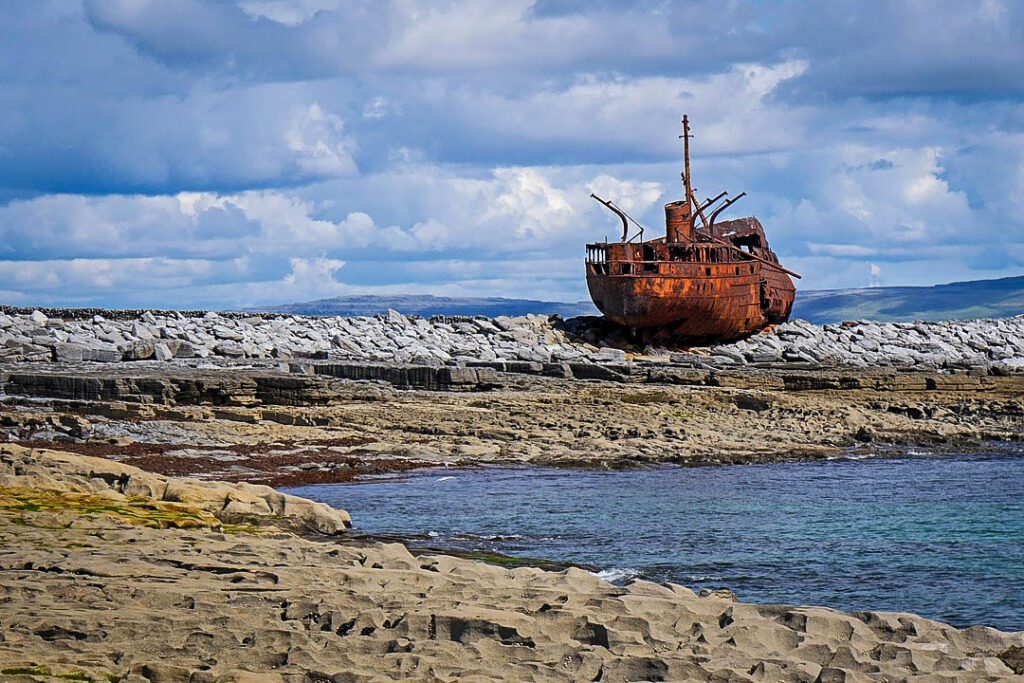 Travelers can reach the Aran Islands by ferry or guided tour. (You could also fly, but why?)
Ferry tickets vary slightly based on where you're departing from, but tend to be around €30 – €36 per person ($32 – $39 USD). This is the cheapest way to get to the Aran Islands.
Ferry from Rossaveel (45-minute drive from Galway City)
Coming from Galway, you'll need to drive to Rossaveel Habour, which is a 45-minute drive from the city. From here, you can take one of the ferries listed below.
The journey from Rossaveel to the closest island (Inis Oirr) takes around 40 minutes by ferry.
Guided tour from Galway
If you don't have a rental car in Ireland, you can join a guided tour which departs from Galway and includes a bus transfer.
The tour listed below also includes entrance to the Cliffs of Moher, making it a good way to see both sights in one day.
Galway to Inis Oirr Guided Tour (+ Cliffs of Moher)
Guide/driver
Transportation by air-conditioned bus
Return ferry tickets to Inis Oirr
Admission fee to the Cliffs of Moher
30. Have dinner at Moran's Oyster Cottage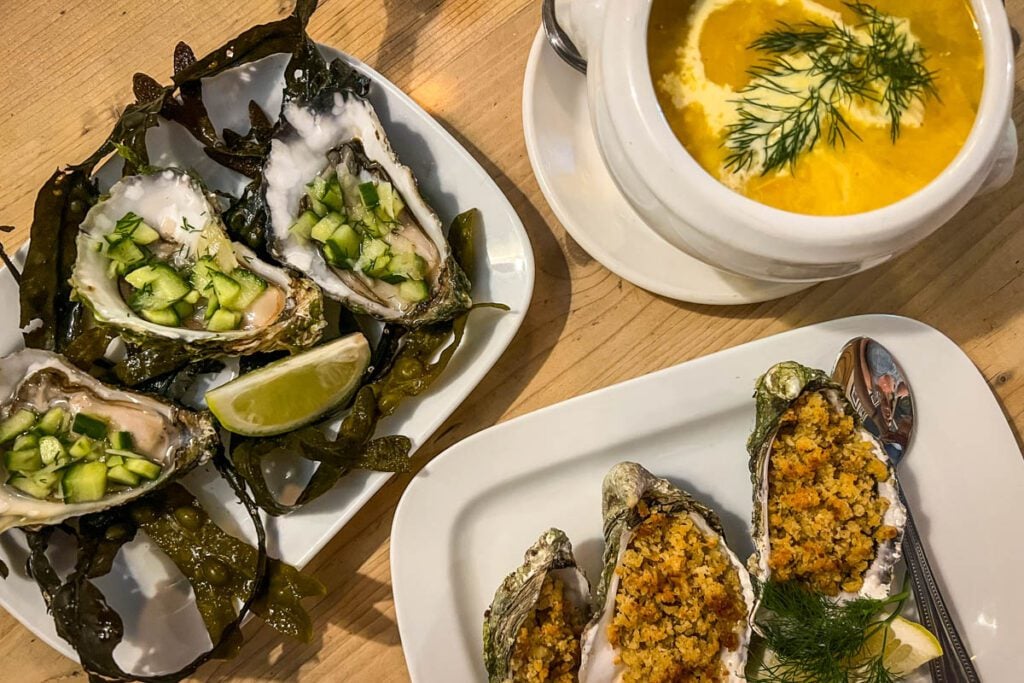 Located a 25-minute drive away from Galway City, Moran's Oyster Cottage is an establishment. If you like seafood, it is worth the drive.
Situated at the mouth of the Kilcolgan River, this restaurant is a destination in and of itself, and it's easy to see why. With a thatched roof and framed photos of famous patrons (we sat by Pierce Brosnan!), there is an undeniable charm to this place. Plus, the seafood is legendary.
We ordered a variety of fresh seafood dishes and our favorites were hands-down the crab claws, the fish stew (best we had in Ireland), and the oysters, of course.
Insider Tip: We couldn't decide between fresh oysters (a special with lime and coconut) and grilled (with breadcrumbs and garlic), so our server suggested we split our order of 6 oysters in half, with 3 fresh and 3 grilled. Since we ordered quite a few other dishes, we didn't want to get two orders of oysters, so this was the perfect way to try them both!
Be sure to make reservations by emailing info@moranstheweir.com as they do book up.
31. Watch a sheep herding demonstration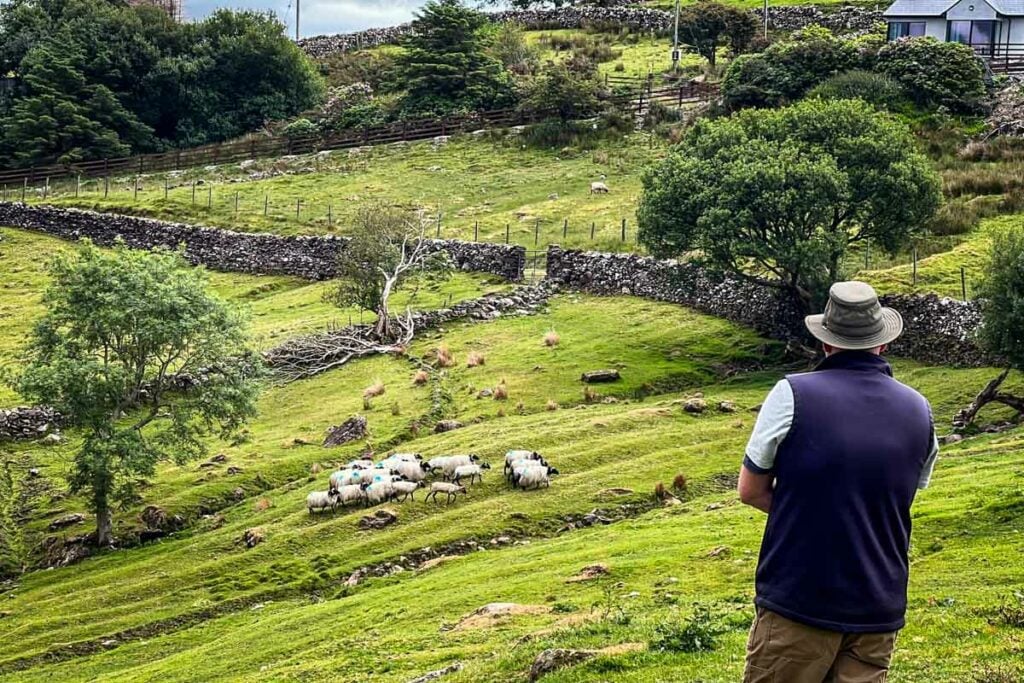 We wanted to see a sheepdog demonstration while in Ireland, and there are a handful of farms around the country that offer this experience.
We stumbled upon Killary Farm, just outside Connemara National Park, as they were about to begin the last tour of the day. The location of this farm, at the edge of a fjord, is absolutely stunning and reason enough to give them a visit.
On the tour, we watched a demonstration where the sheepdog took orders from hundreds of feet in the distance, herding the sheep from the pasture into a corral. It was fascinating to watch – much more interesting than I expected.
After the herding demonstration, we watched the farmer shear a sheep. He handed the shears to anyone who wanted to give it a go, which was yet another very interesting experience.
The best part of the tour was saved for last – bottle feeding baby sheep. Our daughter, who was 1.5 years old at the time, had so much fun petting them, and I loved being able to hold one!
The tour lasted about an hour, and was well worth the stop!
Fun fact: Ever wonder why the sheep you see have colored paint on their backs? This is to indicate which farmer they belong to. Most sheep in Ireland are allowed to roam freely, and the color and shape of the paint is unique to each farmer.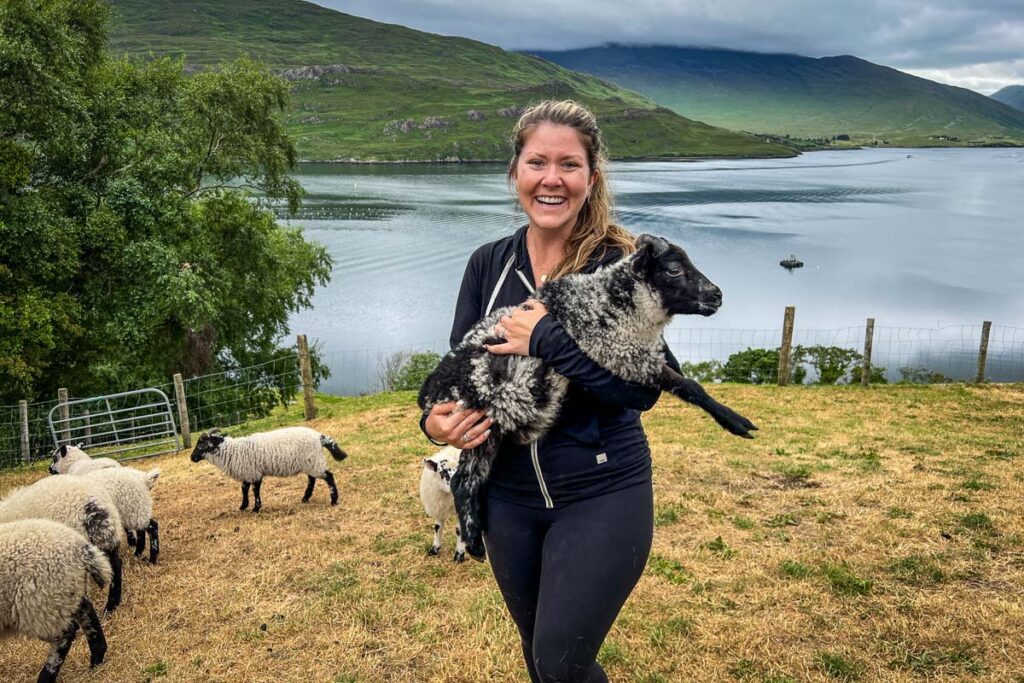 Killary Farm info:
Tour times: 11 a.m., 1 p.m., and 3 p.m.
Price: €12 per person (€30 per family)
Book in advance here or pay when you get there*
*They do not take credit cards here, so it's a good idea to have cash on hand. We did not, but they allowed us to pay via PayPal that night. (There is no cell signal here, so you can't transfer money until after you leave.)
Insider Tip: Before or after your visit, grab some fresh seafood at The Misunderstood Heron food truck which is just minutes away.
32. Explore Connemara National Park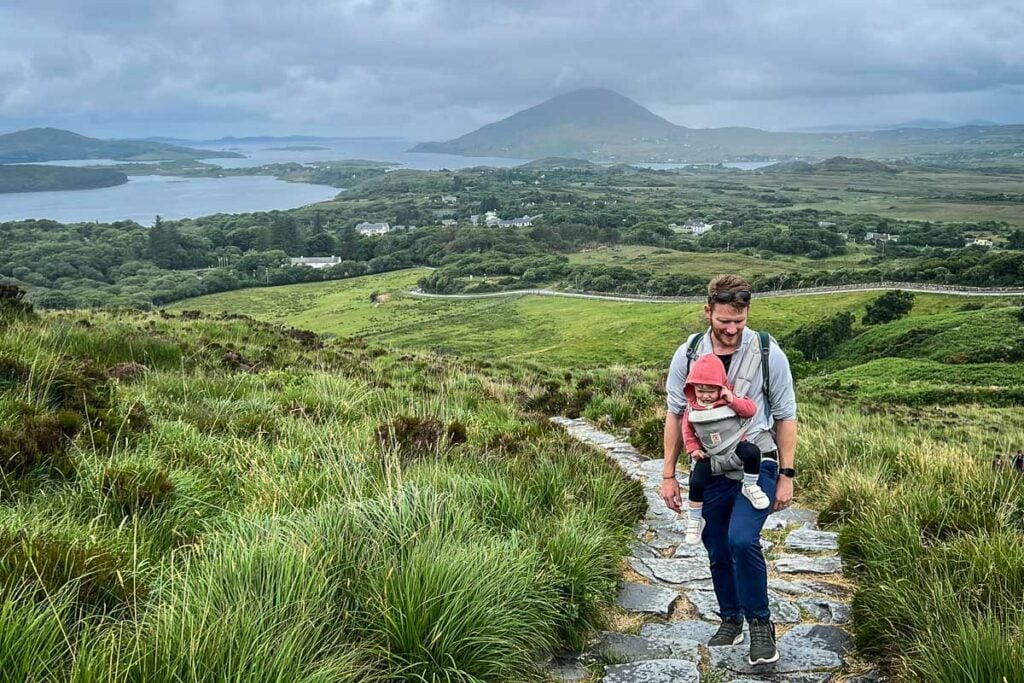 A 1 hour 20-minute drive northwest of Galway will lead you to Connemara, one of Ireland's 6 national parks.
With varied landscapes such as mountains, bogs, and forests, Connemara National Park is undoubtedly one of the best Galway day trips.
Things to do in (& around) Connemara National Park
Plan to spend the entire day exploring and hiking in this region.
Insider Tip: Pack a picnic lunch or stop at one of the cafes in the area. We recommend coffee and the vegetarian breakfast sandwich at Kabo Cafe in the morning, and anything at The Misunderstood Heron for lunch!
33. See the otherworldly landscapes of The Burren
This mesmerizing landscape of limestone and wildflowers will make you feel as if you've been transported out of green and grassy Ireland and into a moonscape, complete with caves and rocky walking trails.
The Burren technically includes the Cliffs of Moher, but the surrounding landscape is very different from the iconic seaside cliffs and, in my opinion, deserves its own section entirely.
While we prefer Ireland's rolling hills and woodlands to this more barren landscape, there's no denying that it is unique and beautiful in its own way. If you look closely, you may witness a vibrant tapestry of flora, including rare orchids and colorful wildflowers dotting the rugged terrain.
One of the most iconic sites in The Burren is the ancient ruins of Poulnabrone Dolmen, which is the second most-visited landmark in the area after the Cliffs of Moher. This portal tomb is the oldest megalithic monument in Ireland and seems to have a mysterious and, dare I say, mystical presence.
34. Visit one of the best beaches in Ireland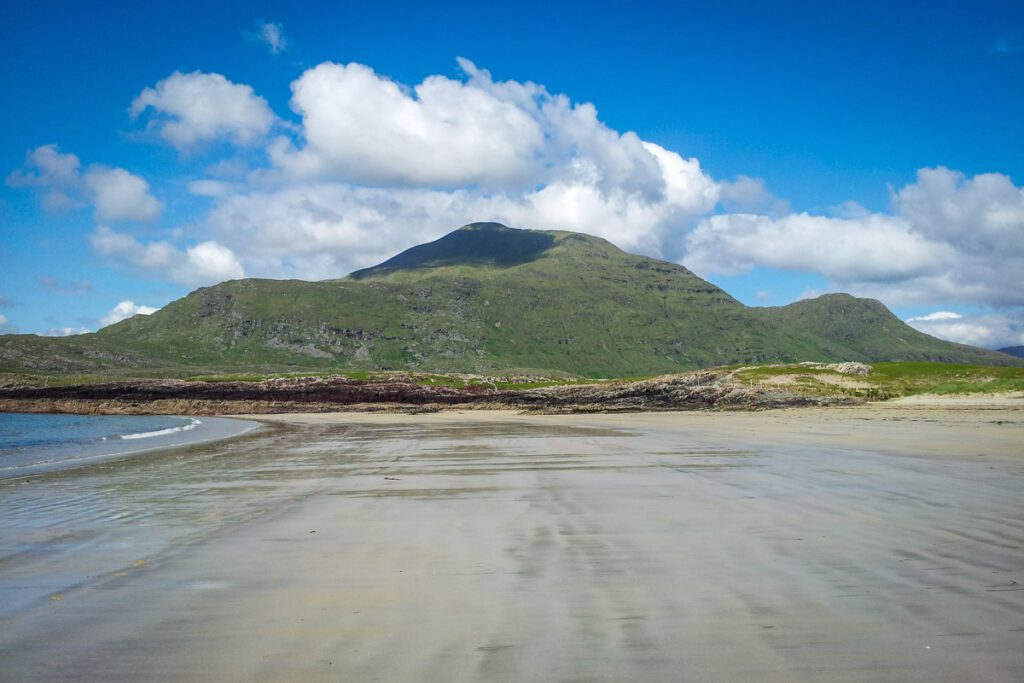 Bet you didn't think you'd be putting beaches on your Ireland bucket list, did ya? Turns out there are some real gems hidden around the Emerald Isle!
Here are a couple that make a great day trip from Galway:
Glassilaun Beach: set against a stunning mountain backdrop, this white sand beach offers beautiful grassy dunes and clear waters perfect for snorkeling
Dog's Bay: a sheltered horseshoe-shaped beach with white sand and turquoise waters
Good to know: Parking is limited at both these beaches, so be sure to get an early start.
35. See the iconic Cliffs of Moher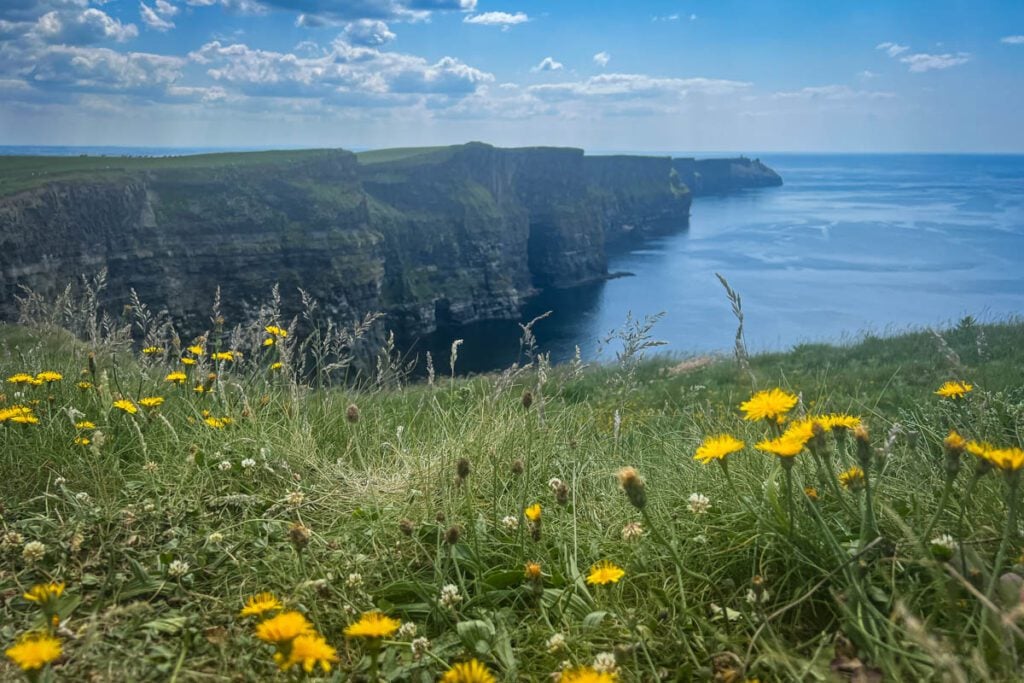 Welcoming more than 1 million visitors each year, the Cliffs of Moher are the #1 attraction in all of Ireland.
While the Cliffs of Moher are located in neighboring County Clare, this UNESCO Geopark is just under an hour and a half drive from Galway and is well worth a spot on your Ireland bucket list.
Popular? Duh.
Crowded? Probably.
Worth it? Yes!
We've been to the Cliffs of Moher twice, and can say that this is one of those touristy things that is popular for a reason. They are stunning and are very much worth a spot on your itinerary (gotta do the thing in the place!).
There are many ways to visit these famed cliffs, and we'll walk you through the options as well as what we'd personally recommend.
Hiking to the Cliffs of Moher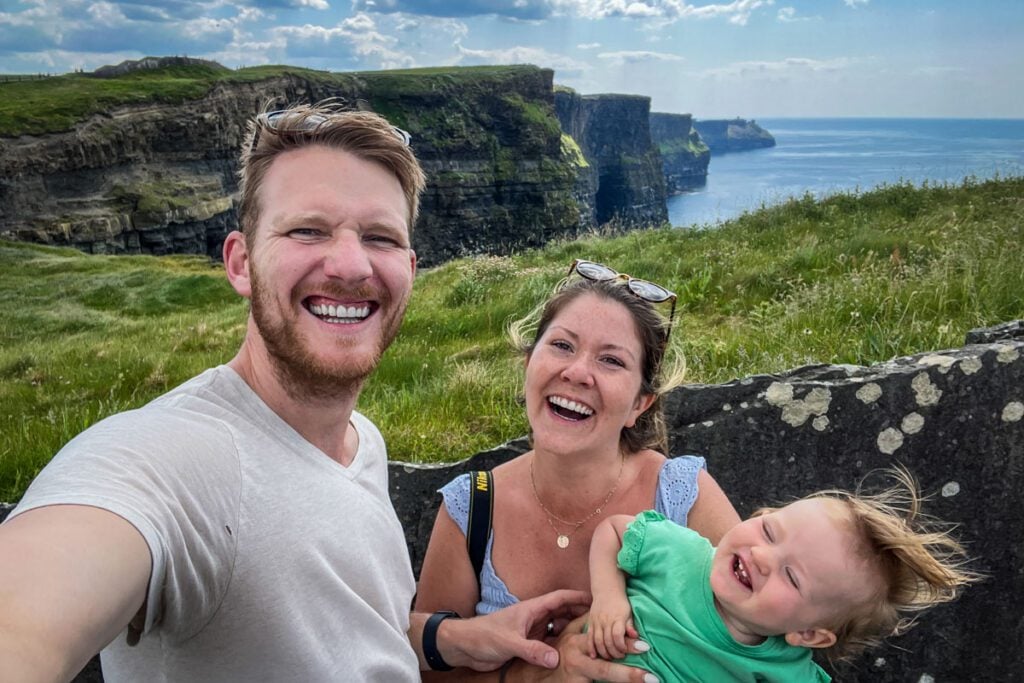 Our top recommendation, if you have time
There are several walking routes that will bring you to the Cliffs of Moher and lead along sections where you won't find tour bus crowds.
This can be the most rewarding way to really see the Cliffs of Moher and will give you the most adventurous experience. However, depending on which route you choose, the hike can take several hours, so be sure to allot plenty of time.
The most popular walking route is the Cliff Walk that begins in the small village of Doolin and ends at Hag's Head. The trail is 14 km (8.7 miles) one way.
You could also do a shorter section of the Cliff Walk, either from Doolin to the Visitors Center or from the Visitors Center to Hag's Head.
Note: There used to be a shuttle service so you could hike this one way and get a ride back, but I can't seem to find information online about whether it is still running. Please let us know if you find this info so we can update.
Want to do this hike with a local guide? Check out this highly-rated Airbnb Experience where a local guide will bring you along the hiking trail to the Cliffs of Moher and show you some of the best views along the way. Guests call this a "once-in-a-lifetime experience"!
*Important safety info: If you choose to do this walk, please keep your distance from the cliff's edge, especially when it's windy. There are many places where there are no guardrails or anything to keep you from falling into the water below. People have died trying to get too close for a picture.
Visitors Center
If you don't have the time (or desire) to hike to the Cliffs of Moher, you can simply park at the Visitors Center. This is the easiest and most popular way to see the cliffs.
If you enter here, you will need to pay €7 per person. You can book ahead or simply show up. We've heard that the parking lot can fill up at times, but we visited on a busy day during peak season and were not turned away.
If you go this route, know that this section of the cliffs can get very busy, especially midday during peak season.
The visitors center has some exhibits, food offerings, and toilets if you need them.
Guided Tour
If you don't have a rental car in Ireland or you simply want all the logistics done for you, a guided tour can be a good way to see the Cliffs of Moher.
Here are some we'd suggest:
Cliffs of Moher + Aran Islands Cruise: This tour combines a cruise to the Aran Islands with a visit to the Cliffs of Moher. You'll see them from the ocean and on land, giving you a unique perspective.
Cliffs of Moher + The Burren Bus Tour: This is the tour we did on our first trip to Ireland and while we don't particularly love bus tours, we had a great time and felt like we saw a lot.
Good to know: I do want to take a moment to say that while the Cliffs of Moher are the most iconic cliffs in Ireland, they are definitely not the only ones. Check out our favorite lesser-known cliffs in Ireland.
---
Things to know about Galway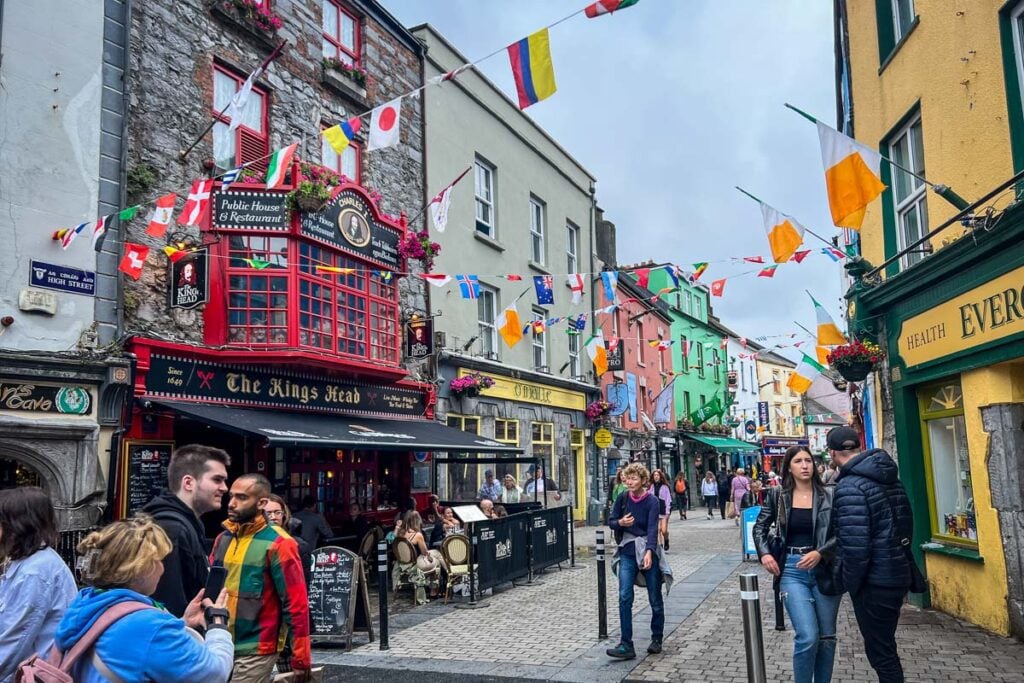 Population: With a population estimated to be around 85,000 people (in 2023), Galway could be considered either a small city or a large town.
Location: Situated on Ireland's west coast, Galway is nestled in a bay on the Atlantic Ocean.
Getting there: If you have a rental car, Galway is a 2.5-hour drive from Dublin and is a straight shot across the country. You can also get to Galway from Dublin by bus or train.
How much time do you need in Galway?
I think one day spent exploring the city is sufficient. There are plenty of adventures to be had in the surrounding countryside, so 2-3 additional days for day trips to explore the area is a good amount of time.
Where to eat in Galway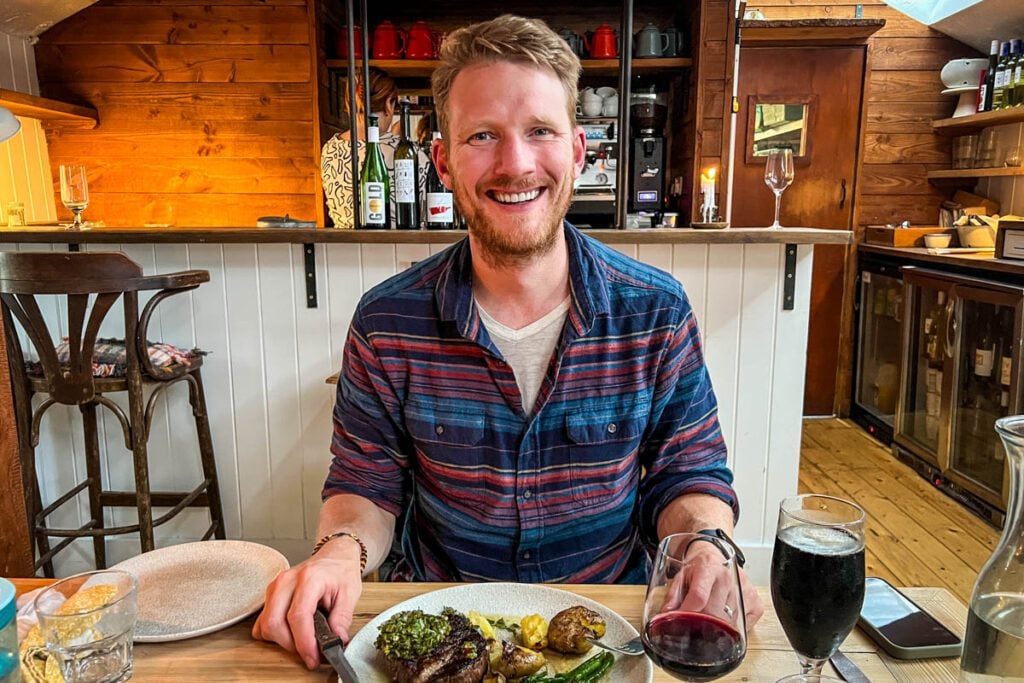 Galway is ripe with excellent places to eat. Truly, you won't have trouble finding a good meal in this city.
But if you want some personal recommendations, here are places we'd point you to…
Where to stay in Galway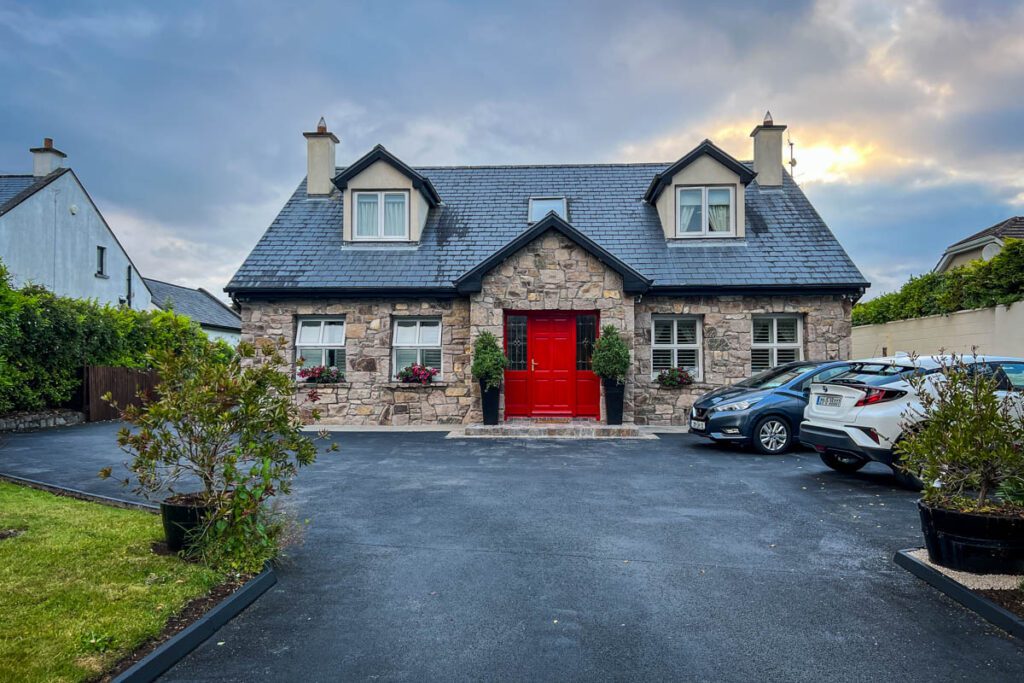 One of the first things you need to decide is whether you'd like to stay in Galway City or in the surrounding countryside.
Galway City vs. Countryside
They're both great choices, but personally, I'd lean toward the latter as you'll find better prices and more unique accommodation options outside of the city.
If you have a rental car, it's easy to drive to the city and find parking for a day of exploring. Plus, in our opinion, you only need one day (or even just part of a day) to explore the city, but you'll want a bit more time dedicated to the surrounding countryside.
All that said, the city is fun and if you plan to spend a night (or 2!) out in the pubs, basing yourself in the center will be your best choice.
Galway City accommodation
Accommodation outside the city
What to pack for your trip to Ireland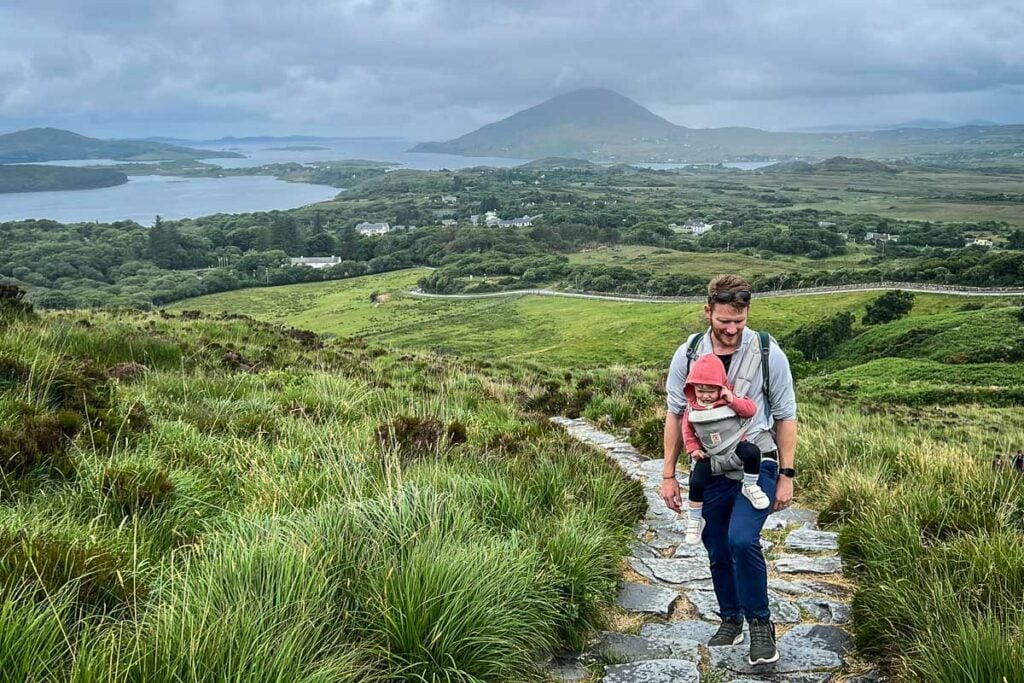 We know it can be overwhelming packing for a trip to a new destination. That's why we spent hours creating this super helpful PDF just for you.
In this free Ireland packing list PDF download, we've provided packing checklists for everything from clothing and toiletries (for both women and men!) to electronics and extra gear you may consider packing if you plan to do some campervan travels.
Plus, we're sharing tons of packing hacks and tips for traveling in Ireland that you won't find anywhere else!

Round up of the best things to do in Galway
Here's all our top things to do in Galway in one handy place!
Weekend farmers market
Cocktails at the Galway City Distillery
Latin Quarter
Cozy dinner
Live music at a pub
Stay at a unique Airbnb
Distill your own gin
The Dough Bros
Spanish Arch
Hunt for street art
Salthill Promenade
Dine in a train carriage
Buy a Claddaugh ring
Learn about the Magdalene Laundries
Coffee shop
Free walking tour
Escape room
Afternoon tea
Come for a famous festival
Brunch at Delta Restaurant
Menlo Castle
Galway City Museum
Galway Cathedral
Pub crawl
Aran Islands
Moran's Oyster Cottage
Sheep herding demonstration
Connemara National Park
The Burren
Visit one of the best beaches in Ireland
Cliffs of Moher
---
Are you planning a trip to Ireland?
We're creating lots of resources for travel in Ireland and destinations throughout the country. Check out our Ireland Travel Homepage for everything you need to know, or read some of our favorite articles below.
Save this article on Pinterest for later!
We want to hear from you!
Do you have questions about any of these things to do in Galway? Anything recommendations we missed? Leave your comment below and we'll do our best to get back to you!