With a reputation for some of the best donut shops in the country, Portland is the place to sample your favorite circular treat. We're sharing which Portland donut shops are worth the hype and which could be skipped.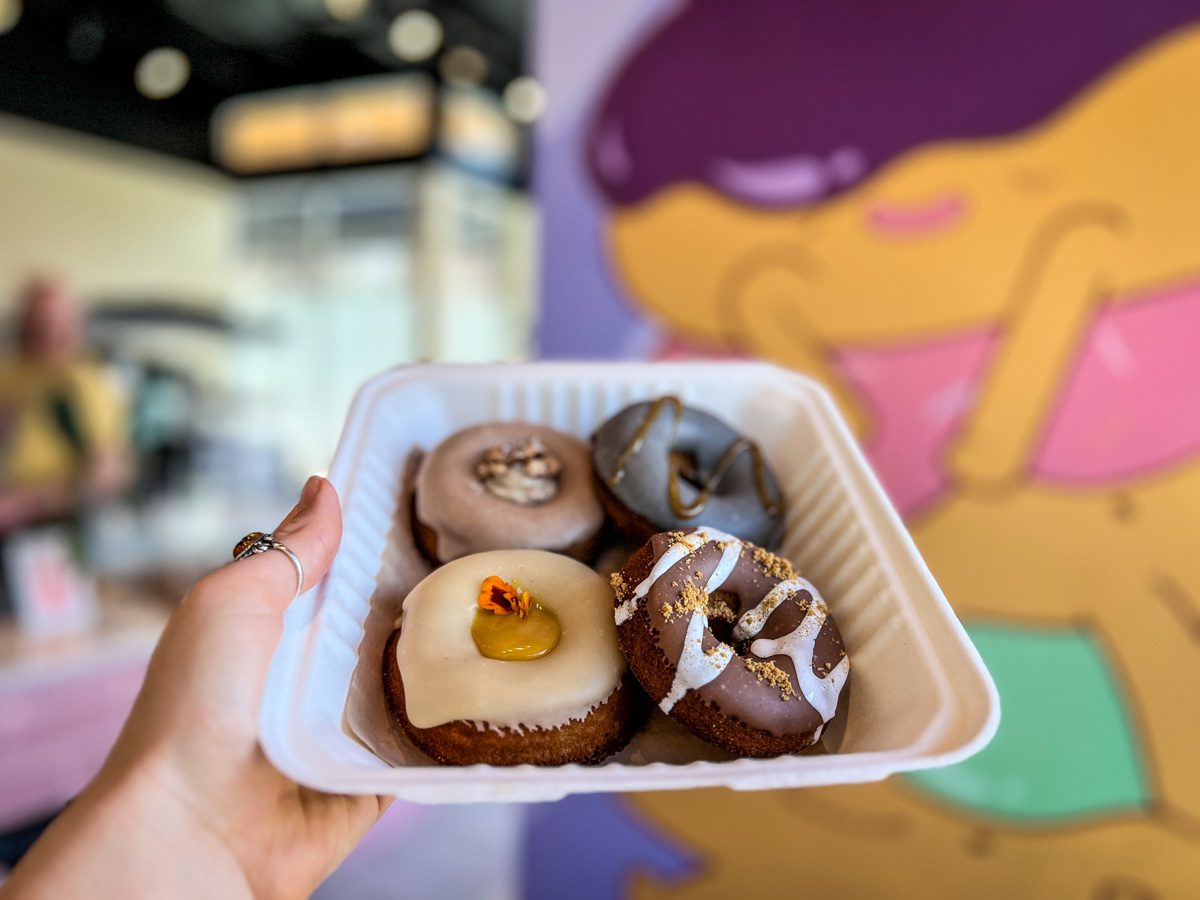 Portland is a relatively foodie city, with world class dining options popping up all the time. But if there were one food that represents Portland, it would be the doughnut.
Shops slinging these round and tasty treats are on just about every block.
Each Portland donut shop has its own unique draw – gluten-free masterpieces, vegan rings, mini donuts reminiscent of State Fairs, and over-the-top flavor creations – you really can find it all!
So that begs the question: With all the options, where can I find the very best donuts in Portland?
If you don't have time to sample all the donut shops in Portland in order to find your personal favorite (or you don't want to spend a month's worth of calories in one day), we can help point you in the direction of where to snag the very best donuts in Portland.
We're gonna get real honest in this article and share exactly which donut shops are worth the hype (and which aren't).
From the touristy "must visit" shop to local secrets, we're gonna spill where you can find the best doughnuts in town…
Spoiler Alert: It's not where you expect!
Looking for more things to do in Portland? We created the ultimate Portland, Oregon Travel Guide so you have the perfect trip!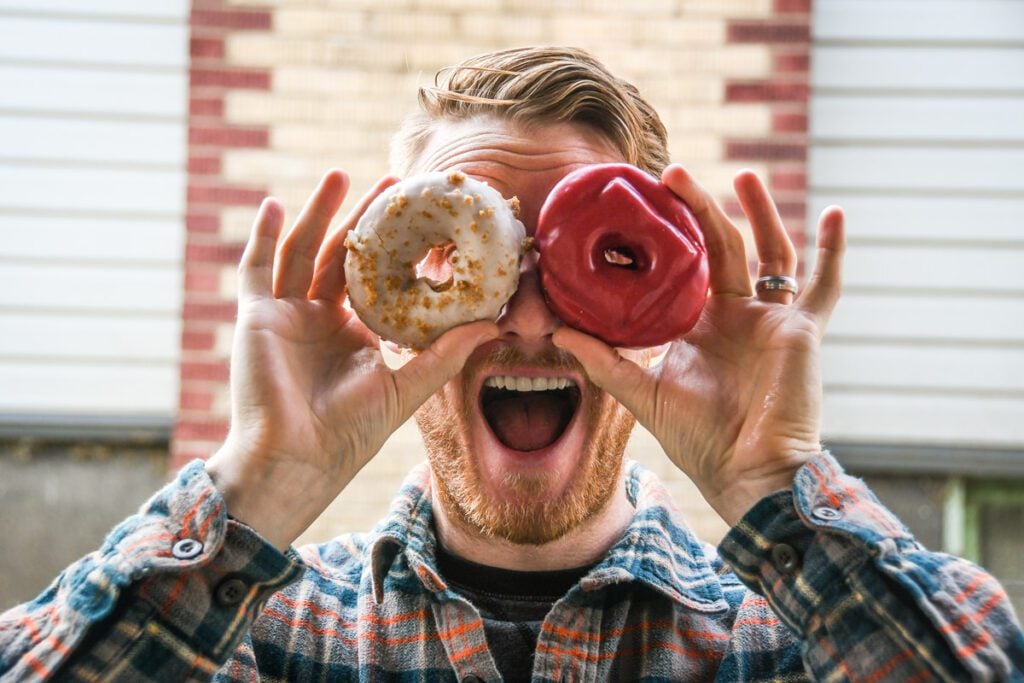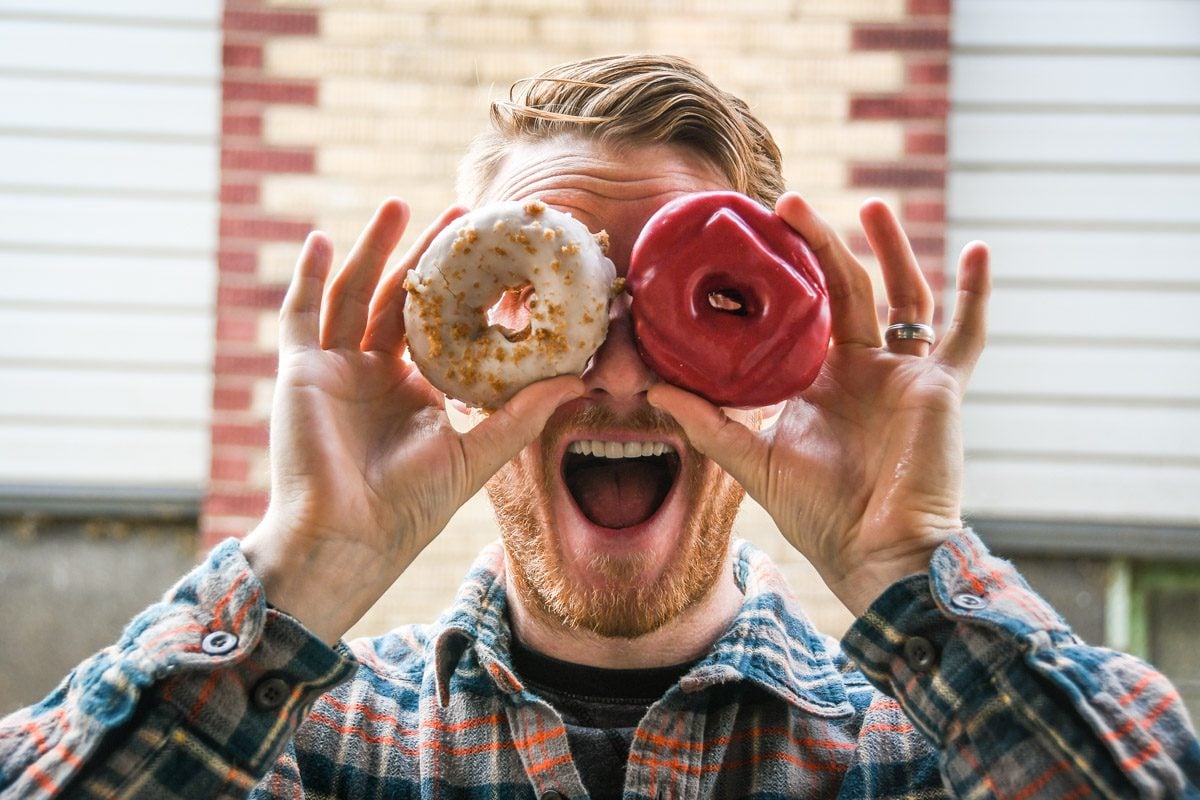 Grammar Nerd Alert: So which is it, doughnut or donut? Well, both spellings are correct! The dictionary spells it doughnut, but a lot of shops have adapted the shorter version of this word making both accepted. So you'll see both versions in this article. And well, who really cares how to spell it when the word refers to something so delicious?! Now let's get back to the tasty stuff…
Best Donuts in Portland
Spoiler Alert…
Map of where to get the best donuts in Portland
1. Voodoo Doughnuts
At a glance: Portland's most famous (ie: touristy!) donut shop
It seems like everyone who ventures to Portland has an Instagram pic of the famous Voodoo Doughnuts. Yep, we did too!
Voodoo often makes the "best of Portland" lists and you can't really create a list of donut shops in Portland without including it. That's why it has a spot on this list. Cough, cough…
That said, we personally think it is overhyped and there are (much) better donuts in town.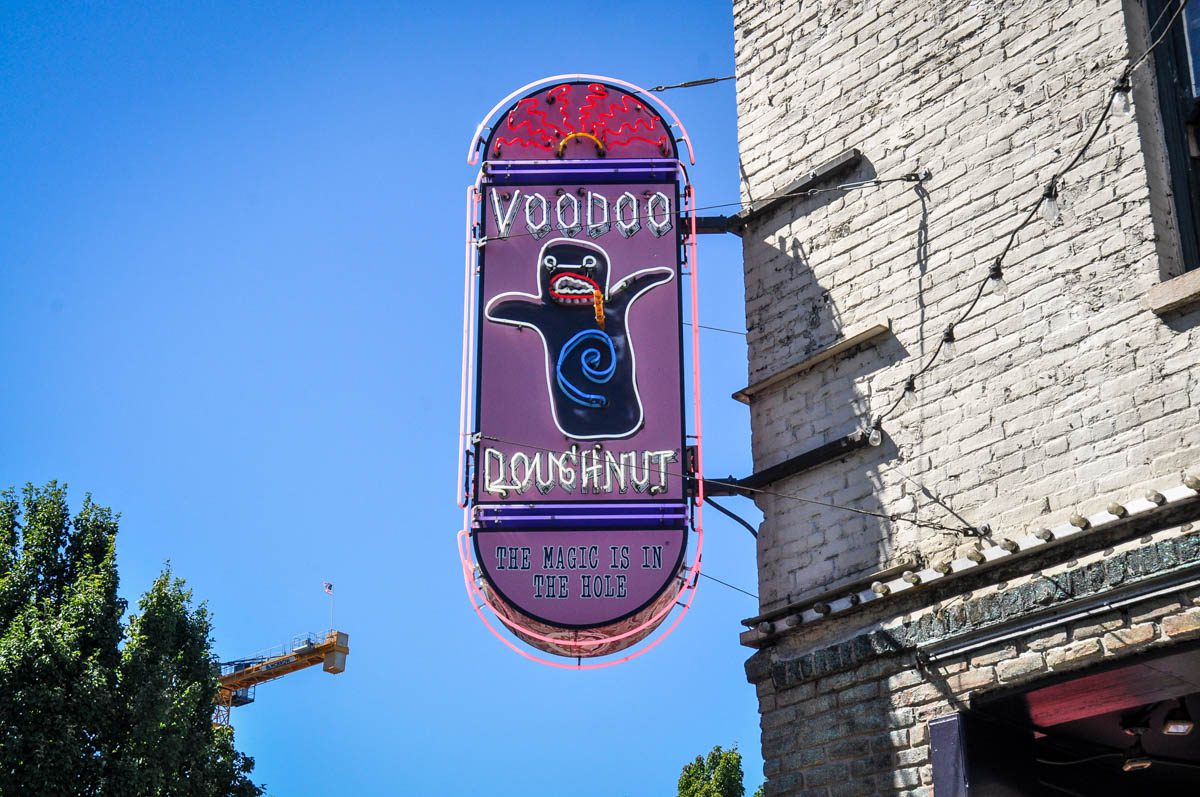 However, if you want to "do the thing in the place", Voodoo is the shop to tick off your Portland bucket list. The main location is smack dab in the middle of downtown, where you'll likely be exploring anyway, so it is convenient.
Plus, if you're a fan of quirky and dare I say gimmicky flavors (like PB&J, or a bubble gum flavored raised donut), you might just love Voodoo.
The donuts and signature pink boxes are pretty darn photogenic, too. So if that's your thing, march to your spot in line.
Our Voodoo experience…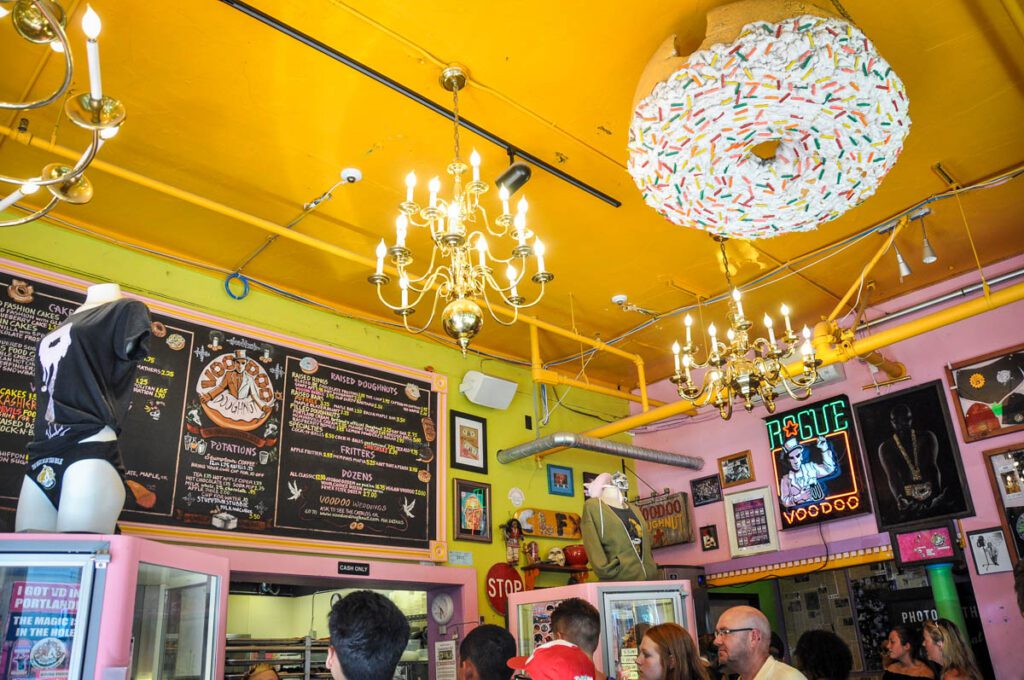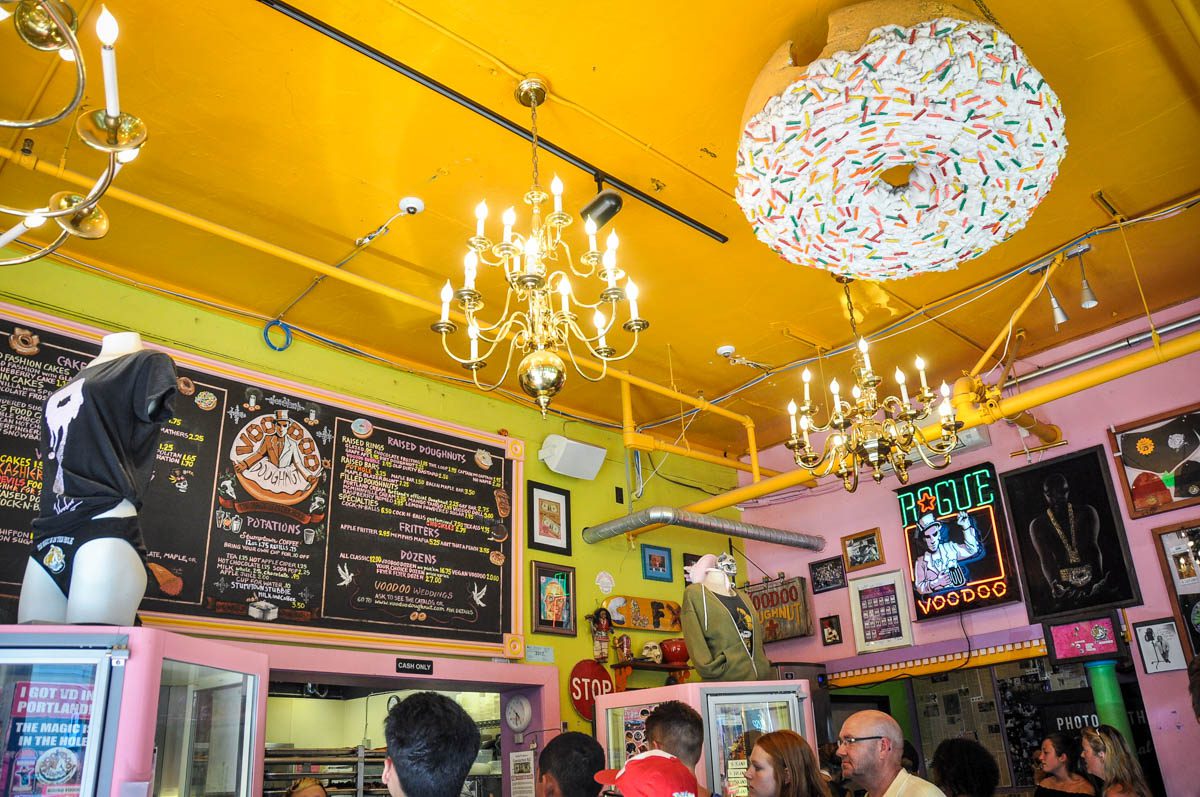 We were hungry and the line didn't seem *that* long, so we decided to see if these fried sweet things live up to the hype.
That didn't stop us from finishing them (hey, no wasting donuts for us!); but in our opinion, it just didn't live up to the hype. Or, maybe they just weren't "our type of doughnuts"…
Voodoo is known for wild, over-the-top toppings like breakfast cereal (Capt'n Crunch and Froot Loops, anyone?!), bacon, and cream fillings. Admittedly, that's not really our thing. We're less about the quirky toppings and fillings and more about the actual doughnut.
So honestly, my less than enthusiastic opinion could be mostly based on the fact that Voodoo just doesn't specialize in my kind of doughnuts.
Everyone has their own preferences, and if you love the idea of Instagram-worthy doughnuts or you have major FOMO, pencil Voodoo into your Portland itinerary. Just be sure you give yourself enough time to wait in the guaranteed line.
The Good:
Picture perfect donuts
Convenient location when exploring downtown
Most popular spot to "check off the bucket list"
Vegan options available
The Bad:
Flavors are (in my opinion) a bit gimmicky
The actual donuts are just okay and it seems the focus is on making them look cool
There's almost always a (long) line
Voodoo Website | Google Maps Location (flagship location)
2. Blue Star Donuts
At a glance: Popular local chain that specializes in elevated flavors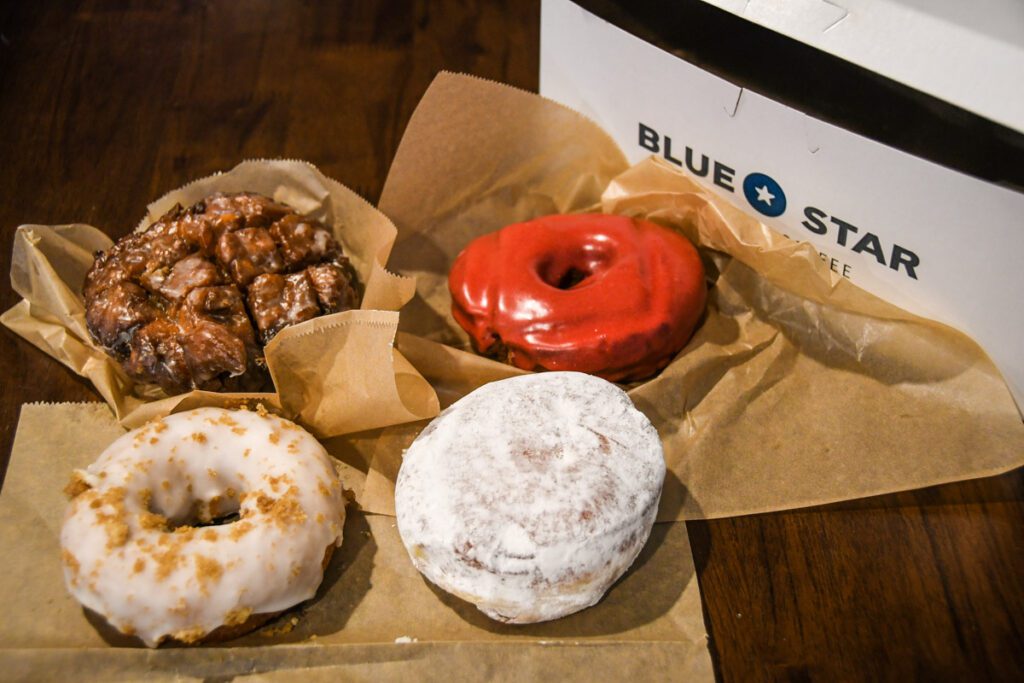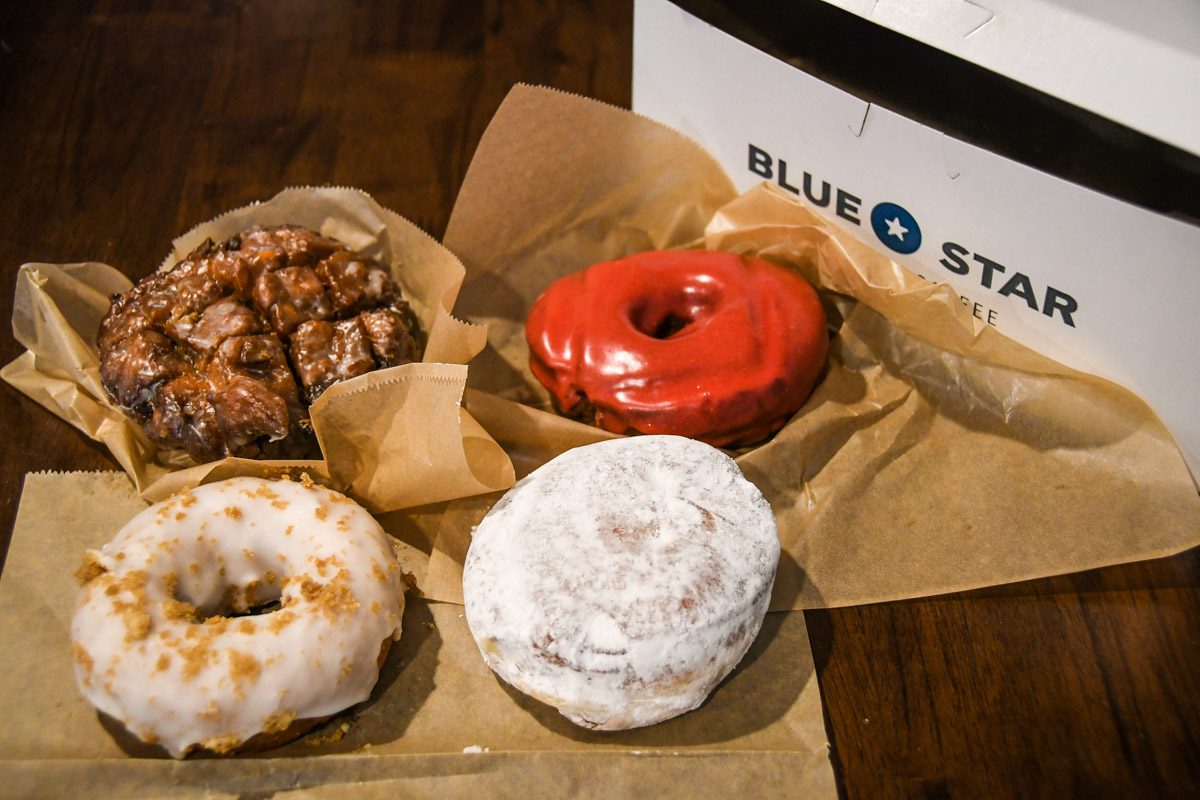 We were told by many locals (who rolled their eyes when we told them we went to Voodoo) that actually, the place to go for donuts is Blue Star Donuts.
So of course, we had to give it a whirl on our next trip to Portland in the name of research.
And lemme tell ya, we are fans.
Blue Star's tagline is "donuts for grownups," and when contrasted with Voodoo's candy and cereal inspired favorites, it almost feels like a dig.
Can you sense the rivalry?!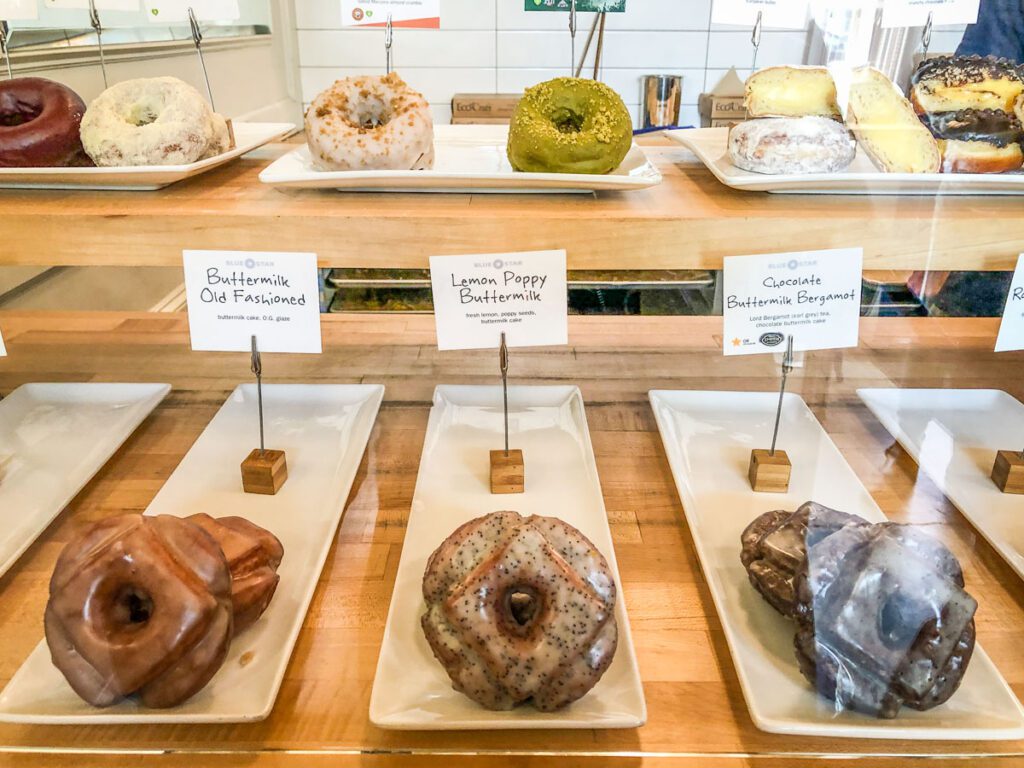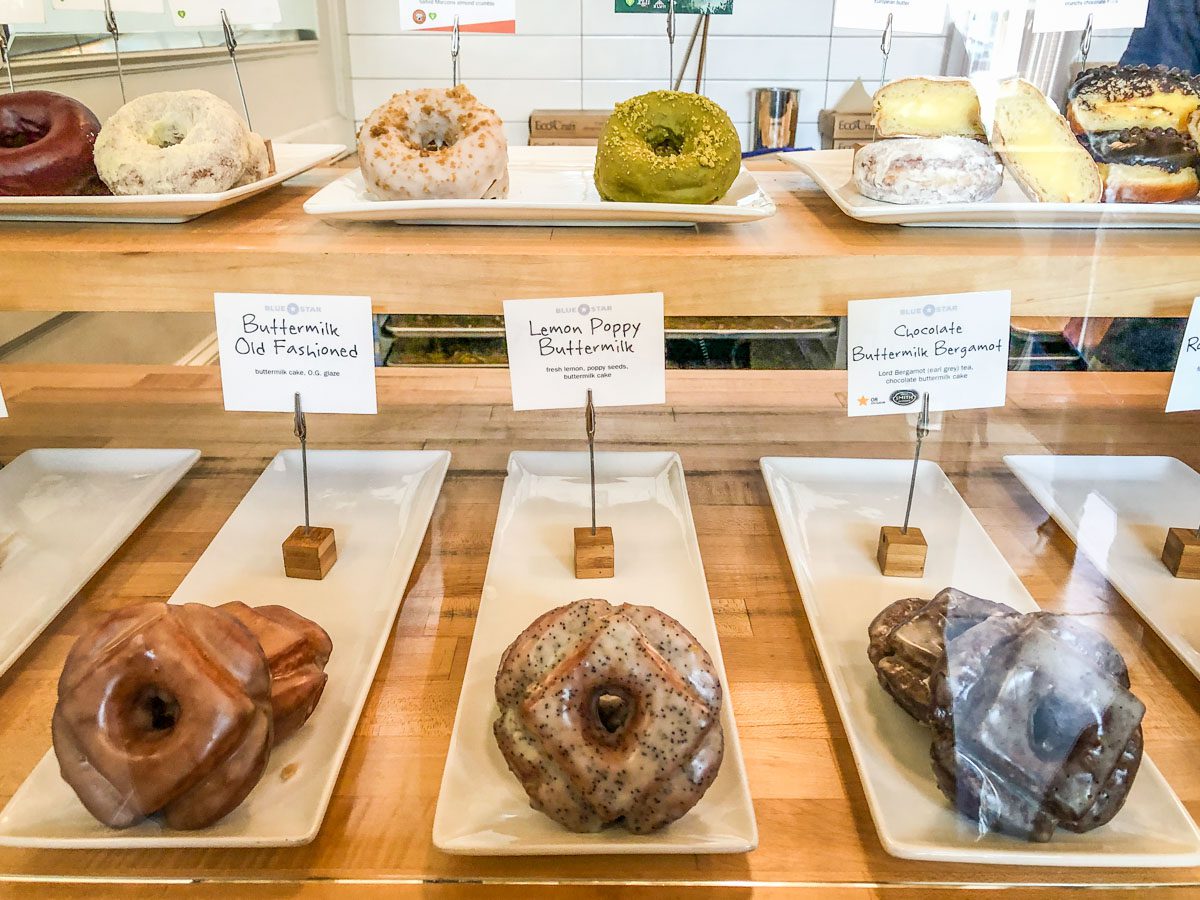 Just take a look at some of these interesting flavor options from Blue Star…
Chocolate Bergamot Old-Fashioned
Orange Olive Oil
Cointreau Crème Brûlée
Blueberry Bourbon Basil
*Cue me drooling over my laptop as I type this.*
This, my friend, is my type of donut: Simple. Unique. Surprising. Gourmet.
So were they as good as they sound? you ask.
You bet they were.
Not too sweet, the flavors are well-executed. Were they the best donut I've ever had? Mmm, probably not, but they were still very good.
The Good:
Interesting flavors as well as classics
6 locations in and around Portland (and one in LA)
Vegan options available
The Bad:
They're expensive – starting at $4.50 a pop, these babies are a splurge (especially if you want to sample a bunch!)
Blue Star Website | Google Maps Location (flagship location)
3. Pip's Original Doughnuts & Chai
At a glance: Mini donuts and chai with hidden gem vibes
Pip's feels like a local secret, and it took us many visits to Portland before we finally tried this gem.
This pocket-sized shop specializes in freshly made mini doughnuts, like the ones you get at state fairs. Can you smell them?!
Good to know: If you visit Pip's within 7 days of your birthday (before or after), you get one dozen doughnuts for free! (Just show your ID.) I had no clue about this and visited on my birthday. What a great surprise!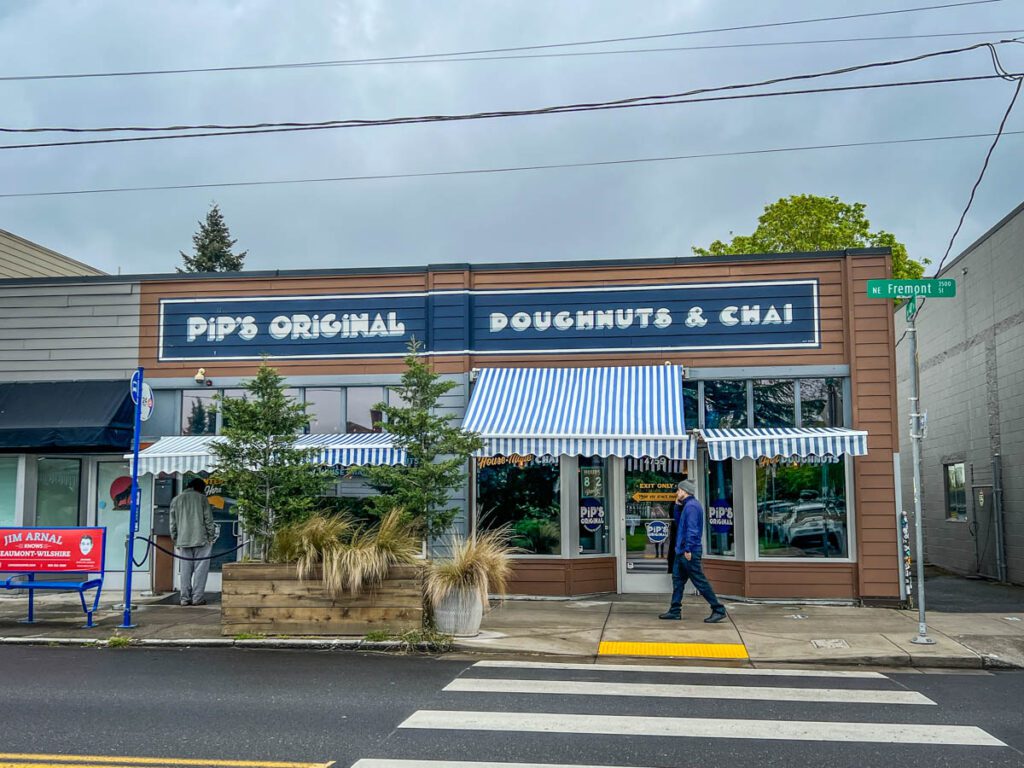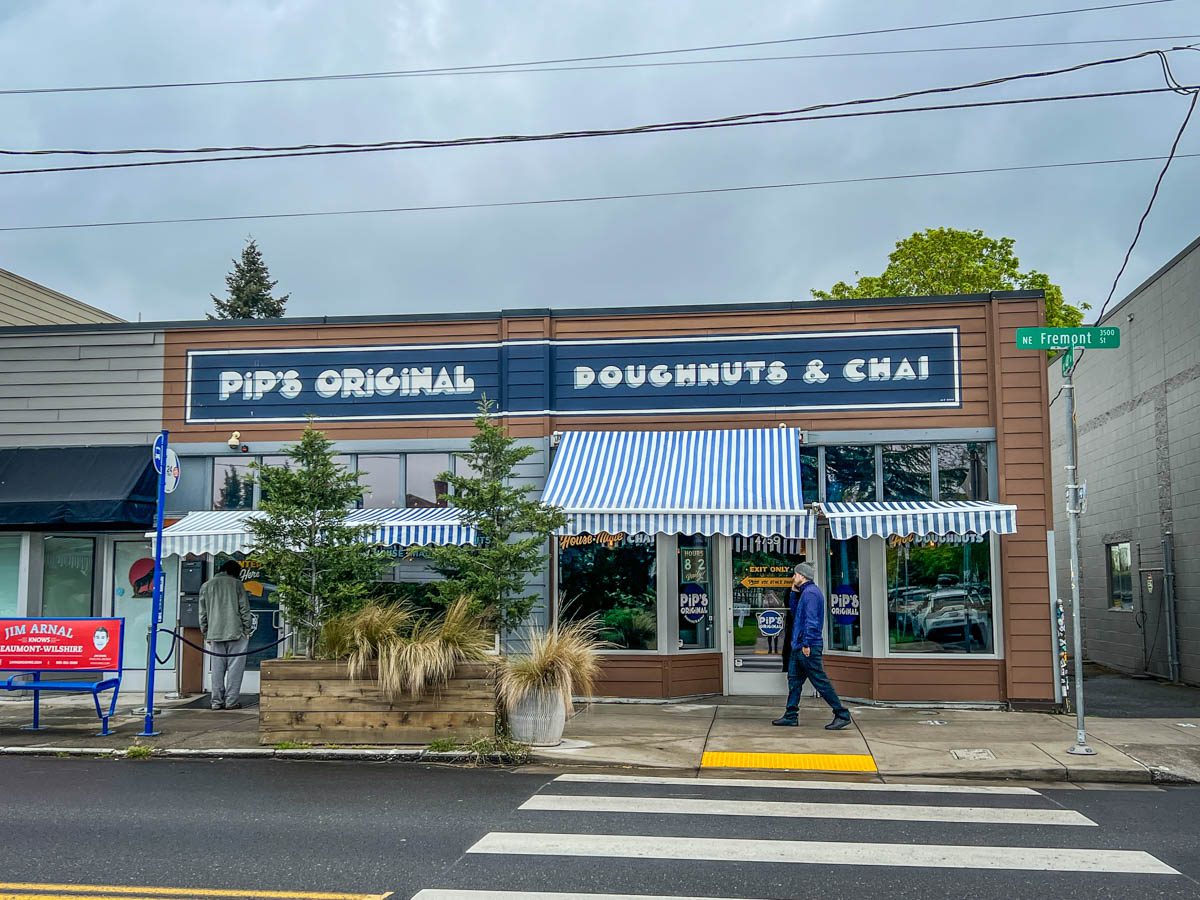 In addition to the traditional cinnamon-sugar, choose from 5 unique flavor combos like raw honey & sea salt, Nutella, candied bacon maple, and a rotating seasonal flavor.
Can't choose just one? Sample them all – they're mini, after all! You can purchase Pip's Donuts in quantities of 4, 6, 8, and 12.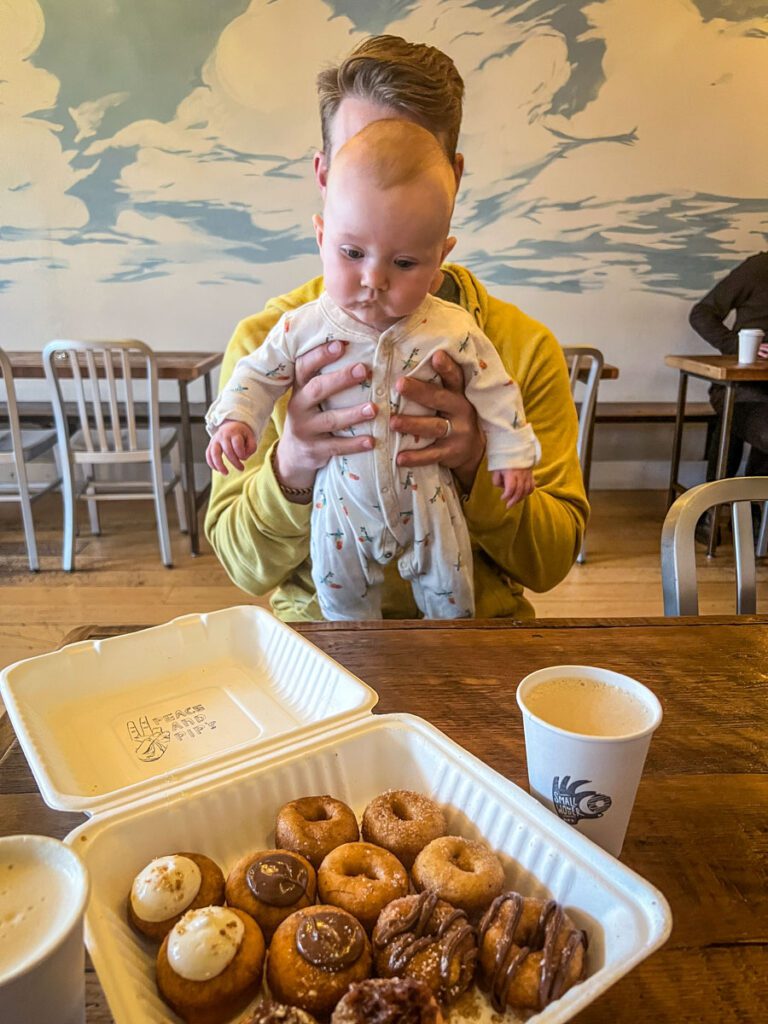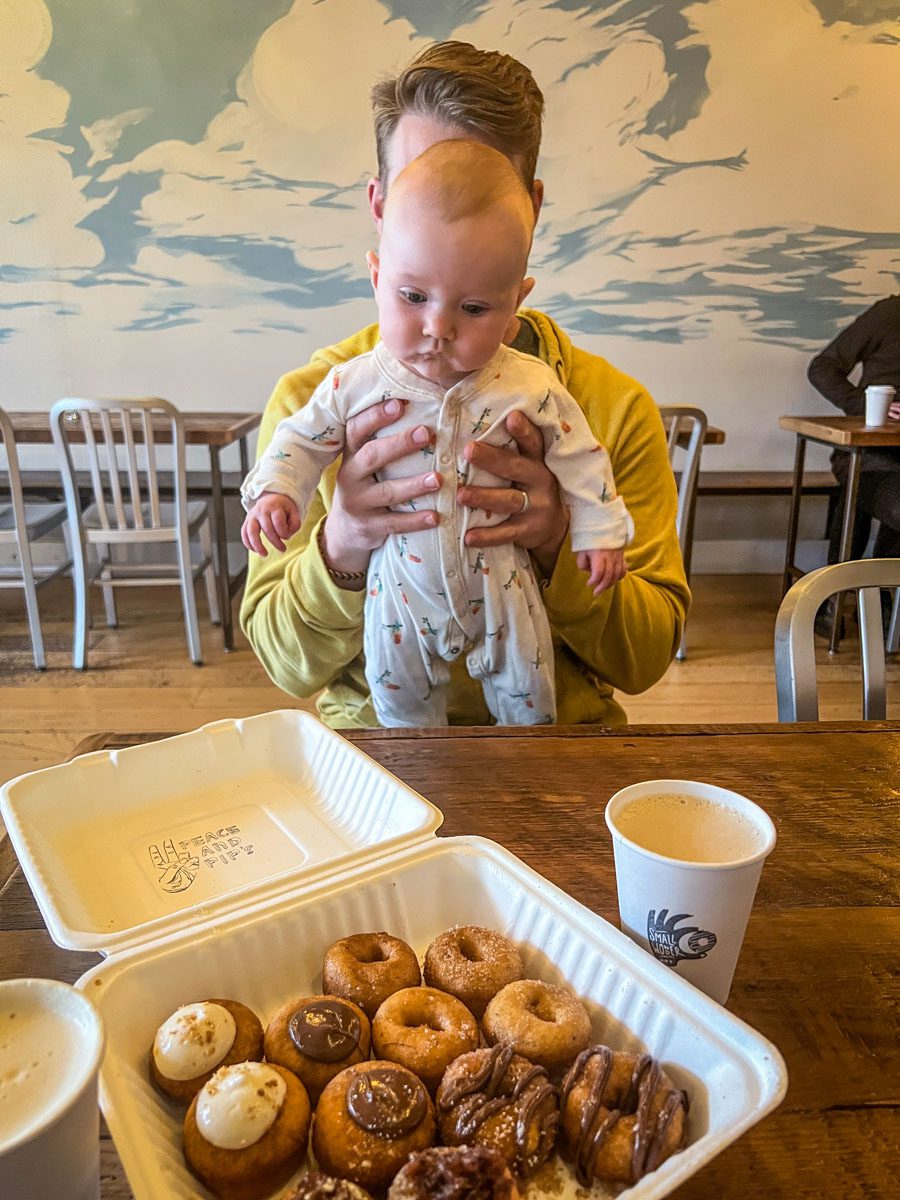 And pair your doughnuts with one of their signature chais (like the doughnuts, there are a variety of flavor options).
We loved our experience at Pip's, and will definitely be back. But if it's a true donut you're craving, this might not scratch your itch.
The Good:
You can try several flavors because they're small
Unique chai teas to pair with your donut
They're affordable! A dozen (mini) doughnuts is $12.
The Bad:
The shop is small and it can get busy
There aren't many flavors to choose from
Not super close to other main tourist attractions in Portland
Pip's Original Website | Google Maps Location
4. Mikiko Mochi Donuts
At a glance: Excellent gluten-free donuts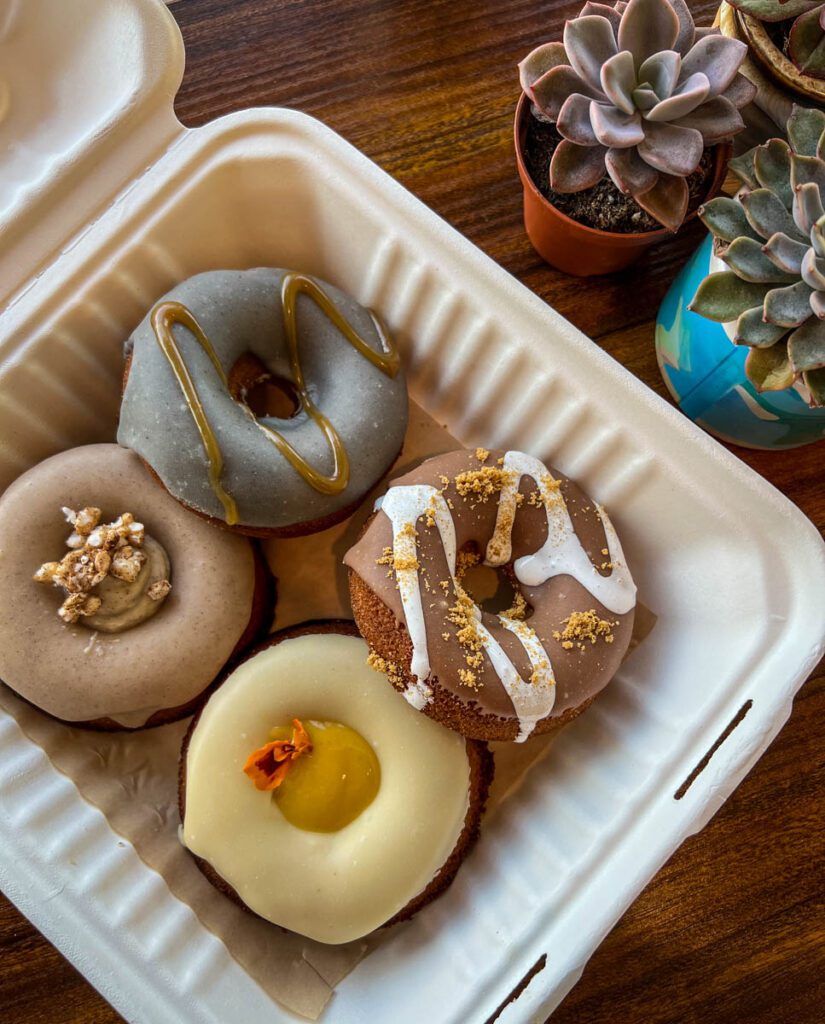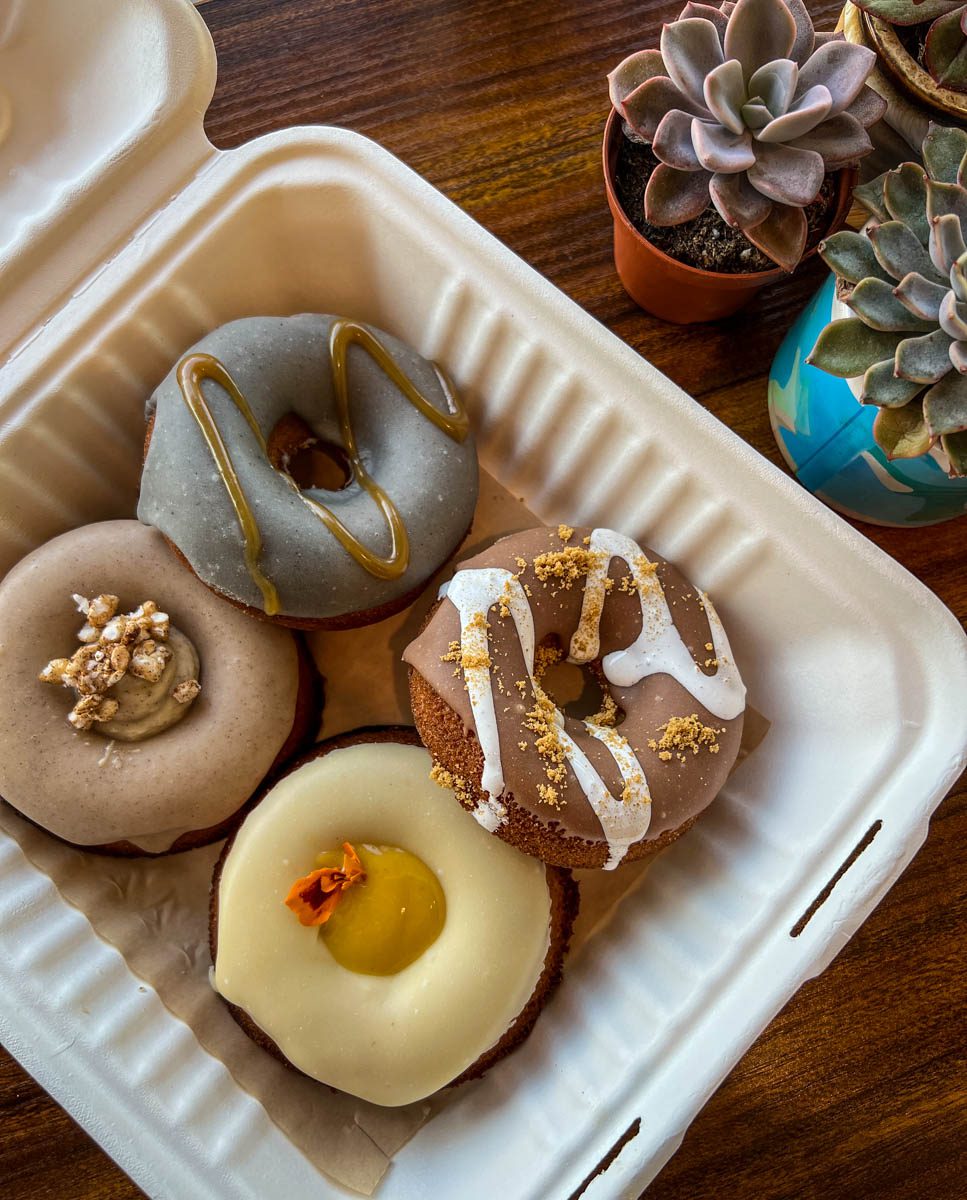 When I saw there was a mochi donut shop in Portland, I was intrigued.
I remember trying a mochi doughnut somewhere in Asia (maybe South Korea…?) and really liking it. The texture was a bit chewier than a "normal" dough, but in a good way.
I convinced Ben that we needed to stop at Mikiko on our most recent trip to Portland to see if it lived up to the mochi donuts of my memory. (Okay, let's be real: Ben needed no convincing to eat doughnuts.)
A huge perk about Mikiko (that will matter more to some than others) is that all their donuts are dairy and gluten free.
While the menu of flavors is not huge – I believe there were 8 to choose from on the day we visited – most were intriguing.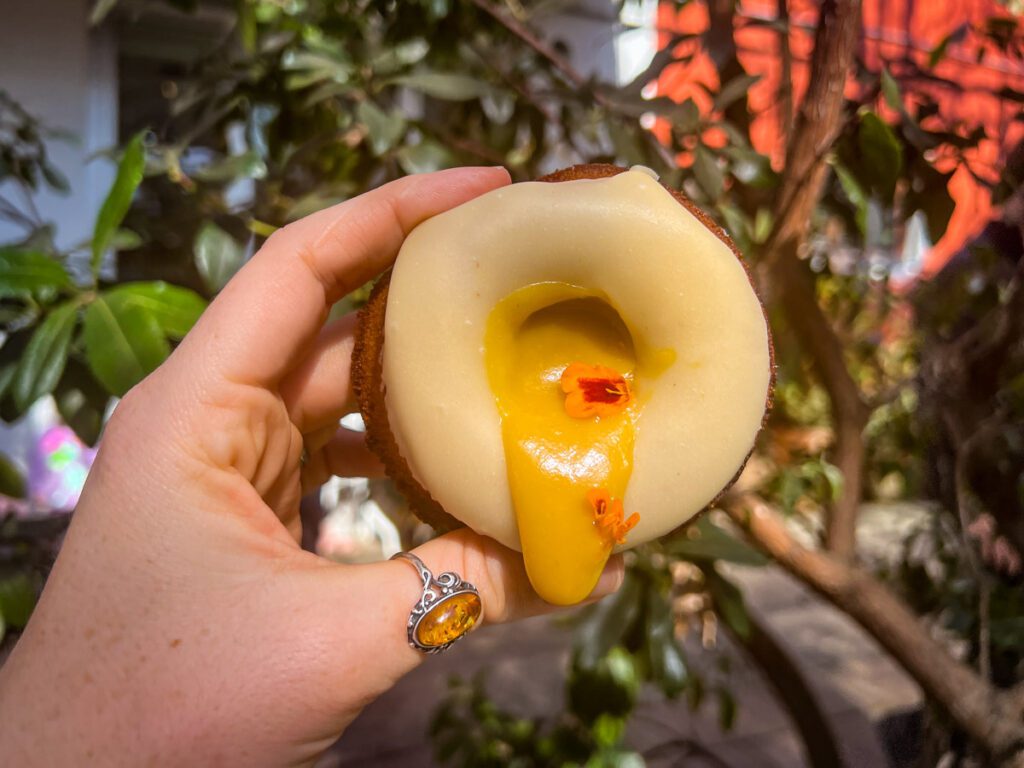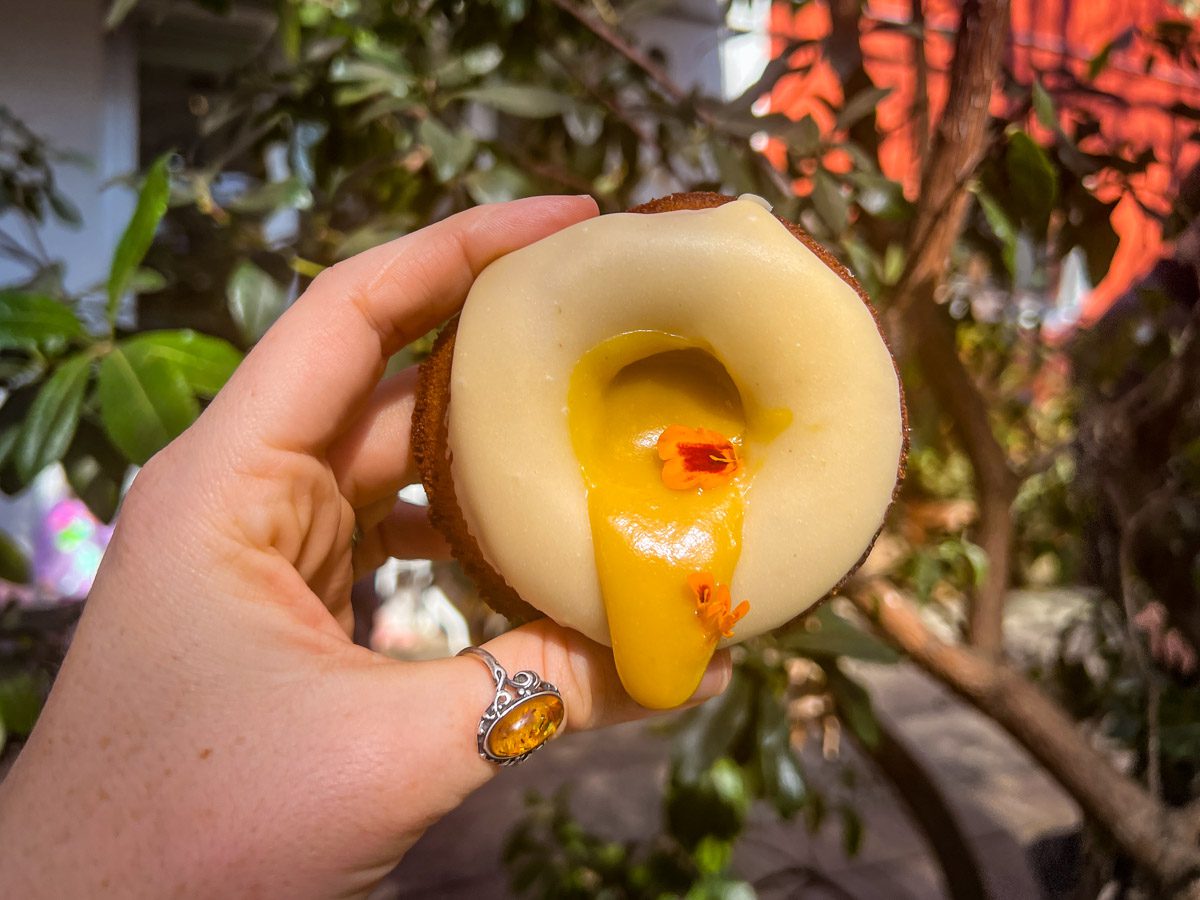 We ended up ordering 4 flavors to sample:
Passionfruit Curd
Horchata Pudding
Black Sesame with Koji Caramel
S'mores
Our Mikiko Mochi Donut Experience
After trying them all Ben and I pointed to each donut in order of how much we liked them and funnily enough, we had chosen the exact same order: Passionfruit was both of our favorites, followed by Horchata.
I really wanted to love the Black Sesame (one of my favorite flavors!), but I felt like the caramel overpowered it a bit too much. Neither of us were huge fans of the S'mores. It was just too sweet and didn't stand out much.
Overall, the donuts themselves were very good and just like I remembered – a little chewy (almost like the dough is bouncy!), and very moist.
In the world of donuts, I'd say these are excellent for being gluten-free (not dry or grainy at all). And they are still very good as far as all donuts go – but given the choice, I'd probably choose gluten.
We'd definitely recommend checking out this small shop if you're on the eastside of Portland or looking for a great gluten-free donut option.
Looking for something savory? I should also mention that if you've got a hankering for something savory, there is a "breakfast sando" on the menu with egg, meat and cheese sandwiched between two unglazed donuts. I can feel my arteries clogging as I write that sentence, but I'm weirdly okay with it and curious to try that sandwich…
The Good
Gluten free (and dairy free)
Mochi gives these donuts a unique texture
No lines
The Bad
We liked some flavors more than others
Location is outside of the downtown area, making it not as convenient as others on this list
Mikiko Website | Google Maps Location
Psst! This is totally unrelated to donuts, but if you are in the area and on the hunt for lunch or dinner, I'd highly recommend making your way to Güero on the next block. Their Mexican tortas are incredible and their bowls are really good too!
5. Doe Donuts
This women-owned shop is known for their artisanal vegan doughnuts that are scratch made with locally-sourced and fair trade ingredients when possible.
Well, that is the most Portland sentence I've ever written, but I'm cool with it.
Doe also takes pride in their "quality over quantity approach": Everything is made from scratch, they don't sell day-old donuts, and they pay their employees a living wage. A killer trifecta.
Our friend, Alex, who lives in Portland, had this to say about Doe Donuts:
"I really enjoy Doe for something a bit more original—artisan and unexpected flavor combos without the price tag of similar shops. My favorite flavor (so far!) is French toast."
Doe has a solid list of core flavors they carry year round (like Tiramisu filled and Portland Fog, which features an earl grey glaze and fresh whip), as well as inventive seasonal flavors. And while all their donuts are 100% vegan, you won't be sacrificing flavor.
In addition to having straight up beautiful and delicious donuts, they are some of the most affordable you'll find in Portland for this level of quality.
Psst! If you're craving something other that (or in addition to!) donuts, Doe also has vegan ice cream and ice cream sandwiches!
The Good:
100% vegan
Company ethos is inspiring
Unique flavors
Off the beaten track
One of the more affordable "gourmet" donut shops
The Bad:
Far from the city center (can be a good stop on your way in or out of town)
Doe Donuts Website | Google Maps Location
6. Sesame Donuts
This local chain feels like an old school bakery you'd find in a small town: no-fuss classic doughnuts, housemade bagels, breakfast sandwiches and coffee drinks.
They have a "classic" donut menu as well as "fancy"; but on the latter, you'll find flavors like Oreo, vanilla frosted and chocolate cream. Not exactly the frilly, vegan, artisanal flavors you'll find at some other shops on this list.
Not gonna lie, I'm a big fan of the frilly flavors. The more unique, the better (in my opinion).
But if you're searching for a classic donut shop with the cheapest prices in town, this is your place.
A dozen of classic donuts is just $16 while a dozen of "big donuts" is only $27. If you're looking for a bargain you can stop your hunt now because that's by far the best prices you'll find on this list.
The Good:
Cheapest donuts in Portland
Old school, no frills feel
More items on the menu in addition to donuts
Their Beaverton location is open until 11pm in case you need a late-night treat!
The Bad:
Flavors are ordinary – nothing special
If you're looking for Instagrammable doughnuts or atmosphere, this isn't it
Sesame Donuts Website | Google Maps Location (most central location)
7. Coco Donuts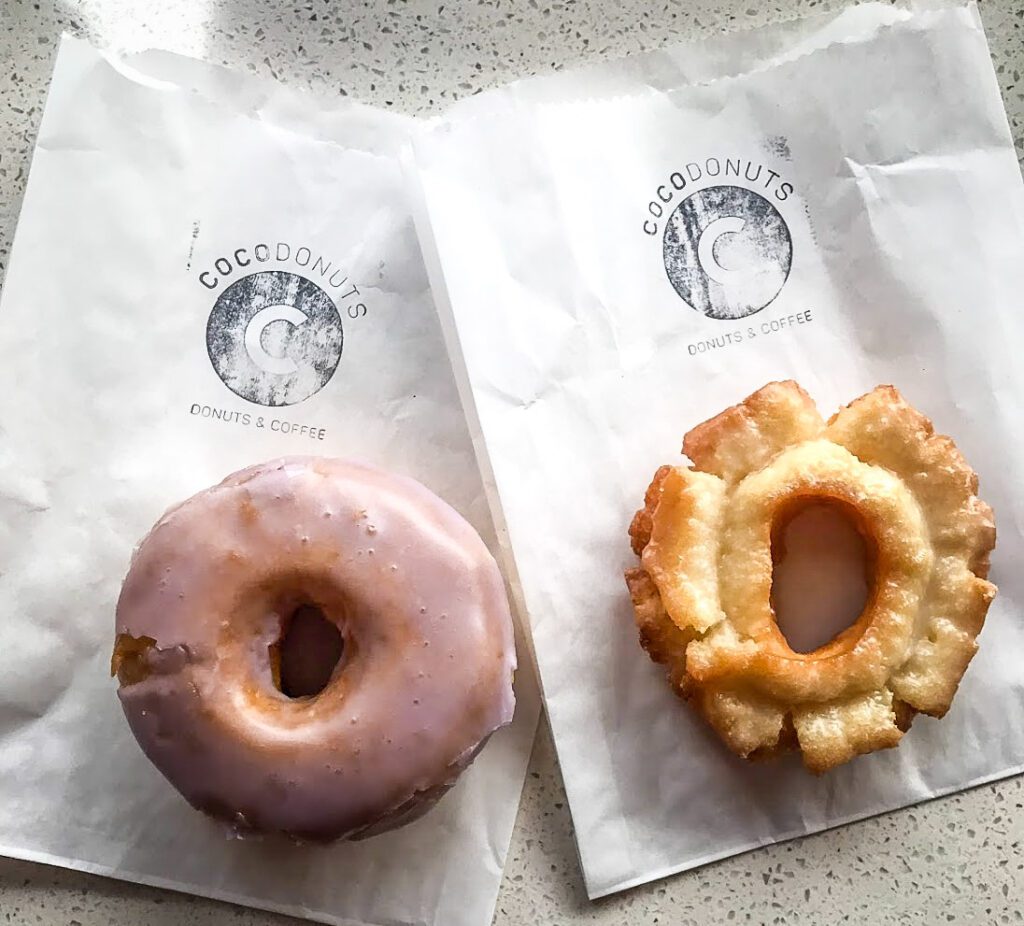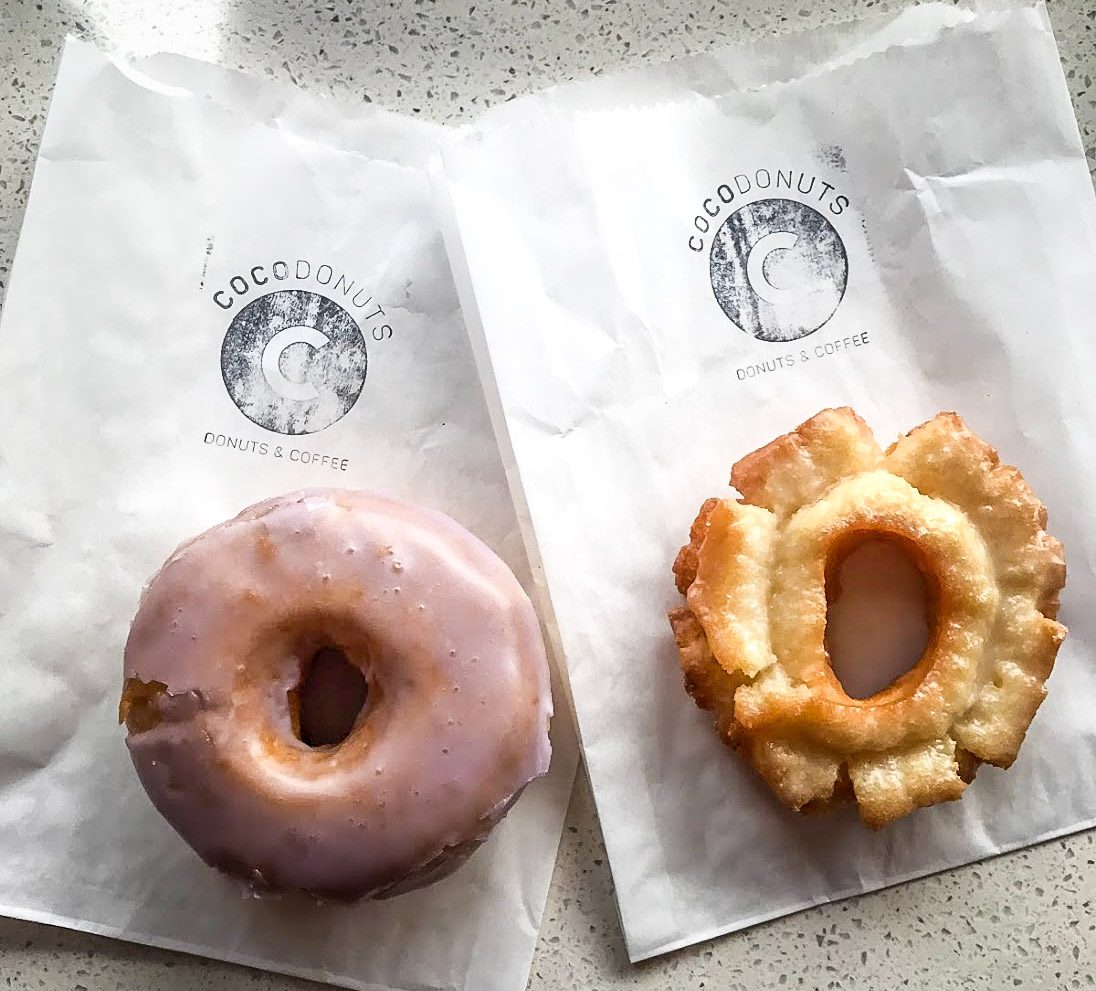 With 3 downtown Portland locations and still more on the outskirts, Coco Donuts is a chain you're likely to see while exploring the city.
The shops and doughnut offerings feel like a more quaint, less corporate version of Dunkin' Donuts. And while they have a handful of somewhat unique flavors, the majority are pretty standard classics.
Our friend, Alex, who lives in Portland, had this to say about Coco Donuts:
"Cocos delivers a basic, well-made donut. It doesn't have much flair, but it tastes good all the same!"
When it comes to Portland donut shops, Coco doesn't necessarily have anything that makes it stand out amongst the rest.
That said, it can be a good choice for those looking for the classics (nothing fancy!), and a convenient location.
The Good:
3 downtown locations makes it convenient
Classic flavors
Affordable compared to the more "gourmet" shops
The Bad:
Nothing that makes it stand out (kind of forgettable)
Similar to what you can get at Dunkin' or gas stations
Coco Donuts Website | Google Maps Location (there are 2 more downtown locations + more in the outskirts)
---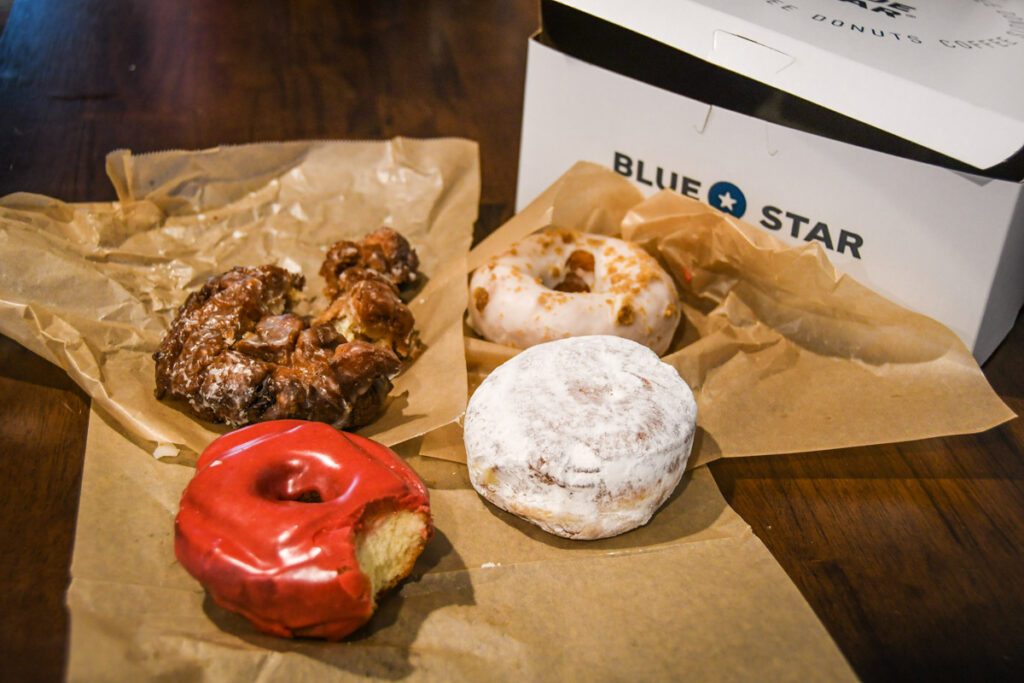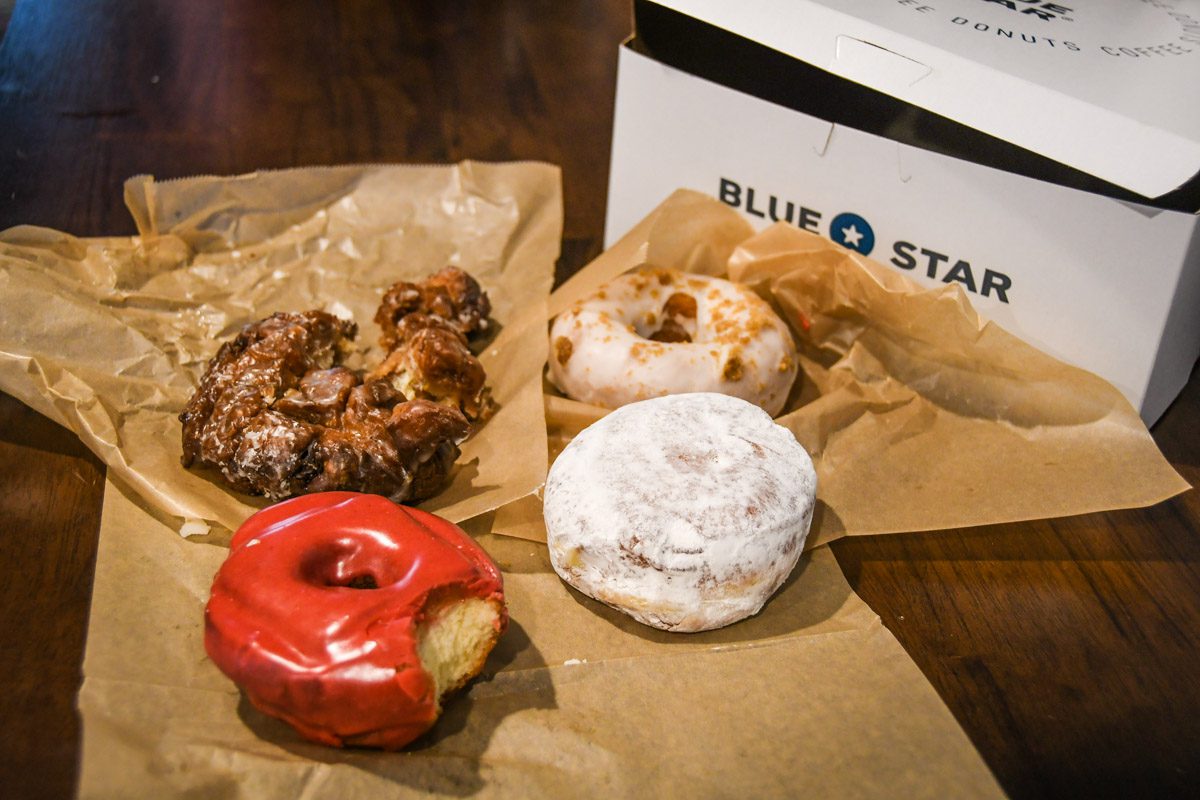 Our top Portland donut recommendations:
Overall: Blue Star
Unique experience: Pip's
Gluten-free: Mikiko Mochi Donuts
Off the beaten path: Doe Donuts
Take a Portland Donut Tour
If you're really into these circular treats, you might want to do a doughnut tour! Sample bites from all the best shops in Portland, learn local secrets and hear how donut shops have made a name for themselves in this city.
This local food tour company is awesome! We did their downtown food tour and loved it! This Coffee & Donut tour looks like a lot of fun. Plus, we've got a discount for you! Use twowanderingsoles for $5 off your tour.
Here's what guests are saying:
"So full of fun knowledge and a bubbling personality. This was my first food tour and I think I'm hooked! Great walk through downtown, lots of great knowledge of coffee and delicious treats along the way!"

-Toni, September 2022
This tour on Airbnb Experiences earns rave reviews and gives guests an insider's scoop into the Portland donut scene!
Here's what guests are saying:
"Don(u)t Miss This Tour! What a delicious way to enjoy downtown Portland! I would recommend this to any donut enthusiast visiting the area who wants to learn about the city, see some of the city and have truly amazing desserts. Our Guide Kayla was wonderful and we appreciate (what ended up being) a private tour experience."

-Whitney, December 2022
Speaking of treats…
If you have a sweet tooth – which I assume you do because you are reading an article about donuts, after all! – you're not going to want to miss Portland's best ice cream!
Salt & Straw: Perhaps my very favorite ice cream company ever. And I've tried a lot.
50 Licks: Seriously good vegan ice cream!
---
Are you planning a trip to Oregon?
Being that Oregon is our home state, we have TONS of content to help you plan your trip. Start with our Oregon Homepage and be sure to check out the articles below. Leave us a comment if you have any more questions!
Pin this article for later!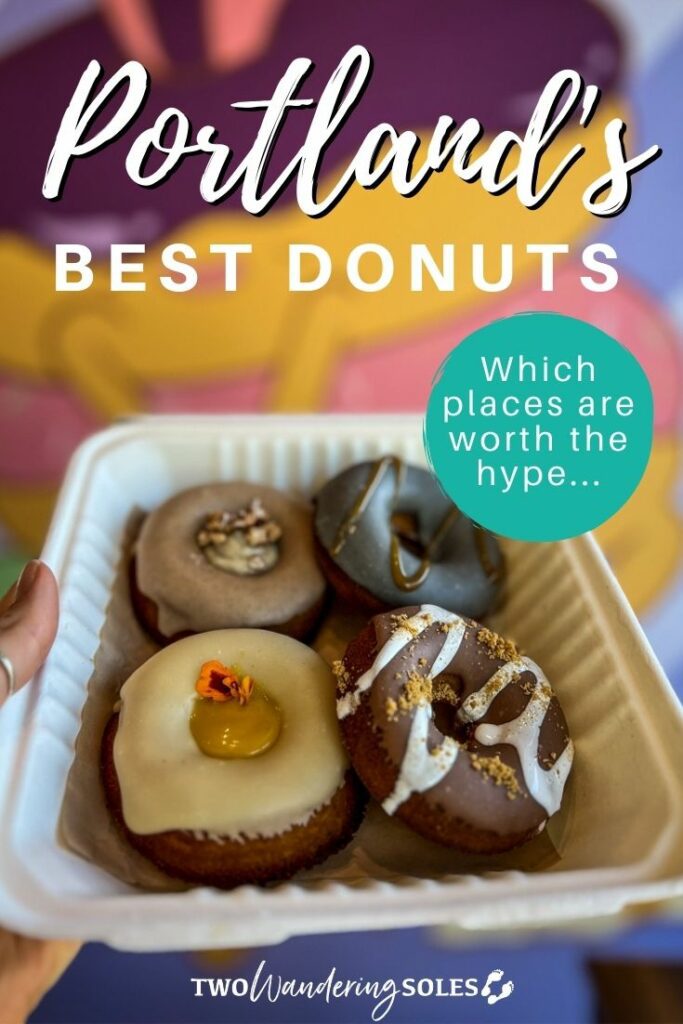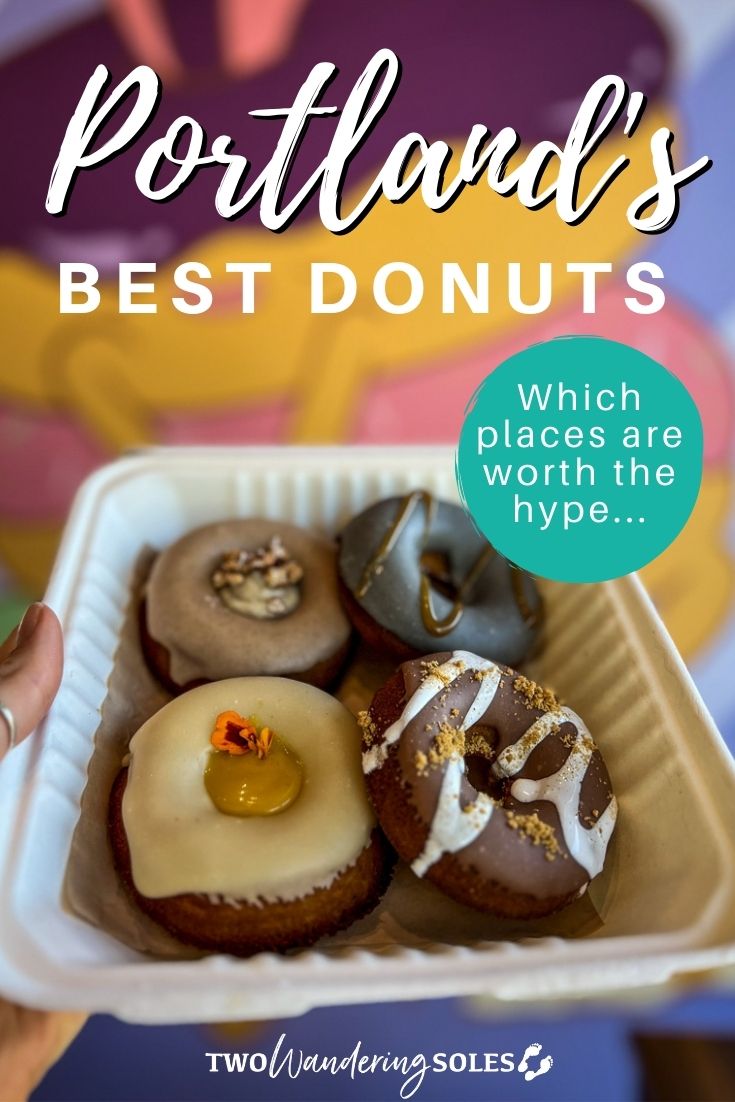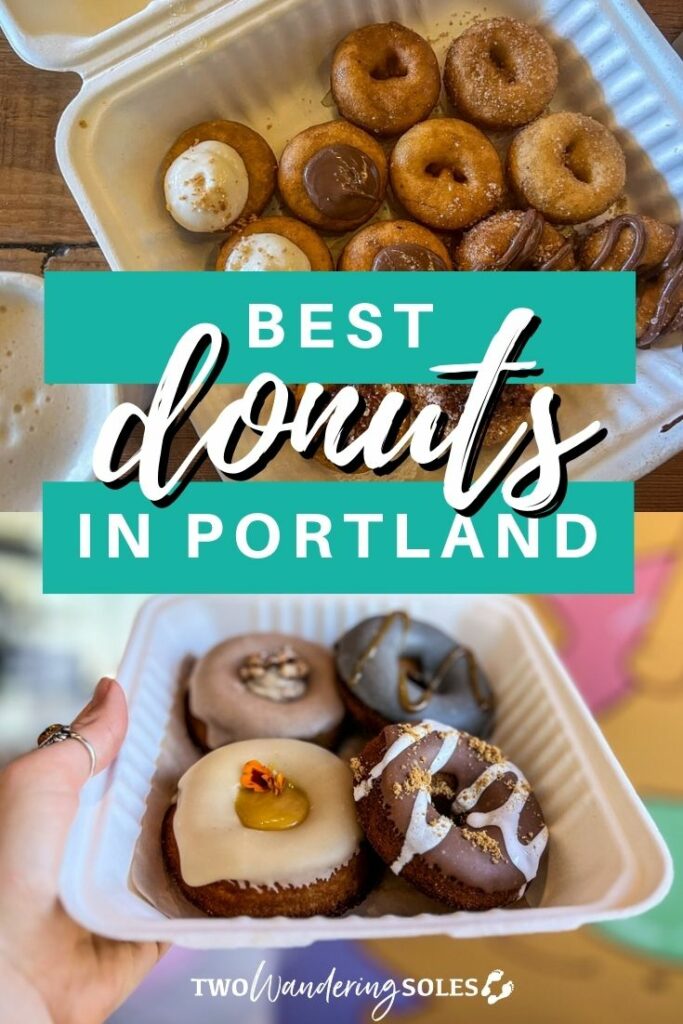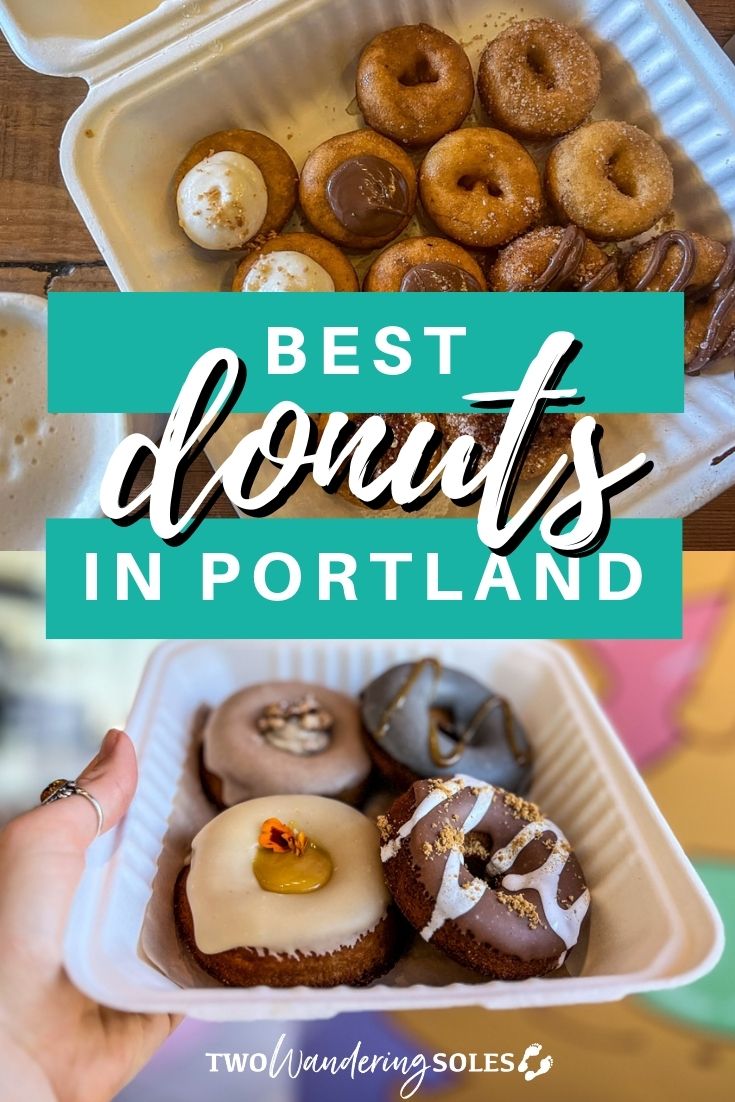 What donut shop did we miss?
Any we need to put on our list for our next visit?