Just an hour from Portland, the Hood River Fruit Loop is filled with dozens of orchards, wineries, farms, produce stands, breweries, flower fields, and more. We've rounded up our favorite stops to help you plan your trip.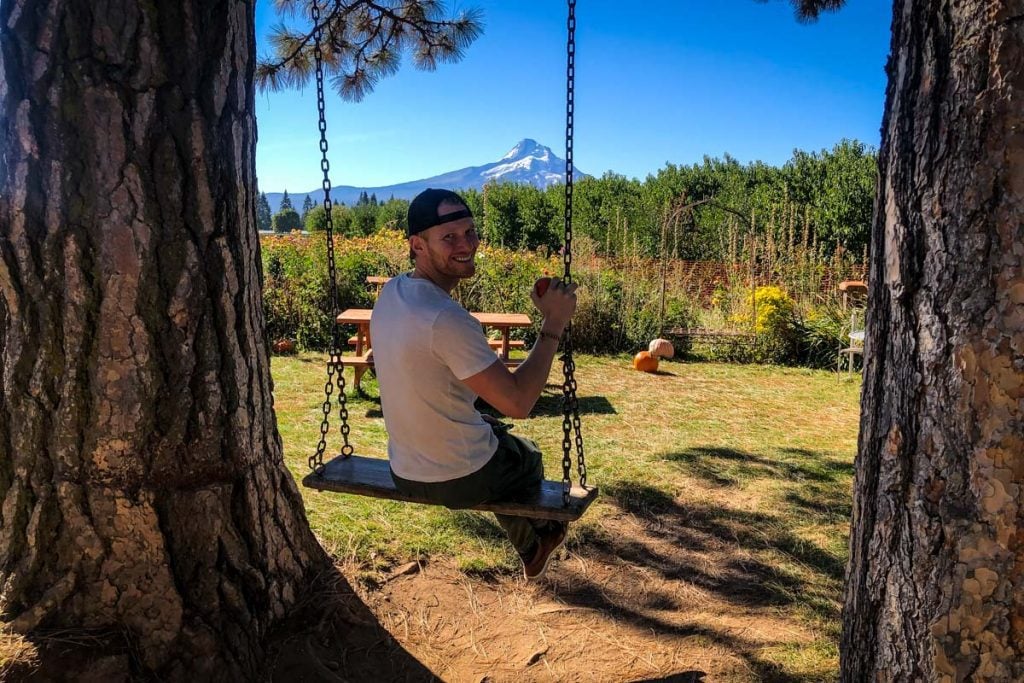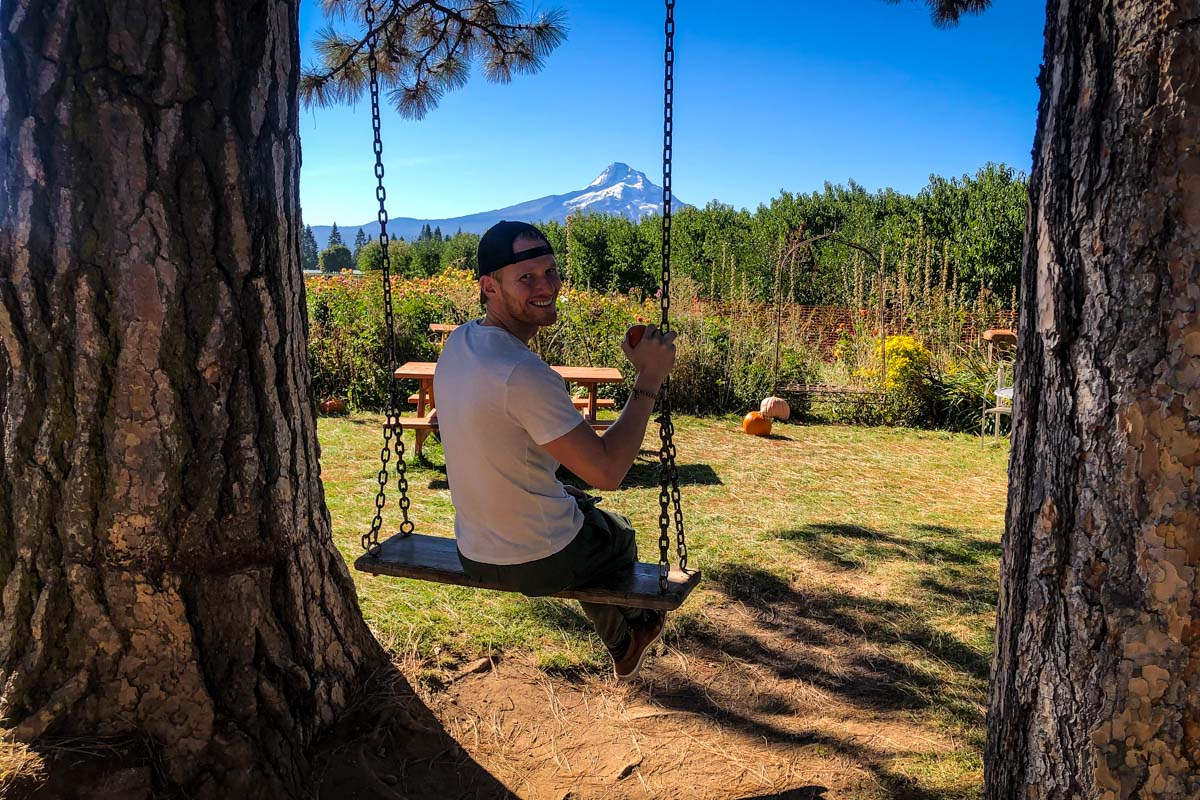 One of the best things to do in Hood River is to spend a day following the area's famed Fruit Loop — a scenic drive through the valley that spans 35 miles and takes visitors past 27 different wineries, orchards and farms.
Stop for a wine with a view, sample local farm-to-table cuisine, pick your own seasonal fruit, and shop for homemade jams and pickled veggies to bring home with you (aka a souvenir that keeps on giving!).
What is the Hood River Fruit Loop?
The Hood River Fruit Loop is a collection of fruit orchards, vineyards, wineries, and other local farms. Founded in 1992 as a concept to promote sustainable agriculture in Hood River, the Fruit Loop was the brainchild of two local farms. It was modeled after Apple Hill, another agricultural community of 50 family-owned farms located an hour from Sacramento.
Today, the Fruit Loop has grown tremendously. Beyond the physical locations of the businesses, there are Hood River Fruit Loop farmers' markets, country stores, farm stands, tours, educational opportunities, and even dedicated public relations campaigns to bring attention to the importance of local agriculture.
Where is the Fruit Loop?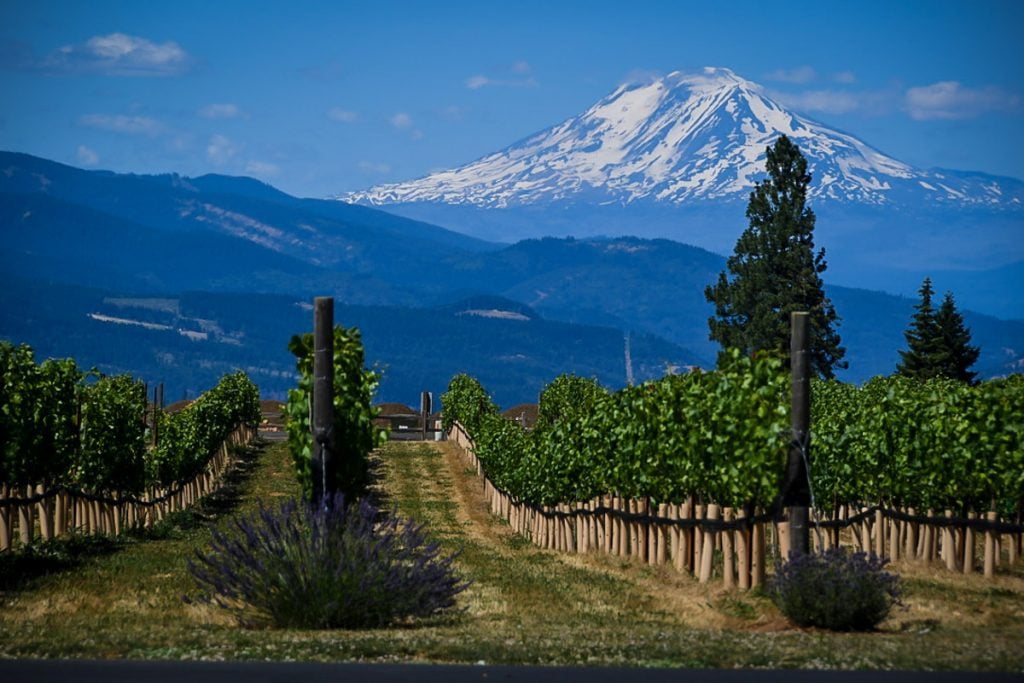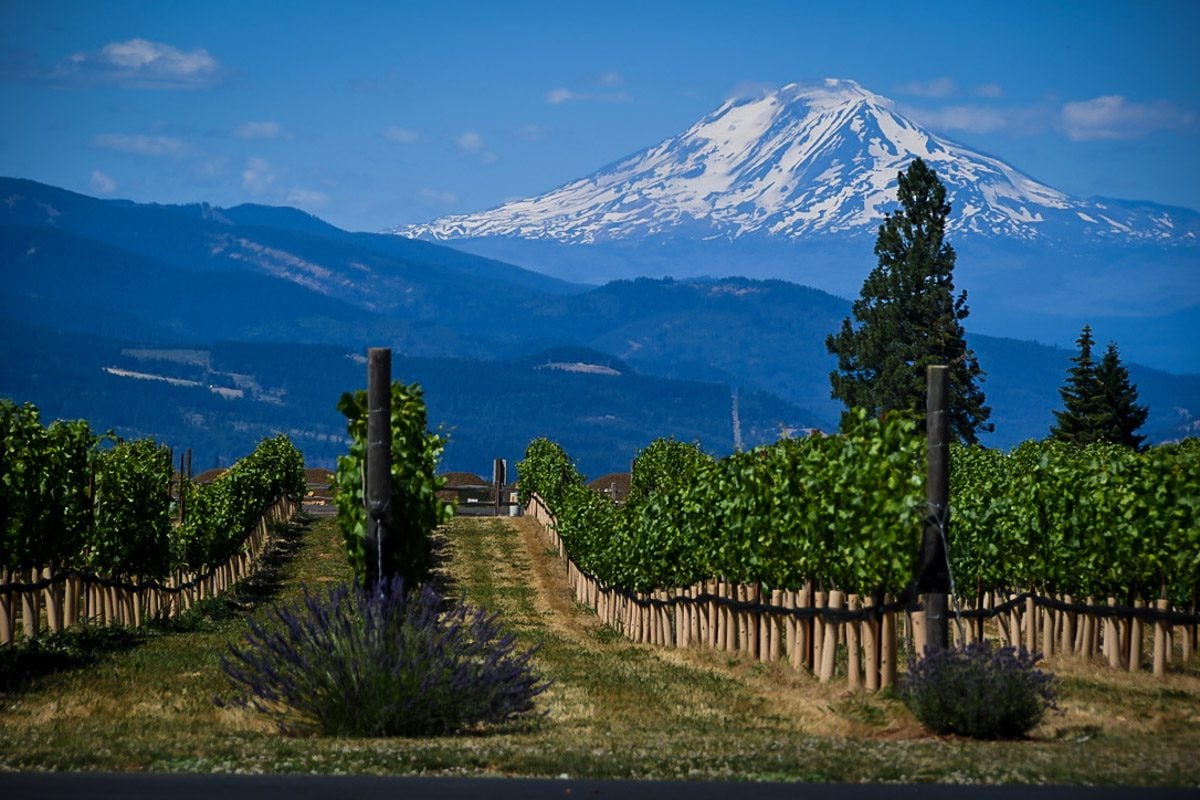 Nestled on the bank of the mighty Columbia River (about 62 miles east of Portland, OR), the sweet little town of Hood River has a climate that's perfect for growing many things — grapes for wine, berries, apples and pears, pumpkins, flowers — the list goes on.
With dozens of wineries, orchards, and flower farms, the Hood River valley looks like it was taken out of a storybook.
Green rolling hills are flanked by the snow capped peaks of Mount Hood to the south and Mount Adams to the north. Red barns and cute farmhouses dot the landscape. Fruit orchards and flower fields hug the small road that winds its way through the valley.
Like we said, something out of a storybook.
We've done the Fruit Loop several times, during summer and fall, and we find more to love about this area each time we visit. We're sharing some of our favorite stops along the Fruit Loop so you, too, can experience this beautiful slice of the PNW.
As you'll soon discover, driving the Fruit Loop is not only one of the most fun things to do in the area, but it's one of the best things to do in Oregon.
---
---
How to do the Fruit Loop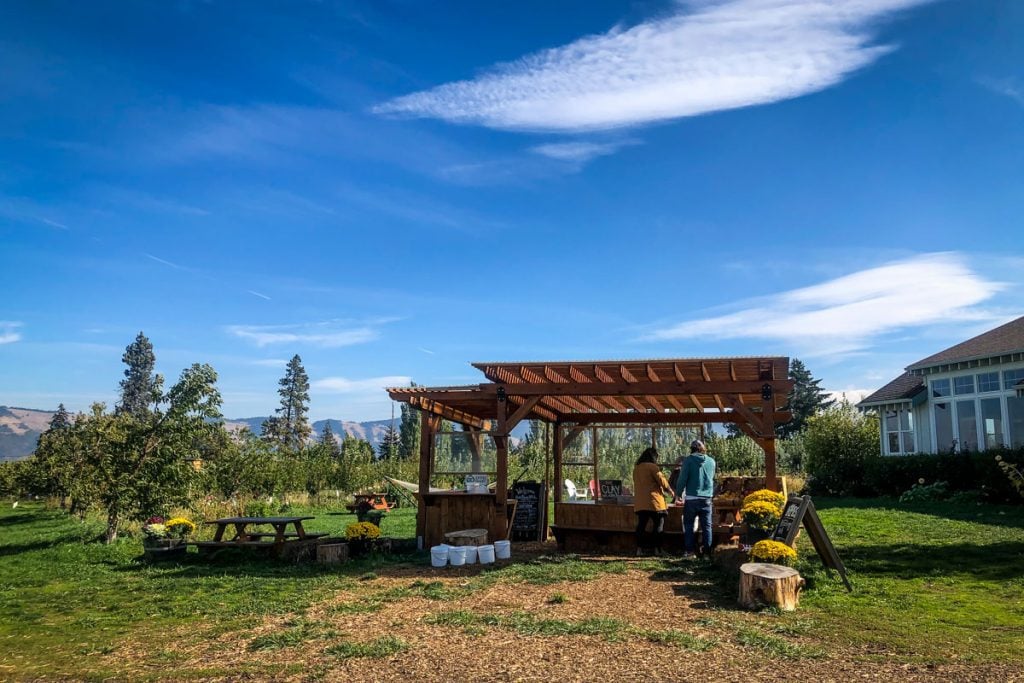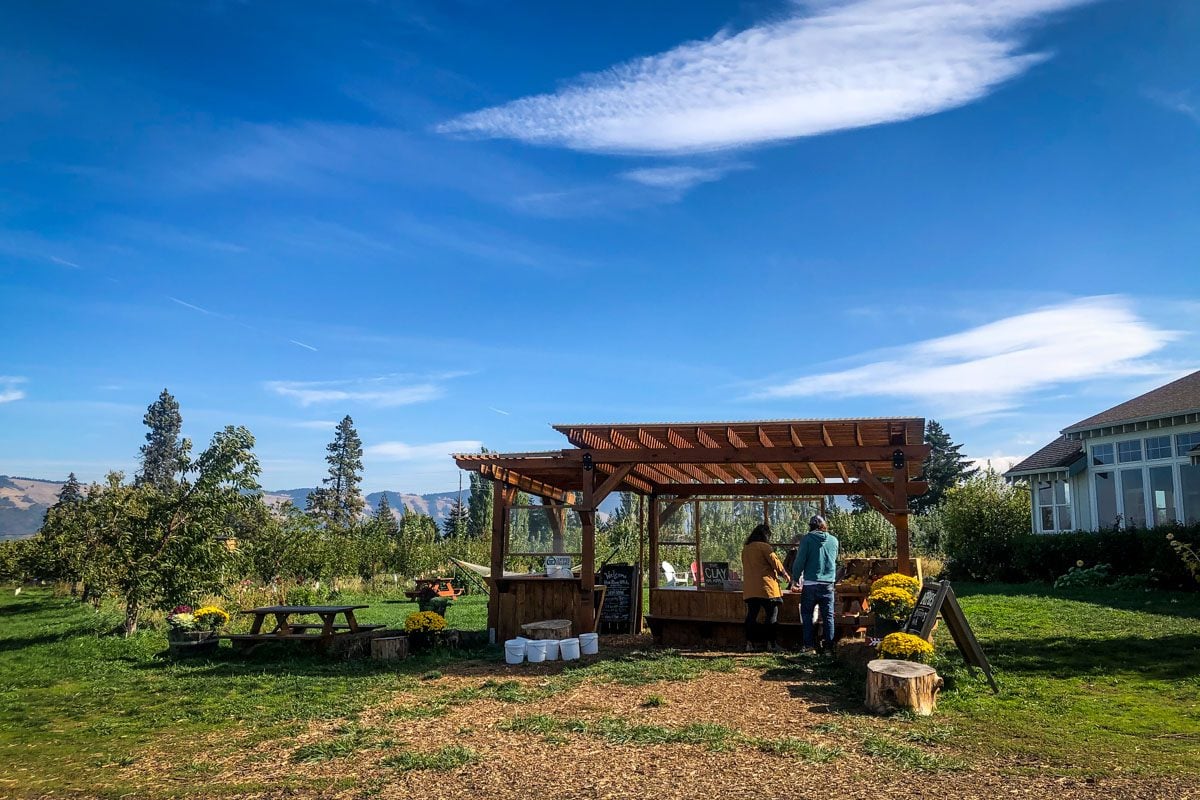 At about an hour's drive from the city, the Hood River Fruit Loop makes the perfect day trip from Portland. Most visitors take Interstate 84, which runs directly between the two areas. Whether you drive your own vehicle or rent one, you definitely need a car to best experience the Fruit Loop, and you'll want to plan on at least one full day.
We highly recommend staying overnight or for the weekend if possible, which will let you explore at your leisure and stop as often as you'd like. There are also several festivals and special events throughout the year, so if that interests you, consider planning your visit around one of those!
And keep in mind, there's a ton to do in the area beyond the Hood River Fruit Loop itself, including hiking, chasing waterfalls, and stopping at scenic overlooks or picnic areas.
Map of the Hood River Fruit Loop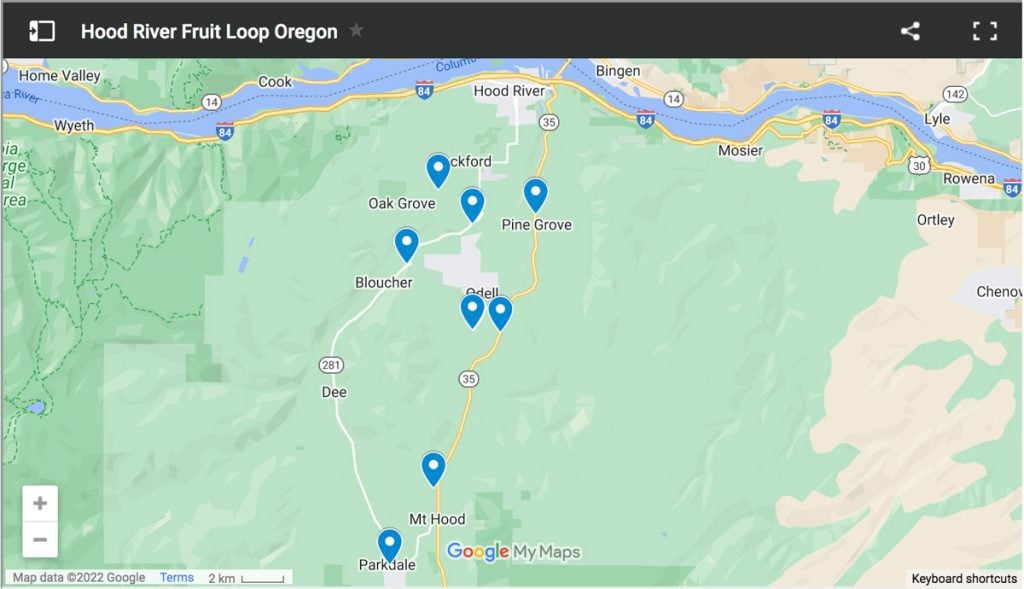 Use this map of our recommended stops on the Hood River Fruit Loop to help you plan your route.
Best time to drive the Fruit Loop
The Hood River Fruit Loop drive is filled with a magical mixture of natural landscapes and colors, all set against the backdrop of majestic Mount Hood in the not-so-distant distance. If you intend to catch the fruit trees blossoming, plan your trip in early to mid-April.
Most of the flowers start to bloom near the end of March and are often at peak in mid-April. It's important to note, however, that several factors including weather and rainfall levels affect the exact bloom season.
If you'd like to visit the Hood River Fruit Loop during harvest season (another fantastic time, in our opinion!), plan for late summer or early fall.
Most of the businesses along the Fruit Loop update their websites and social media pages with current information on exactly what's being harvested and when, so if you're interested in a specific type of produce, it's a good idea to follow some of the businesses (we list many below!).
Winter has its own appeal along the Fruit Loop, although not all businesses are open with regular hours. Again, keep your eyes on specific businesses' social media pages or websites for specific information.
Tip: It's also a good idea to check out Highway 35 road conditions on Trip Check before heading out during the winter months.
---
Best stops along the Hood River Fruit Loop
While there are about 30 stops total along the Hood River Fruit Loop, it's a good idea to have a handful of go-to favorites or have a plan for visiting a few at a time to eventually explore them all.
In this guide, we're sharing our favorite stops along the Hood River Fruit Loop to help you plan out your itinerary, whether you have a single day or you're exploring Oregon on a road-trip.
1. Hood River Lavender Farms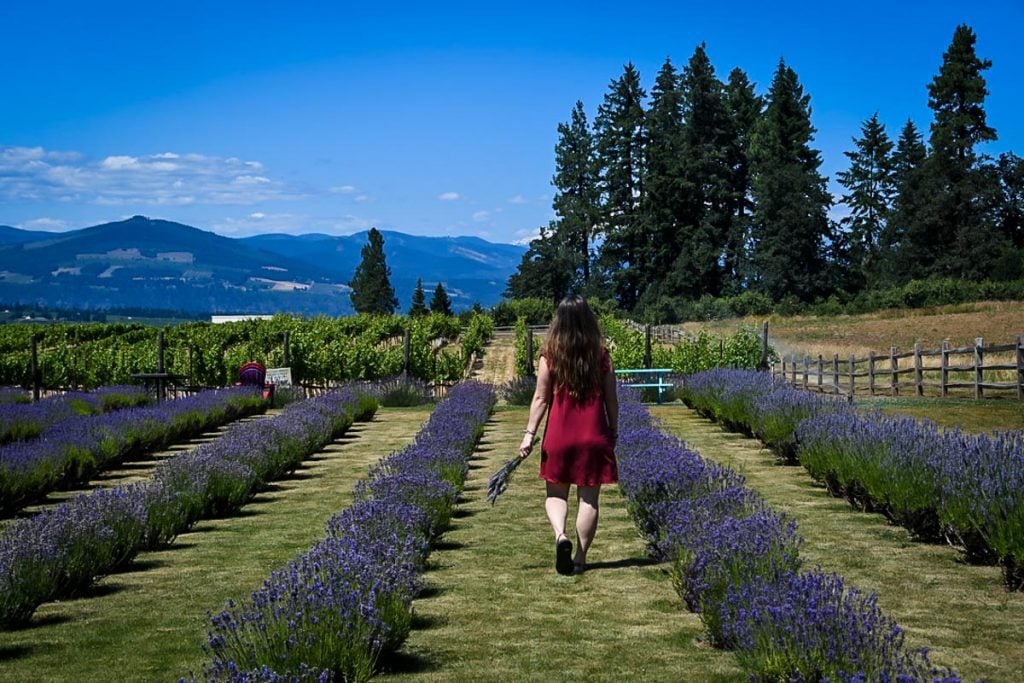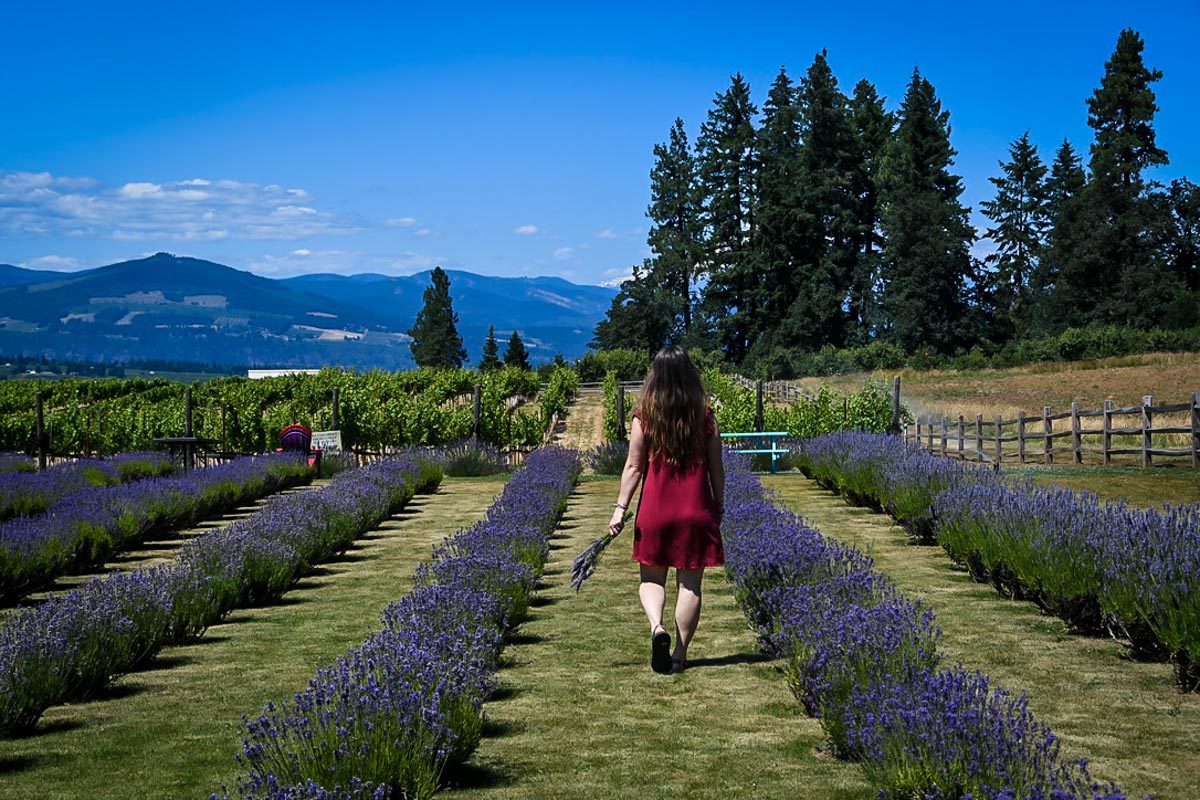 Nestled in a particularly scenic section of the Hood River Fruit Loop known as Lavender Valley, this gorgeous lavender farm is one of the most beautiful (and fun!) stops. It's hard to beat a picture-perfect lavender farm with snow-blanketed Mount Hood poised perfectly in the background.
Visitors can stroll through the lavender fields or simply sit and take in the views for free, plus visit with the adorable resident goats.
During the summer months when the lavender is in bloom, you can also cut your own bundle for a small fee. Any time of year, you can shop a great selection of lavender products from the gift shop, including onsite-steam-distilled oil, lotions, candles, and more.
While Mount Hood is breathtaking year-round, we highly recommend visiting Lavender Valley in the summer. Exact harvest dates vary slightly from year to year, but if you visit from late April through mid-July, you'll likely get to witness the lavender being picked and distilled for essential oils.
Aside from being able to cut your own bundle, the bright purple flowers against the backdrop of Mount Hood is just spectacular!
Hood River also has an annual Lavender Daze Festival to wind down the season, typically the first weekend of July. Several local farms participate and there are live bands, food vendors, and more family-friendly fun.
Psst! Check out these other breathtaking Oregon lavender farms you can visit!
2. Apple Valley Country Store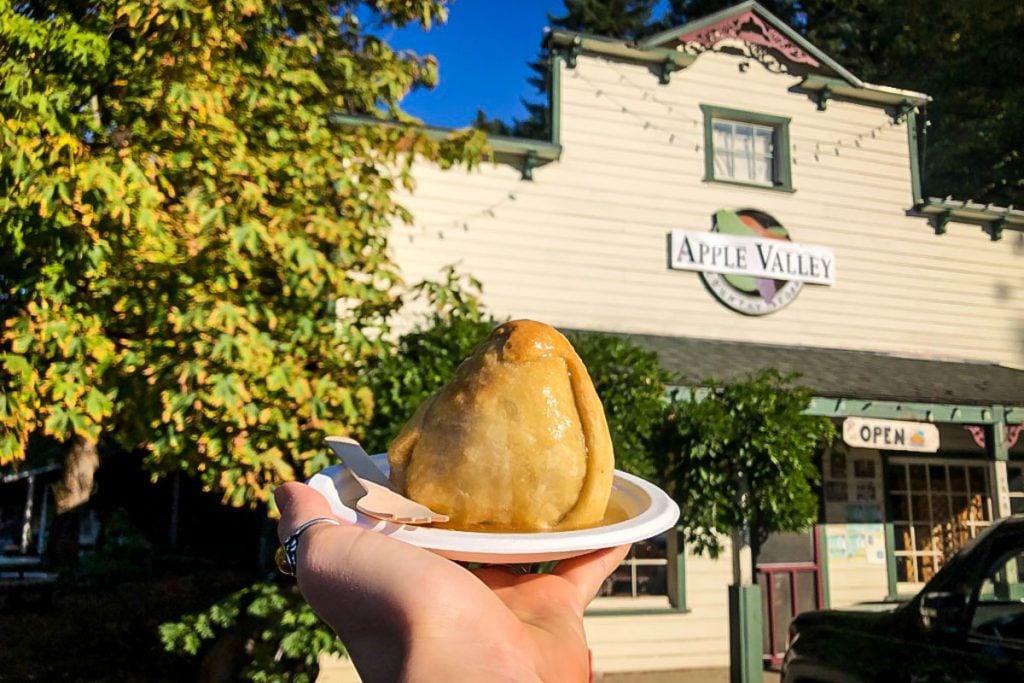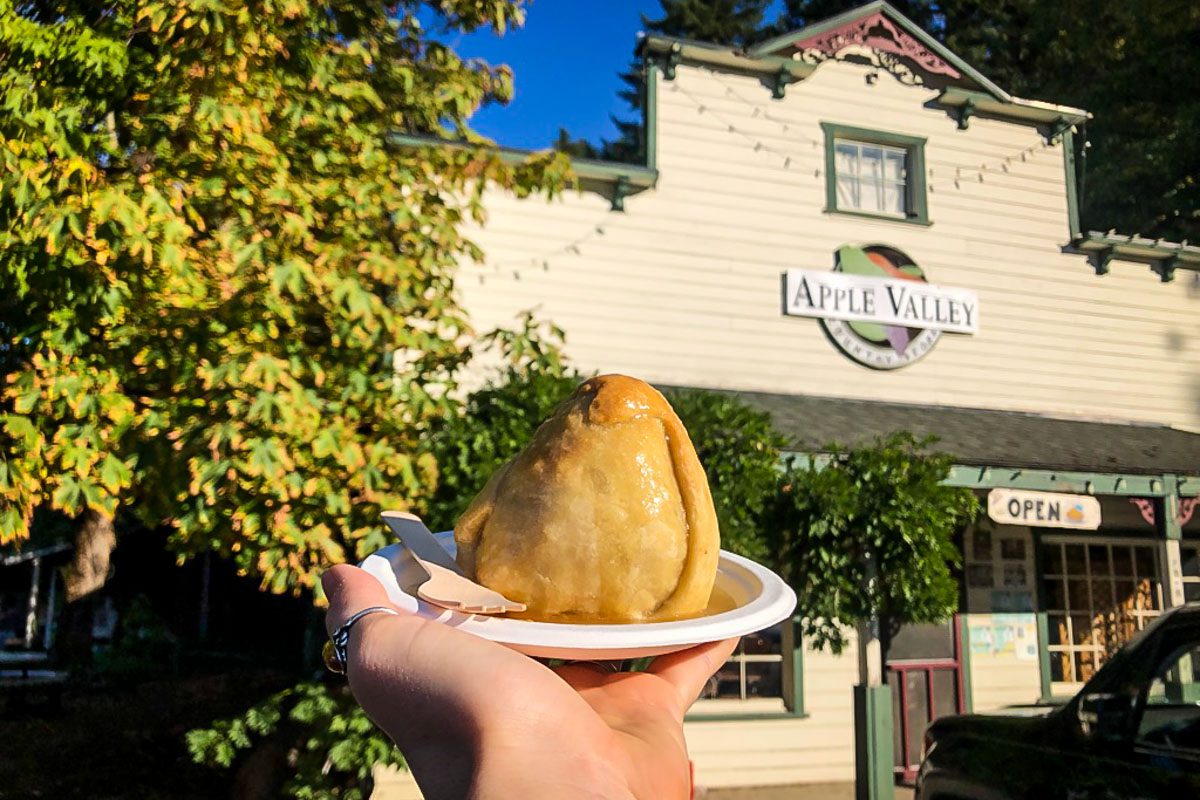 If you have a sweet tooth, you'll want to make a beeline for this ahh-dorable store on the Hood River Fruit Loop.
For the last 30 years, Apple Valley Country Store has been making syrups, small-batch jams, pies and pie fillings, pepper jellies, and all sorts of other delicious fruit-based creations from locally-grown Hood River Valley produce. You'll find all the classics, but the real standouts are flavors like cherry almond pear and peach habanero pepper.
And although you probably don't expect it from a country store specializing in fruit, Apple Valley makes out-of-this-world milkshakes with Tillamook ice cream (a local Oregon Coast specialty, in case you didn't know!). Seriously, they just might be the best-kept secret in the entire Hood River Fruit Loop region! The Huckleberry is pretty high up on our list, but the coffee flavor is insanely good, too.
In addition to jams and other jarred goodies, you can enjoy fresh homemade pastries (try a huckleberry cinnamon roll!) and pie at the store or bring frozen ones home to bake later.
Apple Valley is open all year, but hours vary seasonally. If at all possible, plan your visit for July's cherry celebration, the summer fruit celebration in August (salted caramel hand pies — need we say more?!), or the fall fruit harvest in September and October. People come from other states just for the famous pear dumplings every fall!
3. Packer Orchards & Bakery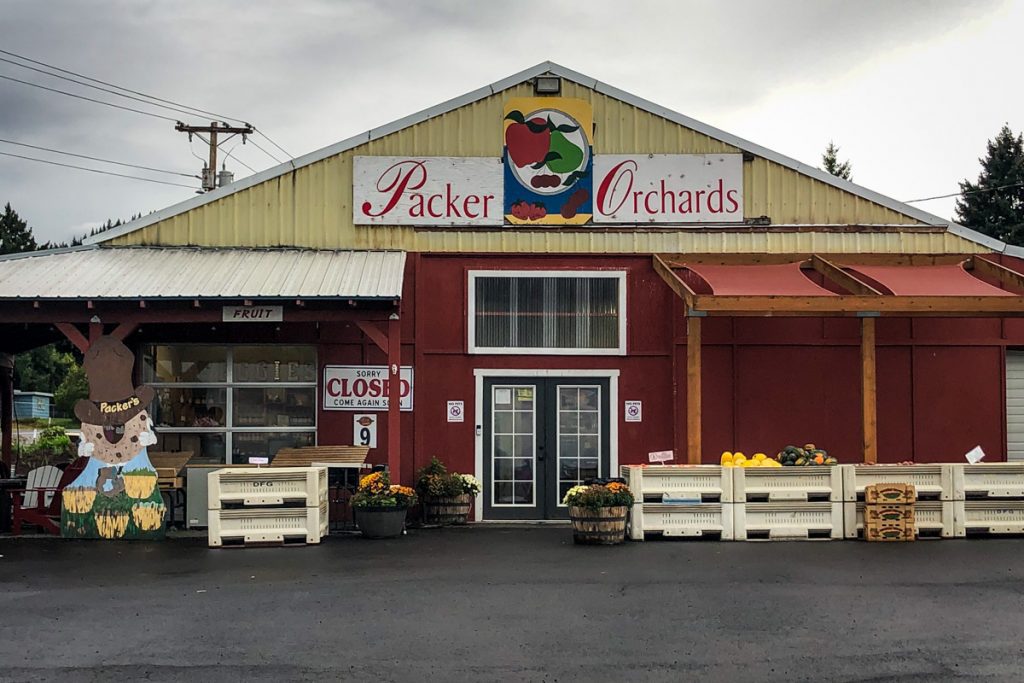 Everyone has their own favorite locations along the Hood River Fruit Loop, but you'll quickly realize that Packer Orchards is a lot of people's favorite! With mottos that include "PEAR-fect" and "PEAR-fection," there's a clear main attraction at Packer, but there are actually several things that draw people in from all over the PNW.
One of the main reasons Packer has such a cult-like following goes back to the whole "PEAR" thing.
The orchard has perfected its growing process so well that the pears are actually sweet enough to be used as substitutes for refined sugar. Almost all of the baked-fresh-on-site treats and canned goodies use less sugar than traditional versions — and in some cases, none! — which, of course, is something many people seek out.
Another fan favorite that makes Packer stand out is the pickled goodies. The company makes and sells just about every vegetable imaginable in a pickled variety and we're fairly certain their secret ingredient is pure MAGIC! Take a quick peek at Packer's Google reviews and you'll see that we're not the only ones who feel this way.
Finally, Packer Orchards operates Family Farm Place, open Thursdays through Sundays from May into October.
Seasonal fresh fruits and other produce are available, there are U-pick options, and the farm hosts several family-friendly events. For example, there's an annual live ladybug and butterfly release, as well as ice cream socials throughout the summer. Packer even offers a Summer Season Pass, giving free admission to all seasonal events, plus discounts on farm products.
4. Hood River U-Pick Organic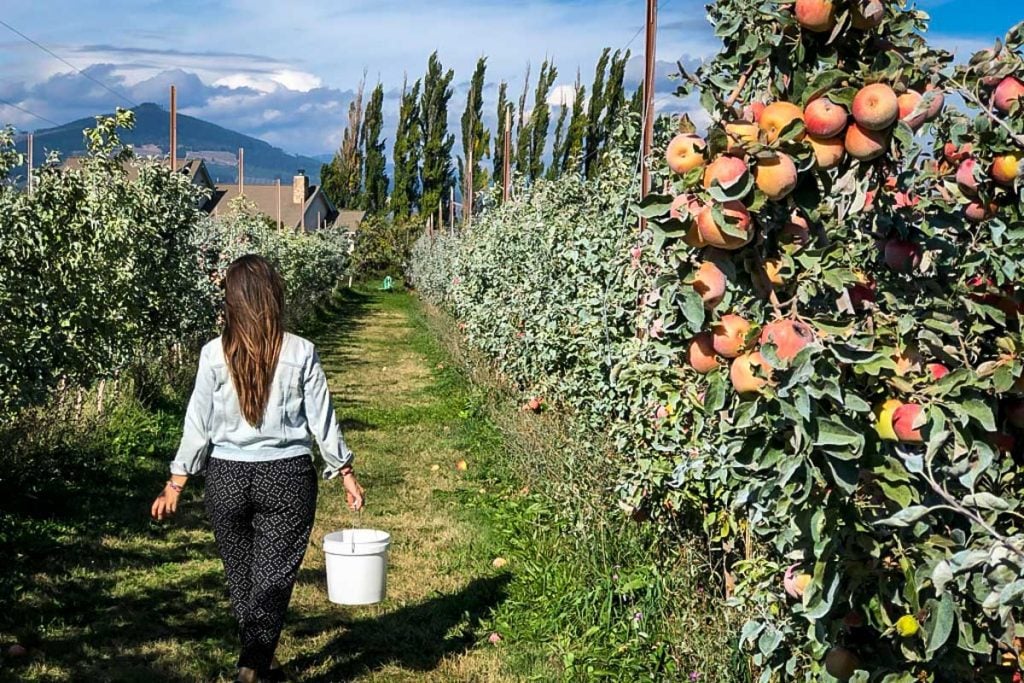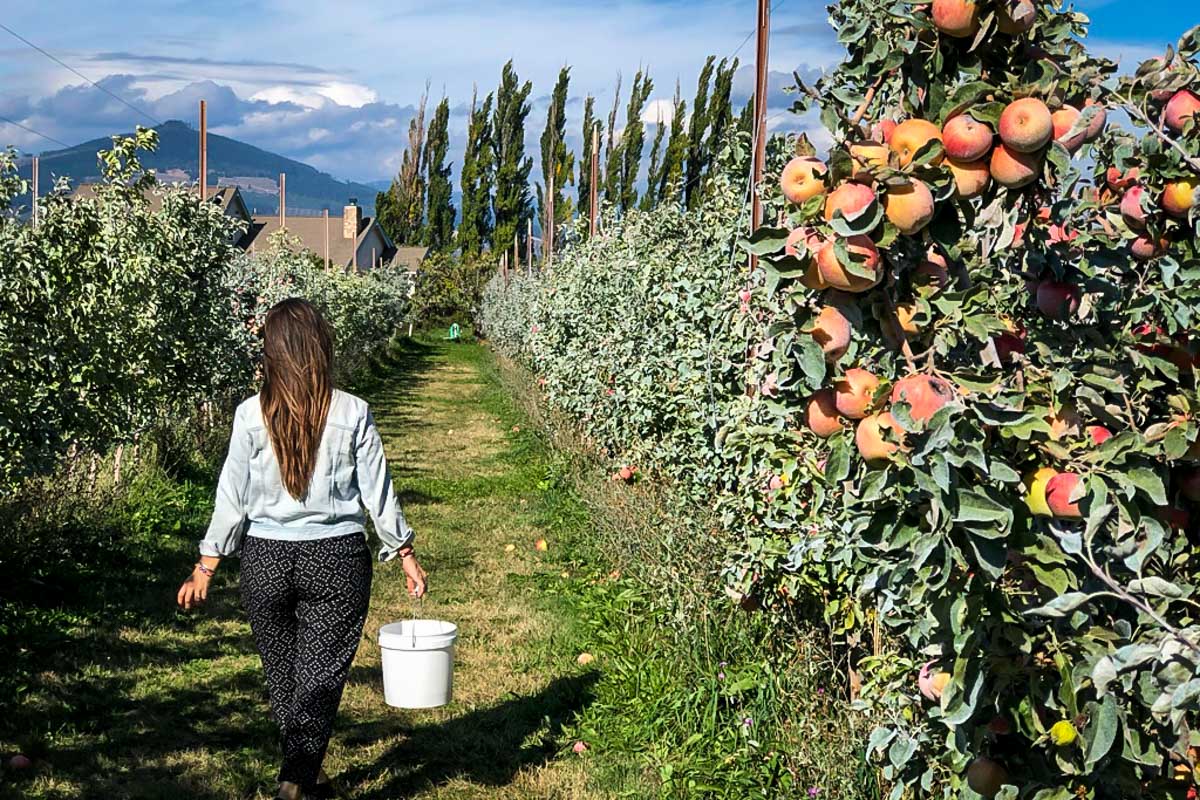 Our very favorite orchard along the Hood River Fruit Loop, we never miss an opportunity to stop into Hood River U-Pick Organic!
Unlike many other orchards throughout the loop that offer a wide variety of produce, this sweet family-owned farm specializes in strictly cherries and apples. Because of that, they're not open year-round, but rather just during the summer and fall fruit harvest seasons.
Although Hood River U-Pick Organic's offering is more niche, trust us when we tell you it's well worth it. They know cherries and apples, and the varieties that come from this farm are delicious.
Typically from late June through mid-July, the orchard is open for U-pick cherries. You'll find Bings, Rainiers, and sweet pie cherries here.
Some longtime visitors gave us a great tip during one of our trips: take way more than what you'll eat in the immediate future, because cherries freeze incredibly well to be used for baking or in smoothies!
Come autumn, head to Hood River U-Pick Organic for deliciously sweet Gala and Honeycrisp apples. The harvest season for these is generally mid-September through mid-October, but again, every year the exact season dates vary slightly. The best thing to do is keep an eye on their Facebook page for updates.
Aside from the amazing fruit, this is one of our favorite spots on the Hood River Fruit Loop because of the warm, welcoming, and super family-friendly environment.
The orchard has a petting zoo with adorable pigs, goats, chickens, and alpacas, several hammocks and picnic tables scattered throughout the property (and yes, you're welcome to bring a picnic to enjoy!), and even a handful of dwarf tree varieties specifically for kiddos to pick fruit from!
5. Stave & Stone Winery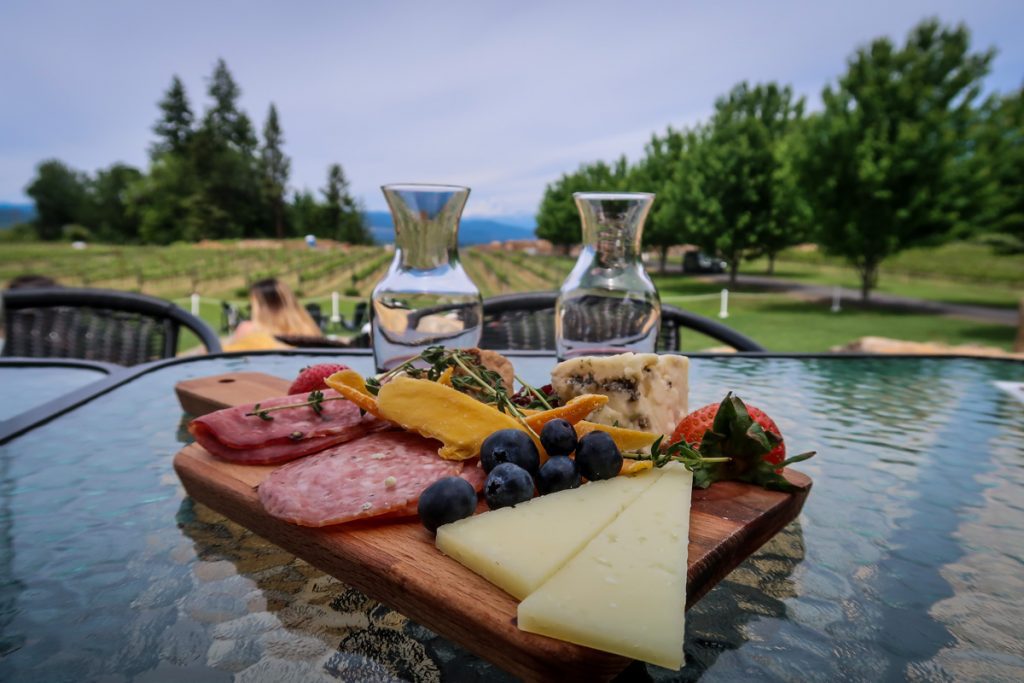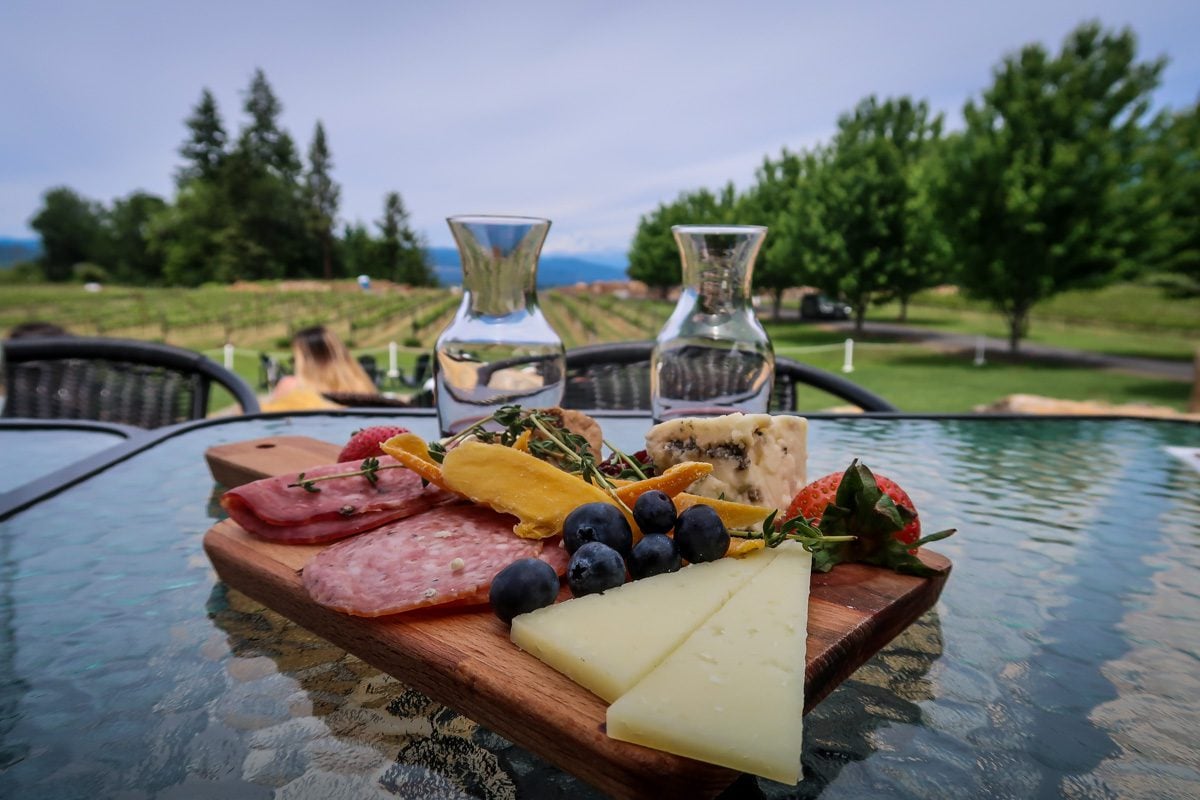 Another personal favorite of ours, we always make a point to pop into Stave & Stone when we're in the area. While there are several excellent wineries in Hood River, this one stands out from the rest.
The views and award-winning wines are equally fantastic (not to mention super affordable — tasting flights start at just $10!), the food is delish and pairs perfectly with the wine, and the vibe is really relaxed. It feels like you're enjoying a glass of vino in a friend or neighbor's backyard.
They're known for their Pinot Noir, Cab, and Riesling, and honestly, we'd suggest trying them all to decide for yourself which is the best.
In addition to the cozy tasting room and covered patio, there's a sunny, family-friendly Wine Garden (kiddos aren't allowed on the patio) with picnic tables and frequent live music from May through October.
Stave & Stone is also situated right next to Lavender Valley, and you're welcome to walk over there with your wine.
Note: Stave & Stone has a downtown tasting room in addition to the Hood River Fruit Loop location, open Thursday through Sunday.
6. Fox Tail Cider & Distillery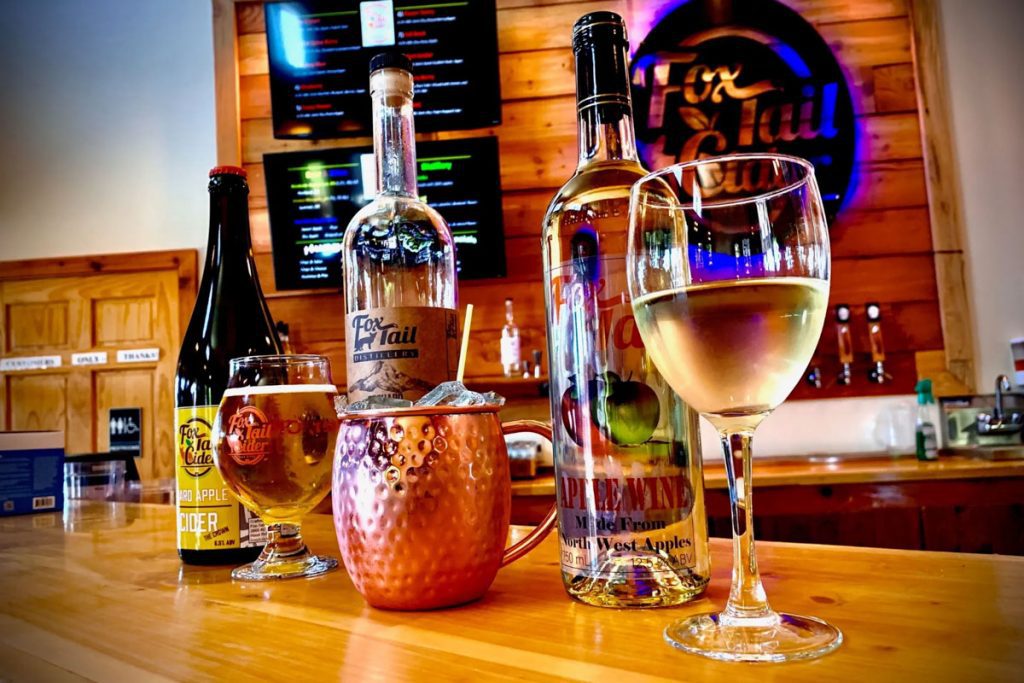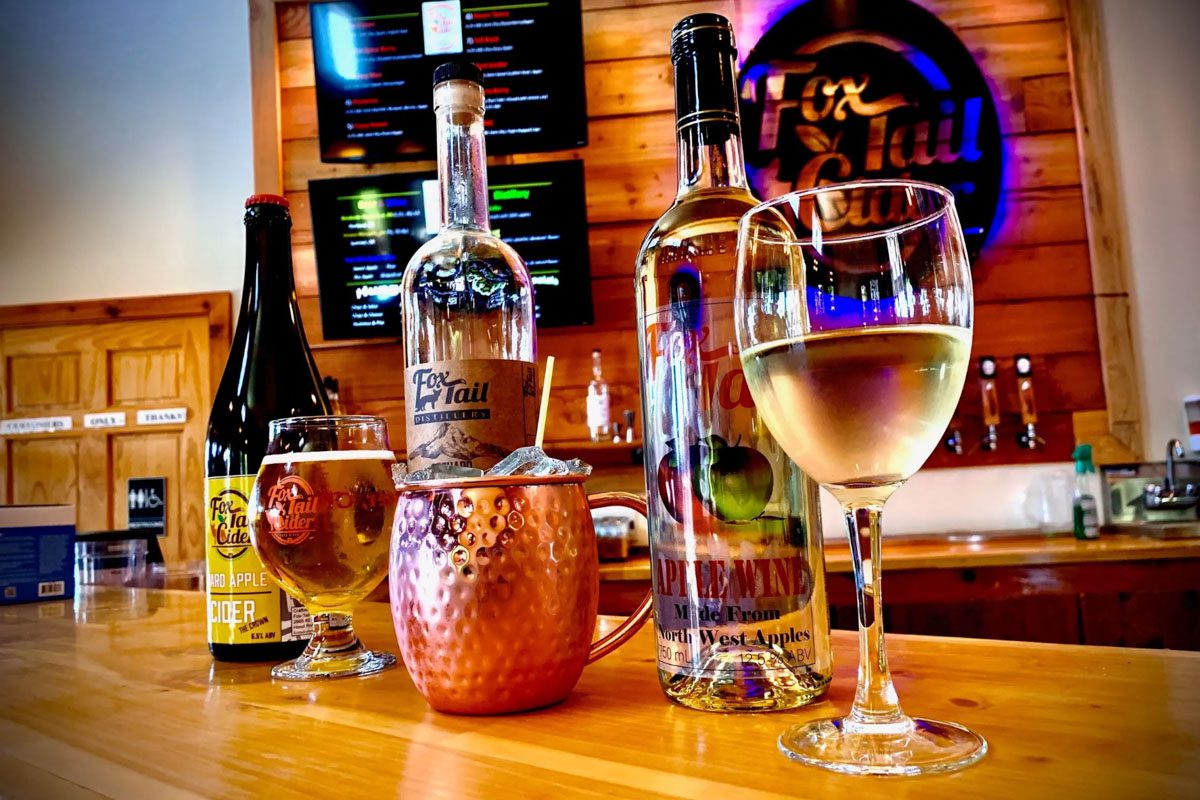 Fox Tail Cider & Distillery is the only stop on the Hood River Fruit Loop with both cider and a distillery under one roof.
The family farm has put their own modern twist on the long-running tradition of crafting hard cider and spirits — the spirits are all made with apples and the ciders use apples and pears, most grown on property (and grown locally when their own fruit isn't available for whatever reason).
The main production facility and tasting room is just five minutes from downtown Hood River and features a dog-friendly patio as well as a small but tasty food menu. It's open year-round, daily in the summer and early fall and then on weekends only in the winter and spring months. There's also a downtown taproom, a great alternative if you're not exploring the Fruit Loop.
Fox Tail offers its hard ciders, spirits, and cocktails by the glass or bottle, and some of the ciders can also be put into growlers to go. Best of all, the distillery offers build-your-own tasting flights, so you can decide on a favorite before committing.
All the flavors are delicious, but we especially love that they have some more unique offerings including apple-pineapple-jalapeno, apple-rose petal, and varieties of blueberry and peach infused vodka.
7. Solera Brewery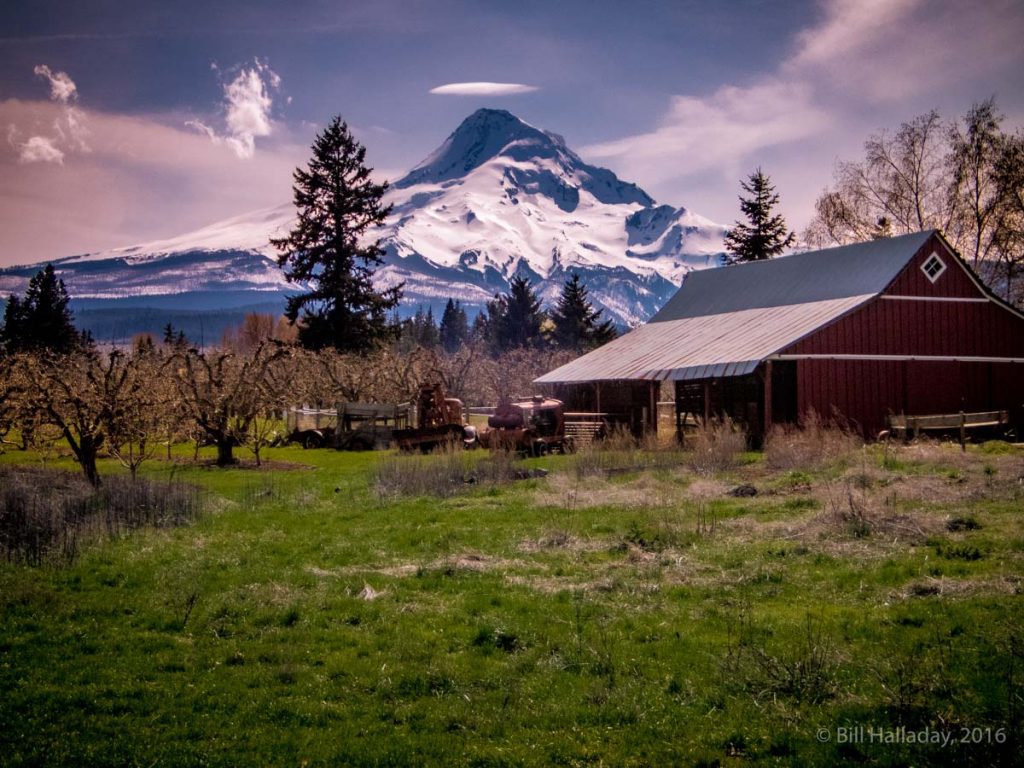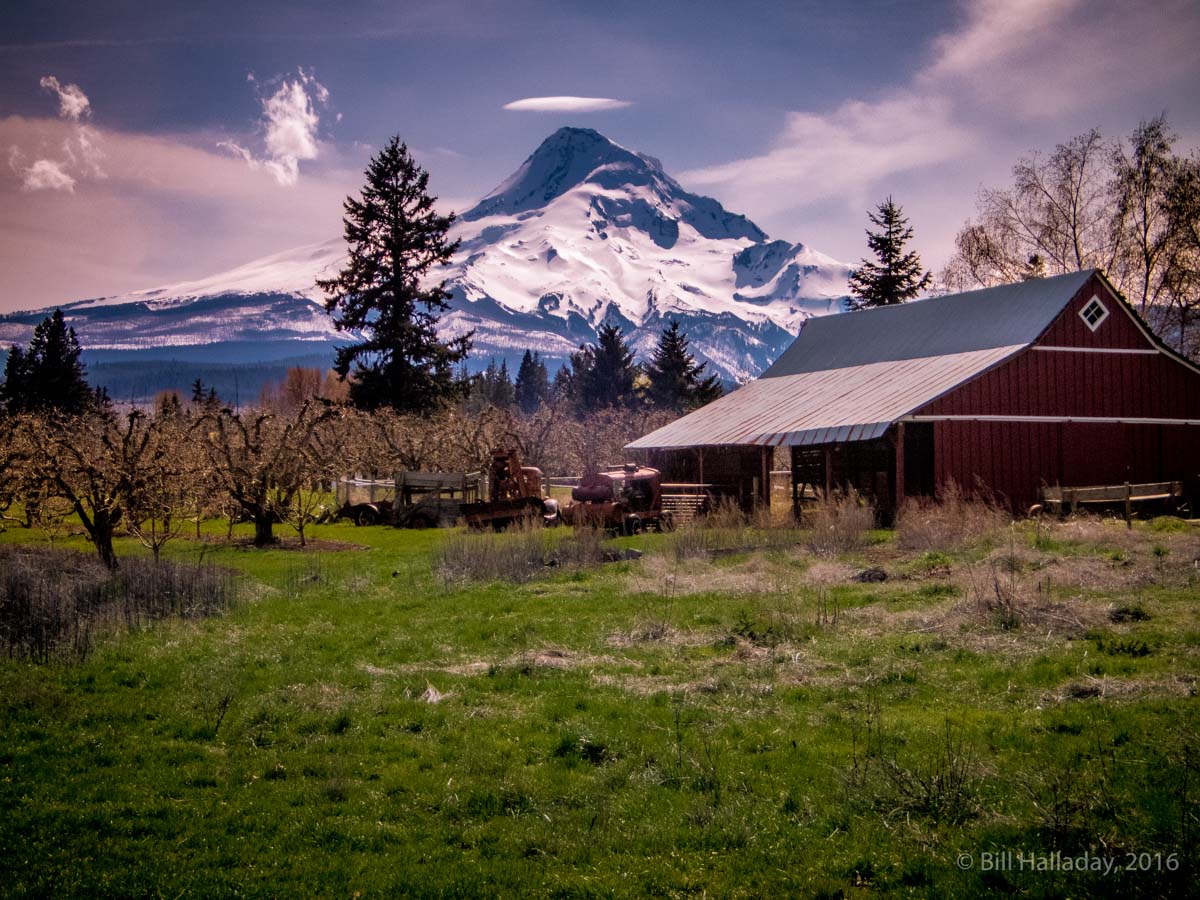 If you're anything like us, you appreciate great food, local craft beer, and killer views — and you have a serious "thing" for any place that manages to combine all three!
Solera Brewery is such a place, offering what is easily one of the best views on the entire Hood River Fruit Loop (which is saying a lot!). Head to the dog-friendly outdoor beer garden out back with your brew and enjoy the perfectly-framed view of Mt. Hood, serving as the perfect backdrop to a few especially photogenic barns.
When the weather isn't the best, Solera's indoor space is pretty fantastic, too. It's a converted theater and has a very laid-back, welcoming vibe with open seating and frequent live music.
The food menu is on the small side, but it's extremely well-curated with a nice selection of sandwiches, soups, snacky things, a few vegan options, and a massive burrito that easily feeds two. Seriously, Solera is actually locally famous for their burrito!
One quick thing to note is that the kitchen is teeny tiny, so when the brewery is busy, food takes awhile to come out. Be patient and take a little extra time to enjoy your beer!
Speaking of beer, another reason we love Solera is their unique, small-batch brews. Only the flagship Hedonist IPA is permanently on tap, so you'll find a constantly-changing selection no matter when or how often you stop in. Think raspberry sour, apricot wheat, and a frozé-beer hybrid. We highly recommend starting with a taster tray to literally sample them all, then choosing your favorite one or two for a pint.
If you happen to find yourself in the Hood River Fruit Loop in November, head to Solera for their beloved annual Chanterelles and Ales event. It's a "celebration of wild ales and wild mushrooms," featuring mushroom-focused food and drink pairings from several other Oregon breweries and chefs.
8. The Old Trunk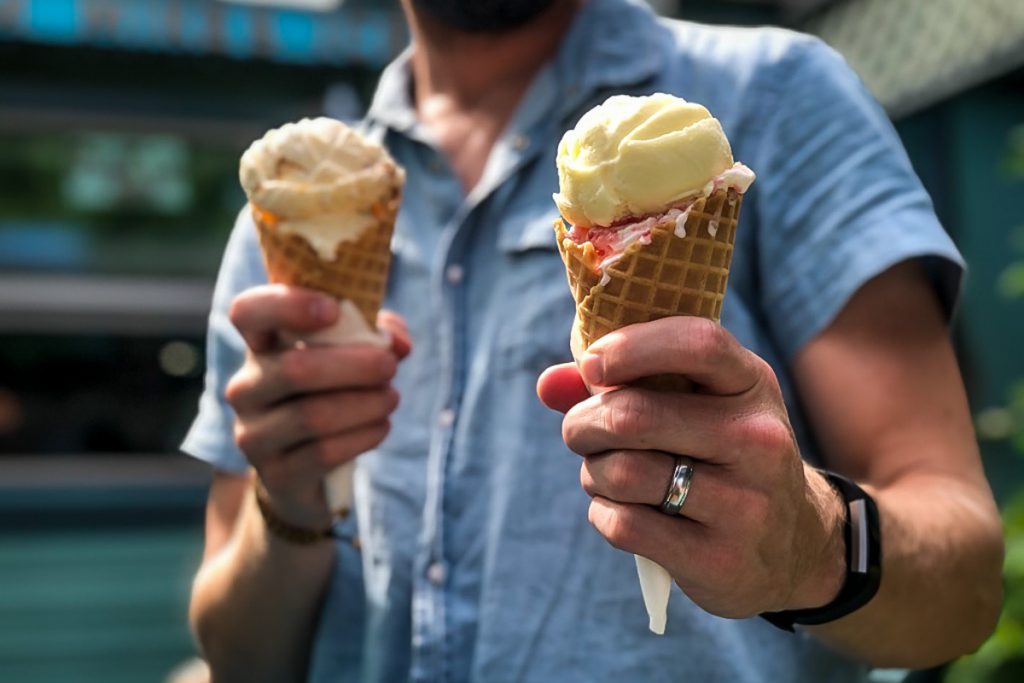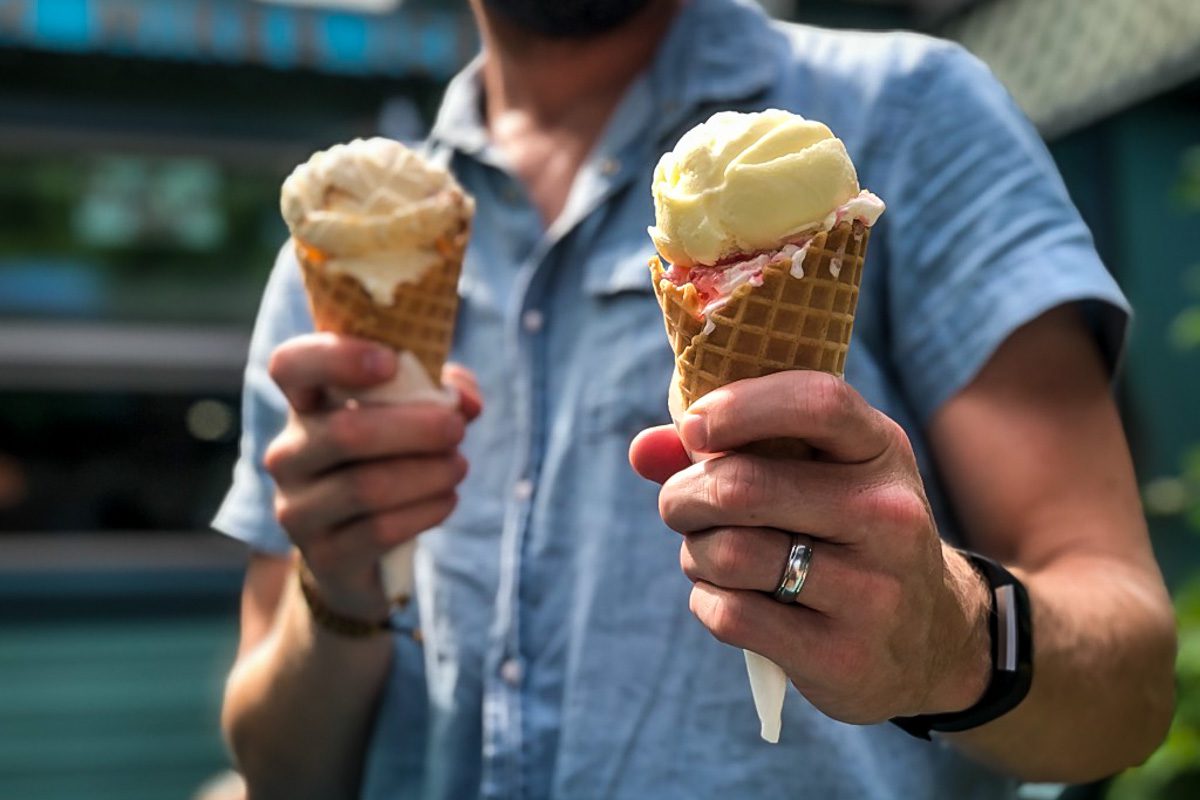 Part funky vintage shop, part U-pick orchard, and part old-fashioned soda shop, this Hood River Fruit Loop stop is perfectly kitschy (in a charming, delightful way!).
Start by browsing all the various antiques and collectibles in the shop, which range from rare, highly sought-after comic books to vintage home decor and just about everything in between.
Next, head out back to the small berry and flower "farmette." Although it isn't nearly as large as many others along the Fruit Loop, it's perfect for a quick stop or families with little ones, and the berries are excellent.
As a bonus (actually, several bonuses!), prices at the Old Trunk are the lowest we've seen, there are rarely crowds, and leashed dogs are welcome in the farmette outside.
Flowers aren't necessarily what the Old Trunk is known for, but they should absolutely be on your radar, especially if you're local. Aside from selling bunches of seasonal fresh flowers throughout the summer, the Old Trunk offers a unique flower subscription.
For just $150, you can get a total of 16 fresh U-pick bouquets throughout spring and summer. Each time you visit, you basically get a mason jar to fill up with as many blooms as will fit! Selections include gorgeous tulips, mums, peonies, sunflowers, and many others.
Before leaving, you absolutely have to treat yourself to the Old Trunk's signature 1950s-style soft-serve ice cream. They use Tillamook ice cream (and even have a non-dairy alternative!) and blend it with fresh fruit of your choice, then serve very generous portions.
Personal favorites include huckleberry and marionberry, but we'd encourage you to try as many flavors as you like! If you're looking for something lighter, they also have a large selection of artisan sodas and espresso drinks.
9. Draper Girls' Country Farm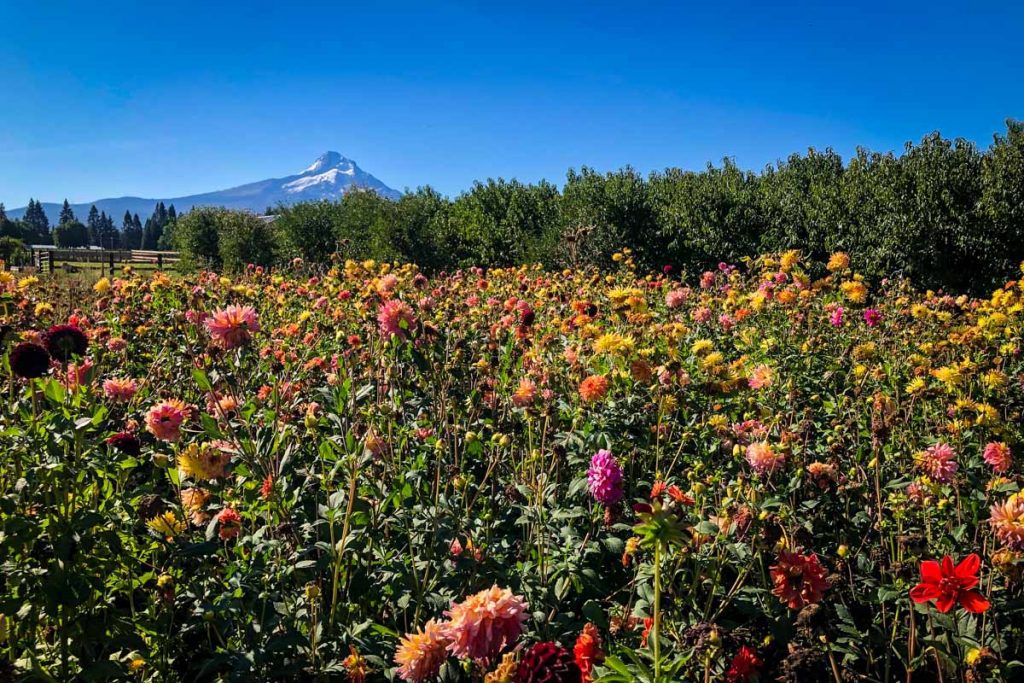 You can consider Draper Girls' kind of the ultimate Hood River Fruit Loop stop. There's a self-serve farm stand, U-pick orchards, an adorable country store selling only locally-produced goodies, award-winning, hand-crafted ciders (alcoholic and non), and some fun family-friendly offerings.
Up front, you'll find ready-to-purchase bags full of whatever produce is in season. This is a great option for quick stops, but you can also head to the U-pick orchards and pick the fruit straight off the tree yourself — a great date idea or family day out.
U-pick standouts include pears, cherries, plums, apples, nectarines, berries, and peaches.
An especially unique thing Draper Girls' does is set out a bunch of freshly-cut fruit in bowls on peak weekends, so you can sample before buying anything. Best of all, the prices are extremely reasonable and you can create your own mixed buckets of whatever your taste buds fancy.
Cider is another star attraction at Draper Girls', with the third-generation farm producing both sweet and hard varieties, all hand-pressed onsite.
In its first official year of production, 2018, Draper Girls' won several awards at the prestigious Portland International Cider Cup: Best New Cidery, a gold medal for cherry cider, and a silver medal for French Pear.
While the farm fills growlers of hard cider, they don't distribute at all, even locally — so if you want to enjoy the cider, the only way to do so is buy it straight from the source. If you're lucky, you might score a growler of the legendary huckleberry cider.
Especially unique to Draper Girls', it's open 365 days a year, 24 hours a day, rain or shine. Even when no staff is onsite, customers can enjoy goodies from the farm stand, helping themselves and paying via the locked green box on an honor system.
We absolutely love this policy and supporting this family farm, run by a mom and her three daughters.
10. The Gorge White House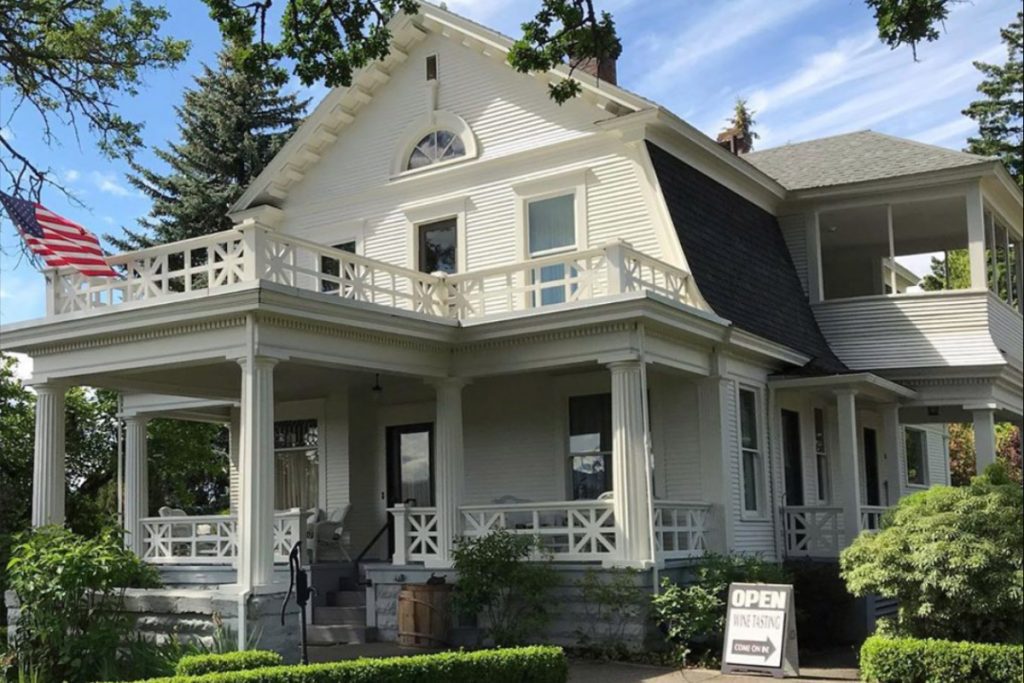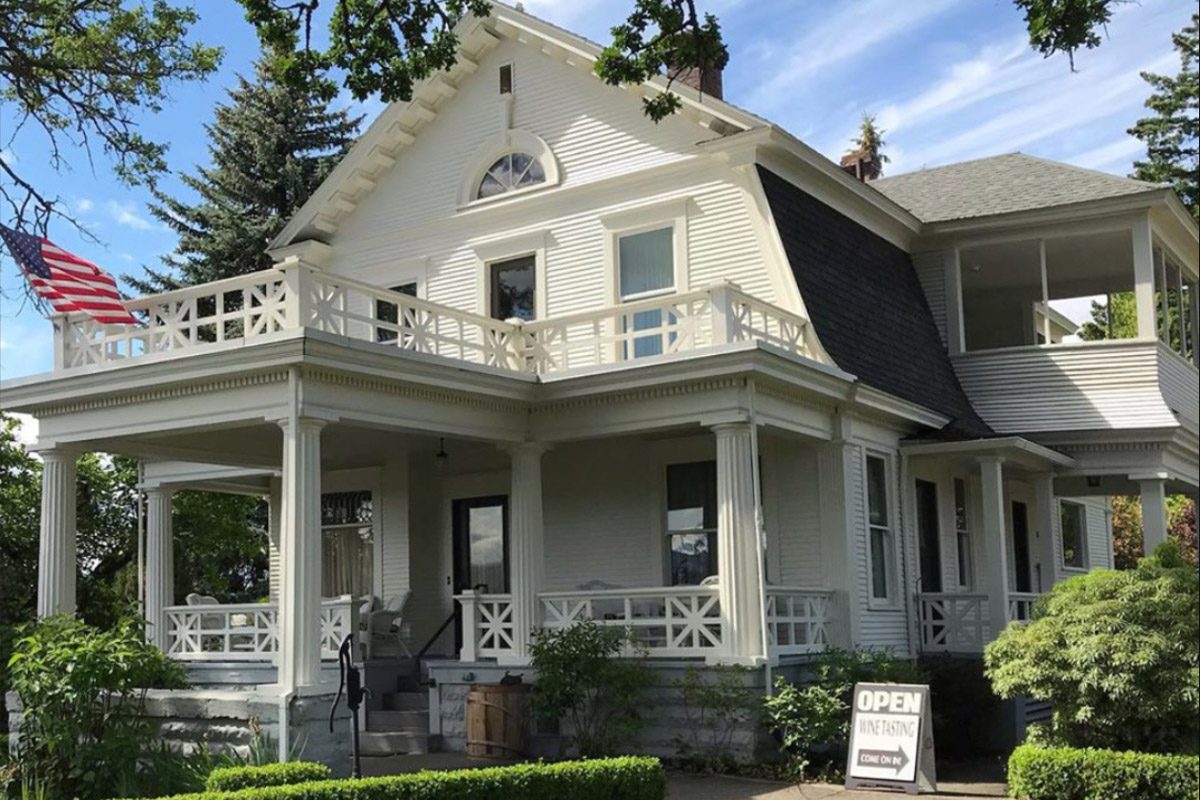 Arguably one of the most well-known stops along the Hood River Fruit Loop, the Gorge White House is a century-plus-old Dutch Colonial Revival farmhouse housing a charming winery and country store, plus summer U-pick orchards and flower fields. It's owned by a fourth-generation Hood River farming family who keeps the property immaculately maintained.
While the White House produces just a few of its own wines, it offers a very impressive selection of 40-plus varietals from local Columbia River Gorge wineries. If you do want to try a house-made wine, order the signature Heritage Pear Wine, made with bosc pears grown in the White House's orchards.
Next to the White House itself is the Old Farm Shop, selling fresh produce, flowers, and locally-made jams, jellies, and sauces. There's another tasting room here, but this one focuses more on hard cider and local craft beer (order a flight!).
Also at the Old Farm Shop, you'll find the Farm Fresh Food Cart, which is impressively gourmet. Chef Jack studied at Le Cordon Bleu in France and Australia, and every ingredient he uses is grown, raised, or made either onsite at the White House or at a neighbor farm. Even the burger buns and sandwich bread are made fresh every morning!
The food cart is closed during January and February, and otherwise open on weekends with hours that vary seasonally.


Are you planning a trip to Oregon?
Being that Oregon is our home state, we have TONS of content to help you plan your trip. Start with our Oregon Homepage and be sure to check out the articles below. Leave us a comment if you have any more questions!
Save this article on Pinterest for later!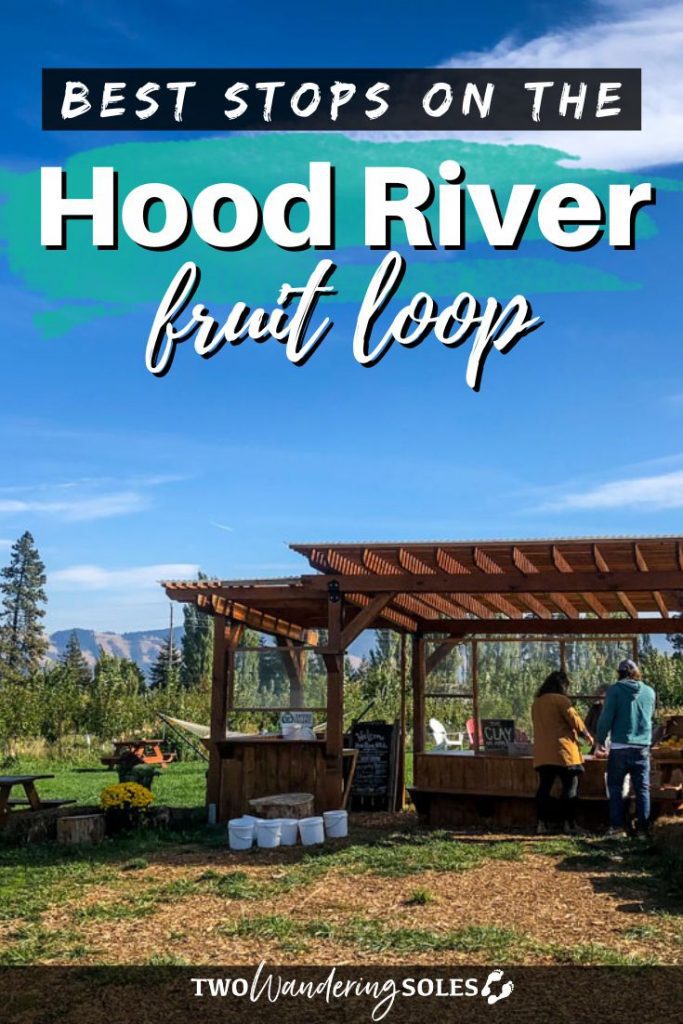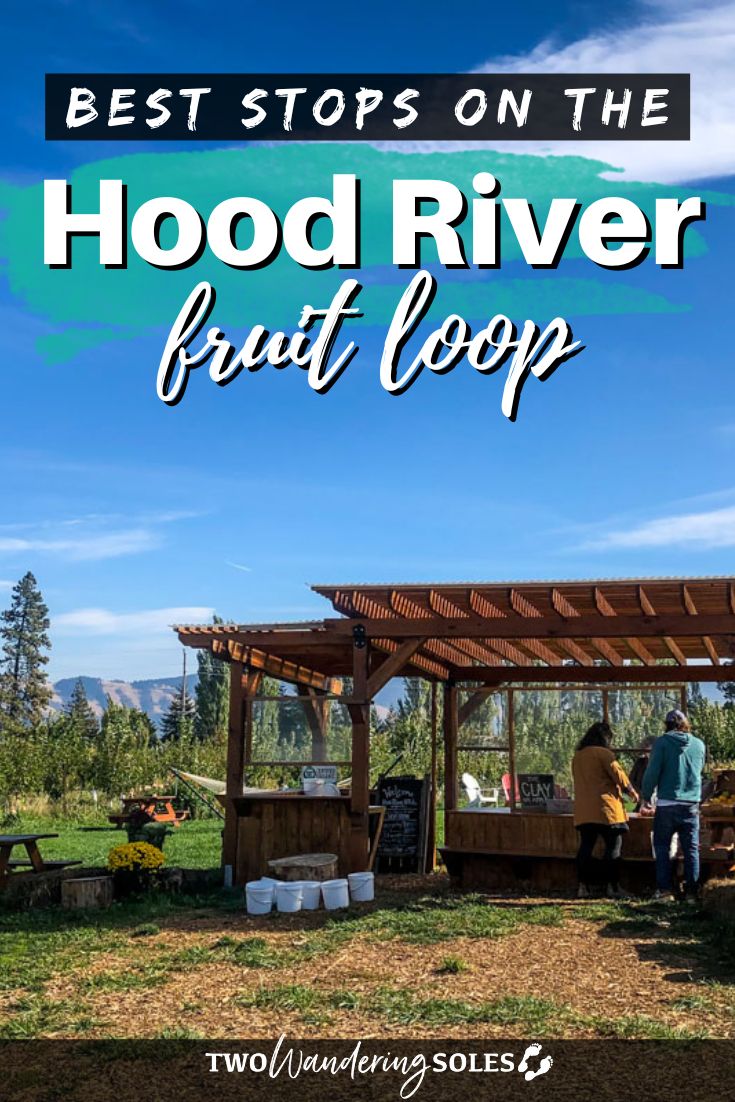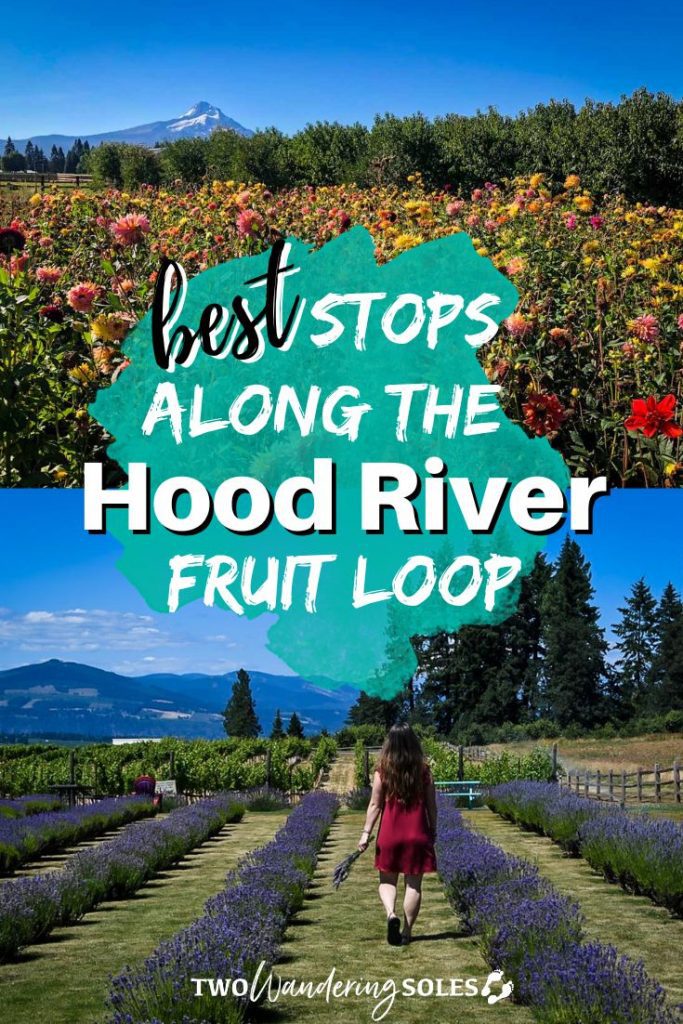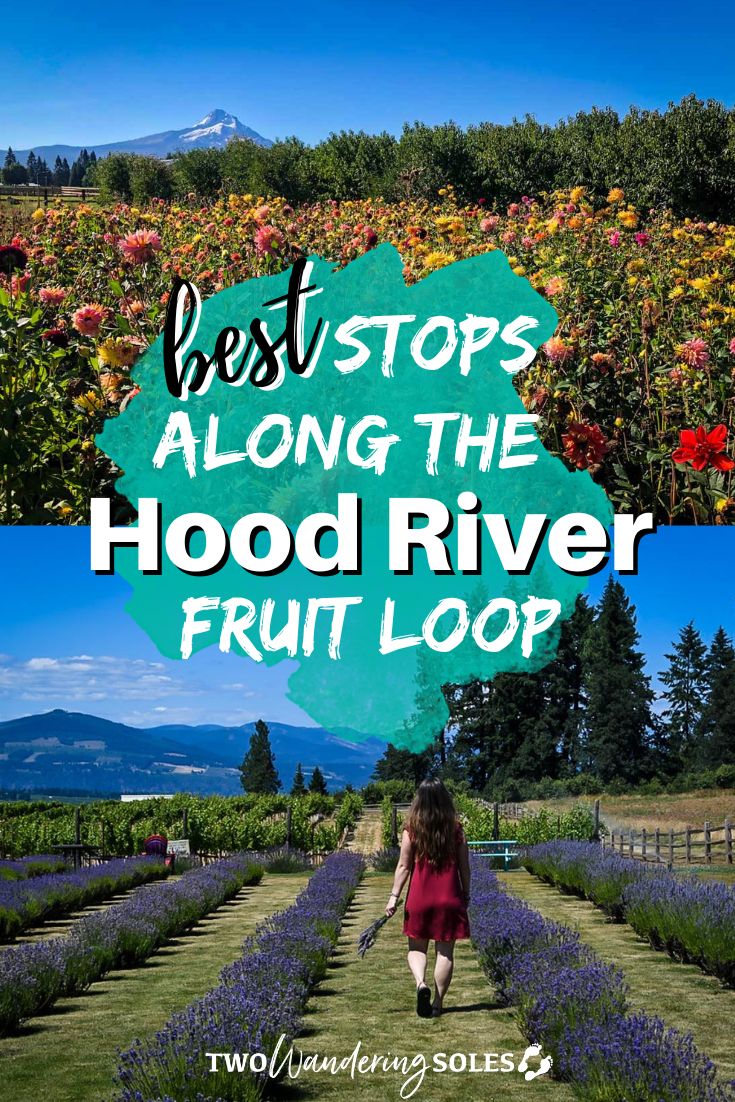 We want to hear from you!
Which stop along the Hood River Fruit Loop are you most excited about visiting? Do you have any other recommended stops you think we should add to this list? Leave us a comment below and we'll do our best to get back to you!