Queenstown is often referred to as the "adventure capital of New Zealand," and for good reason! There are so many fun things to do in Queenstown — from adrenaline-pumping activities to low-key excursions for all ages. This article is packed with activities, tips and things to know to plan an epic trip to Queenstown!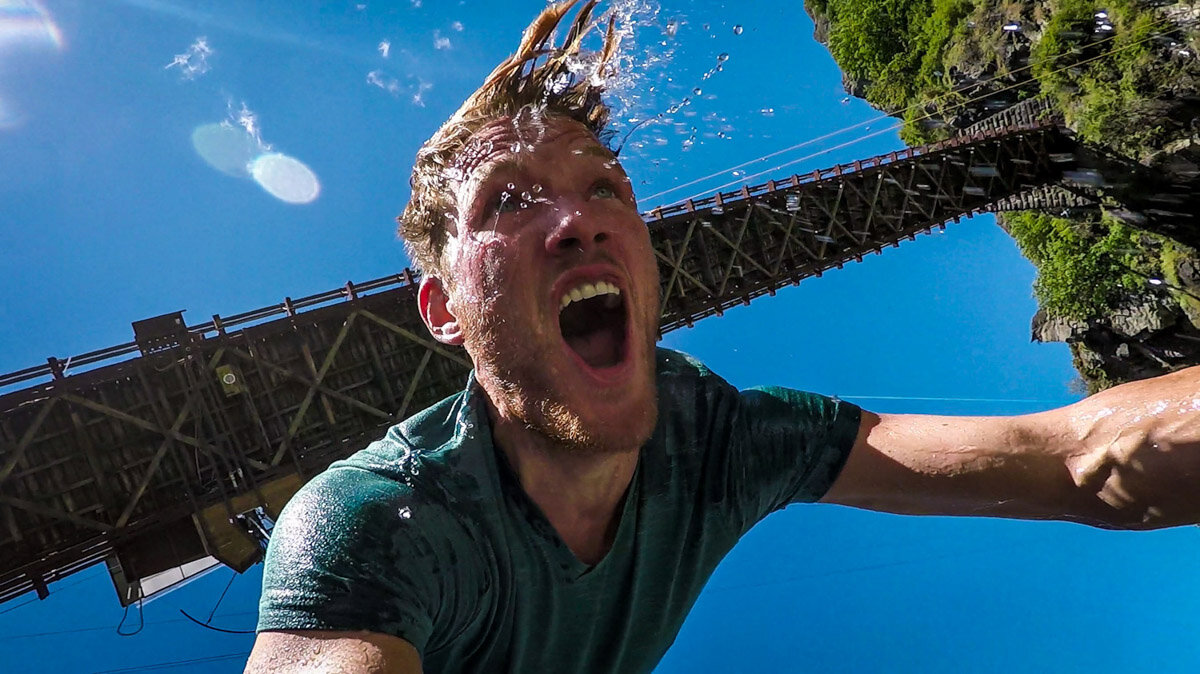 When we were planning our campervan trip around New Zealand, the epic nature was what we were most looking forward to. But admittedly, there was one city that I was really excited about visiting…
Yep, that's right: Queenstown!
We had heard great things about the cute lake- and mountainside town filled with adventures and a lively nightlife, so our expectations were high. Queenstown pretty much lived up to everything we had envisioned, and even surprised us in a few ways.
Known as the "adventure capital of the world," it should come as no surprise that there are an abundance of fun and exciting things to do in Queenstown. From low-key activities to heart-pumping experiences, there are adventures for travelers of all ages (and fear levels).
In this article, we're sharing the best things to do in Queenstown as well as our insider tips, best places to eat, and where to stay (whether you're camping or looking for a hotel).
Queenstown Travel Guide
For more tips and advice for planning your trip to Queenstown, New Zealand, jump to the following sections (or just keep scrolling to see it all!).
---
Top things to do in Queenstown
If you're looking for the very best things to do in Queenstown, here are our top recommendations:
Go bungee jumping
Take in the views from Bob's Peak
Ride the luge from Skyline Queenstown 
Eat a famous Fergburger
Hike up Queenstown Hill
Hit the slopes (skiing or snowboarding)
Take a jet boat ride
Keep reading for more detailed information on each of these things and more ideas of adventurous things to do in Queenstown.
But first, how about a quick introduction to this South Island New Zealand hot spot…
Queenstown at a glance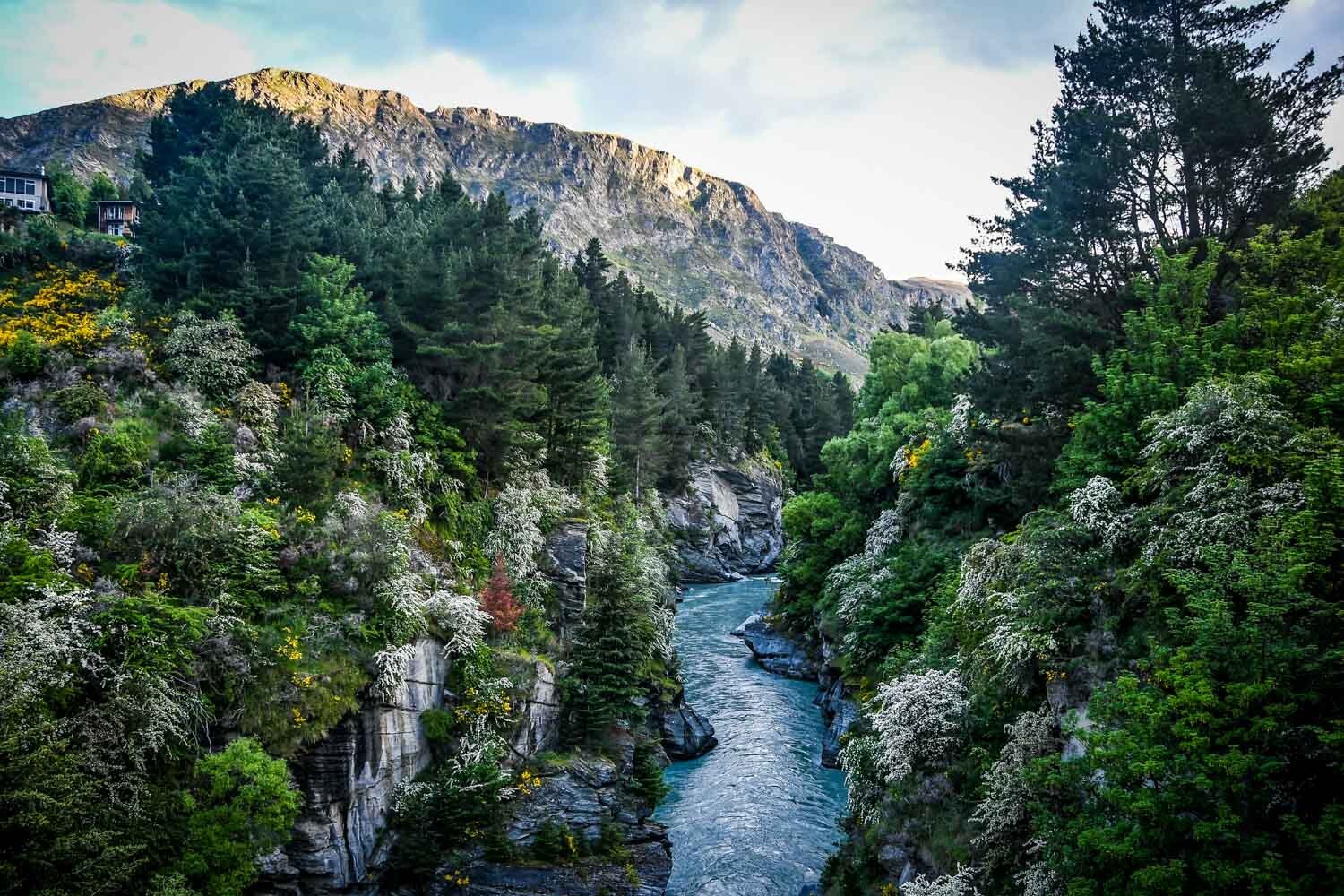 With just over 16,000 residents in the center, Queenstown is a perfect blend of small town and lively city. Situated on the shores of Lake Wakatipu and flanked by snowy peaks, it's not a bad place to visit for a few days, or even a few weeks!
In fact, my brother spent the better part of a year in New Zealand and found himself coming back to Queenstown time and time again, and he didn't run out of things to do.
With a combination of natural beauty (you can't beat that mountain and lake combo!) and plenty of adventurous things to do, it's pretty much impossible to be bored in this town. Just try to prove us wrong, I dare you!
So what's the catch? What's not to love?
We won't sugar-coat it: Queenstown is unapologetically touristy. And a lot of the "locals" who work in the restaurants and for the tour operators are not Kiwi at all, but instead are foreigners who are doing a New Zealand Working Holiday Visa.
This combination of young backpacker types mixed with travelers on holiday makes for a lively vibe that can be pretty fun (as long as you know what to expect). It's touristy, sure, but we still really enjoyed our time in Queenstown.
And now, before we delve into all the exciting things to do in Queenstown, we just want to mention that unless you have unlimited time and money, you won't be able to do everything on this list.
Use this as a guide to choose the Queenstown activities that are most exciting to you!
Money-Saving Tip: If you're traveling New Zealand on a budget, pick a couple "big splurges" and fill in the rest of your time with cheap or free activities (there are a lot on this list!).
A bit of advice…
Our advice is to come to Queenstown with a game plan. There are so many adventure activities in this area that it can be overwhelming if you don't know what you want to do. Also, being that it is a popular tourist hub, activities book up quickly, so it helps to plan a bit in advance.
The good news is we've rounded up a list of our favorite adventurous things to do in Queenstown to help you create the perfect itinerary. And don't worry, not every suggestion involves an adrenaline rush (just a few!), but most involve some pretty epic views.
Plus, for those of you traveling on a budget, plenty of these activities are free!
1. Go bungee jumping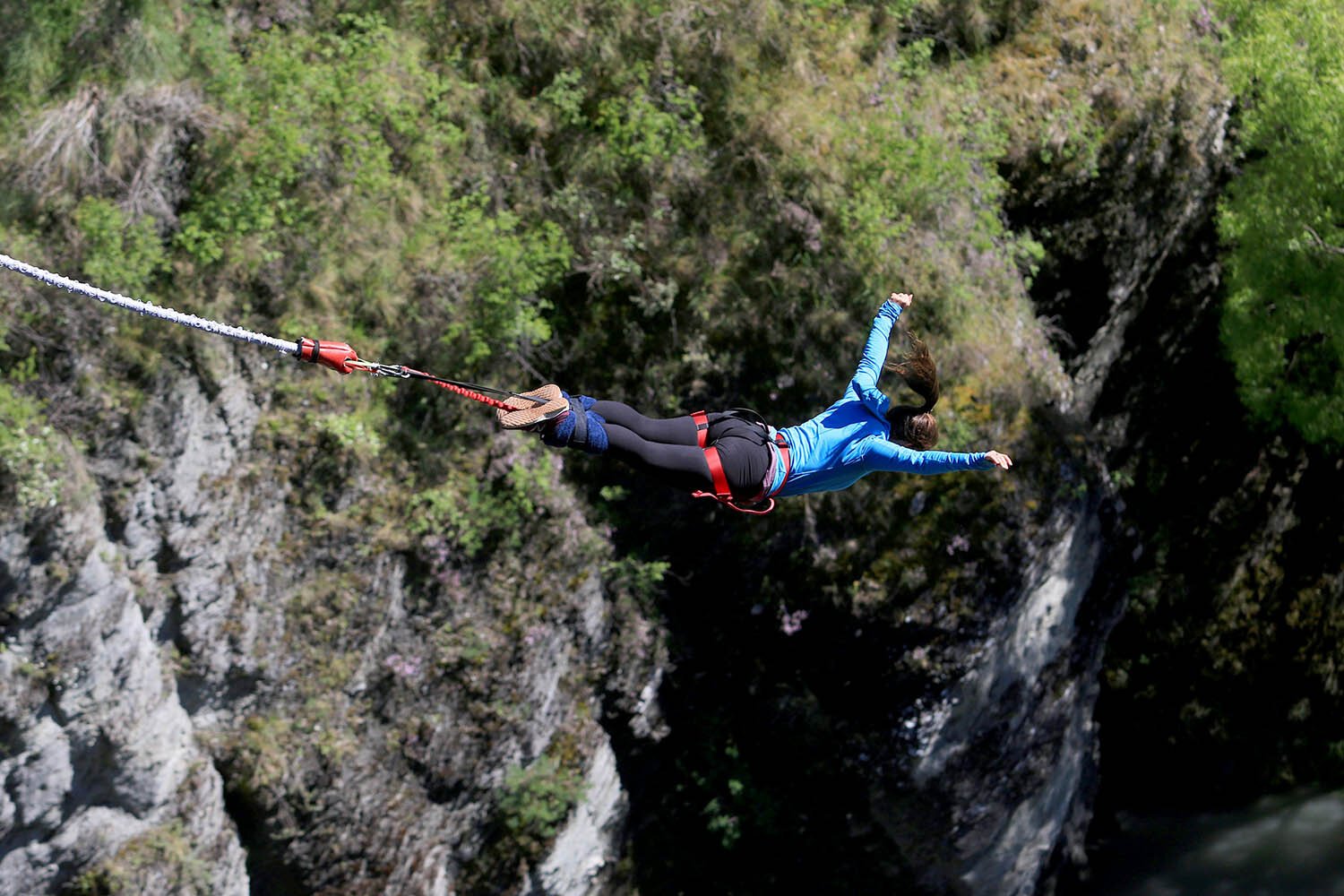 Yep, we're starting this list off with a BANG! Known as the adrenaline capital of the world for a reason, Queenstown is the perfect place to bungee jump (or bungy jump, as they spell it in NZ!).
Bungee jumping is the quintessential Queenstown activity and the main reason lots of travelers come through.
For one, Queenstown is the place this crazy adrenaline sport was invented. The first bungee ever was on the Kawarau Bridge near Queenstown. The first person to take the plunge was a man named AJ Hackett (he now has a very successful company carrying his namesake).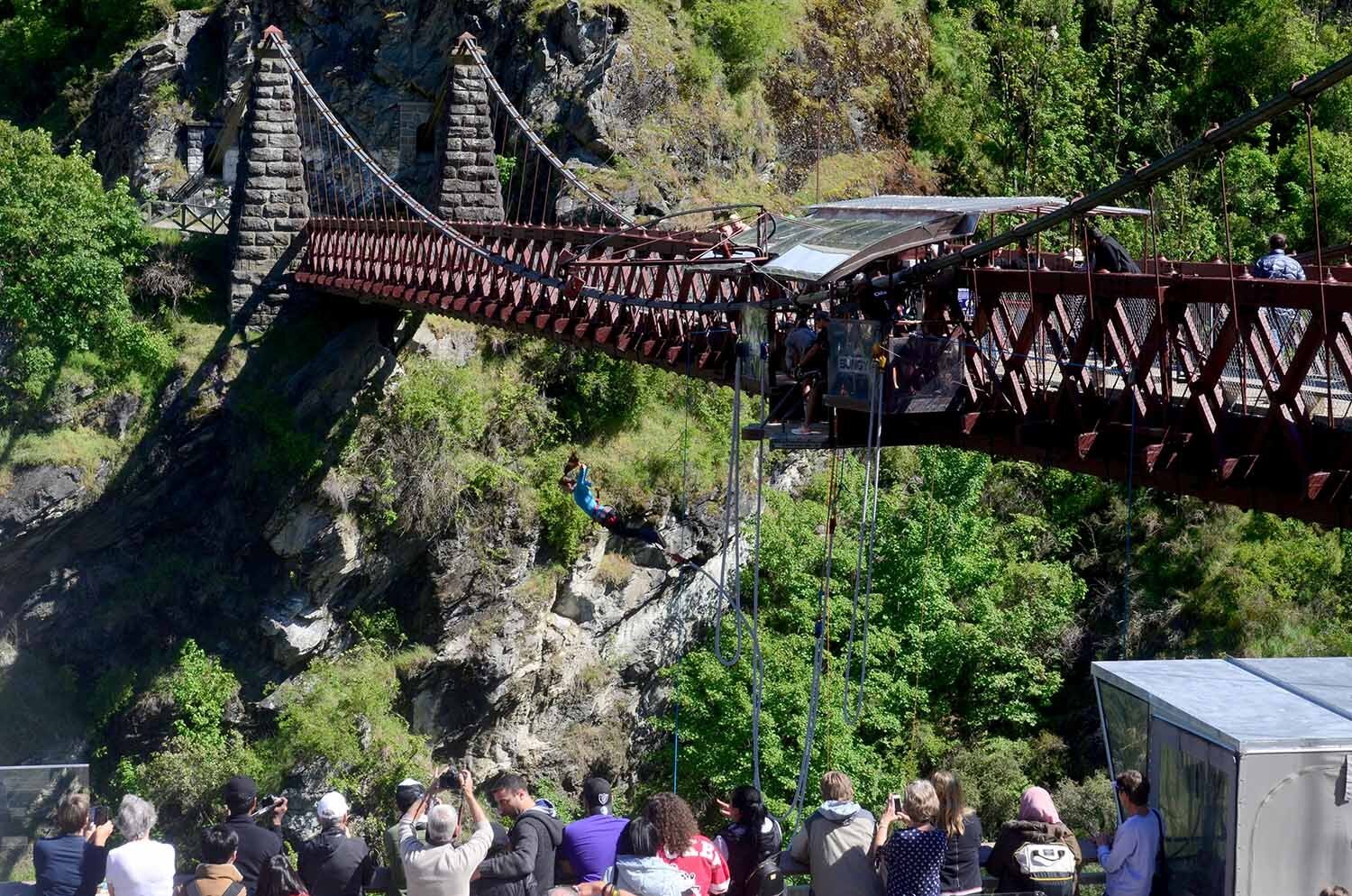 As this is one of the most popular things to do in Queenstown, there are tons of different bungee jumps in and around the Queenstown area, suited for everyone's taste.
Whether you dive headfirst into the scenic river gorge of the Kawarau River like we did (the original!) or do the highest jump in the country at Nevis, there are lots of different jumps to choose from.
The bungee jump operators in New Zealand are top notch quality. Remember, these companies do this all day, every day. They are very good at what they do, and your safety is of the utmost importance.
Although the experience in itself is super short and pretty damn expensive (about $220 NZD), it's empowering to know you faced a fear, and you might just get some epic photos to prove it!
Bungee jumping photos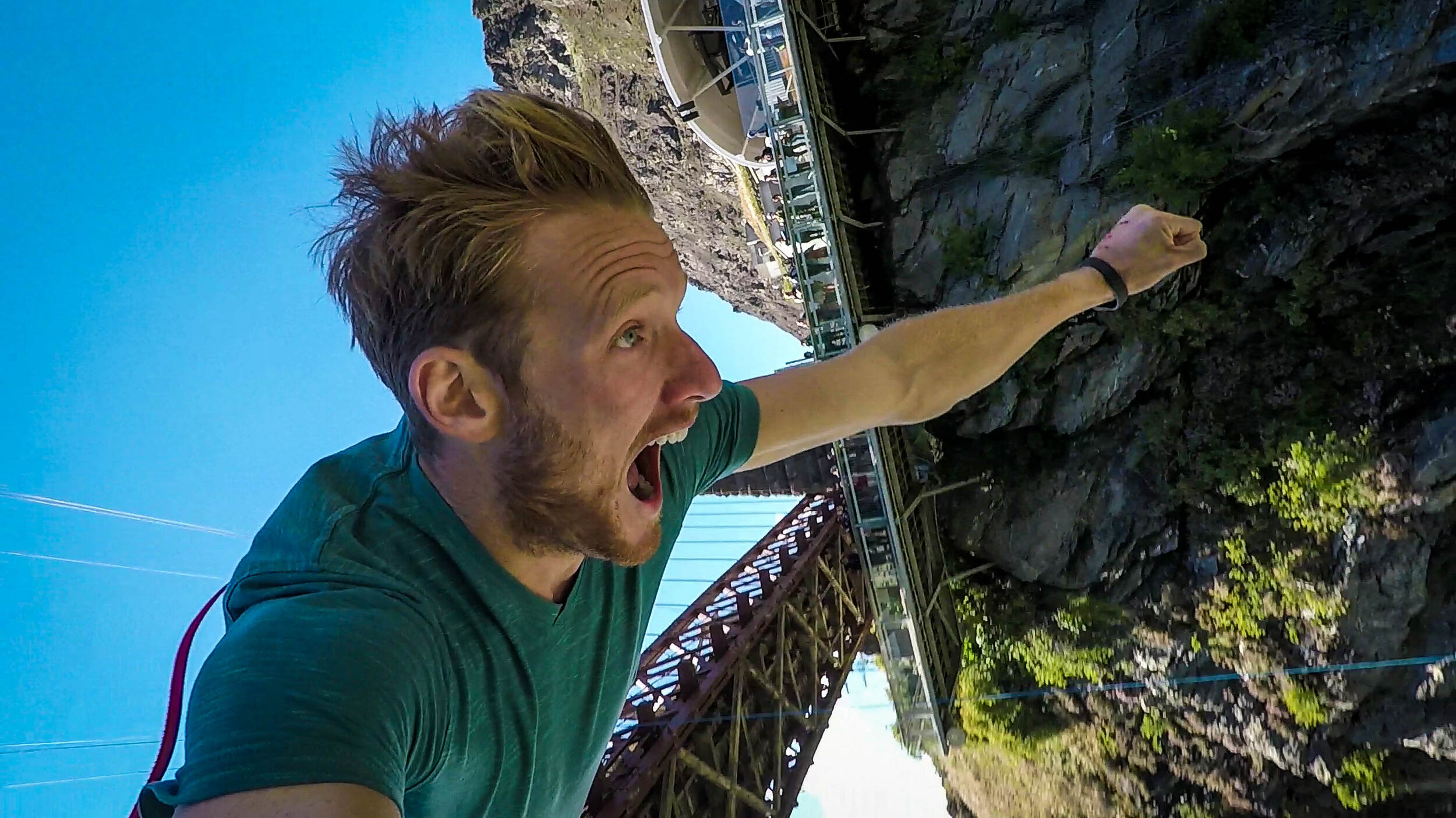 They will take photos of you on your jump, but they cost extra ($45 NZD for photos only, and $65 NZD for photos and video if you purchase online ahead of time). They also allow you to carry a GoPro if you'd like.
Ben did this and was able to take much better footage than what the photographers captured (in our opinions). If you do choose to bring your own camera, make sure it is attached well on your wrist and is waterproof because there's a chance you'll get wet.
Looking for a unique alternative similar to bungee jumping? Check out the Shotover Canyon Swing. This is the World's First Canyon Swing because—according to the website—they invented it! With 60 meters of freefall, the canyon swing is the world's highest cliff jump… talk about an adrenaline rush!
2. See Queenstown from above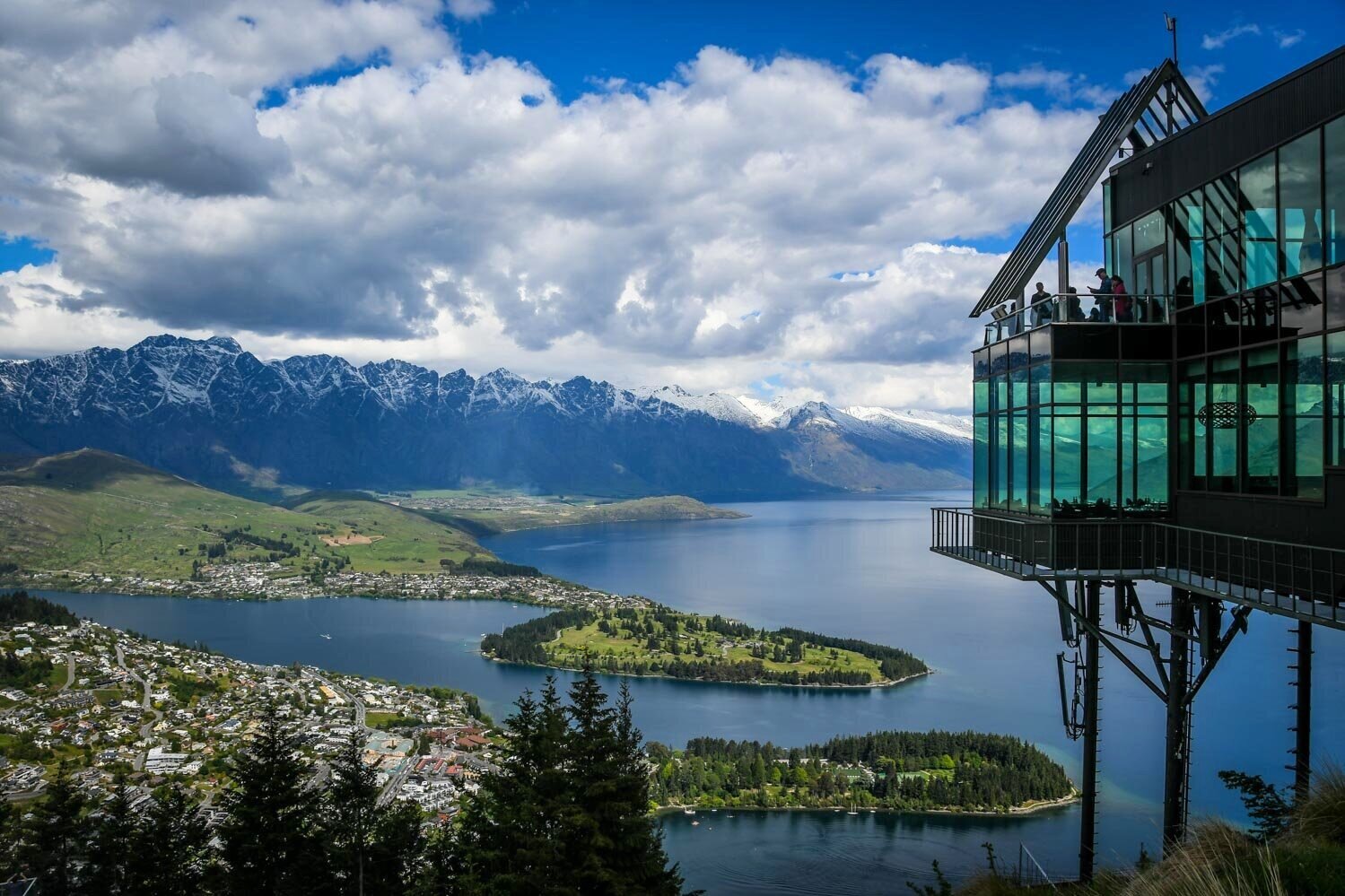 Queenstown is a stunning city, especially from above. The best view of the city is from the top of Bob's Peak! You'll be treated with a view of not only the town itself, but also with a panorama of mountain peaks and an unrivaled view of Lake Wakatipu.
There are two ways to get to Bob's Peak and enjoy that epic view over Queenstown. Read both descriptions and see which you'd prefer.
a) Ride the Skyline Queenstown Gondola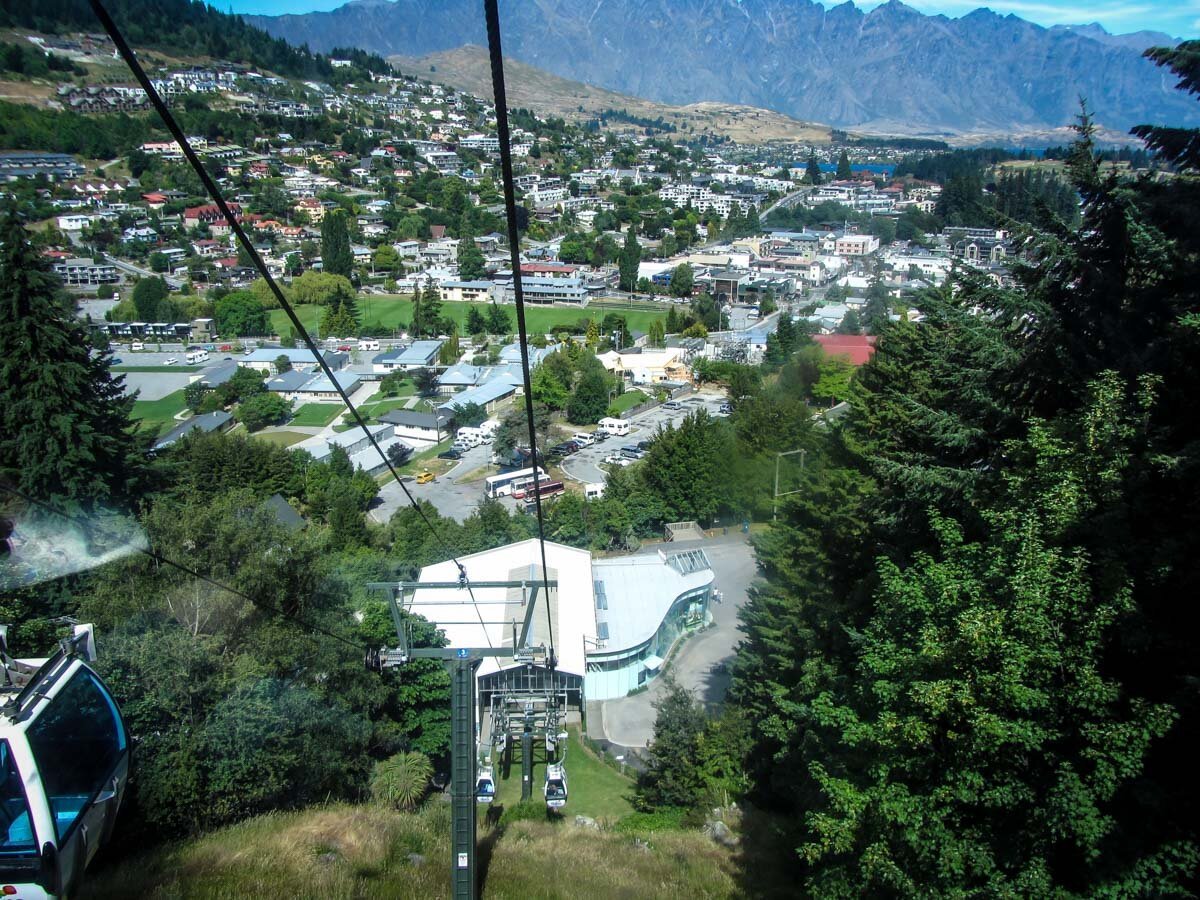 Known as the steepest cable car lift in the Southern Hemisphere, this ride might just make your stomach lurch. That being said, this staple Queenstown activity is perfectly safe and well worth the vertigo to take in the panoramic views from the top.
How to book: You can buy your tickets online ahead of time, or stand in line at the gondola entrance at the top of Brecon Street. 
Hours and entrance fees: The cost is $52 NZD per adult (15+), $36 NZD for children (6-14) and free for young children (under 5 years). A single ticket allows you entrance at any time of the day during operating hours (9 a.m. to 9 p.m.) and one return journey.
b) Hike to the top of Bob's Peak via the Tiki Trail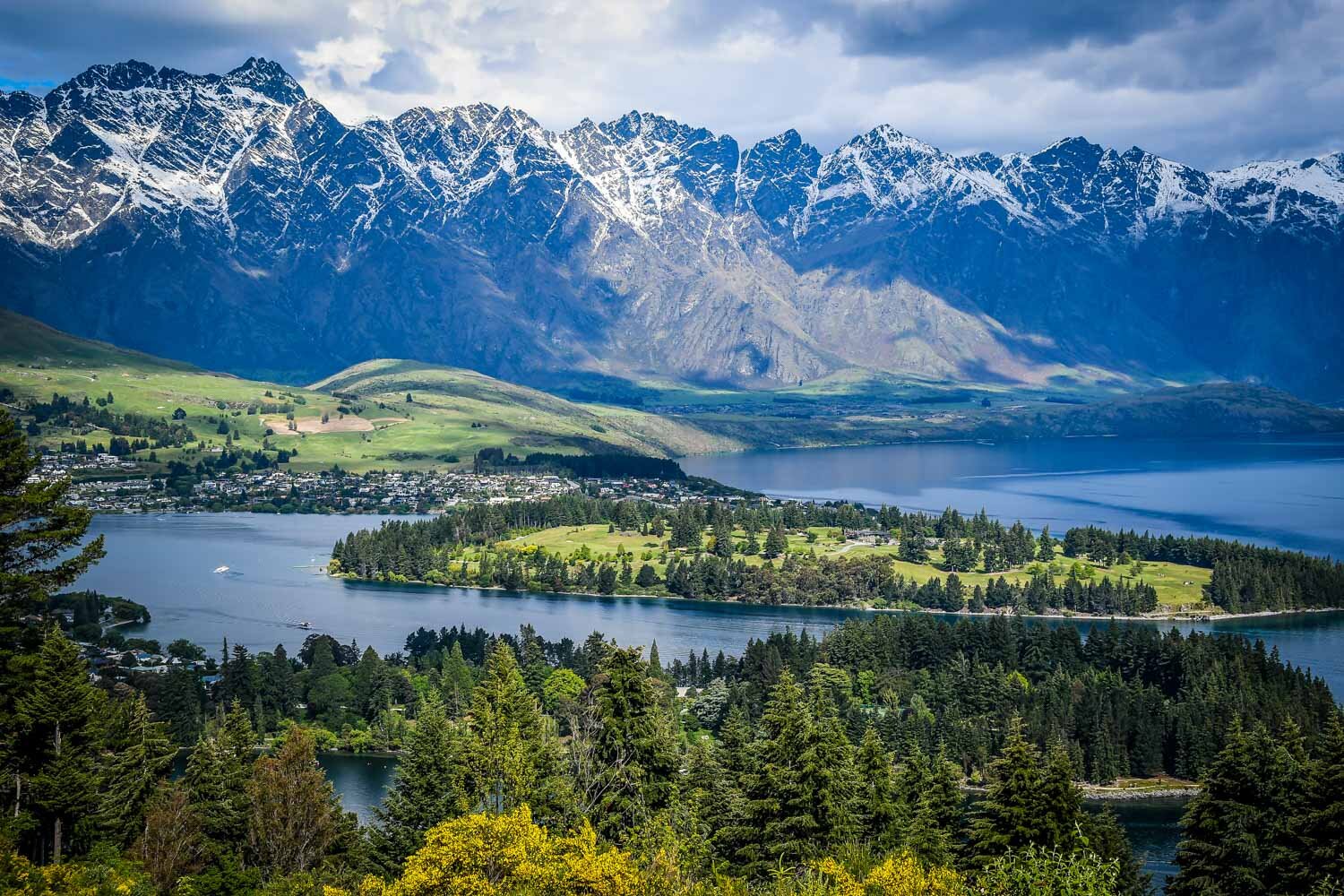 This is what we opted for as it was free and was a good excuse to get our hearts pumping and burn off those Fergburgers (see #4 on this list and you'll understand)!
The Tiki Trail is steep (nearly 1,400-foot elevation gain) and shaded. Most of this 1.5-mile hike is through the forest, so you won't get a real view until you reach the top (quite a reward!).
This hike took us about 45 minutes from bottom to top. The trailhead is at the top of Brecon Street, right near the gondola entrance. 
What is there to do at the top? Glad you asked… You can get ice cream or a coffee from the Stratosphere Restaurant AND keep reading because this next activity is an absolute blast…
3. Ride the luge at Skyline Queenstown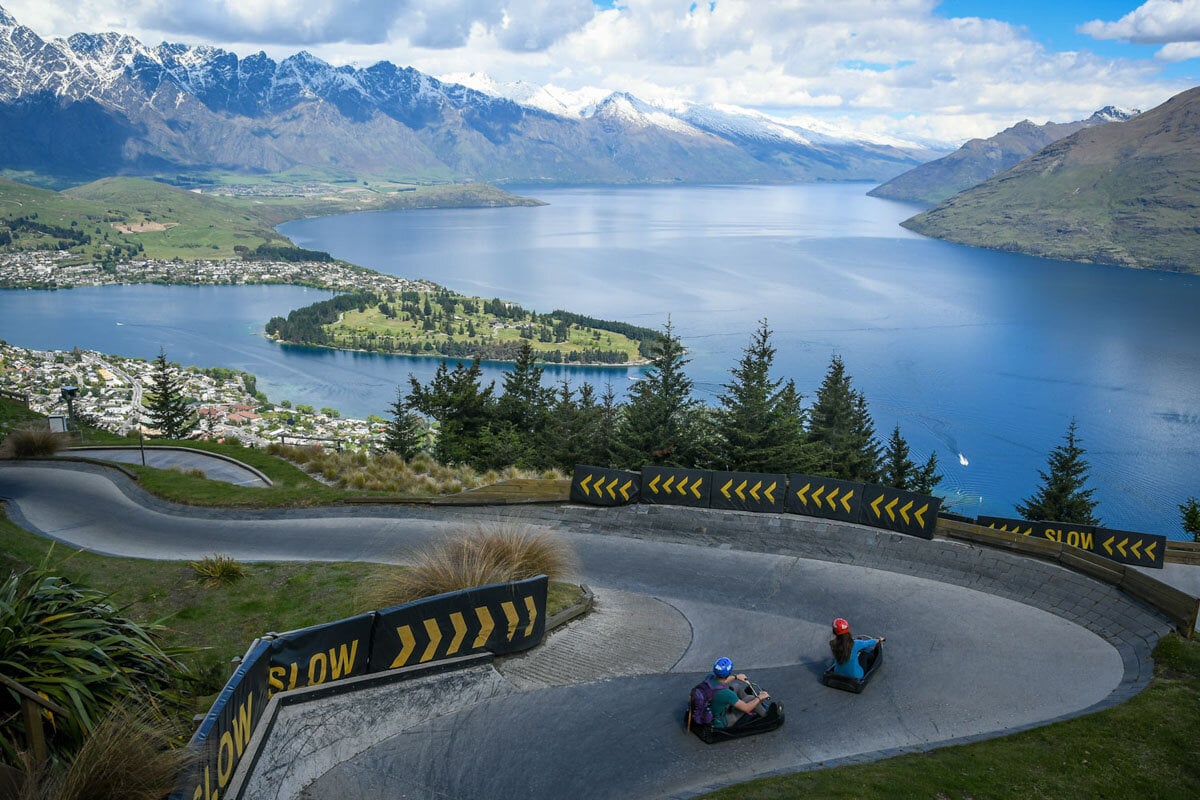 Now that you're at the top of Bob's Peak (whether you took the Skyline Gondola or hiked), you're in for a real treat… The Queenstown Luge!
If the thought of driving a real-life Mario Kart appeals to you in the slightest, you'll love the Queenstown Luge. It was even more fun than it looks and was one of our absolute favorite Queenstown activities!
Channel your inner Princess Peach or Luigi and whip around curves as you race your travel companions (loser buys beers!). But don't forget to take in the stunning views over Queenstown as you drive the course. And watch out for banana peels! Just kidding!… Or are we?
Good to know: On your first ride, you must drive on the "beginner loop" which is less steep, though we were still able to go decently fast! We wish we would have sprung for at least one more ride to try the "advanced loop."
To get to Skyline Queenstown (where the top of the luge tracks are located), you can either make the 45-minute Tiki Trail hike, or you can take the Skyline gondola.
Cost: $14 NZD for one track, $24 for 2. The more you ride the cheaper it gets. You can bundle your gondola ticket and luge rides to save money (book online!) and you can always purchase more luge rides from the top of the track at Skyline Queenstown. 
---
Want to save time and energy on planning?


We spent 5 weeks traveling around New Zealand in a campervan, and we've been lucky enough to explore a lot of what this country has to offer!
We took our 5-week travels and condensed it down to 30 days (because so many people wanted a 1-month route) that hits the top destinations on both the North and South Islands. 
We'll send you our complete 1 month itinerary, filled with tips and advice. Just click the banner above to get your 30-day New Zealand road trip itinerary today!
---
4. Eat a famous Fergburger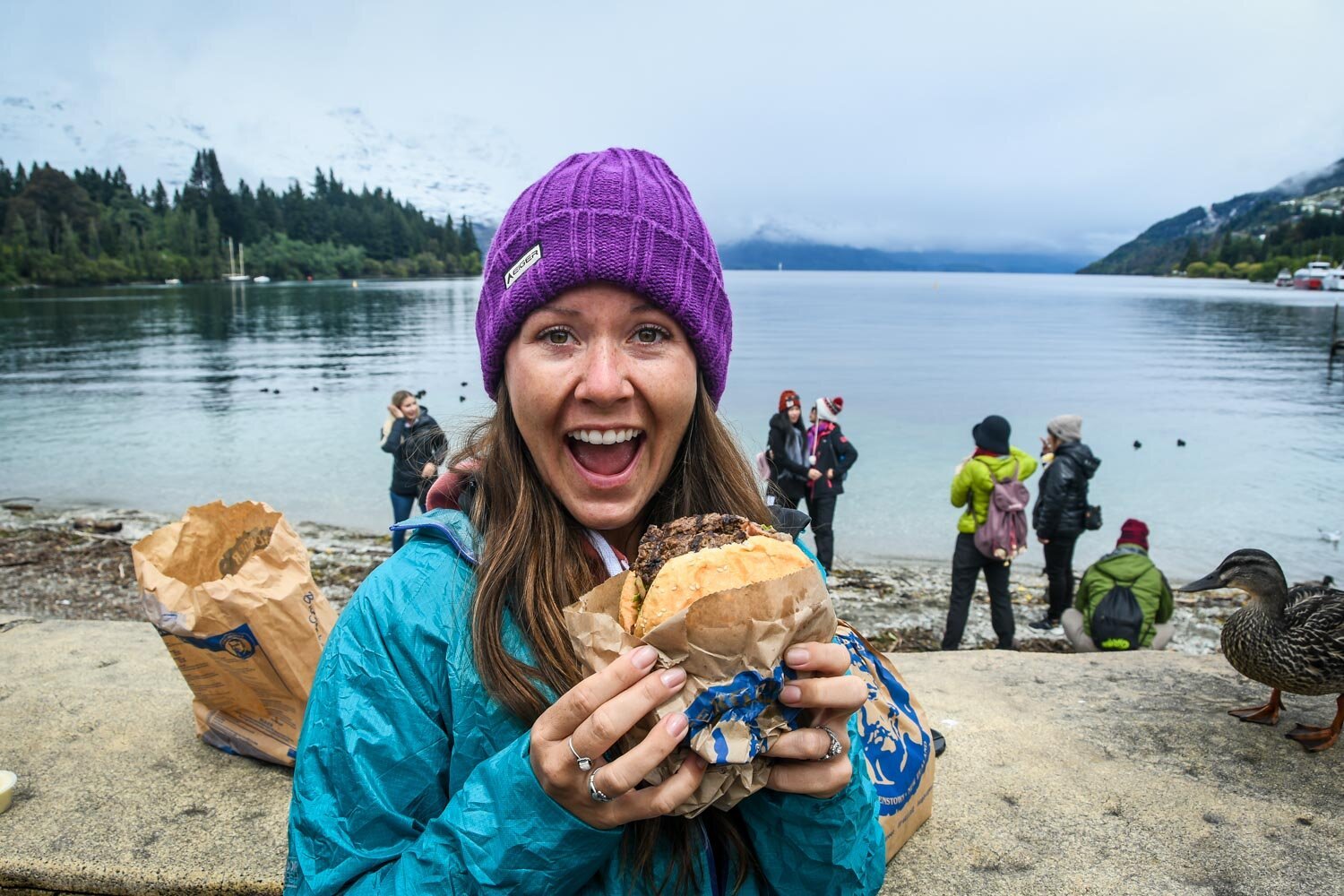 Anyone traveling to Queenstown is likely to get this advice from someone who's traveled there in the past, "You HAVE to eat at Fergburger! No matter how long the line, it's worth the wait!"
For something so hyped, we were actually pleasantly surprised. We ate there on multiple occasions (don't judge!) and each time the burgers were absolutely fantastic. Everything you could want in a burger: Perfectly cooked meat. Lots of creative toppings. Flavorful sauces. Huge portions.
Even the line, which looked like it might take forever, went by surprisingly quickly, and we had our burgers in hand a quick 20 minutes after stepping in the queue.
Insider Tip: If you are truly allergic to waiting in a line, you can call in your order ahead of time and pick it up. I hope they don't hate us for giving out their phone number, but here it is: +64 3-441 1232
Take your burger and head down to the lakefront, which is just a short walk away. Now you can enjoy your amazing burger with an equally amazing view. Just watch out for those pesky ducks that are guaranteed to try to steal your burger! (See our photo evidence of the little thief!)
What to order
Our Recommendations: We loved the Mr. Bigstuff, and seriously wanted to try the Sweet Bambi (but it was sold out both times we went). For more drool-worthy burger descriptions, check out their whole menu.
Vegetarian friends: There are 2 non-meat options you can try; a tempura tofu burger with spicy satay, coconut & coriander sauce (Holier Than Thou) and a falafel burger with lemon yogurt and avocado (Ferg-lafel).
No matter what time of day your burger craving strikes, Fergburger is there to satisfy. They are open from 8 a.m. (brekky burgers, anyone?!) to 5 a.m. for all those youths walking home from the bars.
Psst! We have an entire guide to food in New Zealand so you know exactly what else to try!
5. Hike up Queenstown Hill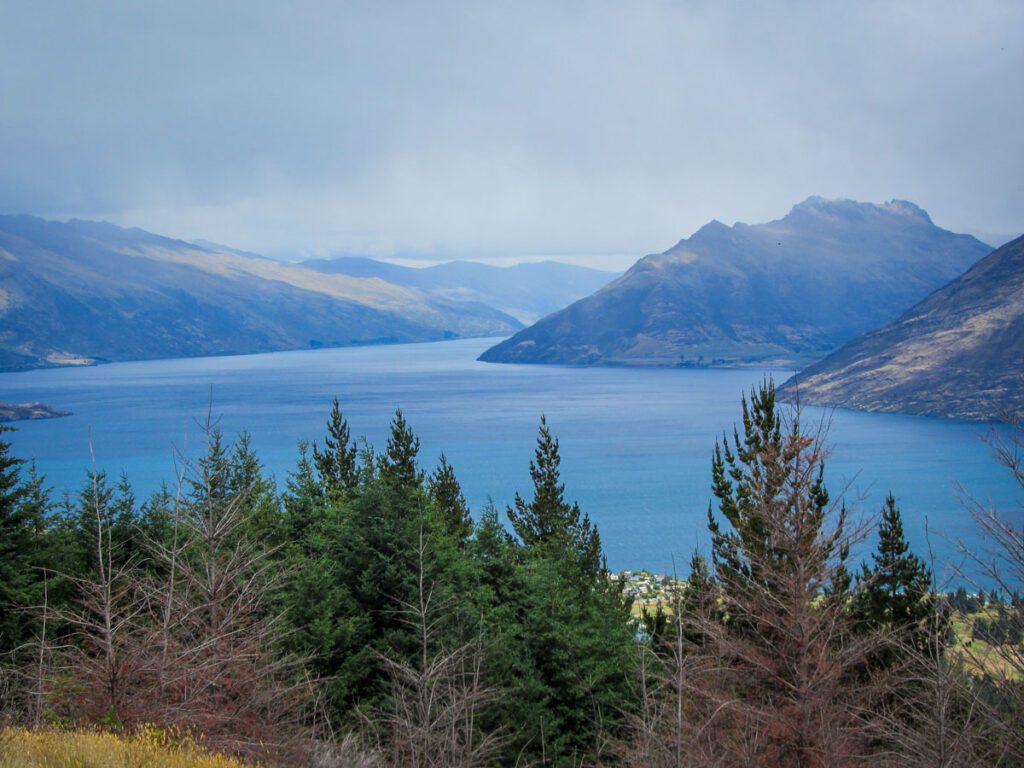 Distance: 3 miles (4.8 km)
Elevation gain: 1,309 feet (399 meters)
Type of trail: Out & back
Difficulty Rating: Moderate
Lace up your hiking shoes and get your heart pumping on this scenic hike near central Queenstown. This well-trodden dirt path brings you through forest and fields of wildflowers, and rewards you with sweeping views of the city and Lake Wakatipu.
The views from the summit are well-worth the 1.5 – 3 hours it may take you to traverse the entire trail. There are even a few stopping points along the path with beautiful look outs that keep getting better and better as you gain elevation.
How to get there: There is a small car-park off Belfast Terrace (not far from the city center) where the trail head is easily recognizable with signage. This is where the hike starts and finishes.
6. Hit the slopes (skiing or snowboarding)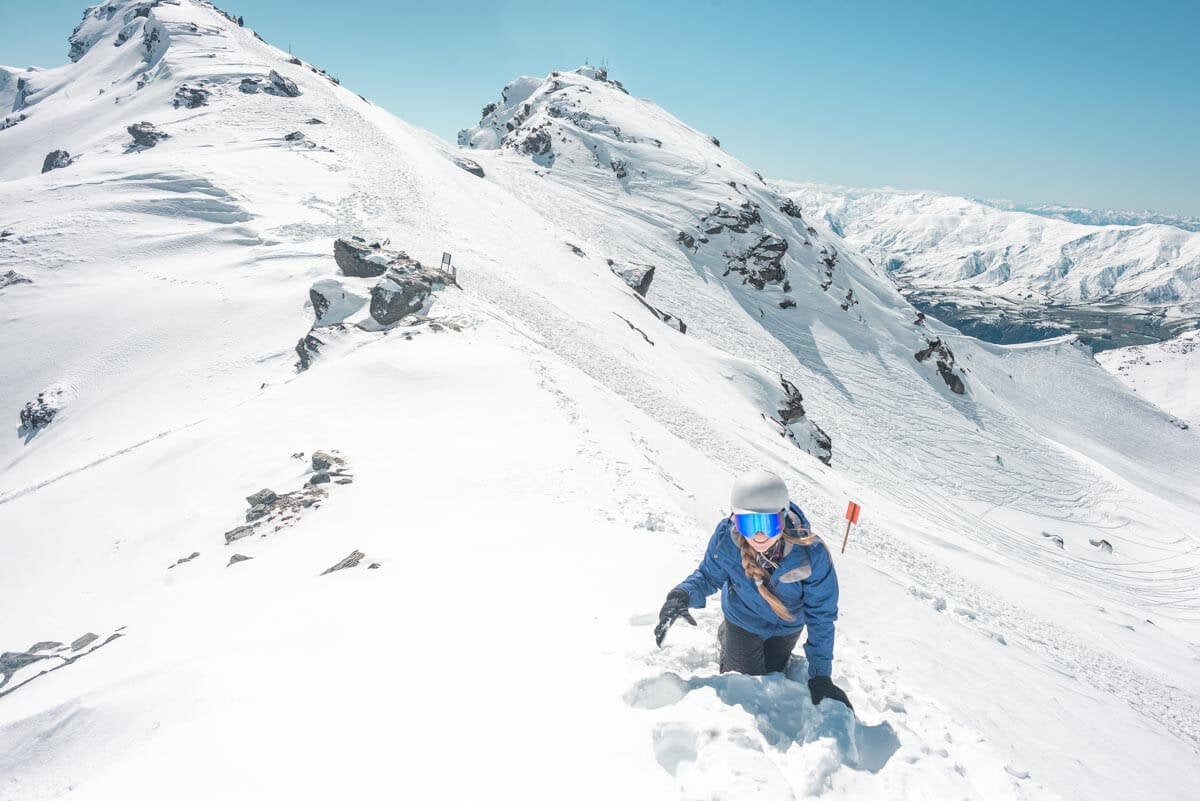 If you're visiting Queenstown in the wintertime, skiing should absolutely be on your itinerary (if you like snow sports, that is!).
Being that Queenstown is nestled in New Zealand's Southern Alps, its location makes it a perfect base for a ski trip. In fact, there are five nearby resorts to choose from. Do a little research on each to see which resort would be suitable for your level.
Here are the best places to go skiing in Queenstown (and the surrounding area):
The Remarkables Ski Area
Coronet Peak
Cardrona Alpine Resort
Soho Basin
Treble Cone Ski Area
7. Take a jet boat ride
Invented in the 1950's by a Kiwi farmer, the jet boat is propelled by shooting water out the back. Being that it doesn't have propellers like a traditional water vessel, jet boats are able to navigate shallow rivers that would otherwise be impassable.
Taking a jet boat ride is a classic Queenstown activity and there are a number of places you go: Shotover River, Skippers Canyon and Dart River to name a few. The jet boats are known to go fast and whip around turns, making for an adrenalin-pumping ride.
We didn't go on a proper jet boat tour, but instead got to ride on one during a visit to a bird sanctuary. We were actually surprised by how fun it was!
Want to experience the thrill for yourself? Strap in for a wet and wild ride up and down the Shotover River. The jet boat driver will whip past rock walls and do 360-degree spins in the canyon. It will get your heart pumping for the entire 90-minute experience. Book your tour here.
8. Tackle the Ben Lomond Track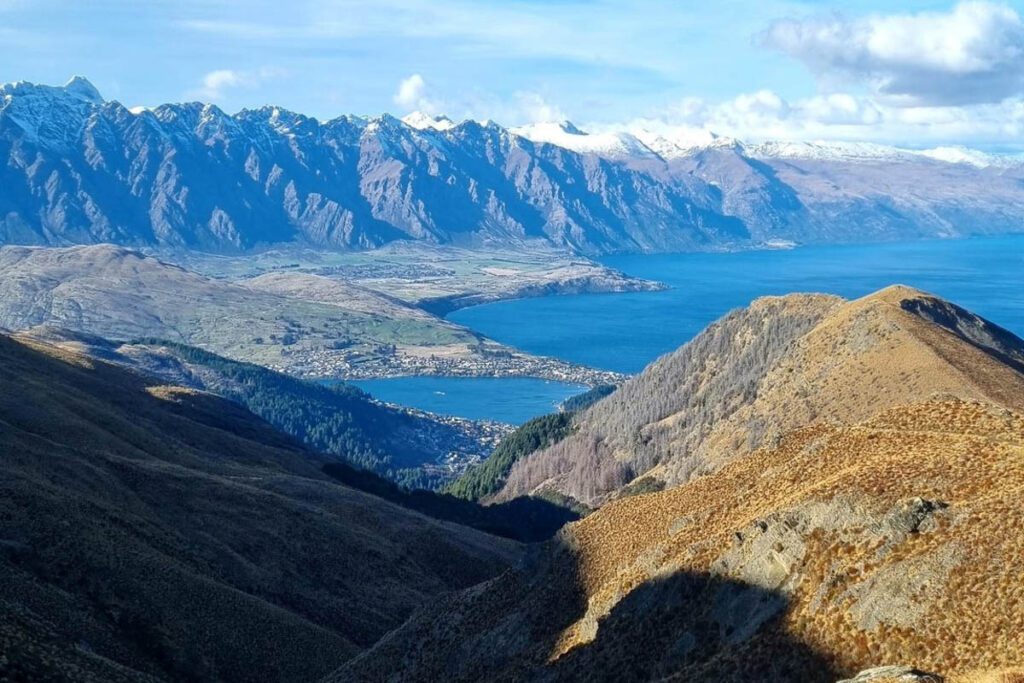 Distance: 8.3 miles (13.4 km)
Elevation gain: 4,419 feet (1,347 meters)
Type of trail: Out & back
Difficulty rating: Hard
If you're looking for an adventure that'll take the better part of a day, the Ben Lomond hike won't disappoint. With panoramic mountain views and good chances of spotting the famous kea parrot (DON'T feed them!), it's well worth the effort.
The last hour or so of the hike is said to be the most difficult, so save up some energy for that final push!
How to get there: You can start by taking the Skyline Gondola and beginning from there, or if you want to hike the whole way (and not have to pay for the gondola ticket), follow the Tiki Trail to get to the starting point. (See #2 on this list)
Other NZ Great Walks
If you're looking for more challenging (but rewarding!) hiking opportunities, there are actually 3 of New Zealand's celebrated "Great Walks" accessible from Queenstown. All of which take you through the diverse landscapes of Fiordland National Park.
Psst! Wondering what a "great walk" is? We explain it all in our New Zealand hiking guide.
9. Go skydiving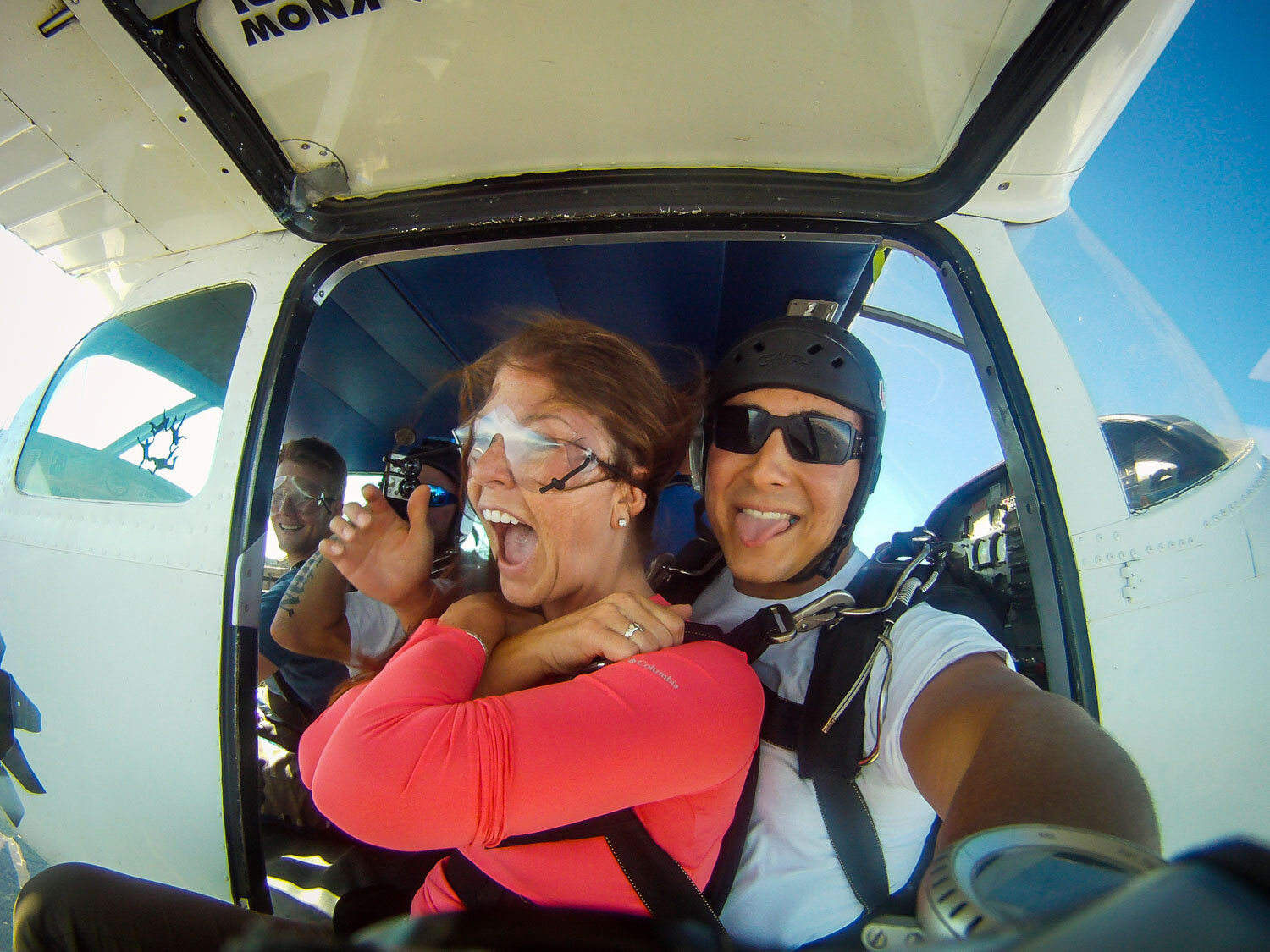 Have you ever wanted to jump out of a plane? We mentioned Queenstown being the adrenaline capital of the world, so if skydiving is on your bucket list, this may just be the perfect place to make the leap!
Imagine free falling with views of the Southern Alps and being able to see both coasts of the South Island. We'd imagine it would be pretty damn incredible!
There are a few different sky diving companies to choose from so you can compare prices, reviews, and availability to pick the best one for you
10. Visit Milford Sound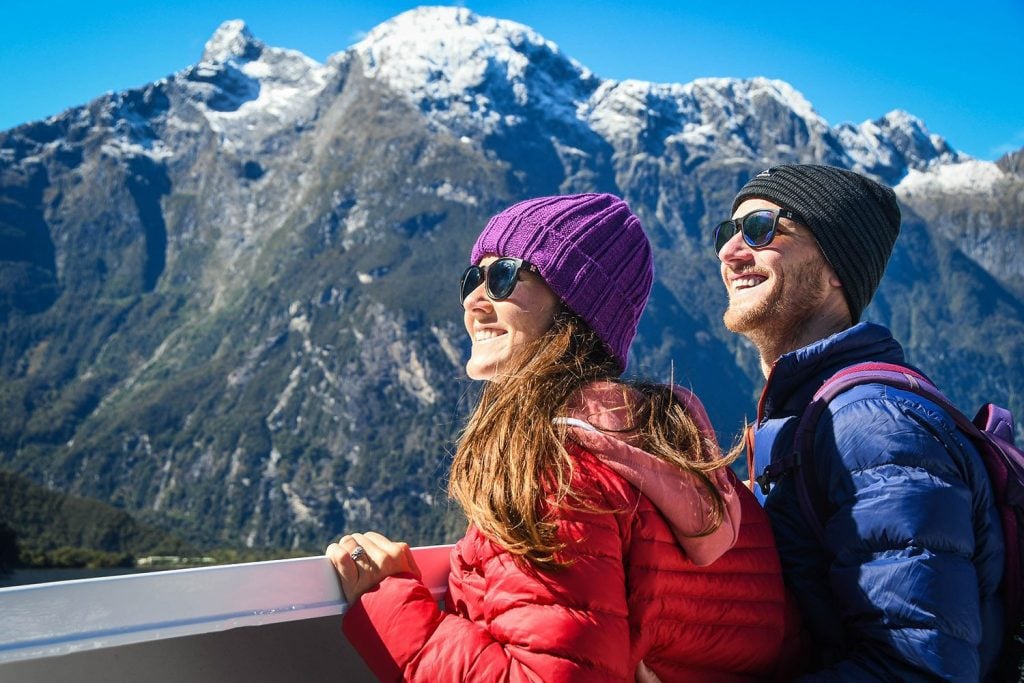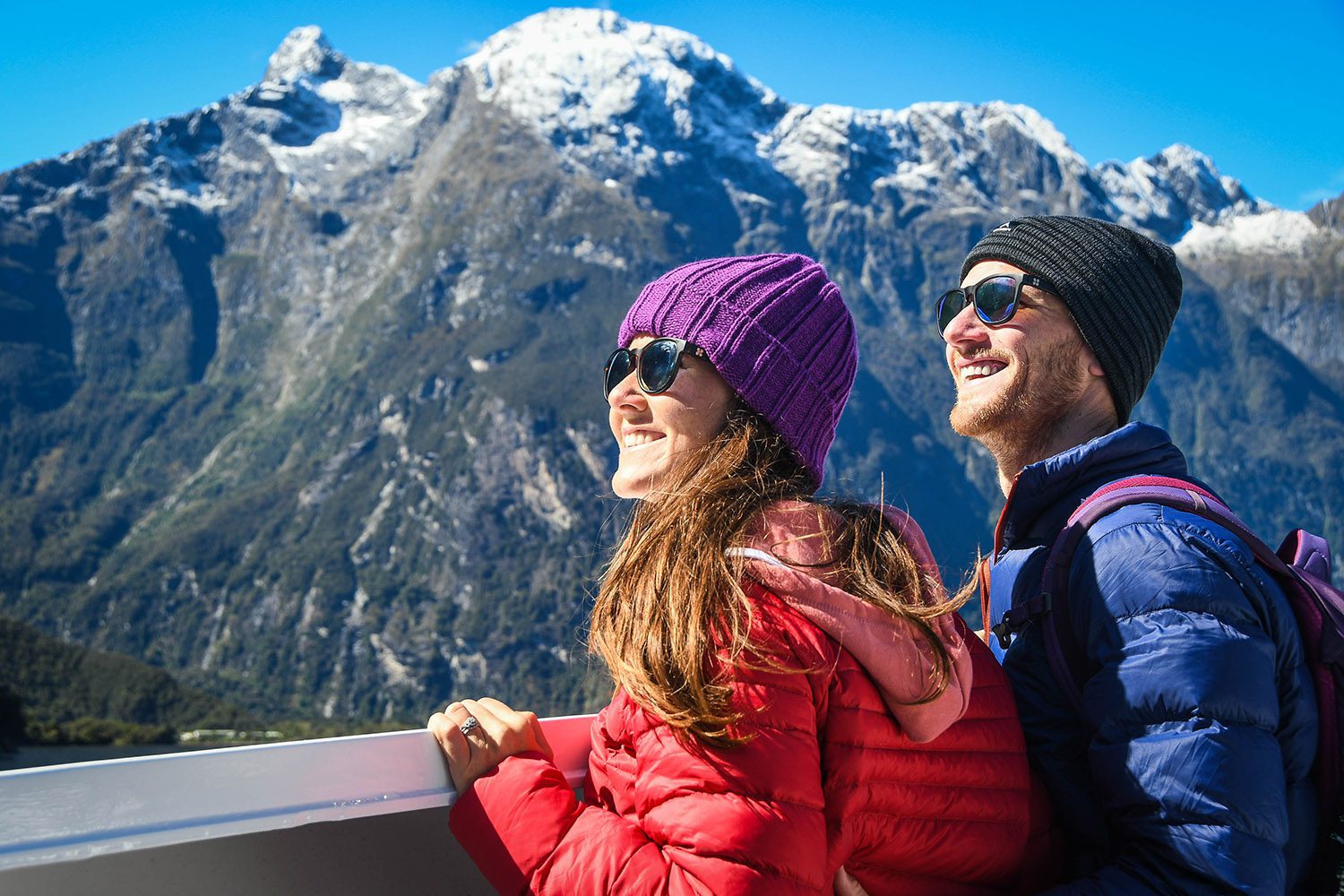 Milford Sound is often hailed as the "8th wonder of the world." 
This fiord is known for a diverse array of landscapes — from towering peaks to majestic waterfalls and temperate rainforests. It's also home to many species of wildlife, like dolphins, seals, and penguins!
Our advice: If you have the time, we really recommend driving out to Milford Sound yourself and spending the night nearby.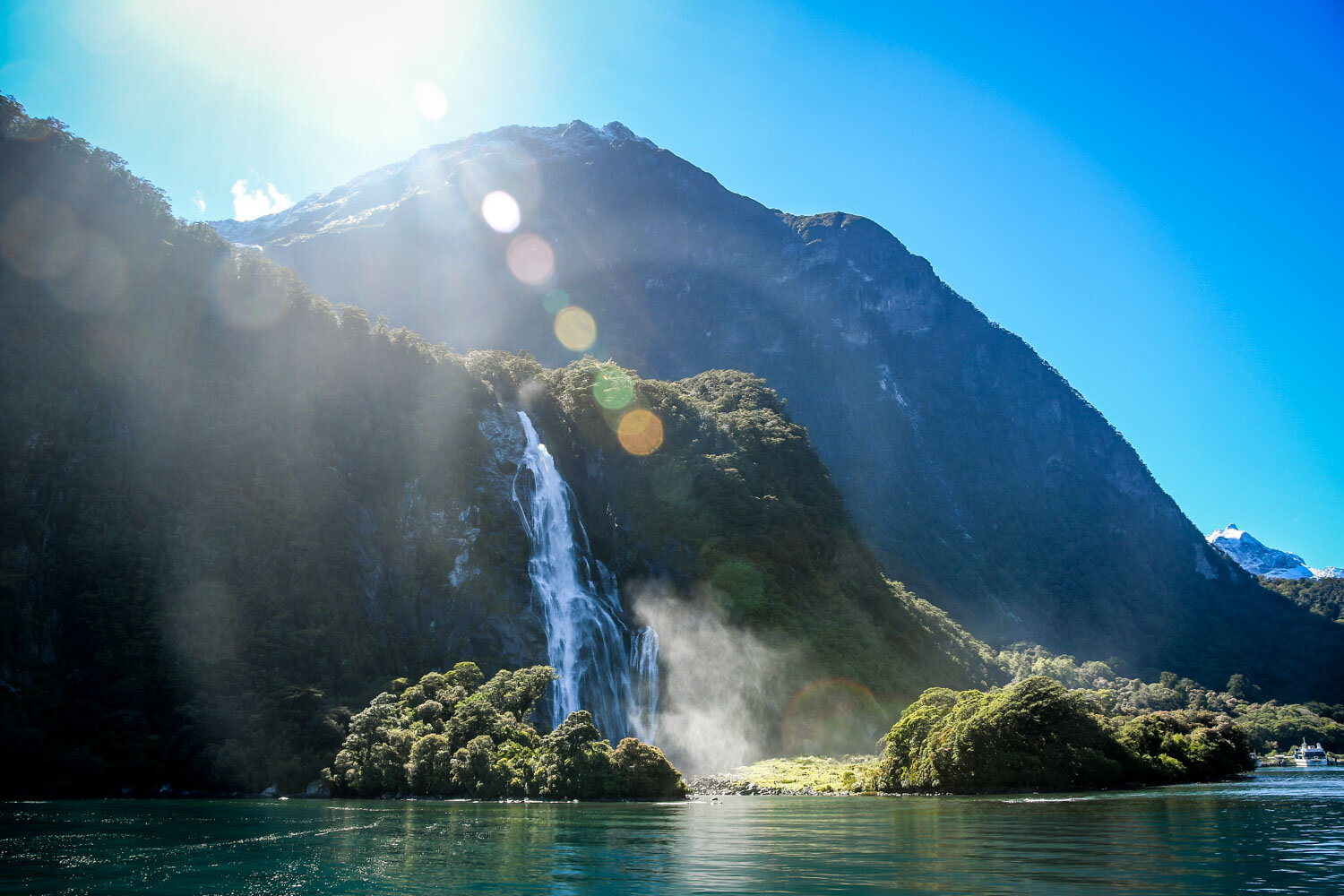 But, if your itinerary is really tight, it is possible to go on a day trip tour to Milford Sound. And yes, this is absolutely a place you should visit while in the Queenstown area.
If you were to drive from Queenstown and book it to Milford Sound (without stopping, which would be a shame since the drive is gorgeous!), it would take at least 4 hours. So as you can see why visiting Milford Sound would be a very long day trip.
If you don't want to make that round trip drive yourself (8+ hours!), booking an organized day trip tour would be a good way to see Milford Sound with limited time.
11. Wine tasting in Central Otago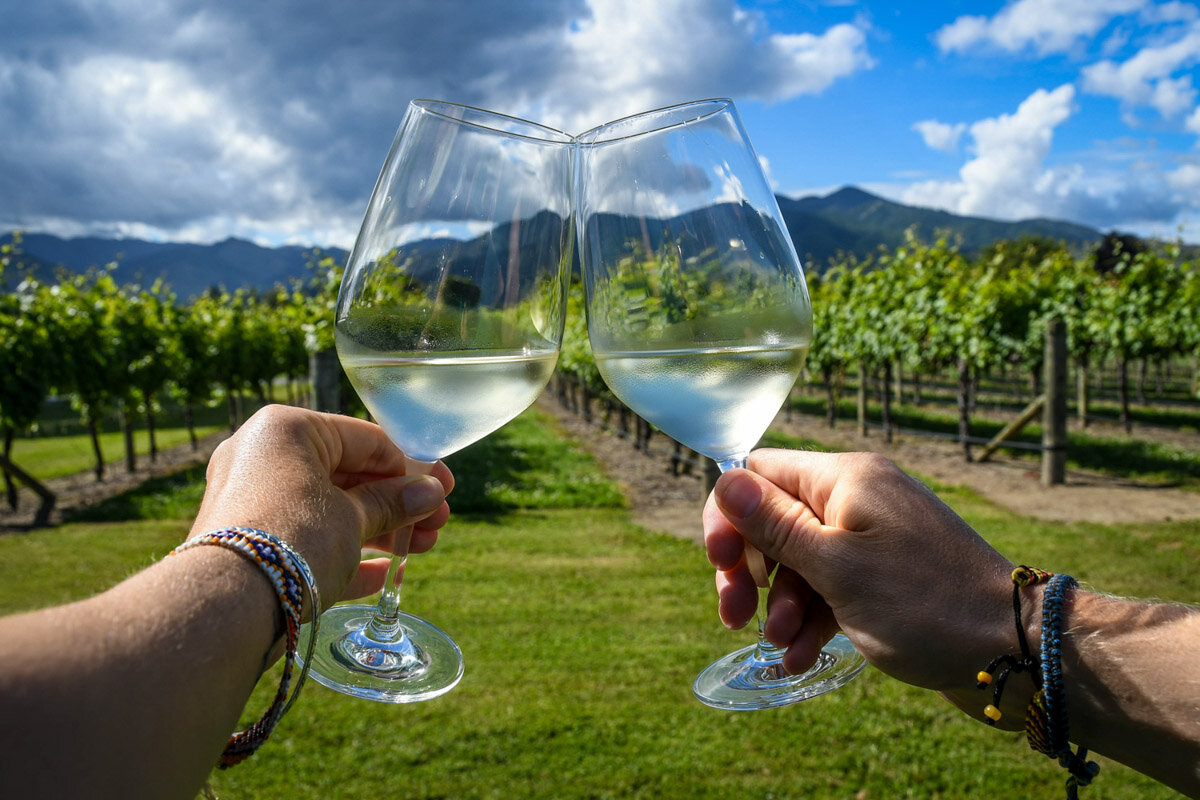 New Zealand is known for producing some of the world's best wines, both whites and reds. If you consider yourself a wine-o, you'll definitely want to make space on your Queenstown itinerary to do some wine tasting.
The Central Otago wine region encompasses both Queenstown and Wanaka, and is known best for its Pinot Noirs. You can visit wineries in the region on your own and pay for a tasting, which is usually between $10-15 NZD, or you can get a bottle!
Alternatively, you might want to book a wine tour if you want more information about each vineyard and this region in general.
Our Recommendations
12. Drive to Glenorchy
With rugged mountain peaks, glacial lakes, mossy rainforests and long stretches of scenic highway, the region around Queenstown has no shortage of jaw-dropping scenery.
One of the most scenic drives in this area is the road to the small town of Glenorchy, which is situated at the very north end of Lake Wakatipu. The drive takes 50 minutes one way (you will have to return as well), but be prepared to stop frequently for photo ops and little roadside attractions.
Once in Glenorchy, explore the tiny town's General Store and go down to the dock. If it's a nice day, you can go for a swim and soak up some sun on the floating raft.
Highlights of the drive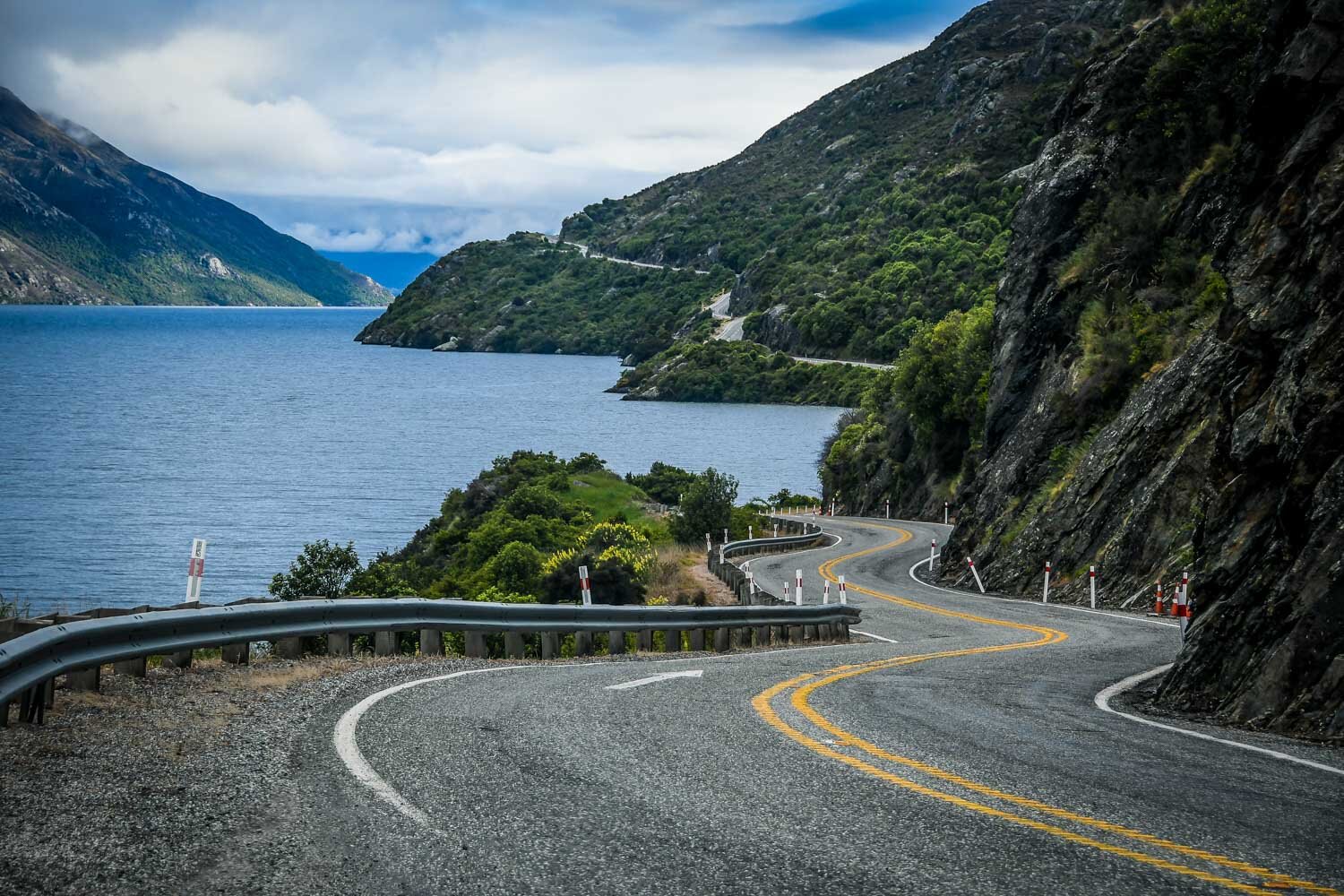 Stop off at Bob's Cove to explore
Pull over at Bennett's Bluff for a scenic viewpoint
Keep driving past Glenorchy to the small town of Paradise (which is known as one of the filming locations for The Lord of the Rings!)
Be sure to read up on our tips for driving in New Zealand before you hit the road!
13. Have a soak at the Onsen Hot Pools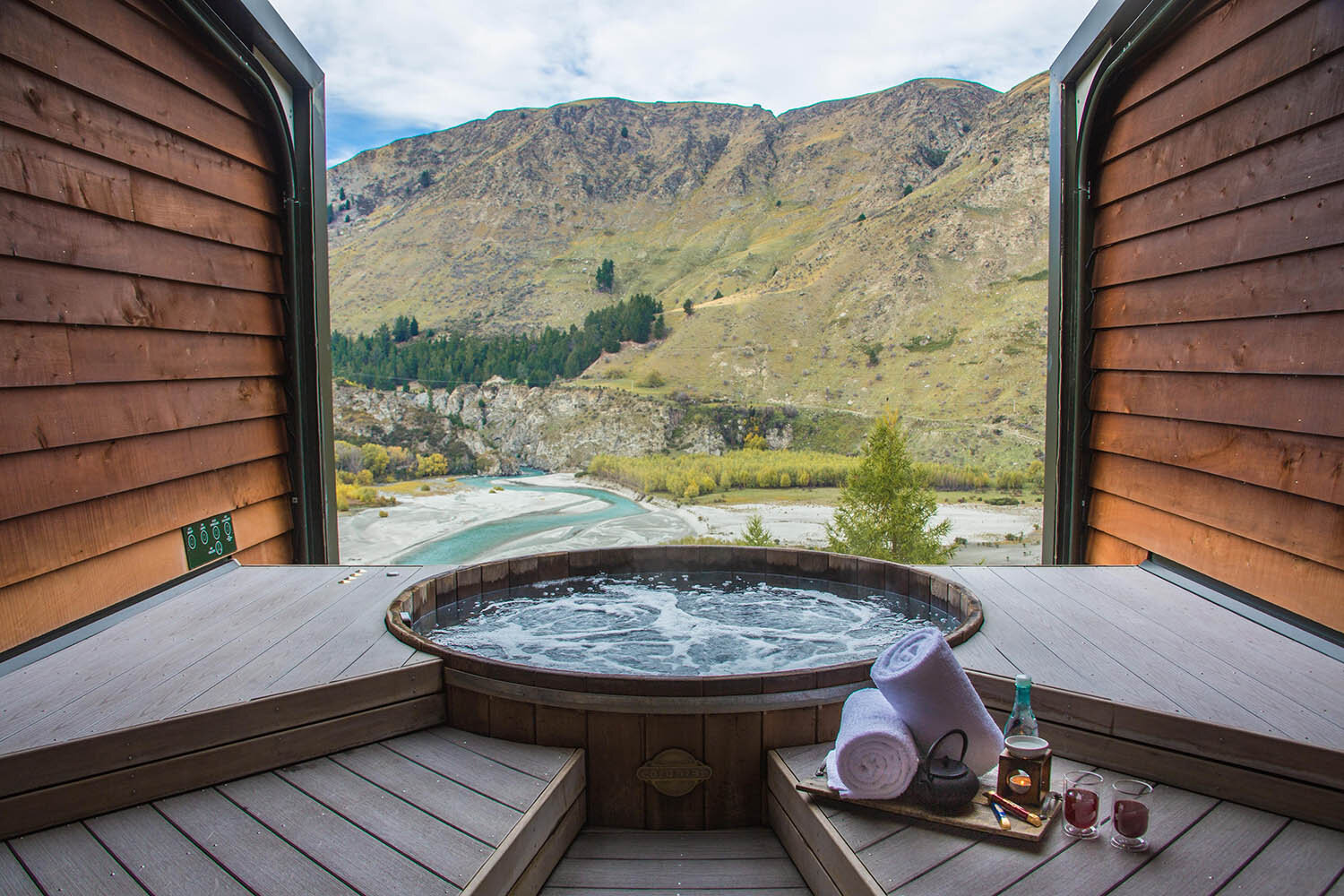 If it's an Instagram-worthy view you're after, the Onsen Hot Pools just outside of central Queenstown will be just what you're looking for.
Pamper yourself by splurging on a soak in these scenic natural pools or make it a full day of self-care. In addition to the exclusive cedar hot tubs with breathtaking views, they also have a day spa with a range of treatments for both men and women.
After exploring New Zealand by campervan, a little pampering and R&R never felt better (trust us!).
Entrance fee: The cost to soak starts at $85 NZD per bather in the outdoor onsen and goes up from there depending on which pool you choose and what spa treatments you want to indulge in. See more prices on the official website. 
14. Drive the Devil's Staircase
The drive along Hwy 6 on the shore of Lake Wakatipu is called the Devil's Staircase and it is stunning. Hugging the lake's edge, the road twists and turns making way for breathtaking views of the deep blue lake and the Remarkables mountain range.
The entire drive will take just 45 minutes, but we encourage you to stop frequently for photo ops! Be sure to stop at the Devil's Staircase lookout point.
Exercise caution while driving because many people will pull over on the side of the road for a picture. And so should you, but make it safe!
Related: Check out other epic drives and wild things to do on the South Island's West Coast.
15. Explore on 2 wheels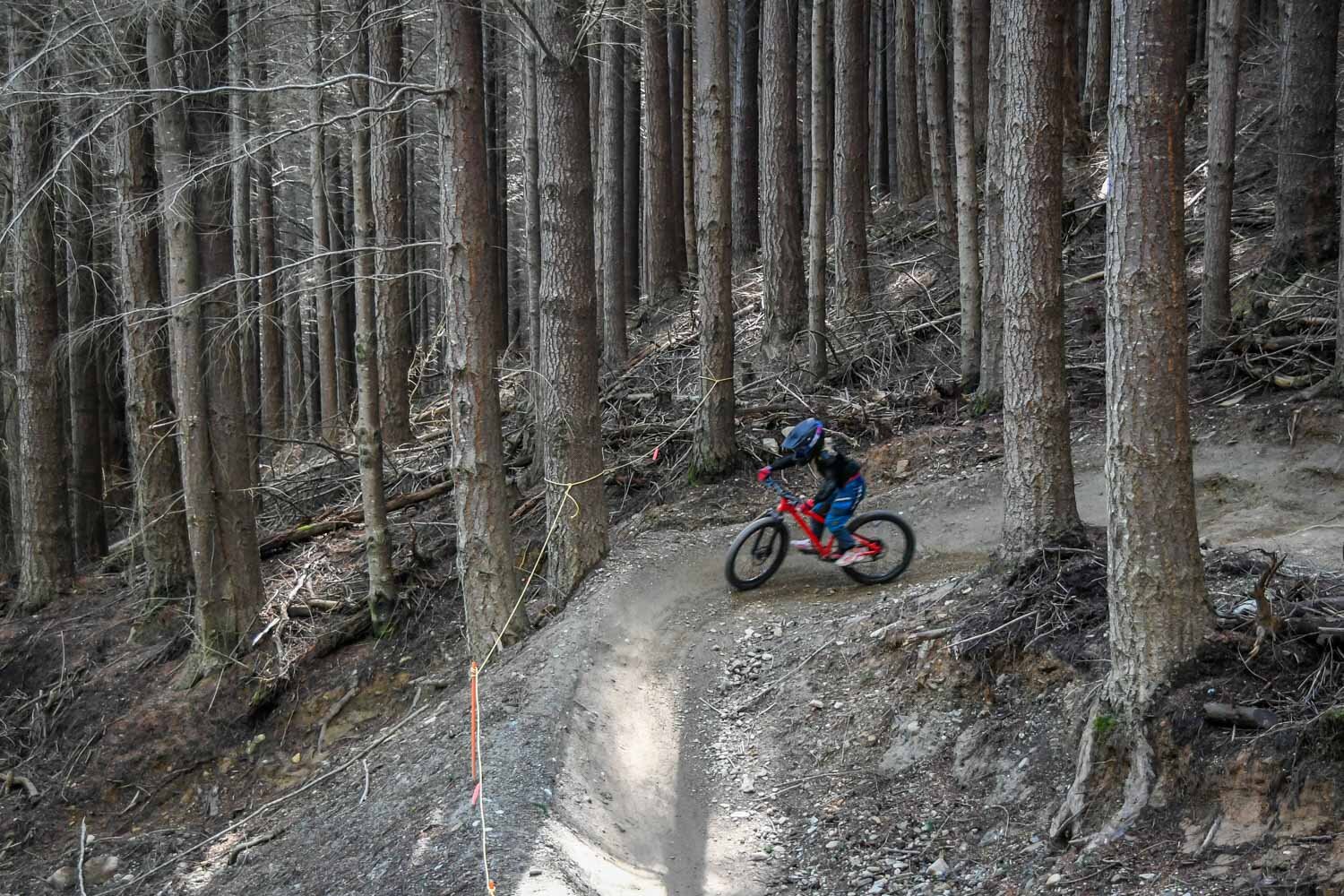 If you like things better on two wheels rather than two feet, you're in luck because Queenstown is actually a great place to go biking.
Whether you're looking for a full-on downhill mountain biking adventure or you want to go on a casual ride, you'll be able to find a bike route that fits your style. You can also choose from guided tours to independent rentals.
Mountain biking
One of the most popular places for mountain biking is at the Queenstown Bike Park. It is situated at the top of Bob's Peak, but don't worry, you can ride the Skyline Gondola to the top! 
With 28 world-class trails to choose from, you can bike to your heart's content!
Tip: Hammy's Track is meant to be a beginner route, so start with that one if you're a newbie.
Queenstown Trail
You've heard of the Great Walks, but did you know there are also designated Great Rides in New Zealand!?
On the shores of Lake Wakatipu, the Queenstown Trail connects Queenstown to Gibbston via Arrowtown with 138 kms of off-road trails. 
You can choose to ride (or walk) a shorter section of the trail. Or take the full 4-day trail to immerse yourself in sweeping views and alpine vistas as your ride through the Queenstown Lakes district.
16. Visit the quaint village of Arrowtown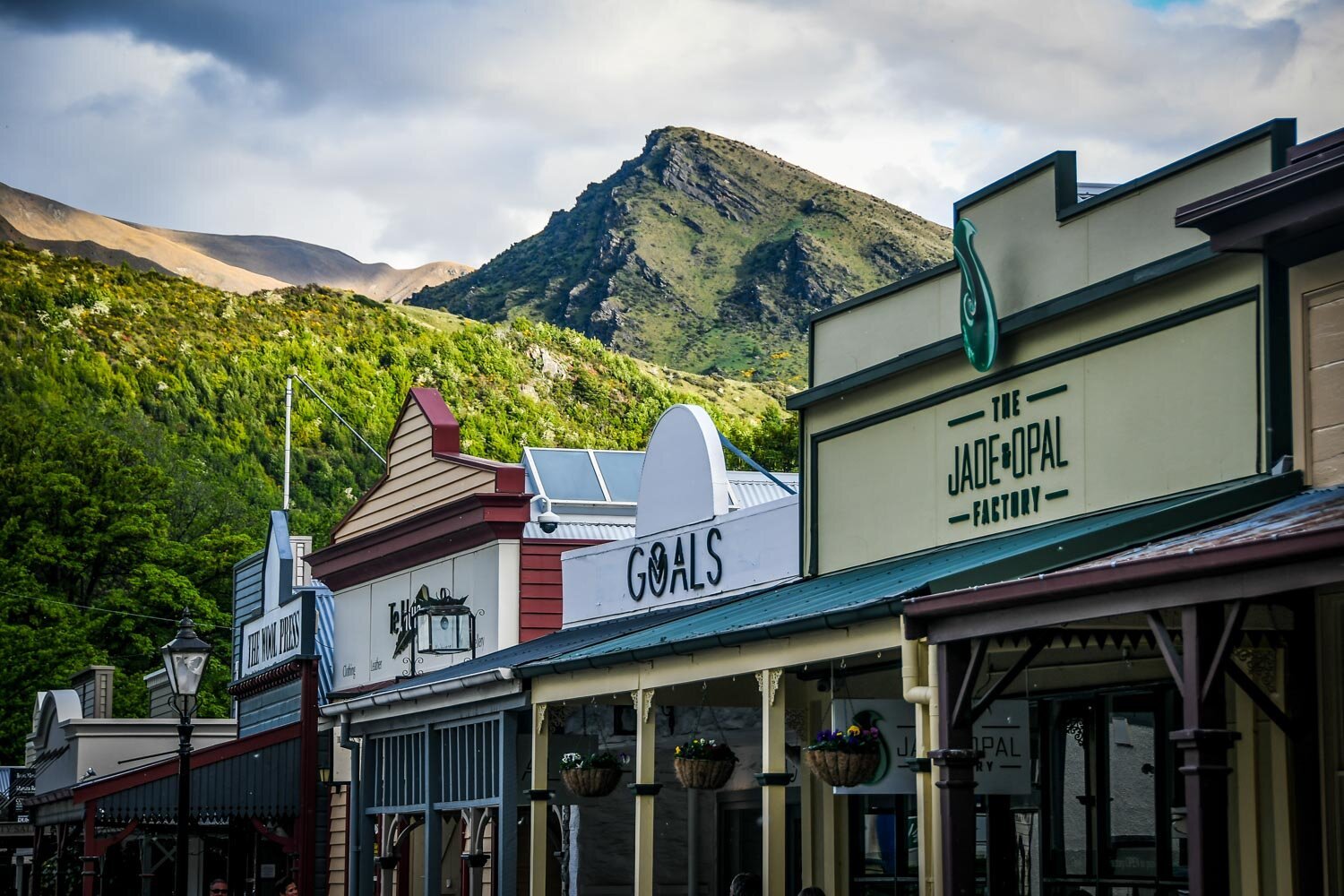 Take a 20-minute drive to historic Arrowtown. Once a thriving mining town, today it is filled with fancy restaurants, wine bars and ice cream shops, all with Western-style facades.
Window shop while taking in the old time feel of the city, and treat yourself to an IPA or red wine at the charming Fork and Tap.
And while you're in the area…
17. Picnic & walk around Lake Hayes
Not far from the historic village of Arrowtown, Lake Hayes is a peaceful place to go on a stroll or a bike ride.
The full loop around the lake is 8 km (5 miles) on a flat and easy walking track. Pack a picnic and head to Lake Hayes for a leisurely stroll around the lake with some stunning views.
It should take you about 2-3 hours to complete and afterwards, reward yourself with lunch in the North Lake Hayes picnic area (or head into Arrowtown where you'll find some pubs, cafes, and ice cream shops). Don't forget to pick up a bottle of New Zealand wine at a local shop before you go!
The walking track has multiple access points: Lake Hayes Pavilion, Bendemeer Bay, North Lake Hayes picnic area, Arrowtown Road, and Rutherford Road.
18. Take a helicopter tour over Queenstown
New Zealand is perhaps the perfect place to take your first helicopter flight… I mean, I can only think of a handful of other places that would come close (the Na Pali Coast in Hawaii comes to mind).
The thing about helicopter tours is they rely heavily on what the weather is like.
We did a helicopter tour over the Fox and Franz Josef Glaciers on New Zealand's West Coast, and lemme tell ya, it was such a cool experience. Quick, but worthwhile.
If you have some room for a splurge on your trip to New Zealand, we think a scenic helicopter flight is a worthy experience. You can choose from different types of tour lengths and itineraries.
19. Get an epic view at the Remarkables Lookout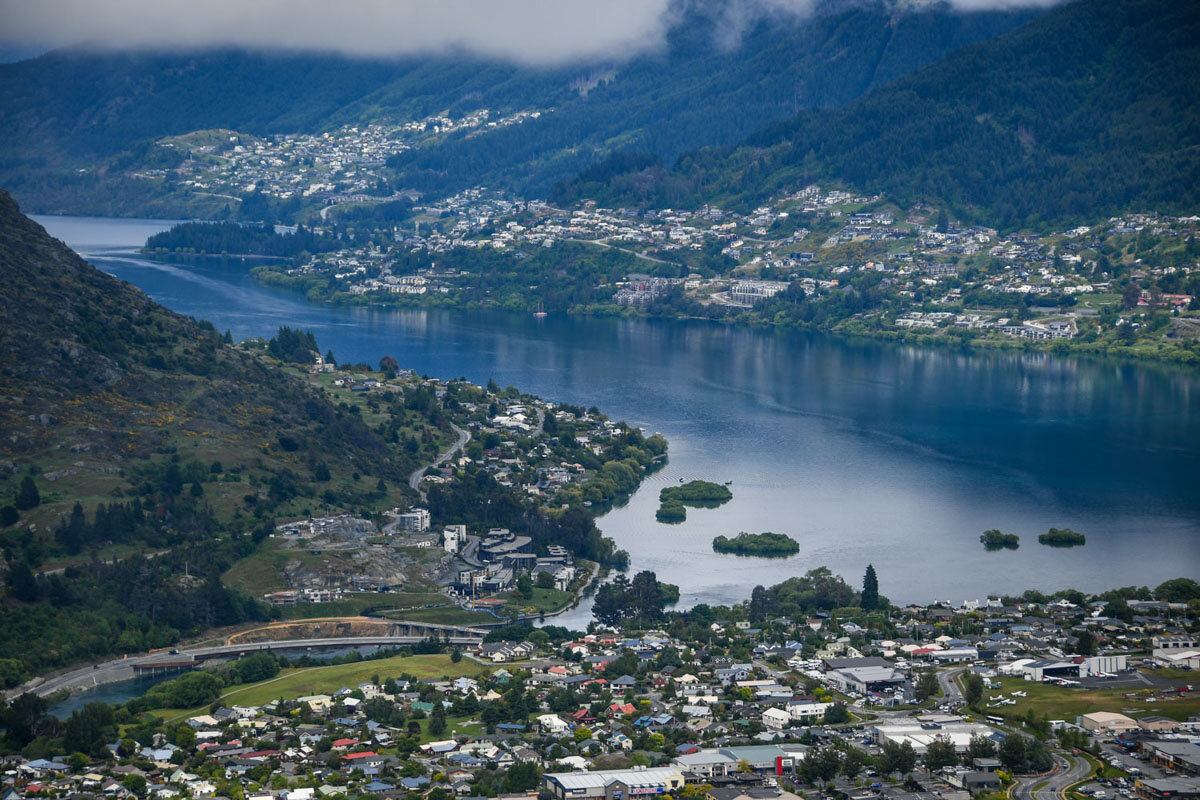 The Remarkables is a mountain range offering scenic views of Queenstown from the south side. Primarily used as a ski area in the winter and for hiking in the summer, you can also just drive up the road to get some epic views.
About halfway up the road to the Remarkables, the Queenstown and Lake Wakatipu lookout is a beautiful view over Queenstown. 
There is supposed to be a great view from the ski resort at the top, but when we drove up it was shrouded in clouds after the first lookout. So even if you don't make it totally to the top, you'll still have a nice view over the city.
20. Find peace (& sheep!) at Moke Lake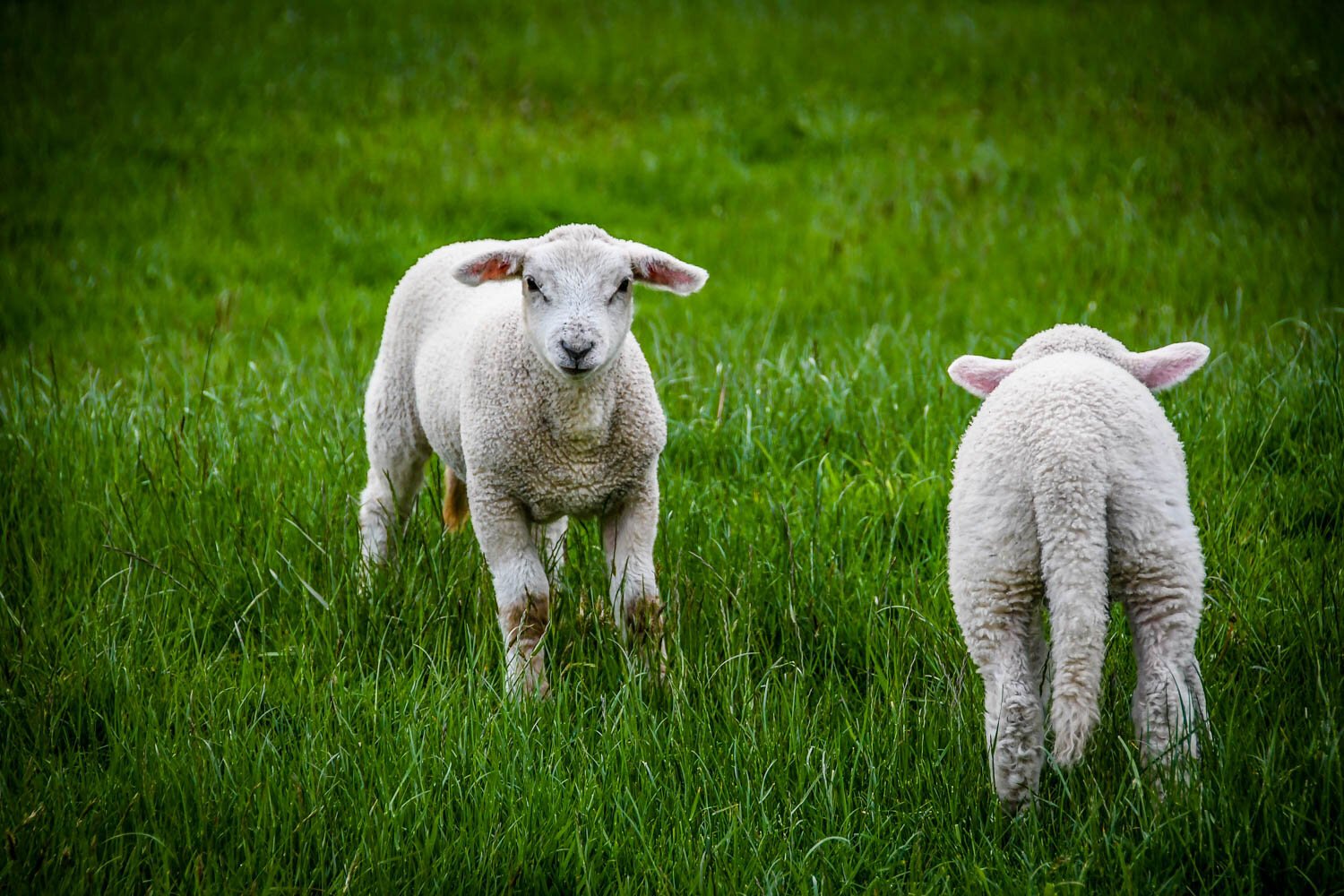 About a 30-minute drive from Queenstown, lies a serene oasis of sheep-filled fields and the hidden Moke Lake. The location is like something out of a fairytale.
Enjoy beautiful views of the lake and valley as you walk the 3.8-mile Moke Lake Loop around the water, or hike up to a secret viewpoint that overlooks the lake for an epic view.

Follow the trail notes here for this little-known view!
And if you want to get out of Queenstown for the night, watch the sunset and enjoy a night of solitude under the stars, plan to camp at the lake (we did and we loved it!). It's one of our top recommended campsites in New Zealand.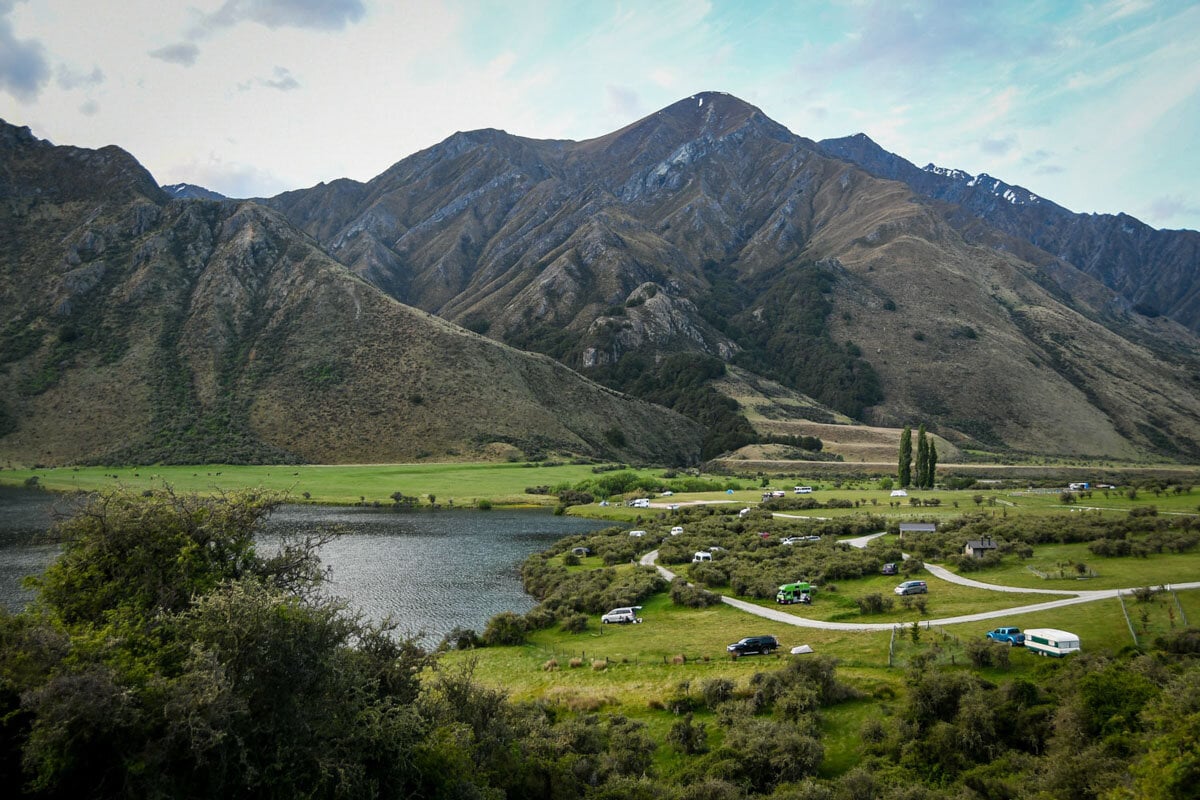 Good to know: You have to drive on gravel roads in the middle of nowhere to get there. 4-wheel drive is recommended and be sure to download offline maps ahead of time because there is no cell service!
21. Eat fish and chips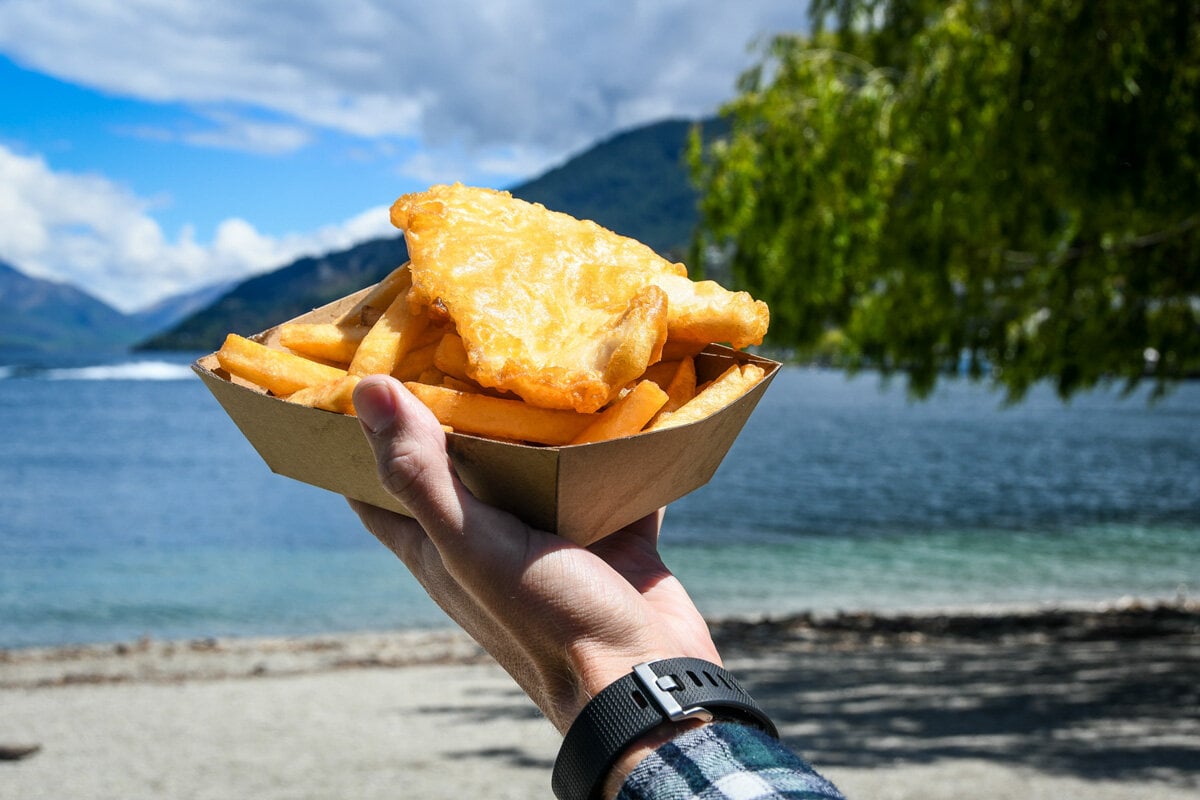 We thought nobody did fish and chips like the UK, but that was before we visited New Zealand!
You'll see this dish on the menu all throughout the country, as well as dedicated fish and chip shops. They typically serve a variety of fish at all price points (making it a pretty affordable meal), and have the option to add on chips.
The best fish and chips we had in New Zealand was from Erik's Fish and Chips in Queenstown.
Insider Tip: A "Kiwi thing to do" is order your chips with sour cream and sweet chili sauce. Not exactly a healthy upcharge, but a delicious one for sure!
22. Hang out at the Queenstown Bay Beach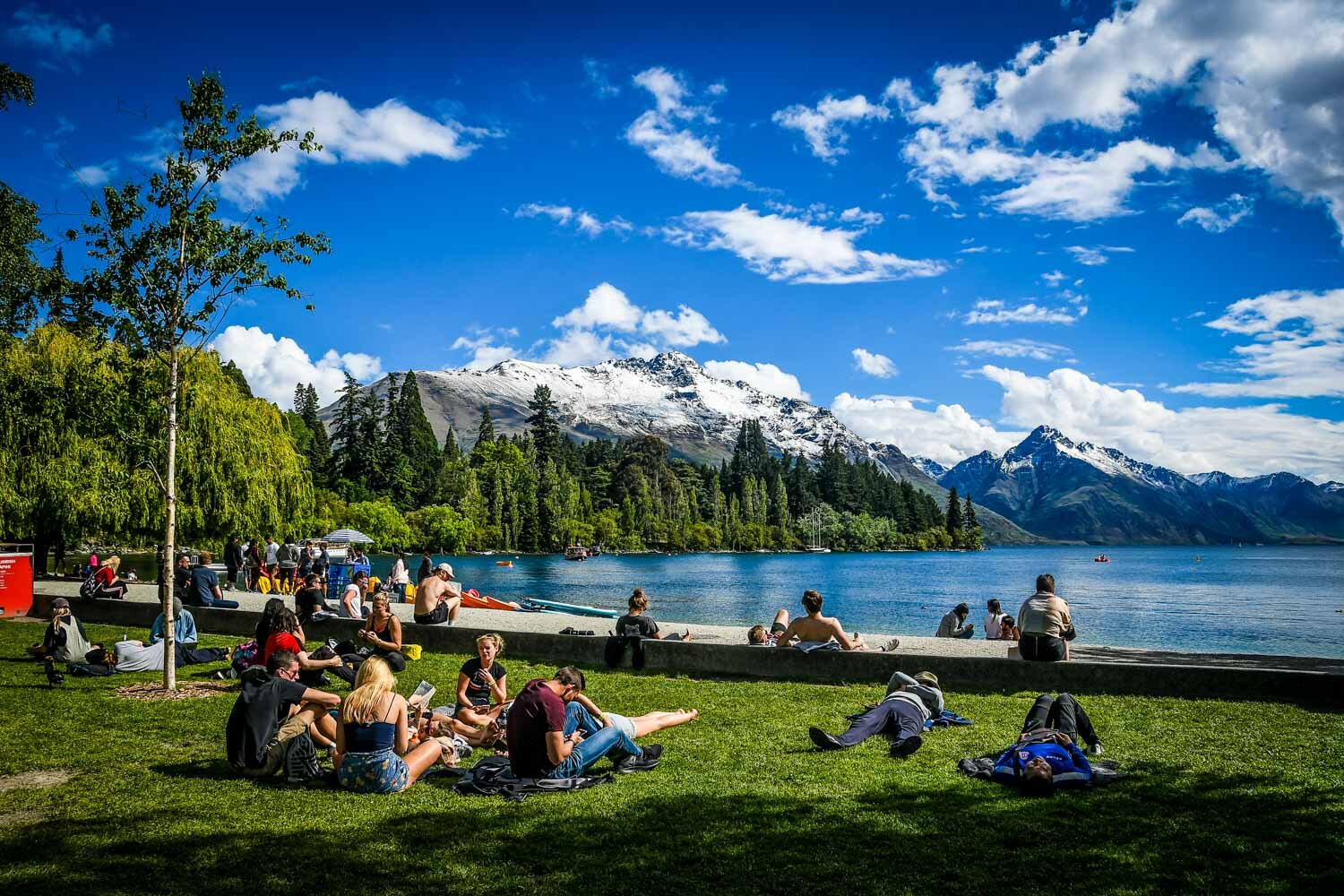 On a sunny day, you'll be guaranteed to find a crowd at the town's small beach. Even if you don't want to take a dip (we don't blame you, that water is cold unless you're there in the peak of summer!), bring a blanket and a book for a relaxing afternoon.
Good to know: There are alcohol bans on the Queenstown Bay Beach and surrounding areas during different times of the day (year round) and all day during certain times of year (around the holidays). Check the official website to find out when alcohol consumption at the beach is permitted. 
23. Get on (or in!) the water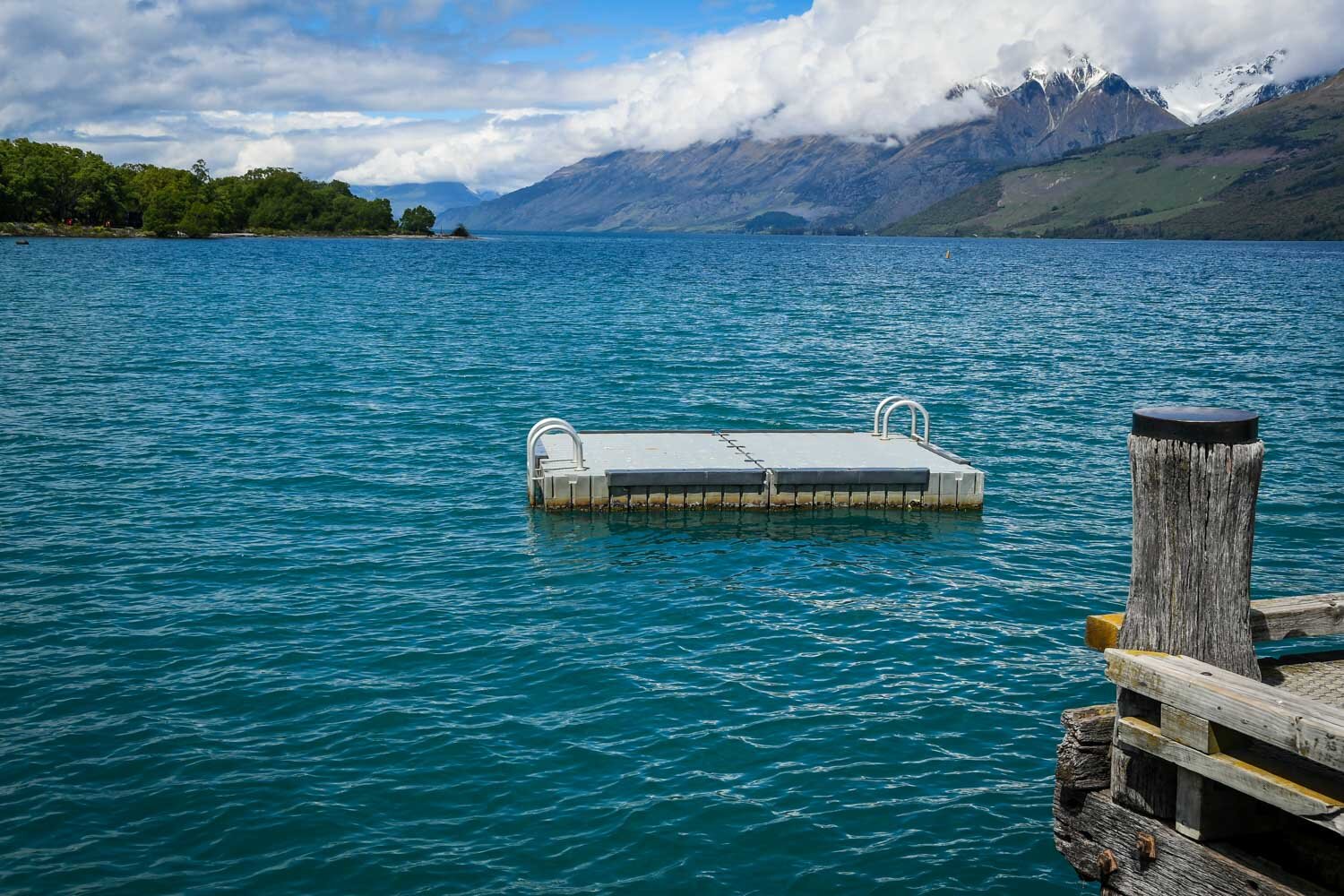 If you're itching to do more than just look at the lake, there are plenty of water sports to choose from:
Rent a SUP, Kayak, or Aqua Bike for a fun and peaceful time on the lake. (Oh, and get a little workout while you're at it!) Book a tour here.
Bring up the thrill factor a notch by renting a Jet Ski!
Go wild and book a "shark ride" with Hydro Attack. This semi-submersible boat is shaped to look like a shark, and a driver will whip you around the lake, in and out of the water. And if you don't want to cough up $154 NZD for a 25-minute ride, watch them from shore — it's pretty entertaining! When we first saw one of these we thought it was a whale and we were dumbfounded!
Why not do some paddling on this Dart River Canoe & Jetboat Experience?
If the thrills of whitewater get you excited, this Queenstown rafting tour might be just the thing for you!
If you're looking for a more chill way to get out on the lake, you might love the Spirit of Queenstown Scenic Cruise, which earns rave reviews! 
For a free way to get out there on the lake, go swimming! If you're looking for a budget-friendly way to get in the water, taking a dip won't affect your wallet. The dock in Glenorchy looks like the perfect place for a swim, as does the Queenstown Bay Beach.
24. Wander the Queenstown Gardens
Take a leisurely stroll through this botanical garden set on the shores of Queenstown Bay in Lake Wakatipu. You'll find a large pool and native trees as well as activities like lawn bowling, frisbee golf, and a playground.
Wander through the gardens with your morning coffee, or make an afternoon of it by bringing a picnic lunch, a blanket and a good book! Oh, and a frisbee wouldn't hurt either!
Traveling to Queenstown in the winter? Check out the Queenstown Gardens ice skating rink!
25. Go canyoning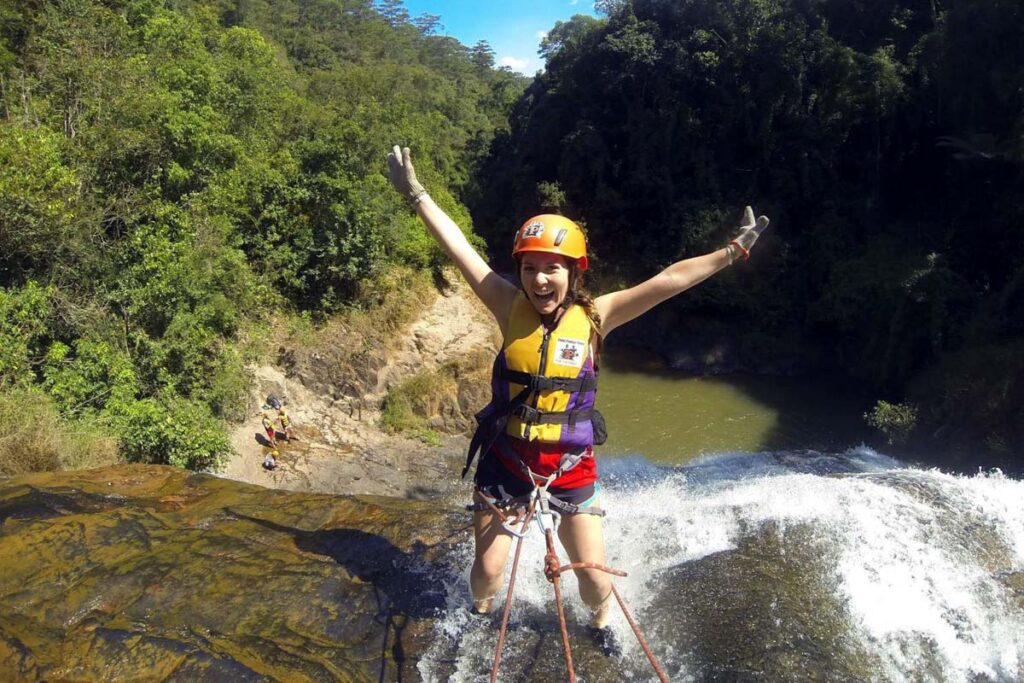 We've been canyoning in a few destinations around the world, and it is an absolute blast! Rappel down waterfalls, scramble and climb up rock walls, abseil, and slide down streams. It is a wet and wild good time!
While we didn't have time to do it in Queenstown (remember, ya can't do it all!), we would highly recommend a canyoning experience for anyone who is interested (especially if you're traveling to NZ in the warmer months of the year).
26. Soar high over the city
If you're looking for a somewhat low-key adrenaline rush, soaring over the city will do the trick! Whether you're into ziplining or paragliding, there are plenty of options in Queenstown for both.
Ziplining
Get the adrenaline rush + the bird's eye views all while tethered safely to a line. Soar through the treetops beside the shimmering waters of Lake Wakatipu on a zipline tour from the summit at Skyline Queenstown.
Paragliding
Definitely less scary (and more chill) than skydiving and bungee jumping, paragliding still gives you an epic adventure and unrivaled views over the city.
We've been paragliding a few times so we opted against it during our time in Queenstown (remember, you can't do it all!). But I'd be lying if I said we weren't jealous watching those paragliders soar over Queenstown and Lake Wakatipu. What a view they must have had!
27. Check out the Kiwi Birdlife Park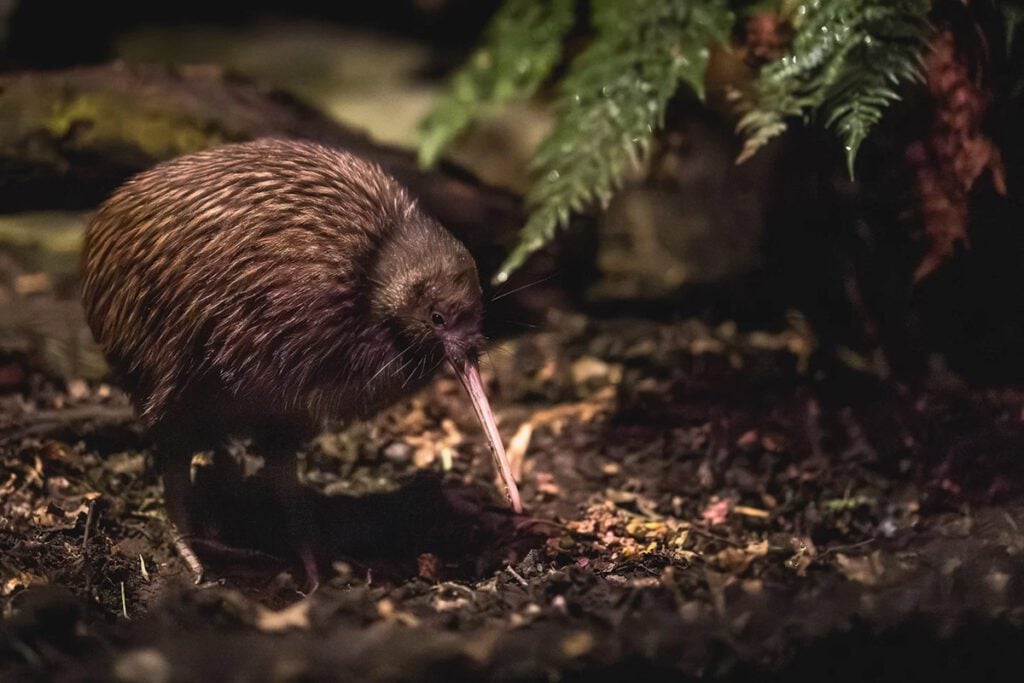 Discover the captivating world of New Zealand's famous and unique flightless birds, the kiwis.
Nestled among the Southern Alps, this enchanting wildlife sanctuary offers a rare opportunity to witness the illusive creatures up close in a natural habitat. Knowledgeable guides share fascinating insights into the kiwi's biology and conservation efforts, underscoring the importance of protecting these New Zealand icons.
With its tranquil ambiance and dedication to preserving indigenous wildlife, a visit to Kiwi Park becomes not only a memorable encounter with these remarkable birds but also a journey into the heart of New Zealand's rich natural heritage.
28. Shop around at the Farmer's Market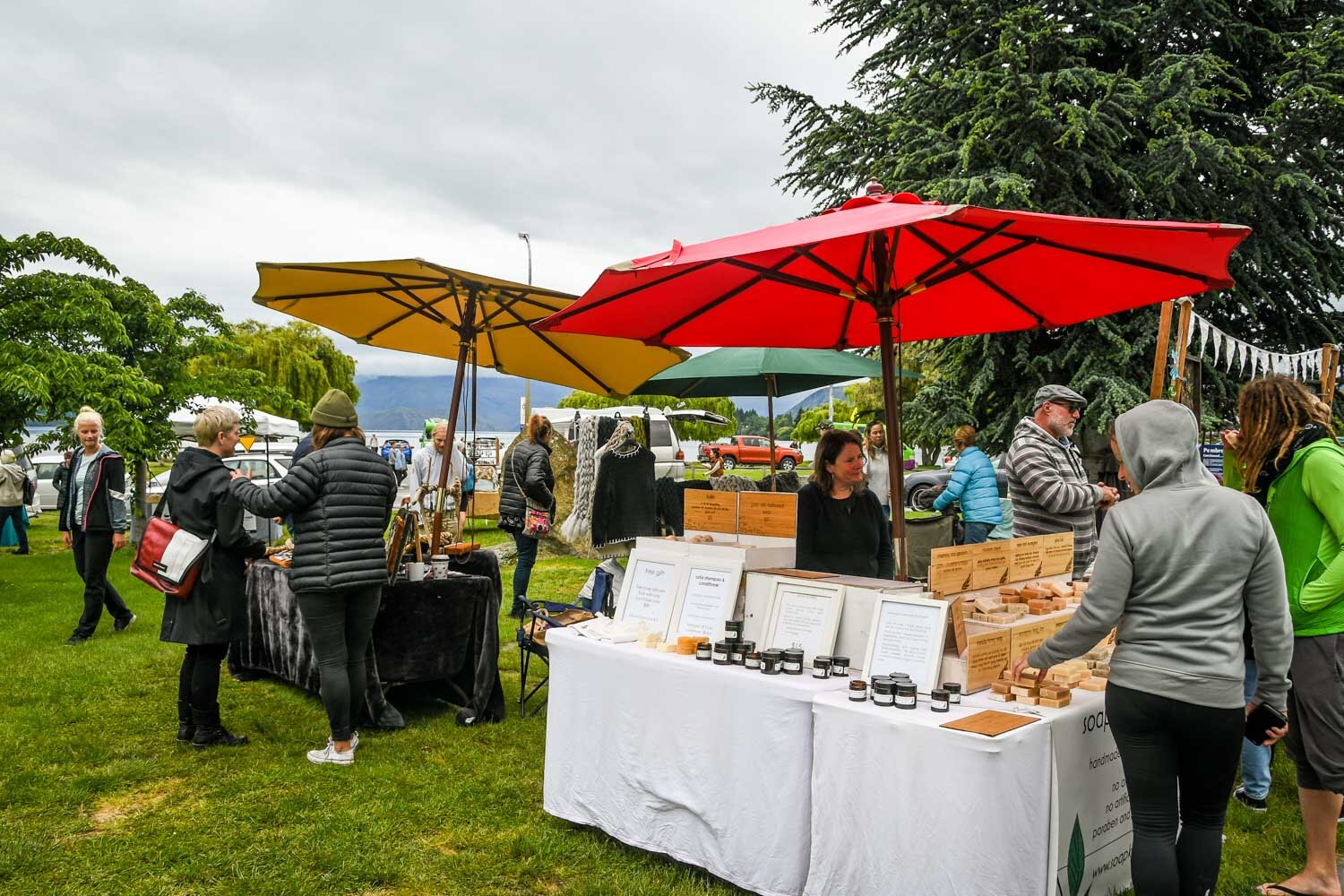 We love visiting Farmers Markets around the world, as it's a fun way to sample local flavors while supporting vendors and artists.
If you're in Queenstown on a Saturday, head to the lakefront at Earnslaw Park for the weekly "Creative Queenstown Arts and Crafts Markets", which runs from 9 a.m. to 3 p.m.
Wandering past the different stalls and chatting with the vendors is a fun and free activity. But we think farmers markets are possibly one of the best places to score a cool souvenir, so you may want to budget a bit of cash to pick something up!
Love Farmers Markets? In addition to Queenstown, you'll find farmers markets in nearby towns such as Wanaka (pictured above), Cromwell, Frankton, and Alexandra.
29. Cheers with a local brew
If you're craft beer lovers like us, you may find that much of New Zealand is, how shall we say this… lacking in this area. Though it has been growing in the past couple of years! (The exception is the city of Wellington, which has a fabulous craft beer scene!)
But if you're in Queenstown and craving a craft brew, you will have a handful of options:
Beer just isn't your thing? In the mood for some fancy schmancy cocktails? We've heard from some reputable sources that The Lodge Bar has the best cocktails in town! Little Blackwood also looks like an excellent cocktail bar on the water. 
30. Test out your trivia knowledge at a Pub Quiz
We love trivia nights (even though we usually come in near the bottom!), and we think it's super fun to partake in pub quizzes on our travels.
Queenstown has a handful of regular trivia nights that you can choose from depending on which night you're in town:
Play for fun or get cutthroat and win the prize!
Note: Some of these bars only host trivia seasonally, so be sure to check their website or Facebook page for up-to-date details!
31. Sip a cold drink at an Ice Bar
If you've never been in an ice bar before, Queenstown is a great place to check one out. There are a few popular ice bars in town:
Ice bars are popular tourist destinations for the backpacker crowd, but all are welcome to bundle up in the necessary outerwear (which the establishments will provide!) and have a sub-zero beverage.
32. Experience nightlife in Queenstown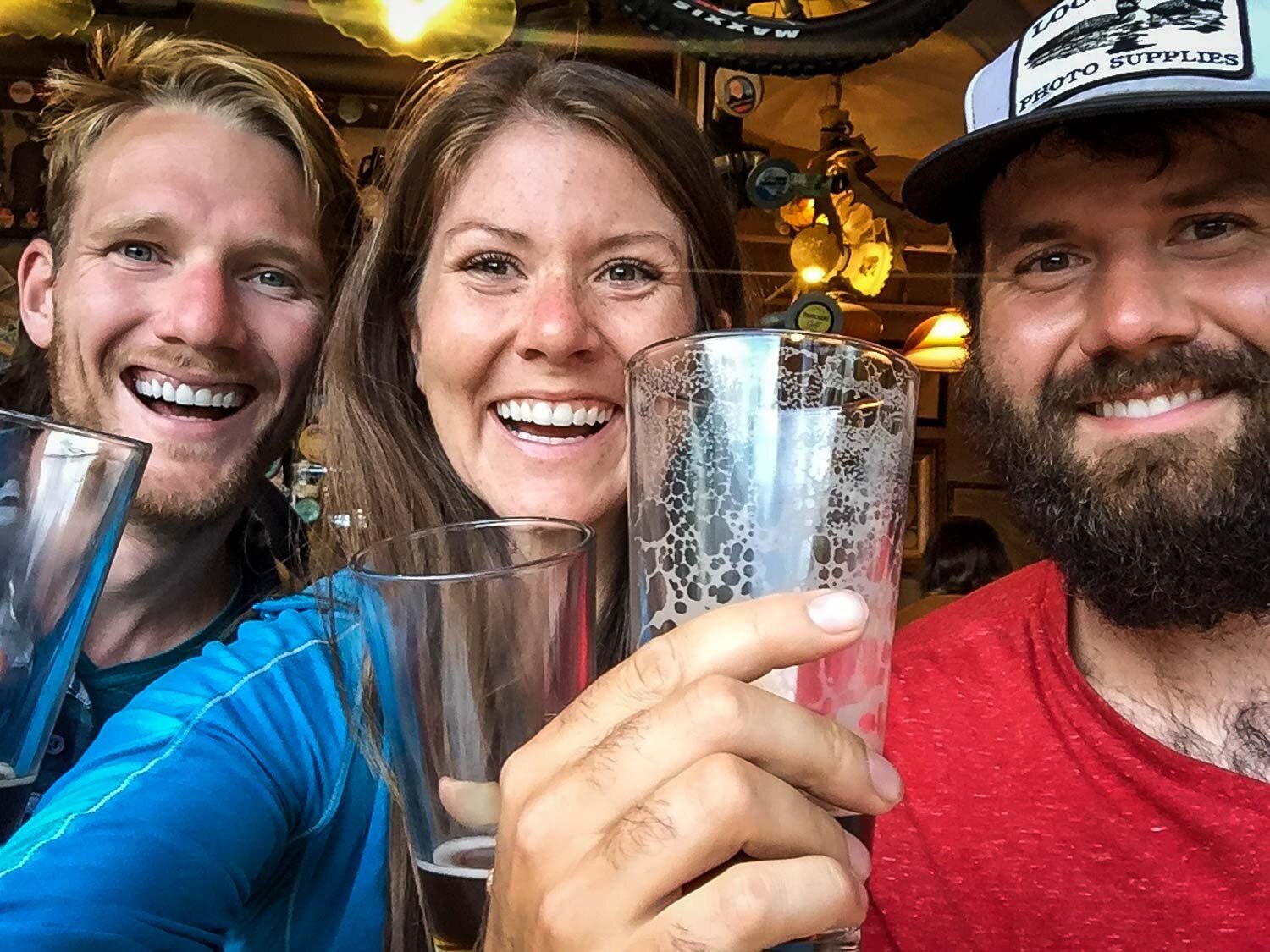 With a constant influx of travelers as well as a crowd of young people on a Working Holiday Visa, every night in Queenstown is a good night to go out!
If you're anything like us, most of your nights in New Zealand will be spent in small towns or surrounded by nature, so you won't have much opportunity to experience nightlife. However, Queenstown is an exception.
Being that many bars are open until 4 a.m. (anyone else getting the urge to yawn after reading that?!), Queenstown is one of the best places in the country to have a night out.
Whether a "night out" means having a couple drinks or partying the night away, you'll find something that tickles your fancy. With an assortment of bars that range from chill local pubs to wild DJ dance parties, there's a vibe for everyone.
Top Queenstown nightlife bars
Good to know: Carry your passport with you if you want to get into the bars. We learned this lesson when our friend forgot her passport at the campground and we had to walk all the way back to retrieve it. They are pretty strict about this law!
Pssst! Read up on some other important things to know about New Zealand.
33. Walter Peak high country farm tour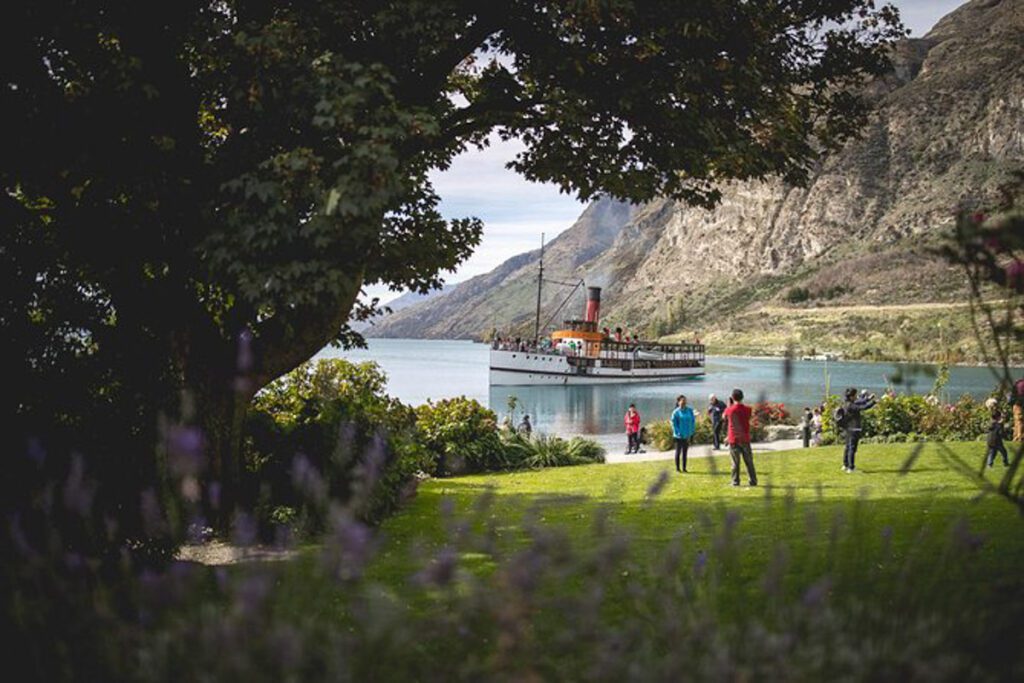 Farming is a way of life in the high country of New Zealand and the Walter Peak Farm Tour is an excellent way to learn more about local agricultural practices and enjoy a few hours relaxing in nature. 
The tour itself is an interactive experience (fun for the whole family!) and includes a scenic cruise onboard the TSS Earnslaw.
What you need to know:
Hours: 11 a.m., 2 p.m., 3 p.m.
Duration: 3.5 hours
Price: $135 NZD
Meeting location: 88 Beach Street
What guests are saying:
"The views were stunning! Sonya and Tim were fab guides and the farm and animals were gorgeous. 10/10!" – Michele M., July 2023
34. Day trip to Wanaka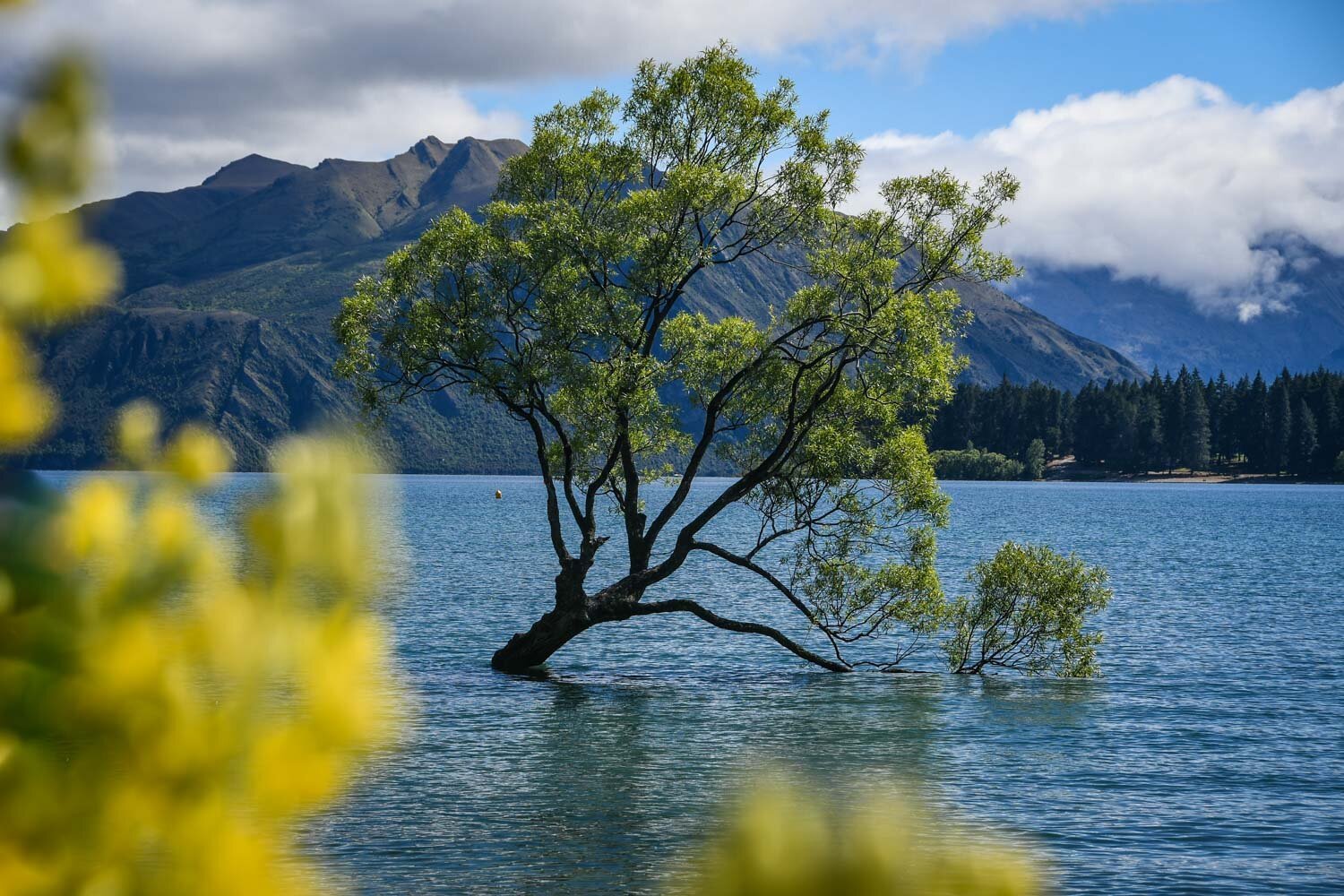 If possible, we'd recommend staying in Wanaka and devoting a couple days to the town and the surrounding area (it was one of our favorites!). But we know not everyone has a flexible itinerary. So if you're short on time, we'd recommend to at least make a day trip there from Queenstown. The drive itself is worth the journey!
From Queenstown, the ride will take about 1 hour 10 minutes on a road that is incredibly winding and steep at times. The views over the Central Otago region are spectacular.
Highlights: Make a stop in the historic mining settlement, Arrowtown (see #16) to get an ice cream cone and walk the Main Street.
Things to do in Wanaka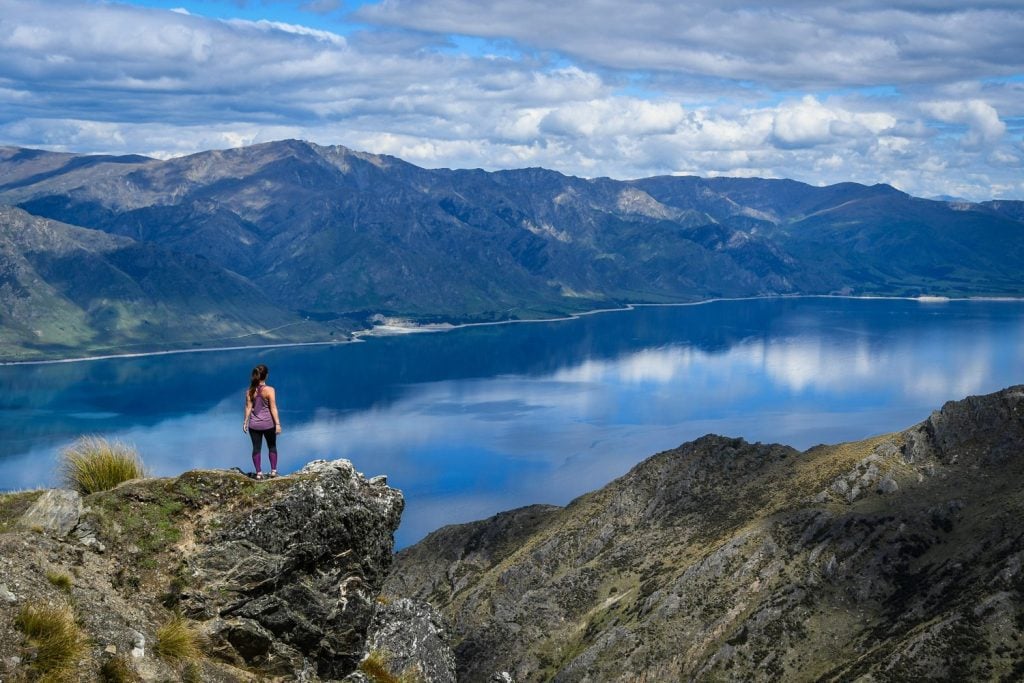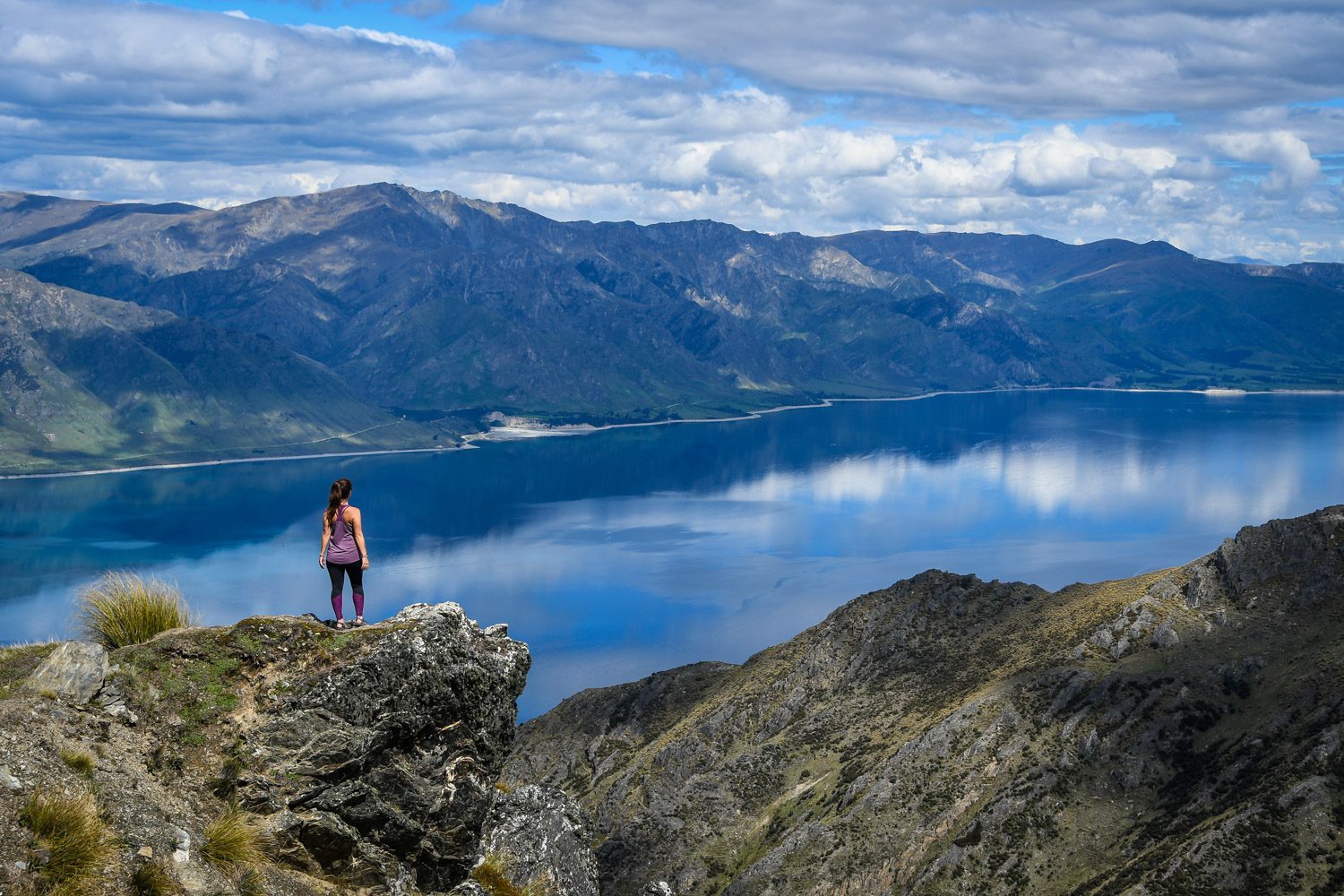 35. Visit a National Park
There are two national parks within a few hours of Queenstown that each would make for excellent day trips.
Mount Aspiring National Park
To the North is Mount Aspiring National Park. An UNESCO World Heritage Site, this slice of untouched wilderness features majestic peaks, ancient forests, and crystal-clear rivers.
The rugged beauty of the terrain offers outdoor enthusiasts a playground for hiking, mountaineering, and even ice-climbing.
Fiordland National Park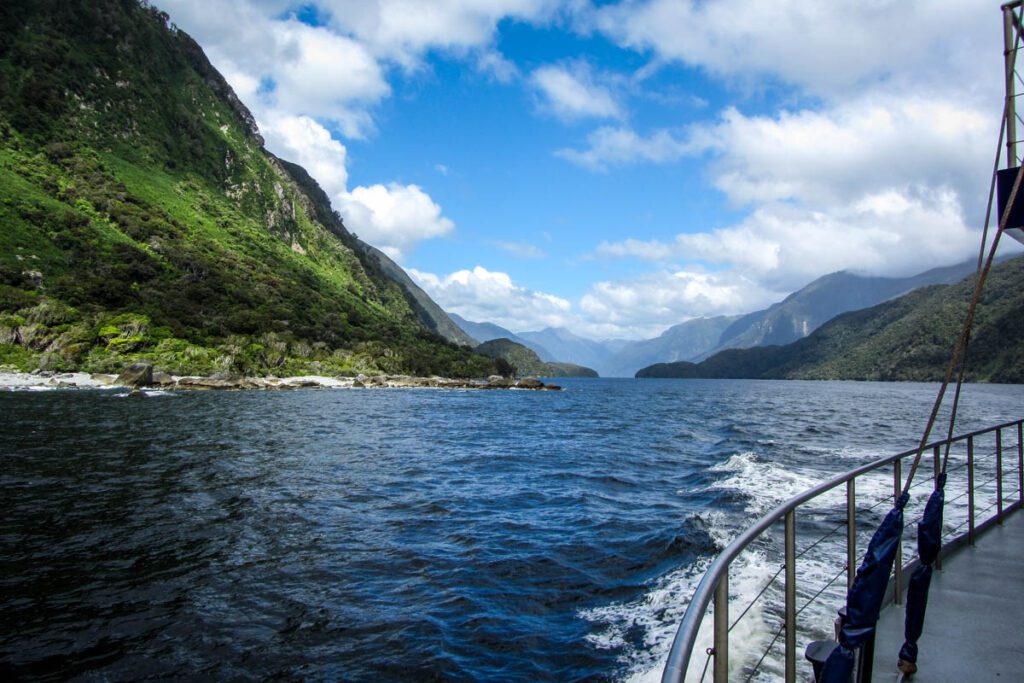 To the south is Fiordland National Park, another UNESCO World Heritage Site with a completely different type of landscape diversity.
Encompassing majestic fjords, dense rainforests, and cascading waterfalls, this park is most well known as the home of Milford Sound and Doubtful Sound. The best way to experience this unique landscape is on a boat cruise.
BONUS: Queenstown activities for a rainy (or snowy!) day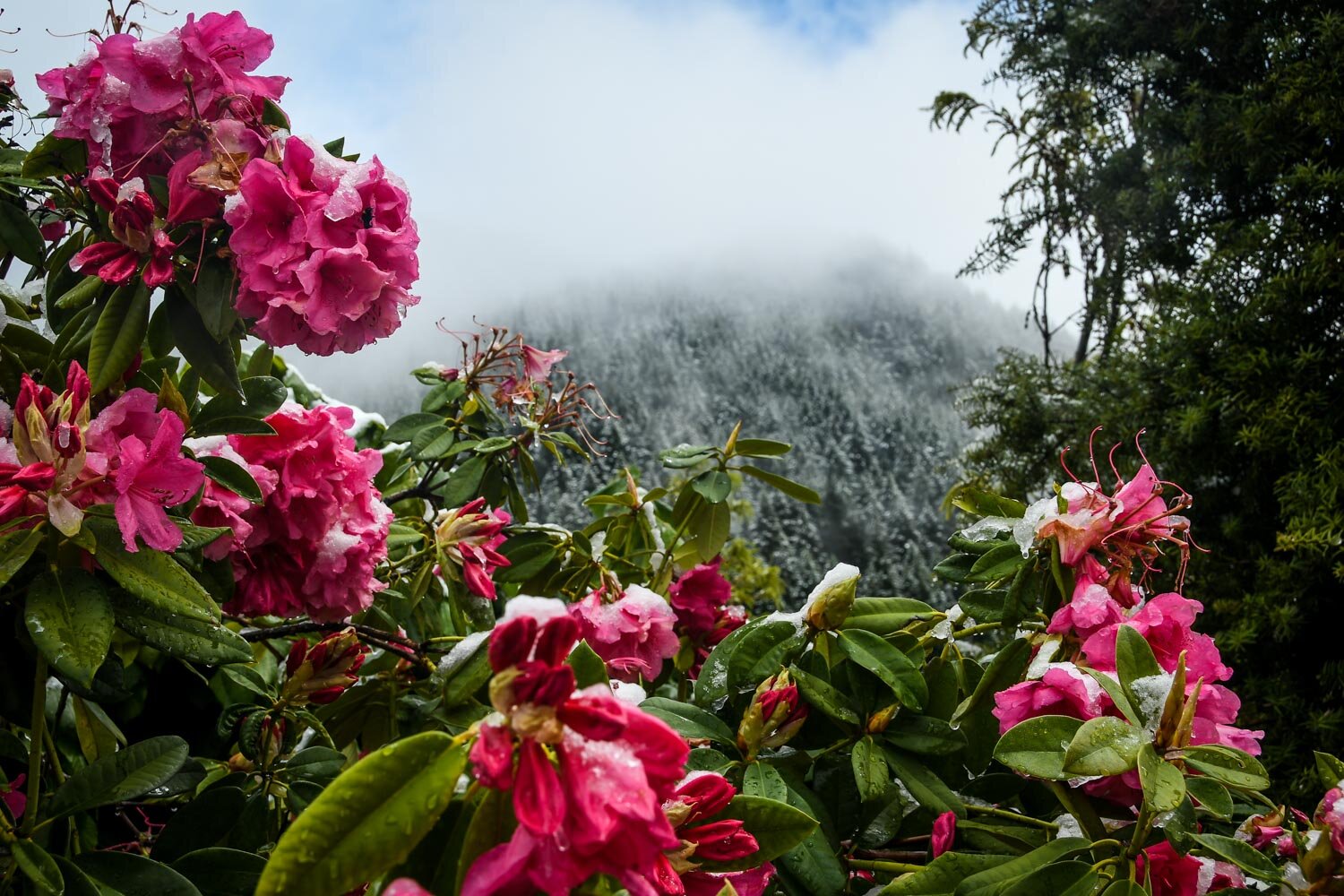 The weather in Queenstown is notoriously fussy and can change on a dime. Here's our real life example: On our first day in Queenstown, we woke to snow, then experienced heavy rain, and ended the night with clear skies. #truestory
If you happen to have a rainy day or two during your time in Queenstown, our last suggestions are perfect indoor activities to keep you busy and wait out the rain.
See a Movie at Reading Cinema Theater: Catch the newest movie at the local movie theater. It was a little rainy (and snowy!) when we first arrived in Queenstown and catching a movie was a nice way to spend part of the day.

Budget Tip: Each Tuesday, tickets are discounted to $12.50 NZD (rather than the usual $16.70 NZD).

Be mesmerized by the artworks at Tim Wilson Gallery: View beautiful works of art that we certainly will never be able to afford to own. Tim Wilson, a Kiwi himself, is extremely talented and has an amazing way of painting landscapes around New Zealand. 
Shop for wool and kiwi souvenirs: New Zealand is well known for high-quality wool products, as well as kiwi-themed souvenirs (the country's national bird, not the fruit!). The Queenstown Mall by the waterfront is a great place to do a little shopping.
Do an escape room: We've done a handful of escape rooms, and each one has been a blast! If the weather in Queenstown isn't looking like it'll clear up anytime soon, try making a booking with Escape Quest, as it's the perfect rainy day activity. The hour-long experience costs $98 NZD (for 2 people), and goes up in price as you add more participants.
---
How many days do you need in Queenstown?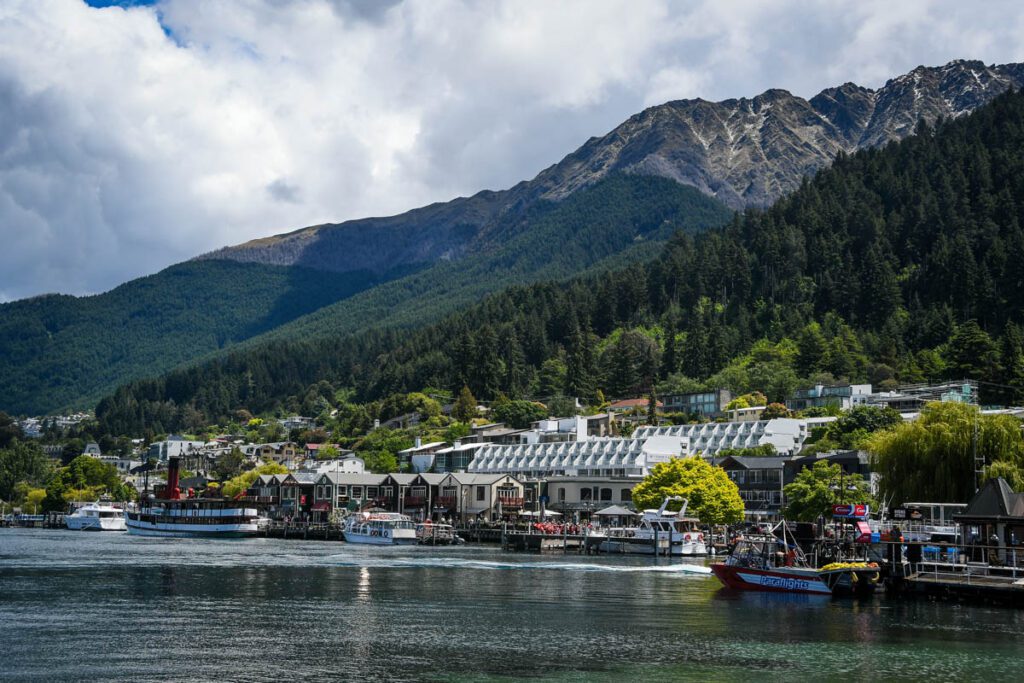 With all the things to do in Queenstown, we'd recommend staying at least two days if you're passing through on an epic South Island road trip. And if you have time to spare, you could certainly add an extra day (or 3!) here.
If you're planning a trip to New Zealand to base yourself out of Queenstown while exploring the surrounding area. We'd recommend staying a minimum of one week (if not more!) to really get a good feel for the area.
Best time to visit Queenstown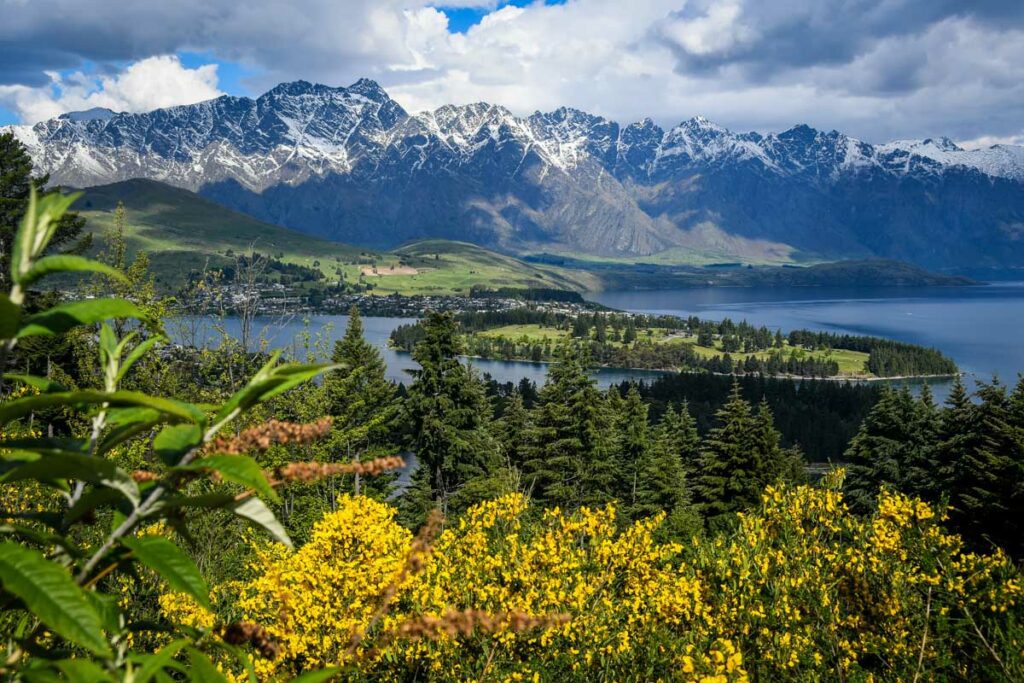 Queenstown is a great destination year-round, and each season has its draws (and drawbacks).
Summer (December – February) will have warm temperatures that are ideal for many of the adventures on this list. However, with the nice weather comes crowds and prices will also be at their highest during this time of year.
Still not sure what time of year to visit? Lucky for you, we have a huge guide that breaks it all down. Read more about the best times of year to visit New Zealand in general.
How to get to central Queenstown from the airport
The Queenstown International Airport (ZQN) is just a 15 minute drive down Highway 6A from central Queenstown.
If you are not renting a car or campervan to explore the area (which we highly recommend to see all the things to do in Queenstown!), you can take a taxi or use a rideshare app* to get to town. The cost of a rideshare will be about 30 NZD one way, and taxis will use the meter, but may run more expensive. 
*Note: Uber and Ola are the only rideshare apps permitted to operate at the Queenstown Airport.
Getting around Queenstown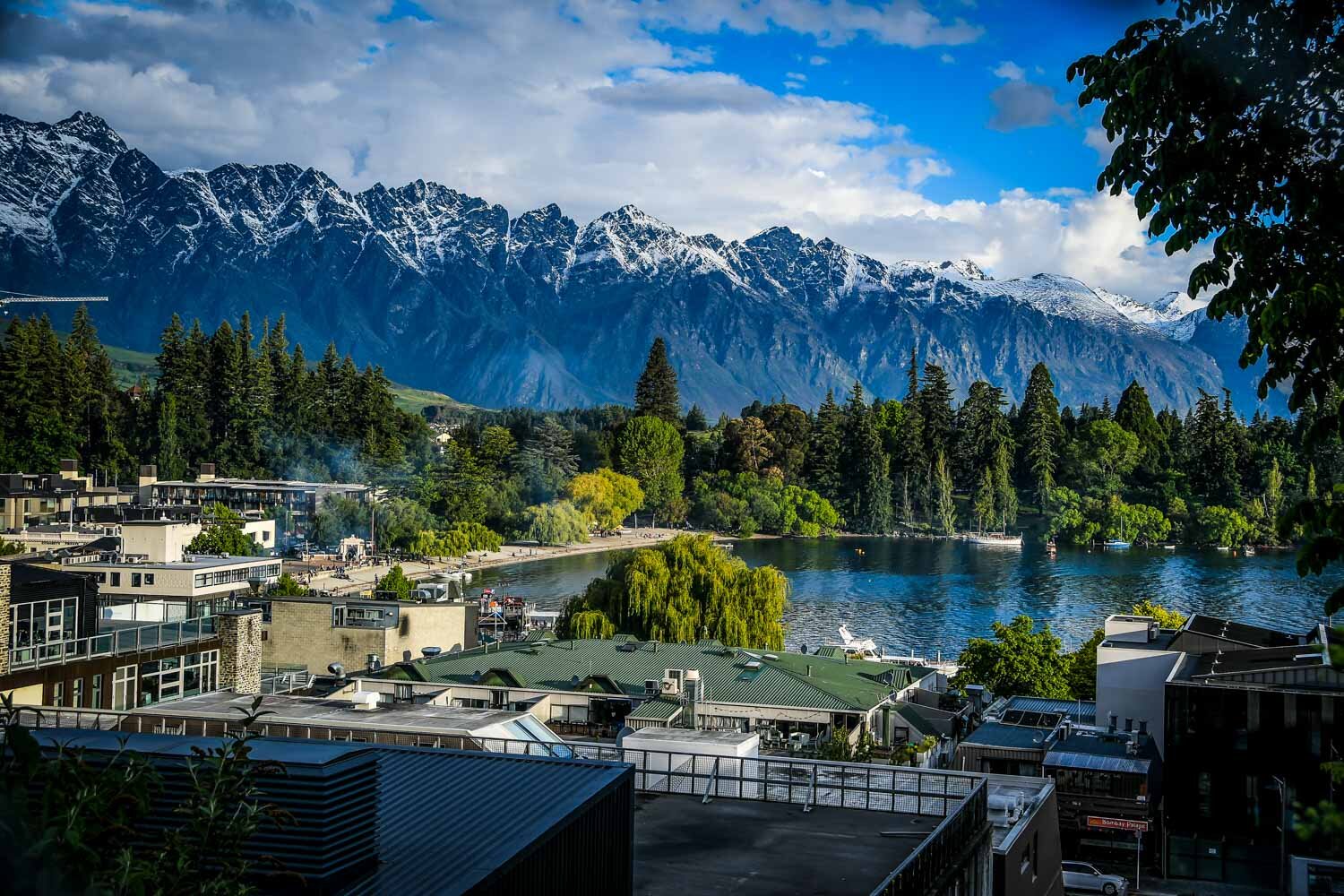 The city center and waterfront area of Queenstown is very walkable. There are also bicycle rental shops for people who want a set of wheels. Although, we should warn you that the town is very hilly and there are certain streets where we would be hard pressed to make it up on a bike!
However, many of the attractions lie outside the city center and require more than 2 wheels to reach.
Our recommendation would be to rent a car when visiting Queenstown (if you're not already passing through in your campervan) so you can venture beyond the city center and have more freedom to explore the surrounding region.
Related: We have an entire guide to driving in New Zealand including where to find the best deals on rental cars and tips for safety. 
Tips for visiting Queenstown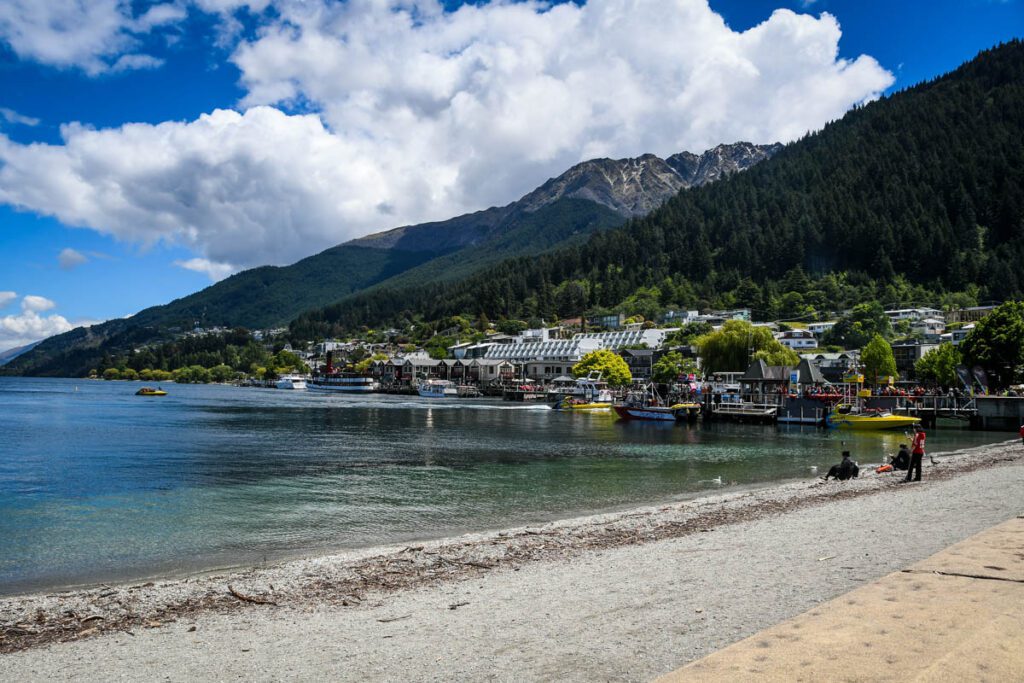 This bustling tourist and backpacker hotspot can feel like its own little bubble on New Zealand's South Island. Here are some tips you'll want to keep in mind to make your travels go smoothly.
Plan ahead for adventure and adrenaline activities. Queenstown is renowned for its adventure sports and outdoor activities. Make sure to book your desired activities in advance, especially during peak tourist seasons to secure your spot and avoid disappointment.
Be prepared for changing weather. Queenstown's weather can be quite unpredictable due to its alpine location. Pack layers of clothing that can be easily adjusted, including a waterproof jacket, as rain showers are common. If you're visiting during the winter, be sure to bring warm clothing and gear for snow activities.
Book accommodation well in advance. Being such a popular destination and a smaller city, it should come as no surprise that accommodation options in Queenstown book up fast! If you want to be within walking distance of the city center (instead of a long bus ride out of town), you'll want to book ahead of time.
Freedom camping is not allowed. For those who are planning to road trip around New Zealand in a campervan, you should be aware of the strict rules against freedom camping in and around Queenstown. Instead check out our NZ camping guide for tips on how to find camping and some of our favorite campsites.
Be weary of your budget. Queenstown is one of—if not the—most expensive cities in New Zealand. Be sure to read up on our tips for traveling New Zealand on a budget before you go.
Pssst! We have a complete guide for things to know before visiting New Zealand that is packed with tips and advice to make your trip easier.
Where to eat in Queenstown
Now that you know what to do in Queenstown, let's move on to the next most important question… Where should you eat?!
Queenstown has no shortage of great restaurants. Here are just a handful that should be on your radar.
Spoil your sweet tooth
If you get a sweet craving you just can brush off, don't worry because there are a few famed spots in Queenstown to get your sugar fix.
Cookie Time: This cookie shop is a New Zealand staple, and you can find their cookies packaged and sold around the country.

I'll be honest: we tried a few cookies here and we weren't all that impressed, but it seems like we might be in the minority with this opinion. And let's be real, I'd probably give them another chance, ya know, for "research purposes". So give it a try and let us know if we're crazy…

Patagonia Chocolates: If it's ice cream you're craving, this is where you'll find some of the best in town. Try a typical New Zealand flavor like Hokey Pokey, or whatever your heart (errr, sweet tooth) desires!
Where to stay in Queenstown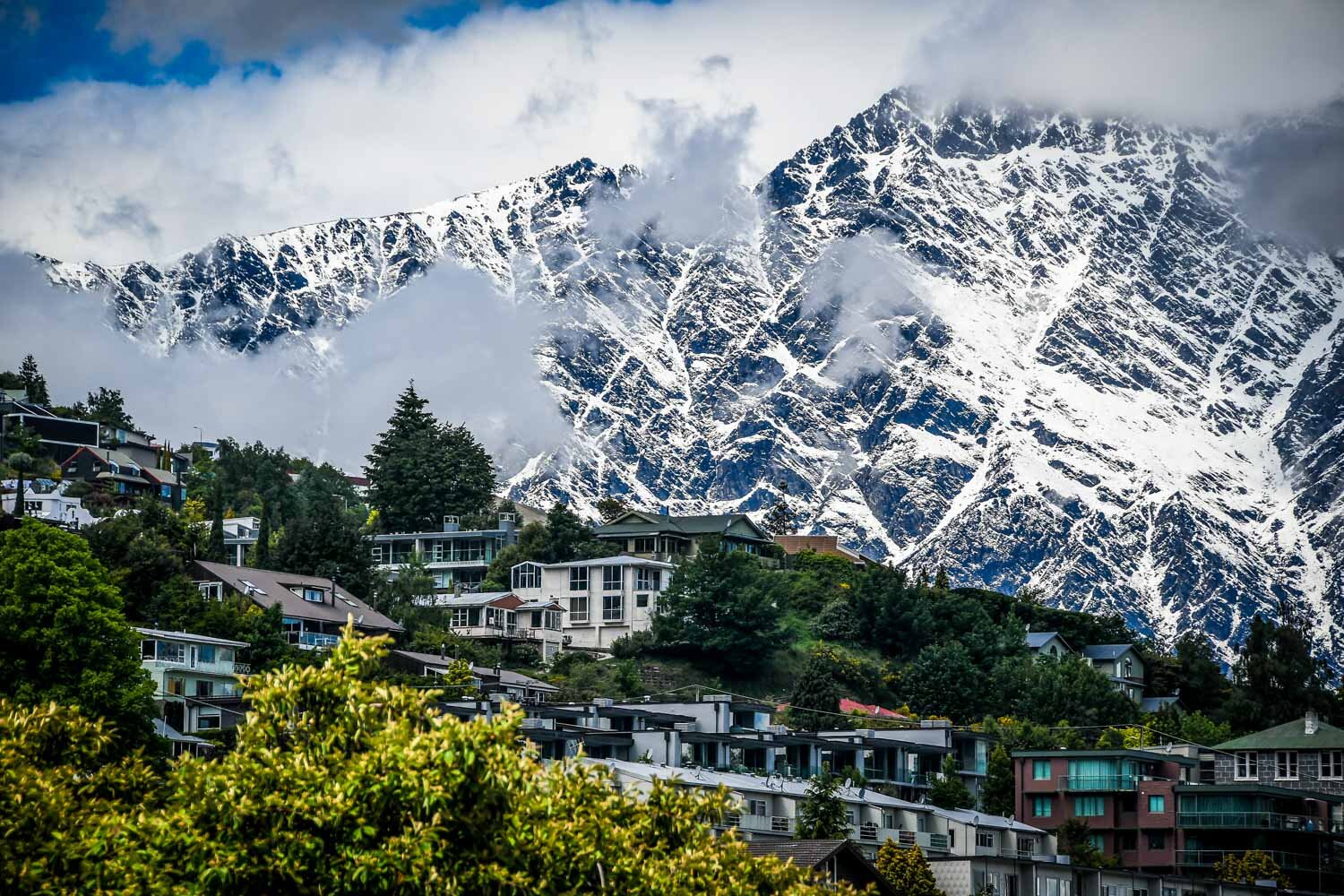 Given that there are a lot of things to do in downtown Queenstown, finding accommodation close to the city center may be the most convenient. However, you will most certainly find that accommodation gets cheaper the further from the center you get.
Note: Prices vary greatly depending on the season. As a reminder, peak tourist season is December to March.
Airbnb Stays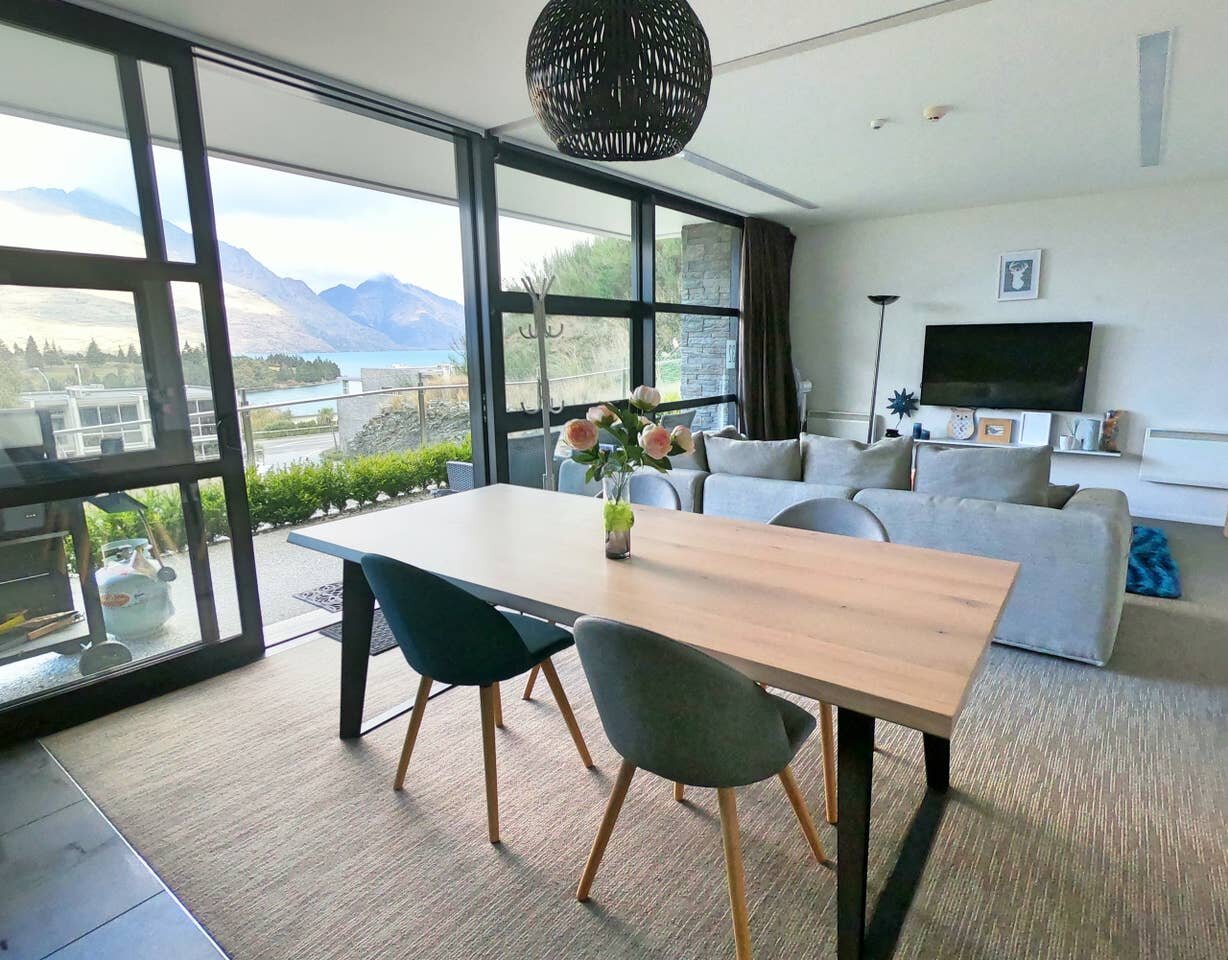 Huge apartment with a full kitchen would be the perfect place to stay. It's close to town and quite affordable for Queenstown.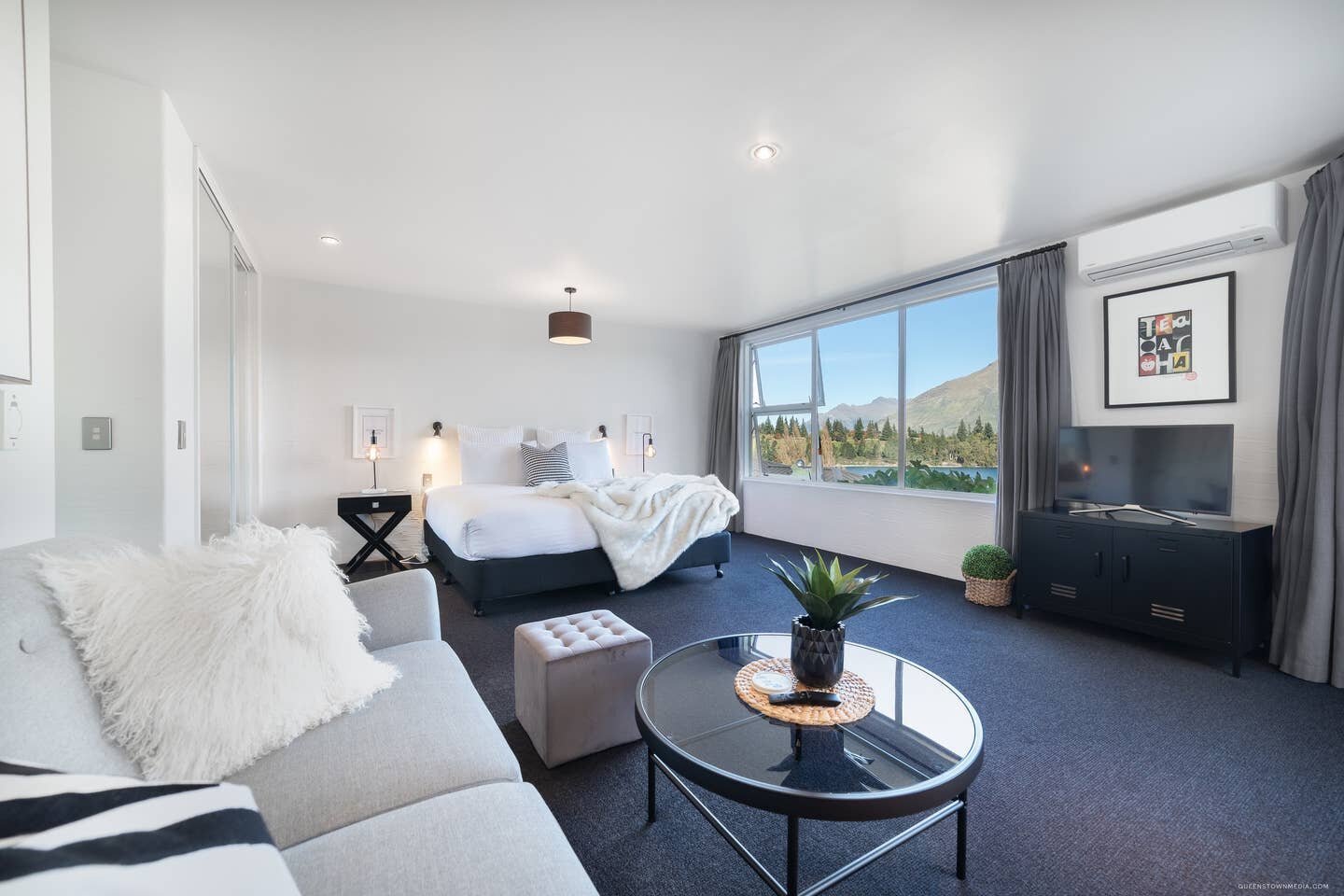 Style & Lake Views, only 10 min stroll downtown
This spacious sanctuary has amazing views from bed and is only a short walk from downtown. The basic kitchen has everything you need to whip a quick meal or snack.
Luxury Hotel in Queenstown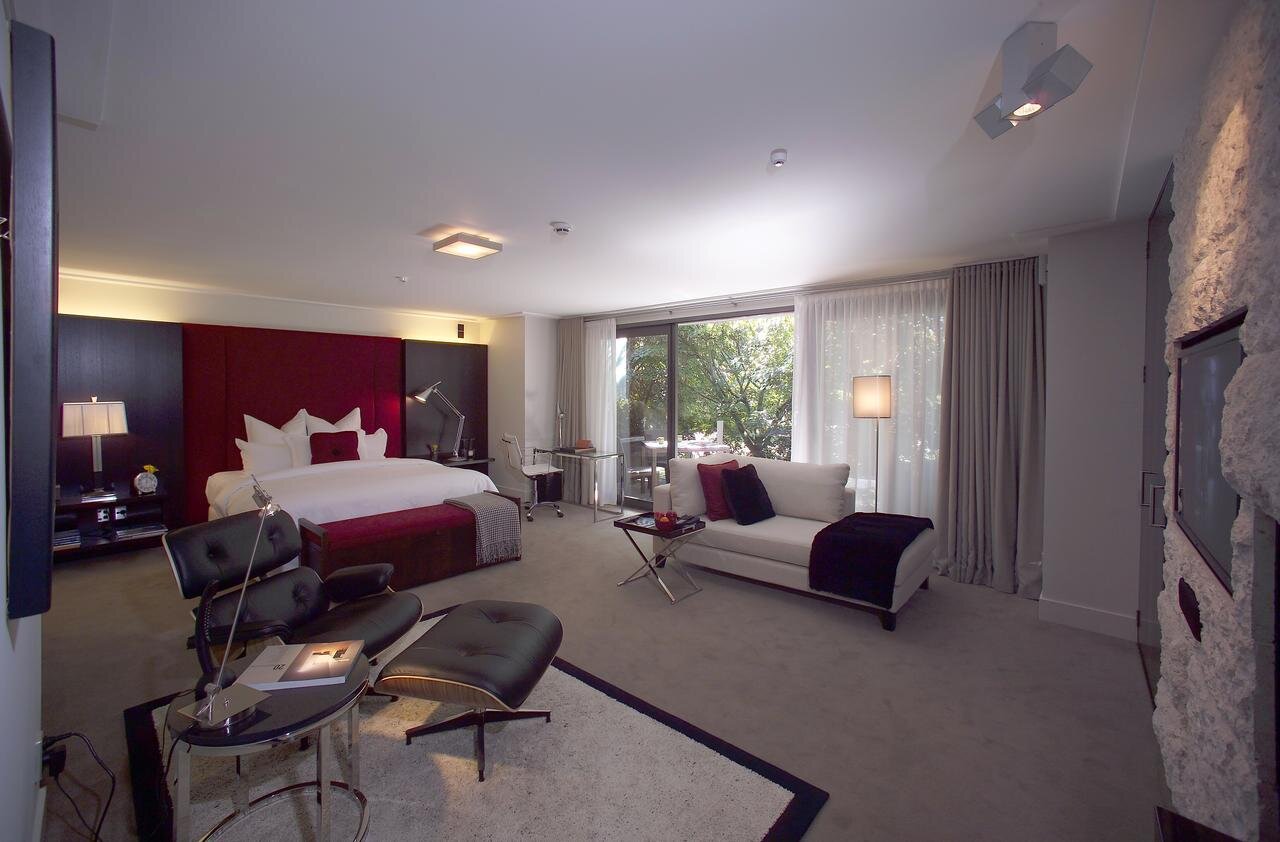 Location: City Center
Spacious modern rooms with balcony and gas fireplace
Perfect location
On-site bar and restaurant
Uber Luxury Hotel in Queenstown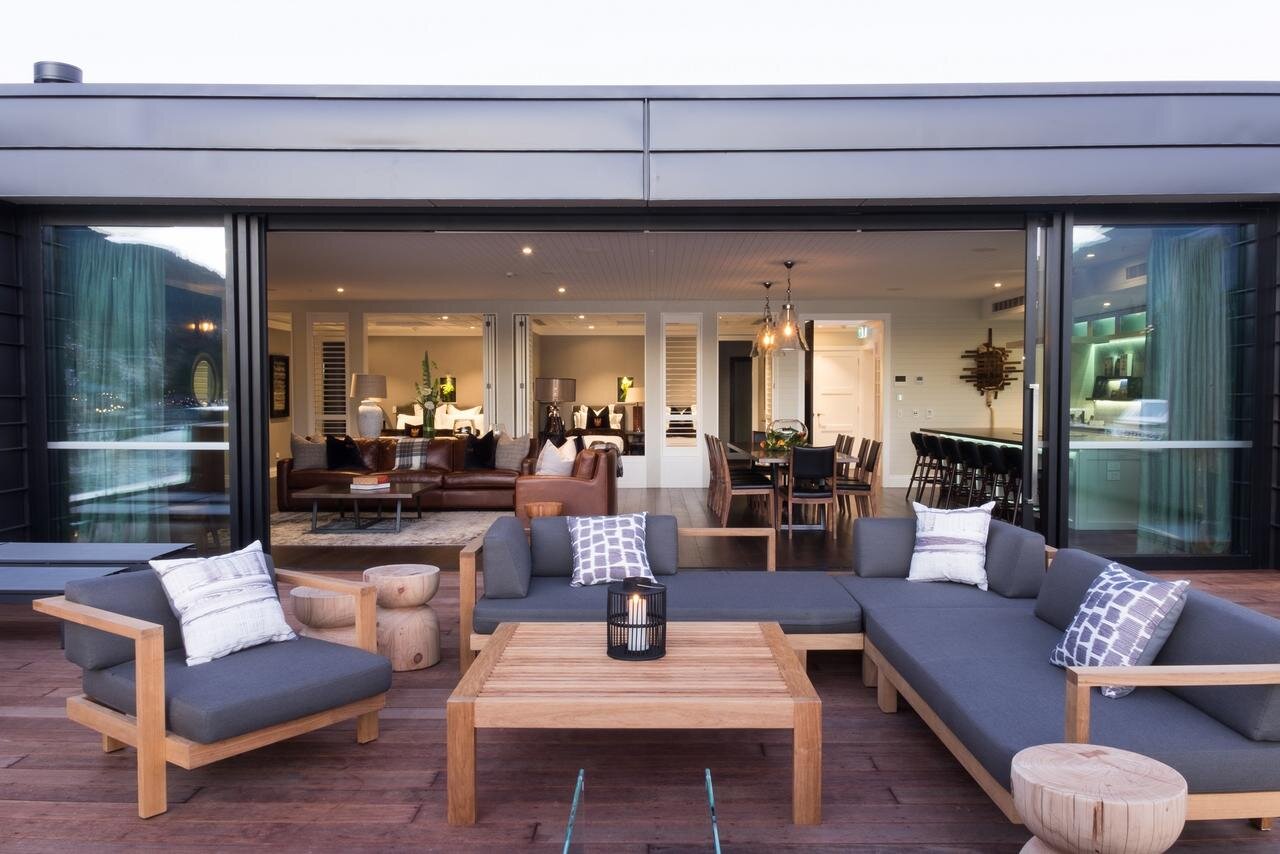 Location: city center
Luxurious designer rooms
Restaurant serving seasonal local cuisine
Beautiful views
Mid-Range/Couples Stay Pick in Queenstown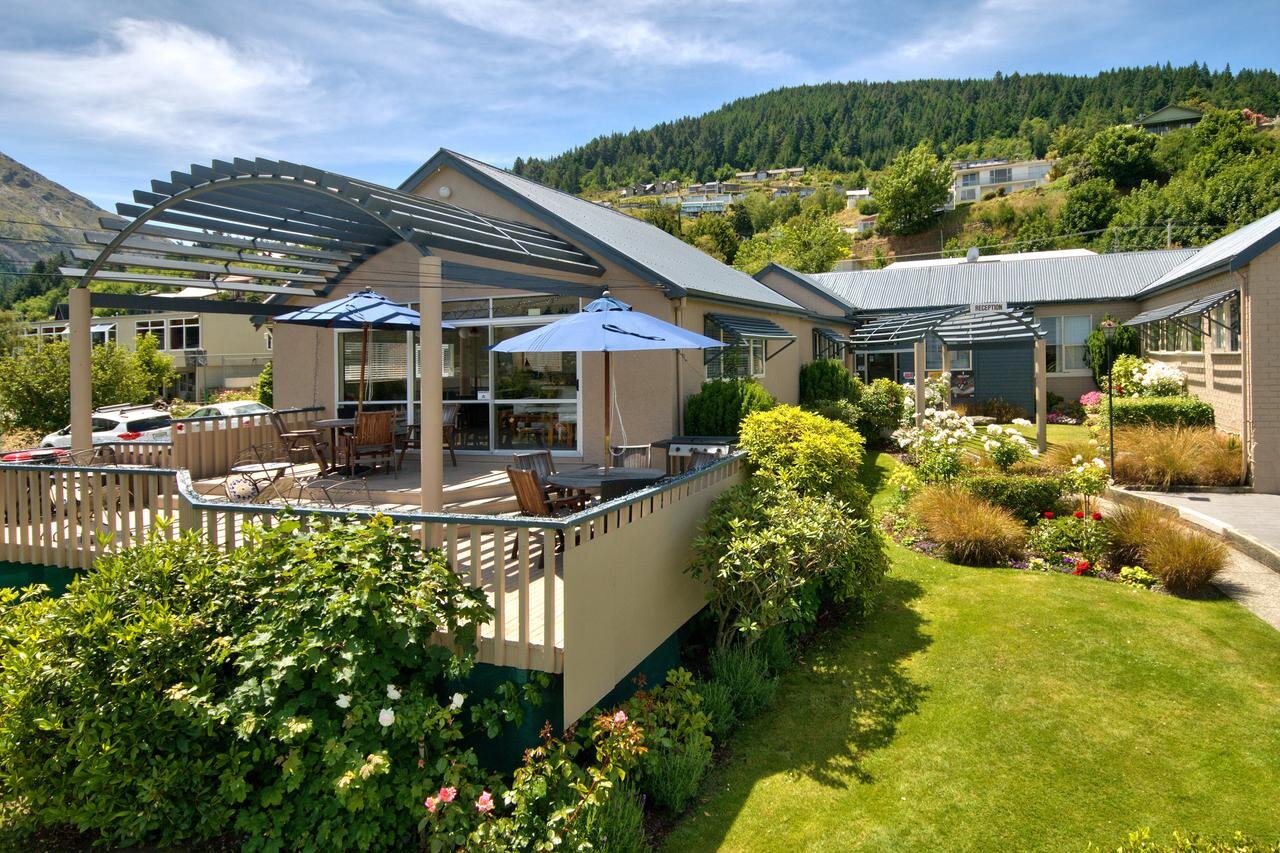 Location: 450 m to city center
Choice of rooms, suites and apartments
Outdoor sundeck
Communal lounge
Budget Hostel in Queenstown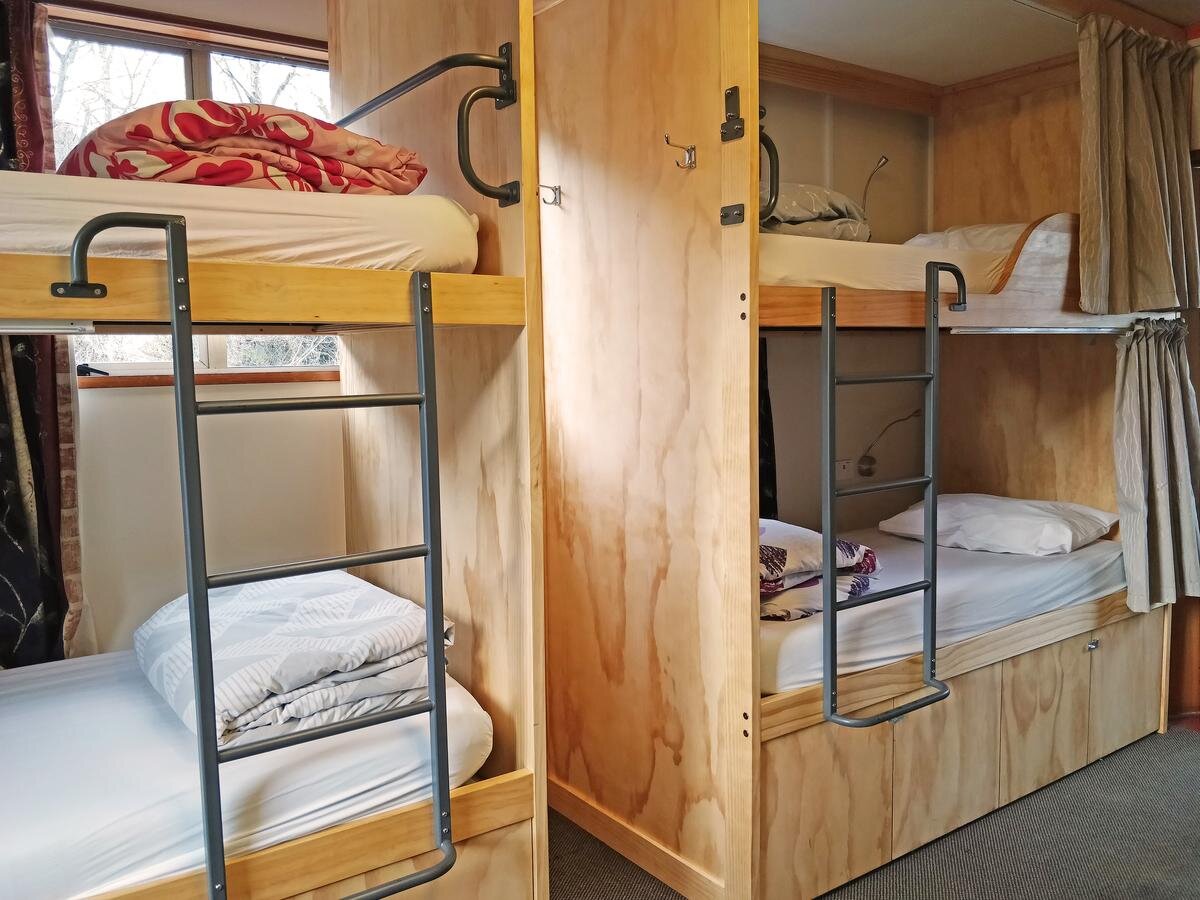 Camping in and around Queenstown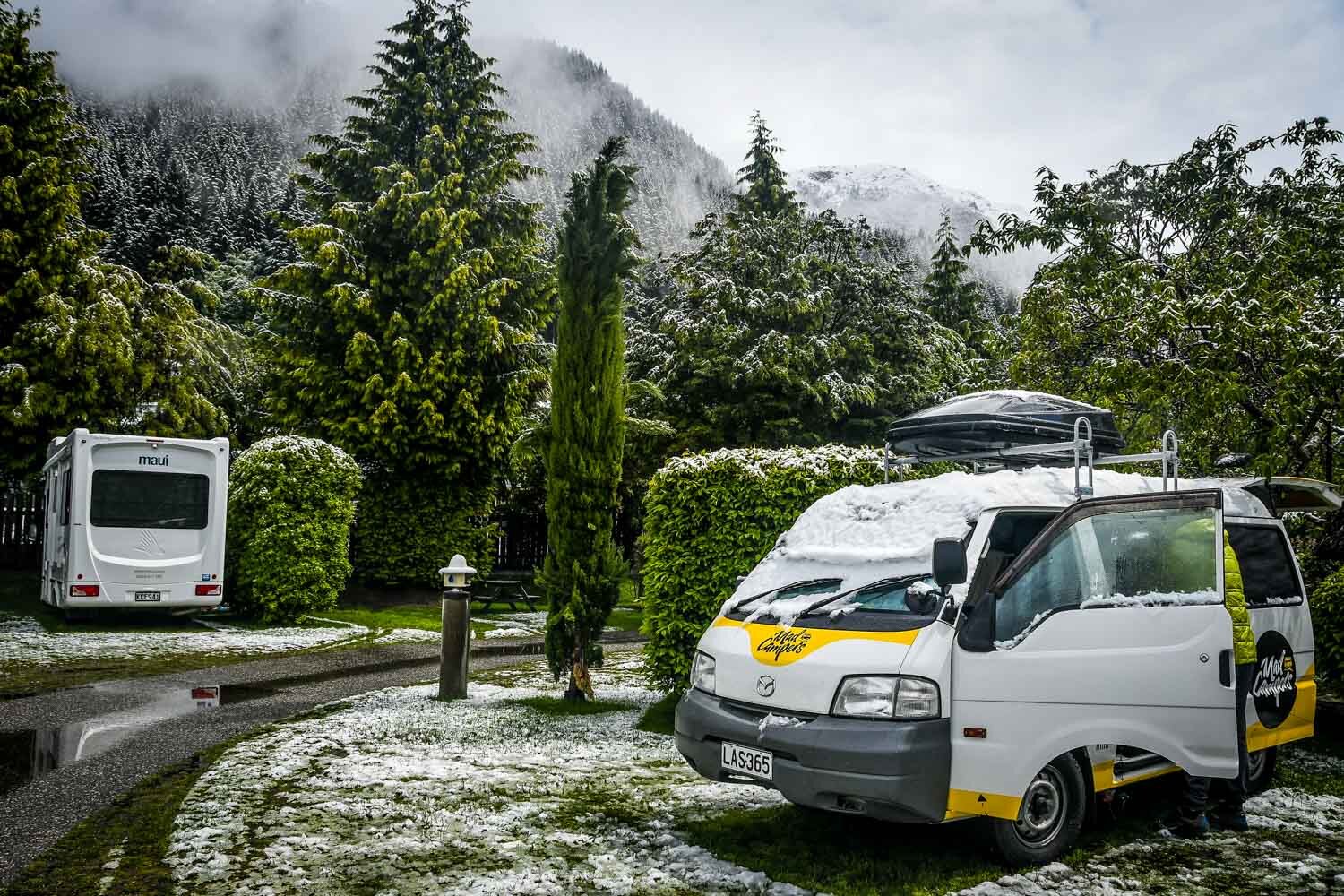 There are no freedom camping areas close to town, and if you are just driving in for the day there are only a few spots you can park for free.
There is free street parking during the day on Man Street or Hallenstein Street, and from there you can walk to town, but try to get there before 9 or 10 a.m. for the best chance of snagging a coveted spot.
There aren't that many campgrounds near the city and they often book up ahead of time. Make reservations if you're traveling in peak season.
This quirky holiday park was our choice for our time in Queenstown because it is eco-certified, has nice and warm common spaces with kitchens, hot water showers, and clean bathrooms. It is also the closest campground to town (walking distance, yay!).
This was perhaps our favorite campground in all of New Zealand. The facilities are basic (as it's a DOC site). But the location is like something out of a fairytale. Beautiful views of a lake valley surrounded by sheep. It's about a 30-minute drive from Queenstown, and you have to drive on gravel road in the middle of nowhere to get there. 4-wheel drive is recommend and there is no cell service.
It has plenty of room, also $13 per person, and is about 15 minutes from town (or 12 miles… "Oh I get it now…").
What to pack for traveling to Queenstown
To make your visit to Queenstown as comfortable as possible, here are some essentials you don't want to forget.
Comfortable walking shoes
Day pack for carrying your essentials
Sun protection: sunglasses, hat, and sunscreen
Camera (this is our favorite portable tripod for travel!)
Be sure to download our complete New Zealand packing list! It's packed with good suggestions and insider tips to help plan your trip. And it's completely FREE, so why not!?

Round up of the best things to do in Queenstown
Here's a recap of all the best things to do in Queenstown so you can see everything in one place.
Bungee jumping
Bob's Peak and Skyline Queenstown
Queenstown luge
Fergburger
Queenstown Hill
Skiing or snowboarding
Jet boat ride
Ben Lomond Track
Skydiving
Milford Sound
Wine tasting
Glenorchy
Onsen Hot Pools
Devil's Staircase
Biking
Arrowtown
Lake Hayes
Helicopter tour
The Remarkables Lookout
Moke Lake
Eat fish & chips
Queenstown Bay Beach
Get on (or in!) the water
Queenstown Gardens
Canyoning
Paragliding or zip lining
Kiwi Birdlife Park
Queenstown Farmers Market
Local beers
Pub Quiz
Ice Bar
Nightlife in Queenstown
Walter Peak High Country Farm Tour
Day trip to Wanaka
Visit a National Park
BONUS: Queenstown activities for a rainy (or snowy!) day
---
Are you planning a trip to New Zealand?
We have TONS of resources on travel in New Zealand and destinations throughout the country. Check out our Ultimate New Zealand Travel Guide for all the answers to your most burning questions, or read some of our favorite articles below.
Save this article for later on Pinterest!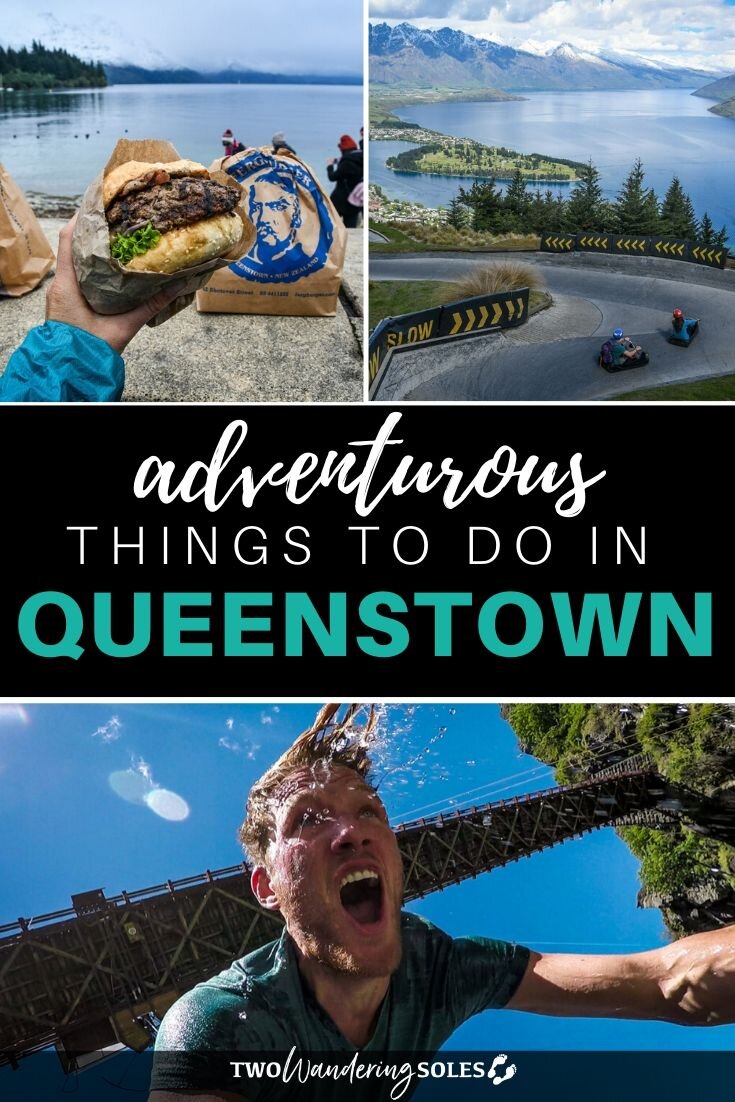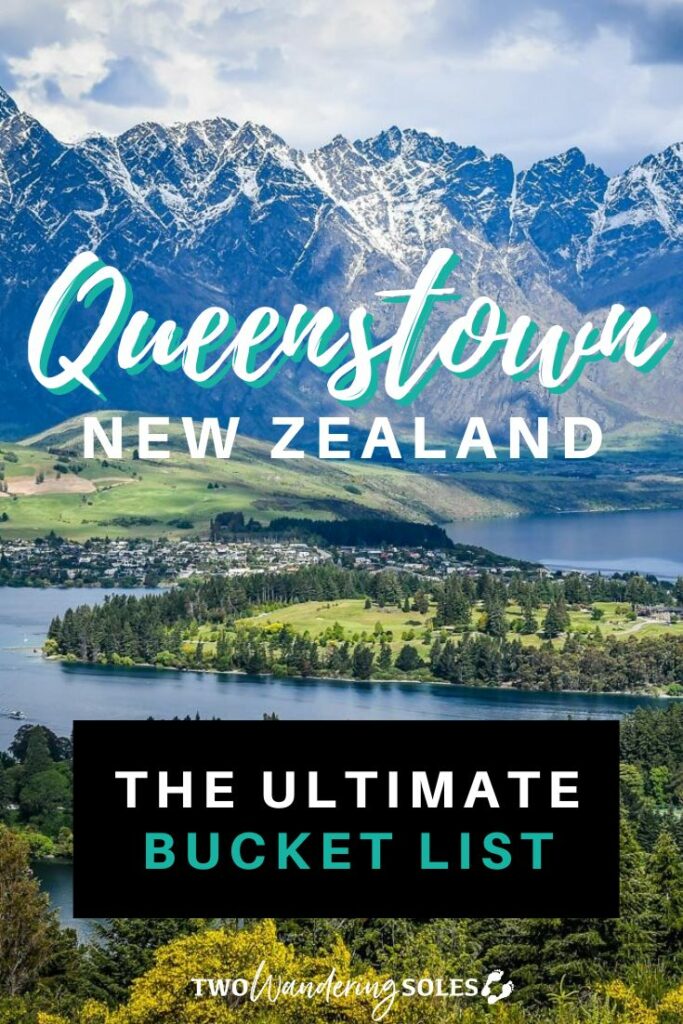 We want to hear from you!
Which of the epic things to do in Queenstown on the list is going straight to the top of your bucket list? Leave your comment in the section below and we'll do our best to get back to you!