New Zealand's capital city is vastly underrated and well-worth a spot on your itinerary. Whether you have a few hours or a few days to explore, we're sharing all the fun things to do in Wellington that you won't want to miss!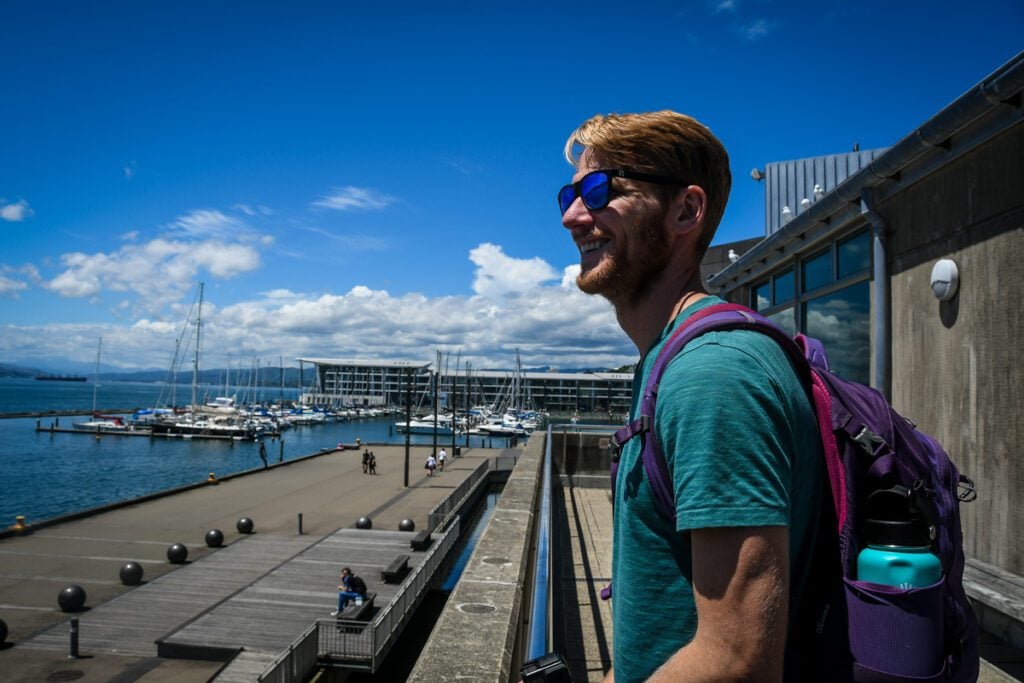 While planning our trip to New Zealand, we didn't set aside any time for Wellington. We came to New Zealand for the nature, not the cities. At least that's what we kept telling ourselves…
But during our road trip around North Island of New Zealand, we got messages from a handful of people who told us we just had to make time for Wellington, the country's capital city. "There are so many fun things to do in Wellington!" they all said. "You don't want to skip this place!"
Well, it didn't take much to convince us, so we added a stop in Wellington to our NZ itinerary!
Fun fact: Wellington is the southernmost capital city in the world. Cool, huh?! Oh, and it's also known to be the windiest city on earth (though we didn't experience much wind while we were there).
"Most underrated capital city in the world!" is how one Kiwi described it. While we haven't visited enough capital cities around the world to vouch for that statement, we can say with certainty that Wellington is a super cool "Little-Big City" with tons of fun and cheap things to do.
In this article, we're sharing some of the best things to do in Wellington, whether you have just one day or a whole week to explore. This list is full of free activities, cheap places to eat and a couple worthwhile splurges.
Wellington Travel Guide
For more tips and advice for planning your trip to Wellington, jump to the following sections (or just keep scrolling to see it all!).
---
Top things to do in Wellington
If you're looking for the very best things to do in Wellington, here are our top recommendations.
Welly Walks self-guided walking tours
Ride the Wellington Cable Car
Visit the Te Papa Museum
Take a walk down Cuba Street
Check out the views from Mount Victoria Lookout
Go craft brewery hopping
Keep reading for more detailed information on each of these things and more ideas of fun things to do in Wellington.
1. Do a self-guided walking tour with Welly Walks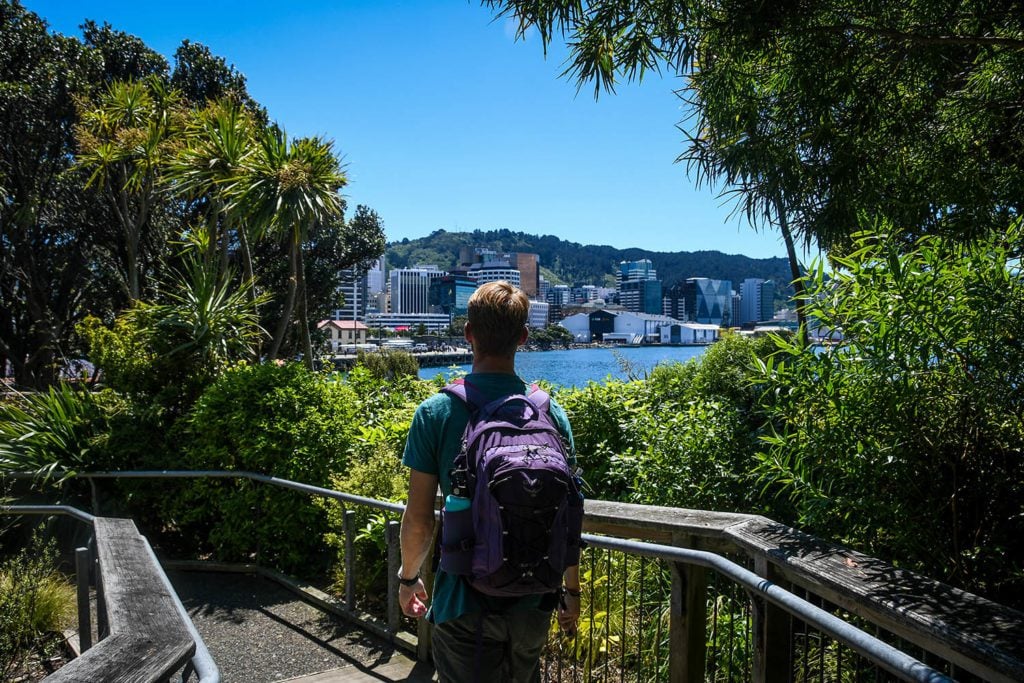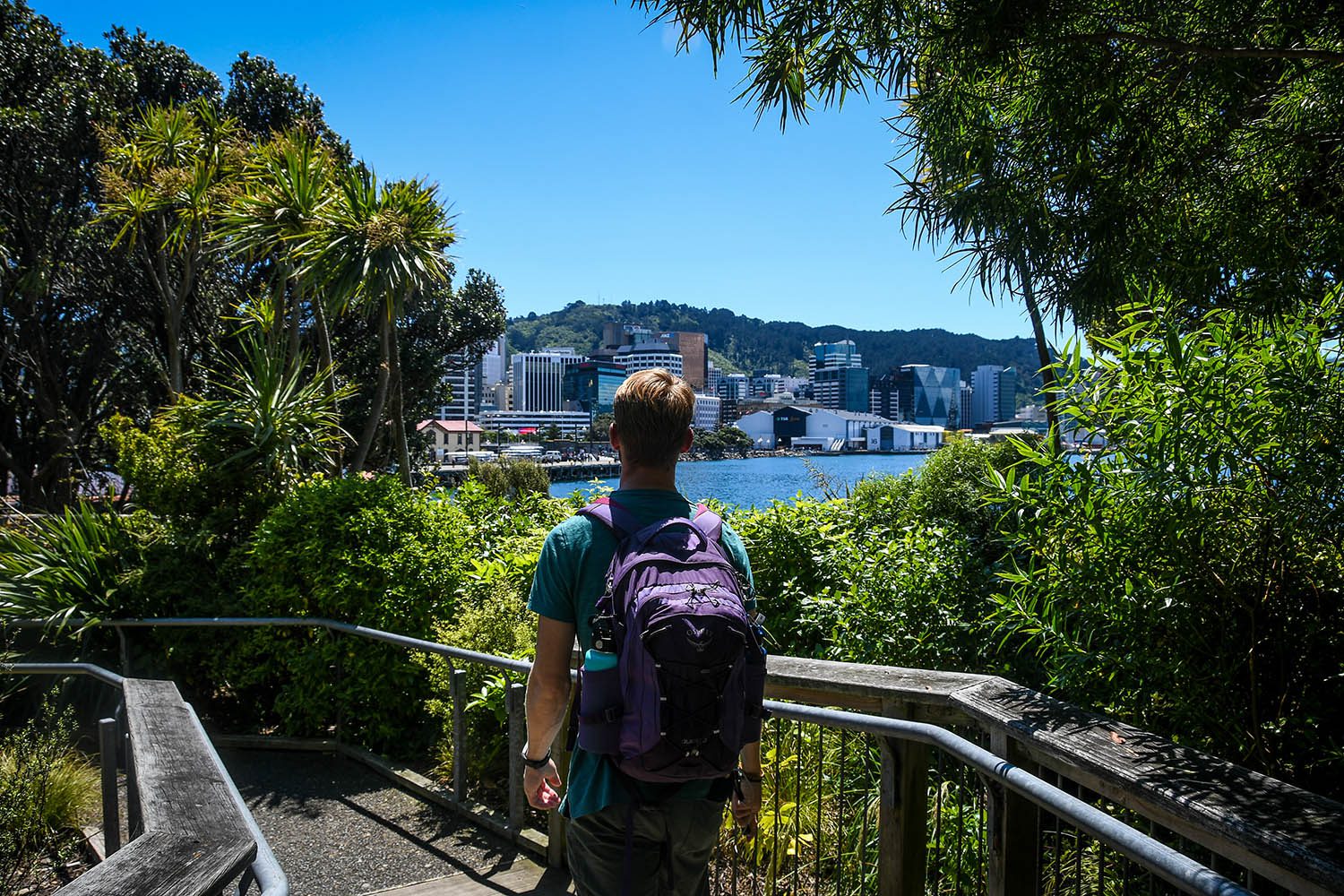 If you want to get your bearings when you first arrive in Wellington, download the Welly Walks app for a variety of self-guided walking tours.
There are all different types of tours – from a Craft Beer Walk to a Foodie Trail to a 12 kilometer City to Sea Walkway. Each walk has an individual map marked with a route, and stops along the way all have descriptions of what you'll find.
---
Want to save time and energy on planning?
We spent 5 weeks traveling around New Zealand in a campervan, and we've been lucky enough to explore a lot of what this country has to offer!
We took our 5-week travels and condensed it down to 30 days (because so many people wanted a 1-month route) that hits the top destinations on both the North and South Islands.
We'll send you our complete 1 month itinerary, filled with tips and advice. Just click below to get your 30-day New Zealand road trip itinerary today!


---
2. Ride the Wellington Cable Car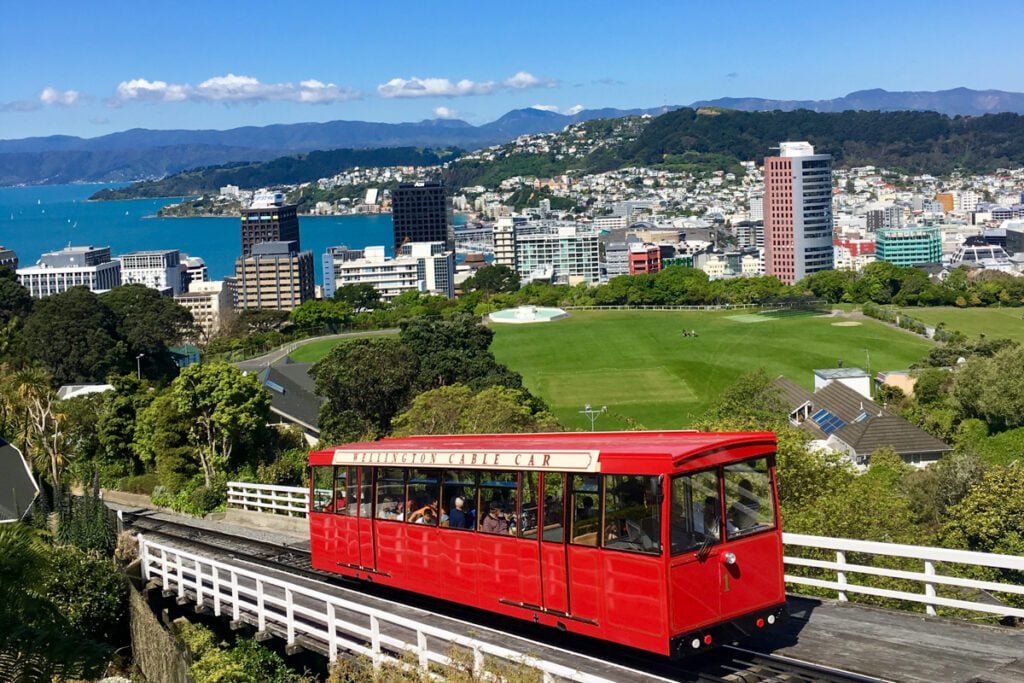 Hours: 7 a.m to 8 p.m. weekdays (8 a.m. – 9 p.m. on weekends)
Entrance fee: $9 NZD (~$5.30 USD) for an adult return ticket
This historical (and fully operational) Wellington Cable Car provides a scenic and convenient way to traverse the city's hilly terrain while enjoying stunning panoramic views.
Starting downtown at Lambton Quay, it ascends to Kelburn, where you can access both the Wellington Botanic Garden (see #8 on this list!) and Carter Observatory (see #20).
It's a great way to see some of the city's best panoramic views while offering a fun alternative to walking all the way up the hill.
3. Explore the Te Papa Museum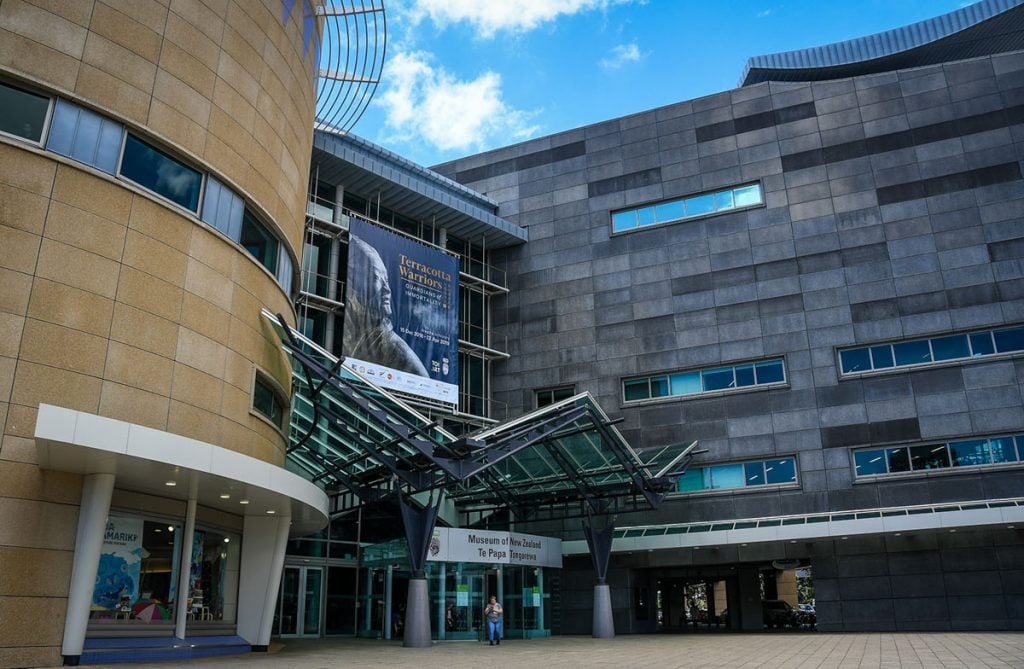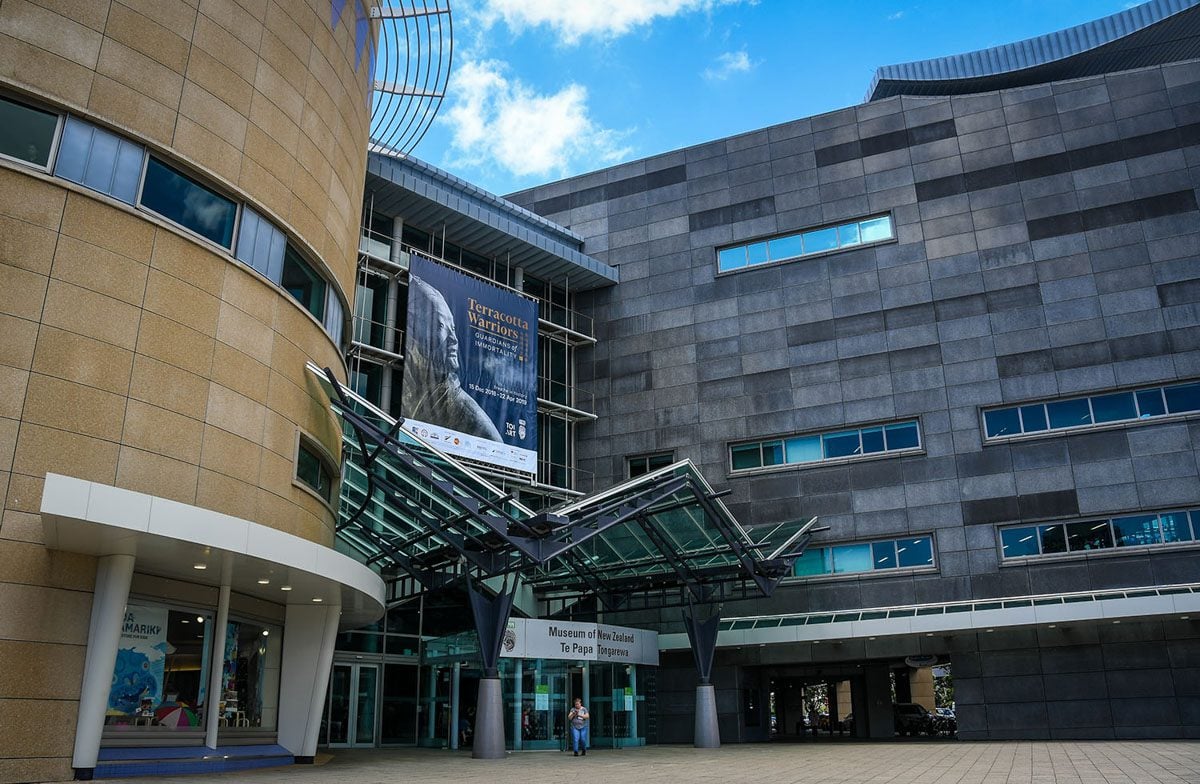 Hours: open daily from 10 a.m. to 6 p.m.
Entrance fee: Free to all visitors
Officially called the Museum of New Zealand Te Papa Tongarewa (that's a mouthful, amiright!?). This totally FREE museum is smack dab in the center of the downtown wharf area. We think it is well worth a stop when you're in Wellington.
The Te Papa Museum is most well-known for a colossal squid, which was sadly not on display during our visit. And while we were there, they were setting up for a Terra Cotta Warrior exhibit, which was also not open yet.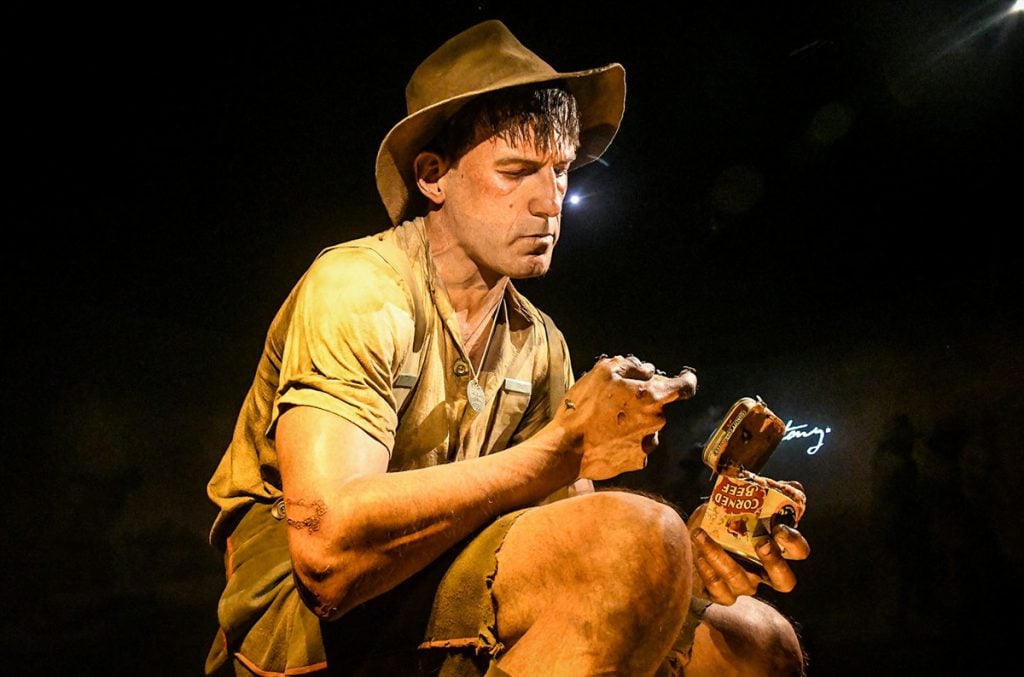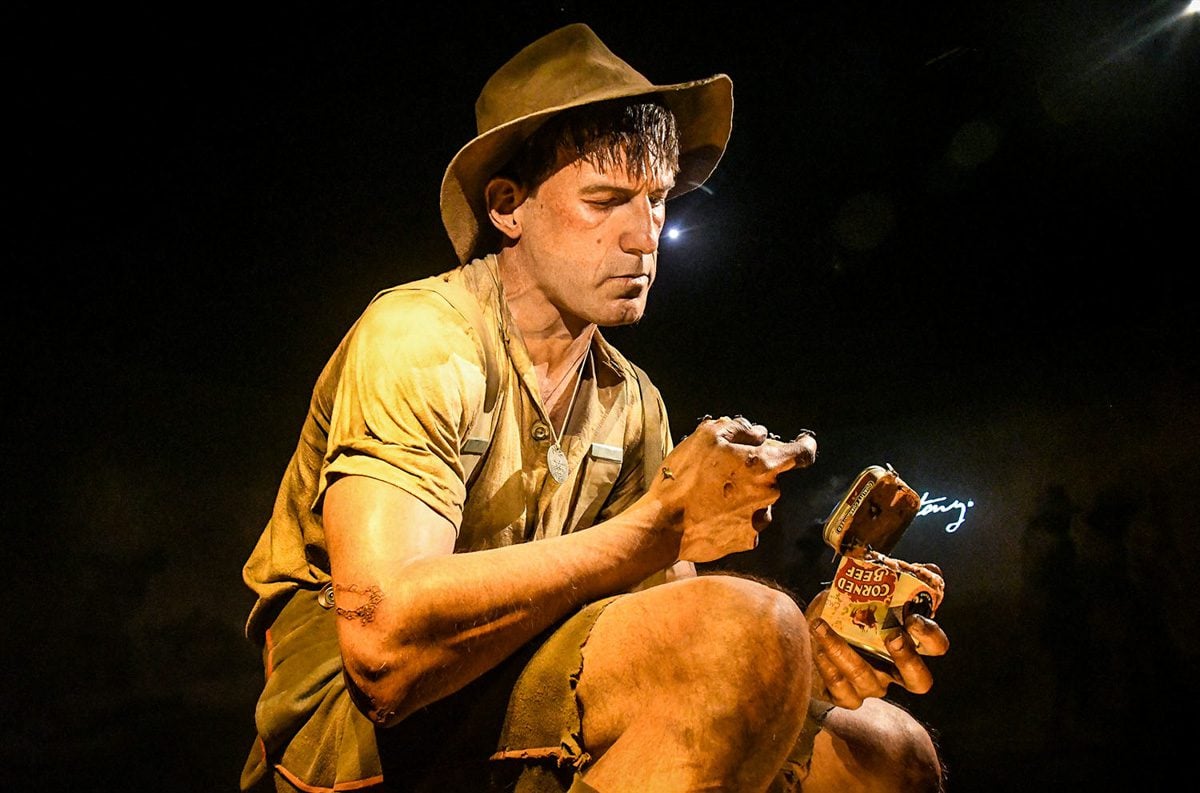 But even so, there were a ton of other cool things to see – replicas of traditional Maori houses, modern and historic art pieces, and a super interesting exhibit on the New Zealand and Australian soldiers in World War I designed by the director and studio behind Lord of the Rings.
There's even a little "native bush walk" just outside the museum, where you can get some great city views.
You could easily spend an entire day here, but if you have limited time you can pop in for a quick look at the highlights (like we did). I mean, it's free, so why not?!
If you're interested, there are a few other notable museums and galleries worth a peak in Wellington. Especially if you have a rainy day during your visit. All of which are FREE to visitors.
The Wellington Museum
Hours: Open weekdays from 10 a.m. to 4 p.m., and Saturdays until 1 p.m., closed Sundays
Entrance fee: Free to all visitors
Delve into Wellington's maritime heritage, Māori history, and the diverse stories of New Zealand's people. Housed in the historic Bond Store building on the waterfront, this museum offers an immersive experience.
From interactive displays and fascinating artifacts to thought-provoking exhibitions, it's a place where you can explore the city's evolution, its role in New Zealand's development, and its vibrant cultural tapestry.
Bonus: City Gallery Wellington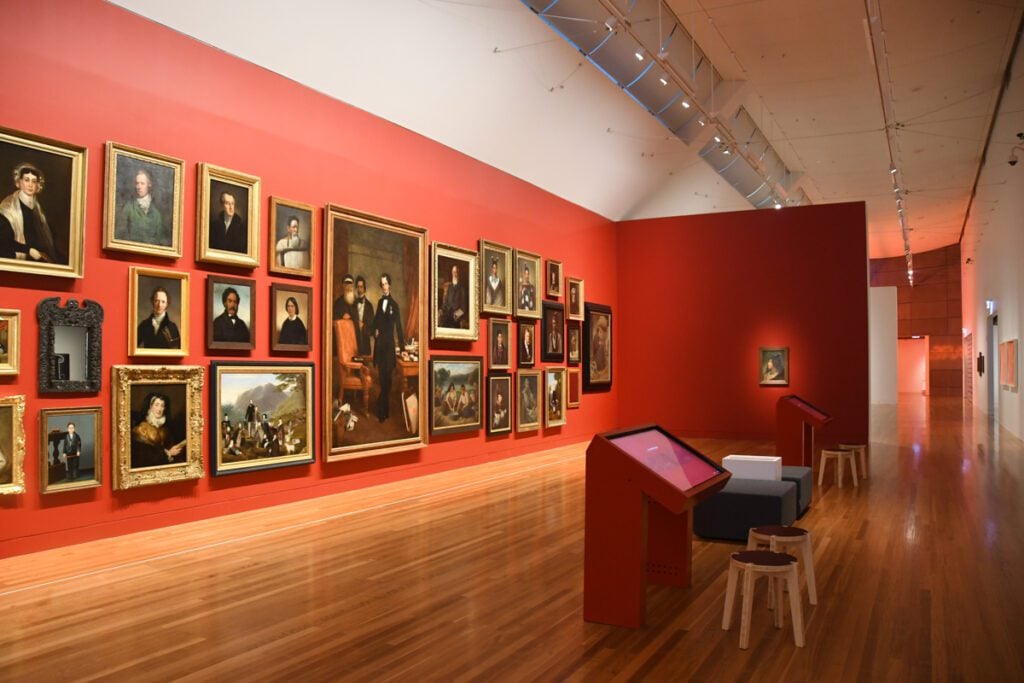 Hours: 10 a.m. to 5 p.m. daily
Entrance fee: Free to all visitors
Another great free activity in Wellington is the City Gallery Wellington Te Whare Toi.
This contemporary art space showcases a dynamic range of exhibitions, from local talents to international contemporary art. Located in Civic Square, it's easily accessible and a must-visit for those seeking to explore the thriving art scene in Wellington.
4. Take a walk down Cuba Street
This pedestrian street is popular with locals and visitors alike. With a variety of trendy shops, fun restaurants and quirky bars, you'll no doubt find a few places to pop into.
The Wellington-famous bucket fountain is a great spot for a photo but don't get too close, tourists are known to get drenched!
And if you're near Cuba Street at night, it'll take on a whole different vibe, with bars bustling, live music playing, and people making their way from one place to the next.
Planning a trip? Don't miss these top things to do in New Zealand on your first visit!
5. Check out the views at Mount Victoria Lookout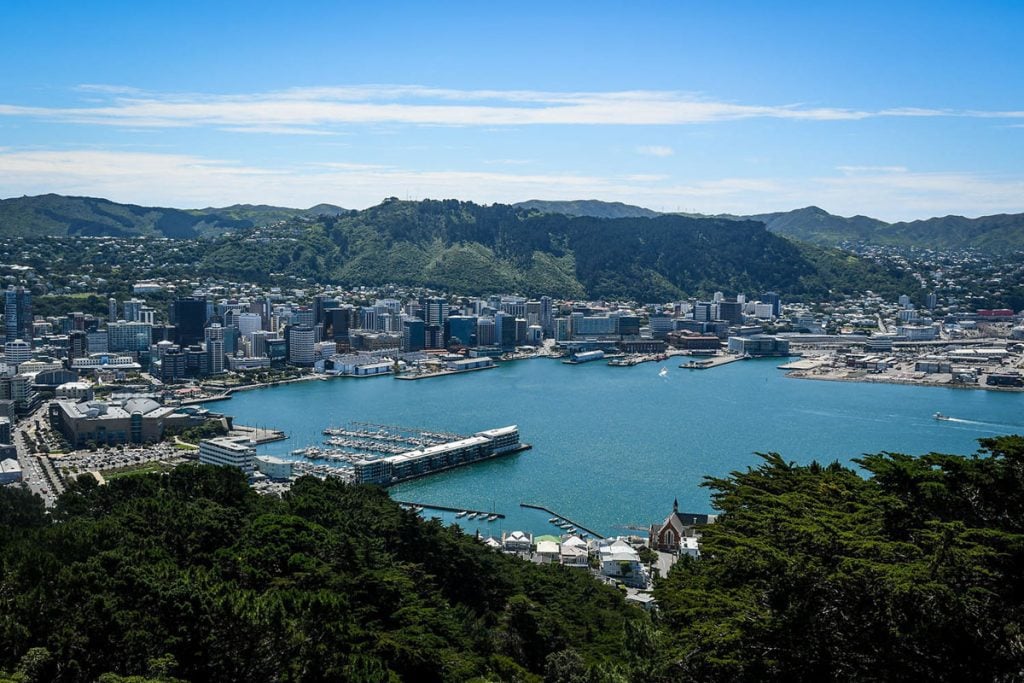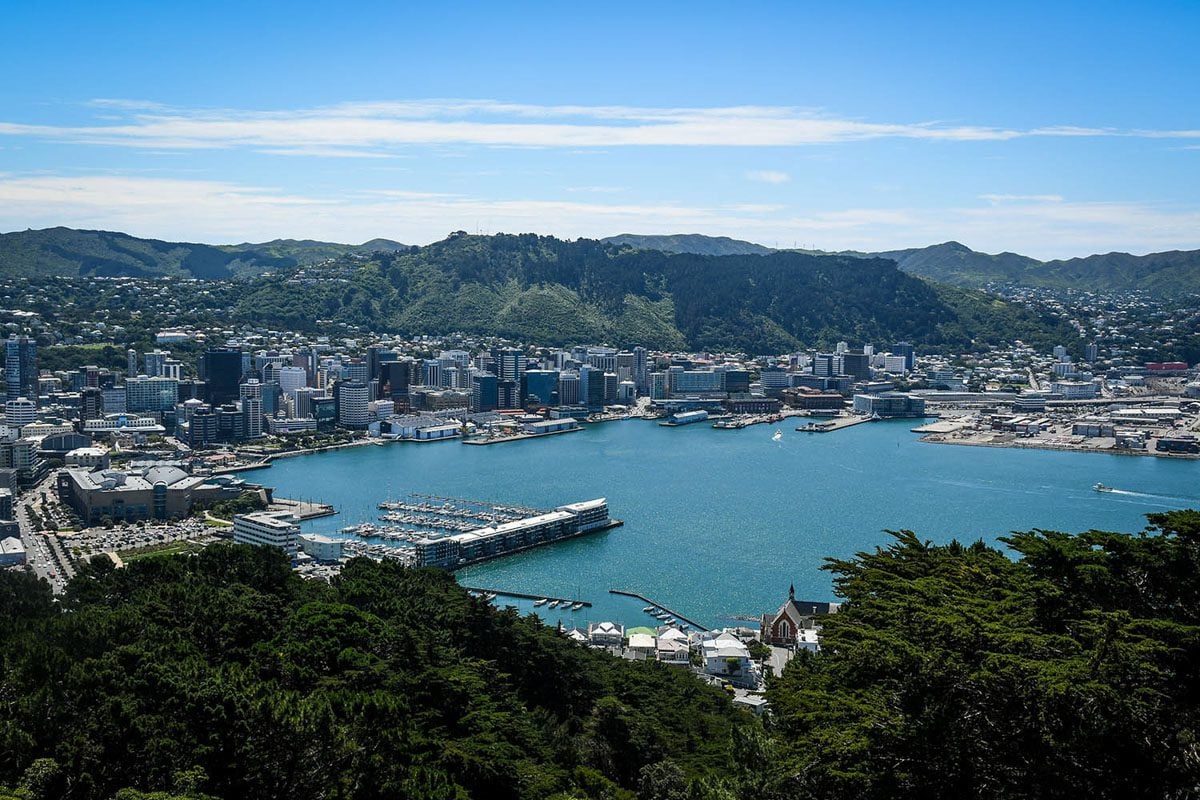 With commanding views of the wharf and the city below, Mount Victoria makes a great stop while in Wellington. For a bit of a workout, you can walk up to this viewpoint or if you have limited time you can simply drive to the car park.
Either way, you'll be treated to panoramic views of the bay and the Cook Strait that divides New Zealand's North and South Islands. And on a clear day, you can even see the South Island in the distance.
6. Go craft brewery hopping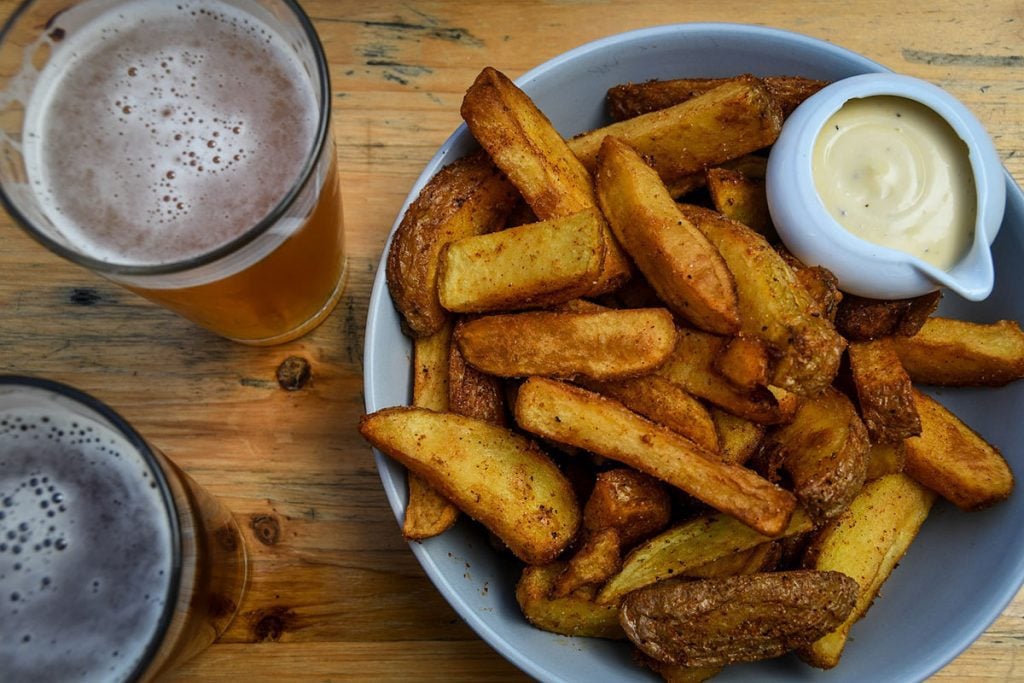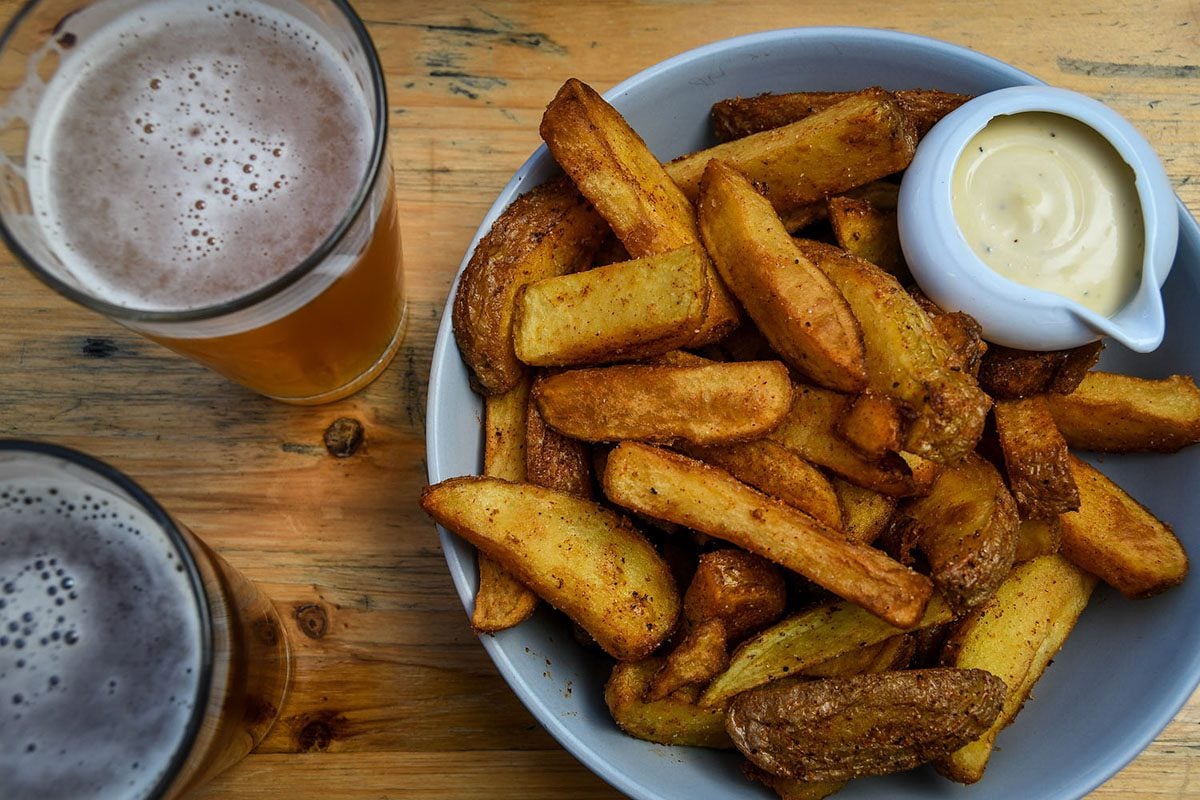 We are (huge) fans of IPAs (and porters, and stouts….), and we were underwhelmed by the selection of craft brews around New Zealand. The only exception to this was in Wellington. Here there are actually quite a few taprooms and breweries to choose from.
We later learned that Wellington is referred to as the "craft beer capital of New Zealand", and we understand why!
With roughly 20 breweries in the city (many within walking distances of each other), there are lots to choose from. You could even make your own DIY brewery hopping tour!
Even better, if you're visiting in August, try to snag tickets to attend Beervana, Wellington's own craft beer festival.
If you too are a craft beer lover, you will find your bliss in Wellington.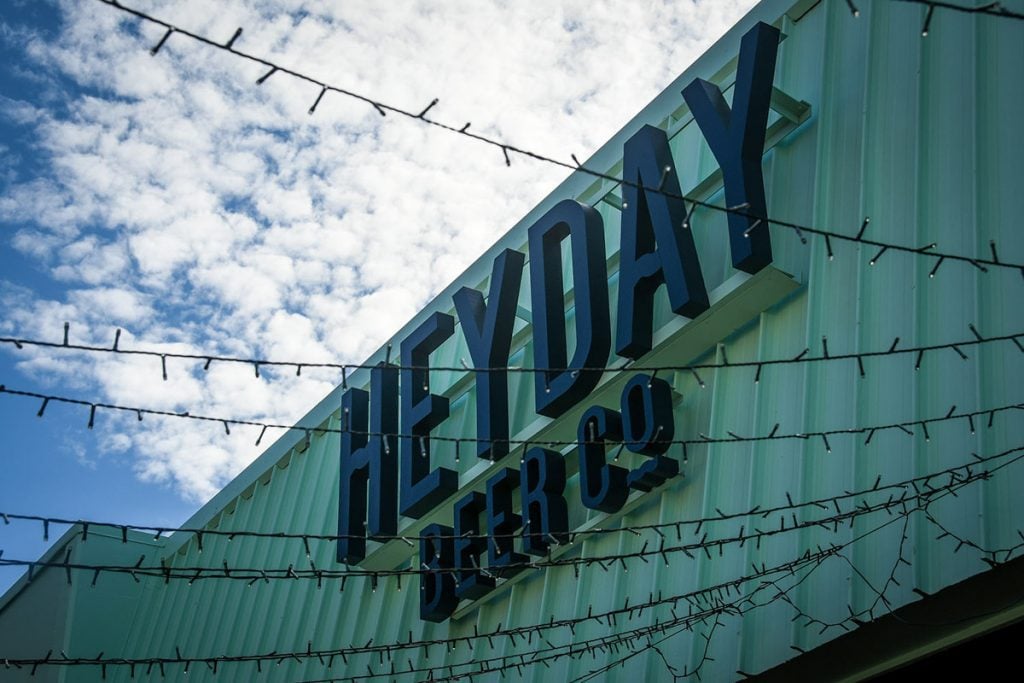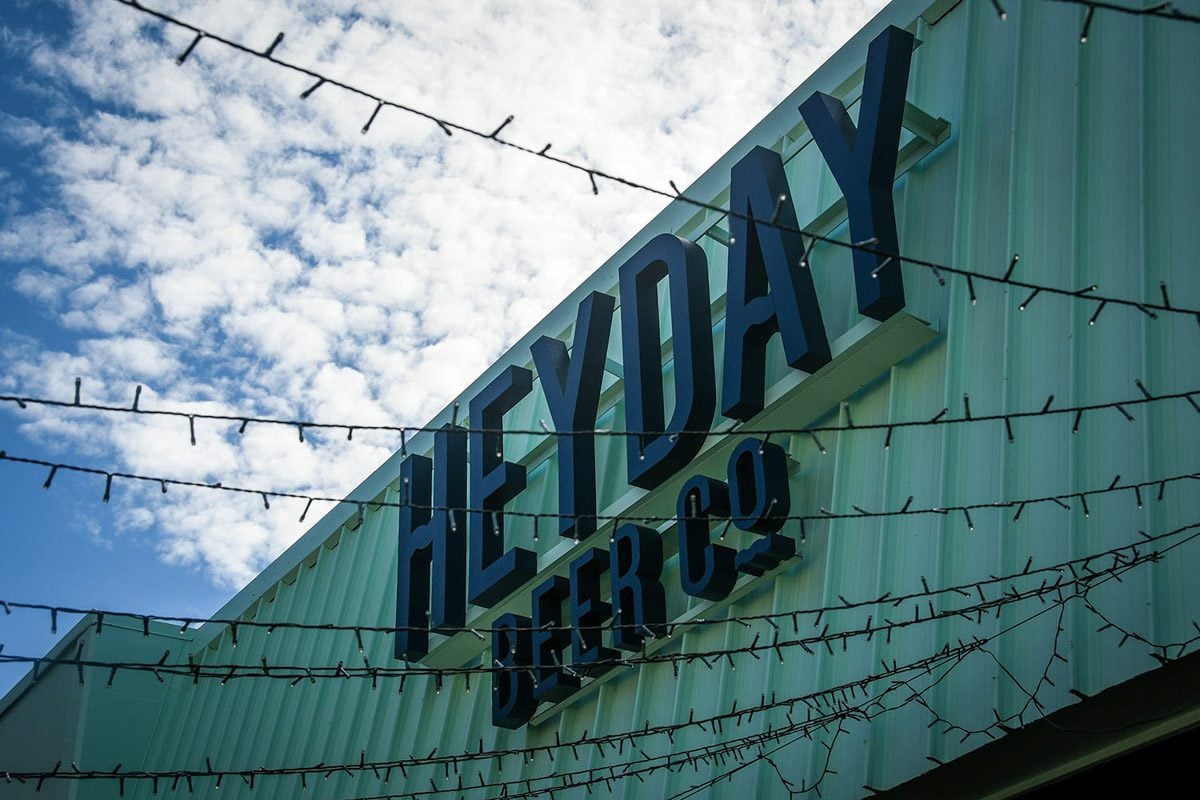 Our favorite breweries in Wellington
7. Grab brunch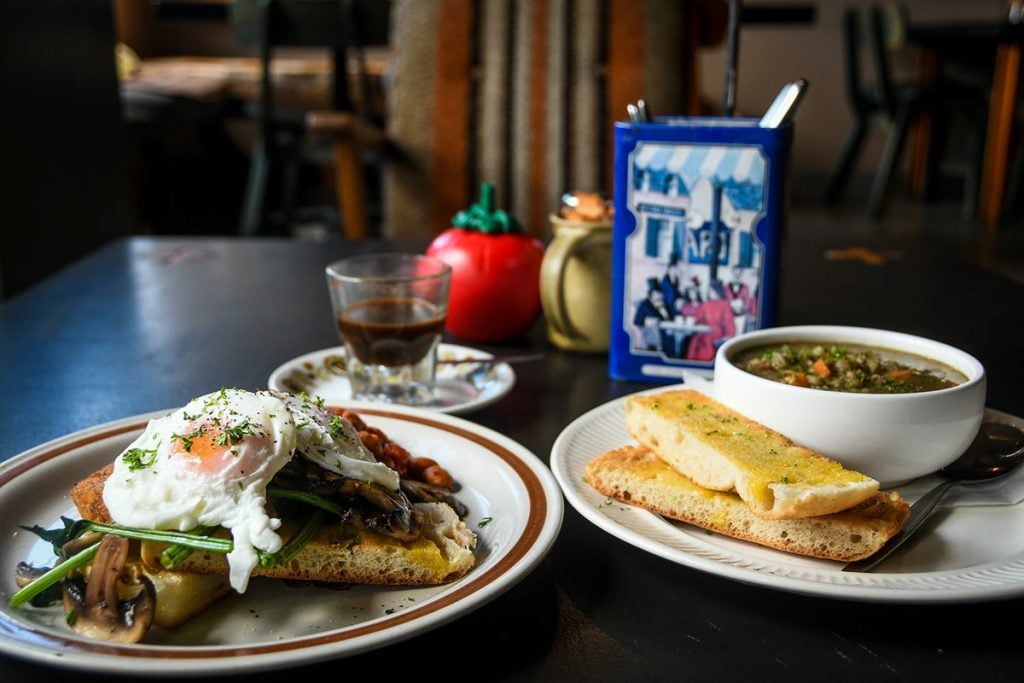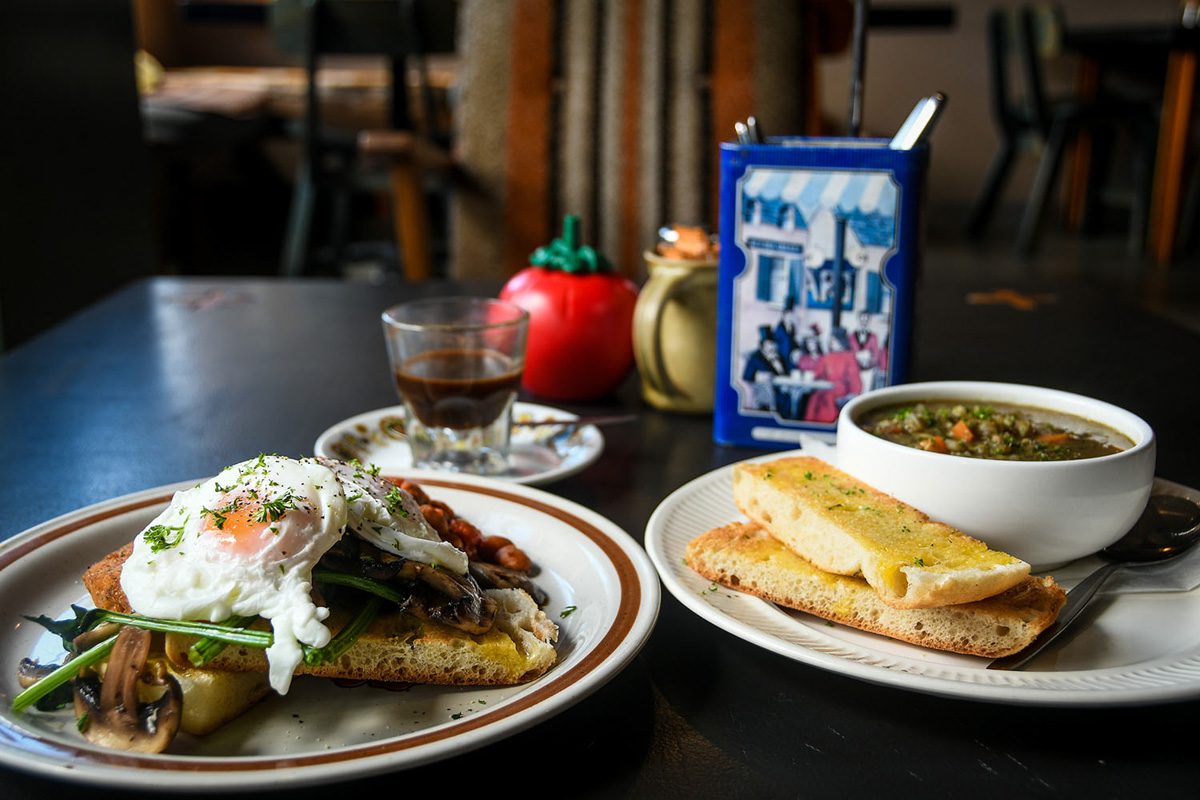 Wellingtonians love a good brunch, making it a great place to try a proper Kiwi-style breakfast (beans, toast and eggs).
Tip: They also take their coffee seriously, and you'll need a strong cup before a big day of exploring!
Wellington's best brunch spots
8. Wander the Wellington Botanic Garden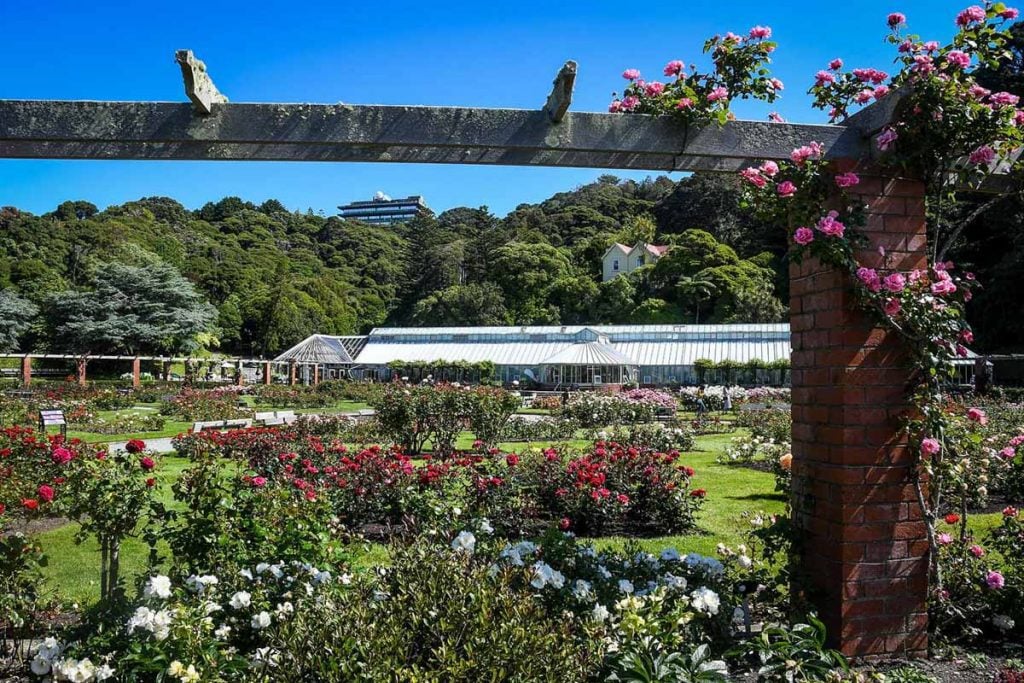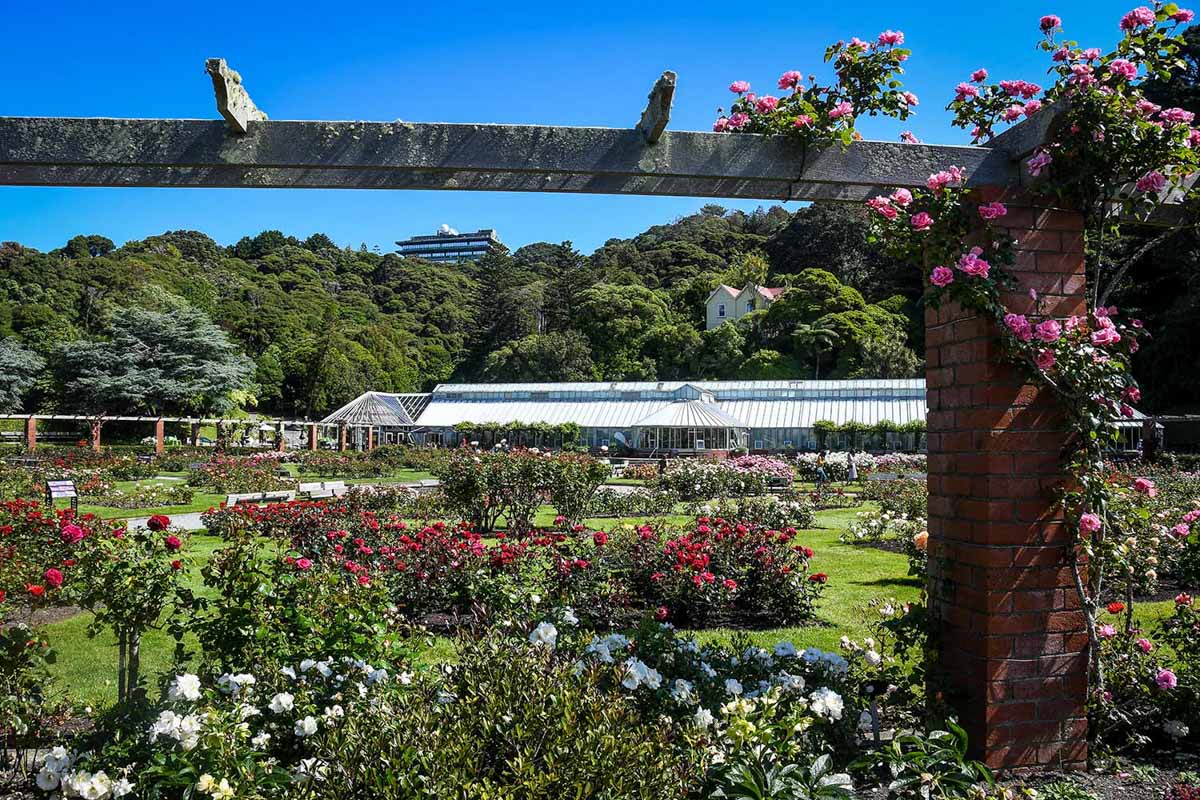 Hours: open 24 hours a day
Entrance fee: Free to all visitors
Another free activity that you should definitely take advantage of in Wellington is exploring the botanical gardens.
This massive park has masterfully-pruned gardens and greenhouses as well as winding dirt paths into native bush where there's a good chance you'll find solitude (or at least some really cool sculptures!).
Tip: You can take the iconic Wellington Cable Car to the botanical gardens for a fun ride!
9. Discover rare native species at Zealandia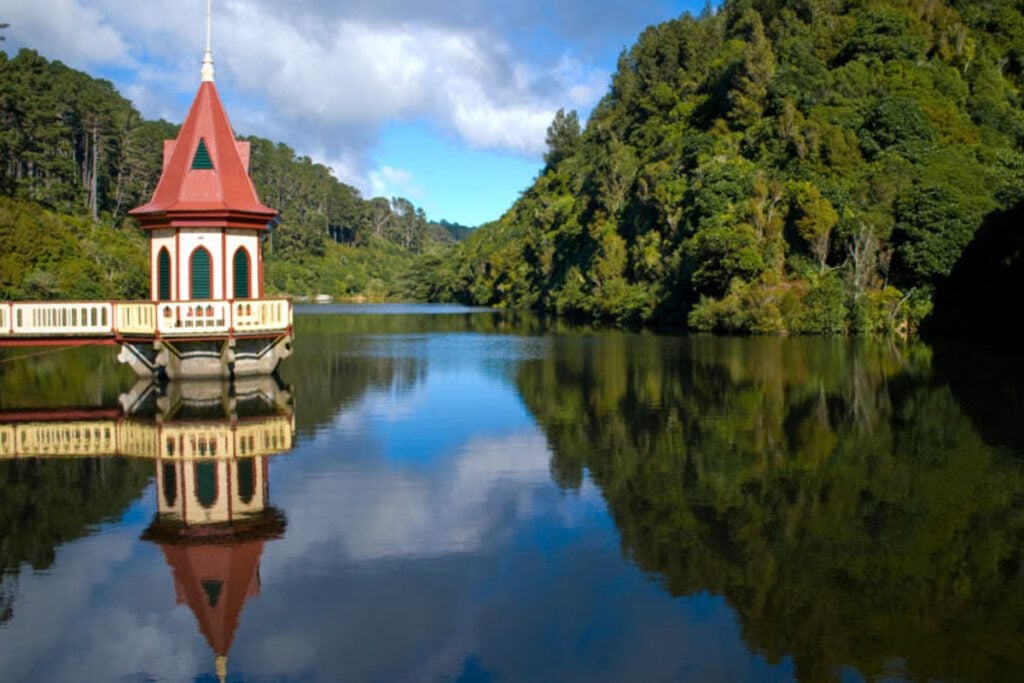 Hours: 9 a.m. to 5 p.m. daily (last admission 4 p.m.)
Entrance fee: $24 NZD (~$15 USD) for adults, $10 NZD (~$6 USD) for children
This unique eco-sanctuary provides a glimpse into New Zealand's native wildlife and conservation efforts.
As you wander through the lush forest trails and serene lakeshores, you'll have the opportunity to encounter some of the country's rarest and most endangered species, including the iconic kiwi bird.
Zealandia's mission to restore the natural environment and protect native species makes it not only a beautiful natural retreat but also a vital hub for environmental education and awareness.
The state-of-the-art exhibition center provides valuable insights into New Zealand's natural history and conservation challenges.
Whether you're a nature enthusiast or simply seeking a peaceful escape into the heart of Wellington's wild side, Zealandia is one of our top recommended things to do in Wellington if you want to learn more about New Zealand's unique ecological heritage.
10. Wander around the Wharf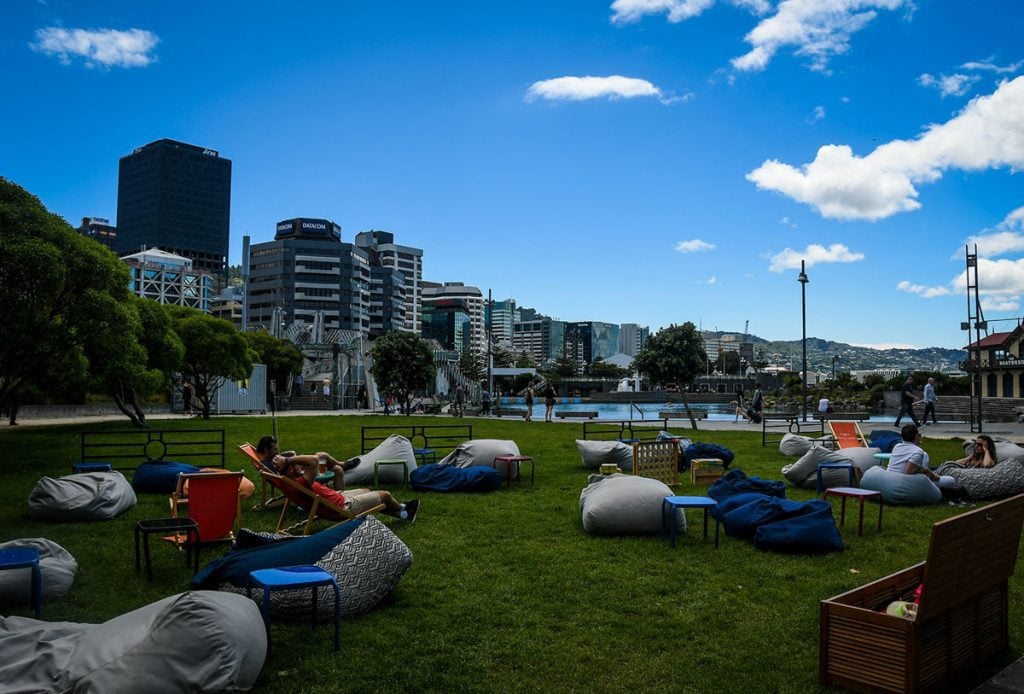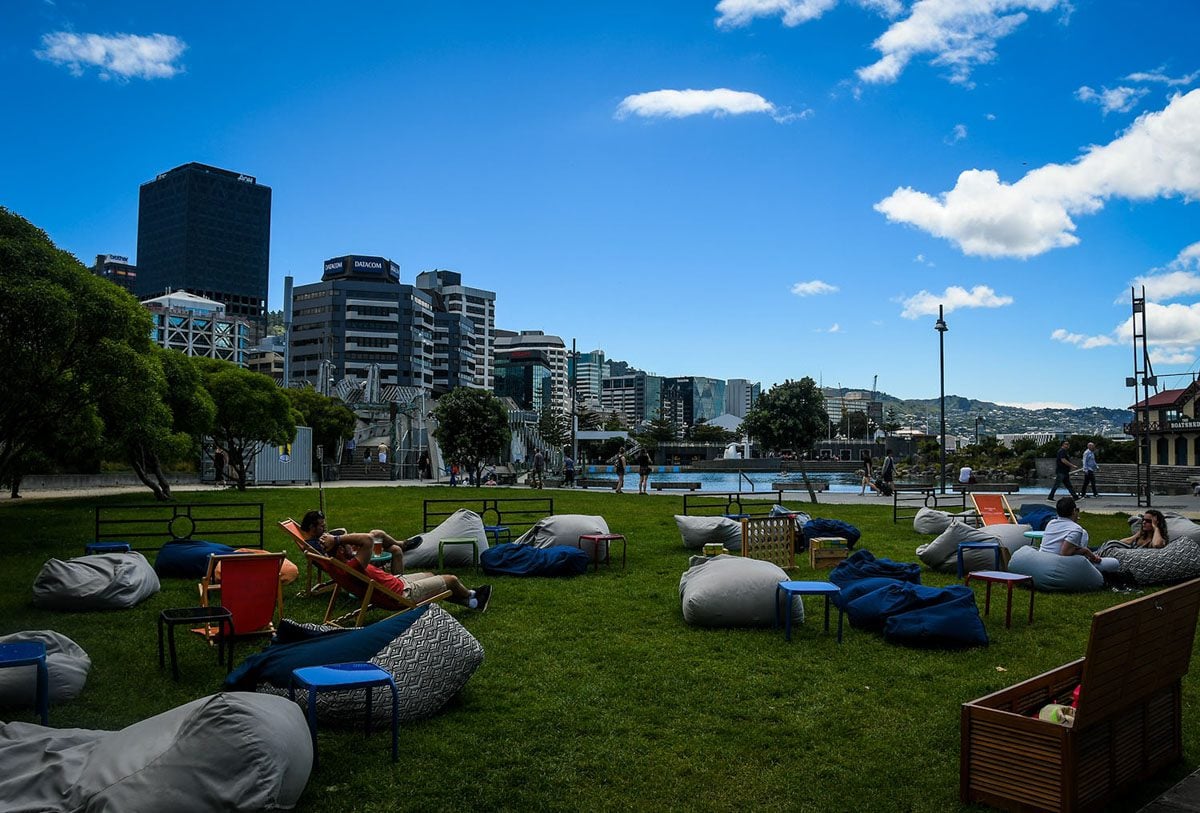 The Wellington Wharf offers a delightful array of activities for visitors and locals alike. Stroll along the picturesque waterfront promenade, where you can enjoy stunning views of the harbor and watch ferries and sailboats gliding by.
Wander more and you'll find funky bars with grassy patches and bean bags, pop-up markets, and even a diving board where brave souls can jump into the cold ocean waters. (When we were there, a "pop-up sauna" made from a shipping container sat next to the diving board!)
11. Paddle around Wellington Harbour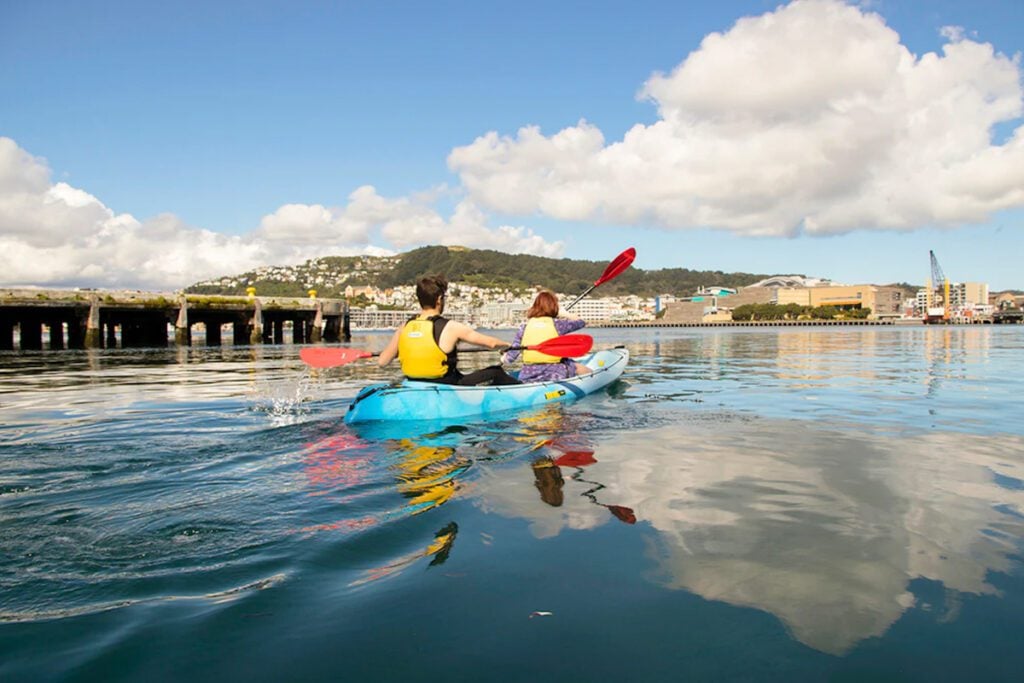 If you want to get a unique perspective of the city's coastal landscape, you have to get out on the water. Head down to Queen's Wharf where you can rent a kayak from Fergs Kayaks by the hour and head out on your own adventure. (Tip: They also run guided kayak tours!)
As you paddle through the calm waters of the harbor, you'll be treated to breathtaking views of the city skyline, rolling hills, and rugged shoreline.
The tranquil waters make it accessible for kayakers of all skill levels. You can choose to explore hidden coves, paddle out to Matiu/Somes Island for a wildlife encounter, or simply enjoy the open sea.
12. Eat your way through Hannah's Laneway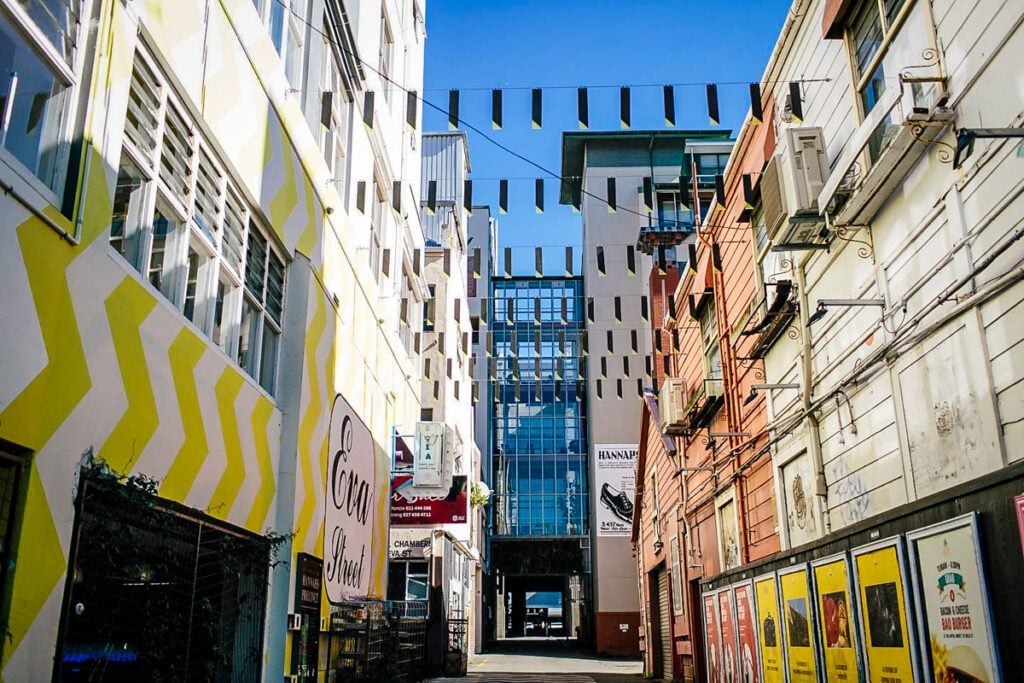 A delightful culinary adventure tucked away in the heart of the city, Hannah's Laneway presents a fusion of international flavors and local creativity.
This hidden gem is home to an array of charming eateries and cafes. Many of the eateries here focus on using fresh, locally sourced ingredients, giving visitors a taste of Wellington's vibrant food scene.
The laneway's cozy atmosphere and al fresco dining options make it an ideal spot for a leisurely meal or a quick snack while enjoying all the fun things to do in Wellington. vibrant street art and urban charm that surrounds you.
13. Visit the Harbourside Market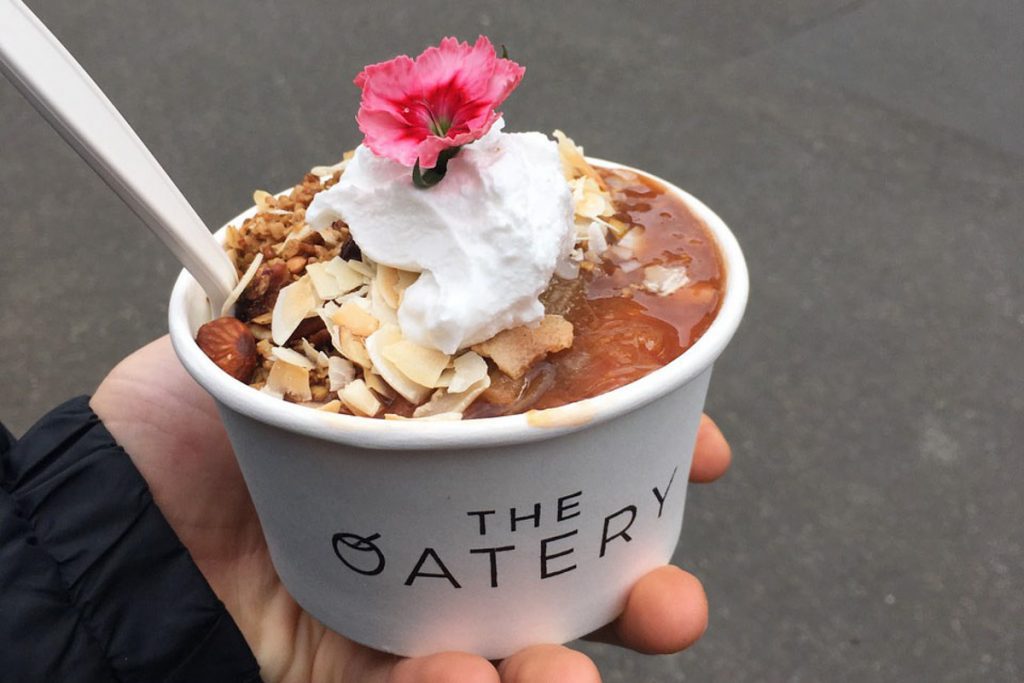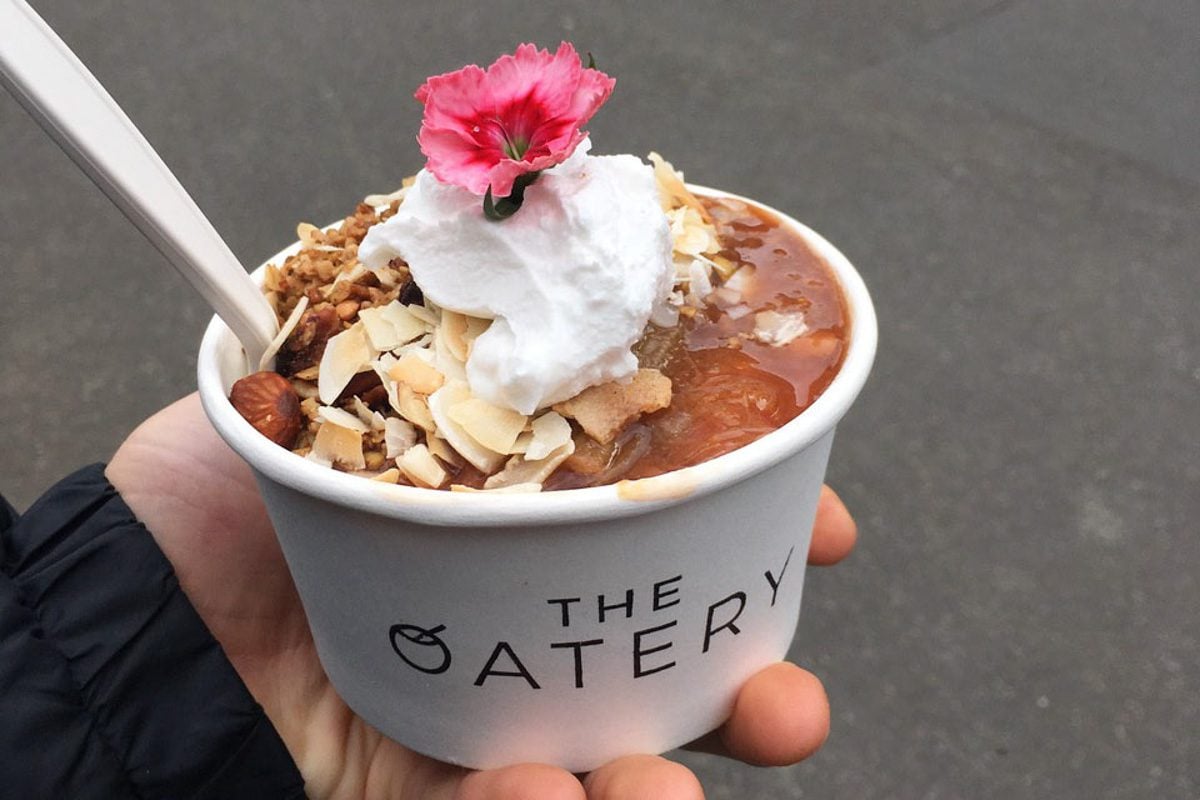 Every Sunday morning from 7:30 a.m. – 2 p.m., the place to be in Wellington is at the Harbourside Farmers Market. The open air market is located on the waterfront behind Te Papa Museum.
This is partly a produce market where vendors sell fruit and vegetables. Plus you'll also find food trucks, live music and a range of artisan goods.
Come with an empty stomach and grab breakfast at the market from The Oatery (a local favorite!). They do gourmet porridge with vegan and regular options.
14. Walk or bike the Skyline Walkway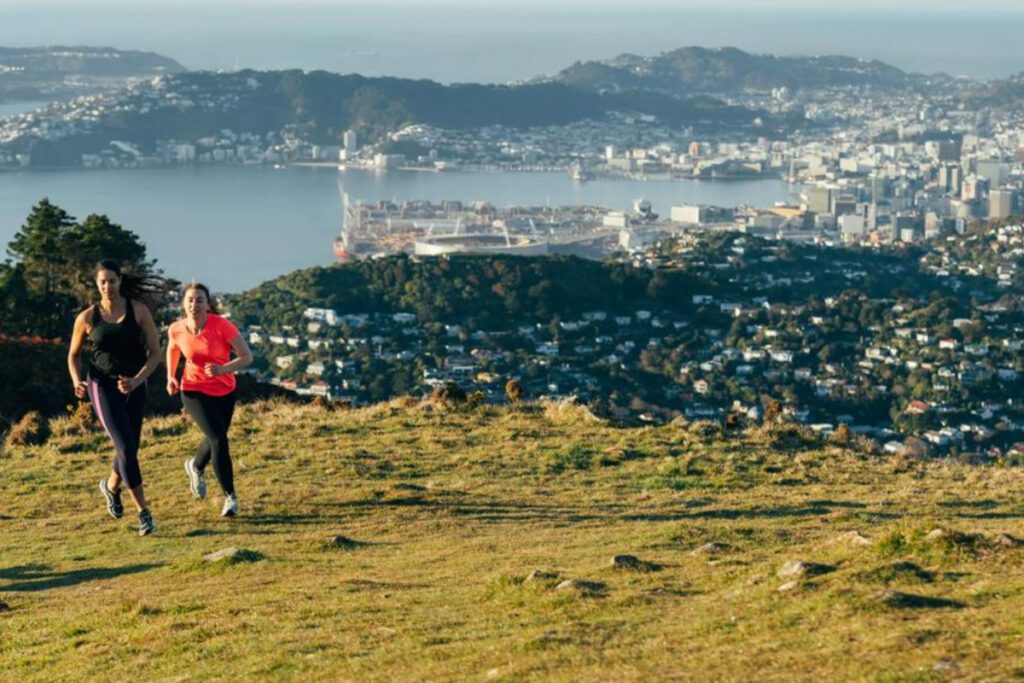 The Skyline Walkway is a scenic trail that winds its way along the ridgeline of Wellington's hills. The trail offers hikers and nature enthusiasts an unparalleled panoramic view of the city and its surroundings.
The trail is easily accessible from various points around the city. You can choose to walk or rent a bike and hit the trail on two wheels.
Bonus: Remutaka Rail Trail
If you have the opportunity to get out of the city, The Remutaka Rail Trail is another great cycling opportunity. Considered one of New Zealand's Great Rides, it's a bucket list trail for many.
Beginning on the outskirts of Wellington Harbour, the 115 km (71 miles) trail meanders the picturesque Hutt Valley, gradually ascending through the lush forests of the Remutaka Ranges, and then tracing the rugged coastline before circling back toward the city.
15. Head to the beach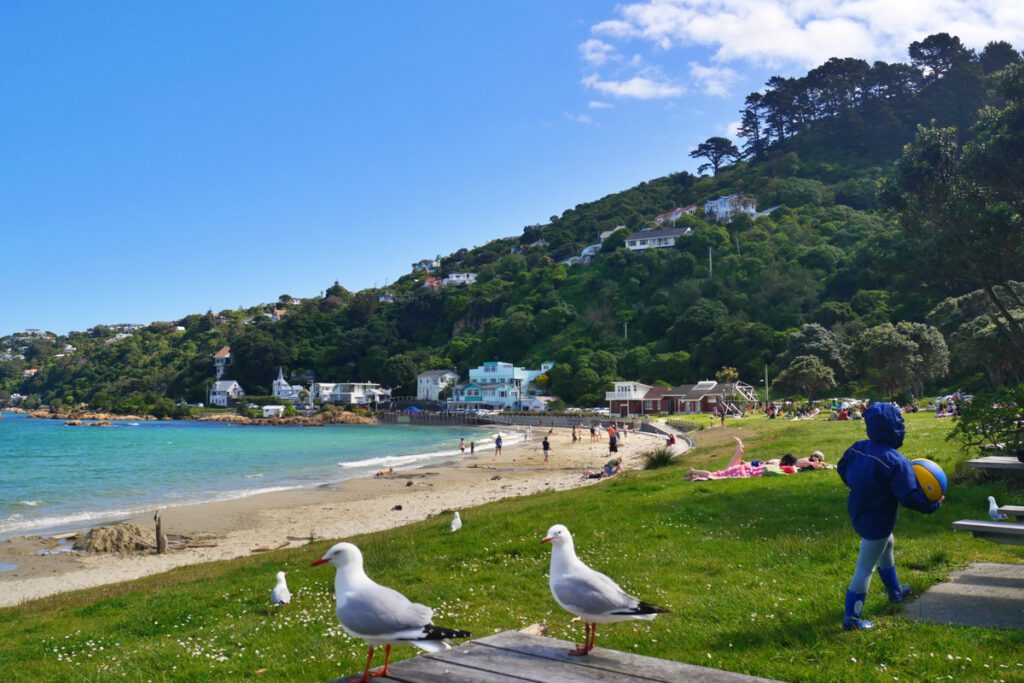 Wellington has a few stunning beaches that make a great escape from the city.
Oriental Bay
Often referred to as the "Riviera of the South Pacific," Oriental Bay is a favorite among residents for its golden sands and clear waters. This urban beach is fringed with palm trees and features a promenade, making it an ideal spot for sunbathing, swimming, or picnicking.
Scorching Bay
Tucked into the opposite side of the Miramar Peninsula, Scorching Bay is a nice family-friendly beach with calm waters. There you'll find a charming seaside cafe where you can savor fish and chips while watching the boats go by.
Days Bay
You'll need to make the short journey across the harbor by ferry to reach Days Bay on the opposite side. Once you arrive, you'll find a charming, sandy beach perfect for sunbathing and swimming, as well as a waterfront promenade lined with cafes and boutique shops.
A day trip here offers a refreshing change of pace from the city's hustle and bustle, making it a favorite getaway for both locals and visitors alike.
16. Join a quiz night
If you happen to be in Wellington on a Tuesday, Wednesday or Thursday, and like to test your trivia knowledge, go to one of the weekly Pub Quiz Nights!
Tuesday
Wednesday

Thursday
17. Order an original Flat White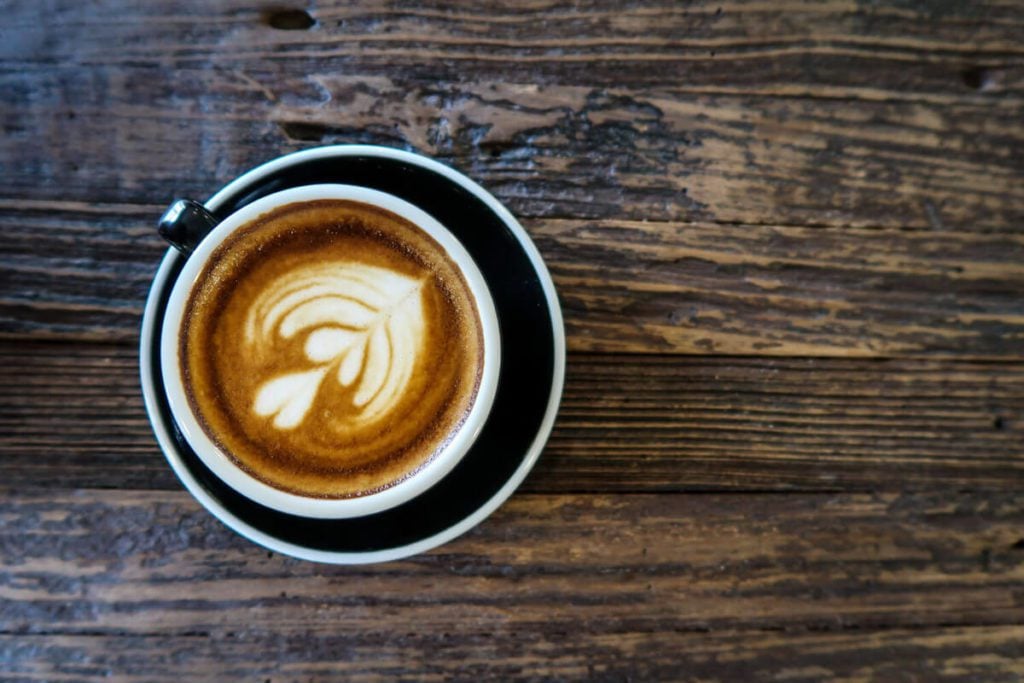 Kiwis and Aussies have a debate when it comes to the Flat White. Both claim to be the origin of this trendy coffee drink. And truthfully, we may never know who actually had it first.
But while you're in Wellington, there's no harm in ordering one, as this city is where a Kiwi barista claims he accidentally invented this stronger take on a latte.
Apparently the barista in question claims he accidentally made a cappuccino without foam, and apologized to the customer by saying, "Sorry, it's a flat white."
Honestly, the drink isn't all that unique (it's just espresso and steamed milk, after all!), but it's still fun ordering something in the place of its origin (or supposed origin, in this case). And Kiwis sure do take pride in their coffee-making abilities. So get your caffeine fix with steamed milk (and no foam).
Insider Tip: The best place to try a flat white (or any coffee in Wellington) is The Hangar where you can order a tasting paddle with flat whites or short blacks made from several different beans.
18. Get cocktails at a speakeasy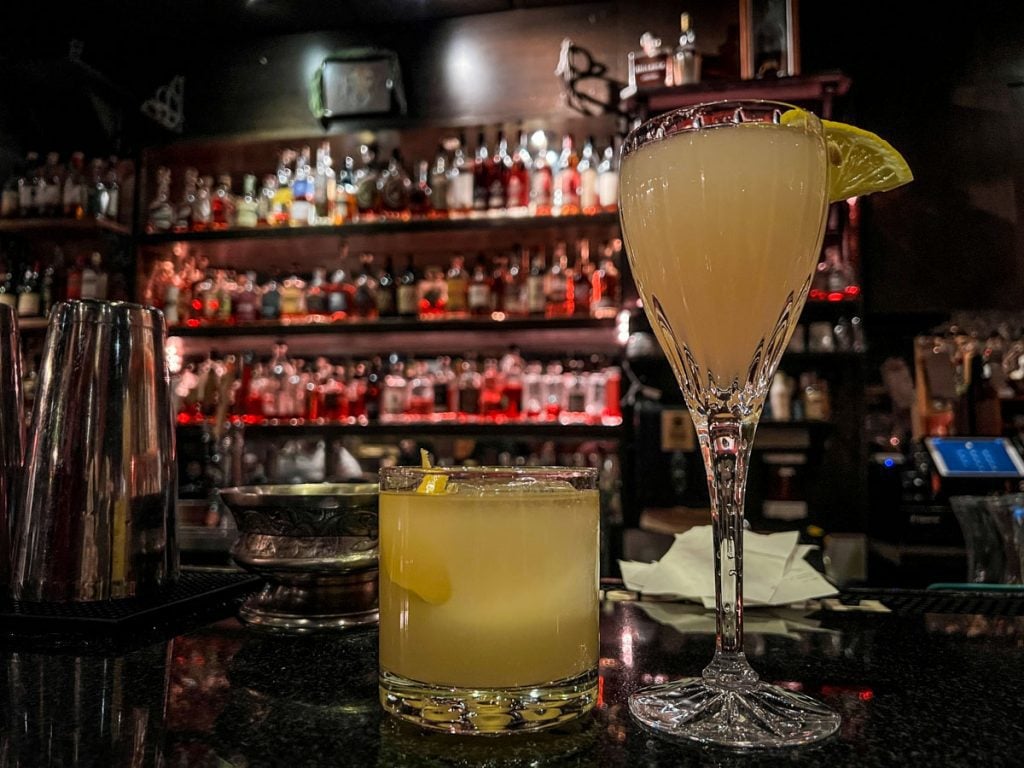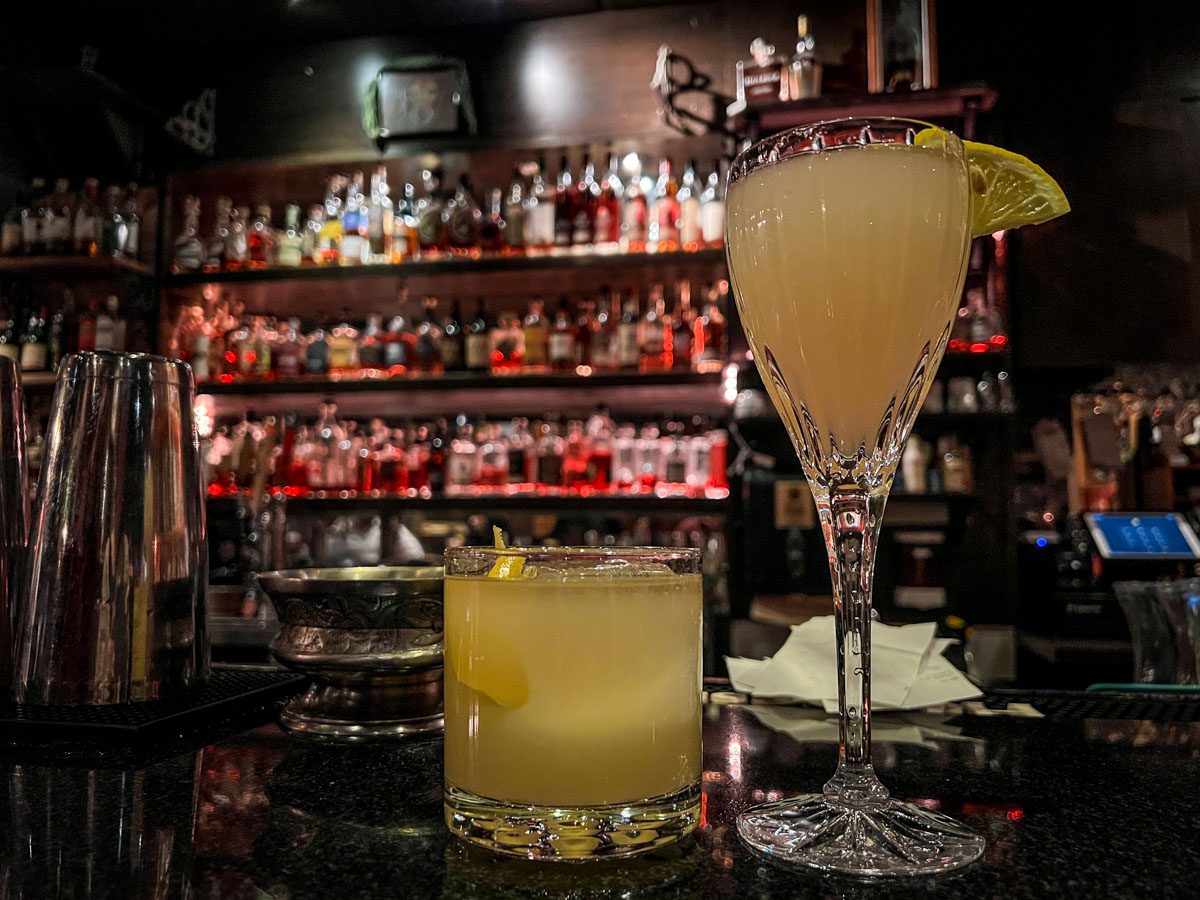 If you're feelin' fine and in the mood for a fancy cocktail, Night Flower Punch House is sure to impress.
This speakeasy bar is a bit tucked away, but that's part of the fun. You'll feel like you've stumbled upon a local secret once you enter this beautifully-designed space!
The bartenders are wizards who can whip up cocktails based on the flavors you like. Many ingredients are made in-house, and while the drinks are not exactly cheap, the prices are what you'd expect for thoughtfully prepared concoctions and an intimate, speakeasy atmosphere.
19. Geek out at the Weta Cave & Workshop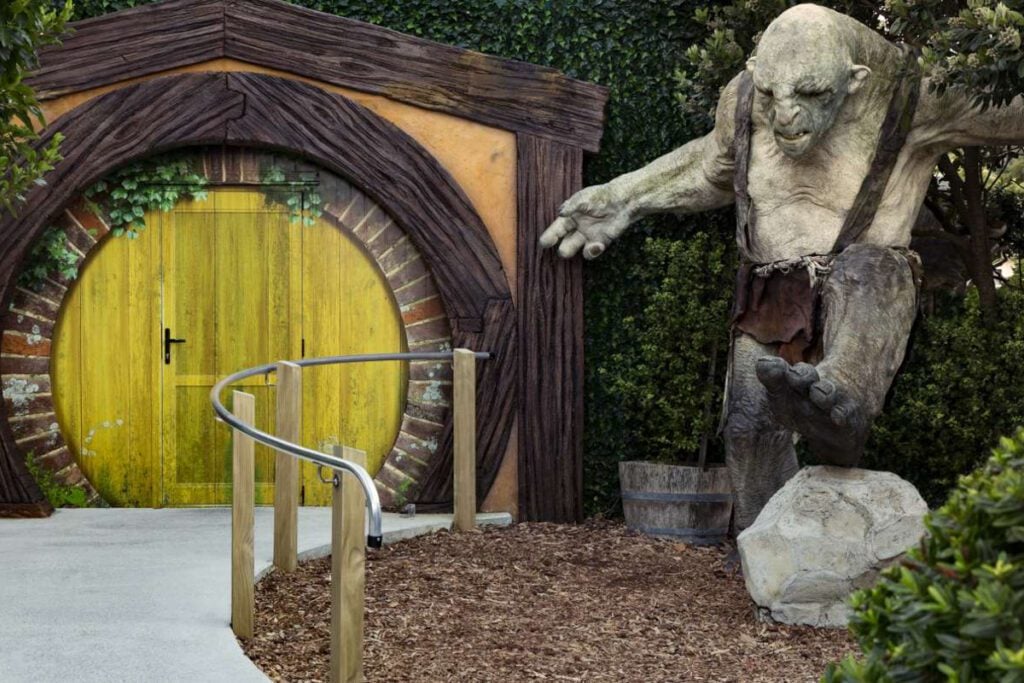 Just a bit outside of downtown Wellington, the design studio known as the Wētā Workshop makes props, costumes, creatures and effects for movies. If you're a movie buff, you can get a peek into the filmmaking industry that few get to see.
This studio is perhaps most famous for their creations that made it into the The Lord of the Rings trilogy (Gollum, anyone?!), but their portfolio includes a long list of blockbusters.
You can visit the Wētā Cave (gift shop and small museum) and watch a documentary free of charge, but if you want to really get behind the scenes and see the workshop, you'll need to pay for a tour of the Wētā Workshop.
20. Check out Space Place at Carter Observatory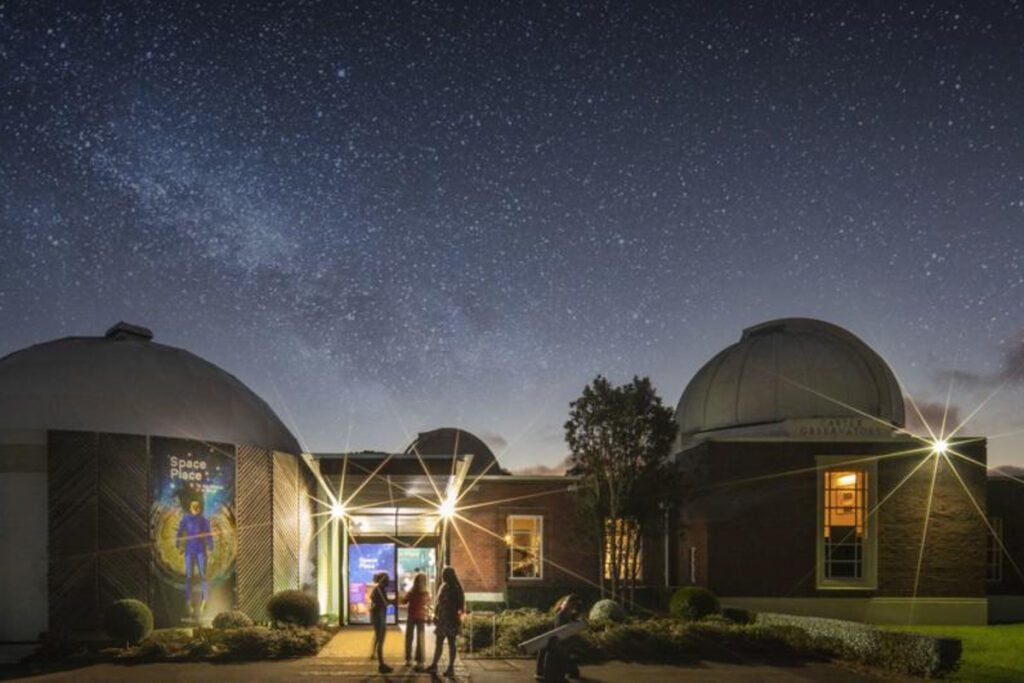 A celestial journey right in the heart of Wellington, this educational and awe-inspiring attraction invites visitors to explore the wonders of the universe.
Space Place features interactive exhibits, captivating planetarium shows, and expertly guided tours. Inside the observatory, you can delve into the mysteries of space, learn about astronomical phenomena, and even witness the night sky as you've never seen it before in the state-of-the-art planetarium dome.
Located atop the picturesque Botanic Garden, Space Place also showcases breathtaking panoramic views of Wellington and its surroundings. The observatory's location provides a serene escape from the city's hustle and bustle, making it a perfect spot for stargazing and contemplating the cosmos.
21. Attend a festival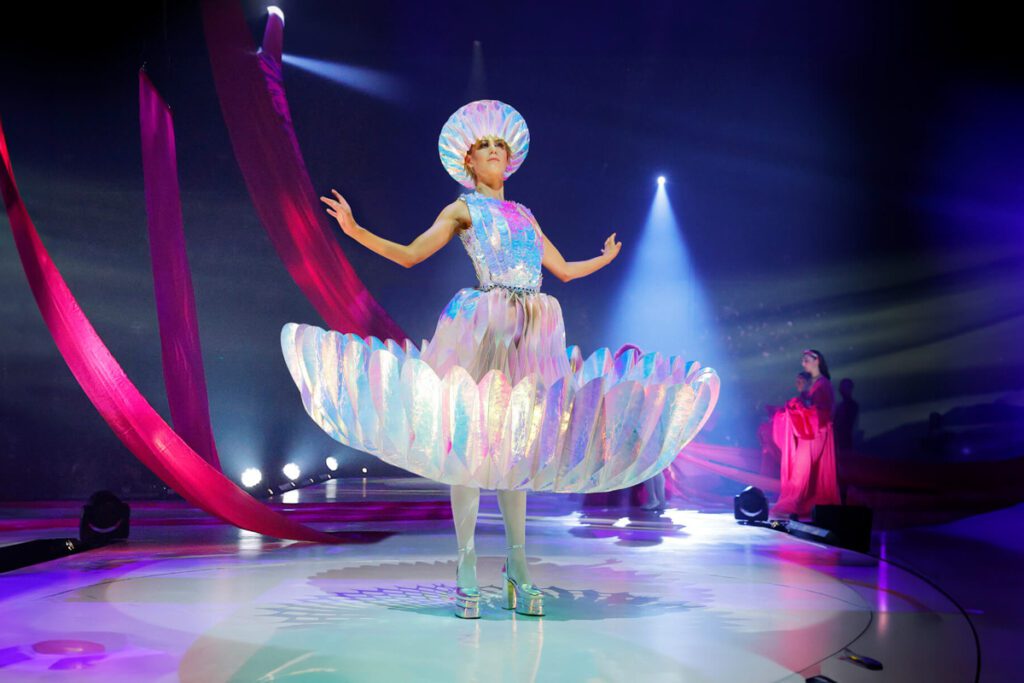 As the capital city of New Zealand, it's no surprise that Wellington hosts a number of festivals each year. Here are a few unique ones we think sound pretty cool.
Aotearoa New Zealand Festival of the Arts
The New Zealand Festival of Arts is an extraordinary celebration of creativity that sets the city ablaze with artistic inspiration. This biennial event transforms Wellington into a cultural mecca, drawing visitors from across the globe to revel in an eclectic showcase of music, theater, dance, and visual arts.
With a dynamic program spanning various venues throughout the city, the festival takes place over multiple weekends in February and March. It offers an unparalleled immersion into the world of the arts, from avant-garde performances pushing the boundaries of expression to classical masterpieces performed by world-class artists.
World of WearableArt Awards
The World of WearableArt (WOW) Awards is a spectacular showcase of creativity at the intersection of fashion, art, and innovation. Each year, this world-renowned event draws designers, artists, and fashion enthusiasts from around the globe to witness the awe-inspiring fusion of fashion and artistry.
Attending the WOW Awards is not just a fashion show; it's a transformative experience.
Held annually in September, WOW features breathtaking wearable art pieces that push the boundaries of imagination and craftsmanship. These avant-garde creations, adorned with intricate details and innovative materials, come to life on a mesmerizing stage, captivating the audience with their theatrical and otherworldly designs.
22. Hike the Paekakariki Escarpment Track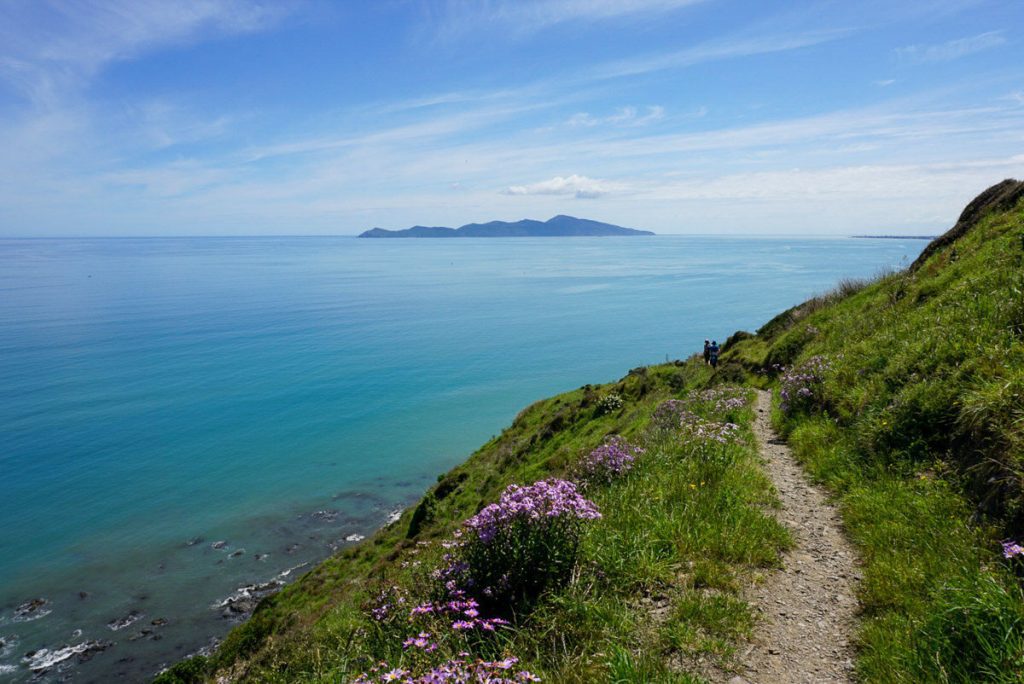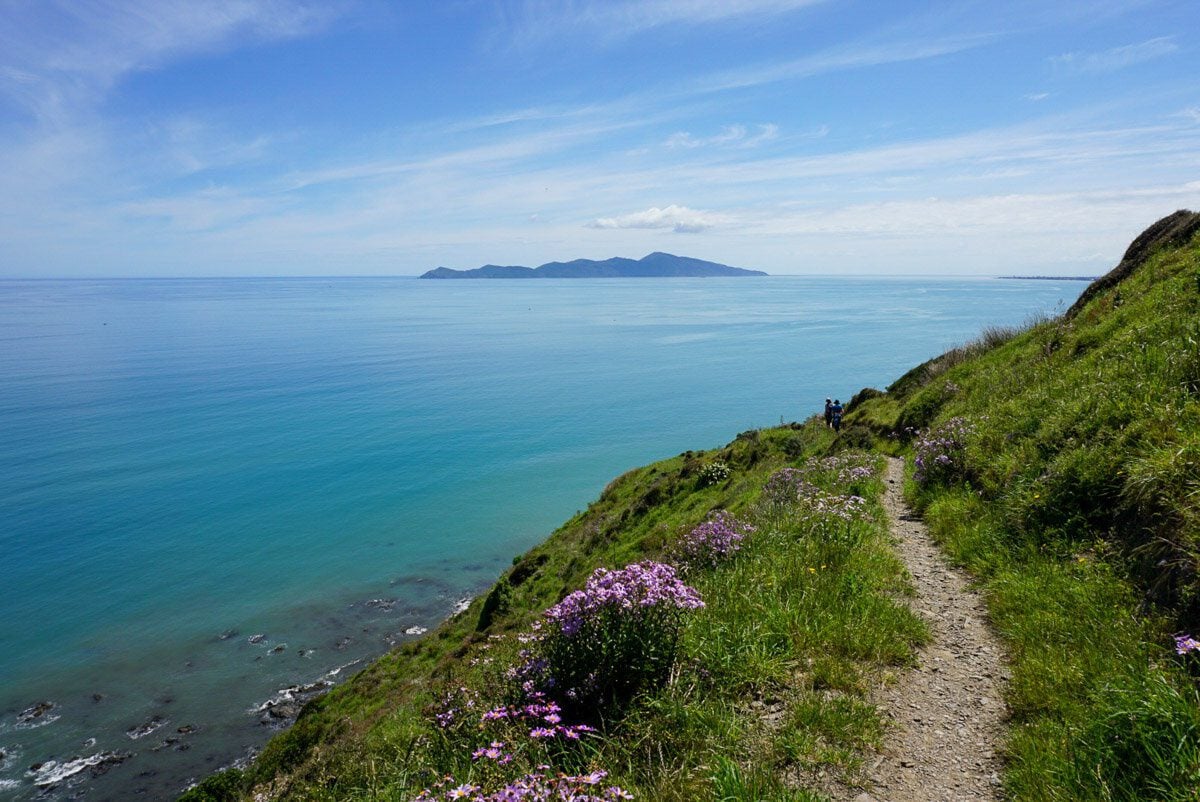 This idea comes from our friend Alice Milne of Alice Adventuring.
Only a 30-minute drive (or 1 hour train ride) north of Wellington will take you to the start of the gorgeous Te Paekakariki Escarpment Track. This track runs along the hills of the Kapiti Coast and is actually part of Te Araroa trail – New Zealand's ultimate through-hiking trail that runs the length of the islands.
The Escarpment Track is a 9.1 km (5.7 miles) one-way track and takes 3 – 4 hours to walk. There are steep drop-offs and a lot of steps (so perhaps not the best for those who experience vertigo or when the weather is a bit windy), but the views along the coast and out to Kapiti Island on a nice day are so beautiful!
The highlight of the walk are the two swing bridges spanning small valleys – perfect photo spots! If you're lucky and traveling during the Southern Hemisphere spring or summer months then you might even come across some wild flowers along the trail.
Psst! Looking for more hiking ideas? Alice helped us put together a complete guide of the best New Zealand hikes on each island, including her favorite Great Walks!
23. Explore the Putangirua Pinnacles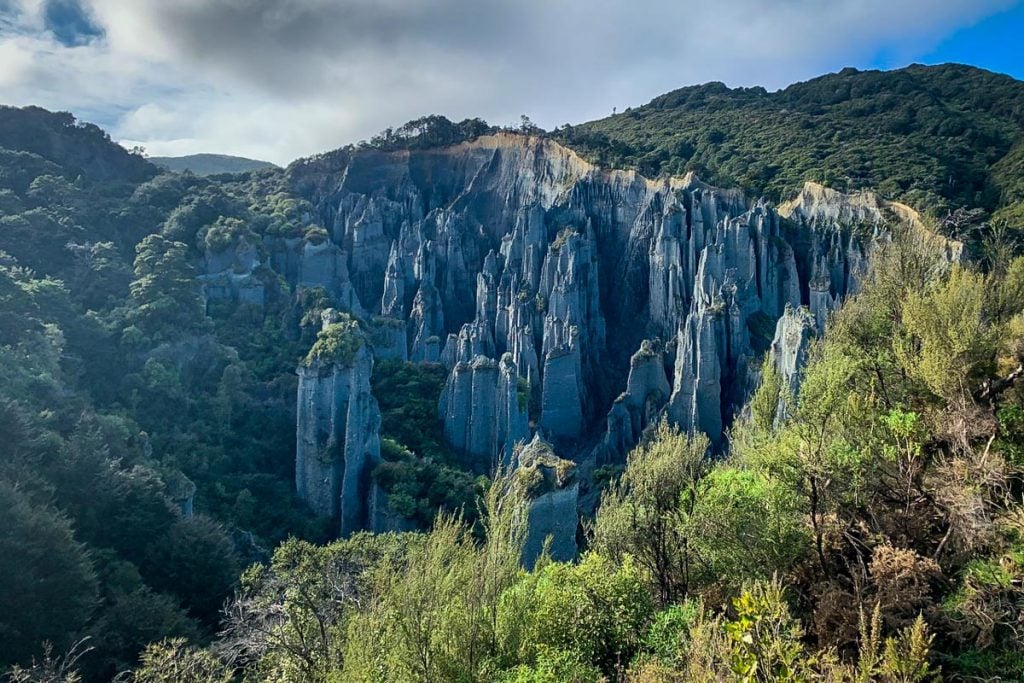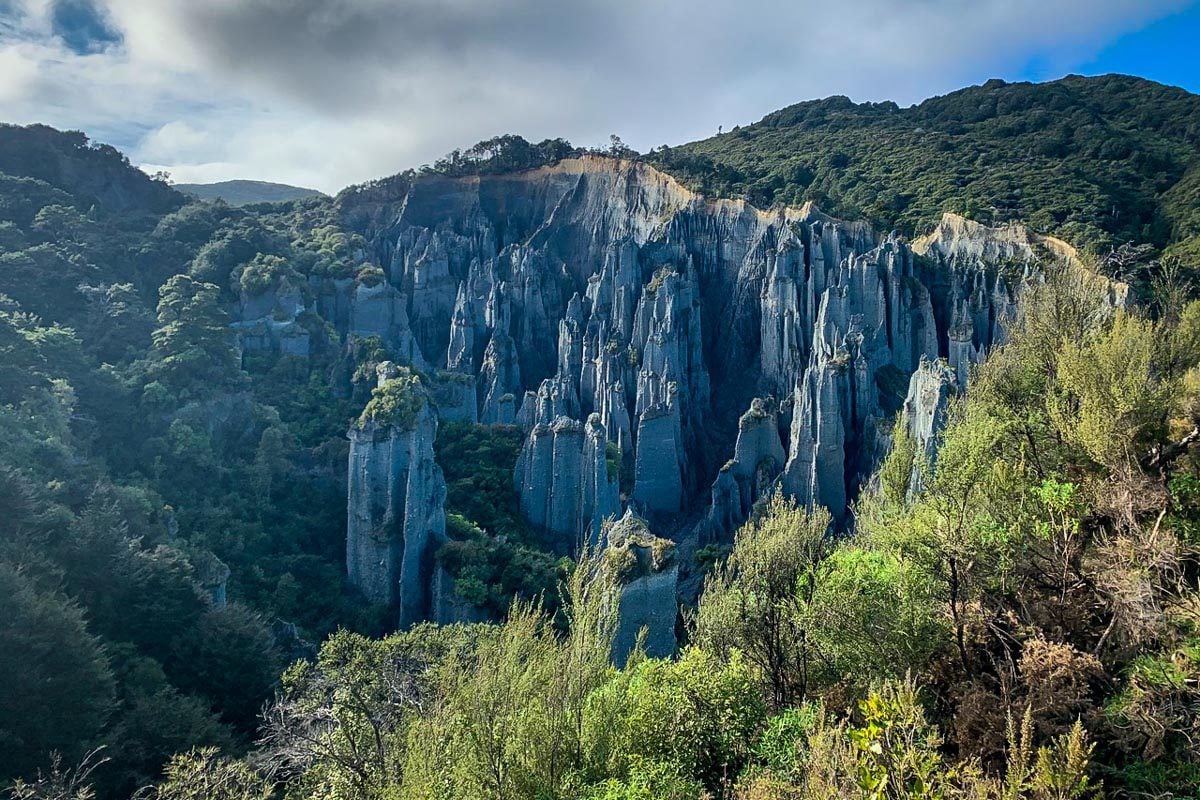 Oh, how we wanted to make it to the Pinnacles! These rock formations are stunning and were even a filming location for the Lord of the Rings.
If you have some extra time in the Wellington area, make the 1 hour 45-minute drive from the city to the Putangirua Pinnacles Scenic Reserve and do some exploring.
There are some good campgrounds in the surrounding Cape Palliser area, so spending the night is a good idea.
24. Take the ferry out to Matiu /Somes Island
You might have noticed the island in the middle of Wellington harbor. This is Matiu/Somes Island and it's a scientific and historic reserve home to tuatara (native lizards) and penguins as well as many other indigenous species.
You can take a ferry out to the island and spend a day walking the circuit track (a 2.6 mile easy loop around the island) or bring a picnic and enjoy the 360 degree views of the harbor. The ferries cost $25 NZD (~$17 USD) for a return trip that leaves from Queens Wharf in the central city.
This makes a great day trip or weekend trip from Wellington. You can book one of the huts on the island and stay the night surrounded by wildlife.
25. Winery hop in the Wairarapa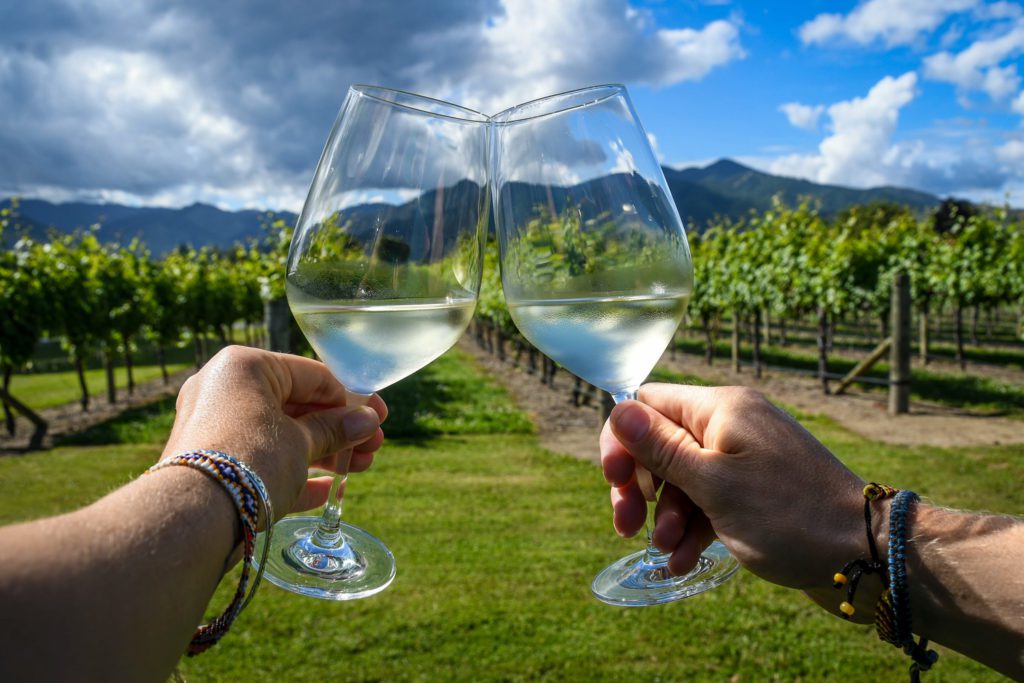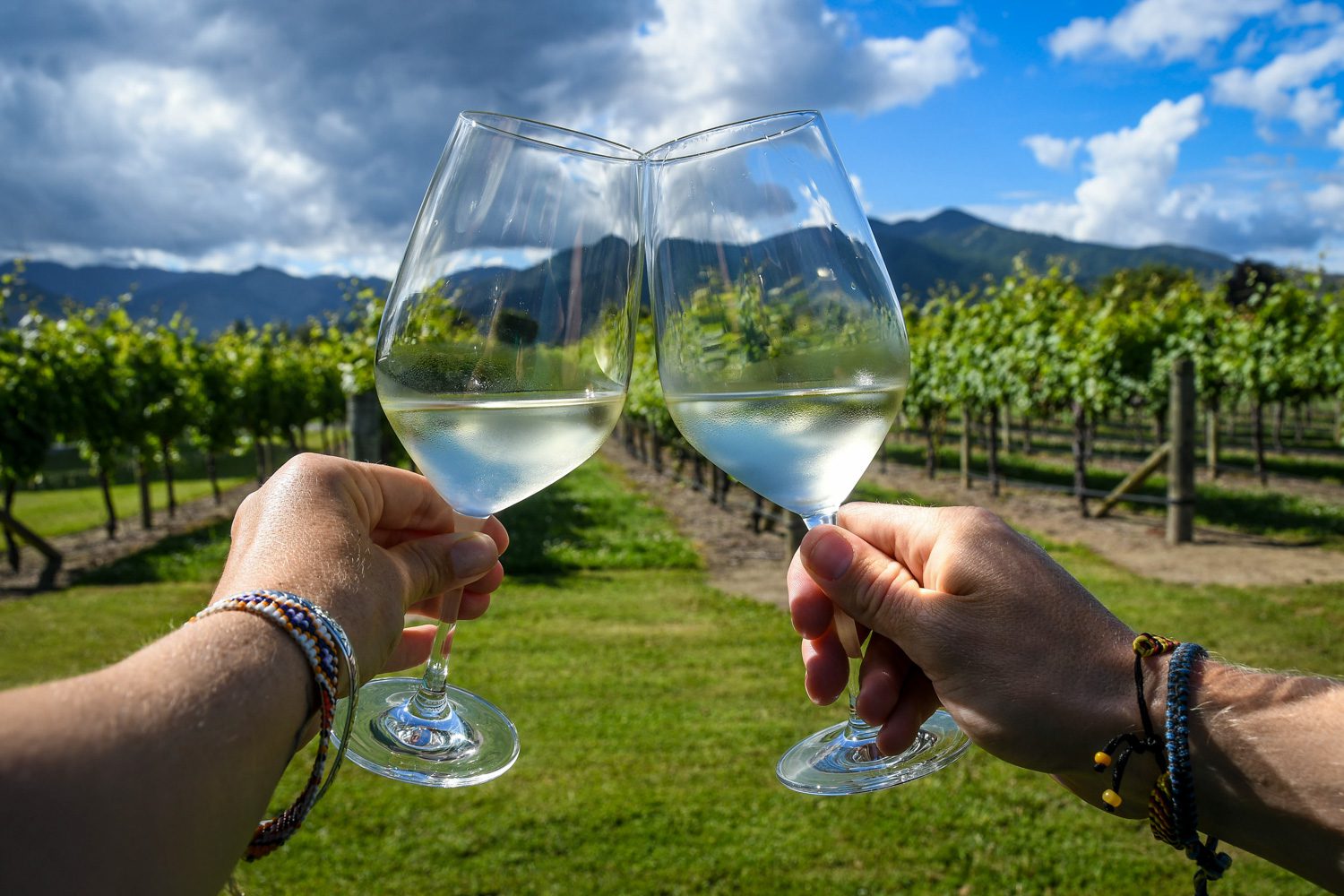 Only a short trip 'over the hill' (as Wellingtonians' call the Remutaka Ranges) is the Wairarapa. This region is chock full of wineries, best known for their pinot noirs.
You can take the train or rent a car for a day trip from Wellington. And if you have more time, plan to stay overnight in Martinborough, a small town full of great restaurants and surrounded by wineries.
Rent bikes to tour the wineries or just explore on foot so you'll have no need to worry about a designated driver! Try a well-known spot like Poppies Winery or a smaller operation like Ata Rangi Vineyard.
---
How many days do you need in Wellington?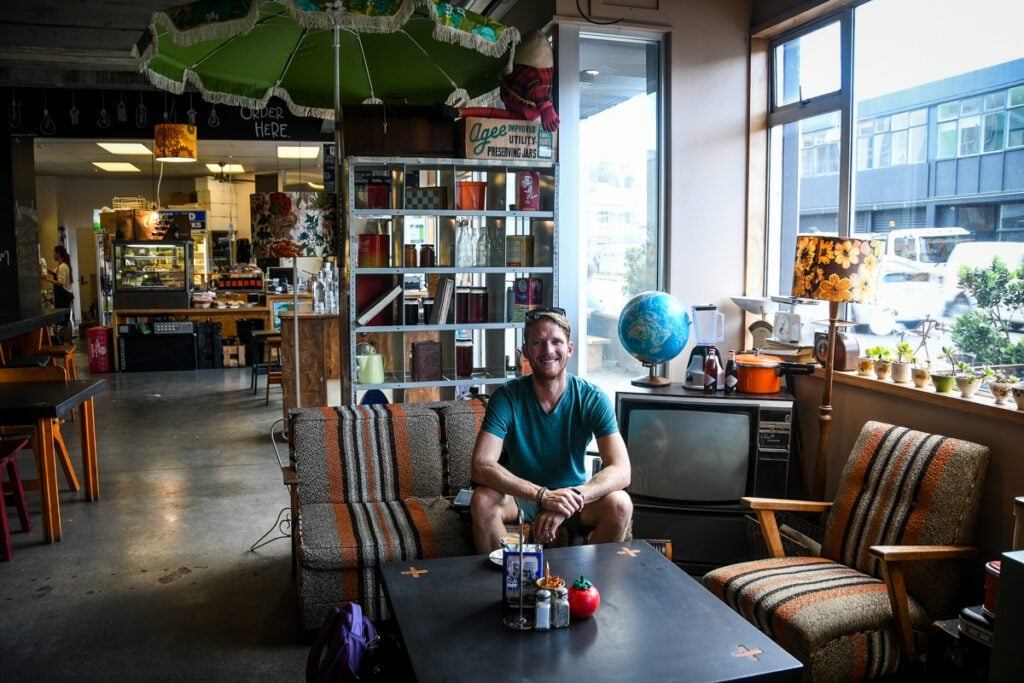 While there are lots of fun things to do in Wellington, there are plenty more incredible experiences to be had all over New Zealand.
We had just one day in Wellington, and damn-near packed every minute full of exploration! We wished we had longer in this town, but I haven't yet figured out how to make time appear out of nowhere… Still working on that.
Three days would be a nice amount of time to explore the city and get a good feel, while not taking too much time out of your New Zealand itinerary.
Best time to visit Wellington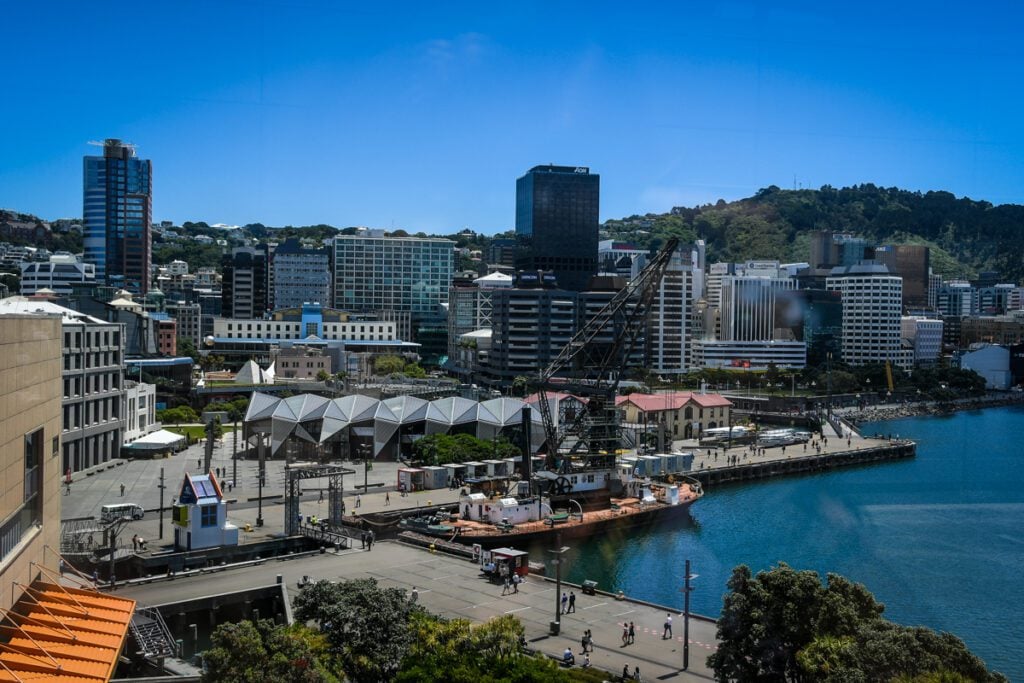 We also think spring (September, October, November) is a great time to visit if you are looking for mild temperatures (great for hiking!) and fewer crowds.
In general, the best time to visit Wellington is during the summer months, January – March, when the days are long and sunny with warmer temperatures.
For an in-depth guide on the seasons, weather patterns and other factors, check out our complete guide to the best time to visit New Zealand.
How to get to Wellington city center from the airport
If you aren't picking up a rental car or campervan at the airport, you have a few options to get from the airport to the city center. Given that the airport is in a southern suburb, just 10 km from the city center, the trip will take around 15 minutes (and up to 30 minutes in traffic).
The most cost effective way to get to the city center from Wellington Airport (WLG) is via bus. The Airport Express bus runs between the airport and Wellington Station every 10-15 minutes, seven days a week. The complete route takes about 25-35 minutes.
A taxi ride is the fastest option, but will likely cost you about $50 NZD (~$30 USD). You can also take an Uber from the airport into the city. Prices vary but you can expect the ride to cost you about $25 – $45 NZD (~$15 – $26 USD) depending on the time of day.
Transportation in Wellington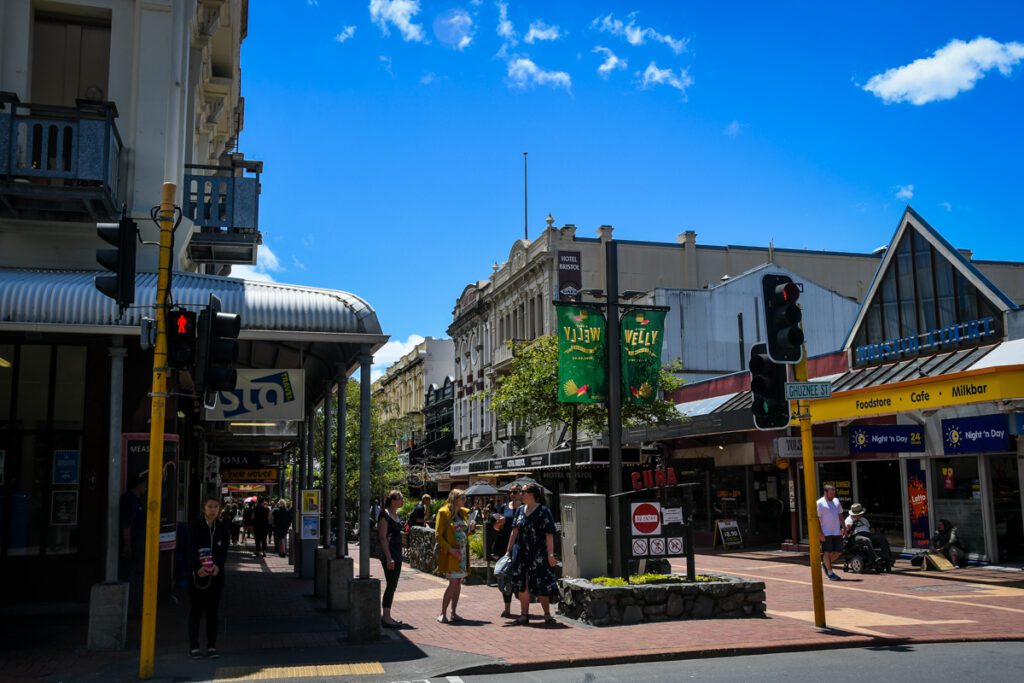 Downtown Wellington is just 2 km across, so depending on where you are staying and what you plan to see, you may be able to walk everywhere you want to go.
However, the city is also well connected by an extensive network of public buses, trains and ferries. Metlink is a great tool to plan your trip with public transportation around Wellington.
By bus
Getting around Wellington and the surrounding suburbs by bus is made easy with tons of bus routes and options.
The most common are the yellow buses branded with GoWellington. These buses operate around the city center.
By train
Wellington Station is the main transportation hub in the downtown CBD. There are 5 train lines that operate out of this station, bringing passengers to their respective areas.
Hutt Valley Line (HVL)
Johnsonville Line (JVL)
Kapiti Line (KPL)
Melling Line (MEL)
Wairarapa Line (WRL)
By ferry
The Cook Strait ferries connect passengers between the North and South Islands from Wellington to Picton on the South Island. There are 2 companies to choose from: Interislander and Bluebridge.
These ferries depart every hour and the ride takes 3-3.5 hours in total.
Other than that, there is a ferry called East by West that operates just within Wellington Harbour, from Queen's Wharf in the city to Eastbourne in Lower Hutt.
Tips for visiting Wellington
If you're planning a trip to Wellington, here are our top tips to make the most of your visit.
Dressing in layers is key. Wellington's weather can be quite fickle, with a mix of sun, rain, and wind (sometimes all in one day!). Be sure to wear lots of layers and don't forget a light rain jacket or umbrella!
Comfortable walking shoes are also a must. The city's hilly terrain often requires a fair amount of walking.
Explore the culinary scene. Wellington is renowned for its vibrant food culture. Be sure to explore the city's diverse culinary scene, from quirky cafes to high-end restaurants. Try some of the local specialties like New Zealand lamb or fresh seafood.
Embrace the arts and culture. Even if museums aren't really your thing, don't miss out on visiting renowned institutions like Te Papa and the Wellington Museum. Attend live performances at the New Zealand Festival or enjoy local art exhibitions. The city's artistic offerings are a significant part of its charm.
Go beyond the city limits. Wellington's stunning natural surroundings are a major draw. Consider taking a day trip to Zealandia, hiking in the nearby Rimutaka or Tararua Ranges, or simply enjoying a walk along the waterfront promenade. Wellington offers a wealth of outdoor activities for nature enthusiasts.
Experience the coffee culture. New Zealand is known for its exceptional coffee, and Wellington has it down. Be sure to savor a flat white, a Kiwi favorite, while you're in town. Wellingtonians take their coffee seriously, and you're in for a treat.
Where to eat in Wellington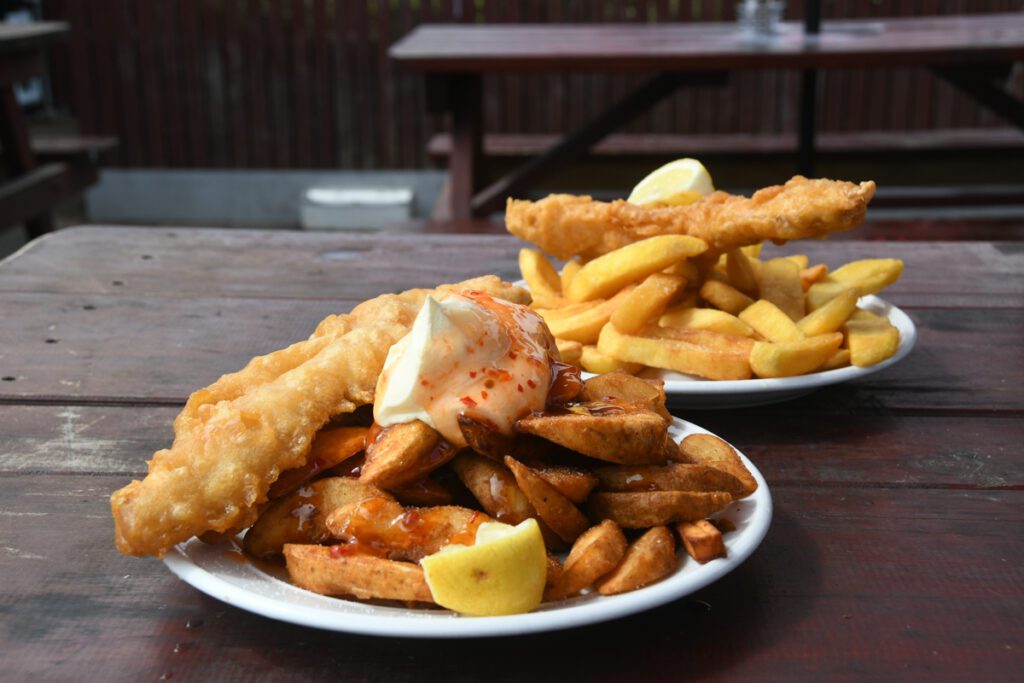 Wellington is called New Zealand's culinary capital for a reason; there's a huge range of quality food in the city from cheap and cheerful to high end. Below are some of the best restaurants to check out on your visit to Wellington.
Bonus: If you're visiting in August, you'll get to enjoy the Wellington on a Plate festival. The highlight is the 100+ festival burgers at restaurants all over the city which include everything from sweet burgers to breakfast burgers.
Where to stay in and around Wellington
Gonna be honest here, all the campsites in Wellington look pretty terrible. Get a bit out of the city for the best camping options.
Evans Bay Marina Carpark: a small lot suitable for Freedom camping in Evans Bay.
Camp Wellington and Costa Lodge: a small (6-site) private camping area on the Miramar Peninsula (about a 15-minute drive to downtown).
Alternative: Head toward the Putangirua Pinnacles for a handful of nice campsites (check Rankers or CamperMate for details).
And if you really want to stay in the city, we'd suggest getting a hotel.
Luxury Hotel: Double Tree by Hilton Wellington – This 4-star hotel in a heritage building is steps away from the Cable Car. The spacious rooms overlook the city, plus they have free cookies on arrival!
Mid-Range Hotel: Park Hotel Lambton Quay – This stylish hotel has modern rooms and a fitness room. It has a great location close to downtown.
What to pack for traveling to Wellington
To make your visit to Wellington as seamless as possible, here are some essentials you don't want to forget.
Comfortable walking shoes
Day pack for carrying your essentials
Sun protection: sunglasses, hat, and sunscreen
Camera (this is our favorite portable tripod for travel!)
Be sure to download our complete New Zealand packing list! It's packed with good suggestions and insider tips to help plan your trip. And it's completely FREE, so why not!?


---
A big thanks to Kate Slater, a native Wellingtonian and travel writer at Kate Abroad, who helped us update this article with her local knowledge of Wellington and insider suggestions!
---
Are you planning a trip to New Zealand?
We have TONS of resources on travel in New Zealand and destinations throughout the country. Check out our Ultimate New Zealand Travel Guide for all the answers to your most burning questions, or read some of our favorite articles below.
Save this article on Pinterest for later!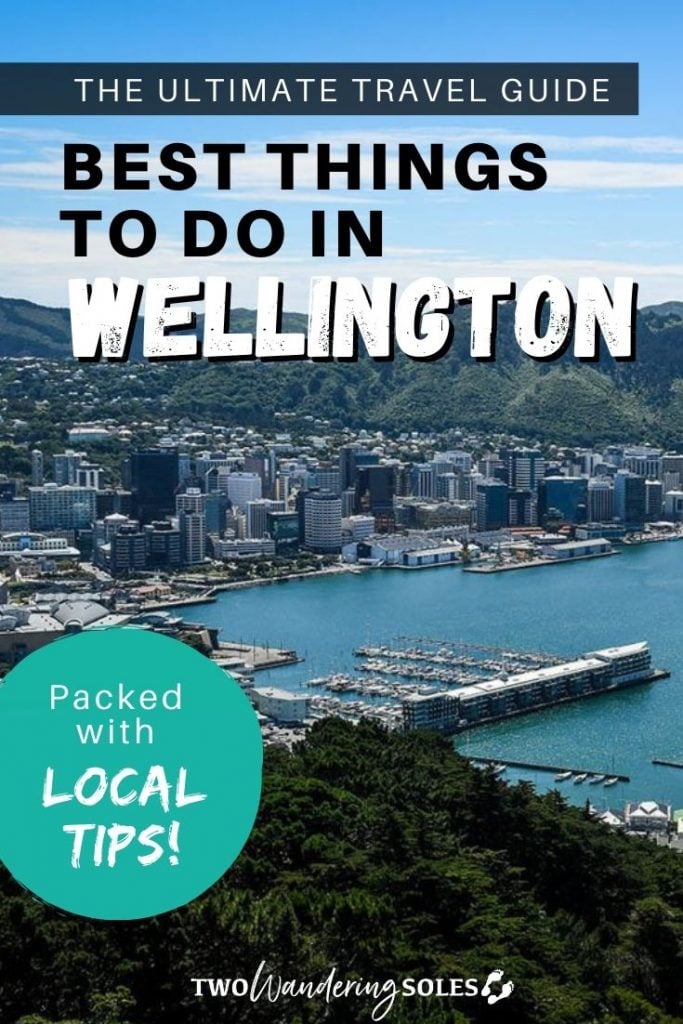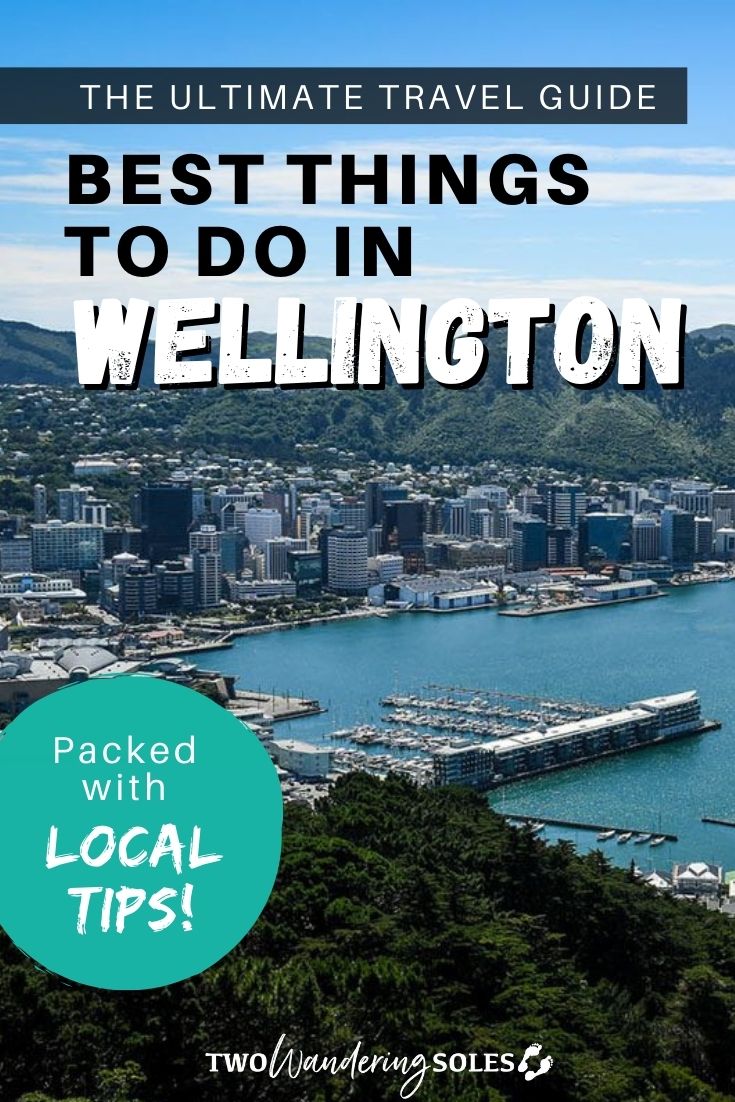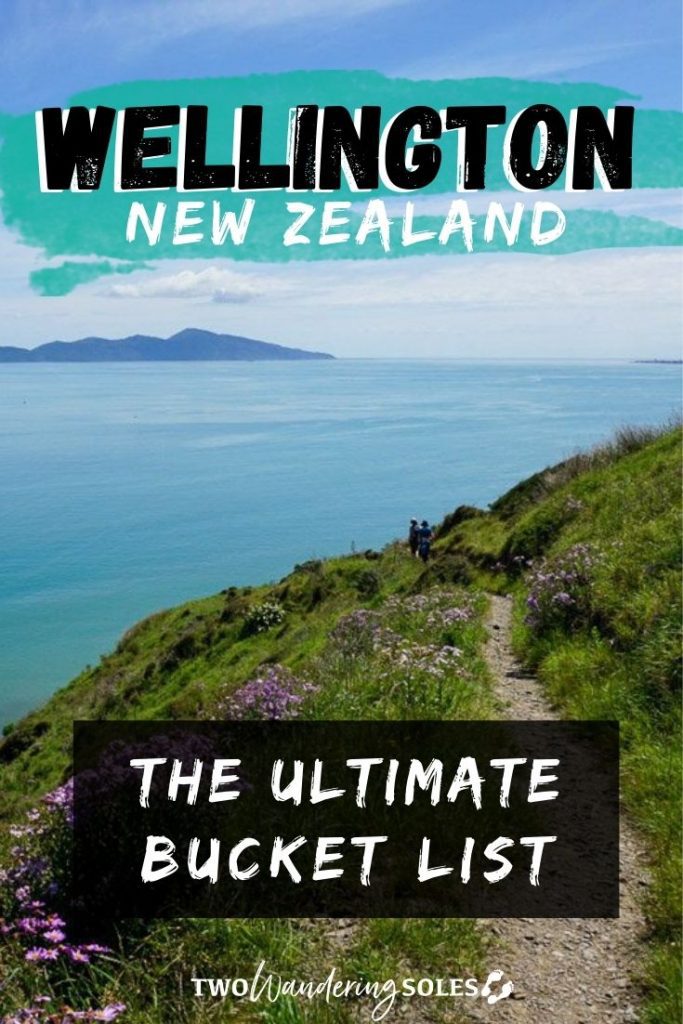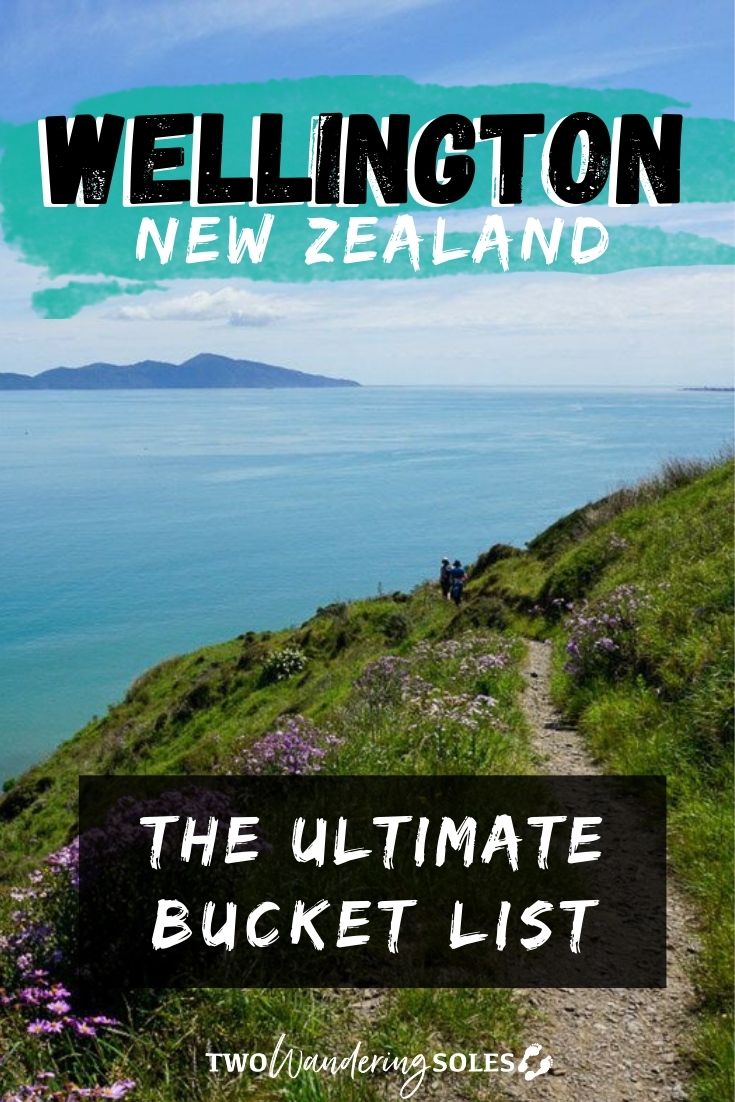 We want to hear from you!
Which of these fun things to do in Wellington are at the top of your bucket list? Are you heading to Wellington and still have questions? Comment below and we'll do our best to get back to you!