Hawaii's Garden Island showcases the true essence of Aloha with lush jungles, glittering coastlines, and pristine nature. In this guide to top things to do in Kauai, we've rounded up the best foods to try, hiking trails, iconic locations, hidden gems, and cultural experiences not to miss.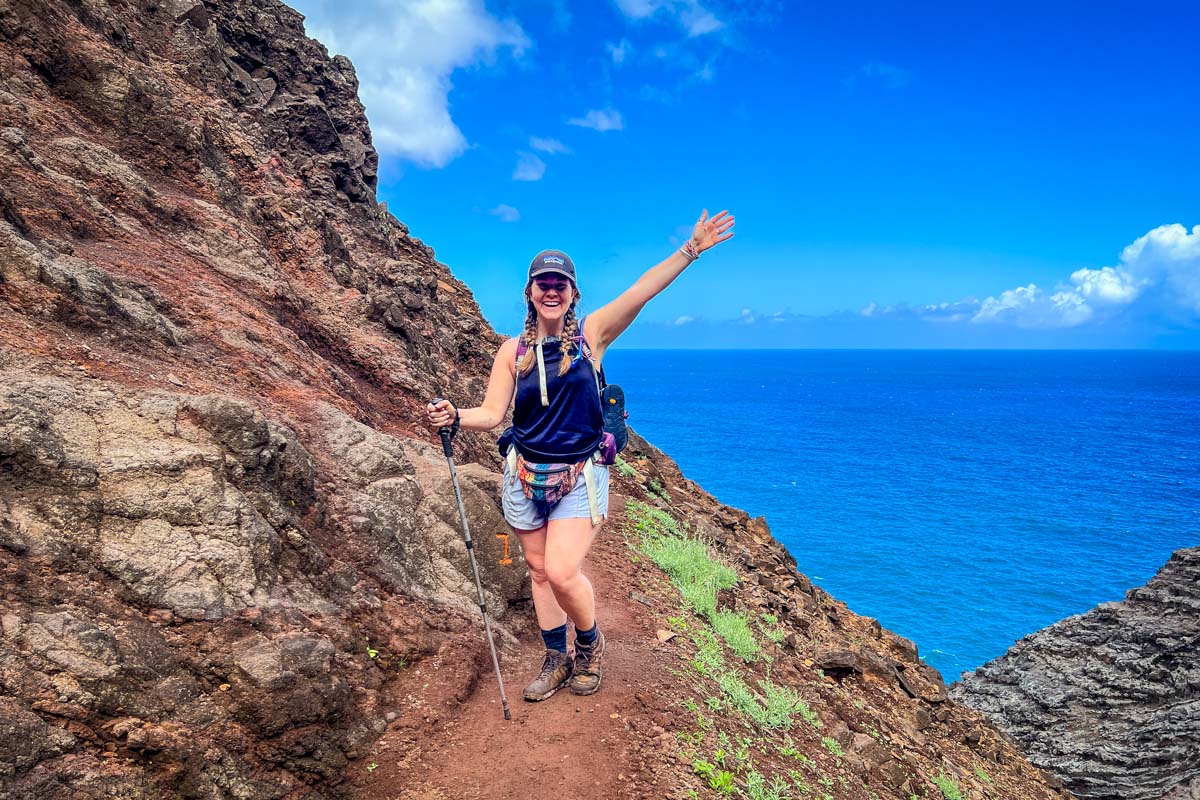 Known for lush rainforests, towering waterfalls, and one of the most beautiful coastlines in the world (cough cough, the Na Pali Coast!), Kauai is a stunner.
With fewer crowds than Oahu, Maui, and the Big Island, Kauai makes a perfect choice for travelers looking to get off of the typical tourist trail. But just because there are fewer tourists doesn't mean there's a lack of things to do.
With incredible snorkeling, quaint towns, the "Grand Canyon of the Pacific", and arguably Hawaii's best hiking trail, there are plenty of fun things to do in Kauai.
Whether you're looking to relax poolside or have the adventure of a lifetime (or a little of each!), we think you'll find lots to love about Kauai. We sure did!
In this guide, we've rounded up the very best things to do in Kauai – from the must-see items most travelers include in their itineraries to things that most tourists miss. We're sharing all sorts of insider tips to help you get off the well-trodden path, eat some incredible food, and have an unforgettable trip to this Hawaiian paradise.
Kauai Travel Guide
For more tips and advice for planning your trip to Kauai, jump to the following sections (or just keep scrolling to see it all!).
Did you know? Kauai is home to the wettest place on earth, Mount Waialeale, which averages 450 inches of rain annually. Be sure to pack a travel umbrella and a rain jacket.
---
Our personal experience in Kauai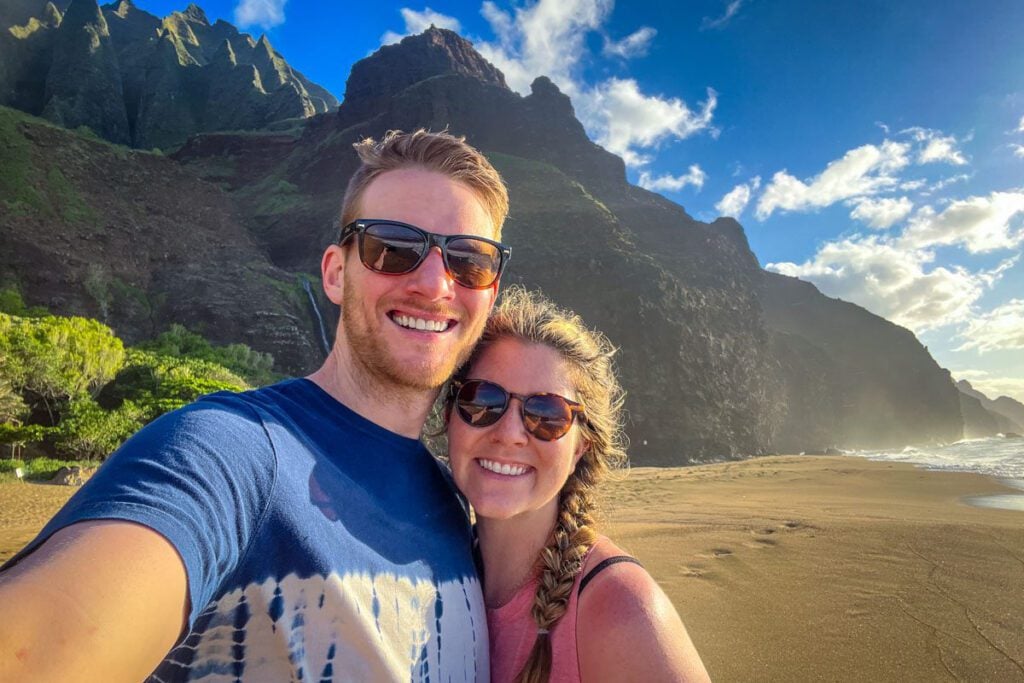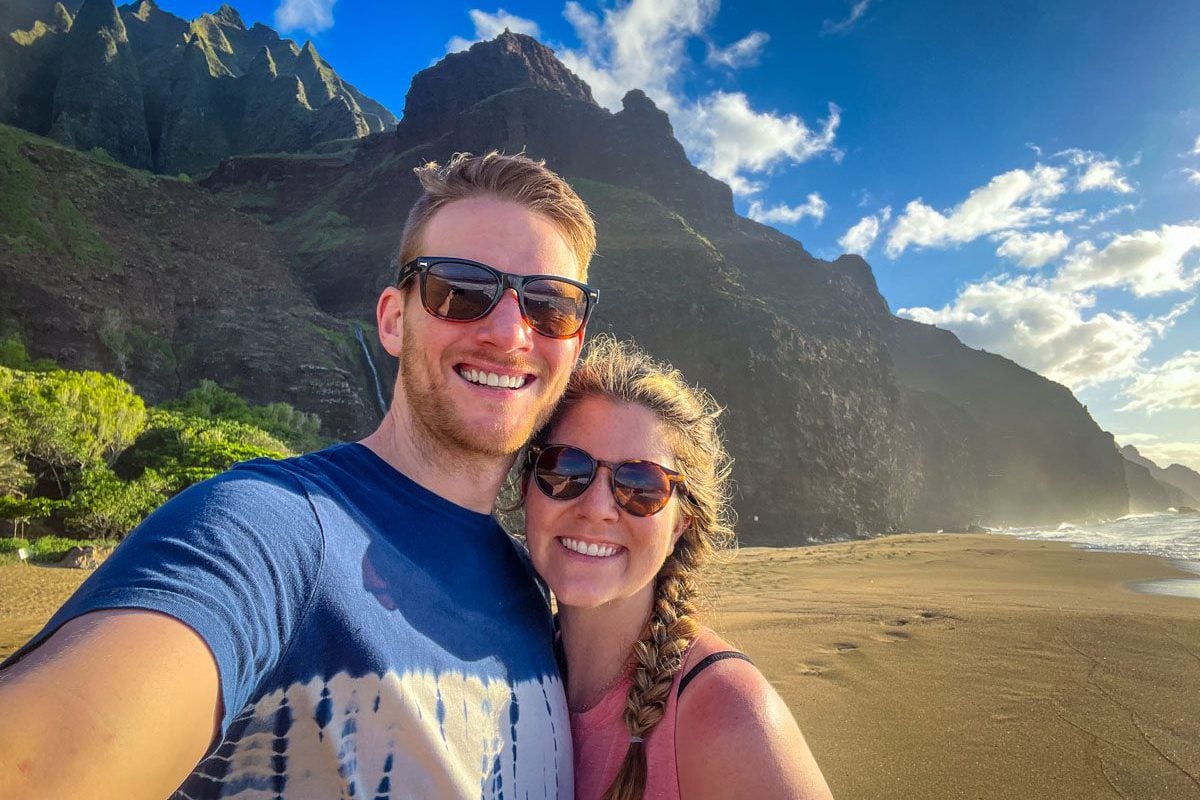 My grandparents spent half the year on Oahu for 30+ years, so growing up, I went to Hawaii a few times but we never made it to Kauai. This Hawaiian island has long been on my list (those dreamy Jurassic Park mountains have been calling my name for as long as I can remember!).
Finally, in April 2023, we made it to Kauai for the first time (definitely not the last!). We traveled with our daughter, who was 16 months old at the time, and we met my parents on the island.
It was wonderful having them there because not only could we travel together with them and make lots of memories, but Juniper was able to spend quality time with Grandma and Grandpa while we hiked the Kalalau Trail (a long-standing bucket list item of ours!).
Traveling with little ones? Check out our top tips for traveling with a baby!
After Kauai, we hopped over to the Big Island so we could explore a bit more of Hawaii. These islands made a great combo for us, especially since we aren't huge fans of crowds, and we love nature.
Psst! Want help deciding which Hawaiian islands to visit? Head over to our Hawaii trip planner where we compare them all!
We loved our time on Kauai and we gathered all sorts of insider tips to share with you in this guide!
---
Top things to do in Kauai
If you're looking for a quick & easy list, these are our very top recommendations for things to do on your first visit to Kauai.
Go hiking
Take a scenic helicopter ride
Mountain tubing tour
Go snorkeling
Mai Tais and live music at Tahiti Nui
Waimea Canyon
Boat tour on the Na Pali Coast
Keep scrolling for all the details on how to do each of these experiences yourself (+ insider tips and what to expect!).
1. Hike the Kalalau Trail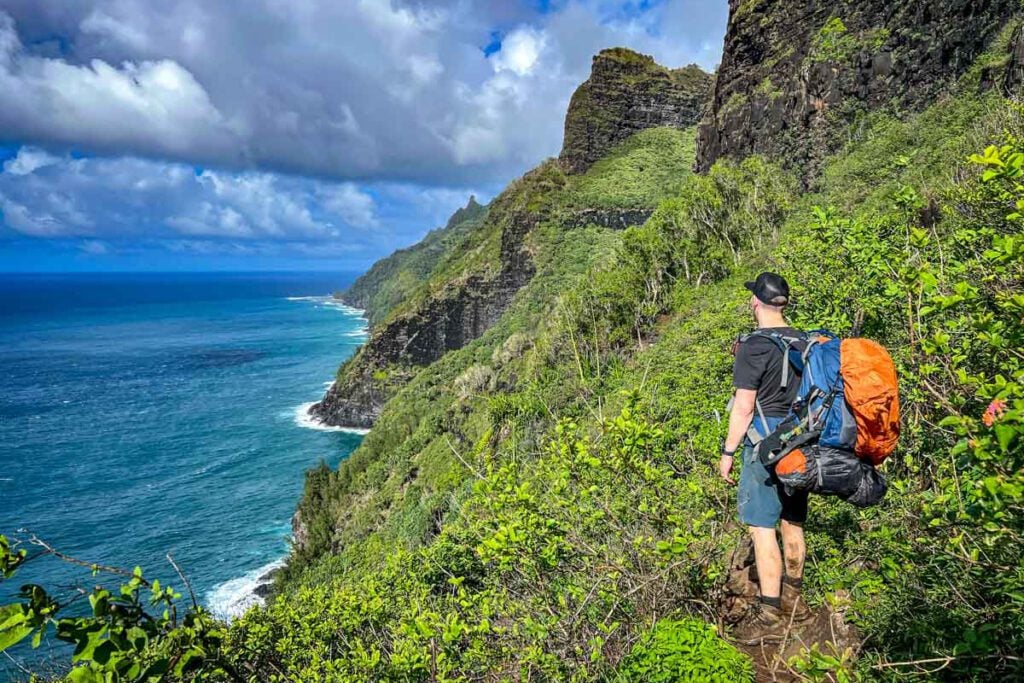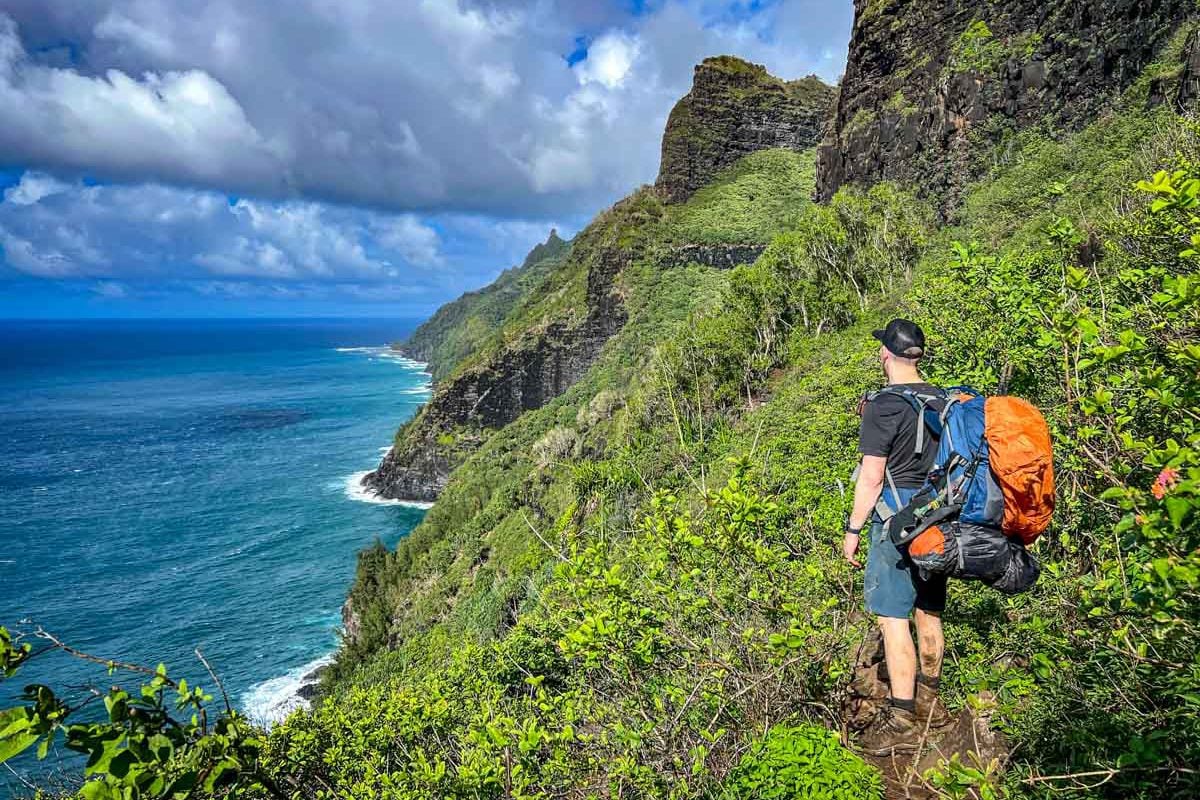 If you're an experienced hiker, the Kalalau Trail is one for the bucket list!
We've been wanting to do this trek for years and finally made it happen. Even though we had high expectations, we were truly blown away by this trail that brings hikers along the stunning Na Pali Coast.
The turquoise waters of the Pacific Ocean jut up against towering jungle-covered mountains for a backdrop that will leave you breathless (and if it doesn't, the strenuous hike sure will!).
Psst! If this scenery looks familiar it's because it was the setting of Jurassic Park.
Before you pencil it on your itinerary, there's a LOT to know about the Kalalau Trail. It was one of the most challenging hikes we've ever planned for. Don't worry – we created a guide to hiking the Kalalau Trail so you have everything you need at your fingertips.
Spoiler Alert: It's well worth the effort!
2. Take a scenic helicopter flight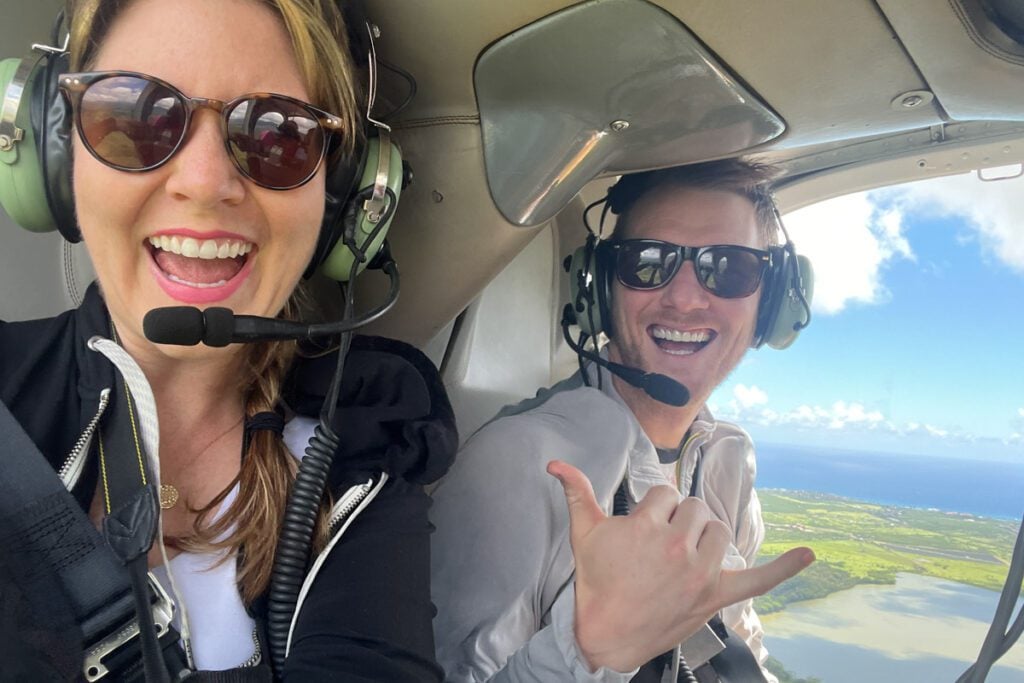 With prices ranging from $300-$400 per person, taking a scenic helicopter flight certainly won't fit into all travel budgets, but in my opinion, this once-in-a-lifetime experience was worth every penny.
Not gonna lie, the price of this experience almost scared me away, but I'm so glad I decided to splurge!
There are lots of companies you can choose from (all of which I'm sure are great!), but we personally decided to do the Doors Off tour with Jack Harter. Not only are they known as the original helicopter operator on Kauai, but they've also been voted the best on the island.
Insider Tip: My parents took a helicopter flight right after us (we had to alternate who watched our daughter!), and they could not stop raving about their pilot, Becca. I don't know if Jack Harter allows requests, but if they do, ask for her!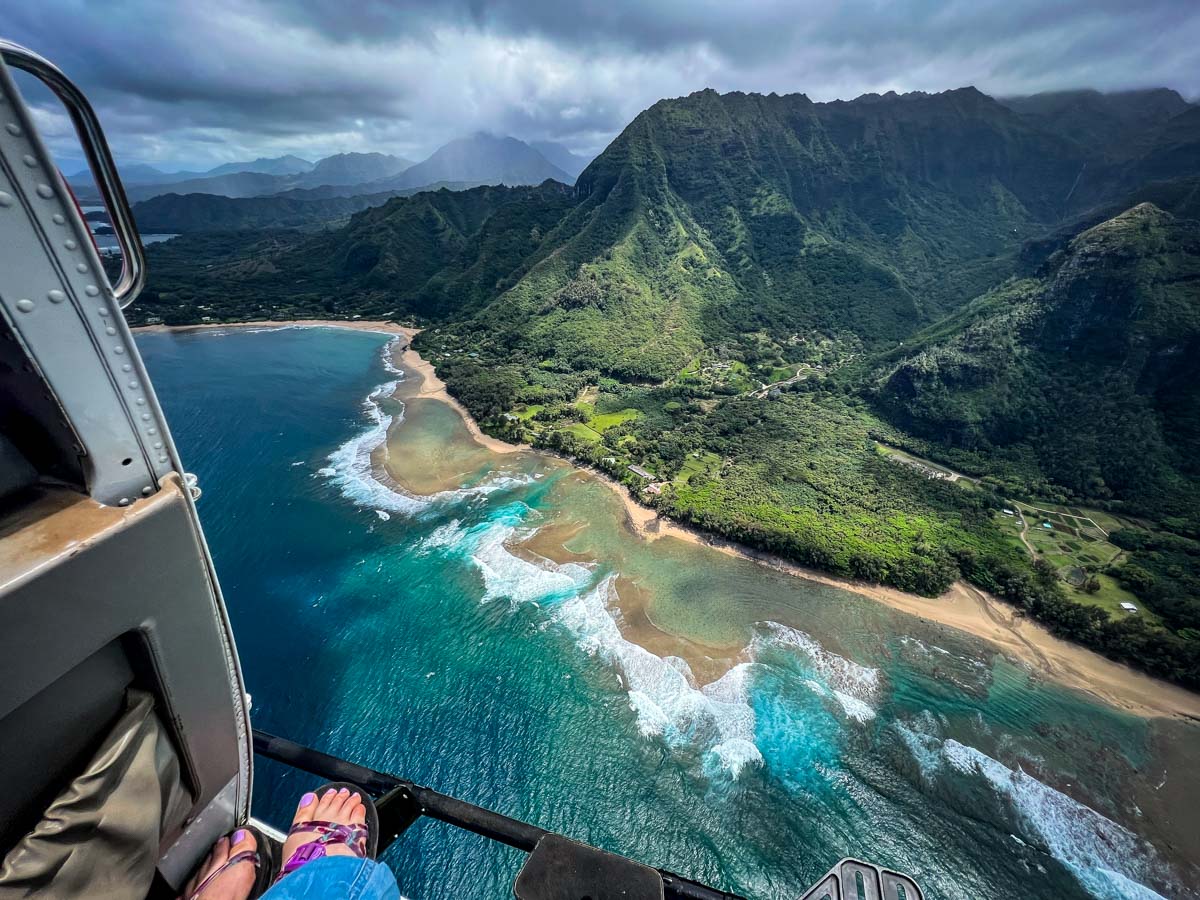 The Doors-Off experience was incredible. We've been on a helicopter once before (in New Zealand), and while both experiences were wonderful, I think having the doors off makes it even more memorable. Plus, you can get much better photos!
Cheaper alternative: Taking a scenic flight in a small plane is about half the cost of the helicopter tours, making it a good option for those on a tighter budget.
3. Go on an exciting mountain tubing tour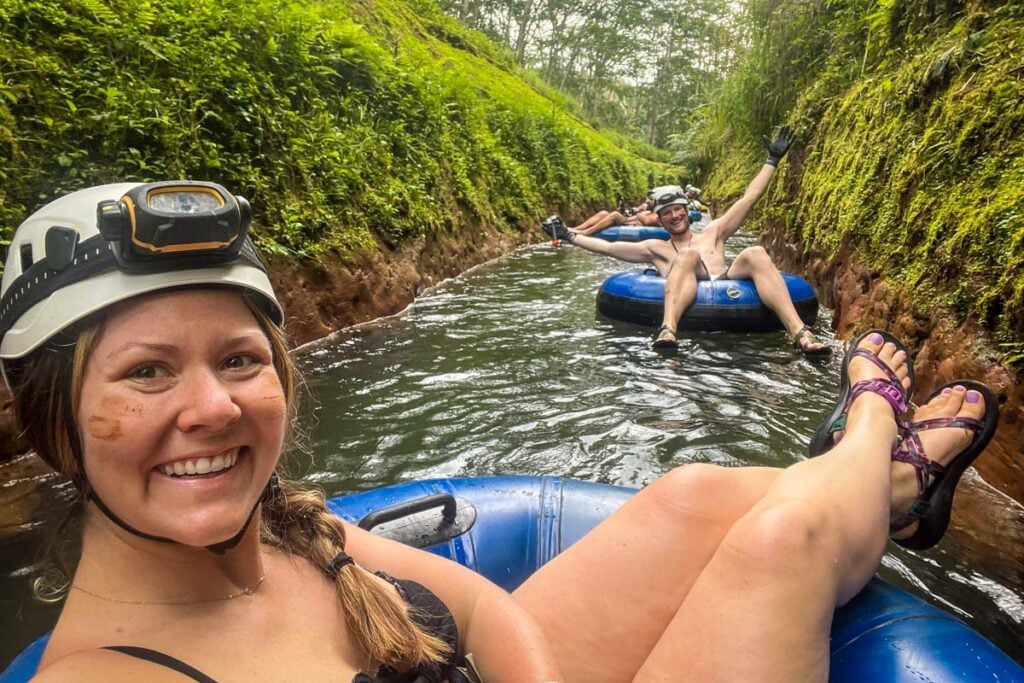 When researching things to do in Kauai, one of the activities we received the most recommendations for was tubing with Kauai Backcountry Adventures. We have major FOMO, so we booked it right away. And what a fun time it was!
This company has everything running like a well-oiled machine. After checking in and gearing up, all you have to worry about is having fun!
Float down the canals that were once used as the irrigation system for a historic sugarcane plantation. You'll pass through 5 tunnels, each of which was carved out by immigrant workers.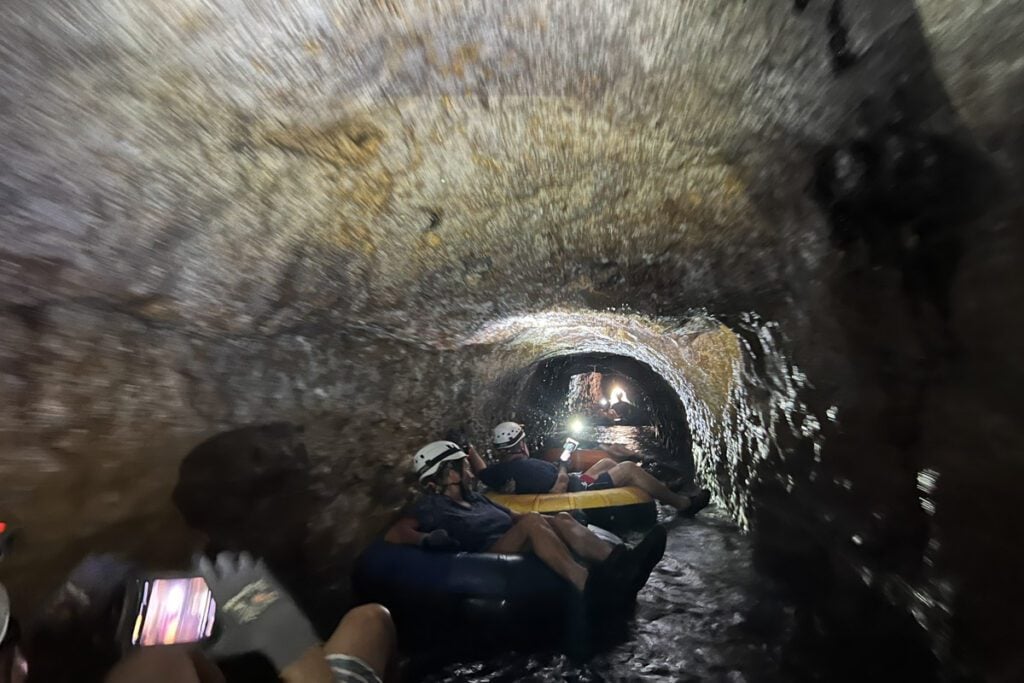 While those with claustrophobia might find the tunnels a bit uncomfortable, you have headlamps and a gaggle of giggling tourists with you to keep you company and your nerves at bay. Other than one tiny "drop", this is mostly a "lazy river" experience rather than an adrenaline fueled adventure.
Not only is this one of the most unique things to do in Kauai, but you'll also learn a lot about history on this tour. Plus, it's suitable for just about every age. Children 5 and up are welcome to join (there were 2 kiddos on our tour) as are seniors (we had quite a few of them with us!).
Shout out! Our guide, Boo Boo, was one of the best tour guides we've had in a long time (and we've had a LOT of tour guides!).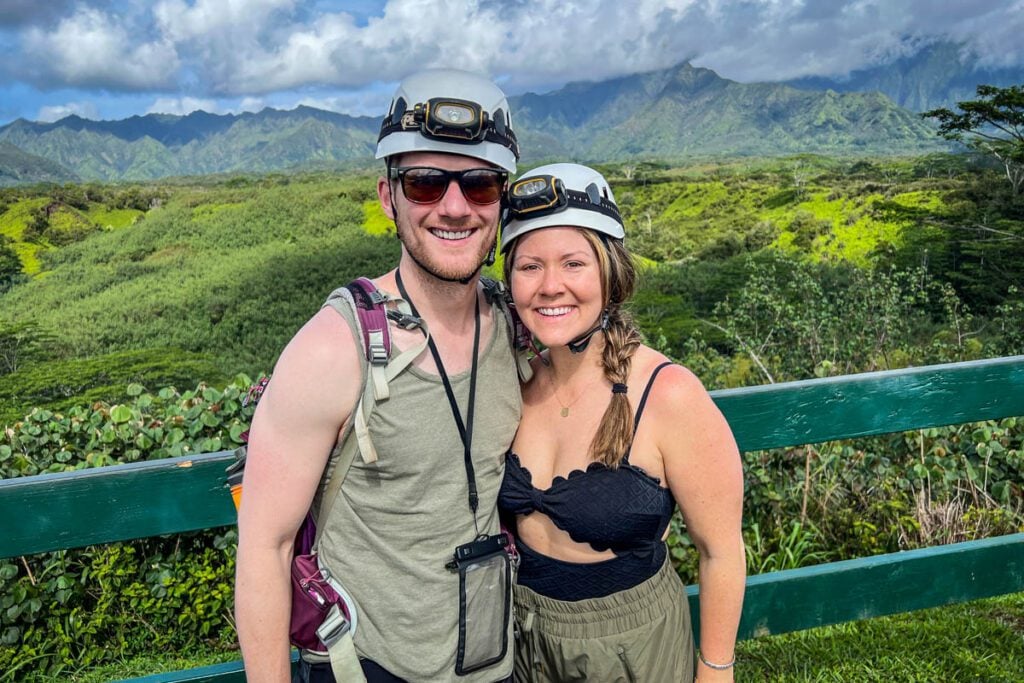 Tour Details
Tour length: 3 hours
Ages: 5 years+
Tours depart frequently between 8:20 a.m. – 2:40 p.m.
Price: $149
Logistics: Since we were traveling with my parents, they were able to watch our daughter during this tour. Kids 5 and up are able to join, but she was just 16-months-old at the time of our trip.
4. Go snorkeling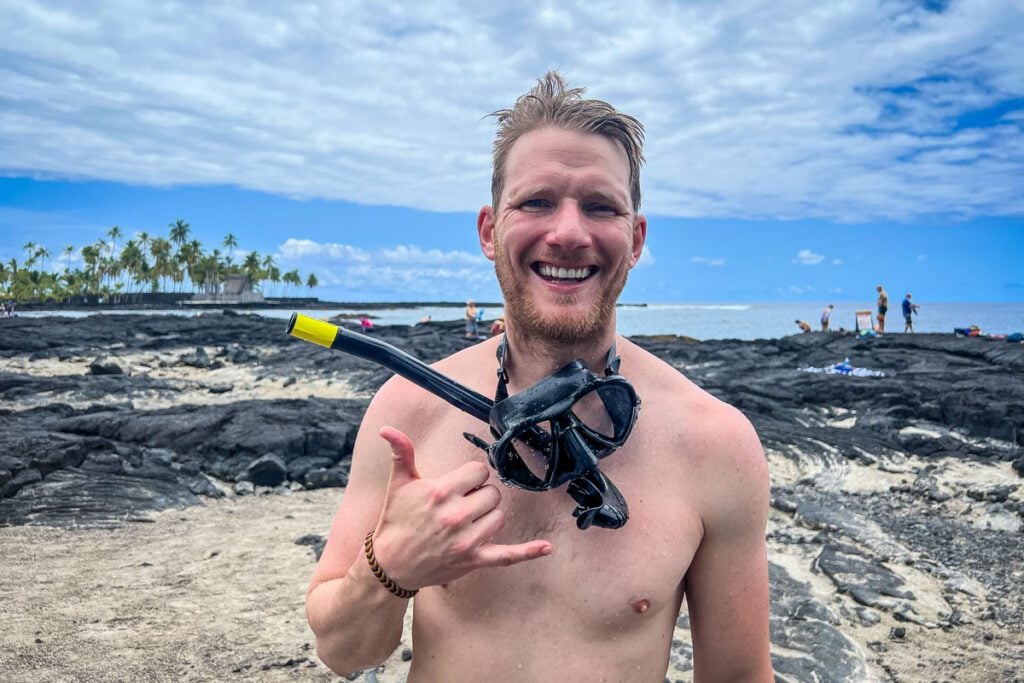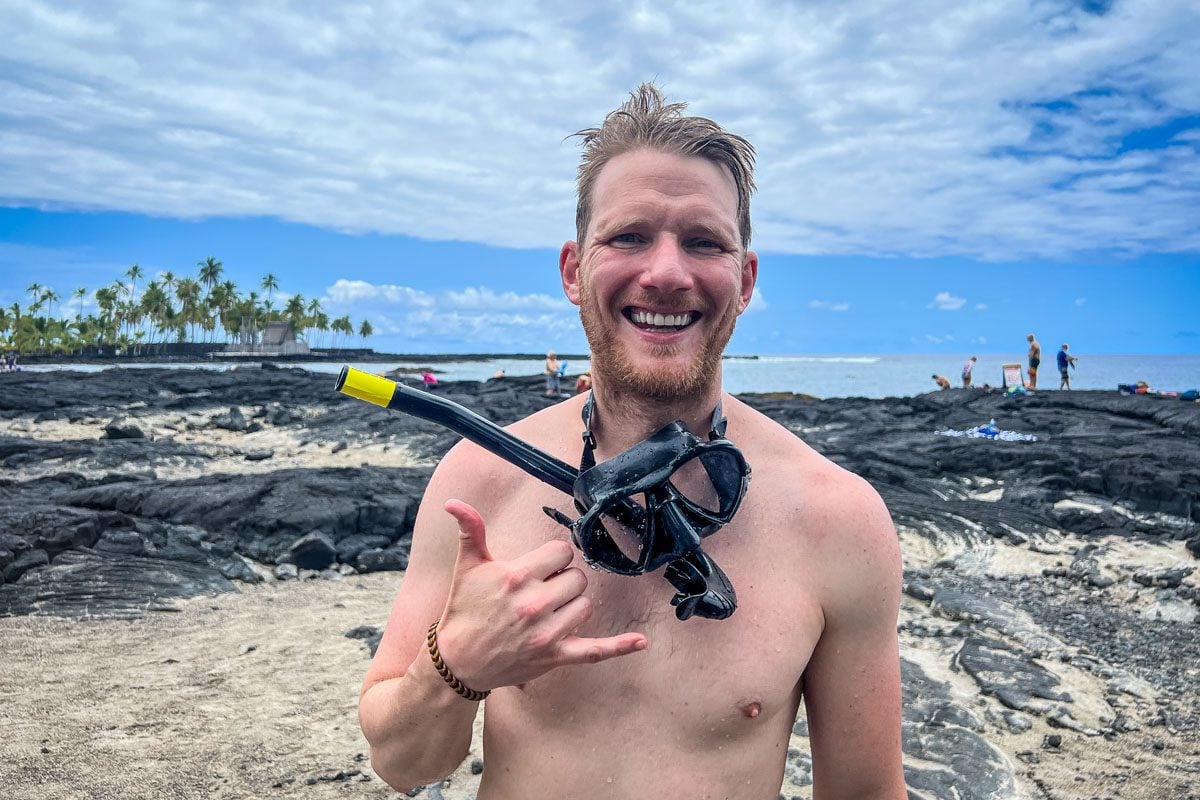 The Garden Isle continues its colorful reputation even below its turquoise shores. With a mask, snorkel, and a pair of fins, discover the island's underwater world.
We've curated a complete list of the very best snorkeling in Kauai, but here are two highlights:
Anini Beach: one of the longest coral reefs on Kauai that's great for beginner and advanced snorkelers. Check visibility conditions before you head out.
Tunnels (Makua) Beach: lava tubes, barrier reefs, and tropical fish are highlights of this stunning beach.
Note on safety: Kauai has limited snorkeling areas since most of its shoreline is only accessible by boat. With that, many of these limited areas are located on the North Shore, which can be unsafe for snorkeling in the winter due to waves and swell. Before getting into the water anywhere, be sure to observe the surf and potential hazards.
Ethical travel note: Coral reefs are very fragile ecosystems. Explore them responsibly by wearing reef safe sunscreen and not touching/stepping on them.
5. Enjoy a Mai Tai and live music at the famed Tahiti Nui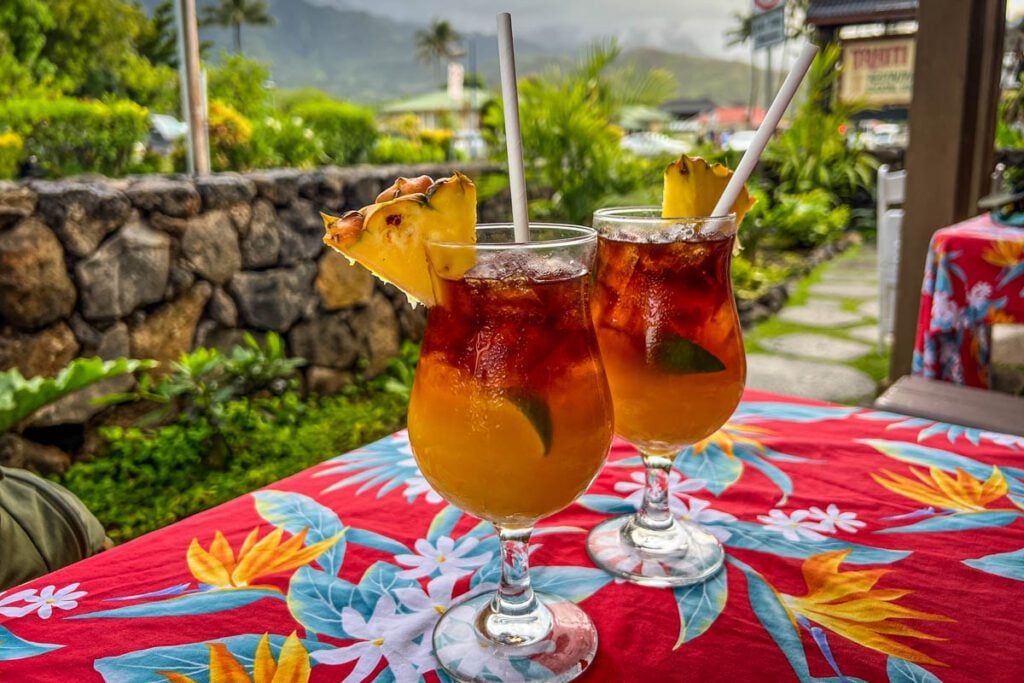 A secret, original recipe perfected with a pineapple, cherry, and lime garnish isn't called the "World Famous Tahiti Nui Mai Tai" for no good reason.
Head to this laid back Kauai spot to sip on one (or a few!) of this beloved cocktail with their signature Tahitian menu while enjoying nightly live music and happy hour from 3-5 p.m.
Looking for food to go with your Mai Tai? The coconut shrimp and the ahi carpaccio are both excellent.
Good to know: They offer virgin Mai Tai's for kids and DD's.
This is one of the most popular spots in Hanalei, so it does get busy. We'd recommend coming early to lessen your wait.
Tahiti Nui Google Maps Location
6. Drive through Waimea Canyon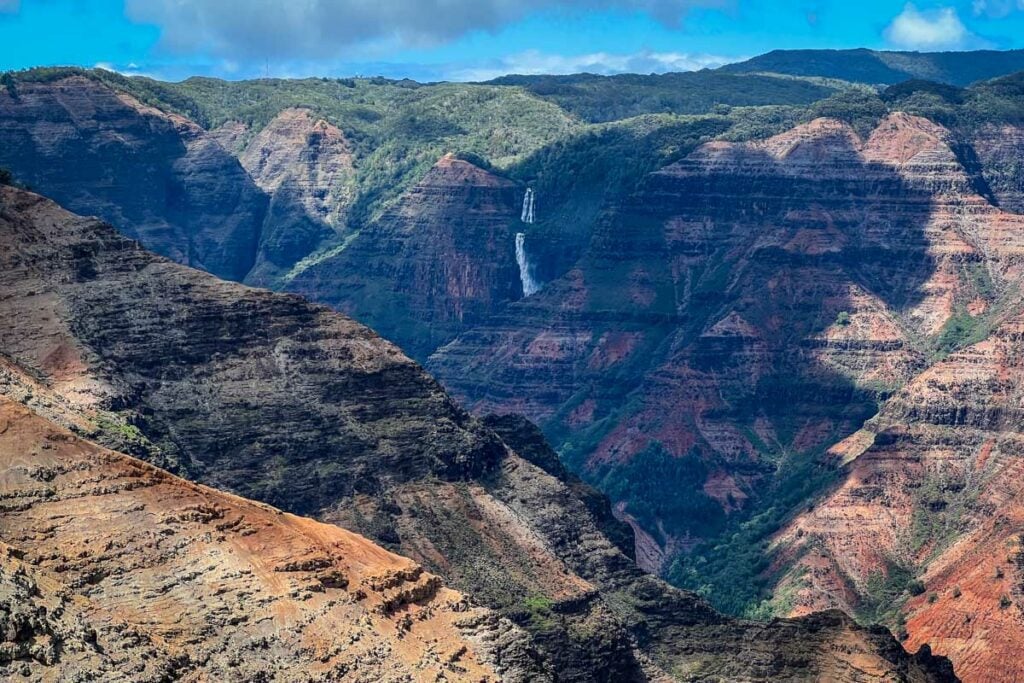 Although infinitesimal to the real deal, this mile-wide canyon on Kauai is dubbed the "Grand Canyon of the Pacific" and absolutely lives up to its nickname.
Fill up your gas tank, pack a lunch, then set out on the 14-mile Waimea Canyon Scenic Drive to stop at numerous lookouts showcasing the interesting blend of verdant and rust-colored mountains.
The views get better the deeper into the canyon you go, and the waterfalls in the distance are spectacular.
Entrance fee: There is a $5 per person (over 3 years) fee as well as $10 per vehicle. Your ticket also includes entrance to Kokee State Park. You can purchase this at Waimea Canyon Lookout.
Insider tip: Arrive early, drive to the end of the road, then visit the lookouts in reverse order to help avoid crowds.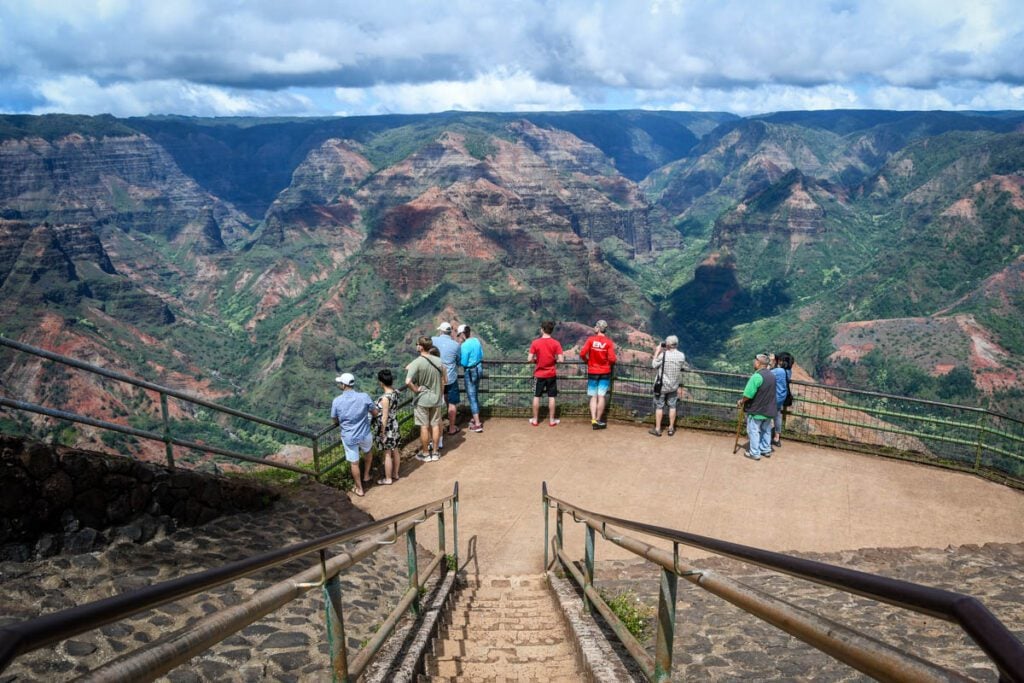 There are hiking trails dotted throughout the drive that are ideal if you're an ambitious hiker and want to get off the trodden path, but be sure you're prepared with proper footwear. The Waimea Canyon Trail is a highlight with attractive detours.
Feeling hungry after your drive? Stop by Island Taco in Waimea (the first town you'll pass through on your way out of the canyon) for seared ahi wasabi tacos. Or head across the street to The Shrimp Station where you'll find all sorts of shrimp dishes that can be enjoyed outside on picnic tables.
7. See this unique red dirt waterfall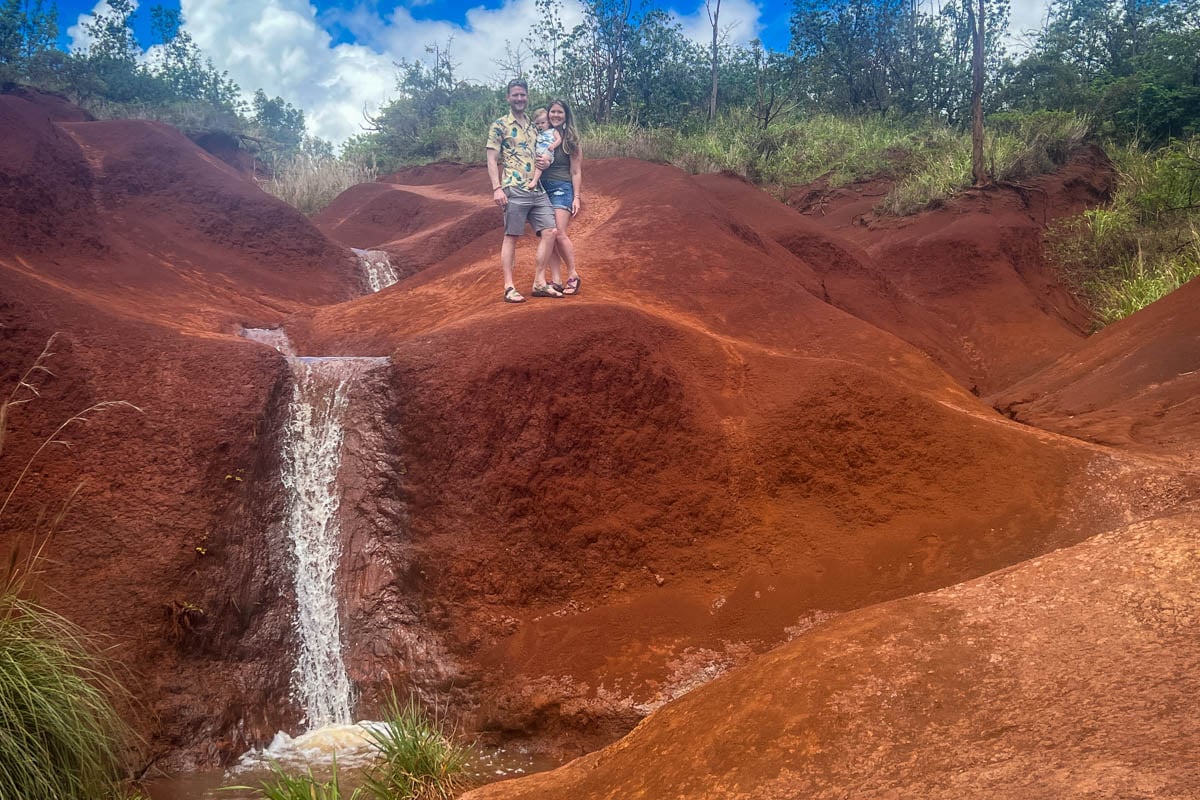 Unlike anything you've ever seen before, Kauai's Red Dirt Falls is what you would picture a waterfall on Mars to look like.
This is a quick and worthy stop (about 15-minutes) when heading into the Waimea Canyon (#6) area. Note there is no signage or a proper parking area.
8. Sail along the Na Pali Coast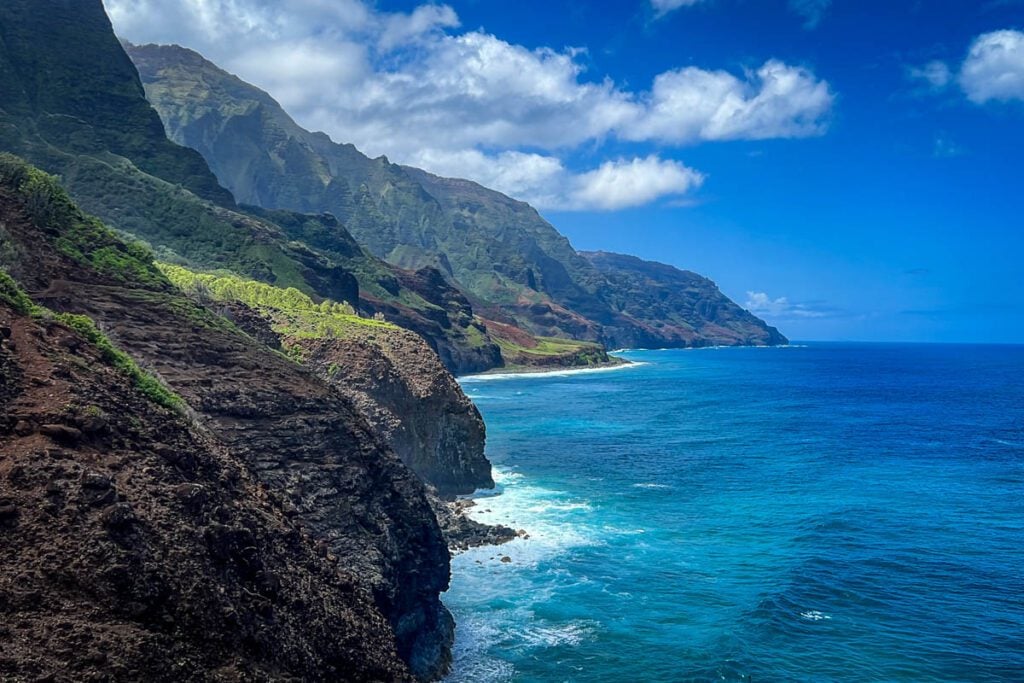 The Na Pali Coast is arguably one of the most beautiful coastlines in the world. The juxtaposition of turquoise waters that meet remote white sand beaches that are flanked by jungle-covered mountains is a sight that will take your breath away.
In fact, this stretch of coastline on Kauai's North Shore was famously the backdrop of Jurassic Park. Now do you know why it looks familiar?!
Short of hiking the entire Kalalau Trail (which we highly recommend, but know it's not for everyone!), one of the best ways to see the iconic Na Pali coastline is by boat. In addition to gorgeous views of the coast, you may even see dolphins dancing in the water or whales breaching.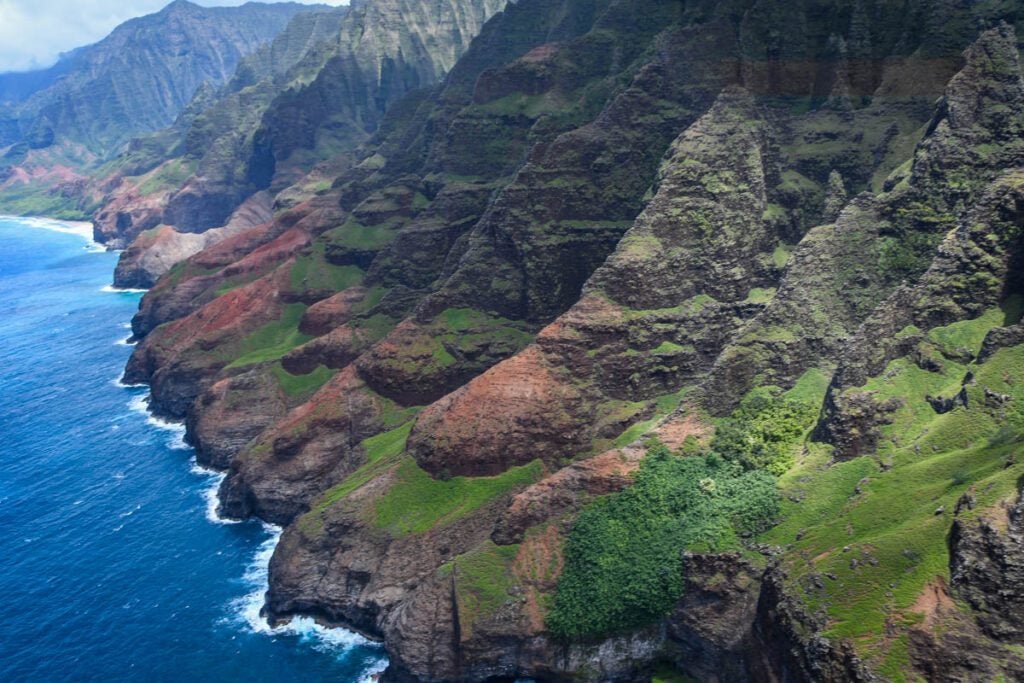 Psst! If you're looking for another perspective of this stunning coast, a scenic helicopter flight will give you a birds eye view. We did this and can confidently say it was one of the coolest things we did on Kauai. Find more information on helicopter flights in #2 on this list.
From sunset cruises with cocktails to morning rides with opportunities to snorkel, there are many different types of boat tours to choose from depending on what you're looking for.
Here are some we'd recommend: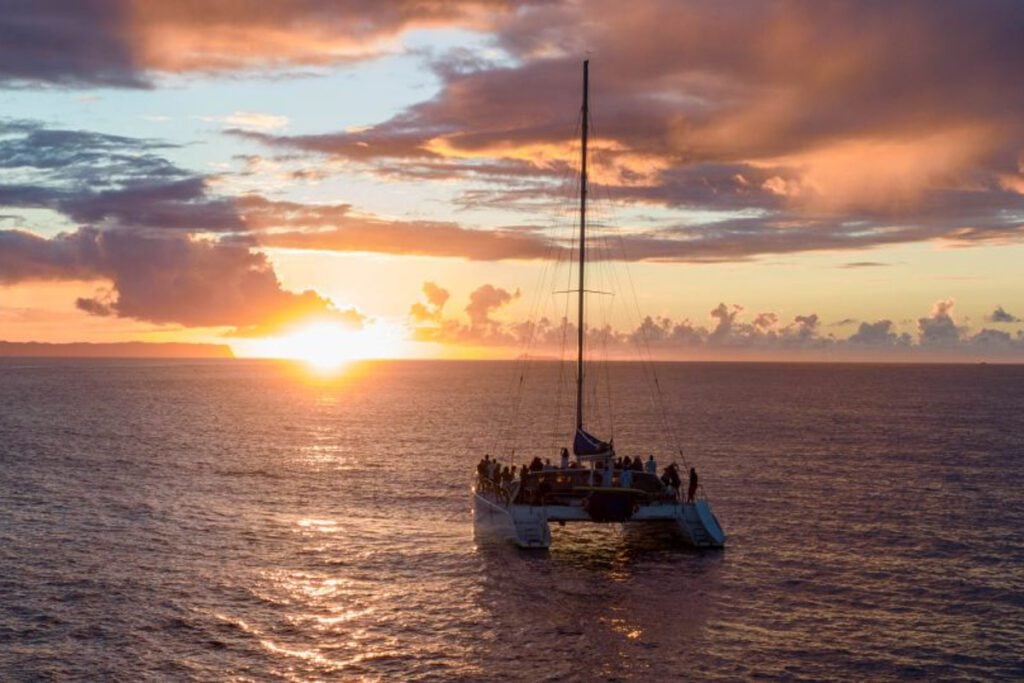 Enjoy a glass of champagne and dinner aboard this 50-foot catamaran as the sun sinks into the horizon. This 4.5-hour experience is one you won't soon forget.
Here's what guests are saying:
"The service of the crew exceeded expectations – they make sure you always have a drink in your hand and the food was also good! Saw lots of beautiful scenery, a beautiful sunset and even a whale breaching in the sunset. The waters can be a bit rough near Napali and you can't sit on the front of the boat for a little adventure or sit somewhere dry and more calm if you want in the back so there's something for everyone." – GetYourGuide Traveler, 2021
Full-day boat trip with snorkeling & a visit to Hawaii's "forbidden island" with Holo Holo Charters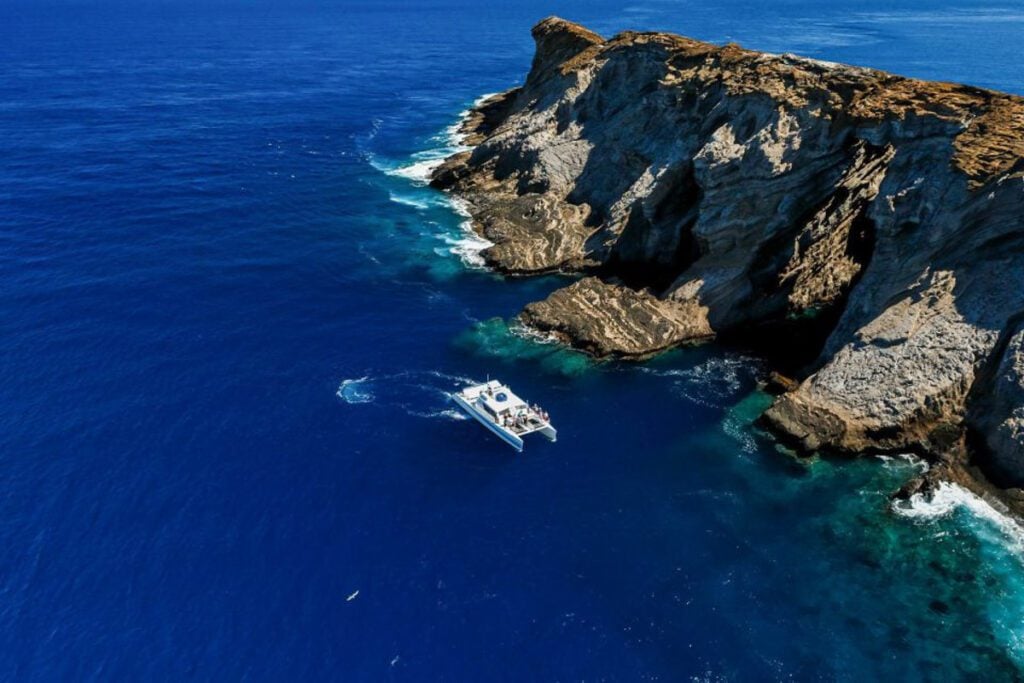 This full-day, 7-hour cruise is adventure-packed!
Enjoy a continental breakfast and a deli-style lunch while spotting waterfalls, jungle-covered valleys, and sea caves. As long as weather permits, your catamaran will venture across the channel to snorkel at Lehua Crater just off of Niihau, Hawaii's "forbidden island".
Keep your eyes peeled for dolphins, sea turtles and even humpback whales (in the winter months).
What guests are saying:
"Unforgettable experience. The captain and crew were phenomenal. They go above and beyond any service industry worker could possibly. The captain makes sure he stops and points out all beautiful landscape and history. They whales and spinner dolphins were breathtaking. We knew nothing about snorkeling. and they went above and beyond with my 7-year-old to make sure he got the best first experience ever. There are not enough positive words to describe this experience. I will definitely be back." – GetYourGuide Traveler, April 2023
Rafting adventure & snorkeling with Kauai Sea Tours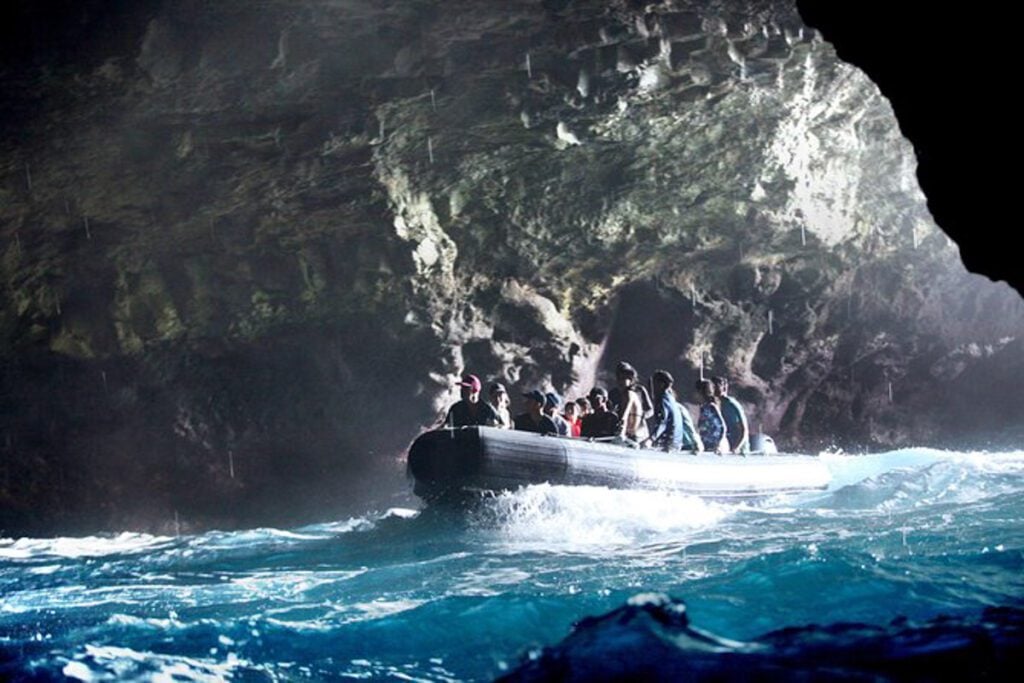 If you're looking for a less-cushy, more adventurous way to see the Na Pali Coast, swap a catamaran for a motorized raft!
This tour requires guests to be "in above average physical shape" since the raft journey can be bumpy and more physically demanding than a traditional boat. The reward for a more bouncy ride is that the small and agile rafts can get closer to sea caves and parts of the shoreline that boats cannot reach.
It's also worth noting that this tour has a maximum of 14 guests so it'll be a more intimate experience than most of the boat tours which host more people.
What guests are saying:
"Our crew was the MOST fun! We had a total blast the entire time – easily one of the coolest things I've ever done on any of the Hawaiian islands. 100/10 recommend this tour to anyone. My crew was Shane and Gabe. They made the experience so enjoyable and definitely made us feel safe when the wind and waves got a little crazy! LOL pretty extreme boat ride in the wind, but it will definitely be a core memory. Will never forget the amazing views of the Na Pali coast." – Claire, May 2023
Good to know: If you are prone to motion sickness, we'd recommend you take medication before any of these tours, as the waters can be choppy. We've heard from several people who have gotten sick on this boat ride so do your best to prevent it. In addition to medication, you may also want to try motion sickness bands, like this basic version or this high-tech one.
9. Marvel at the stunning Wailua Falls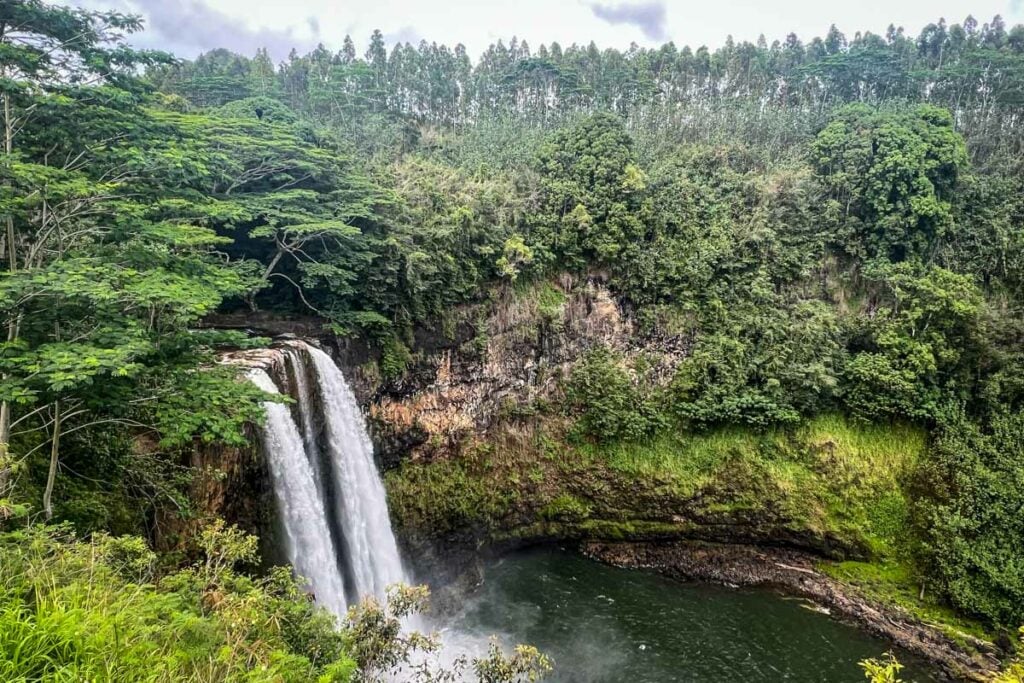 Cascading 140-feet into a dramatic pool where rainbows frequent, Wailua Falls is a staple postcard image of Kauai.
While many waterfalls in Kauai require a bit of work to see, you can drive directly to the viewpoint where this natural wonder is on display.
I will be honest and say that the view you get from the parking lot is not quite as dramatic as most images you'll find online, which are taken from a vantage point that requires hiking. However – and this is a big however – hiking to the base of the falls is both very dangerous and illegal.
In fact, there were recently laws put in place to ban people from hiking past the parking lot, spurred by a hiker's death. Please respect the local rules put in place for your safety and enjoy the falls from the view at the parking lot.
10. Cool off with shave Ice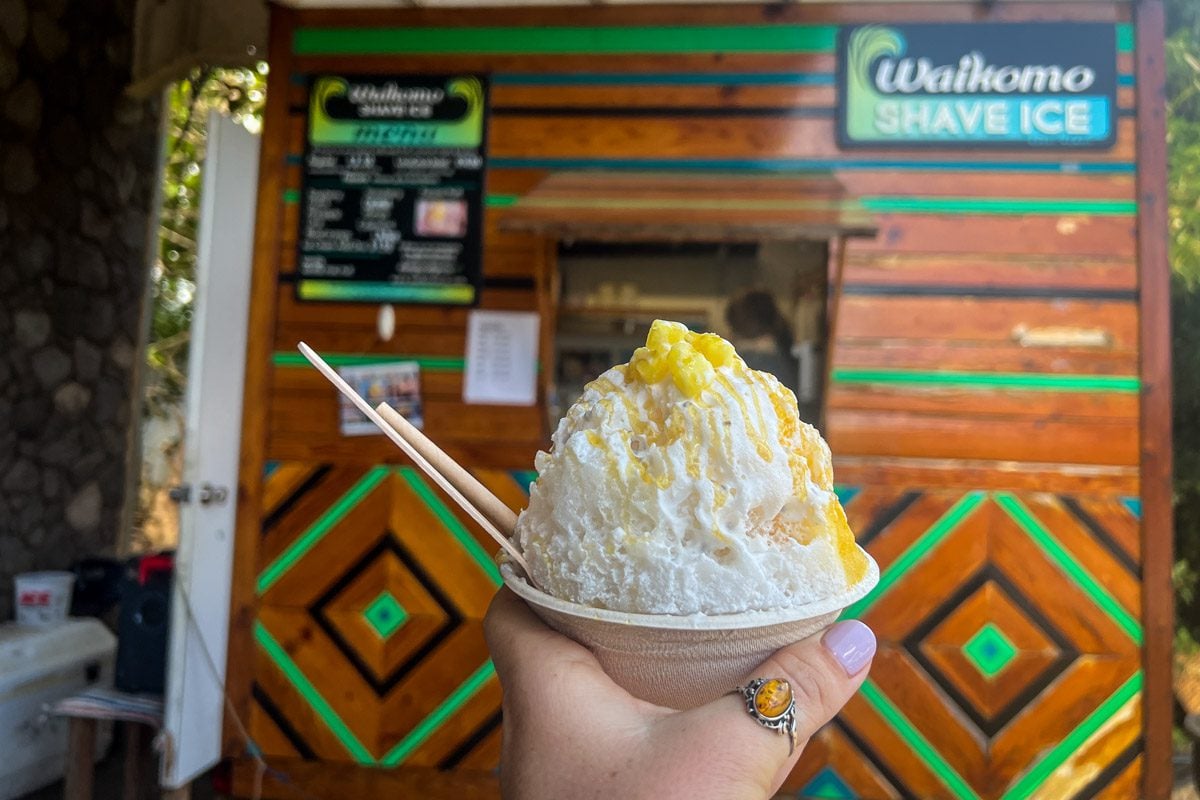 On any given day in Kauai, fluffy domes of rainbow syrup that put any regular snow cone to shame, occupy the hands of locals and tourists.
While considered a simple combination of ice and syrup, locals have perfected the details, creating a golden ratio of flavor and consistency (as well as topping options!) that you shouldn't leave without tasting.
Oh, and if there is the option to get ice cream in the middle, do it. Always get the ice cream.
Best shave ice in Kauai:
Fun fact: While called "snow cones" in the continental US, this treat is exclusively called "ice shave" or "shave ice" in Hawaii. The name is a direct translation from the word "kakigori", since the dessert was introduced by Japanese immigrants.
11. Take a poke cooking class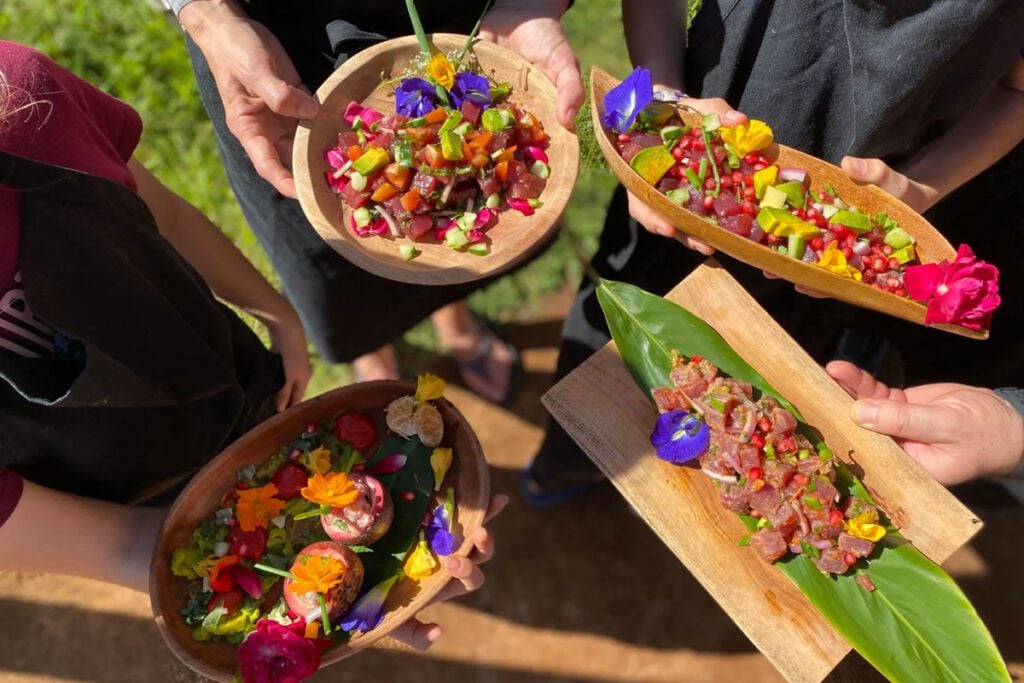 If you want to experience Kauai like a local, there's no better outlet than joining a local ohana hosted Poke Class.
Outside, against Homestead Kauai's mountainous backdrop, use locally-caught fish to prepare poke three ways: original, modern day spicy, and create-your-own using ingredients you harvested directly from their garden.
Eaikakou (enjoy together) all your creations, taking away authentic recipes and lifelong memories.
Good to know: a vegetarian option is available.
12. Take a dog on a "field trip"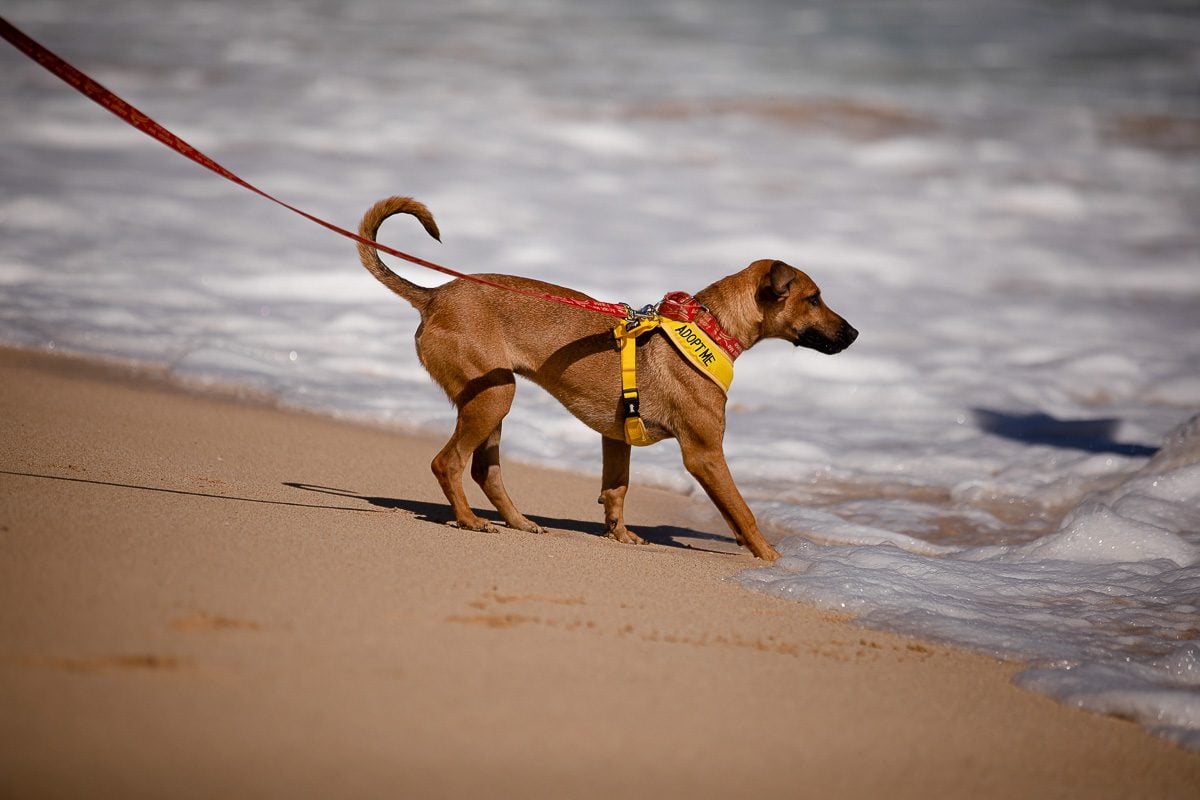 The Kauai Humane Society hosts one of the most adorable things to do in Kauai, bringing a shelter dog on an exciting day trip around the island with you.
For a $40 donation they pair you with the ideal adventure companion and give you an ideal list of places to venture depending on the weather and your pup.
Pick up: 10:00 a.m. – 12:00 p.m.
Return anytime before 5:00 p.m.
It's a win-win experience where you have a field-trip buddy for the day and the shelter dog improves their chances of adoption!
13. Tour a local distillery
Using Kauai-grown and sourced ingredients, Hanalei Spirits Distillery Corp. captures the flavors of the island in their pours.
Sample their vodkas, rums, and seasonal releases, then bring home your favorites to make the perfect island cocktail back home (or at your Airbnb).
Good to know: tastings and tours are by appointment only, so contact them ahead of time to organize everything.
14. Hike the iconic Sleeping Giant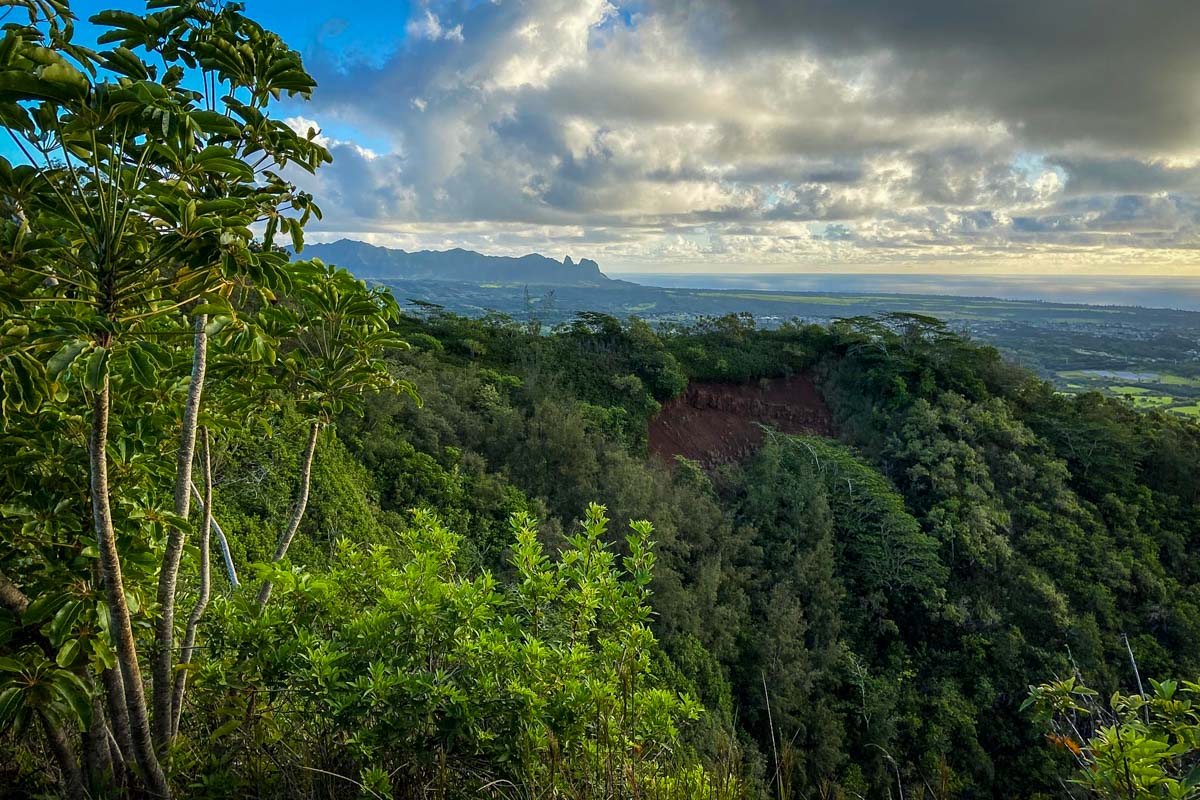 Stretched between Kapaa and Wailua is the Nounou Mountain range, but if you look closely, you can make out the outline of a local Hawaiian legend snoozing away.
As long as you're careful about waking him, you can traverse across his body along the 3.4-mile Sleeping Giant Trail for oceanside vistas and views of the Wailua River and Mount Waialeale.
15. Learn how chocolate is made at Lydgate Farms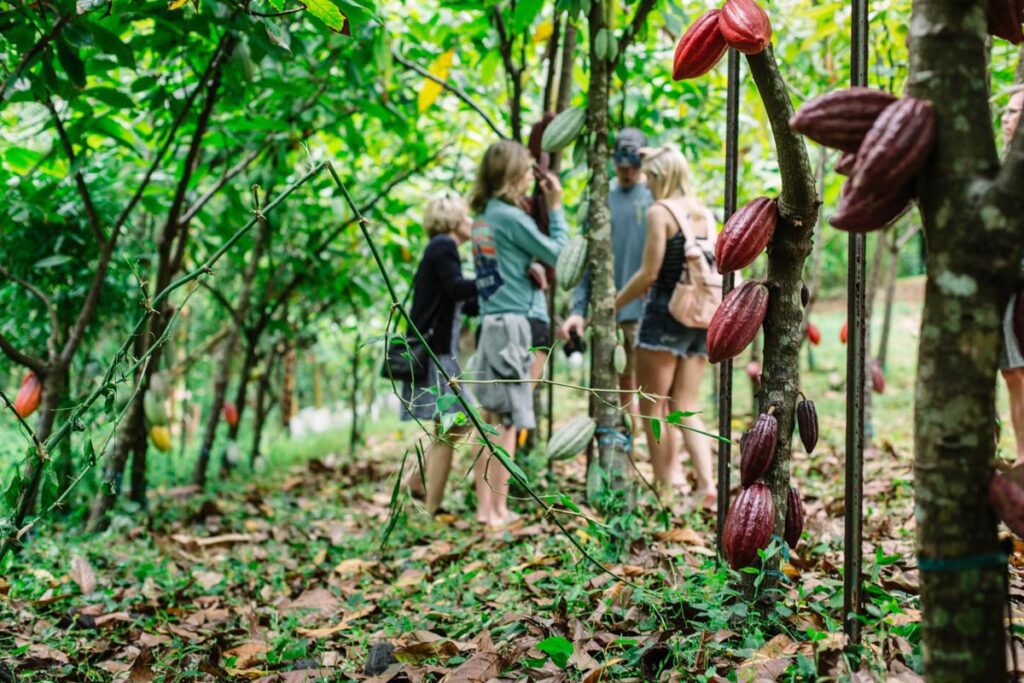 The fifth-generation family at Lydgate Farms have been producing some of the best cacao beans in the world since the original Kingdom of Hawaii.
On their famous chocolate farm tour, praised as "widely copied, never surpassed", you'll partake in a 3-hour tour of the farm and sample their award-winning palm honey, vanilla beans, tropical fruit, concluding with an extensive chocolate tasting.
16. Browse art galleries in Hanapepe
Historic downtown Hanapepe is known for its showcase of local and global artistry.
Whether you're only looking to admire or pick up a piece to take back home, this is the place to get art on Kauai. Start your hunt at the Island Art Gallery, where the art scene was pioneered.
17. Hike to this waterfall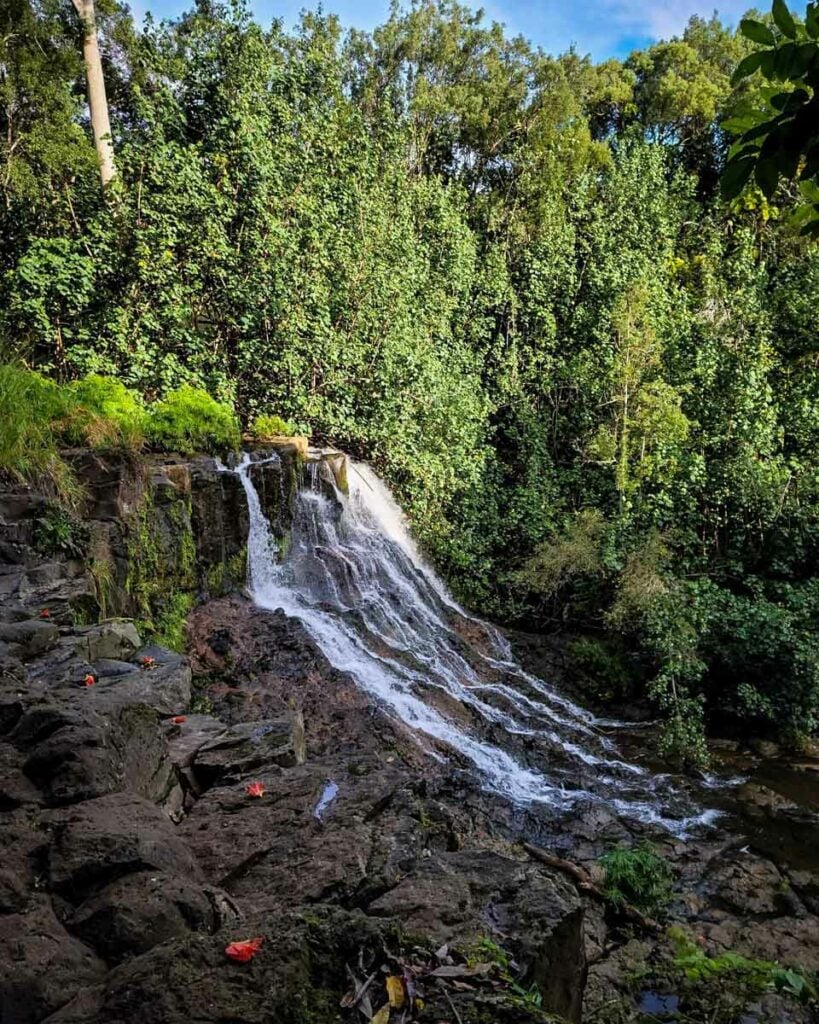 A short jungle hike along the Ho'opi'i Falls Trail leads you to a waterfall blanketing a cliffside, small pools to make a splash in, and an adventurous rope swing.
Shoes with good grip will serve you well on this hike as the trail can get very muddy and slippery in parts, even if it hasn't rained. Mosquito repellant is also recommended if you don't want to turn into an all-you-can eat buffet.
Good to know: Swimming at and near the waterfalls is no longer recommended due to bacteria in the water.
Ethical travel note: this waterfall is on private property, so please stay on the trail and be mindful of your volume as you'll be in a residential area. This will keep the trail open for everyone to enjoy.
18. Get a view over Hanalei Valley
Squared-off taro fields against a backdrop of carved mountains create, undoubtedly, one of the most photographed views on Kauai.
Hanalei Valley Lookout is a roadside vista in Princeville, so low effort with a very high reward!
Plan your visit for sunrise or sunset, when the valley is drenched in golden light, or after rain, when the mountains are decorated with waterfalls.
19. Explore the stunning Limahuli Garden Preserve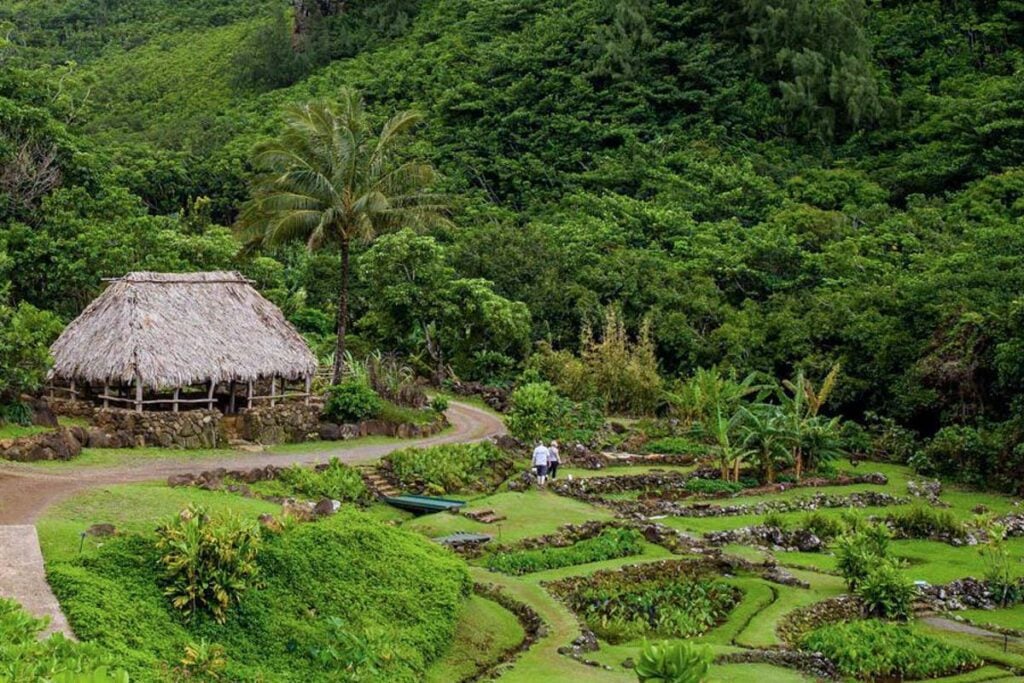 Emulating the way Hawaii's earliest ancestors experienced the most biodiverse valleys in the islands, the Limahuli Garden Preserve is much more than a plant-lovers paradise.
On a self or guided tour, transport yourself centuries back into raw Hawaiian wilderness as stories of nature unfold around you along their 0.75-mile trail.
Entrance: $25 per person. Prices are discounted if you're using the North Shore Shuttle. Reservations are recommended since your ticket comes with parking.
20. Walk to Secret Beach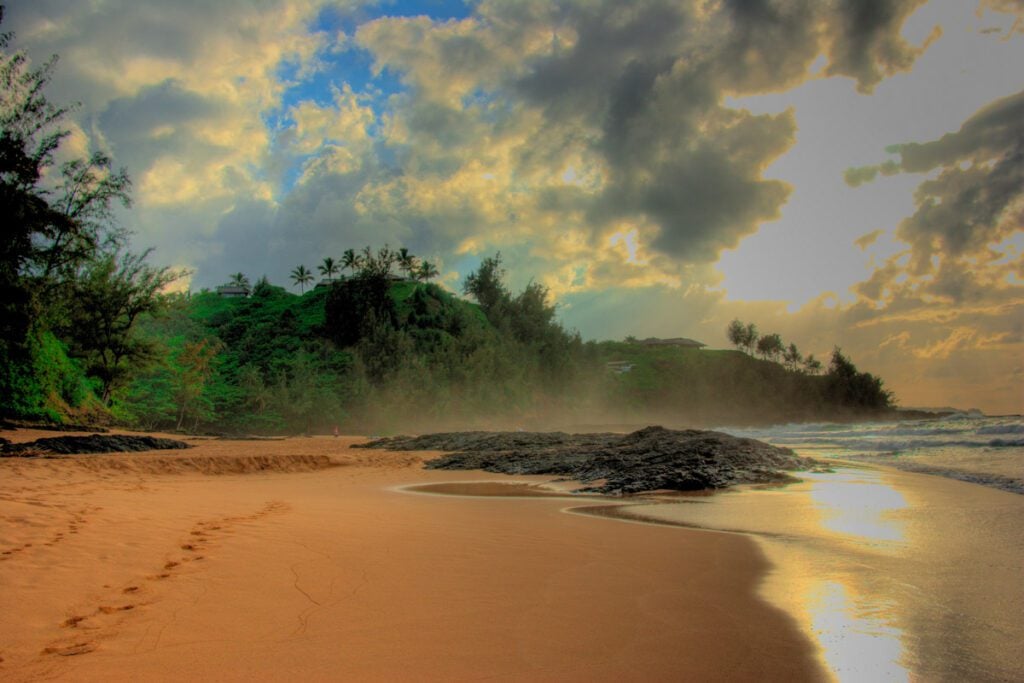 Surrounded by dreamy cliffsides shrouded in lush trees and awe-inspiring seascapes, Kauapea Beach is a sliver of unspoiled paradise.
Although not the secret it once was, its lack of accessibility has kept it quieter than many other beaches on Kauai.
How to get there: Access the trailhead via the rough Secret Beach Road, then follow the steep, 0.25-mile hike down to the beach. If it has rained expect mud.
Good to know: This beach is not recommended for swimming as waves can get big and the current is deceptively strong.
21. Shop local at the Hanalei Farmers Market
The best way to start any Saturday morning on the North Shore is wandering the stalls at the Hanalei Farmers Market.
Get your fix of fresh produce, local foods, and handmade crafts while enjoying a majestic mountain view as a backdrop.
Tip: arrive early so you can grab a parking spot and your pick of the best produce.
22. Take a self-guided tour at Kauai Coffee Company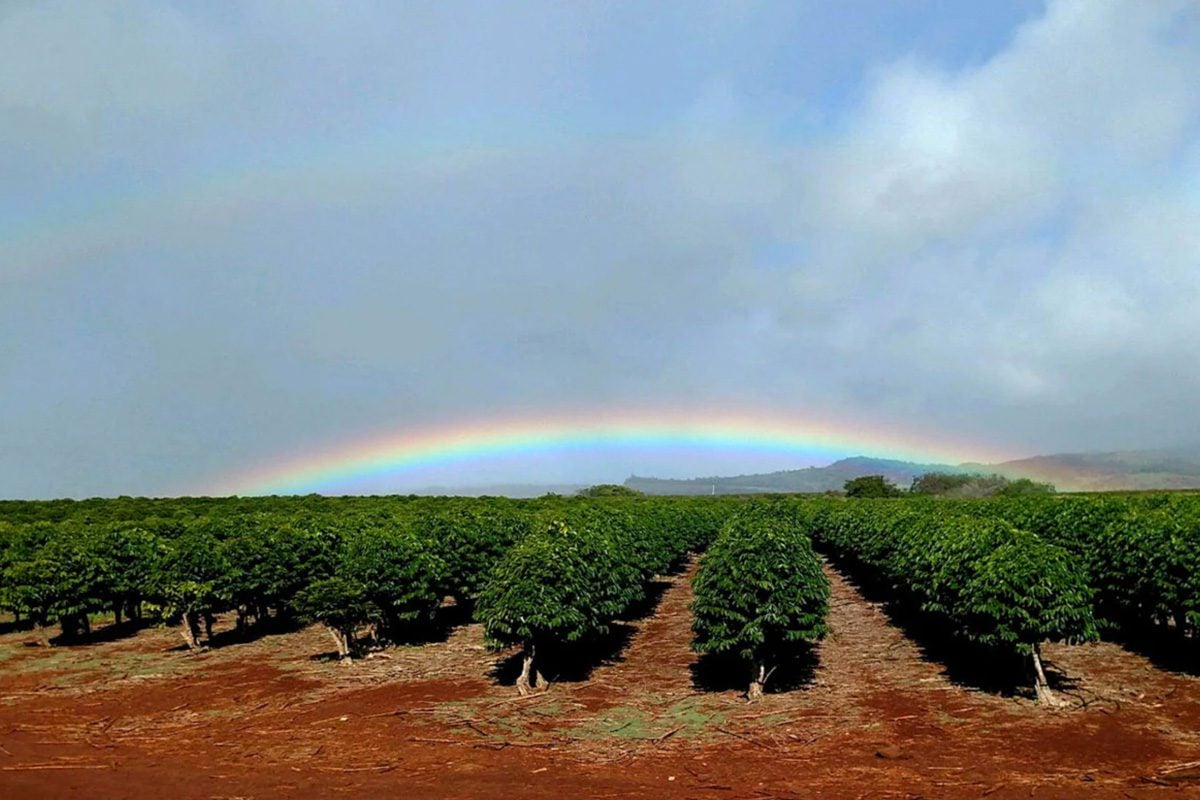 Whether you take pride in a meticulous coffee regime or indulge occasionally in a cup of joe, you'll enjoy a visit to the Kauai Coffee Company.
You can peruse their estate for free, sampling their coffees grown in rich volcanic soil while learning about their sustainable roasting and cultivating practices.
23. Kayak to Secret Falls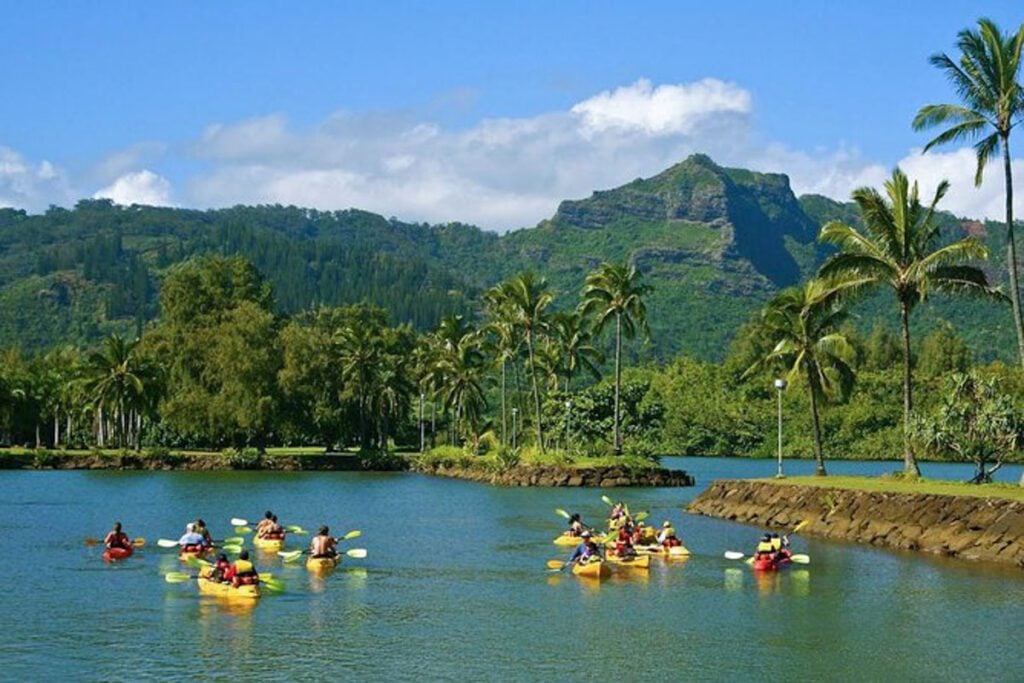 Cascading 110-feet into a magical swimming pool, Secret Falls (Uluwehi Falls) is one of the most magical waterfalls on Hawaii, even though it's a well-known secret nowadays.
It's best accessed on a half-day Kayak and Waterfall Hike Tour where you'll paddle up the Wailua River, where the first Hawaiians arrived in Kauai over 1500 years ago.
Listen to the legends and stories of Kauai's most sacred area, then dock your kayak and follow your rainforest guide 1 ¼ miles to the waterfall where you'll take a dip and enjoy lunch, following your same route back to the meeting point.
What you need to know:
Hours: 5-6 hours
Price: $130.37 USD
What guests are saying:
"It was my dream to hike to a waterfall in Kauai. This tour met all my expectations and more. Beyond Beautiful. Our guide, Zach, was awesome and Very entertaining! Thank you so much for fulfilling my dream!" – Alice H., November 2022
Do it on your own: It is possible to get to this waterfall on your own. Rent a kayak and follow this route. Note many companies do not offer rentals on Sundays.
24. Crawl on your hands and knees at Makauwahi Cave Reserve
Brimming with local flora and fauna, archaeological ruins, fossils, and massive tortoises, the Makauwahi Cave Reserve is a living museum of Hawaii.
You'll feel like you've been dropped right into the plot of Alice in Wonderland as you crawl through a narrow tunnel to reach the entrance.
This cave reserve is a great addition to the Maha'ulepu Heritage Trail (#34 on this list) since you'll pass it on the walk.
Otherwise, you can head down a bumpy dirt road to the cave parking area to access it. It's free to see, but donations are recommended.
25. Start your day with sunrise yoga
The soundtrack and artistry of Kauai is on full display during this Sunrise Yoga Practice at Makai Golf Course.
As you're taken through a mellow flow, you'll watch the morning sun reveal the Hanalei and Haena mountains, spot whales breaching off the coast, and listen to ocean waves crash against the most beautiful coastlines of the North Shore.
What you need to know:
Hours: 1.5 hours
Price: $25 USD
What guests are saying:
"This experience was incredible. Watching the sun rise over the mountains and hearing the ocean during the practice was wonderful. Highly recommended for anyone staying in Kauai, it's so worth it. Even my nearly 70yo mum did it with me and enjoyed the flow. We saw whales breaching too! Thank you!" – Olivia, March 2023
26. Buy fresh seafood & cook your own dinner
The Hanalei Dolphin triples as a restaurant, sushi lounge, and top-notch fish market where their master fish cutters clean and slice the finest fish and beef daily on Kauai.
Using their impressive selection of proteins and fine accouterments, you can whip up a "cook-your-own", menu-worthy meal back at your Airbnb.
27. Sample taro donuts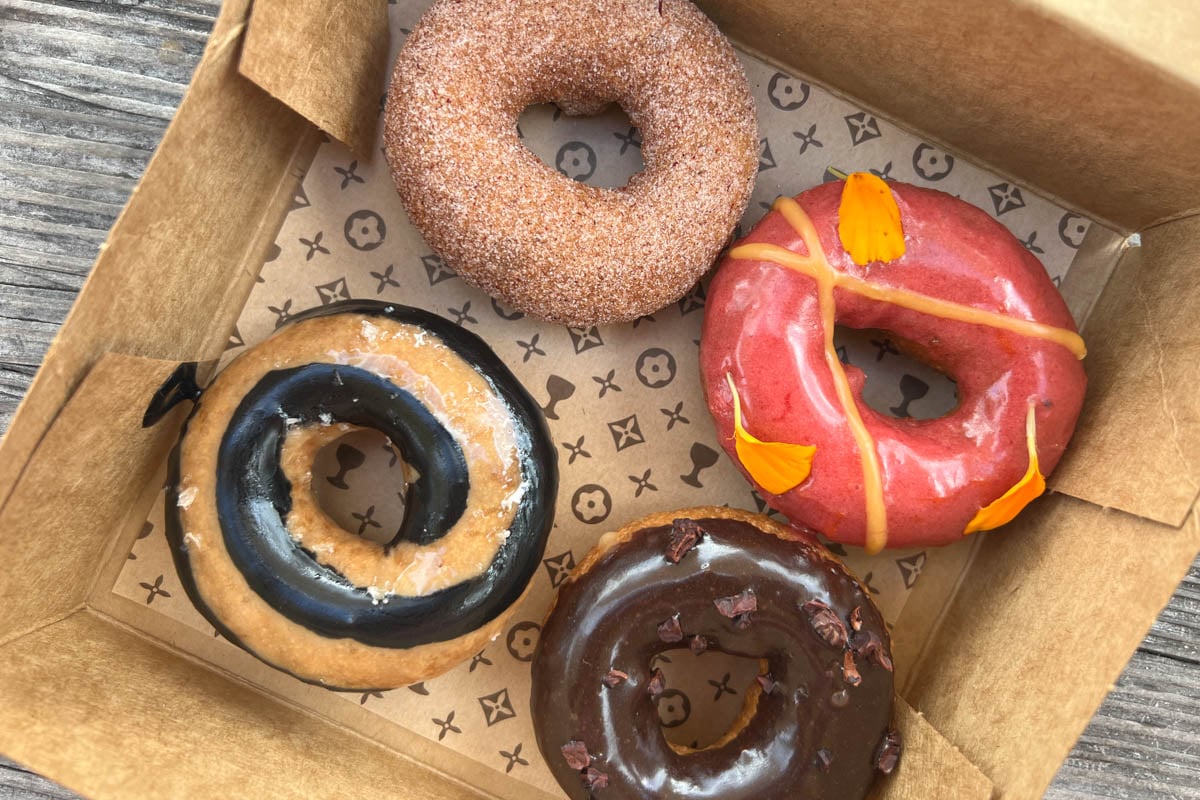 As frequent Portland visitors, we know our way around a hype-worthy donut. I mean, just check out our list of the best donuts in Portland to get an idea of what we mean…
And Holey Grail Donuts in Hanalei serves circular treats that are a force to be reckoned with.
They specialize in unique-flavored taro donuts that are fried in coconut oil. Can you get more Hawaiian than that?!
Each week they feature 4 new flavors which you can taste individually or all together in their tasting box. The flavors are elevated and unique, like saffron snickerdoodle, lilikoi (passionfruit), local truffled honey and sea salt. And did we mention they're vegan?!
Fried to perfection, not too sweet (which is key for me!), these circular treats are the perfect companion to their coffee and matcha drink offerings.
We got a box of donuts to share after completing the Kalalau Trail. It was the perfect indulgence after 3 days in the Hawaiian wilderness, but even if you're not going on some crazy hike, these donuts are definitely worth the stop.
28. See monk seals at Poipu Beach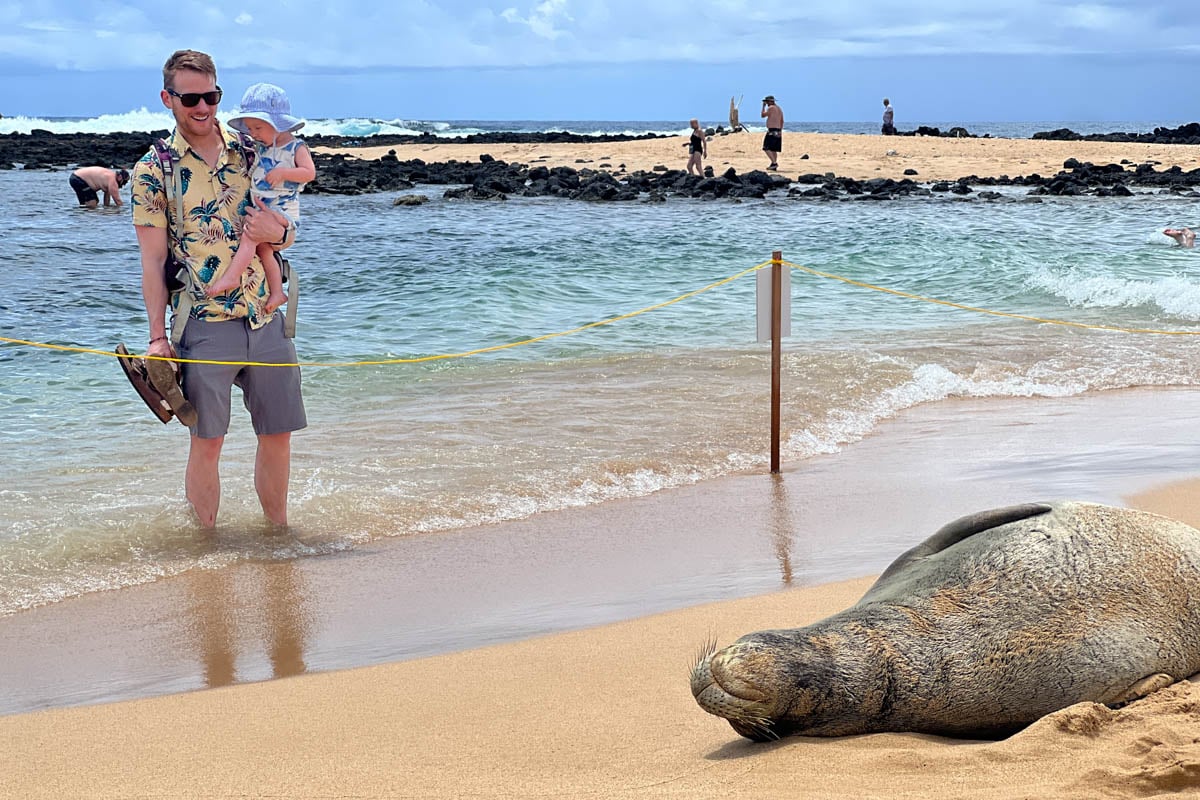 The unofficial mascot of this crescent-shaped beach are the Hawaiian monk seals that laze away under the sun.
Although the seals visit here often, the chances of seeing one are slim since there is no official spotting season. Consider yourself fortunate if you get the chance to see one!
Ethical travel note: As adorable as they are, remember that these are wild animals, and a protected, endangered species in Hawaii. If you get the opportunity to see one, keep a safe distance and don't try to touch them.
29. Taste exotic fruits on this farm tour
Follow Adam as he weaves through over 1,000 fruiting trees, 200 different fruit varieties, and 5 acres of vegetables, sampling the in-season specialties on his Exotic Tropical Fruit & Vegetable Tour.
As Hawaii's most diverse, organic farm, a walk through it will evoke all five of your senses, introducing colors, shapes, and smells you may have never heard of before.
What you need to know:
Hours: 2 hours
Price: $95 USD
What guests are saying:
"Such a fabulous, fantastic, flavorful, fun adventure into all things fruit! Did I mention epic deliciousness! Our farm cruise with Adam and Daria was nothing short of amazing. We loved their passion for growing all the wonderful (and often exotic) fruits, veggies and herbs that nourish our bodies.. but feed our souls. This tour will go on permanent repeat mode for ALL our future trips to Kauai. Mahola" – Anne, March 2023
30. Go on an ATV adventure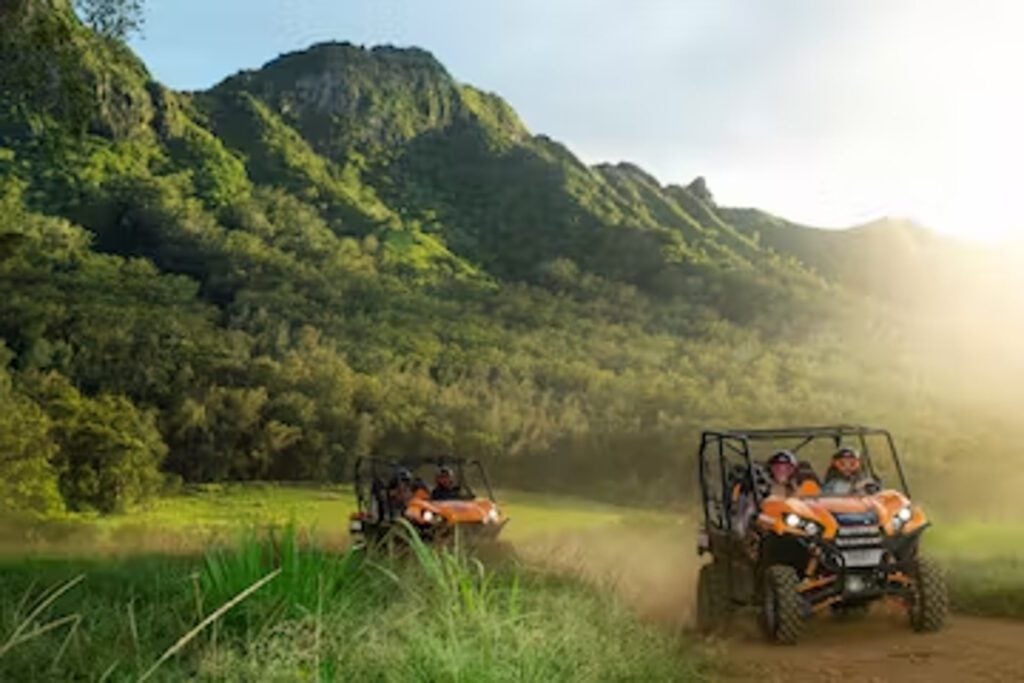 Kipu Ranch Adventures offers the most exhilarating off-road rides through Kauai's untouched landscapes.
Their signature Ranch Tour ventures into the tropical Huleia Valley where lush green pastures, rainforest canopies, and iconic movie filming locations create 360° views against a backdrop of Mt. Haupu.
What you need to know:
Hours: 3 hours
Price: $187 USD
What guests are saying
"1000/10 recommend! Our tour guides were so informative about the culture of the island and ranch itself. It was so cool to learn the history of how the ranch was preserved and how it came to be. They were very thorough explaining the importance of safety and the vehicles which made us feel at ease operating them through the trails. They both had an amazing sense of humor as well! They offered to take pictures of us at every stop & knew how to hit all the good angles haha! The trails and views were also superb! Don't sleep on this adventure!" – Jade (February 2023)
31. Visit Kilauea Lighthouse and birdwatch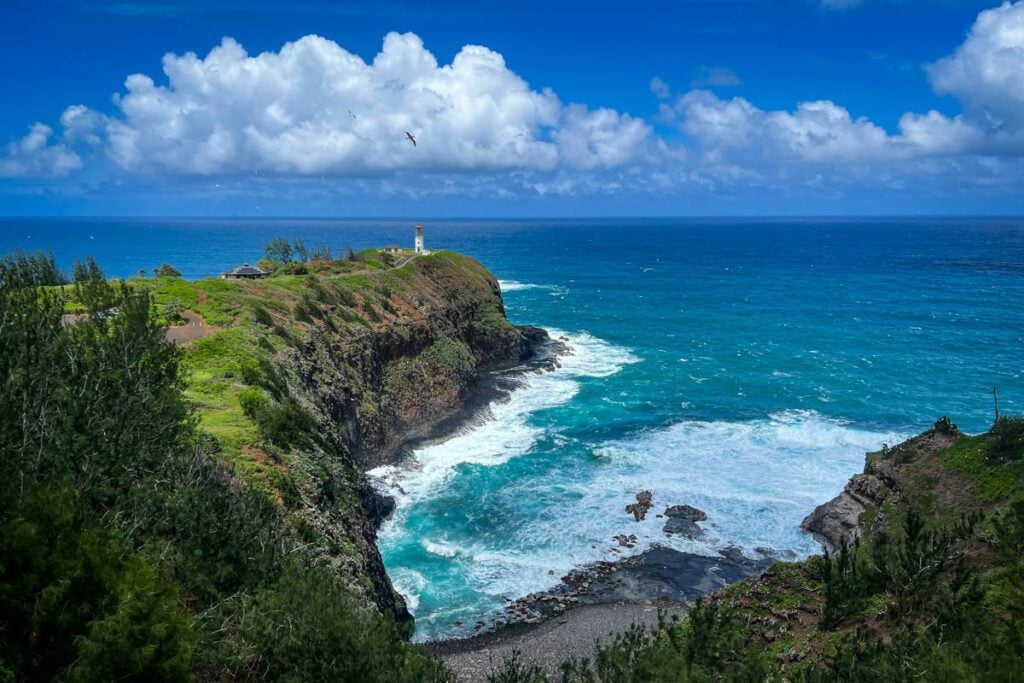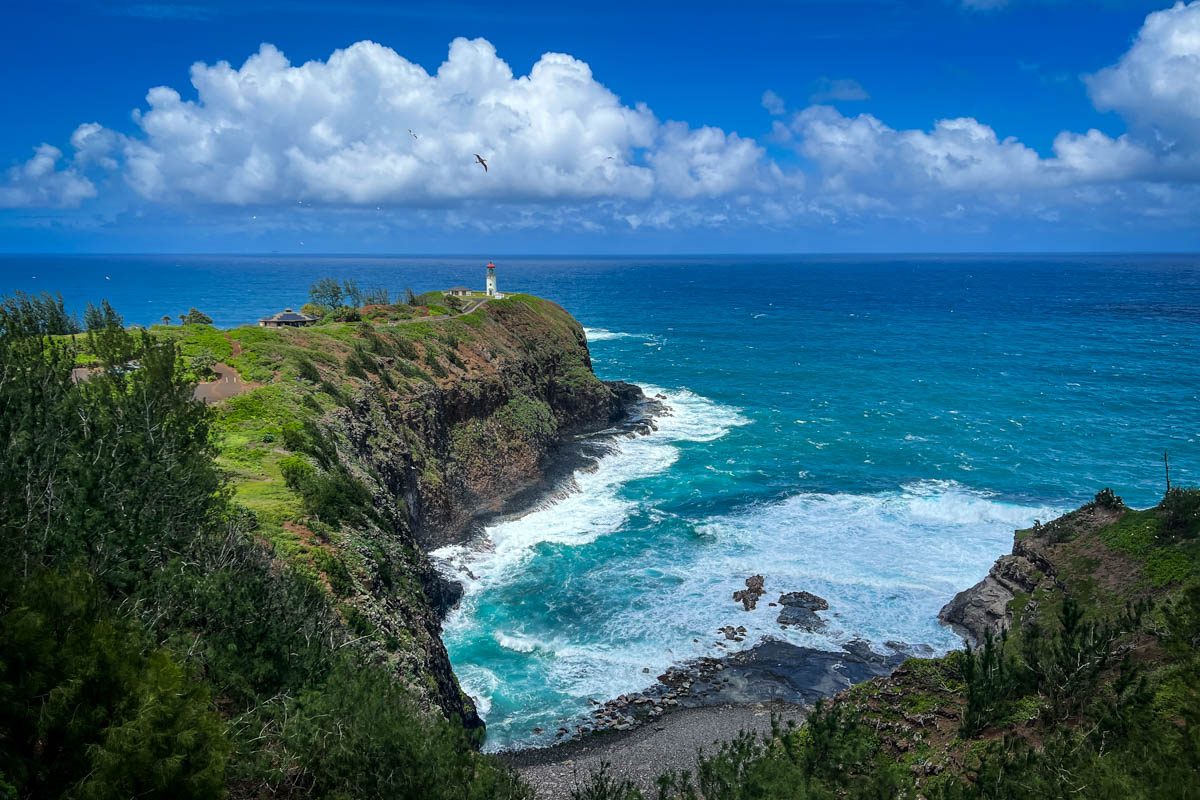 Situated in a wildlife refuge, the Kilauea Lighthouse stands 180-feet above the ocean with sweeping coastal vistas and soaring flocks of birds.
Tip: Binoculars will definitely come in handy if you have them as a seabird sanctuary juts into the ocean just below the cliffside.
Entrance fee: $10 USD
After seeing the lighthouse, be sure to wander the charming little town of Kilauea!
32. Soak up Hawaiian culture at a Luau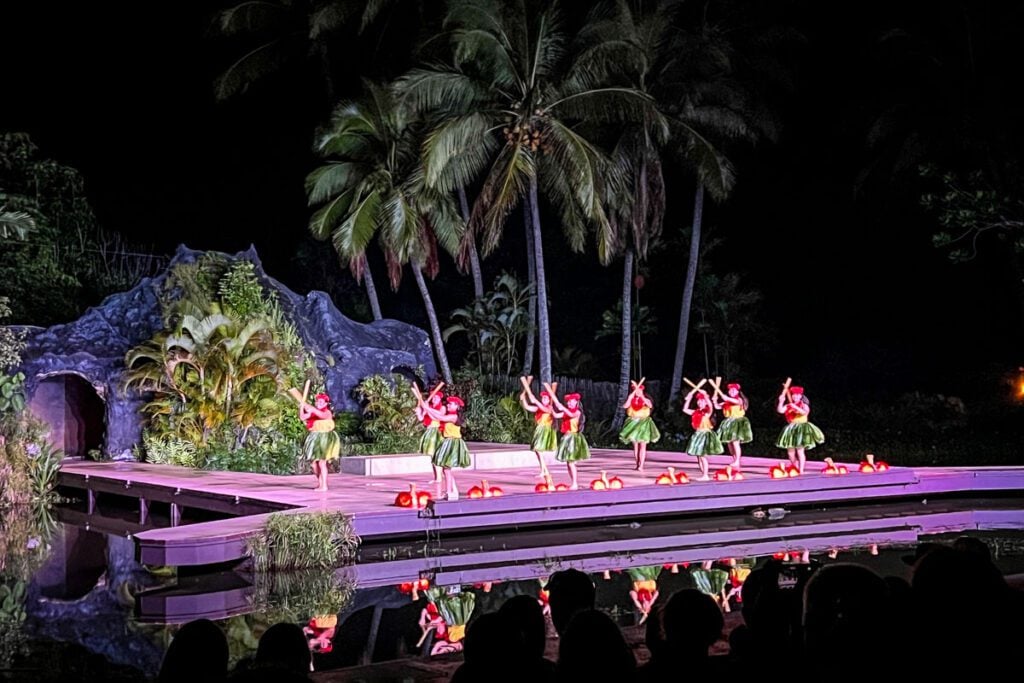 Kuaui's lack of commercialization and commitment to preserving Hawaiian culture means that they throw a legendary luau.
In fact, the luaus on Kauai are claimed to be the best and most authentic in Hawaii, so attending one of these feasts is a must for your itinerary!
Smith Family Luau: Locally-ran luau consistently ranked among the top on the island.
Auli'i Luau: Authentic luau in front of one of Kauai's best beaches.
Ahi Lele Luau: Intimate and authentic luau with an impressive fire show.
33. Walk to the famed Queen's Bath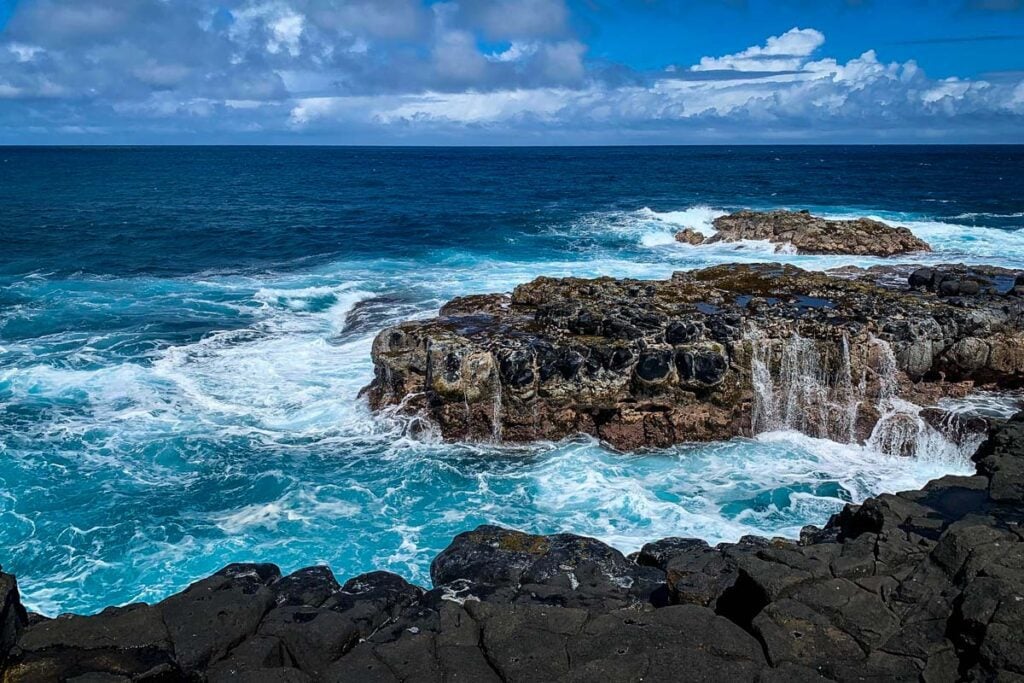 Framed by igneous rock, this tidal pool was originally a sacred bathing place for royalty, but nowadays is a scenic seaside pool on the North Shore.
To access the Queen's Bath, you'll need to hike 0.8-miles along the moderate Queens Bath Trail. Note that there is severely limited parking at the trailhead, so you may have to park and walk.
Note on safety: Queen's Bath is arguably one of the more famous spots on Kauai's North Shore, but it is also known to be dangerous in certain conditions. Make sure to read up on the potential dangers of this area and to check its status before going. It is often closed during the winter months due to increased safety risks. If the trail is closed, please respect the rules and do not go.
That said, even if you don't take a dip in the pool, admiring it from above will still provide a fulfilling visit as the views are downright spectacular.
34. Walk the Maha'ulepu Heritage Trail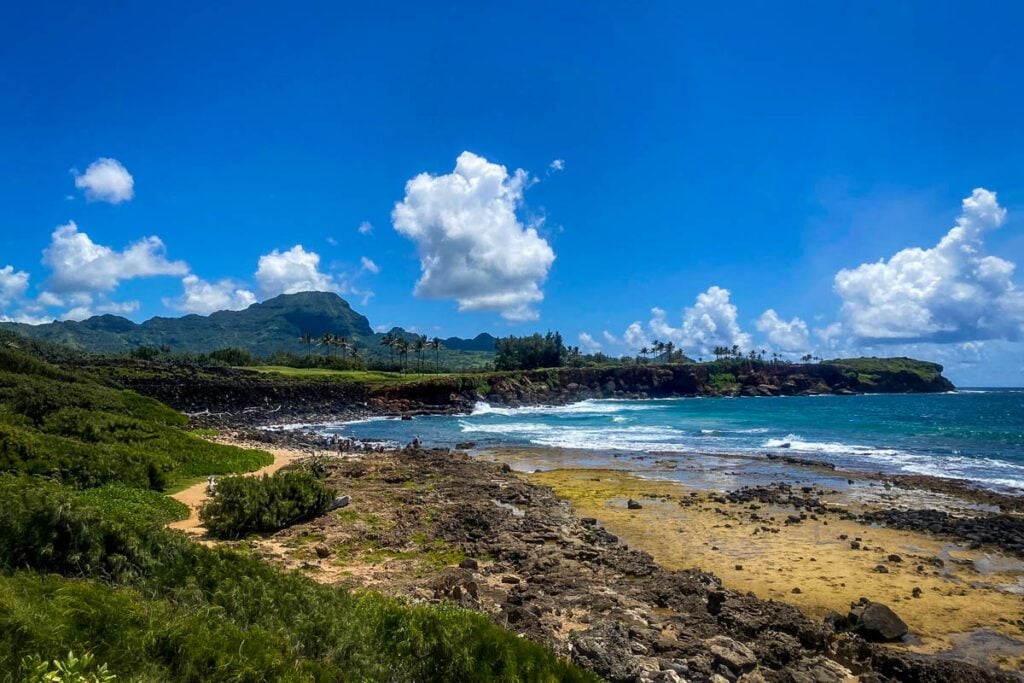 Showcasing coastal vistas and something spectacular around every turn, the Maha'ulepu Heritage Trail is one of the most beautiful walks on Kauai.
Stretching 3.7-miles along Kauai's south coast, watch waves crash into rugged sea cliffs and discover secluded coves, sculpted lava formations, petroglyphs, a sacred Hawaiian site, and endangered monk seals.
Tip: During the winter months, this is a prime spot for whale watching!
35. See the famous Jurassic Park fig trees at Allerton Garden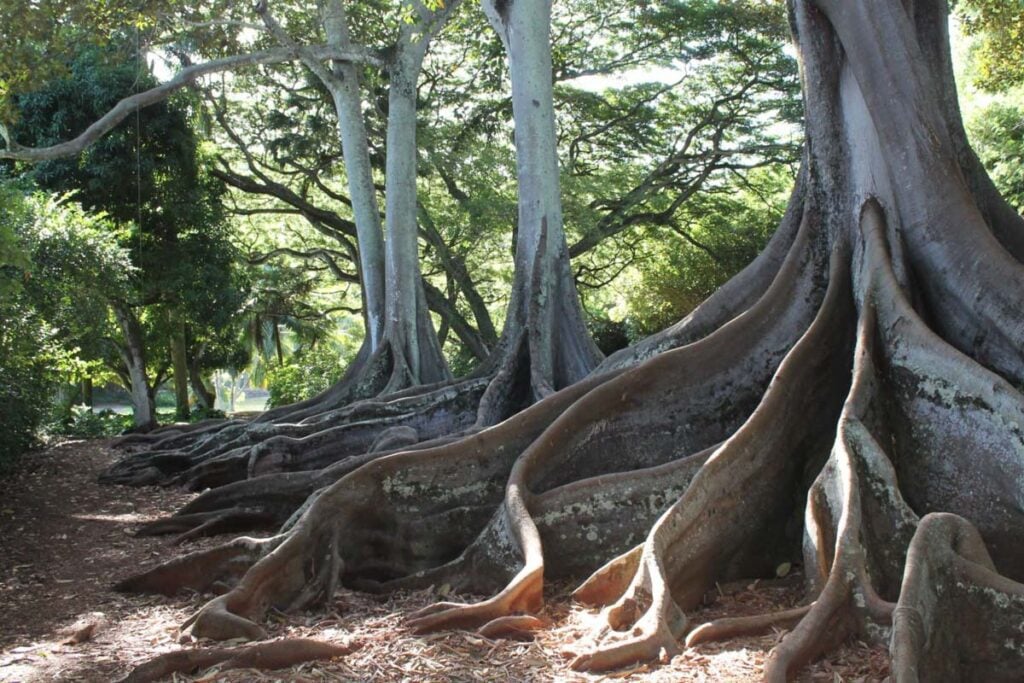 Serving as both a center for tropical plant research, conservation, and education, and a popular backdrop for blockbuster films, the Allerton Garden is a paradise where artistry meets tropical flora and fauna.
Touring the grounds, you'll learn about the history and culture of the area dating back to the 1800s, marvel at the scenery, and of course, keep an eye out for dinosaurs among the fig trees.
What you need to know:
Hours: 2.5 hours
Price: $63.60 USD / group
What guests are saying:
"Beautiful gardens. Very well kept. Excellent knowledgeable and entertaining guide who answered every question. Fascinating trees used in popular movies. Had to go home and see the movie again to find the trees. I would gladly return for another tour." – GetYourGuide Traveler, April 2023
Psst! Booking through this link is slightly cheaper than what they charge at the door.
36. Do a rum tasting at the historic Kilohana Plantation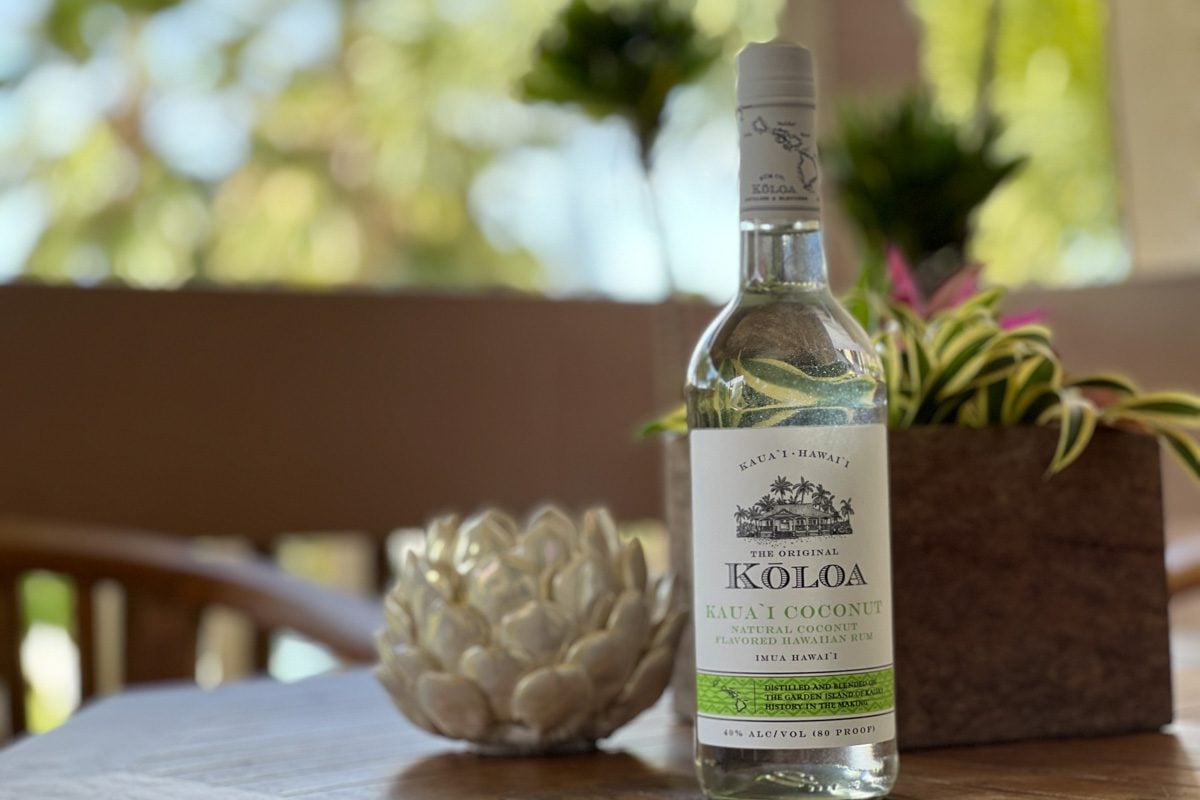 You don't want to miss the chance to sample Hawaii's award-winning single-batch rums.
Every hour, the tasting room at the Kōloa Rum Company is filled with an array of rums stirred into crafted cocktails using locally-sourced ingredients and infused with the "Spirit of Aloha".
Note that the booking process is a bit unique as there are no in-advance reservations and you must book in-person on the same day you want to do the tasting.
Kilohana Happy hour
If you're not able to snag a spot at the rum tasting (it often gets booked up), don't fret. There is a daily happy hour from 3-5pm featuring some great deals.
Try their signature Mai Tai, made with the plantation's rum, or other cocktails, like a cucumber lavender mojito, a coconut cooler, or a caliente margarita. During happy hour, cocktails are between $8-10 and a variety of small bites are available as well.
Looking for more to do? The Kilohana Plantation also has a luau and offers train rides of the historic property.
37. Take a surf lesson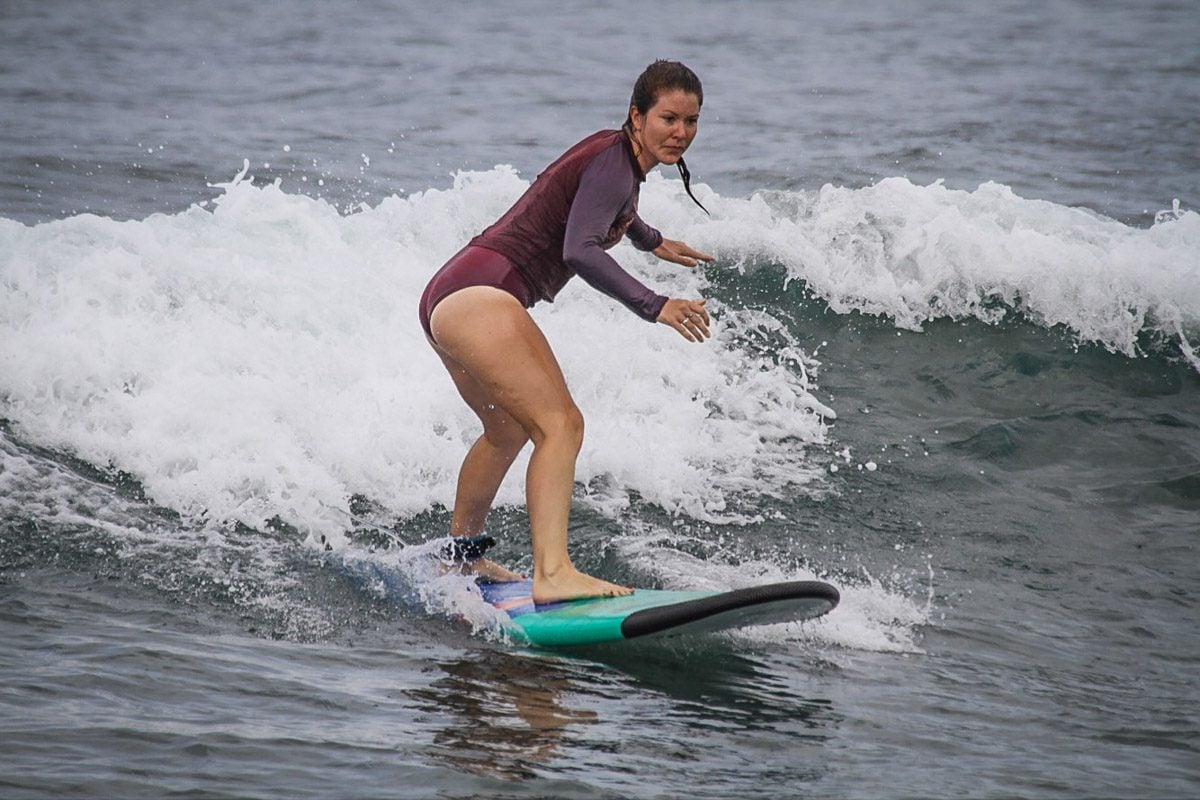 Learn the basics of surfing, safety and awareness in the water, paddling, standing up, and how to ride the waves on this personalized and Private Surf Lesson.
As you immerse yourself in a quintessential pillar of Hawaiian culture, all your moments catching the waves will be photographed for you to keep as memories.
What you need to know:
Hours: 1.5 hours
Price: $150 USD / group
What guests are saying:
"We can't stop talking about what a great time we had learning to surf with Kevin! He set us up for success with our location for the day, safety info, demonstration of different ways to pop up & instructions. We felt comfortable for our skill level and he was in the water right alongside picking great waves for us. Kevin's a great teacher, easygoing & seemed to be having as much as we were. Rad experience & we 100% recommend it!" – Teri, March 2023
38. Shop for artisan goods at Warehouse 3540
Blink and you might just miss it, this hidden gem is a beloved marketplace among creative locals and travelers getting off the beaten path.
It's filled with shops and boutiques selling an eclectic mix of handmade goods, jewelry, artwork, clothing, and other assorted items.
Warehouse 3540 extends itself outside, where you'll find an assortment of food trucks with drool-inducing menus.
Tip: While you're there, grab a coffee at Kind Koffee Company.
39. Go on a ziplining adventure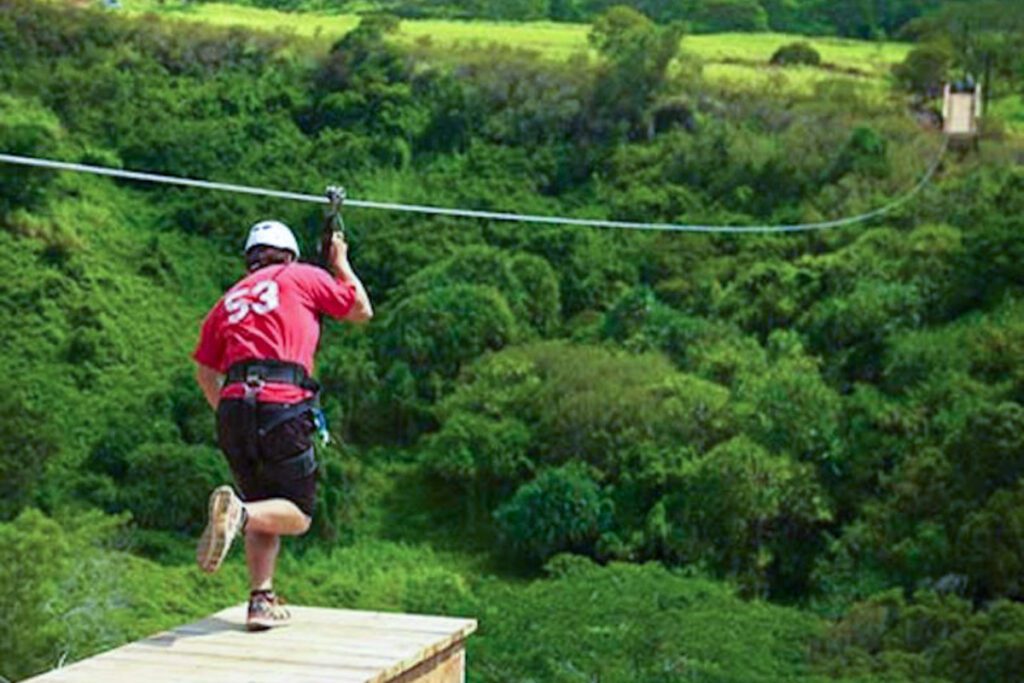 Soar through Kauai's untouched, verdant valleys on an exciting Ziplining Tour.
Immerse yourself in local flora and fauna, with craggy mountains and sweeping vistas over Kauai's southern coastline as a backdrop.
What you need to know:
Hours: 1.5 – 2.5 hours
Price: $136.07 USD
What guests are saying
"Great experience! Safe & fun with very nice guides. There were 5 guides for a group of 12. Tip: since you can't take anything with you, but you can take something to drink, leave it in the van that takes you to the first platform and get your bottle at platform 3. It was very hot and sunny when we were there. […]" – GetYourGuide Traveler, March 2023
40. Learn the art of spearfishing
Spearfishing is a way of life on Kauai as fresh fish is a staple on the tables of local homes, and the star of countless traditional Hawaiian dishes.
When you join a Kauai native on this Hawaiian Reef Spearfishing Tour, you'll learn about the culture and techniques of spearfishing, and use what you've learned to catch a variety of colorful fish to cook up for dinner.
What you need to know:
Hours: 3 hours
Price: $125 USD
What guests are saying
"Christian was an amazing instructor. He was very thoughtful and thorough during the tour. He is very knowledgeable about the water, fish, and culture of the surrounding area. He made sure we were safe and able to swim with a spear. We couldn't have asked for a better instructor. We caught some fish. Definitely, recommend him and when we do go back during the summer, we will go back with Christian. Mahalo Christian." – Darmawan, February 2023
---
How many days do you need in Kauai?
The amount of time you spend on Kauai depends on what you're doing and where you're going.
The minimum amount of time we recommend for Kauai is 3-5 days. This may be all you have time for if you're also visiting another island.
If you want to thoroughly explore the island, but still have time to unwind on the beach, 7-10 days is ideal, especially if you're doing any serious hiking, like the Kalalau Trail.
Best time to visit Kauai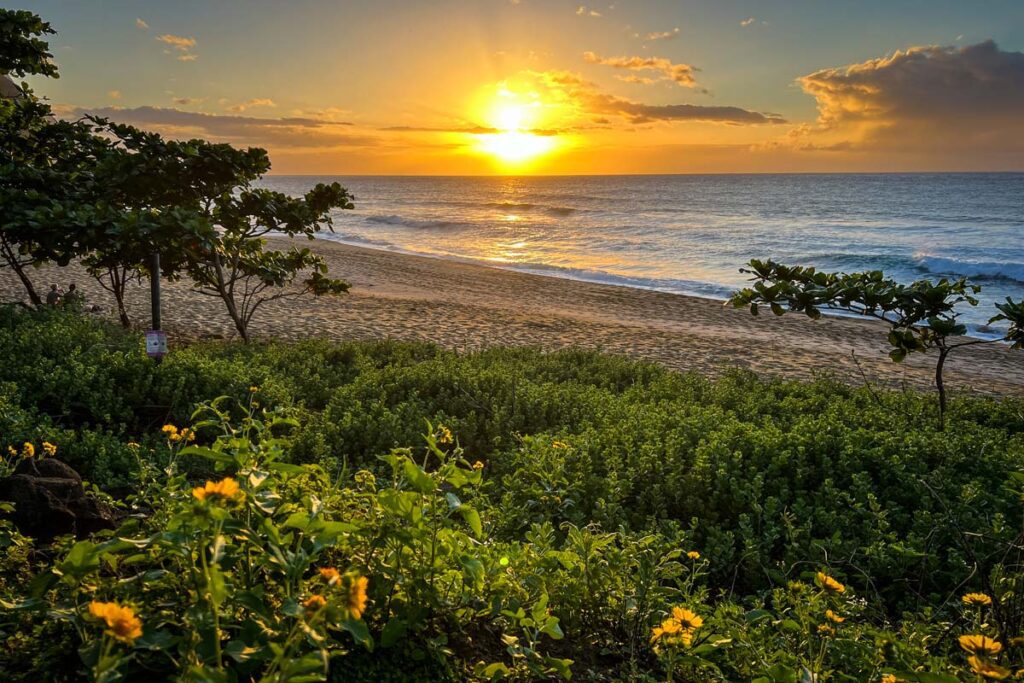 May, late August, September, and October are the best months to visit Kauai since accommodation prices are lower, crowds are fewer, and chances of rain are lower.
For the best weather, visit during the summer months from June to August. This time of year has ideal conditions for snorkeling, sailing the NaPali coast, and hiking. Although note that this is the busiest time to visit Kauai and it will be crowded.
Winter months boast a warm escape, however with huge swells and largest chances of rainfall, this may not be ideal. Although, winter is prime whale-watching season on Kauai which is something to factor in.
All in all, the best time to visit Kauai depends on what you're doing and where you're going. We put together a guide to the best time to visit Hawaii that will help you decide when to go for your personal travel needs.
How to get to Kauai
The best and only way to get to Kauai is by flying.
Kauai has one commercial airport, Lihue Airport (LIH) on the east shore that handles inter-island and domestic flights. A few major cities on popular airlines now offer direct flights to Kauai.
If there isn't a nonstop route offered from your city, you'll first need to fly through Maui or Honolulu International Airports, then to Kauai. The flight is short and sweet, about 25-minutes.
Transportation in Kauai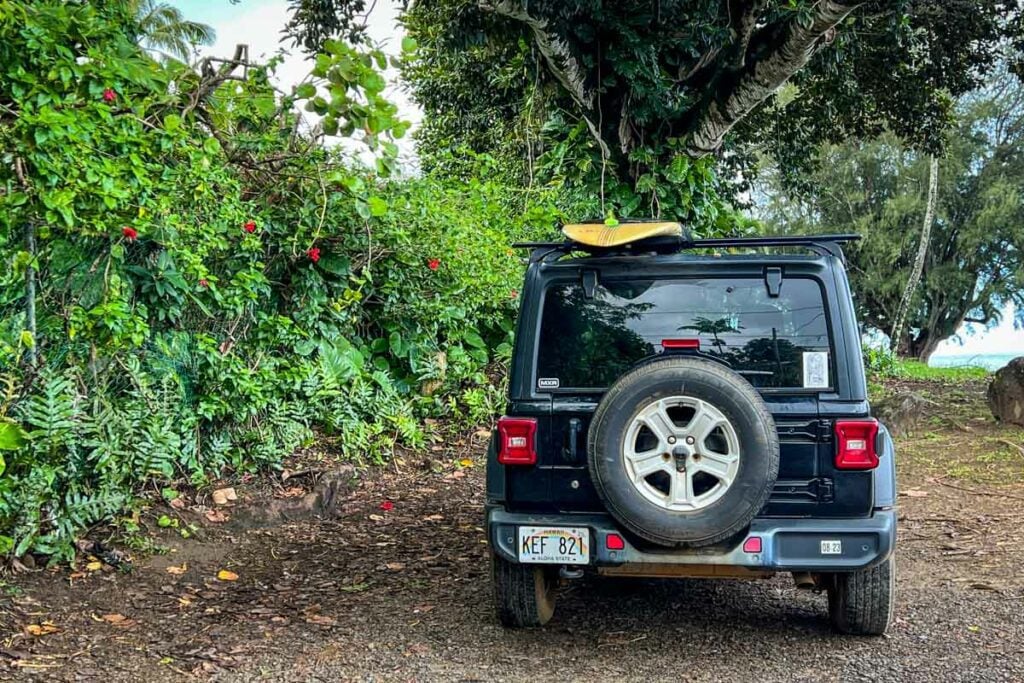 The island of Kauai has only one main road, and other than the occasional traffic jam, driving around the island is pretty easy.
Although transport options are plentiful, the best way to get around Kauai is with your own rental car.
However, just like the rest of the prices on Kauai, car rentals aren't cheap.
Typically when we book rental cars around the world, we compare Discover Cars and RentalCars.com to make sure we're getting the best deal.
However, we did find a way to save quite a bit of money through a local car rental service…
Discount Hawaii Car Rental
While searching for rentals, we were thrilled to find that Discount Hawaii Car Rental offered cheaper prices for the exact same rentals we found on other sites.
While the prices were in a similar ballpark, even saving a few hundred dollars is worth it, on top of supporting a local company!
Before you book, be sure to read our detailed guide on renting a car in Hawaii.
Alternative modes of transportation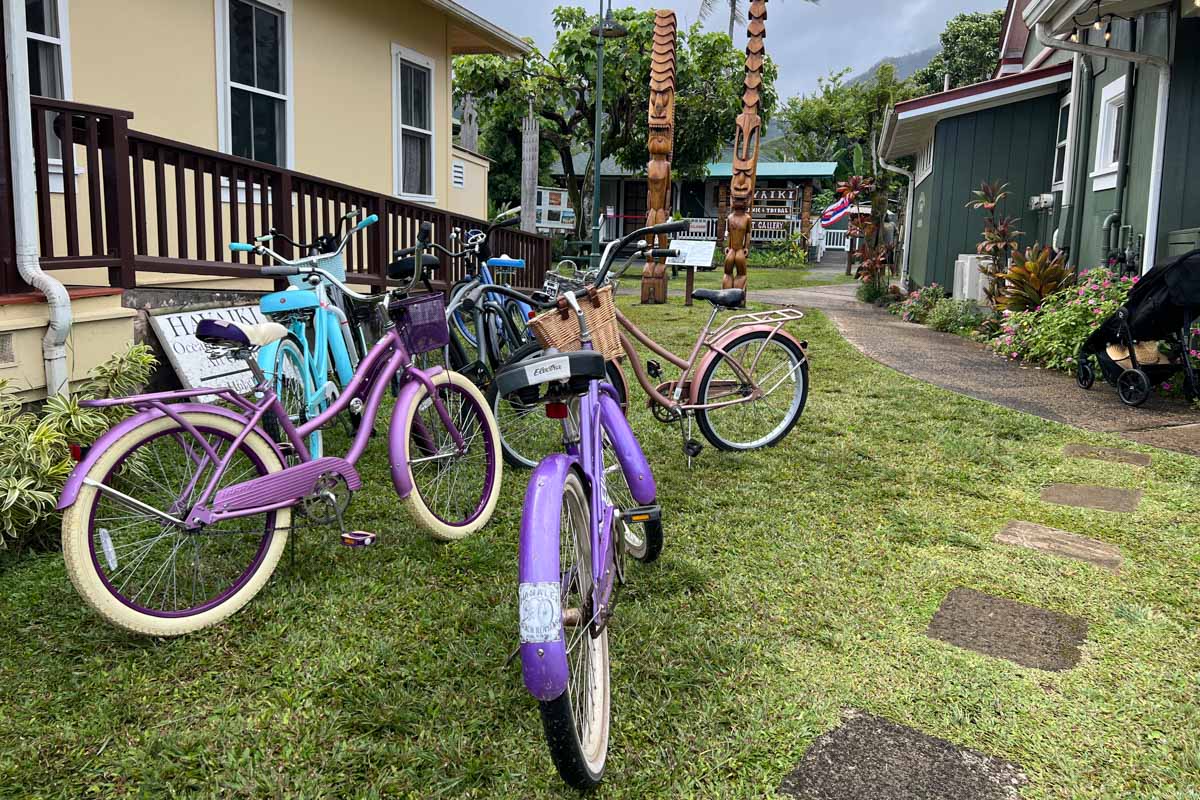 If you don't plan on getting a rental car, here are some alternative ways to get around the island.
The Kauai Bus offers all day passes for $5 USD or single rides for $2 USD. It's an ideal way to get around if you're on a budget and not in a hurry.
Also, Kauai recently launched the North Shore shuttle that is useful while traveling around the area.
Ubers and Lyfts run cheaper than taxis, making them the more appealing option since they consistently have the best price. They're available in most hub towns like Hanalei, Kapaa, Lihue, and Poipu.
Bicycles and mopeds are available for rent through local companies, both fun and convenient ways to get around.
Good to know: Since there's only one main road on the island, it often gets backed up with traffic. The worst delays tend to be on the east coast and around the airport. Be sure to give yourself enough time to get to the airport.
Where to eat in Kauai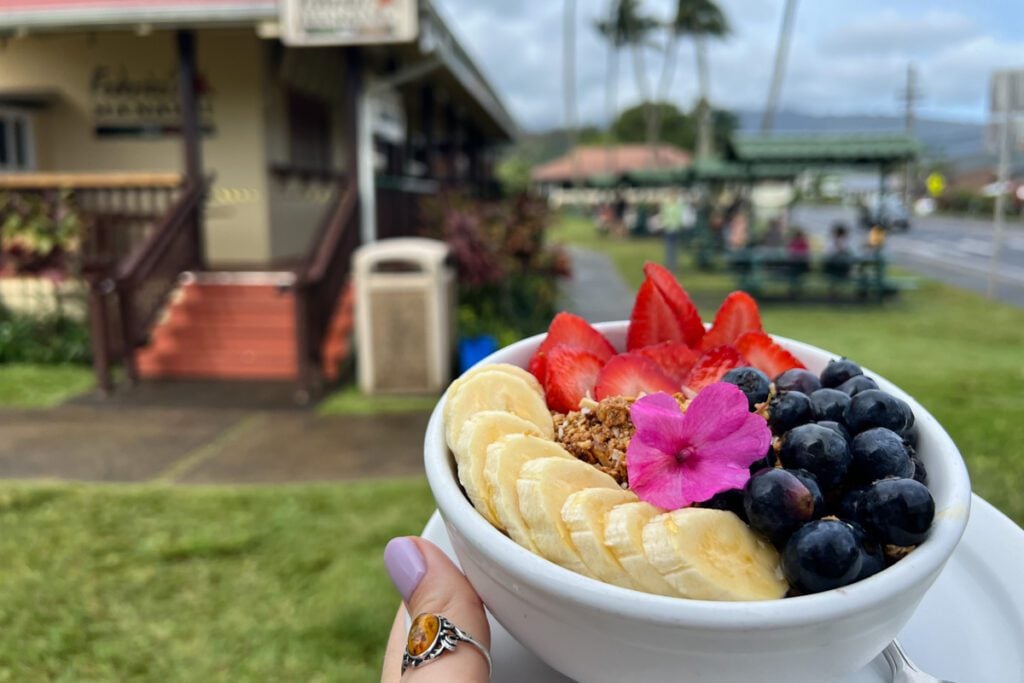 There are plenty of top-notch places to eat on Kauai. Here are some of our top recommendations. Be sure to save these in Google Maps so you can easily find them during your trip!
Kauai's North Shore: Where to eat
East Coast: Where to eat
Kauai's South Coast: Where to eat
Where to stay in Kauai
Kauai has a handful of different areas/neighborhoods that are ideal, however, the best place to stay depends on what you're doing and where you're going:
North Shore: Most scenic part of the island with hiking, surfing, and solitude.
East Coast: Centrally located and most developed part of Kauai with local culture, hiking, adventure, and budget-friendly accommodation.
South Shore: Most popular (busiest) place to stay with the best weather, shopping, and dining.
North Shore accommodation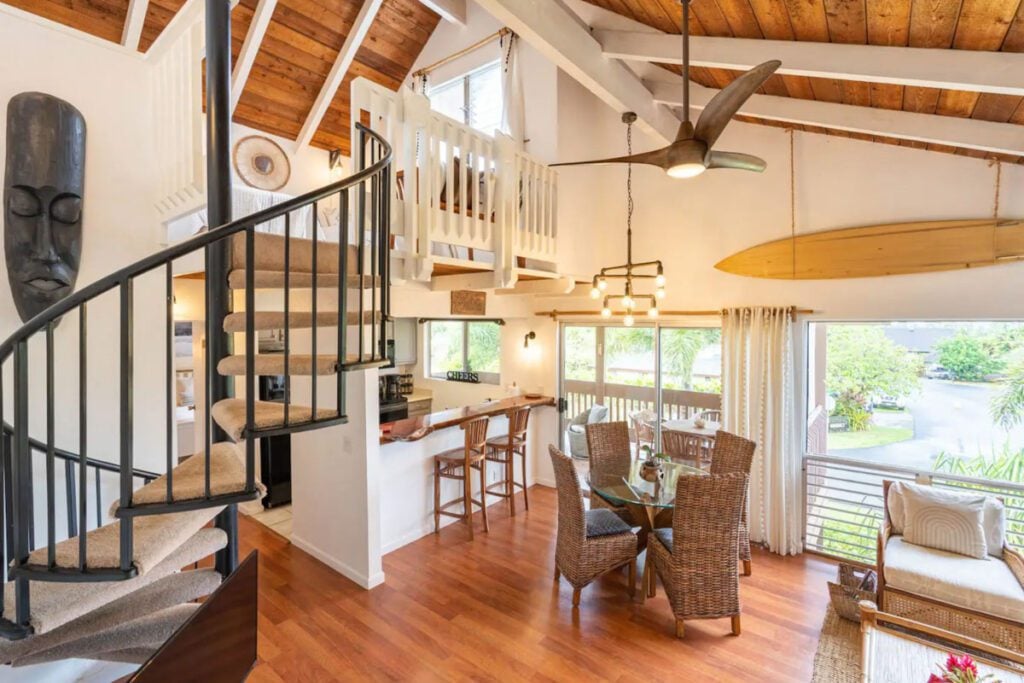 This unit in Princeville is where we personally stayed and overall we'd recommend it. The main bedroom has been updated and looks even better than the photos. The lanai (balcony) is spacious and the perfect spot to enjoy a morning coffee (weirdly, the host has a coffee maker but doesn't provide actual coffee). Other than that, we had a lovely stay here.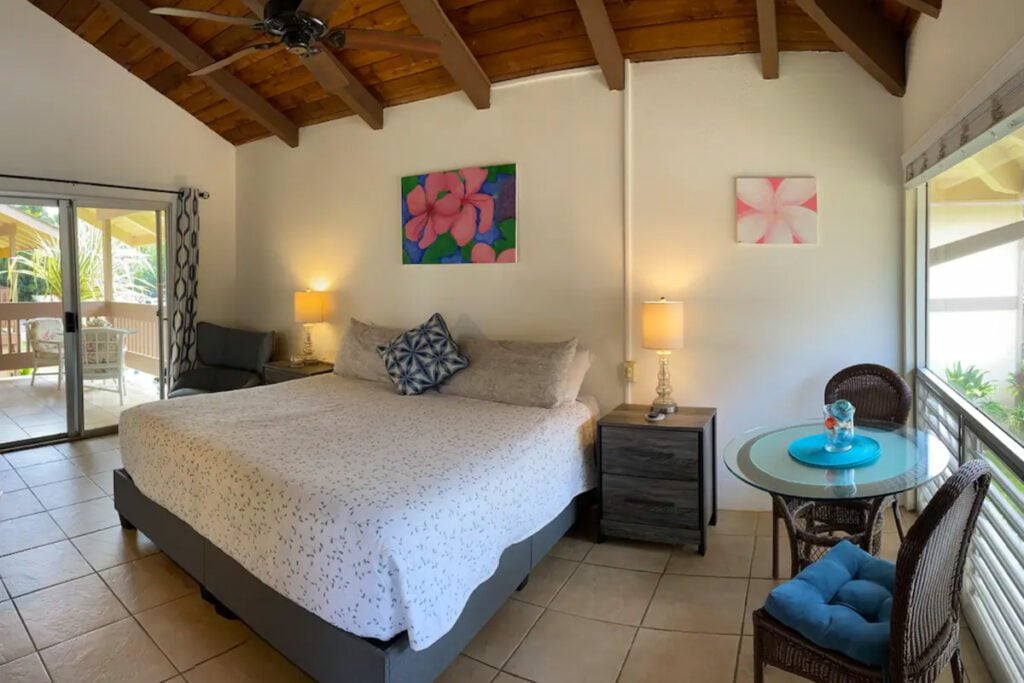 In the heart of Princeville, it's hard to find any accommodation cheaper than this! This clean and well-equipped apartment is near beaches and popular attractions. Cook meals in the kitchenette, leisure on the lanai, enjoy free Wifi, and relax in the properties pool and hot tub. Take full advantage of the bikes, snorkel gear, and beach towels that come with your stay.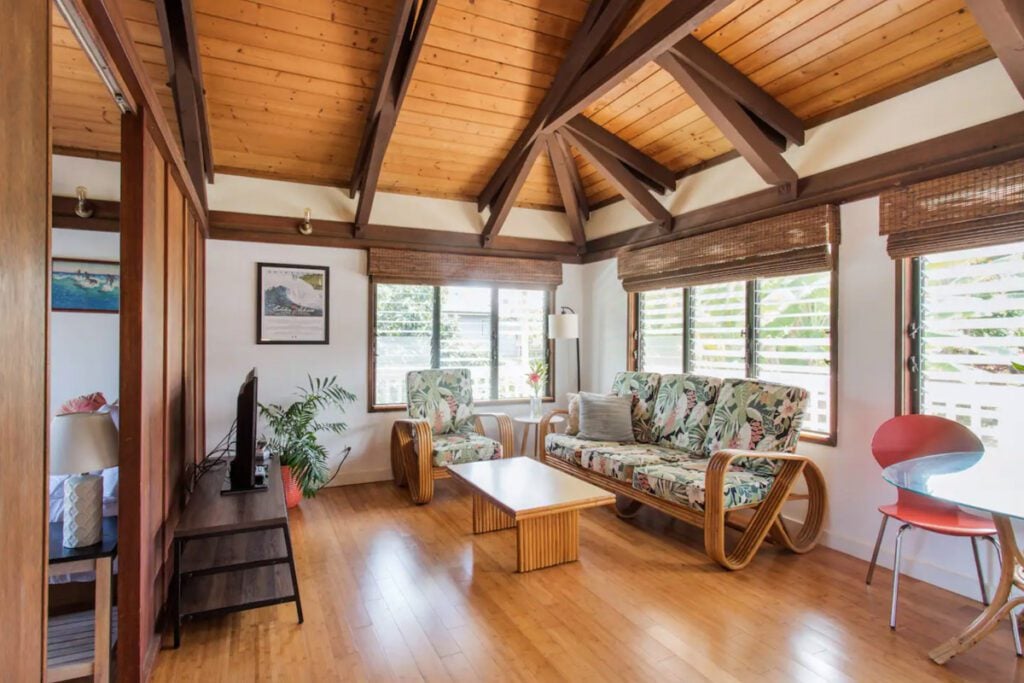 Situated on the North Shore in Princeville, this guest suite has everything you need for the ideal adventure base camp: a kitchenette for light cooking, private lanai, spacious living area, internet, bikes, kayaks, and even paddleboards.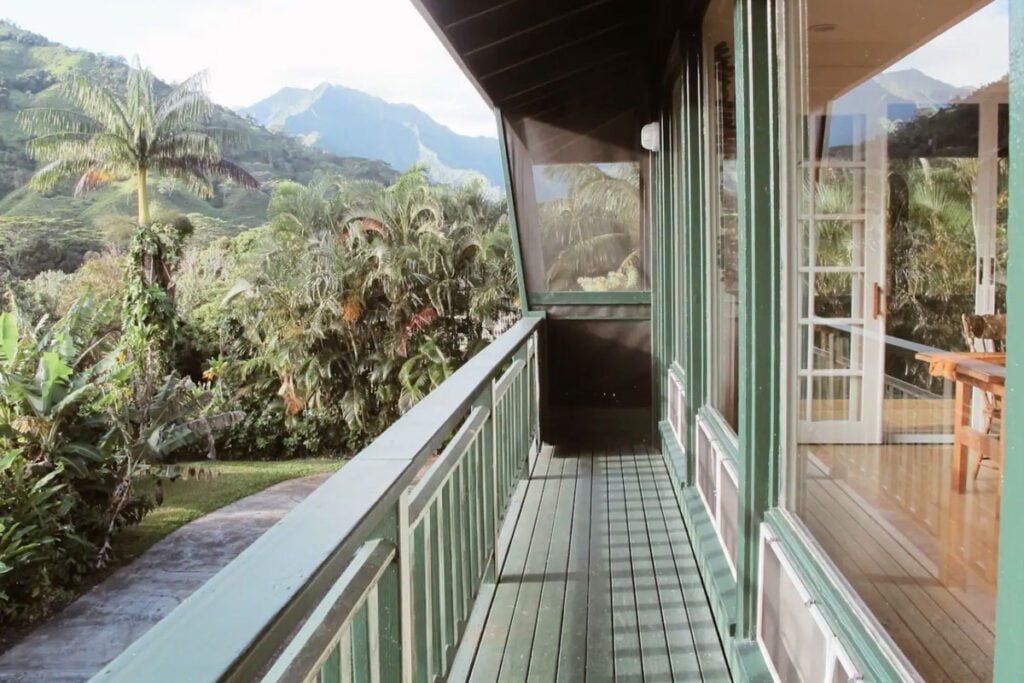 This secluded cottage just outside of Hanalei was voted as one of the best Airbnbs in Hawaii by Conde Nast Traveler, and is actually reasonably priced compared to just about everything else in Hanalei. If you see an opening, snag it because they go fast!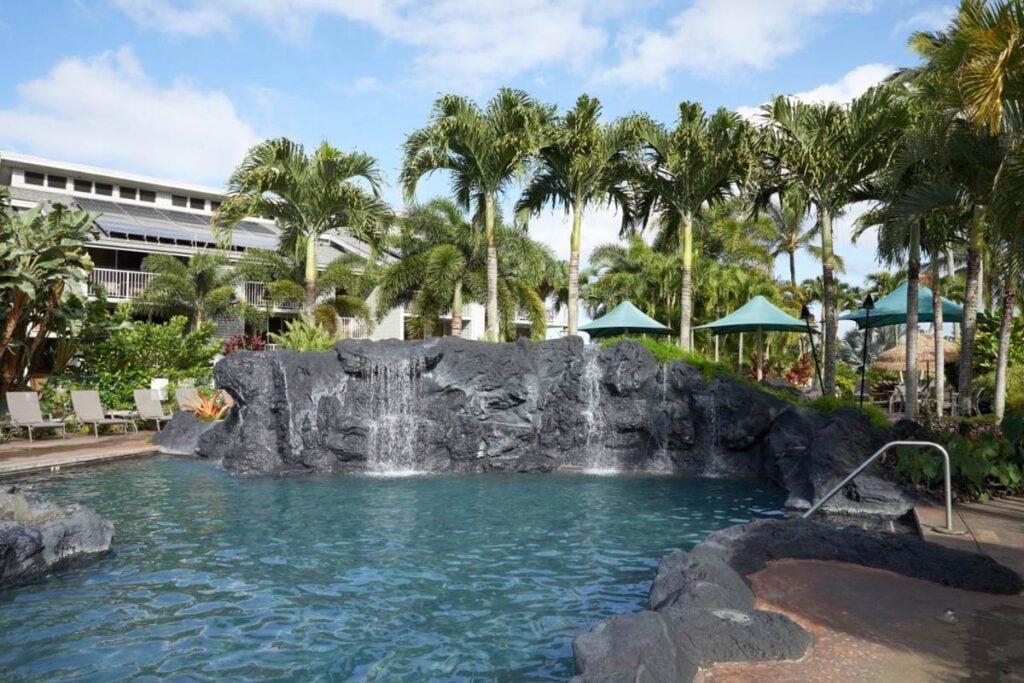 Plotted perfectly on the cliffs of the North Shore, you have all the amenities of an apartment converted to luxury at this hotel. Aside from two private balconies, you'll have a full kitchen for cooking, dining area, washer and dryers, free Wifi, and spacious rooms. On the property, there are two swimming pools, hot tubs, courts for a variety of sports, bike rentals, and a fitness center.
East Coast accommodation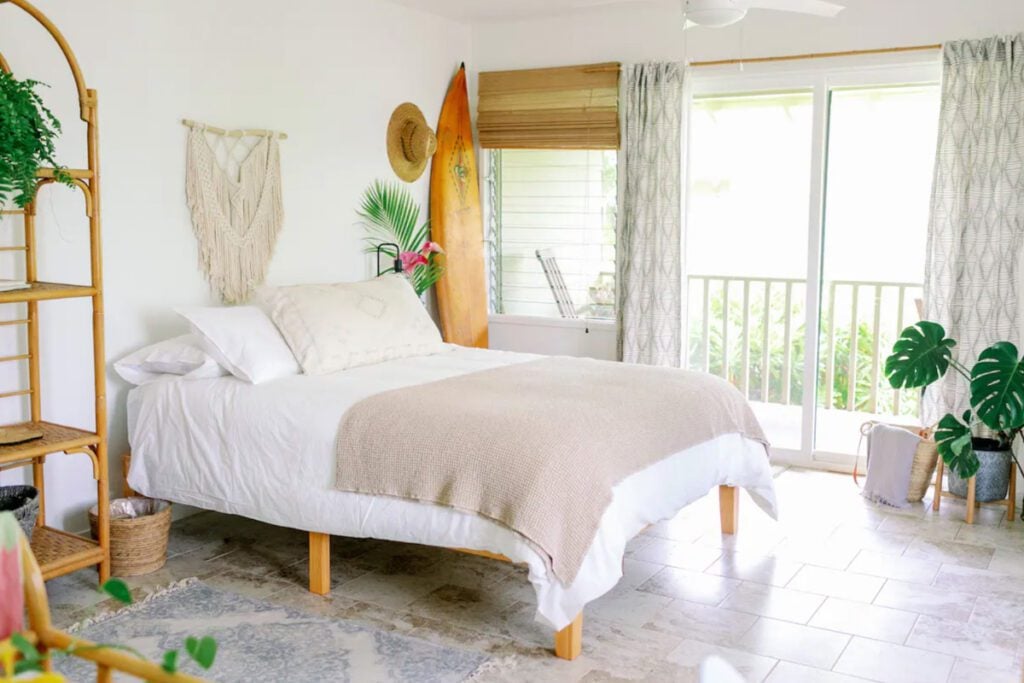 This clean, bohemian bungalow is the perfect spot to base yourself on Kauai's east coast. Compared to most other accommodations in the area, it is a great value.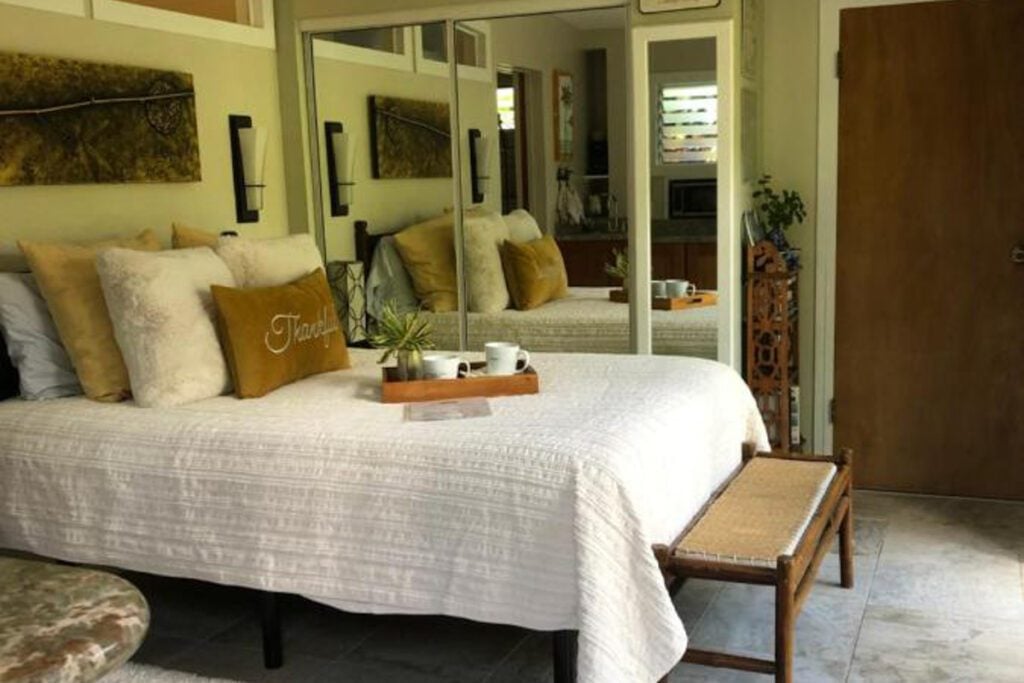 This Kapa'a studio is planted among lush flora and fauna with its own private entrance. Your room comes with a BBQ grill, microwave, refrigerator, free Wifi, indoor/outdoor eating areas, plus a welcome basket from the hosts. It's in a prime location on the east coast with equal access to all the best things to do in Kauai.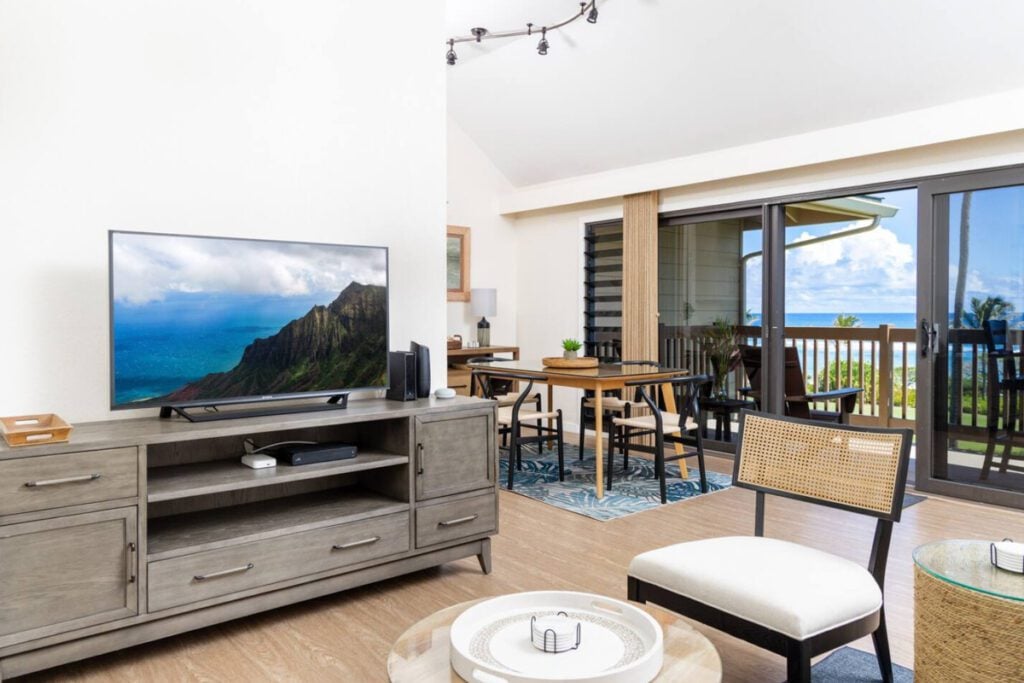 If you're looking for a luxury stay near Lihue, this is a perfect choice! With ocean views, a sumptuous lanai, a refreshing pool, this place is everything you need for a comfortable stay.
South Shore accommodation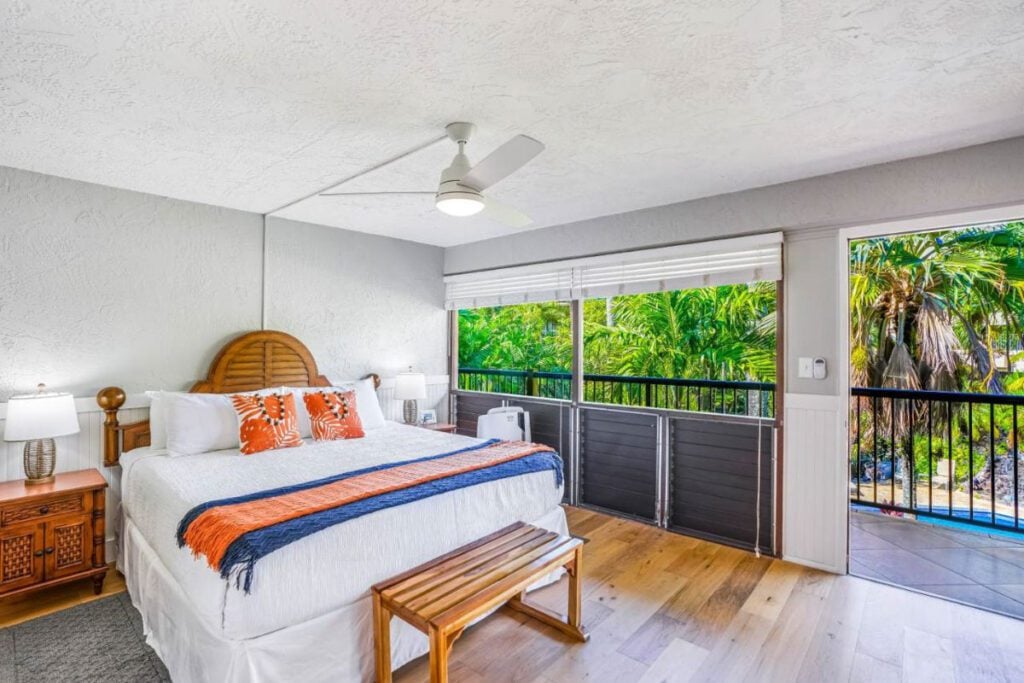 Mid-range budget option: Prince Kuhio
The Poipu area is popular, but tends to be full of very expensive resorts or mediocre condos. If you want to stay on the southern coast but are working with a smaller budget, this is an excellent option. This property is clean, well-equipped, has a pool, and is perfectly located.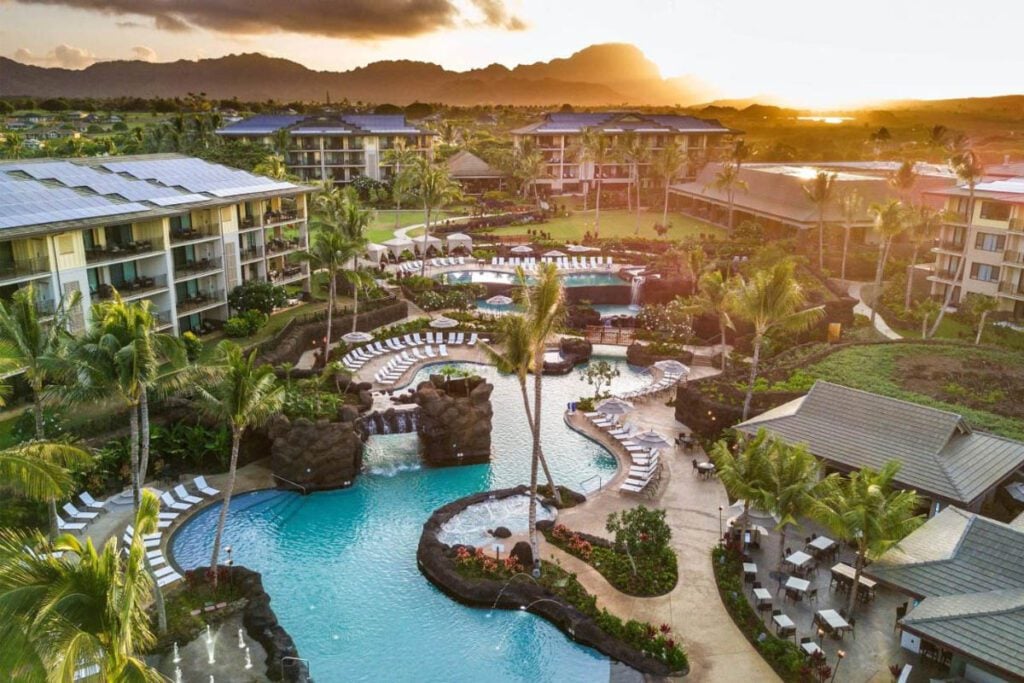 This 4-star resort on the South Shore has floor-to-ceiling windows and spectacular oceanside views from the fully-equipped rooms. Landscaped ponds and dreamy torch-lit walkways line the property where you'll find resort-style pools, a spa, fitness center, shopping, and nearby beaches. This is where we'd stay if we wanted a splurge stay in Kauai!
What to pack for traveling to Kauai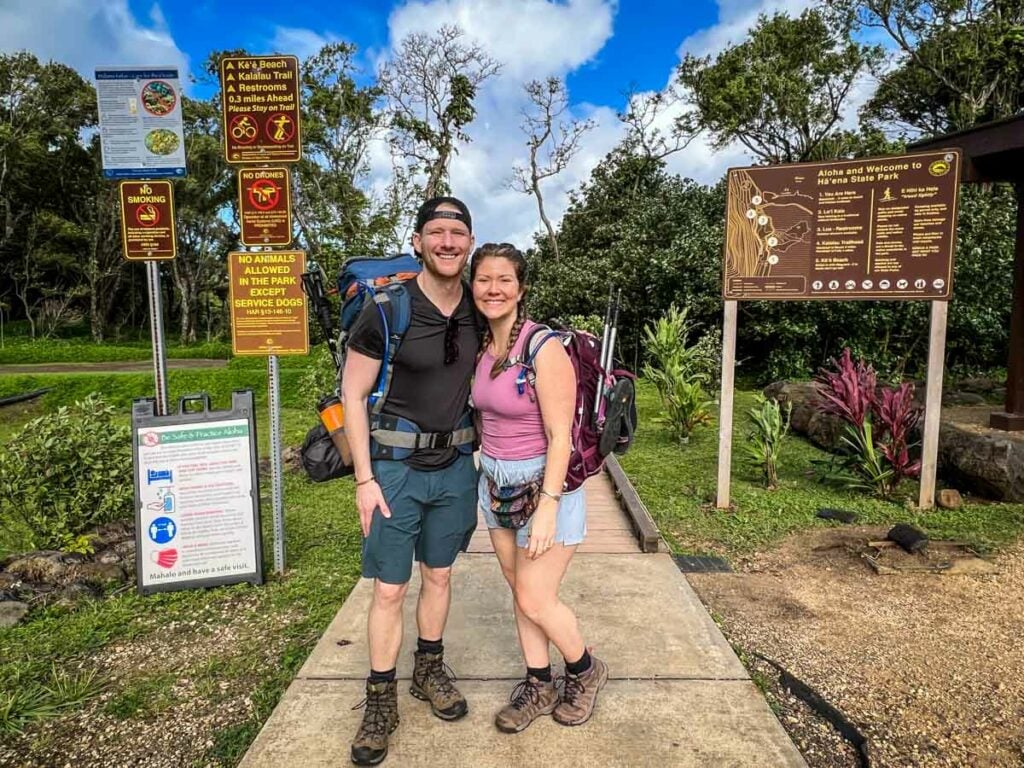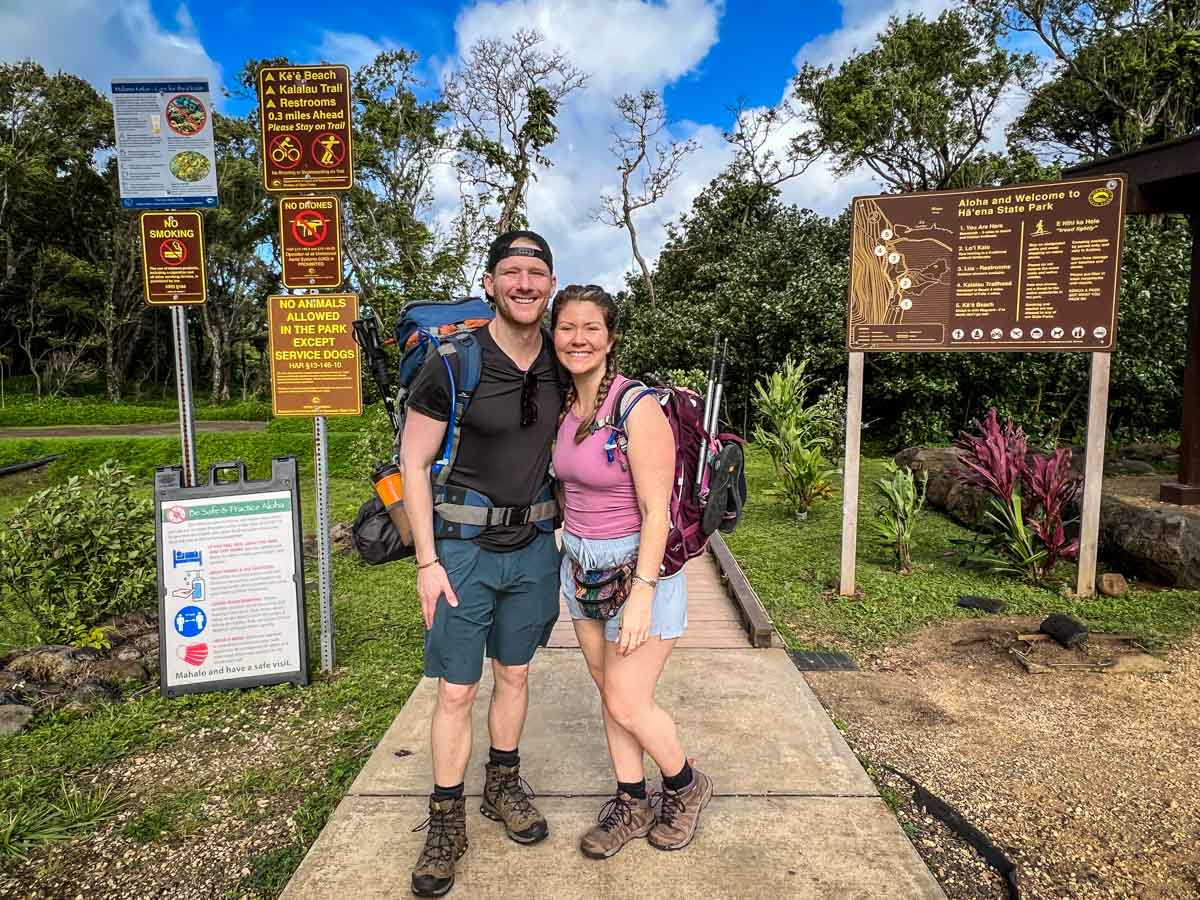 While this is not a comprehensive list, these are some of the items you definitely don't want to forget for your trip to Kauai!
Sun hat
Swim suit
Rash guard (if you plan to do lot of snorkeling, this will minimize sunburn on your back)
Cover up
Comfortable and lightweight clothing
Be sure to download our complete packing list for Hawaii! It's packed with good suggestions and insider tips to help plan your Italy trip. And it's completely FREE, so why not!?
---
Round up of the best things to do in Kauai
Here's a recap of all the best things to do in Kauai so you can see everything in one place.
Hike the Kalalau Trail
Scenic helicopter ride
Mountain tubing tour
Snorkeling
Tahiti Nui
Waimea Canyon
Red dirt waterfall
Boat tour on the Na Pali Coast
Wailua Falls
Try shave ice
Poke cooking class
Kauai Humane Society doggy "field trips"
Hanalei Spirits Distillery tour
Hike Sleeping Giant
Lydgate Farms chocolate workshop
Hanapepe art galleries
Hike to a swimming hole
Views of Hanalei Valley
Limahuli Garden Preserve
Secret Beach
Hanalei Farmers Market
Kauai Coffee Company tour
Kayak to Secret Falls
Makauwahi Cave Reserve
Sunrise yoga
Fresh seafood dinner
Taro donuts
Monk seals at Poipu Beach
Exotic fruits farm tour
ATV adventure
Kilauea Lighthouse
Luau
Queen's Bath
Maha'ulepu Heritage Trail
Allerton Garden
Rum tasting at the Kilohana Plantation
Learn to surf
Warehouse 3540
Ziplining
Spearfishing
---
Are you planning a trip to Hawaii?
We have lots of resources on travel in Hawaii and destinations around the islands. Check out our Hawaii Homepage for everything you need to know, or start by reading some of our favorite Hawaii travel articles to help you plan your dream vacation to the Aloha State:
Save this article on Pinterest for later!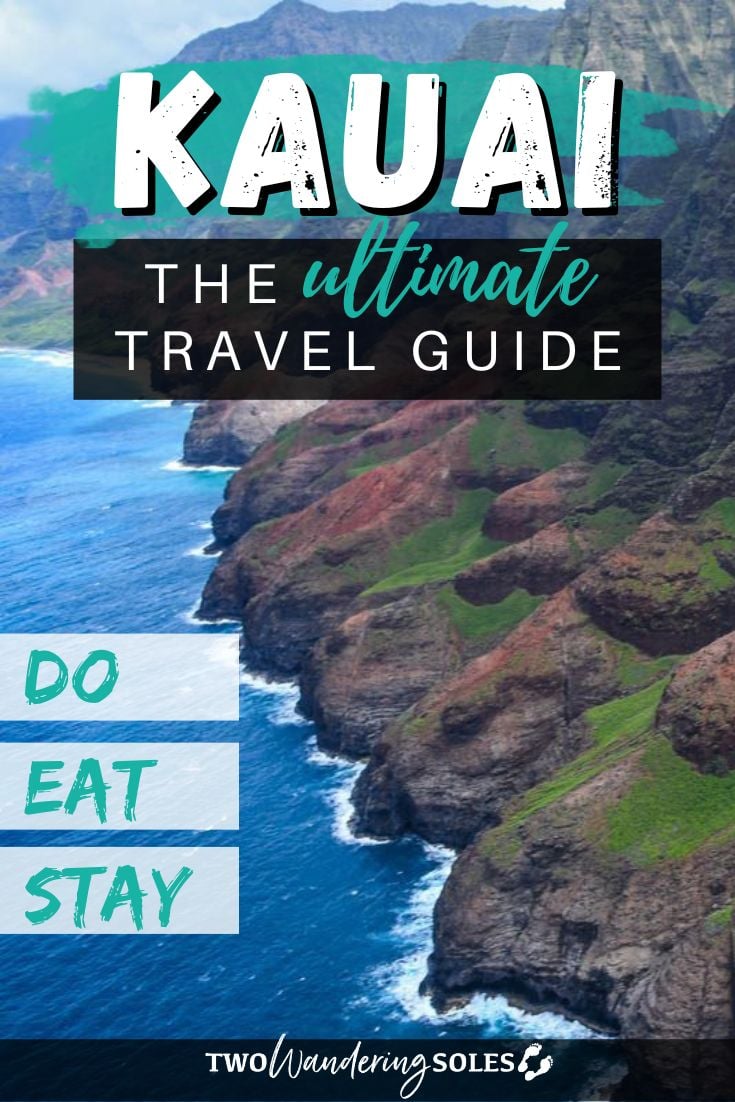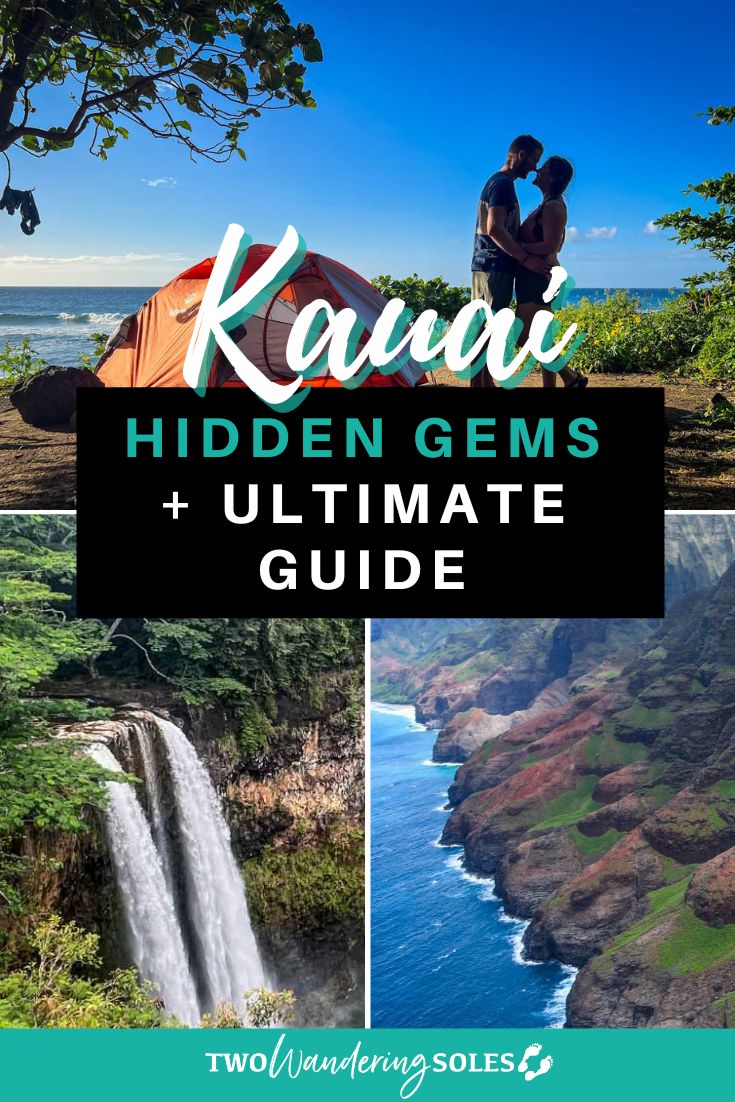 We want to hear from you!
Which of these things to do in Kauai is going straight to the top of your bucket list? Are you planning a trip to Kauai and still have questions? Leave your comment below and we'll do our best to get back to you!