Surrounded by the stunning scenery of Fiordland National Park, visiting Milford Sound in New Zealand is a must! Specifically, a Milford Sound cruise allows you to experience this incredible landscape in a unique way. Read on for what to expect and which cruises are best.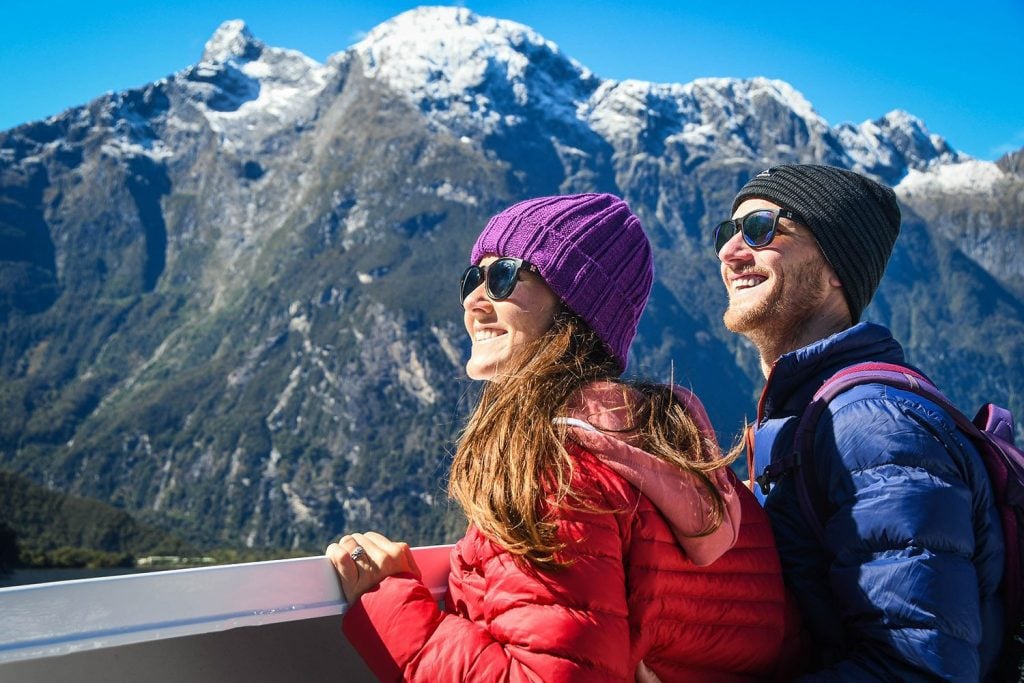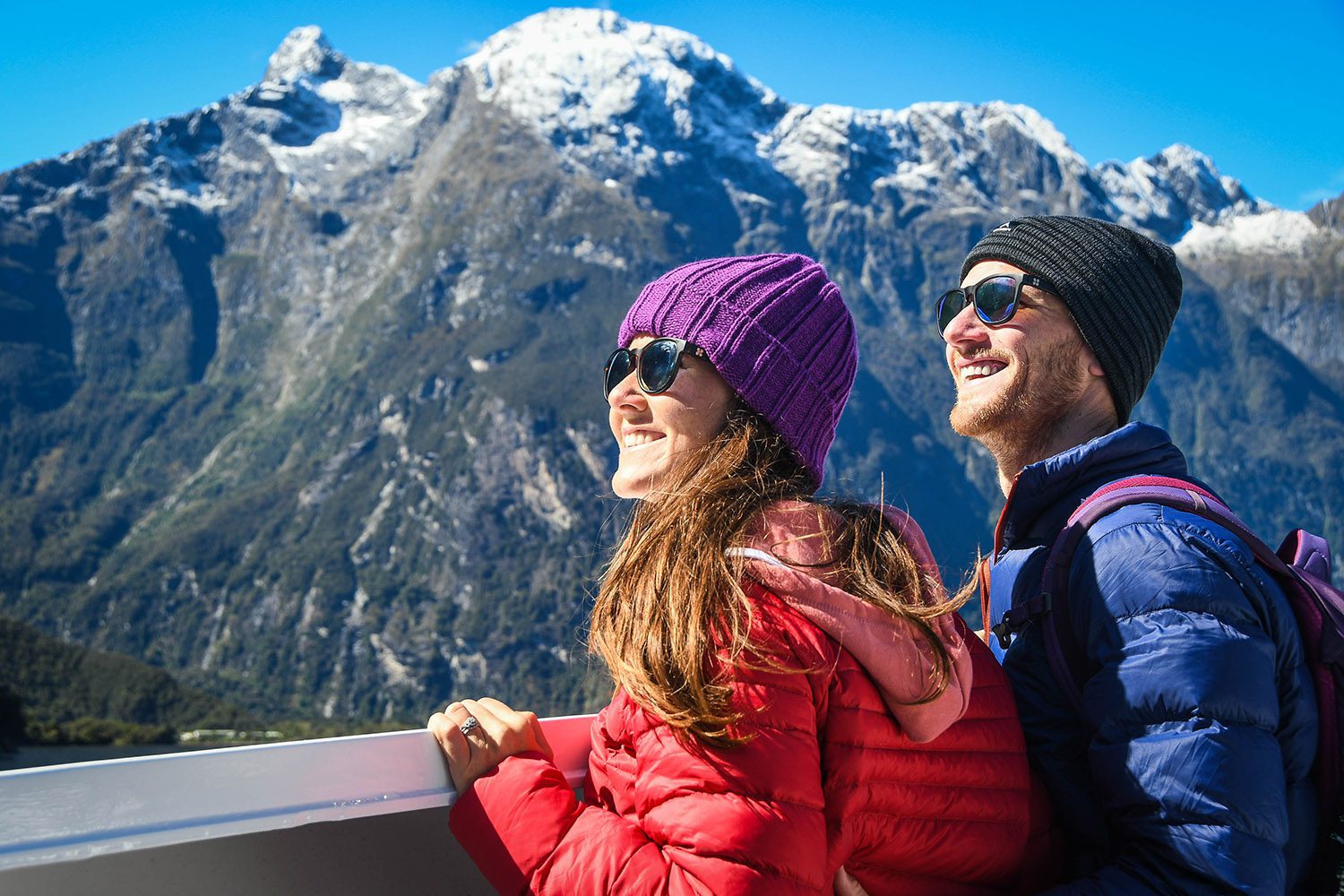 Milford Sound ("Piopiotahi" in Māori) is arguably New Zealand's most spectacular natural attraction (and that's saying something!).
Carved by ancient glaciers and surrounded by towering cliffs, cascading waterfalls, and lush rainforests, this stunning natural wonder is remote and wild.
A visit to this untouched wilderness tops many travelers' lists of things to do in New Zealand, and a Milford Sound cruise is one of the best ways to experience it.
Milford Sound Cruise Guide
For more tips and advice for planning your Milford Sound cruise, jump to the following sections (or just keep scrolling to see it all!).
And if you want more information to plan your trip to Milford Sound, be sure to check out our other guides: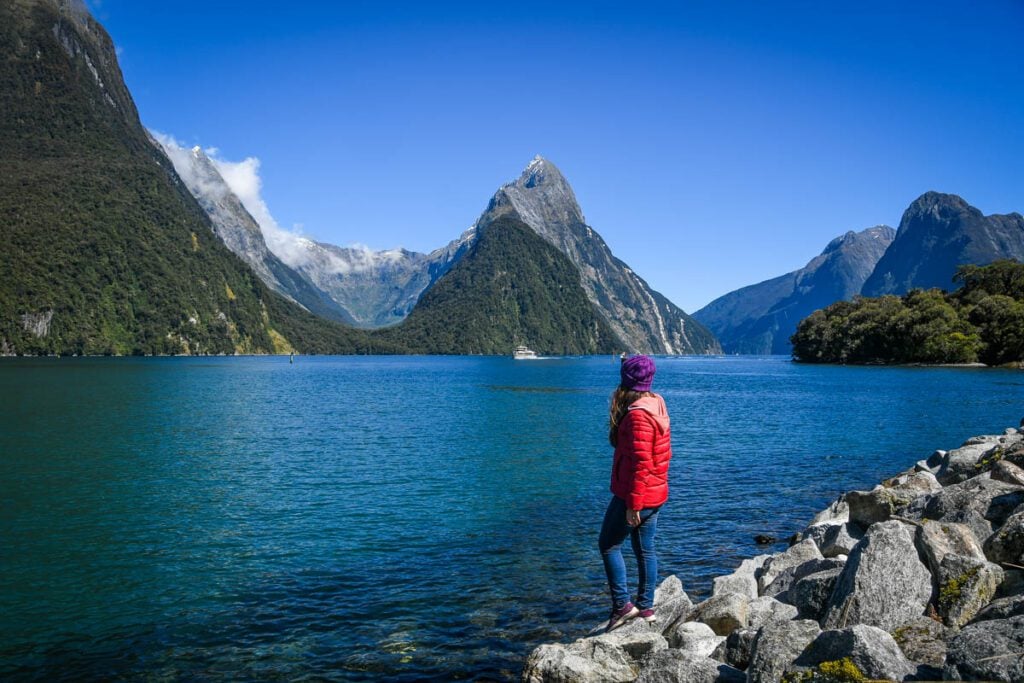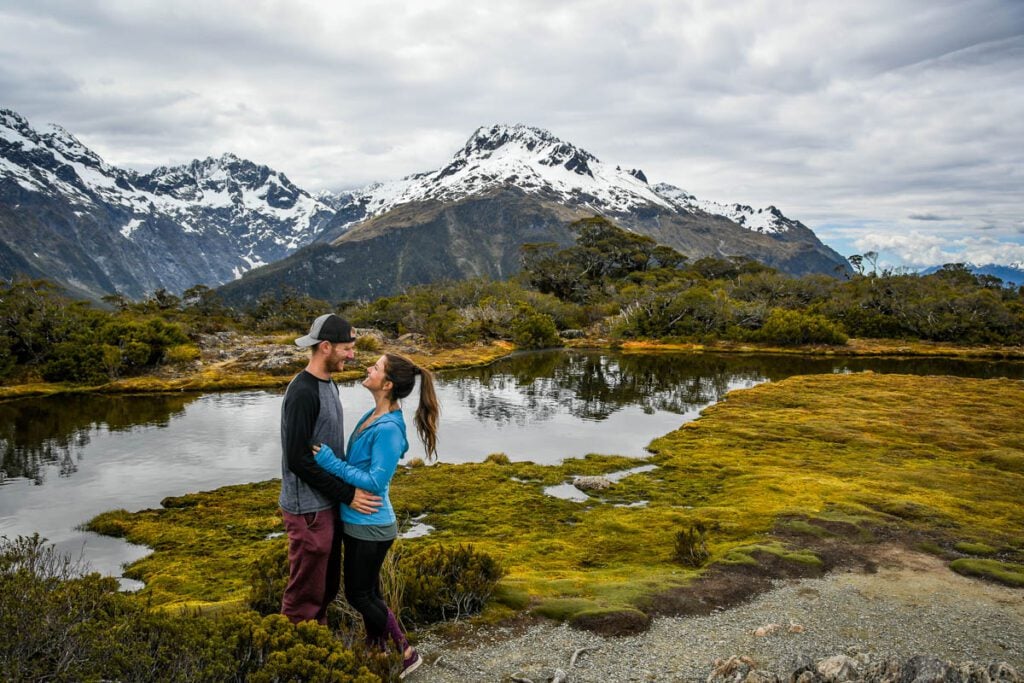 ---
Want to save time and energy on planning?
We spent 5 weeks traveling around New Zealand in a campervan, and we've been lucky enough to explore a lot of what this country has to offer!
We took our 5-week travels and condensed it down to 30 days (because so many people wanted a 1-month route) that hits the top destinations on both the North and South Islands.
We'll send you our complete 1 month itinerary, filled with tips and advice. Just click below to get your 30-day New Zealand road trip itinerary today!


---
About Milford Sound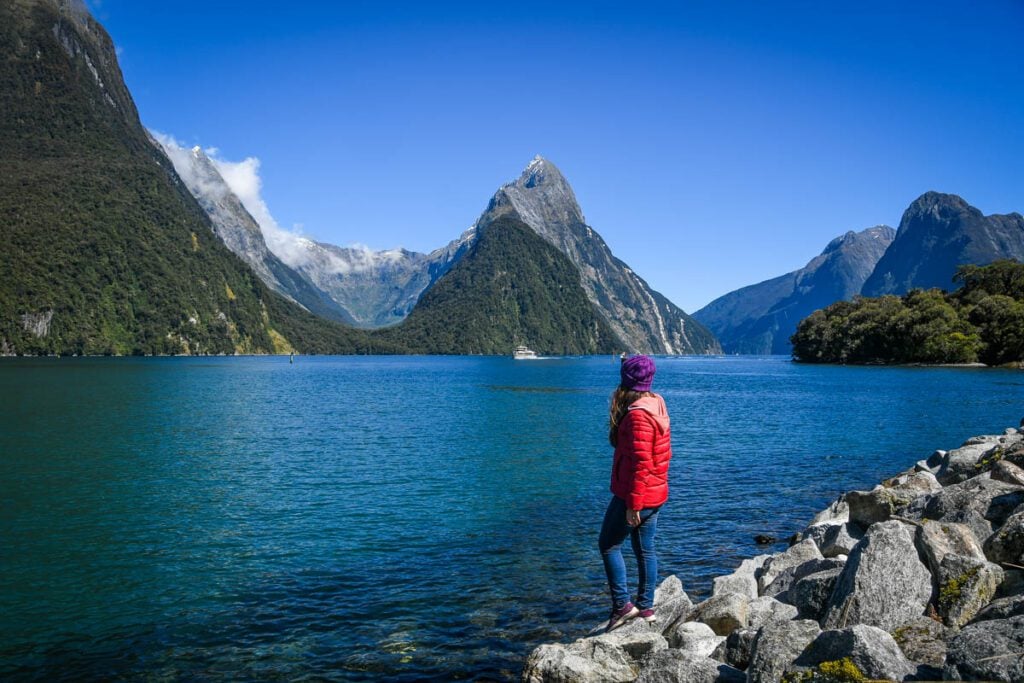 Milford Sound is actually not a sound at all, but a fjord, and the most renowned of its kind in Fiordland National Park, New Zealand. These fjords were shaped by glacial erosion over millions of years.
Originally named Piopiotahi by the Māori over a millennium ago, European settlers later coined it "Milford Sound." While both sounds and fjords are valleys filled with seawater, the term "sound" typically refers to a valley formed by river flooding, whereas fjords result from glacial valleys.
Today, Milford Sound is one of New Zealand's top tourist attractions, drawing nearly 900,000 visitors in 2019 before the pandemic. With its lush native forests, countless waterfalls, and abundant wildlife, it's easy to see why.
This is one of those must-see places that lives up to its reputation, making it an essential stop on your South Island itinerary.
Will you be visiting both islands on your trip? We also have a 2-week North Island itinerary that you can copy!
English language note: In this article, we'll be using "fjord" and "fiord" interchangeably.
Milford Sound cruise landmarks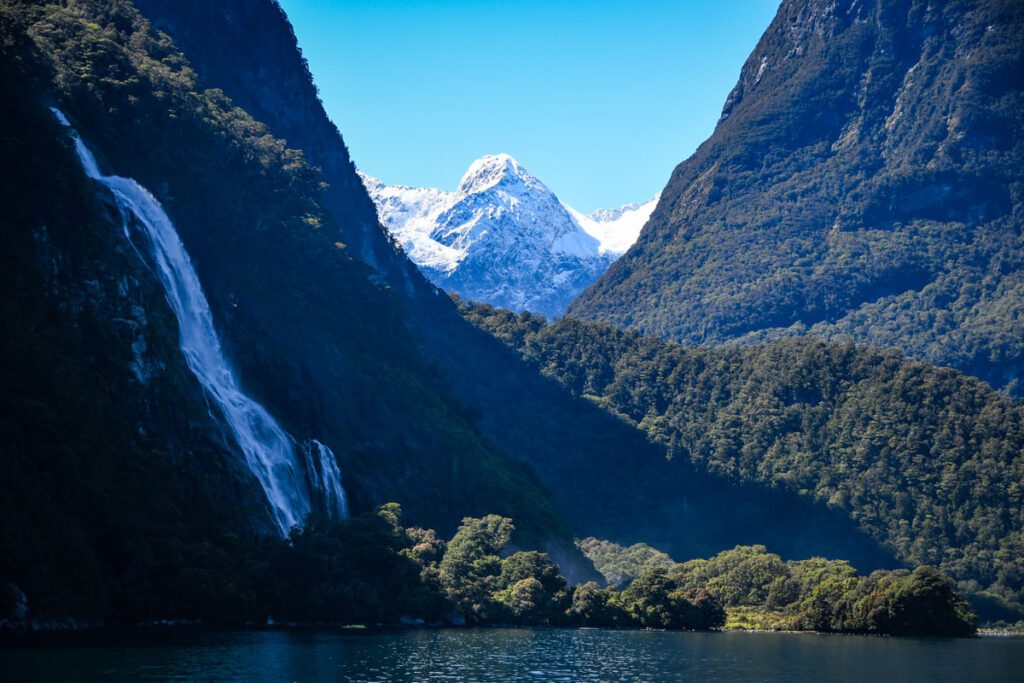 No matter which company you book with, your boat will follow the same basic route from the ferry terminal to the mouth of the Tasman Sea and back. Below are a few of the incredible sights you can expect to see on your cruise.
Bowen Falls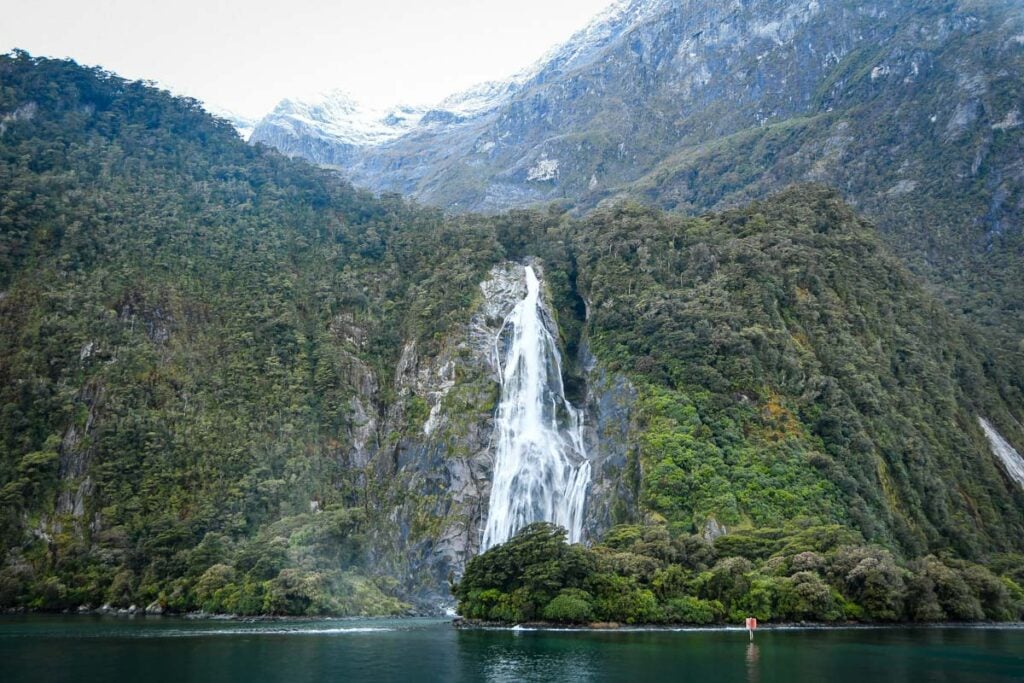 At a whopping 162 meters (531 feet), Lady Bowen Falls is the highest waterfall in Milford Sound and the first major landmark you'll see on your cruise.
Tucked out of sight from the port, rounding the corner to see this dramatic falls is sure to take your breath away. Stand out on the deck of your Milford Sound cruise and you just might be kissed by the ethereal mist.
But Bowen Falls isn't just an awe-inspiring tourist attraction; she's also an important resource – this mighty cascade provides power and hydro for the local township.
Fun Fact: Of the many waterfalls in Milford Sound, only two are permanent – Bowen Falls and Stirling Falls. The rest come and go depending on rainfall.
Fairy Falls
Though smaller than some of its neighbors, Fairy Falls is no less breathtaking. The cliffs here are covered in plush moss, creating a verdant backdrop for the tumbling water that contrasts with the imposing rock settings of other Milford Sound waterfalls.
Fairy Falls and neighboring Bridal Veil Falls are best seen after (or during!) a rainfall, as the falls will be bigger and more active.
Seal Rock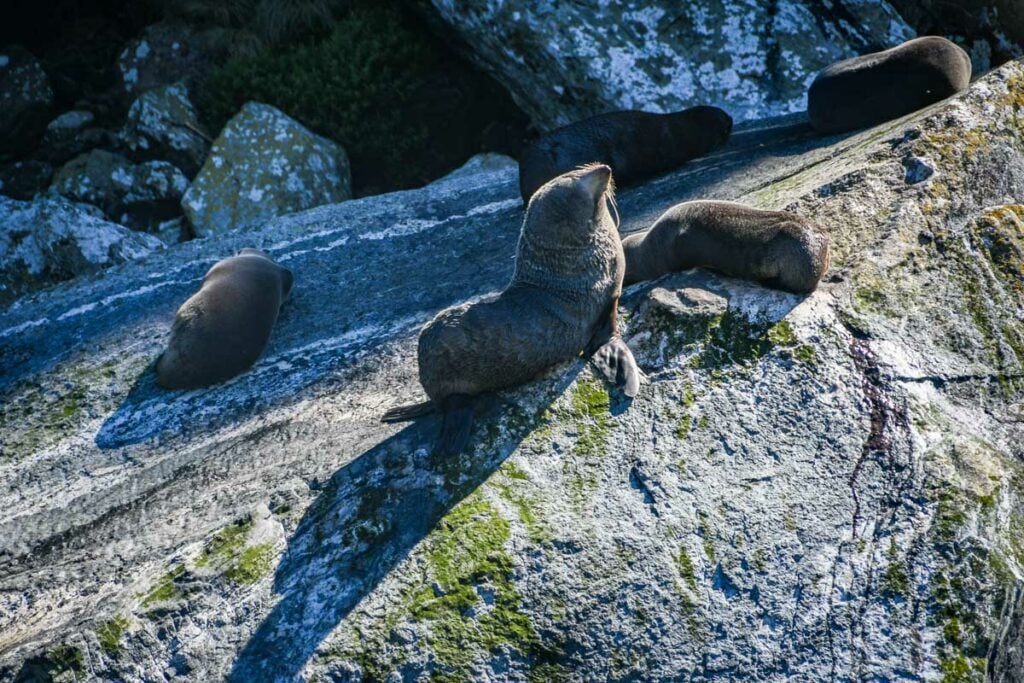 Get your camera ready to capture the playful antics of native New Zealand fur seals!
Most of Milford Sound is walled by sheer cliff faces, but there's one large rock that provides a perfect spot for seals to rest in the sunshine and out of reach of predators.
The aptly named Seal Rock is a favorite among visitors to Milford Sound. It offers an opportunity to see these endearing marine mammals in their natural habitat, napping and sunbathing on the rock or frolicking in the water nearby.
Stirling Falls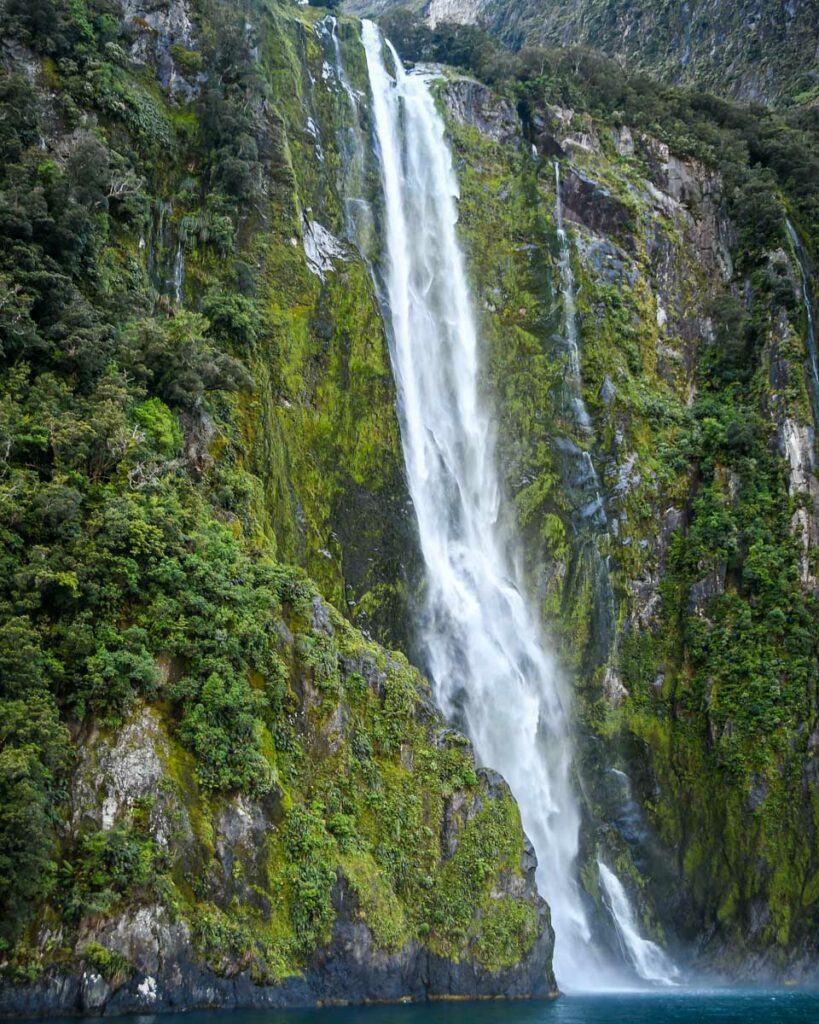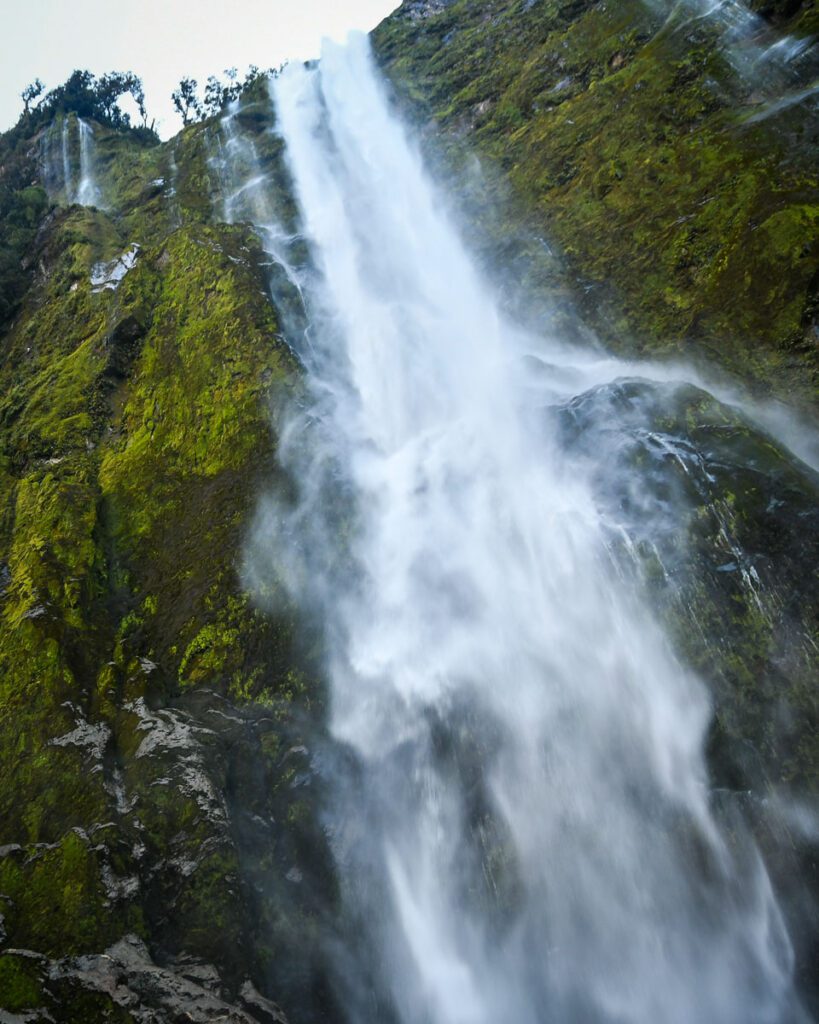 From a distance, your eyes might trick you into thinking Stirling Falls isn't that big, as the scale is masked by the dramatic mountainous backdrop. But don't be fooled; over 150 meters (492 feet) tall, Stirling is Milford Sound's second-highest waterfall.
The majestic Stirling Falls is known for its sheer drop into deep water that allows boats to get close to the base of the cascade. Getting up close and personal with the roaring, pounding falls is a total rush!
Insider Tip: When you head back to your car after the cruise, be sure to check out this scenic lookout. Located behind the parking lot near the information center, it's an easy 10-minute return walk to a stunning view of Mitre Peak.
Best Milford Sound cruises
There are tons of tour operators offering similar cruises with minor differences (e.g. boat size, food options). Then there are tours that offer additional experiences, such as kayaking or helicopter rides. Some also include transportation to and from Te Anau or Queenstown.
The tour you choose will depend on where you're staying, how much time you have, your budget, and your interests. Below are some of our top picks for tours that include a Milford Sound scenic cruise.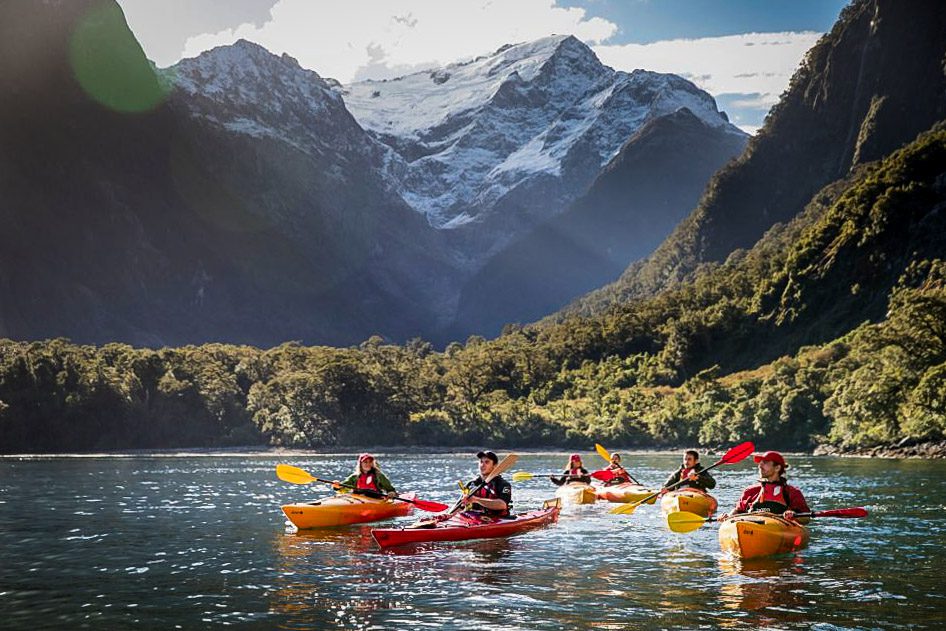 This highly-rated Milford Sound tour offers an immersive experience. Start by cruising the full length of the fjord, followed by a visit to the Underwater Observatory to see rare black coral. Then, paddle the glacial waters of sheltered Harrison Cove with an experienced nature guide.
Tea, coffee, and a picnic lunch are included in this tour.
What guests are saying:
"Excellent day! Cruise around the sound was a great way to see all the beauty of the sound […] Guide was knowledgeable and funny. The kayaking was fun and our guide was great at giving kayaking tips and knowledge about Milford. Would highly recommend"

– Veronica, July 2023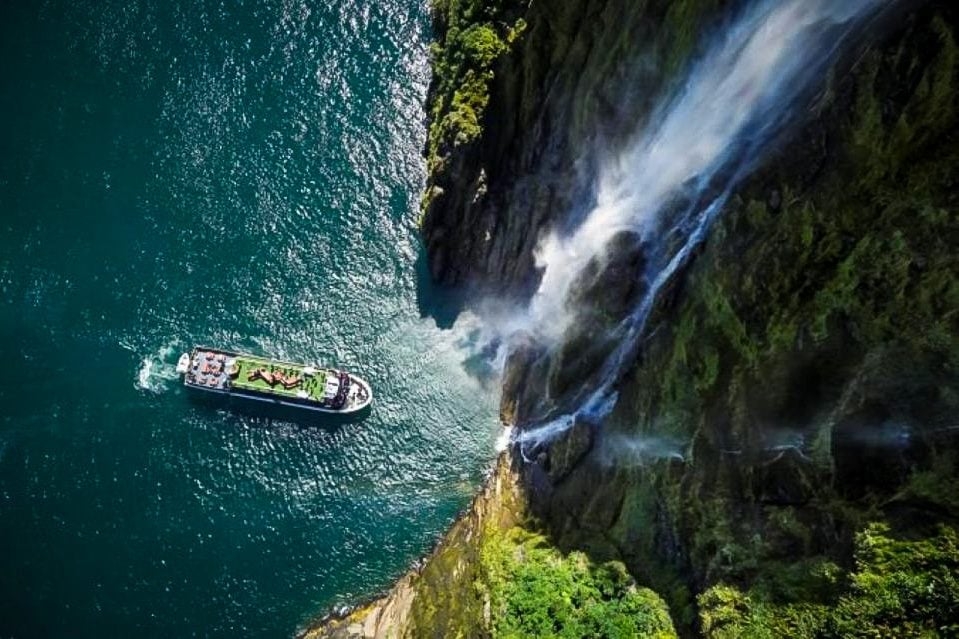 Starting point location: Visitor's Centre on Lakefront Drive in Te Anau
Duration: 8 hours
Price: $215 NZD (~$125 USD)
This excursion from Te Anau is a great way to experience Milford Sound if you're not self-driving. Round-trip transportation from Te Anau is included via a glass-roof bus, which allows you to admire all the beautiful scenery along the way.
You'll then embark on a 2-hour cruise of the fjord. You can purchase lunch onboard or pack your own. Afterward, the comfortable coach will take you back to Te Anau.
What guests are saying:
"Loved Milford Sound, it was like being in another world. Our guide was professional and informative. The bus was great. The open ceilings were perfect for viewing all the wonderful surroundings. The boat was also perfect. […]"

– Laura, July 2023
This small boat cruise provides a more intimate experience than some of the larger Milford sound tours. It also offers opportunities not found on the larger boats, like passing underneath Fairy Falls and Stirling Falls for a famous "glacial facial."
What guests are saying:
"We had the best time on this beautiful cruise in Milford Sounds! The boat is smaller than some of the other ones at the terminal which meant we could get closer to the waterfalls and to the seals sunbathing on the rocks […] Our captain was very knowledgeable and provided some great commentary throughout the cruise. It was the perfect length and the complimentary tea, coffee and cookies were an added bonus […]

– Meg, April 2023
Starting point location: Pickup from your central Te Anau accommodation
Duration: 1 day
Price: $245 NZD (~$143 USD)
With a max of 15 people, this intimate Milford Sound day tour makes a perfect day trip from Te Anau.
Relax on a scenic drive along the breathtaking Milford Road before boarding a 2-hour cruise of Milford Sound. Enjoy a complimentary picnic lunch onboard.
After the cruise, your guide will lead you on some unforgettable 5 – 30-minute nature walks and scenic stops within Fjordlands National Park before returning to Te Anau.
What guests are saying:
"Fantastic tour with pick up/drop off at our hotel. Great info and learnt a lot. Views are amazing with plenty of time for stops along the drive. Saw waterfalls, penguins, dolphins and seals during the boat tour. Highly recommend! […]

– Sheree, Oct. 2023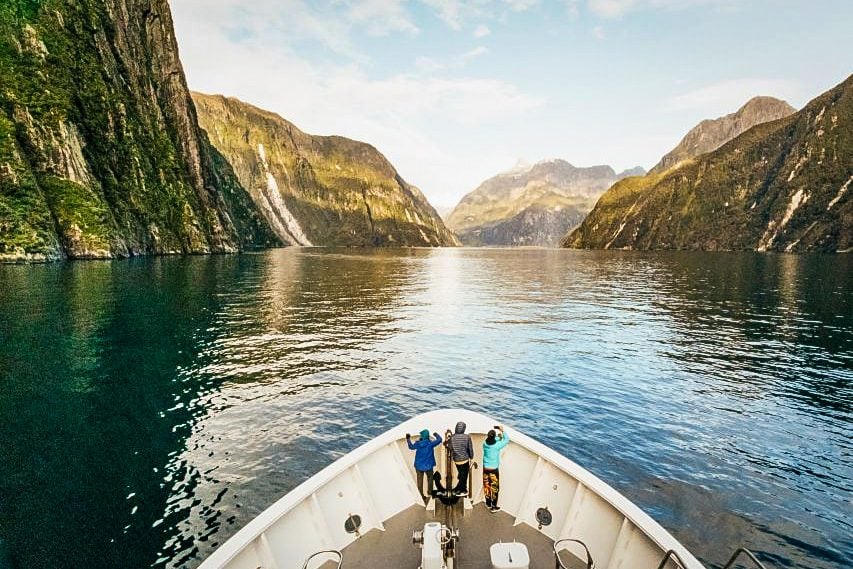 If you want to experience Milford Sound as a day trip from Queenstown, this tour is an excellent choice.
A luxurious glass-roof bus takes you along the scenic shores of Wakatipu before making a stop in Te Anau. As you traverse the famous Milford Road, you'll have chances to stop for photos and short walks.
During your 2-hour Milford Sound nature cruise, you'll enjoy live commentary from your nature guide, with snacks and drinks available for purchase from the licensed bar onboard. Afterward, relax on the bus back to Queenstown.
What guests are saying:
"[…] It was absolutely spectacular!! Truly a wonder of the world! Our guide Paulie entertained us the whole ride up with interesting facts, ancient stories, and personal experiences. […]"

– Kim, Aug. 2023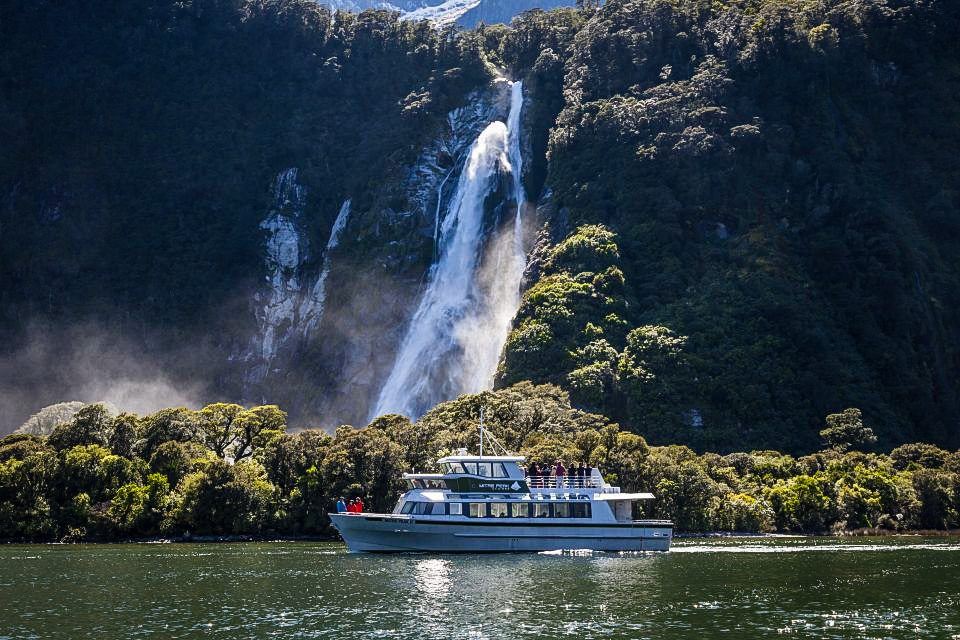 This small boat scenic cruise has everything you need for a memorable tour of Milford Sound.
Enjoy complimentary tea, coffee, and hot chocolate onboard as you cruise the length of the fjord, watching for wildlife and making frequent stops at noteworthy landmarks.
What guests are saying:
"We had an amazing time and loved the whole trip. We were very happy that we chose a smaller boat because we were able to get so close to the waterfalls and had dolphins right next to us. It was one of the most impressive experiences I've ever had and I would recommend it to everyone"

– Emma, Aug. 2023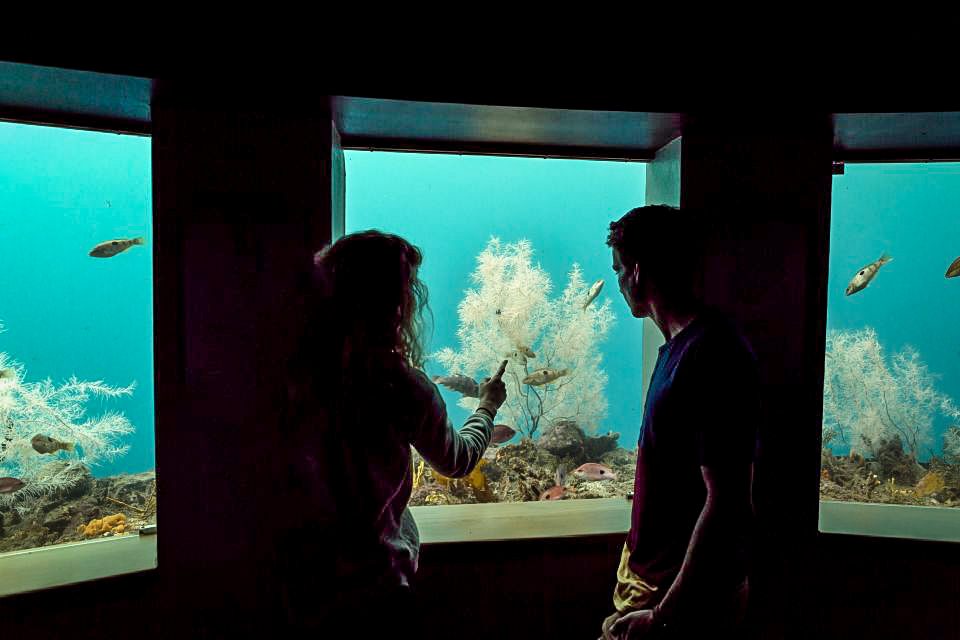 Experience Milford Sound both above and below the surface on this combination tour.
Your cruise will bring you within an arm's length of rock walls and cascades, giving you a chance to taste the glacial waters of Stirling Falls.
After the cruise, you'll visit the Milford Sound Underwater Observatory, where a large viewing area will allow you to see native marine wildlife in their natural habitat.
What guests are saying:
"Absolutely fantastic cruise, highly recommend! The guide on the boat was great. Provided exceptional information and commentary. Very friendly staff and competent. Toilet facilities on board, food and drinks available and very clean. […]"

– Melissa, July 2023
Milford Sound Overnight Cruise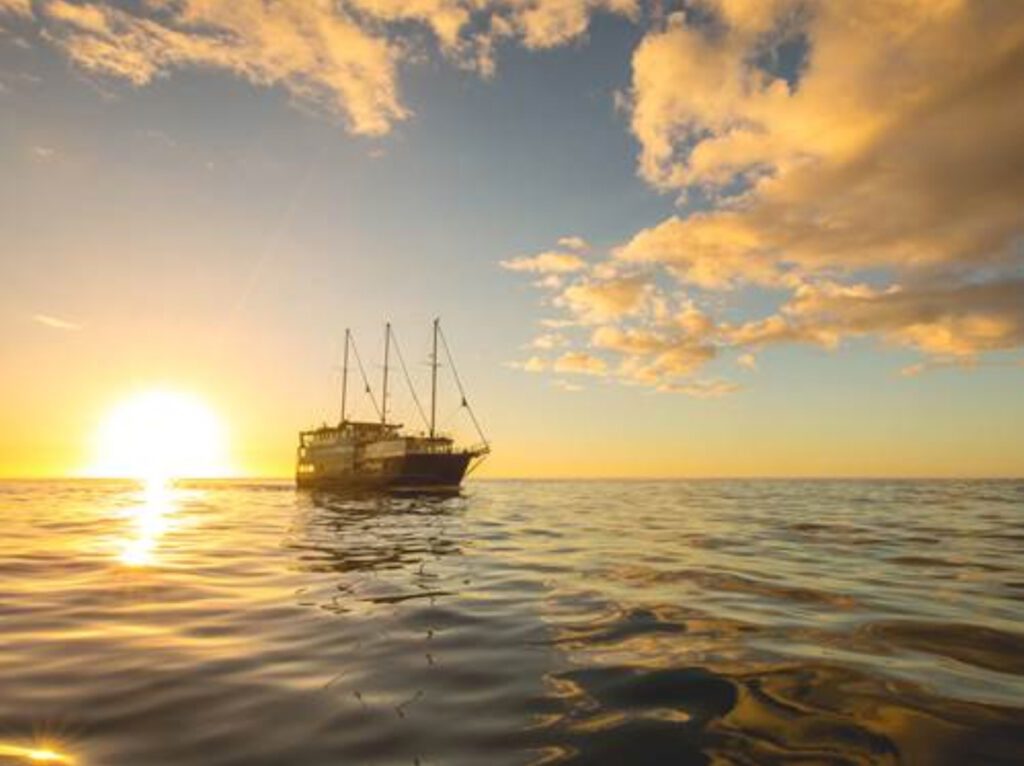 Starting point location: Milford Sound Terminal
Duration: 1 night, departs 4 p.m., arrives 9:15 the following morning
Price: Prices vary depending on cabin; $699 NZD (~$400 USD) for an adult double cabin
Experience the magic of Milford Sound with an overnight cruise aboard the iconic Milford Mariner. Spend a night surrounded by the breathtaking beauty of this pristine fiord and wake up to a dawn that will leave you in awe.
Your one-night journey includes comfortable accommodation in private cabins with ensuite bathrooms or cozy bunk-style compartments. Indulge in a sumptuous 3-course buffet dinner and savor a cooked breakfast, expertly prepared by the onboard chef.
What sets this experience apart is the presence of a specialist nature guide on board, enhancing your understanding of the unique ecosystem and wildlife. You can choose to explore the pristine shoreline by kayak or small boat, getting up close and personal with the stunning surroundings.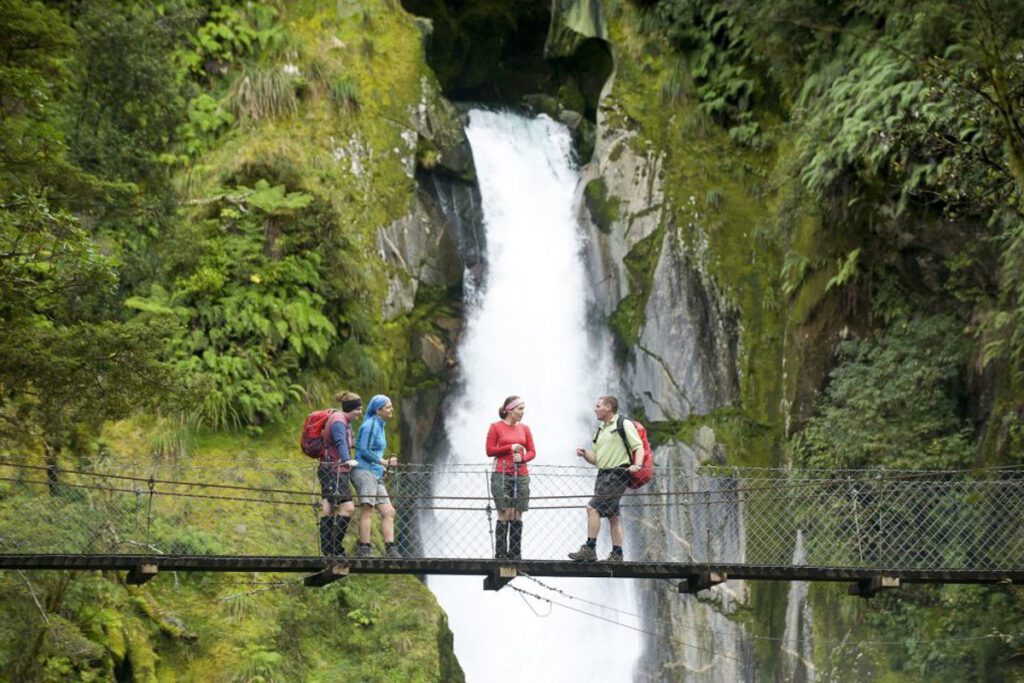 Starting point location: Mitre Peak Cruise Counter in the Main Visitor Terminal
Duration: 7 hours
Price: $304 NZD (~$175 USD)
This full-day Milford Sound adventure includes a morning guided walk along the Milford Track to Giant Gate Waterfall, offering picturesque natural views.
After the hike, you'll enjoy an afternoon Milford Sound small-boat nature cruise, where you can witness the geological marvels of the area, keep an eye out for wildlife like seals and dolphins, and admire the stunning scenery.
The 7-hour tour, limited to a small group of 12 participants, includes a 4-hour guided walk with a professional hiking guide, water taxi transportation, safety equipment, hot drinks, and hotel pick-up and drop-off. It's a great opportunity to explore the natural beauty of Milford Sound by both land and water.
Milford Sound scenic flights
For those with a bigger budget, a scenic flight is an exciting and adventurous way to get the most out of your experience. You'll see a lot more, and from a unique perspective. Below are our top picks for tours that include both a Milford Sound cruise and a scenic flight.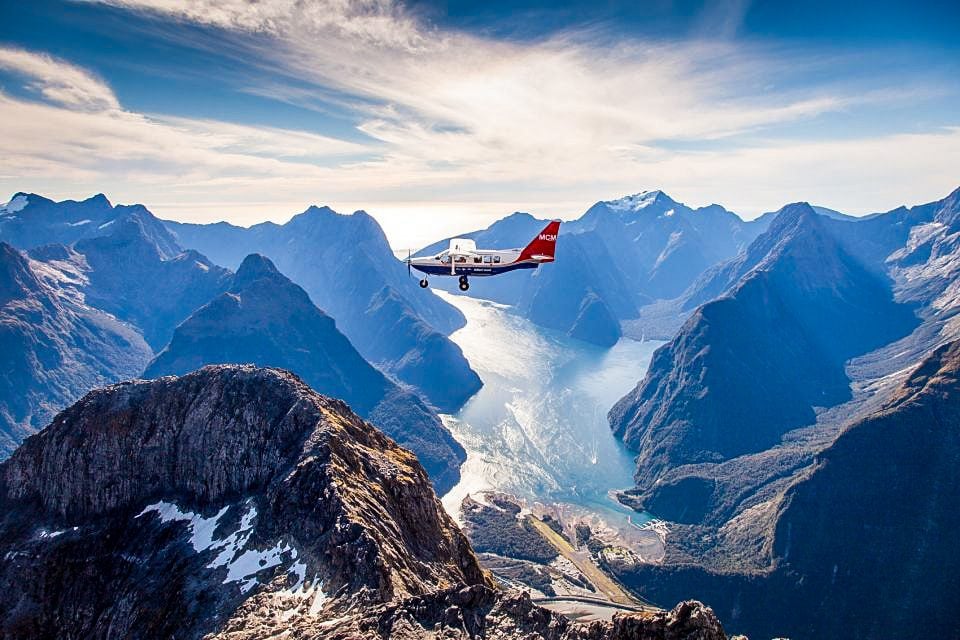 Starting point location: Pickup available at 26 locations around Queenstown or meet at 39 Lucas Place
Duration: 5 hours
Price: $645 NZD (~$377 USD)
Get a unique perspective of Milford Sound on this combination airplane and boat tour.
Enjoy spectacular views as you soar over the mountains in a Cessna, heading for Milford Sound. After the 40-minute flight, you'll hop on a 2-hour cruise down the fjord. Your pilot will take a different flight path back to Queenstown so you can see as much of the national park as possible.
What guests are saying:
"This tour is exceptional! The plane is great and everybody gets a window, so you can fully enjoy the experience. […] The cruise is also a very nice experience because it gets close to the falls and if lucky you can spot some of the marine animals. The views are spectacular, just like being inside a movie! […]

– Alejandra, July 2023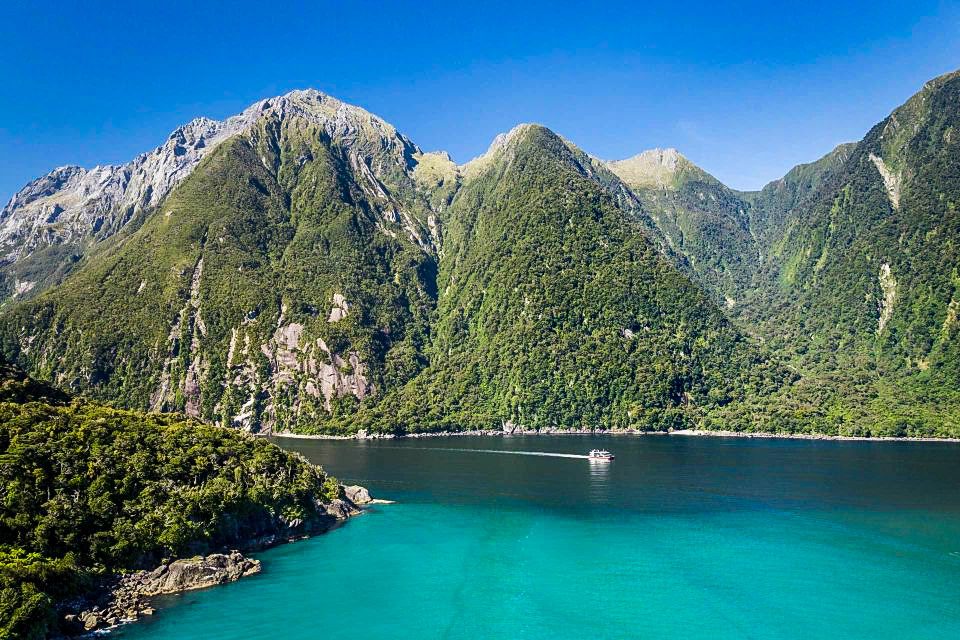 Starting point location: Pickup from your central Queenstown accommodation
Duration: 4.5 hours
Price: $625 NZD (~$365 USD)
This half-day tour from Queenstown is a perfect way to see the highlights of Milford Sound and the surrounding area.
From Queenstown, your Cessna will fly over the Southern Lakes and Tutoko Glacier. If time permits, your pilot will guide you on a bush walk through the rainforest to Milford Sound, where you'll set out on a sightseeing cruise.
Afterward, your pilot will take a different route back to Queenstown, showing you such famous landmarks as Sutherland Falls, Lake Te Anau, and Lake Wakatipu.
What guests are saying:
"[…] The flight was fantastic with beautiful scenery. […] The cruise through Milford Sound was a great experience. We had such a great time and would highly recommend this tour."

– Carla, April 2023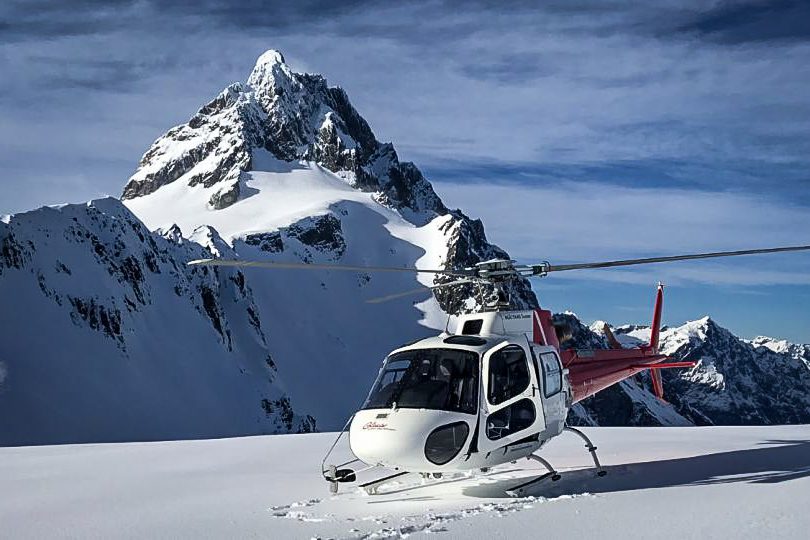 Starting point location: Pickup available from all Queenstown hotels
Duration: 4 hours
Price: $1,220 NZD (~$713 USD)
This adventurous tour combines two of our favorite New Zealand experiences: a Milford Sound cruise and a helicopter glacier landing.
First, fly to the town of Milford, where you'll embark on a scenic fjord cruise. Then, hop back on the helicopter for an exhilarating flight over the stunning Southern Alps, dotted with alpine lakes and glacial rivers.
Finally, your pilot will land on a glacier, giving you a chance to enjoy panoramic views and take once-in-a-lifetime photos before returning to Queenstown.
What guests are saying:
"A once in a lifetime experience. […] We thoroughly enjoyed everything about the amazing tour from beginning to end. Our helicopter pilot Alfie has been flying for 40 years, so we felt very safe at all times 🙏"

– Ron, Dec. 2022
Alternative: Doubtful Sound Tours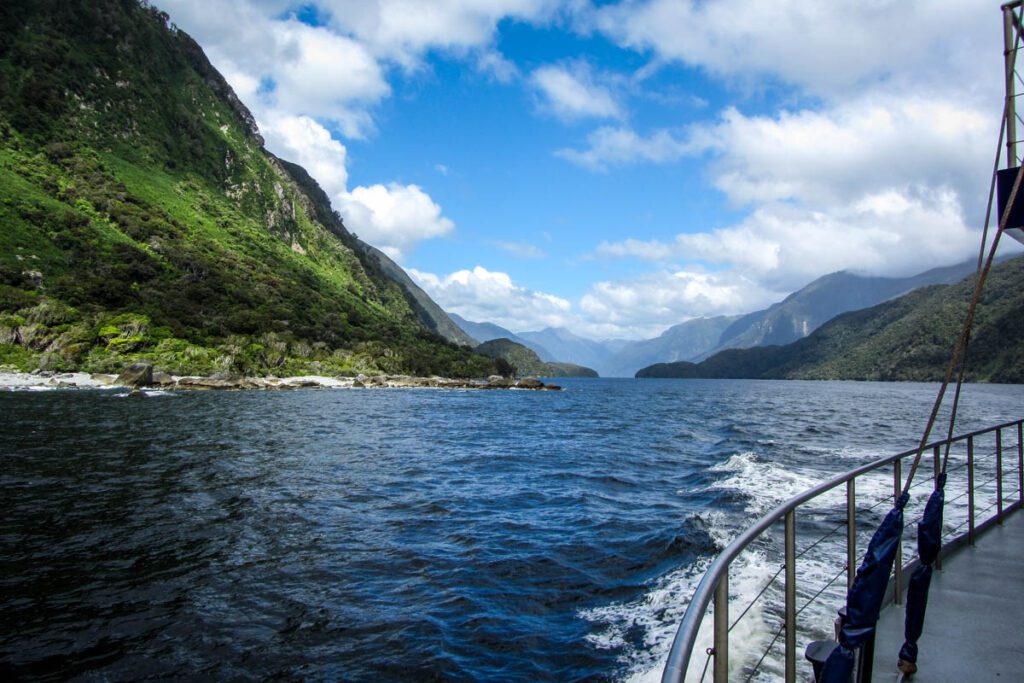 Adventurous souls looking for an alternative to Milford Sound can book a tour to the far more remote (and far less crowded) Doubtful Sound.
The Māori named it Patea, meaning "place of silence", so Doubtful is also sometimes called "The Sound of Silence" (cue Simon & Garfunkel!). But again, this is a fjord, not a sound.
Whereas Milford is heavily trafficked by tourists, Doubtful Sound is an untouched wilderness that has barely changed since it was discovered. There's no settlement here and no way to self-drive, so many travelers skip it.
But those who make the trip are handsomely rewarded with a tranquil escape where you can marvel at the awe-inspiring landscapes while listening to birdsong echoing off the cliffs.
Do it yourself:
The only way to visit Doubtful Sound is to join a tour departing from Queenstown, Te Anau, or Manapouri. There are lots of options to choose from, all with varying prices and inclusions. Click the button below to find a tour that works for you.
Our personal pick: This overnight Doubtful Sound cruise sounds magical! It is on our list for our next NZ trip! Our Director of Content, Amanda, did this exact cruise when she visited New Zealand with her family and raves about the experience.
FAQs about Milford Sound tours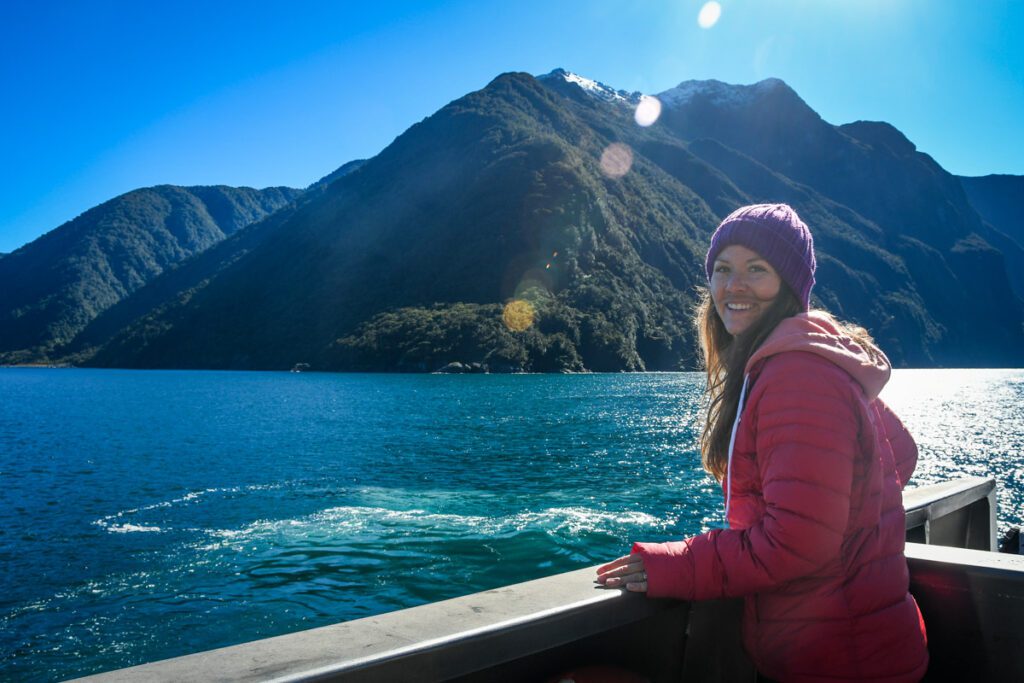 Now that you have our recommendations for a Milford Sound cruise, here are some other things to consider as you plan your trip.
How long is the Milford Sound cruise?
There are tons of tour options that vary drastically in length depending on what else is included, but the cruise itself usually takes about 2 hours.
How much does a Milford Sound cruise cost?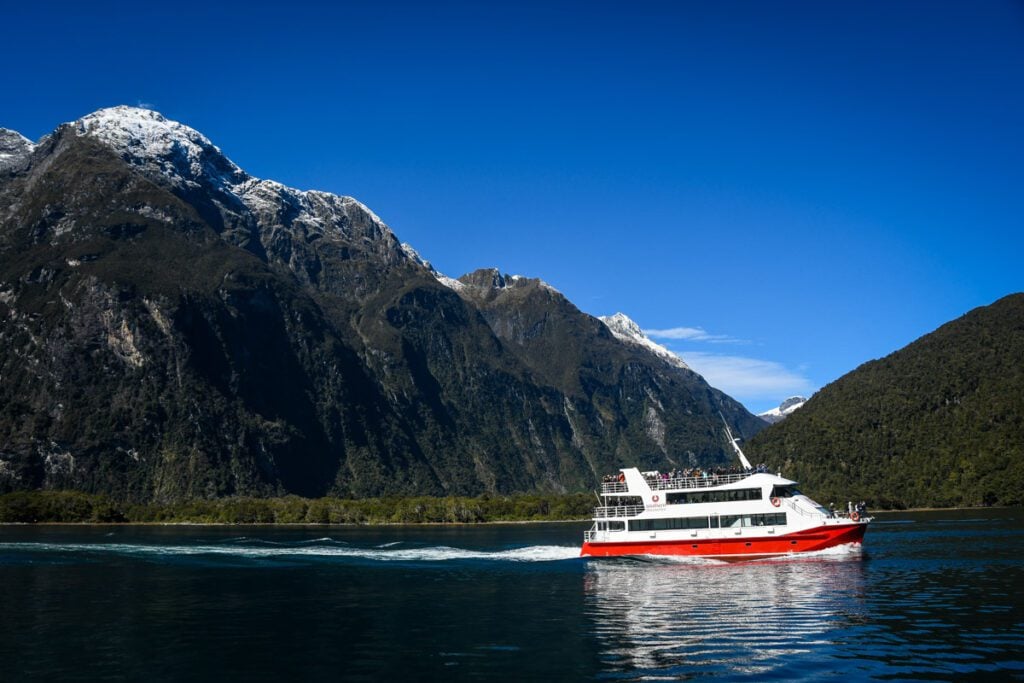 If you're JUST looking at the cruise itself, the cost is usually around $80-90 USD per person. Again, if you choose a tour with more to it (e.g. transportation, kayaking, helicopter ride, etc.), you'll need to budget more.
Also, keep in mind that you may need to buy lunch or pack your own if it isn't included in your tour.
Psst! Check out our money-saving tips for traveling New Zealand on a budget.
Will the cruise still run if it's raining?
Absolutely! In fact, locals say that Milford Sound is even better in the rain.
A good rainfall can create hundreds, if not thousands, of temporary waterfalls tumbling down the cliffs surrounding the fjord. Plus, the extra mist adds an ethereal, otherworldly quality to the experience.
That said, some tours may be affected by weather conditions – especially those that include airplane or helicopter flights.
Fun Fact: The heavy rainfall in Fiordlands creates a unique effect in Milford Sound. Rainwater collects tannins as it runs through the forest into the fjord, making it darker. Because the fresh water is less dense than the seawater, it sits on top, forming a dark layer that blocks light and creates an environment usually only found in the deep ocean.
Do cruise ships go into Milford Sound?
Currently, yes. However, the New Zealand government initiative Milford Opportunities has recommended that cruise ships be banned from entering the fjord in an effort to help relieve stress on this delicate environment.
Is Milford Sound really worth it?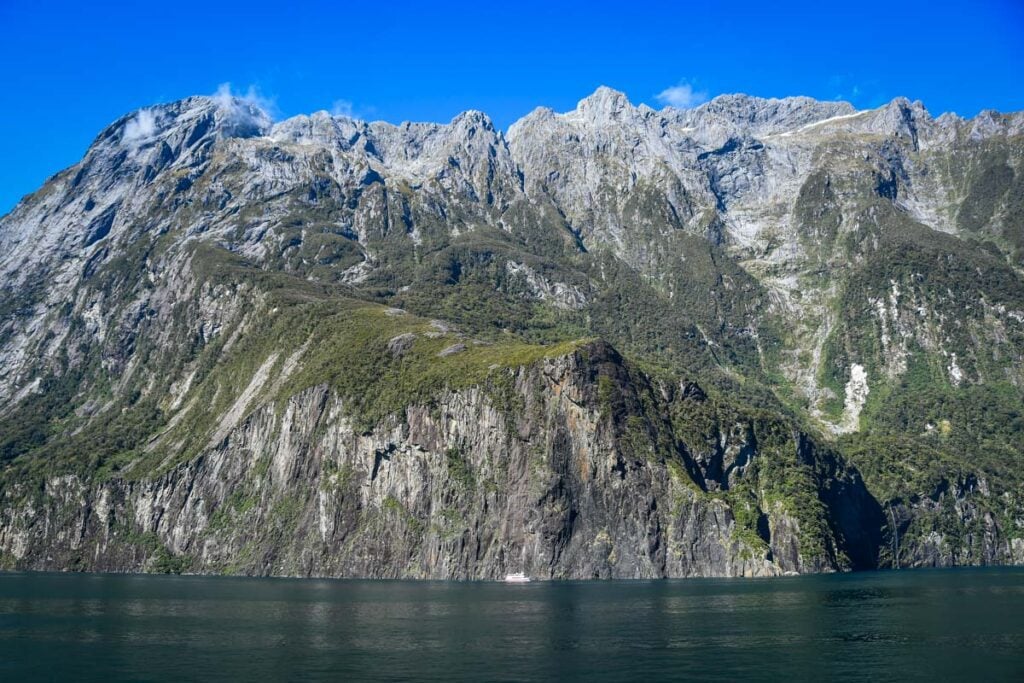 YES. Milford Sound is more than just "doing the thing in the place". It is truly a bucket-list experience and photos don't do it justice.
If you can swing it, we'd recommend doing something more immersive than just the cruise, like this tour that combines a boat cruise and kayaking.
Insider tips for booking your Milford Sound cruise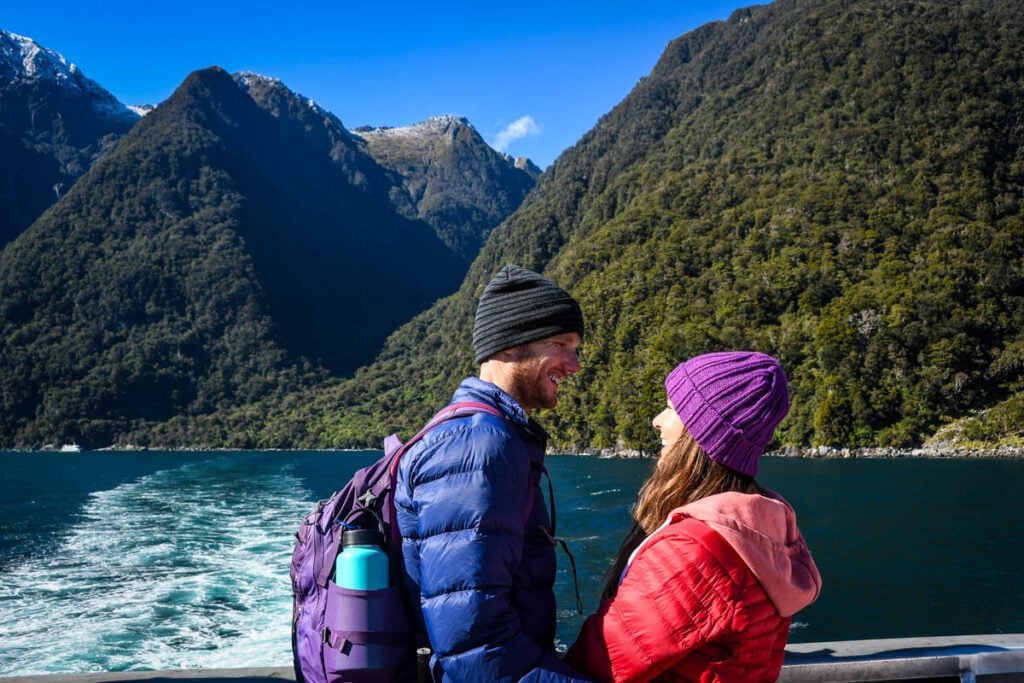 Here are a few tips and tricks that will be helpful when booking your Milford Sound cruise:
Book your tour in advance. Whether you're just doing the cruise or a longer tour, book as early as you can to avoid disappointment.
There's only one ferry terminal, and it's shared by all the cruise operators. Each company has its own check-in desk inside.
The public car park is 300 meters from the terminal, so be sure to give yourself an extra 15-20 minutes before your check-in time to walk down.
Lunch may or may not be included. Be sure to double check with your tour provider so you know if you need to pack or buy lunch.
Wear layers, particularly a rain jacket. This is one of the rainiest places on Earth and even if it looks like a gorgeous day, the weather can change on a dime. Plus, you might get wet in the mist from the falls.
The best views are on the upper deck, but if you want or need to be able to sit, arrive early so you can claim a good seat.
Our honest opinion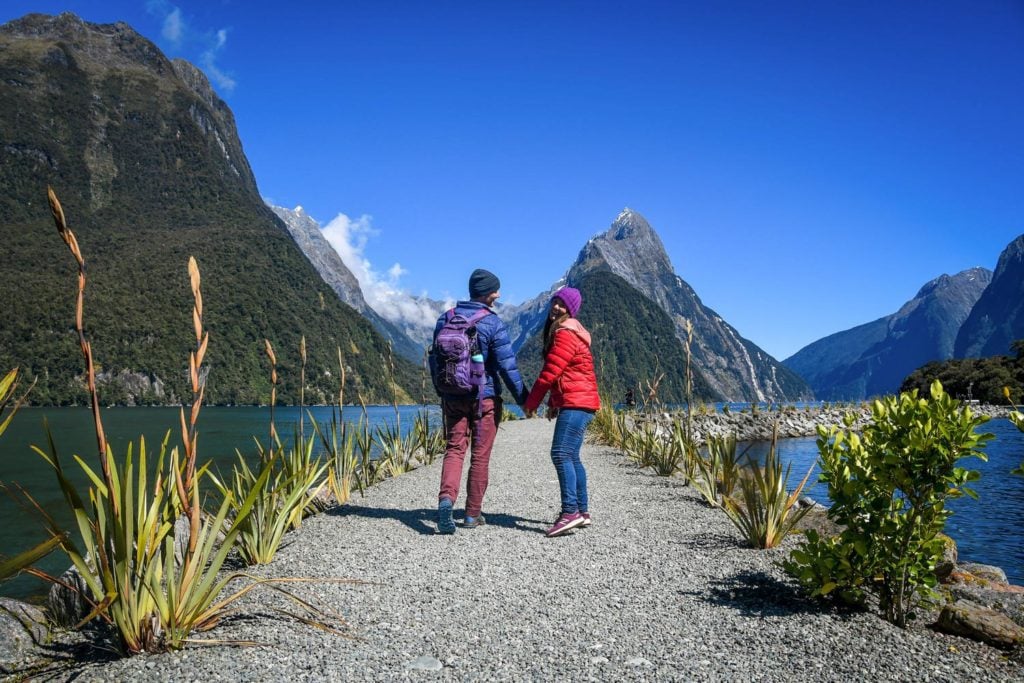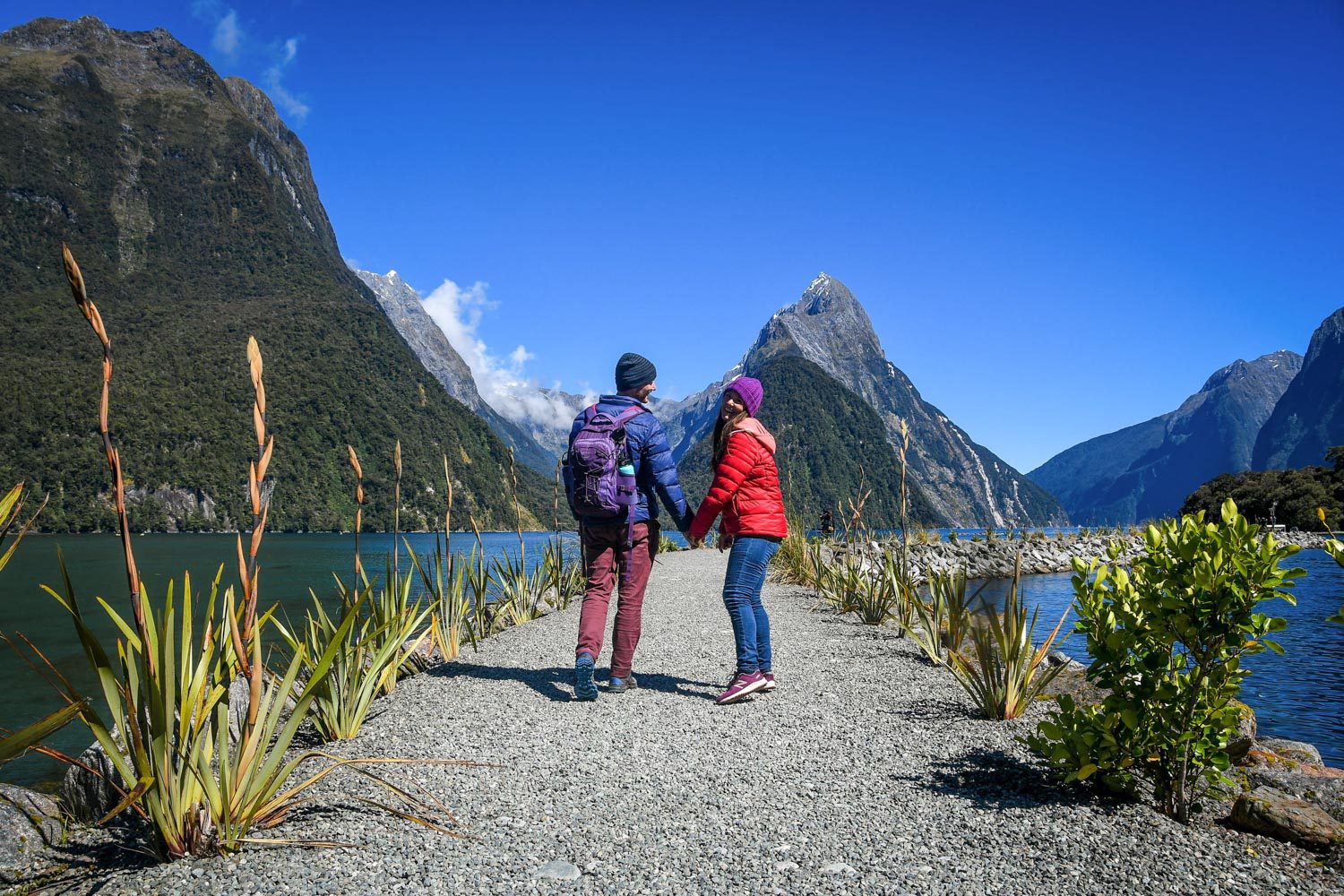 Milford Sound is one of those places you just have to visit when you're in New Zealand. And even though it's on most NZ itineraries, it is worthy of the hype.
I personally think a Milford Sound cruise is an absolute must-do.
The only way to really experience Milford Sound and see its nooks and crannies and hidden waterfalls is by boat. Plus, the boat tours are really affordable, considering where you are.
I'll be honest and say there wasn't anything too memorable about the boat, the crew, or the tour itself. The scenery is what you come for.
Now, the majority of boat tours are more or less the same. The biggest difference is the size of the boat. We'd recommend booking a smaller boat if it works with your budget and timeframe.
Our biggest regret is that we didn't do more than the boat tour.
I would have loved to do a kayaking tour of Milford Sound as well. I've heard incredible things and on our next visit (yes, there will be a next visit!), we will definitely do a kayaking tour too.
Do yourself a favor and book a Milford Sound cruise if it is at all of interest to you. This is the one we'd choose because it combines a boat cruise with a kayak tour – the best of both worlds!
We also think this overnight cruise in Doubtful Sound looks incredible. Further off the tourist path than Milford Sound, this would feel like discovering a hidden gem of sorts. Plus, the tour includes a 3-course dinner and earns rave reviews.
Can you imagine waking up in a place like this?! Definitely a splurge-worthy experience that is on our personal bucket list!
Best time to visit Milford Sound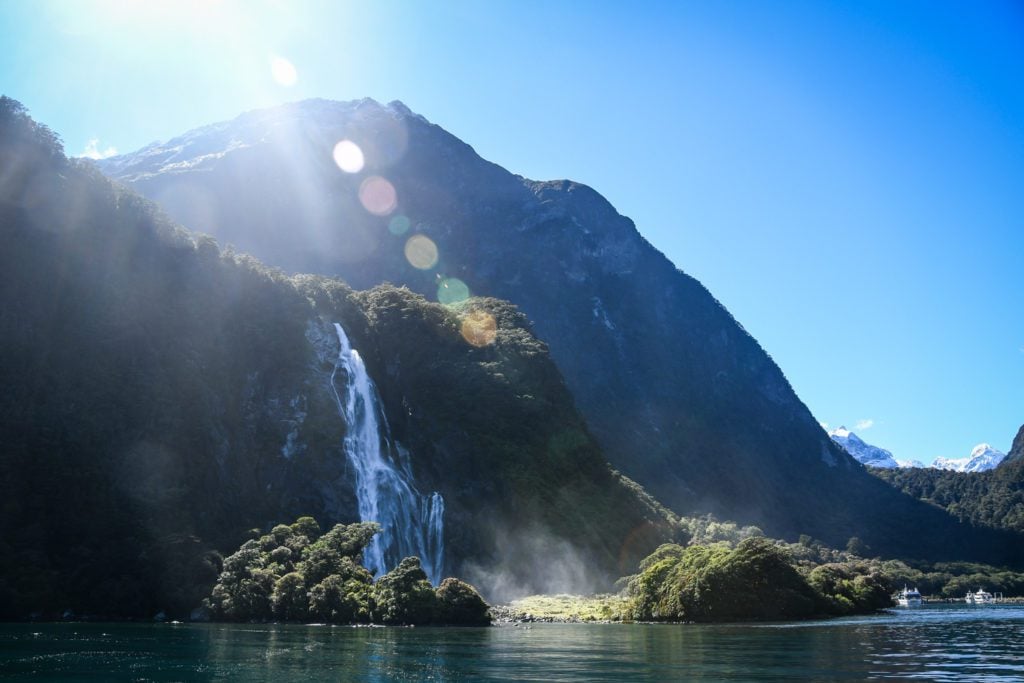 In our opinion, the best time to visit Milford Sound is in November. Deciding on when to take your Milford Sound cruise can be tricky, but here's why we think November is the sweet spot:
Temperatures are comfortable. This is the shoulder season between New Zealand's spring and summer, so things are starting to warm up and the days are getting longer.
You'll avoid peak tourist season. December to February is New Zealand's summer, which sees bigger crowds and higher prices.
You have a better chance of seeing wildlife, as marine life such as penguins and seals are more active in the spring and fall.
You actually want some rain. That's right, with atmospheric mists and too many waterfalls to count, Milford Sound is at its best in the rain! The South Island's west coast is notorious for rain at all times of year, but December and January are the wettest months.
We would personally avoid visiting during peak tourist season (December to February), when Milford Sound will be at its most crowded and huge cruise ships might be coming into the fjord. We would also avoid visiting in the winter (June to August), when you may be faced with icy driving conditions and closures on Milford Road.
For an in-depth guide on the regional seasons, weather patterns, and other factors, check out our complete guide to the best time to visit New Zealand.
How to get to Miford Sound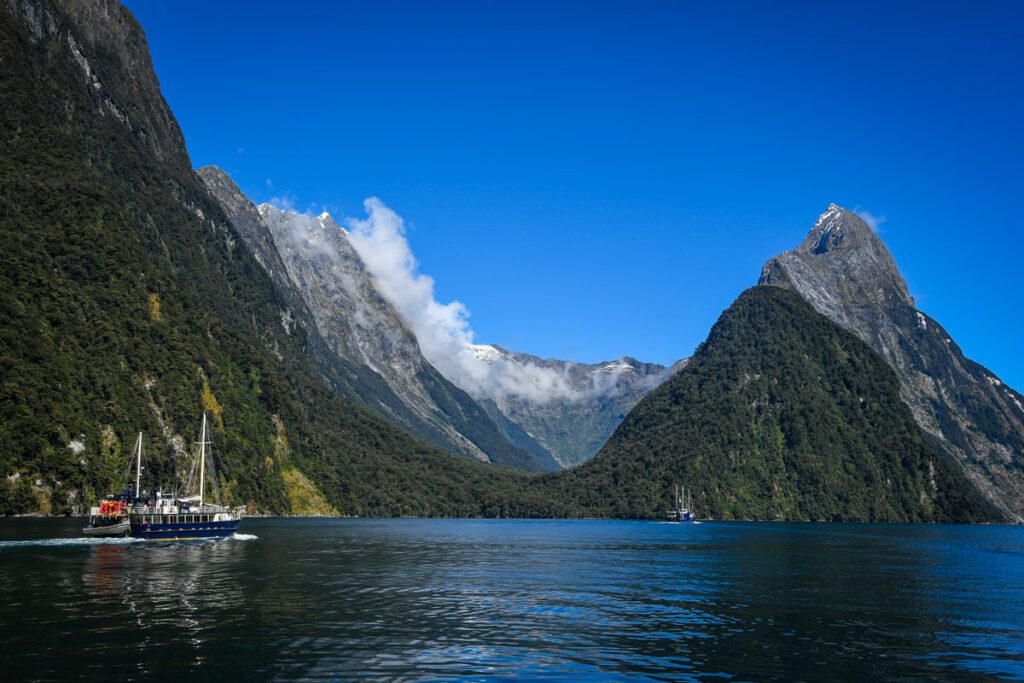 While some tours include transportation to and from Te Anau or Queenstown, you might be driving to Milford Sound yourself if you're renting a car or doing a campervan road trip. There's only one way in, and it's pretty freakin' spectacular: the Milford Road.
From Te Anau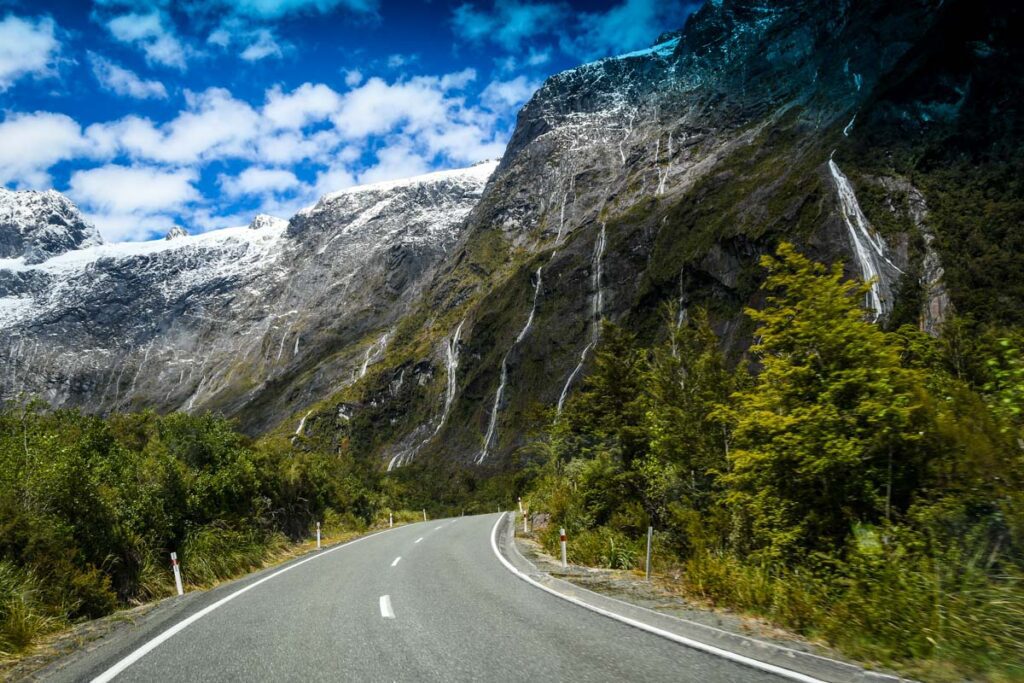 Distance: 118 km / 73 miles
Time: 2.5 hours minimum
The section of State Highway 94 from Te Anau to Milford Sound is known as the Milford Road. The route is straightforward since you'll be staying on 94 the whole time, but there are some important things you need to know before making this drive:
Give yourself more time than Google Maps says. Traffic will be heavy as everyone makes their way to Milford Sound for their cruises. Plus, this drive is so astonishingly beautiful that you'll want to stop at landmarks along the way. Trust me.
There are no services on this road. Make sure you have a full tank leaving Te Anau, as well as snacks, water, and anything else you need for the drive.
There's also no cell service, so download your maps before heading out. This article explains how to download offline Google Maps if you're not familiar with the process.
It can be dangerous in the winter, and the road will close if there's an avalanche advisory. Check conditions before leaving and bring emergency gear, including snow chains.
From Queenstown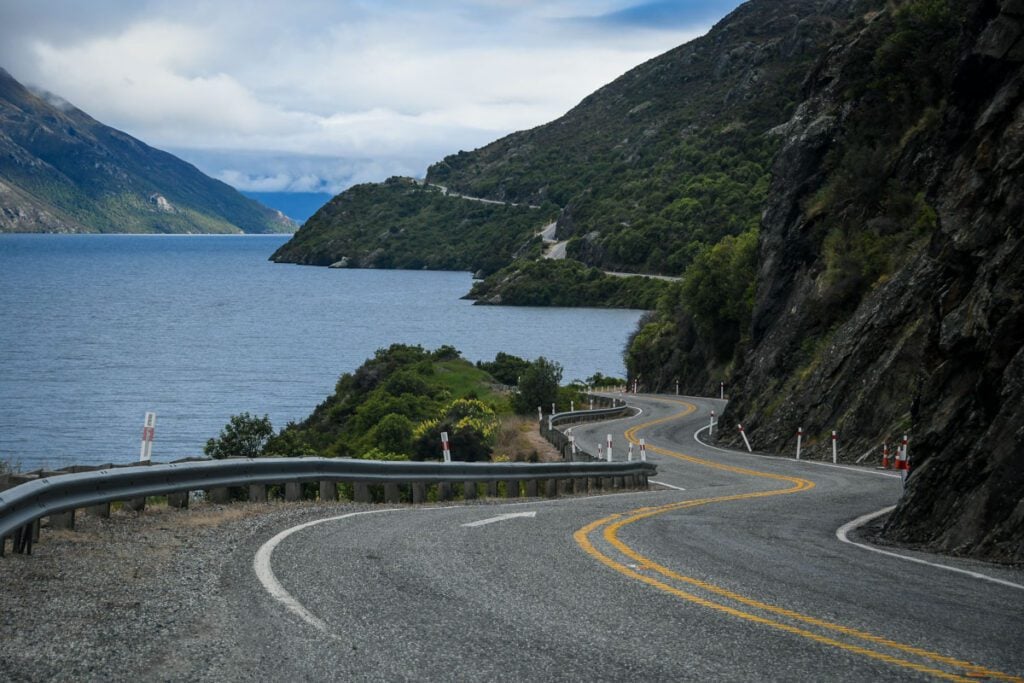 Distance: 288 km / 179 miles
Time: 4.5 hours minimum
Though it may look closer on a map, there's no route to Milford Sound from Queenstown as the crow flies, so you'll still need to go through Te Anau.
Take State Highway 6 out of Queenstown, heading south along the shores of Lake Wakatipu. In Lowther, turn right onto Highway 97. Turn right again in Mossburn onto Highway 94, which you'll stay on all the way to Milford Sound. Don't forget to stop in Te Anau for gas and supplies.
Before you attempt this drive, make sure you read our road trip from Queenstown to Milford Sound guide. You'll thank us later!
Staying in Queenstown? You'll definitely want to check out our list of the best things to do in this adventurous city!
What to wear and pack for a Milford Sound cruise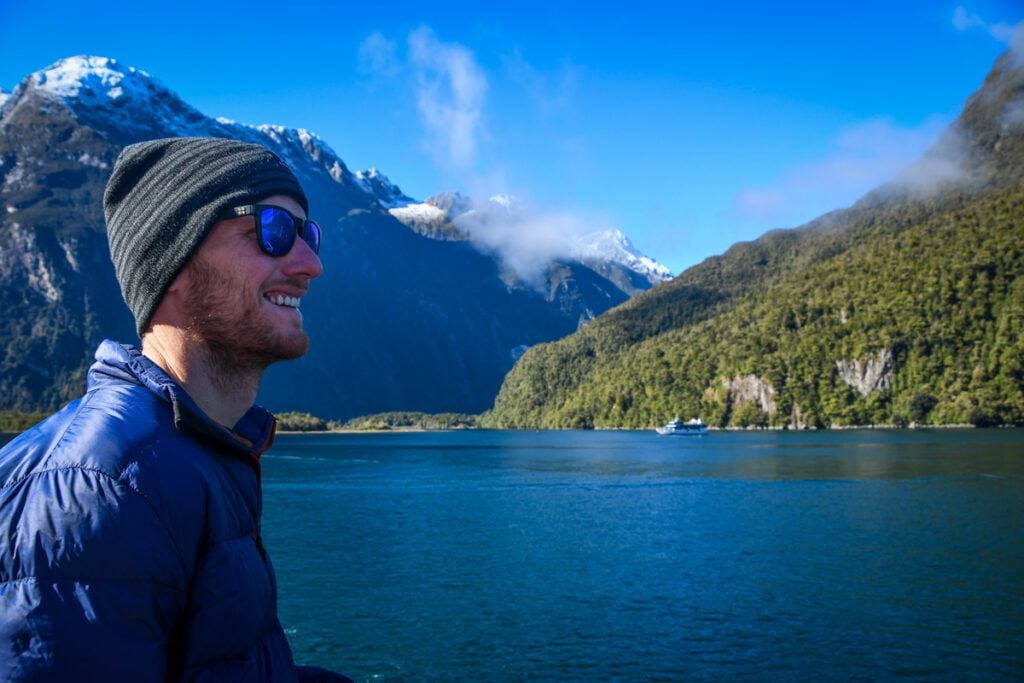 Wear layers
Waterproof rain jacket: choose one that also works as a windbreaker if possible, as it can get very windy
Sunglasses
Sunscreen: one of the most important things to know about New Zealand is there is a hole in the ozone layer above the country, meaning you'll likely burn more quickly than you're used to
Water
Snacks (there aren't many food options in Milford Sound)
Camera
Battery bank: to keep your phone charged
Gloves and a beanie: these are nice to have if you're doing an early morning Milford Sound cruise
Pressure point bands to prevent seasickness
Travel insurance: We NEVER travel without it!
Be sure to download our complete packing list for New Zealand! It's packed with good suggestions and insider tips to help plan your New Zealand trip. And it's completely FREE, so why not!?


---
Are you planning a trip to New Zealand?
We have TONS of resources on travel in New Zealand and destinations throughout the country. Check out our Ultimate New Zealand Travel Guide for all the answers to your most burning travel questions, or read some of our favorite articles below.
Or, let us do the planning for you!
Save this article on Pinterest for later!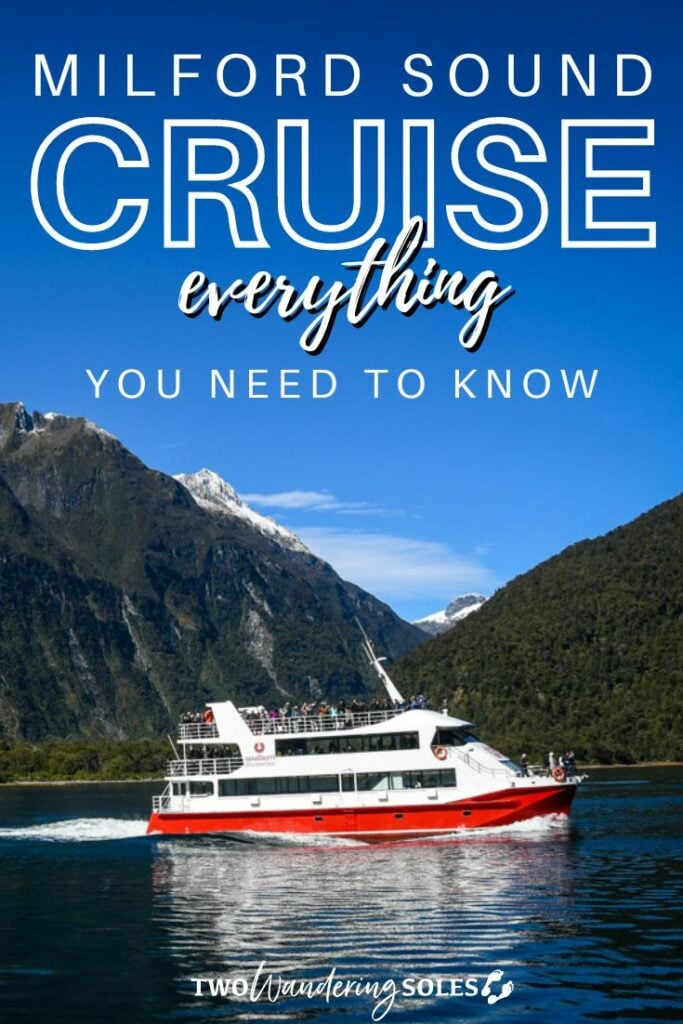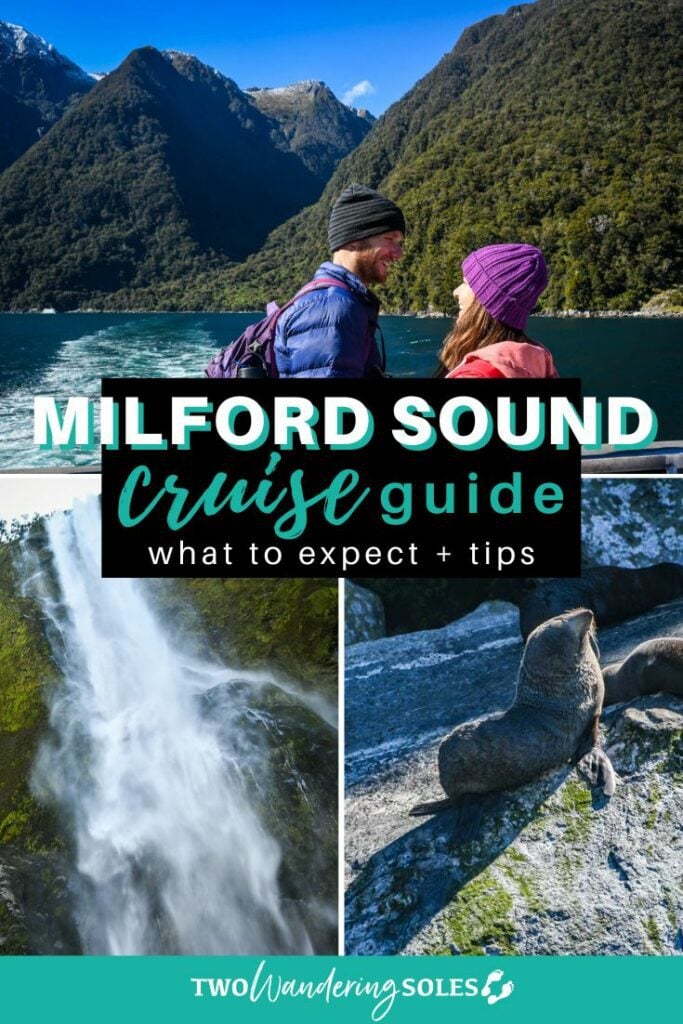 We want to hear from you!
Do you still have questions about booking a Milford Sound cruise? Have you done this before and have suggestions for us? Let us know in the comments below and we'll do our best to get back to you!