A road trip from Queenstown to Milford Sound is one of the best ways to experience the rugged wilderness and stunning scenery of Fiordlands National Park in New Zealand. This guide will help you plan your route and choose the best stops to make along the way.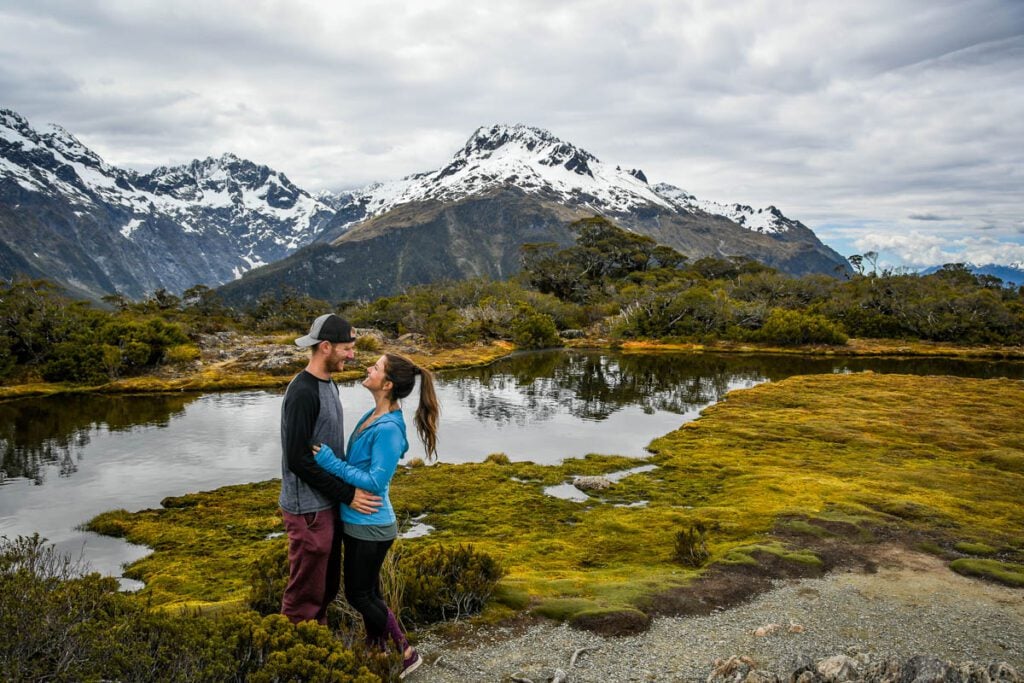 Driving from Queenstown to Milford Sound isn't just about getting from point A to point B; it's a breathtaking journey into the heart of Fiordlands National Park and an absolute must for your South Island itinerary.
Winding roads traverse lush forests and glacial valleys beneath snow-capped mountain peaks. Viewpoints and trails dotted along the highway lead to gushing waterfalls, serene alpine lakes, and panoramic vistas.
A lot goes into planning a road trip from Queenstown to Milford Sound, from narrowing down the huge list of stopping points to preparing for the drive itself.
We made this journey ourselves during our New Zealand campervan trip, and we learned some important lessons along the way. We're sharing it all with you now, from the best stops to make, to how much time to give yourself, to important driving tips.
Queenstown to Milford Sound Guide
For more tips and advice for planning your road trip from Queenstown to Milford Sound, jump to the following sections (or just keep scrolling to see it all!).
And if you want more information to plan your trip to Milford Sound, be sure to check out our other guides: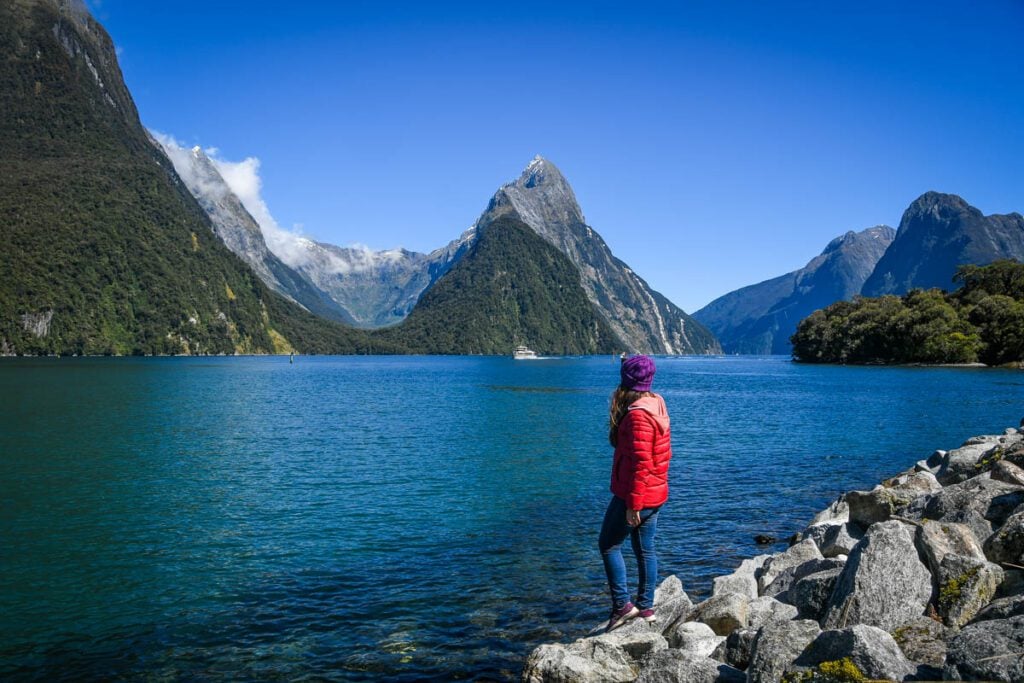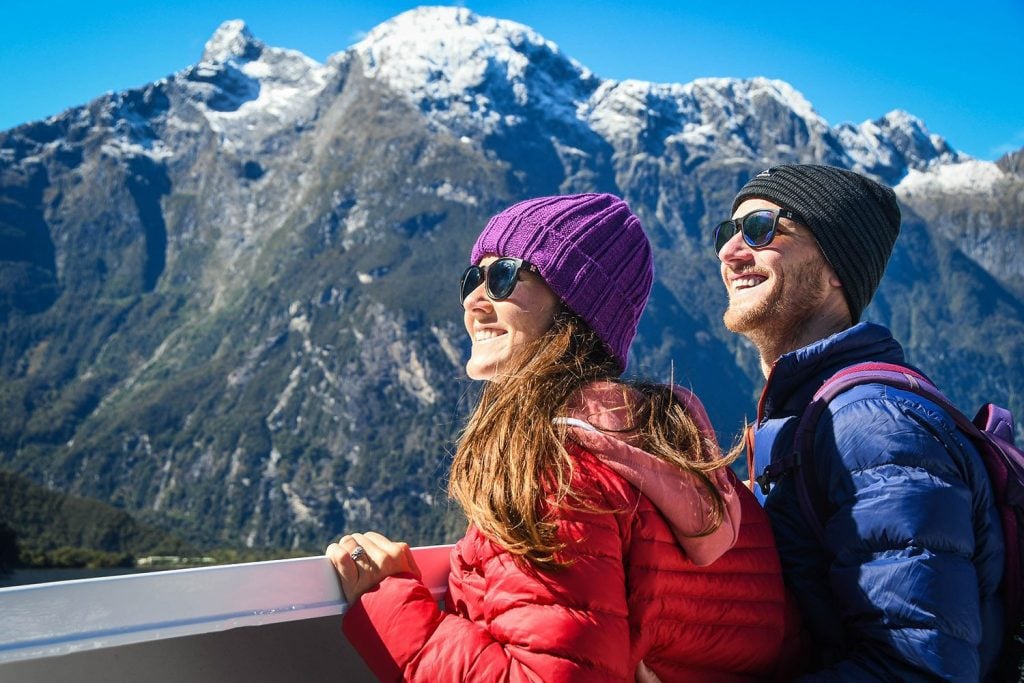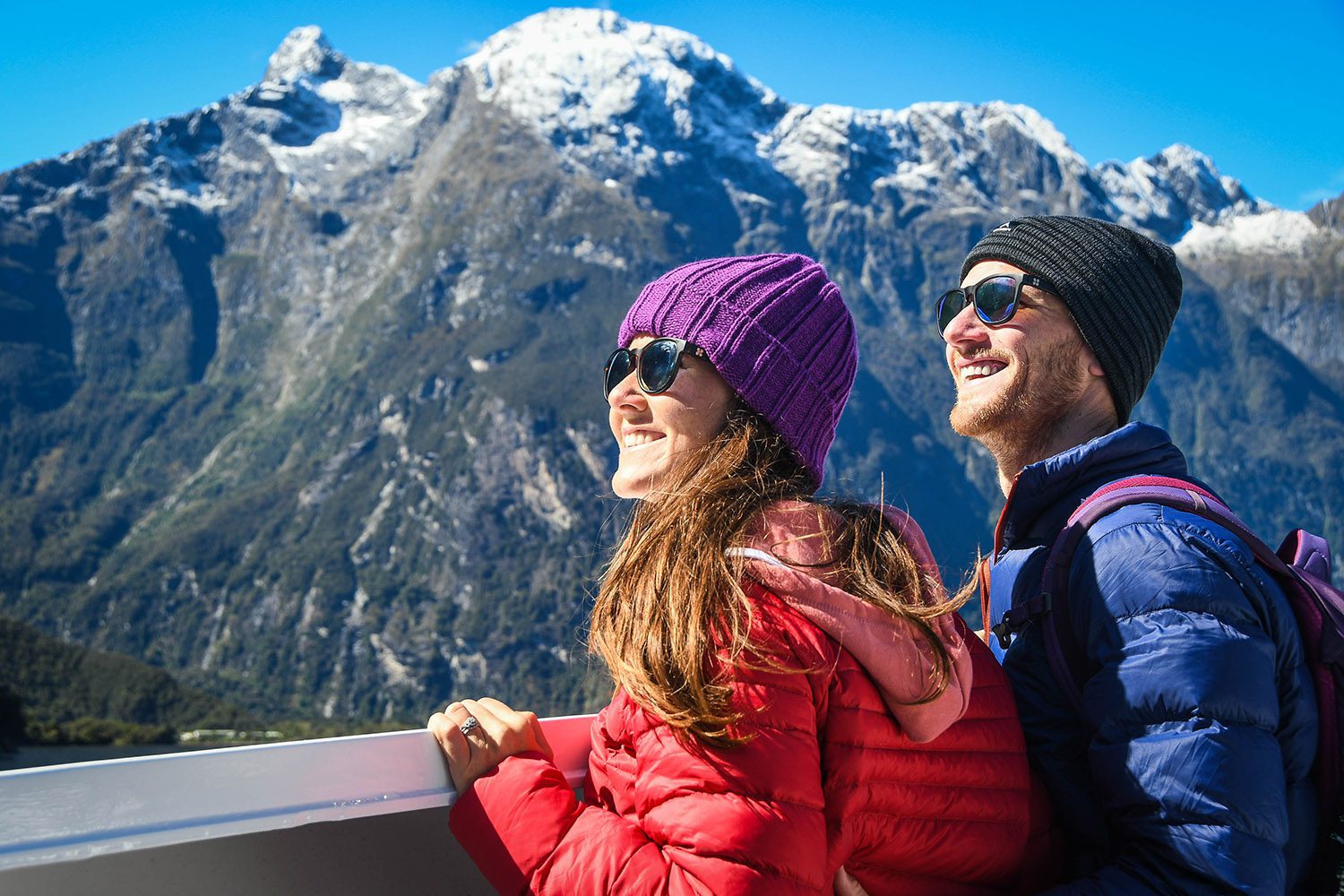 ---
Want to save time and energy on planning?
We spent 5 weeks traveling around New Zealand in a campervan, and we've been lucky enough to explore a lot of what this country has to offer!
We took our 5-week travels and condensed it down to 30 days (because so many people wanted a 1-month route) that hits the top destinations on both the North and South Islands.
We'll send you our complete 1 month itinerary, filled with tips and advice. Just click below to get your 30-day New Zealand road trip itinerary today!


---
Queenstown to Milford Sound Map
The map above shows the driving route from Queenstown to Milford Sound, including all of the stops we suggest below. Click on the image to be taken to Google Maps.
Distance & Driving Time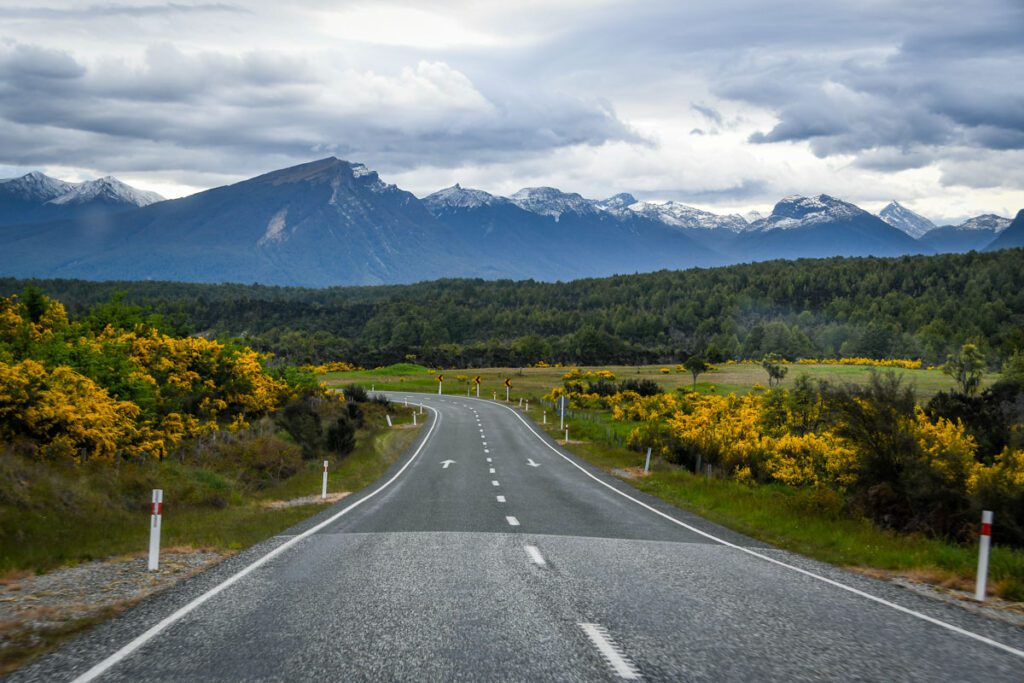 Listen up, because this is important: do not listen to what Google Maps says about how long it takes to get from Queenstown to Milford Sound.
There are lots of things to consider here that don't factor into Google's calculation…
Traffic: As everyone makes their way to Milford Sound for cruises around the same time, the highway will be filled with cars, campervans, and tour buses.
Road conditions: Icy in the winter, washouts in the summer, and winding always, you'll need to take your time and use caution driving this route.
Homer Tunnel: This one-way tunnel has traffic lights that can delay you up to 20 minutes during peak hours. (In the early morning, we had to wait about 6 minutes so it wasn't too bad.)
Stops: This drive is so astonishingly beautiful that you'll want to stop at some of the viewpoints and scenic walks along the way. Plus, you'll need to stop for gas and supplies.
We recommend doing the trip from Queenstown to Milford Sound into two parts: Queenstown to Te Anau, and Te Anau to Milford Sound. If you have room in your itinerary, spending a night in Te Anau can be a great way to break up the drive.
Queenstown to Te Anau: 171 km / 106 miles, 2 hours minimum
Te Anau to Milford Sound: 118 km / 73 miles, 2.5 hours minimum
Add more time if you want to make more stops or do longer hikes along the way.
Psst! We have a whole list of important things to know before traveling in New Zealand that will be a lifesaver as you plan your trip.
How to get from Queenstown to Milford Sound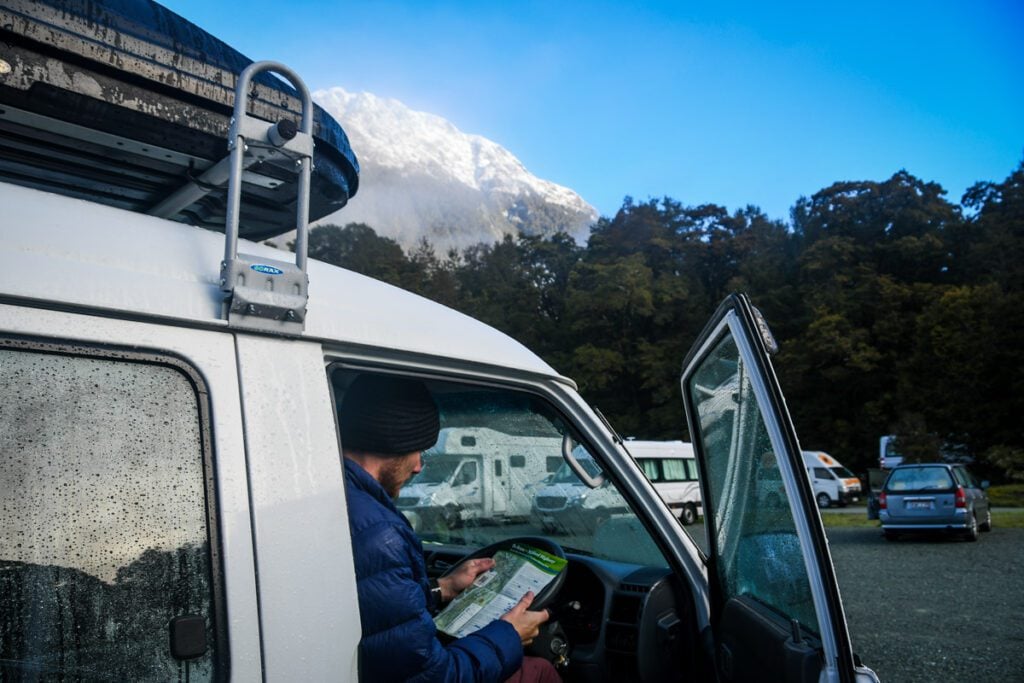 There are only two ways to get to Milford Sound: self-drive or join a tour. There are no public transportation options or commercial flights for this route.
Some guided tours include transportation from Queenstown by coach or plane; however, we highly recommend driving on your own because there are so many memorable stops to make along the way.
Queenstown to Te Anau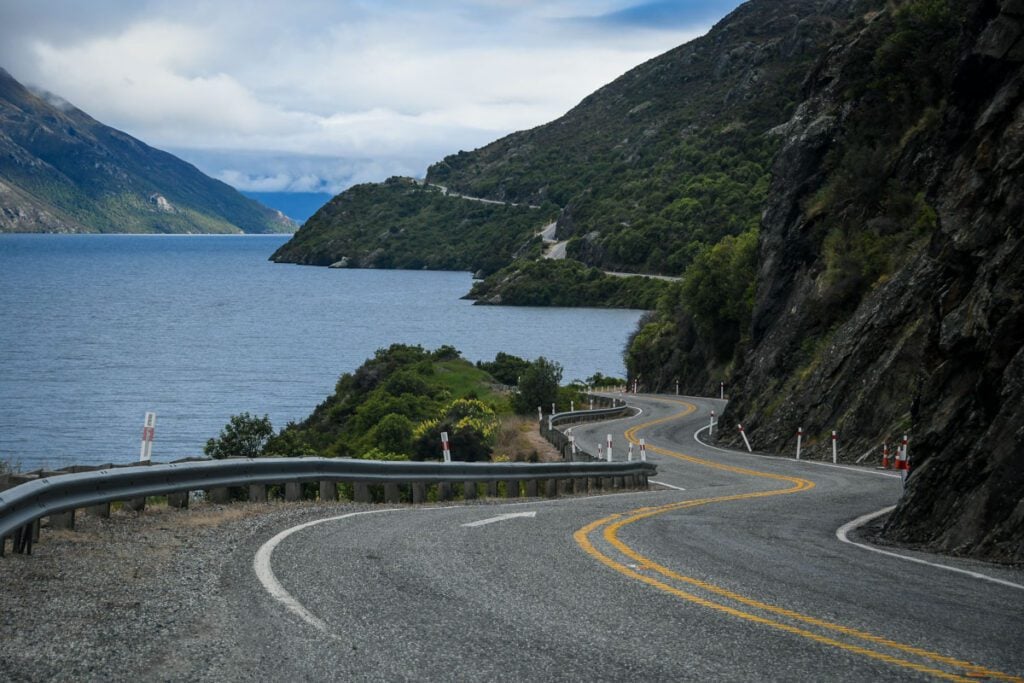 Take State Highway 6 out of Queenstown, heading south. The section of highway along the shores of Lake Wakatipu is called the Devil's Staircase and it is stunning. Be careful driving because many people will pull over on the side of the road for a picture. (And so should you! But make sure it's safe.)
Insider Tip: Before you leave the Queenstown area, make sure to stock up on food at the Countdown grocery store in Frankton (near the airport), because there aren't very good options in Te Anau.
When you reach Lowther, turn right onto Highway 97. Turn right again in Mossburn onto Highway 94, which you'll stay on all the way to Milford Sound. Don't forget to stop in Te Anau for gas and supplies.
Te Anau to Milford Sound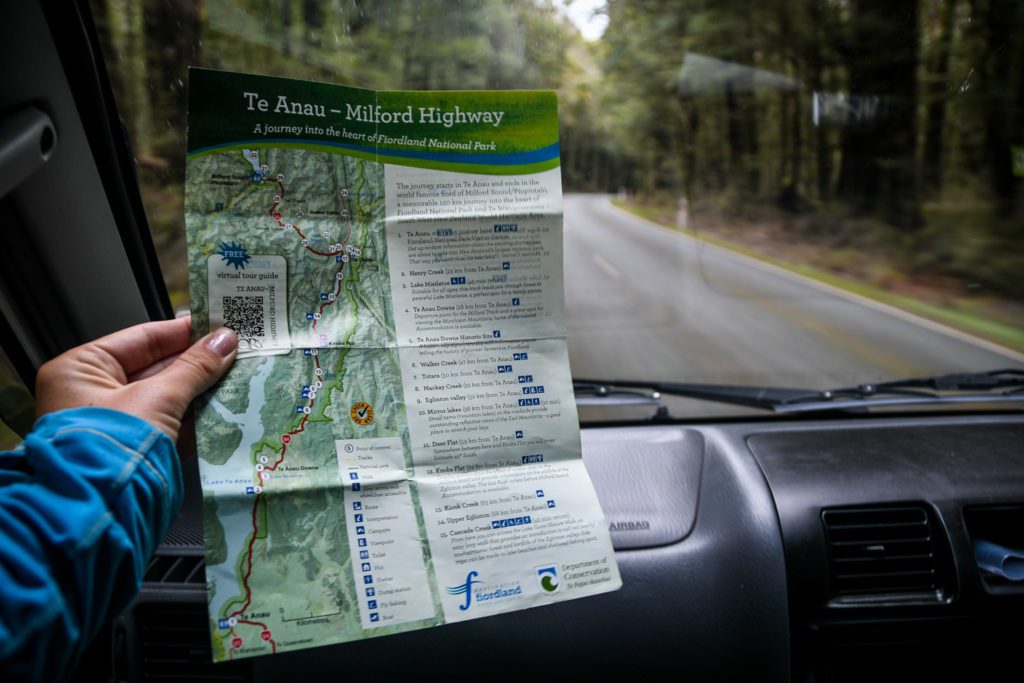 The section of State Highway 94 from Te Anau to Milford Sound is known as the Milford Road. The route is straightforward since you'll be staying on 94 the whole time, but there are some important things you need to know before making this drive:
There are no services on this road. No gas, no shops. Make sure you have a full tank leaving Te Anau, as well as snacks, water, and anything else you need for the drive.
There's also no cell service, so download your maps before heading out. This article explains how to download offline Google Maps if you're not familiar with the process.
It can be dangerous in the winter, and the road might close if there's an avalanche advisory. Check conditions before leaving and bring emergency gear, including snow chains.
It is absolutely stunning. The Milford Road is an experience in itself. Take your time, make stops, do some of the scenic walks, and immerse yourself in this incredible landscape.
Read more about the Milford Road in our Milford Sound travel guide.
Notable stops between Queenstown and Milford Sound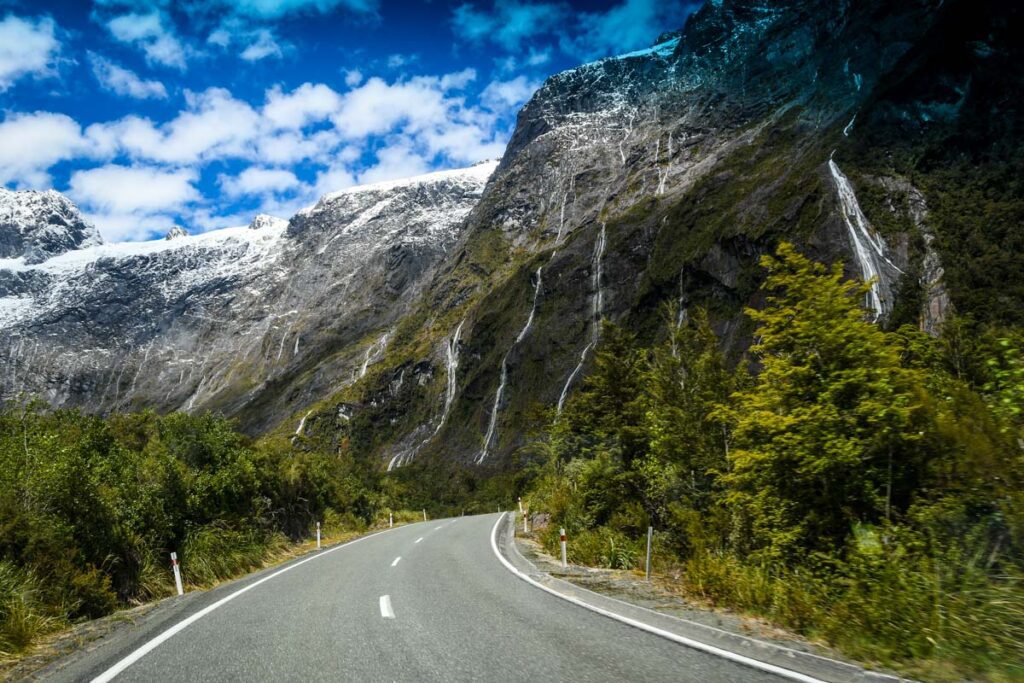 There's so much to see between Queenstown and Milford Sound, you could spend days driving this route.
Most people don't have that much time in their New Zealand itinerary, so we've rounded up what we think are the best stops for a Queenstown to Milford Sound road trip.
The Remarkables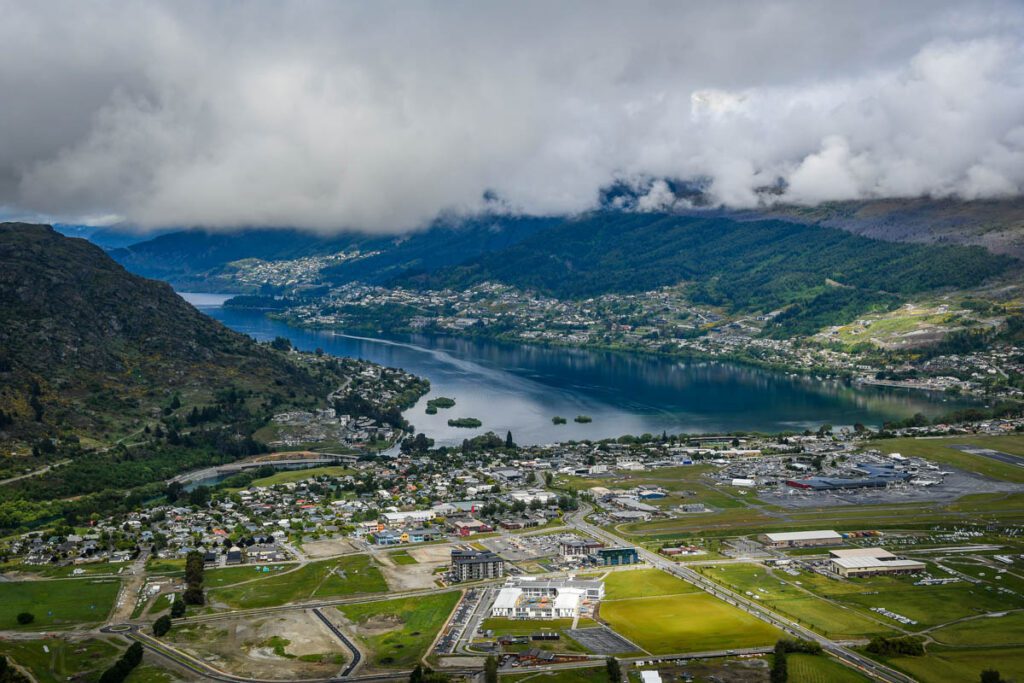 This ski resort just outside Queenstown is a 25-minute (one-way) detour off Hwy 6. It was unfortunately shrouded in clouds when we drove up, but the viewpoint is supposed to be incredible.
Instead, we stopped at Queenstown and Lake Wakatipu Lookout about halfway up the road to the Remarkables for a beautiful view over Queenstown.
Insider Tip: Use 2nd gear if you have it going up, but be sure to switch when you're parked, and low gear going down.
Te Anau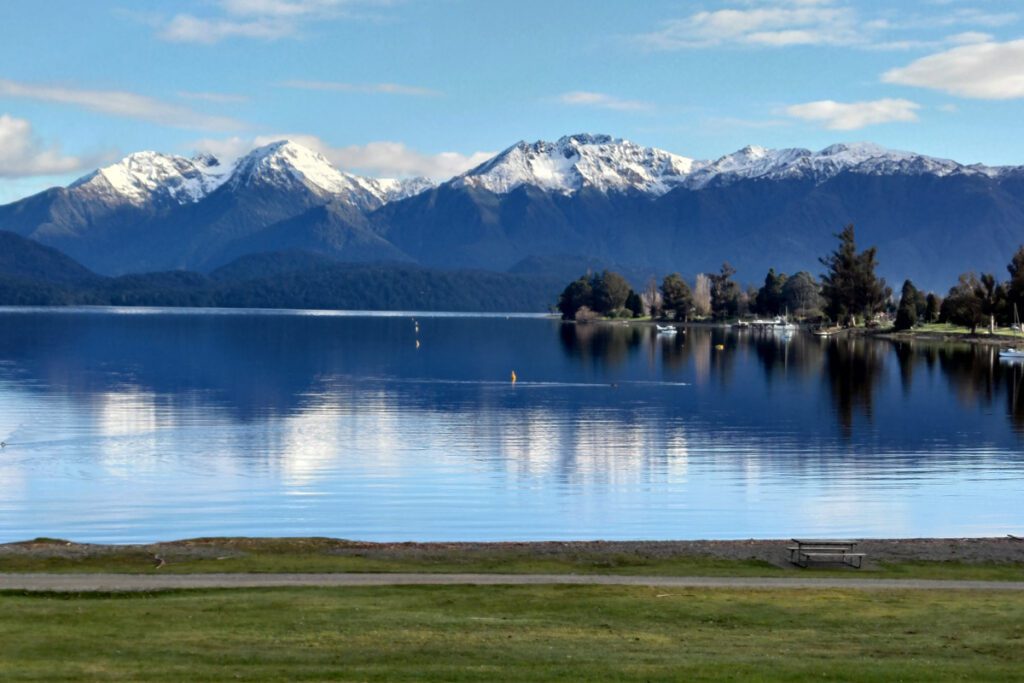 Stopping in Te Anau on your way from Queenstown to Milford Sound is a must. This will be your last chance for groceries, petrol, and cell service before you head onto Milford Road.
But it's not just a practical stop – Te Anau is well worth exploring. We'd even recommend spending a night or two here if you have room in your itinerary. Check out the Fiordland National Park Visitor Center for info on things to do around town and on the Milford Road.
One of the Te Anau attractions we found fascinating was the Ata Whenua – Shadowland film at the Fiordland Cinema. For $12 NZD, it's a 32-minute video mostly taken in a helicopter around the fiordlands.
We couldn't peel our eyes away from the screen as the video panned over icy mountain passes and dropped down massive waterfalls. It was like watching Planet Earth, and if you're into that, we'd recommend checking it out before you head up the highway.
The film is shown at 5 p.m. and 6 p.m. daily. There's also a bar and sitting area where you can wait, and any drinks you buy there can be brought right into the cinema.
Te Anau glowworm caves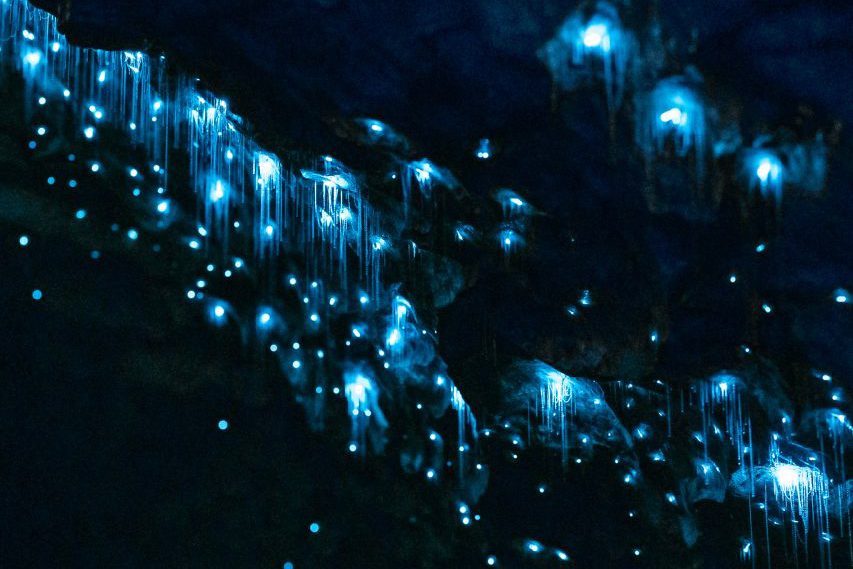 Seeing the famous "glowworms" is a unique experience that makes many travelers' New Zealand bucket lists. Technically not "worms", these gnat larvae are known for the alluring bluish glow they give off.
The glowworm caves in Te Anau are the most popular place on the South Island to see this natural phenomenon.
On this tour, you'll take a boat across Lake Te Anau to the caves where you'll see rock formations, an underground waterfall, and a "hidden" grotto where thousands of glowworms light up the cave like stars in the sky.
Do it yourself:
Price: $119 NZD (~$69 USD)
Duration: 2 hours 15 minutes
Insider Tip: We saw glowworms on the Underworld Rafting Tour in West Coast New Zealand and had an absolute blast! This experience is less touristy than the caves in Te Anau and we highly recommend it if you're going to be in the area. You can read about our experience here.
Mirror Lakes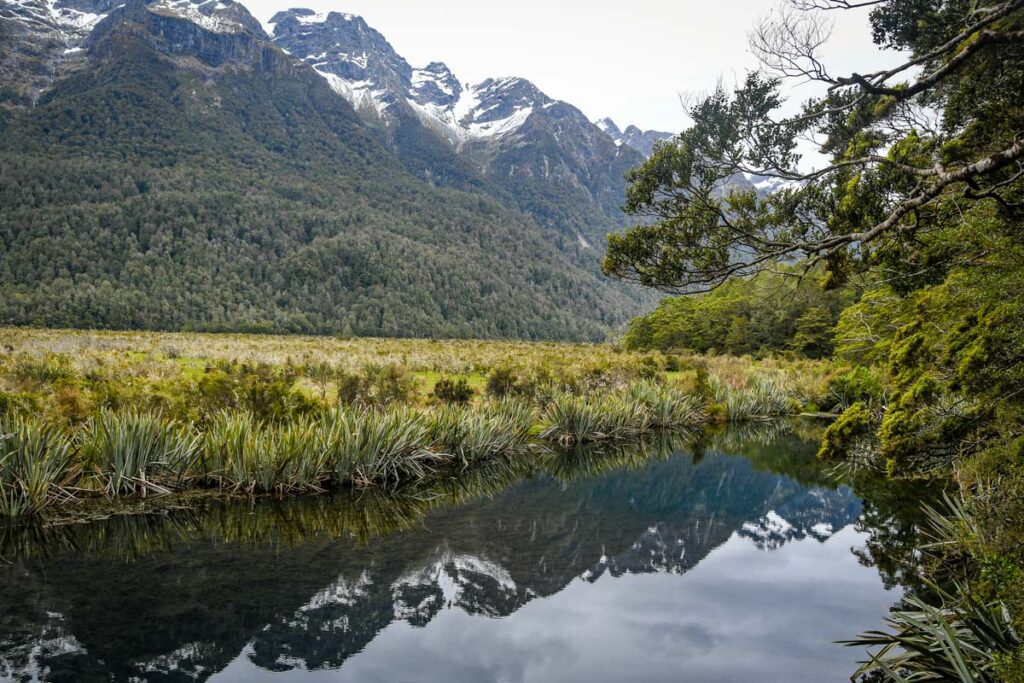 Nestled in the scenic Eglinton Valley, the Mirror Lakes make for an easy and picturesque stop on your Queenstown to Milford Sound road trip.
On a calm day, these glossy lakes display breathtaking reflections of the Earl Mountains. You might even spot a scaup (pāpango in Māori), New Zealand's smallest duck.
Do it yourself:
About 57 km north of Te Anau, the Mirror Lakes are marked with a sign and a small roadside car park. It's an easy walk about 400 meters on a boardwalk through the forest.
Key Summit Hike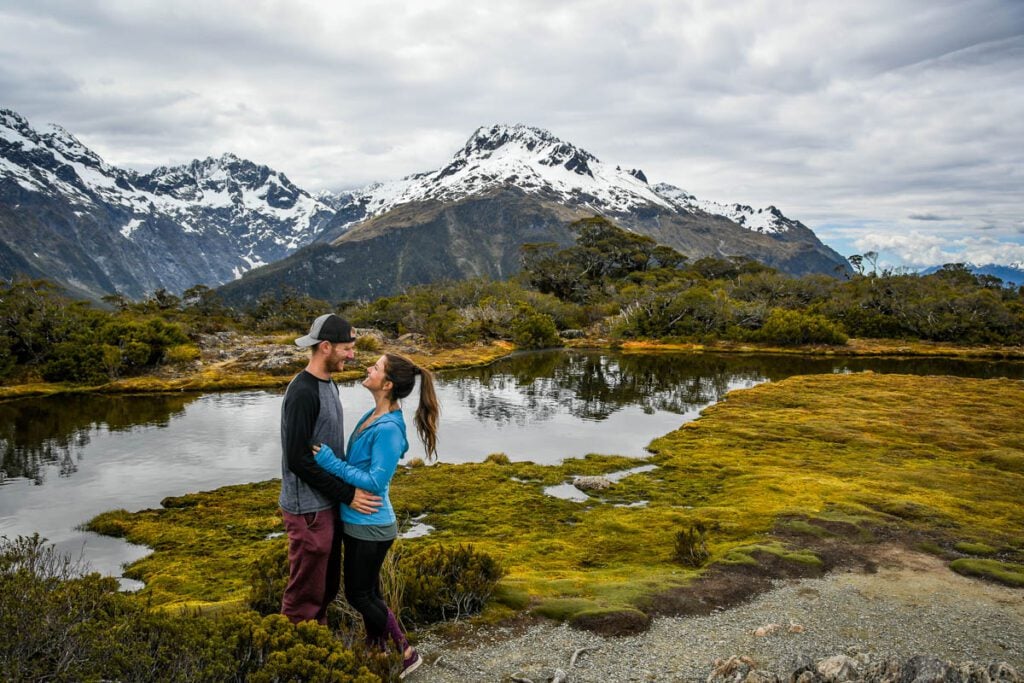 Well worth a stop on your way to Milford Sound, Key Summit provides panoramic views of the peaks of Fiordland National Park.
The 3-hour return hike is a relatively easy trail for all abilities. You go through a series of forested switchbacks and eventually reach a somewhat flat plateau. The last 30 minutes of the trail is a "nature loop" boardwalk encircling the summit.
From the top, you'll get a 360-degree view of the surrounding mountains that make up the fjordlands. You can even see Lake Marian and the hanging valley it sits in.
Fun Fact: Key Summit is part of the much longer Routeburn Track, giving you a glimpse into one of New Zealand's Great Walks without the time commitment.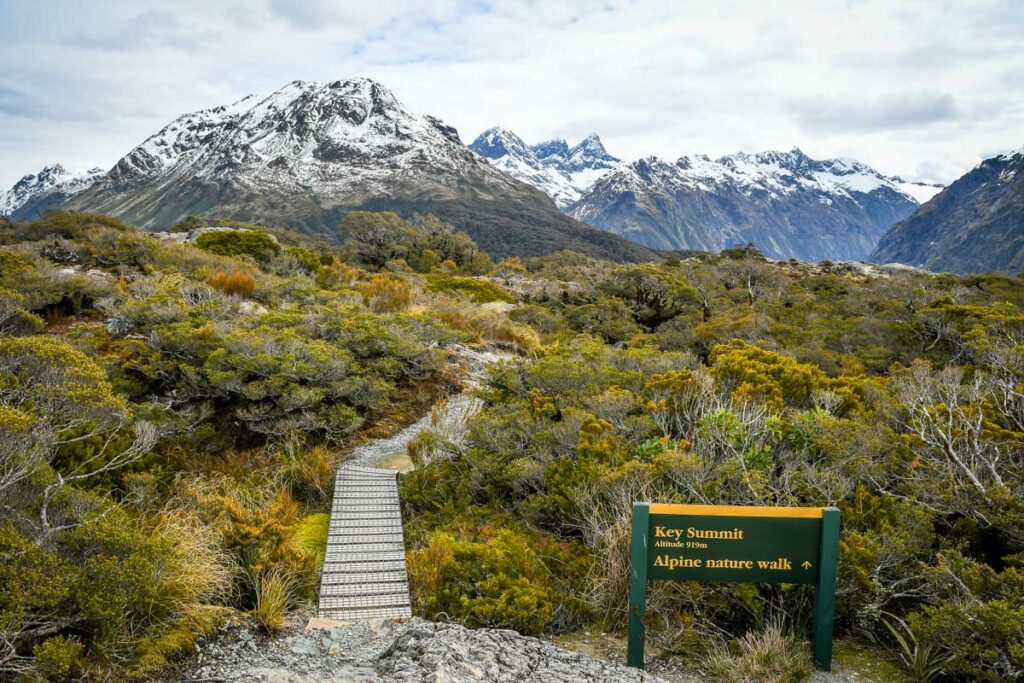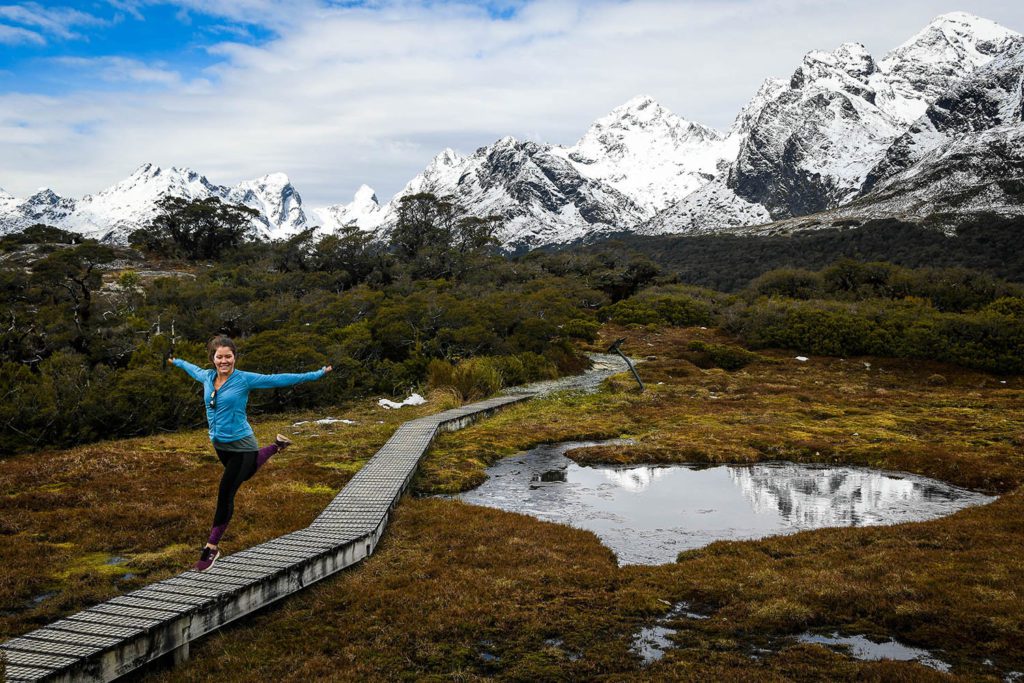 Do it yourself:
Distance: 7.5 km (4.7 miles) out and back, should allow at least 3 hours
Elevation Gain: 423 m (1,389 ft)
Difficulty Rating: Moderate
26.8 km after Mirror Lakes, stop at The Divide car park (there are also public toilets here if you need them). For the first part of the trail, you'll be on Routeburn Track. There's a sign to mark the turnoff for Key Summit.
Psst! If you're obsessed with hiking like we are, you'll want to check out our list of the best hikes in New Zealand.
Pop's View / Hollyford Valley Lookout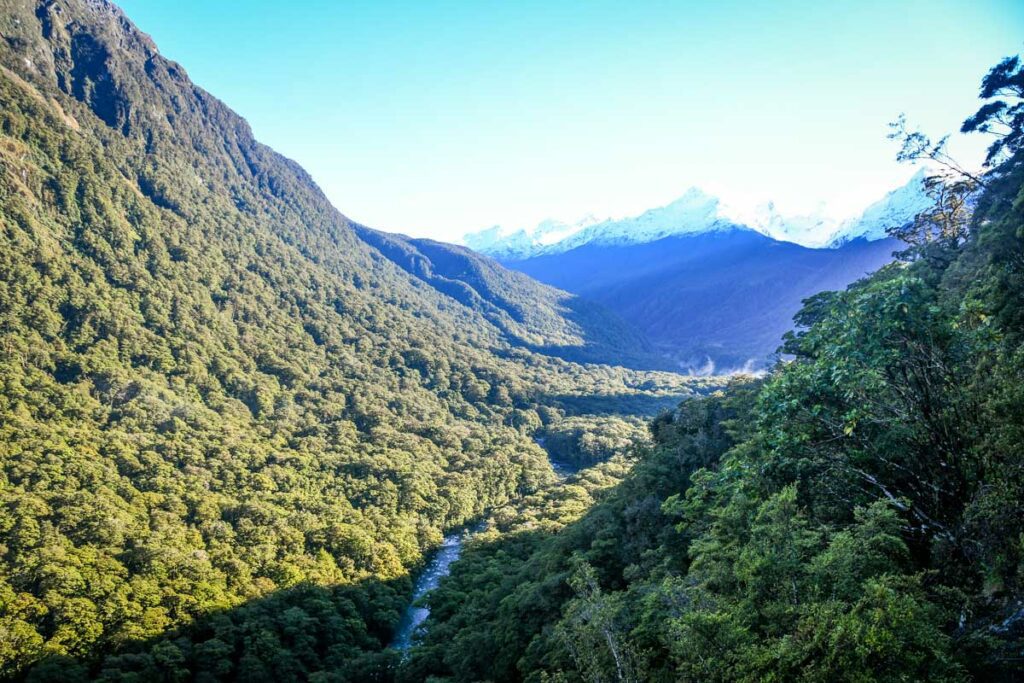 This viewing platform is a quick stop at a roadside pullout over a sweeping vista of the Hollyford Valley.
The platform is labeled as Hollyford Valley Lookout on Google Maps, while the location for Pop's View is about 160 meters east. Interpretive signs at the former tell the story of Pop's View and the geographical history of the valley, while the latter has more parking. Both offer similar views.
Lake Marian Hike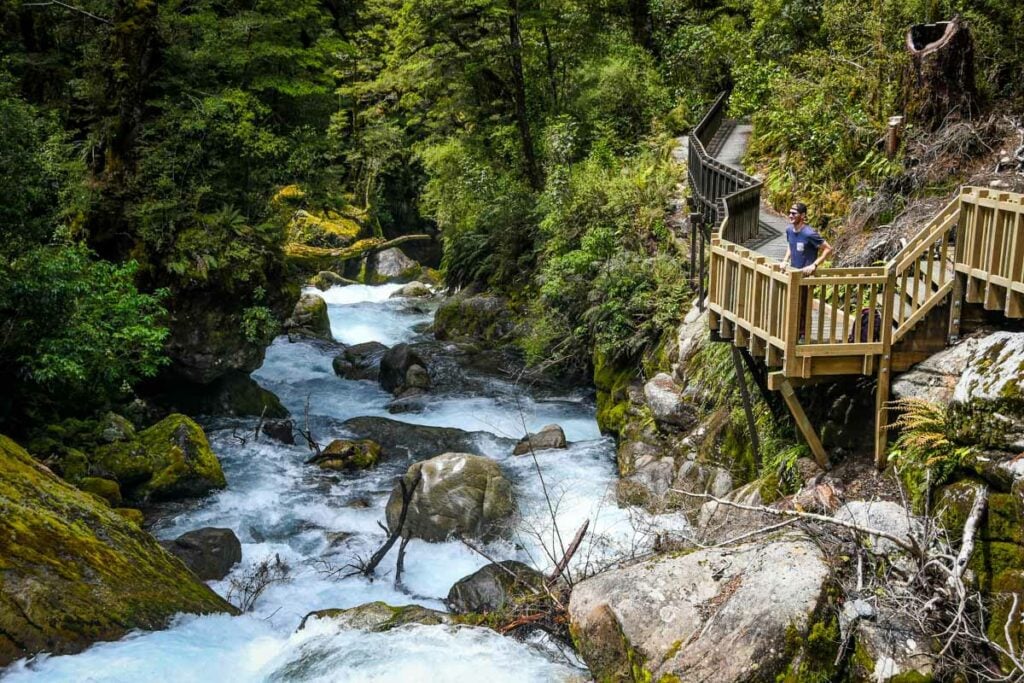 This stop has two options:
Walk to Lake Marian Falls: an easy 20-minute return to a series of beautiful cascades
Hike to Lake Marian: a 3-hour return on a steep trail to a scenic lake in a hanging valley
Both are worthwhile if you have the time. If not, we'd recommend the hike at Key Summit over this one, but you could still stop here to see the falls.
The Lake Marian hike is short, but the track climbs steadily uphill. There are a few points where you may have to use tree roots as hand holds, and the terrain is uneven. You can view the DOC trail notes here.
The reward at the end is a jaw-dropping vista overlooking a pure emerald lake with mountains rising from its shores and snow-capped peaks high above. Make sure to allow at least 3 hours return for this hike, as you'll definitely want to spend a good amount of time soaking in the view.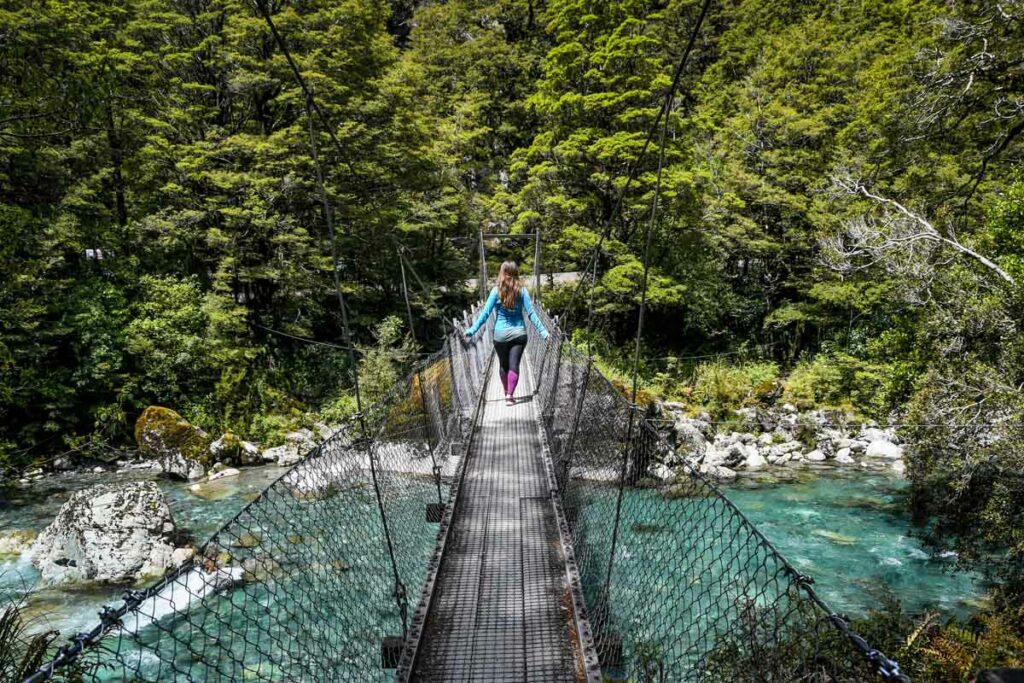 Do it yourself:
Just 1.4 km after Pop's View, turn right onto Lower Hollyford Road at Marion Corner. There are plenty of signs, so you won't miss it. After about 1 km, you'll come to the car park and a sign for the Lake Marian trailhead.
Cross the suspension bridge and walk about 10 minutes to the falls. From there, you can choose whether or not to continue up to the lake.
Note: In winter and early spring this track can be closed due to avalanche danger. Check with the local DOC office in Te Anau if you're hoping to do this hike.
Homer Tunnel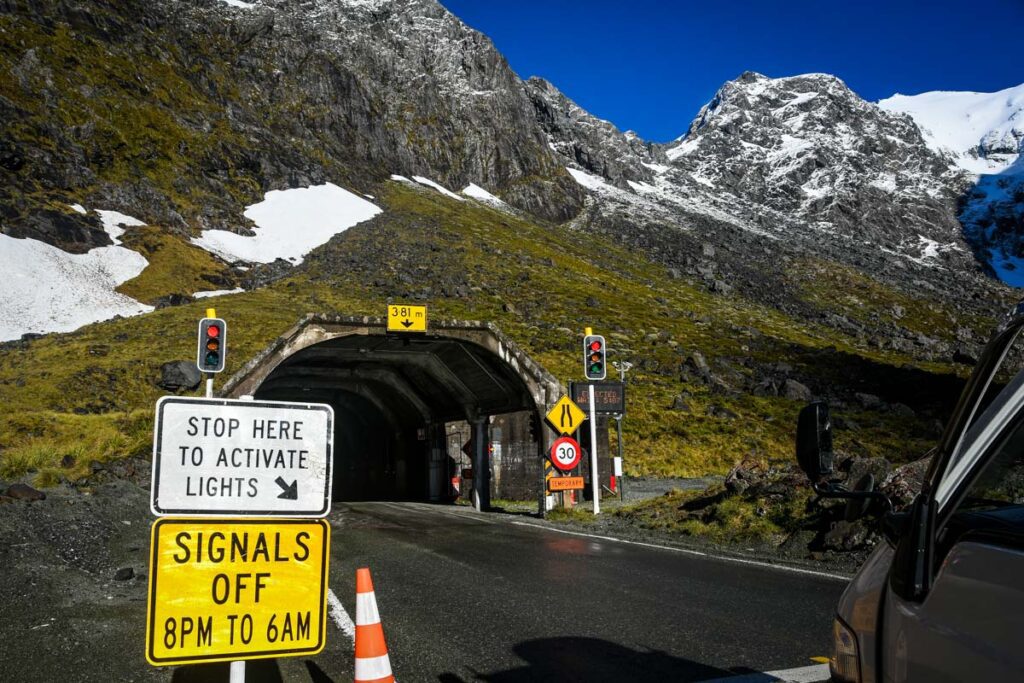 About 13 km past Marion Corner, the Milford Road disappears into the Homer Tunnel, a 1.2-kilometer passage that bores through the Darran mountain range.
Construction on the historic tunnel began in 1935 and wasn't completed until 1954, when the highway finally opened to provide access to Milford Sound. There's no internal lighting, so remember to take your sunnies off and turn your lights on when you enter.
Traffic through the narrow tunnel is controlled by a set of stop lights at either end, allowing traffic to move through one-way at a time. This can cause delays up to 20 minutes during peak hours, so be sure to factor that into your driving time.
There's a small parking area at the Homer Tunnel entrance, and tour buses often stop here, so watch out for pedestrians.
The Chasm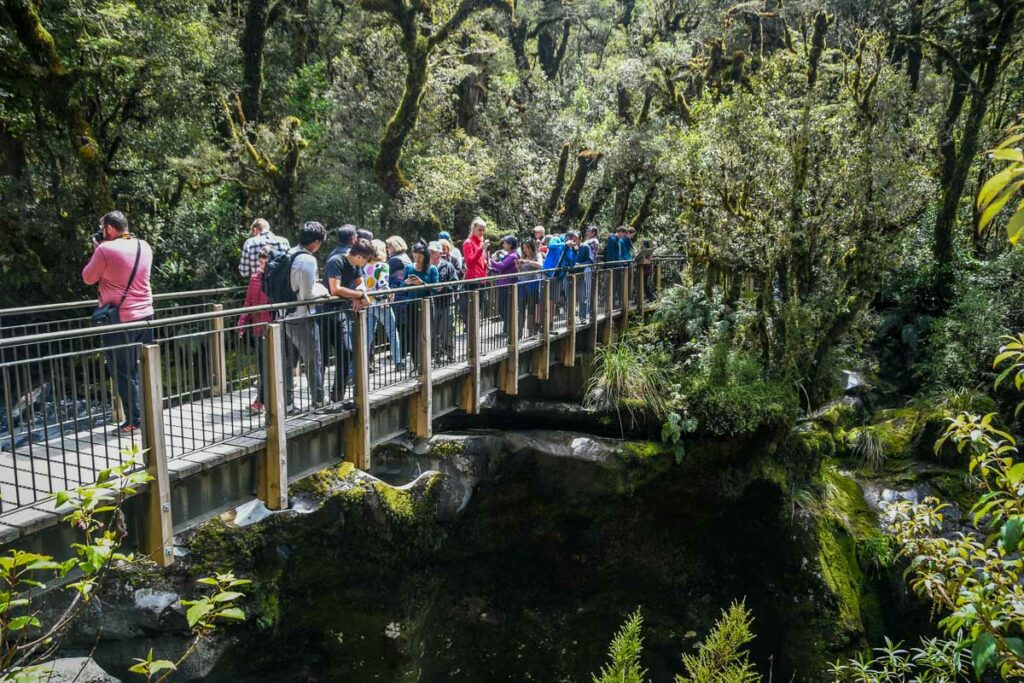 An easy loop that takes about 10-15 minutes, the Chasm is definitely worth a quick stop.
As the name implies, the Chasm is a deep crack in the earth through which the Cleddau River gushes, creating a series of cascades over the rocks. Footbridges provide an easy and well-maintained path to follow.
There's a large car park at the Chasm, located 7.3 km after Homer Tunnel. From there, it's an easy 400-meter return walk.
Note: As of December 2022, this trail has been closed due to storm damage. Check back on Alltrails to see when it opens back up.
Guided tours from Queenstown to Milford Sound
If you'd rather leave the driving to the pros, below are some tours that include transportation from Queenstown to Milford Sound.
From Queenstown: Milford Sound Cruise and Coach Day Trip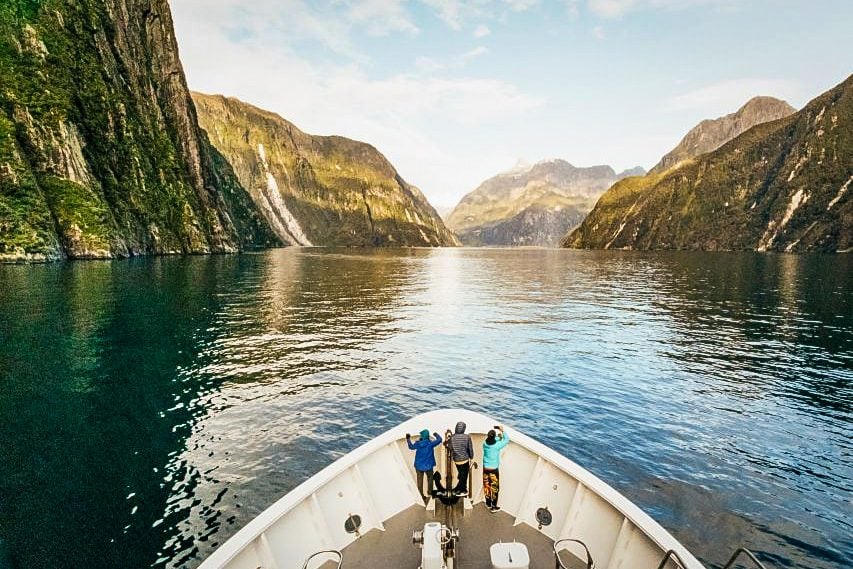 If you want to experience Milford Sound as a day trip from Queenstown, this tour is an excellent choice.
A luxurious glass-roof bus takes you along the scenic shores of Wakatipu before making a stop in Te Anau. As you traverse the famous Milford Road, you'll have chances to stop for photos and short walks.
During your 2-hour Milford Sound cruise, you'll enjoy live commentary from your nature guide, with snacks and drinks available for purchase from the fully-licenced bar onboard. Afterward, relax on the bus back to Queenstown.
What guests are saying:
"[…] It was absolutely spectacular!! Truly a wonder of the world! Our guide Paulie entertained us the whole ride up with interesting facts, ancient stories, and personal experiences. […]"

– Kim, Aug. 2023
From Queenstown: Milford Sound Full-Day Trip by Plane & Boat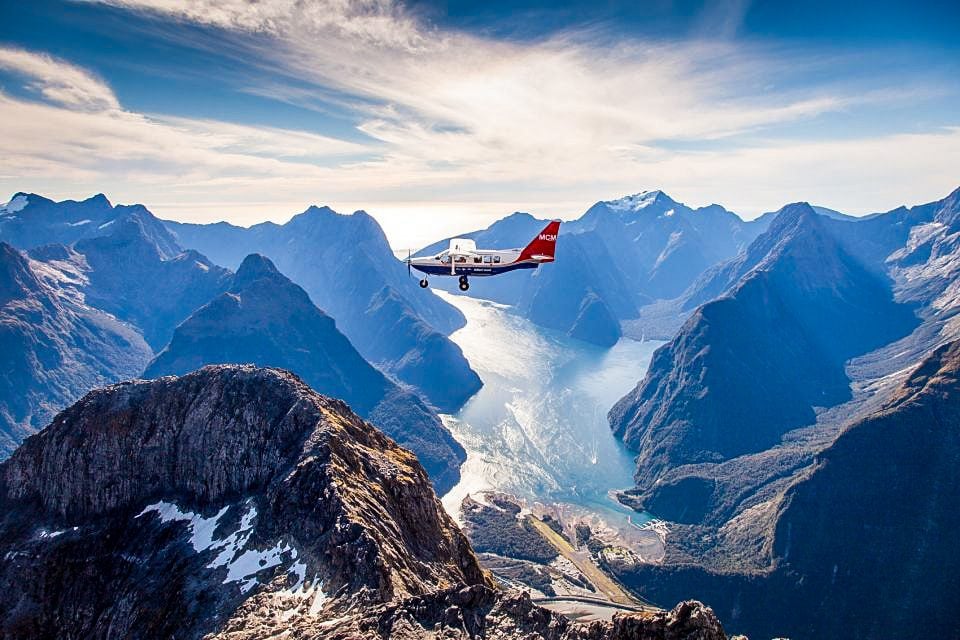 Starting point location: Pickup available at 26 locations around Queenstown or meet at 39 Lucas Place
Duration: 5 hours
Price: $645 NZD (~$377 USD)
Get a unique perspective of Milford Sound on this combination airplane and boat tour.
Enjoy spectacular views as you soar over the mountains in a Cessna, heading for Milford Sound. After the 40-minute flight, you'll hop on a 2-hour cruise down the fjord. Your pilot will take a different flight path back to Queenstown so you can see as much of the national park as possible.
What guests are saying:
"This tour is exceptional! The plane is great and everybody gets a window, so you can fully enjoy the experience. […] The cruise is also a very nice experience because it gets close to the falls and if lucky you can spot some of the marine animals. The views are spectacular, just like being inside a movie! […]

– Alejandra, July 2023
From Queenstown: Milford Sound Flight and Boat Cruise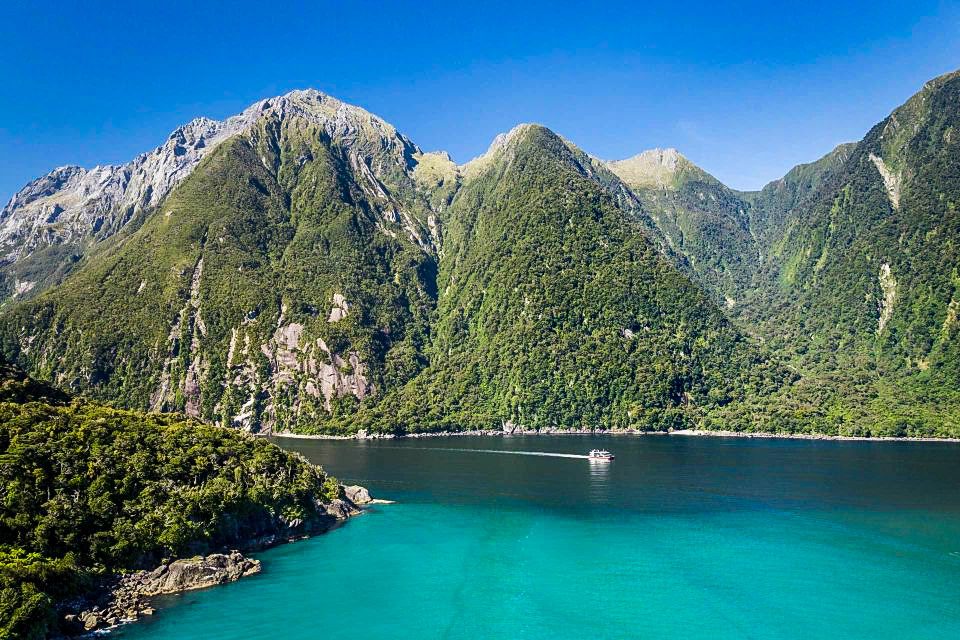 Starting point location: Pickup from your central Queenstown accommodation
Duration: 4.5 hours
Price: $625 NZD (~$365 USD)
This half-day tour from Queenstown is a perfect way to see the highlights of Milford Sound and the surrounding area.
From Queenstown, your Cessna will fly over the Southern Lakes and Tutoko Glacier. If time permits, your pilot will guide you on a bush walk through the rainforest to Milford Sound, where you'll set out on a sightseeing cruise.
Afterward, your pilot will take a different route back to Queenstown, showing you such famous landmarks as Sutherland Falls, Lake Te Anau, and Lake Wakatipu.
What guests are saying:
"[…] The flight was fantastic with beautiful scenery. […] The cruise through Milford Sound was a great experience. We had such a great time and would highly recommend this tour."

– Carla, April 2023
Milford Sound Fiord Cruise & Helicopter Glacier Landing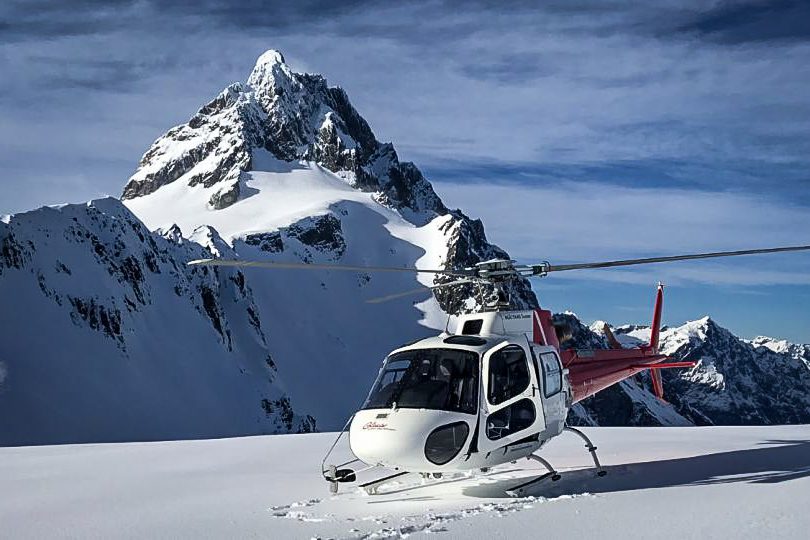 Starting point location: Pickup available from all Queenstown hotels
Duration: 4 hours
Price: $1,220 NZD (~$713 USD)
This adventurous tour combines two of our favorite New Zealand experiences: a Milford Sound cruise and a helicopter glacier landing.
First, fly to the town of Milford, where you'll embark on a scenic fjord cruise. Then, hop back on the helicopter for an exhilarating flight over the stunning Southern Alps, dotted with alpine lakes and glacial rivers.
Finally, your pilot will land on a glacier, giving you a chance to enjoy panoramic views and take once-in-a-lifetime photos before returning to Queenstown.
What guests are saying:
"A once in a lifetime experience. […] We thoroughly enjoyed everything about the amazing tour from beginning to end. Our helicopter pilot Alfie has been flying for 40 years, so we felt very safe at all times 🙏"

– Ron, Dec. 2022
What to pack for your Queenstown to Milford Sound road trip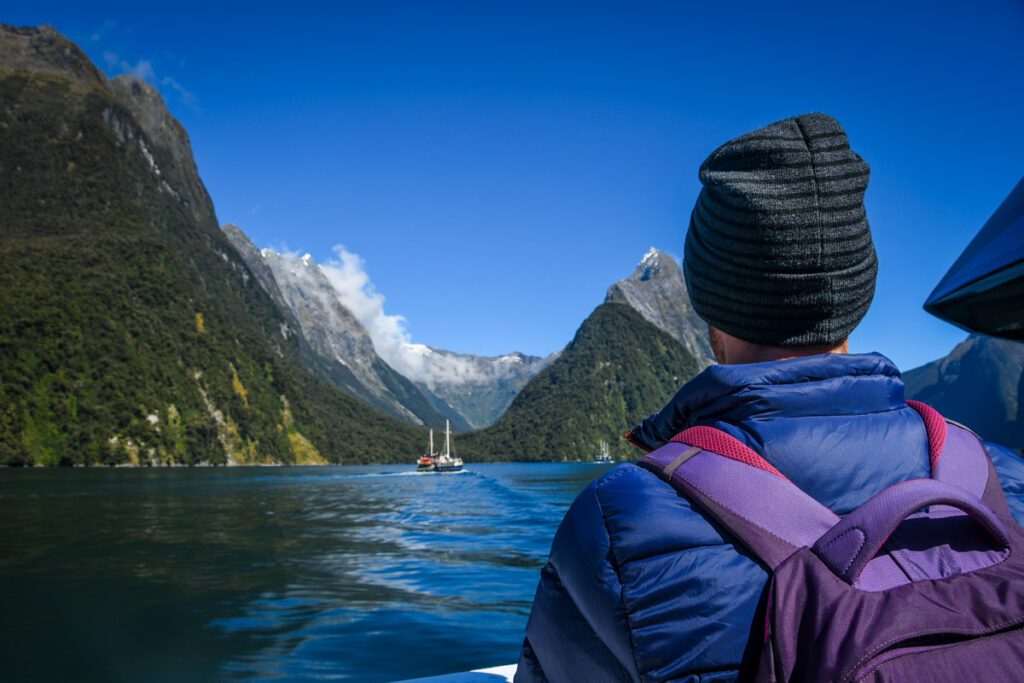 Wear layers
Waterproof rain jacket: choose one that also works as a windbreaker if possible, as it can get very windy
Sunglasses
Sunscreen: one of the most important things to know about New Zealand is there is a hole in the ozone layer above the country, meaning you'll likely burn more quickly than you're used to
Water
Snacks (there aren't many food options in Milford Sound)
Camera
Battery bank: to keep your phone charged
Gloves and a beanie: these are nice to have if you're doing an early morning Milford Sound cruise
Pressure point bands to prevent carsickness (and seasickness on your cruise!)
Portable jumper cables: This tiny device lets you jump your vehicle without another car. After experiencing a horror story in Iceland, we learned the hard way to always pack these for road trips abroad!
Travel insurance: We NEVER travel without it, but especially for a road trip, it's a good thing to plan for.
Be sure to download our complete packing list for New Zealand! It's packed with good suggestions and insider tips to help plan your New Zealand trip. And it's completely FREE, so why not!?


---
Are you planning a trip to New Zealand?
We have TONS of resources on travel in New Zealand and destinations throughout the country. Check out our Ultimate New Zealand Travel Guide for all the answers to your most burning travel questions, or read some of our favorite articles below.
Or, let us do the planning for you!
Save this article on Pinterest for later!
We want to hear from you!
Are you planning a road trip from Queenstown to Milford Sound and still have questions? Let us know in the comments below and we'll do our best to get back to you!