We did little to no research before signing up for our first Temazcal ceremony, so what happened next was a big surprise. This ancient practice is essentially Mexico's version of a "sweat lodge" with a few extra body cleansing rituals and interesting massages.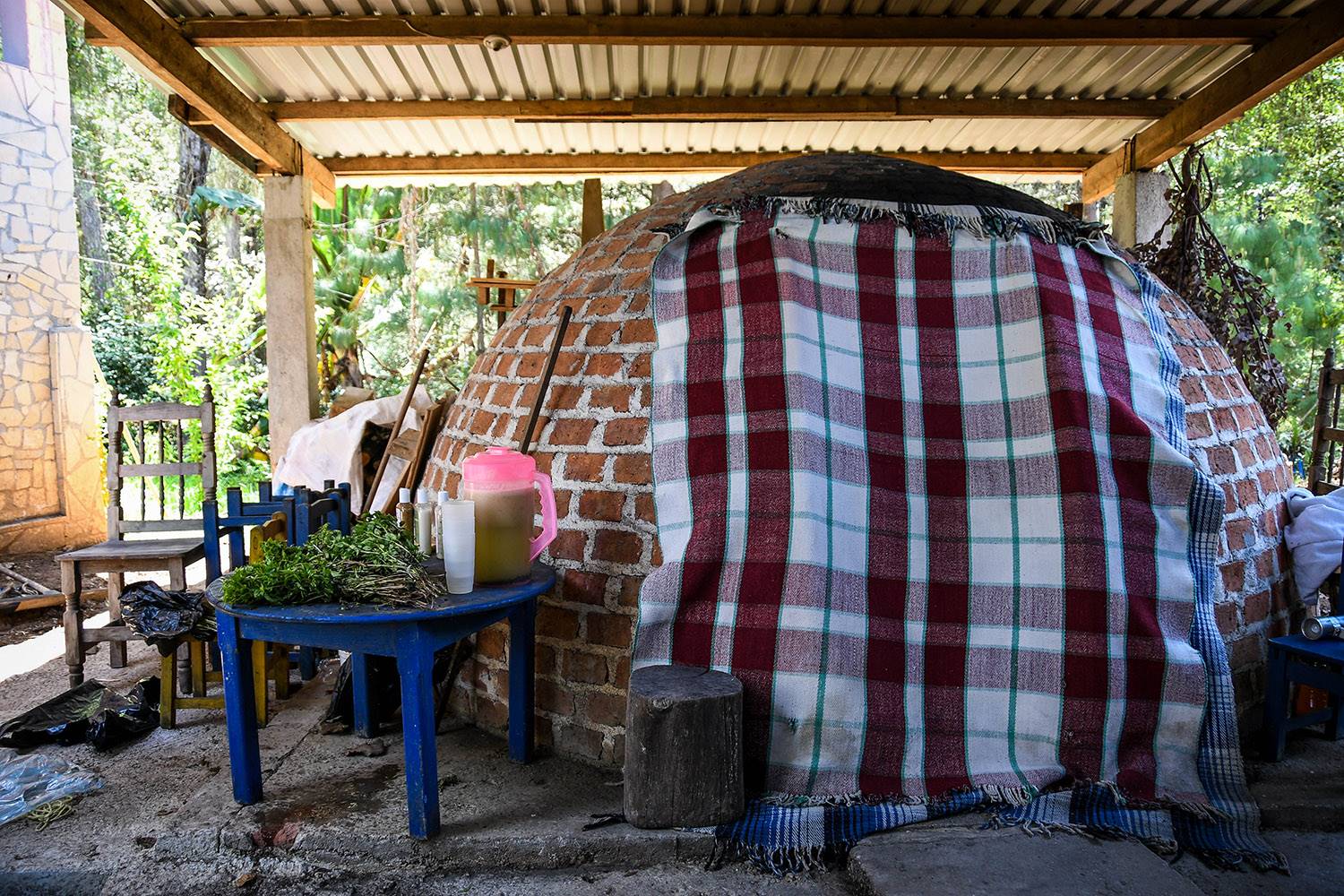 We arrived to a hotel just outside of San Cristobal having no expectations whatsoever. We had done a little reading about Temazcal ceremonies online, but knew very little of what the ceremony would entail.
What is a Temazcal ceremony?
Temazcal ceremony is a Mexican sweat lodge that originated with the ancient people whom habituated Mexico. The ceremony is in a sauna or sweat lodge and traditionally preformed by a shaman who gives you a heated massage using scented herbs. It can used to heal certain ailments and improve health.
Our experience with a Temazcal ceremony
The man who would be leading us through the temazcal introduced himself as Jorge and gave us a very brief description of what we would be doing in Spanish, before turning Bob Marley on a speaker.
He ushered us inside what looked like a large pizza oven or an igloo made out of bricks. This round structure was not tall enough to stand up in, yet it was comfortable for the 3 of us to sit on small chairs and get our sauna on!
Jorge had a bucket filled with herbs and water (more herbs than liquid!) and would throw a cupful on the coals to make it hotter. And boy, did it get hot.
I sat there wondering if we were just going to sauna when I started getting super light-headed. We stepped out and Jorge covered us in blankets, which was necessary because the air outside was quite cool compared to the heat box we'd been sitting in!
The tank top and shorts I was wearing were absolutely soaked in sweat. I was literally sweating from everywhere.
He poured us glasses of a thick greenish drink. Ben leaned over to me and wondered aloud if it was a hallucinogenic tonic like you sometimes hear about at healing ceremonies (like I said, we literally did NO research!). Jorge explained that it was cucumber-lime water – perfect and super-duper refreshing!
Next Read: 25 Incredible Things to Do in Mexico That Aren't Beaches
We went back into the hot dome for another sweat session until we couldn't stand it no more and when we came out, Jorge told Ben it was his turn to get a massage.
He carried a small wooden massage table into the dome and Ben followed, giving me a tentative look (kind of reminded me of the time Ben got a massage by a man in the mud volcano in Colombia).
I sat outside, listening to "Buffalo Soldier" punctuated by slaps coming from inside the dome. I wondered what the heck was going on in there, and soon, I would find out.
Twenty minutes later Ben came out of the dome with a smile on his face, as if saying "you're going to have quite the experience in there." It was my turn, and I was led inside the dome. Jorge asked me to remove my shorts and top.
Note: I've had my share of interesting spa experiences in Korea and Japan, so I didn't mind, but if you are uncomfortable with this, you could probably leave them on – the massage would just be a bit more difficult as they use lotion.
I lay face down on the table and Jorge started slapping me with a bundle of hot herbs. This lasted about 5 minutes, and then he applied a lotion that smelled of rosemary and mint and started the massage. I had been worried that it would be unbearably hot during the massage, but it had cooled down a bit inside the dome and it was actually quite comfortable.
At the very end of the massage, Jorge had me flip over and applied a pack of hot herbs to my lower belly and let them sit there for a few minutes. I had read that temazcal is sometimes used in cases of infertility, so perhaps he assumed that's why we were there? (and FYI that's NOT why we were there)
After the massage was finished, I went into one of the hotel rooms and showered. Leaves that had been stuck to my body washed into the drain, and I felt good and refreshed, but not all that different than a typical sauna or massage treatment. Nevertheless, it was still an interesting experience while in Mexico.
How to get to the Tezmacal ceremony in San Cristobal
While we had been driven to the Hotel Villa Las Flores from San Cristobal, Jorge instructed us to walk to the end of the road and catch a collective, which cost 10 pesos per person. It was a short .5-kilometer walk, but it felt strange doing it in our sweat-soaked clothing (as we hadn't thought to bring a change of clothes).
One of the easiest ways to get around Mexico is by driving a rental car, and it would make your trip to the ceremony so much easier. You get to explore on your own, it's safe, and crazy cheap. We got a rental car in Costa Rica for so cheap one day, we decided to keep the car for two weeks. We use RentalCars.com to search for the best deals on rental cars around the world.
Important note: This experience is not for everyone. You will be in a very hot space for an extended period of time. It is also a very "full body" massage, and might be uncomfortable for some.
How we felt after the Temazcal ceremony
We felt refreshed after the temazcal, however didn't experience any "healing benefits" that people sometimes rave about after this ceremony. That said, we still enjoyed the experience and would recommend it if the description sounds enticing to you.
Tip: If your traveling to Oaxaca and San Cristobal, we'd recommend checking out Ceviarem Temazcal in Oaxaca if possible. We've heard great things about the temazcal there, and while the one we did was good, there was some fine-tuning that could have made the experience better.
The one in Oaxaca is more expensive (1,200 pesos for 2 people versus 700 we paid in San Cristobal), but they have more experience working with foreigners, and we've heard you get a better explanation during the temazcal. Check out other things to do in Oaxaca while you are there.
That said, Ceviarem requires booking in advance. And if like us, it doesn't work out in Oaxaca but you still want to experience Temazcal, give it a shot!
How to book: We asked our hostel to book for us, and we were picked up 2 hours later. You can also send them a message on Facebook, but do so in Spanish, as they do not speak English.


---
Are you planning a trip to Mexico?
We have lots more resources on travel in Mexico and destinations throughout the country. Check out our Ultimate Mexico Travel Guide for all the important travel information, or read some of our favorite articles below.
Save this article on Pinterest for later!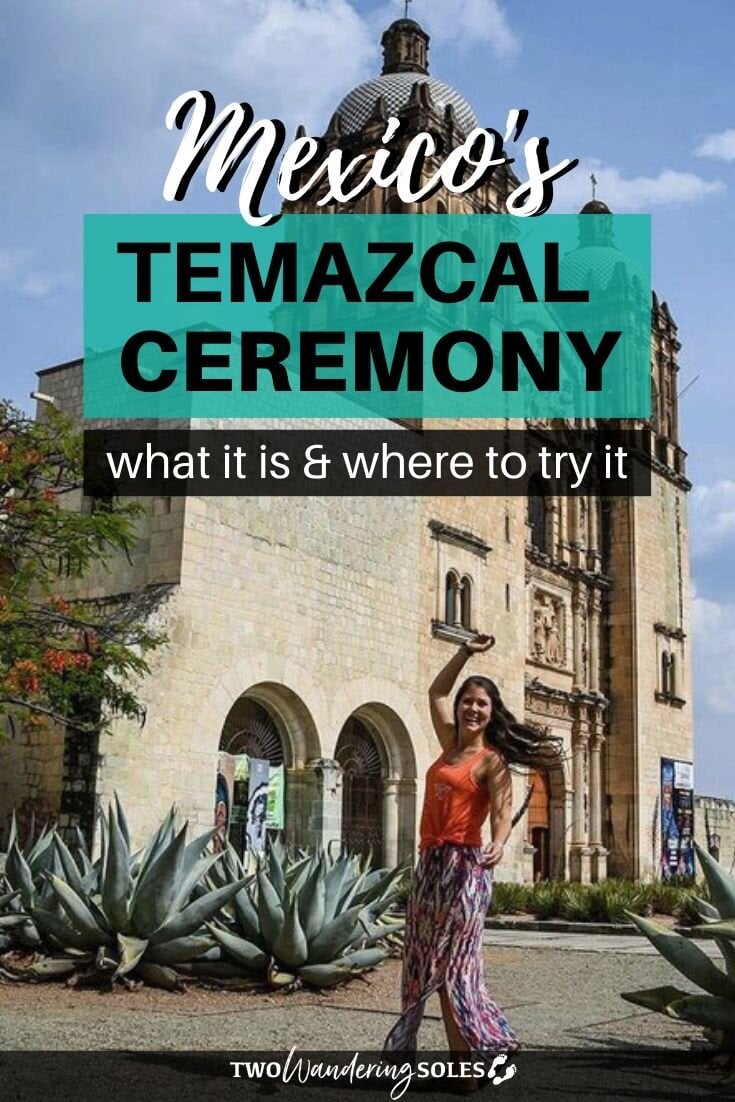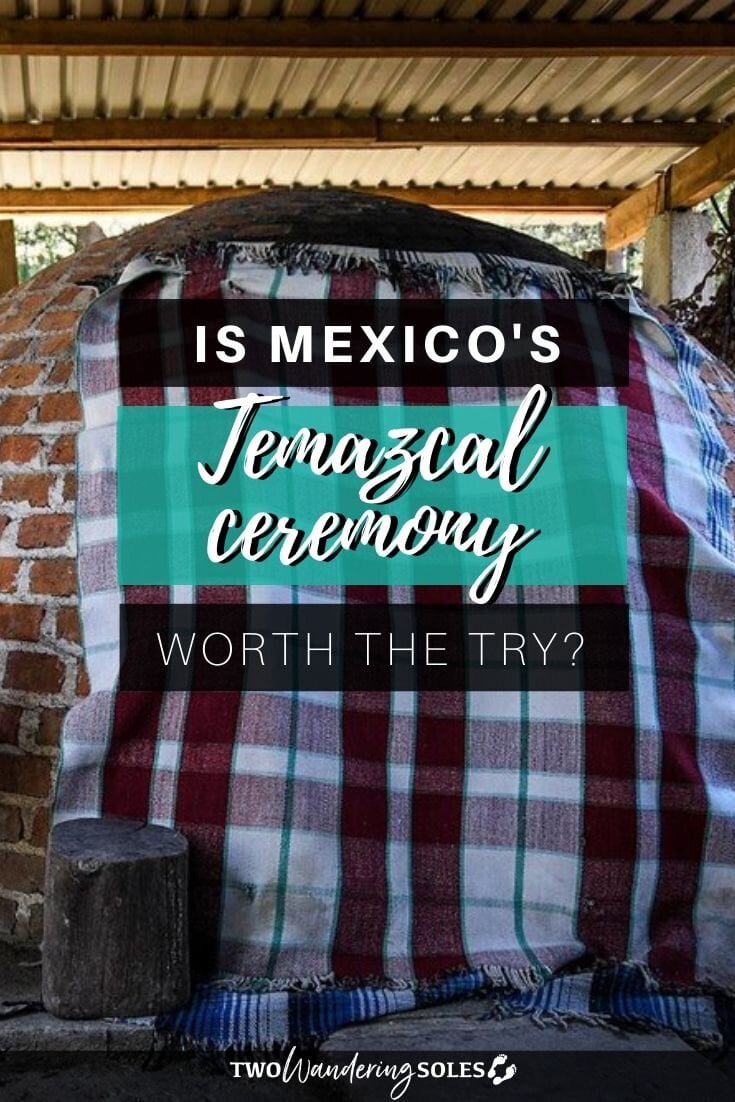 We want to hear from you!
Have you tried the Temazcal Ceremony? What did you think? Let us know about your experience in the comments below!