Rio Celeste Waterfall is one of the most anticipated destinations on any adventure around Costa Rica. Discover exactly how to visit this mythical gem nestled in lush, volcanic landscapes using this detailed guide.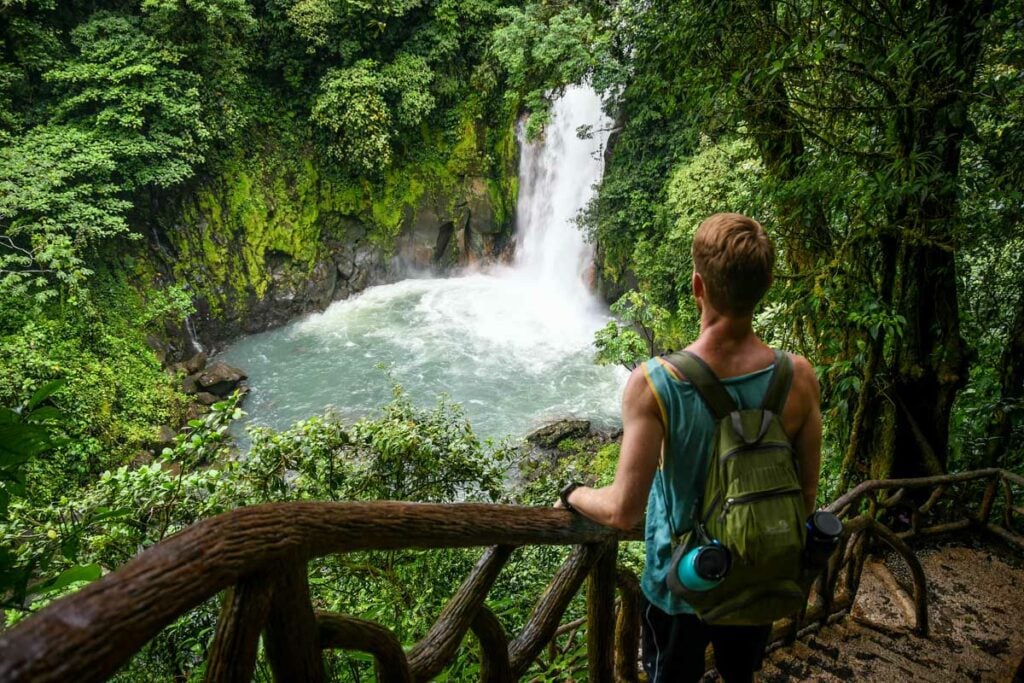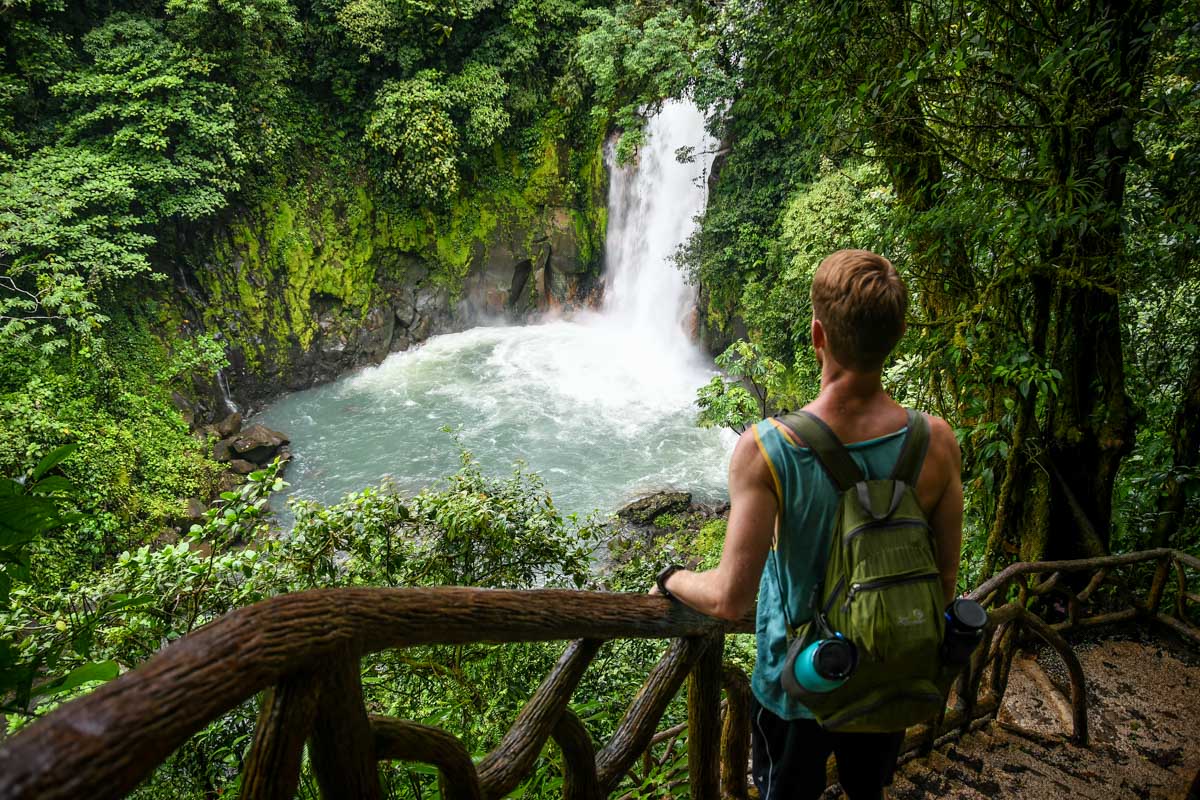 The waters of the Rio Celeste Waterfall are a force to be reckoned with, rivaled only by a handful of other destinations in the world, like the Blue Lagoon or Havasupai.
Nestled along the edge of Tenorio Volcano National Park's emerald cloud forest, this jaw-dropping waterfall pours nearly 60-feet over a cliffside into a magnificent, and borderline unbelievable, pool of gatorade blue water.
Because the perfect conditions to produce these stark, turquoise-blue waters is a rarity around the world, and the waterfall is downright gorgeous, it's a must-see when planning your Costa Rica itinerary.
In this article, we dish out everything you'll want to know about visiting one of Costa Rica's most spectacular waterfalls, including how to get there, tips for visiting, where to stay, and things we wish we had known before our visit.
Rio Celeste Waterfall Visitors Guide
---
Tenorio Volcano National Park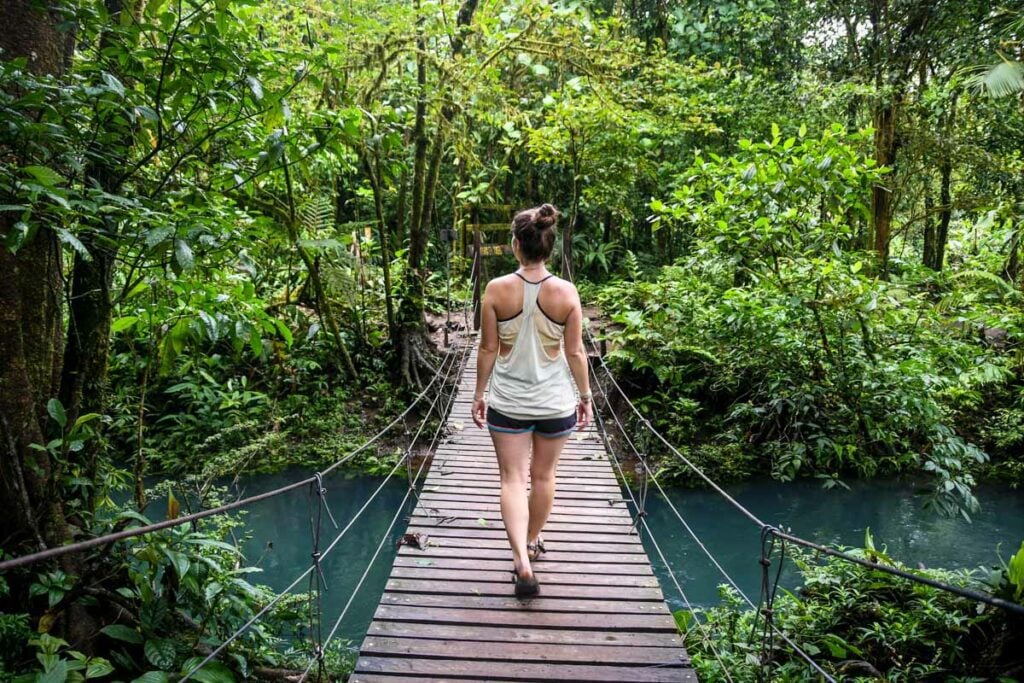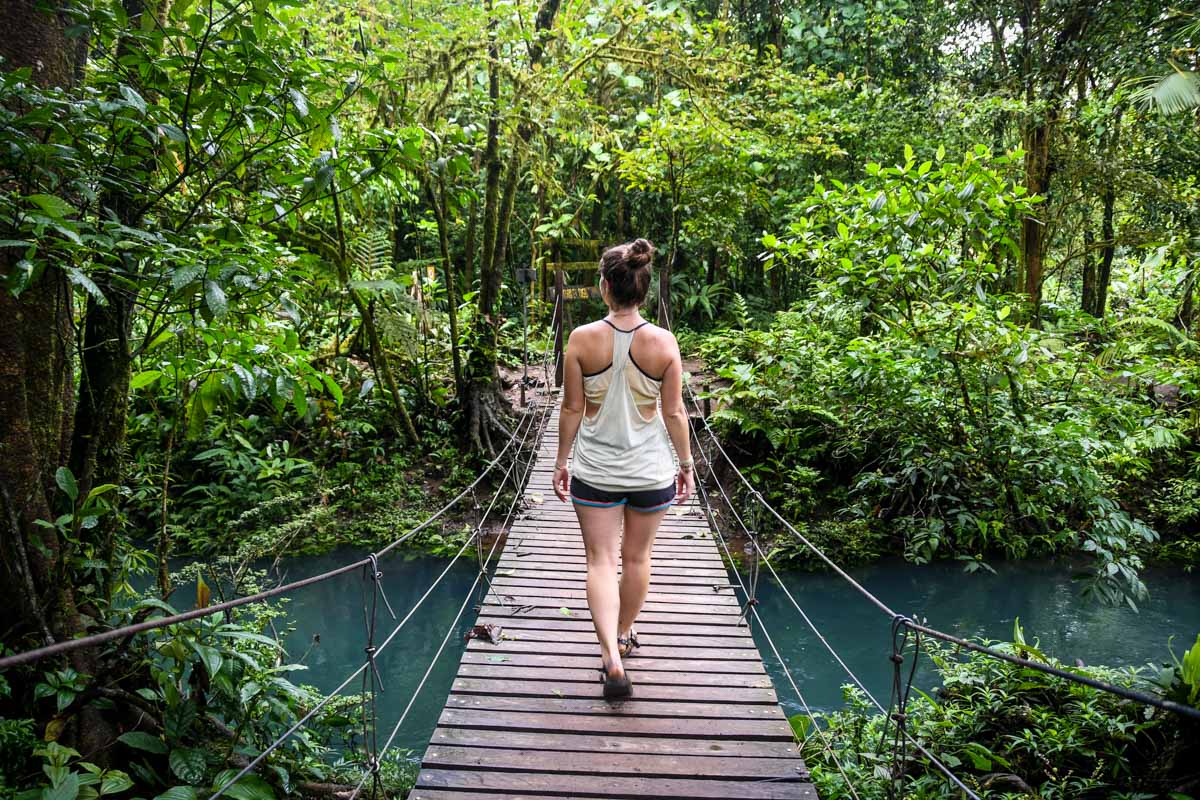 Location: Guanacaste mountain range in northern Costa Rica
Park hours: 8 a.m. – 4 p.m., last entry must be before 2 p.m.
Admission fee: $12 USD for adults, $5 USD for children 2-12
Bordering the Rio Celeste, situated deep within the volcanic mountain range of Guanacaste , Tenorio Volcano National Park is the oldest National Park in Costa Rica and one of the most jaw-dropping in Central America.
This National Park protects an impressive amount of flora and fauna within the four different life zones found here. White-faced monkeys, pumas, tapirs, tucans, anteaters reside here as well as an endless amount of exotic plants.
Towering above the park at an impressive 6,289 feet, Tenorio Volcano is the crown jewel of this national park, offering unparalleled, panoramic vistas of the surrounding landscapes.
However, the hot springs, diverse wildlife, and legendary waters of the Rio Celeste Waterfall, are why many visit the park to immerse themselves in Costa Rica's pristine rainforests.
Legend behind Rio Celeste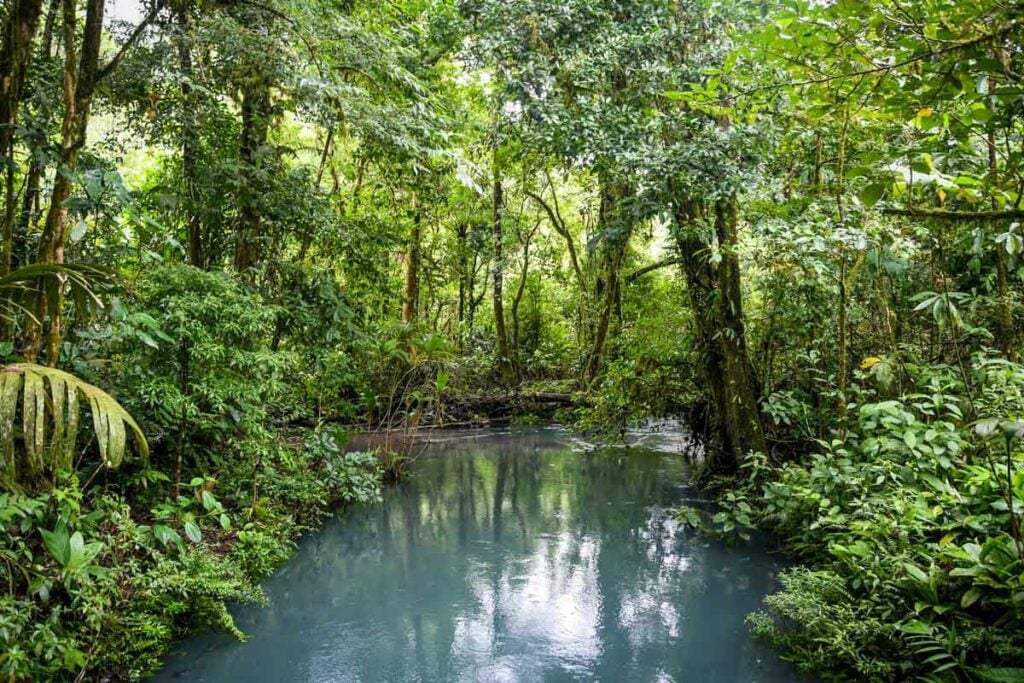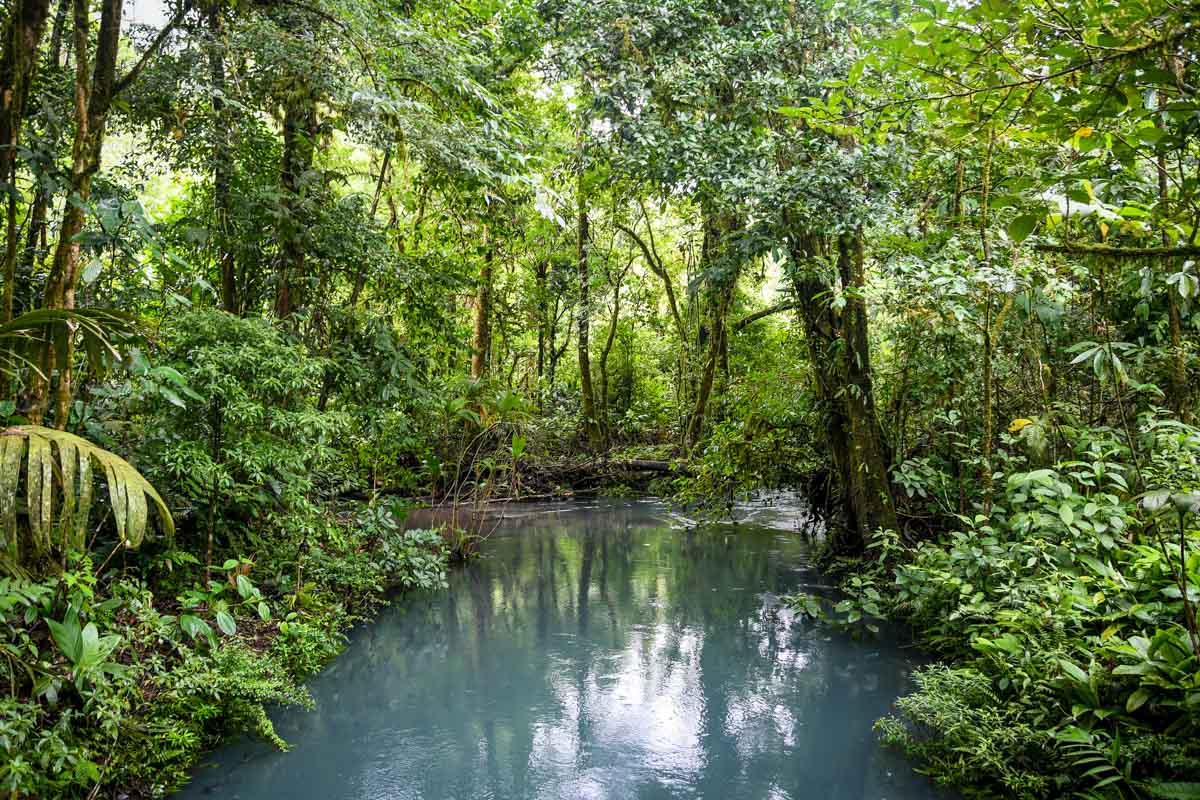 Prior to the Spanish conquest of Costa Rica, there was a legend that originated in the indigenous tribes as to how the Rio Celeste got its opaque and vibrant turquoise blue color.
The indigenous tribes believed that there were many gods that influenced and resided within the rainforests of Costa Rica.
When the universe was created, and the gods were painting the sky, it's believed that they washed their paint brushes in the river when they were finished.
The residual paint from the brushes died the river sky blue, giving it its otherworldly color that you can admire today at Rio Celeste Waterfall.
Why is the water so blue?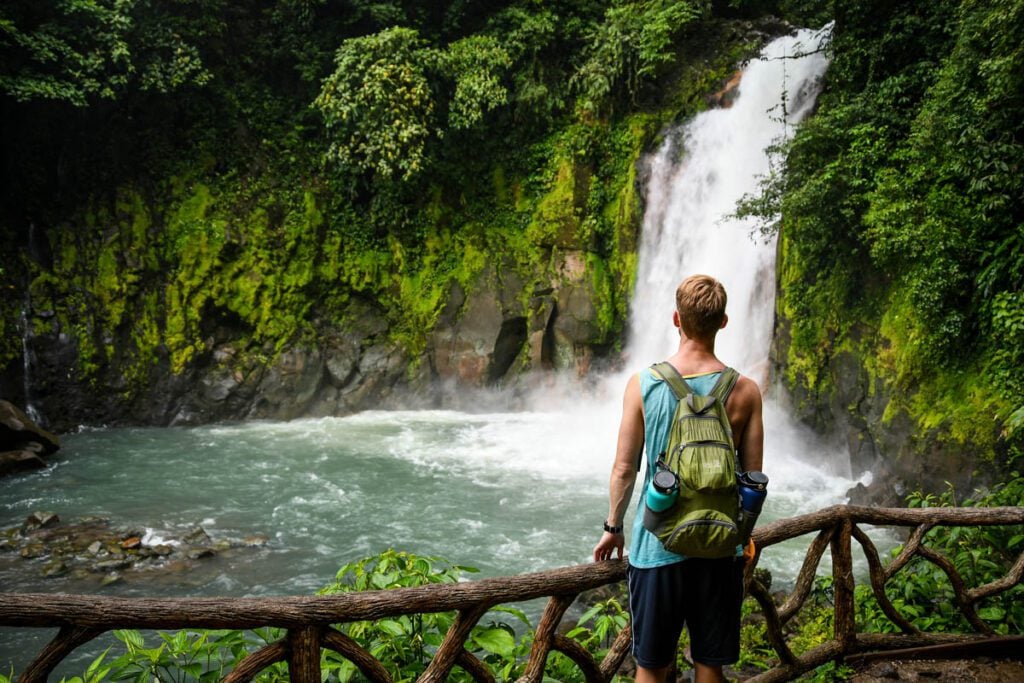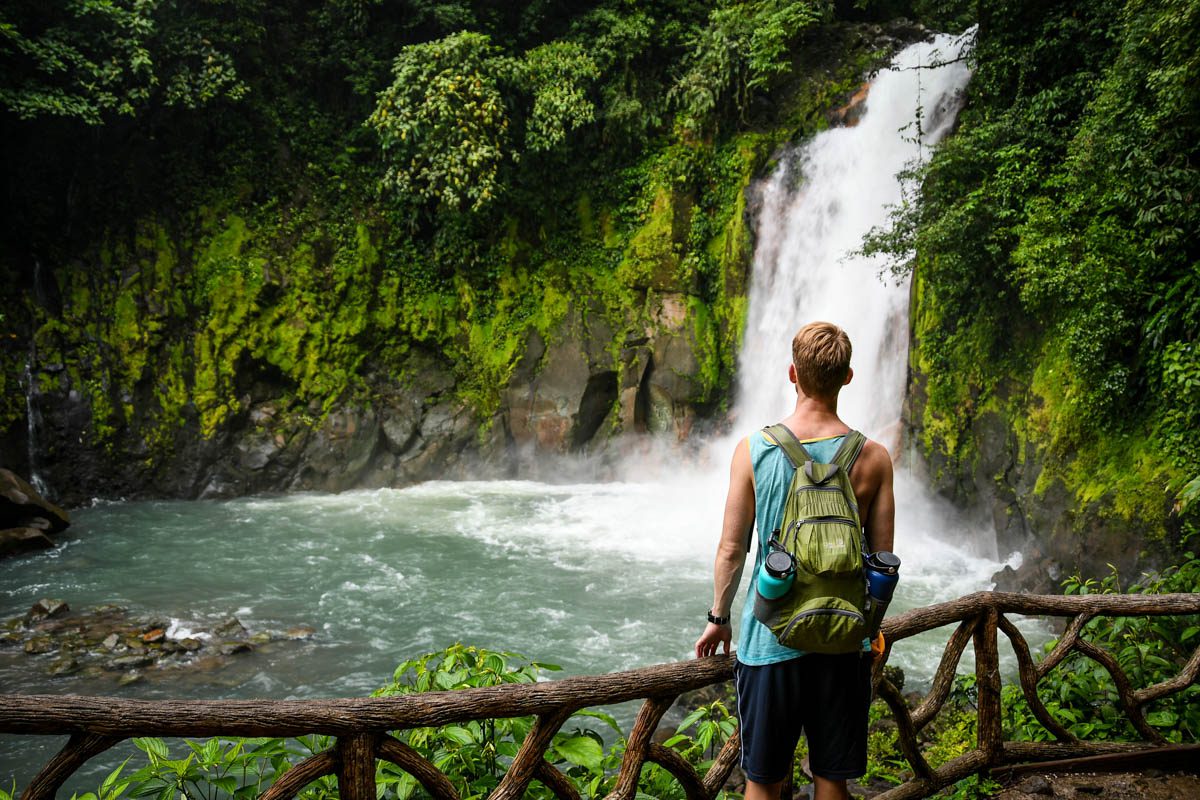 To most travelers' surprise, the water in the Rio Celeste isn't actually blue.
In fact, it's an optical illusion, rather than a chemical phenomenon, caused by the white minerals that coat the rocks along the bottom of the river bed.
When the unique blend of minerals (aluminum, silicone, and oxygen) are reflected by sunlight, it gives the river its mesmerizing, electric blue hue.
Hiking the Rio Celeste Waterfall trail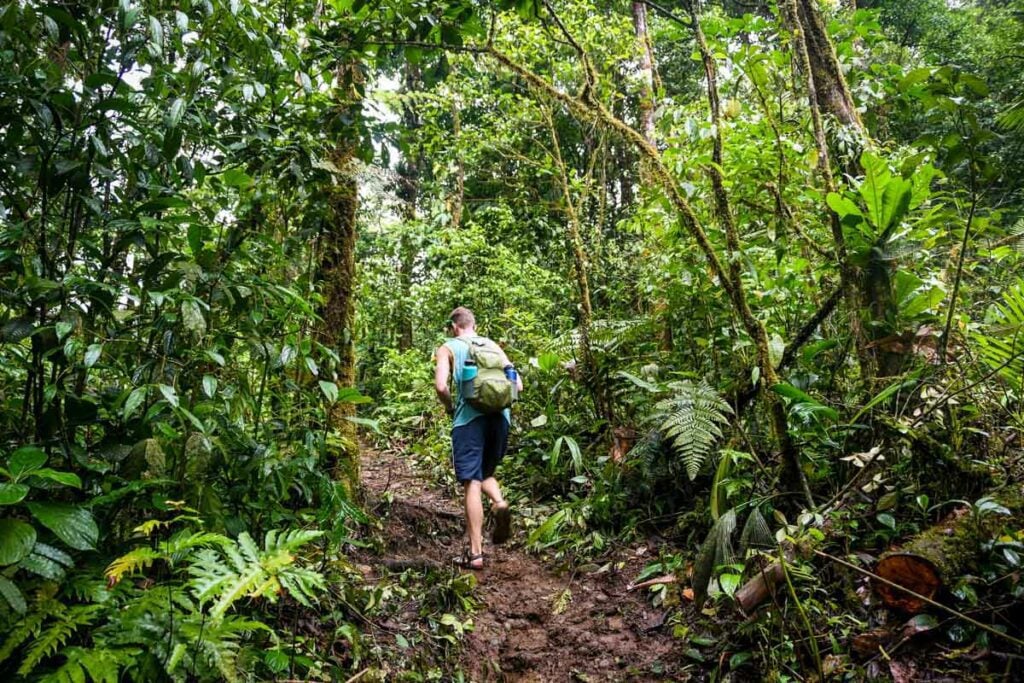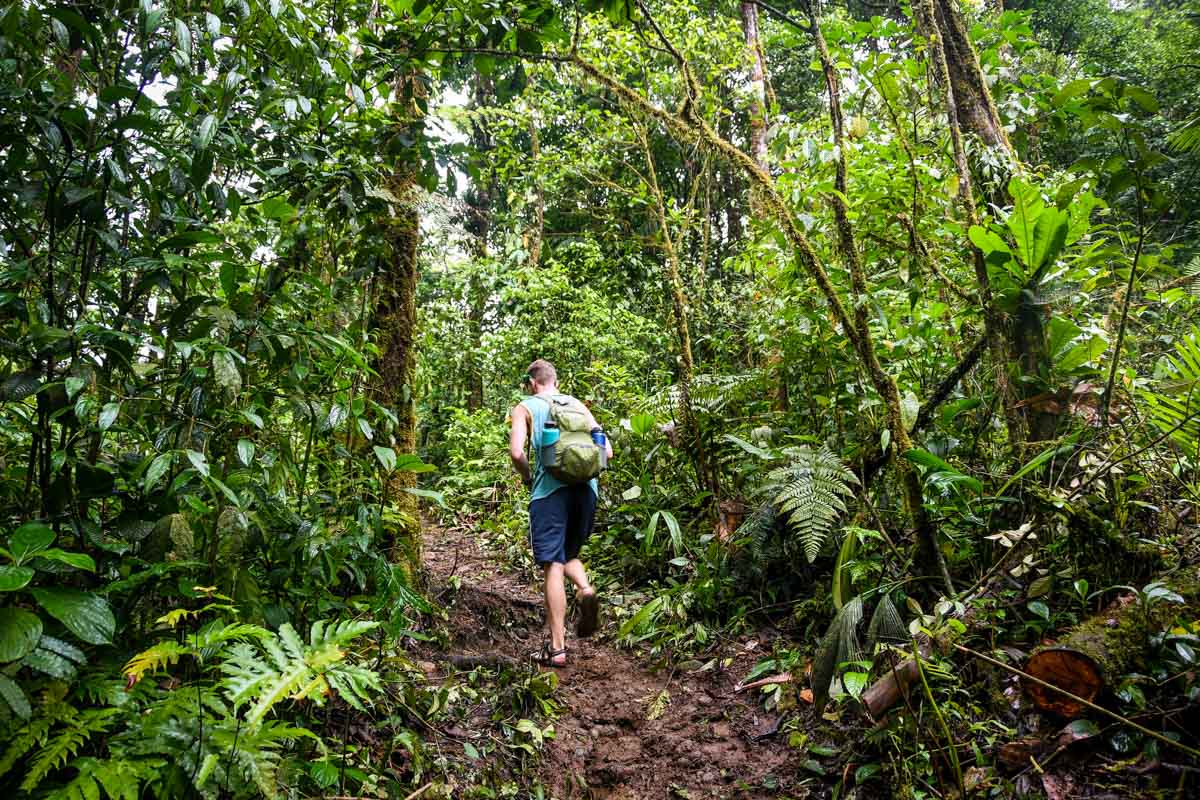 Distance: 5.9 km (3.7 miles) round trip
Elevation gain: 200 m (656 feet)
Type of hike: Out and back
Difficulty: Moderate
Beginning at the ranger's station, you'll follow a single trail to see the Rio Celeste Waterfall and the other points of interest along the trail.
The first mile or so of the trail is flat and paved, then it gradually turns into a traditional, rugged hiking trail with rocks and thick vines as it navigates through the forest.
There are five key places to look for as you hike: The Catarata (Rio Celeste Waterfall), Mirador (viewpoint), Laguna Azul ( blue lagoon), Borbollones (boiling hot spring), and Tenideros (where two rivers meet).
Just after the paved portion of the trail ends, you'll come to a junction with a sign. To get to the waterfall, you'll take the spur trail heading pointing down and to the left ("catarata").
You'll hike down about 200 or so steps down (and back up!) to the waterfall. After visiting the Rio Celeste Waterfall, you'll hike back up the way you came, then follow the trail left to the other 4 sights, hiking out the way you came.
Tips for visiting Rio Celeste Waterfall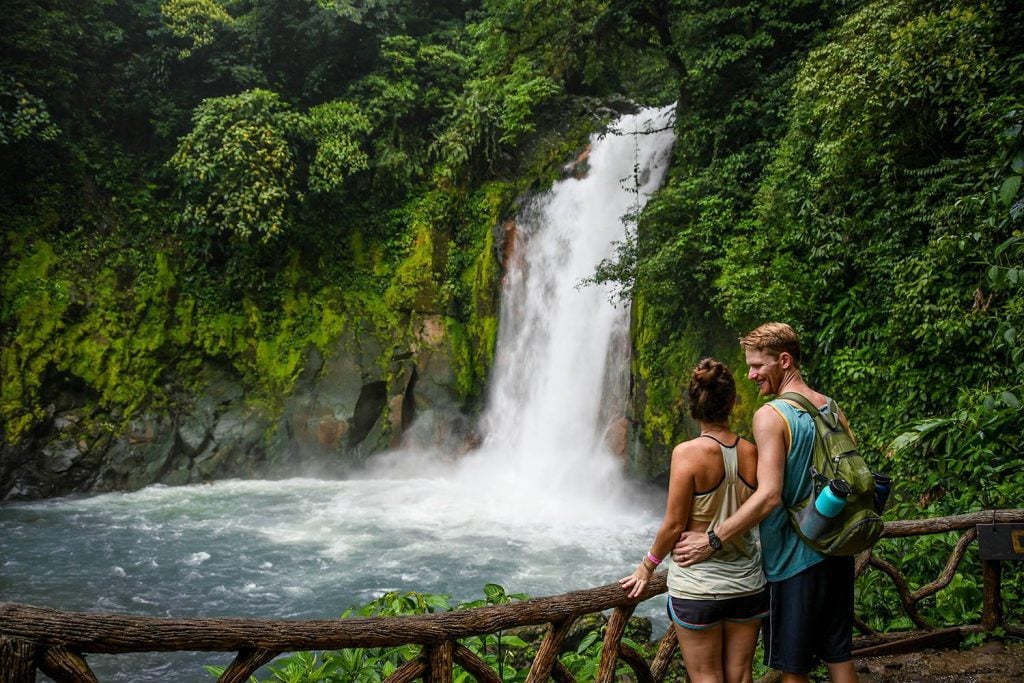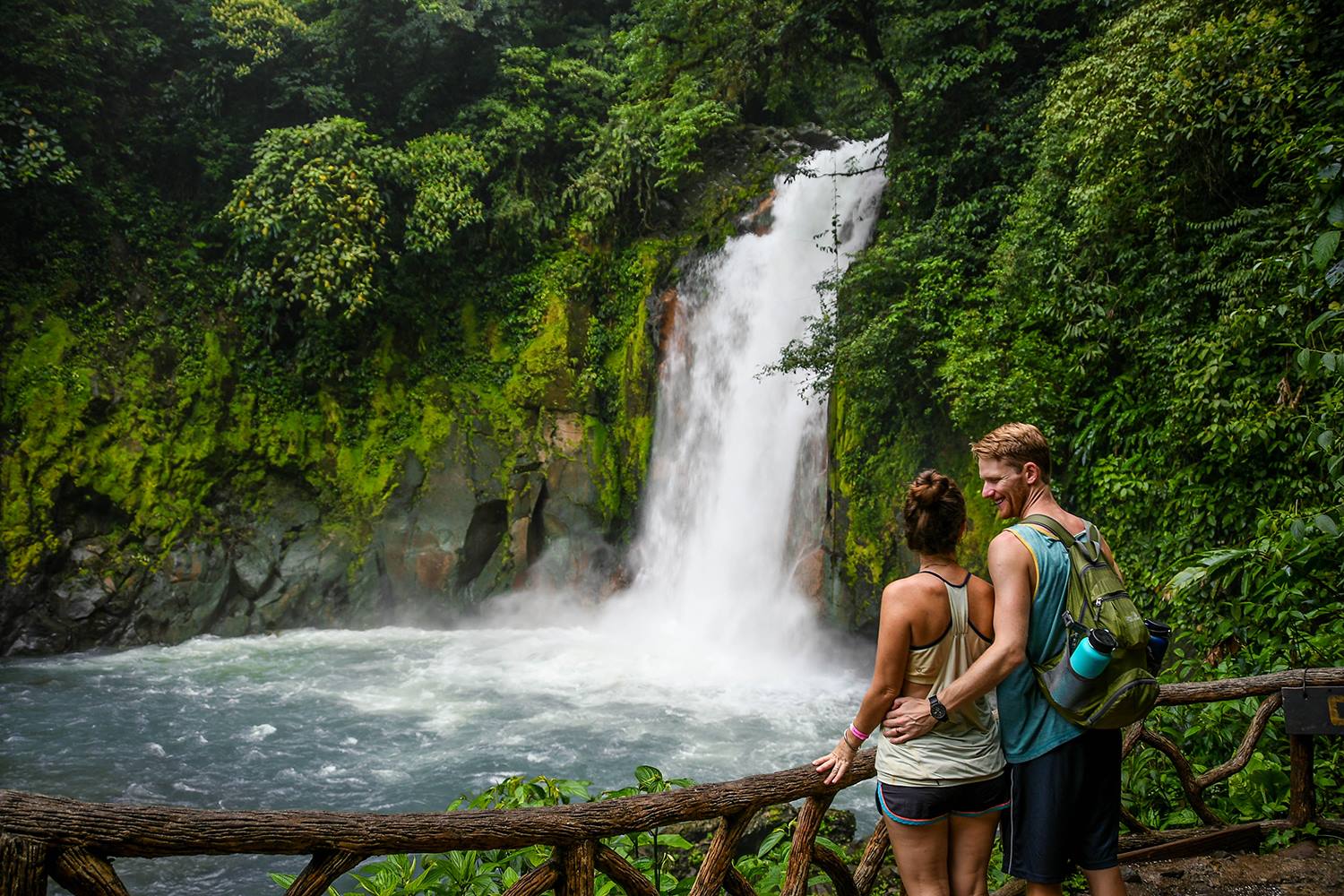 Arrive before 9 am. There is a limited amount of entry tickets available to get inside the National Park. You can arrive as early as 8 am to get a ticket before the park opens.
Tickets are limited. Only a certain amount of people are allowed in the park each day, and at a time. If you arrive late in the morning, you may have to wait for people to leave.
You cannot purchase entry tickets online, in advance. All tickets must be bought in-person at the booth when you arrive.
Single-use plastics are banned. You cannot bring plastic bags, plastic water bottles, food with wrappers, or even a disposable poncho inside the park.
Bring cash and card. Entry tickets can only be purchased with a credit or debit card. If you're self-driving, parking is cash only.
There are no facilities past the entrance. Use the restroom and before you head out.
Don't leave valuables in your car. Either bring them with you or leave them back at your accommodation.
Download an offline map. You likely won't get lost, but this is nice to have.
Visit the waterfall first. It's going to be the busiest place along the trail, so stop here first to ditch some crowds.
Be prepared for muddy trails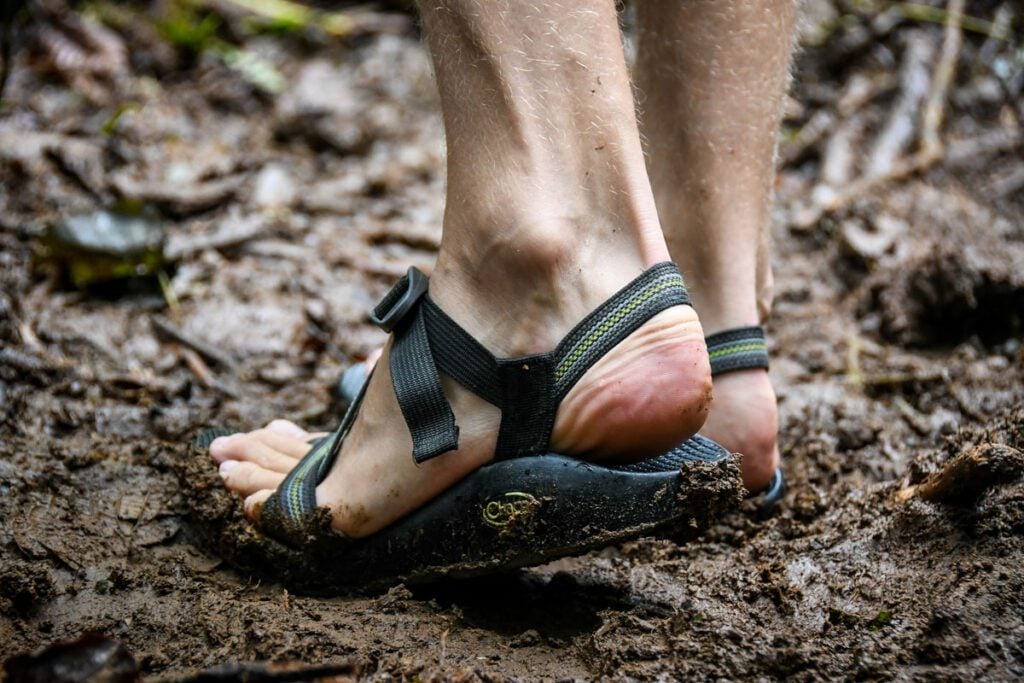 Although Costa Rica has two distinct seasons, rain can show up year round and make the trail very muddy and slippery.
You'll want to bring a pair of good hiking shoes with you, and avoid sandals of any kind, so you can navigate the trails easier.
If you don't have a pair of sturdy shoes or boots, you can rent a pair at the entrance for $5 USD.
Bring snacks
You'll spend a better chunk of the morning or afternoon hiking to and from the waterfall.
A snack or two will help fuel you throughout the hike and keep you from getting hangry. Otherwise, there are two restaurants at the entrance that sell reasonably priced local food.
Wear bug repellent
Not only can mosquitoes diseases like dengue fever, but they can really put a damper on a stunning hike if you're swatting every other step.
Treat your clothing and apply bug spray before you start hiking to help ward them off.
There are secret swimming spots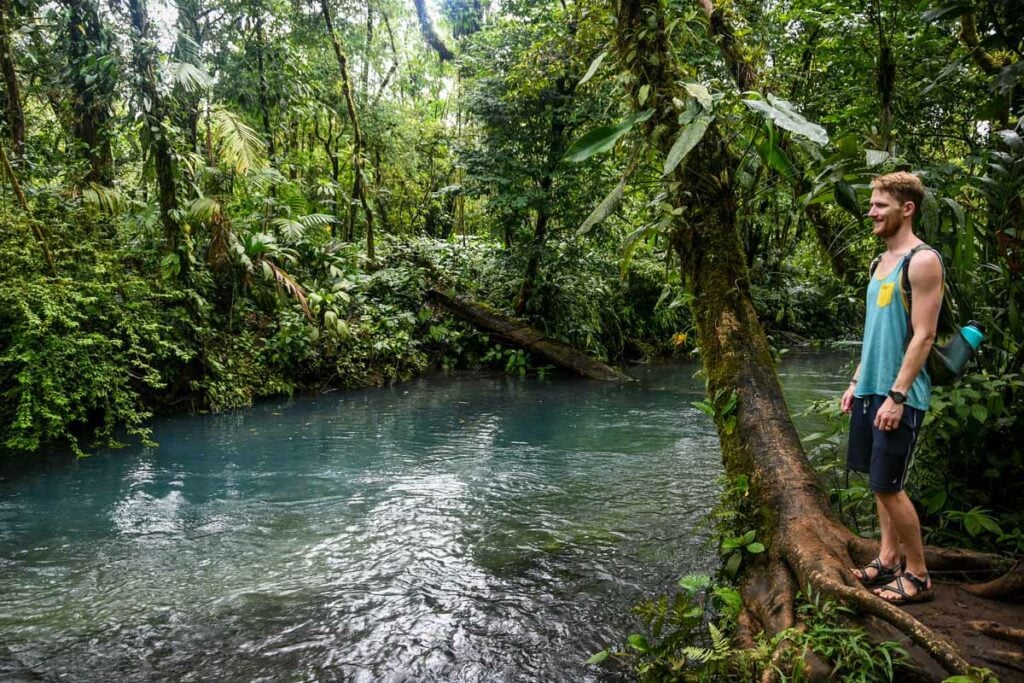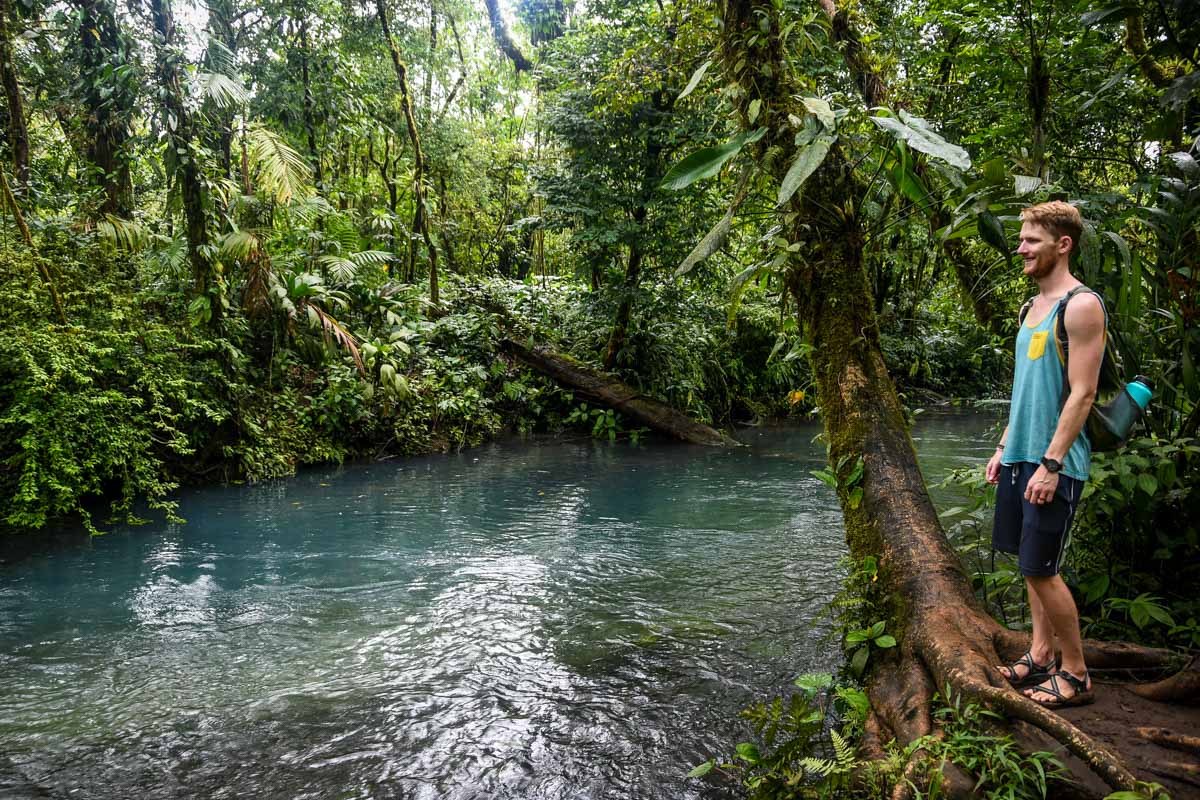 Swimming at Rio Celeste is prohibited. Don't do it. 'Nuff said.
But if you really want to get in the water, there are a few options…
Near Rio Celeste, there is a natural swimming area that is open to the public and free to use.
This guided day trip from La Fortuna brings you to Rio Celeste and a nearby farm, where you can get into the river and swim away from tourists!
Take a Rio Celeste tubing tour! It looks really fun and would be a unique experience near the waterfalls.
More things to do in Tenorio Volcano National Park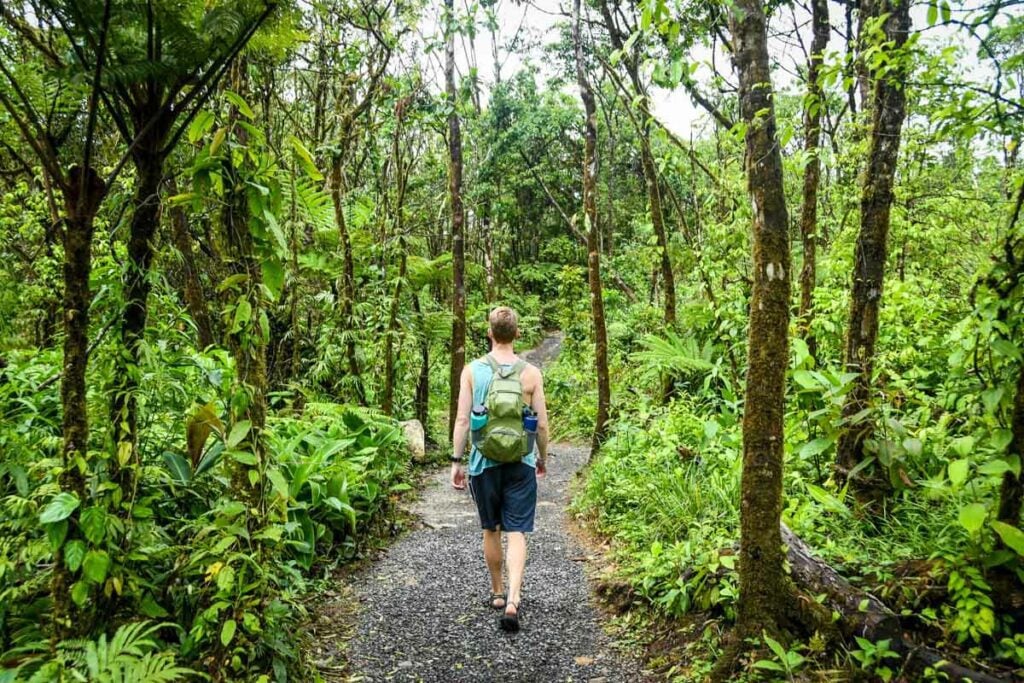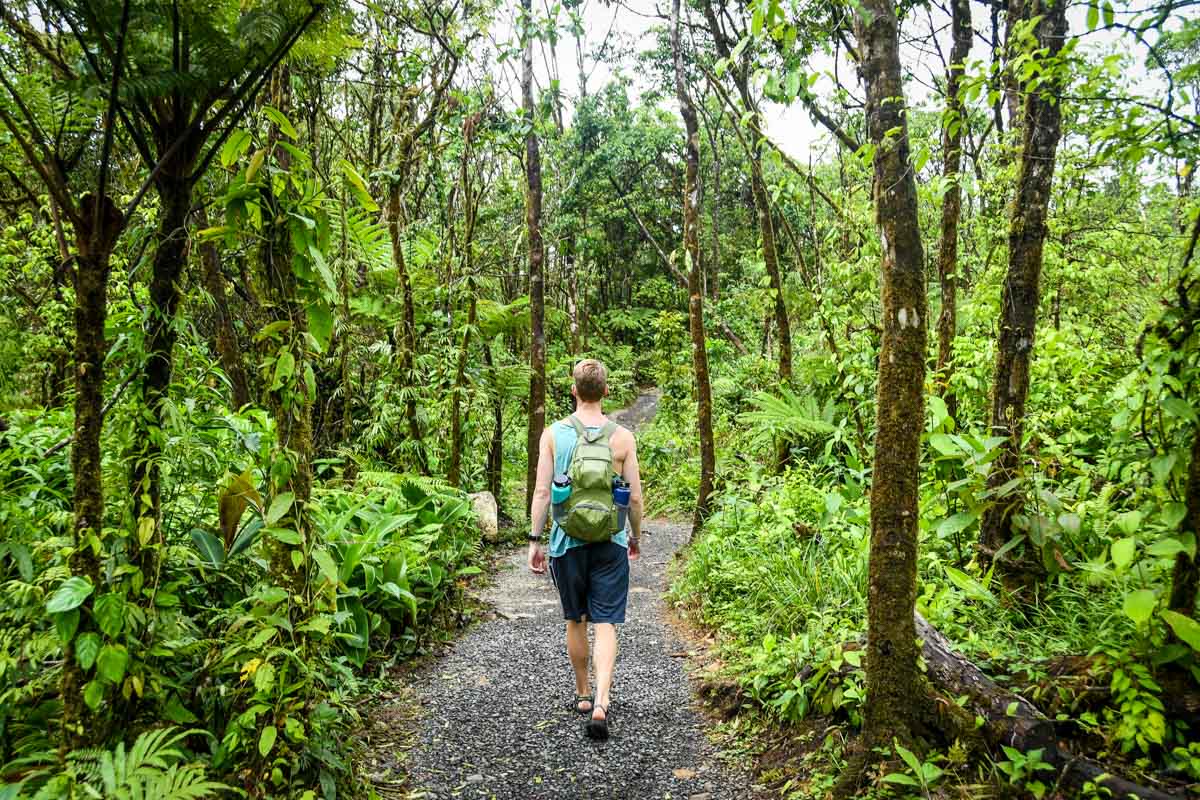 To make the most out of your visit to Rio Celeste, we suggest visiting more of these stunning locations near the waterfall for a well-rounded trip.
Los Borbollones
Geothermal activity is sprinkled around Tenorio Volcano National Park, and the Los Borbollones, or "boiling spring", is where you can witness it firsthand.
It's just past the Mirador and Laguna Azul along the trail to Rio Celeste.
The water is boiling hot, so although you cannot enter or even touch the water, you can still watch the sulfuric gas bubbles rising to the top that create that strange egg-like smell.
Tenideros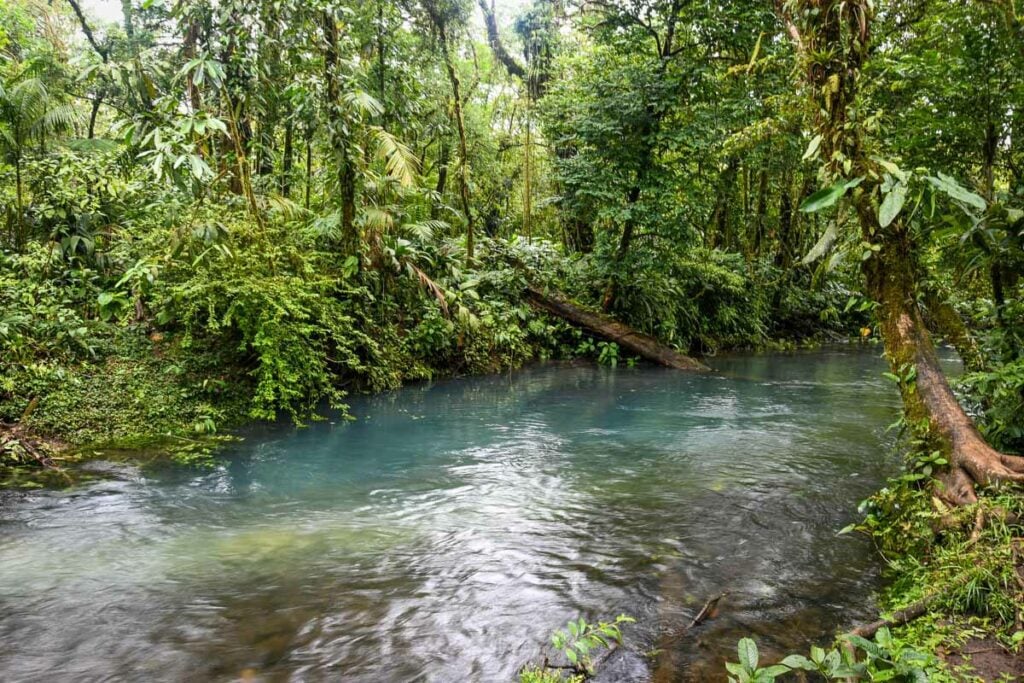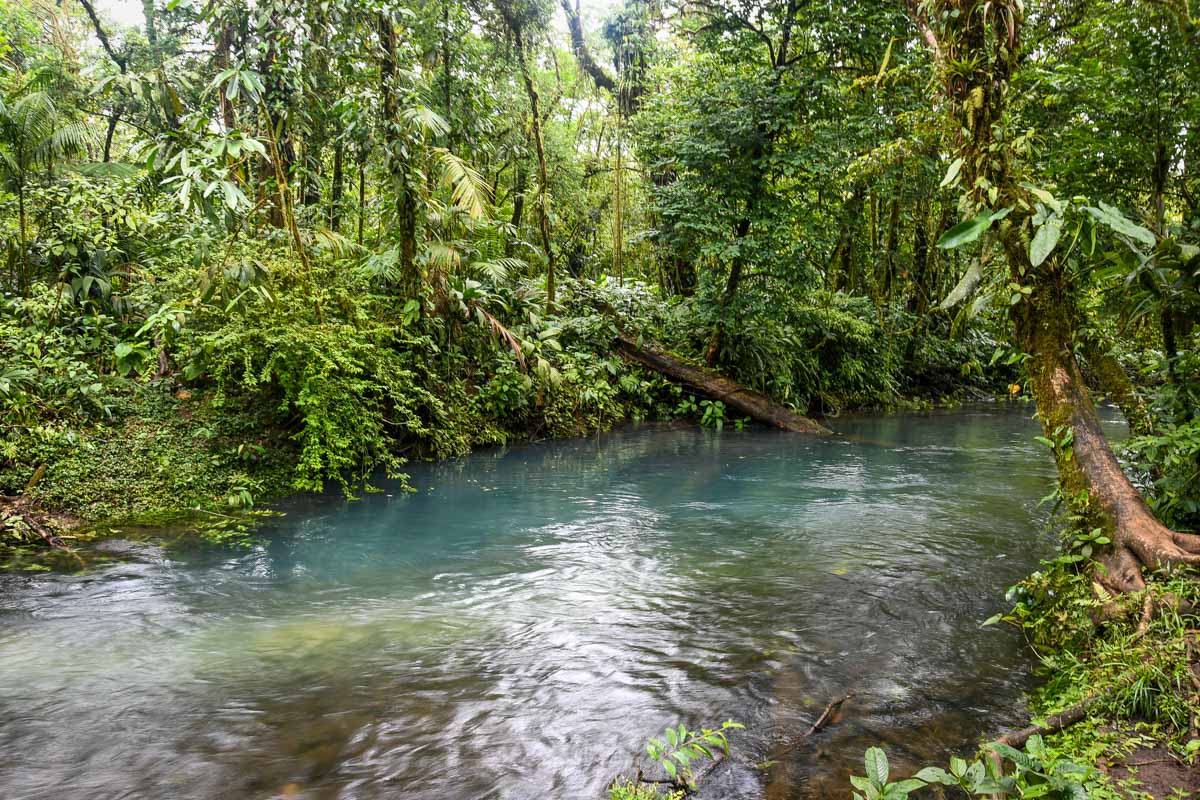 "Tenideros" in Spanish means "dyers", and refers to the color change that happens when two rivers confluence, or merge, creating a chemical reaction from each of their unique blend of volcanic minerals.
To see this phenomenon, hike the last 300 meters (0.2 miles) of the Rio Celeste trail to see exactly where this reaction changes clear river water to the brilliant blue.
Free Pool
The best, and only place you can swim in the Rio Celeste is about a minute drive outside of Tenorio Volcano National Park.
If you type in "Rio Celeste free pool" in Google Maps, it will take you straight there.
From the entrance of the park, you'll make a right and drive until you see the bridge and a parking area on the left hand side of the road.
Good to know: Parking is free here, but locals may still try and charge you for it. If they are persistent with you, you can offer them a small tip or they may have a juice or drink you can purchase.
From the parking area, there is a small dirt trail that will take you down to the river.
The water is cool and refreshing after a hot and humid hike. As you explore and swim around, be mindful of the river current and slippery rocks.
Go tubing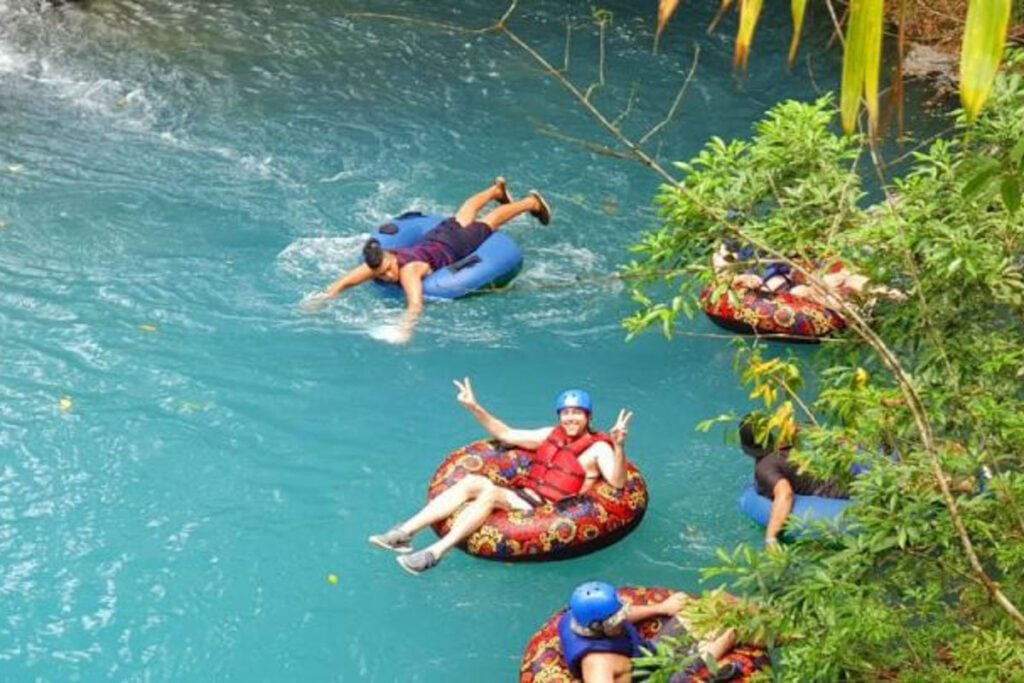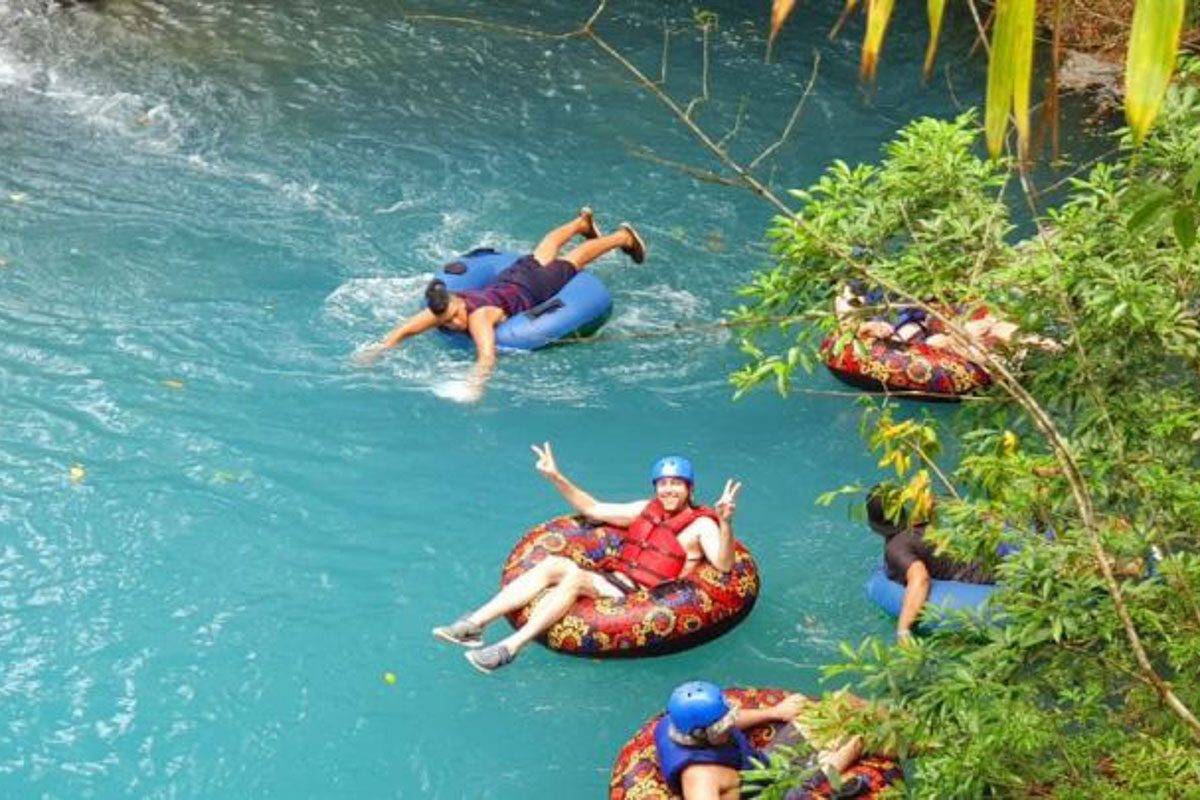 Just outside of Tenorio Volcano National Park, you can go on an adrenaline-filled and refreshing tubing adventure along the Celeste River.
On this Rio Celeste Tubing Tour, you'll navigate exciting rapids and float through dense, lush rainforest while trying to spot a myriad of local wildlife.
Your local, experienced guide will help you tube with confidence and keep you fueled with fresh fruit and drinks on this family-friendly adventure.
Good to know: This tour doesn't include transport to and from the park. You'll meet up once you're at Rio Celeste and begin the tour from the meeting point.
Best time to visit Rio Celeste Waterfall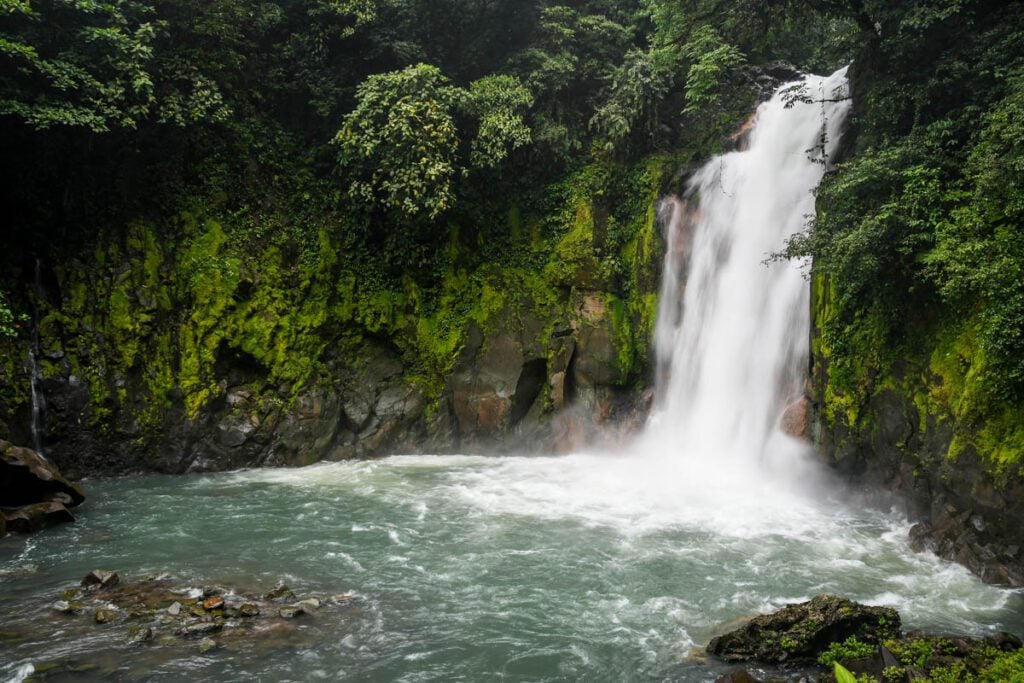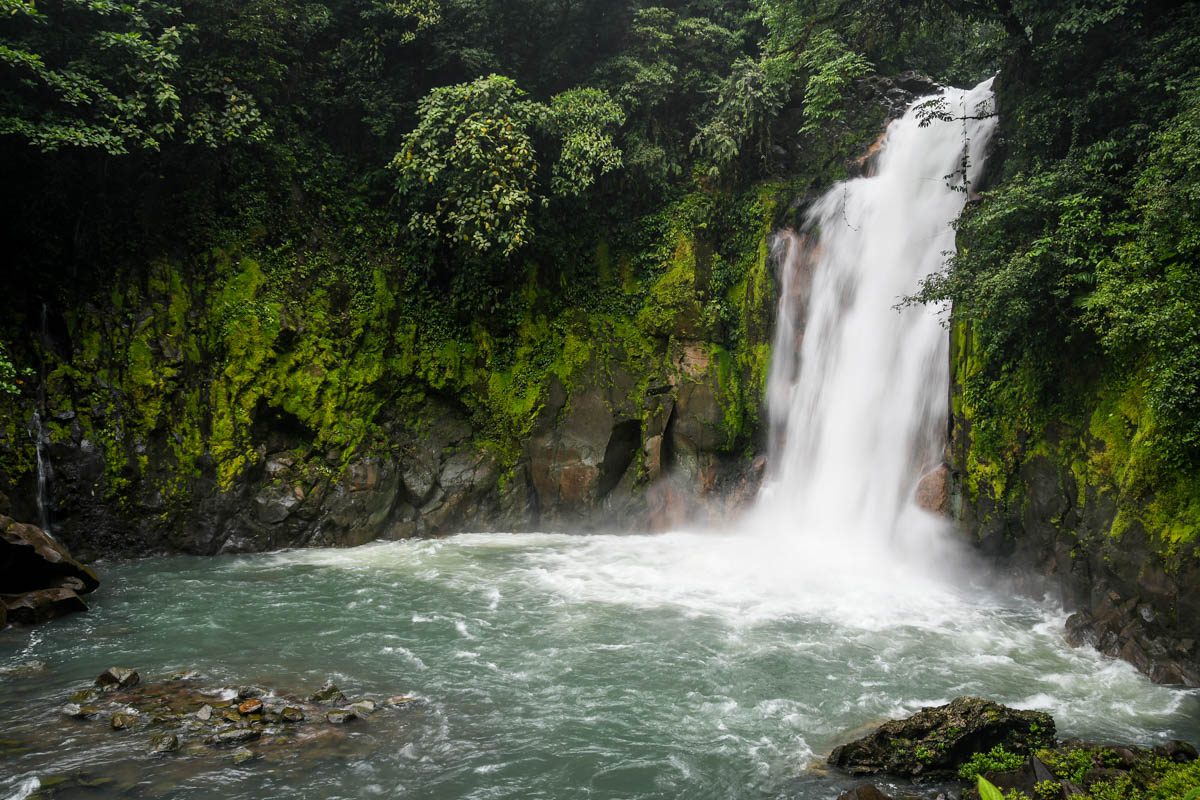 The best time to visit Rio Celeste is in the dry season from December to April, when the water is at its bluest and the weather is the most favorable.
However, it's worth mentioning that due to the waterfall's location in the hills, the dry/wet seasons are applied rather loosely, and rain can show up year round.
If you're visiting in the wet season from May to December, you'll need to be more mindful of the weather. On and off sprinkles won't impact the water color too much, but it will get muddy if there has been a lot of rainfall.
How to get to Rio Celeste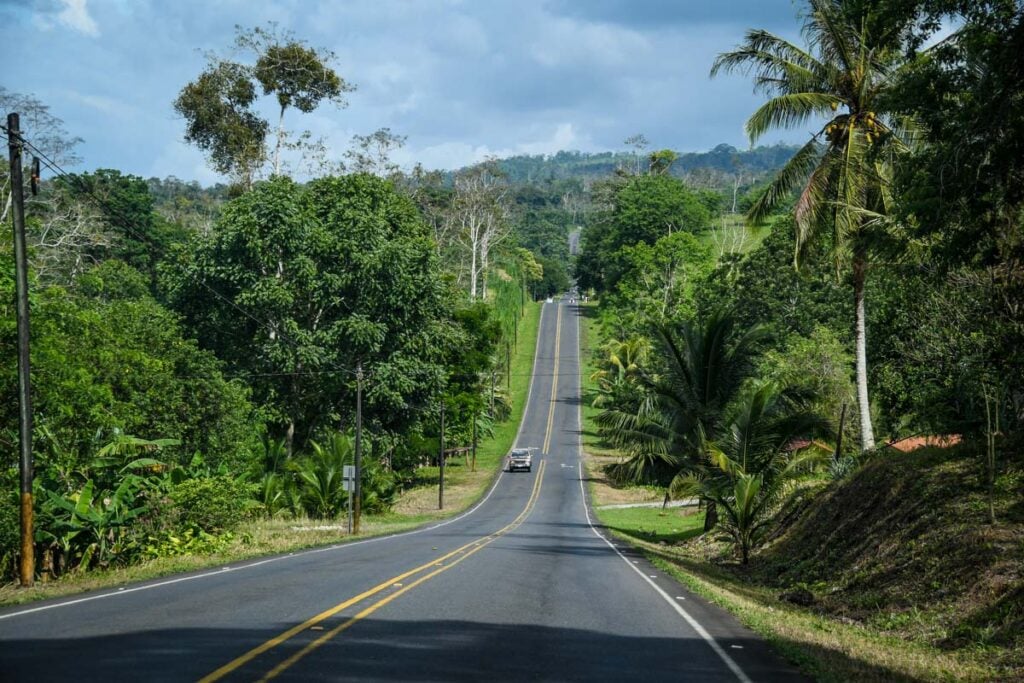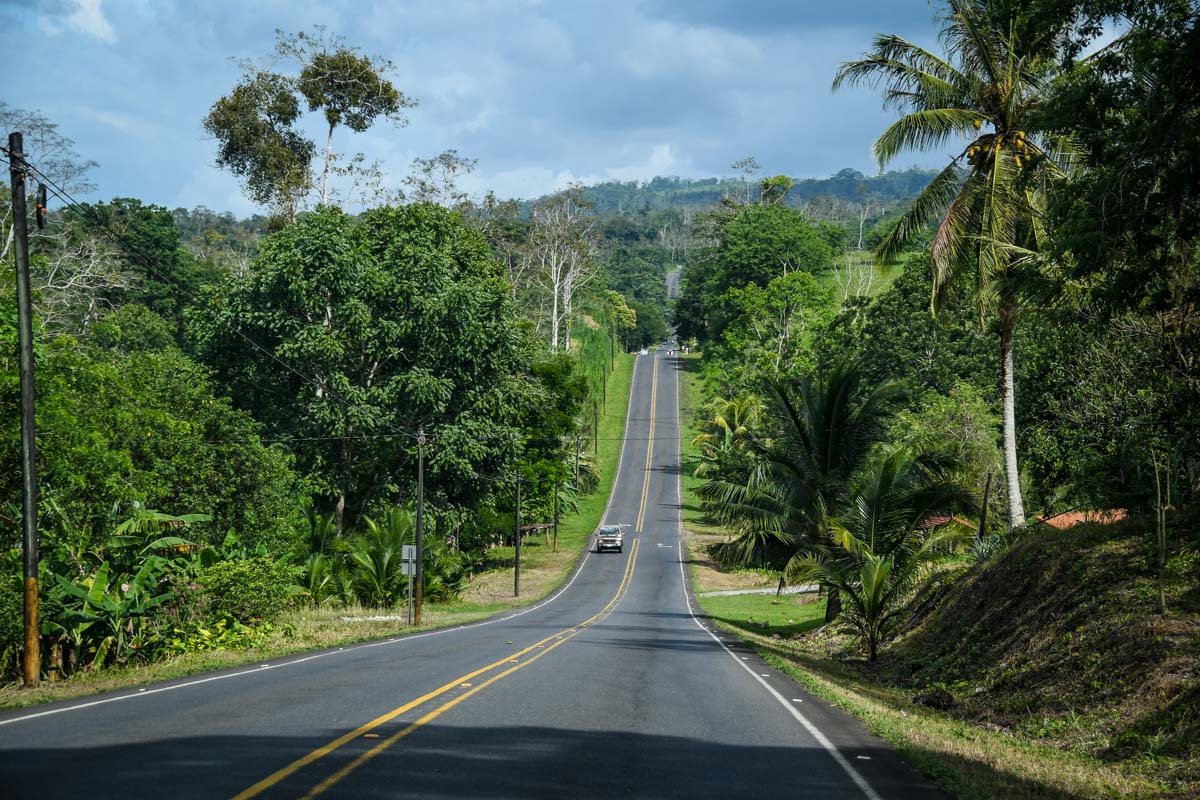 Rio Celeste waterfall is located just over 40 miles northwest of La Fortuna, in Tenorio Volcano National Park.
When we were researching how to get there for our own trip, it was a little overwhelming. There's no easy way to get there via public transportation.
Instead, the two main ways to get to Rio Celeste are:
Personally, we chose to drive ourselves, but the best way to get there for you will depend on your budget and what you're comfortable with.
We'll go over each option in detail below so you can choose the best route.
Getting to Rio Celeste by car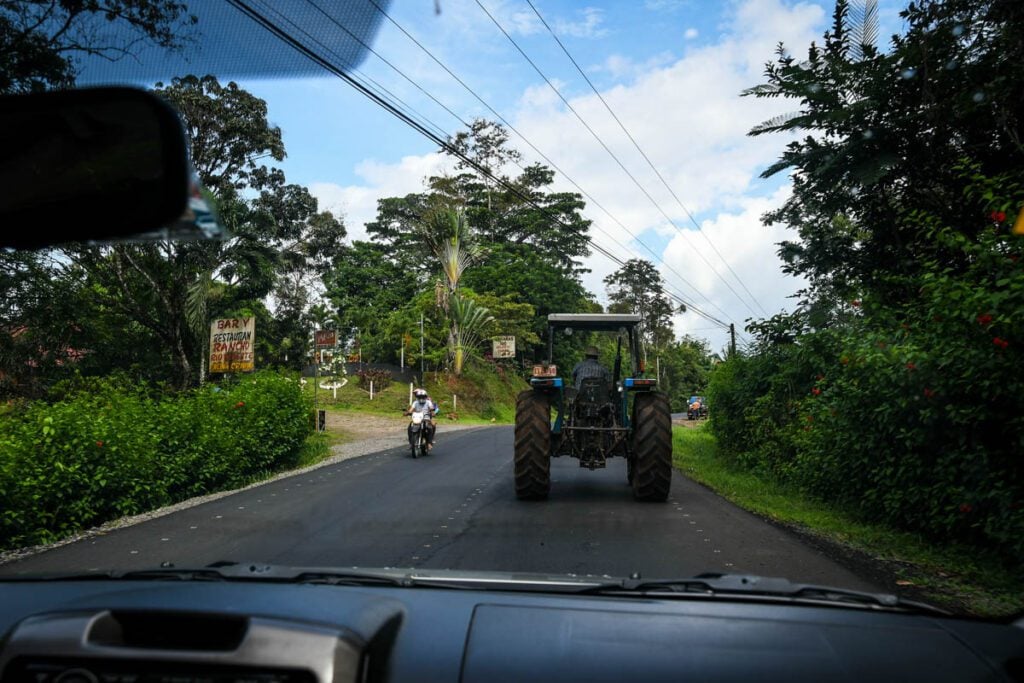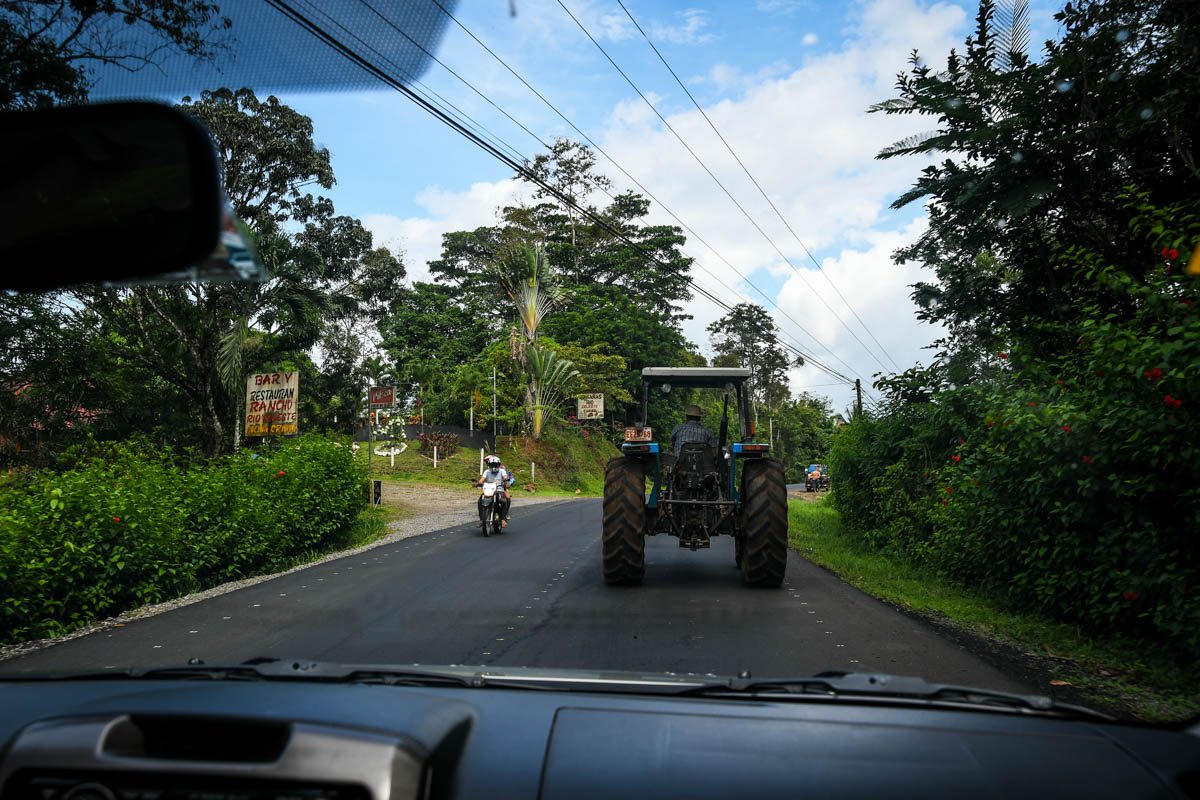 Here's all the info you will need to self-drive to the Rio Celeste waterfall.
Our personal experience driving to Rio Celeste:
We personally rented a car to get to Rio Celeste, and we'd recommend driving yourself if you are comfortable.
We enjoyed the drive so much that we scrapped our plans of exploring Costa Rica by shuttle, and instead went back to the car rental company and extended our rental for 2 weeks!
Thinking about driving? We've created a guide that has everything you need to know about renting a car and driving in Costa Rica.
Do you need a 4×4 vehicle to get to Rio Celeste?
No, a 4×4 vehicle is not necessary to get to Rio Celeste.
Guided tours to Rio Celeste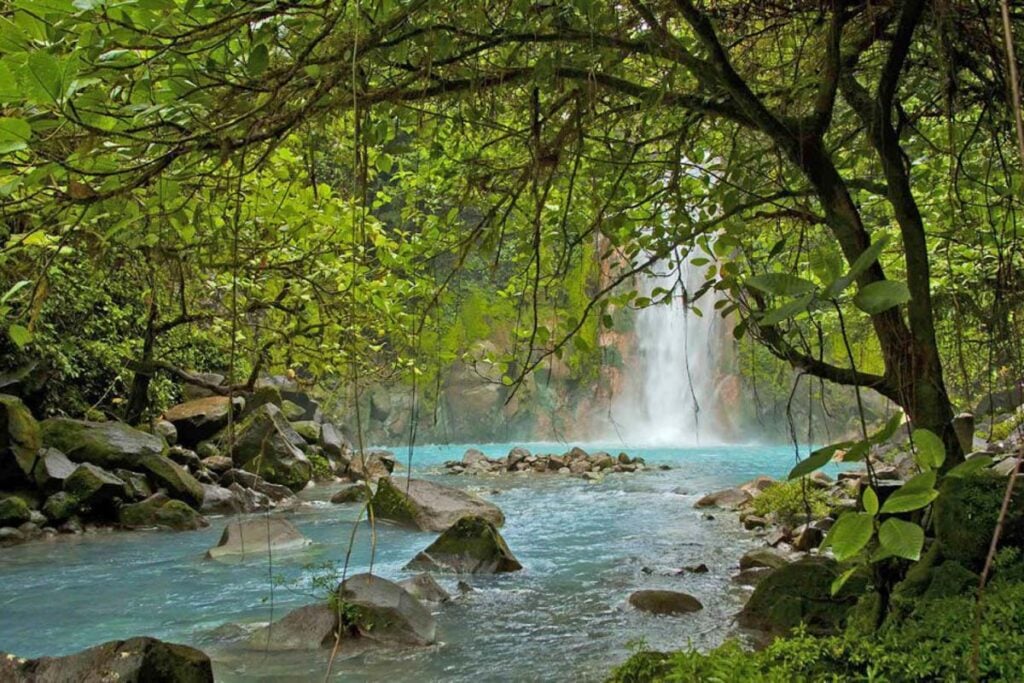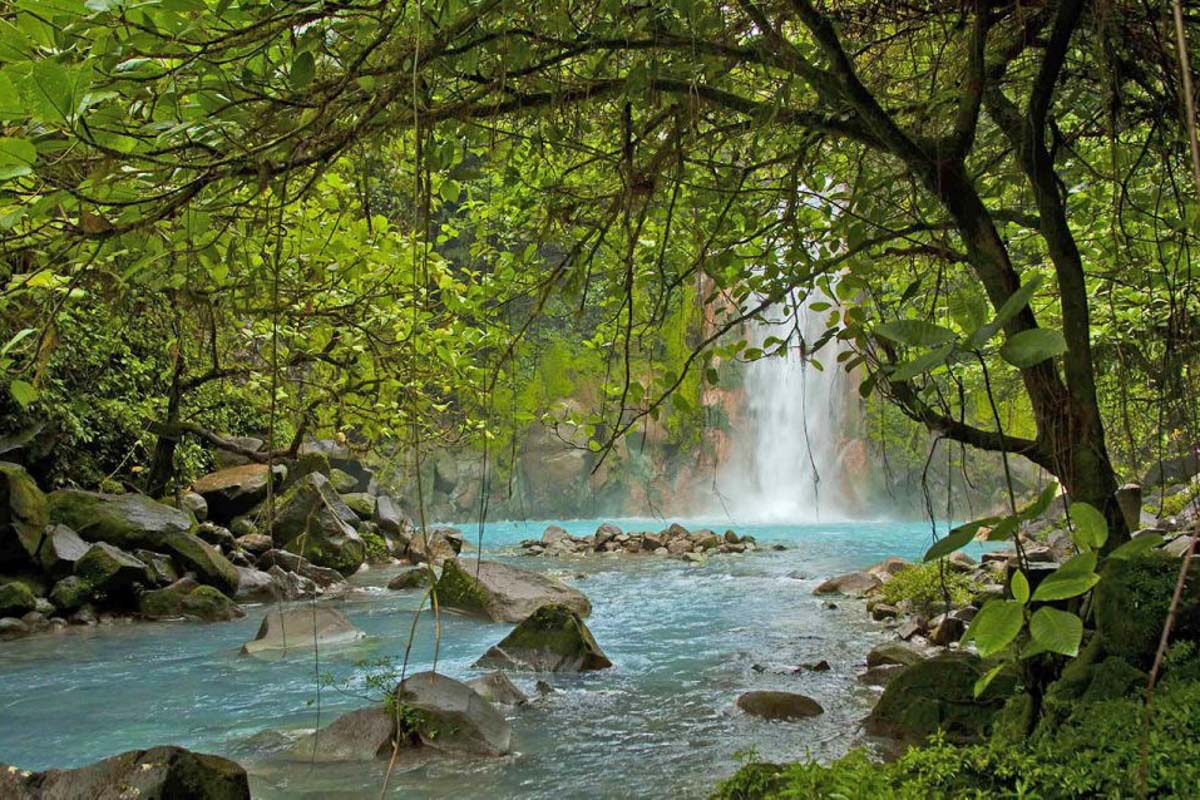 If you aren't comfortable driving, guided tours are the next best way to visit the waterfall.
La Fortuna to Rio Celeste Day Trip + Don Alexis Farm
After getting picked up in La Fortuna, your tour guide will take you through the lush rainforest to discover Rio Celeste Waterfall, vibrant lagoons, and Los Teñideros (the source of the blue water).
Once you've soaked in all the beauty of the waterfall and natural phenomena, you'll hike back to the Don Alexis Farm to enjoy a delicious lunch and a private swimming area along the river.
Here's what guests are saying:
"Very nice tour and our guide Mario just made it even better! Rio Celeste is just beautiful. You could also go there by yourself but all in all with lunch included, nice talks with the people in our group and the nice swim at the end where there are no other tourists around made the price worth it!" – Nadine, June 2022
What to pack when visiting Rio Celeste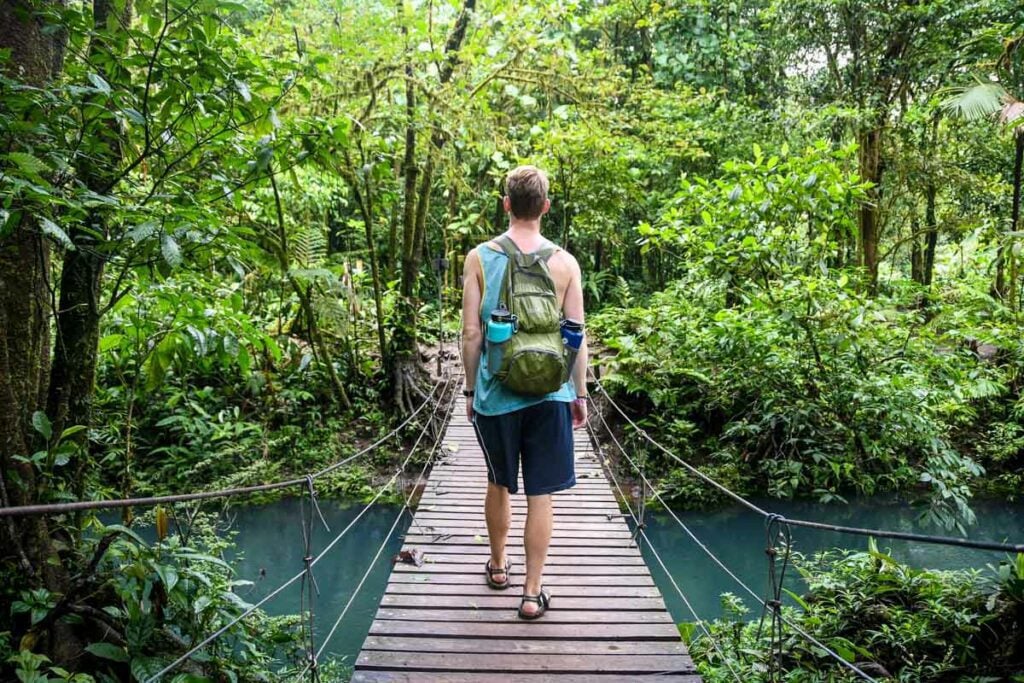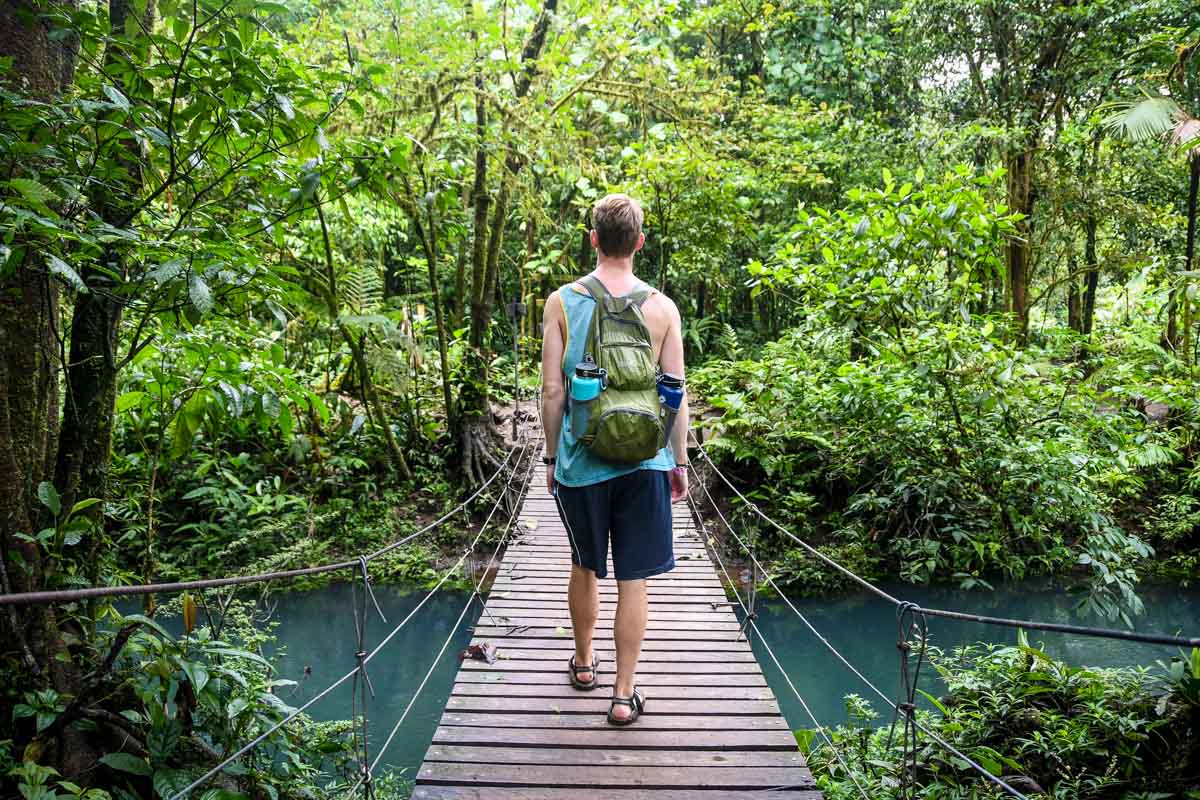 Sun protection: sunscreen, hat, sunglasses
Sturdy hiking shoes
Rain jacket
Bug repellant (we prefer the natural stuff)
Reusable water bottle
Snacks
Binoculars (optional)

If you're into wildlife spotting, you'll get good use out of these!

AllTrails Pro (or download Google Maps offline for the area)


What to wear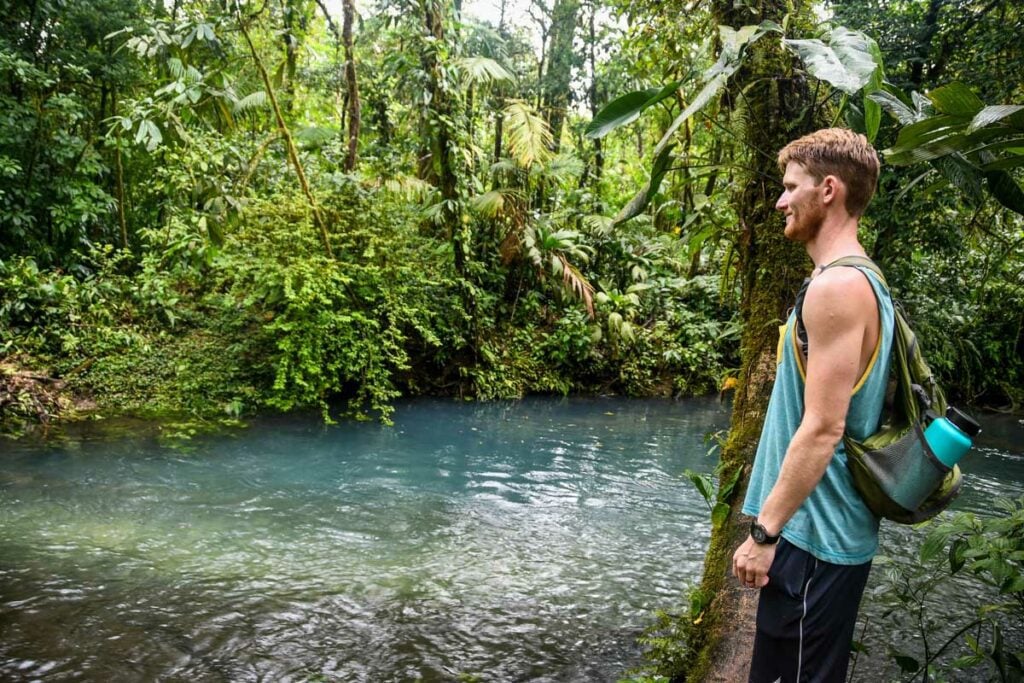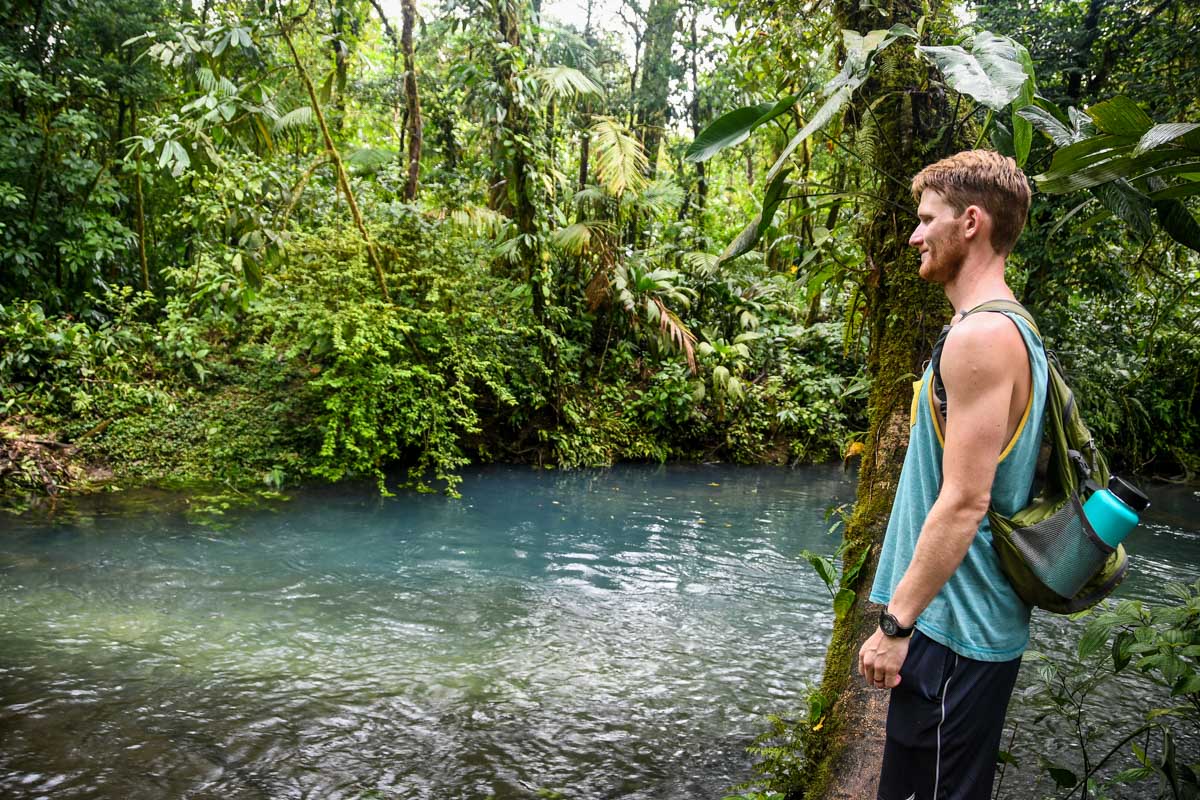 Rio Celeste is within a tropical rainforest, therefore it's no stranger to hot, humid weather and rain no matter the season.
You'll be the most comfortable in light, moisture-wicking clothing. Shorts and a short-sleeved top work best, but be sure to apply a good amount of bug repellant.
Avoid flip-flops or any kind of open-toed shoes. You'll want to have supportive and sturdy shoes, especially if the trail is muddy.
Even on a dry day the waterfall can get you wet. Pack a rain jacket or heavy duty poncho, and a dry bag to keep you and your things dry.
Optional: Consider packing trekking poles if you have sensitive knees since it can get steep and uneven on some parts of the trail.
Where to stay near Rio Celeste
While visiting Rio Celeste can totally be done as a day trip from nearby La Fortuna, the area is stunning and well worth slowing down for a night if you have the time.
There are plenty of incredible hotels, B&Bs and glamping options to choose from.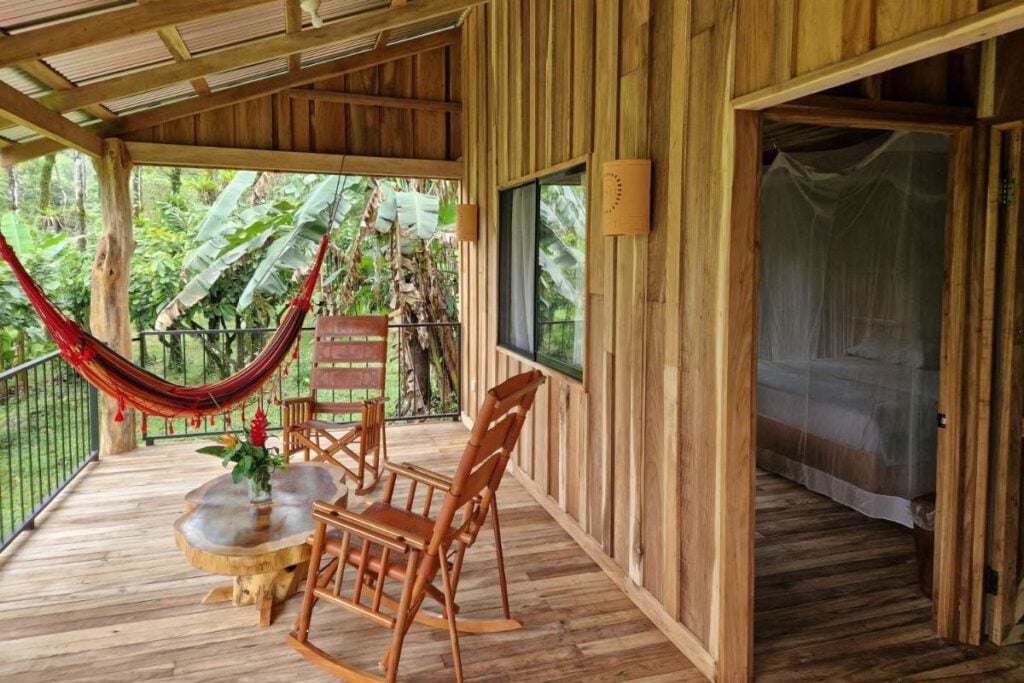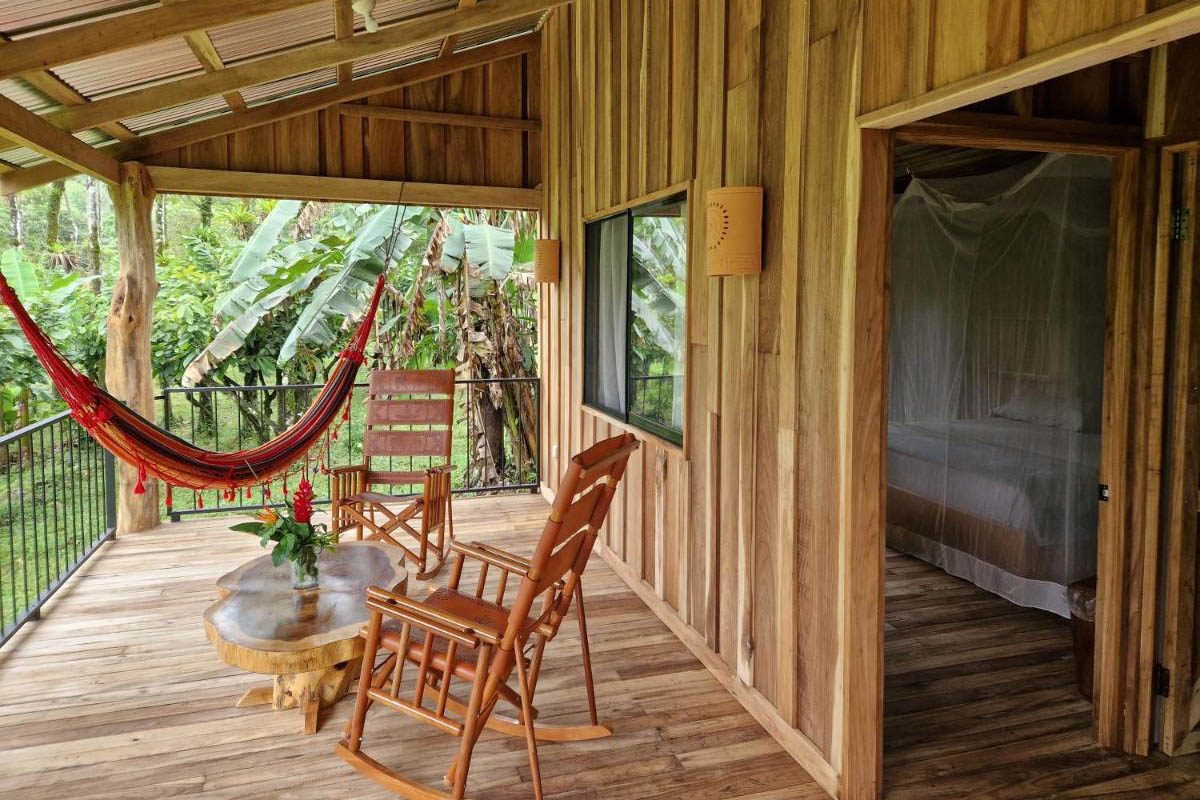 Our Top Pick: Finca Amistad Cacao Lodge
Just north or Rio Celeste, stay in relaxing, atmospheric rooms nestled in over 60 hectares of cocoa farms. Taking in the mountain or river views and indulging on their chocolate tours are just two of the main draws of this ideal property.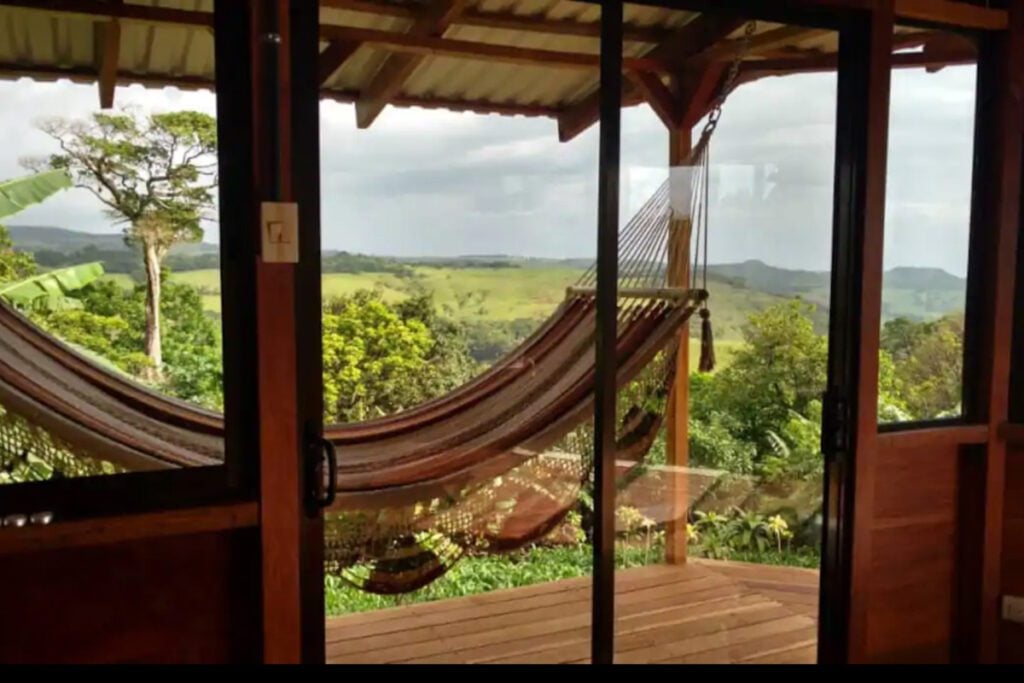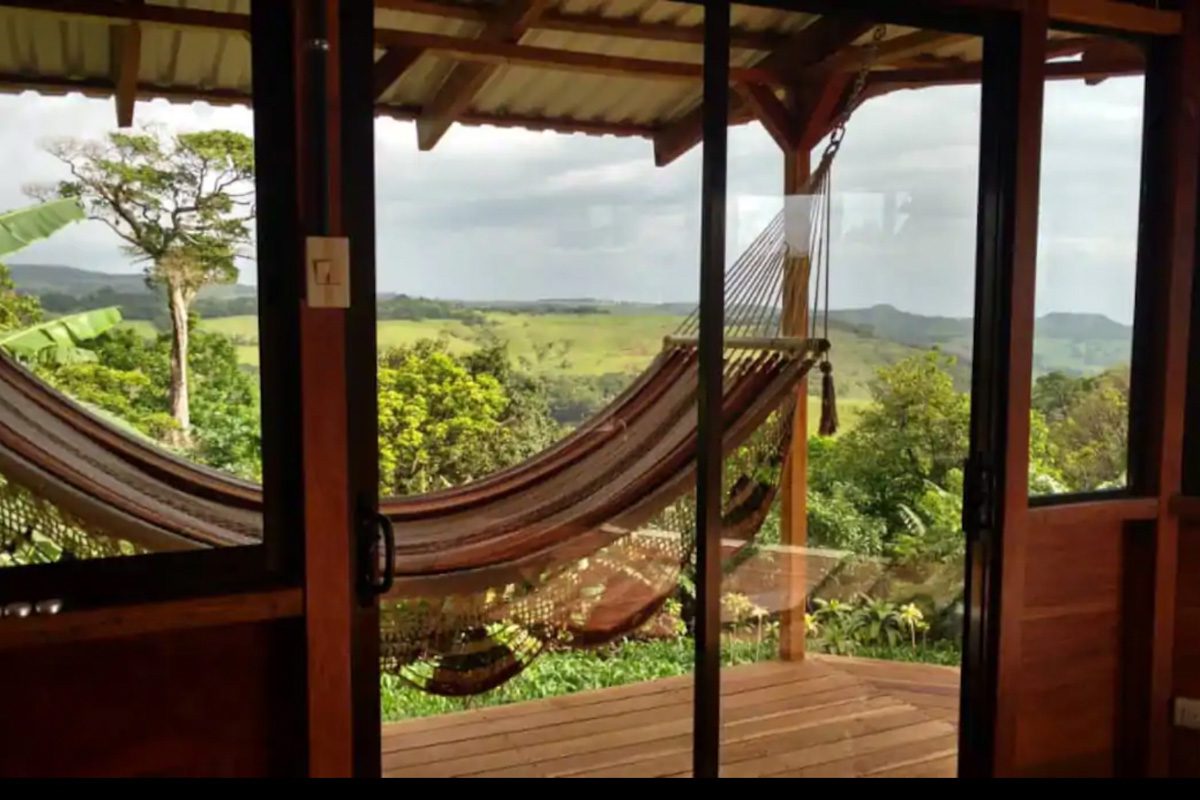 Cozy Cabin: Cedar Cabin Airbnb
Built along the slopes of Tenorio Volcano, this wooden cabin is tucked away in the serene Costa Rican wilderness. The 180-degree views, wildlife, nature trails, and local community make this an incredibly unique stay.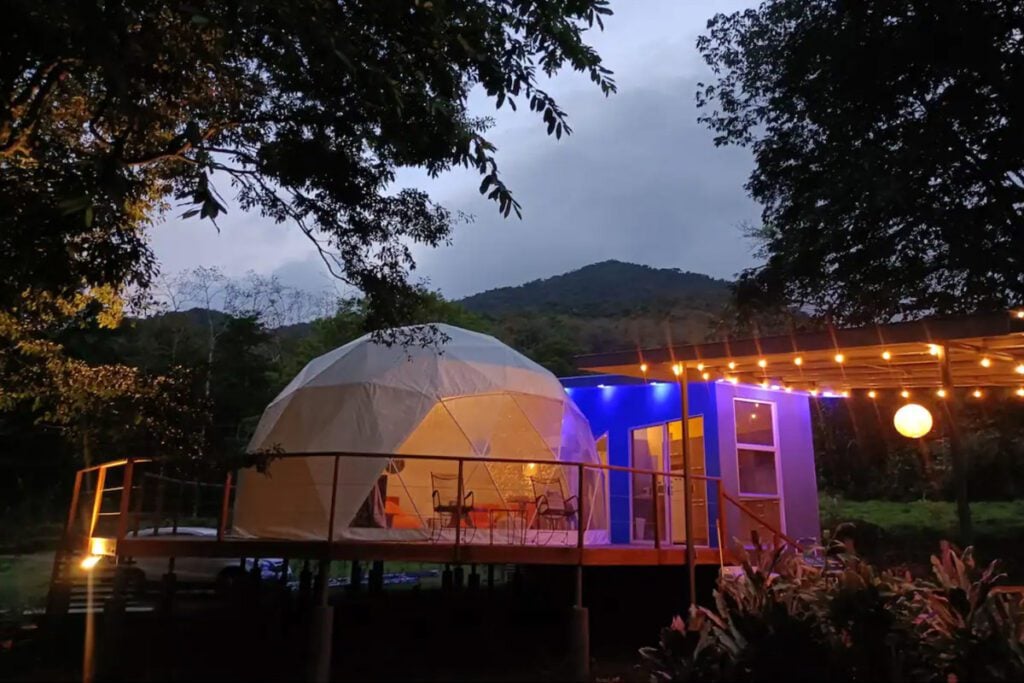 Dome Glamping: Bitzu Dome
Surround yourself with nature, volcanos, wildlife, waterfalls, and pristine nature in these secluded, riverside glamping domes. Just a short drive away from Rio Celeste, each dome has a fully functioning bathroom, kitchen, and deck.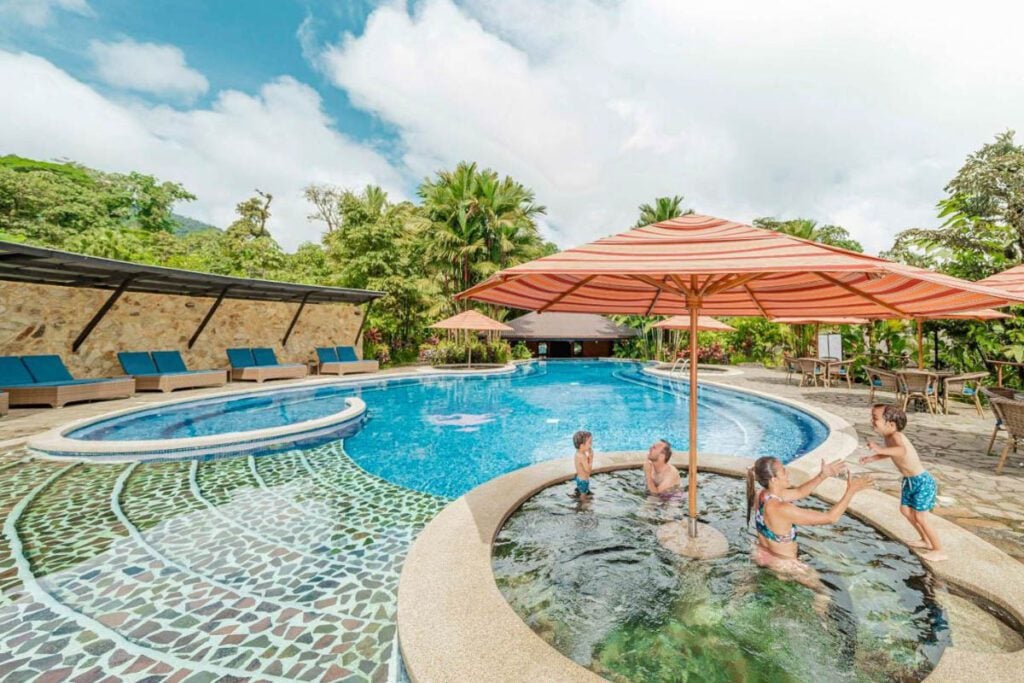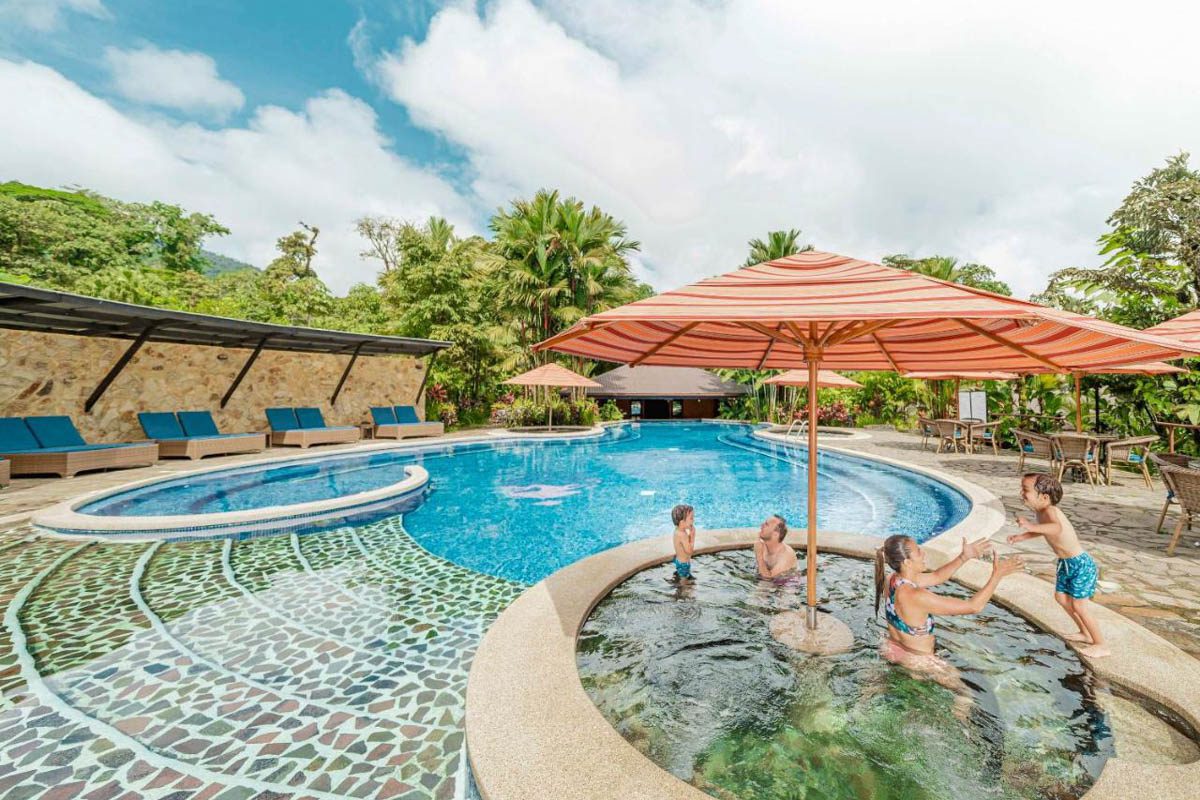 Splurge stay: Rio Celeste Hideaway Hotel
Minutes away from the park entrance, these luxurious bungalows offer the perfect place to unwind in nature. With private hiking trails, onsite restaurants, private outdoor showers, AC, and outdoor pool, you'll never want to leave this lux property.
Where to eat near Rio Celeste
Rio Celeste Waterfall FAQs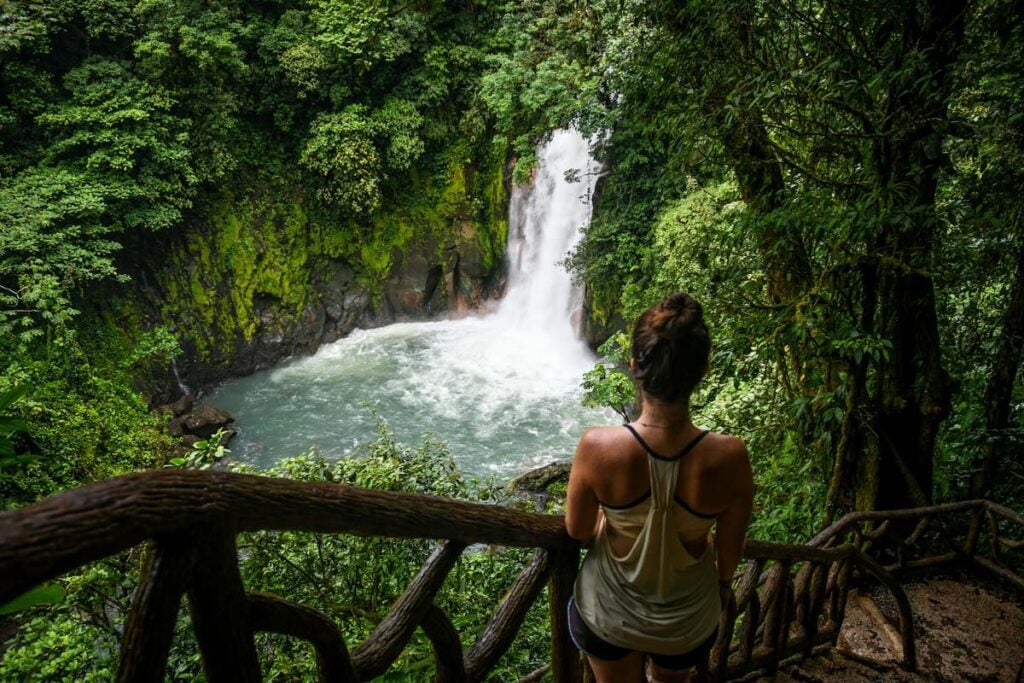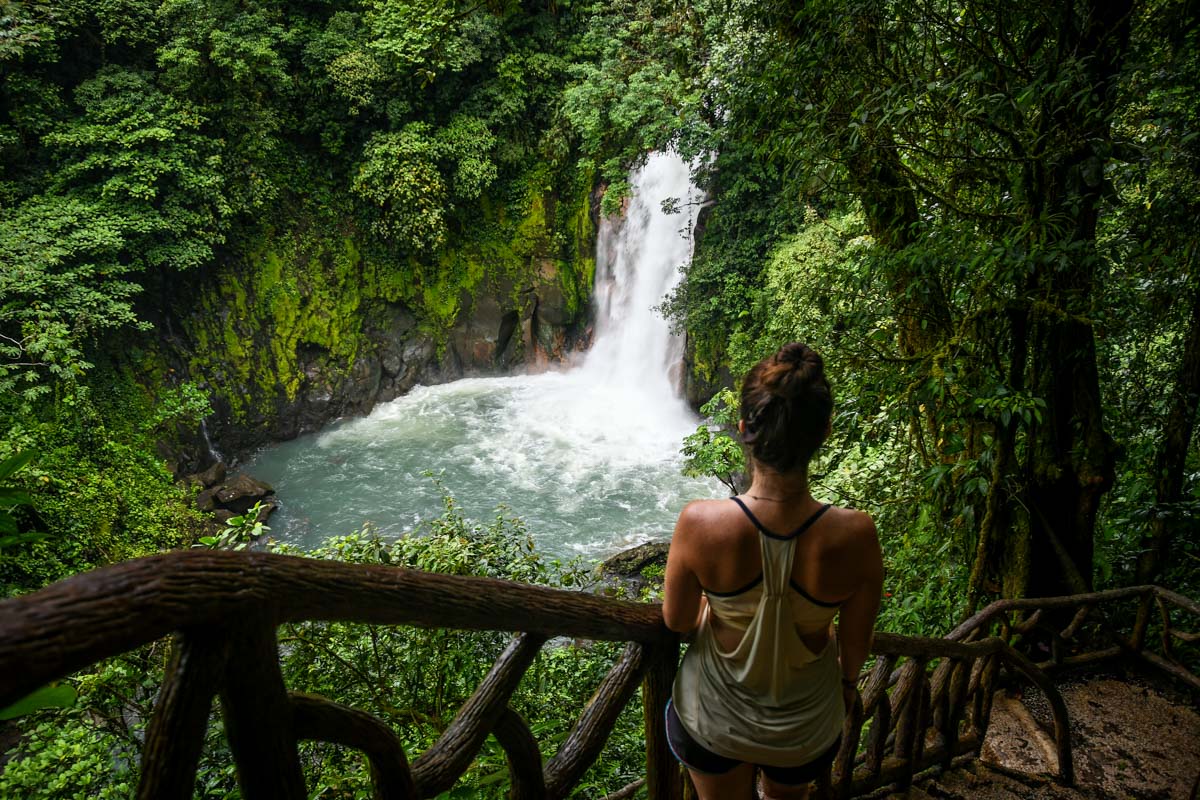 Do you have more burning questions about visiting Rio Celeste? We've answered some of the most popular (and important) questions about visiting below!
Can you swim at Rio Celeste?
No, you cannot swim in Rio Celeste or anywhere inside Tenorio Volcano National Park.
Do you need a guide to visit Rio Celeste
There is no guide required to visit Rio Celeste. The trail is very well marked and straightforward, so it's easy to hike on your own.
Does Rio Celeste get crowded?
Yes. Tenorio Volcano National Park is one of the most visited in Costa Rica and Rio Celeste is one of the top places to visit within the park.
If you arrive after 9 am, expect to share the trail with a lot of other people.
How far is Rio Celeste from La Fortuna?
Rio Celeste is about 69 km (43 miles) northwest of La Fortuna.
The drive from La Fortuna takes about 1.5 hours.
How long do you need at Rio Celeste waterfall?
30-minutes to 1 hour is a good amount of time to soak in the beauty of the falls and take some pictures.
Expect to spend 2-4 hours total including the hike in and back out.
Is the water always blue?
No, too much rain and lack of sun can desaturate the water and make it appear more brown.
This mainly happens during the wet season after heavy rain, but always double check the forecast and plan your visit around sunny, clear weather.
Our experience at Rio Celeste Waterfall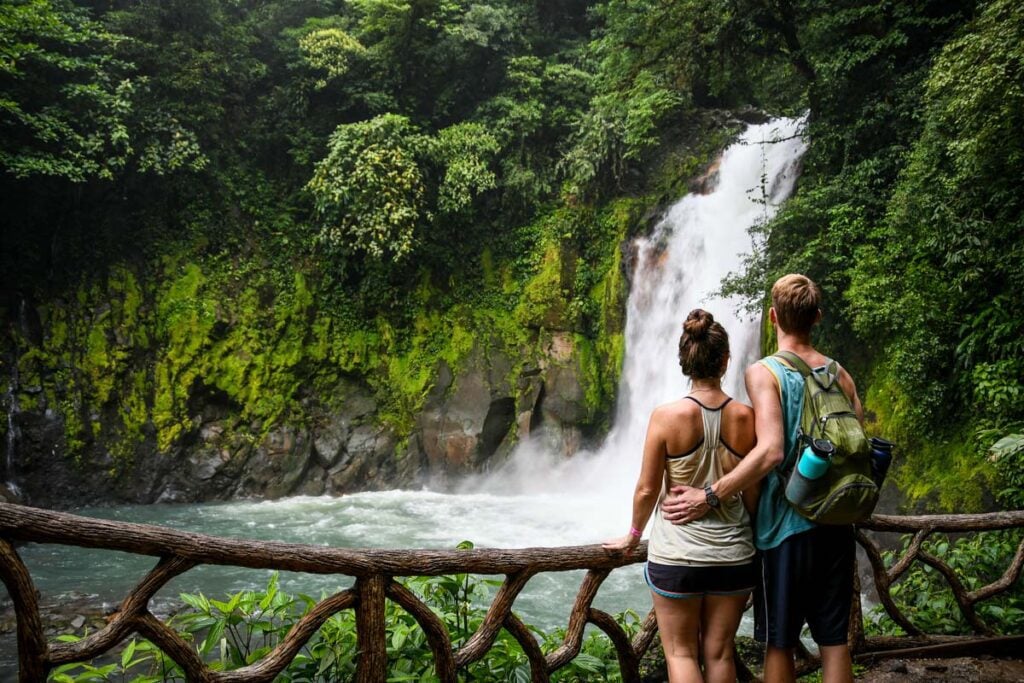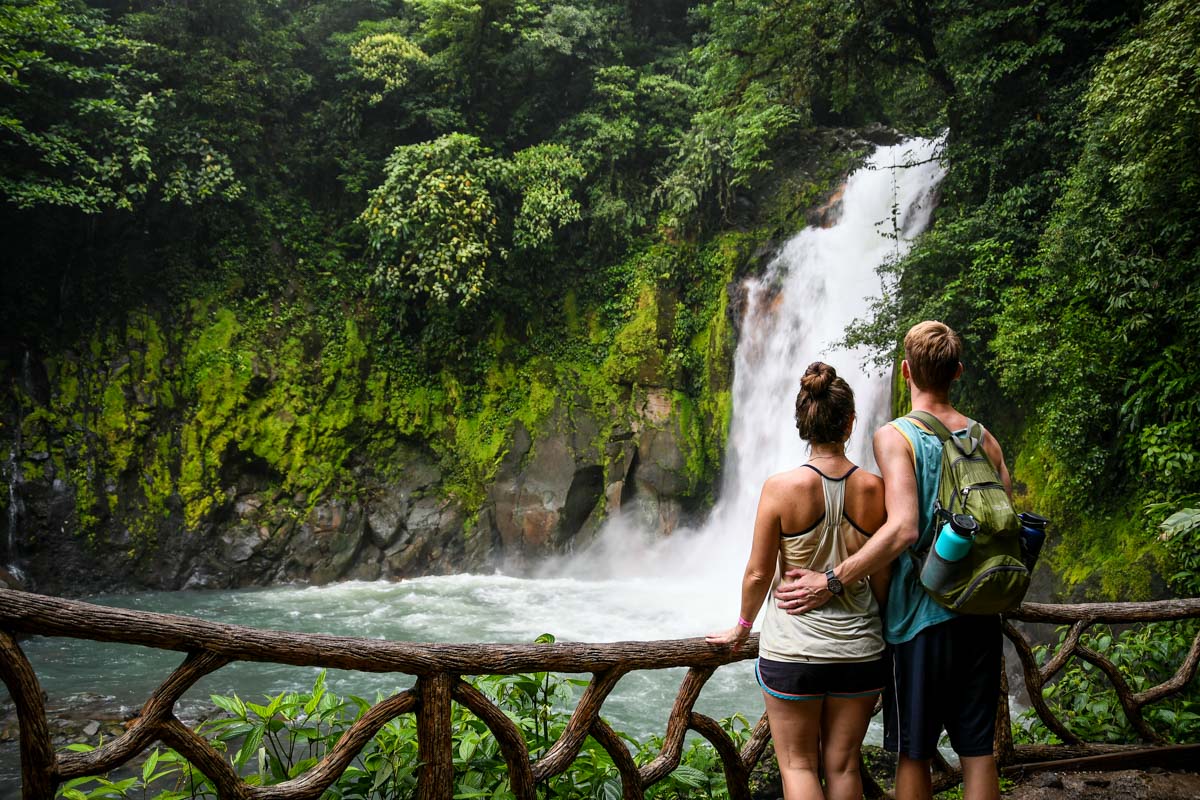 We visited Rio Celeste waterfall, shortly after a storm. This meant the waters weren't quite as blue as they sometimes are, but we were still in awe.
Getting to Rio Celeste required a bit of effort and planning – we spontaneously decided to rent a car because we wanted to go so badly! And in the end, it was well worth the effort.
We loved the freedom of having our own car, so we extended the rental and accidentally began a 2-week Costa Rica road trip!
More beautiful waterfalls in Costa Rica to visit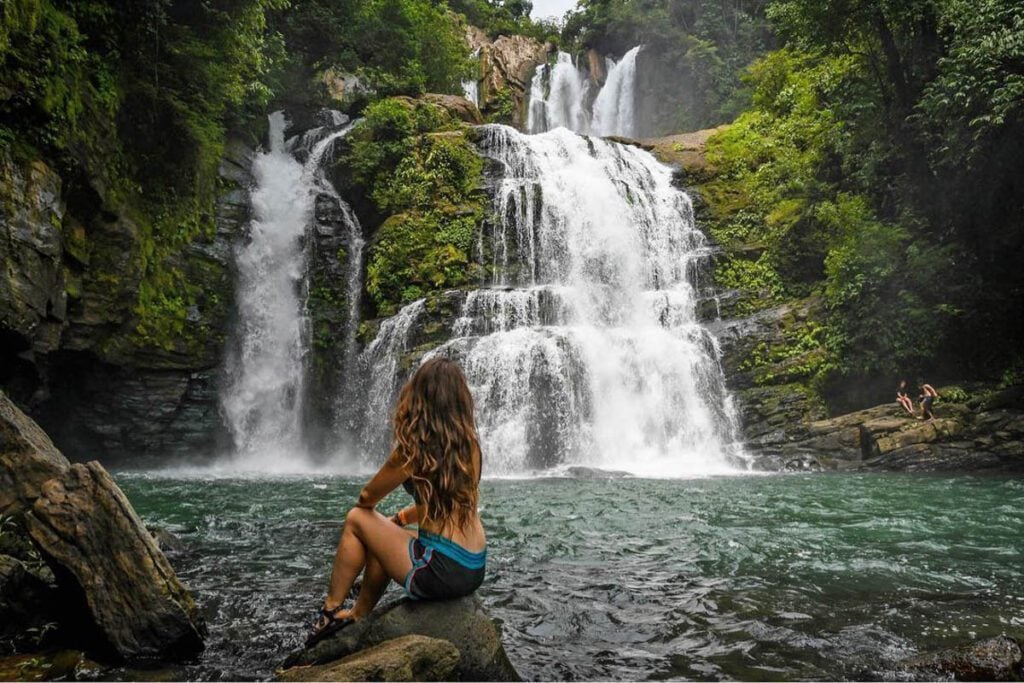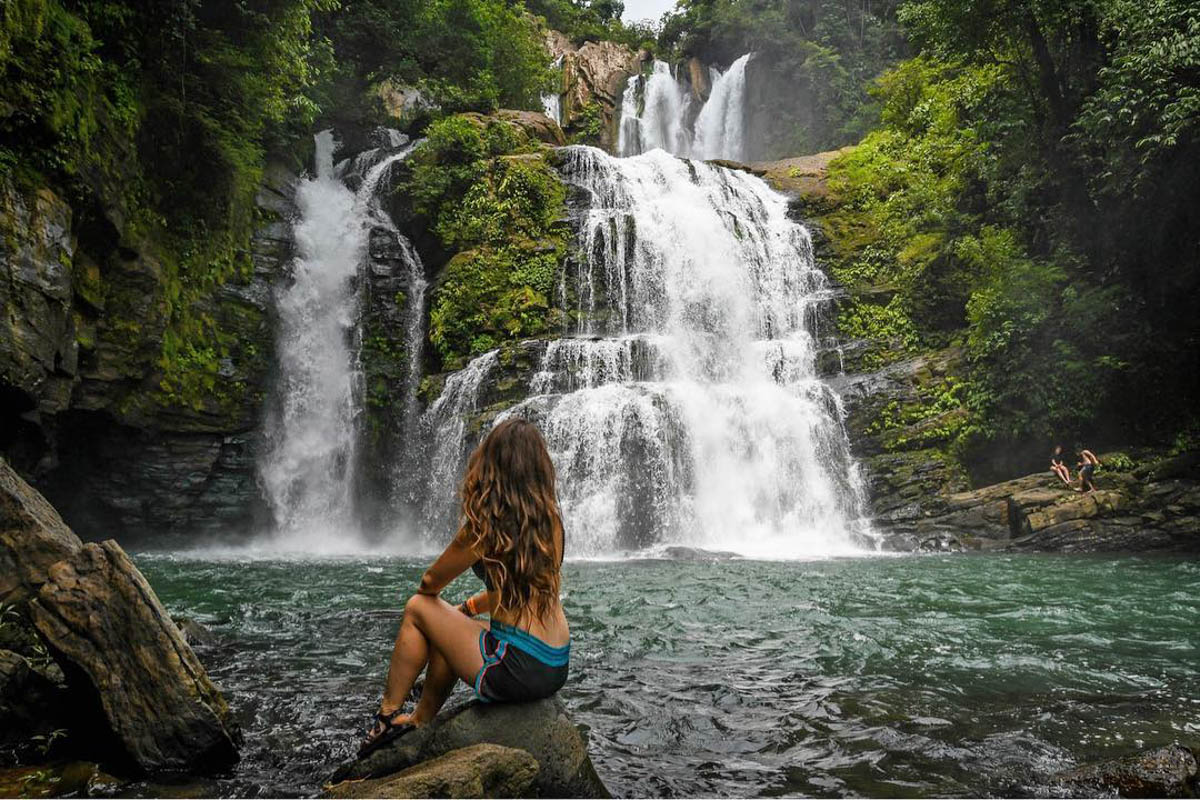 If you're looking for more stunning waterfalls to add to your Costa Rica itinerary, these are a few to consider…
---
Planning a trip to Costa Rica?
We have lots more resources on travel in Costa Rica and destinations throughout the country. Check out our Ultimate Costa Rica Travel Guide for all the answers you're looking for, or read some of our favorite articles below.
Save this article to Pinterest for later!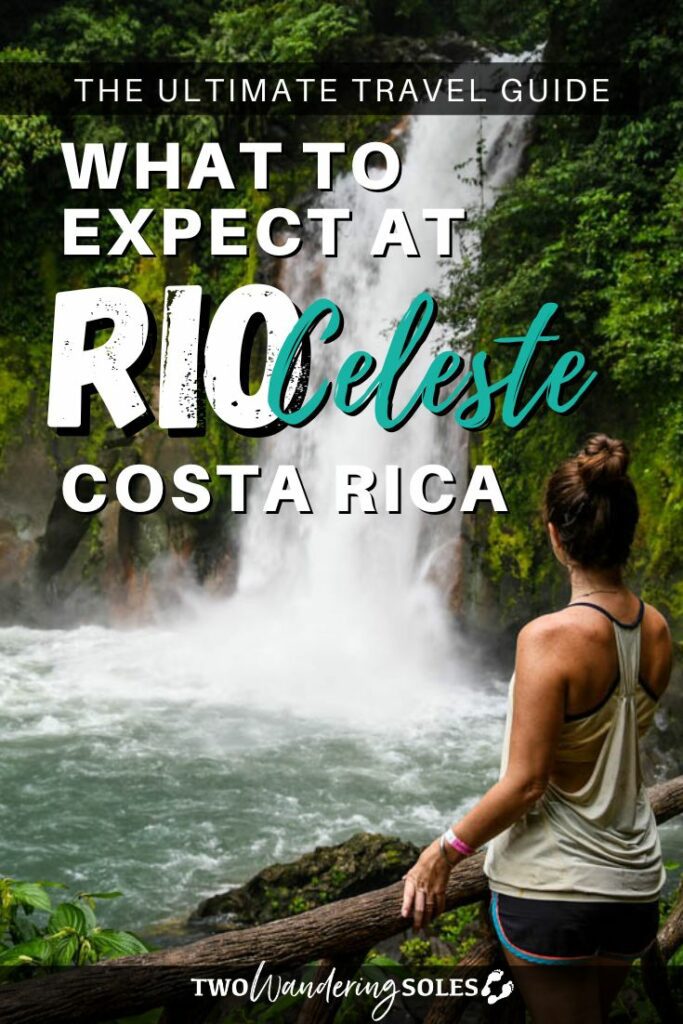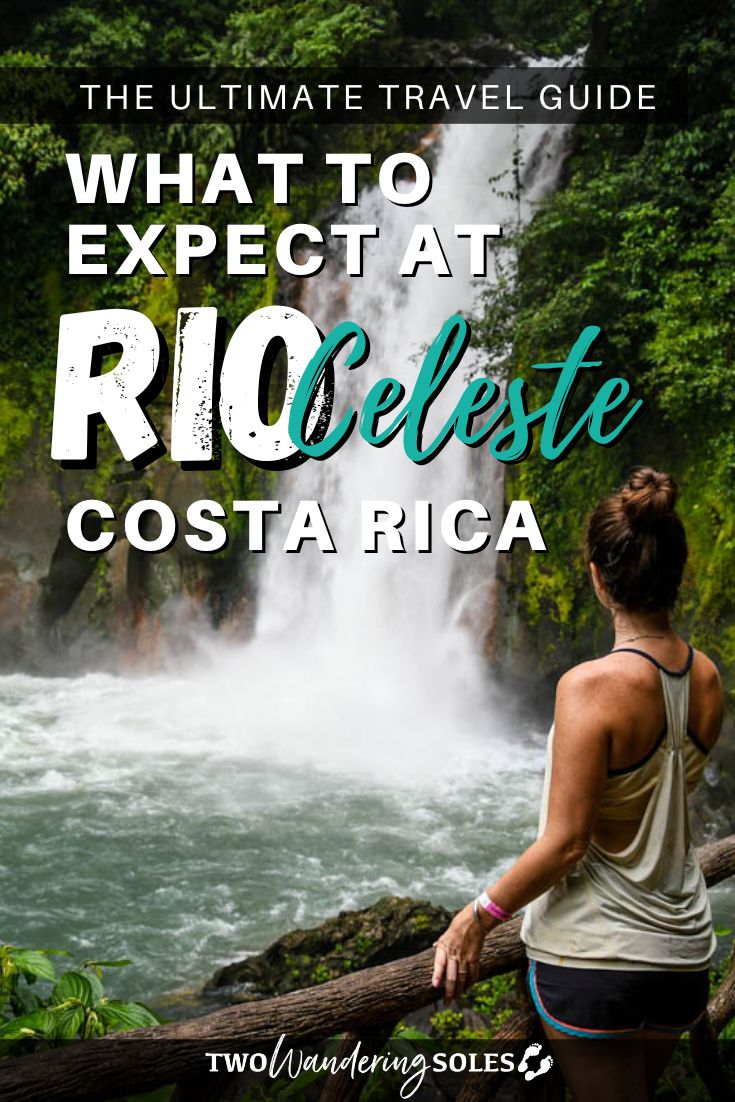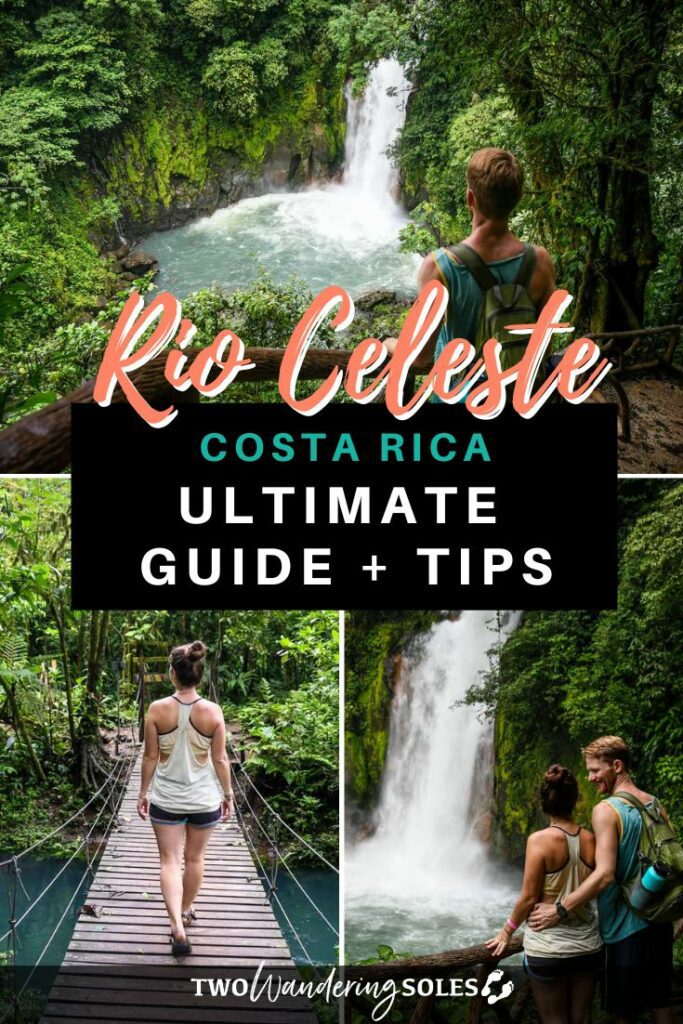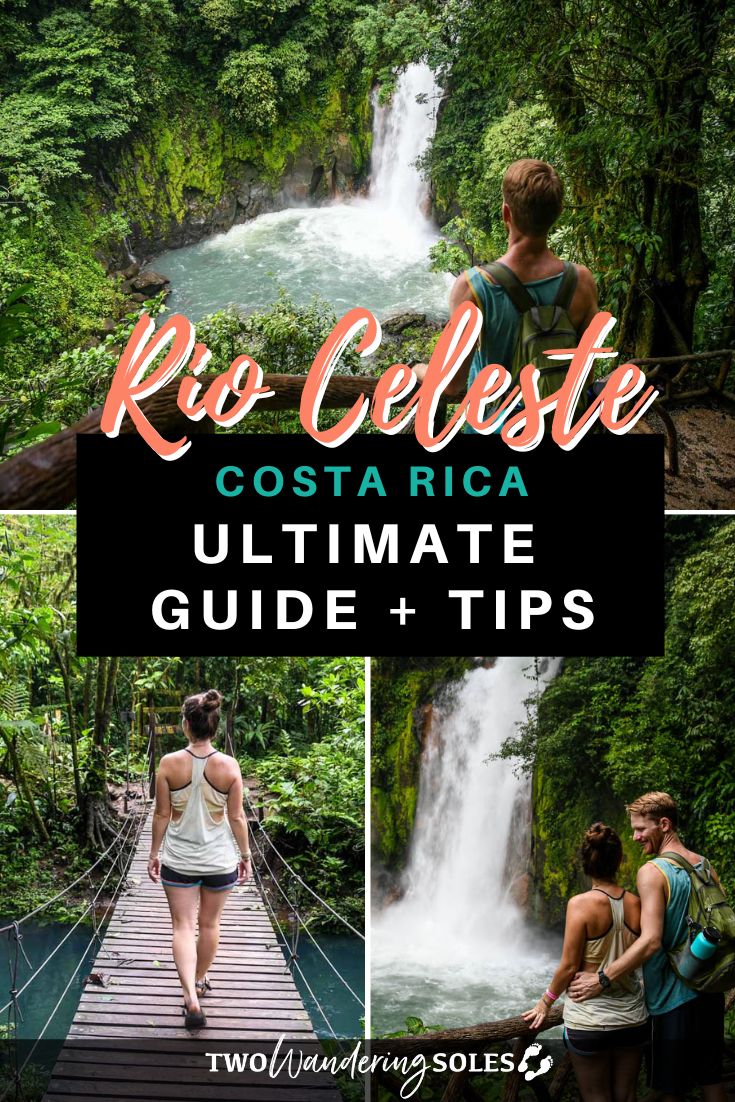 We want to hear from you!
Are you planning a trip to Costa Rica and have more questions? Leave your comments below and we'll do our best to find you the answers you're looking for!