If your planning a trip to the Mile high City, you'll want to check out this highly curated list of the best Airbnbs in Denver. We're sharing our favorite stays to meet every need — from budget-friendly, to large group properties, to the most unique accommodation!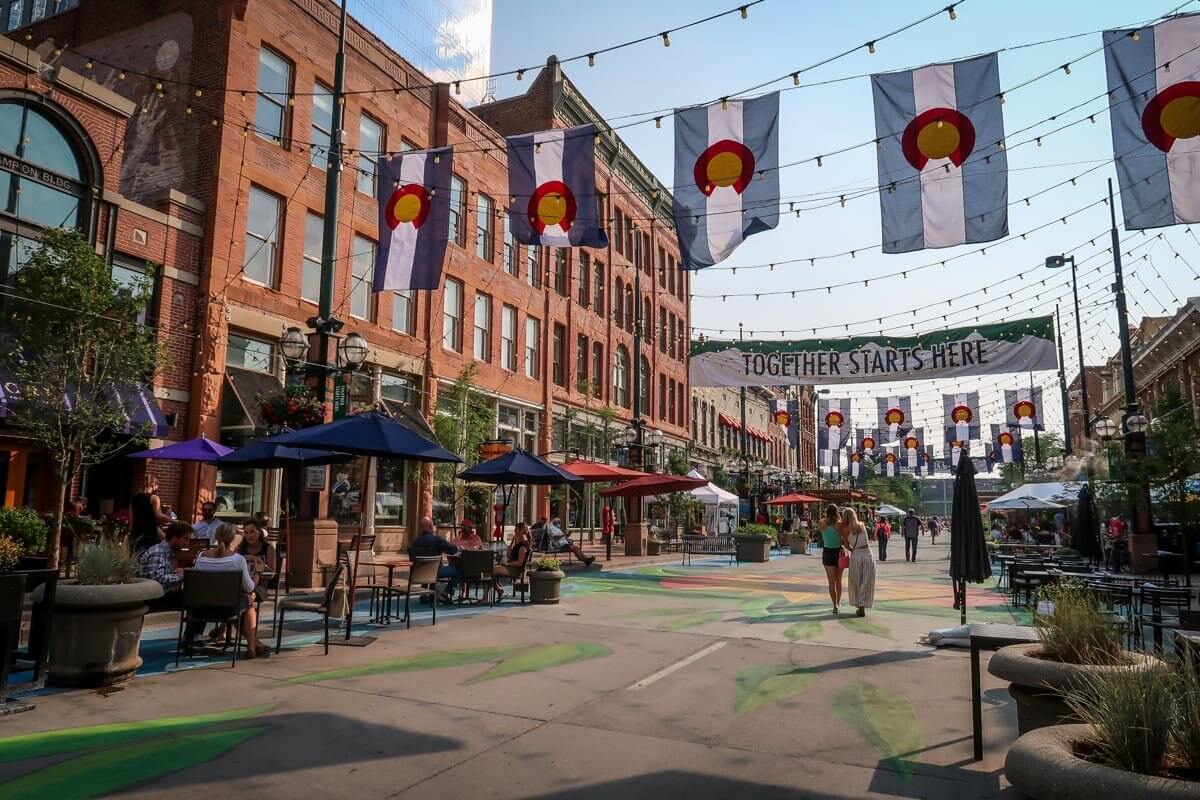 Colorado's Mile High City is known for it's unique blend of urban and outdoor culture; a fantastic music scene, plenty of microbreweries, and a friendly, nature-loving population. 
With easy access to the Rocky Mountain Range as well as a distinct food and music scene, there is no shortage of fun things to do in Denver.
Whether you're visiting the the Mile High City for vacation, business, or planning the perfect staycation, you'll want to check out this highly-curated list of the best Airbnbs in Denver.
Why stay at an Airbnb in Denver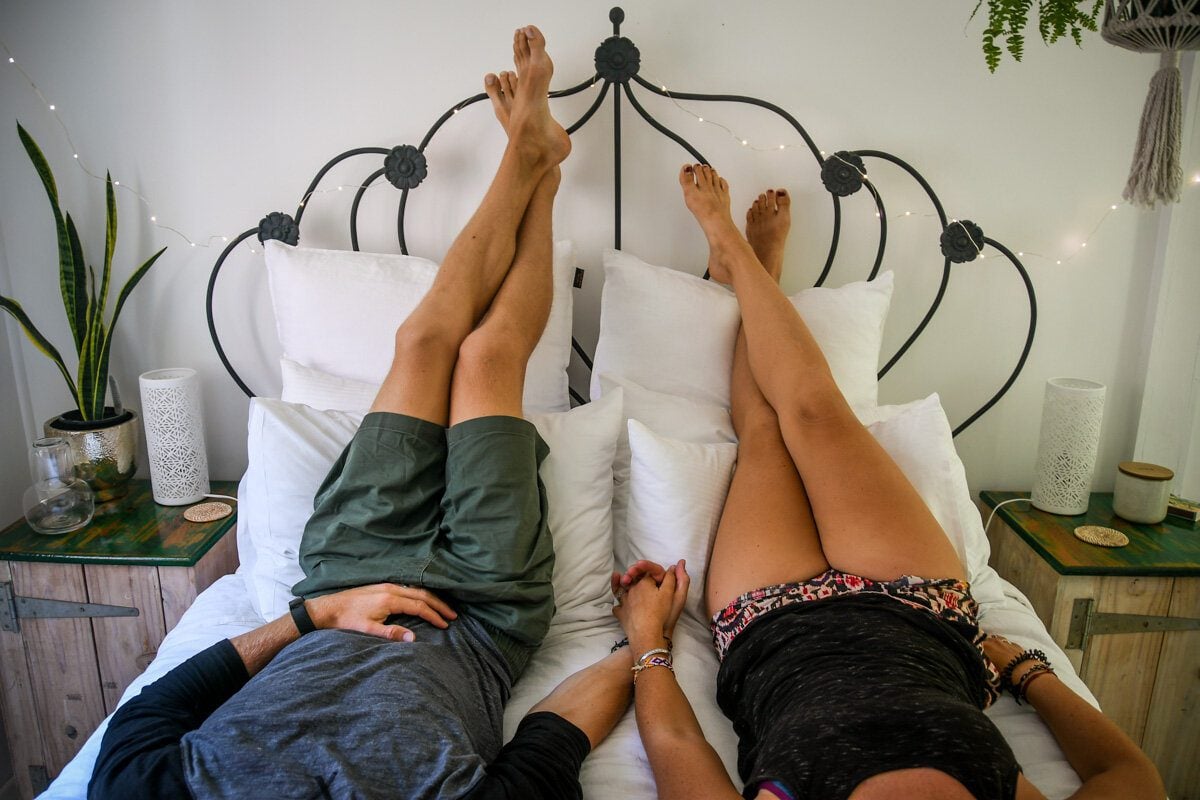 Renting an Airbnb is one of our favorite ways to get to know a place. Airbnbs in Denver range from modern downtown lofts to beautiful historic homes. And there are a few quirky and unique stays there as well. Plus, staying in an Airbnb in Denver offers experiences you won't get in a hotel:
Experience the city from a local's point of view

Stay in a neighborhood outside of the downtown hotel district

Enjoy the comforts of home like a stocked kitchen or laundry facilities

Stay together with your family or larger group

Save money on longer stays

Try out a unique accommodation like a houseboat, tiny home or beach cottage
Psst! Is this your first time considering staying in an Airbnb? We put together an entire article on how to book an Airbnb, from setting up your profile to exactly which filters we use.
Where to stay in Denver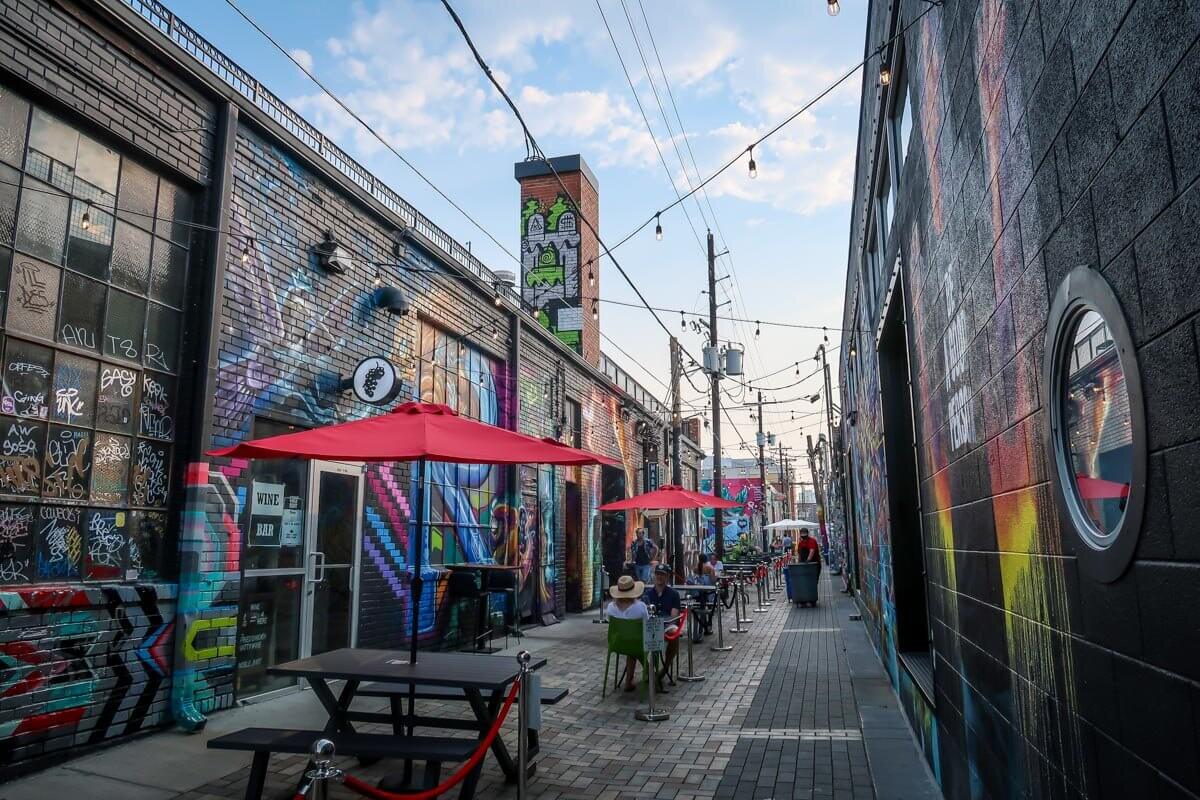 Like most major cities, Denver is massive, and it can be a bit overwhelming deciding which neighborhood to stay in. Each area has its own culture and unique draws. Depending on your travel style and the purpose of your trip, the best area can vary. 
We've organized this article by neighborhood to showcase the best Airbnbs in Denver in each of the areas we'd recommend you stay. Click on the link to jump straight to the neighborhood recommendations, or continue scrolling through them all to make your pick. 
Bonus Categories:
Large Group stays:

If you're traveling with a group and need 4 or more bedrooms, we've found some great stays for you.

Just outside the city:

If you're looking for a retreat from the city but don't want to go too far out of town, we've collected a few Airbnb stays in nearby areas that'll give you a completely different feel from the metropolitan city life.
Psst! Want more info on Denver's diverse neighborhoods before making a decision on an Airbnb? Check out our complete guide for where to stay in Denver!
Our top 5 recommendations: 
Don't have the time or patience to read through the entire article? Here's the quick n' easy rundown of the best Airbnbs in Denver for your specific needs. 
Psst! If you'll be traveling more throughout the state, be sure to check out our bucket list of epic things to do in Colorado!
15 Best Airbnbs in Denver
We've curated this list to include stays for solo travelers, couples and families or larger groups. It includes budget-friendly stays all the way up to the most luxurious properties. All of which are as clean, unique and beautiful as the city itself.
Highland Park & Lower Highland (LoHi): The Highland Park neighborhood consists of the area across Hwy 25, just northwest of downtown Denver. The area tends to be a bit pricier and therefore caters to a slightly more mature crowd (think late 20-somethings and 30-somethings) than other areas like LoDo and Cap Hill, which play host to more recent college grads.
With the higher price point also comes cleanliness and safety. You won't see much of the homeless population as soon as you cross over the highway into this area.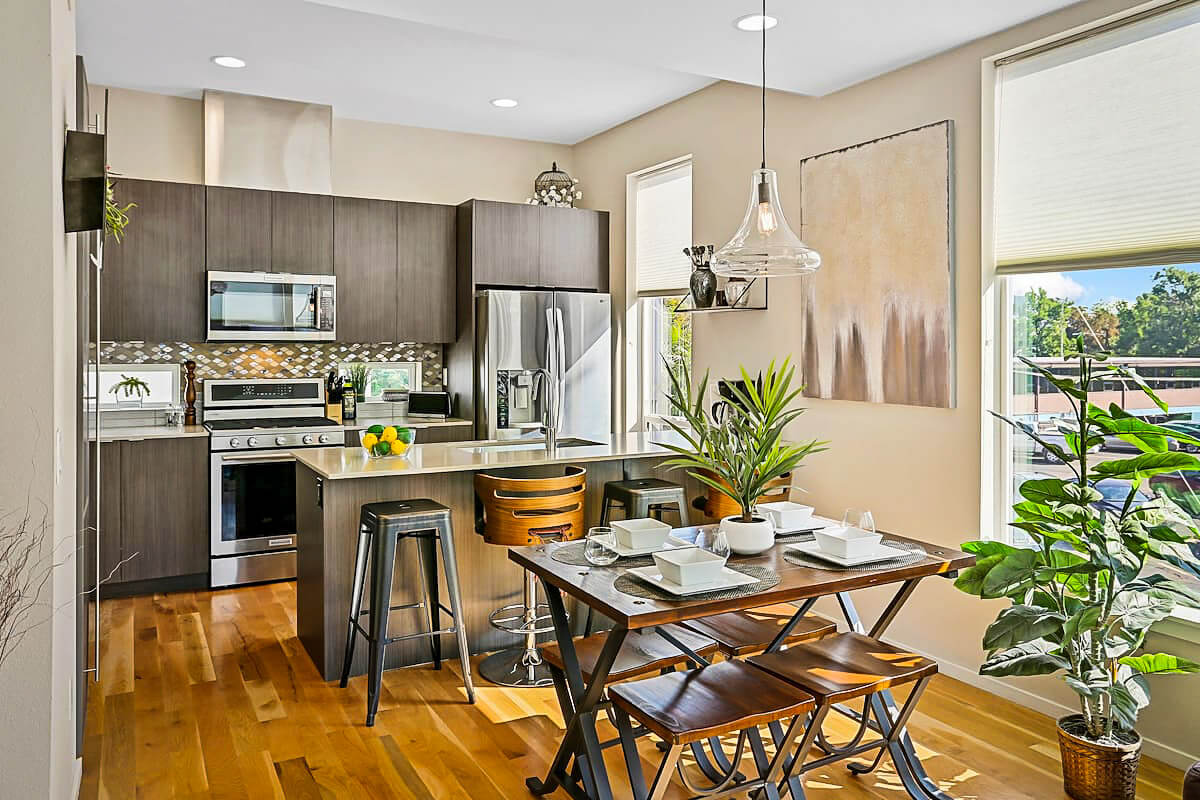 Large LoHi condo with private rooftop deck
Location:

Lower Highland

Budget:

$$

Number of Guests:

7

Minimum Stay:

2 nights

Superhost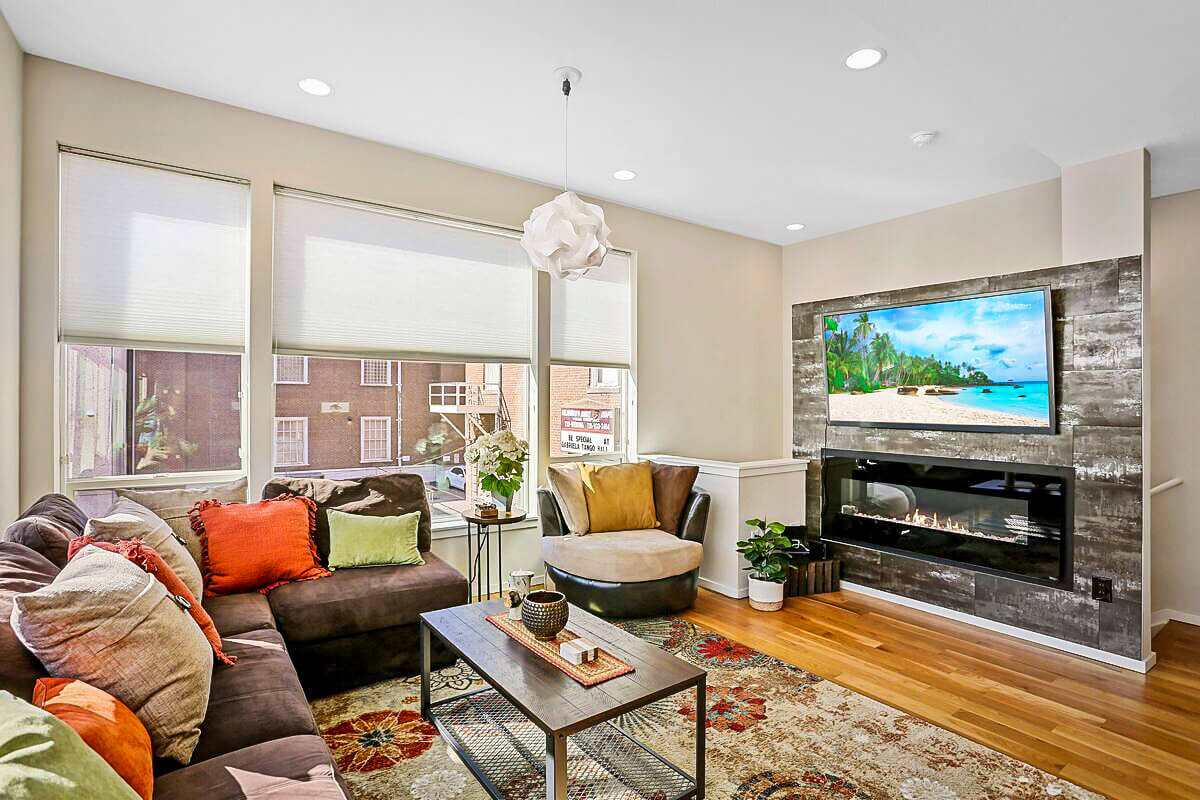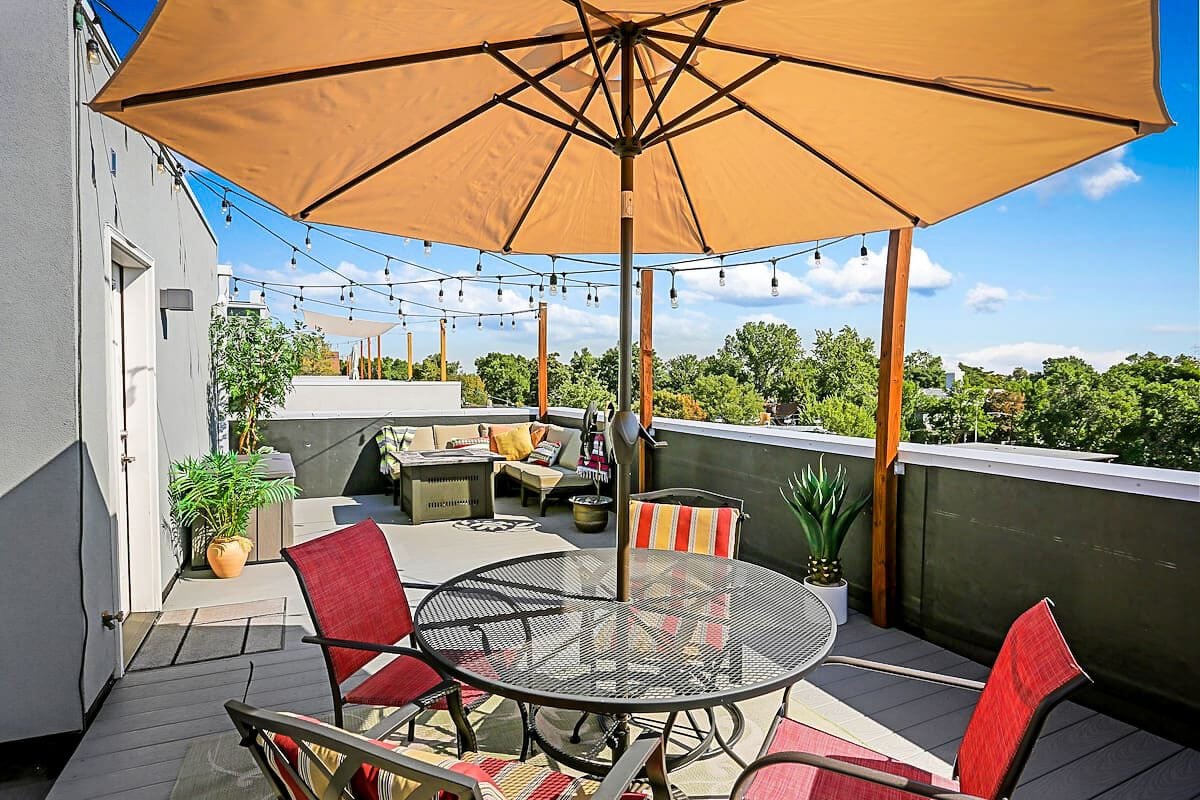 Conveniently located close to several bars and restaurants in the LoHi neighborhood, this beautiful 2 bedroom condo is full of natural light. Take in the skyline views from the beautiful private rooftop and store your car securely overnight in the attached 2 car garage.
With enough space to sleep 7, a fully stocked kitchen and in-home laundry, you'll have everything you need to feel right at home.
Guests love how clean and tidy the place is kept and enjoy all of the thoughtful touches like extra toiletries.
"As advertised with amazing rooftop deck and fully stocked home." – Adam, September 2021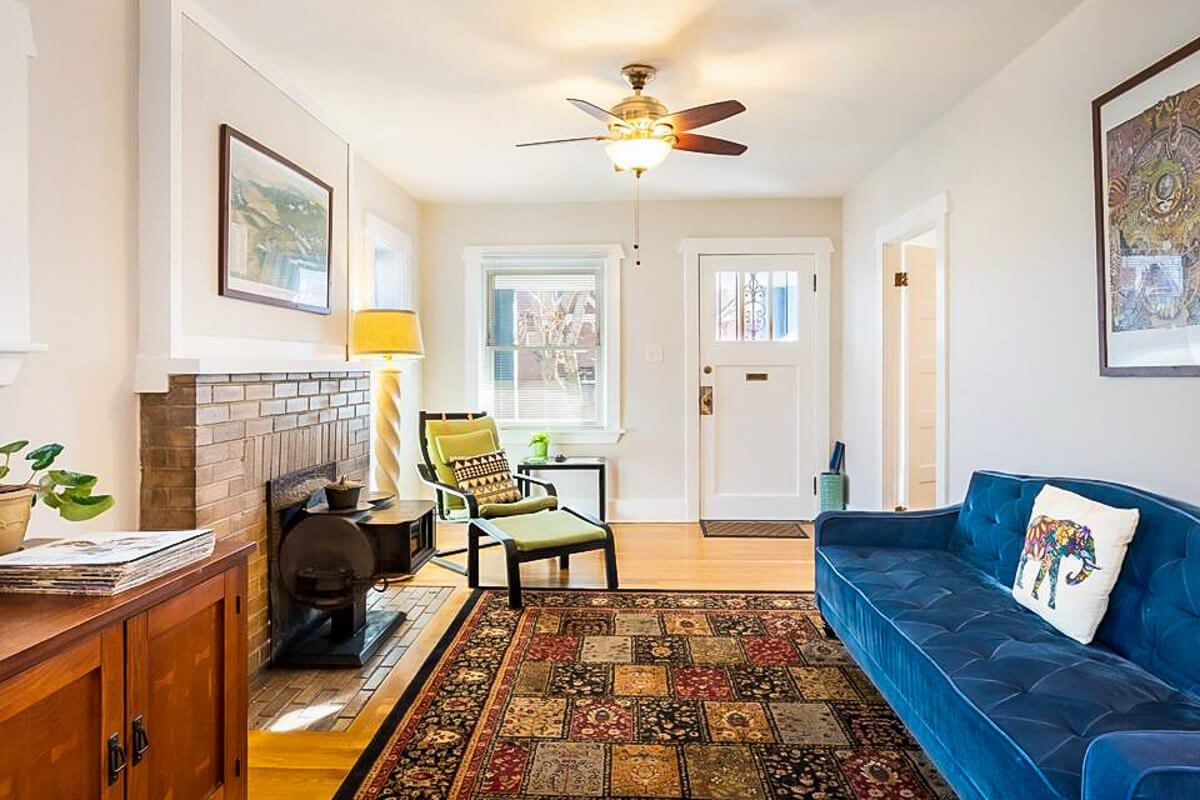 Charming historic home with private backyard
Location:

Lower Highland

Budget:

$$$

Number of Guests:

4

Minimum Stay:

4 nights

Superhost | Plus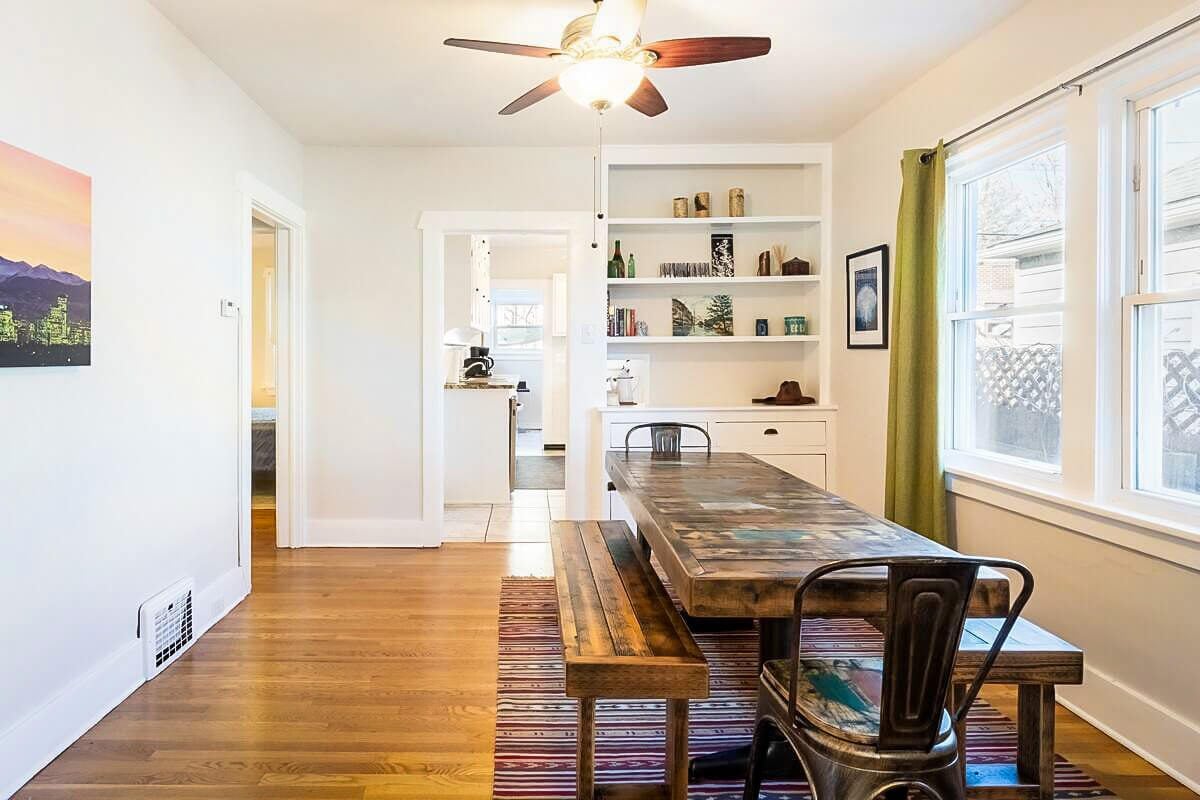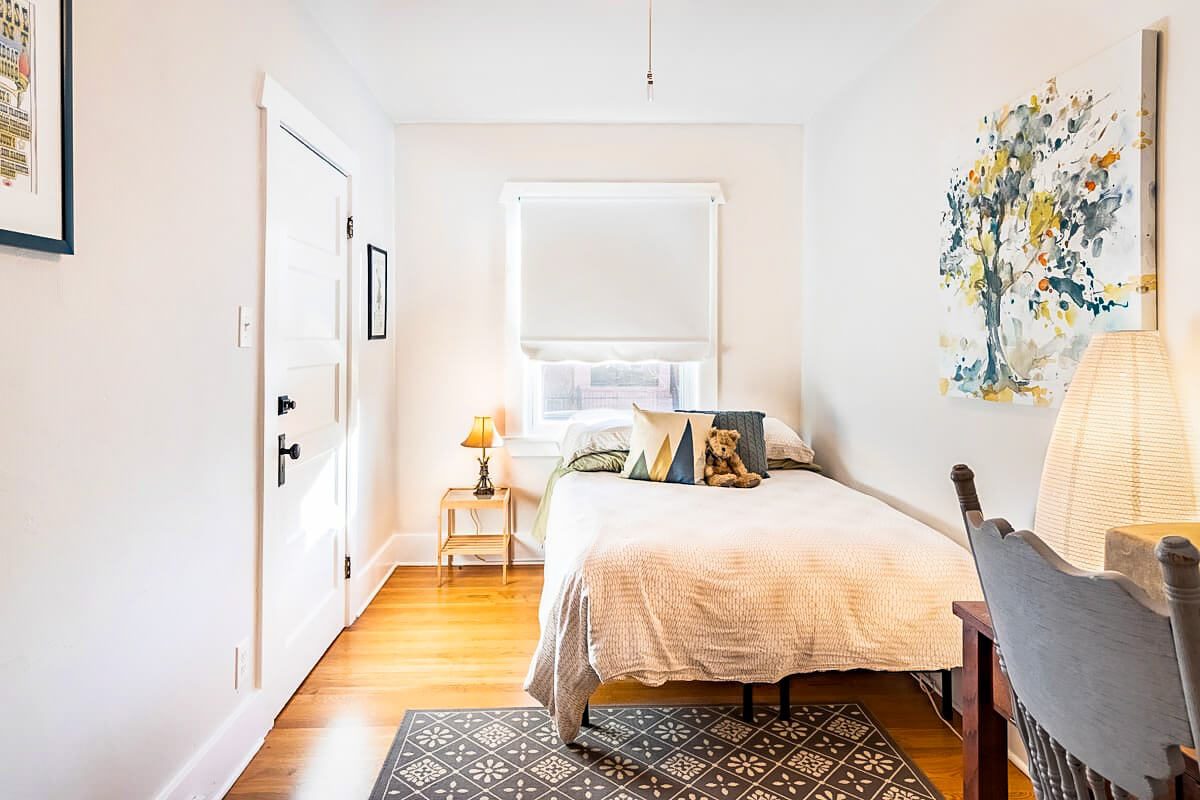 This bright and sunny home is in a great location in central LoHi. Cook breakfast on a gas stove and dine at a rustic harvest table while you plan out your adventures for the day. The 2 bedroom space features a fireplace, clawfoot bathtub and private outdoor patio.
Guests loved the location and tidiness of the space.
"Place was clean and spacious. Enjoyed the patio. Great location! Cute neighborhood. Easy access to freeway for sightseeing adventures. Communication with owners was top notch. Would definitely stay again!" – Karen, August 2021
Honorable Mentions:
River North District (RiNo) / Five Points: The arts district known as RiNo spills over into Five Points and is filled with hipstery, breweries and plenty of trendy restaurants. Many of the buildings here have been repurposed from former warehouses and factories into bars, cafes and galleries.
This is one of the newest hot spots in Denver so there are lots of new builds here, including some notable new hotels.
Beautifully preserved Victorian home
Location:

Curtis Park/Five Points

Budget:

$$

Number of Guests:

2

Minimum Stay:

2 nights

Superhost | Plus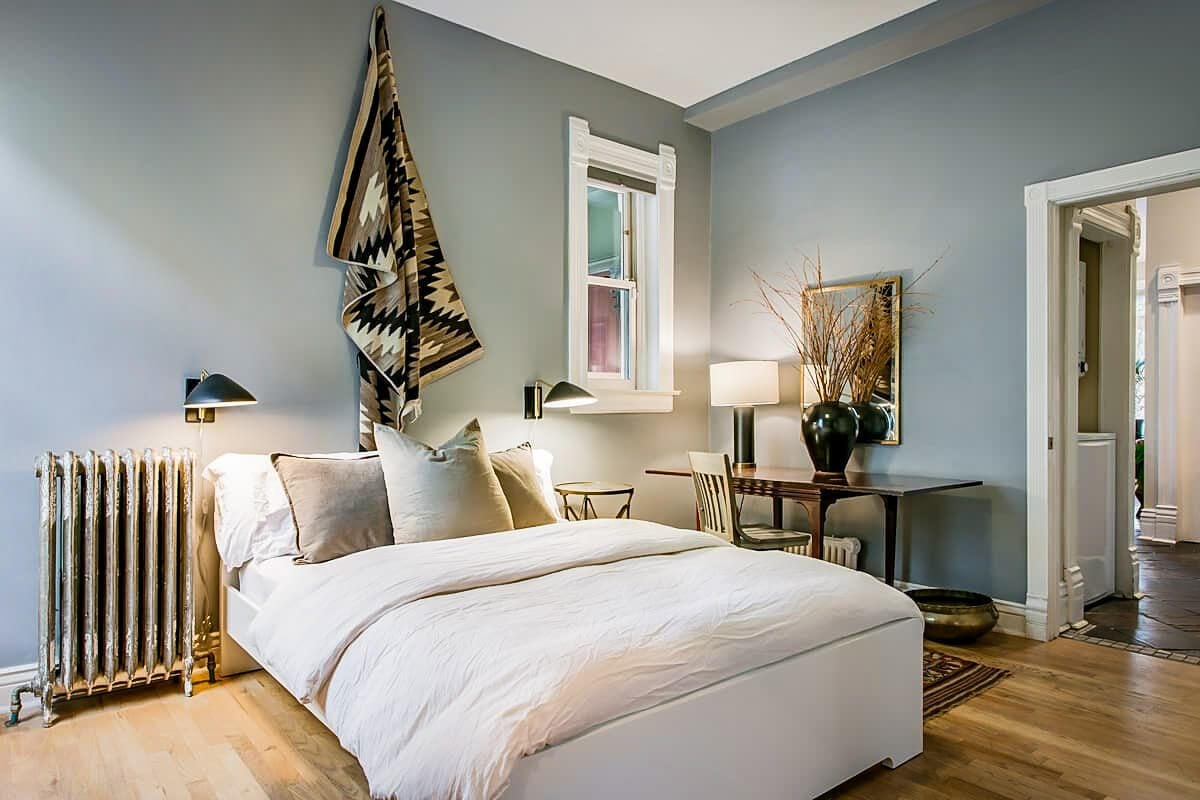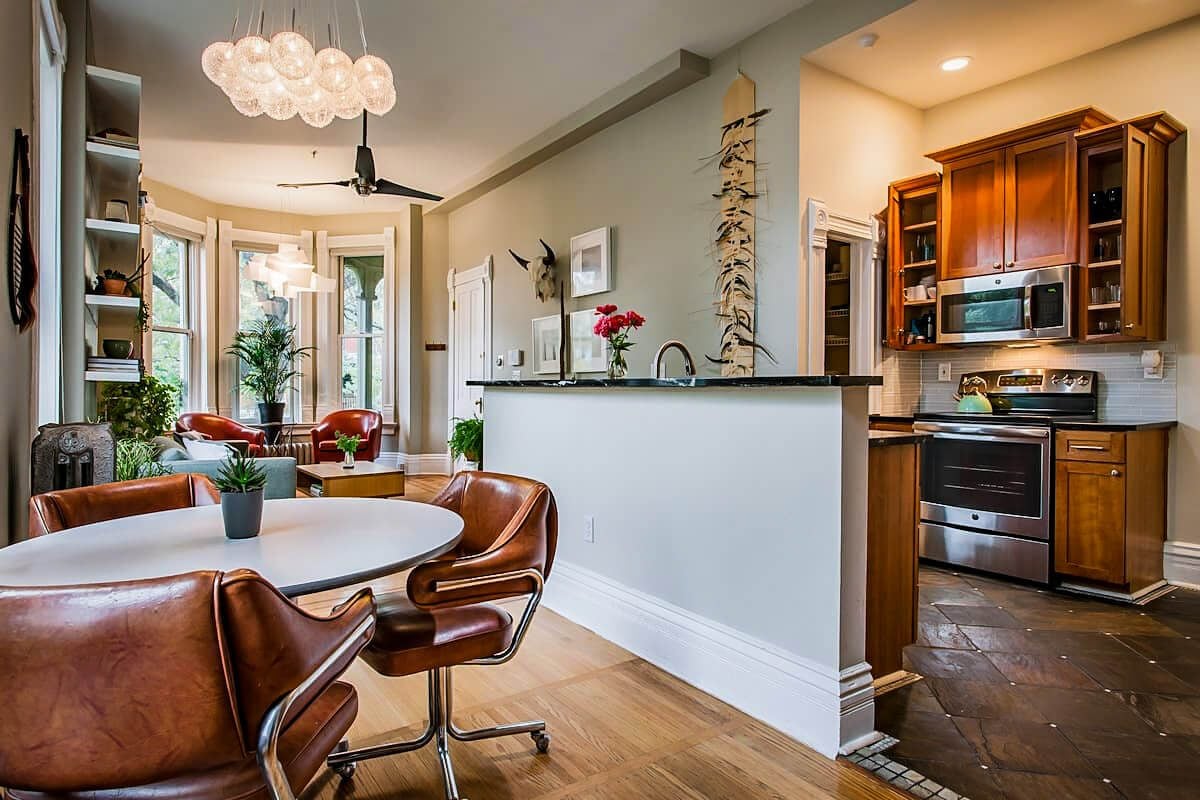 This warm and welcoming one-bedroom home is beautifully decorated and bursting with historic charm giving us major romantic vibes (especially with the porch swing!). Large windows let in plenty of light and modern upgrades make the place more comfortable.
Guests applaud the hosts attention to detail and easy communication.
"Julia's place was exactly as stated. The space is appointed with higher end amenities and feels warm and welcoming. We were very pleased with the comfort of the furniture and bedding. The proximity to restaurants and shops within walking distance in a very safe neighborhood was a welcome surprise…" – Jeff, September2021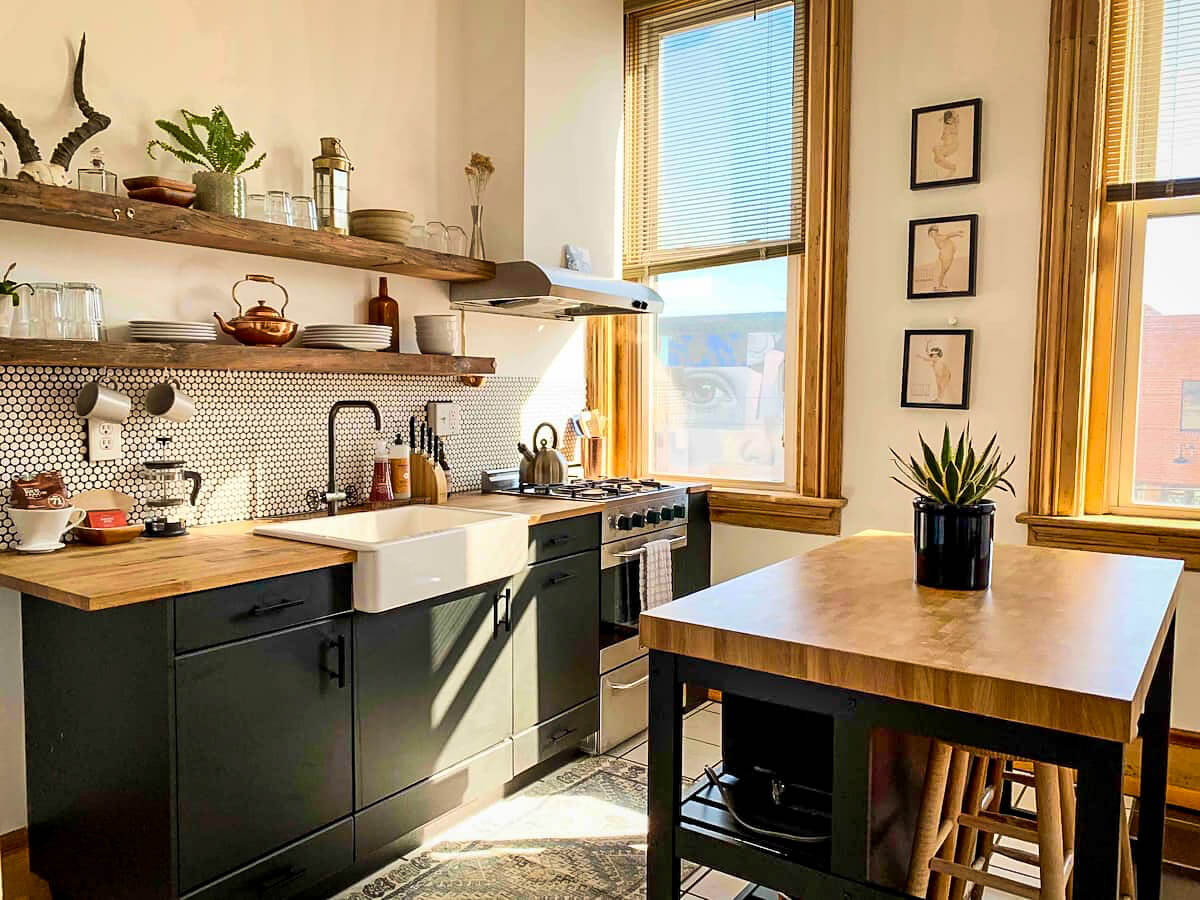 Stylish apartment in the heart of RiNo district
Location:

River North

Budget:

$$

Number of Guests:

2

Minimum Stay:

2 nights

Superhost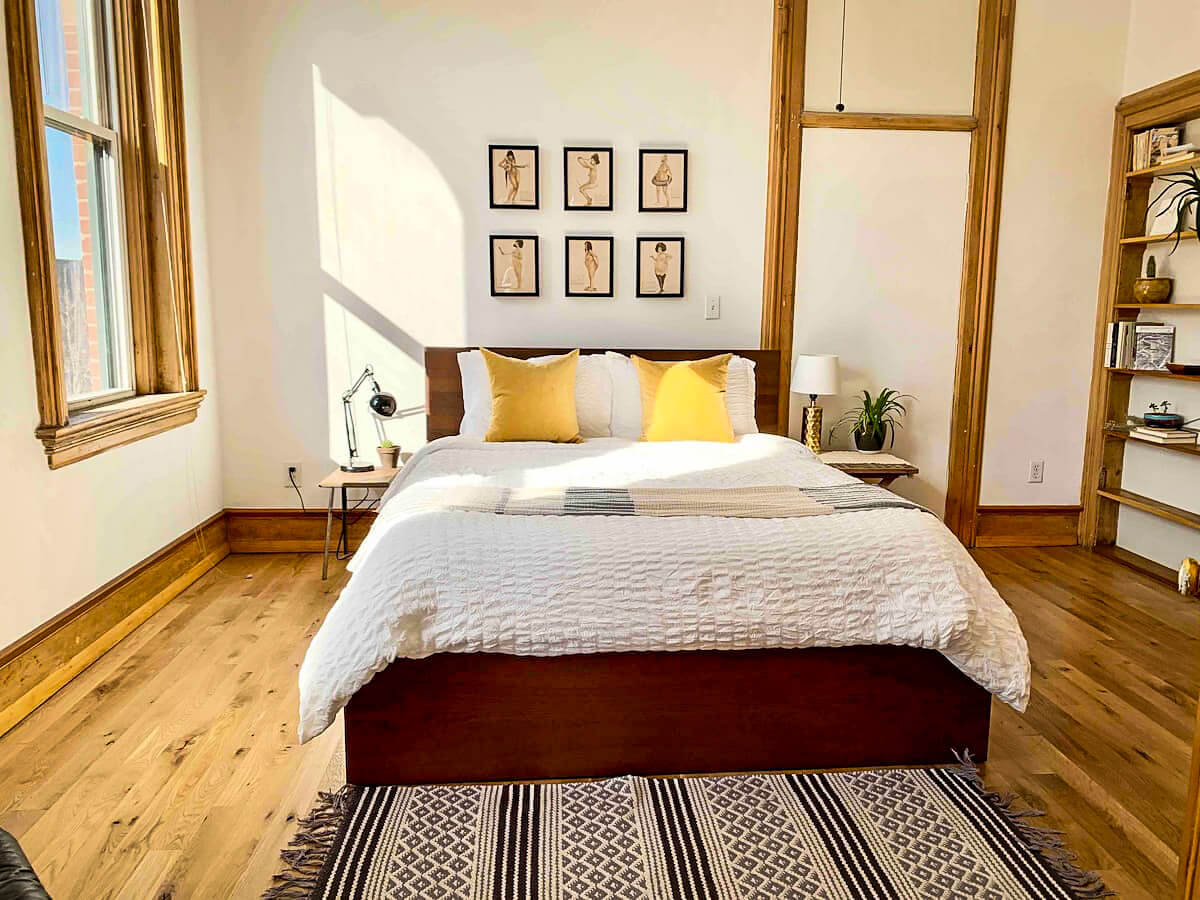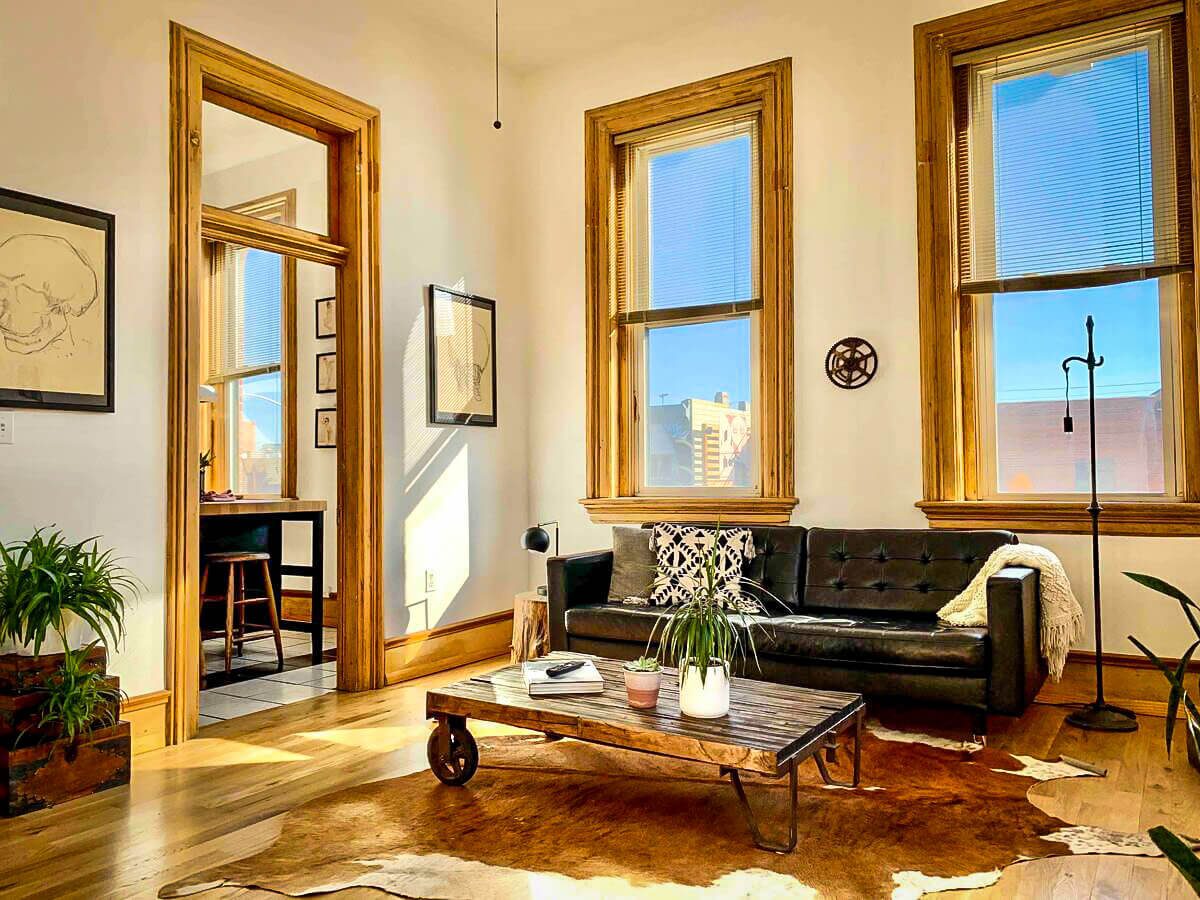 This newly remodeled one bedroom apartment has all the historic charm with modern amenities and stylish touches. Located in the center of the action in the lively RiNo arts district, you'll be steps from trendy restaurants, breweries and bars.
Parking can be a challenge here, so recommend not renting a car for your stay and relying on electric scooters or rideshare apps to get around.
*Note that the apartment is located above a bar and you can expect loud music and noise until pretty late on the weekends (Thursday – Sunday). For this reason it is not recommended for families with children.
Guests who didn't mind the noise on weekends raved about the perfect central location.
"Absolutely stunning place! Emily did such a great job with the decor and added so many special touches! We loved the location. We woke up every morning and walked around RiNo and explored and loved every second! Thanks so much Emily!!!" – Amy, August 2021
Honorable Mention:
---
Lower Downtown (LoDo): The area surrounding Union Station is known as LoDo and is full of high-rise apartment complexes and luxury hotels. There are lots of fine dining and cultural attractions in this area, however the closer you get to the ballpark, the younger the nightlife crowd tends to get.
This area is also somewhat notoriously scattered with homeless people, especially in the area near the Denver Rescue Mission (which borders Five Points).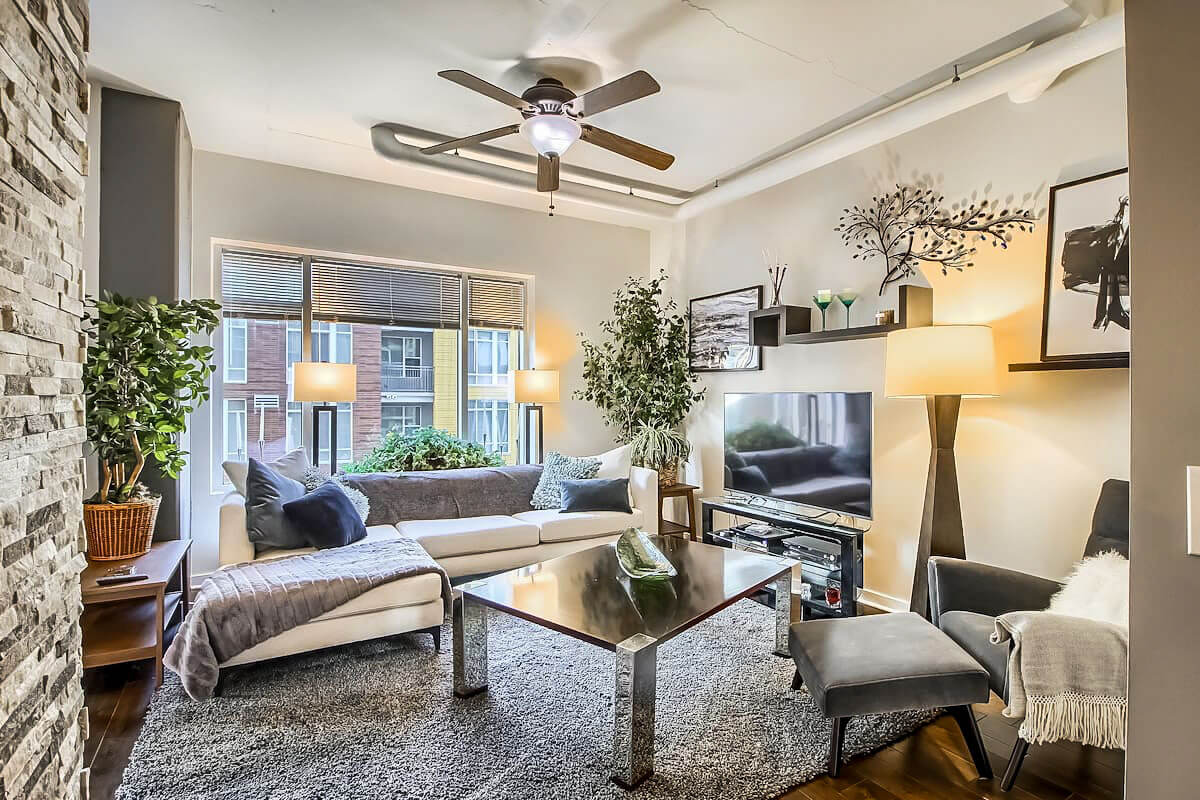 Luxury 2 bedroom condo in high rise building
Location:

Commons Park

Budget:

$$

Number of Guests:

4

Minimum Stay:

30 nights

Superhost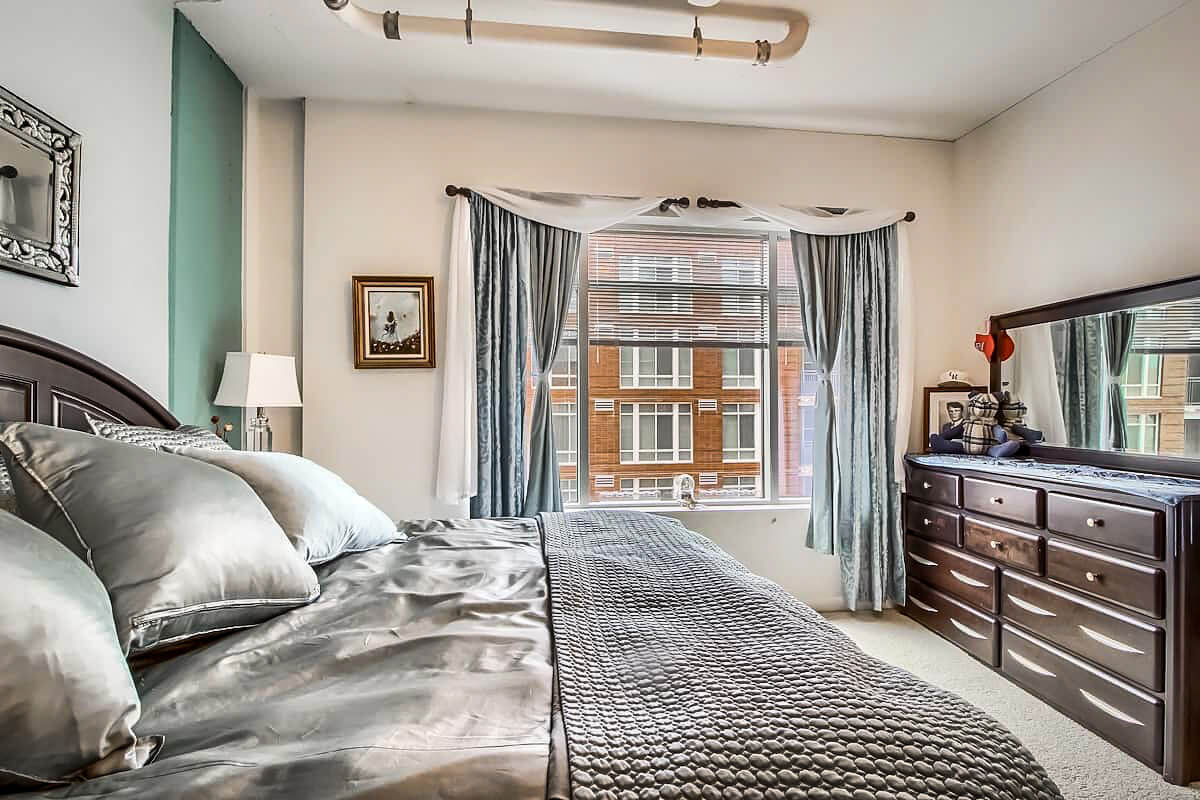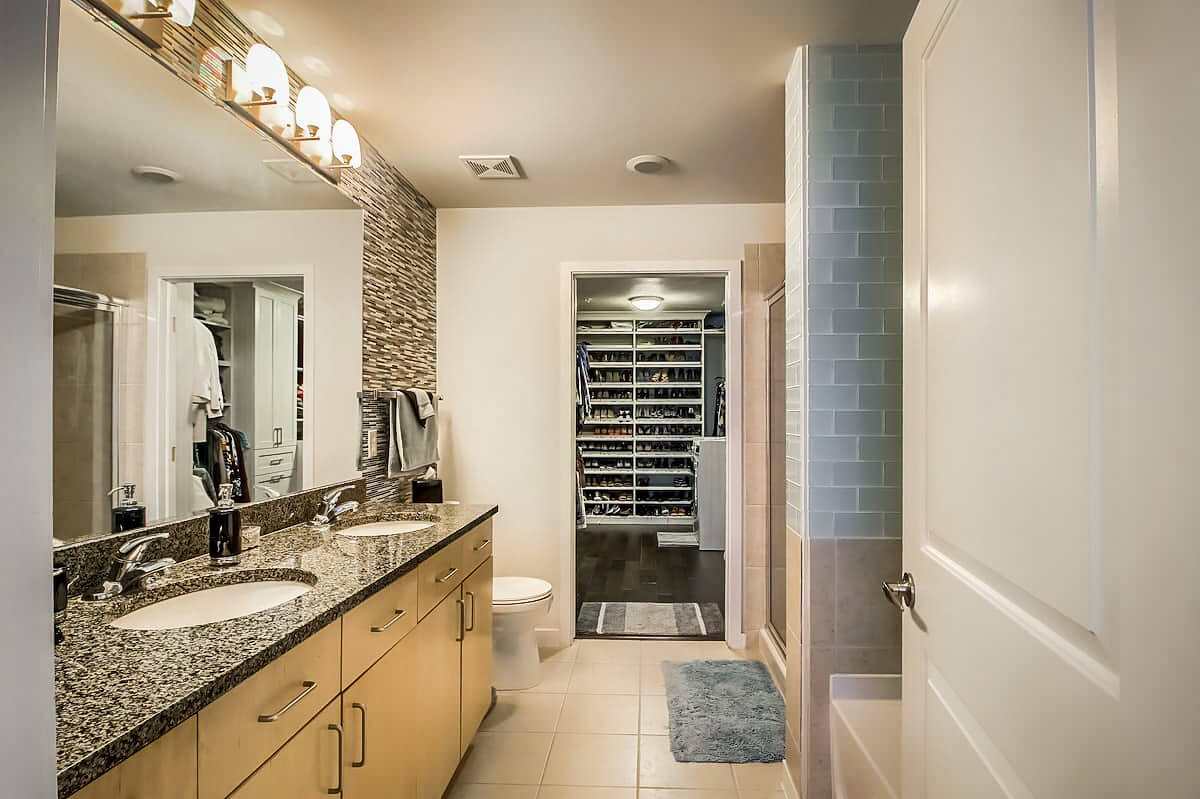 This beautiful 2 bedroom luxury condo offers some of the finest amenities downtown Denver has to offer including complimentary weekend breakfast, a pool, outdoor fire pit & BBQ grills, fitness center and a community lounge. Just a short walk to Union Station, you'll be perfectly located to get just about anywhere in Denver.
Guests rave about the building amenities.
"This condo was amazing! Great location with so many different activities to do in Denver. The best amenities in the building. Short drive to the mountains. Excellent communication with Karen. 10/10 would recommend!" – Sarah, July 2021
Honorable Mentions:
---
Uptown: While Denver is generally a pretty exclusive city all around, the neighborhood known as Uptown, or North Capitol Hill, is a hip and vibrant part of the city and particularly welcoming to the LGBTQ+ community. With a concentration of gay bars and restaurants, there is plenty to explore here.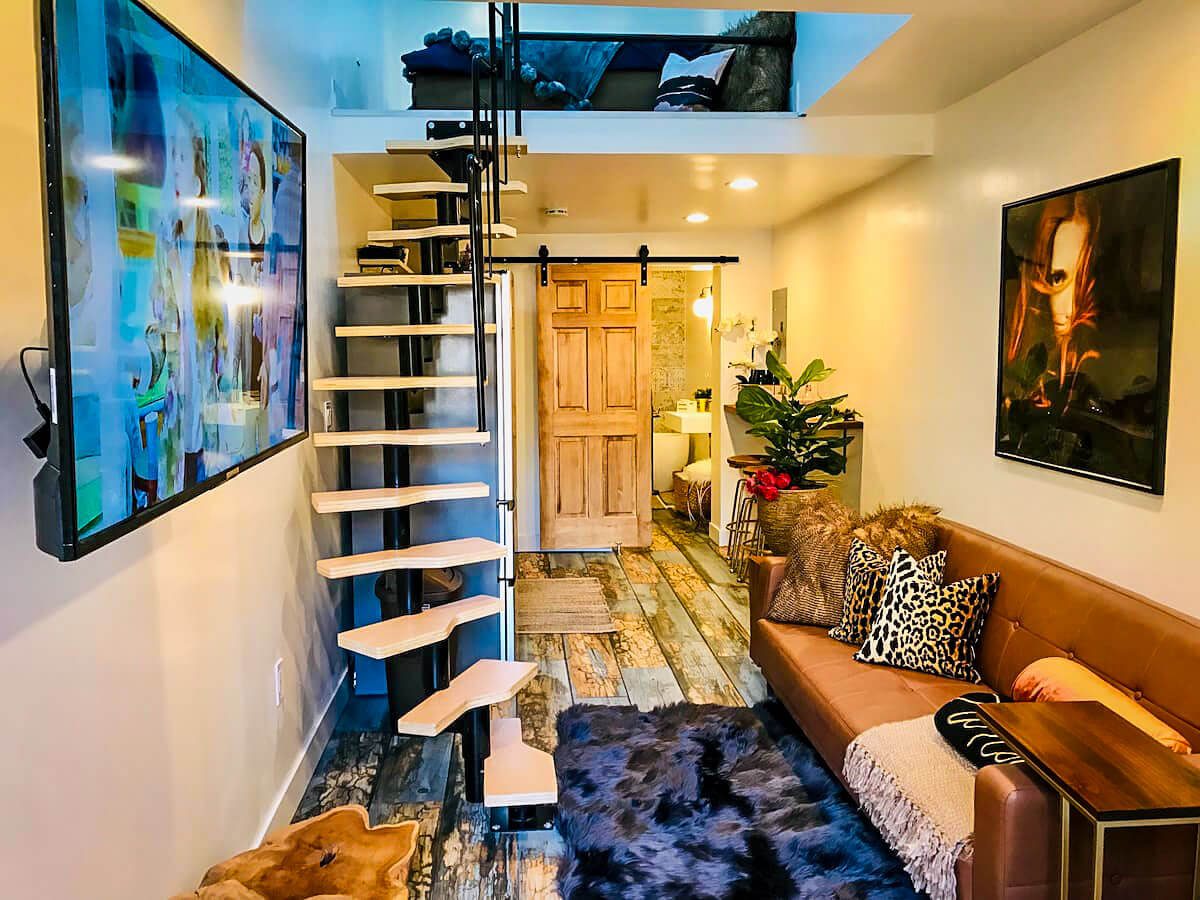 Luxury tiny loft in Uptown
Location:

North Capitol Hill

Budget:

$$

Number of Guests:

2

Minimum Stay:

1 night

Superhost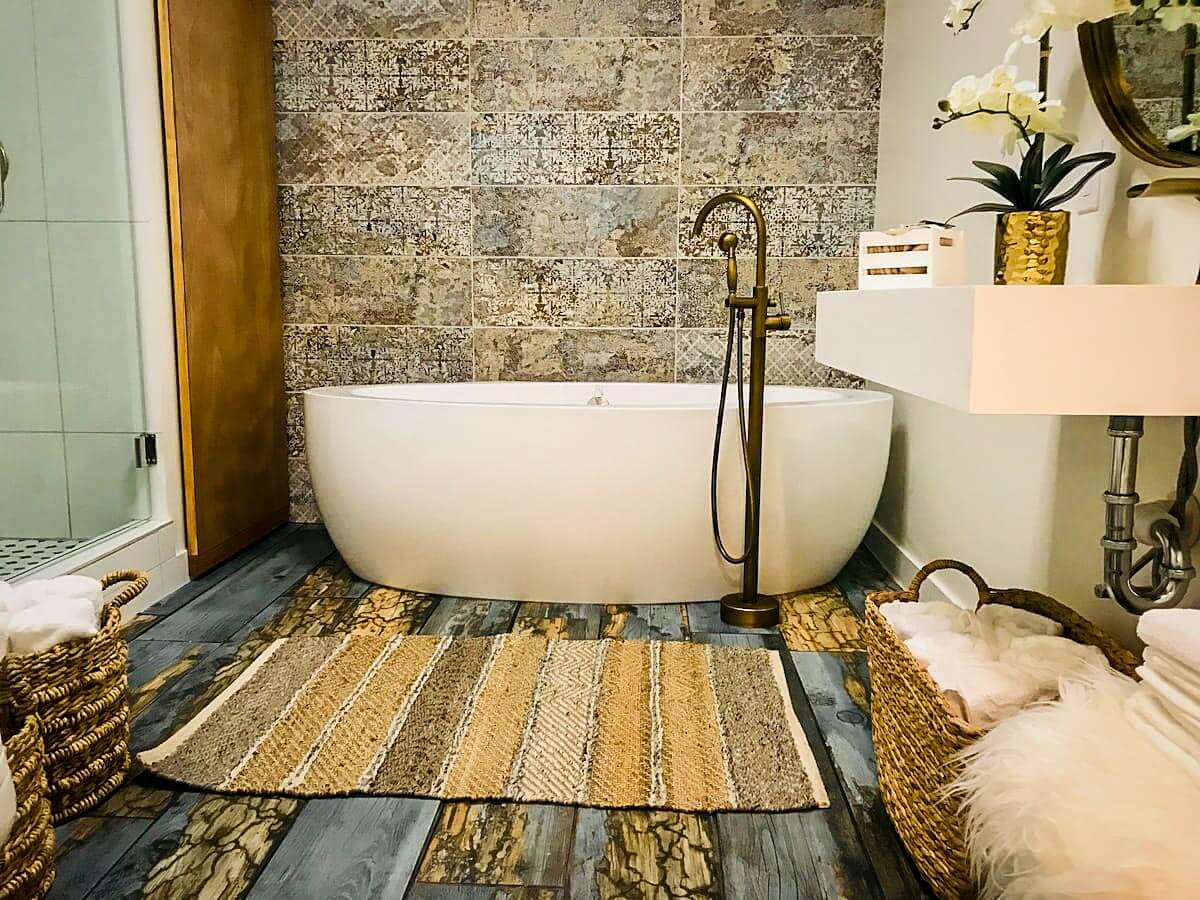 Experience truly minimalist living in this urban 'tiny house' loft. Located in central Uptown steps from the bars and restaurants, this small space includes a luxury soaking tub, in-home laundry and a brand new mattress.
Guests love the central location and value for the price.
"My best friend & I stayed here for almost a week and we loved it! The tiny house is perfect for two people and was central to almost everything we needed!… You'll have to find street parking which can be tricky, but the farthest we parked was a block away!" – Anna, August 2021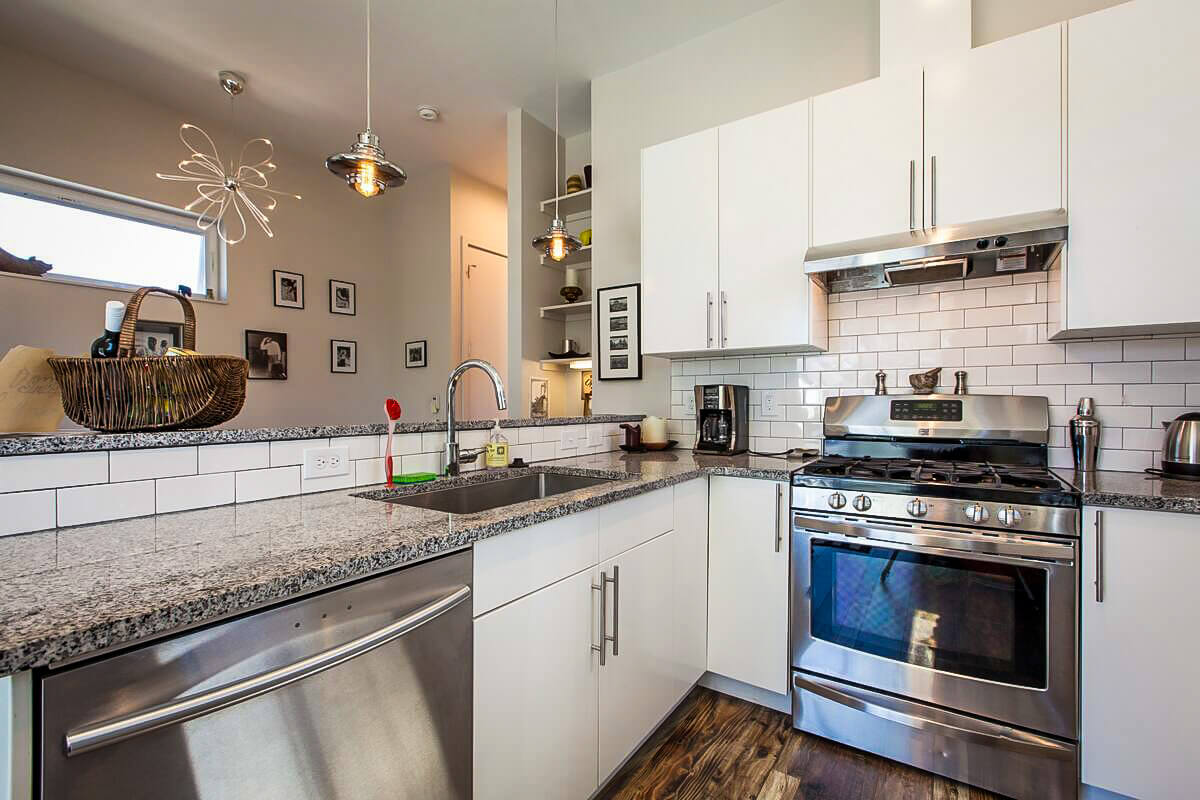 Modern penthouse in great location
Location:

North Capitol Hill

Budget:

$$

Number of Guests:

2

Minimum Stay:

3 nights

Superhost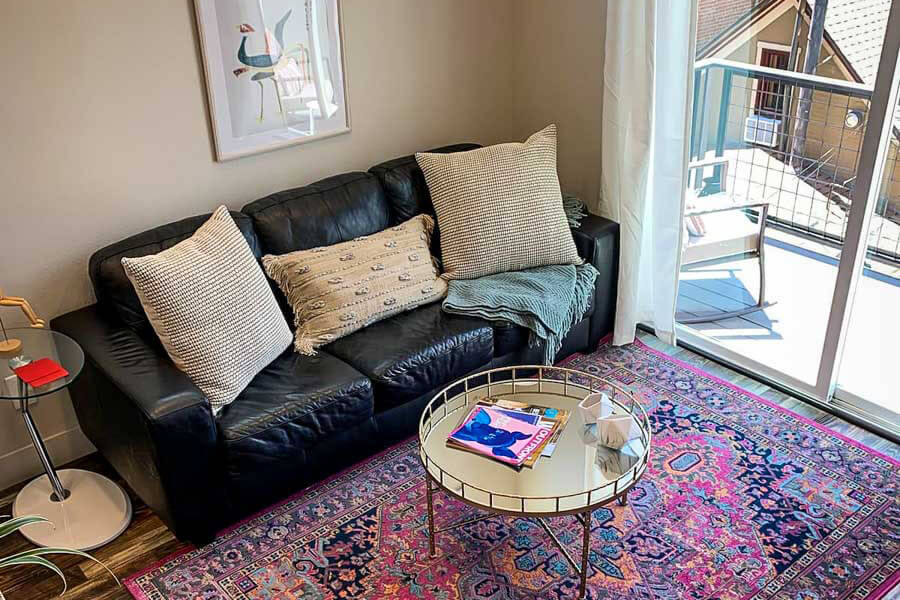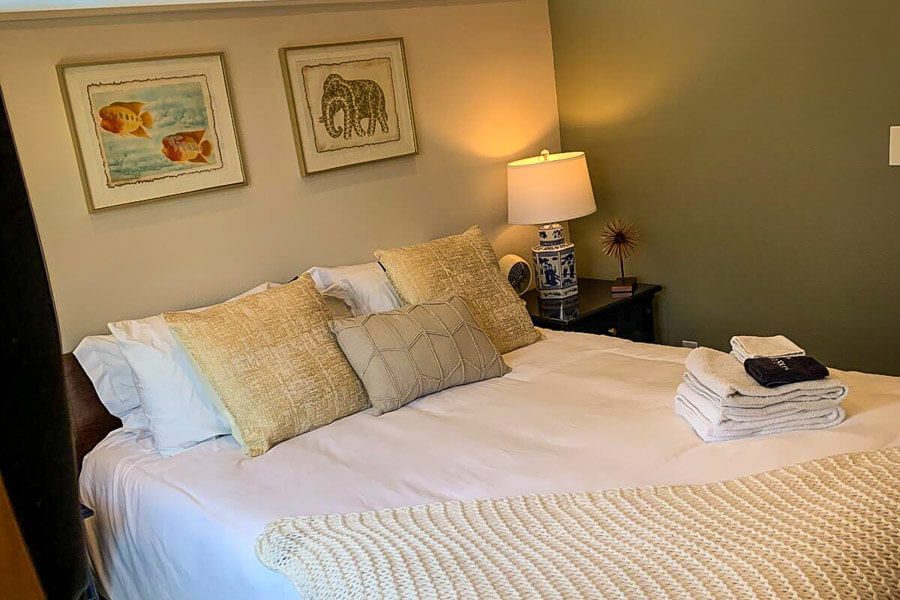 Explore all that Denver has to offer from this modern and bright penthouse apartment in Uptown. The one bedroom abode has everything you need for a comfortable stay in the city. Cook up your favorite dishes in the full-stocked kitchen or watch the sunset over the Rockies from the private balcony. The home is within walking distance of plenty of Denver's best restaurants, shopping and bars.
Guests rave about how nice and informative the host is with tons of local recommendations.
"Everything was great! Location was awesome, and Allan had so many great recommendations that really helped us plan our trip. I would definitely recommend his place, and would absolutely stay there again. 10/10 all around!" – Colleen, September 2021
Honorable Mentions:
---
Capitol Hill (Cap Hill): Just a short Uber/Lyft ride from all the action in LoDo, Cap Hill has a more residential city vibe. You'll find a mix of hipsters, young professionals, and well-established families here.
The further you are from Colfax toward Cheesman Park, the more clean and quiet the neighborhood gets. Colfax can be a bit dodgy, but also has a lot of great music venues near one another.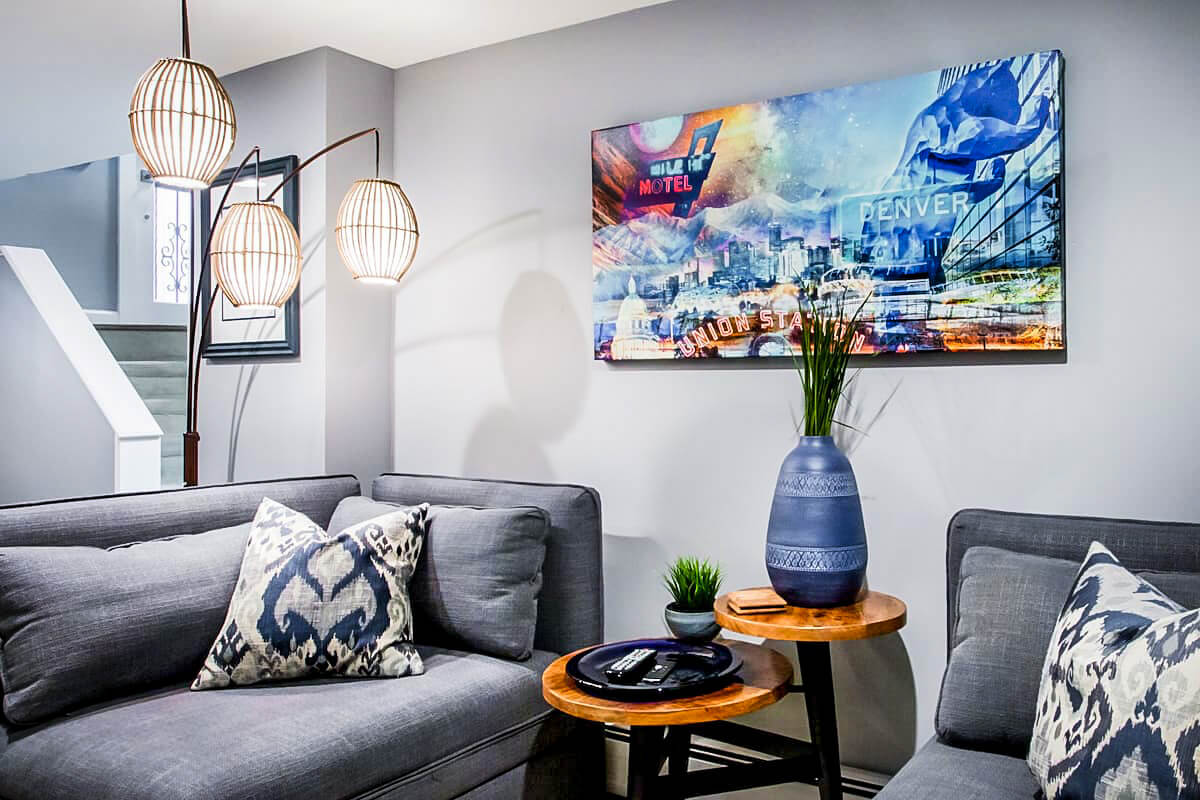 A contemporary urban retreat
Location:

Capitol Hill

Budget:

$$

Number of Guests:

4

Minimum Stay:

2 nights

Superhost | Plus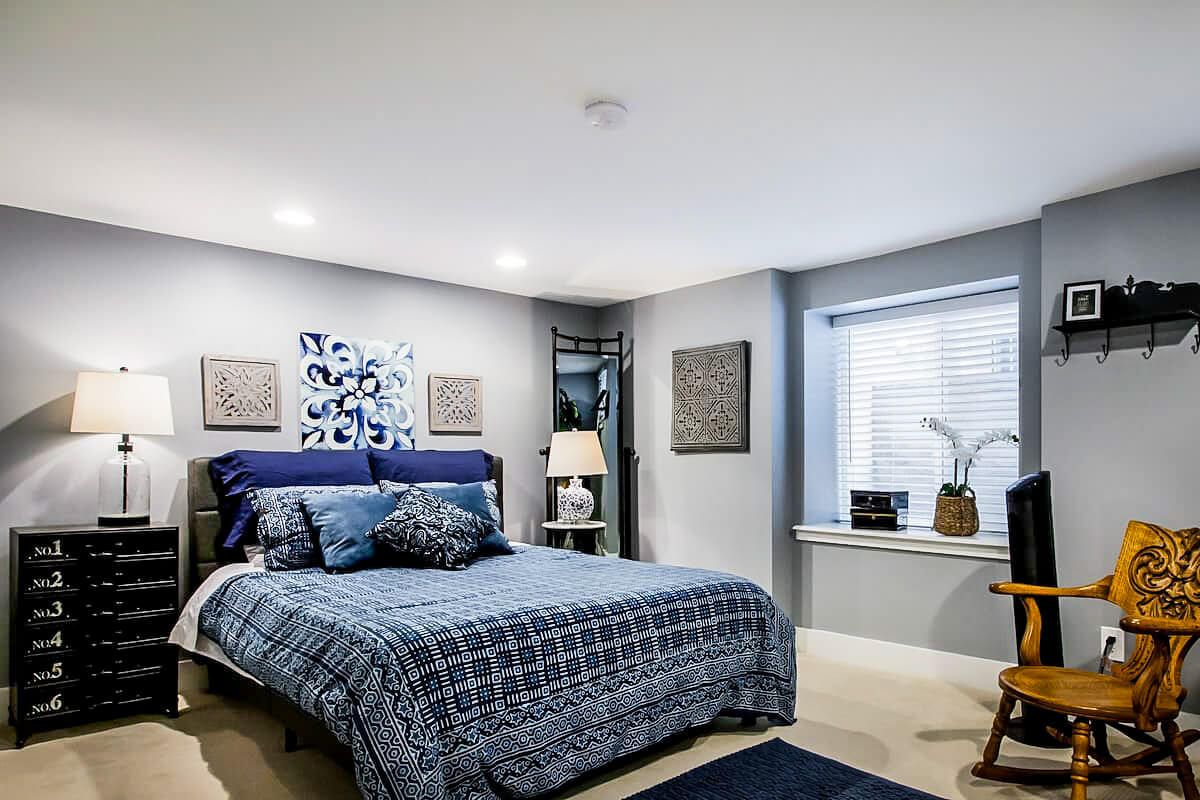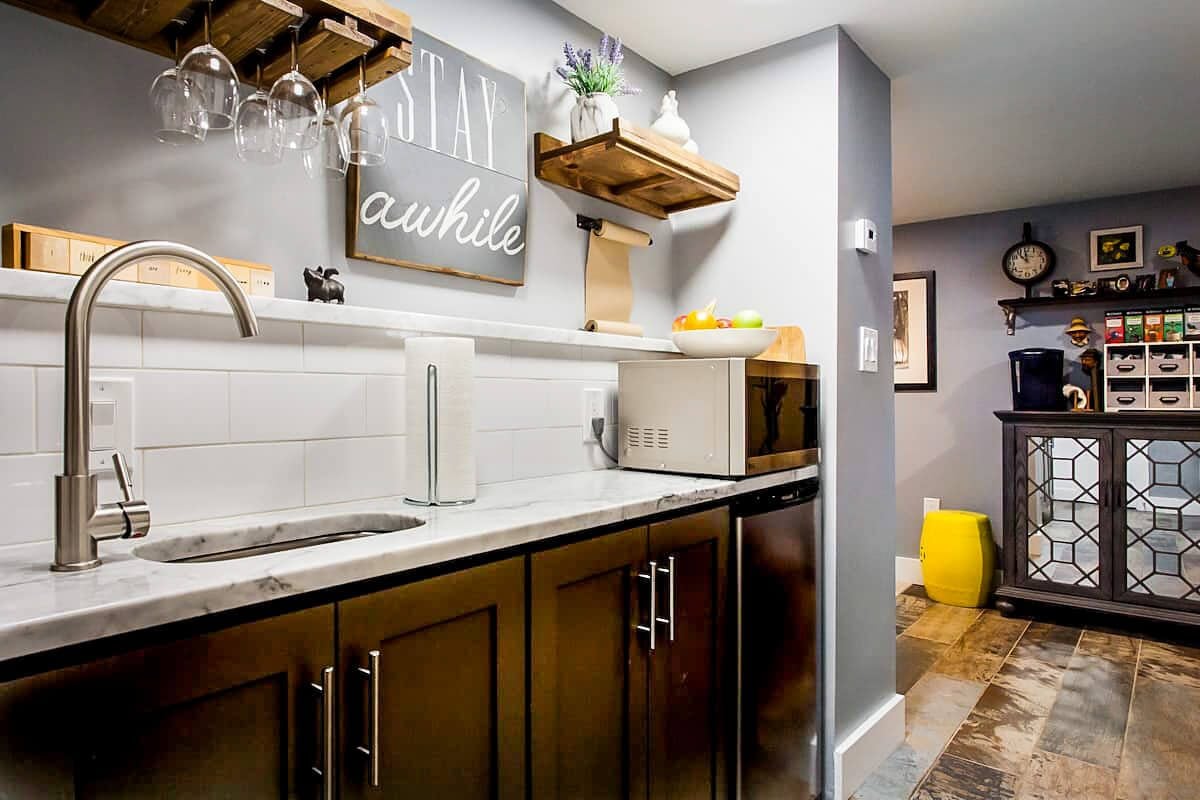 This newly renovated one bedroom apartment is located on the garden level of a beautiful 1900's home in Cap Hill. The stylish space is immaculately well-kept and decorated to invoke a sense of calm in its guests — an oasis in the heart of the city.
Guests loved the special touches and thoughtfulness of the hosts.
"This place could not have been better. Will and Todd were wonderful and the place was clean and absolutely adorable and beautifully decorated. They were very good at communicating and went above and beyond to make our stay fun and comfortable. Great neighborhood too!!" – Debbie, September 2021
Honorable Mentions:
---
Cherry Creek: Known for its upscale shopping and dining options and large homes in beautiful gated communities, Cherry Creek is Denver's high end neighborhood. Just a quick ride from downtown, you'll find art galleries, designer boutiques and posh restaurants here.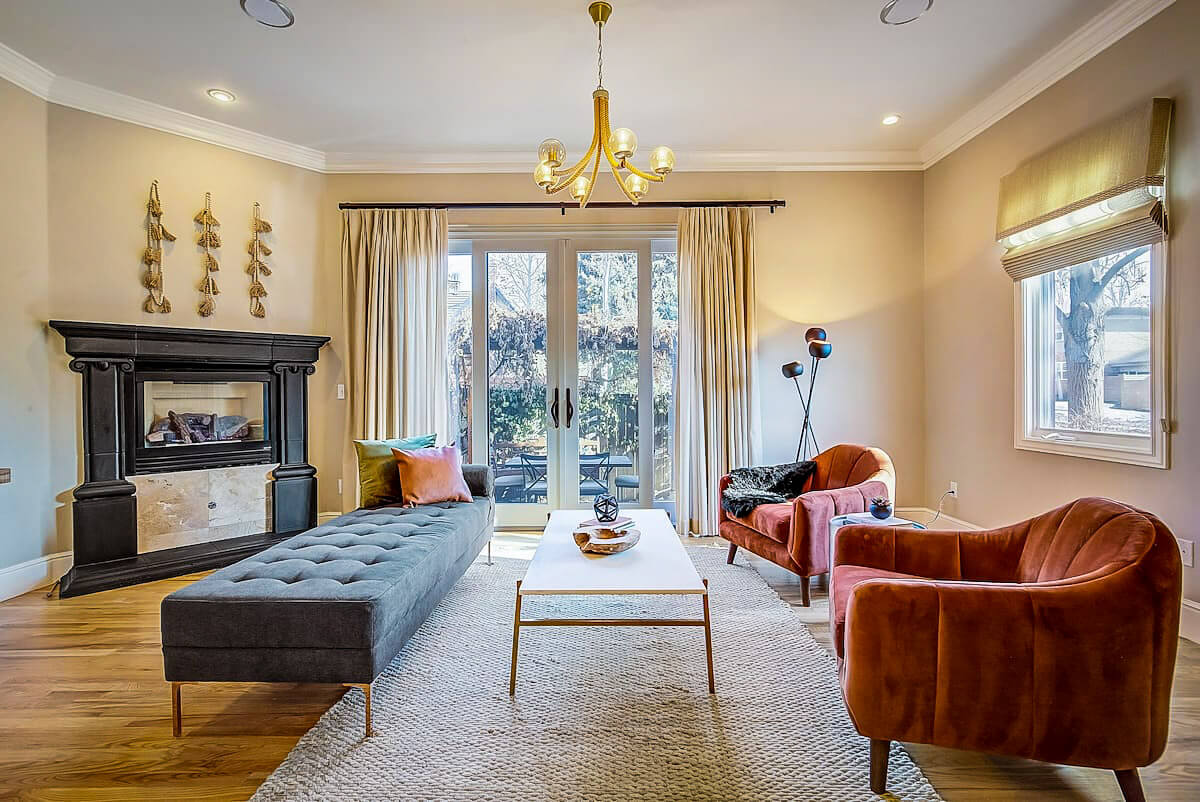 Large family home with game room
Location:

Cherry Creek

Budget:

$$

Number of Guests:

12

Minimum Stay:

3 nights

Superhost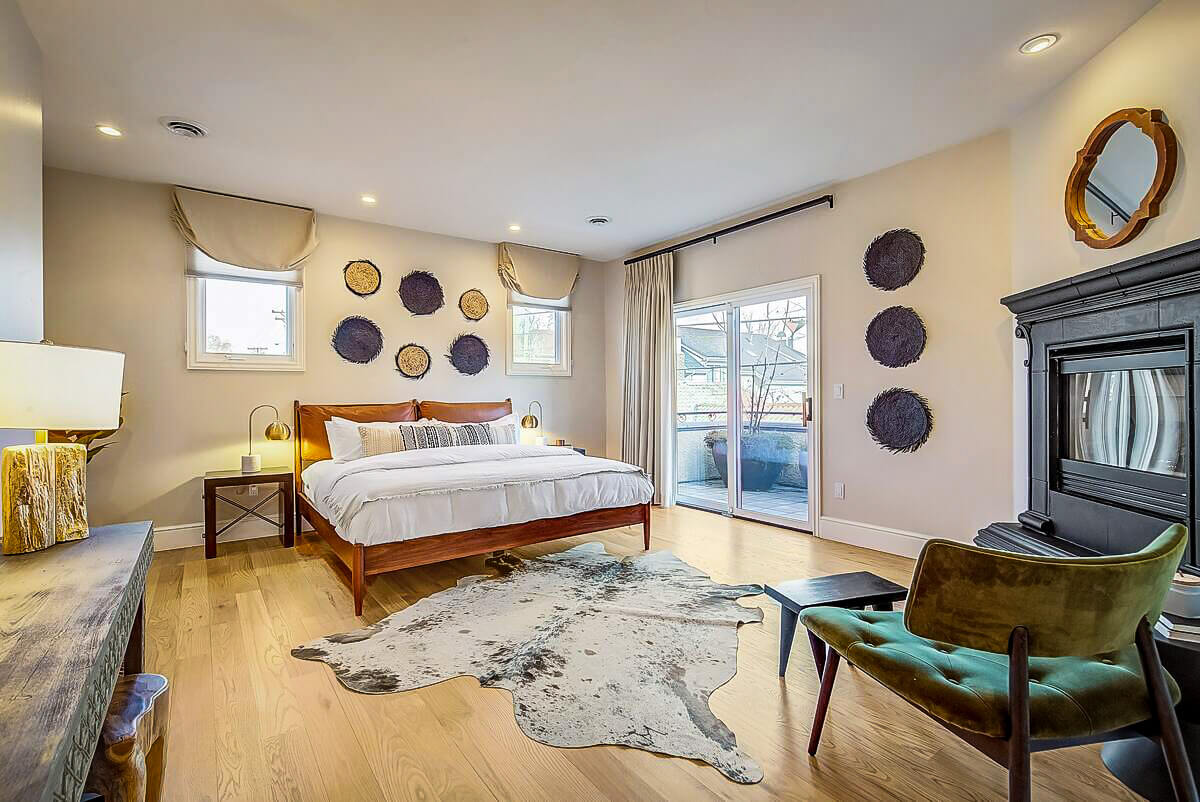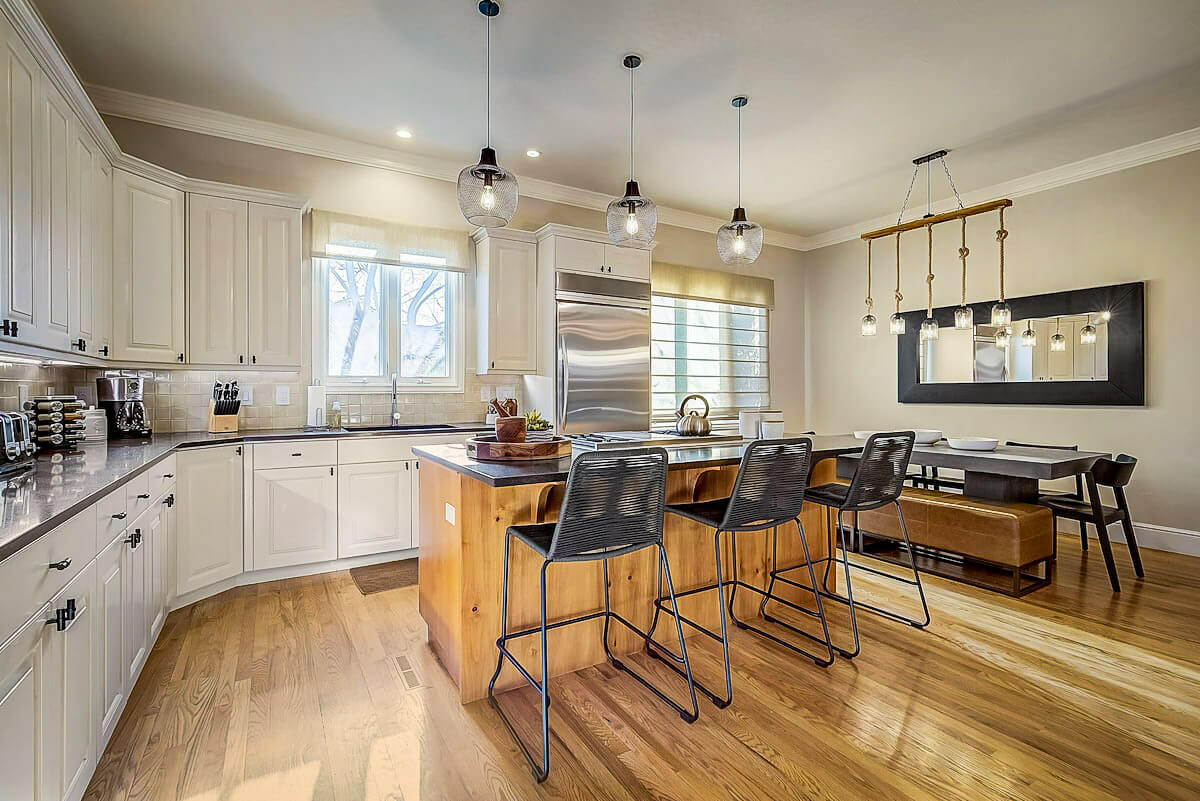 If you're traveling to Denver with your family, this place is the ultimate dream home at a price point that won't break the bank! The luxurious 3 bedroom home has space to sleep up to 12 guests and you won't feel on top of each other with 3 full bathrooms. The space also includes a large kitchen and living spaces, private patio, rooftop deck and a pool table in their family room.
Guests can't stop raving about the spacious home and all the amenities.
"Beautiful house with three levels, plus a rooftop deck was perfect for traveling with my coworkers. It's in a great location with a lot of dining and shopping options nearby. The value was also amazing. I'd definitely stay here again and recommend it to friends." – Danita, August 2021
Honorable Mentions:
---
Washington Park (Wash Park): A bit farther from downtown, Wash Park has its own scene of restaurants and nightlife. You may need to rent a car or rely on ride share apps to get around if you stay here. It's also a more active residential neighborhood filled with people who want to get outside and enjoy the park and outdoor spaces.
Best budget Airbnb in Denver | Wash Park Pad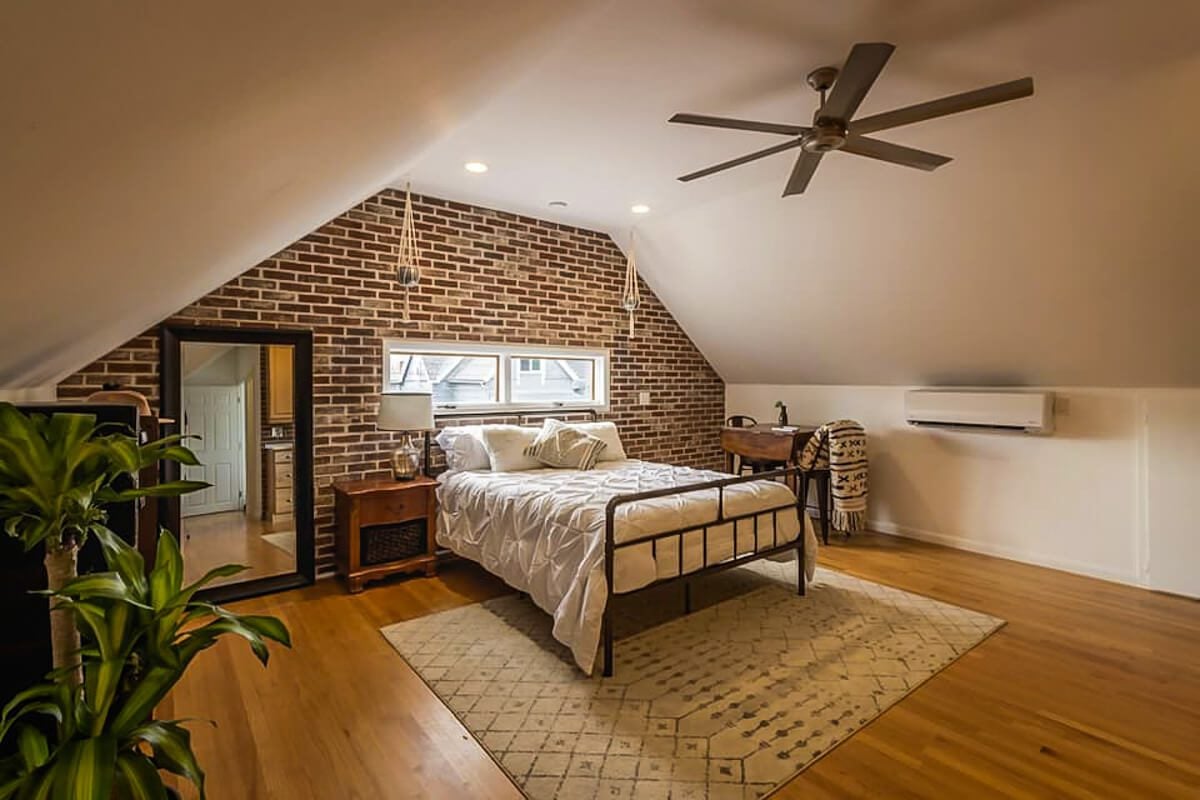 An above garage studio with charm
Location:

Wash Park

Budget:

$

Number of Guests:

2

Minimum Stay:

1 night

Superhost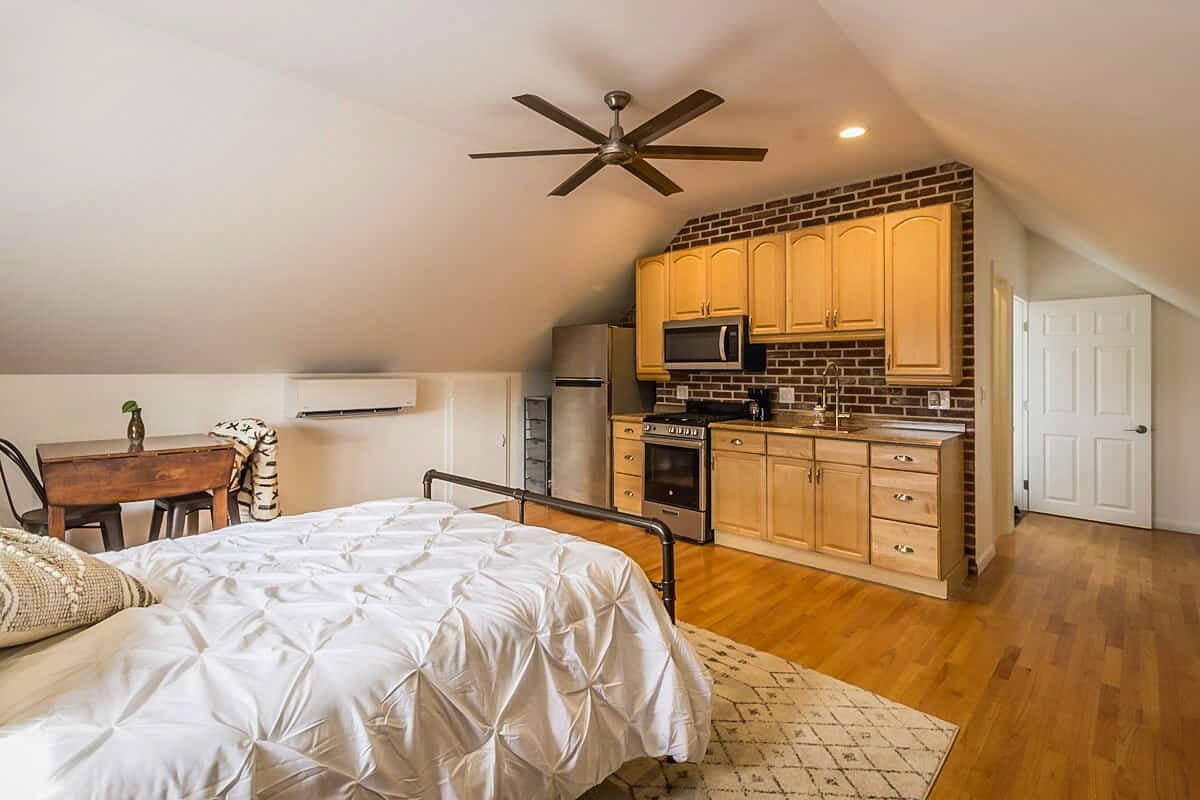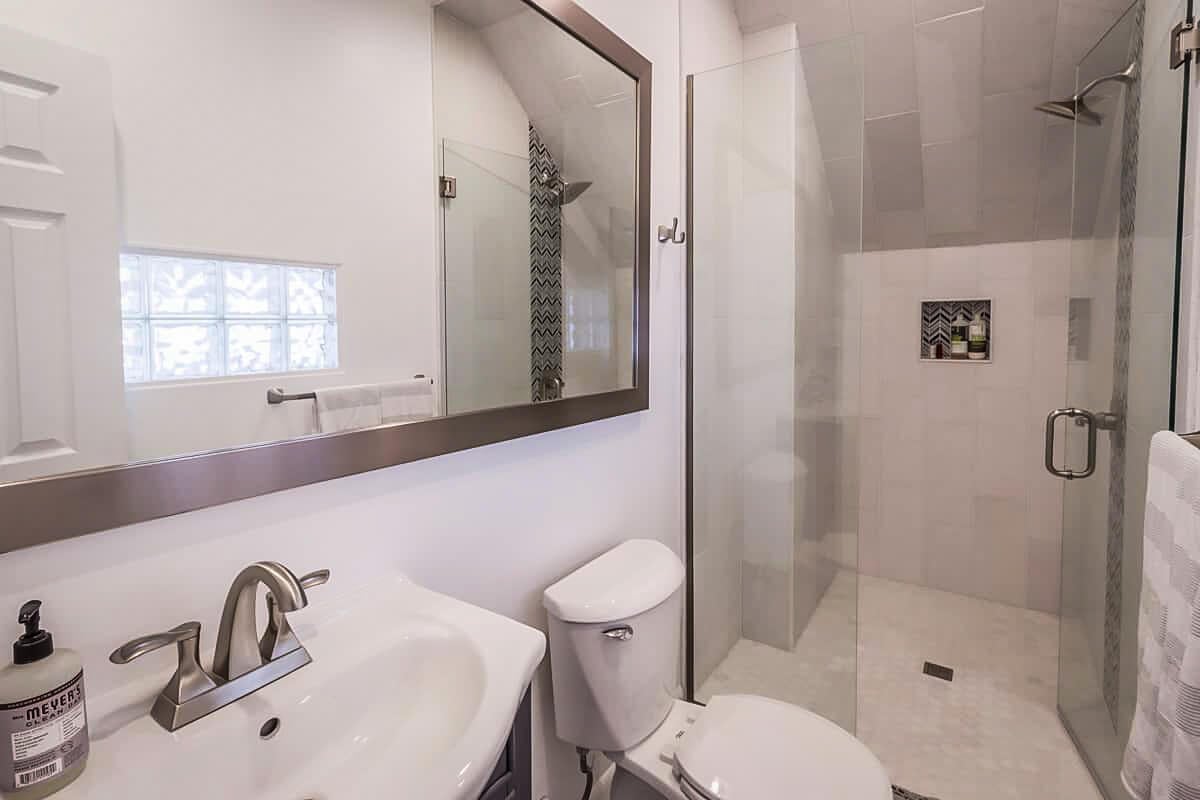 The adorable above-garage studio is more spacious than you may be thinking, has its own private entrance and comes packed full of charm. The open concept studio has a full kitchen, queen-sized bed and luxurious bathroom. And the best part is, the budget-friendly price tag!
Guests love how clean and comfortable the space is.
"This was a very cute, comfortable and clean space! It is within walking, driving and/or busing distance of a wide range of attractions around Denver. A perfect little place to stay in as you explore the city!" – Ivana, September 2021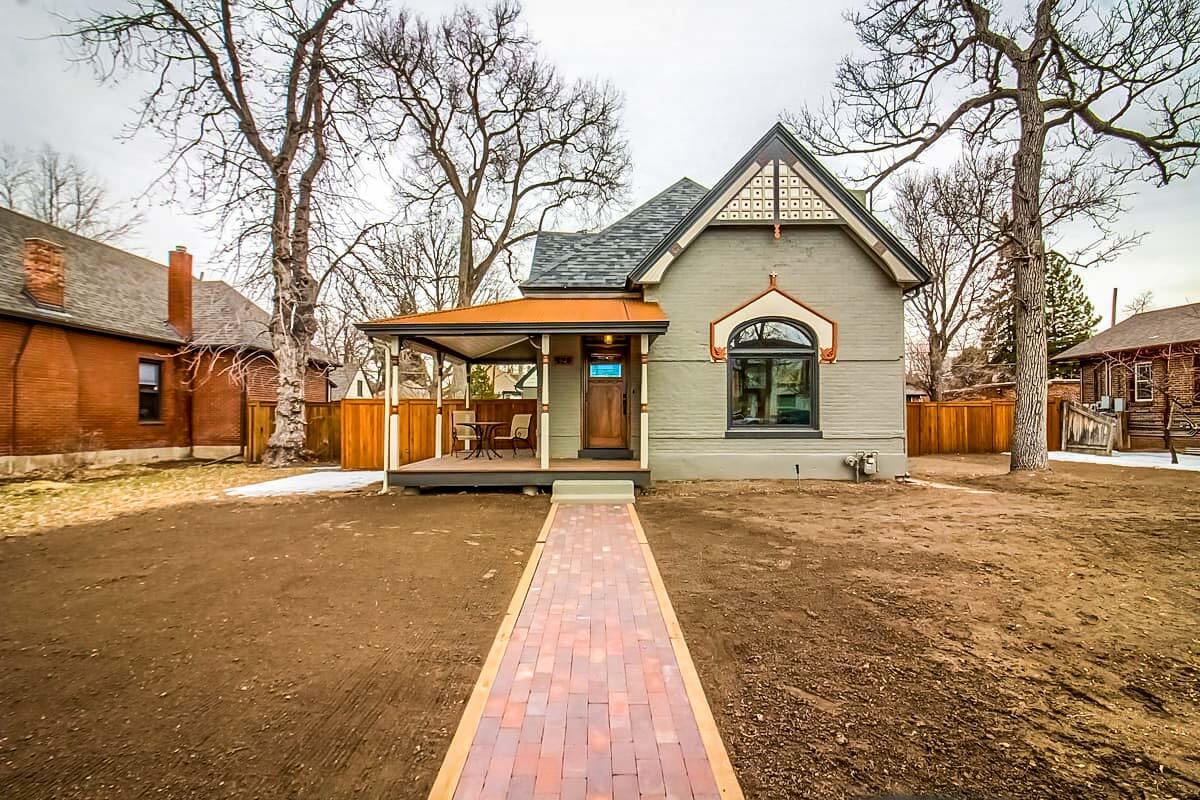 New listing in Wash Park
Location:

Wash Park

Budget:

$$

Number of Guests:

3

Minimum Stay:

1 night

Superhost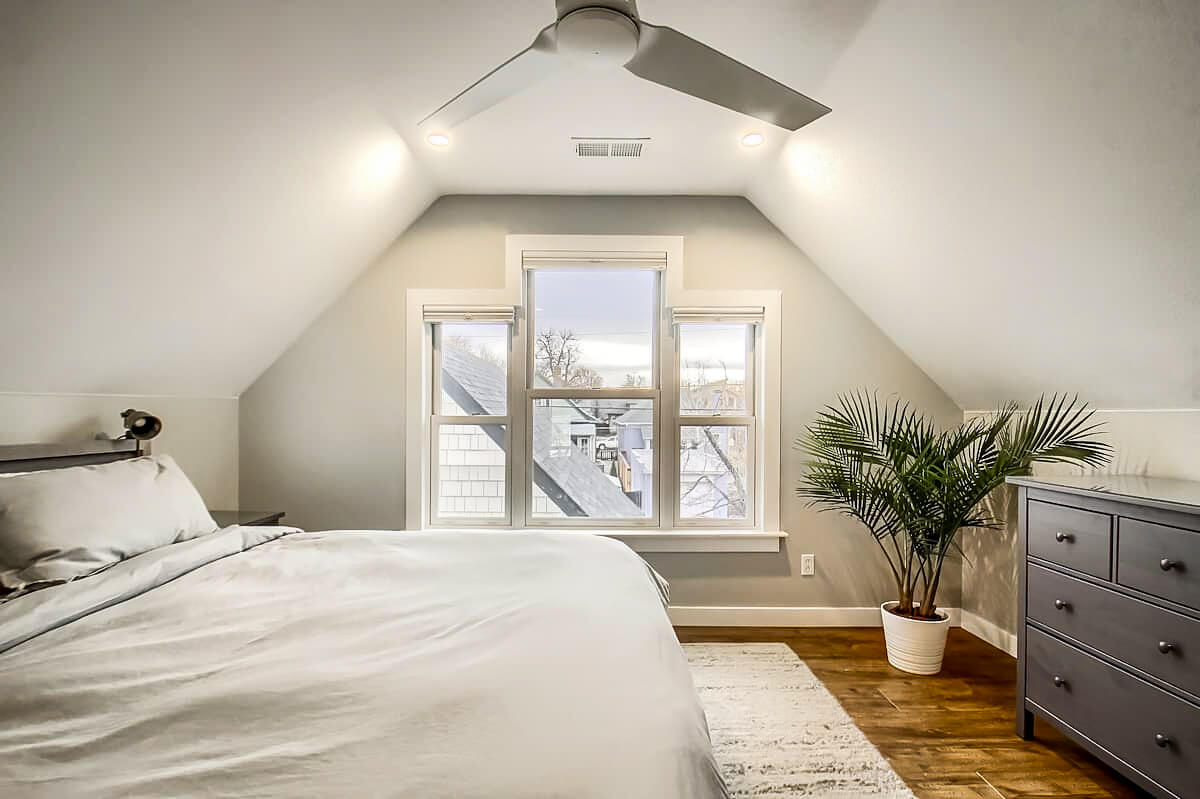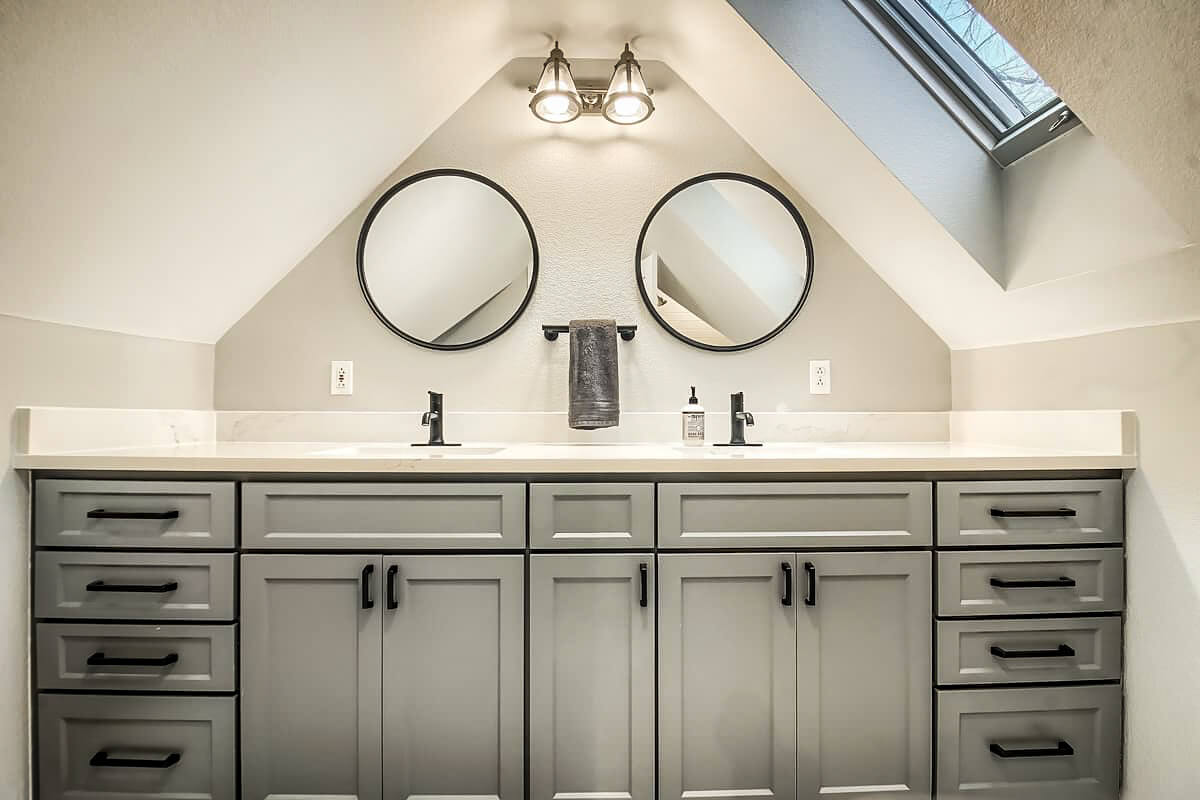 This adorable 2 bedroom historical home in Wash Pask has been completely remodeled to make space for a 2 bedroom apartment on the top floor. The space includes one king bed and one single bed, a large tile bathroom with bathtub and shower, and a living space with a mini fridge and coffee bar. Take note that there is not a full kitchen in this rental.
Guests loved the cute little space and had great things to say about the host.
"Nice airbnb! Good location, comfortable and modern. Did not have many questions, but received prompt answers when I did. Made our Denver stay that much more enjoyable!" – Marissa, August 2021
Honorable Mentions:
---
Other: These Denver Airbnbs are outside of the aforementioned popular neighborhoods, but still in great locations for visiting the city and we thought they were worth including in our list.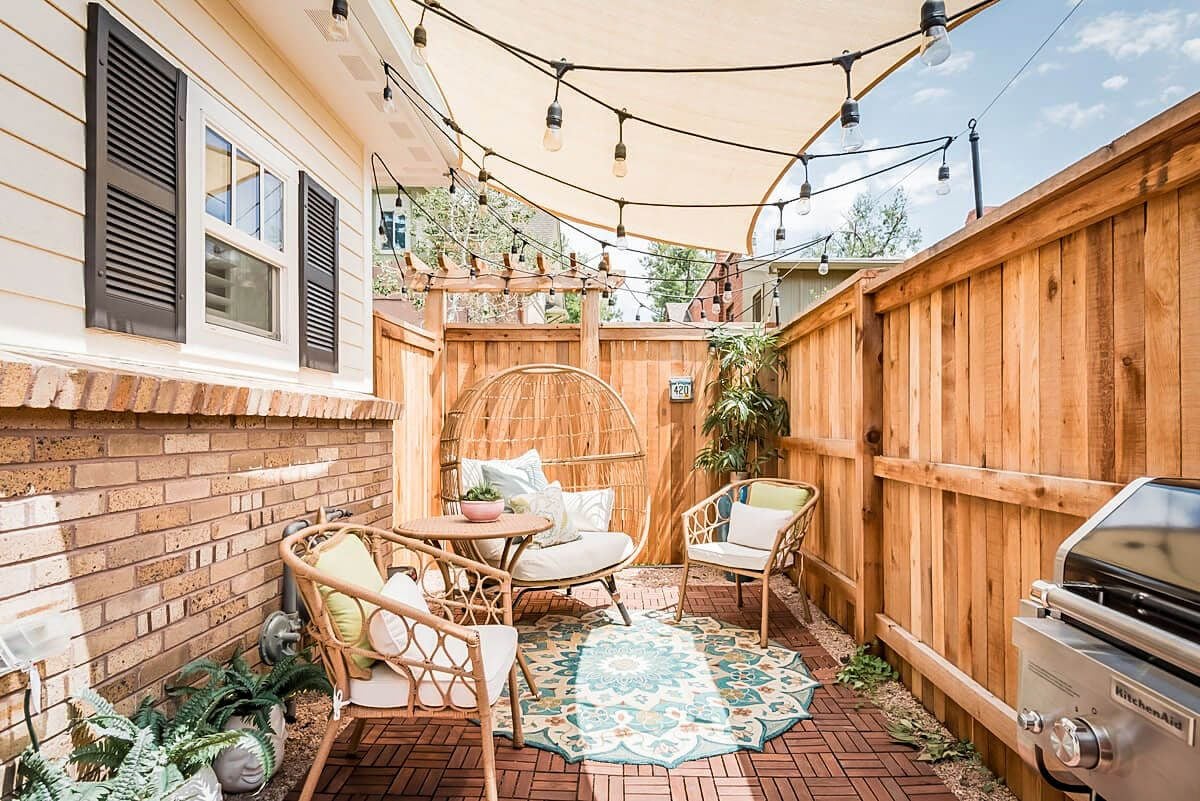 Eclectic bohemian-inspired backyard carriage house
Location:

Platt Park

Budget:

$$

Number of Guests:

3

Minimum Stay:

1 night

Superhost | Plus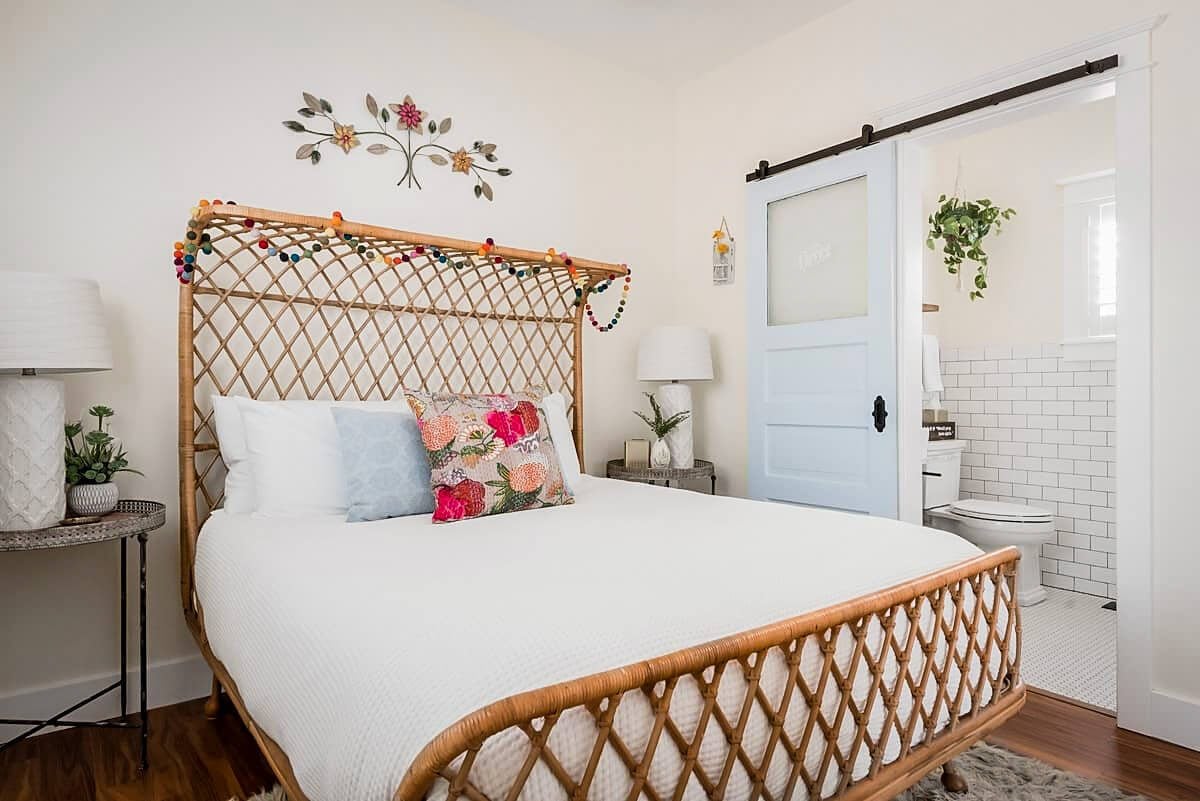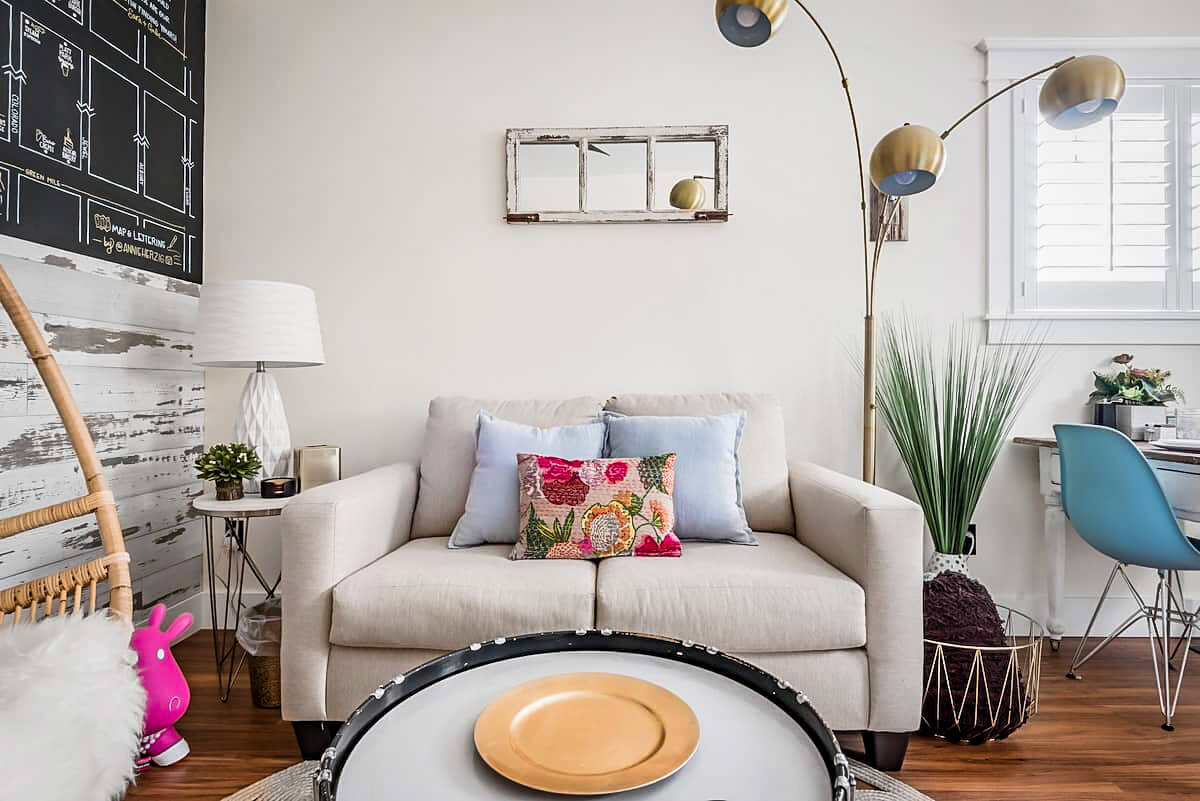 Welcoming for pets and 420-friendly, this cute little boho carriage house is tucked away behind a 6-foot cedar privacy fence offering you all the privacy you need. The patio area is set up with comfortable furniture for relaxing outdoors. The one bedroom home is updated with modern fixtures and appliances and features unique and stylish decor.
Guests complimented the cute decor and privacy of the carriage house.
"Pearl Alley was a great stay… The outdoor area was very comfortable and private. Parking was great, even in a truck. Close to everything. We really enjoyed the design of the place. It had great character and my wife kept saying how cute it was. Would 10/10 stay again." – Justin, August 2021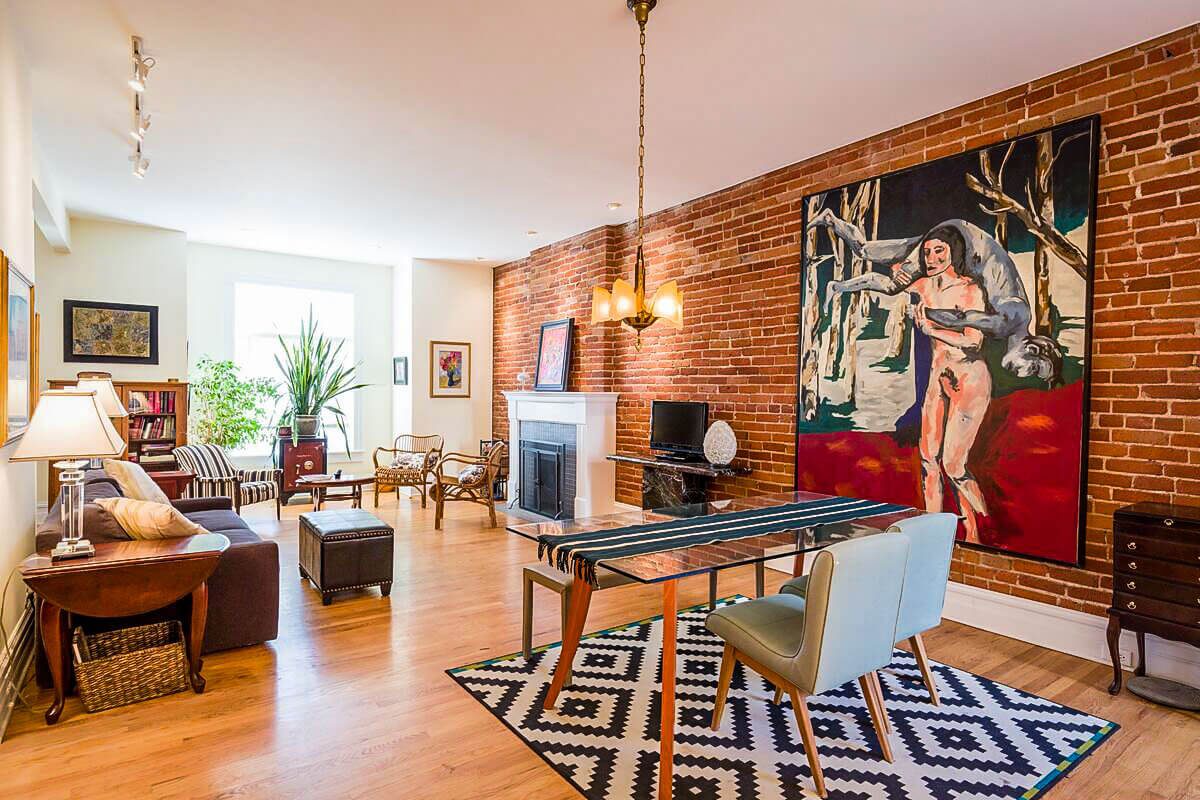 Modern and spacious townhome
Location:

Curtis Park

Budget:

$$$

Number of Guests:

6

Minimum Stay:

3 nights

Superhost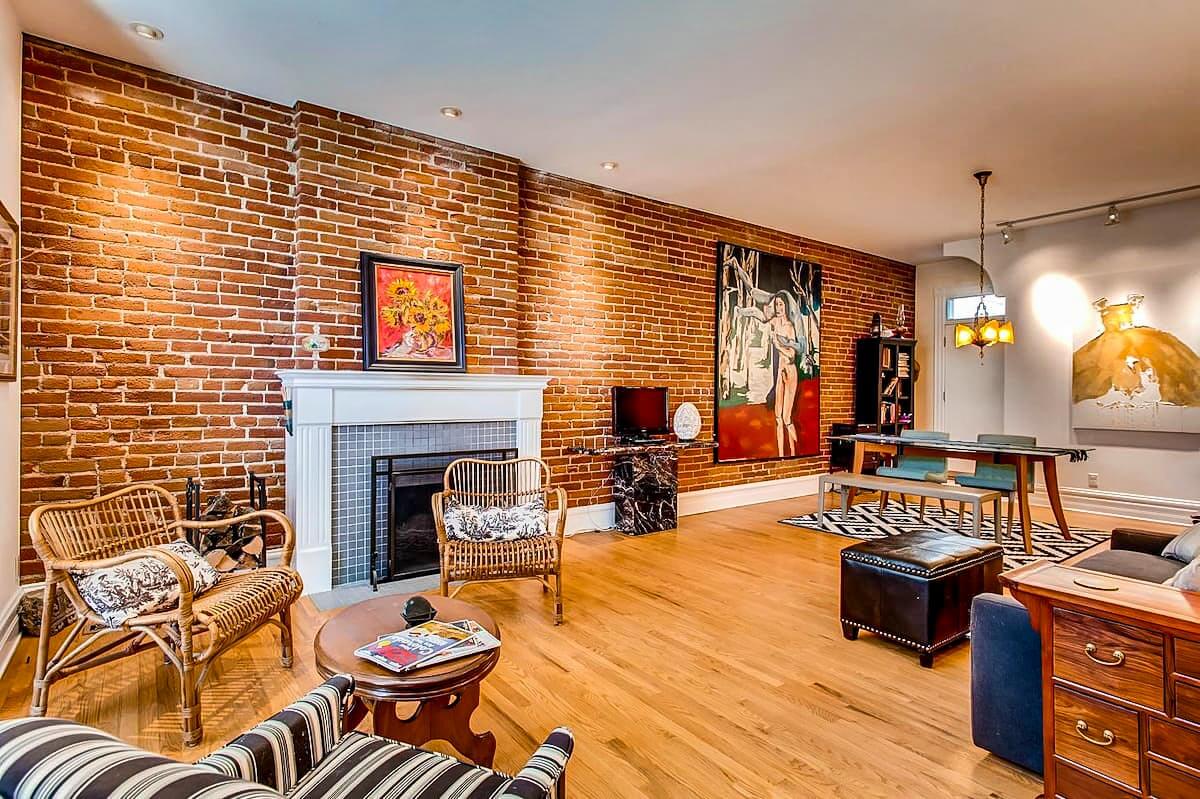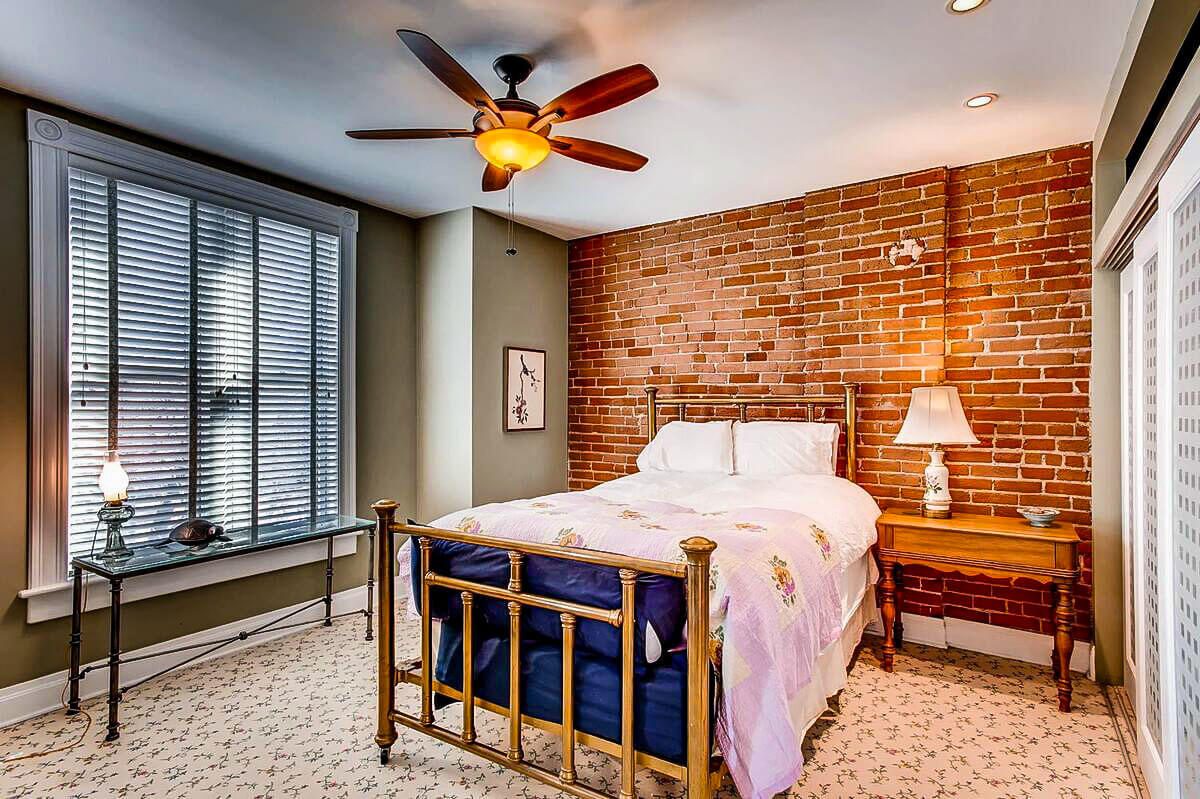 This gorgeous brick-walled townhome offers a large open concept living space with a full kitchen, two bedrooms and a loft with a private work area. The location in Curtis Park is right next to Five Points and the RiNo arts district.
Guests rave about the space and how beautifully it's decorated.
"Very Artsy indeed. Great mix of eclectic art and unique pieces throughout. Definitely stays on theme. Great location. Easily 10min drive to just about any part of Denver. Not much within walking distance as it's more of a neighborhood kind of vibe, which is nice as it was quiet at night. Excellent communication and very easy/seamless checkin/out process. Would recommend." – Alejandro, August 2021
Honorable Mention:
---
Large Groups: Since Denver seems to be a popular destination for group trips like bachelor and bachelorette parties, family reunions or friends trips, we thought we'd include a few Denver Airbnbs that have the capacity to host larger groups.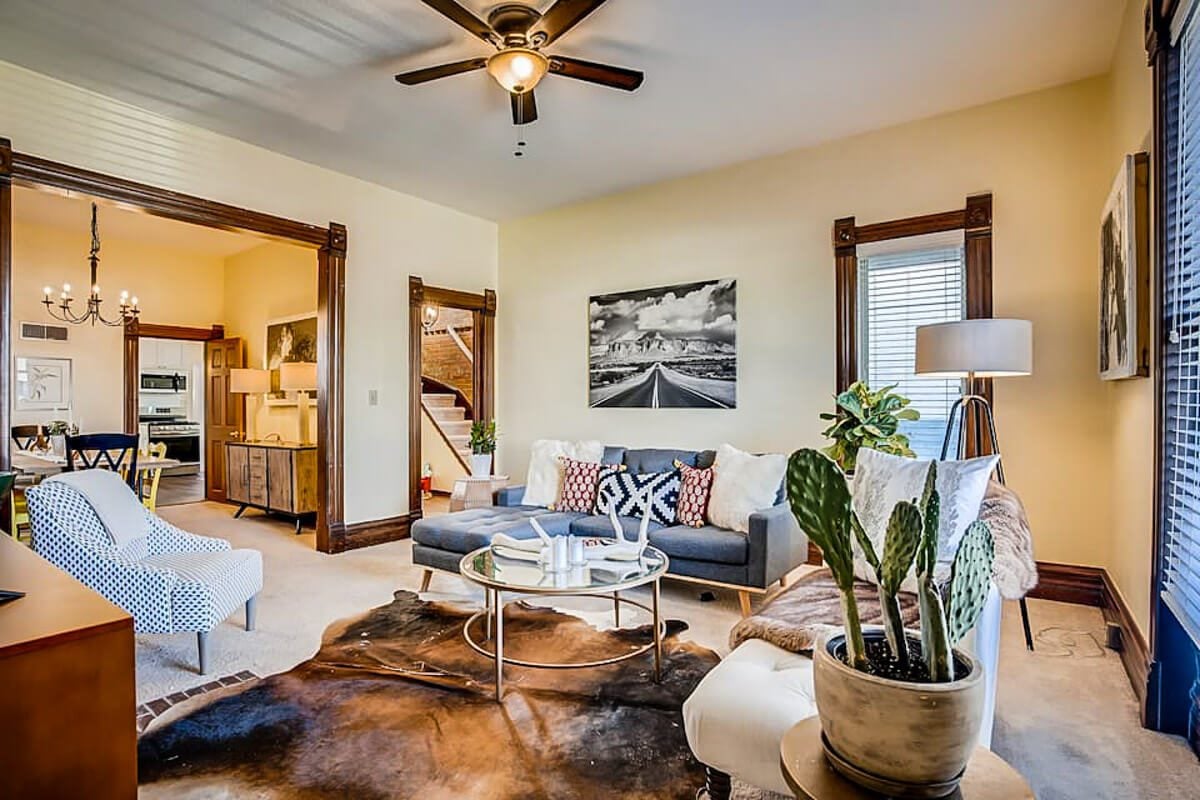 Large renovated historic home in RiNo
Location:

River North

Budget:

$$

Number of Guests:

10

Minimum Stay:

1 night

Superhost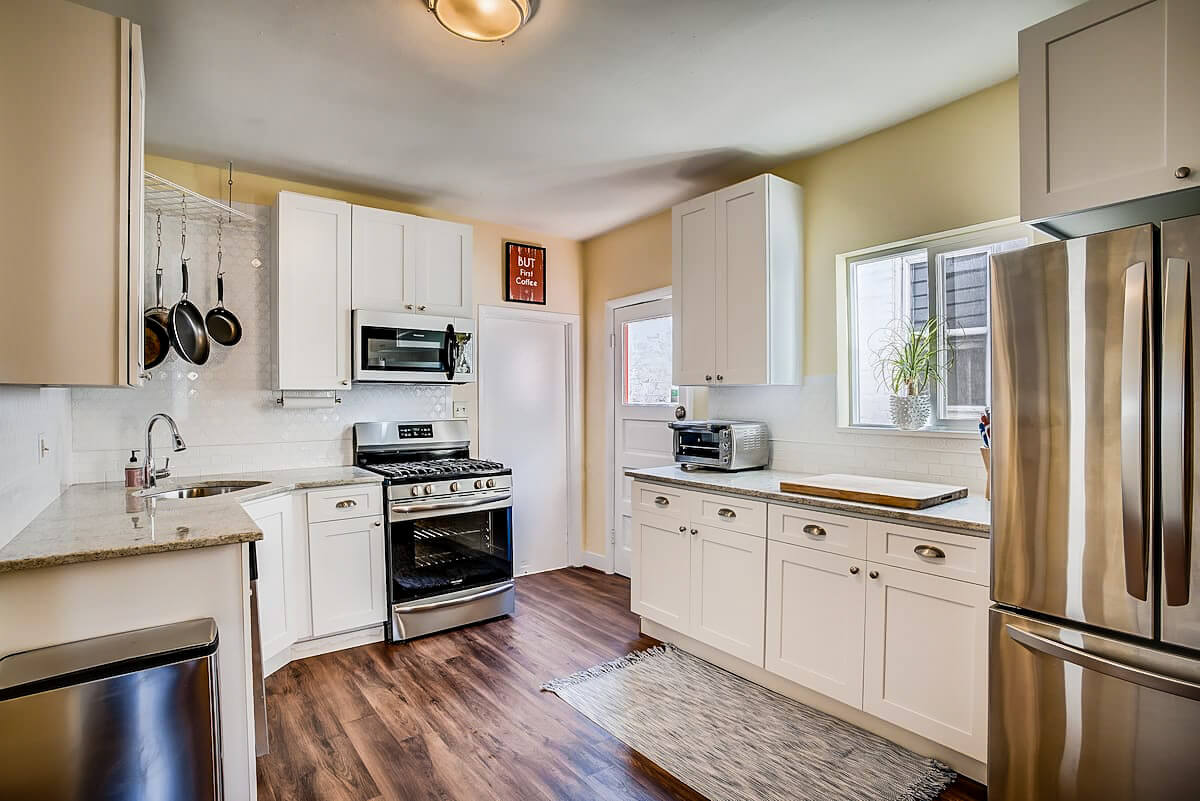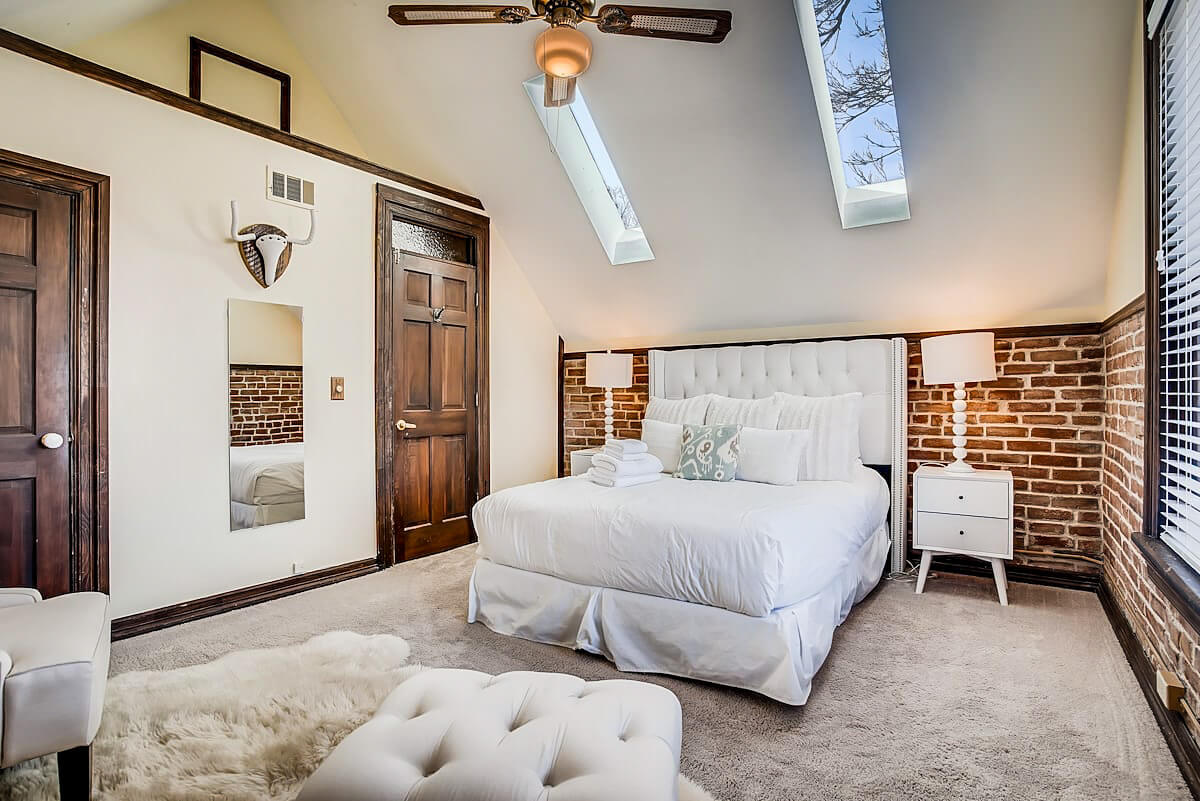 This large residence in RiNo has 4 bedrooms and 2 bathrooms making it a great place to stay for larger families or groups. The home offers all the comforts of modern living like a fully stocked kitchen and in-home laundry, but with all the charm of an 1880's building.
Guests rave about the host and how he goes above and beyond for his guests.
"Zack goes the extra mile for his guests. His home is clean and well managed. He's not lying when he says it's in a FANTASTIC area of Denver… If you and your friends are looking for an enjoyable and affordable place in the middle of a handful of things to do and places to eat/drink— Stay here." – Dalton, August 2021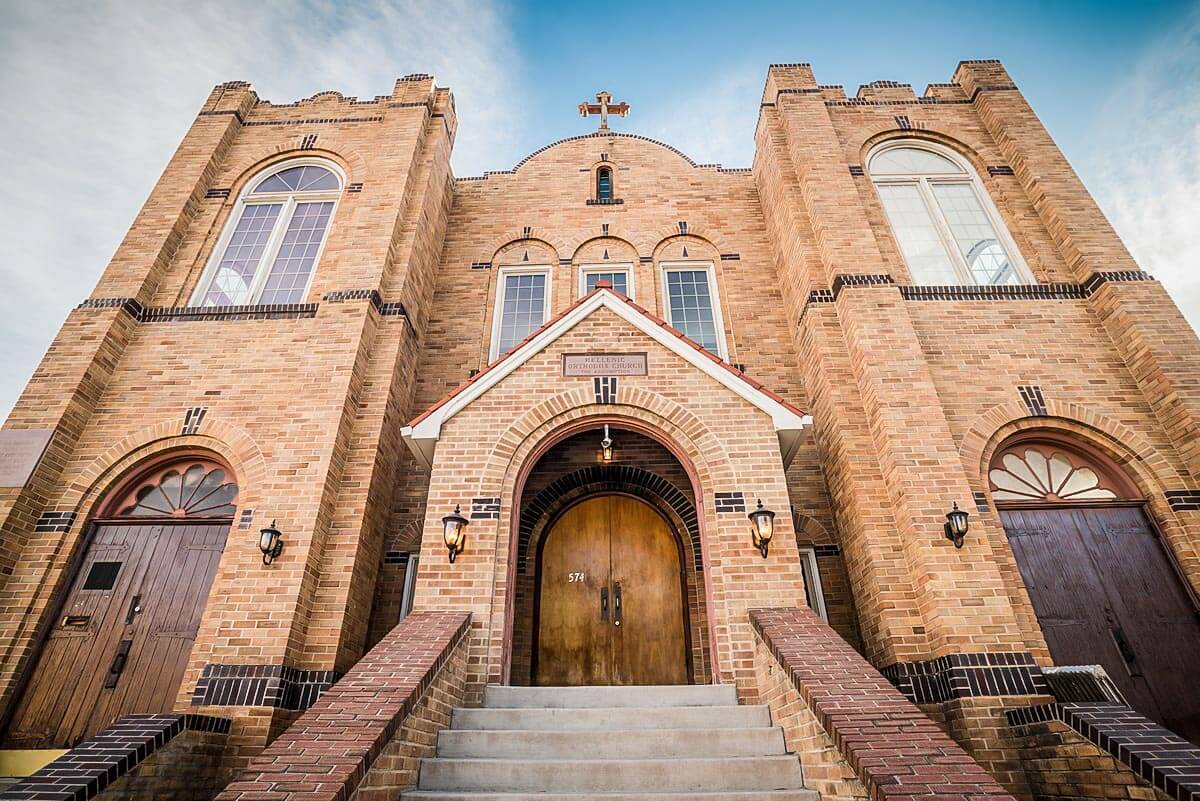 Unique and contemporary space for large groups
Location:

Central

Budget:

$$$

Number of Guests:

10

Minimum Stay:

2 nights

Superhost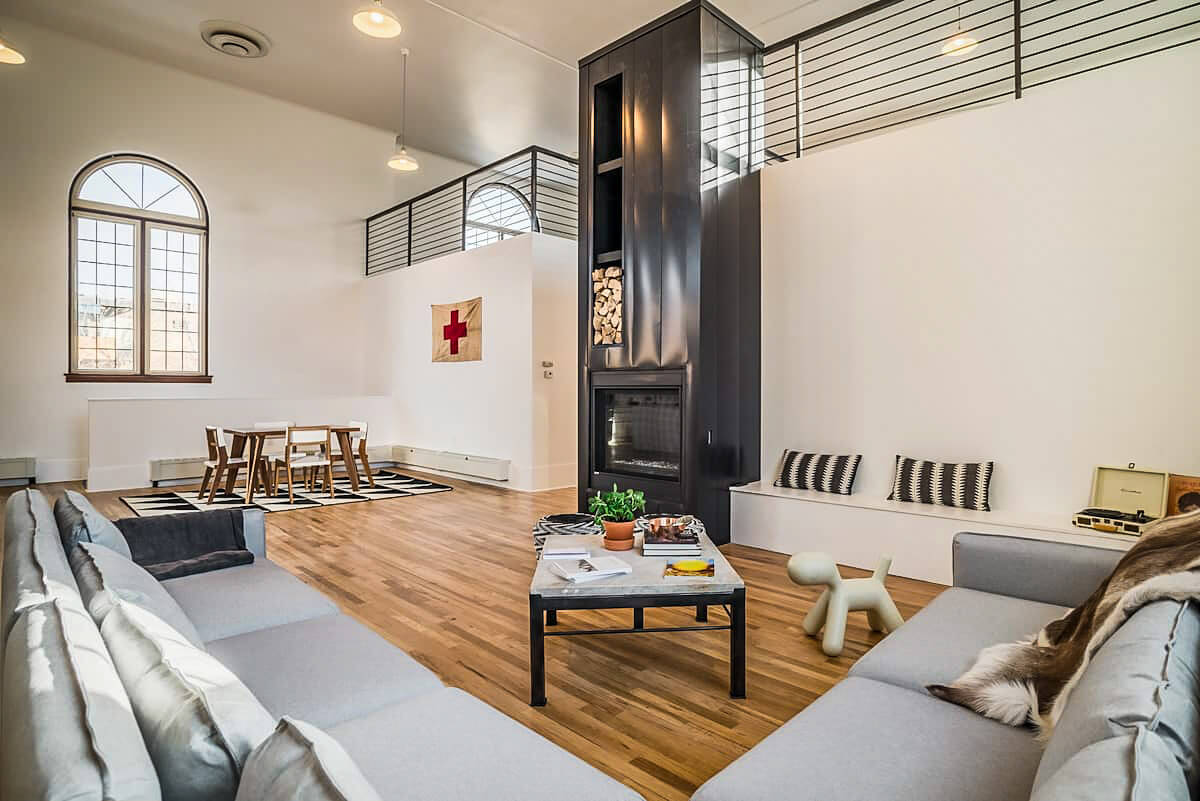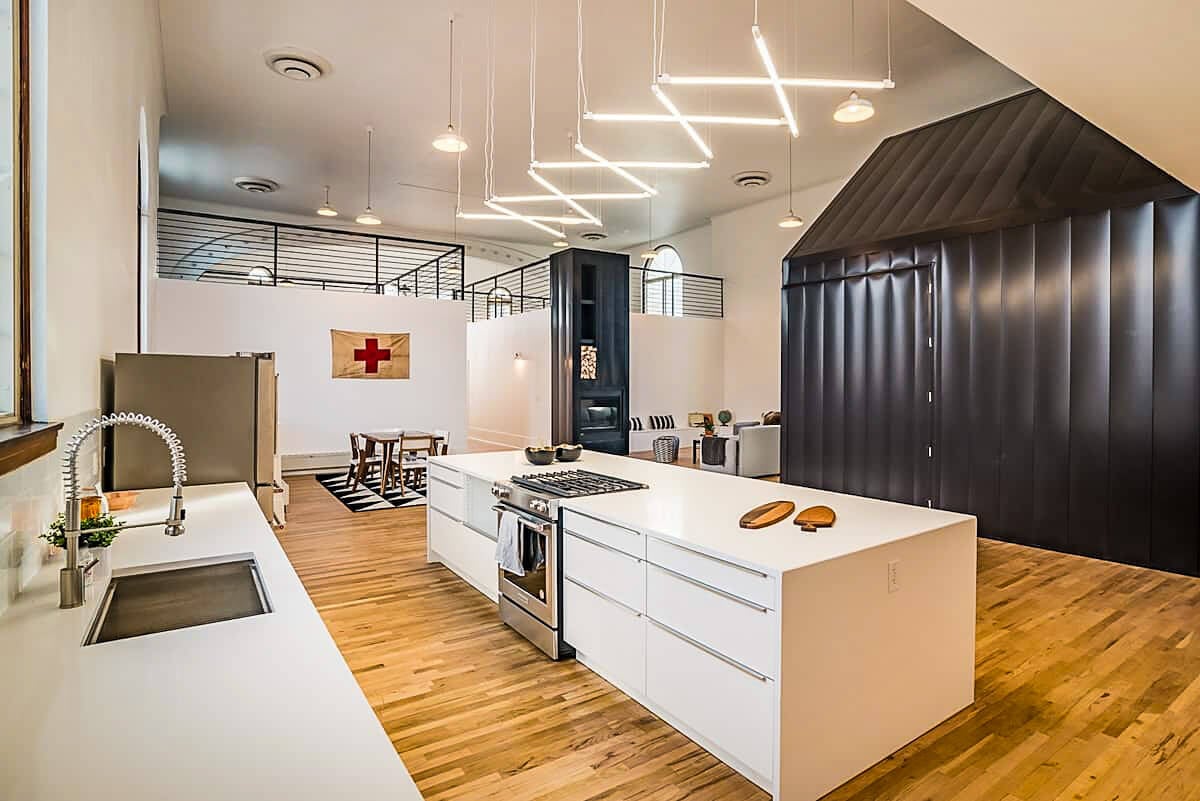 Have you ever wondered what it would be like to convert a non-residential building into a residence? Well this is exactly that. This 1930's church building has been completely renovated on the inside to become a 5 bedroom, 4.5 bathroom residence! The modern abode is incredibly spacious with all sorts of unique features you'll have to check out for yourself.
Guests rave about the unique space and how well it's set up for large groups.
"Great place to stay!! Such a unique find in a GREAT location. Great restaurants are within walking distance. Parking was never an issue on the street. A ton of space. The only thing to consider is the lack of sound barriers in the former church. You can hear about everything throughout." – Haley, August 2021
Honorable Mention:
---
Outside the city: Our list wouldn't be complete without including a few notable properties that are not too far away, but still a retreat from the big city. Whether it's a staycation or an extra few days to explore a new area, here are some of the best Airbnbs just outside of Denver.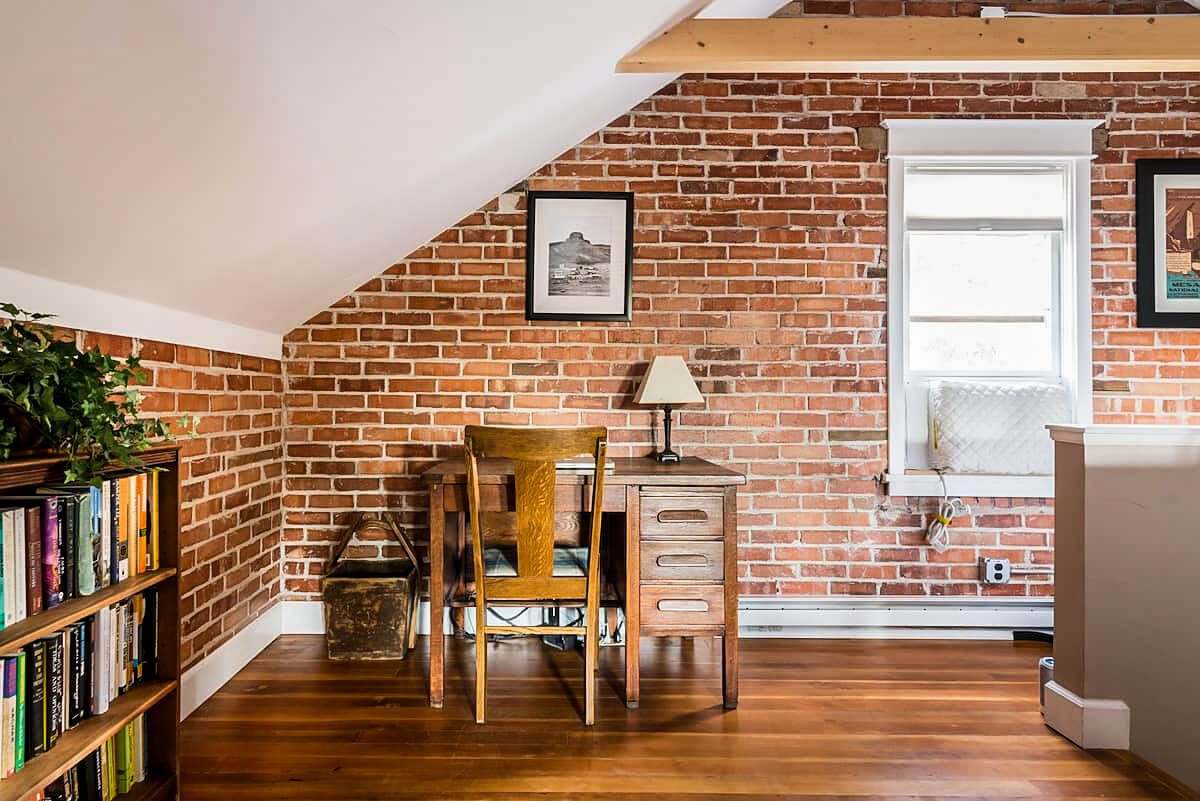 Converted studio in upper level of Carriage House
Location:

Golden, CO

Budget:

$$

Number of Guests:

2

Minimum Stay:

2 nights

Superhost | Plus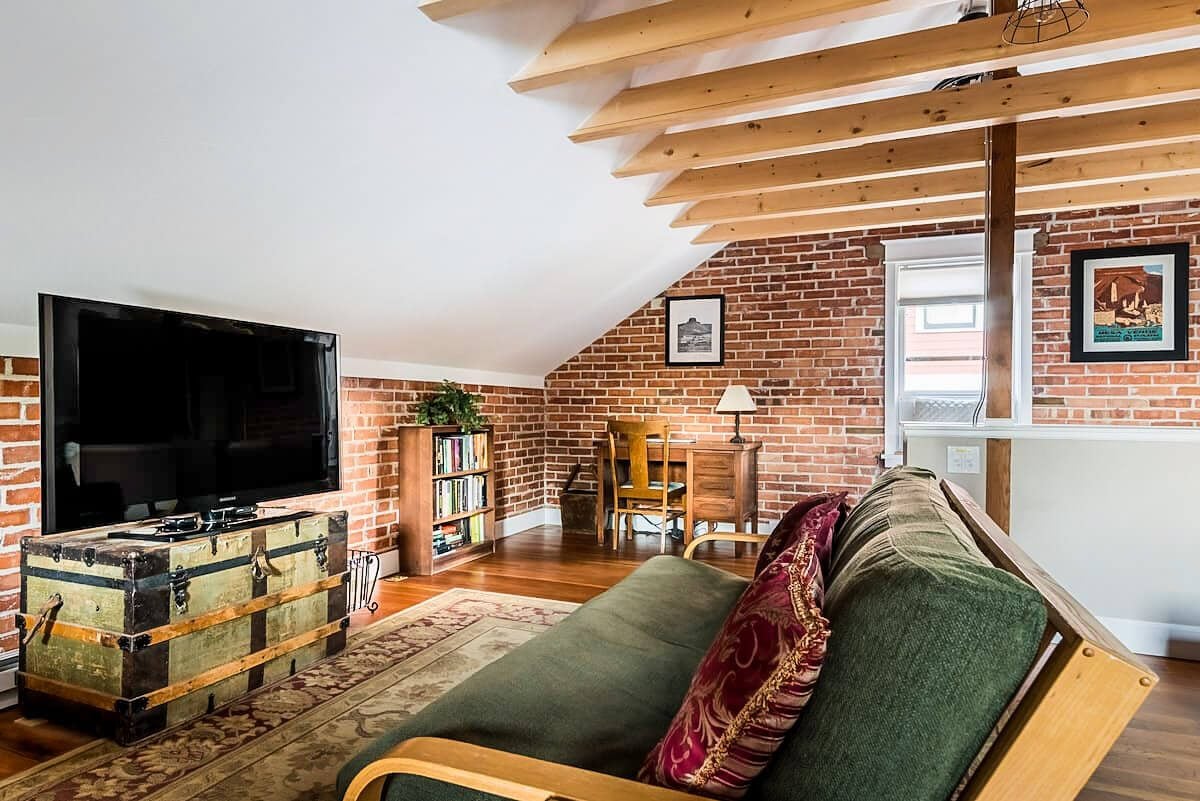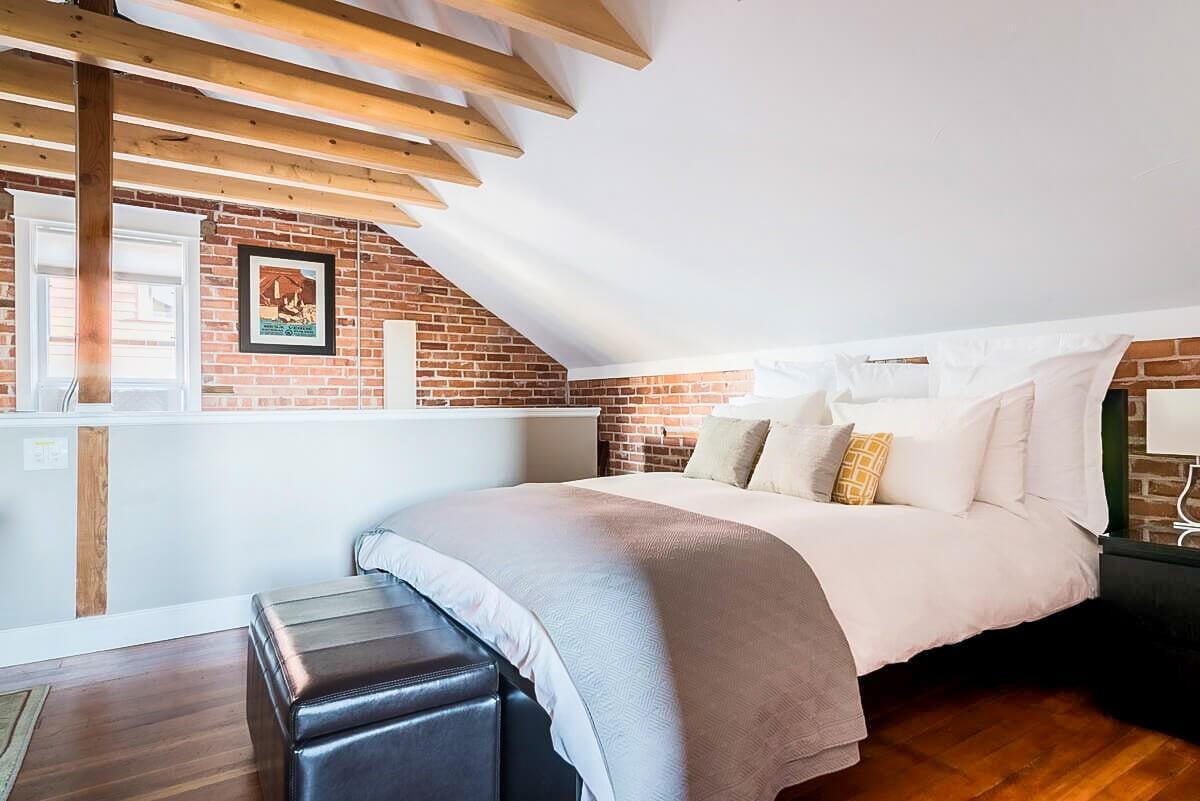 This converted studio apartment makes the perfect base camp for exploring Golden and the surrounding area. Modern upgrades include a kitchenette with a mini fridge and a nice bathroom. The exposed brick gives the space a sense of historic charm and the decor to match.
Guests frequently commented on the great location in downtown Golden.
"The historic carriage house was charming, clean and perfect for couples. This place is an easy walking distance to downtown Golden." – Cary, August 2021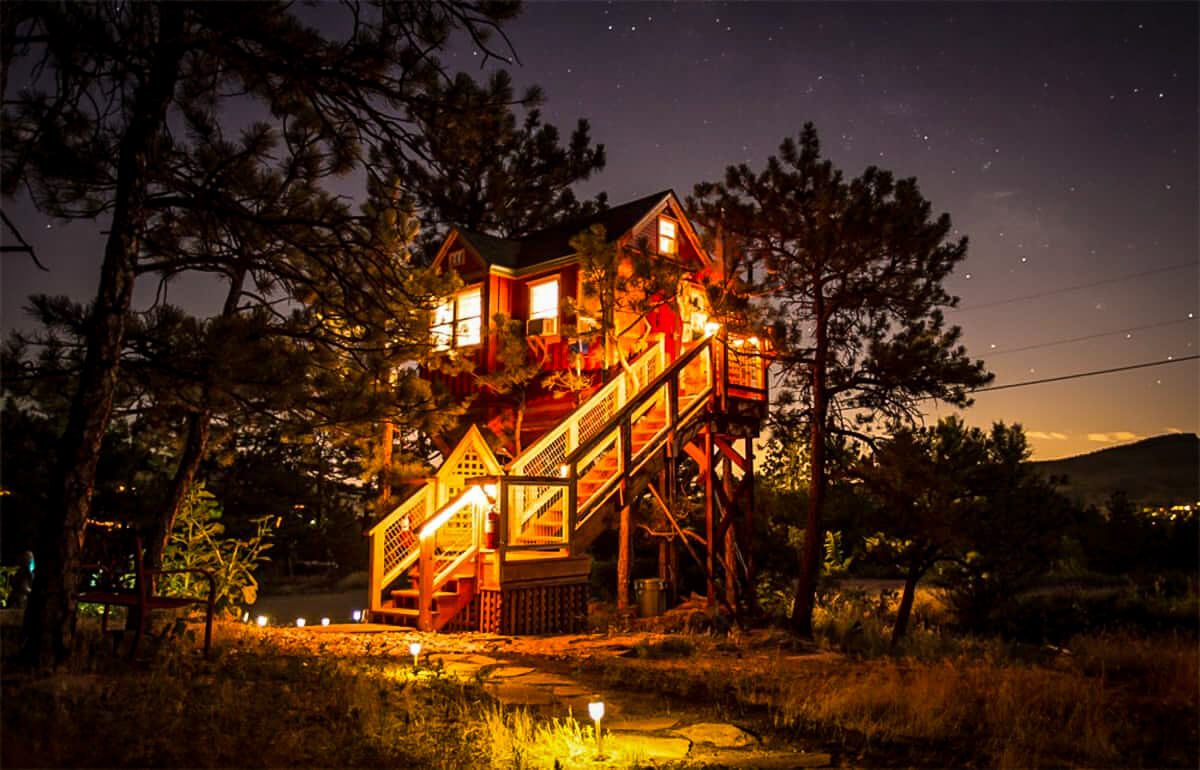 Unique treehouse experience in Lyons
Location:

Lyons, CO

Budget:

$$$

Number of Guests:

2

Minimum Stay:

1 night

Superhost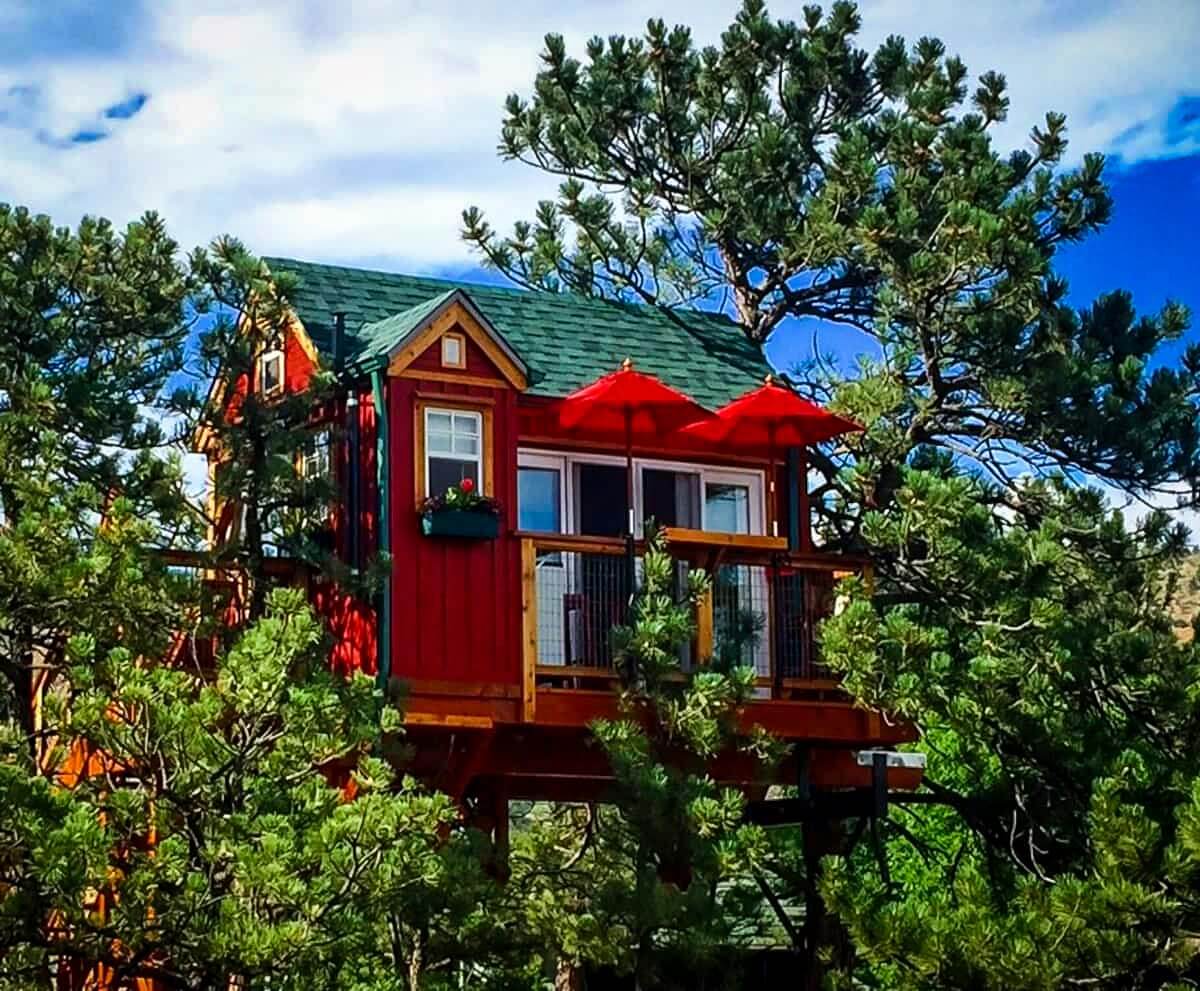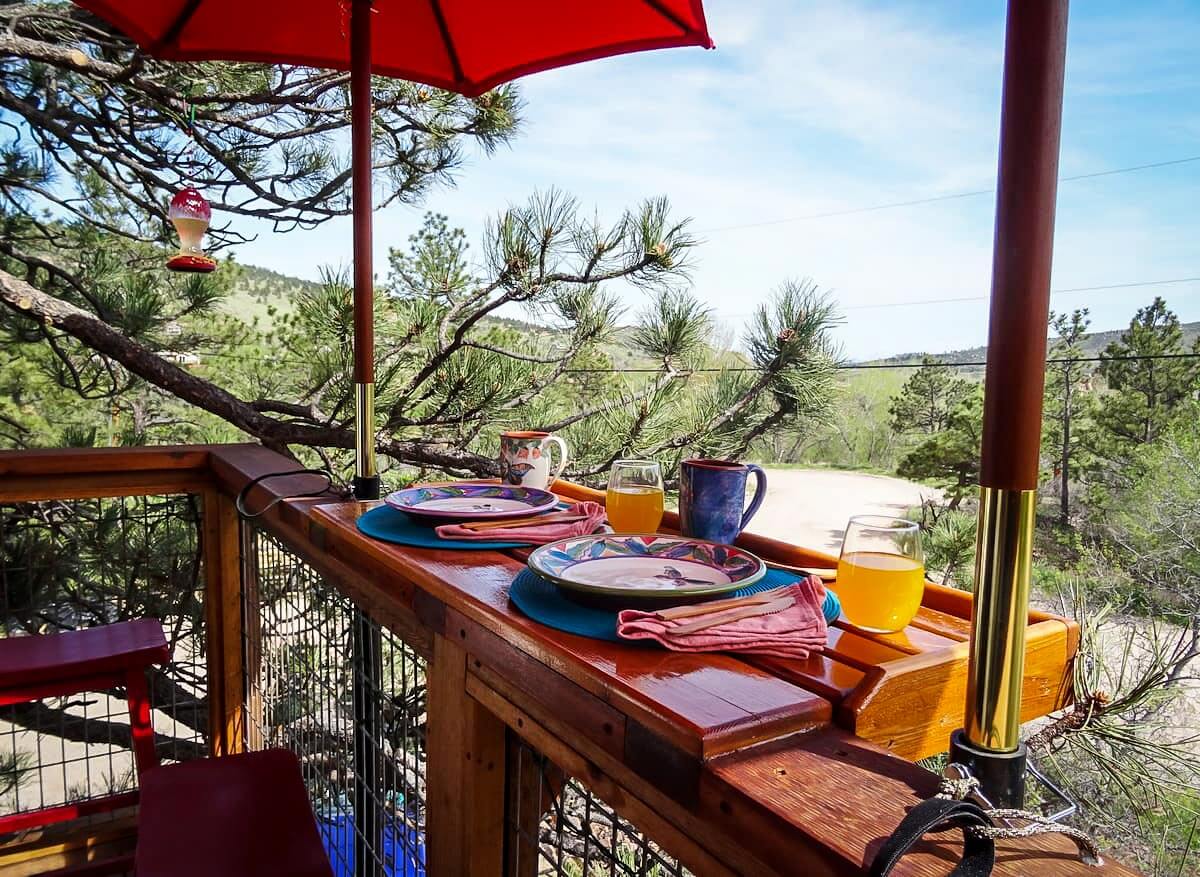 Perfect for a romantic retreat from the big city, the Little Red Treehouse is a unique stand-alone property in Lyons, CO. The one bedroom space is equipped with heater/air and electricity making it available all year round. Enjoy your breakfast on the small terrace or take in the views of the place all lit up at night.
Guests rave about the experience and how they cannot wait to return.
"This treehouse is amazing. There is a reason that it's always booked! So cozy and quaint. No detail was overlooked. The swing underneath was nice and relaxing, and the treehouse is close enough to walk or ride the bikes into town. Very gracious hosts, and clean, well kept space. Exceeded our expectations!" – Faith, August 2021
Best private getaway in Black Forest | The Lofthouse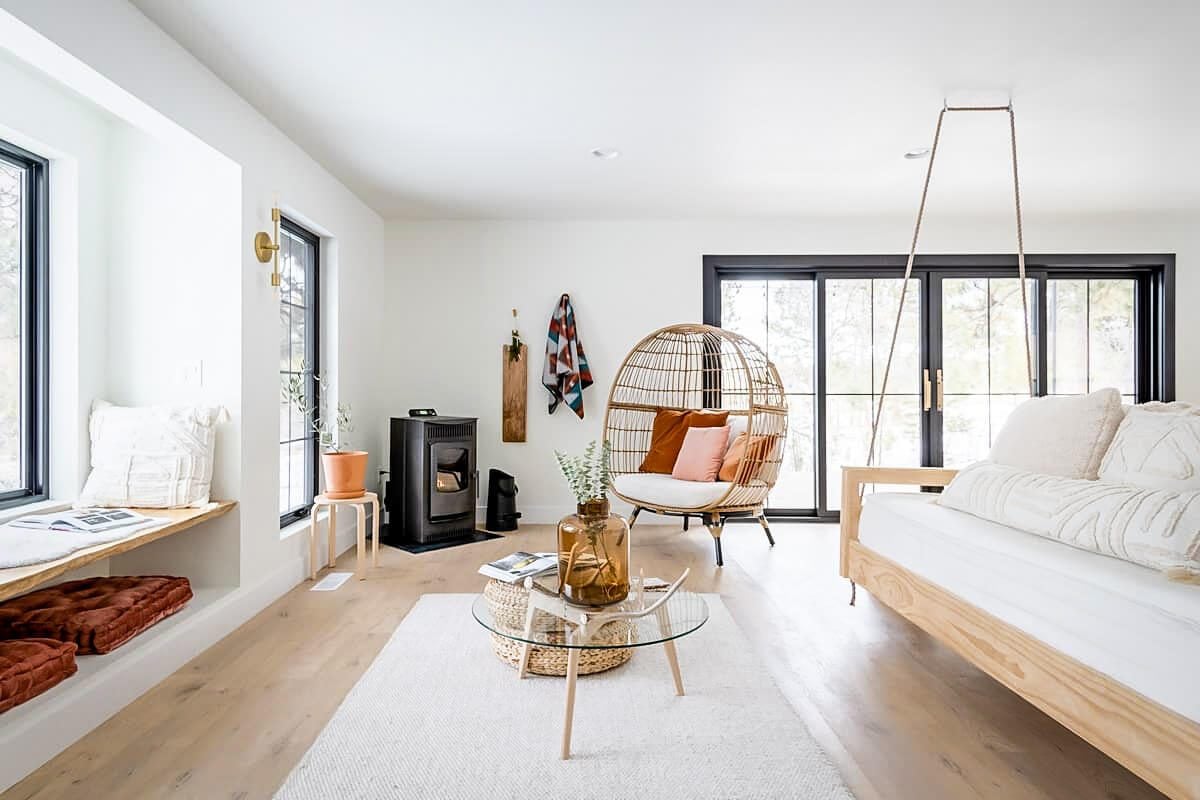 Contemporary Scandinavian-inspired home in the forest
Location:

Black Forest, CO

Budget:

$$$

Number of Guests:

5

Minimum Stay:

2 nights

Superhost | Plus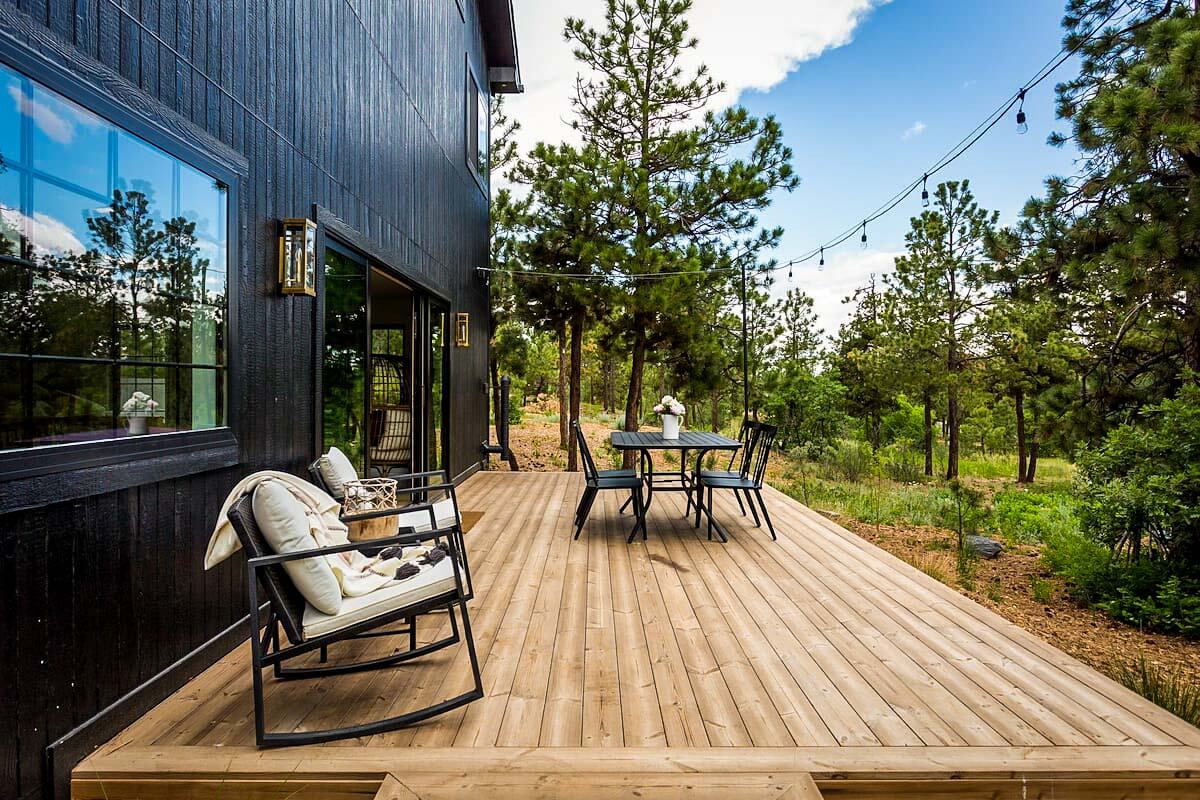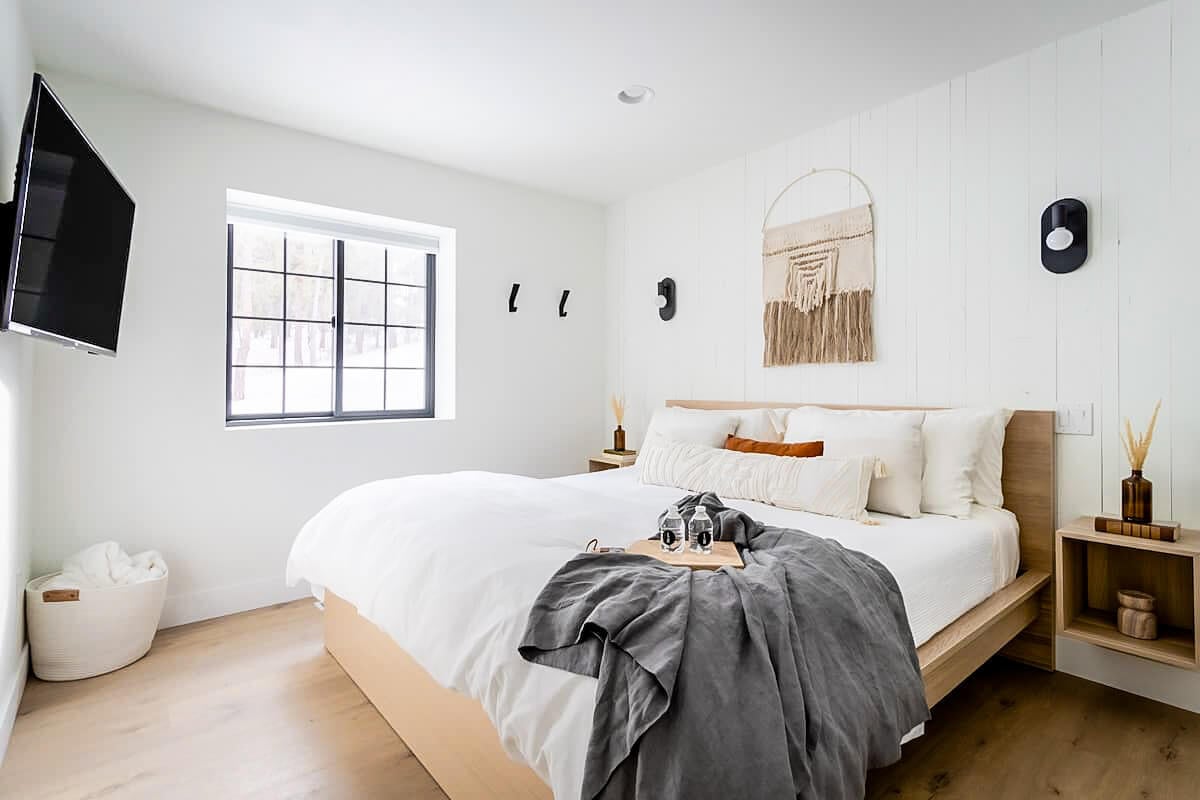 This beautifully decorated two bedroom home is inspired by the surrounding ponderosa pines with its Scandinavian design. The contemporary no-clutter design includes a swinging couch in the living room, a pellet stone fireplace and super comfortable bedding. A private porch and plenty of hammock strung up in the trees gives guests lots of space to enjoy their time in nature. 
Guests rave about the warm and welcoming hosts and the incredible space. 
"Drew and Tarah were exceptional hosts, the house was beautiful and we never wanted to leave! Everything about the loft was wonderful, especially the banana bread we were greeted with! Recommending this to anyone and everyone who plan on visiting Colorado Springs! We absolutely loved everything about our stay and could not have been happier!" – Samantha, August 2021
Honorable Mention:
Can't find an Airbnb?
Here's a quick list of recommended boutique properties, hotels and vacations rentals in Denver.
---
Are you planning travel around the U.S.A.?
We have TONS of resources on travel in the US and how to make the most out of your trip. Check out our Ultimate USA Travel Guide for everything you need to know, or read some of our favorite articles below.
Save this article on Pinterest for later!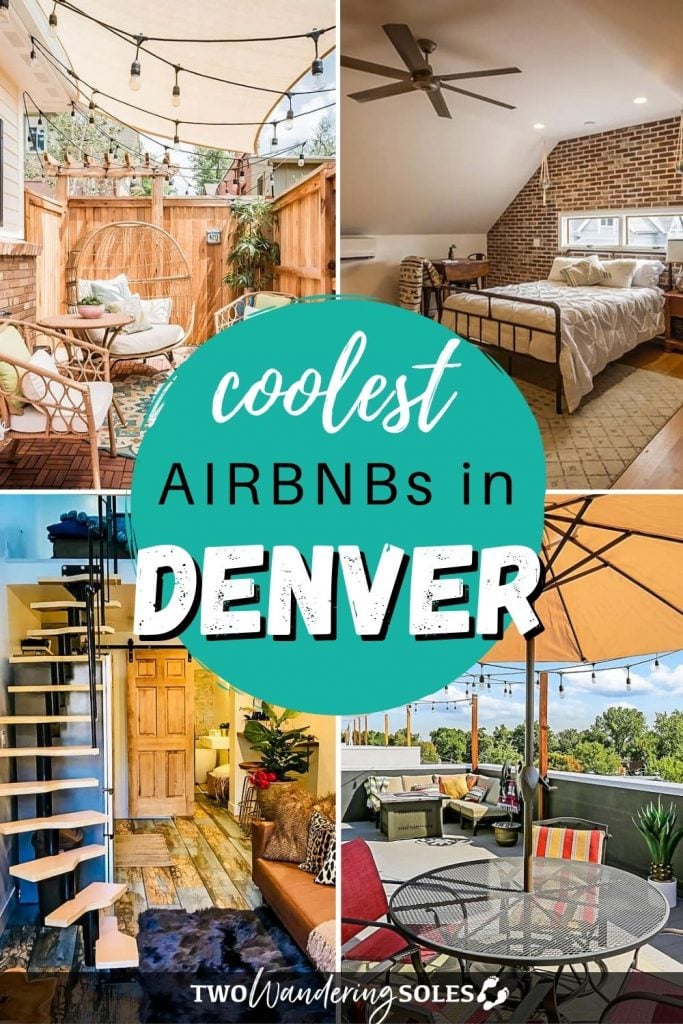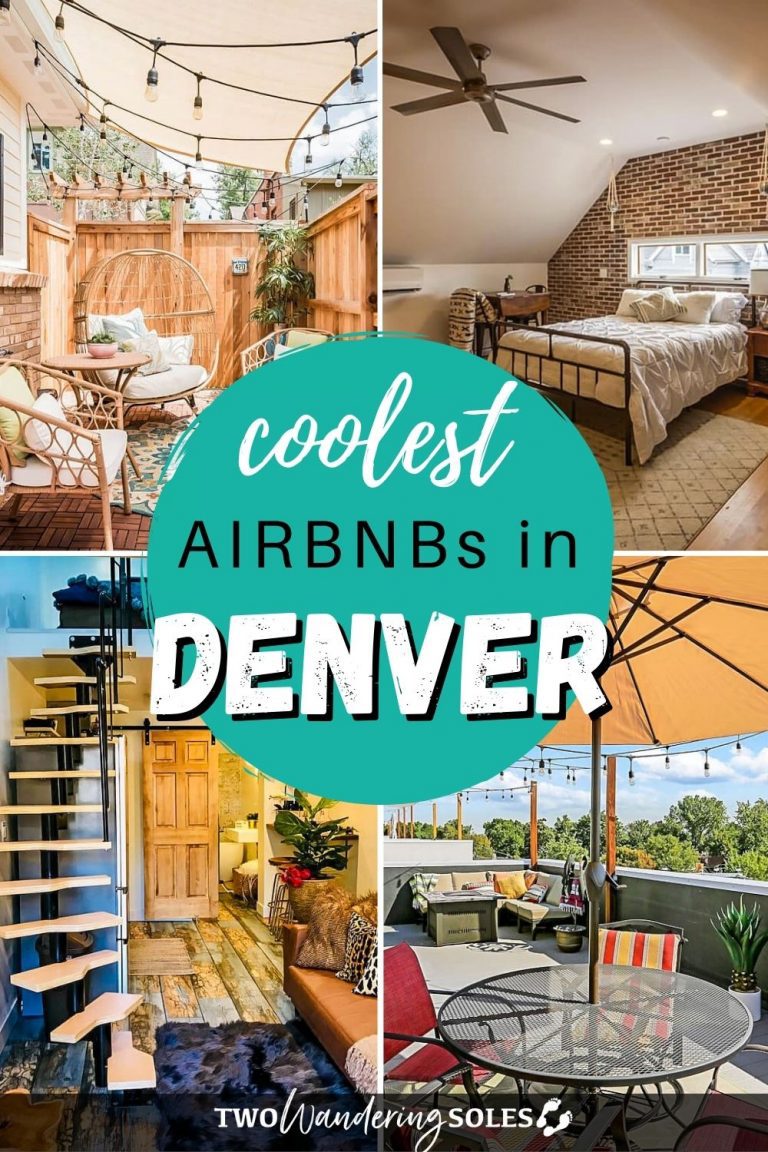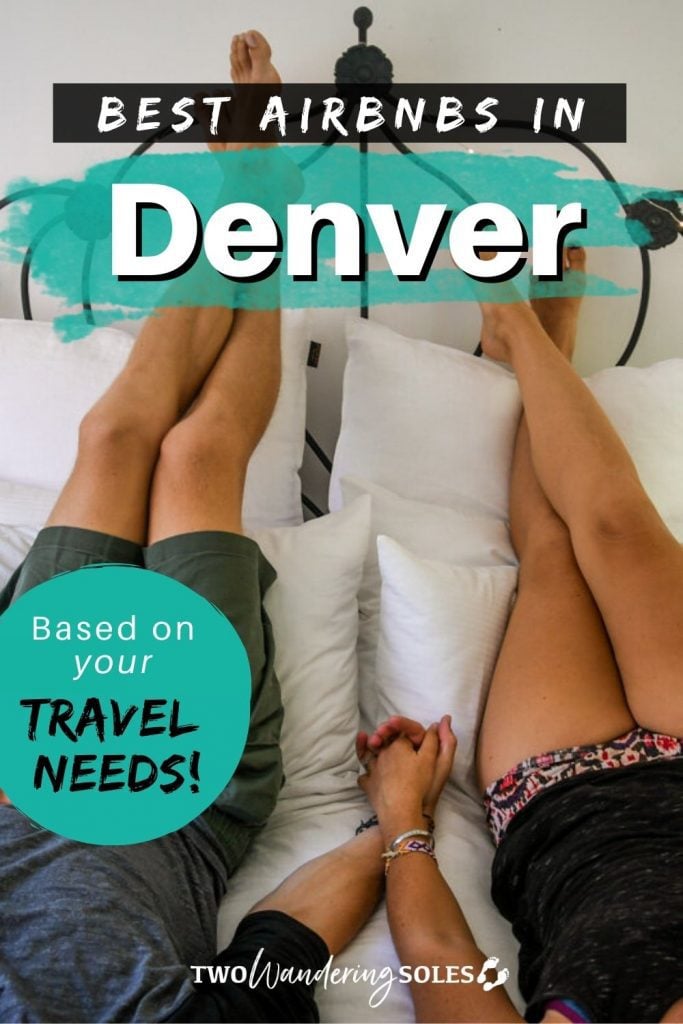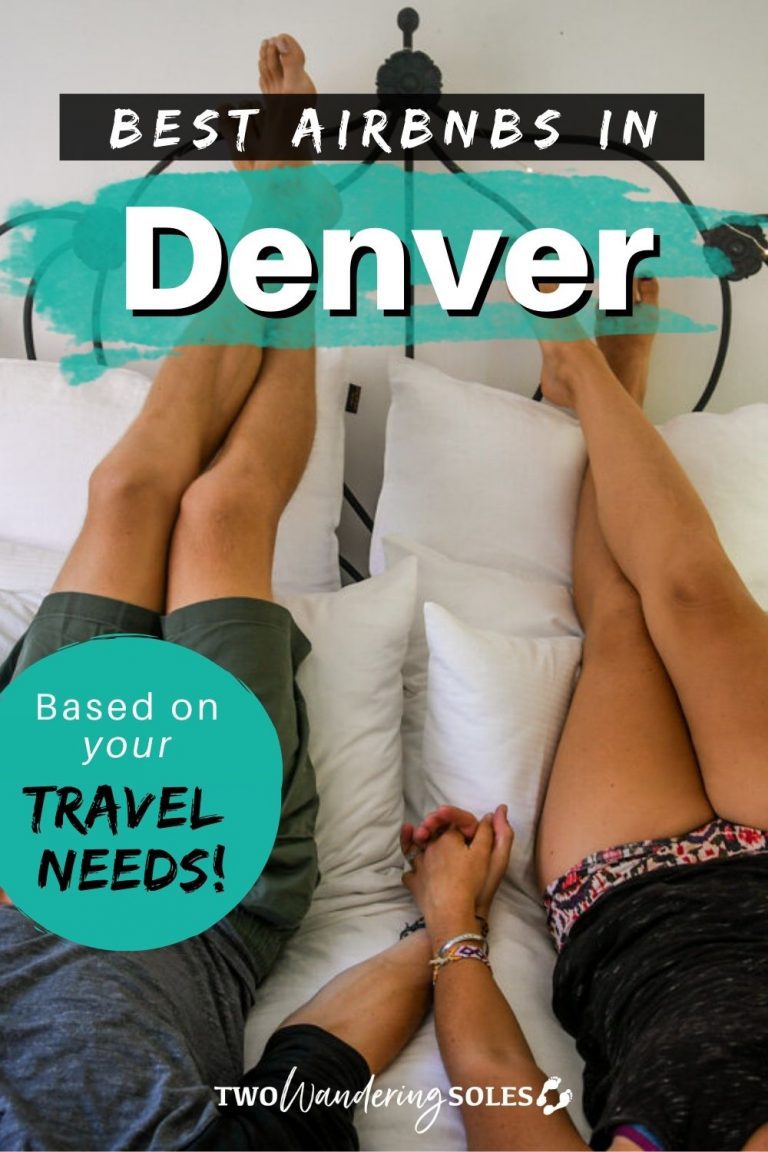 We want to hear from you!
Which of the Airbnbs on this list do you like the most? Are you planning a trip to Seattle soon and have more questions about where to stay? Drop us a comment below and we'll do our best to get back to you!