With spectacular foliage and nice weather, we think fall is one of the best times to visit Japan. We're sharing the best places to experience autumn in Japan as well as lots of insider tips for planning your trip!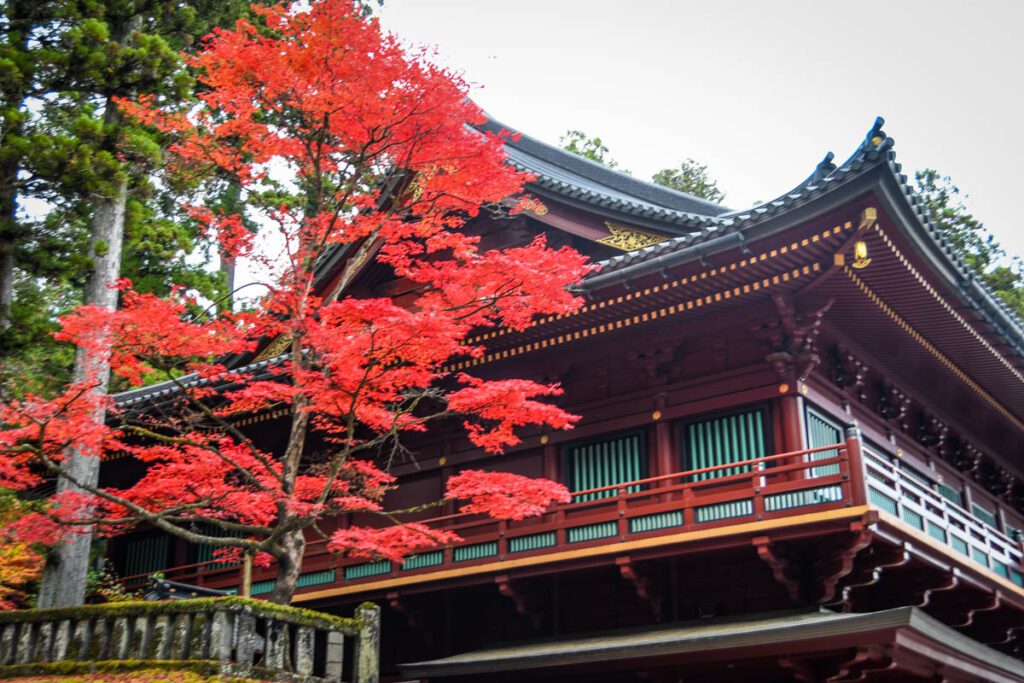 We've traveled to Japan in summer, winter, and fall, and we can say from experience that there is something truly magical about autumn in Japan.
The sweltering summer heat starts to dissipate and is replaced with crisp air. The leaves start to turn orange and red, and the vibrant foliage makes a perfect backdrop for visiting temples and hiking.
Plus, it's the perfect season for steamy noodle soups. Ramen, anyone!?
In this article, we're sharing exactly what to expect in Japan during autumn – temperatures, what to wear, best places to see fall foliage, and more!
Let's start planning your fall trip to Japan!
Autumn in Japan guide
---
When is autumn in Japan?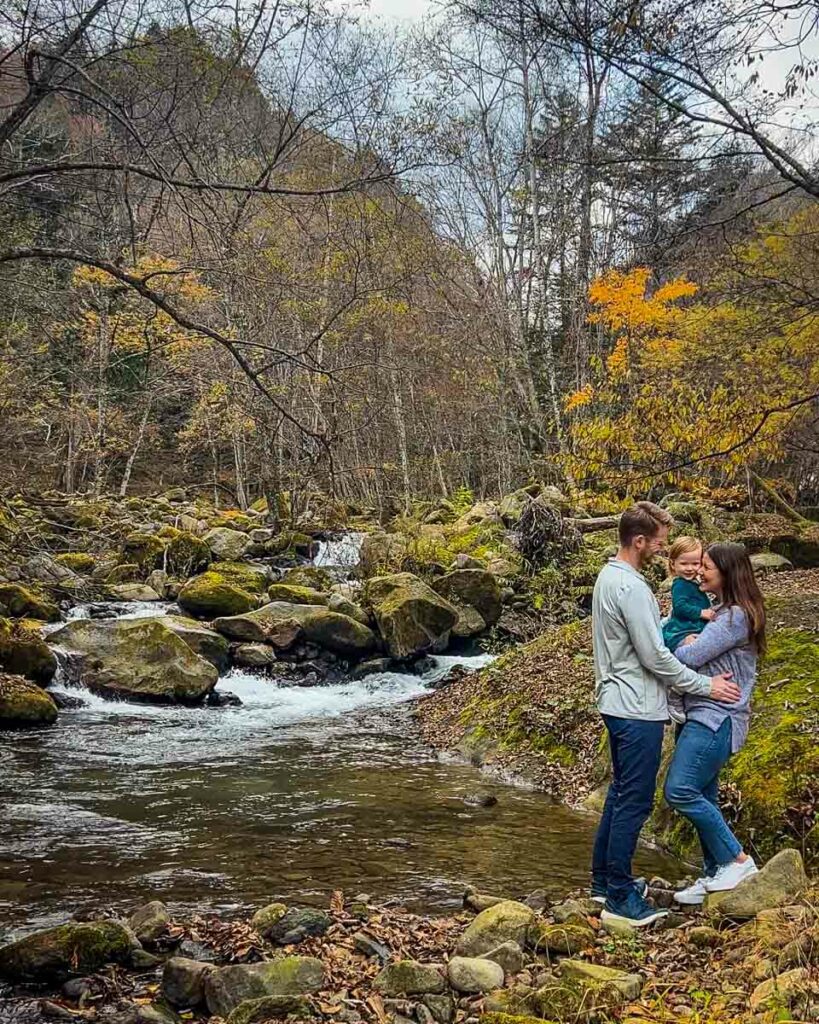 While the fall season often refers to the months of September, October, and November, what we think of as autumn doesn't really start until mid-October in Japan.
The temperatures in much of Japan through the month of September tend to be very hot and humid, and it feels much more like summer than fall.
You may start to notice the leaves changing color in mid-October, with foliage typically peaking in mid-November.
Our advice: If you want a real "fall" experience in Japan, with crisp temperatures and vibrant foliage, we recommend planning your trip during the month of November.
Reasons to visit Japan in autumn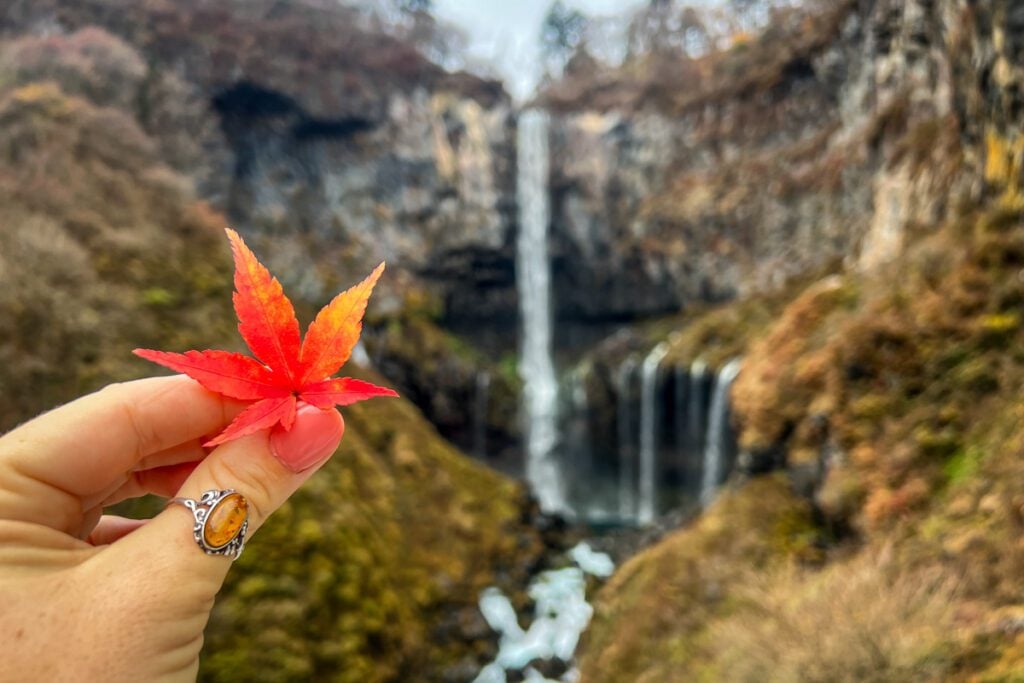 Autumn is a particularly magical time to visit Japan for a number of reasons.
1. Comfortable temperatures
Autumn in Japan offers a respite from the extremes of summer heat and winter cold.
We visited Japan during the summer once and let me tell you, I don't think we'll be doing that again anytime soon. It was extremely hot and humid – much more so than we were expecting – and definitely made our days a little sweaty…
In contrast, autumn temperatures are mild and pleasant, making it a comfortable time to explore the country.
You can enjoy outdoor activities, sightseeing, and cultural experiences without dealing with the discomfort of sweltering heat or freezing cold.
2. Perfect weather for soaking in onsens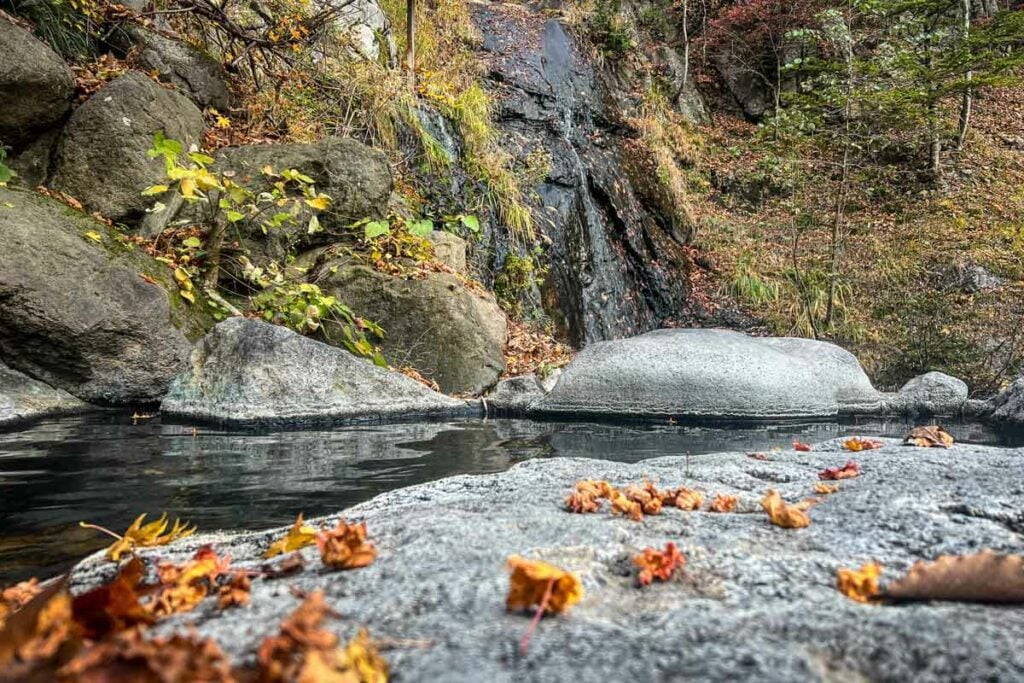 Japan's onsen culture comes to life in the fall.
As the weather cools down, there's no better way to relax and unwind than by soaking in the soothing natural hot springs, known in Japan as onsen.
While onsen are also magical in the winter and spring, the summer is, dare I say, too hot and humid to enjoy these Japanese treasures to the fullest.
If you're soaking in an open-air onsen, known as rotenburo, vibrant foliage adds to the picturesque setting.
Good to know: Onsen towns like Hakone, Beppu, and Kusatsu are especially enchanting during this season.
3. Enjoy all the comfort foods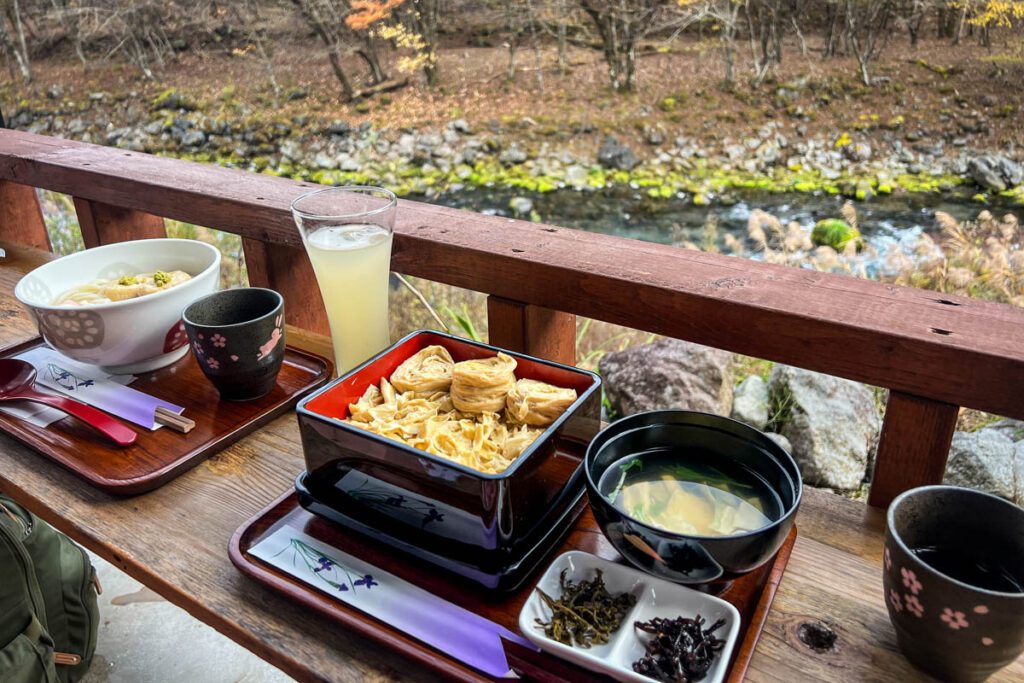 Autumn brings a delicious array of seasonal foods in Japan that you won't find during other times of the year. Matsutake mushrooms, chestnuts, sweet potatoes, and various types of seafood are at their prime during this time.
Don't miss out on classic fall treats like tempura, nabe (hot pot), and tsukimi dango (moon-viewing rice dumplings).
Also, with a chill in the air, autumn is the perfect time to indulge in a steamy bowl of noodle soup, like udon or ramen. It just hits different in fall than it does in summer!
Consider yourself a foodie? Check out our list of the best foods to try in Japan!
4. See the famous Japanese fall foliage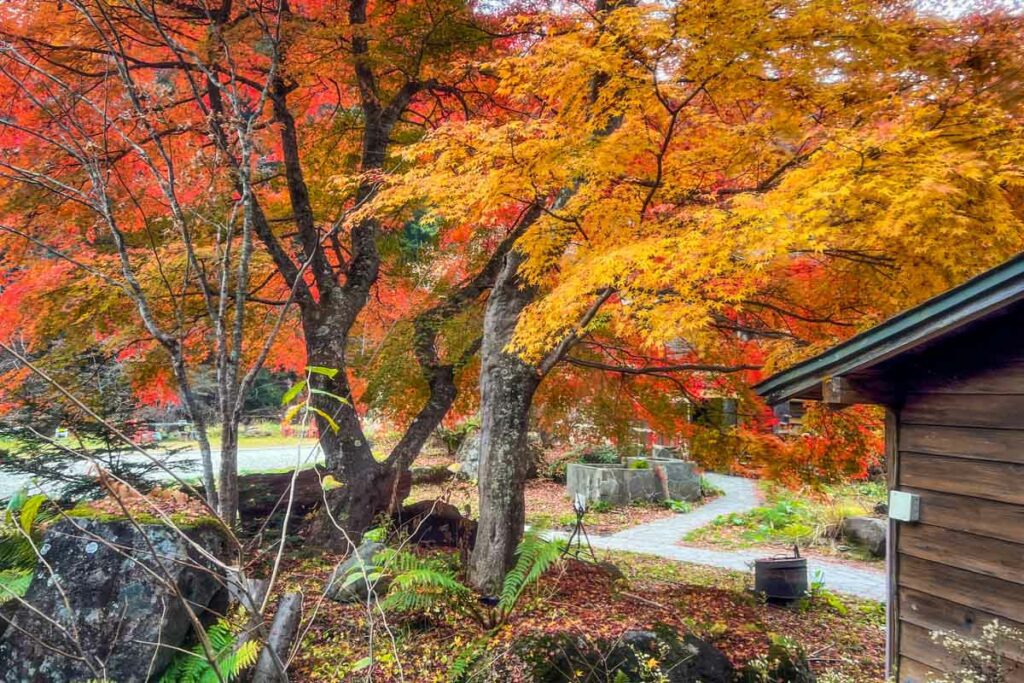 The most iconic reason (and my personal favorite!) to visit Japan in autumn is the stunning fall foliage. The country transforms into a kaleidoscope of colors as maple and ginkgo trees display vibrant shades of red, orange, and yellow. The momiji (maple leaves) and ginkgo trees are particularly famous for their breathtaking beauty.
Parks, gardens, and temples become picturesque settings, making it the perfect time for leisurely strolls and outdoor photography.
Popular spots for viewing fall foliage include Kyoto's Arashiyama, Nikko, and the Japanese Alps. Jump here to see our favorite places to see fall foliage in Japan.
5. Best chance of viewing Mount Fuji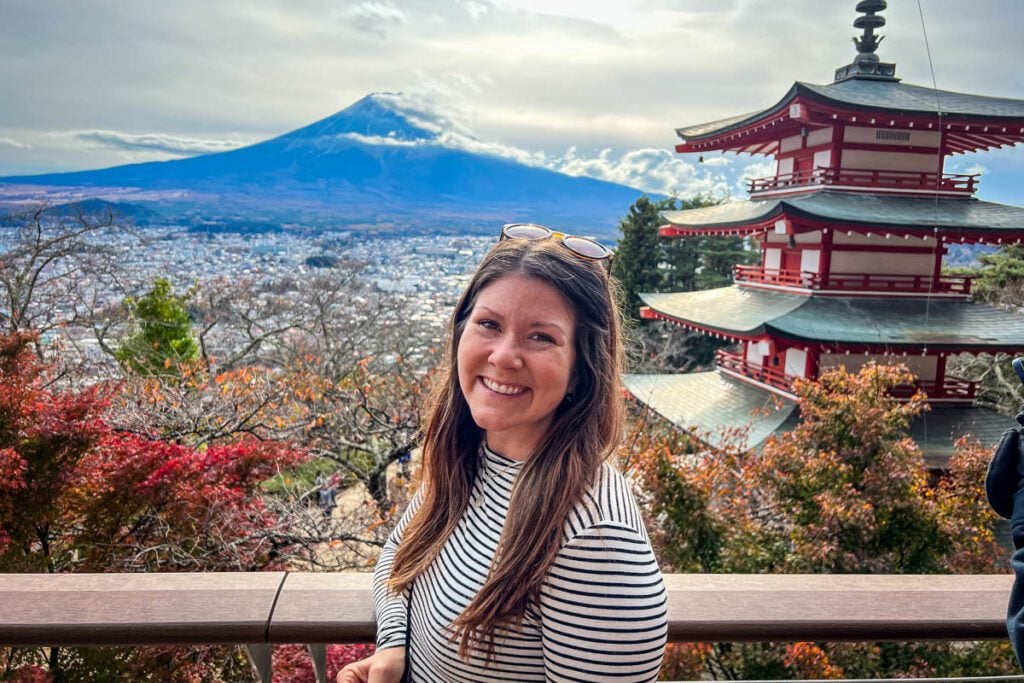 Mount Fuji is notorious for being difficult to see, thanks to smog and haze in the summer and low-hanging clouds.
It is said that you will have the best chance of seeing Japan's most famous mountain if you visit between November and March. That said, it's never a guarantee!
6. Best time for hiking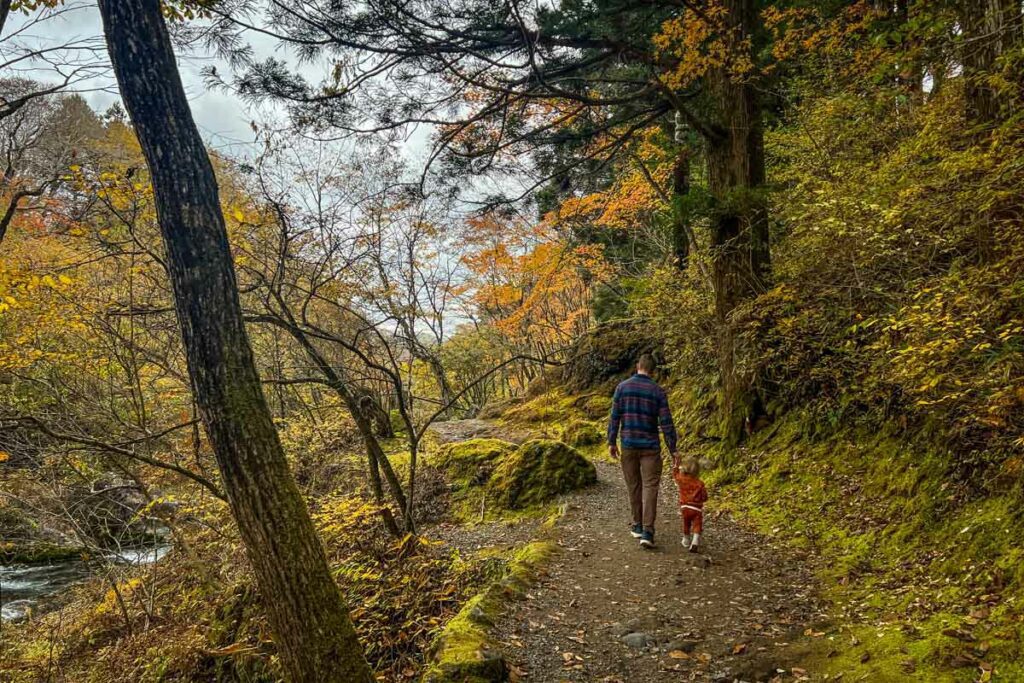 If you're an avid hiker, you'll be happy to know that autumn is the best time to tackle Japan's trails. There are so many incredible hikes in Japan (our bucket list is ever-expanding!).
If you're up for a multi-day hike, we'd highly recommend the Kumano Kodo trail. There's also some great hiking trails in Kamikochi National Park and in Nagano prefecture.
7. Japanese gardens are spectacular in the fall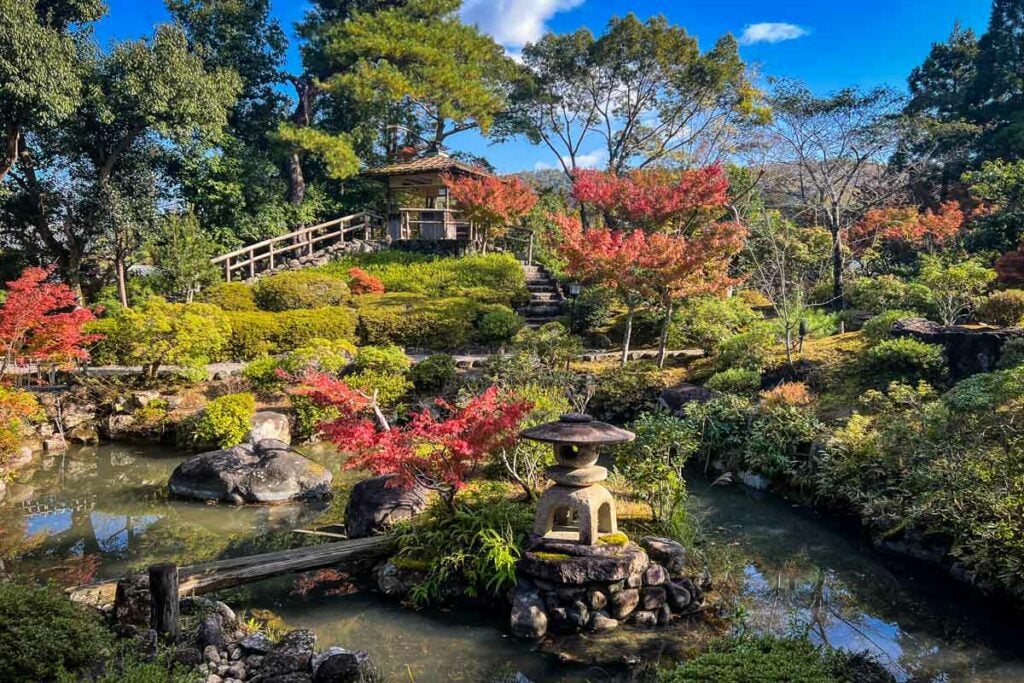 Japanese gardens are stunning at all times of the year, but the vibrant foliage adds another layer to an already beautiful landscape.
When can you see fall foliage in Japan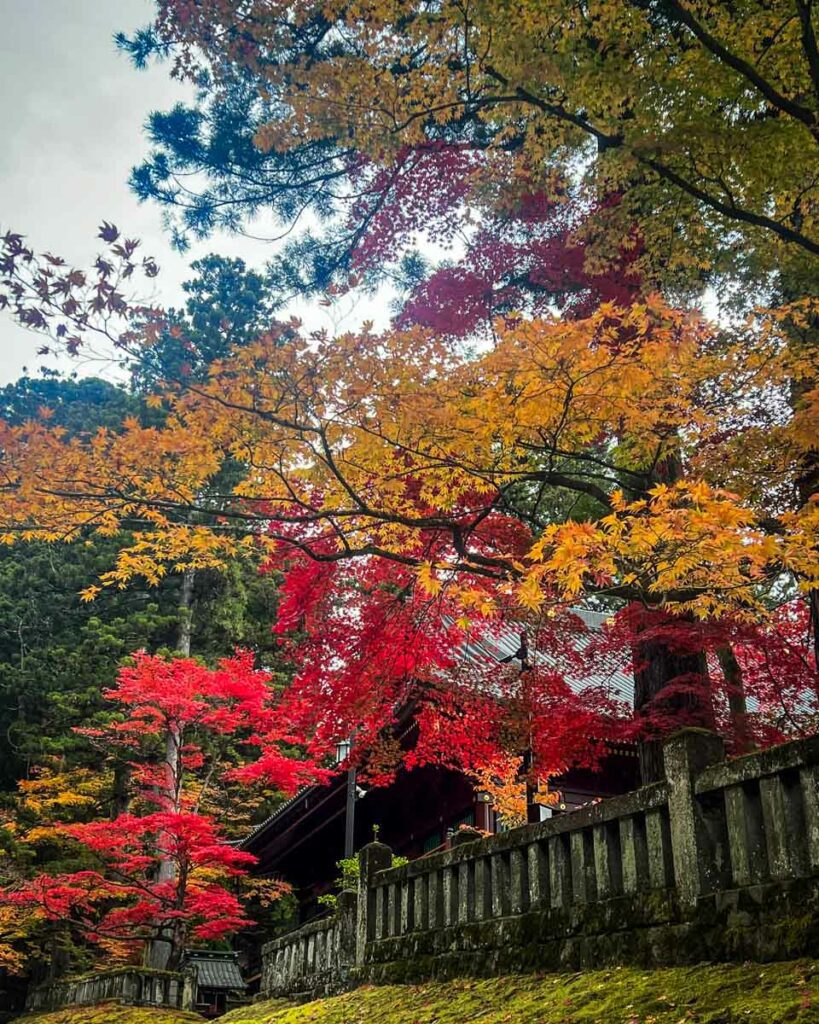 Japan is a rather long country, spanning roughly 2,361 miles (3,800 kilometers) from north to south.
This means that foliage gradually sweeps through the country, starting in the north and progressing south.
Our advice: If you want the best chance of seeing foliage during your trip to Japan, we'd recommend planning your itinerary north to south. This way, you'll hopefully be following the foliage as it peaks.
Overall, November is typically the month where Japan experiences the most colorful display of leaves.
Check out this foliage forecast for 2023!
Japan's peak leaf peeping season comes after the United States, making it possible to take 2 dreamy fall trips in the same year (like a New England fall foliage road trip, then a trip to Japan) – thus expanding your fall for as long as possible. If you ask us, that's a huge win because autumn is our favorite season!
Kōyō or momiji season
You've likely heard of sakura season – aka the renowned Japanese spring season with its beautiful cherry (sakura) blossoms.
But have you heard of momiji season?
Momiji are Japanese maple leaves, so momiji season is essentially the fall equivalent of sakura. This season is also known as kōyō.
The kanji characters 紅葉 can be read as both kōyō and momiji.
While the characters are the same, the meaning changes a bit:
Momiji = red-tinted maple leaves in autumn
Kōyō = the process of leaves changing colors during the fall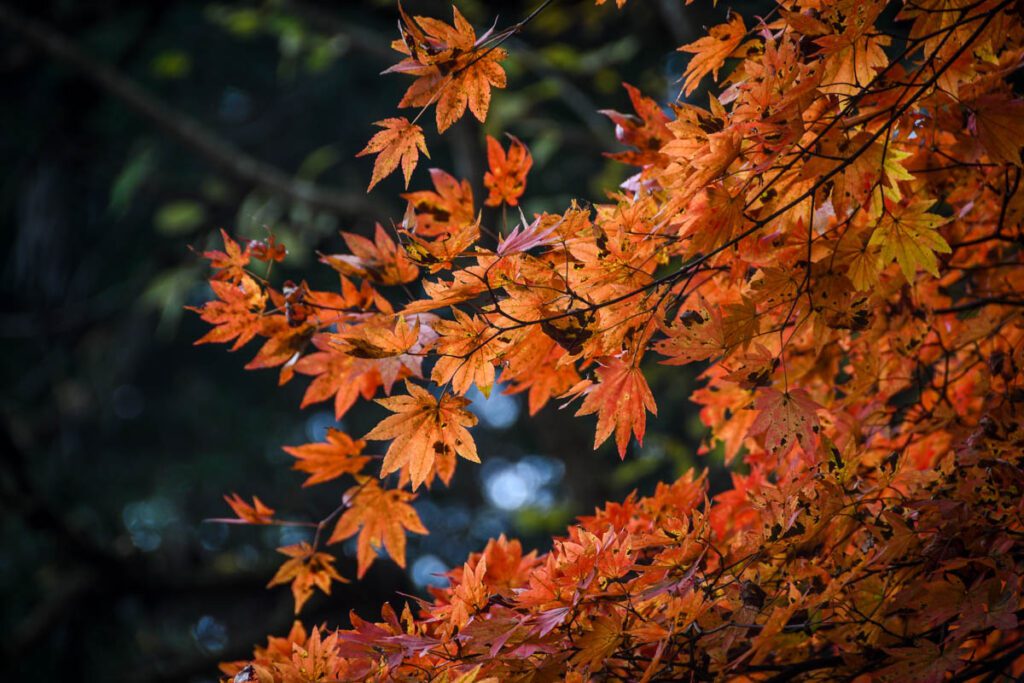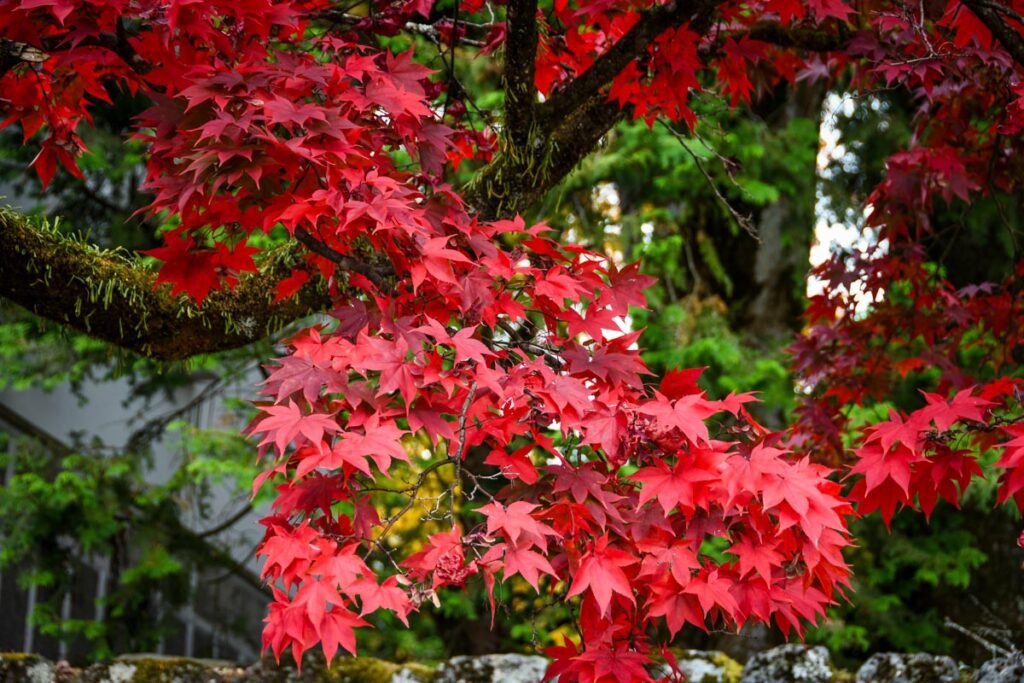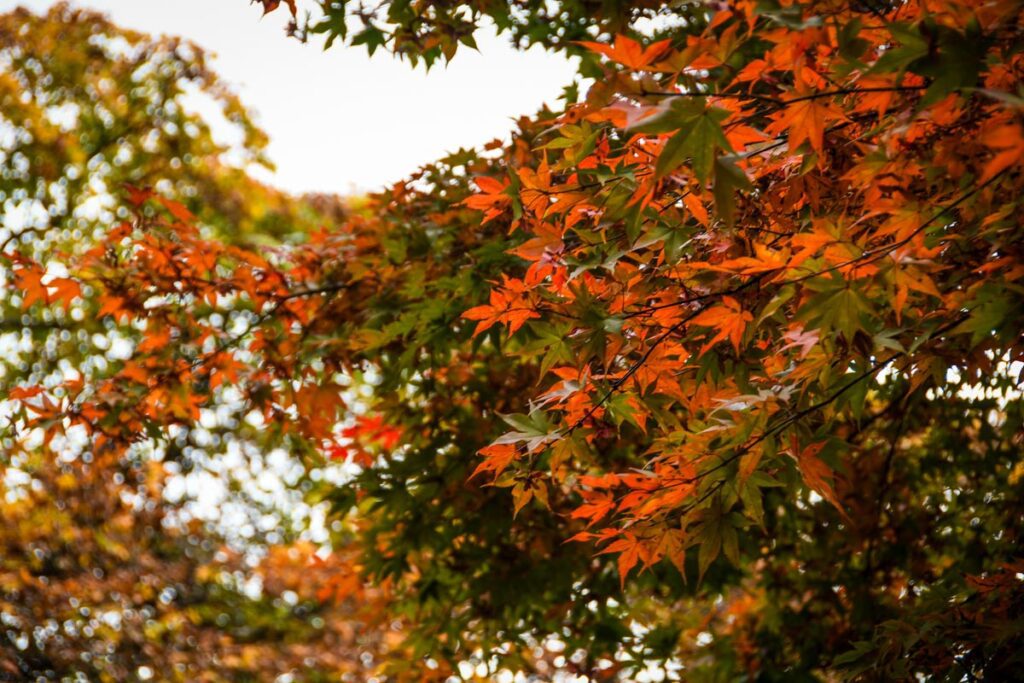 Unlike sakura season, Momiji season lasts longer, making planning a trip to Japan in the fall a bit easier at a more leisurely pace.
There is also the term momijigari, which translates to "red leaf hunting". Kind of like what we refer to as "leaf peeping" in the US.
Rumor has it that momijigari dates back to the Heian period (794-1195) and was initially exclusive to the upper classes until the Edo period (1603-1868), when it became accessible to all.
Fun fact: The "sakura equivalent" of momijigari is hanami, which translates to "flower viewing".
Best places to see fall foliage in Japan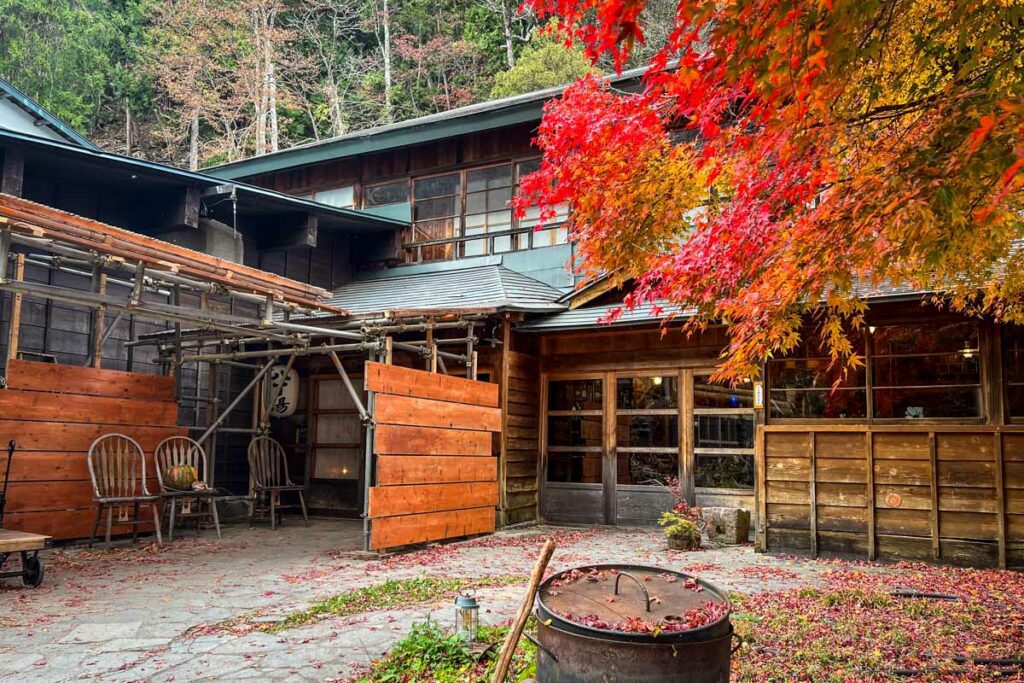 While you can see vibrant leaves throughout the country, here are some of the best places in Japan for leaf peeping!
1. Nikko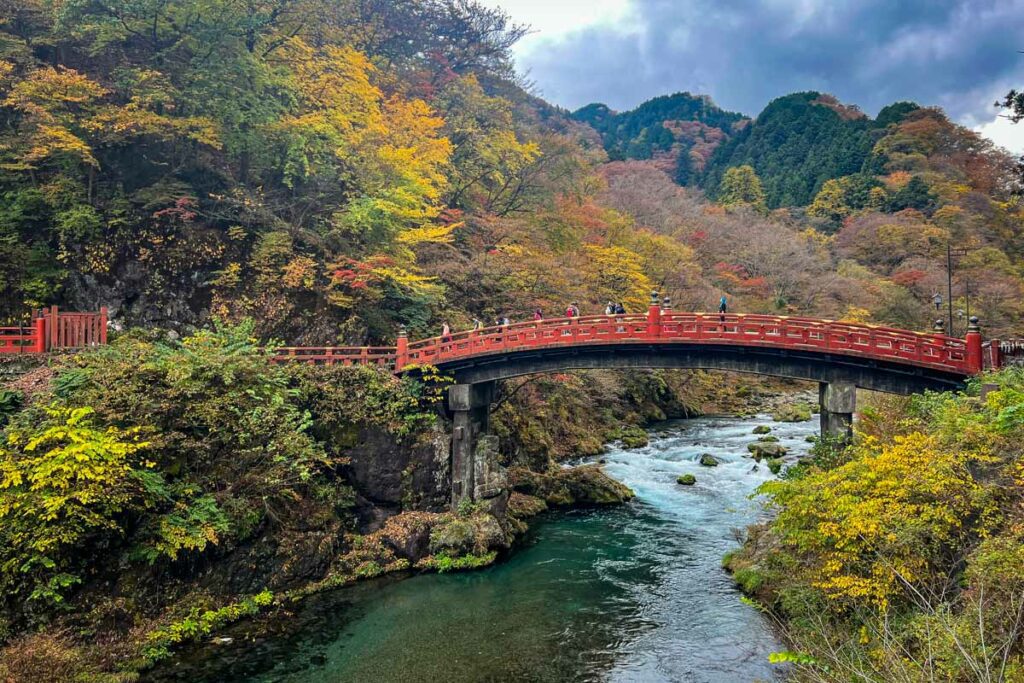 Nikko's iconic Toshogu Shrine and surrounding national park are renowned for their stunning fall foliage.
The vibrant leaves against the backdrop of ornate temples and majestic waterfalls create a picturesque autumn scene, making it a fantastic place to visit in autumn.
Nikko in Autumn (Tochigi Prefecture):
Top sights: Toshogu Shrine, Lake Chuzenji, Kegon Falls, and Nikko National Park.
Things to do: Explore the ornate temples and serene lakes, and take a scenic drive around Lake Chuzenji.
Special food: Try Yuba (tofu skin) dishes, a local specialty, and enjoy yuba in various forms like yuba sashimi and yuba hotpot.
2. Kumano Kodo trail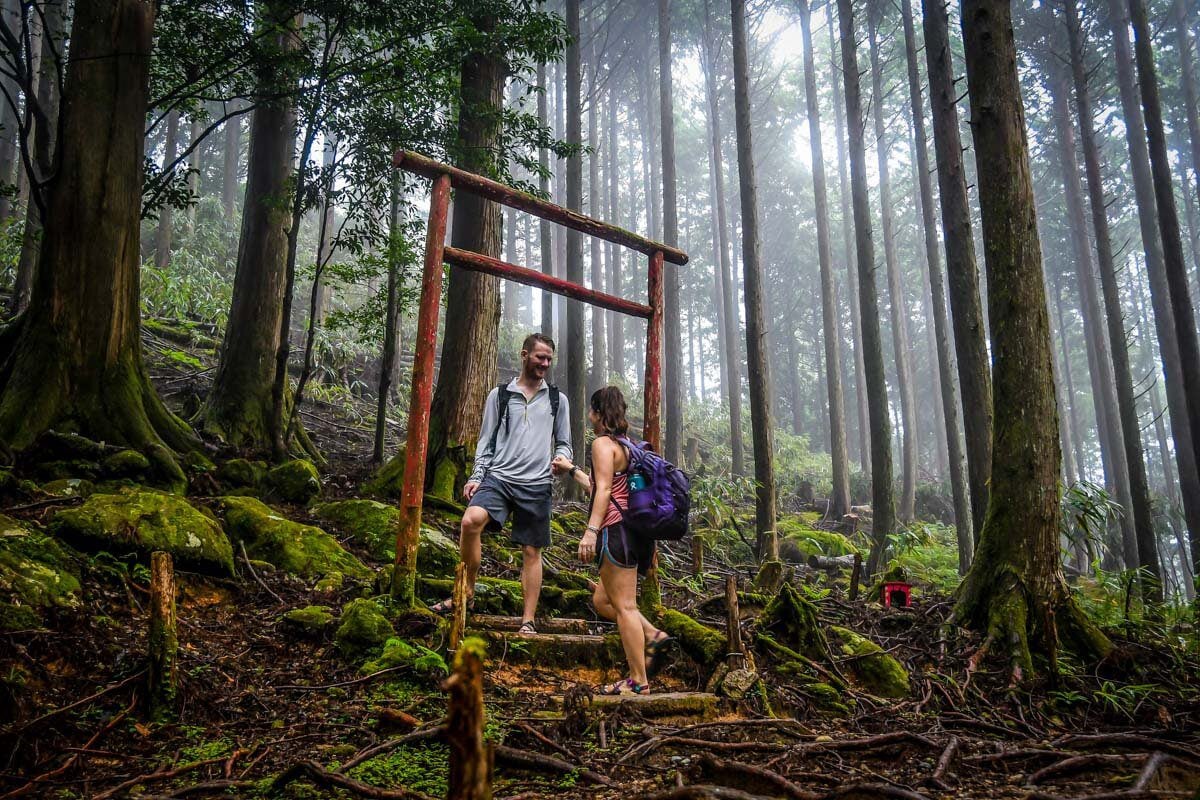 The Kumano Kodo pilgrimage trails wind through lush, mossy forests, and the vibrant fall colors add an enchanting layer to this spiritual journey, making it an ideal destination for those seeking a serene and culturally rich autumn experience.
We hiked the Kumano Kodo trail in August, and it was one of the best things we've ever done in Japan! We said that we will definitely come back some day to hike it in the fall, as I think it would be even more incredible during this time of year.
Kumano Kodo in autumn (Wakayama and Mie Prefectures):
Top sights: Kumano Nachi Taisha, Kumano Hayatama Taisha, and the Kumano Kodo pilgrimage routes.
Things to do: Hike the ancient pilgrimage trails through dense forests, and visit sacred shrines.
Special food: Enjoy local seafood and try Kumano beef, known for its exceptional quality and flavor. If you do the Kumano Kodo hike, there's a good chance you'll experience a kaiseki meal at a homestay along the trail!
3. Koyasan
The tranquil temple town of Koyasan is enveloped in colorful foliage during autumn, creating a serene atmosphere for visitors.
It's an excellent place to enjoy both spiritual contemplation and natural beauty in the fall season.
Koyasan in autumn (Wakayama Prefecture):
Top sights: Okunoin Cemetery, Kongobuji Temple, and the tranquil mountain scenery.
Things to do: Explore the serene temple complexes and walk through the beautiful forested surroundings.
Special food: Savor shojin ryori, the vegetarian cuisine of Buddhist monks, which is a unique culinary experience.
4. Mount Fuji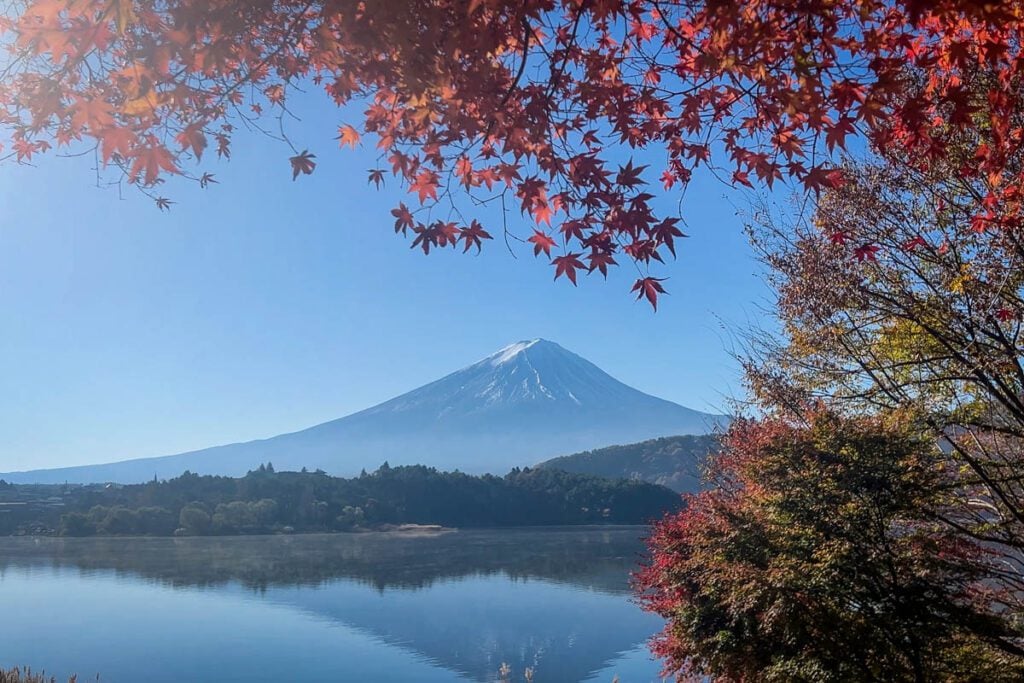 The iconic view of Mount Fuji framed by fiery fall foliage in the Five Lakes region is a visual treat.
Plus, the period between November and March is known for having the best chance of clear skies, making it possible to see notoriously shy Fuji.
Good to know: Just because you're visiting during this time doesn't mean you're guaranteed to see Fuji. When we visited in early February, Mount Fuji was shrouded in clouds.
Want to avoid the crowds? There are plenty of viewpoints of Japan's most famous mountain, so don't feel like you have to go to the busiest spots just to get the same photo as everyone else. Get creative and find unique vantage points.
Mount Fuji in autumn (Yamanashi and Shizuoka Prefectures):
Top sights: Chureito Pagoda, Five Lakes of Fuji, and the iconic view of Mount Fuji itself.
Things to do: Hike, take in the stunning views, and visit local museums.
Special food: Taste hoto, a hearty noodle soup made with pumpkin and miso, a specialty of the region.
5. Kamikochi National Park
This pristine mountain valley in the Japanese Alps offers stunning mountain scenery combined with rich fall foliage.
Hiking through the serene natural landscape while surrounded by vibrant leaves makes Kamikochi a top choice for an autumn escape.
Good to know: This is a popular spot for Japanese travelers, so be prepared to share the (epic) views!
Kamikochi in autumn (Nagano Prefecture):
Top sights: Azusa River, Kappa Bridge, and the surrounding Japanese Alps.
Things to do: Go hiking, enjoy the pristine nature, and take in the breathtaking mountain scenery.
Special food: Try Shinshu soba (buckwheat noodles), a local favorite.
6. Nagano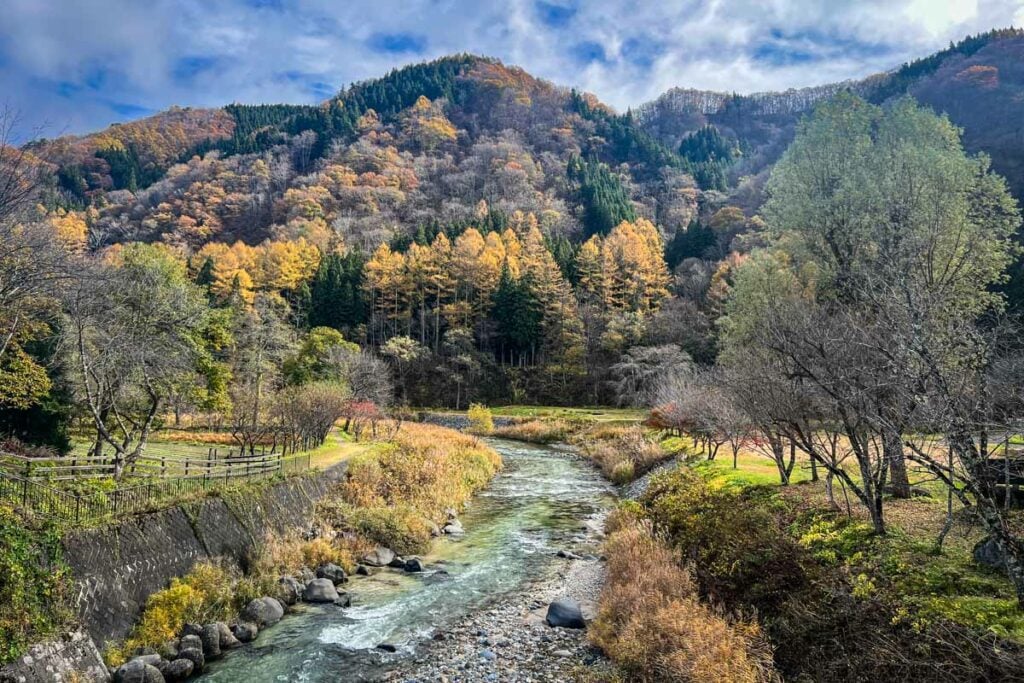 The mountains of Nagano are known for their legendary snow (JaPOW!) and are a popular skiing destination come winter. But don't discount Nagano as a fall destination as well.
The historic Zenko-ji Temple and the opportunity to see snow monkeys in hot spring baths add unique cultural and natural dimensions to Nagano's appeal in autumn.
Fun fact: Nagano was the host city of the 1998 Winter Olympics.
Nagano in autumn (Nagano Prefecture):
Top sights: Zenko-ji Temple, Jigokudani Monkey Park, and Matsumoto Castle.
Things to do: Visit historical sites, see snow monkeys in hot springs, and explore traditional towns.
Special food: Sample oyaki, a regional dumpling filled with various ingredients like mushrooms, sweet potatoes, or red bean paste.
7. Shirakawago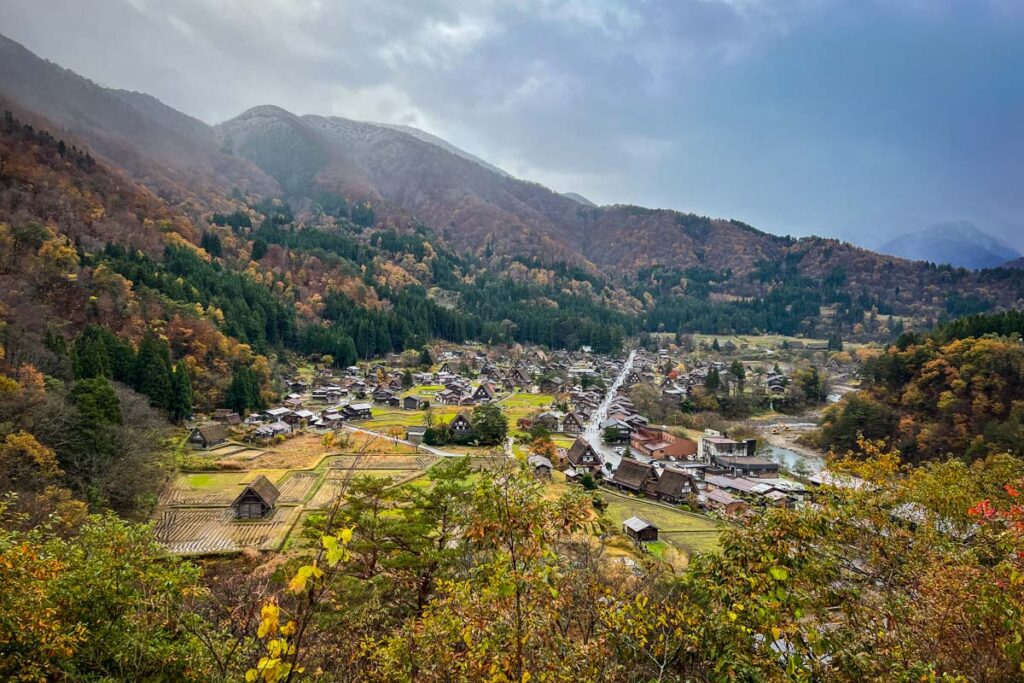 The picturesque Gassho-zukuri farmhouses in this UNESCO World Heritage Site are even more enchanting when surrounded by the colors of fall.
Shirakawago offers a charming, traditional Japanese experience in a stunning autumnal setting.
Shirakawago in autumn (Gifu Prefecture):
Top sights: Historic Gassho-zukuri farmhouses, Shirakawa-go Observatory, and the UNESCO World Heritage Site.
Things to do: Experience the unique thatched-roof villages and participate in local cultural activities.
Special food: Enjoy local dishes like soba noodles and hearty hotpots.
8. Tateyama Alpine Route
Tateyama Kurobe Alpine Route's legendary snow walls and alpine landscapes are enhanced by autumn foliage, creating a captivating juxtaposition of seasons.
This is truly a fantastic place to witness the transition from summer to fall or fall to winter.
Is this on your itinerary? We've got a guide that covers exactly how to do the Tateyama Kurobe Alpine Route!
Tateyama Alpine Route in autumn (Toyama and Nagano Prefectures):
Top sights: Tateyama Kurobe Alpine Route, Snow Corridor, and Kurobe Dam.
Things to do: Explore the snow walls, ride cable cars and buses, and take in stunning mountain landscapes.
Special food: Try Toyama black ramen, a regional specialty known for its rich broth and chewy noodles.
9. Kyoto
Kyoto's iconic temples and gardens are elevated by the fiery reds and golden yellows of fall foliage.
That said, this is one of Japan's most-visited cities and is extremely busy in the fall season with Japanese and international travelers.
Our advice: If you're visiting during this time of the year, we'd recommend visiting some of the lesser-known places (instead of the most iconic ones) if you want to avoid the chaos. There is so much to see just outside the city limits, and if you look for it, you can find places with very few other people, creating a more tranquil experience.
Traveling to Kyoto? Check out our list of things to do in Kyoto, including all sorts of hidden gems!
Kyoto in autumn (Kyoto Prefecture):
Top sights: Kinkaku-ji (Golden Pavilion), Arashiyama Bamboo Grove, Fushimi Inari Shrine, and the Higashiyama District. (These are the ones to avoid if you don't like crowds!)
Things to do: Visit historic temples, stroll through picturesque districts, and enjoy traditional tea ceremonies.
Special food: Savor yudofu, a simple but delicious tofu hotpot, and seasonal Kyoto kaiseki cuisine.
10. Oirase Gorge
Located in Aomori Prefecture (the northernmost part of Japan's main island, Honshu), the Oirase Gorge comes alive in the fall.
The gorge's waterfalls, streams, and lush forests are aglow with vibrant autumn colors, offering a serene and enchanting natural escape for those seeking the beauty of fall in a tranquil setting.
Oirase Gorge in autumn (Aomori Prefecture):
Top sights: Oirase Gorge waterfalls, beautiful streams, and serene hiking trails.
Things to do: Hike along the scenic gorge, explore the lush forests, and enjoy the fresh air.
Special food: Taste Tsugaru apples, renowned for their sweet and crisp quality, as well as local seafood dishes.
Tips for visiting Japan in autumn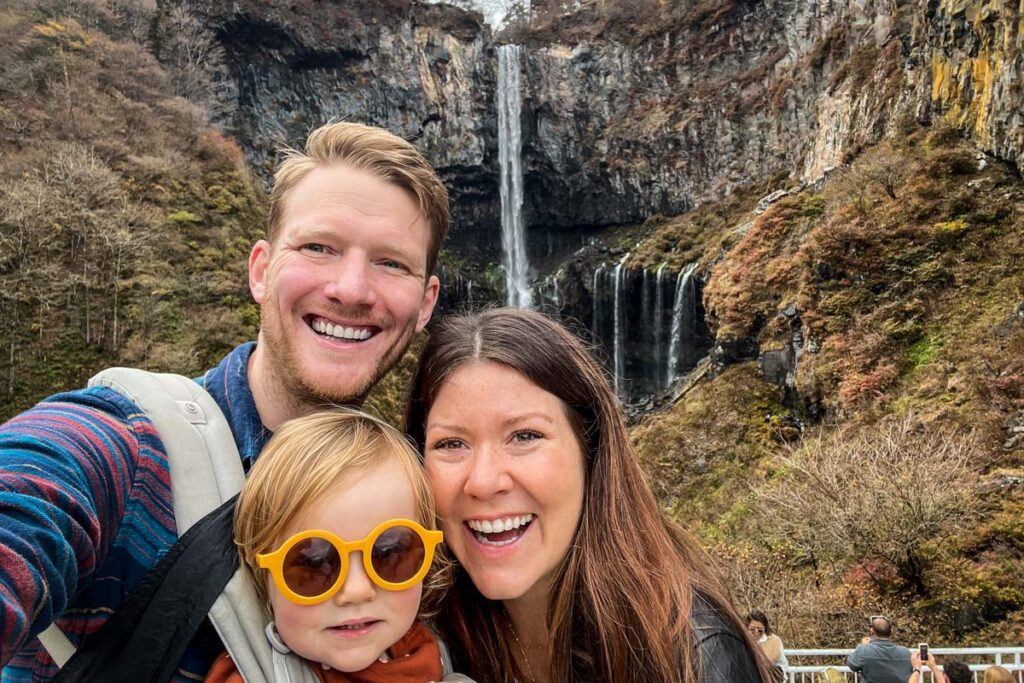 Here are a few things we wish we would have known before traveling to Japan in autumn.
1. Book early
While not as popular with international tourists as sakura (cherry blossom) season, fall is still a sought-after time of year to explore Japan.
Book your accommodation as early as you feel comfortable, as highly-rated places will sell out, especially in top spots for foliage, like Nikko and Kyoto.
2. Pack layers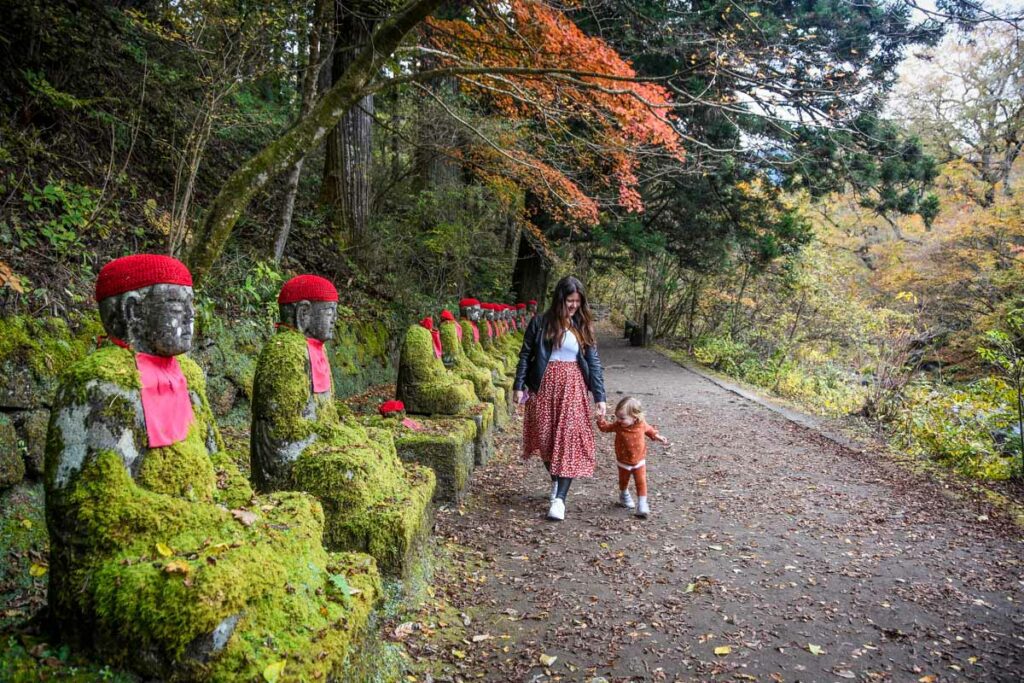 You may encounter summer-like weather as well as snow, so you'll want to be prepared for all types of weather.
3. Know about road closures
In Japan's mountainous regions, some of the higher elevation roads and parks close in mid-November as temperatures start to drop and snow becomes probable.
As we were planning our own fall Japan trip, we came across some areas we wanted to visit (in Nagano prefecture) that were unfortunately closed by the time we got there.
Before getting your heart broken (like we did!) be sure to do some research on open dates, especially in the mountain regions of Japan.
Autumn weather in Japan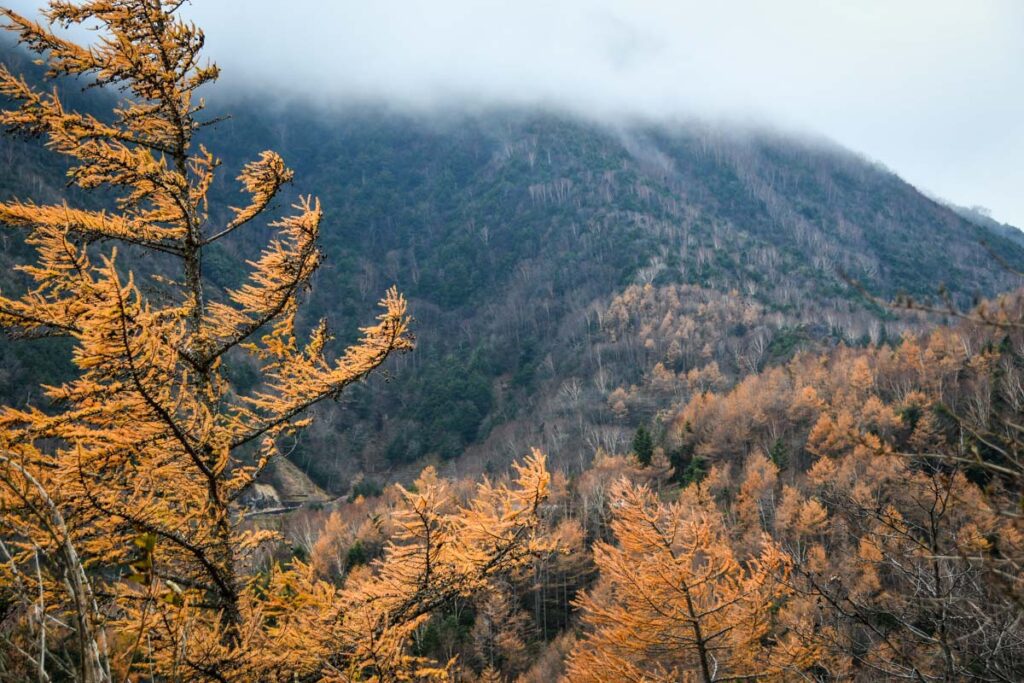 Technically, fall in Japan spans from September through November, but the temperatures vary a lot across this time frame.
If you're looking for a true autumn experience, we'd recommend skipping September (which will still feel like summer!), and planning your trip between mid-October and the end of November.
Below, we're breaking down what to expect month by month in each of Japan's 4 main islands.
Psst! For more info on Japan's seasonal weather patterns, read our Best Time to Visit Japan guide.
Hokkaido (Northern Japan)
Japan's northernmost island typically sees fall colors first, and experiences overall cooler temperatures than the regions to the south.
This is a good choice if you're traveling during September but want to experience fall foliage and cooler weather.
September: Hokkaido's autumn begins in September with temperatures ranging from 57°F to 72°F (14°C to 22°C). The season is marked by pleasant weather, making it an ideal time for outdoor activities and the early stages of fall foliage.
October: October brings cooler temperatures, averaging 48°F to 61°F (9°C to 16°C). Fall foliage becomes more vibrant, particularly in areas like Sapporo and Daisetsuzan National Park.
November: By November, Hokkaido experiences further cooling, with temperatures ranging from 34°F to 48°F (1°C to 9°C). The autumn colors are at their peak, and winter starts to set in, especially in the northern regions.
Honshu (Central Japan)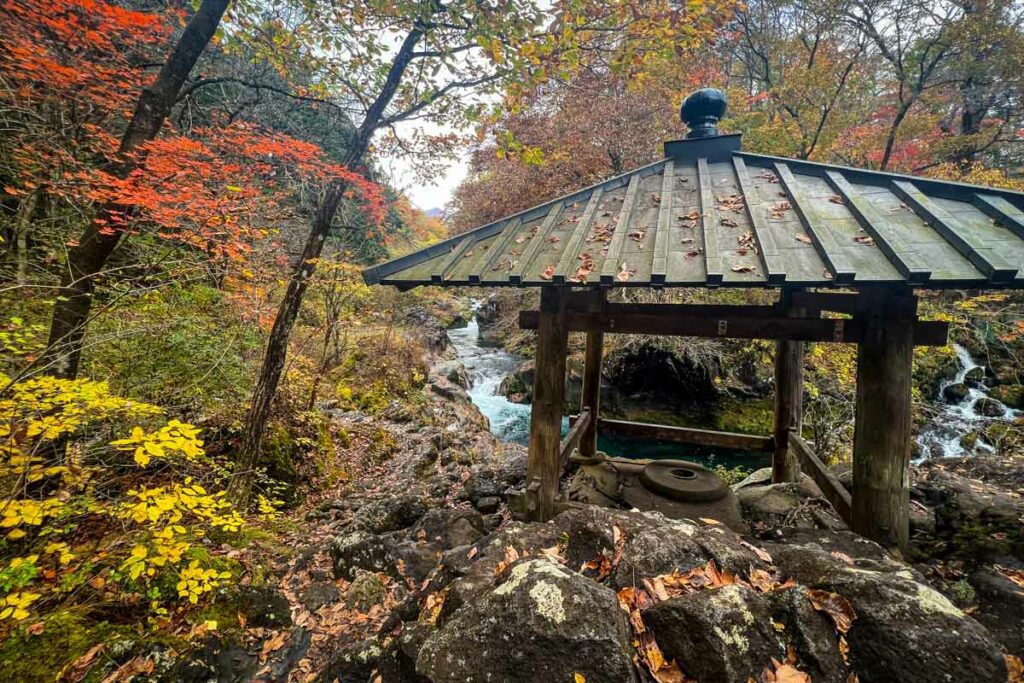 Honshu is the region where Tokyo, Kyoto, and Osaka are located, making it the most popular part of Japan for travelers.
If you'll be traveling to this region (like most people visiting Japan!), this information should be helpful.
September: In central Japan, including Tokyo and Kyoto, September is still warm (hot even!) and won't necessarily feel like fall. Temperatures average 73°F to 84°F (23°C to 29°C).
October: October is mild in Honshu with temperatures ranging from 59°F to 75°F (15°C to 24°C). That said, if you're visiting mountainous regions, like Nagano, temps will be cooler. Fall foliage progresses, and it's an excellent time to explore places like Nikko, where the colors start to peak.
November: November brings cooler temperatures, with averages between 46°F to 63°F (8°C to 17°C). The autumn foliage peak progresses southward and leaves display their vibrant colors.
Shikoku and Kyushu (Southern Japan)
The islands of Shikoku and Kyushu are good places to visit if you are traveling on the later end of autumn and still want to see foliage, or if you'd prefer a warm holiday over a traditional autumn.
September: Shikoku and Kyushu enjoy warm temperatures in September, with averages between 77°F to 89°F (25°C to 32°C). The weather is pleasant for outdoor activities and exploring the region's natural beauty, but it's not fall weather.
October: October is mild and comfortable, with temperatures ranging from 18°C to 28°C (64°F to 82°F). Later in the month, fall foliage begins in the northern mountains and slowly descends.
November: The weather cools down in November, with temperatures ranging from 13°C to 23°C (55°F to 73°F), and it is during this month that you can experience the best fall colors this region has to offer.

Southern Shikoku, including the island of Shodoshima, displays its vibrant autumn colors.
Kyushu's autumn foliage is in full swing, with beautiful displays in places like Kumamoto and Miyazaki.
What to pack for autumn in Japan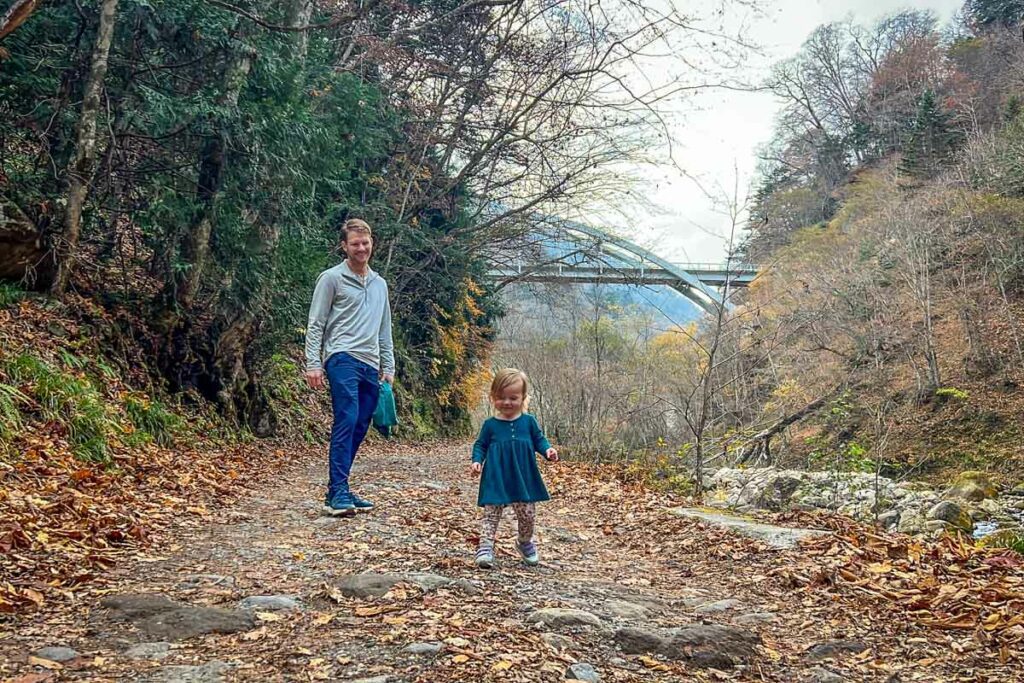 Base layers (merino wool is great!)
Lightweight puffer jacket
Lightweight gloves
Beanie
Fleece-lined tights (like these!)
Long sleeves
T-shirts
Pants
Skirts
Clothes for hiking
Be sure to download our complete packing list for Japan! It's packed with good suggestions and insider tips to help plan your Japan trip. And it's completely FREE, so why not!?
---
Are you planning a trip to Japan?
We have TONS of resources on travel in Japan and destinations throughout the country. Check out our Ultimate Japan Travel Guide for all the answers to your most burning travel questions, or read some of our favorite articles below.
Save this article on Pinterest for later!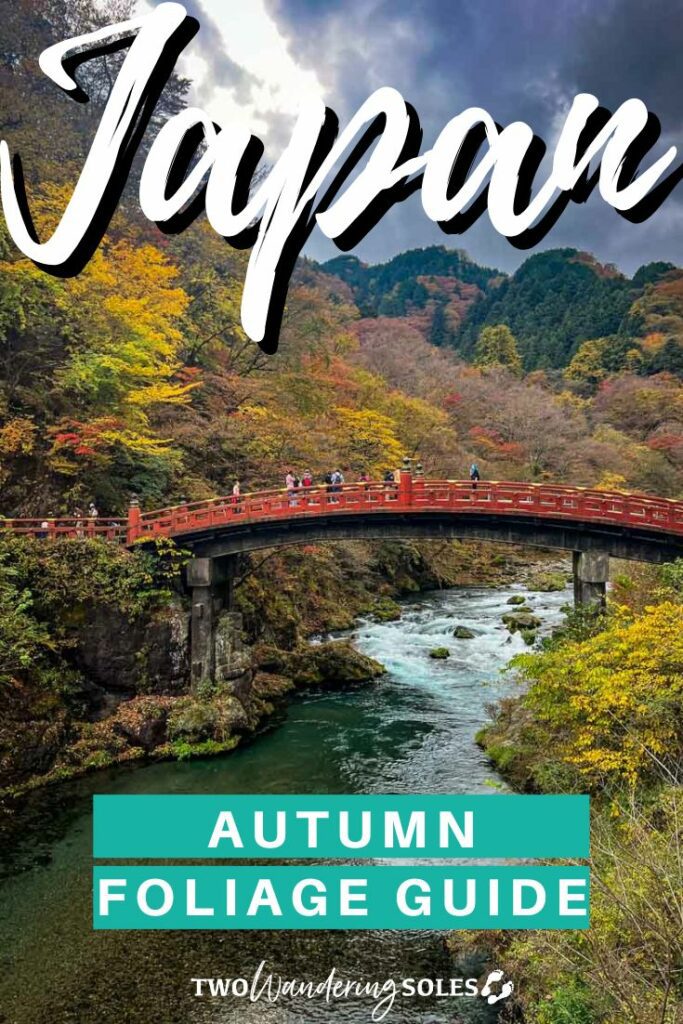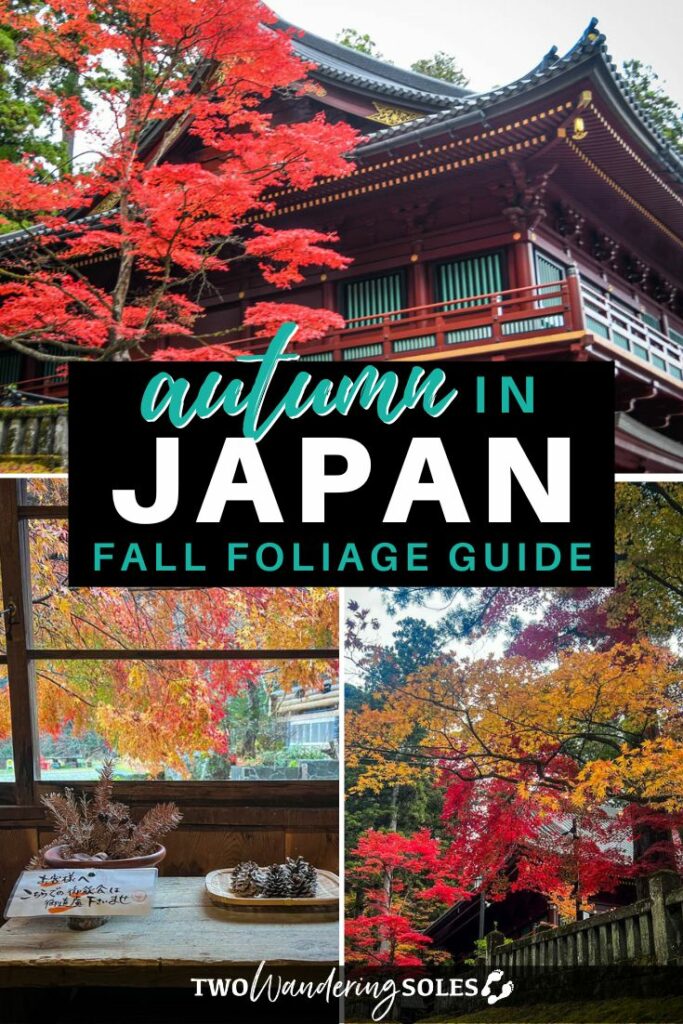 We want to hear from you!
Do you still have questions about visiting Japan in autumn? Or questions about planning a trip to Japan in general? Let us know in the comments below and we'll do our best to get back to you!