If you're visiting the Yucatan Peninsula and you enjoy getting off the beaten path, there's an excellent chance Isla Holbox is on your radar. Reaching the blissful island takes some effort and planning, so we created this guide detailing how to travel from Cancun to Holbox.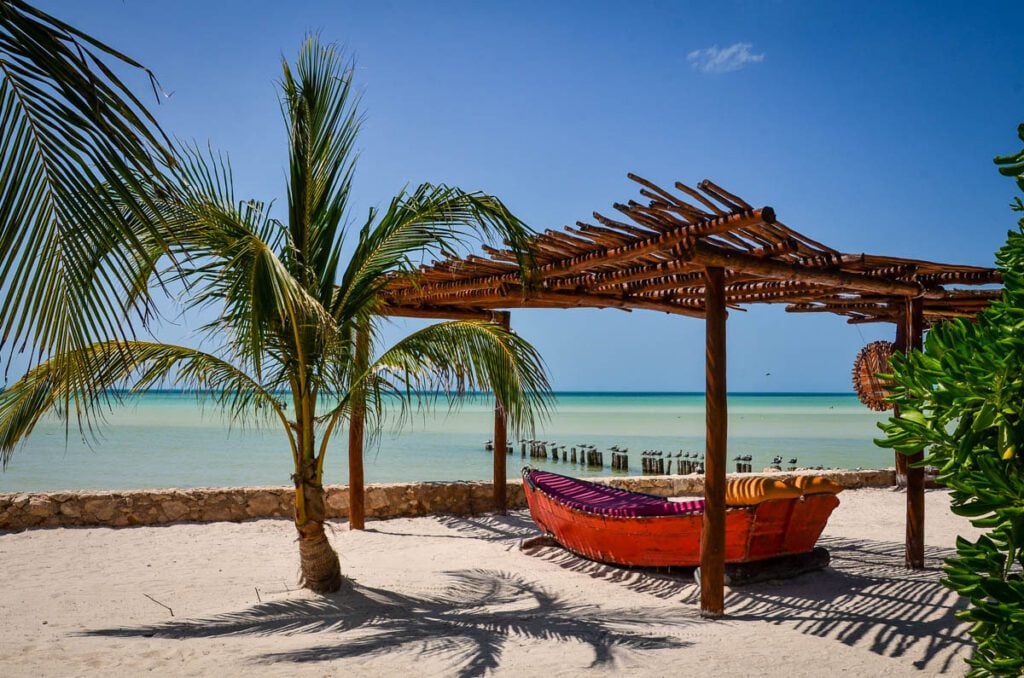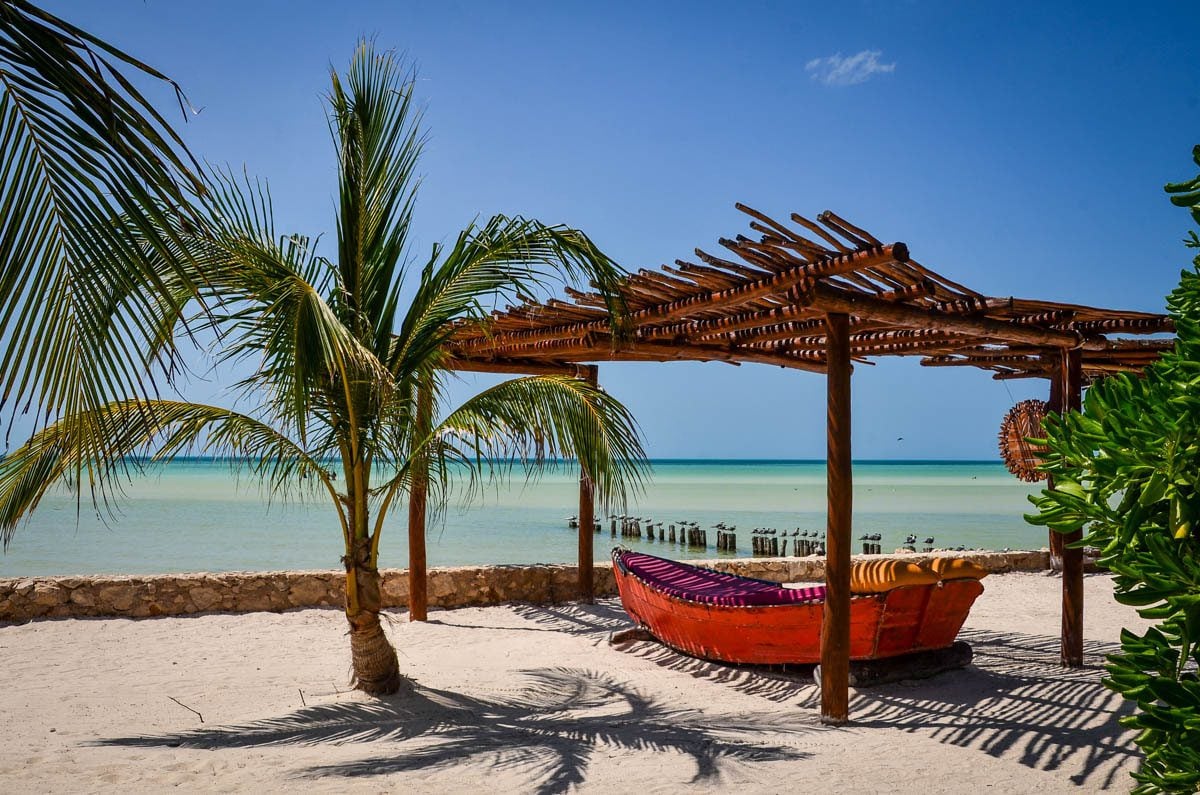 Love the idea of visiting Mexico's Caribbean Coast, but not so much Cancun's infamous party scene? Head to Isla Holbox, where you can escape the city's hustle and bustle and explore one of the area's last hidden gems.
In just a few short hours traveling from Cancun to Holbox, you'll trade in rowdy beach bars and cruise ships full of people for a unique car-free paradise with pristine white sand beaches, turquoise seas, and an incredibly serene atmosphere.
While Isla Holbox takes a bit more effort to reach than other Yucatan hotspots such as Tulum and Cozumel, its relative isolation is a huge part of the appeal. And with some advance planning, the scenic journey from Cancun to Holbox can easily become a highlight of your trip.
Ready to get your feet wet? We've detailed all the options for traveling from Cancun to Holbox in this guide!
Cancun to Holbox
Psst! Don't miss our complete guide to visiting Isla Holbox, Mexico's island oasis in the Yucatan.
---
Cancun to Holbox by bus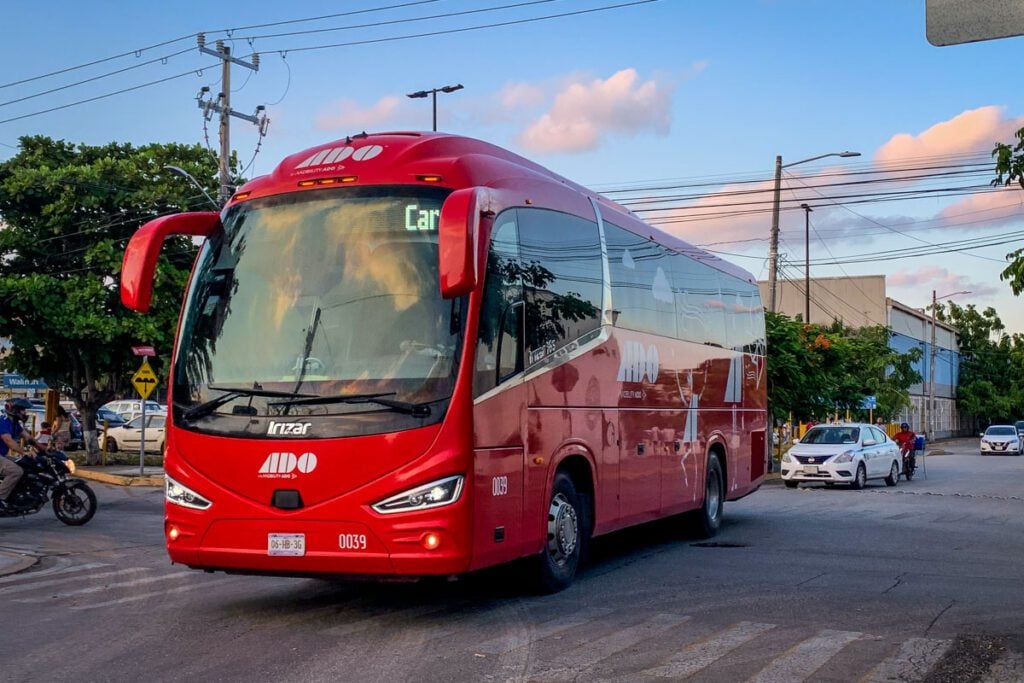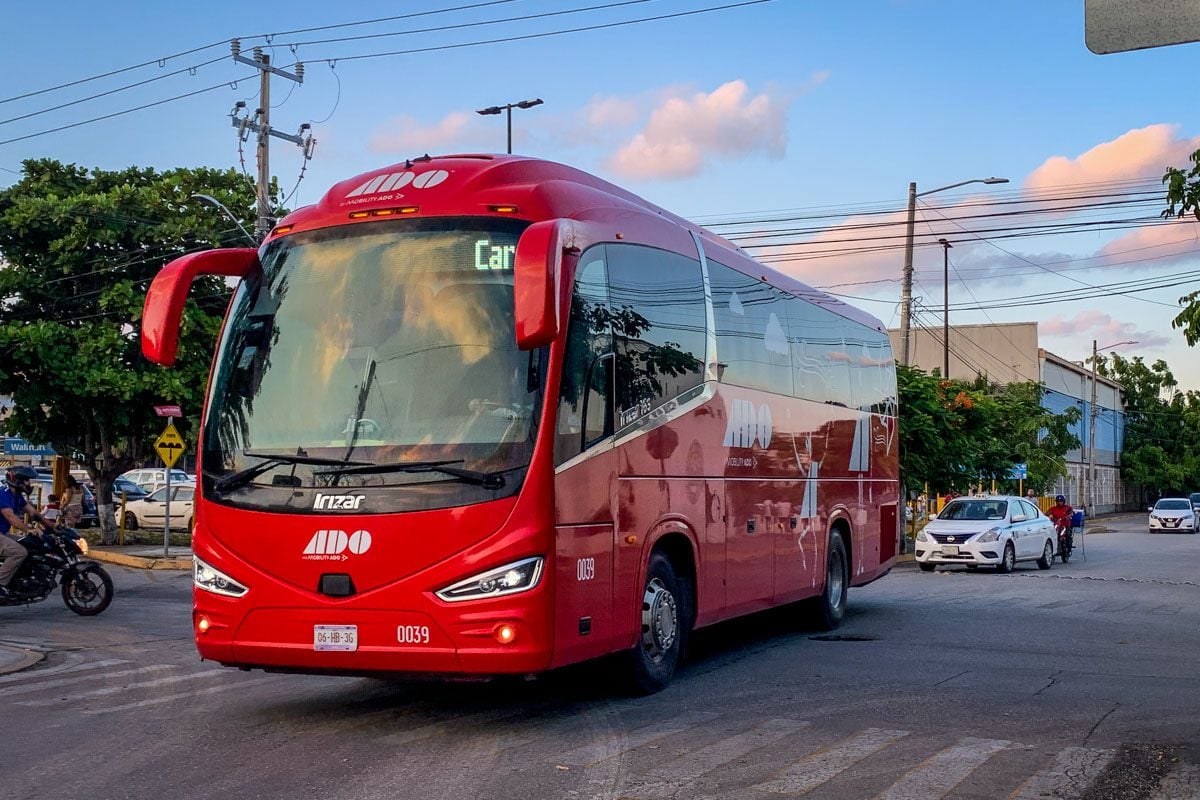 The most affordable way to get from Cancun to Holbox is by bus. However, it's important to note that since Holbox is an island, this transportation method also involves taking a ferry from the port town of Chiquilá, located about two hours from Cancun (more on that below!).
There are two bus options from Cancun: colectivos and ADO buses, and the trip takes 3-3.5 hours. The bus routes are advertised as 2.5 hours, but they do make other stops…plus, there's the fact that time moves at its own pace in Mexico, so plan for around three!
Colectivos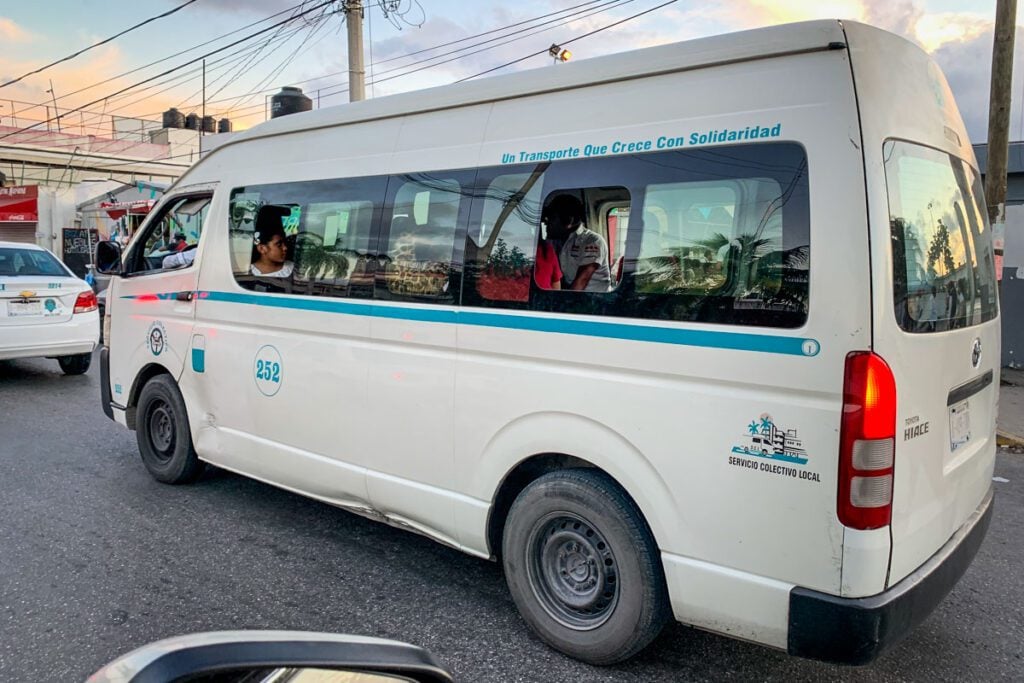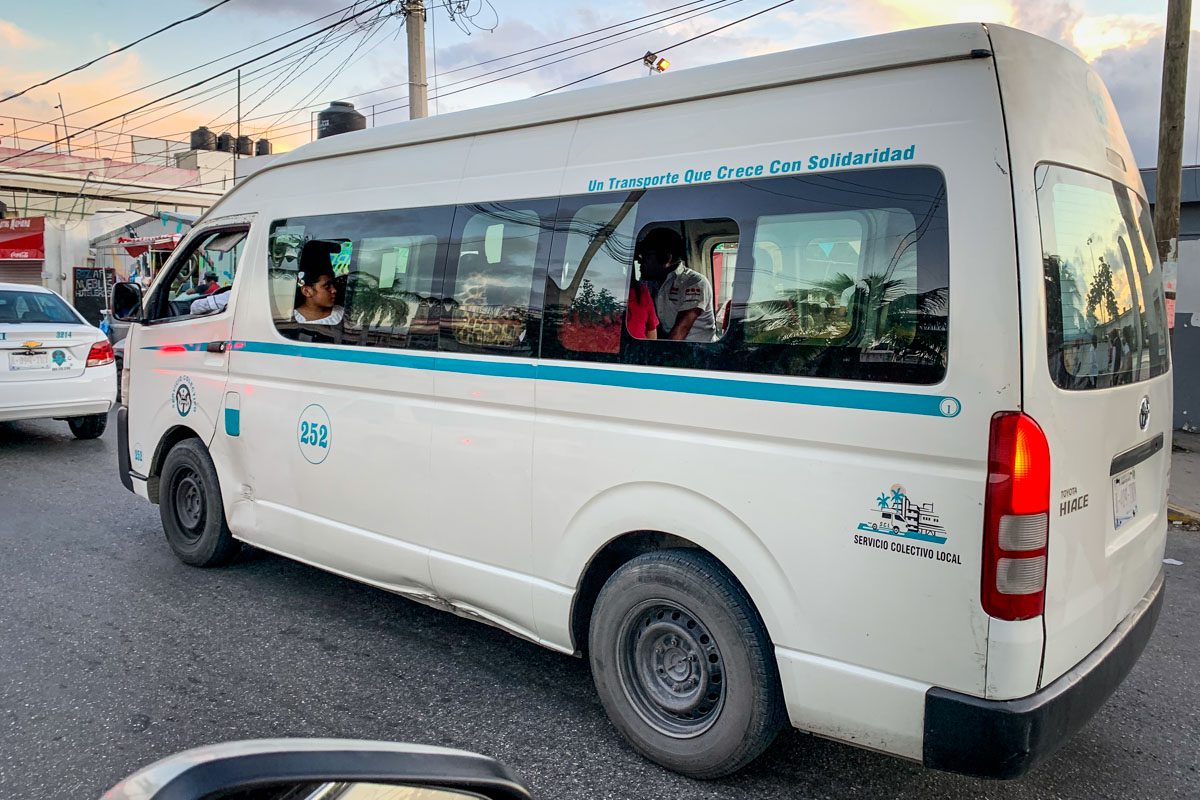 Smaller and sometimes without air-conditioning, these vans are less comfortable than the ADO buses, but still work just fine.
They leave four times a day (7:30 a.m., 9:30 a.m., 1:30 p.m., and 3:30 p.m.), departing from the Soriana Supermarket in downtown Cancun on Tulum Ave. You can't miss the buses parked out front.
The one-way colectivo trip from Cancun to the ferry port is 250 pesos, or just over $13 USD.
Amazingly, you can book your trip in advance by sending an email to cancunshuttlebustransfer@gmail.com or contacting the company through Facebook. This is a big deal, as nearly all other colectivos throughout the country cannot be booked in advance!
It is almost a guarantee that your luggage will go on top of the van, so keep that in mind when packing and make sure your valuables are secured.
ADO buses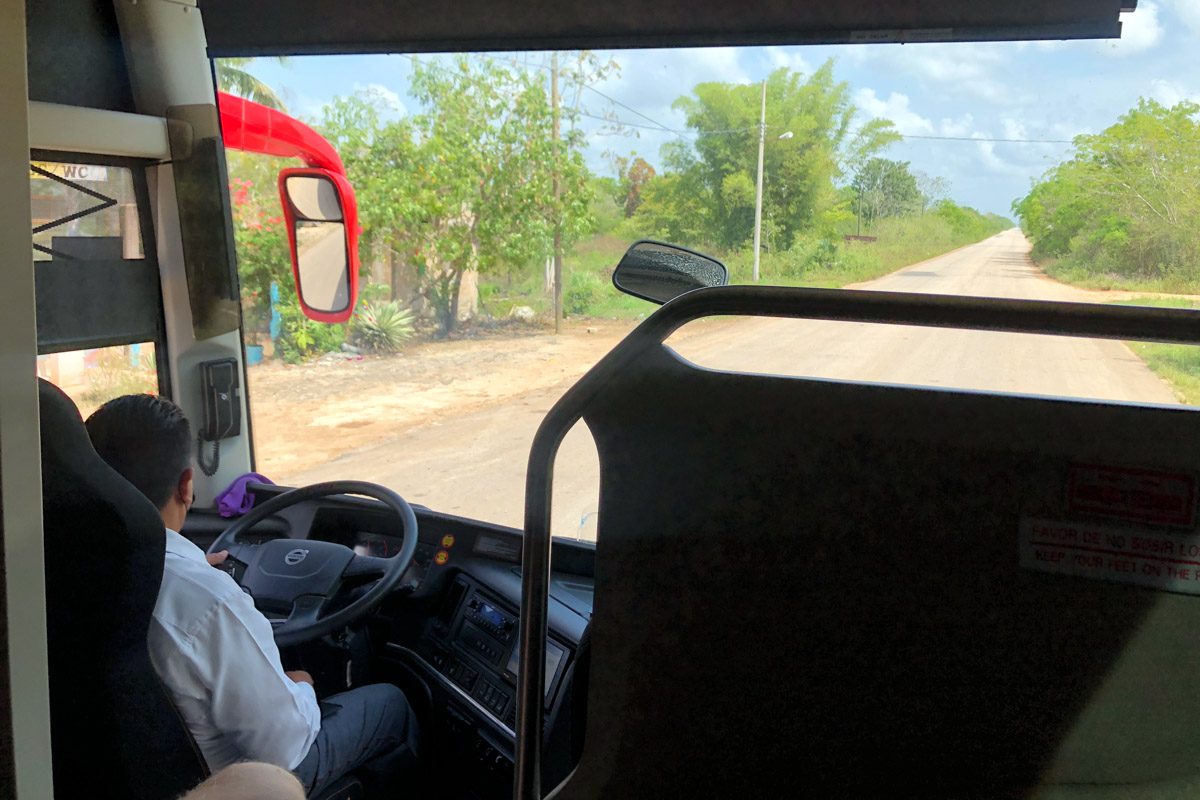 ADO buses—big, modern, red coaches—are significantly more comfortable than colectivos. They have large seats, restrooms, secure under-bus cargo storage, and oftentimes, Wifi on board.
We have a complete guide to the ADO bus system in Mexico that details what to expect and how to book tickets online in English.
You can easily book an ADO bus in advance, and it's highly recommended, as they do sell out.
Tickets cost 344 pesos (about $18 USD) and there are seven daily departures between 8:15 a.m. and 3:15 p.m.
Note that there is also a 5:00 p.m. departure in a van, rather than a coach. Similar to the colectivos, these vans often don't have luggage storage, so this option should be more of a last resort.
ADO buses depart from Cancun's ADO Bus Station, where you can also purchase tickets if you didn't in advance.
Since nearby Playa del Carmen is another popular destination in the Yucatan, it's worth noting that ADO buses run four times per day from Playa to Isla Holbox. The cost is nearly identical to leaving from Cancun.
Price: $18 USD for the 44-seat coach; 298 pesos for the 16-passenger van
Duration: 2 hours, 20 minutes
Playa del Carmen to Chiquila ADO bus
Price: $22 USD
Duration: 2 hours, 10 minutes
Good to know: Since these are popular routes, we recommend reserving your bus tickets in advance.
Cancun to Holbox by car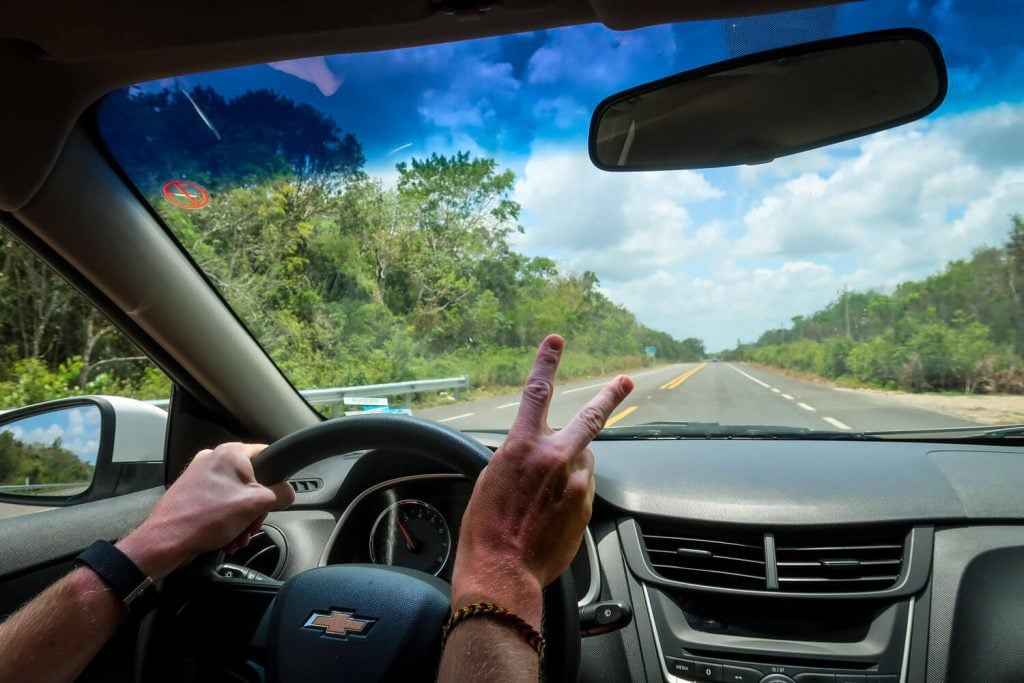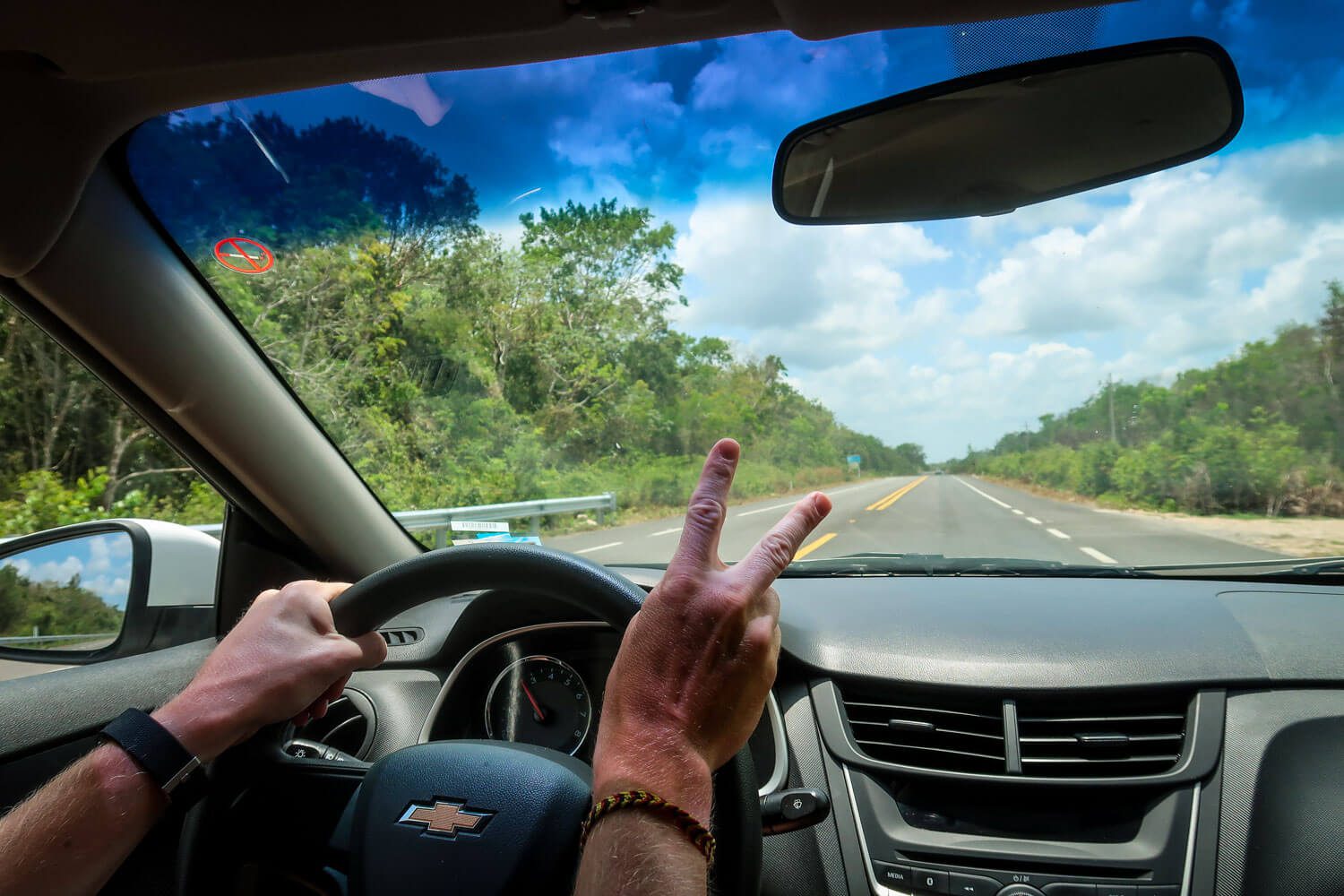 Whether you don't want to deal with buses, you're traveling with a group, or you simply prefer the flexibility of driving yourself, renting a car to travel from Cancun to Holbox is another viable option.
Car rentals in Mexico are straightforward and quite affordable — prices start around 550 pesos per day, or about $30 USD. Use Discover Cars to easily compare the best rates and vehicles.
Remember, though, Holbox is a (mostly) car-free island and it's not possible to bring your own vehicle. That means, just like with the buses from Cancun to Holbox, you'll have to go to Chiquilá and then take the ferry.
The straightforward drive to Chiquilá takes about two hours. Simply head west from Cancun on Road 180 for about an hour, then take a right just past the Pemex in San Ignacio Zaragoza onto the smaller Route 5.
Once you arrive at the roundabout in Chiquilá, take the third exit. Here, you'll find a handful of paid parking lots offering multi-day parking. Prices start around 112 pesos, or $6 USD per day, and these lots generally have security. Still, make sure not to leave any valuables in the car!
Cancun to Holbox by private transfer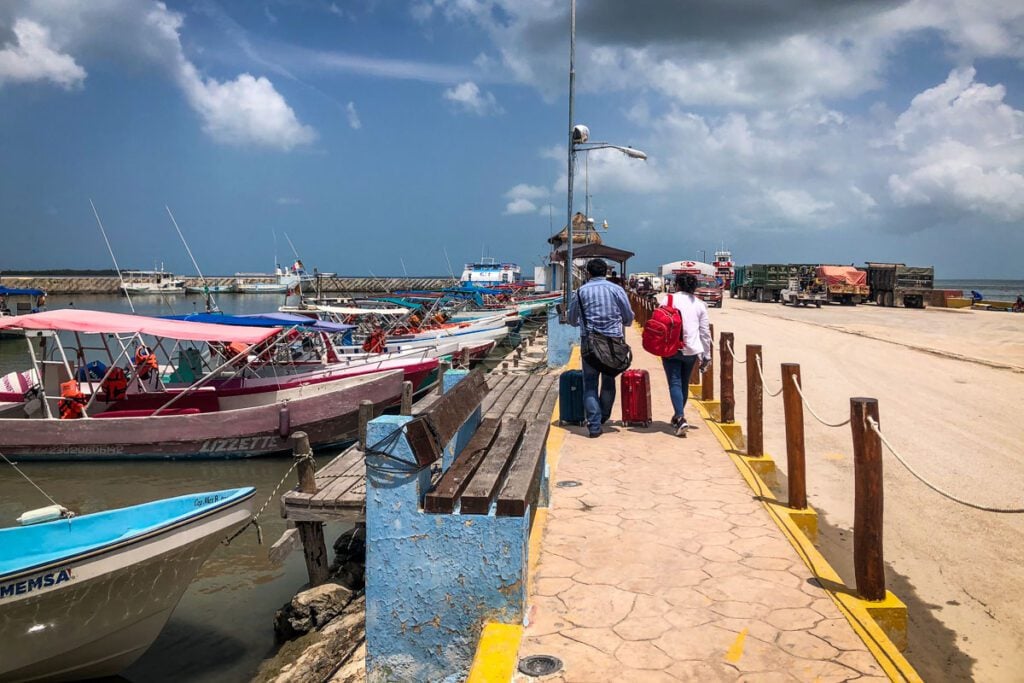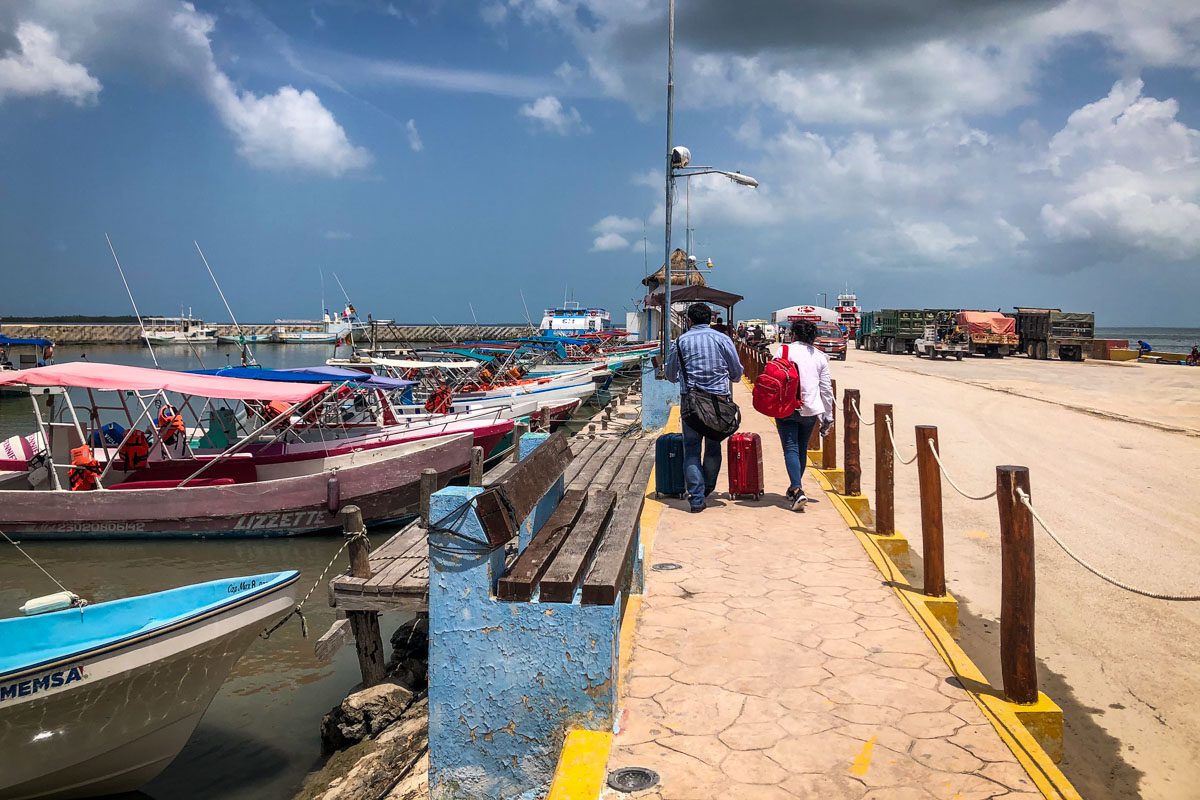 If you'd rather not take a bus, it is possible to hire a private driver, but the comfort will cost you.
Most quotes we've seen are around $100 USD per person, which is significantly more expensive than the bus. However, if you are looking for the most comfortable option, this is it.
Several transfer companies offer options for getting from Cancun to Holbox. One-way shuttle rates start from 2,200 pesos, or $117 USD, and passengers can arrange pick-up from the airport or their hotel in Cancun.
Shuttles range in size, typically accommodating 4-8 people, making it an excellent option for groups.
If you prefer a completely private transfer, this option promises a brand-new Mercedes-Benz vehicle and has excellent reviews!
Ferry to Isla Holbox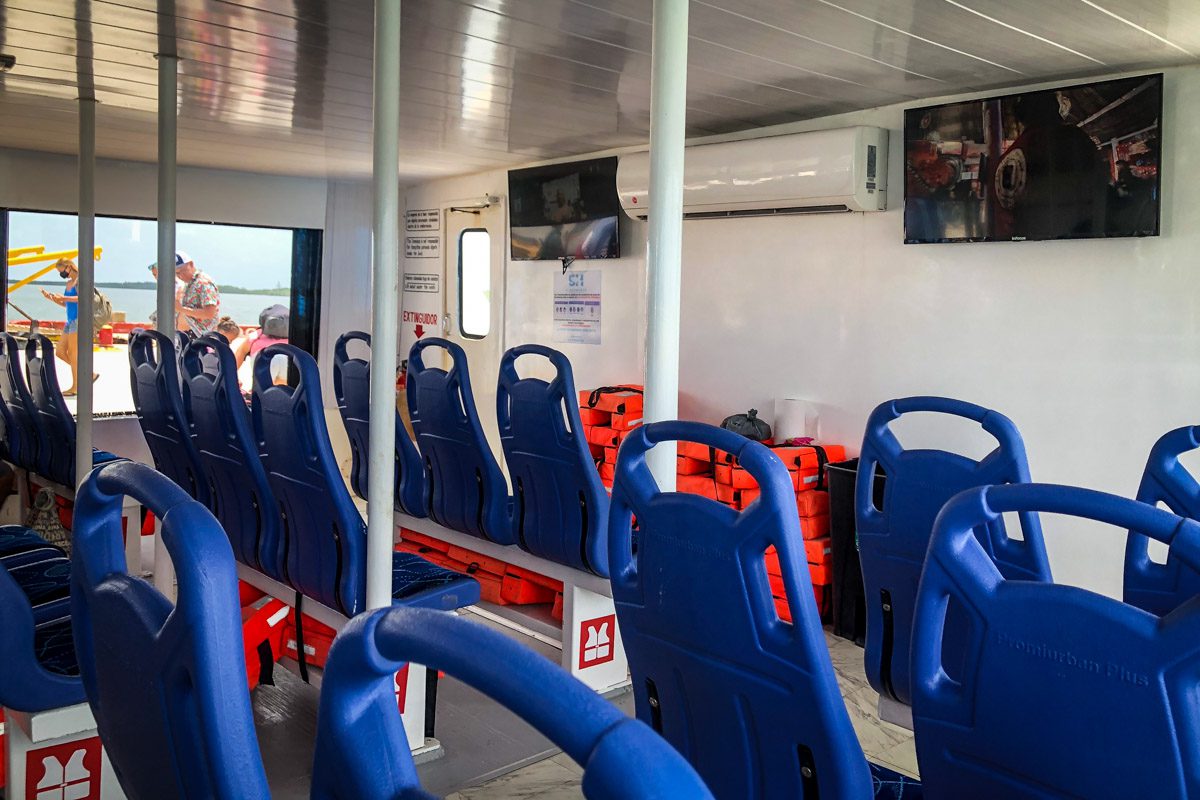 Regardless of how you choose to get there, you will need to take a ferry to Holbox from the mainland (unless you book a private flight). The small seaside town of Chiquila is where you can catch a ferry to Holbox. The ride takes just about 25 minutes.
There are 2 ferry companies in Chiquila:
Holbox Express
9 Hermanos
They both cost 220 pesos ($11.65) for an adult foreigner (Mexican nationals are 80 pesos). Both ferry companies offer essentially the same service, the only difference is the times that they depart Chiquila.
9 Hermanos leaves Chiquila on the hour, from 6 a.m. to 8 p.m.
Holbox Express leaves Chiquila on the half hour, from 7:30 a.m. to 9:30 p.m.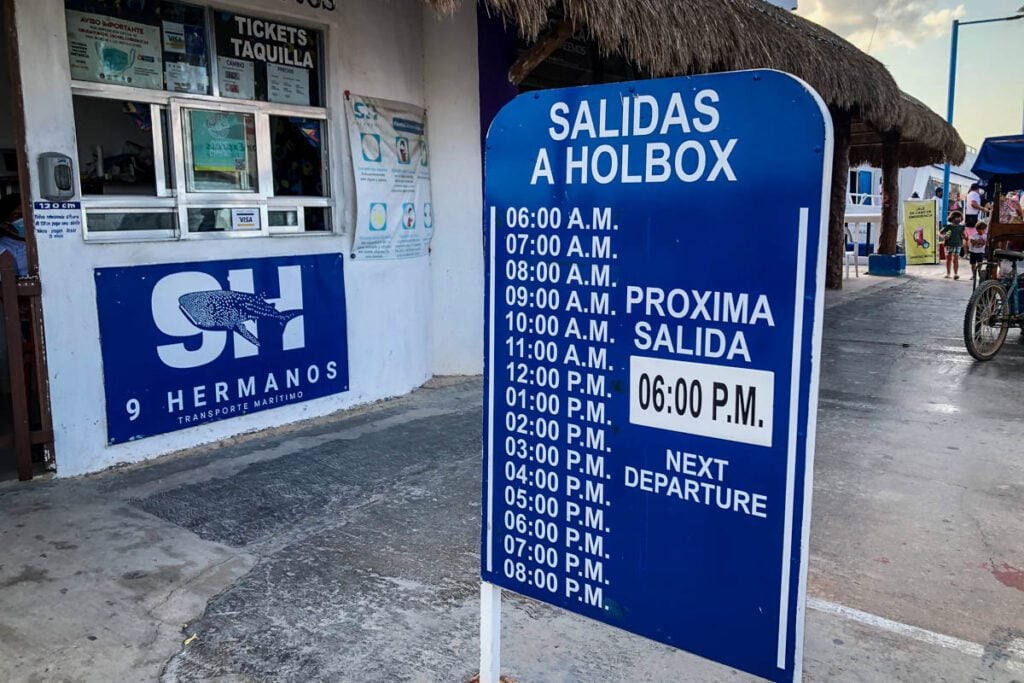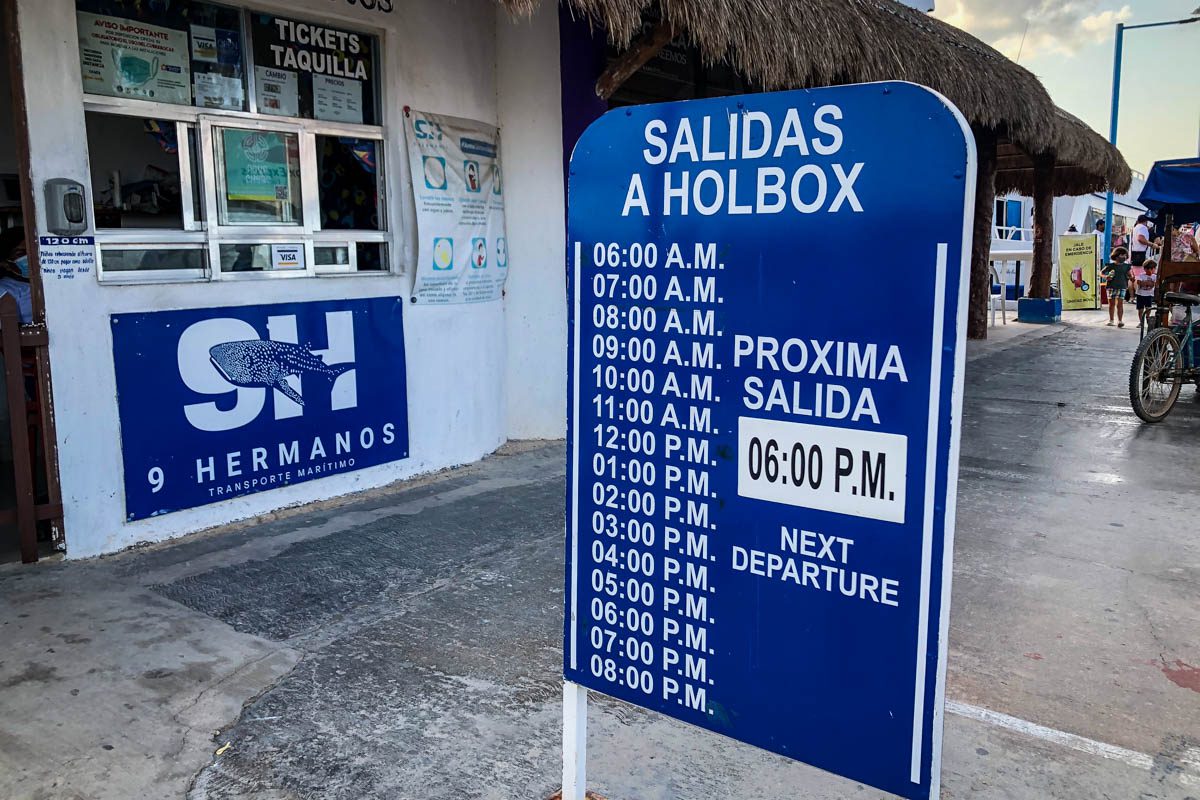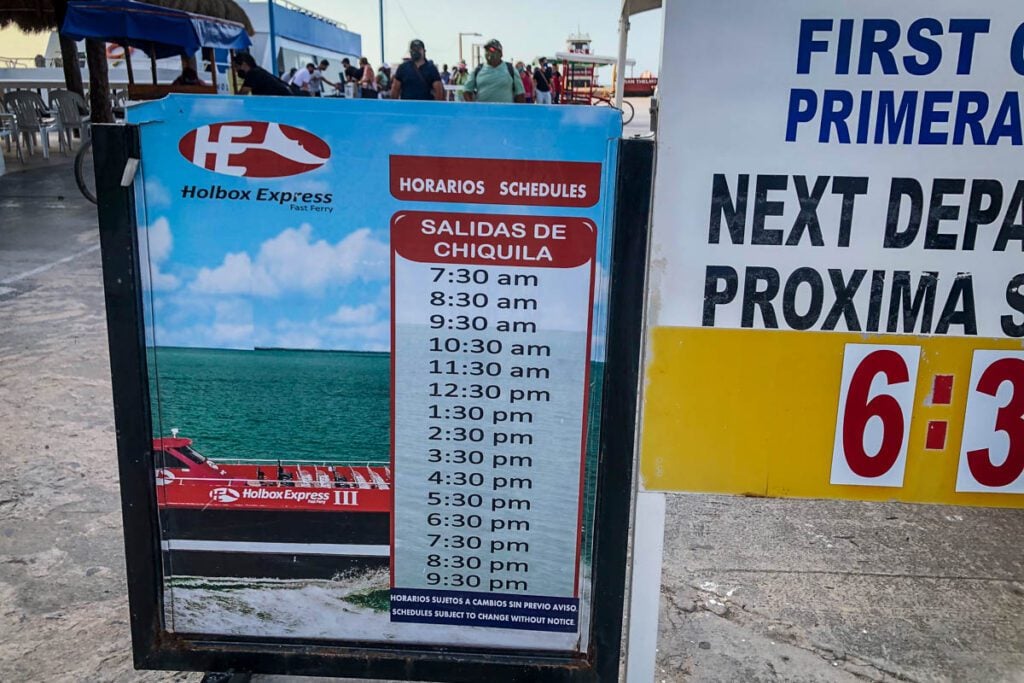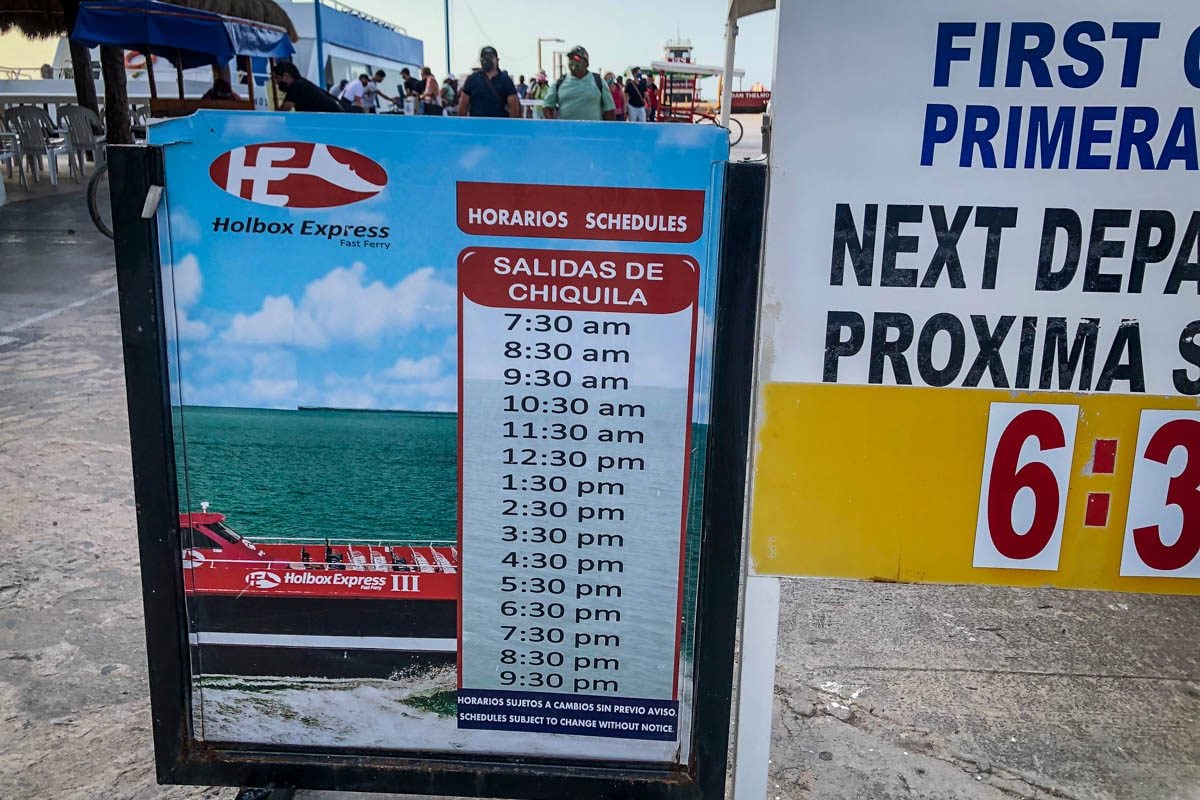 The best ferry to Holbox will depend on what time you get there. Simply look at the next departure for each company and go with the one that leaves next. You can book your tickets when you arrive at the port.
If someone on the ADO bus tries to pre-sell you a ferry ticket, don't buy one. While these tickets are valid, they only work for one of the two ferry companies. That means if your bus arrives late or something else comes up, you could miss your ferry or be forced to wait over an hour!
Note that if you hire a private transfer or guided tour, the company typically pre-books your ferry ticket.
Cancun to Holbox by private flight
Tiny Holbox actually has its own airstrip, so a private flight from Cancun is another option. The short 40-minute flight boasts some spectacular aerial views, showcasing the Yucatan's stunning azure waters.
As you might expect, you pay a steep price for those views on Flights Holbox — prices start around 15,000 pesos per person, about $800 USD.
Rates do vary quite a bit based on the plane size, and fares become more affordable per person if you charter an entire plane for up to nine people.
This could be a fun splurge for a group, but keep in mind that since these jets are small, luggage restrictions are tight and passengers are typically only allowed one carry-on per person.
Guided tours from Cancun to Holbox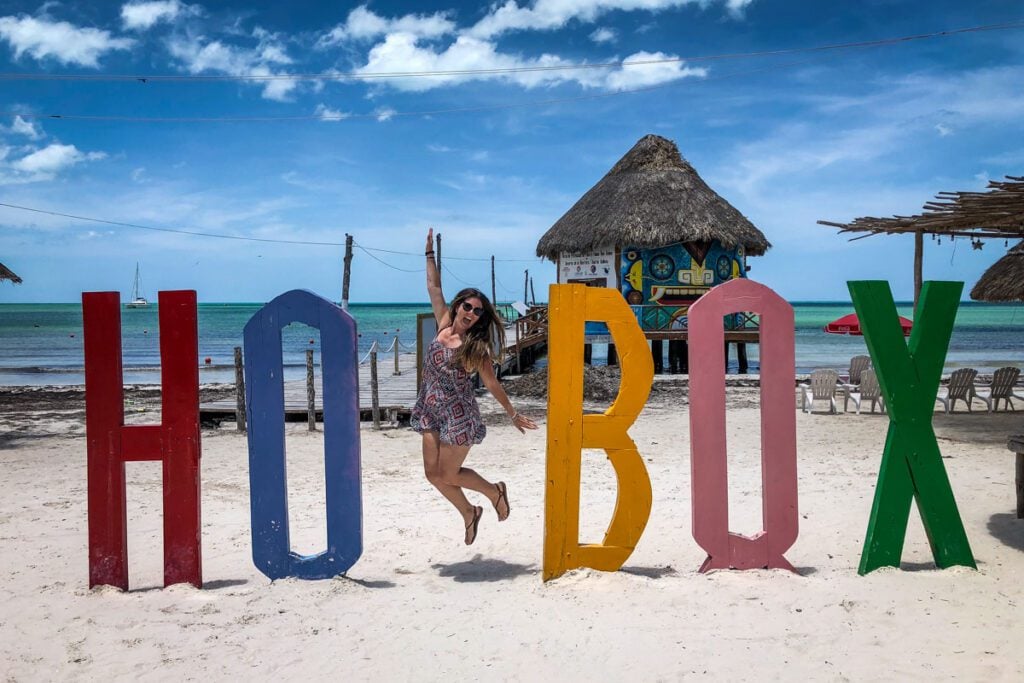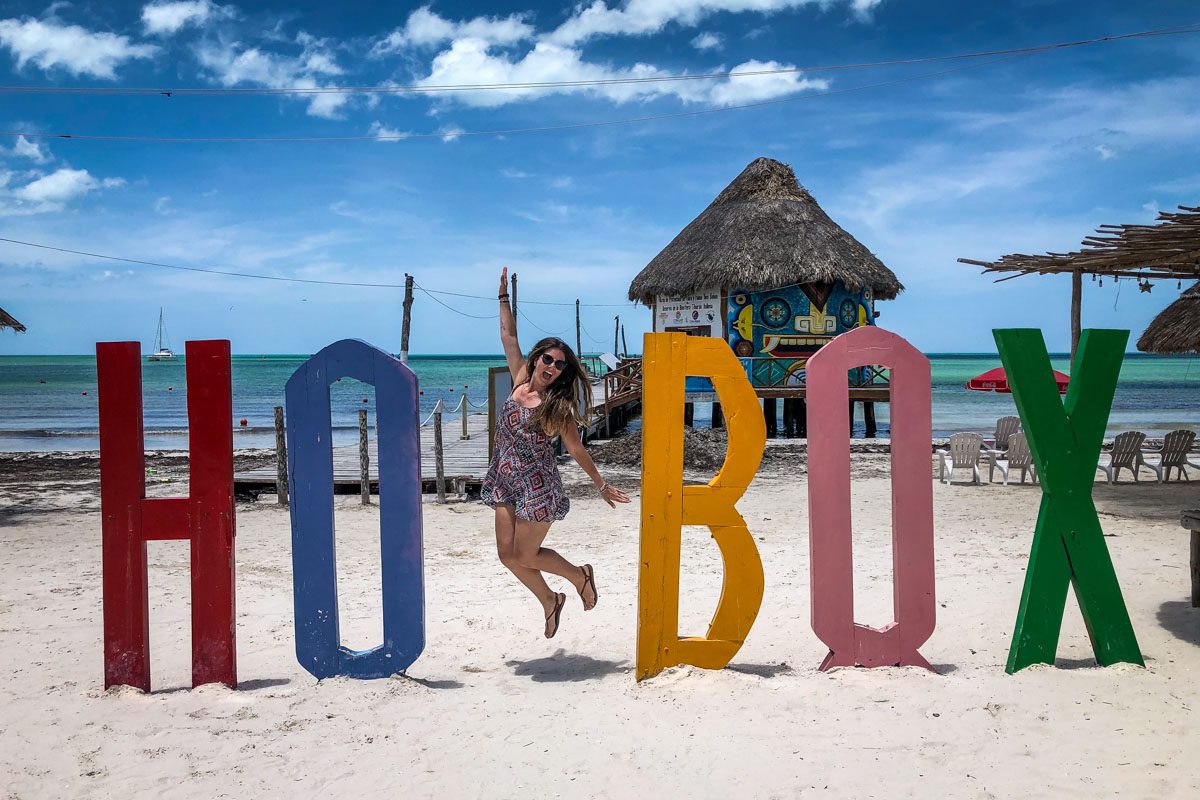 Are you interested in traveling from Cancun to Holbox on a unique day trip? Consider joining a guided tour! Not only are the transportation logistics taken care of for you, but additional activities are included, as well.
---
More resources for planning your trip to Mexico
If you're planning a trip to Mexico, we've got loads of helpful resources for you! Start with our Mexico Travel Homepage, where you'll find general info, and be sure to check out the articles below. Leave us a comment if you have any questions!
Save this article on Pinterest for later!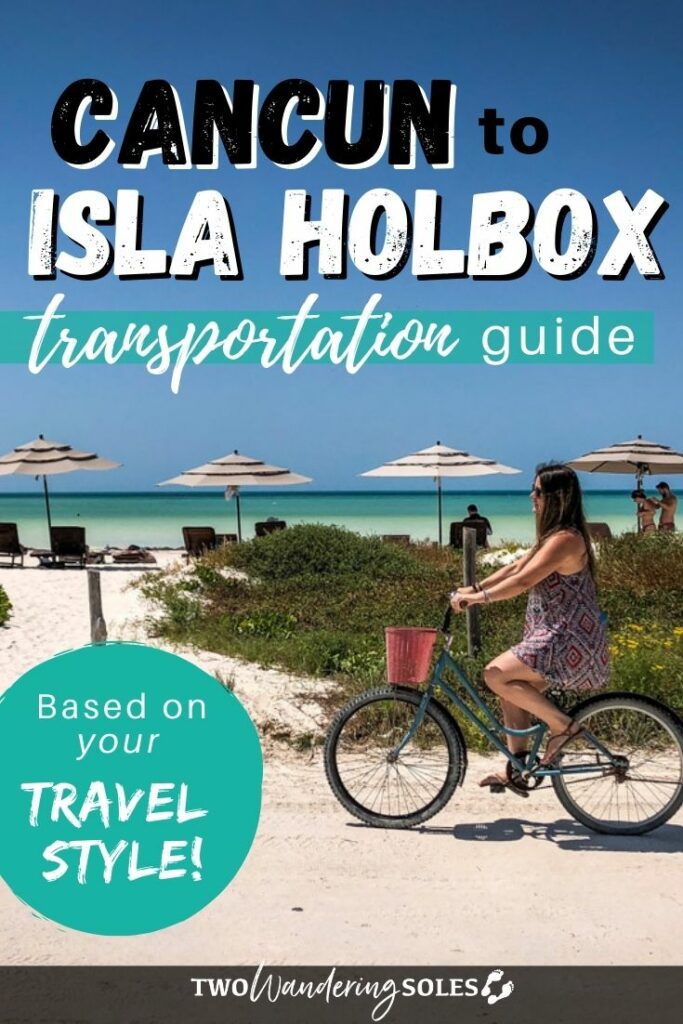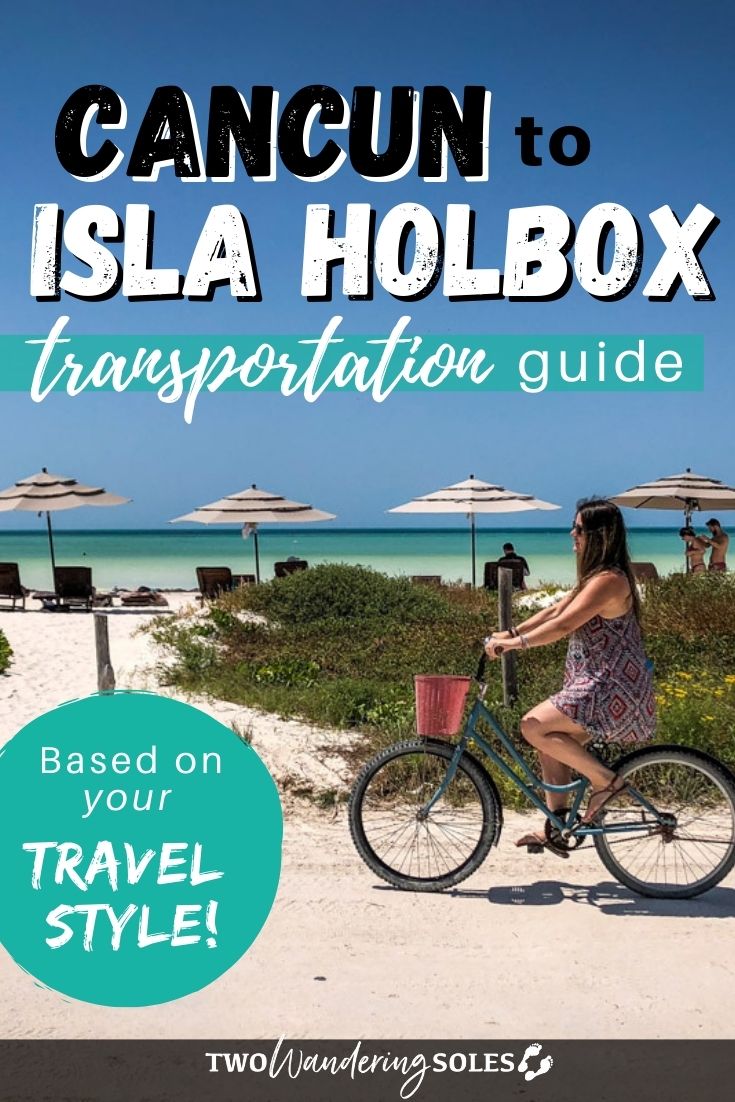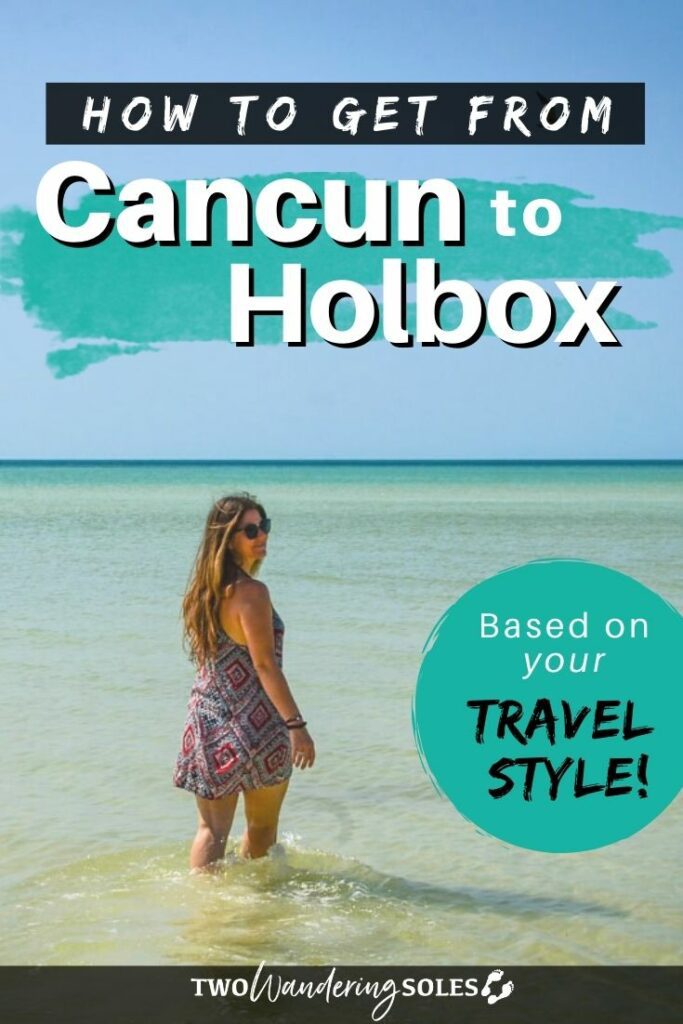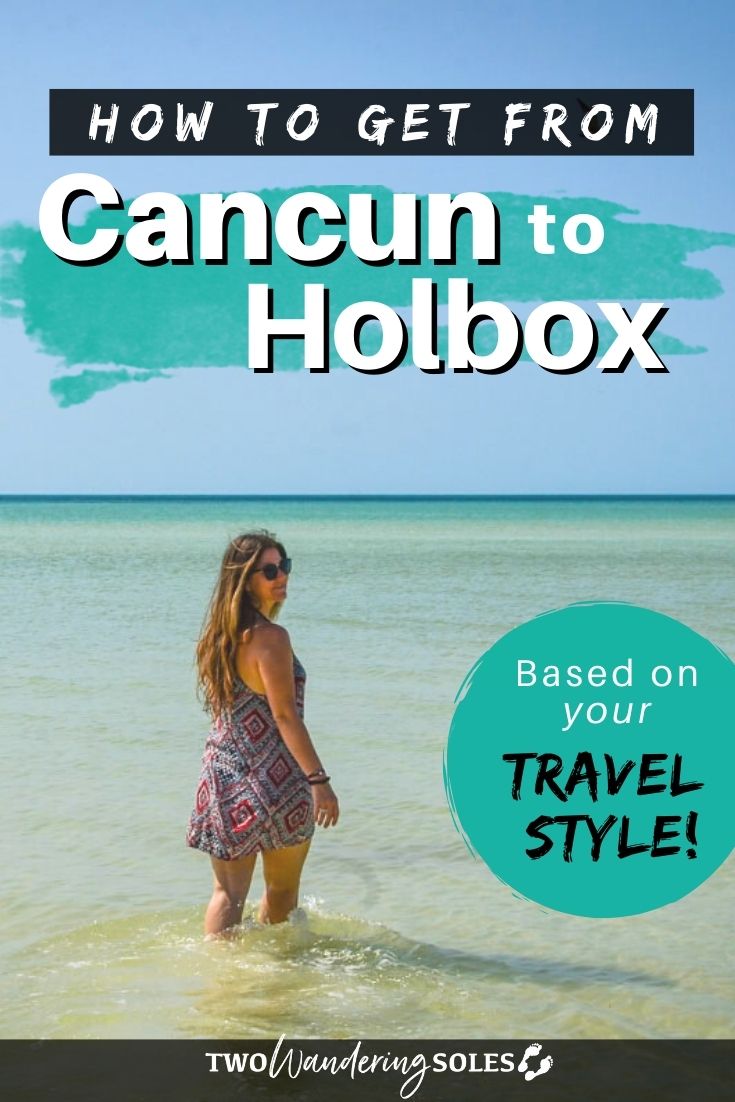 We want to hear from you!
Do you have more questions about traveling from Cancun to Holbox Mexico? Leave us a comment below and we'll do our best to get back to you!