While visiting Cartagena, it's likely you will hear about this famous mud "volcano". During our first trip to Colombia, we took a day trip to El Totumo Mud Volcano and had a great (touristy!) time, but there were a few things we wish we had known before our trip. Read our story so you know what to expect!
A busload of tourists + a volcano filled with mud = a rather interesting and surprisingly fun experience!
El Totomu makes an easy day trip from Cartagena, and is unlike anything you've ever experienced.
On our first ever trip to Colombia, we made a day trip to this crazy mud pit during one of our very first days. And while super touristy, we actually had a lot of fun!
If you're looking for one of the most unique things to do in Colombia, a visit to Volcan Totumo shouls be on your list.
We're sharing an excerpt from our travel journal below as well as some insider tips for El Totumo so you can get an idea of what to expect and decide if this is an experience for you!
Related Reading: Top things to do in Cartagena — we've traveled to this city 3 times and have rounded up our favorite experiences.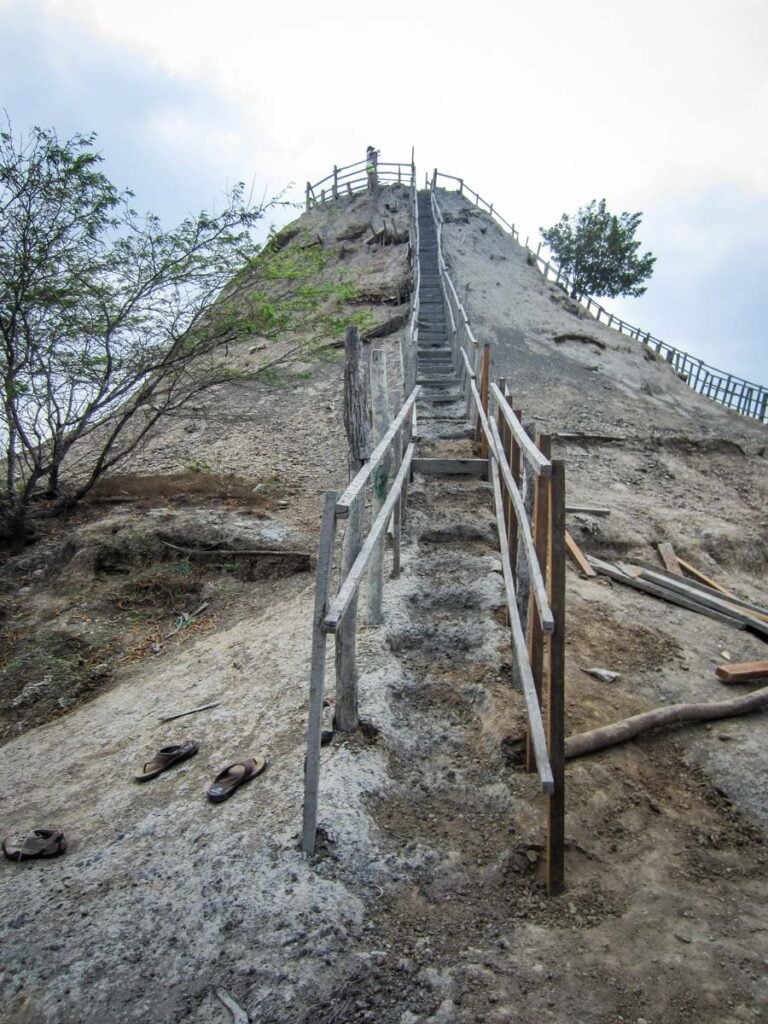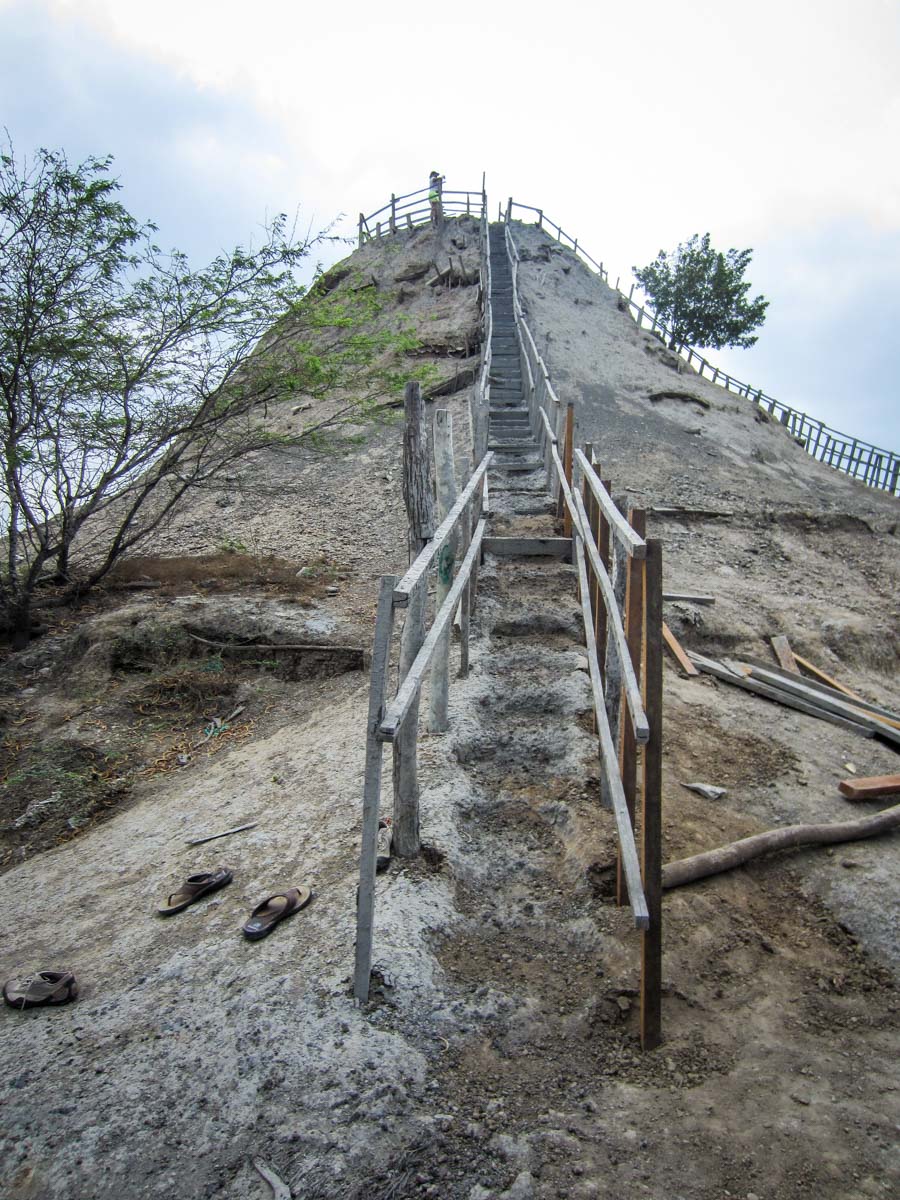 About Volcan Totumo
No, this volcano is not spewing with hot lava or seeping smoke, but rather, it is a 50-foot mound filled in the core with yep, you guessed it – mud!
smallest volcano in Colombia
1 hour 15 minute drive from Cartagena
49 feet (15 m) tall
fits 10-15 people inside at a time
Legend has it that Totumo used to spew fire and lava, but a priest who believed it was the work of the devil sprinkled it with holy water, turning it into the muddy attraction that it is today.
If you are planning on doing this trip, we want you to know that the mud volcano is a really cool experience, but let's just say it is not exactly culturally authentic.
It is a pretty touristy experience but if you have mindset from the start, it will be a pretty fun day trip from Cartagena.
Our Experience at Volcan Totumo
Travel Journal Entry, February 2014
Even before arriving in Colombia we had heard lots about this "mud volcano", and decided that it was worth a visit.
In the morning, we boarded a bus with other foreigners and locals alike, all excited for the experience that lay ahead. After an hour drive, we arrived at El Volcan del Totumo.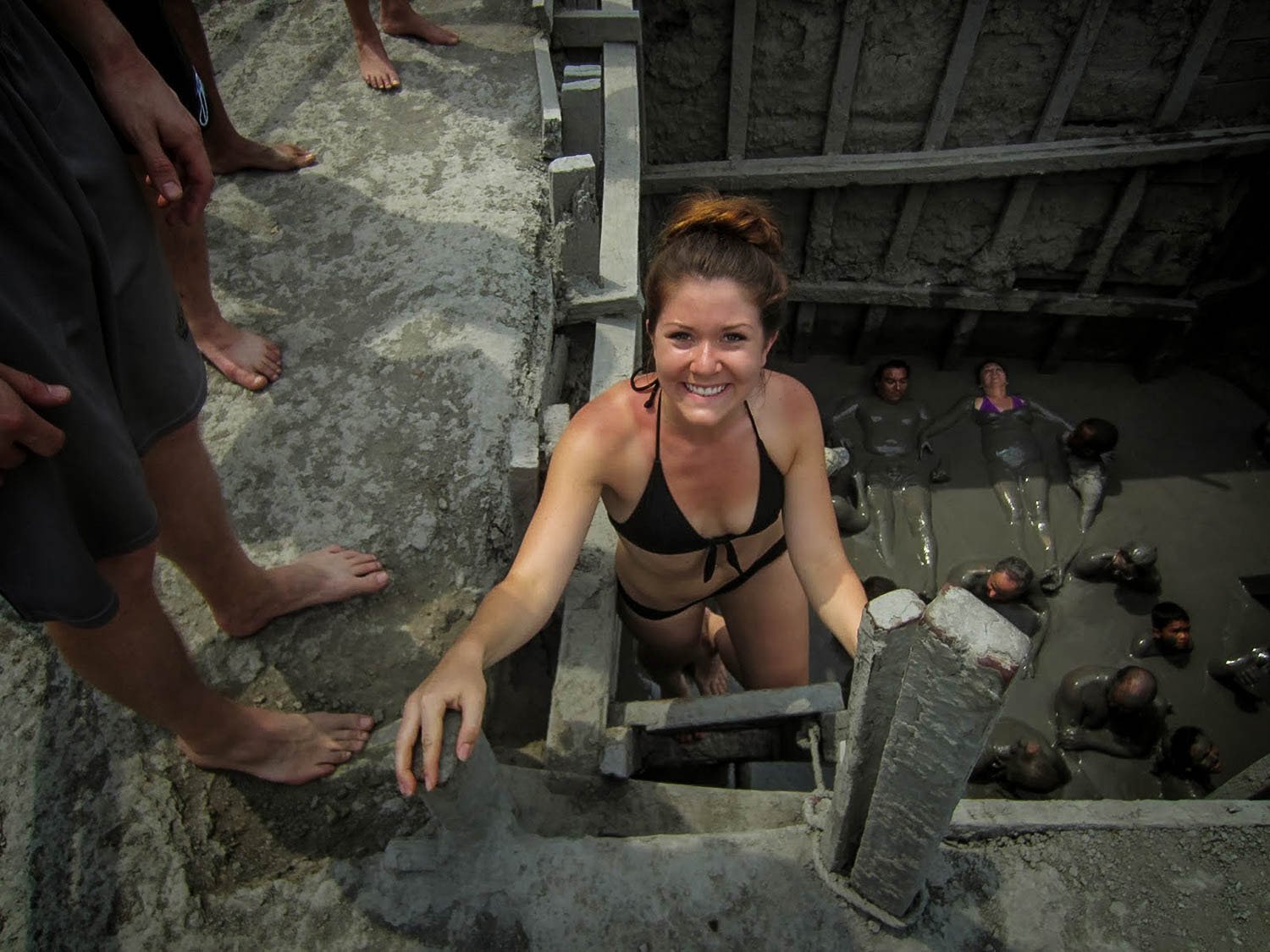 We climbed to the top and looked down into the muddy pit, crawling with giggling mud-covered people I can only describe as "creatures".
One man in our group compared the scene to watching catfish flop around in a watering hole. A pretty good description, I'd say.
Once it was our turn, we climbed down the ladder into the crowded, gooey, muddy pit and discovered what all the laughter was about.
We were immediately greeted by a local man who slid us across – yes, we skidded across the mud on our backs – to other men who proceeded to give us "massages".
I thought it was rather relaxing, but Ben felt a bit uncomfortable as the man rubbed his stomach and upper thighs.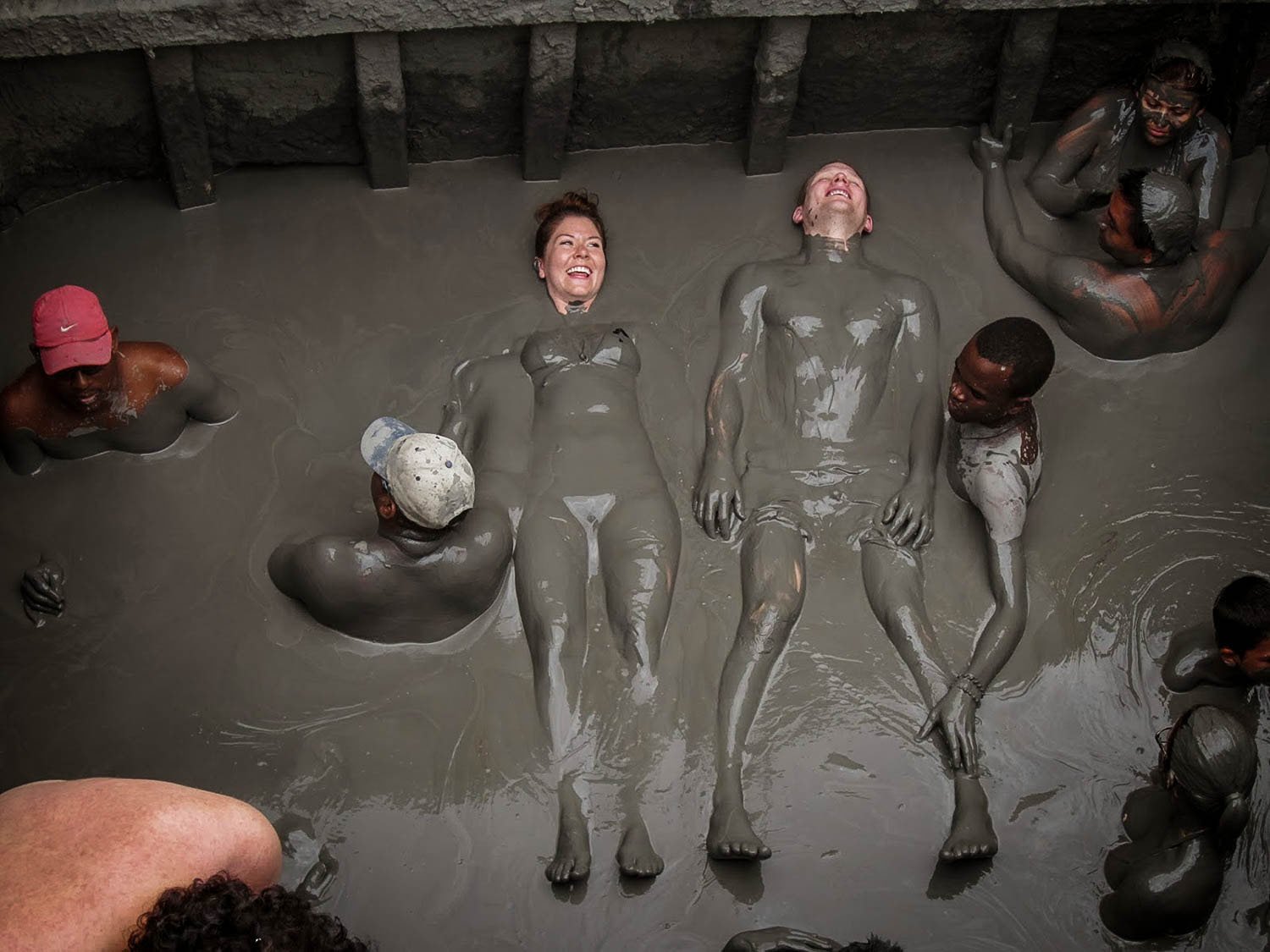 All this time, another man above the mud pit snapped a dozen pictures of the awkward massages with our camera.
After our massages, we were passed to the other side of the pit where we could play and laugh with the others.
Though the people in the pit were of all ages, speaking several different languages, from different walks of life – we were the same once we were immersed in the pit. Giggling, splashing, floating, and covered in mud!
Our guide told us that the mud is rich in minerals like silica, magnesium, sulfur, and iron, giving it "healing and therapeutic properties".
My skin didn't exactly feel rejuvenated after immersing in the mud, so I'm not sure I'm convinced on the healing properties.
But I will say that the weightless feeling of floating on top of the dense mud was unlike anything I've ever experienced.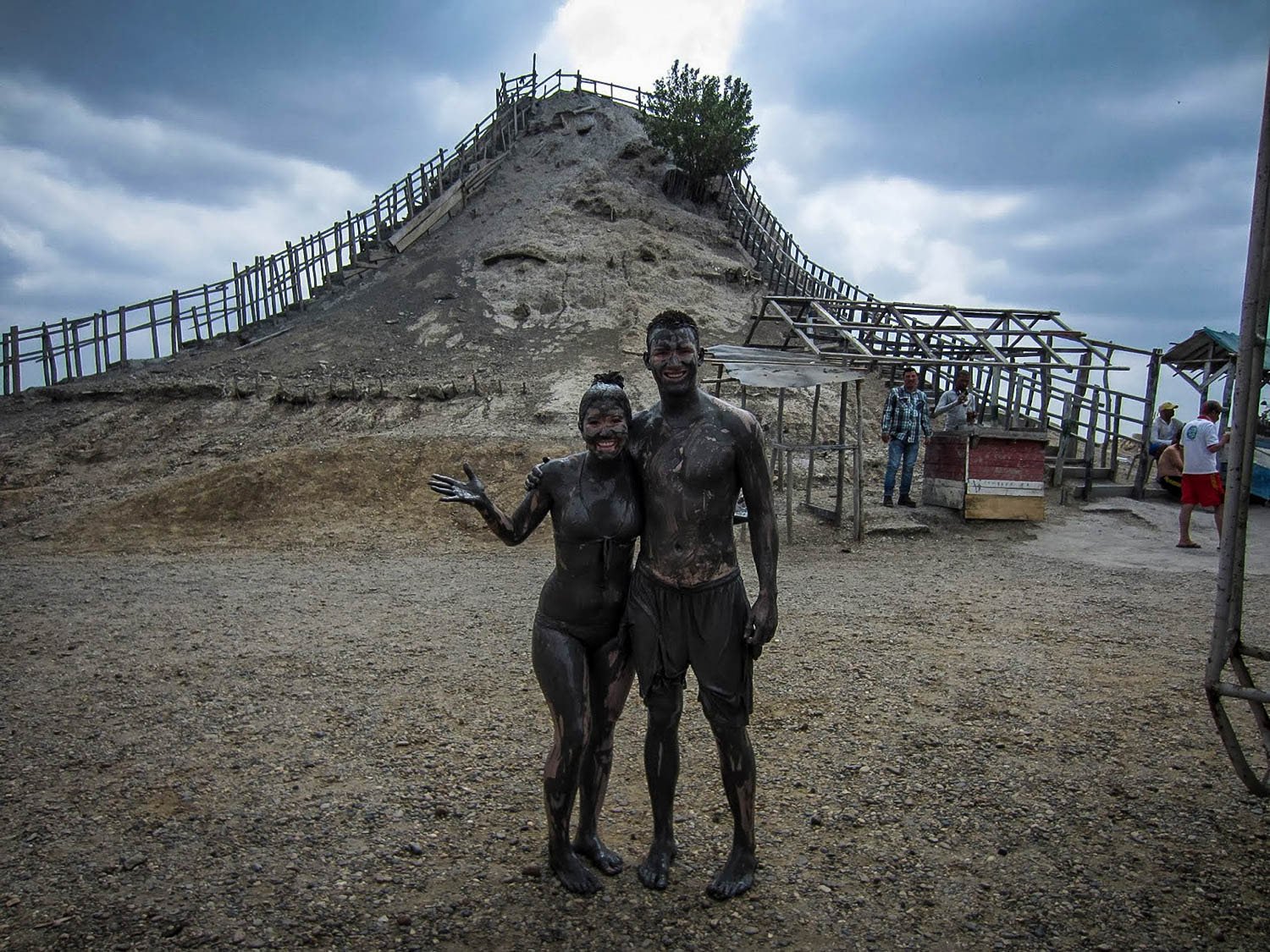 After splashing and floating to our hearts' desires, we climbed out of the pit on a slippery ladder and made our way to a lagoon where local women were waiting to wash us. Now this was also quite the experience.
The woman who approached us took a bucket of water and threw it over my head, and repeated this for some time – digging her fingers in my ears and nose to clear out the mud.
Next, she… well, I'm not going to describe it in detail, but let's just say my swimsuit was nearly removed and she scrubbed enough to get me clean.
I couldn't help but laugh as I watched her do the same to Ben.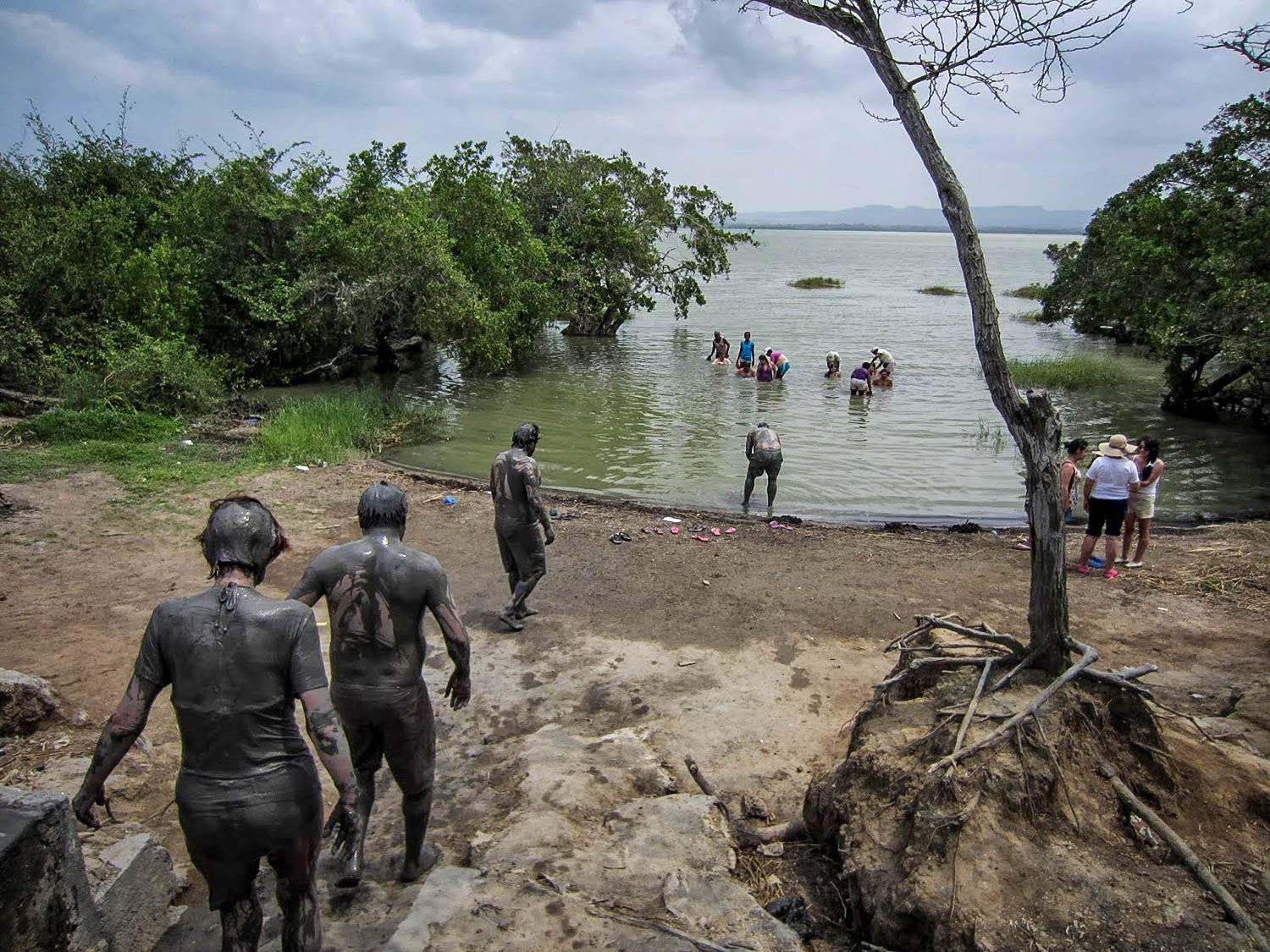 We were informed before reaching the volcano that the people who provided services – such as photo-taking, massage-giving, and mud-cleaning – were from an impoverished town nearby, so it was customary to tip for their "services".
If you do this trip, please tip appropriately.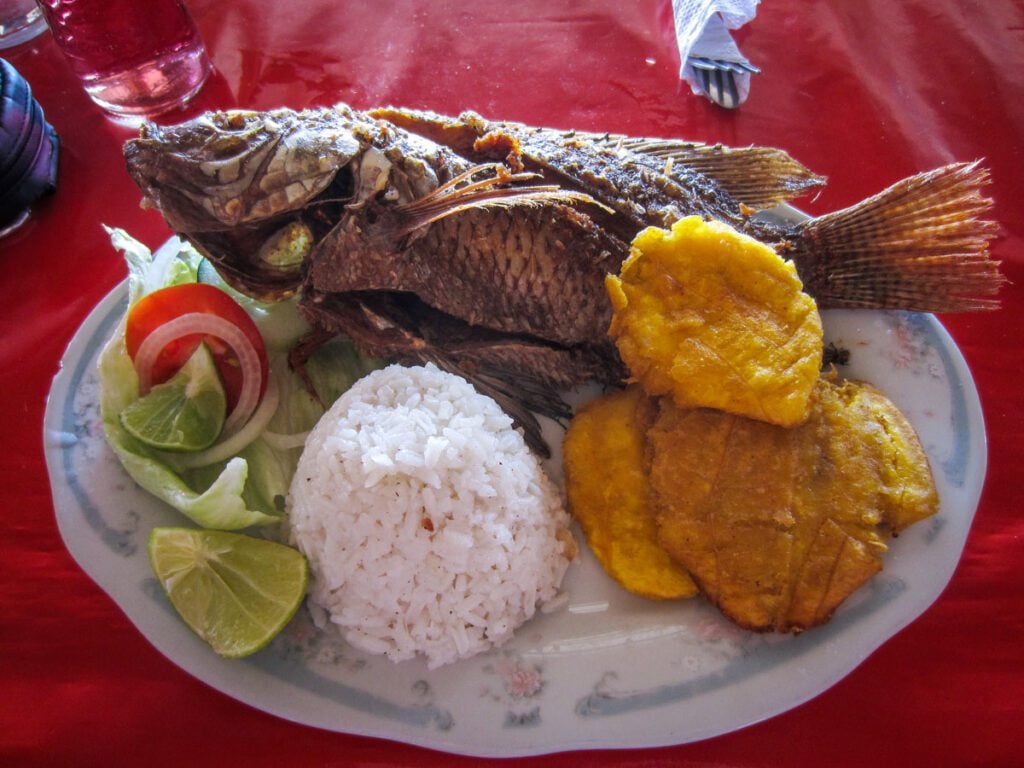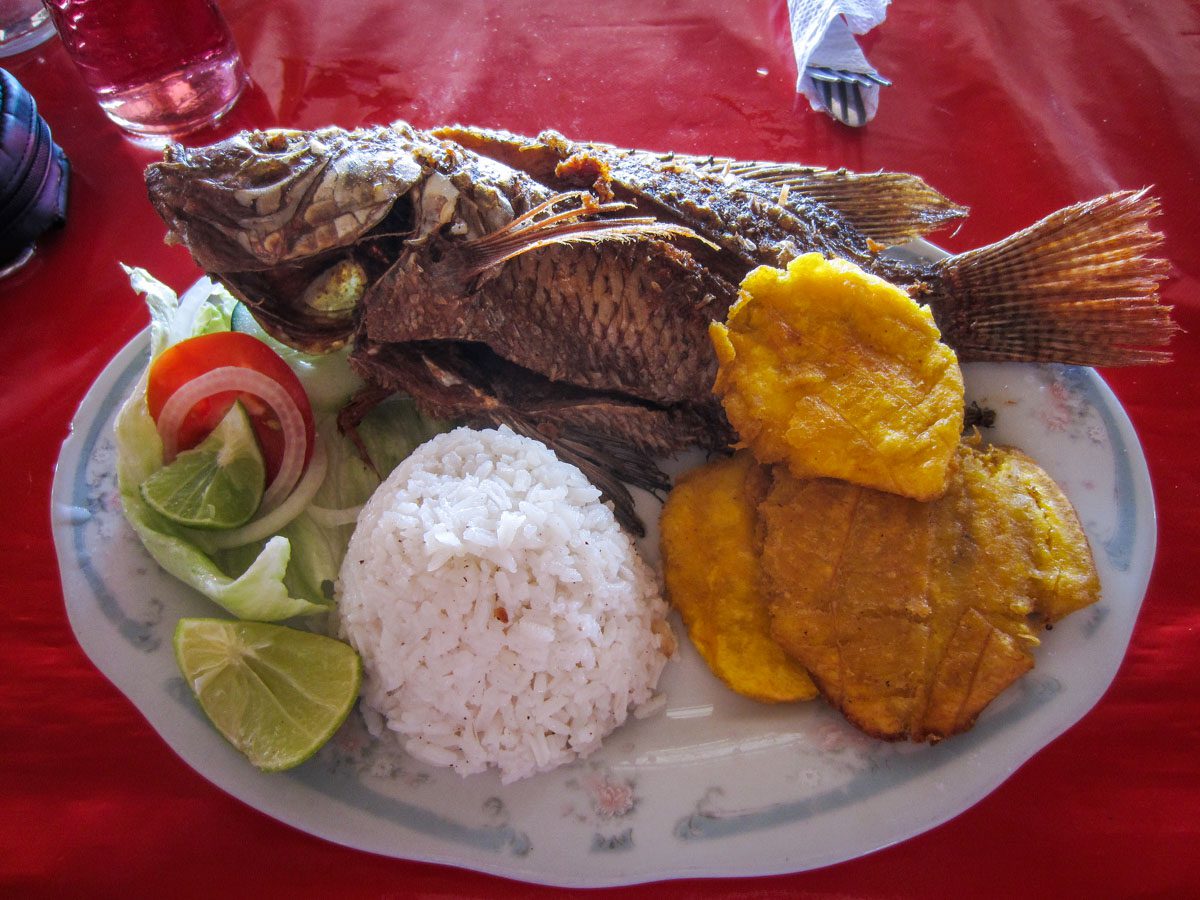 After tipping to locals, the group headed to a rustic restaurant on the beach.
We swam in the ocean while our food was being prepared, then enjoyed the traditional Colombian meal of rice, salad, plátanos (smashed, fried plantains), and chicken or fish.
Eating a fresh and delicious meal while watching the waves roll in was the perfect way to conclude our mud volcano experience.
How to do a Volcan Totumo Day Trip
Essentially, you can visit El Totumo one of two ways:
a) Get there on your own by self-driving, taxi or bus, then pay the entrance fee
b) Book a tour that includes tickets and round-trip transport
We opted for the second choice because it involved a lot less logistically planning. And while slightly more expensive, it's still really affordable (around $25 per person total).
You can arrange a tour when you're in Cartagena through your hotel (this is what we did), or you can book ahead of time to ensure you get the date you want.
This tour is inexpensive and has great reviews:
"My favorite experience to date! Jose was our tour guide, he was great! Spoke Spanish and English, he was very helpful. Once we got there we went straight to the volcano, climbed about 25 steps to the top and got in. There are village men in the bath that help you in and also give everyone a brief massage, which feels amazing. The density of the mud pushes you up, so their help is paramount afterwards we climb back down and go down the walkway to the lake where the village women rinse the mud off of you, which also feels great.

Once you're washed up, you get to eat an empanada; I would say the best empanadas I had on my trip, from Santandel. He was a very gracious host and I will be thinking about those empanadas forever. After that, we headed back to our hotel. Overall 10/10 magical experience. I would a thousand times do it again." -Guest, May 2022
Book your Volcan Totumo Tour!
More Colombia Travel Resources:
Save this article to Pinterest for later!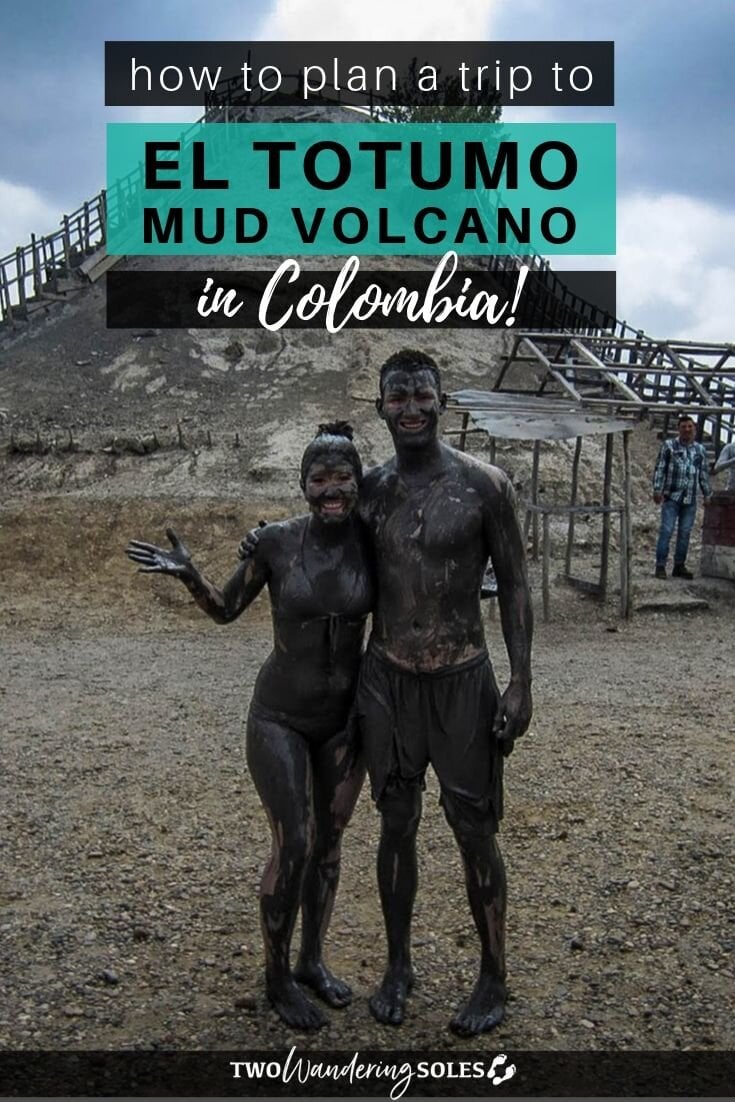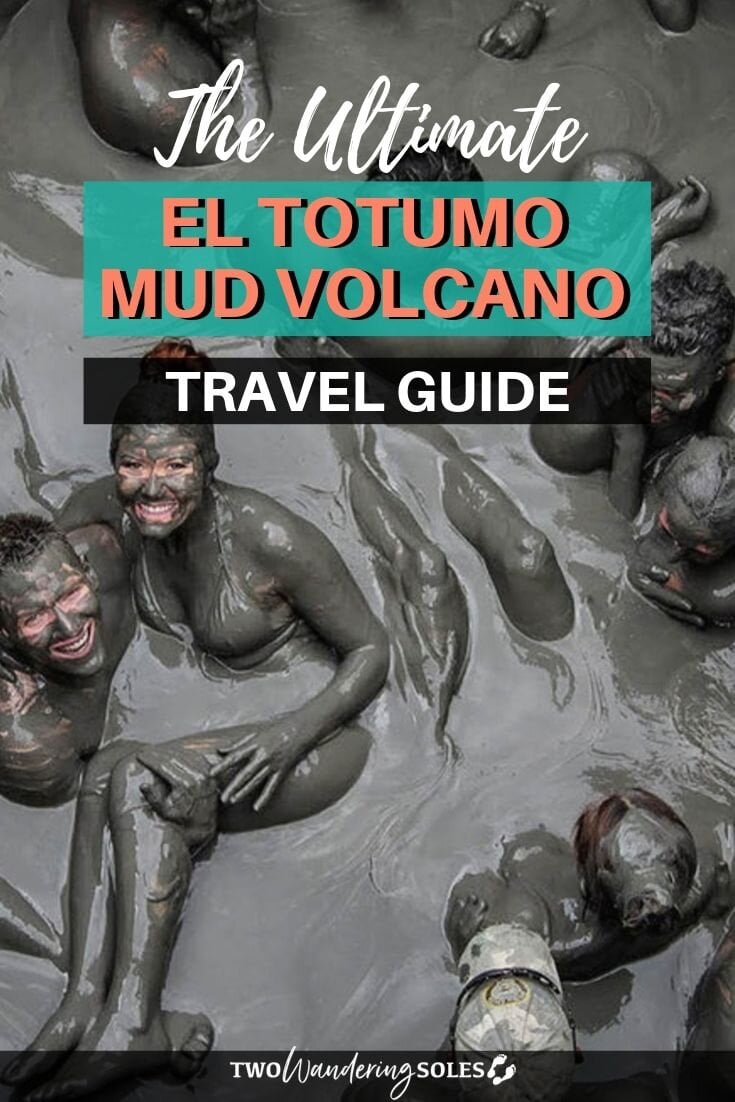 We want to hear from you!
Does visiting El Totumo Mud Volcano sound super fun or way too touristy? Comment with your opinion below!