Whatever your reason for traveling to Oregon's biggest metropolis, you'll want to check out this highly curated list of the best Airbnbs in Portland. Broken down by neighborhood, we're sharing our favorite stays to meet every need — from budget-friendly, to the most unique accommodation, to some seriously outrageous finds!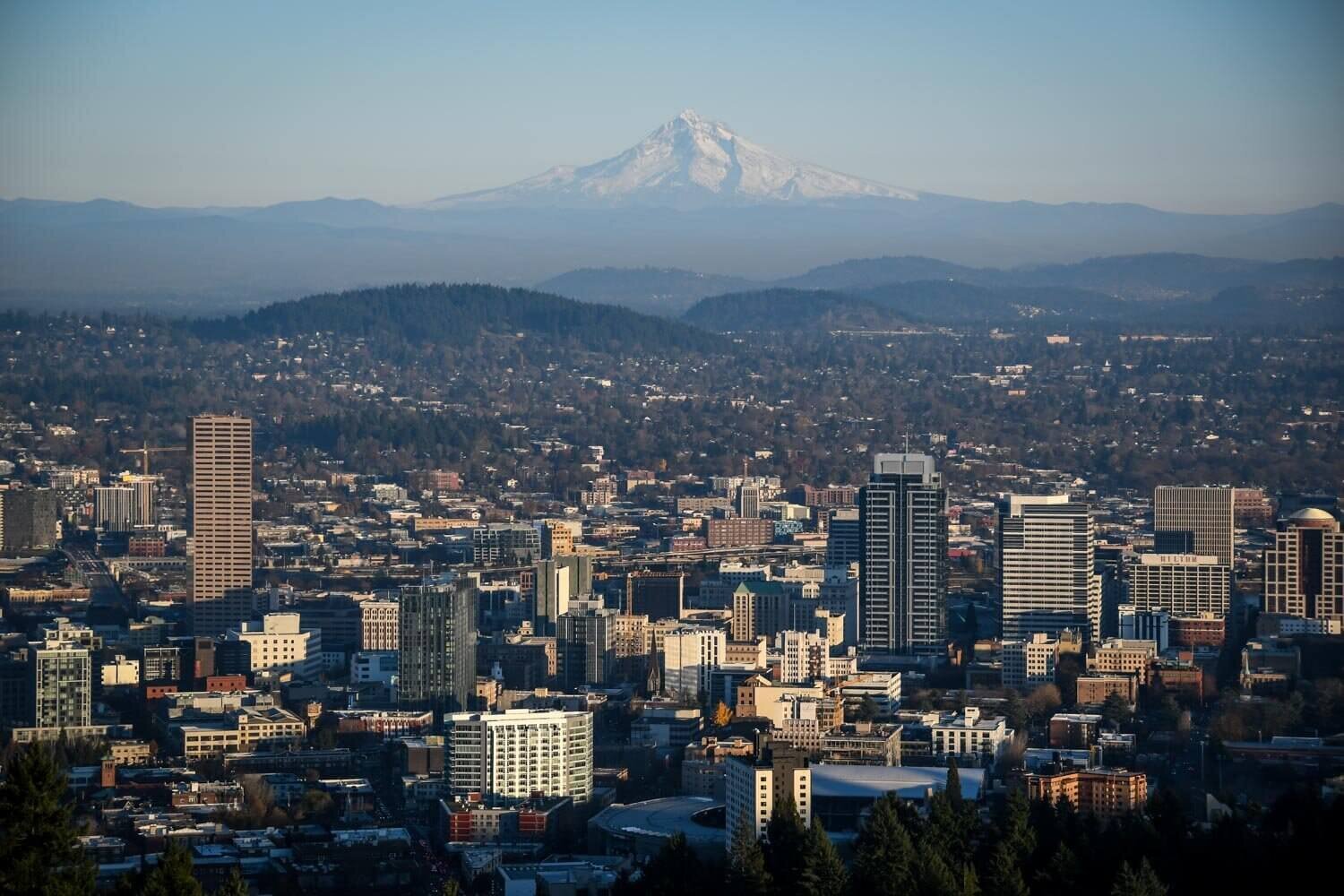 Oregon's largest city is known for it's unique culture; a thriving art scene, countless microbreweries and coffeehouses, and an eco-friendly population that chooses bike paths over highways… Oh, and did I mention the food!? Portland is known as one of the foodiest cities in the US. We've visited this staple of the Pacific Northwest many times and can attest to the endless things to do in Portland.
Whether you're visiting the hipster capital for vacation, passing through on an Oregon road trip, or planning the perfect staycation, you'll want to check out this list of the best Airbnbs in Portland.
Why stay at an Airbnb in Portland
Renting an Airbnb is one of our favorite ways to get to know a place. Airbnbs in Portland are as eclectic, colorful and unique as the city's residents. Plus, they offer experiences you won't get in a hotel:
Experience the city from a local's point of view

Stay in a neighborhood outside of the downtown hotel district

Enjoy the comforts of home like a stocked kitchen or laundry facilities

Stay together with your family or larger group

Save money on longer stays

Try out a unique accommodation like a treehouse, converted school bus, or micro-loft
Psst! Is this your first time considering staying in an Airbnb? We put together an entire article on how to book an Airbnb, from setting up your profile to exactly which filters we use.
Where to stay in Portland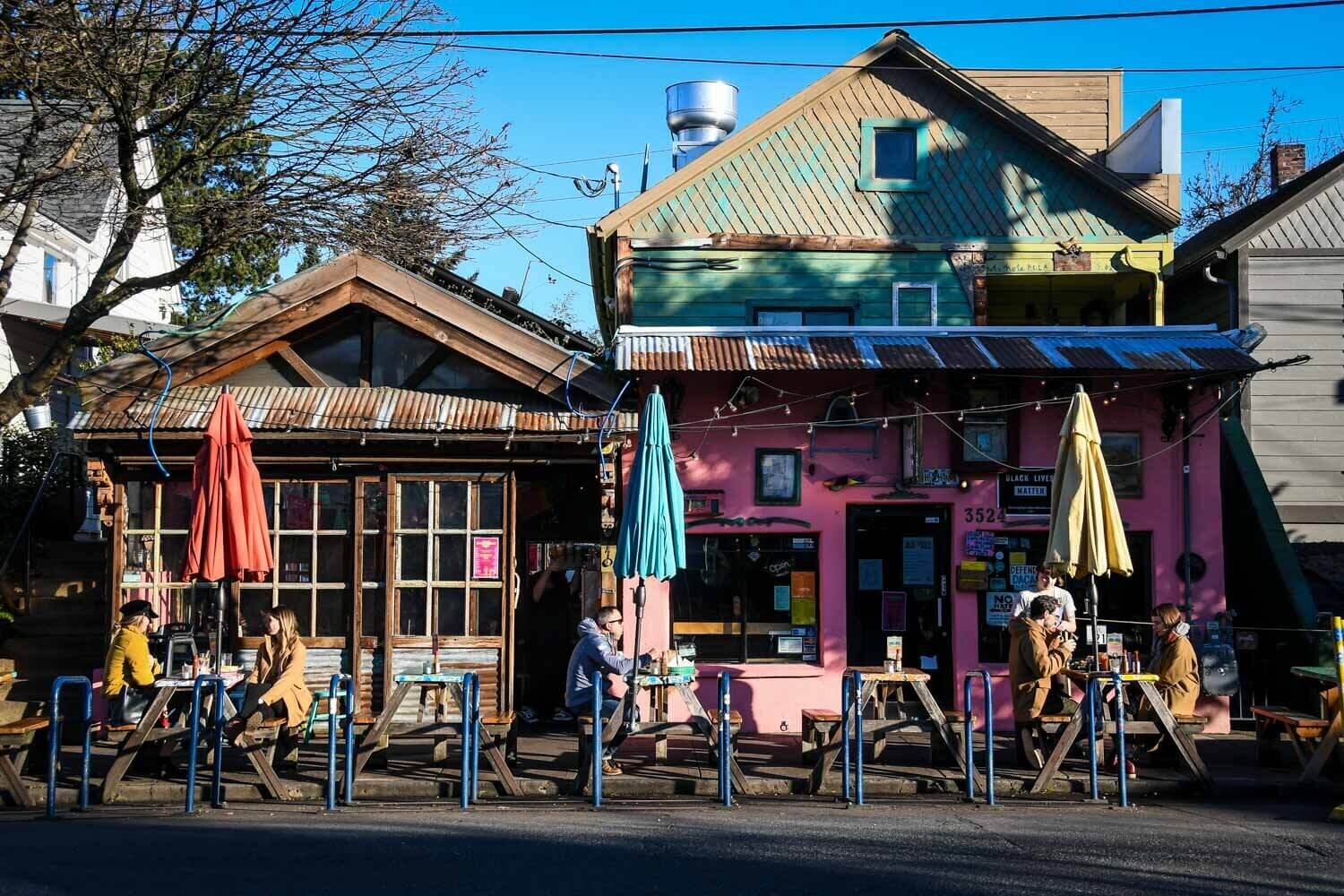 Portland is a city of neighborhoods, each with their unique identity and personality. The best place to stay is going to vary from person to person based on your interests, itinerary, and whether or not you have a car.
We've organized this article by neighborhood to showcase the best Airbnbs in each of the areas we'd recommend you stay. Click on the link to jump straight to the neighborhood recommendations, or continue scrolling through them all to make your pick.
Our top 5 recommendations:
Don't have the time or patience to read through the entire article? Here is the quick n' easy rundown of the best Airbnb stays in Portland for your different needs.
15 Best Airbnbs in Portland
This list is rounded out with stays for solo travelers, couples and families or larger groups. It includes unique stays like a treehouse in West Hills and ultra-modern designer lofts, all of which are as hip, colorful and welcoming as the Portland locals.
Pearl District: Ideal if you don't have a car, this neighborhood is north of downtown Portland (and has a better atmosphere).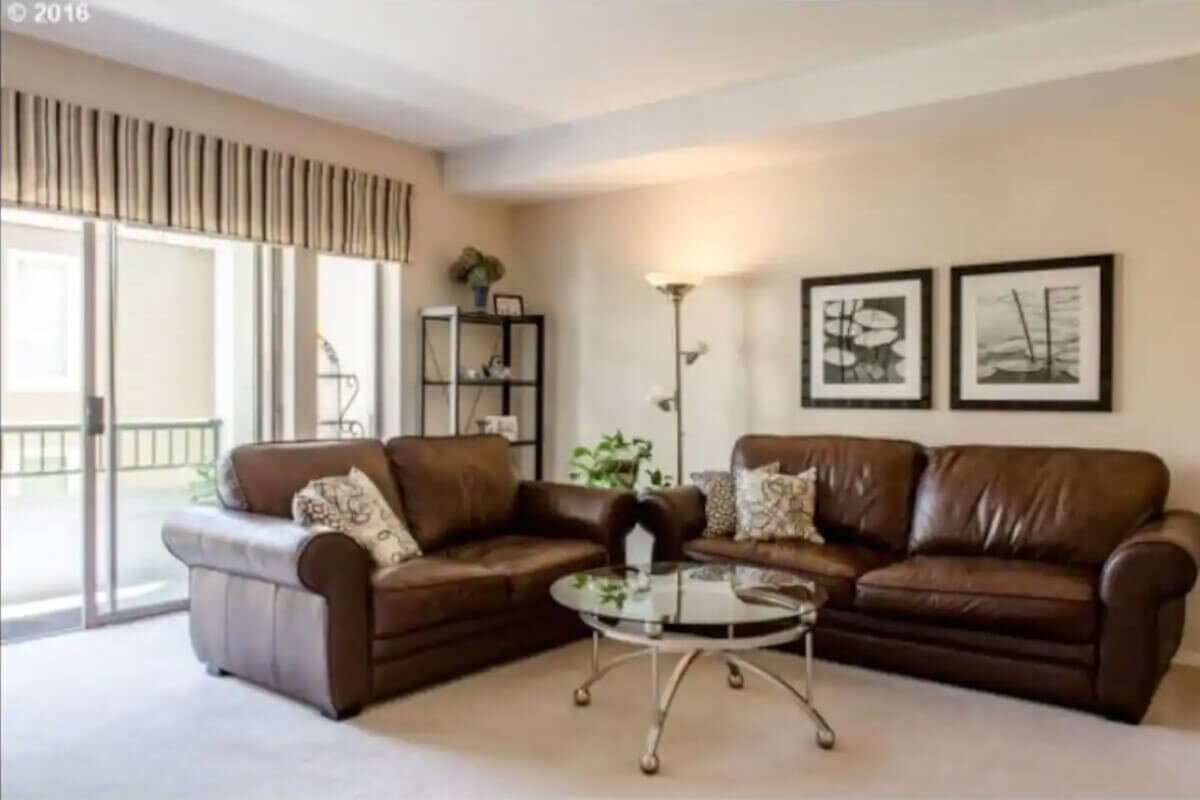 Sunny riverfront studio with views of the Tom McCall Waterfront Park
Location: Pearl District

Budget: $

Number of Guests: 2

Minimum Stay: 30-day minimum rental

Superhost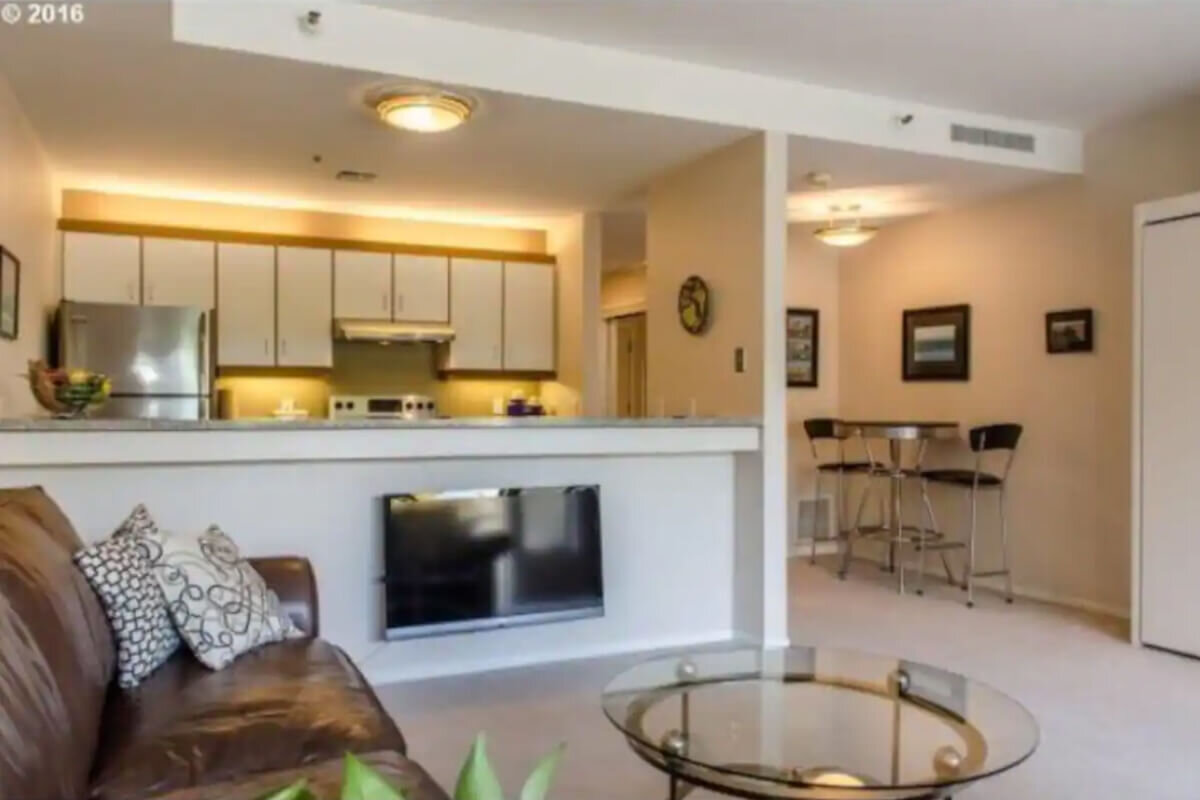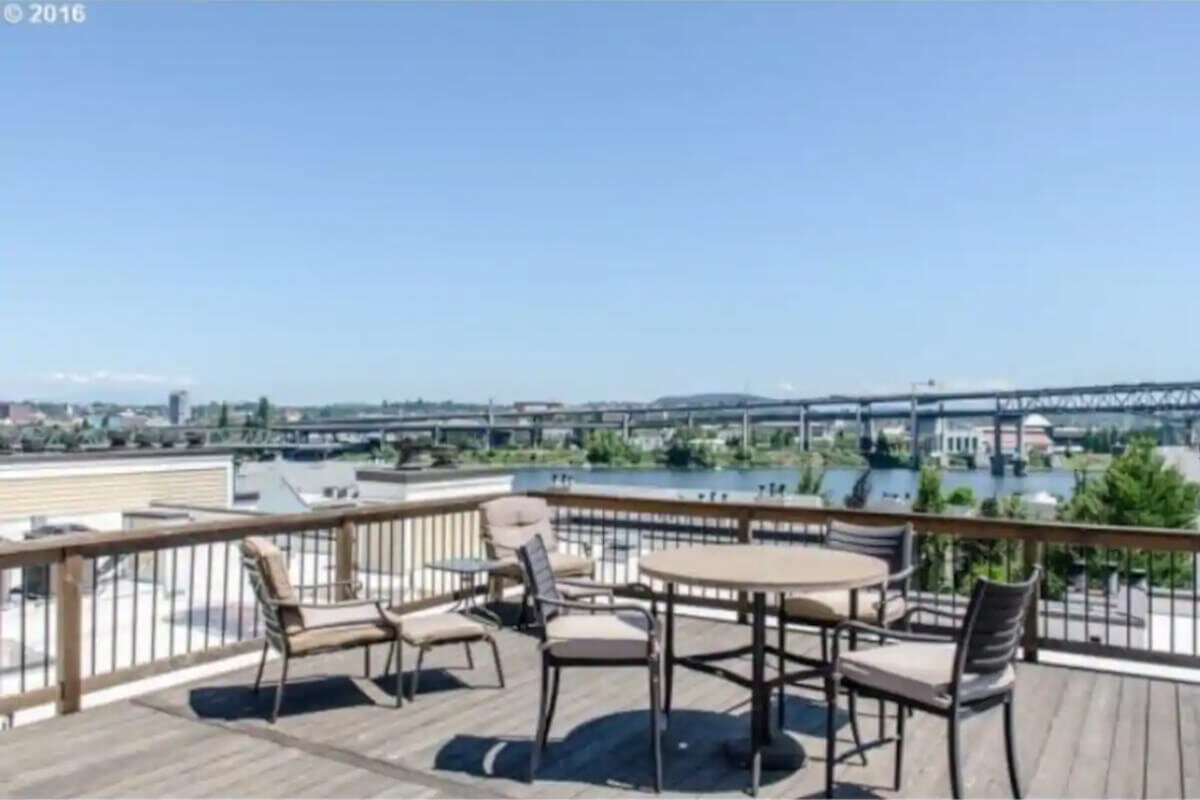 This waterfront condo has everything you would need for a long-term stay including a Murphy bed, consistent Wifi, laundry, private terrace and shared rooftop. The location cannot be beat with easy access to the Waterfront Park, downtown, and paved walking and biking trails.
Guests consistently gush about the wonderful host and convenient location, which has given the space a 5 star rating.
"Arin's place was one of the best AirBnbs that I have ever stayed in… If there was ever any issue the hosts were always super quick to help… It was super clean and they gave me essentials (soap, shampoo, toilet paper, dishwashing tablets, laundry detergent, sponges, ect..) so I didn't have to go buy it… I would stay here again!!" – Nicole, March 2021
---
Northwest District: A bit more residential, this neighborhood isn't far from the Pearl District, and there are lots of great options for eating.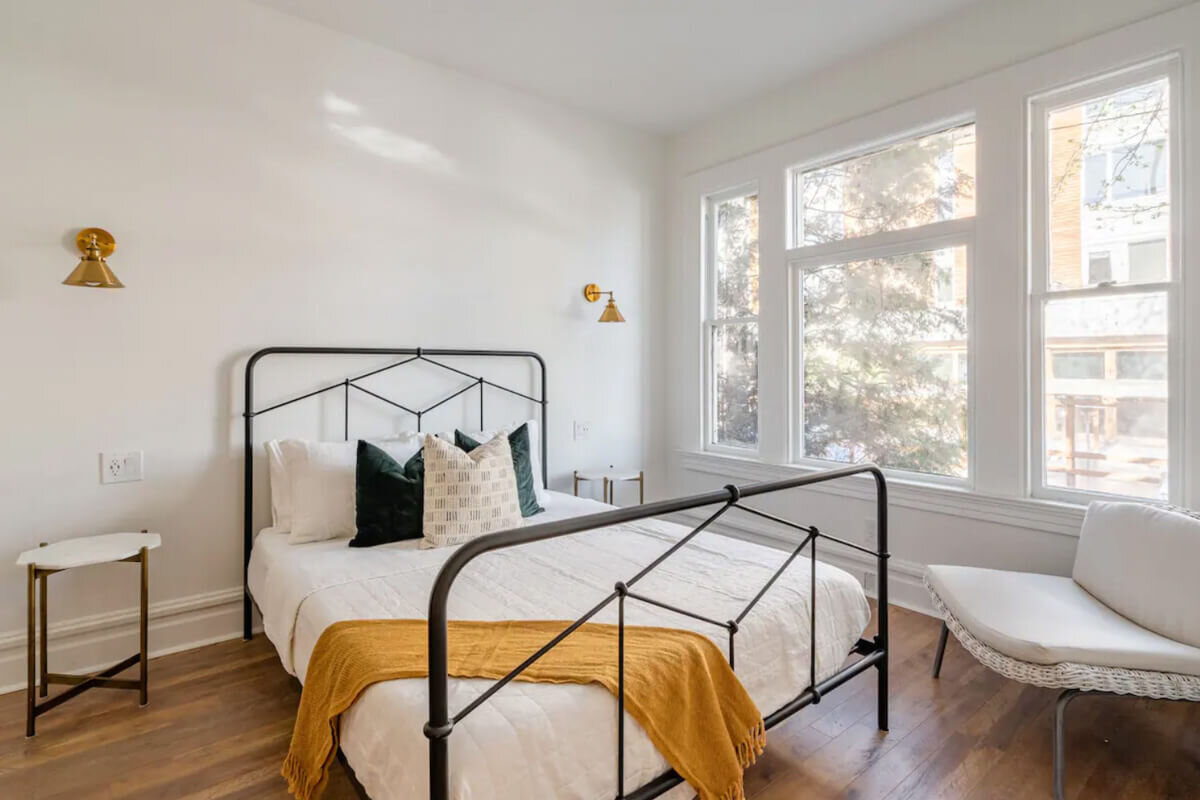 Completely renovated modern apartment in beautiful historic building, steps from restaurants, bars and shops
Location: Northwest District

Budget: $$

Number of Guests: 2

Minimum Stay: 1 night

Superhost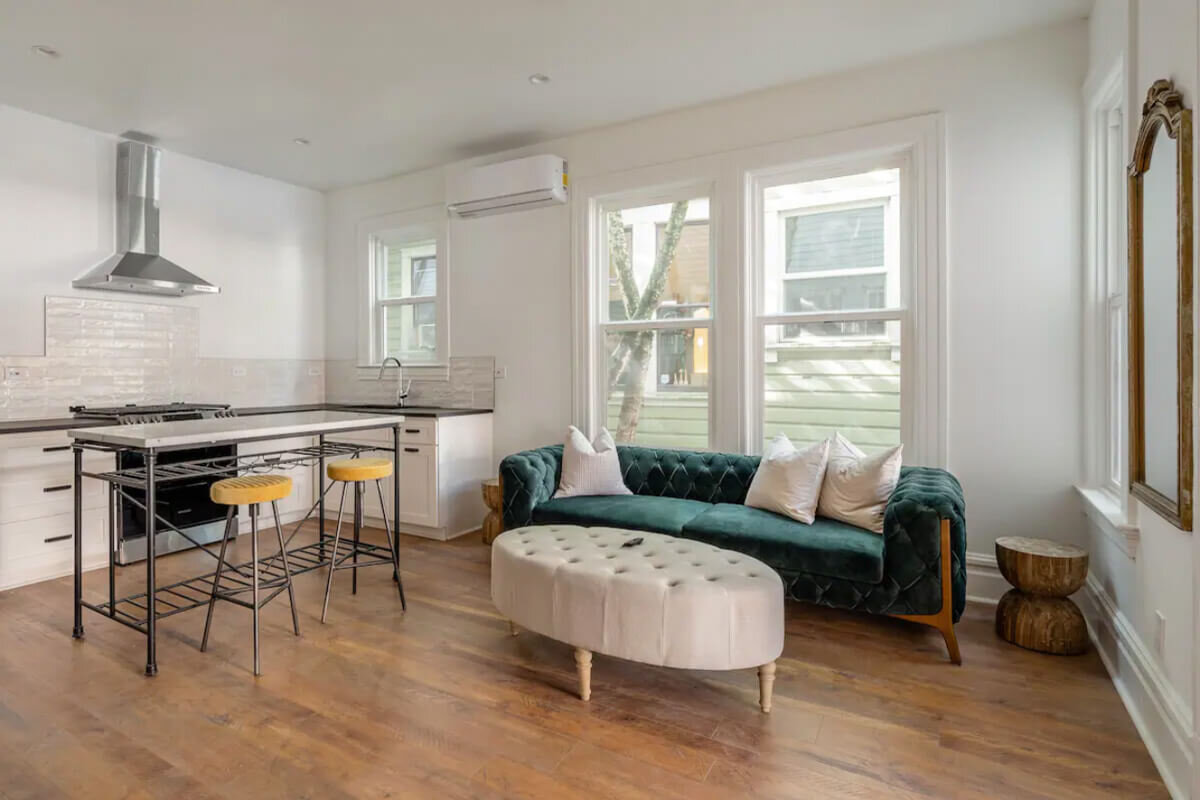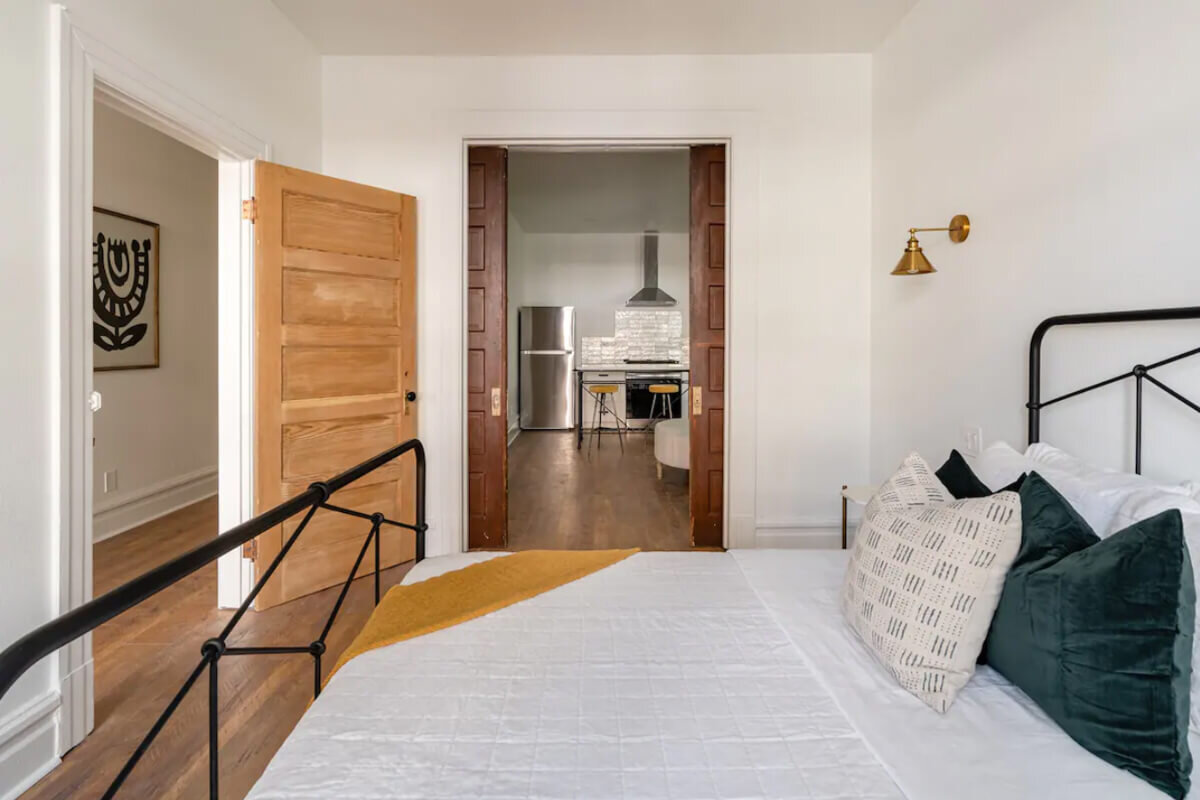 Situated in one of the hottest areas of Portland known as Slabtown, this beautifully decorated 1 bedroom apartment is within walking distance of everything this trendy neighborhood has to offer. The clean and bright modern space is equipped with Wifi, AC and cooking basics… Though you probably won't spend much time in the kitchen when you're surrounded by so many great restaurants.
Guests love the cute apartment and the prime location.
"Awesome relaxing stay, killer location, fast efficient communication. Totally worth it." – Gabriela, May 2021
Insider Tip: Walk from here to see the historic Pittock Mansion and get one of the best views of Portland (peep the cover photo for this article!).
---
Mississippi Neighborhood: Our personal favorite place to stay, this neighborhood is eclectic and fun. With lots of breweries and restaurants, you certainly won't go hungry (or thirsty!) here.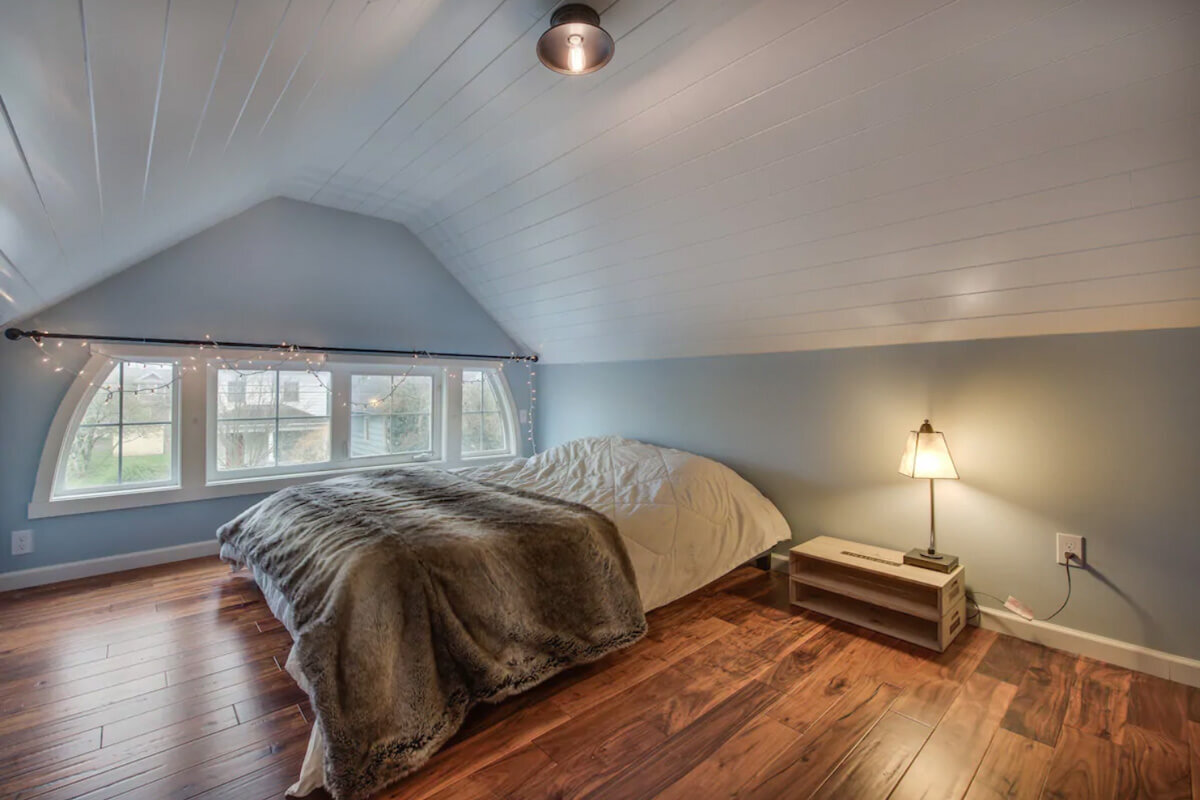 Private guest suite on the top floor of North Portland home
Location: Mississippi Neighborhood

Budget: $

Number of Guests: 2

Minimum Stay: 1 night

Superhost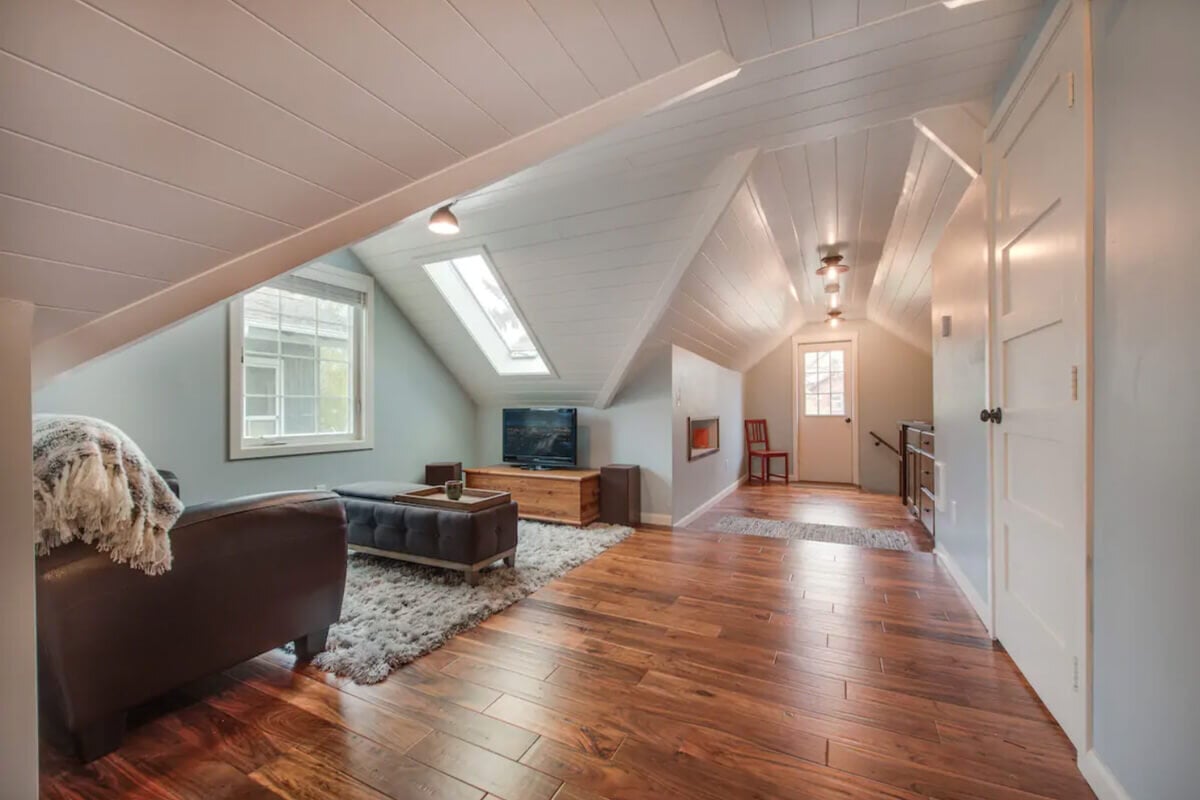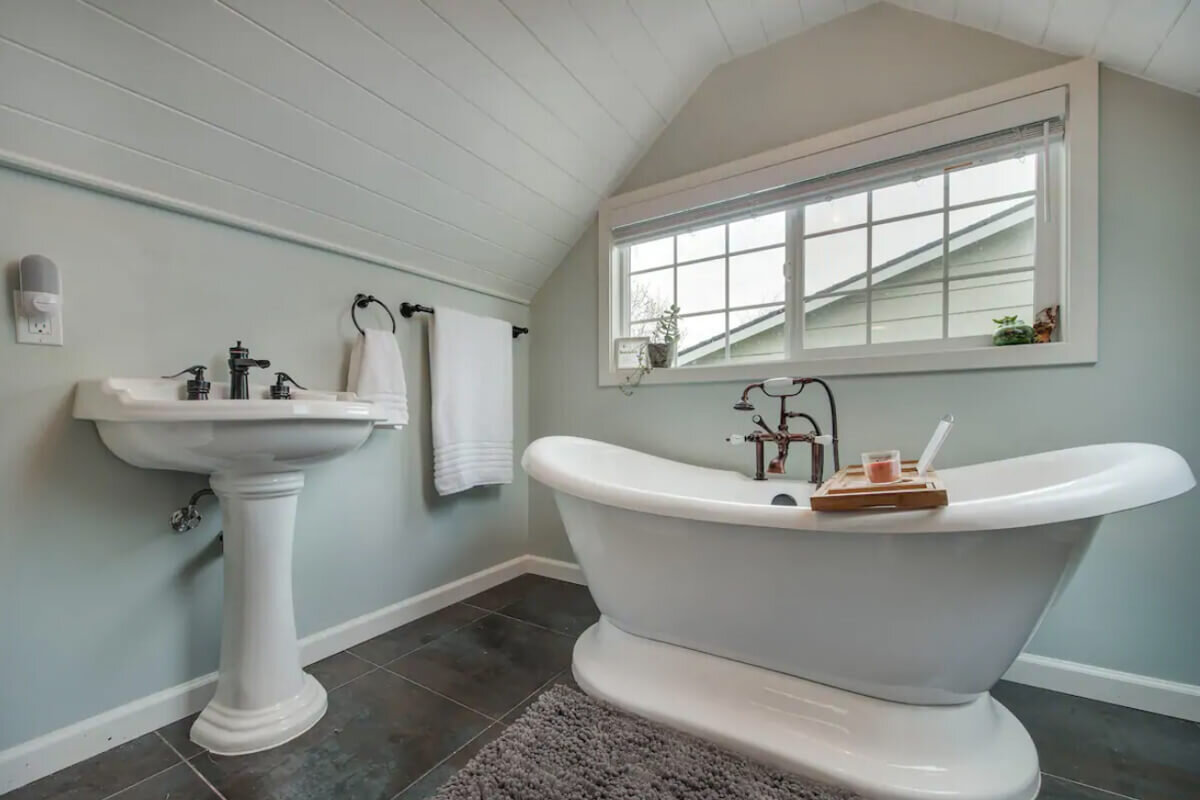 Two blocks from trendy Mississippi Ave. and just 5 minutes to downtown, this unique studio apartment is actually a guest suite on the top floor of the owner's home. The apartment features a kitchenette with mini fridge, queen sized bed and separate sitting area with TV. In the bathroom you'll find a beautiful clawfoot tub for soaking. A private entrance and private deck give the space extra autonomy.
Guests rave about how clean and well-kept the place is.
"This was a super cozy room and everything is super clean. Mark also provides all the essentials to take a relaxing bath, and the balcony is really nice to sit out on in the mornings with some coffee." – Elliott, May 2021
A unique custom-built tiny home in the heart of the historic Mississippi neighborhood
Location: Mississippi Neighborhood

Budget: $$

Number of Guests: 4

Minimum Stay: 2 nights

Plus | Superhost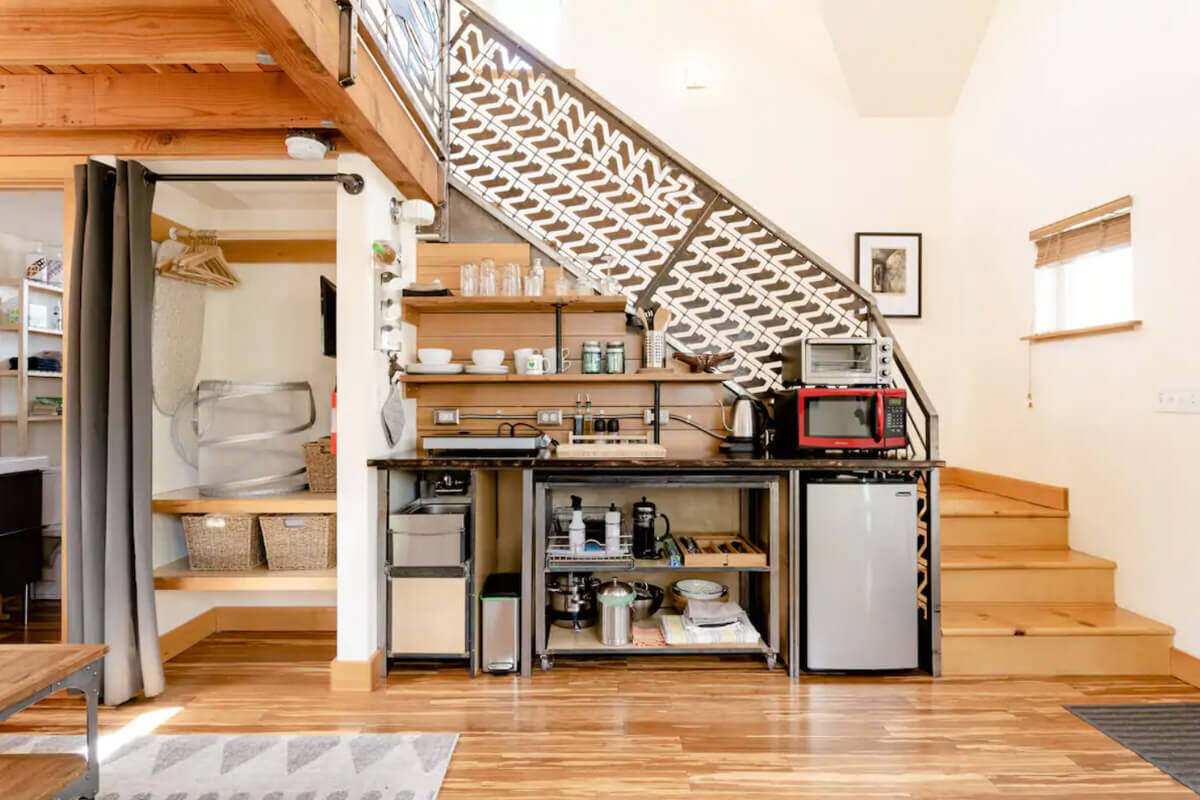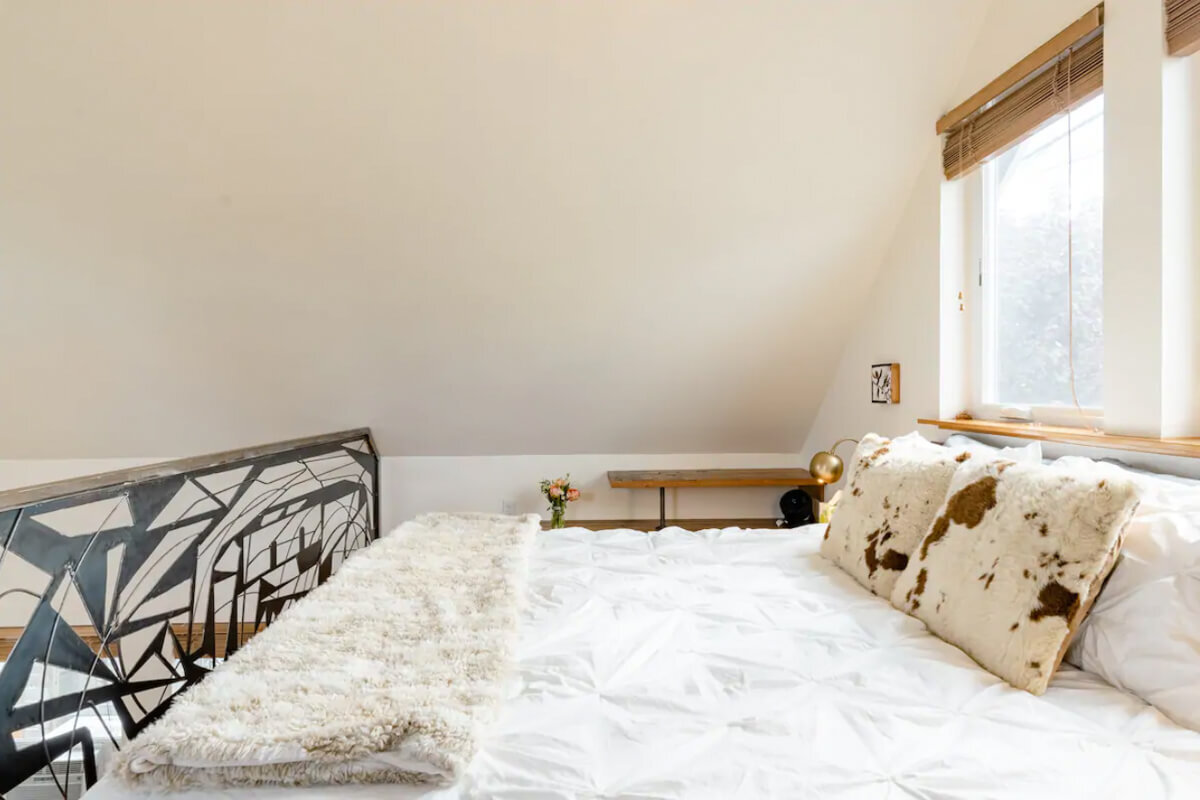 This custom-built micro loft features an open floor plan layout and mezzanine bedroom with rustic wood finishes, industrial accents and cathedral ceilings. The space has access to a shared garden and patio with BBQ.
Guests rave about the location and responsiveness of the host.
"Absolutely loved this cute loft! It was perfectly located within walking distance of the Mississippi District. Heather & Topher responded almost immediately for all communication, and made the checking in/out process super easy. Highly recommend for a weekend in Portland!" – Lara, May 2021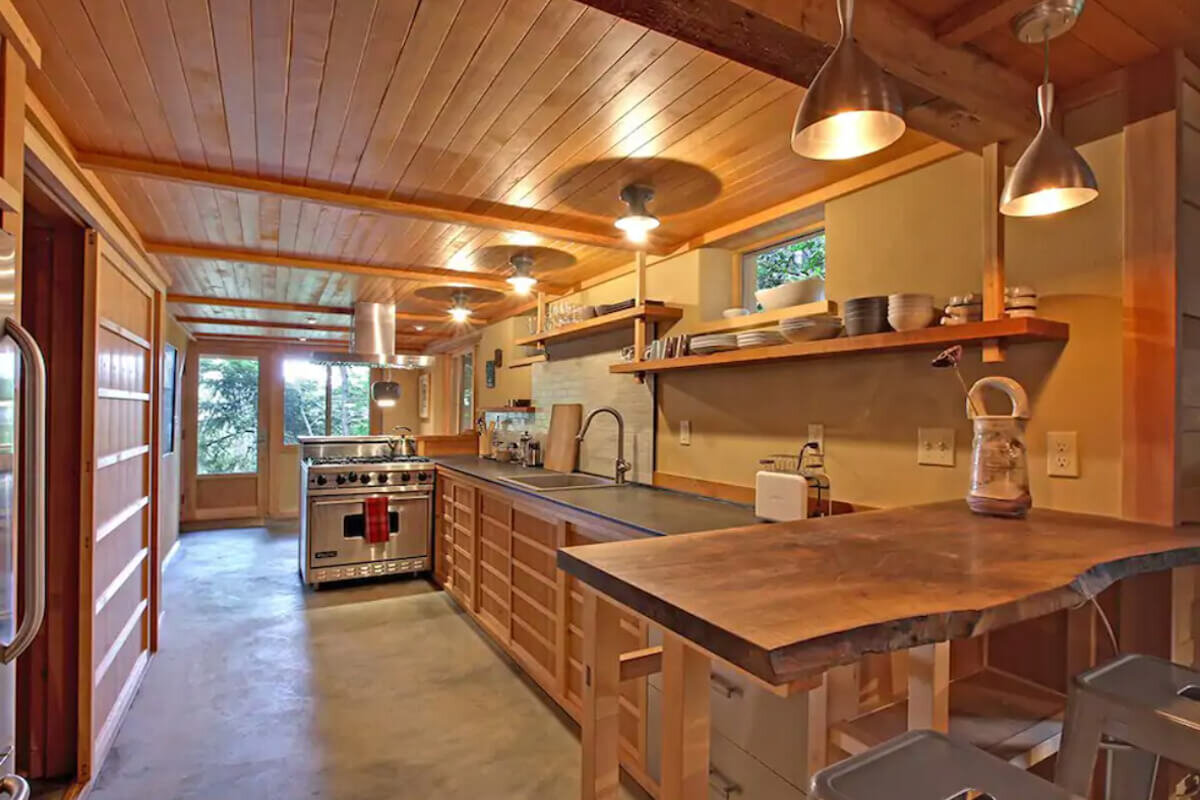 Beautiful one-of-a-kind handcrafted home with Japanese inspiration
Location: Mississippi Neighborhood

Budget: $$

Number of Guests: 5

Minimum Stay: 2 nights

Superhost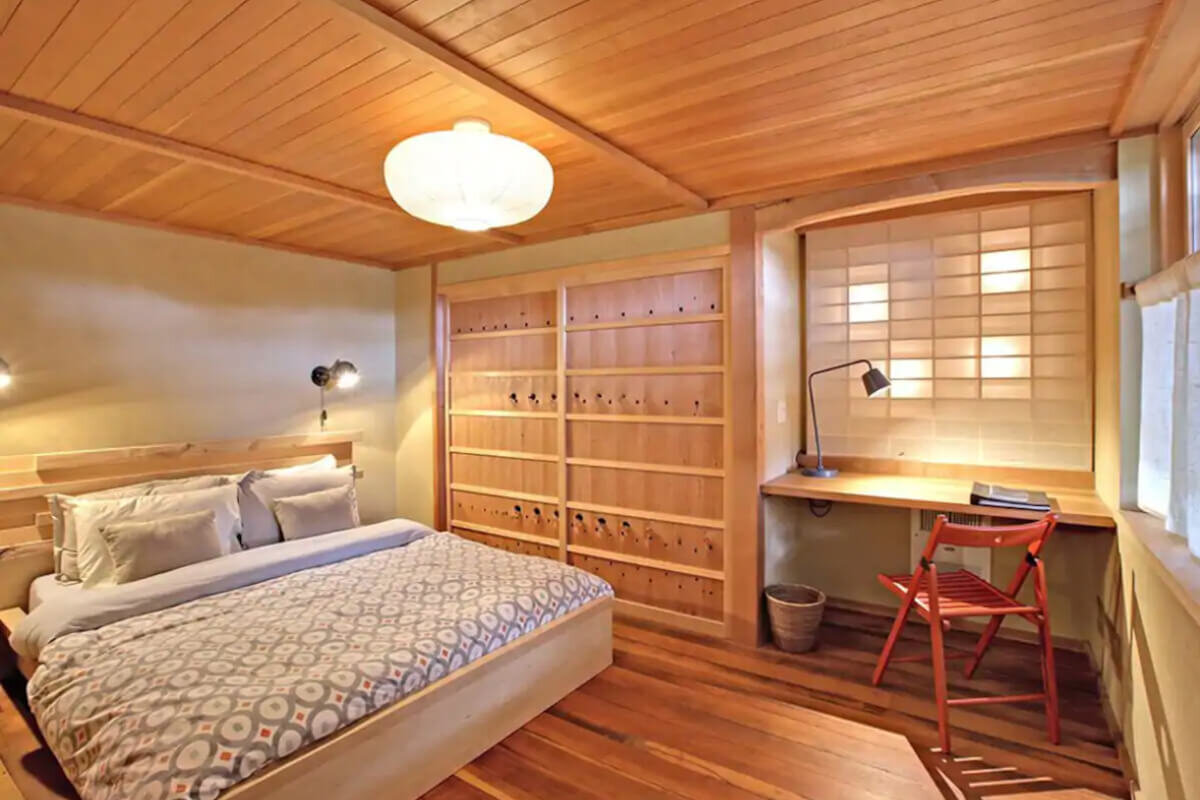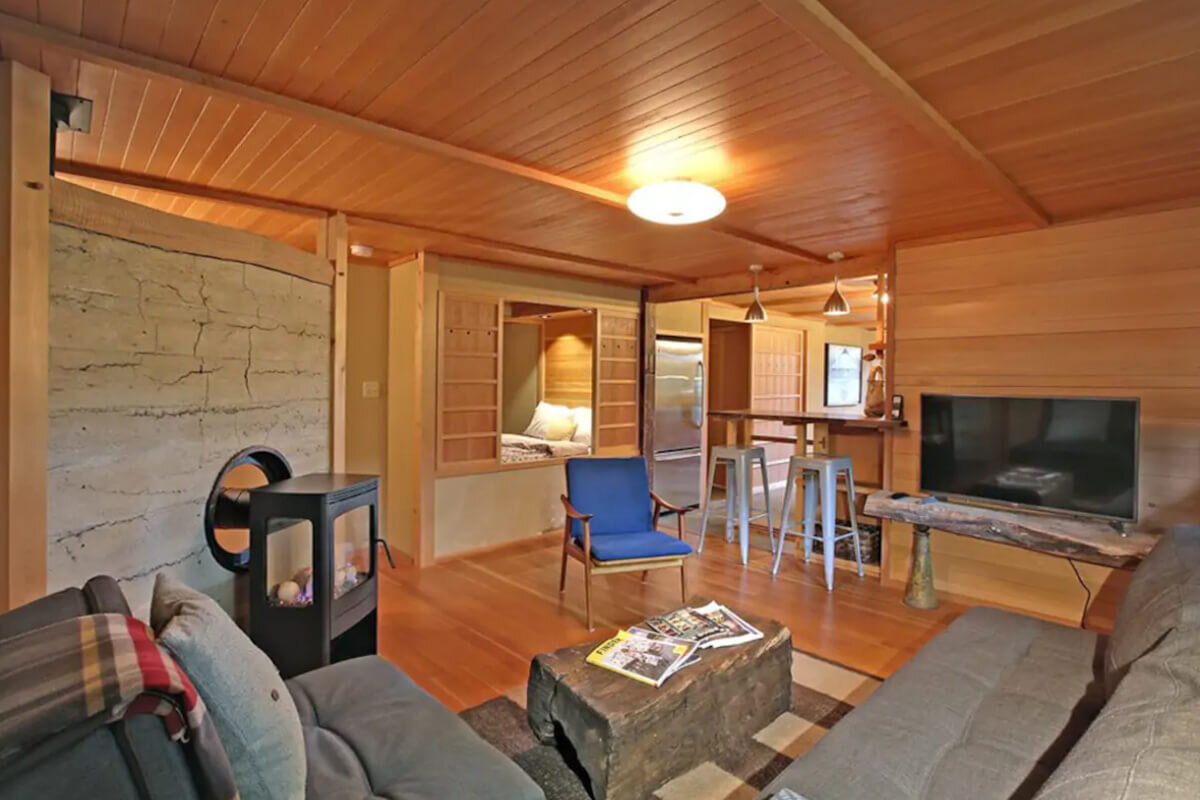 This unique "one plus" bedroom flat includes a master bedroom and separate sleeping chamber off the living space with a double bed. The kitchen was built for cooking and you'll find everything you need in there, plus a unique 2-room bathroom set up with a toilet and sink in one room and shower and sink in the other.
The home was built as a hideaway, just two blocks off Mississippi Ave. but you'll feel worlds away surrounded by nature on your private lower-level flat with exclusive use of the patio.
"Wonderful location, great apartment. Love the decor and appliances. We don't normally cook on vacation but had to take advantage of the awesome Viking range. Host was very friendly and helpful. Would totally book again."– Audree, May 2021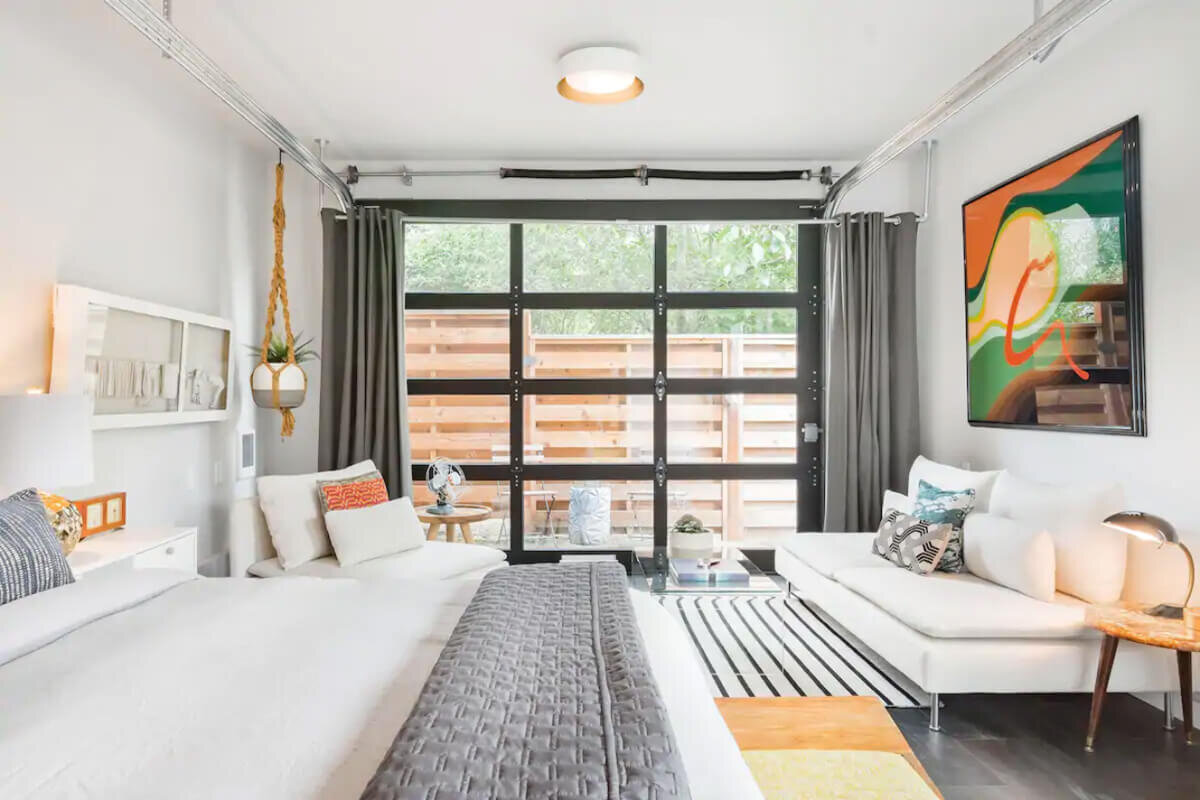 Unique indoor/outdoor space with roll up glass garage door near Mississippi Ave.
Location: Boise / Mississippi

Budget: $$$

Number of Guests: 4

Minimum Stay: 1 night

Plus | Superhost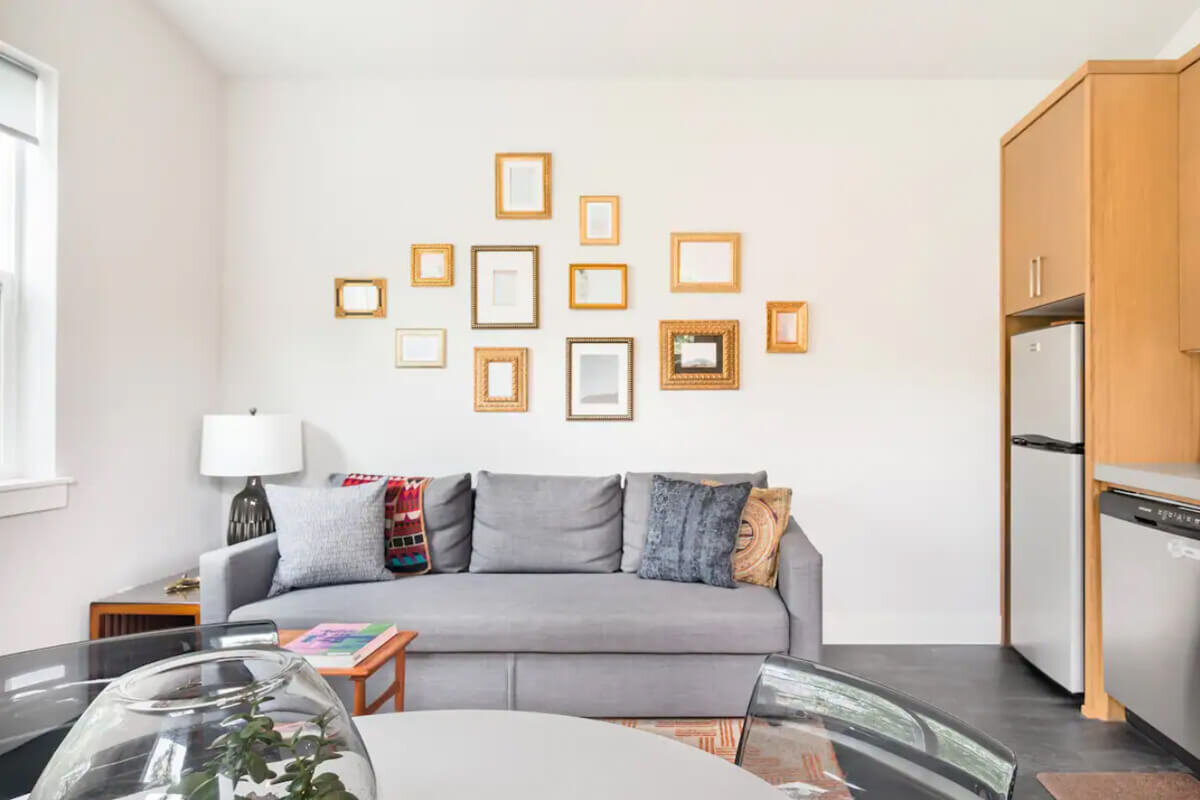 This Airbnb Plus one-bedroom property is located in the Boise area near Mississippi Ave. close to restaurants and entertainment. The property features a unique glass garage door in the bedroom that floods the room with natural light and brings the outdoors in when opened. Other amenities include a full kitchen, bathtub and private garden.
Guests frequently complimented the quiet and safe neighborhood location of The LoftHaus.
"Creativity and attention to detail form the foundation of our approach to hospitality." – Adam and Arthur, the hosts
Insider Tip: This stay is steps away from the Mississippi Marketplace, a food truck pod with delicious eats, next to a German Beer Garden where you can order a cold one to wash everything down!
Honorable mentions:
---
Alberta Arts District: This neighborhood is quirky and fun with lots of boutiques and cute cafes. It's a bit further from some of the city's main attractions, so it would be convenient to have a car if you are staying here..
Best budget stay in Alberta | Eco Tiny House
A sustainably- built and managed loft in Alberta Arts District
Location: Alberta Arts District

Budget: $

Number of Guests: 2

Minimum Stay: 2 nights

Superhost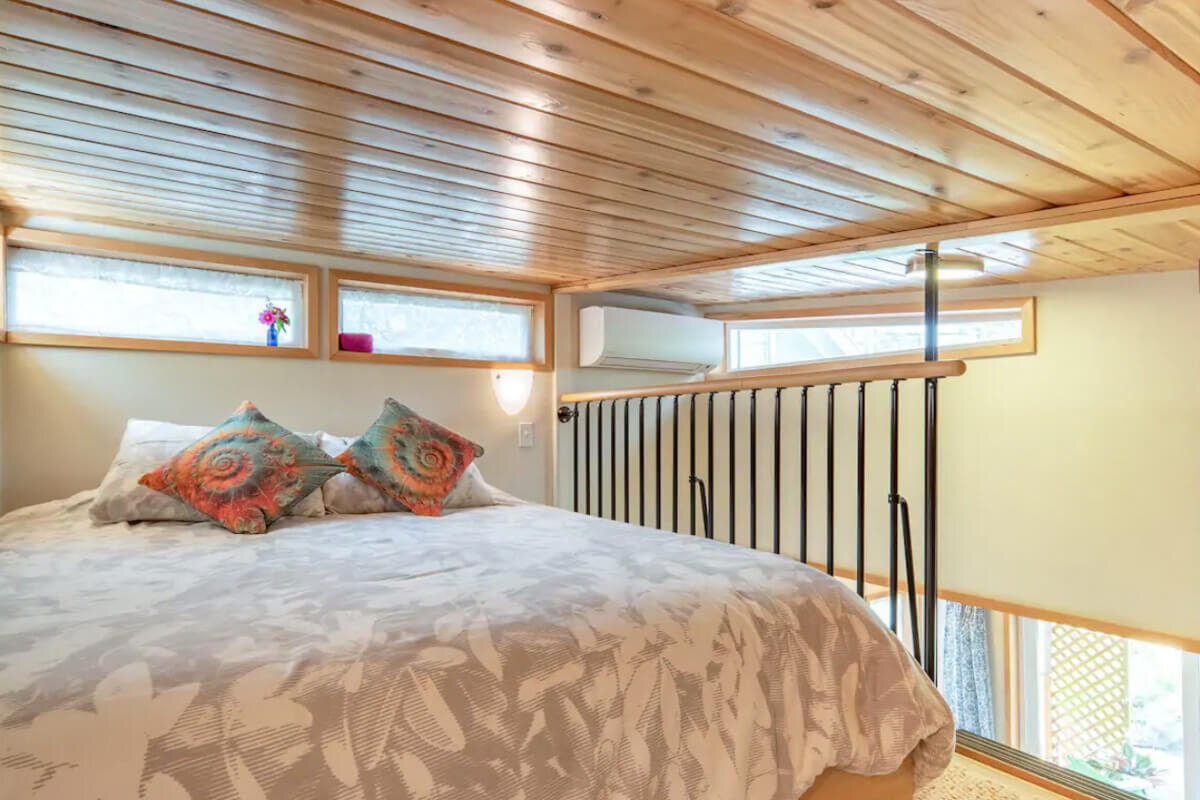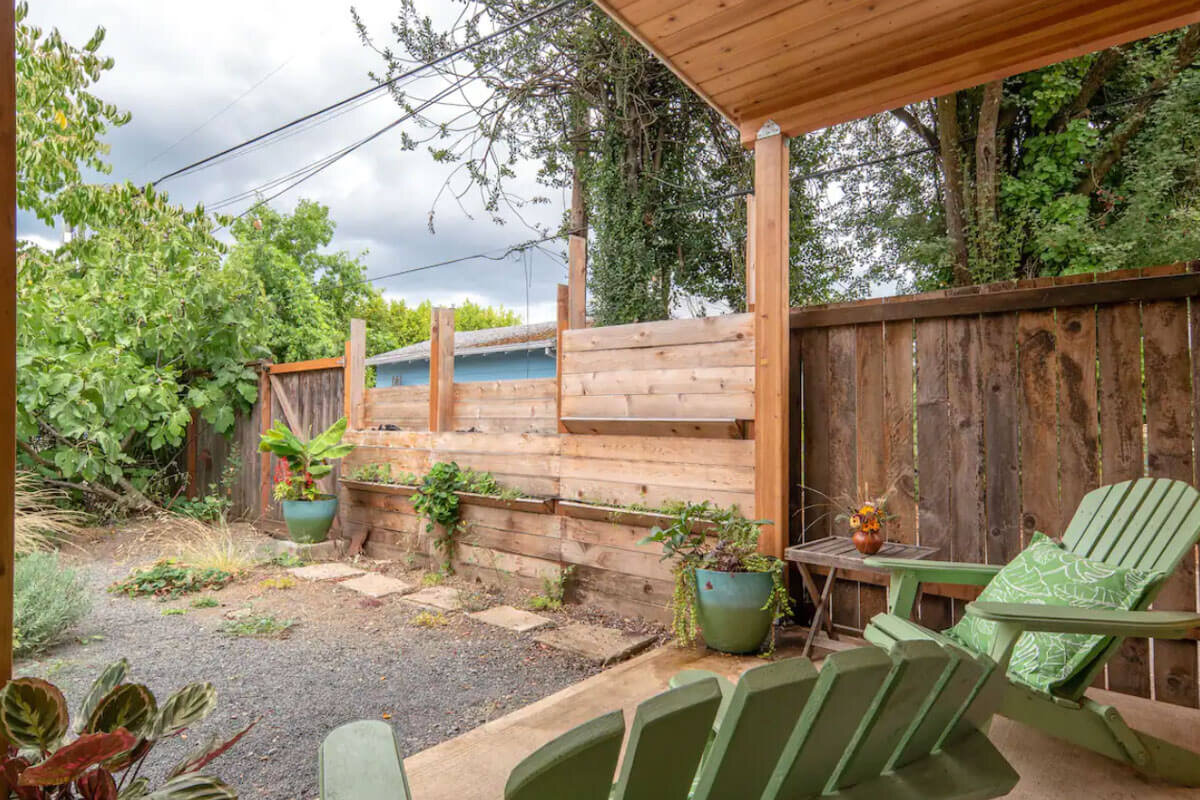 This eco-friendly tiny home is hosted by Jeanine who has a masters in Public Health and really knows how to keep a place clean. The welcoming guest house is a beautiful space for visitors to enjoy everything the sustainable city stands for including organic bedding and sheets, high efficiency appliances and sustainable building materials.
The lofted bedroom, living space and kitchenette are all beautifully decorated with fair trade art and furnishings and you can enjoy local coffee to start your morning. As a bonus, the hosts are happy to share goodies from their home garden upon request.
Guests rave about the functionality of the tiny home and hospitality of the host.
"We LOVED this Airbnb!!! Jeanine was nothing short of a great host – leaving thorough instructions, great recommendations…The space felt incredibly private for being in the middle of the city and we had no problems sleeping on the EXTREMELY comfortable bed in the loft." – Nick, May 2021
Insider Tip: Just a few blocks from here is the Portland Farmer's Market – King — a season Sunday market with food and specialty vendors.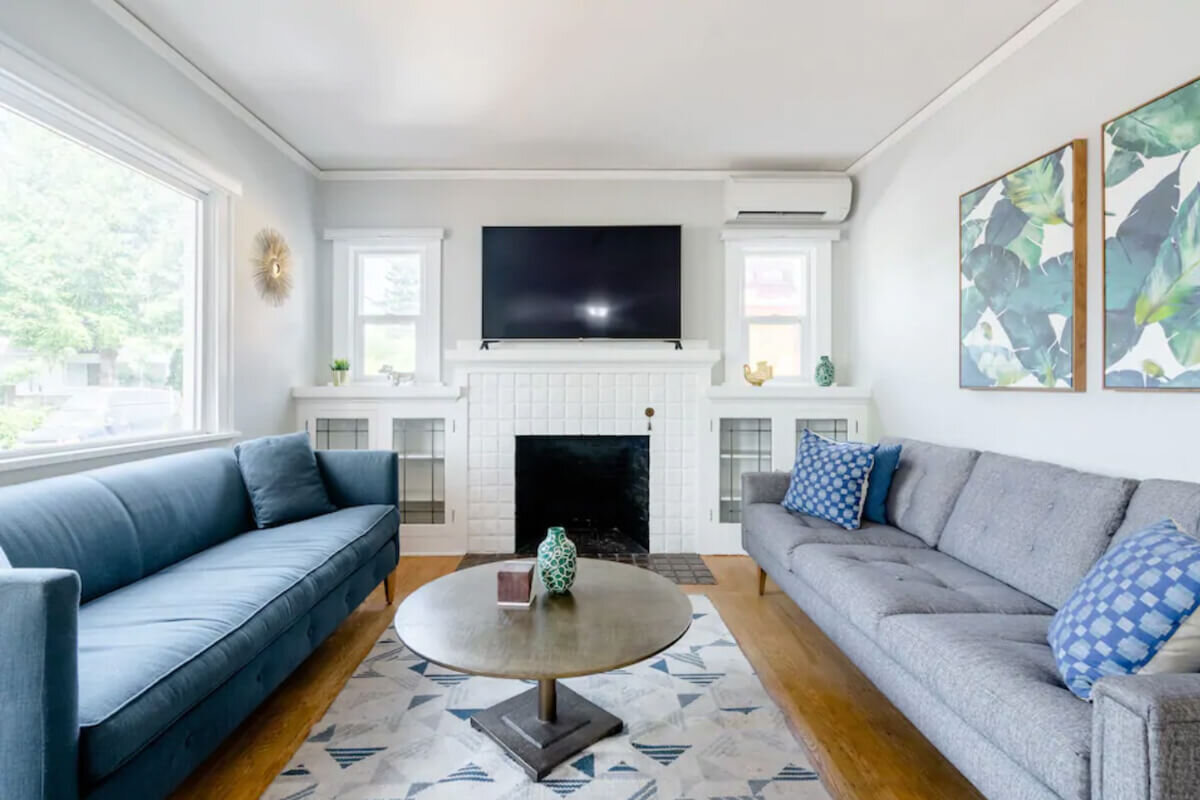 Large renovated home with modern amenities and historical charm
Location: Alberta Arts District

Budget: $$

Number of Guests: 8

Minimum Stay: 1 night

Plus | Superhost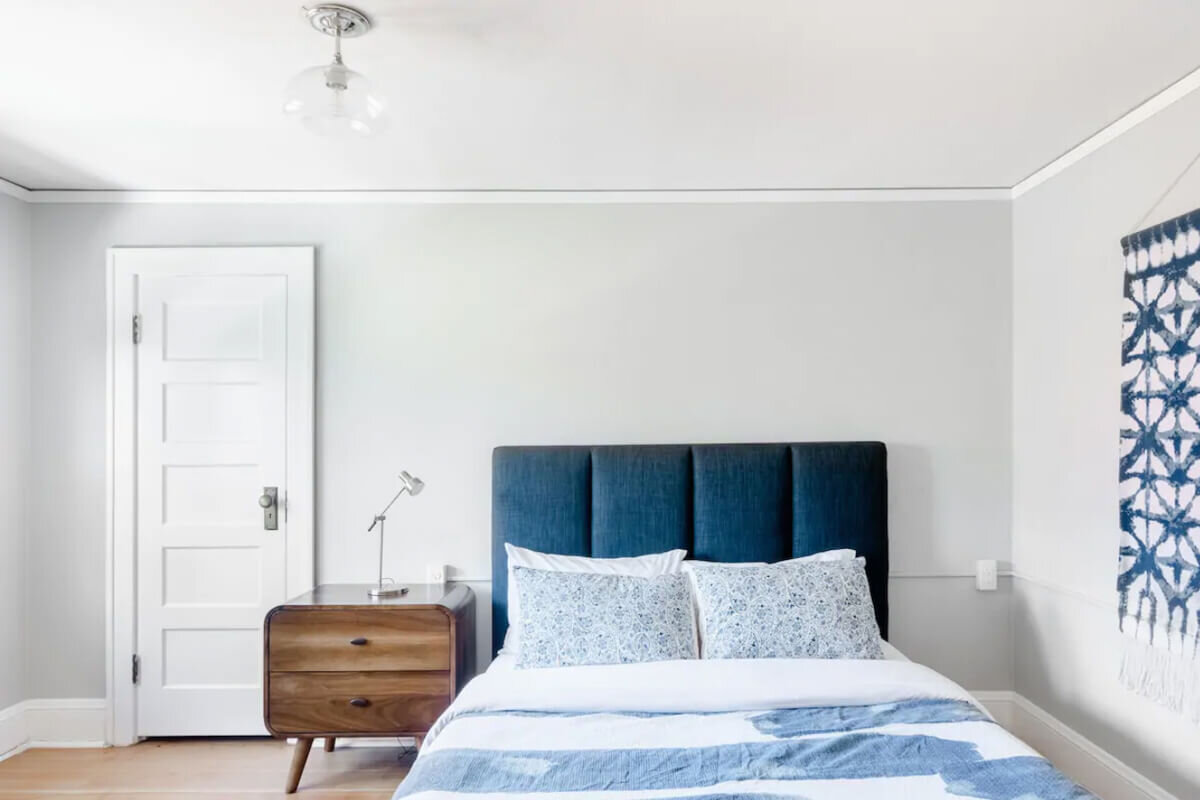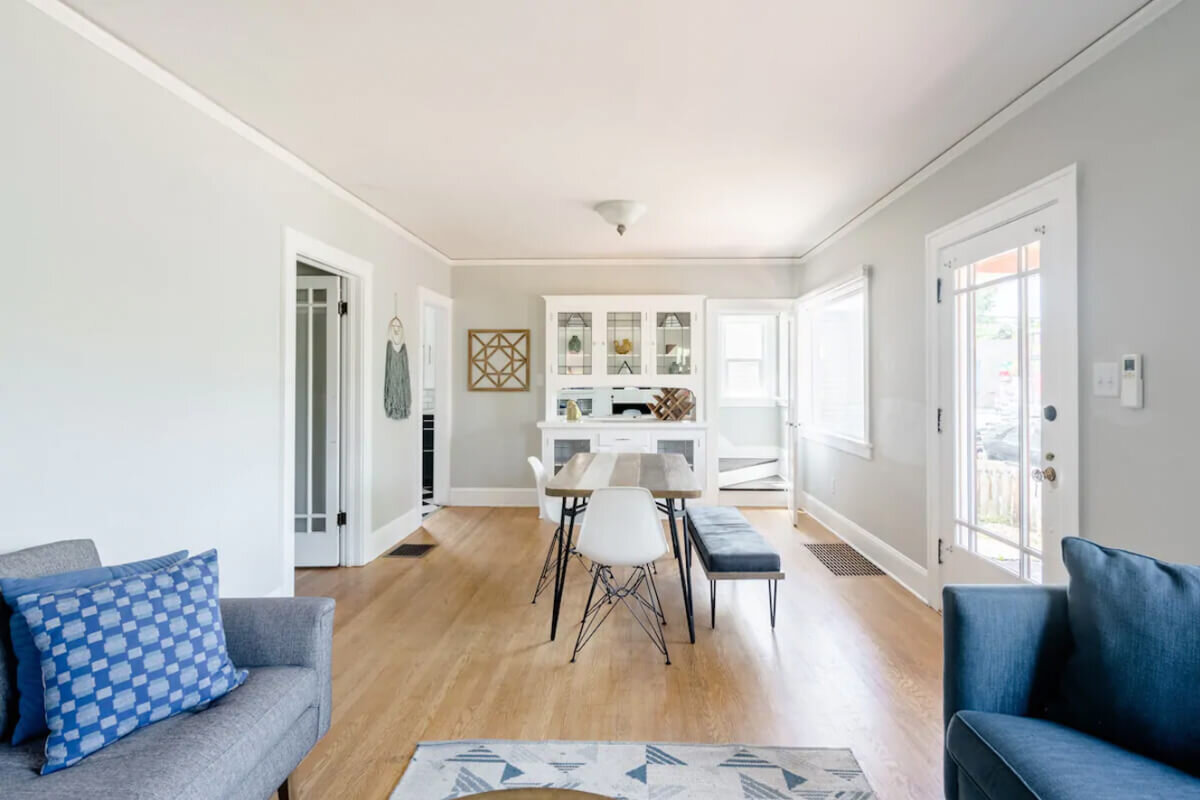 This beautiful home has been masterfully restored to offer modern amenities while retaining some of its original 1920's charm. The space features a bright and sunny living room, functional kitchen, 4 bedrooms and a single bathroom.
Guests raved about the spacious living quarters and beautiful decor.
"Best spot with tons of room for our whole family! We loved staying at Brandon's place. Him and his team are on top of requests and super friendly." – Amanda, May 2021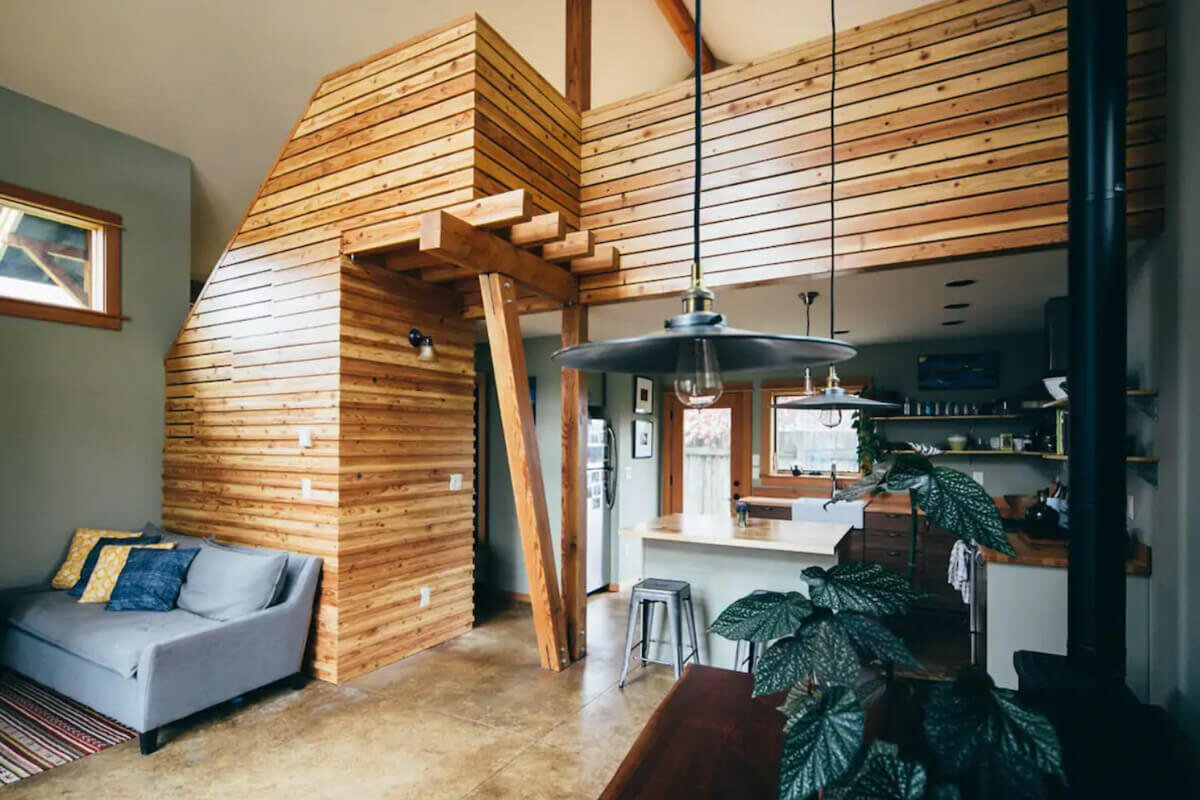 Gorgeous custom home featured in the New York Times
Location: Alberta Arts District

Budget: $$$

Number of Guests: 4

Minimum Stay: 2 nights

Superhost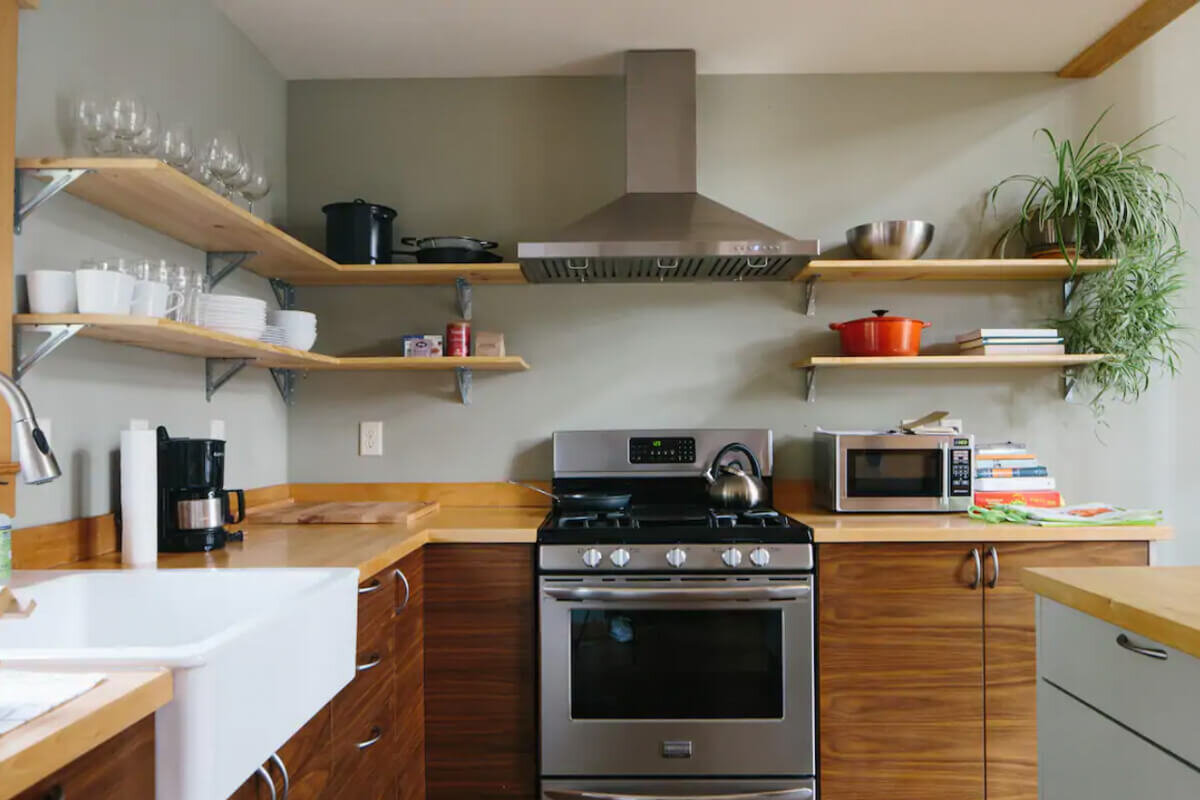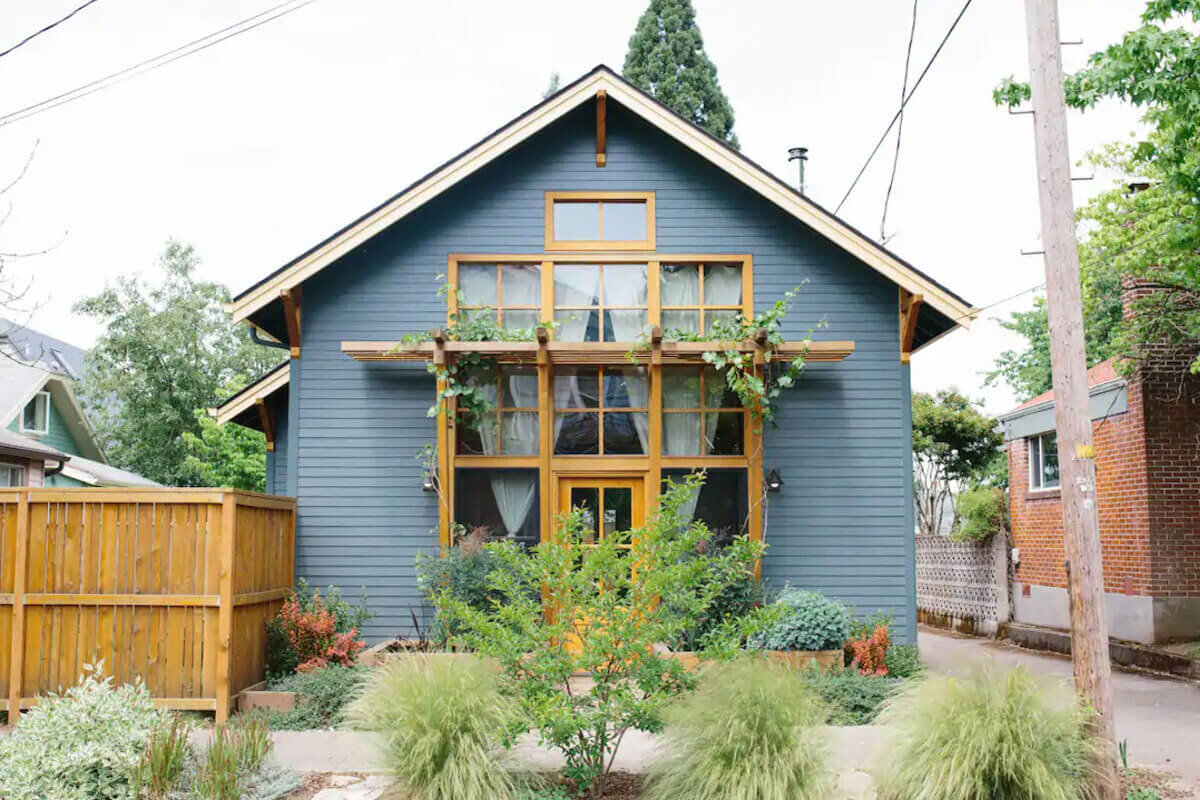 Featured in the NY Times, this beautiful custom home makes a great use of the small space. The thoughtful design includes an open floor plan living space, chef's kitchen and loft bedroom with private terrace.
The home is just a short walk from food, parks and entertainment in Alberta. Don't miss the quirky McMenamins Kennedy School just down the street, an old elementary school turned entertainment hub featuring a restaurant, brewery, movie theater and even a cigar room.
"Lovely little house on a lovely street in a lovely neighborhood…Loved waking up to the sounds of clucking hens next door, made it feel like a countryside retreat. Can't wait to return." – Justin, May 2021
Honorable mentions:
---
Other neighborhoods: From the nature-forward West Hills to the up-and-coming Division St. (featuring SE Restaurant Row), here are some Airbnbs in neighborhoods other than what's listed above.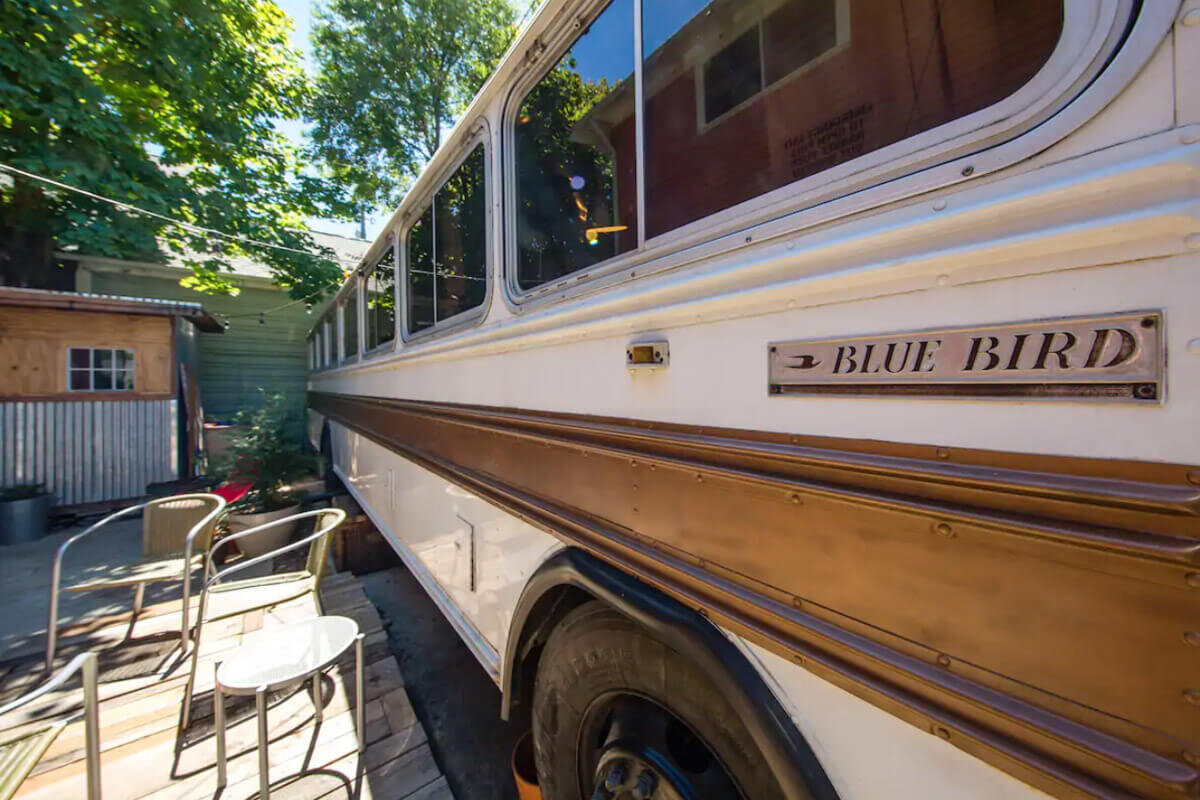 An accommodation as unique and quirky as Portland itself
Location: Piedmont Neighborhood

Budget: $

Number of Guests: 2

Minimum Stay: 30 nights

Superhost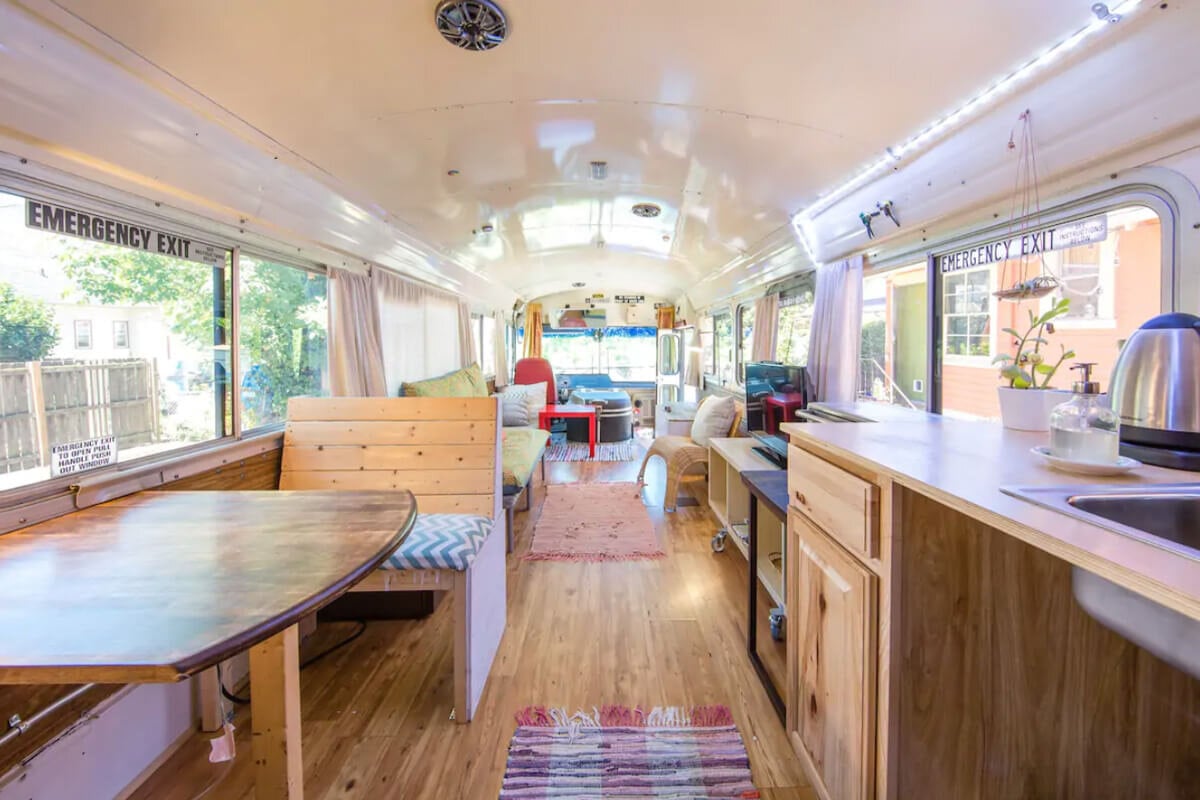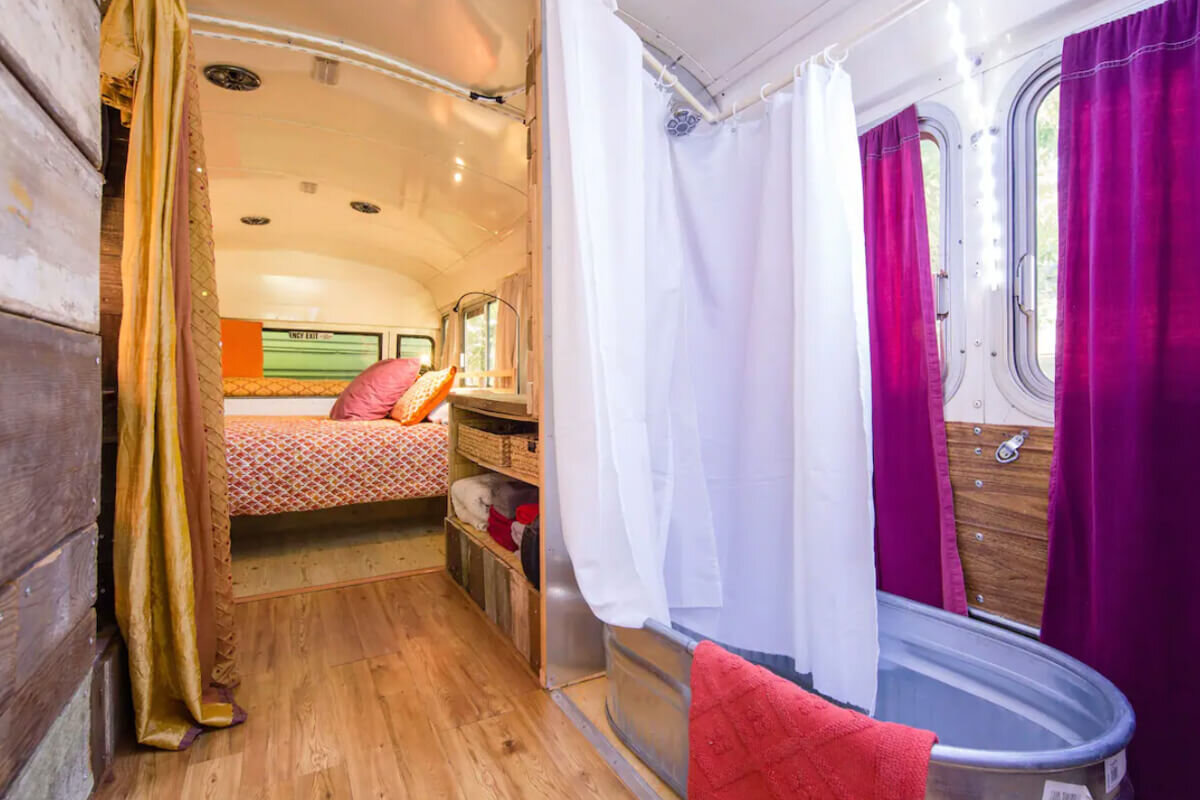 If you're looking for a stay as quirky as the city of Portland, you'll be pleased with the retro vibes going on in this repurposed 1984 school bus. Situated in the quiet residential neighborhood of Piedmont near Alberta Arts district & Mississippi Ave, this vintage bus has been converted into a fully equipped independent living space complete with a kitchenette and private bath.
Guests gushed about the unique and cozy experience of staying in the converted bus.
"Exceeds expectations. Stayed here for 5 days with my wife. The space is intimate but not crammed or too small. Amazing stay, definitely will stay again!!" – Chris, January 2021
Insider Tip: This stay is within walking distance of the Peninsula Park Rose Garden, a beautiful place for a stroll or an afternoon picnic.
Best mid-range stay near Division | Zen Loft
Designer loft near SE Restaurant Row – Portland's newest hotspot
Location: Division/Hawthorne neighborhood

Budget: $$

Number of Guests: 2

Minimum Stay: 1 night

Superhost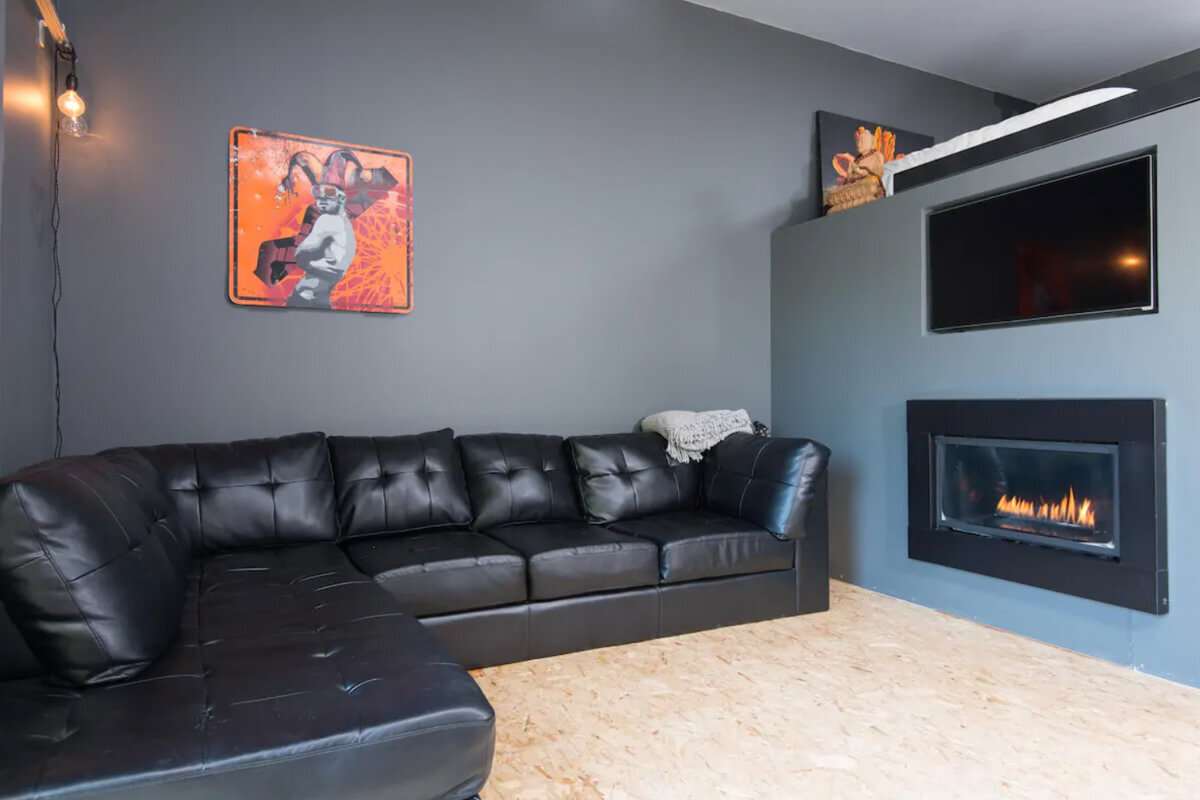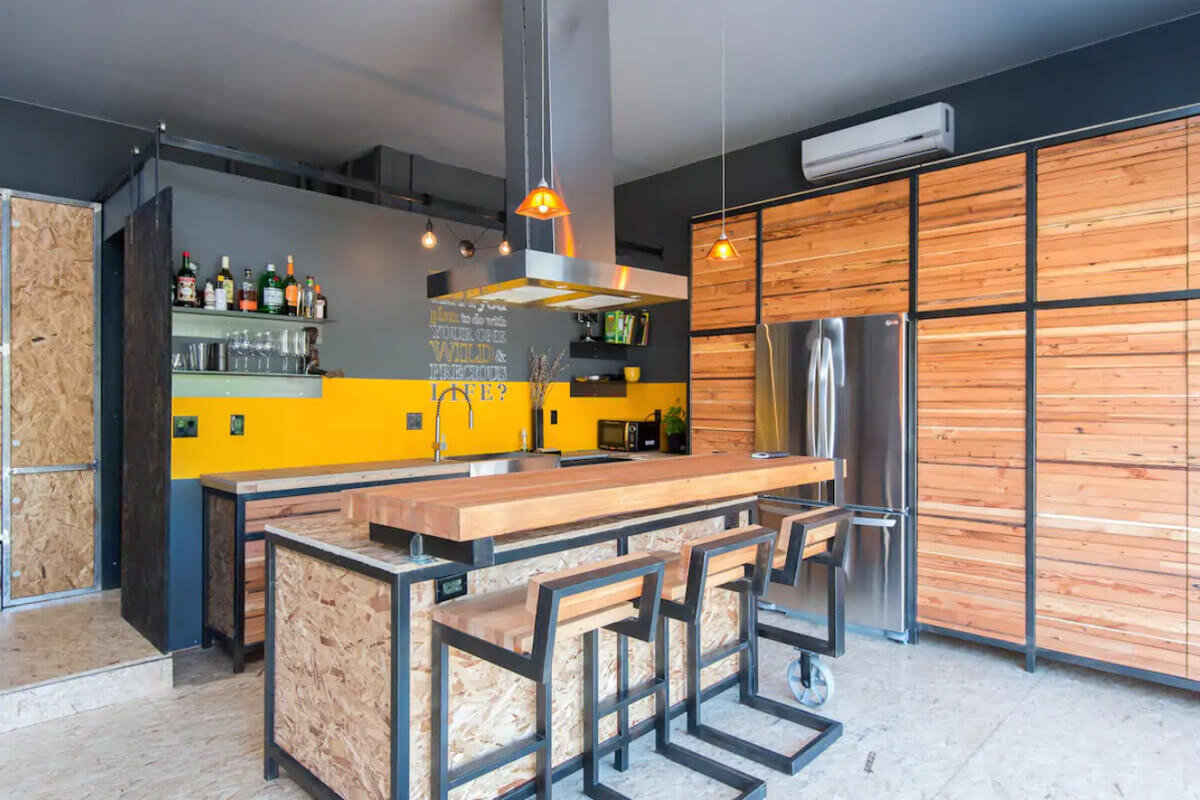 Just a few blocks from the restaurants and shops on Division street (aka SE Restaurant Row), this one of a kind studio apartment was created by Portland's small space and ADU design specialists, Zenbox Design, and featured in the New York Times.
A large 2 car garage was converted into this modern industrial living space. Designed for those that love to cook and enjoy the outdoors, the space features a large kitchen, private patio with hot tub and accordion-style foldable Nano wall which can be opened to let the outdoors in.
Guests love the location and private hot tub on the property.
"This is a perfect stay in a cute part of the neighborhood, extremely walkable to great restaurants and shops on Division and Hawthorne. The hot tub was a great touch." – Amelia, May 2021
Insider Tip: Check out some of our personal favorite restaurants on SE Division St. including Bollywood Theater, Kati Portland and Virtuous Pie, plus local favorite Salt & Straw.
Most unique treehouse stay in West Hills | Saul Zaik Treehouse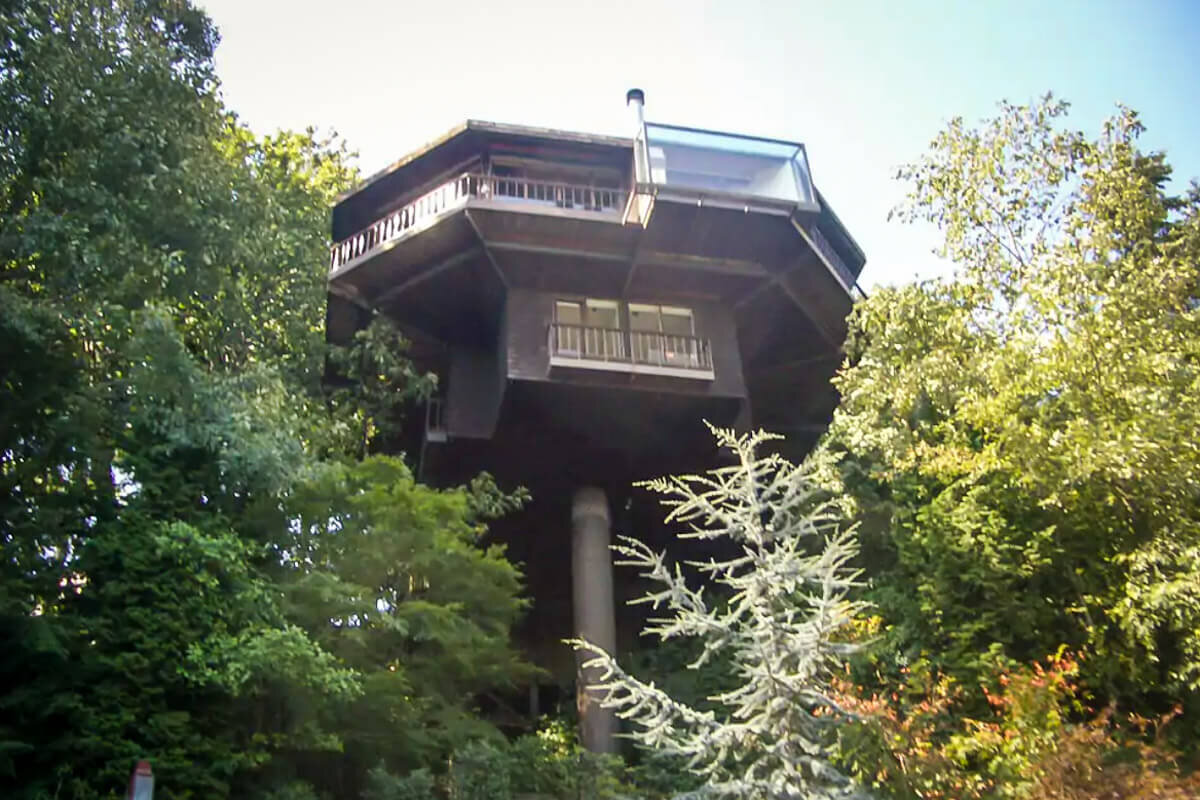 Conde Nast thinks this is the coolest treehouse in the world and so will you.
Location: West Hills

Budget: $$$

Number of Guests: 2

Minimum Stay: 1 night

Superhost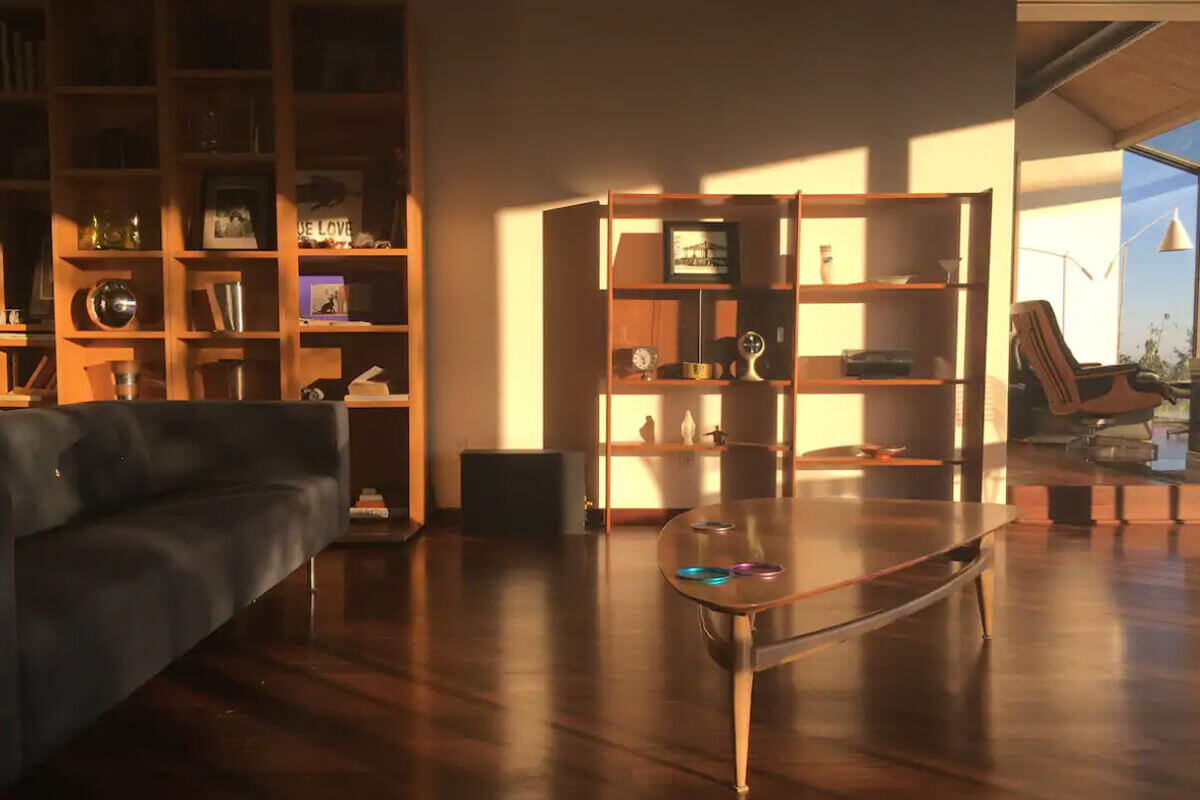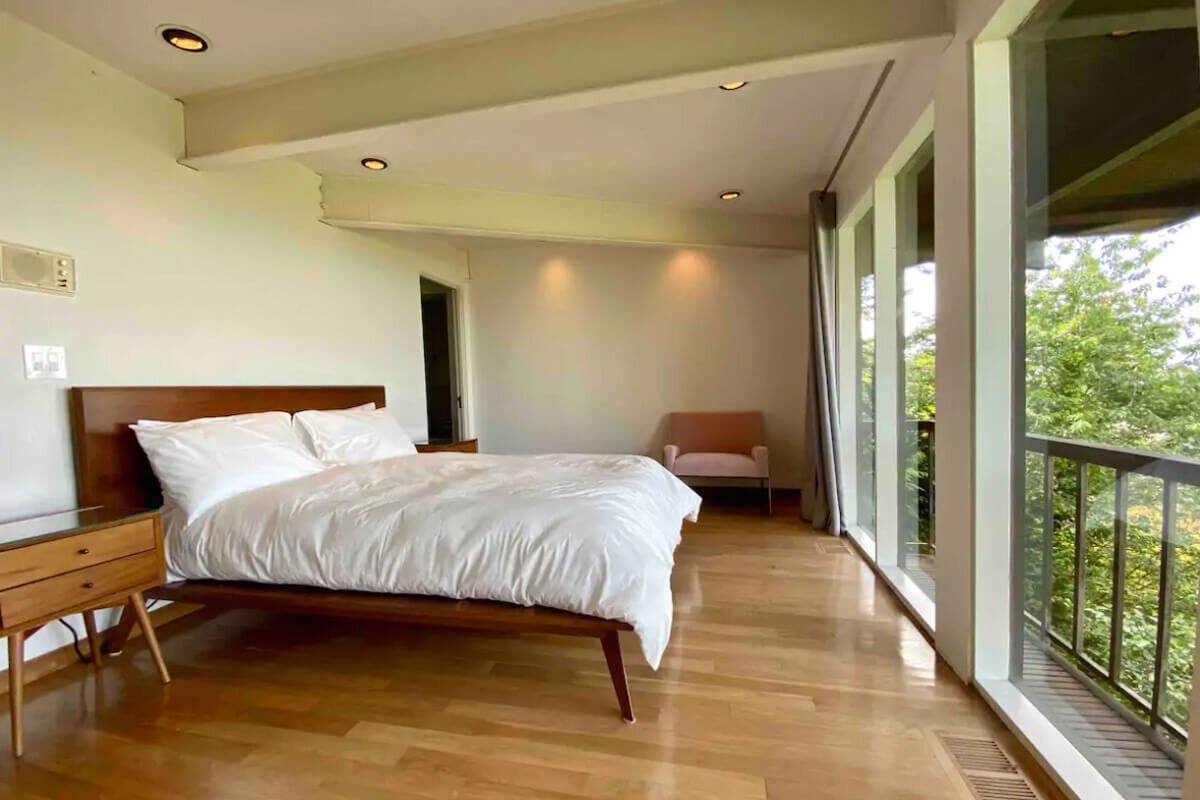 Built around the 67-foot-tall mast from a WWII Liberty ship, this treehouse is one of the most interesting and unique Airbnbs in Portland. Guests rave about the endless views of downtown and Mount St. Helens in the distance.
The home is adjacent to the Marquam Nature Park giving you the feeling of being on a nature retreat, but with easy access to downtown and the rest of the city. It is important to note that there is no kitchen, just an inlaw suite in the owner's yard.
"Words can't describe how awesome our stay was. Lance is an incredibly friendly, hospitable, and kind host who went out of his way to make our stay special. Truly, the pictures to not do this house justice." – Caasim, May 2021
Best for accessibility | Fowler House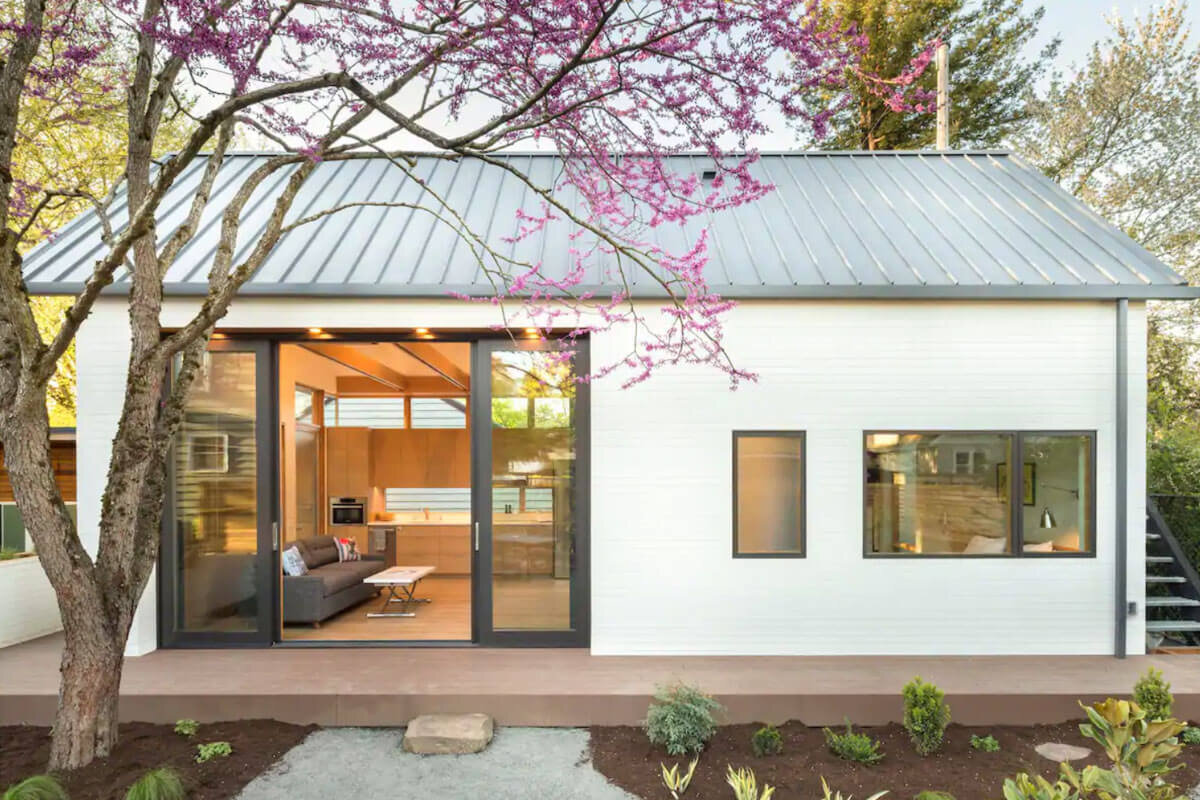 Fully accessible one-bedroom guesthouse with architecture accolades
Location: Arbor Lodge neighborhood

Budget: $$$

Number of Guests: 5

Minimum Stay: 1 night

Superhost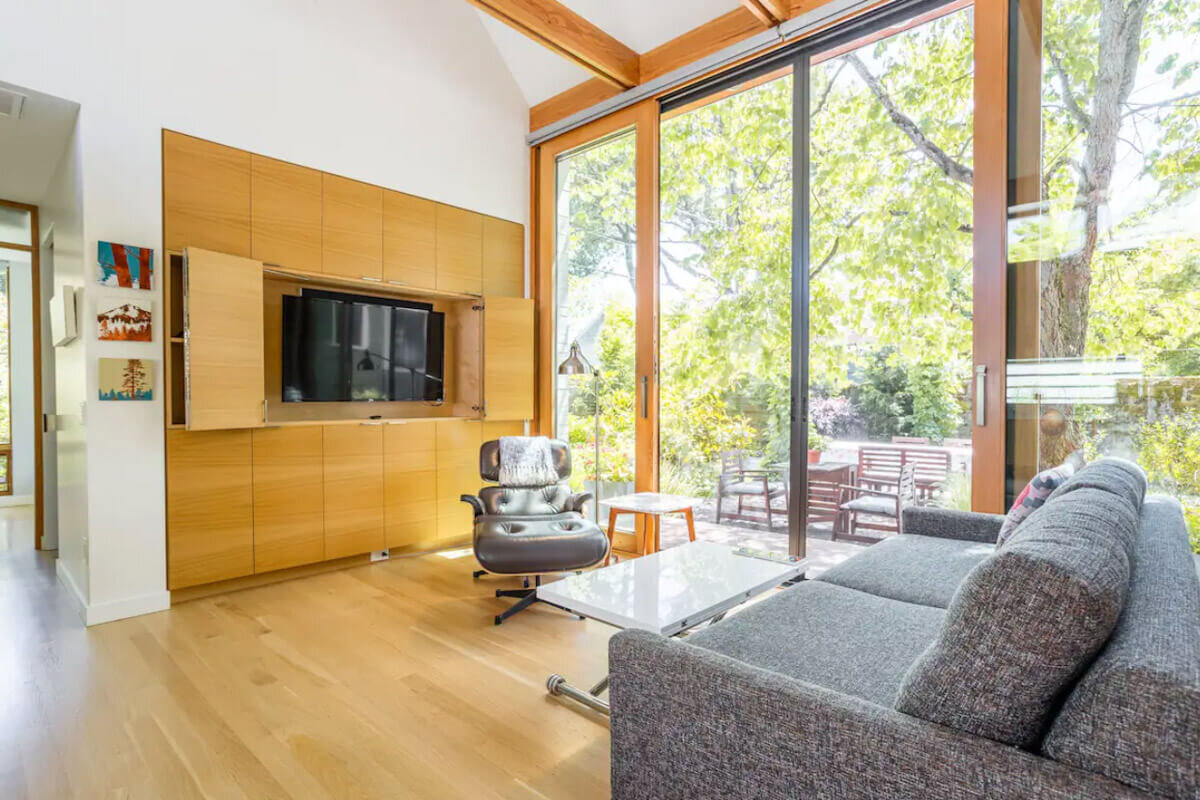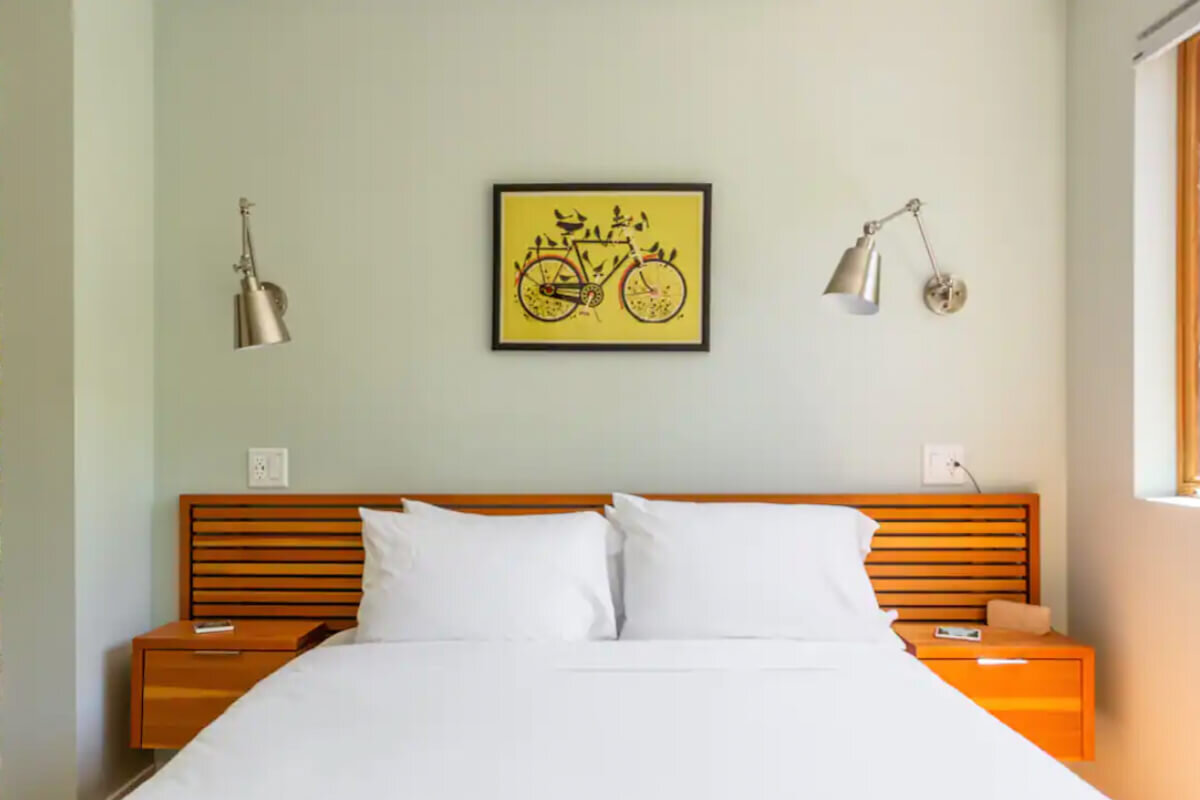 Located about 30 minutes from downtown, this one story abode in North Portland features 10-foot floor-to-ceiling windows and a cathedral ceiling. Designed with the host's aging parents in mind, the guesthouse is wheelchair accessible and connects to the garden and a private outdoor dining area.
As an added bonus, 10% of all profits from this home go to Community of Hope PDX, which empowers homeless families by providing transitional housing to single parents and children.
"This is one of the most thoughtful and well designed homes we've stayed at and was perfect for our trip… The home had speedy internet to allow my husband and I to take zoom calls and a beautiful backyard to enjoy during lunch breaks… Would highly recommend if you're looking for a clean and peaceful home base during your next PDX stay!" – Jennifer, June, 2021
Insider Tip: Not far from here is the Waud Bluff Trail which climbs a steep bluff rising over Swan Island with river views.
Best family stay in the West Hills | Wald House PDX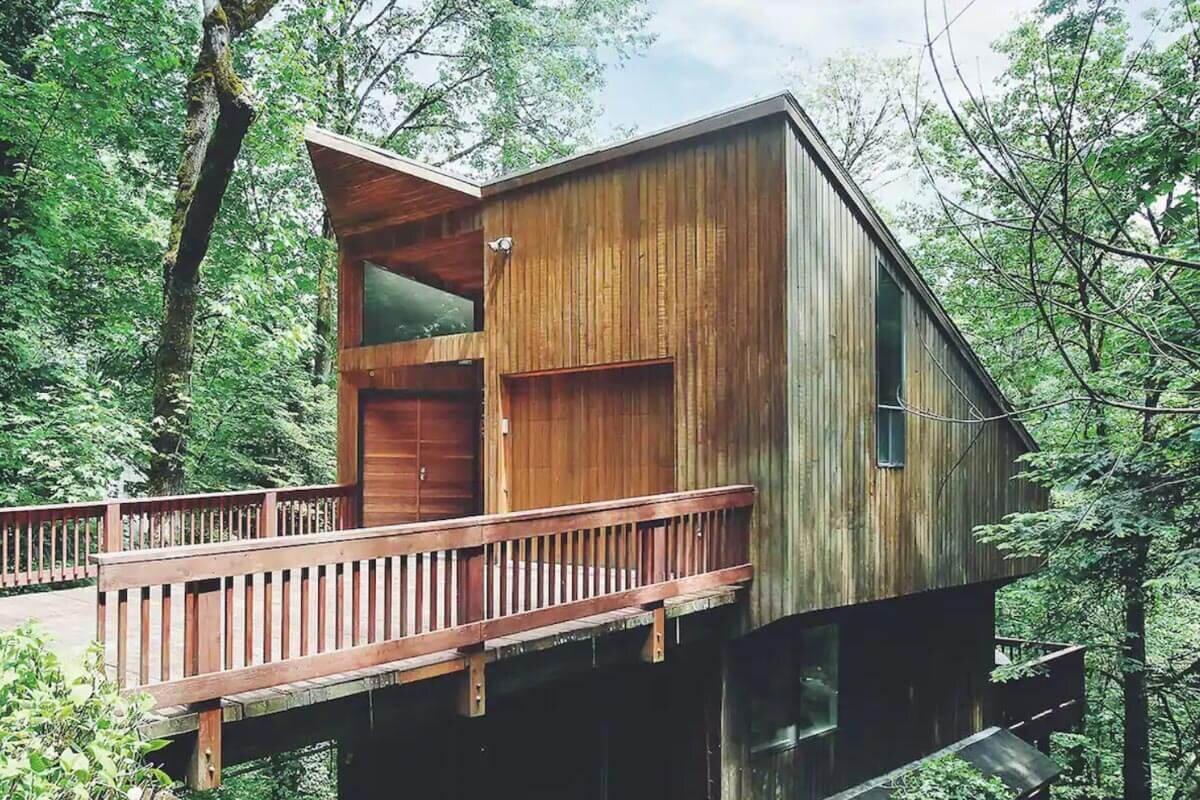 A family-sized nature retreat nestled in the West Hills
Location: West Hills

Budget: $$$

Number of Guests: 7

Minimum Stay: 1 night

Superhost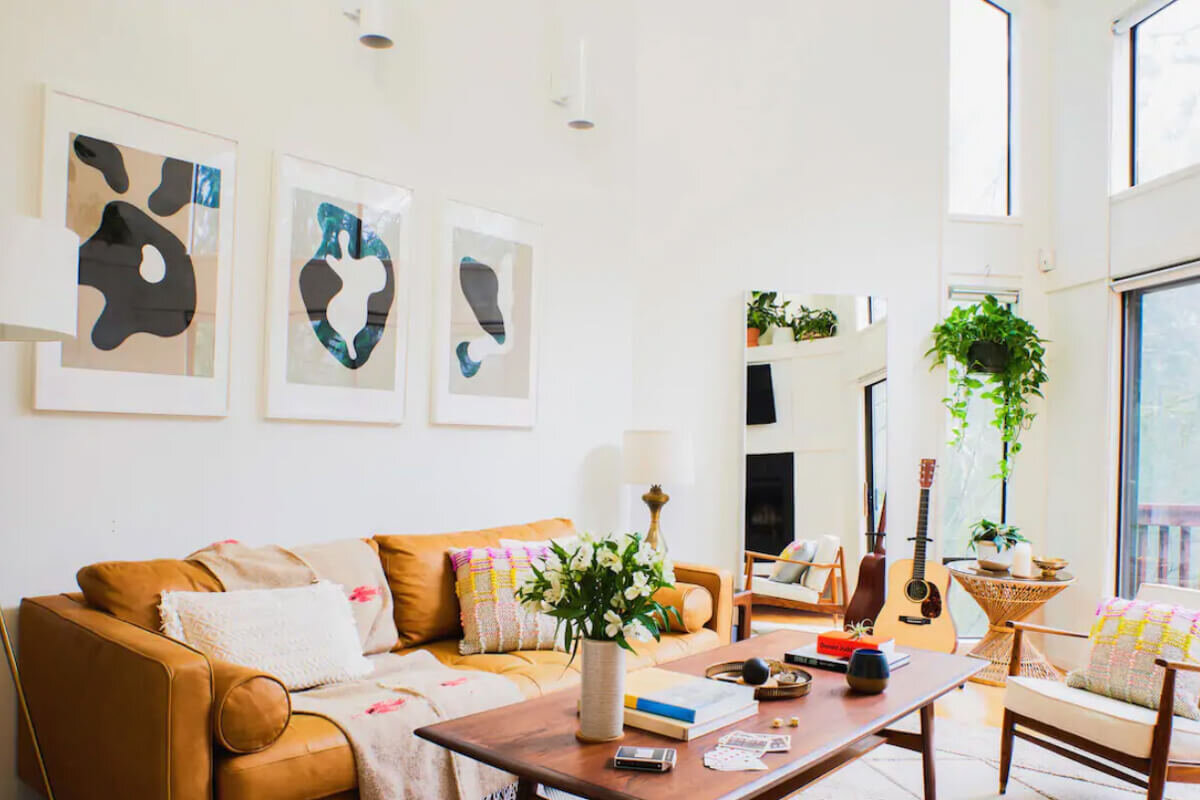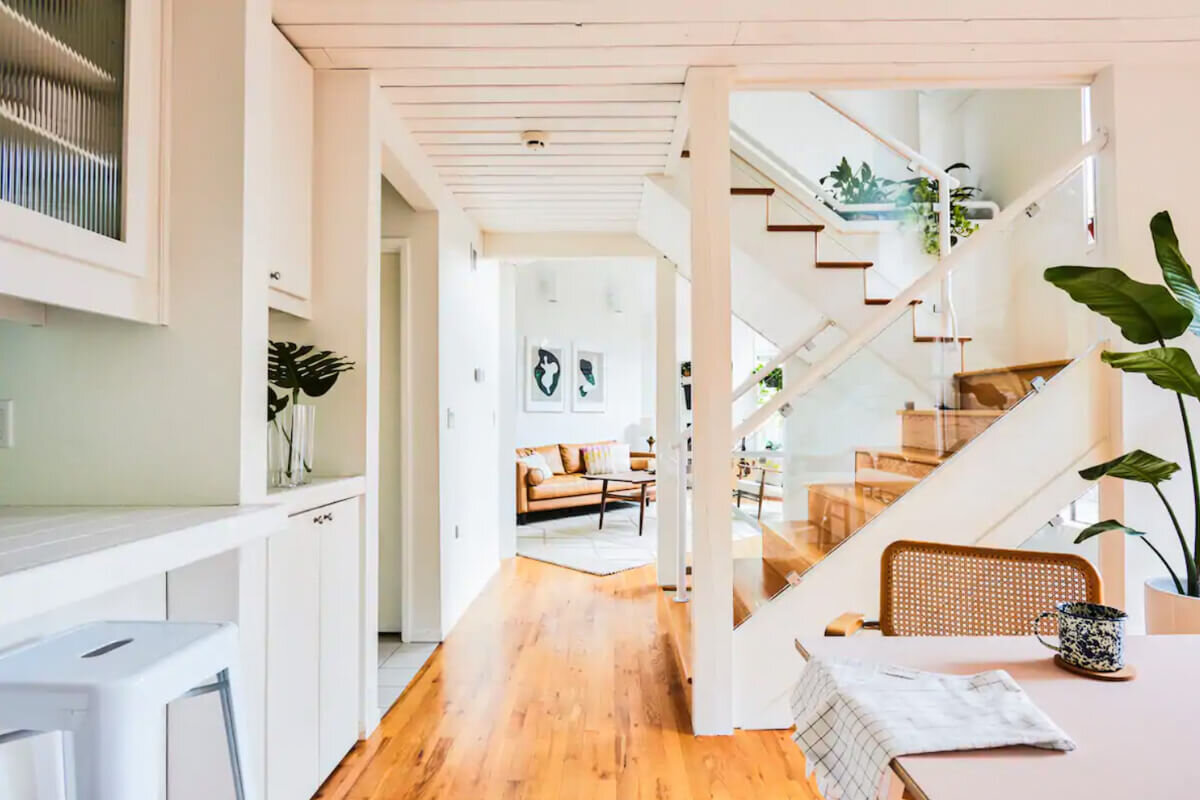 This 1970's wood-paneled abode is an architectural gem nestled in the tranquil forest of the West Hills, just 10 minutes from downtown. The beautifully decorated 2 bedroom home is located on a 5.5 mile bike-loop and backs up to Marquam Nature Park where there are plenty of options for outdoor activities.
This house was designed for true relaxation and rejuvenation featuring 2 bedrooms, a full kitchen and private outdoor deck. Guests rave about the property and experience giving the hosts a 4.99 star rating with over 100 reviews.
"Vivian & Adam's house was everything we had hoped! It was clean and decorated beautifully…We loved being off the beaten path but a quick 10-15 minute drive to anything you could need. We loved our time in Portland and couldn't have picked a better place to stay!" – Meghan, April 2021
Insider Tip: You can walk almost entirely on trails in to the downtown area from here!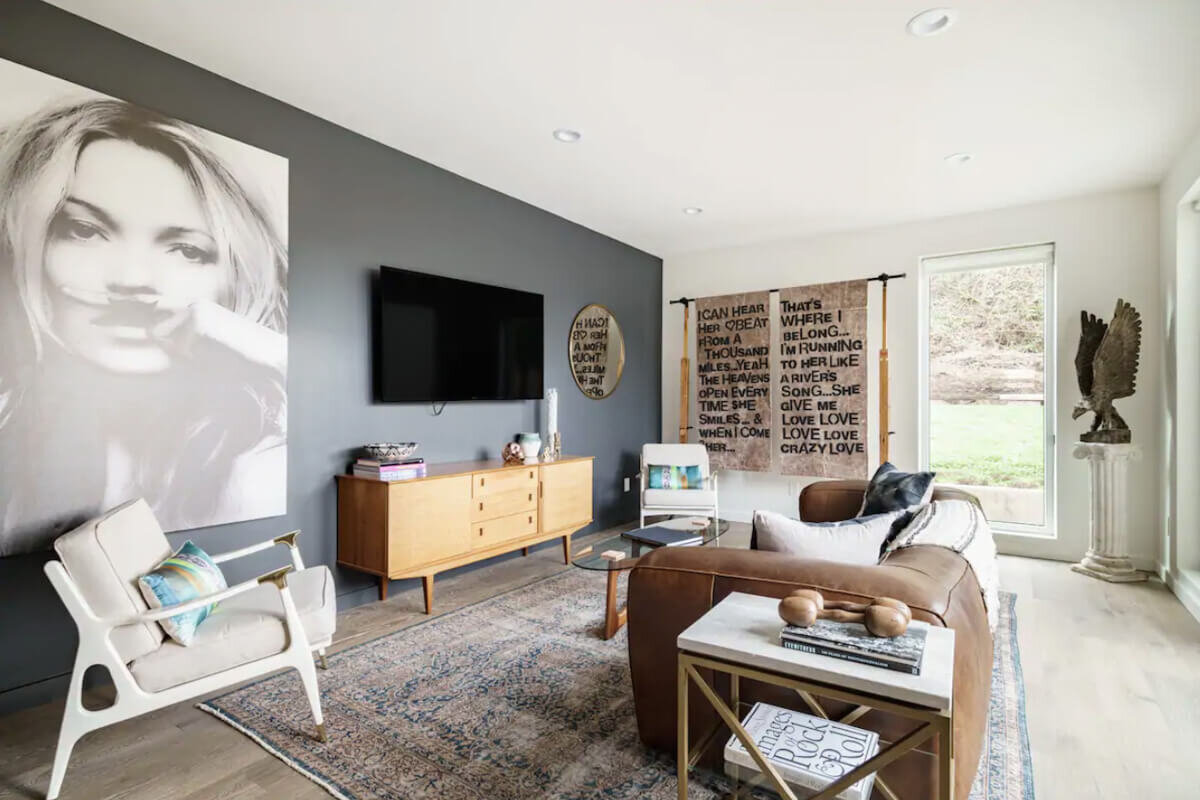 Over-the-top luxurious music-themed house for entertaining in Southwest Portland
Location: Southwest Portland

Budget: $$$$

Number of Guests: 8

Minimum Stay: 1 night

Plus | Superhost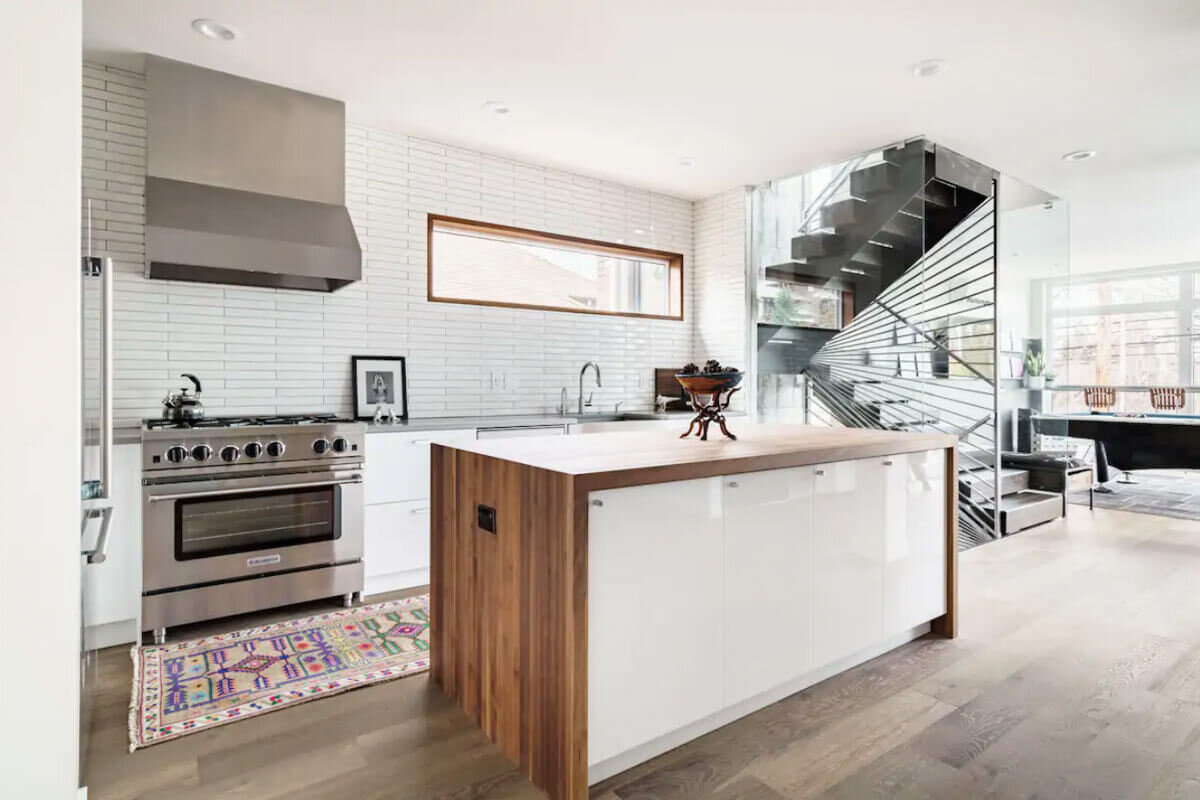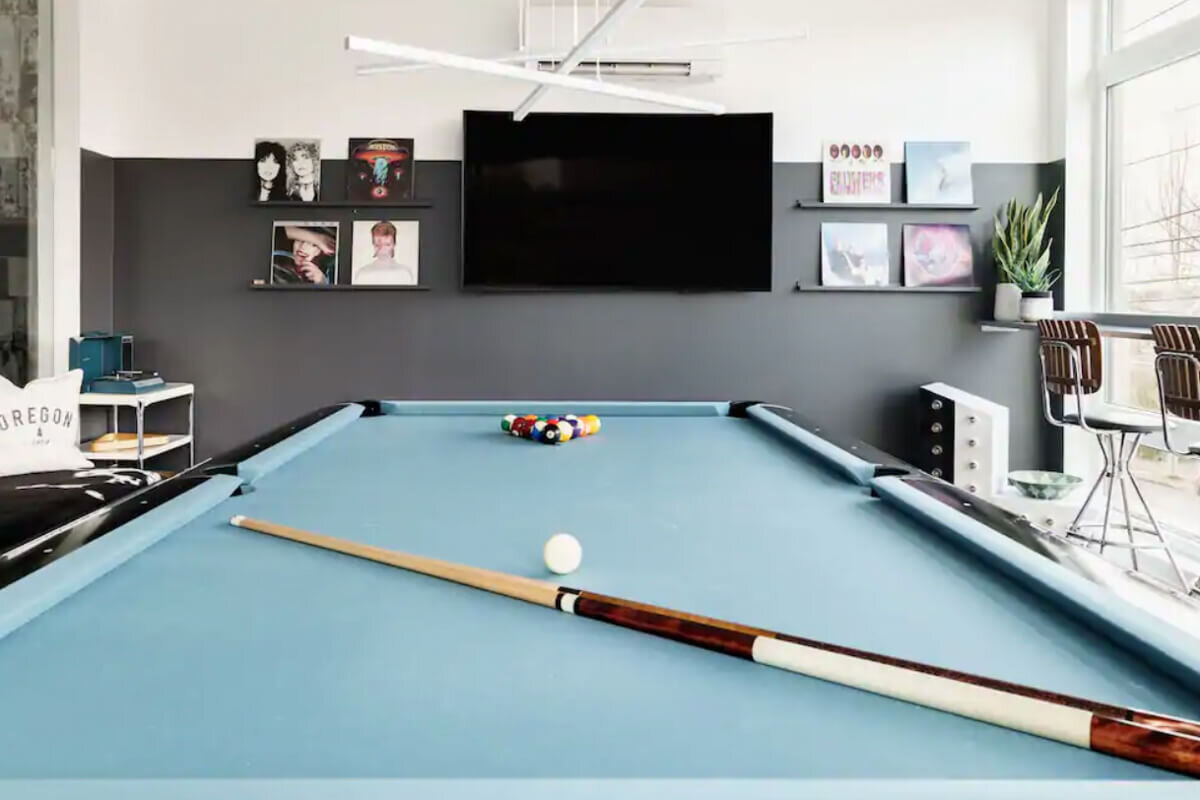 If you're traveling with family or a larger group and looking for a place to entertain, then look no further than this contemporary abode in Southwest. The entire house was designed with a rock n' roll theme and features the guitars of BB King, Brad Paisley and Alice Cooper (purchased through charity auctions and displayed in the living room).
But even better than the theme are the amenities. This large 4 bedroom, 3 bathroom house boasts a game room with pool table and pinball machine, private backyard deck with fire pit and hot tub, plus a new home gym that includes a treadmill and free weights.
Guests rave about what a fun and entertaining stay they had in the house.
"My family and I loved our stay at this beautiful, hip, modern house. It felt perfectly comfortable and spacious with fun things to do both inside and outside of the house… The host gave us a list of great recommendations, was responsive and kind in their communication, and even set out yard games for us. We had an awesome trip!!" – Emma, May 2021
Honorable Mention:
---
Just outside the city:A retreat from the big city without getting too far out of town.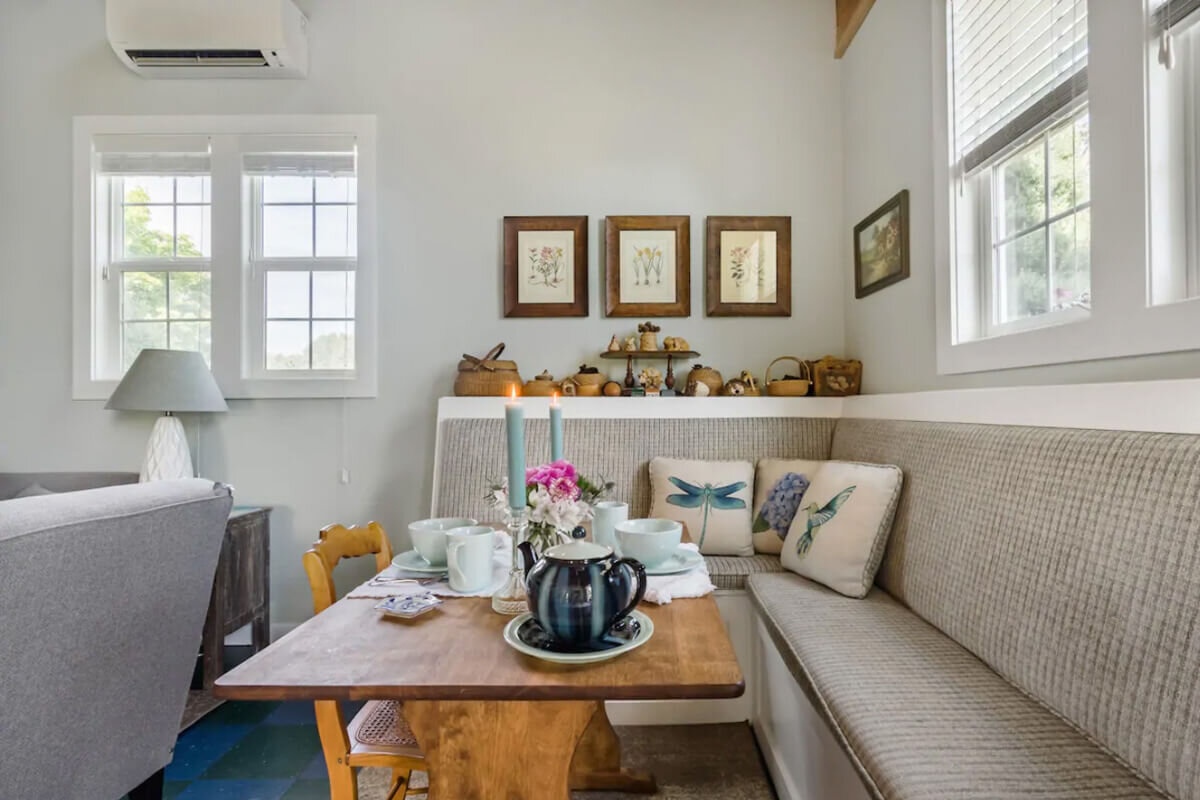 Private garden cottage on an alpaca farm 30 minutes outside of Portland
Location: Hillsboro, OR

Budget: $$

Number of Guests: 2

Minimum Stay: 2 nights

Plus | Superhost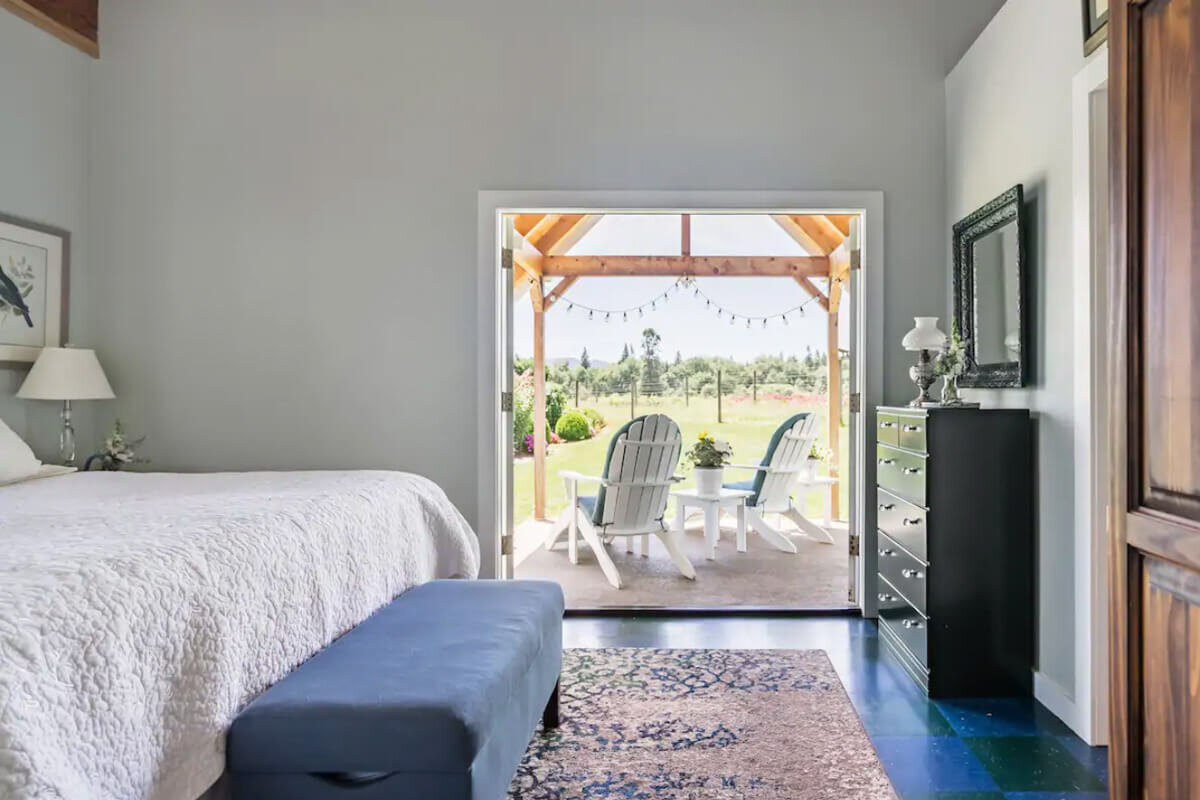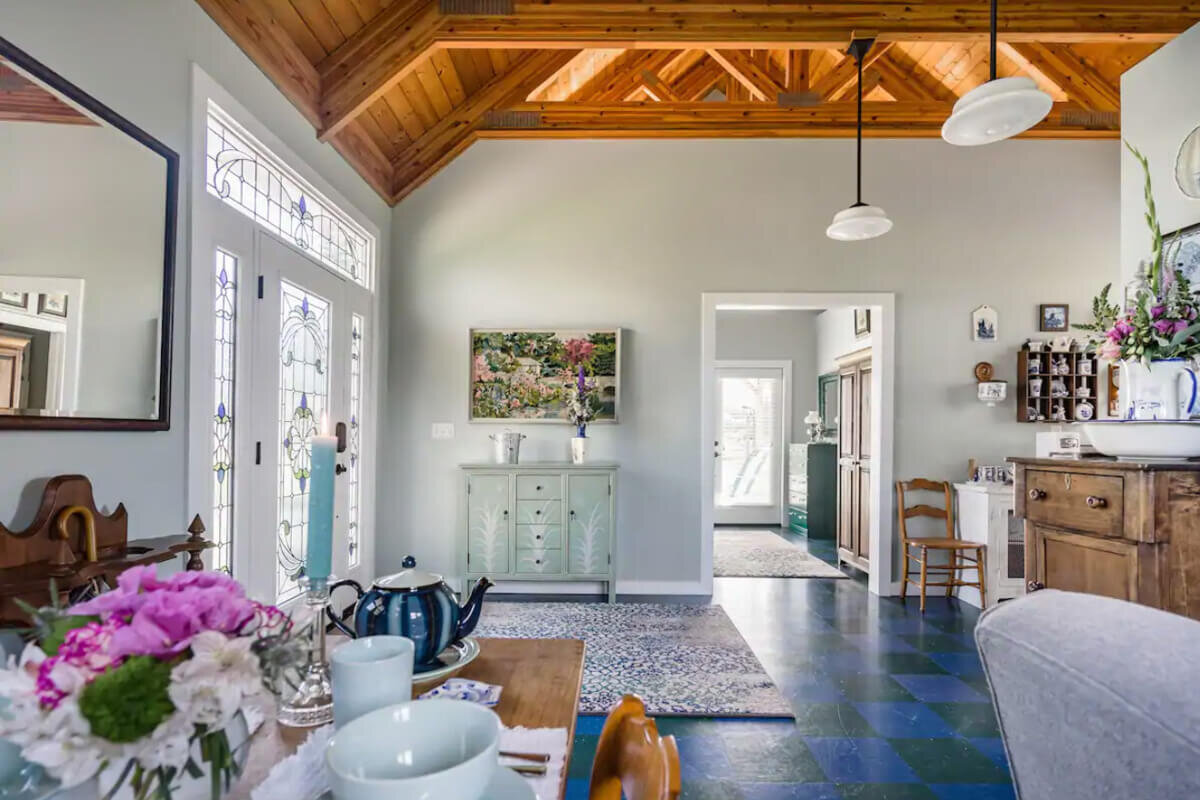 Ever dreamed about what it would be like to live on a farm? How about an alpaca farm!? Spend your getaway at this farm stay in Hillsboro, OR on the Oakwood Alpaca Farm. This private 1 bedroom cottage is thoughtfully decorated with rustic charm and vintage touches. The bright, sun-lit space includes a full kitchen and living room, plus outdoor patio and access to the 70 acres of gardens and farmland. 
Start your mornings here with organic coffee on the patio before heading out to feed the alpacas treats. Guests raved about the experience and couldn't get enough of the cute cottage stay. 
"What an incredible gem. Julie's cottage was one of the most wonderful stays we have had. Photos don't even do it justice as everything is thoughtful, spotless and the grounds are so expansive and stunning that you can't help but relax."  – Amiee, May 2021
Honorable Mention: 
Can't find an Airbnb?
Here's a quick list of recommended boutique properties, hotels and vacations rentals in Portland.
---
Are you planning a trip to Oregon?
Being that Oregon is our home state, we have TONS of content to help you plan your trip. Start with our Oregon Homepage and be sure to check out the articles below. Leave us a comment if you have any more questions!
We want to hear from you!
Which of the Airbnbs on this list do you like the most? Are you planning a trip to Portland soon and have more questions about where to stay? Drop us a comment below and we'll do our best to get back to you!
Save this article on Pinterest for later!