Renting a car in Costa Rica is the best way to explore. You can get off the beaten path and have the freedom to do what you want. Surprisingly, driving in Costa Rica is easy and the rental car prices are reasonable. We're sharing everything you need to know about renting a car in Costa Rica.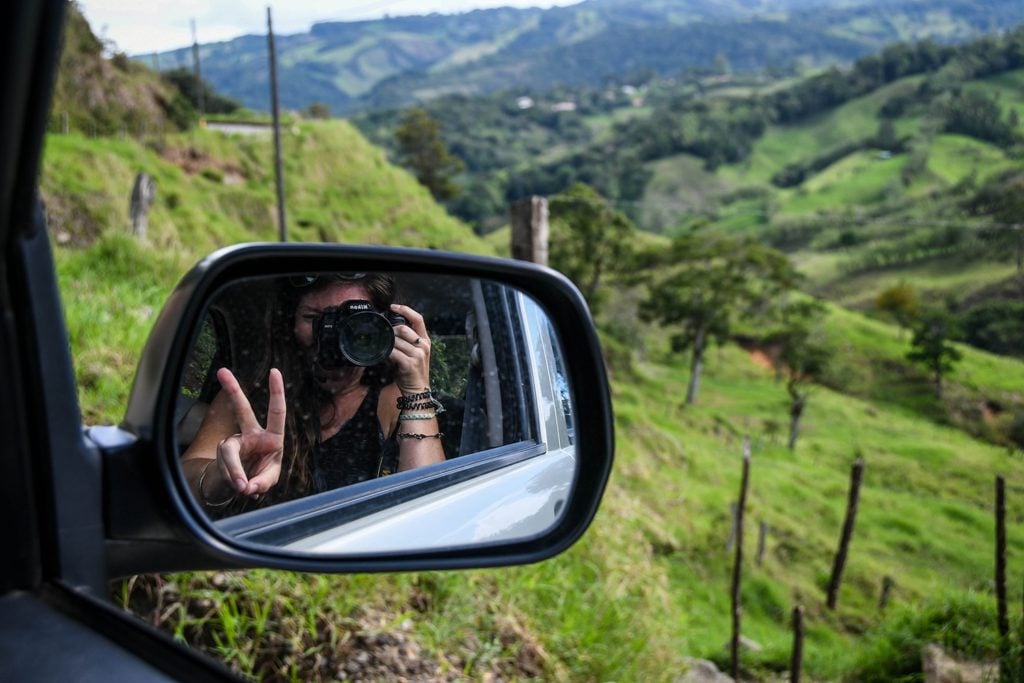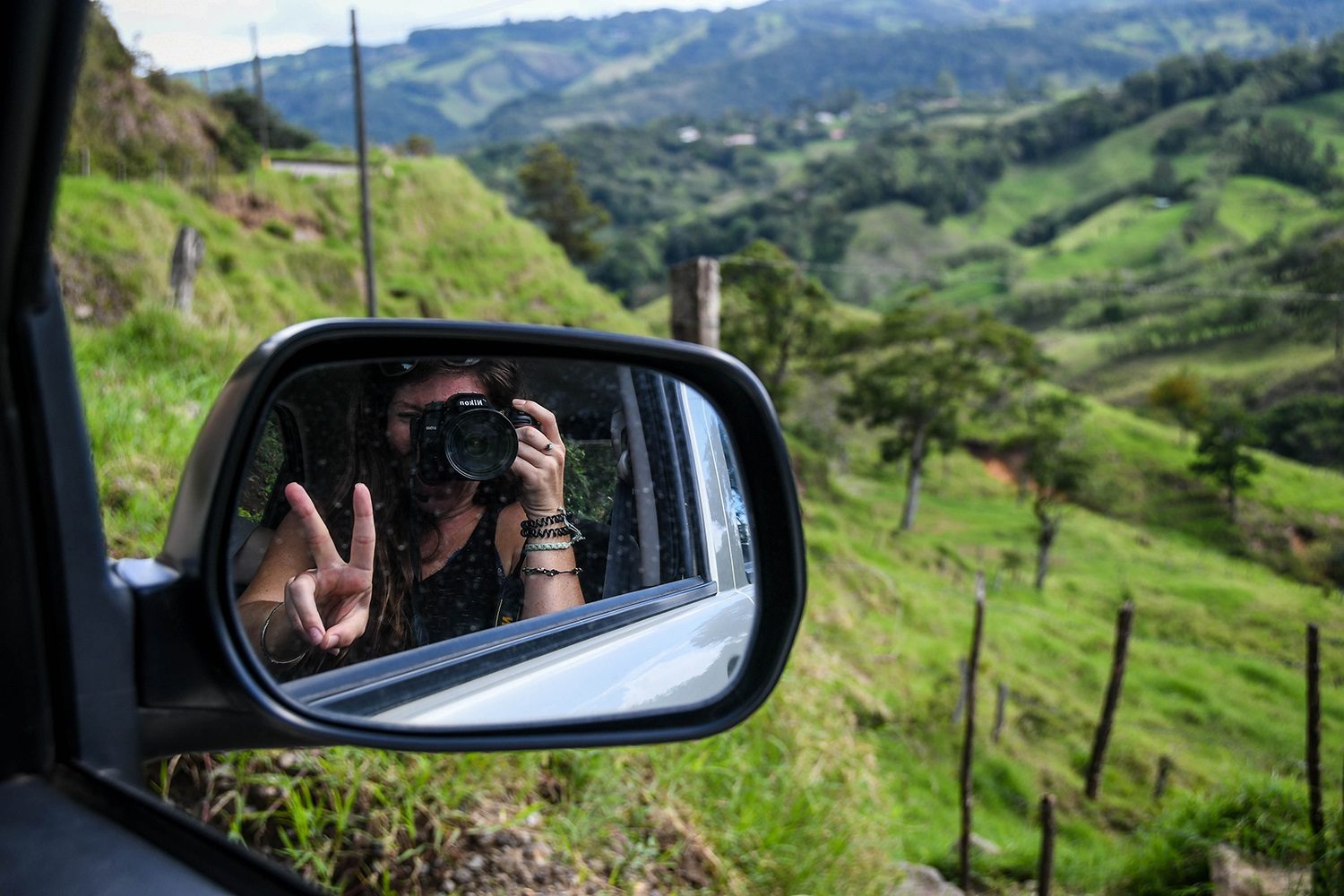 There are a handful of things we wish we would have known before purchasing a car rental in Costa Rica, so we've put together a complete guide with everything you need to know. This way you'll be much more prepared than we were!
We're breaking down what to look out for when booking a rental car in Costa Rica, why it's better (and easier!) than taking public transportation, plus our top tips to save you money and headaches.
Where to Book a Rental Car in Costa Rica
Let's be real, you're here because you need to book a Costa Rican rental car, and you want us to show you where. Well, here you go: We recommend booking through DiscoverCars.com.
Discover Cars pulls information from a large number of companies to find you the best price for your rental car. They also include the mandatory insurance that the Costa Rican government requires when renting a car, whereas most of the large aggregate sites do not (more on this further down in the article).
This way you know you won't have any surprise costs when you land and start your travels. Check what's available for your time in Costa Rica:
Costa Rica Rental Car Travel Guide:
---
Why you should rent a car in Costa Rica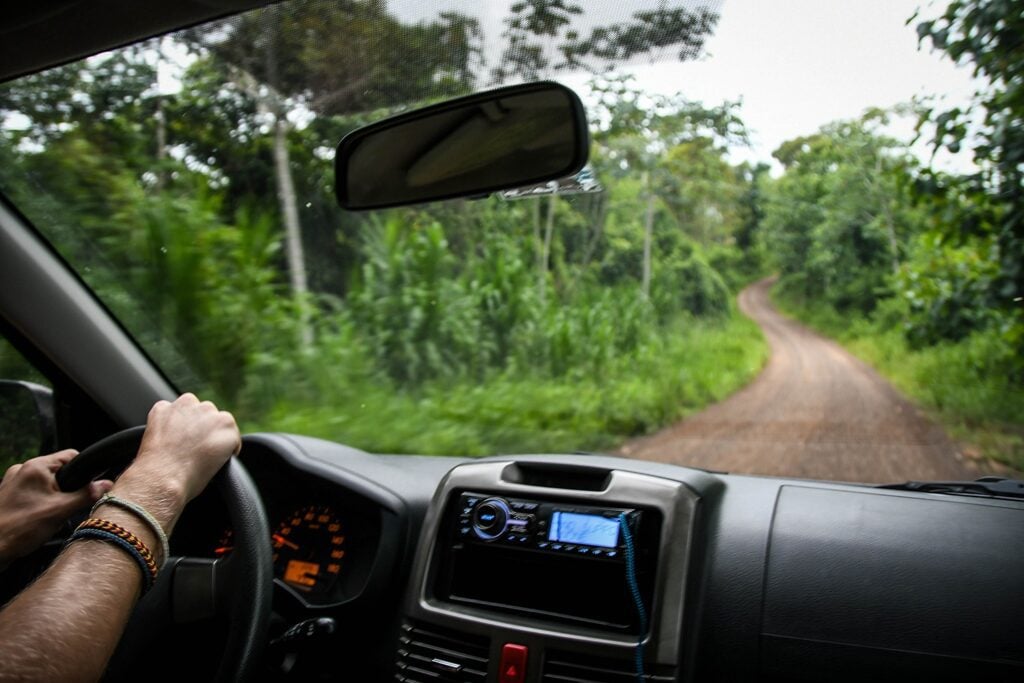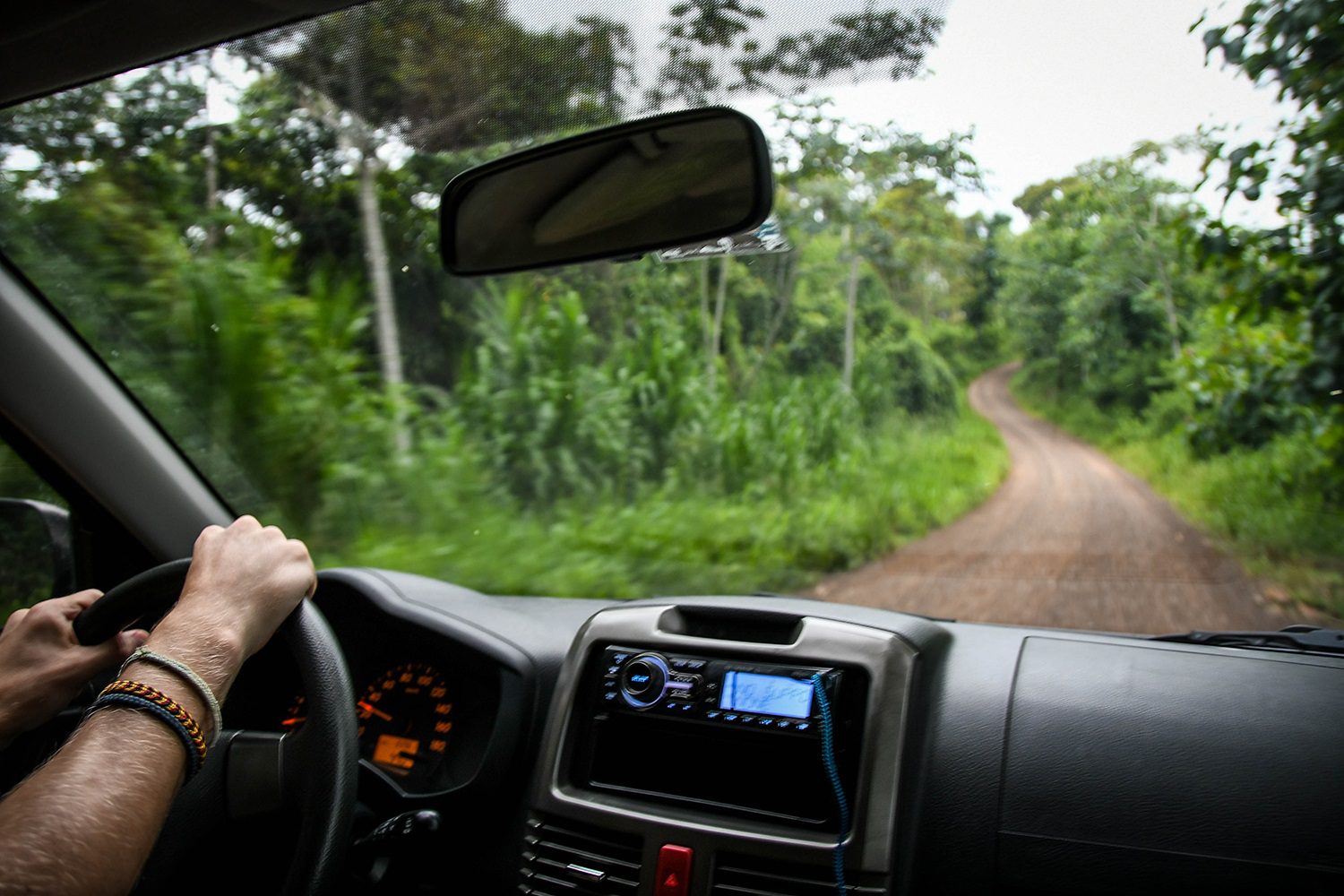 We're so glad we made the decision to rent a car in Costa Rica, and we're going to share why!
1. It's relatively cheap
We expected renting a car to be expensive, but as we found out, it is actually cheaper than taking direct shuttles between popular destinations.
2. You can see more hidden gems
Costa Rica is a very touristy country, and the only way to escape the crowds is to venture off the typical tourist trail. Usually these places can be difficult to get to if you don't have your own vehicle.
One of our highlights during our time in Costa Rica was spending some time at Rancho Mastatal, a sustainable community in the mountains.
Getting there without our rental car would have been quite difficult, so we were really happy we had our own ride!
3. Appreciate the scenery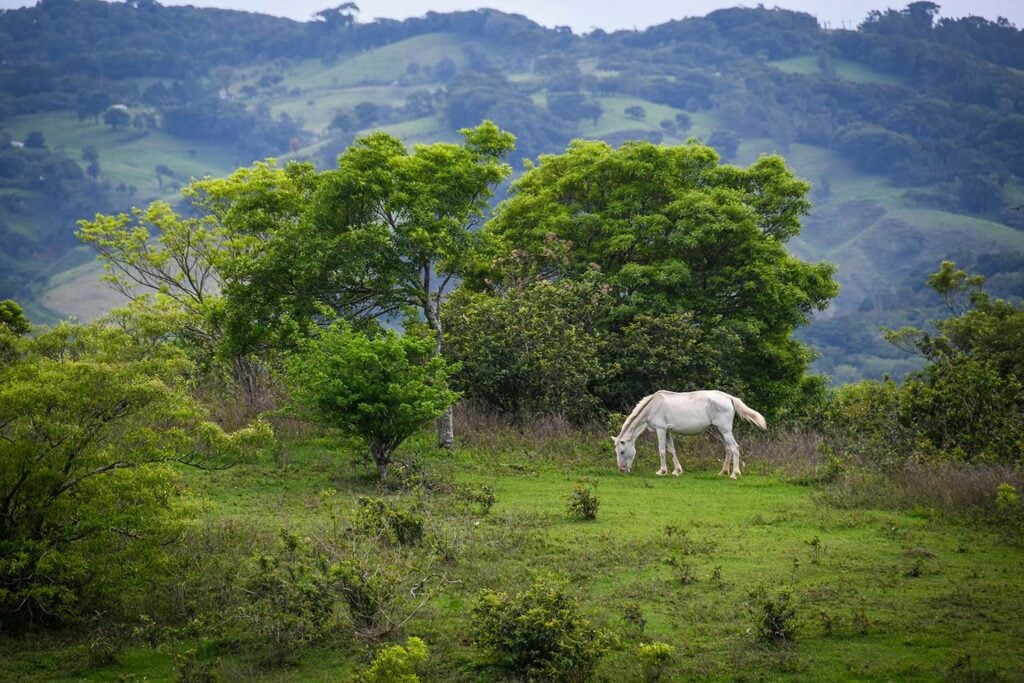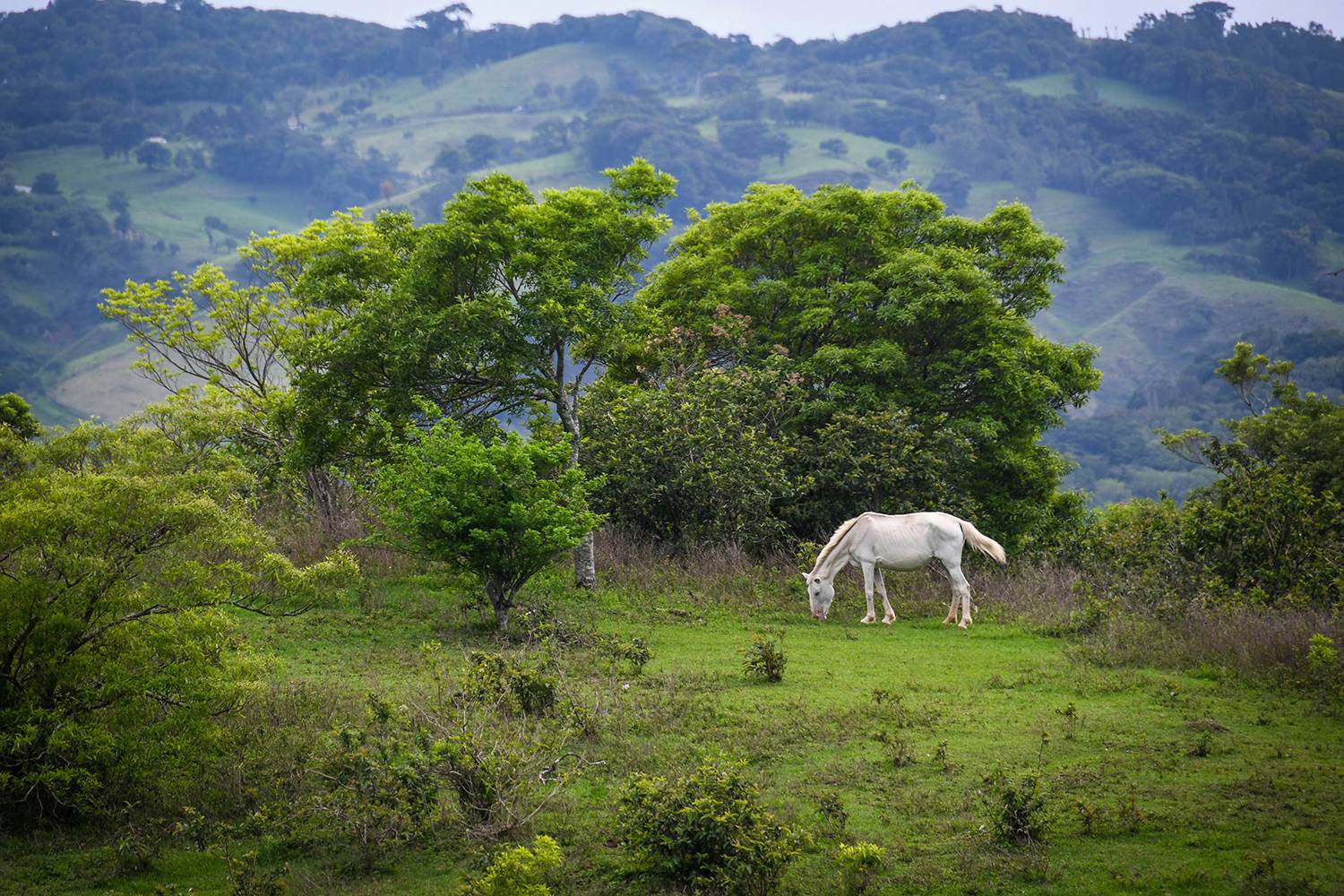 Costa Rica's countryside is epically beautiful. If you're on a bus or a shuttle, you'll have to take it all in as you whip around the curves and turns.
But if you're driving, you can pull over at any time (when it's safe to stop!) and take the scenery in the way it's meant to be enjoyed. See a pretty waterfall? Pull over! It's that simple.
4. It's faster
Local buses are cheap, but oh so slow! They stop just about every half-mile to pick up people on the side of the road needing rides, and a short journey can take exponentially longer than you might think.
5. Driving in Costa Rica is (mostly!) easy
There are some countries where the insane traffic and crazy driving etiquette would scare us away from renting a car. (Think of many major cities in Vietnam!)
But most of Costa Rica is pretty laidback when it comes to driving, and people were mostly courteous.
Aside from driving through San Jose, we didn't encounter much traffic or difficult situations. Keep reading for some tips that will help you drive safely in Costa Rica!
6. It's convenient
If you have your own vehicle, you don't need to look up bus times. You don't have to wake up early to catch that 6 a.m. bus.
You can stop whenever you need to use the restroom or you get hungry. Turn on the AC or roll down your windows. It's up to you!
7. It's fun!
There just something about road trips that are so much fun! Stock up on snacks, crank some tunes and sing aloud, or listen to a podcast with your travel buddy. No headphones needed!
8. Parking is easy
We drove our rental car to 8 different locations around Costa Rica, and finding parking was never an issue.
All our hostels, hotels and Airbnbs were equipped with parking spots. And the couple times we had to pay a parking fee at National Parks, it was cheap (between $2 – $4 USD for all-day parking).
9. Combat Carsickness
On our first visit to Costa Rica we took only public transportation and shuttles. Well, one of the shuttle rides was a pretty awful experience.
I (Katie) sometimes get carsick, and the winding country roads did a number on my stomach.
But instead of being able to get out and walk around whenever we pleased, I was handed a plastic bag. I tried my best not to completely gross out everyone else in the shuttle.
If you're like me, having your own rental vehicle will allow you the freedom to stop when you need. Plus, sitting in the front seat (or driving) helps prevent carsickness a ton.
Pro Tip: Motion sickness wristbands and ginger chews have helped me a lot!
Best deal on Renting a Car in Costa Rica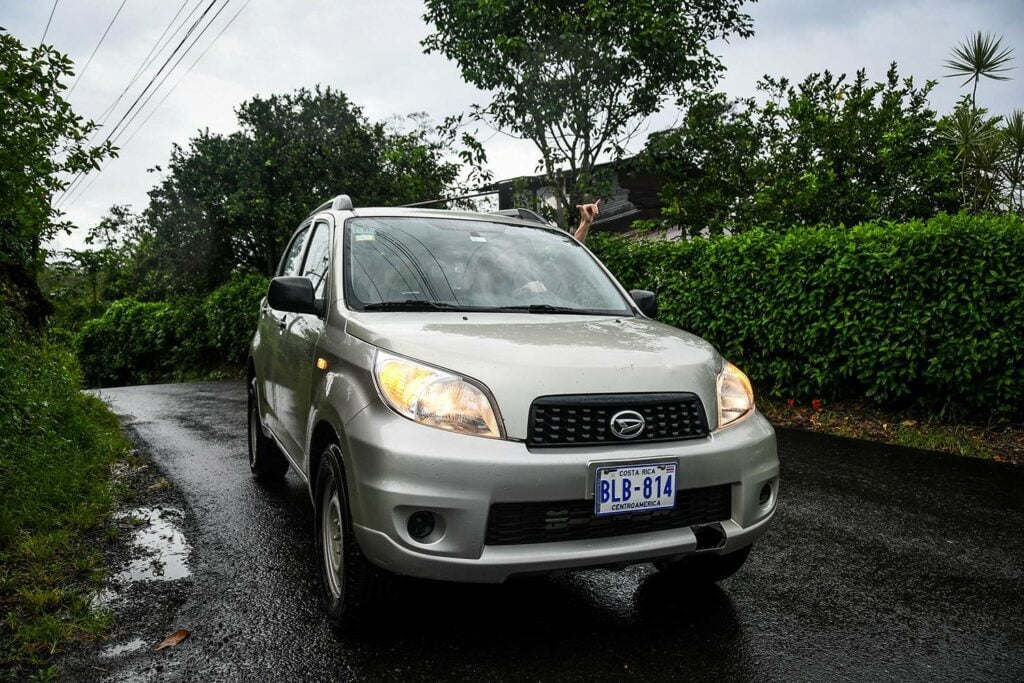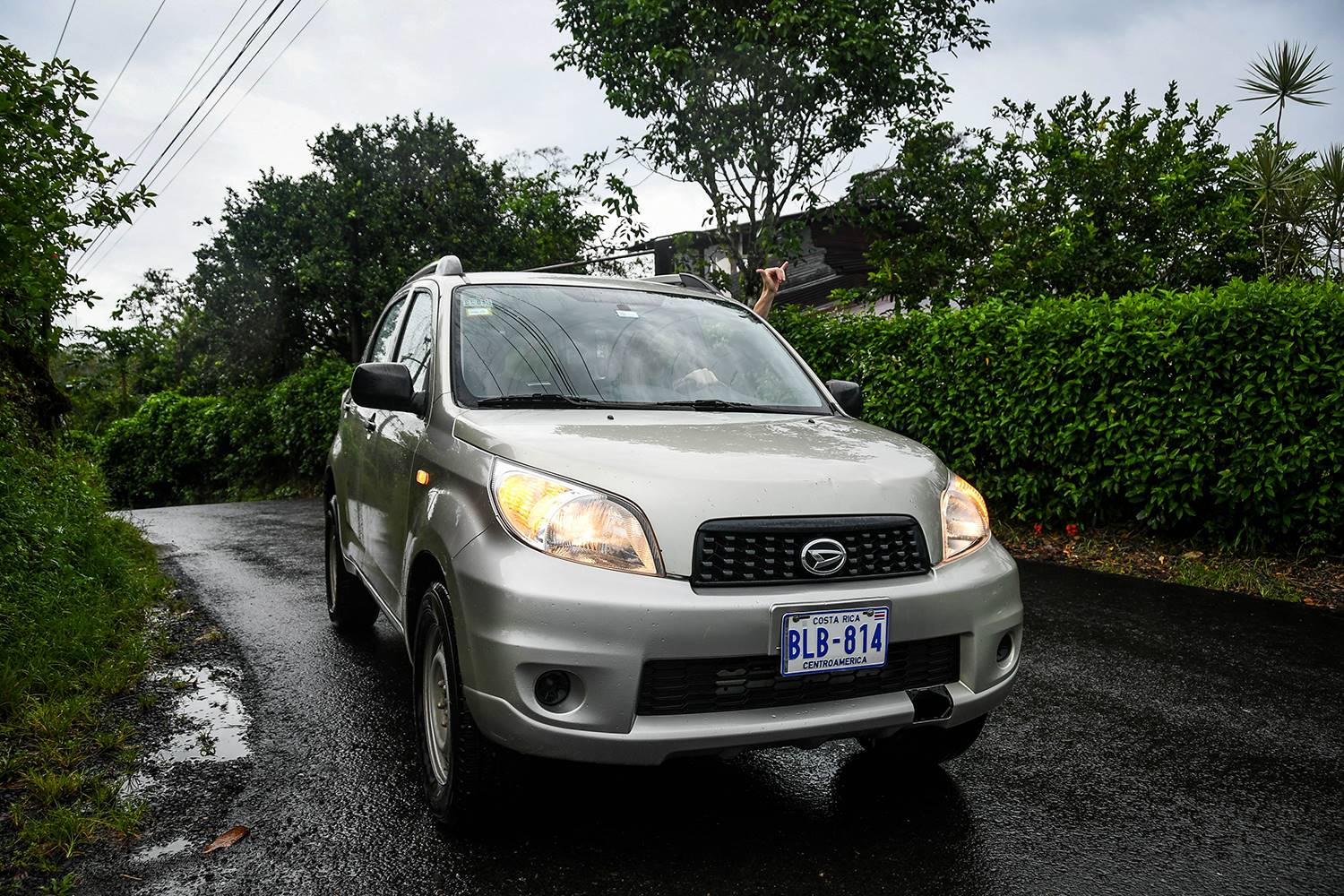 Ever since the pandemic, rental cars in Costa Rica have been scarce and expensive at first glance. For us, the best way to search for a reasonably priced car is on an aggregate booking site.
These sites pull information from several sources on what is available at each location, resulting in showing you the best price for your search.
One thing you should know that is unique about rental cars in Costa Rica is that the government mandates there be basic insurance on any car rental. This insurance is typically known as Liability Protection (LP) or Supplemental Liability Insurance (SLI).
After several hours of searching and combing through all the fine print on many of these aggregate booking sites, we found that they tend to NOT include the mandatory insurance the Costa Rican government requires on rental cars (more on this in the insurance section of the article).
More often than not, there is not even a way to tell if the LP or SLI is included.
So this means, if you were to book through one of these sites, you'd arrive in Costa Rica, excited to start your travels with your rental car, only to be surprised at the rental counter with an unexpected extra $10-$30/day. This could add up to costing you hundreds of extra dollars!
This is why so many travelers feel like they get scammed by rental car companies.
Travelers are not getting scammed by the local company, but by these big aggregate sites that do not properly account or display for the mandatory insurance.
But we have a solution!
After hours of digging, we found a site that is pretty transparent with these additional insurances. We recommend booking through DiscoverCars.com.
Yes, Discover Cars is an aggregate site so you know you'll find the best prices on the internet, but they also already include the mandatory insurance in their final price.
You can clearly see that in the Rental Conditions under the Protection section for each rental offering.
DiscoverCars.com is the booking site we recommend to find the best deals on rental cars in Costa Rica. Alternatively, we've had good experiences using Rentalcars.com in the past.
Search & Compare Rental Car Prices
Discover Cars: We personally use this aggregate site to compare rental car prices from all the big name companies and get the best price possible.
RentalCars.com: We've had good experiences finding rental cars with this site in the past.
Requirements for renting a car in Costa Rica
You must be 25 years or older
Passport
Driver's license from your home country
Security deposit of $500 up to $5,000, a hold placed on your credit card

This hold is to make sure you return the card and if you have any damages, the card will be charged.
The amount of the hold varies depending on the companies you book with. In our experience, we had a $1,500 hold back in 2018, but we have read in other places the hold could be up to $5000. Make sure you have a large enough credit limit on our account.

Insurance that covers rental cars (that goes above and beyond the mandatory insurance): Your credit card or travel insurance usually covers this!
Do I need an International Driver's License to rent a car in Costa Rica?
If you're curious and thinking, "Can you drive in Costa Rica with a US driver's license?" The answer to your question is YES. There is no requirement for an international driver's license in Costa Rica.
As long as your driver's license from your home country is in Roman (Latin) script (English, Spanish, French, etc.), it is not required. Make sure to print out a copy for your travels just in case anything happens.
If your driver's license is not in a Roman (Latin) script, like Arabic or Cyrillic script, an international driver's license is required to translate the identification.
If you are unsure, or just want an international driver's license on hand, you can always pick one up at your local AAA travel office for $20 if you live in the US.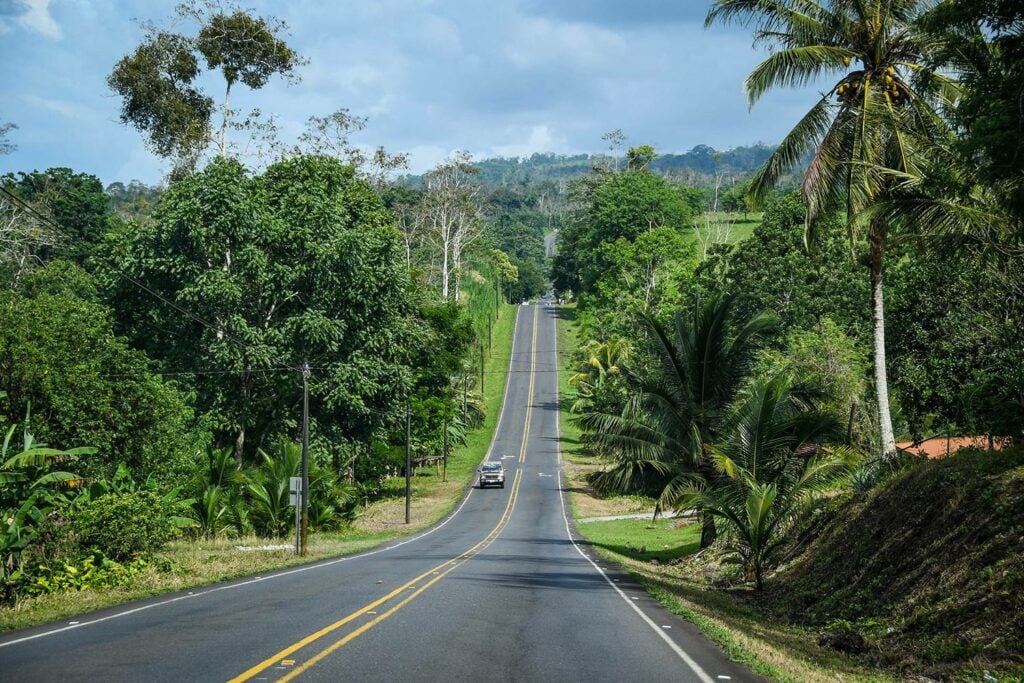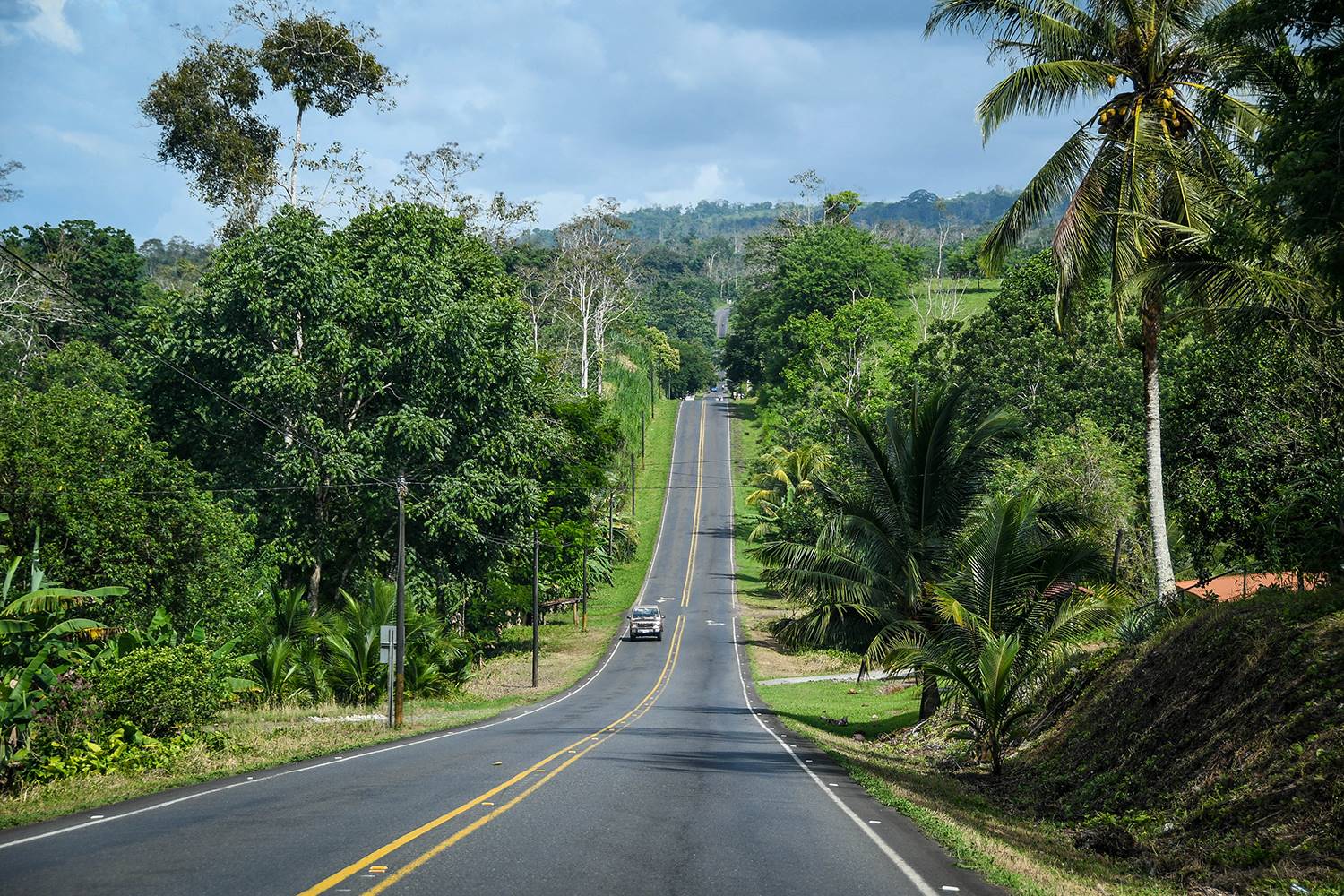 Most expensive time to rent a car in Costa Rica
The most expensive time to rent a car in Costa Rica is during the dry season which is between the months of December and April.
Plan ahead and book your rental car at least 3 months in advance because they tend to book up fast.
Cheapest time to rent a car in Costa Rica
The cheapest time of the year to rent a car in Costa Rica is from May to October. This is their rainy season and low tourist season.
However, we traveled in June 2018 we found it to be a good time to go because it only rains for an hour or two during the day and then the rest of the day is nice!
How much does renting a car in Costa Rica cost?
If you've been following our blog for a while, you know we try to travel on a budget, and we keep track of all our expenses. Before making the decision to rent a car, we calculated the cost and compared it to taking the bus or shuttles.
It turned out that renting a car is actually a very affordable way to travel around Costa Rica if you plan it right.
We paid roughly $20 USD per day for our 4×4 SUV in June 2018.
The price is going to vary depending on the type of vehicle you get, what time of year you are traveling, and which rental car company you go through.
We rented a Daihatsu Bego, which is a small SUV with a 4-wheel drive.
We were traveling in June, which is low season and has cheaper rates than peak tourist months.
In addition to the actual car rental, be sure to add in the cost of gas, which, back in 2018, was roughly 680 CRC per liter ($4.53 USD per gallon) while we were there. And if you plan to drop off the car in a different location, you'll be charged a "drop off fee" (ours was about $50 USD).
In total, our rental car, gas and drop-off fee came to exactly $540.43 for 15 days.
Is a rental car cheaper than buses in Costa Rica?
The very cheapest way to get around Costa Rica is to take local buses. But let us explain…
We took a local bus from San Jose to La Fortuna, and it only cost us 2,850 colones each (or just over $5 USD per person). The bus was similar to a coach bus and the seats were pretty comfortable, so we were super happy. But there's a catch…
The bus stopped every half-mile to pick up people from the side of the road. And what started out as a comfortable ride ended up being super cramped and stuffy, with people packed into the aisles.
The journey took just over 6 hours, when a direct shuttle would have taken 4 hours.
After this ride, we decided that for journeys longer than a few hours, the shuttle might be worth it. But saving all that time comes at a higher cost.
For example, the 4-hour shuttle from San Jose to La Fortuna costs around $40 USD per person, and the 6-hour shuttle from Monteverde to Santa Teresa will cost you $55 USD per person.
When we started tallying up these costs, we soon realized that shuttles would add up quickly.
When we requested a rental car for 2 weeks, the cost broke down to just $20 per day. If you're traveling with a partner, that's just $10 per person each day.
True, there might be days when the car sits and you don't use it, but it is still quite a good deal.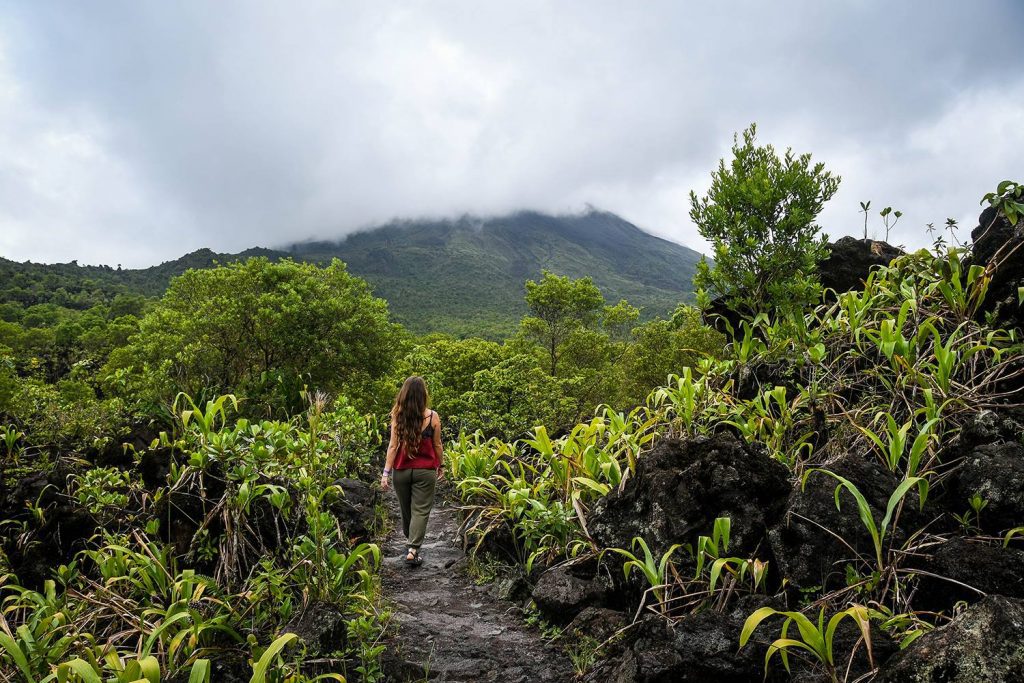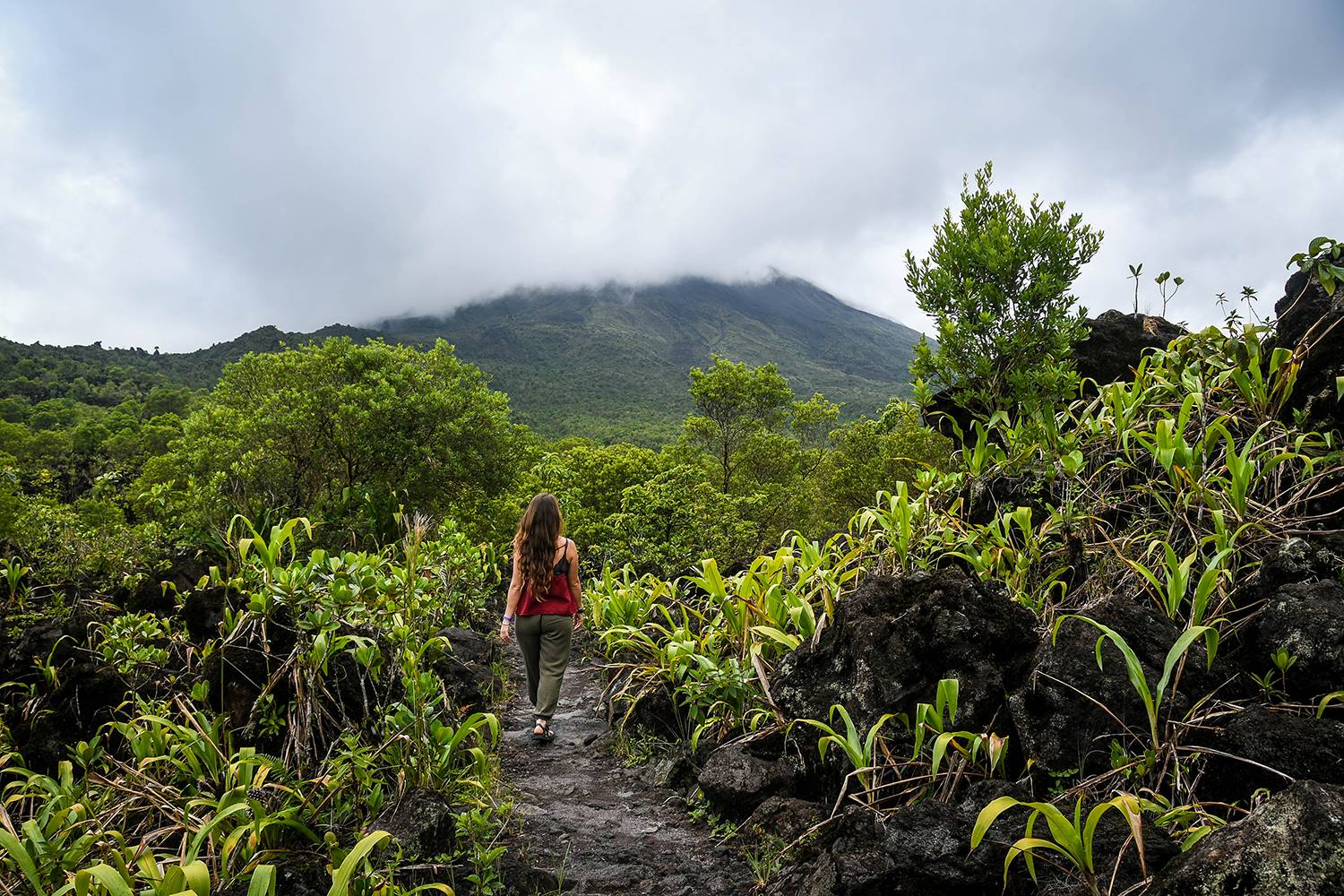 Estimated Cost of Transportation: 2-week trip in Costa Rica
We found that it would be right around the same price – if not slightly cheaper – to rent a car rather than to take the shuttles. On top of that, we had the convenience of being able to come and go as we please, and get to off-the-beaten-path places we could never get to via a shuttle.
Costs of Driving a Rental Car: $467 for 15 days of rental car, gas, and a ferry.
Taking Direct Shuttles: $518 for the same 15-day route but with a private shuttle, and it would have been very tricky to get to Rancho Mastatal.
While the difference isn't all that much (the rental car was exactly $51 cheaper than shuttles), we were able to go at our own pace, stop off at little restaurants or viewpoints when we wanted, and we were able to drive around towns instead of walking or taking taxis or Ubers.
So that freedom paired with the little bit of savings was totally worthwhile for us!
Costa Rica Car Rental Insurance Explained
"Should I get rental car insurance in Costa Rica?"
This is a great question; and the answer is yes, you absolutely should have insurance on your rental car. Accidents do happen and you don't want to have to fork over thousands of dollars for any damage you may incur.
Plus, having rental car coverage is actually required by Costa Rica law. The tricky thing is some rental car companies in Costa Rica include the national mandatory insurance in the price of the car and others do not. That's why some people say they get tricked with hidden fees once they are in Costa Rica.
For instance, your rental car might say $20 a day when you book online. But when you show up in person, they add a $25 daily insurance rate that they say is "mandatory". It can increase your rental car price by hundreds of dollars.
So it's in your best interest to book with a service that is transparent and already includes the mandatory insurance in the price of the rental. This is why we recommend DiscoverCars.com as they are the most transparent site that still finds the best deals for our readers.
Breaking Down Car Rental Insurance in Costa Rica
Liability Protection: The mandatory rental car insurance in Costa Rica is typically called Liability Protection or Liability Insurance. This insurance can also be called:
Supplemental Liability Insurance (SPI)
Additional Liability Insurance (ALI)
Third-party Liability (TPL)
Third-party Insurance (TPI)
Liability Protection (LP)
The Liability Insurance is coverage for damages done to a third party (another car or property) and it varies depending on your rental car type and rental car company. It can cost an additional $10-$30 per day you rent the car. We recommend calling your car rental provider to confirm the amount of this insurance.
Collision Damage Waiver (CDW): This is additional coverage that will most likely be offered to you at the rental counter. CDW covers damage to the rental vehicle and in the event of theft.
In our experience, we have always declined CDW because we are covered through our credit cards and travel insurance.
a) Credit Card Coverage
Most major credit cards actually include coverage on rental cars. Cool, I know! Check into your credit card's policy to be sure. (We have Chase Sapphire Preferred and Capital One Venture cards, and both have rental car insurance).
Below is our credit card coverage on rental cars:


b) Travel Insurance Coverage
Additionally, your travel insurance might also cover rental cars. Read the policy's fine print to check for yourself.
If you need more information, we've got a complete guide to choosing the best travel insurance policy that should answer all your questions.
Is 4-wheel drive necessary in Costa Rica?
Unless you're only planning to drive in and around San Jose or directly to the coast, we would highly suggest getting a 4×4 car.
We did meet a couple who was driving a small car without 4-wheel drive and they said it was fine for where they were driving.
For our route, I would 100% recommend 4-wheel drive, as I would not have felt comfortable without it.
Many of the waterfalls and small towns we visited involved a steep climb on gravel roads. It might be possible to do without 4-wheel drive, but it gave us peace of mind knowing that we didn't need to worry about which roads we took.
And when we looked around the parking lots in these places, it seemed like nearly every other car had 4-wheel drive too.
You'll also want to think about the car's clearance. Our small SUV had decent clearance, but there were a few times we came close to scraping the bumper on potholes or uneven road.
Had we rented a smaller car, we definitely would have come away with some dents and scratches.
Tips for Driving in Costa Rica
There are a few things we learned about driving in Costa Rica specifically. We are sharing our top tips with you because we wished we had known these things before driving out of the parking lot for the first time!
1. Watch out for potholes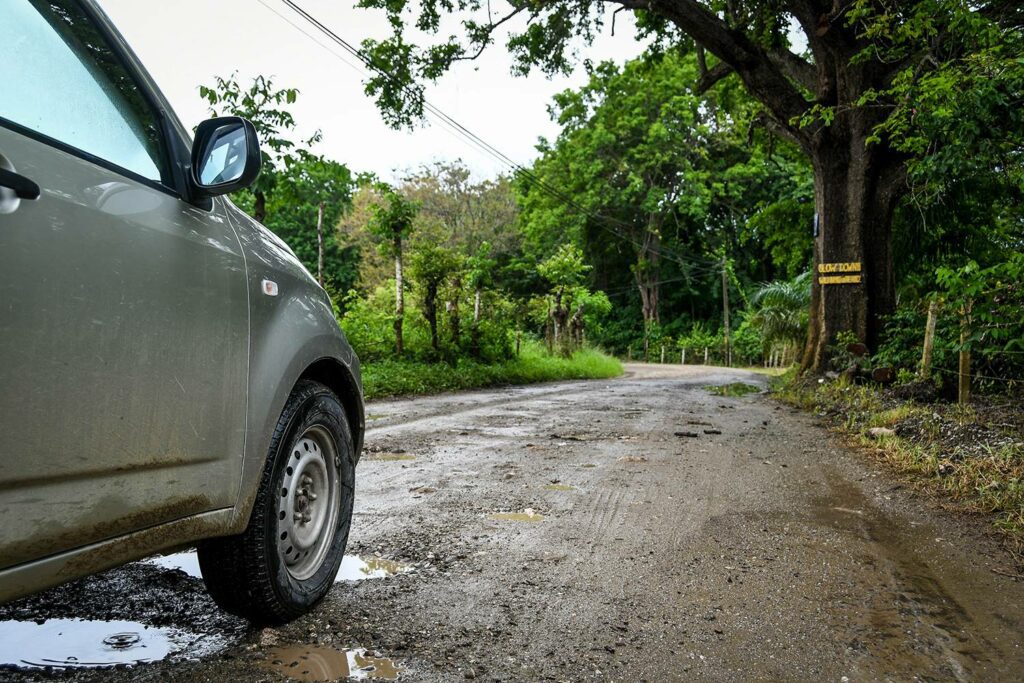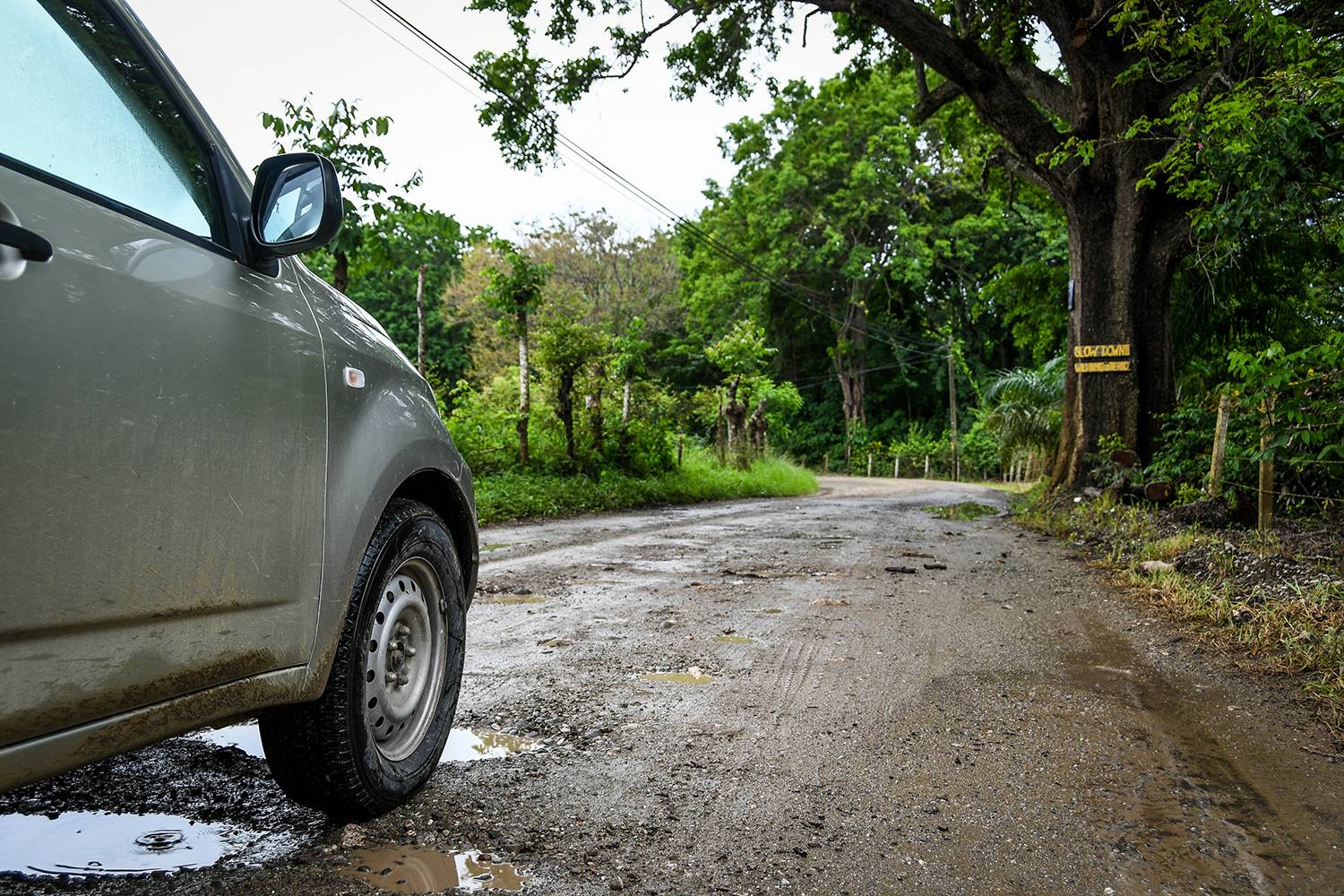 For being the wealthiest country in Central America, we were surprised by how many of the roads in the country are… how shall we say this… rough.
Potholes are common, and they are BIG.
And throughout the country, there are many unpaved roads, which can show signs of erosion, especially in the rainy season. Drive slowly on rough roads and try your best to avoid them.
Be especially careful when crossing roads covered in water, since you may not know how deep it is or what's below.
2. Watch for speed bumps
While you have your eyes peeled for potholes, look out for speed bumps as well. They are most common when entering small towns or school zones.
The speed bumps are not always marked with yellow paint as you'd expect, so sometimes they blend in with the road.
Going full speed ahead over a bump is not fun. Take it from people who know from experience!
3. Get 4-wheel-drive
We would highly recommend getting 4-wheel-drive in Costa Rica.
If you're staying in or around San Jose and are going only a short distance or on a route where you know the road is well-paved and relatively flat, you could probably get away without it.
But with all the driving that we did, we were so happy we had 4-wheel drive. There were several places we visited that we would not have made it to without it.
4. Be careful when passing semi trucks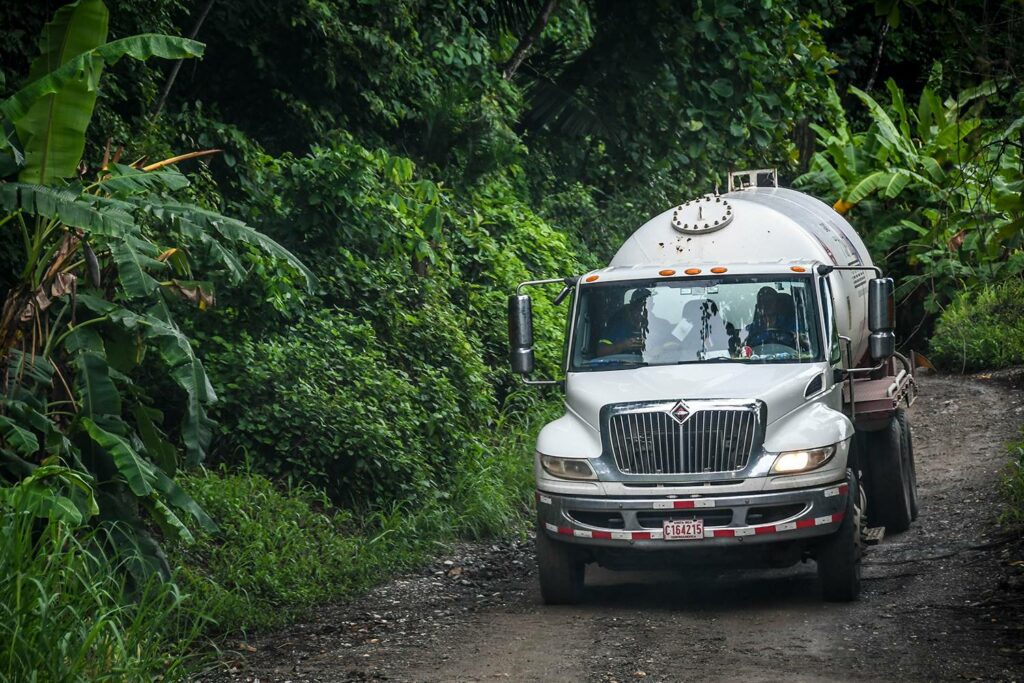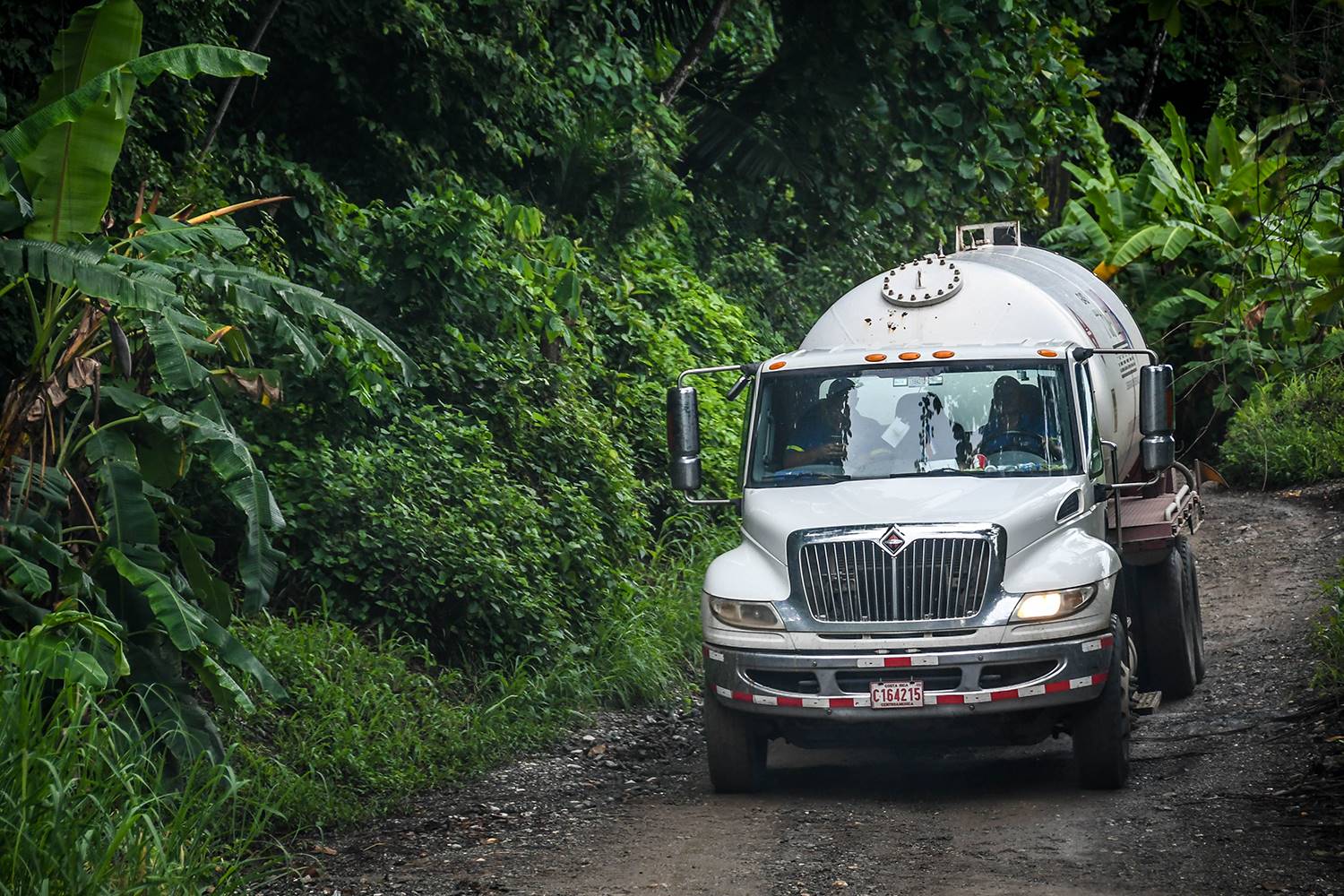 While driving in the countryside of Costa Rica, you'll likely encounter many semi-trucks delivering goods.
Many of the countryside roads are narrow and winding, so be very cautious when coming around curves.
Also, be very careful if you decide to pass a truck. Be sure you're doing it in a safe zone and you can see the other lane.
5. Know the rule about one lane bridges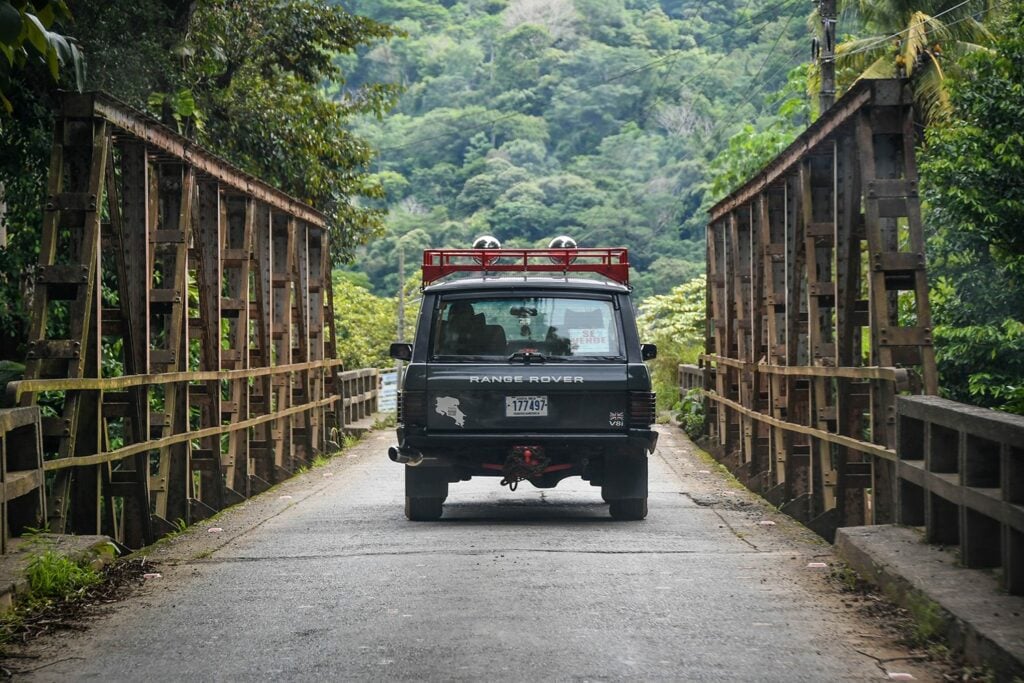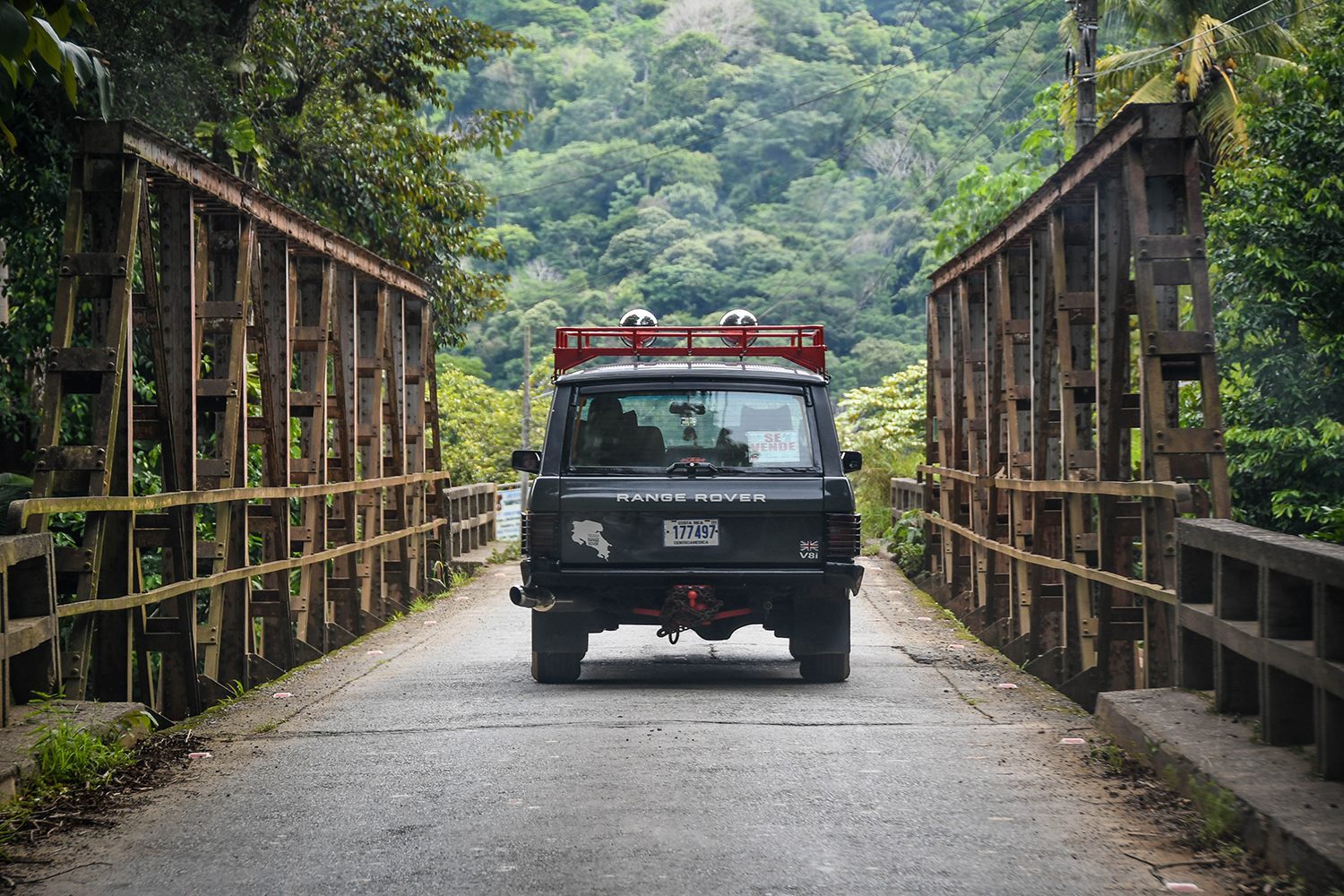 One-lane bridges are very common all throughout Costa Rica. Know the etiquette before you encounter them so you're not wondering what to do like we were!
Slow down when you're approaching a one lane bridge. Typically (though sometimes this is not) there will one direction with a red and white triangle signs stating "Ceda el Paso" meaning "Yield". If you see the sign, be sure to yield.
If you come to a one lane bridge and there is already traffic coming across, you must wait until the entire other side is finished and then you can pass over.
If the cars going your direction are crossing the bridge, you simply follow along and continue crossing the bridge.
If you and another car arrive at the bridge at the same time and there is no yield sign, be cautious, because the other driver may try to go first, like a "whoever gets there first" type of deal.
6. Know what to do at gas stations
Filling up is really easy in Costa Rica. All the gas stations we encountered were full service, meaning there is an attendant who pumps the gas for you.
They will ask you regular or super and will start filling your tank. We always paid in cash, but I'm sure some gas stations near bigger cities could take credit card.
Once you're all filled up, pay the attendant and you're on your way.
7. Keep change on you for tolls
When driving near San Jose, be prepared to pay some tolls. Most of them were pretty cheap (from 360 – 720 colones, which is $0.64 – $1.28), but you'll want to have some coins on you to pay with.
Important Costa Rica Rental Car Tips
These tips are pretty universal whether you're renting a car in Costa Rica, Canada or Germany. We hope they are helpful to you as you plan your trip.
1. Take pictures of the outside of the car before driving
Get up close and personal. Take photos on your cell phone of any scrapes and dents, no matter how small. And don't forget any little cracks on the windshield. This way, none of these issues can be blamed on you.
We've never had to use these photos, but it's a good idea to have yourself covered just in case!
2. Rent your car online
Since the online booking platforms reserve several cars and pay the company whether or not someone actually rents them, they get a great rate and can pass the savings onto you.
It is almost always cheaper to book online rather than to walk into a store. (I never would have believed this until we walked into the car rental shop and were quoted nearly 3 times as much for the same vehicle as it was listed online!)
Plus, you won't need to worry whether there will be availability if you book it ahead of time!
Keep in mind: If you are booking doing the busy season, try to reverse your ride at least 3 months in advance.
3. The longer you rent, the less you pay per day
When we did a 1-day rental, we paid $24. But when we decided to rent for 2 weeks, it broke down to just $20 per day. Had we rented the car for longer, it would have been even cheaper.
4. Get a SIM card
A local SIM card is invaluable when you're traveling abroad. Not only does it help you avoid costly roaming or data charges, it also provides a safety net and keeps you generally more connected, providing local cell and data coverage while on the road.
Just make sure you're traveling to Costa Rica with an unlocked smartphone in order to use the local service.
Our favorite way to get data in a foreign country is by using Airalo. If you can get by with data only (no calling), this is a convenient way to stay connected. It's not too expensive either, at just $17 USD for 2GB, valid for 15 days (with options for more or less time/data).
Airalo is an app you download that offers eSIMs in nearly 200 countries. It's super easy to use and makes arriving in a new place much more seamless.
Just download the app to your phone, choose the country and data package that best suits your travel needs, and install the eSIM. Voila! It offers instant connectivity, and is easy to top up with more data when you need it.
Psst! Will you be traveling in more than one country? Use our ultimate guide to getting an international SIM card, including helpful tips for using your phone abroad.
5. Download your Maps
Google Maps is amazing! Not only can you pin all the points of interest along your route, but it will also show your current GPS location even when you're not in a cell signal. To enable this feature, keep reading…
It's important to download the map before your trip so you have access to roads, restaurants, and attractions even if you don't have cell phone service.
How do you Download Google Maps Offline?
It's super simple, just follow these steps:
Open your Google Maps App on your phone
Zoom in so the country of Costa Rica is visible on your screen
Tap on your icon or name in the top right corner of the search bar.
Tap Offline Maps → Select Your Own Map
Then hover the highlighted rectangle over the section of Costa Rica you plan on visiting

If you want the entire country, you will have to do this in two maps.

Make sure you're in Wifi, and click the "download" icon.
The map data from this region will now be on your phone, and can be accessed even when you have no cell signal! You'll even be able to see your current GPS location as long as you have it authorized. (Settings > Google Maps > Location > select "Always")
Maps.Me is another great map option, and we use it a lot to find hiking trails and things that aren't always marked on Google Maps. You might want to download both maps before your trip!
Our Experience Renting a Car in Costa Rica
We didn't plan on renting a car in Costa Rica. It happened by accident actually.
We had traveled to this Central American country a few years before and used local transport and shuttles to get around.
So when we returned for a 2-week trip in Costa Rica, we planned to use public transportation again. We were backpacking through Central America, after all, and our tight budget meant we just didn't give any thought to renting a car.
But when we discovered the only (feasible) way to get to a waterfall we really wanted to see was to rent a car, we decided to give it a shot. Just for a day…
But that 1-day car rental quickly turned into 2 weeks after we realized how much more of the country we could see with our own vehicle.
Plus, we were surprised how CHEAP it was to rent a car in Costa Rica: We paid just $20 USD per day for a small 4-wheel drive SUV.
In true Ben & Katie fashion, we gave our tan little SUV a name: Eduardo for long, "Eddie" for short, and together with Eddie, we explored the country for 2 weeks. We were rewarded with epic views and hidden little restaurants that we never would have been able to explore otherwise.
Planning a Trip to Costa Rica? Find out the best time to visit Costa Rica based on regional weather patterns and your personal travel style.
How we ended up with a rental car in Costa Rica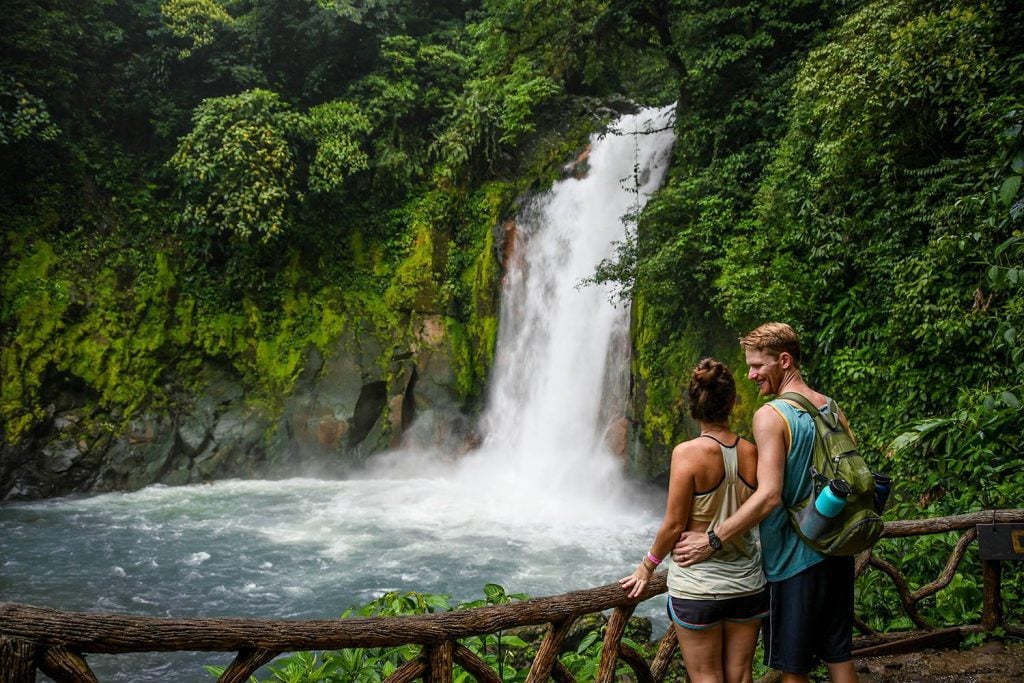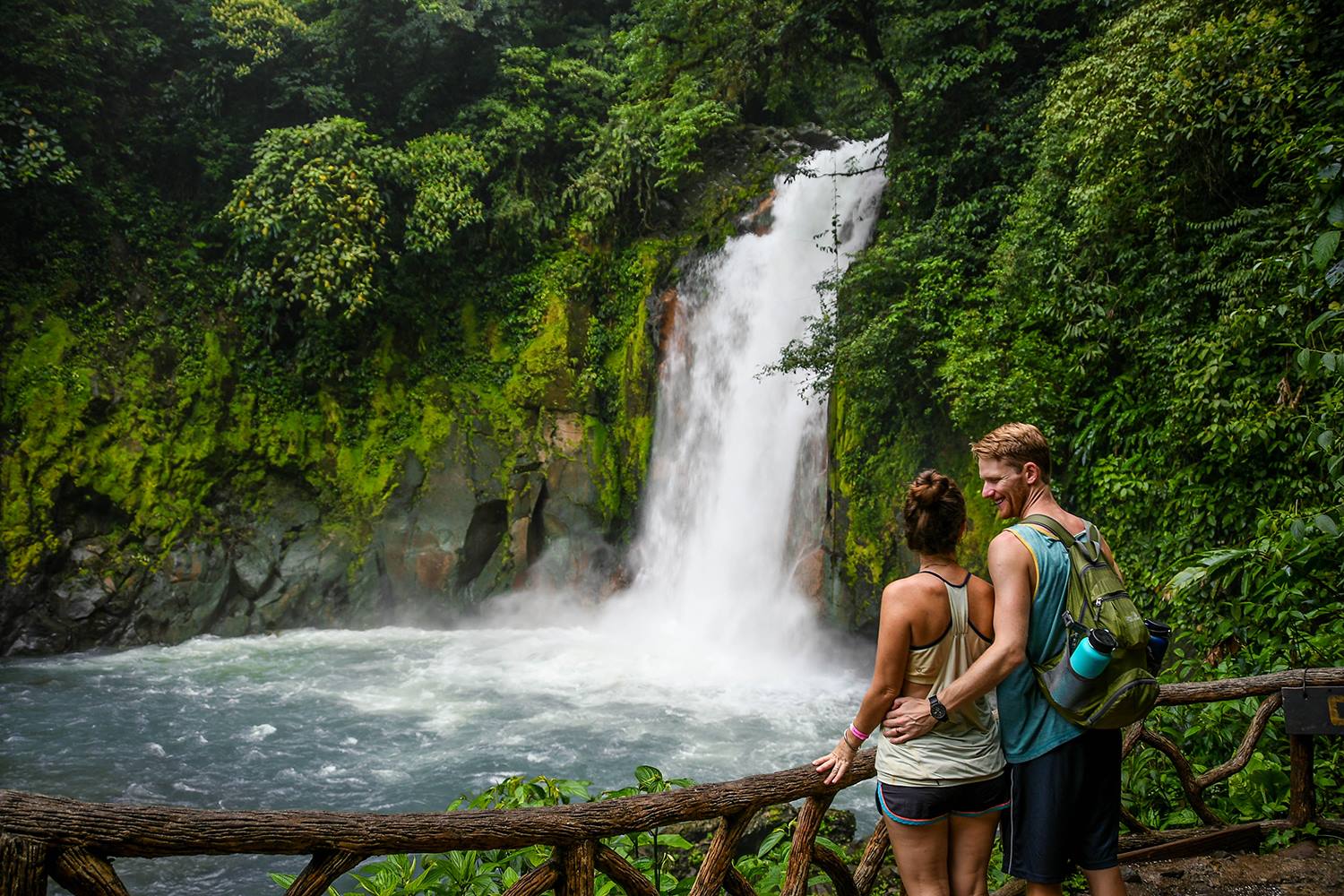 Like I said, we weren't planning on renting a car in Costa Rica. It happened by accident…
We saw pictures of the stunning Rio Celeste, and decided that a trip to this aquamarine waterfall needed to be on our Costa Rica itinerary.
But after doing a bit of research, we found out that getting there was a hell of a lot more difficult than the centimeters on the map separating it from La Fortuna made it appear…
As it turns out, it would require a lengthy ride on a local bus. And due to the park hours and the bus schedule, we'd need to spend the night in a tiny town nearby, and then schedule a taxi ride to the park entrance the next morning. And that didn't even include arranging transportation away. Our heads hurt.
An alternative was hiring a driver, which would set us back a ridiculous amount of money for a round trip. So the only option that seemed even remotely feasible was renting a car.
Well, it turns out renting a car in Costa Rica is very cheap, and driving in Costa Rica is actually quite easy, and dare I say… fun! After one day, we were hooked.
Needless to say, our 1-day rental turned into more than 2 weeks.


Bonus! If you're looking for a great place to stay in Costa Rica, we have loads of info on how to book Airbnbs, red flags to watch out for when booking, and our favorite Airbnbs in our Airbnb article.
Are you planning a trip to Costa Rica?
We have lots more resources on travel in Costa Rica and destinations throughout the country. Check out our Ultimate Costa Rica Travel Guide for all the answers you're looking for, or read some of our favorite articles below.
Save this article on Pinterest for later!
We want to hear from you!
Do you have any more questions about renting a car in Costa Rica? Comment below and we'll do our best to answer your question!