From lava fields to pristine beaches, there are so many things to do on Big Island, Hawaii. We're sharing all the must-sees as well as hidden gems that few tourists know about.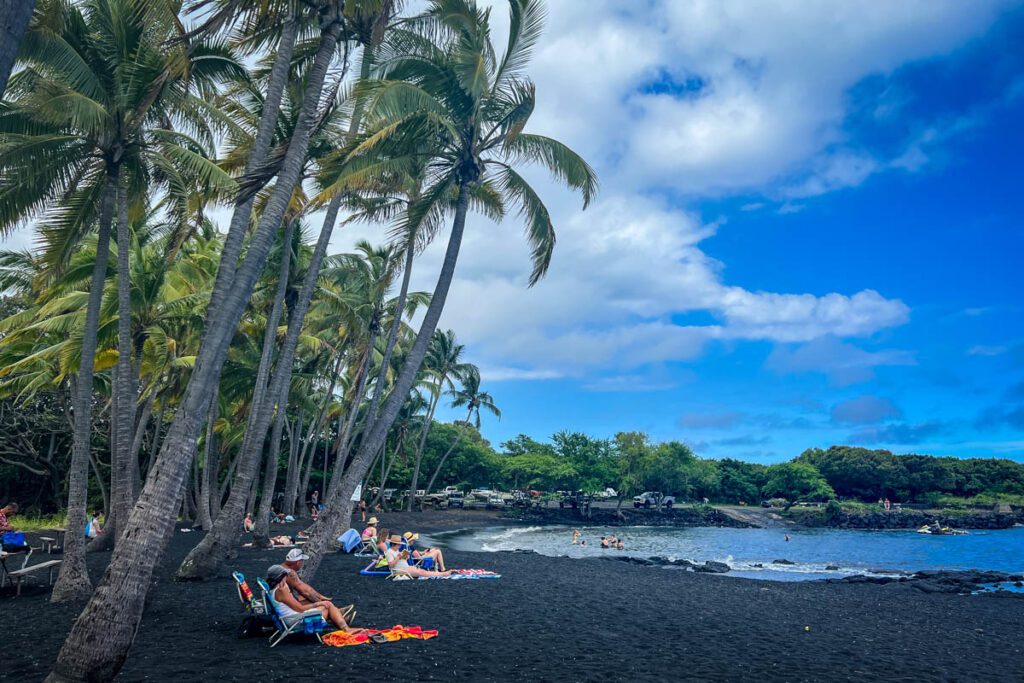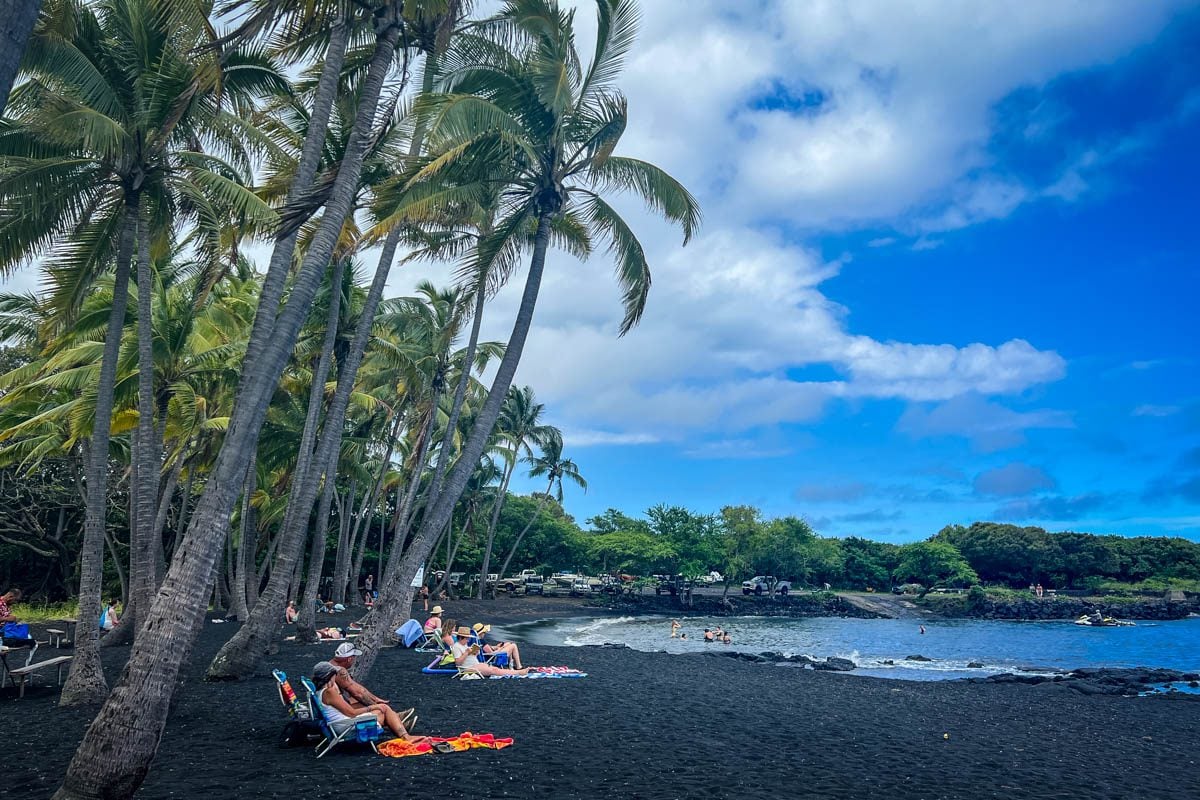 I'm going to go out on a limb and say that the Big Island has the most diverse landscape of all the Hawaiian islands.
From tropical jungles to lava fields to white sand beaches to sprawling ranches, it's difficult to sum up the Big Island because it truly encompasses so many things. And this isn't even touching on the bustling towns and quaint villages that ooze hippy vibes.
You'll find world-class dining alongside hole-in-the-wall joints, and opportunities to zen out as well as heart-thumping adventures.
Every type of traveler will find reasons to love Big Island because there is truly something for everyone.
In this article, we're sharing the very best things to do on Big Island Hawaii.
Whether you're looking for pure adventure or a bit of luxury, and whether you're traveling solo or with small children (like we did!), this article will go over how to spend your time on what may just be your favorite Hawaiian Island.
Big Island Hawaii Travel Guide
For more tips and advice for planning your trip to the Big Island of Hawaii, jump to the following sections (or just keep scrolling to see it all!). Get ready to plan the perfect trip to this slice of paradise!
---
Top things to do on Big Island
If you're looking for a quick & easy list, these are our very top recommendations for things to do on your first visit to the Big Island.
Snorkel with manta rays
Akaka Falls
Hawai'i Volcanoes National Park
Papakōlea green sand beach
Hawaii Tropical Bioreserve & Garden
Kona coffee farm tour
Eat authentic Hawaiian food
Punalu'u black sand beach
Keep scrolling for all the details on how to do each of these experiences yourself (+ insider tips and what to expect!).
1. Snorkel with manta rays at night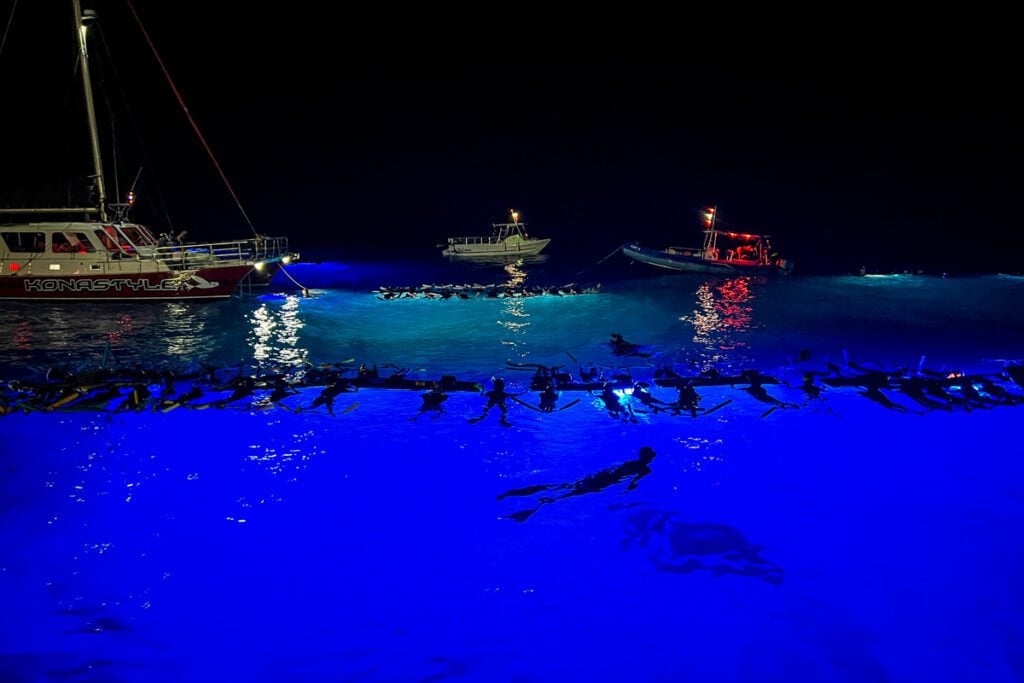 If you're up for an adventure of a lifetime, don't miss this bucket list experience.
National Geographic and the Discovery Channel have both featured night snorkeling with manta rays, and it is often listed as the #1 thing to do on Big Island, Hawaii.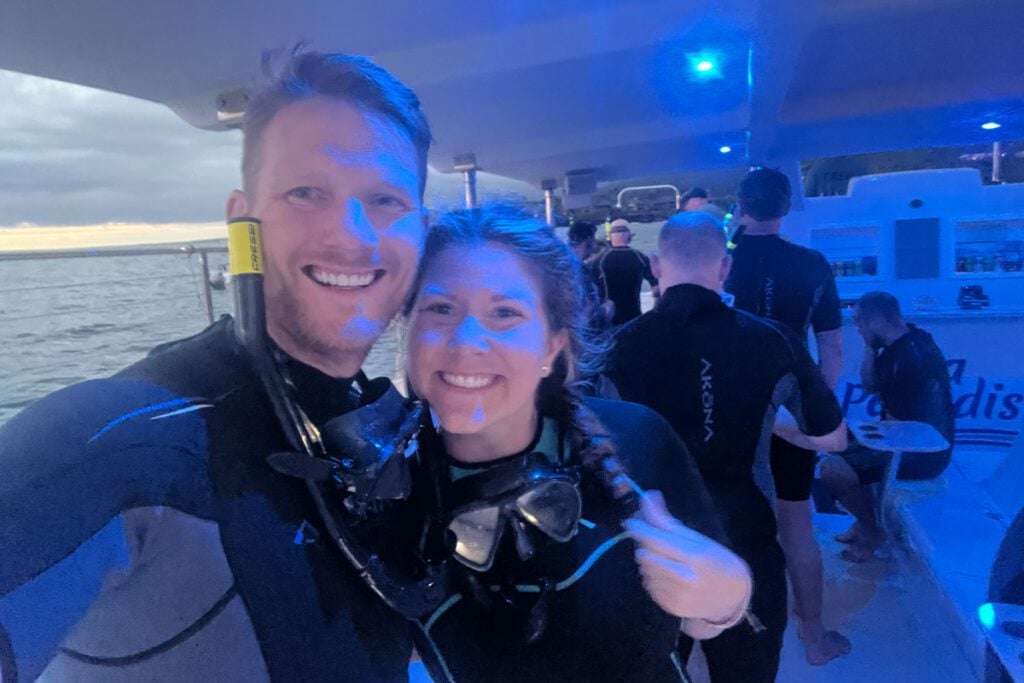 Just off the shore of Kona, there are more than 240 resident manta rays. Zip up your wetsuit, strap on goggles, and get ready to see them up close. It was truly one of our very favorite things to do in Hawaii.
We created an entire guide to snorkeling with manta rays in Kona so you know what to expect and exactly which tour company to book with (we'll tell you why you should only book with this company!).
2. Marvel at Akaka Falls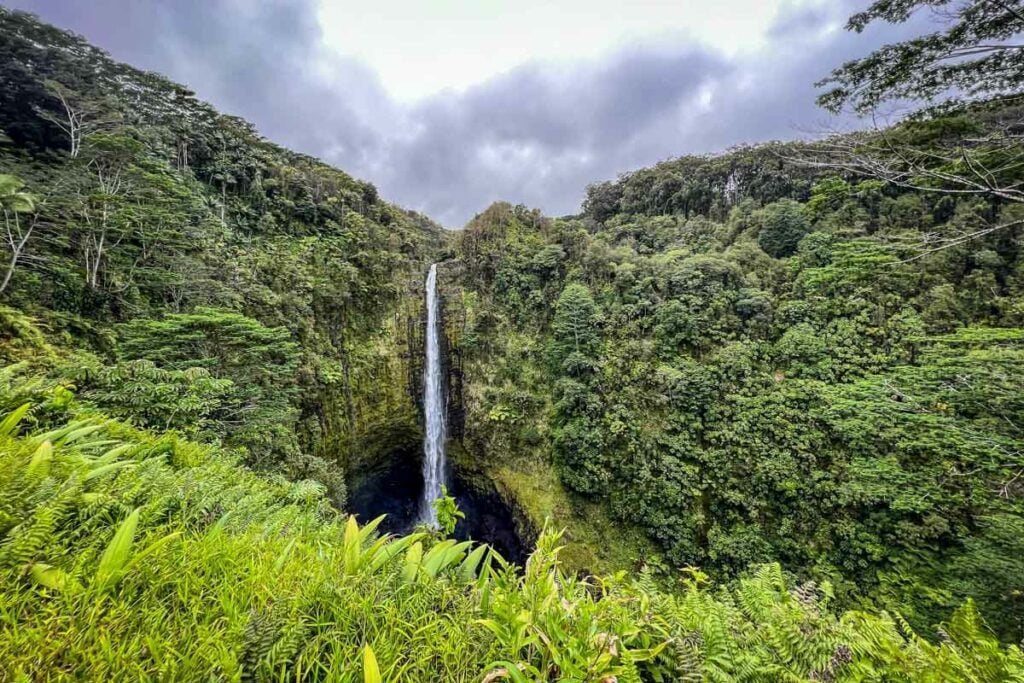 Plunging 442-feet into a verdant-framed gorge below, Akaka Falls is a Big Island treasure.
As stunning as it is accessible, this is arguably Hawaii's most famous waterfall and definitely one of the can't-miss things to do on Big Island Hawaii.
Within Akaka Falls State Park, you'll follow a loop trail that is only 0.5-miles with minimal elevation gain- enjoy little work for extraordinarily high reward on this quick stop. You'll also spot the 100-foot Kahuna Falls along the way.
Entrance fee: $5 USD, parking is $10 per vehicle
Tip: As this is one of the most popular waterfalls on Big Island, aim to get there early if you can to beat the crowds.
3. Spend the day exploring Hawai'i Volcanoes National Park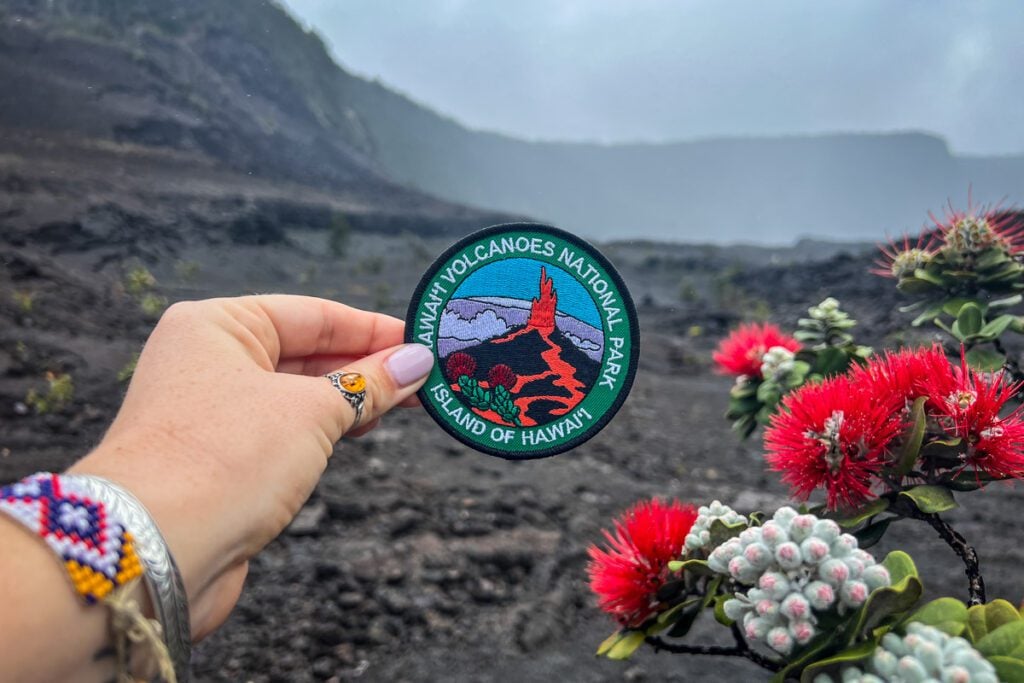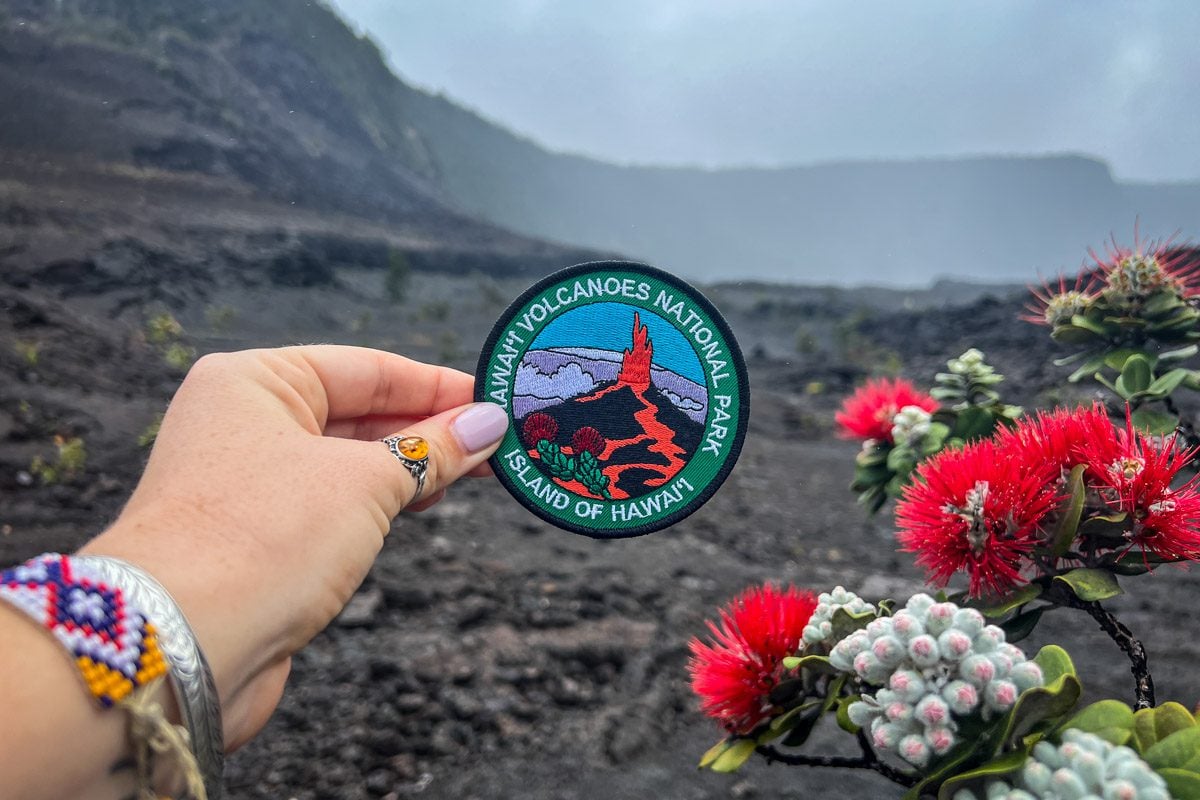 Both an International Biosphere Reserve and a UNESCO World Heritage Site, Hawai'i Volcanoes National Park protects some of the most unique cultural and geographical landscapes in the world.
Kilauea, the most active volcano on Big Island and Mauna Loa, the world's largest active volcano are the two centerpieces of the park. Drive the Chain of Craters Road down the length of the park from Makaopuhi Crater all the way out to the coast to see it all.
Surrounding these two volcanoes are a wealth of interesting trails and things to see:
Kilauea Iki Trail: a fun, 4-mile hike across a solidified lava lake.
Thurston Lava Tube: explore an underground cave created by a molten lava river.
Crater Rim Drive: a gorgeous drive with stunning vistas around Kilauea Crater.
Mauna Loa Lookout: views over the Kilauea caldera and the coast.
Watch real lava flow: you'll be able to see this if Kilauea has erupted recently.
Psst! Don't forget to pack your America the Beautiful Pass to get free access to this National Park.
4. Hike to Papakōlea (Hawaii's only green sand beach)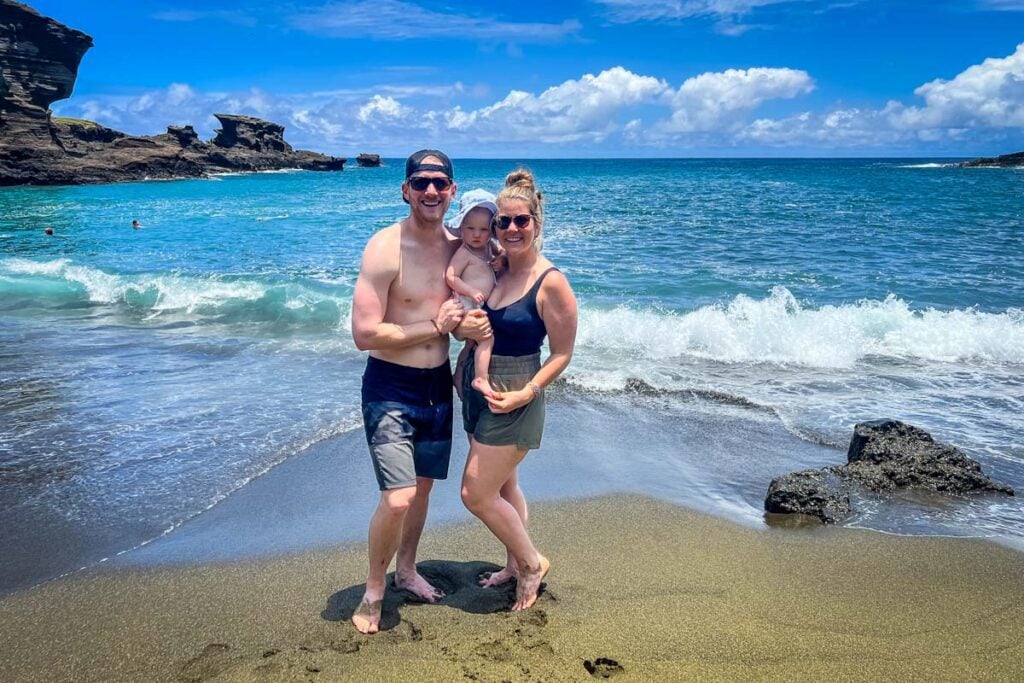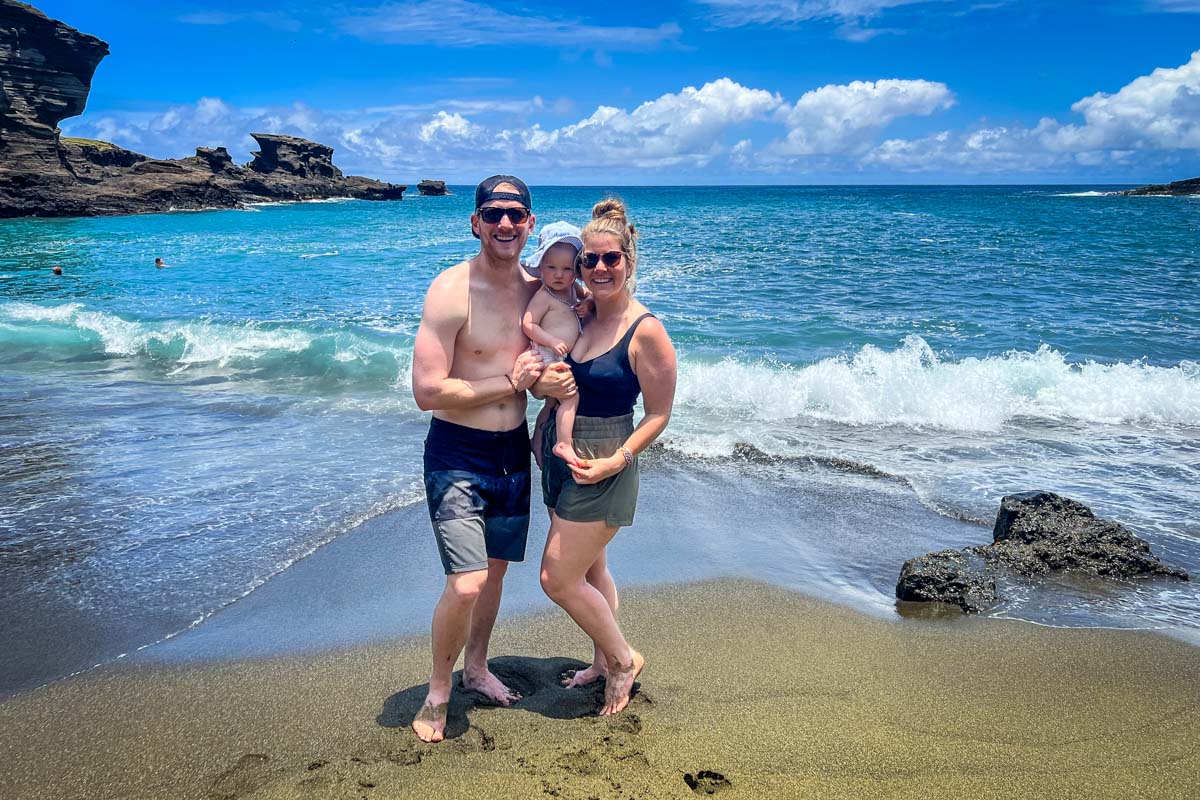 Papakōlea Green Sand Beach is only 1 of 4 rare green beaches in the world.
They form after rare eruptions bring green olivine crystals to the surface that erode when met with seawater.
You can access it along a 5.5-mile round trip trail or by a 4WD truck ($25 USD round trip or $15 one way). If you're hiking, aim to go early in the morning or the late afternoon as the trail is in full sun and the beach gets very hot.
Responsible travel tip: Do not take any of the sand home with you as a souvenir, as this is strictly prohibited.
5. Wander the Hawaii Tropical Bioreserve & Garden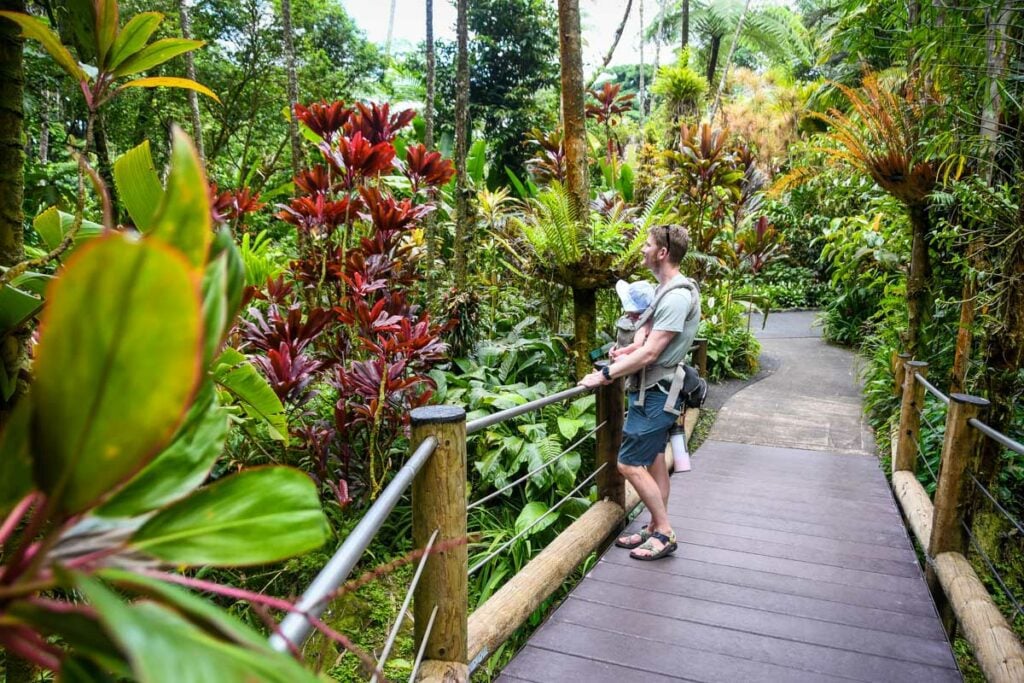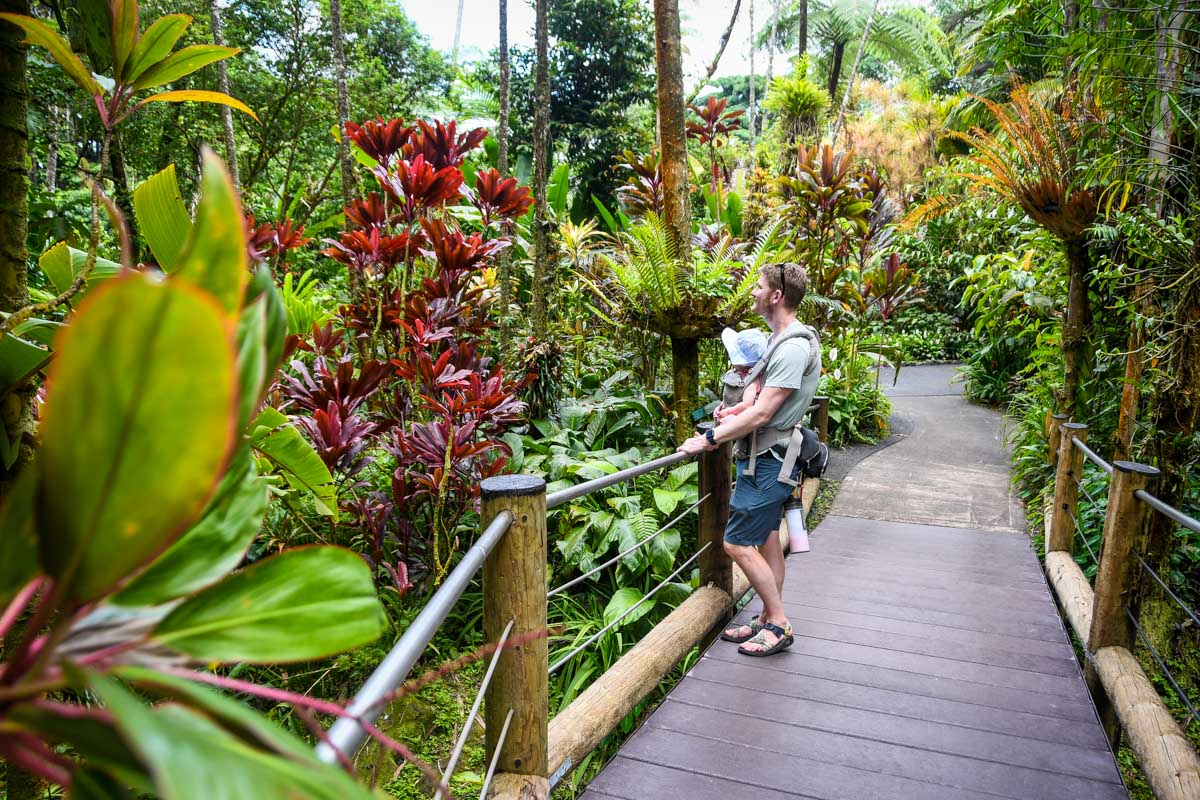 Acclaimed as one of the most beautiful places in all of Hawaii, the Hawai'i Tropical Bioreserve & Garden is a plant-lovers paradise in the lush Onomea Valley.
Just over a mile of trails showcase over 1,800 different species of rare and exotic plants from all around the world.
You'll feel as though you've stepped into a new world as you discover flora you may have never seen or heard of before.
Entrance fee: $25 USD, $12 USD for kids 6-16
Fun fact: Hilo is the "orchid capital of the world"! It should be no surprise to hear that there's an orchid garden in this bioreserve.
6. Tour a Kona coffee farm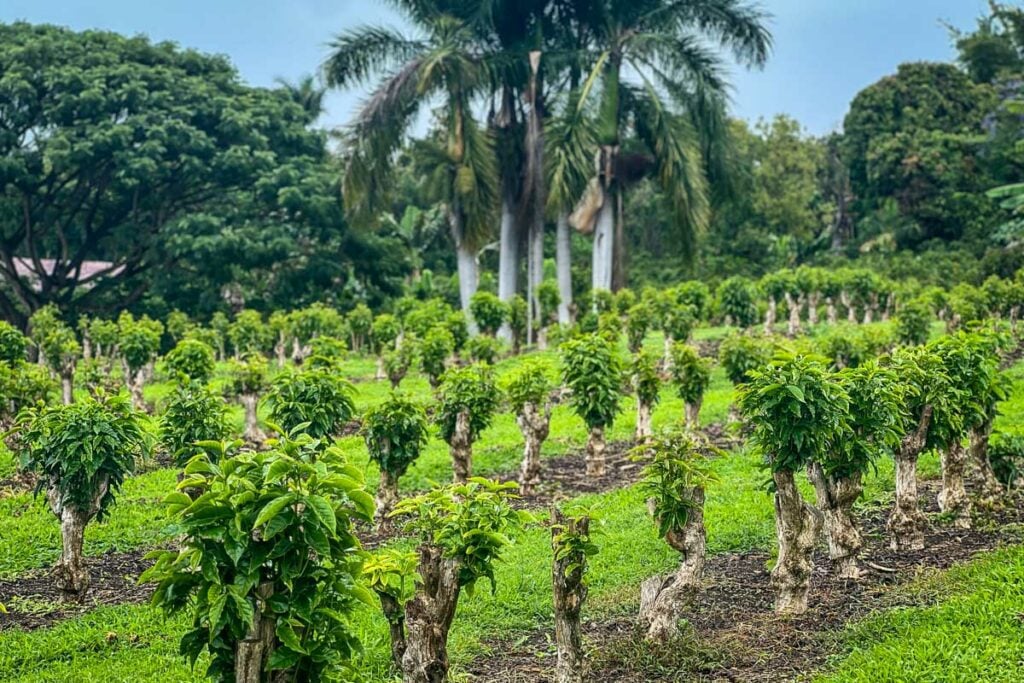 Kona coffee is one of the rarest coffees on the planet.
Grown only on the western edge of Big Island, this stop is a must whether you're a coffee aficionado or casually indulge in a cup of joe.
7. Try authentic Hawaiian food
While on the Big Island, make an effort to try traditional Hawaiian cuisine.
Here are some of the foods to try, as well as some recommendations for where to get them on the Big Island.
Foods to try:
Laulau: a Polynesian dish where taro leaves are wrapped around a filling, such as pork, fish, or coconut cream

Try laulau at Kaaloa's Super J's: an order of two laulau, kalua pork, and 3 sides is enough to split between two people

Loco moco: white rice topped with a hamburger, a fried egg, and brown gravy
Spam musubi: grilled Spam slice atop sushi rice, wrapped together with nori
Poi: staple food in the traditional Polynesian diet, poi is a thick and starchy paste made from the taro root and is light purple in color
Saimin: egg noodles in hot dashi topped with green onions and kamaboko (fish cake)
Poke: raw fish (typically ahi), diced and seasoned; often served with rice
Huli huli chicken: chicken grilled and marinated in a sweet and savory sauce
Kalua pig: often the star of the food at a luau, kalua pig is cooked for several hours underground in an imu, or earthen oven
Malasadas: fried, flat pastries that you can often find filled with custard, chocolate, haupia (coconut), or guava
Shave ice: finely shaved ice decorated with fruit-based syrups and a wide variety of toppings
Li hing mui: originating from China, li hing mui is salty dried plum, and is a popular flavor for snacks, including shave ice
Haupia: this traditional Hawaiian dessert is made with coconut milk, and has a consistency between coconut jelly and pudding. It is often found at luaus.
8. Spot sea turtles on Punalu'u black sand beach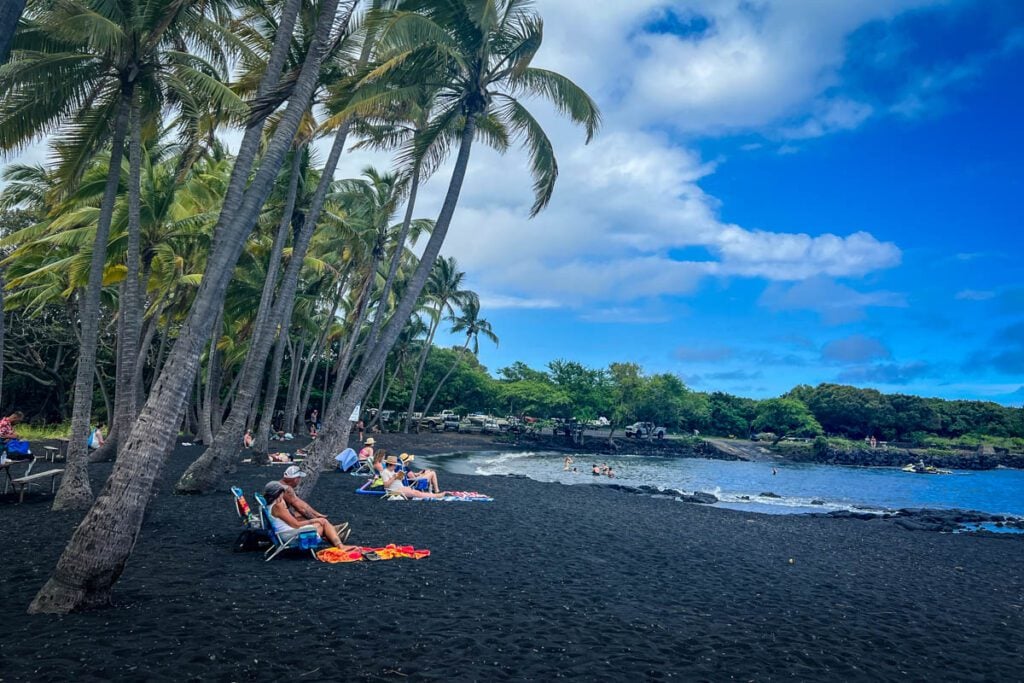 Not only is this black sand beach stunning, it is one of the best places on the island to spot sea turtles!
Bring your snorkeling gear and start in the waters just beyond the rocks as this is where they often like to hang out.
We planned to make this a quick stop, but ended up staying for quite a while – it was just so nice and we loved snorkeling with the turtles.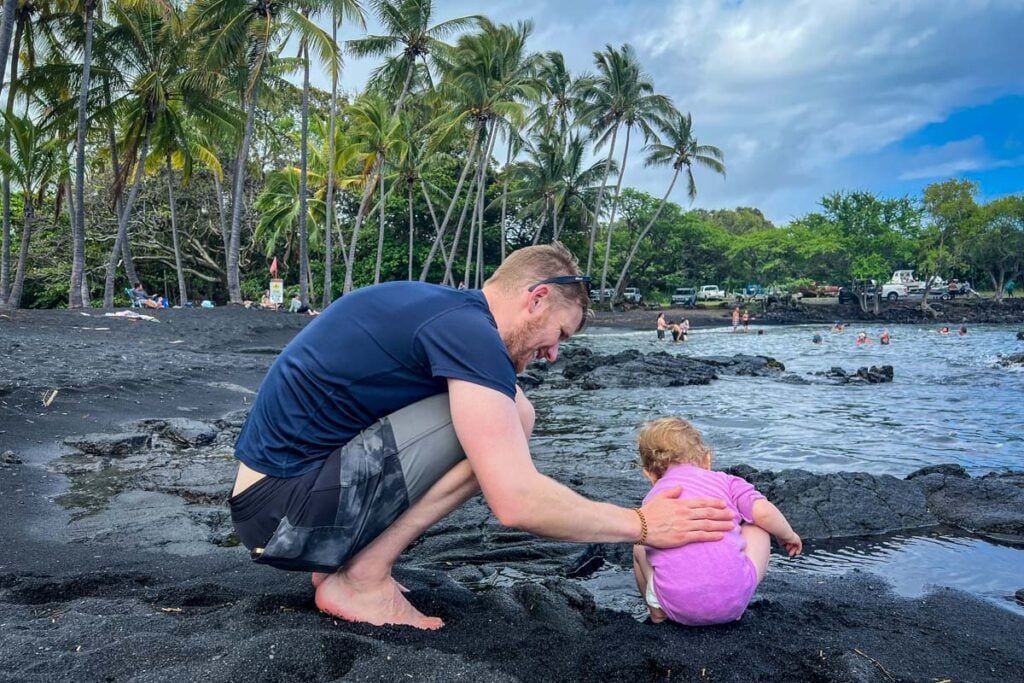 Important: I don't think I need to go into this in too much detail, but you should never ever touch or get very close to a sea turtle. You are a visitor in their world, and you should observe them from a distance. We saw some people getting way too close during our time on the beach. Please don't be that person.
9. Learn about Hawaii's history at Pu'uhonua O Honaunau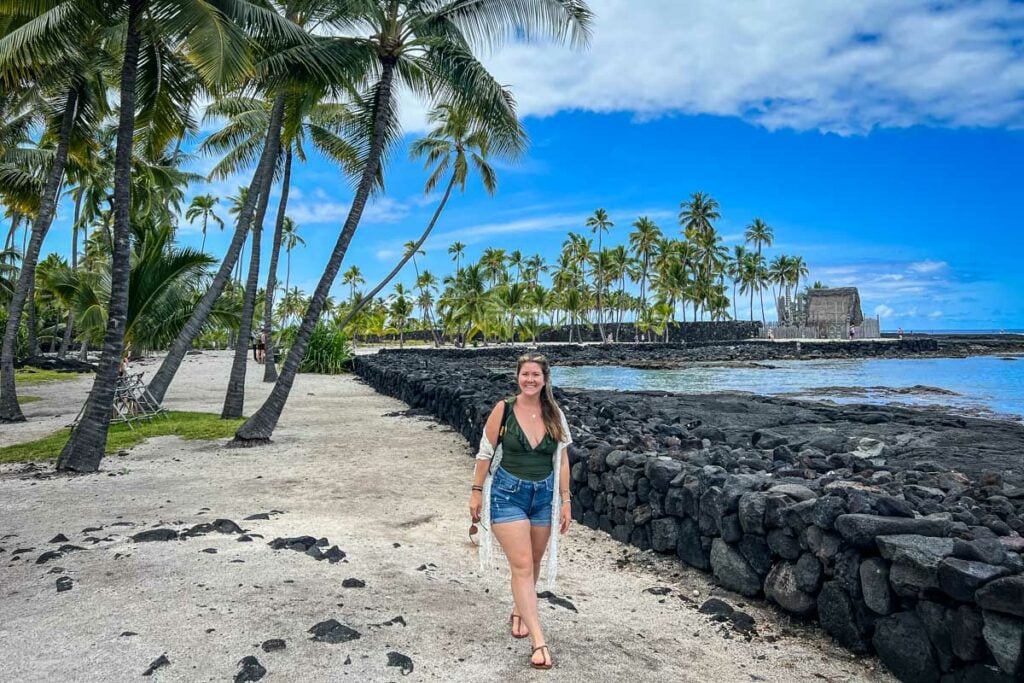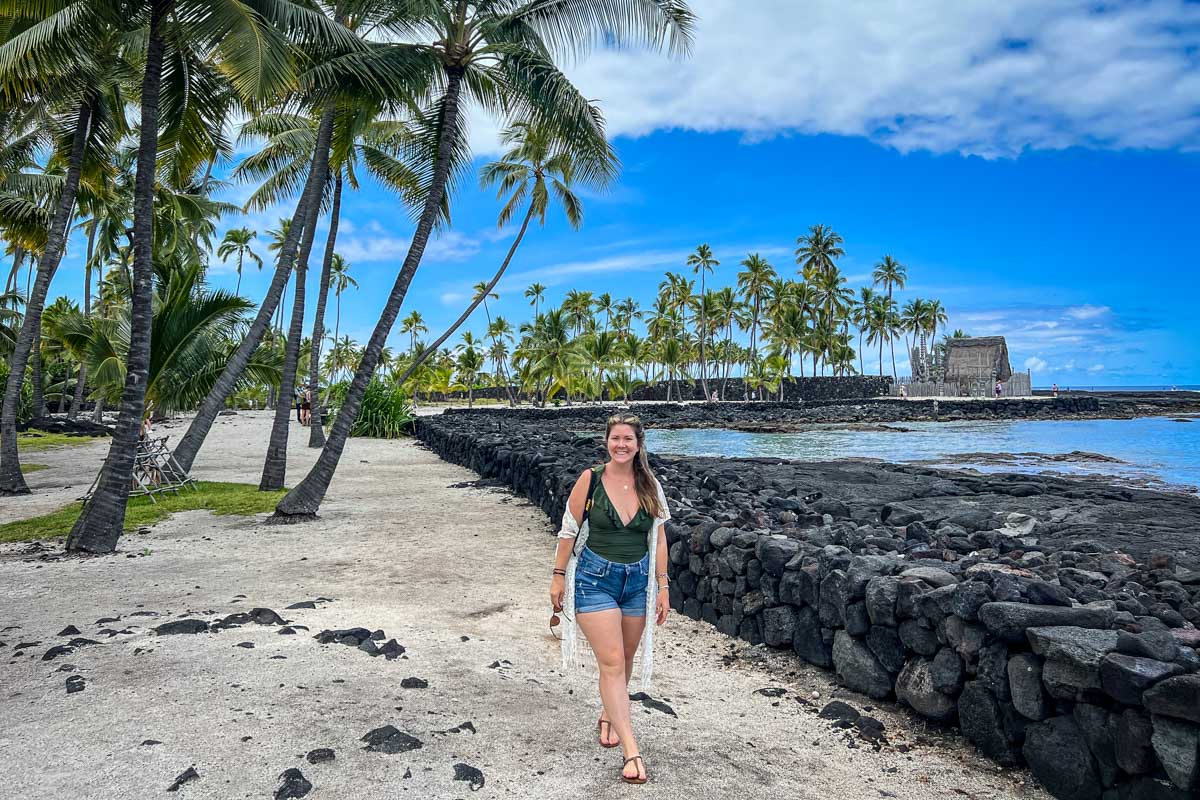 Pu-uhonua-o-Honaunau is a 180-acre restored park that once served as royal grounds and a place of refuge for ancient Hawaiians that broke kapu (sacred laws).
A self-guided tour of one of Hawaii's most sacred historic locations takes you through the Great Wall, ki'i (wooden images of gods), a sacred temple that housed bones, all situated along a mysterious black lava shoreline.
Good to know: you can get in free with your National Park Pass.
10. Go underground at Kaumana Caves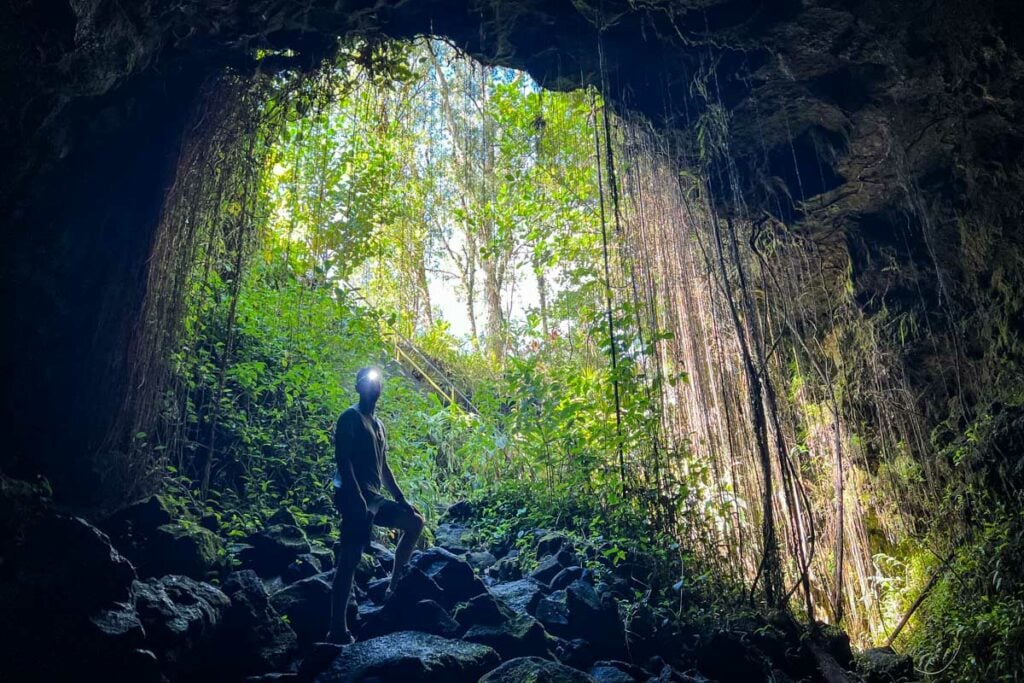 Sculpted in 1881 by the mighty Mauna Loa, the lava tubes snaking through Kaumana Caves are a fascinating adventure.
Exploring the caves, you can go either left or right at the entrance, then as far down each tube as you're comfortable with.
Insider Tip: Pack a headlamp and wear sturdy shoes!
11. Soak in the warm waters of Pohoiki Hot Spring
If you're looking for a unique and off the beaten path thing to do on the Big Island, keep reading…
Along the island's newest black sand beach are three volcanically-heated hot pools that are the last remaining (accessible) hot springs on the Big Island.
The mix of cool seawater and magma-heated rainwater balance eachother out, creating the perfect, hot tub-like temperatures in the Pohoiki Bay and Hot Springs.
How to get there: the pools are located near the parking lot in the Isaac Hale State Park. From Hilo, it's about a 40-mile drive and takes 1 hour.
Tip: The further from the ocean, the hotter the pool.
12. Go Snorkeling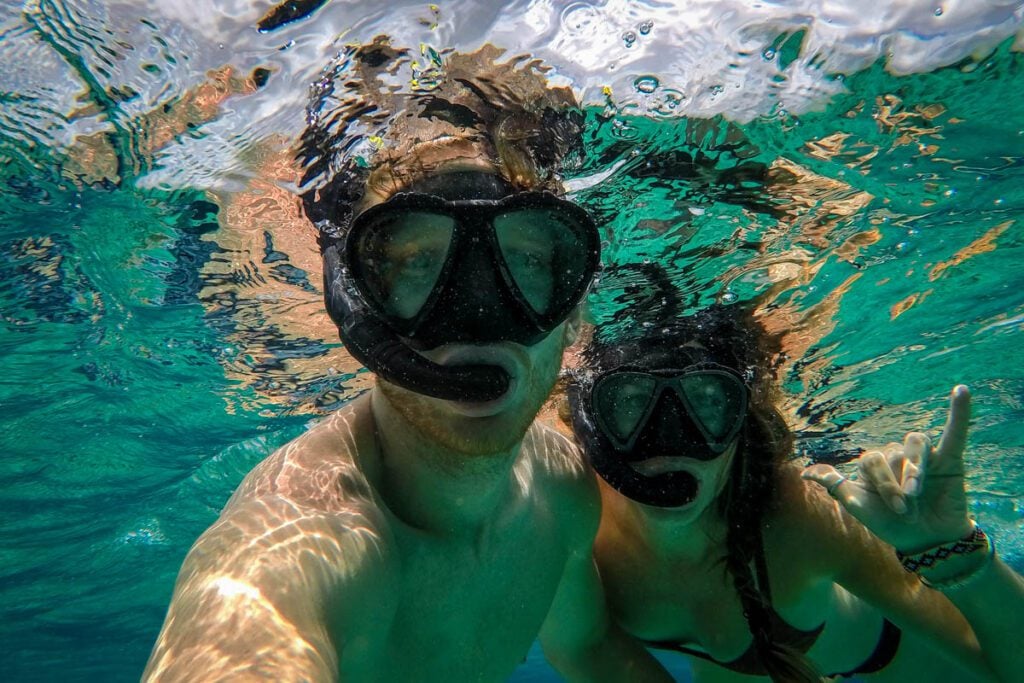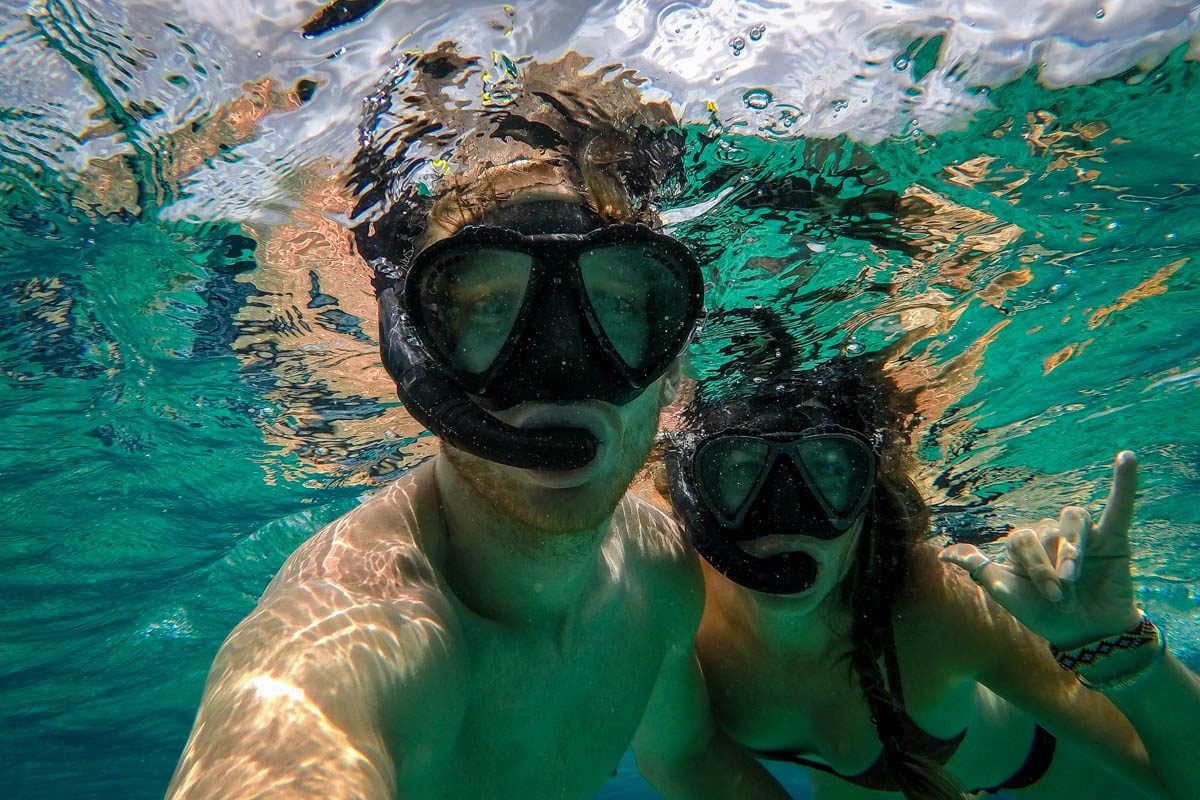 The best snorkeling on the Big Island is unarguably on the west coast. Kona is just as colorful below the surface as it is above!
With your mask and fins, you can explore vibrant reefs teeming with wildlife.
Top snorkeling spots near Kona
Captain Cook (Kealakekua Bay State Historical Park): this spectacular coral reef encompasses one of the best snorkeling locations in all of Hawaii. Since the bay is a protected area, you'll be able to spot abundant wildlife swimming among a colorful, well-developed reef.
Two Step: impressive coral reefs and lava rock pathways make up this popular snorkel spot. Directly off the beach are shallow coral areas where you can watch fish, otherwise you can head to the south side of the bay to try and see Hawaiian green sea turtles.
Kahalu'u Beach Park: this protected bay resembles a real-life aquarium. Venture below the surface and you'll see schools of tropical fish, coral heads, and sea turtles. Also, it's easy to access, which makes it a great spot for beginner snorkelers.
13. Spend a day (or more!) in Hilo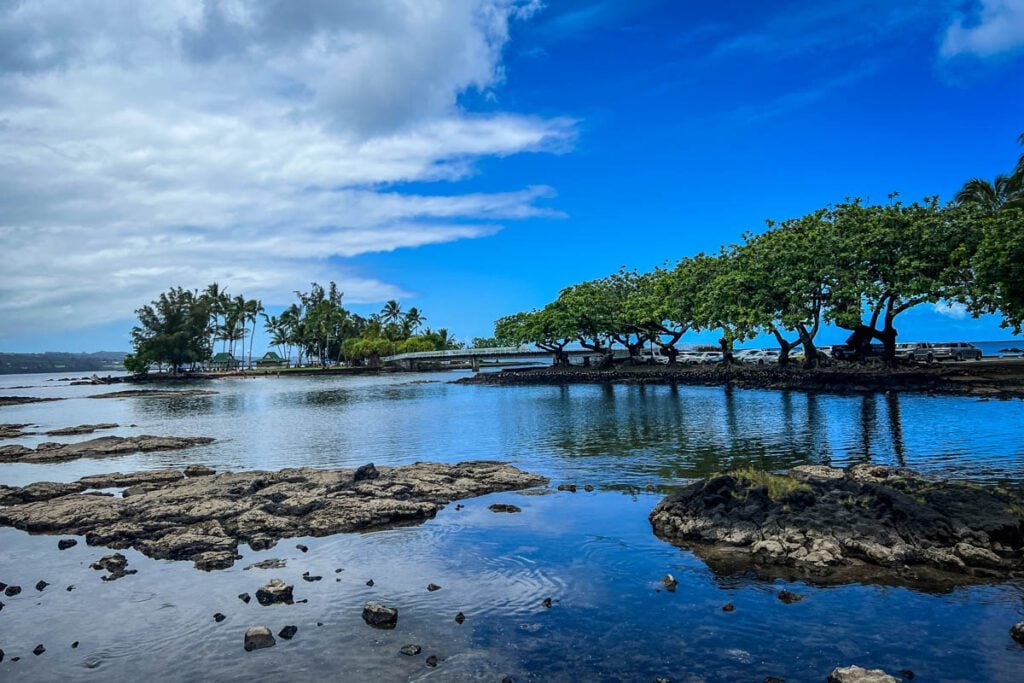 Not gonna lie, I didn't have super high expectations for Big Island's largest city, but we were blown away!
There are so many fun things to do in Hilo (plus, beautiful waterfalls nearby!) that I only wish we'd had more time.
With more of a local feel than touristy Kona, you'll definitely want to add part of a day (or a few!) exploring all the east coast has to offer.
Psst! Check out our guide to Hilo where we share tons of insider tips + the ice cream you just HAVE to get!
14. Explore Kona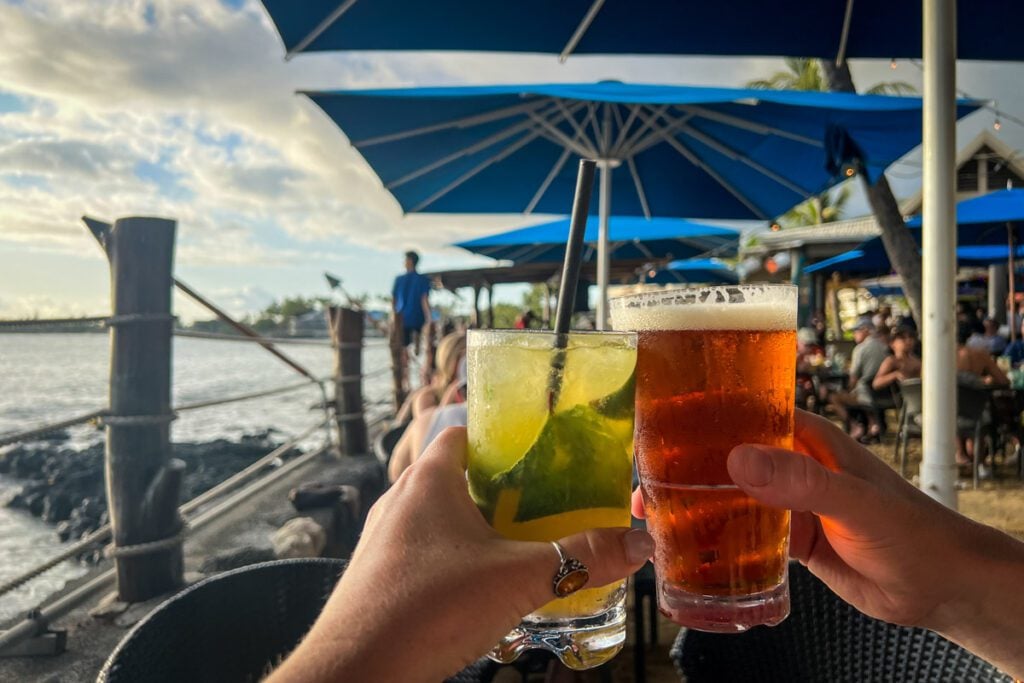 Being that Kona is home to the island's international airport, this is where most visitors start and end their time on the Big Island.
Touristy? Yes. But absolutely worth exploring? Also, yes.
With great snorkeling, excellent restaurants, famed Kona coffee farms, and tons of opportunities to get away from the hustle of the main strip, there's so much more to this town than meets the eye.
If you're spending time any time here, you'll want to check out our guide to the most exciting things to do in Kona.
15. Stargaze at the summit of Mauna Kea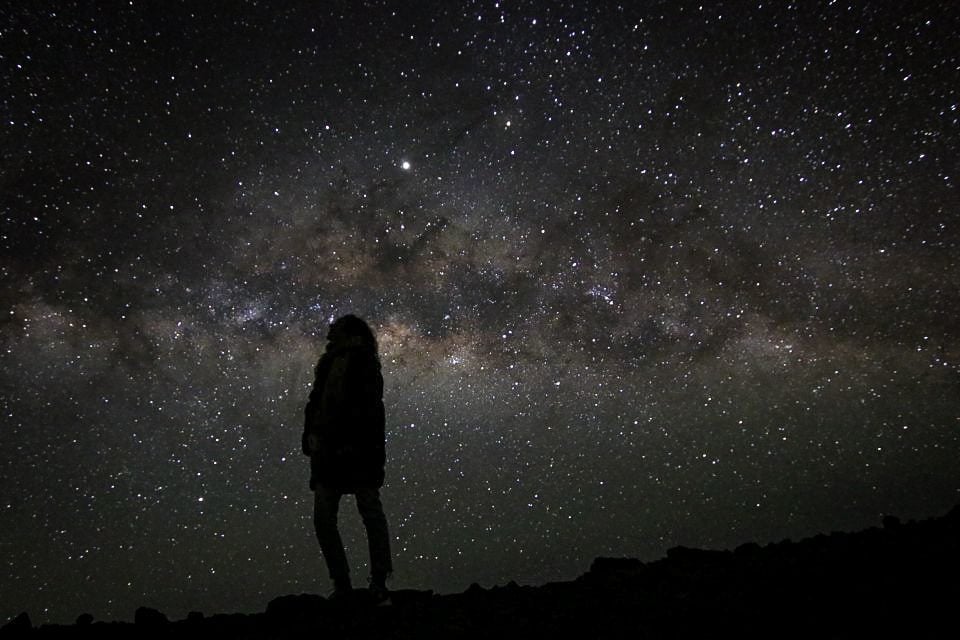 While this is quite a distance from town, you can definitely do this activity as a day trip from Kona (most visitors to the Big Island do).
The best, and only way to stargaze on the Mauna Kea summit is through a guided tour as the summit is closed to regular visitors 30-minutes after sunset.
Complete with snacks, drinks, and free photos, this tour offers a well-rounded and fulfilling experience to the top of Mauna Kea. You'll listen to historic accounts of Hawaii at the top while you sip a hot drink and enjoy a private star show through the Celestron telescope.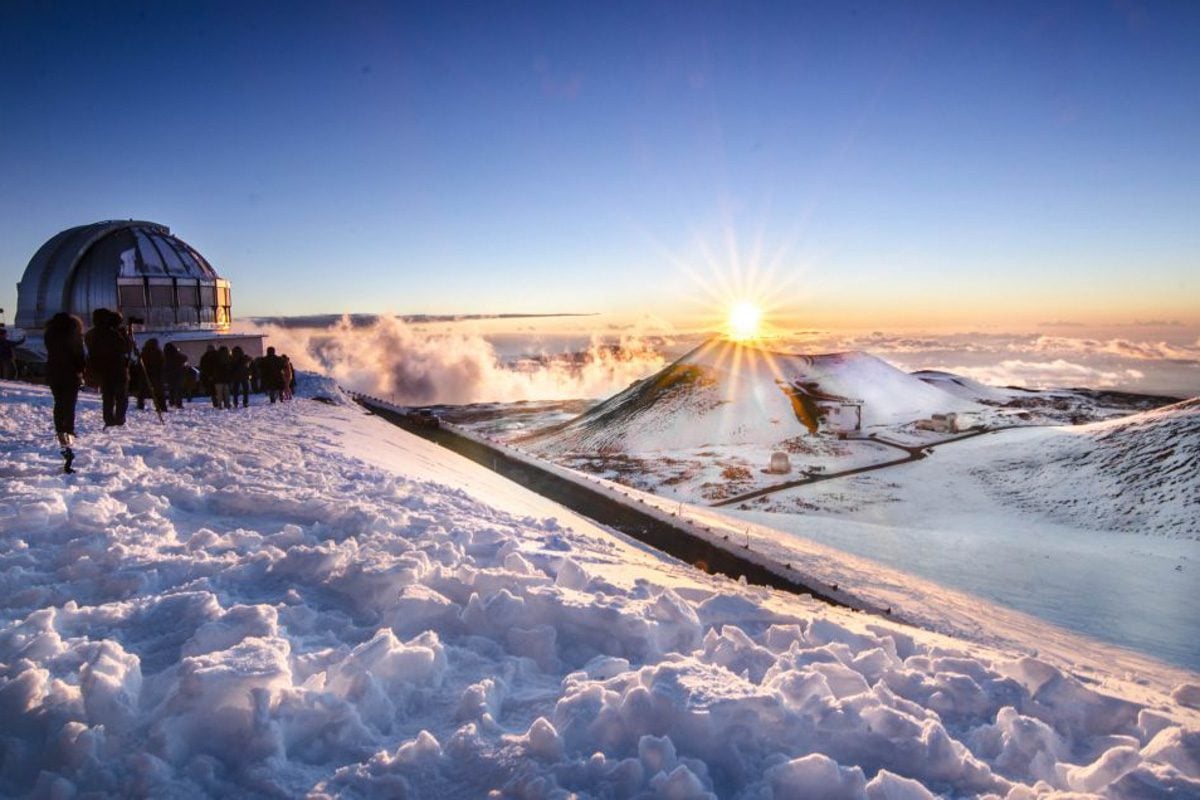 These tours can get pricey, but you can stargaze on a budget by self-driving to the visitor center. The viewing is actually better here even though you're at a lower elevation because the lack of oxygen at the summit changes what you're able to see.
Safety notice: Mauna Kea is one of the only mountains in the world where you can drive from sea level to nearly 14,000 feet within a few hours. If you don't acclimate properly, you'll likely experience severe altitude sickness. It's highly recommended to stop into the visitor center for at least an hour before going to the summit.
Good to know: We were not able to do this experience on our trip to Hawaii because it is advised that you do not bring children here due to the massive elevation change. If you are traveling with a baby or kiddos, keep in mind that you'll have to skip this experience or find a babysitter.
16. Find out how to master the art of beekeeping at Big Island Bees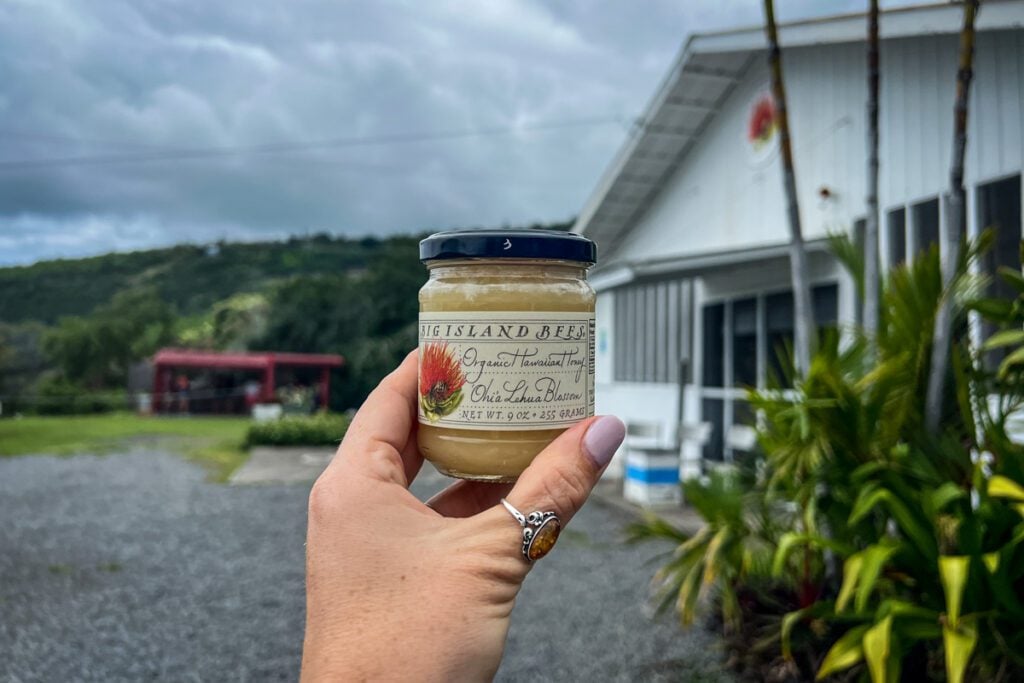 Raw and organic Hawaiian honey is the signature at Big Island Bees.
On a beekeeping tour, learn about farming and cultivation up close at one of the world's leading beekeeper farms.
Or simply visit the shop and do a honey tasting where you can compare 3 different varieties of this liquid gold. We bought a jar of the very special lehua blossom honey.
What makes the lehua blossom honey special? I'm glad you asked! It is produced from bees that have been pollinating the ohia tree's lehua blossoms. This flower is native to Hawaii and cannot be found anywhere else in the world, which makes lehua honey a very special souvenir.
17. Shop local at a farmers market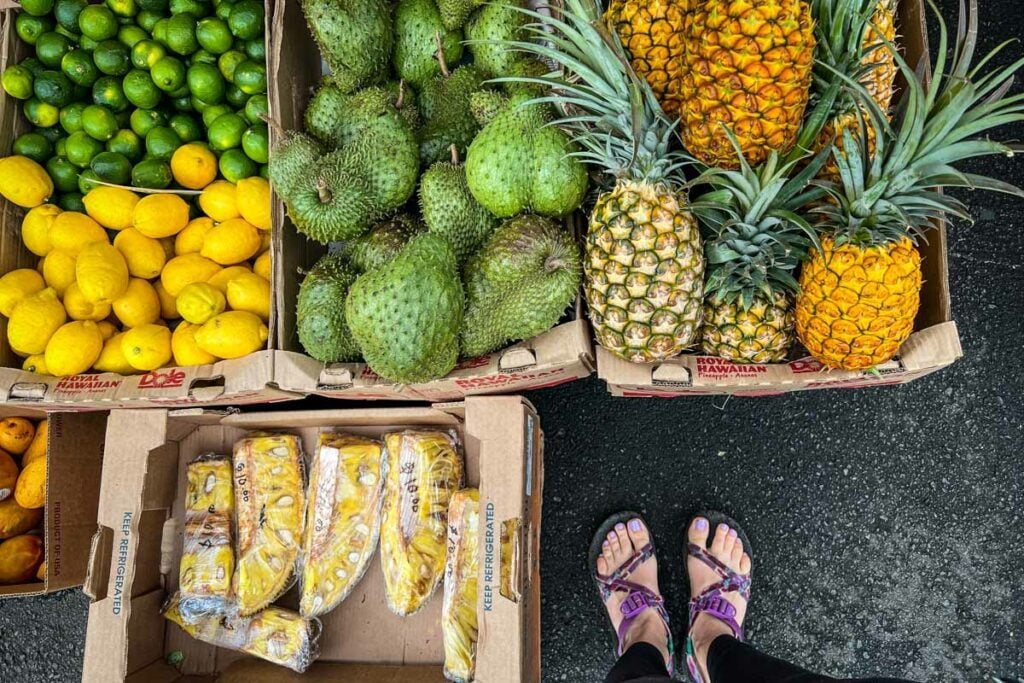 We love stopping by farmers markets on our travels because it gives us a better sense of how the locals live. Plus, it's always good to support local, small businesses.
There are a couple popular farmers markets on the Big Island you should make a point to check out.
Kona Farmers Market
Spread across 40 different stalls during peak days, you can find sweet and colorful fruits, flowers, leis, kona coffee, wooden sculptures, jewelry art, and novelty items at the Kona Farmers Market.
It can be a great place to support the local community and find a quality souvenir to bring home.
Our experience: When we visited, there weren't all that many stands, but it may have been an off day.
Tip: Arrive early to grab the free parking near the entrance and the best pick of produce.
Hilo Farmers Market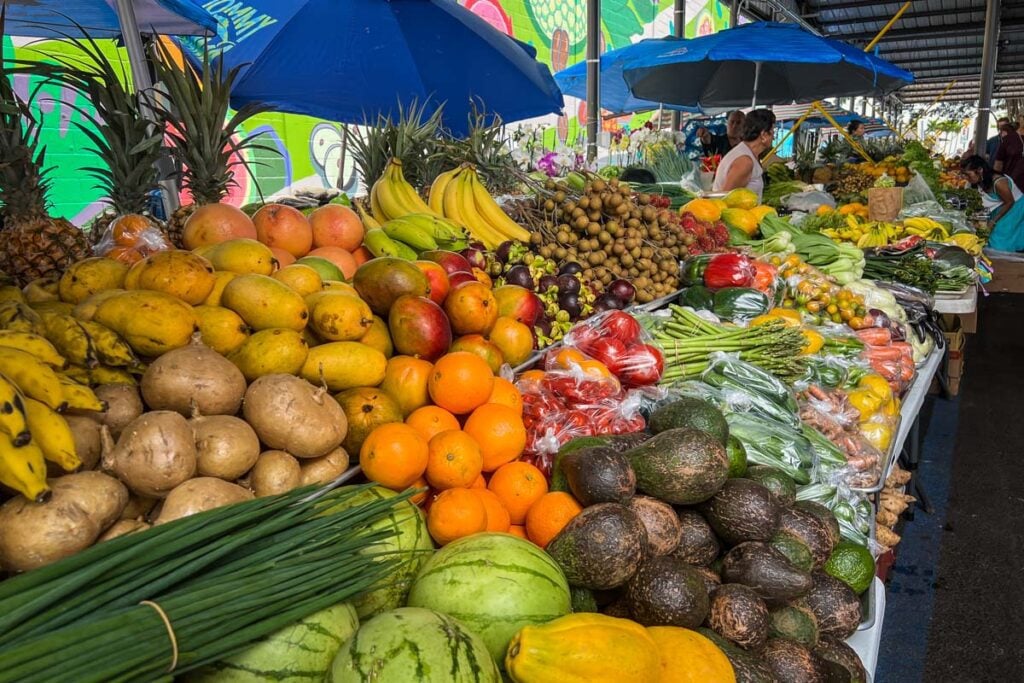 Locals and tourists flock to the colorful Hilo Farmers Market for their fair share of exotic fruits, locally roasted coffee, sweet treats, crafts, and local trinkets.
It's the largest and most popular market on Big Island, so definitely pop in to find things you won't see anywhere else!
Hours: everyday, 7 a.m. to 3 p.m.
Good to know: You'll have the biggest selection on Big Market days, which are on Wednesday and Saturday. We visited on a Saturday (a "big market day") and personally thought this market was much better than the one in Kona!
18. Cool off with shave ice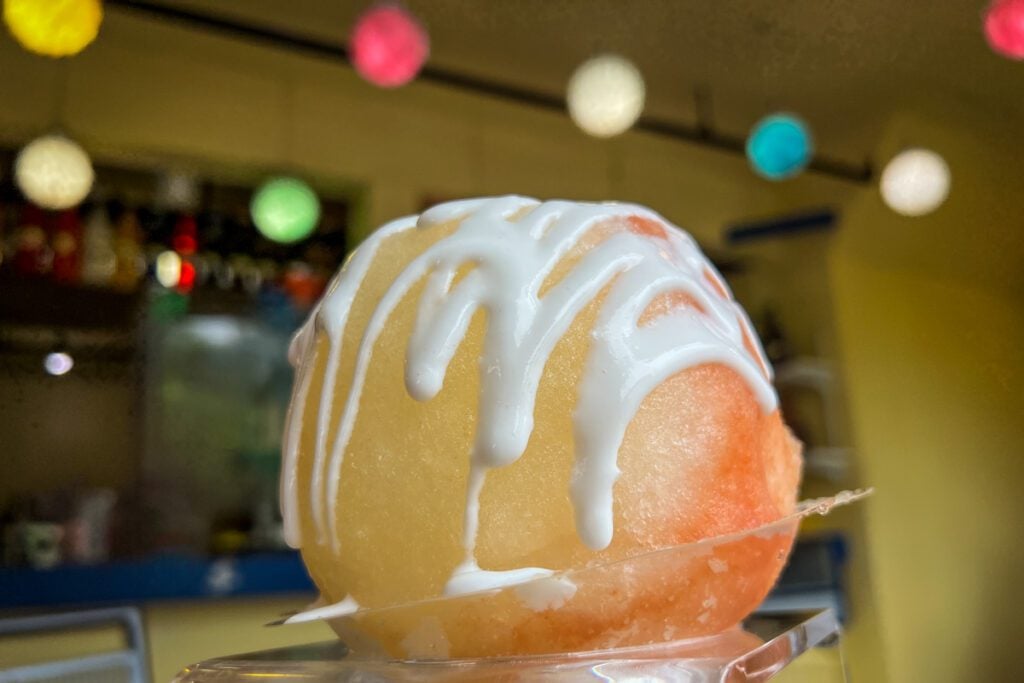 These mounds of finely shaved ice topped with vibrant syrups and toppings is a staple for locals and travelers.
Had enough shave ice? If you want gelato instead, head to Gypsea Gelato for the best in town! And if you're in Hilo, don't pass up Makani's Magic Pineapple Shack for a chance to sample some of the prettiest soft serve you'll ever see.
19. Take an epic road trip around Big Island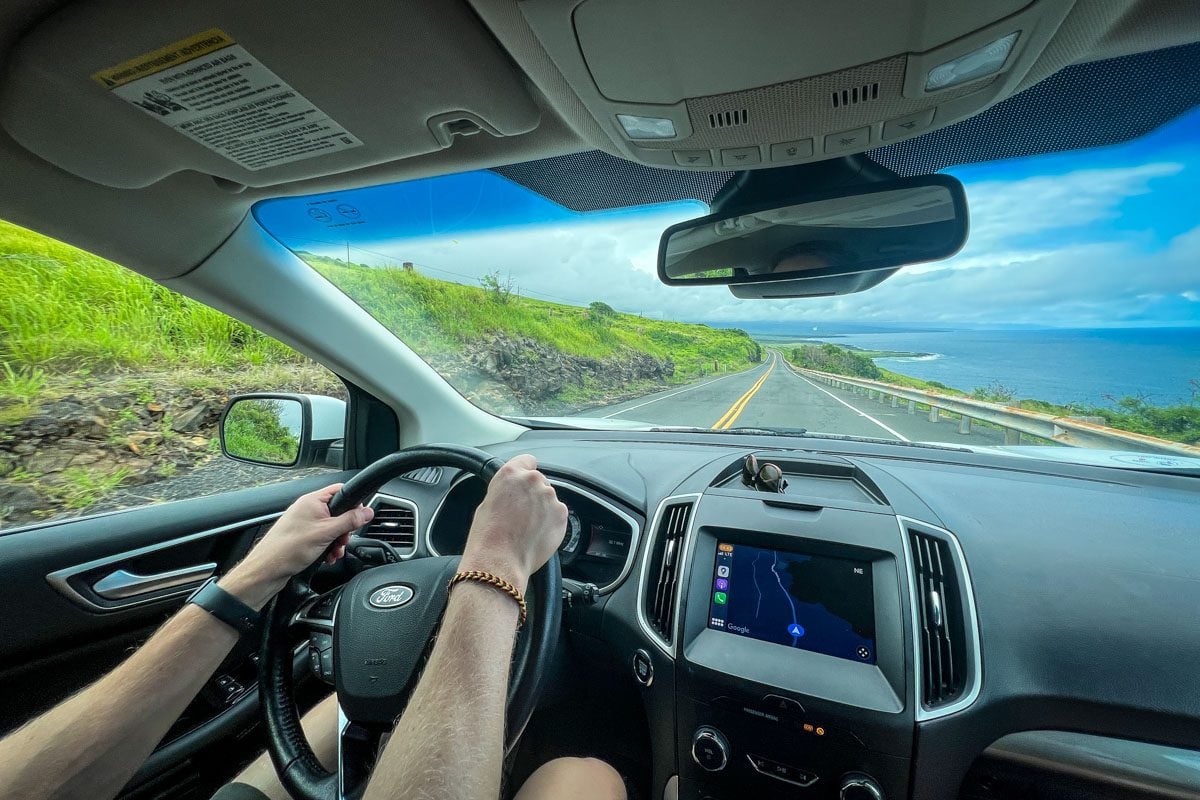 The best way to explore the Big Island is by car. No doubt about it!
We have a guide to choosing a rental car in Hawaii (which includes a money-saving hack and a word of caution!), but in general, the Big Island is very easy when it comes to driving.
Psst! Get excited for your trip by reading these fun road trip quotes!
Why Big Island makes a great road trip:
other than some parts of Kona, you won't be dealing with much traffic
most roads are well-maintained
lots of scenic stretches of road around the island
you'll find so many great pit stops along the way (some you'll plan in advance, and others will be roadside signs that pique your interest!)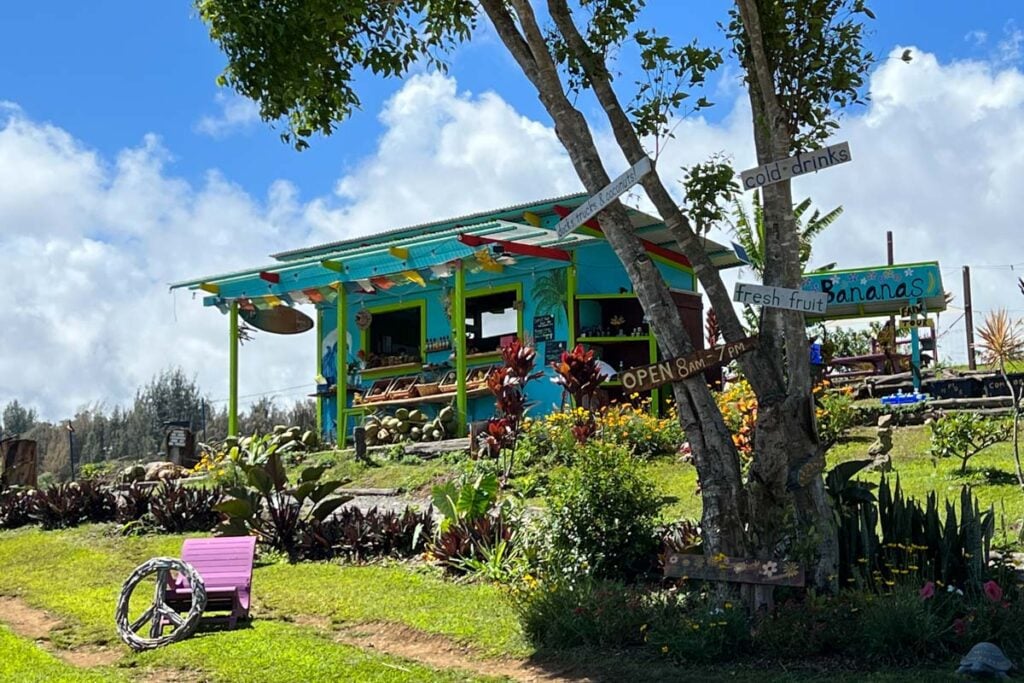 Pack lots of snacks, queue up your favorite road tripping playlist, and get ready for an adventure of a lifetime!
Good to know: Some people choose to base themselves in Kona for their entire time on the Big Island and take day trips. This can be a good option if you'd prefer to stay in one spot. However, we personally did a road trip and stayed all over the island which we think was the perfect plan for us as we got to get off the beaten track a lot more.
20. Make a pit stop in Pahoa
Situated on the eastern tip of Big Island, Pahoa is a quiet and peaceful village, with the highest concentration of historic, centuries-old buildings in Hawaii. You can stroll main street or walk the town's old boardwalk to discover some of the rich history and charm that is preserved today.
The Isaac Hale Beach Park is one of the town's newest attractions, created after the historic 2018 volcanic eruption. And if you're visiting on a Sunday, be sure to check out the Maku'u Farmers Market.
21. Stay in a quirky Airbnb
We usually opt to stay in Airbnbs during our travel for the convenience they offer. Having a home to come back to with a kitchen and laundry has become something we really value when traveling. Even more so now when traveling as a family.
There are some great Airbnb stays available on the Big Island that we'd recommend if you're looking for a unique place to stay.
Psst! Is this your first time staying in an Airbnb? We've got an entire article on how to book with Airbnb, including tips on what to look for in a listing and red flags to watch out for.
22. Eat all the fruit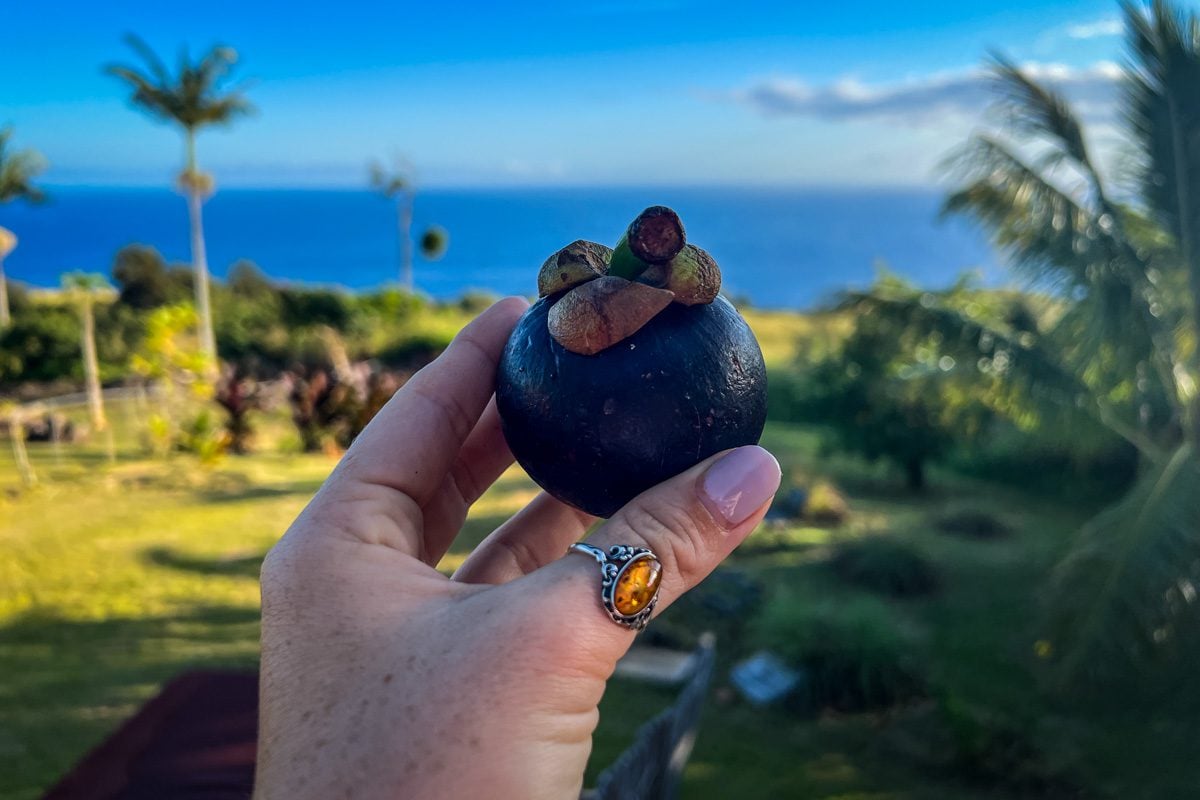 Hawaiian fruit just hits different.
The pineapples are sweeter, the papayas tastier, the apple bananas (the tiny ones!) yummier. While in Hawaii, eat as much fruit as your heart desires.
The best place to buy fruit is typically at farmers markets, which you'll find all over the island.
When it comes to fruits, I will warn you about two things:
The prices for fruit were higher than I expected. I understand a lot of foods have to be shipped in, making the prices higher. However, I didn't think the fruit that's actually grown on the island would be so expensive. I suppose a lot of it comes down to the cost of living for the farmers and how much it costs to maintain the land.
Stick to fruits that are in season. We got tempted with some out of season fruits, and well, were pretty disappointed. Also, try to buy fruits that were grown locally for the best flavors. At the grocery store, you'll see that some of the fruits you might think are local are actually imported from places like Mexico.
Psst! We have a whole list of Hawaiian fruits you need to try. Check it out and see how many you've tasted, or even heard of!
23. Visit the Southernmost point in the USA
If you want to say that you've been to the most southern point of the United States (Yes, even further south than the sign in Key West! We've been there too!), it is only a short drive from Papakolea Beach.
There's nothing all that notable about this point (no sign at this one), other than the fact that it's a popular spot for cliff jumping. There are also some pull out areas nearby where you could have a picnic (though I will warn you that you won't find any shade in this area).
24. Adopt a dog for the day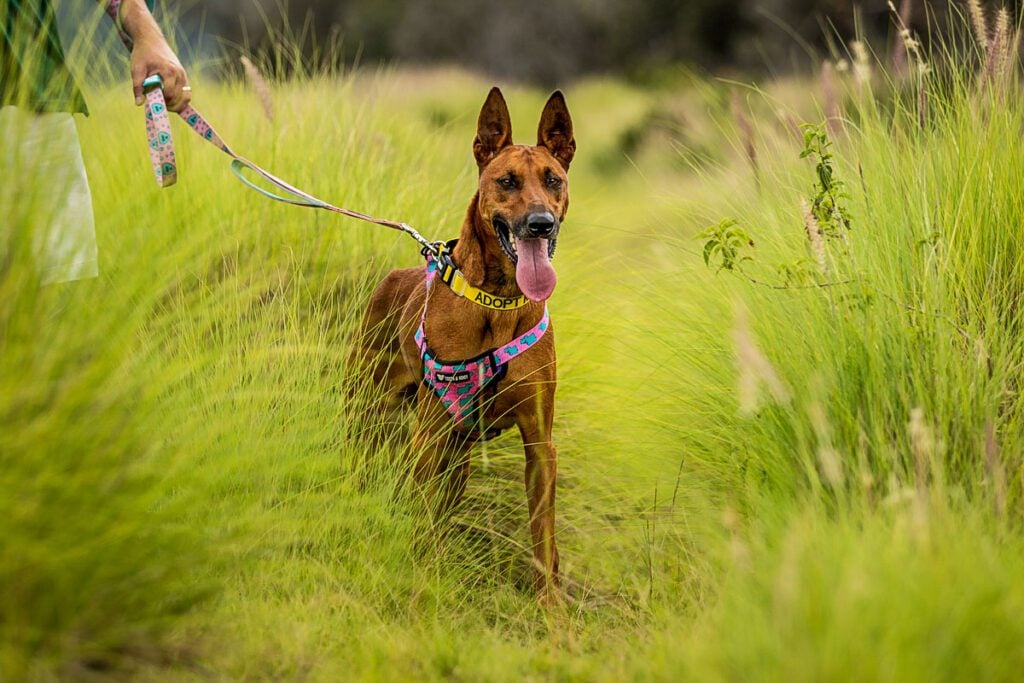 If you're looking for a fun way to get your dog-fix while traveling, the Hawai'i Island Humane Society hosts doggy field-trips where you can bring a shelter dog around the island with you for the day.
By doing this you're giving back to the island and giving one of their dogs a positive experience, plus higher chances of getting adopted.
Good to know: Field trips are by appointment only, Saturday through Monday.
Locations:
25. Enjoy a farm-to-table dinner at Merrimans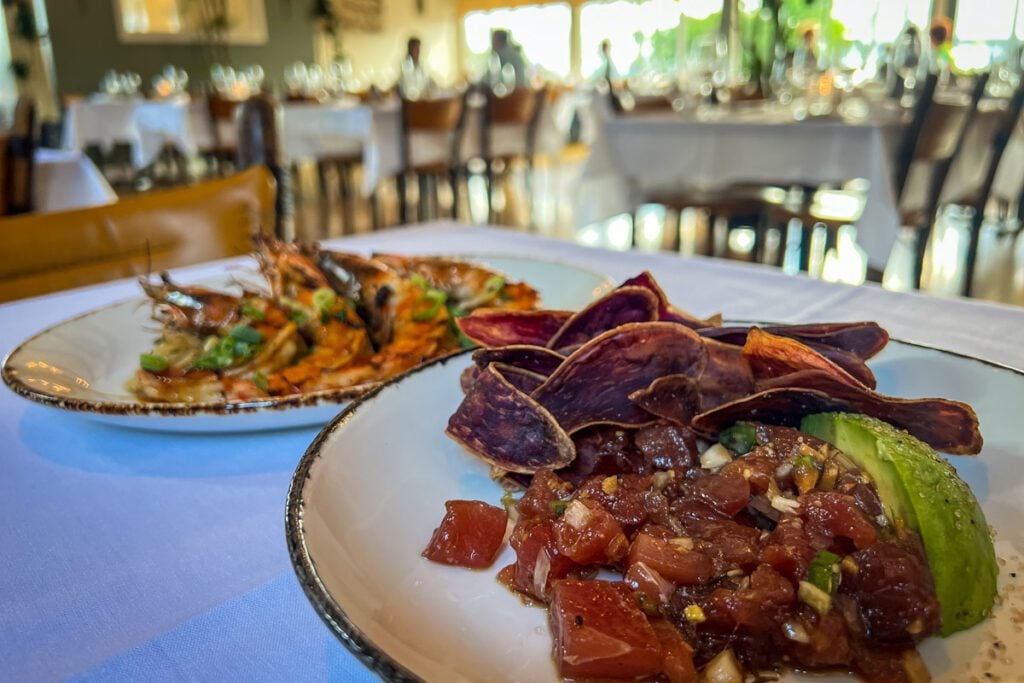 If you appreciate good food, listen up because you'll definitely want to pencil in a meal at this restaurant during your time on Big Island.
With locations on the 4 main islands, Merriman's Restaurant is sort of a Hawaiian staple. Specializing in regional, farm-to-table fare with an emphasis on sustainability and supporting local farmers, the menu highlights seasonal ingredients and Hawaiian flavors.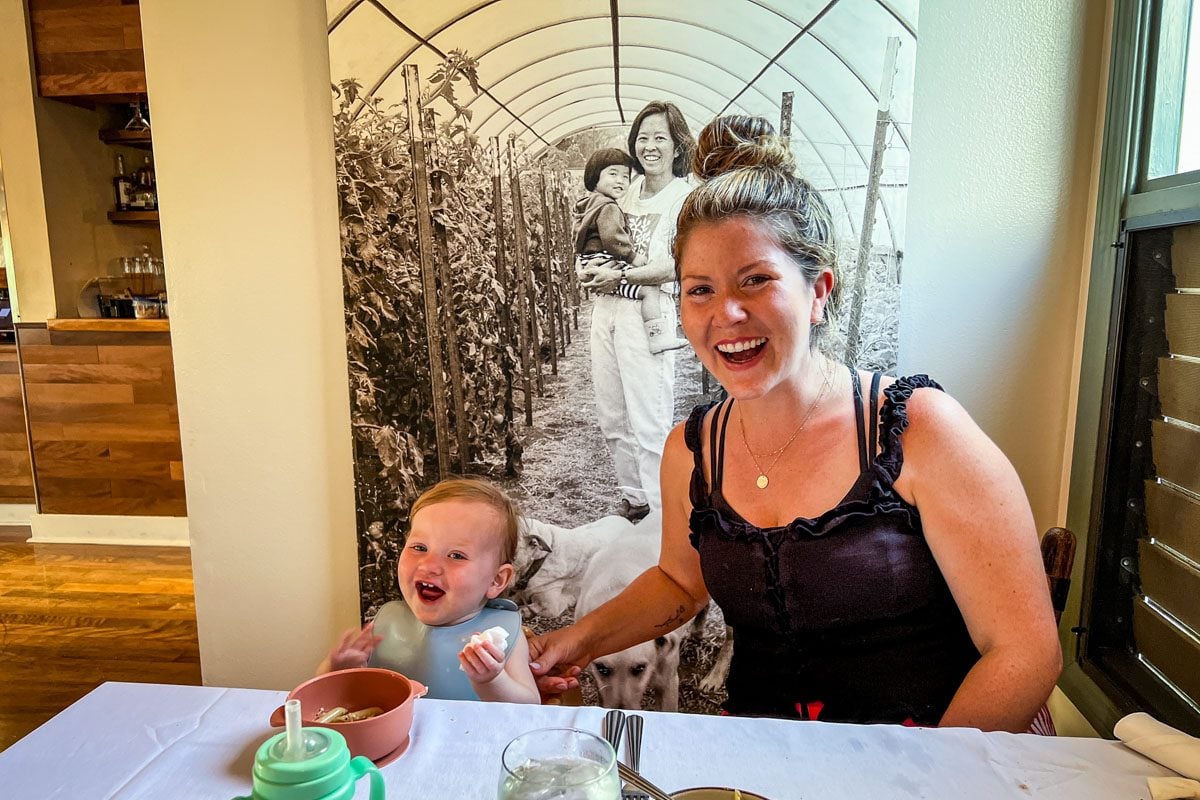 We dined at the Big Island location in Waimea (their flagship location) for my birthday, and had the most wonderful experience. The service was top-notch, the Mai Tai blew me away (the best I've ever had), and the food was incredible – from the starter to dessert.
It was by far our favorite meal in Hawaii, and we'd highly recommend adding it to your itinerary.
Good to know: Reservations are necessary for dinner. Check their website for the menus and to book a table.
26. Indulge in a Passionfruit doughnut at Punalu'u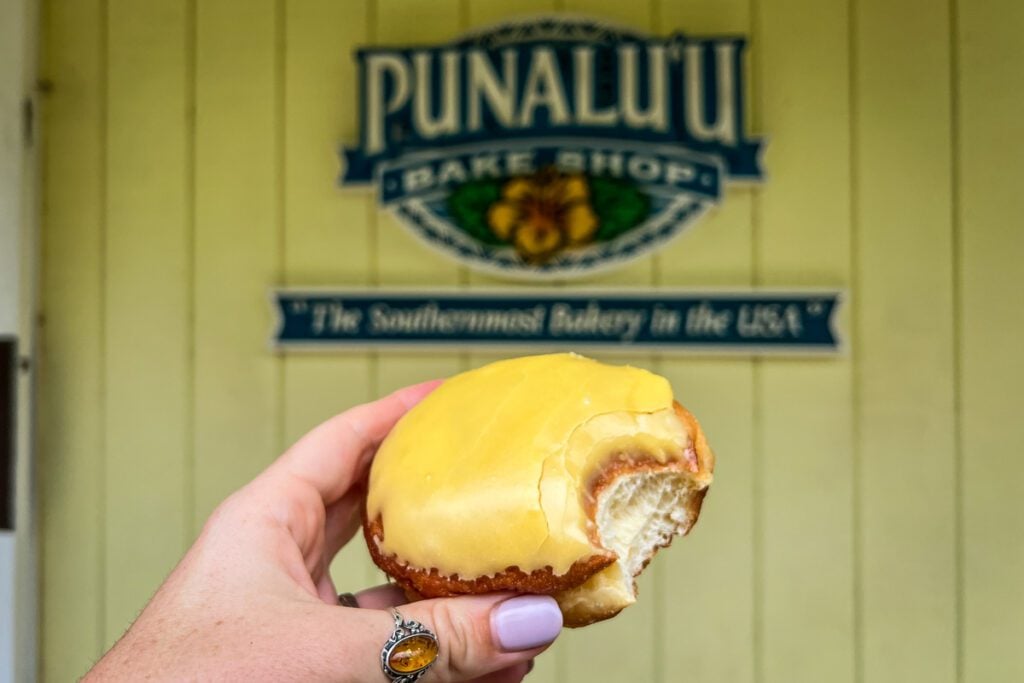 Famed for being the southernmost bakery in the USA, Punalu'u Bake Shop is a classic stop on a Big Island road trip.
Located not far from the famed green sand beach, you'll smell the baked items before you step foot in the door.
They specialize in malasadas, a type of doughnut. And the glazed lilikoi, or passionfruit, flavor is the best!
While it is certainly a touristy hotspot, it still makes a good (and delicious!) stop if you're in the south of the island.
27. Go on a farm tour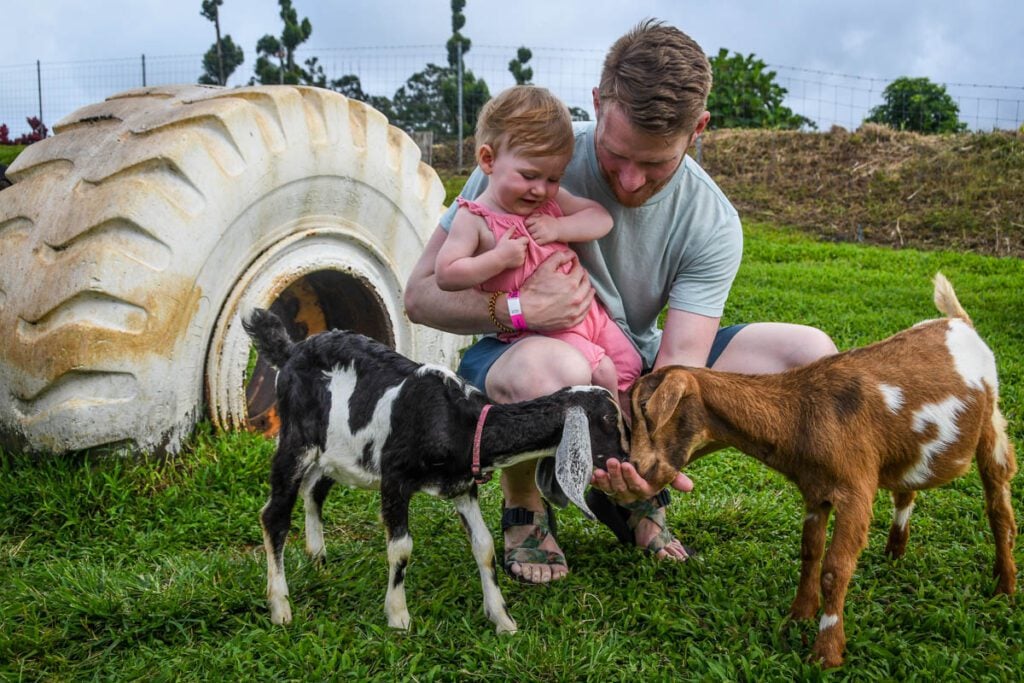 The Big Island is home to well over 4,000 farms.
From those that focus on livestock (you'll see lots of these in the Waimea area) to organic fruit farms nestled in the rainforests, there are all types.
If you're interested in how things are grown or made, consider joining a farm tour on the island:
Honomu Goat Dairy Farm: completely free to visit and the friendly goats will approach visitors for plenty of interaction
Greenwell Farms: one of the best Kona coffee farm tours (my aunt who has been to Hawaii many times and has done several tours says this is the best).
Sharkey's Farm Tour: tour this 100-year-old farm that produces coffee, vanilla and cocoa
The Vanillerie: learn how vanilla beans grow
Alternatively… Hawaii's "bean-to-bar" chocolate is ranked among some of the best in the world.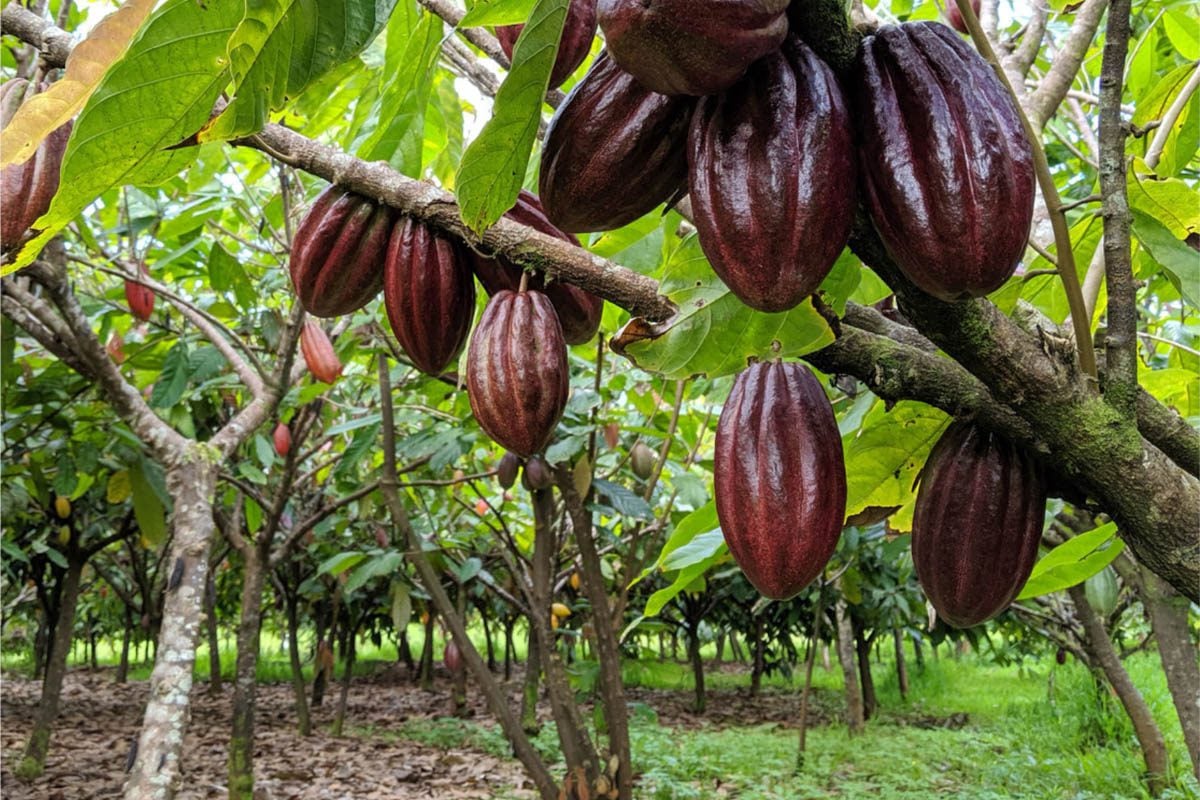 The rich volcanic soil and pure rainwater of the islands helps to create their distinct and flavorful chocolates.
You won't need any convincing to bring a few bars back home, however you may indulge in them all before then!
Good to know: There are several cacao farms in the Hilo area, but the most well-known is Lavaloha.
28. Visit the Mauna Loa Macadamia Nut Center
If you're looking for a free thing to do in Hilo, pay a visit to the Mauna Loa Macadamia Nut Center.
It's more or less a gift shop, but you can also learn a bit about the process of getting these nuts from the farm into your hands.
You can also try some samples (yes, please!) and stock up on macadamia nuts to bring home.
Insider Tip: If you're pressed for time, you can skip this stop and get these same macadamia nuts in almost any grocery store or ABC store in Hawaii.
29. Get views over Waipiʻo Valley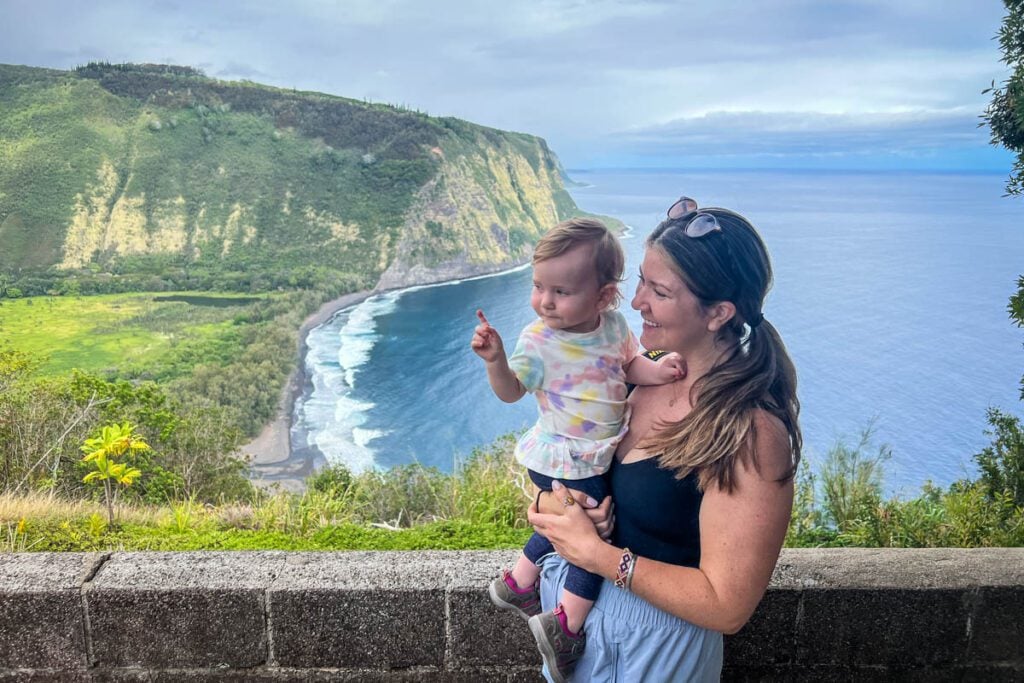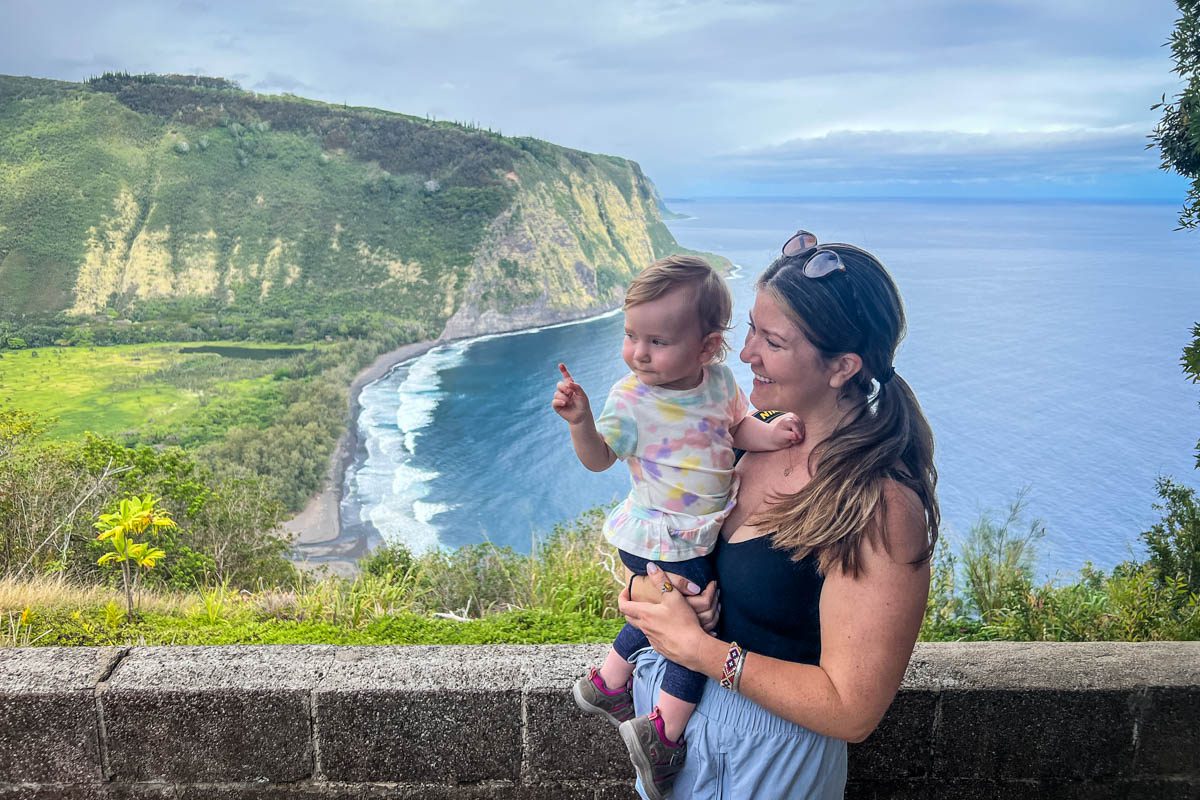 Many travelers to the Big Island stick only to Kona, Hilo and Volcano. But if you have the time, we'd highly recommend making it to the north of the island where you can see some of the island's most breathtaking scenery.
The Waipi'o Valley is one of the most picturesque places on the island; however, much of it is only accessible for native Hawaiian people and their guests.
Fun story: My parents were invited down into this valley a few years ago by one of the residents who knew my family. They said it was incredibly lush and beautiful with lots of fruit trees and even freshwater prawns. Sounds magical!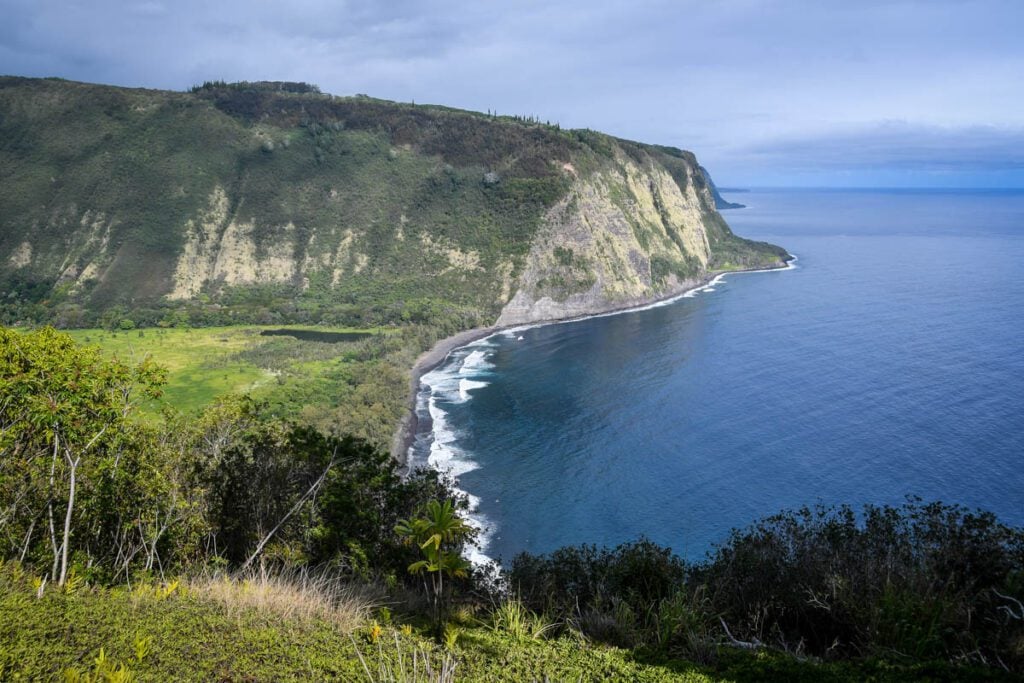 Since you can't go down into most of the valley, here are a few things you can put on your list:
Waipiʻo Valley Lookout: This lookout is beautiful, but the road past the overlook is only accessible for residents.
Pololu Trail: This steep, .6-mile path leads down onto a black sand and rock beach strewn with driftwood and bordered by pines. It is different from any other beaches we saw in Hawaii and is almost reminiscent of beaches on the Oregon Coast.
Good to know: The locals ask that photos taken here not be shared online or on social media.
Fresh Off the Grid: This food truck has smoothies, poke, and bowls at reasonable prices.
Hawi: Stop in this cute little town and pop in wherever your heart (or tummy!) desires.
30. Relax at Hapuna Beach State Park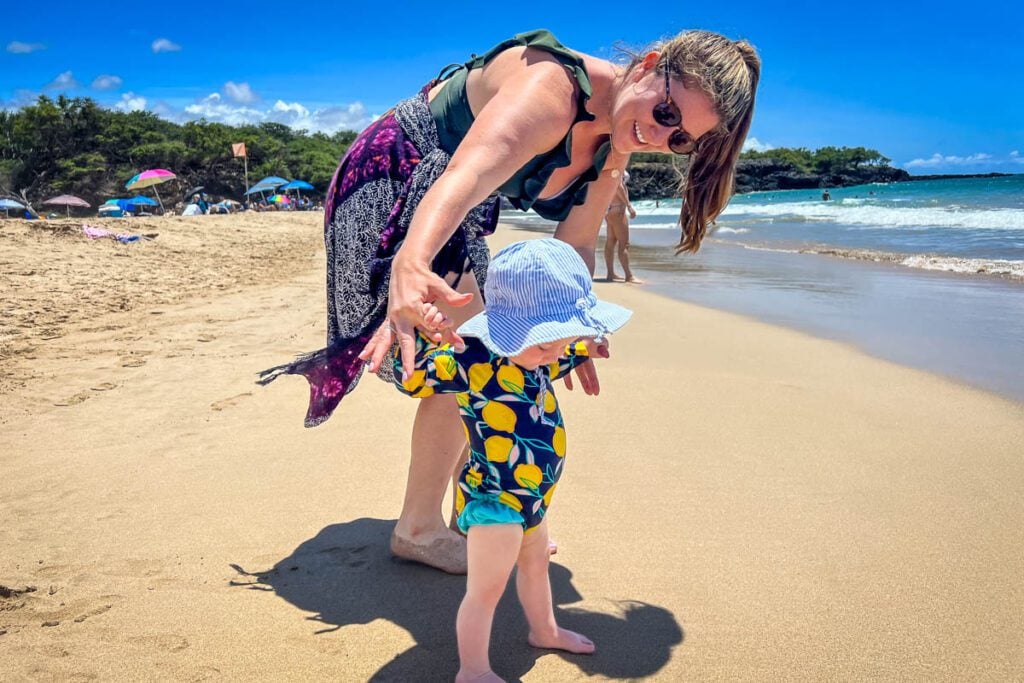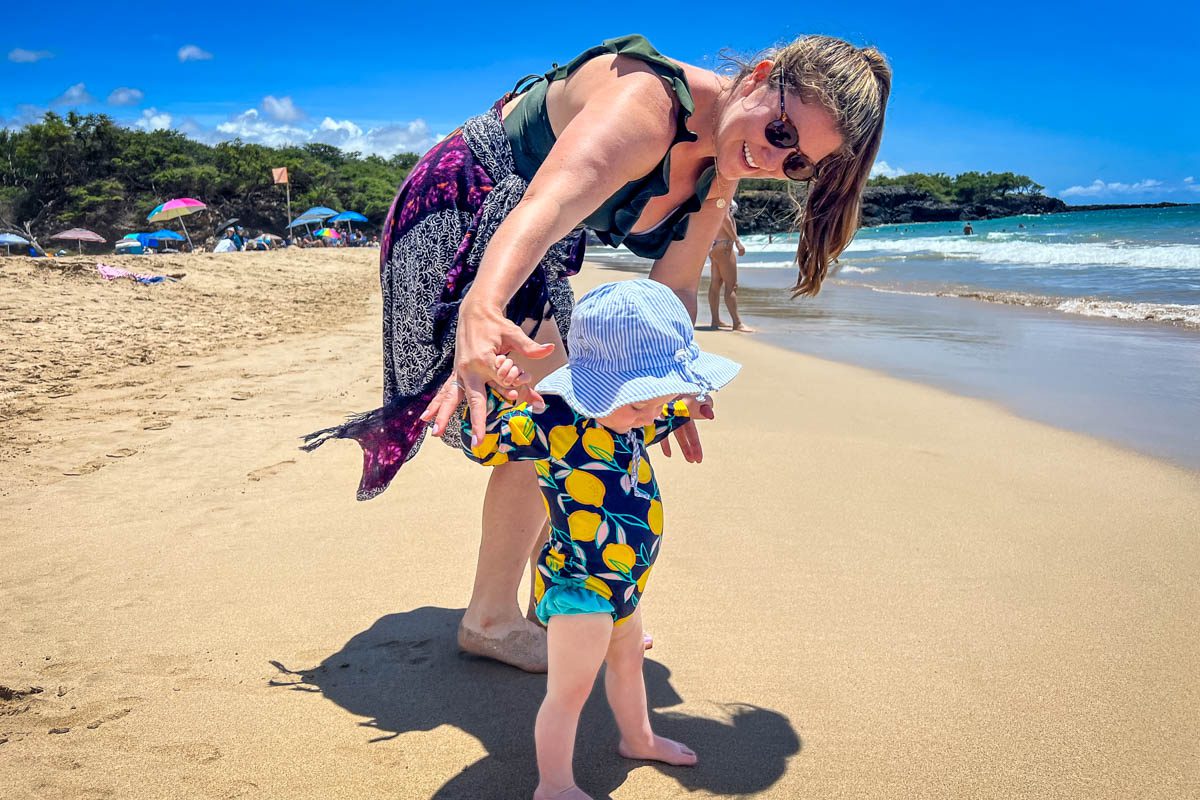 Hapuna Beach is a heavy hitter as far as accolades go.
It has recurring features in many "Top 10" or "Best" lists including: Best Beaches in America, Top 10 Beaches in the World, Best Beaches on Big Island, AND Best Beaches in Hawaii.
This beach is the largest stretch of white sand in the Hawaiian islands and is great for swimming, boogie boarding, leisuring, and snorkeling.
We spent an afternoon here and had the best time playing in the waves!
Tip: There are many shaded picnic tables, making this a great place to bring lunch or a snack.
31. Go whale watching (in the winter only!)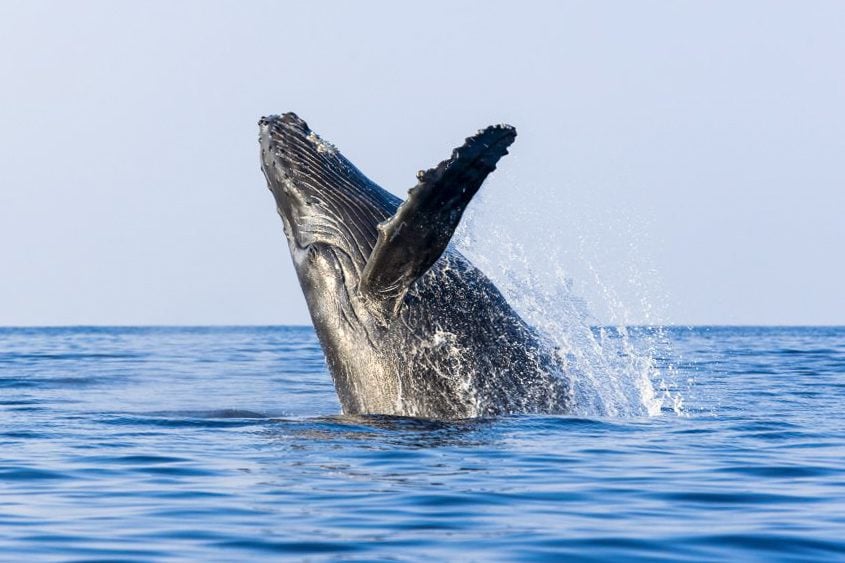 Watching these gentle giants play in the waters off the coast is truly one of the most memorable things to do on Big Island Hawaii.
Whales migrate from Alaska all the way to the warm Hawaiian waters during the winter months from November to April. The peak months for spotting are typically January to March.
They're a protected species in Hawaii, so there are many fantastic and ethical whale watching tours in Kona to choose from.
32. Book a photoshoot with a local photographer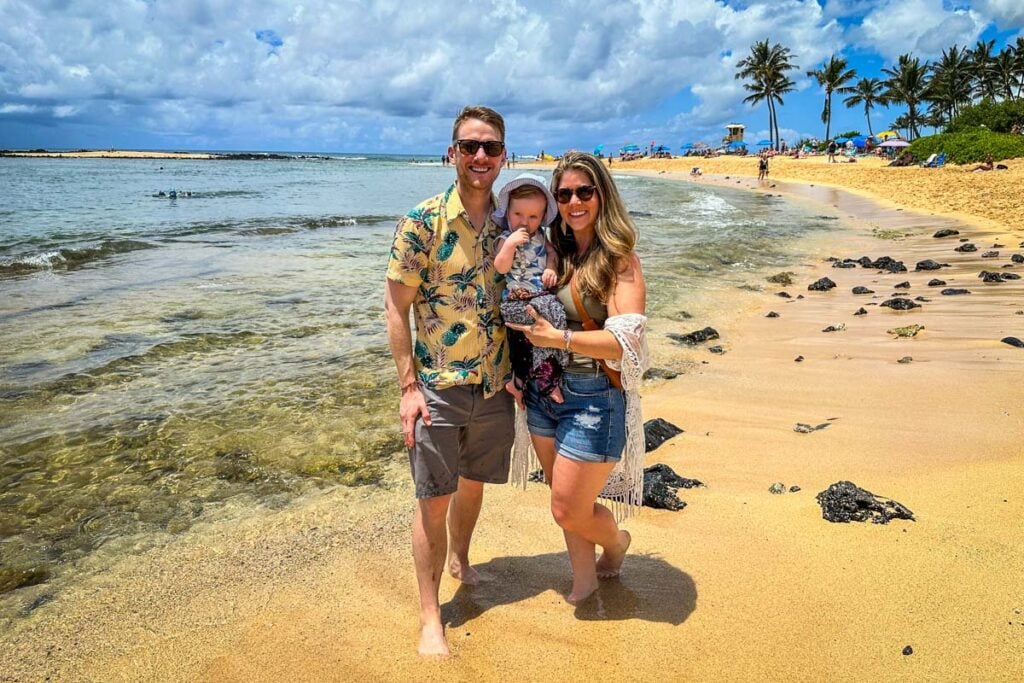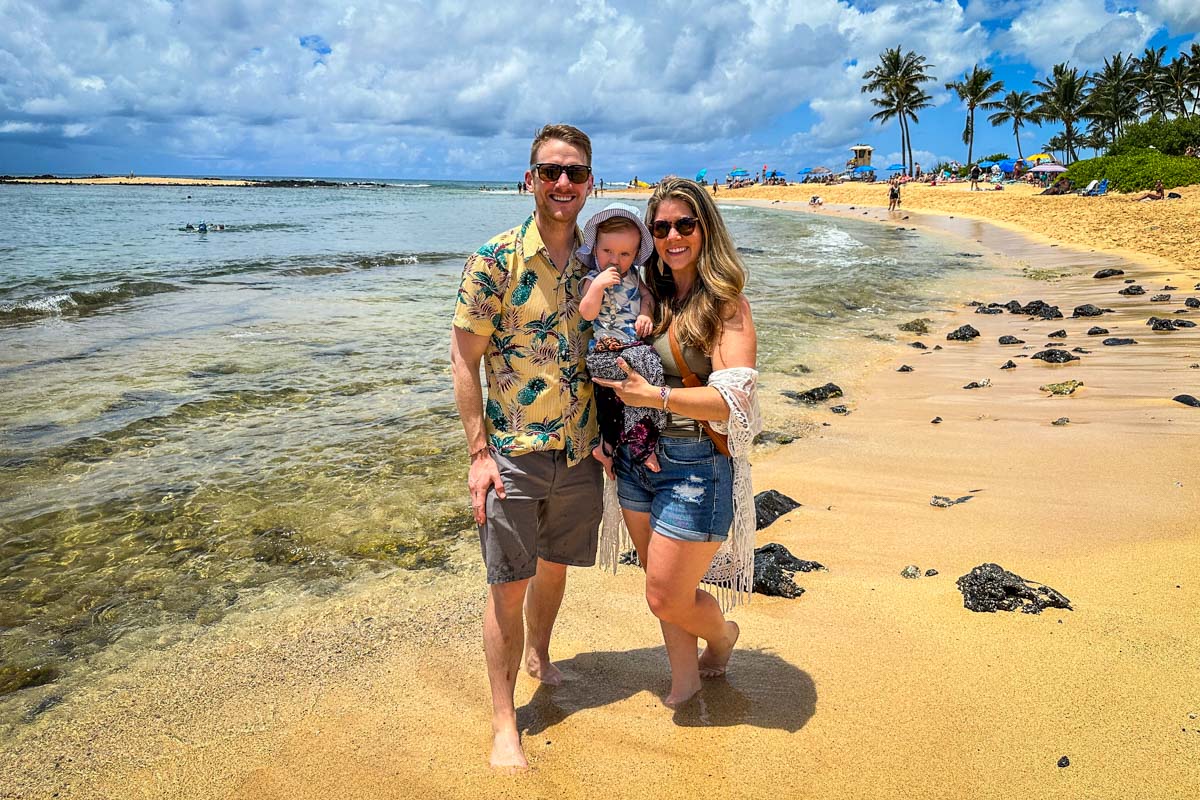 We think there are few souvenirs more special than photos.
Local photographers know the areas really well, including when you'll get the best lighting and where to go to avoid crowds.
Plus, since you get to hang out with a local for a while, you can ask for insider advice on where to eat and places to explore nearby.
This local photographer does shoots just north of Kona and earns rave reviews.
Here's what guests are saying:
"…To start with, Ranae is an extremely warm and personable photographer. She is very talented, and was able to capture everything we wanted and so much more. The turnaround time was very quick and the pictures were captured beautifully. The editing, mood and highlights were all so perfect! … I would definitely recommend Ranae for anyone looking for a great, memorable and warm experience!" – Anusha, December 2022
33. Go zip-lining over a waterfall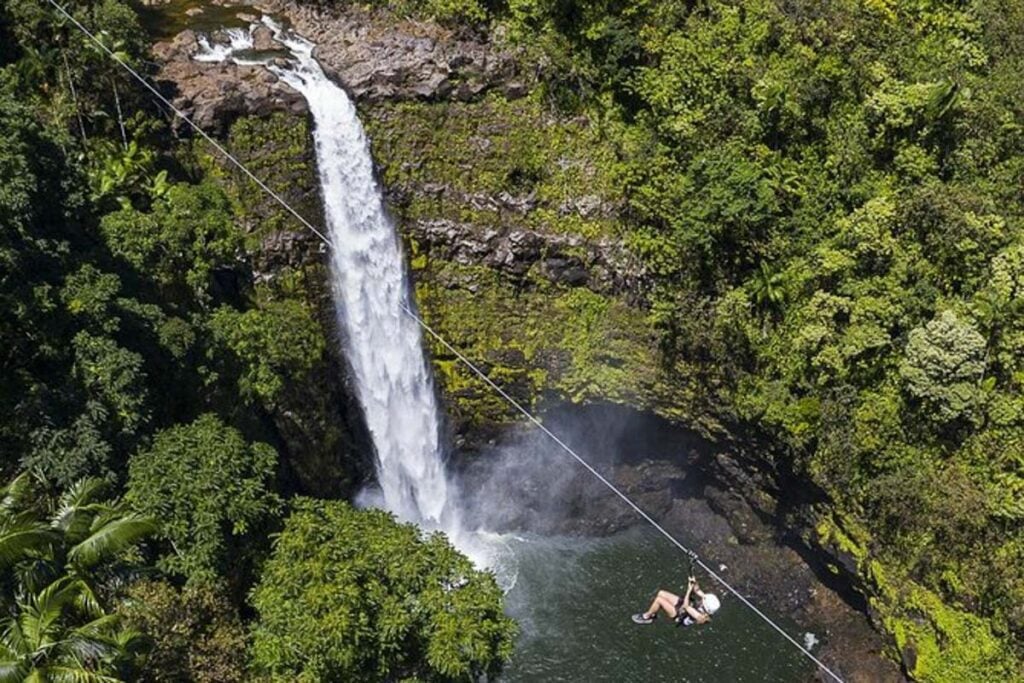 Soaring across the lush jungle just outside of Hilo, Big Island Zipline takes you on a 7-line course through rugged and raw Hawaiian nature.
Take in views of the mountains and Hamakua Coast before you arrive at the grand finale, zipping past a powerful 250-foot waterfall.
What you need to know:
Hours: 2.5 hours
Price: $209
What guests are saying:
"Beautiful scenic vistas with knowledgeable guides made this an experience we will always remember. Three first time zip liners were made comfortable by the education provided by the guides and the progression of increasing difficulty. Each zip was more beautiful than the one before, ending with a stunning view of KoleKole falls!" – Catherine (April 2023)
34. Try kava
Borrowed from Polynesian culture, kava is a traditional ceremonial drink that comes from the kava root. Grown only in Hawaii and certain islands in the South Pacific, kava was traditionally used as a sedative or anesthetic.
There are a few kava bars on Big Island where you can try this unique beverage yourself.The most notable is La Hiki Ola Kava Bar, where we recommend spending an evening enjoying live music.
35. Visit a parrot sanctuary
Rescuing re-homed and rehabilitated parrots for over 18 years, the Parrots in Paradise Sanctuary is non-profit Kona treasure.
You can see and interact with more than 90 parrots from all over the world here, where they receive space to fly, a nutritious diet, and fun interaction to live out the rest of their days.
Here's what guests are saying:
"Amazing experience and definitely one of the highlights during our trip to Big Island. Gerald was an amazing guide and storyteller. The property/farm was also luscious and filled with other fun animals." -Yumi, March 2023
36. Check out some lesser-known beaches
We already mentioned a few of the famous beaches on Big Island, Hawaii. From Papakōlea to Hapuna, there are plenty of notable beaches this island has to offer. But if you want to get off the beaten path a bit, we recommend heading to one of the lesser known beaches.
For starters, you can check out the beaches along the Kona coast: Magic Sands Beach Park, Kikaua Point Beach Park and Manini'owalu Beach at Kua Bay.
Mauna Kea Beach in the north is a beautiful public beach with white sand just off Kauna'oa Bay.
There are even some nice beaches on Coconut Island in Hilo Bay.
37. Sip a Mai Tai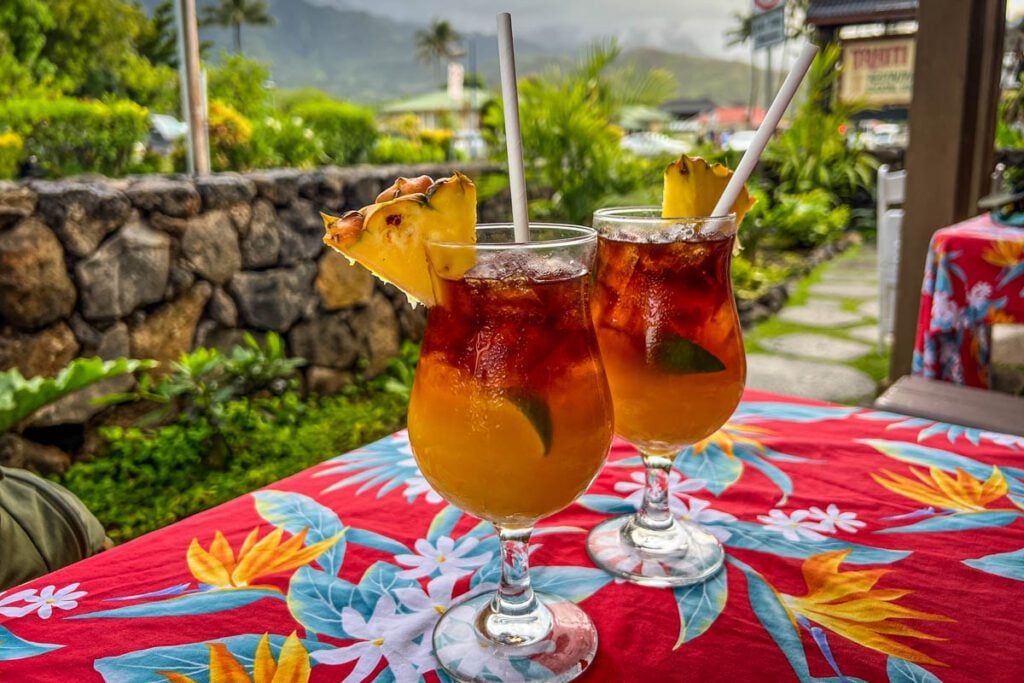 There's nothing that screams Hawaii vacation vibes more than sipping a Mai Tai. Hopefully with an ocean view!
This classic tiki drink is made with rum, orange liqueur, lime juice and orgeat syrup (made with almonds, sugar, and orange blossom water/rosewater).
I'll be completely honest, when it comes to cocktails, Mai Tais aren't at the top of my list. They tend to be a bit sweet for my taste.
However, when in Hawaii, you've just gotta have one (or 5!). And you'd better believe we did!
Just about every restaurant claims their Mai Tai is "world famous".
We sampled lots around Big Island and I can unequivocally say the best one (by a long shot!) is at Merriman's Restaurant in Waimea (you must have reservations for dinner). It is topped with a lilikoi foam that I am still dreaming of. It was so good that I ordered two. (It was the only place I got a second Mai Tai!)
Even if you don't make it to Merriman's, sample at least one of these fun and fruity cocktails during your trip to Hawaii (or a mocktail version!).
38. Shop for Hawaiian souvenirs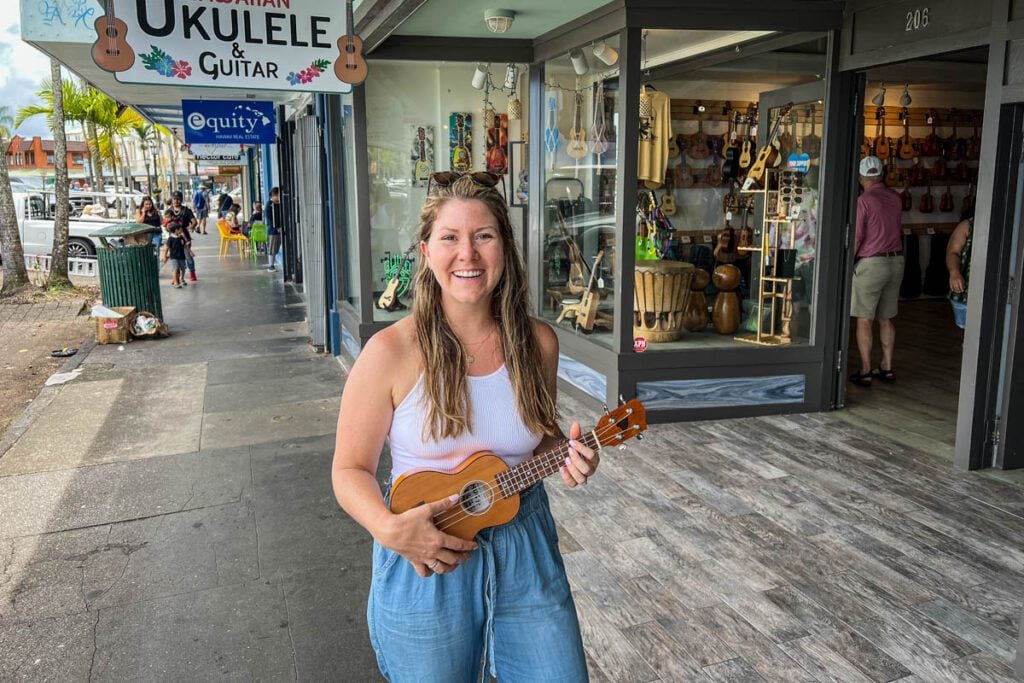 Whether you're looking for a magnet to add to your collection or a t-shirt (go to an ABC store for a good selection!), or you're searching for something more uniquely Hawaiian, there are so many souvenirs you can bring home as a reminder of your time in Hawaii.
Here are just a handful of ideas of some not-so-typical souvenirs:
Ukulele*
Local artwork
Koa wood bowls or utensils
Macadamia nuts*
Lilikoi (passionfruit) jam*
Honey*
Jewelry
Kona coffee
Hawaiian sea salt*
Trust me, you'll want some wiggle room in your luggage!
*we personally bought these items to bring home!
39. Drink a fresh coconut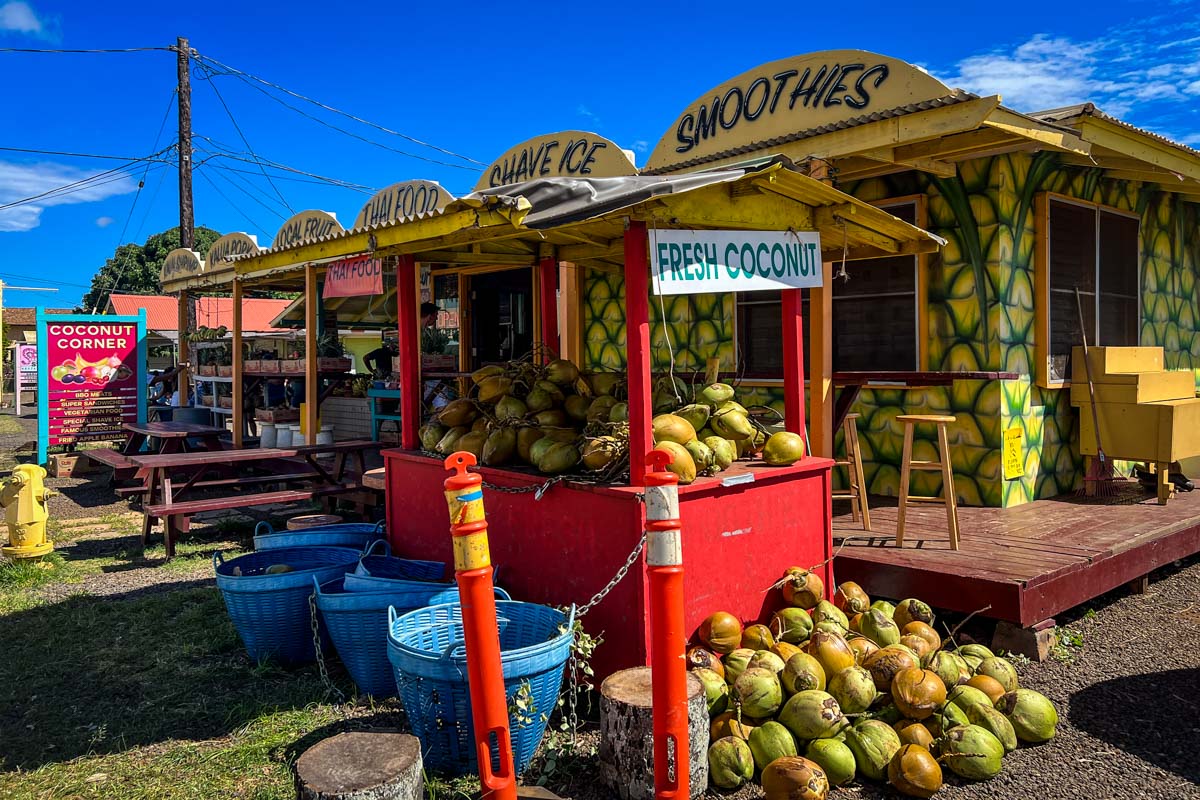 There's not much more refreshing on a hot day than a fresh, chilled coconut. Packed with electrolytes, fresh coconuts don't only taste good – they can help you feel recharged.
You'll see farm stands throughout the countryside, and it's worth stopping for at least one on your Big Island road trip.
Farm stands will also often sell fresh pineapples (so much better than the ones on the mainland!) as well as other fruits, or even sugarcane.
Insider Tip: Pack a reusable straw so you can say no to single-use plastic.
40. Go scuba diving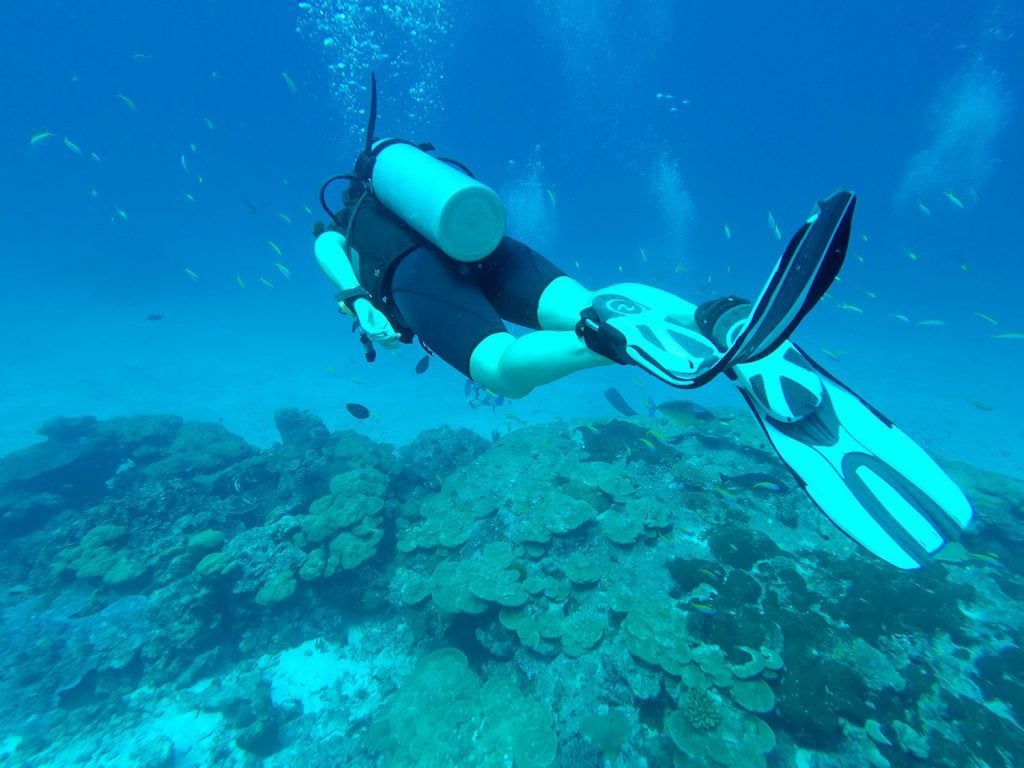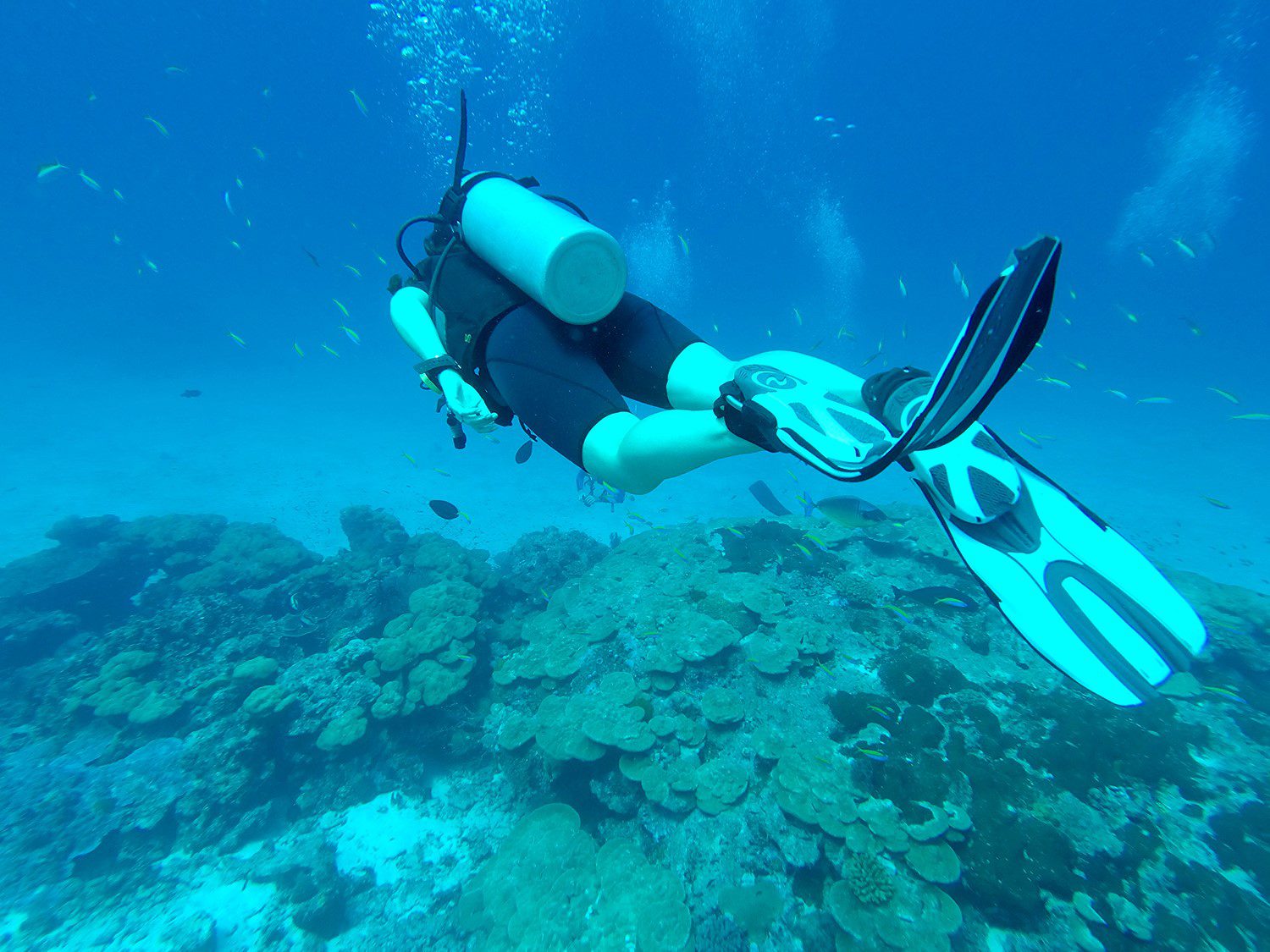 From underwater lava caves to thriving coral reefs to night dives with manta rays and even a reef shark nursery, the diving around Big Island is incredibly diverse.
If you're a scuba diver, research the best dive sites on Big Island in order to plan where you'll fit it into your itinerary.
Personal Note: We absolutely love scuba diving and have gone on dives all over the world. Diving in Hawaii would be incredible, but being that we were traveling with a baby on this trip, it was just too difficult logistics-wise to make it happen. That said, when we return to Hawaii, scuba diving will be at the top of our list!
41. Take surf lessons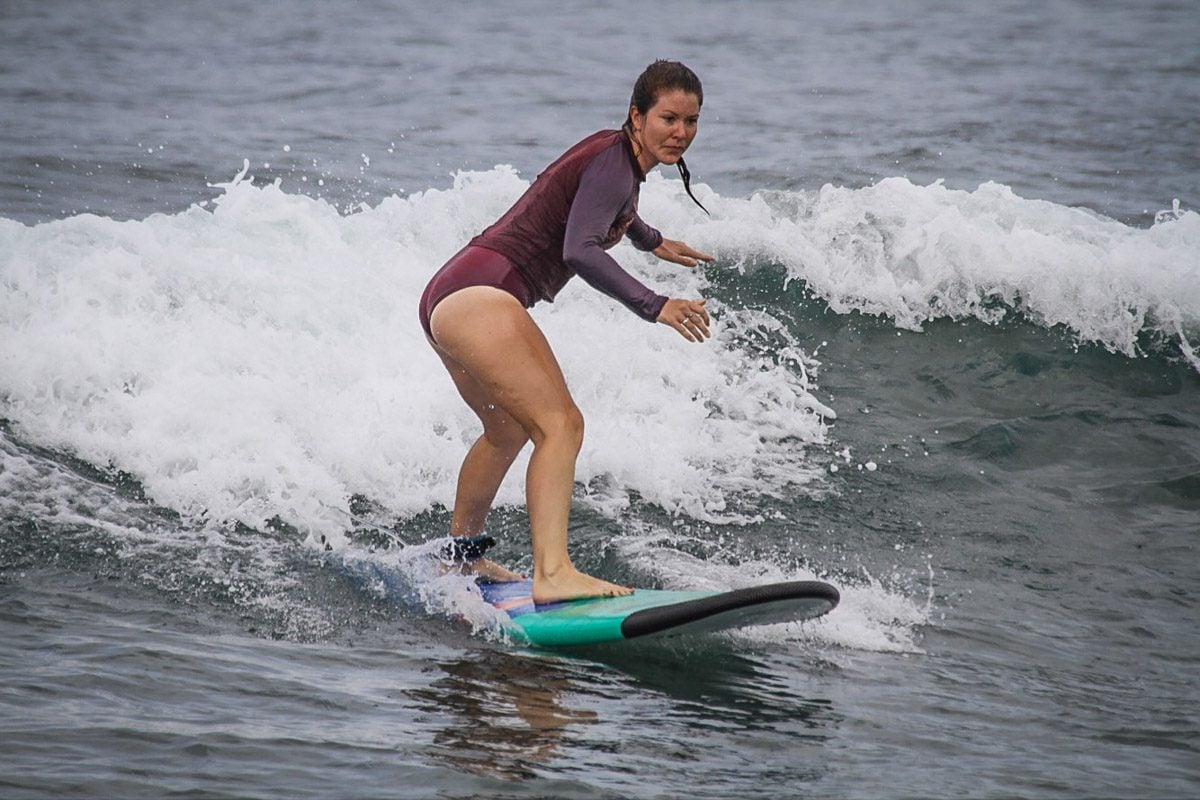 Join a native Hawaiian surfer for a safe and authentic surfing lesson in the crystal clear waters of the Big Island.
Here's what guests are saying:
"We had a blast during this surfing lesson and I would 100% recommend it. I had never surfed before and was quite nervous, but Kaleo coached me to standing comfortably on the board very quickly. Thank you so much for the experience!" – Claudia, January 2023
---
How many days do you need on Big Island?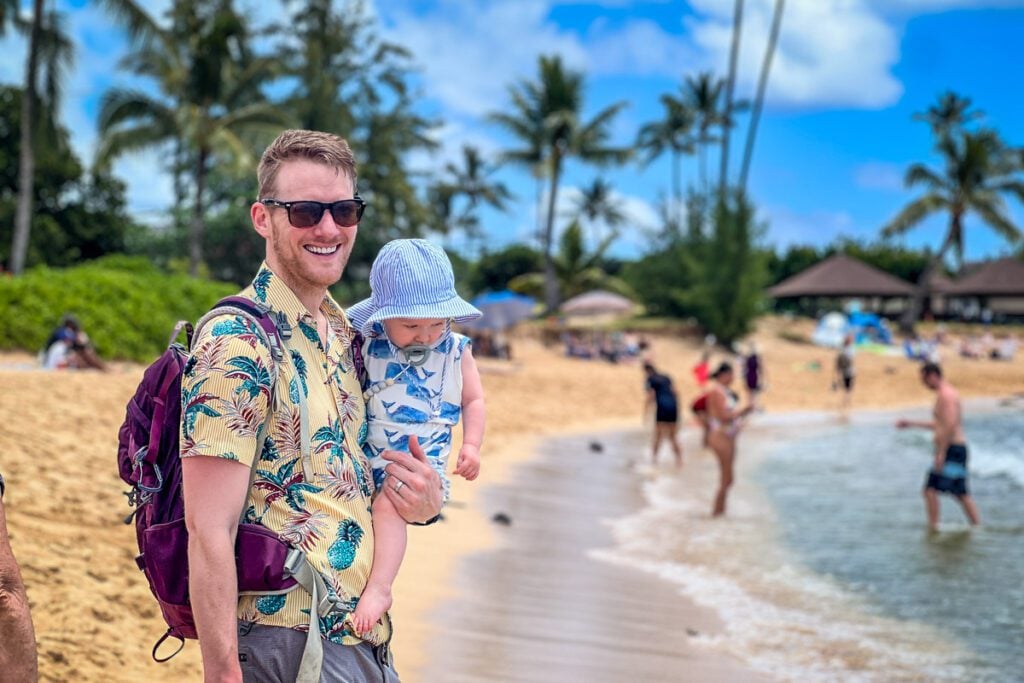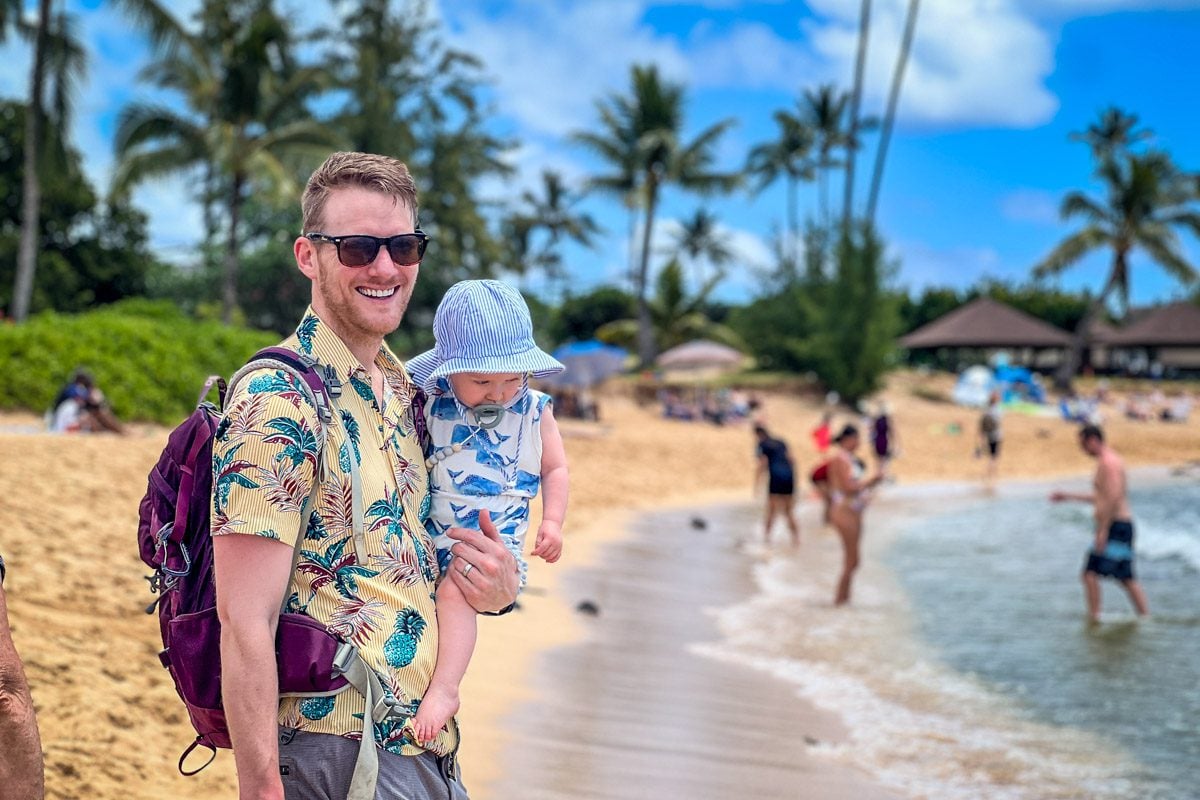 The ideal amount of time to spend on Big Island is one week. If that sounds like a lot, keep in mind that this island is massive!
If you don't have a full week to spare, five days is a great amount of time. This gives you enough time to experience many of the best things to do on Big Island, plus enjoy plenty of relaxation on the beach.
For people who are island-hopping or simply don't have much time, you could manage to hit the highlights in just three days. This might include the national park, a snorkeling or helicopter tour, a hike, and a few hours on the beach.
Best time to visit Big Island
The "shoulder season" months of April, May, September, and October are the best months to visit Big Island.
This allows you to skip peak summer tourist season (and temperatures!), as well as the rainier winter months, plus take advantage of off-season pricing on accommodation and rental cars.
Want to know more? Find out the best time to visit Hawaii based on seasonal weather patterns in each region and your personal travel style.
How to get to Big Island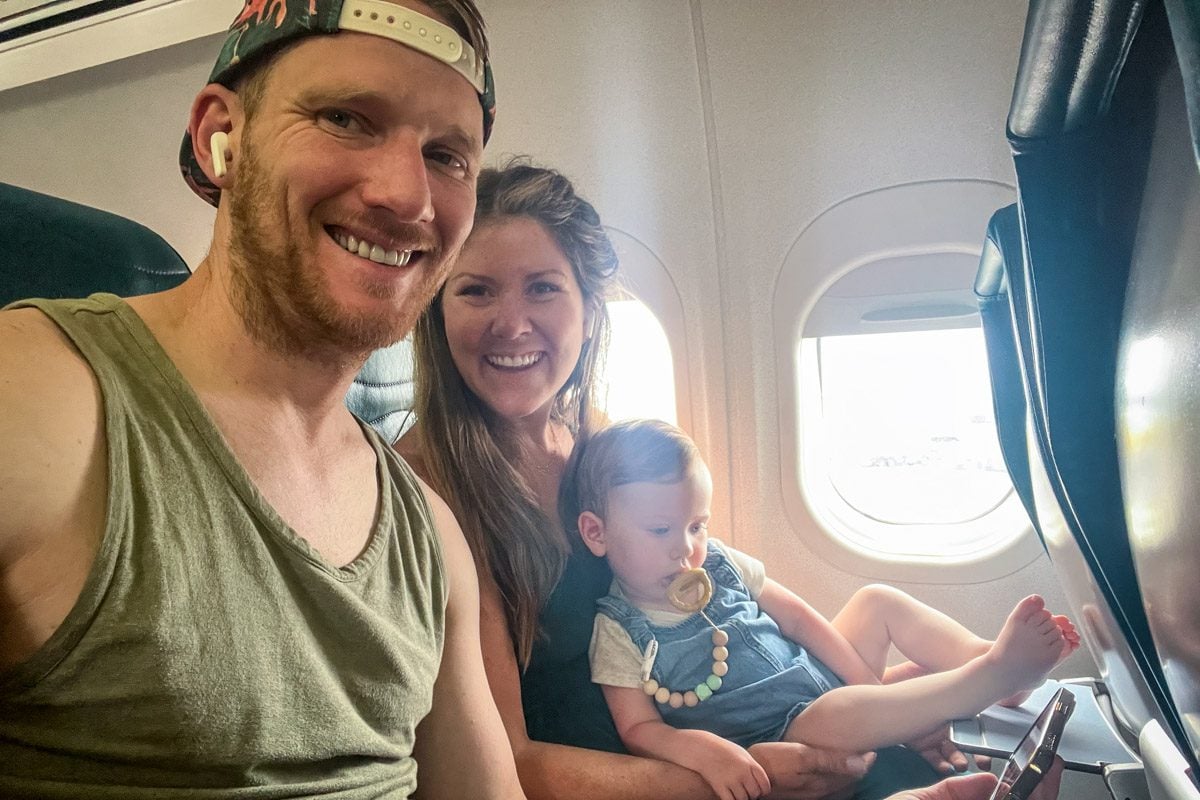 Big Island has two international airports: Kona (KOA) and Hilo (ITO). Both are served by several major airlines, but Hilo is significantly smaller, with fewer options.
Also, keep in mind that Hilo is fairly remote — 45 minutes from the national park and 1.5 hours from the island's main resort area. If you find cheaper flights to ITO, before booking, consider how much drive time you'll have to your destination.
Depending on where you fly from, you'll likely connect in Honolulu, Seattle, San Francisco, or Phoenix flying to either airport.
You'll be able to easily pick up a rental car at either airport, so choose the one closest to the part of the island you're visiting.
Major car rental companies often allow one-way rentals, so you may be able to fly into one airport and out of the other. This is an excellent way to hit all the best things to do on Big Island, splitting your time on both major coasts!
Related: We have a whole guide on how to get from Kona to Hilo based on your travel style.
Transportation on Big Island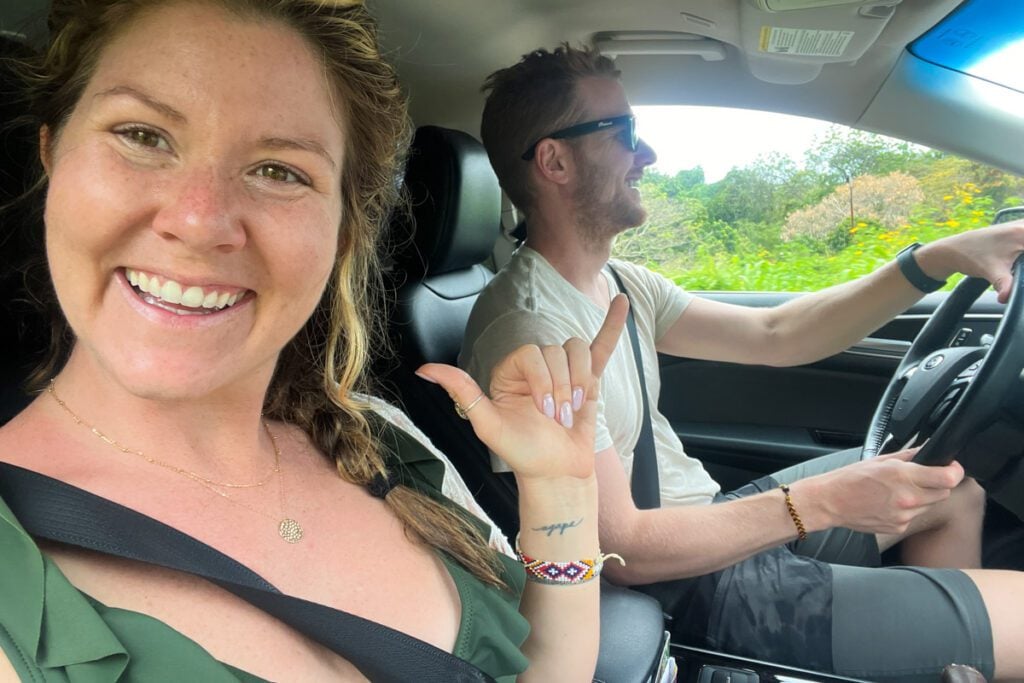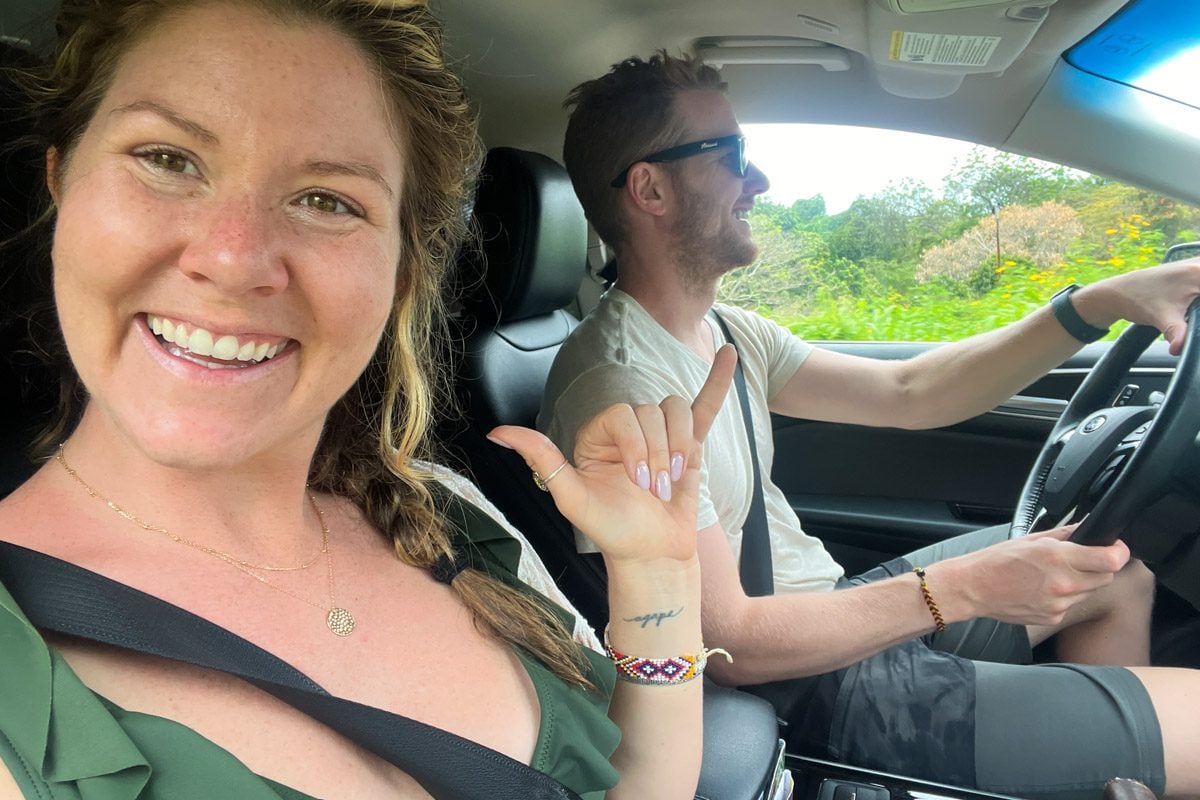 No matter where you're staying or what's on your itinerary, renting a car is the most affordable and convenient transportation method. The island is tremendous and outside of the city centers, there's often quite a bit of driving between places.
Uber and taxis are available at the airports and in both Kona and Hilo, but they're spendy. Renting a car for several days is often more affordable than taking a taxi or rideshare just a few times!
There is also Hele-On bus service on Big Island, but it caters to local commuters, not tourists. Several routes only run Monday through Friday, and some tourist hot spots, like popular beaches, aren't serviced at all.
Discount Hawaii Car Rental
While searching for rentals, we were thrilled to find that Discount Hawaii Car Rental offered cheaper prices for the exact same rentals we found on other sites.
While the prices were in a similar ballpark, even saving a few hundred dollars is worth it, on top of supporting a local company!
Where to eat on Big Island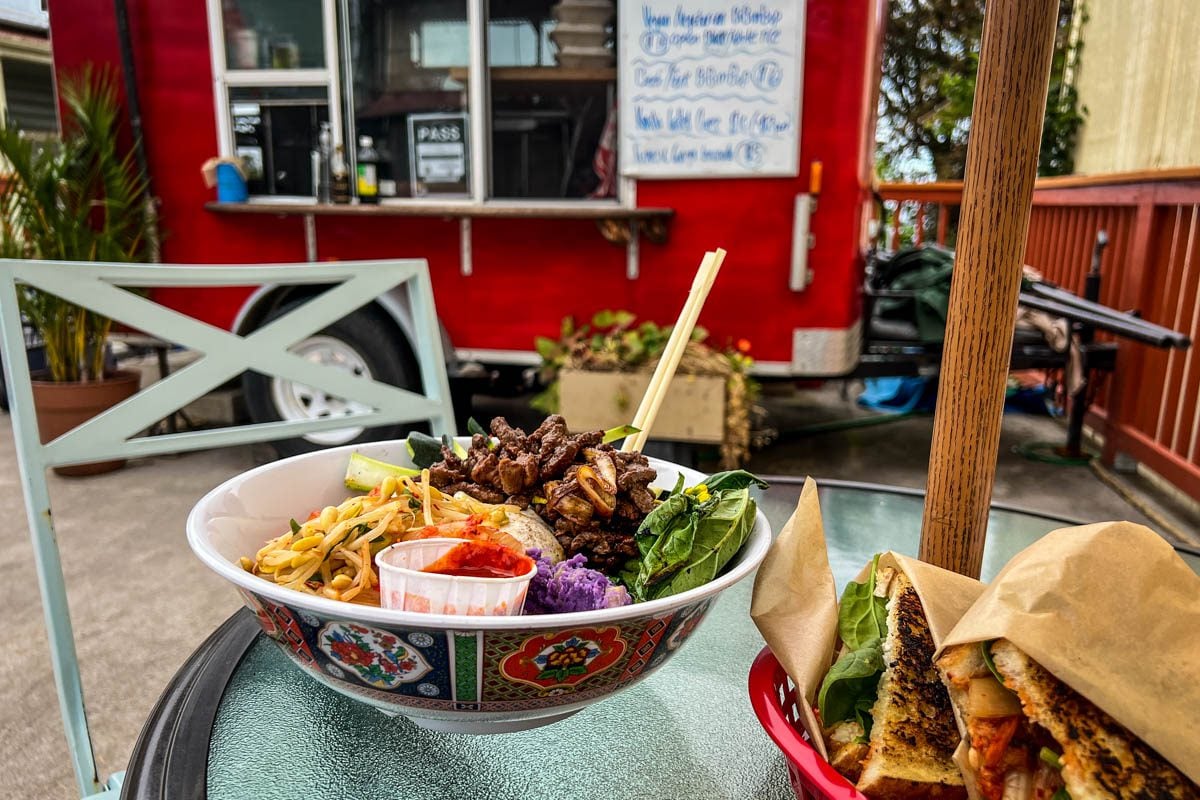 We ate SO MUCH good food on the Big Island, and we can't wait to share our recommendations with you.
Be sure to save these to your Google Maps so you have them handy during your travels.
Restaurants in & around Kona
We put together a FULL list of all the best eateries in and around the Kona area of Big Island in our Kona article. Check the where to eat in Kona section for all the yummy details!
Elsewhere on Big Island
Where to stay in Big Island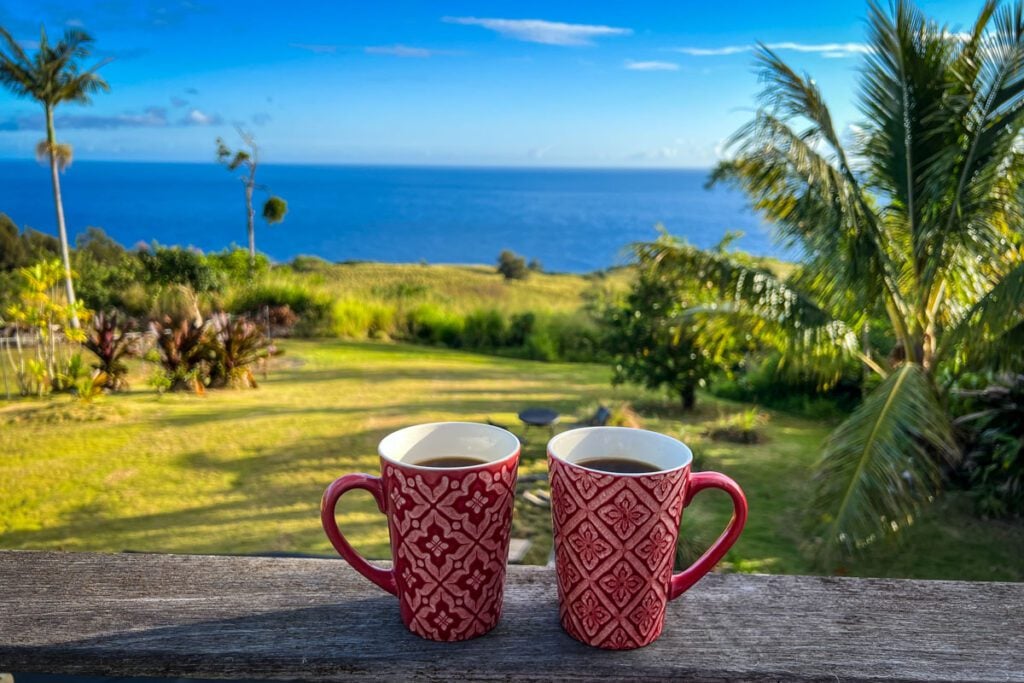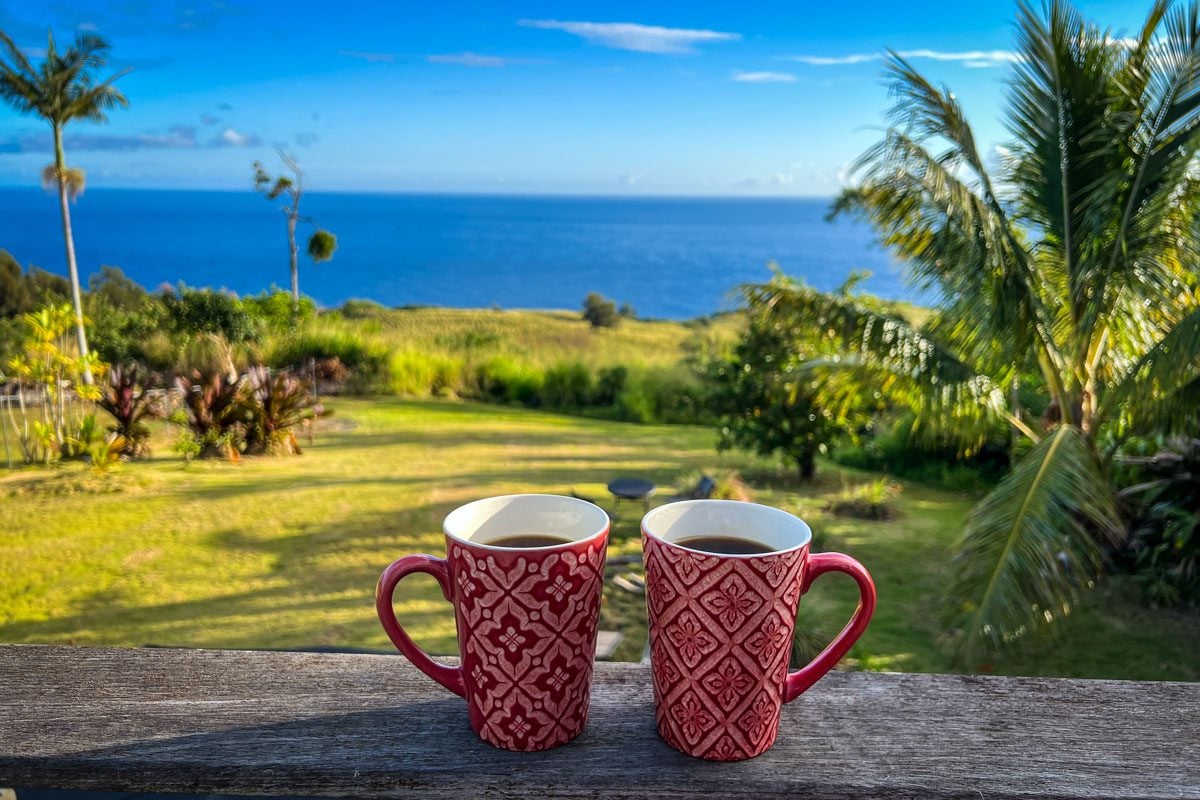 The three main tourist hubs are Kailua-Kona and Kohala (the Gold Coast) on Big Island's west coast, and Hilo on the east coast.
Although there are condos, vacation rentals, and some hotels scattered throughout the island, the vast majority of options, and nearly all the resorts, are concentrated on the west coast.
However, many tourist attractions (like some of the island's best waterfalls and Hawaii Volcanoes National Park) are closer to Hilo, and quite spread out.
This is exactly why we recommend splitting your time on Big Island between both coasts!
Big Island regions:
Kailua-Kona: If cultural attractions, tours, hopping around town, or relaxing at your resort are priorities, stay a bit longer near the center of Kona.
South Kona: The areas just outside Kona, as you head towards Captain Cook are lovely if you're looking for a quieter stay.
South Kohala: This region is north of Kona and home to some of the most beautiful beaches on the island. Accommodations here tend to be more upscale.
Hilo: If you have a more adventurous itinerary or plan to spend more than one day in the national park, add more days in Hilo.
More places: If you want to get more off the beaten path, consider also staying in smaller towns around the island, like Hawi, Honoka'a, Volcano, and Pahoa.

Accommodation in & around Kona
Accommodation in Hilo
Feeling really adventurous? Check out their off-grid cabins, which were featured on Netflix's "World's Most Amazing Vacation Rentals".
What to pack for traveling to Big Island
While this is not a comprehensive list, these are some of the items you definitely don't want to forget for your trip to the Big Island!
Sun hat
Swim suit
Rash guard (if you plan to do lot of snorkeling, this will minimize sunburn on your back)
Cover up
Comfortable and lightweight clothing
At least one warmer layer

Good to know: If you plan to go to Mauna Kea, you will definitely need some warmer layers as these volcanoes are at very high elevation and can get quite cold.

National Park Pass (for visiting Volcanoes National Park)
Be sure to download our complete packing list for Hawaii! It's packed with good suggestions and insider tips to help plan your Italy trip. And it's completely FREE, so why not!?
---
Round up of the best things to do on Big Island Hawaii
Here's a recap of all the best things to do in Big Island so you can see everything in one place.
Akaka Falls
Hawaiʻi Volcanoes National Park
Hawaii Tropical Bioreserve & Garden
Kona coffee farm tour
Eat authentic Hawaiian food
Punalu'u black sand beach
Pu'uhonua O Honaunau
Kaumana Caves
Pohoiki Hot Spring
Snorkeling
Mauna Kea
Beekeeping tour
Local farmers market
Try shave ice
Road trip
Pahoa
Airbnb stay
Eat all the fruit
Southernmost point in the USA
Adopt a dog for the day
Merrimans
Punalu'u donuts
Farm tour
Mauna Loa Macadamia Nut Center
Waipiʻo Valley
Hapuna Beach State Park
Whale watching
Photoshoot with a local photographer
Ziplining over a waterfall
Try kava
Parrots in Paradise parrot sanctuary
Lesser known beaches
Sip a mai tai
Hawaiian souvenirs
Drink fresh coconut
Scuba diving
Surf lessons
---
Planning a trip to Hawaii?
We have lots of resources on travel in Hawaii and destinations around the islands. Check out our Hawaii Homepage for everything you need to know, or start by reading some of our favorite Hawaii travel articles here:
Save this article on Pinterest for later!
We want to hear from you!
Which of these fun things to do on Big Island Hawaii is going straight to the top of your bucket list? Are your planning a trip to Big Island and still have questions? Leave your comment below and we'll do our best to get back to you!