Kona manta ray snorkeling is one of the best wildlife experiences not only in Hawaii, but the entire world! Since it's a nighttime activity only accessible on a tour, it's helpful to know some details before diving in. This guide will help you plan your manta ray night snorkel!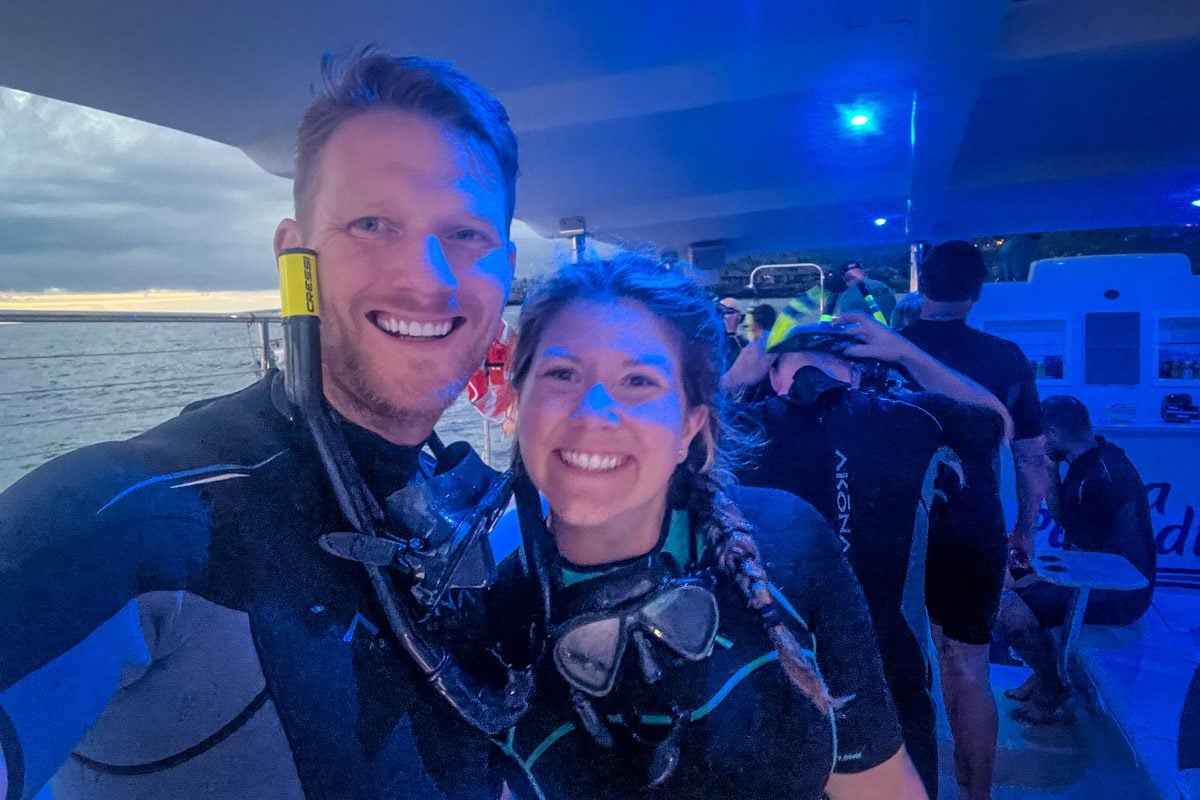 Snorkeling with manta rays and seeing these majestic creatures up close is one of the most incredible experiences you can have on the Big Island. I would even argue it's one of the best things to do in Hawaii in general.
In fact, this world-famous experience has been covered by renowned outlets such as National Geographic and the Travel Channel. PADI has even included it on their marine life bucket list.
If you're even remotely interested in snorkeling with manta rays (yes, do it!!!), you've come to the right place. We're going to share exactly what you can expect, as well as insider tips and things to know when you're booking your tour.
Before we get into the nitty gritty, let's start things off with a couple of manta ray jokes. (I'm borrowing these from one of our tour guides.)
Manta ray jokes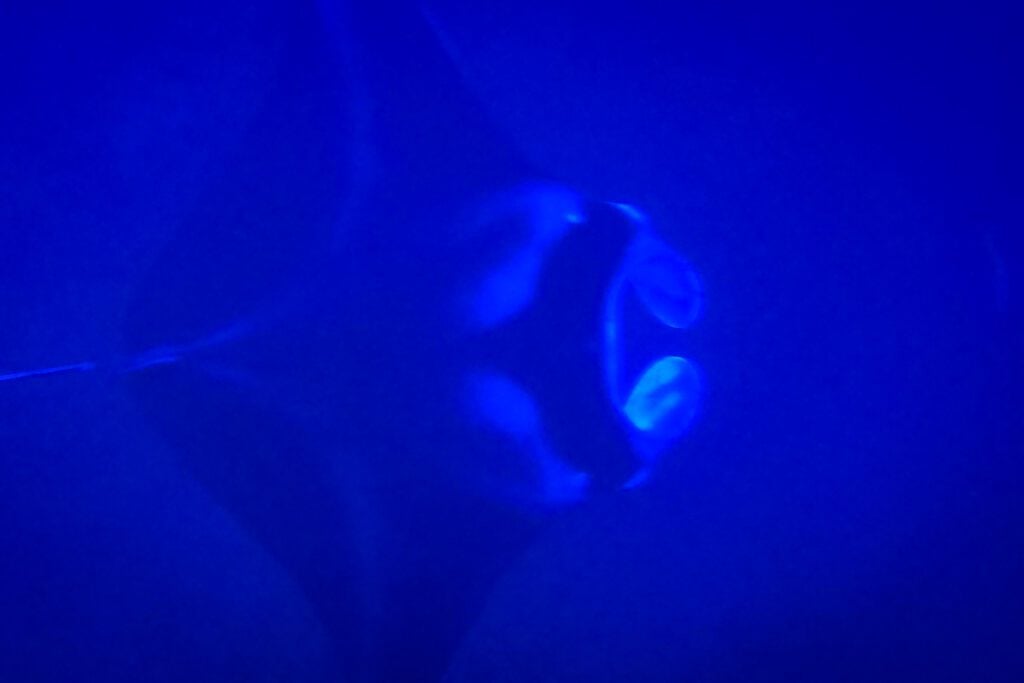 What's it called when two male mantas have a serious talk?
A manta man conversation.
What do you call 2 mantas that used to date?
Ex rays.
If Star Wars took place under the sea instead of in space, what would Luke's father be called?
Darth Ray-dar.
I can hear you groaning through the computer screen, so I'll stop right there.
Now, let's dive right in (pun intended!) to the important things you need to know about snorkeling with manta rays.
Want the short version?
Already know you definitely want to snorkel with mantas and just want to book your spot? This is the company we'd recommend (we go over why later in this article).
Our personal experience snorkeling with manta rays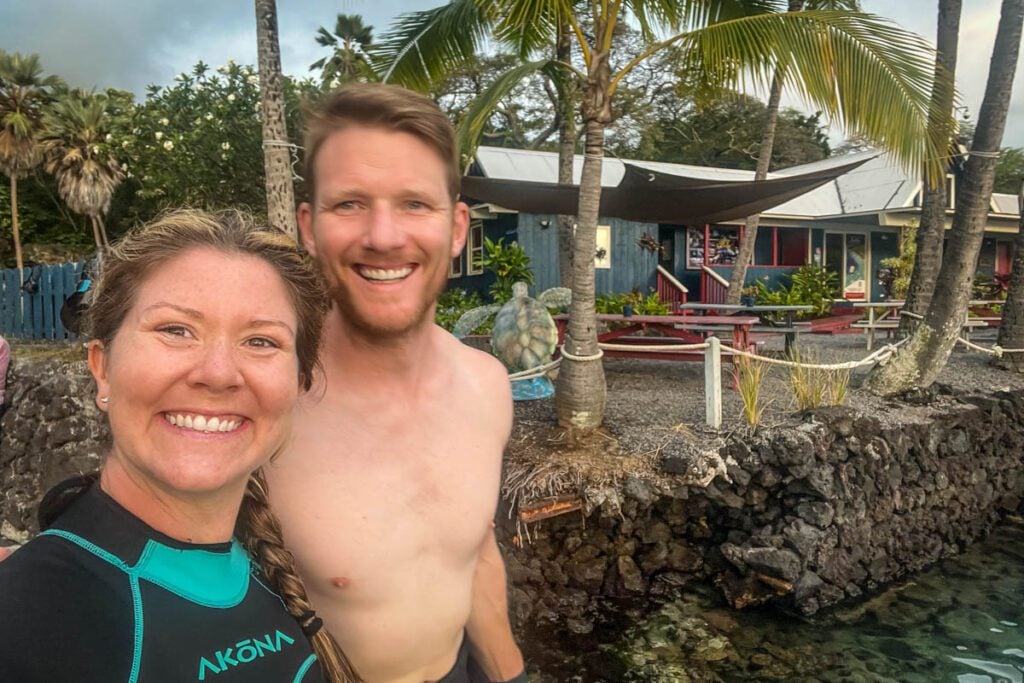 The first thing you should know is that Ben loves manta rays. A few years ago we did a liveaboard trip in Indonesia. We spent 5 days in Komodo National Park, diving 3 times a day, and we were lucky enough to see many of these majestic creatures up close. Ever since that trip, Ben has been obsessed.
When we heard that there is a place on the Big Island where you can see these beauties up close at night, we knew we had to include it into our itinerary.
One problem we came across was the fact that we were traveling with our 16-month-old daughter, who obviously could not partake in this activity.
We decided to hire a babysitter* (our Airbnb host's daughter) to watch her while we did this bucket list experience. While everyone has different levels of comfort with childcare, it worked out beautifully for us and we were so grateful to be able to have this experience.
And was it worth it? ABSOLUTELY. We tried to come in with low expectations because we had already had such a good experience diving with mantas that we thought, How could this compare?
But it blew us away!
We did get lucky, and our guides told us that tours don't always see as many rays as we did. However, even if we'd seen half the amount of rays, we still think it would have been well worth it.
*If you need childcare in order to do this activity, ask your Airbnb host or your hotel if they have any leads. Alternatively, this website is a good resource for finding qualified and vetted babysitters.
Kona manta ray snorkeling guide
Psst! Don't leave before you check out our bucket list of best things to do on Big Island Hawaii.
---
Manta ray facts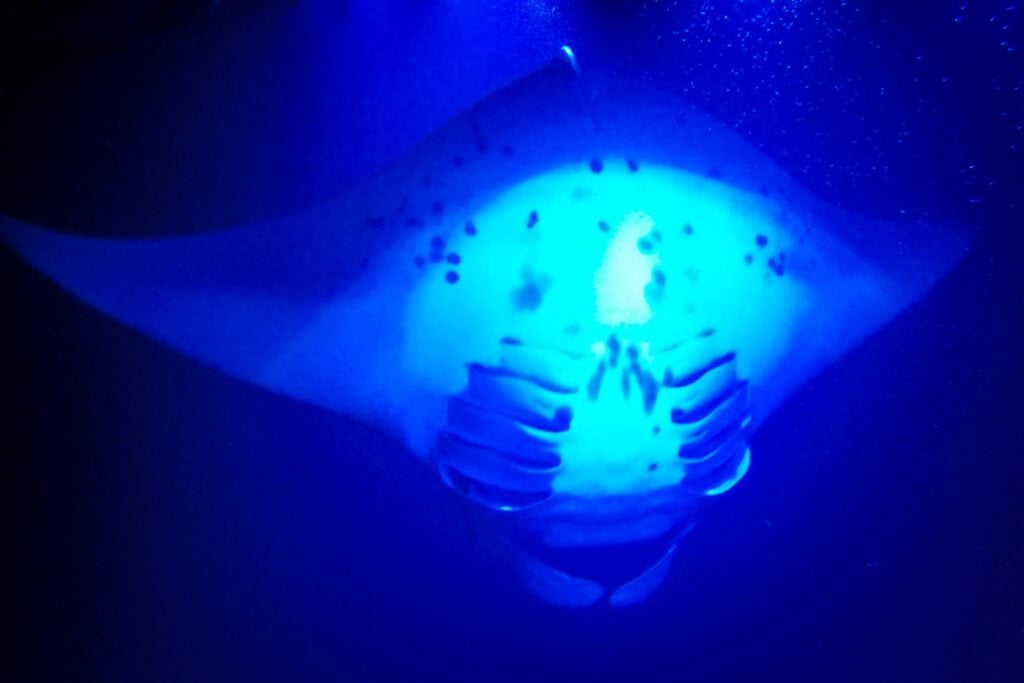 Manta rays can weigh up to 3,000 pounds, with wingspans up to 20 feet. Most of these gentle giants have a much smaller average wingspan, closer to 11 feet.
The largest recorded manta ray in history had an astonishing wingspan of 30 feet!
Manta rays can jump out of the water and do somersaults. Scientists still don't know the reason behind this unusual behavior.
These majestic creatures are one of very few animals in the world that can recognize themselves in a mirror.
Manta rays that live off the Kona Coast feed on plankton throughout the entire year.
Individual manta rays can be identified by the black and white markings on their underside that are unique to them (kind of like a fingerprint is unique to each human). This helps researchers identify and name them in areas where they are being studied and protected.
Manta rays have gill rakers, which keep them from getting clogged with plankton. There are unsupported claims that gill rakers can be useful in Chinese medicine, prompting mantas to be hunted for them in certain parts of the world.
Unlike their relative, the stingray, manta rays are completely harmless to humans and have no teeth, stingers, or barbs. One of the guides called them the "butterflies of the ocean", which I think is really beautiful.
Manta rays have 6 senses. In addition to the typical 5, they can also sense vibrations. It is said that manta rays can tell if a woman is pregnant because they can sense two heartbeats. Our guide said mantas often like to swim near pregnant women during these tours. If one seems particularly interested in you, who knows, maybe they know something you don't!
Where can you see manta rays in Hawaii?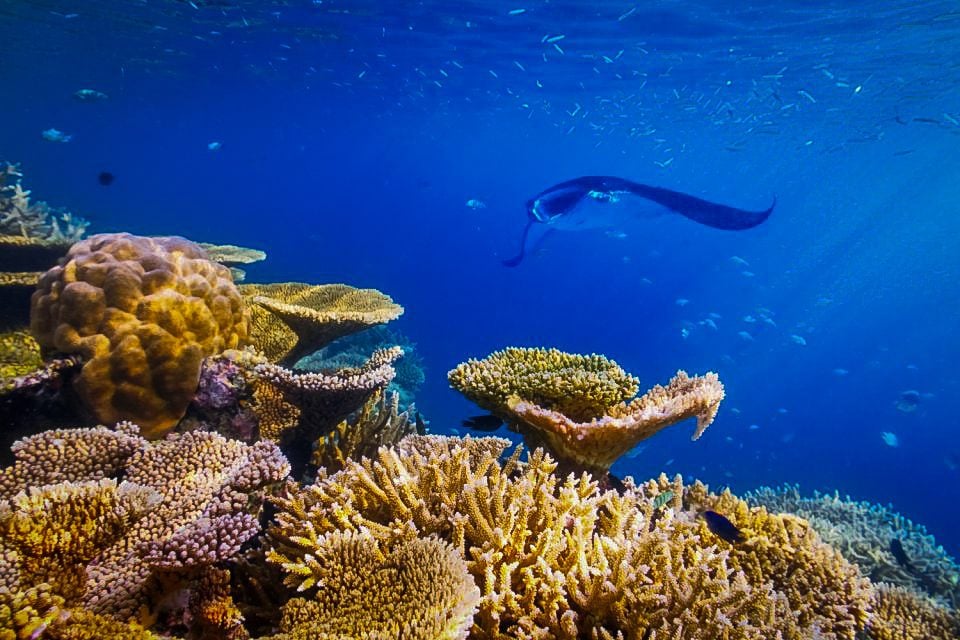 While it's possible to see mantas while snorkeling or diving on any of the Hawaiian islands, the Big Island is undoubtedly the best, specifically on the Kona Coast.
The Kona Coast is home to more than 240 resident manta rays, each of which has been identified and named.
There are specific places along this coast where the manta rays feed nightly, meaning your chances of seeing them are extremely high. This makes Kona one of the best places in the world to see them up close.
Manta Village: This is the original manta night snorkel location, officially known as Kaukalaelae Point. It is located just offshore from the Sheraton Kona Resort & Spa at Keauhou Bay and is the most popular tour location. (This is where we personally went snorkeling with mantas.)
Manta Heaven: Located in Makako Bay, offshore from the Kona International Airport.
Manta Point: Situated north of Kona in Kauna'oa Bay, just offshore from the iconic Mauna Kea Hotel. This makes a good choice if you are staying north of Kona.
Fun Fact: Hahalua is the Hawaiian word for manta ray. It roughly translates to "a being that can breathe in two worlds". Because mantas breach (like dolphins or whales), the Hawaiian people used to think they could breathe in both air and water. Scientists have proven that's not the case (they only breathe underwater), but it's still a beautiful name, don't you think? Also, it used to be said by Hawaiians that mantas were above humans, almost like royalty.
History of this famous tour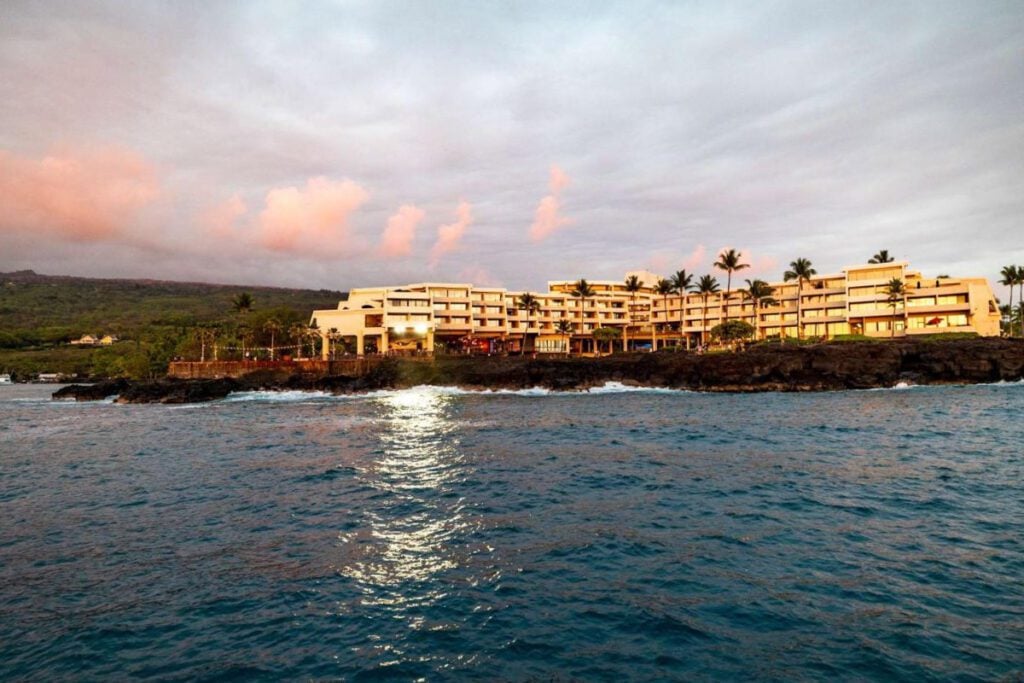 In the 1970's, the former Kona Surf Hotel (now the Outrigger Kona Resort & Spa) turned on flood lights that shined out into the ocean so guests could look at the water while dining.
People started to notice large shadows dancing just offshore beneath the lights. As it turns out, the big shadows they saw were manta rays that had come for dinner as well! The lights brought plankton to the surface of the water, creating the perfect feeding environment.
Manta ray night snorkel tours have been popular since the early 2000s, when it was determined that seeing the rays up close would be a fun activity for tourists.
What to expect on a manta ray snorkeling tour in Kona
The magic of this experience is indescribable, but I'll try my best to explain what you can expect.
Imagine you have a mask and snorkel on and you're holding onto a flotation device with lights shining into the water. You look just beneath the surface of the water and just ahead you see something start to emerge as it gets closer to you. Wings flap slowly, as if it is flying through air, this magical creature gets closer and closer, until bam! It somersaults just inches from your face – mouth gaping to collect as much plankton as possible – then it dances back in the direction from which it came.
Now, if you're lucky like we were, this will continue happening, over and over for 45 minutes until you need to get back into the boat. Like I said, magical!
Now that I've tried my best to describe the experience, let's go over what to expect from the tour itself.
While exact timing will vary depending on which tour you book, this is how ours went:
6:15 p.m. Check in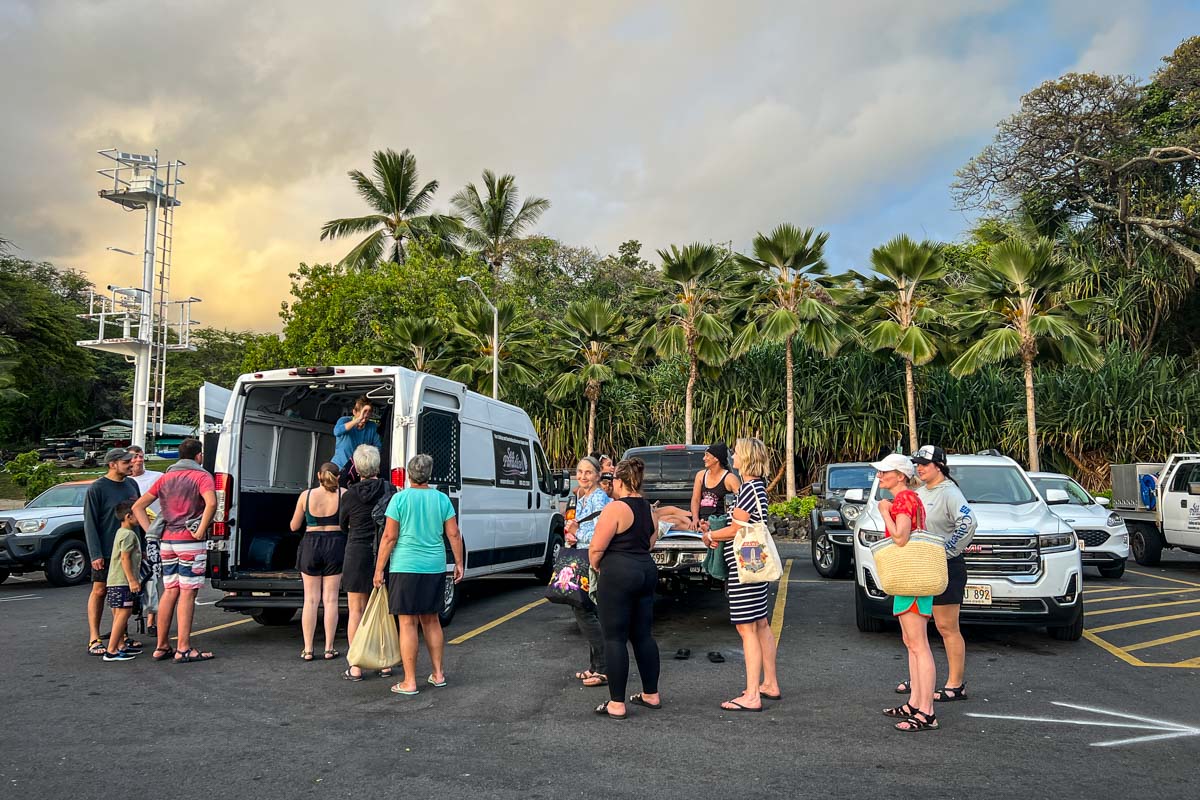 Check for most tours is at the Keauhou Harbor. Be sure to confirm your meeting place as there are a few companies that have different meeting points.

Tip: Plug the harbor address into Google Maps and see how long the drive is from your hotel ahead of time so you can plan your day accordingly.

We arrived at 6pm to find a parking spot – it does fill up.
Once your party is checked in, you will get a wetsuit which you'll change into in the parking lot (fancy, I know!).
6:30 p.m. Boat departs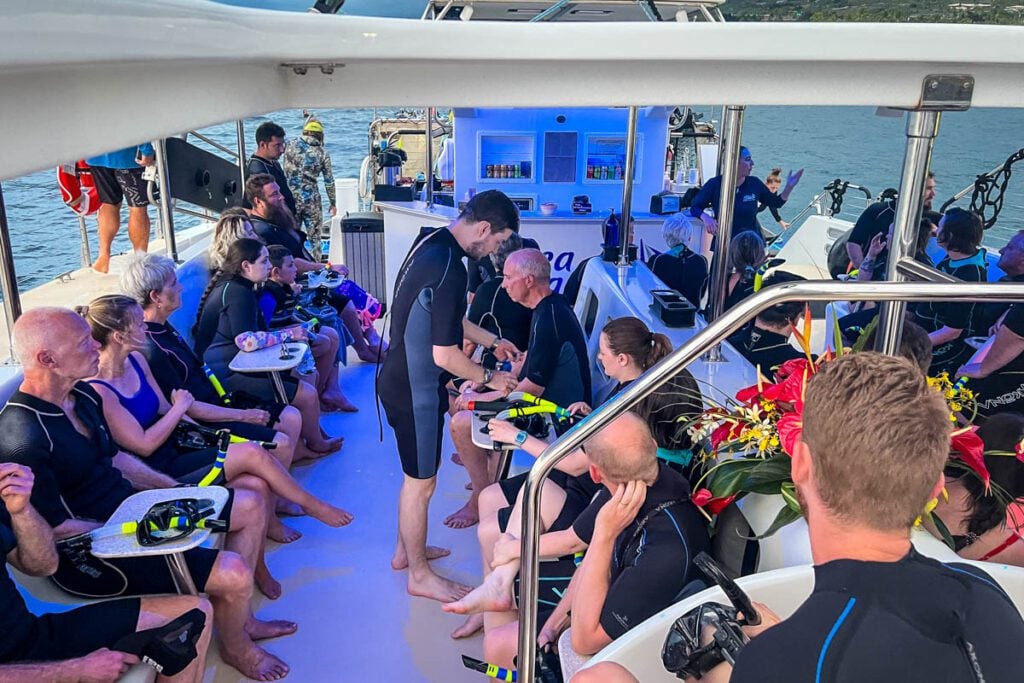 Leave your shoes in a bin and hop aboard the boat.
There is space in the seating area to stash your bags.
Our boat departed right on time, so it's important to be sure you're there right at check-in!
The best seat (at least on our boat) was the net near the bow. It's kind of like a hammock and only a handful of people can sit there, so try to snag it right away if you have the chance.
It was about a 5-minute ride to the snorkel site.
The sun was setting, which made the short ride really nice. We also chatted with the others in our "net seat" and traded tips and travel stories, which is always fun.
6:35 p.m. Preparation
There were about 15-20 minutes of getting things ready:

anchoring the boat
Instructions & safety talks
getting snorkels and masks
6:50 p.m. Get in the water
The guides instructed anyone who was a confident swimmer to make their way to the front of the line. These people will be first in the water and last out.

Tip: If that sounds good to you, we'd recommend getting in line! We saw mantas right away and personally felt that since there was less commotion on our end of the raft, we had the best position.

You'll be given a pool noodle before getting in the water.
Once you get in the water, you will swim a short distance to the floating raft. You'll grab on and shimmy your way down until you can't go any further. Now, you'll slide the noodle down to your ankles. This will keep your feet floating so your body is flat against the surface of the water.
It probably took 10-15 minutes to get everyone in the water.
We saw manta rays immediately upon getting in the water! We were lucky, but keep your eyes peeled as soon as you jump in!
Spend the next 40-50 minutes holding onto the raft and enjoying the manta ray ballet.
7:30 p.m. Start getting back in the boat
After roughly 40-50 minutes in water, the guides will start the process of getting people back in the boat. This can take up to 10 minutes if you were one of the first ones in the water.
We got back in the boat at 7:40 p.m.
Take off your wetsuit, wrap up in a dry towel, and grab a hot cocoa! You probably didn't think you'd be drinking hot chocolate in Hawaii, did you?! It's a nice treat after 40 minutes in cold water.
Take your seat and get ready to head back to shore.
8 p.m. Arrive back at the dock
After another short, 5-minute ride in the boat, you'll arrive back at the marina.
Make sure you take all your belongings, and grab your shoes from the dock before you're on your way.
The boat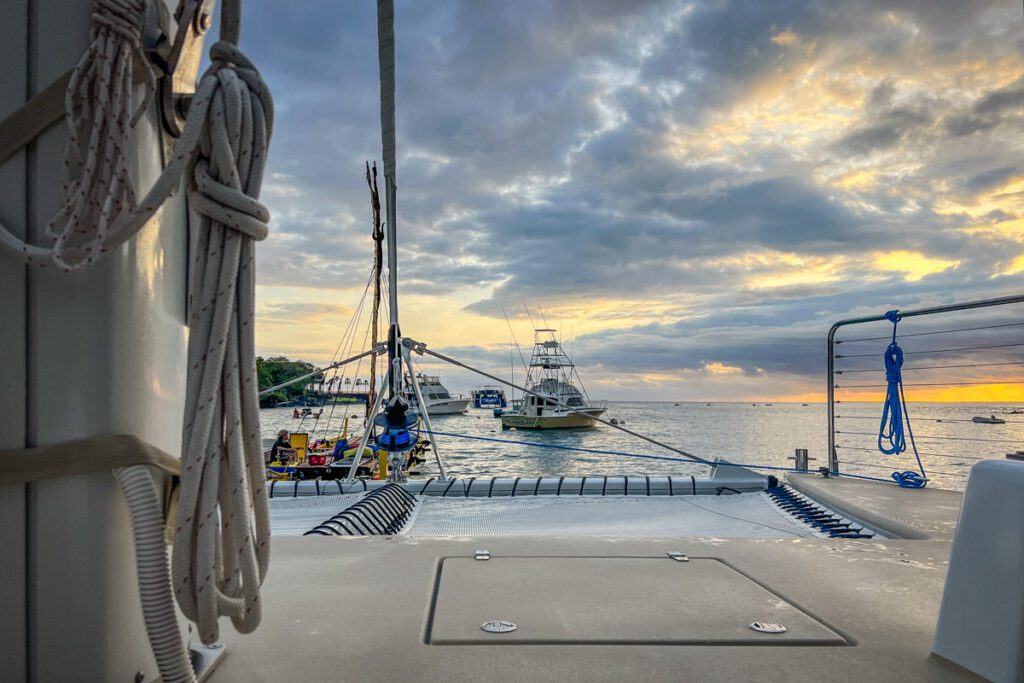 The boat will vary based on which company you book with, but ours was a 50-foot catamaran which had ample seating.
We snagged a spot on the net at the bow which is definitely the best seat in the house! There was also a basic marine head toilet in case ya gotta go.
Snorkel gear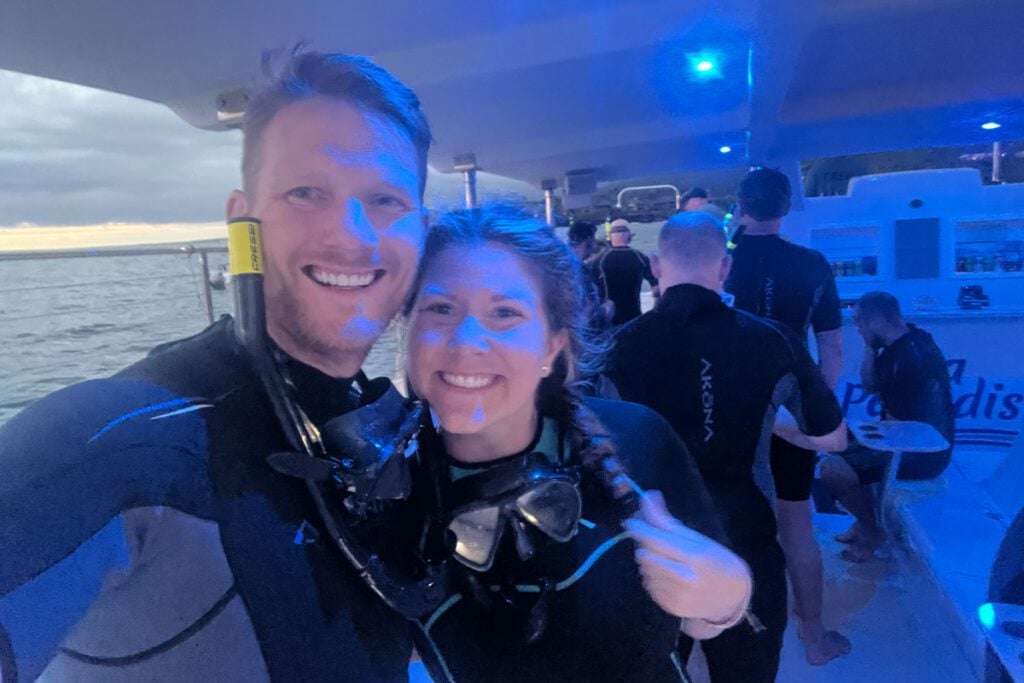 All tour companies provide masks, snorkels, and wetsuits. You'll also be given a pool noodle that you'll slide under your ankles to help your feet float for the duration of the time you're in the water. Our boat also had lifejackets available for those who wanted them.
Personally, we brought our own snorkeling gear from home (we prefer using our own over rentals). That said, the snorkeling gear they provide is perfectly fine for this experience.
Things to know about this experience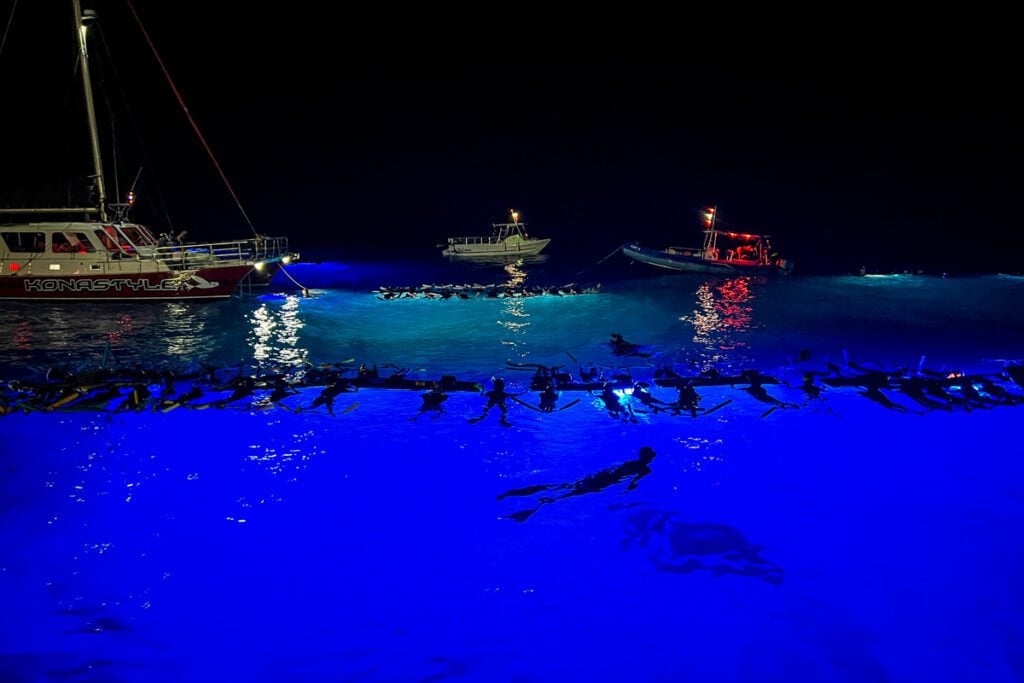 Unlike a typical snorkeling excursion where you'll be swimming about, you will be in one place, hanging onto a floatation device for about 40 minutes.
Here are some things to keep in mind:
Your shoulders can hurt after a while. If you have sensitive shoulders, this may mean you won't want to stay in the water the whole time. My shoulders started to hurt a bit about halfway through the experience, but I pushed through. It wasn't too bad, but I can imagine it could be tough on someone who has had a shoulder injury.
It can get cold. Since you're not swimming around, you may get cold. I wasn't freezing the whole time, but towards the end I started to shiver a bit.
If you are prone to seasickness, you may want to take medicine before this tour. It's just a short boat ride, but floating on the water's surface while the flotation device is moving may make some feel nauseous.
Of course, if you get too uncomfortable and feel you need to get out of the water, one of your guides can help you back to the boat before the 40 minutes is up.
How much does a manta ray snorkeling tour cost?
You can expect to pay between $90 – $150 per person for this experience, as prices vary a bit depending on which tour company you book with.
We'd caution you away from choosing the cheapest company just to save money. When animals are involved in experiences, we like to do our research and choose a company that is operating ethically and doing things to protect the wildlife and the environment. This often means paying a bit more money, but in our opinion, it's the only way to do an animal encounter.
Also, read others' reviews and compare the location in which the tour takes place.
Best manta ray snorkeling tour company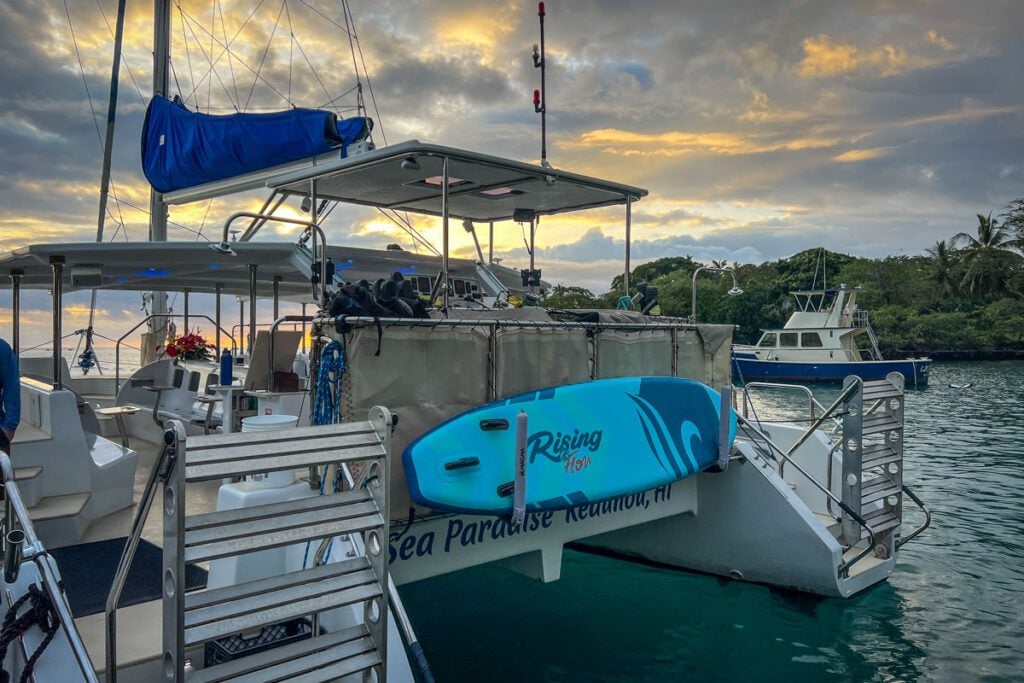 While there are many (great) tours to choose from, we personally went with Sea Paradise and would highly recommend booking with them.
Here are some of the reasons we chose them:
In operation since 1985, Sea Paradise is one of the original manta ray snorkeling tour operators.
They offer a "manta guarantee", so that if you do not see any rays on your tour (remember, they are wild), you have the opportunity to rebook your tour within the following 7 days.
They consistently earn rave reviews.
Most importantly, they are one of only 5 operators on Hawaii Ocean Watch's GreenList, meaning they "practice the highest ecological standards". Additionally, Ocean Watch calls each of its providers a "trendsetter showing leadership for the entire ocean recreation boating industry by committing itself to keep people and marine life safe."
You can read more about how they operate sustainably here.
Manta ray snorkeling at a glance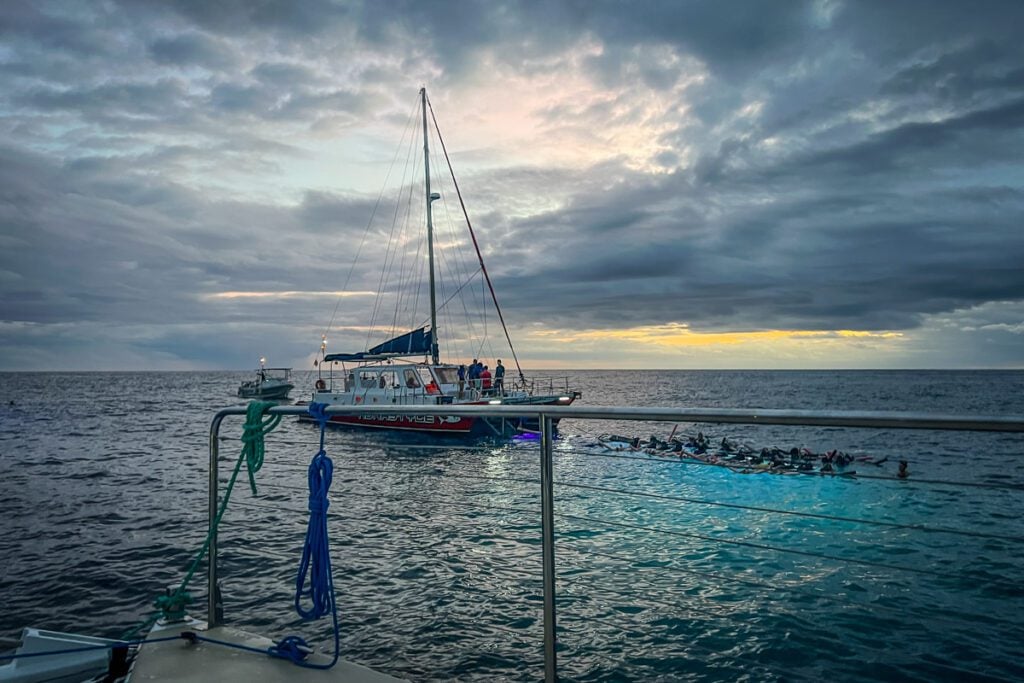 Most Kona manta ray snorkeling tours are very similar, offering the same duration and departure times. However, it's a good idea to compare each company's ethical background and any perks included.
These are the details for the Sea Paradise tour, which we highly recommend!
Departure location: Keauhou Bay located at the end of Kaleiopapa Street Kailua Kona, Hi 96740
Cost: $140 per person
Gear: Snorkeling gear, a wet suit, and flotation aids are provided
Departure time: there are 2 tours nightly (times vary seasonally), and guests must check in 15 minutes prior to departure
Spring & summer (April – September)
1st departure: 6:30 p.m.
2nd departure: 9:00 p.m.
Fall & winter (October – March)
1st departure: 6:00 p.m.
2nd departure: 8:30 p.m.
Good to know: These tours sell out almost every night, so it's recommended that you book your spot as soon as you know your dates. When you book through this link you get free cancellation until 24 hours before your tour, so you don't have anything to lose by reserving your spot!
Snorkeling vs. diving with manta rays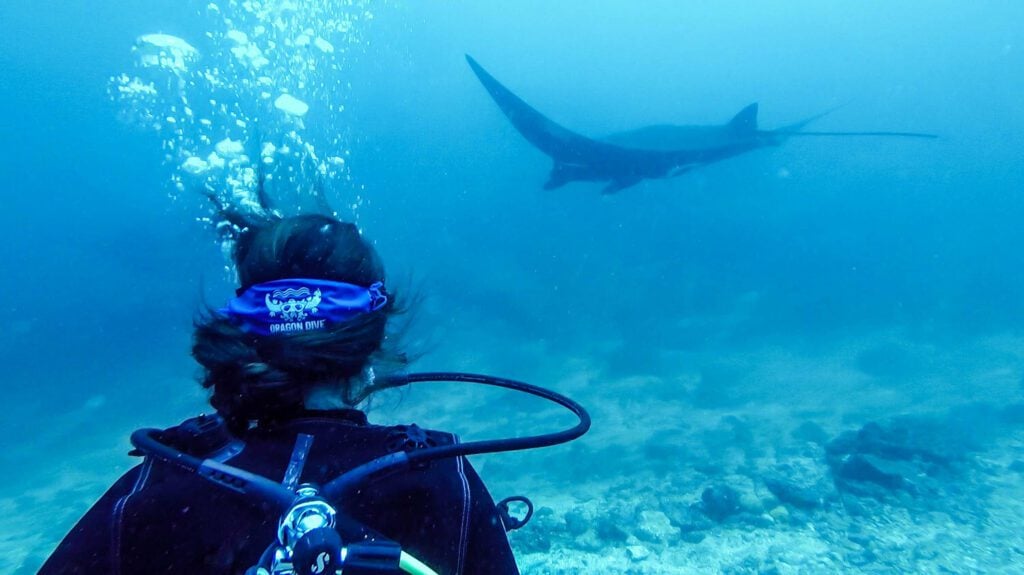 If you're a certified scuba diver, you may be wondering which to choose.
Both diving and snorkeling with manta rays is sure to be an amazing experience.
Here are some things to consider to help make your decision.
Diving:
You will be positioned on the ocean floor, seeing manta rays from below.
You must be a certified scuba diver.
It is slightly more expensive than the snorkeling tour.
You cannot fly (including scenic helicopter tours) or go above 2,000 feet elevation for at least 18 hours after your tour, which can lead to decompression illness. This means you cannot drive to Mauna Kea, Volcano National Park or take Saddle Road to Hilo the following day. Keep this in mind as you plan your itinerary.
If you choose to do a diving tour, we'd recommend booking with one of the following operators because they are the only diving companies that are on Hawaii's Ocean Watch GreenList:
Snorkeling:
You will be on the water's surface, seeing manta rays from above.
You must be a confident swimmer, but no certifications are required.
It is slightly less expensive.
There are no restrictions on what you do after this experience.
Good to know: This is not a typical dive or snorkeling experience where you move around. In both cases, you will stay in one spot, more or less, so you can observe the manta rays.
Personal experience: We love diving, but chose to do the snorkeling instead. We think they are both incredible experiences and equally good choices. Next time we're in Kona, we'll dive so we can compare the experiences.
What to wear and pack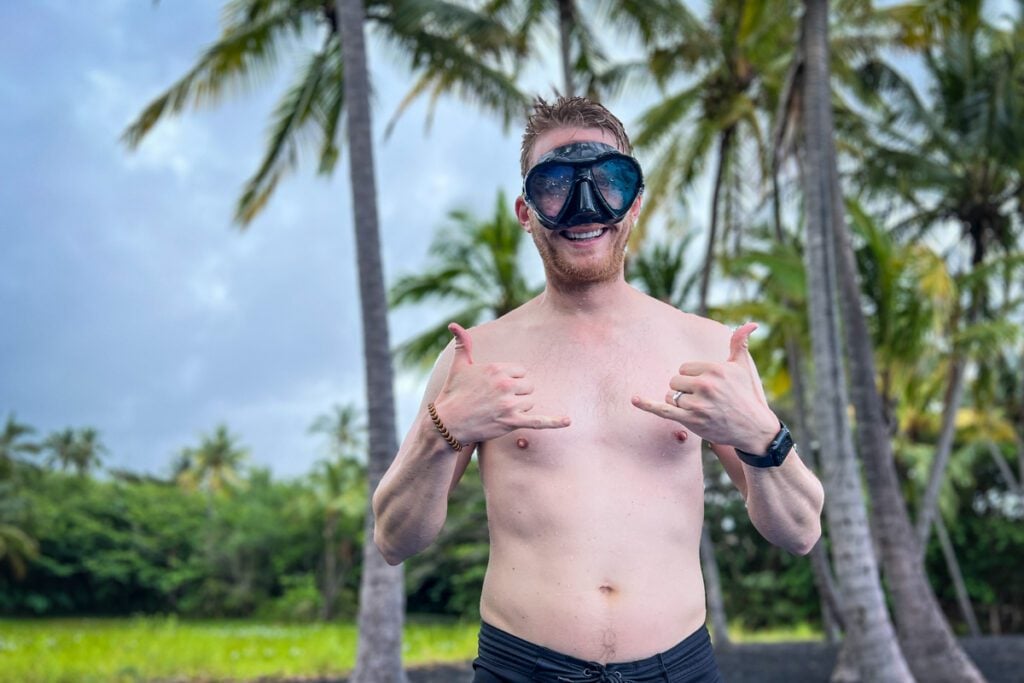 Your tour company will provide you with a shortie wetsuit and all the snorkeling gear you need. However, there are a few things you should bring with you.
Swimsuit: Arrive dressed in your swimsuit as you'll need to put your wetsuit on shortly after checking in. In our case, the entire group put wetsuits on just in front of the dock, so it's smart to wear something that is easy to change out of.
There is a public toilet a short walk away from the dock that you could use if needed, but you should be wearing your suit at check-in time.
Sandals or flip flops: Wear shoes you can easily take off to stow during the tour as shoes are not allowed to be worn on board.
Large tote bag: Carry all your belongings and keep them together on the boat.
Towel: You'll want something to dry off with when you get out of the water. Most hotels and Airbnbs provide beach towels, which works perfectly.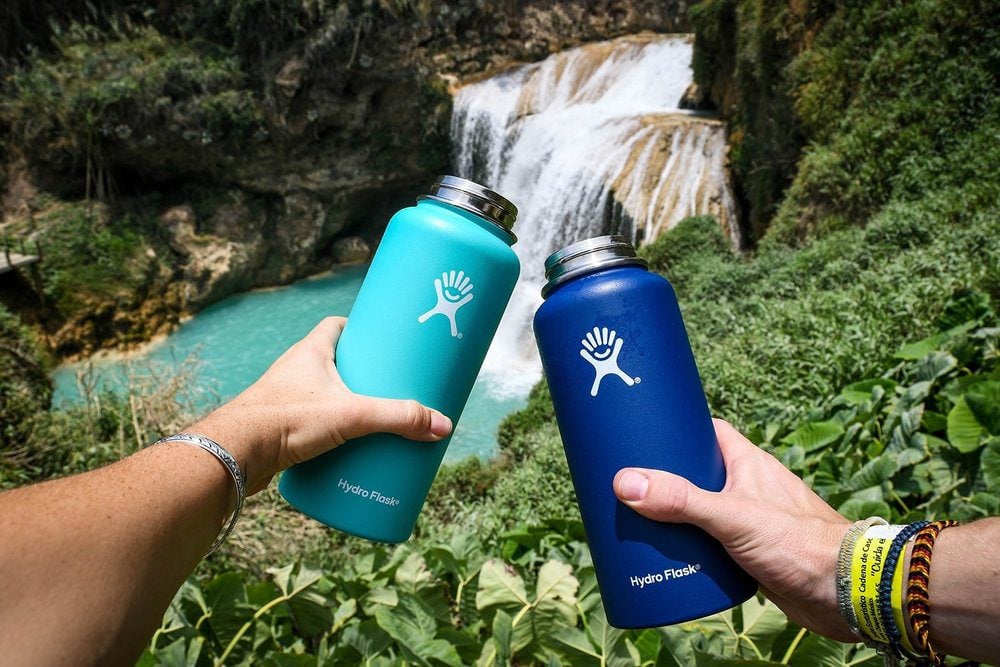 Water bottle: It's nice to have something to drink when you get out of the water. Our company provided sodas and water free of charge, but we prefer not taking single use plastic bottles when we don't need to.
Change of clothes: If you plan on going anywhere after your snorkeling experience, you'll want to pack a change of clothes.
Warm layer: I was surprised by how cold I was after snorkeling. I'd suggest bringing a long sleeve or sweatshirt.
GoPro (optional): While this is an optional item, we'd highly recommend bringing something to document this incredible experience. This is the (budget-friendly) handle we have and love.
Mask & snorkel (optional): I wouldn't purchase gear specifically for this experience because what they provide is perfectly fine. Most people use the rentals. However, if you will be doing lots of snorkeling on your trip to Hawaii, it will likely be a good idea to buy your own. We personally brought our own on our trip because we know they fit us well and we like them better than rental gear.
Motion sickness medication (optional): If you're very prone to motion sickness, you may want to bring some with. The boat ride itself is very short, but we've heard some people can get sick either from the ride or from bobbing on the water's surface. Our tour company handed out ginger chews to people who wanted them, but if you know you get ill, something stronger is a good idea.
Be sure to download our complete packing list for Hawaii! It's packed with good suggestions and insider tips to help plan your Italy trip. And it's completely FREE, so why not!?
---
Where to eat after snorkeling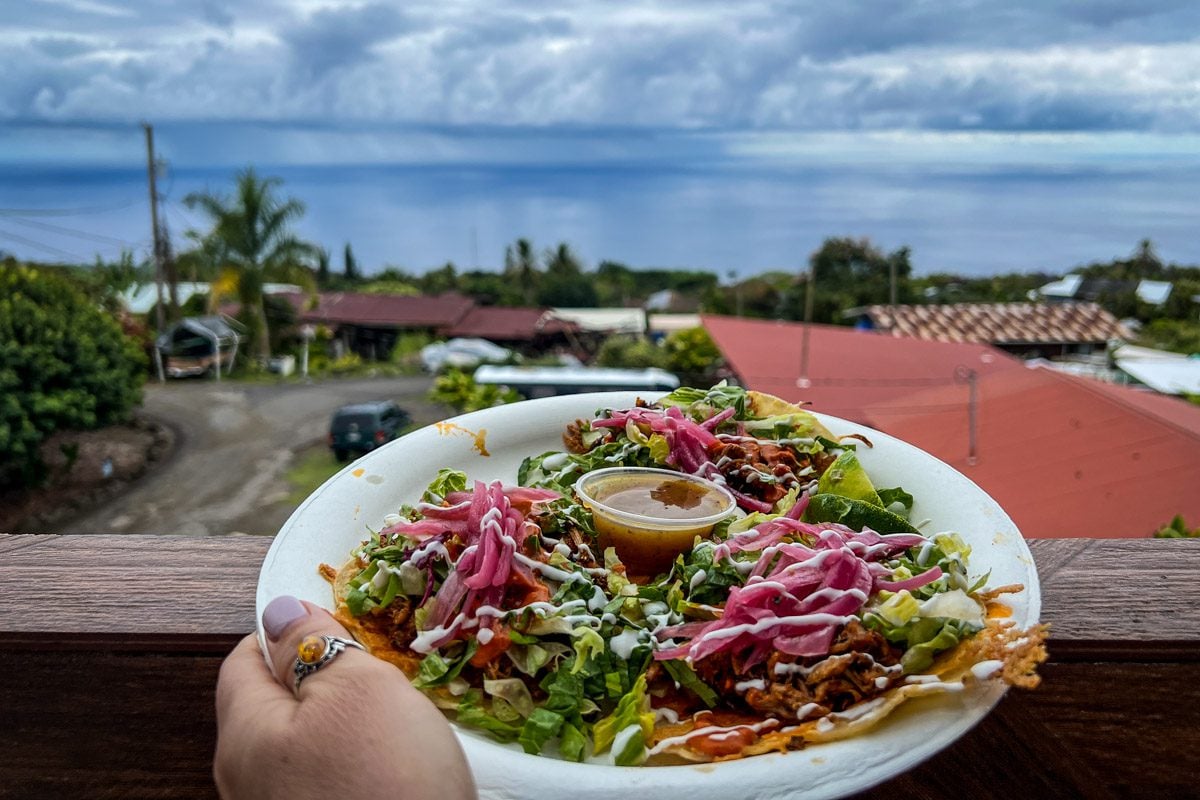 We found it very difficult to find any restaurants that are open in the area past 8 p.m.
You may want to have a later lunch or get snacks for after the tour. We picked up snacks (and wine, duh!) at this nearby Longs Drug to bring back to our Airbnb for a night of relaxing, which was perfect for us.
But if you have some energy and you want to make a toast to all the mantas you saw, keep reading because these are some of your only options…
Restaurants that are open past 8 p.m.:
Quinn's Almost by the Sea (our recommendation): Killer fish 'n chips and calamari, both of which come highly recommended. Wash them down with a celebratory beer as you reminisce about the crazy experience you just had!

Open until 10 p.m., closed Wednesdays

Foster's Kitchen Kona: If you think you have time to get a little more, how shall I put this… presentable, and not like you just emerged from the ocean… Foster's could make a good choice for a late dinner. They are open until 10 p.m. every night and have an elevated and mouth-watering menu.

Open until 10 p.m. every night

Chubby's Diner: Located in a shopping center, this is well off the typical tourist route. While the pub food is just mediocre, they have a bowling alley and are open until 10 p.m. or midnight depending on the day of the week, so it could be a good place to celebrate after this bucket list experience!

Open until 10 p.m. on weeknights, midnight on weekends
Manta ray snorkeling FAQs
Still have questions about this experience? We've got the answers you're looking for…
Is snorkeling with mantas worth it?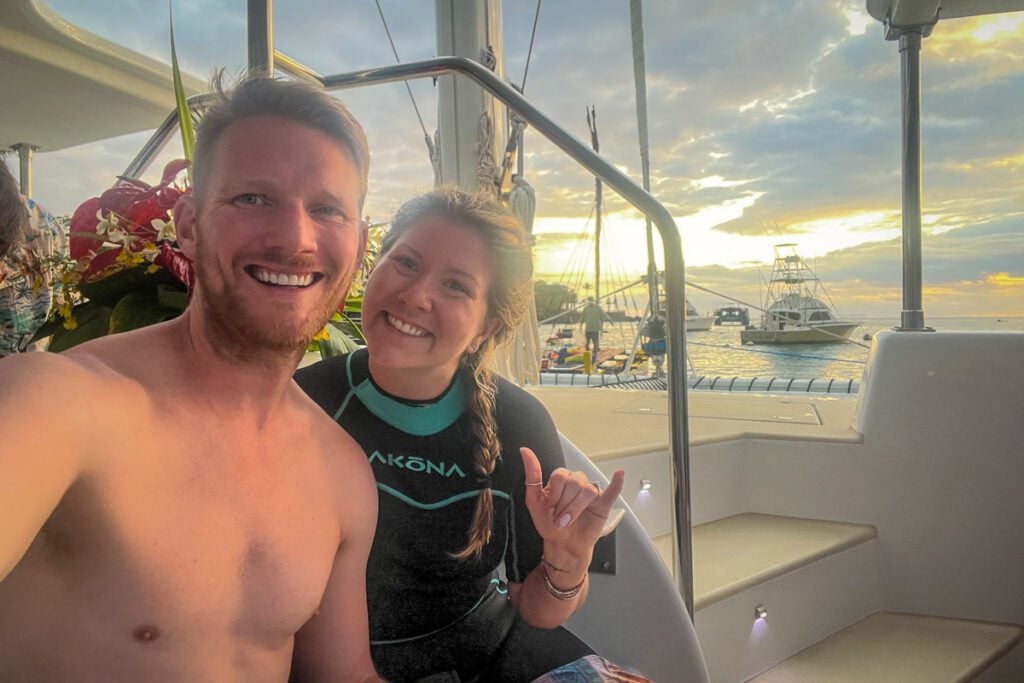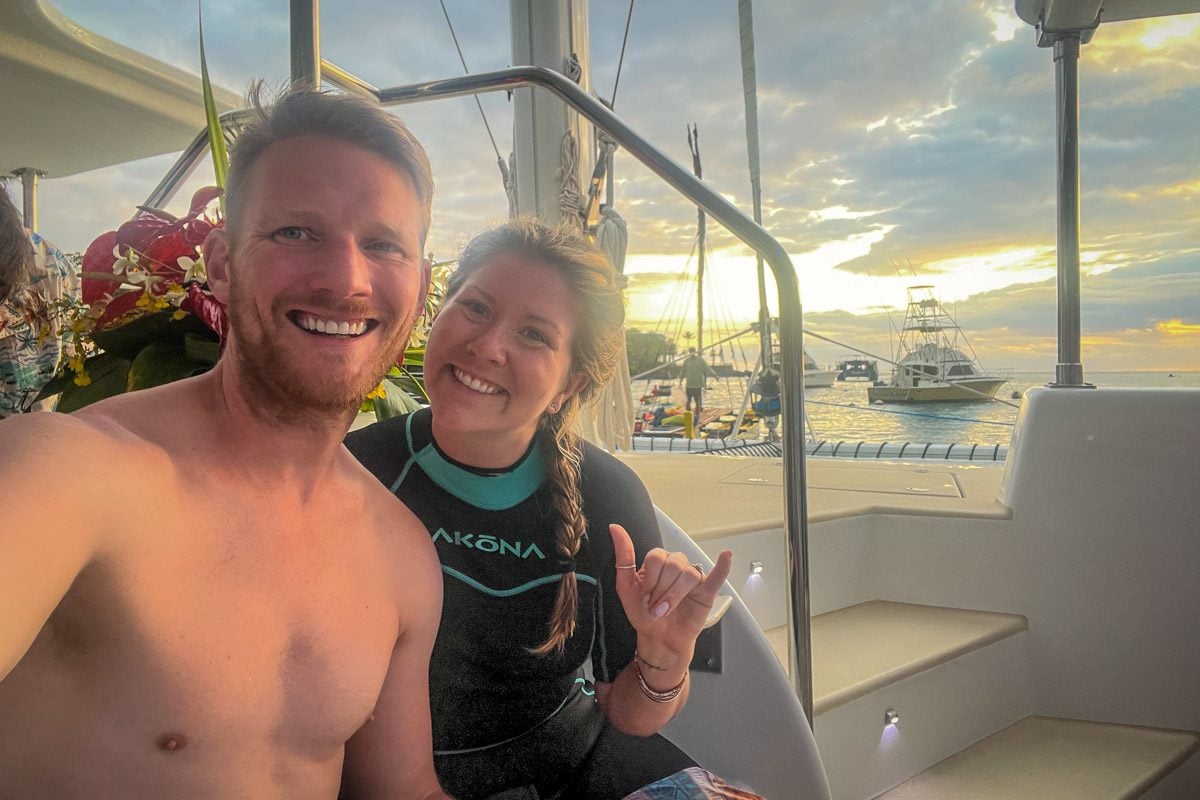 100% YES!
Okay, my very enthusiastic response here may be influenced by just how many mantas we saw. We did get very lucky and according to the guides, the mantas aren't as active every night.
However, if you have the chance to experience even a fraction of how many we saw, I still think it would be completely worth it.
There aren't many places in the world where you can experience this, and being able to see mantas at night is one of the most unique things to do on the Big Island.
Is snorkeling with manta rays ethical?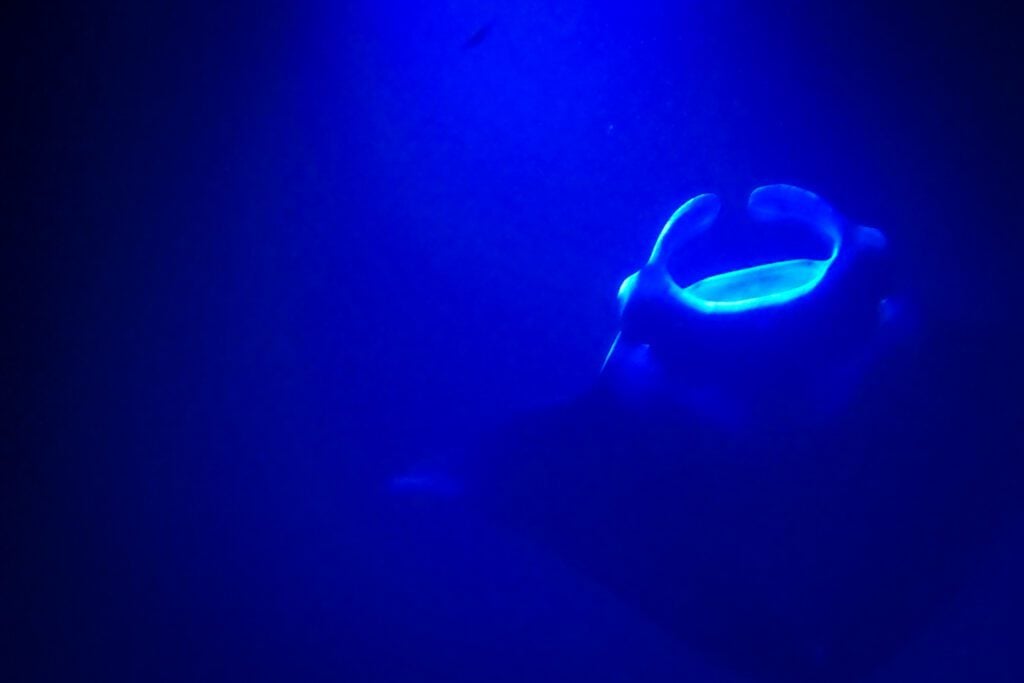 We are very cautious with our recommendations of animal encounters of any kind.
The truth of it is, any time humans are interacting with wild animals, it's not exactly perfect. The best thing for the manta rays, or any animal for that matter, is to be totally left alone.
However, when tourists pay money to see animals in their natural habitat, it can protect them directly and indirectly.
Directly: a portion of your fees may go to protecting them
Indirectly: showing governments and businesses that the animals are worth more alive than they are dead
Things to keep in mind:
Never ever touch manta rays. They are covered in a mucus-like layer that actually serves as their immune system. If you touch them, it destroys this coating and they can get sick. There were times we actually had to move out of the way to avoid the mantas touching us!
Book with a company that has a focus on the welfare of the manta rays. This is one of the reasons we personally recommend Sea Paradise.
Are manta rays dangerous?
Not at all!
Manta rays have no aggressive behavior tendencies and have never attacked a human. And unlike sting rays, they do not have a piercer or any mechanisms to turn violent. They're actually quite similar to whales, mainly feeding on tiny plankton-like animals.
Are you guaranteed to see manta rays?
Because they are completely wild animals, no company can guarantee that you will see manta rays on your tour.
That said, your chances are very, very good. We've compared several companies, and most say your chance of seeing them is 85% to 90%, which is pretty dang good.
What happens if you don't see manta rays on your tour?
Some tour operators offer a "manta guarantee" and will give guests that do not see any manta rays the opportunity to book another tour free of charge within 7 days (depending on tour availability).
One of the reasons we recommend Sea Paradise is because they have a "manta guarantee".
Insider tip: If it works with your itinerary, book your manta experience earlier on in your stay so you'd have the opportunity to go again if you don't see them on your first time.
Why is the snorkeling at night?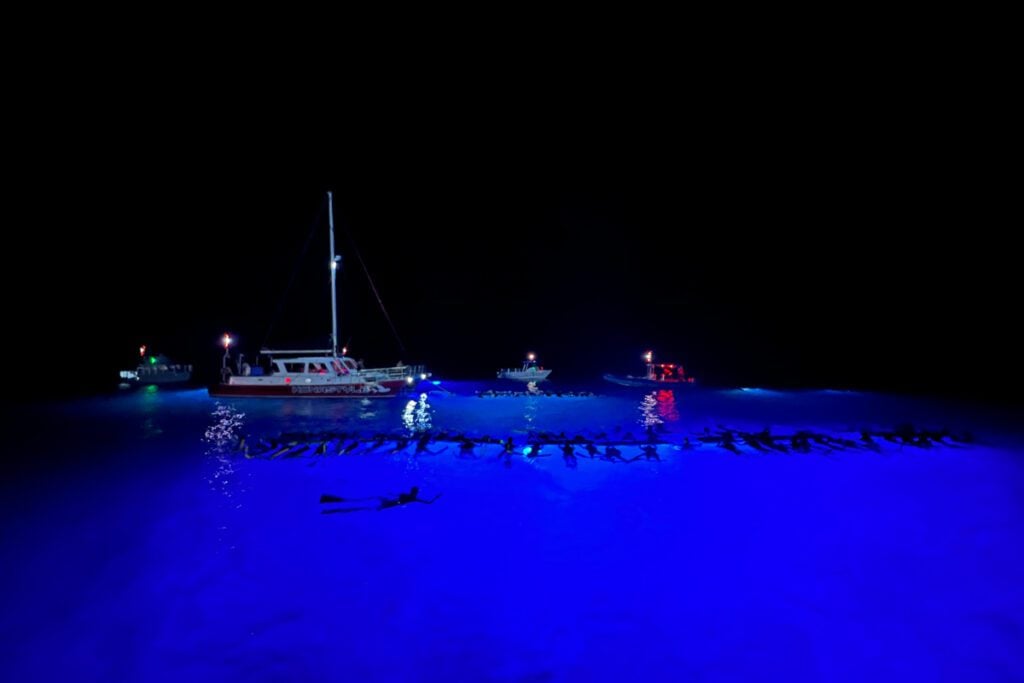 Manta rays feed on plankton in shallow waters, and plankton are attracted to light.
At night, the high density of light coming off snorkeling boats and onshore hotels attracts millions of plankton. In turn, this draws manta rays to feed on the tiny creatures.
What is the best time of year to see mantas in Kona?
Oftentimes there is a specific season for spotting animals in the wild. For instance, since whales are a migratory animal, they are only seen in Hawaii from mid-December through mid-May.
However, the manta rays off the Kona Coast live there year-round. This means that no matter what time of year you're visiting Hawaii, you should be able to see them!
Psst! Here is our guide to the best time to visit Hawaii.
How long is the experience?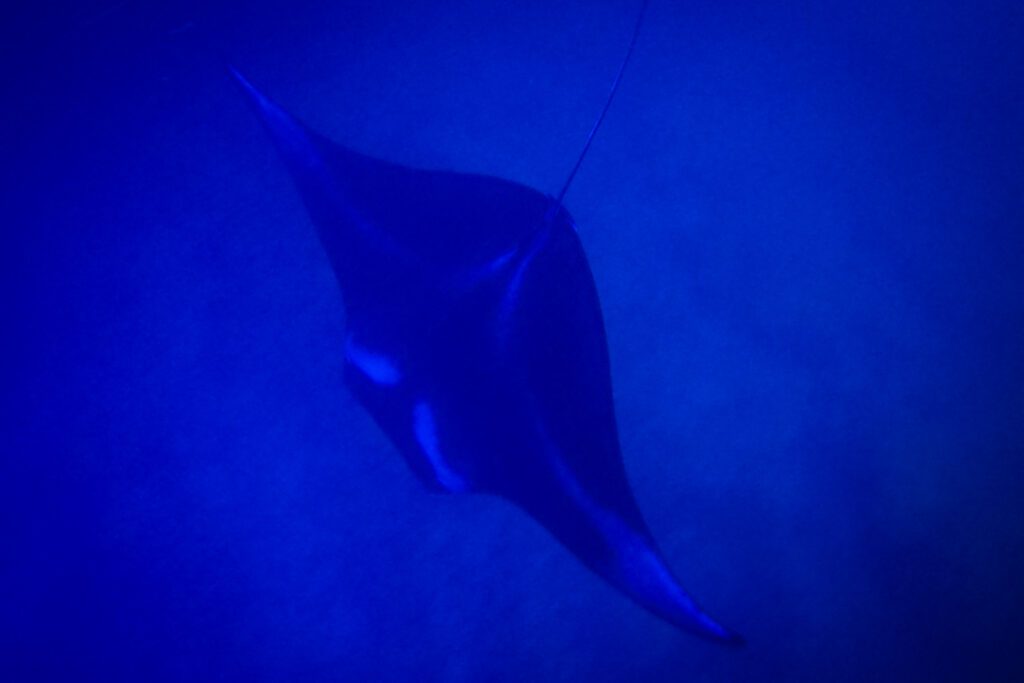 This depends on the tour provider and the conditions that day, but tours are around 1.5 – 2 hours total. The total snorkeling time is roughly 45 minutes.
We got back to the dock about 1.5 hours after we began.
How cold is the water?
The water off the Kona coast averages around 74ºF in the winter months and 81ºF in the summer.
It can feel cold after being in the water for a while, but it's usually manageable with the wetsuit that is provided. It was colder than I was expecting, but not too uncomfortable.
Can kids join this tour?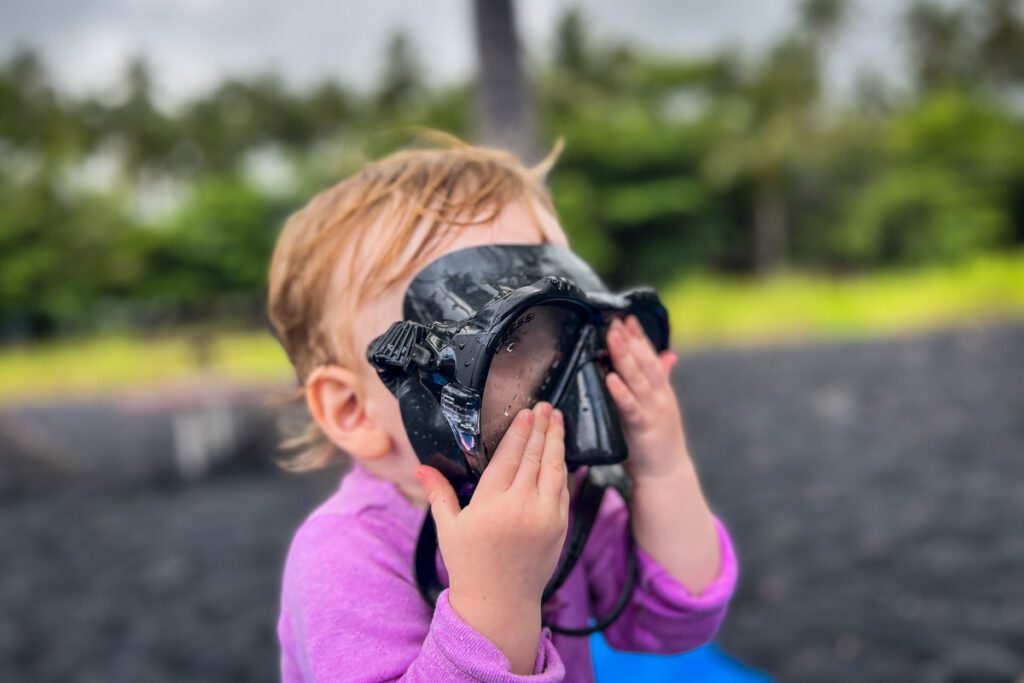 Most tour companies allow children 6 or 7 and older to participate. Read the specifics of the company you book with to make sure (some companies have a higher age limit).
There were two children in our tour group and they seemed to have a great time.
Aside from the age requirement, it is strongly recommended that they have some prior snorkeling experience, which goes a long way in helping them feel comfortable in the water at night.
That said, you know your child best, and it might not be suitable for all kids. It is a long time in one position in the water, and the manta rays getting so close may be scary for some little ones.
Good to know: Some companies (like Sea Paradise) allow children 4+ to ride along in the boat without getting in the water for $65.
Personal experience: Since our daughter wasn't old enough to join this tour (16 months), we hired a babysitter. Our Airbnb host's daughter offers babysitting services to guests, but this company also looks like a great option to find qualified and vetted babysitters during your time in Hawaii.
Do I have to have snorkeling experience?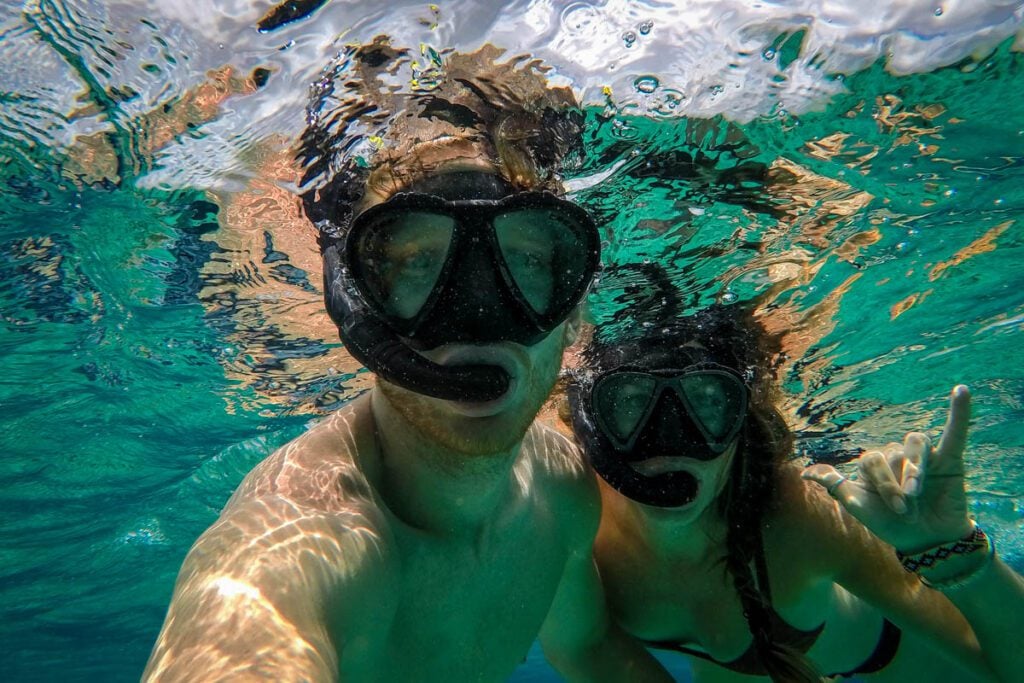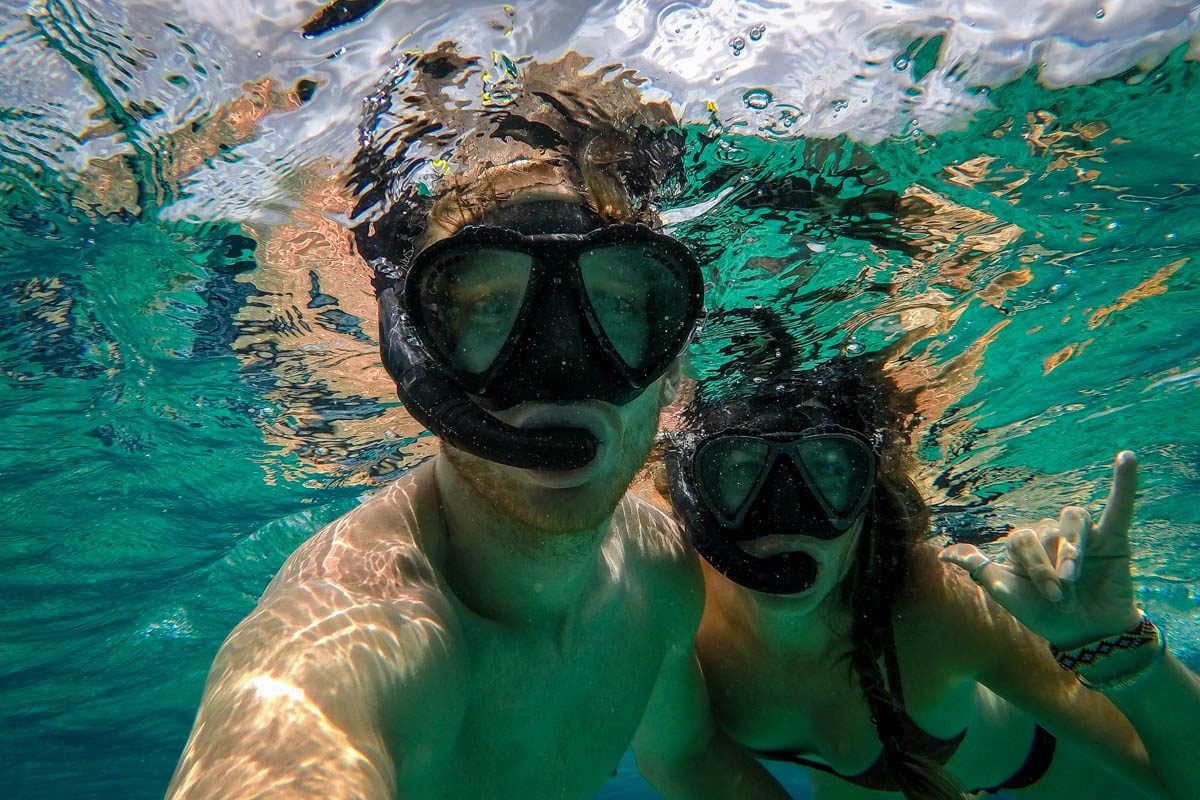 While the tour is certainly doable for travelers who have never snorkeled before, having at least some previous experience is strongly recommended. The process of breathing in through the mask is MUCH less easy to learn for the first time in dark water!
Can I see manta rays without a tour?
It is completely possible to see manta rays while snorkeling in Hawaii. However, unlike the nighttime snorkeling tour where you're at their nightly feeding grounds and your chances of seeing them are very high, you will have to get lucky if you're on your own.
If you're hoping to spot these beauties without getting wet, it is possible to spot them from shore, although it's a much less reliable and immersive experience. (It'll be more like seeing a shadow below the water's surface.)
There are no dedicated public viewing areas, BUT manta rays make frequent appearances near the Mauna Kea Hotel's beautiful oceanfront area. Grab a drink at their bar, then take a stroll and keep your eyes on the water.
How far in advance do I need to book my tour?
This tour almost always sells out, so it's a good idea to book your spot as soon as you know which date will work best on your itinerary.
Plus, when you book through this link you get free cancellation until 24 hours before your tour, so you don't have anything to lose by reserving your spot!
Where to stay in Kona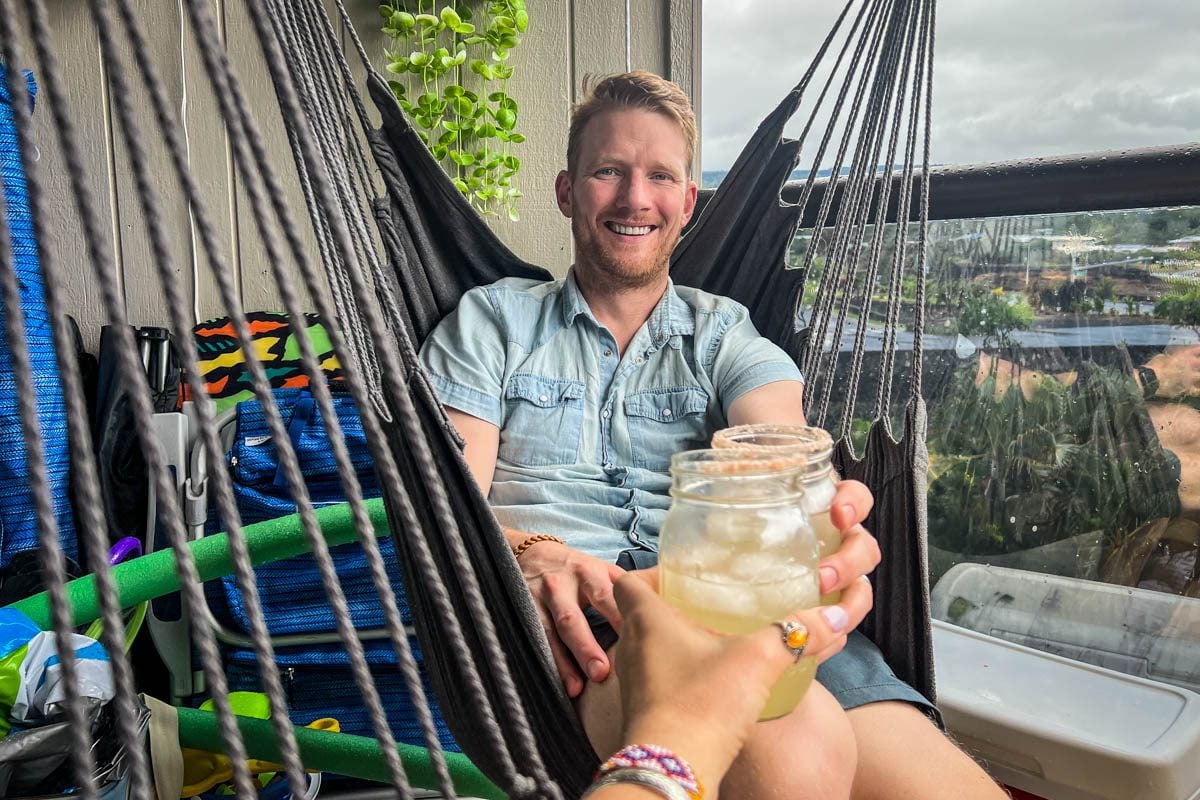 Before we share our recommendations, let's go over the regions in and around Kona so you know which will be best for you.
Kona regions:
Kailua-Kona: If cultural attractions, tours, hopping around town, or relaxing at your resort are priorities, stay a bit longer near the center of Kona.
South Kona: The areas just outside Kona, as you head towards Captain Cook are lovely if you're looking for a quieter stay.
South Kohala: This region is north of Kona and home to some of the most beautiful beaches on the island. Accommodations here tend to be more upscale.
If you're staying in any of these regions, you'll want to read our guide to the most exciting things to do in Kona.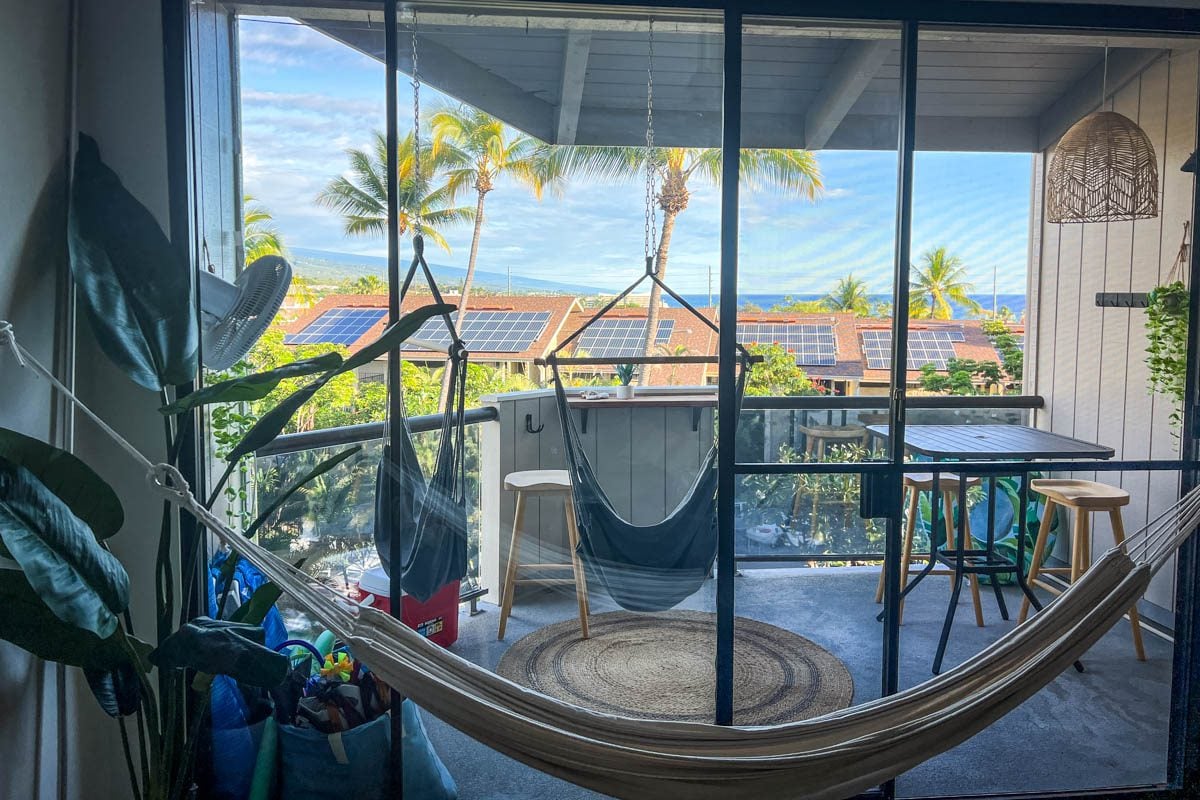 Top choice: Downtown Airbnb: This is the Airbnb we personally stayed at in Kona and we absolutely loved it. It is so thoughtfully designed and is the perfect location in downtown Kona. Plus, if you're traveling with kids, this layout gives you separate sleeping spaces which is so nice.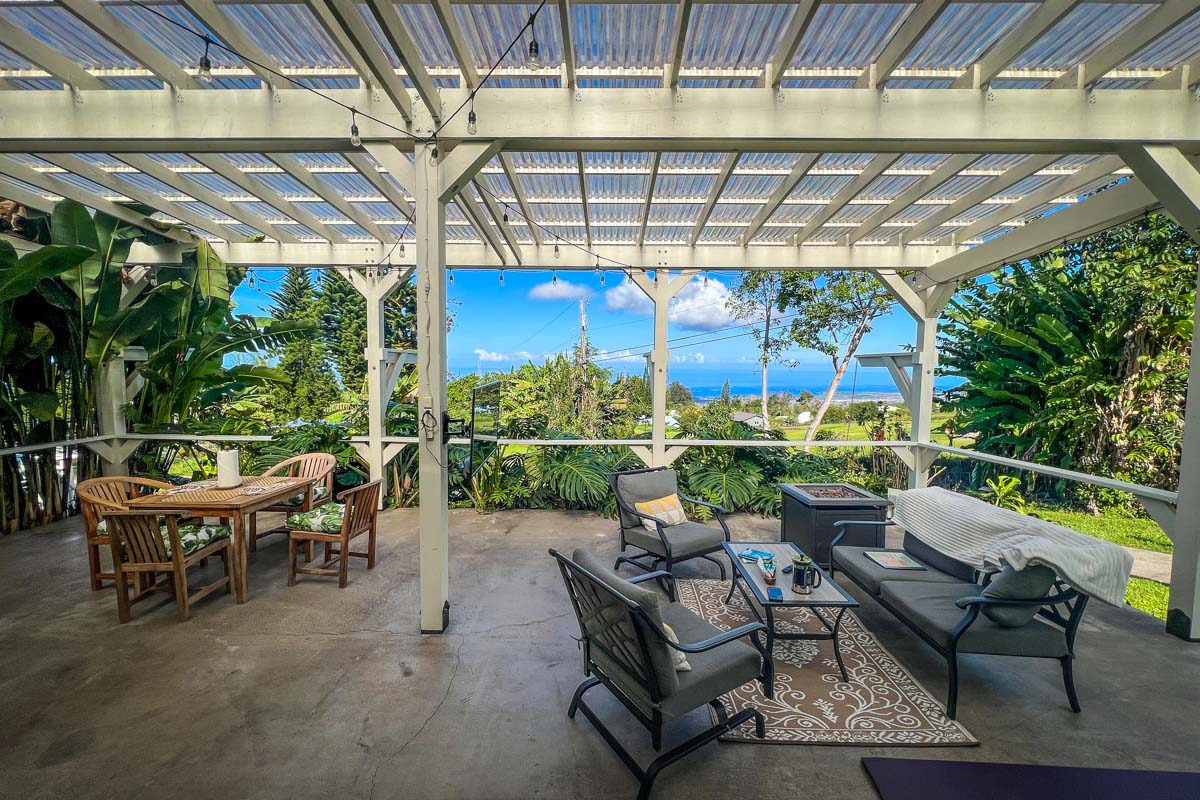 Top choice: Tiny Home outside of Kona: We stayed at this tiny home while on Big Island and are obsessed! It's just 15-minutes south of downtown Kona and is situated on a 5-acre coffee farm just a short drive from a charming little community. The fire pit, grill, and huge outdoor hang out space are a couple touches that make this property extra special.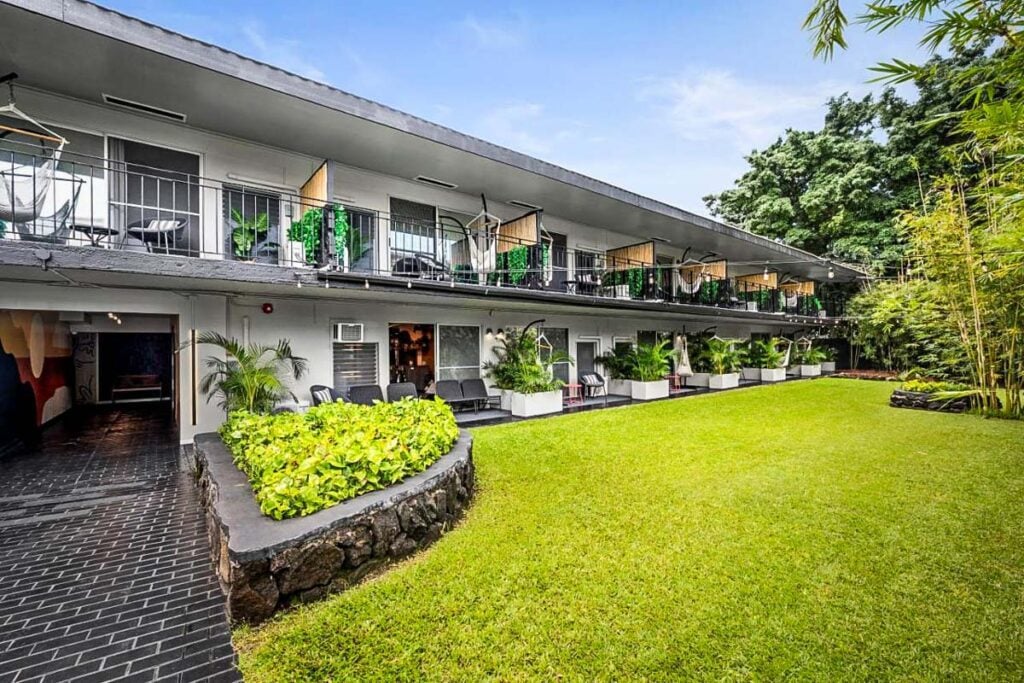 Budget option: Kona Seaside Hotel: Close to Kahaluu Beach Park, this boutique hotel is ideal for exploring the best things to do on Big Island on the west coast. It's right smack dab in downtown, walkable distance from the main attractions. Bonus: No resort fees (a rarity in Hawaii!)!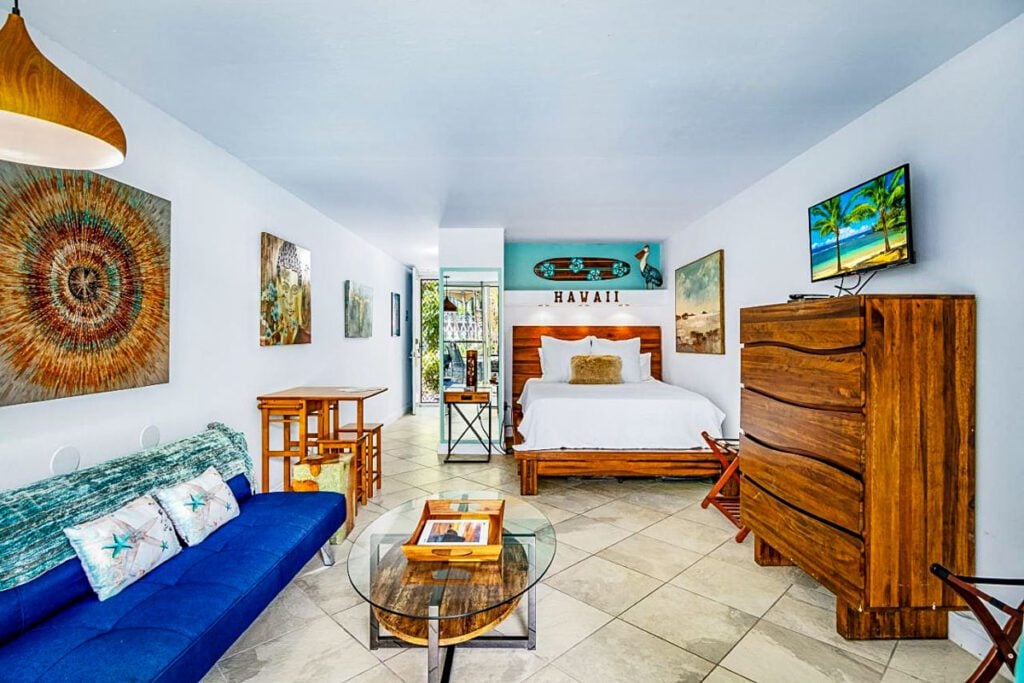 Mid-range option: Garden Condo with hot tub: This updated condo is situated near downtown Kona in a peaceful and quiet area. Both the hot tub and pool are huge perks of this stay, including the kitchenette and intimate patio.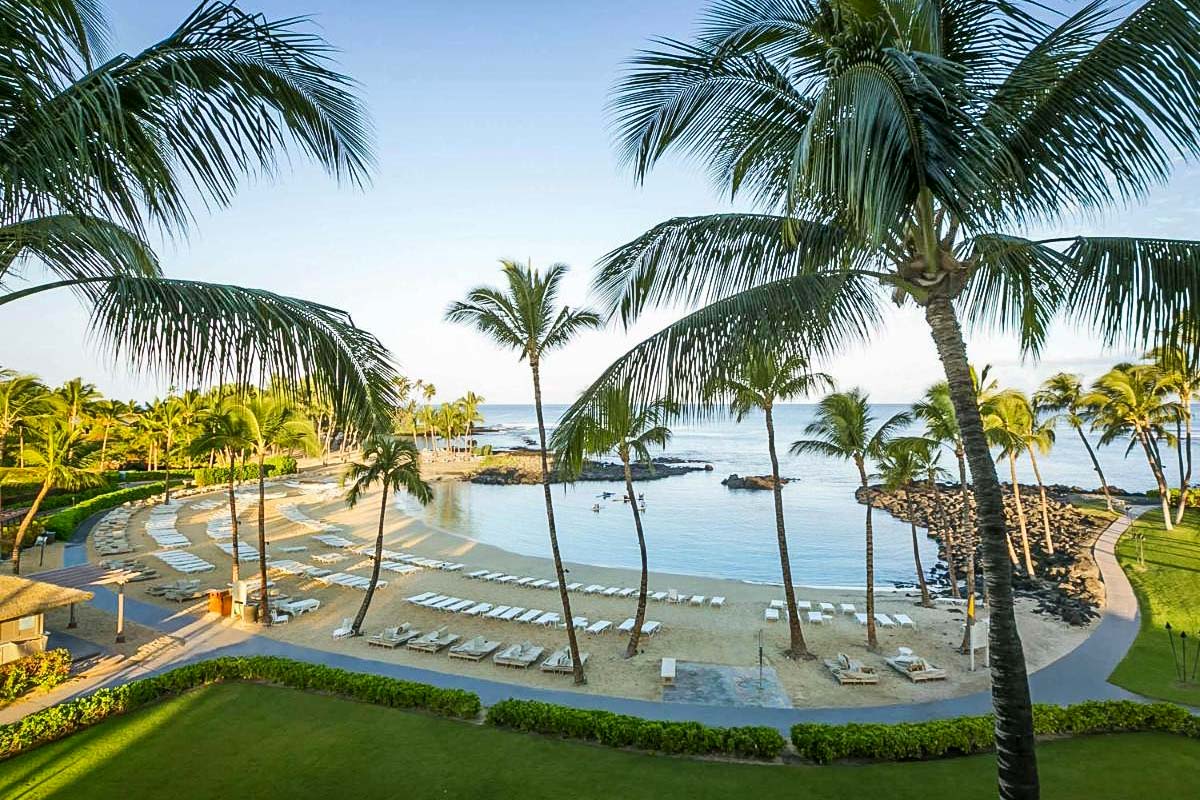 Splurge: Fairmont Orchid (South Kohala Coast): Widely considered one of the most luxurious hotels on Big Island, with a private white sand beach, multiple restaurants and pools, and a divine outdoor "spa without walls."
More snorkeling spots on the Big Island
In addition to Kona, there are some other popular spots for manta ray snorkeling on Big Island. Here are two other fairly dependable locations where these majestic creatures congregate!
Kealakekua Bay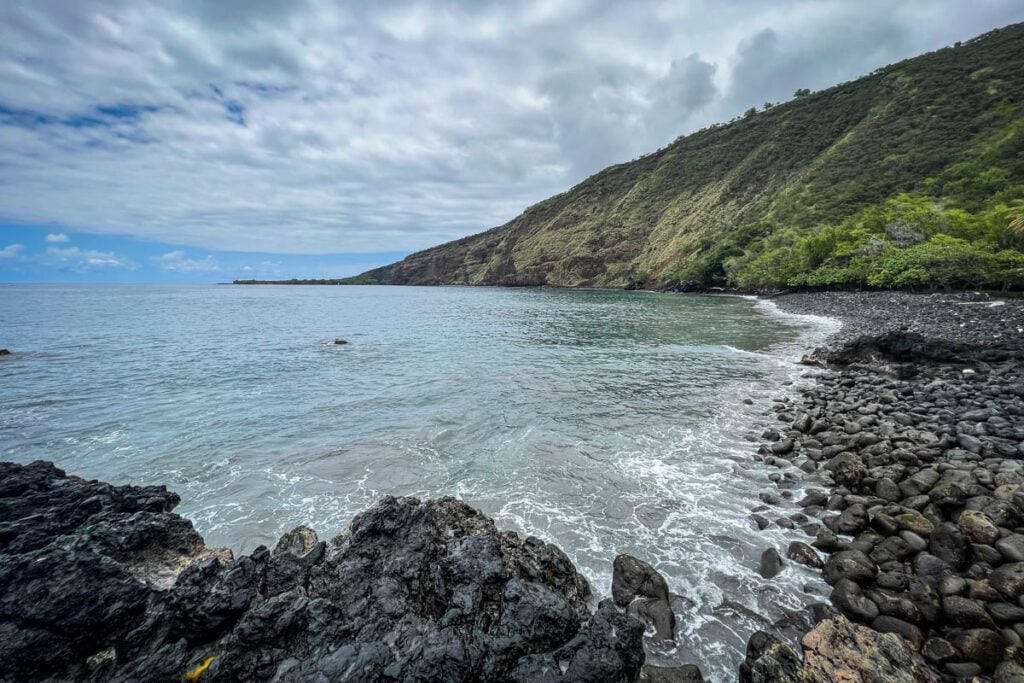 Located south of Kona, some outfitters also operate manta ray night snorkel tours from this location. They're typically longer excursions that also incorporate a sunset over the ocean. The likelihood of seeing a manta ray here is the same as in Kona.
Two Step Beach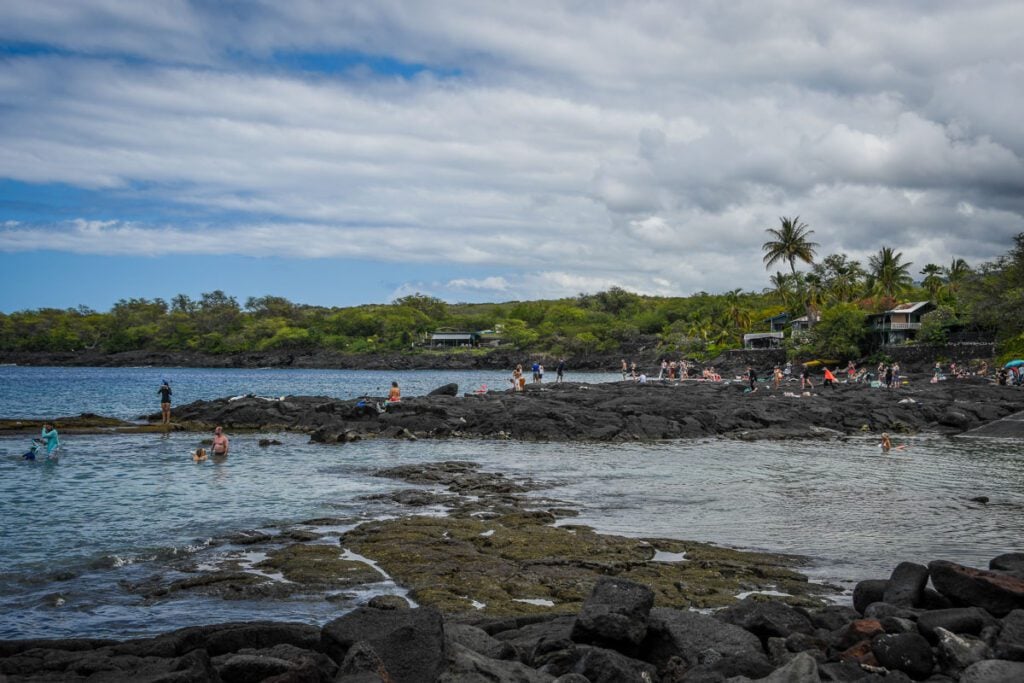 This small beach is one of two entry points into Honaunau Bay, which is known for its abundant sea life of all types. While it's a slightly less popular location for manta ray snorkeling, there are a few tours that operate here (and bonus, there are far fewer people!).
---
Are you planning a trip to Hawaii?
We have lots of resources on travel in Hawaii and destinations around the islands. Check out our Hawaii Homepage for everything you need to know, or start by reading some of our favorite Hawaii travel articles to help you plan your dream vacation to the Aloha State:
Save this article on Pinterest for later!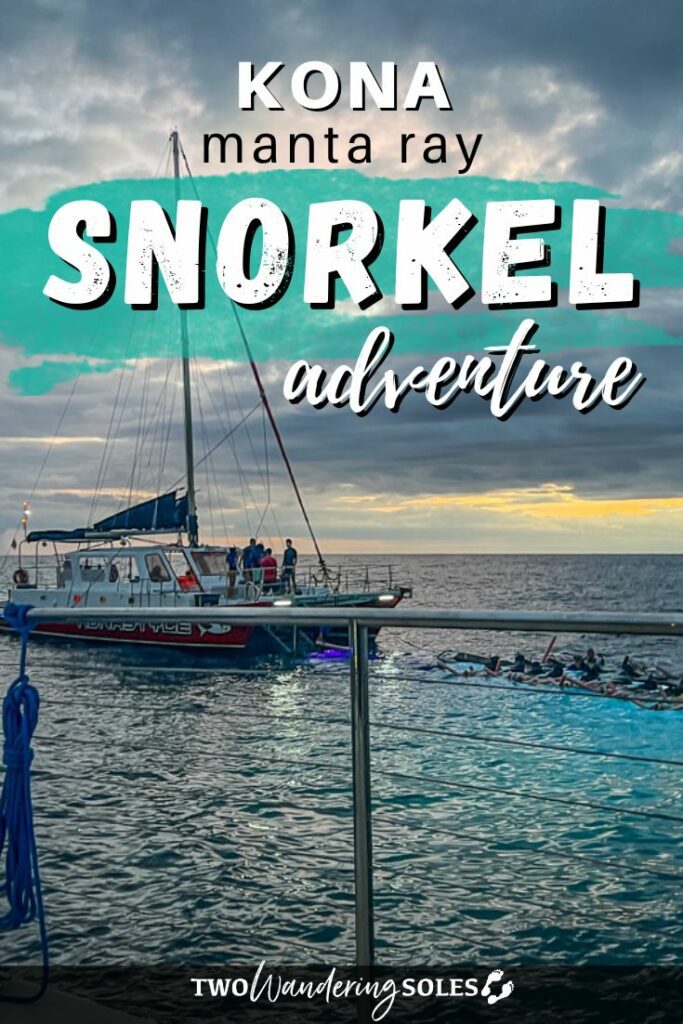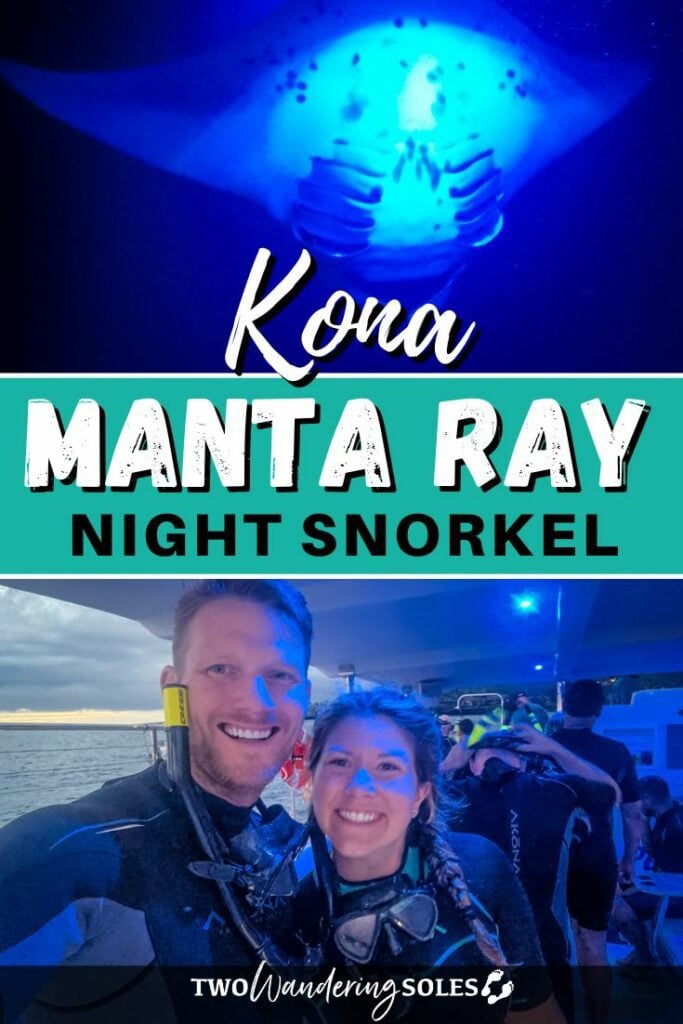 We want to hear from you!
Do you have more questions about snorkeling with manta rays in Kona? Leave a comment below and we'll do our best to get back to you!