On the Big Island of Hawaii, the lush city of Hilo is surrounded by pristine nature, adventure, and bucket list experiences. We've curated the ultimate list of things to do in Hilo, plus important tips, to help you plan the most memorable trip to the Kohala Coast.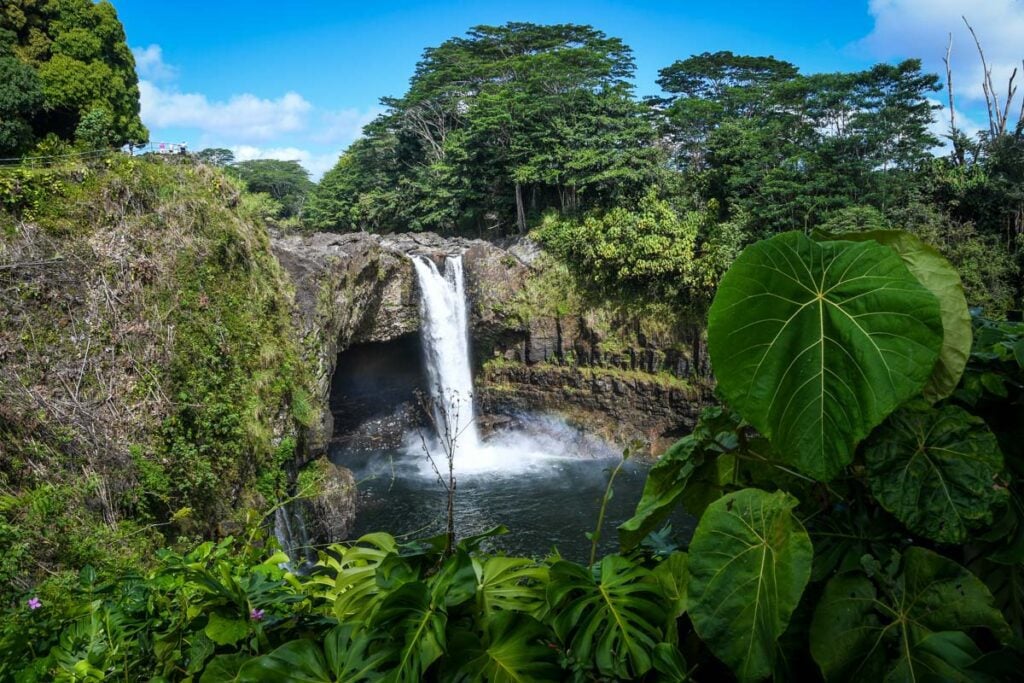 With a laidback local feel, stunning jungle scenery, and all sorts of fun things to do, we ended up liking Hilo a lot more than we expected to.
Located on the Big Island's east coast, nearly 45,000 people call Hilo home, making it the biggest city on the Big Island and more than 3 times as big as Kailua Kona.
Compared to its touristy cousin, Kona, Hilo is known as more of a local, residential city. It has a unique blend of edgy, hippy vibes, and you'll find a healthy mix of both locals and visitors. The prices tend to be cheaper on this side of the island and the atmosphere more laidback.
Our experience: While it feels less touristy than Kona, it is a popular cruise ship hub, meaning it's not without travelers. During our visit, a cruise ship was anchored nearby and we saw lots of passengers milling about the town.
Hilo is also known for rain, so be sure to pack a raincoat and umbrella! The good news is all the rainfall (140 inches annually) makes this region especially lush and green, with lots of waterfalls.
Street art, university students, cute cafes, and plenty of green space all make Hilo a town that you definitely shouldn't miss during your time on the Big Island. Hilo surprised us and we only wish we'd dedicated more time to exploring this city.
We're going to share all sorts of fun things to do in Hilo so you can plan the perfect visit.
Hilo Travel Guide
---
Top things to do in Hilo
If you're looking for a quick & easy list, these are our very top recommendations for things to do on your first visit to Hilo.
Akaka Falls
Honomu Goat Dairy
Hawaii Tropical Bioreserve & Garden
Volcanoes National Park
Lavaloha chocolate farm tour
Get mochi at 2 Ladies Kitchen
Rainbow Falls
Unicorn ice cream at Makani's Magic Pineapple Shack
Hilo Farmers Market
Keep scrolling for all the details on how to do each of these experiences yourself (+ insider tips and what to expect!).
1. Marvel at Akaka Falls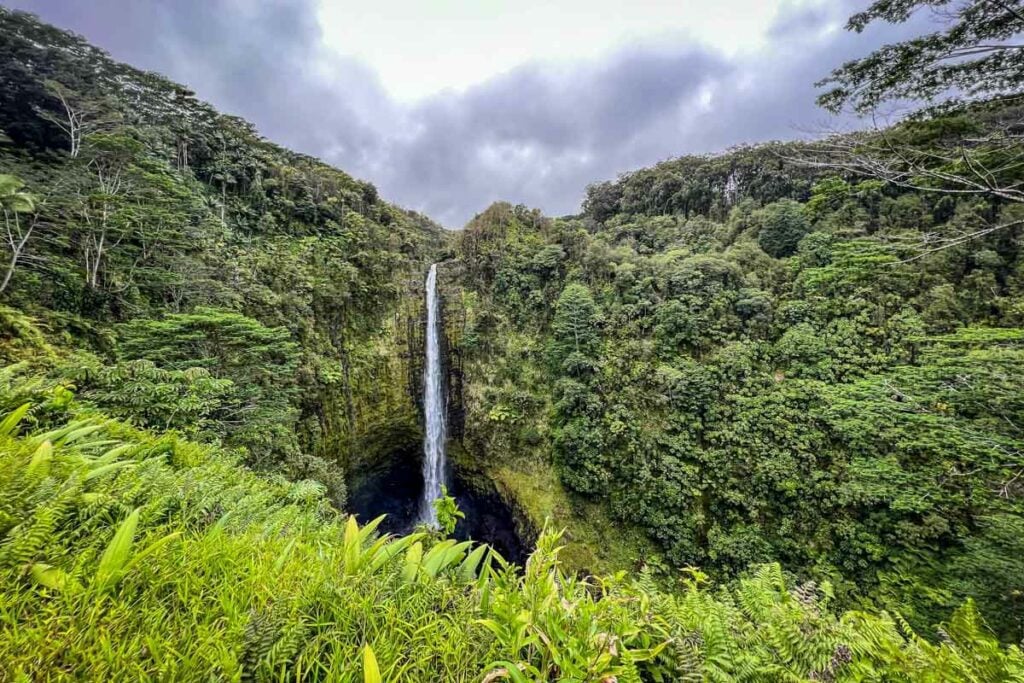 Plunging 442-feet into a verdant-framed gorge below, Akaka Falls is a Big Island treasure.
As stunning as it is accessible, this is arguably Hawaii's most famous waterfall and definitely one of the not-to-miss things to do in Hilo.
Within Akaka Falls State Park, you'll follow a loop trail that is only 0.5-miles with minimal elevation gain- enjoy little work for extraordinarily high reward on this quick stop. You'll also spot the 100-foot Kahuna Falls along the way.
Entrance fee: $5 USD, parking is $10 per vehicle
Tip: As this is one of the most popular waterfalls on Big Island, aim to get there early if you can to beat the crowds.
2. Cuddle goats
We stumbled upon the Honomu Goat Dairy Farm completely by accident, but it ended up being one of our favorite memories from the Hilo area.
Located at the beginning of the road you'll take to Akaka State Park, this small goat farm is completely free to visit. The goats are super friendly and love to approach visitors. For just $1 you can purchase goat feed to encourage them to get even closer!
Our daughter, Juniper, had a blast seeing all the goats up close, but it was also just as fun for adults!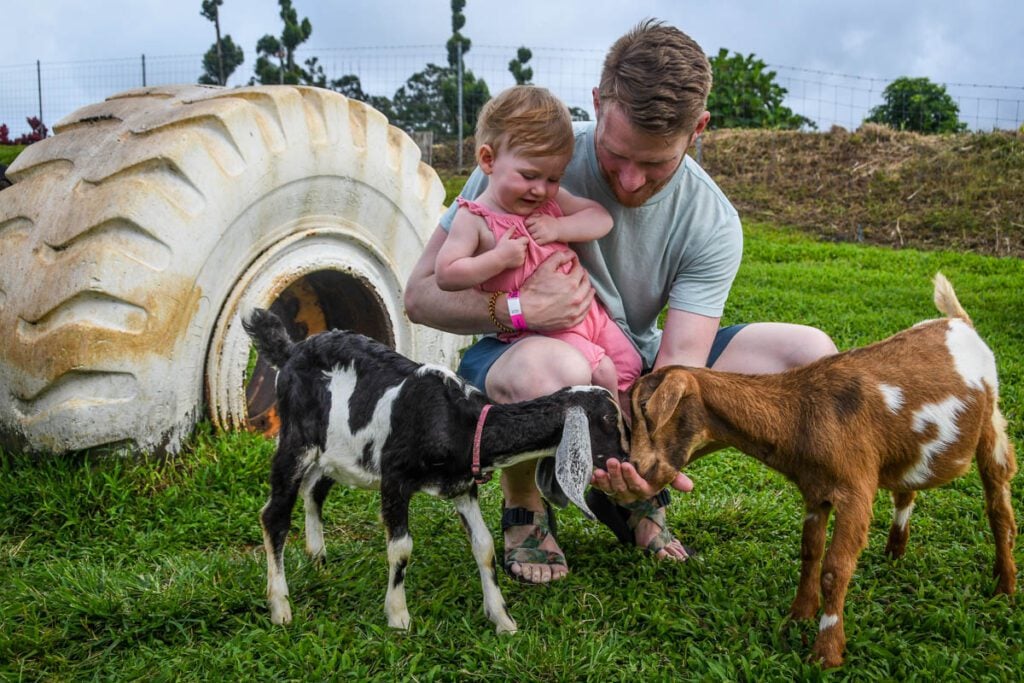 The staff here are super friendly (not pushy in any way to buy anything) and just happy to welcome you. This sweet goat farm makes a memorable stop and is one of our favorite free things to do in Hilo.
Insider Tip: They offer samples of goat milk products, like goat milk caramels (omg!) and goat cheese. They have some really fun flavors, and we ended up getting kimchi goat cheese to bring with us for picnics, which was amazing.
3. Wander the Hawaii Tropical Bioreserve & Garden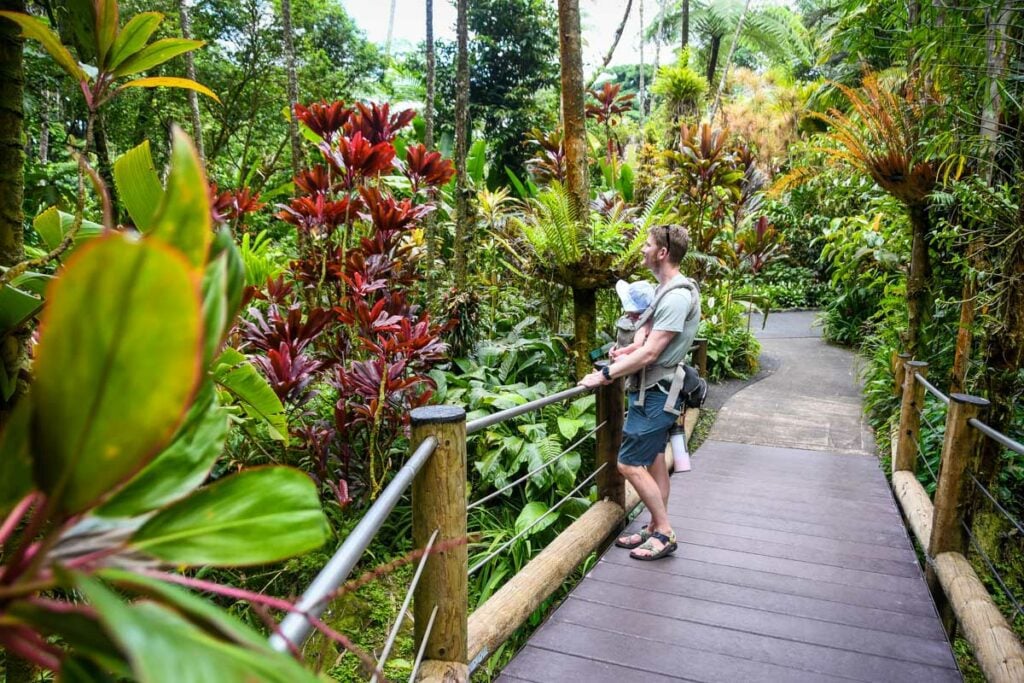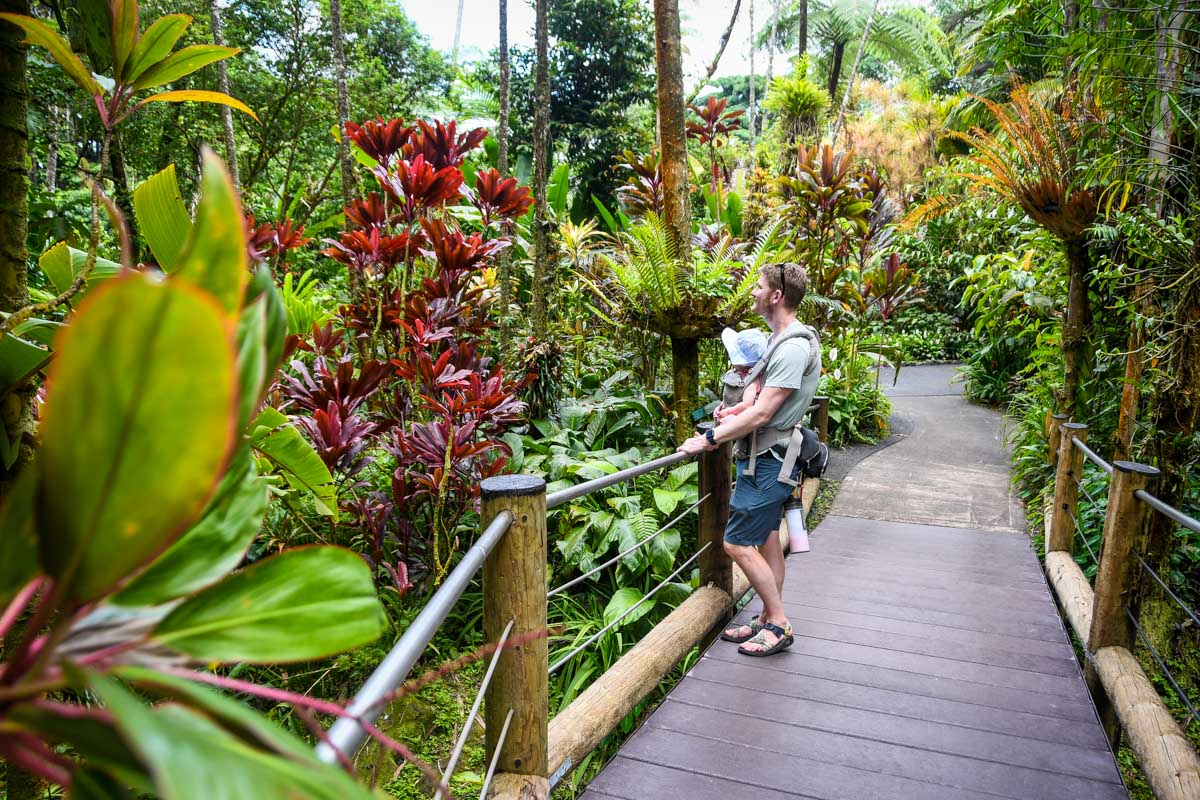 Acclaimed as one of the most beautiful places in all of Hawaii, the Hawai'i Tropical Bioreserve & Garden is a plant-lovers paradise in the lush Onomea Valley.
Just over a mile of trails showcase over 1,800 different species of rare and exotic plants from all around the world.
You'll feel as though you've stepped into a new world as you discover flora you may have never seen or heard of before.
Entrance fee: $25 USD, $12 USD for kids 6-16
Fun fact: Hilo is the "orchid capital of the world"! It should be no surprise to hear that there's an orchid garden in this bioreserve.
4. Take a day trip to Hawai'i Volcanoes National Park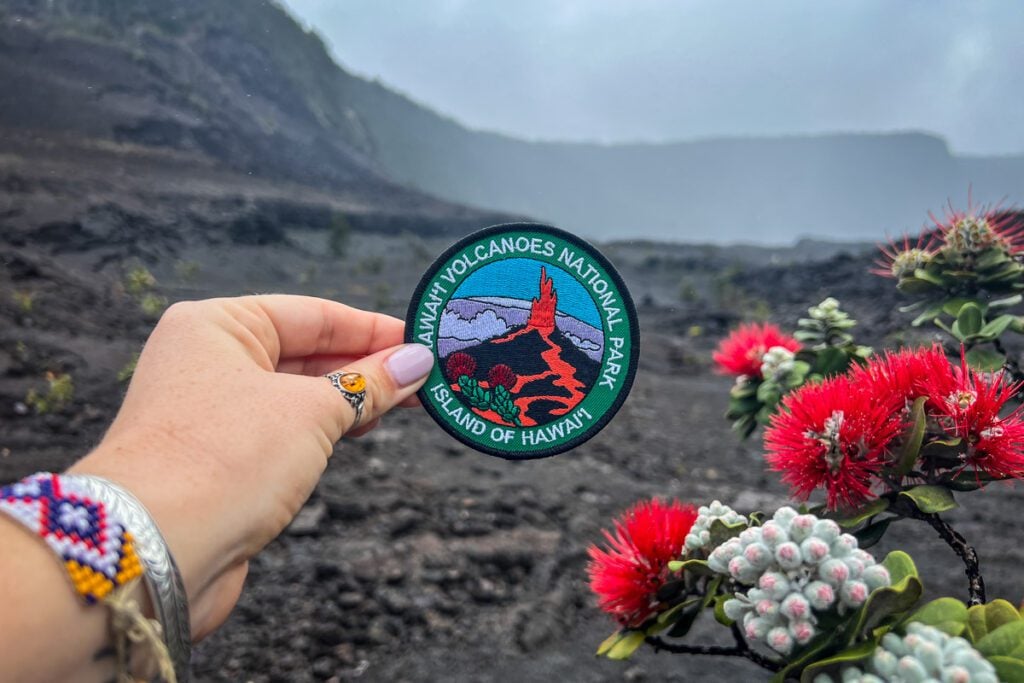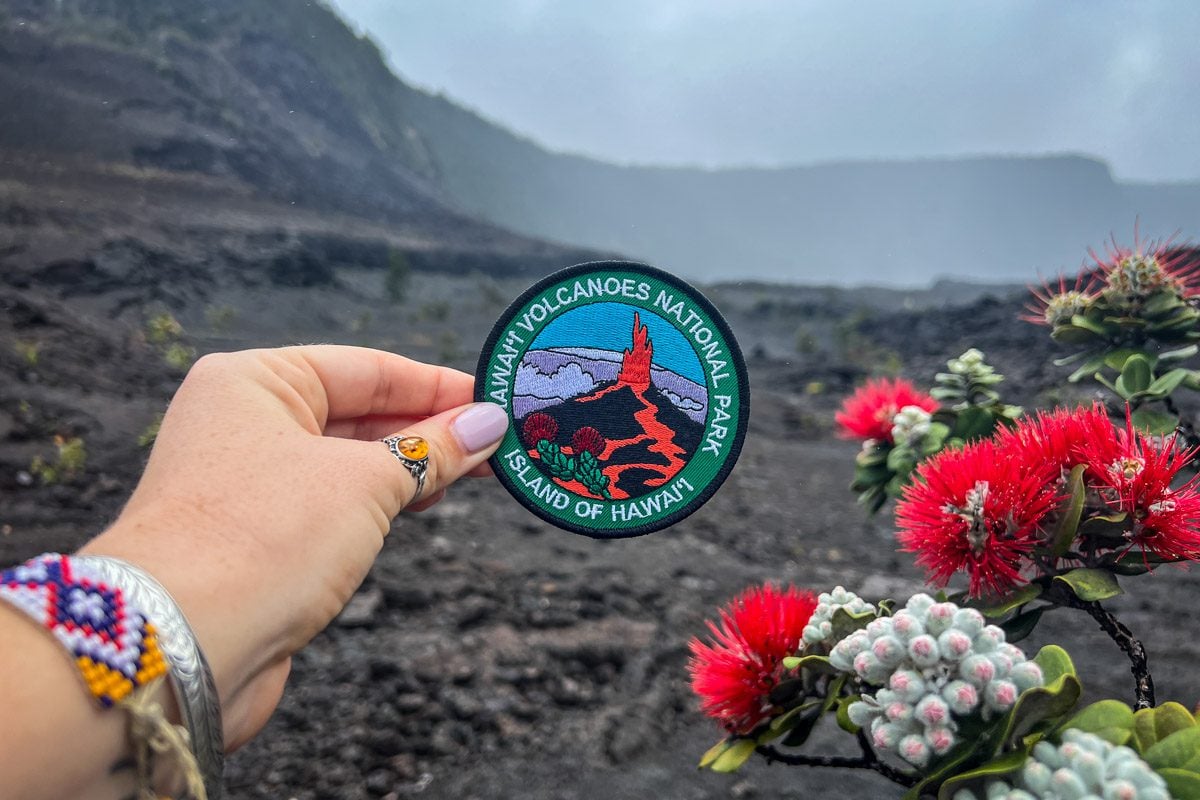 Both an International Biosphere Reserve and a UNESCO World Heritage Site, Hawai'i Volcanoes National Park protects some of the most unique cultural and geographical landscapes in the world.
Kilauea, the most active volcano on Big Island and Mauna Loa, the world's largest active volcano are the two centerpieces of the park.
Surrounding these two volcanoes are a wealth of interesting trails and things to see:
Kilauea Iki Trail: a fun, 4-mile hike across a solidified lava lake.
Thurston Lava Tubes: explorable tubes created by a molten lava river.
Crater Rim Drive: a gorgeous drive with stunning vistas around Kilauea Crater.
Mauna Loa Lookout: views over the Kilauea caldera and the coast.
Watch real lava flow: you'll be able to see this if Kilauea has erupted recently.
5. Tour a chocolate farm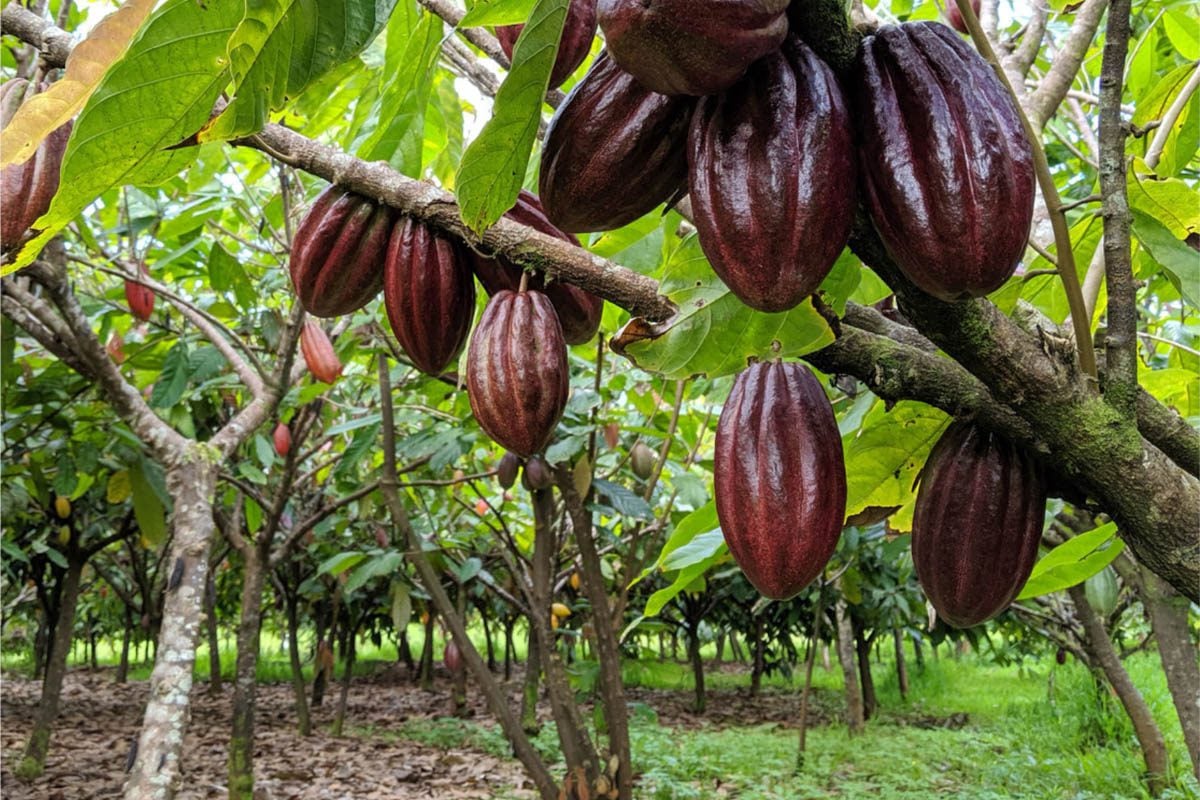 Hawaii's "bean-to-bar" chocolate is ranked among some of the best in the world.
The rich volcanic soil and pure rainwater of the islands helps to create their distinct and flavorful chocolates.
You won't need any convincing to bring a few bars back home, however you may indulge in them all before then!
Good to know: There are several cacao farms in the Hilo area, but the most well-known is Lavaloha.
6. Skip the line and get these famous mochi
While getting deep into our research of things to do in Hilo, we found all sorts of recommendations for Two Ladies Kitchen, a pocket-sized shop selling all varieties of colorful and fun-flavored mochi.
If you're not familiar with this Japanese confection, mochi are rice cakes made with a short-grain glutinous rice. It is stretchy and chewy, but alone, it doesn't have much flavor. When fruits and fillings are added, you have a uniquely chewy (and colorful!) treat with a variety of flavor options.
How to skip the line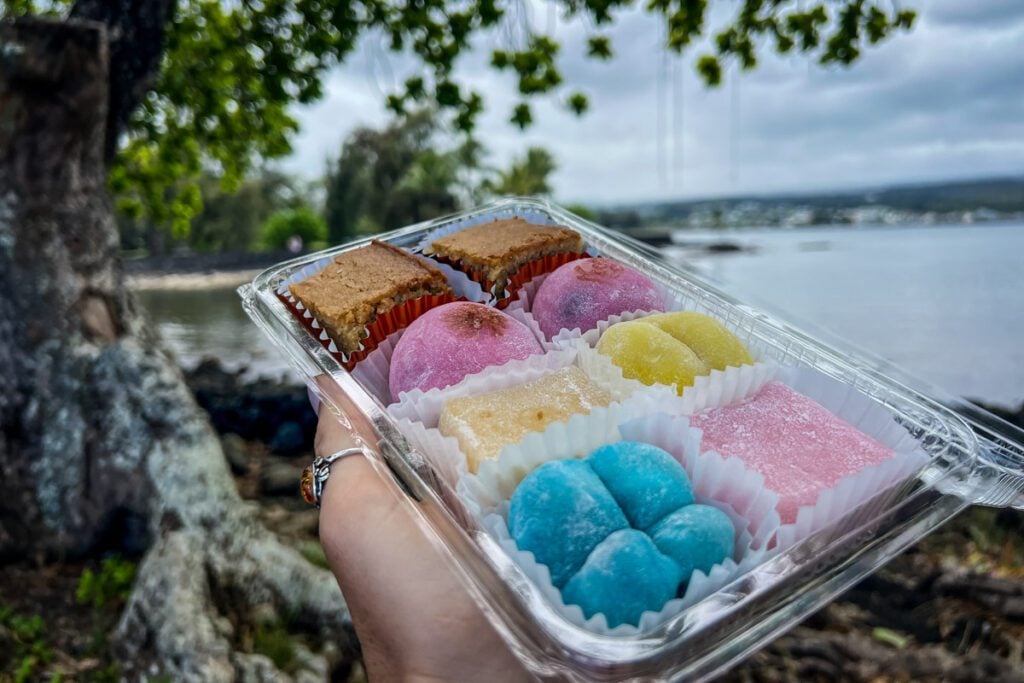 I'd read all sorts of reviews stating that the line snaked around the corner and waiting times were incredibly long. Since we were visiting Hilo on a Saturday, I decided we'd get there just before they open at 10 a.m.
Then I read a few reviews that suggested calling in your order in advance so you could skip the line. I tried calling at 9 a.m. and they told me my order would be ready at 11:30 a.m.
When we arrived there were only a few people in line. I'm not sure if this was just an "off" day, but it was nice knowing we could just pay for our order and go. They were also giving out samples of some of the seasonal flavors (like strawberry shortcake, which was delish!), so when you call ask if they have any specials to add to your order.
Two Ladies Kitchen Info
Phone: +1 (808) 961-4766
Hours: Wednesday – Saturday, 10 a.m. – 4 p.m.
What to order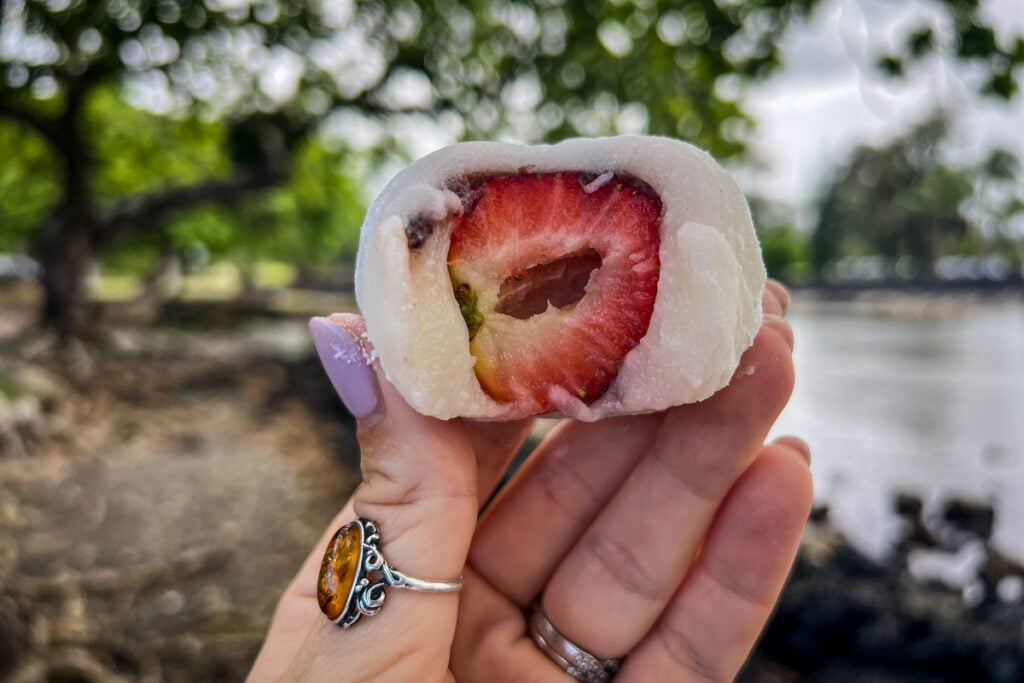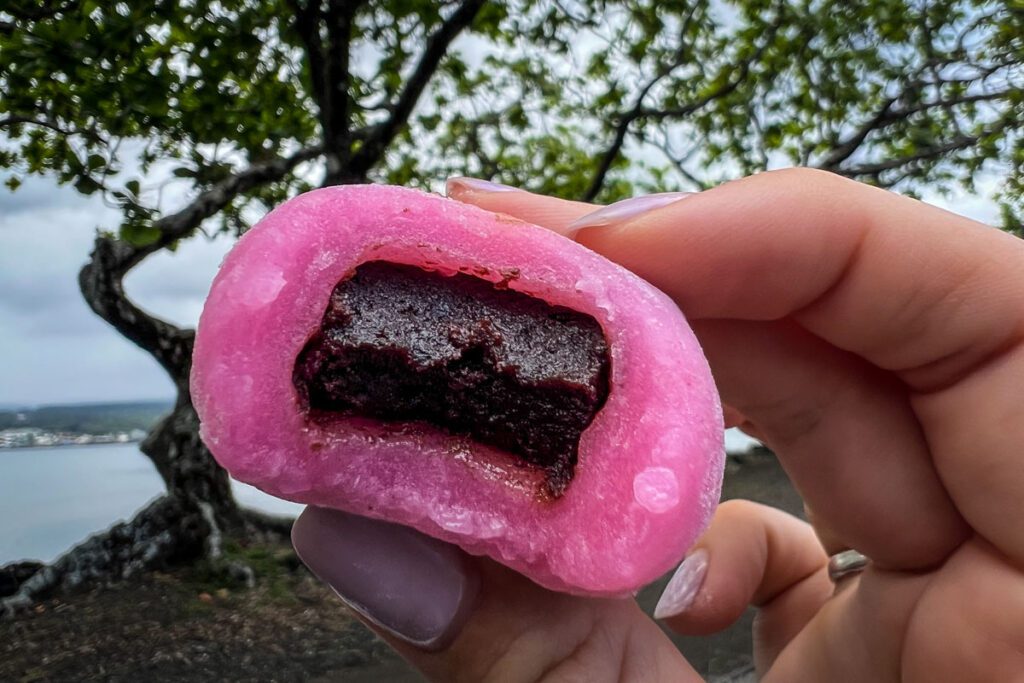 I scoured reviews to find out which mochi were the best, but with so many flavors to choose from I had a hard time narrowing it down. We ended up getting a lot. Like, a lot, a lot.
I told myself it was all in the name of research. And I can assure you that after eating my way through way more mochi than any human being every should, there are 3 stone cold winners:
Strawberry: a full strawberry dipped in sweet red bean paste and wrapped in mochi (this is their most popular flavor!)
Brownie: mochi stuffed with a gooey brownie (we weren't sure we'd like this but it was so good and we wished we ordered more)
Butter: this is different than the other mochi – it is a small piece of dense cake, with a chewy texture and a nice buttery cake flavor
If I were to go back, I would only order these three. Some of the fruit flavors, like lilikoi, coconut and peach (that weren't filled) sounded really tempting but in my opinion, the flavor just wasn't right. There were a few that we didn't finish (gasp!), which is something we never do. It wasn't that they were bad. We just liked the other ones so much more, and there's only so much mochi a person can eat!
Psst! Interested in Japanese cuisine? You'll see a lot of it throughout Hawaii. This is a list of Japanese foods to try!
7. See the stunning Rainbow Falls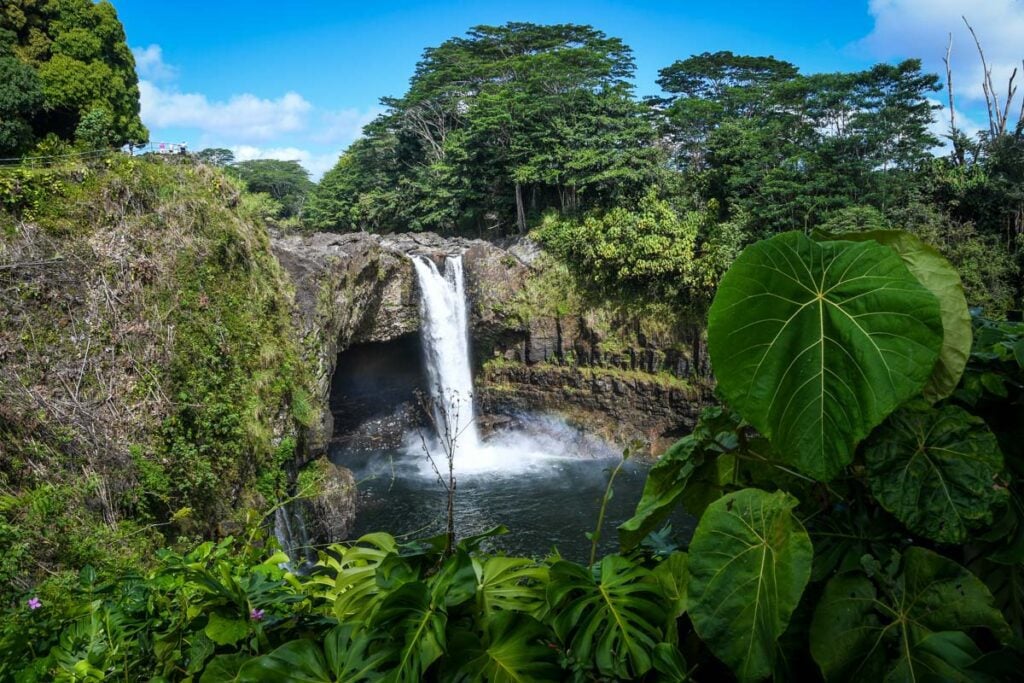 Located in Wailuku River State Park, Rainbow Falls is 80 feet tall and is free and easy to visit. Just a short walk from the car park will bring you to a view over the falls.
The falls cascade over a lava cave that legend says is home of Hina, the Hawaiian goddess of the moon.
It gets its name from – you guessed it – the rainbows that are easy to spot here, especially if you visit on a sunny morning. The earlier you visit, the better your chances for seeing a rainbow.
While its more famous neighbor, Akaka Falls, is much taller (towering at a whopping 422 feet!) Rainbow Falls is a stunner and well worth a visit while in Hilo.
Tip: Position yourself so your back is facing the sun for the best chance of glimpsing a rainbow.
8. Get the prettiest ice cream on the island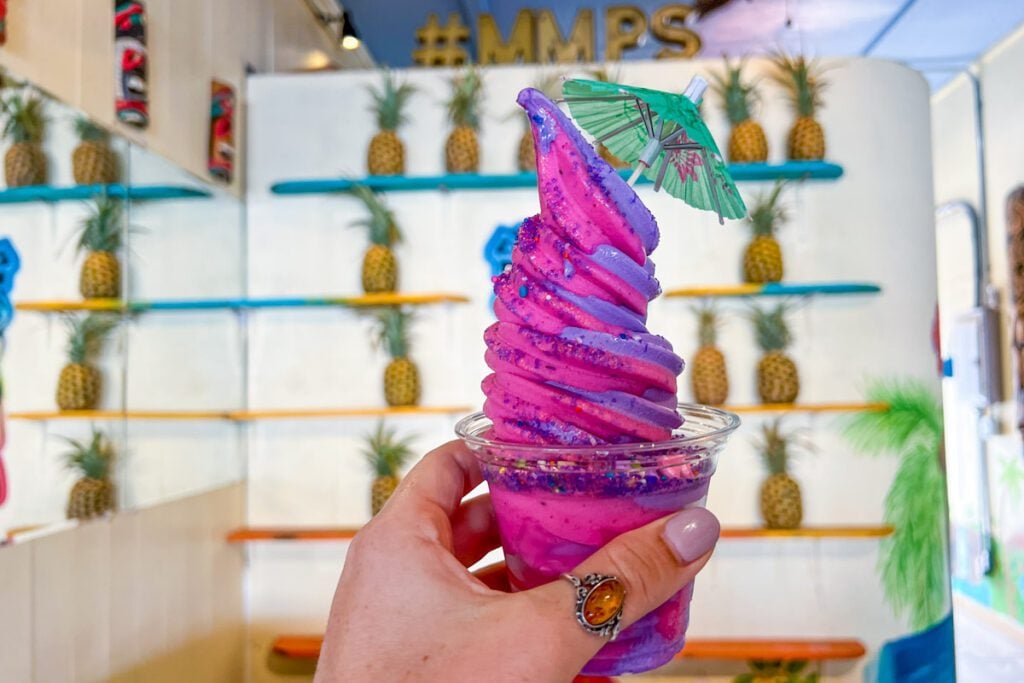 It's hard to wander past Makani's Magic Pineapple Shack and not wonder what's inside.
Their mostly local and organic menu offers vibrant mounds of acai and soft serve decorated with a rainbow of colors and textures. Some of their creations even come in an instagrammable pineapple bowl!
Be sure to try the ube (purple yam) soft serve, which is what they're most famous for and is way more delicious than it sounds.
Insider Tip: We loved the "unicorn" flavor which is a swirl of ube and dragonfruit, topped with sprinkles and a little umbrella!
9. Shop local at the Hilo Farmers Market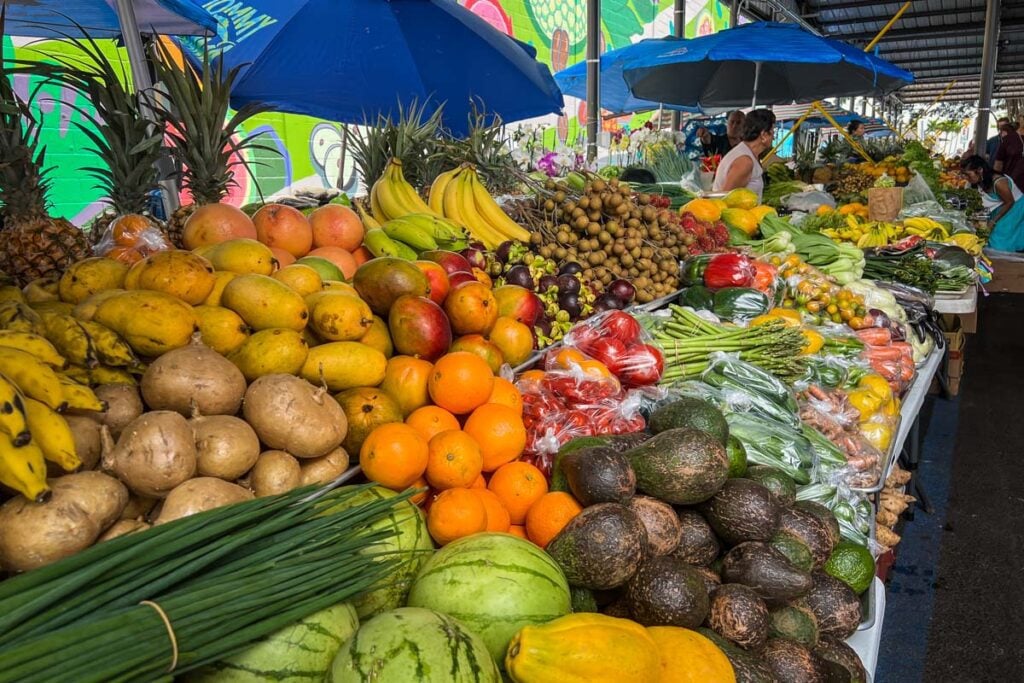 Locals and tourists flock to the colorful Hilo Farmers Market for their fair share of exotic fruits, locally roasted coffee, sweet treats, crafts, and local trinkets.
It's the largest and most popular market on Big Island, so definitely pop in to find things you won't see anywhere else!
Hours: everyday, 7 a.m. to 3 p.m.
Good to know: You'll have the biggest selection on Big Market days, which are on Wednesday and Saturday. We visited on a Saturday (a "big market day") and personally thought this market was much better than the one in Kona!
10. Go underground at Kaumana Caves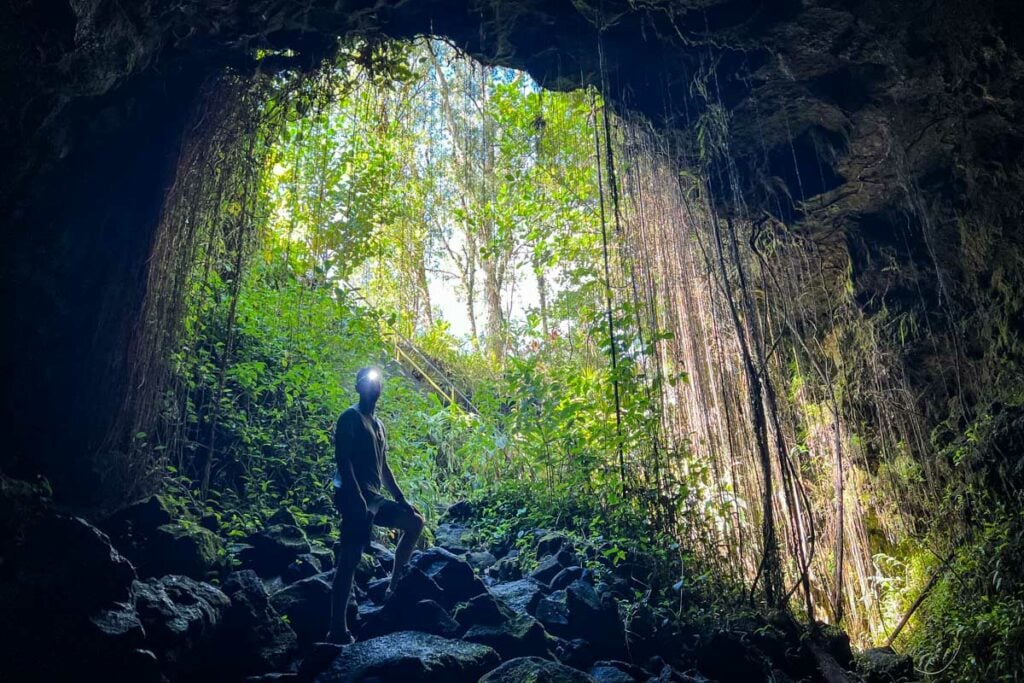 Sculpted in 1881 by the mighty Mauna Loa, the lava tubes snaking through Kaumana Caves are a fascinating adventure.
Exploring the caves, you can go either left or right at the entrance, then as far down each tube as you're comfortable with.
Insider Tip: Pack a headlamp and wear sturdy shoes!
11. Visit the Mauna Loa Macadamia Nut Center
If you're looking for a free thing to do in Hilo, pay a visit to the Mauna Loa Macadamia Nut Center.
It's more or less a gift shop, but you can also learn a bit about the process of getting these nuts from the farm into your hands.
You can also try some samples (yes, please!) and stock up on macadamia nuts to bring home.
Insider Tip: If you're pressed for time, you can skip this stop and get these same macadamia nuts in almost any grocery store or ABC store in Hawaii.
12. Find zen at the Liliʻuokalani Gardens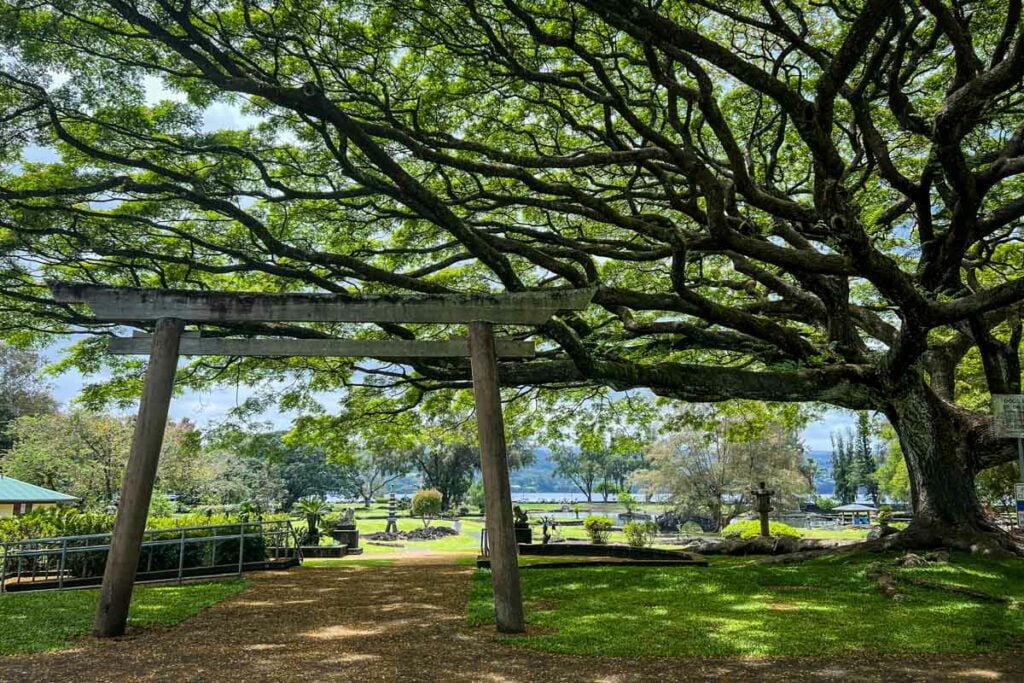 Dedicated to Hawaii's first Japanese immigrants who worked on the Big Island sugarcane fields, the Lili'uokalani Gardens is the largest authentic Japanese garden outside of Japan.
Decorating the edges of the park's Waihonu Pond, you'll find lanterns, pagodas, picturesque bridges, and a traditional tea house among the Edo-style gardens.
And best of all, it's totally free to wander!
Insider Tip: Grab a paleta (Mexican style popsicle) from this shop nearby the gardens.
13. See a show in a historic theater
Built in 1925, the historic Palace Theater hosts a variety of shows. From independent films, Hollywood blockbusters, and classic movies to plays and concerts, you'll find it all here.
Check out their schedule to see what's on during your time in Hilo, and if anything strikes your fancy, snag some tickets. This is an especially good rainy day activity in Hilo.
14. Cheers with a local brew at Hilo Brewing Company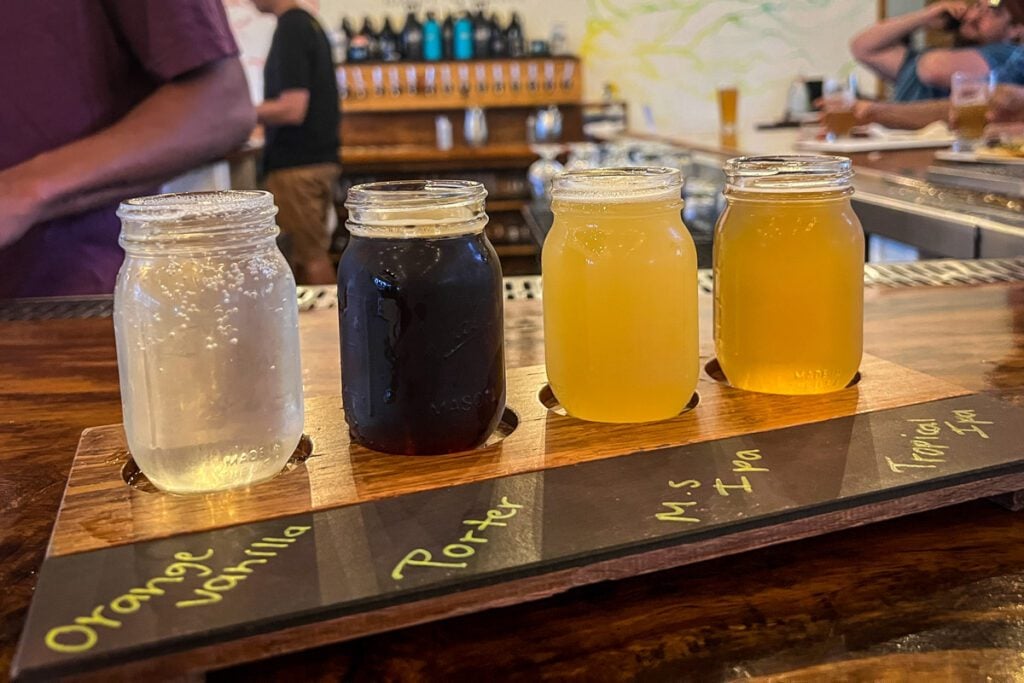 Small batch, handcrafted beer is the signature at Hilo Brewing Company.
Their appropriately-named pours showcase the highlights of Big Island and have awarded their beer the tag as "Hilo's own".
Insider Tip: We are big fans of their Tsunami IPA.
15. Spend the night on a farm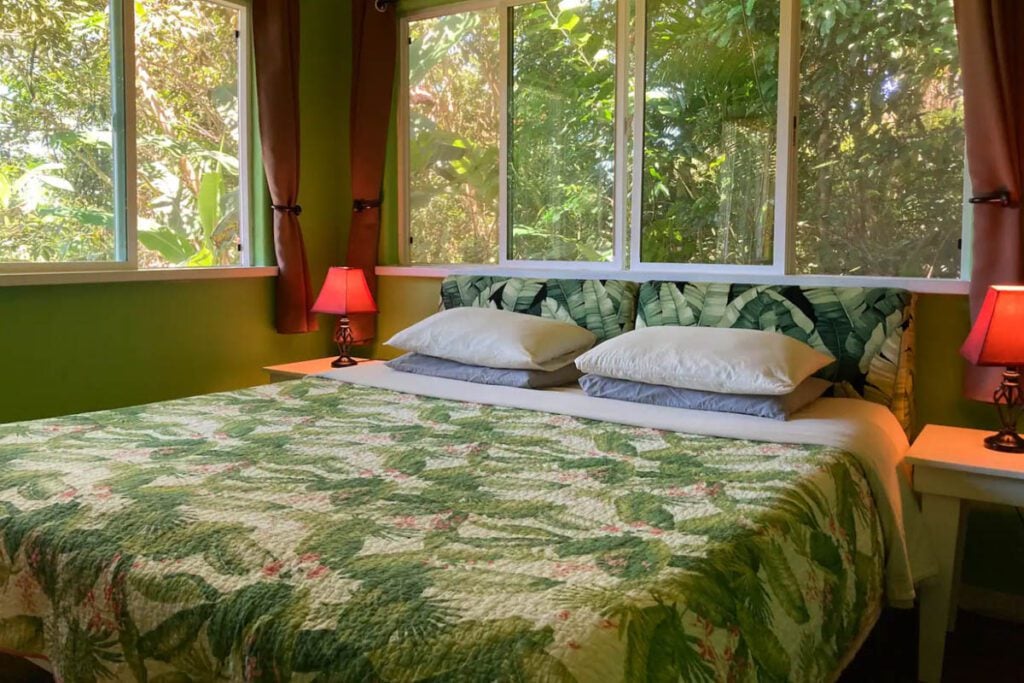 Part of what makes Hawaii so special is outside of the main touristy areas, deep in nature. Lucky for you, there are a wealth of farmstays waiting to host your escape on the island.
At this Forest Farm Stay, you'll stay on an off-grid permaculture farm that is steps away from a bamboo grove and waterfall with a swimming hole. You'll also have access to the properties organic eggs, chocolate, and fruits during your stay.
Alternatively, this Eco-Friendly Shipping Container is at the center of a 10-acre property surrounded by lychee and exotic fruit orchards. The outdoor tub and fire pit make for a romantic getaway that's still close to downtown Hilo.
16. Go snorkeling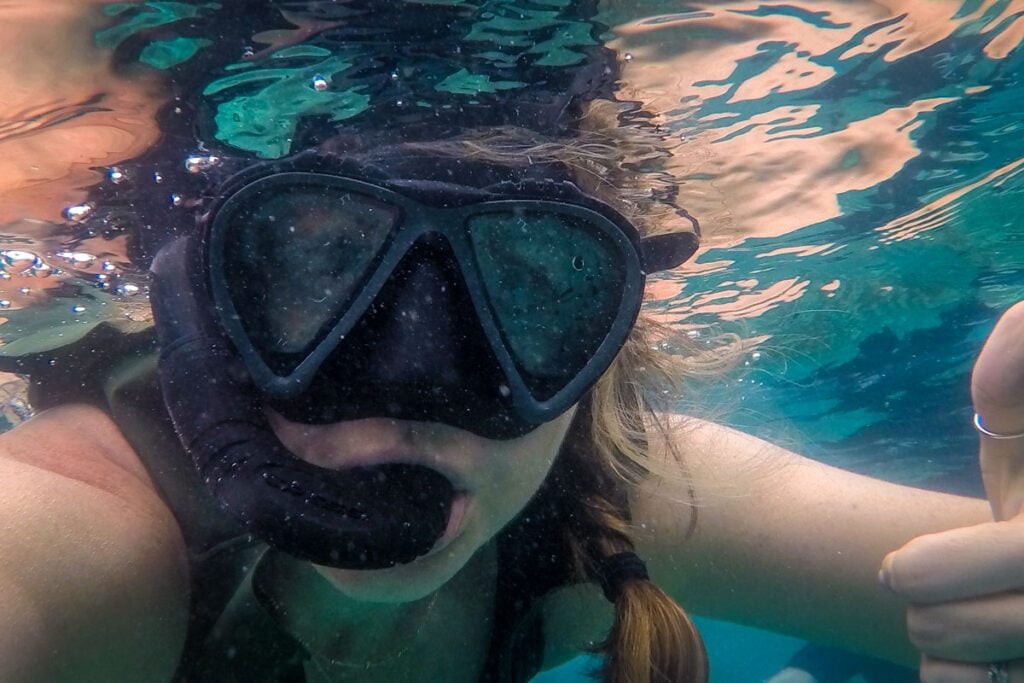 The best snorkeling on the Big Island is unarguably on the west coast. (We've listed our favorite places to snorkel near Kona.)
However, if you're itching to get in the water there are two places near Hilo where you can have a beach day:
Richardson Beach Park
Black sand beach
Sea turtles can be spotted here
Carlsmith Beach Park
Grassy area for picnicking
Rocky lagoons and tide pools (no sandy beach)
17. Take the Pepe'ekeo Scenic Drive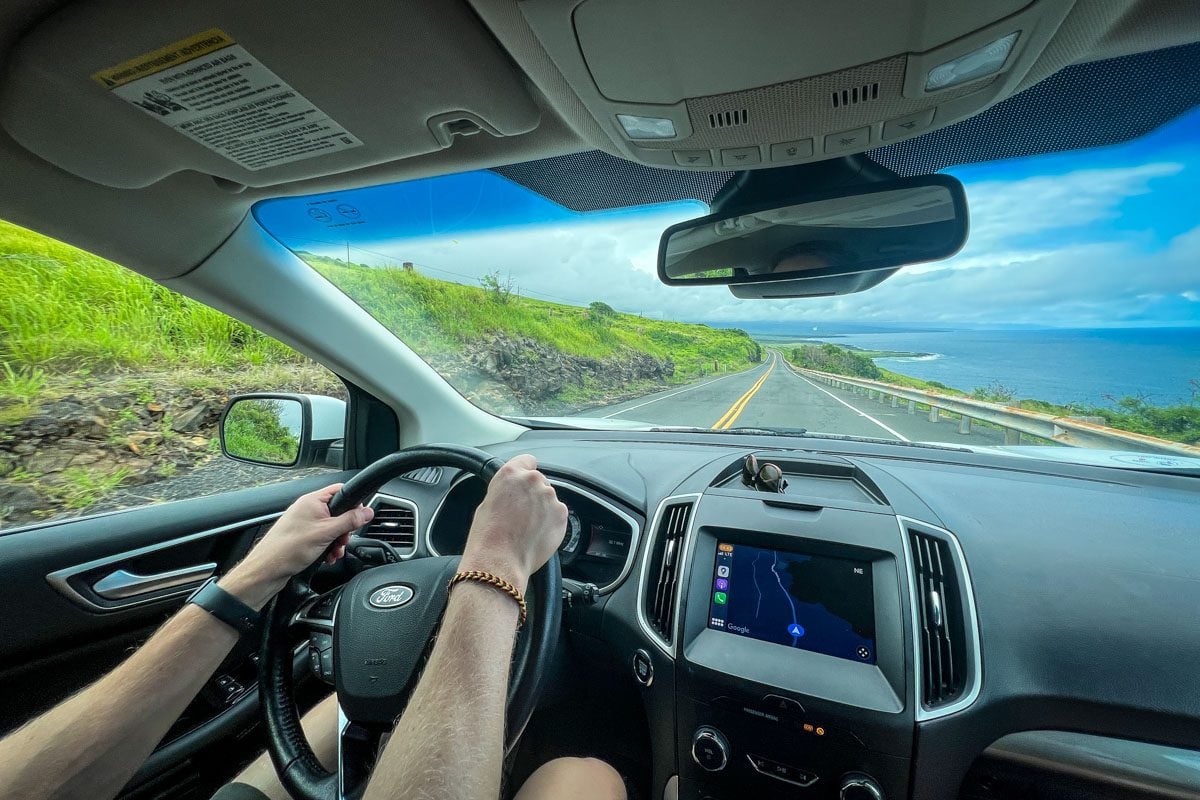 This 4-mile stretch of the Old Mamalahoa Highway is known as the most famous scenic drive on the Big Island.
Stop at quaint farm shops, drive under old bridges and past lush, tropical forests.
Pepe'ekeo Scenic Drive info
Starting point: GPS coordinates
Ending point: GPS coordinates
Distance: 4 miles
Timing: Give yourself at least 30 minutes for driving (slowly) and making a few stops along the way
Stops along the Pepe'ekeo Scenic Drive:
18. Soak in the warm waters of Pohoiki Hot Spring
If you're looking for a unique and off the beaten path thing to do in Hilo, keep reading…
Along the island's newest black sand beach are three volcanically-heated hot pools that are the last remaining (accessible) hot springs on the Big Island.
The mix of cool seawater and magma-heated rainwater balance each other out, creating the perfect, hot tub-like temperatures in the Pohoiki Bay and Hot Springs.
How to get there: the pools are located near the parking lot in the Isaac Hale State Park. From Hilo, it's about a 40-mile drive and takes 1 hour.
Tip: The further from the ocean, the hotter the pool.
19. SUP or rappel at the private Kulaniapia Falls
If you're looking to immerse yourself in a wild, off-grid location, a day pass to Kulaniapia Falls is just what you're looking for.
You can swim, kayak, or paddleboard at the base of this majestic 120-foot waterfall, or explore nearly 40 acres of this pristine estate threaded with hiking trails and three other waterfalls.
For a more exhilarating adventure, join a waterfall rappelling tour with an expert team of canyoneers. Using a rope, you'll scale the side of the waterfall for stellar views and a heaping dose of adrenaline!
Good to know: a day pass gives you access to the waterfall from 10 a.m. to 3 p.m..
20. Take a cooking class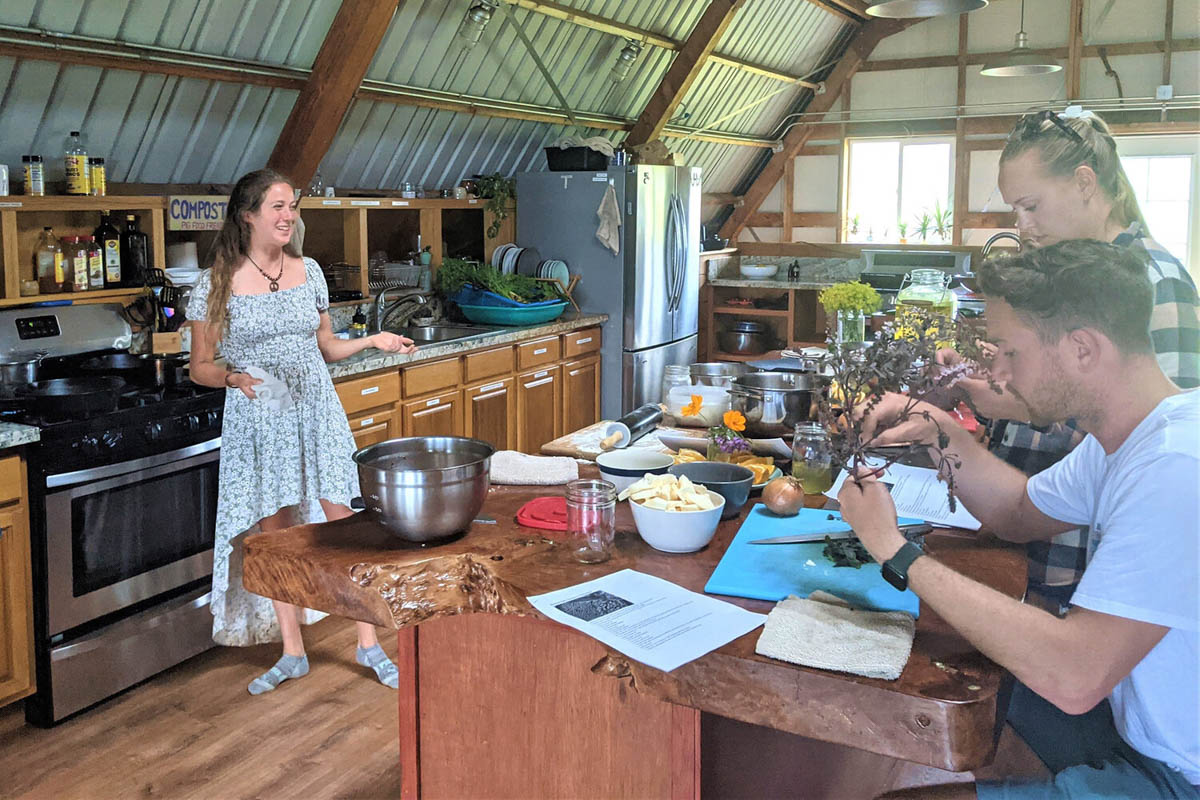 The cooking classes at Kulaniapia Farms take farm-to-table to the next level.
During their immersive experience, you'll hand pick the freshest, and tastiest ingredients grown in their rich volcanic soil, then whip up plant-based recipes to bring back home with you!
Tip: With a day pass you get access to the private Kulaniapia Falls and a discount on this cooking class, which levels out to the same cost if you only booked the class.
21. Get a kombucha flight at The Booch Bar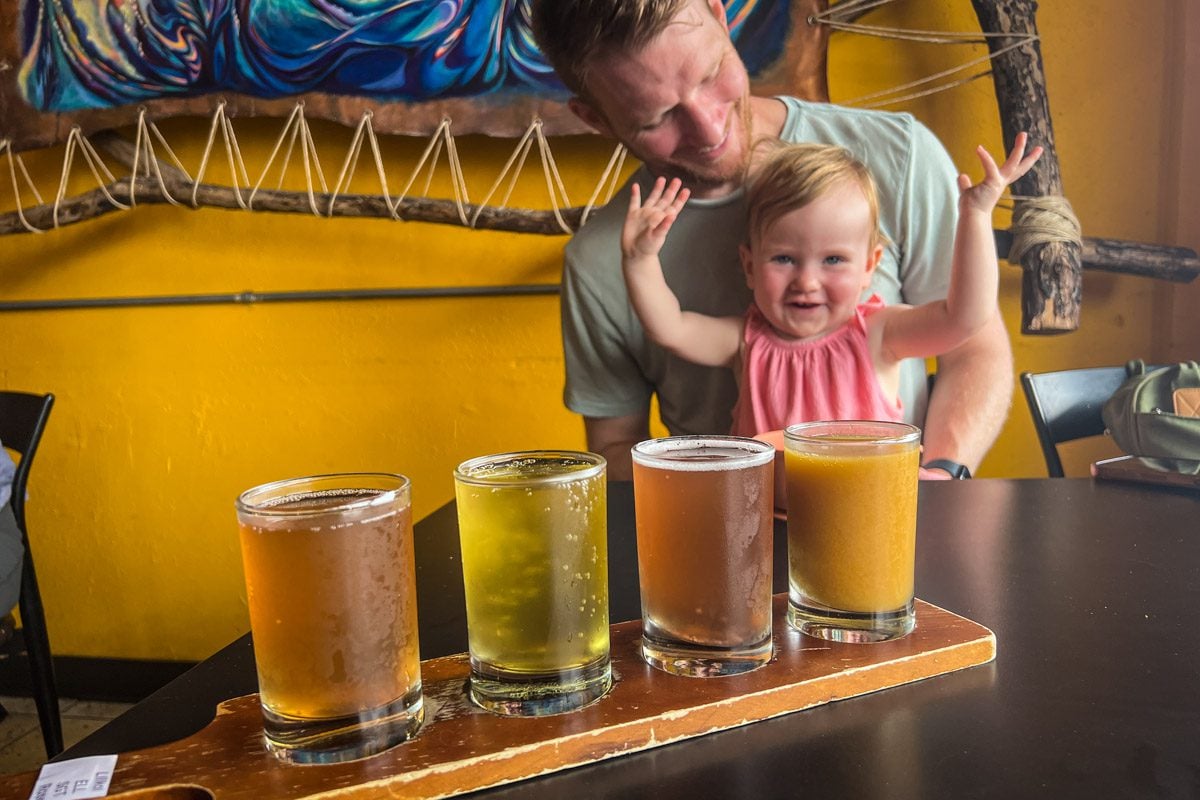 A healthy twist on traditional breweries, The Booch Bar serves up kombucha, rather than beer, in a variety of blends and sizes.
They have many different signature flavors like hibiscus and lilikoi (our favorite was the rose!), so grab a kombucha flight to find your favorite!
If you're hungry, choose from their menu which features items that have been house-fermented, like sourdough, kimchi, hot sauce, and sauerkraut.
22. Adopt a dog for the day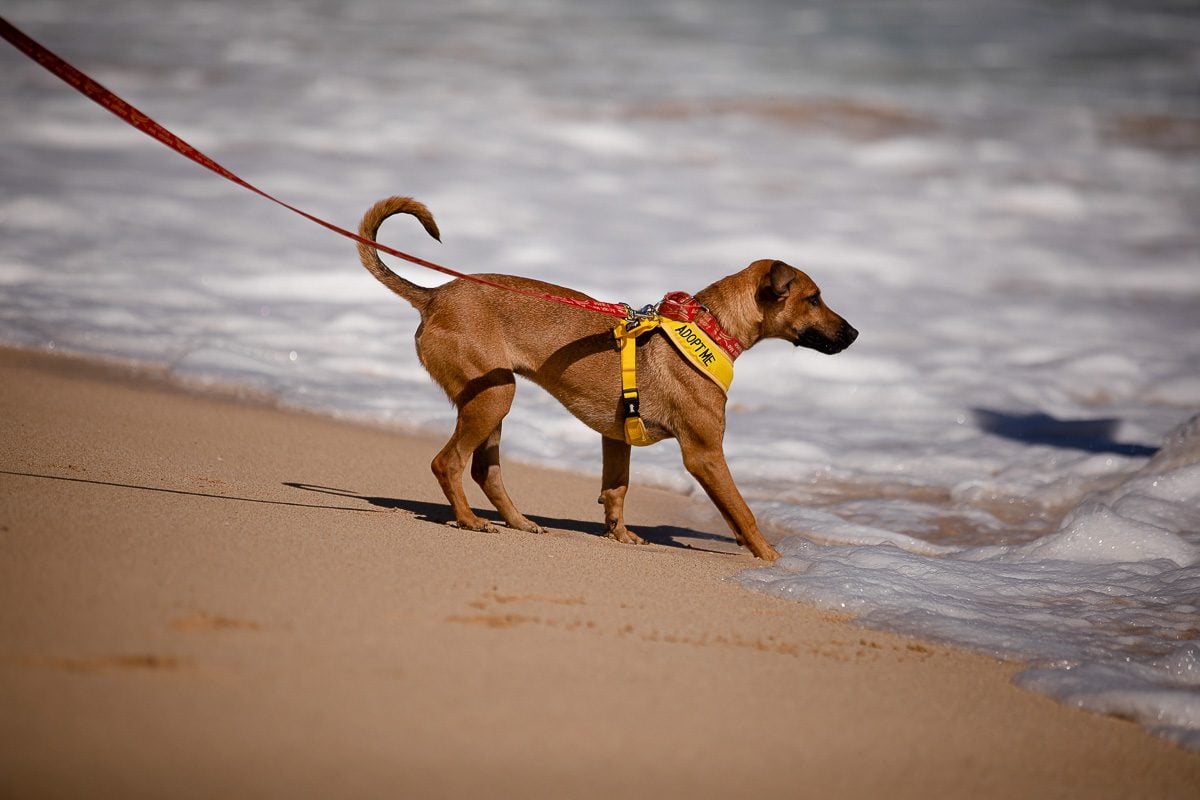 The Hawaii Island Humane Society created an outlet to help their dogs get adopted and for you to get your dog-fix while on vacation… doggy field trips!
For a small donation, you can bring a furry friend with you on your adventures around the island. It's a fun way to travel around Big Island while giving back to the local community!
Good to know: field trips are by appointment only, Friday through Sunday.
23. Visit the Pacific Tsunami Museum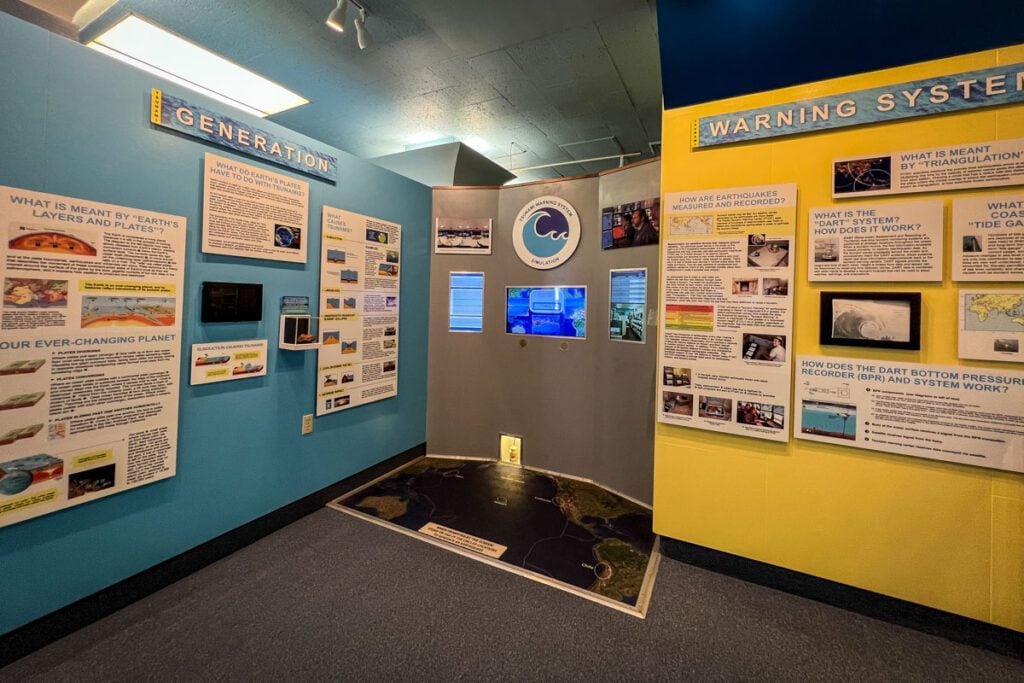 Telling the stories of tsunami survivors and how these powerful natural disasters shaped the town of Hilo, this museum is a short stop near downtown.
Entrance: $10 USD
24. Soar above a volcano on a helicopter ride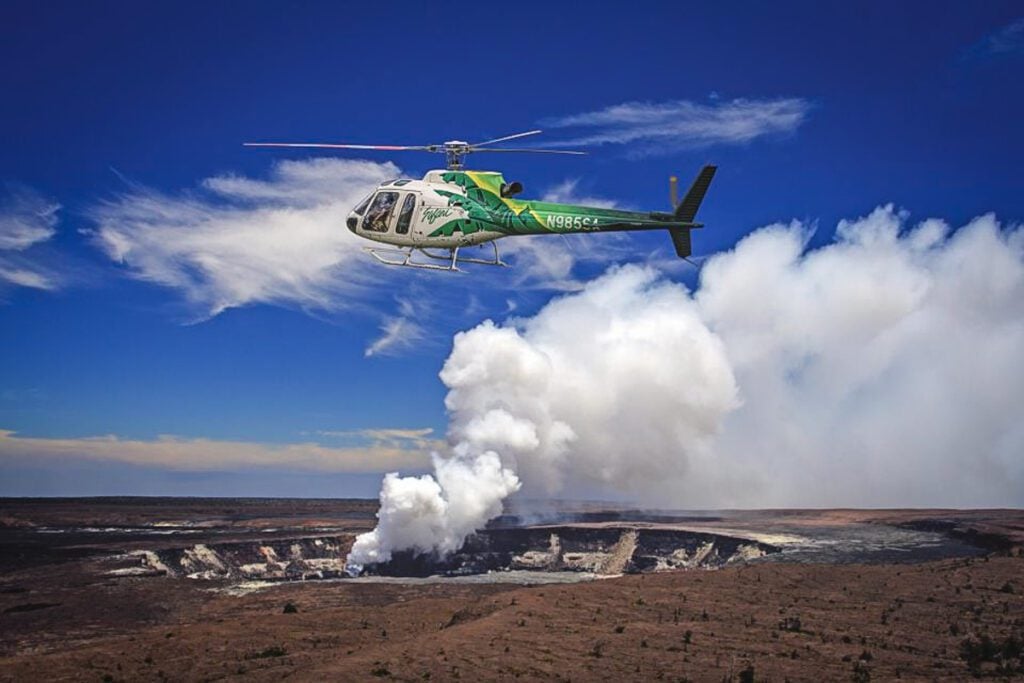 Marvel as smoke plumes form over volcanic cones and how the Big Island has transformed over the last millenia on this Hilo Helicopter tour.
You'll fly over Hawaii Volcanoes National park, Mauna Kea, Mauna Loa, and Kilauea, one of the most active volcanoes on the planet. Also watch as the rugged and dramatic volcanic landscapes turn into lush, dense jungle as you zoom over waterfalls and evolving scenery.
What you need to know:
Hours: 1 hour
Price: $319 USD
What guests are saying
"Sam, our pilot, was knowledgeable and shared a good history on the evolution of the land, as well as the volcanoes in the region. She also made sure all passengers had a good share of flying and sighting the various calderas. It's a safe and great way to see big island from the sky!" – GetYourGuide Traveler, Singapore (October 2022)
25. Go cliff jumping on Coconut Island
Located just off the shore from the Liliʻuokalani Japanese Gardens (also worth a visit), Coconut Island can be reached by walking along a footbridge.
This is a popular local spot for picnicking, and there is a small tower from which people can jump into the water for a refreshing midday swim.
26. Shop for a ukulele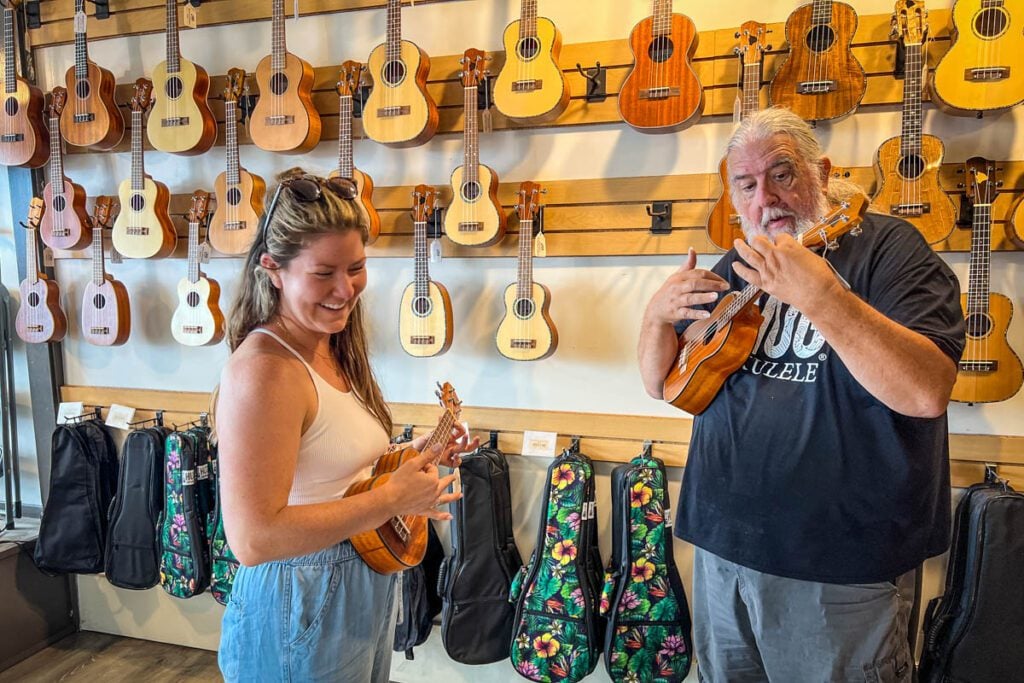 If you're in the market for a handmade ukulele to bring the acoustics of Hawaii back home, look no further than Hawaiian 'Ukulele and Guitar.
From beginners to seasoned players, they have a variety of ukuleles that are made with high quality materials right on the island.
The owner, "Uncle Uke", is fun to talk to and will walk you through learning your first chords.
I had a cheap ukulele as a kid (purchased from an ABC store on a trip to Hawaii), and I've always wanted a nicer version. So I decided to treat myself to a beautifully-made ukulele for my birthday!
27. Get free samples at Big Island Candies
If you've got a sweet tooth, head over to Big Island Candies where you can watch their famous chocolate-dipped cookies being made.
If your mouth starts to water – it will! – there are free samples to try. You'll definitely want to stock up on these tasty treats to bring home as a souvenir (if you can make it that long without eating them all!).
28. Go ziplining over a waterfall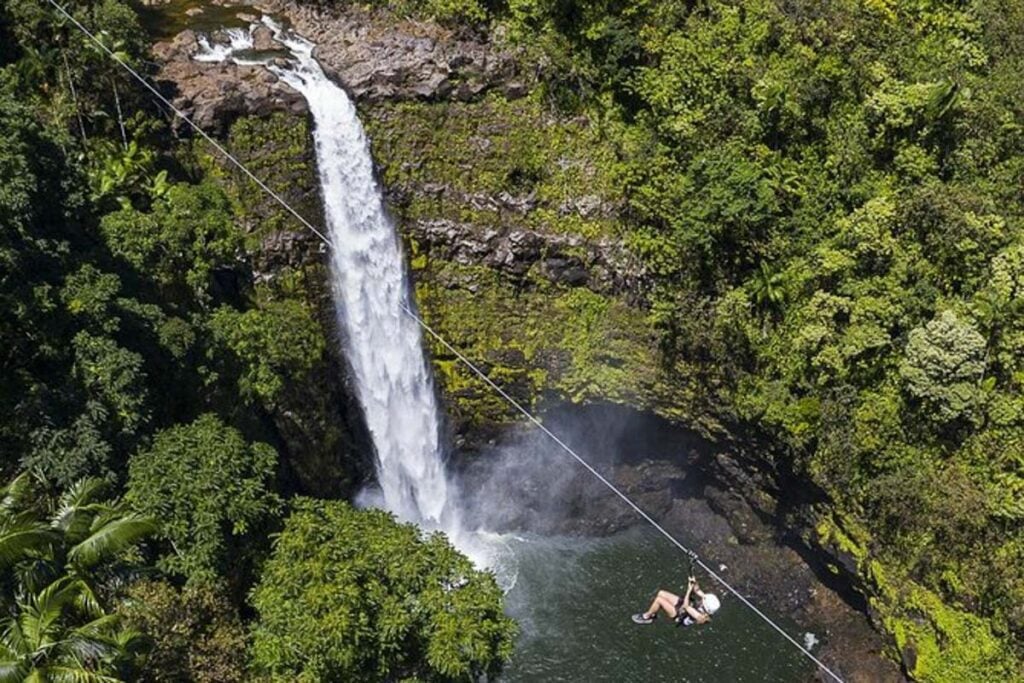 Soaring across the lush jungle just outside of Hilo, Big Island Zipline takes you on a 7-line course through rugged and raw Hawaiian nature.
Take in views of the mountains and Hamakua Coast before you arrive at the grand finale, zipping past a powerful 250-foot waterfall.
What you need to know:
Hours: 2.5 hours
Price: $209
What guests are saying:
"Beautiful scenic vistas with knowledgeable guides made this an experience we will always remember. Three first time zip liners were made comfortable by the education provided by the guides and the progression of increasing difficulty. Each zip was more beautiful than the one before, ending with a stunning view of KoleKole falls!" – Catherine (April 2023)
29. Tour a 100-year-old farm
Rows of coffee orchards are sewn together by cacao trees and decorated with hanging vanilla vines on this historic plantation.
During Sharkey's Farm Tour, you'll tour the farm and taste their duo of freshly brewed Hawaiian coffee and handmade chocolate while learning about the special process of cultivating their legendary Hawaii-grown products.
What you need to know:
Hours: 3 hours
Price: $85 USD
What guests are saying:
"This is a must do if you are in the Hilo area. The Sharks knowledge and passion for botany makes this an incredible experience! Not only will you learn a lot about plants beyond cocoa, vanilla and coffee but you'll get to experience the making and tasting of it all as well! Can't recommend this enough!" – Mackenzie, United States (April 2023)
30. Shop for artisan souvenirs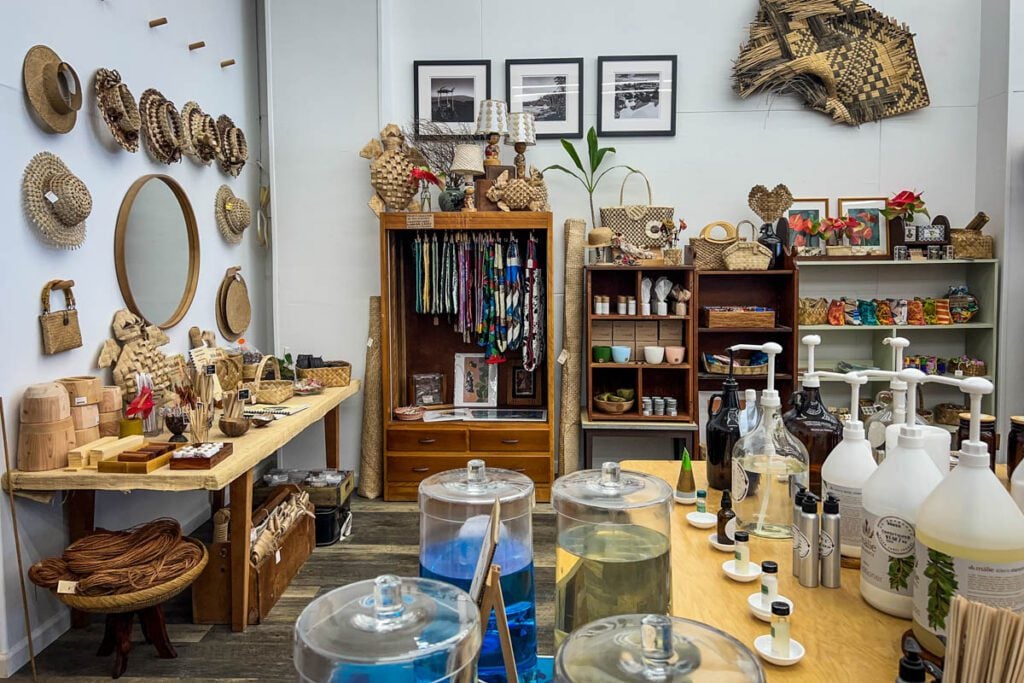 There are lots of shops lining the streets of Hilo, and in our opinion, there seemed to be more cool (non-cheesy) shops than in Kona.
If you're looking for a place to browse a variety of beautifully-curated, artisan-made goods, head straight to Hana Hou.
This boutique carries locally-made art, like prints and wall hangings. They also have a good selection of jewelry made by local artisans as well as clothing. Additionally, you'll find lots of zero-waste products, making this a favorite for locals and tourists alike.
---
Where to eat in Hilo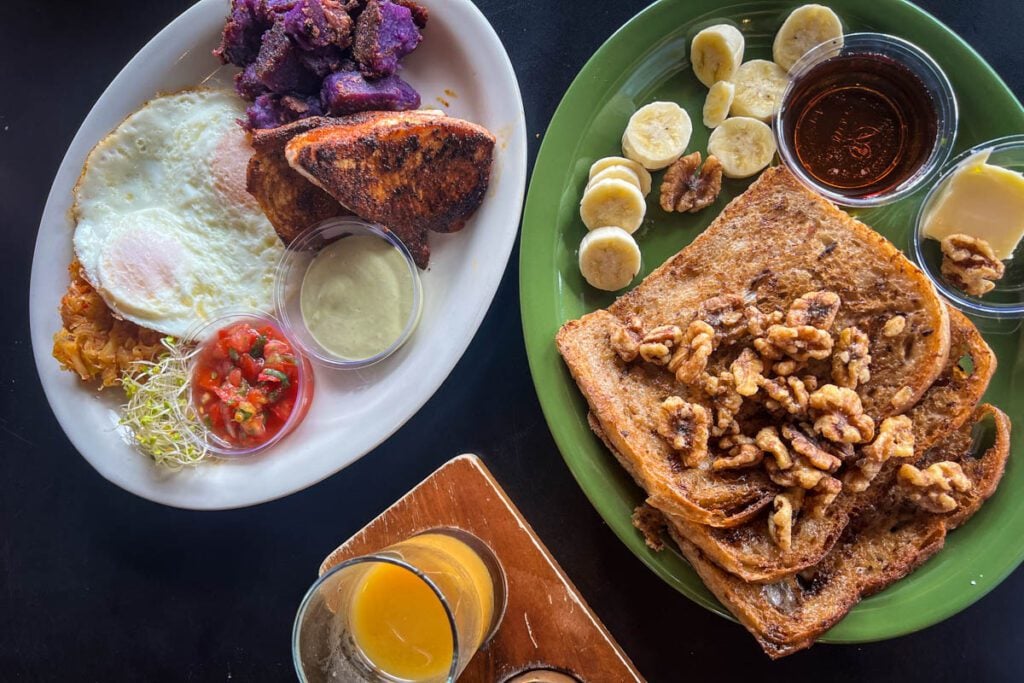 Hilo has some great spots to eat. Here are some of our recommendations:
How to get to Hilo from Kona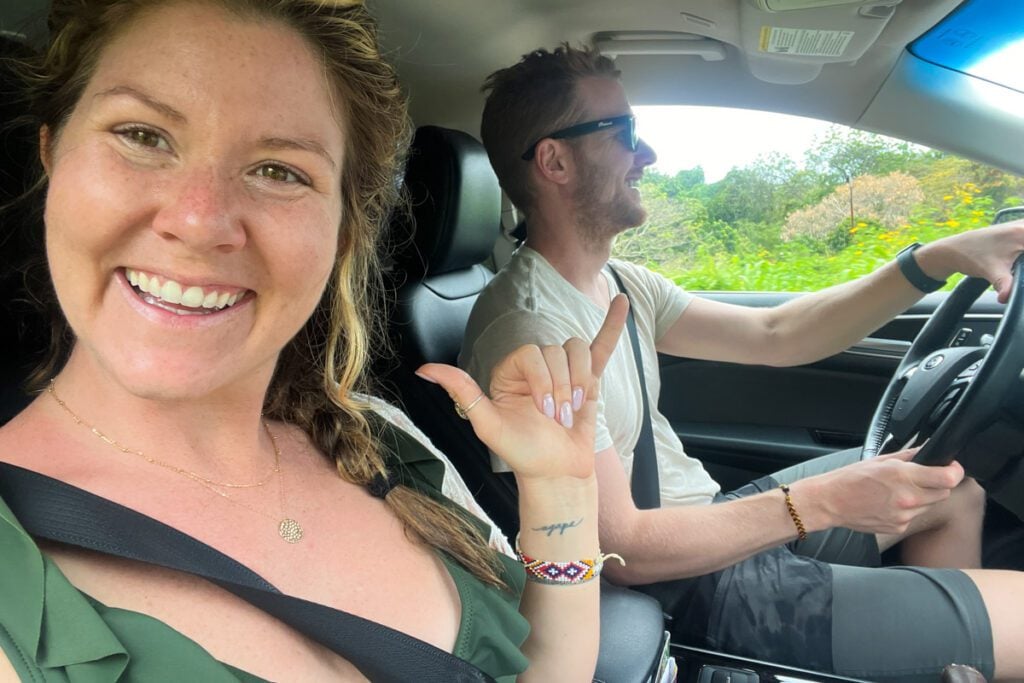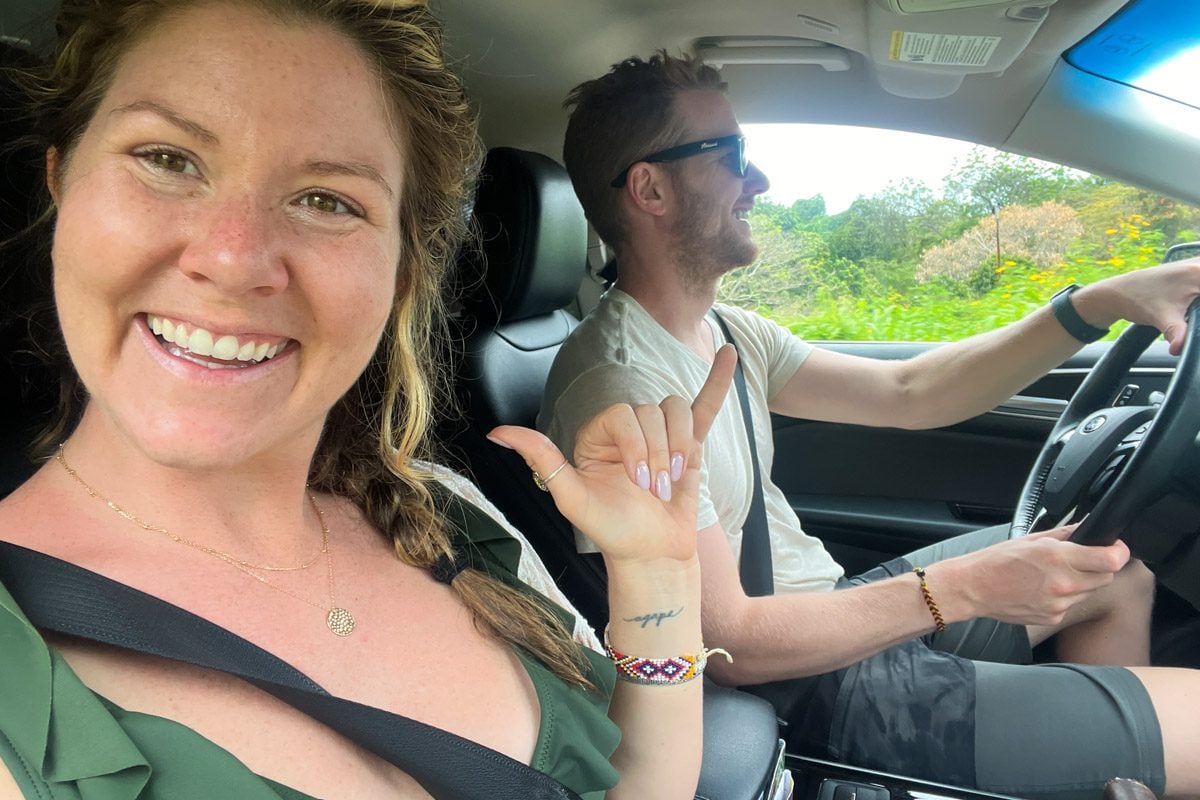 The easiest (and most fun!) way to get to Hilo from Kona is by driving your own rental car.
Hilo is about 77.5 miles away from Kona and the drive takes about 1.5 hours via HI-190/Saddle Road.
While this is the quickest way to get there, there are a variety of other routes that are scenic and worth considering. We break them all down in our Kona to Hilo Hawaii guide.
Where to stay in Hilo
Wondering where to stay in Hilo? Look no further! From super unique stays to budget-friendly options, we've got you covered.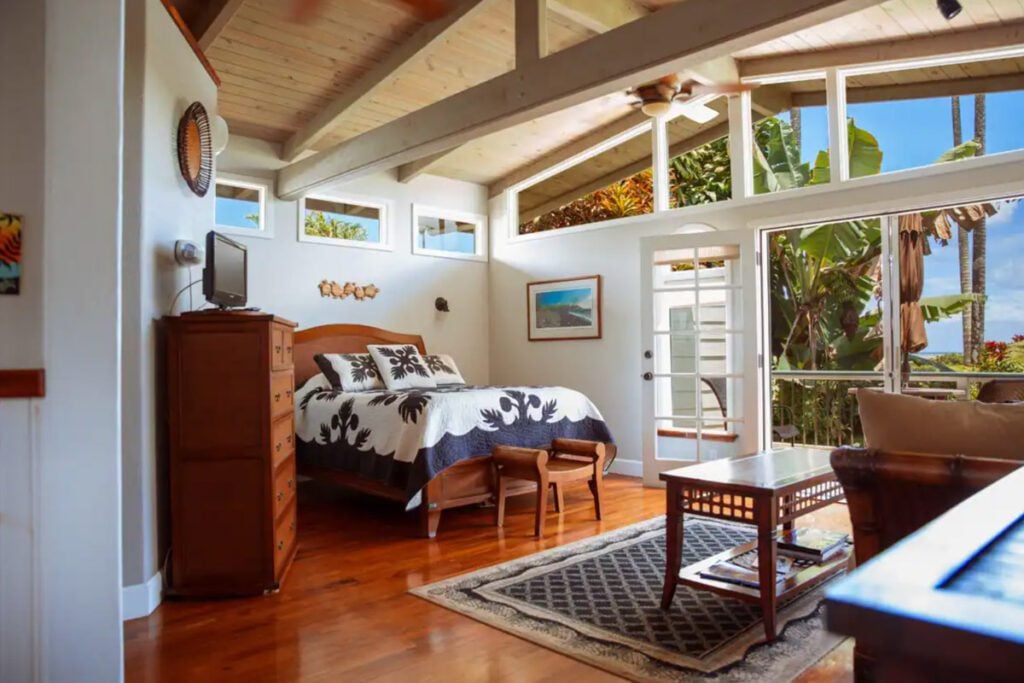 This reasonably priced Airbnb is just steps from the beach, is thoughtfully decorated and includes breakfast.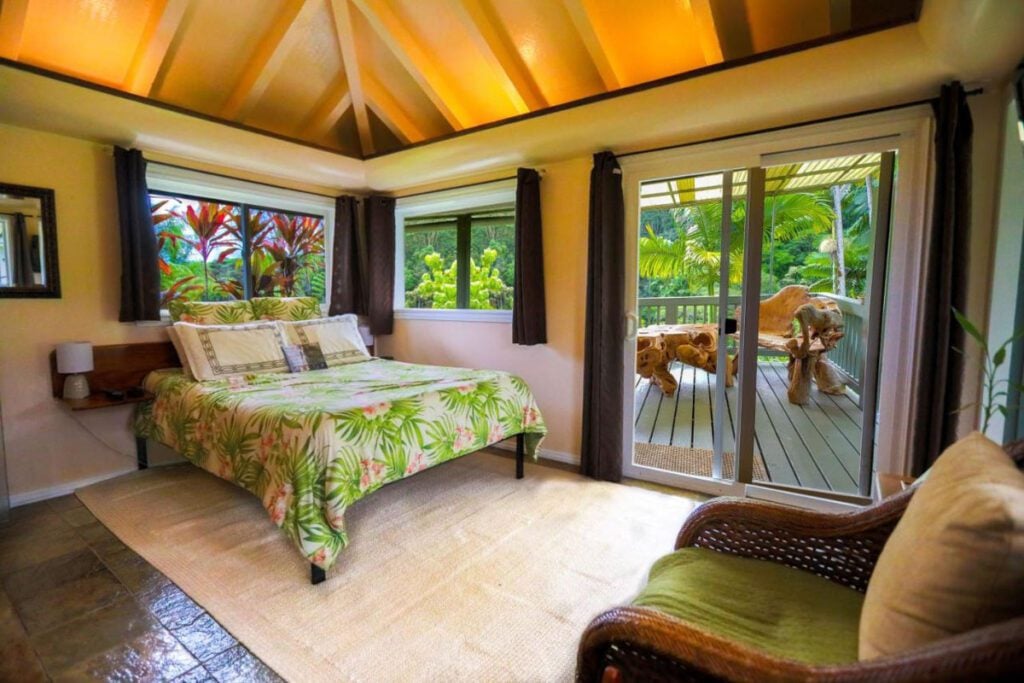 Located just outside of Hilo, staying at this inn is an experience in itself. Hotel guests can access the private onsite waterfall free of charge, and get discounts on activities, like a cooking class or waterfall rappelling.
Feeling really adventurous? Check out their off-grid cabins, which were featured on Netflix's "World's Most Amazing Vacation Rentals".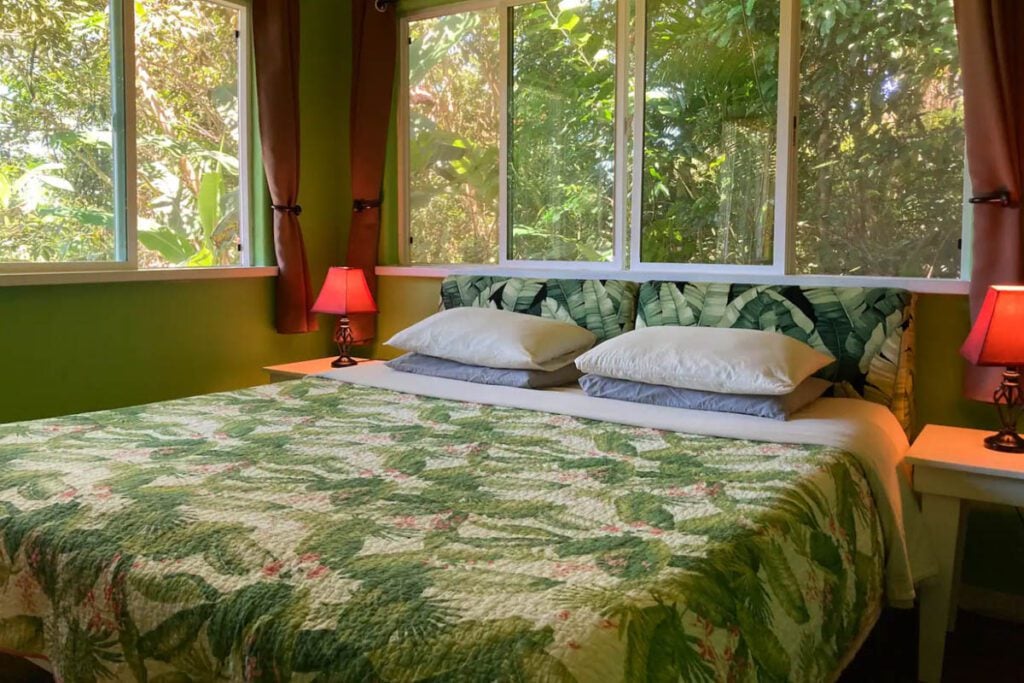 At this property, you'll stay on an off-grid permaculture farm that is steps away from a bamboo grove and waterfall with a swimming hole. You'll also have access to the properties organic eggs, chocolate, and fruits during your stay.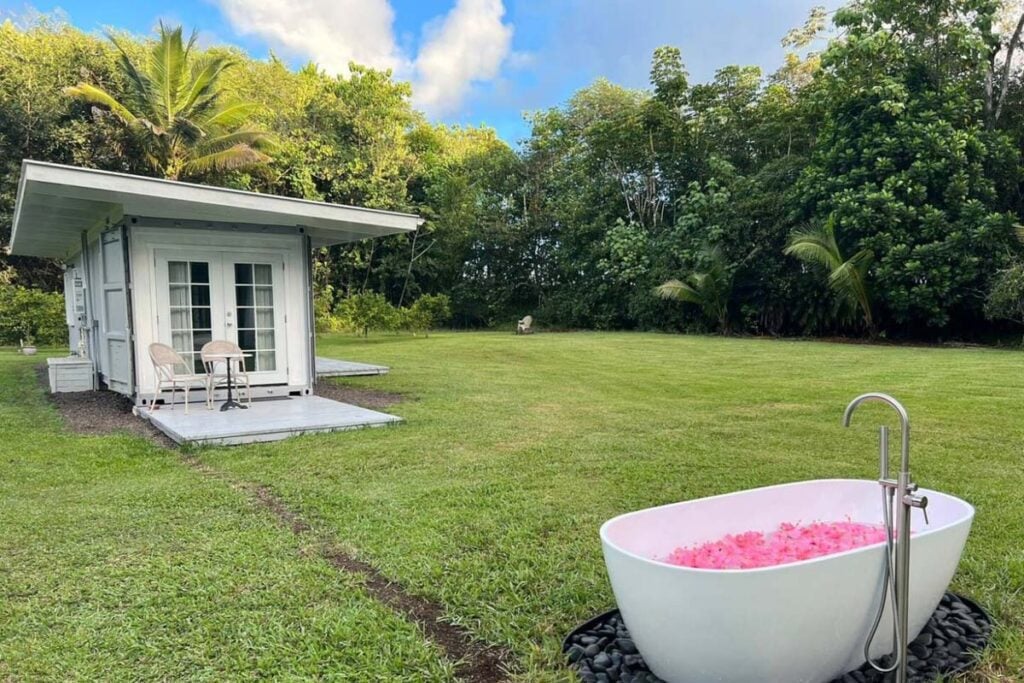 Eco-Friendly Shipping Container
Nestled at the center of a 10-acre property surrounded by lychee and exotic fruit orchards. The outdoor tub and fire pit make for a romantic getaway that's still close to downtown Hilo.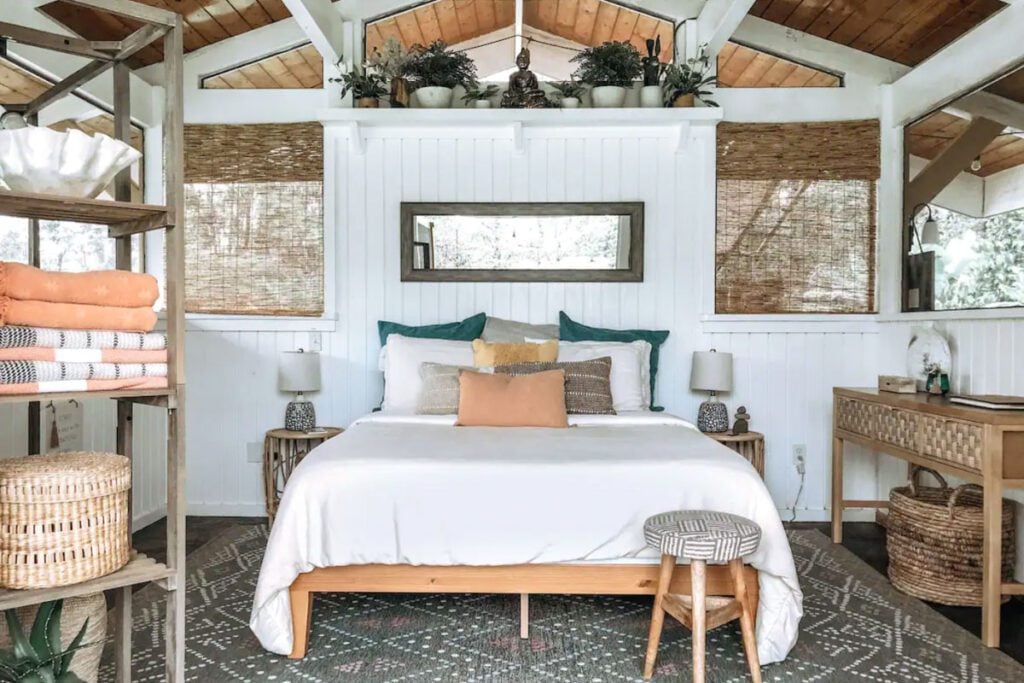 This sweet cottage has an outdoor shower and is one of the more affordable places you'll find in Hawaii. Need I say more?!
Round up of the best things to do in Hilo
Here's a recap of all the best things to do in Hilo, Hawaii so you can see everything in one place.
Akaka Falls
Cuddle goats
Hawaii Tropical Bioreserve & Garden
Lavaloha chocolate farm tour
Get mochi at 2 Ladies Kitchen
Rainbow Falls
Kaumana Caves
Hilo Farmers Market
Mauna Loa Macadamia Nut Center
Liliʻuokalani Gardens
Palace Theater
Hilo Brewing Company
Farm stay
Snorkeling
Pepe'ekeo Scenic Drive
Hawai'i Volcanoes National Park
Pohoiki Hot Spring
Ice cream at Makani's Magic Pineapple Shack
Kulaniapia Falls
Cooking class
The Booch Bar
Adopt a dog for the day
Pacific Tsunami Museum
Helicopter tour
Cliff jumping on Coconut Island
Shop for a ukulele
Big Island Candies
Ziplining over a waterfall
Sharkey's 100-year-old farm tour
Shop for artisan souvenirs
---
Be sure to download our complete packing list for Hawaii! It's packed with good suggestions and insider tips to help plan your Italy trip. And it's completely FREE, so why not!?
---
Planning a trip to Hawaii?
We have lots of resources on travel in Hawaii and destinations around the islands. Check out our Hawaii Homepage for everything you need to know, or start by reading some of our favorite Hawaii travel articles to help you plan your dream vacation to the Aloha State:
Save this article on Pinterest for later!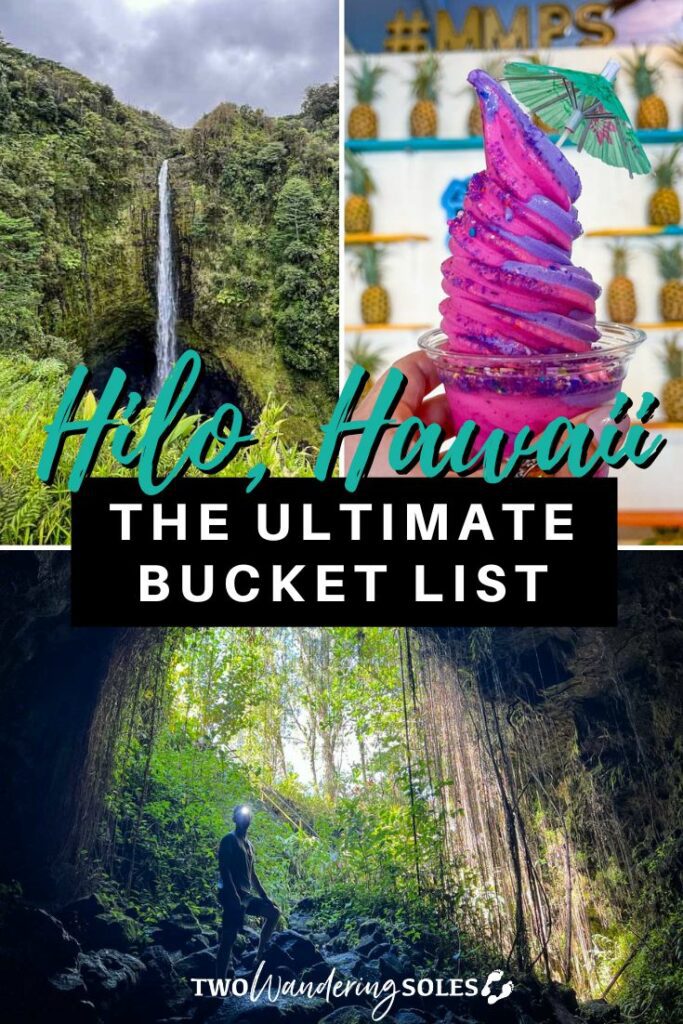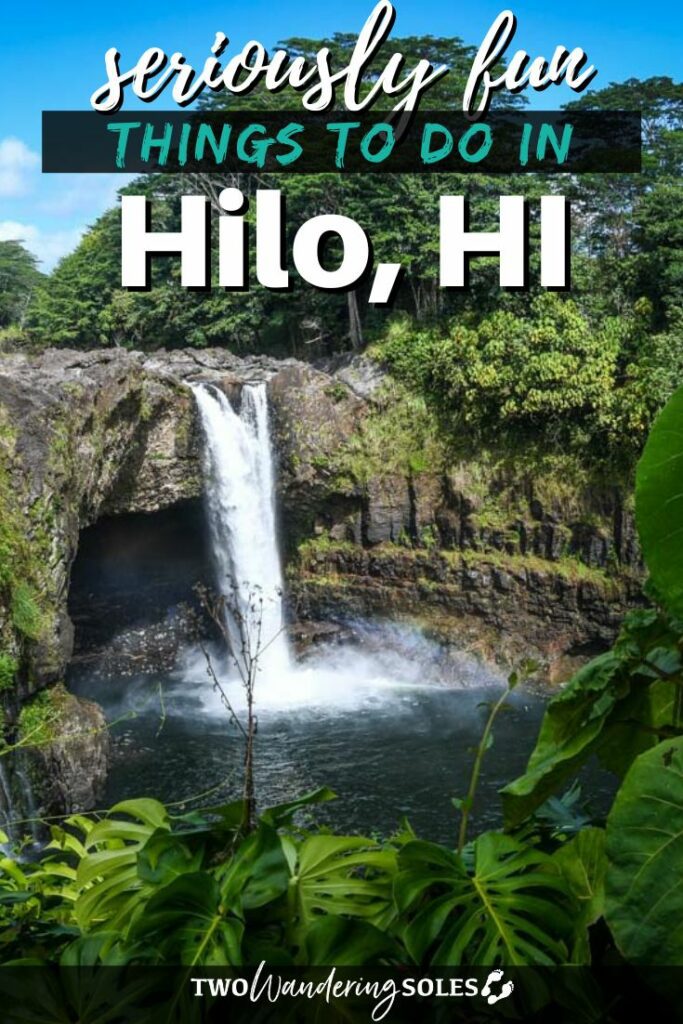 We want to hear from you!
Do you have more questions about Hilo or the Big Island? Comment below and we'll do our best to get back to you!