Getting a car rental in Hawaii is by far one of the best ways to explore the islands. It's convenient and flexible, letting you sight-see where, when, and as much as you want! This guide covers everything you need to know about getting a Hawaii car rental.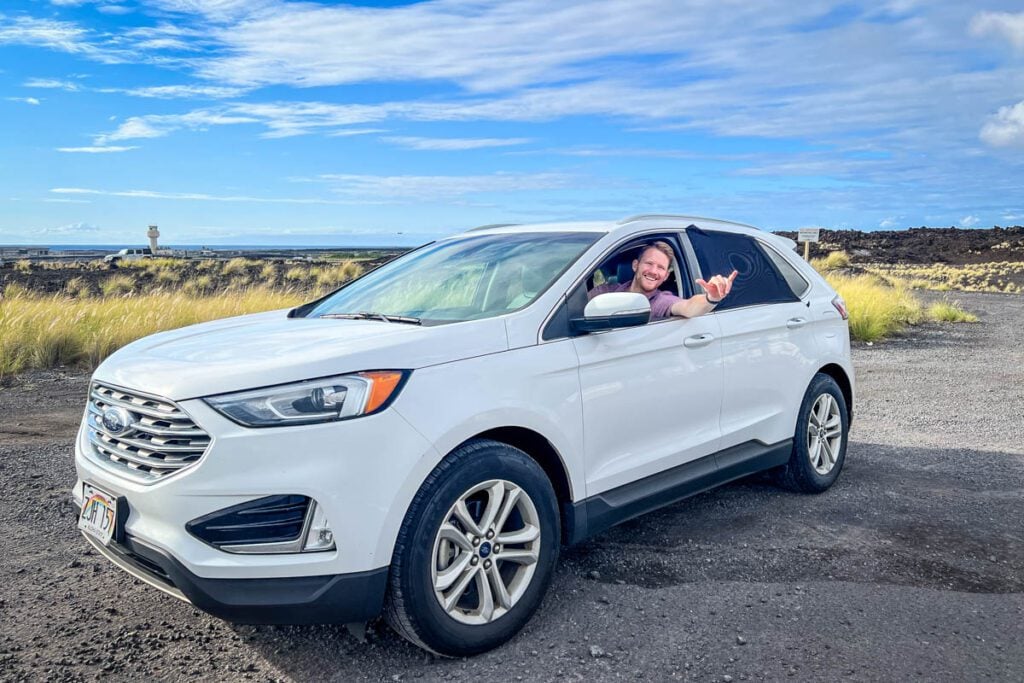 With jaw-droppingly beautiful roads seemingly designed just for road-tripping and countless hidden gems to discover, getting a Hawaii car rental is one of the best ways to explore the islands.
There are a handful of things we wish we would have known before getting a rental car in Hawaii, so we've put together a complete guide with everything you need to know. This way you'll be much more prepared!
We're breaking down the exact cost of a rental car in Hawaii, answering some of your most frequently asked questions, plus sharing our top tips to save you money and headaches.
Hawaii Car Rental Guide
---
Be sure to download our complete packing list for Hawaii! It's packed with good suggestions and insider tips to help plan your Italy trip. And it's completely FREE, so why not!?
---
Why rent a car in Hawaii?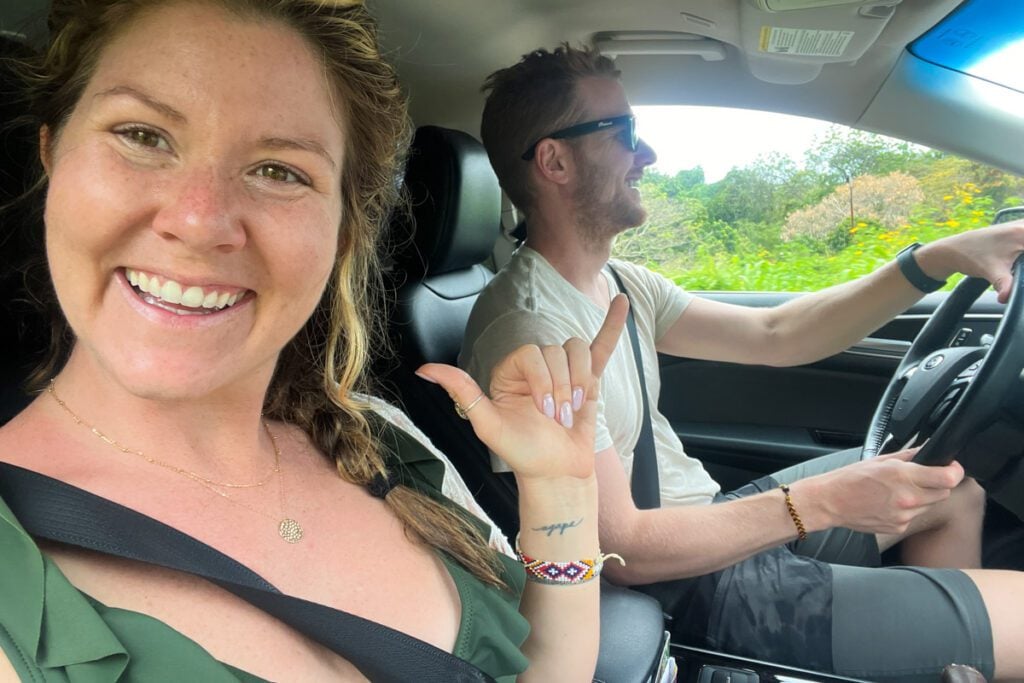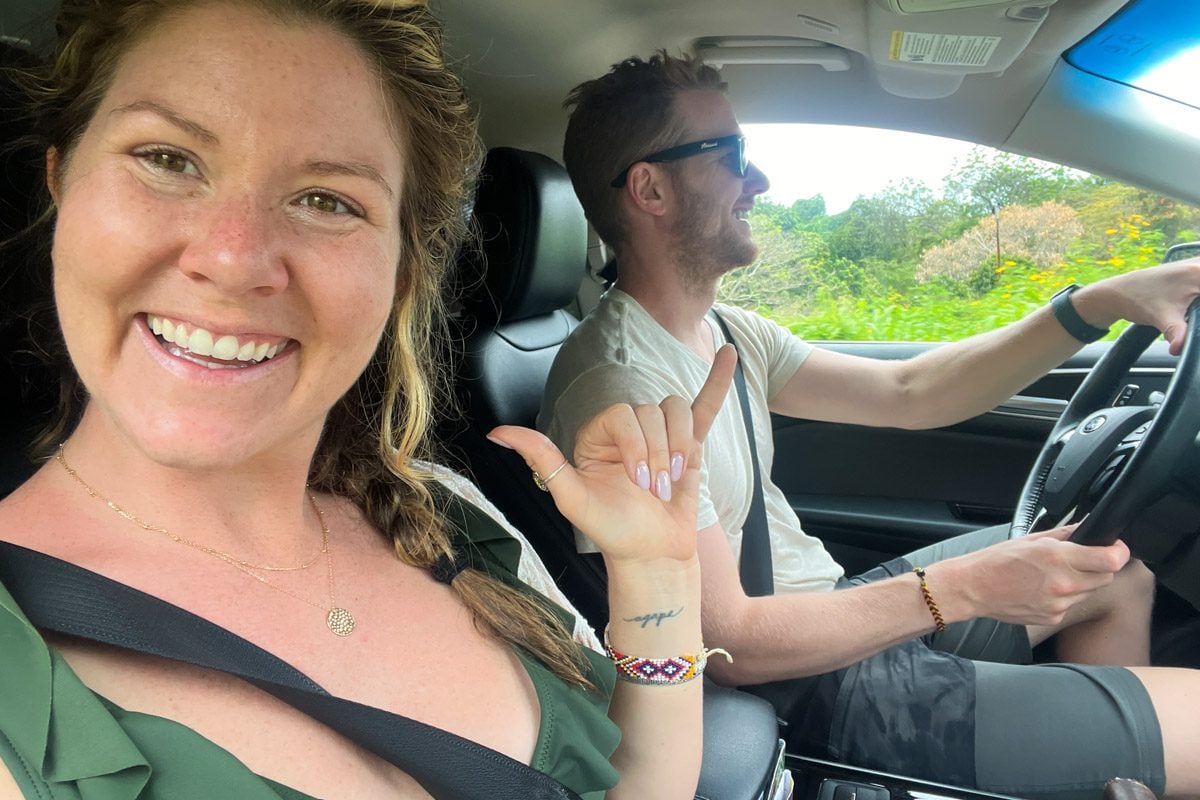 If you're on the fence about getting a car rental in Hawaii, here are the top things to consider and the reasons we think renting a car is the best idea:
Freedom and convenience. Having your own rental car in Hawaii means you can explore as much as you want, where you want, and on your own schedule.
Public transportation in Hawaii is very limited. Even in touristy areas like Maui and Honolulu, there are few options for getting around without your own vehicle. Most islands have bus service, but they cater to locals, not visitors, so it's tricky getting to major attractions.
Driving in Hawaii is easy. The roads are (mostly!) in great shape across all the islands, and there's little traffic outside of the major hubs.
Road-tripping is the best way to experience the stunning scenery. Many of Hawaii's most impressive hidden gems are way off the beaten path, and driving to them is an exciting (and beautiful!) part of the experience!
Reasons not to rent a car in Hawaii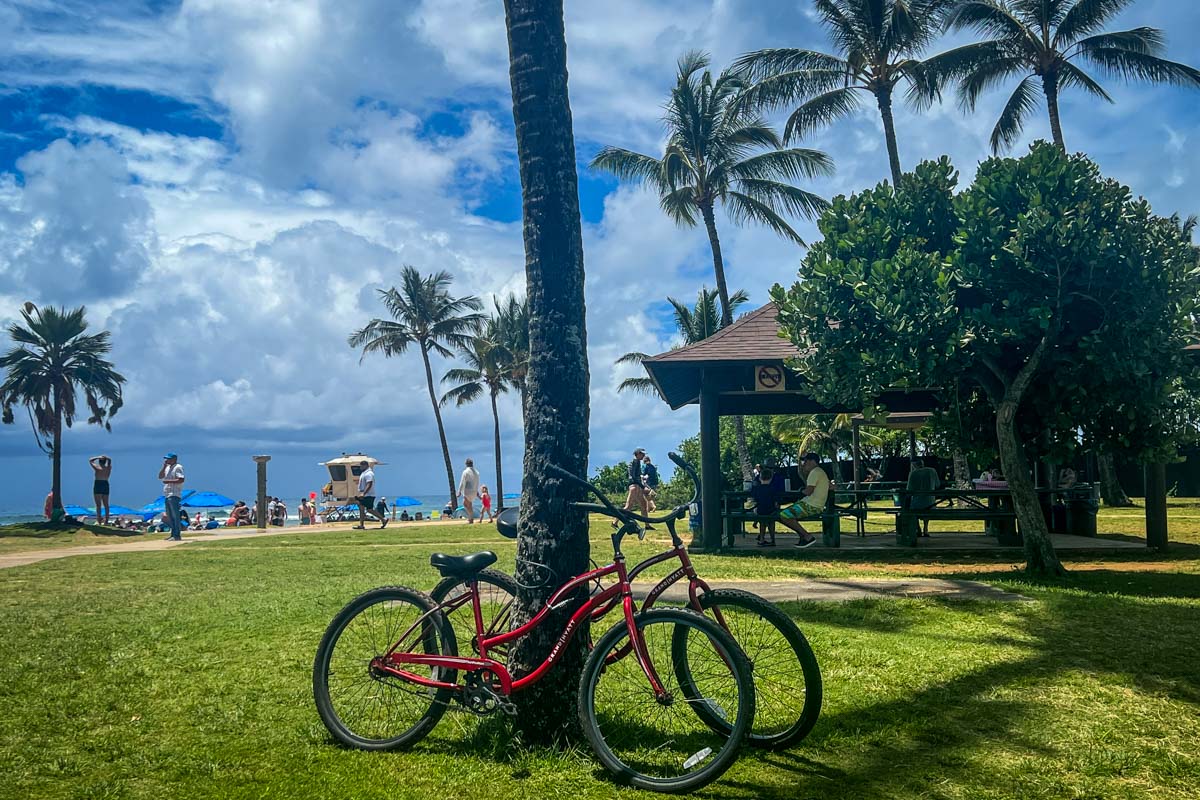 We've rented a car many times on our travels, and have also rented a car in Hawaii before. However, we certainly don't think it's the best option for everyone. Here are some things to consider:
If you're only going to a single destination in Hawaii, it might not be necessary to rent a car. This is especially true if you don't plan to do much exploring outside of the place you're visiting.
If you plan to rely solely on guided tours, you may not need a rental car for your time in Hawaii. Some people prefer not to plan their own logistics and just stick to tour buses for their transportation. This isn't really our travel style, but that doesn't mean it's not a good option for some travelers.
If you're traveling solo and/or you're on a tight budget. The cost of a rental car in Hawaii is quite affordable, especially if you're splitting the expense between travel partners. However, if you're on your own and are on a budget, this might be an expense that is hard to justify since taking a bus or colectivo would be much cheaper.
How much does it cost to rent a car in Hawaii on average?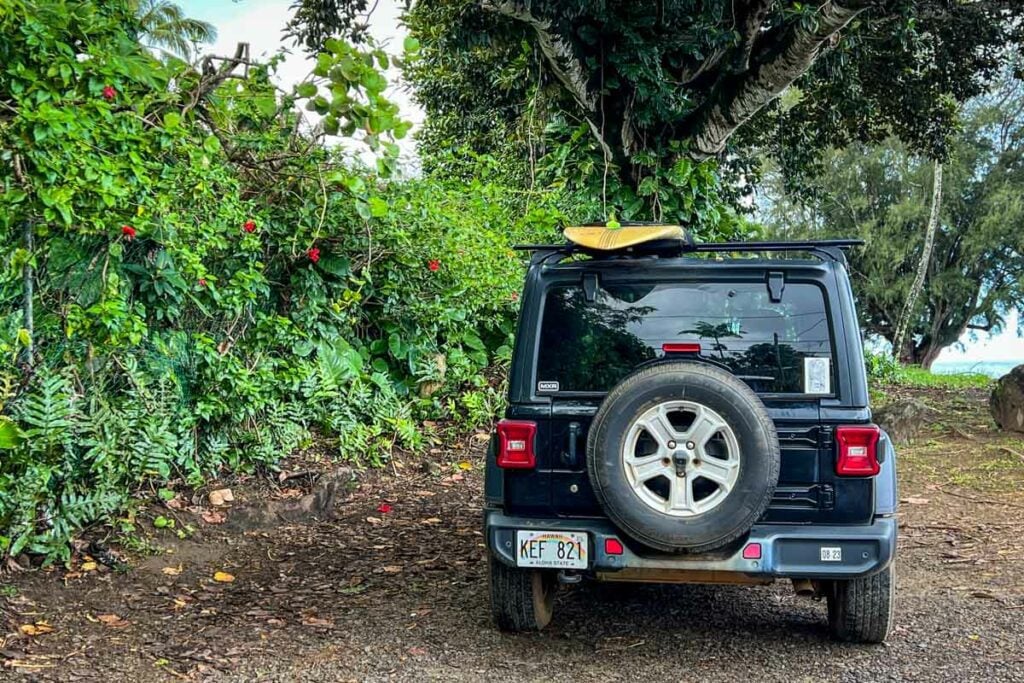 It's difficult to calculate an average for a Hawaii car rental, because there are several factors that cause significant variations. The cost will be very different depending on which island you visit, when you visit, and what type of vehicle you rent.
Interestingly, there generally isn't much variation between low (rainy) and high (dry) seasons, although prices do spike close to major holidays.
To illustrate the price differences across islands and dates, we calculated the cost of renting a Jeep Wrangler for one week during three different times of year. Keep in mind that renting a compact or economy car can bring the price down — but not by as much as you may think!
Honolulu airport
Mid-January: $733
Mid-June: $616
Mid-October: $644
Maui airport
Mid-January: $611
Mid-June: $651
Mid-October: $611
Big Island (Kona airport)
Mid-January: $830
Mid-June: $895
Mid-October: $771
Big Island (Hilo airport)
Mid-January: $855
Mid-June: $1179
Mid-October: $631 150
Do I need rental car insurance in Hawaii?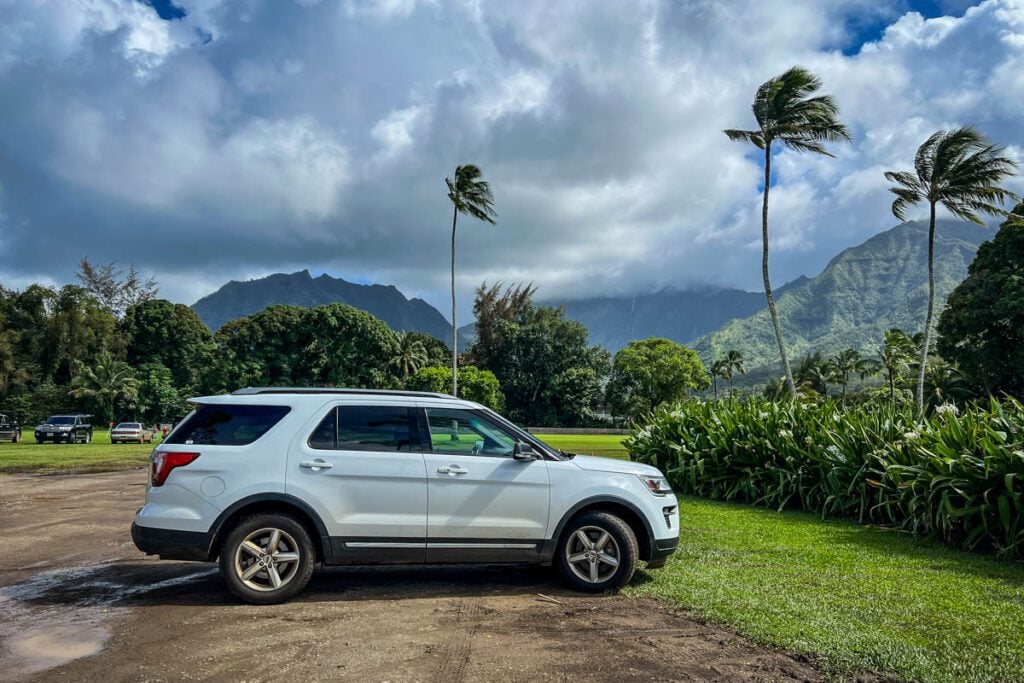 Rental car insurance is optional in Hawaii. Every rental company automatically provides the state-required minimum liability insurance.
Many major credit cards also offer basic rental car coverage, so you may end up with more coverage than you need!
The bottom line is that you do NOT need to purchase additional insurance to rent a car in Hawaii.
FAQs about car rentals in Hawaii
Still have a few lingering questions? Here are some of the most common questions about getting a Hawaii car rental.
Is it safe to rent a car in Hawaii?
It's perfectly safe to rent a car in Hawaii. The roads are well-maintained and well-signed, traffic is relatively minimal, and rental cars are widely available on just about all the islands.
The one thing to be aware of is that property crime, specifically car break-ins and vehicle theft, is particularly high in Hawaii (like most major tourist destinations).
Don't let this deter you from renting a car or driving around, but you should take some precautions. Don't leave valuables in the vehicle and be mindful of where you park. Even if it's more expensive, parking in a secure lot will be a much safer option than parking on the street.
Who can rent a car in Hawaii?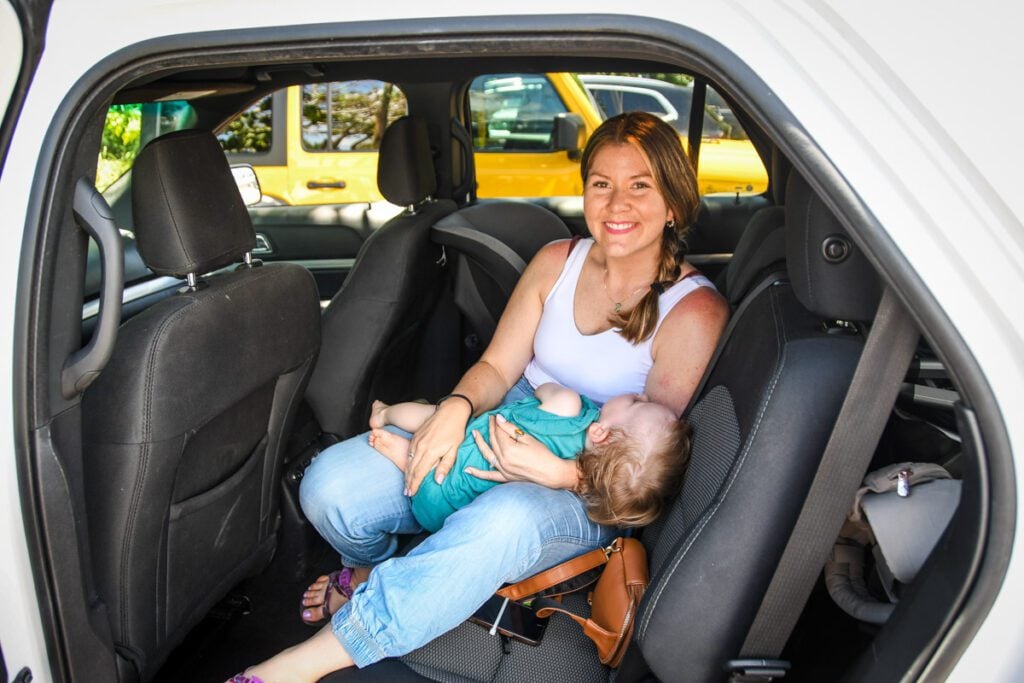 Anyone who has a valid drivers' license AND is at least 21 years old can get a Hawaii car rental. Note that the "standard" age to rent a car is 25, so renters between 21-24 will pay a young driver surcharge. This ranges from $10-30 per day, depending on the rental company.
Do I need an international driver's license to rent a car in Hawaii?
If you have a valid license in your home country that's written in one of the Roman languages (like English, Spanish, Italian, French, etc.), you shouldn't need an international driver's license in Hawaii. However, you will likely need to show your passport and a return plane ticket.
There may be some variation in the requirements between rental companies, so it's a good idea to call directly and ask what you need to provide.
As long as you have a valid driver's license in your home country, you can get your international driver's license here, for just $30 USD. They have urgent processing available to get your digital license within 15 minutes.
What's the cheapest rental car company in Hawaii?
In general, the two cheapest Hawaii car rental companies are Dollar and Thrifty. But (big but!), this could change depending on the time of year and island you're visiting, and type of vehicle you rent.
We prefer to compare prices on Discount Hawaii Car Rental, which aggregates rates for all the major companies and displays them side-by-side. The site also allows you to filter by vehicle type.
How much does gas cost in Hawaii?
As you might expect, gas prices in Hawaii are expensive. They're usually comparable to California and higher than just about anywhere else in the US. Gas is also slightly more expensive on Molokai and Lanai.
For comparison's sake, in the spring of 2023, gas was just over $5.00 per gallon across all the major islands. During that same timeframe, it was hovering right around $4.50 per gallon throughout much of California.
Can you Uber in Hawaii?
Uber and Lyft are available on all the islands except Molokai (and Lanai literally has just a couple of Uber drivers).
Keep in mind that cars are generally readily available in popular tourist areas and at peak times, but you may have a hard time finding an Uber back from more remote areas and at odd times. Whenever possible, schedule your return ride in advance.
Do I need a car in Honolulu?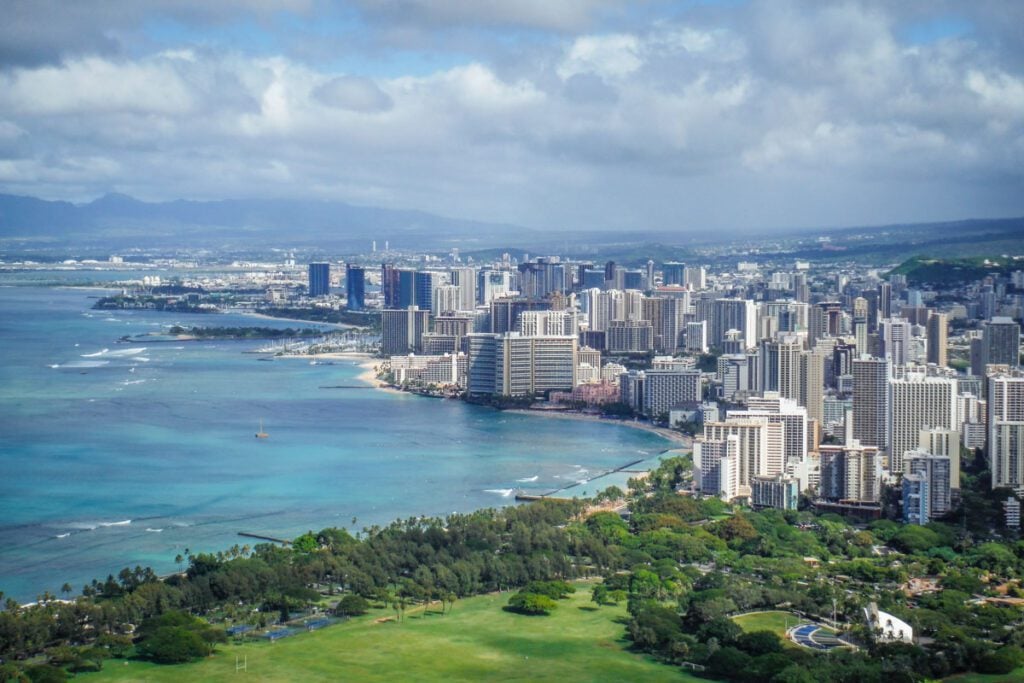 To decide if you need a rental car in Honolulu, consider your itinerary.
If you're beach-hopping or visiting major attractions, you can likely skip getting a rental, as most of them are easily accessible between rideshare, taxis, and the island's bus or trolley systems (Oahu has the most extensive public transportation network of any island).
However, if you plan to explore some hidden gems or just want more flexibility, it's a good idea to have a rental car. You could always do both — get a rental car for just a few days, then rely on walking, public transportation, and guided tours on the others.
Is it worth it to rent a car in Hawaii?
Unless you're planning to mostly stay close to your hotel or only take guided tours, it's definitely worth renting a car in Hawaii. You can't beat the flexibility and convenience of being able to explore on your own terms!
Tips for renting a car in Hawaii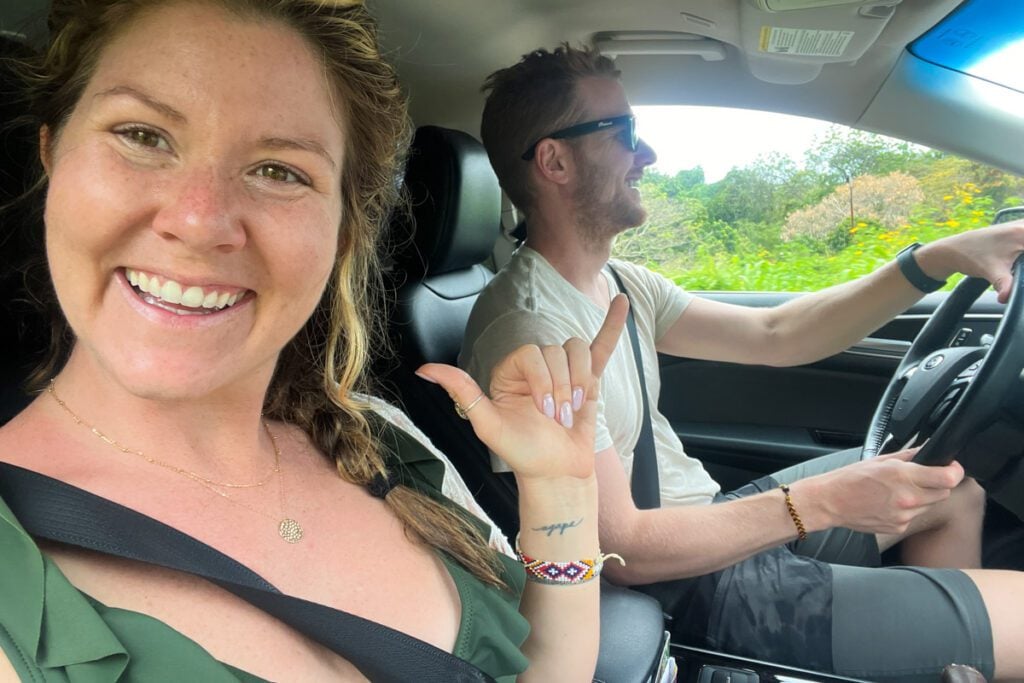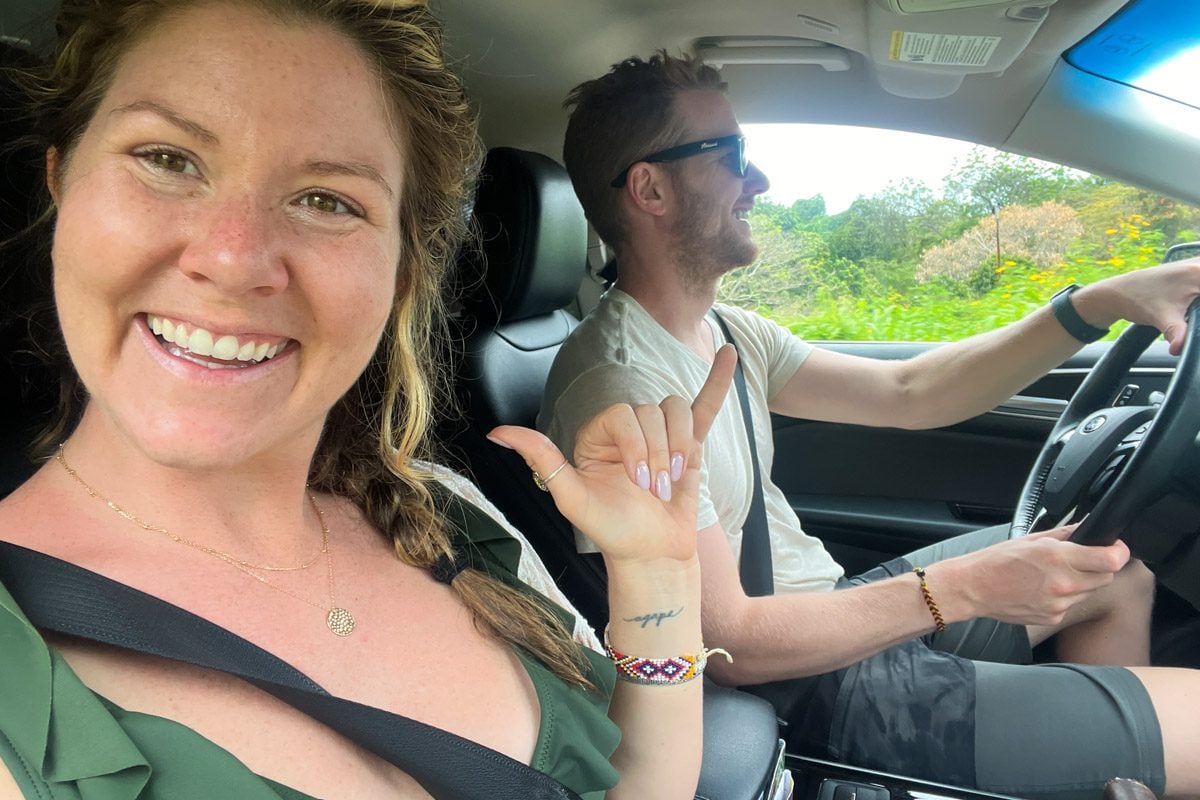 These tips are pretty universal whether you're renting a car in Hawaii, Europe or Asia. We hope they are helpful to you as you plan your trip.
1. Take pictures of the outside of the car before driving
Get up close and personal. Take photos on your cell phone of any scrapes and dents, no matter how small. And don't forget any little cracks on the windshield. This way, none of these issues can be blamed on you.
We've never had to use these photos, but it's a good idea to have yourself covered just in case!
2. Rent your car online
Since the online booking platforms reserve several cars and pay the company whether or not someone actually rents them, they get a great rate and can pass the savings onto you.
It is almost always cheaper to book online rather than walking into a store. (I never would have believed this until we walked into a car rental shop in Costa Rica and were quoted nearly 3 times as much for the same vehicle as it was listed online!)
Plus, you won't need to worry whether there will be availability if you book it ahead of time!
3. The longer you rent, the less you pay per day
If you compare the cost of a single day rental to the cost of renting a car for multiple days or weeks, you'll almost always get a better deal for the longer term.
Don't take our word for it, see for yourself!
4. Download offline navigation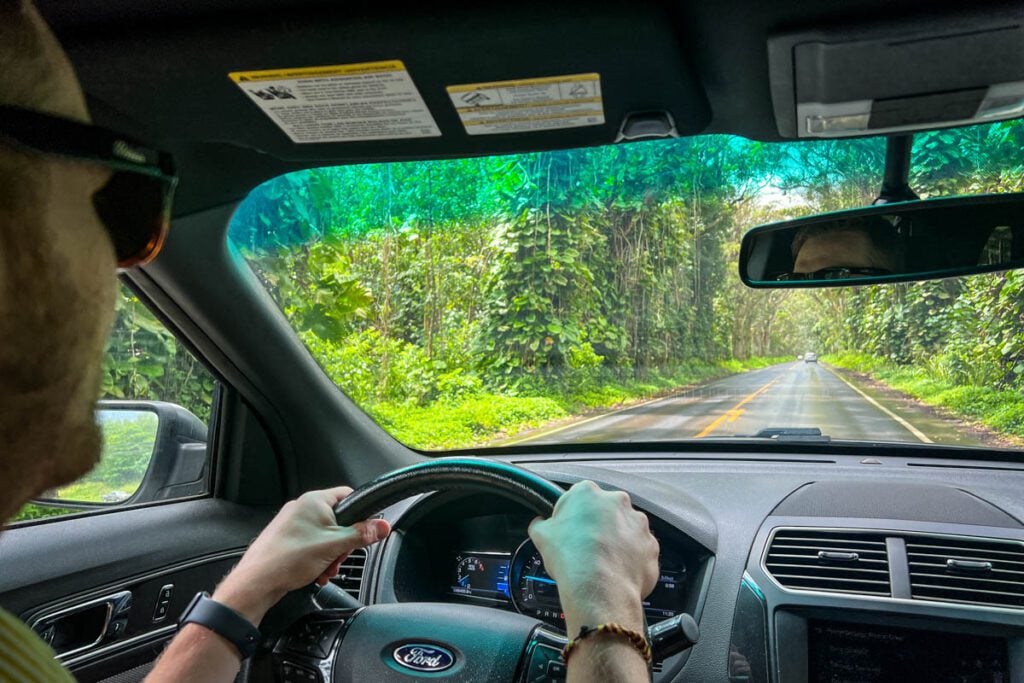 It's important to download the map before your trip so you have access to roads, restaurants, and attractions even if you don't have cell phone service.
For this, Google Maps is amazing! Not only can you pin all the points of interest along your route, but it will also show your current GPS location even when you're not within cell signal. To enable this feature, keep reading…
How do you Download Google Maps Offline?
It's super simple, just follow these steps:
Sign into Google Maps (it's connected with your Gmail account).
Search for "Hawaii" in the search bar.
You'll see a white bar that pops up at the bottom of the screen. You may need to swipe right to find the "download" icon.
Make sure you're in Wifi, and click the "download" icon.
The map data from this region will now be on your phone, and can be accessed even when you have no cell signal! You'll even be able to see your current GPS location as long as you have it authorized. (Settings > Google Maps > Location > select "Always")
Maps.Me is another great map option, and we use it a lot to find hiking trails and things that aren't always marked on Google Maps. You might want to download both maps before your trip!
5. Combat car sickness
If you're someone who suffers from the occasional motion sickness, getting crammed into a colectivo or shuttle bus with a crazy drive is not an ideal situation.
I understand, believe me!
If you're like me, having your own vehicle will allow you the freedom to stop when you need to. Plus, sitting in the front seat (or driving) helps prevent car sickness a ton.
Pro Tip: Motion sickness wrist bands and ginger chews have helped me a lot!
Other forms of transportation in Hawaii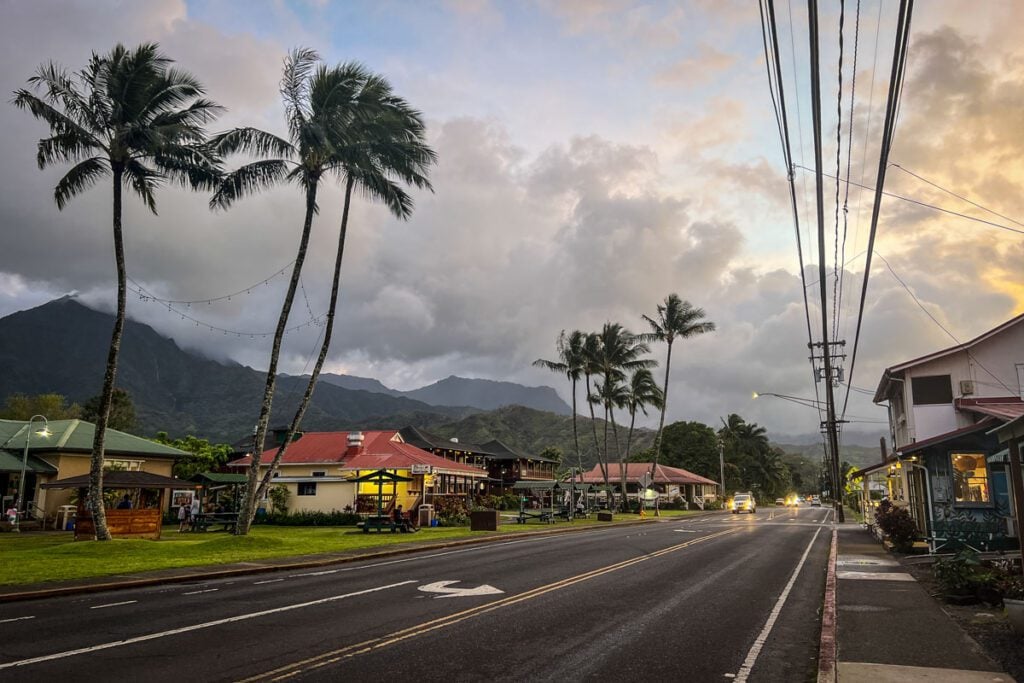 If you're still on the fence about getting a rental car in Hawaii and want to know what your other options are, here's how you can get around Hawaii with public transportation:
By bus
Oahu has the most extensive public bus system of all the islands (by far!), but Maui, Big Island, and Kauai all have bus service also.
With the exception of Oahu, beware that most buses in Hawaii cater to locals, not visitors, so they run mostly during rush hour and not necessarily to tourist hot spots. You'll also often find that you need exact change.
By taxi
Taxis are widely available on all the major islands. They're also available on Molokai and Lanai, although certainly less readily.
From airports, hotels, and major tourist attractions, it's especially easy to find taxis. However, be mindful of taking a taxi back from more far-flung destinations and at off times. Always try to arrange your ride back in advance!
By rideshare
Uber and Lyft operate on all the major islands, as well as on an extremely limited basis on Lanai. Locally-owned rideshare company holoholo is also available, again everywhere except Molokai. Like with taxis, make sure you have a ride back before getting dropped off.
---
Planning a trip to Hawaii?
We have lots of resources on travel in Hawaii and destinations around the islands. Check out our Hawaii Homepage for everything you need to know, or start by reading some of our favorite Hawaii travel articles to help you plan your dream vacation to the Aloha State:
Save this article on Pinterest for later!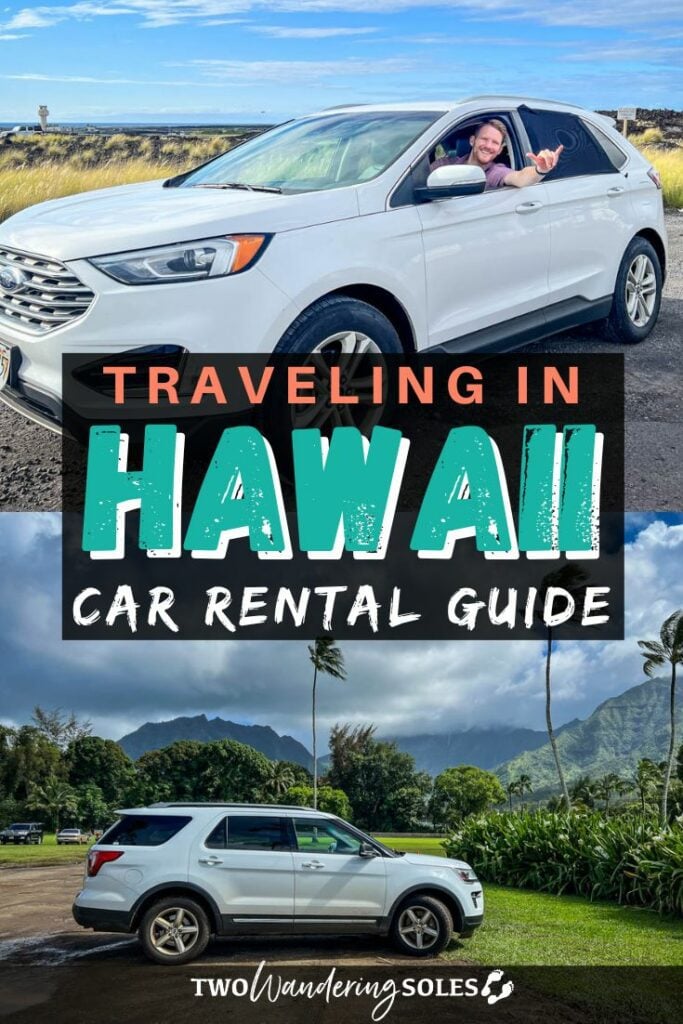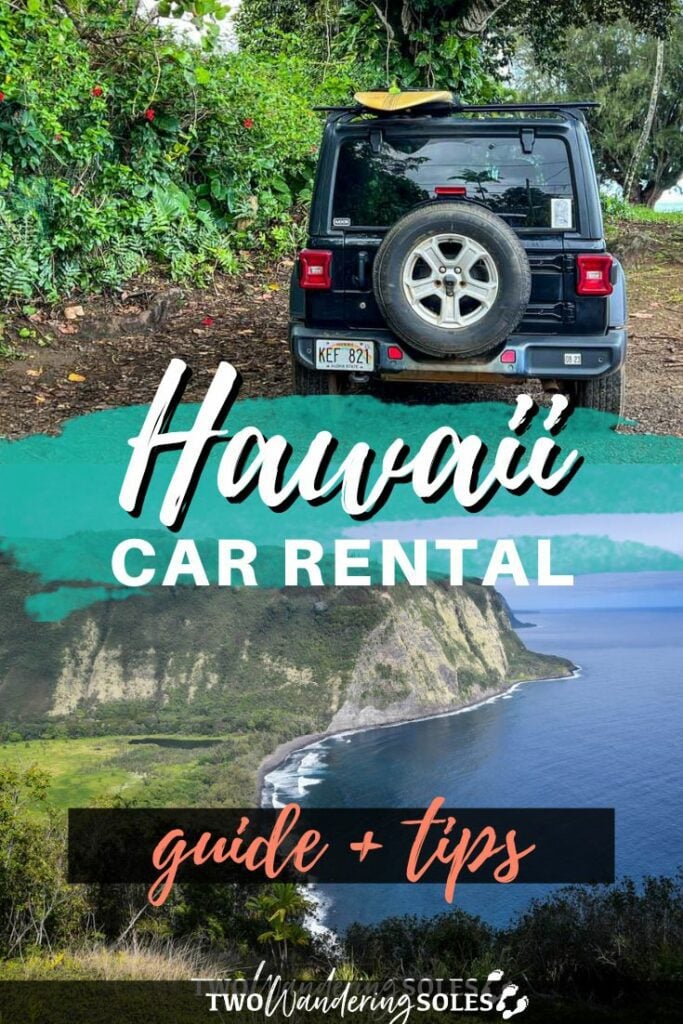 We want to hear from you!
Do you have more questions about renting a car in Hawaii? Comment below and we'll do our best to get back to you!