With endless bucket list-worthy sites stretched across a small archipelago, it can be a little overwhelming to narrow down the best things to do in Hawaii. In this guide, we've rounded up the absolute must-sees and experiences for you to plan the ultimate trip to the Aloha state.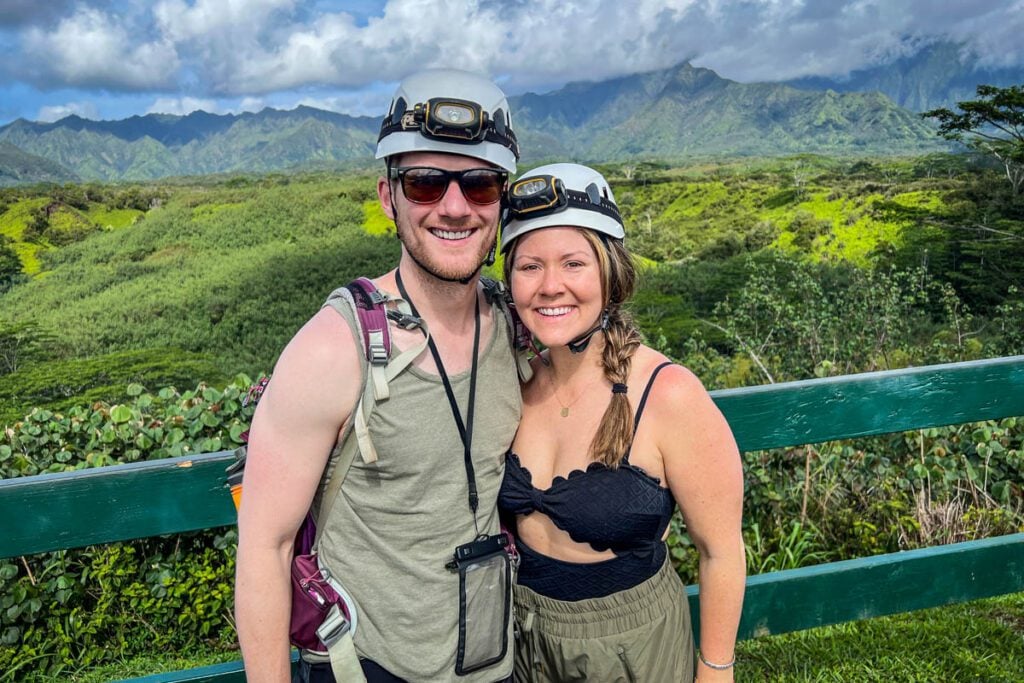 If you love beaches, jungles and mountains (oh my!), you'd be hard pressed to find a more beautiful US state than Hawaii.
With quaint villages that ooze beachy-hippy-vibes (aka my kind of vibes), some of the most jaw-droppingly beautiful waterfalls in the world, incredible hiking opportunities, and postcard-perfect palm-lined beaches, there are so many fun things to do in Hawaii for every type of traveler.
Whether you're looking for an exciting adrenaline-fueled adventure or a vacation focused on complete and utter relaxation, you'll find your bliss in Hawaii.
We're breaking down the very best things to do in Hawaii, and we've made a note of which island you can find these activities on to make planning your Hawaiian vacation easier.
Planning a trip to Hawaii? We created a Hawaii travel planning guide that will be SO darn useful. We wish we would have had this while planning our own trip!
Top things to do in Hawaii – broken down by island
Already know which island(s) you're going to?
Click the names below to see our recommendations of the top things to do on that specific island. (Or just keep scrolling to find the amazing things to do on all of the Hawaiian islands)
Heads up: Most of the activities we're highlighting are on the four most visited islands: Oahu, Big Island, Kauai, and Maui. Scroll to the bottom of the article (or use the corresponding links above) to find specific recommendations for the lesser-visited Lanai and Molokai.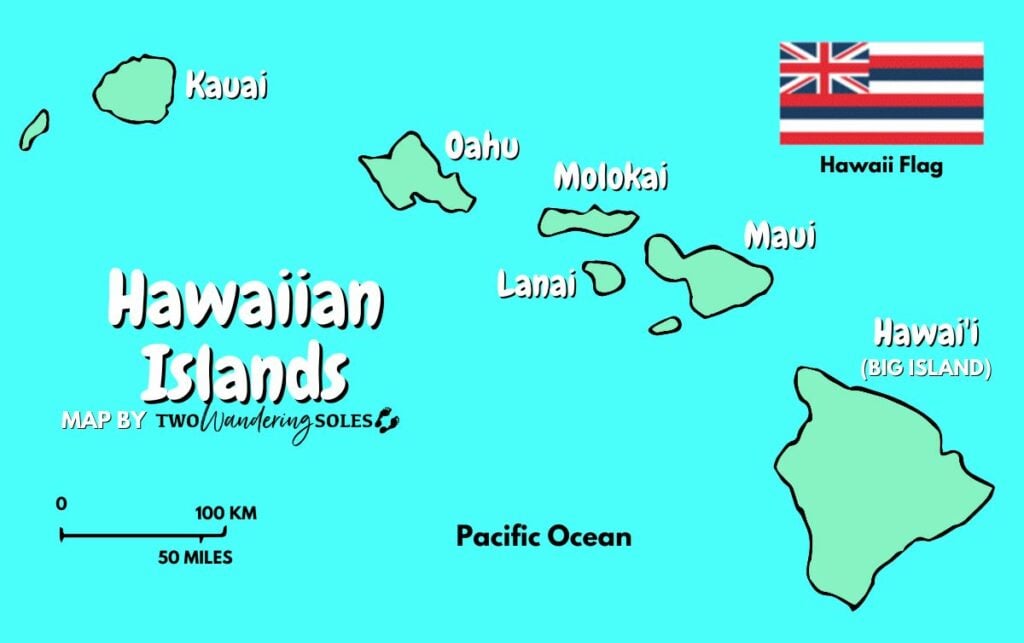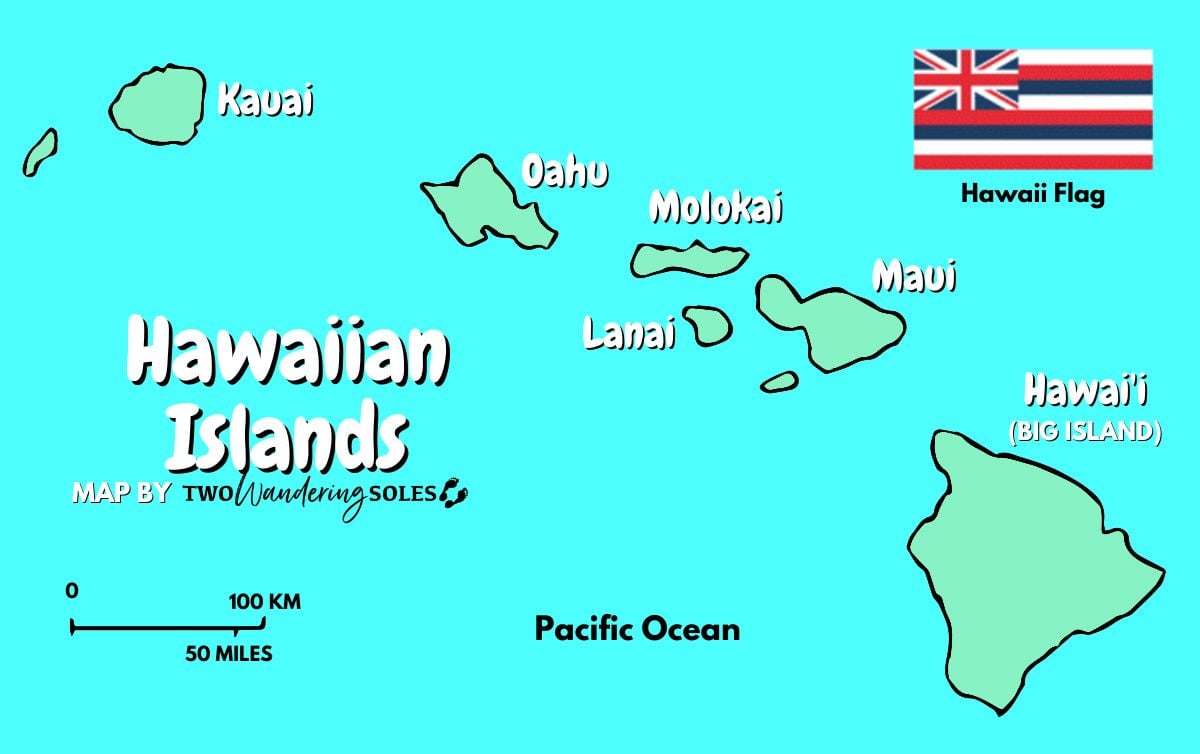 Be sure to download our complete packing list for Hawaii! It's packed with good suggestions and insider tips to help plan your Italy trip. And it's completely FREE, so why not!?
---
Absolute best things to do in Hawaii
This article is packed with lots of suggestions, but if you're looking for a quick & easy list, these are our very top recommendations for the best things to do in Hawaii on your first visit.
Snorkel with manta rays in Kona
Tour a working farm
Eat authentic Hawaiian food
Visit a national park
Take a scenic helicopter flight
Go hiking
Attend a luau
Mountain tubing
Chase waterfalls
Keep scrolling for all the details on how to do each of these experiences yourself (+ insider tips and what to expect!).
Make note of the activities and adventures that speak to you and you'll be well on your way to planning the perfect Hawaiian vacation! Don't forget to check out our guide to the best time to visit Hawaii.
Note: In this article, you may notice some Hawaiian words and names spelled a couple of different ways. We want to acknowledge the linguistic markings of the modern Hawaiian language, such as the ʻokina [ʻ] or glottal stop and the kahakō [ō], while also keeping our content accessible and searchable for everyone.
1. Snorkel with manta rays at night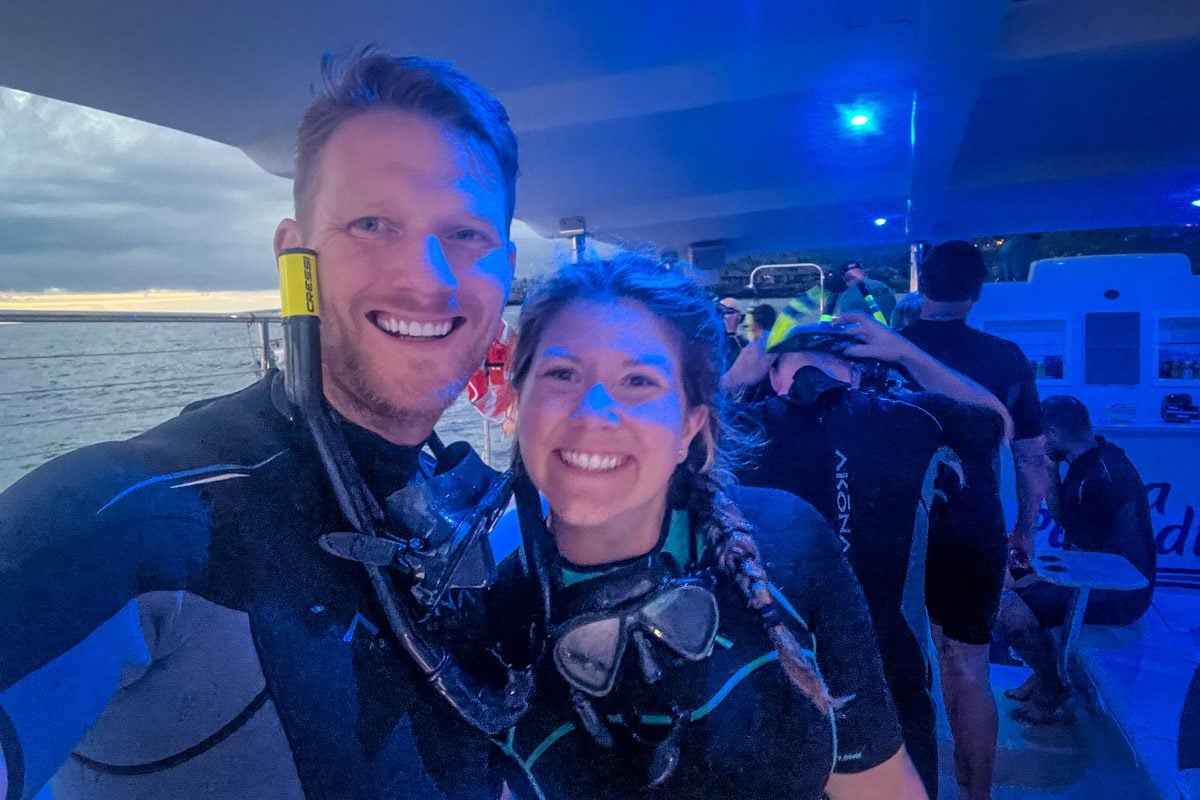 Where: Kona, Big Island
Just off the coast of Keauhou Bay, the curtains open for the manta ray ballet on this Night Swim with Manta Rays Tour.
Plunge into the dark water and grab a hold of a special-lit swim ring that attracts plankton, a manta's favorite food, and marvel while they zip, glide, and whirl past you, feeding.
We loved this experience so much that we created an entire guide with everything you need to know about this night snorkel with manta rays.
Related: Check out our guide to the most exciting things to do in Kona!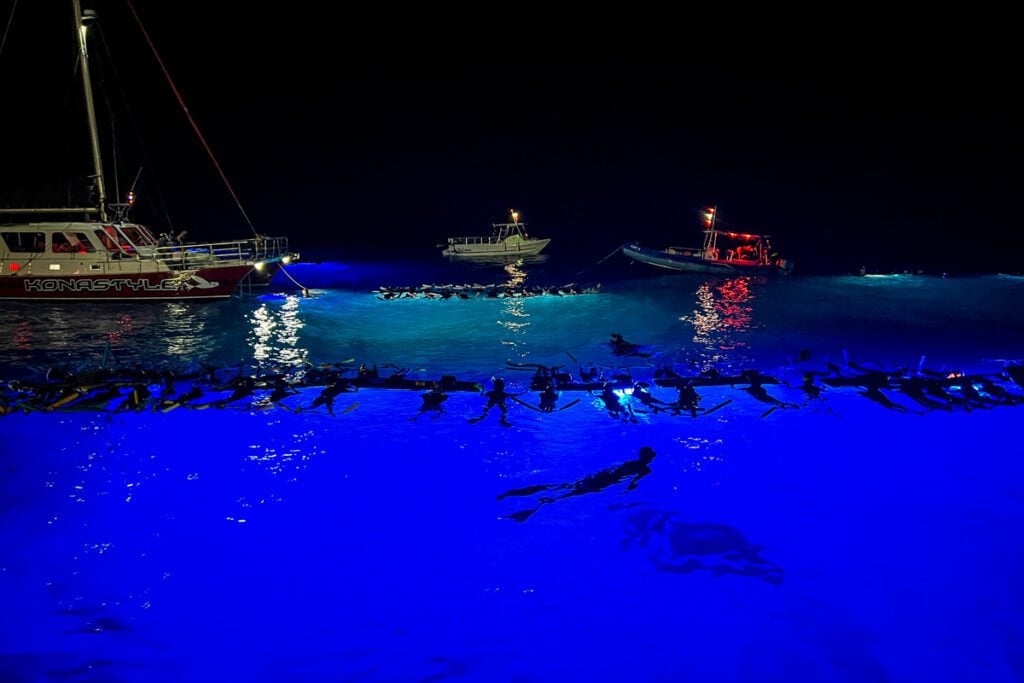 What you need to know:
Duration: 75 minutes
Price: $137.87 USD
What guests are saying
"Our experience was everything we had hoped for. After a slow start the manta rays were around steadily and really put on a show. The captain and his crew were excellent. They ran their operation in a very safe and organized manner, answering any and all questions as well as offering extra attention to those who were a little nervous about jumping into a dark ocean. It was a terrific experience." – GetYourGuide Traveler (October 2022)
2. Tour a farm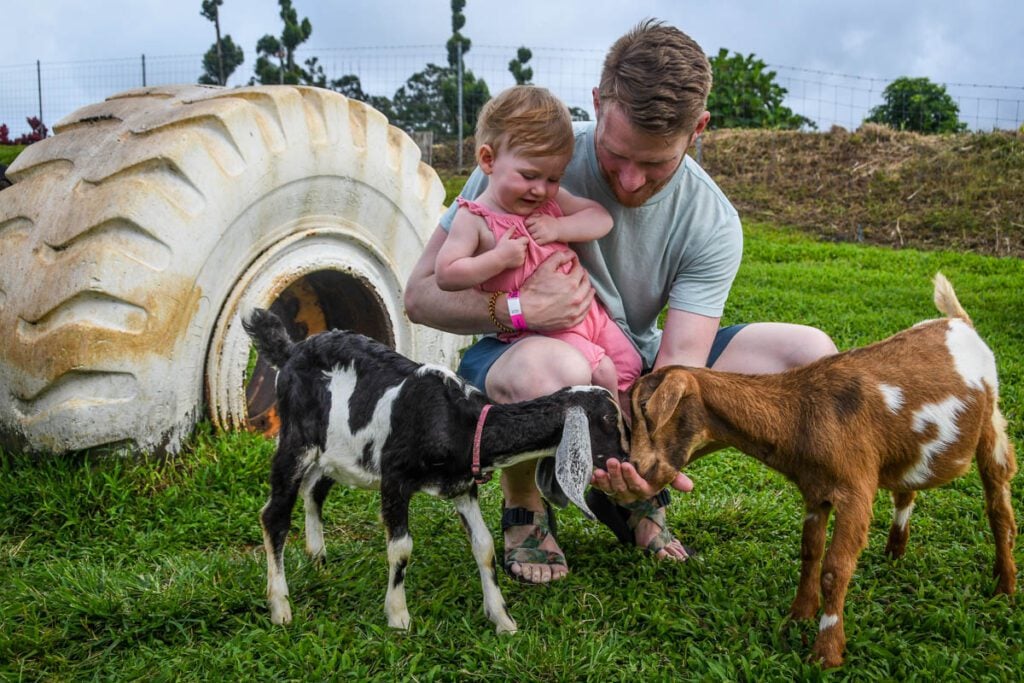 Where: All islands, but Maui has the most opportunities
Because of Hawaii's tropical climate, farmers are able to grow a variety of crops all year long.
Throughout all of the islands you'll find a wide range of farms – ranging from pocket-sized to sprawling. What they grow is also diverse: macadamia nuts, coffee, cacao, coconuts, pineapple, vanilla, lavender – the list goes on!
Some farms on the islands also offer tours to visitors, where you can get an inside look at what goes into growing and producing your favorite foods. It can be a really unique experience to add to your Hawaii bucket list.
Oahu Farms
21 Degrees Estate: this is called the "most charming cacao farm in America" for good reason; for one thing, they host 2-hour chocolate tours
Kahuku Farm: you visit this farm for the onsite cafe, which has some of the tastiest farm-fresh food on the island – think smoothies, acai bowls, paninis, and banana bread
Big Island Farms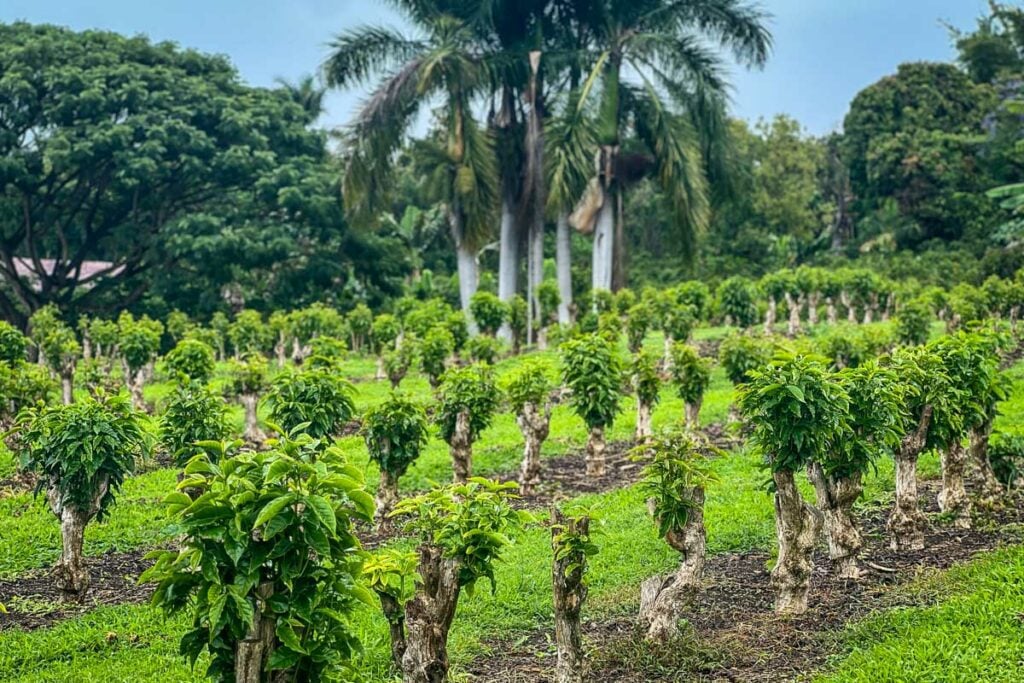 Honomu Goat Dairy Farm: completely free to visit and the friendly goats will approach visitors for plenty of interaction
Sharkey's Farm Tour: tour this 100-year-old farm that produces coffee, vanilla, and cocoa
Lavaloha: learn how cocoa beans are grown and turned into chocolate in this highly-rated tour
The Vanillerie: learn how vanilla beans grow
Greenwell Farms: one of the best Kona coffee farm tours (and there are many!)
Maui Farms
Kauai Farms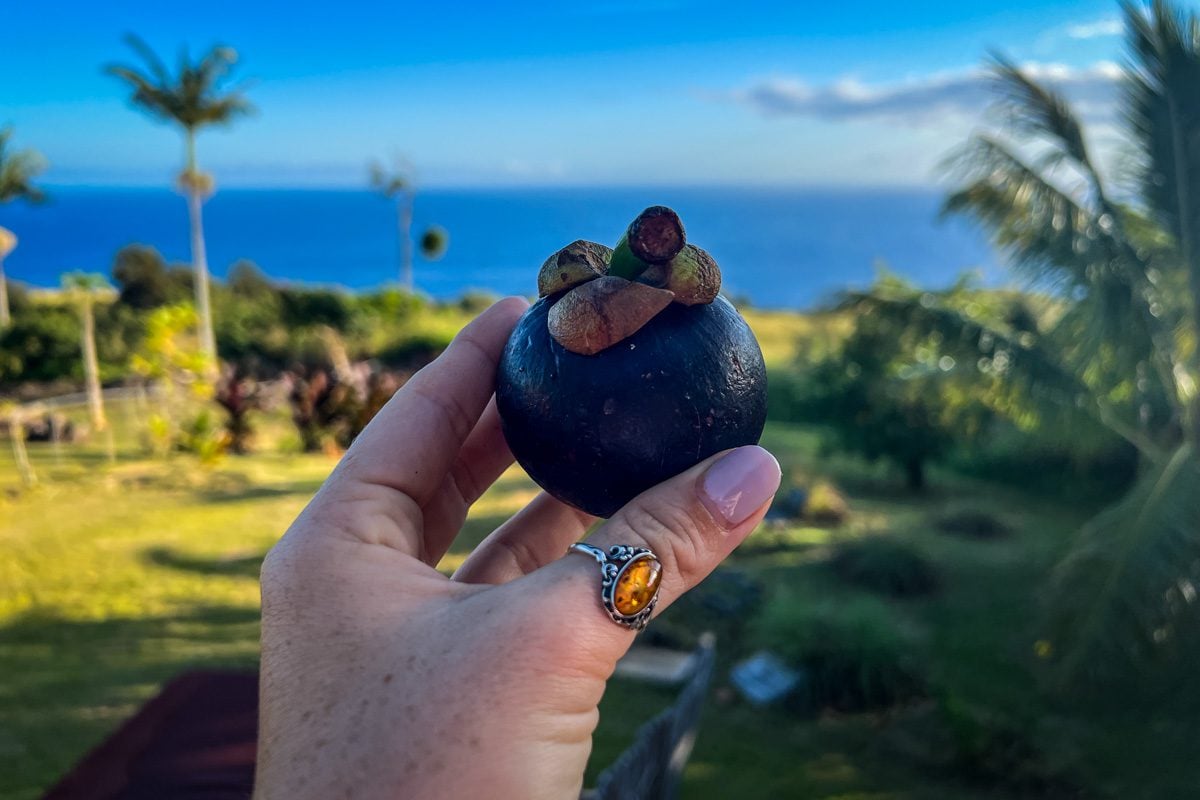 3. Try Hawaiian food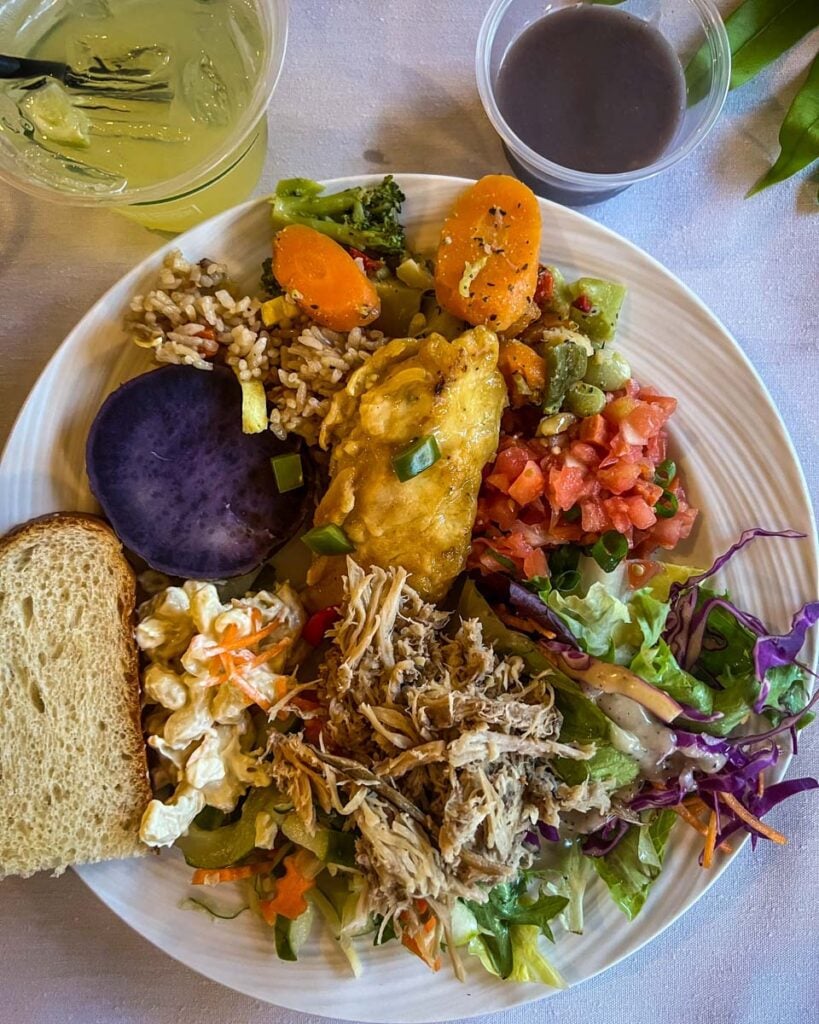 Where: All islands
Hawaiian food draws influence from a variety of countries, reflecting settlement and immigration to the islands over centuries.
You'll recognize parts of Japan, China, Korea, Portugal, the Philippines, and Puerto Rico shining among original Hawaiian ingredients to create an undeniably unique fusion food.
What makes it truly extraordinary is that rather than all the ingredients blending together, each one retains its integrity and richness, telling the story of immigration, integration, and the invention of something entirely new.
Foods to try: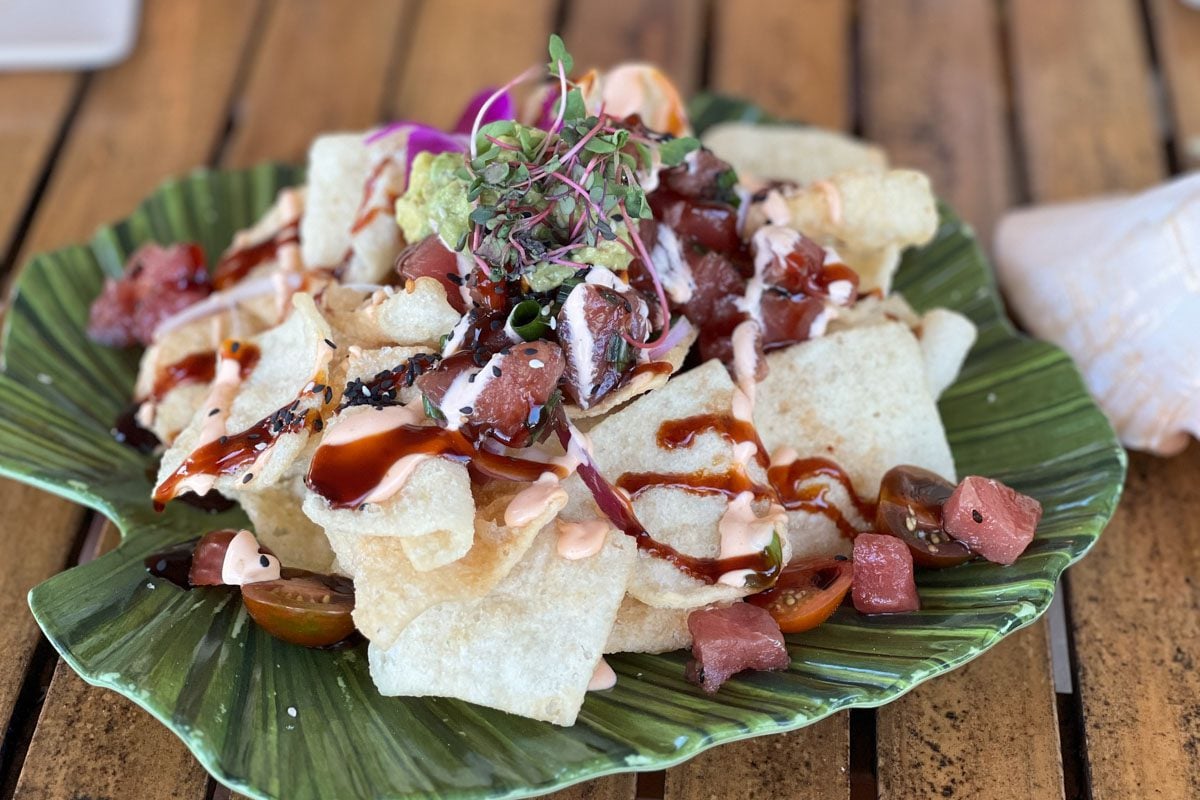 Loco moco: white rice topped with a hamburger, a fried egg, and brown gravy
Spam musubi: grilled Spam slice atop sushi rice, wrapped together with nori
Poi: staple food in the traditional Polynesian diet, poi is a thick and starchy paste made from the taro root and is light purple in color
Laulau: a Polynesian dish where taro leaves are wrapped around a filling, such as pork, fish, or coconut cream
Saimin: egg noodles in hot dashi topped with green onions and kamaboko (fish cake)
Poke: raw fish (typically ahi), diced and seasoned
Huli huli chicken: chicken grilled and marinated in a sweet and savory sauce
Kalua pig: often the star of the food at a luau, kalua pig is cooked for several hours underground in an imu, or earthen oven
Malasadas: fried, flat pastries filled with custard, chocolate, haupia, and guava
Shave ice: finely shaved ice decorated with fruit-based syrups as well as a wide variety of toppings
Li hing mui: originating from China, li hing mui is salty dried plum, and is a popular flavor for snacks
Haupia: this traditional Hawaiian dessert is made with coconut milk, and has a consistency between coconut jelly and pudding. It is often found at luaus.
4. Visit one of Hawaii's national parks
Where: Big Island, Maui
Hawaiʻi Volcanoes National Park (Big Island)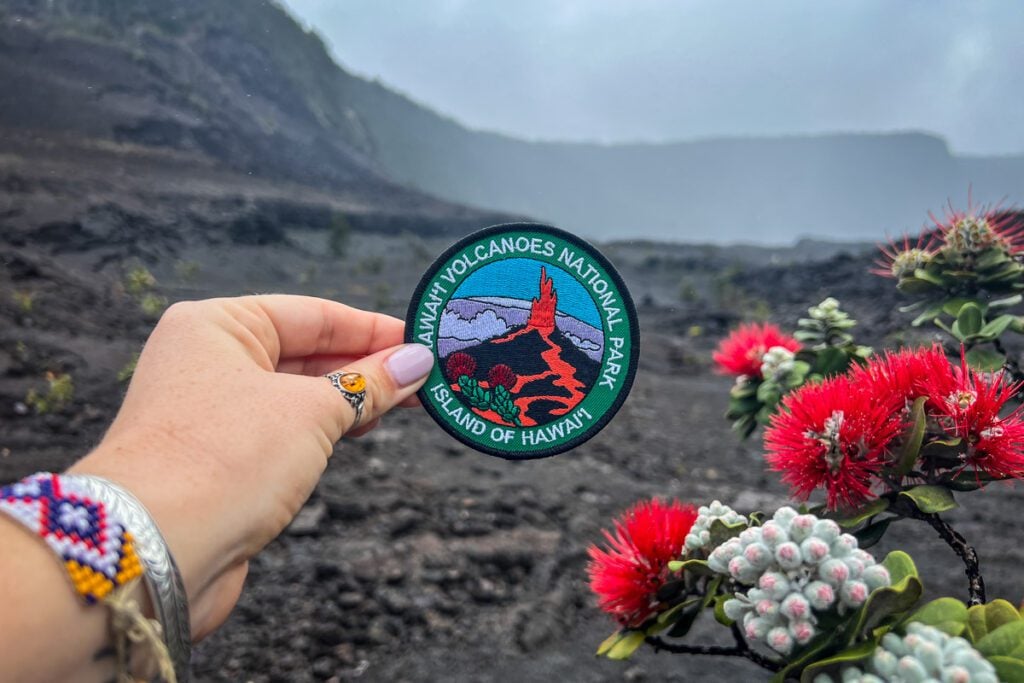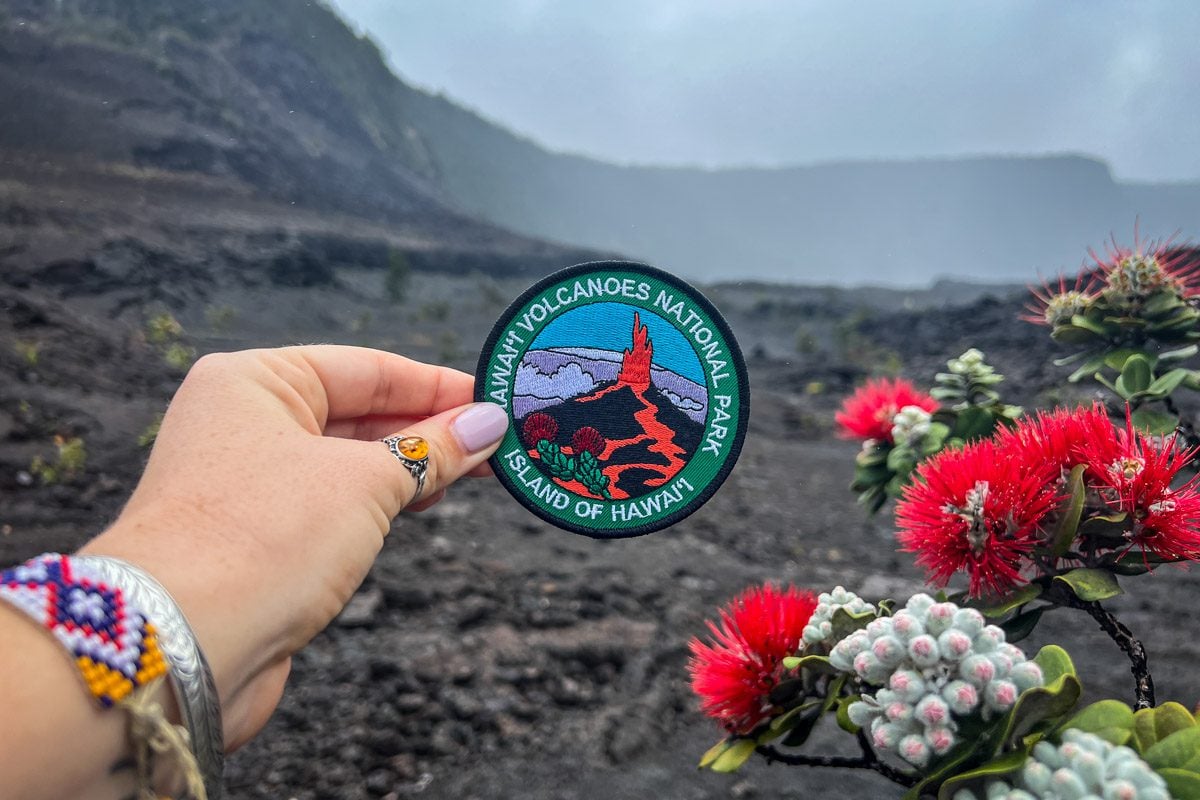 Encompassing the summits of two of the world's most active volcanoes, Mauna Kea and Kilauea, this National Park is a marvel sculpted by lava and sea.
It holds the most unique geological and cherished cultural landscapes in the world and is also recognized as a UNESCO World Heritage Site.
Take to the scenic drives, overlooks, and impressive list of hiking trails to discover the park's widely contrasting landscapes and environments.
Haleakalā National Park (Maui)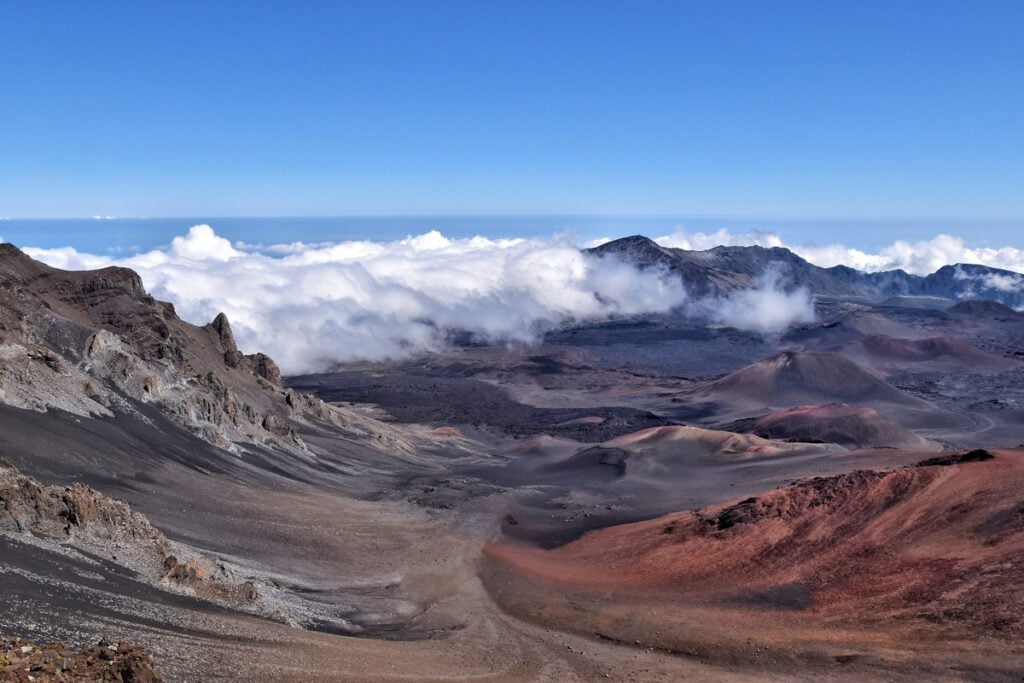 Known as the "House of the Sun", Haleakalā National Park is both a rare and sacred landscape that vibrates with the true essence of Hawaii and its people.
The Mars-like landscape of the Summit District boasts the dormant Haleakalā Volcano, a particularly sought-after sunrise/sunset location on Maui.
This district juxtaposes the lush rainforests and waterfalls of the Kipahulu District, which makes up part of the Road to Hana (#22 on this list)
Insider Tip: Be sure to pack your National Park Pass from home.

5. Take a scenic helicopter flight

Where: All islands

Though the islands are unquestionably spectacular from the ground, soaring through the air lets you view Hawaii as an entirely new world.

There are plenty of opportunities to see Hawaii from the sky, so choosing the right one is up to your budget, which island you're on, and what your interests are.

Top rated helicopter tours by island

Budget alternative: We realize a scenic helicopter flight can be a big splurge and may not fit in everyone's budget. If you're looking for an alternative that is slightly more budget-friendly, some islands offer "air tours" in small planes that are more affordable than helicopter rides.
6. Go hiking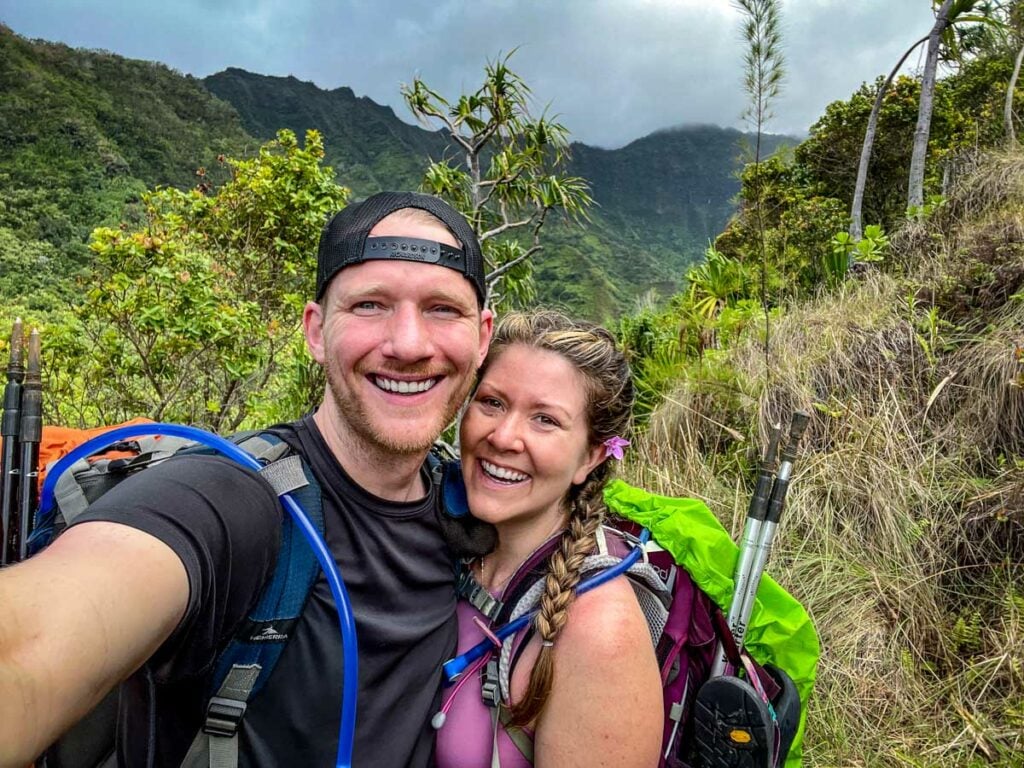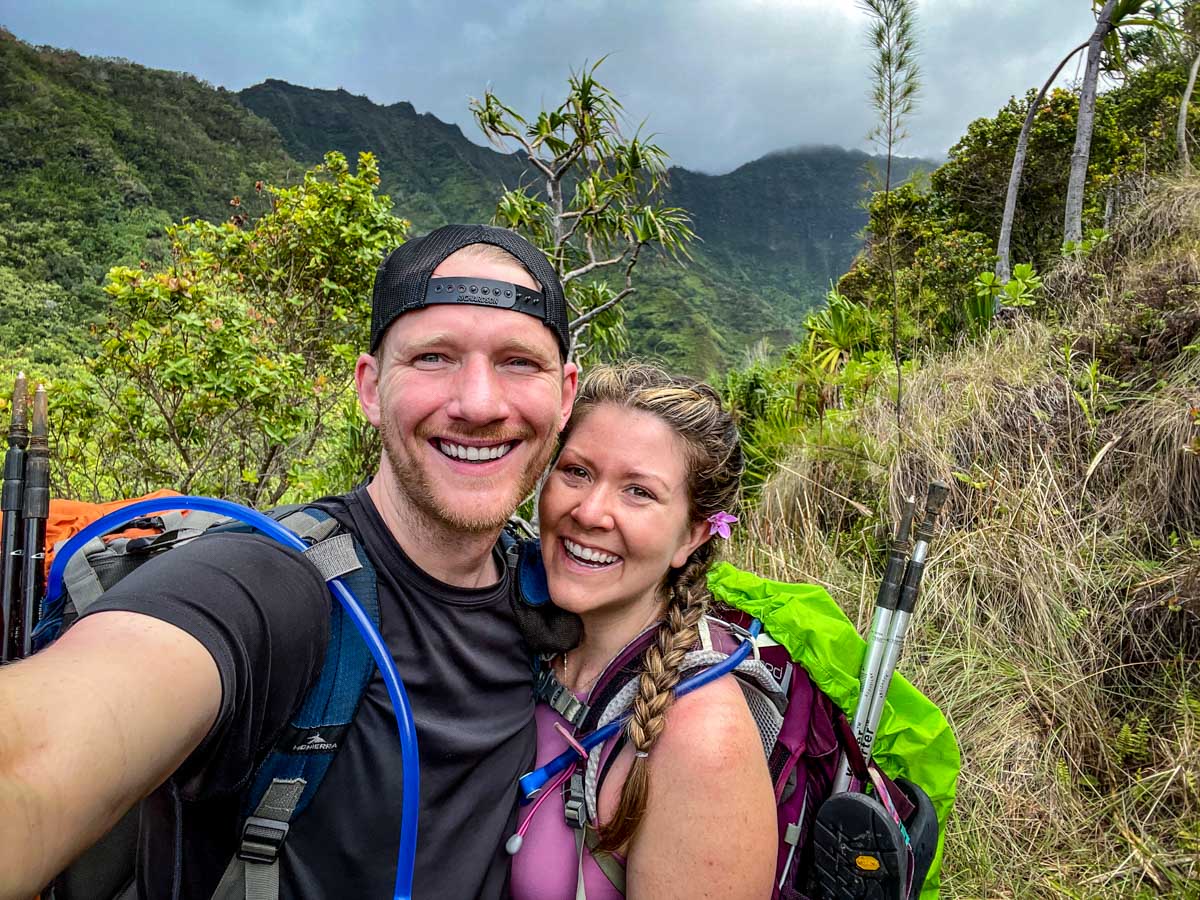 Where: All islands
Traversing ridgelines, crater floors, cascading waterfalls, lush rainforests, and Mars-like volcanic landscapes, hiking is by far one of the best things to do in Hawaii.
Whether you're a novice or an expert in the outdoors, there is a trail waiting to be explored on any island.
Insider Tip: Create an AllTrails account and save these to your hiking to-do list.
Best hikes on Big Island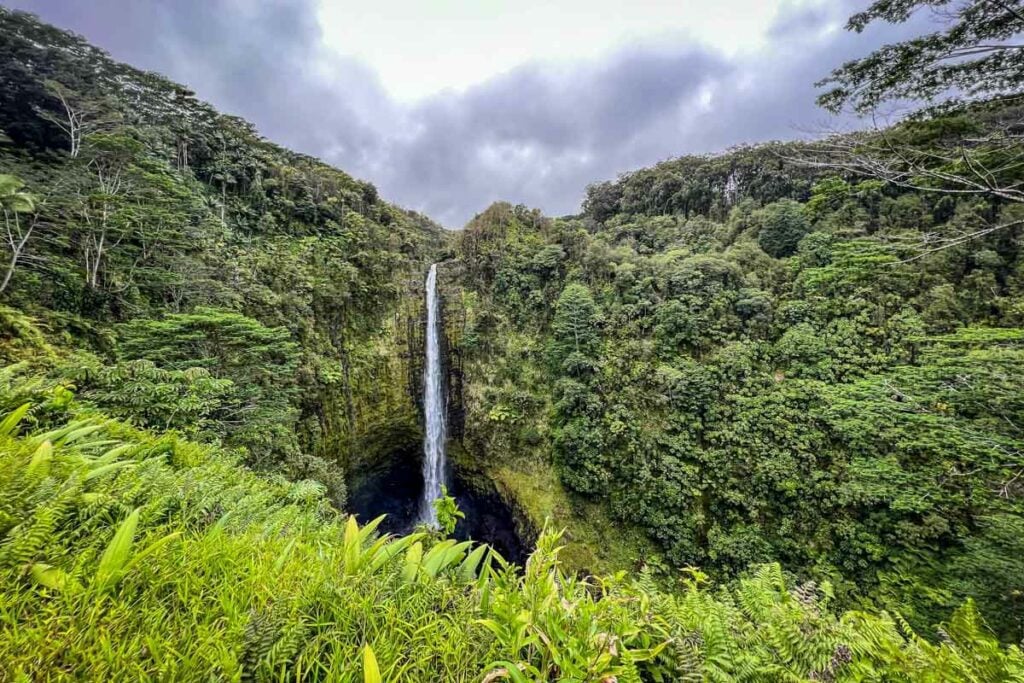 Kilauea Iki and Crater Rim Trail: located in Volcanoes National Park, you'll need to pay a fee or bring your National Park Pass to access this hike. The experience is well worth it, as you'll trek through lush rainforest and across a solid lava lake!
Akaka Falls Loop Trail: this easy, paved trail only takes about 16 minutes to complete and offers stunning views of both Akaka Falls and Kahuna Falls. Note, there is a fee to enter 'Akaka Falls State Park.
Thurston Lava Tubes Trail: an easy walk through a cave formed by a river of molten lava. To avoid the crowds on this popular trail, visit before 9 a.m. or after 4 p.m. Bring a flashlight if visiting outside 8 a.m. to 8 p.m.
Best hikes on Oahu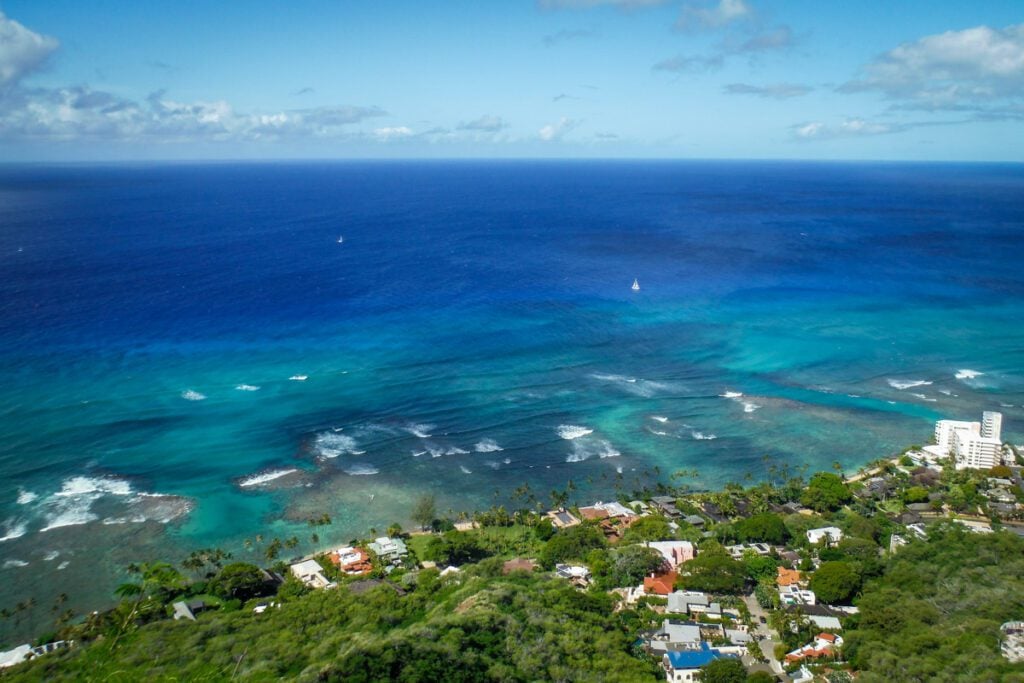 Diamond Head Trail: though considered an easy hike, this trail includes lots of steep switchbacks as you climb the side of a dormant volcanic crater near Honolulu. At the top, you'll be rewarded with panoramic views. Expect crowds on this popular trail.

Note: as of May 2022, reservations are required for non-residents. Click here for more info.

Makapu'u Point Lighthouse Trail: popular with both sightseers and trail runners, this easy hike offers stunning coastal views, including Koko Head, Koko Crater, and the Makapu'u Lighthouse.

Insider tip: bring binoculars to try and spot migrating humpback whales from November to May!
Best hikes on Kauai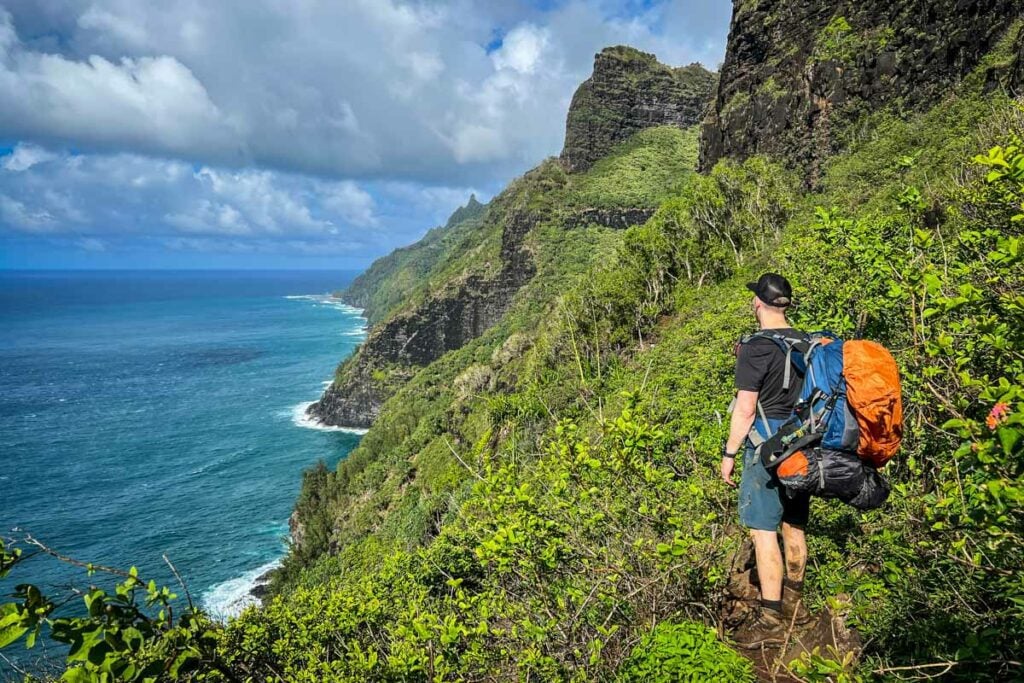 Kalalau Trail: we can't rave enough about this challenging backcountry hike; in fact, we have so much to say that we created the ultimate guide to Kalalau Trail, bursting with insider tips from our own personal experience!
Sleeping Giant Trail: challenging yet popular, this hike requires some scrambling along a narrow ridge. If you catch sight of this mountain from Kapa'a, you can see its resemblance to a snoozing giant.
Honopu Ridge Trail: jaw-dropping views of Kauai's iconic green, jagged mountains make this challenging hike worth it. Make sure you wear long pants as the trail is fairly overgrown.
Best hikes on Maui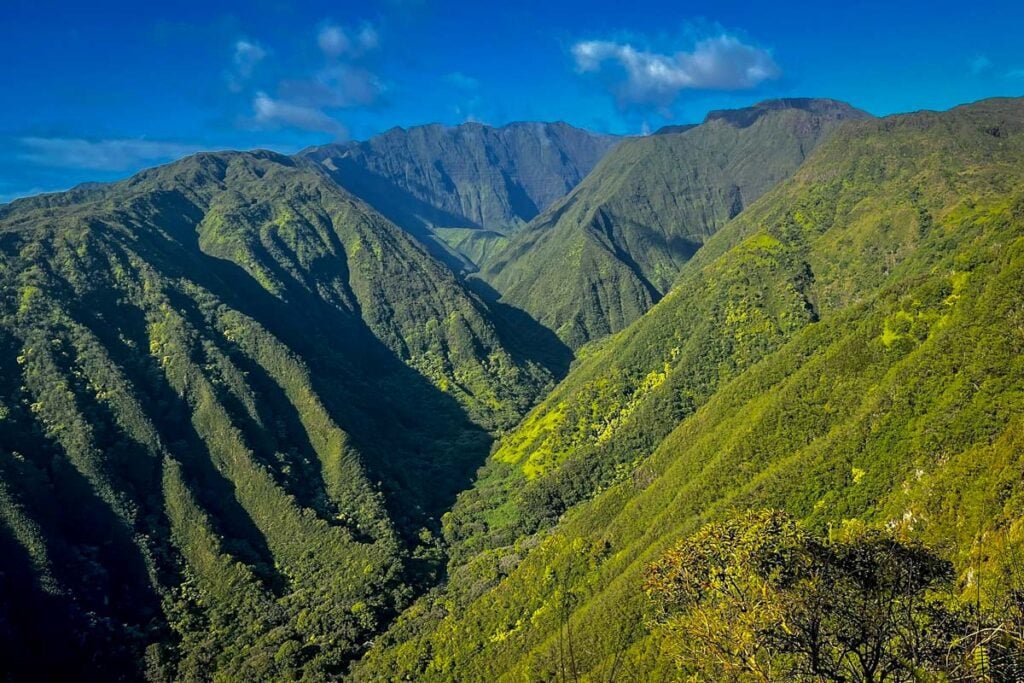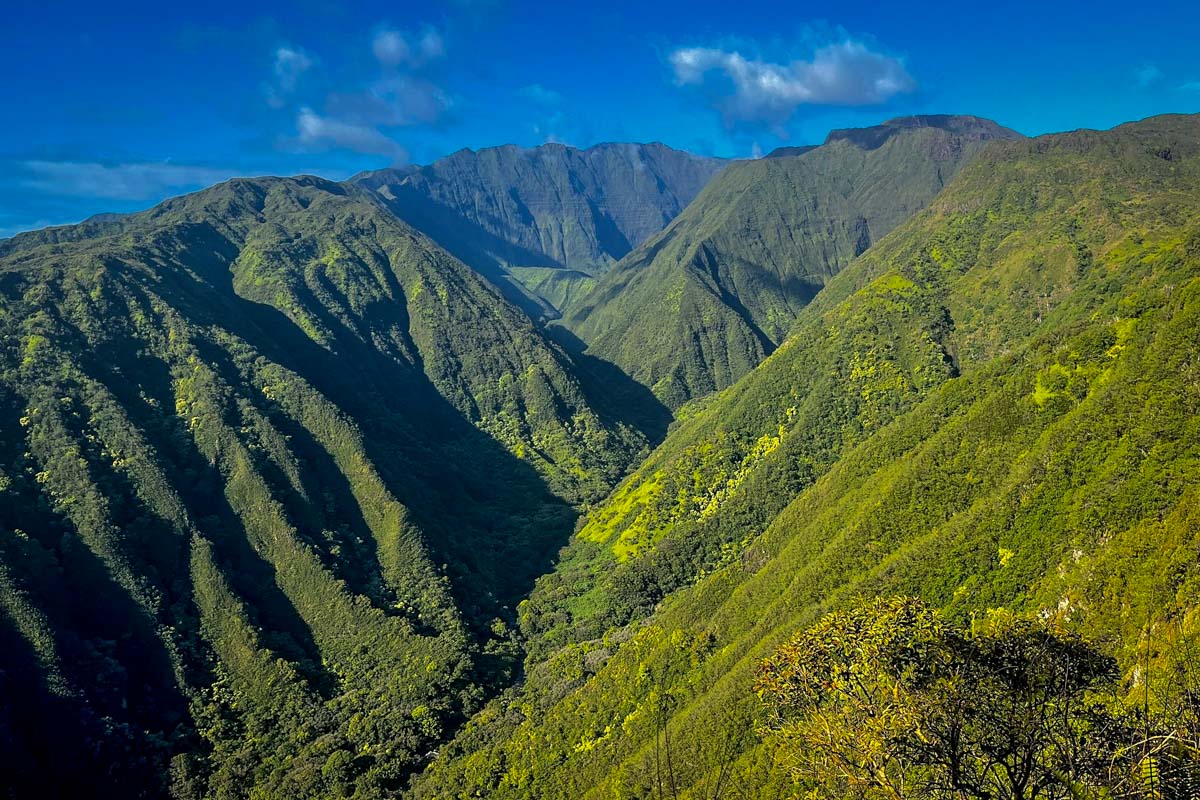 Waihe'e Ridge Trail: well-kept trail through lush vegetation with views of the ocean and Waihe'e Valley. Arrive early in order to secure parking.
Sliding Sands Trail: located in Haleakala National Park, this trail seems to slip between worlds, from the Mars-like landscape of Haleakala Crater to sweeping grasslands dotted with wildflowers.
Pipiwai Trail: the highlights of this scenic hike include a dense bamboo forest, an enormous banyan tree, and several waterfalls, culminating at the majestic Waimoku Falls. Check the weather before embarking to avoid flash flooding and keep your eyes peeled for wild pigs.
7. Attend a luau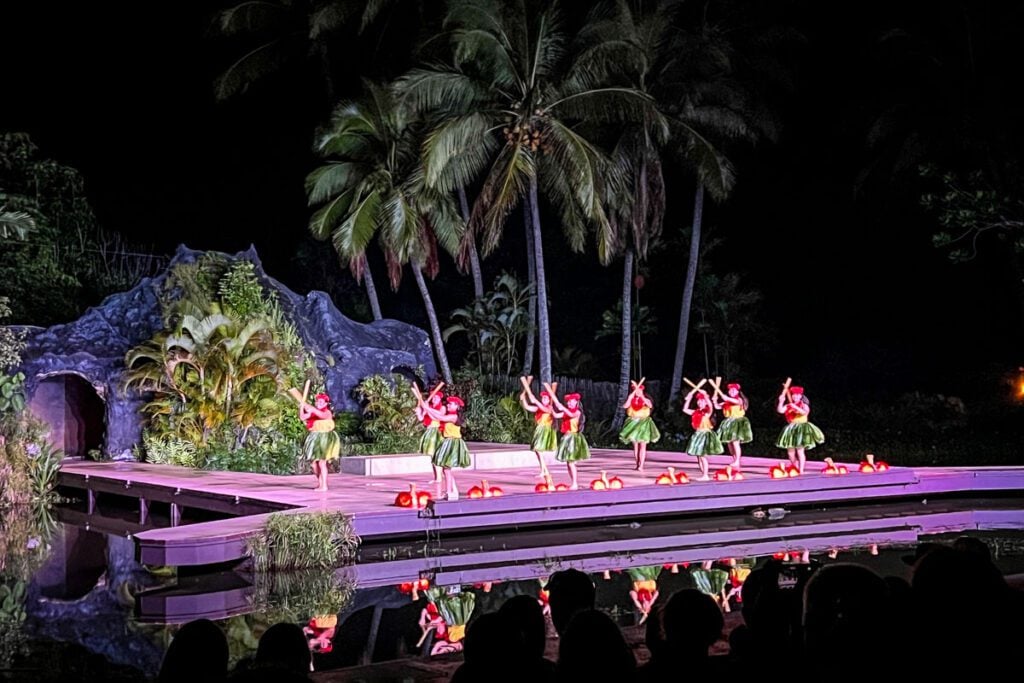 Where: All islands
A luau is a celebration of Hawaiian culture through authentic food and live music.
While they're often held to celebrate milestones within local families, welcoming guests (you!) to the island is another great reason to throw a luau.
Most luaus are around 2-3 hours and follow the same program: arrival entertainment, dinner (buffet, family-style, or plated), then the main luau show.
While you feast on authentic Hawaiian cuisine (poke, poi, kalua pork, lau lau, haupia, etc), you'll marvel as hula dancers tell the stories of the islands under a sky of stars.
8. Go mountain tubing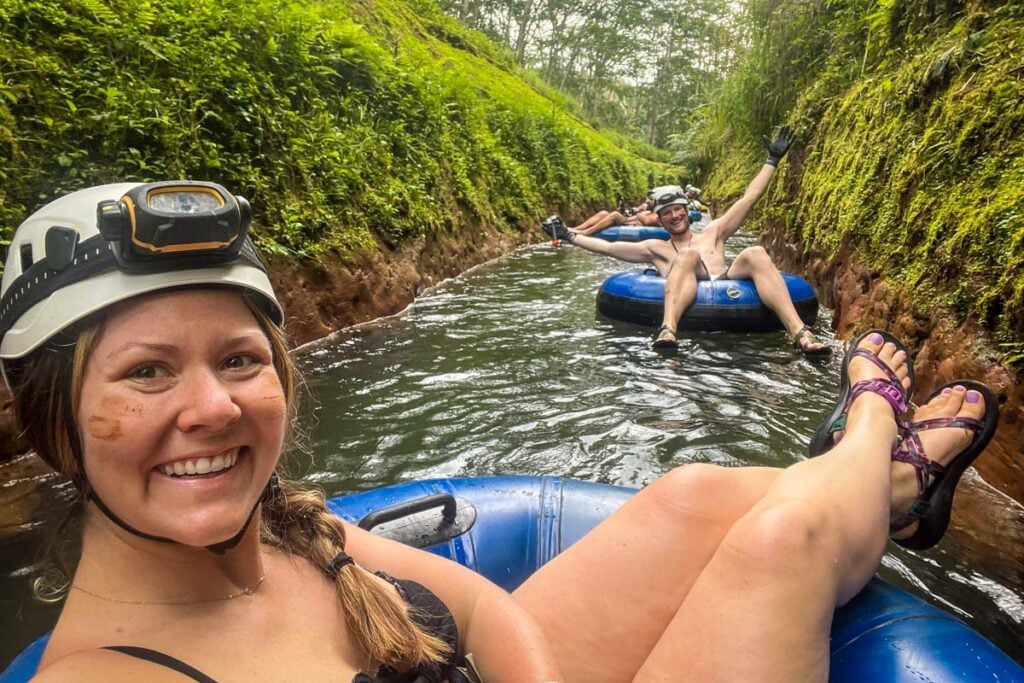 When researching things to do in Hawaii, one of the activities we received the most recommendations for was going mountain tubing in Kauai. We have major FOMO, so we booked our tour with Kauai Backcountry Adventures right away. And what a fun time it was!
This company has everything running like a well-oiled machine. After checking in and gearing up, all you have to worry about is having fun!
Float down the canals that were once used as the irrigation system for a historic sugarcane plantation. You'll pass through 5 tunnels, each of which was carved out by immigrant workers.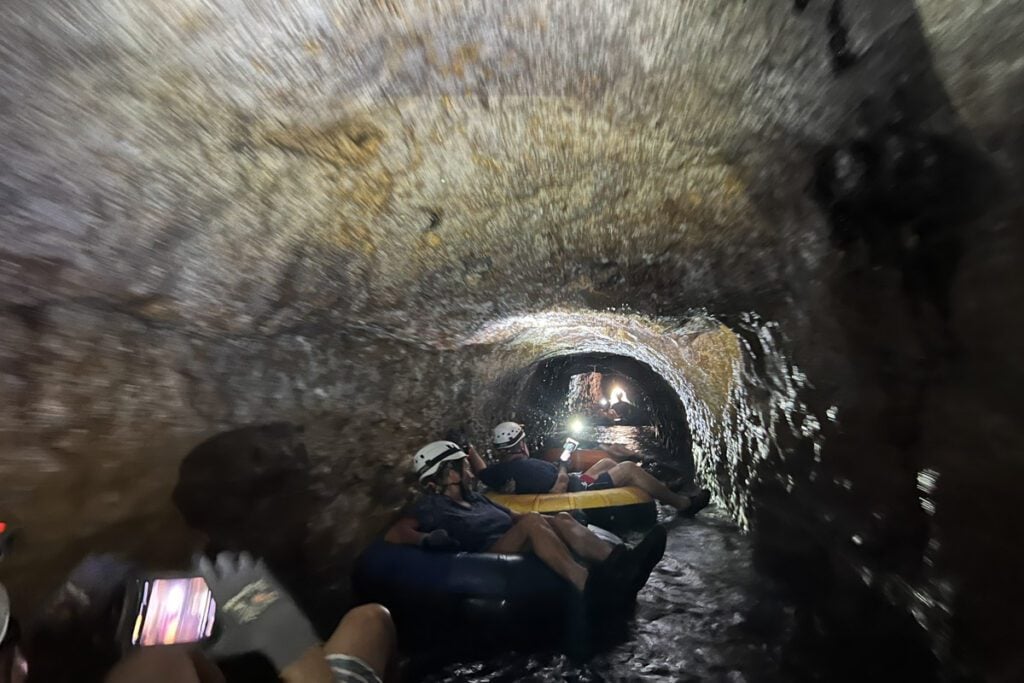 While those with claustrophobia might find the tunnels a bit uncomfortable, you have headlamps and a gaggle of giggling tourists with you to keep you company and your nerves at bay. Other than one tiny "drop", this is mostly a "lazy river" experience rather than an adrenaline fueled adventure.
Not only is this one of the most unique things to do in Kauai, but you'll also learn a lot about history on this tour. Plus, it's suitable for just about every age. Children 5 and up are welcome to join (there were 2 kiddos on our tour) as are seniors (we had quite a few of them with us!).
Shout out! Our guide, Boo Boo, was one of the best tour guides we've had in a long time (and we've had a LOT of tour guides!).
Tour Details
Tour length: 3 hours
Ages: 5 years+
Tours depart frequently between 8:20 a.m. – 2:40 p.m.
Price: $149
Logistics: Since we were traveling with my parents, they were able to watch our daughter during this tour. Kids 5 and up are able to join, but she was just 16-months-old at the time of our trip.
9. Chase waterfalls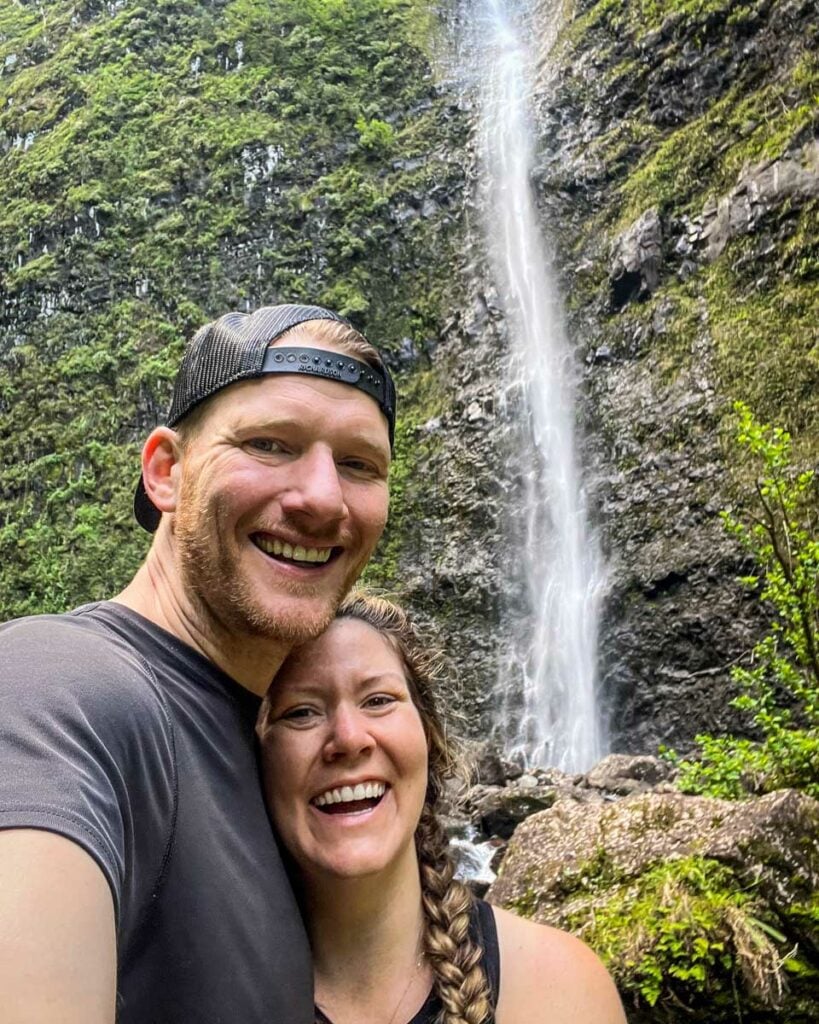 Where: All islands
Jaw-dropping waterfalls decorate the islands of Hawaii. Regardless of which island you visit, you'll find one to fall in love with.
Best Big Island waterfalls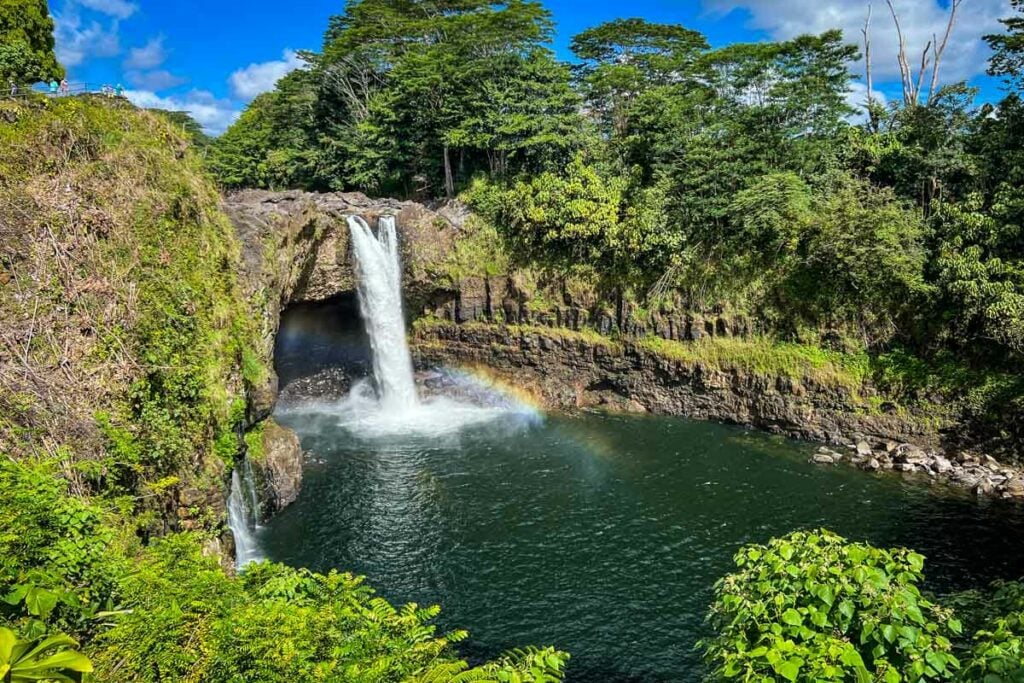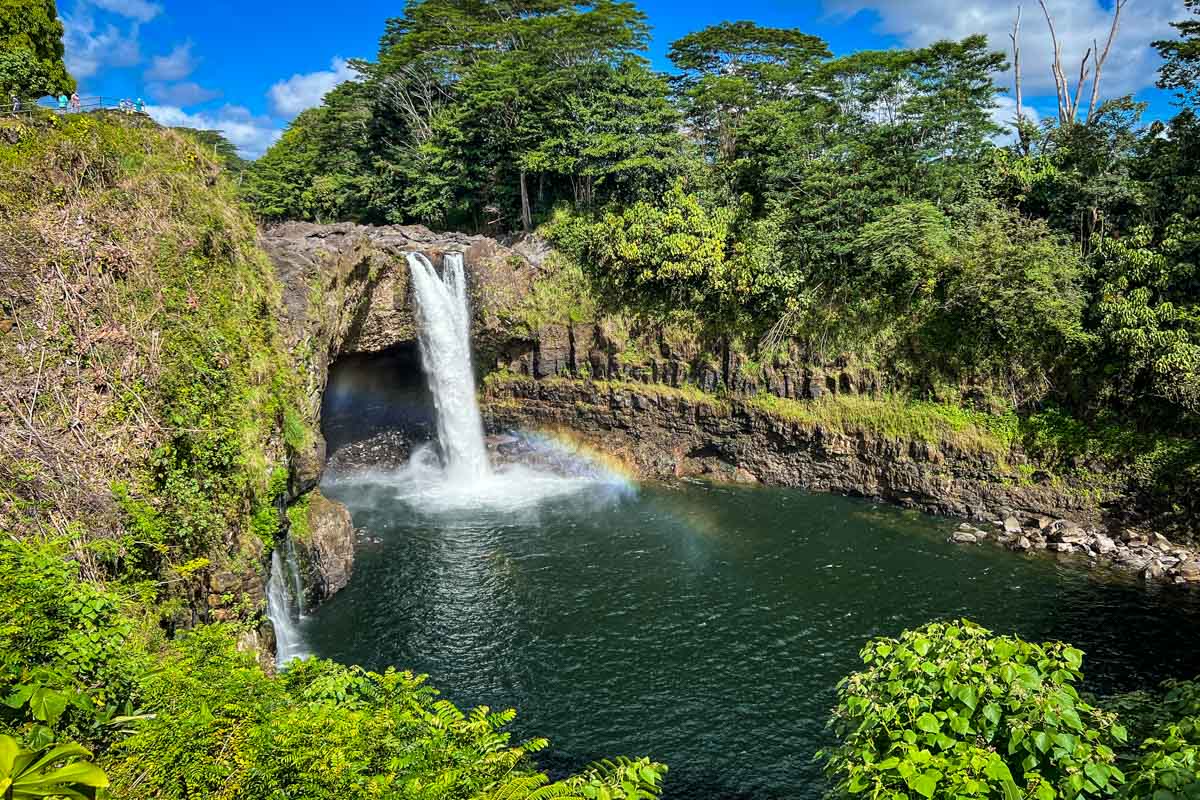 Rainbow Falls: visit in the morning for your best chance of spotting rainbows in the mist of these 80-foot falls. A ramp from the free parking lot to a viewing platform makes this one of the most accessible sights on the island.
Akaka Falls: a short, easy walk in 'Akaka Falls State Park offers awe-inspiring views of this 442-foot free-fall into a deep gorge.
Best Oahu waterfalls
Manoa Falls: just a short drive from downtown Honolulu, the hike to this 150-foot cascade takes about 70 minutes (out and back) and is rated easy to moderate.
Waimea Falls: located in the scenic Waimea Valley, the easy 30-minute stroll to this famous falls (featured in the cult TV series Lost) passes through tropical gardens and Hawaiian cultural sites. Keep your eyes peeled for endangered alaeʻula birds. Visit the official website for hours & admission.
Best Kauai waterfalls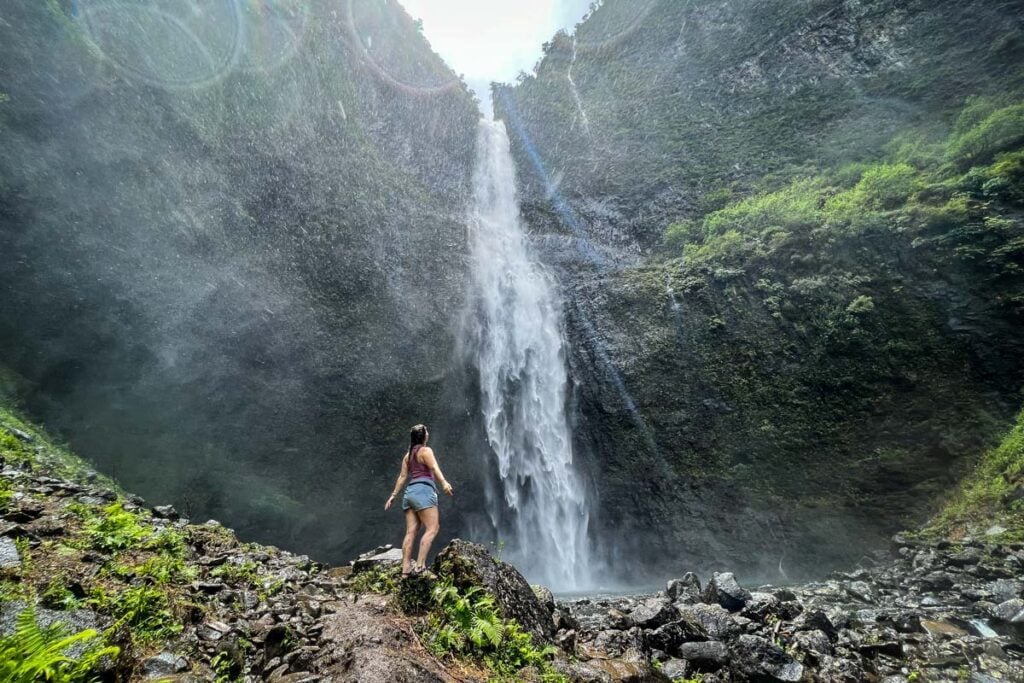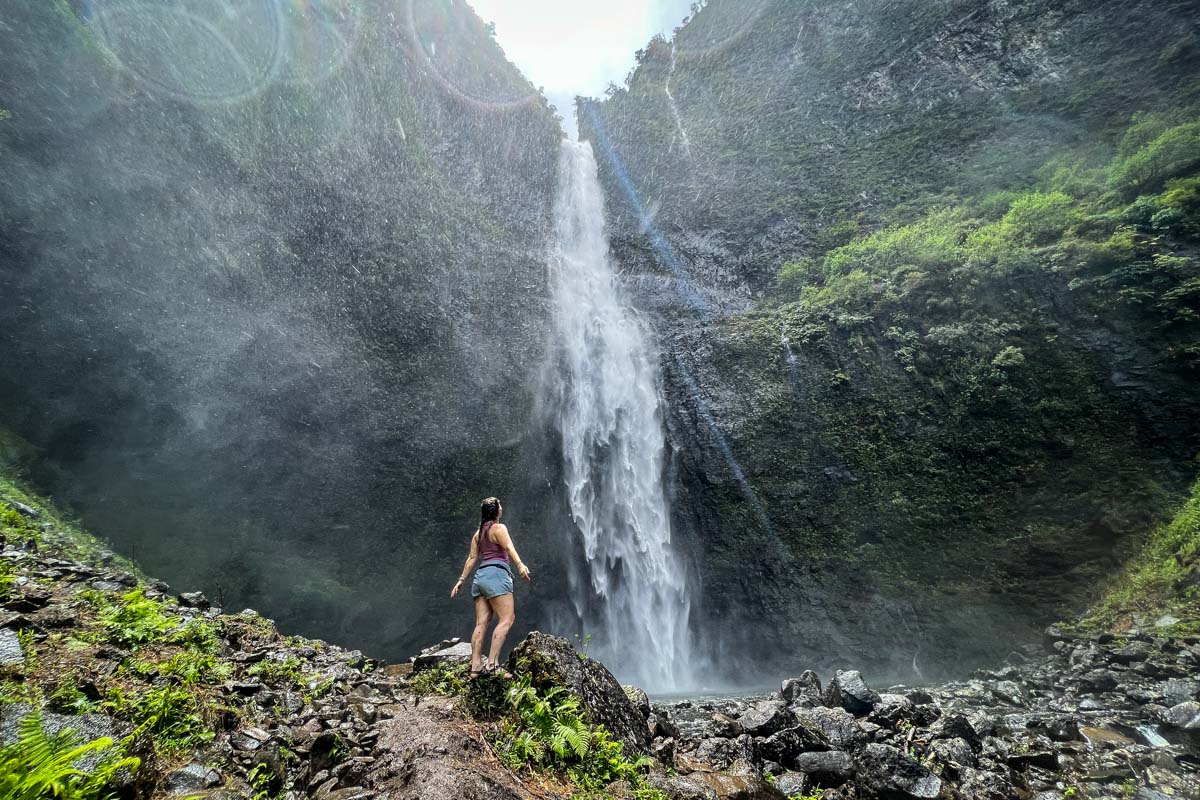 Waipo'o Falls: this 800-foot waterfall marks the end of the Waimea Canyon Trail and is a popular spot for wildlife and birdwatching. You can also view the falls from one of the scenic lookouts along Kokee Road.
Hanakapi'ai Falls: a popular detour on the Kalalau Trail, this stunner is also a deserving destination on its own and well worth the challenging hike. Note that reservations are required for non-Hawaiian residents for Ha'ena State Park where the trailhead is located.
Wailua Falls: an easy one to check off your list, these iconic falls can be seen from a free parking area on Maalo Road. Depending on rainfall levels, they may appear as twin falls or as a single roaring cascade.
Best Maui waterfalls
Waimoku Falls: marking the end of the out-and-back Pipiwai Trail in Haleakala National Park, this impressive falls drops 400 feet over a sheer cliff face.
Waikani Falls: also known as "Three Bears", this parallel trio is a popular sight on the famed Hana Highway.
10. Take in the history at Pearl Harbor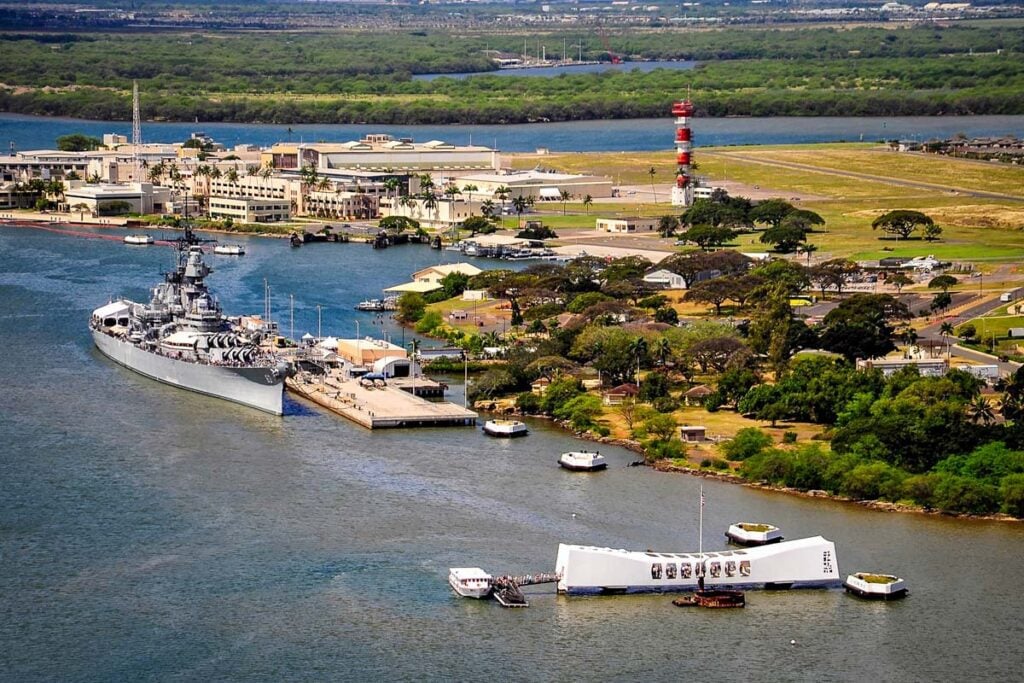 Where: Oahu
The attack on Pearl Harbor was one of the most pivotal moments in United States history.
On December 7th, 1941, Japan launched a surprise military attack on Pearl Harbor, killing and wounding thousands of American soldiers.
Today, the site is an active military base as well as a collection of four historic sites that weave together the stories and tragedies of the war: USS Arizona Memorial, Battleship Missouri, USS Bowfin submarine, and the Pearl Harbor Aviation Museum.
11. Learn about Hawaiian culture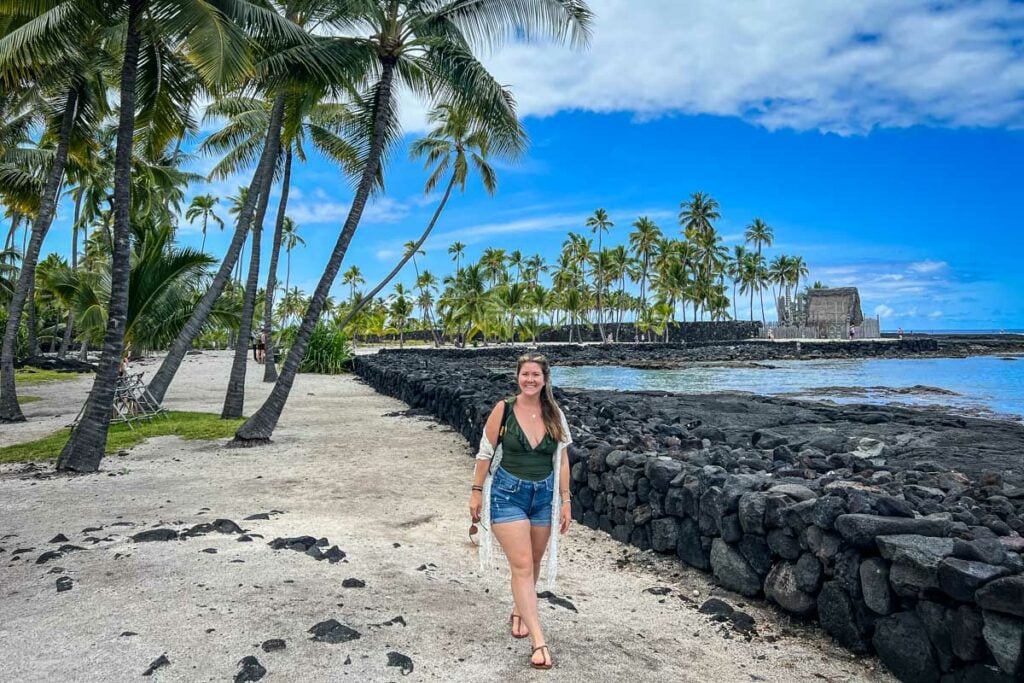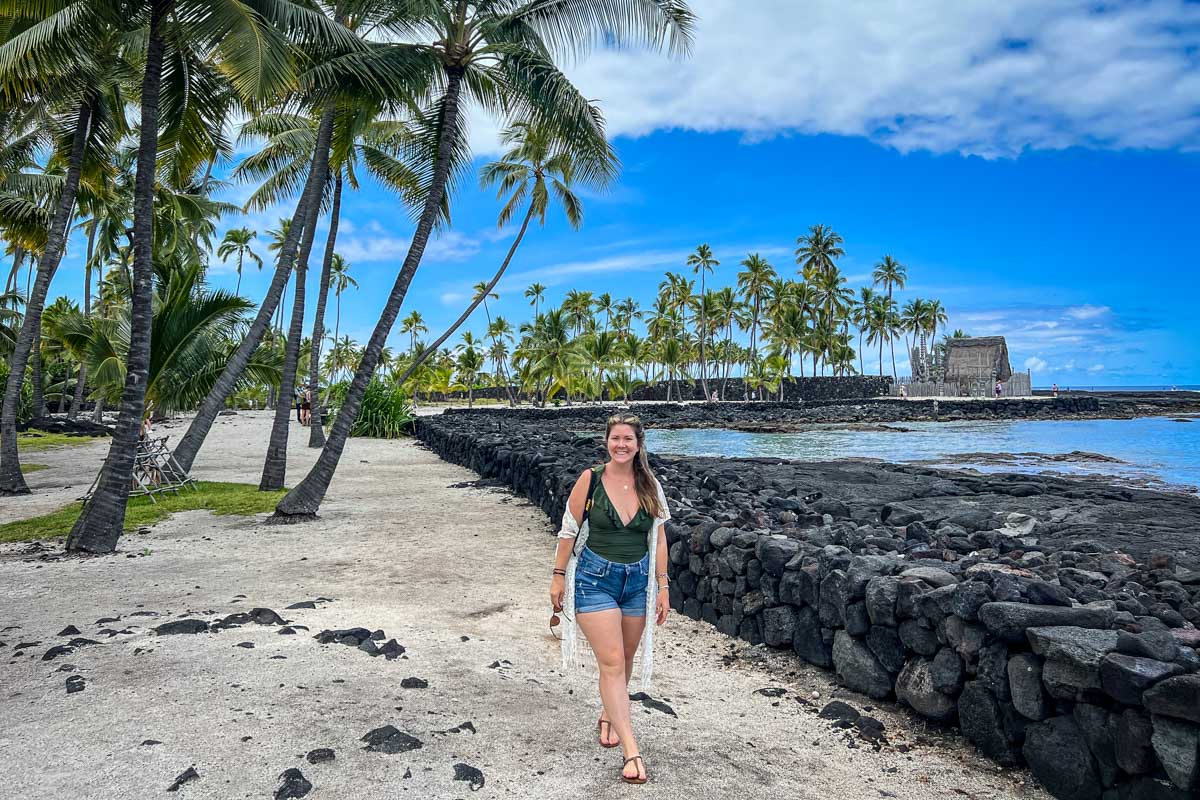 Where: All islands
While known for the "sun, sand, and surf", the culture of Hawaii goes far beyond its coastlines.
Unbeknownst to many, much of the history and stories of Hawaii we know were told by outsiders, painting a drastically different picture than what it truly is.
Over the last decades, Native Hawaiians have been making efforts to unveil the true image of who they are to reclaim their heritage.
If you want to hear their stories, there are plenty of ways to listen and give back:
Take a class/experience offered by a local (we recommend a ton in this article!)
Learn the history/significance of where you're going
Read a book or well-researched article before you arrive
Visit during one of Hawaii's festivals
Explore cultural sites and museums
Support local businesses
12. Do a beach photoshoot with a local photographer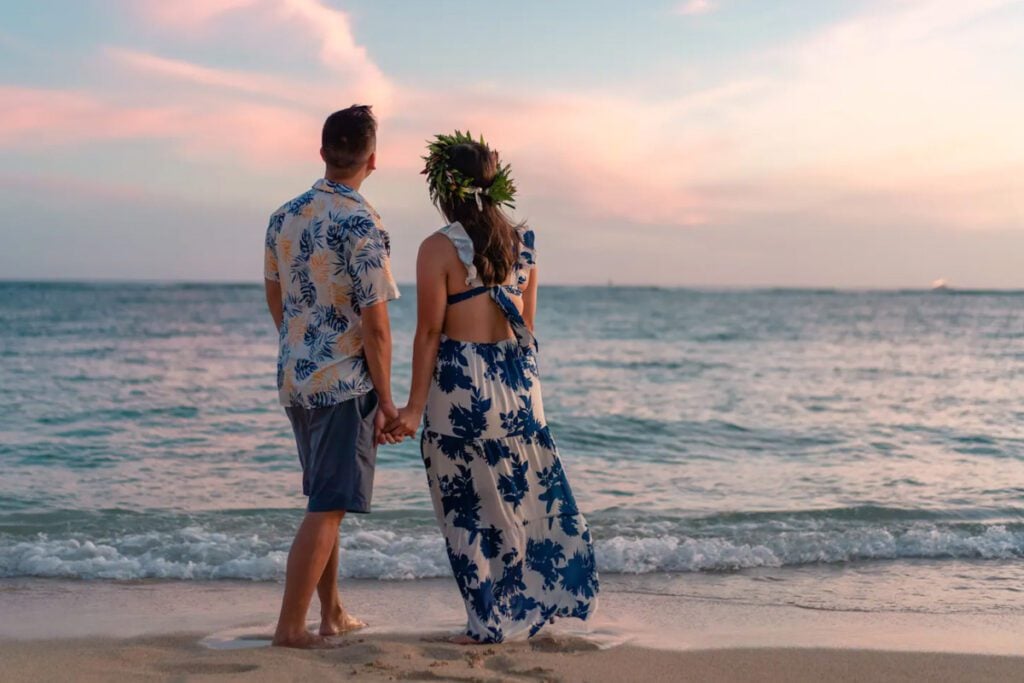 Where: All islands
We think there are few souvenirs more special than photos. Consider booking a photo session with a local photographer for the best keepsake you could ask for.
Local photographers know the areas really well, including when you'll get the best lighting and where to go to avoid crowds.
Plus, since you get to hang out with a local for a while, you can ask for insider advice on where to eat and places to explore nearby.
Here are some recommendations for photographers on 3 of the islands:
Insider Tip: Another idea is to search on Instagram for photographers you love who are based in Hawaii. Reach out and see if you can book a session with them!
On a tight budget? It's totally possible to get amazing pictures of yourself – we've done it for years using our own travel photography tips and these pieces of equipment:
Travel tripod
Super compact tripod
Camera remote
13. Stock up on macadamia nuts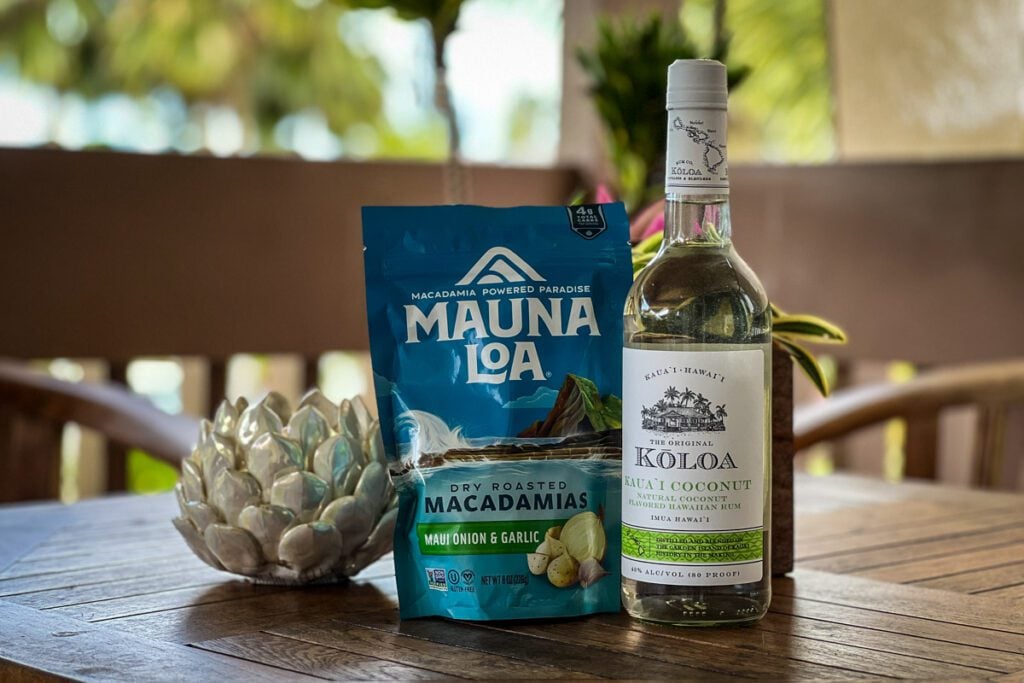 Where: Oahu, Big Island, Molokai
Although these crunchy and creamy nuts are native to Australian rainforests, they have thrived for centuries in Hawaii since being introduced by a sugar plantation owner.
The rich volcanic soil together with the tropical weather and pure rainwater of Hawaii give the mac nuts a perfect balance of flavor and texture, setting the gold standard for the rest of the world.
One bite of these is all the convincing you need to bring home a bag or three!
Best places to buy macadamia nuts:
14. Sip a mai tai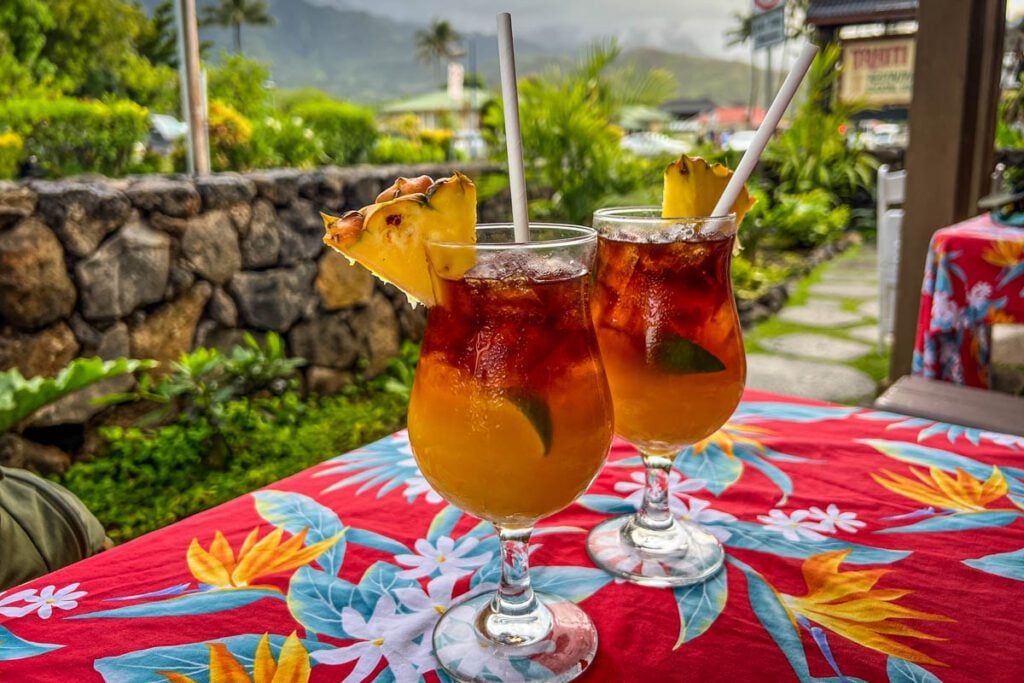 Where: All islands
This tiki cocktail is unapologetically tropical with equal parts light and dark rum, orange curaçao, fresh lime, and orgeat (almond flavored syrup) mixed together with a garnish of fresh mint and a lime wheel.
Overall, it's meant to showcase fantastic rums as each ingredient balances together to create a fruity and refreshing beverage.
It's the perfect cocktail for dinner, lounging on the beach, or when you're back home and want to transport yourself back to the island.
15. Enjoy live music
Where: All islands
Live music is a huge part of Hawaiian culture, so on any given day, you'll be able to find free live shows, sold out venues, and even locals singing along at the beach.
Endless indoor and outdoor venues, bars, and restaurants in Hawaii host everything from local talent to domestic and international bands, making it easy to find a sound you enjoy.
16. Buy a ukulele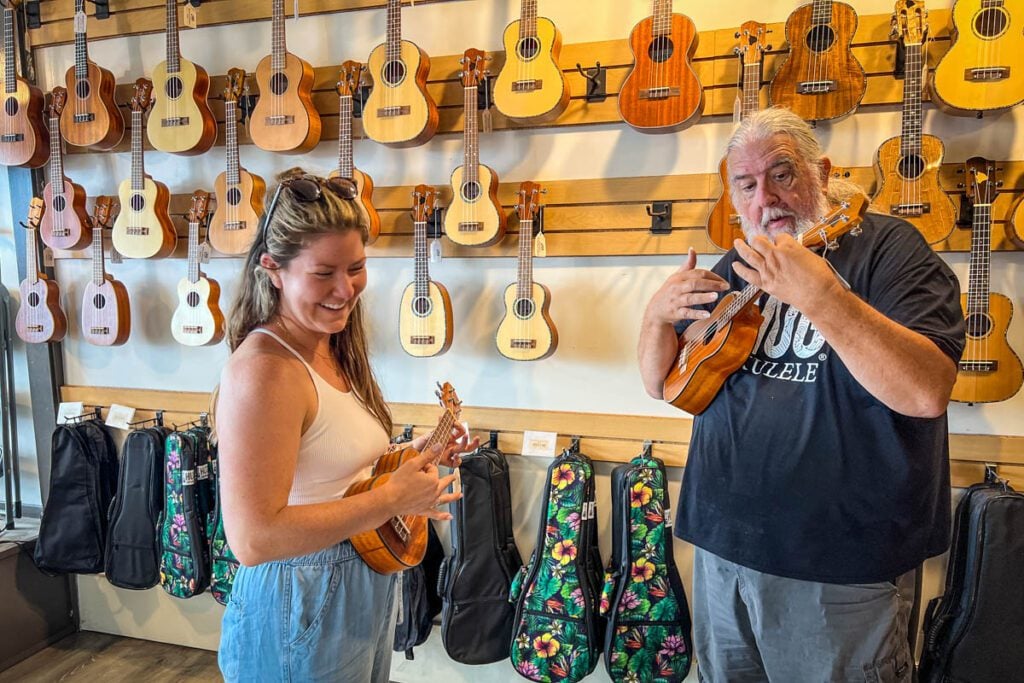 Where: All islands
These fun, four-stringed instruments can be found nearly everywhere in Hawaii from small shops for souvenirs and gifts, to high-end sellers offering 100% Hawaiian, handmade ukes.
17. Go snorkeling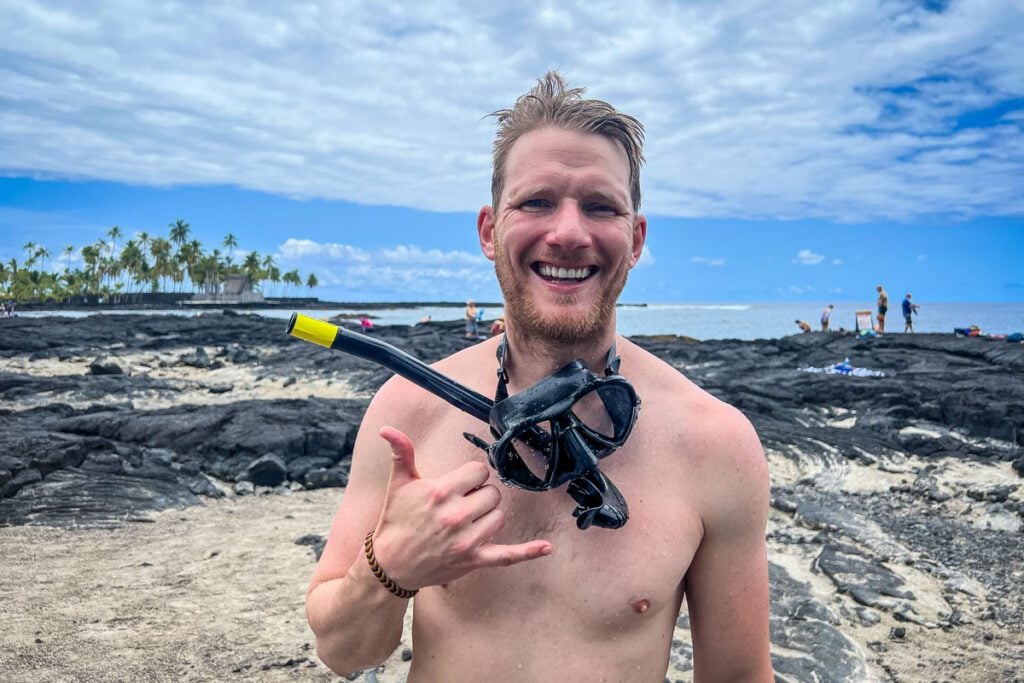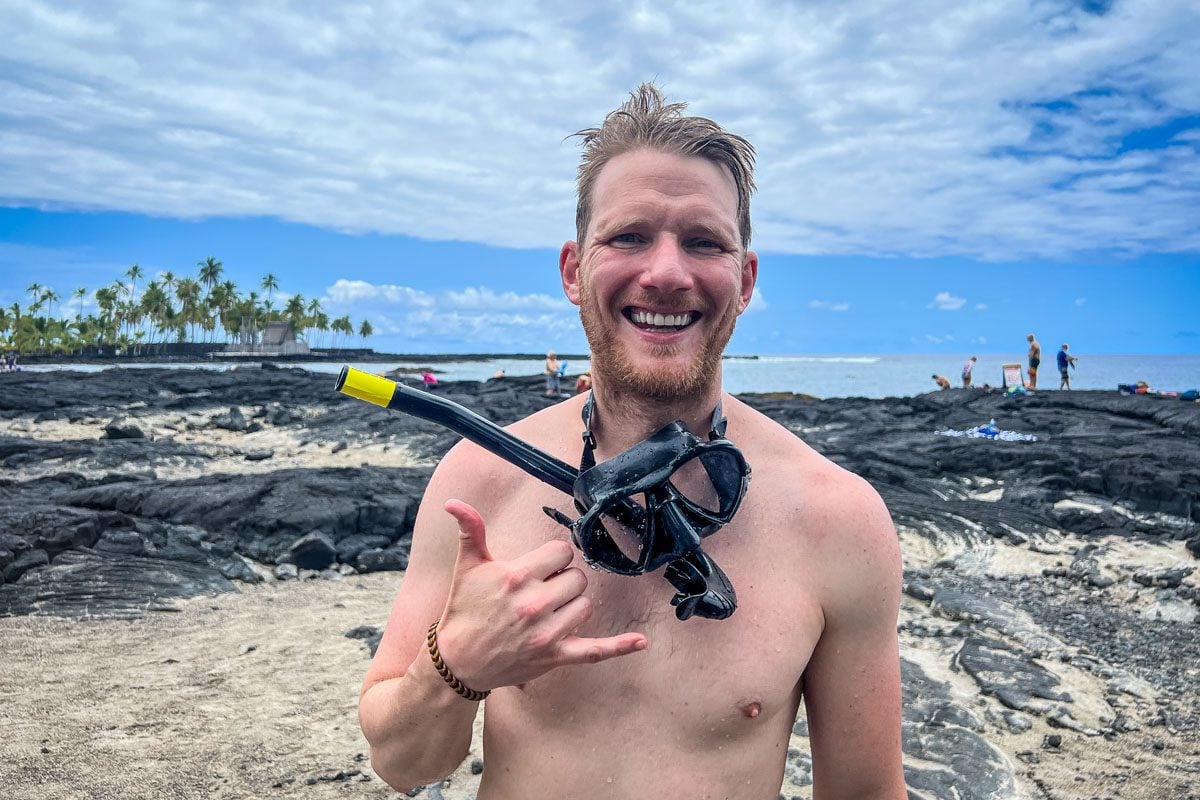 Where: All islands
Hawaii is ranked among some of the top destinations in the world for snorkeling as their coral reefs are teeming with abundant wildlife and crystal-clear waters.
When it comes to what creatures you can meet below the sea, the opportunities are endless: spotted eagle rays, hawksbill sea turtles, spinner dolphins, reef sharks, hammerheads, parrotfish, and moray eels are some highlights, to name only a few.
Each island offers different opportunities for snorkeling, showcasing different species along their respective shores. However, it doesn't matter which you choose as all of them are quite spectacular.
Best snorkeling spots on each island:
Insider Tip: If you plan to snorkel more than once, we'd recommend bringing your own gear. We have really nice diving masks that we use for snorkeling too, but if you're looking for a cheaper option, this snorkel set is highly rated. If you're short on space in your suitcase, you could leave the fins behind. Alternatively, you could ask your Airbnb or hotel if they have the option to borrow or rent snorkeling gear.
18. Eat fresh poke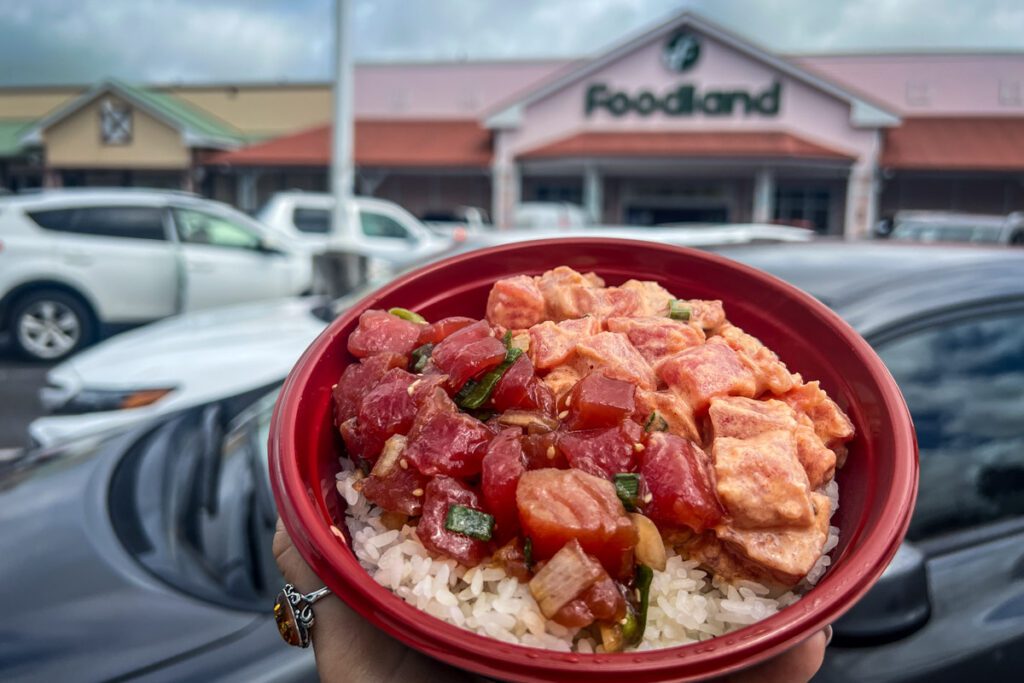 Where: All islands
Cube up raw ahi (tuna), season generously, and you have a bowl of Hawaii's beloved poke.
Poke comes in millions of different variations, but Shoyu Poke is what Hawaii is most known for: raw ahi, soy sauce, sesame oil, green onion, and sweet onion.
Whether you make it yourself, join a cooking class, or find it anywhere (and we mean anywhere) in Hawaii, you'll love this simple, yet flavorful dish.
Insider tip: it may seem too good to be true, but Foodland poke (found on all islands) is revered by locals and has been rated the best poke in Hawaii for 9 years in a row… just sayin'.
19. Go scuba diving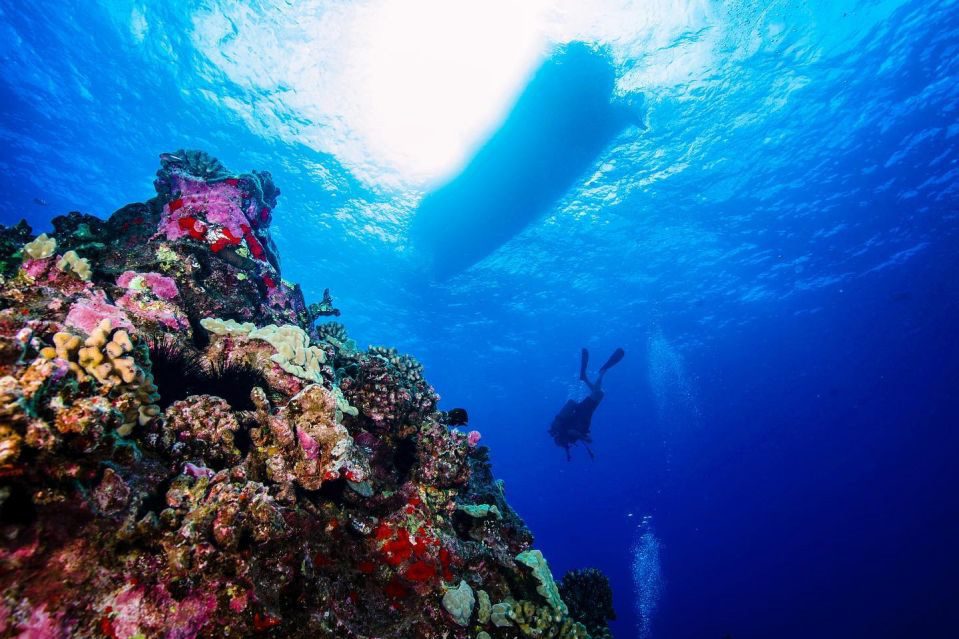 Where: All islands, but the best diving is in Maui
Beginner and experienced divers flock to Hawaii to see a showcase of the Pacific Ocean: famous Hawaiian green sea turtles, colorful reefs, old shipwrecks, manta rays, sharks, whales, and a longer list of things you may have never seen or heard of before…
With each dive site as abundant as the last, and each Hawaiian island having its own signature, scuba diving is a boundless venture in some of the world's most pristine waters.
Unique diving experience: hammerhead shark diving (Maui)
The protected waters off the coast of Maui are home to a school of scalloped hammerhead sharks and therefore one of the most unique dive sites in the world.
Cross the famous Pailolo Channel and plunge into blue waters near Molokai to witness these creatures – sometimes by the hundreds!
20. Take a surfing lesson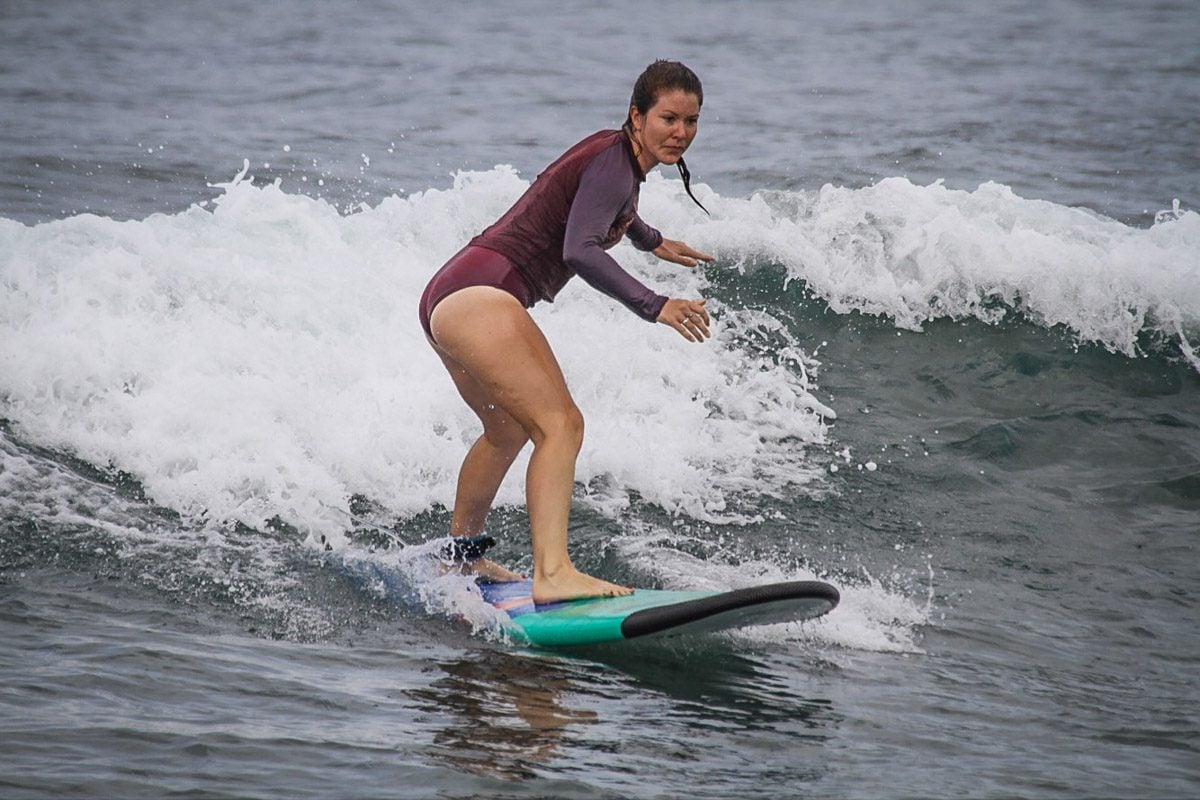 Where: All islands
Born and raised in Hawaii, surfing is deeply rooted in both the history and culture of the Aloha state.
The islands are home to some of the world's most famous surf breaks. There are plenty of spots where you can grab a lesson from an experienced local surfer and get the basics down.
Recommended surfing lessons:
21. Eat plenty of shave ice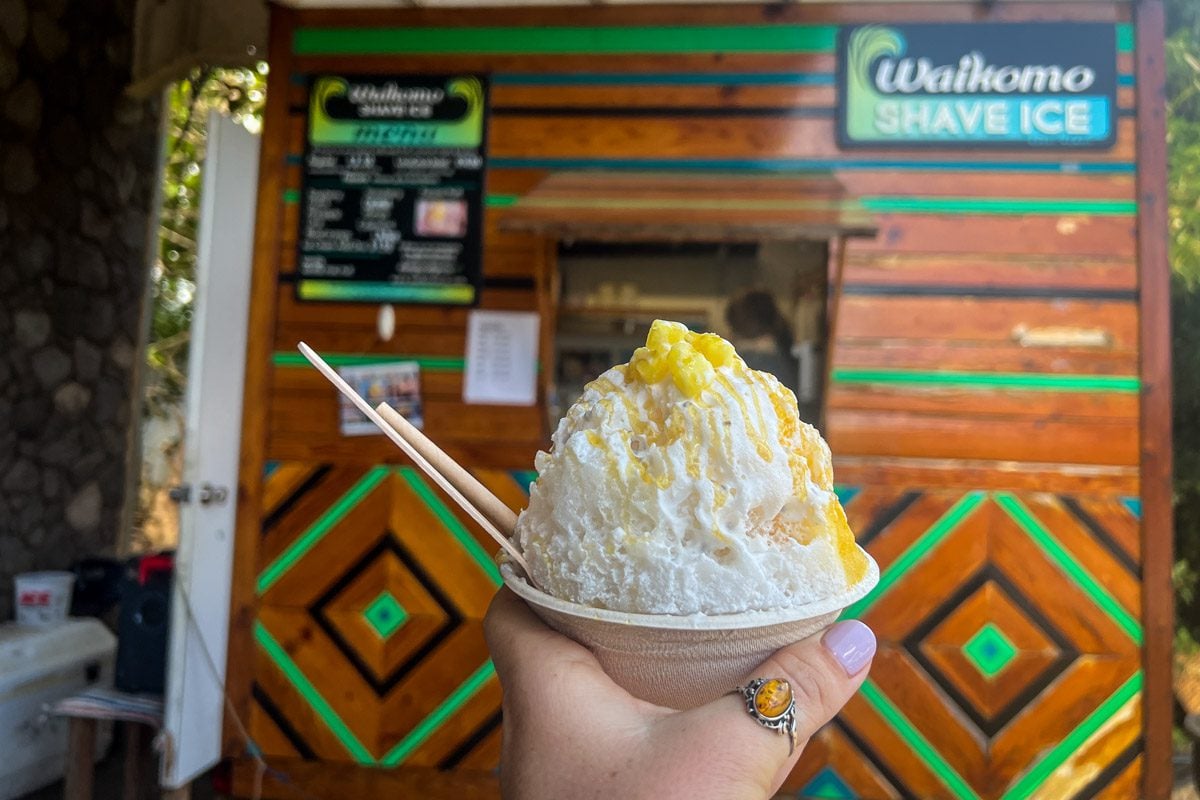 Where: All islands
Much more than your average snow cone, Hawaii shave ice (yes, it's 'shave' and not 'shaved') is the ideal companion on a hot day in the islands.
A regular snow cone is tightly packed crushed ice with artificial syrup on top.
Whereas shave ice is soft and pillowy, melts in your mouth, and can be topped with all the unique flavors of Hawaii: lilikoi, lychee, wet lemon peel, pickled mango, and guava, to name a few.
But it doesn't stop there…
Top your colorful dome with mochi balls, adzuki beans, snow cap, li hing mui powder, or countless other delectables in order to enjoy it like the locals do.
Create your own perfect combination or order a preset combo off the menu. Either way, you'll definitely be returning for more!
22. Take a memorable road trip
Where: All islands
While getting between the islands requires you fly, once you're actually on the islands, there are many unforgettable road trips to be had. Here are just a few of our suggestions:
Related: Check out our guide on renting a car in Hawaii to find out how to get the best price.
Road to Hana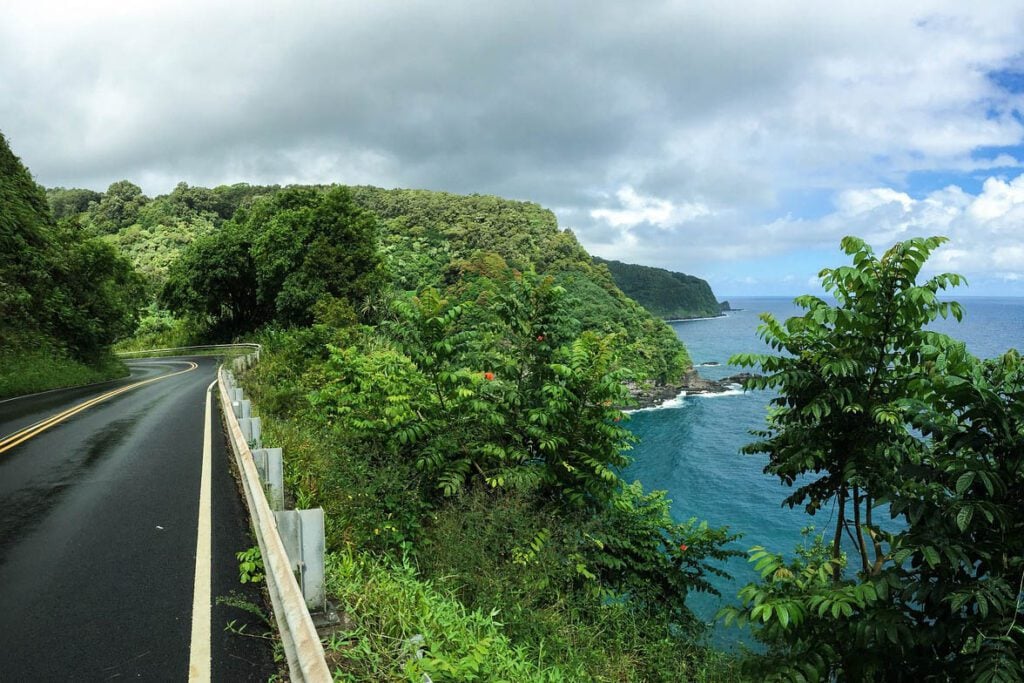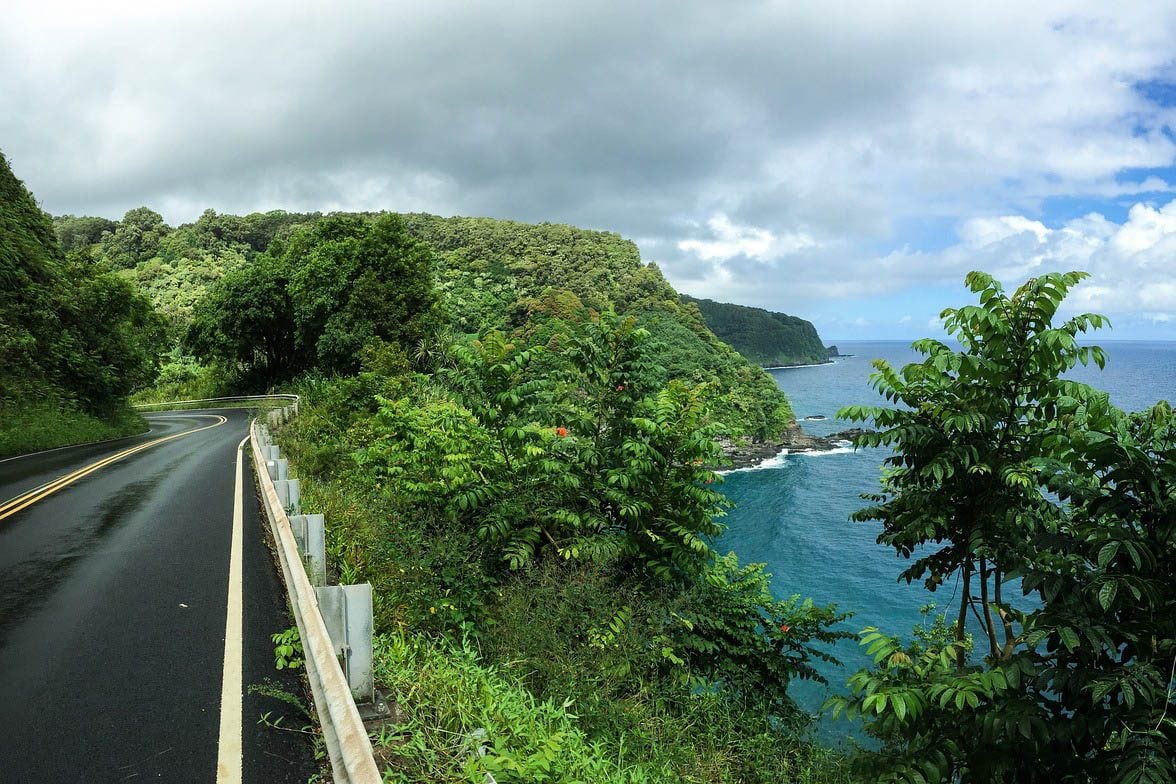 Where: Maui
Hugging the East Shore from Kahului to Kipahulu are 64 miles of highway featuring waterfalls, lush coastlines, quaint towns, and stunning beaches.
Ethical travel note: The Road to Hana is not a tourist site, but a main road used by locals. Please abide by the Code of Conduct put in place to respect the locals and the land.
Honolulu to Kualoa Ranch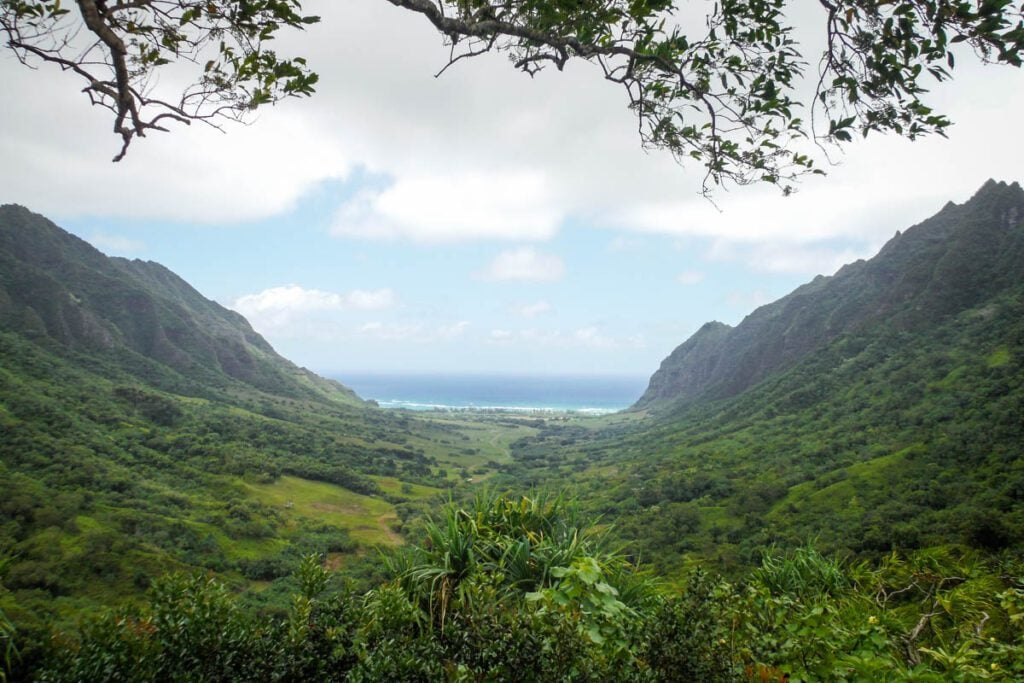 Where: Oahu
20 miles of the Kamehameha Highway make up one of the most beautiful drives on Oahu, from the state capital into Jurassic Valley.
Waimea Canyon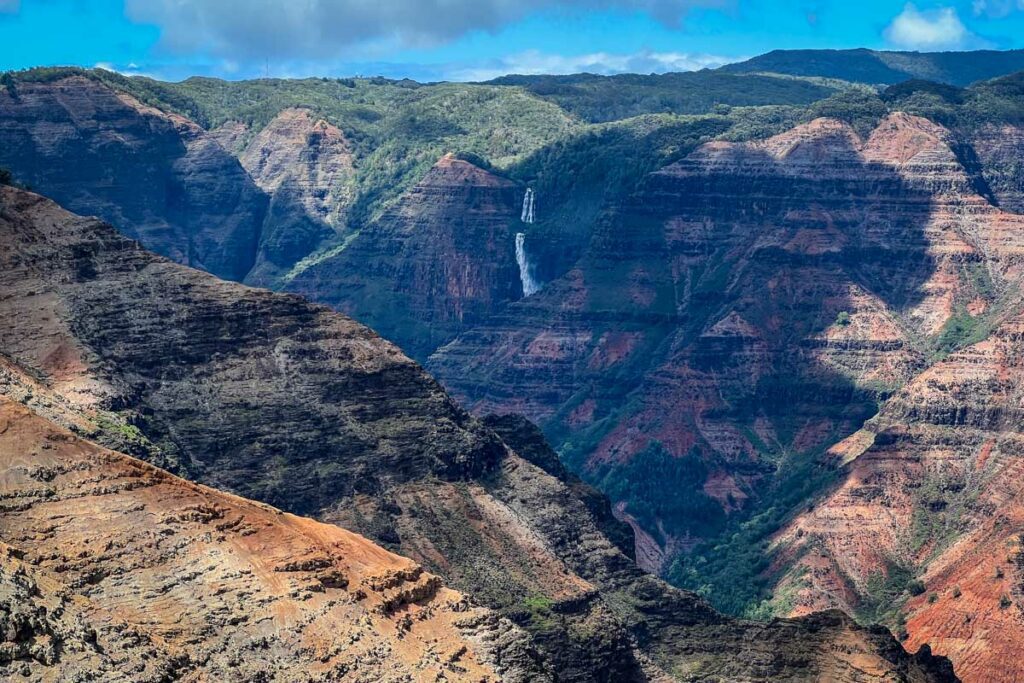 Where: Kauai
This 14-mile drive jutting into Kauai's Na Pali Coast features the famous verdant and rust-colored mountains that make up the "Grand Canyon of the Pacific".
Kona to Hilo (via Volcanoes National Park)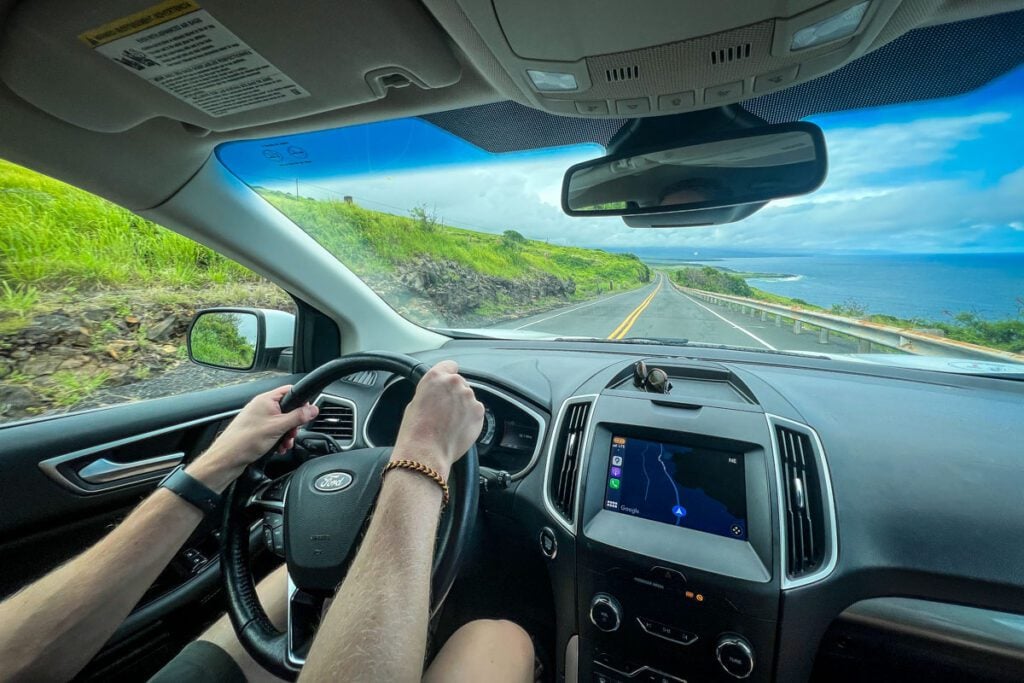 Where: Big Island
Rugged and intriguing, this 124-mile route passes through grasslands, volcanic landscapes, lush jungle, colored beaches, and local food shops.
23. Try your luck at deep sea fishing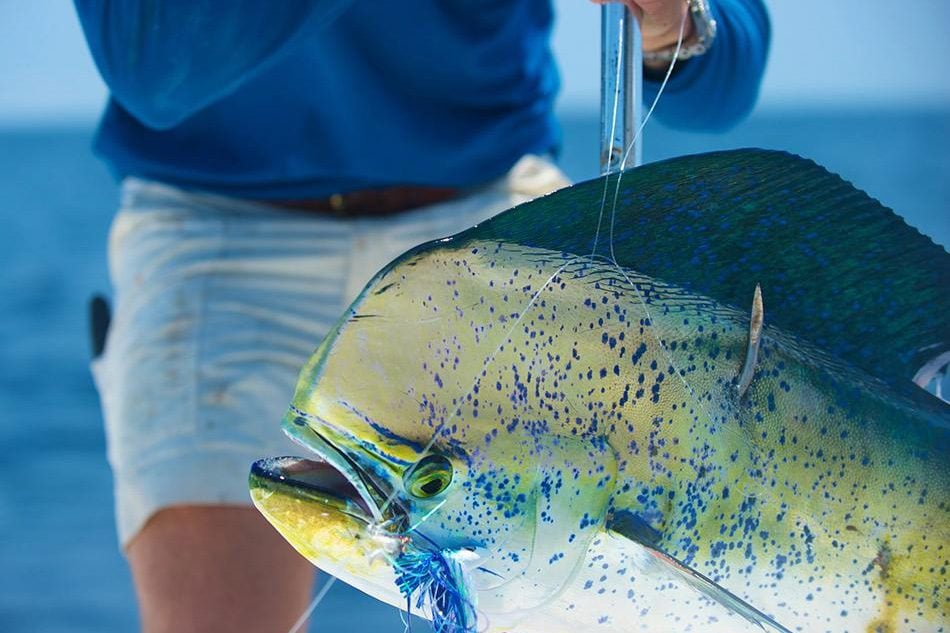 Where: All islands
Yellowfin tuna, mahi mahi, marlin, skipjack, trevally, swordfish, and many other big game fish are plentiful off Hawaiian coasts.
There are a wide variety of charters on each island offering tours for all group sizes and experience levels, so you can find one that suits your needs. Each species of fish has its own season in the islands, so check what's swimming whenever you book your boat.
In the event that you do hook something, your skippers will likely filet it for you to bring back and cook at your Airbnb!
24. Learn how Kona coffee is grown
Where: Big Island
Because it's only found and grown in the Kona Region, Kona coffee is one of the rarest and highest-quality coffees in the world.
The volcanic soil together with the sun and western slopes of the region contribute to the coffee's distinct and rich flavor, which is best tasted at Greenwell Farms.
You can tour their estate for free to learn about this specialty coffee while you sip your way through their historic farm.
25. Stargaze at Mauna Kea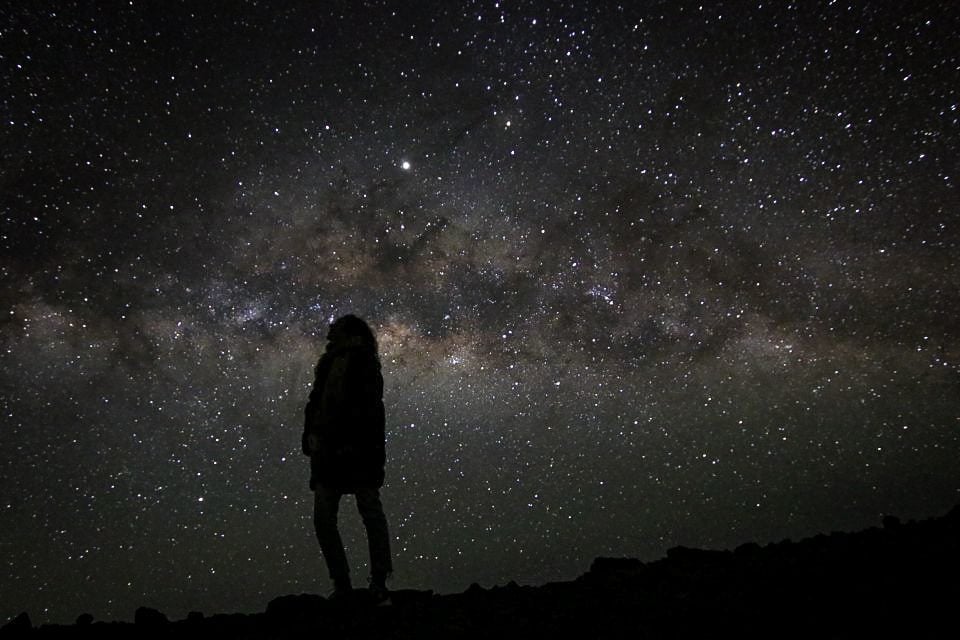 Where: Big Island
Mauna Kea, known locally as the "White Mountain", is one of clearest places on the planet to see stars dance across the night sky.
You can access the summit either with your own 4×4 rental or by joining a Mauna Kea Sunset & Stargazing Trip. Regardless of how you get there, this sacred place is a must-see and easily one of the most memorable things to do in Hawaii.
Tip: the summit reaches up to 14,000 feet, so dress warmly and stop briefly at the visitor center to help yourself adjust to the elevation.
26. Make a Hawaiian lei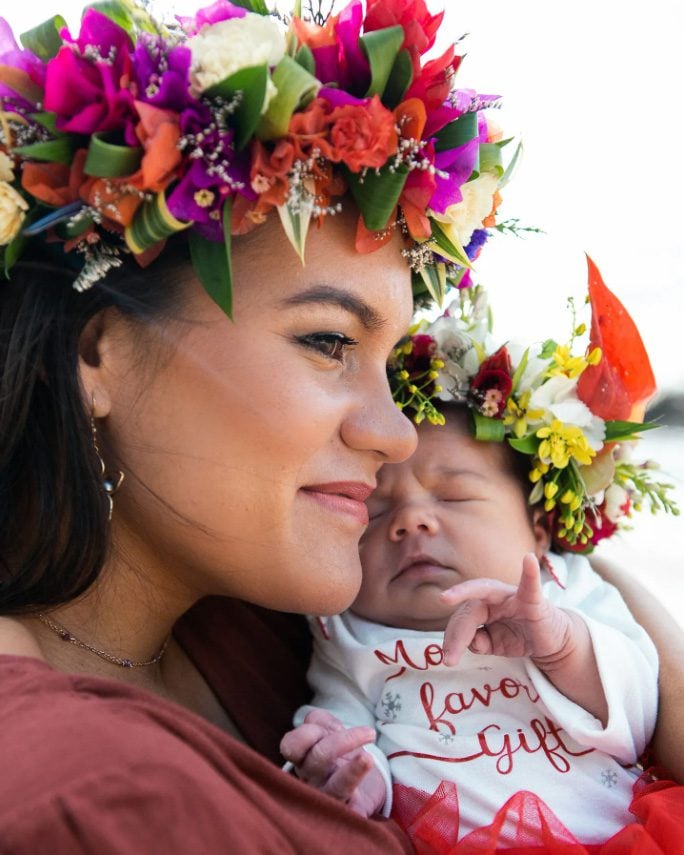 Where: Oahu
The Hawaiian lei po'o is a standing symbol of Hawaii and Aloha. When you create your own Hawaiian lei, you'll be able to connect to the rich culture of Hawaii.
With attention to high-quality local and Polynesian-sourced flowers, Oahu native Kiana will teach you how to make a stunning lei po'o (flower crown) using the skills passed down by her mother for nearly 30 years.
What you need to know:
Hours: 1.5 hours
Price: $135 USD
What guests are saying
"This was our 3rd time making a lei po'o with Kiana, and each time we loved it MORE! Kiana is kind and talented and makes the experience so enjoyable. We will definitely come back a 4th time the next time we are on Oahu! Thank you Kiana!!" – Abbie, United States (April 2023)
27. Stay in a unique Airbnb
Where: All islands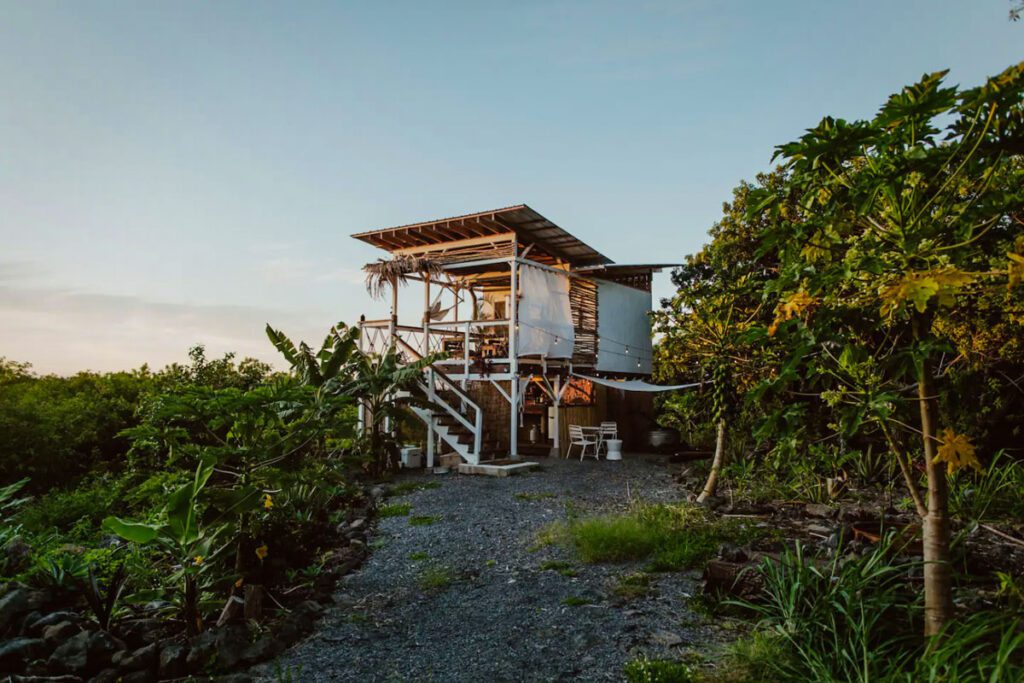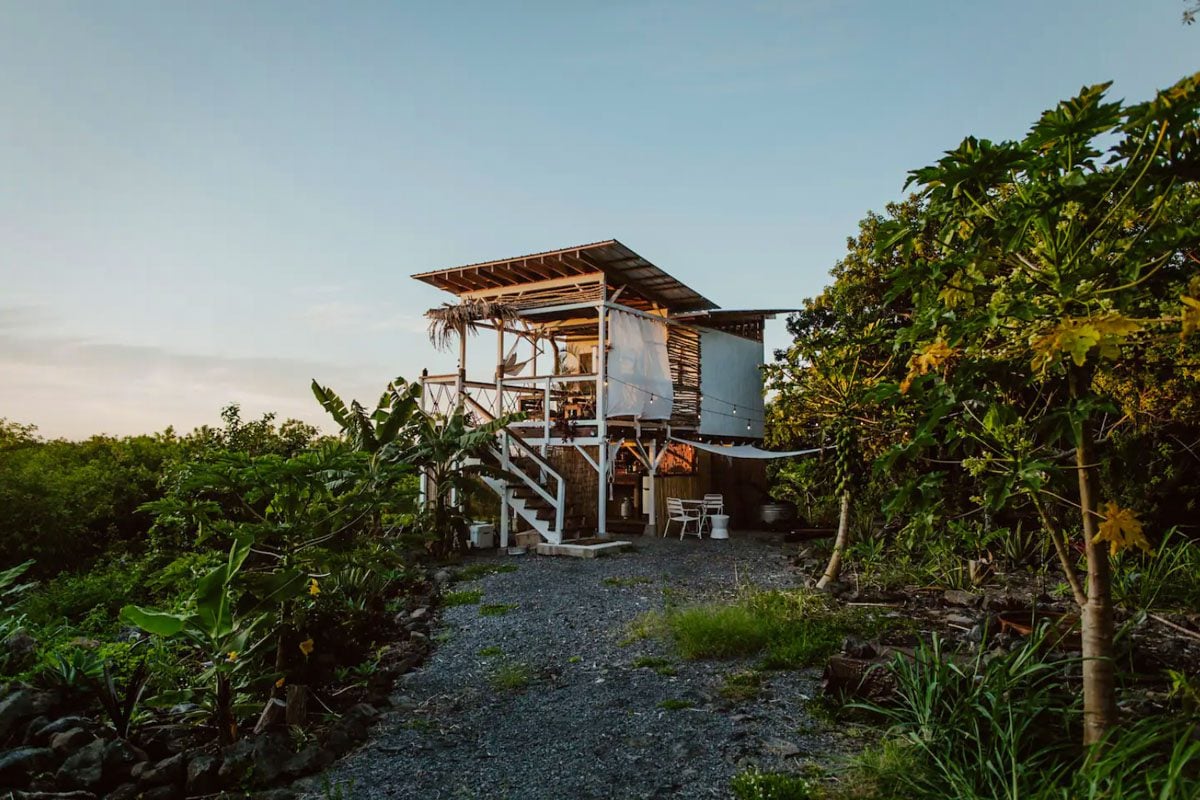 (Big Island) Temple: this hand built cottage blends both rustic and boutique for a magical stay in the countryside.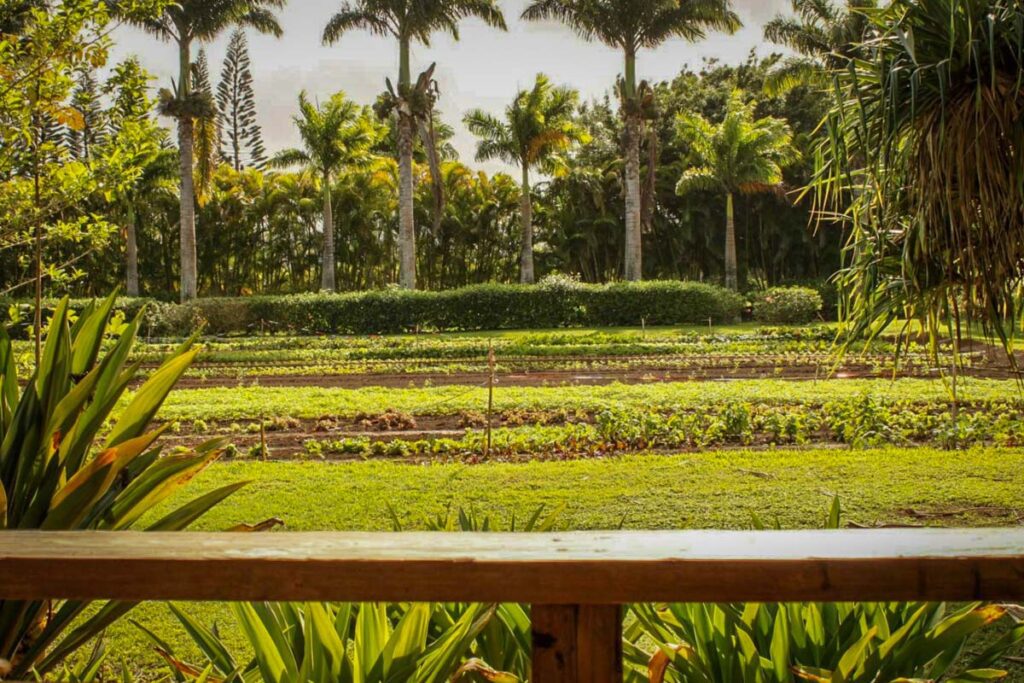 (Kauai) North Country Farms Cottage: this handmade, wooden cottage features a magical outdoor shower and is surrounded by lush, tropical plantings.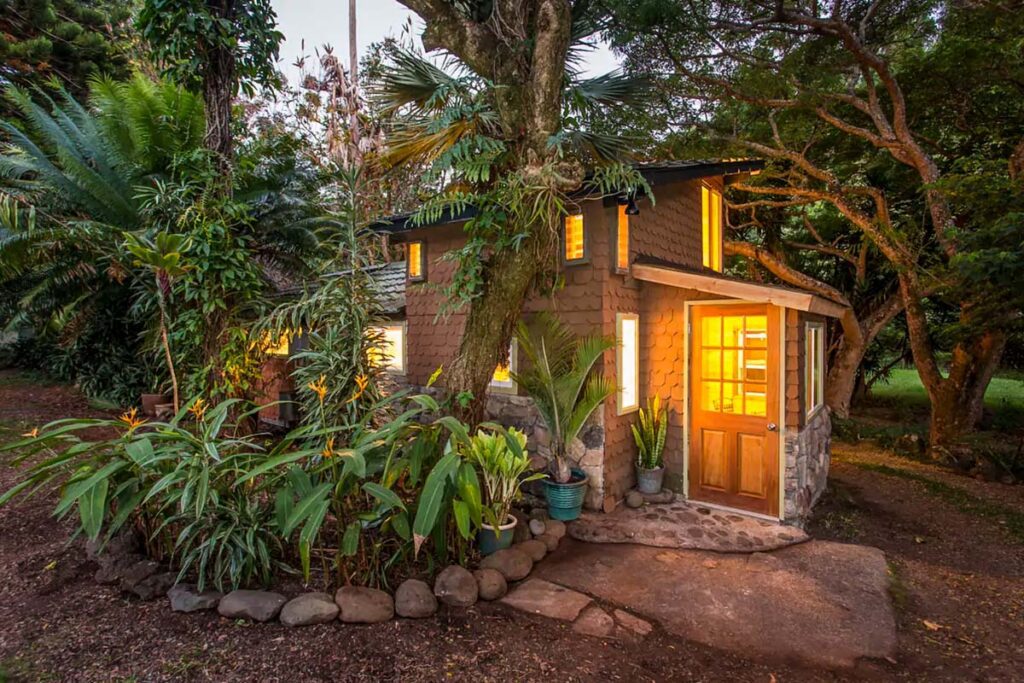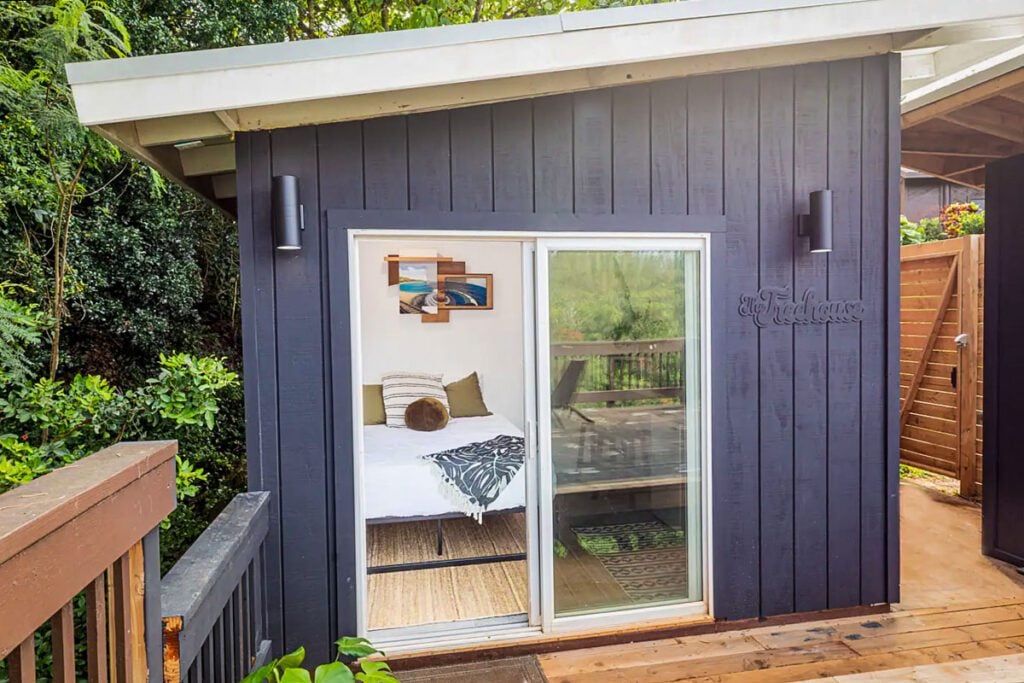 (Oahu) The Orange Tree House: tiny home with an outdoor shower and fruit trees you can pick from for a quiet North Shore retreat.
28. Shop local at a Farmers Market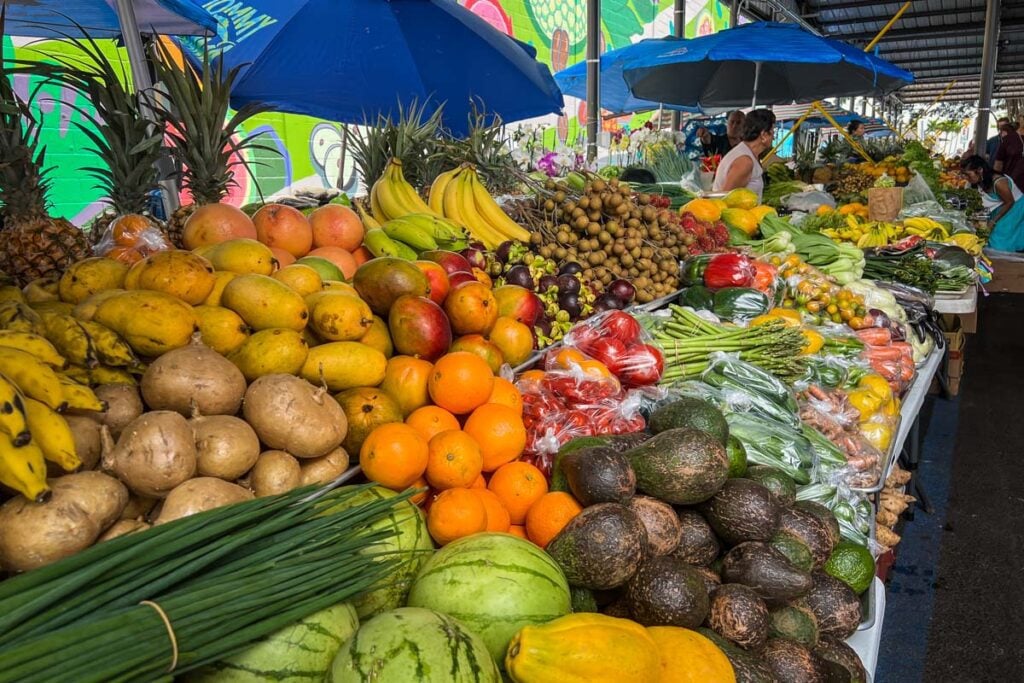 Where: All islands
If you're looking to support the local Hawaiian community, then be sure to peruse their copious amounts of farmer's markets and roadside stalls.
You'll find rainbows of fresh fruit and vegetables, tropical flowers, Hawaii-grown coffee, local baked goods, island-specific delicacies, and handmade items adorning the tables.
There are few places in Hawaii you can travel to without seeing one, so you won't need to go far before one catches your eye!
Good to know: most of the larger markets are only open on the weekends.
29. Splurge on a memorable Merriman's farm to table dinner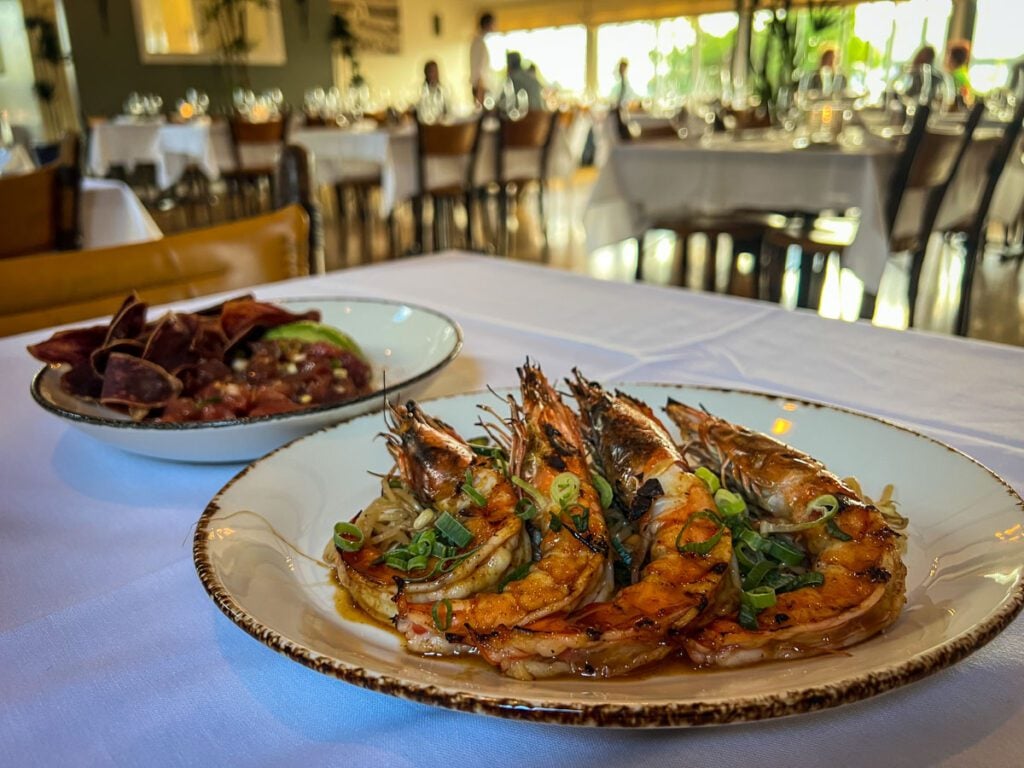 Where: Oahu, Big Island, Kauai, Maui
Using ingredients grown and harvested directly from the islands, a dinner at Merriman's is the ultimate showcase of sustainability and multiculturalism in Hawaii.
Each island offers a menu variation to illustrate local delicacies and every plate is crafted to perfection. An evening here will surely be a highlight of your trip.
Insider Tip: Reservations are necessary, so be sure to book ahead!
30. Visit a black, green, or red sand beach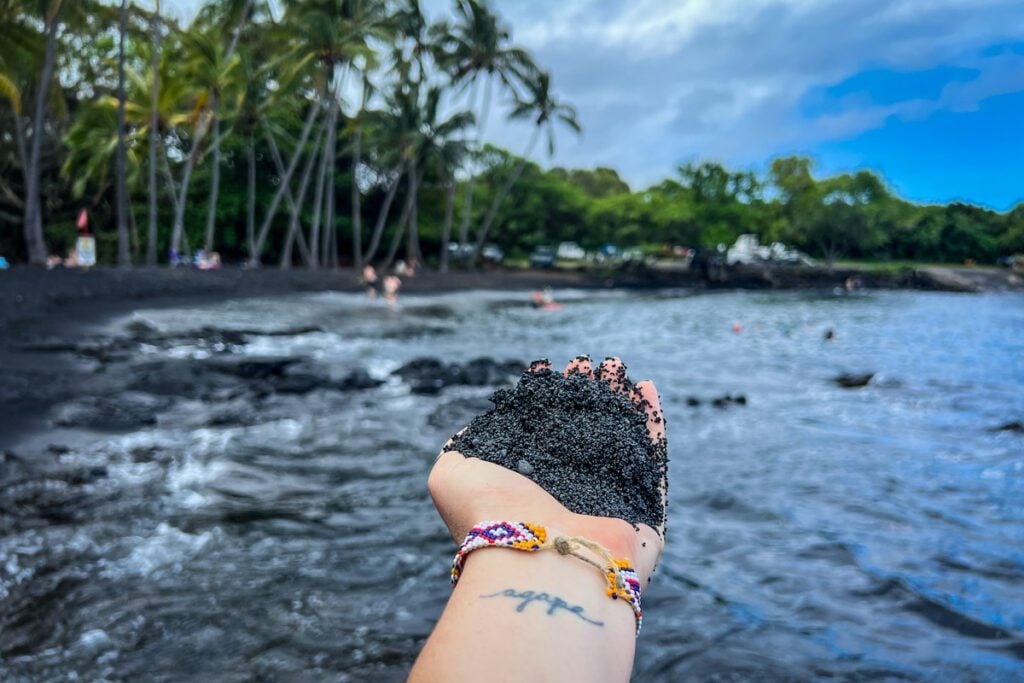 Where: Big Island, Maui
White and gold-colored aren't the only sands painting Hawaii's shores. Due to volcanic activity, erosion, and minerals, you can relax on rare-toned beaches.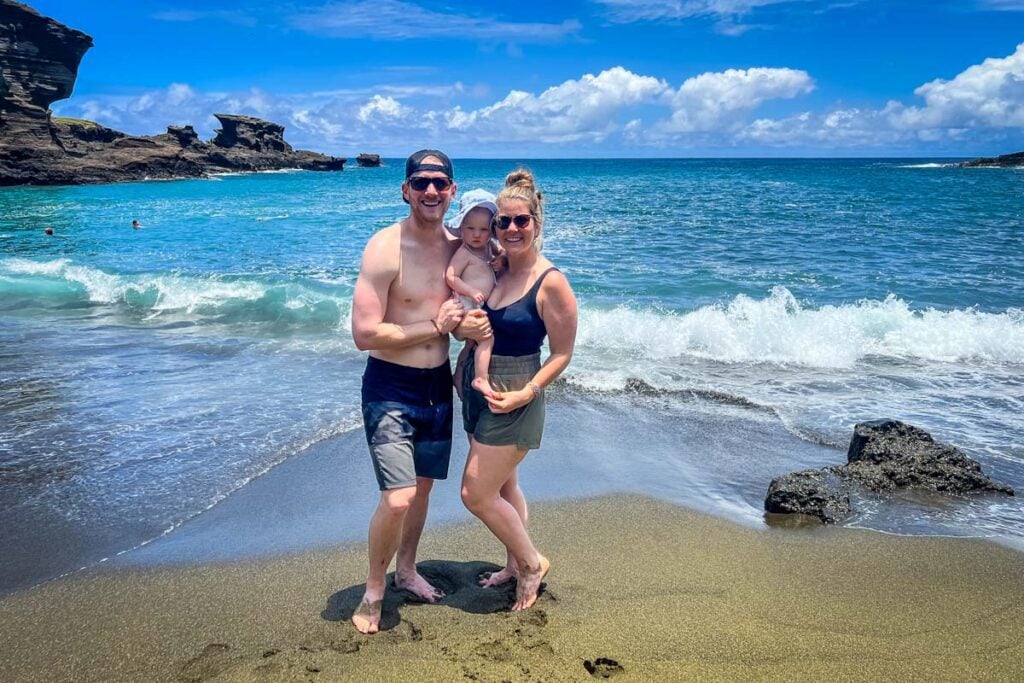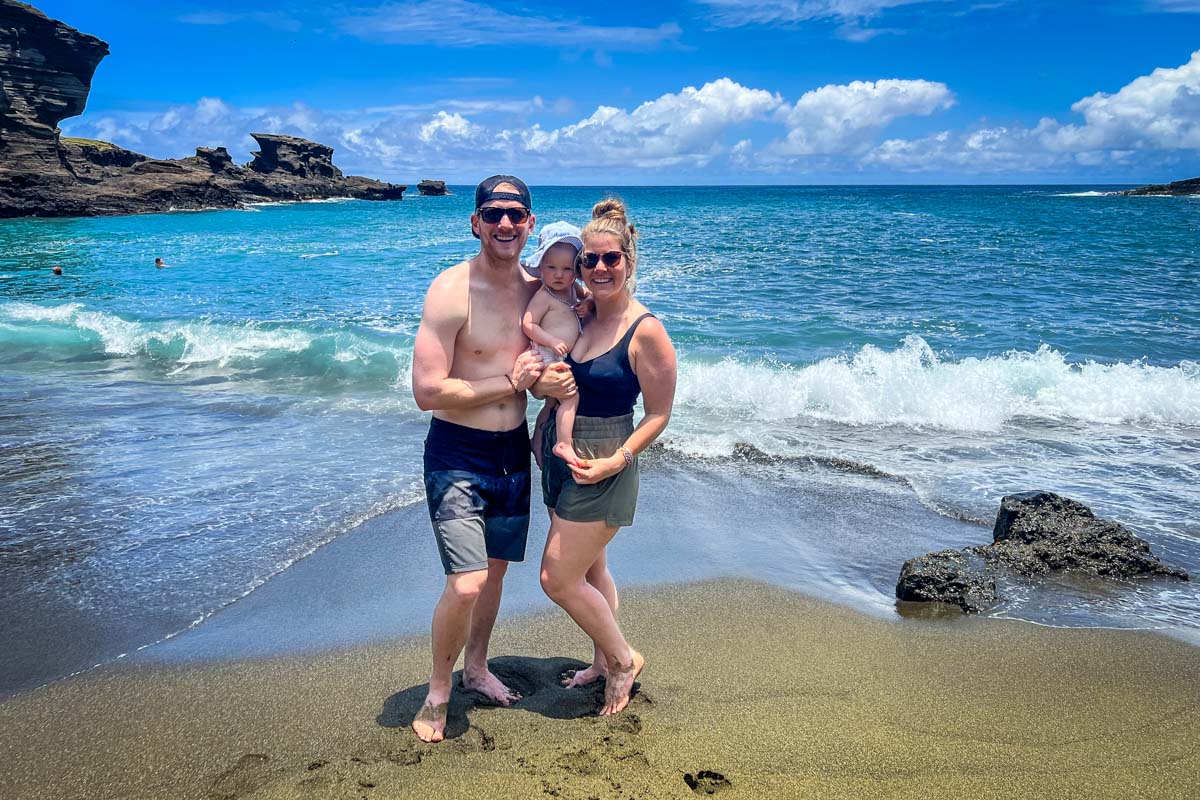 31. Wander botanical gardens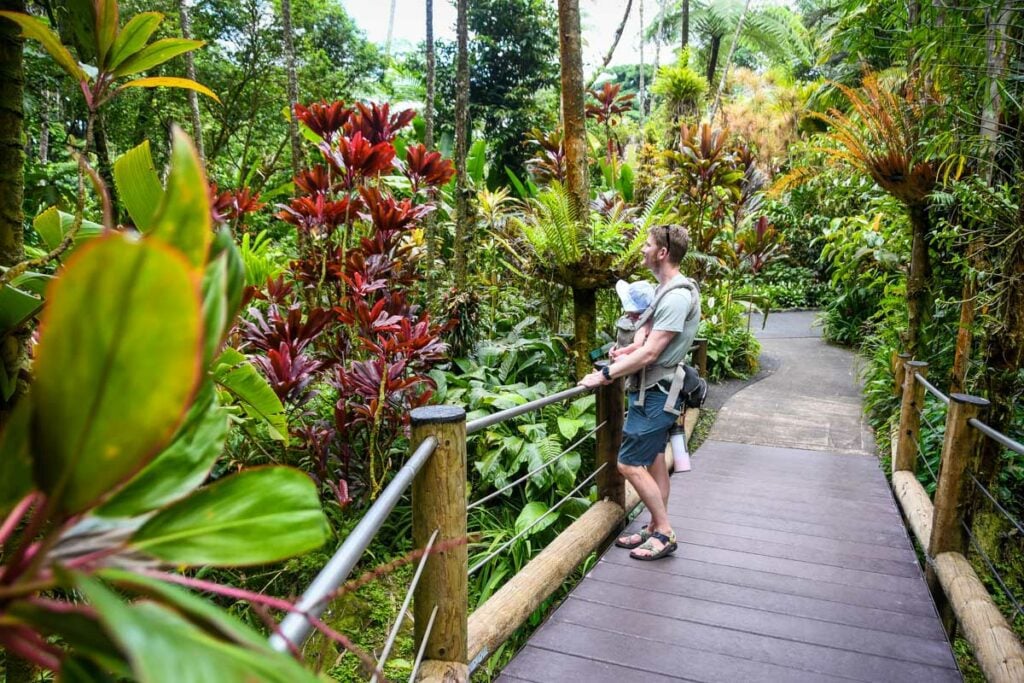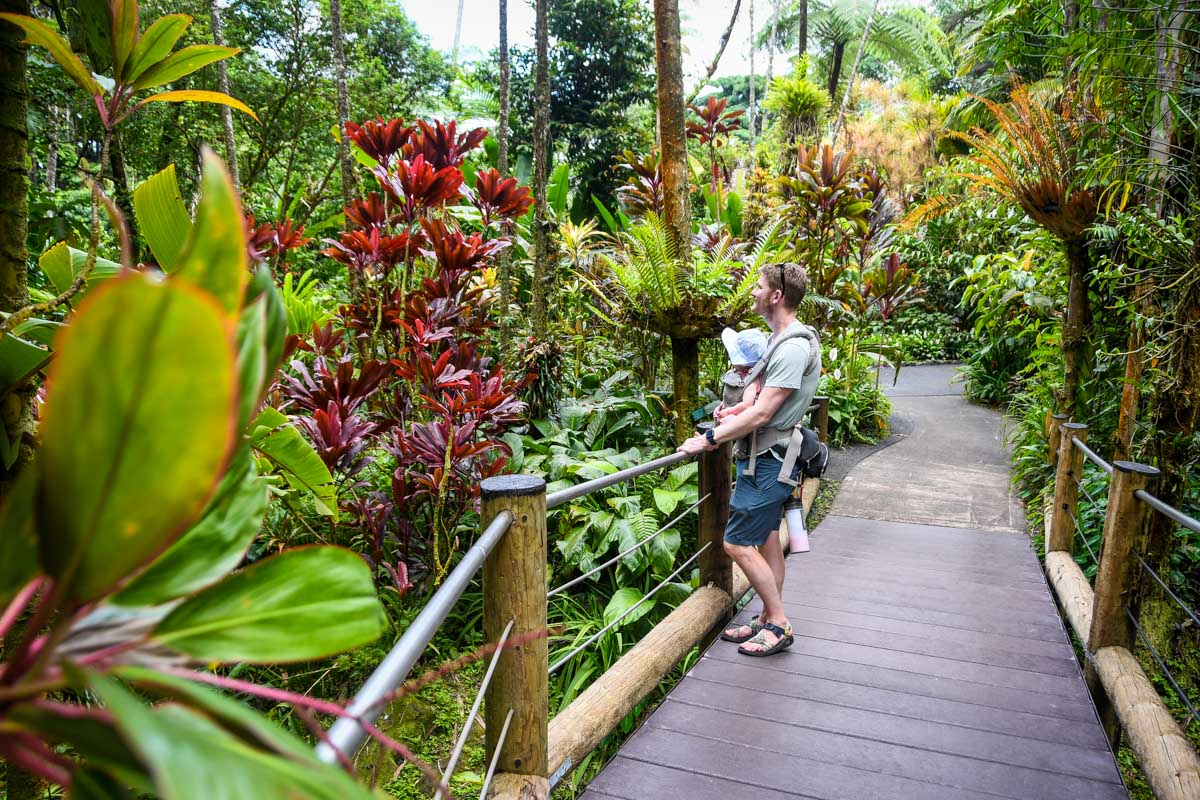 Where: All islands
Preserving rare and exotic plants, culture, ancient tradition, and endangered species, botanical gardens in Hawaii evoke the true spirit of Aloha.
32. Go whale watching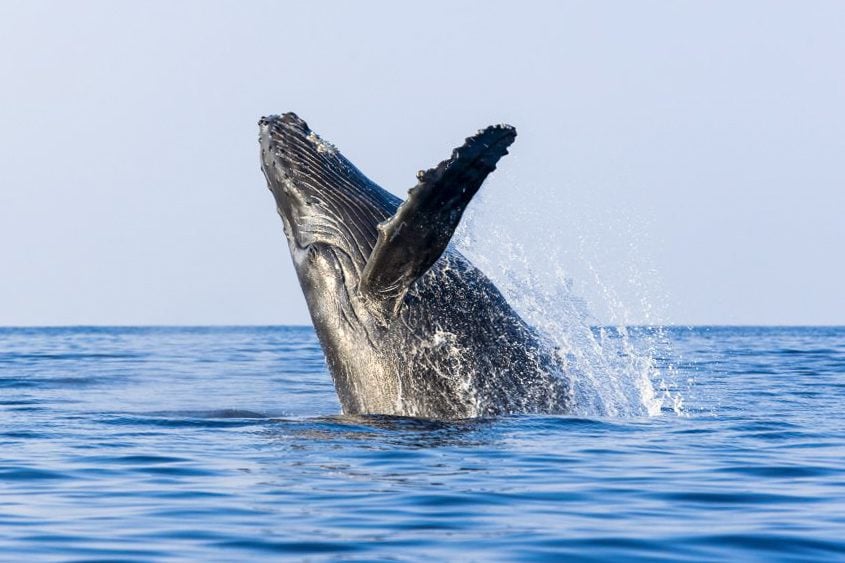 Where: Maui, Lanai, Molokai, and Kauai
Every winter, thousands of humpback whales travel from Alaska to the warm waters of Hawaii to breed and give birth to calves.
The Au'au Channel between Maui, Lanai, and Molokai is where the largest concentration of whales arrive. It's considered one of the best whale watching destinations in the world, but they put on a spectacular show no matter which island you're on.
Although you have a great chance of viewing these gentle giants on a boat tour anywhere from December 15th to May 15th (roughly), the very highest chances are from January to March.
There are dozens of tour companies across all the islands that offer sustainable whale watching tours (as well as a handful that do kayak excursions!). Research your tour beforehand so you can be a responsible traveler.
33. Catch a magical Hawaiian sunset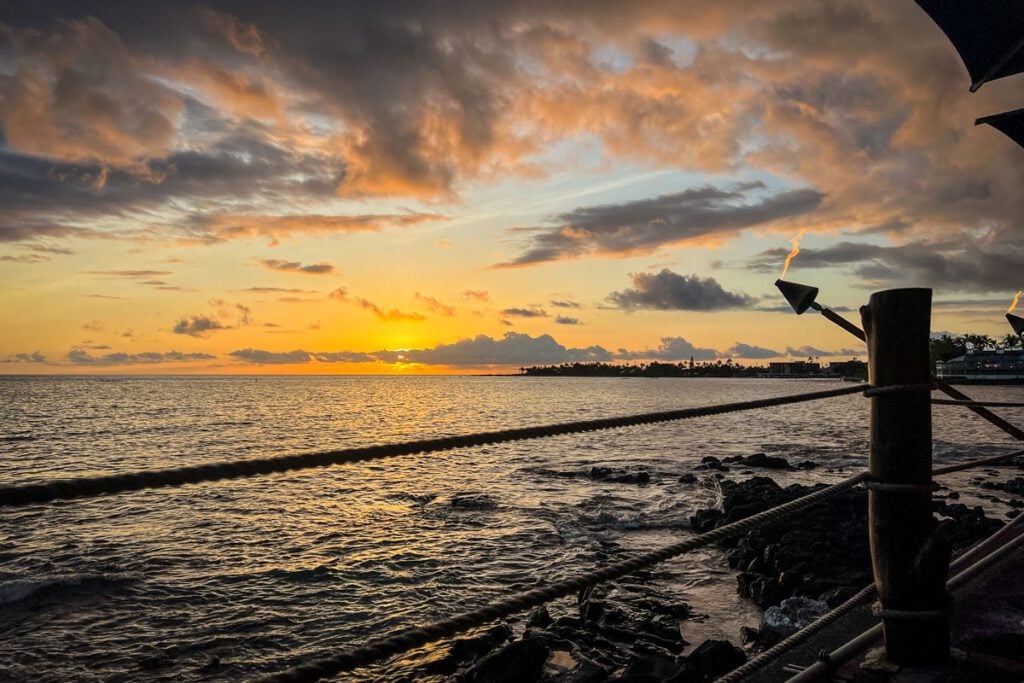 Where: All islands
Whether you're plopped on a beach with your toes in the sand, atop a massive volcano, or enjoying a meal oceanside, watching the sun spread golden light across any island is an unforgettable experience.
Tip: many people leave when the sun just dips below the sea, but if you stick around, you'll find the most spectacular colors come out after the sun is down.
34. Pamper yourself at a spa
Where: All islands, but Maui has some of the best
While taking to the beaches (mai tai in hand) is a guaranteed way to relax and unwind in Hawaii, the spas and wellness centers in Hawaii take pampering to the highest caliber.
Using indigenous wisdom and cultural practices passed down through generations, you can melt away tension with warmed pōhaku (stones), find your zen during a lomi lomi massage, or bring your skin back to a life with facials and scrubs using local flora and fauna.
It's deeply rooted in Hawaiian culture that nature and healing are synonymous, so you can find a wealth of day spas, wellness centers, and retreats across all the islands.
35. Go on an ATV adventure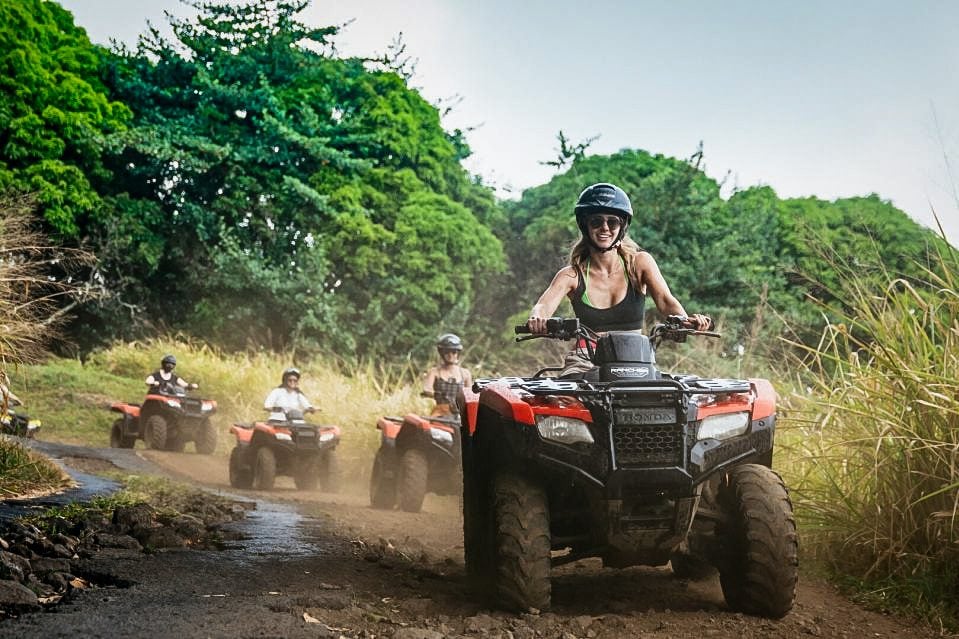 Where: Oahu, Big Island, Kauai
Out of all the ways you can experience Hawaii's raw and rugged nature, an ATV tour is by far the most exhilarating.
There are fantastic tours to choose from regardless of which island you land on. Whether it's whizzing through the famous Kualoa Ranch on Oahu, zooming through the pristine nature of Kauai, or getting off the beaten path in Lanai, it'll be an experience you won't forget.
---
Best things to do in Hawaii – broken down by island…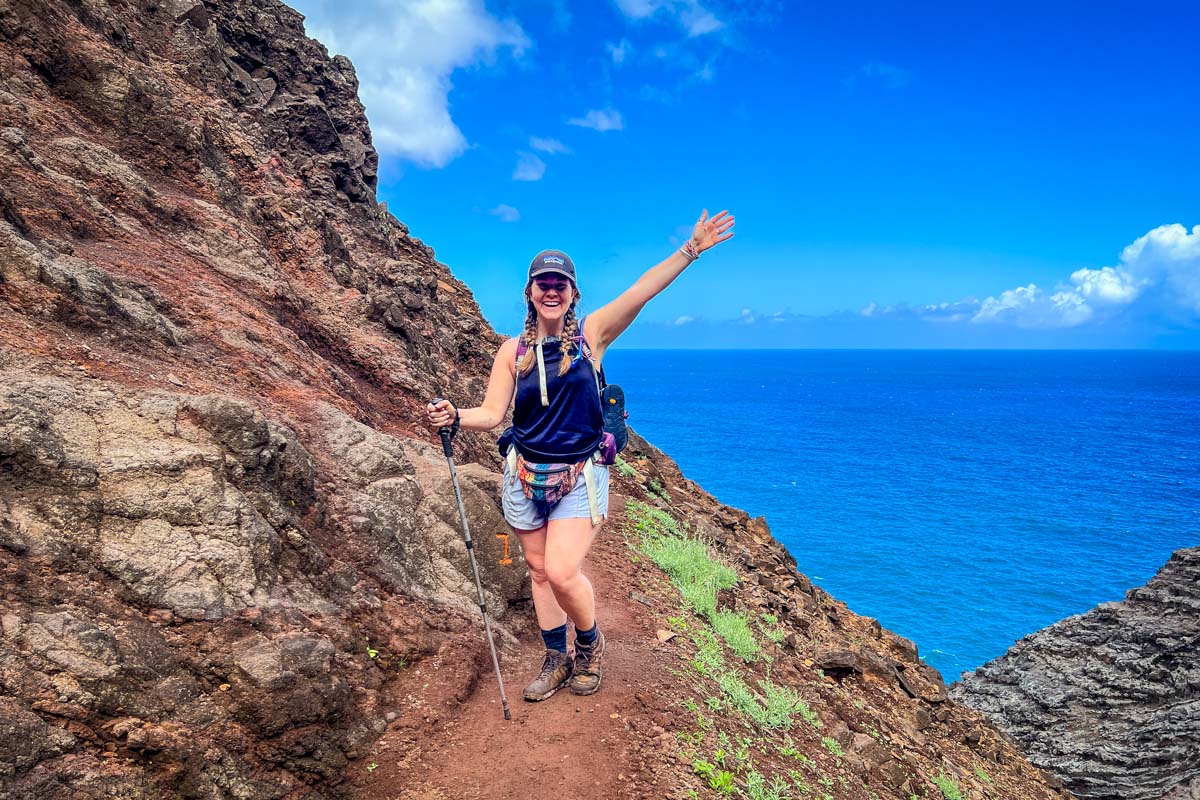 Already know which island(s) you're going to?
Check out our recommendations of the top things to do on each island.
FYI the first four islands on this list (Oahu, Big Island, Kauai, and Maui) are by far the most popular. So if this is your first time visiting Hawaii, we'd recommend choosing from this list.
However, if you're a Hawaii pro and this ain't your first trip, Lanai and Molokai might be a good way to see a different side of the Aloha state (and get away from the crowds).
Best things to do on Oahu
Pearl Harbor
Hike Diamond Head
People watch at Waikiki Beach
Snorkel with sharks on the North Shore
Best things to do on Big Island
Visit a black or green sand beach
Stargaze at Mauna Kea
Volcanoes National Park
Hike to Akaka Falls
Best things to do on Kauai
Mountain tubing
Waimea Canyon
Take a scenic helicopter tour
Boat tour on the Na Pali Coast
Best things to do on Maui
Drive the Road to Hana
Haleakalā National Park
Go diving (or snorkeling) at Molokini Crater
Go whale watching
Visit Pa'iloa Black Sand Beach
If you've been to Hawaii before and are looking to stay on one of the lesser-visited islands, here are some suggestions for how to fill your time.
Best things to do on Lanai
Visit Shipwreck Beach
Explore Shark's Bay
Hike the Koloiki Ridge Trail
Best things to do on Molokai
Go snorkeling
Take a scenic helicopter tour
Hike in the Halawa Valley
---
Planning a trip to Hawaii?
We have lots of resources on travel in Hawaii and destinations around the islands. Check out our Hawaii Homepage for everything you need to know, or start by reading some of our favorite Hawaii travel articles to help you plan your dream vacation to the Aloha State:
Save this article on Pinterest for later!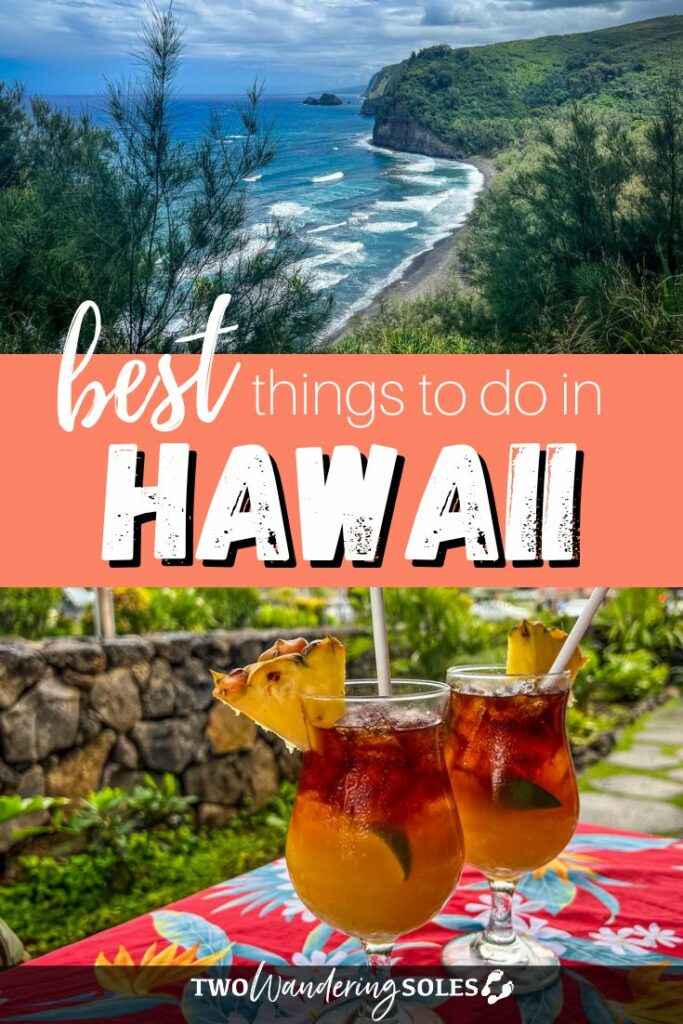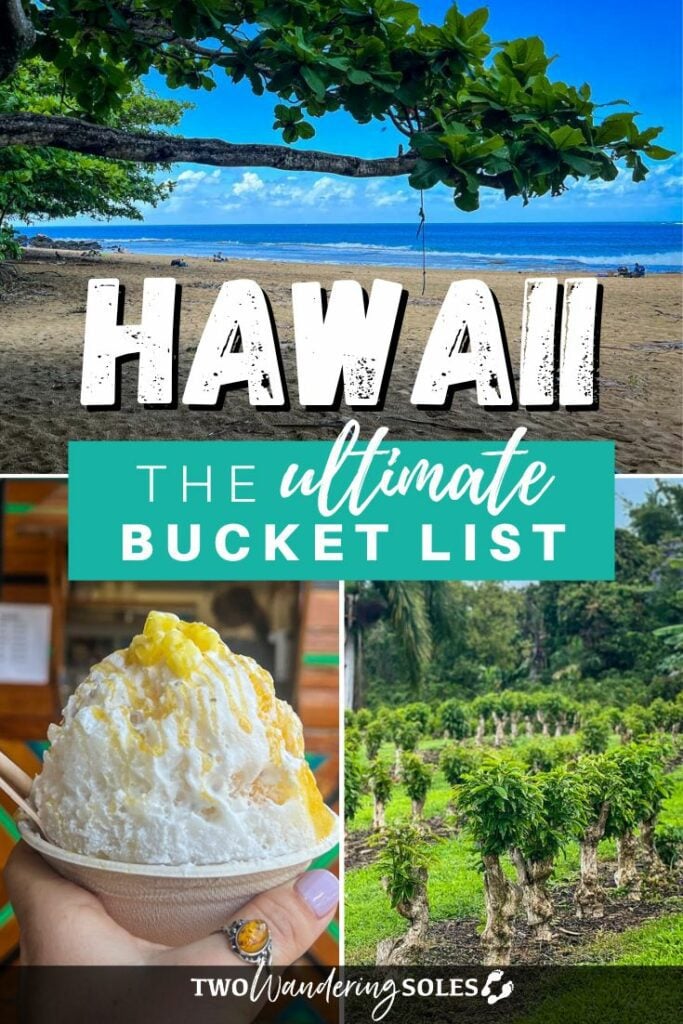 We want to hear from you!
Are you planning a trip to Hawaii and have more questions? Leave your comment below and we'll do our best to get back to you!