Swimming with dolphins is at the top of many bucket lists; however, it's hard to find animal encounters that are ethically operated.
While traveling in New Zealand, we were happy to find Dolphin Encounter Kaikoura, which is a company that gives guests the opportunity to swim with these wild animals ethically, making it one of the best places to swim with dolphins in the world.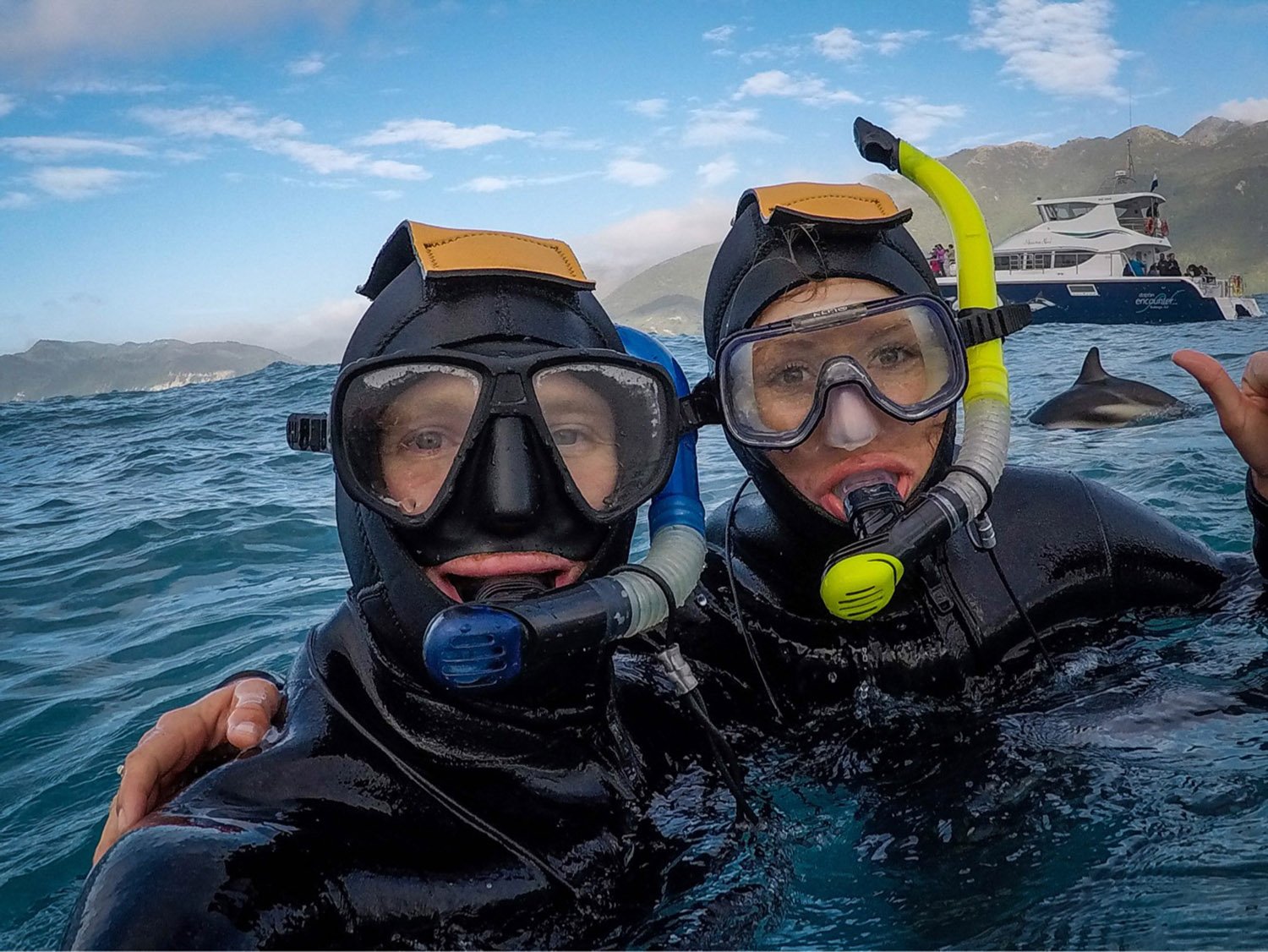 There is no shortage of things to do in New Zealand, and it can be overwhelming trying to decide which experiences are worthwhile, and which are more hype than than substance.
I'll get right to the point here… swimming with dolphins in Kaikoura is 100% worth the hype.
After having spent one month traveling the North Island and South Island by campervan, we can say that swimming with dolphins definitely makes our list of highlights.
Psst! On the topic of planning your NZ route, we've created what we think is a pretty perfect New Zealand Itinerary that fits this incredible experience as well as all sorts of other bucket list items into one epic trip!
Ethical Dolphin Encounter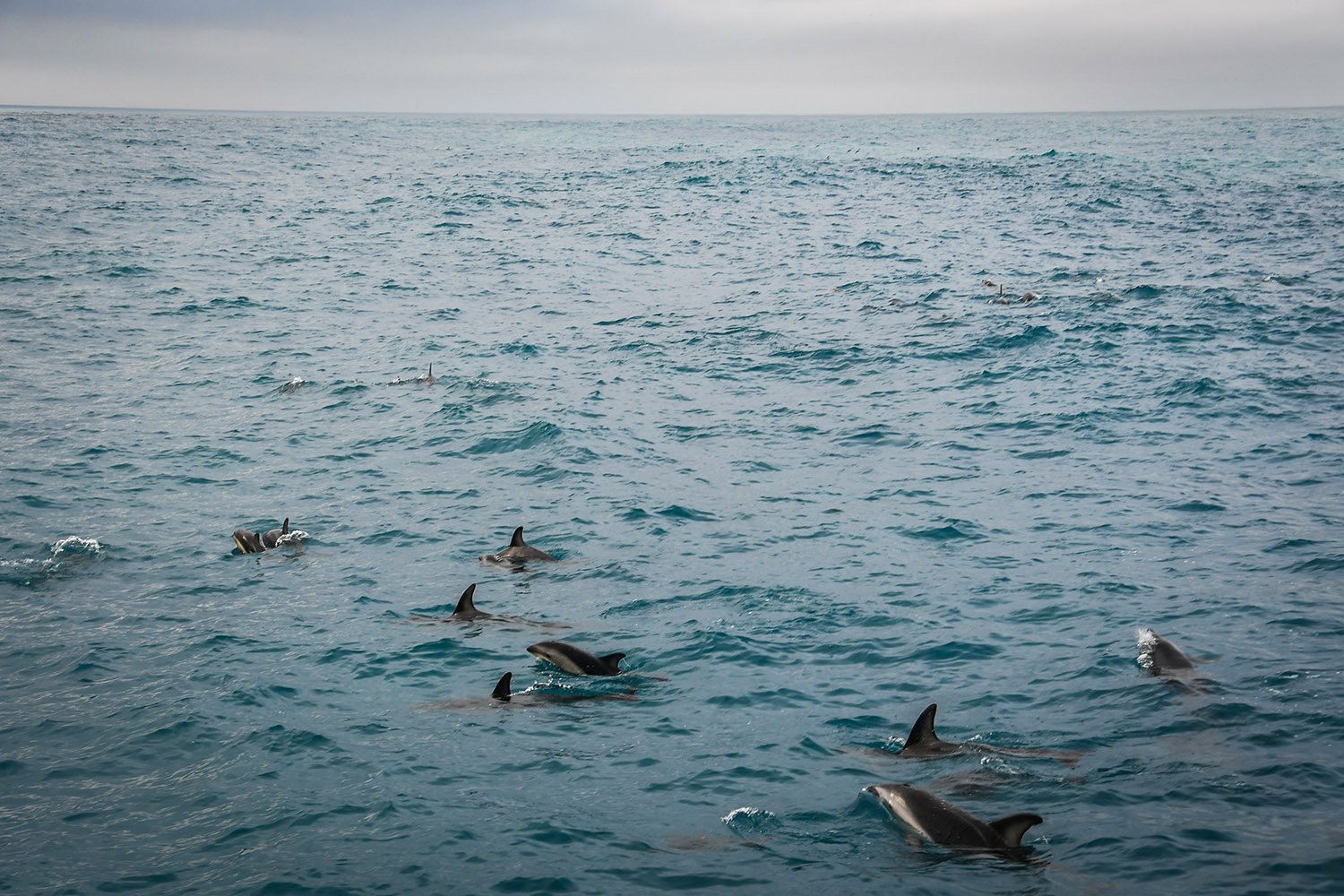 Swimming with dolphins typically involves a pool enclosure and a trainer with a whistle. But what if I told you there is an ethical way you can swim with wild dolphins in their natural environment?
Would you keep reading?
I sure hope so, because we're going to share about our dolphin swim experience in Kaikoura, New Zealand, as well as share everything you need to know about how to do it yourself.
Note: This experience was in no way sponsored. We paid for everything ourselves, and are simply sharing our thoughts and advice.
Swimming with Dolphins in Kaikoura, New Zealand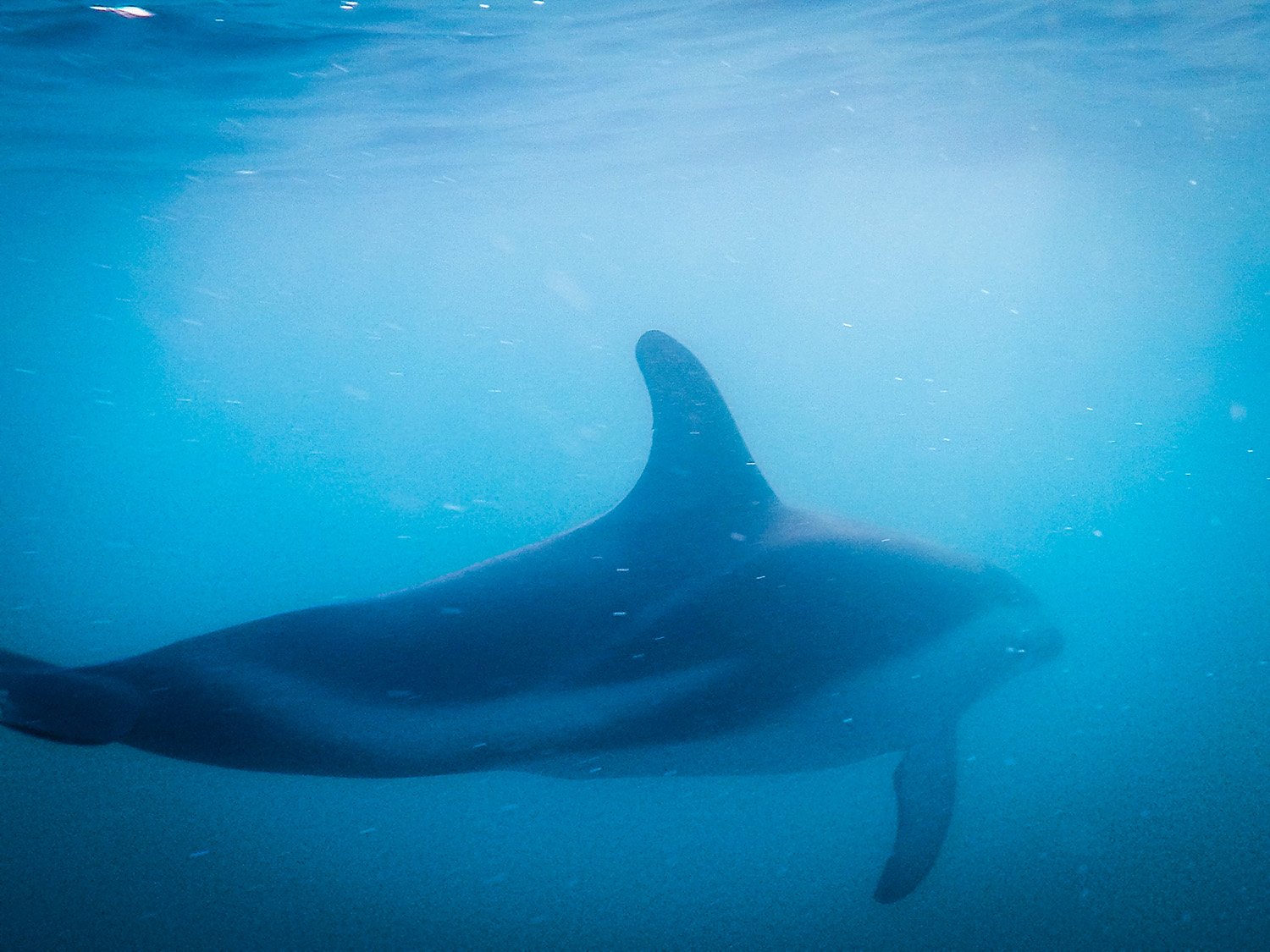 If you grew up obsessed with "Flipper" and all things dolphin-related like I did (did anyone else have Lisa Frank dolphin folders?!), this experience will be a dream come true.
Just off the coast of New Zealand's South Island, the small town of Kaikoura is home to the Dusky Dolphin. This species is known for being small (maximum of 2 meters long) and very playful.
They are quite the acrobats, and can often be seen doing flips out of the water!
There is only one company that that offers dolphin tours in Kaikoura, and quite fittingly, they are called Dolphin Encounter.
Wanna see the dolphins in action? Before you read on, watch our short YouTube video showing what it was like getting in the water with these beautiful creatures:
Read Next: The Ultimate Guide to Planning a Campervan Trip in New Zealand
What to Expect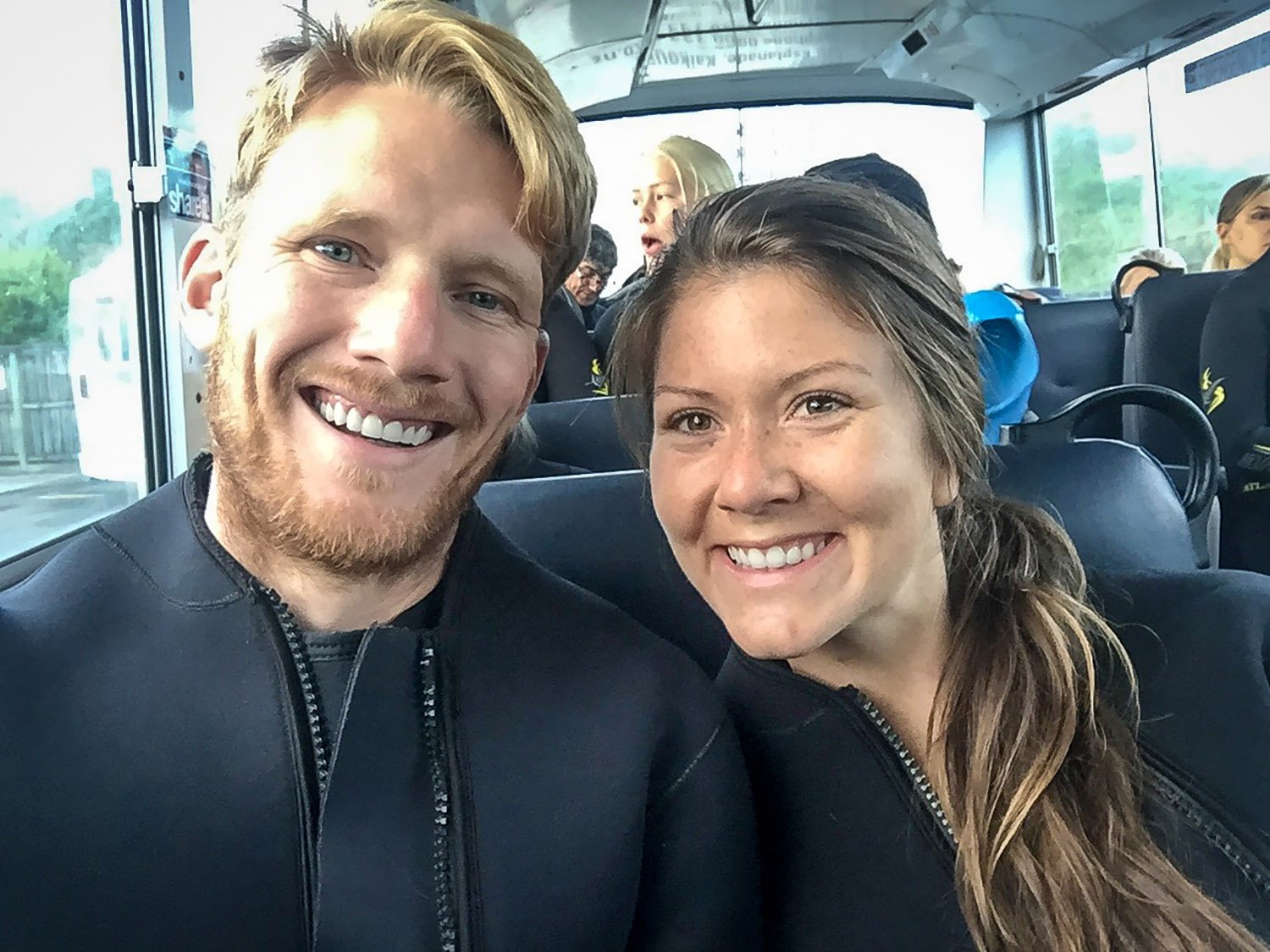 The Dolphin Encounter tour goes out 3 different times each day: 5:30 a.m. (sunrise tour), 8:30 a.m. and 12.30 p.m.
We did the sunrise tour, as ocean conditions are calmer in the morning and the dolphins tend to be more interactive.
You'll begin by filling out some basic paperwork and getting suited up with head-to-toe gear. You'll then watch an informative video, which gives tips on how to make the dolphins curious about you and more likely to approach.
Essentially, they encourage you to "act like a dolphin"; a.k.a. make loud noises, swim in circles and dive down if you feel comfortable.
Now that you're suited up and know the drill, you're gonna get in a bus for a super short ride to your next mode of transport… That's right, a boat.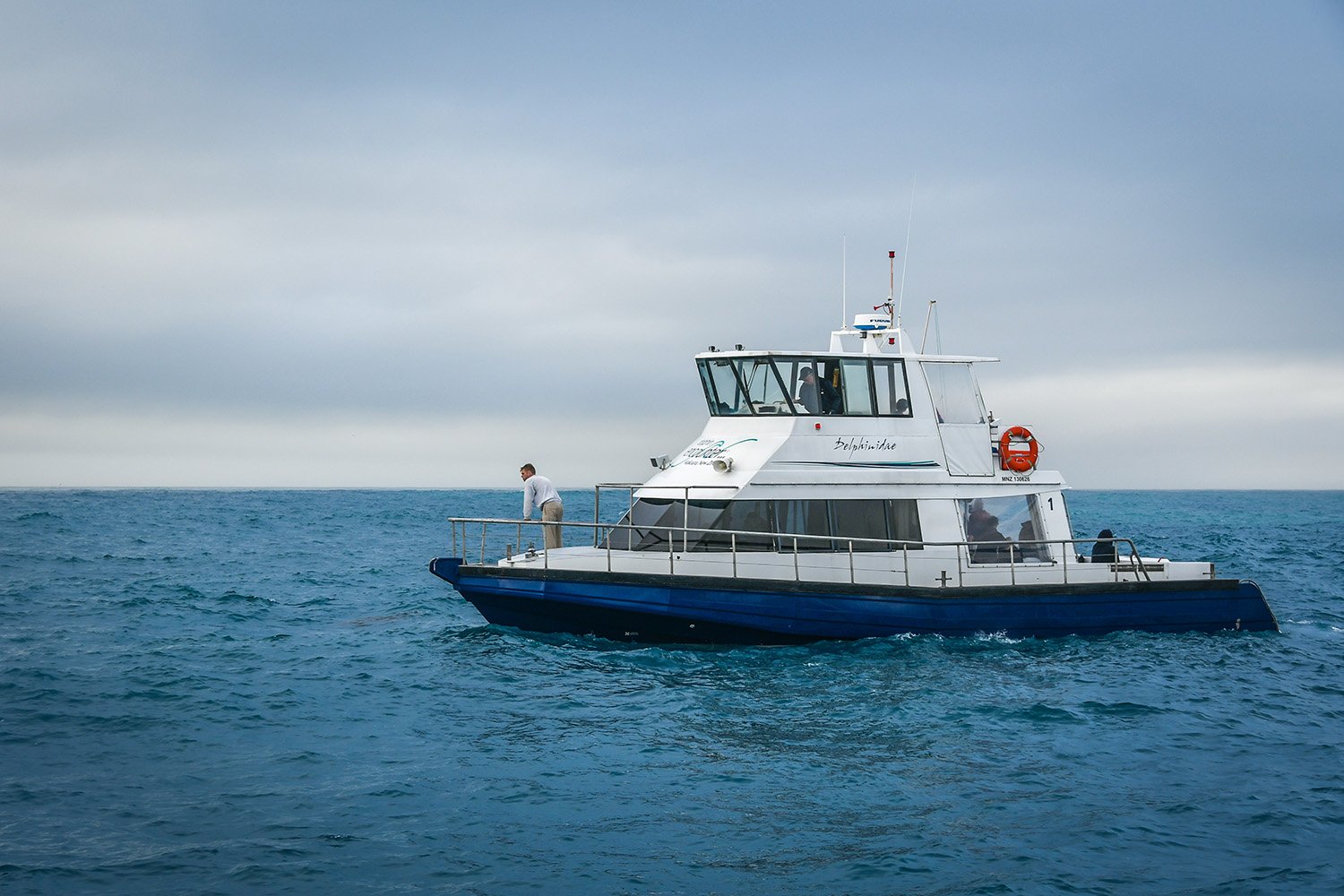 Now it's time to take a seat, relax and wait…
The boat captains never know how long it will take to find the dolphins, as they are completely wild. In our case, it took about 20 minutes before the crew spotted a pod and told us to jump in.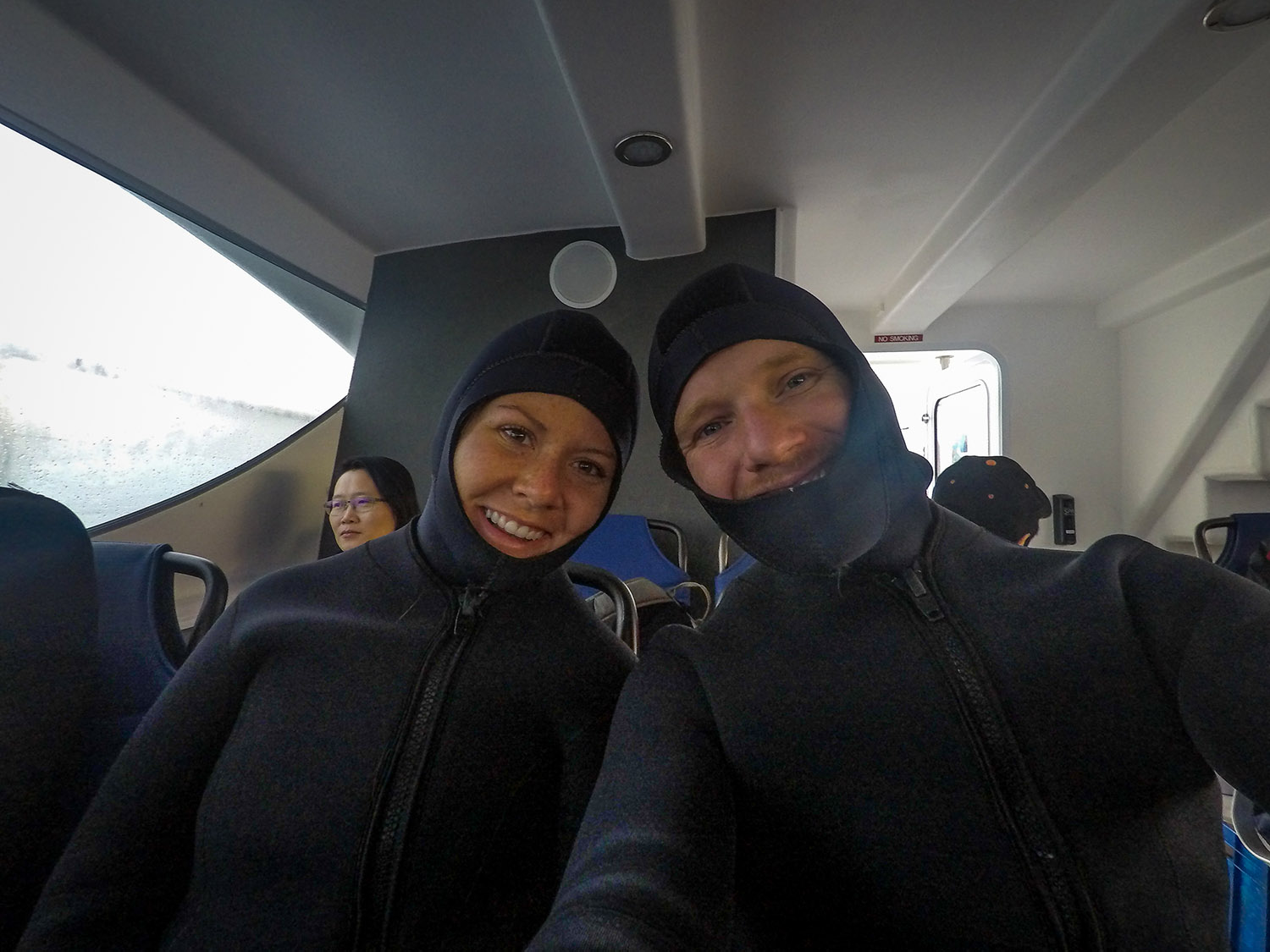 And as soon as the word "dolphins!" is shouted enthusiastically by the crew, things move quickly. Like really quickly.
Everyone in wetsuits clambered toward the end of the boat, and one by one we jumped in…
…to the FREEZING COLD WATER.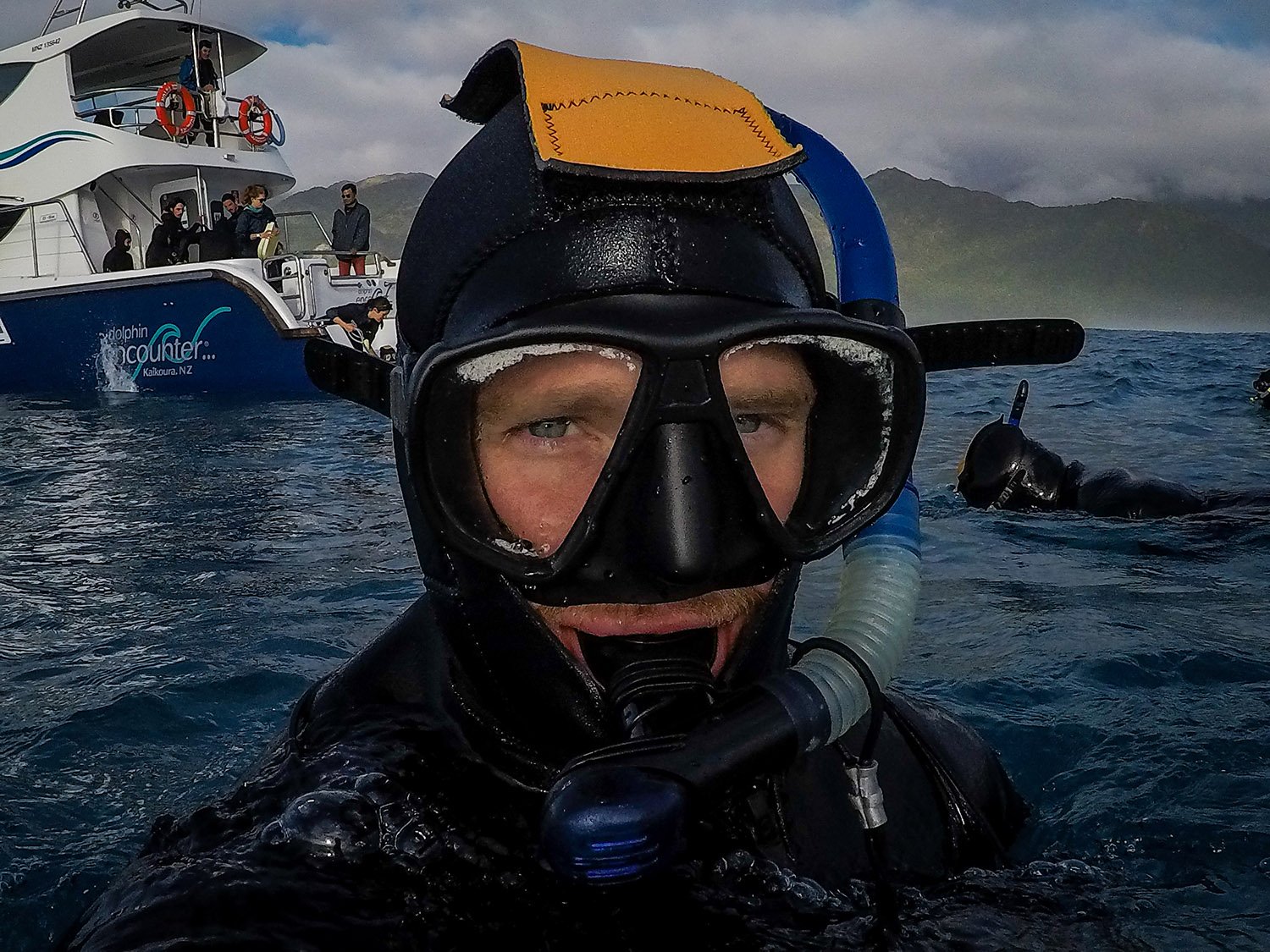 It literally took my breath away as I hit the surface.
The wetsuit really does do a pretty good job at keeping your body warm, however, everything that is exposed — your hands and face, for instance — get so cold it hurts. Then eventually turns numb.
So how cold is the water exactly? Great question! In the summer months, it can get as warm as 18° celsius (65°F) — which still feels very cold! And in the winter months, the water can get as cold as 8° celsius (46°F). Yikes! During the coldest months, the tour operator will give guests extra gear to stay warm, like gloves and booties.
After we got over the initial shock, we realized we were surrounded by curious dolphins. They swam right up to us — just inches away!
As soon as you see your first dolphin, you realize that waking up before the sun and braving freezing water are totally, 100% worth it. Take it from someone who hates both waking up early and jumping in cold water.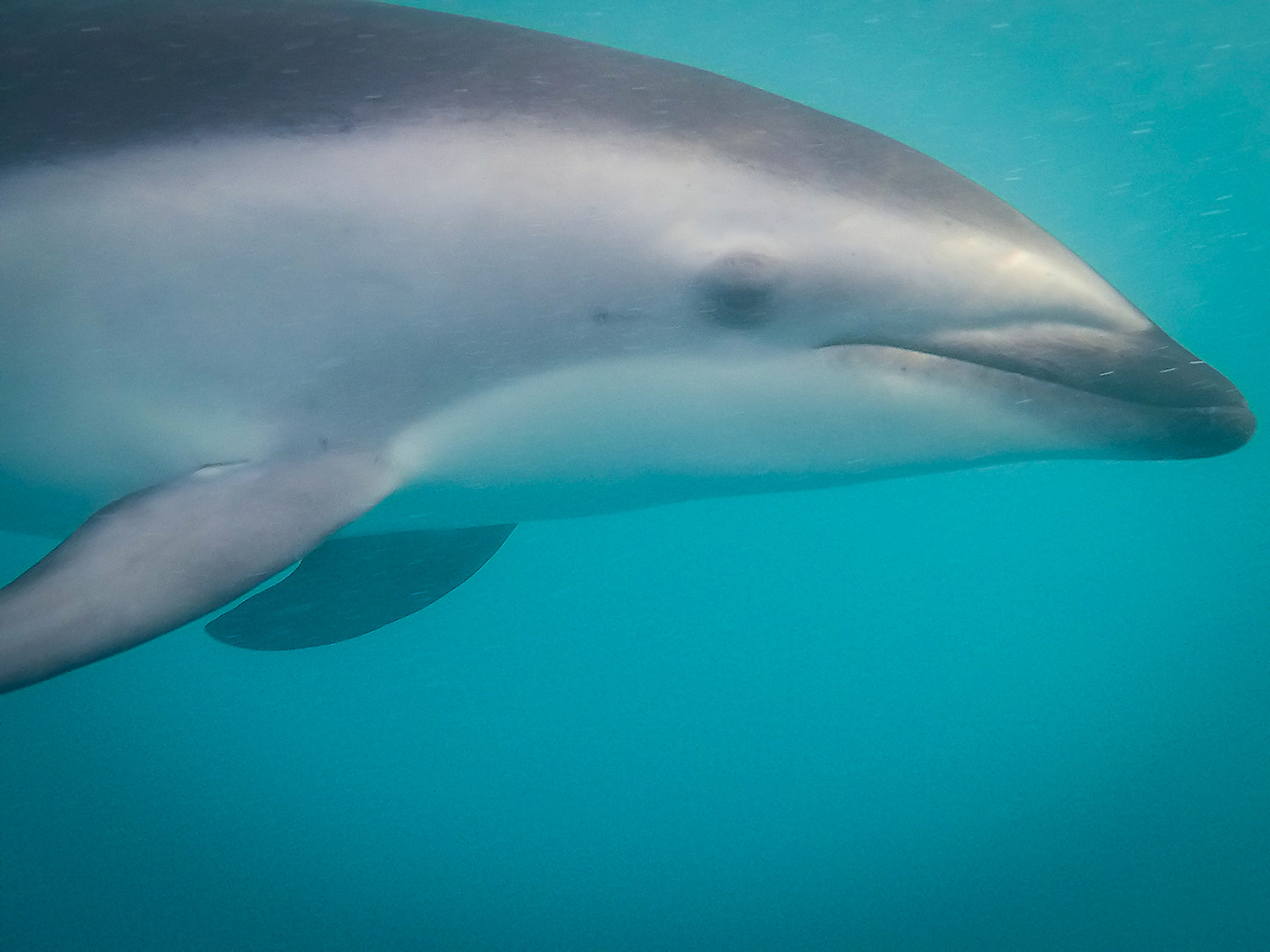 So this is when we started doing what we were told in the video… mimicking dolphins. It must have been a sight to see for the crew and spectators.
16 people geared up head-to-toe, swimming in circles and making crazy-sounding noises. But despite how ridiculous we must have looked, it seemed to work!
Pretty soon we were absolutely surrounded… Just check out these pictures (though they really don't do it justice).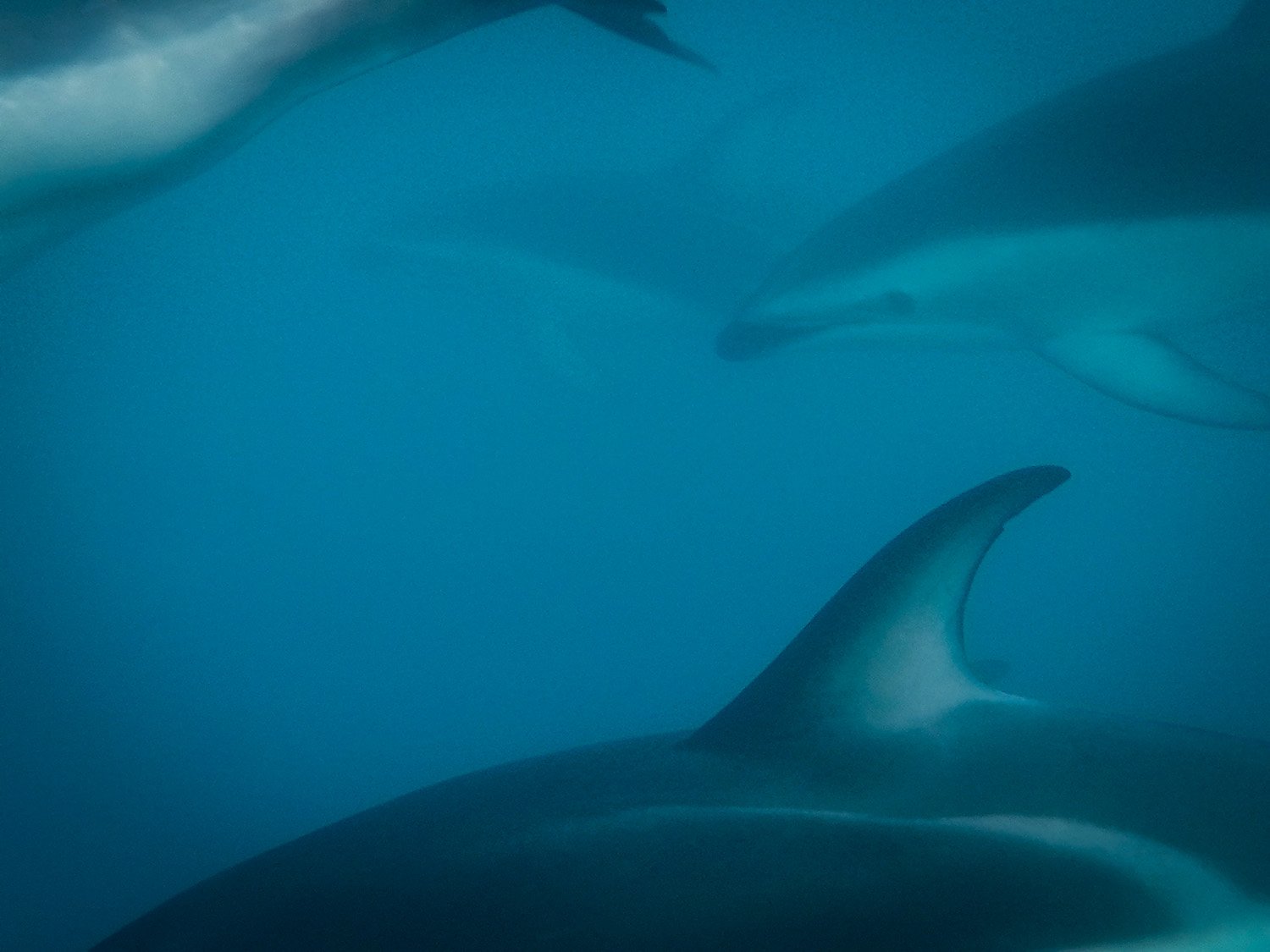 We swam and circled among the dolphins for about 20 minutes before getting back into the boat to warm up a bit.
We found more pods and repeated the swimming twice more (the 2nd and 3rd swims were a bit shorter than the first).
In total, we spent about 40 minutes in the water with the dolphins. Tour groups typically spend 20 – 40 minutes with the dolphins, depending on their location and behavior.
---
Want to save time and energy on planning?
We spent 5 weeks traveling around New Zealand in a campervan, and we've been lucky enough to explore a lot of what this country has to offer!
We took our 5-week travels and condensed it down to 30 days (because so many people wanted a 1-month route) that hits the top destinations on both the North and South Islands. 
We'll send you our complete 1 month itinerary, filled with tips and advice. Just click below to get your 30-day New Zealand road trip itinerary today!

---
After the Swim
And once we got back on the boat for the last time, the crew asks you to take off your wetsuit, so it's important you have clothes to change into.
There is a hose with hot water you can rinse off with and warm up a bit, however, it started to get cold after being used by so many people.
There is one bathroom on board, so it's a good idea to bring clothes you can easily put on over your swimsuit so you don't have to wait in line for the bathroom.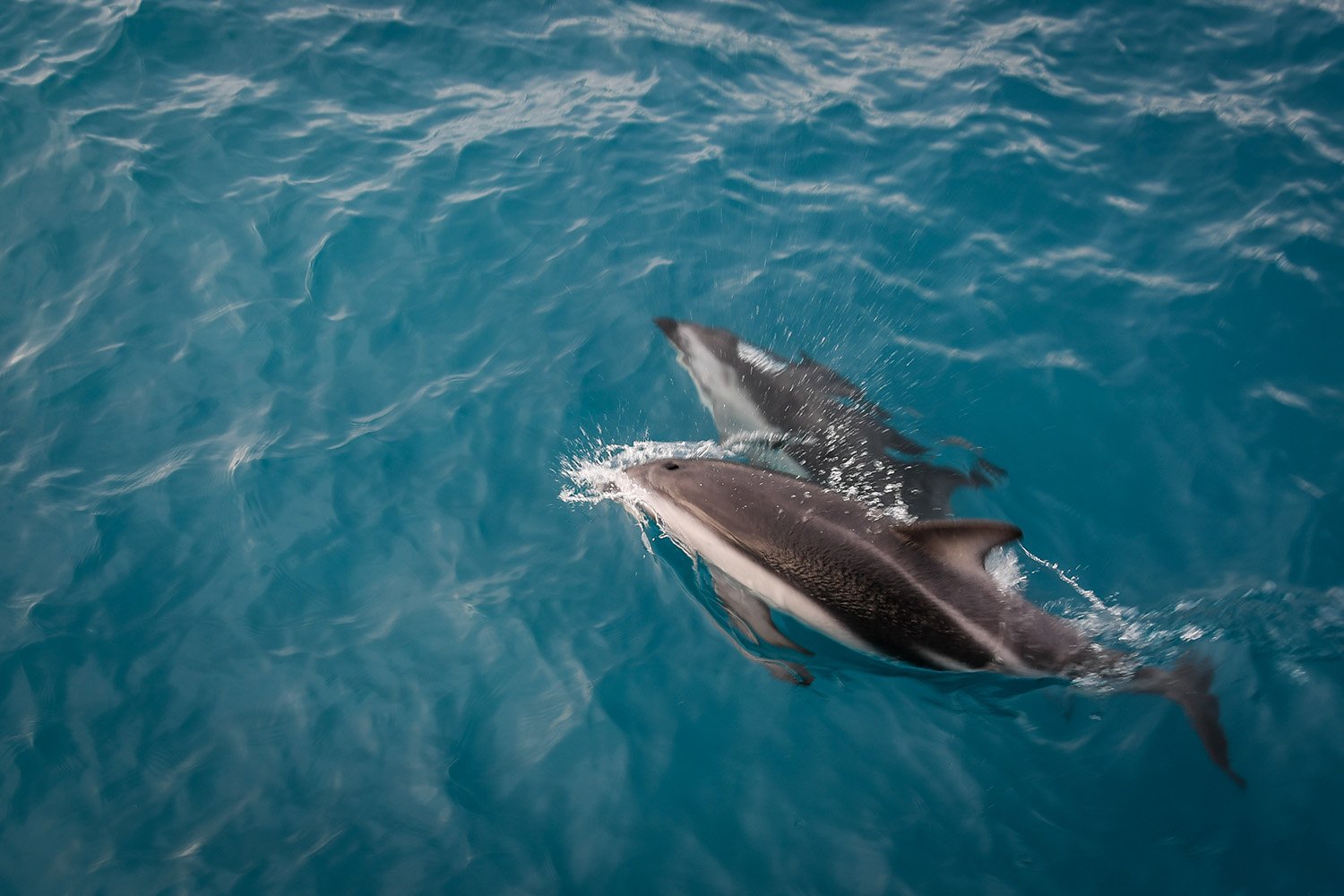 Once in dry clothes, we were able to get out our cameras and watch the dolphins from above for about 15 minutes. Honestly, the boat was pretty rocky at this point, and taking photos was pretty difficult.
Before heading back to shore, the crew handed out hot cocoa, hot chicken broth and ginger cookies for those who wanted them.
Once back on shore, you have the chance to take a HOT shower in a private stall (oh yeahhh!), so be sure to pack your toiletries.
There is an onsite cafe if you want to grab breakfast or a coffee to start the day. If you do the early morning tour, it will only be 9 a.m., as the tour lasts approximately 3.5 hours from start to finish.
Responsible Travel Note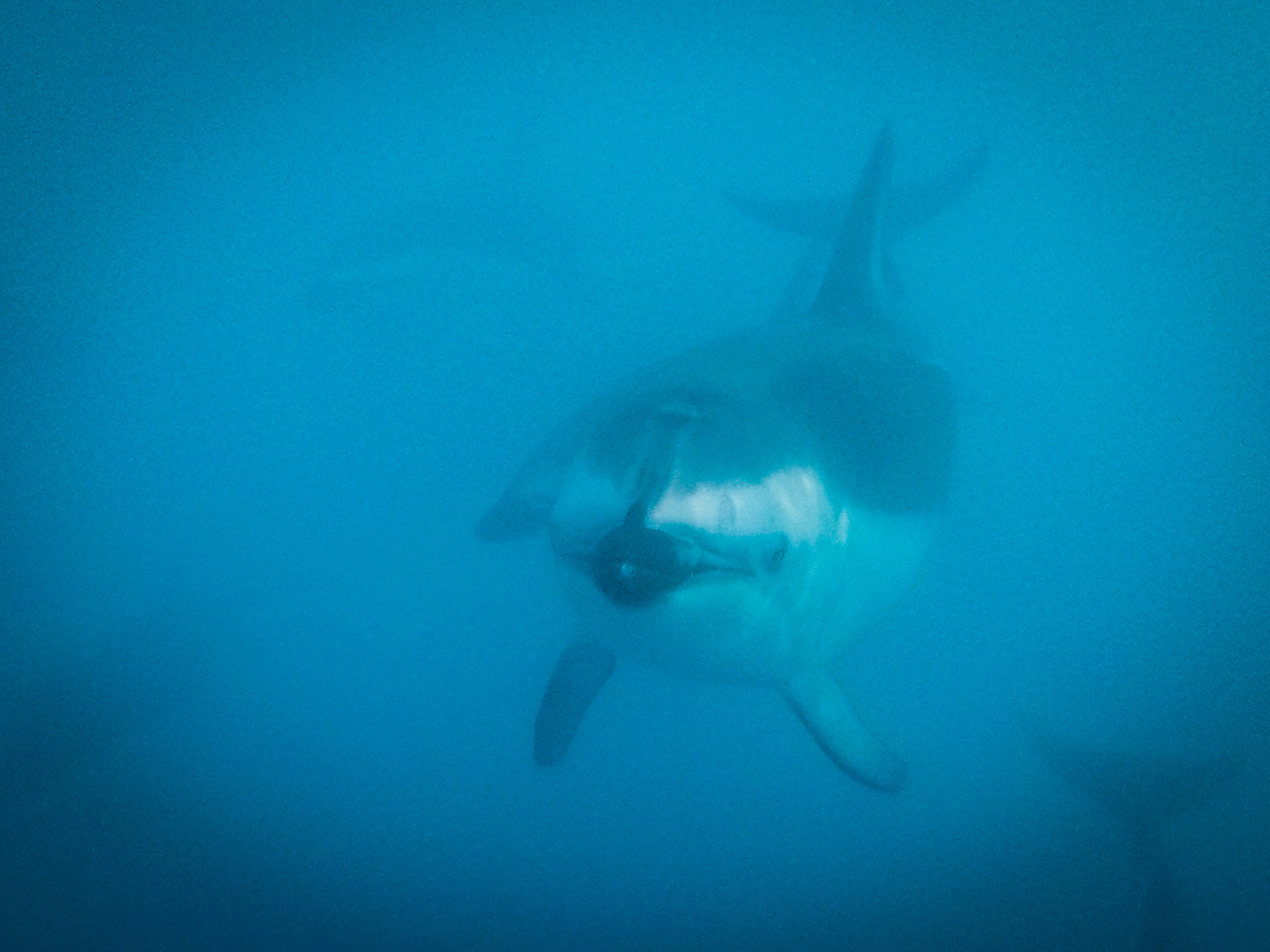 We are very selective with any wildlife encounters we choose to participate in, because we've found more often than not, the animals' best interests are not respected. We always do our best to travel responsibly, so we dug in and did some research…
After doing a lot of reading up on this experience, we felt confident with Dolphin Encounters' mission and their commitment to conservation.
We spoke with one of the staff members and asked some tough questions:
She told us that Dolphin Encounters has relationships with scientists whom they sometimes bring on the boats to observe the behavior.
She also told us that there are other species of dolphins that live near the sites they visit that aren't interested in people at all. It just so happens the Dusky dolphins are curious and like approaching humans.
Approaching and interacting with humans is entirely up to the dolphins. If for some reason, a particular group of dolphins aren't feeling playful, they'll swim away and the captain gets everyone back on the boat and finds a different pod.
There is no feeding or baiting involved at all, and the company limits the number of boats per day so the dolphins have plenty of time without any human interaction.
Is this experience for you?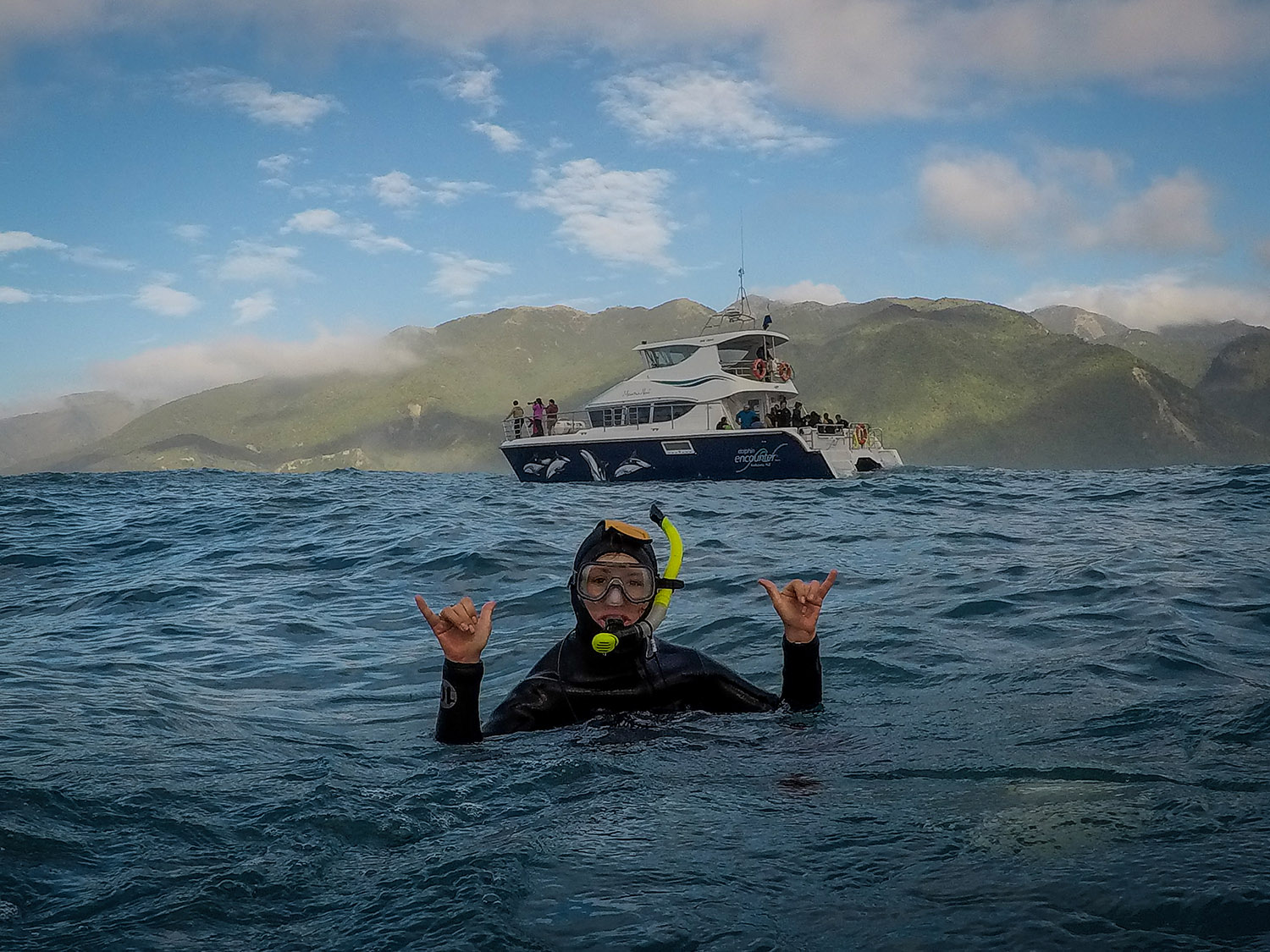 This experience is not for the faint of heart. The ocean waters off New Zealand's South Island are frigid. And that's putting it mildly.
Even with a 7 millimeter full-body wetsuit, your breath will be taken away as soon as you jump into what feels like an ice bath.
On top of that, the ocean in this area can be quite volatile, so if you are prone to seasickness you'll want to keep reading for some tips to prevent getting sick…
Tips to Avoid Seasickness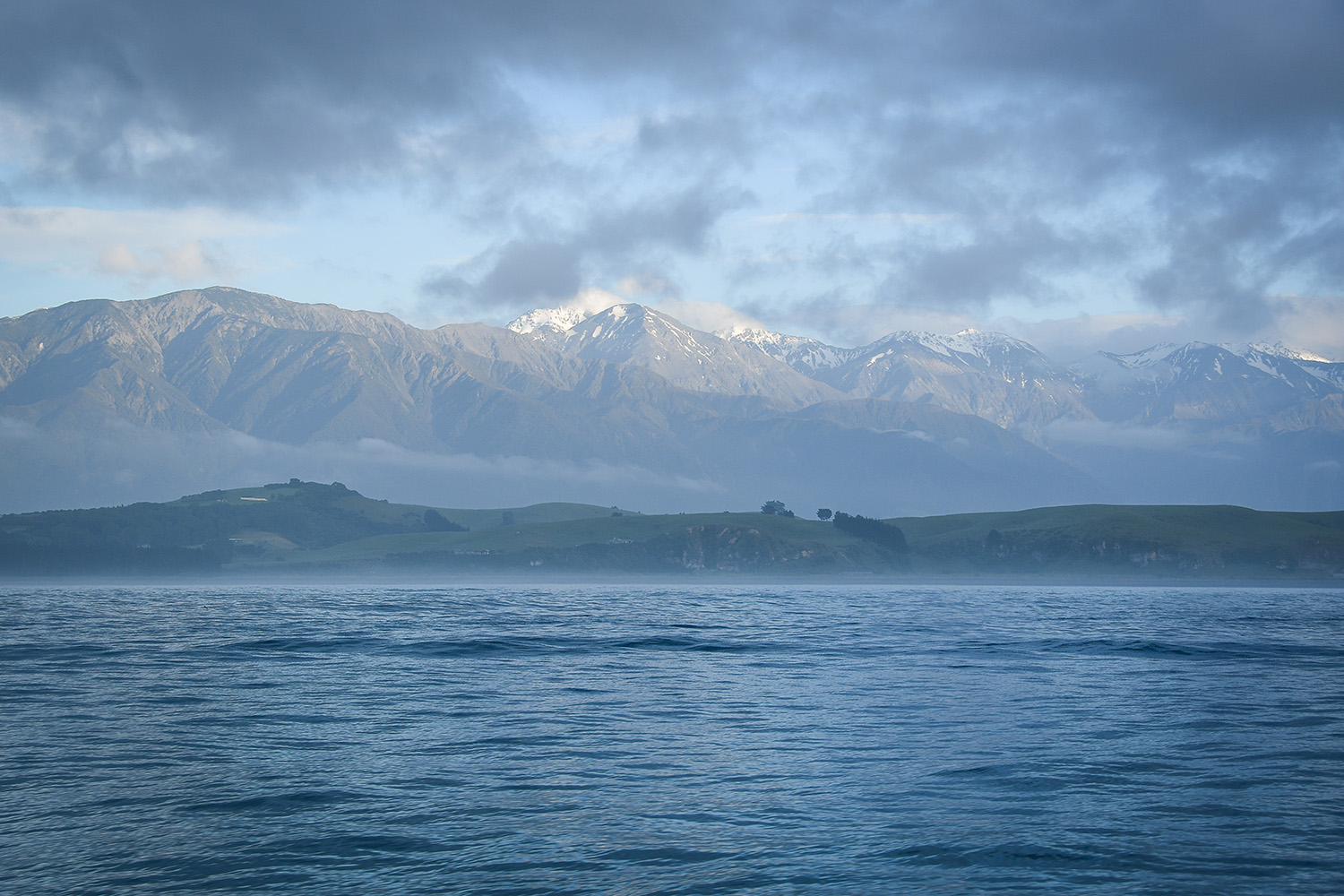 There were many, many sick people on our boat, but we were just fine.
Ben does not get affected by motion sickness (lucky guy!) but I sometimes do, so I've learned some remedies over the years. Follow the steps below to avoid getting sick on this experience of a lifetime!
How to do it yourself
Wanna swim with dolphins?! We'd recommend reserving your spot well in advance because there is a limit of 16 swimmers per boat, and this popular tour does book up. You can book your Dolphin Encounter tour on Get Your Guide.
Cost: NZ $230 ($144 USD) adults dolphin swim and NZD $115 ($72 USD) to just watch*. It may be less during the low season.
*We would strongly recommend partaking in the swimming portion, as simply watching from the boat could get repetitive and boring after a while.
How long does the tour take?
The dolphin encounter tour takes approximately 3.5 hours from the time you arrive and suit up, to the time you return to the office.
What times does the tour depart?
The Dolphin Encounter tour goes out 3 different times each day: 5:30 a.m. (sunrise tour*), 8:30 a.m. and 12.30 p.m. If possible, go with one of the earlier tours, as the ocean conditions tend to be more calm and the dolphins more interactive.
*Personal Note: At certain times of the year, you won't actually see sunrise on the 5:30 a.m. tour. For instance, when we did this tour in late November, the sun actually rose while we were inside the office getting geared up. However, during many other times of year, you can expect to see a beautiful sunrise on a nice day.
What time of year do you see dolphins?
In Kaikoura, you can swim with dolphins all year round! In the winter, they are typically a bit further off shore, but you can do this experience in every season.
Are you guaranteed to see dolphins?
As we've explained above, these dolphins are wild so there's never a guarantee, but the track record is incredibly good because there are just so many of them living in this area.
If you happen to not see any dolphins, they will issue a partial refund (minus operating costs).
Alternative: If you really want to swim with dolphins but don't have time to make it to Kaikoura, we've also heard good things about the swimming with dolphins in Akaroa, which is just 1 hour 20 minutes from Christchurch. The species in those waters, Hector's Dolphin, is the smallest in the world and can only be found in the waters of New Zealand.
What to Pack for your Dolphin Swim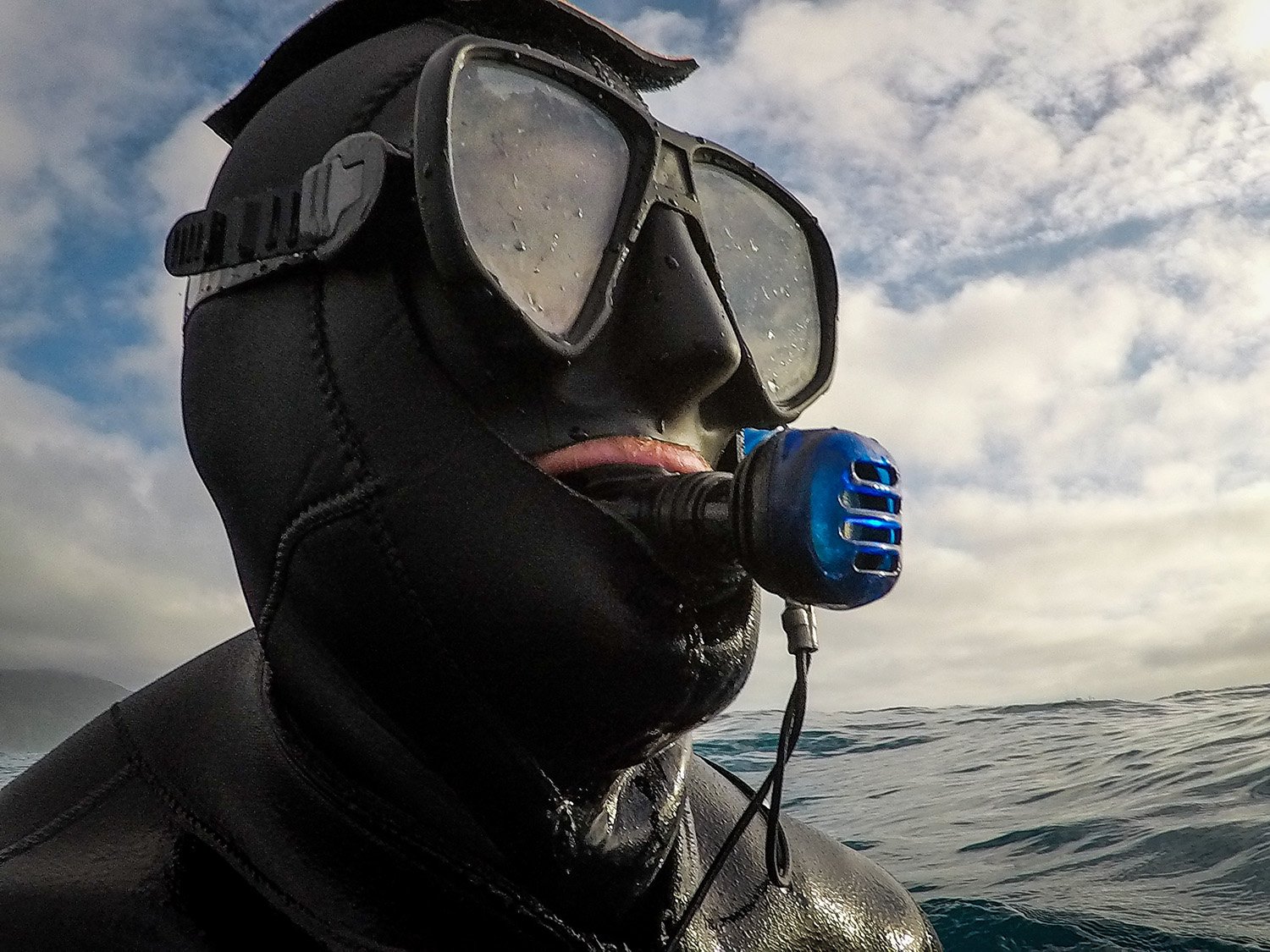 You don't need to bring much on this tour, as all the gear is provided. However, there are a handful of things you'll definitely want to pack in a bag that you'll bring with.
If you are traveling in New Zealand, we have a whole packing list for you, for FREE. Just enter your email and we'll send it your way.

Are you planning a trip to New Zealand?
We have TONS of resources on travel in New Zealand and destinations throughout the country. Check out our Ultimate New Zealand Travel Guide for all the answers to your most burning questions, or read some of our favorite articles below.
Save this article to Pinterest for later!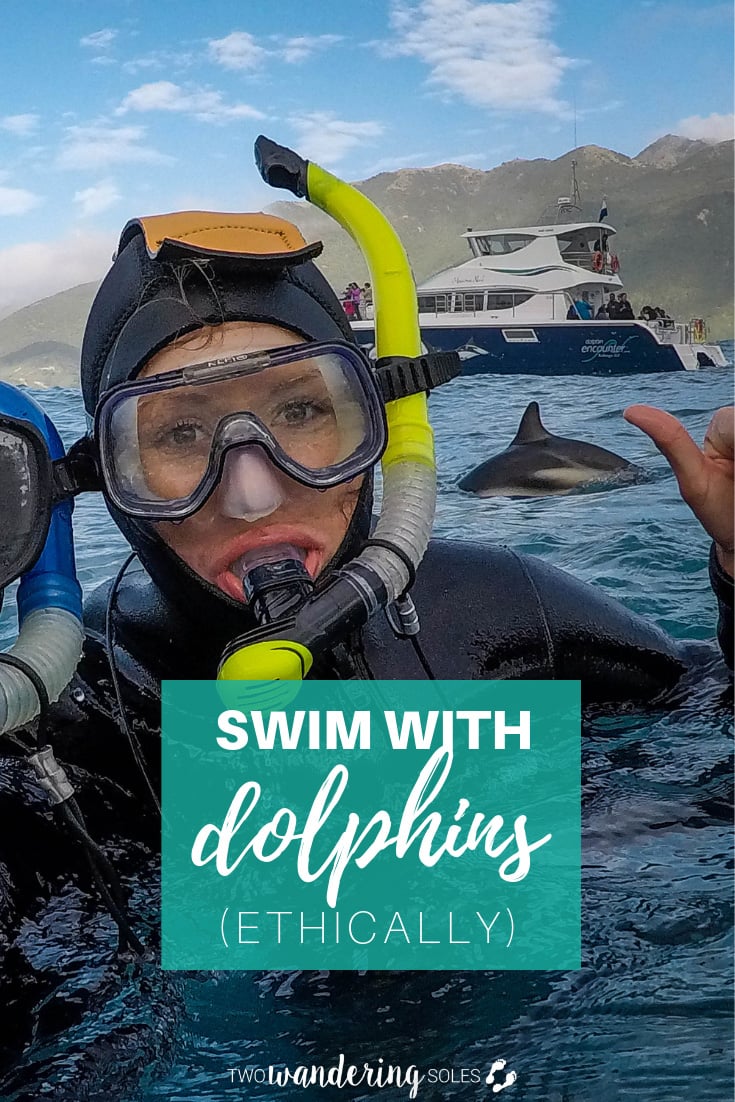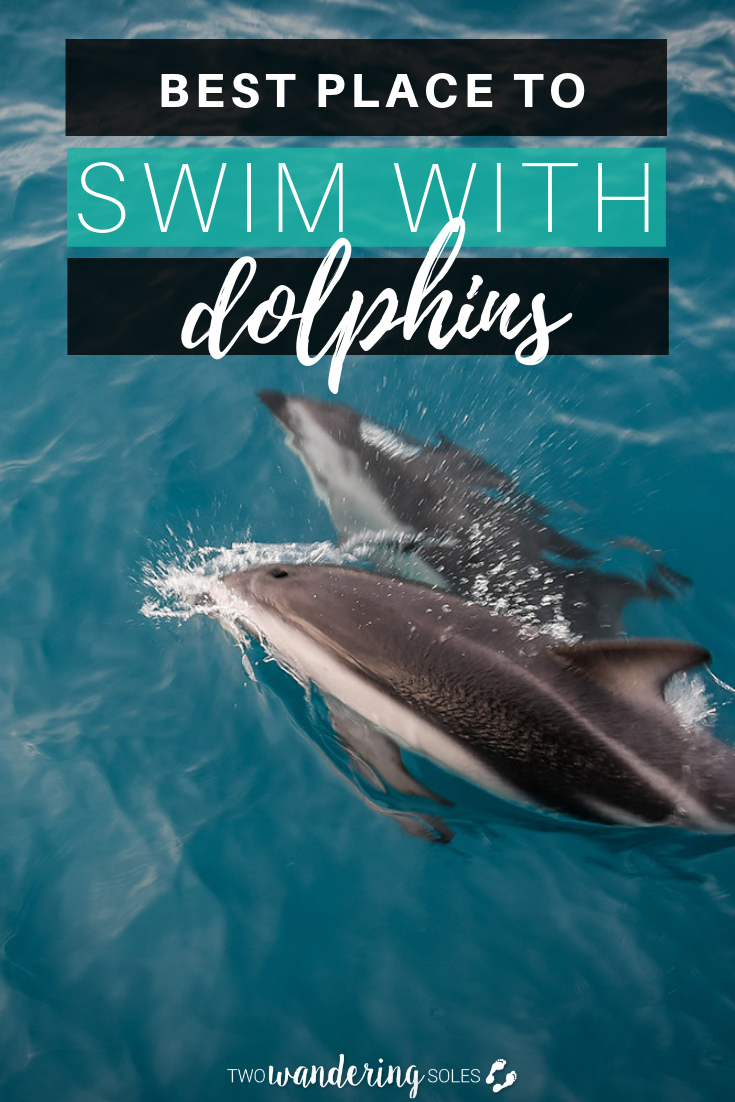 We want to hear from you!
Is swimming with dolphins on your New Zealand bucket list? What questions do you still have? Comment below and we'll try our best to get back to you.