With storybook villages, forested mountain ranges and white sand beaches that rival the tropics, there are some incredibly diverse and beautiful places in Japan. This bucket list is full of places you've never heard of, and after reading it, we bet you'll be ready to book a flight to Japan!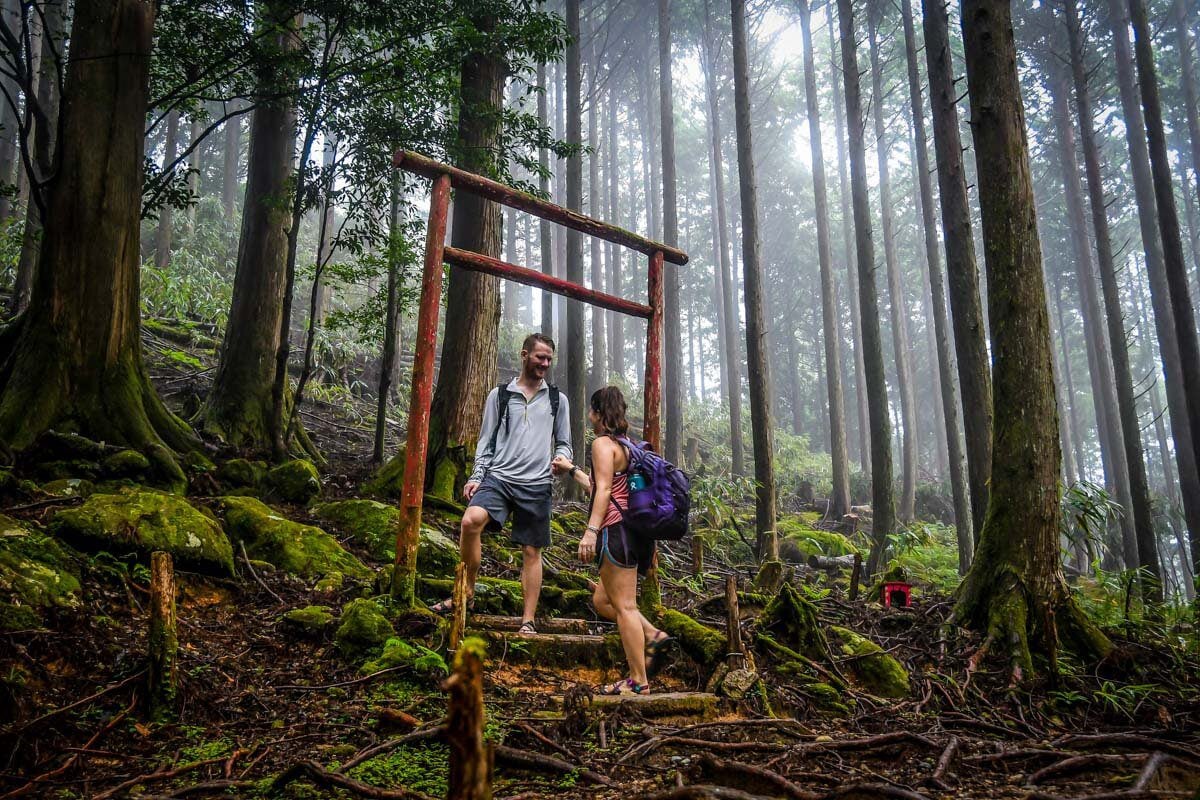 While bustling Tokyo is often the first place that comes to mind when thinking of Japan, there is so much more to this diverse country than meets the eye.
Don't get us wrong, Tokyo is one of our favorite cities in the world (there are endless things to do in Tokyo!), but when it comes to finding the most beautiful places in Japan, we're going to venture outside the city limits and share some hidden gems and top sights you need to put on your Japan bucket list.
Come along as we take you through traditional Japanese villages that look straight out of a storybook and to beaches that you will swear are in Tahiti. We'll bring you on one of the most beautiful hikes in Japan (that I'm betting you've never heard about!), and through seldom talked-about mountain ranges that most travelers never see.
This round up includes villages, natural landscapes, and cultural attractions for a well-rounded list of the most beautiful places in Japan that every type of traveler can get behind.
Whether you're planning your first visit or your 5th, this list of beautiful places in Japan is here to inspire you and help you get off the typical tourist route.
Can I see all of these places in one trip?
No, definitely not. (Sorry to burst your bubble!)
You will not be able to see all of these things on one trip to Japan, as they are scattered throughout the country and some are a bit difficult to get to.
Our advice is to choose a few of your favorite places on this list and work them into your Japan itinerary.
Save the others for future trips to Japan (it's one of those countries that we have a feeling you'll just keep coming back to – we sure do!).
---
1. Nakasendo Trail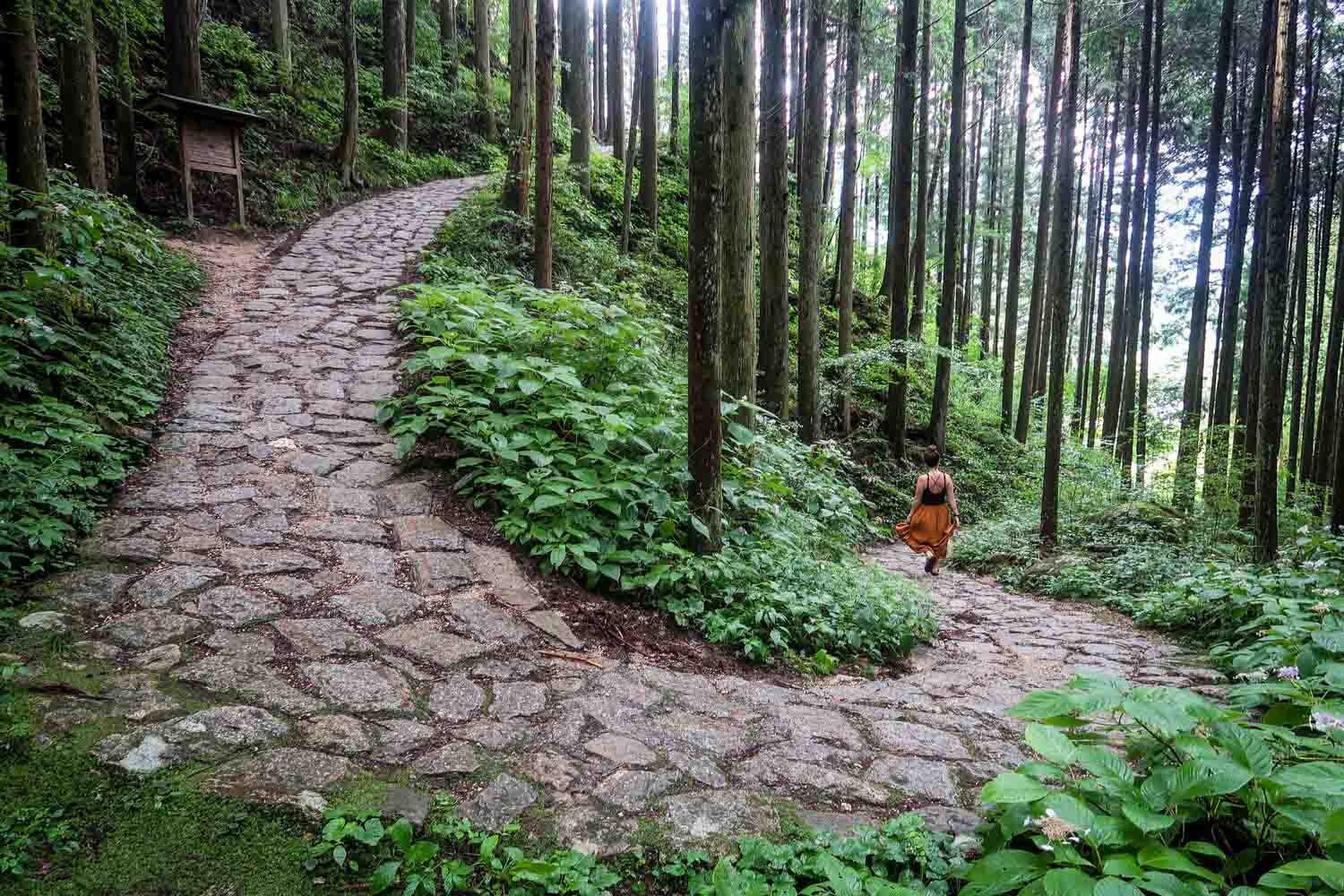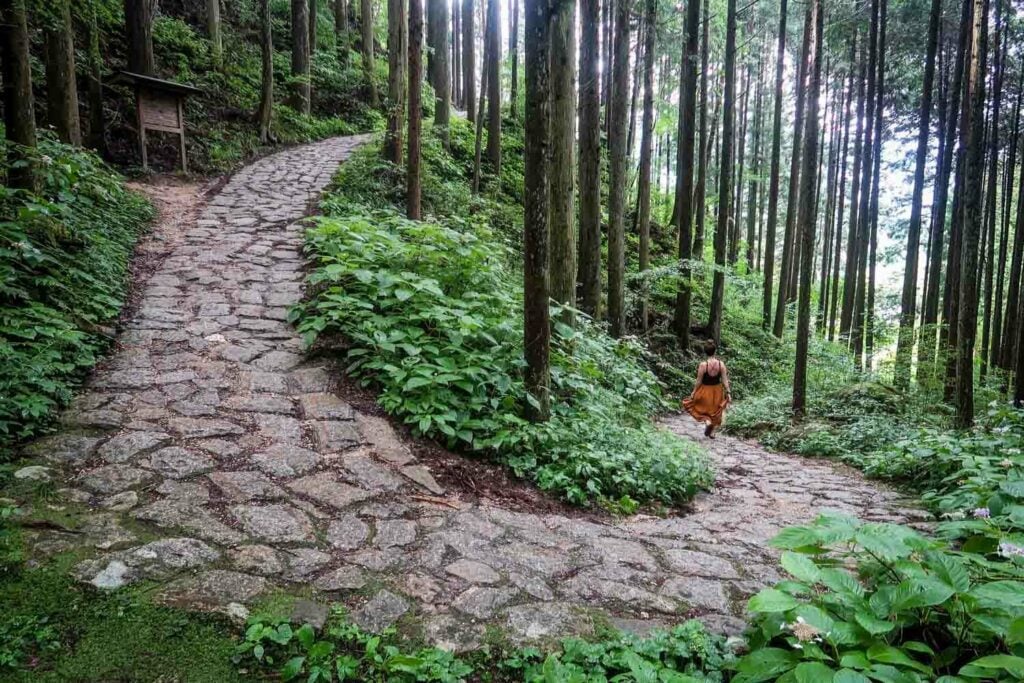 At a glance: Pilgrimage trail that snakes through charming historic villages in the Japanese countryside
Location: Nagano, 2 hour train ride from Nagoya
Nestled in the rural countryside of Nagano, you can walk the exact footsteps of merchants, samurai, monks, and travelers traveling from Tokyo to Kyoto during the Edo Period.
Its name translates literally to "pathway through the mountains", where you can hike through rural post towns, scenic countryside, and experience the true essence and culture of Japan.
You can embark on a multi-day hike connecting through various towns or opt to day hike any of best sections:
Magome to Tsumago
Tsumago to Nojiri
Yabuhara to Narai-juku
Karuizawa to Yokokawa
Insider tip: Many post towns sell these cypress combs that make the perfect souvenir. They're said to last for centuries!
2. Nachi Falls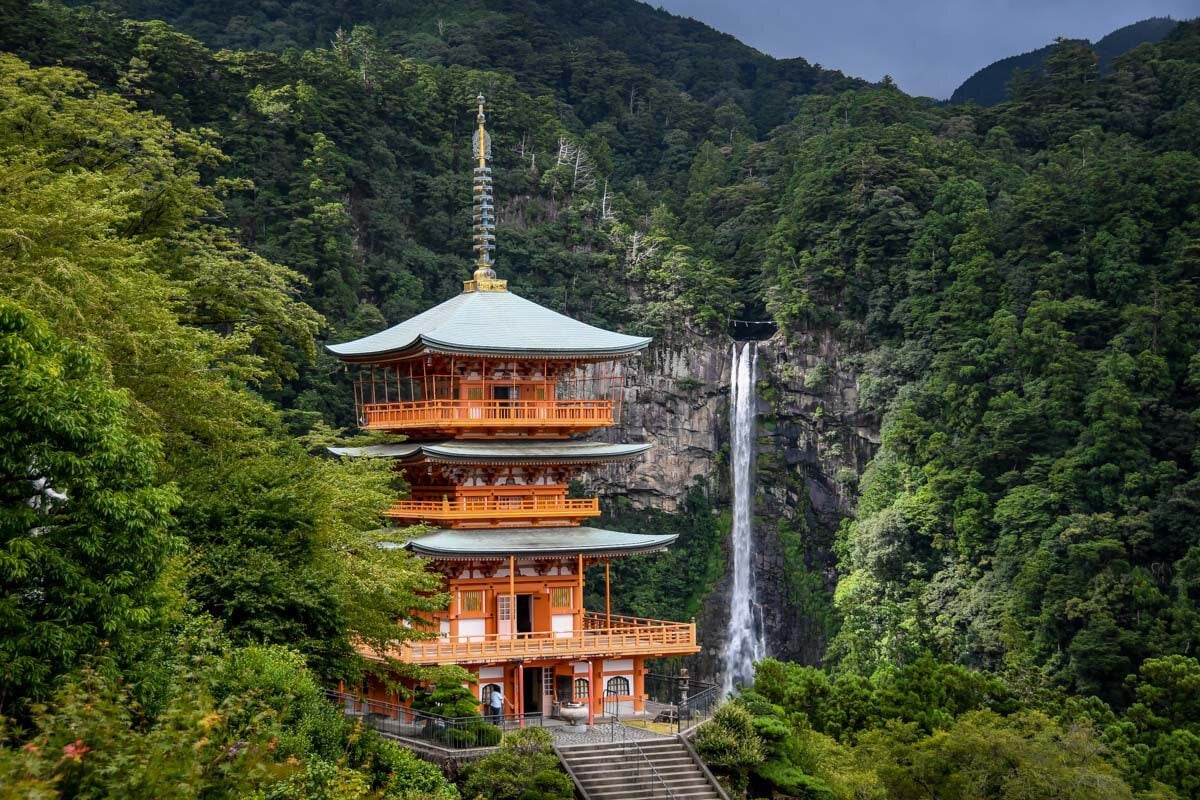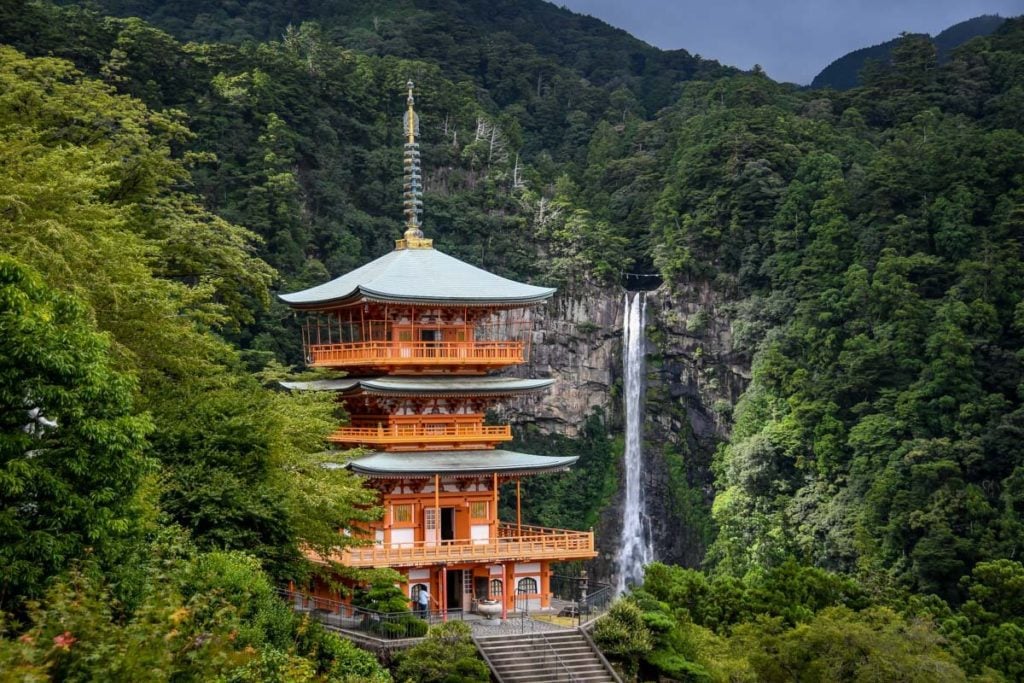 At a glance: Towering waterfall situated behind a Shinto shrine and Buddhist temple
Location: located at the end of the Kumano Kodo trail
Buried in a sacred primeval forest, Japan's tallest single drop waterfall inspires mystery and wonder as water barrels over an uninterrupted, 133 meter (400 foot) drop.
Nachi Falls is in a World Heritage protected region with numerous religious sites that should absolutely be included in your visit to the waterfall.
Kumano-nachi Taisha, Hiro Shrine, and Seigantoji Temple honor the deities dwelling in the falls as well as showcase the harmonious relationship between Japan's ancient spiritual beliefs.
Good to know: The vermillion red pagoda with Nichi Falls cascading the background is best photographed in the main courtyard of Kumano-nachi Taisha (Nachi Grand Shrine).
3. Fushimi Inari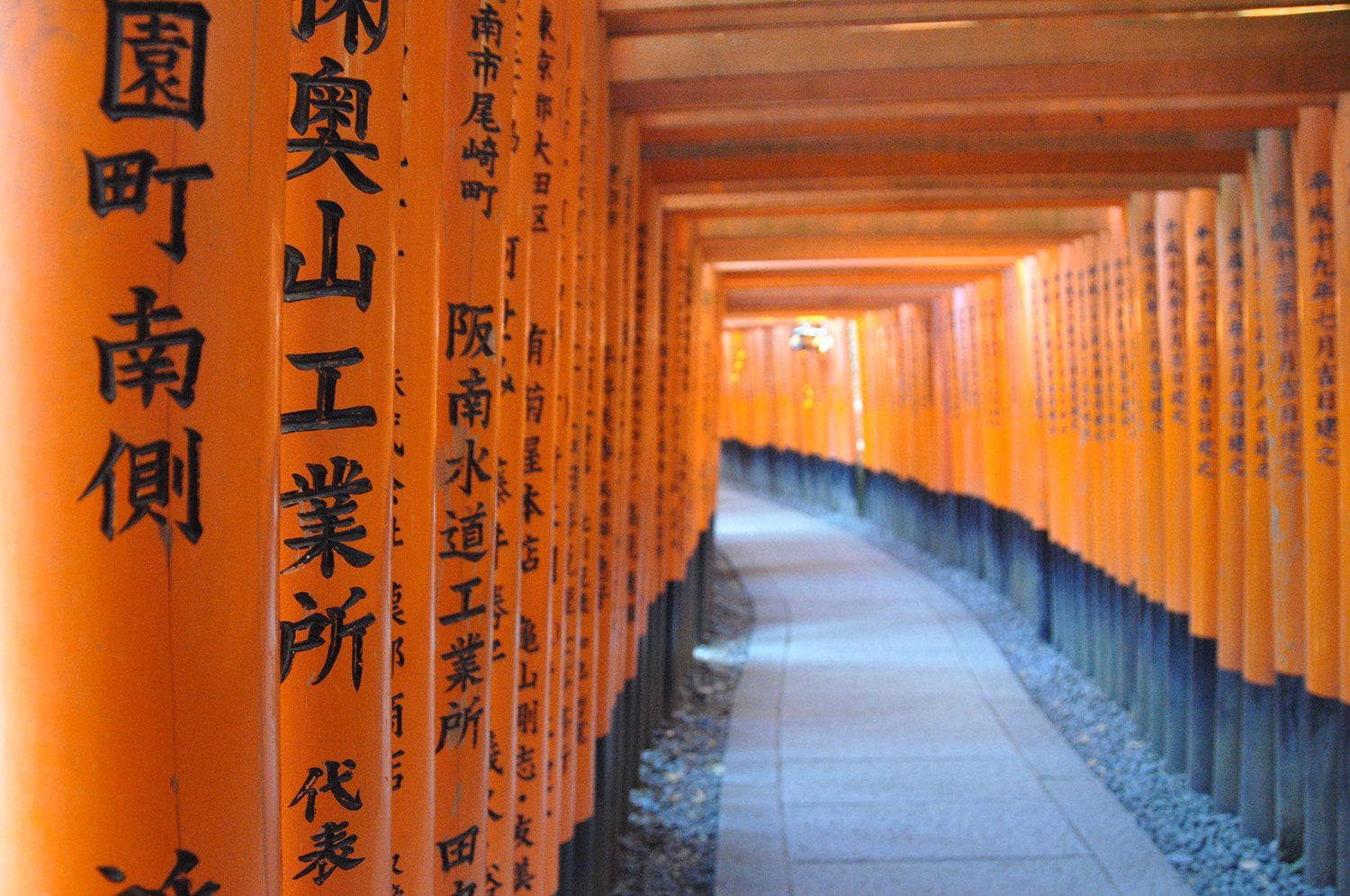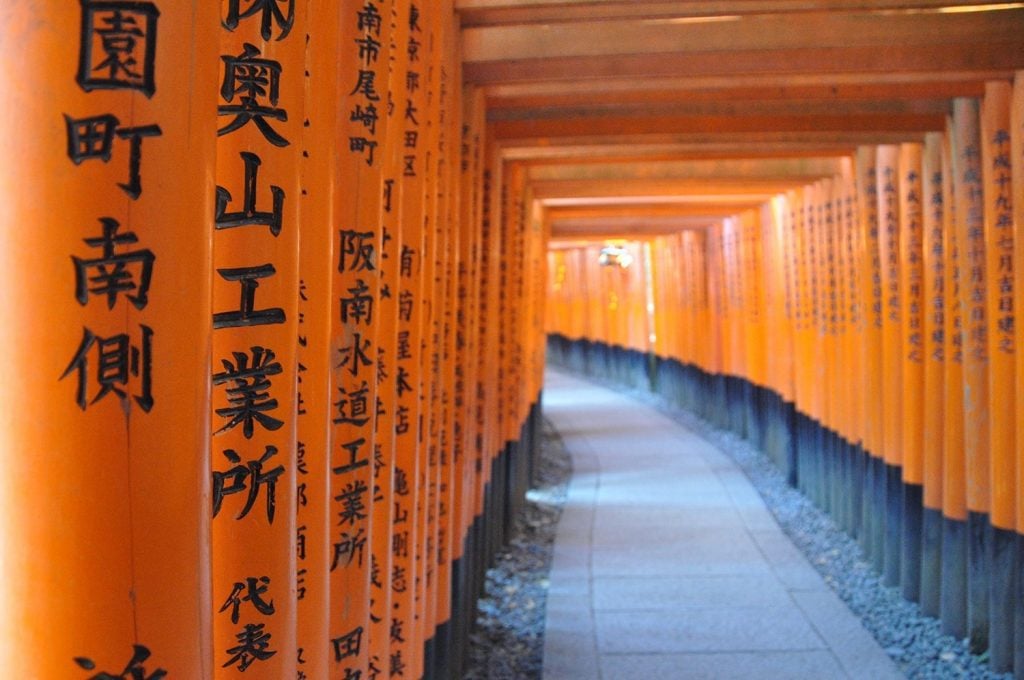 At a glance: Iconic orange gates just outside of Kyoto
Location: Kyoto
One of the most quintessential things to do in Kyoto is wandering through a seemingly unending path of over 5000 vermilion torii gates that lead to the summit of Mount Inari.
This Shinto Shrine was dedicated to Inari, the god of rice, good harvest, and business success in the 8th century. Mini shrines and rock altars are situated along the path, creating a mysterious and eerie vibe, especially on an early morning or late night stroll.
Most of the crowds at the shrine congregate near the beginning, but the further up you go, the less people you'll encounter.
The short hike to the summit takes about 3 hours total and offers rewarding views over Kyoto.
Looking for more of the most iconic locations in Japan? Fushimi Inari Shrine is just one of the absolute best things to do in Japan.
Good to know: To explore the shrine and network of trails, you'll need to set aside a good amount of the day. If your time in Kyoto is brief, 1-2 hours is enough to see a good chunk without getting fomo.
4. Kumano Kodo Trail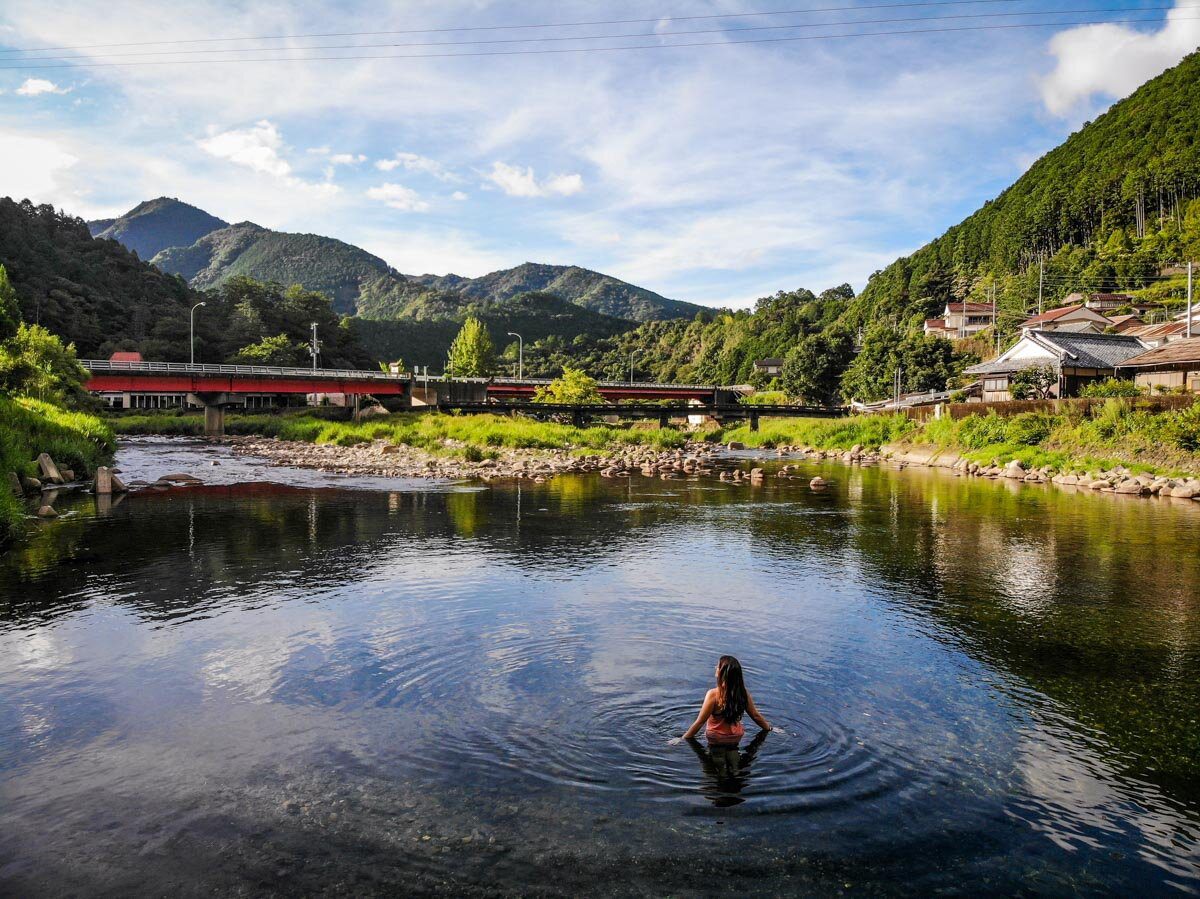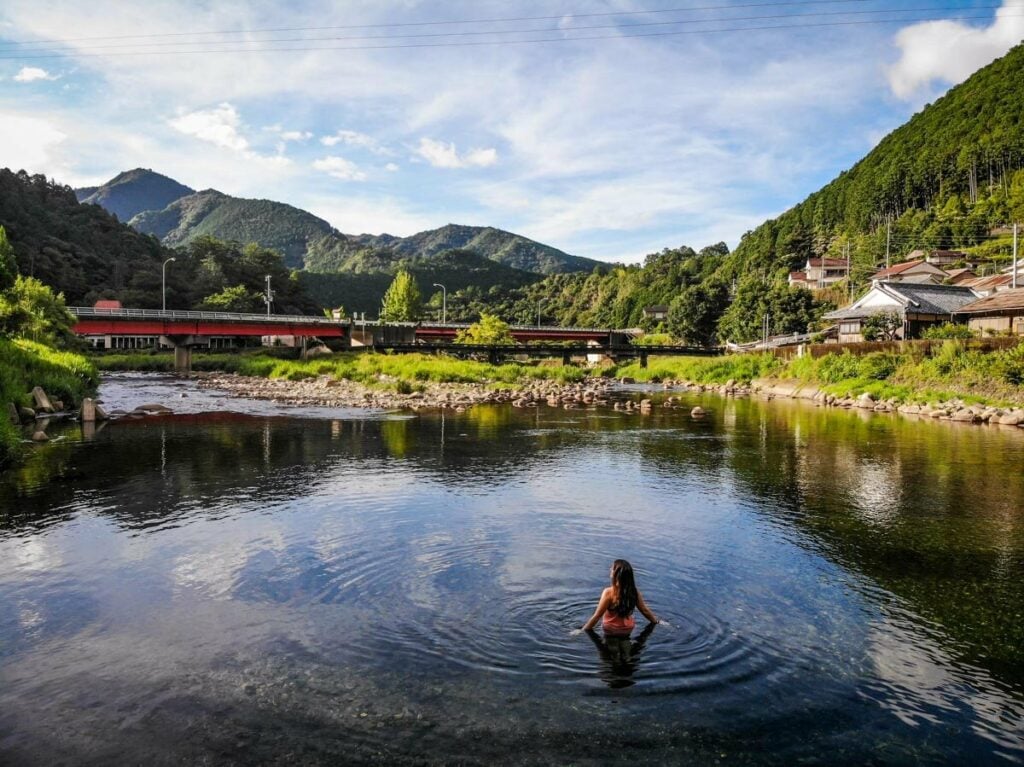 At a glance: Pilgrimage trail that brings hikers through cedar forests and remote countryside villages
Location: Kii Peninsula
Hiking the Kumano Kodo trail is one of our very favorite things we've done in Japan and we love recommending it to other travelers, as it is one of the most unique and authentic experiences you can have!
This pilgrimage trail snakes through thickly forested mountains and brings hikers past shrines hidden deep in the woods. Hikers spend the nights at homestays in remote villages, showing them a different side of Japan than most tourists ever see.
Good to know: The Kumano Kodo can be hiked any time of the year, but spring and autumn bring the most comfortable temperatures.
If you like getting off the beaten path and are more into nature than cities, we highly recommend planning your Japan trip around this hike as it will surely be a highlight.
Sound like this would be up your alley? We've got everything you need to know in our Kumano Kodo hiking guide.
5. Takachiho Gorge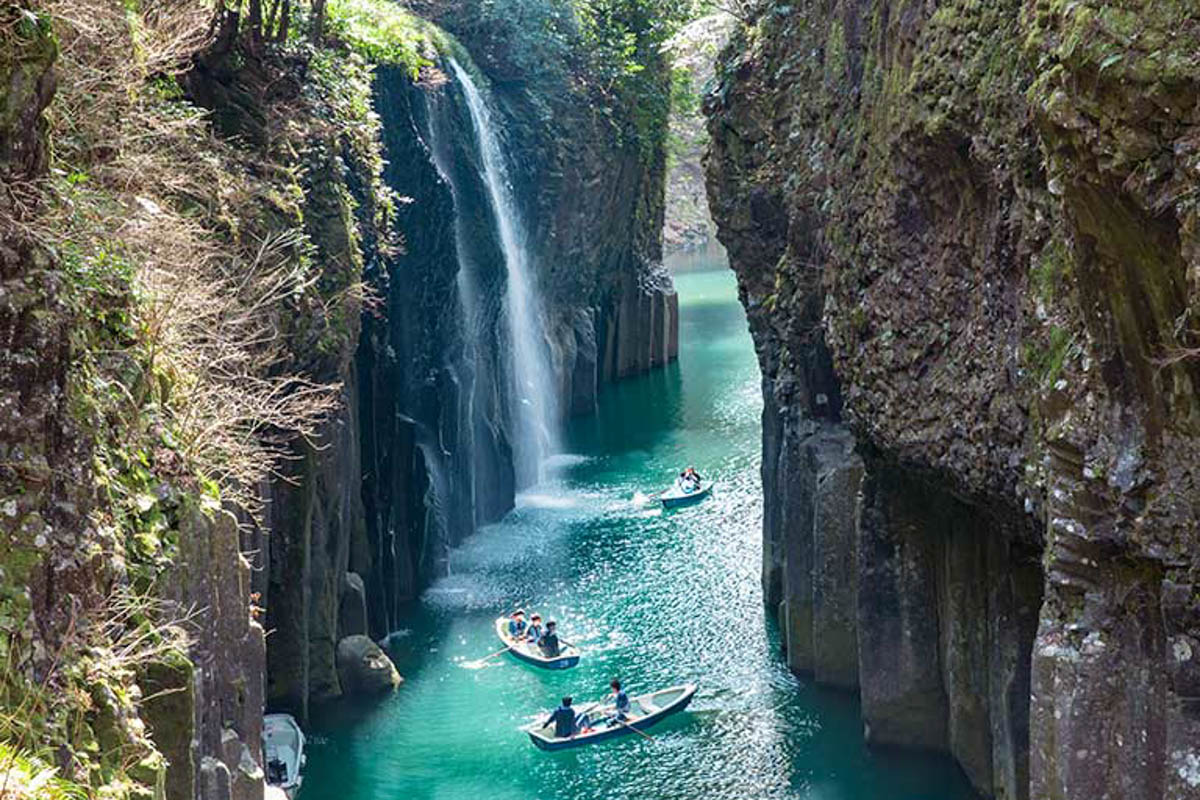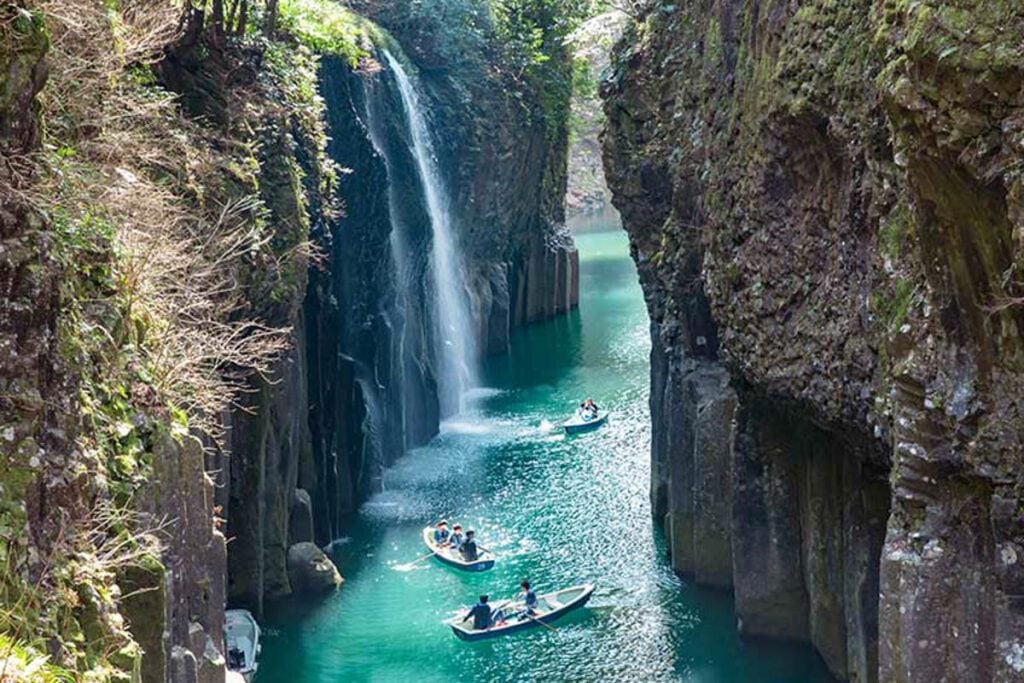 At a glance: Volcanic river canyon with steep basalt cliff sides and scenic waterfall
Location: Miyazaki Prefecture, Kyushu
Straight out of a storybook, Takachiho Gorge is one of the most spectacular natural attractions in Japan.
Every angle of this fairytale scene is spectacular and easily admired from any of the footpaths and viewpoints along the edges. However the immersive, short paddle in a rental boat takes the cake for being the best way to experience this location.
You'll lazily float past and admire the star of the show, Minainotaki Waterfall pouring into the gorge's narrow chasm up close and personal.
Pay close attention to the details of the basalt columns. Look for stones that twisted and turned as the river flowed and sculpted the volcanic edges of the gorge; they're said to resemble the scales of a dragon.
Good to know: The best time to visit the gorge is in the mid-morning (around 10 am), when the sunlight filters through and creates a beautiful golden glow.
Entry fee: 1000 yen ($8)
Boat rental fee: starting at 4100 yen ($32)
6. Tateyama Kurobe Alpine Route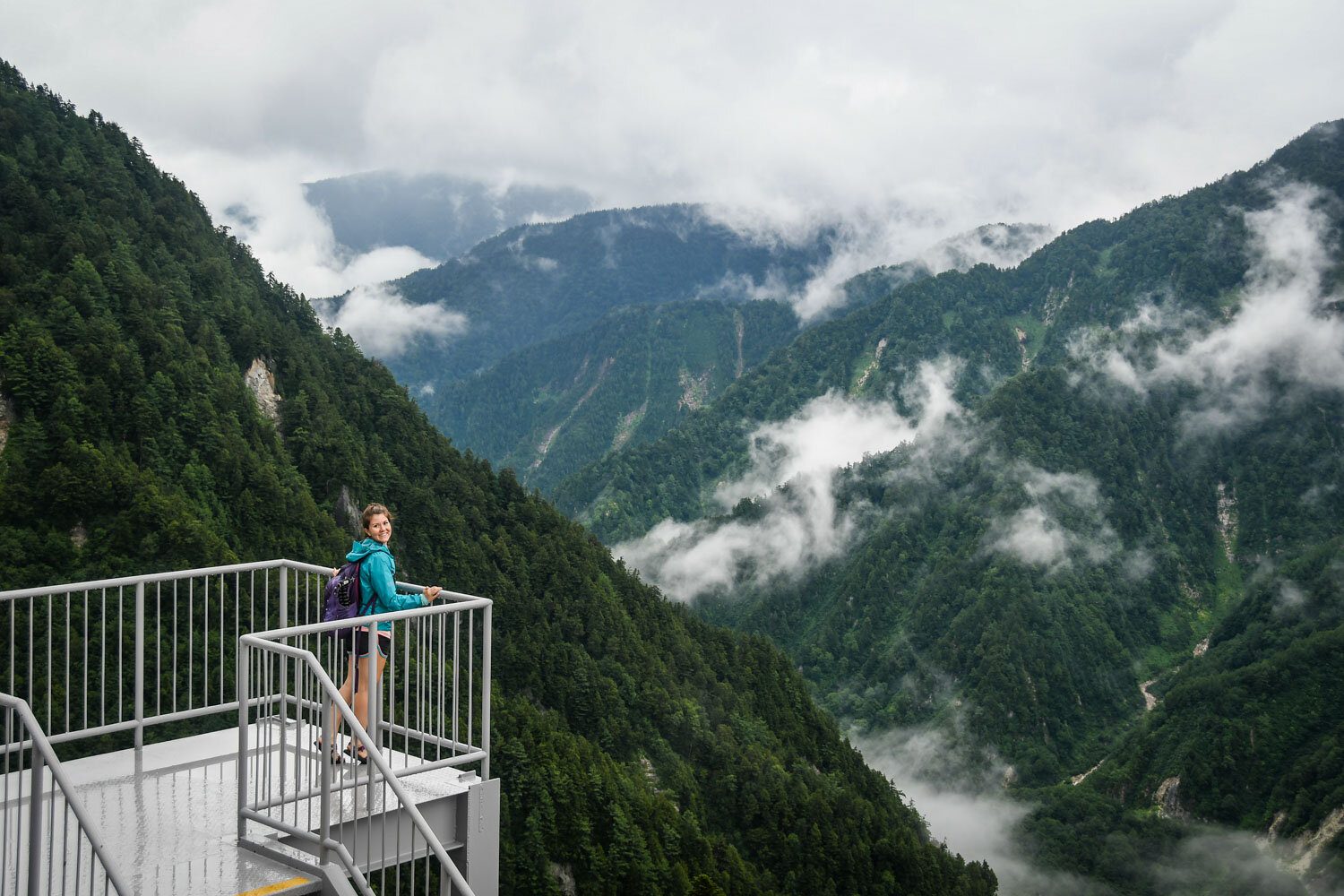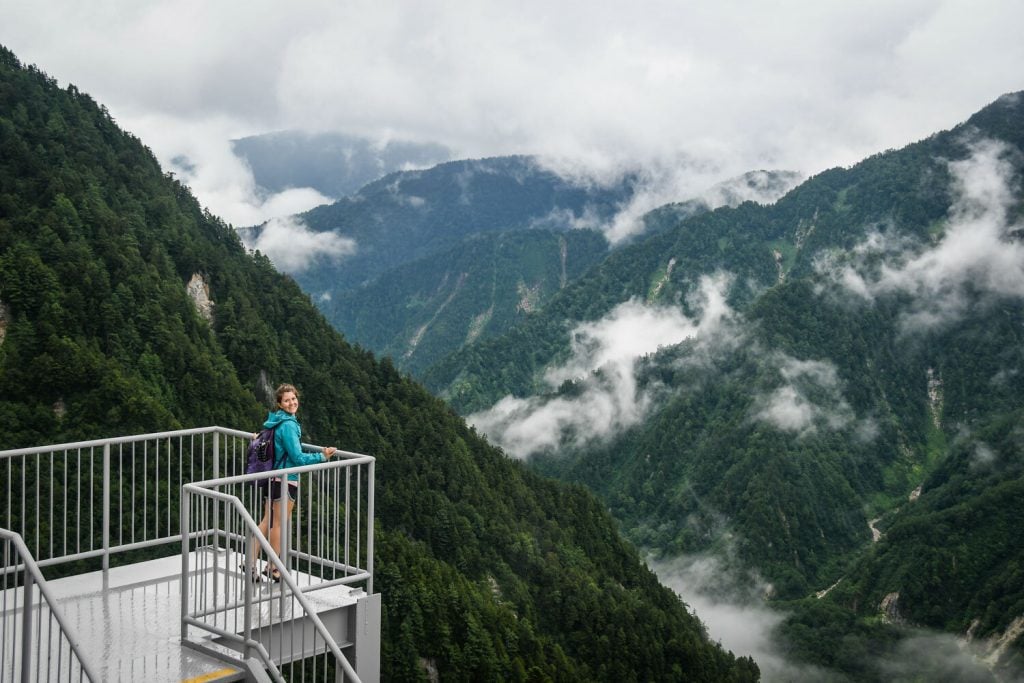 At a glance: A sightseeing mountain traverse through the Japanese alps using 8 modes of transportation
Location: Toyama
Explore the lush and diverse terrains of the "Roof of Japan" as you travel from one side of the Kita Japanese Alps to the other.
The alpine route can be traveled east to west, or vice versa, with each stop giving you the opportunity to explore all the unique flora, fauna, and exciting things to do at each stop.
Many people opt to take the entire route in just a single day, but if you want to spend more time enjoying the area, you can stay at the highest hotel in Japan, Hotel Tateyama.
Good to know: The route is only open from April 15th to November 30th, annually.
Curious and looking for more details? Get the low down in our Tateyama Kurobe Alpine Route guide!
7. Jigokudani Snow Monkey Park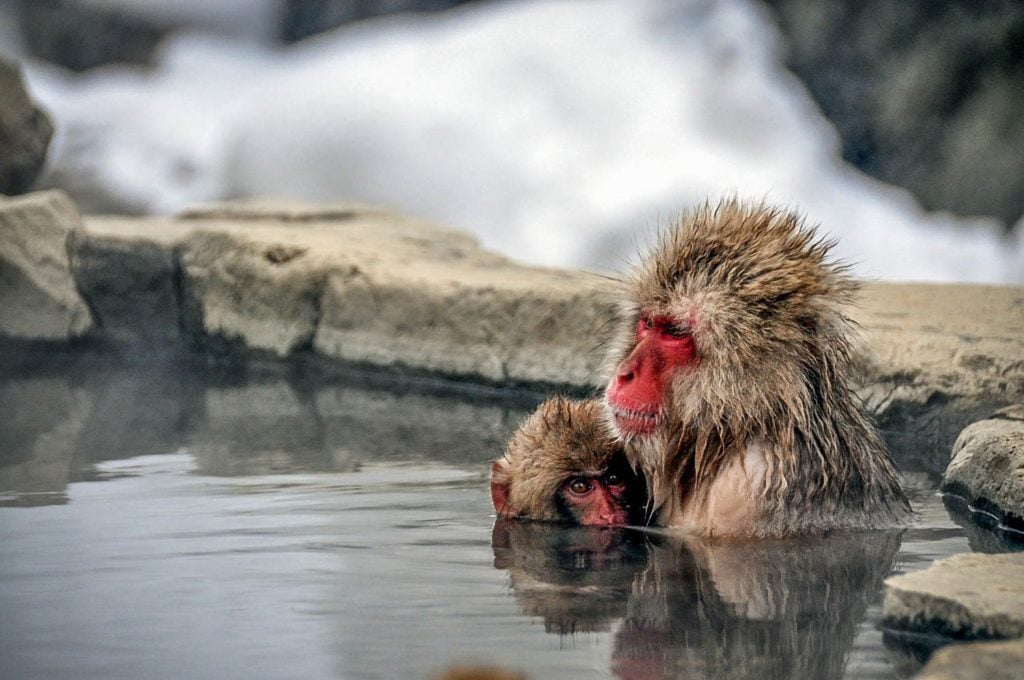 At a glance: A long scenic walk to view monkeys bathing in hot springs
Location: Nagano
During our first trip to Japan, including this quiet ravine in northern Hokkaido was a no-brainer and one of our favorite experiences we had during our week in Japan.
Following a short trail, you'll arrive at a series of hot springs with Japanese macaques settling in for an entertaining jacuzzi sesh.
Since the park was created organically to protect the monkeys from disgruntled farmers guarding their land decades ago, the monkeys are calm in nature and used to tourists.
Marvel at over 100 pink-faced snow monkeys enjoying a peaceful soak, but remember to follow the rules for everyone's safety by not touching or feeding them.
Good to know: Winter in Japan is THE prime season for visiting the park. During hotter months, they tend to need encouragement to enter the springs.
Entry fee: 800 yen ($6)
8. Mount Fuji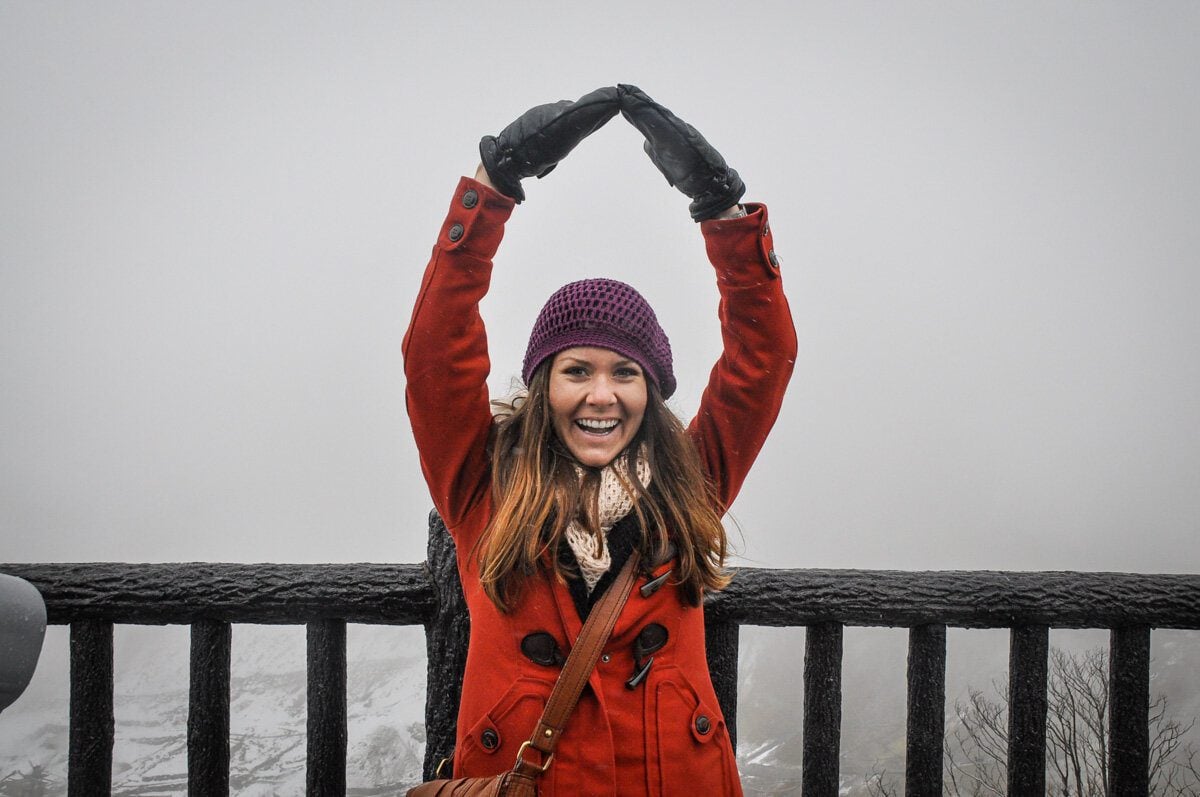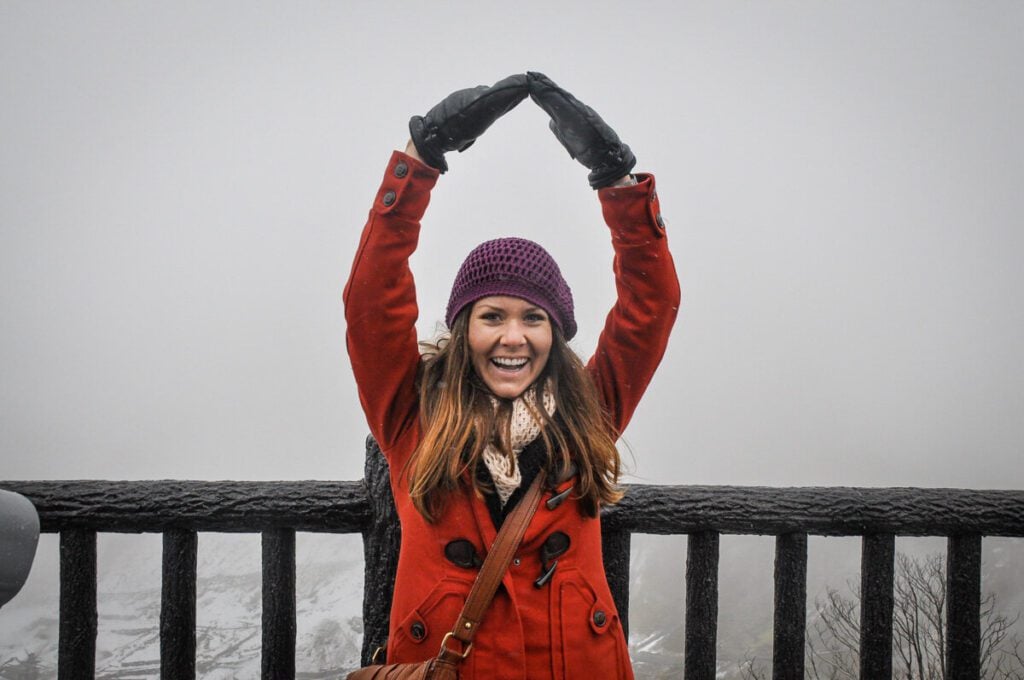 At a glance: A snow capped volcano that is Japan's most iconic landmark
Location: Shizuoka, 2.5 hours from Tokyo
Towering nearly 12,500 feet above central Japan, Mount Fuji has been a source of worship, relaxation, inspiration, expression, and recreation among locals and foreigners for centuries.
Although Fuji can be seen as far as Tokyo, many seek to experience it up close and personal by trekking to the summit from July to September.
Although challenging, it remains one of the most climbed mountains in the world.
But if a hearty sweat up a mountain isn't your style, you can enjoy views of the mountain from a variety of different regions around the base.
Fuji Five Lakes at the northern foot is incredibly stunning as much as it's peaceful. Hakone has many breathtaking locations to view Fuji and copious onsens for a relaxing soak. Head to Arakurayama Sengen Park for one of the most sought after frames.
Top 2 views of Mount Fuji:
Lake Kawaguchiko
Arakurayama Sengen Park
Good to know: Mount Fuji is notorious for being shy and you're considered lucky if you get a clear view of the mountain. Increase your odds of visibility by visiting during the colder season, early morning, or late evening.
9. Kyoto's Higashiyama Historic District
At a glance: Well-preserved part of Kyoto that transports you back in time
Location: Kyoto
Travel back in time to "Old Kyoto" by exploring the best preserved district of the city.
Traditional townhomes, restaurants, shops, and tea houses within this neighborhood have all been preserved or restored, giving you a sense of traveling back in time.
The most charming area in this district is the pedestrian road spanning the district called Ninenzaka.
The entire road is about a mile, but you could easily spend half a day perusing all the interesting shops lining this street. Arrive early because the area fills up fast!
There is a ton to explore in this area. Don't miss these top sights within the district:
Good to know: Most of the shops and restaurants in Ninenzaka don't open until 9-10 am and close around 5-6 pm.
Psst! Check out our bucket list of things to do in Kyoto before you leave!
10. Mount Yoshino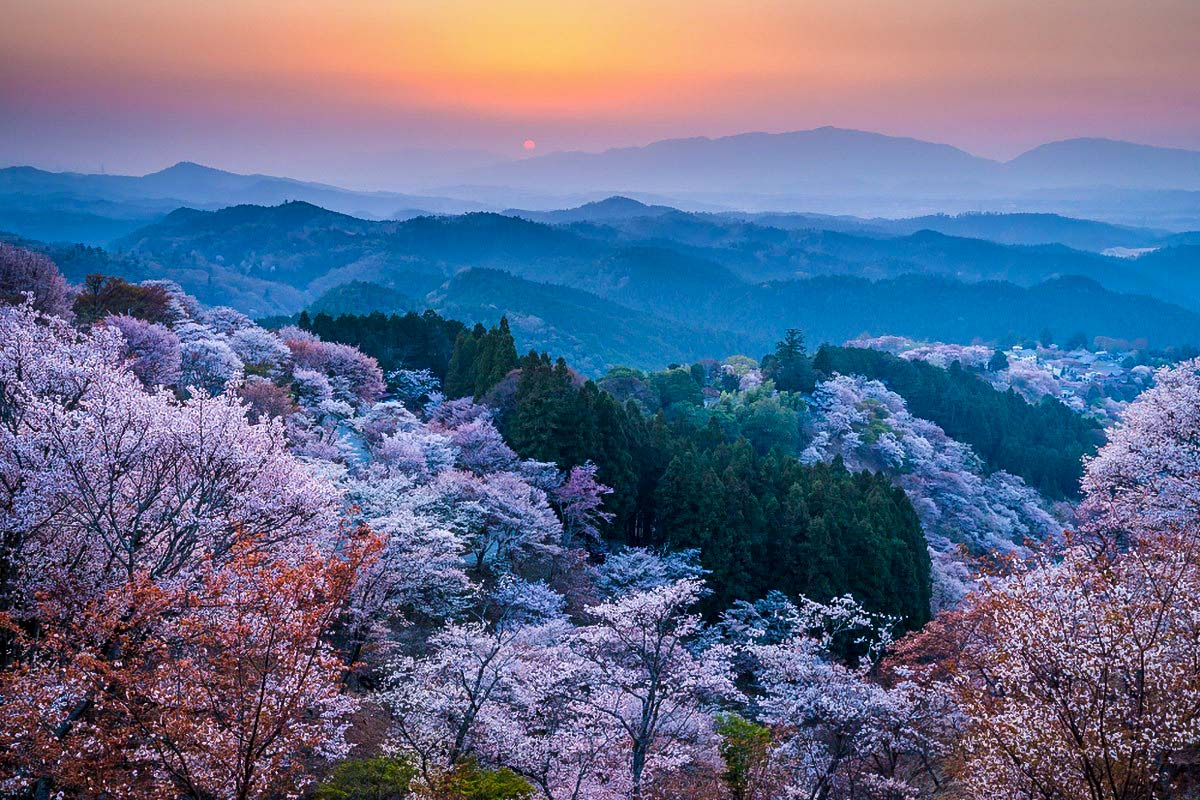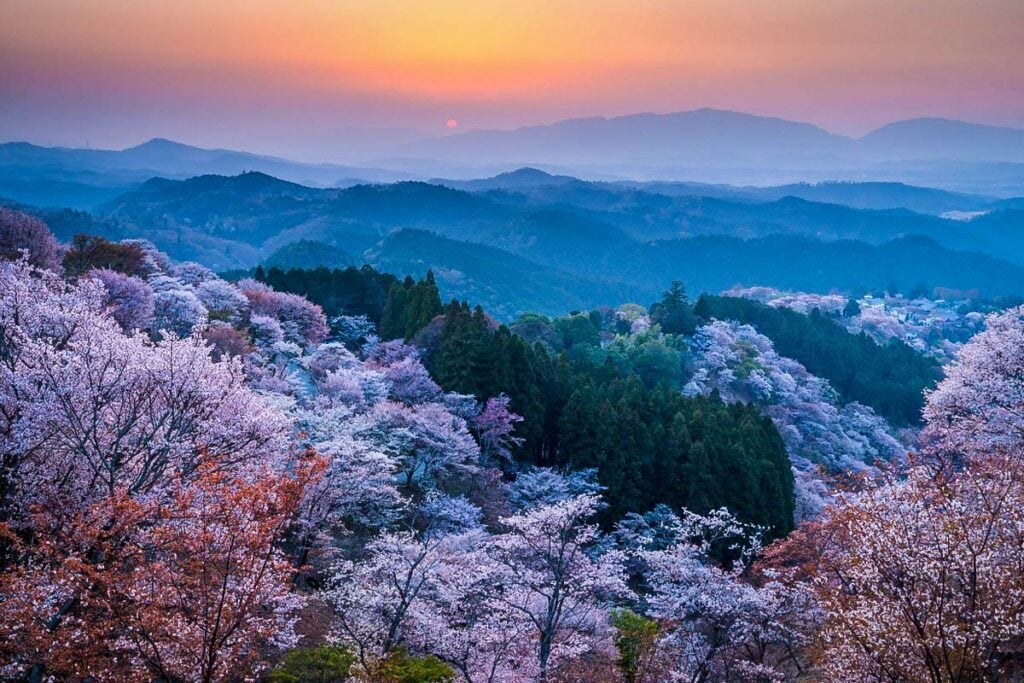 At a glance: A UNESCO World Heritage Site famed for its cherry blossoms and pilgrimage routes.
Location: Nara
Mount Yoshino has been one of the most famous spots to see cherry blossoms in Japan for centuries.
The pink and white trees were planted in four different levels up the mountain face dating back to 1300. Now, there are 30,000 something trees that bloom at separate times, extending the cherry blossom season on the mountain.
While many people visit specifically for the cherry blossom season, Yoshino's unique seasonal beauty, rich history, and collection of sacred sites make it worth a trip year round.
There is always something new to see in this spiritual paradise. Take a ride on the Yoshino Ropeway, one of the oldest in Japan, to arrive at unparalleled views over the Kii Mountains.
Good to know: Mount Yoshino is much more peaceful before 10:30 am (when the tours arrive), so arrive early and allot a good few hours to see the views, temples, and shrines leisurely.
11. Shirakawa-go
At a glance: A historical village known for traditional Japanese farmhouses
Location: Gifu, 1 hour train ride from Takeyama
Nestled at the base of the sacred Mount. Hakusan is a fairytale village brought to life with beautiful gasshô-zukuri style farmhouses.
The style refers specifically to the steep, thatched roofs protecting the houses, meaning "like prayer hands".
Shirakawa-go comprises many smaller villages, but Ogimachi is the most spectacular with its houses standing since the 1800s. Head to the Shiroyama Observation Deck for the best views of all 100+ houses in this village.
Good to know: Several of the houses here serve as guesthouses that make for a memorable stay!
Each house is both a museum and prime example of master carpentry, since they're all made without nails and have survived centuries of weathering and natural disasters.
It's important to note that some houses are residential but there are others that are open to the public:
Insider tip: Tochi mochi, gohei dango and hida beef are all local delicacies you must-try when in the region. You can find them at several food stalls dotted across the village.
12. Kenrokuen Garden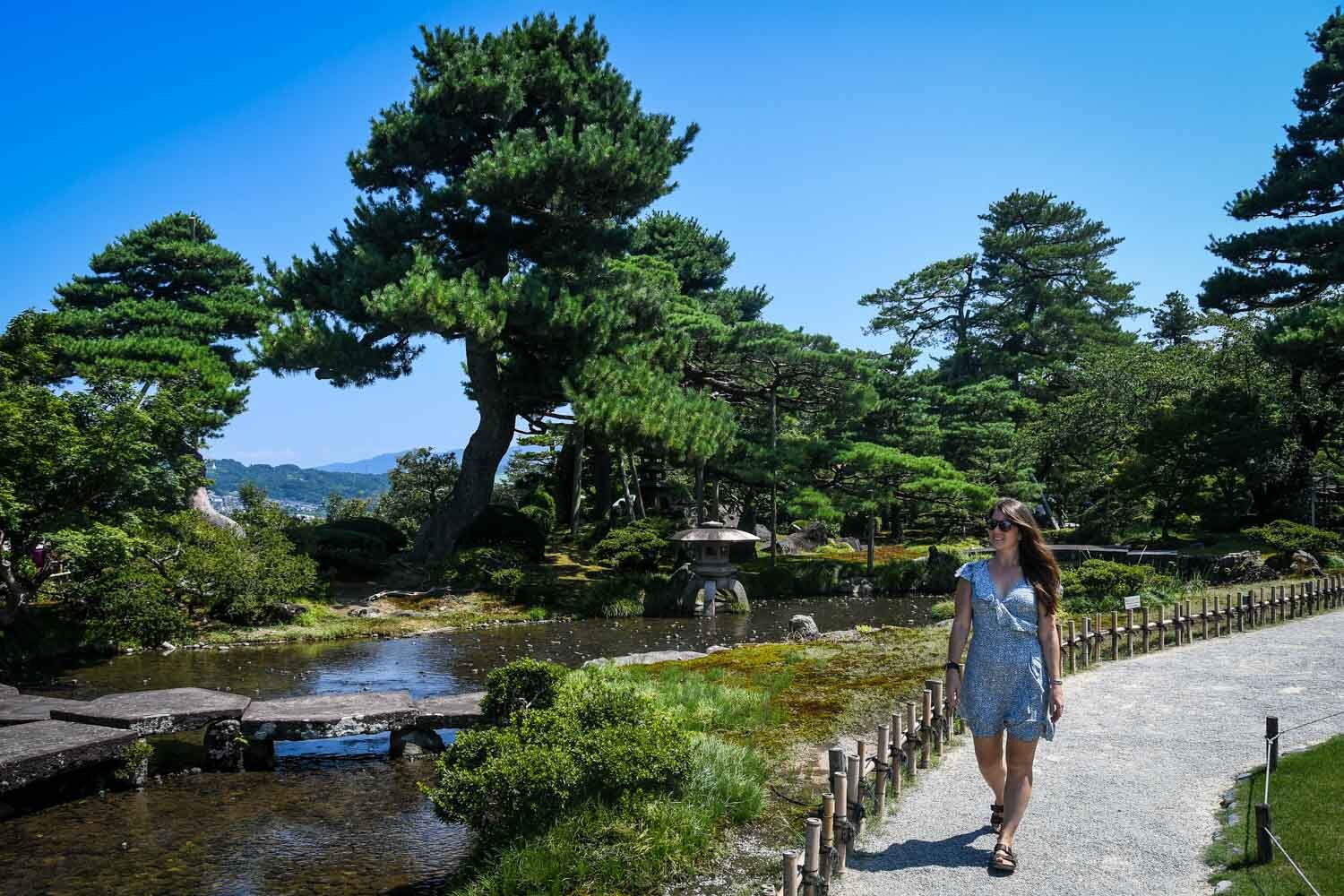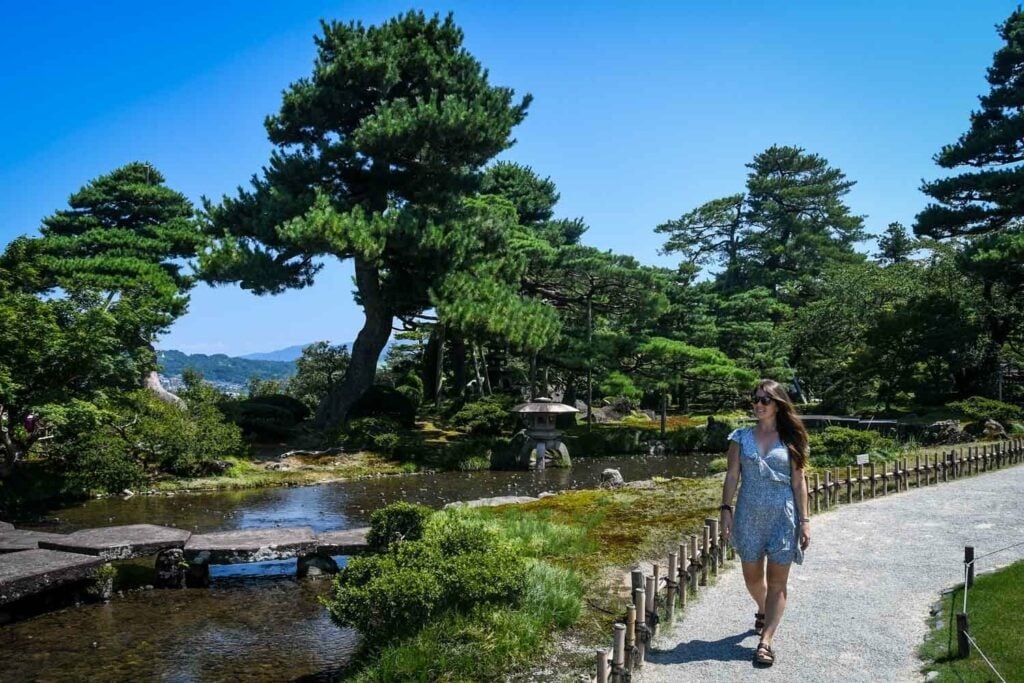 At a glance: An magical garden part that's recognized as one of Three Great Gardens of Japan
Location: Ishikawa, 1 hour train from Toyama
In Chinese landscape theory, there are six essential attributes that create the perfect garden: spaciousness, seclusion, artificiality, antiquity, abundant water, and broad views.
Kenrokuen Garden is one of the only gardens in Japan that hold all six attributes of a perfect garden, with its name translating directly to "Garden of the six sublimities".
You could spend hours finding your zen in every feature of this traditional Japanese garden: ponds, waterfalls, tea houses, streams, bridges, hills, and stone paths.
While you're roaming, keep an eye out for these significant locations:
Entry fee: 320 yen ($2.50), free during early admission hours
13. Kamakura Buddha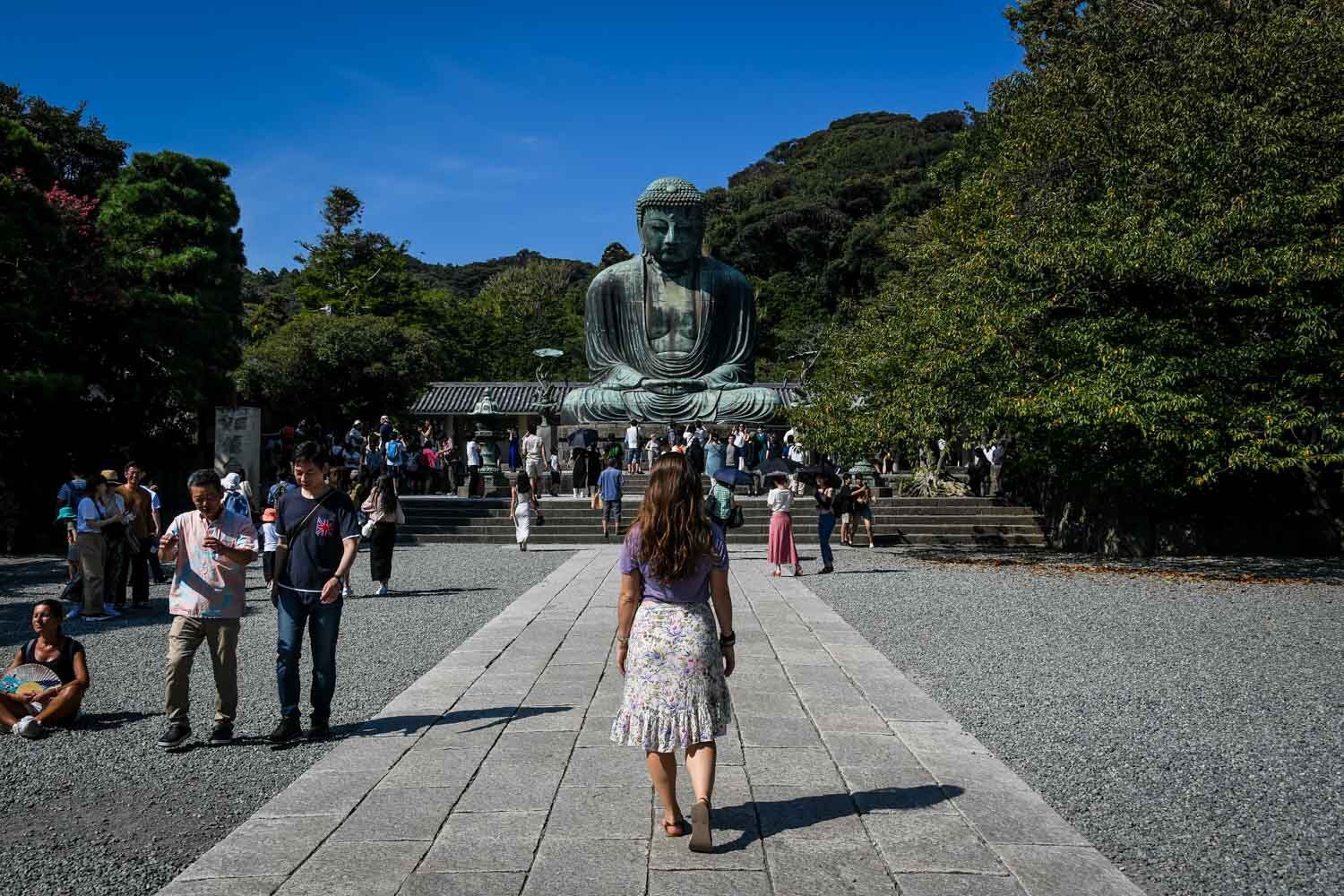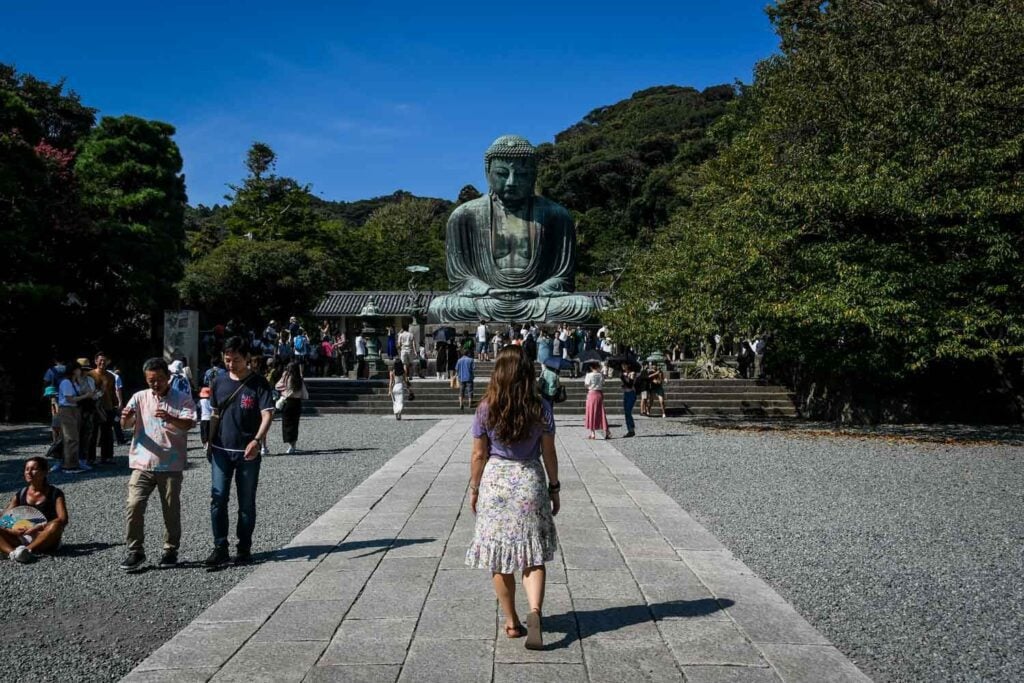 At a glance: 100-ton bronze Buddha set in a Buddhist Temple
Location: Kamajura (1-hour train ride from Tokyo)
Said to be constructed in 1252 from melted Chinese coins, the bronze Great Buddha of Kamakura is one of the most fascinating historical landmarks in the country.
It originally stood proud within the walls of a large temple hall, but after frequent typhoons and tsunamis during the 14th and 15th centuries, the temple was destroyed, leaving the originally gold-plated Amida Buddha tarnished due to inevitable weathering and possible thievery.
Today, the statue has been a standing symbol for the region for how much it has endured, and yet still stands calmly and beautifully.
For a small donation, you can enter inside the Buddha to see how it was casted by the unknown original sculptor.
Entry fee: 300 yen ($2)
14. Itsukushima Shrine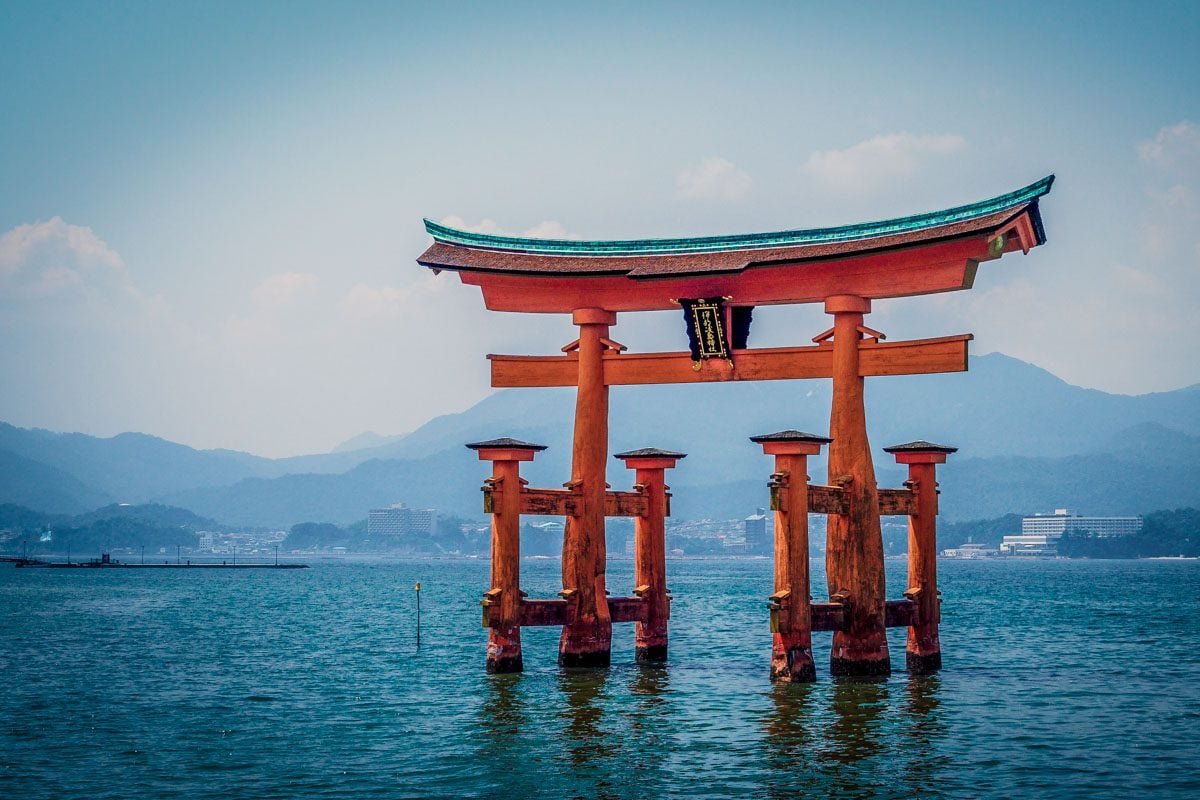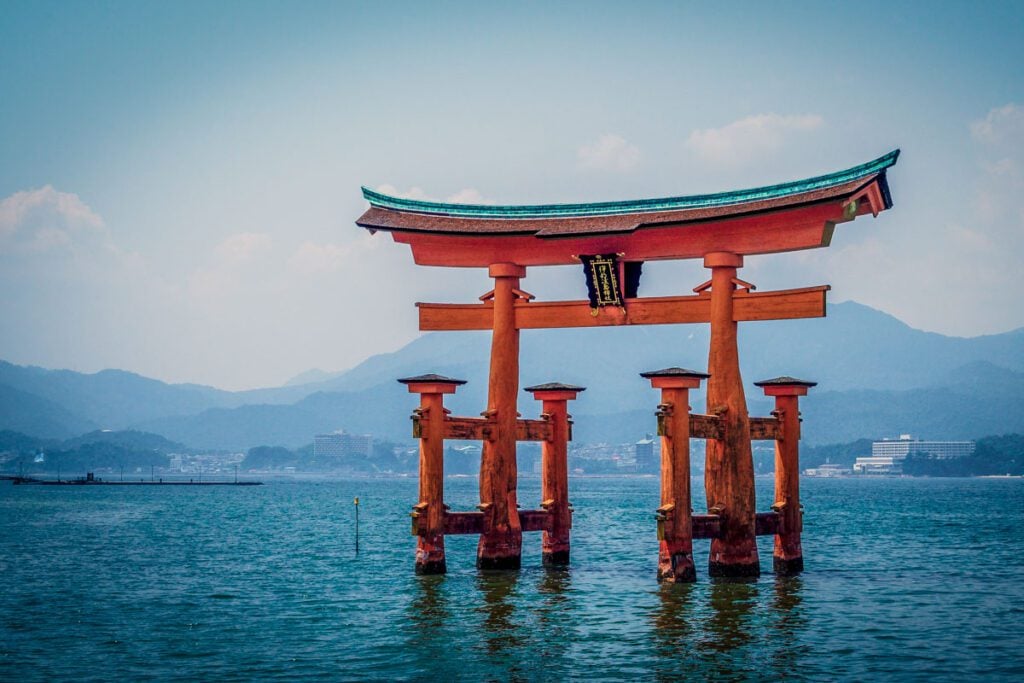 At a glance: 16th-century Shinto shrine that appears to float during high tide
Location: Hiroshima
Itsukushima Island, known as the "island of worship" and more recently Miyajima, has been a sacred site for centuries.
The shrine comprises multiple buildings that were artfully placed including a prayer hall, main hall, and theater stage, all of which are connected through a series of boardwalks.
During high tide, the array of buildings predating the 12th-century appear to be floating.
The main allure of this shrine complex is the massive vermilion torii gate that appears to be floating in the Seto Inland Sea.
The torii gate is one of the defining views of Japan and the buildings within the shrine have been awarded both National Treasure and UNESCO World Heritage Site statuses.
Good to know: To see the shrine "as it floats upon the waves", you'll need to plan your trip during high tide. Otherwise, you can walk out to admire the torii gate during low tide.
Entry fee: 300 yen ($2), combined tickets for shrine and Treasure Hall 500 yen ($4)
15. Okunoin Cemetery
At a glance: The largest cemetery in Japan home to the final resting place of the most important figures in the nation's history
Location: Mount Koya (Koyasan)
Hundred year old cyprus trees and nearly 200,000 tombstones encapsulate one of the most tranquil and beautiful places in Japan where Kobo Daishi (the founder of Shingon Buddhism) rests in eternal meditation.
A scenic and peaceful walk leads you to the center of the complex, the mausoleum of Kobo Daishi. Ichinohashi Bridge is the first of many you'll cross to get to the center. Each bridge symbolizes the progression to the final resting place.
Along the way, pay respects at all the graves in memory of those lost in war, royalty, monks, feudal lords, and other historic figures.
Good to know: There are two routes you can take to the mausoleum: Ichinohashi and Okunoin-mae. The first is the full route, whereas the second is a shorter, busier route directly from the bus stop.
16. Kamikochi
At a glance: A remote mountainous valley offering Japan's most spectacular mountain scenery
Location: Nagano
Snowy peaks, vibrant foliage, and unparalleled mountain scenery make up the crown jewel of the Japanese Alps within Chubu Sangaku National Park.
The 9-mile valley stretches through Hotaka Mountain Range with stunning views of Mt. Yakedake and Mt. Oku Hotaka, the highest peak in the northern alps.
This is an ideal spot for unspoilt nature since it's still underdeveloped and getting here takes a bit of advanced planning.
There is amazing hiking along the turquoise Azusa River as it offers rewarding views with little effort or hiking experience needed. For a more rugged experience, step into Japan's alpine realm by trekking to any of the surrounding peaks from June to mid-September.
Good to know: Kamikochi is only open from April 17th until November 15.
17. Takayama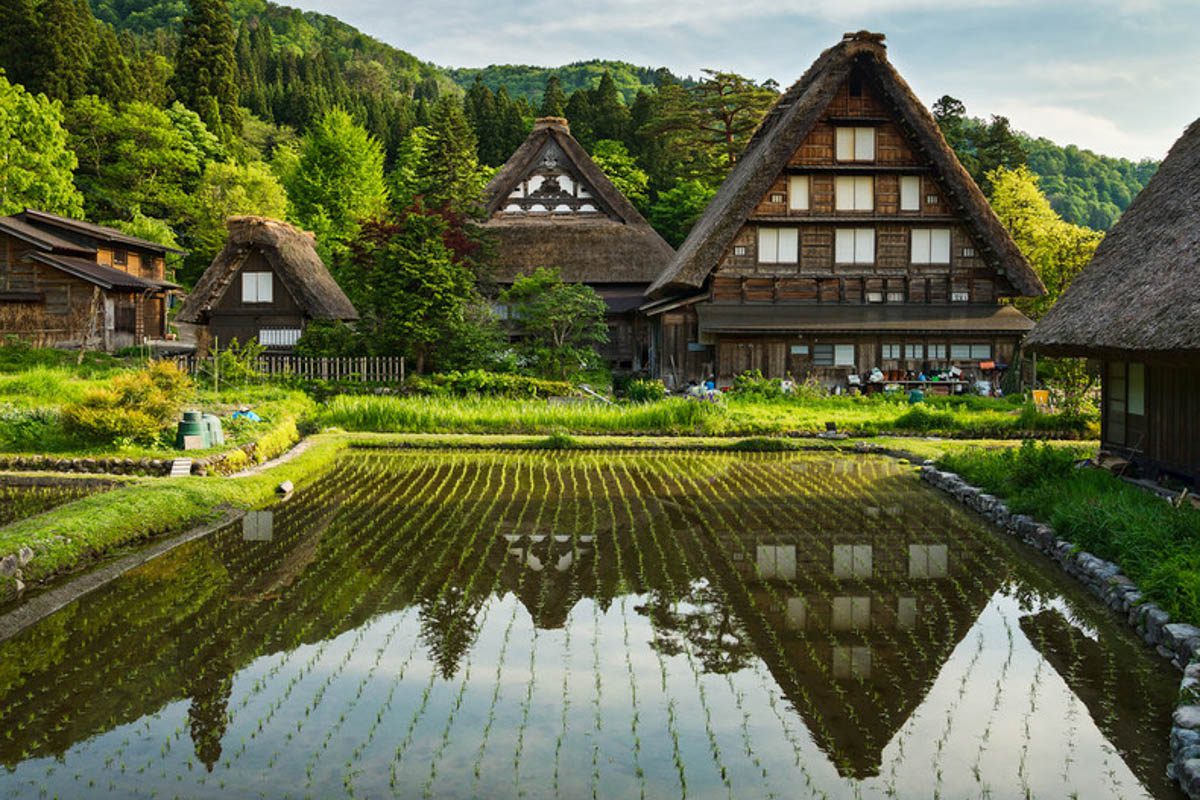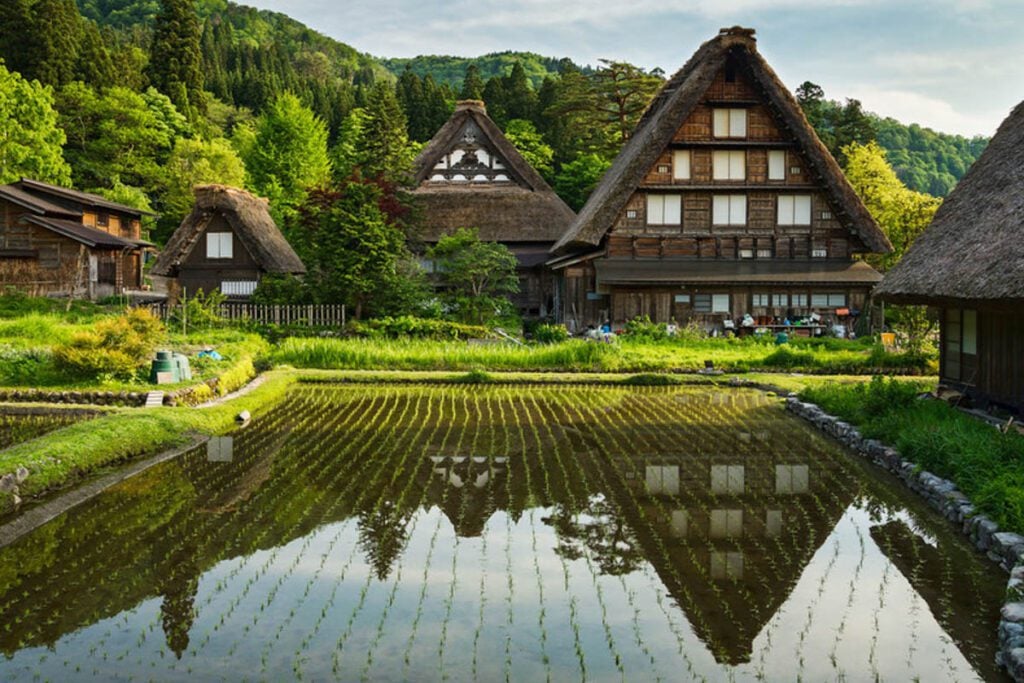 At a glance: Well-preserved ancient feudal city known for history and seasonal festivals
Location: Gifu
Takayama is an atmospheric city at the base of the Japanese Alps filled with a wealth of culture in its museums, hillside shrines, and riverside setting.
This remote mountain city has succeeded in preserving its very rich historical heritage and charm that can be experienced within its small Japanese districts.
The districts are connected by parallel streets modeled after Kyoto, so you can easily wander without getting lost.
Insider tip: Every spring and fall, the city puts on the Takayama Festival, one of Japan's most renowned festivals.
Points of interest:
Old Town: Follow the Miyagawa River and discover Edo-period houses, craft shops, restaurants, and sake breweries. This area is a prime example of when the city flourished as a wealthy merchant town, with many shops that have been operating for centuries.
Sanmachi Suji (street with preserved houses): Distinct old architecture and charm comprise these three streets that are one of the best preserved Edo Districts in Japan, commonly nicknamed "Little Kyoto".
Hida no Sato Folk Village: Explore this open air museum showcasing 30 traditional homes from the Hida region.
18. Takaragawa Onsen
At a glance: World-renowned Japanese onsen set in remote mountain scenery
Location: Gunma
Leave all the worries of your daily life behind and relax in a hot spring surrounded by overhanging trees, wooden-style bridges, and a zen bubbling river.
Time at Takaragawa Onsen tends to remain at a standstill as you explore three different outdoor pools varying in depth and heat, with your insecurities aside, and peace at an all time high at this otherworldly haven.
We recommend spending the night at the onsite ryokan where you'll get your dream fill of traditional foods and have 24-hour access to all the pools.
Insider tip: The restaurant here specializes in legendary mountain cuisine, the perfect pairing with a dip in the onsen.
Good to know: This onsen is traditionally mixed gendered, but there is a separate women's only pool if you're landing on the reserved side. Otherwise, it's common to wrap yourself in a towel for your soak.
19. Minoo Park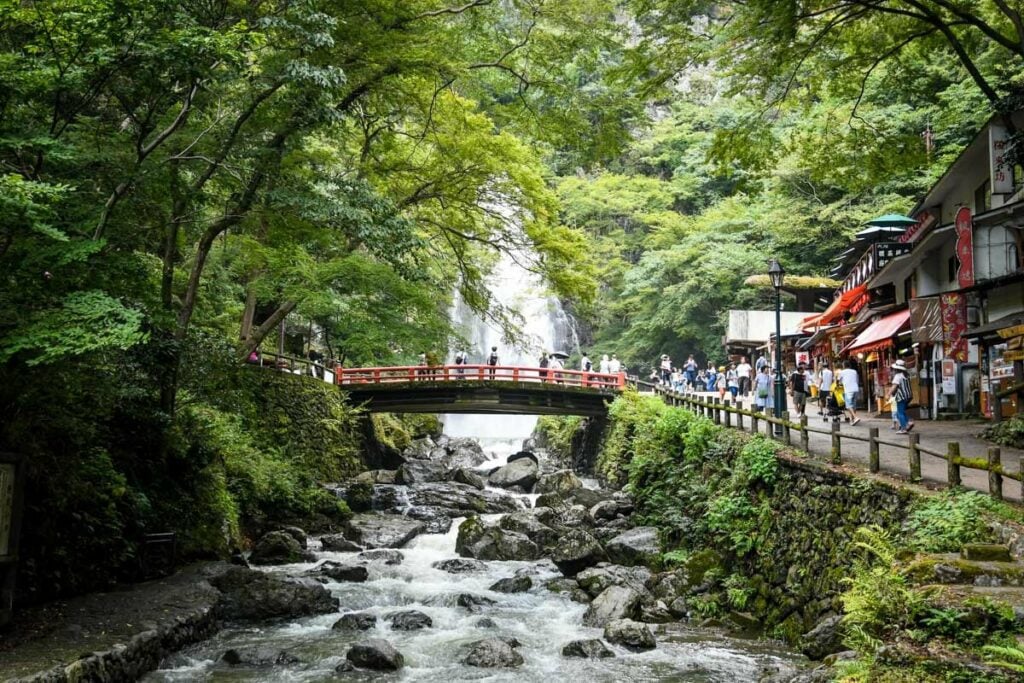 At a glance: Forested valley with waterfalls, Buddhist temples, and riverside walks
Location: just outside Osaka
Minoo Park is an ideal escape less than 30-minutes from all the hustle and bustle of downtown Osaka.
It has a series of riverside walking trails that lead to temples, observation areas, quaint shops, and hills in the surrounding area.
You cannot miss the prime natural attraction of this park while you're here, Minoo Waterfall. It's considered one of the most beautiful waterfalls in Japan.
Insider tip: In autumn, this park is one of the best spots in the Kansai region for fall foliage. They generally peak late November and it's the only time of year you can get momiji tempura (deep fried maple leaves).
20. Ishigaki Island beaches (Okinawa)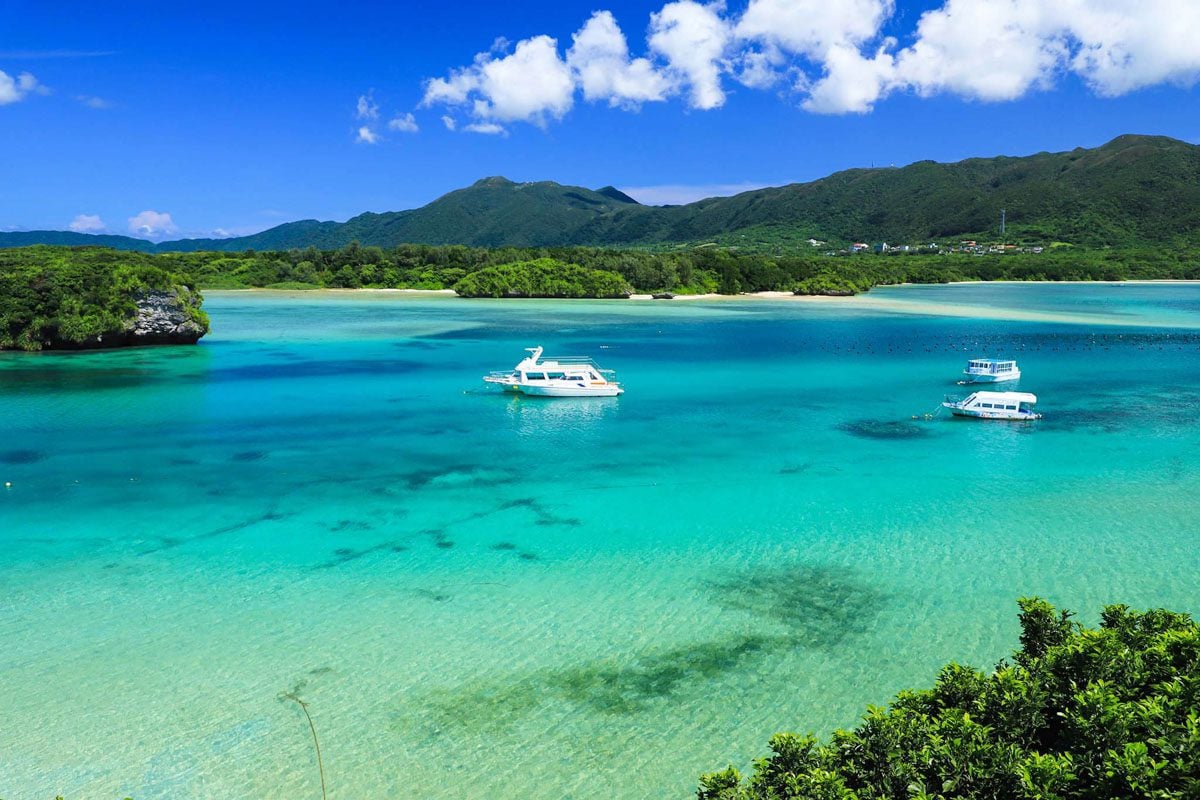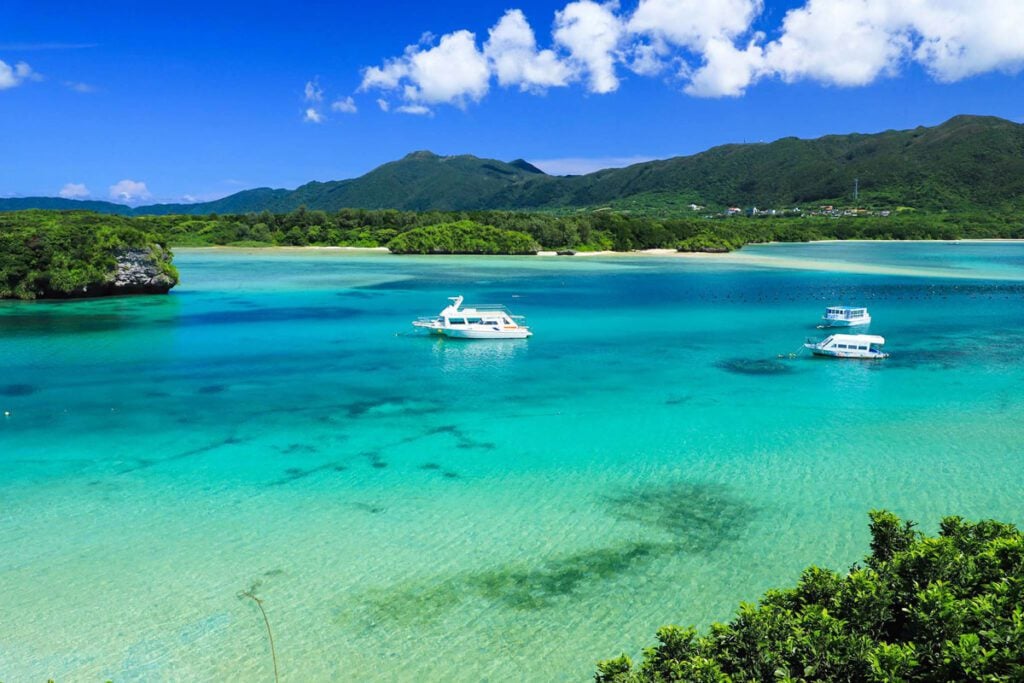 At a glance: Powdery white sand beaches and emerald water stretch across this island's picturesque coastline
Location: Okinawa prefecture, 3 hour flight from Naha
Ishigaki is considered the gateway to the Yaeyama Islands, a group of remote islands southwest of mainland Okinawa.
It's home to some of the best beaches in Okinawa, clearest waters in the world and premier spots for diving in Japan.
The beaches are best enjoyed from April to November when the weather is the warmest and ideal for a lazy sunbathe or refreshing dip in the ocean.
Ishigaki has endless beaches, but these are a few of the absolute best:
Good to know: Along the beaches, strong currents can pull you out to sea and waters sometimes have poisonous Habu jellyfish (a type of box jellyfish). Pay attention to signs and use netted swim areas.
21. Nara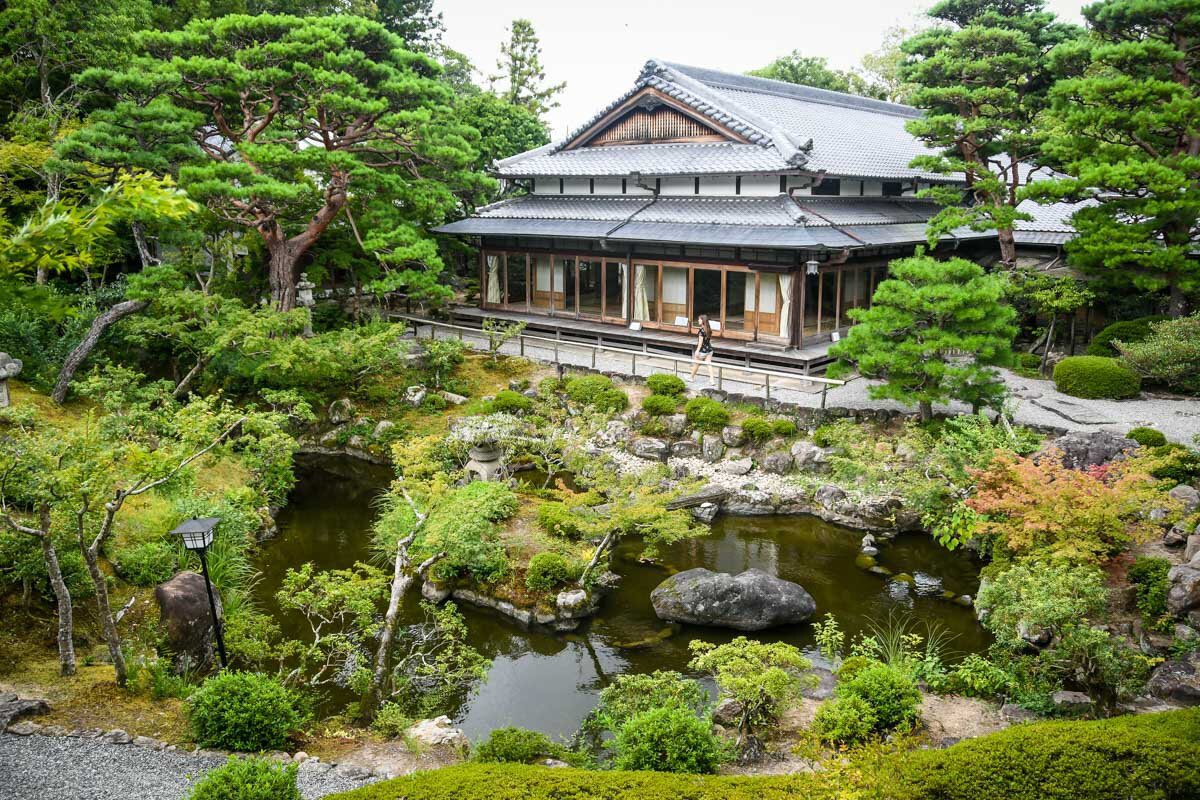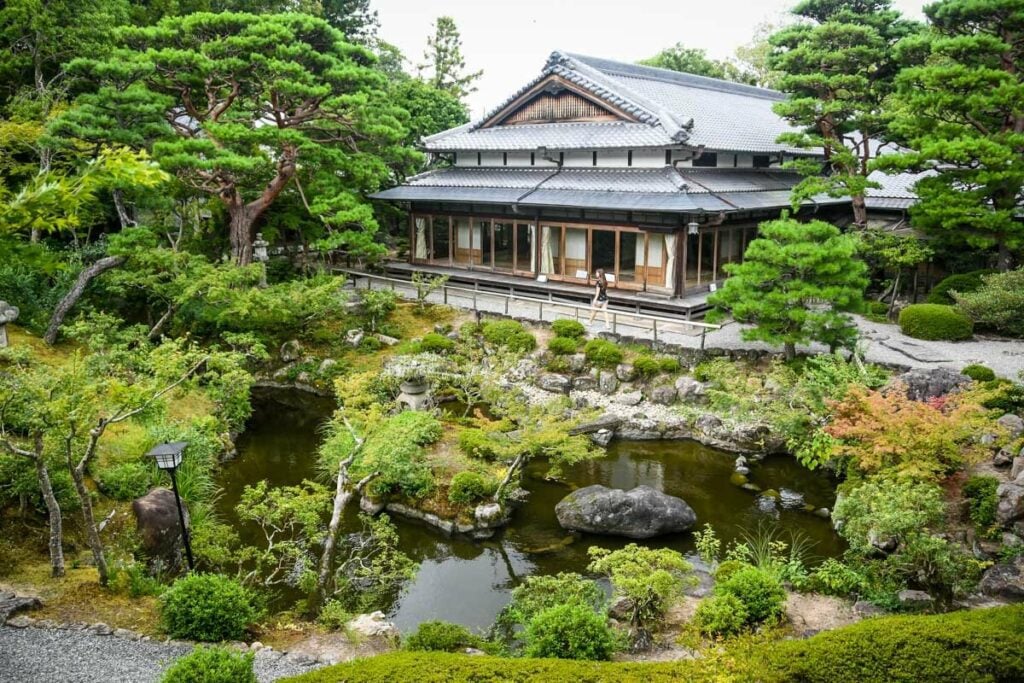 At a glance: Japan's first permanent capital with pilgrimage routes and famous deer
Location: 1 hour train ride east of Osaka
Nara is a region full of cultural treasures: some of the oldest and largest temples in Japan, ancient pilgrimage routes, and sacred mountain ranges.
The best way to fuel your adventures in this prefecture is through its many different local specialties and traditions.
Miwa somen, kakinoha sushi, and yamato tea are the perfect companions for museum hopping, temple perusing, souvenir hunting, and relishing in the abundant amount of World Heritage Sites.
Don't miss these iconic spots around the region:
Nara Park: feed over 1,000 tame and friendly deer
Todaiji Temple: the symbol of Nara and home to the country's largest bronze Buddha
Horyuji Temple: wander through the world's oldest wooden buildings
Yamanobe-no-michi: stroll along the oldest road in Japanese records
22. Motonosumi Inari Shrine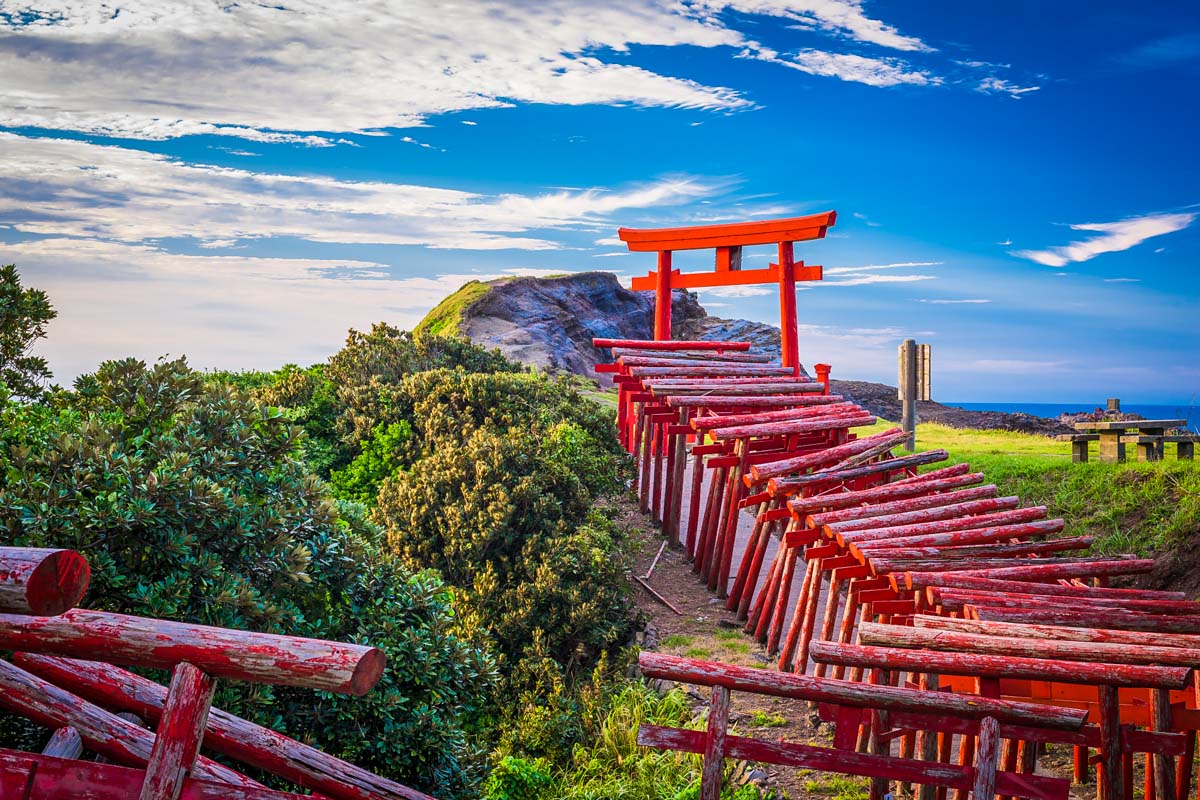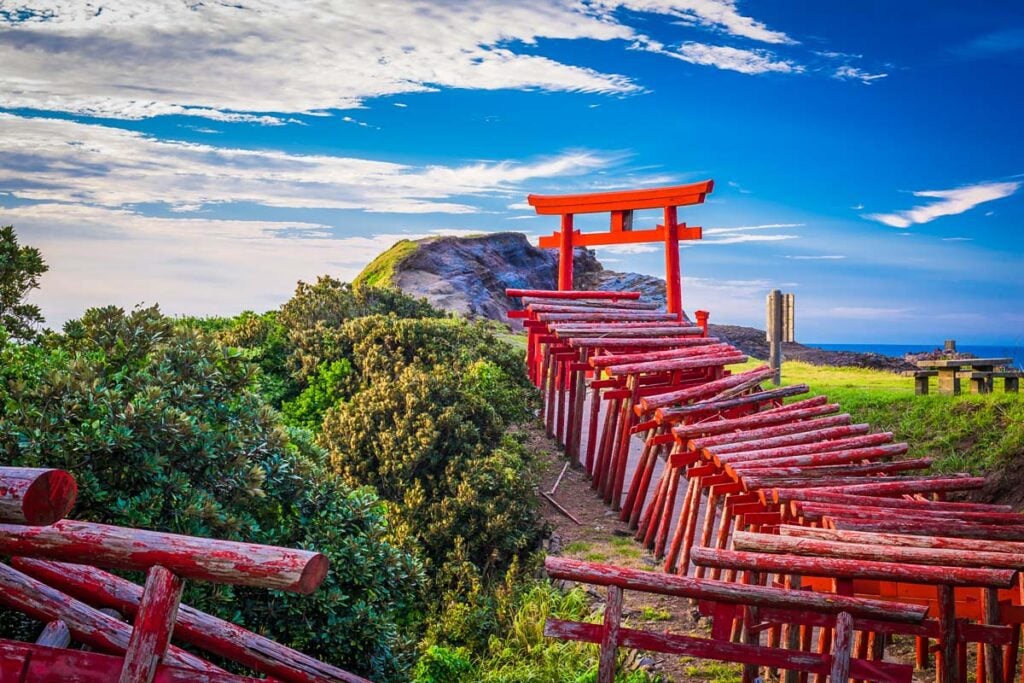 At a glance: 123 bright red torii gates line a winding clifftop path to a scenic vista
Location: Yamaguchi, 3 hours east of Hiroshima
Perched on an atmospheric cliff side overlooking the Sea of Japan, this dramatic shrine has topped lists of the most beautiful places to visit in Japan for its scenic location and photogenic qualities.
While most shrines in Japan date back centuries, this rather new ode to the god Inari traces back to a dream a farmer had in 1955. In his dream, a white fox decreed that a shrine be built here to appease the gods.
Once you arrive at the first torii gate entering the shrine, look for a small box attached to the upper beam. It's said that if you successfully toss a coin into the box, your wish will come true.
From there, admire the hundreds of vermillion gates propelling you to a cobalt sea.
Good to know: This shrine is very remote and the closest bus stations are 8 km (nearly 5 miles) away. Driving by car is the best option.
23. Takeda Castle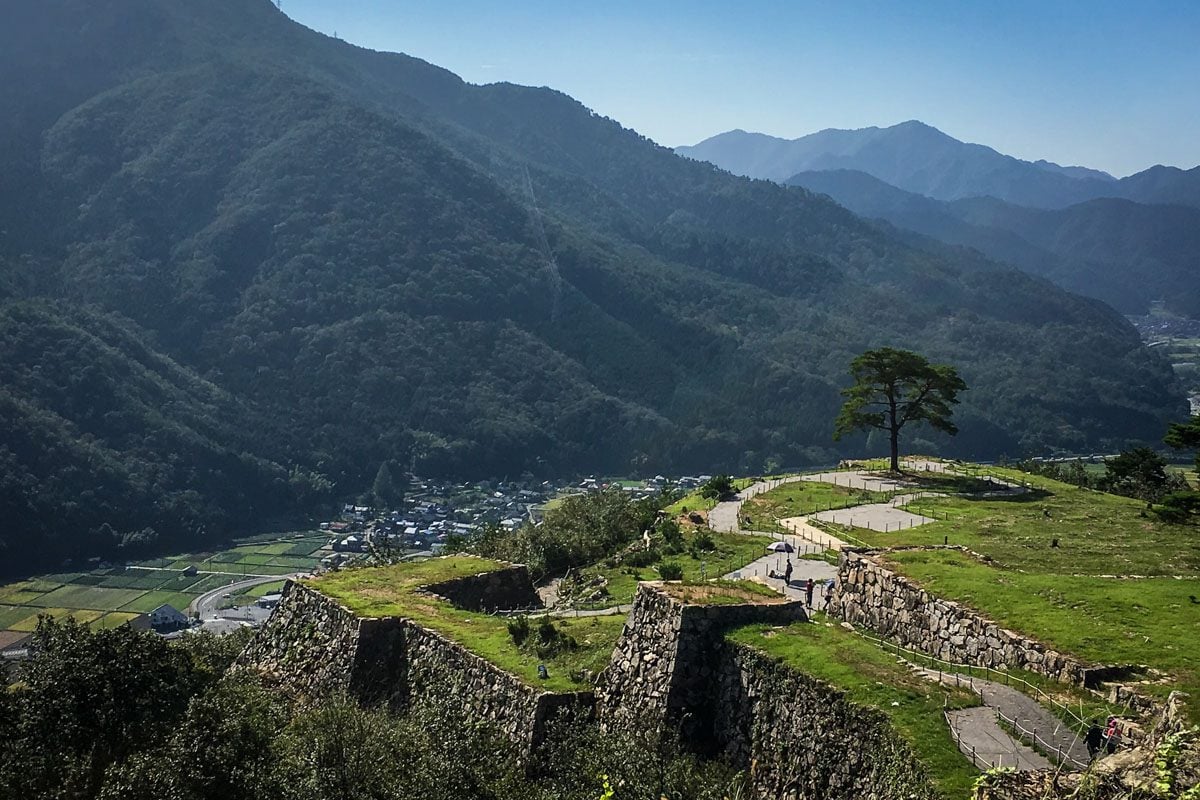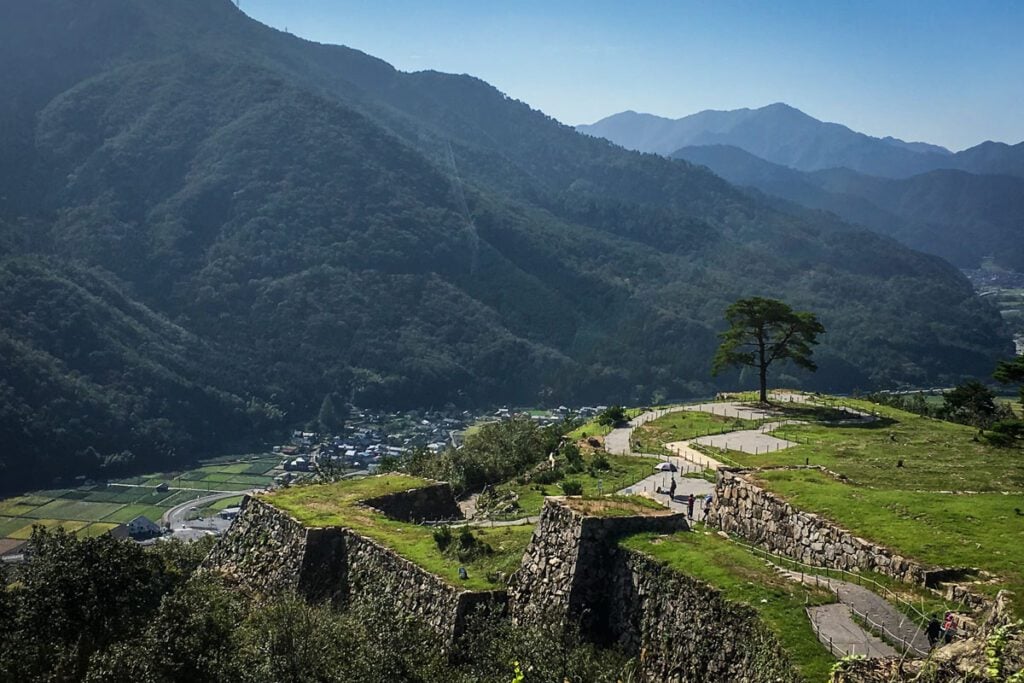 At a glance: Castle ruins atop a scenic mountain
Location: Hyogo, 1 hour north of Himeji
Towering above the neighboring town of Asago, the ruins of Takeda Castle sit dramatically, reminiscing on the hard-fought battles of samurai during the civil wars of the Sengoku period.
While there aren't any buildings left on the castle grounds, the foundation creates an imaginative experience as you create your own picture of what the stronghold once was centuries ago.
It's often referred to as the "castle in the sky" because on cool autumn mornings, it appears to be floating among a sea of clouds above a narrow valley.
Good to know: The best time to see the castle floating in the mist is early mornings from October to December, when conditions are prime for producing the mystical fog.
24. Nikko
At a glance: Unforgettable ancient city renowned for natural beauty and World Heritage status
Location: Tochigi, 2 hours north of Tokyo
Resting in the mountains north of Tokyo is the beloved local treasure of Nikko, where it's said that untouched nature meets religious fusion.
In fact, this region is so mesmerizing that the Japanese even gave it its own saying, "Don't say magnificent before having seen Nikko."
Many religious complexes line the city, creating an ancient wonderland : Shinto shrines, Buddhist temples, World Heritage Sites, and mausoleums.
Additionally, the nearby Nikko National Park offers an additional tranquil escape in a sea of tall cedars, mountainous landscapes, waterfalls, and hot springs.
Within the city and surrounding nature reserve, there are many must sees that make this well worth a multi-day excursion:
25. Himeji Castle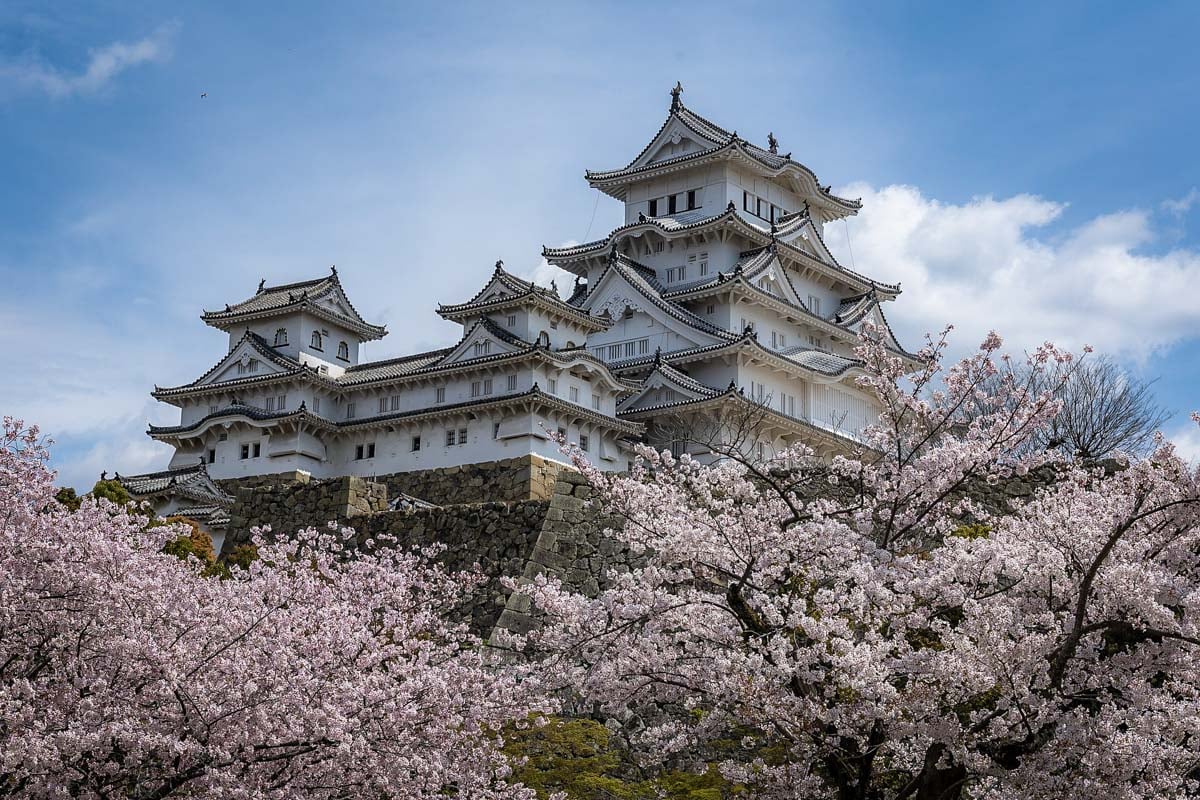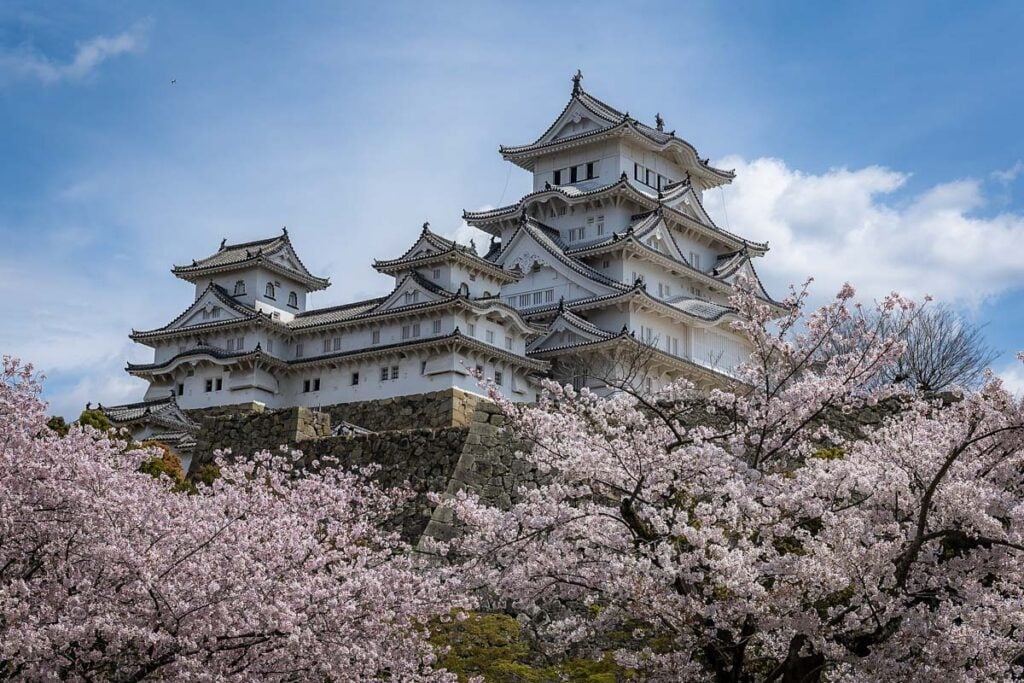 At a glance: Hilltop complex widely recognized as Japan's most spectacular castle
Location: Himeji
Known as one of Japan's twelve original castles as it was never destroyed by earthquake, war, or fire, Himeji Castle is both a National Treasure and World Heritage Site.
It's nicknamed the "White Heron Castle" due to its elegant, white exterior and how it takes on the appearance of a bird taking flight.
The castle is also a renowned cherry blossom viewing location, where thousands of sakura bloom among the grounds.
Explore the 400-year old seven-story castle for interesting views over Himeji or walk through the Edo-period style Kokoen Garden that beautifully illustrates the changing of Japan's seasons.
Good to know: A thorough visit through the castle takes 3-4 hours.
Entry fee: 1000 yen ($8)
26. Hokkaido Blue Pond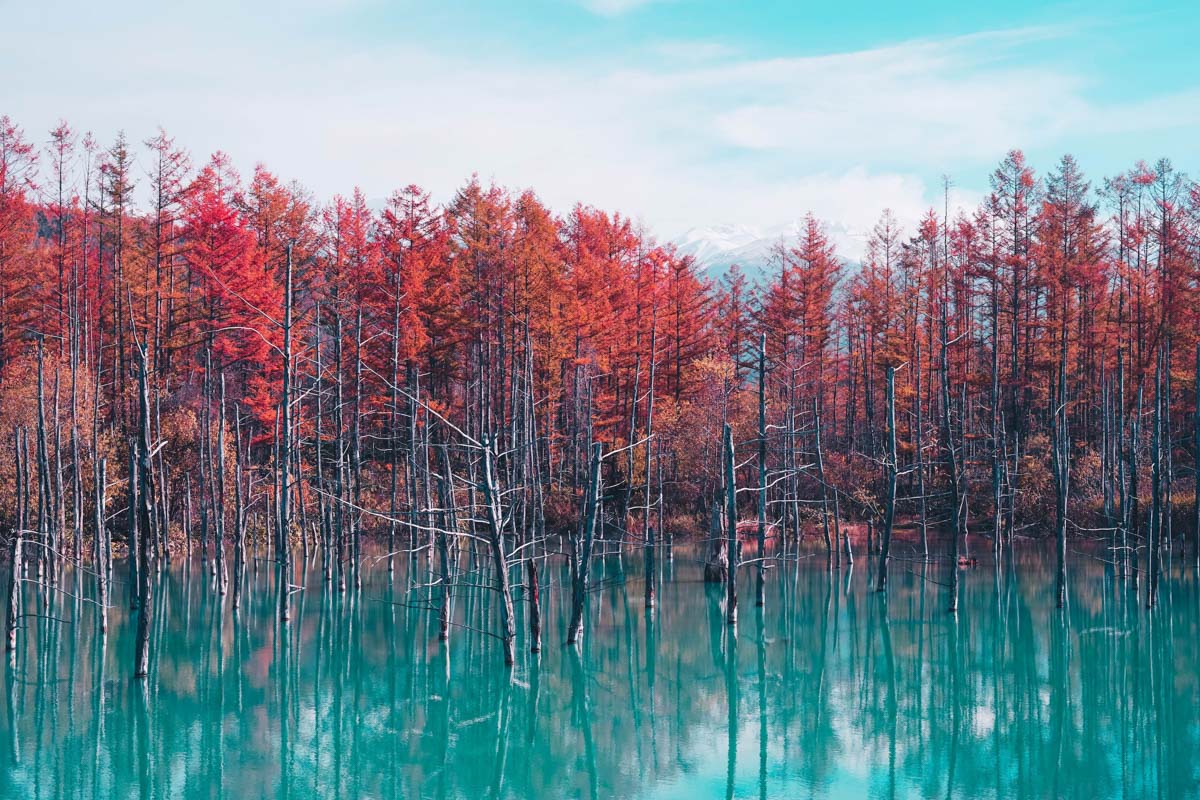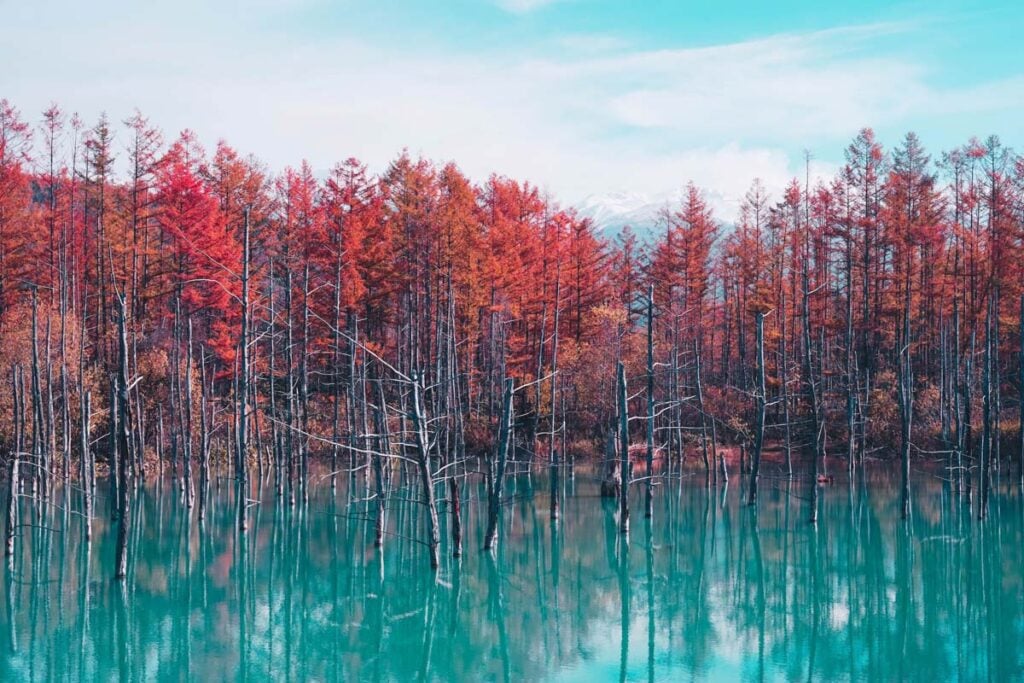 At a glance: Blue pond with scenic, seasonal vistas
Location: Biei, 3 hour train ride east of Sapporo
Hokkaido is a region booming with an assortment of beautiful colors, and this intriguing blue pond puts the finishing touches on the region's otherwise unfinished rainbow.
After a dam was created with efforts to stop mudflows from Mt. Tokachi, a mix of natural minerals gave the pond its unique look.
The look of the pond changes with the seasons, wind, clouds, and rain, due to its delicate nature, so the pond can range from a vibrant turquoise to emerald and cobalt blue.
Good to know: The pond is usually the vibrant turquoise color from mid-May to June, but conditions are ever-changing.
27. Tottori Sand Dunes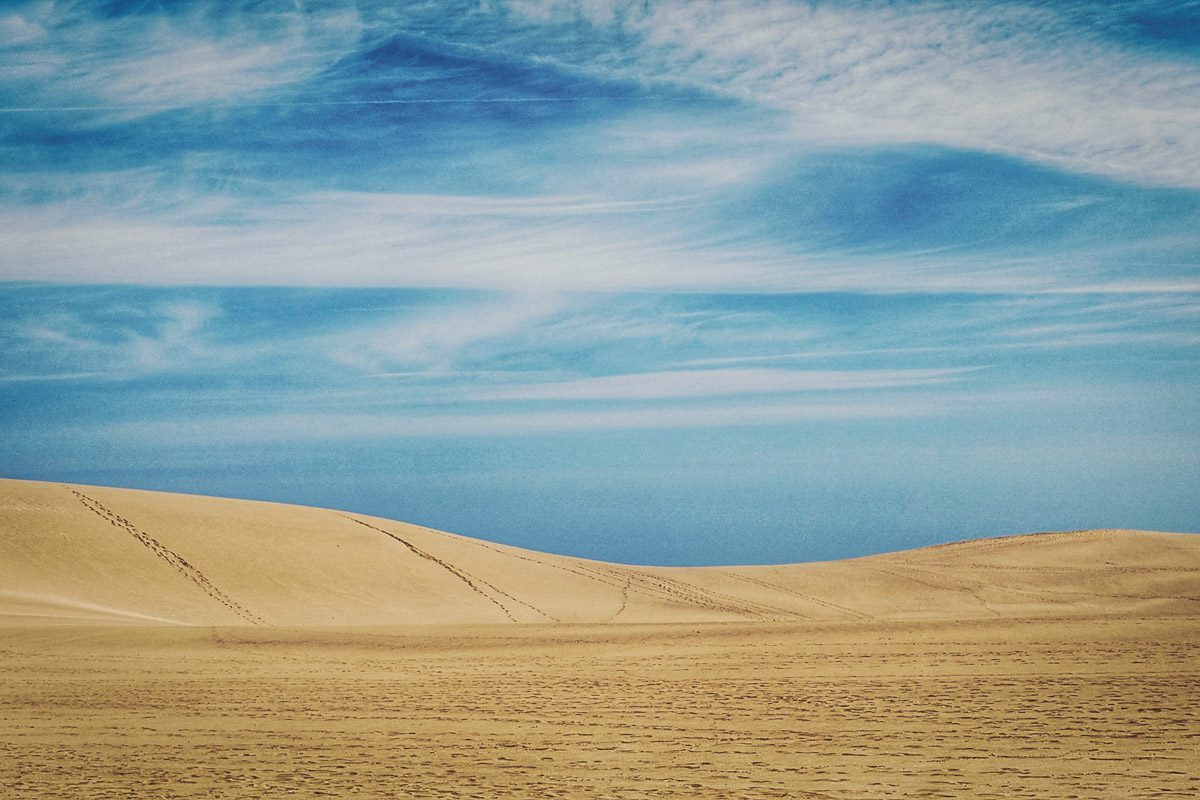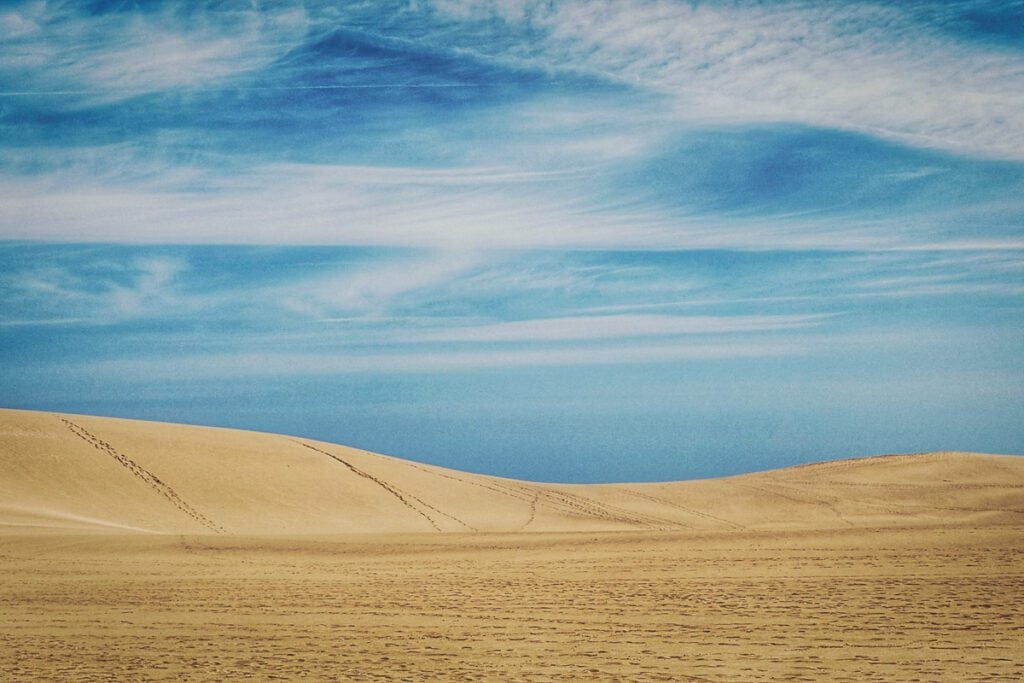 At a glance: A collection of massive coastal sand dunes rising hundreds of feet in the air
Location: Tottori, 2 hours north of Okayama
As one of Japan's most spectacular nature displays, these towering sand dunes off the coast of Tottori are a sight to behold.
Tides and coastal winds have shaped the landscape for over 100,000 years, making each visit unique from the last.
Many travelers opt to explore the dunes on foot, but you can spice things up by taking a sandboarding or paragliding tour from any of the local operators.
Pay a visit to the Sand Museum to see the sand in its full artistic expression. Large sand sculptures are put on display by sculptors worldwide, generally with a theme that changes annually.
Good to know: Camel rides and horse-drawn carriages are available to tour the dunes. As responsible travelers, we don't recommend most forms of animal tourism, so we encourage you to make an informed decision before purchasing a ride.
---
Are you planning a trip to Japan?
We have TONS of resources on travel in Japan and destinations throughout the country. Check out our Ultimate Japan Travel Guide for all the answers to your most burning questions, or read some of our favorite articles below.
Save this article on Pinterest for later!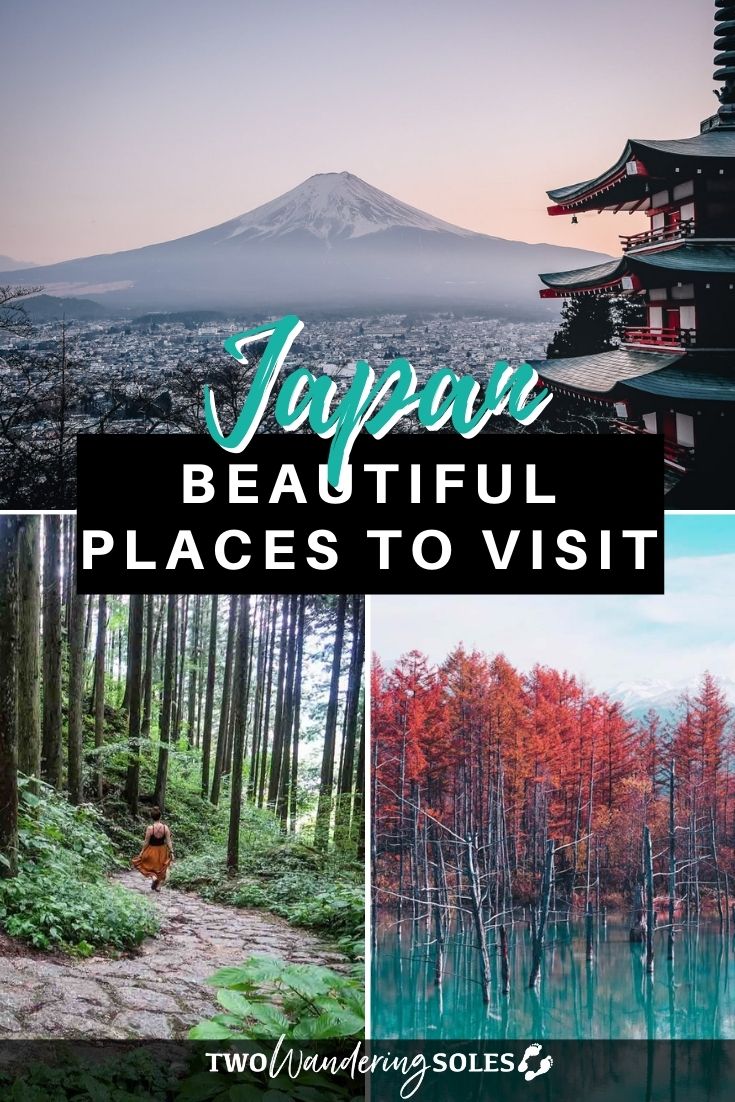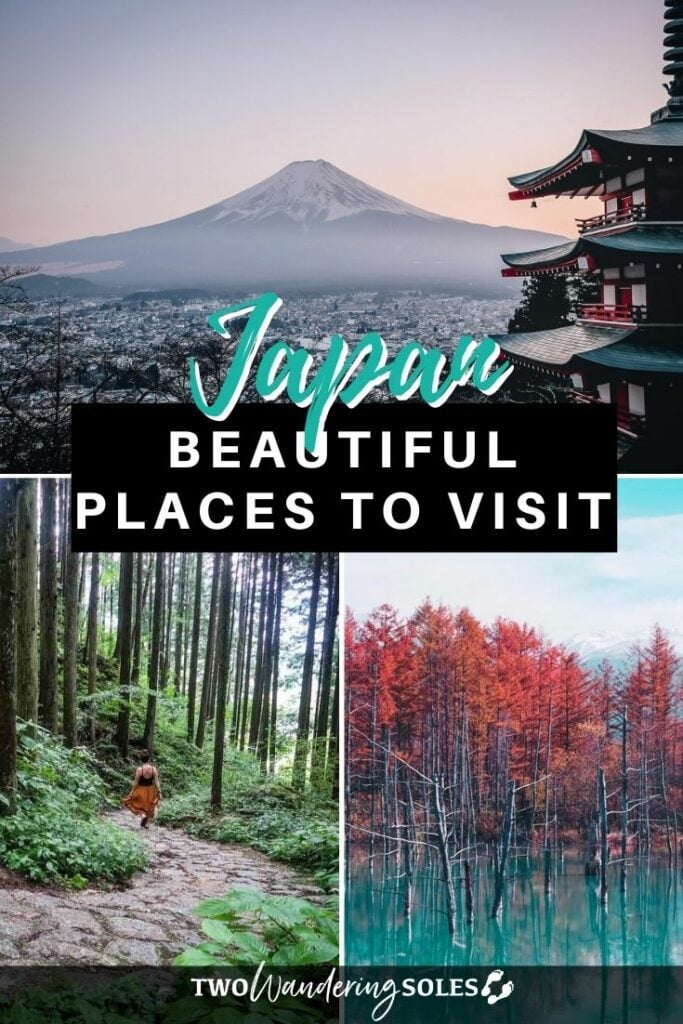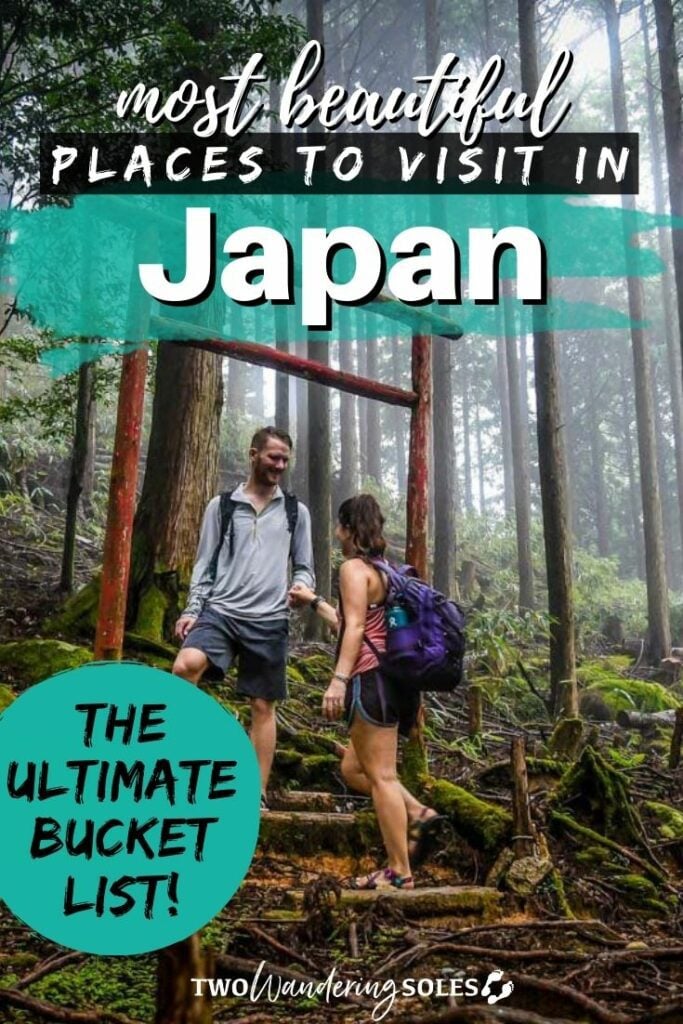 We want to hear from you!
Which of the most beautiful places in Japan on this list are going straight to the top of your bucket list? Do you have more questions for us? Leave your comment below and we'll do our best to get back to you!