Arguably one of the most "Instagrammable spots" in Tokyo, teamLab Borderless Digital Art Museum is an experience unlike anything you've ever seen. A combination of lights and audio creates interactive art that anyone can enjoy. If you're traveling to Japan, teamLab Borderless Tokyo should definitely be on your itinerary.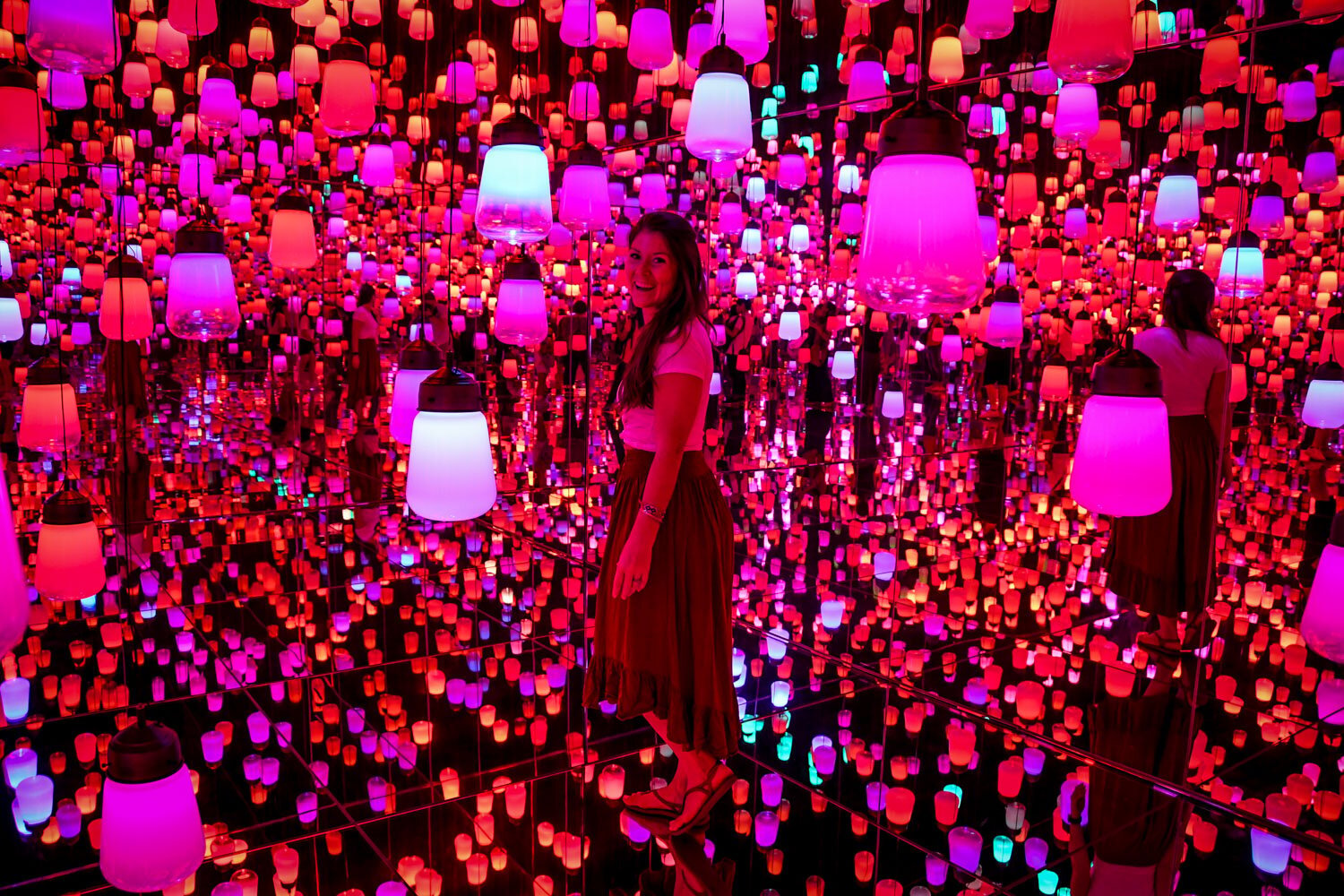 ---
Important Note!
As of August 31, 2021, teamLab Borderless Tokyo is closed until 2023. The good news is, the ultra popular digital art museum is set to reopen in 2023 in a new location. As part of the Toranomon-Azabudai Project, teamLab Borderless will find it's new home in Tokyo in a yet to be reported underground location.
---
Imagine stepping into a room lit with hanging lanterns that change colors every time you blink your eyes. And when you step out of this room, you enter one where the walls are made up of projected images that dance playfully across your face and make you feel like you've stepped into one of Willy Wonka's imaginary creations…
But we're talking about a very real digital art museum you can visit while traveling in Japan: Tokyo's teamLab Borderless Museum.
If you've been researching the top things to do in Tokyo, there's a good chance that you've come across stunning photos from this museum that features light, sound, smoke, lasers, and more. Words just don't do this experience justice. But we're going to try…
Within this complete guide, be prepared to find some epic pictures, vivid descriptions, and insider tips that'll help you plan your own visit to Tokyo's teamLab Borderless Digital Art Museum!
Ultimate Guide to teamLab Borderless:
Psst! Head over to Instagram to watch our story from our day at teamLab Borderless Tokyo.
---
What is teamLab Borderless Museum?
First things first, what exactly is this teamLab Borderless thing?!
Short Answer:
teamLab = a group of artists
Borderless = a digital art museum created by teamLab
Long(er) Answer: teamLab is an artist collective made up of people who specialize in all different disciplines, including engineers, programmers, CG animators, mathematicians and architects.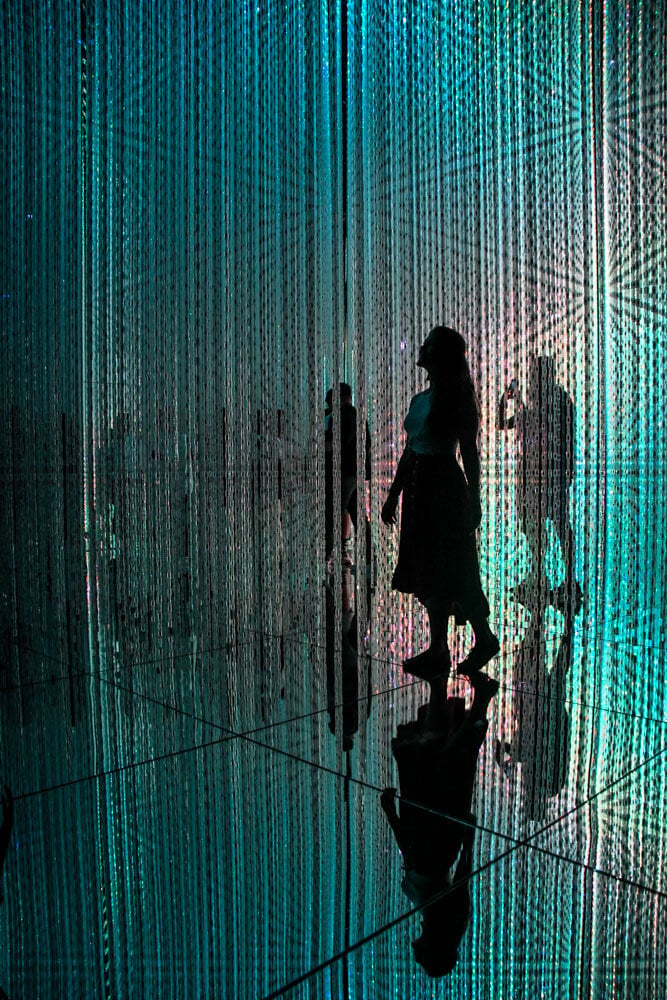 While the teamLab website is rather cryptic, it says as a team they aim to, "explore a new relationship between humans and nature, and between oneself and the world through art."
We'd say they did a pretty damn good job.
teamLab has been putting together temporary art exhibitions around Tokyo since their founding in 2001, and "Borderless" is their first permanent exhibit. It is a mesmerizing display that blends lights and sounds to create an otherworldly experience. We've honestly never seen anything like this before.
Borderless opened in June 2018, claiming the title of the "first digital art museum in the world". Sadly, it was not in existence back in 2015 during our first trip to Japan. But ever since seeing it on Instagram, I knew I needed to get back to Tokyo to check it out (well, and eat all the Japanese food I possibly could!).
Boring Fact: The whole name is Mori Building Digital Art Museum Epson teamLab Borderless. Yeah, I told you that was boring…
And I wasn't alone in wanting to check out this Instagram-lover's dream of a museum… In fact, during its first year, Borderless drew in a total of 2.3 million visitors. 2.3 MILLION, folks! That sounds like a lot because it is. It's actually the highest number of visitors for any single-artist museum in the world.
Alright, so you know it's popular. Now let's talk about how to make the most of your visit…
What to expect in teamLab Borderless Museum
In short, you should expect SENSORY OVERLOAD. A three-dimensional marriage of technology and art that plays with your every sense…
Intrigued? Good, now let's talk specifics: There are 50 designated displays of art, but you wouldn't notice that many. That's because the 10,000-square meter space is divided into five zones, and many of the artworks move freely out of rooms, blending together seamlessly.
What do you mean "the artwork moves?!"
Well, I mean just that. Most of the exhibits use projectors – nearly 500 of them! – to create displays that are ever-moving, ever-changing. Even the hallways have their own works of art, as animals and flowers are projected in a way that looks like they are moving with you and leading you into the next space.
The point of these displays is to go beyond borders and to transcend the boundaries of traditional art, hence the museum's name: Borderless.
Now you should not be surprised to learn that Borderless has no map. Visitors are encouraged to wander, explore, and discover by following their curiosities.
Buuuut, if you're anything like us, you want to maximize your time and avoid crowds as much as possible. So we're gonna let you in on some tips and a route we think brings you through the displays in the best order. More on that later…
First, while we're on the topic of crowds, let's discuss.
Is teamLab Borderless crowded?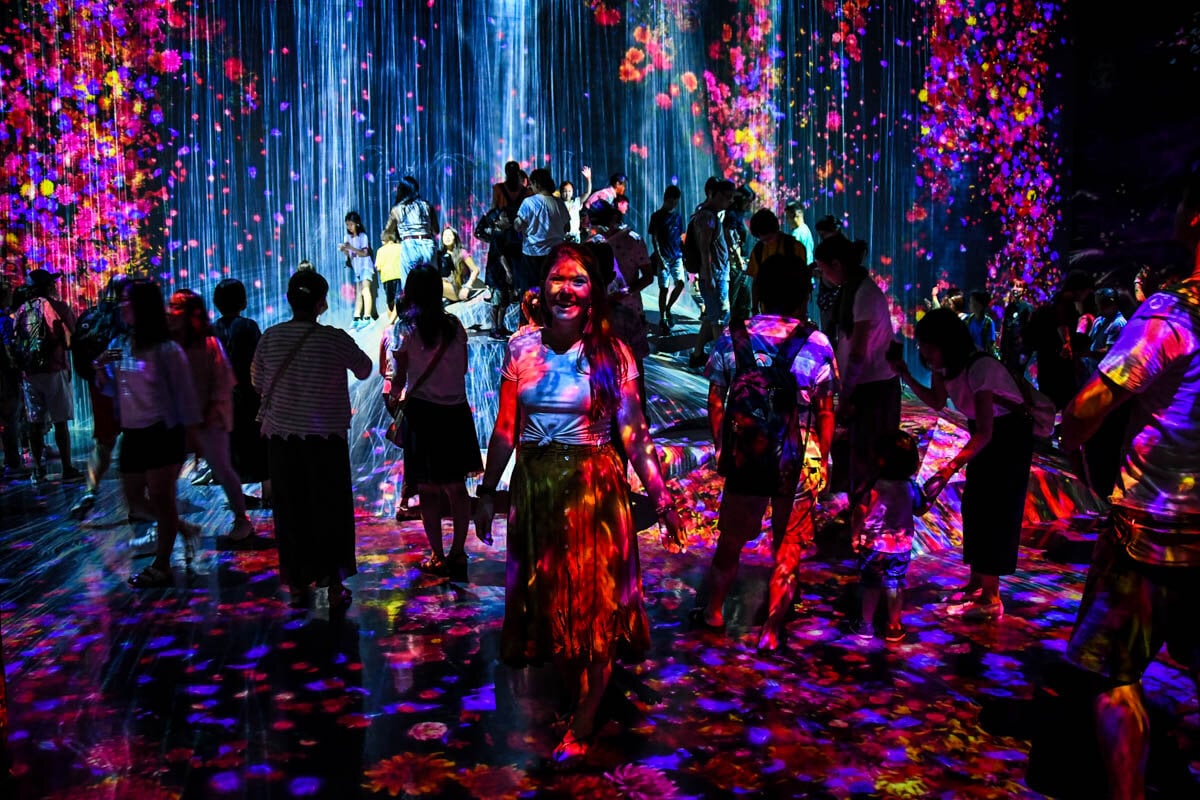 Yes, teamLab Borderless is crowded. Every day. At all hours. I mean, you already read that in its first year alone, this museum had 3.2 million guests, so what did you expect?
I'm not a huge fan of crowded places, but I actually didn't mind all the people at Borderless. Here's why:
We arrived early. We got there just before they opened, which meant some of the displays were relatively empty. But that didn't last long.
I came to the realization that people are meant to be PART of these displays. In some of the wide-open rooms, you're just not going to get a shot of you by yourself. Instead of letting it frustrate you, embrace it and think of the other visitors as part of the art. Oh, and getting creative with your angles can help too!
The crowds here were (in our experience) pretty respectful. In general, Japanese crowds are very polite and quiet, and it seemed like the foreign visitors here caught on. People seemed to be respectful of others' space and it didn't feel noisy or pushy, unlike many crowded places.
Not into museums? Even if you're not a fan of museums or really that into art, we think you'll enjoy this experience. It is unlike any other museum you've ever visited. Trust us on this.
Disclaimer: This article may contain affiliate links. If you want to learn more, please read our disclosure and privacy policy.
Who is this digital art museum for?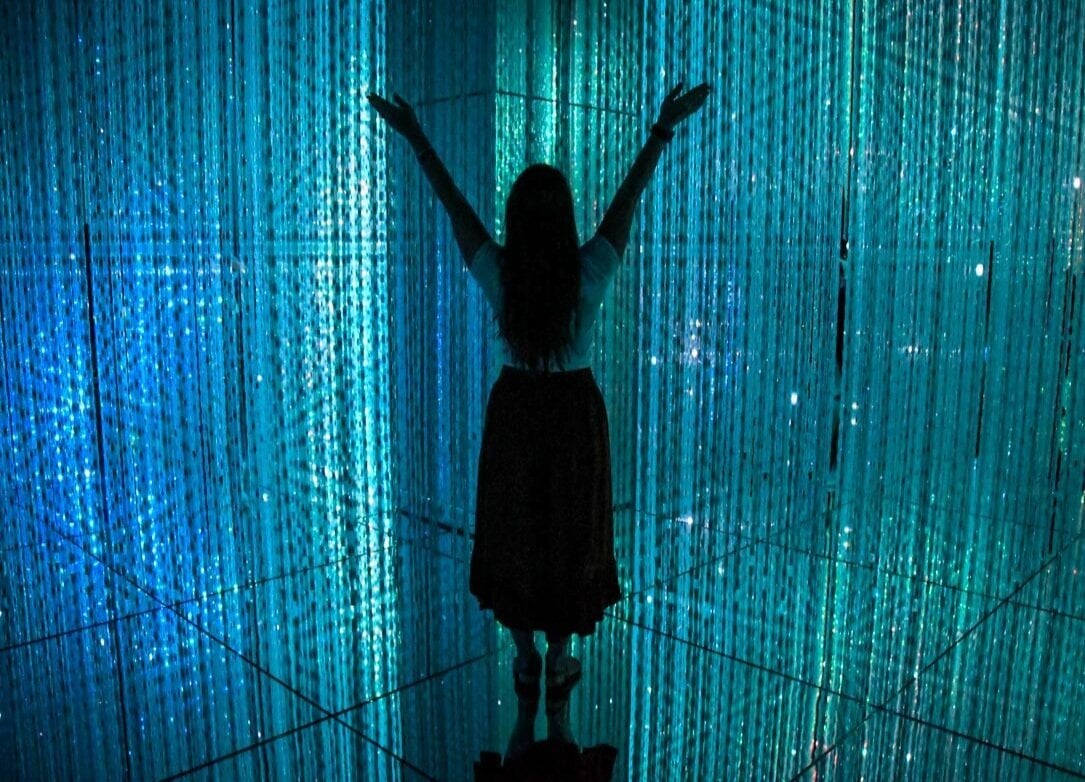 We truly think most visitors will enjoy Borderless.
After making a huge splash on social media, it comes as no surprise that it's very popular with Millennials and Gen Z travelers (and locals!). But it's also family friendly, boasting some fun kid-centered exhibits. And older travelers can enjoy this too, making it a fun thing to do for all ages.
Insider Tip: If you're traveling to Japan in the winter, this makes a great indoor activity! Likewise, it's a nice escape from the summer heat or a rainy day, making it an experience to add to your itinerary no matter what time of year you visit Japan.
Is teamLab Borderless worth it?
Heck Yes, without a doubt!
Okay, well I suppose that is just our opinion, but we really feel that most people will enjoy this unique experience. We felt that it was well worth the money and a spot on our Tokyo itinerary.
teamLab Borderless Tickets Cost & How to Reserve
One of our biggest pieces of advice is to purchase your tickets ahead of time.
Yes, you can buy them on the spot at the door, but there are two downsides to this:
They may be sold out. (They often are!) Remember, this is a popular spot in one of the busiest cities in the world, and wouldn't it be a bummer to get all the way down there to realize there are no more tickets?! Plus, it's the same price to book online as it is at the door, so there's really no benefit to waiting.
You'll have to wait in line to purchase your ticket. Believe me when I tell you that this place is always crowded. Yes, even right when it opens. Why add waiting time?
We arrived shortly before the doors opened, and take a look at the line getting in… I was pretty surprised by how many people had to stand in line to purchase tickets. We felt pretty great strolling through, showing our voucher, and getting to go right inside.
Good to know: If the website has no tickets for sale, there will be no tickets at the door either.
How much do tickets to teamLab Borderless cost?
Adult tickets for teamLab Borderless cost ¥3200 or $29.65 USD (on the penny!) at the time of writing.
Adult: ¥3200 (or $29.65 USD at the time of writing)
Child (4-14): ¥1000 ($9.25 USD)
Purchasing your tickets is simple. Just select your date (this can't be changed once you book) and reserve your ticket(s). You'll instantly receive an email with your voucher. This can be used directly from your phone to enter (aka you do not need to print it off, yay!).
Good to know: Purchasing tickets online through Klook costs the exact same amount as it does at the door. There are a couple of other sites that charge a small fee if you purchase through them, that's why we recommend Klook.
teamLab Borderless Hours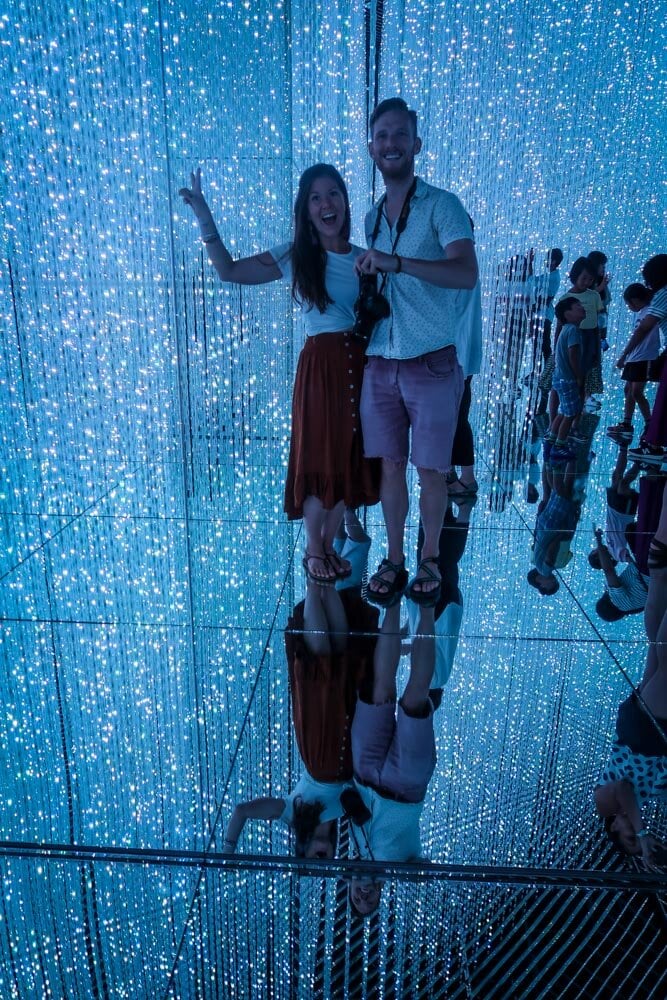 Weekdays: 10 a.m. – 7 p.m.
Weekends and holidays: 10 a.m. – 9 p.m.
Helpful info:
Last entry is 1 hour before closing.
En Tea House opens 1 hour after the museum entrance opens (11 a.m.), and the last order is taken 30 minutes before closing time.
During busier times of the year, hours may be extended.
Borderless is CLOSED on the 2nd and 4th Tuesdays of the month. (You will see that you cannot purchase tickets for these dates.)
Good to know: When you reserve your ticket, you only select the date. Since there are no time slots, you can come at any point during their opening hours, and there are no time limits. Well, at least until closing time comes…
How much time do you need?
This will vary person to person. To give you an idea, we spent just shy of 4 hours in the museum, which felt like a good amount of time. We took a lot (a LOT) of pictures, and visited some rooms twice, although if I wasn't starting to get hungry… er, hANGRY… I probably could have stayed a bit longer. There is just SO much to explore.
If you're not much on photos, maybe you won't need quite so much time. However, be sure you don't try to rush it and pack too many more activities into your day. This space is huge and there's a lot to see, so allocate at least 2-3 hours for exploring minimum, plus time getting there and back.
Top 10 Tips for visiting teamLab Borderless Tokyo
Read through these helpful tips so you get the most out of your experience.
1. Reserve your tickets in advance
We've already gone over why this is important:
a) Borderless is often sold out, so this ensures you get to visit.
b) You won't have to wait in a ticket line.
c) It's the same price online as it is in person, so why the heck not?!
2. Arrive early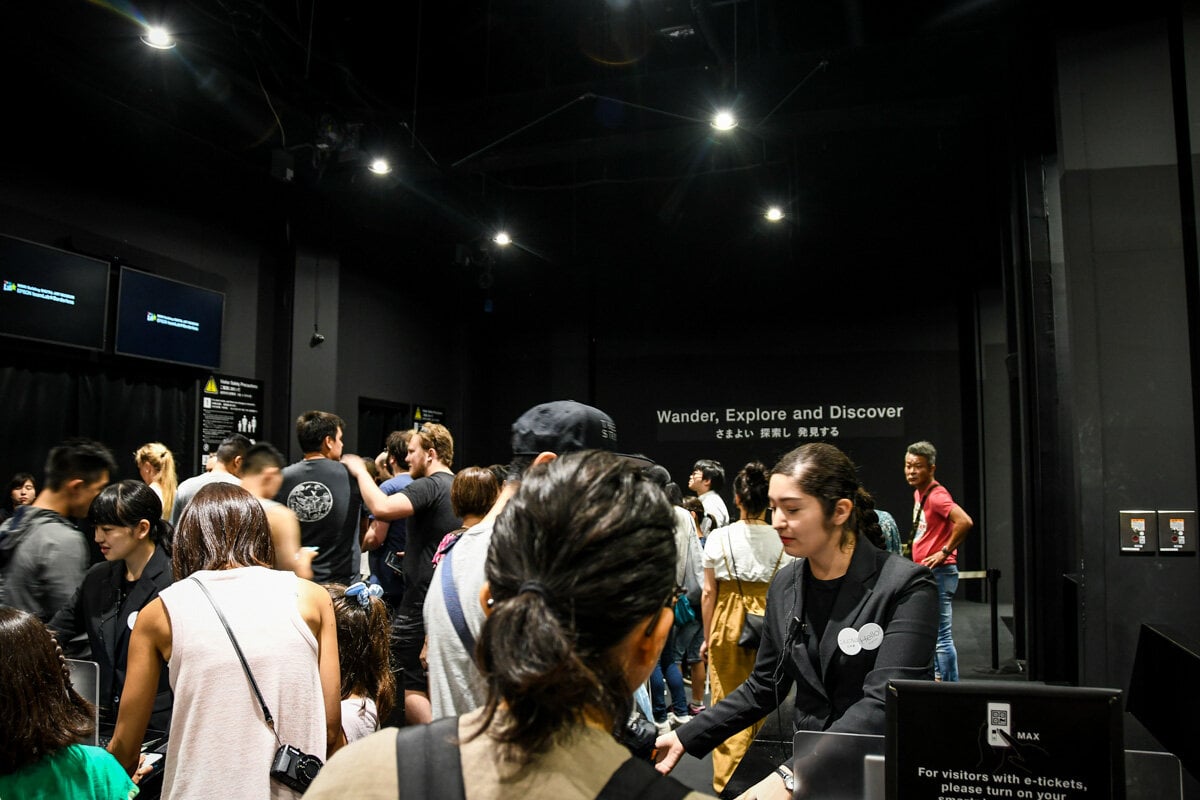 Arriving early will benefit you two ways:
you won't have to wait in as many lines
and you will have less people in your photos
Since waiting in lines and crowds are two of my least favorite things, we decided to get there early. And we're happy we did!
Doors open at 10 a.m., but we got there around 9:45 a.m. to find an already long line. They started letting people inside a bit before 10 a.m. and it went quickly. Since we already had our tickets ready on our phone, we were didn't have to wait outside for more than a few minutes.
If you arrive later in the day, we've read you may have to wait outside for upwards of an hour, so be prepared to stand in the heat or cold, depending on the time of year you're visiting Japan.
Can't get there in the morning? According to the email we received from teamLab, there are shorter lines after 4 p.m., so if you're not able to make it in the morning, the later afternoon might be an alright idea. Just don't go too late or you'll feel rushed.
3. Don't bring much with you
You honestly don't need much other than the following:
Cash for the EN Tea Room (500 yen each person).
Camera and/or phone
We were under the impression that you couldn't bring bags inside, so we went ultra light, and just had our cameras, phones and wallets.
However, we found that they do allow small backpacks and purses inside. Know that you will be asked to wear it on your front before you can enter several of the exhibits. Or you can simply store it in the onsite locker (more info below).
Lockers at teamLab Borderless: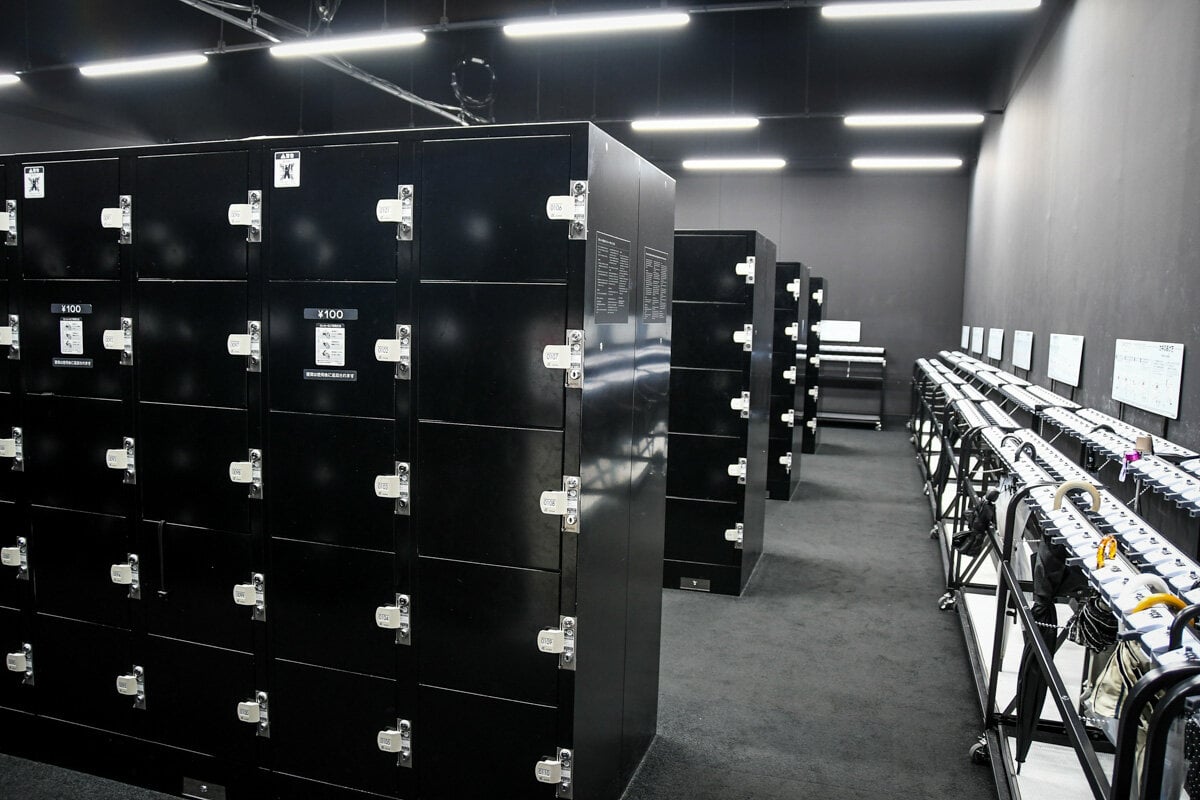 There is a room with many lockers at the entrance. They require a 100 yen deposit (which is returned to you when you leave). However, we heard from other travelers that it took a while to get their stuff situated in a locker.
We had a backpack of stuff for exploring the rest of the day, so we decided to store it in the train station locker for 400 yen. That way, as soon as we entered, we were able to go straight through into the exhibits, instead of with the masses headed into the locker room.
If you're visiting Japan in the winter and have bulky winter clothes, it might be a good idea to plan on storing them inside Borderless since you may have to wait in line outside in the cold before entering.
4. Don't wear a short skirt or uncomfortable heels.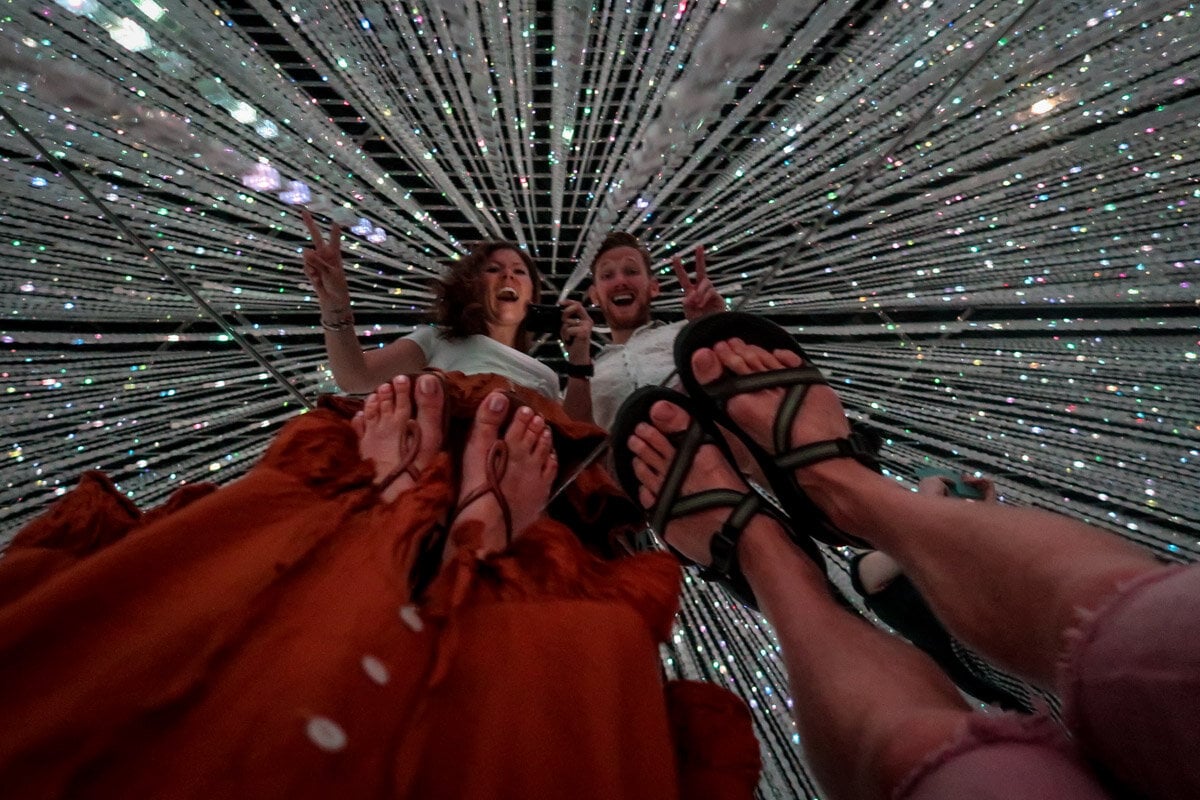 I know, I know, you want to look cute for pictures, but here are two things to take into consideration.
There are mirrors EVERYWHERE. On the floors, too, which means, you might just be showing everyone your goods without meaning to.

They do offer coverups that you can wrap around yourself to prevent said flashing, however, that just defeats the purpose of looking cute…
Note: I wore a maxi skirt, which was just fine. I had no issues with the mirrors showing too much.

You'll be doing a lot of walking, and there are some rooms where heels are not allowed because of uneven floors.

Apparently, there are shoes that you can rent for free… but umm, why not just wear comfortable shoes so you don't have to bother with the hassle of rental shoes?!
5. Eat before you arrive.
Anyone else get hangry?! Being hungry will make your experience in this exhibit much less enjoyable, so be sure to eat before you go.
There are a couple of small rooms to sit and rest with vending machines if you're desperate, but the selection is limited, and trust me when I say that's not how you'll want to spend your time there.
Insider Tip: If you want a super action-packed day in Tokyo (and don't mind an early wake up call!), you could start your day at the nearby Toyosu Fish Market to see the live tuna auctions. Know that you'll need to get there early, as the auctions take place daily between 5:30 a.m. – 6:30 a.m. After the fish auction (or you could arrive later), grab the freshest sushi you'll ever eat for breakfast, which is not as weird as it sounds! Then, go just a few train stops and you'll arrive at the Borderless building before opening time at 10 a.m.
6. Know which exhibits you want to visit first.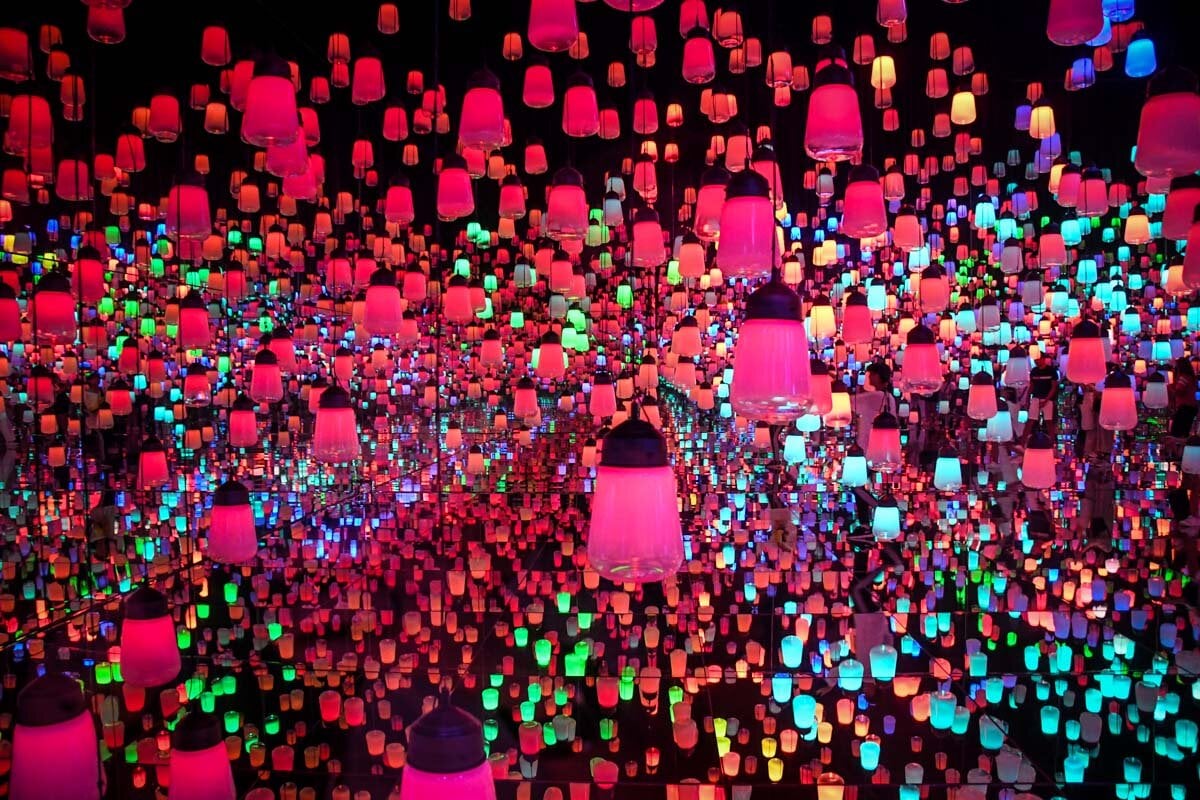 While part of the magic of this place is simply wandering wherever you feel like it, it's not a bad idea to come with a plan of which rooms you want to visit first. Some of the more popular ones fill up very quickly, and before long, lines are formed and you'll find yourself spending lots of time waiting.
Read the descriptions of the rooms below so you are familiar with the exhibits and know which ones you definitely want to get to right away.
7. Traveling with small children? Bring a carrier.
Strollers are not allowed (but can be stored in the locker room). Bringing a carrier is a good idea so you can be hands-free for all the photo-taking that is about to happen!
8. Interact with the art.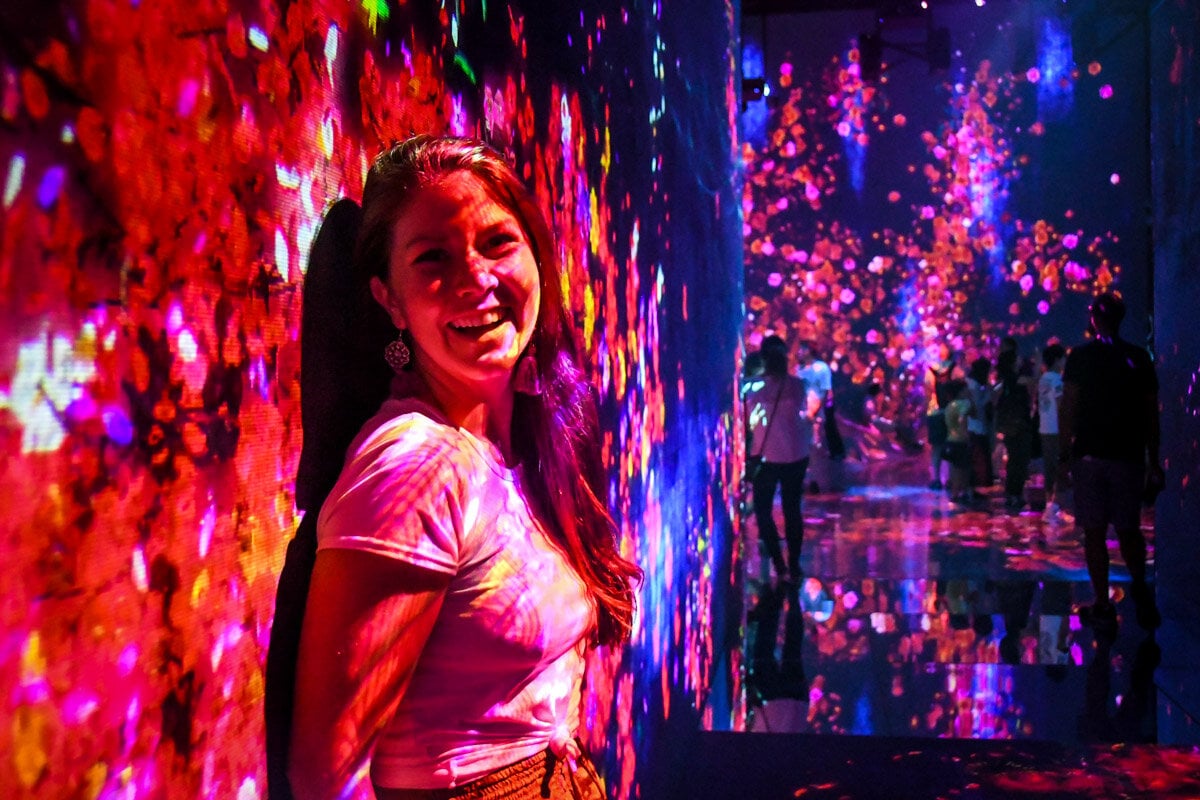 Much of the artwork is meant to be interacted with. Get close and touch the walls because many of the exhibits will react to your presence.
Insider Tip: There is also an teamLab app you can download, which allows you control the lights in the Crystal World exhibit.
9. Go back to your favorite exhibits if you have the chance.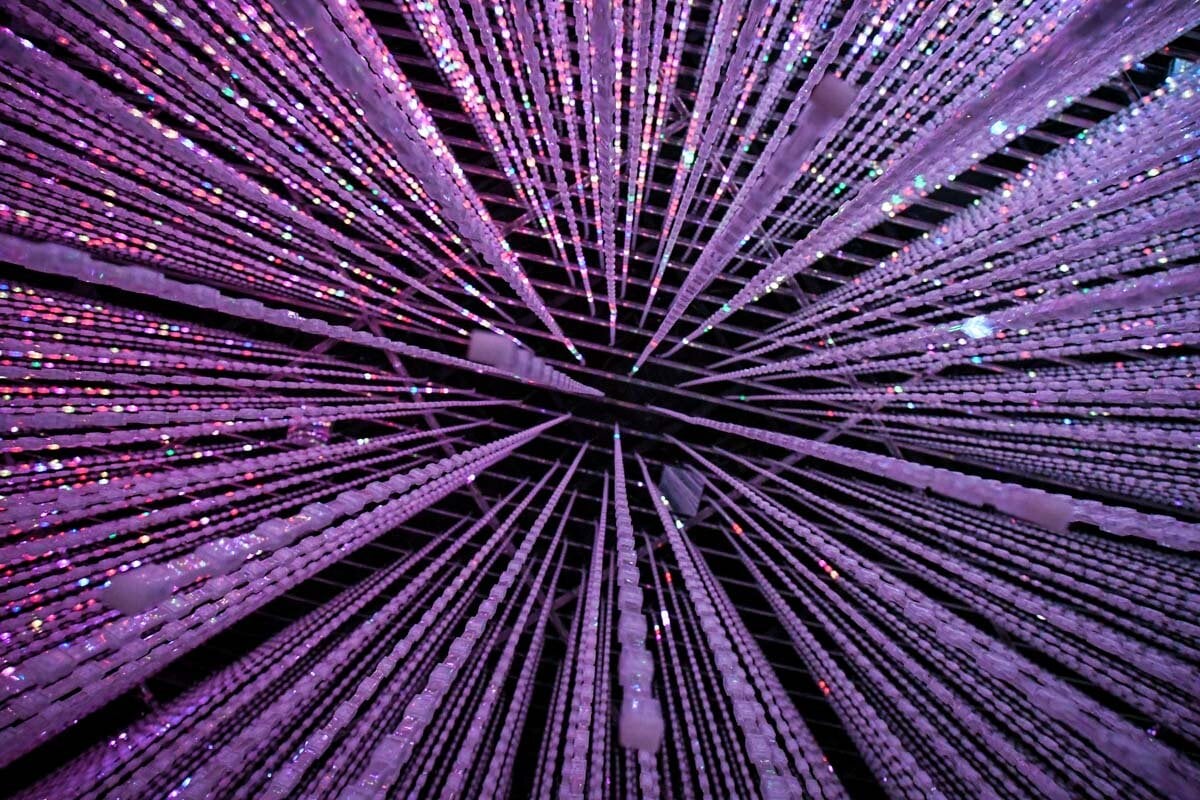 If you loved an exhibit, go back! You might not have the chance to return later, as lines can get very long.
For example, once we entered, we went straight to the room with lanterns (aka Forest of Resonating Lamps). The time limit was short and we hadn't taken many photos (on the account of being utterly mesmerized!), so as soon as we exited, we jumped right back in line since there was hardly any wait.
An hour later, the line was super long, so we're happy we went back in right away.
10. Photography tips for teamLab Borderless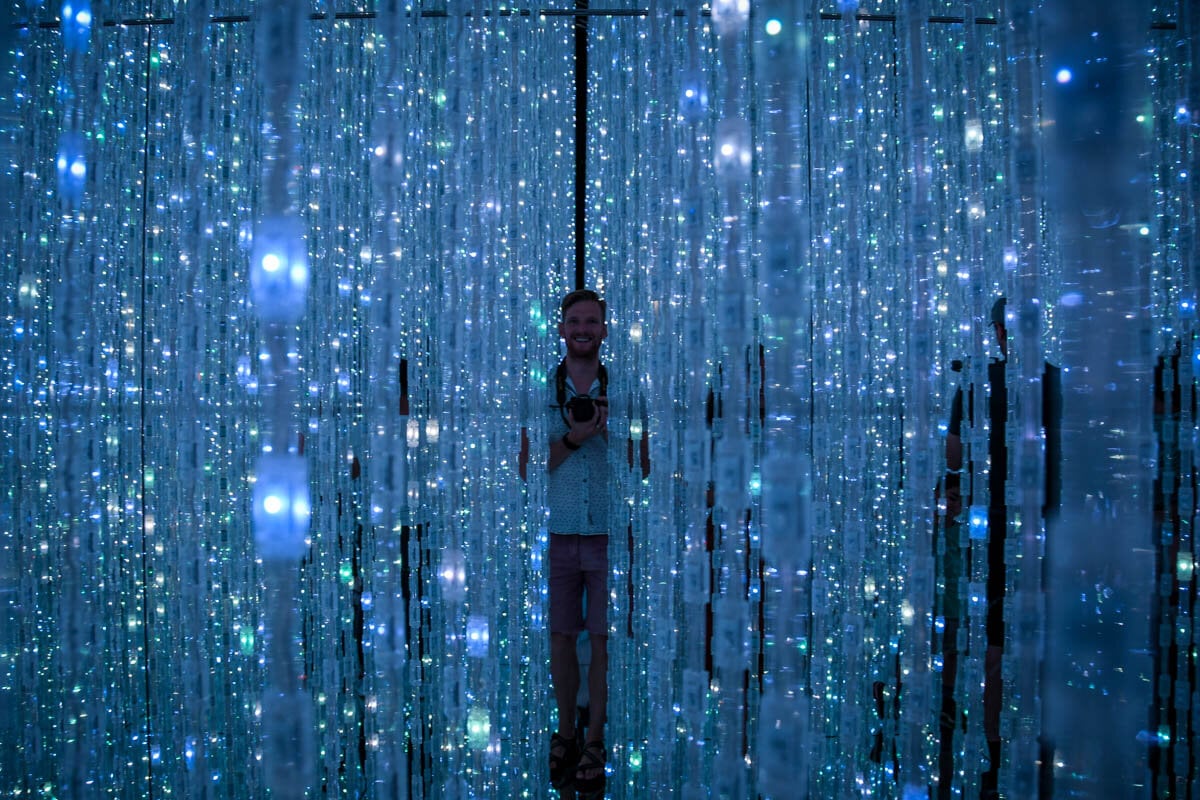 Now let's talk about photos… a big part of this experience. Here are some tips for getting great photos at Borderless.
Wear light-colored clothing: White or light-colored clothes look really cool in photos here because they reflect the artwork and lights. We had heard this before visiting, and we were happy that we put on our lightest-colored outfit! Those dressed in black or dark colors just didn't get the same effects in photos as we did.
Camera vs. Phone: If you don't have a camera with you, or don't want to carry the extra bulk, no worries. Your phone will be fine! However, if you are a photo nerd like us, you may want to consider bringing your actual camera. We had 2 cameras and 2 phones, which may have been overkill, but we didn't mind!
Pack an extra battery: You don't want to run out halfway through your visit!
No flash: It's not allowed, and not actually necessary in most parts of the museum.
Don't bring a tripod or selfie stick: These are not allowed inside (yes, even small ones, and yes, they're strict about it!). You will be asked to store it in a locker, so why mess with it?
Get creative with your angles: Get low on the ground, shoot the corners of the rooms, and don't forget to look up at the ceiling. This place is 360-degrees of crazy!
Use the mirrors: As long as you're not wearing a short skirt (see above!) the mirrors on the floor are the perfect way to get a unique selfie with nobody else in them! Same goes for the mirrored walls.
Be patient: Don't expect to get in a room and get the perfect shot right away. Take your time, and be sure you're respectful of other visitors' space.
Have fun and don't get too caught up in perfect photos: I know this is easier said than done, but seriously, take it to heart. It will be the difference between being frustrated and having an amazing time. Those photos you see with nobody in them were taken by teamLab themselves for marketing purposes. No normal people actually get photos like that. So make peace with the fact that most of your pictures will have other people in them, and you'll have an incredible experience.
teamLab Borderless Exhibit Rooms: Photos & Descriptions
As we described above, the building is broken down into five sections, and within each of those sections are more rooms and exhibits.
5 sections:
Forest of Resonating Lamps
Borderless World
Athletics Forest
Future Park
EN Tea House
Good to know: The building has two floors, and you enter on the first where Borderless World is and mos to the exhibits. The second floor is where you will find the Future Park, Athletics Forest and En Tea House. However, to get to the Forest of Resonating Lamps, you have to go to the back of Borderless World and go up steps to get to the forest. But you won't be on the second floor (Confused? Yeah, we were too!)
Below, we're going to go over the exhibits. We'll share photos and descriptions so you know what to expect. Plus, we will tell you (honestly) what we thought of them. Spoiler Alert: There was one room we thought was not worth the wait!
I'll also mention that the names of the rooms are, ummm, a bit of a mouthful. You'll see what I mean…
Forest of Resonating Lamps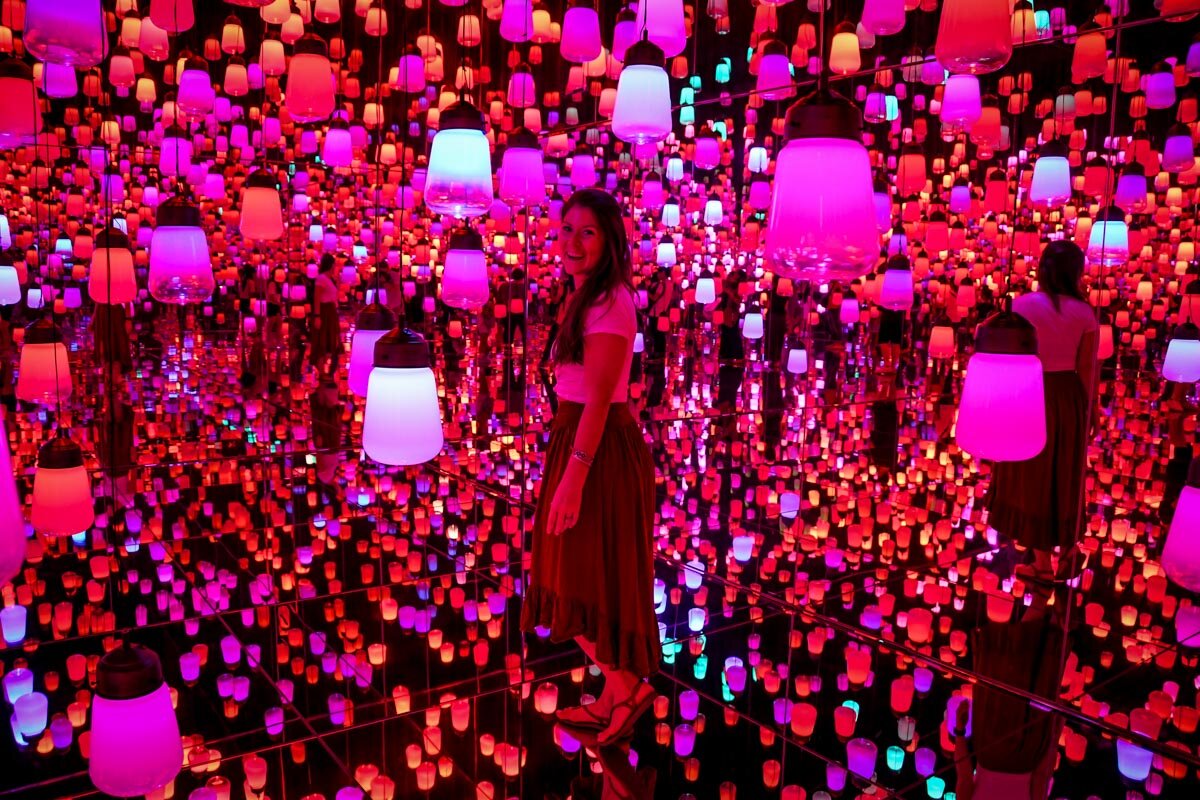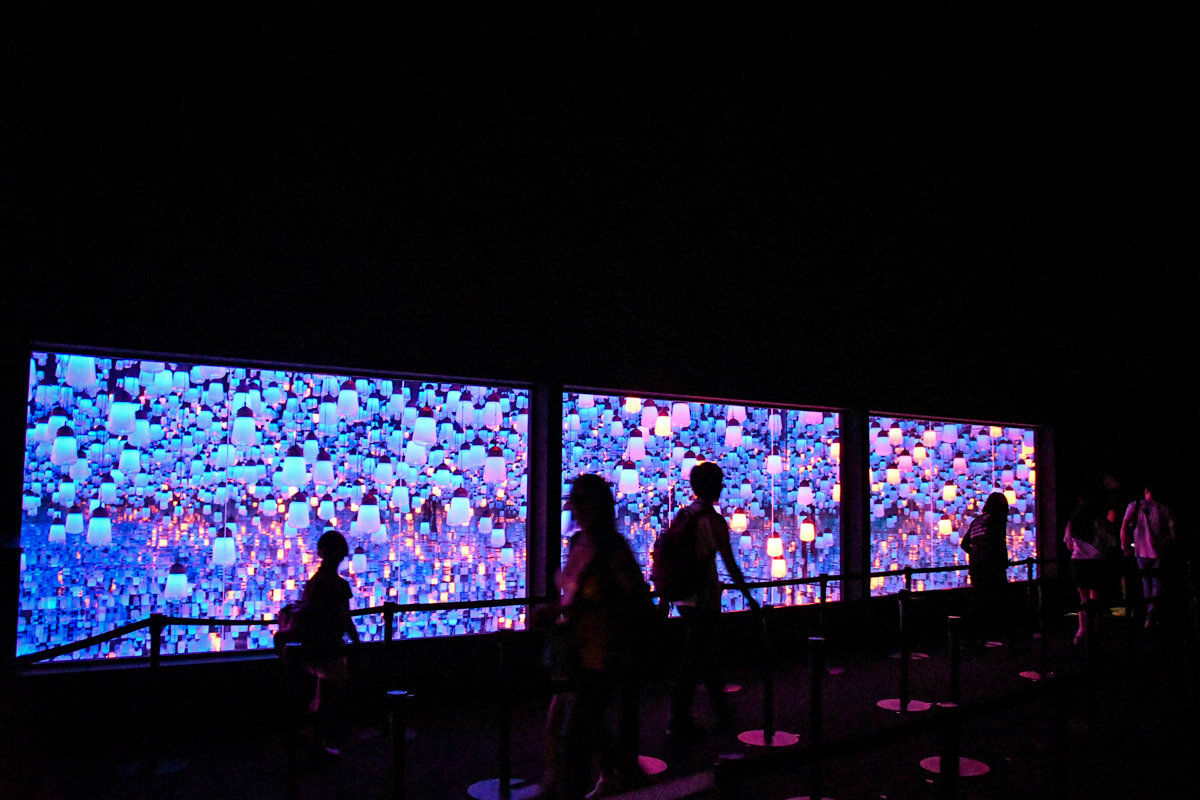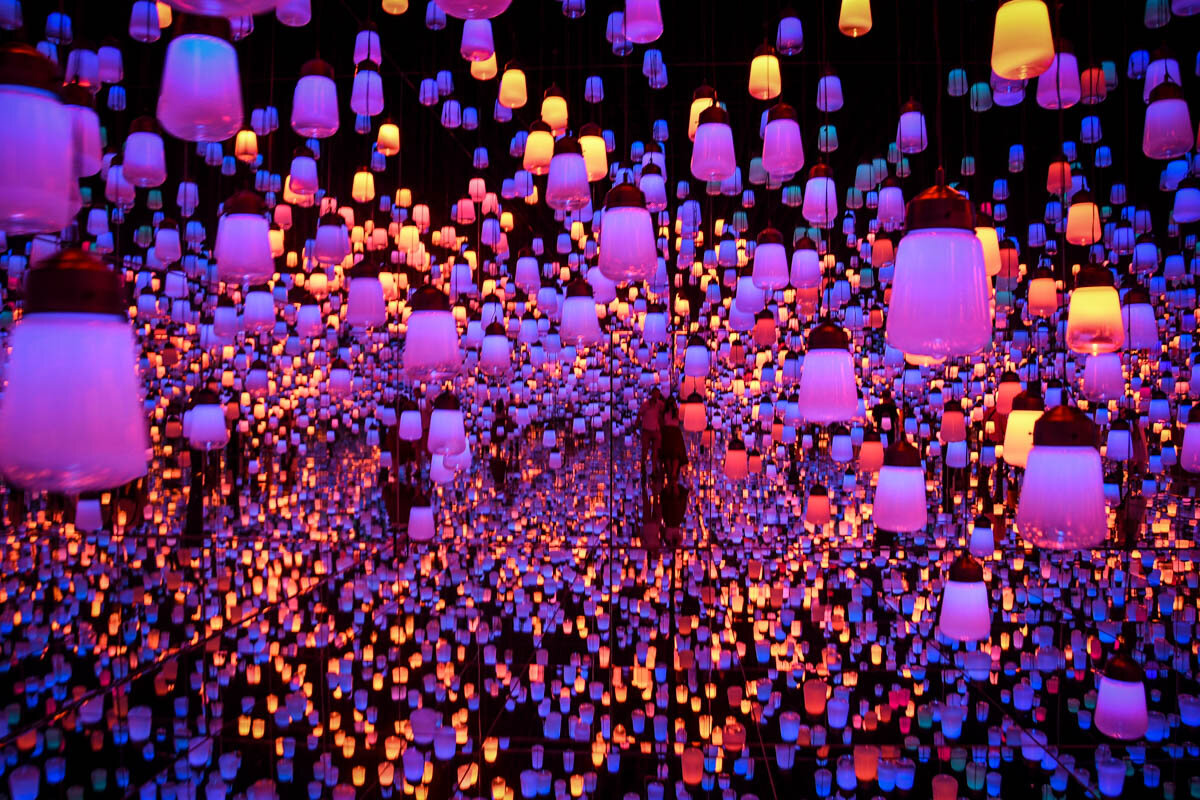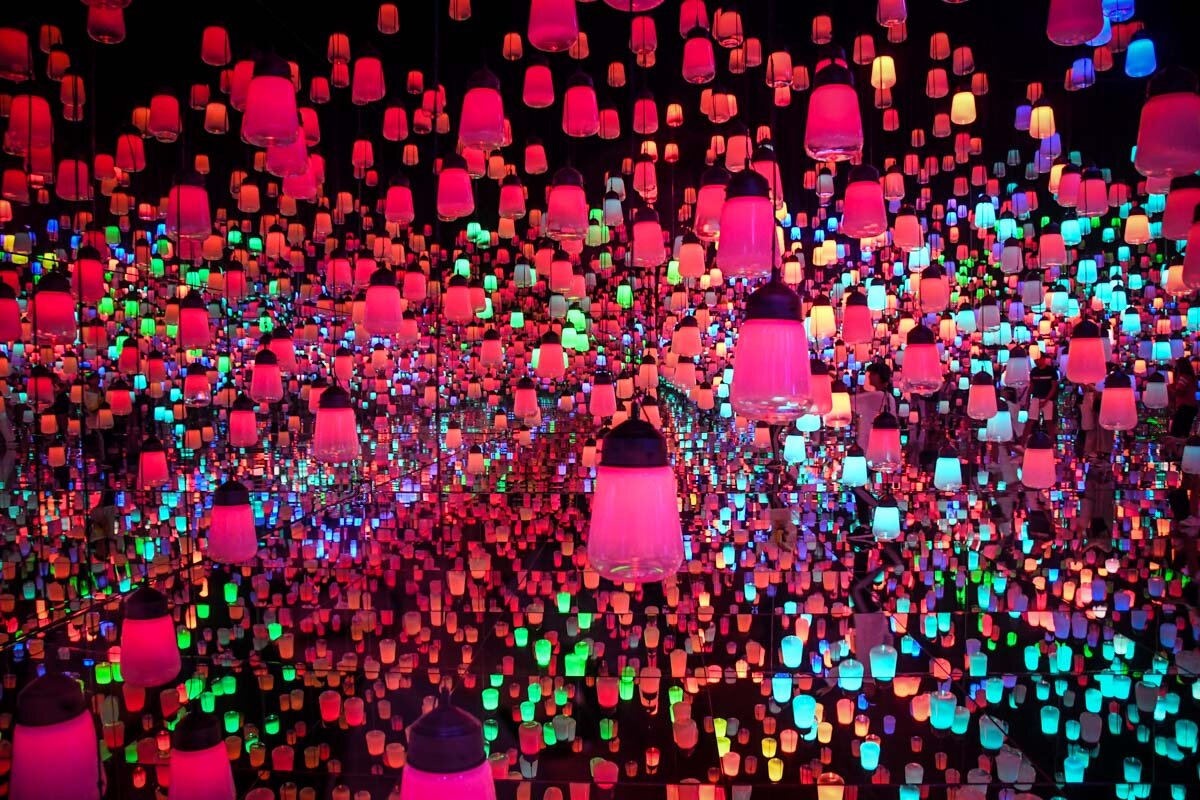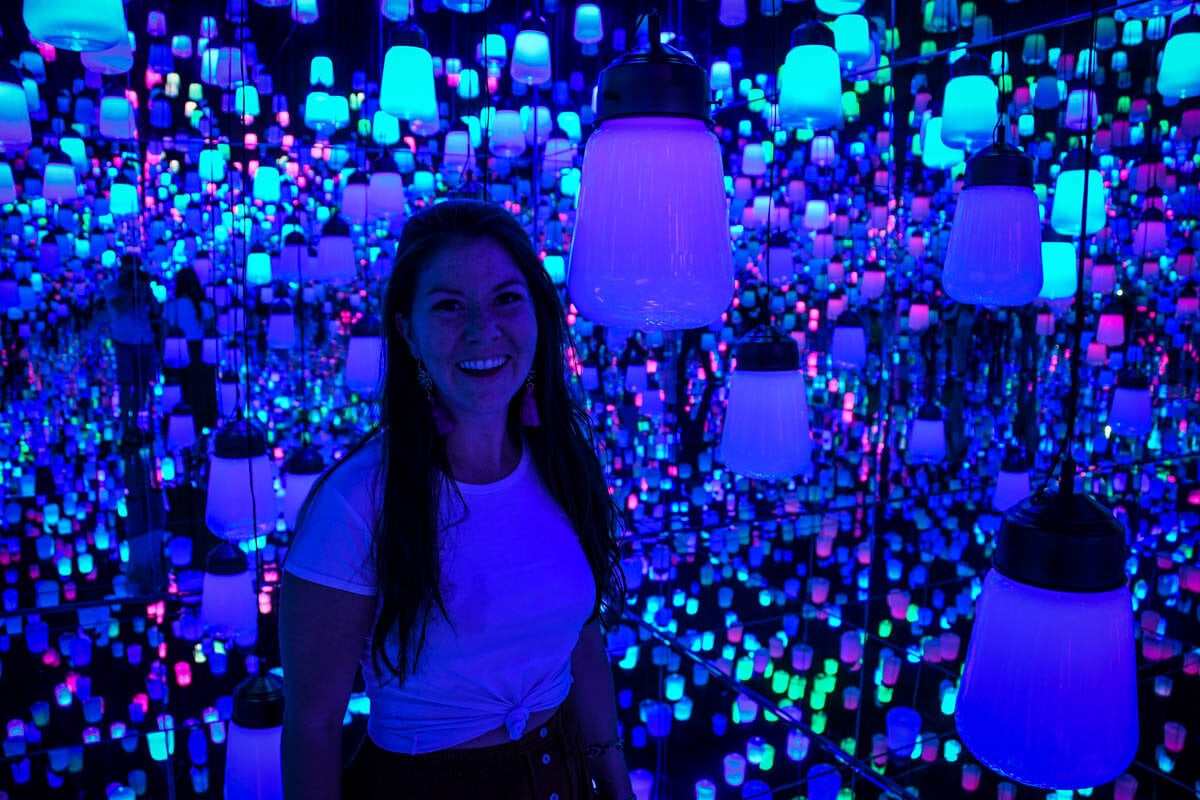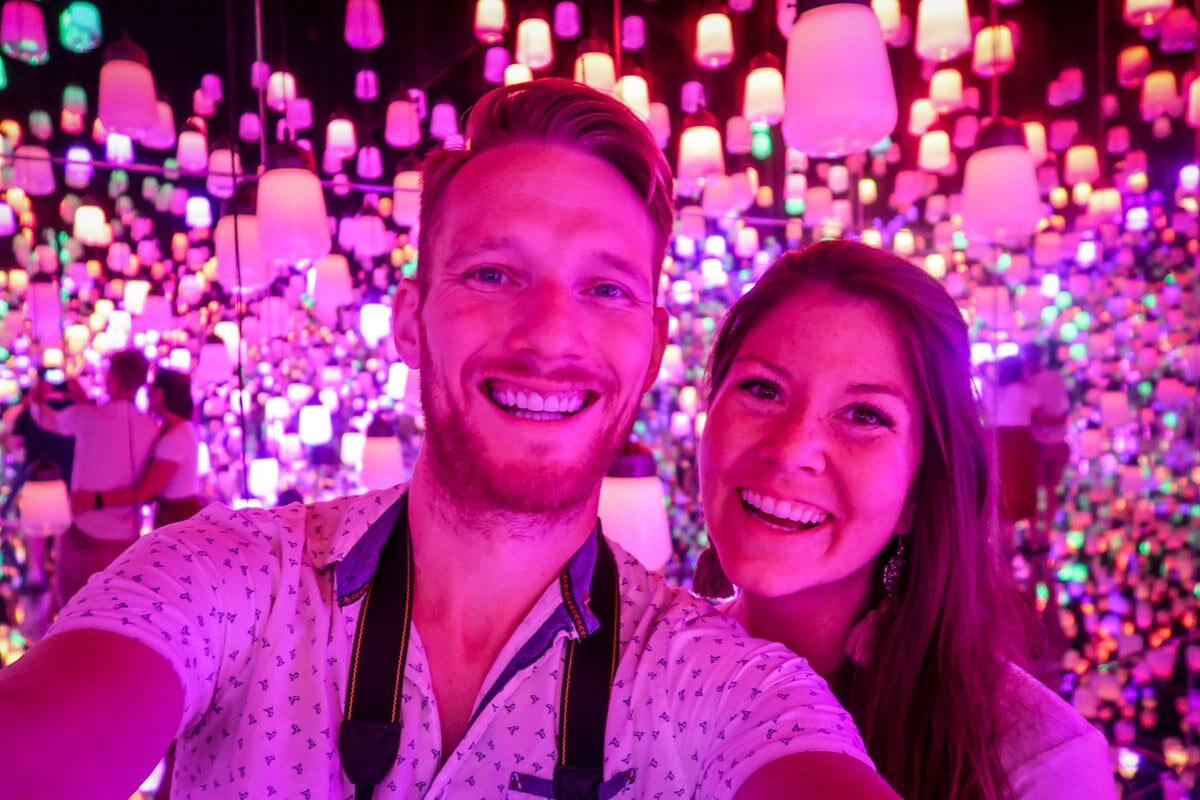 This room reminded us of Thailand's famous Yi Peng lantern festival, and it was without a doubt one of our favorites.
The room itself is smaller than we expected, but the mirrored walls play with your perception. All around you, lanterns hang and illuminate the room in a soft glow. To say it is enchanting would be an understatement.
Photography Tip: Use the mirrors to take pictures in this room!
Every so often the color of the lamps changes, giving the room an entirely different feeling. It's worth noting that the lamps may not change to every color while you're in the room, as there is a time limit for how long you can spend inside.
If you want to get photos with lots of different colors, plan to get in line again as soon as you exit, so you can get a variety of photos. (And also get to this room early so you don't have to spend much time waiting.)
Crystal World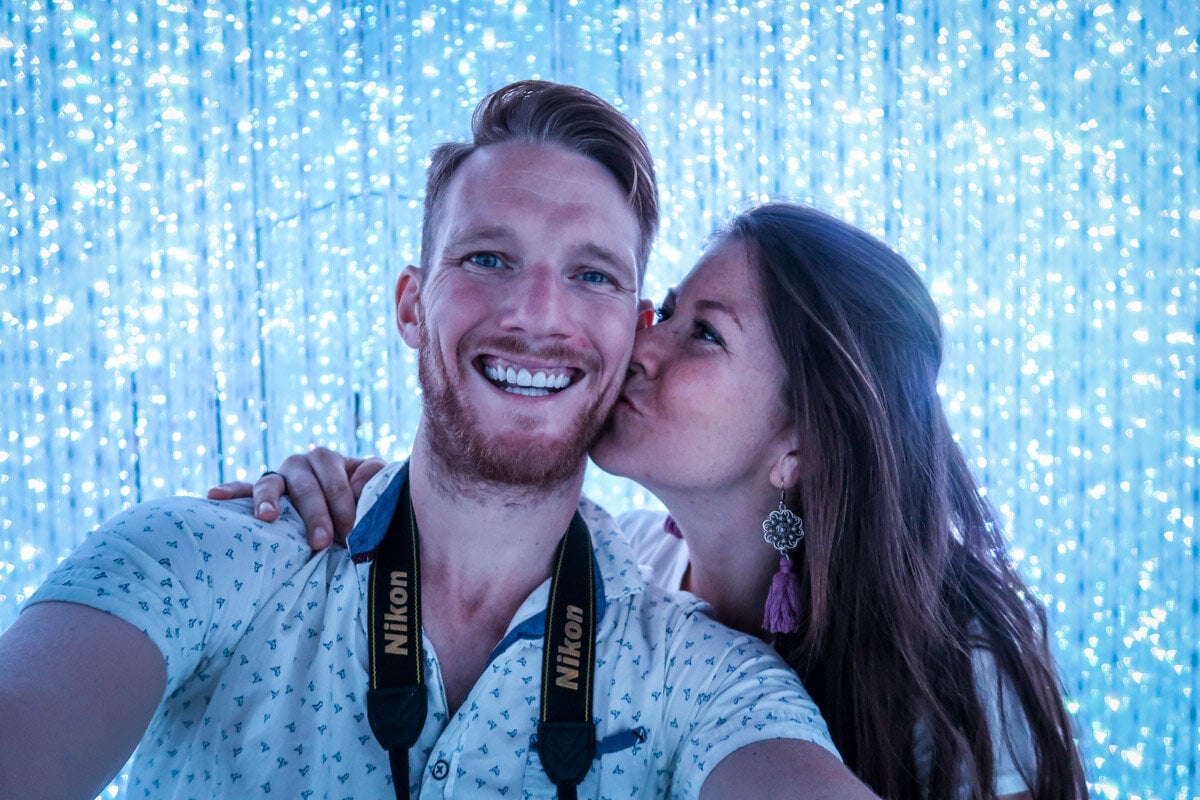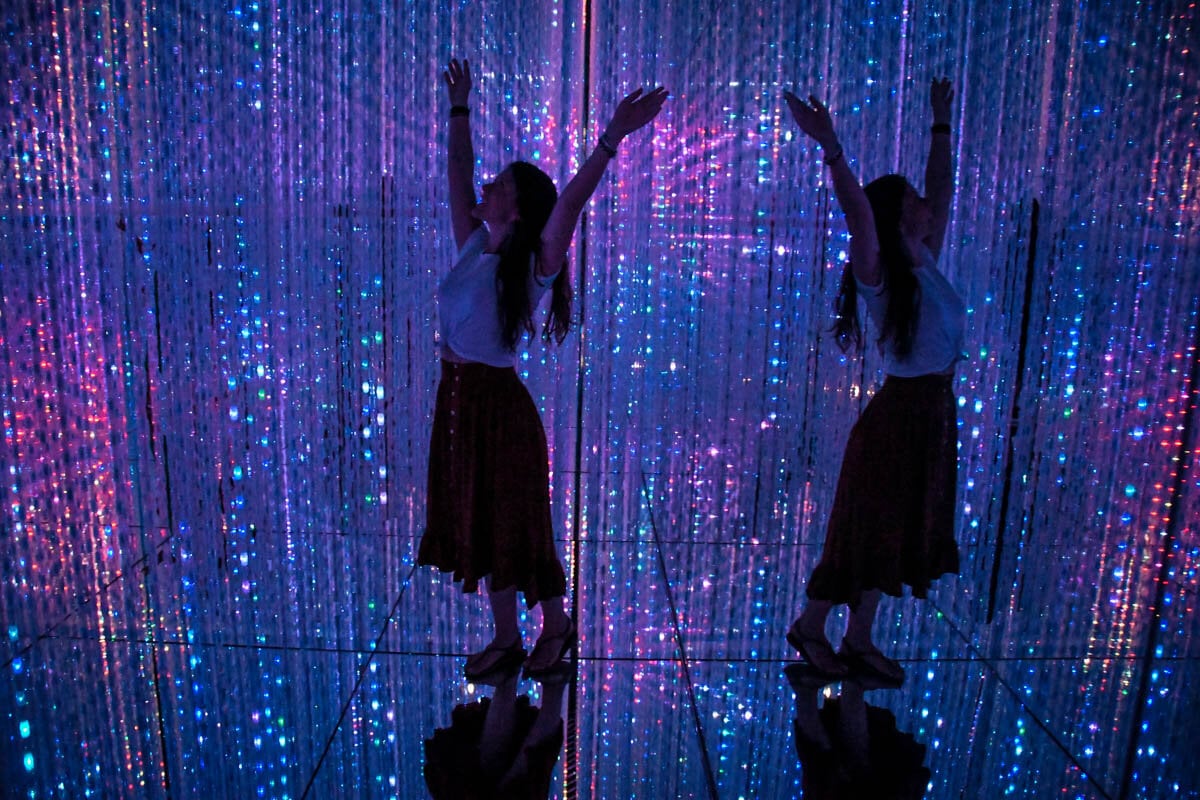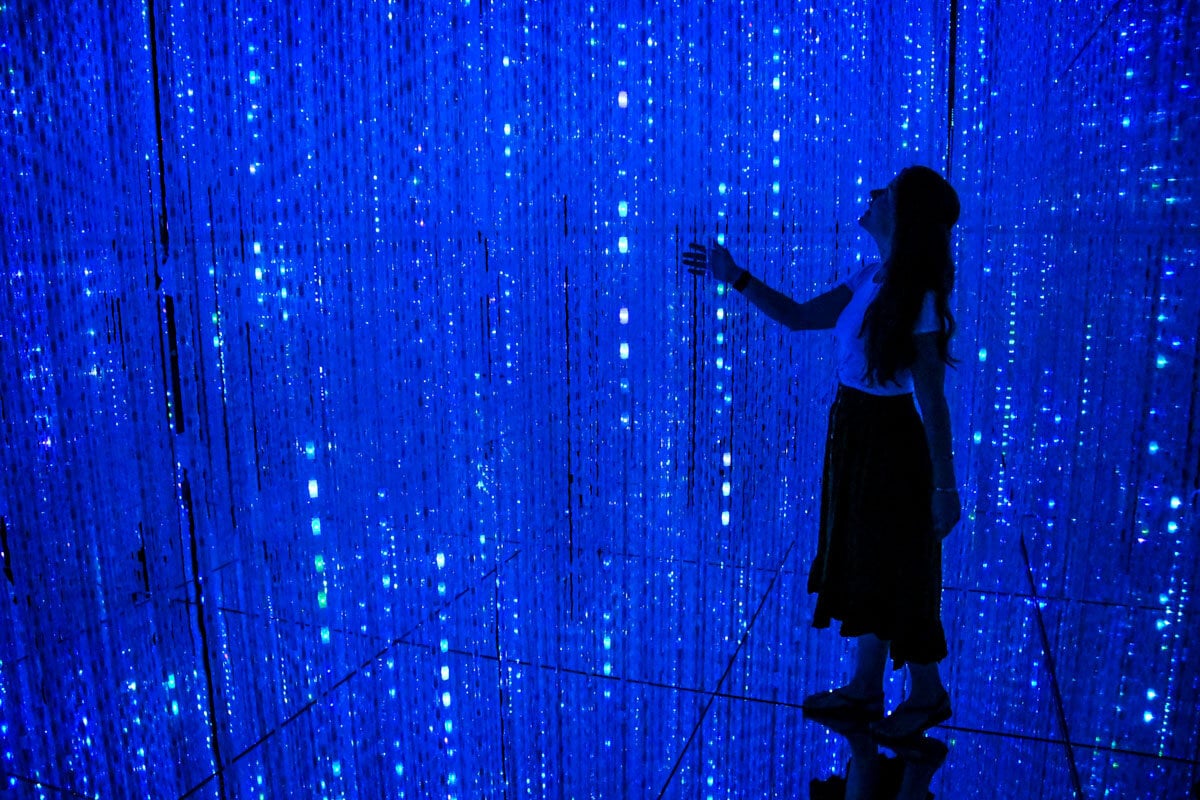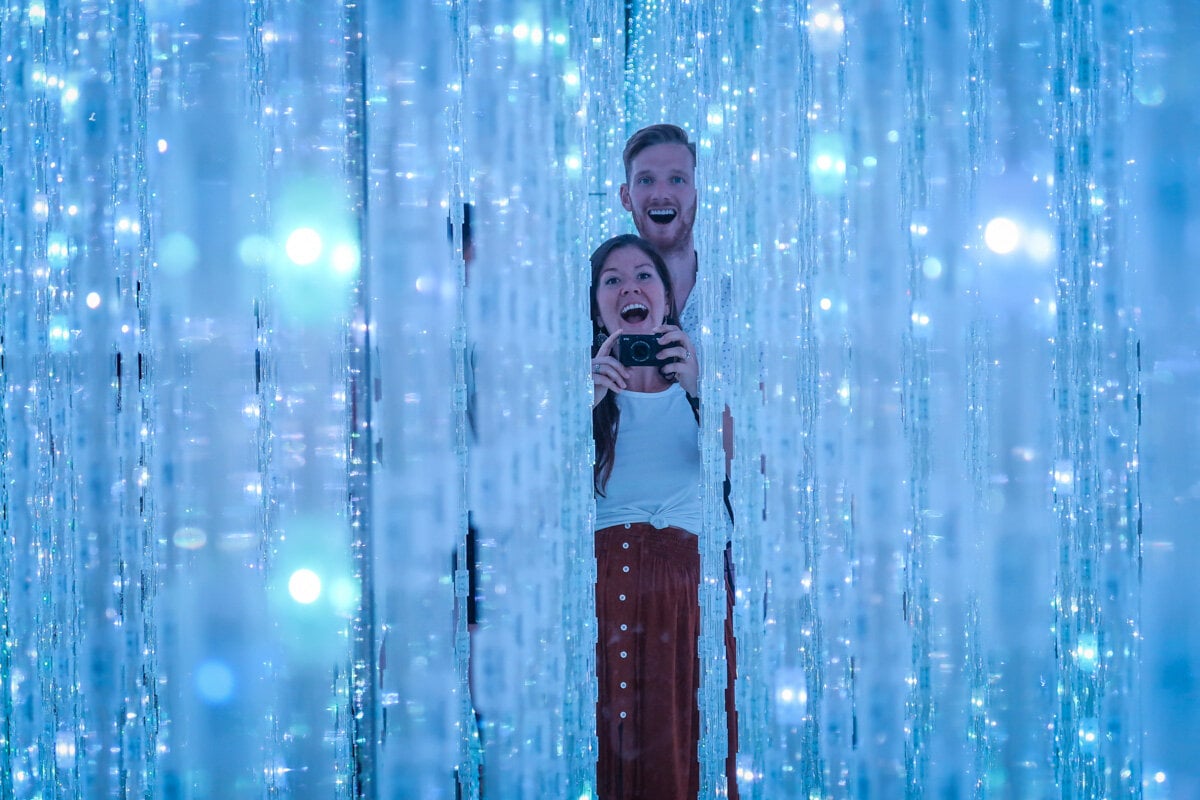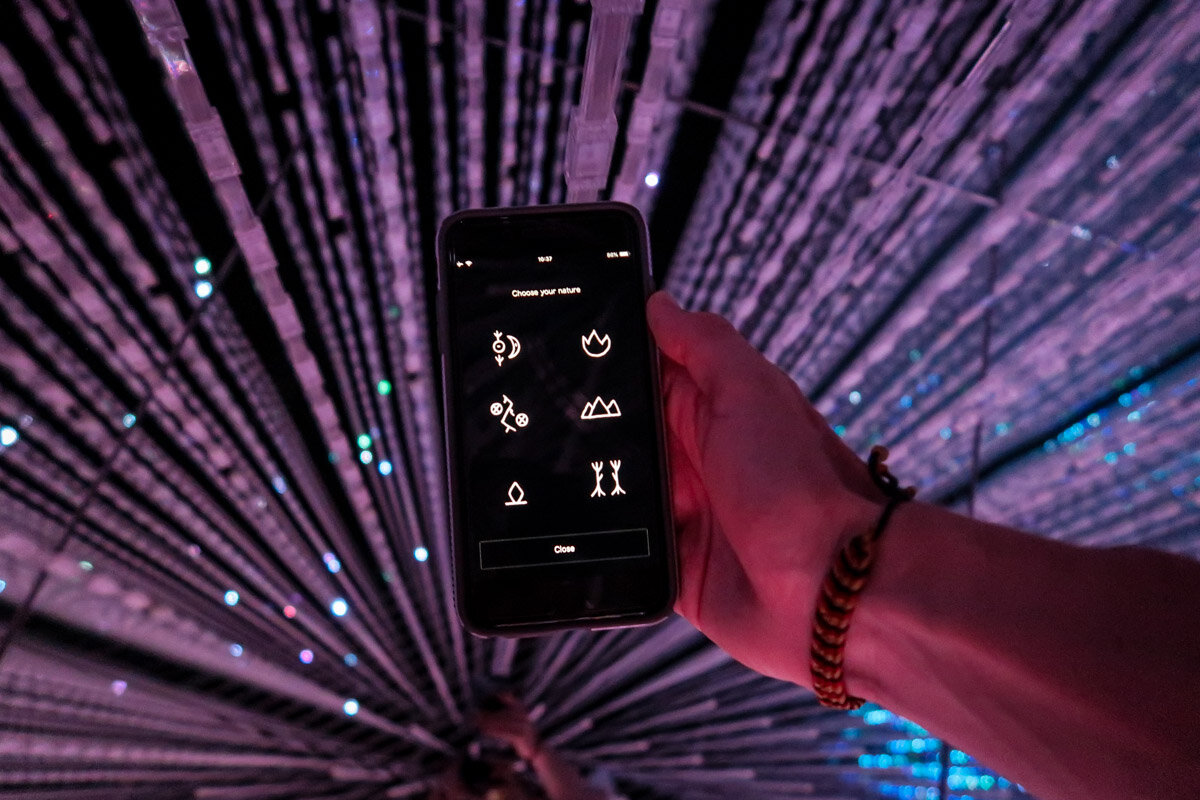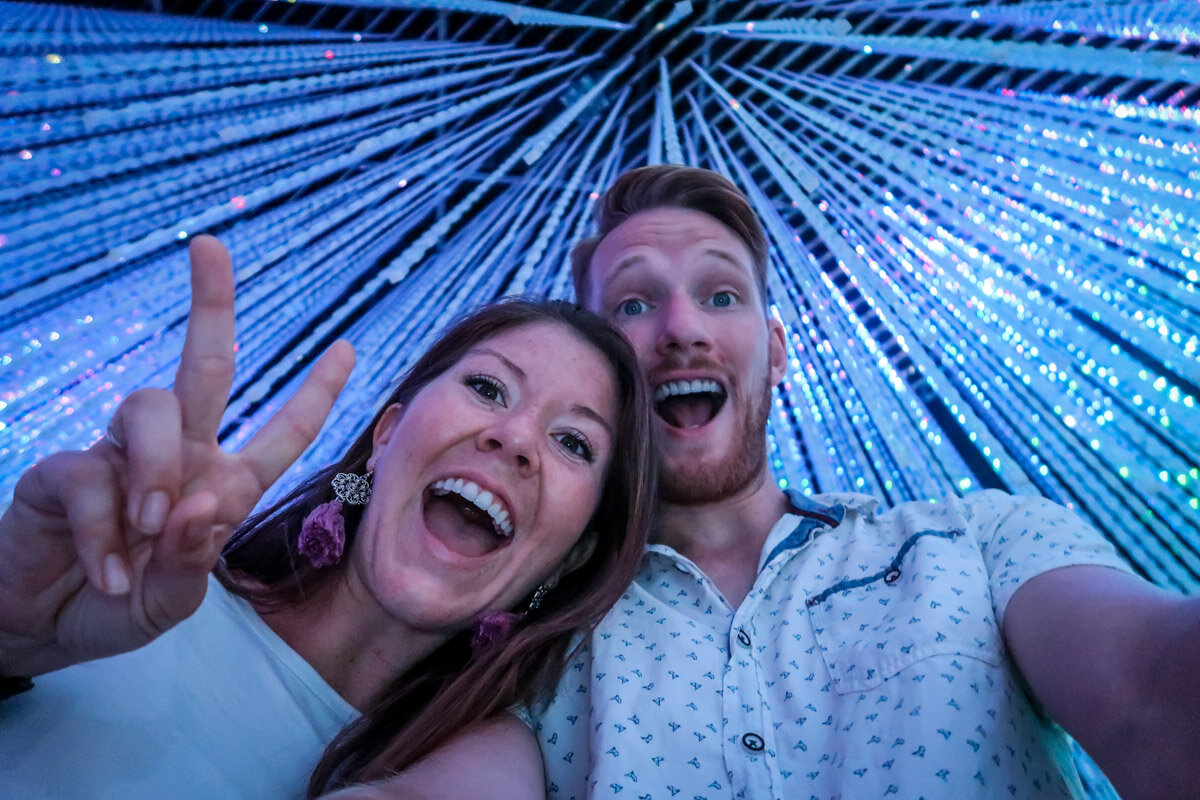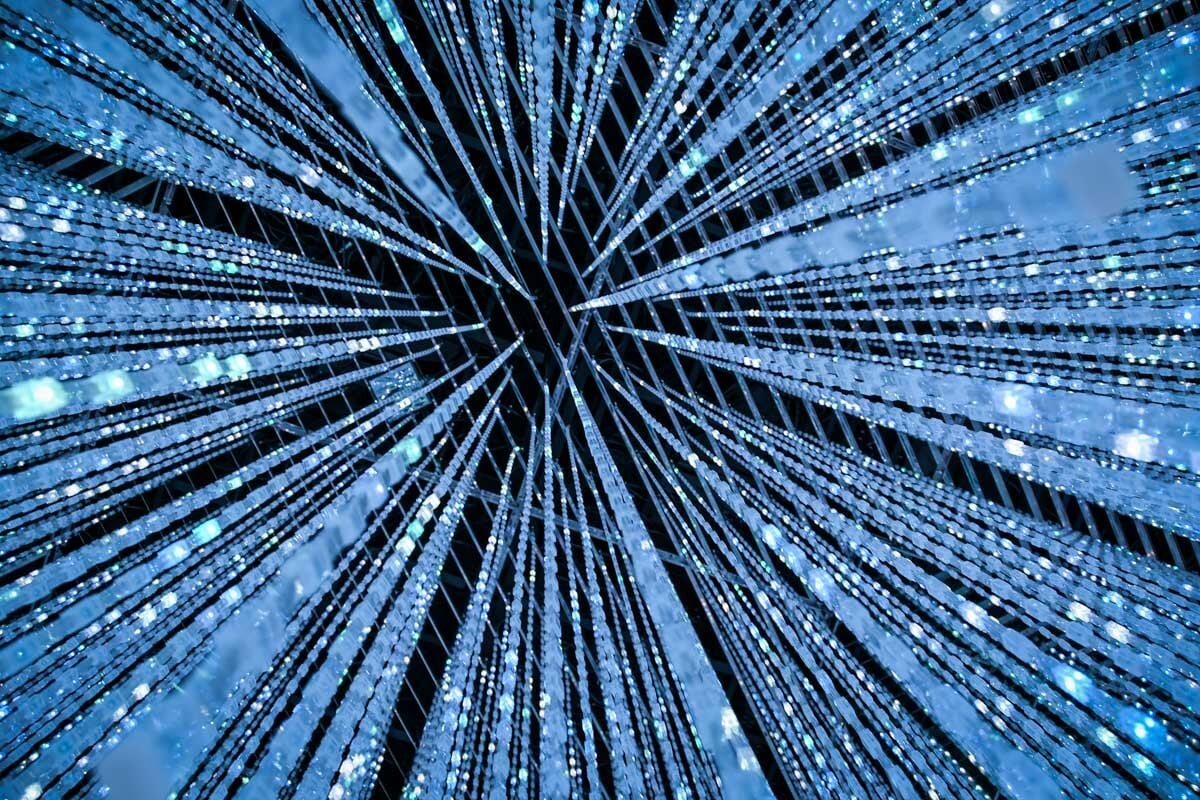 I had seen photos of this room prior to our visit and it looked really cool, but there's no way I can really put into words just how cool it was.
As you enter this space, you'll feel like you've been transported to a different world. Strings of crystal lights hang from the mirrored ceiling down to the mirrored floor, creating the illusion of infinite space.
And then comes the way the lights change colors; how they sometimes sparkle, sometimes create the illusion of rain, and at other times go completely dark, with music and sounds to match each mood.
This is one of those rooms where we really felt like we were truly part of the art.
Good to know: If you stop to take a photo for more than 10 seconds, be prepared for the staff members to tell you to "keep moving" (especially during busy times). The walkways are narrow and they are trying to get everyone through efficiently, so try to be quick with photos.
The teamLab app allows you to control the lights and moods (we found this to be the only real purpose of the app). For instance, if you want the lights to turn blue, you can select the rain icon from the app.
There's also a small console in the far corner of the room that does the same thing. It works best when there are few people in the room, rather than if you and 50 other people are trying to control the lights at the same time,.
Our personal favorites: Our two favorite rooms were the Crystal World and the Forest of Resonating Lamps. They make for epic shots, and are just mind-blowing. You feel like you're in another world. Turns out these are the two most Instagrammed rooms, so we'd recommend getting to them early! We're sharing our recommended route below.
Universe of Water Particles on a Rock where People Gather
Told you some of these names were a mouthful!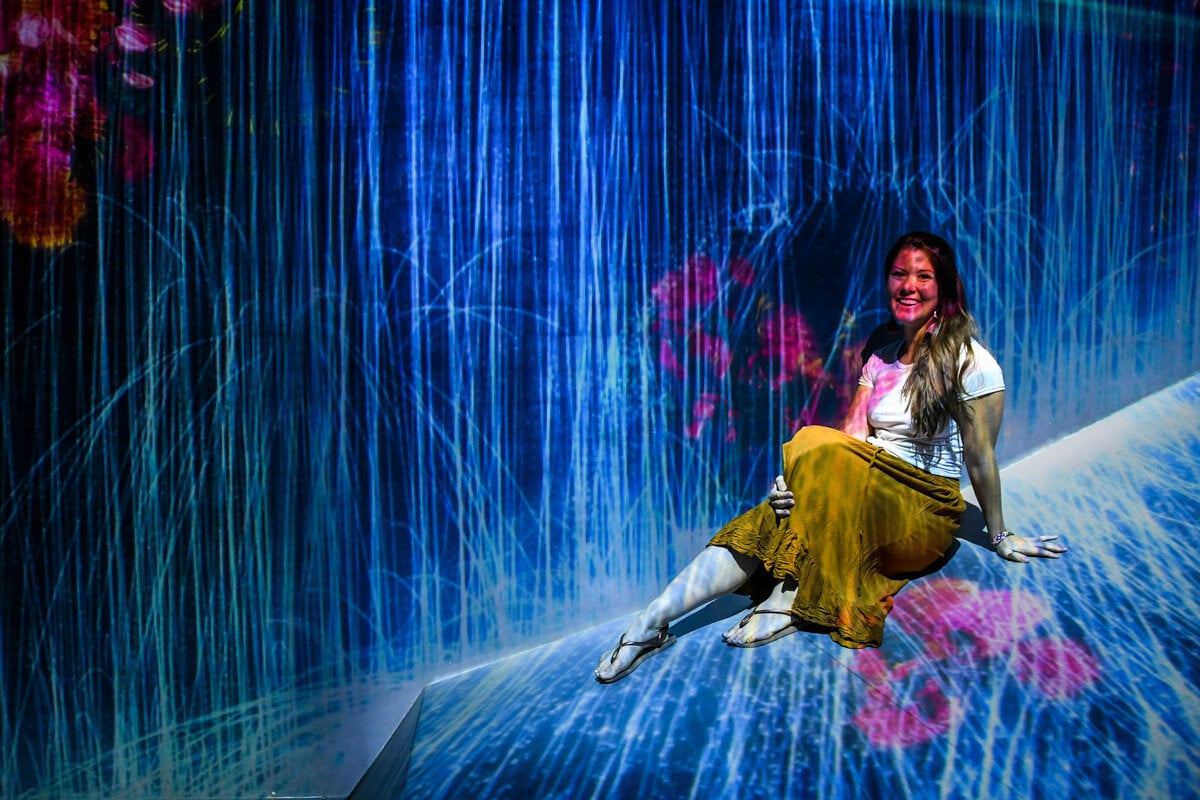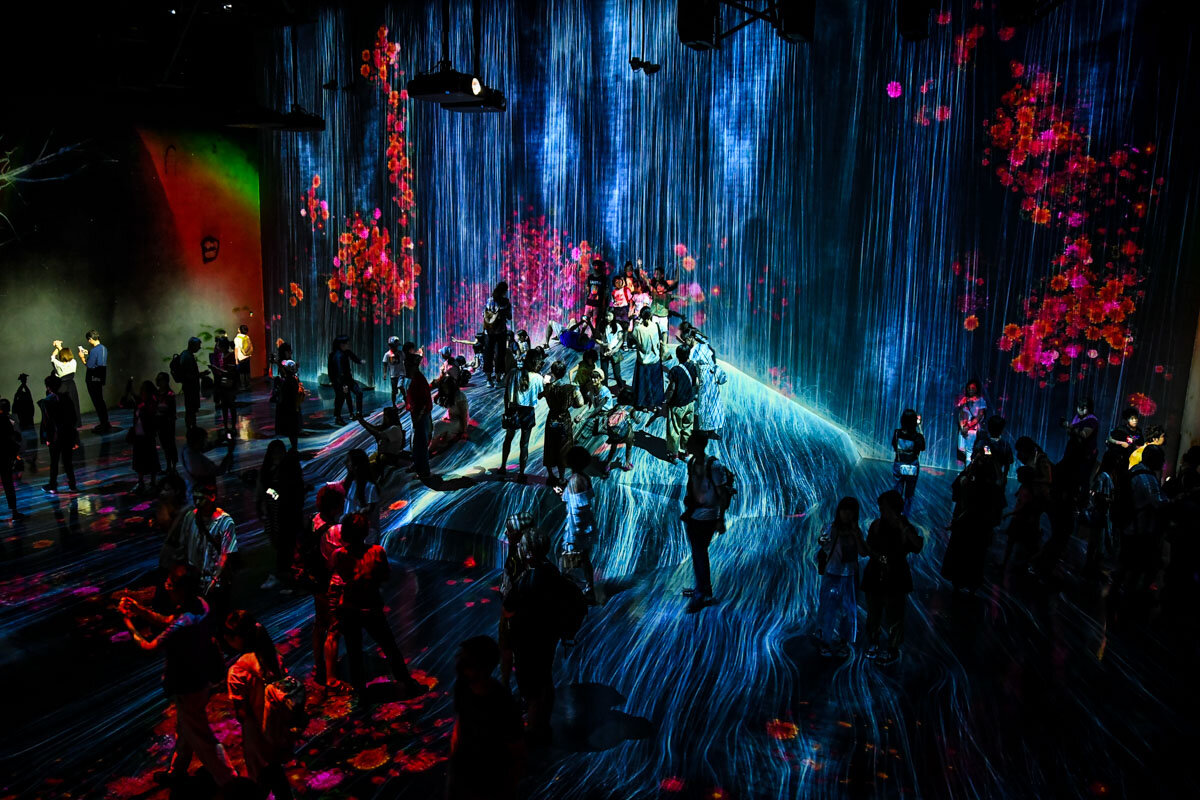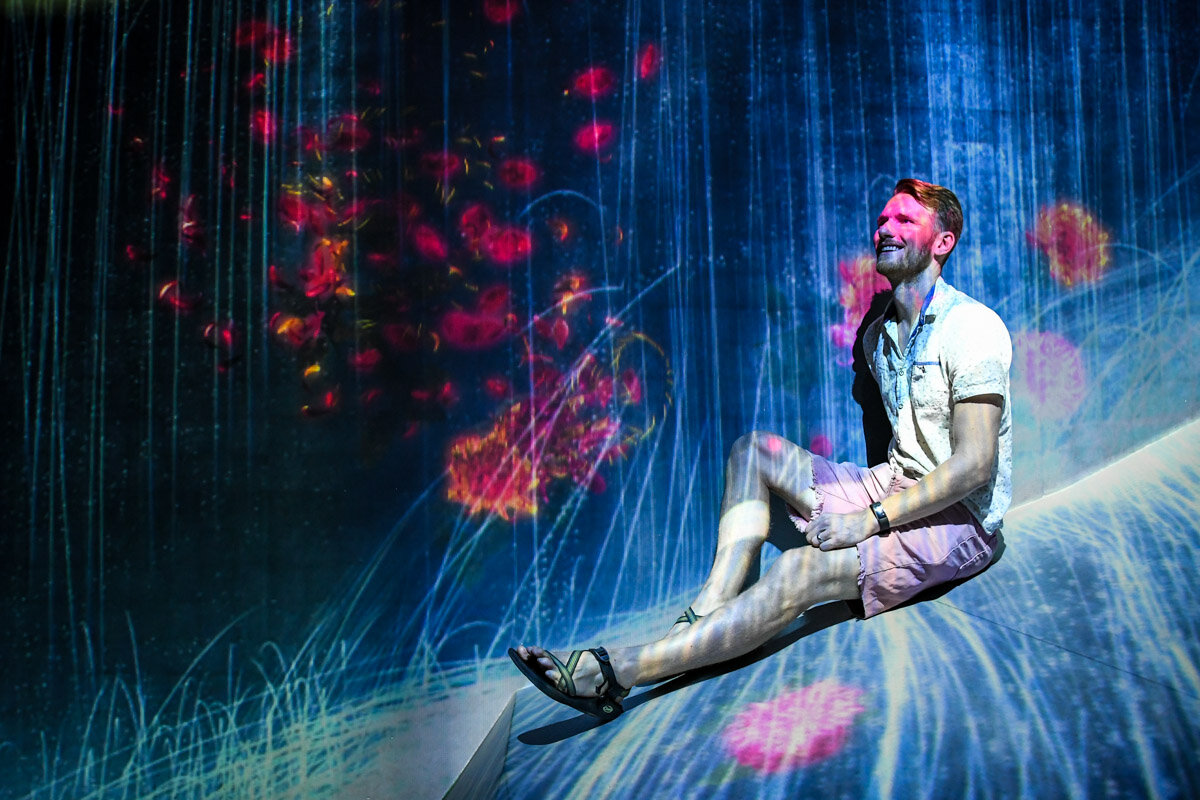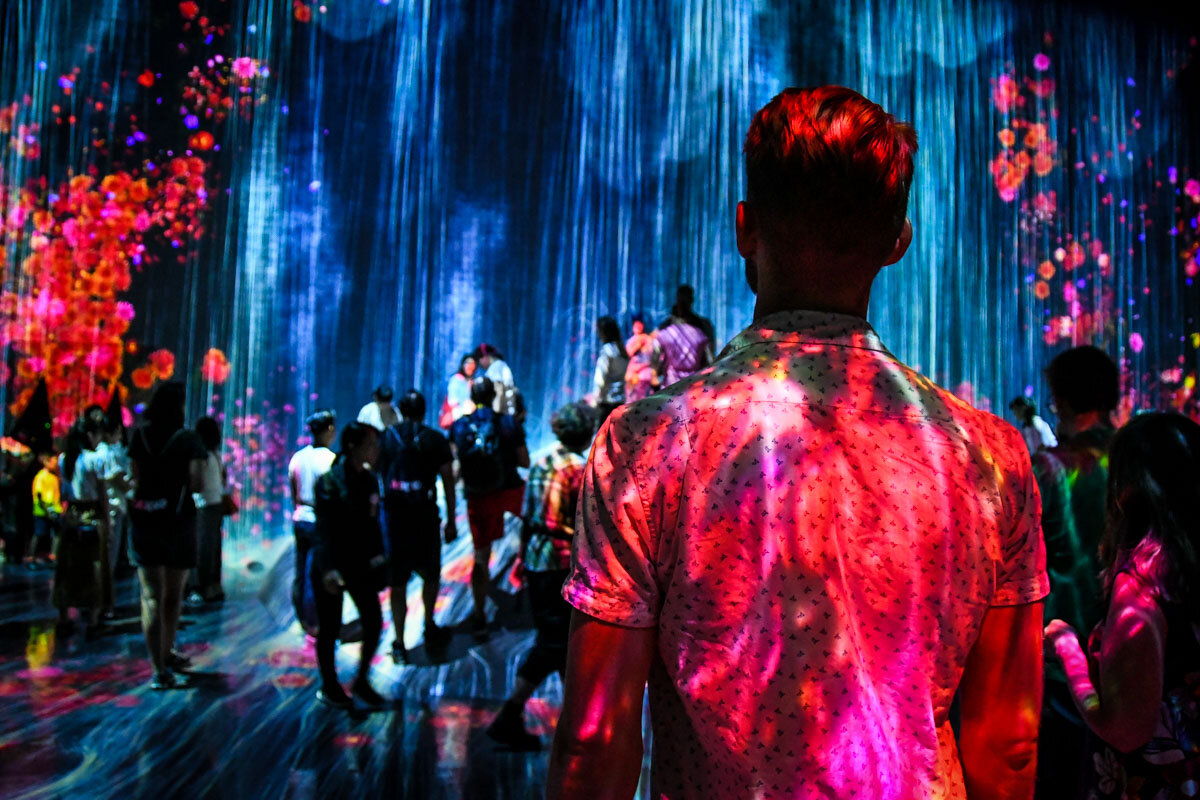 A rock-like structure sits at the center of the room and a waterfall (made of light, of course!) crashes and washes over it. Flowers bloom on the walls and people climb over the rock to get photos of this magical dreamscape.
It's helpful to know that photos of this exhibit are frequently used in marketing materials for Borderless. And in those perfect snapshots there are only a couple of people in the frame.
Those pictures were taken professionally by teamLab themselves, so don't be surprised when you get there and you see a crowd of people all climbing on the rock. Just like the name implies, this truly is a place where people gather.
Insider Tip: There is a small observation deck on the far side of this exhibit where you can walk up the stairs and get a good view down below (located on the right side of the room when facing the waterfall).
Forest of Flowers and People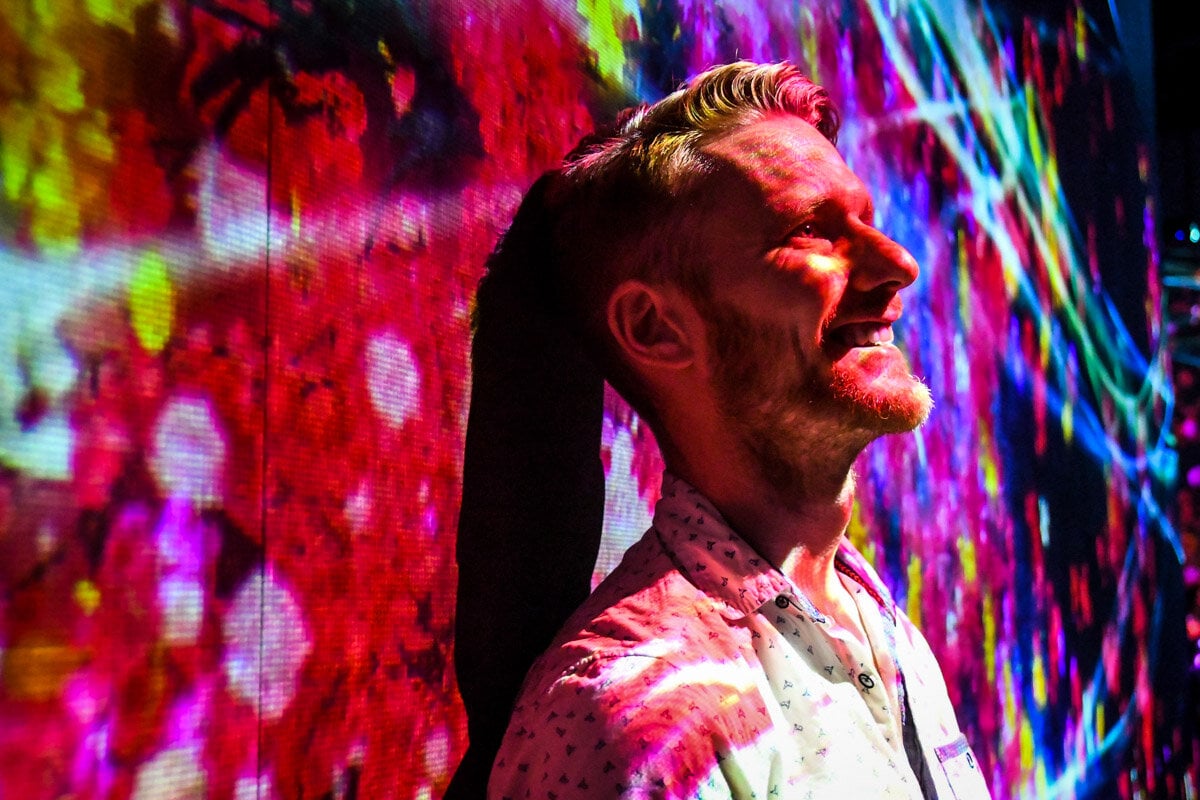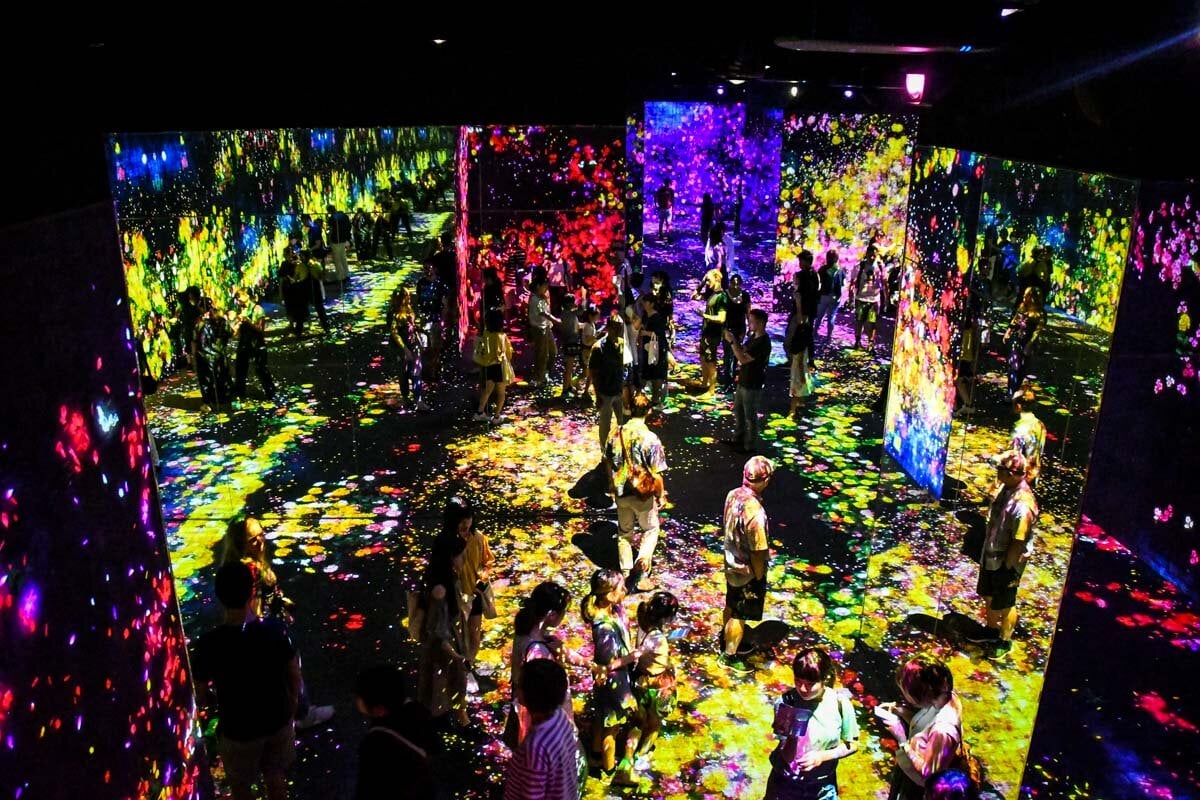 Just outside the "Rock Where People Gather", you'll find walls with colorful images of flowers blooming. Stand against the wall and have someone take your photo — or a selfie works! — as the flowers spread across your face creating a pretty epic shot!
One nice thing about this exhibit is you can easily get some pretty cool pictures without a crowd of other people in them.
Insider Tip: When you touch the walls, the flowers will change their formation, so you can make your own work of art!
Memory of Topography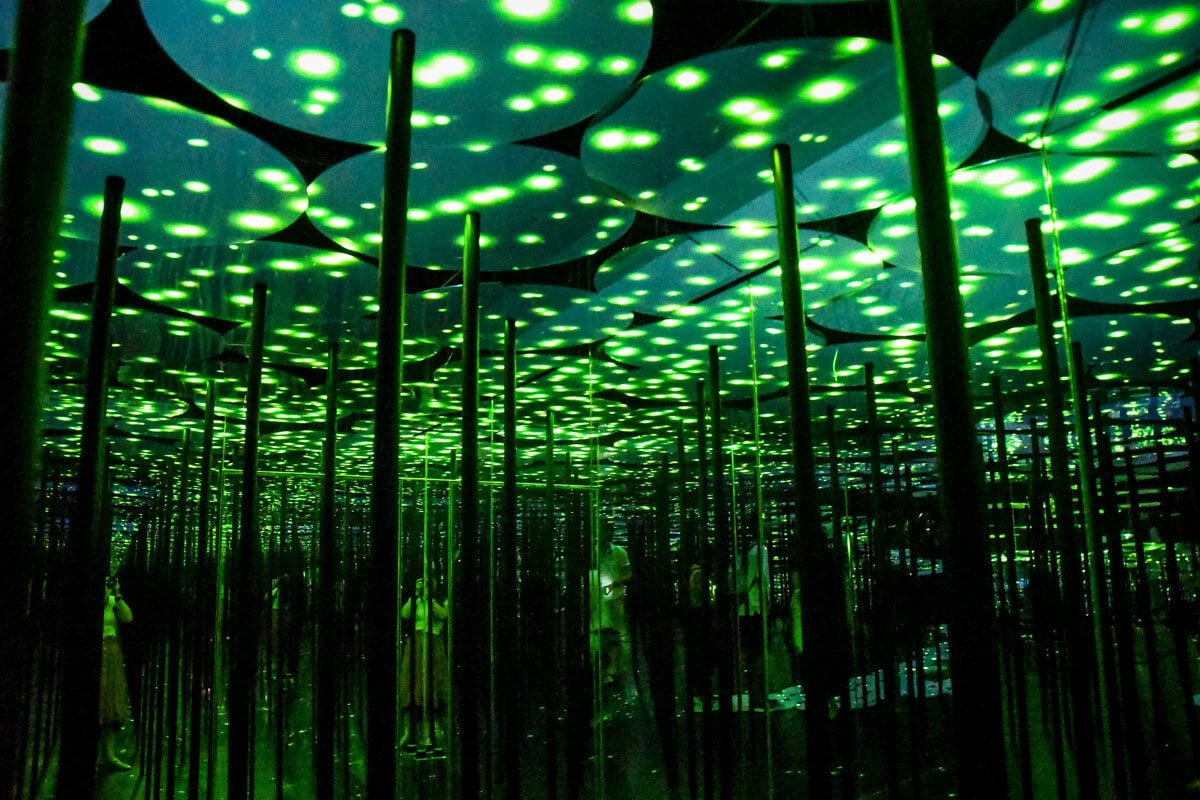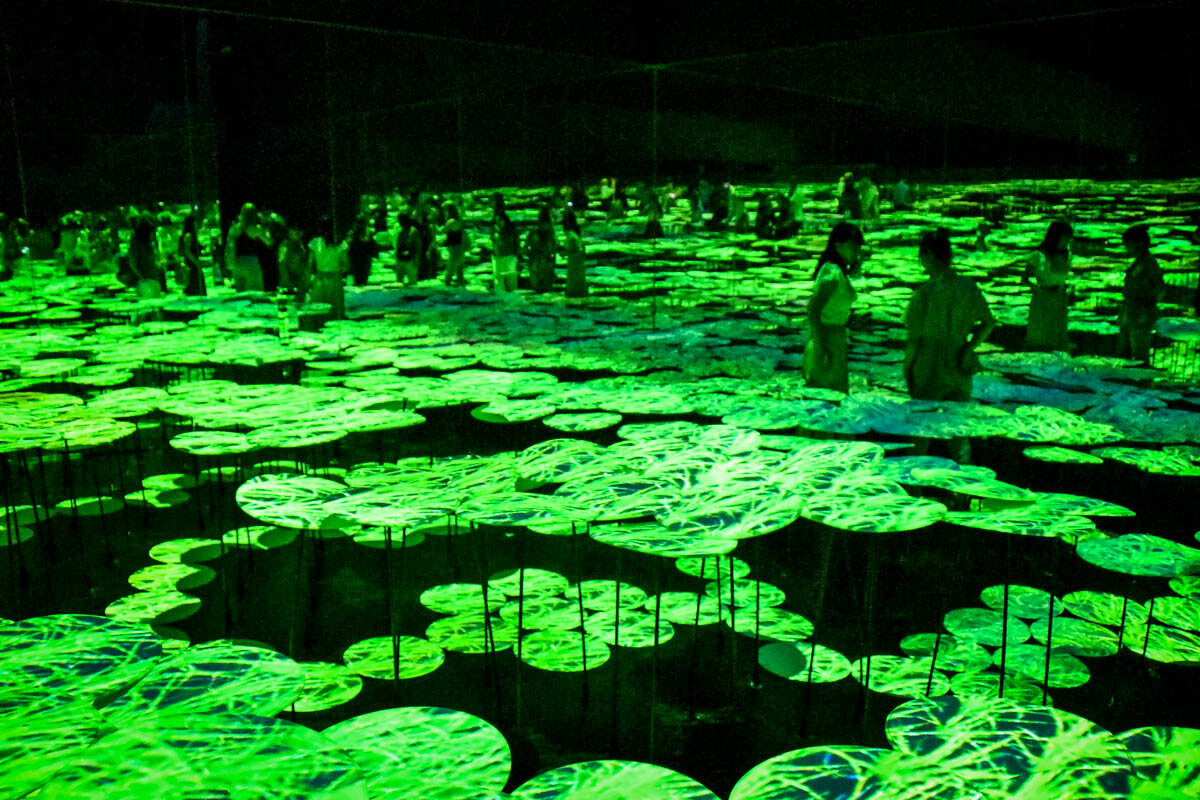 Follow a winding path that gives you the illusion that you're walking on a hillside, surrounded by lily pads.
This room is dark and the only lights coming from lily pads on either side of you, that change color and pattern. It is pretty unique for the fact that you enter the room walking underneath the lily pads. But as you walk further, the floor becomes elevated and you arise above the colorful lilies. This room is quite tranquil as the crowds don't typically linger long.
Black Waves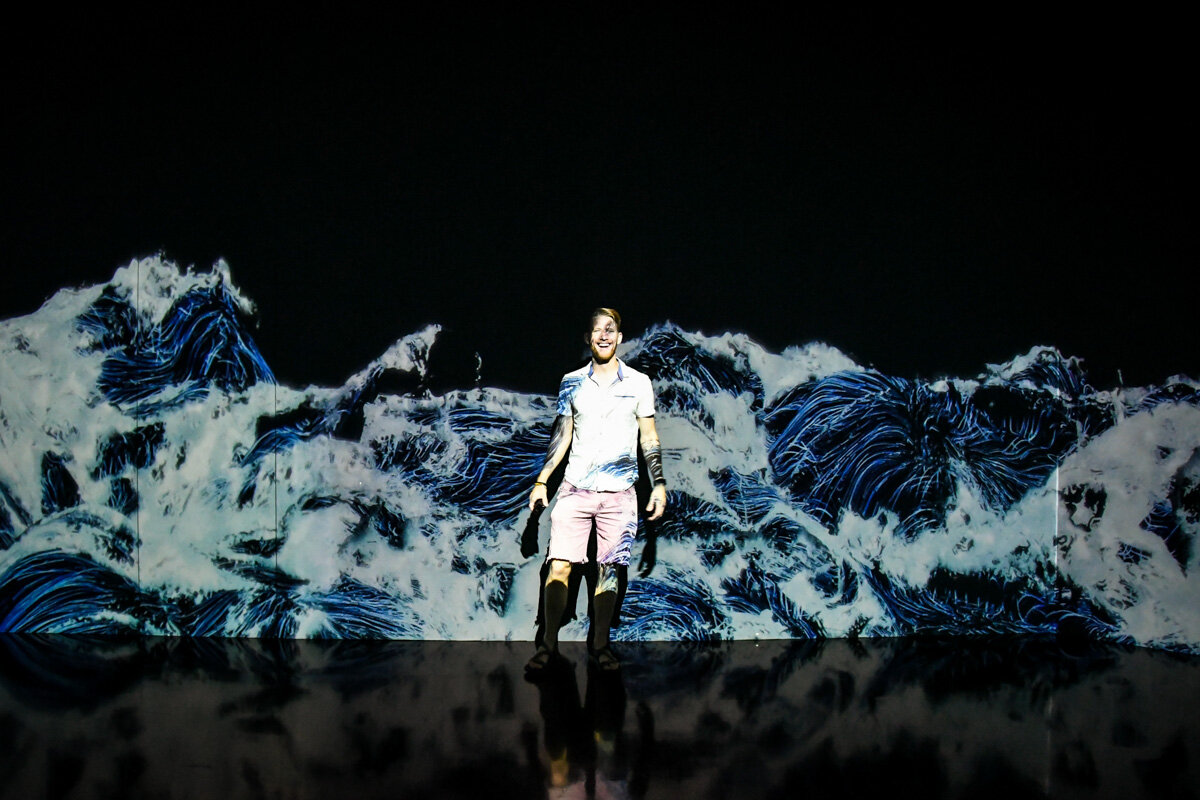 Have you ever seen the famous Japanese artwork called "Great Wave Off Kanagawa"? If not, check out these Google Images because this exhibit is made up of waves that look strikingly similar to that famous piece projected on the wall, and dancing like waves do.
This is a simple room, but pretty cool and kind of overlooked. In fact, when we first stepped inside we were the only ones. We had the room completely to ourselves for a few minutes before anyone else came in.
Insider Tip: Need to take a break for a few minutes? This room has some bean bags in the corner and is a relaxing little "escape"!
The Nest
This exhibit is very difficult to photograph, and the purpose of it really is to be in the moment.
As you enter the room, you'll remove your shoes (there's a place to store them) and walk onto a net on which you'll lie down. A limited number of people are allowed in at once, and after everyone has a spot on the net, the lights go out and a 360-degree projection plays. Graphics and music dance around you, and it is meant to be an immersive art experience, and the show lasts a few minutes.
Insider Tip: Be sure you don't have anything in your pockets, like coins or a phone that could fall through the netting, because you're not going to get them back!
We'll be up front with you: This exhibit is cool, but it develops really long lines. If this is a priority room for you, get there early. Once we arrived the wait was 45 minutes. We weren't all that sure it was worth the long wait, in our opinions.
Light Shell and Vortex
This was a room that I didn't know existed until I just stumbled inside. And it was super impressive!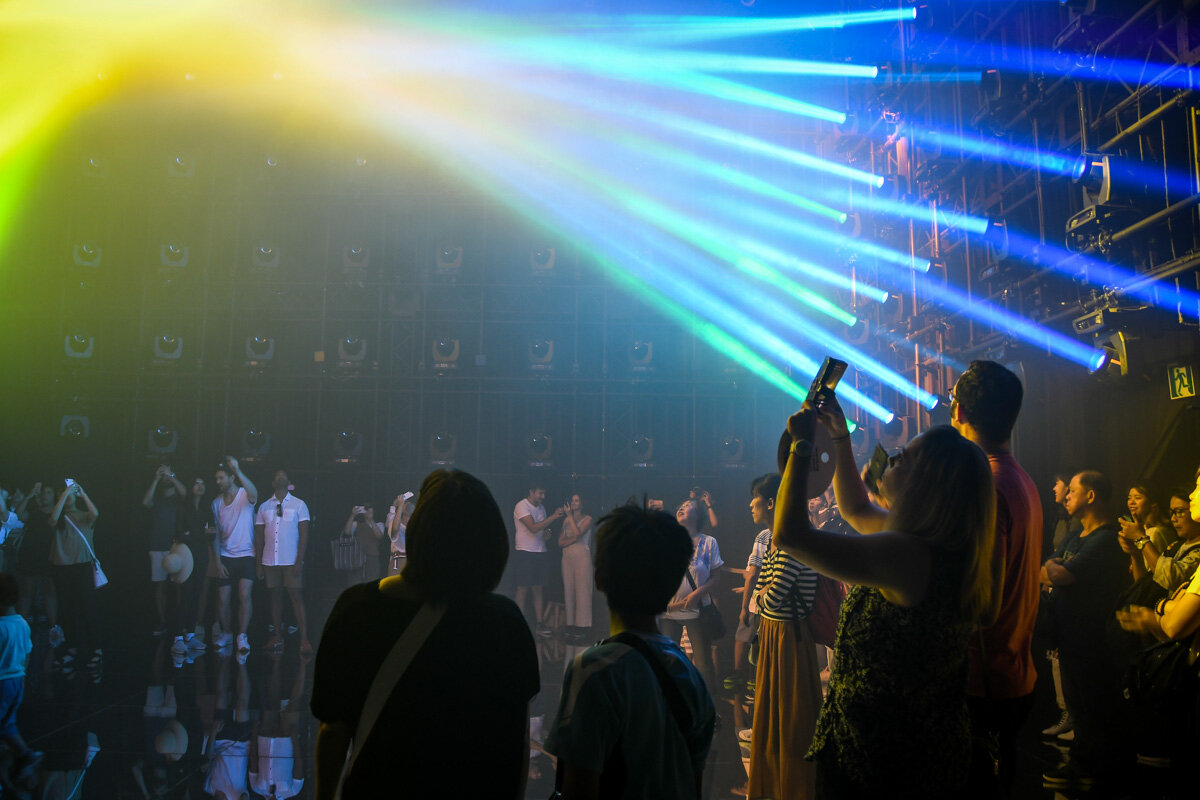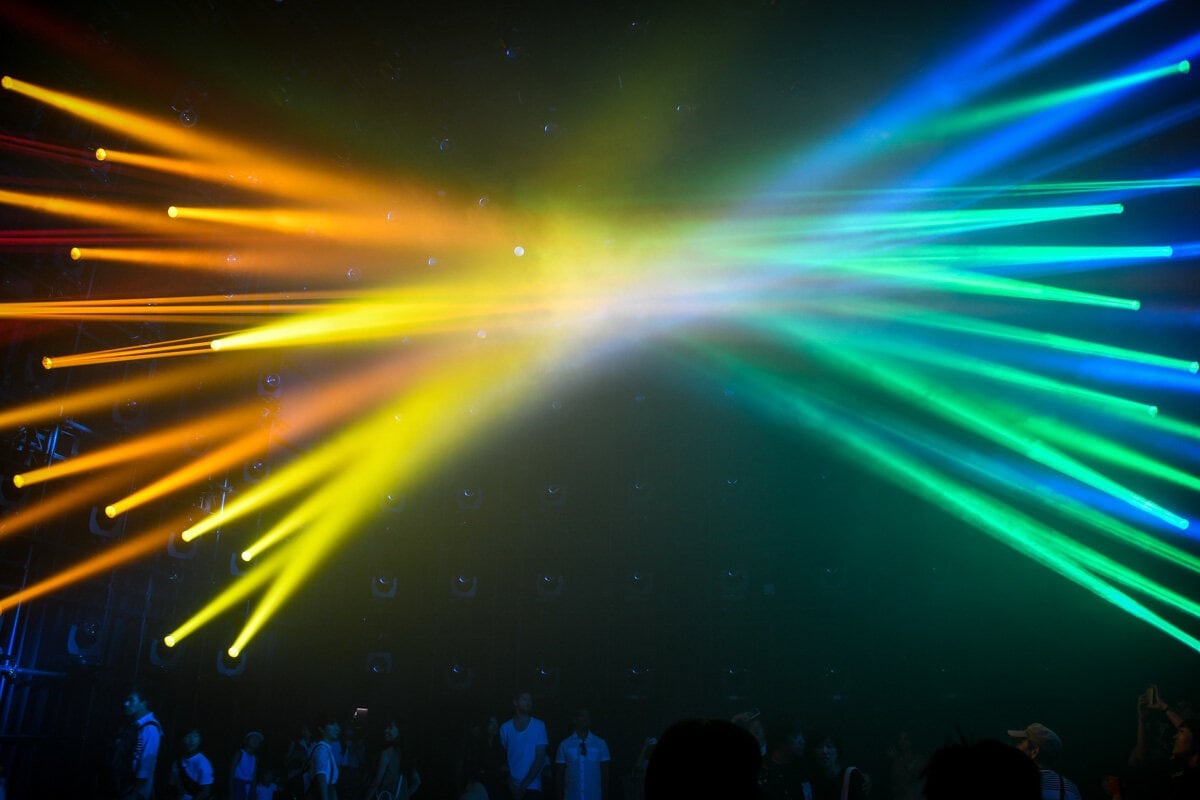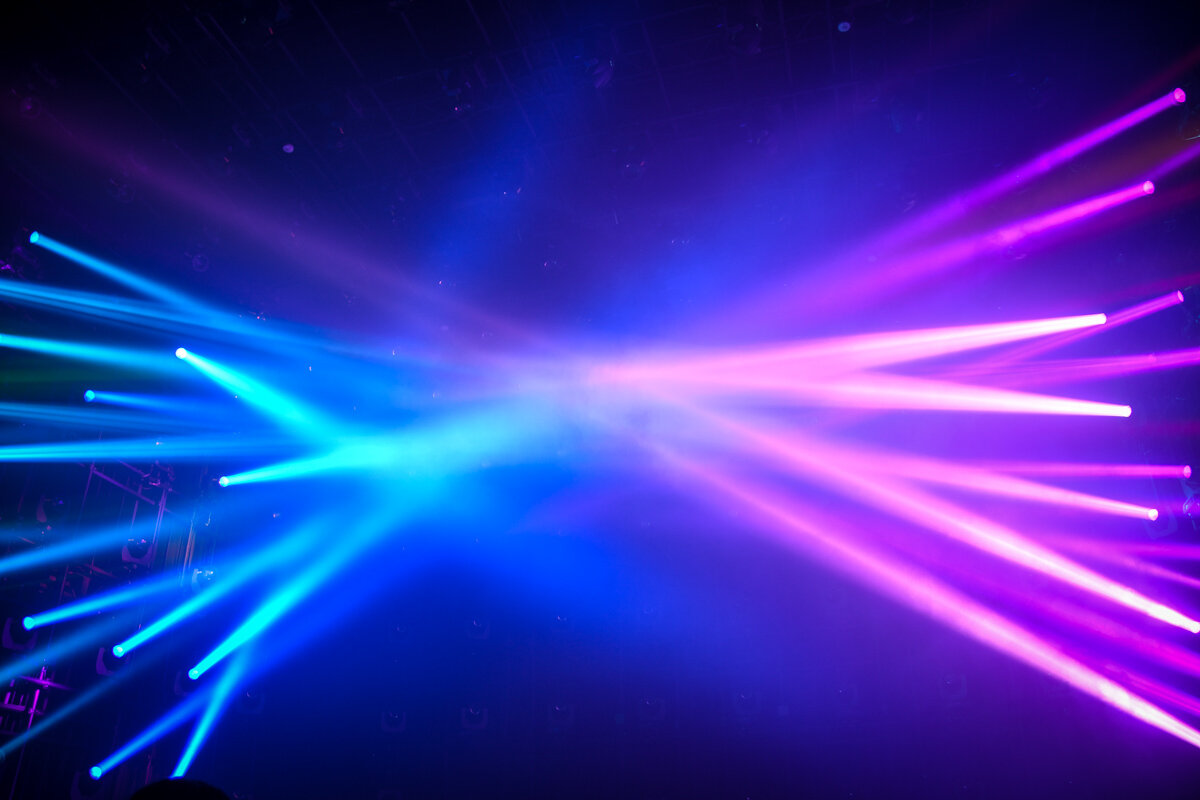 This is a room with laser light shows that are set to music. We read that there are 10 different "shows" that it cycles through, so don't leave after the first one ends. Stay around for a while and take each one in — you'll almost feel as if you're in a concert!
Good to know: This exhibit used lasers, smoke, and the occasional flashing light. So if you are sensitive to these things, be aware of your limits.
Peace Can be Realized Even Without Order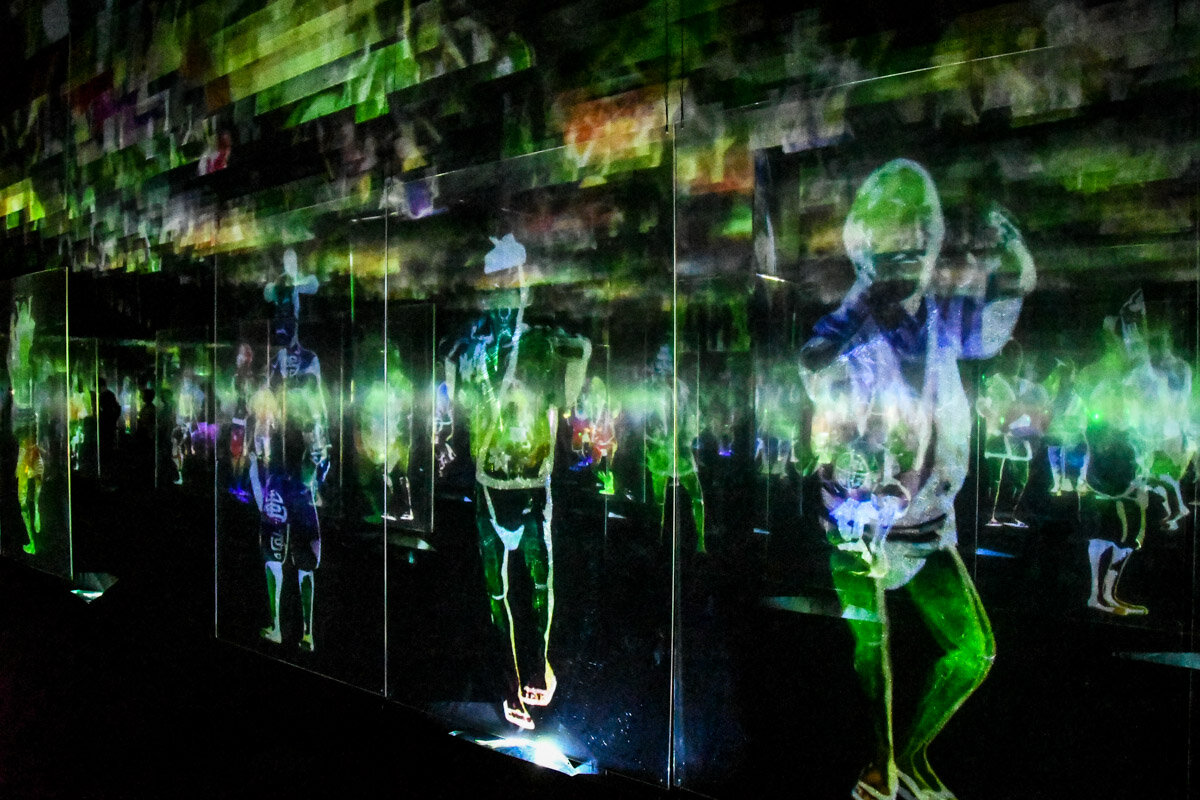 This one was kind of bizarre, and it almost felt like Wizard of Oz meets Alice in Wonderland meets Fantasia.
There are images of samurais and animals, like rabbits and frogs, dressed in uniform projected to almost look like a hologram. They march, and dance and play instruments, creating a sort of eerie soundtrack.
Insider Tip: When you get close, the images can react to your presence, so it's kind of fun to walk through and interact with this exhibit.
Athletics Forest and Future Park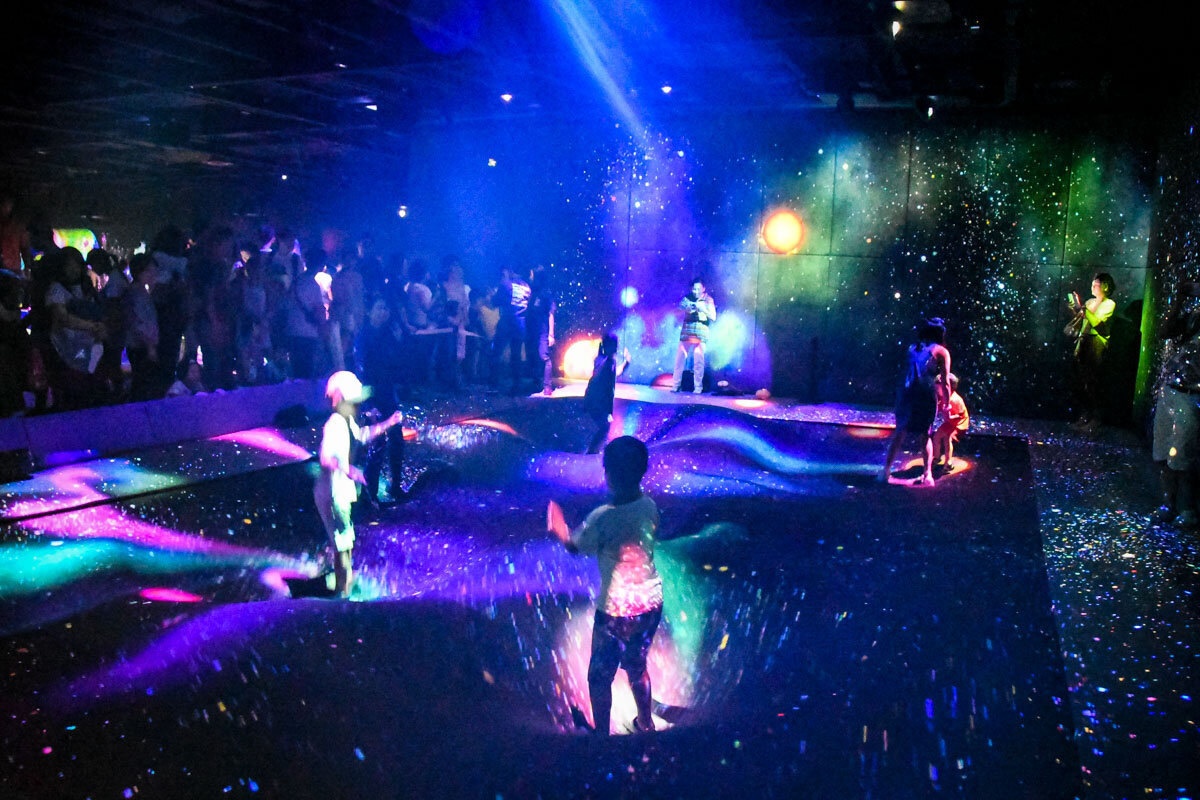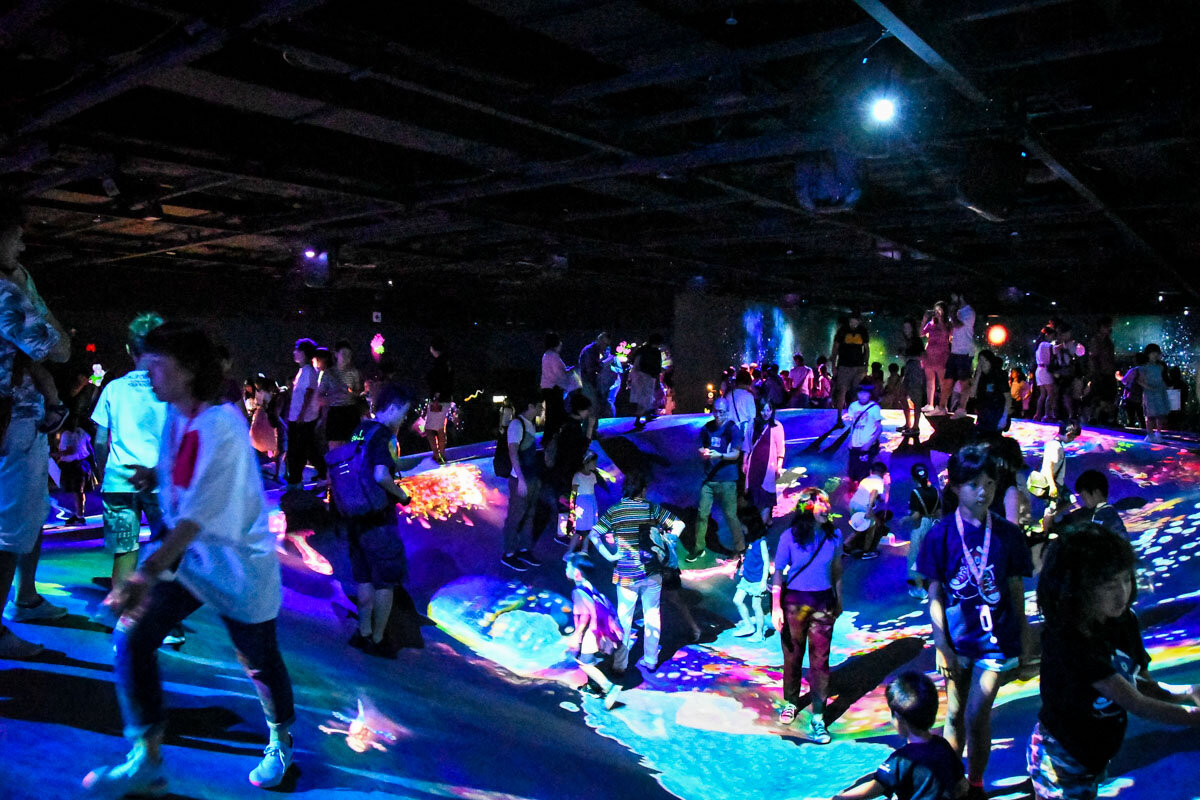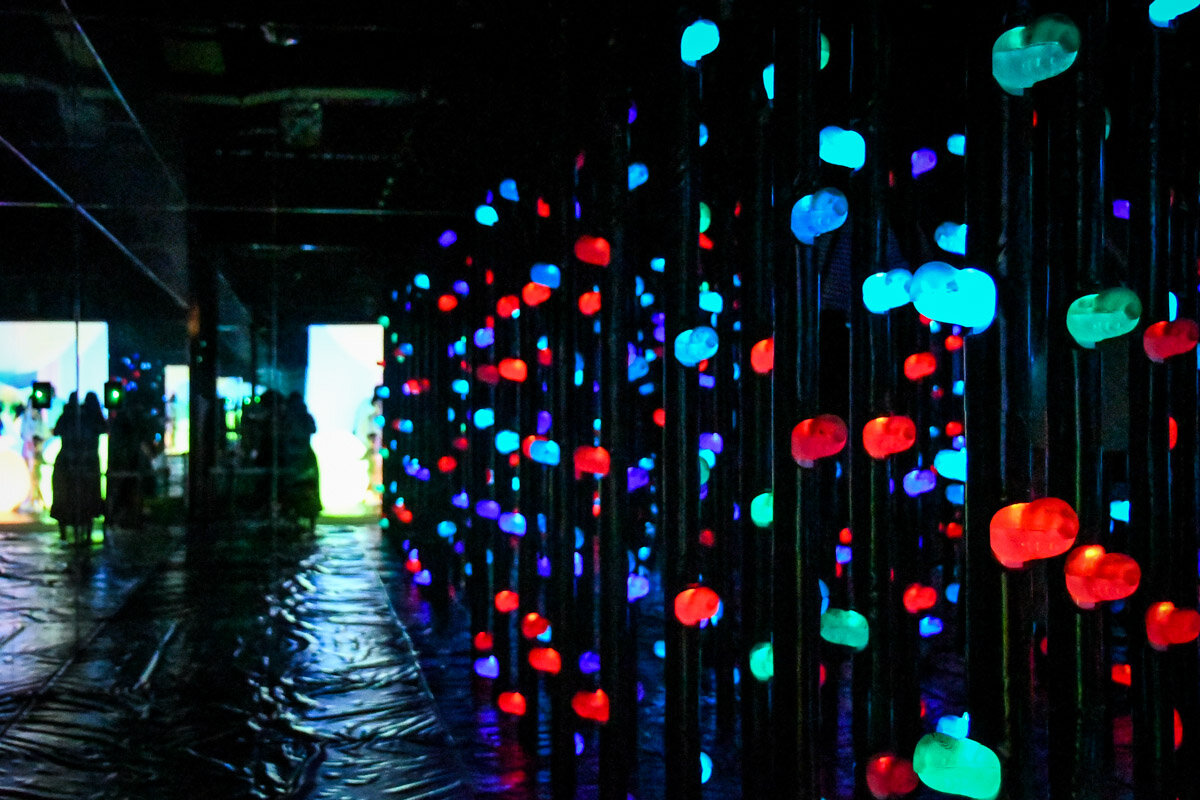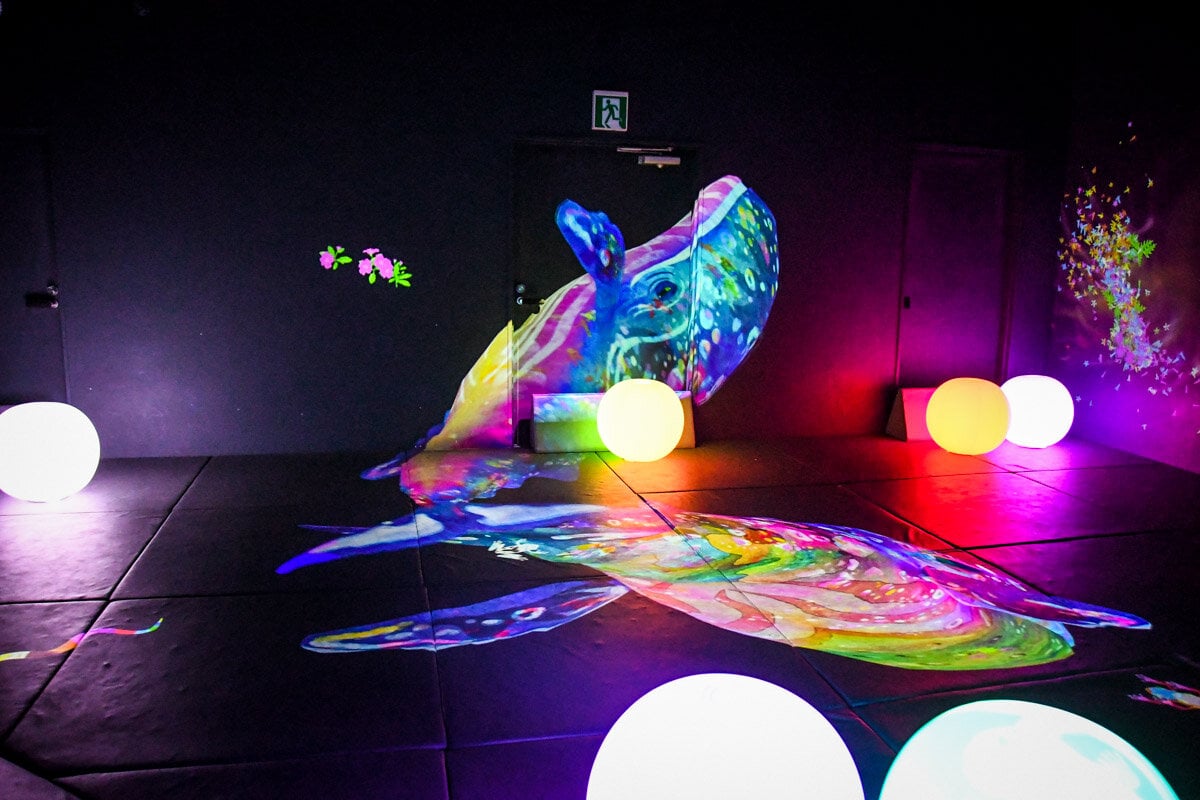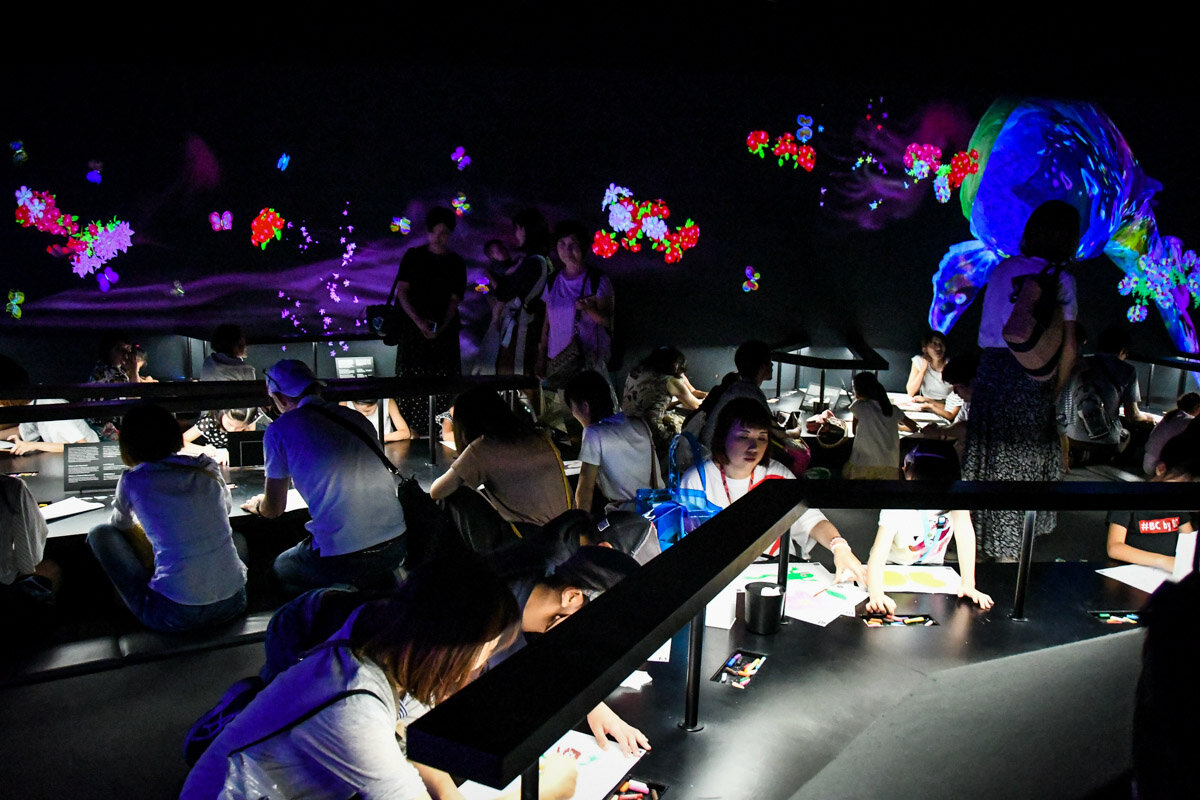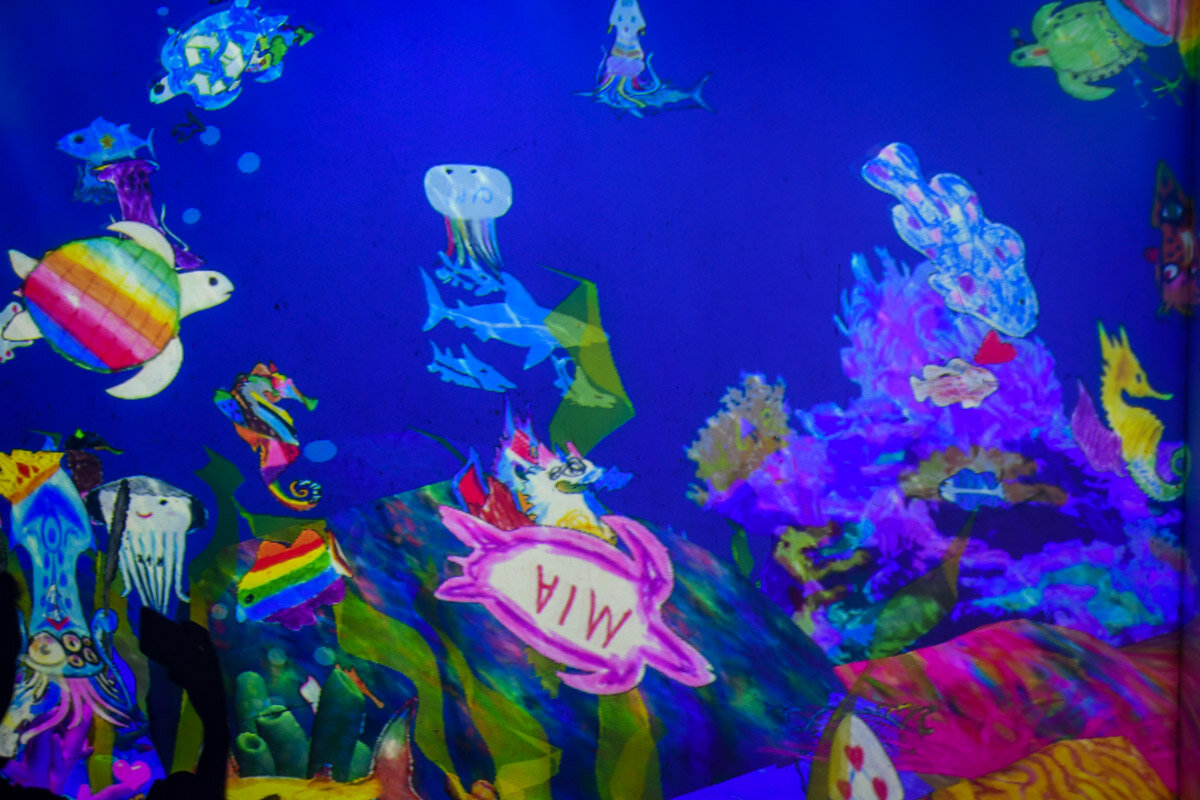 Located on the second floor, the Athletics Forest is made for children, but it's fun for adults to wander around as well (though some of the activities are really only for kids).
Everything upstairs really blends together (as if downstairs didn't already), and that is why we've combined Athletics Forest and Future Park together. Here are a few of the sections you (err, mostly children) can interact with:
Light Forest with 3D Bouldering: Basically a light up jungle with hand and foot holds for kids to climb on. Don't worry, the floor is padded.
Aerial Climbing: Light up swing steps that lead you around on a twisting path.
Multi Jumping Universe: Massive trampoline right as you enter the second floor with interactive light projections. Only a few children (or parents with little ones) can go at once, so there was a line when we got there.
Interactive Slide: Try to catch the light projections as you slide down
Sketch Aquarium: Probably one of the coolest interactions upstairs. There a table where children can make a colored drawing, scan it into a machine, and then their drawing comes to life by being projected on the wall! We saw many families chasing their sketches from wall to wall.
The creators say this exhibit uses "three-dimensional thinking that uses the body", and it is definitely the most interactive of all the exhibits. Children seemed to be transfixed with this place, and I can understand why!
If you are traveling with kiddos, you're going to want to devote a good chunk of time to this exhibit.
Weightless Forest of Resonating Life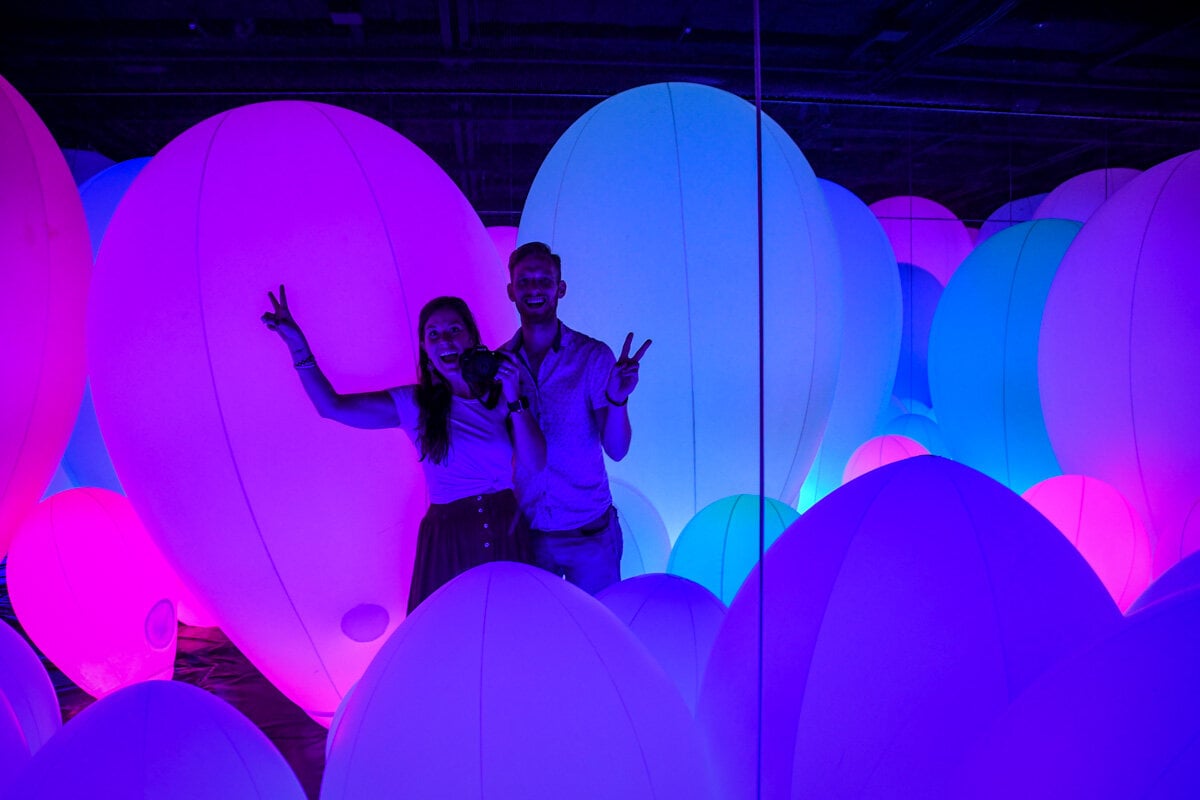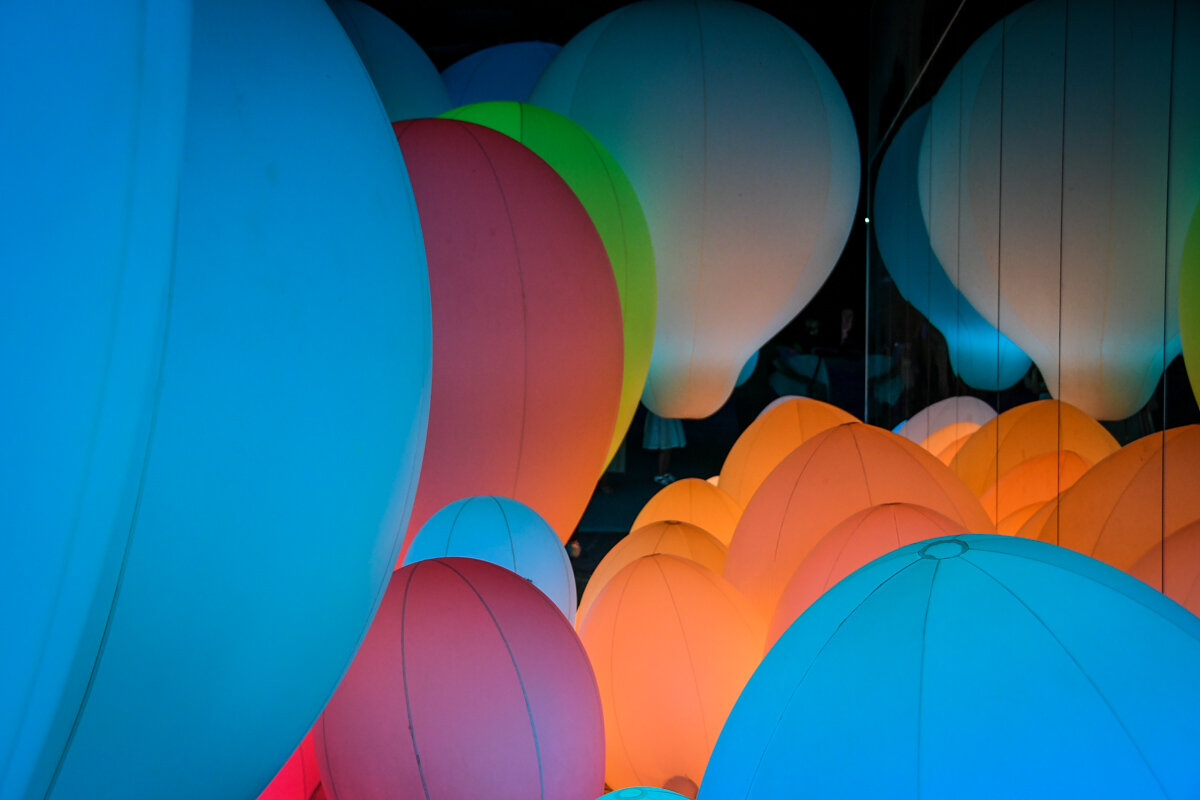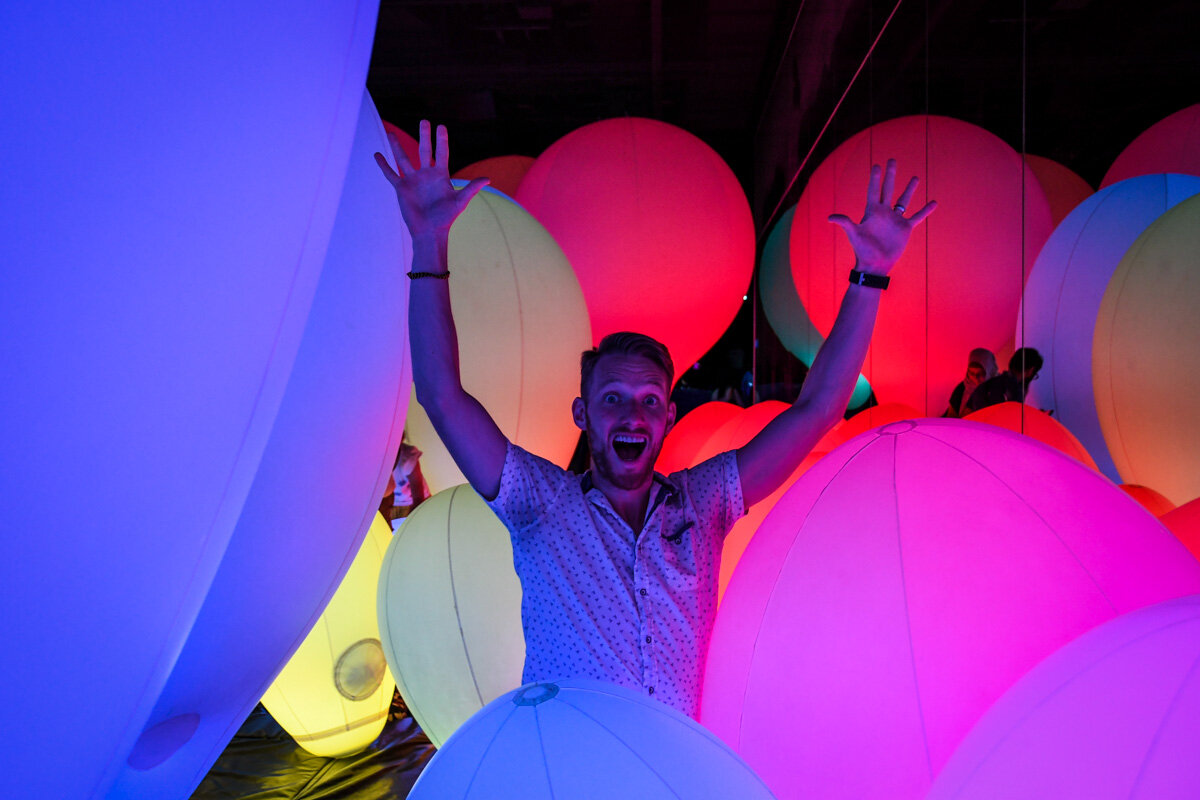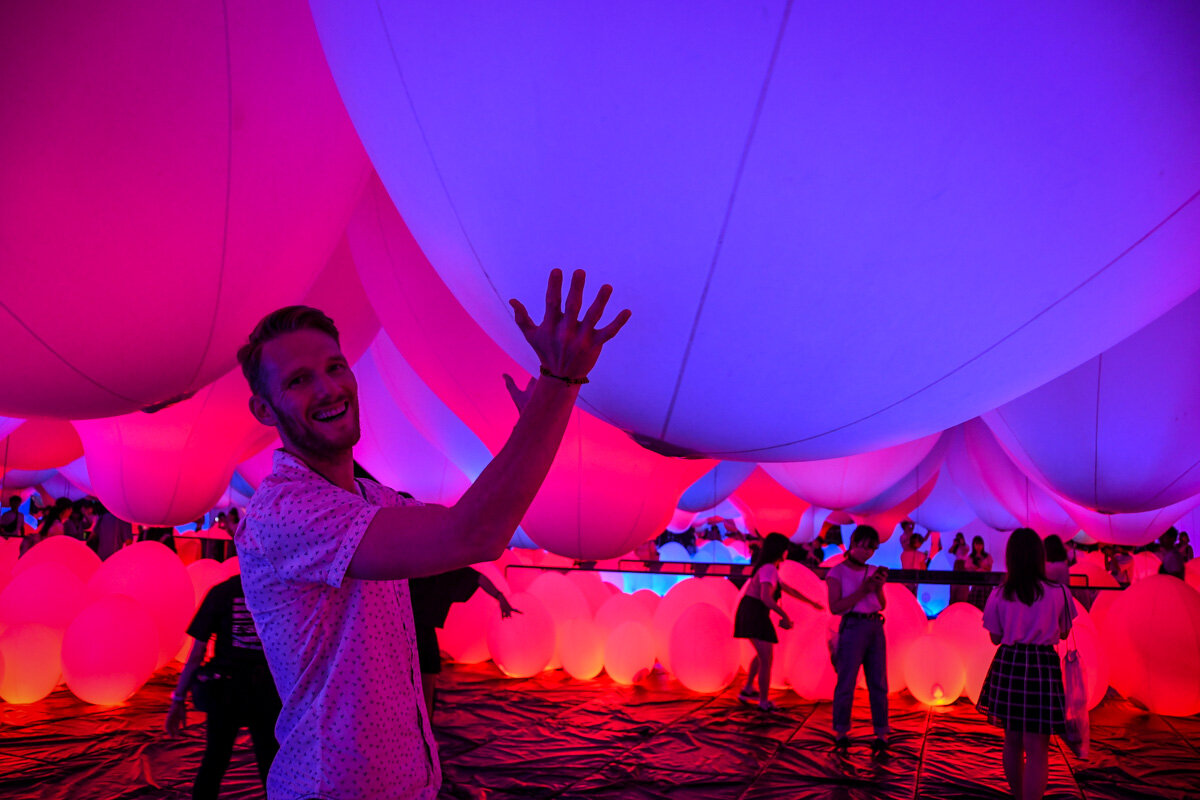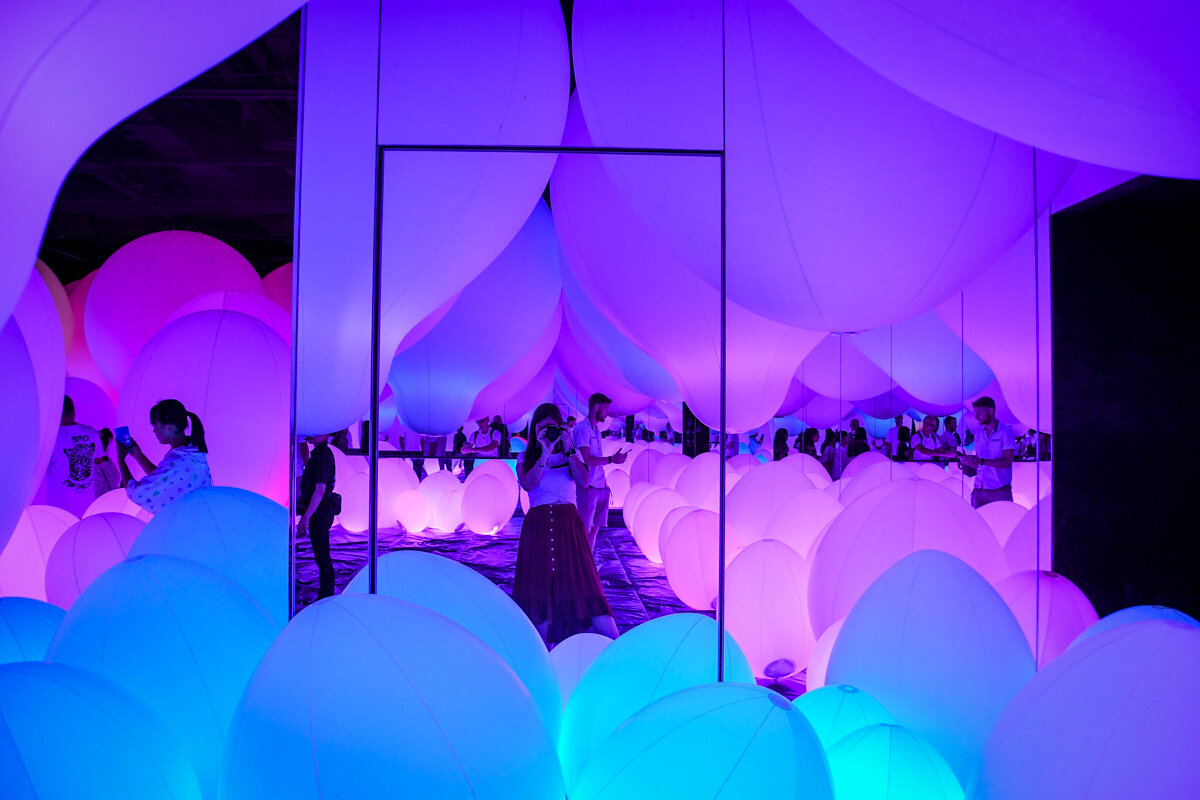 This area upstairs is one that both adults and children can participate in.
Toward the back of the Athletics Forest is a room filled with brightly lit balloons that change colors, of course!
While they are attached to the ground, you can move between them and kind of make them "bounce". This is another exhibit where the mirrored walls come in clutch for getting photos! This was near the end of our time at teamLab Borderless, but you can tell by Ben's childlike face he was getting his second wind!
Animals of Flowers, Symbiotic
This is one of those exhibits that spills out into the hallway and is a line of animals — like elephants, birds, lions — walking, as if leading you to the next display. Their forms are made up of flowers, and when you touch them, the flowers scatter.
En Tea House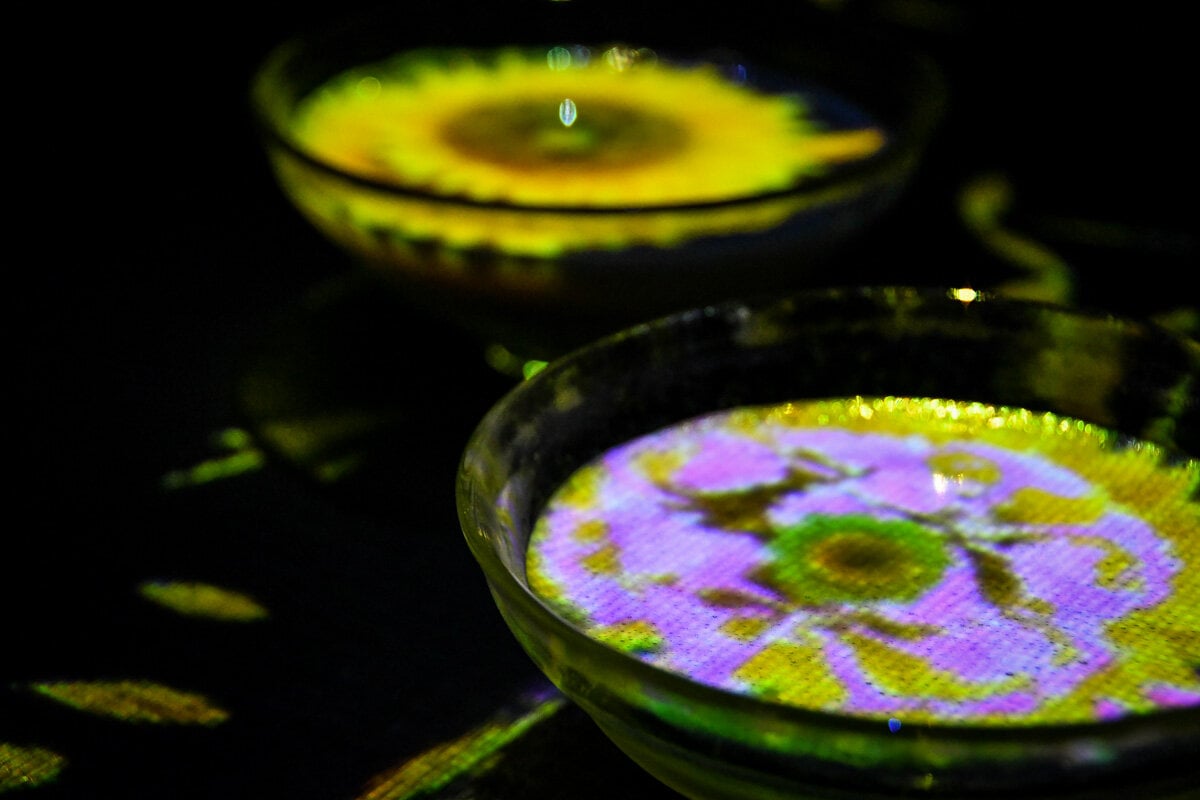 This room is the only one that requires an additional fee, but we thought it was well worthwhile!
You'll pay 500 yen at the entrance to this room (so be sure to bring cash with you), and select a type of tea. You'll then sit down at one of the long tables and wait for your tea to be delivered.
One of the staff members will come around and set a mug in front of you, and this is when the real magic begins…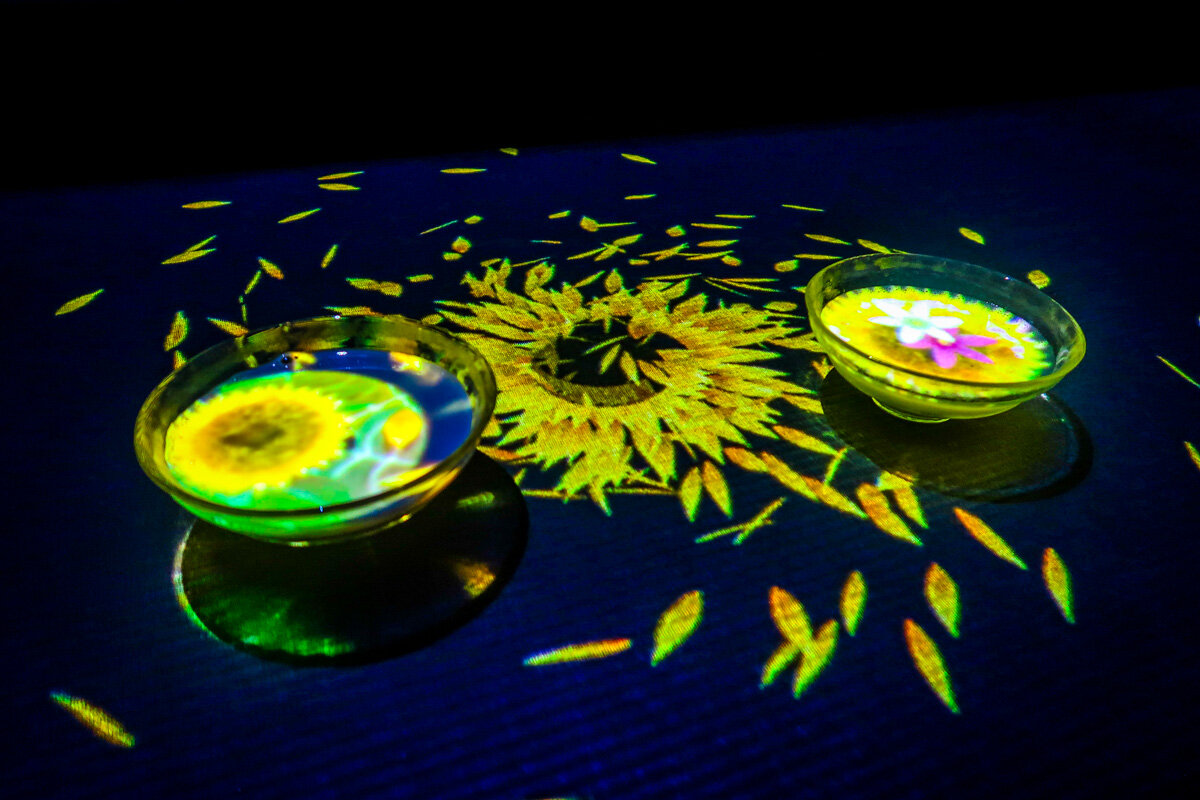 A flower, presumably projected from the ceiling, starts to bloom in your cup. If you pick up your cup and move it, the flower will die and a new one will grow when you set it down.
It sounds strange because it absolutely it. Strange, mesmerizing and beautiful!
Try to drink your tea slowly, because as soon as you're finished the flower will no longer bloom. (Although you can get a refill for 200 yen.)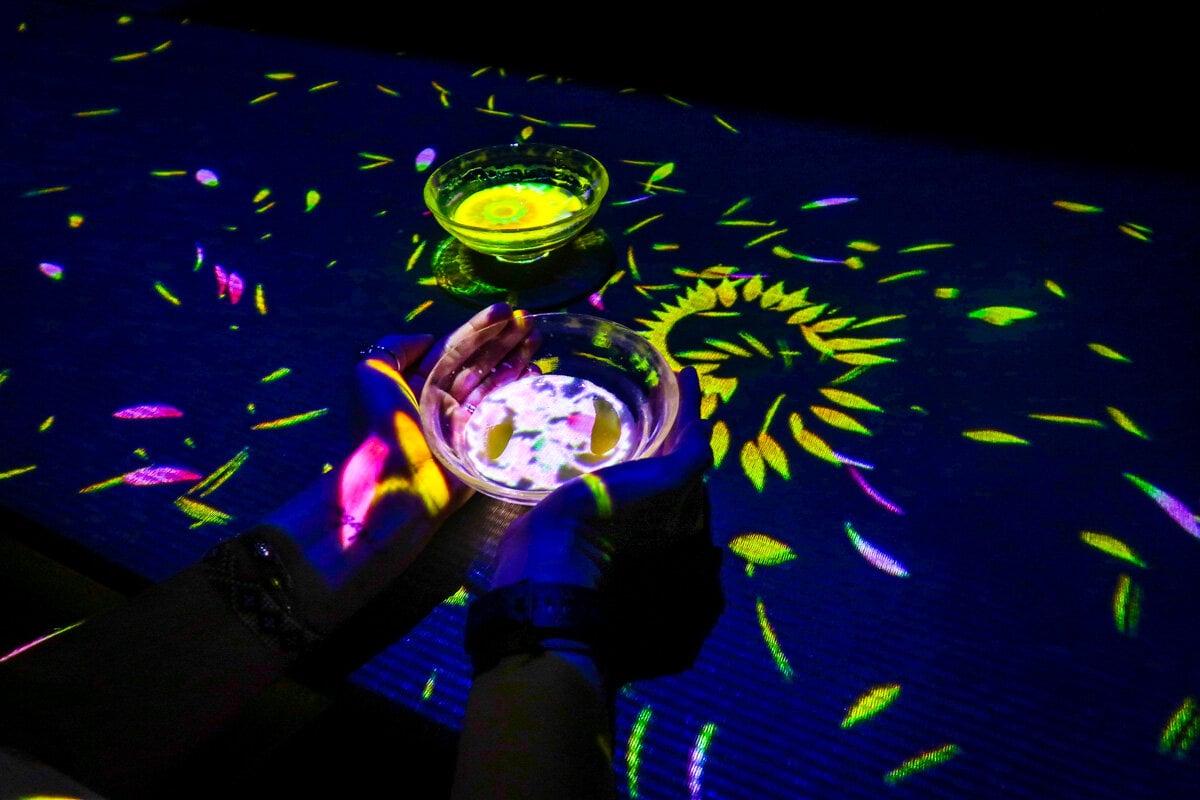 Tea options:
Cold Brew Green Tea
Cold Brew Green Tea with Yuzu (Japanese citrus fruit)
Hot Tamaryoku Green Tea
Hot Roasted Green Tea German Chamomile Latte (with frothed milk)
*The ones in bold are the ones we ordered (and shared!). They were both really good.
You can get refills for 200 yen, and you can also order a green tea ice cream and tea set for 700 yen.
Best Route for visiting teamLab Borderless Museum
The thing I should preface this with is while it can be tempting, don't get too stressed out about following an exact route. I'd say know which 2-3 rooms you want to visit first, but then go with the flow. Part of the fun is getting lost and making random turns.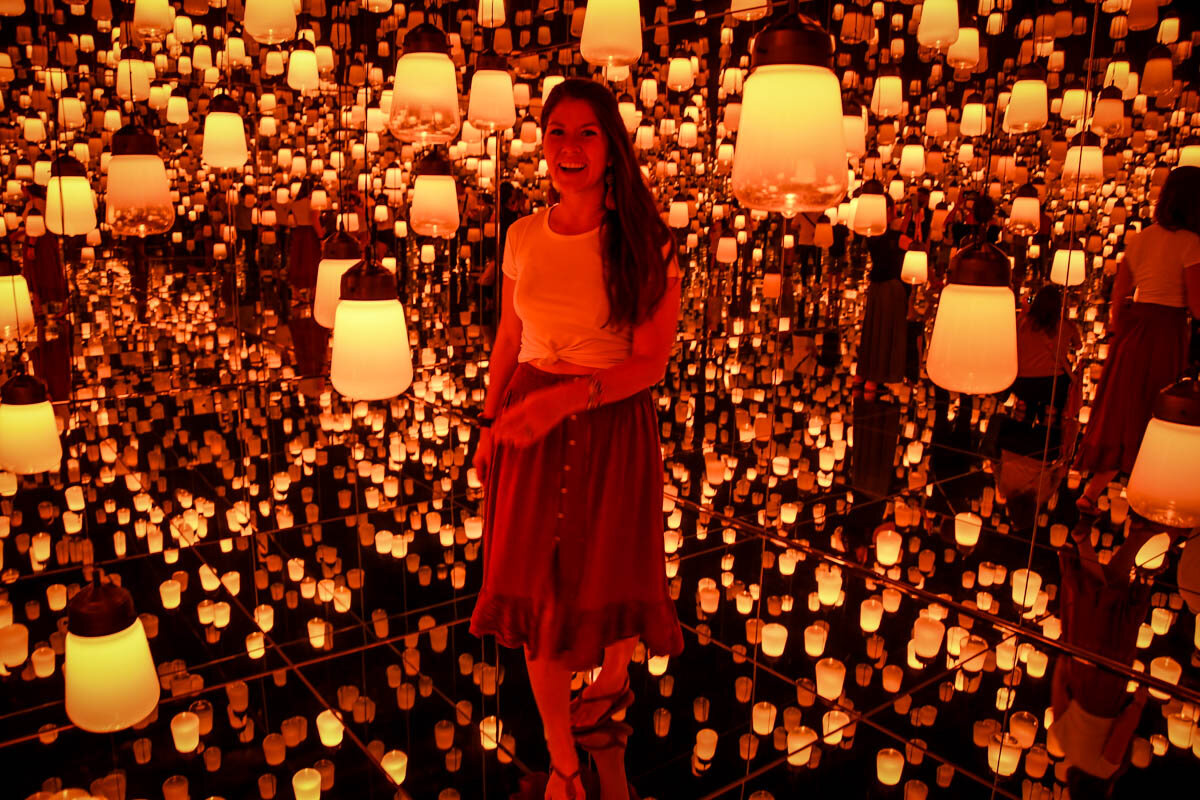 Even as I say this, I am one of those people who would prefer not to wait in lines or be in massive crowds. So if you're like me, you'll definitely want to visit these rooms first (listed in the order we'd recommend):
Forest of Resonating Lamps: A limited number of people are allowed in this room at once, and there is a time limit. It was probably around 2 minutes, but it went super quickly and for us, and once wasn't enough. I don't think it had even gone through all the colors, and the staff was telling us to exit. Since this was the first room we entered, we were able to circle back, get in line. We entered again with just a few minutes of waiting, and we're so happy we had a second time in this room – it was one of our favorites! When we walked past it later on, the wait looked to be about 40 minutes and only growing.
Crystal World: We went through this exhibit 3 or 4 times, it was just that mesmerizing. Even at its busiest, we didn't have to wait in line, but it was much more enjoyable with fewer people.
Universe of Water Particles on a Rock where People Gather: I would say if you really want a photo in the "Rock Where People Gather" by yourself, go here first. Even though we got there pretty early, it was already quite packed. Honestly, I think that's part of the purpose for this exhibit, so I didn't mind.
The Nest: We didn't visit this one until later, and we had to wait 45 minutes to get inside. We didn't think that amount of waiting was worth it for this particular exhibit, so if you can get there before the huge line forms, that's a good idea. Hint: the line forms inside the Flower Forest, and you enter another room.
After you've visited these exhibits, let your curiosity lead the way. None of the other exhibits form intrusive lines (at least in our experience).
teamLab Borderless vs. teamLab Planets… Which is Better?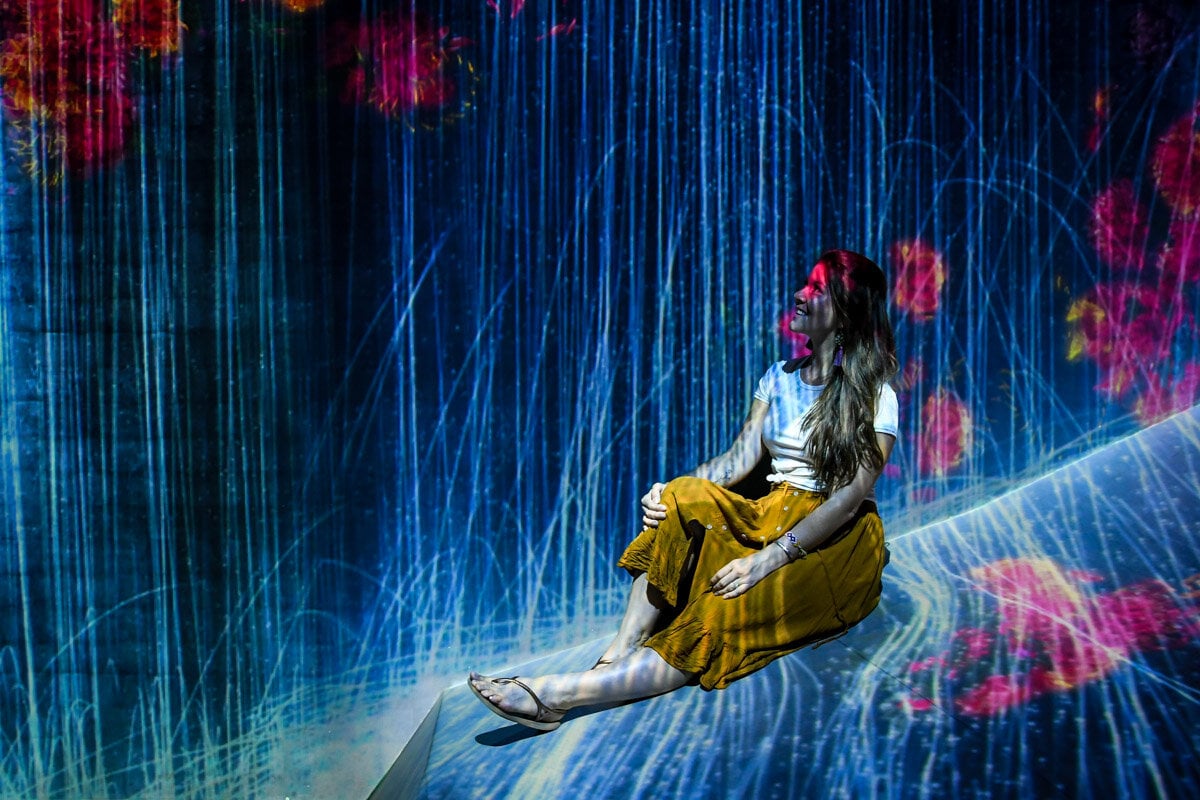 Let's back up a moment… teamLab (the artist collective, remember?) has two exhibits in Tokyo: Borderless and Planets.
They both cost the same price ($30) and are located in a similar area. They are both digital art museums, and some exhibits will feel similar (both have a Crystal World room). Unless you have a lot of time in Tokyo and really love the idea of seeing (and paying for!) both, we think choosing one will be plenty.
So what's the difference, and which one is better?
The best one is a matter of opinion, but here is some information to help you choose:
Borderless:
More popular
Bigger and requires more time
Better suited to children, with exhibits specifically for kids
Permanent
Planets:
Not as crowded
Smaller and requires less time (good if you have very limited time in Tokyo)
Not as well suited for small children, as some of the exhibits require visitors to walk through water
Semi-Permanent (open until autumn 2020)
Our opinion: We chose to go to Borderless because it is huge and there was so much more to explore (for the same price). We have heard others like the fewer crowds of Planets, although we would still recommend to get there early.
How to get to teamLab Borderless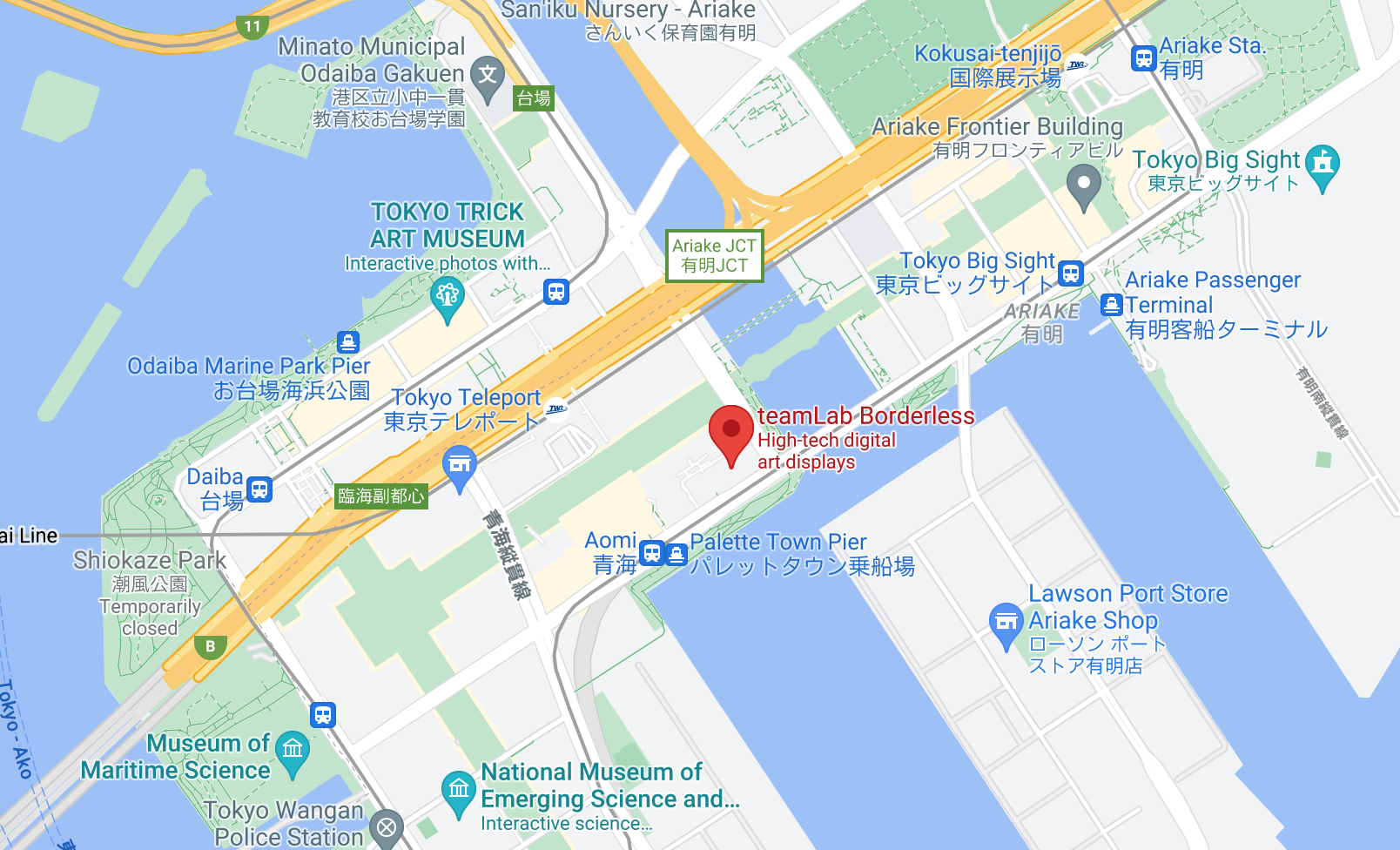 Located in the MORI Building on the man-made island of Odaiba in Tokyo Bay, it's pretty simple to get to teamLab Borderless.
From Tokyo Station take the Yurakucho Line toward Toyosu Station (4 stops). You'll get off and switch lines to the above ground track of the Yurikamome Line. Take the Yurikamome train for 6 stops and get off at the Aomi Station and leave out of the north exit.
Total time in route from Tokyo Station: around 35 minutes, cost ¥430 per person.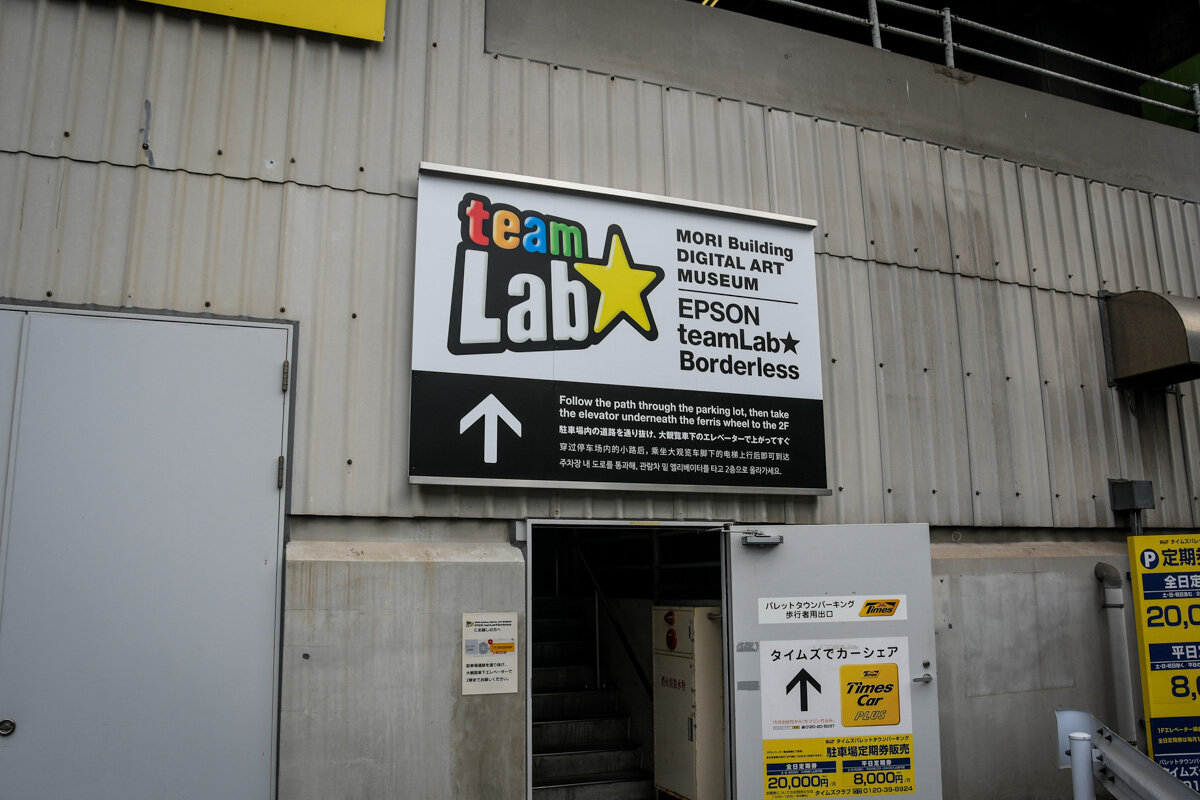 Walk northwest toward the MORI building. You'll see a large ferris wheel, which should tell you you're headed in the right direction. You'll eventually see signs, and from there you're just minutes away.
Address: MORI Building DIGITAL ART MUSEUM: teamLab Borderless
Odaiba Palette Town 2F, 1-3-8 Aomi, Koto-ku, Tokyo, Japan
Note: If you are not coming from Tokyo Station, put your location into the Official Japan Travel App and route it to Aomi Station. This is the best app for traveling around Japan. Check out our list of other essential travel apps for exploring Japan.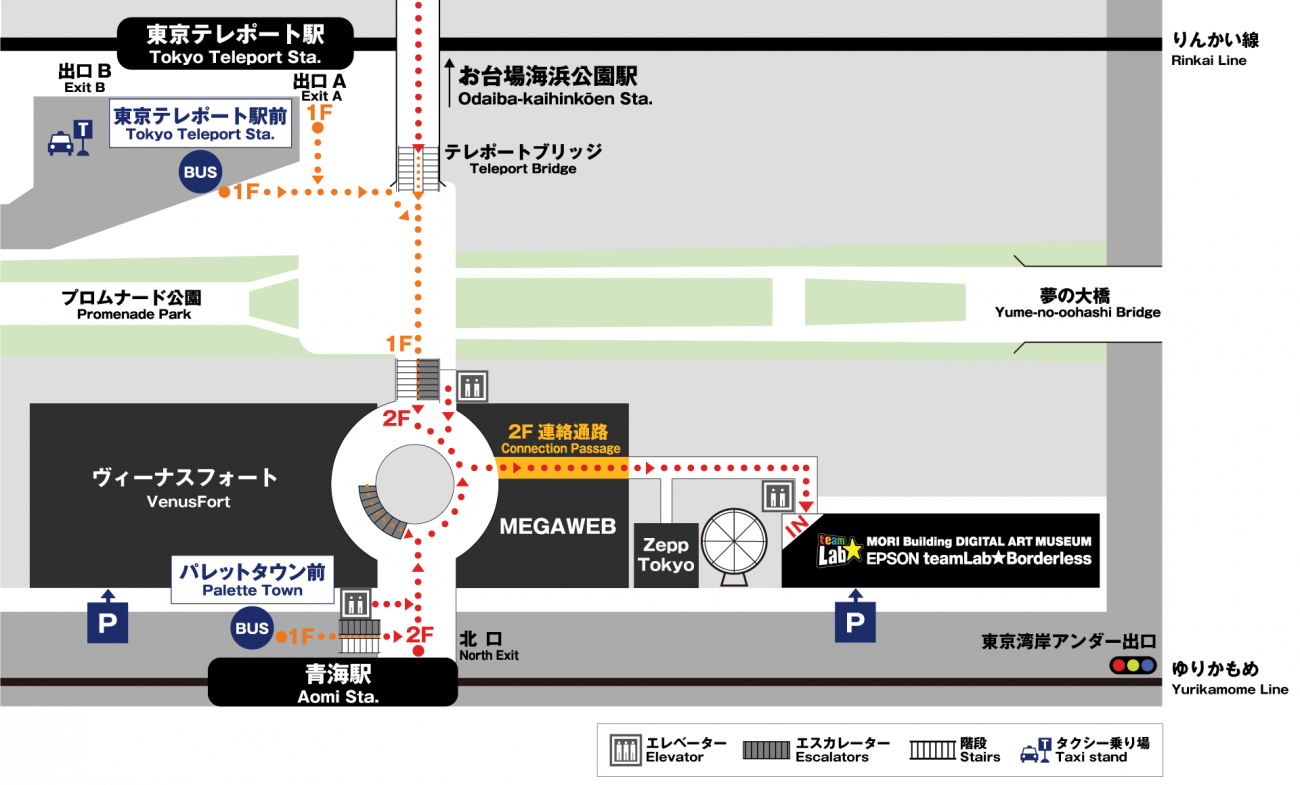 Helpful Tip: Even though the building is called MORI, don't confuse this with the Mori Art Museum, which is in a totally different part of Tokyo.
---
Are you planning a trip to Japan?
We have TONS of resources on travel in Japan and destinations throughout the country. Check out our Ultimate Japan Travel Guide for all the answers to your most burning questions, or read some of our favorite articles below.
Save this article on Pinterest for later!
We want to hear from you!
Are you heading to teamLab Borderless soon? What rooms are you most excited to interact with? Do you have any more questions about teamLab? Let us know in the comments below and we'll try our best to get back you!