Come explore the Roof of Japan! The Tateyama Kurobe Alpine Route is a mountain traverse where you take 8 different modes of transportation. Walk next to a 7-meter snow wall in the springtime, visit Japan's highest dam, and travel through mountains on an electric bus.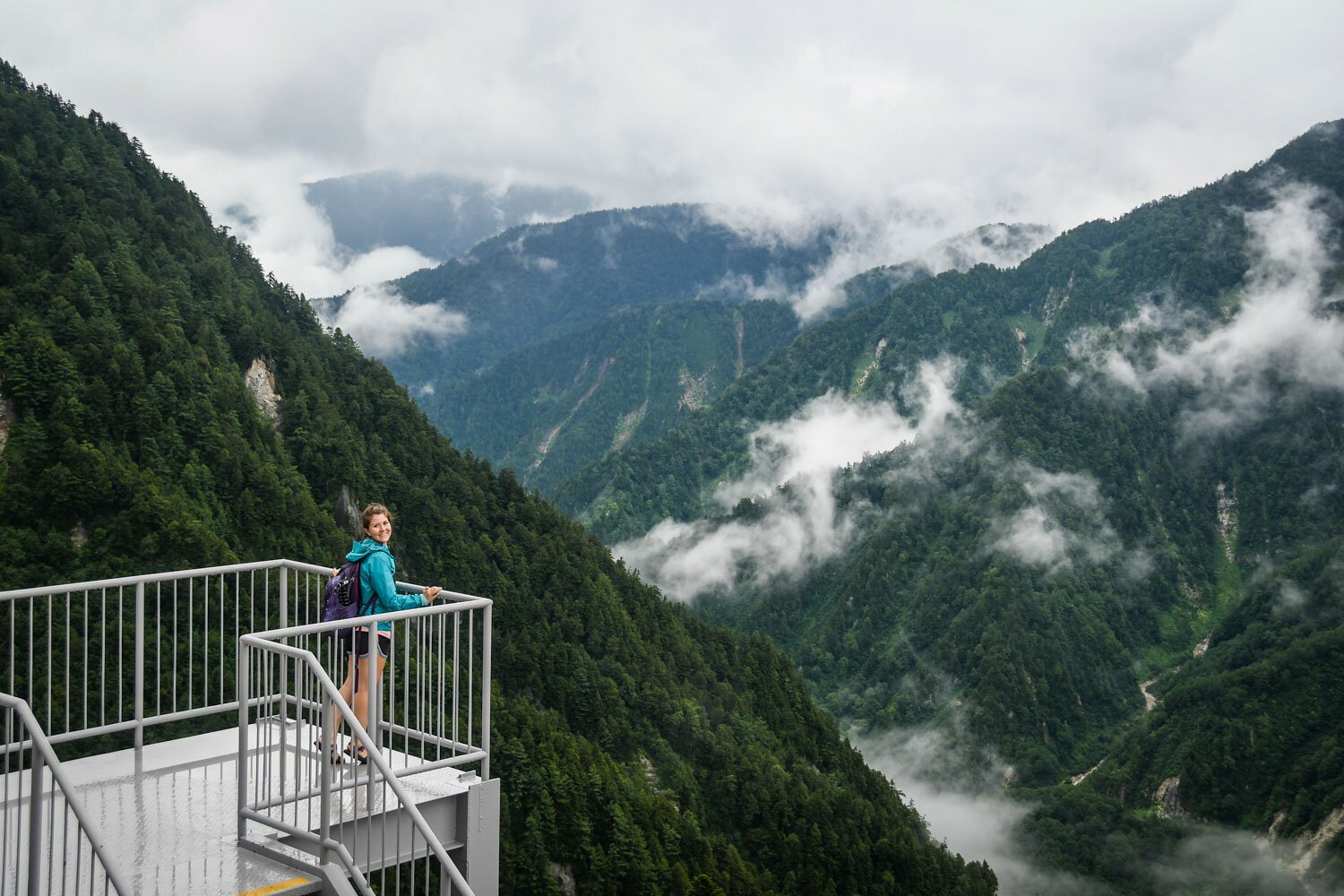 The Tateyama Kurobe Alpine Route takes you through epic landscapes, lush green valleys and past a few of the highest peaks in Japan. Each season on the alpine route is a completely different experience. In the springtime, there is a massive snow wall up to 20 meters, while in autumn this the first place in Japan to start fall foliage.
While Japan is known for its big metropolises like Tokyo, there is so much of the country surrounded by mountains and waiting to be explored.
In this article, we've laid out all the stops along the alpine route, what to do and eat and how to save you money on your ticket. So if you're itching to get out into nature, add the Tateyama Kurobe Alpine Route to your Japan itinerary.
What is the Tateyama Kurobe Alpine Route?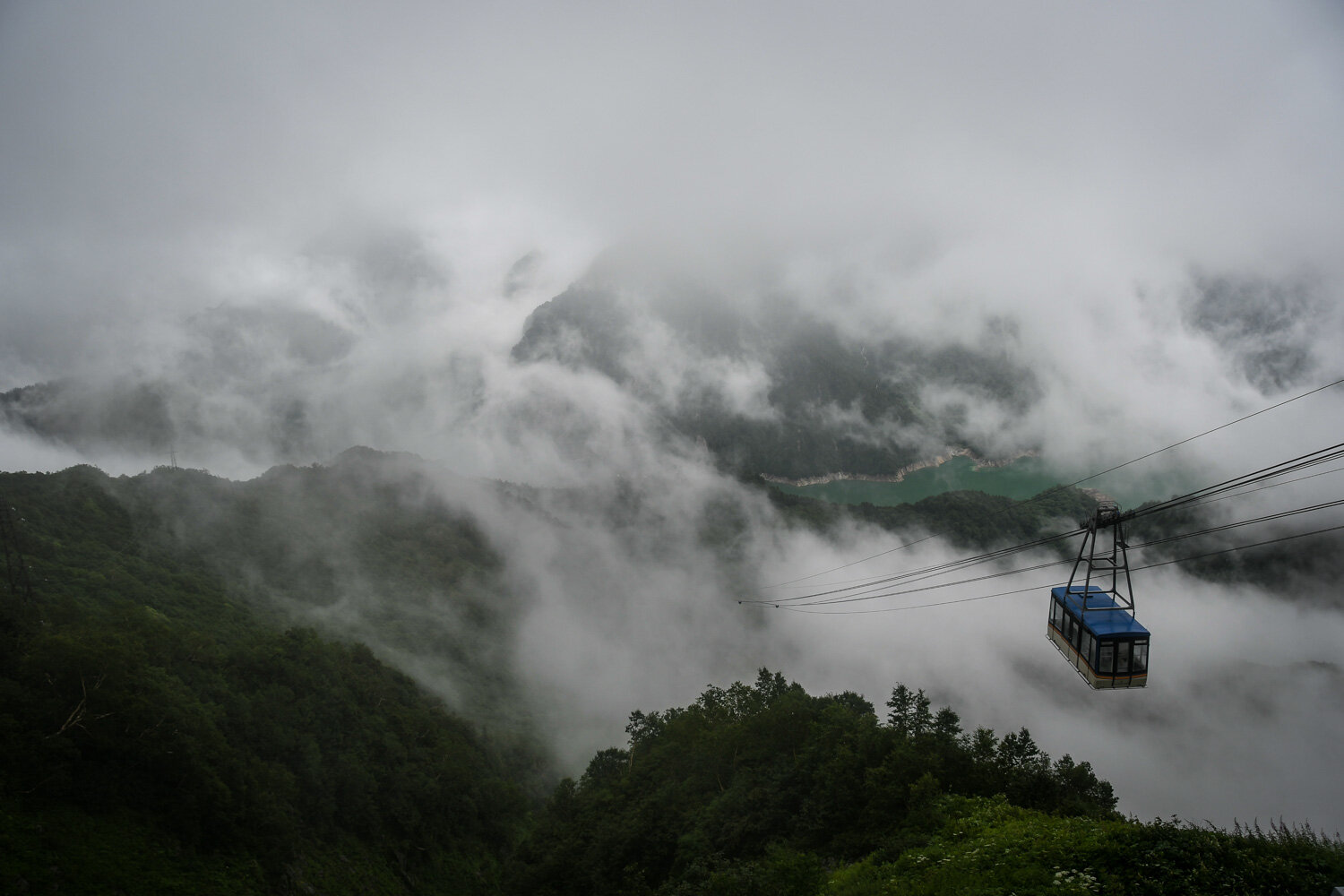 Open from April 15th to November 30th, the Tateyama Kurobe Alpine Route is a sightseeing mountain traverse where passengers ride 8 modes of transportations, including a cable car and a ropeway, to travel from one side of the Kita Japanese Alps to the other.
The entire route can be completed in one day, but if you extra time (and money) you can stay at the highest hotel in Japan, Hotel Tateyama. We traveled west to east, starting the day in Toyama and traveling across the route to Omachi, but you can extend it to Nagano if you want. You can also reverse the route by traveling east to west.
At each stop along the route, you can get out and explore the alpine flora and fauna.
How long does it take to cross the Tateyama Kurobe Alpine Route?
The 90 km traverse takes about 6 to 7 hours for the average guest. If you spend more time hiking at Murodo Station and at the highest Japanese hot spring it can take up to 8 hours. Tack on an extra hour if you're traveling on a weekend or holiday as the queue lines will be longer.
How much does Tateyama Kurobe Alpine Route cost?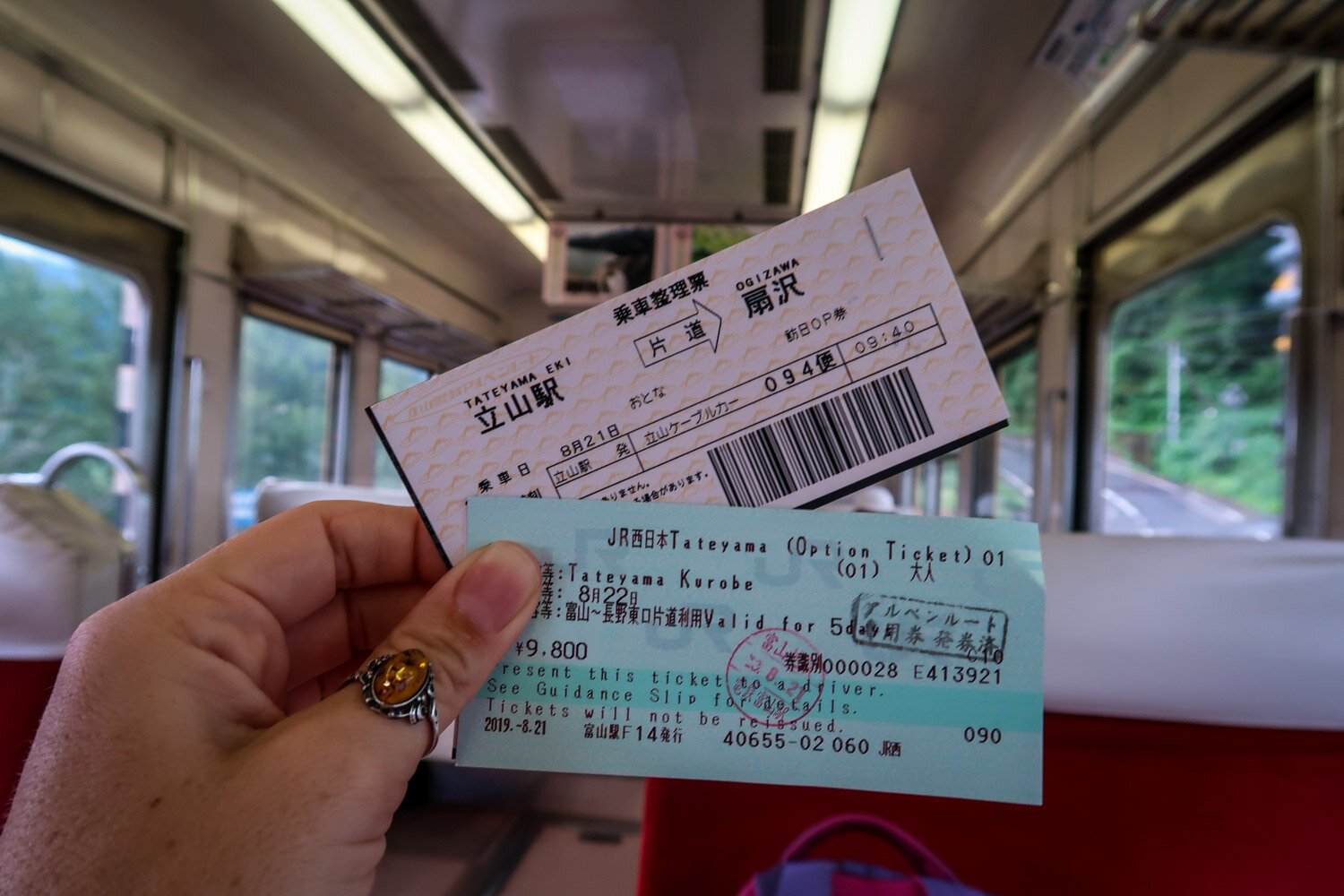 The Tateyama Kurobe Option Ticket, which grants you access to all transportation throughout the route, costs 9,800 yen ($91 USD). This combo ticket saves you around $21 USD per person compared to buying each mode of transportation separately which is around 12,090 yen ($112 USD).
Plus, with the Tateyama Kurobe Option Ticket, you don't have to worry about waiting in line at the ticket counter, EIGHT times, to get a ticket for each ride. You simply walk up to the queue at each station labeled Option Ticket (which was quite shorter in our experience) and hop on the bus, cable car or ropeway.
The Tateyama Kurobe Option Ticket MUST be purchased at least one day in advance at certain JR stations. These stations include Tokyo, Nagano, Toyama, Kanazawa and several others. For a full list of stations that offer the Option Ticket, head to the JR East site.
Where does Alpine Route start and end?
The Tateyama Kurobe Option Ticket is valid from Nagano Station to Omachi Station, over the mountain route to Tateyama Station and ends at Toyama/Dentetsu Station. Or you can travel west to east (like we did) in which you can start in Toyama/Dentetsu Station and end in Nagano or Omachi Station.
---
Tateyama Kurobe Alpine Route Travel Guide
We traveled from Toyama to Omachi, but if you want you can continue on to Nagano. Below we'll explain the route, stops along the way and transportation you'll take.
1. Toyama Dentetsu Station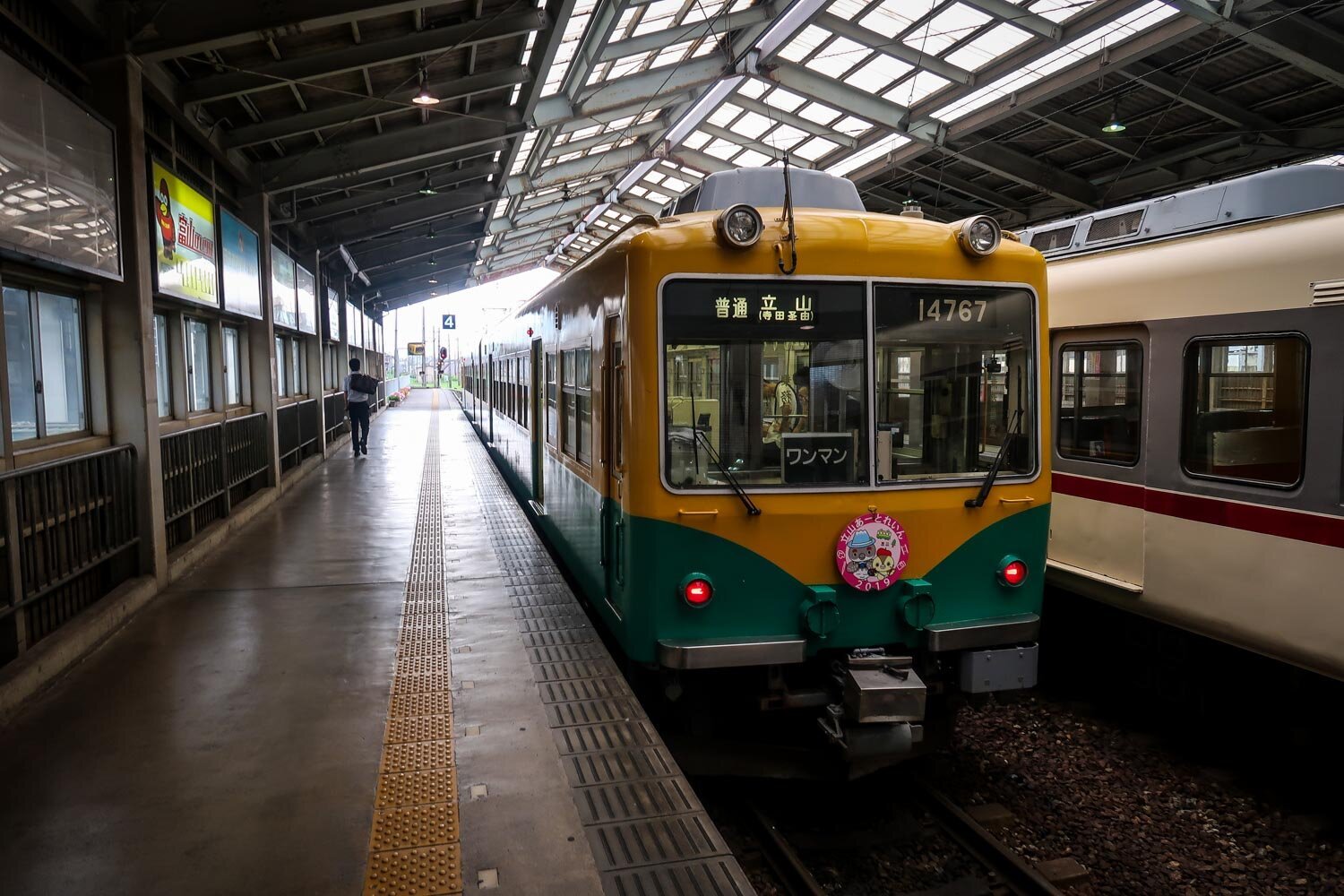 Toyama station is the big JR Station and Toyama Dentetsu Station is the local station just south of the JR Station.
Tip: Be sure to purchase the Tateyama Kurobe Option Ticket the day before you want to go on the route. Tickets can be purchased at the JR Station Ticket Counter.
Extra Luggage? You can ship your bags from Toyama Dentetsu Station to your end destination (like Shinano-Omachi Station or Nagano Station). No need to make a reservation, you can just drop off your baggage just before you enter the turnstile (staff is on the right side when facing the trains) before 9:50 a.m.
We tagged your bags and paid 1,500 yen to ship them from Toyama Dentetsu Station to Shinano-Omachi Station. Prices vary depending on drop off and pick up locations, you can find more information here.
Next Transportation: Toyama Chico Railroad

Duration: 60 minutes

The train travels through the rural areas outside of Toyama. As you creep closer and closer to the mountains, look out the right side of the train to get great views of the surrounding hills.
2. Tateyama Station – 475 meters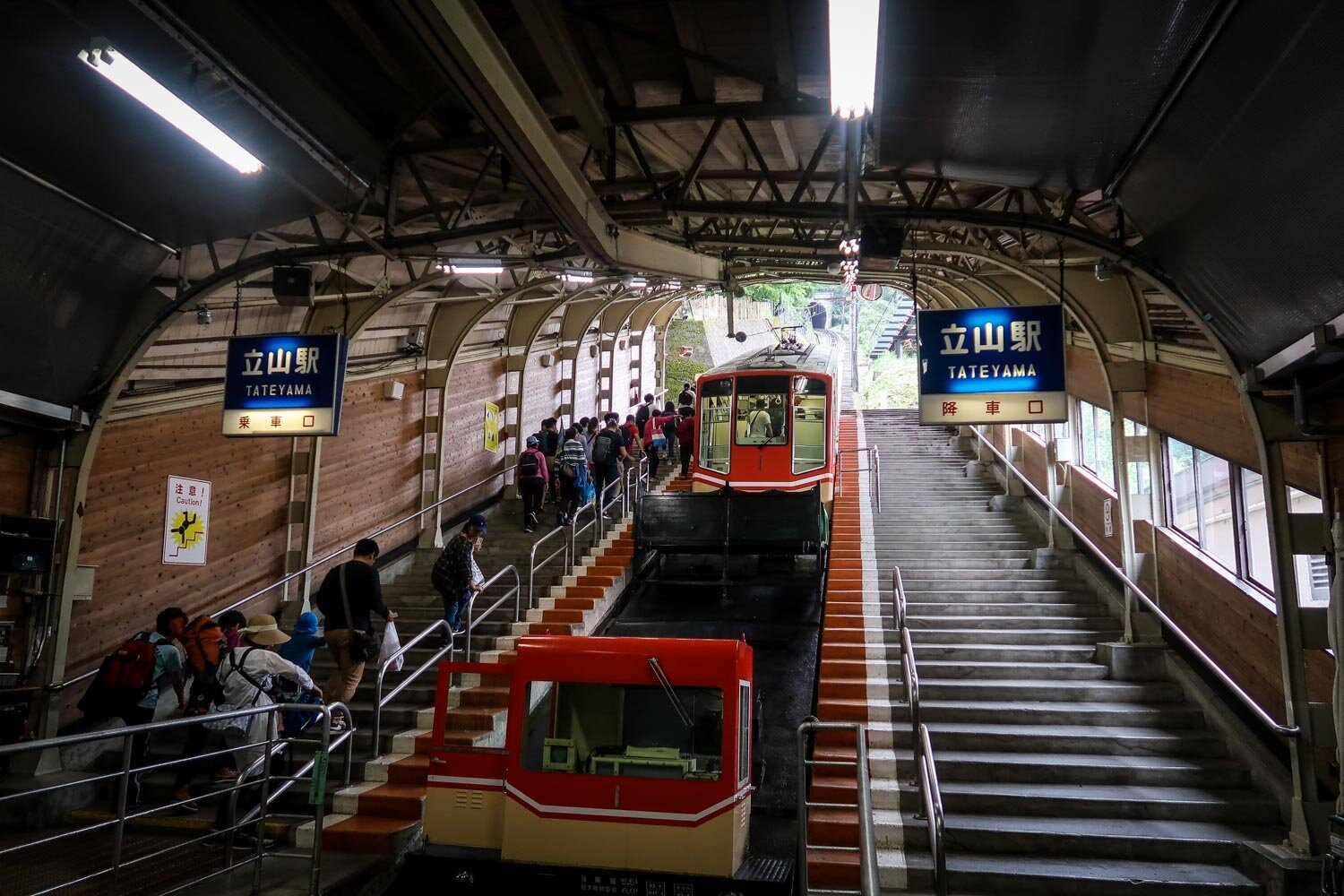 The Tateyama Station is quite small and basically is used as a transfer point from the train to the cable car.
If you got a really early start, you could take the Shomyo Falls Sightseeing bus to the 350m Shomyo Falls. We opted not to go because it is a 2-hour return trip via bus and foot. On the bus between Bijodaira and Murodo there is a viewpoint that our driver slowed down so we could see the falls, but it was only through the bus windows.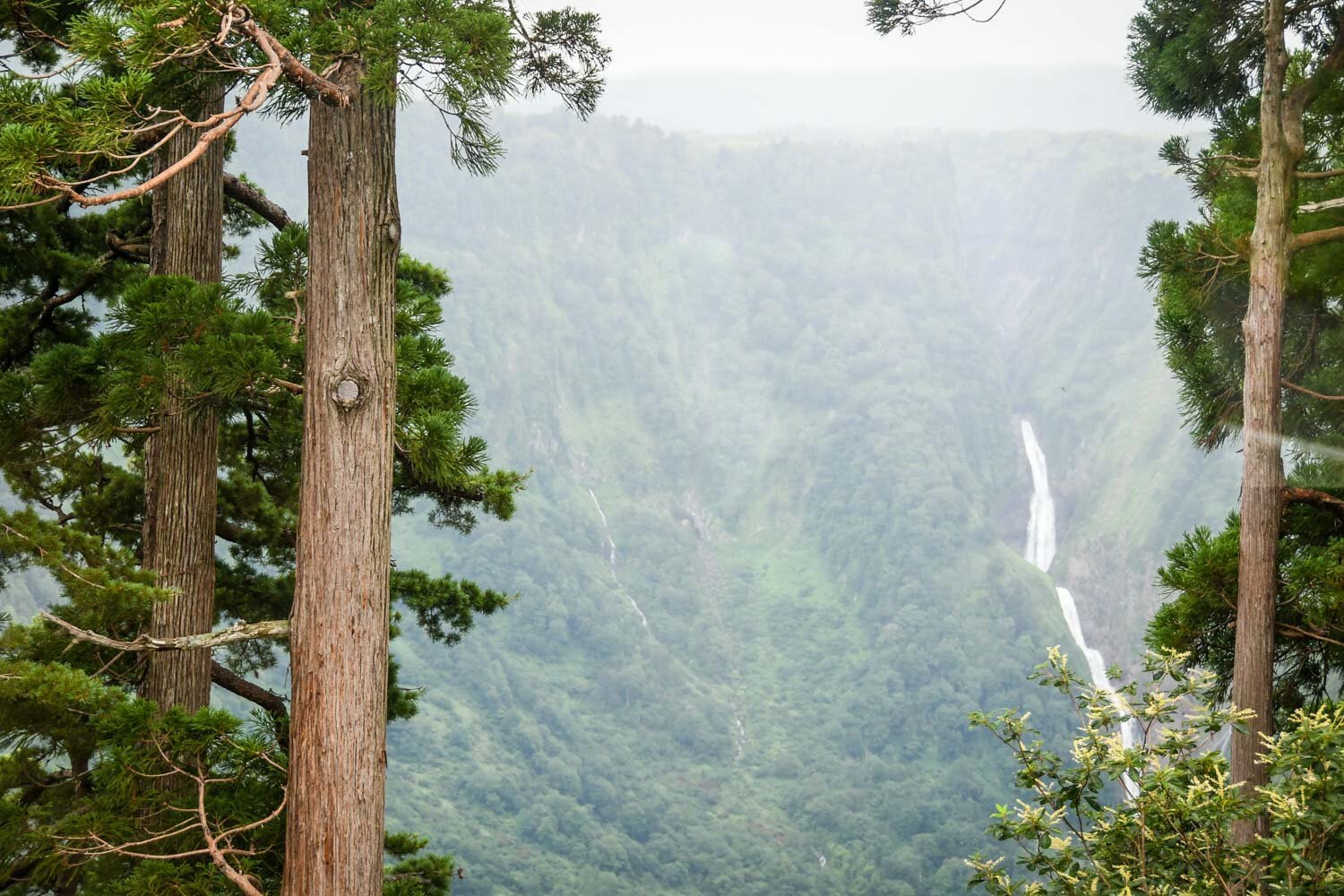 Next Transportation: Tateyama Cable Car

Duration: 7 minutes

Our favorite spot in the cable car is at the very front, facing downhill. You'll have to stand but the views out the big front window are worth it!
3. Bijodaira – 977 m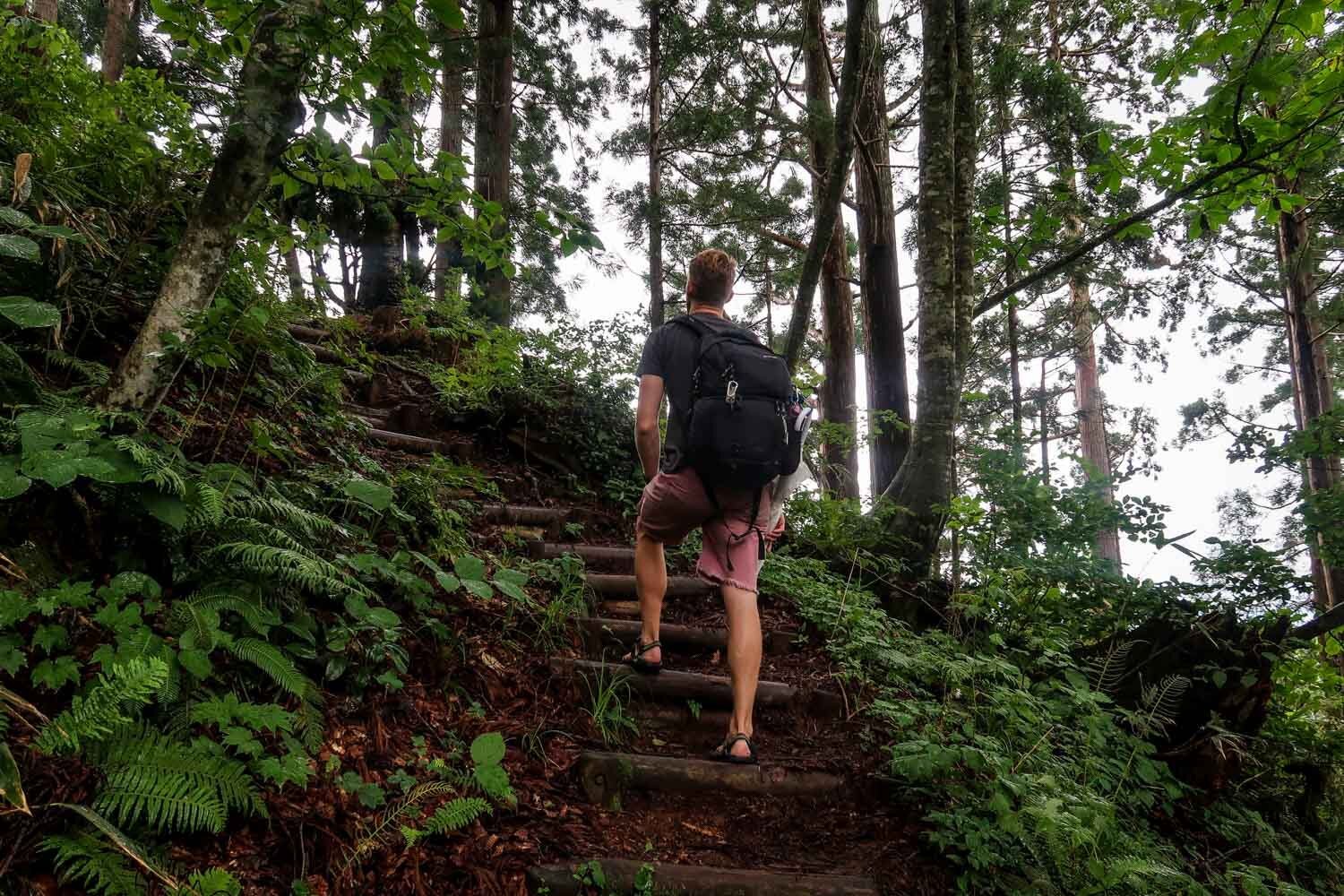 Outside of Bijodaira Station, there are 3 walking loops at various lengths: 2 km, 2.5 km, and 4 km. We only had 30 minutes until the next bus we wanted to take so we decided to walk a little bit of the short loop.
This area is known for the primeval forest containing multi-century old cedars and beech trees. The trails outside of Bijodaira are decent and fun to explore for a bit. These massive trees are so old some have been named "Beautiful Woman" cedar, "Child-raising" cedar, and "Ageless Tree".
The only thing that would make hiking around here better is to go during autumn foliage in Late October and early November.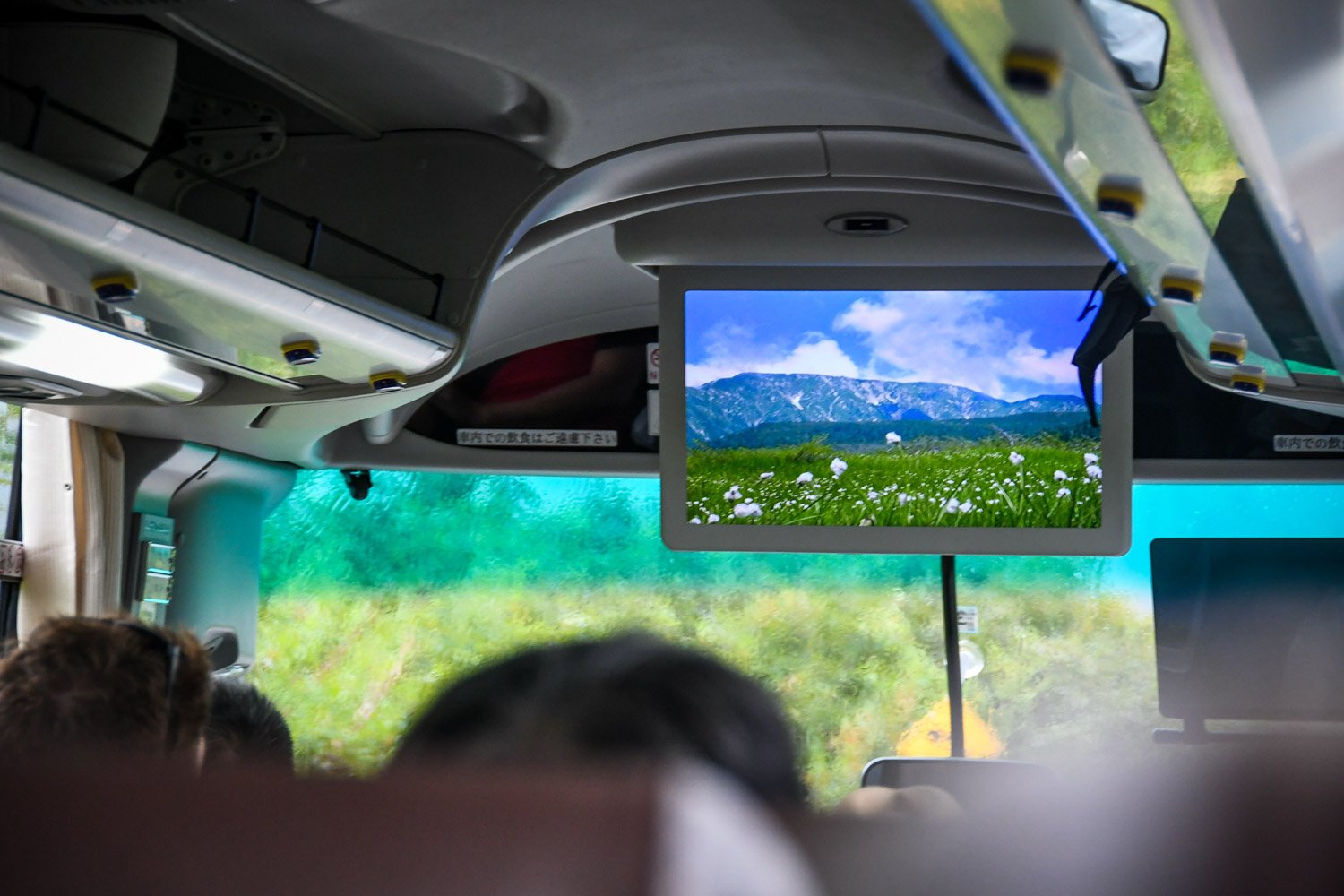 Next Transportation: Tateyama Highland Bus

Duration: 30 minutes to Midagahara, 50 minutes to Murodo.

This comfortable bus takes you up the mountain roads and past the tree line. If you want to stop at Midagahara, be sure to check the bus or as the driver because some buses go directly to Murodo.

Throughout this ride, a recording is played in Japanese and English, sharing facts about the area and points of interest along the way. Keep an eye out for the Shomyo Falls viewpoint and the Sendo Cedar, one of Japan's 100 biggest trees.
4.Midagahara – 1,930 m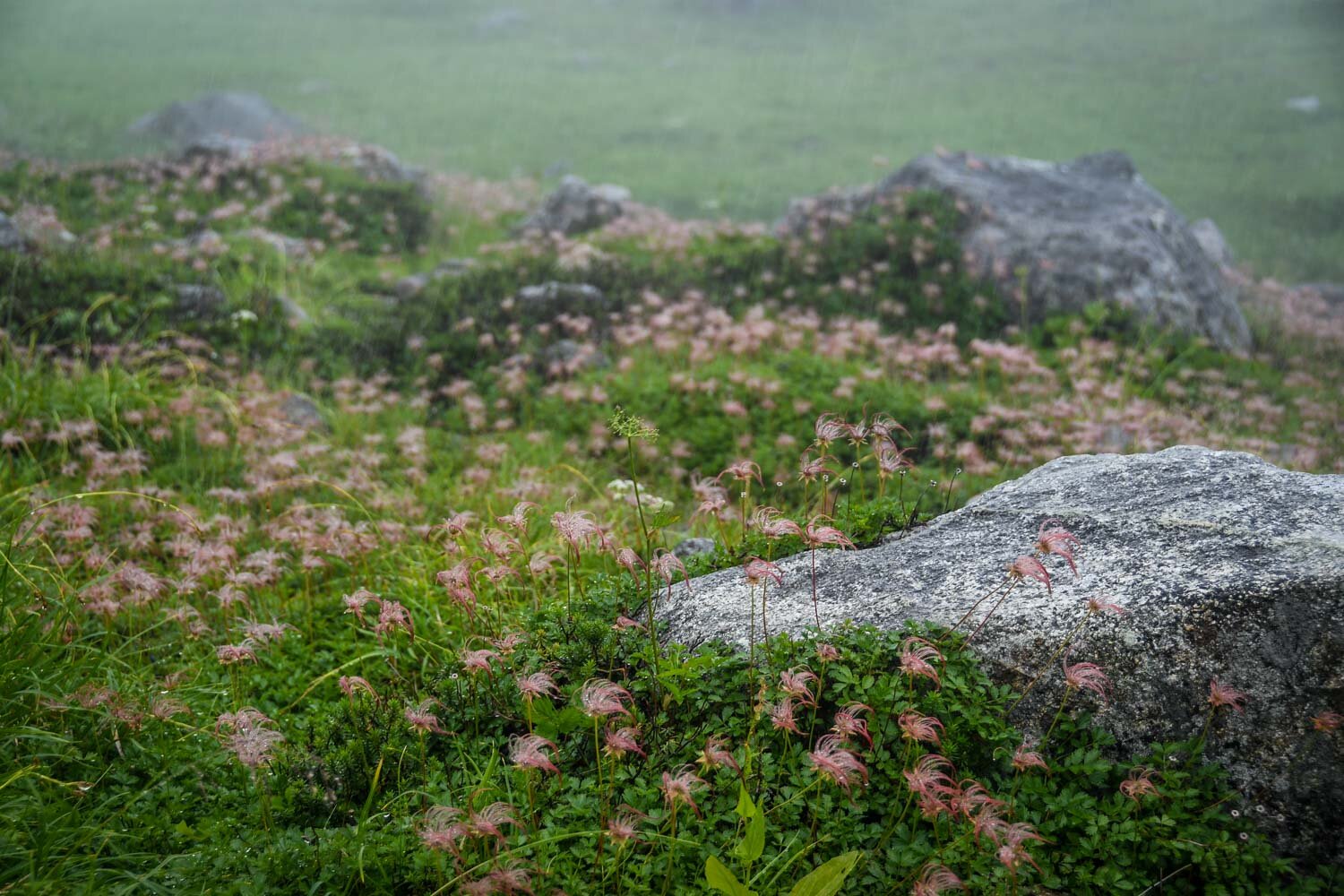 Get off the bus and walk along the boardwalk to see this protected wetland. You can spot wildflowers between June and September.
We didn't stop here because it was raining pretty heavily when we drove by and the views were pretty clouded.
Next Transportation: Same Tateyama Highland Bus

Duration: 20 minutes to Murodo

From the months of April to early June, the bus will drive through the snow wall which averages 7 meters of snow every year!
5. Murodo – 2,450 m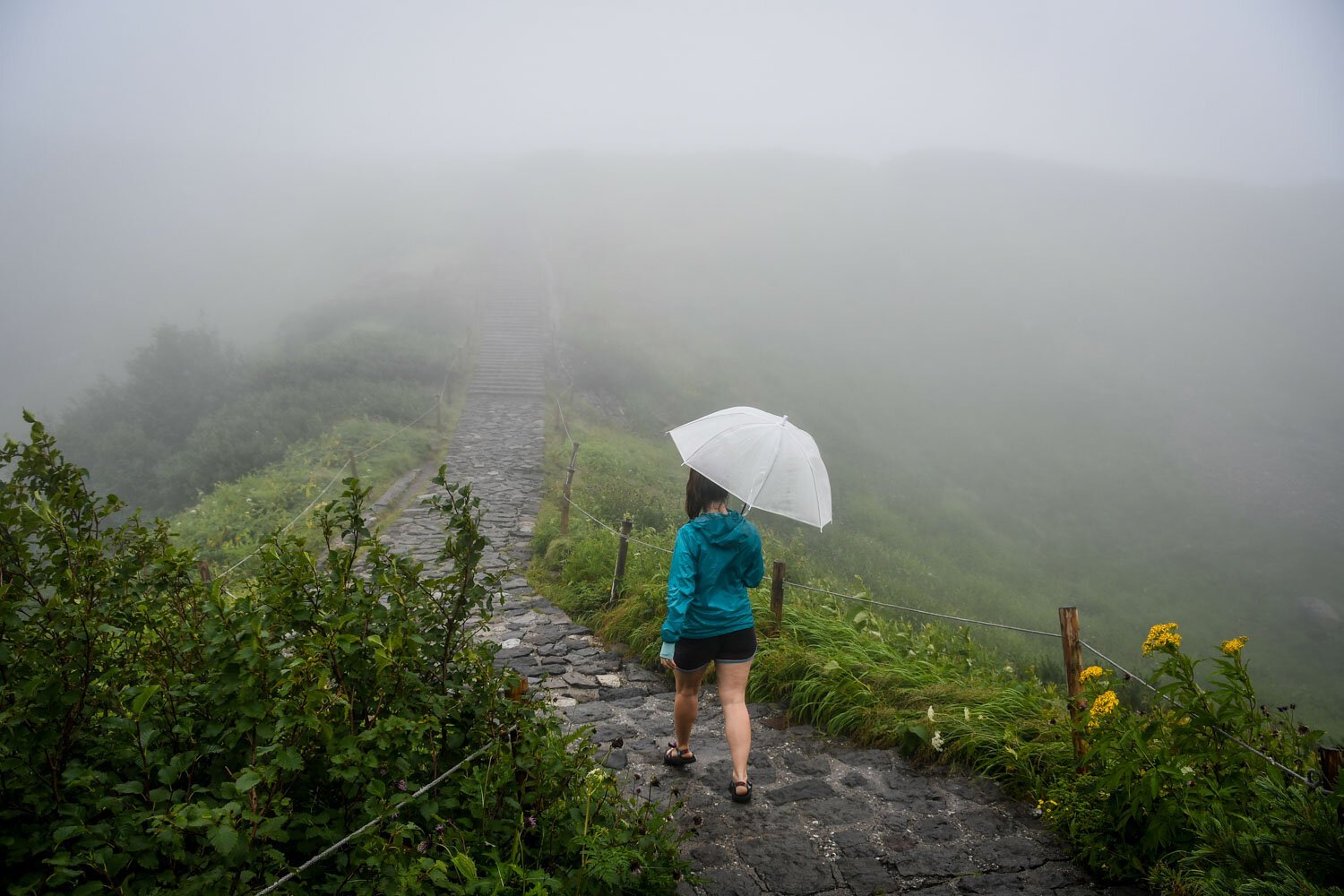 The Murodo Terminal is the main destination for all travelers on the route. You'll get off the bus at the terminal which is also the home to Hotel Tateyama, Japan's highest hotel. The terminal has lockers where you can store your belongings for various sizes ranging from 200 to 500 yen per locker.
Next to the Murodo Terminal is the Takeyama Nature Conservation Center. There is a video (in Japanese) about the area and other displays talking about the flora and fauna on the route.
Snow Wall Walk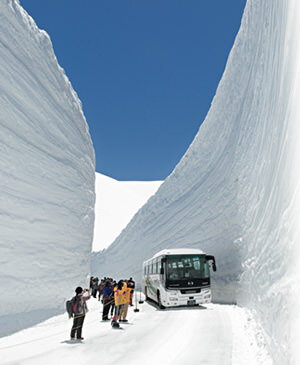 But the real reason to go on the Alpine Route is to explore outside, and what you'll do will depend on the season you travel here. In April and May, even some parts of June, you can explore the Snow Wall Walk that is steps away from the terminal.
Takeyama has some of the heaviest snowfalls in the world, with an average year accumulation of 7 meters (23 feet), but really heavy years up to 20 meters (65 feet)!
The Snow Wall Walk There is a plowed out path for visitors to walk between two massive walls of snow. The most impressive time of year to see the Snow Wall is in April and May. The Snow Wall can stick around until parts of June, but there have been years where there still is snow in August.
Mikurigaike Pond Hike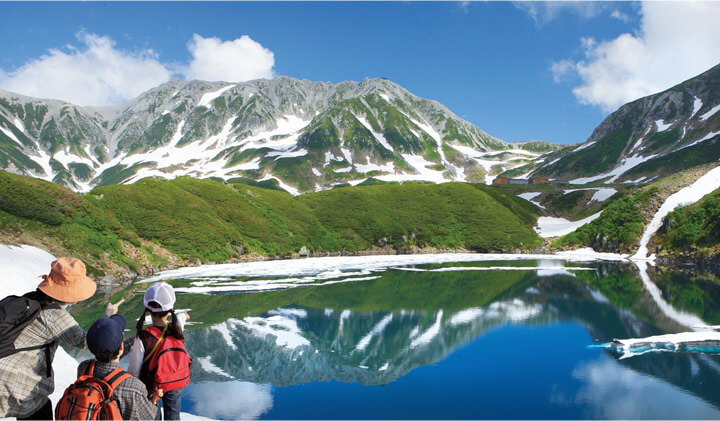 Another highlight at Murodo is walking the rock path to Mikurigaike Pond. From the terminal, it is only 300 meters and a round trip of about 30 minutes.
From the pond, you'll get a 360-degree view of the mountain peaks around you, including Mt. Oyama (3,003 m), one of Japan's "Three Holy Mountains" along with Mt. Fuji and Mt. Hakusan. Unfortunately on the day we travel the Alpine Route, we were covered in a rain cloud, so we didn't have the best views.
Jigokudani
Walking by Mikurigaike Pond, there was the distinct smell of sulfur coming from the Jigokudani area, also known as Hell Valley. Vapor erupts from various vents in the ground and while there are walking paths around the Jigokudani area, it is closed off because of previous accidents caused by strong volcanic gas.
Mikurigaike Onsen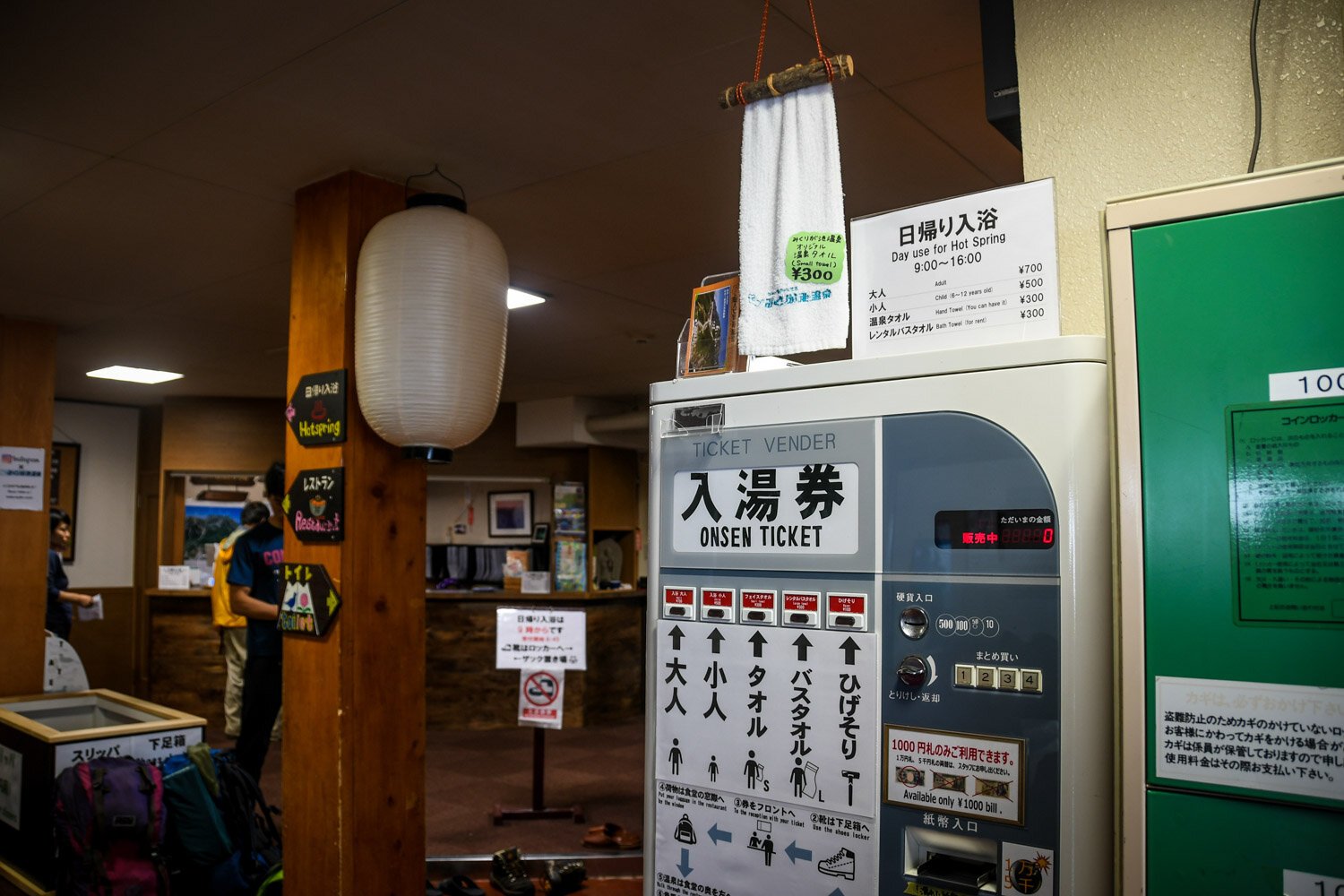 Feeling chilly at the high altitude? Warm-up in an onsen. About a 20-minute walk from the Murodo Terminal is the Mikurigaike Onsen, the highest altitude onsen in Japan. The onsens are separated by gender and while they are not open-air onsens, they do have huge windows to look out into the majestic mountains. There is also a cafe (with ice cream) in the same building.
Onsen Entrance Costs – Adults: 700 yen Children: 500 yen. Open 9:00 – 16:00
Wanna stay longer? Reserve a dormitory room for 9,500 yen per night.
Hiking around Murodo
Being on the Roof of Japan, you would think you can't get any higher, but there are a handful of hikes you start from Murodo. Keep in mind your timing if you want complete the Japan Alpine Route in one day. Otherwise, you'll have book a room in the hotel, dorm in the onsen, or camp.
Mikurigaike Pond Return – Easy: 600 meters, 30 minutes return

Mikurigaike Pond Loop – Easy: 1.7 km, 1 hour

Raichozawa Return – Medium: 2.4 km, 2 hr 30 min

Climbing Mt. Tateyama – Hard: 2.5 km, 4 hr

Mt. Murodo Viewpoint – Medium: 2 km, 2 hr 30 min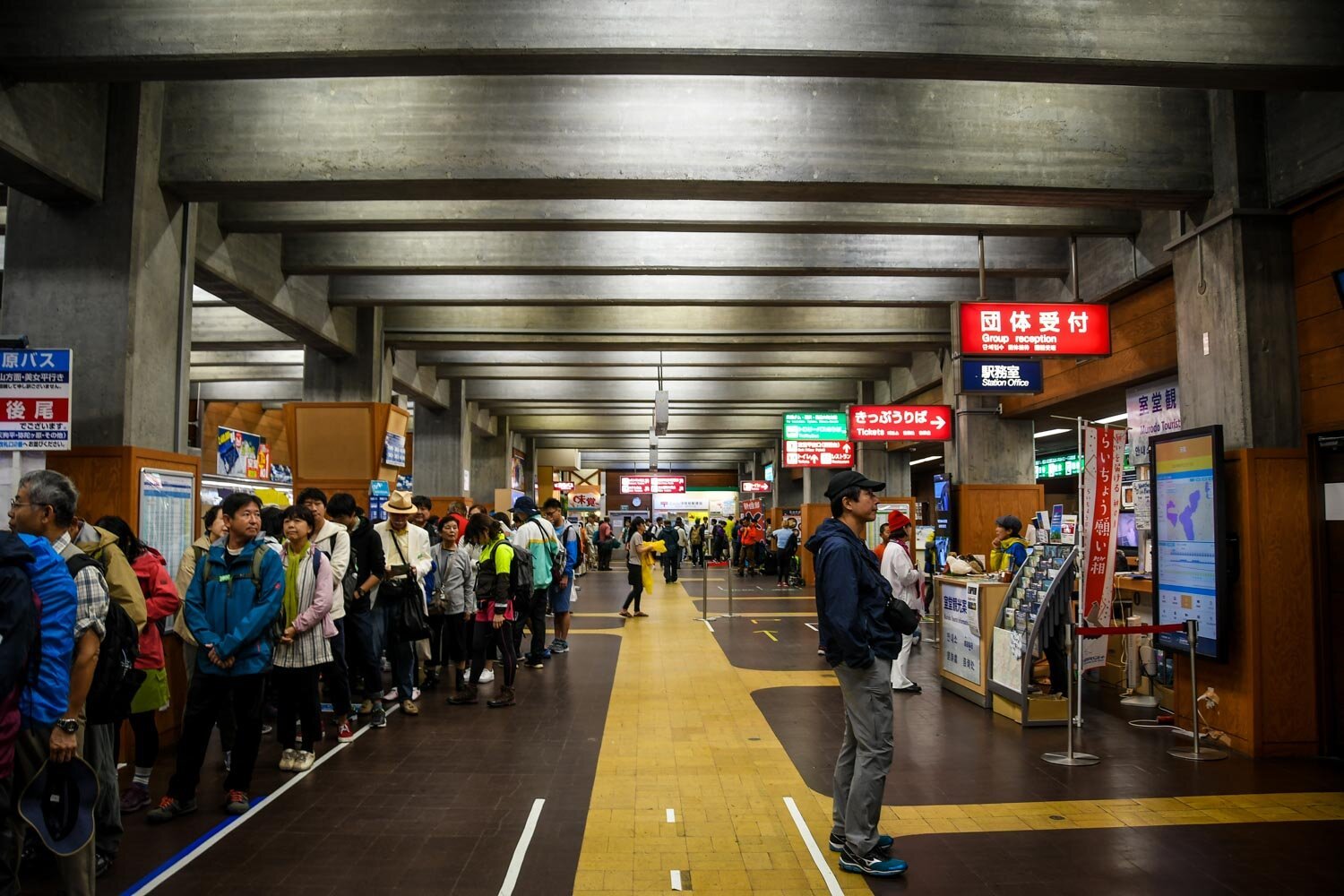 Next Transportation: Tateyama Tunnel Trolley Bus

Duration: 10 minutes to Daikanbo

Nothing really to see, but pretty cool to think that you're taking a bus through a freaking mountain. And it's 100% electric!
6. Daikanbo – 2,316 m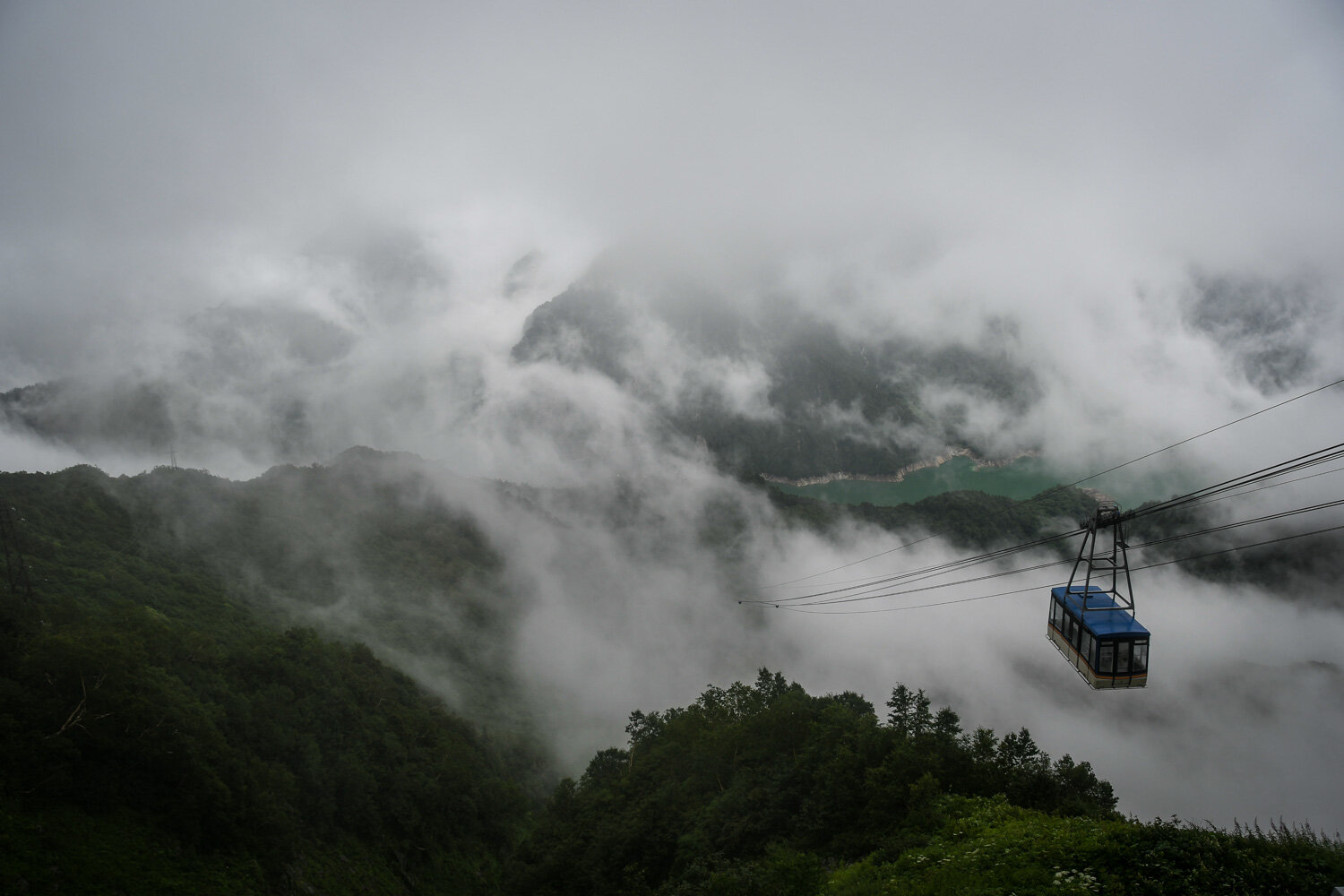 Once you emerge out of the mountain on the trolley bus, hop outside and get a view of the valley below. You can see the lake that was formed by the Kurobe Dam. This view would be especially beautiful during the fall foliage.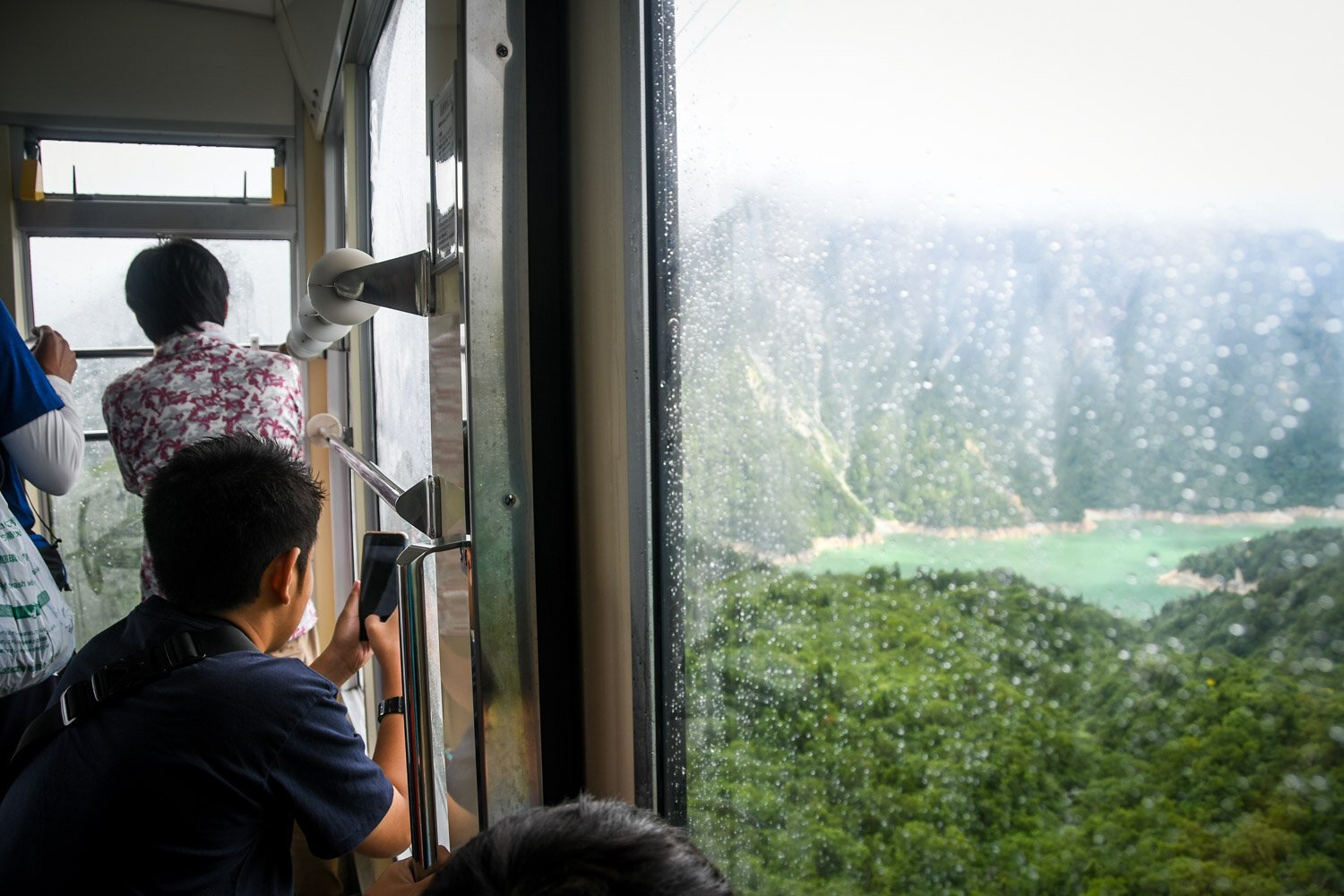 Next Transportation: Tateyama Ropeway

Duration: 7 minutes to Kurobedaira

Try to get in the front of the gondola as you leave Daikanbo for the best view. Look around and get a 360-degree view of the mountains surrounding you.
7. Kurobedaira – 1,828 m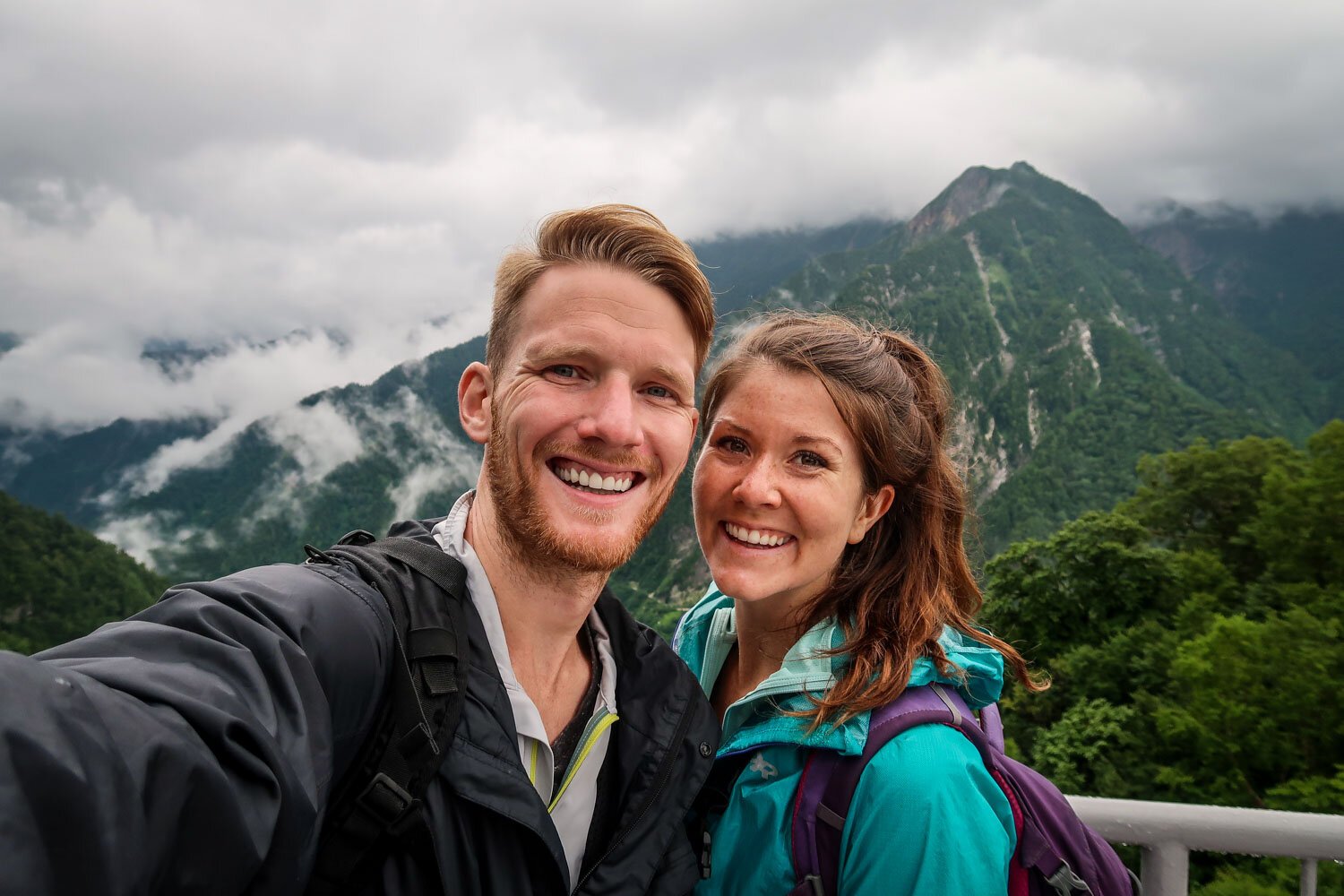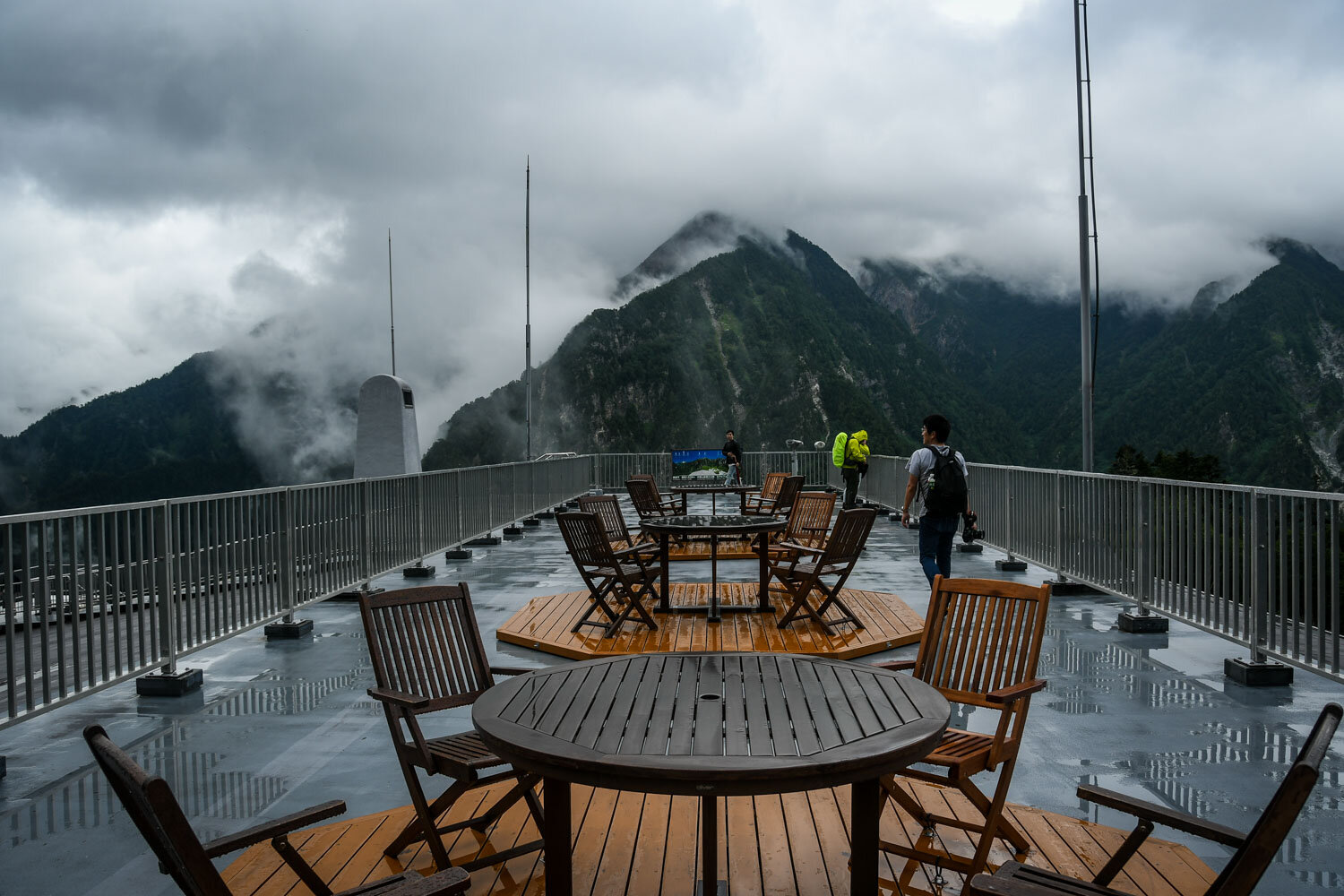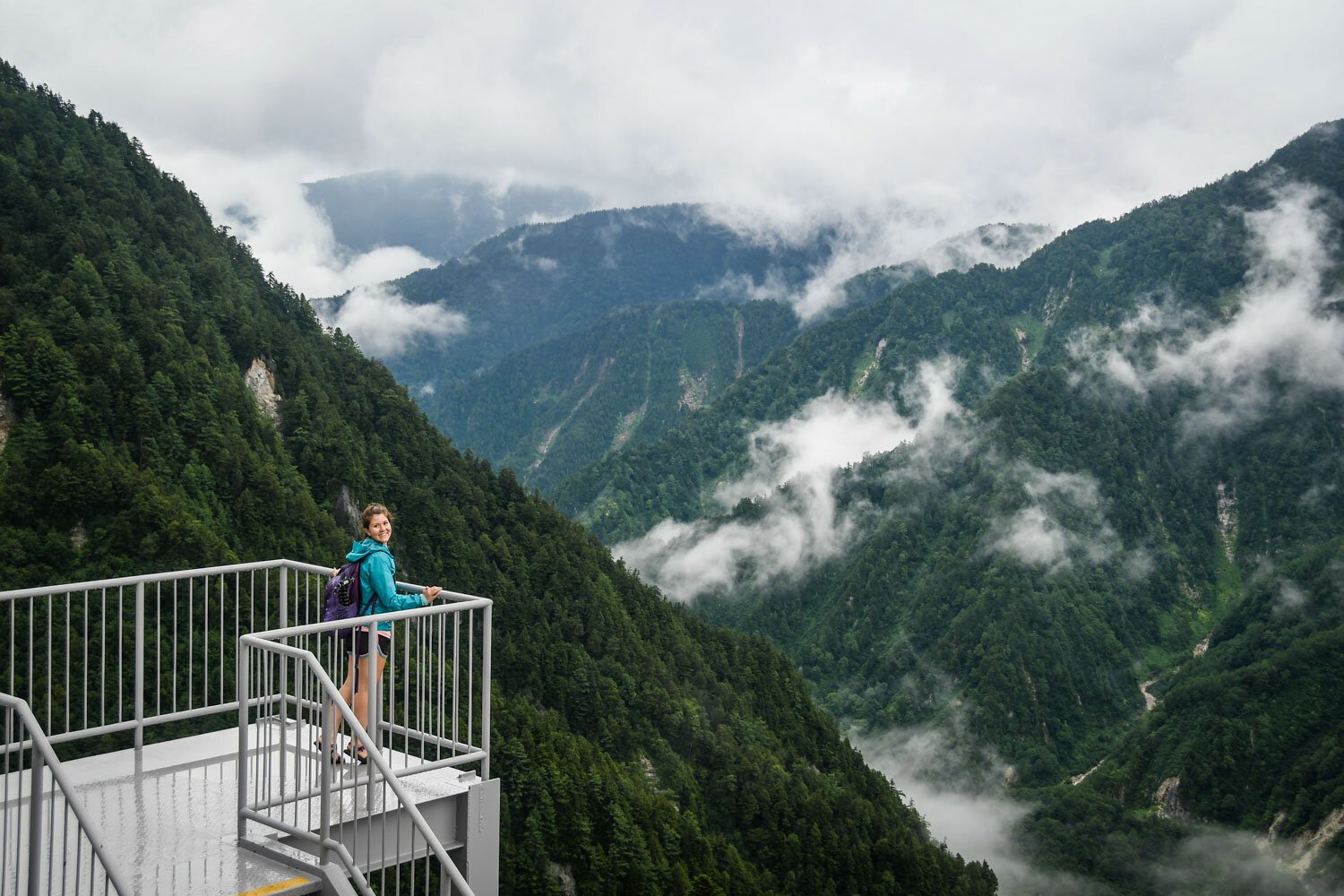 This station is simply a connection from the Tateyama Ropeway to the Kurobe Cable Car that takes you down to the Kurobe Dam. However, if you have time, head outside and go to the viewing platform on the roof. You can watch as the gondolas glide into the station.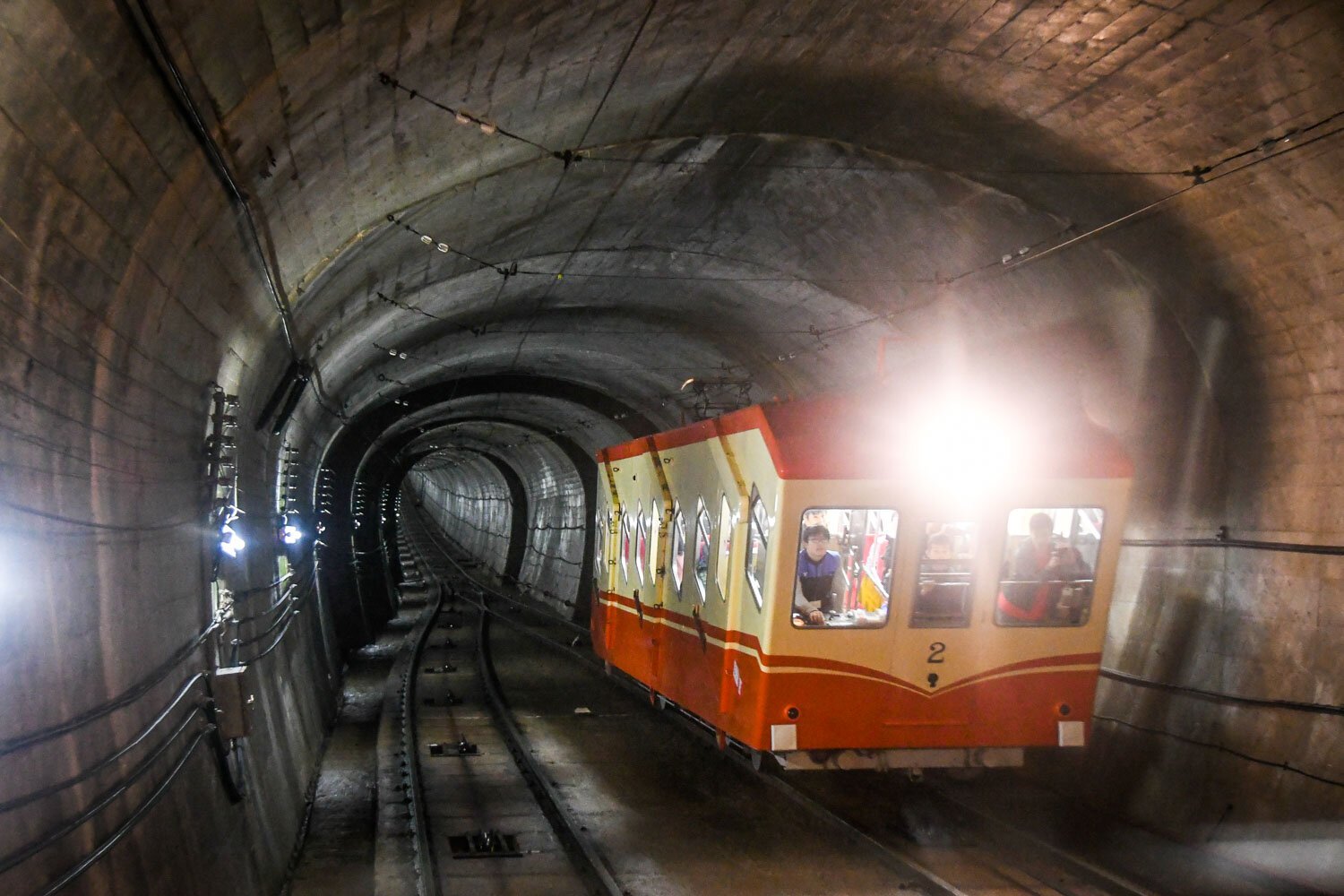 Next Transportation: Kurobe Cable Car

Duration: 5 minutes

Getting lowered down into the dam area is pretty cool. Try to get in the front of the cable car for a decent view.
8. Kurobe Dam – 1,470 m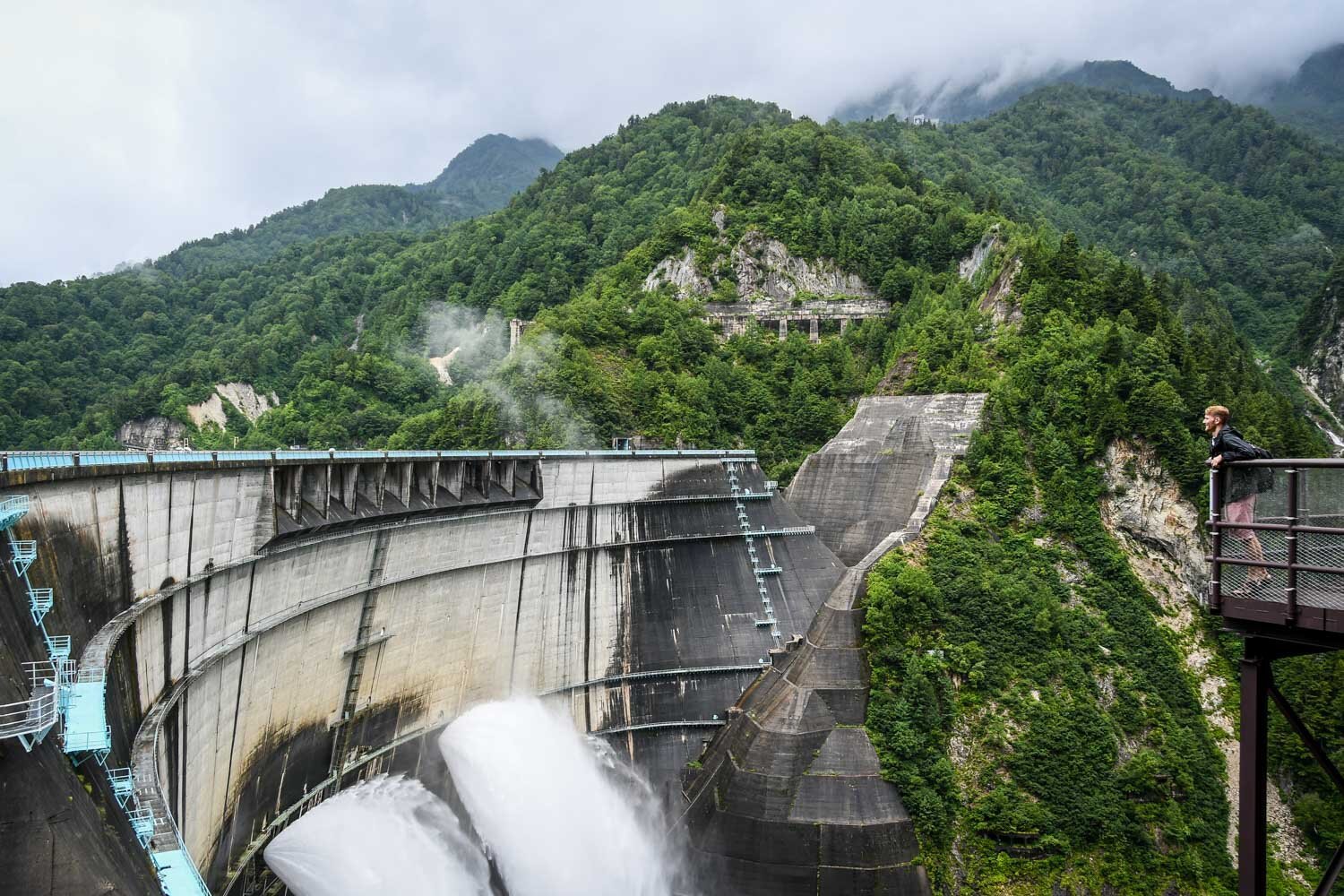 This is the highest dam in Japan (are you surprised?) at 181 meters and was quite difficult to build due to its location. In fact, 171 dam workers perished while building the dam and there is a monument for them on the east side of the dam.
From the start, it takes about 15 minutes to walk across the dam and all the viewing platforms are on the east (far) side. As you walk across, be sure to look down at the 10 tons of water per second that spews out of the dam.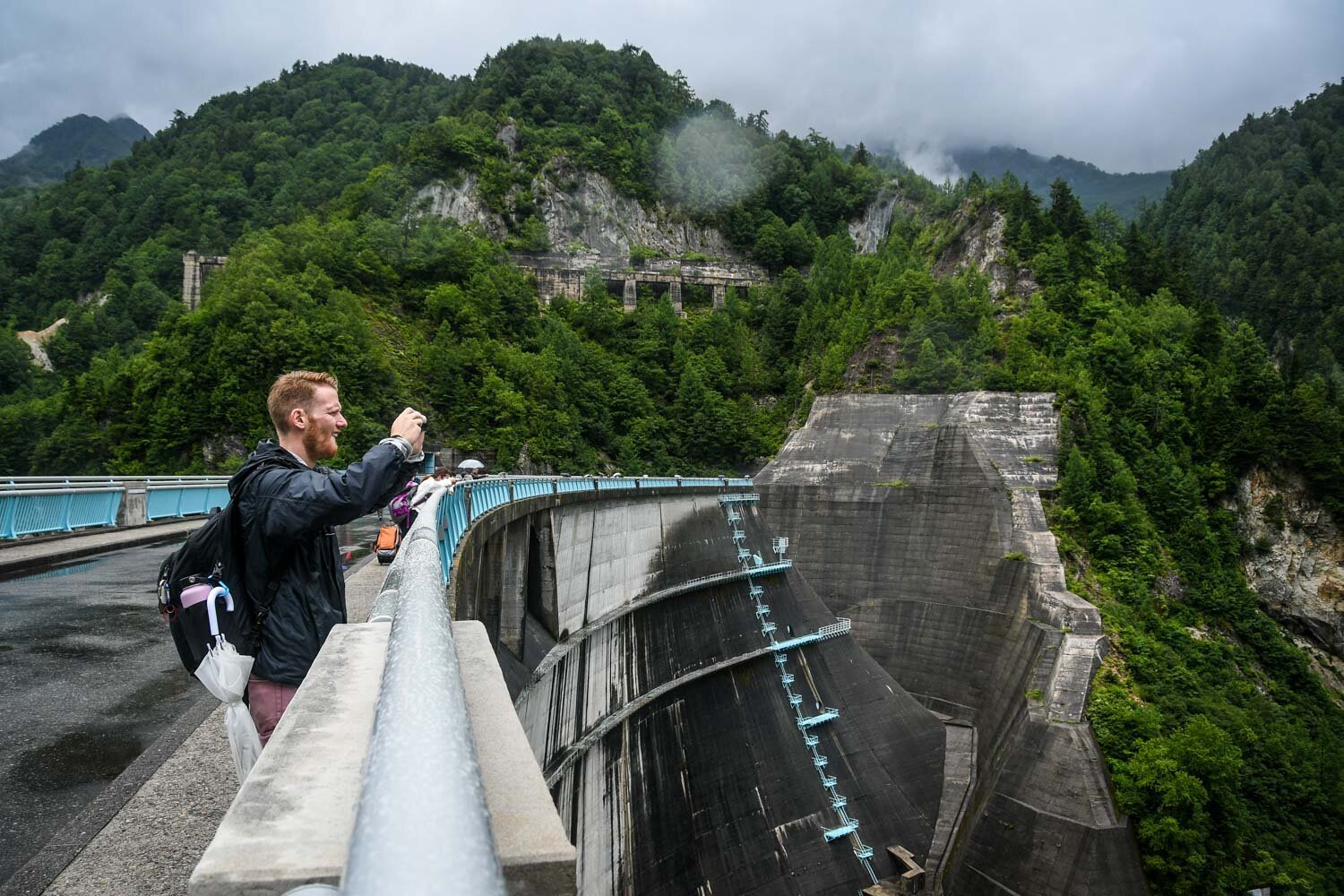 Head down to the Rainbow Terrace where the mist from power water discharge can create rainbows which makes for a nice picture with the alps in the background. Next, climb up the 220 steps to get a grand view of the dam and discharge from the observation deck.
Hungry? There is a cafe on the east side of the dam. Apparently, the dam curry is damn good (see what I did there…).
If you have extra time and cash, take the Kurobe lake cruise on Japan's highest altitude cruise ship. Follow the signs before you cross over the dam. The boat ride takes 30 minutes and is 1,080 yen per person.
Note: It takes about 5-10 minutes to walk from the dam to where the bus stop is, so make sure to leave with plenty of time.
Next Transportation: Kanden Electric Tunnel Bus

Duration: 16 minutes

You get to travel through another mountain, this time it's Mt. Akazawa-dake.
9. Ogizawa Station – 1,433 m
Ah, the last transfer, what a day! There is not really much at this station other than bathrooms, a gift shop and a cafe. This is your last chance to shop for souvenirs if you didn't pick one up already.
Next Transportation: Local Bus to Shinano-Omachi Station

Duration: 40 minutes
10. Shinano-Omachi Station
This is your last official stop on the Japan Alpine Route. You can continue to use your Tateyama Kurobe Option Ticket to get to Nagano Station. Or if you have a JR Pass, you are free to travel wherever you'd like on Japan Rail lines.
If you did a luggage transfer, be sure to go pick up your luggage in the building next to the Shinano-Omachi station. When you walk out of the station, the baggage pickup building is to your right.
There is a small noodle soup shop in the Shinano-Omachi station, and the lady behind the counter makes a mean soba noodle bowl! Give it a try if you're hungry.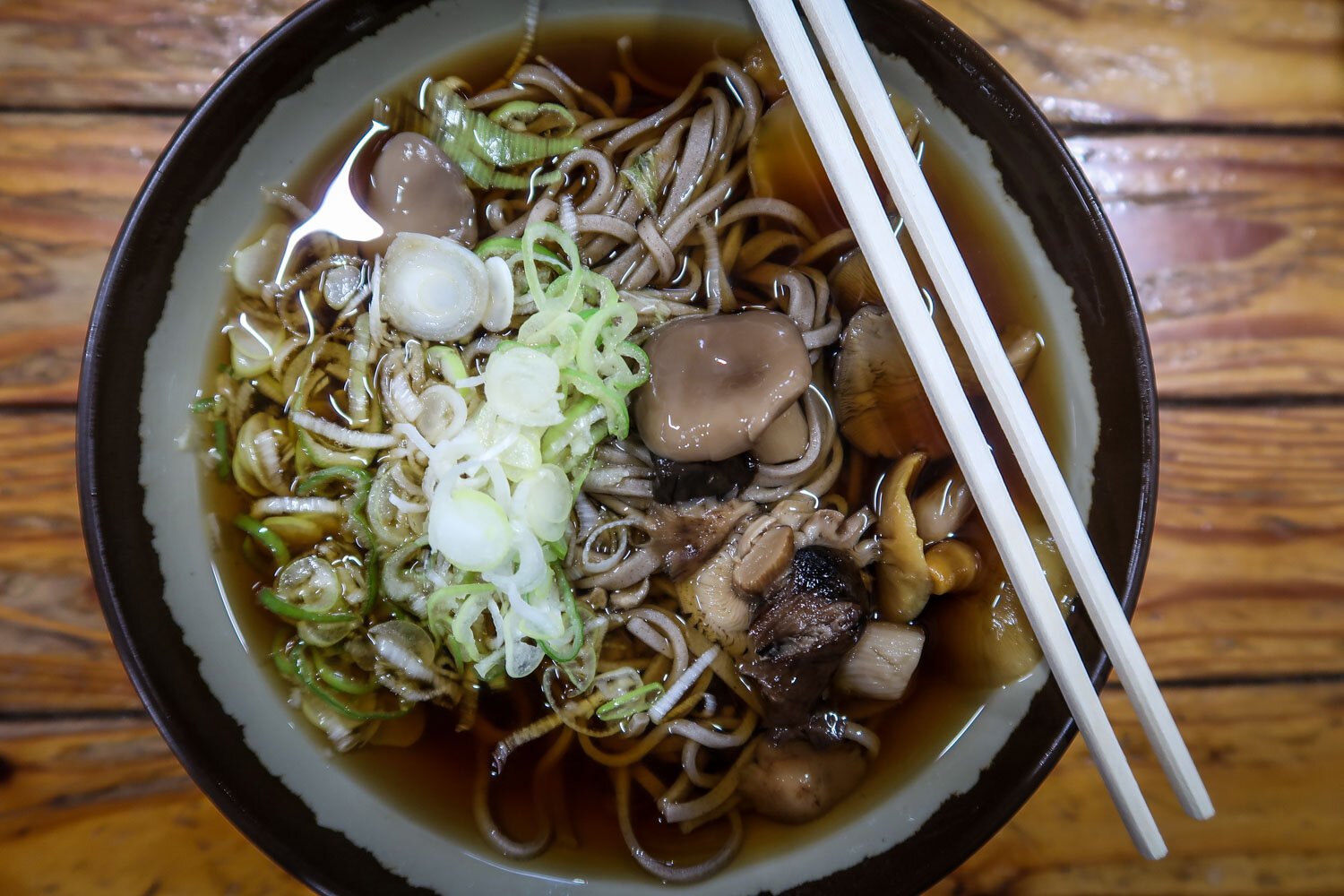 ---
Where to stay before and after the route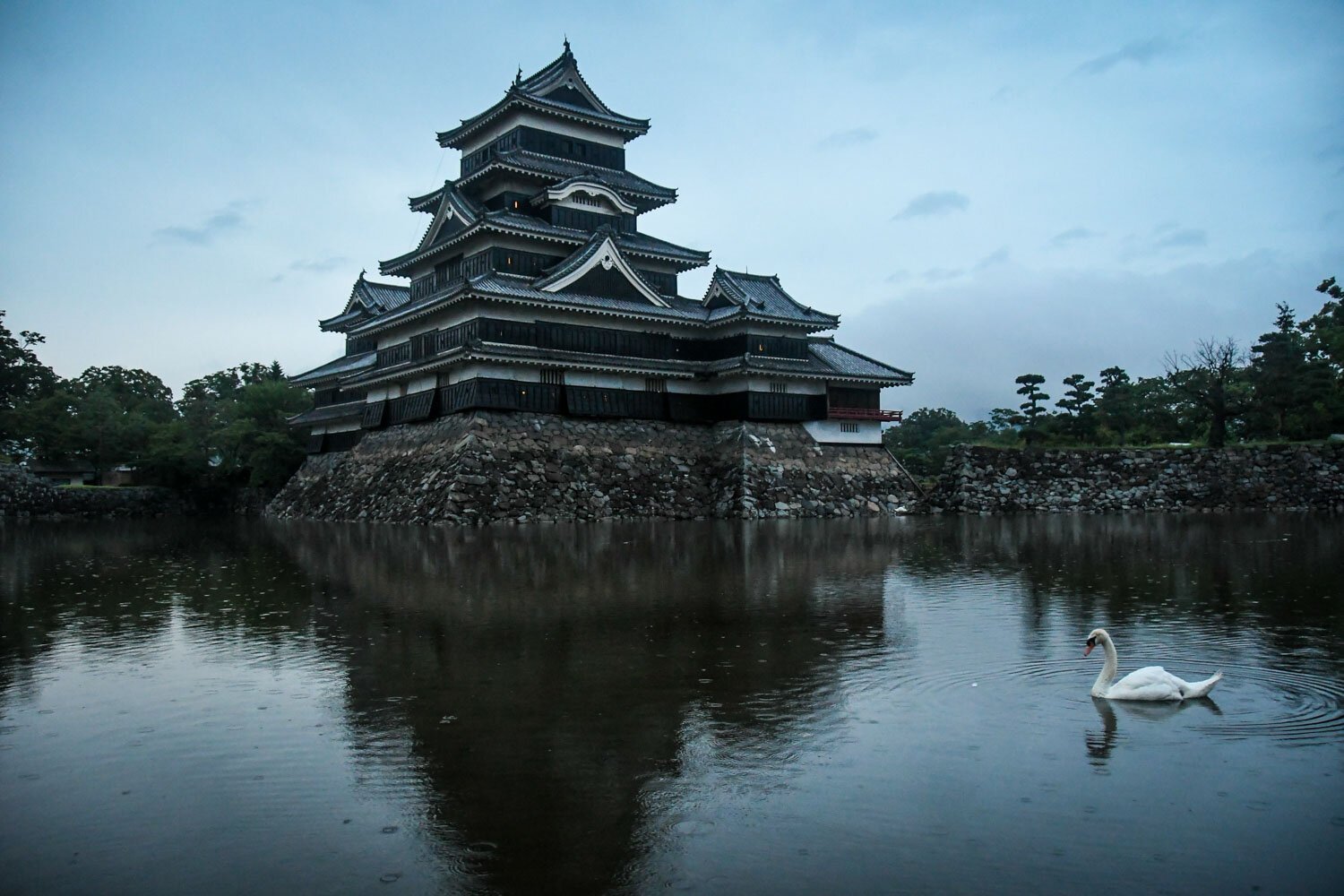 Before you start your travels to the "Roof of Japan", you'll want to make sure you secure your accommodation before and after the long day. If you are planning on traveling west to east, we recommend staying in Toyama the night before. There are tons of nice hotels in Toyama to stay in and we'd recommend staying close to the train station if possible so you can get an early start.
If you're heading to Nagano, you'll have loads of choices on hotels in Nagano city, but we'd encourage you to explore outside the city center.
If it's your first time in Japan you should look into going to the Jigokudani Monkey Park. If you are, we'd recommend staying at Yudanaka Seifuso Ryokan. It's steps away from Yudanaka Station and has hot spring onsens, 2 of which you can reserve for private use. You'll stay in traditional ryokan style rooms and the staff can also prepare a local Japanese dinner for you too.
Staying closer to the Alpine Route has benefits of not adding on extra transportation onto an already long travel day. We recommend staying at Tabi-Shiro in Matsumoto. You'll stay in a Japanese style room but there is a communal kitchen which you can cook your own meals. It's walking distance from the famous Matsumoto Castle and the staff is very helpful and will show you where to go around town.
What is the weather like on the Tateyama Kurobe Alpine Route?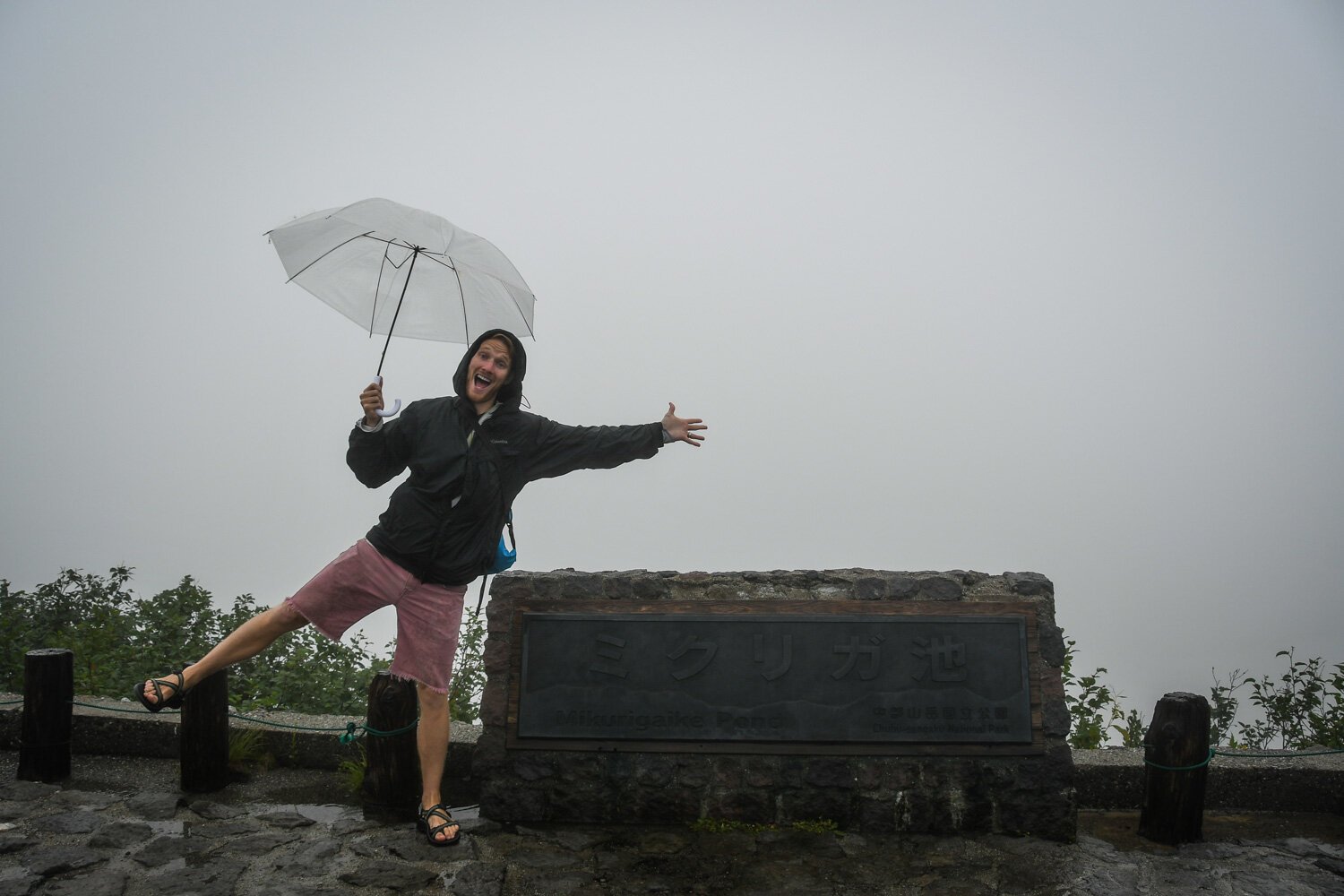 The weather at the top of the pass is very unpredictable and can change rapidly. It will also get really cold (duh, it the alps!).
From April to mid-June, there will be snow on the ground and the weather can dip down below freezing.
In summer months from mid-June to end of August, the temperature will range from 50 °F to 70 °F (10-20 °C), but you'll still want a light jacket because it gets pretty windy.
In September and October, the leaves on the trees start changing colors earlier than any other place in Japan. The temperature will drop below 50 °F (10 °C) and snow tends to fall near the end of October.
During the beginning of November, the route will have plenty of snow so be prepared with warm winter gear.
What to pack for the Alpine Route
The weather in the mountains changes quickly, so should be prepared for sun, rain and possibly snow all in one day. Be sure to check the weather before you go, but here is a good day-pack checklist to start from:
Clothes for hiking & layers (depending on the time of year)

Rain jacket

Winter jacket (if not summertime, it gets cold up there, trust us)

Hat and Gloves

Sunscreen

Hiking shoes: We wore Chacos when we did the Alpine Route in the summertime (and they were perfect for us!), but during cooler seasons, we would have worn hiking boots or sneakers instead.

Battery pack for charging electronics

Water Bottle and/or Camelbak: remember, it's safe to drink from the taps in Japan, so you can fill up in towns along the way

Dry bag: If you encounter rain along the route, you'll be happy you have a safe place to store any electronics (it happened to us!)

Camera: Canon PowerShot G7x – high-quality photos and small enough to bring anywhere

Snacks: We'd recommend stocking up on some snacks in a bigger city.

Kindle or book: for reading in some of the transportation.

Hiking poles (optional): We chose not to bring poles and were fine (we typically do not use them), however, if you are used to hiking with poles or have bad knees, it might be a good idea.
What to do with your luggage
No one wants to carry their big suitcases on and off 8 different modes of transportation in one day. The Tateyama Kurobe Alpine Route has made it easy for you to transfer your luggage from almost any point on the route to your final destination.
Depending on where you drop-off and pick-up your luggage, there are different costs. For us, we dropped off our bags at Toyama Dentetsu Station and picked them up again at Shinano-Omachi Station and it cost 1,500 yen per bag.
You'll get a little receipt when you drop off your bags, so don't lose that! Be sure to double-check the drop off times and when you can pick up your bags. Here's more info on the baggage forwarding service.
Food along the Alpine route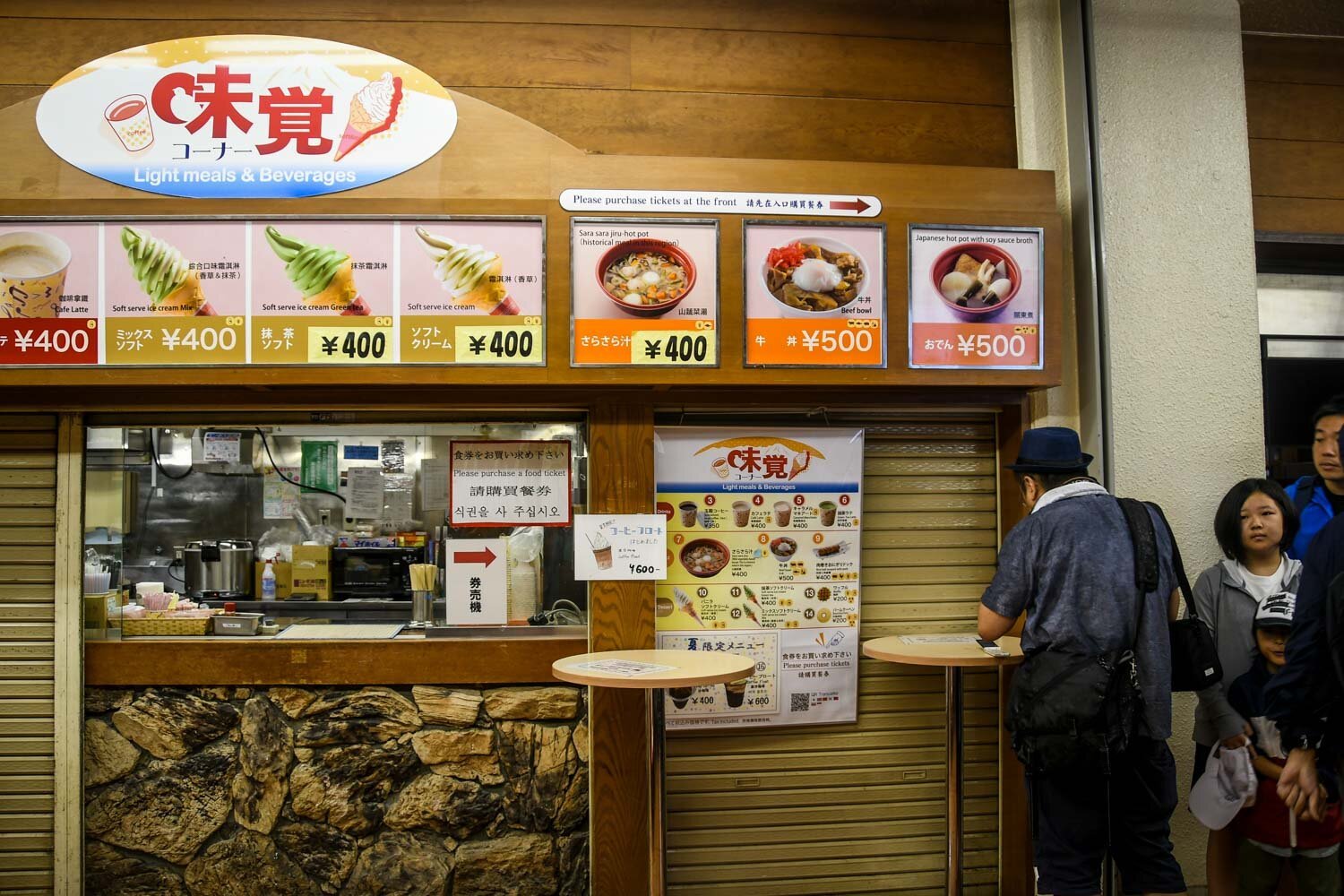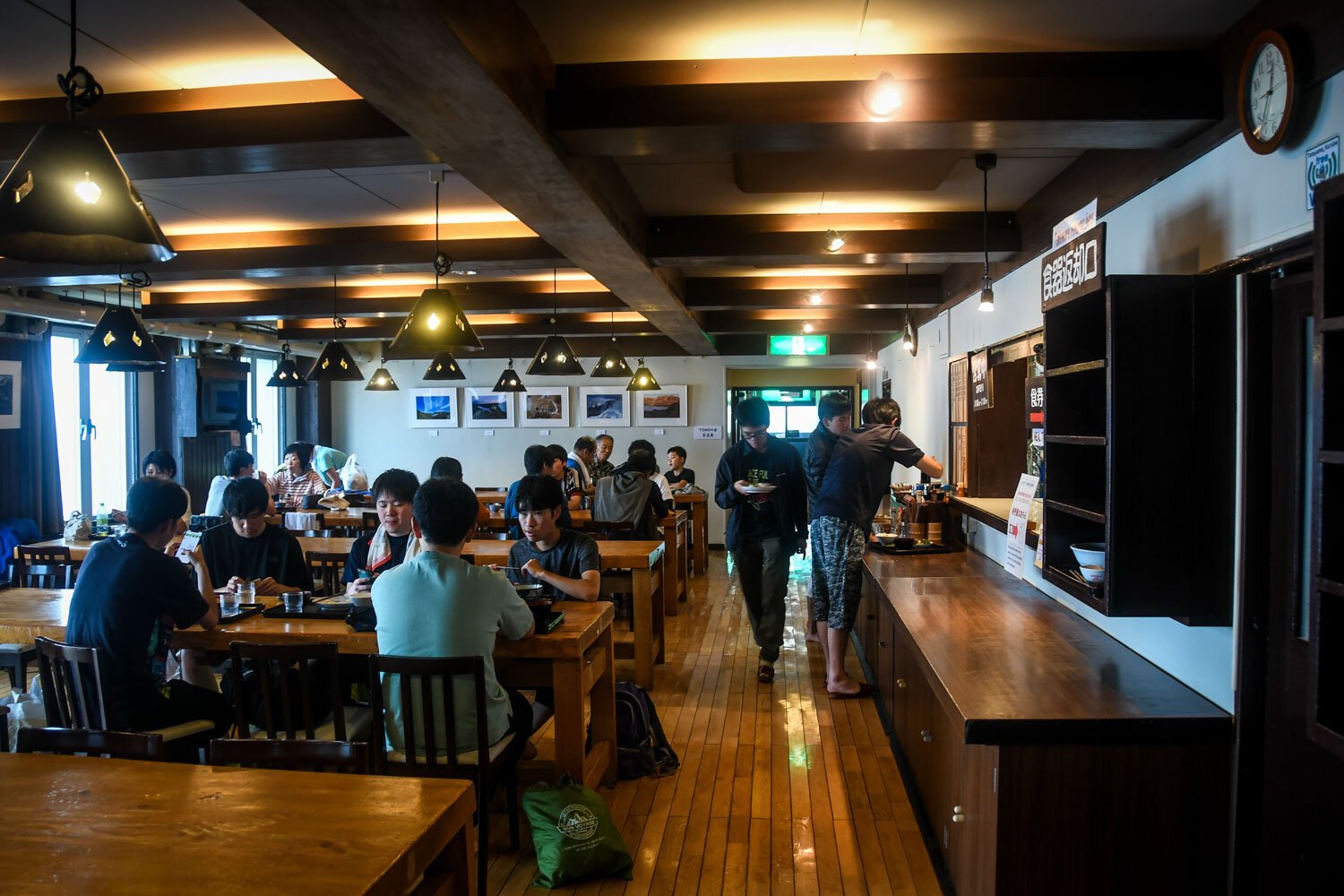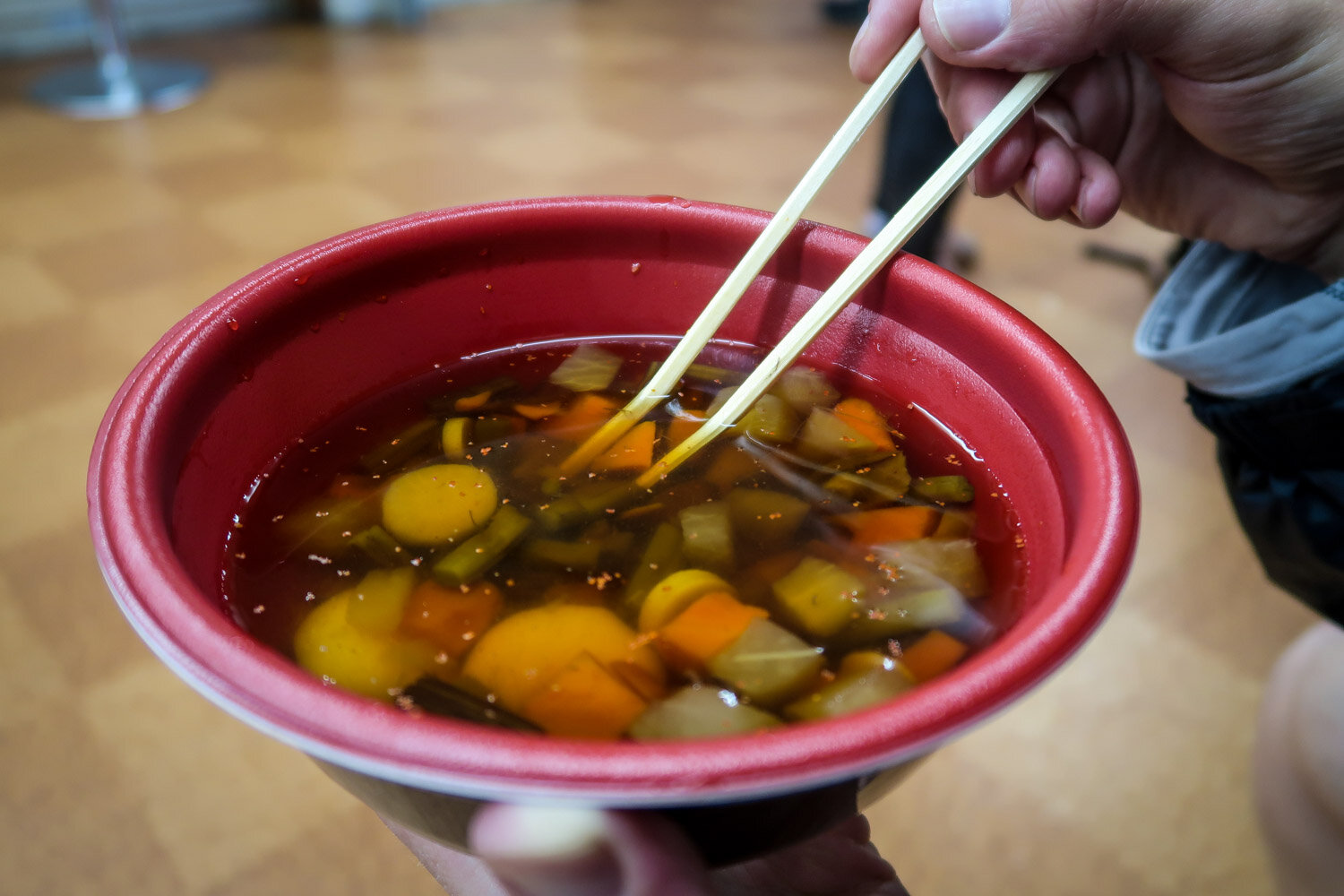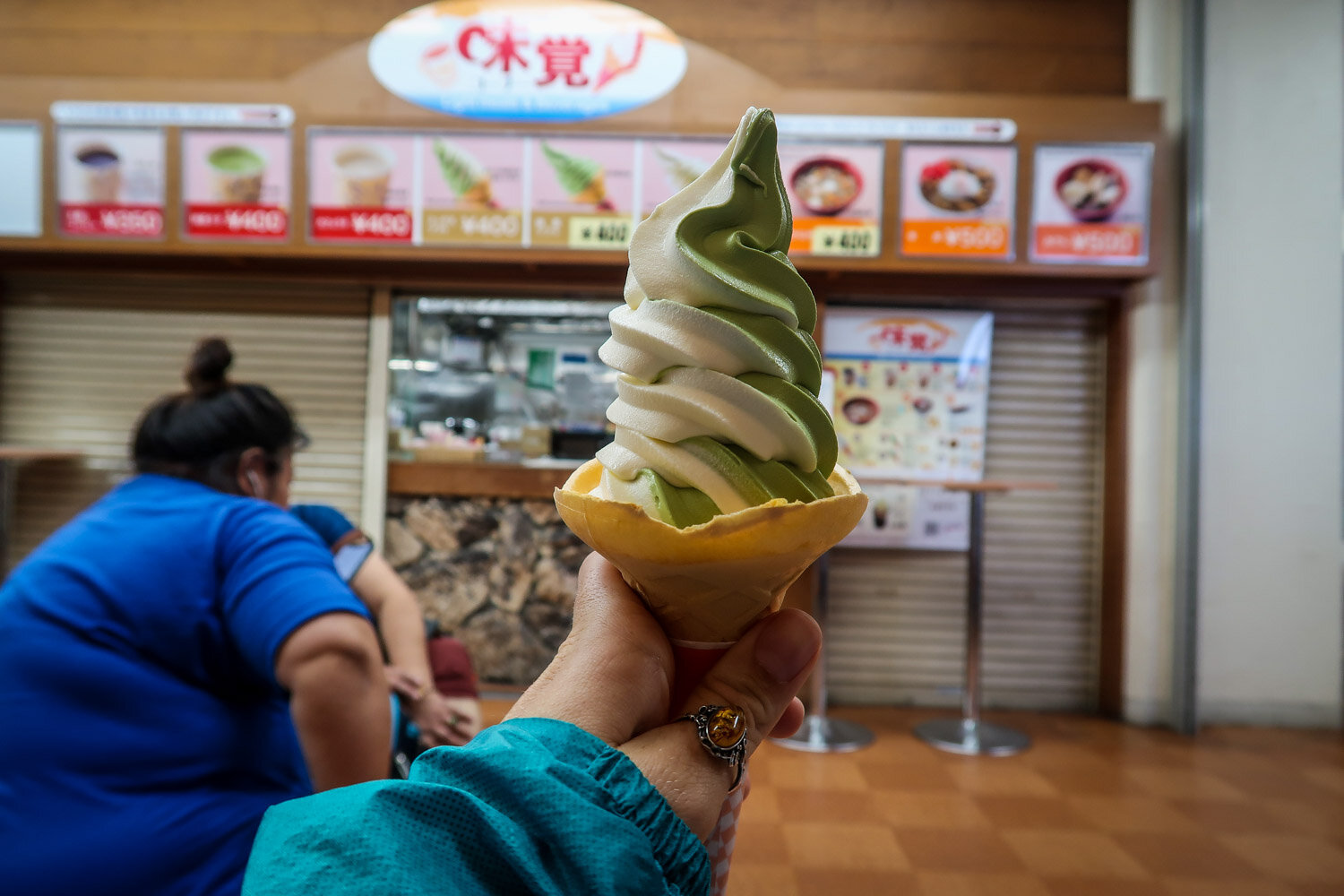 There are many cafes and restaurants along the entire route (almost at every stop). Noodle soup sounds the best on cold days at high altitude and you'll have the most options at the Murodo Terminal.
We got a veggie noodle soup for 400 yen and it was really good! The beef bowl was 500 yen. There are shops like convenience stores where you can buy dehydrated noodles and other snacks too.
How to book
The Tateyama Kurobe Option Ticket costs 9,800 yen per person which saves you at least $20 USD from buying every ticket separately.
To get the Tateyama Kurobe Option Ticket you have to purchase it in person at a JR Station at least one day before you plan on going on the Alpine Route. You can purchase the ticket from any one of these stations:

If you're like us and purchase your ticket while in Toyama, be sure to go to the JR Toyama Station Ticket Counter and not the Toyama Dentetsu Station.
Your ticket is valid for 5 days after you purchase it.
For more information, check out the JR East website.
---
Are you planning a trip to Japan?
We have TONS of resources on travel in Japan and destinations throughout the country. Check out our Ultimate Japan Travel Guide for all the answers to your most burning questions, or read some of our favorite articles below.
Save this article to Pinterest for later!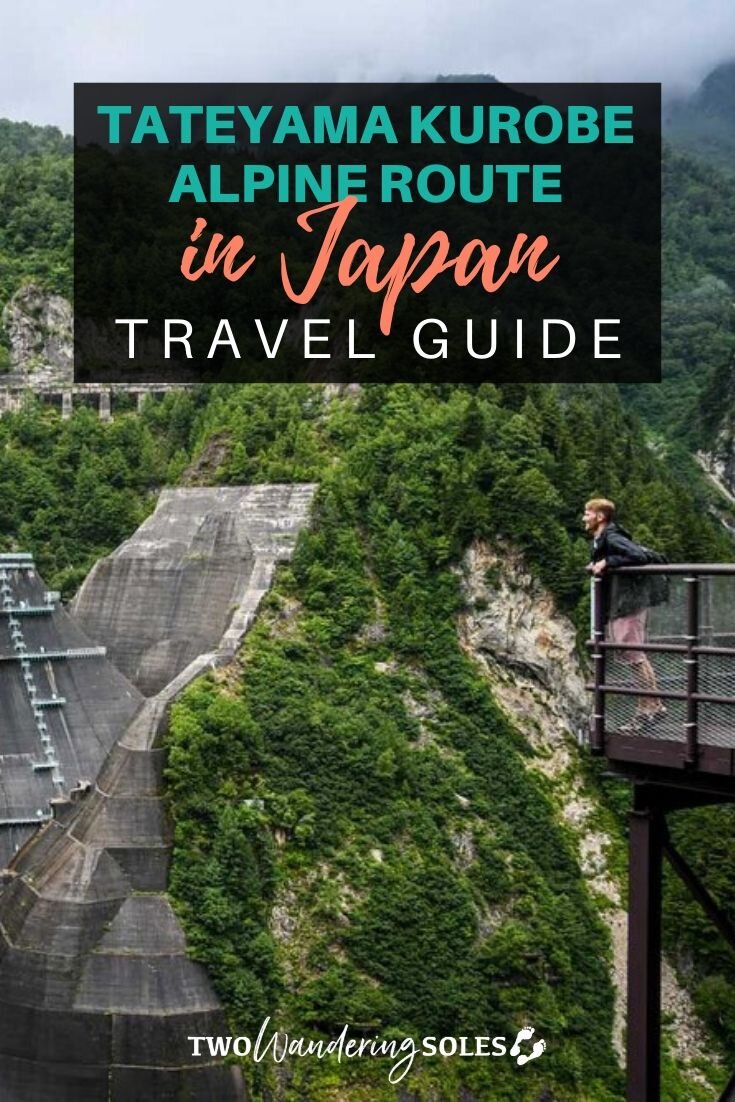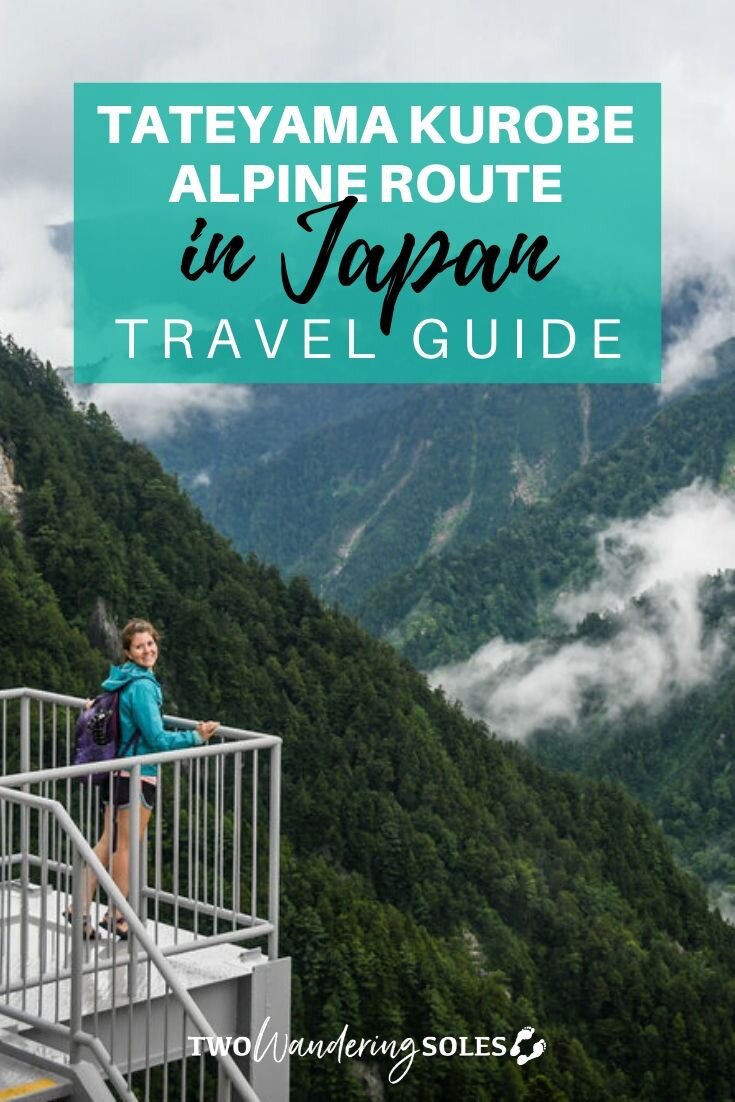 We want to hear from you
Would you go on the Tateyama Kurobe Alpine Route? Have you ever seen the Snow Wall? Let us know what questions you have in the comments below.